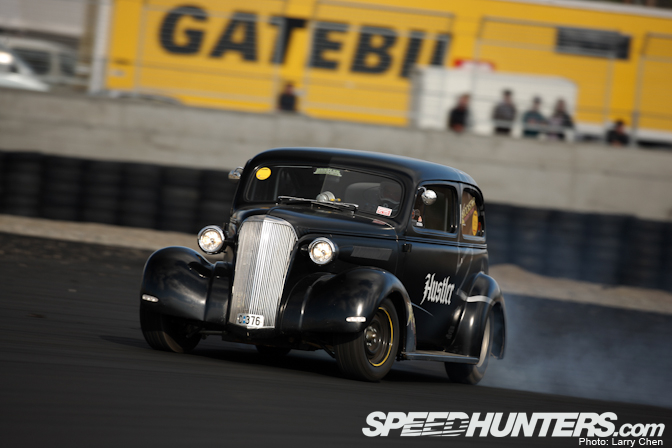 Every year, many race car builders spend countless hours on a vehicle just for the purpose of display at the SEMA show in Las Vegas. After the show they are either parted out or in some cases they are destroyed . Gatebil which is held in Norway at Rudskogen Speedway is very similar, expect for a few things. The cars built for Gatebil are ment to be driven hard. They are not ment to sit around and look fancy. After the event is over all the crazy creations get re-built and upgraded during the long Norwegian winter.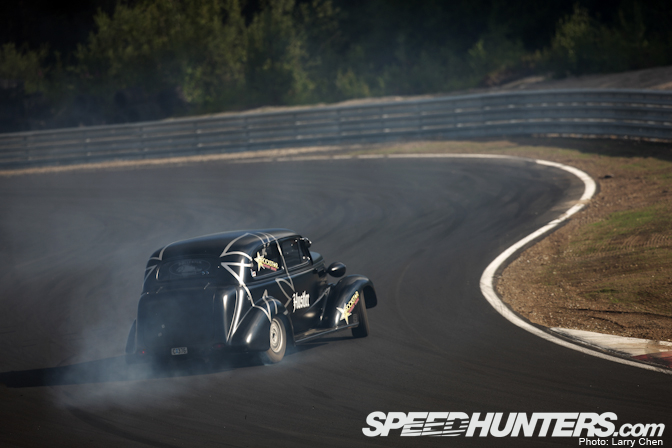 There were so many differnt types of vehicles at Gatebil, it took three days for me to check out every single one of them. It was refreshing to see such a different variety of race cars and drift cars.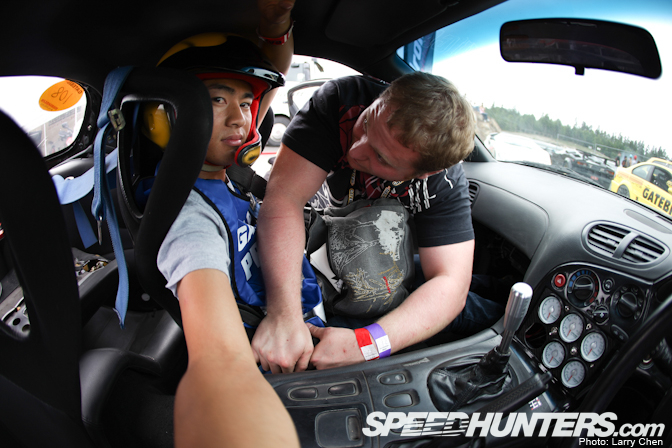 I was asked if I wanted to get a ride in a 4-rotor FD Rx-7. Before I knew it I was strapped in and ready to experience some 4-rotor madness.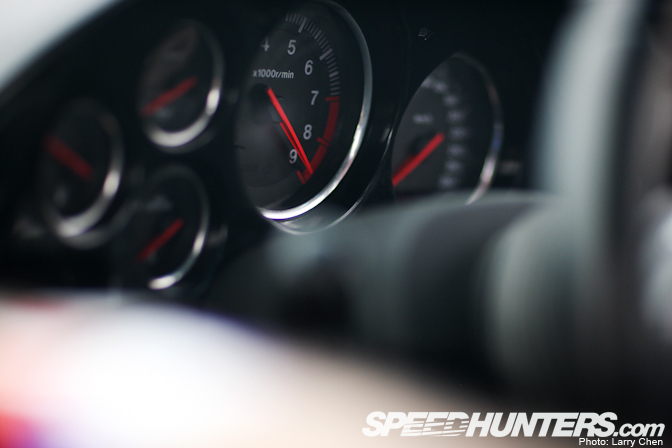 As soon as we pulled out of the pits the car screamed to nine thousand RPM's at ease with 450hp to the rear wheels.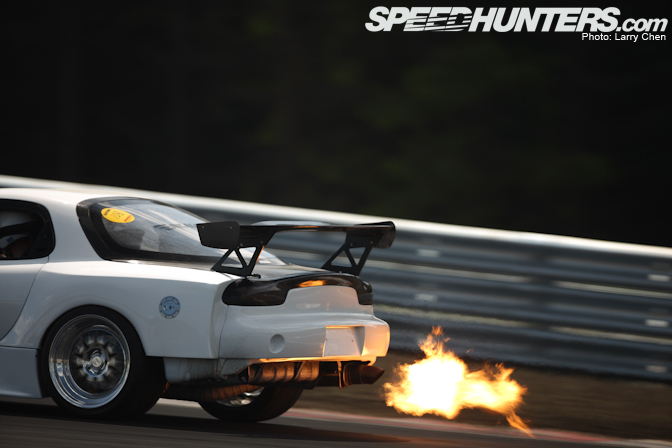 The car kept getting black flagged because it was too loud. It sounded amazing as we passed cars left and right on the very technical track.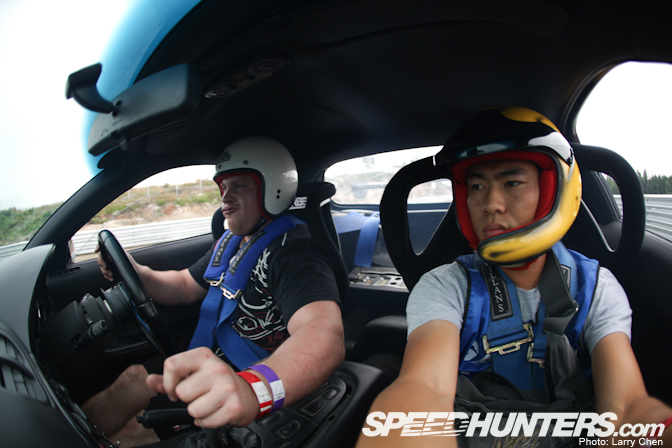 Judging from the duck face, Jan Tore, the owner of the car enjoyed driving his car thoroughly on the brand new track.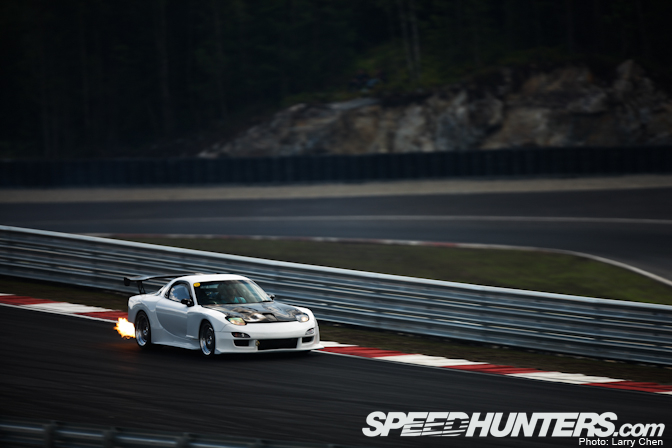 He just finished putting together the fire spitting monster a few hours earlier. The Rx-7 is a rare site in Norway, so Jan converted this race car into a street car. It's registered and he can drive it on the street anytime.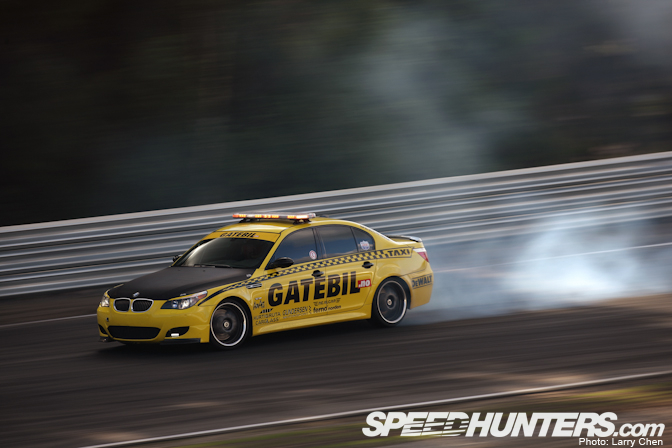 The official Gatebil M5 was not there to help broken down race cars. It was actually used as a drift demonstration car. Passengers get to experience what it's like to drift around the busy track.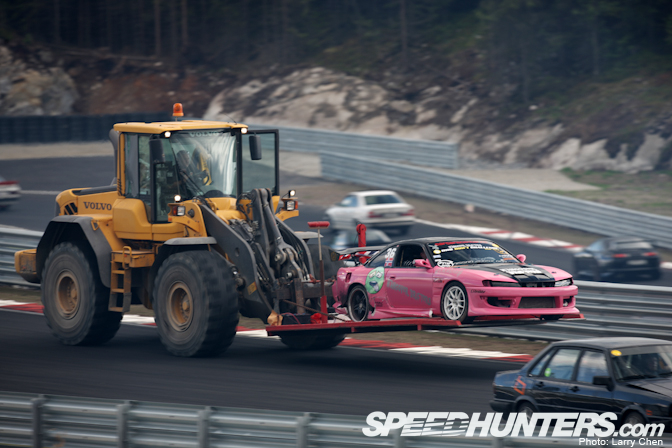 If you get stuck track-side, a friendly Norwegian comes around and fork lift's you off the track.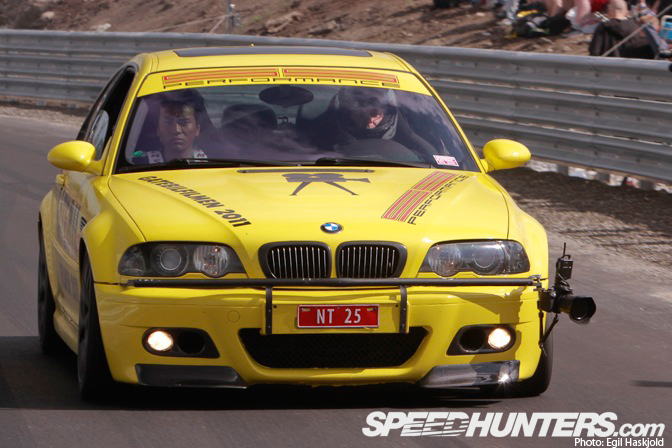 I love how much they cater to the media at Gatebil. They have a dedicated media car but it was not for dropping photographers off at different locations. Its sole purpose was for mounting cameras on or for shooting out the windows.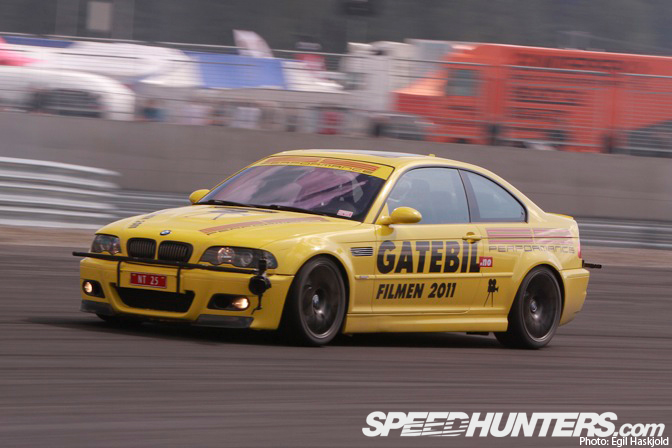 I took full advantage of this amazing service. Egil got a great photo of me inside of the E46 M3 camera car. The resulting photos?…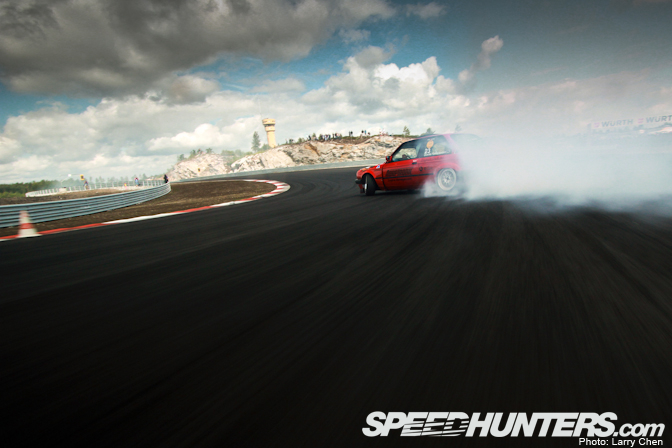 …stunning to say the least.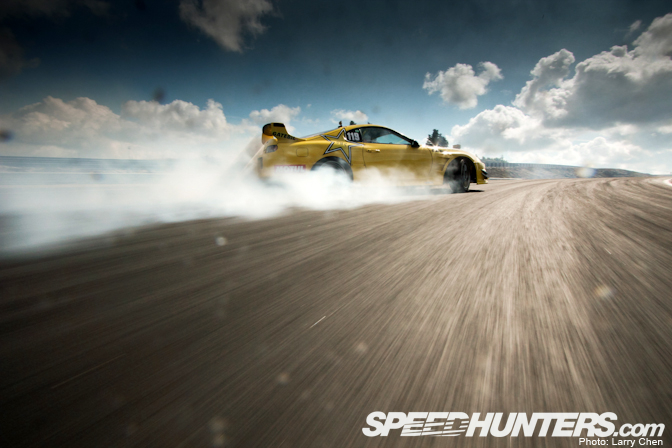 Everyone we followed was more than willing to put on a free show.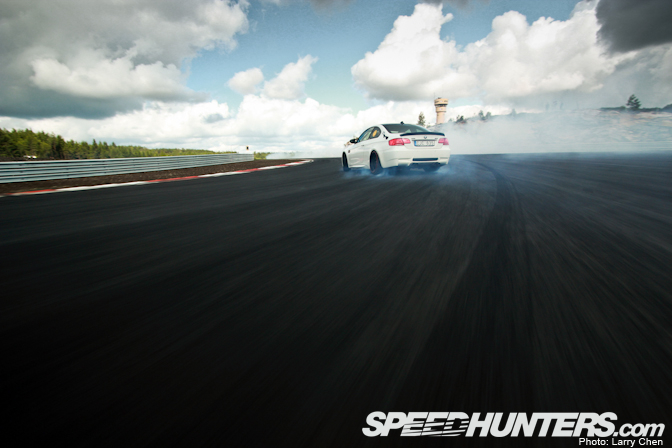 My camera got pelted with rocks and tire bits but I did not care.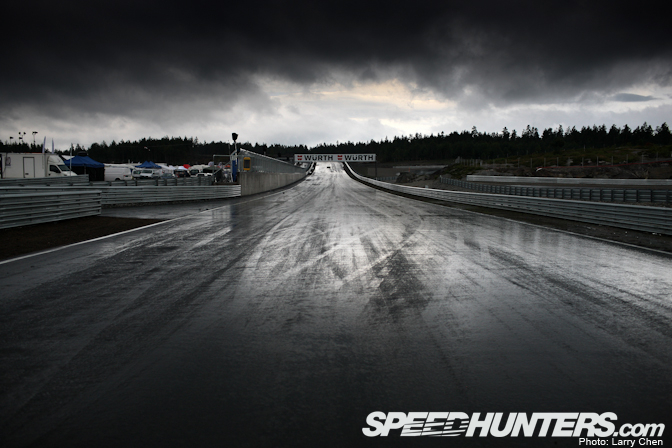 It rained quite a bit the entire weekend.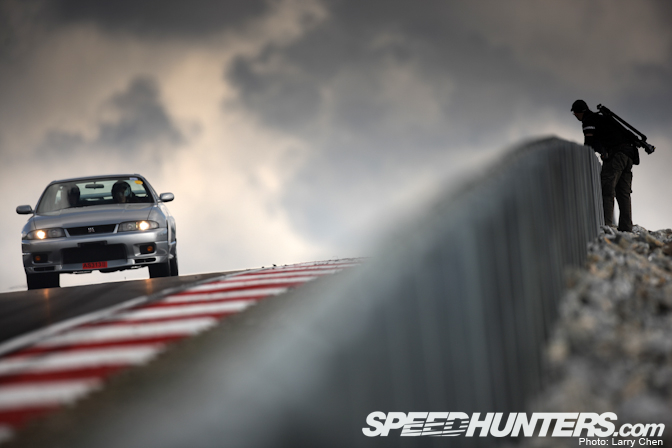 Luckily it stayed pretty dry when the track was hot.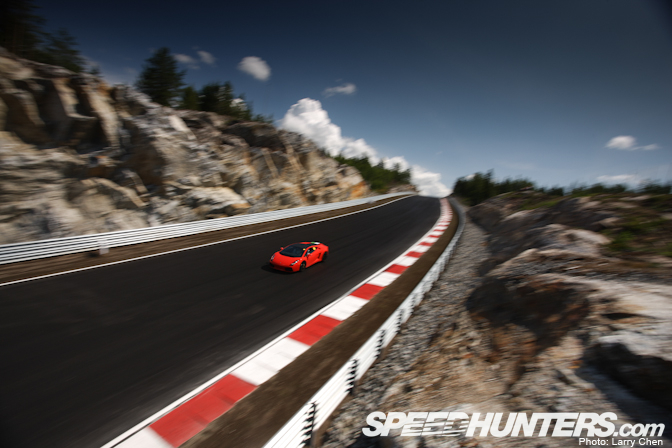 The facilities were top notch. It was very clean and it was easy to get around to the good photo spots.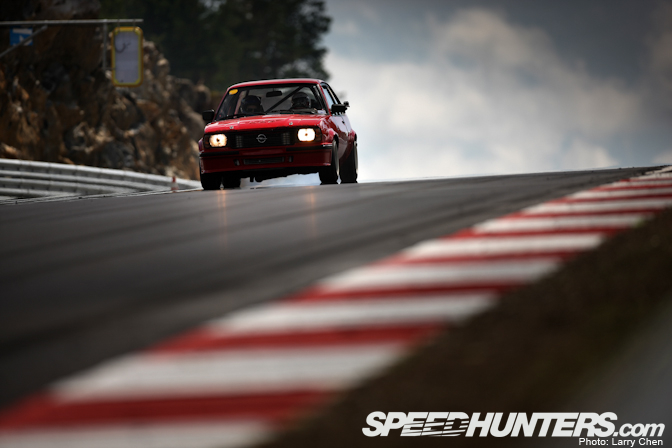 Everywhere I went there were beautiful clouds and even more beautiful cars.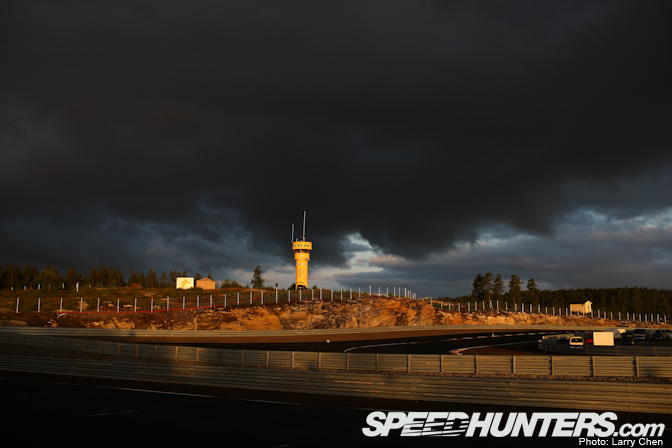 I could not sleep on Saturday morning, so I watched the sunrise at 3 am.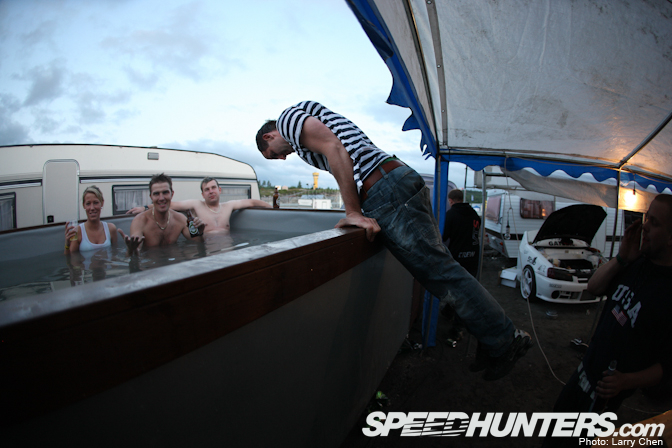 The pits were just as lively during the wee hours. In case you were wondering, this planker eventually fell into the jacuzzi.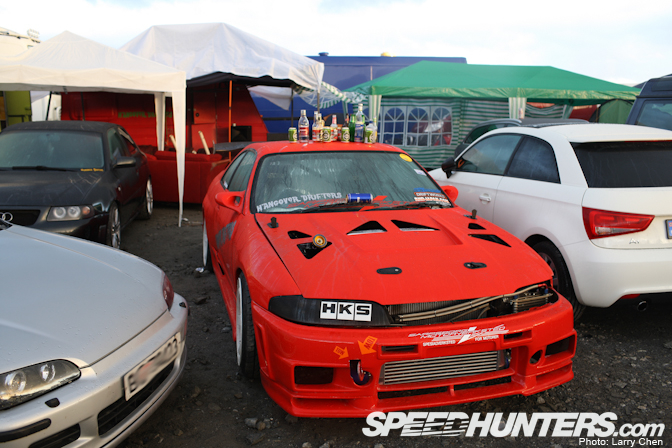 Cars were transformed into tables overnight.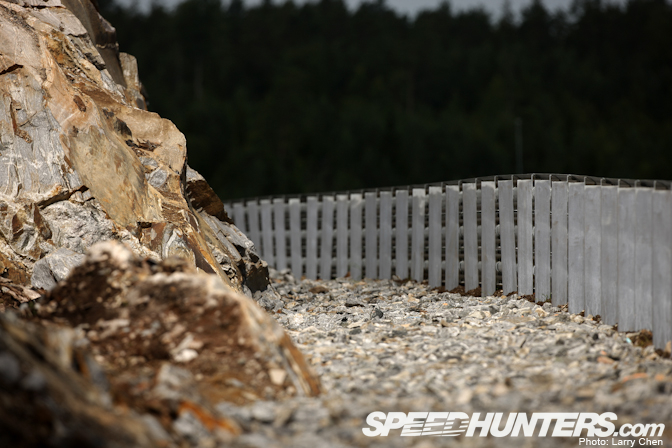 There is a path that goes around the entire course. When you walk on the rocky surface it feels like your feet are getting massaged by butter knife's.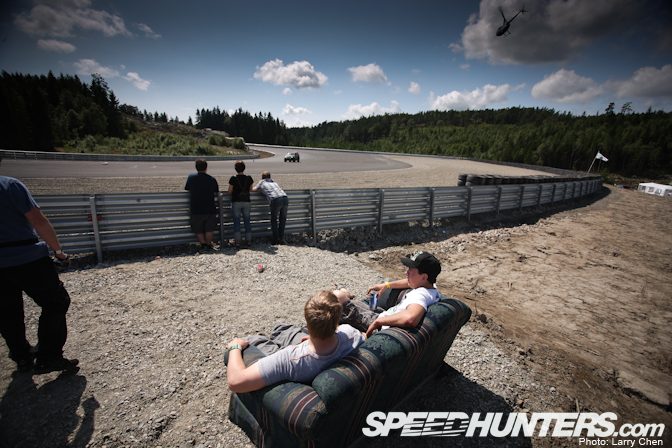 This photo pretty much sums up the spectators at Gatebil. These two brought their couch all the way from home. What a great way to relax while track-side.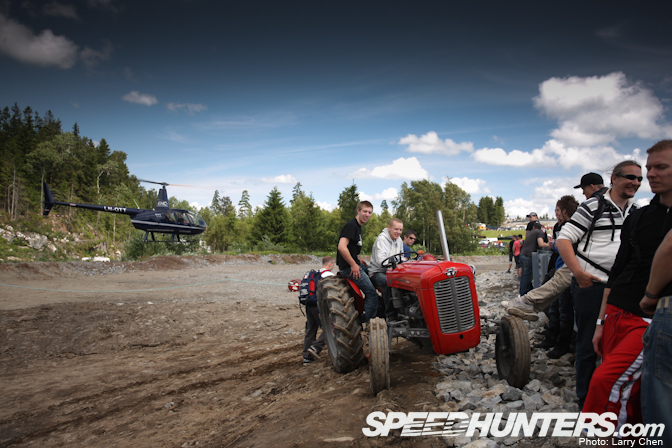 These fans came prepared for getting around the rocky terrain in style. If you are on a slightly bigger budget you can bring your own helicopter.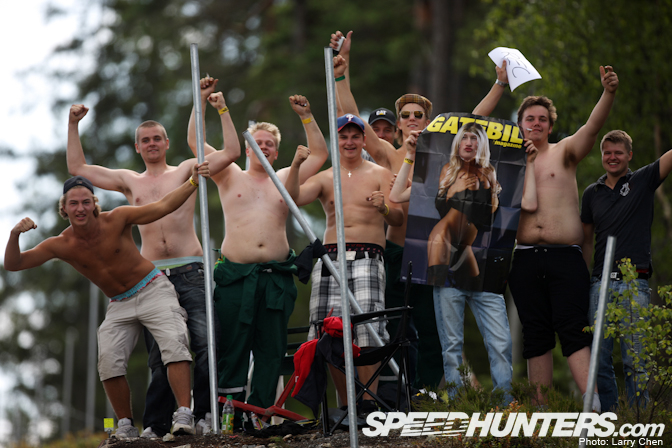 I was freezing the entire time but it was summer time for the locals and they enjoyed every minute of it.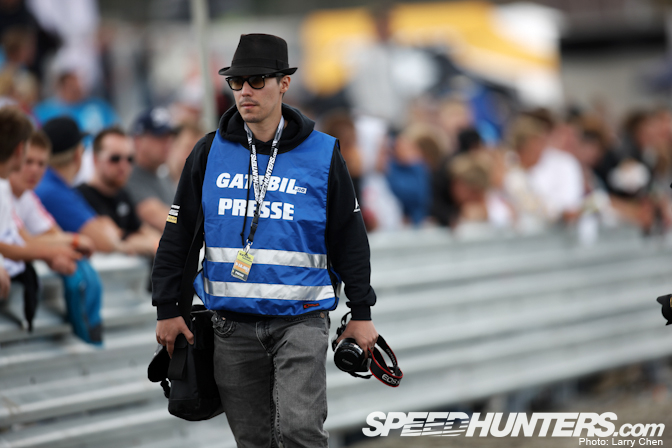 The Speedhunter's came out in force, led by Rod Chong himself!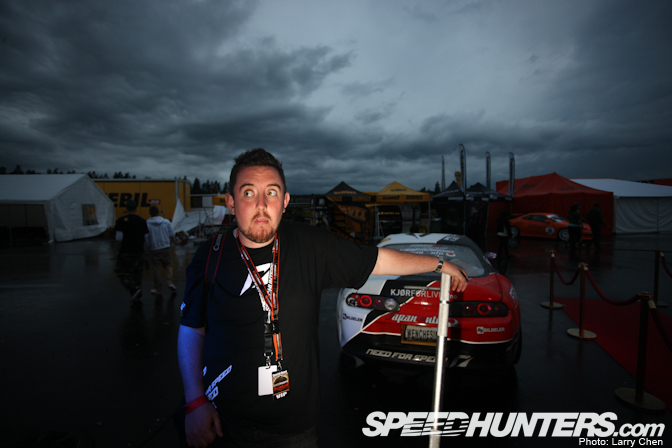 Here is Paddy, the Irish Speedhunter. He was a great stand-in while I was getting my settings right for a late night photo shoot.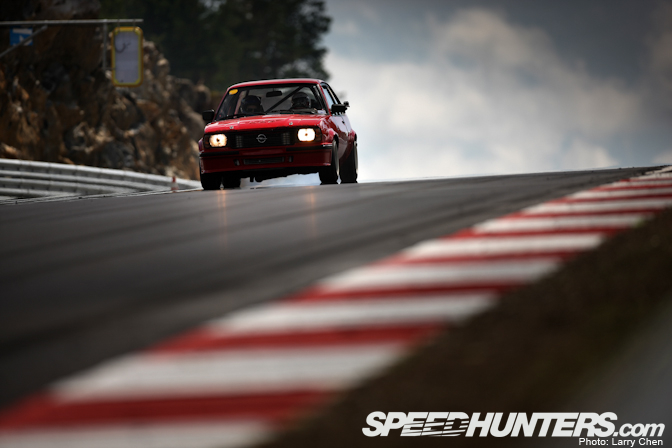 Miki Taka is new to the photo stance movement but I think she has come a long way since she first started Speedhunting. She had the hard task of picking new European models for Team Need for Speed.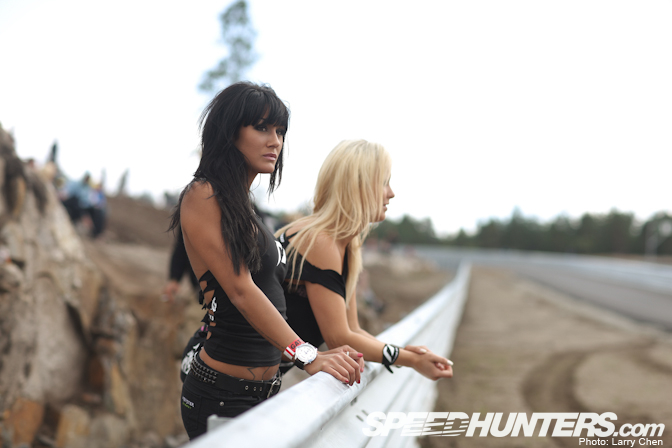 I had the pleasure of shooting a few photos of the newest members of Team Need for Speed. Here is Malin enjoying the on track activities…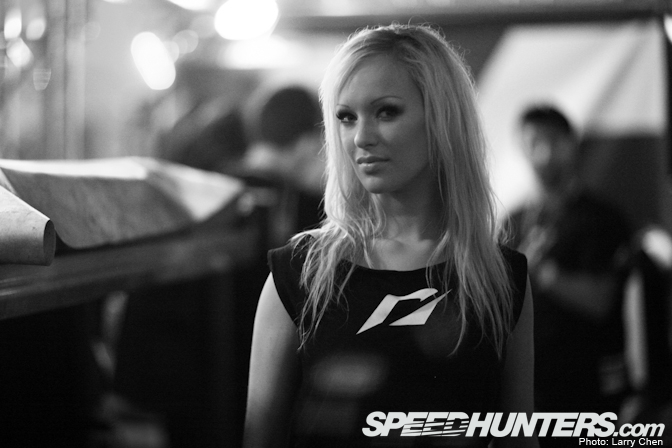 …and this is the lovely Julia at the mini Need for Speed Electro Lounge.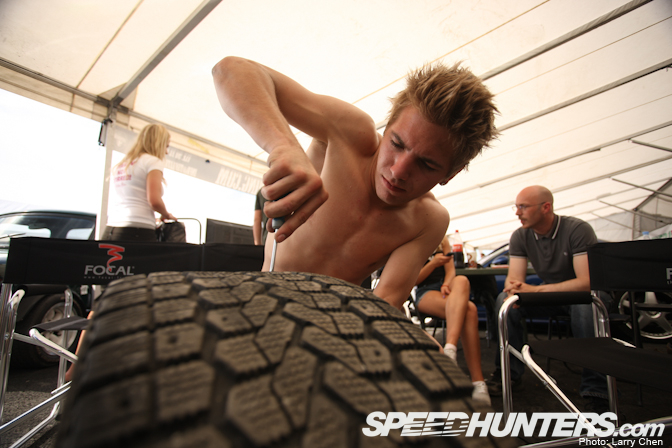 So what happens if you run out of tires at Gatebil? Easy, you pull the studs out of your snow tires one by one.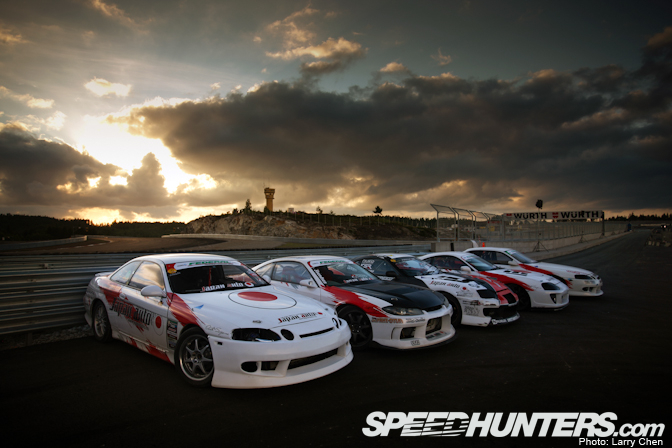 One of Fredric Aasbo's sponsors, Japan Auto, came out in full force.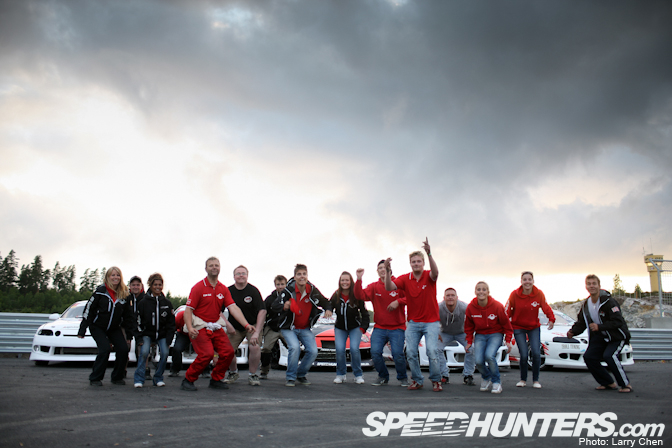 It was interesting to see Fredric at his home track with the friends he grew up with.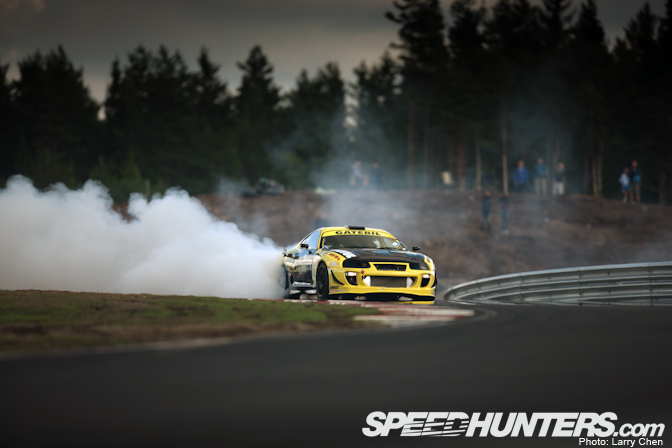 Team Yellow came brought out their entire drift team and put on a great show.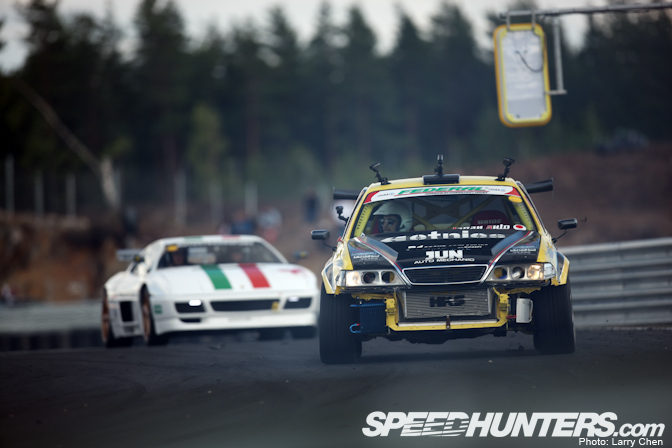 Holy camera car! Justin Shreeve filmed on the track while driving a Team Yellow JZX100 Mark II.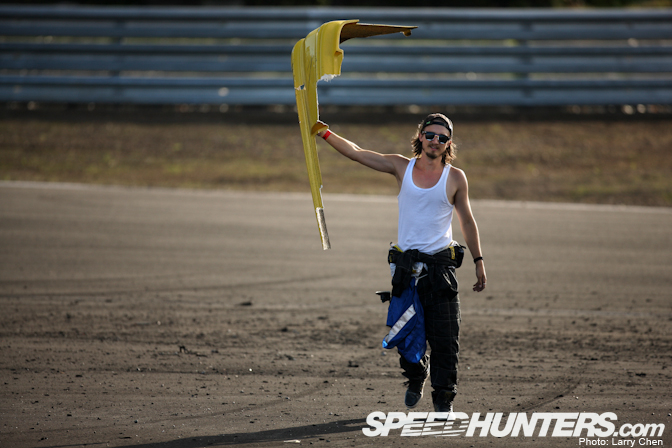 He could not resist drifting a few corners. He even left a few souvenirs around the track.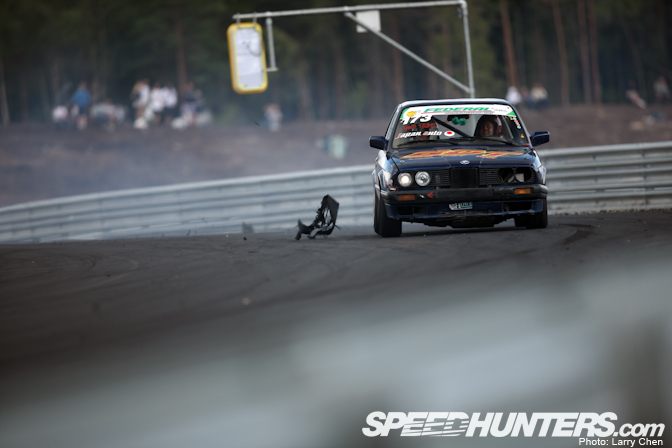 It was a common sight to see tires come apart from all the non-stop ten tenths driving.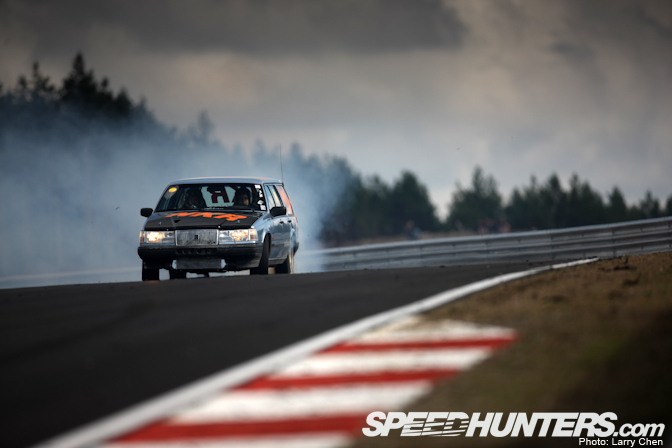 This may be a normal in Norway but It amazes me to see these square Volvo's get sideways. The locals call them "ruler cars."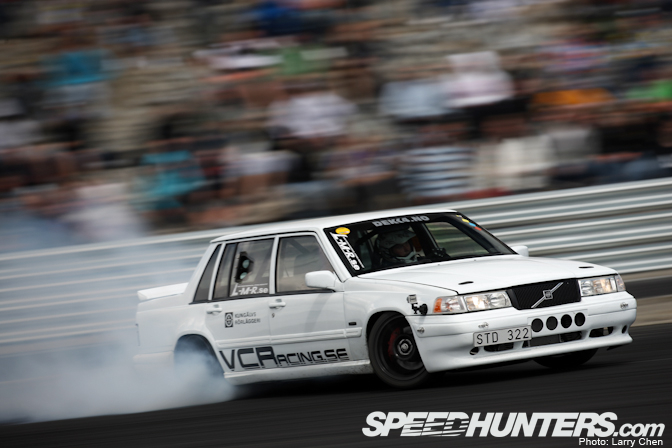 There is something special about seeing this four door grocery getter with a trail of smoke behind it.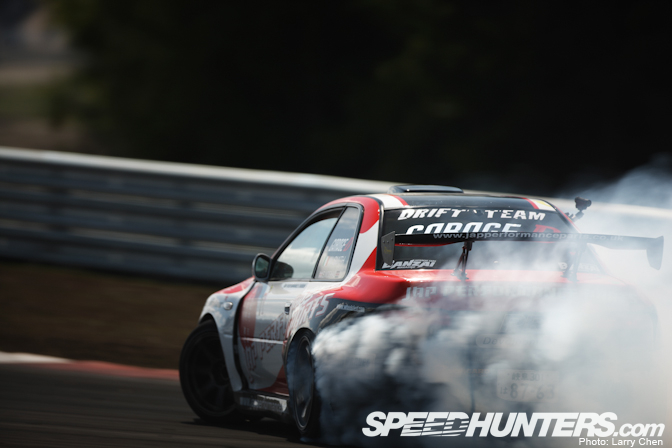 This Subaru Impreza was one of my favorite drift cars. Cars that tried to follow it would spin out from the smoke screen it created.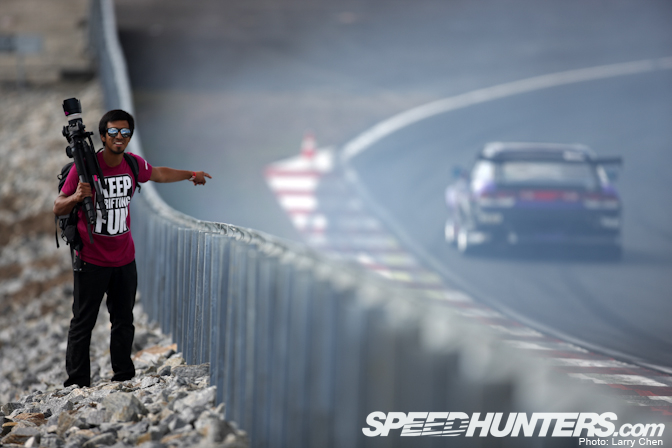 Joe Ayala demonstrates his "did you see that?" pose. There were quite a few of those moments throughout the weekend.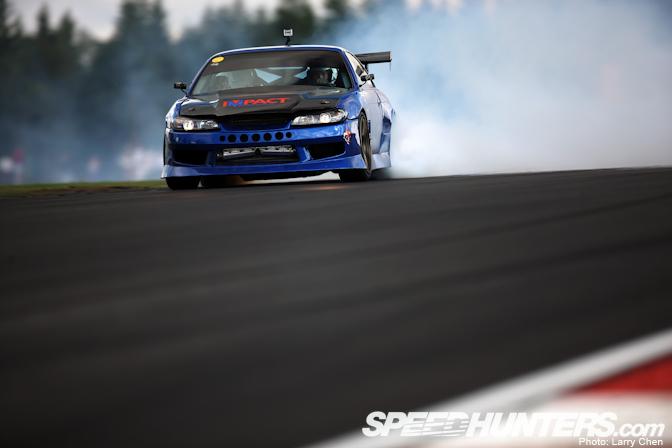 This S14.5 must have had a NASCAR style pit crew, because I swear he drove at least 25 laps in 30 minutes.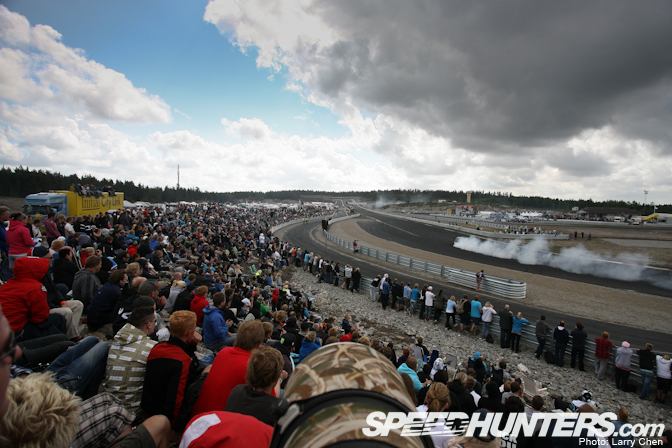 This is my view from the stands during the Breisladd competition. Every driver had one chance to make a smoky pass on the most famous corner at Rudskogen Speedway. As long as you impressed the crowd you would advance to the next round.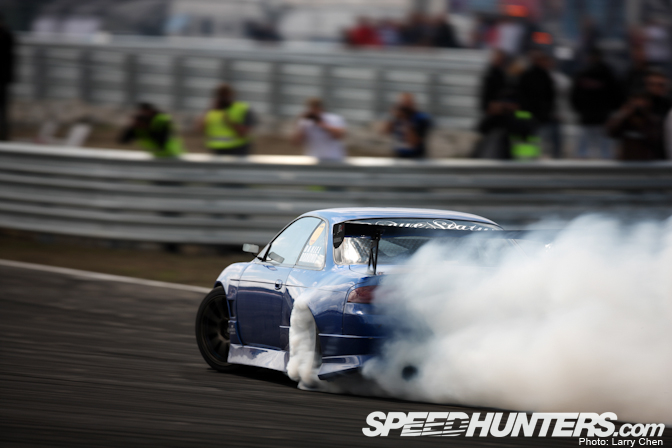 Everyone had their foot to the floor at the exit of the "Breisladd" corner.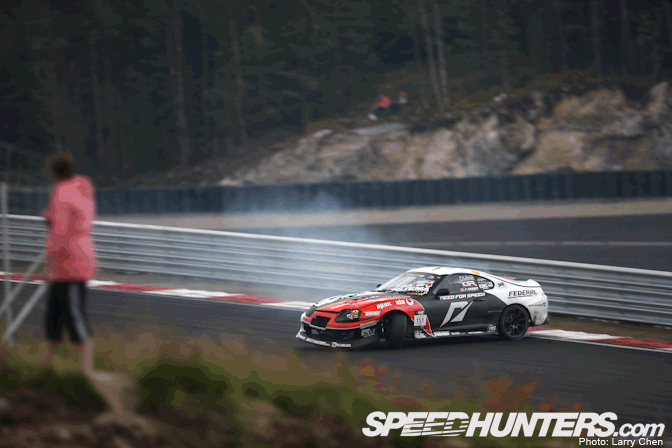 Fredric was up to his usual shenanigans. The crowd went nuts every time he drifted by.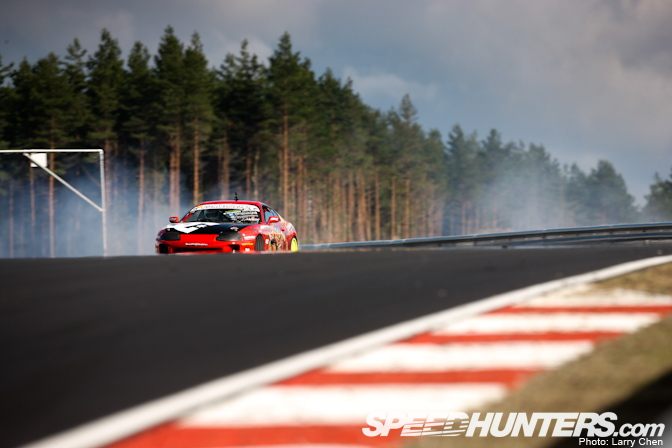 Of course Fredric was not the only crazy Norwegian with a Toyota Supra. Ringnes from Drift Monkey ran through countless tires over the weekend.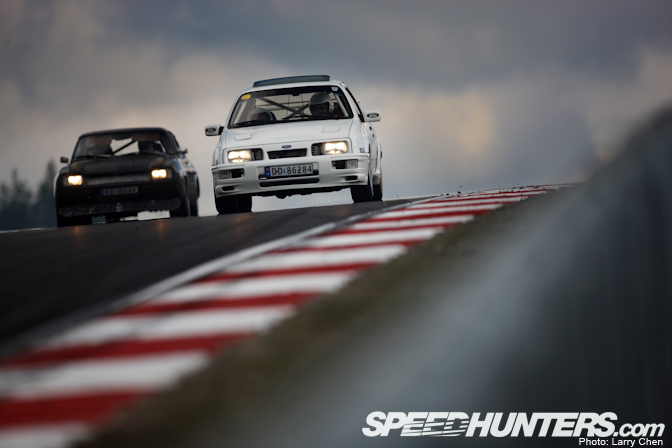 Gatebil is not all about drifting. This Ford RS500 made me drool every time it zipped past me.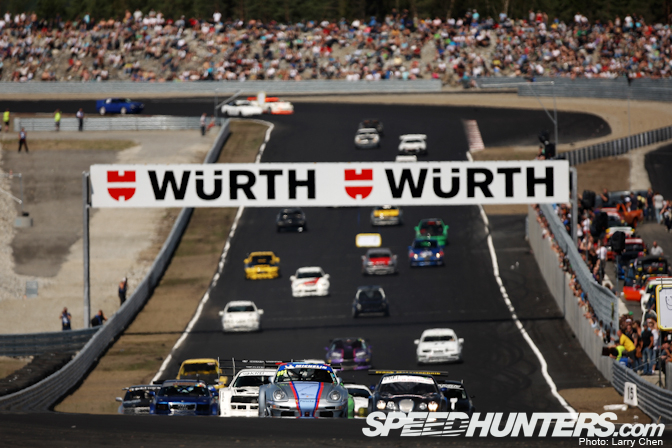 On Saturday all the time attack cars entered a free-for-all race.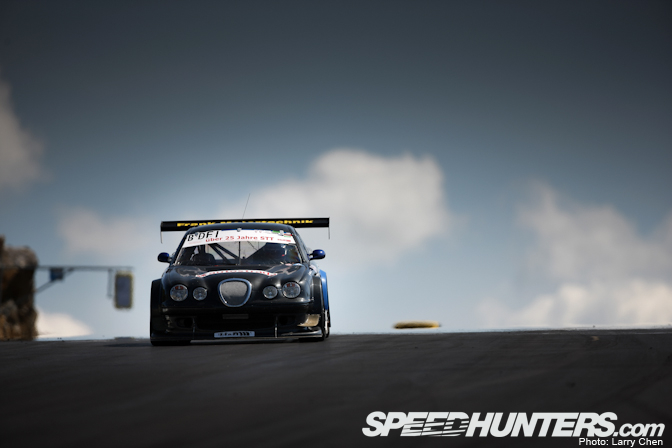 This Jaguar was one of the meaner looking time attack cars.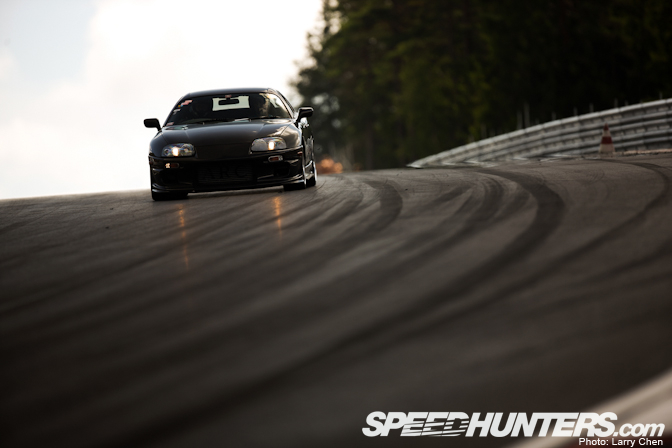 The most popular tuner car in Norway is the BMW E30, second is the Toyota Supra. Fredric Aasbo may have been an influence.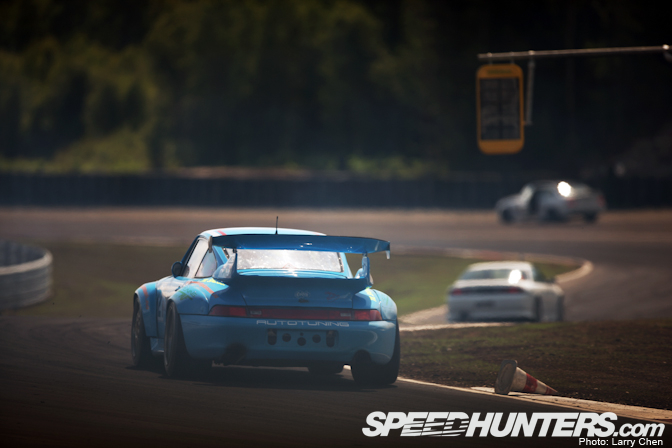 This Porsche 993 zipped passed cars as if traffic was standing still.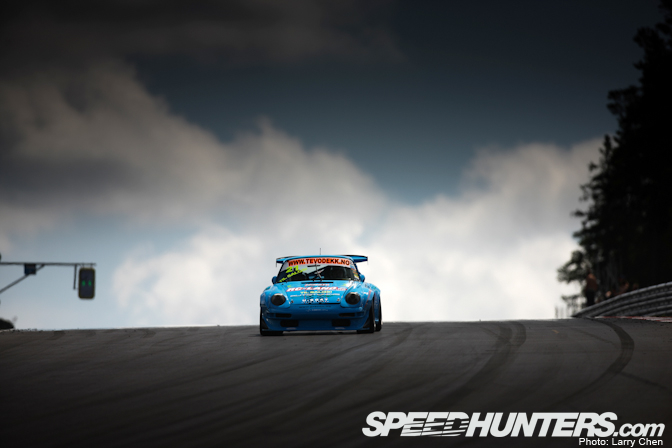 We got lapped a few times while I was riding in the E46 M3 camera car.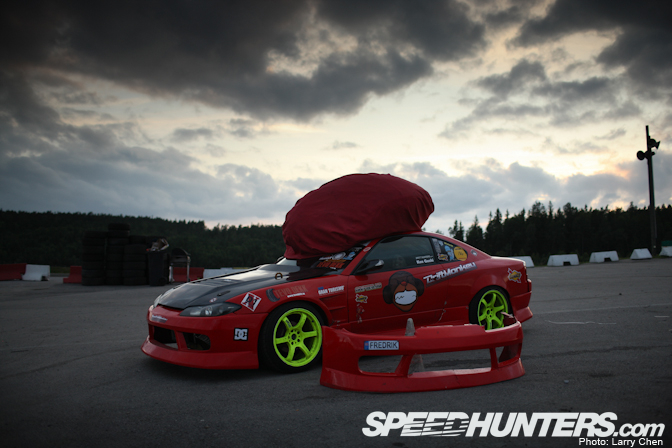 The guys at Drift Monkey demonstrate how to transport a giant bean bag with your S15 drift car.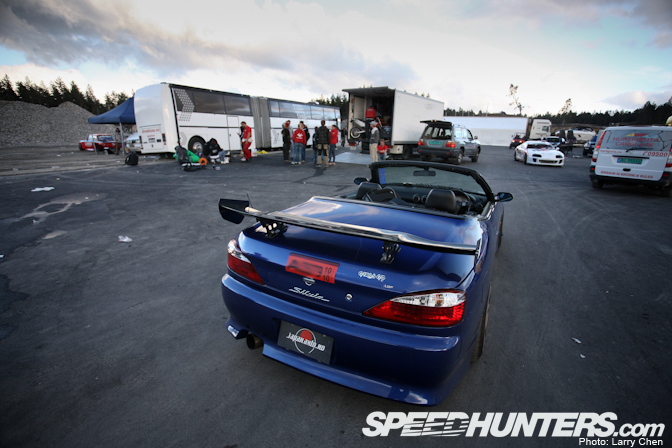 Since my rental car was boxed in by tents and trailers we decided to borrow a car from Japan Auto.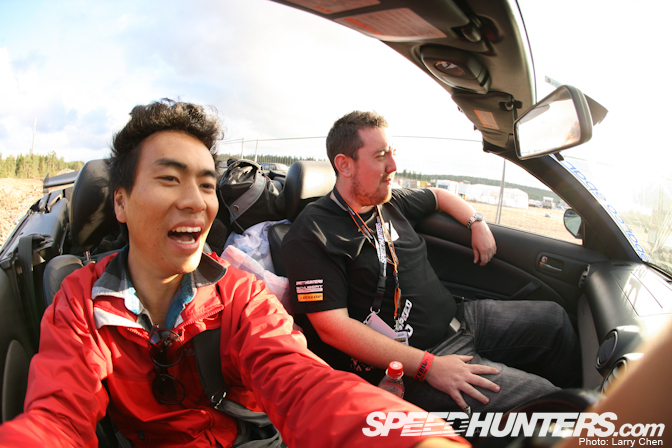 I felt at home driving on the right side. The S15 Varietta had a few minor upgrades. It was a blast to drive and I was hesitant to give it back.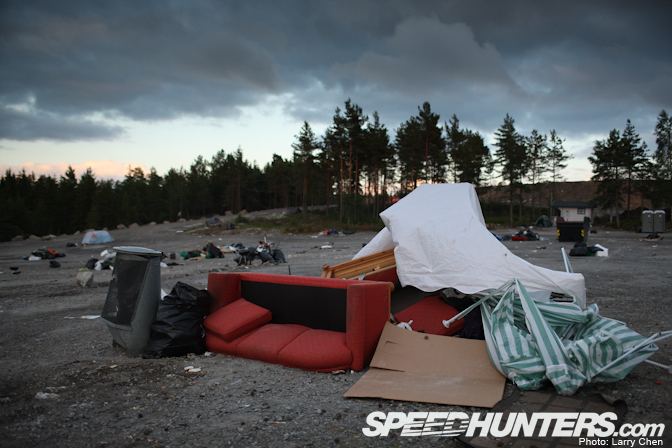 As the event winded down, the fans left quite a few goodies around the camp grounds.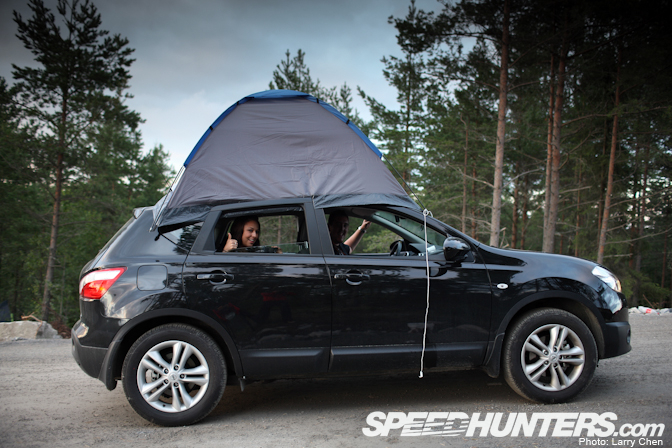 I snagged this awesome tent for my $100,000 rental car. This may have increased the value to $150,000 with the addition of sleeping quarters. Miki Taka approved.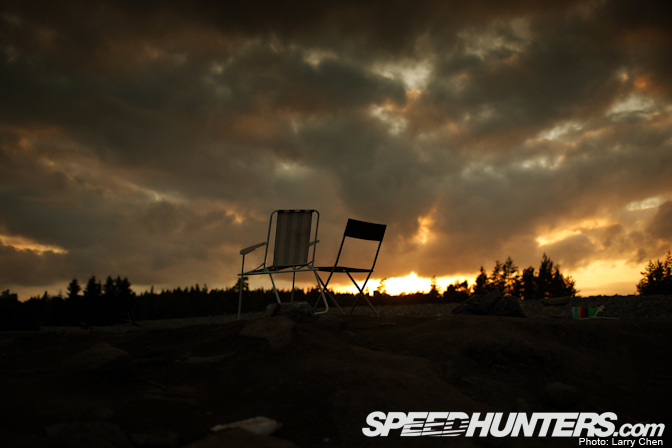 It takes three whole days for the clean-up crew to rid the place of lawn chairs and broken tents. I feel bad for them but at the same time I understand that this kind of aftermath is expected. This festival of speed and smoke only happens once a year. It is a time for all the drivers and fans to let loose and have some fun. I can't wait to see what crazy creations the Norwegians come up with during the long winter for Gatebil 2012.
Larry