What is it like to follow around a high profile rally car driver? Well, I decided to find out at Round 2 of the Global Rally Cross Championship at Texas Motor Speedway. Travis Pastrana is as high profile as it gets when it comes to the racing world, having come from a motocross background and turning that world upside down, literally. I remember vividly watching the young X-Games winner on TV as he attempted the first ever back-flip on a motorcycle back at the turn of the century. It was only natural for him to start competing in rally a few years later. Fast forward a couple years and I found him driving flying his new Dodge Dart under the hot Texas sun.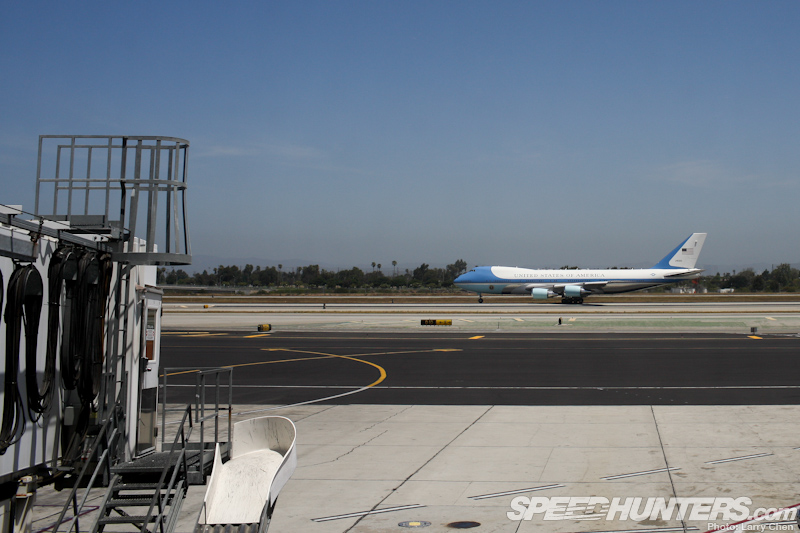 Like most of my weekends I started off at the airport where I found myself staring at another type of big blue flying machine. Apparently as I was leaving Los Angeles, so was Barack with his posse in tow.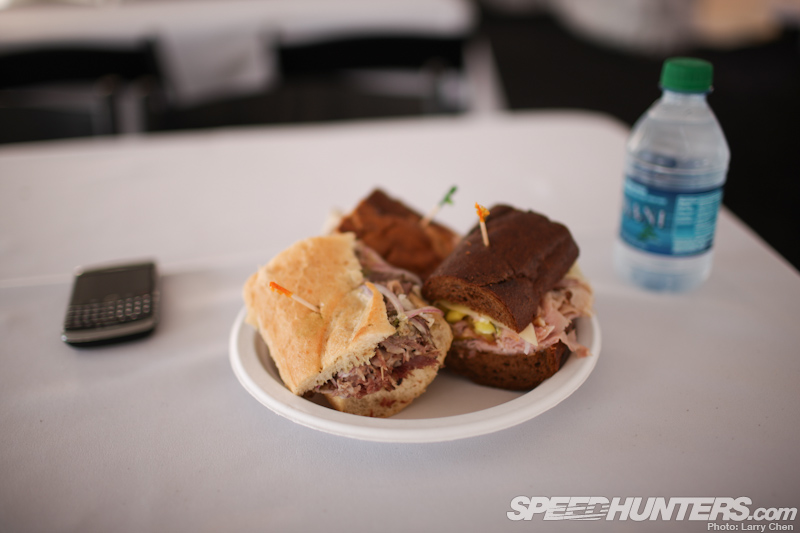 I arrive in Texas with lunch on my mind. This is always the best way to start an event, with three delicious sandwiches. But they were not just any kind of sub…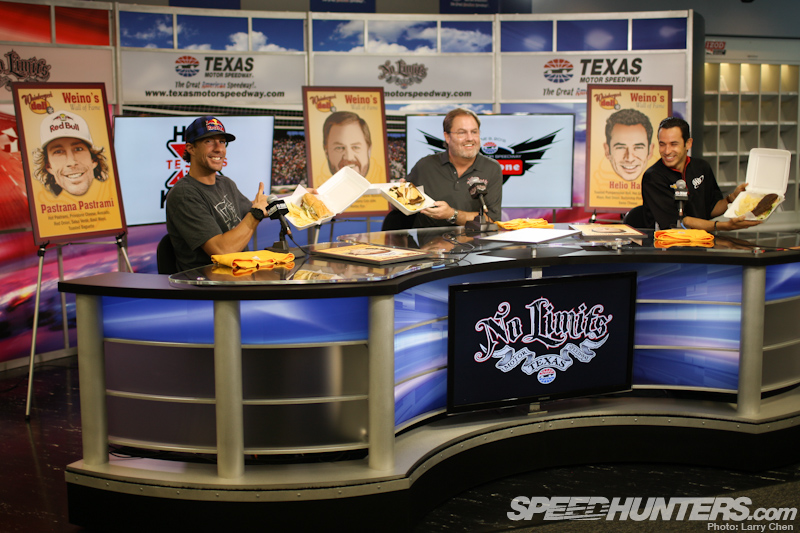 …they were getting named after some very interesting people.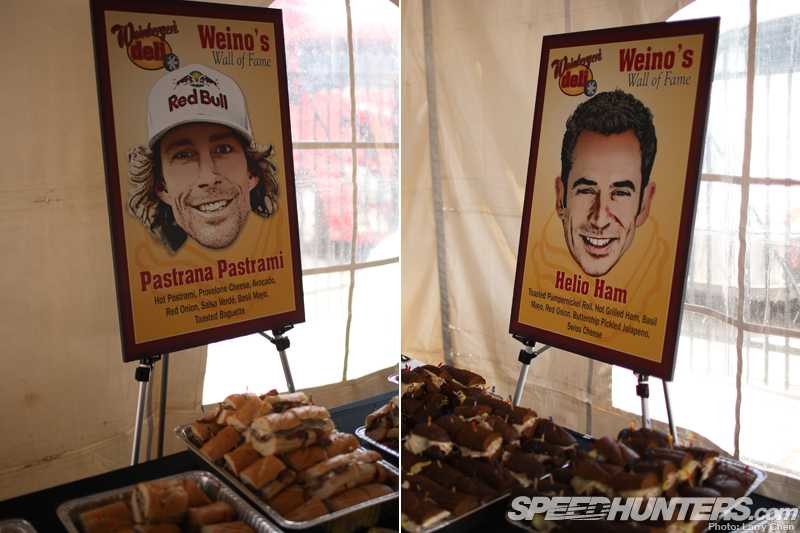 I get the whole Pastrami thing, but Ham for Mr. Castroneves?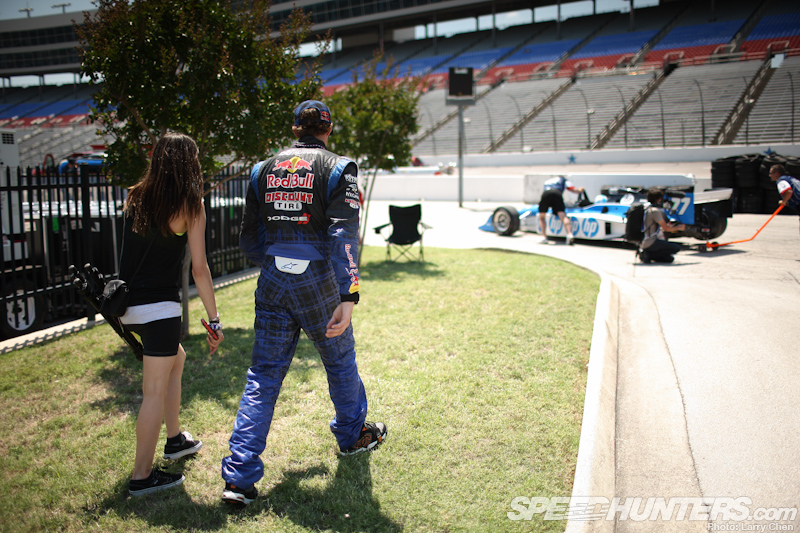 After lunch we went onto pit lane where the Red Bull driver would get a ride with Mario Andretti. Sounds strangely familiar.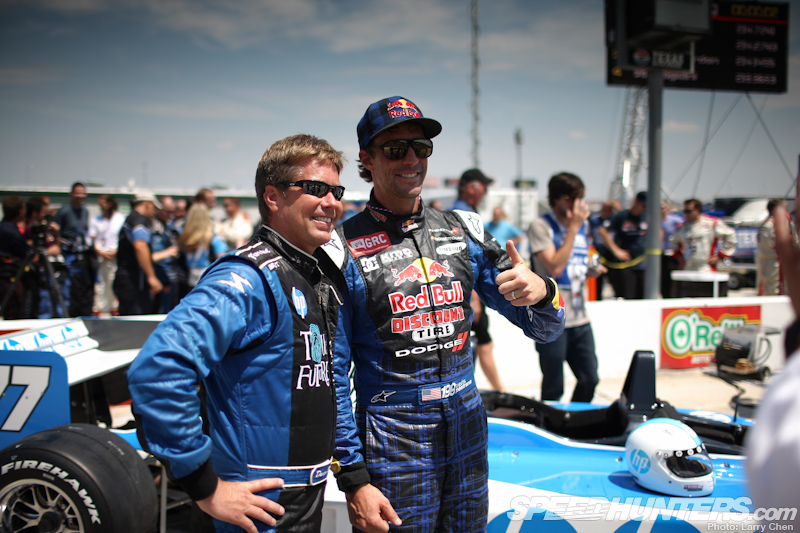 I am curious to know on average how many times drivers like Travis get stopped for a photo op. That thumb of his must get pretty tired.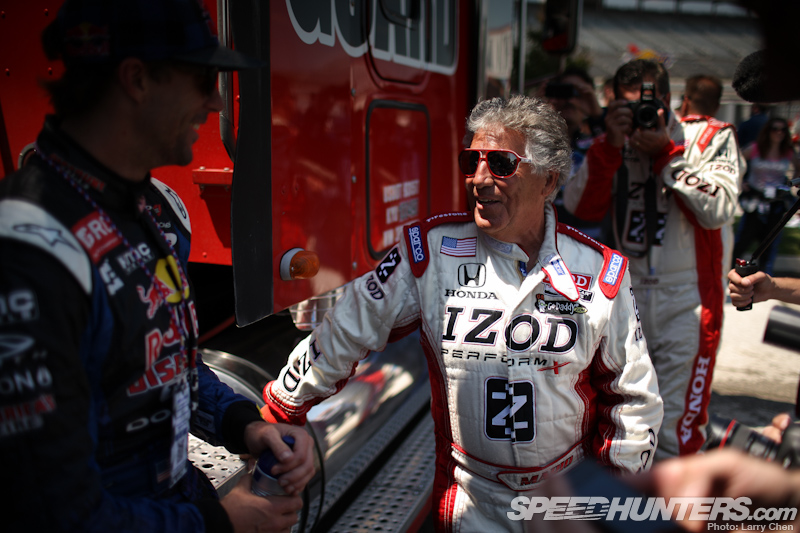 The two drivers chatted it up like old pals, but their conversation was cut short as it was time for a lap around the track in a two-seater Indycar.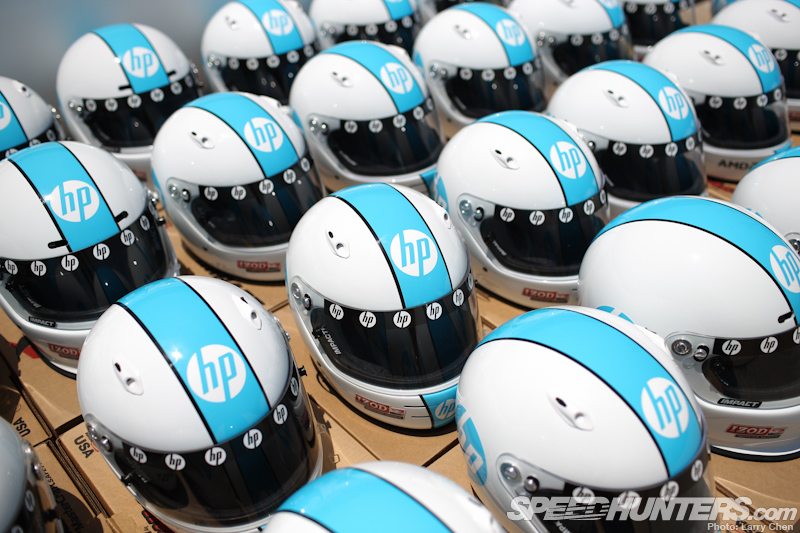 There was even a size for my fat head! For those of you who are on Twitter make sure you follow Mario. He always has the most interesting things to say.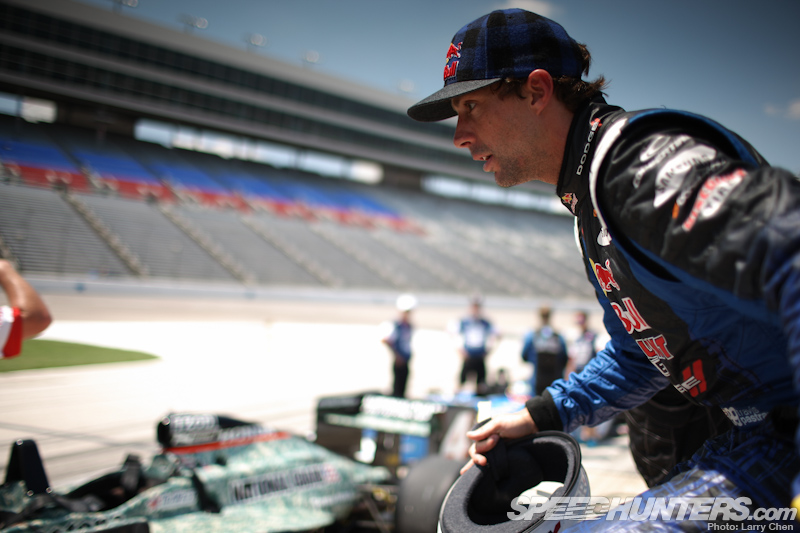 After watching Mario go around for a few laps with other lucky passengers it was Travis' turn.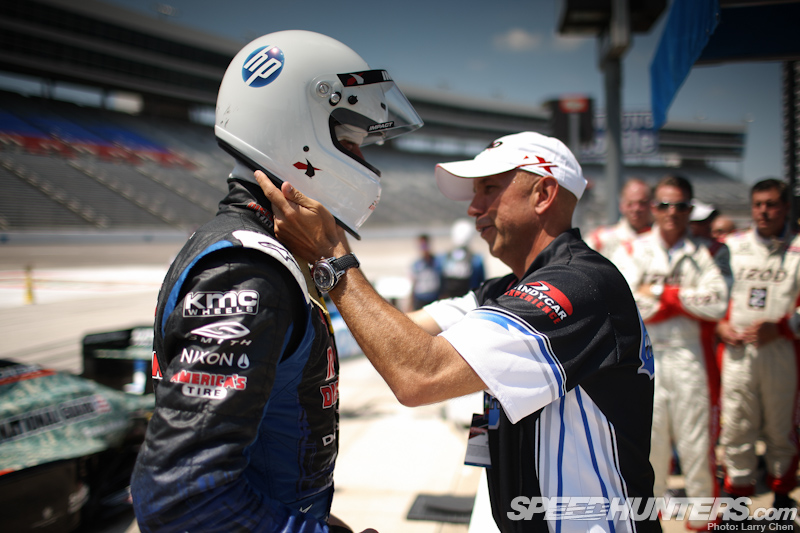 A quick karate chop to the neck and he was set to go.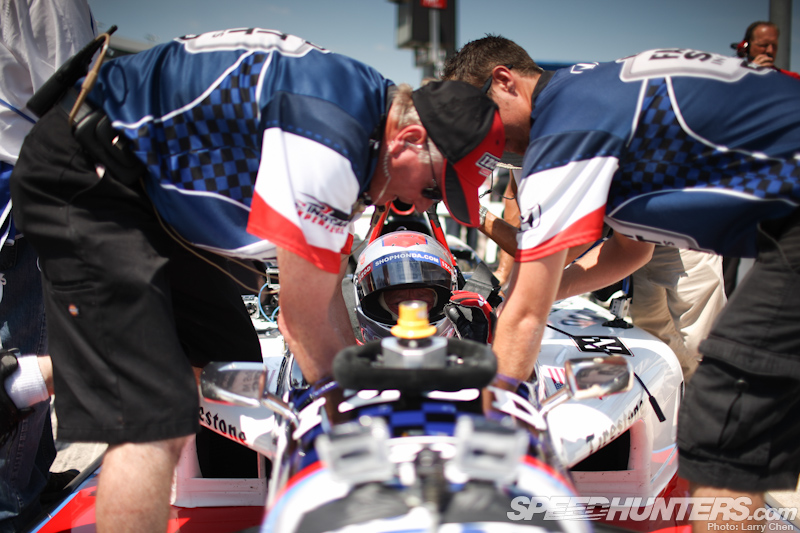 The real Indycars can pull up to 4 to 5 Gs, and even though this is a two seater I'm sure it still pulls some serious Gs on the 24 degree banked corners of Texas Motor Speedway.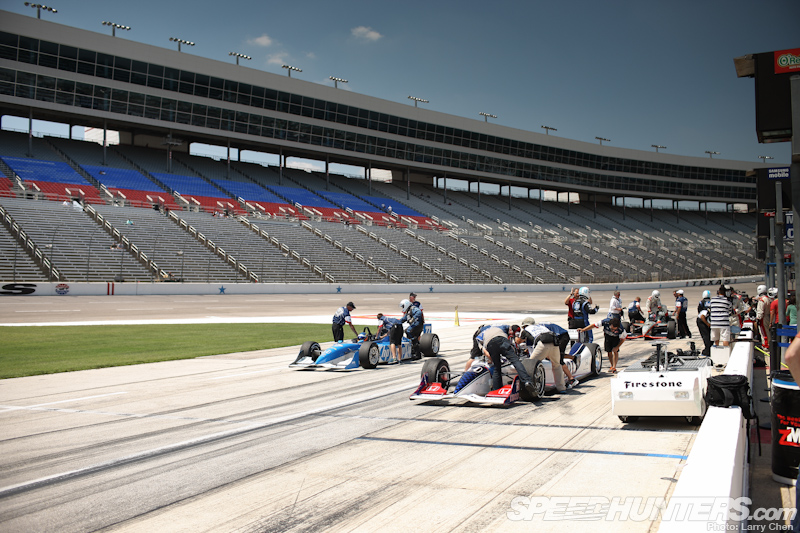 As soon as the drivers were strapped in they were off.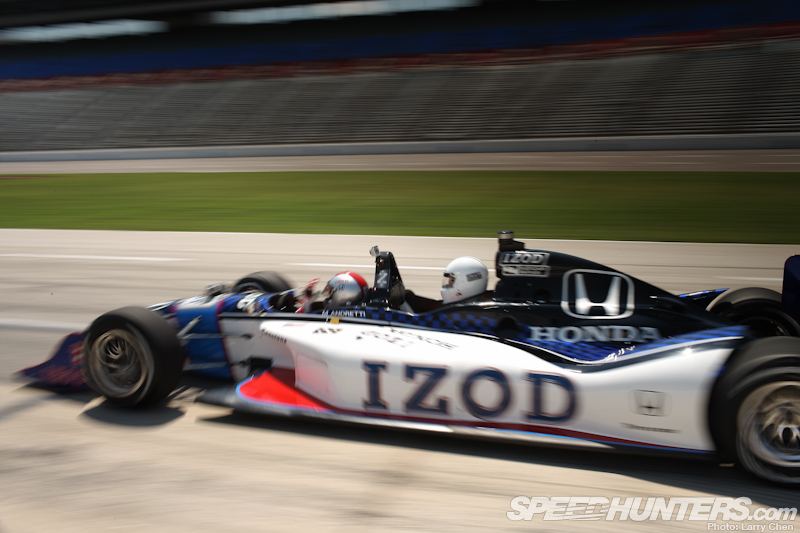 And just a few moments later they were back. The two laps went by super fast.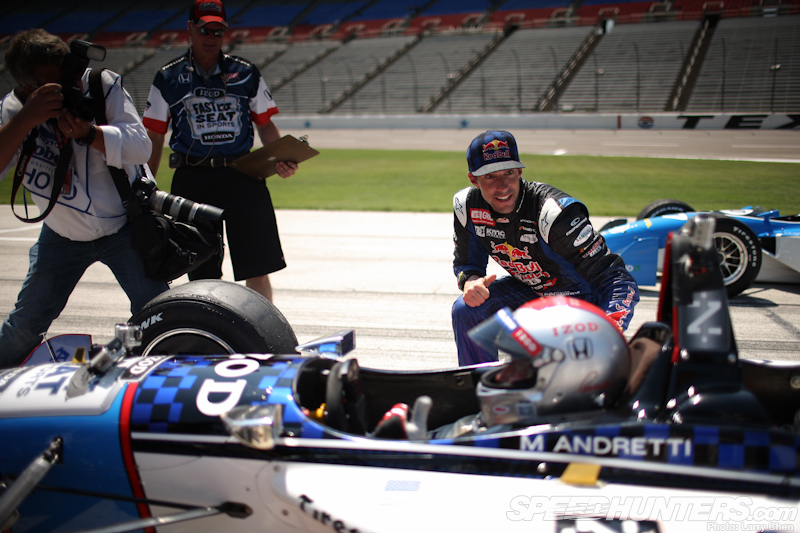 I don't get jealous often, but I really hope one day I get to ride with Mr. Andretti.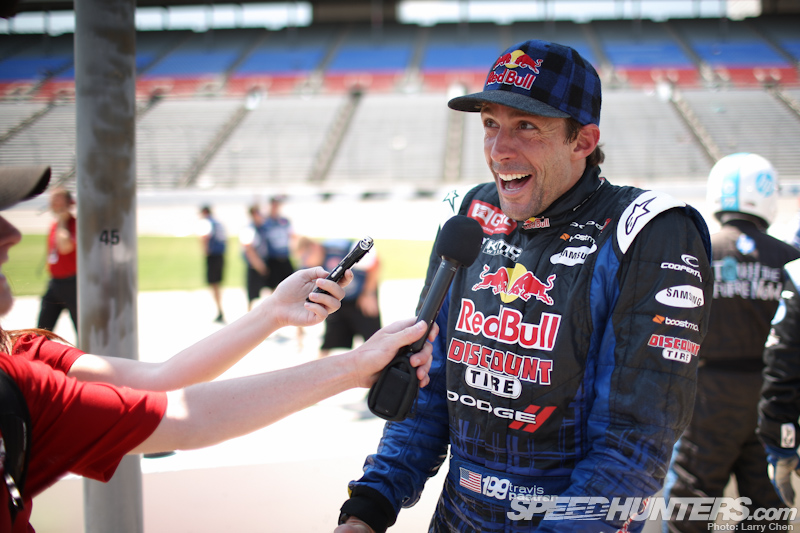 The reporters fired away with the usual questions. From the looks of it I'd say he had a great time.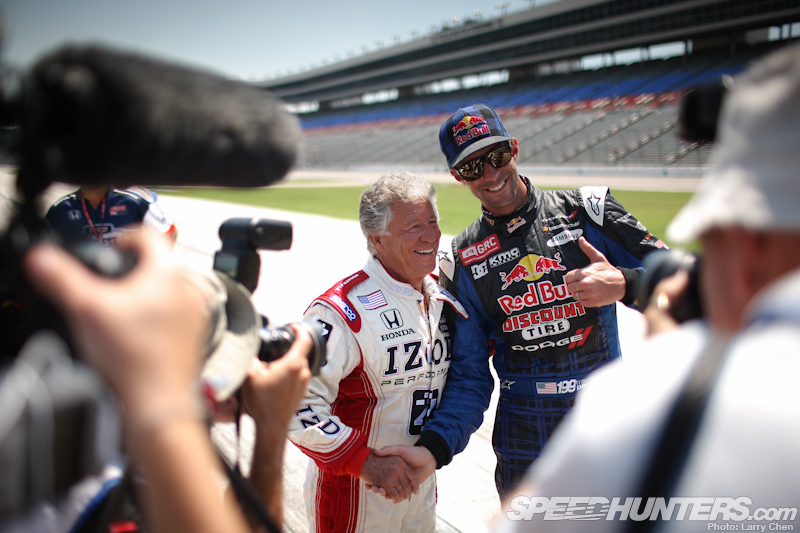 Just one last photo op and it was time to call it a day as the track was cleared for the WinStar World Casino 400 truck race. I will touch on my second NASCAR experience in my next article.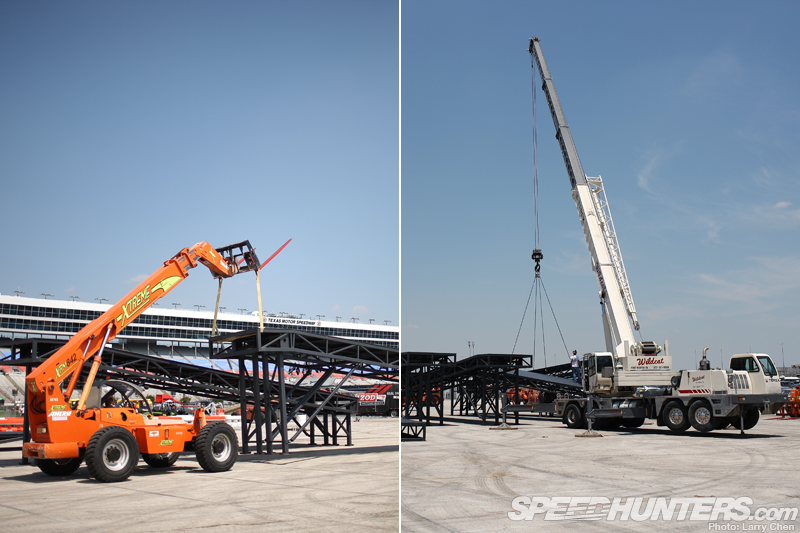 The next morning I found the track workers busy setting up the massive 65 foot gap jump, as well as the rest of the temporary rally course.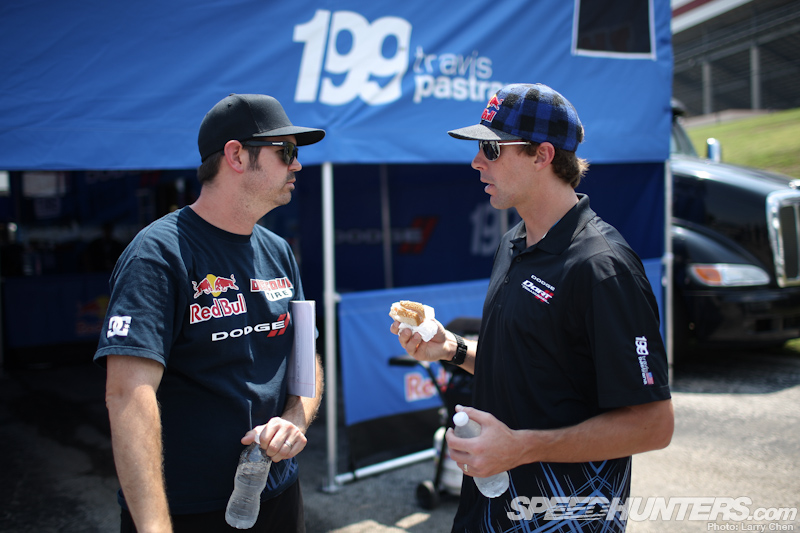 Breakfast was on the go as there was no time to waste. I had a head start with an energy drink or two, or three. I can't remember.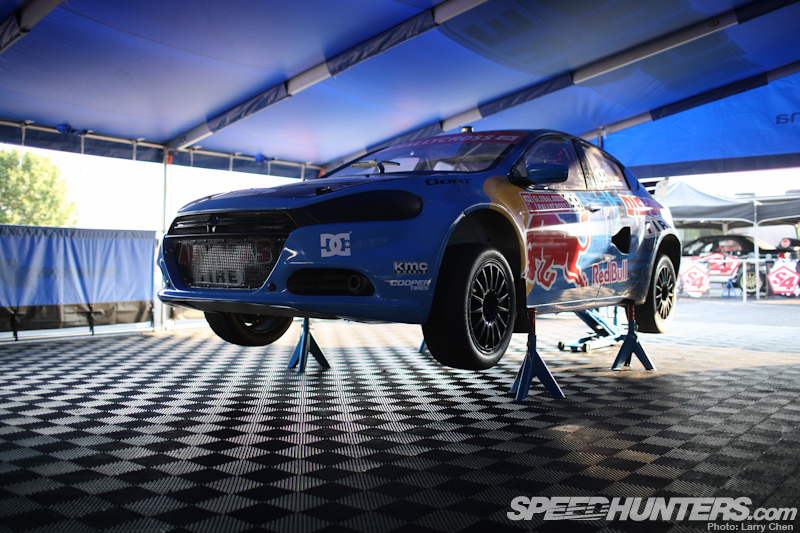 The car had much practice being suspended in mid air over night.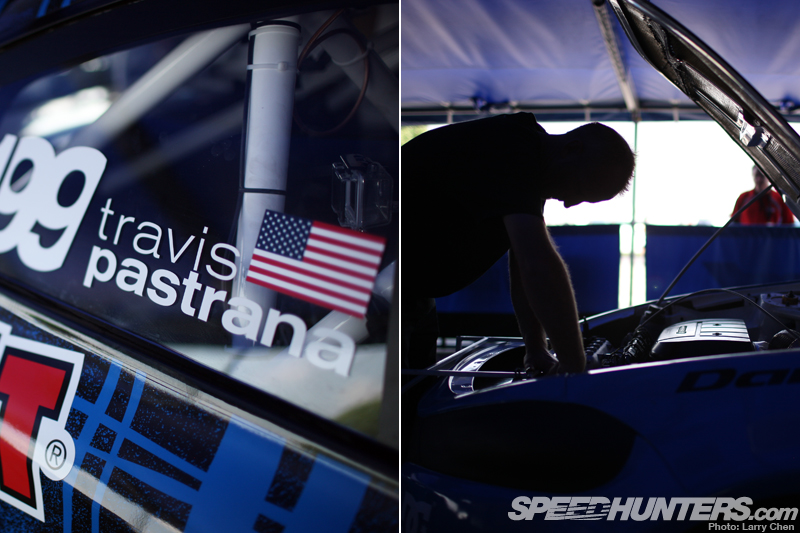 Just a few final touch-ups to go and the Dart was ready for lift off.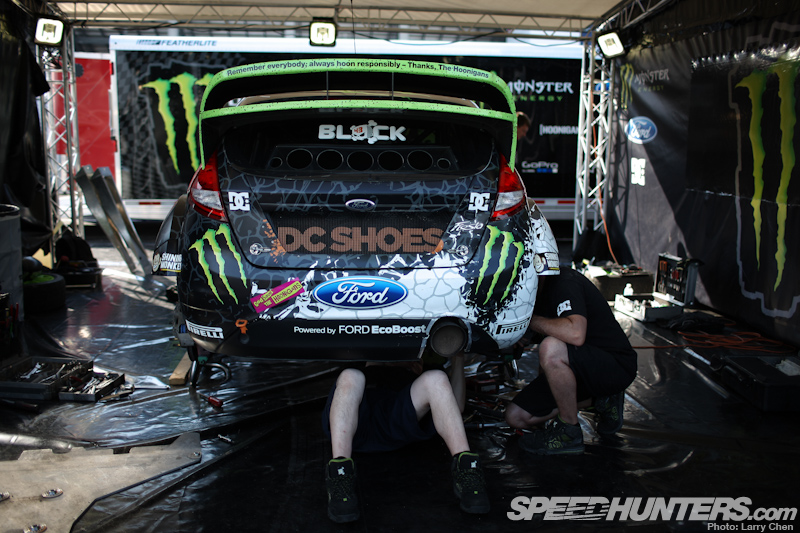 Right next door was Ken Block's pit area. This reminded me of a photo I saw on the original Hoonigan's Facebook page.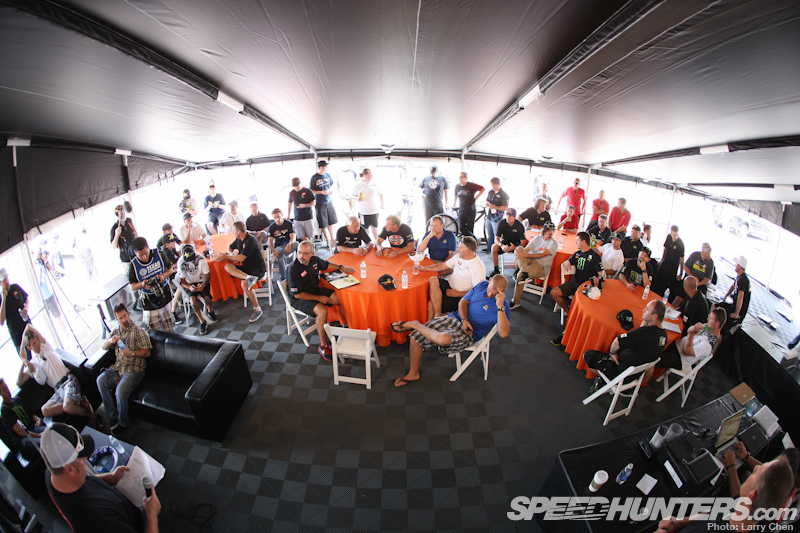 Everyone gathered under the official rig for the pre-race drivers meeting. There were 18 drivers in total at this event.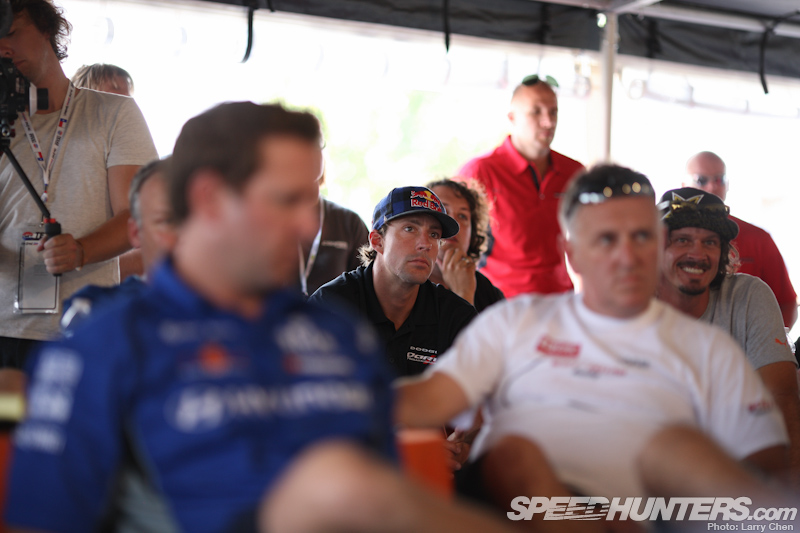 They went over the average speed needed to clear the jump, as well as letting everyone know that the jump is only wide enough for one car at a time. I was pretty certain two cars can fit, but I guess there's no point in cutting it that close.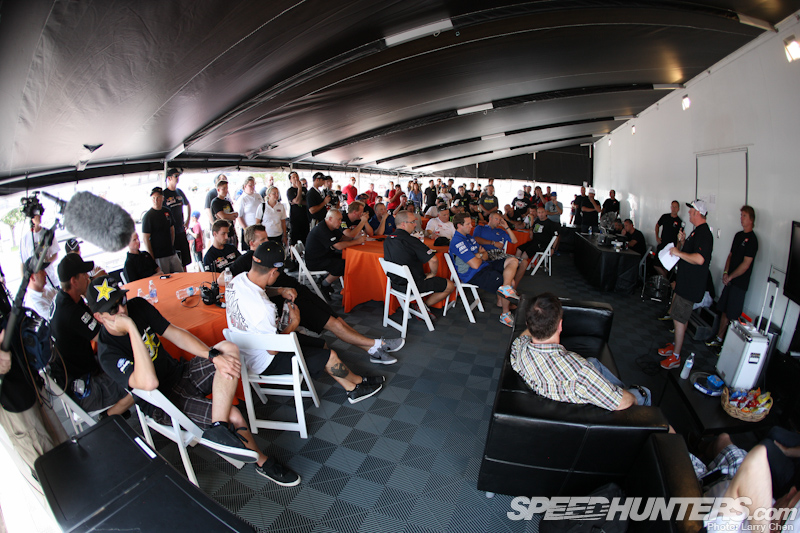 The meeting was very long and thorough. They went over every detail from start to finish.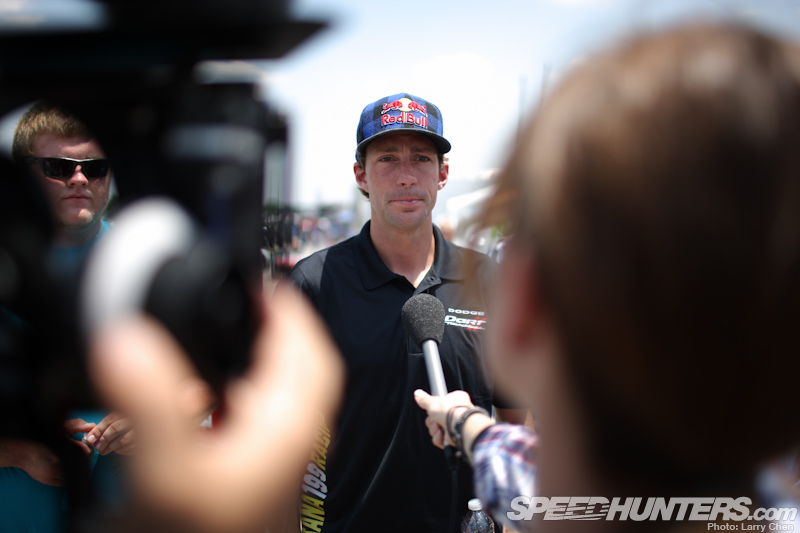 Right afterward the drivers did pre-race interviews for the TV crew. This was also a chance for the early bird fans to catch a glimpse of their favorite action stars.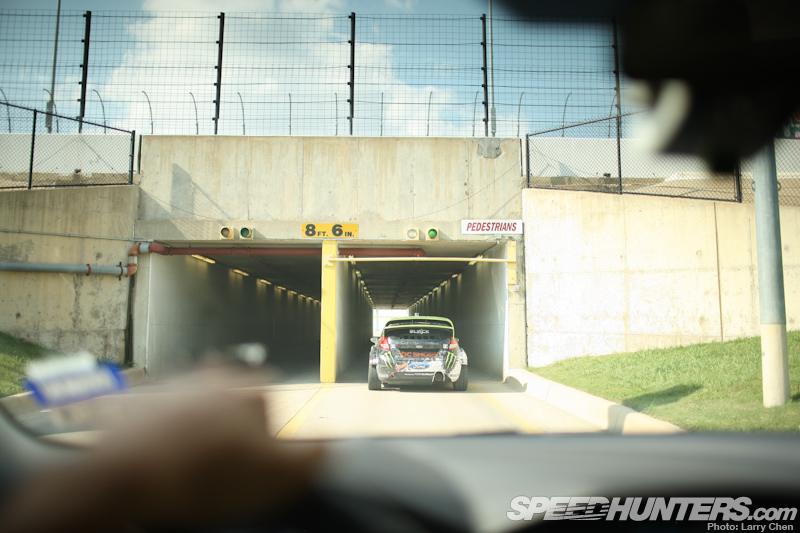 It was almost time for practice, so everyone headed to the infield and I followed in my rental car.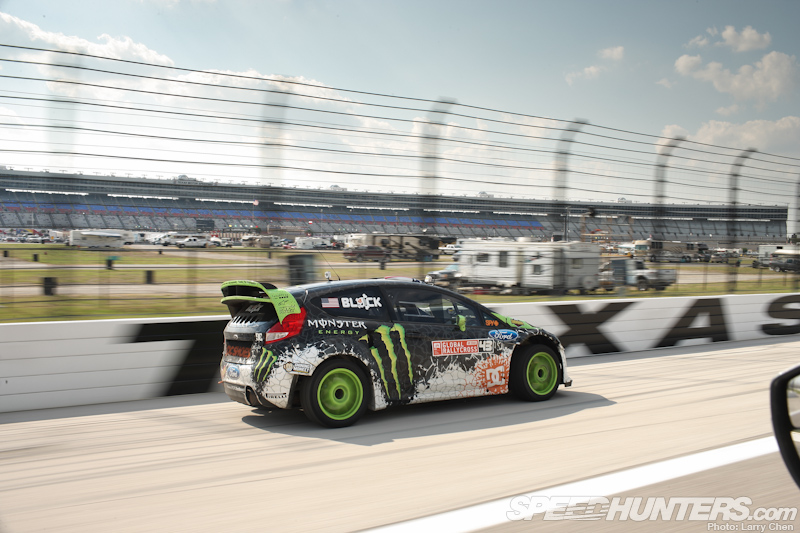 I took this opportunity to get some nice shots out the driver side window.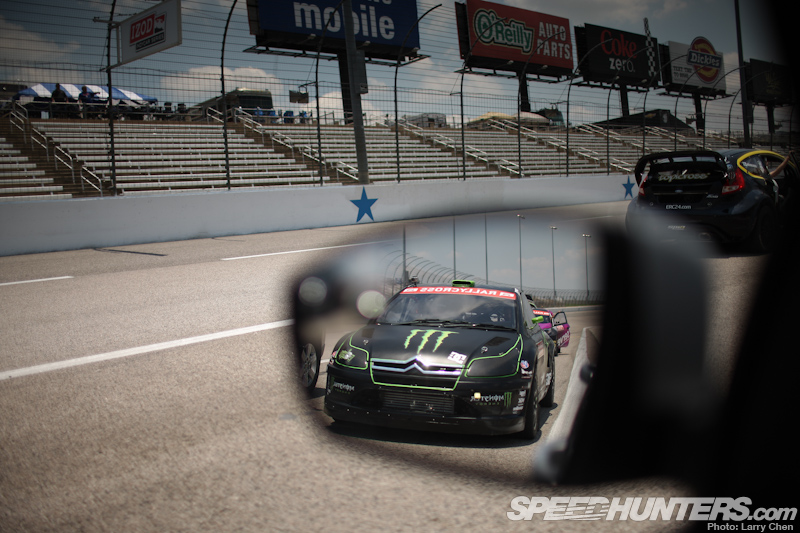 It was such a cool parade of cars. I felt like we were on a Sunday cruise to a super-market parking lot car meet.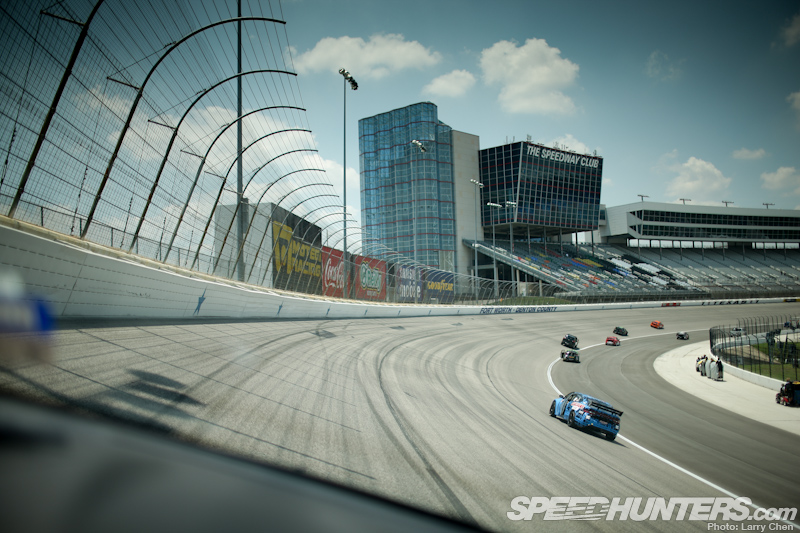 That feeling disappeared pretty quickly once we hit the 24 degree banking. This photo just does not do justice to how steep this banking is. I tried to make a U-turn up the banking, but my Ford Focus rental car kept doing burnouts.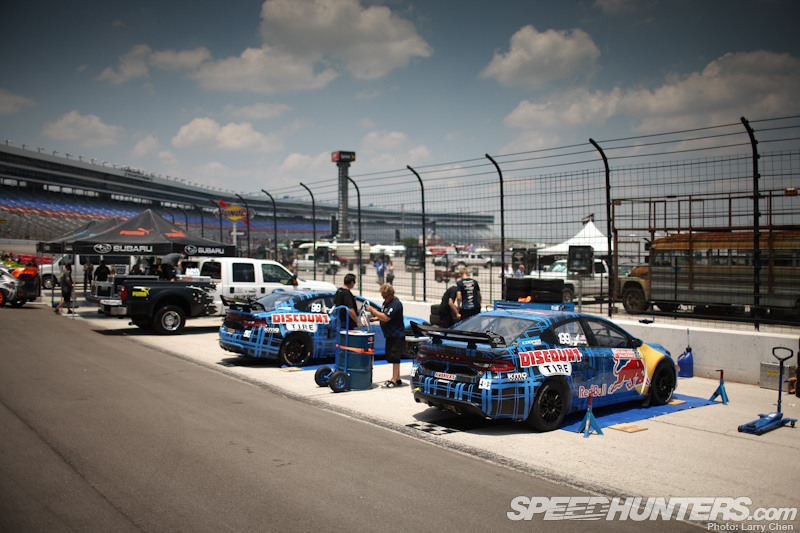 After everyone laughed at me for not being able to make a proper U-turn I decided to check out the happenings in the pits and on the track.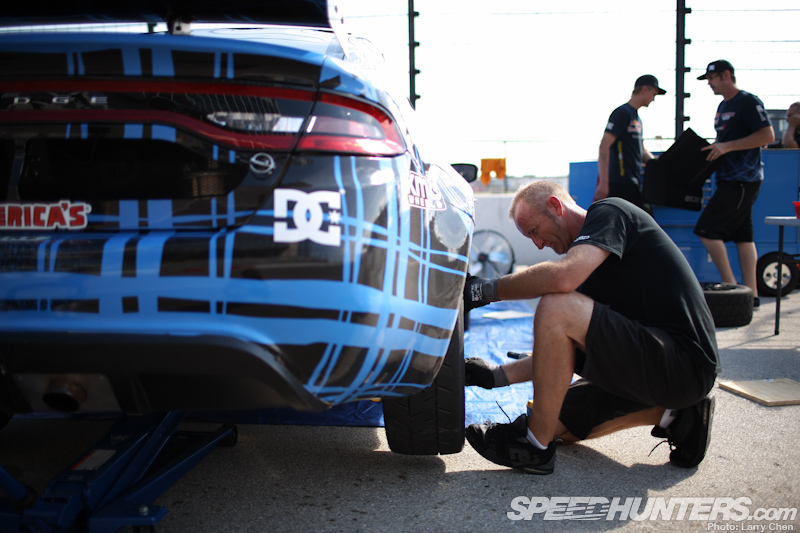 Ian Stewart from Autosport Dynamics tagged along to help out the Dodge team. Maybe this is an indication of what is to come from the guys at ASD? Only time will tell.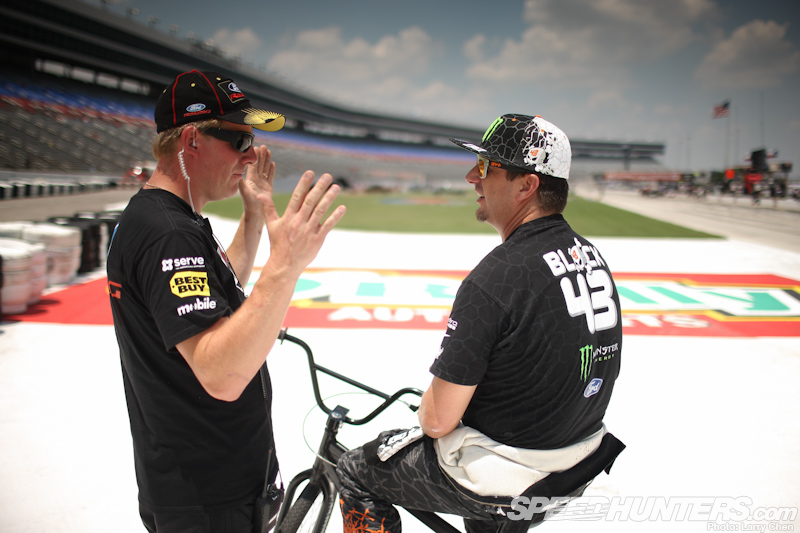 "The target area is only two meters wide. It's a small thermal exhaust port, right below the main port. The shaft leads directly to the reactor system."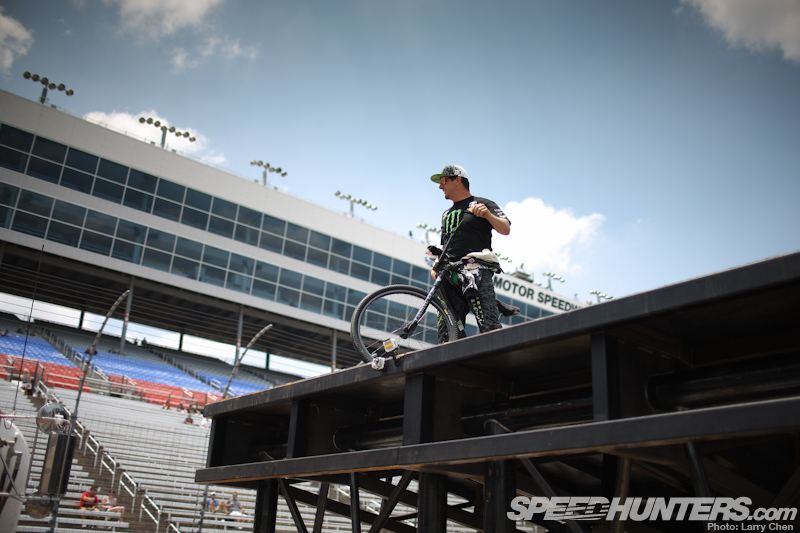 Ken decided to check out the thermal exhaust port jump for himself.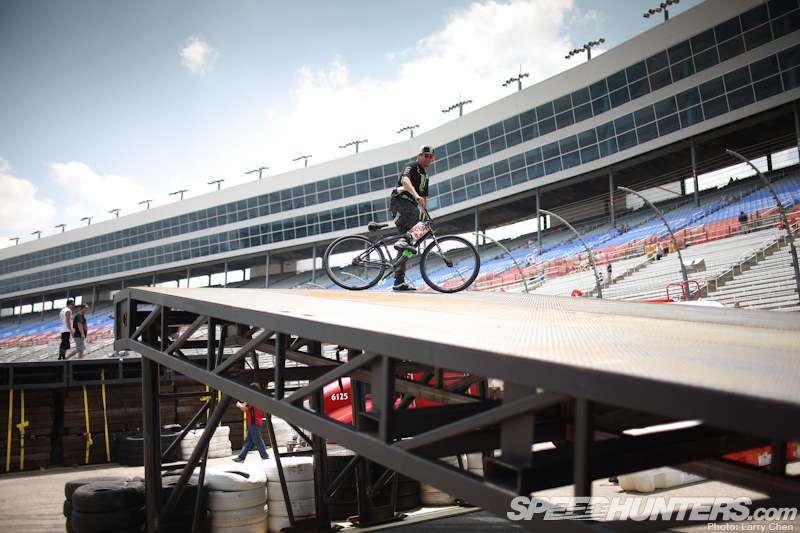 I was half expecting him to attempt it on his bicycle. He has done crazier things.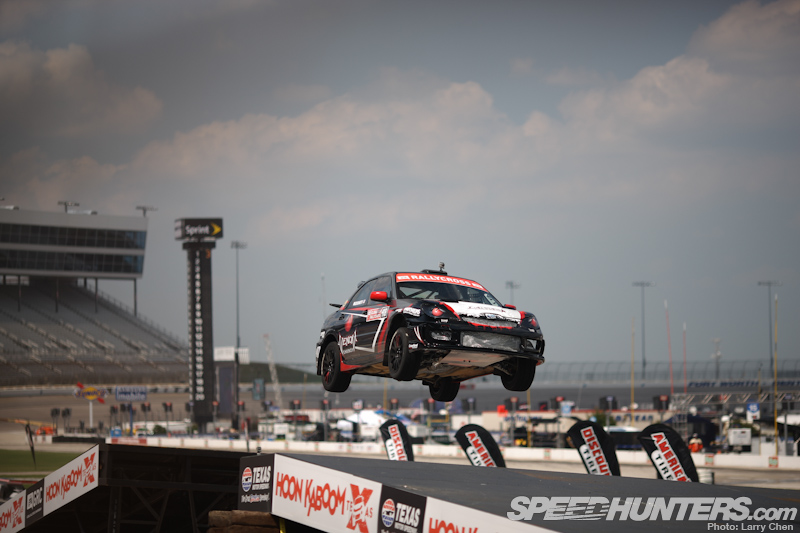 Before the main event everyone was allowed two laps of practice. It would be the first time for many drivers to attempt their first jump on this improvised rally course.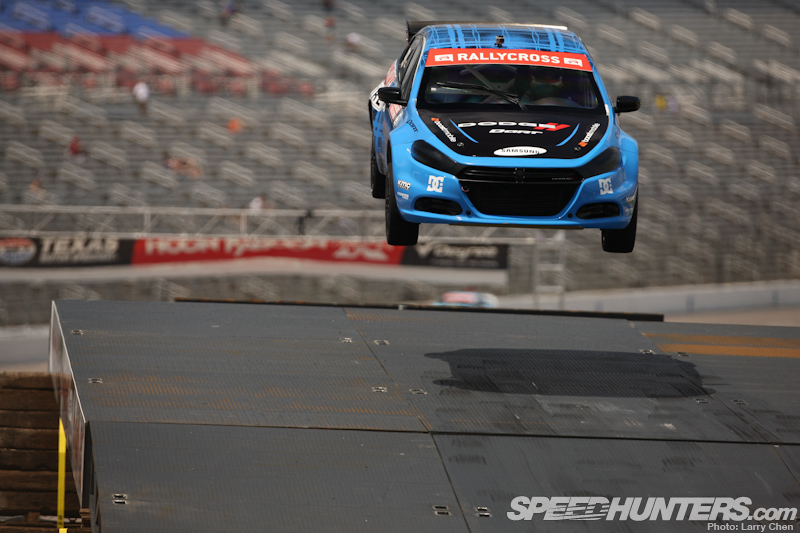 The target speed was around 55 miles per hour. Any less and you might bounce and bottom out, or even worse – crash into the edge of the landing area.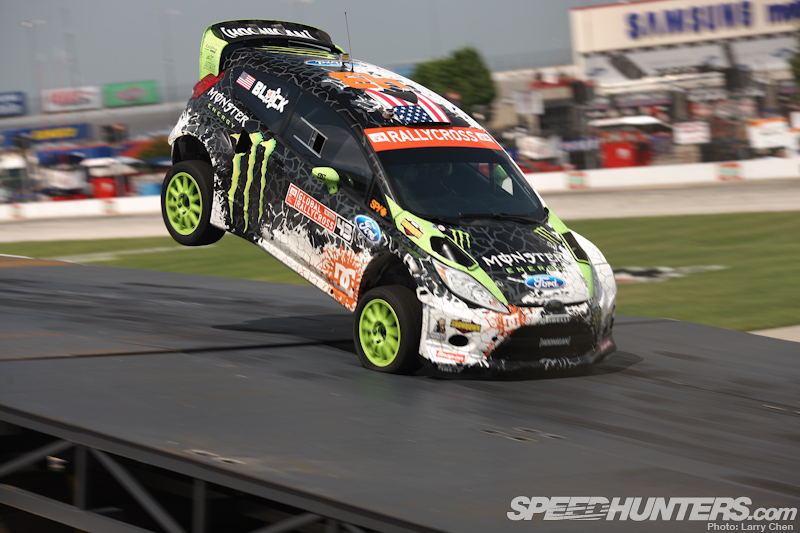 Go too fast and you may end up in a nose dive.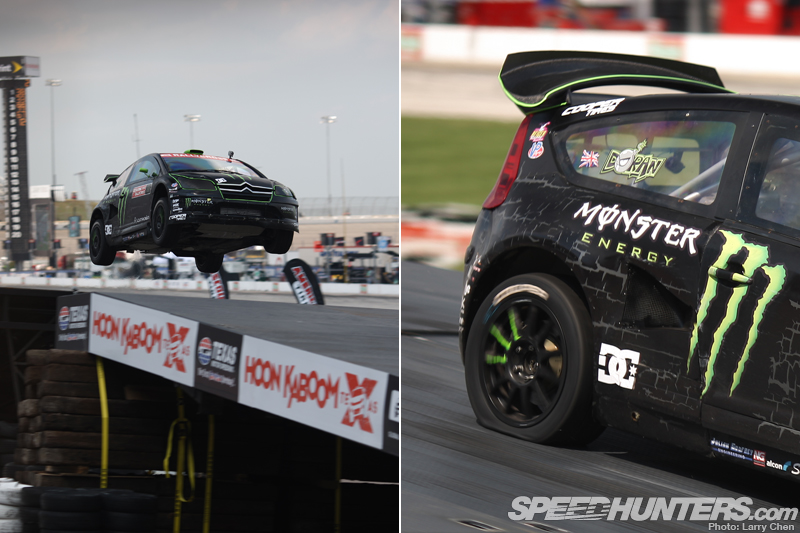 But if you go at just the right speed the cars seem to glide onto the landing ramp.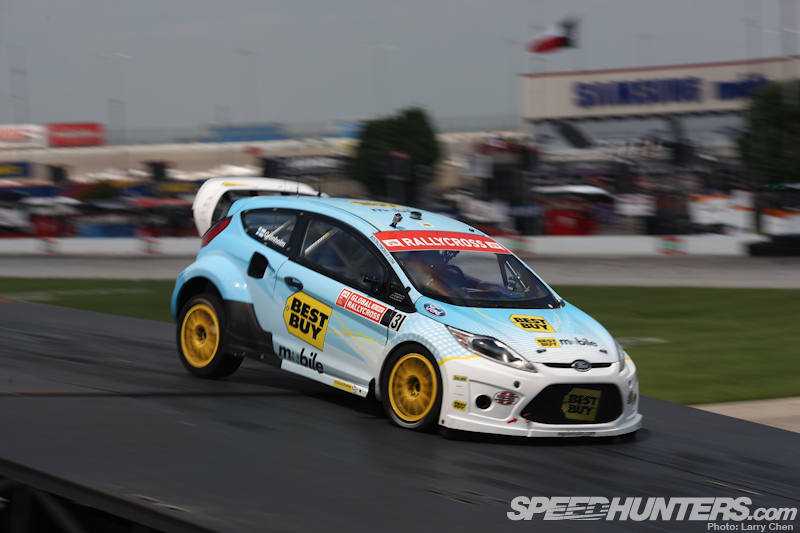 After just two jumps WRC champ, Marcus Gronholm gets the perfect landing down to a science.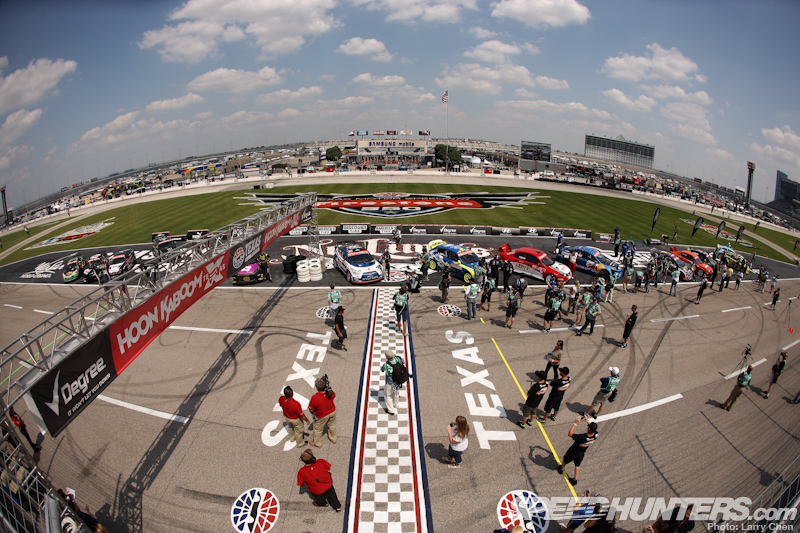 It was now time for opening ceremony and all the rally machines to line up on the front straight.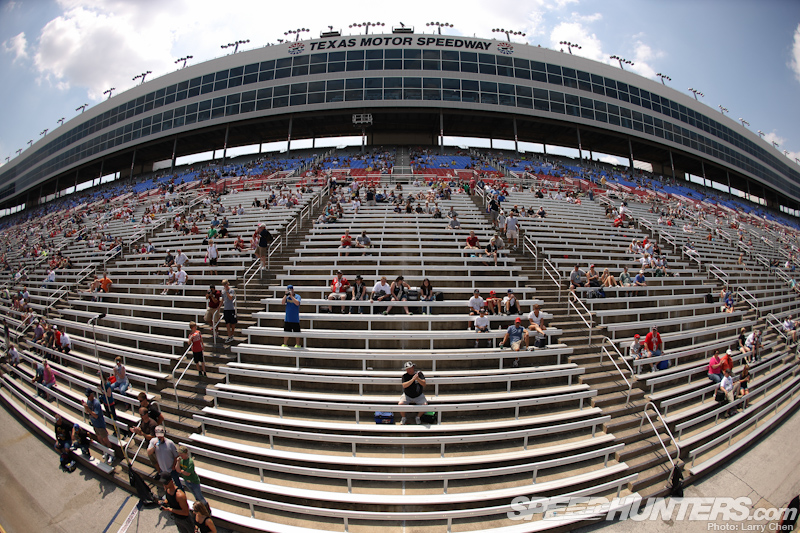 It may not look like many people, but the facility can hold almost 200,000 spectators. All the GRC fans were just spread out.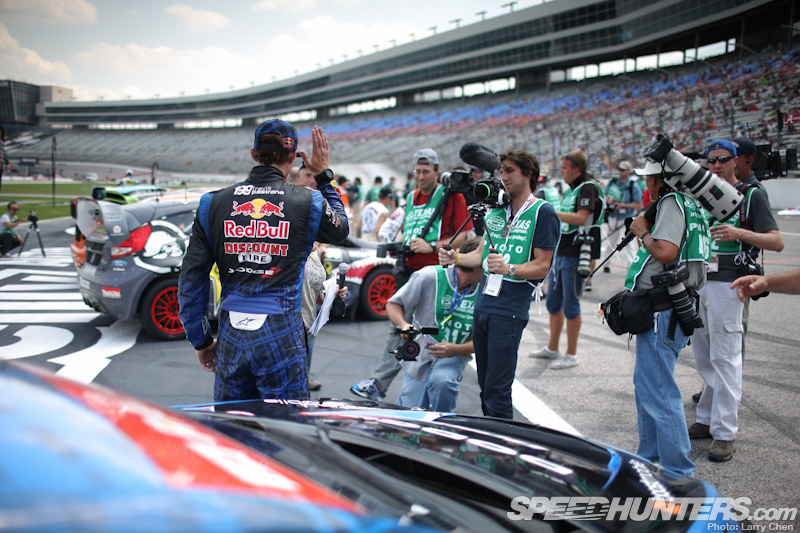 There were media from all over the world. After all rally cross is much bigger in Europe, but hopefully not for long.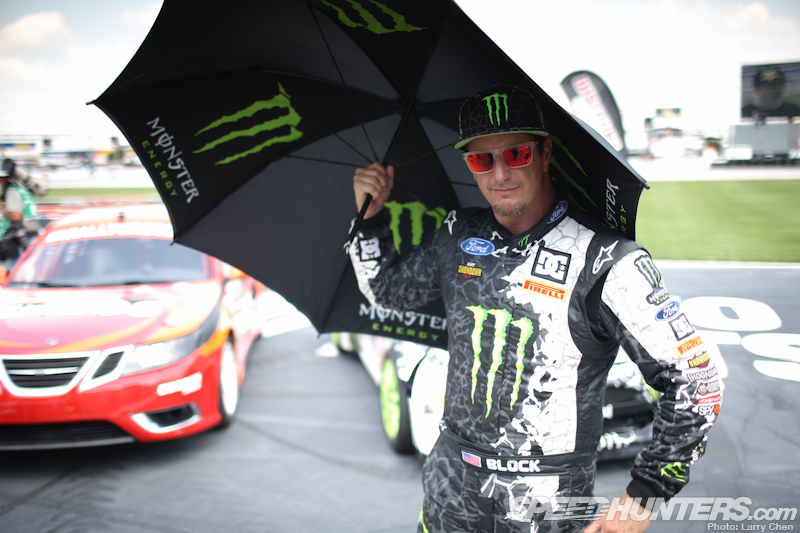 Kenny from the Block does not need an umbrella girl. He holds his own umbrella during the opening ceremonies.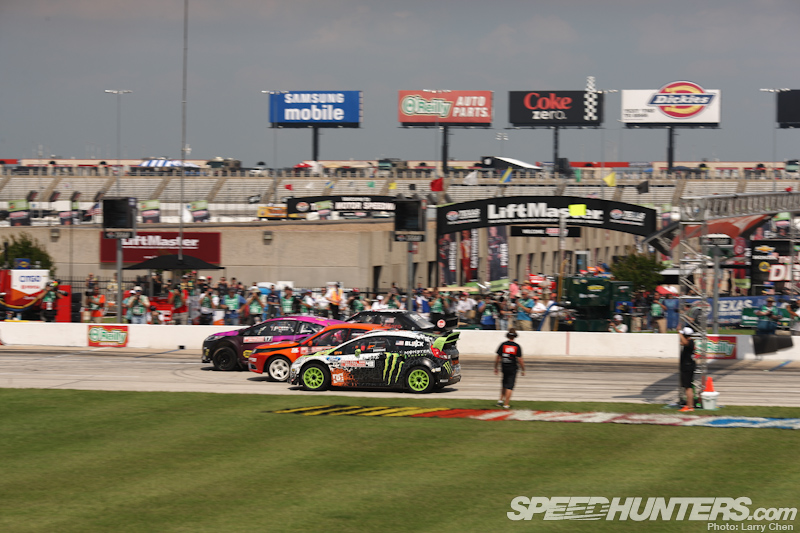 He ended up getting knocked out in his heat, but he made it into the finals by winning his Last Chance Qualifier round.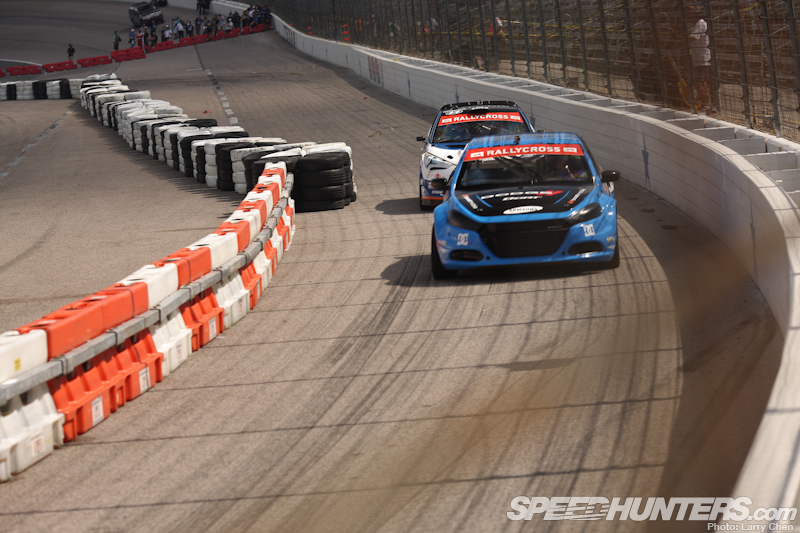 Pastrana ended up getting 3rd in his heat which put him in the Last Chance Qualifier Group A.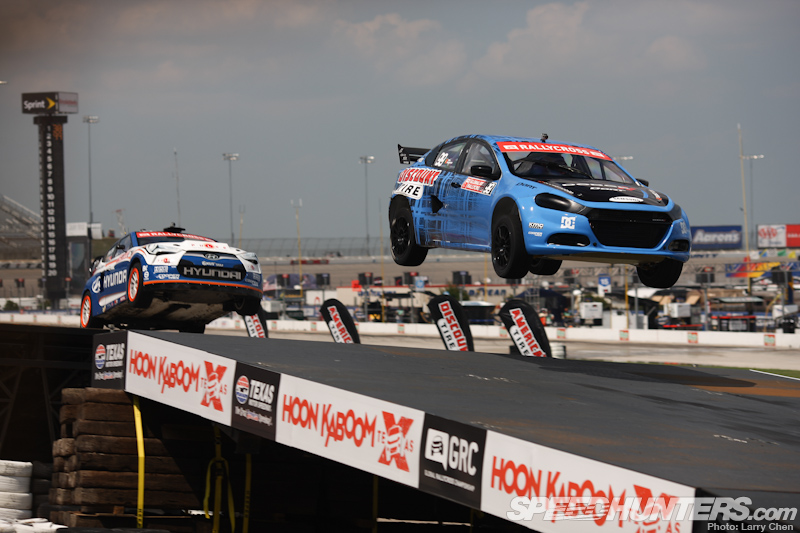 This gave him one more chance to make it into the finals.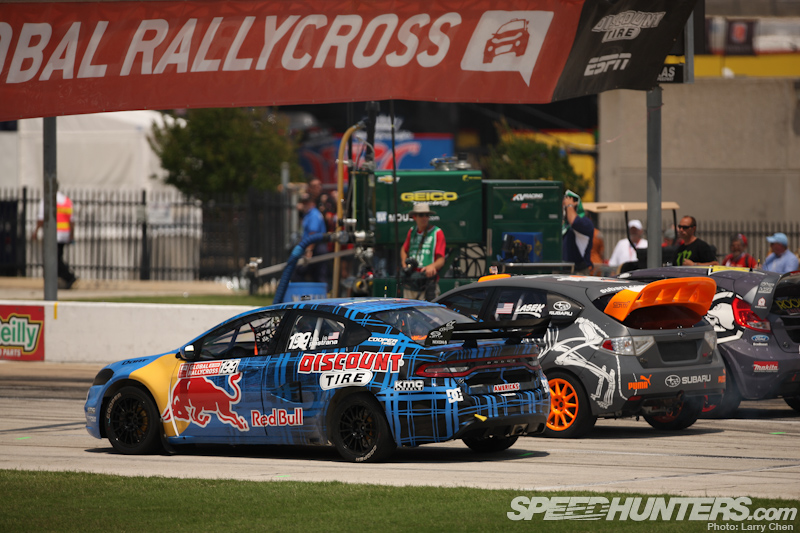 It looked like he was going to make it into the finals as he had a great start and lead the pack all the way to the big jump.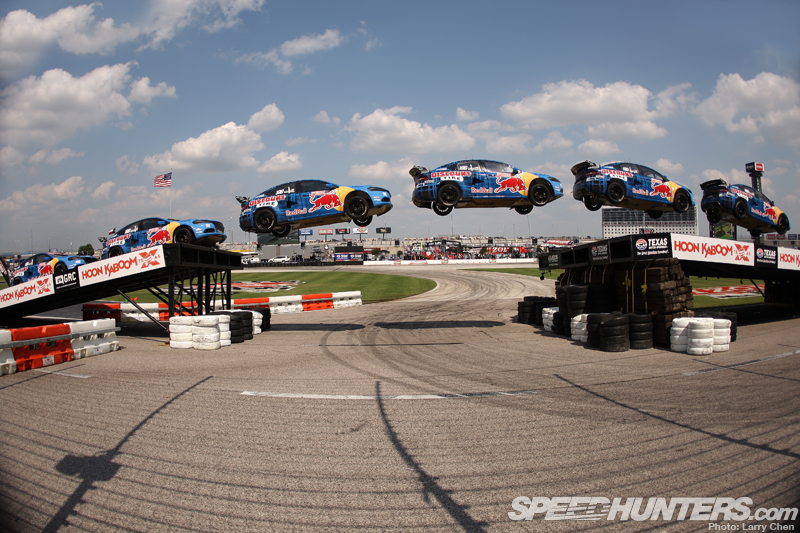 On this very jump Travis over shot the landing and dislocated his arm. He had trouble steering afterwards so he spun out. He pulled off to the side and forfeited the race.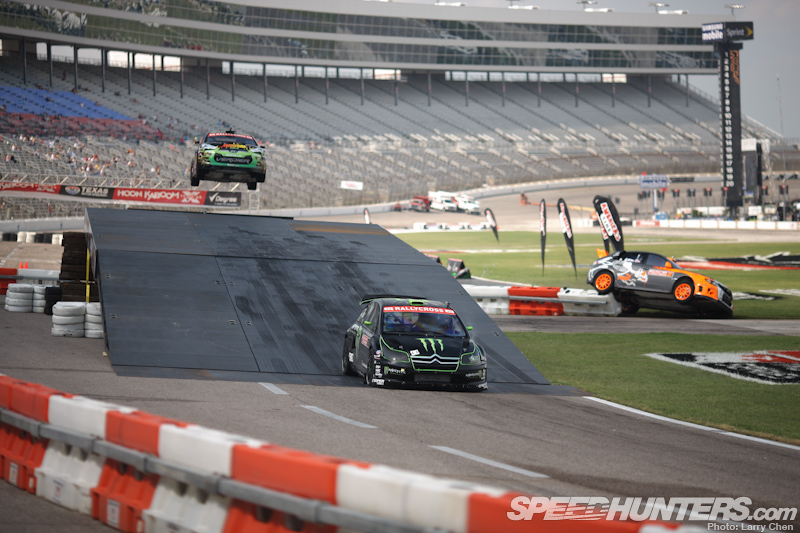 So there are three things going on in this photo. Stephan is taking off,while Liam Doran was just landing his jump, and lastly was Bucky Lasek doing some grinding on the water barrier rails. Here is another awesome angle.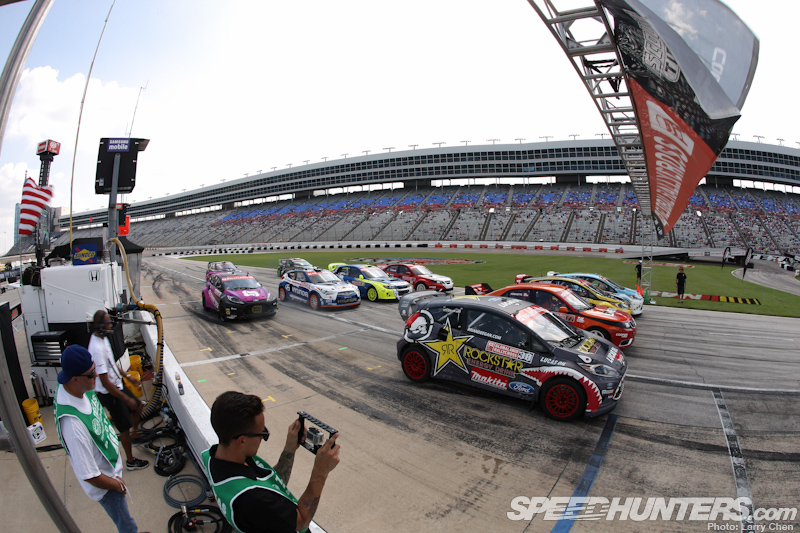 It was time for the finals and the twelve cars lined up for a six lap race to the finish. All the cars squatted as every one was hard on the gas and the brakes. Launch control is just so darn cool.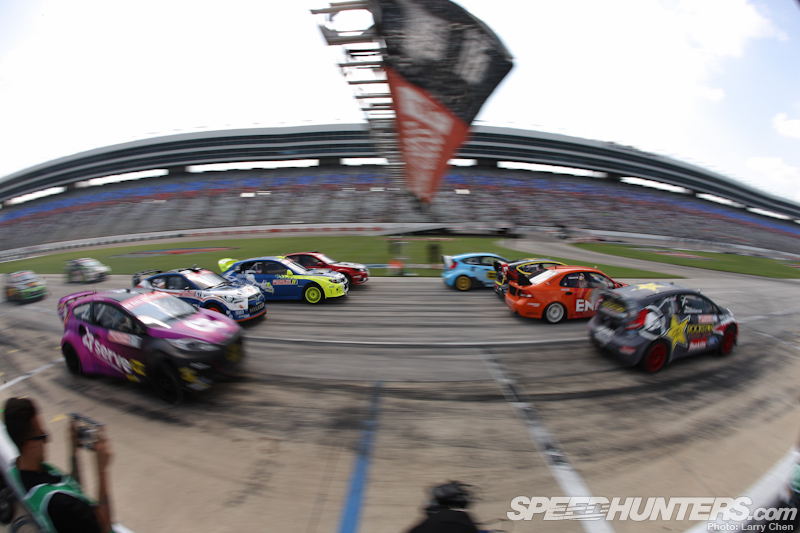 As the light turned green, the field of 12 cars shattered my ear drums in harmony.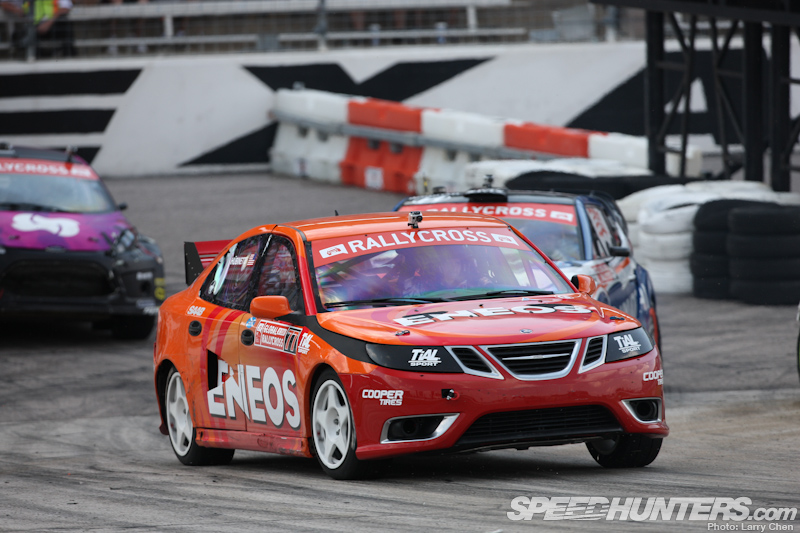 The racing was very intense, but two cars broke down so the officials decided to restart the race.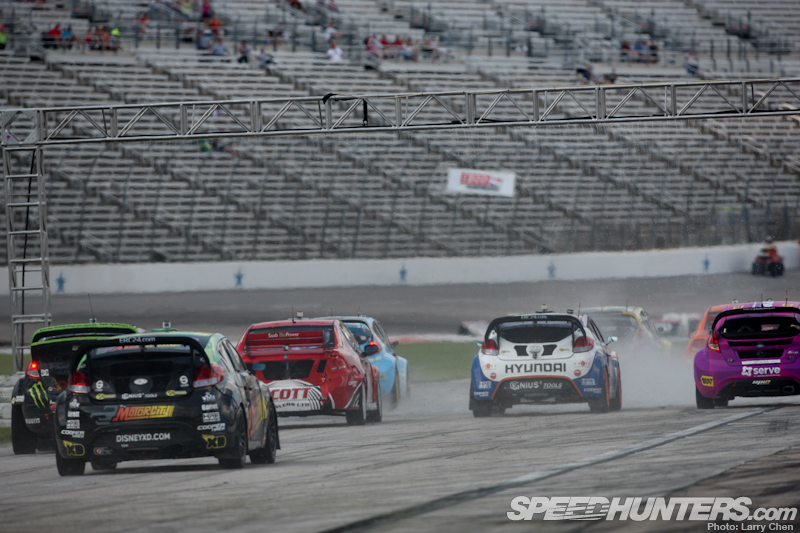 Everyone drove back to the pits for some fuel and lined back up for another shot at glory.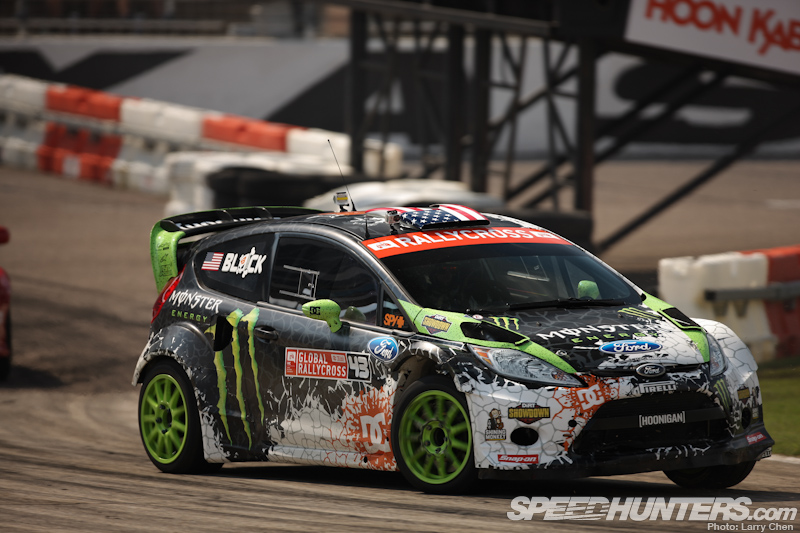 Again there were many incidents on the course including Ken Block's Fiesta that suffered a flat tire after his first jump…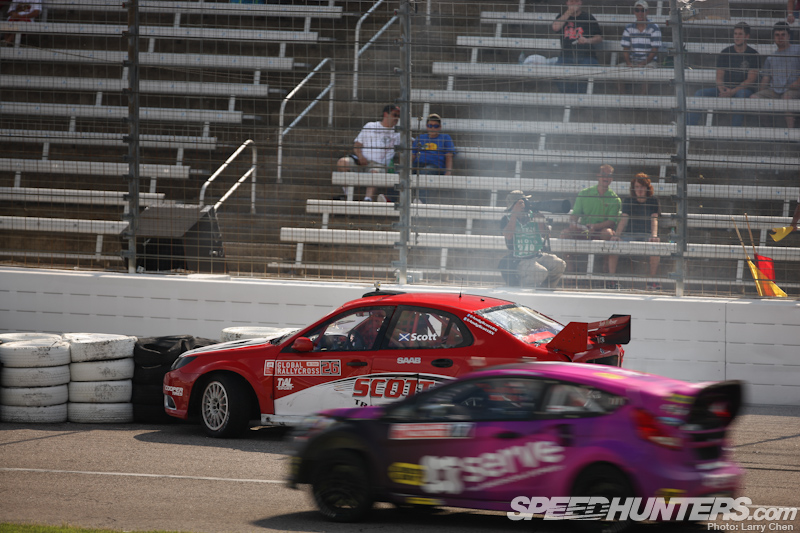 …as well as Andy Scott going into the tire barriers from getting squirley after landing a jump.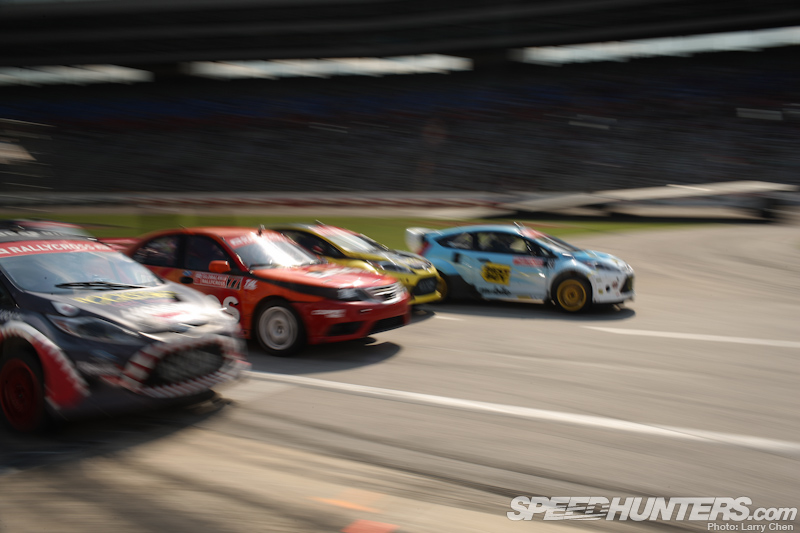 Once again the drivers returned to the pits for more fuel, and for the last time they were off like bats outta hell.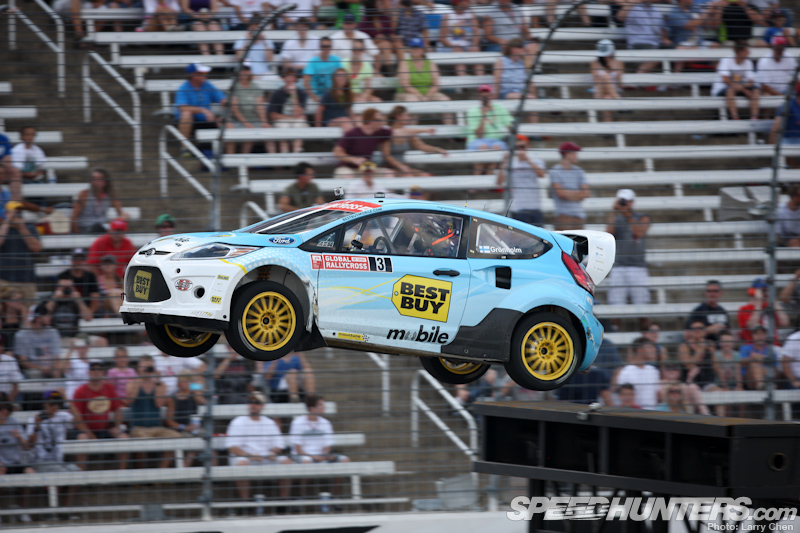 Marcus got a commanding lead from a very good start with Tanner Foust in second.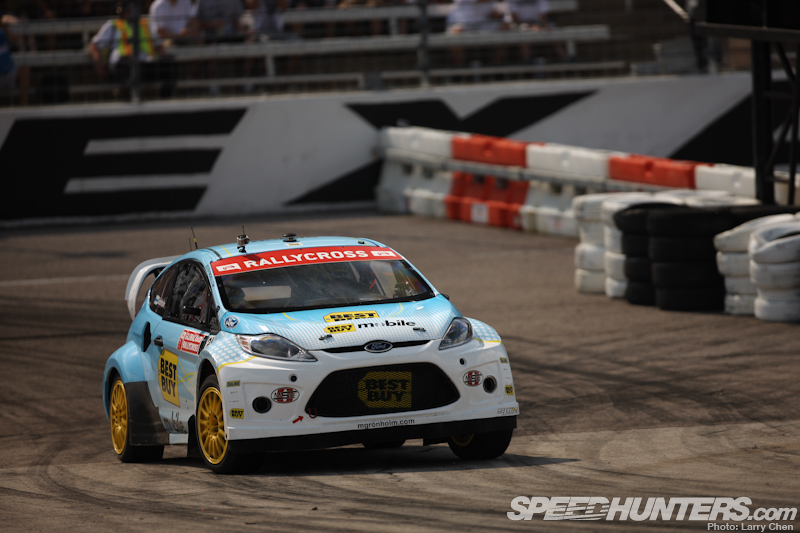 He would hold his lead for the entire length of the six lap race and finish on top.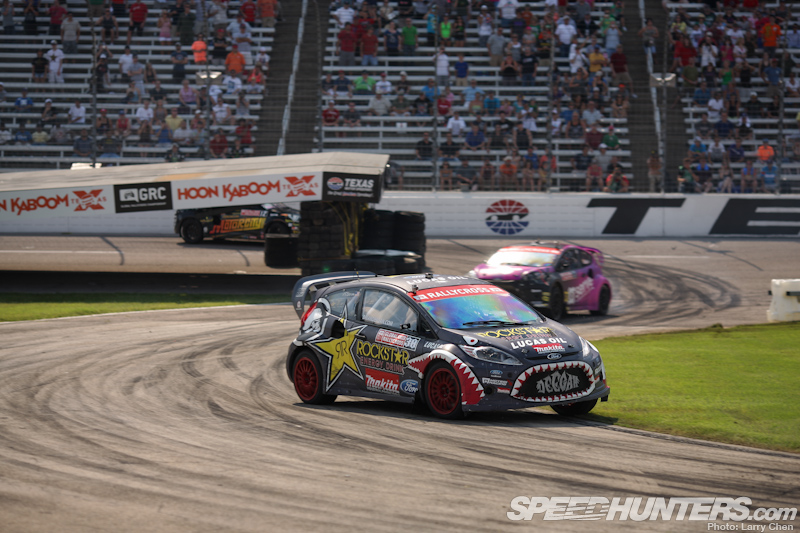 Brian Deegan held it together long enough for his first podium finish in 3rd place.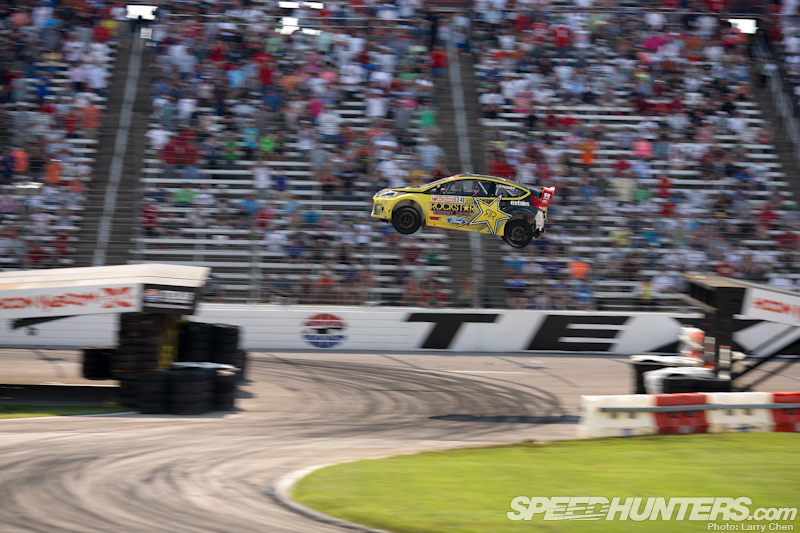 On his last lap Tanner took the jump a little too fast and hurt his back.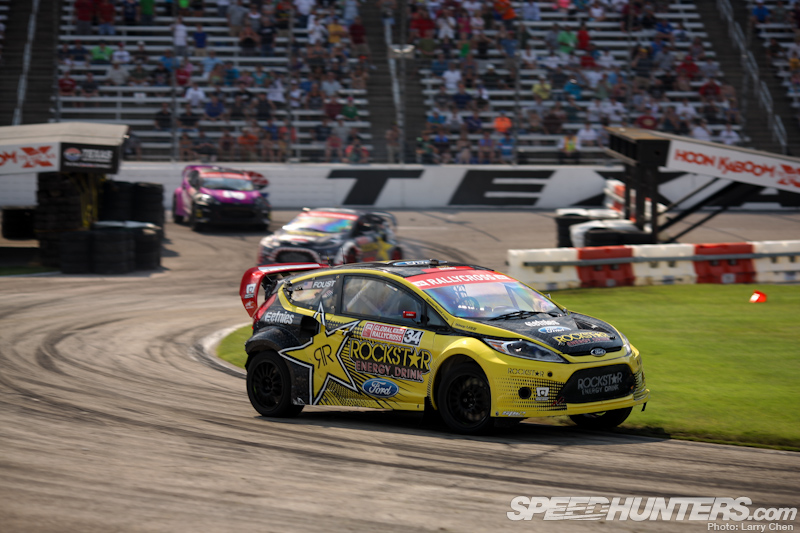 He was able to putt putt the car around even though he was injured.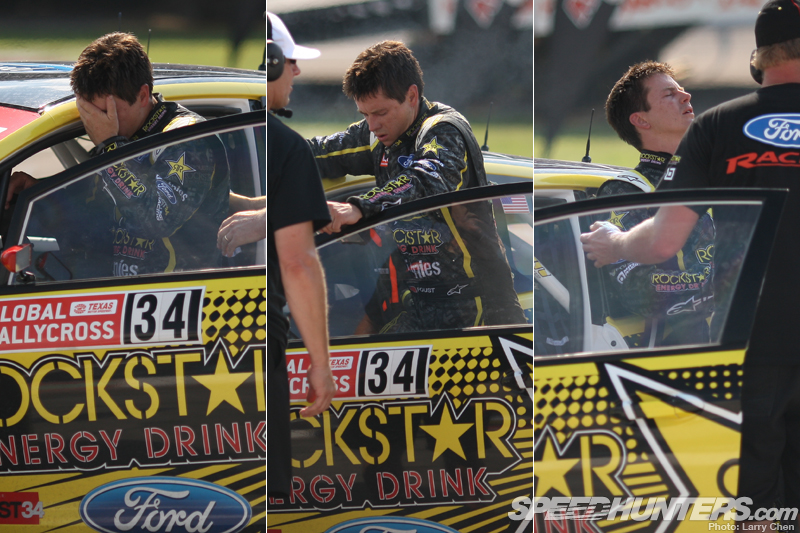 He also suffered from heat exhaustion so he passed the finish-line at a snails pace, but he still earned a 2nd place podium.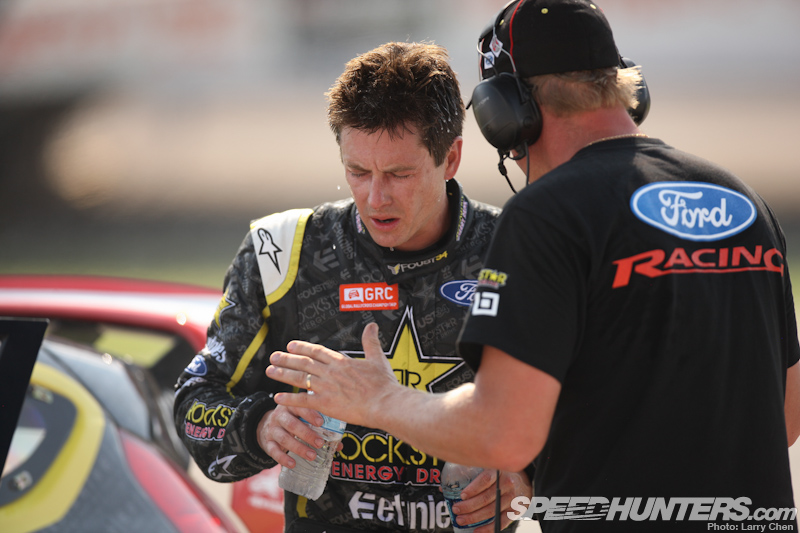 I don't think Tanner was anticipating to stay in the car for that long, but due to the two restarts he was in the car for almost an hour in 92 degree weather with the windows up. Not to mention all the heat that comes from the turbo motor. I think it's time to wear a cool suit.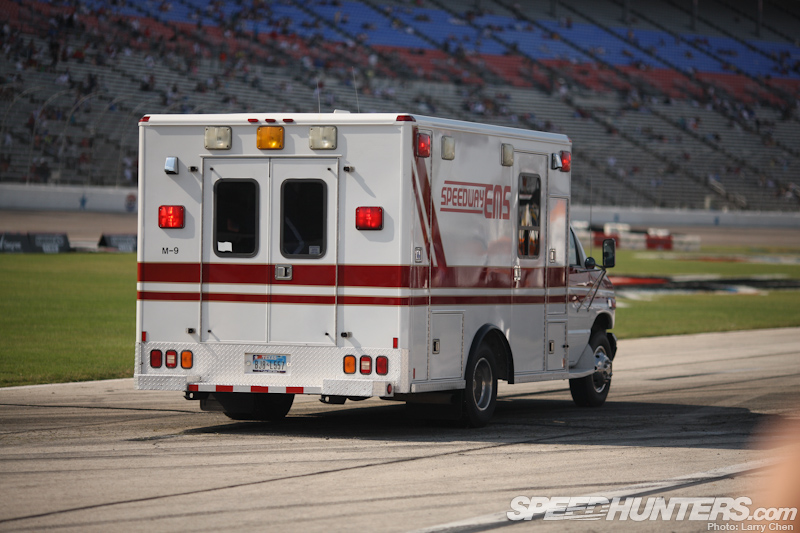 He was hauled away in the ambulance, but was released shortly afterward recovered and ready to sign autographs.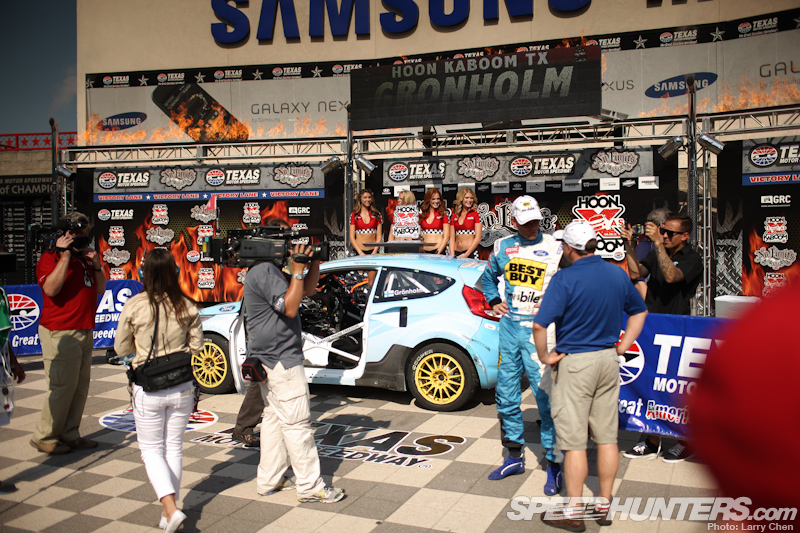 As if it was not hot enough the winner circle has flames shooting out around it. It actually dried the sweat from my forehead.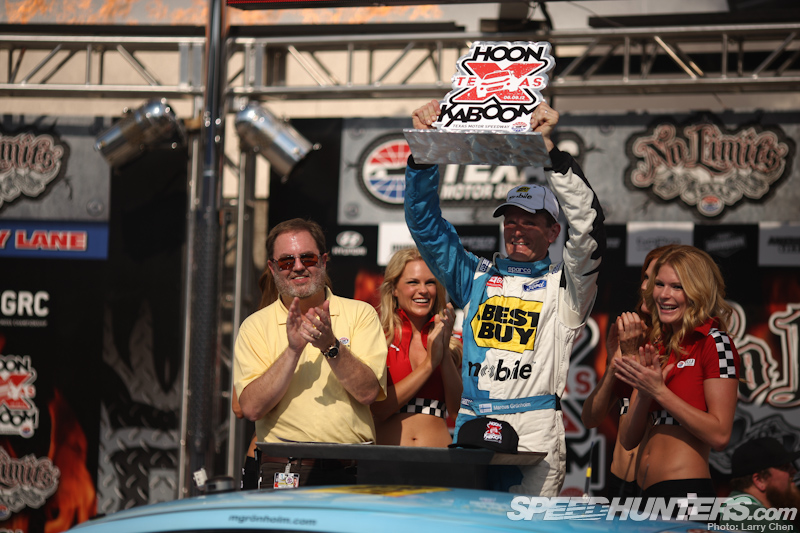 Marcus Gronholm now has a very commanding lead in the championship series with Tanner in second and Stephan Verdier in third. I'm really looking forward X-games as well as the rest of the GRC season.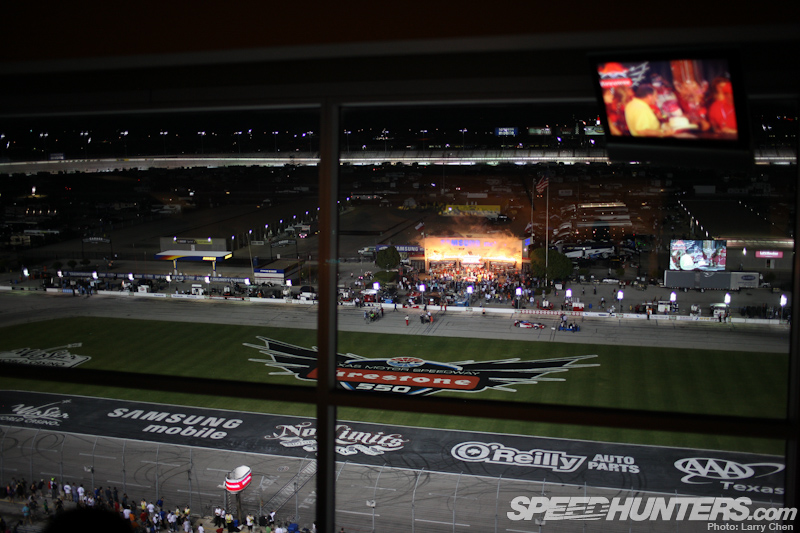 Later that night some of the drivers headed up to the suites over-looking the front strait to watch the Indy Firestone 550 and for some much relaxation time.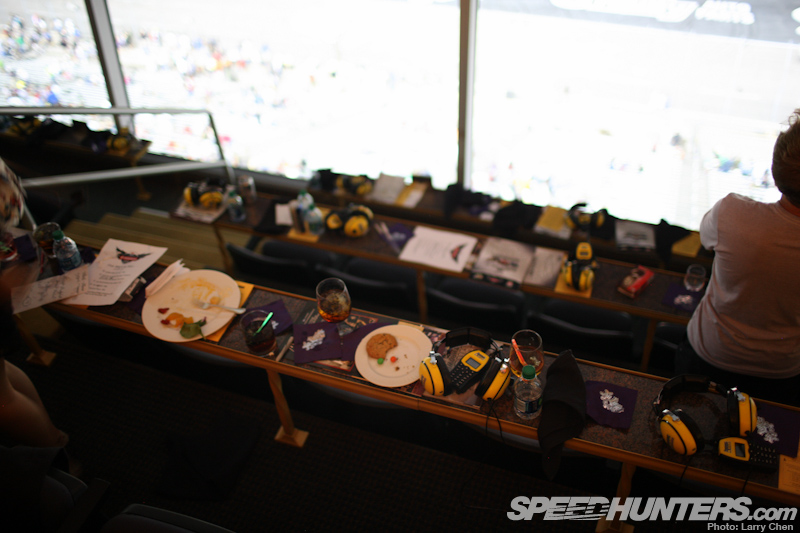 This was a place were you could listen in on some radio chatter with an overhead view of the entire 1.5 mile track.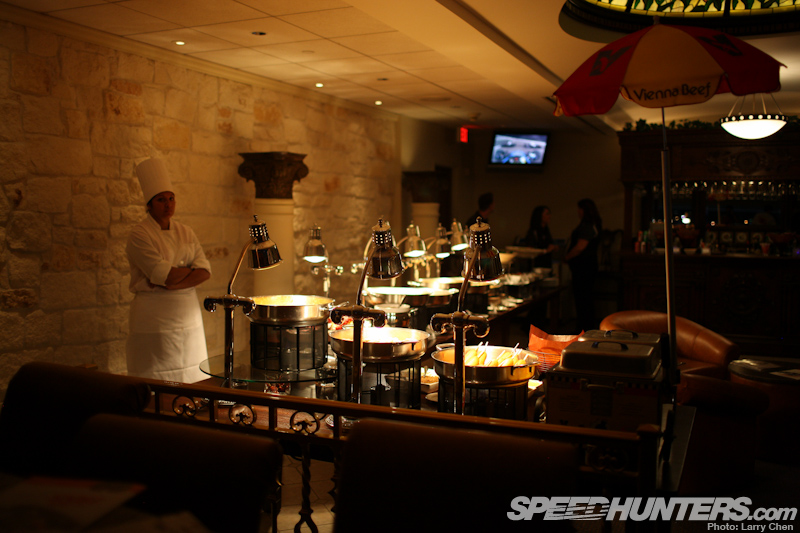 After eating until I could not move, I vowed never to eat that much Texas barbecue ever again…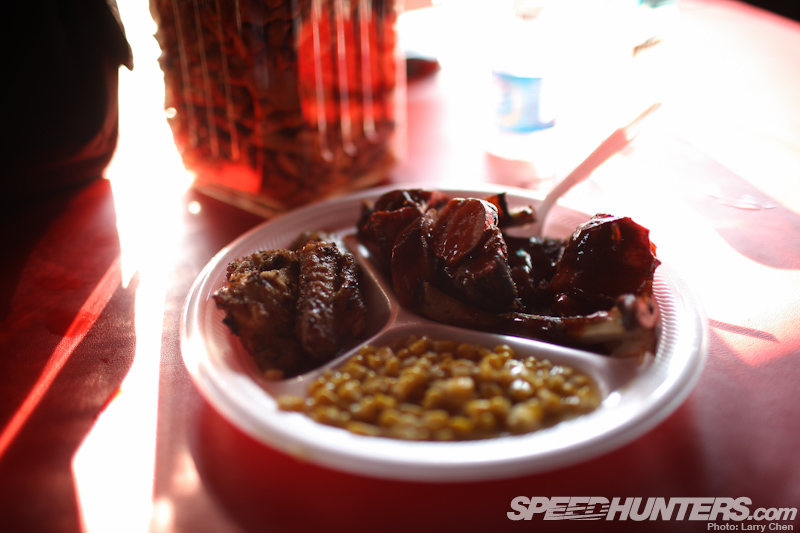 …or until the next morning at least.
It was pretty interesting trying to follow Travis around. It  kept me on my toes more than I expected. He's currently in 11th place for the championship, and with three events left he has lots of room to do some catching up.
Enjoy the desktops!
-Larry Chen