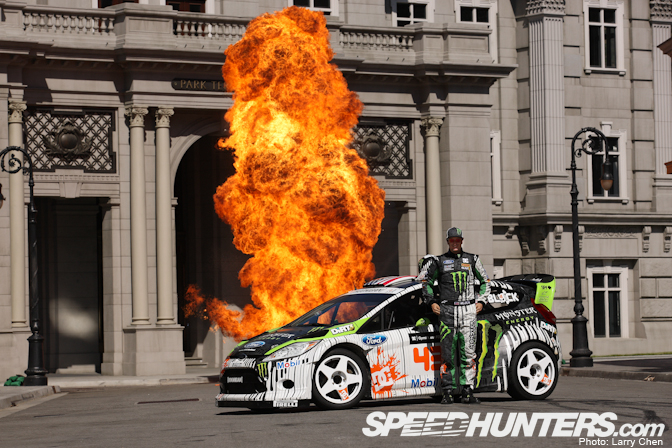 The Gymkhana short film series have done what many other automotive films try to do but fall rather short: these films broke that tightly wound automotive mold and broke into the mainstream. With the first film hovering somewhere around the 10 million view mark on Youtube, the second film hitting around 27 million and the third raking in a solid 34 million, it's safe to say that these videos are much more than just popular and that Ken Block more than just a household name.
Today, the automotive internet has been basically shut down because of the release of the latest internet videos of internet videos, Gymkhana Four. Thanks to the guys from DC Shoes, Larry Chen and I were able to be on set to photograph all the zany going-ons for a majority of the filming. The location for the film took place at the Universal Studios Backlot in Universal City, California. Different scenes used different parts of the back lot, like the War of the Worlds set, the streets of New York, Whoville, the Bates Motel, a set used from the movie "Jaws" and the largest blue screen in the world.
Larry Chen joins me in discussing the major shots of the the film.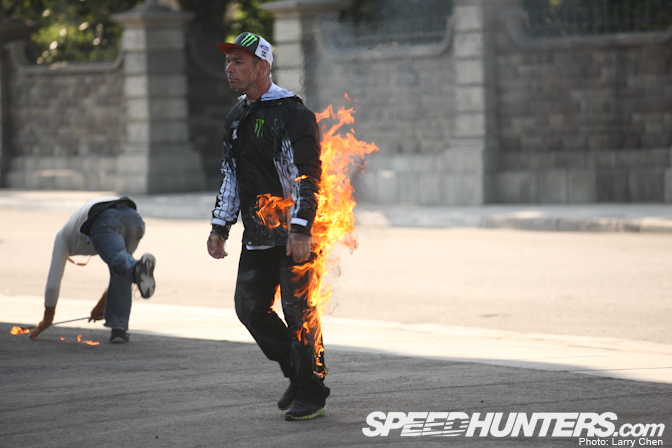 Linhbergh: If you're reading this behind the scenes look, you're more than likely to have already seen Gymkhana Four. But for those that have not, Ken drives the Ford out of the gas station and so does this man, except he's rather on fire, in this scene.
Larry: I love a talent that brings his own lighting.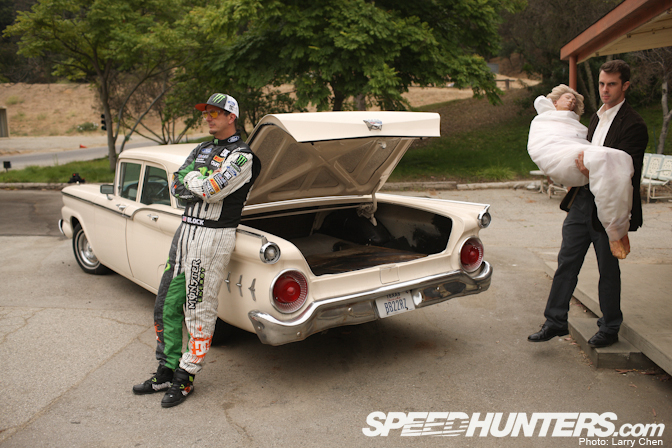 Linhbergh: When I get married, I hope I have Ken Block as my chauffeur.
Larry: Forget putting the bride in that trunk, how many golf bags can fit instead?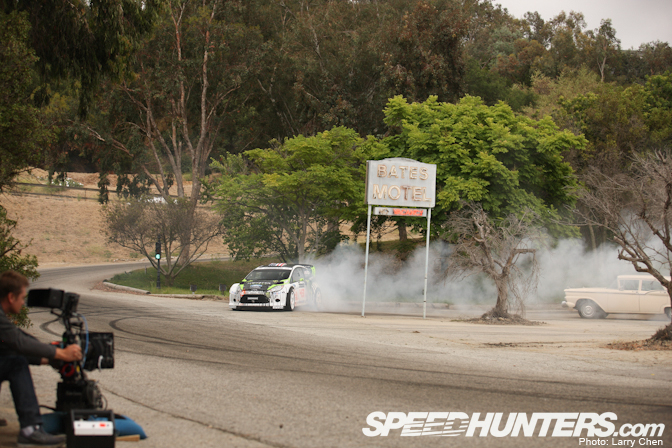 Larry: Ken drove out of the Bates Motel like he needed to use the little boys room real bad.
Linhbergh: Vaughn Gittin Jr., what up now?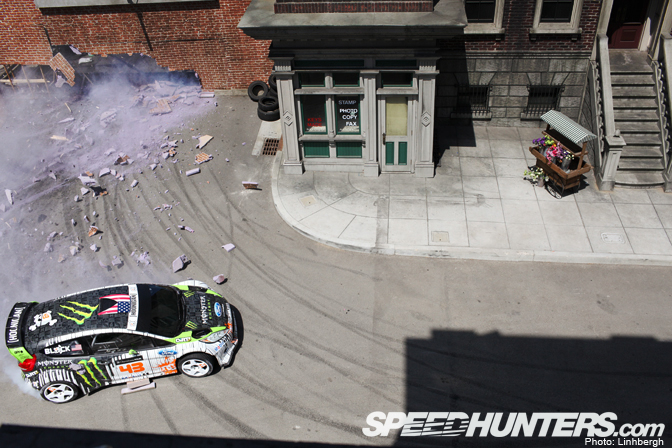 Linhbergh: In the scene where Ken drove through a brick wall the crew actually armed the wall with some explosives and timed it so when Ken slid his car through the wall, they would detonate the explosives for more of a visual oomph! It should be noted that the brick wall is not actually made of brick, but instead of purple stuff (styrofoam). The magic of movie making, ladies and gentlemen.
Larry: This must be how Ken leaves his garage in the morning.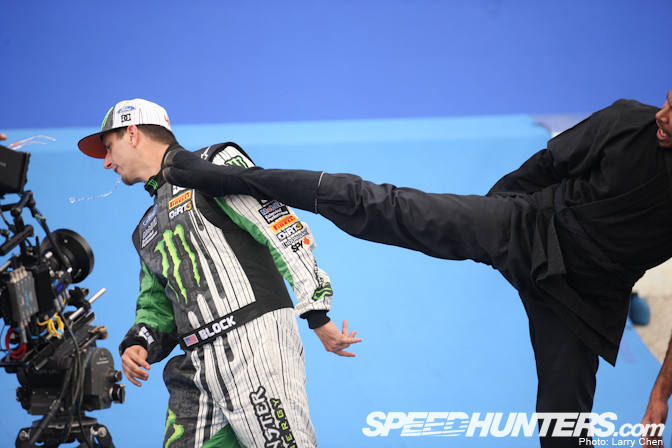 Larry: This shot took multiple takes mostly because the film crew wanted to see Ken get kicked in the face.
Linhbergh: I hope one day that I don't get randomly ninja'd by a ninja in this way.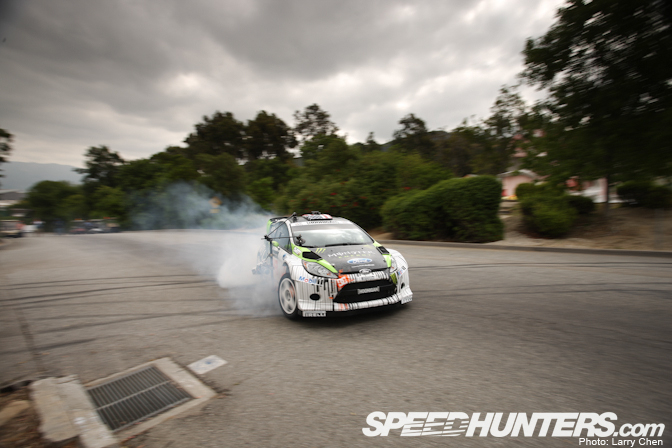 Larry: For you camera nerds, the camera on crazy car mount was a Canon 5D Mark II with a 16-35mm F2.8L.
Linhbergh: Too bad they don't have EXIF data embedded into YouTube videos….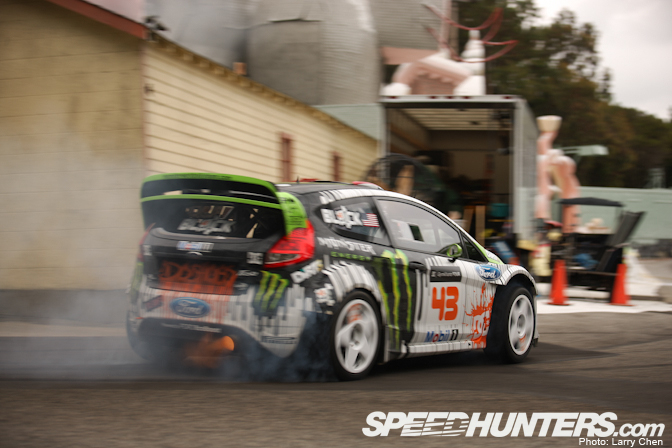 Larry: It should be noted that the entire film crew did not have earplugs on until this scene. The glow coming out of the tail pipe should be an indication of why that was so.
Linhbergh: Experiencing this scene and its multiple takes was like having a 4th of July celebration in your face.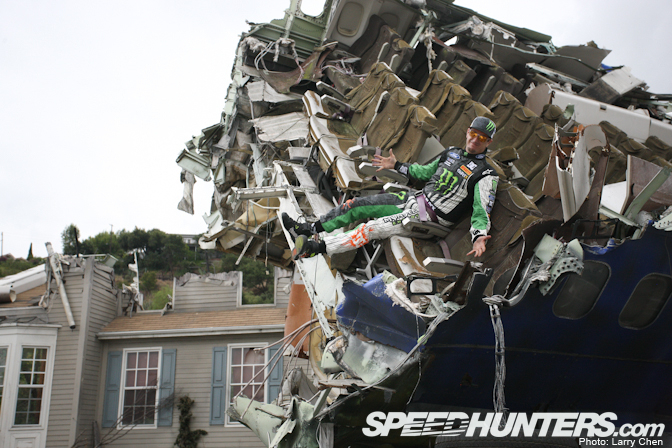 Larry: Ken was the sole survivor in an alien attack. Actually, this was at the War of the Worlds set and Ken was actually buckled into a still working seatbelt out of a 747 jumbo jet.
Linhbergh: I don't think Tom Cruise came in time to help Ken.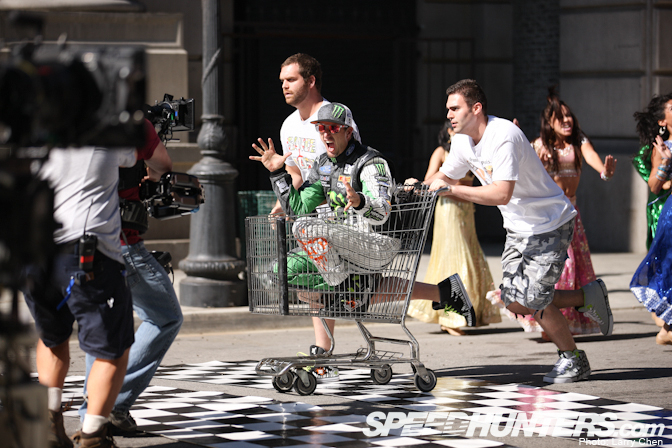 Linhbergh: This is a scene full of internet celebrities. There's, of course, Ken Block, who is flanked by Harley Morenstein of the Epic Meal Time fame and also one of his co-presenters, Alex Perrault.
Larry: The internet is a great place. Where else can you learn how to cook properly with Epic Meal Time and watch Ken Block to learn how to hoon properly.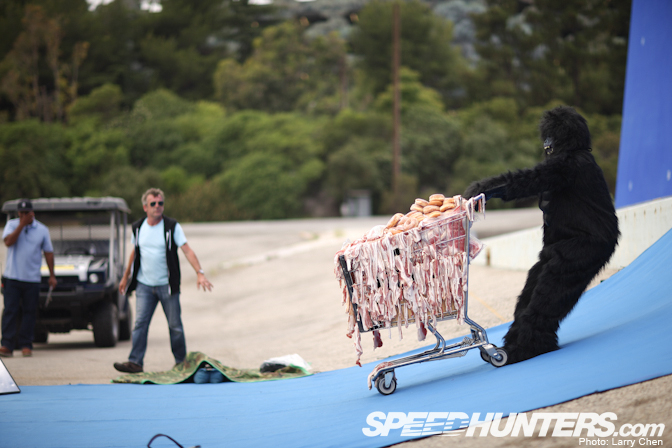 Larry: The only thing better than a shopping cart full of Ken Block is a shopping cart full of bacon.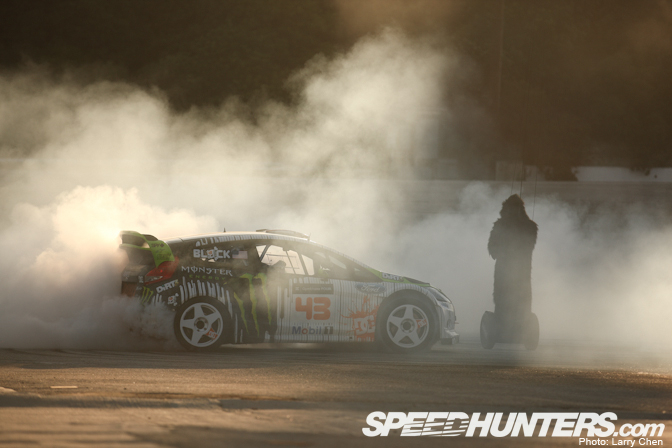 Linhbergh: The art of the hoon is first learned by doing tight constricting donuts around an ape man on a segway. Luckily for the ape man, he was suspended by cables just in case Mr. Block tries hit him.
Larry: Indiana Jones and the Temple of Hoon.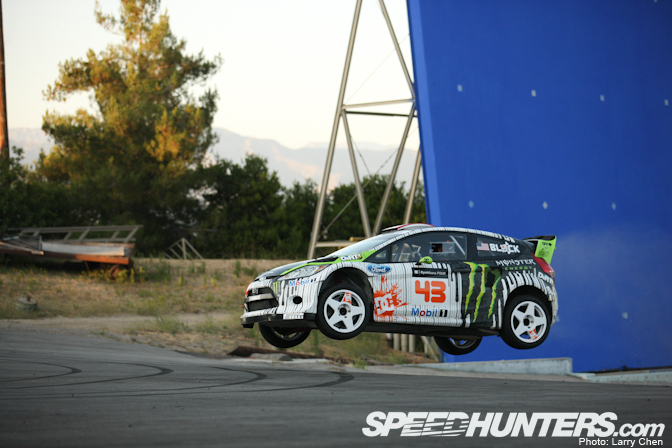 Linhbergh: What is rally without jumps? If this was Facebook, I would Like this image –four times.
Larry: Marty McFly would be jealous of Ken's Ford.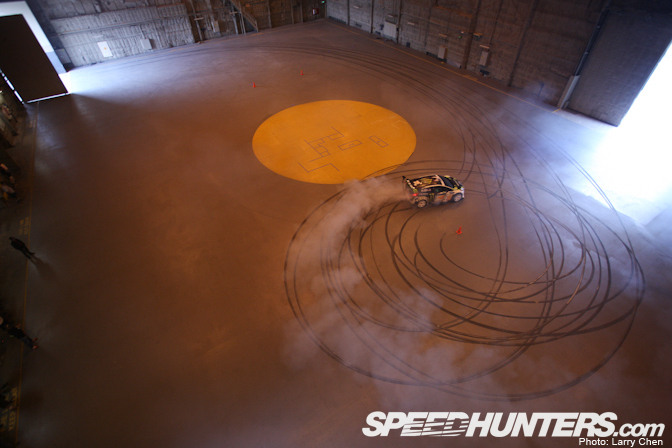 Larry: This soundstage was rented out from Universal for two reasons: 1.) for Epic Meal time and 2.) for epic donuts.
Linhbergh: I do have to say that If my donuts tasted like burnt tires, I don't think I'd want to eat it. Even dipping it in milk wouldn't save it.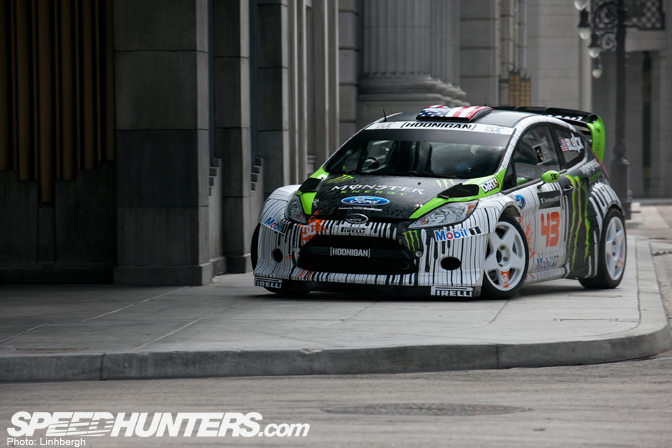 Linhbergh: My mom always told me never to drive on the the sidewalk. I don't think Ken listens to his mom….
Larry: The Hybrid Function Hoon Vehicle (HFHV) thought it was on the set of Sex and the City.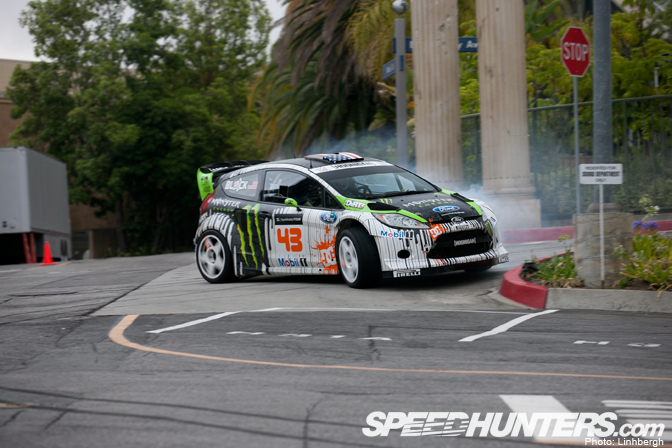 Linhbergh: If this car competed in Formula Drift, I would have zero complaints.
Larry: …but it would need a V8 in it.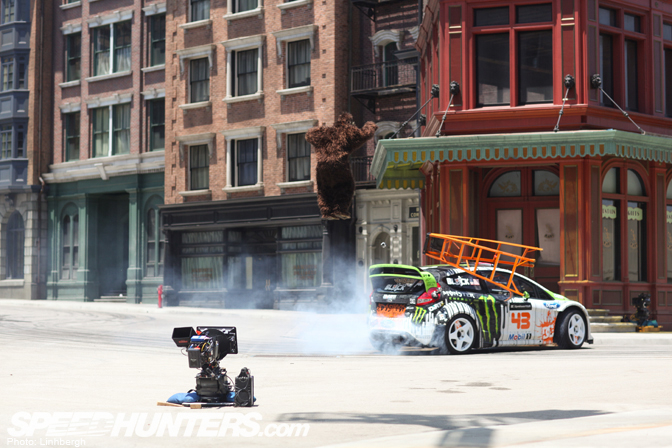 Linhbergh: There's no CG going on in this shot. What you see in the film actually happened. Real driving, real stuntman and real dangers these two both faced.
Larry: Ken must've gotten a stern letter from the ape man painters union after this incident….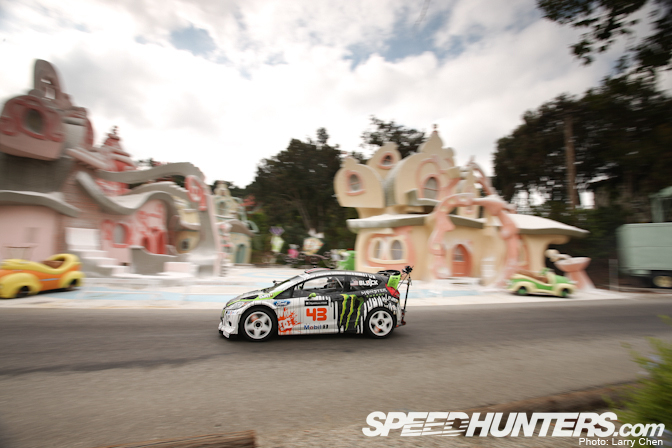 Linhbergh: I thought it was rather cool that the crew chose Dr. Seuss' Whoville from "How the Grinch Stole Christmas!" They even made it snow in the middle of July like it was Christmas time!
Larry: Do you like green eggs and ham? / I do not like them, Ken-I-am. / I like green monsters and motors with big cams.
That wraps up our look at all the major shots in the film. Tomorrow, we will look deeper into the world of Gymkhana Four and look into detail what goes on further behind the rolling cameras.
-Larry & Linhbergh