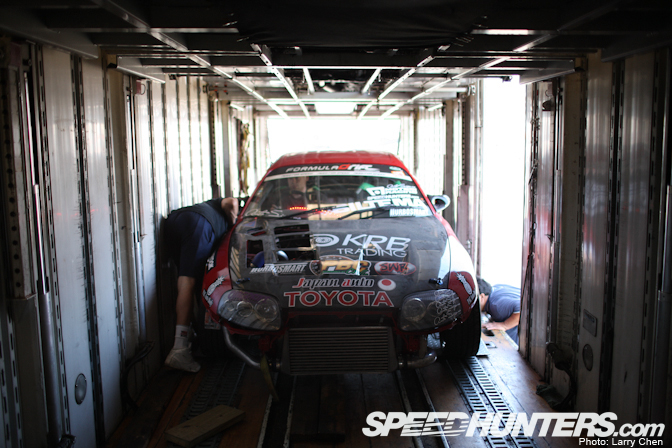 It's baaaaaaaak. Fredric Aasbo's Toyota Supra "Chucky" is back and it's looking for revenge. I am at Texas Motor Speedway, on a historic weekend of racing. Indy, NASCAR and Drifting together at last! Fredric is now driving the Need for Speed Scion tC in Formula Drift, so he is saying goodbye to the Toyota Supra.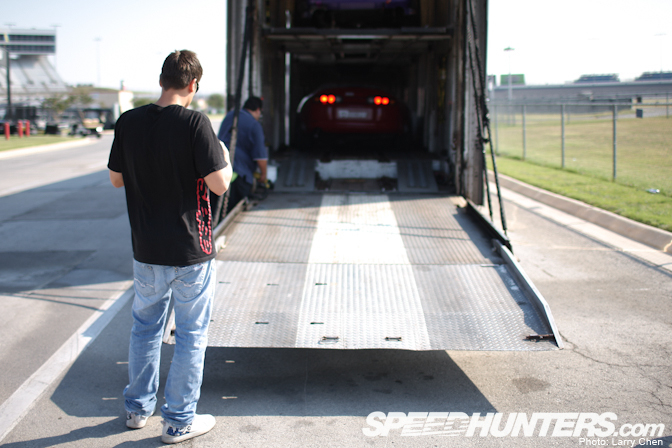 Eight licensed Formula Drift drivers were invited to perform a demonstration right before the start of the Indy race on Saturday. There is no better way to say farewell to "Chucky" the Supra formerly held together by red duct tape.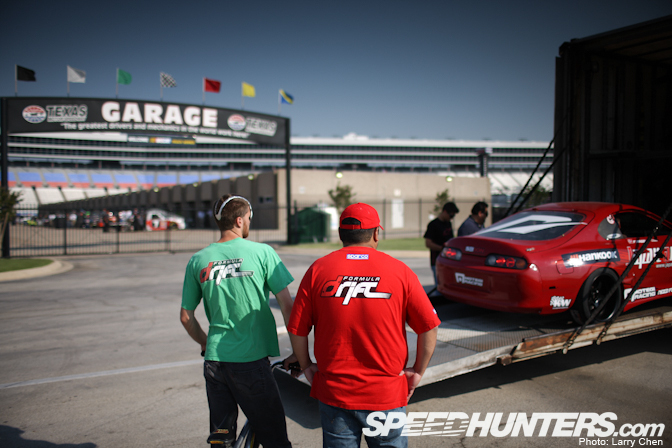 Formula Drift Director of Operations, Andy Luk and Chief Safety steward, Doug Artus, are on hand to make sure everything runs smoothly.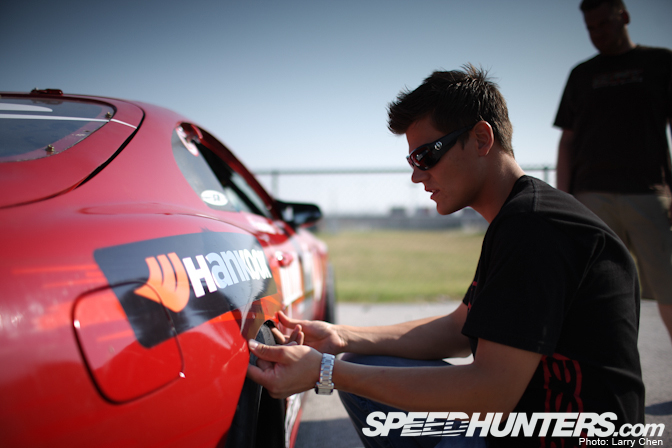 I have photographed this car when it was in pieces, on fire and once when it hit a wall. I have never seen "Chucky" so new and clean.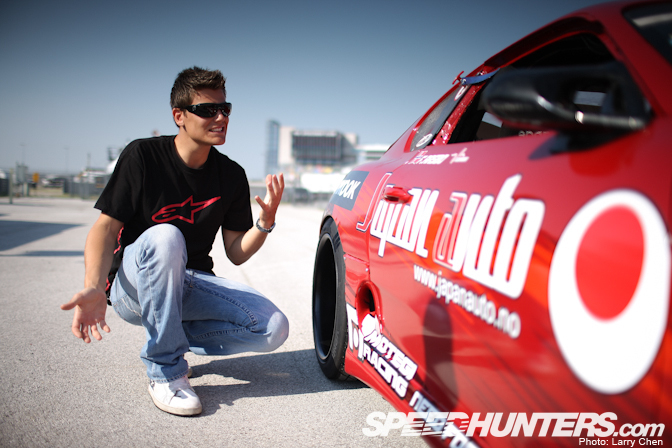 I asked Fredric if he was sad to see it go. He said, "Yes and No" Yes, because it's brought him this far in the drifting world and no, because it's time to move on to bigger and better things.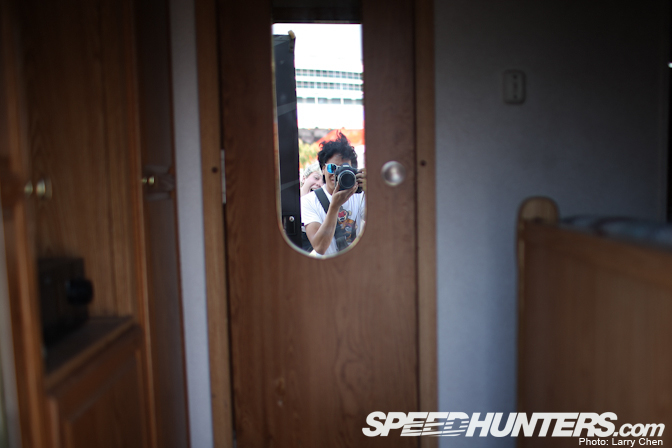 I will be the fly on the wall for the entire weekend.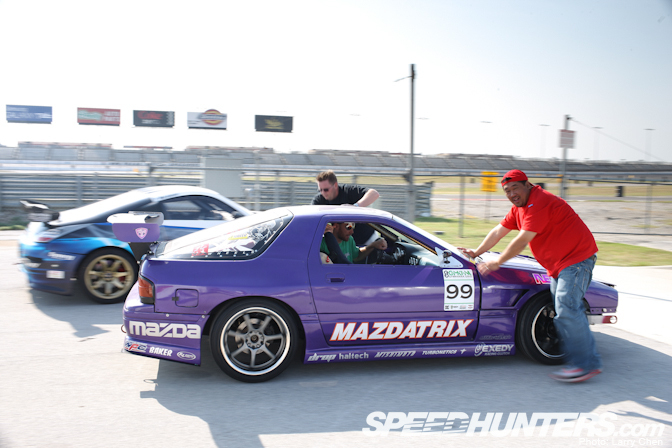 After we unloaded all the cars…..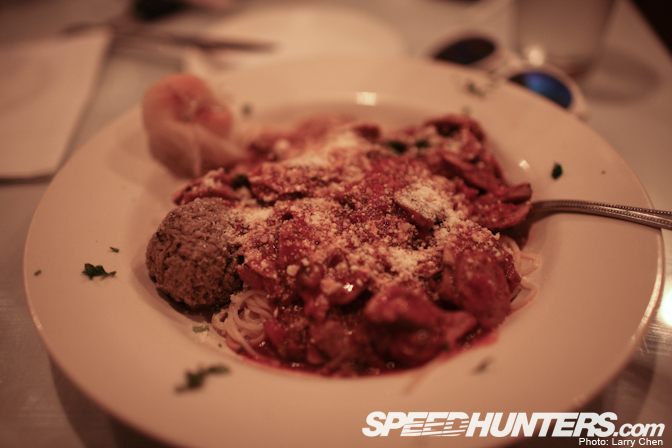 …we grabbed lunch.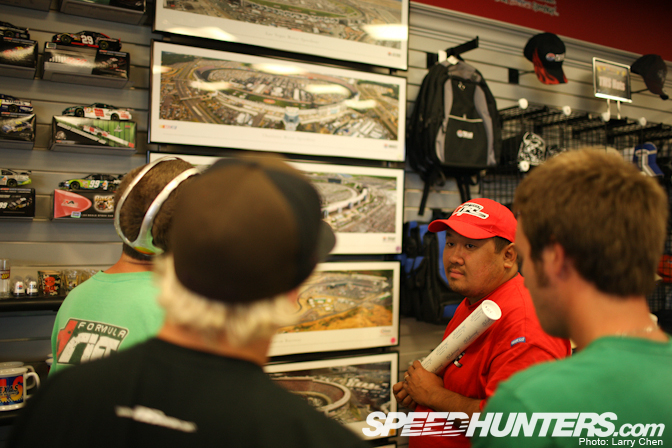 Andy found some cool posters of race tracks. He is holding the one for Infineon Raceway. Ahhhh memories…..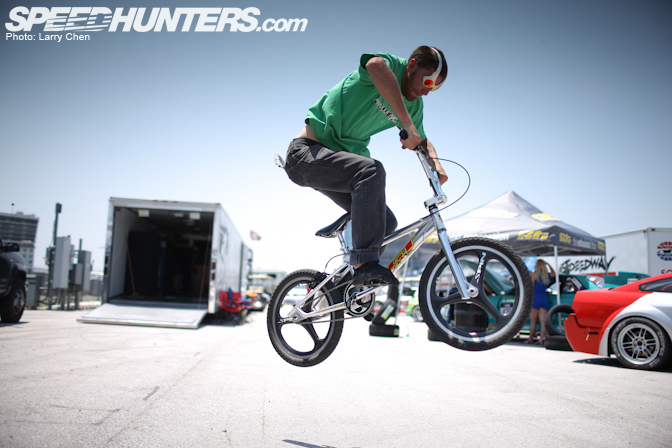 Speaking of memories, I have always wanted a bike like that. I will make sure to ride Doug's over the weekend as much as possible.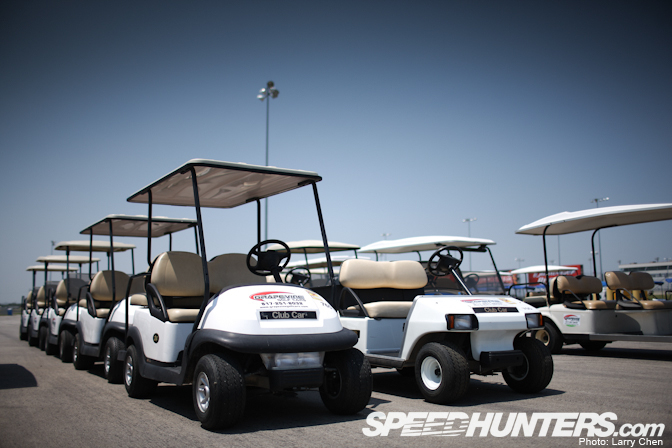 All I see are wheelie machines.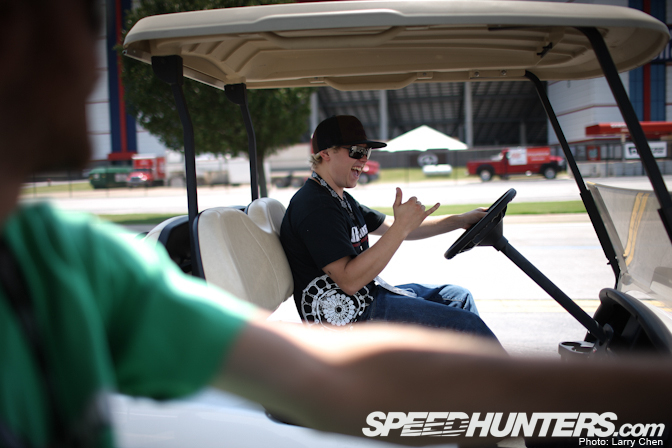 Patrick Mordaunt came along to join the party with his 500+ SR20 powered S14.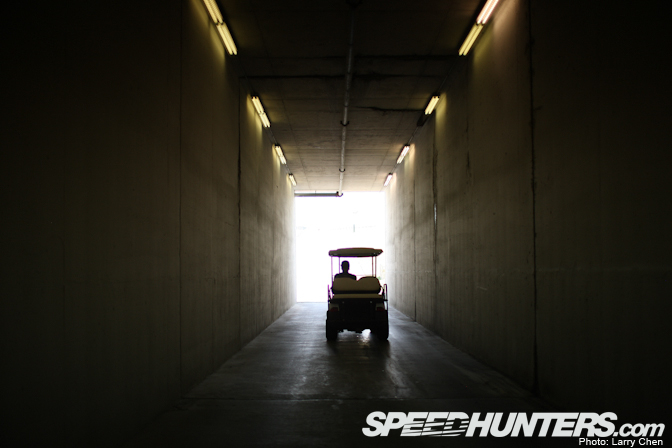 Texas Motor Speedway is gigantic and the facilities are top notch.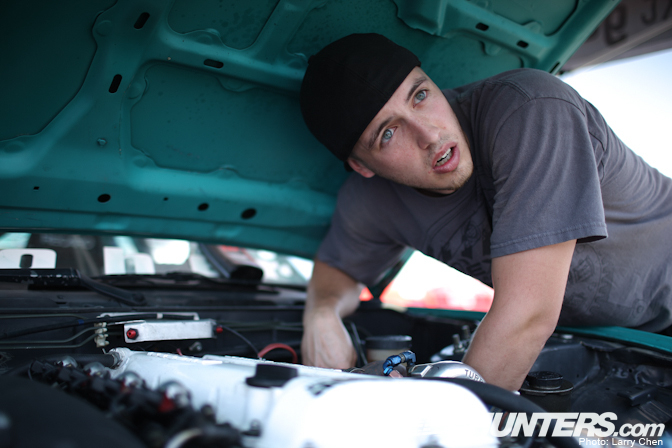 Seattle native, Roland Gallagher, came out with his entire family to a much hotter and humid climate.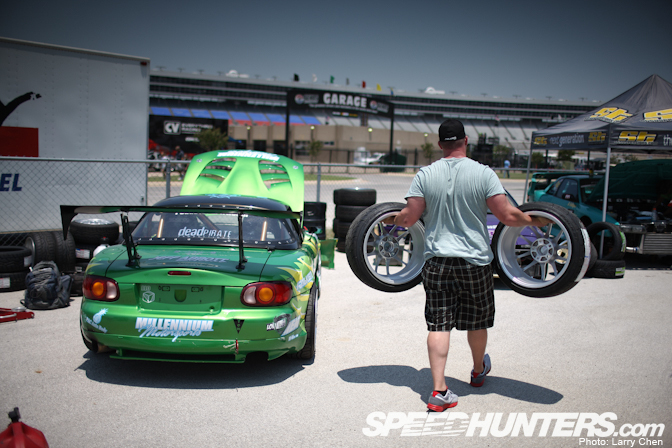 Body builder, Jeff Abbott, is no stranger to being a one man show. I bet he does not even use a jack to change his tires.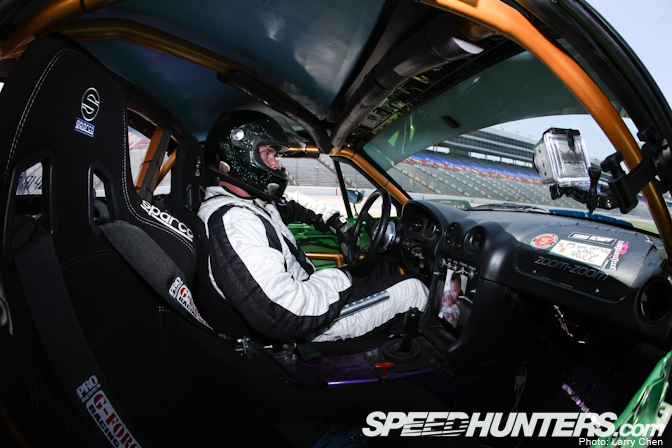 Not much room in the Miata, but it will do.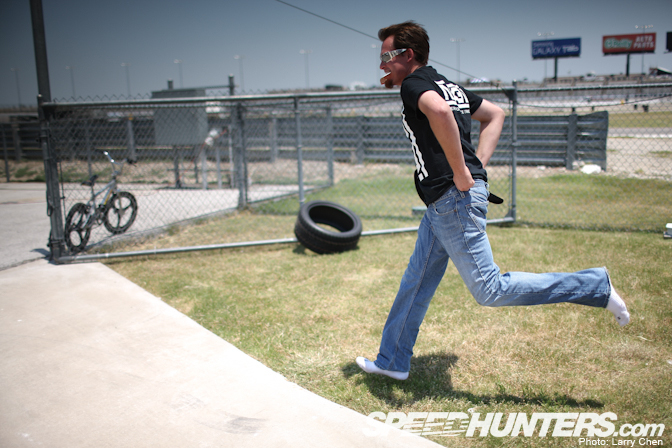 Kyle Mohan ran all the way from the airport in his socks.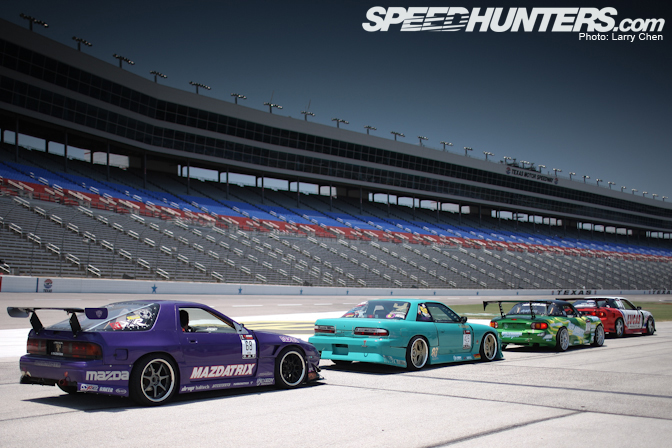 This is a sight I can get used to. In 48 hours there will be 65,000 pairs of eyes focused on these Formula Drift Licensed drivers.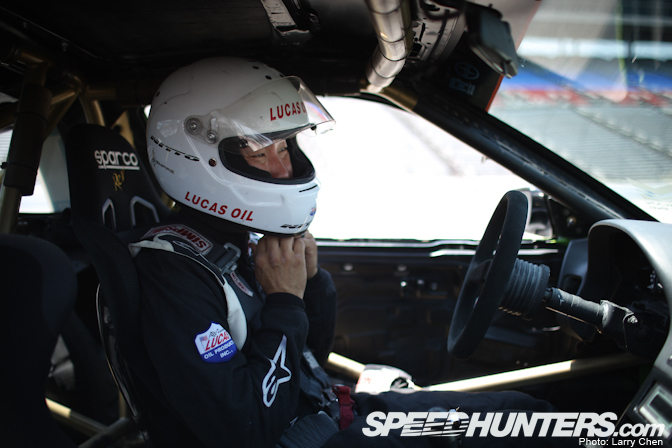 Joon "gentle" Maeng brought out his S13.5. Even when he's putting his helmet on he's smiling.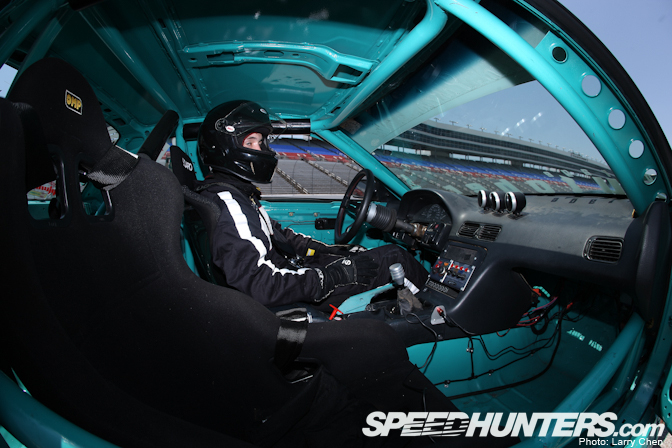 I love the interior of Rolands car. Very clean and very teal.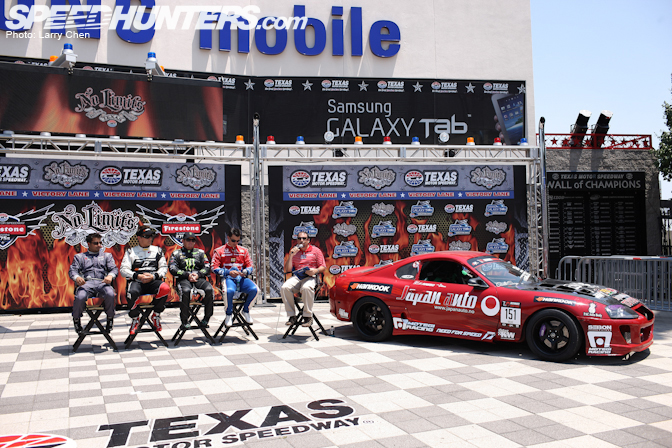 Fredric Aasbo and Mike Essa joined a group discussion with Ricky Carmichael and Graham Rahal.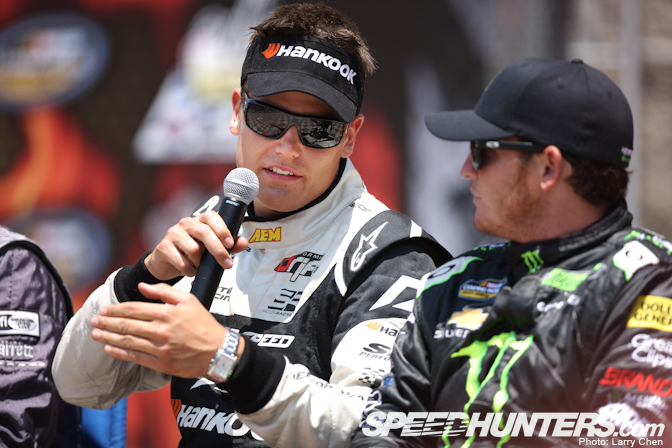 The four discussed the differences between open wheel, NASCAR and of course drifting!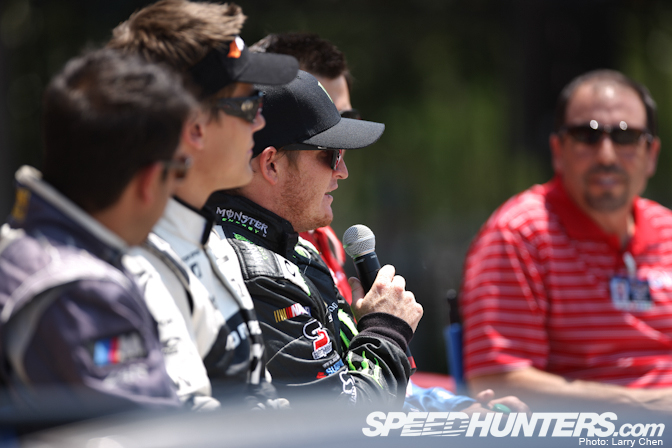 Ricky said he drifted in snowy parking lots with his rusty Subaru back when he was younger.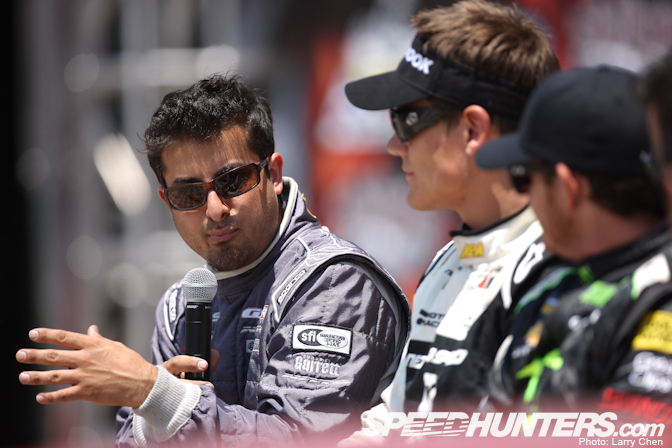 Mike talked about how it was weird for him to start using the hand-brake when he started drifting and that most racecars don't even have a hand-brake.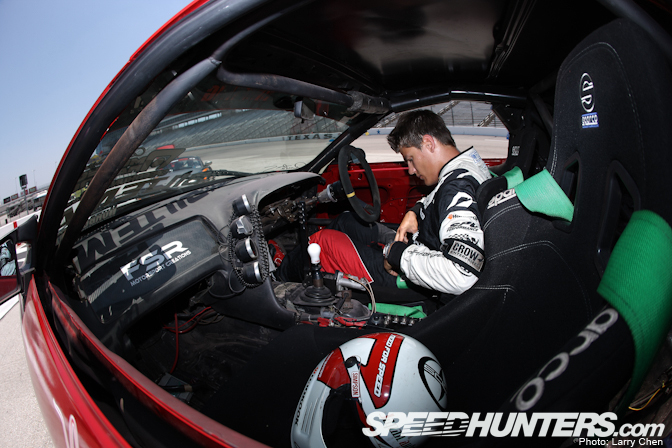 After the discussion, Fredric and Mike took Ricky and Graham for rides.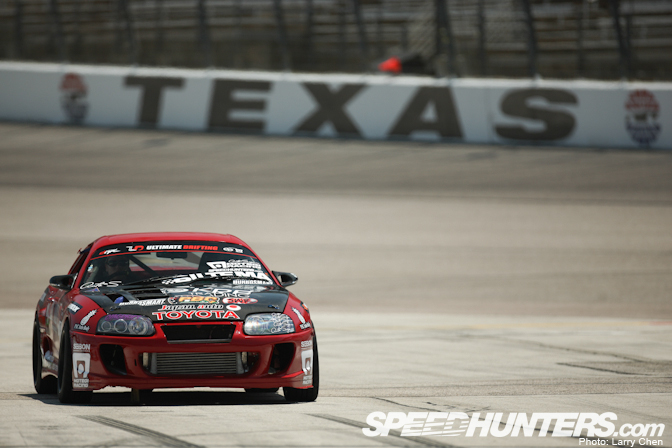 Don't mess with Chucky or Texas.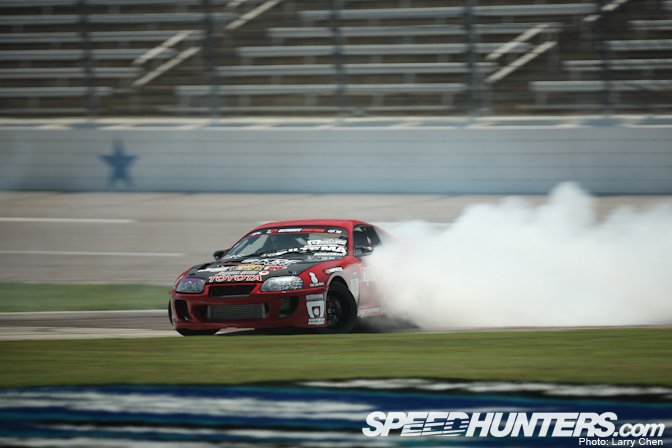 Ricky in the passenger seat.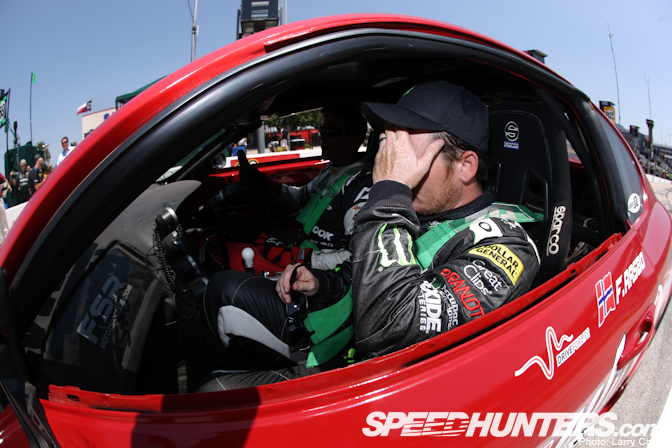 Don't worry Ricky, I would have trouble holding my lunch in too.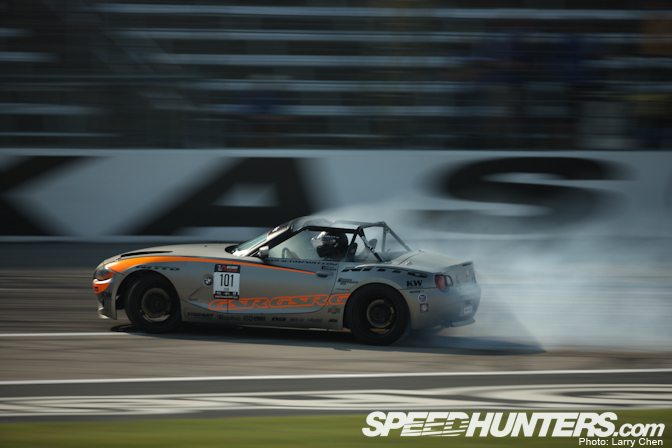 Mike showed off his manji skills on the Texas Motorspeedway front straight.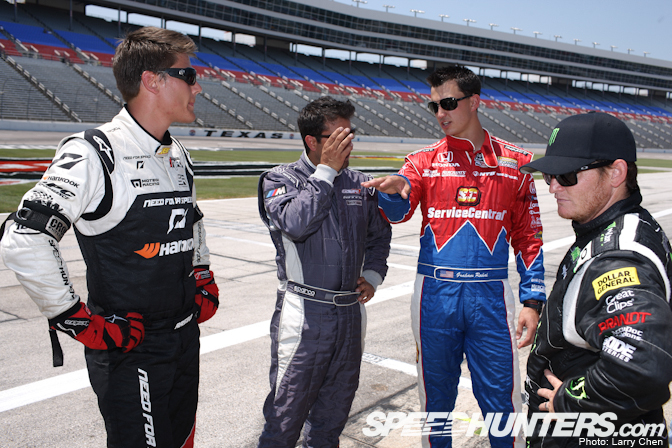 Afterwards, Fredric and Mike offered their cars to Ricky and Graham to drive.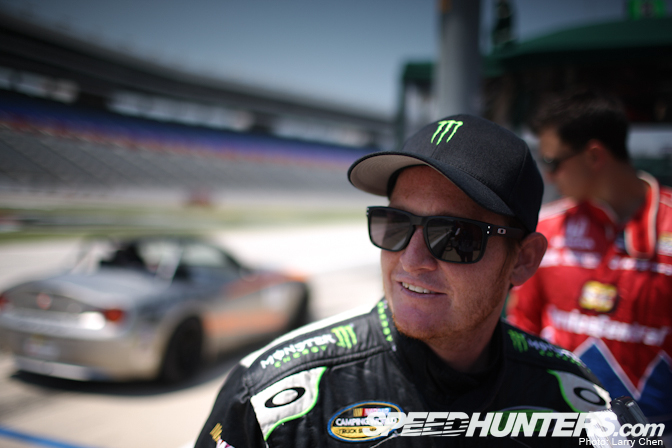 They both declined respectfully. Ricky said, "Maybe if it was an open parking lot."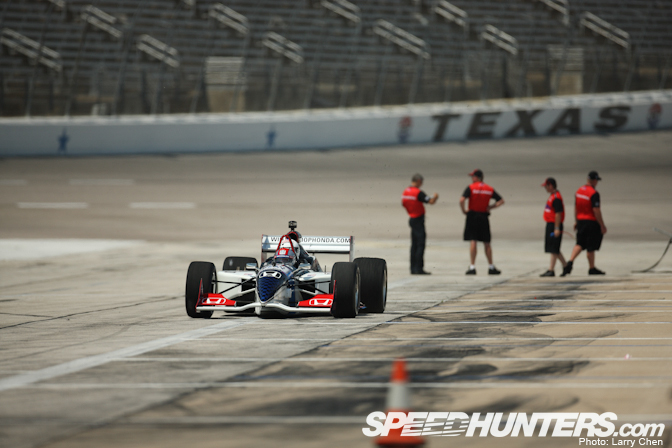 Now, it was Mike and Fredric's turn to experience open wheel racing.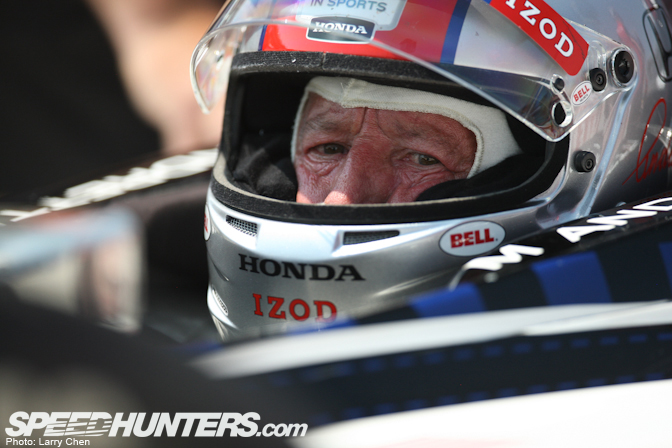 Who better to show the two drifters the ride of their lives than Mario Andretti.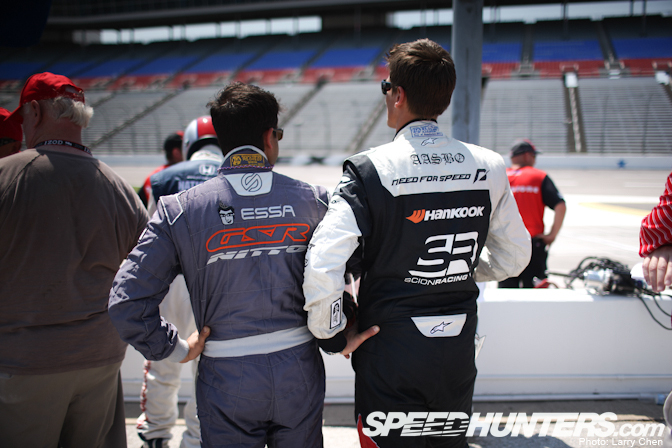 They showed no signs of nervousness.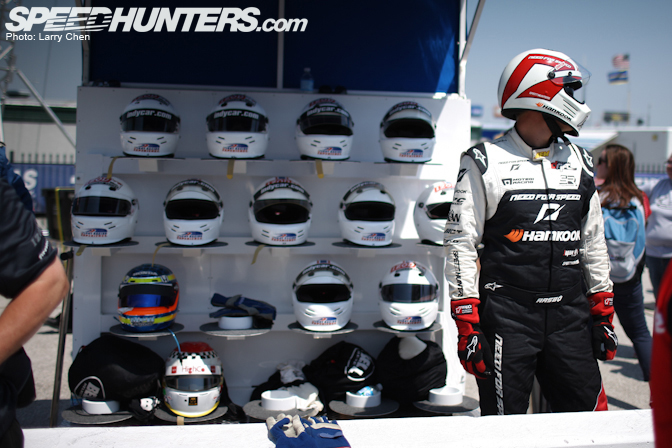 Mike went first, as Fredric watched in horror.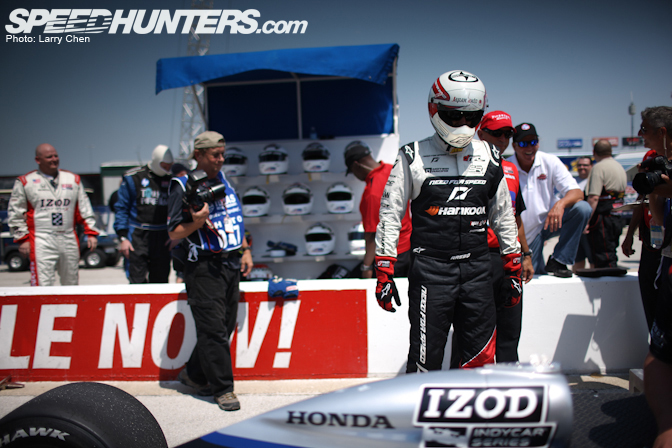 The walk of doom….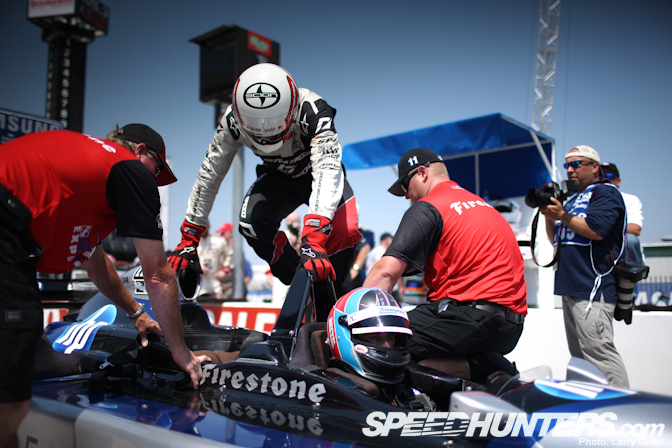 The climb of doom…..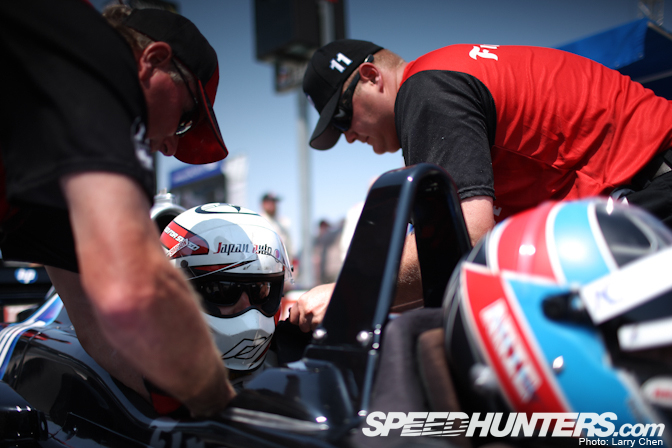 The strapping in of doom………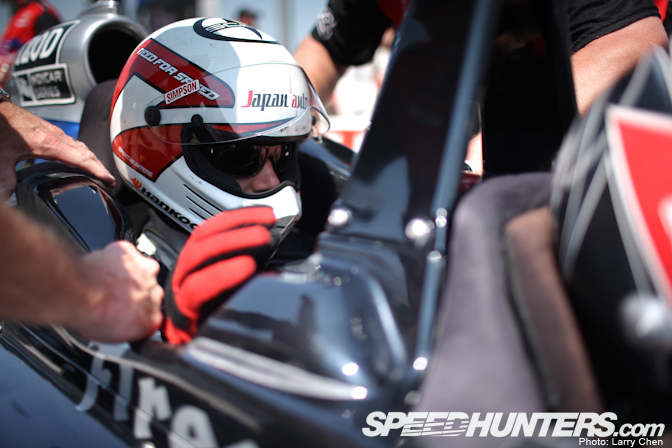 The crew told Fredric to put his visor down.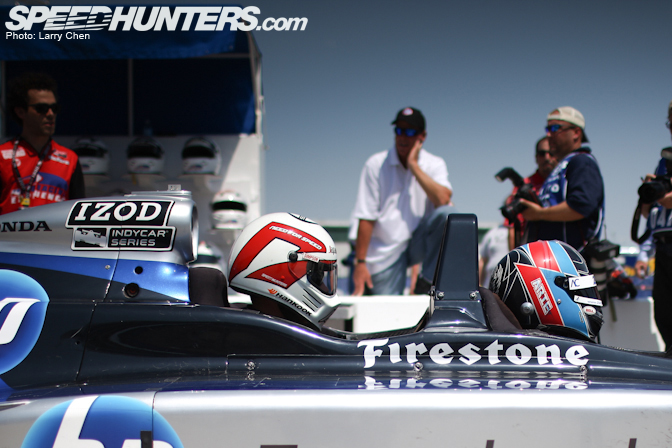 He did so with no hesitation. It was time to go.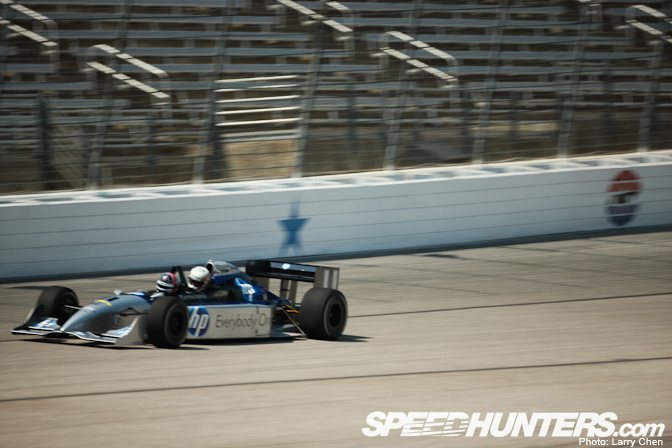 Fredric said his helmet almost came off from the g-forces that they pulled on the bank.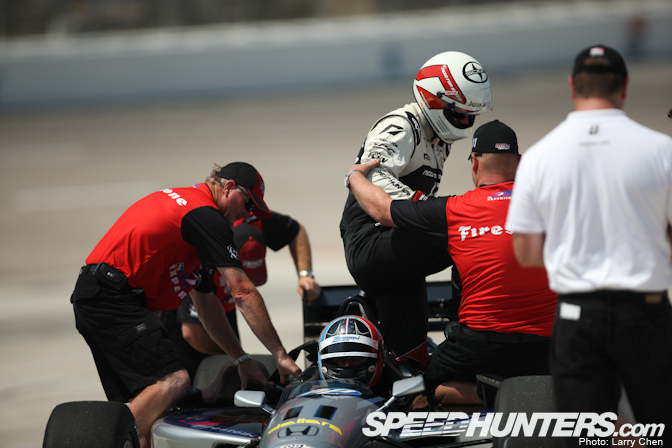 Both Mike and Fredric were wondering how anyone could take more than 100 laps of that kind of G-force.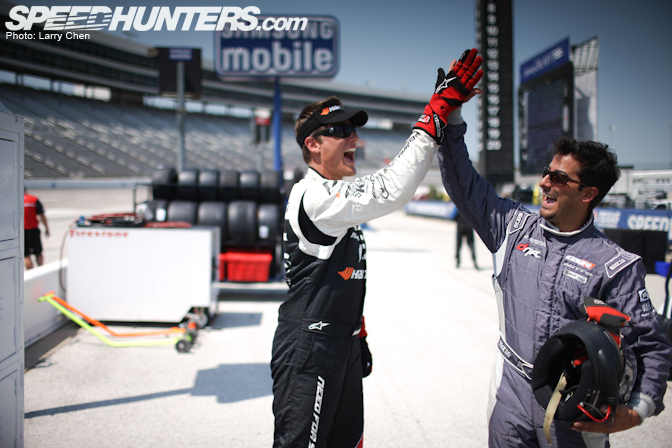 These two were giddy as school girls.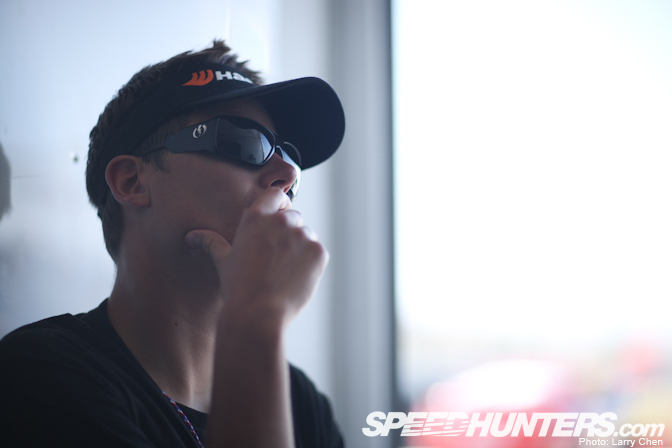 Later on, Fredric dreamed of being an open wheel race car driver.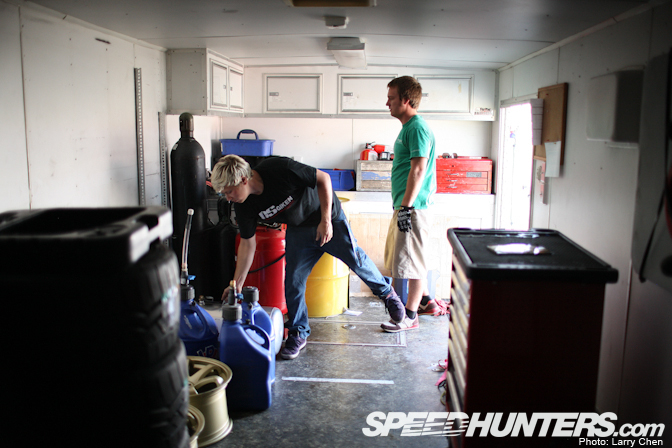 Unfortunately, Pat blew up his transmission.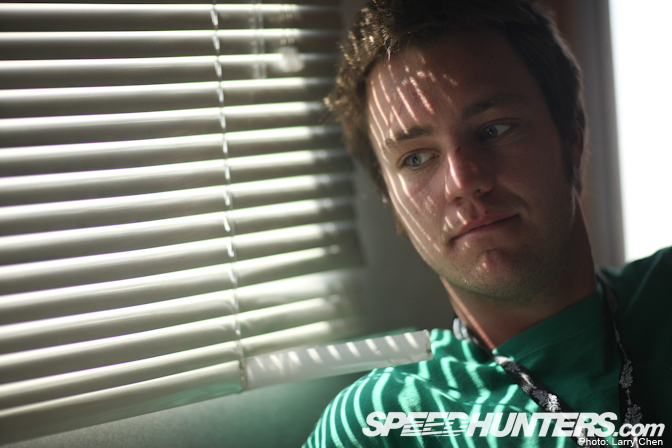 Pat and his mechanic, Bruce, will have to source a transmission in a strange far away land called Texas.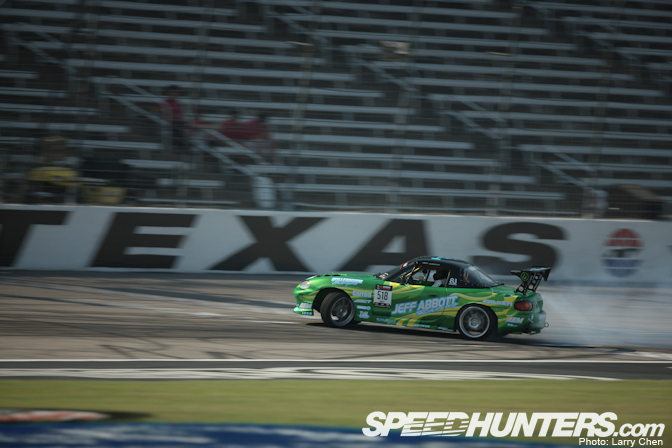 The rest of the field went on to get some practice sessions in before tomorrow nights demonstration.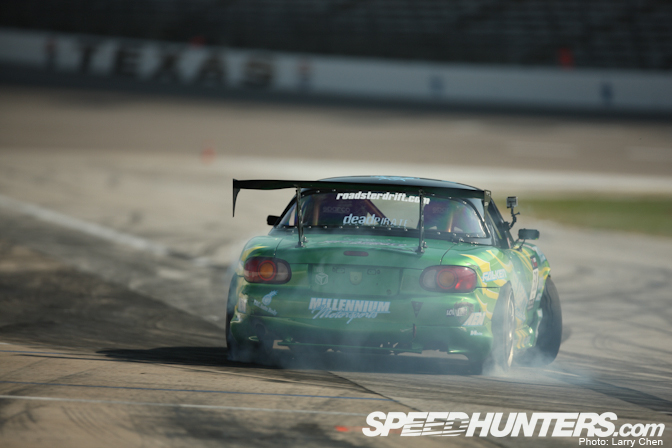 Jeff Abbott, coming out of the last turn.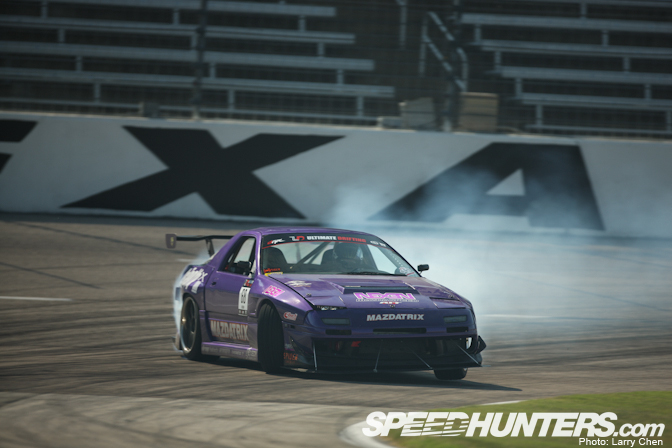 Kyle Mohan's FC RX-7 corners hard enough to lift the inner front tire off the ground.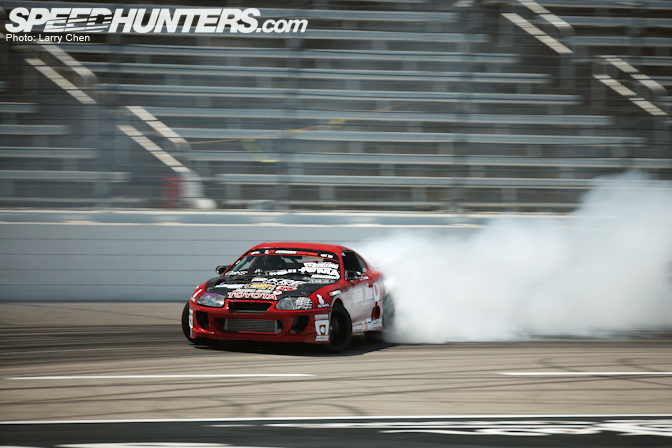 Fredric making cotton candy.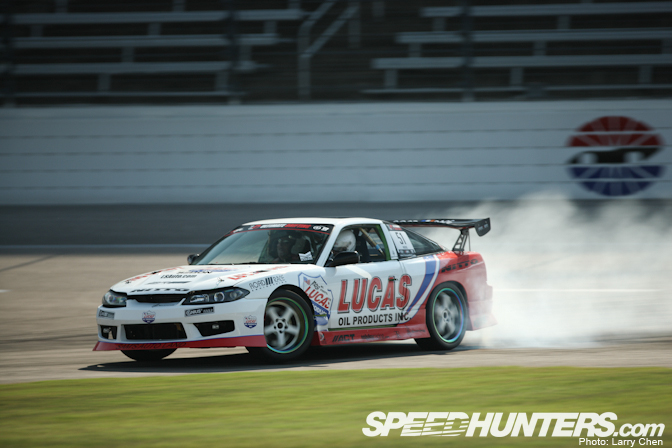 Joon gave out rides to the media till practice was over.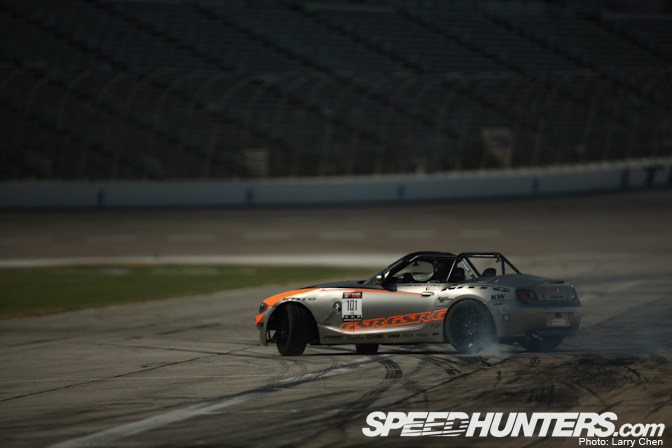 On the last day of the demonstration, I will be following Fredric from the moment he wakes up, to the moment he goes to sleep, so make sure you look for the stalker-like post soon.
-Larry