While it's already been over forty-eight hours since I left the Las Vegas Convention Center, I can still feel the effects of the SEMA show, both mentally and physically. It's that one-week jam-packed full of cars, parts, people and parties that those of us who work in the tuning industry will spend the next 362 days planning for until the fall comes around again. In today's post I'd like to highlight a few of the monster race cars I found at the show.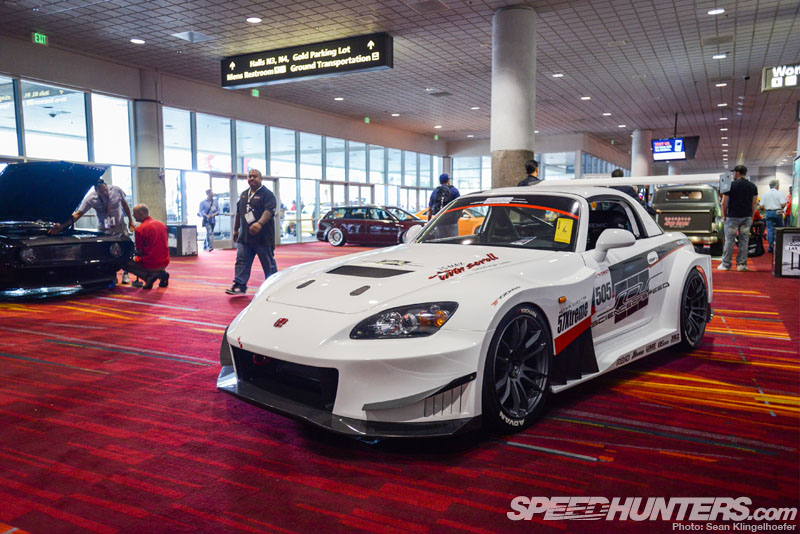 In the north hall I came across this radical looking S2000 from the famous Arizona-based shop Science of Speed, known particularly for their work on the NSX platform. I can't be certain what the plans are for this wild S2K but from the NASA numberplate I'd assume this will likely be used in TT events, NASA's equivalent of Time Attack.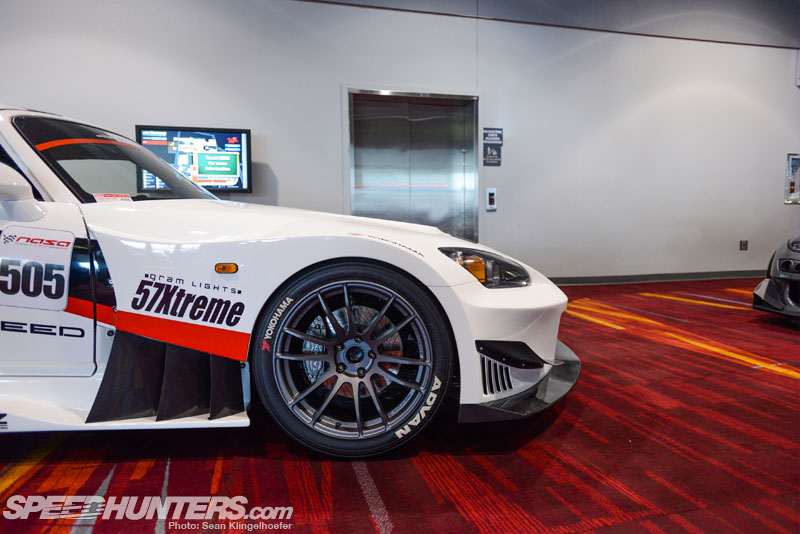 This is the first time I can recall seeing the J's Racing Type GT widebody kit outside of Japan and I was surprised that something this extreme was sitting by itself in the North Hall rather than in a exhibitor's booth! The futuristic Rays 57Xtreme wheels were some of my favorites at TAS last January and I love the way the spoke shape compliments the aero on this car.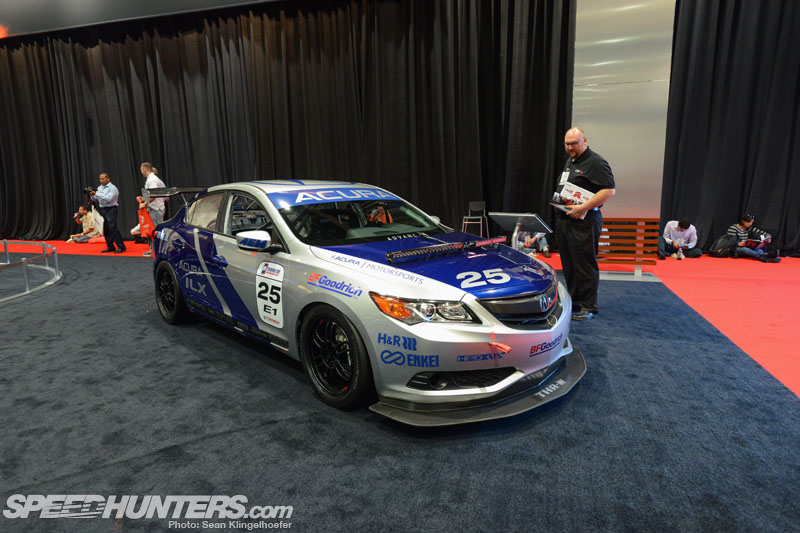 At Honda's booth Acura announced an ILX body-in-white endurance racer that will compete at the 25hours of Thunderhill with a roster of Honda employees behind the wheel. While project is mostly a team-building activity for the Honda Research West group, the boys have built up quite the reputation at the event and are expected to be front-runners in their class.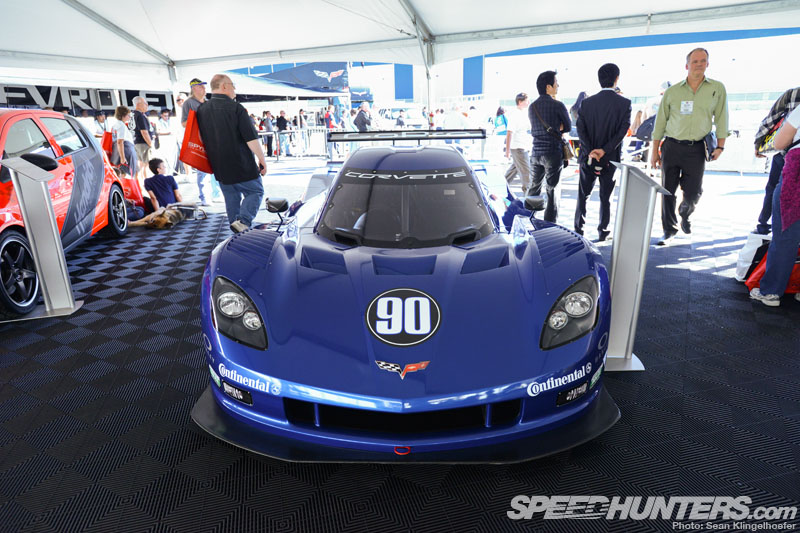 I've never really followed GRAND-AM too closely, aside from the Rolex 24, so ironically SEMA was the first time I had ever seen the Corvette prototype in person. It certainly isn't the most beautiful racing car I've captured, but the Chevy is leaps and bounds better than the other Daytona Prototype designs.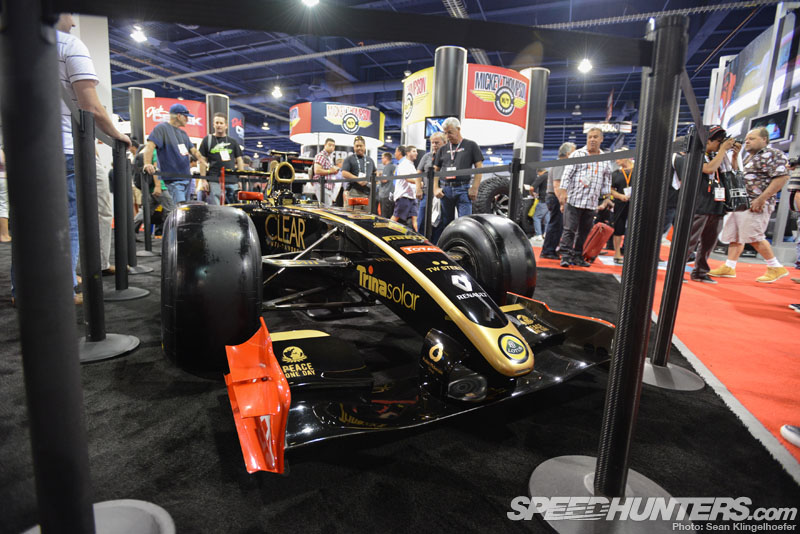 We certainly couldn't talk about motorsport without mentioning the pinnacle of racing technologies – Formula One. Sadly this beautiful Lotus was roped off so tightly that it was all but impossible to get a decent shot of the car. Hopefully in 2013 I'll have an opportunity to spend an afternoon with one of these beauties cut loose in its natural environment.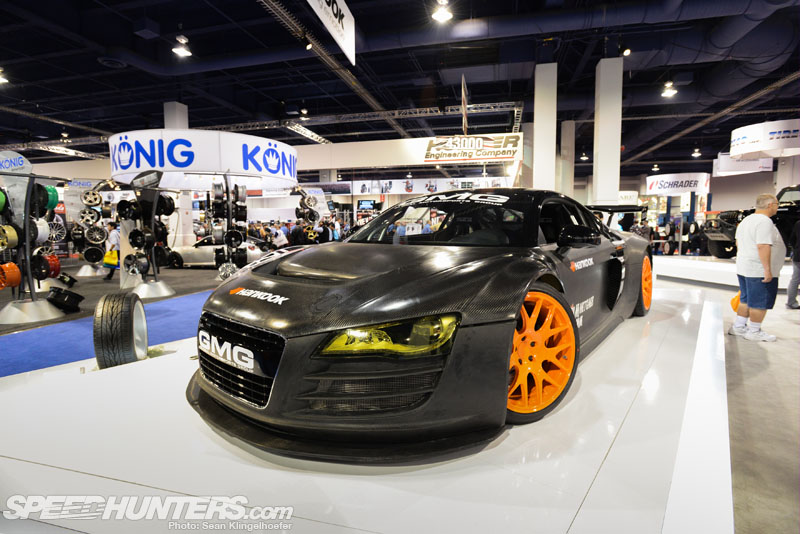 Over in the Hankook booth I was surprised to see a familiar car in a new guise. After spending a few weekends as a VIP guest of Audi in the paddocks of the Nürburgring and Spa I have become quite familiar with the R8 LMS, yet seeing one sans livery, in all its carbon fiber glory, was enough to stop me in my tracks.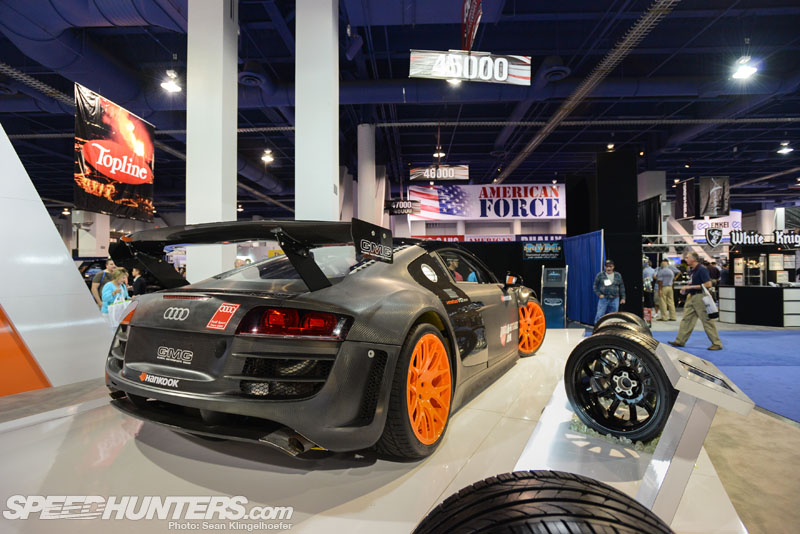 As you might have gathered from the decals, this particular car is a customer racing vehicle that belongs to the SoCal-based tuners GMG. They've been expanding their racing operations and have fielded an R8 in World Challenge this year and I would presume this is either a backup or former competition car.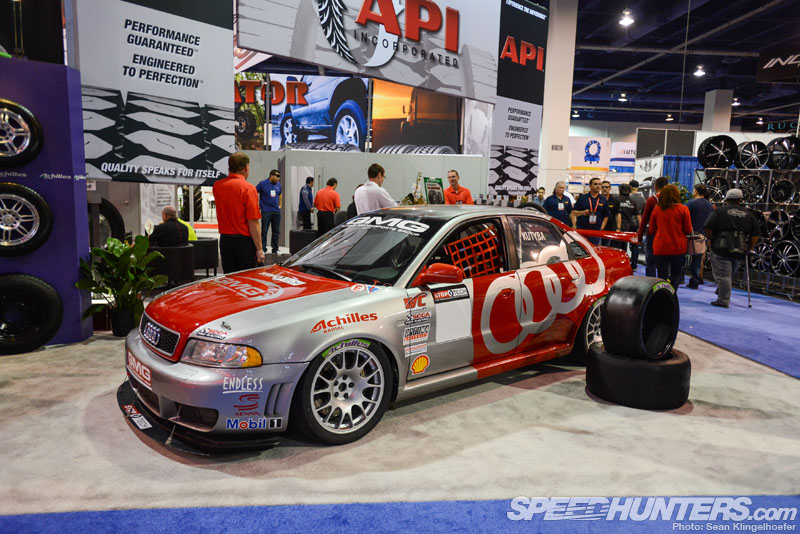 Speaking of GMG and Audi, here's another badass World Challenge car built and fielded by the shop – a 2002 Audi S4.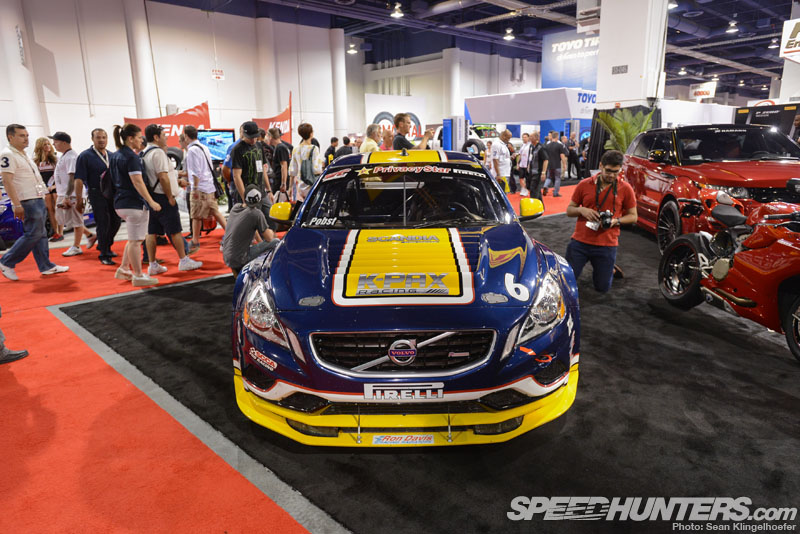 I'd argue that the K-Pax Volvos are the best looking cars in the WC field, and with a guy as nice as Randy Pobst behind the wheel it's hard not to like these guys. The amount of work that has gone into these cars to make them competitive in the GT class against factory efforts from the likes of Cadillac is astonishing.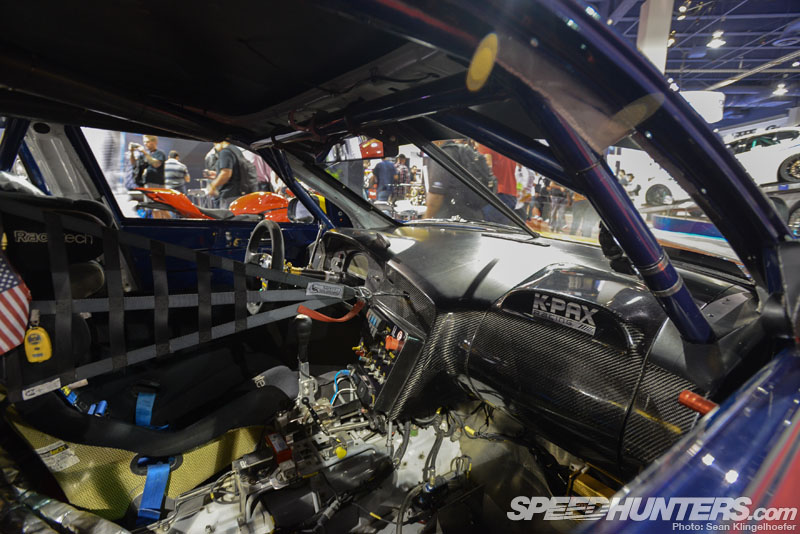 I had the chance to look around this car for a few minutes back at Mid-Ohio and it was pretty staggering stuff. The more I learn about World Challenge the more intrigued I am by it, particularly the way the rules work to level the field. I think that a full feature on one of these cars is in order for next year!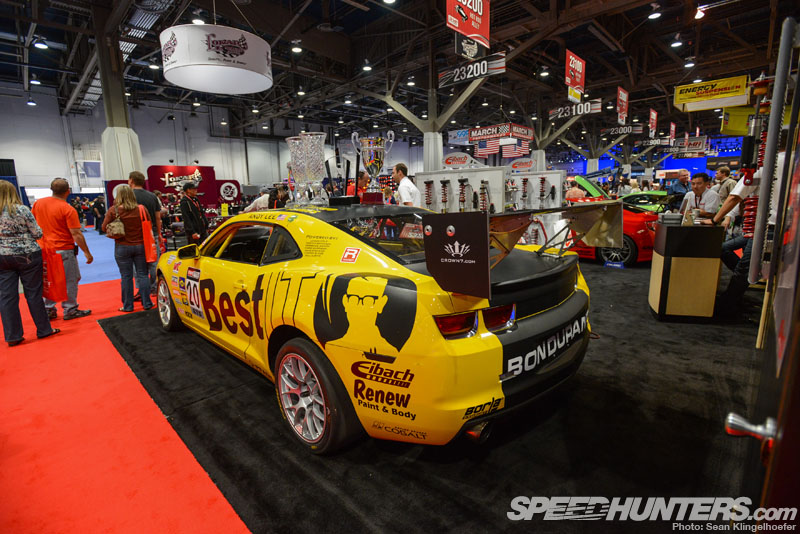 One last car I wanted to talk about before we move on from World Challenge is this Camaro driven by Andy Lee, which was this year's runner up in the hotly-contested GTS class. There's no doubt this is one badass machine, but seeing how the wheel wells dwarf a reasonable sized wheel and tire package demonstrates just how monstrous the wheel arches are on the new Camaro!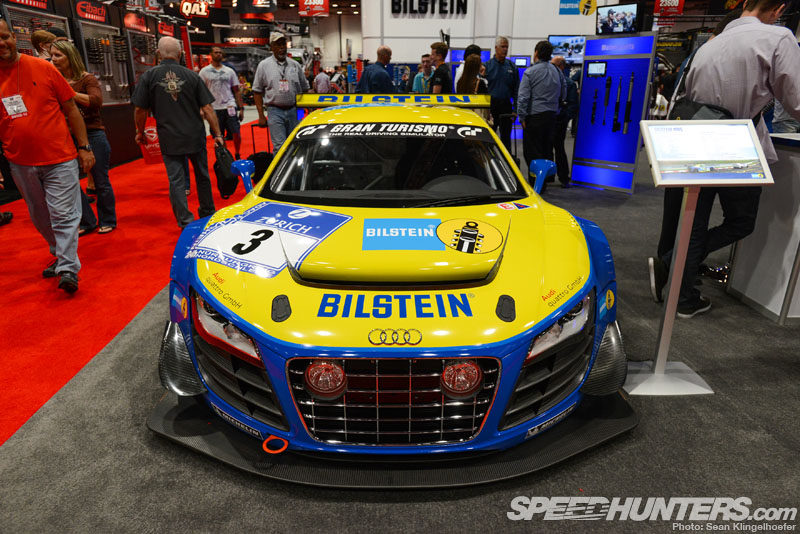 Just across the way I made a b-line for this car, an Audi R8 LMS Ultra that I was lucky enough to witness take the overall win at the N24 back in May. I'm not entirely certain if this is the actual car that waged war on the Green Hell or simply a show-car stand in, but I'm not sure I care either way.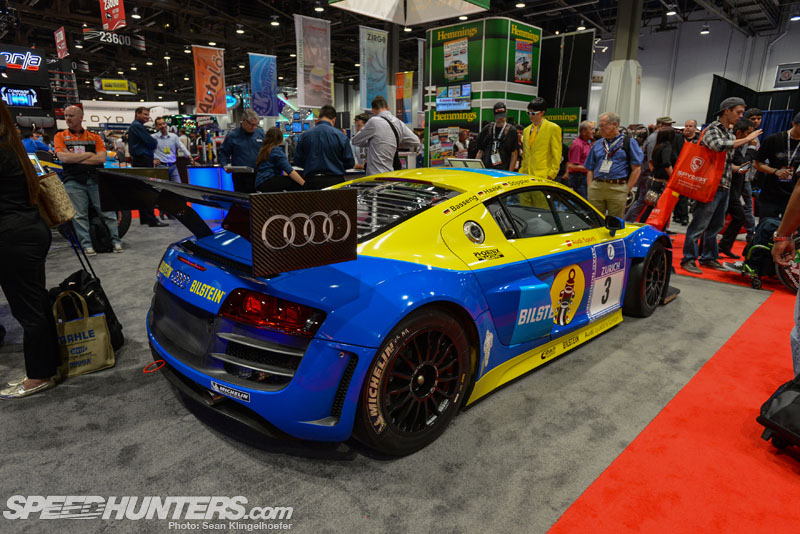 Initially I wasn't a huge fan of the R8 in its racing form, but the car has definitely grown on me over the last few years. There's something about the iconic and simple Bilstein livery that suits the car very nicely.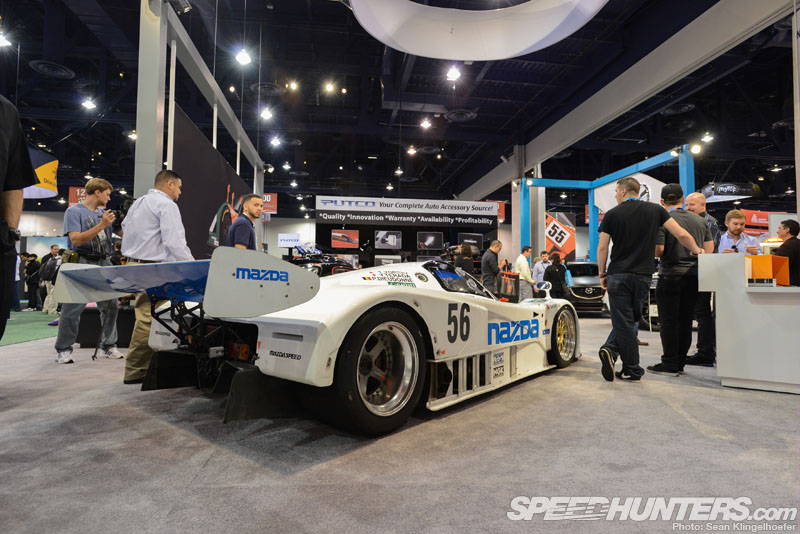 While it certainly isn't known to be a motorsports museum, the SEMA show does have a surprisingly wide range of racing vehicles to oogle. For example Mazda was proudly displaying a 787, the predecessor to a car I would presume needs no introduction to this audience.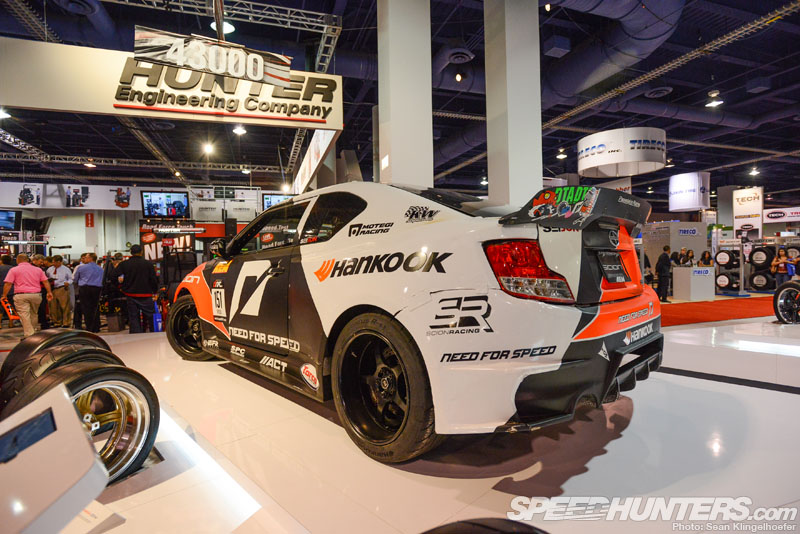 Then, on what is about the polar opposite of the motorsport spectrum, you can find cars like our very own Frederic Aasbo's Formula D weapon. It's a very eclectic mix indeed!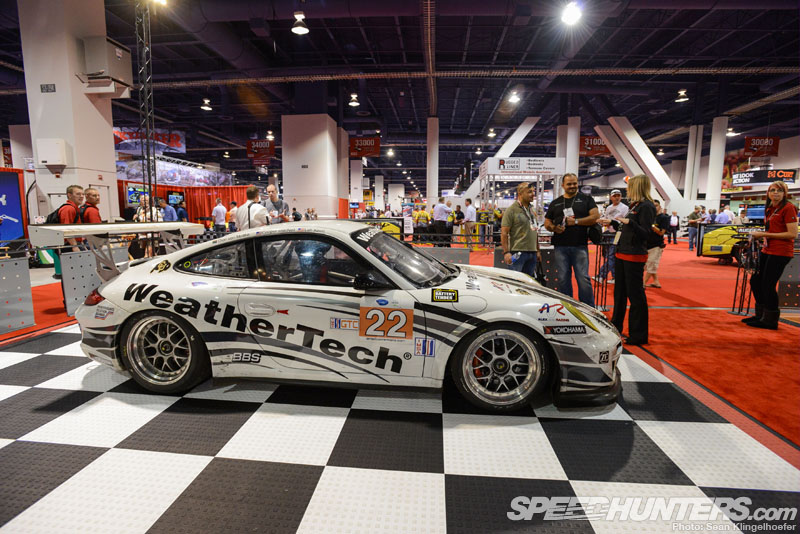 I decided to take a brisk walk through the Truck Hall, you know just to make sure I didn't miss anything, and I was surprised to see the car that gave Cooper MacNeil and Leh Keen the driver's title in the ALMS GTC class. It was sitting in the WeatherTech booth, still all marbled up from the last place I saw it – Petit Le Mans.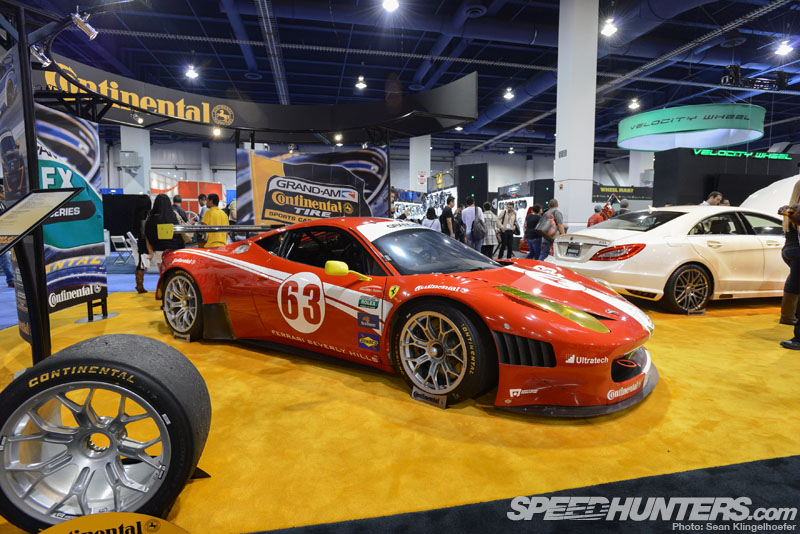 Moving on, I went downstairs in the South Hall to find a gorgeous 458 GT sitting in the Continental booth. It would appear that this particular car likely competes in the GRAND-AM sanctioned Ferrari Challenge series.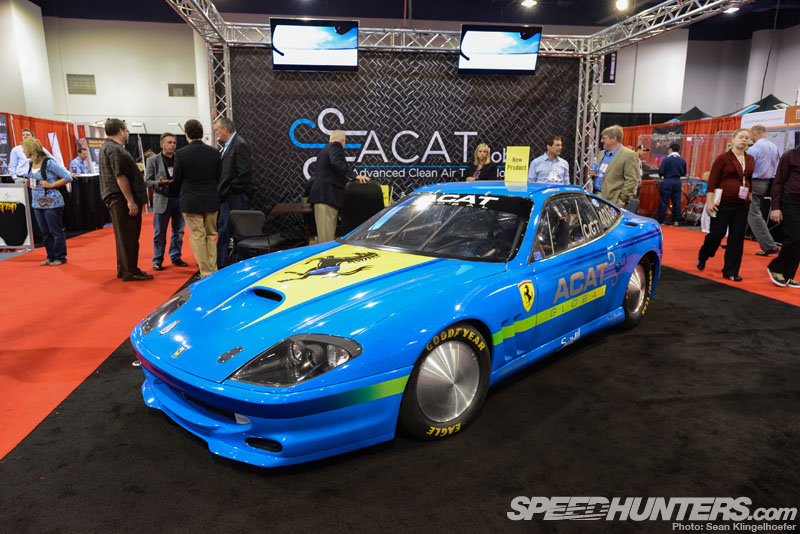 Just across the way I stumbled upon a horse of a different color, if you can excuse my pun. Seeing a prancing pony that's been relegated to life on the salt was a great reminder that there are endless ways to enjoy pushing a car to its limits!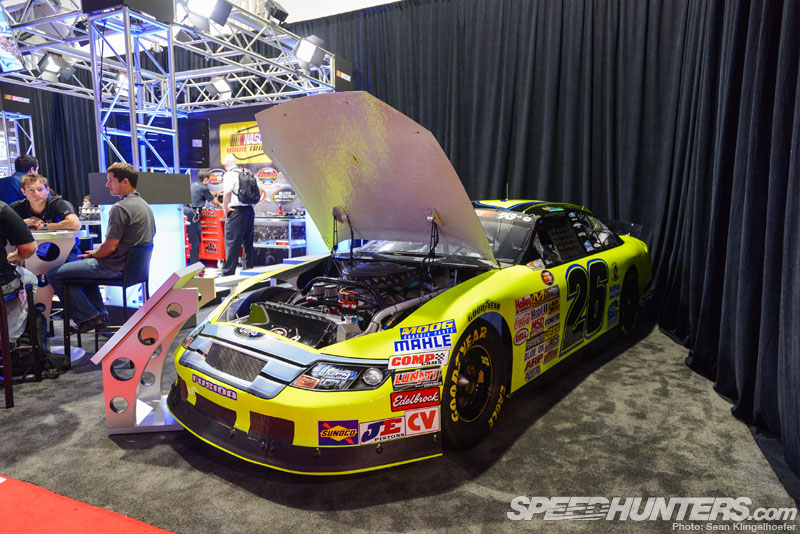 Since SEMA takes place in the states there are plenty of other home-brewed racers to be seen, which obviously includes America's favorite form of motorsport – NASCAR.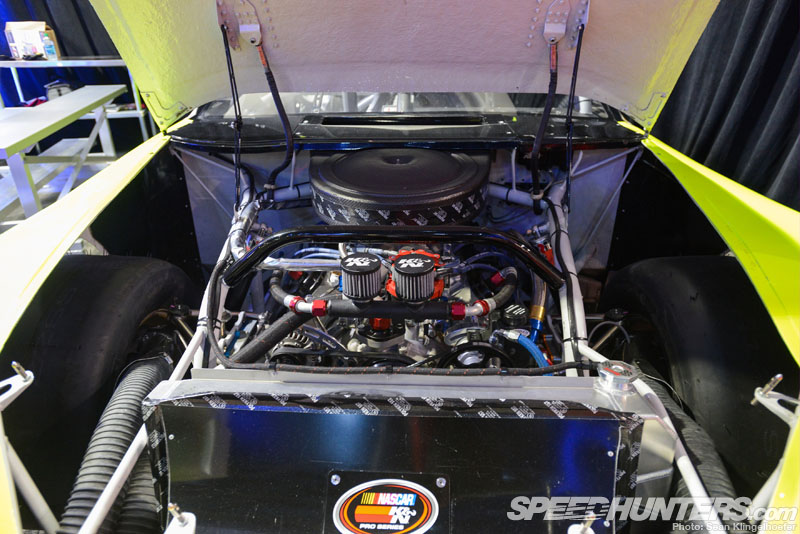 If you can put personal bias aside, no matter how you slice it, these machines are works of art. I only understand a fraction of what goes into building and developing one of these cars, let alone making them competitive, but even from the scraps of information I've accumulated I know it's no easy feat.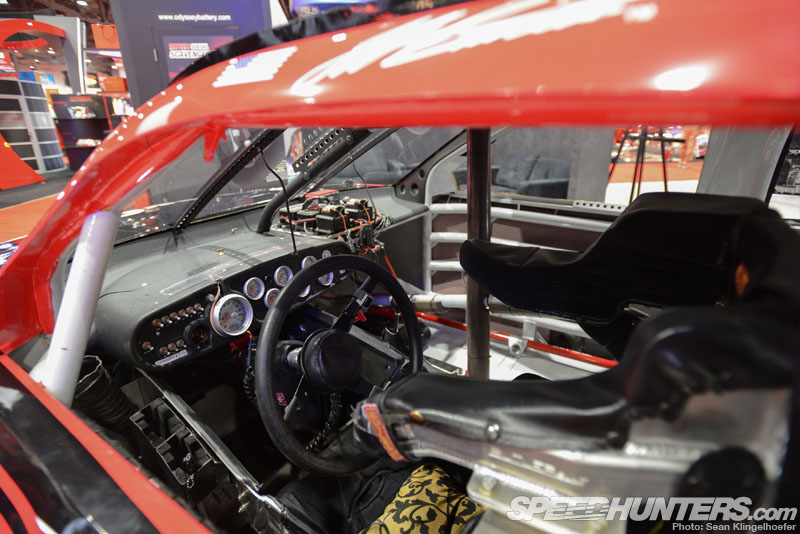 The rulebook by which the cars are scrutinized requires them to limit a number of designs and technologies and what I find the most interesting about NASCAR is how parts have evolved leaps and bounds while much of the underlying structure remains the same as those from twenty-five years ago.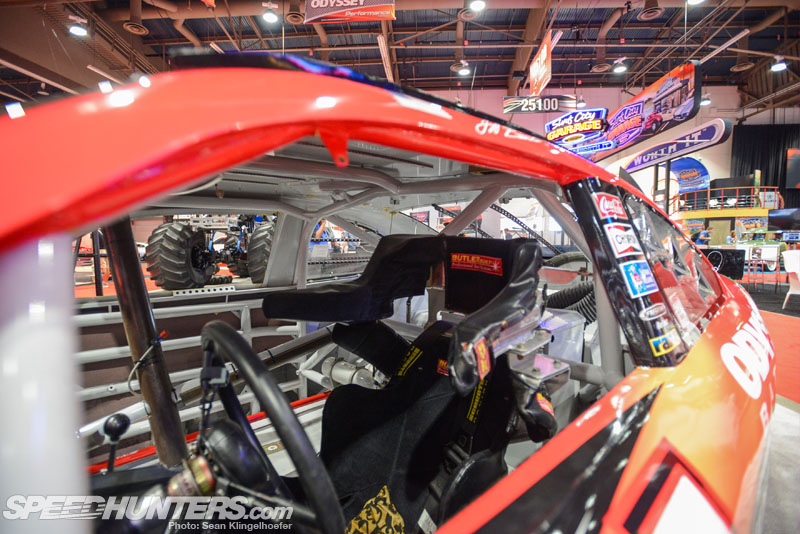 Back at Monterey Motorsport Reunion I was able to get a good look around a handful of NASCARs from varying vintages, but this is another area that I am quite fascinating in learning more about. Jeez it looks like 2013 is already shaping up to be a very busy year of Speedhunting!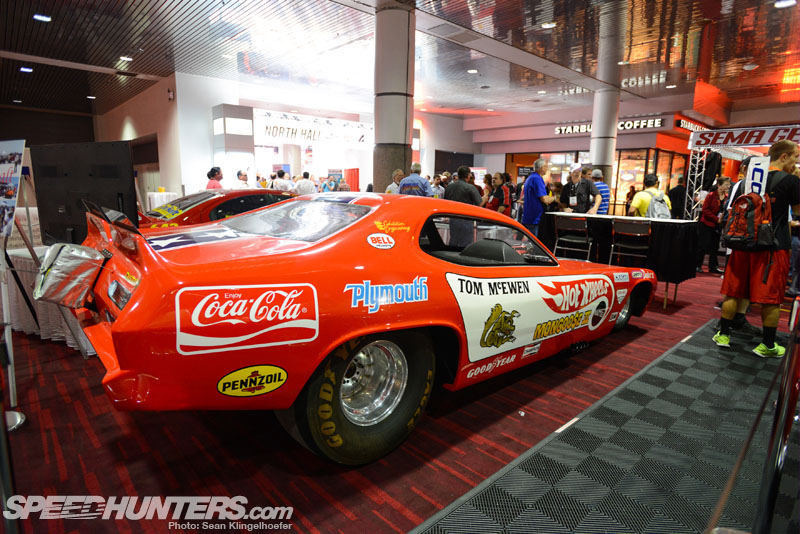 NASCAR might be the largest motorsport in terms of viewership in the US, but I think that drag racing is probably equal in the hearts of fans, not to mention significantly higher in terms of participation. Therefore I wasn't shocked to see a large number of drag cars at SEMA, like this iconic Plymouth Duster II driven by Tom McEwen aka "The Mongoose."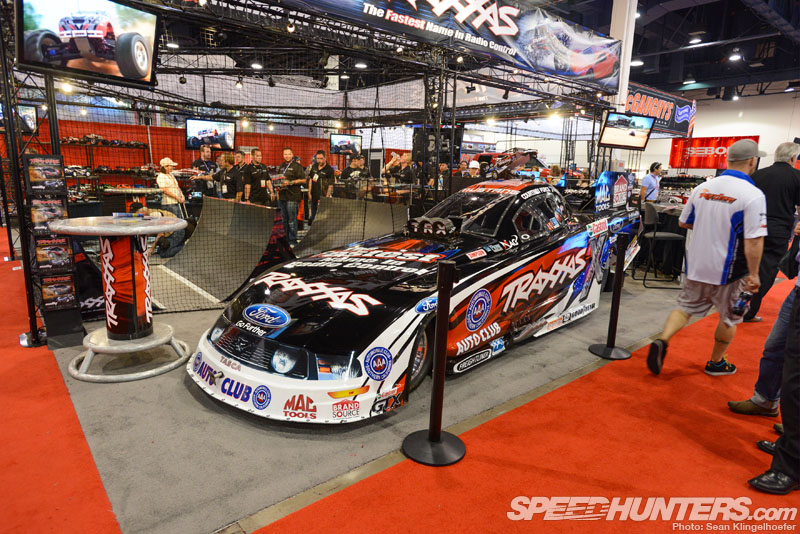 Like NASCAR, the Funny Car has clearly evolved over the years but the same basic premise remains: take some tubes, a body that loosely resembles a production vehicle and an unreal engine and run it as hard as possible.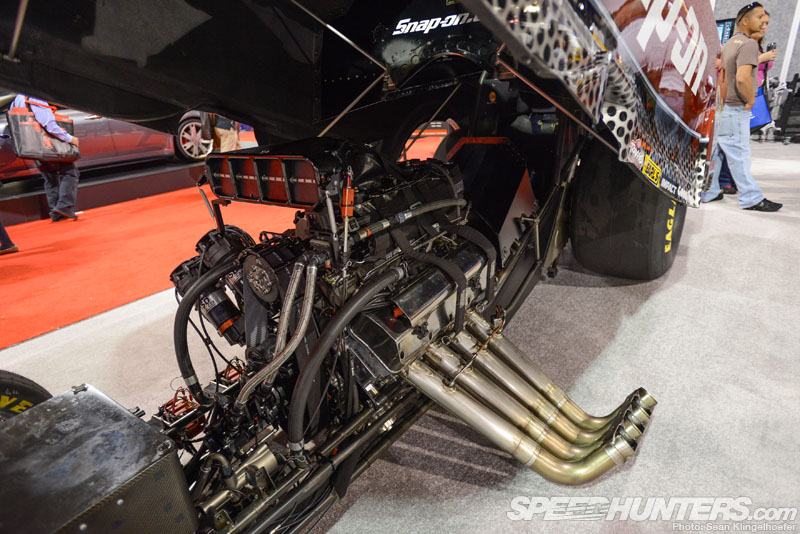 And when it comes to unreal engines, they don't get much further from comprehension than this. Equipped with a massive but simple roots supercharger, the 8.1L OHV engines produce around 8,000hp and burns nearly fifteen gallons of fuel while propelling the car down the thirteen-twenty in just under five seconds… nuts!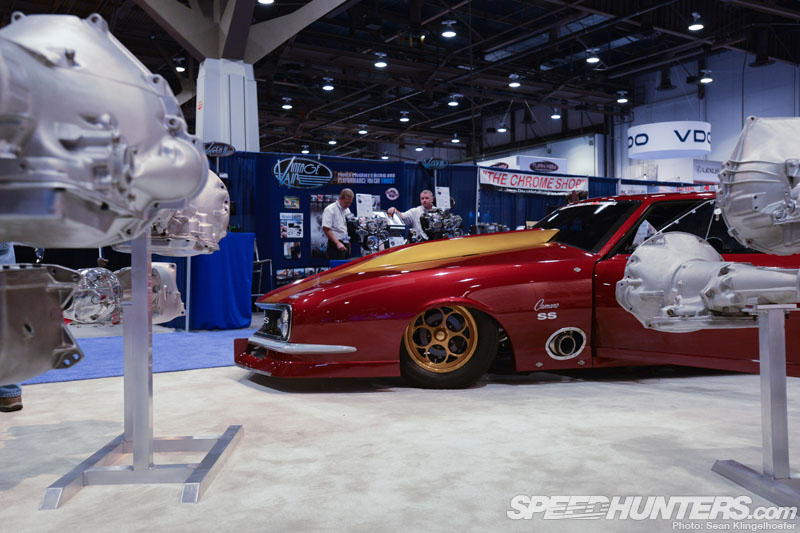 Yet as incredible as Funny Cars are, I found something else lurking in a sea of transmissions that was even more exciting… at least to me.  While it's fine and dandy to watch multimillion dollar teams running impressive times with state of the art dragsters, I find that the guys with "street" cars are on another plane of cool.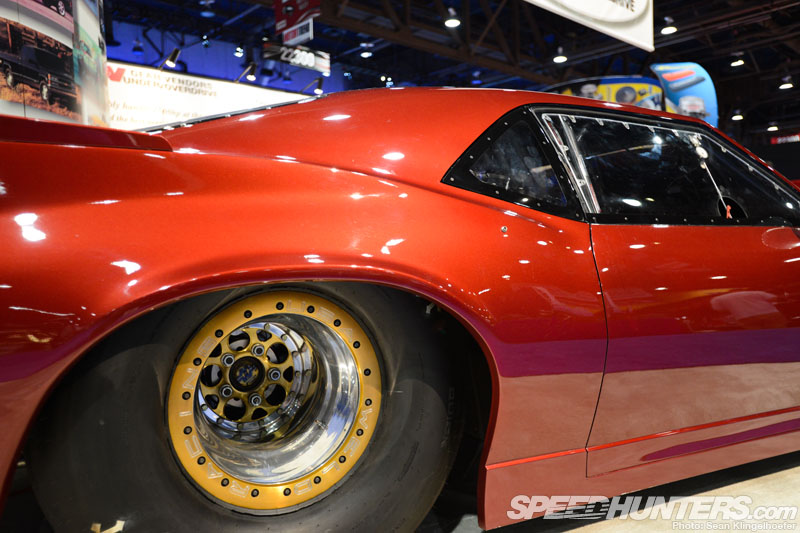 When I laid eyes on this first generation Camaro a wicked drool session ensued. I must have walked around the car five times gawking and gasping while frantically snapping away. I mean look at the way that the tire sinks into the bodywork! Have you ever seen something so beautiful?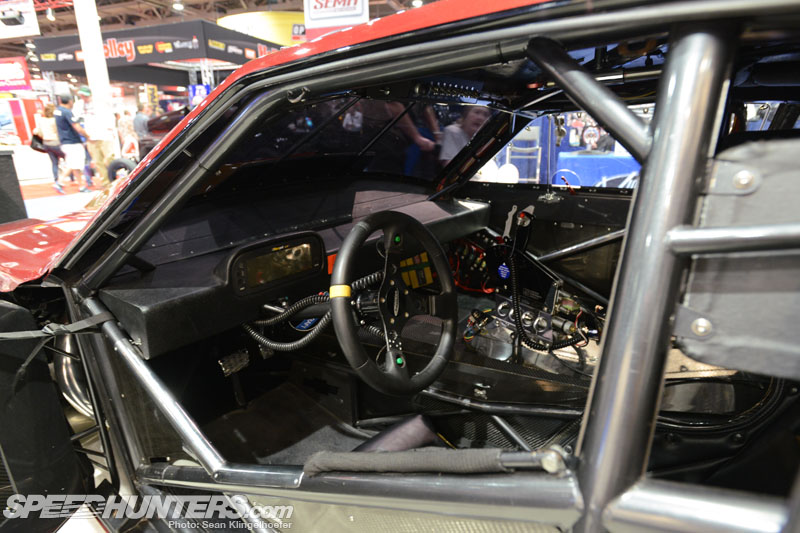 Inside it's pretty much the same story, with fabrication of a standard you'll rarely see. The build quality on this car was impressive to say the least, with immaculate metalwork and carbon fiber in the cockpit I felt the need to live inside this car.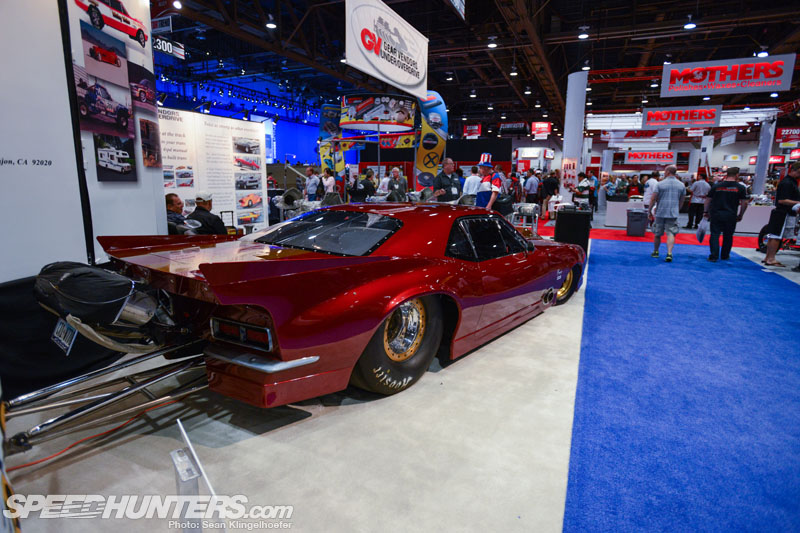 From what I'm told this particular car has only been out for one inaugural run, clocking an ET in the seven-second range due to an electronic malfunction. Apparently the twin-turbo engine setup should be good for a mid-six-second pass, which is something I hope to see in two weeks when I return to Vegas for the Street Car Super Nationals.
More from SEMA 2012 on Speedhunters
-Sean