Finally I did it. Despite having attempted to cover the HachiRock Festa twice in the past, I managed to get my AE86-fix yesterday at the 2012 event. I think a lot of people abroad can't comprehend the absolutely grueling traffic jams that plague Japan's capital. It's all about timing; leave 10 minutes too late and your trip can exponentially get longer as traffic intensifies on the highways. Attempt to use normal roads to get to your destination and you might as well kiss half of your day goodbye. So after having aborted two previous attempts in the past due to completely gridlocked roads, there was no way I was going to not make the HachiRock this year.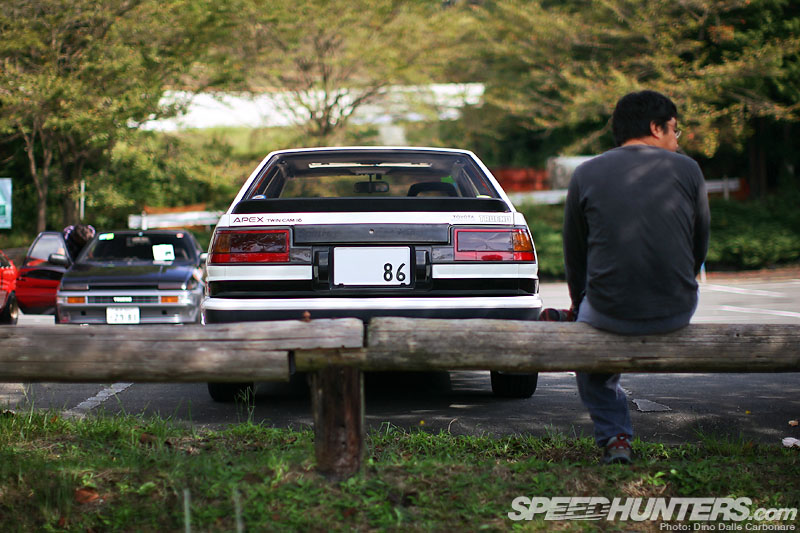 With the arrival of a strong typhoon predicted for the afternoon, my plan of attack was "early in, early out" which is why I found myself being woken up by that awful alarm sound at 4:30 am. But no matter how few hours I sleep, there is always a certain excitement when I need to cover an event, especially one I haven't been to in the past. I think most people in Tokyo were scared by the imminent typhoon so didn't bother going for some out-of-city excursions, because at 5 am when I left the house, the roads were eerily empty.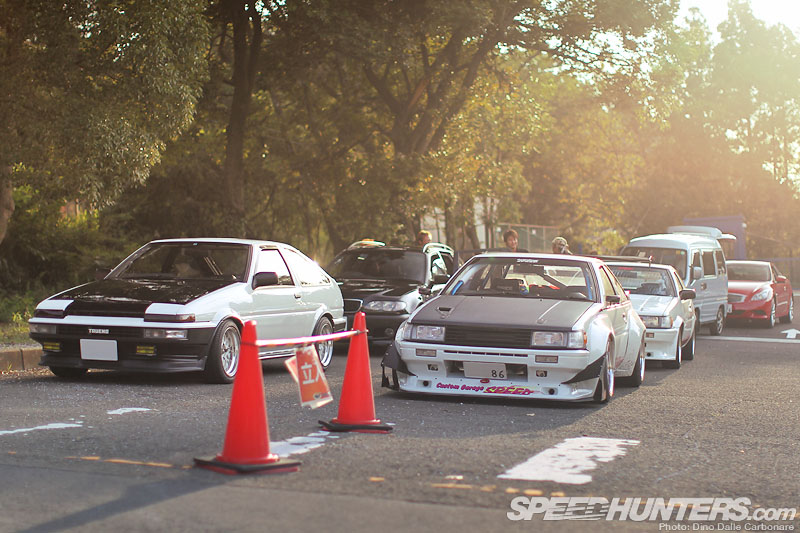 It was clear sailing all the way to Sagamiko, passed the far extremities of greater Tokyo like Fuchu and Hachioji. I arrived three hours before the event was due to kick off at 9:30, which gave me the awesome chance of seeing it all come together…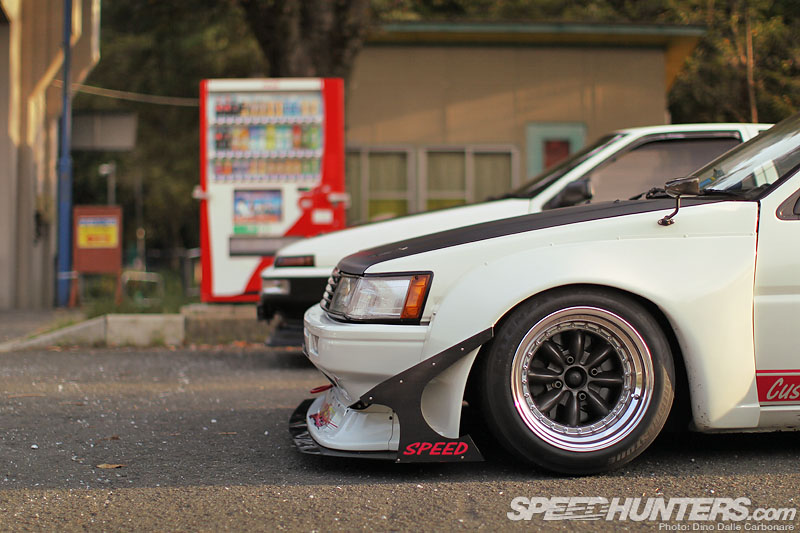 …from the few cars that at that time were already parked outside the gates of the Sagamiko Resort Pleasure Forest (don't laugh at the name!)…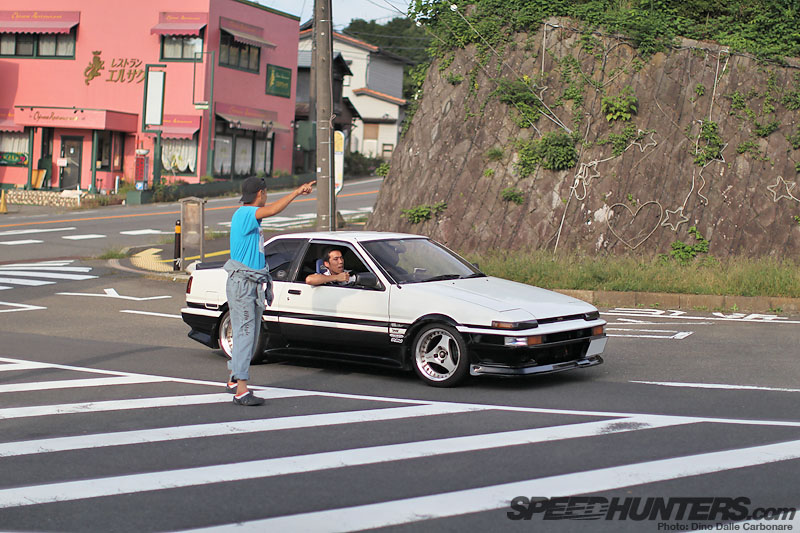 …to those that slowly began arriving.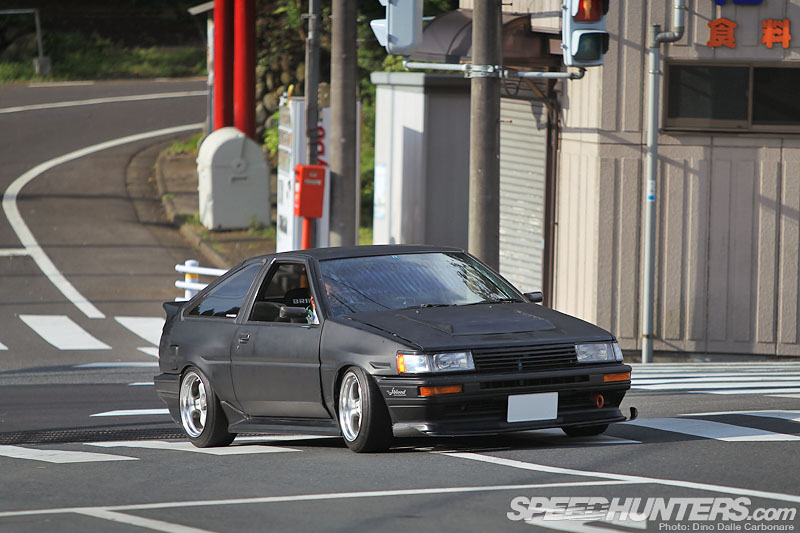 I sat down and waited patiently, once in a while the refreshing silence of the picturesque lake resort being disturbed by the unmistakable sounds of rev-happy 4AGs.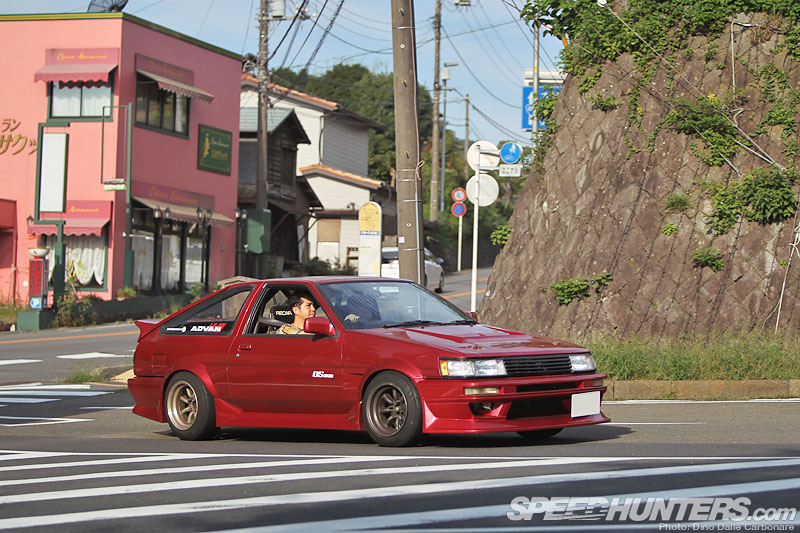 After another half hour had passed I heard this loud scream in the distance and thought, someone was having a bit of fun on the short little stretch of curved road that leads up to the park. Turns out the hooligan in question was Allen from Tomei Powered, letting his Levin clear out its throat through that lovely-sounding prototype Tomei titanium exhaust of his.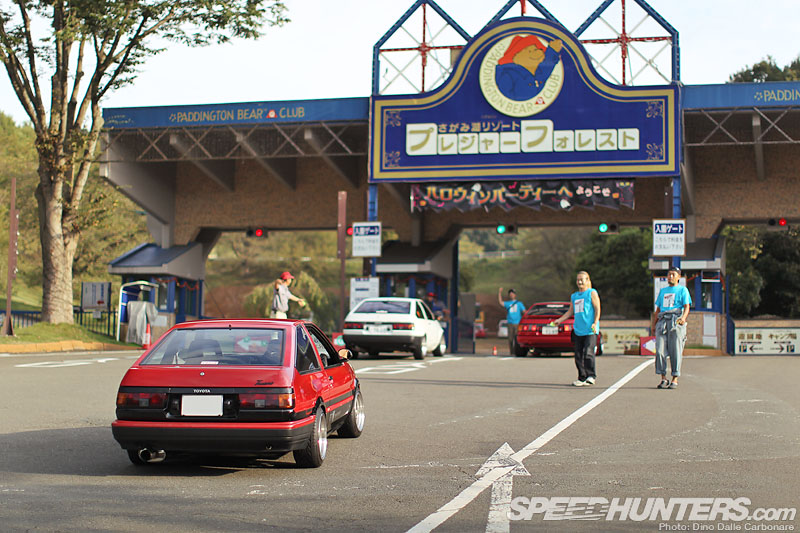 The gates were soon opened and the cars that had accumulated began to slowly drive in, paying up the ¥2,600 ($33) entry fee for the day.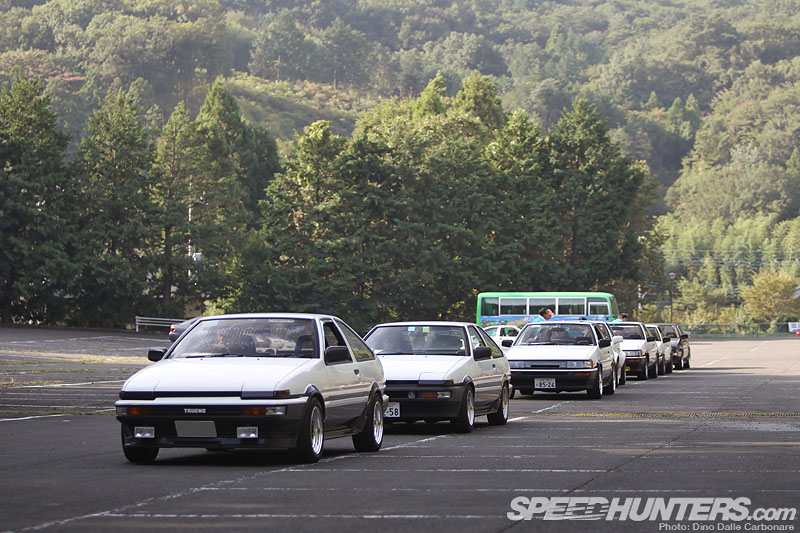 Sagamiko Resort is quite a big place with lots of attractions inside and tons of parking lots dotted around the various access roads. I spotted this little group of cars parked up, probably awaiting a few more friends to arrive so they could all park together in the main meet area.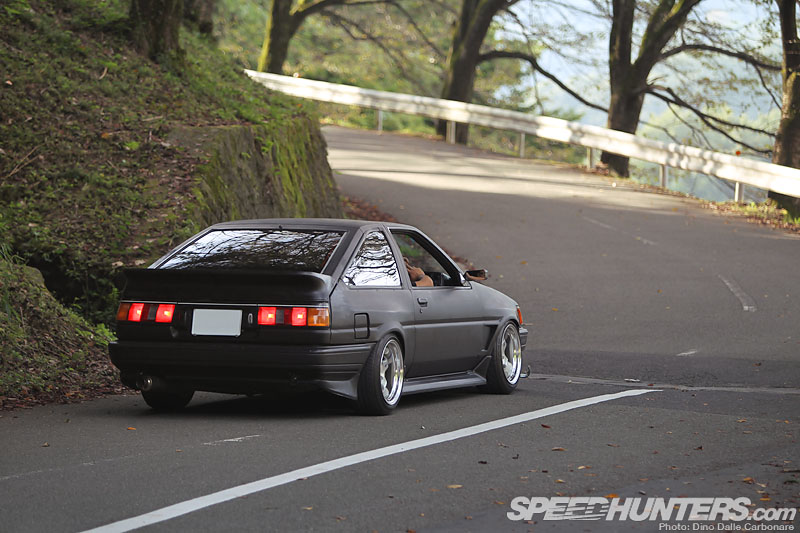 So it was up through some little roads for a short drive…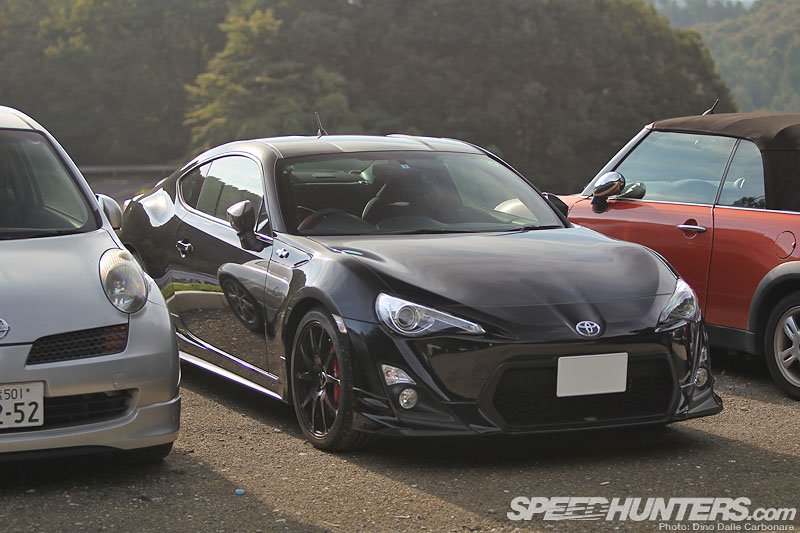 …before getting to a parking lot reserved for those not part of the exhibition. There were already some cool cars parked up like this full TRD-spec 86 which I am pretty sure is the same TRD demo car I drove a few months back at the 86-drive event (it was on Toyoda plates)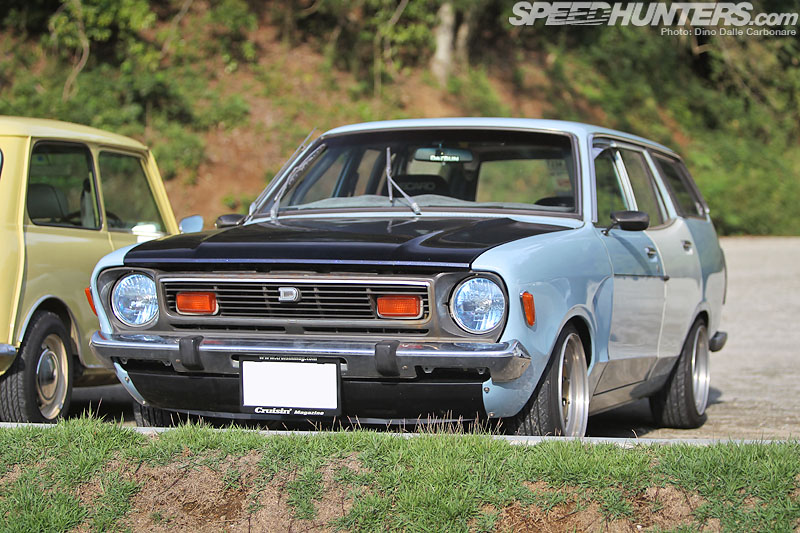 Not a Toyota but who cares when it's as cool as this Datsun 120Y!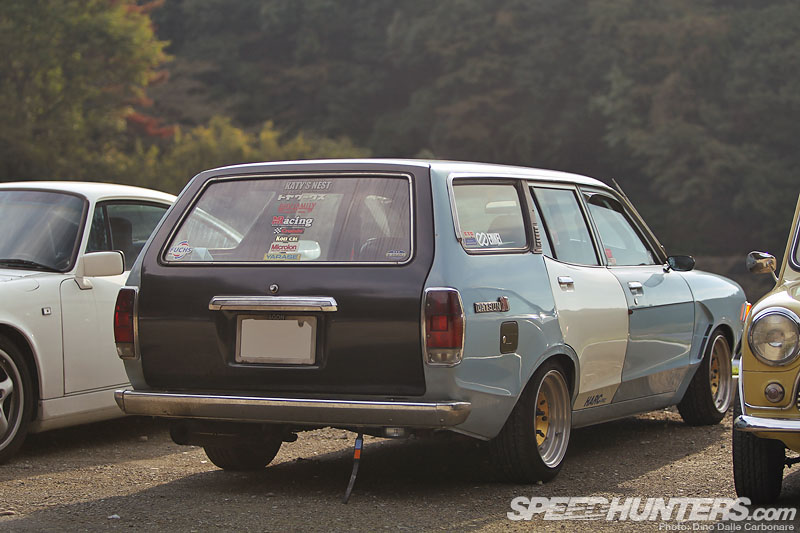 If you are into your vintage Japanese rides this is one little wagon you just got to love.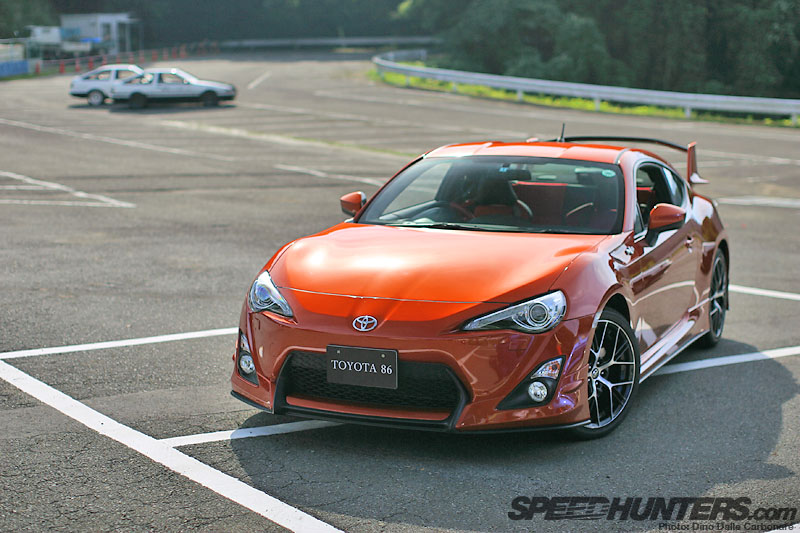 Even Toyota were part of the exhibition at the HachiRock Festa this year, bringing the number 001 Factory Tuned 86 that we first saw at 86 Style in August. But fear not as that is pretty much the last we will see of the ZN6…it's all good old AE86 from now on!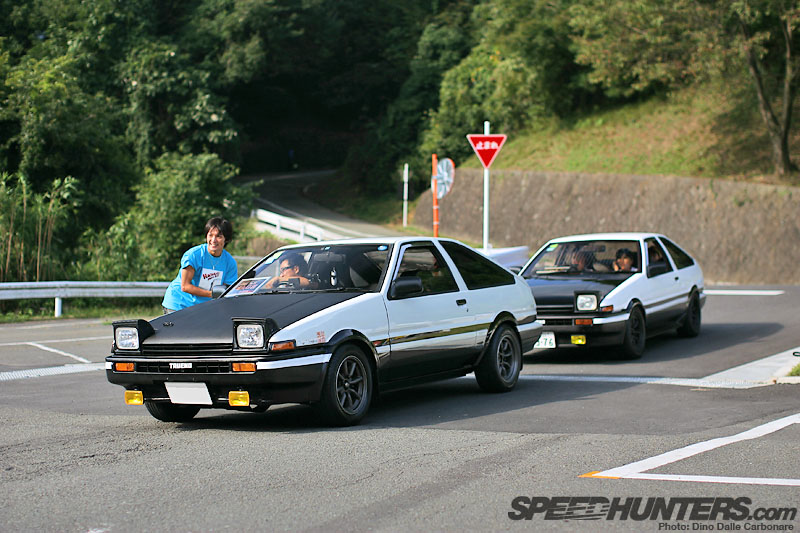 There were a total of 200 spaces to be filled out this year, slightly less than the 270 of last year due to some renovations that were being made to an area of the lot. Also the organizers didn't want to pack in too many cars in an attempt to create a better show space so that you could really get a good look at all the awesome rides present. And so the cars kept arriving…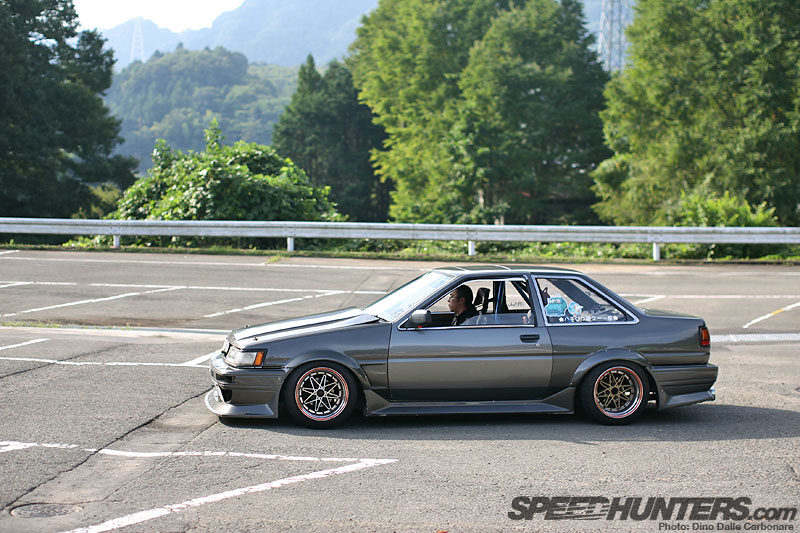 …a constant stream, each so different from the other…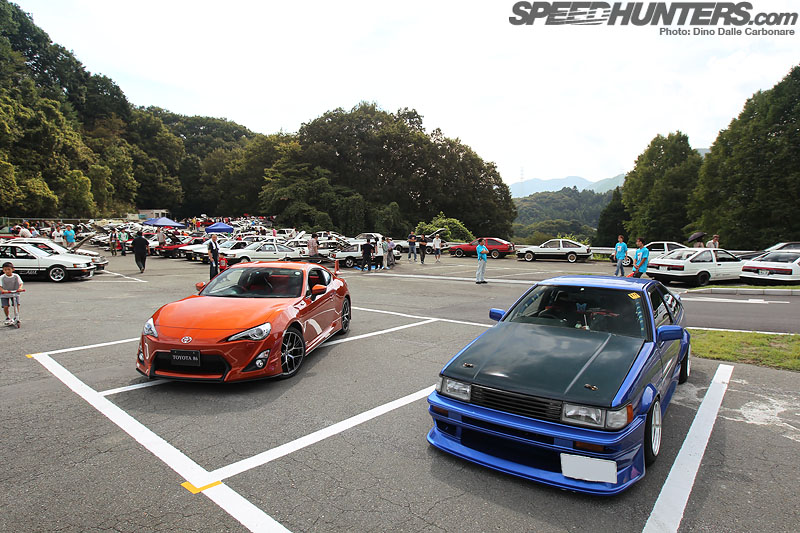 …and in no time things were looking pretty damn good!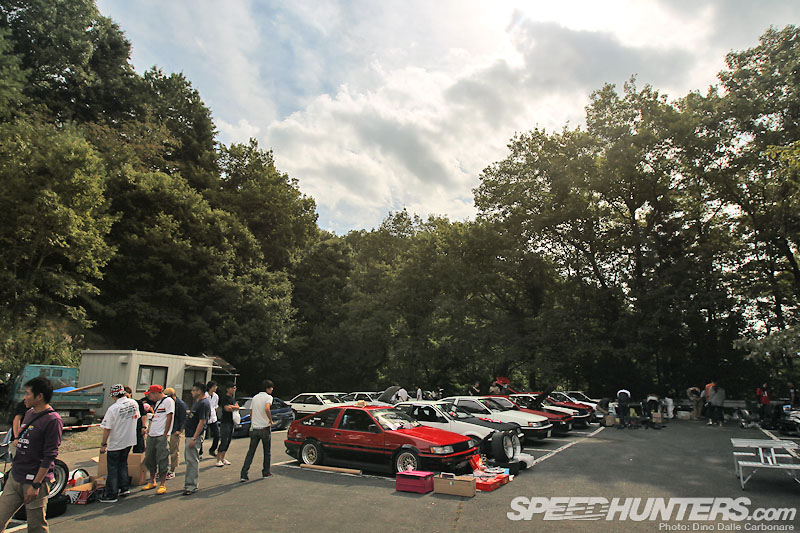 Even before the actual opening of the event it was really coming alive, even in the furthest corners of the lot.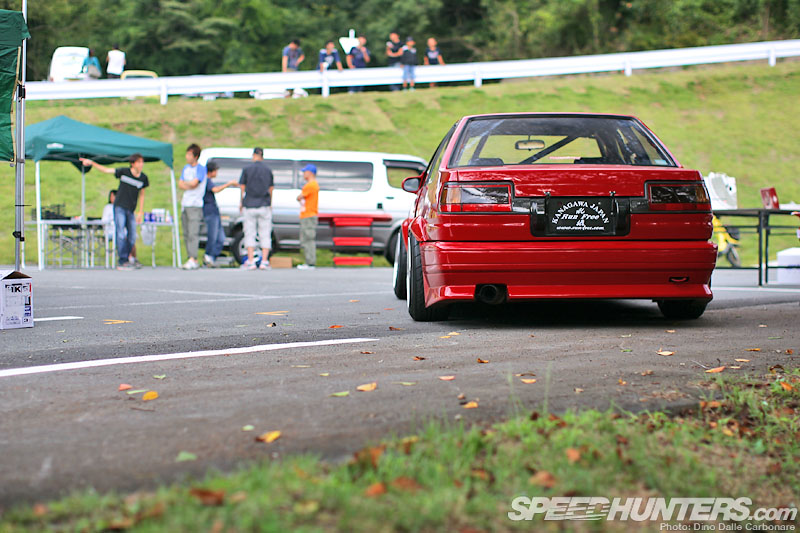 Some famous names in the AE86 world set up display areas with their cars and products, like Run Free above.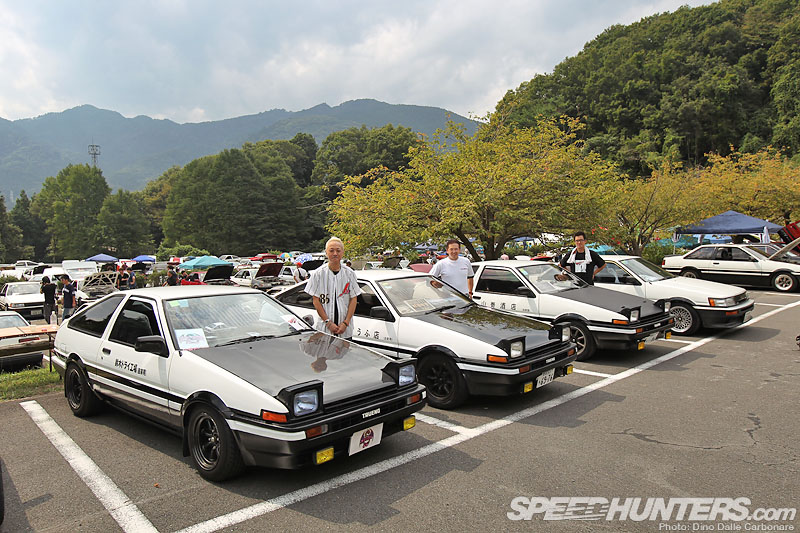 I wasn't aware "Fujiwara Tofu Ten" had expanded its tofu-delivery fleet!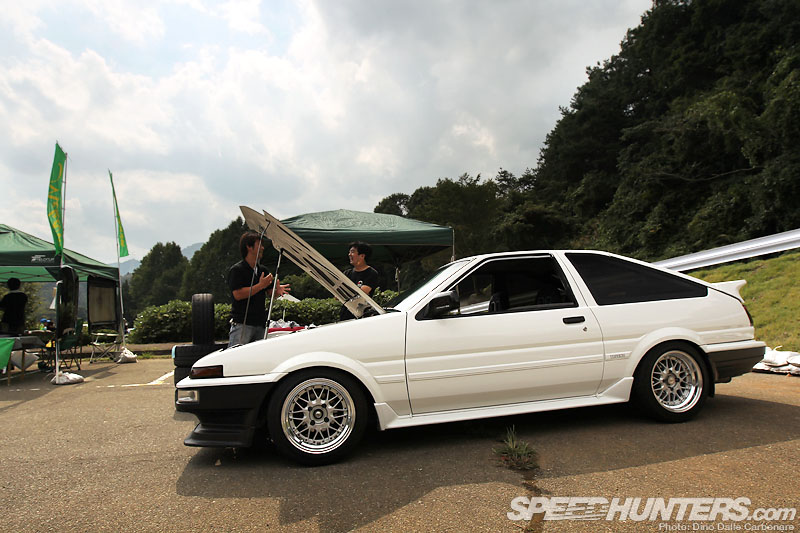 On top of the usual event report I have coming, in which I show you the best that I came across at the event…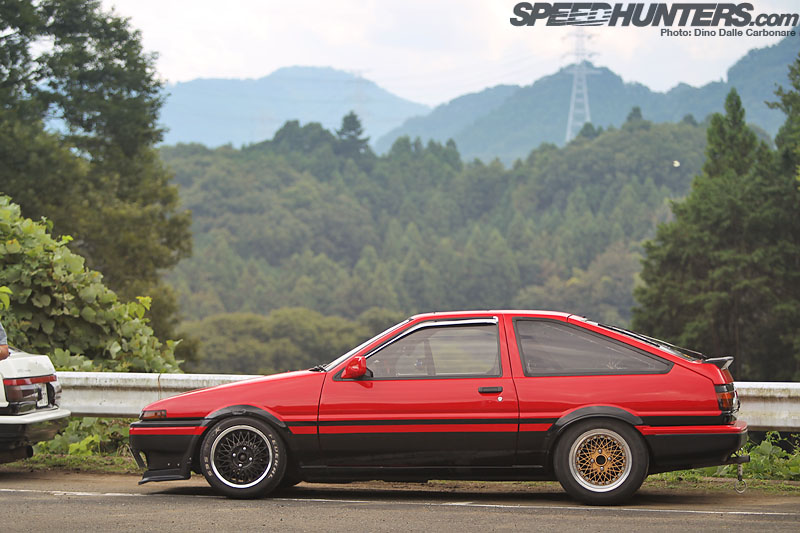 …there will also be the usual spotlight-o-rama to look forward to containing five of the cars that stood out the most.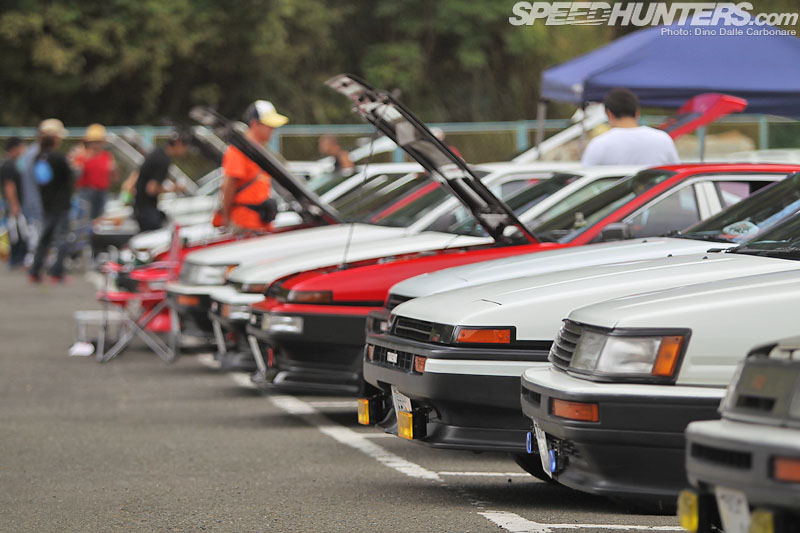 HachiRock turned out to be all about variety, a great example of all the different ways that AE86 owners, no wait – AE86 otakus – approach their rides.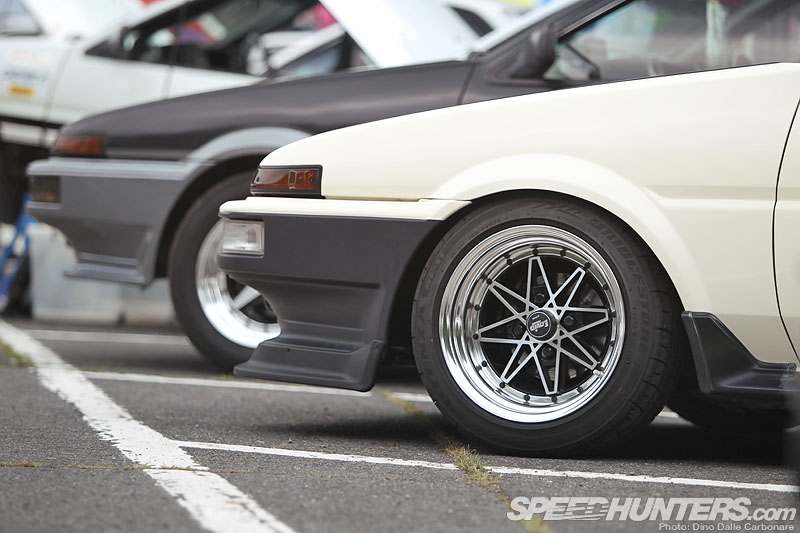 And for all of you out there that love wheels you can expect one post dedicated only to that! I have never seen so many cool rims at one single car gathering!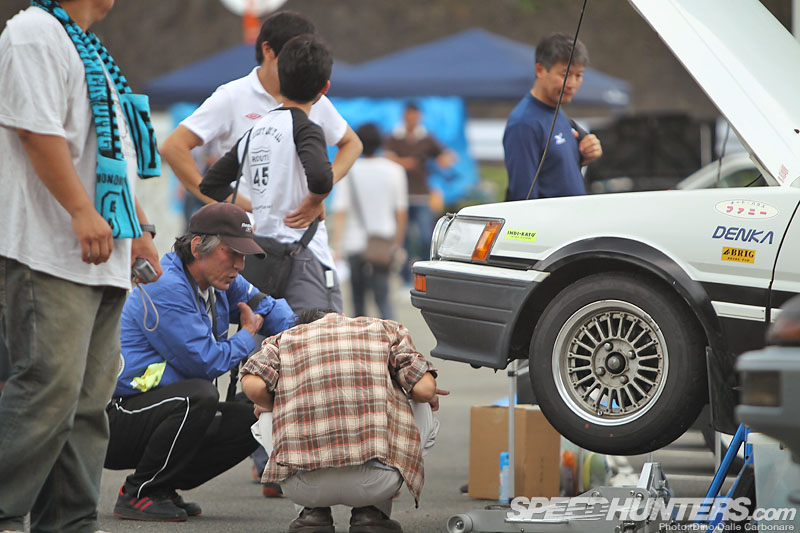 One big part of it all of course was sharing knowledge, opinions on parts and parts themselves with a lot of owners setting up their own little garage sale of things they no longer need.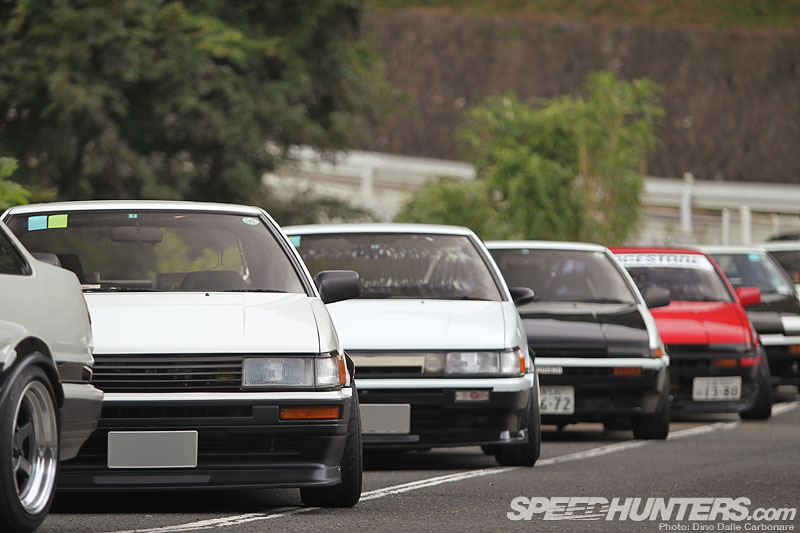 No matter what style you go for, what discipline you prefer, be it drift, grip, street or just garage queen, all was beautifully represented…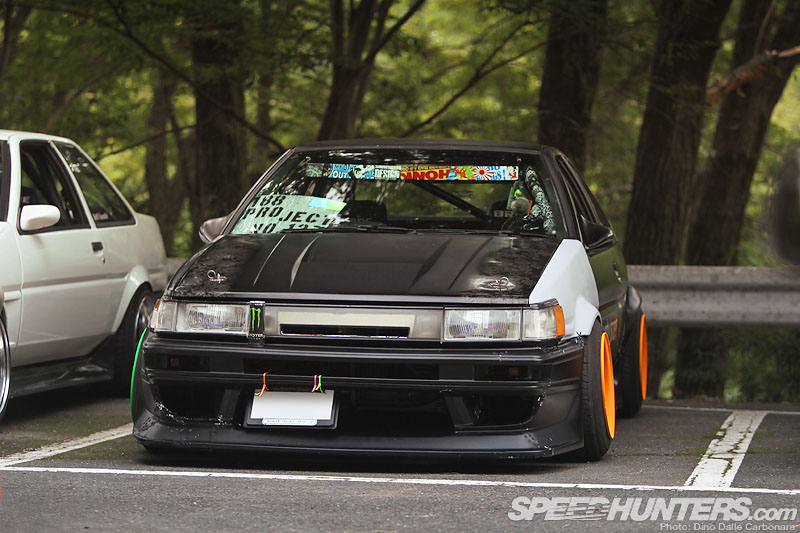 …the wilder extremes too.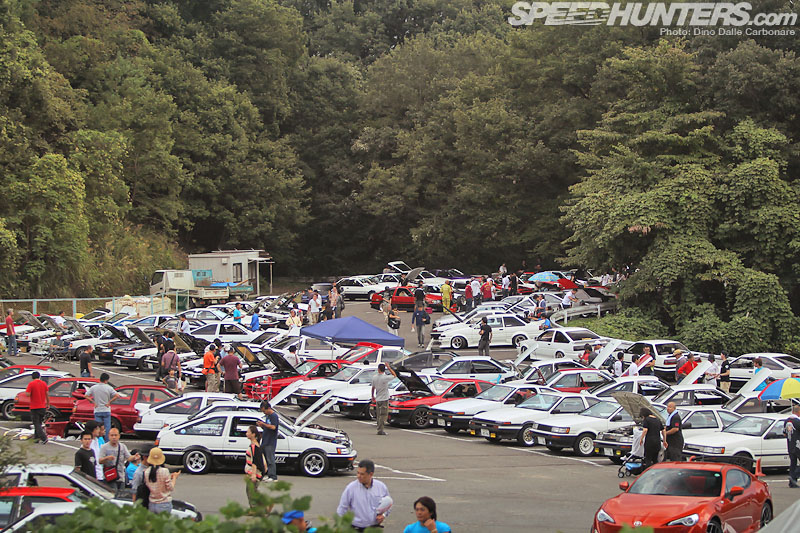 Now that is what I call an awesome turnout!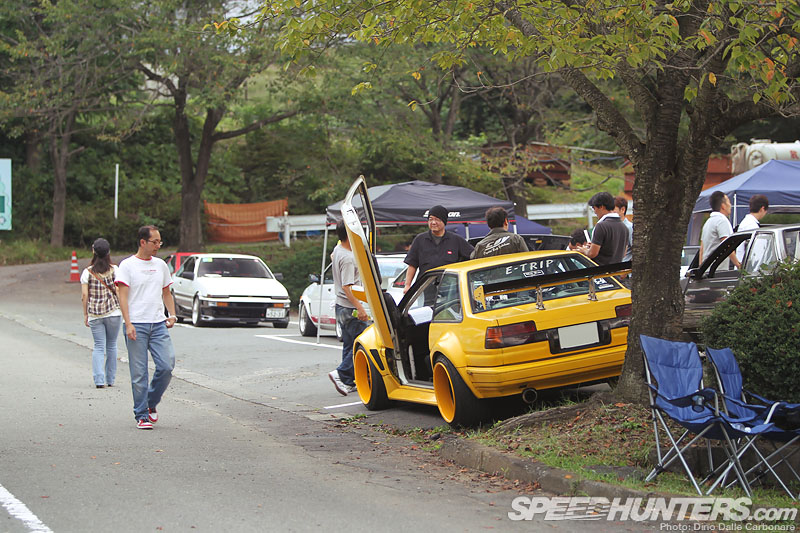 All you AE86 guys out there – the next few days I will dedicate to you, so make sure you check back often to indulge in some of the best hachirokus Japan has to offer!
-Dino Dalle Carbonare