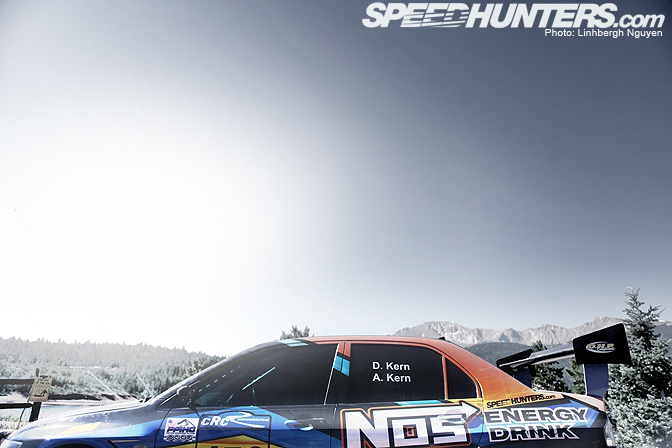 There's something about rallying that draws people in. Could it be that
we're drawn to mother nature, and also the taming such wilderness
through our technological monsters? There really is something magical
about ruining the silence of a quiet back country road the torrent of
noise coming from some million horse power, all-wheel-drive, aero'd
out, econocar. This 2005 Mitsubishi Lancer Evolution was built for just
that –ruining the piece of a quiet of Pike's Peak while getting up to
the top as quick as possible. THe car was built from the ground up by
AMS Performance, and driven to its absolute
limit by David Kern and his co-driver, and wife, Allison Kern.
Last we spoke, we talked about how much of a family unit
that the NOS Enerdy Drink/AMS Performance team were. This time around,
we will be talking about the house that the family provides for.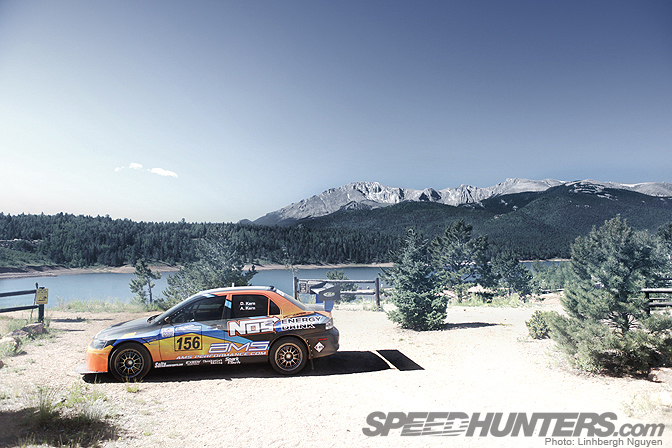 In comparison to the Pike's Peak Titan of Nobuhiro 'Monster' Tajima's
Suzuki SX4 or Marcus Gronholm's Ford Focus, this Evo looks tame. There
is very little aero other than the front splitter and rear wing. But
this car does not run in the unlimited class that those titans run in.
This is an open class car.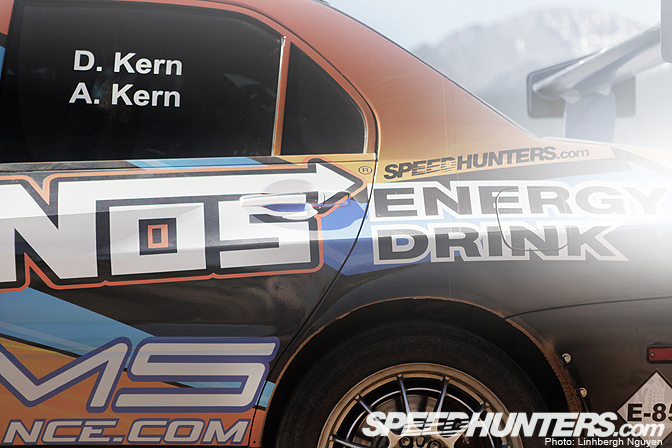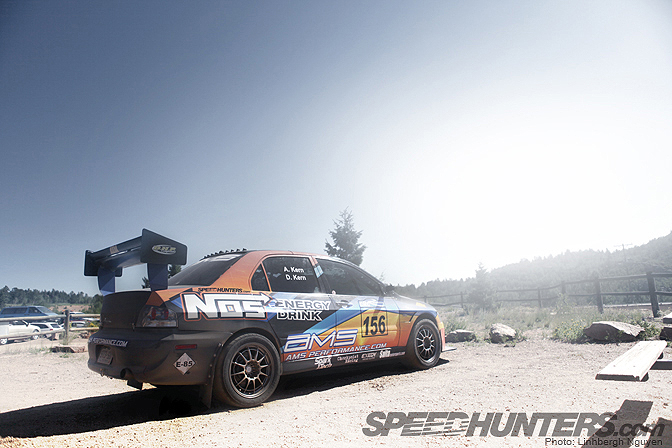 There is no crazy aggressive stance here, this car is all about
performance. It's running a set of 17×9.5″ Enkei NT03 tarmac wheels
wrapped with BFG Drag radials.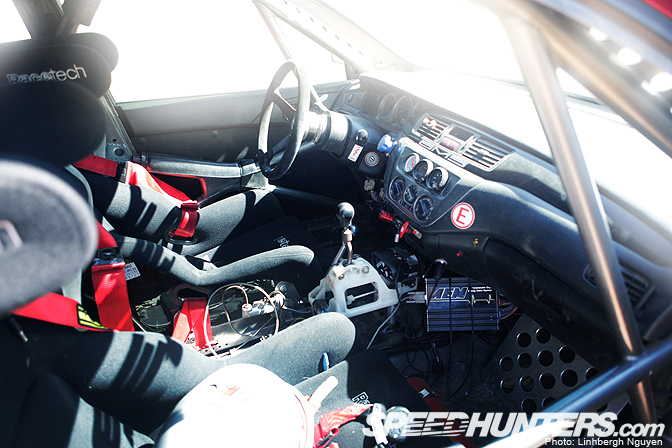 This is a far fetch from street modified cars with clean interiors.
This is all business. But this is also a place where David and Allison
have some great bonding time!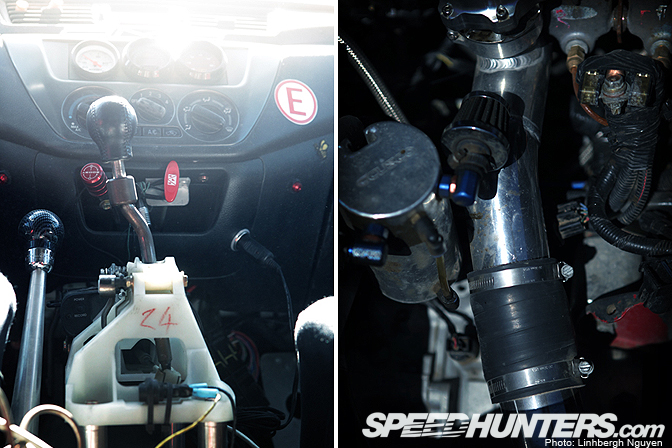 There's just something amazing about the exposed skeleton of the gear shift lever. It's raw and untamed.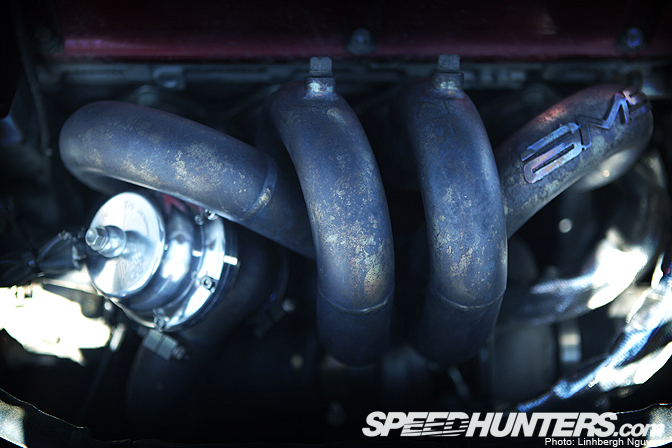 A fantastic art piece of manifold fabrication by the guys from AMS Performance.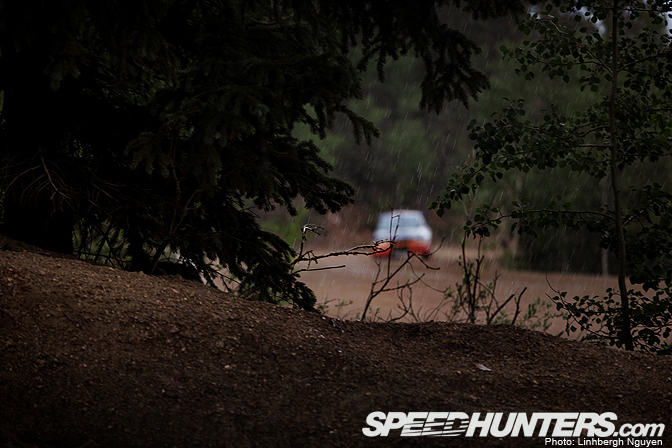 But we're not here to talk about some hard park car. This car was made
for one thing and one thing alone: plowing up Pike's Peak as quickly as
possible.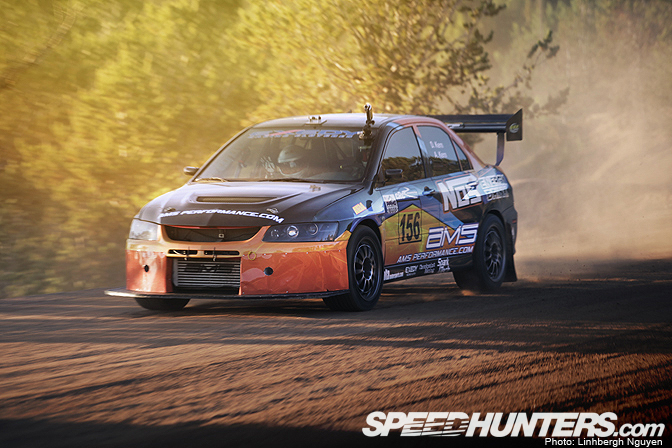 Here's a shot of the car coming back down from the top of the stage
from one of the practice runs. The loud livery makes it really stand
out against the backdrop of nature.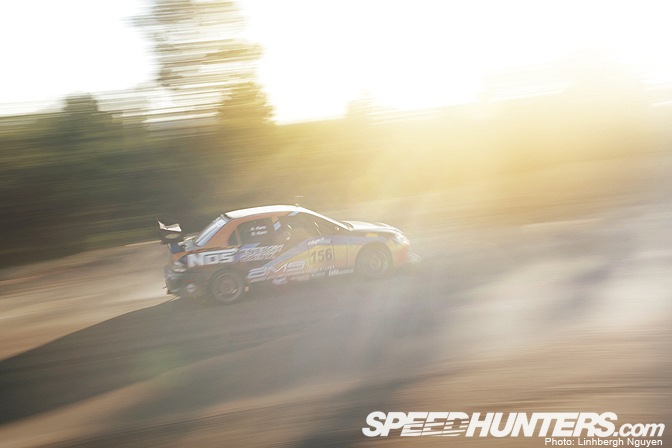 …and here it is going up from another practice run in the early morning hours.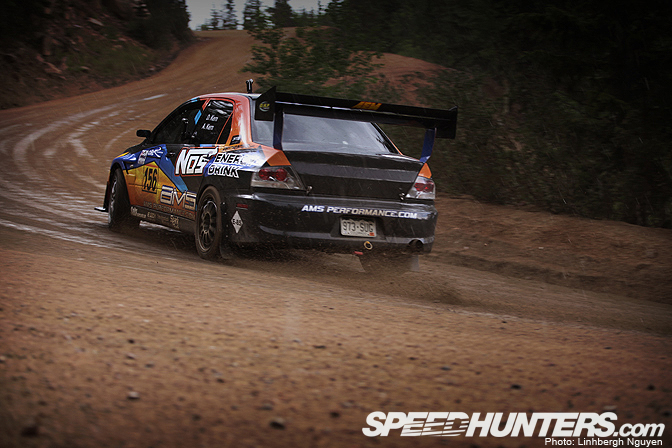 When the actual race day came around, the weather was insanely
unpredictable. By the time David and Allison were up, it was just
absolutely pouring. David loves the rain, and there is more grip with
moist dirt than the dry.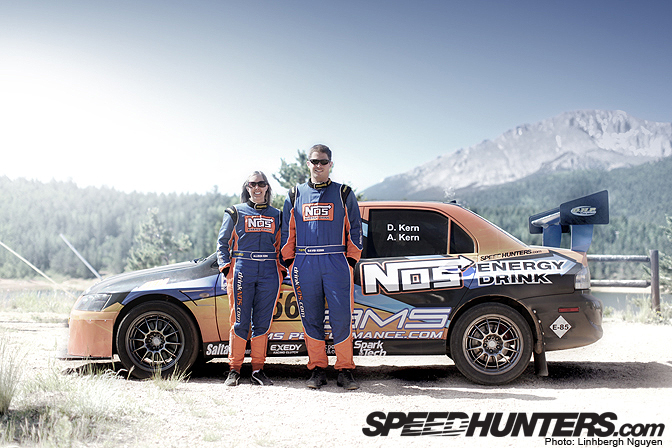 As I've mentioned in NOS/AMS behind the scenes
article, the car lost a lot of boost at the start but David managed to
wrangle out a second place performance with a time of 12:10:335. That's
a fantastic time for a car with seriously low boost!
The boys at AMS did a fantastic job putting together a car that is
capable of tackling such a feat, and they've put the car in the heands of a pair that
really knows how to squeeze every bit of performance out of the car
when it is most needed. Keep an eye out next year, the NOS/AMS team's
eyes are hawking that top podium step!
-Linhbergh Nguyen
NOS/AMS Performance 2005 Mitsubishi Lancer Evolution Complete Spec List:
Engine
– AMS 2.3L Stroker
– AMS CNC Head
– Tomei Poncams
– Cusco Catch Can
– AMS V-Band Turbo Kit with Forced Performance HTA3582 w/TiAL 0.63AR Stainless V-band housing
– AMS 3″ V-Band Exhaust
– Tial 44mm WG w/ Tail BOV
– AMS F1-i Intake Manifold
– AMS Front Mount Intercooler
– CBRD Drag Radaitor
– AEM EMS
– AEM UEGO Wideband Gauge
– AEM Serial Gauge
– Motec Center Diff.
– Aeromotive Fuel Rail
– FIC BlueMax 1450cc Injectors,
Drivetrain
– AMS Lightweight Front Crossmember
– AMS Moustache Bar Eliminator
– Hollinger Dog-Box w/ Rally Gearing
– Exedy Triple Metallic HD Clutch
– Wavetrac Front Differential
– Carbonetics 1.5-Way Rear Differential
– AMS Lightweight Driveshaft
Suspension/Brakes
– OEM Brembos used at PPIHC with PF 01 pads in front, PF 97s in rear
– AMS Stainless Steel Brake Lines
– AMS Brake Cooling Kit
– Hydraulic Hand Brake
– Ohlins TPX/TTX Gravel Suspension
– Tilton Dual Master Cyl, brake & Balance Bar
Wheels/Tires
– 17 x 9.5″ Enkei NT03 Tarmac Wheels
– BFG Drag Radials & Kumho W710 Rain Radials
Exterior
– APR Racing Mirrors
– DHP Composites Rear Wing & Front Splitter
– FiberImages Super Lightweight CF Hood & Trunk
– Seibon CF Widebody Front Fenders
– Kevlar, Aluminum and HDPE Underbody Protection
– KD Rally Mudflaps
Interior
– T45 Custom Roll Cage
– Racetech Seats
– HANS Device
– Scroth Profi II HANS 6-Point Harness
– FIA Fire Suppression System
– Stilo WRC Helmets & Intercom System
– MOMO Custom Nos Energy Drink Fire Suits
– Sparco Steering Wheek
– Sparco Navigators Footrest