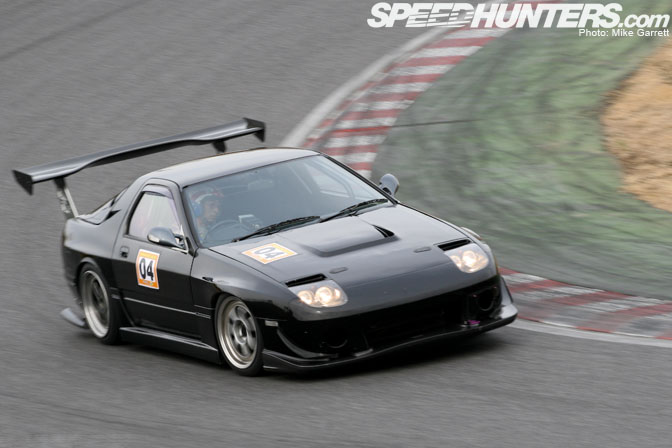 Say hello to one of the single most impressive cars I have seen in Japan since I have been here. At first glance, this black FC3S RX7 does not look like much, there are no decals, no ridiculous wheel fitment or anything else that makes it look like anything other than a typical "soukoukai" car. A trained eye though, will recognize the details that hint at this car's incredible capability. For example, the doors are carbon fiber and the GT wing is quite a bit taller and wider than most. While there are plenty of fast time attack cars around, the Super Now FC's  57 second lap times at Tsukuba and the fact that it is driven to and from the track make it an absolutely incredible machine.
The car was built and is driven by Imaizumi-san of Super Now Enginerring. The first part of his name "Ima" means "now" in Japanese and that's where the name "Super Now" comes from. There is also a large "Ima" kanji written on the front of his distinct rising sun-painted helmet. When Imaizumi is not making his specialty parts at his base in Saitama Prefecture, he can be found running at racing circuits all over the Kanto area. Tsukuba and Nikko are two of his favorites.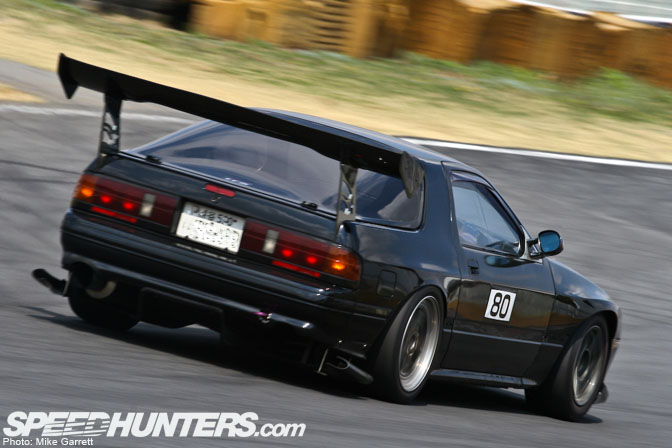 It is at Tsukuba where I became fascinated with this car as I watched it run in events like the Battle Evome Time Attack series and the Amuse open track sessions. In this rear shot you can see some of the car's aero parts including the rear diffuser and the Super Now original GT wing which measures an incredible 1800mm wide. The supports for the wing also have star shaped designs cut into them for extra style points. With all of the lightened body parts including the carbon doors and the FRP rear hatch, the car's curb weight has been dropped to 1080kg or about 2,380 lbs.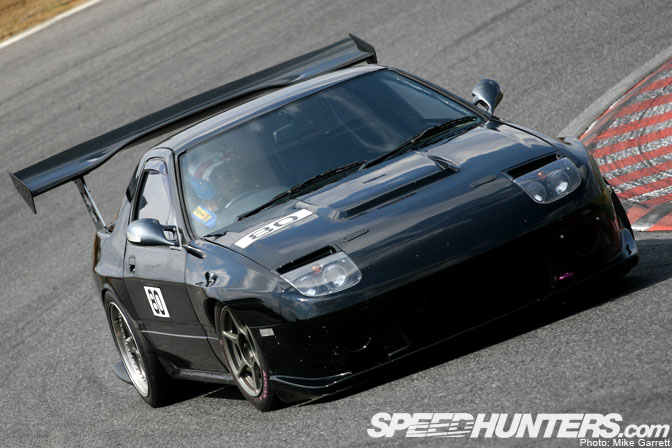 When looking at the front view, FC fans will notice the RE Amemiya fixed headlight front end conversion. Besides looking cool, when you consider the speeds that the Super Now FC3S reaches on the track, there has to be an aerodynamic improvement with using the Amemiya front over the standard one.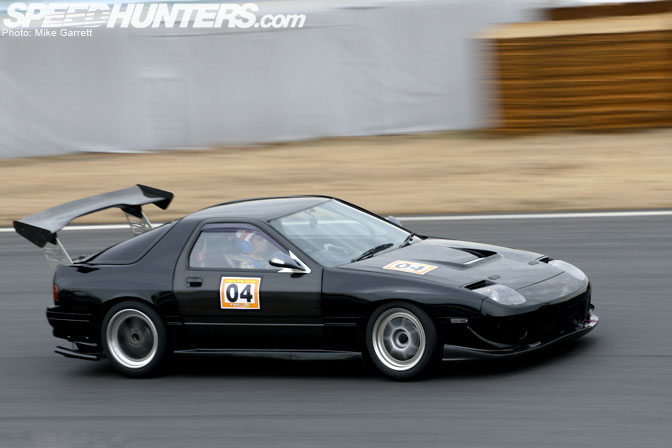 In this photo as the car pulls through the high speed back straight at Tsukuba you can see all of the aero parts at work. As for the car's wheels, a number of different set ups have been tested. In the rear are a set of 17″x10″ Panasports and the front wheels have gone back and forth between a pair of 17″ Enkeis and a pair of 15″ Buddy Club wheels. Imaizumi-san said that he was actually running faster times with the 15″ wheels up front the last time I talked to him at Tsukuba.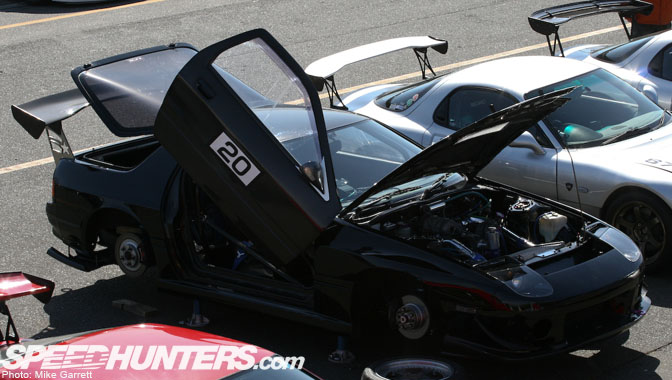 Not only are the doors carbon, but they also have vertical or "gullwing" hinges as they are known in Japan. The door hinges are made by Supernow and they also appear on Drift Samurai's D1 FC3S. In this shot you can also get a glimpse of the car's 13B-REW engine. It is fed by a Knight Sports high flow turbine with a V-mount intercooler setup, and has been strengthened with Super Now original 3-piece apex seals. With this set up the engine produces a solid 394ps before the power is fed to the wheels through an HKS sequential transmission. Although that might not seem like a lot, it is plenty to move the car's light weight chassis and still retain much sought after balance.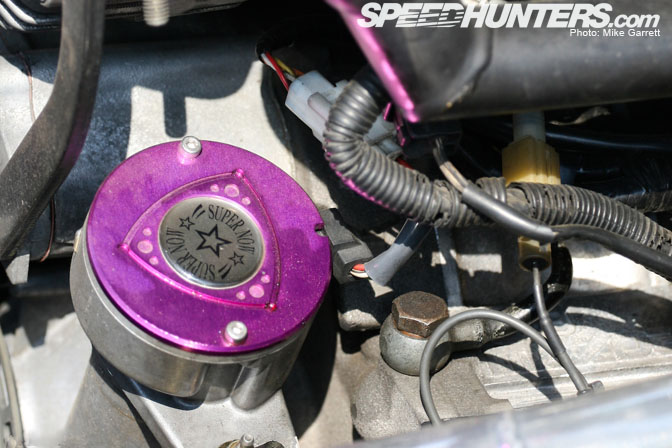 The engine bay is also sporting some of Super Now's original dress up parts. Nice job with the rotary theme here.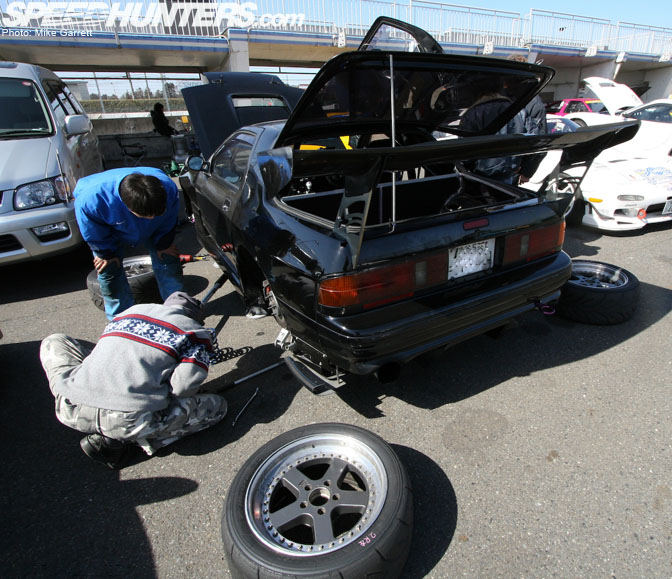 Here the car is undergoing some suspension adjustments between track sessions at Tsukuba. The suspension consists of a set of original Super Now coilovers as well as a number of suspension arms which are also made by Super Now. As you can see, the whole thing is a very grassroots operation. No huge crew or support trucks. In fact, as I stated earlier, the Super Now FC is frequently driven to and from the track. Street tires are swapped on, the GT wing is disassembled, and she is ready for commuting duty. To me that is one of the big reasons why this car is so awesome.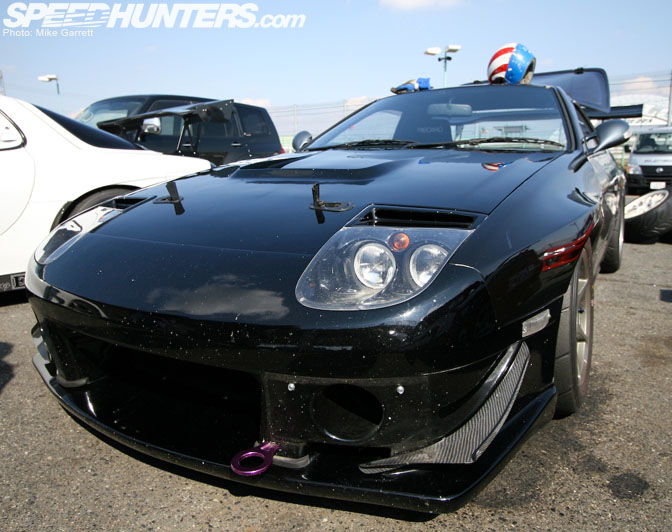 What could be better than a grassroots car that can runs Tsukuba in 57 seconds and is driven to and from the track? I'm not really sure. Right now Imaizumi-san is actually working on a new project car and it is a big change from the nimble, rotary-powered FC. He recently purchased a new Lexus IS-F and has already started the process of modding it and making trips to Fuji Speedway to dial it in. It should be awesome to watch Super Now find out what a properly modded IS-F is capable of. You can check out Super Now the site for all of the scoop on Imaizumi-san's latest antics.
-Mike Garrett