This is a story of history, dreams and ideas, dereliction, coincidence and resurrection. This is a story of a '66 Volkswagen Beetle that resurfaced after more than 50 years living out a life of its own. The story begins at our small, independent auto repair shop in Alberta, Canada.
Bowest Motors has a 65-year legacy in the Bowness community. Over that time, Bowest has been many things besides a neighbourhood repair shop, including being a VW dealership in the 1960s. Today, I own Bowest Motors, along with its sister company, Rusty Speedwerks, which builds one-off patina customs. It's through RSW that the 'BugRod' came to life.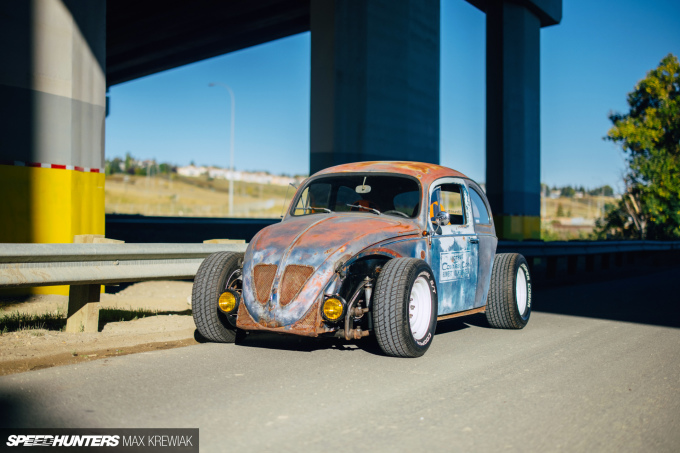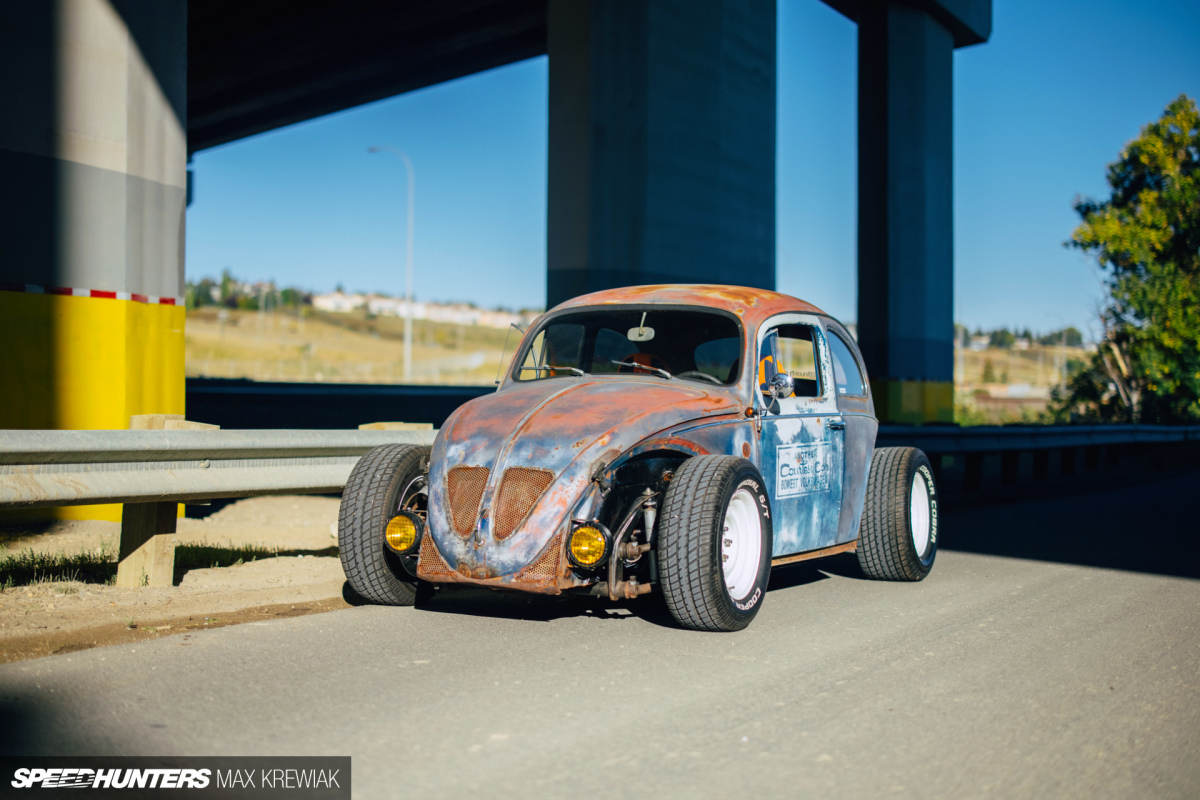 Back in November 2020, I got a call from my friend Dominique. "Les, check out this Beetle for sale… look at the door!" There is was, plain to see – the hand-painted signage of 'Bowest Volkswagen'. This was an original courtesy car from the shop.
The next day, I was on my way to the rural farming community of Vulcan to pick up the derelict VW from its long-time resting place in a farmer's field. I could have bought any number of other Beetles in better condition for less than what I paid for this one, but I had mistakenly told the farmer I was from Bowest Motors and from that moment there was no further negotiation on the price. The Volkswagen was loaded onto our car trailer with a tractor, and I brought it back to town not too sure what I was going to do with it. I just had to have it.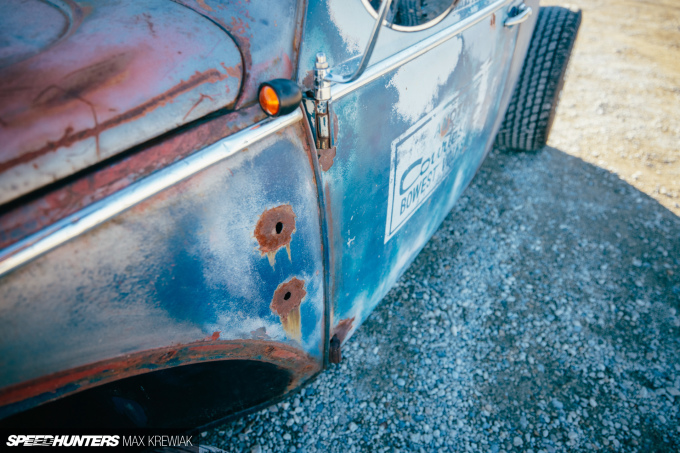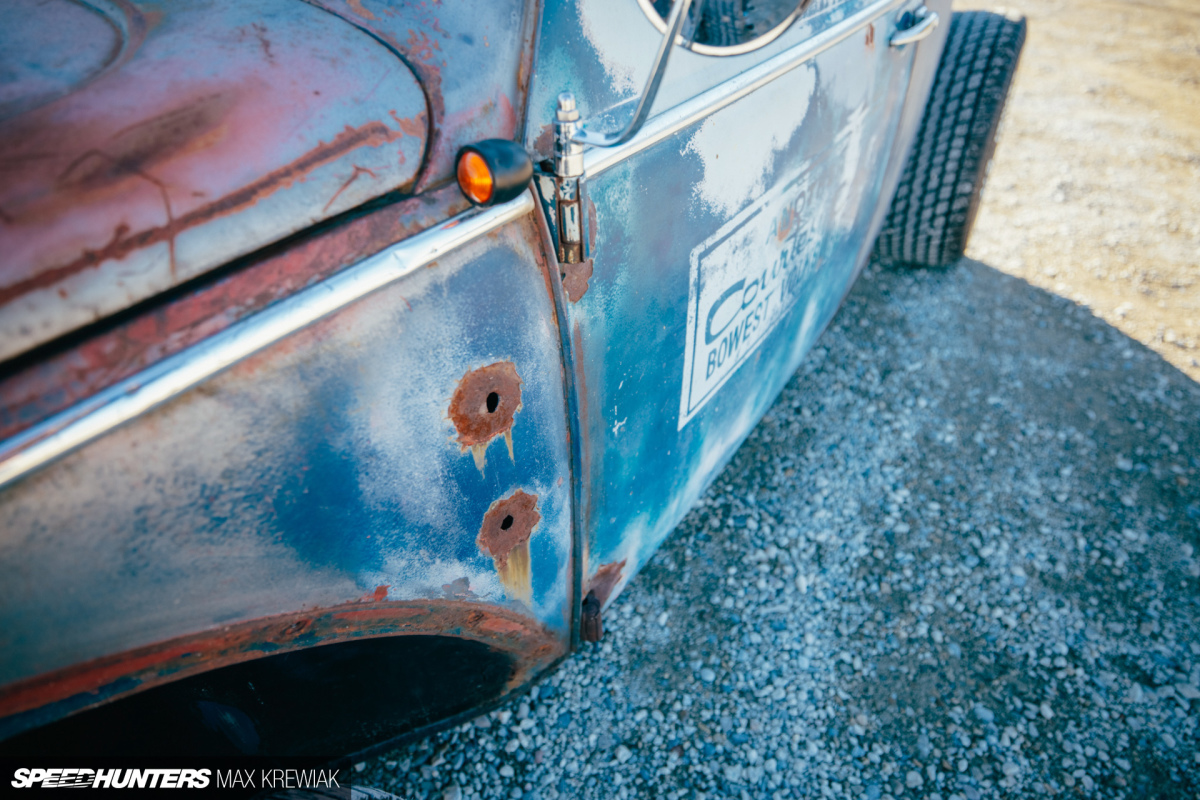 The Beetle was in very poor shape. The top half had some pretty nice patina, but the floors were rusted through and there was no engine or transmission. There was, however, a Chevy S10 axle out back and a seized 305ci V8 with a hole in the block and a 3-speed GM transmission sitting loosely in the frunk. The original firewall had been cut out, the passenger seat was pushed back to around the B-pillar, and there was a sketchy-looking firewall/transmission tunnel protruding into the cabin where you were originally supposed to sit. Remarkably, whoever had planned on building this mean machine had – thankfully – decided to keep the original 'Bowest Motors' logos painted on the driver's door, fender, and rear engine cover.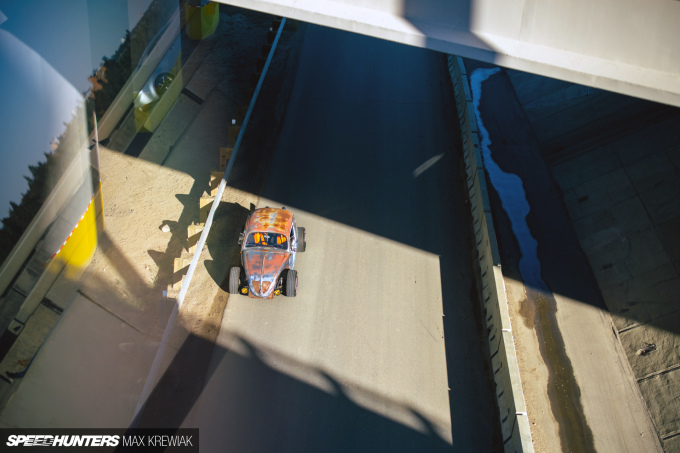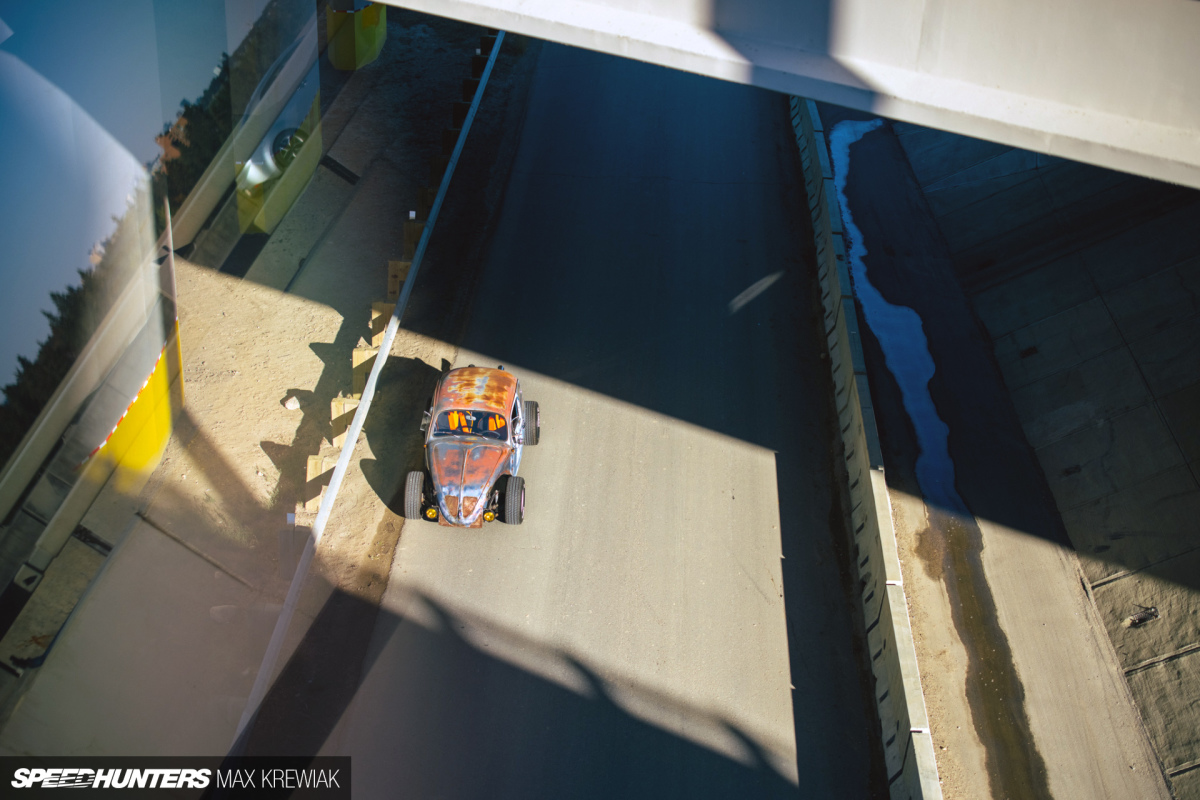 As things usually go in the custom car world, once the word's out that you've got a new project on the go, interesting opportunities begin presenting themselves. A few months later, a nice chassis which had already been modified with a lowered beam and rear axle, four-wheel disc brakes and a transmission, came up for sale. Being most passionate about vintage Japanese cars (not air-cooled VWs), the entire Rusty Speedwerks crew began dreaming about what sort of Japanese liquid-cooled engine might fit out the back. The natural choice, of course, is a Subaru power plant, but there were already a number of similarly-swapped Beetles in town.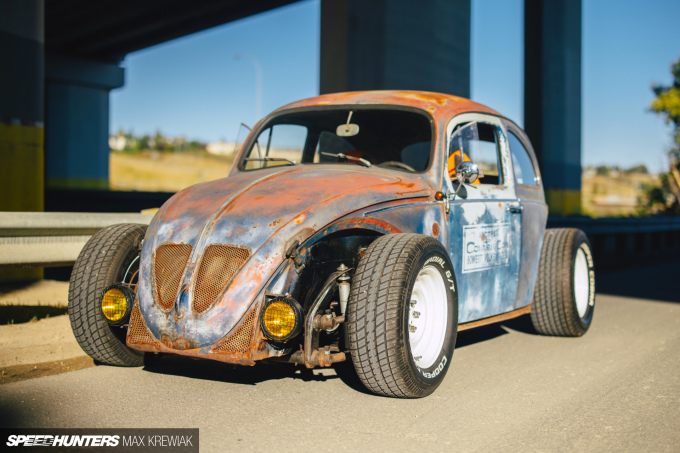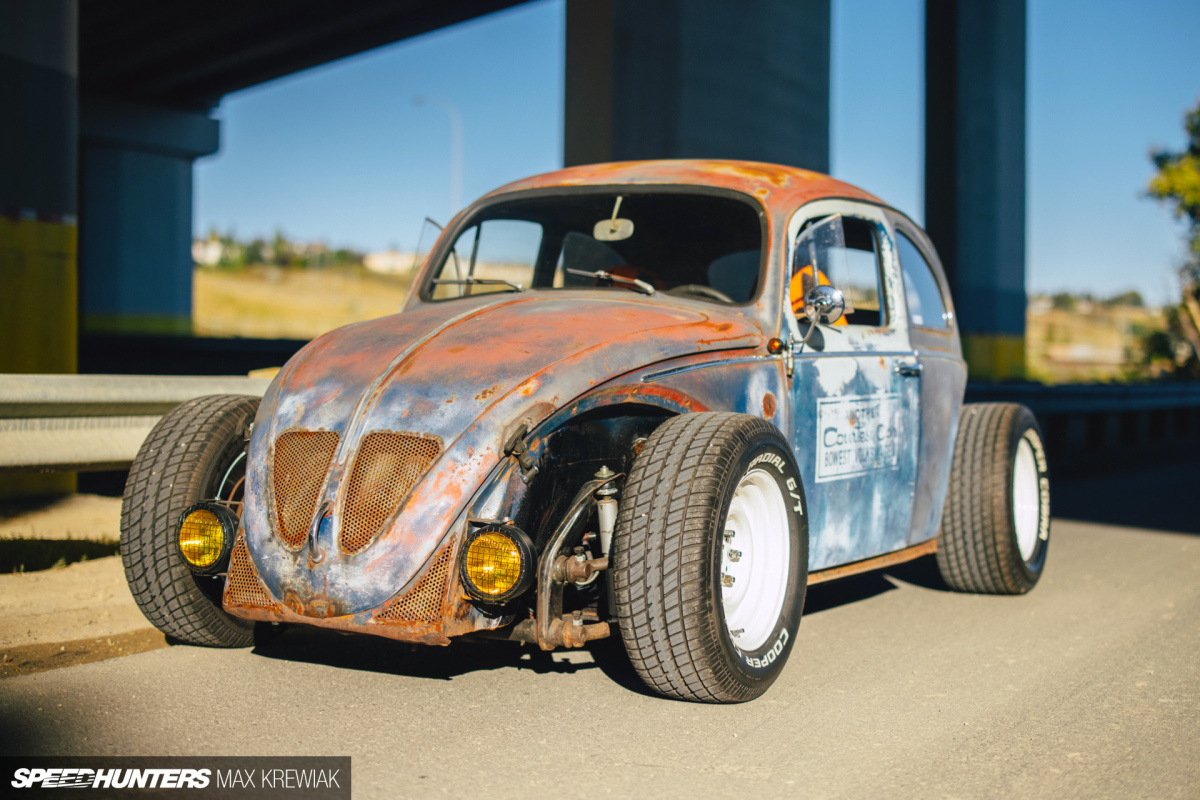 For a short time, we also considered keeping the front swap layout and throwing in an LS motor. The last LS swap we did (Fargo Farm Truck) turned out to be very fun to drive and the team already had the experience of building a turbo LS project. However, the Japanese call was strong.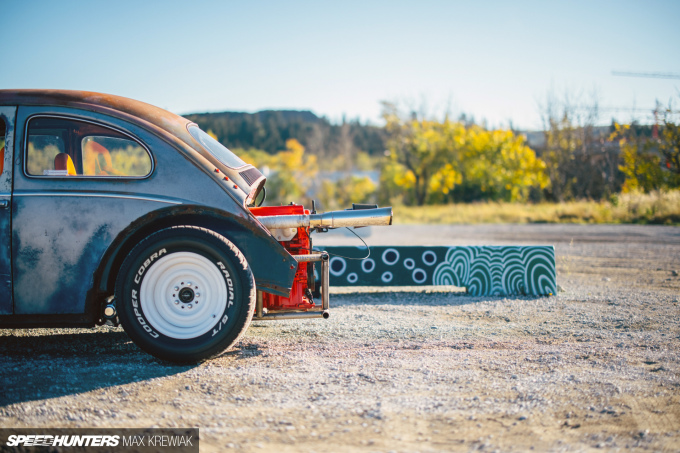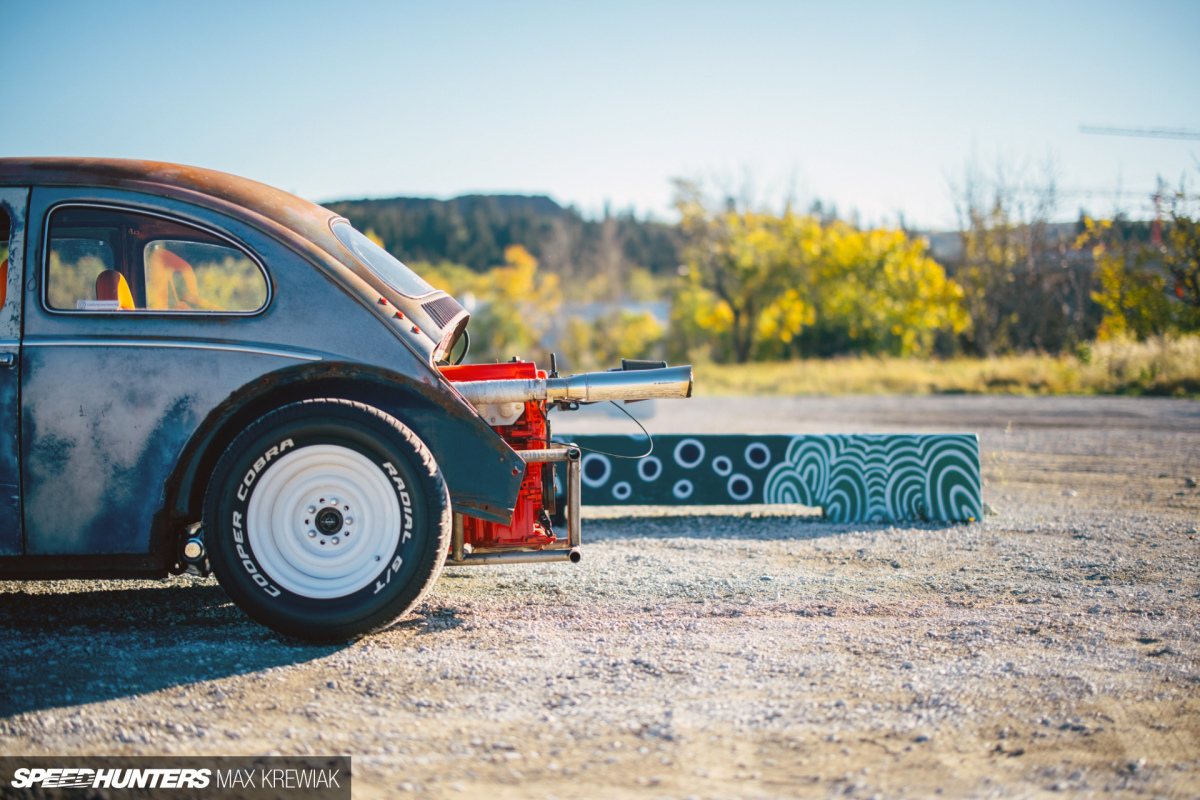 The 1NZ-FE is a modest little 1.5L, 105hp four-cylinder workhorse found in several small cars in Toyota's lineup, most notably in North America, the Yaris. The Yaris is not viewed as a sporty or fun car, but the 1NZ is widely used across the world, and in many other countries (Jamaica, Thailand, South Africa) people swap these motors into everything. In some cases, they get decent power with forced induction. TRD, HKS and Trust/GReddy had turbo kits for this motor, and Blitz offered a supercharger.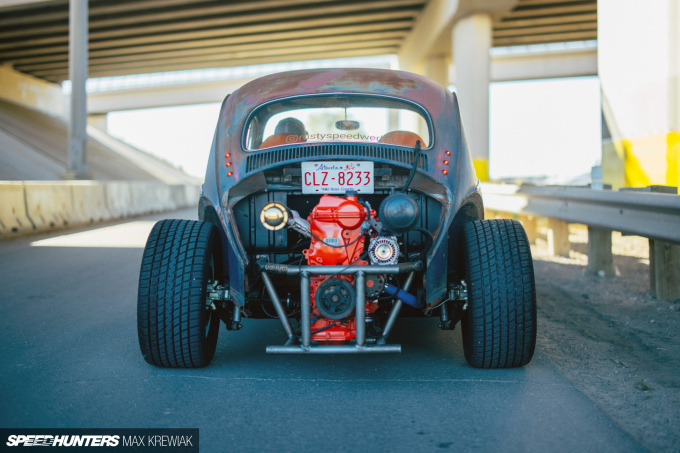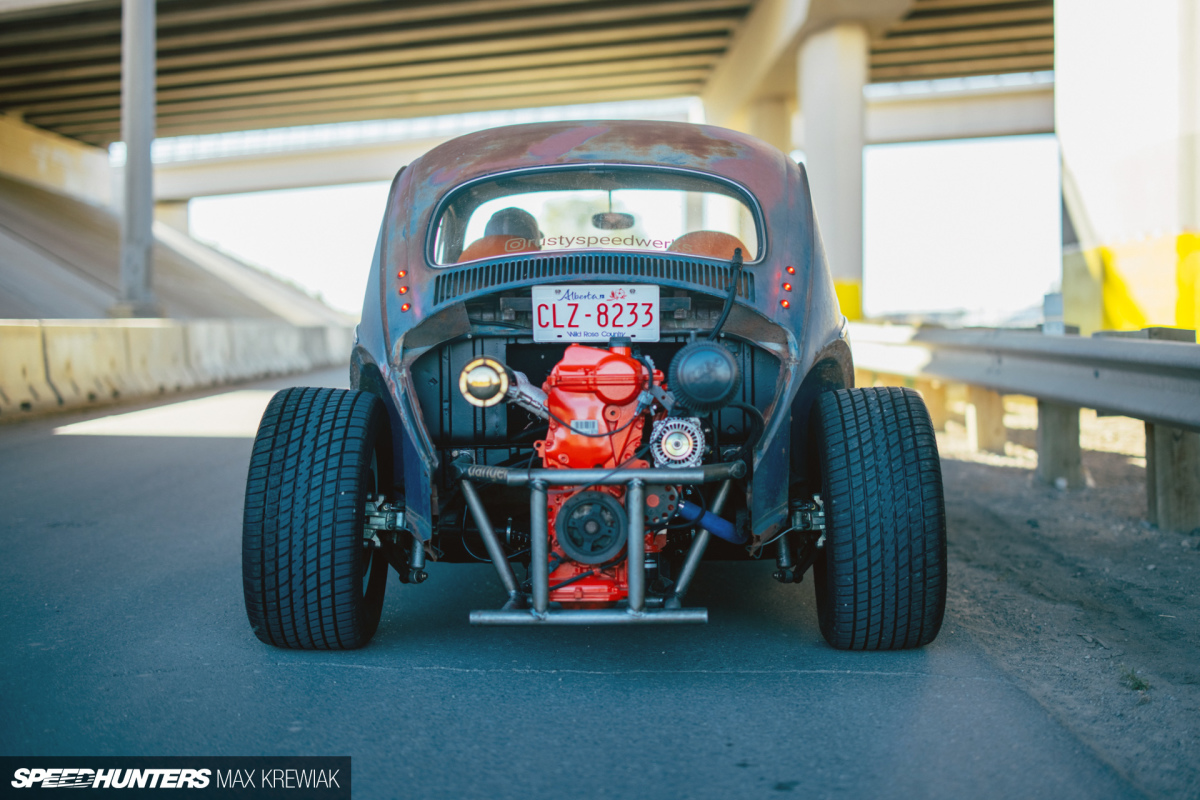 Considering the factory air-cooled motor that came in the Beetle in 1966 had 50hp (a whopping 25% increase from the year before), the team would be making twice the horsepower of stock without even modifying the 1NZ. On top of that, the Toyota motor is actually about 50lbs lighter than the original VW motor. While we can't be certain, this could very well be the first 1NZ-FE-swapped Beetle.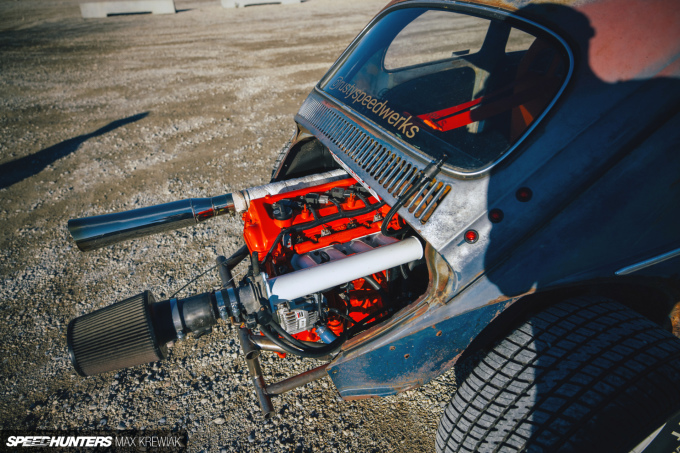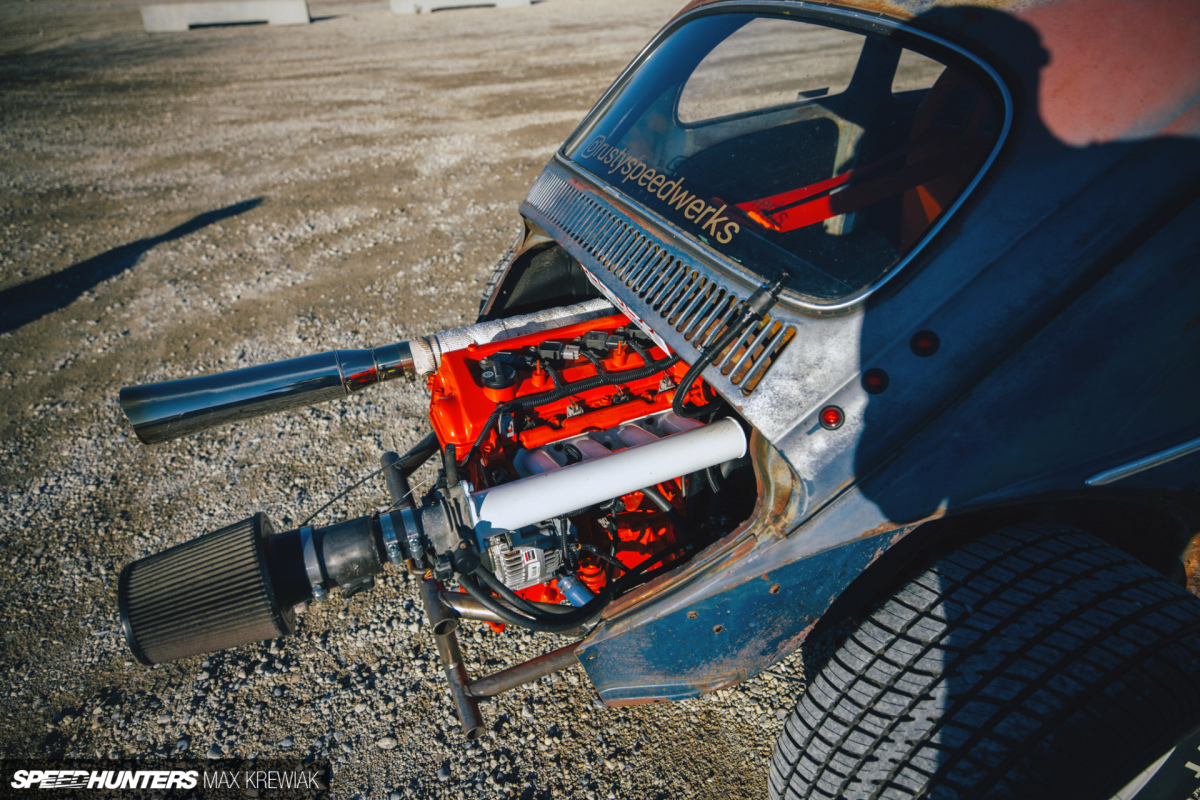 A quick call to the folks at Kennedy Engineering confirmed that they could send out an adapter plate and flywheel to mate the Toyota motor to the VW transmission. Now there was a plan – the body, a chassis, and a power plant. Getting it all to work together was the challenge of the next few months.
Taking a motor originally designed for a FWD application and putting it backwards, inline at the rear of the car, meant custom manifolds would be needed. Thinking about stinger pipes on Californian hot rod Beetle and the symmetry of the inline-four, the team decided that matching log-style intake and exhaust manifolds sticking straight out the back would be the right fit. The 90-degree turns in the manifolds aren't the most efficient design, but the effect works for this car. Finished off with a SuperTrapp muffler and an oversized K&N filter, we were good to go.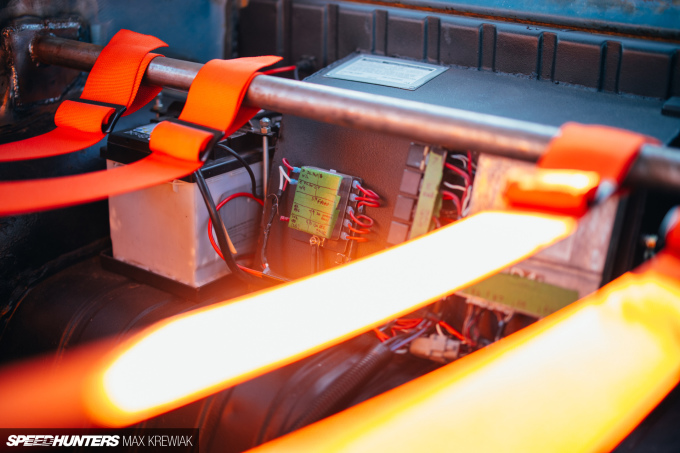 Because the BugRod wasn't planned as a high-horsepower build, the team elected to retain the factory Toyota engine management system. In hindsight though, it would have been easier to install a Haltech, as tracing all the wires and removing anything unnecessary turned out to be a massive job.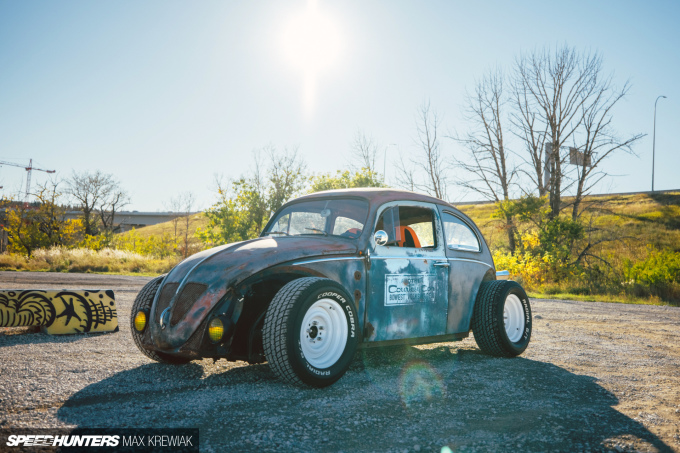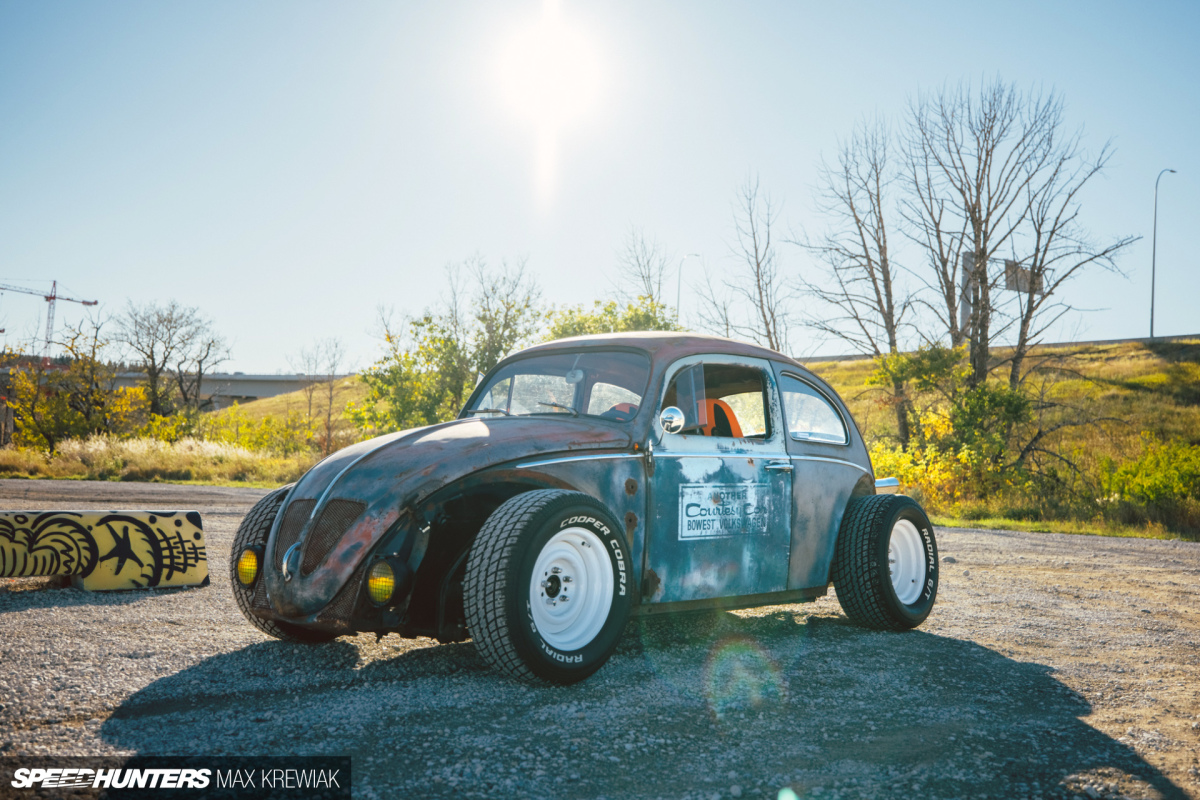 Rusty Speedwerks is known for its patina restomod builds with a focus on rat rod and vintage Japanese builds – not so much traditional Beetles. So we decided to give the car a little rat rod, Japanese and classic muscle car treatment with some fender-less Californian 'Volksrod' style for good measure. With its wide steelies wrapped in classic white-letter Cooper Cobra tyres, the BugRod is right at home at car meetups next to classic Camaros and Chevelles.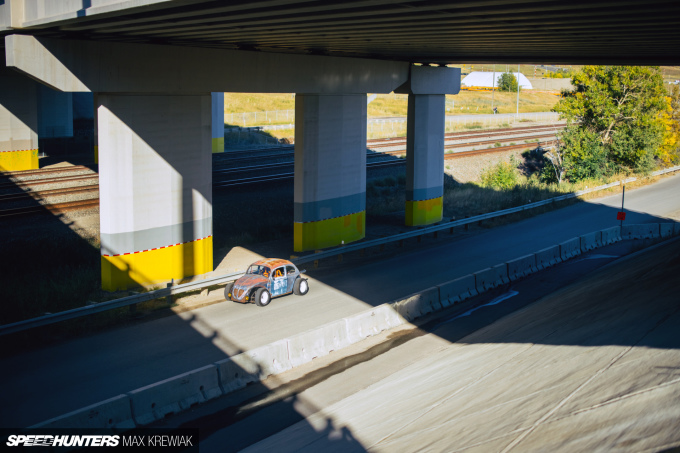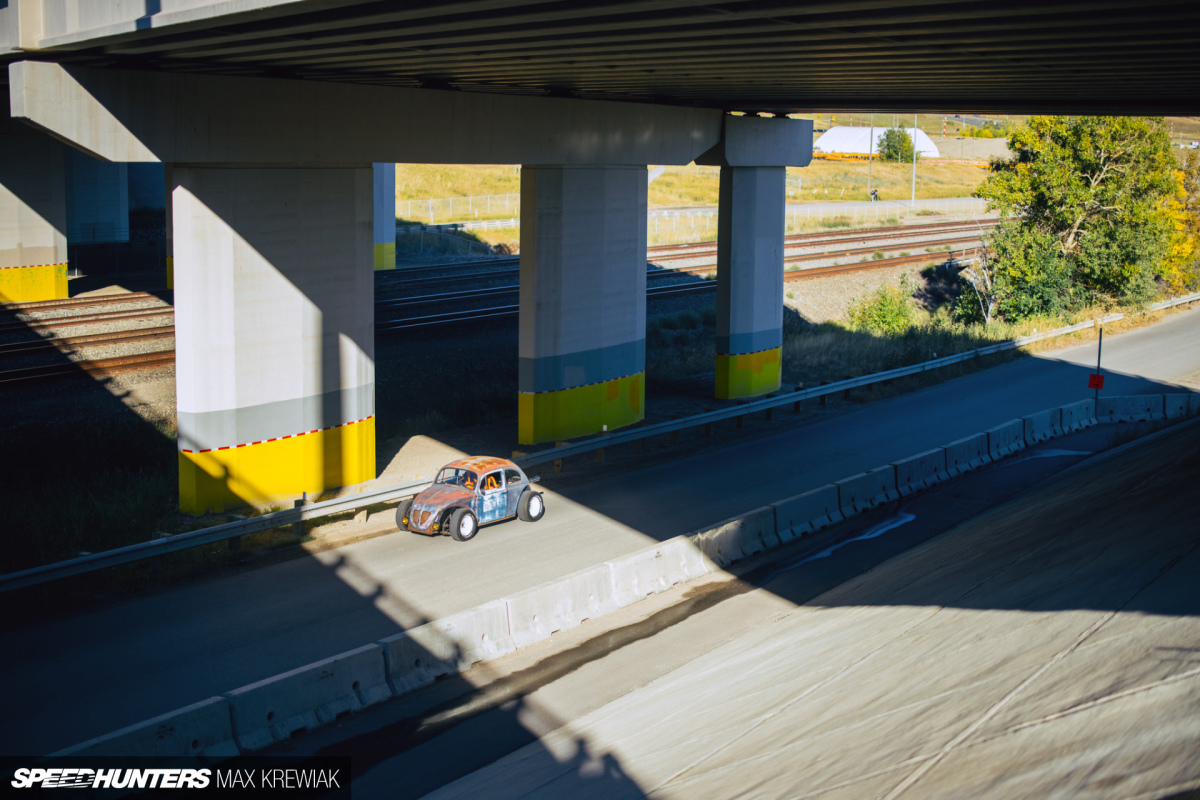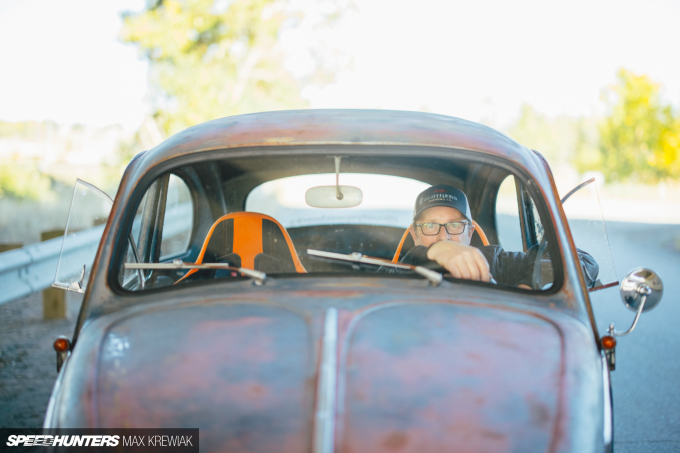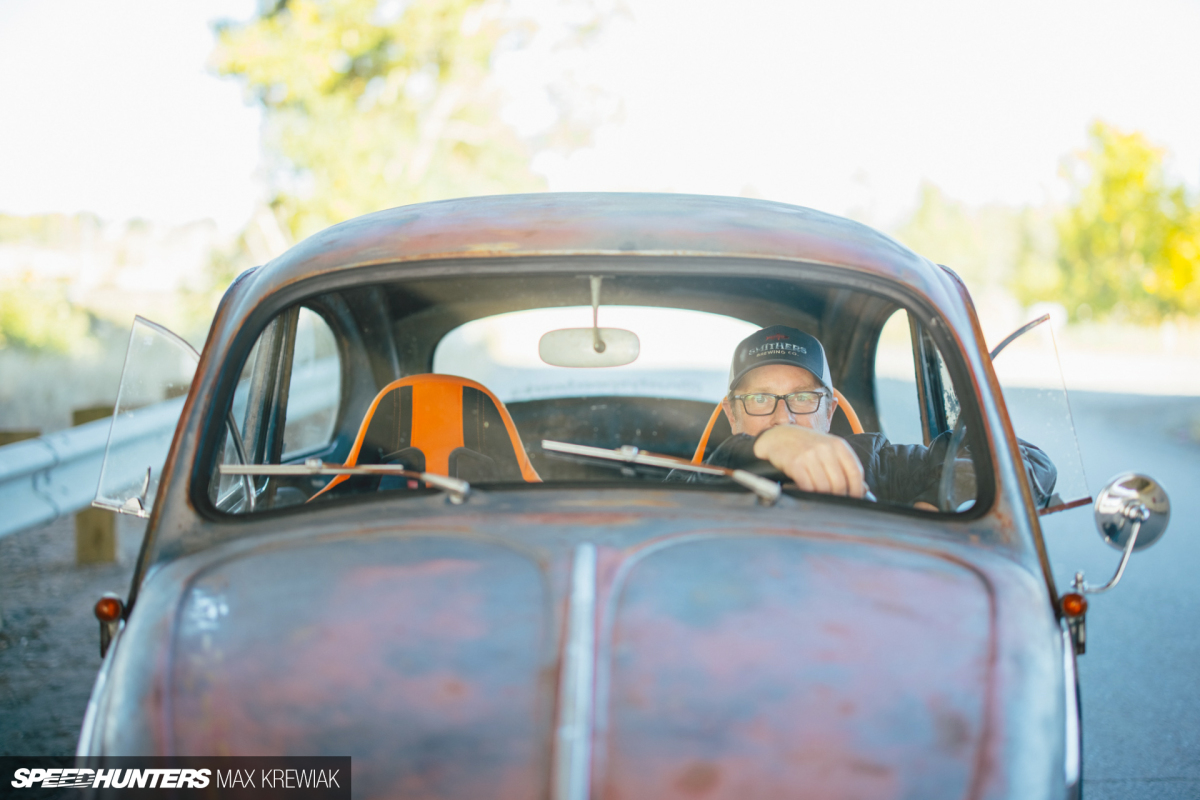 The team is happy with the way the car turned out, although we've definitely managed to upset a few Volkswagen purists. We're the only one at VW meets who have mixed up the genres so much that traditionalists just don't understand what's going on with the car. It is fun listening to folks try and figure out what engine it is – we've heard it all. It's not the fastest Bug in town, but it is fun to drive and turns heads wherever it goes.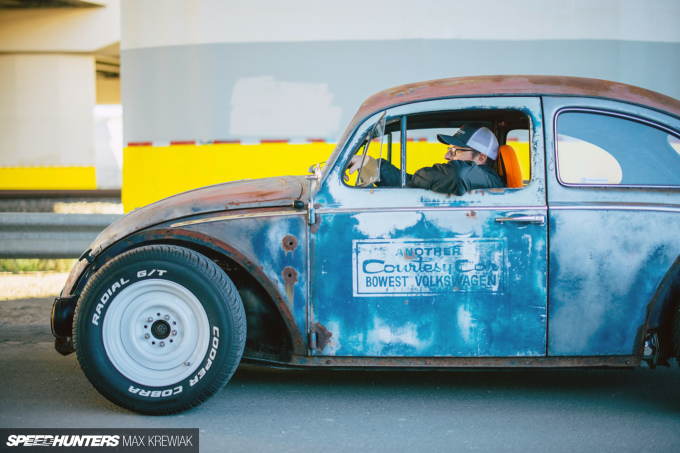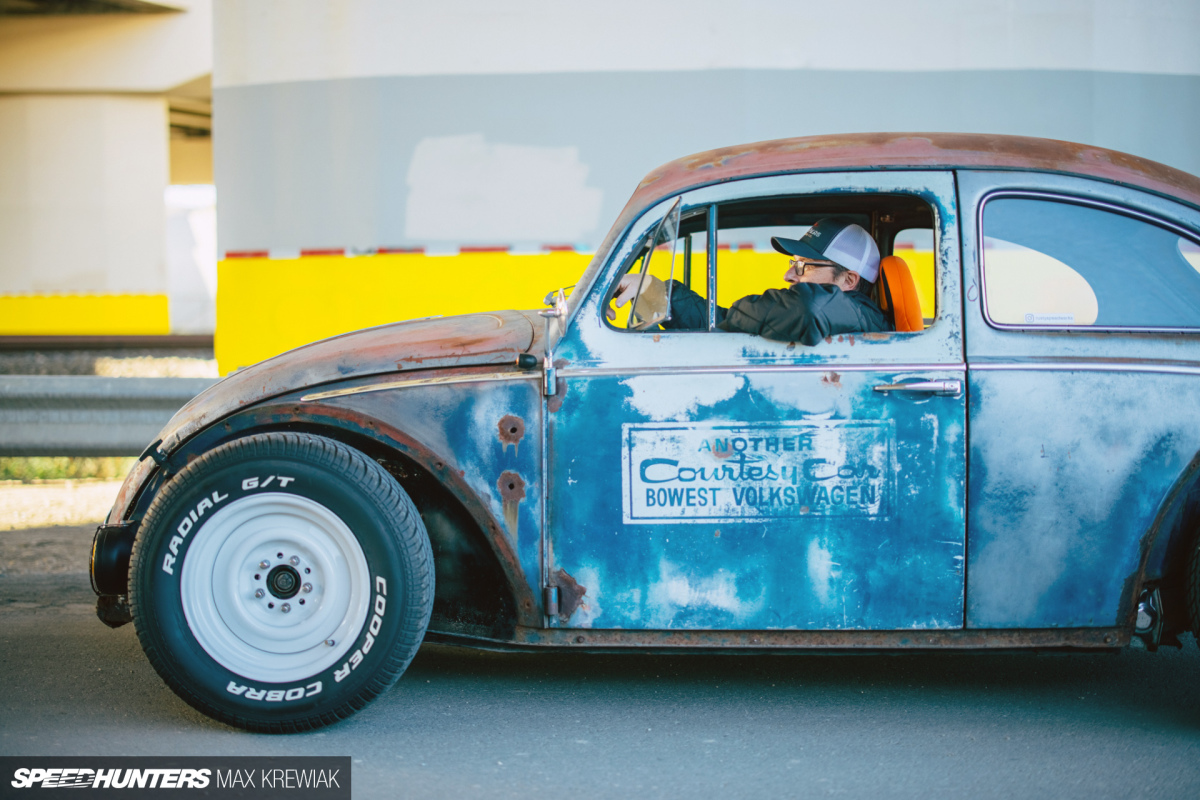 Now for the final chapter; the BugRod is being sent back out into the world for new adventures. Maybe it will come back to the shop in another 50 years with more stories carved into its patina.
Les Tuck
Instagram: rustyspeedwerks
Website: rswcustoms.com
Photos by Max Krewiak
Website: maxkrewiak.com