At Attack Tsukuba 2023, all eyes were on Toshiki 'Fire' Ando when he took to the track in his Escort Racing-built Mitsubishi Lancer Evolution IX. There was, of course, a very good reason for this. On January 27, at a Zummy-organized event, Ando-san blasted his Evo to a new Tsukuba tuning car lap record: 49.897.
While he wasn't able to repeat the sub-50-second feat on his return to Tsukuba for the Attack event three weeks later, Ando got awfully close with a 50.112 lap.
I was just happy to see the car in person again, congratulate the Escort Racing team on their amazing accomplishment, and take a quick crawl over this legendary time attack machine.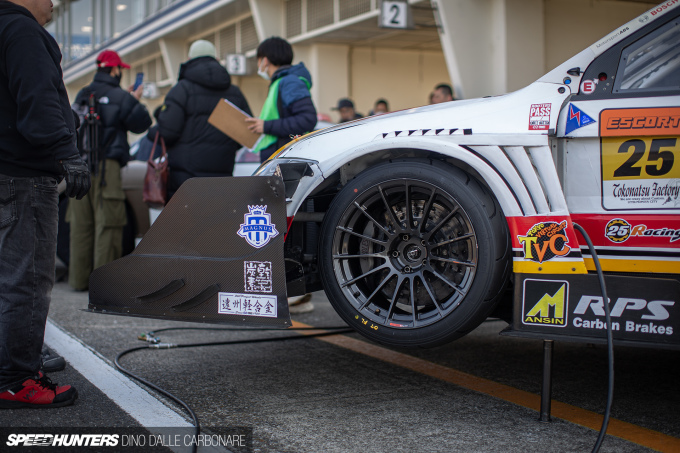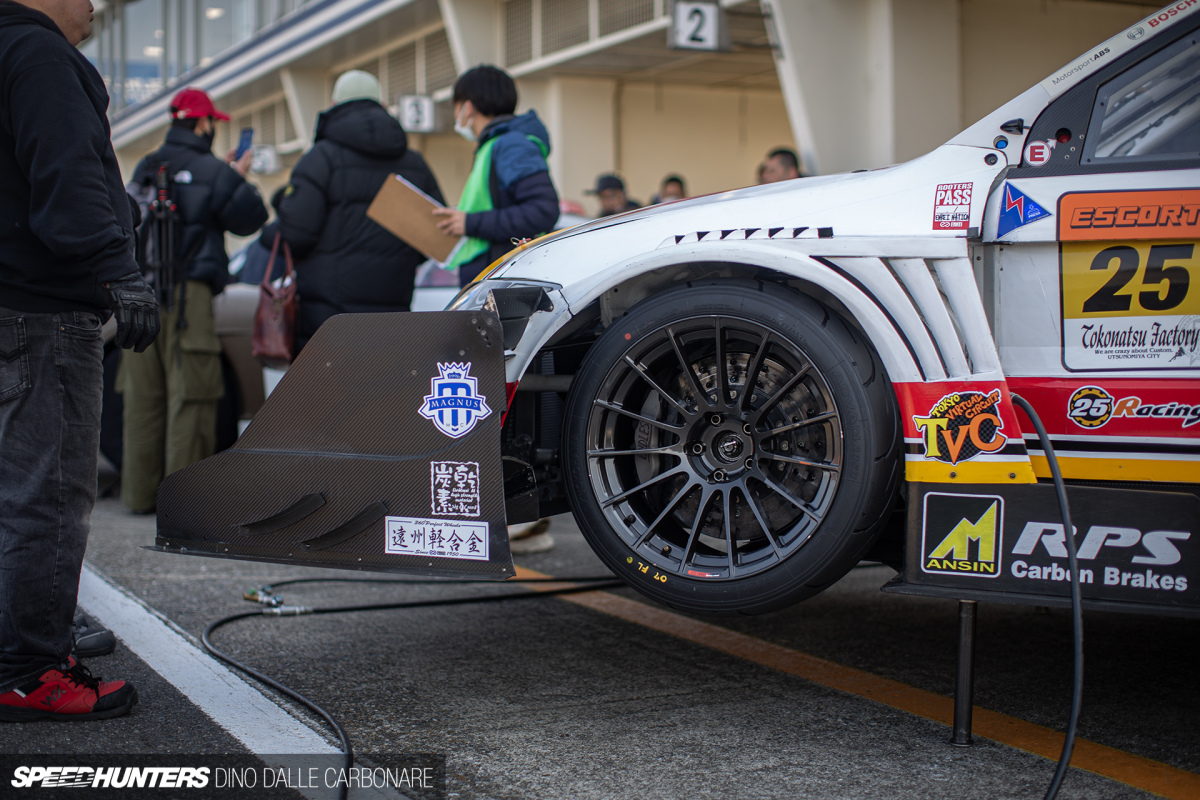 Hiroshi Shiobara and his team at Escort have decades' worth of experience at the pinnacle of Japanese drag racing, building powerful engines that deliver time and time again. When Ando-san employed them to build and develop the Evo, it was the beginning of a match made in heaven. An E85-fuelled dream that has seen them achieve the goal of creating Japan's fastest time attack car relatively quickly.
It obviously takes a huge amount of effort, skill and money to build a car capable of running a sub-50-second Tsukuba lap, and you have to get lost in the details to really appreciate it.
Starting with the Voltex aero package, the way it interacts with the Mitsubishi bodywork beneath, and how everything has been meticulously designed and planned to function as one. Right down to the brakes, which at the business end are comprised of Endless 6-pot monoblock calipers and RPS split carbon rotors.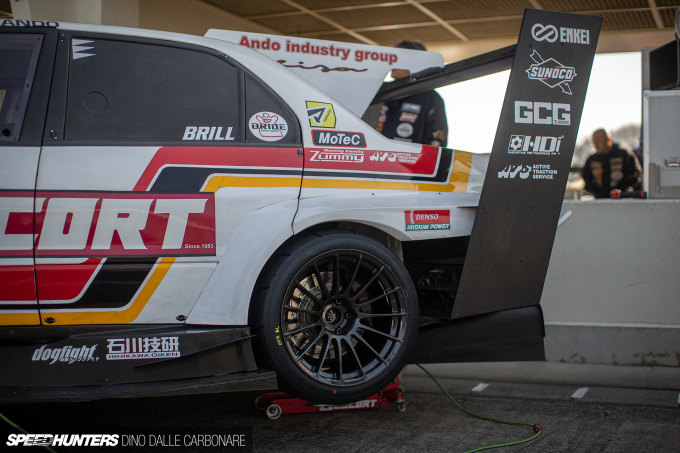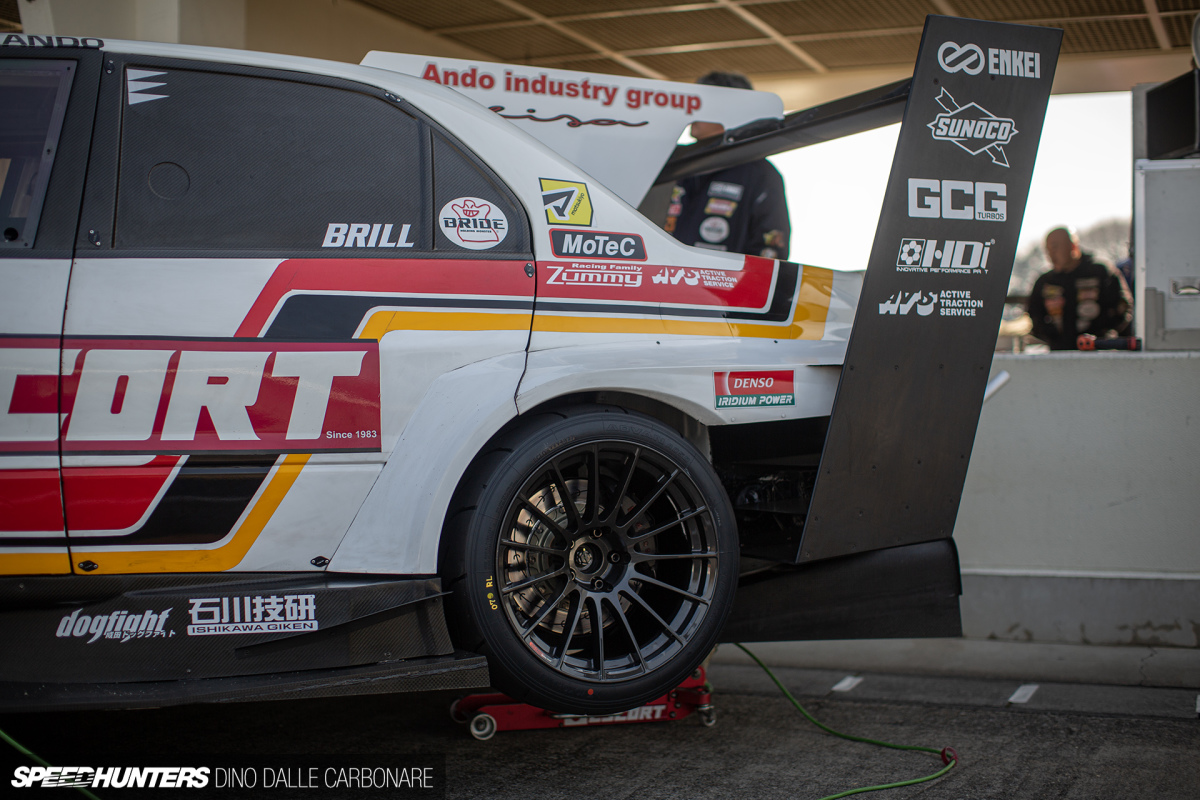 There are many trick suspension parts at the rear and some pretty interesting air management solutions at floor level to keep the Evo glued to the tarmac at speed. Braking at the rear is handled by 4-pot Endless calipers, but interestingly there are no carbon rotors at this end.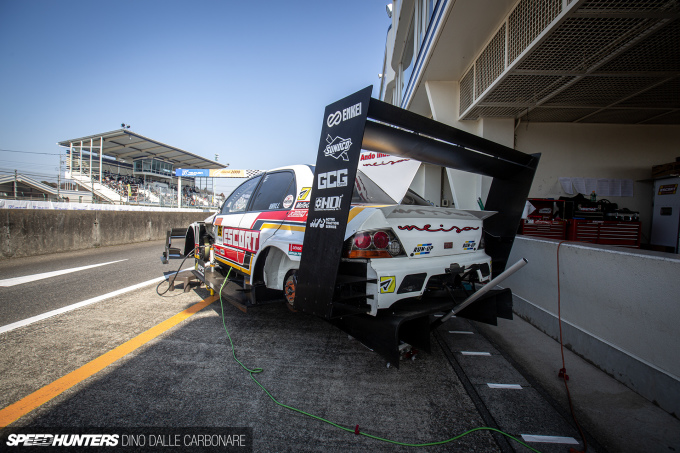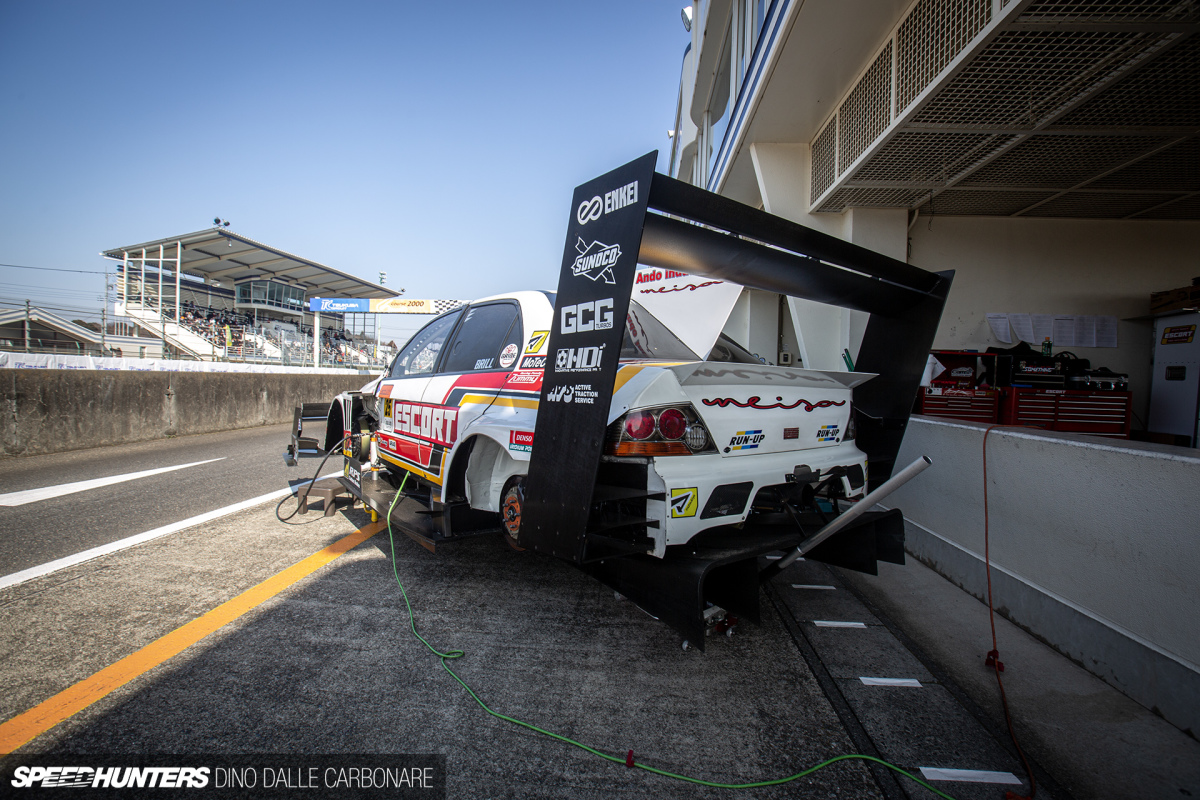 The aero package culminates out back, where the huge spoiler, fin, extractors and canards all come together to create the most impactful rear view of any car ever.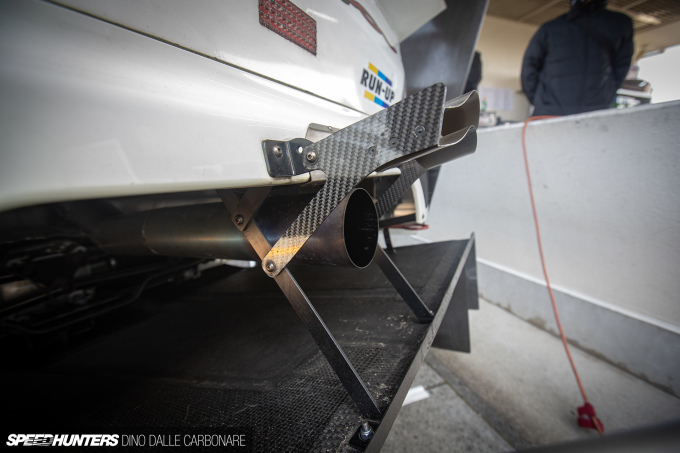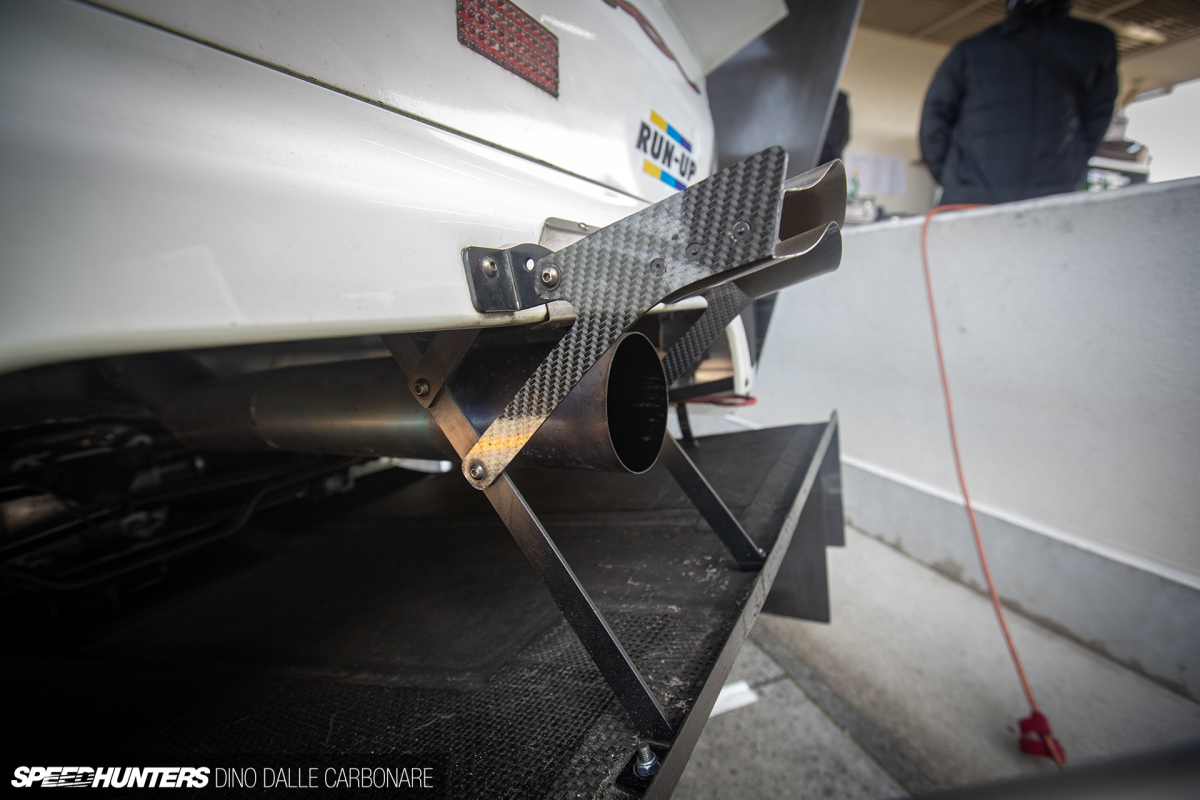 Looking at the center-exit exhaust, I began to wonder if the Escort Racing team have figured out a way to generate downforce with spent gasses!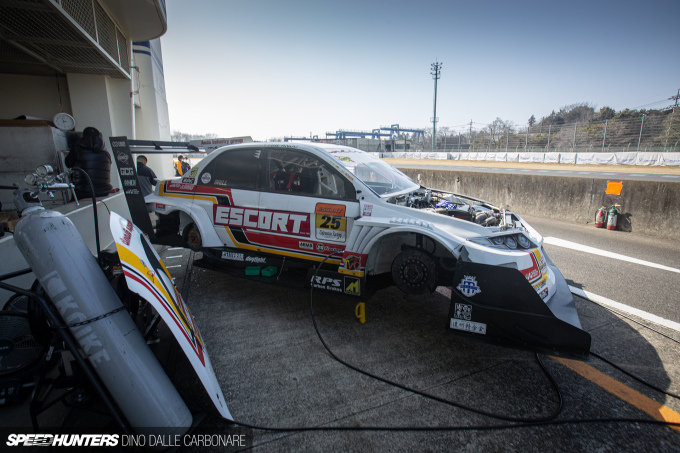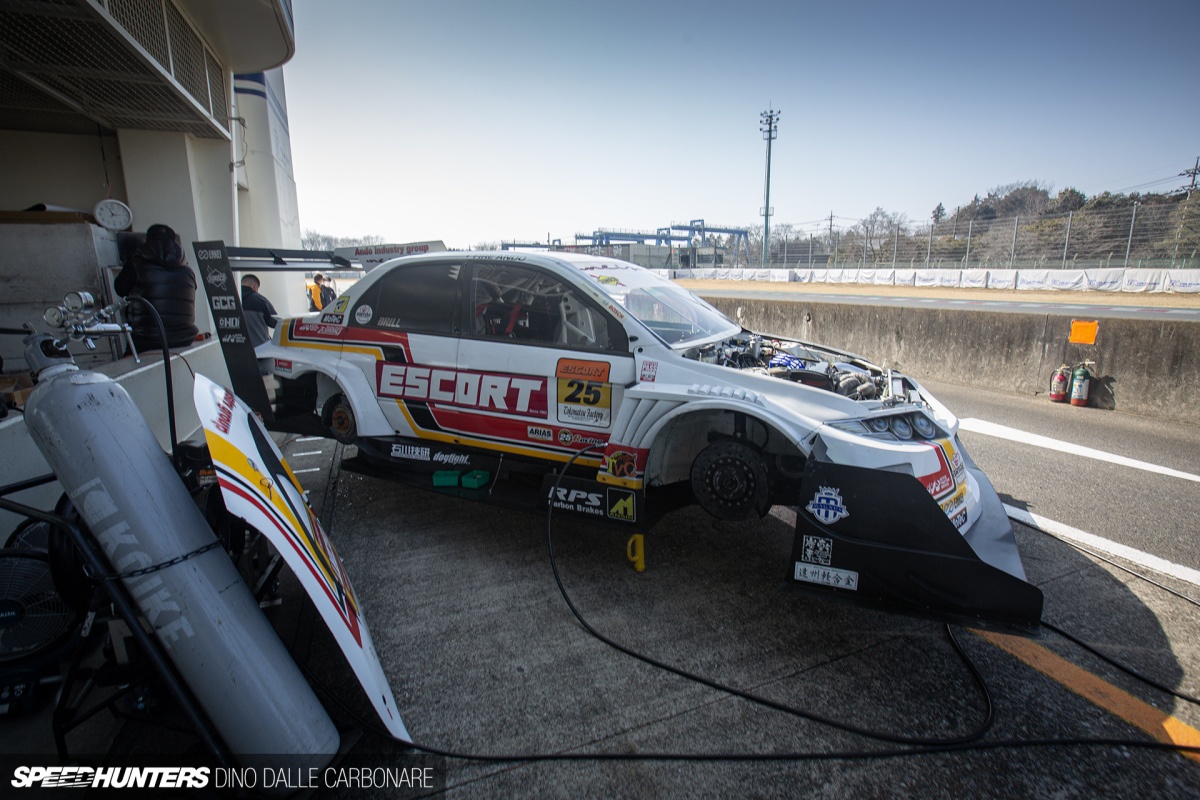 And then there's the engine…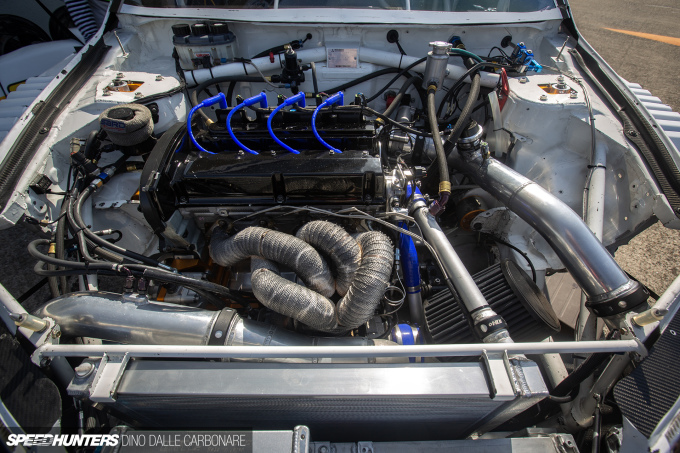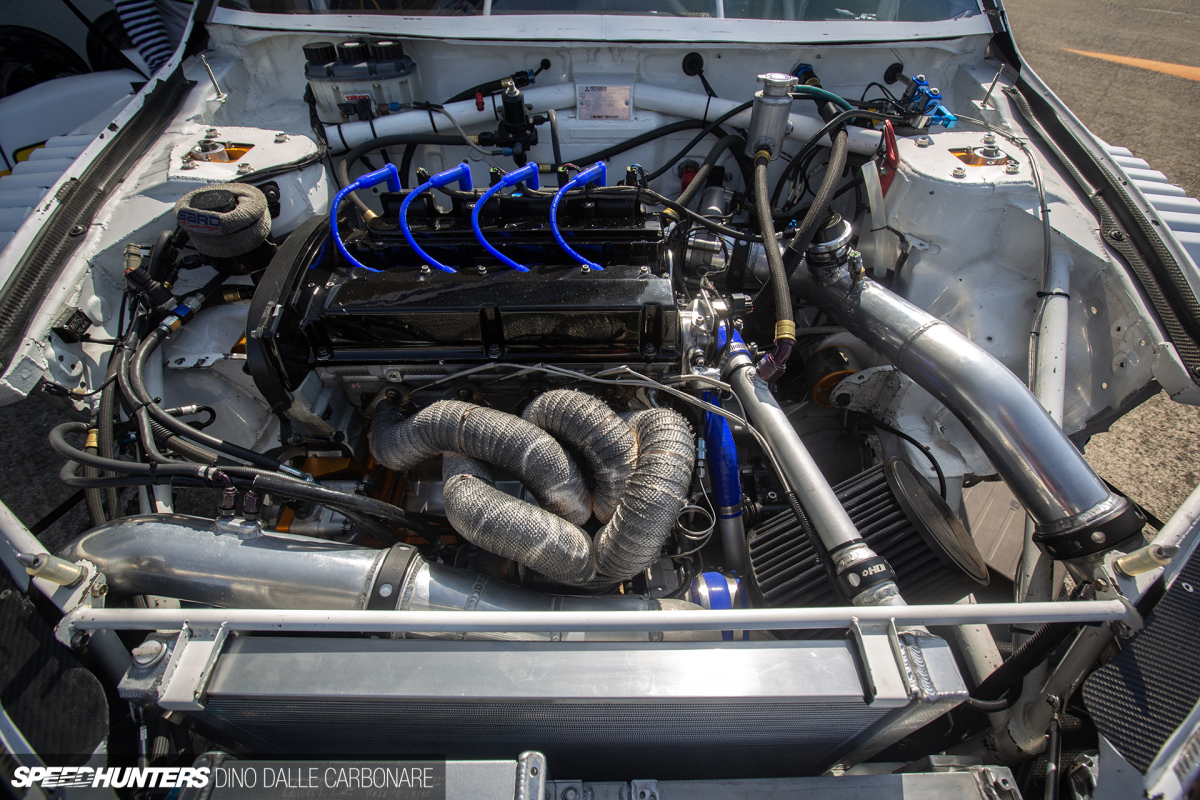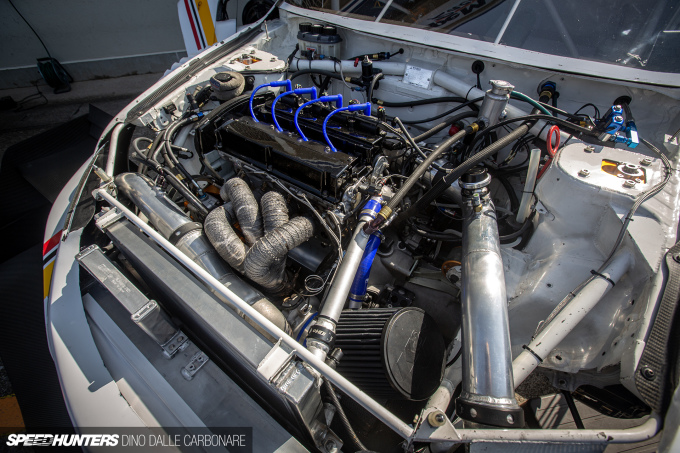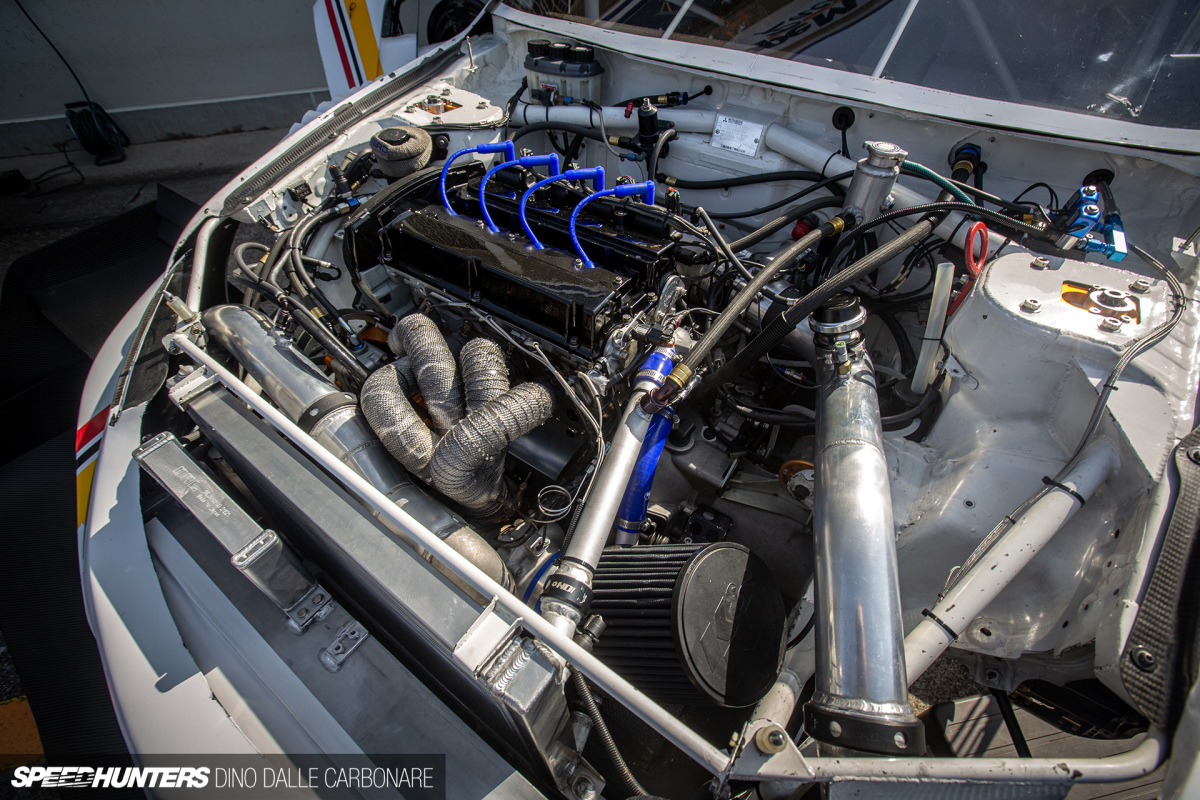 With Escort Racing's zeroyon background, it's unsurprising that the MoTeC-managed, billet block 2.2L has a drag-spec feel to it. For track work though, it utilizes a GCG turbocharger that not only delivers a four-figure power output, but also has ultra-responsive pick up.
Oh yeah, there's nitrous oxide getting pumped into this 4G63's veins too.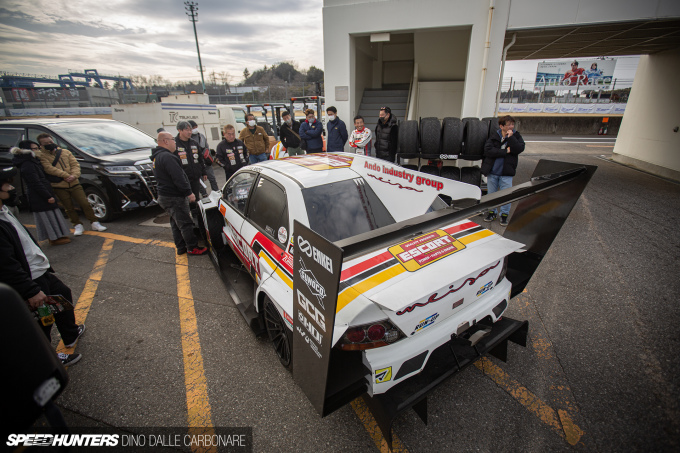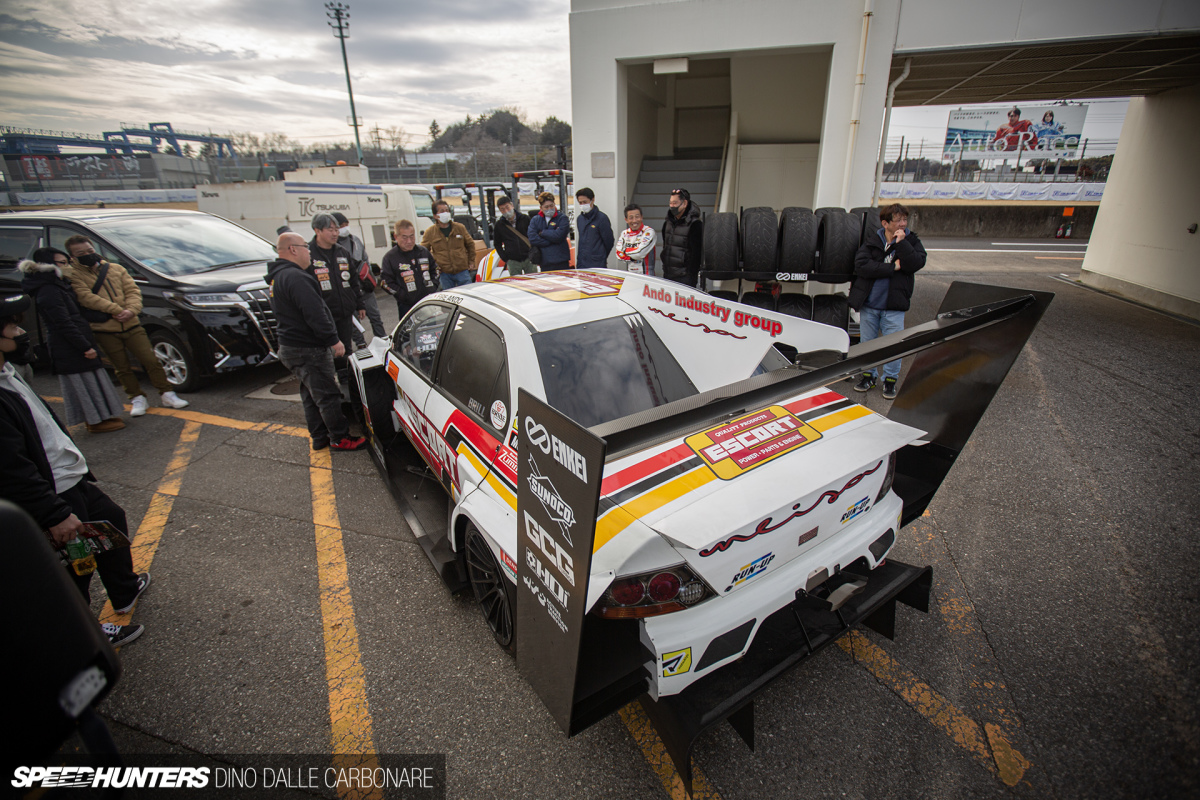 What this team have managed to achieve is nothing short of impressive, and by breaking into the 49-second zone Ando-san and Escort Racing are pushing time attack to a new level.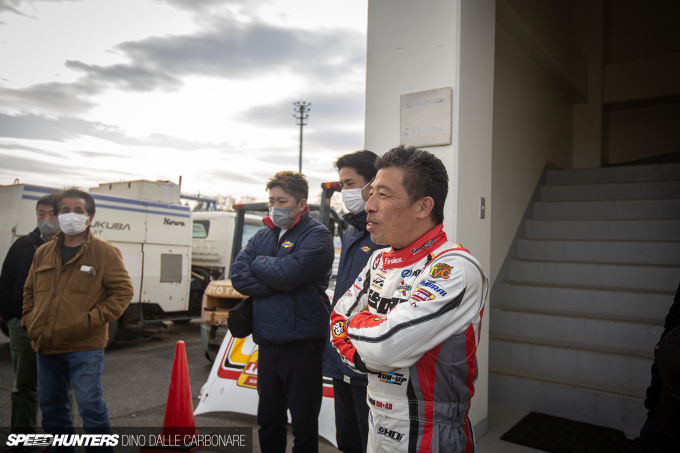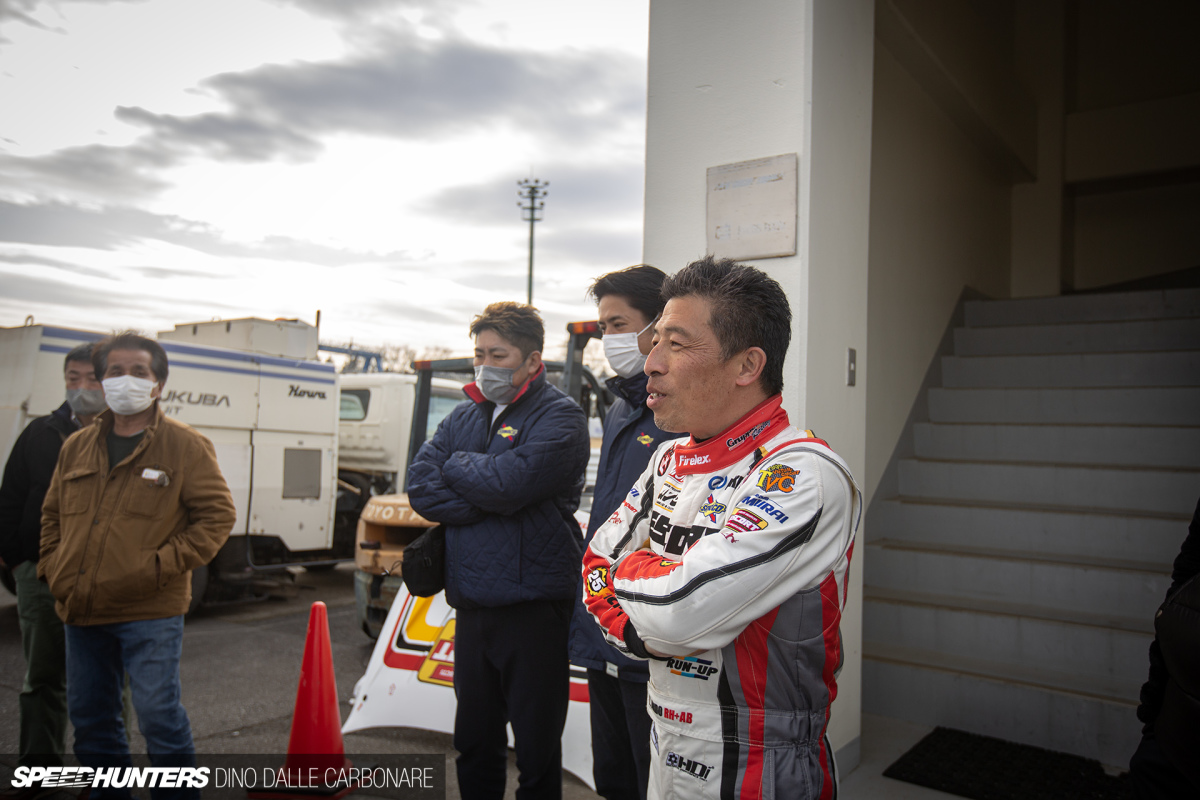 But don't for a second think that Ando is done. His next goal is to beat the 49.455-second lap posted by Nobuteru Taniguchi in HKS's fully-slicked-up TRB-03 – but using Yokohama Advan A050 semi-slick tires. Semi-slicks have, after all, been a mainstay of time attack competition since the very beginning.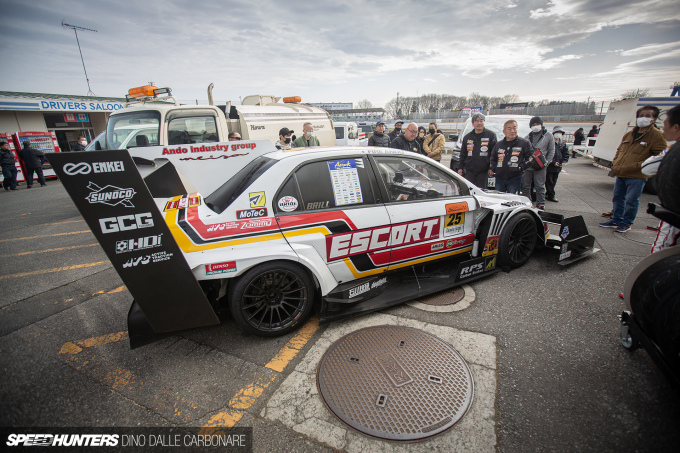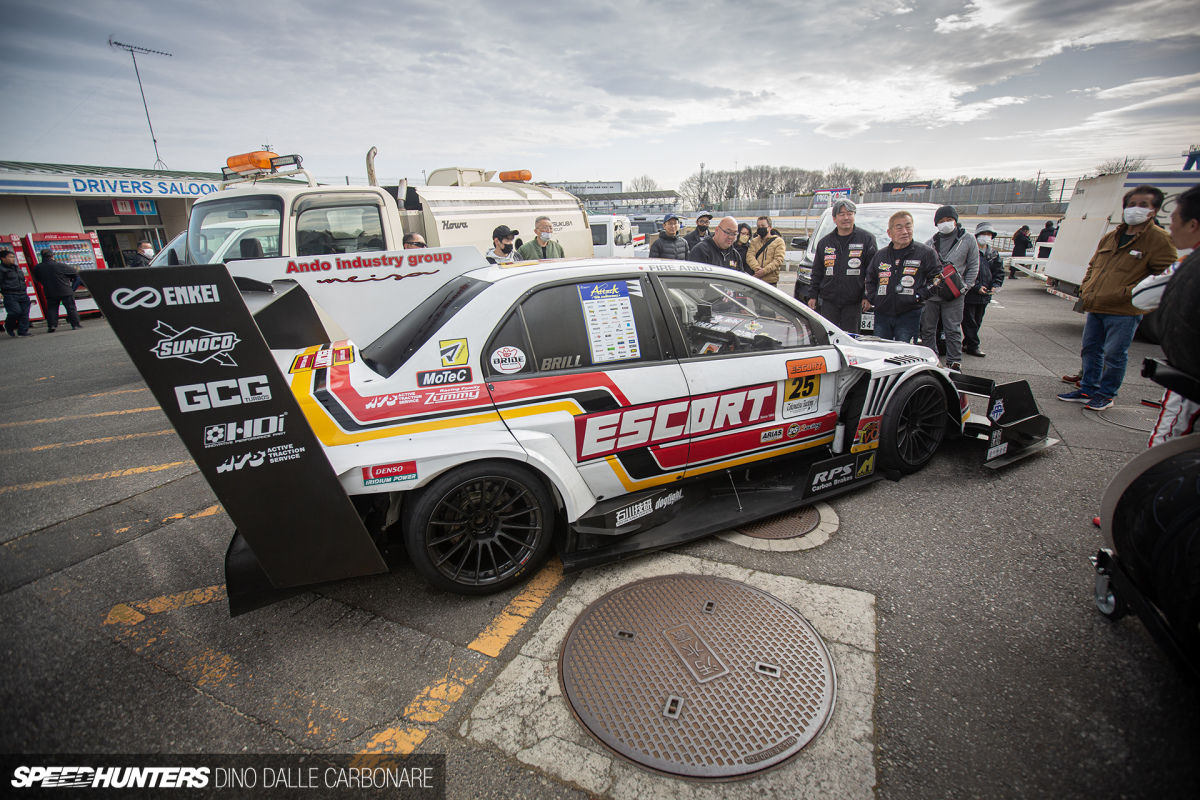 So the development continues, for Ando-san and everyone else that competes in time attack competition. It's the essence of this motorsport discipline; pushing, testing, failing, eventually reaching goals and, if you're lucky, setting records.
I've got one more story to come from Attack Tsukuba 2023 on some of the other heavy-hitters at the event, so look out for that later this week.
Dino Dalle Carbonare
Instagram: dino_dalle_carbonare
dino@speedhunters.com