Welcome to Racing Garage Fastest.
Located just outside Nihonmatsu in Fukushima-ken, the same town that sits at the foot of the mountain which Ebisu Circuit is perched on, it's the quintessential old school Japanese tuning shop. It's not even that old school, having been in operation for fifteen years or so.
RGF however gets down to business with proper tuning, and by that I mean preparing cars for fast road and track usage, the sort of things Japan has always been so good at.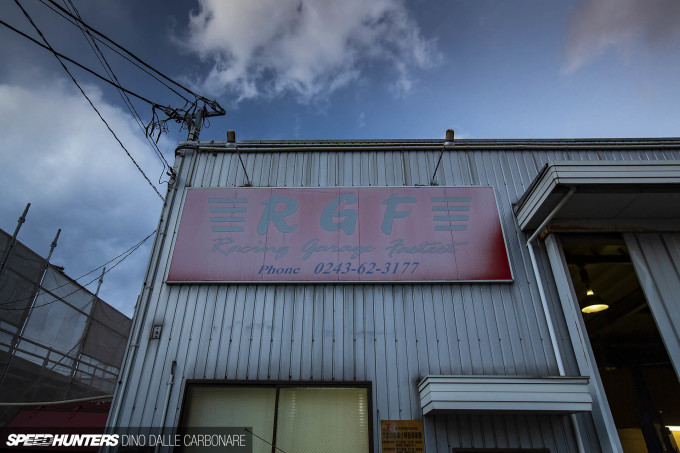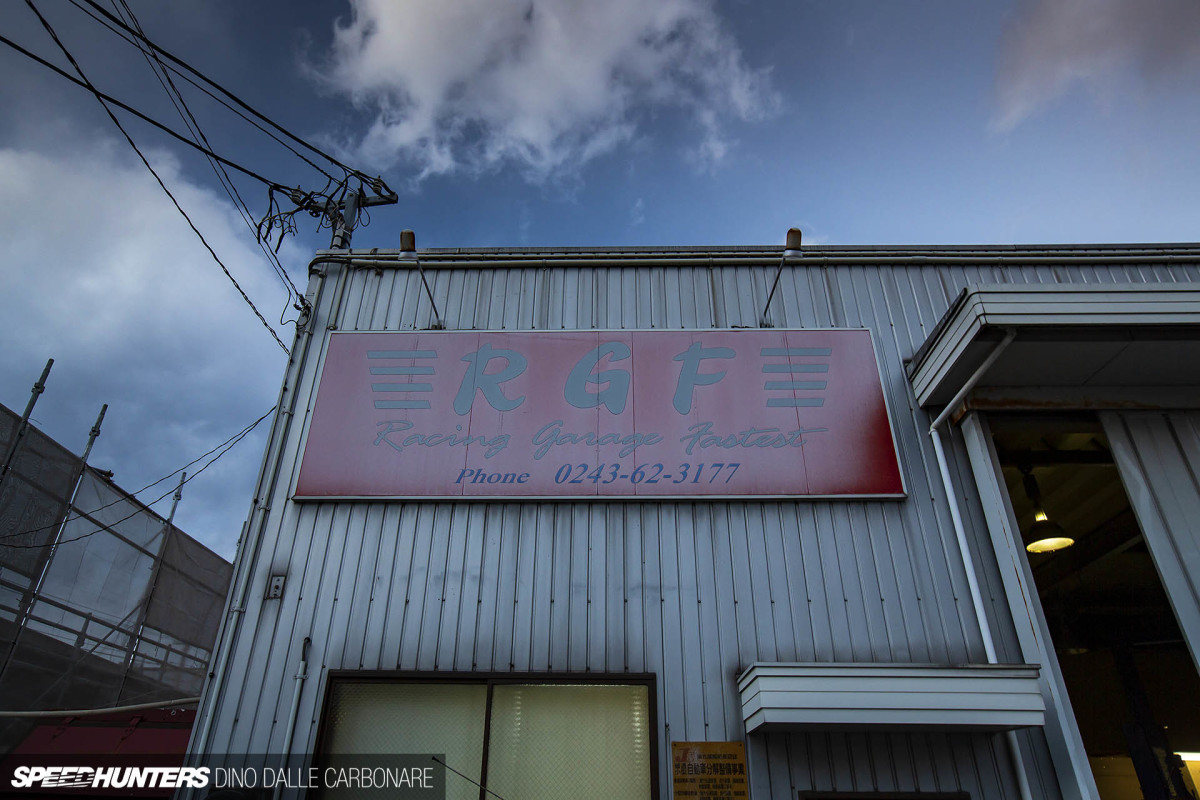 Speedhunting in more remote areas of Japan always brings with it a whole different feel. Tuners aren't as stressed about having to conform to rules as much as in the cities where the authorities are significantly stricter. And so there's a perceivable freedom to go a little bit wilder without the fear of possibly running into issues.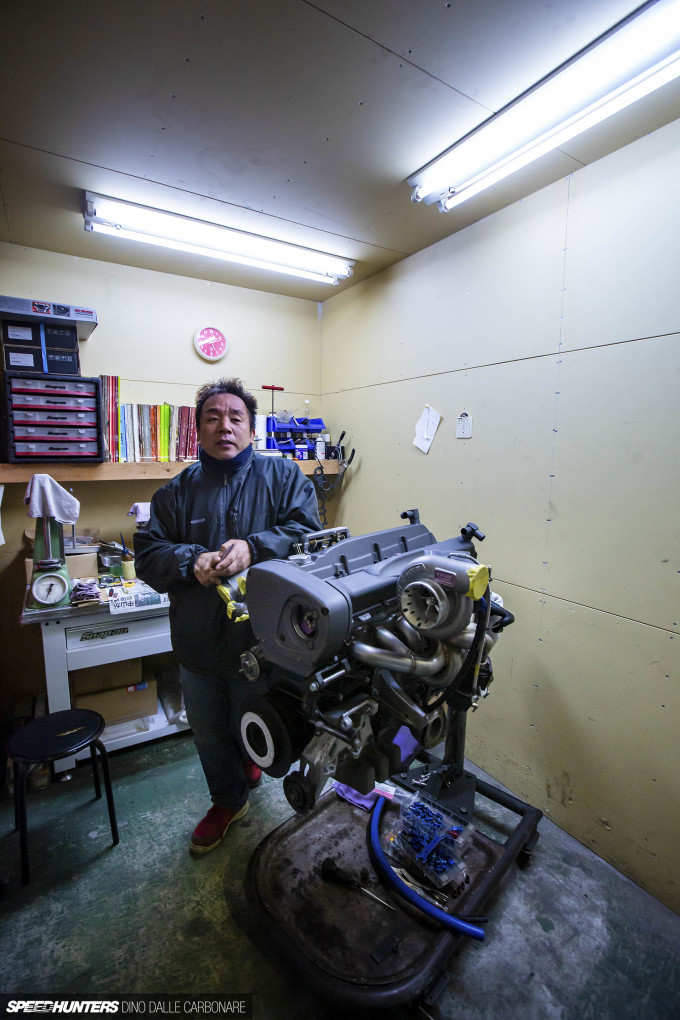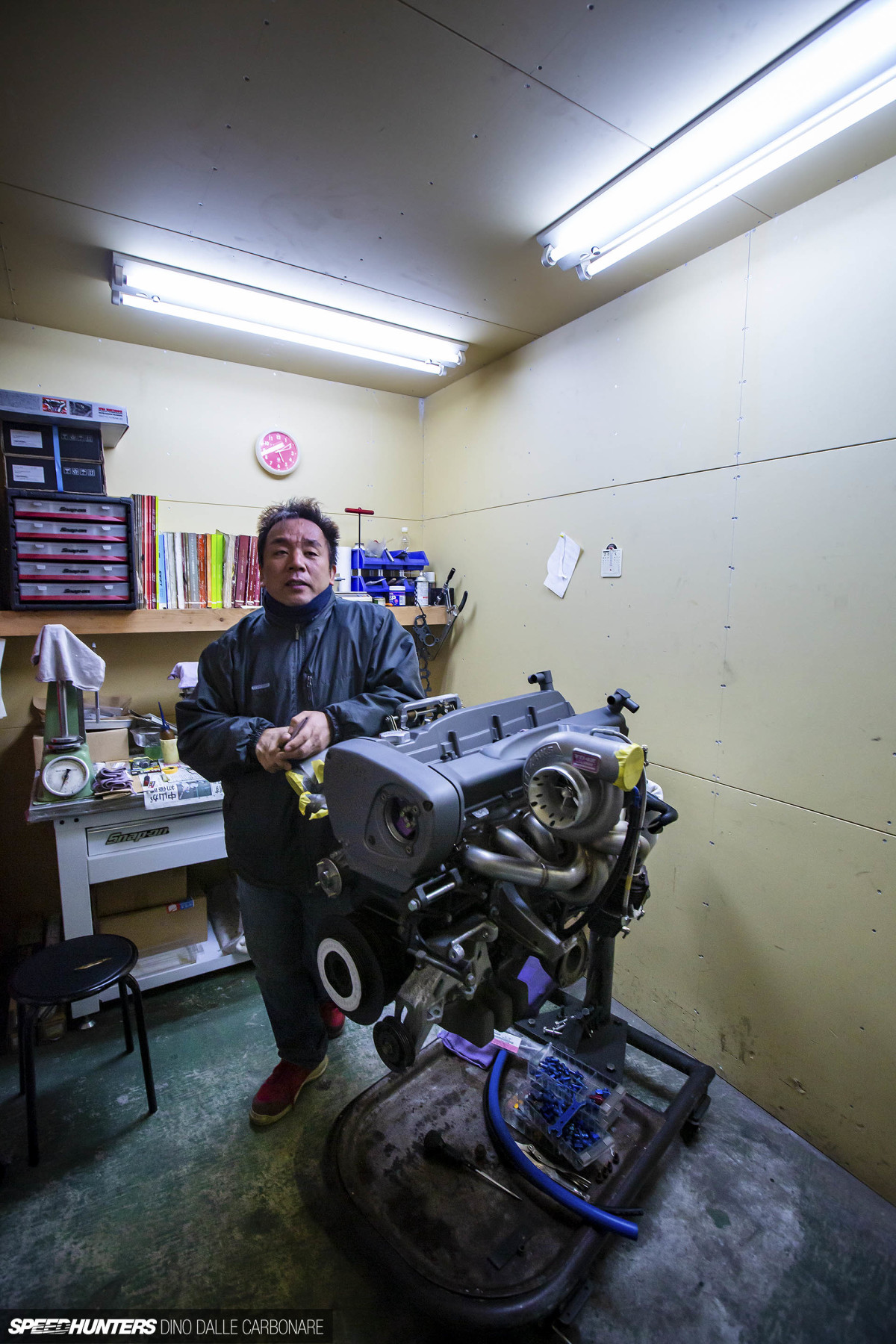 Meet Hiroyuki Kanazawa, the man behind the operation and a little bit of a legend in JDM tuning circles as he was once the man that piloted Veilside's drag cars down the drag strip.
These days he builds up and tunes all sorts of cars for his customers, leaning more towards GT-Rs. He's seen standing here next to an RB26 he's building for a customer car that's just getting refreshed.
If you skip to the 0:45 second mark on the video above, you can see Kanazawa-san first driving Yokomaku's 1400hp BNR32 and then the 1200hp Supra. The event eventually got stopped due to too much fog and moisture on the surface.
In case you are wondering, Sendai Hi-Land got closed off and sold years back, now it's on its way to being converted into a solar farm. The only drag strip in Japan today is the extended straight at Central Circuit.
I stopped by for a quick visit last week as I've always enjoyed seeing RGF's GT-R builds show up at events like R's Meeting but never had the pleasure to see the shop and meet Kanazawa-san in person.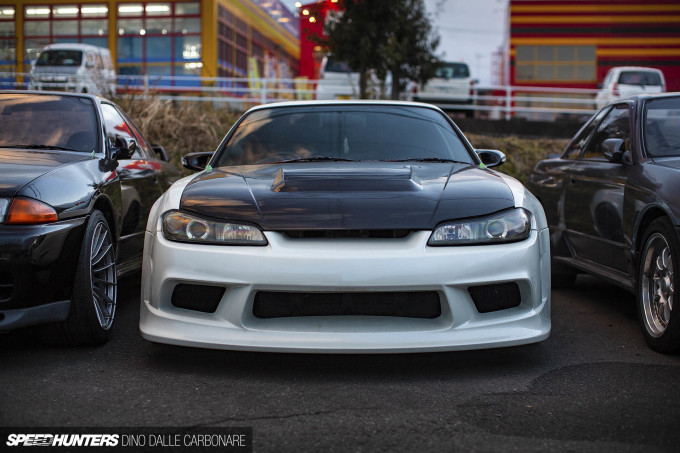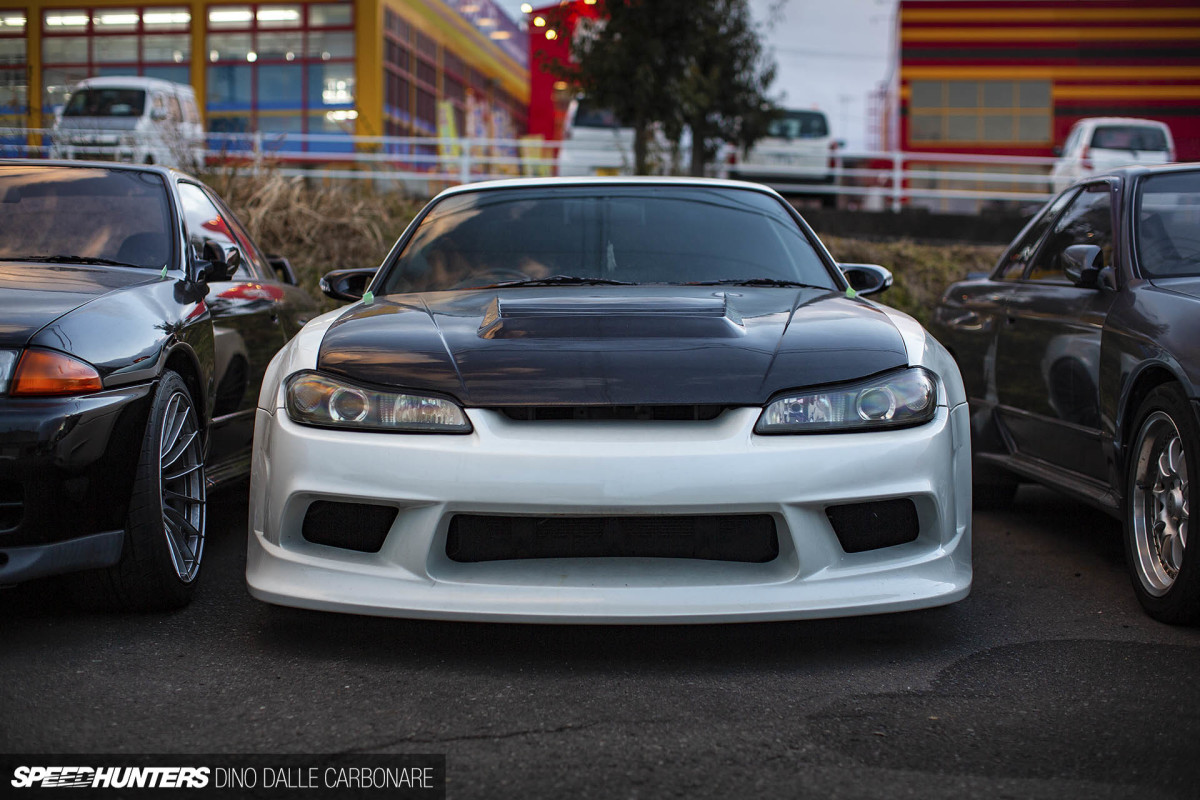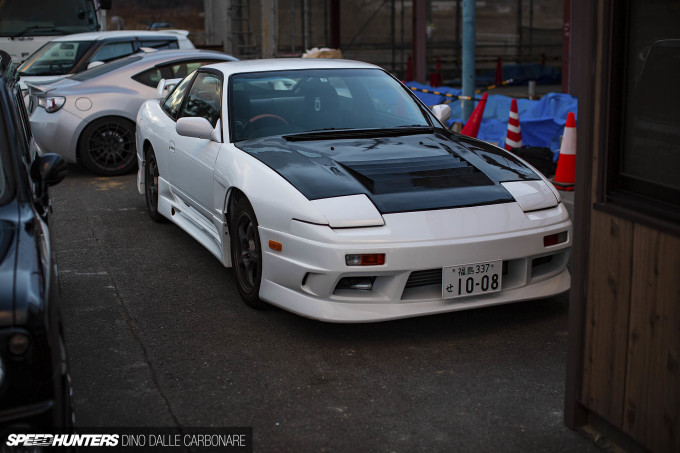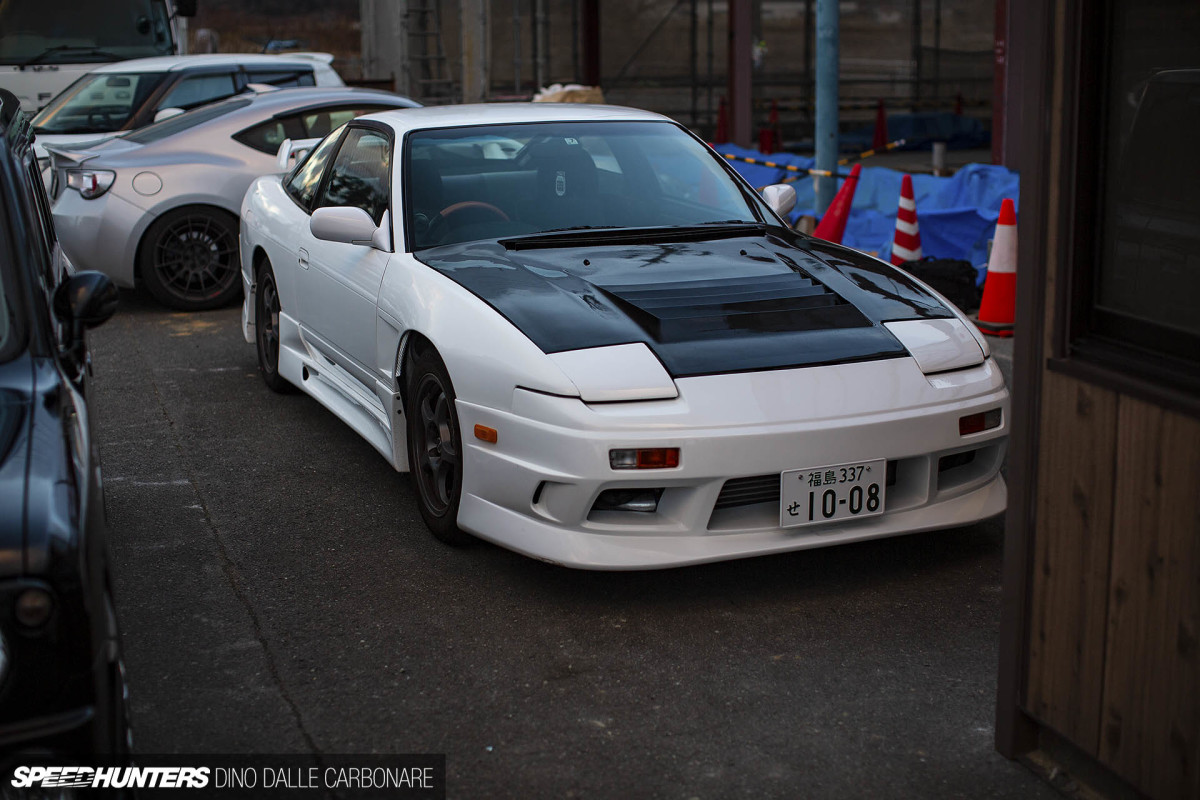 One quick walk through the forecourt and look at the cars parked around, it's not hard to get a really cool vibe from this place, a down to earth shop which is all about function.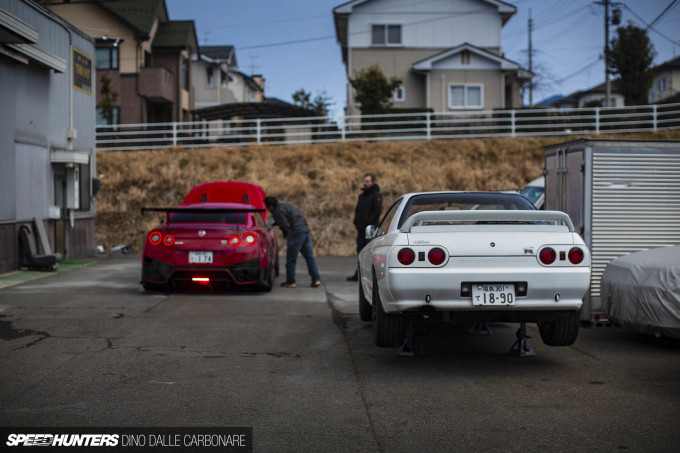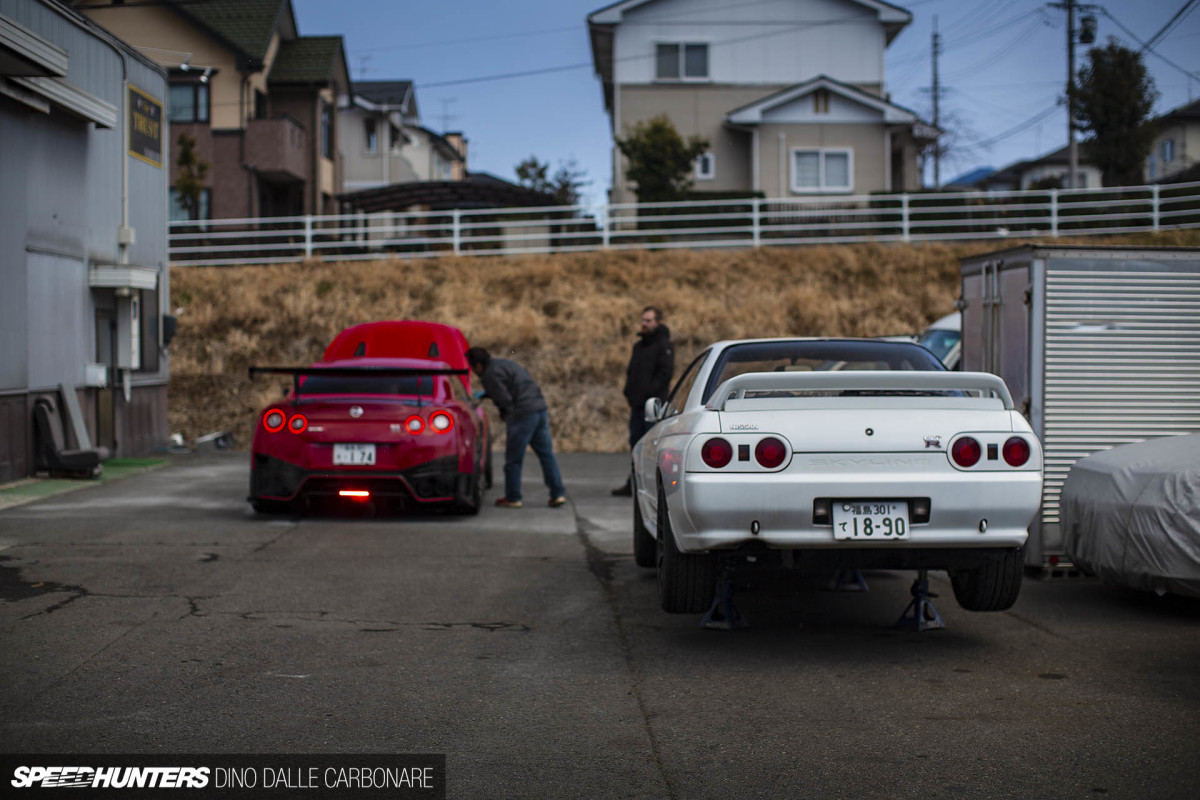 What really caught my attention, asides from the white BNR32 on axle stands, was the fire red R35 at the bottom, a customer car that had just been finished and was awaiting pick up.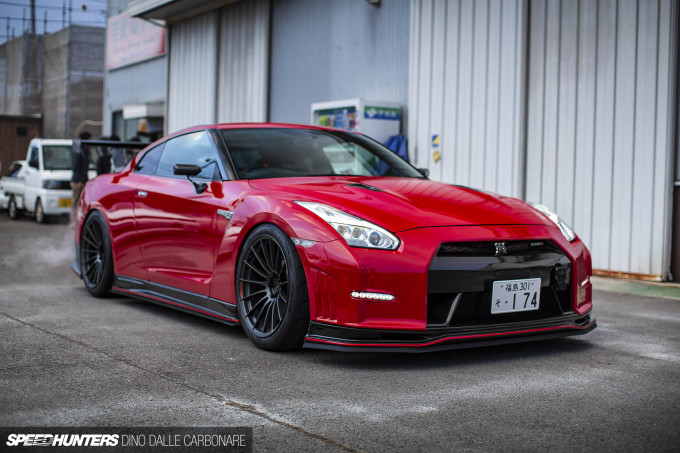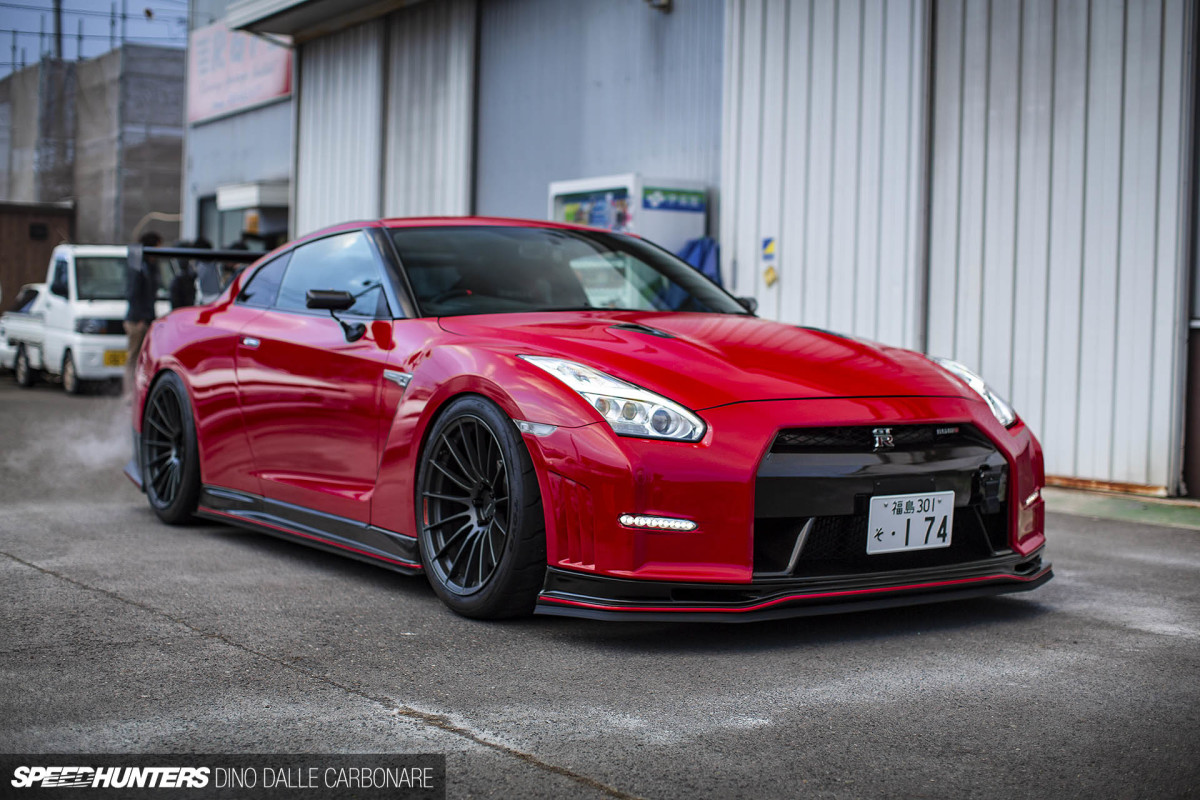 Despite being perfectly street legal this car is pretty much set up for circuit use, mainly for hot laps around Sugo, the Yamaha-owned circuit up in Sendai, about an hour north of Fukushima.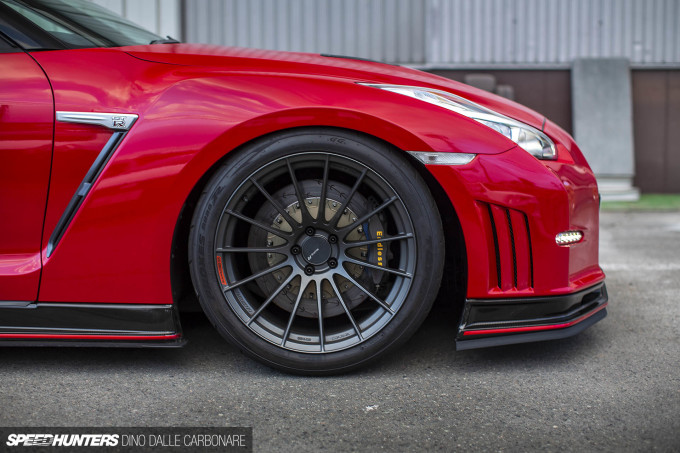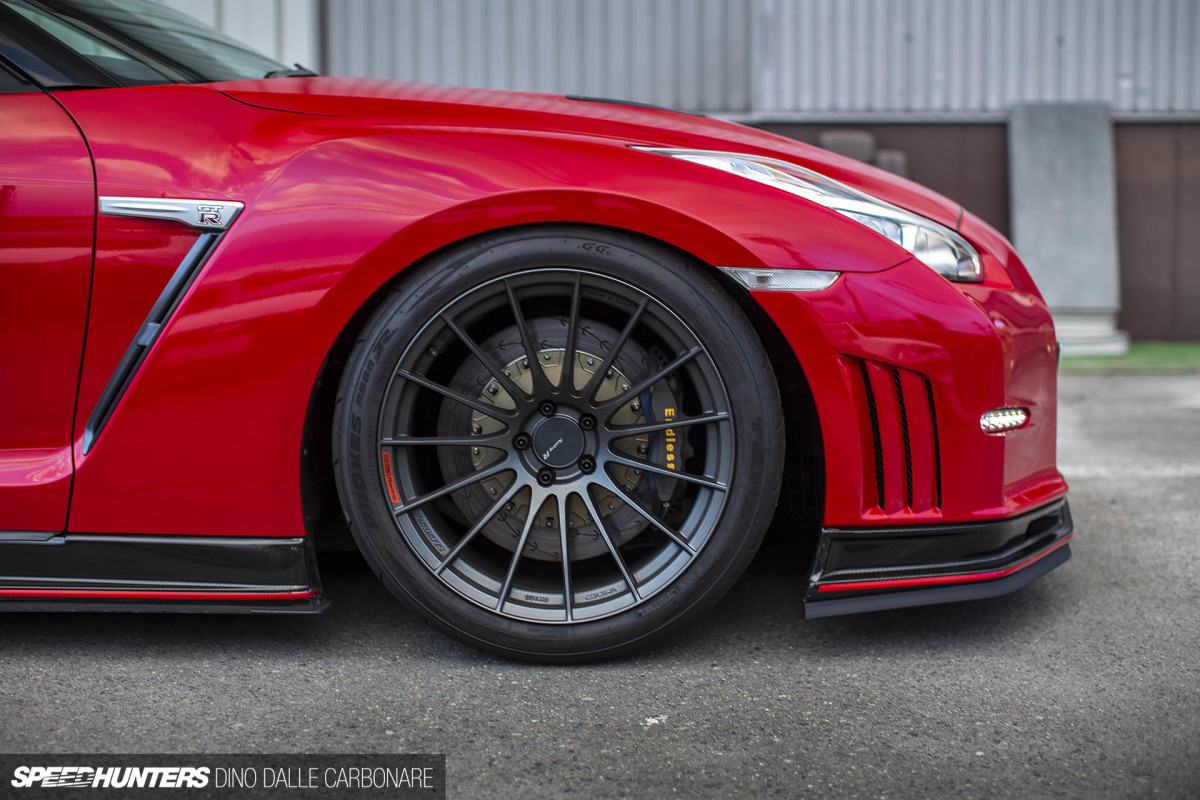 The car sits low on its adjustable suspension, and with the 20-inch Toyo R888Rs tucking the top of their meat just a little into the fenders, it gives it just the right bit of aggression.
Behind the Enkei RS05RRs is a full Endless monobloc brake kit, with six-pots up front and four at the rear stamped with the MCR logo, RGF's (almost) sister shop down in Kanto.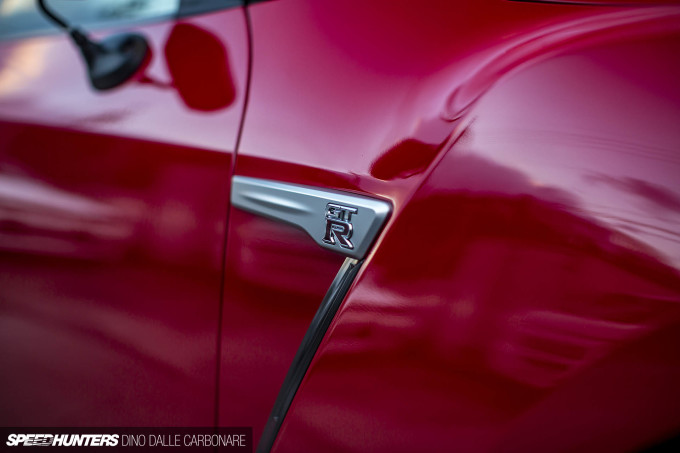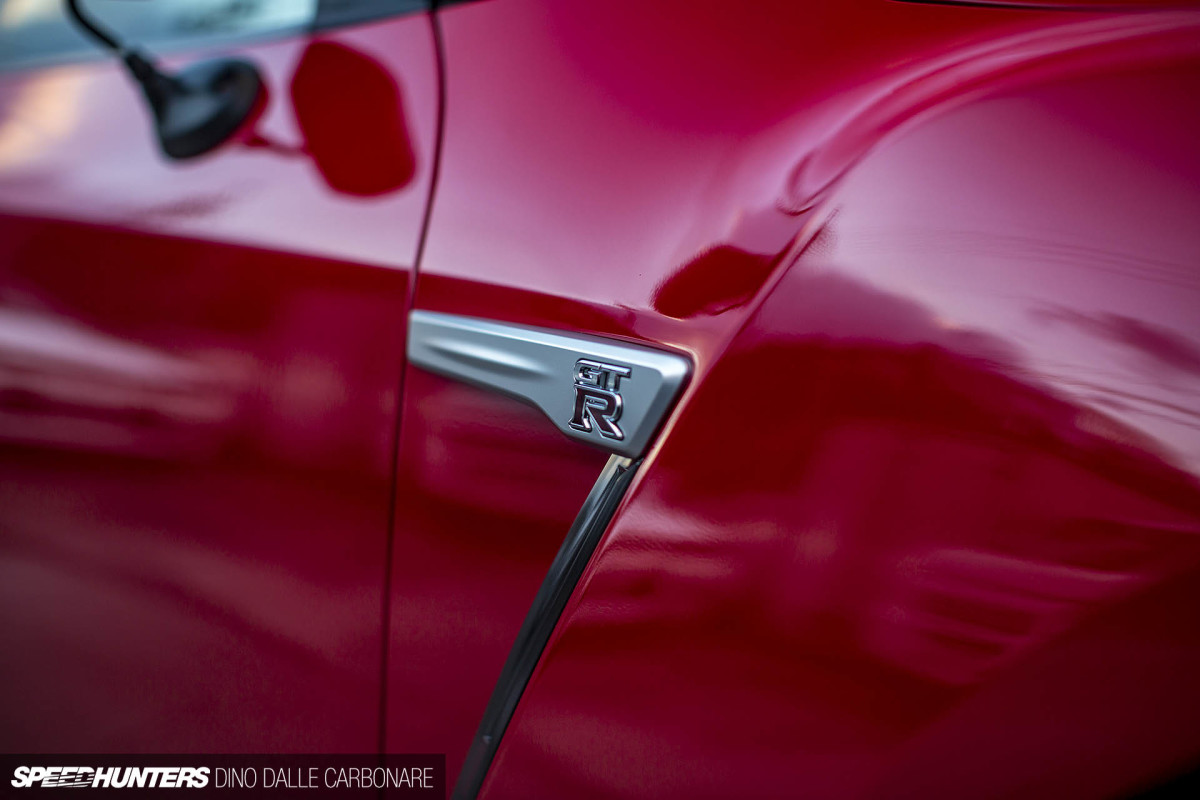 The MCR-RGF relationship has often confused me but it turns out it's a simple matter of Kobayashi-san and Kanazawa-san being friends, both liking GT-Rs and both having the same ideas when it comes to tuning.
So, they both rock the same red color for their demo cars and are very much aligned tuning wise.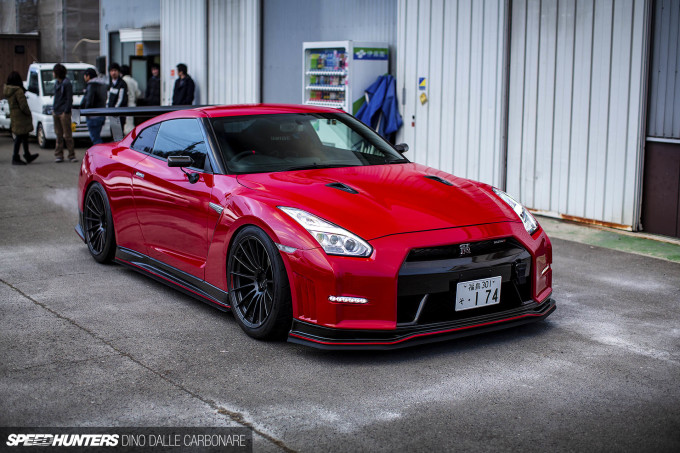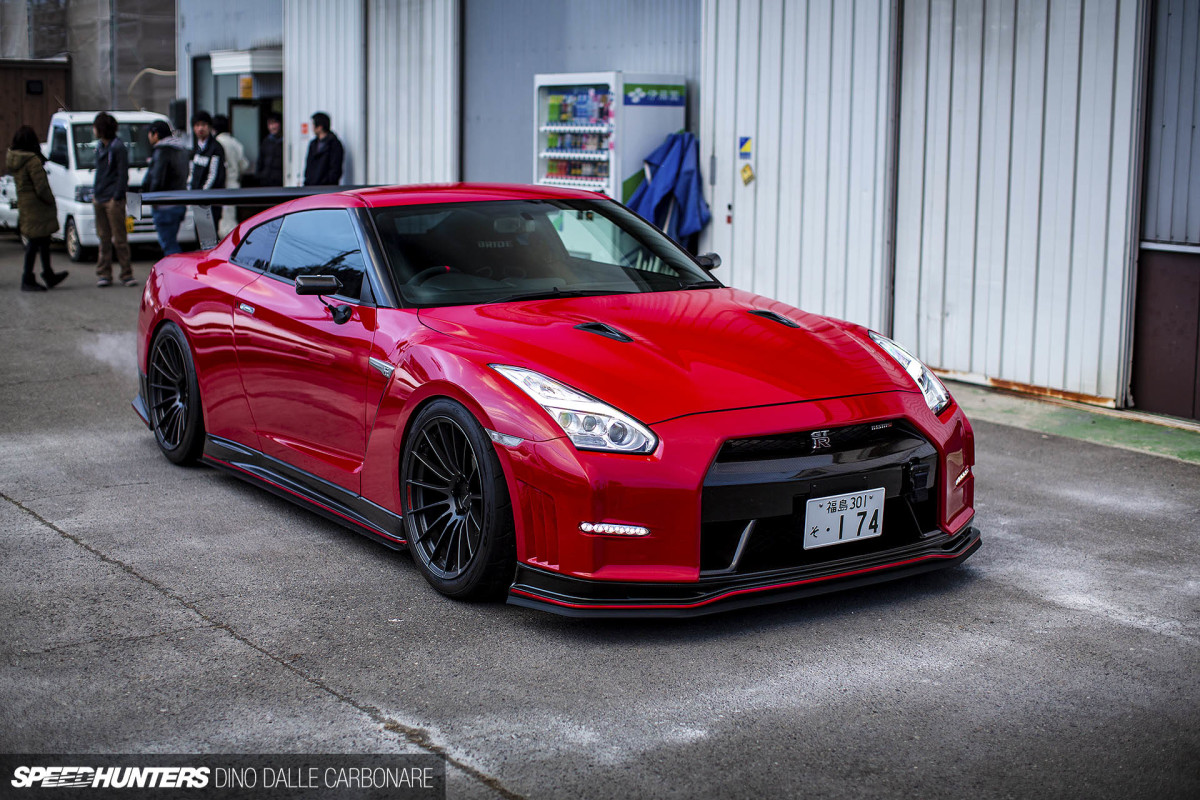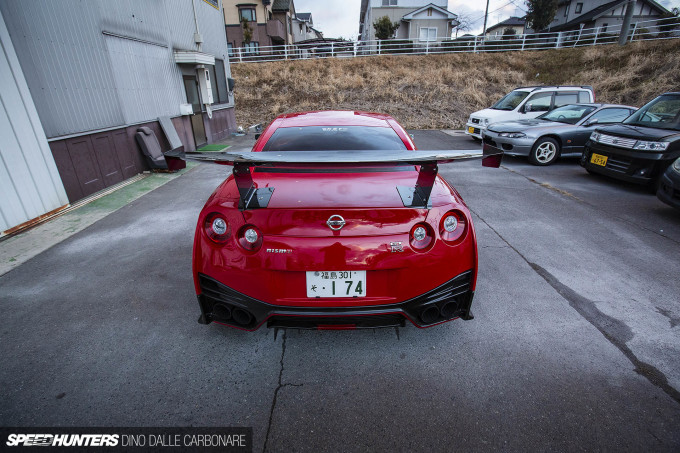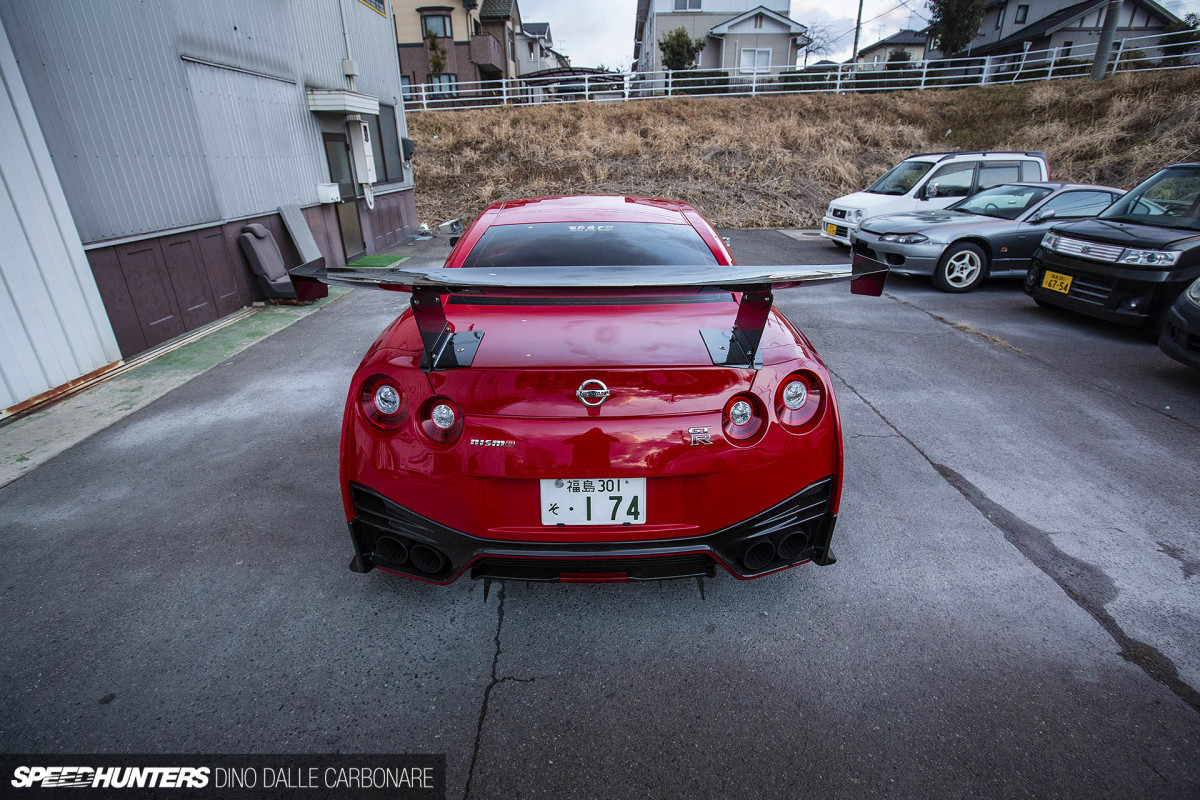 The base car is a 2008 model and it's had a small fortune spent on it going for a Nismo-like look. Apparently the Nismo replica pieces are from the US, while things like the headlights and taillights have been swapped out for a more modern look.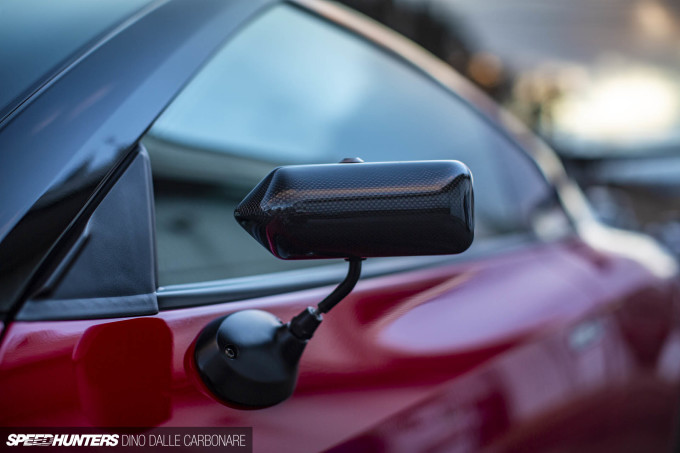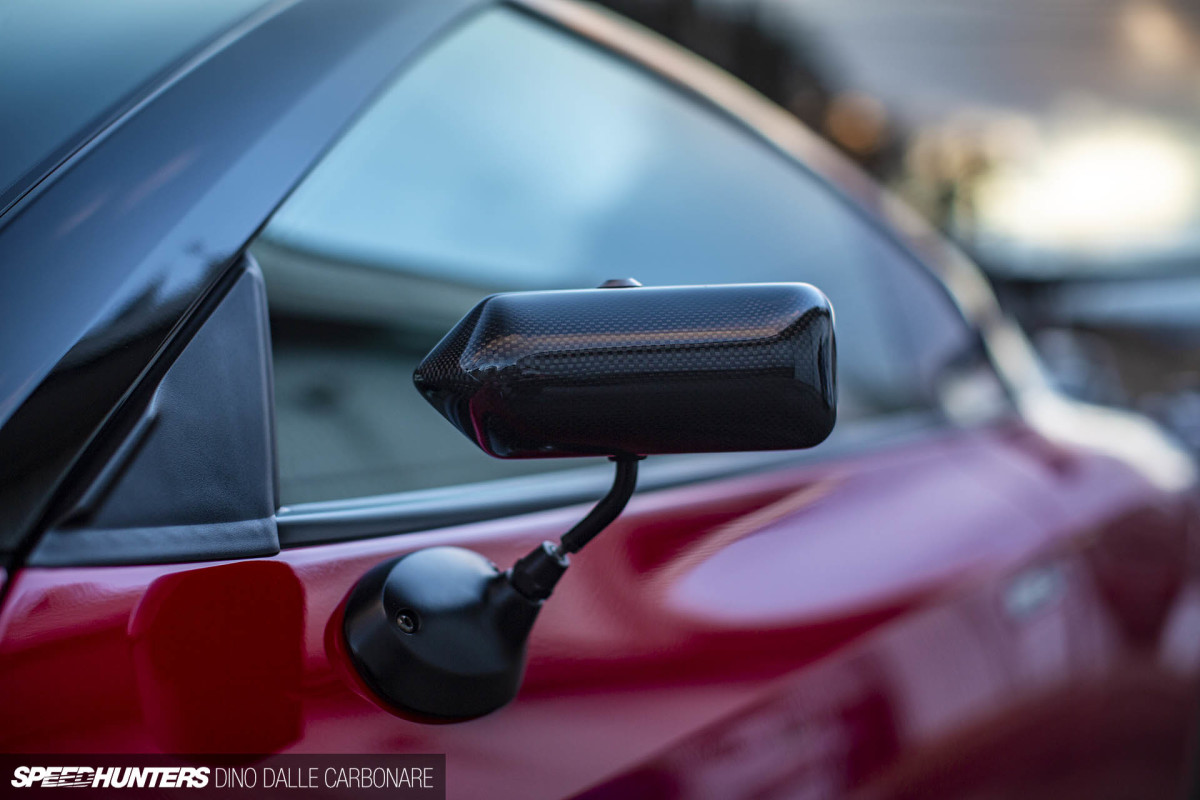 I really liked the effect the Craft Square mirrors had on the subtle exterior, they were just the right hint that this isn't really a street going GT-R.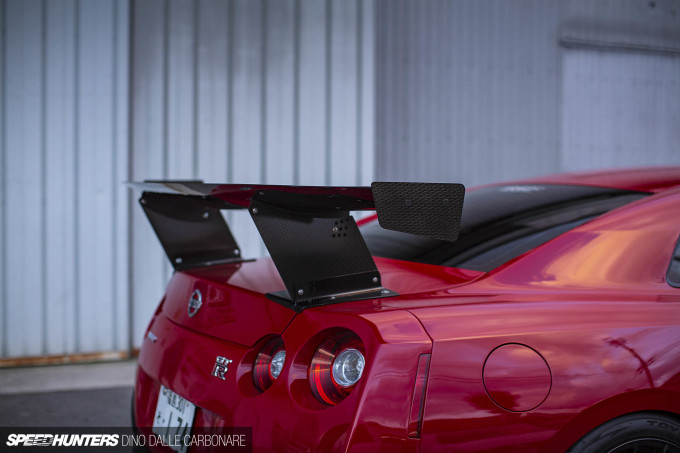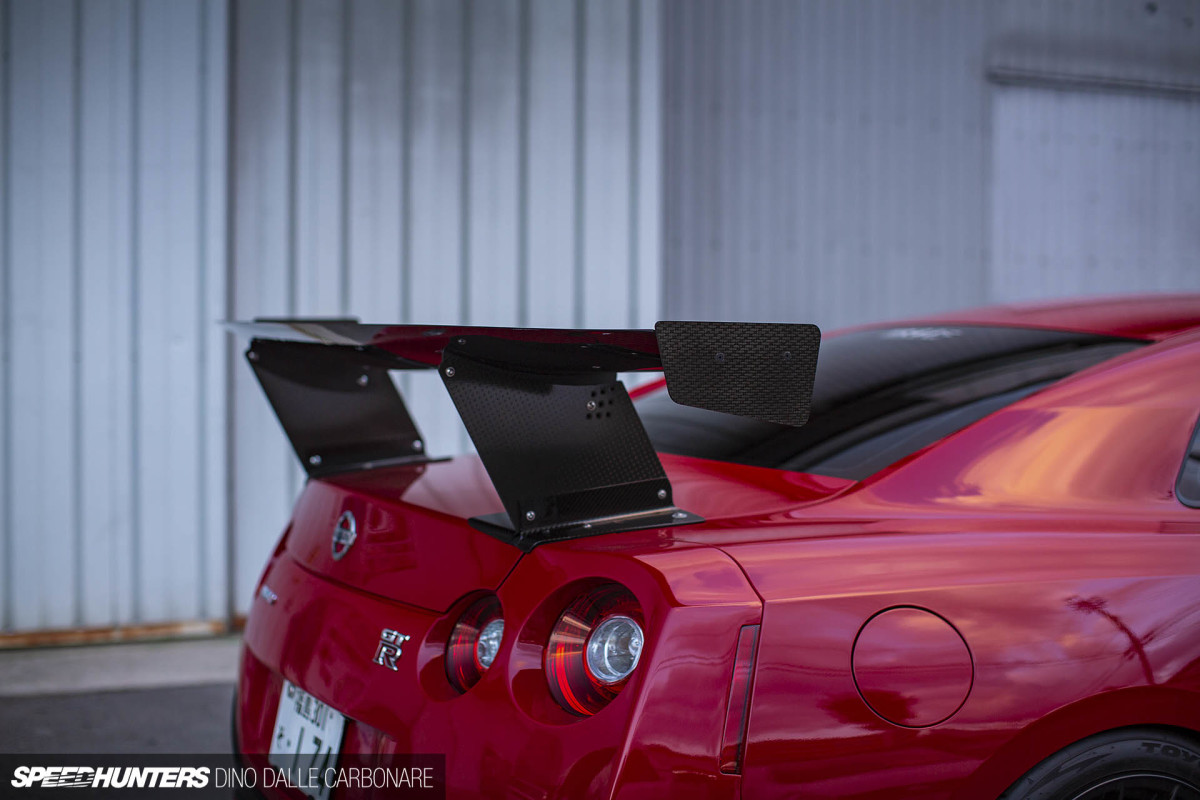 The rear dry carbon wing is anything but subtle, but boy did it look purposeful back there.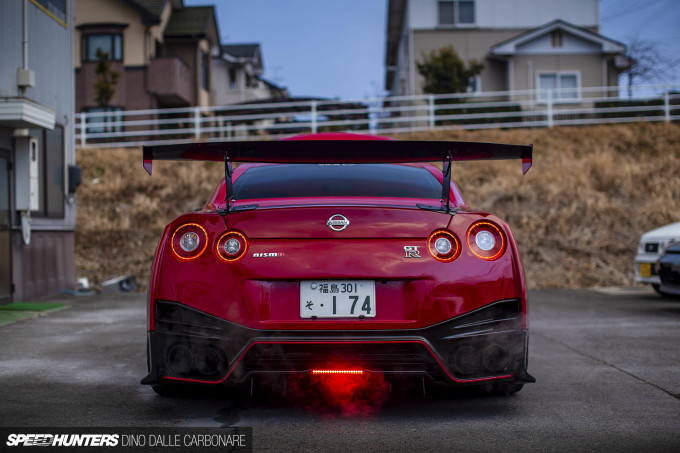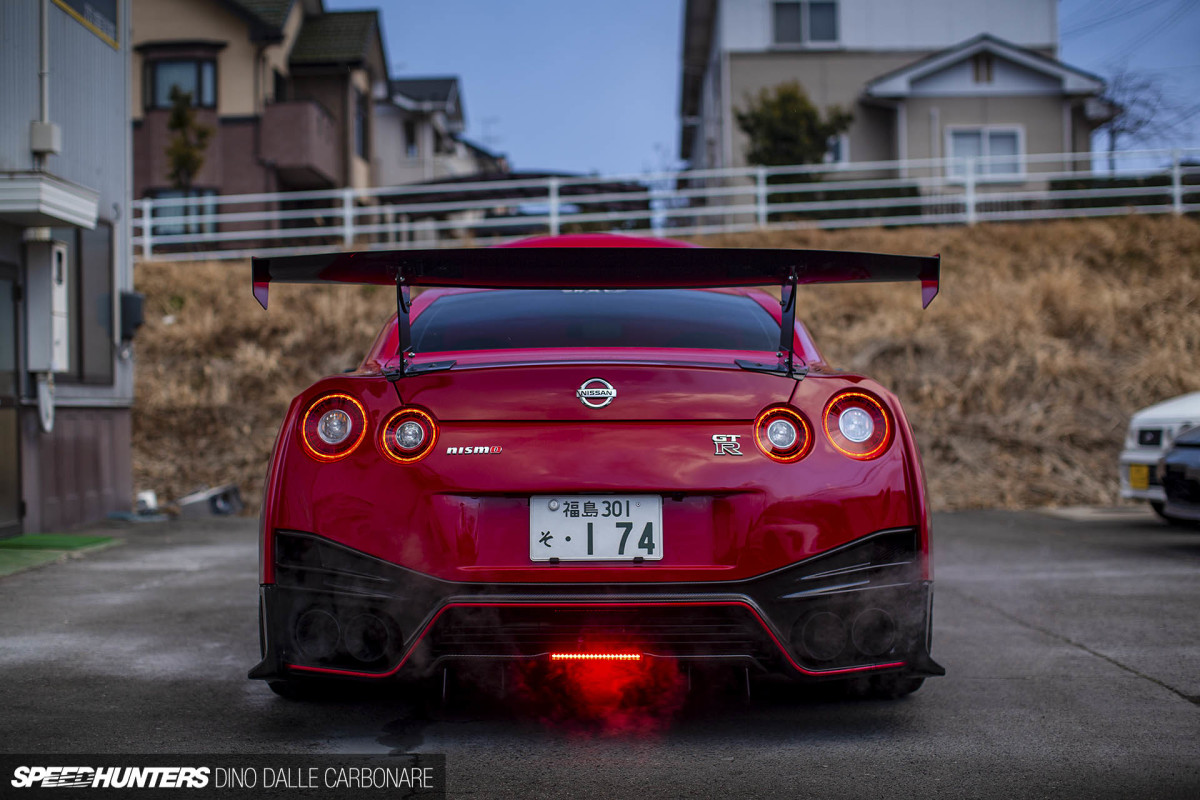 Kanazawa-san gave me and my behind a worrying look and then asked me if I thought I'd be able to fit in the tight Bride bucket seats. I replied, I won't be comfortable, but I should be able to squeeze in!
He nodded and said: OK, I'll warm her up and take you out for a ride. I'm never one to turn down being scared in powerful cars so politely bowed and thanked him.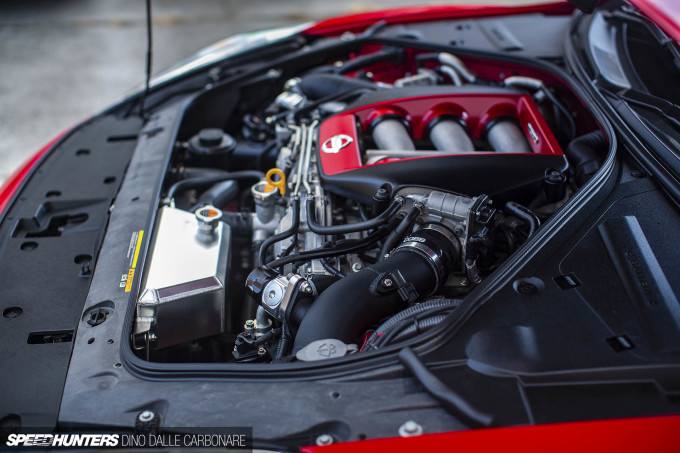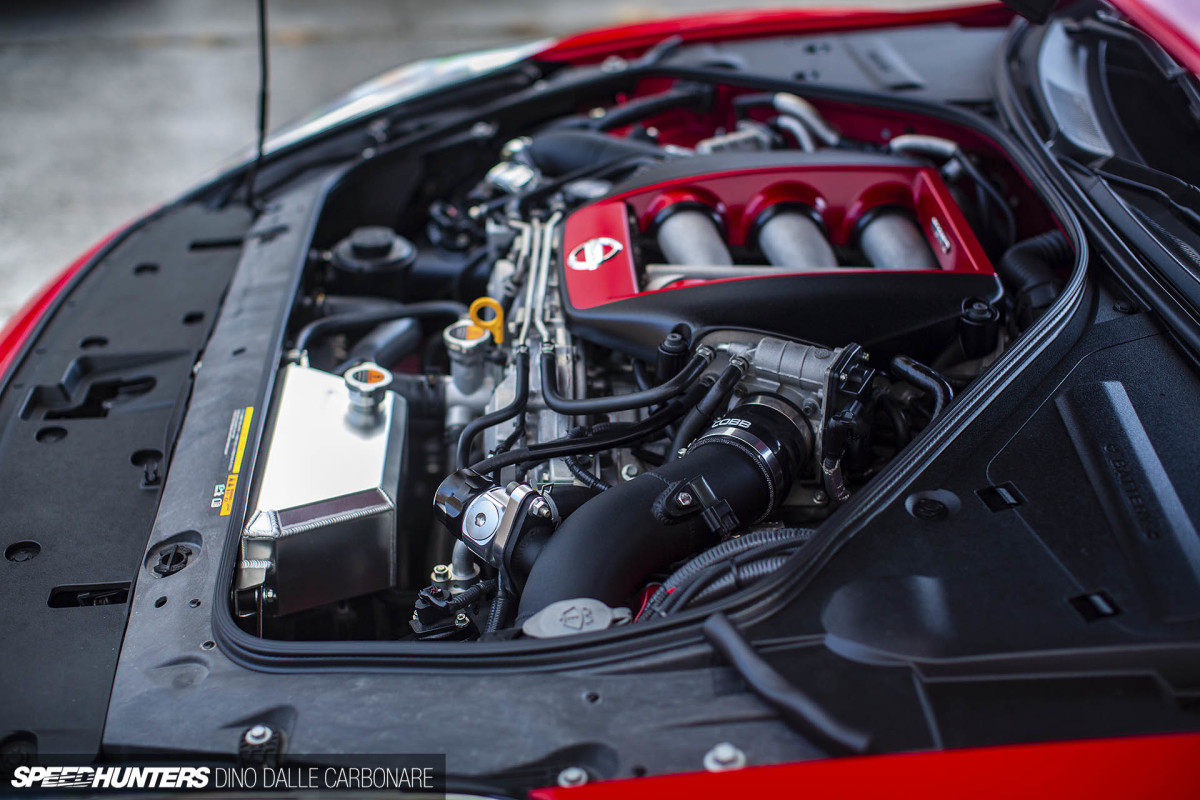 While the VR38 settled into an unmistakably V6 burble we popped the hood and had a chat about the engine.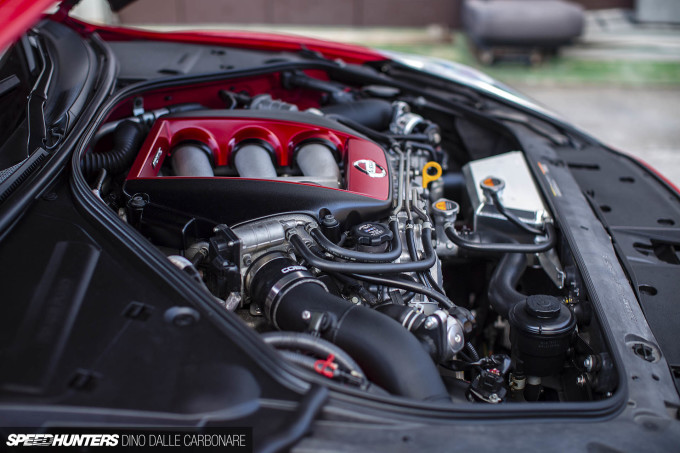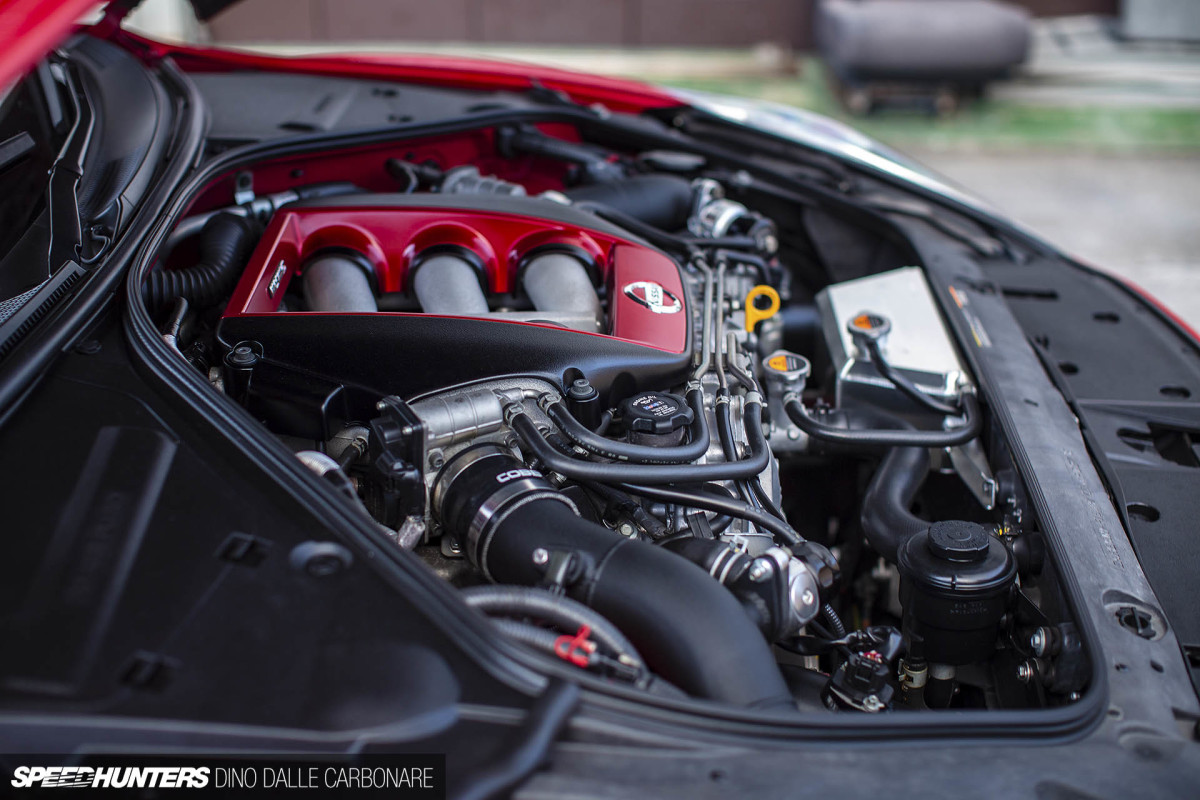 The car doesn't have an exaggerated level of tune, but a very nicely selected and well rounded series of mods to go along with the serious handling and braking upgrades.
This includes slightly bigger turbochargers, an intercooler, piping upgrades and upgraded fuelling all controlled by the Cobb-reflashed stock ECU with a few different preset boost levels. Just over 700hp was the setting we would be sampling on our quick five minute ride.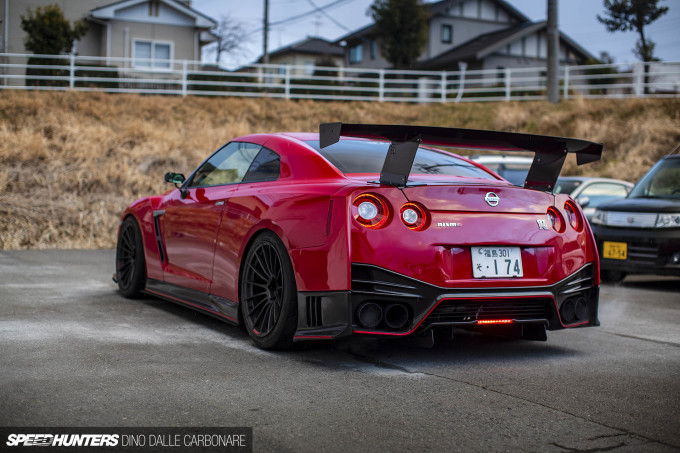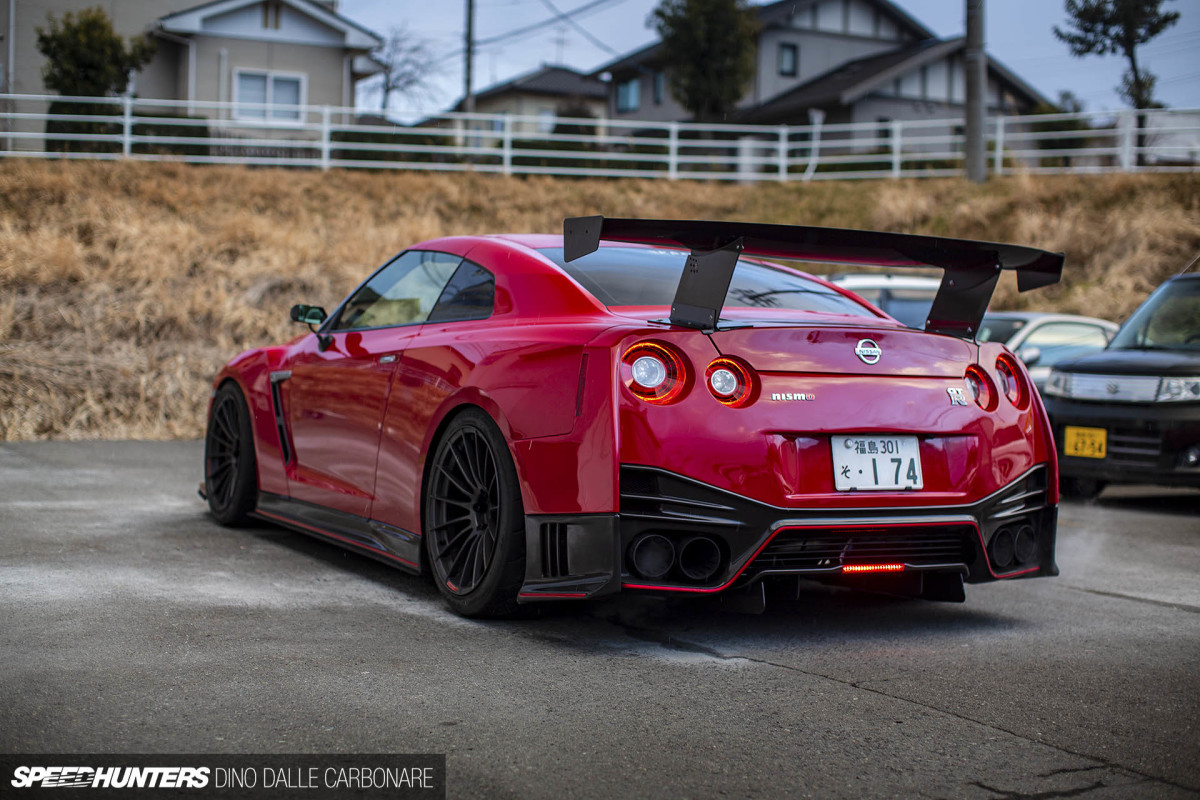 I can safely say that all of those 700 horses were very much there, it pulls strongly from low rpm and thanks to the Dodson transmission upgrades, it machine guns through each cog without any hint of slip or hesitation.
The 24 kg/mm springs and rock solid damper settings may be great on Sugo's smooth tarmac but on the far from perfect Fukushima countryside roads, it had us bouncing around all over the place.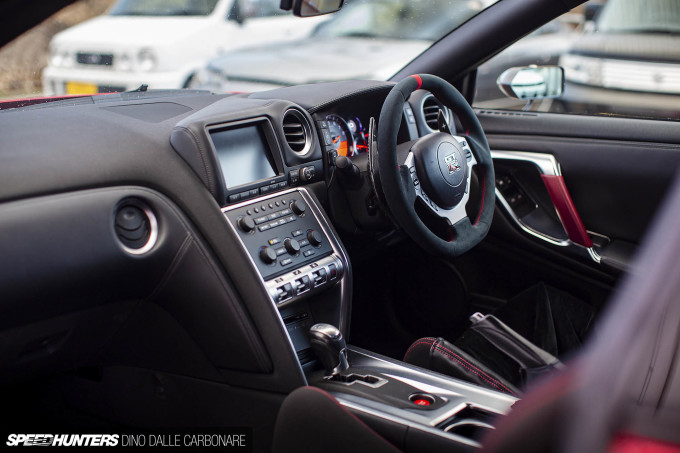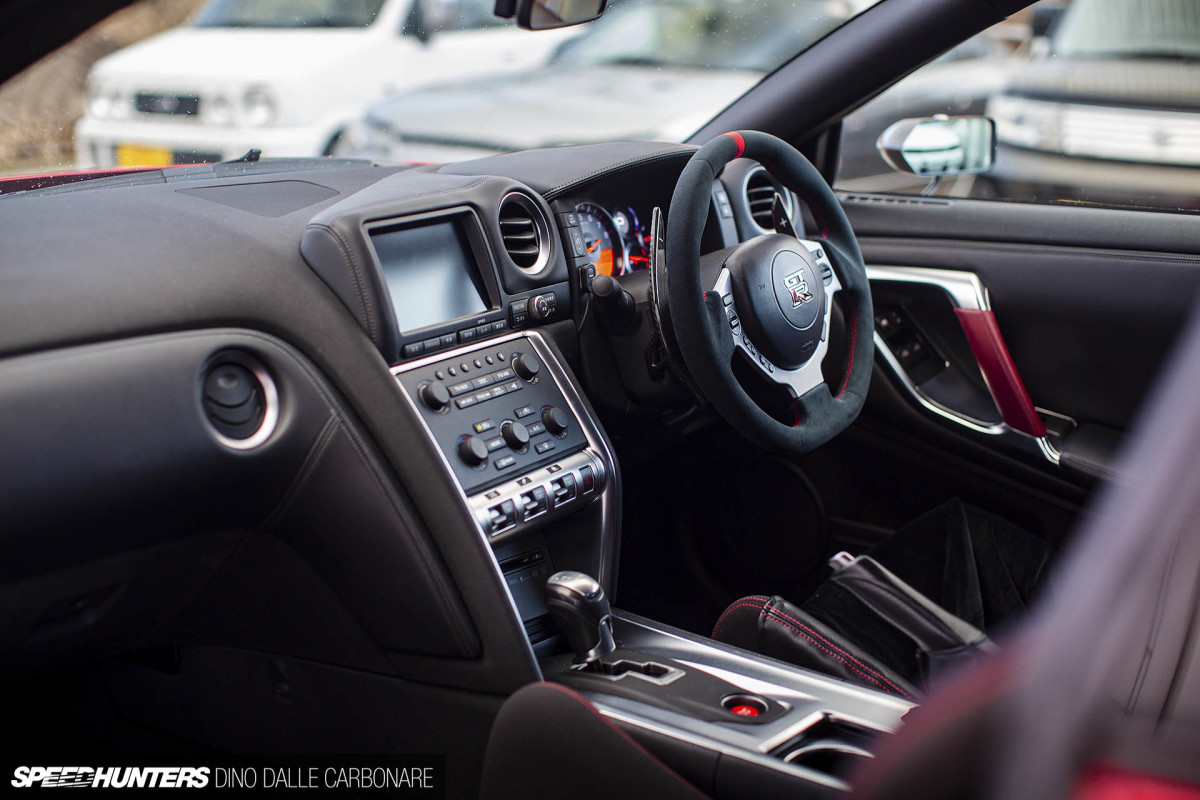 One thing that lets down these early R35s is the now dated interior, or more to the point, the dash layout. But with the Bride buckets and a re-trimmed steering wheel it certainly didn't look or feel like an 11 year old car.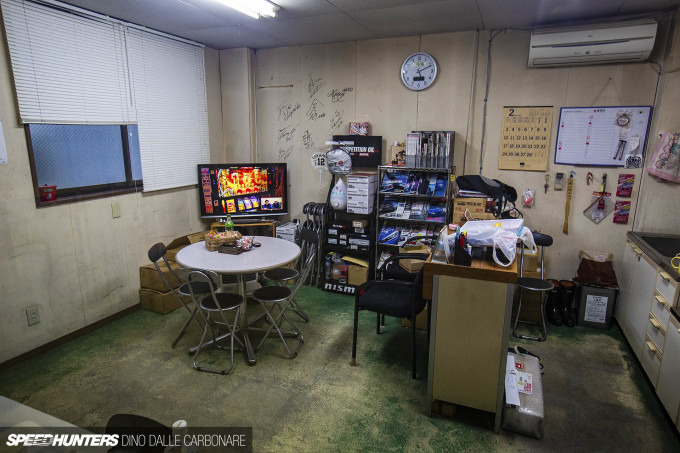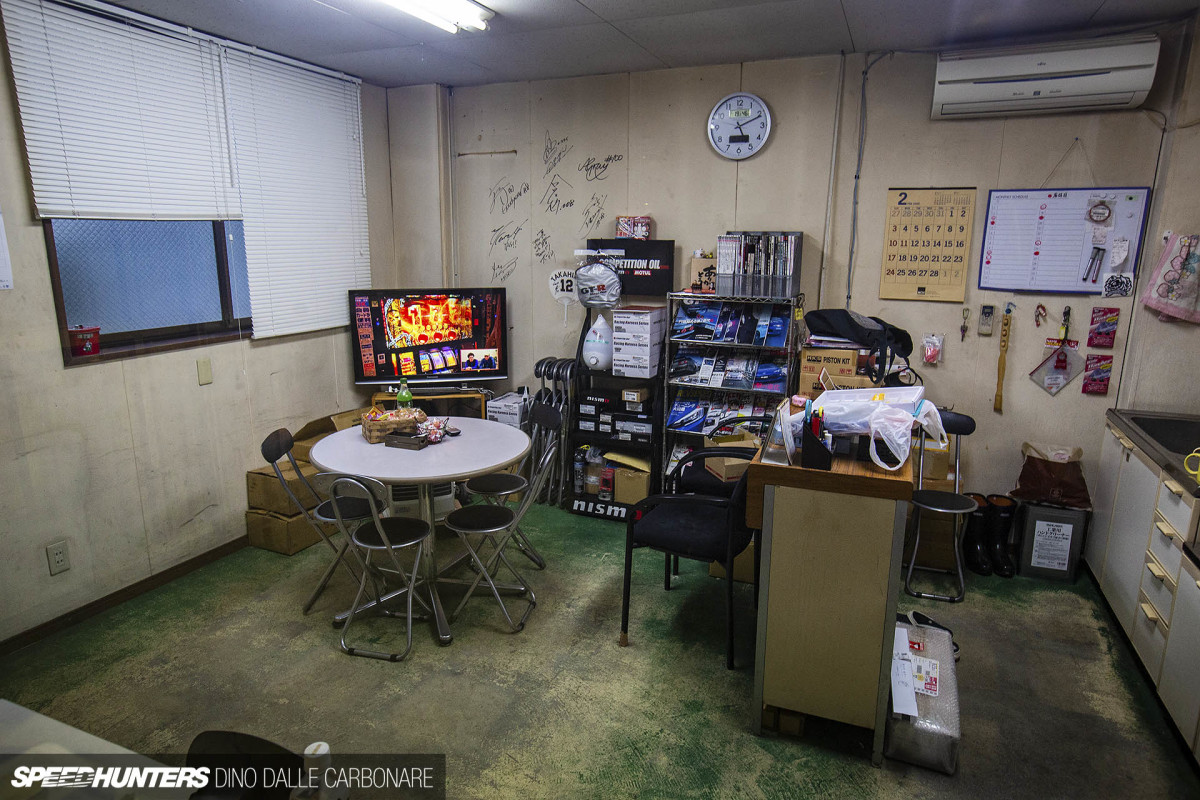 The shop office couldn't have been more JDM if it tried. A little stack of tuning magazines, a few boxed parts, the old school furniture and a lingering scent of cigarette smoke along with a TV in the corner which nobody ever seems to watch.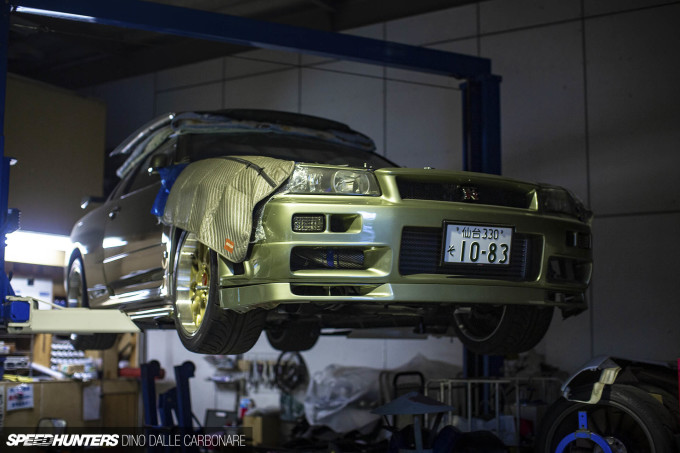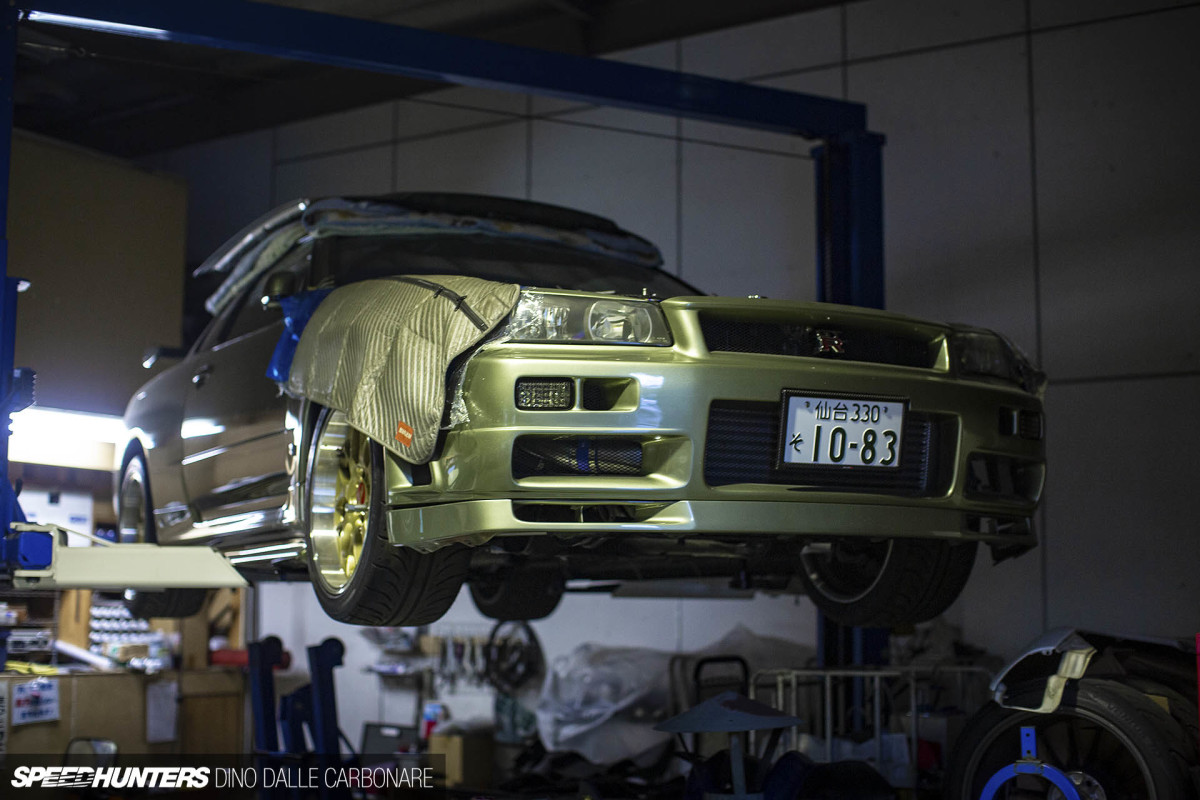 On the lift in the workshop, an R34 on BBS rims was soon to be worked on and after a quick chat about RB26s and how people are spending more and more money on them these days, it was time to head out and leave the guys to their work.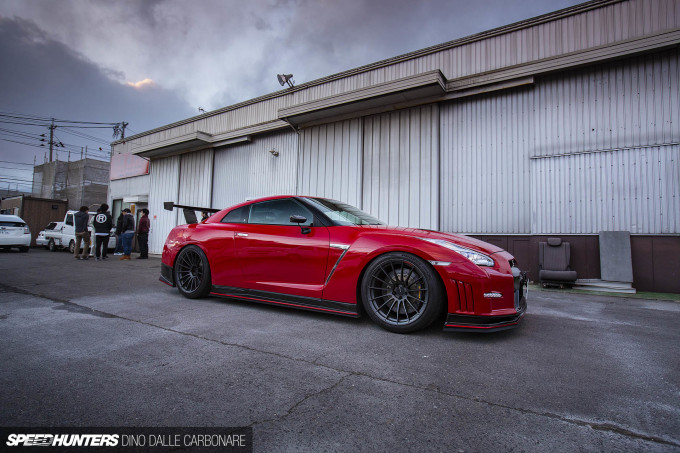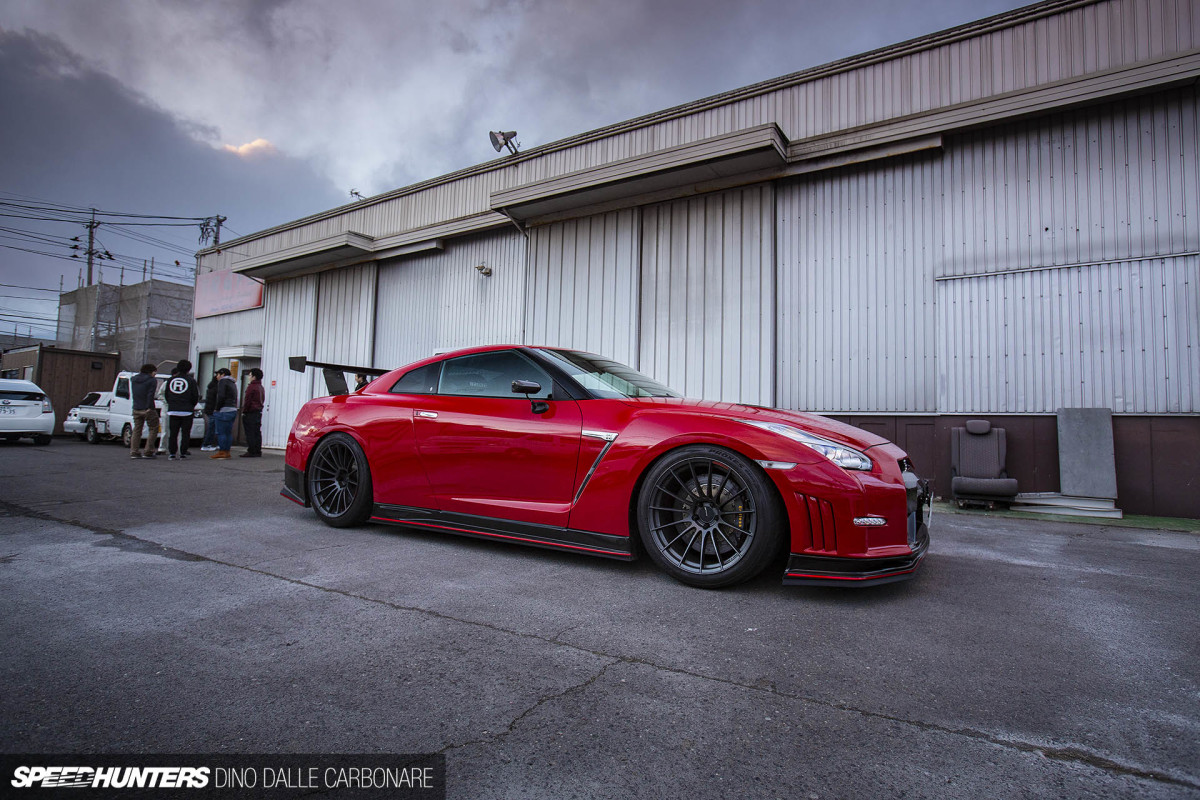 In a country where we are continuously told that cars will all be electric, that young people aren't into cars anymore and that tuning is getting more difficult to pass, places like RGF bring a warm feeling to my heart.
The politicians in Tokyo can try to tell us what they want, but the truth is Japan still loves its cars, and what it loves even more is making them faster.
Dino Dalle Carbonare
Instagram: speedhunters_dino
dino@speedhunters.com