To paraphrase the great Ian Malcolm, we are often so preoccupied with the question of whether we could, rather than stopping to think if we should.
For the record, I do admire unique approaches and ingenious design solutions as much as the next person, but I also recognise that sometimes the best solutions already exist. And often for a reason, too.
We're fast approaching four decades of the ubiquitous AE86. At this point in time, I'm pretty confident that we've seen pretty much every approach to the Hachi that we will ever need to see. From completely original examples to fast road, drift, time attack, rally, drag and 4×4 builds with all sorts of engine & drivetrain swaps from within and outside of the Toyota family.
If you can think of it, it's probably already been done. That's not a challenge, mind.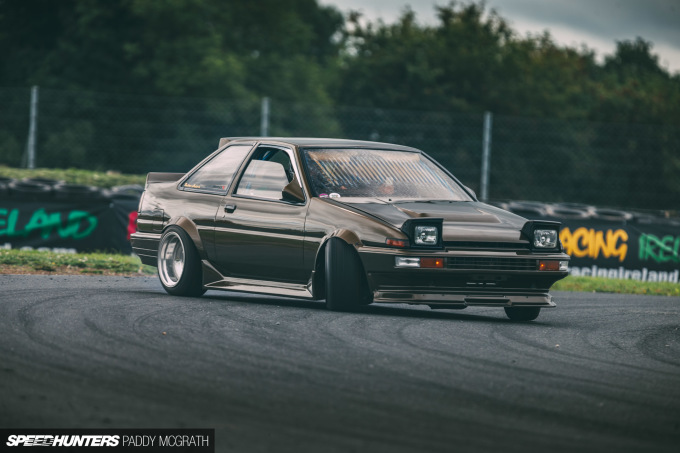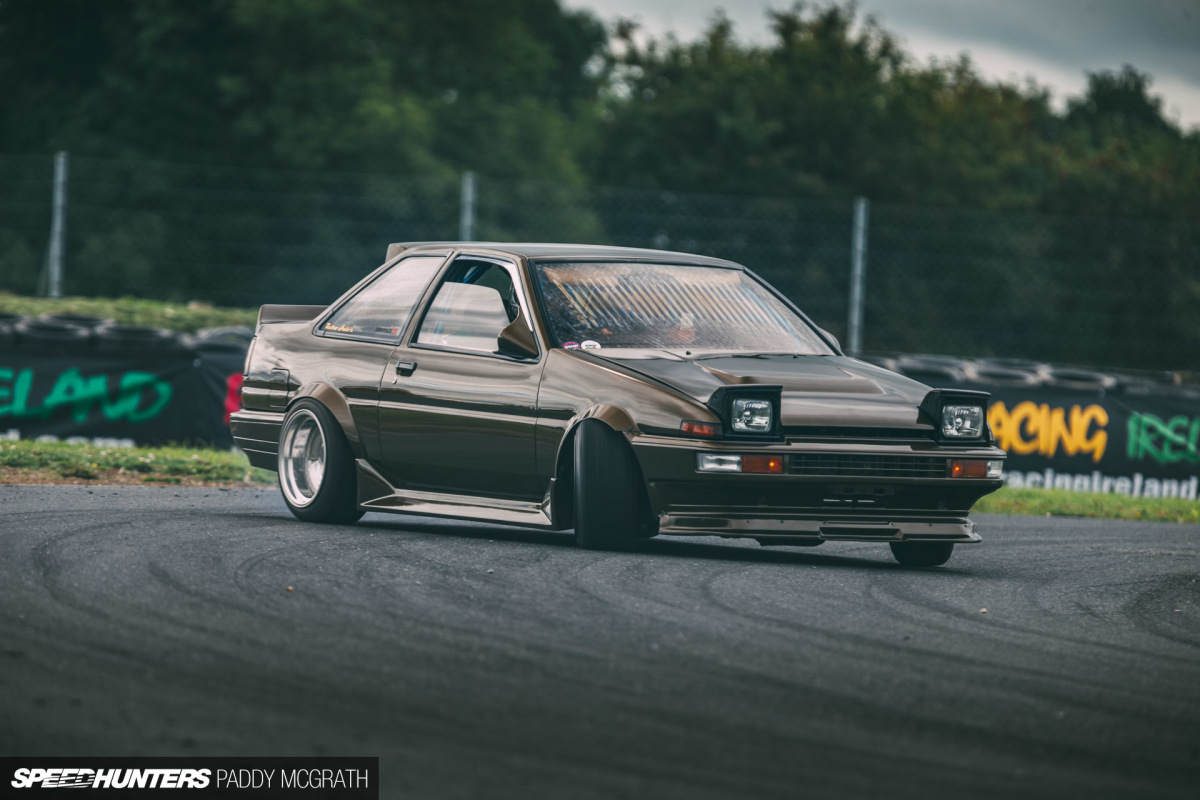 I'd probably go as far as saying that somewhere in the world, the perfect AE86 probably already exists. Is this it? I honestly don't think that I'm qualified to make that judgement, but I don't think it's that far off.
It's certainly on the right track, that's for sure.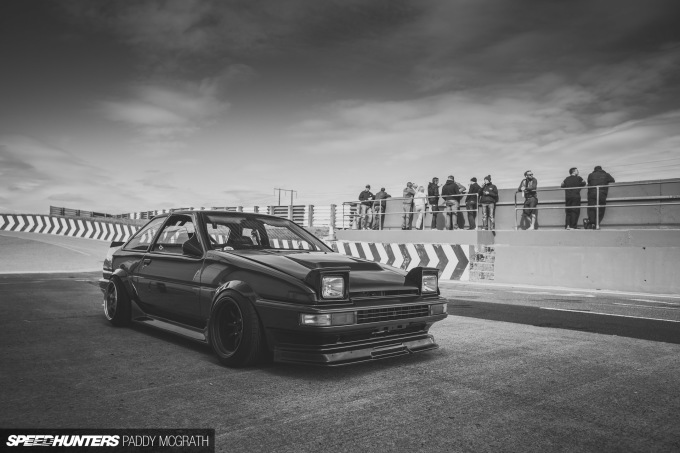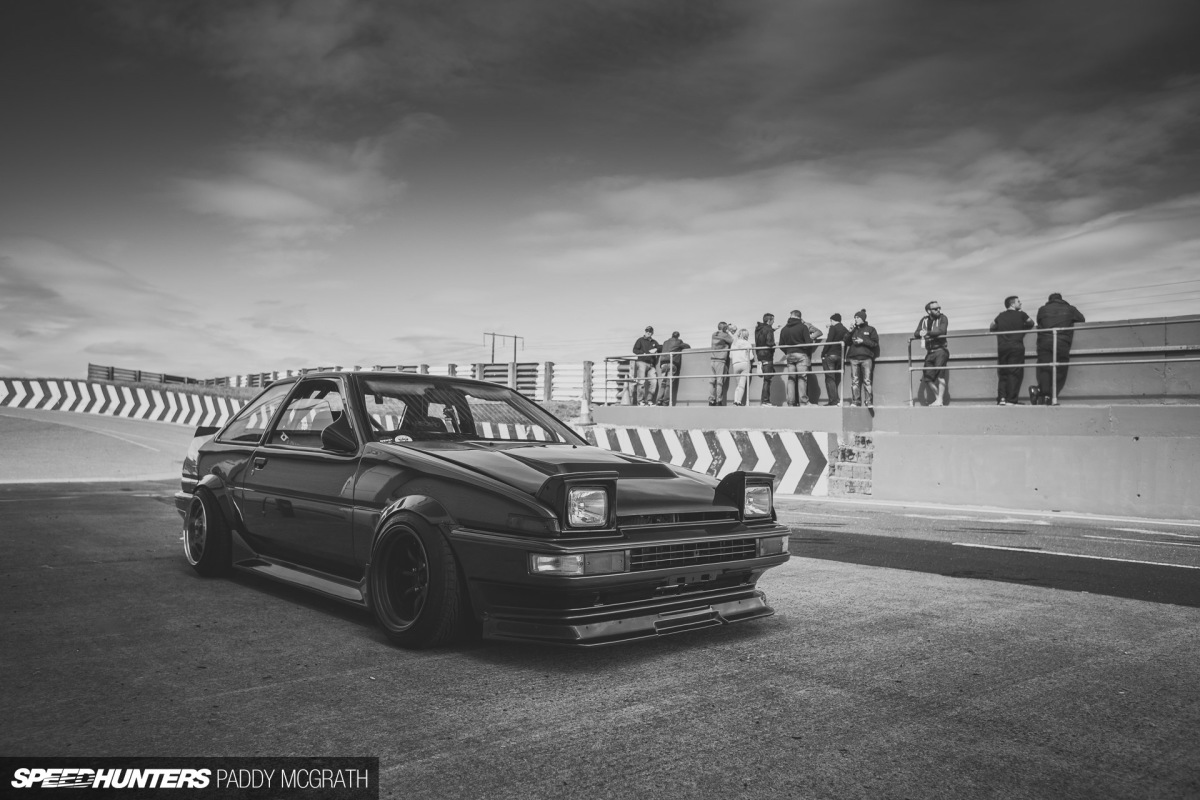 For a start, this car is all Toyota. I'm the last person in the world who would consider themselves a purist of any sort, but with the AE86, it does feel right, doesn't it?
It's not surprising then that this Trueno's owner and creator, Paddy Maher, is about as hardcore a Toyota man as they come. He's one part of a collective of Irish Toyota owners and builders called Retro Auto's. You might remember their barn from a few years back.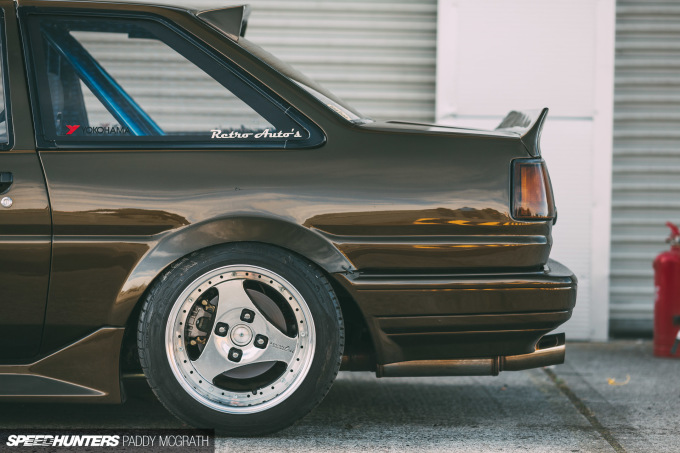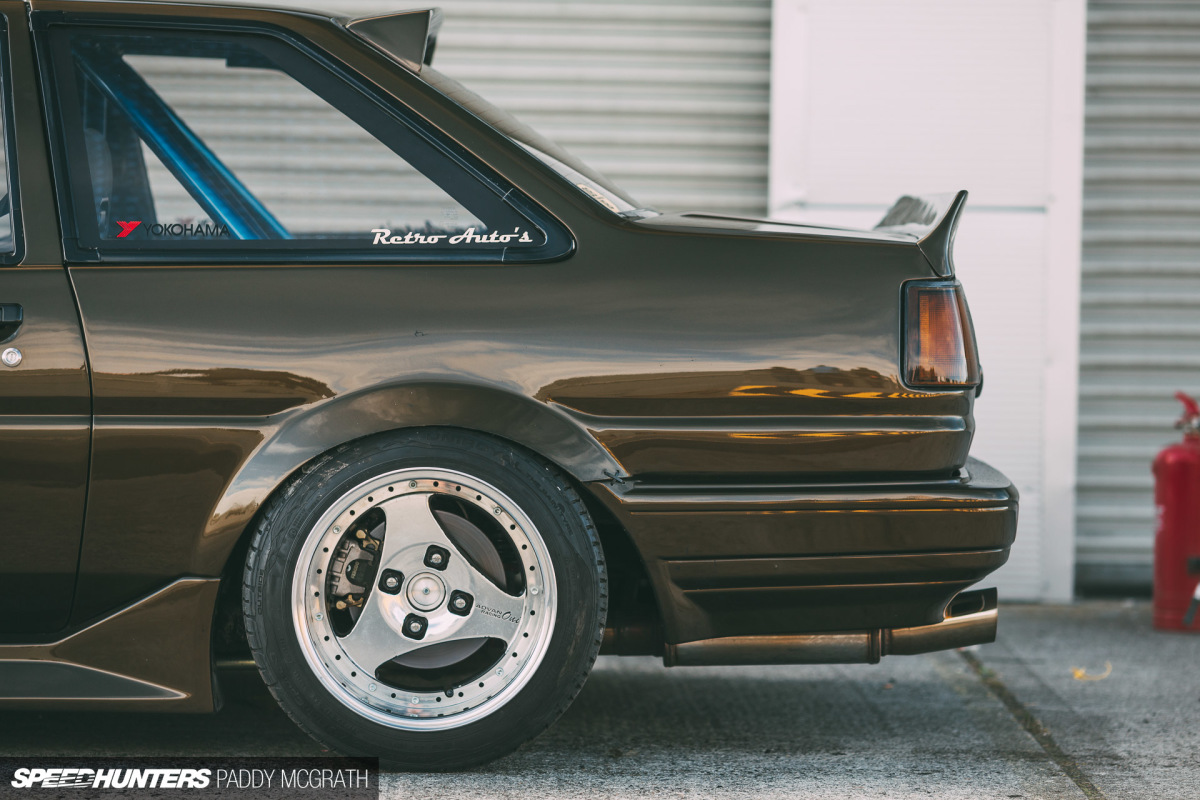 It was through my visit to Retro Auto's that I first met Paddy and as long as I've known him, he's always had a way of turning fairly ordinary cars into extraordinary ones with very simple but well considered modifications.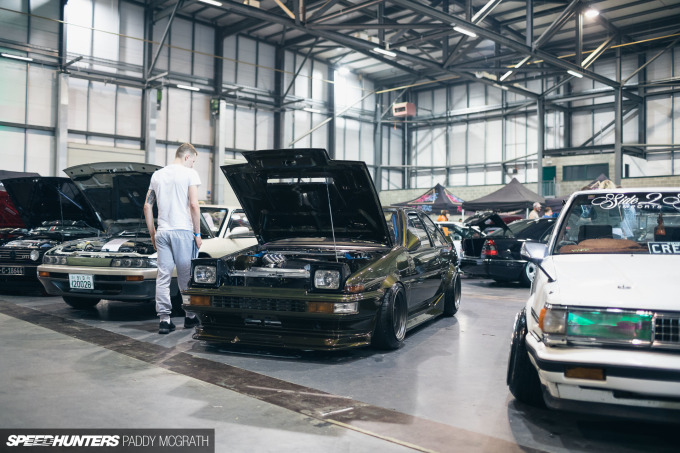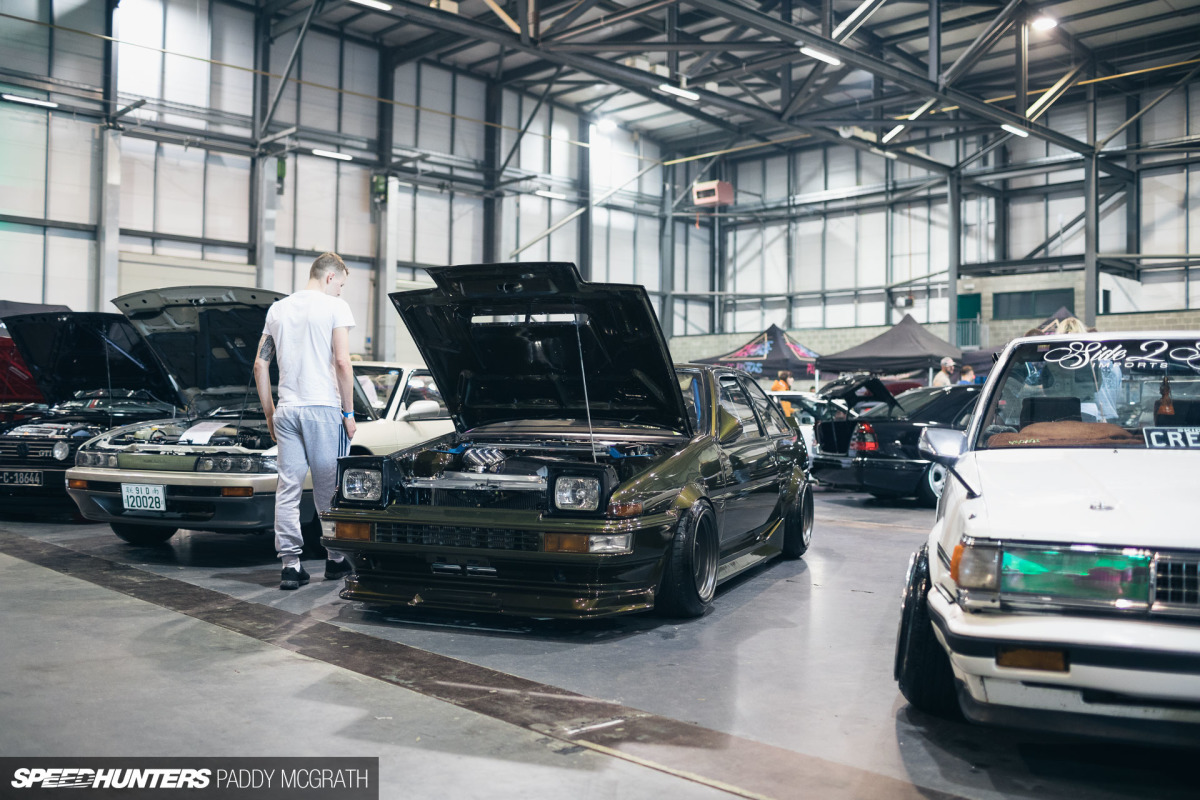 When I laid eyes on his Trueno for the first time (at last year's Irish Motoring Festival, and on the Speedhunters stand no less) I knew he had created something really good. As a static object, it was immense. It was as good as any show car I've seen over the years, the finish was immaculate and it was a perfect example of an '86
When people heard of his intention to track the car? Well, the reactions were mixed.
I wasn't surprised, but that's because I've got to know Paddy and driving his cars is the most important part of his process. While I can understand why someone might not want to track a ground-up build due to the risk of damage or even ending up with a complete write off, I don't think Paddy ever considered not driving this.
So, while it might look like a show car, it's anything but.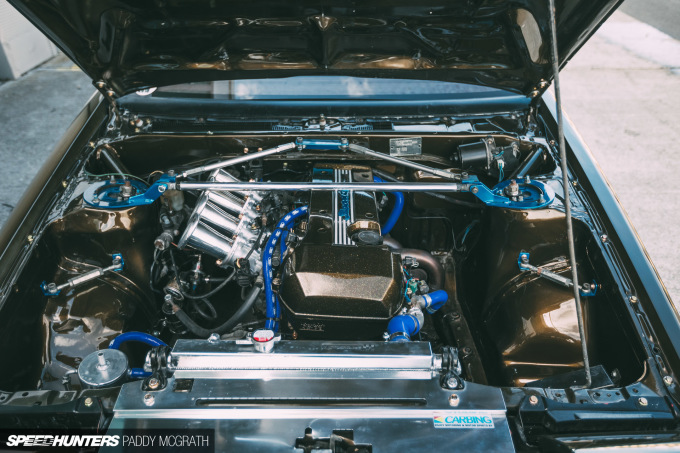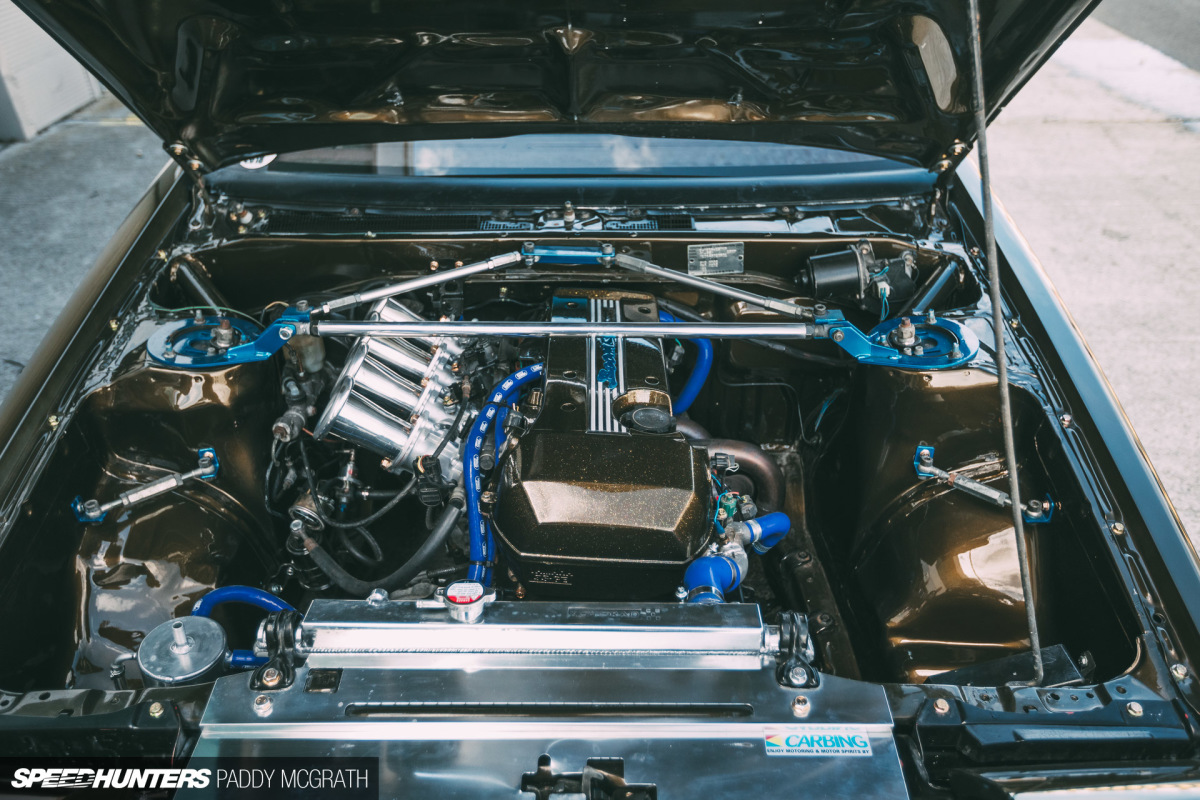 At the heart of things is a Toyota 'BEAMS' 3SGE. It's probably the truest successor to the 4A-GE that exists, with both featuring cylinder head designs by Yamaha.
Why not 4A-GE? Well, with the original 16-valve engines maxing out at 126hp from factory, and the later 20-valve motors reaching just 163hp, it becomes a pretty easy decision to make when you learn that the fifth generation 3SGE 'black top' starts life with 207hp. All on paper, at least.
Of course, a 4A-GE could make this sort of power but not without significant financial investment or forced induction. The latter of these which would certainly take away from the proper AE86 experience.
So, 3SGE it is.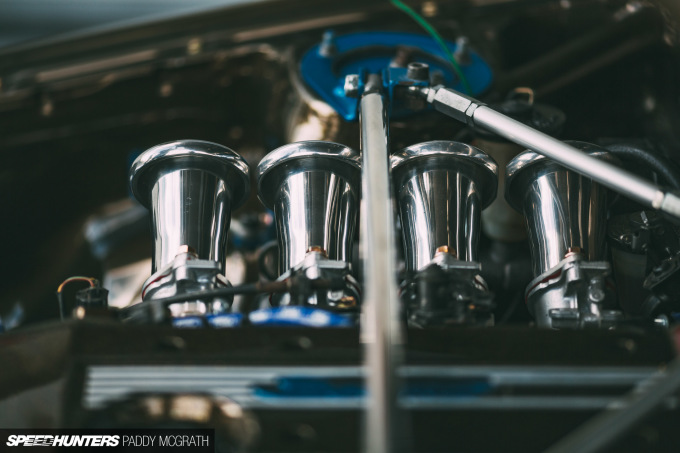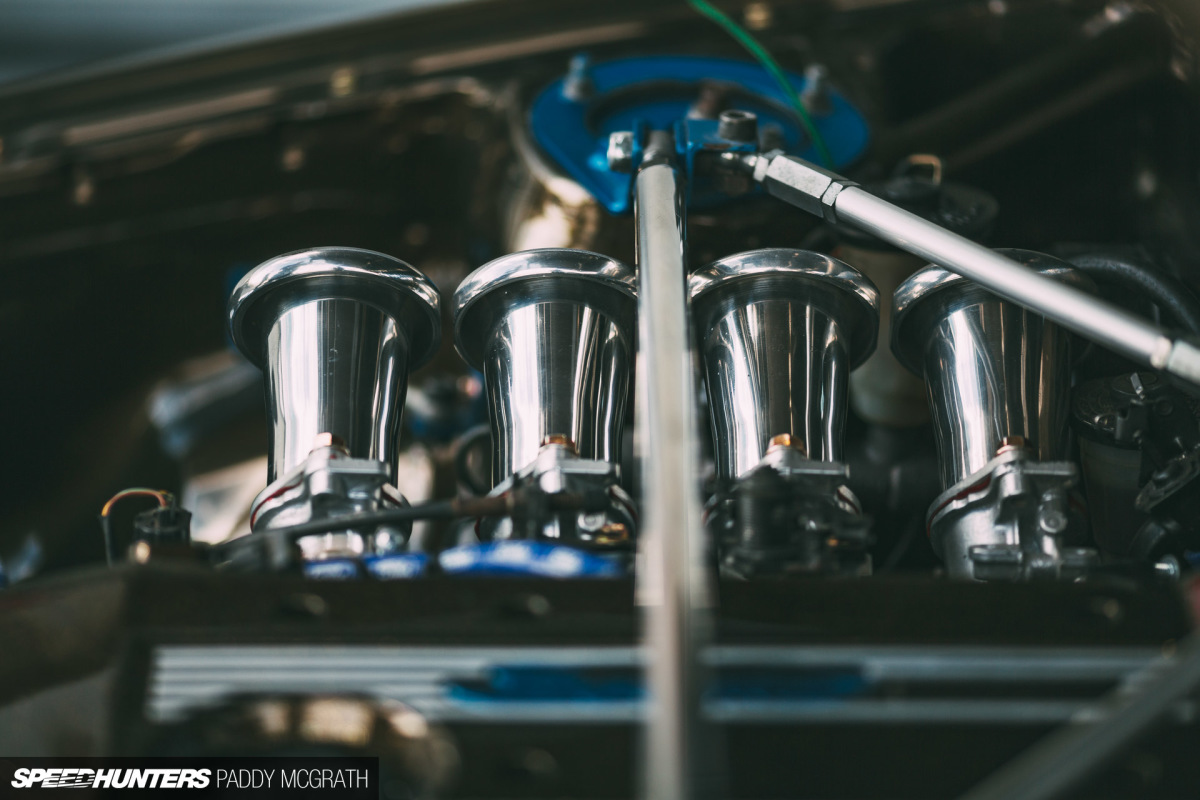 There's certainly no loss in spirit here, particularly when the adapted 20-valve 4A-GE ITBs with open velocity stacks are barking at full throttle.
The engine, originally from an Altezza RS200, now makes similar power to what it originally should have when it rolled off the assembly line along with an increase in torque (+15ft/lbs) and throttle response thanks to a strong tune on its Adaptronic e420d ECU. Usually, these motors make around 175hp on 95RON in Ireland, so a +30hp increase is a welcome one, particularly on a naturally aspirated engine.
The transmission is the Altezza's J160 six-speed with a short shifter, and made to work in the AE86 chassis with a LEEN shifter relocation kit.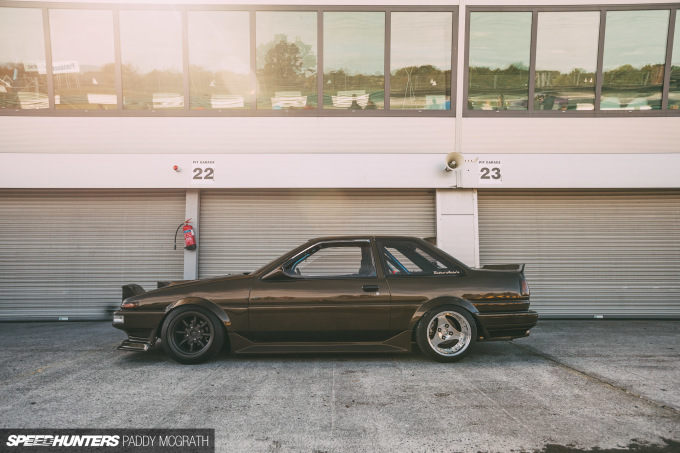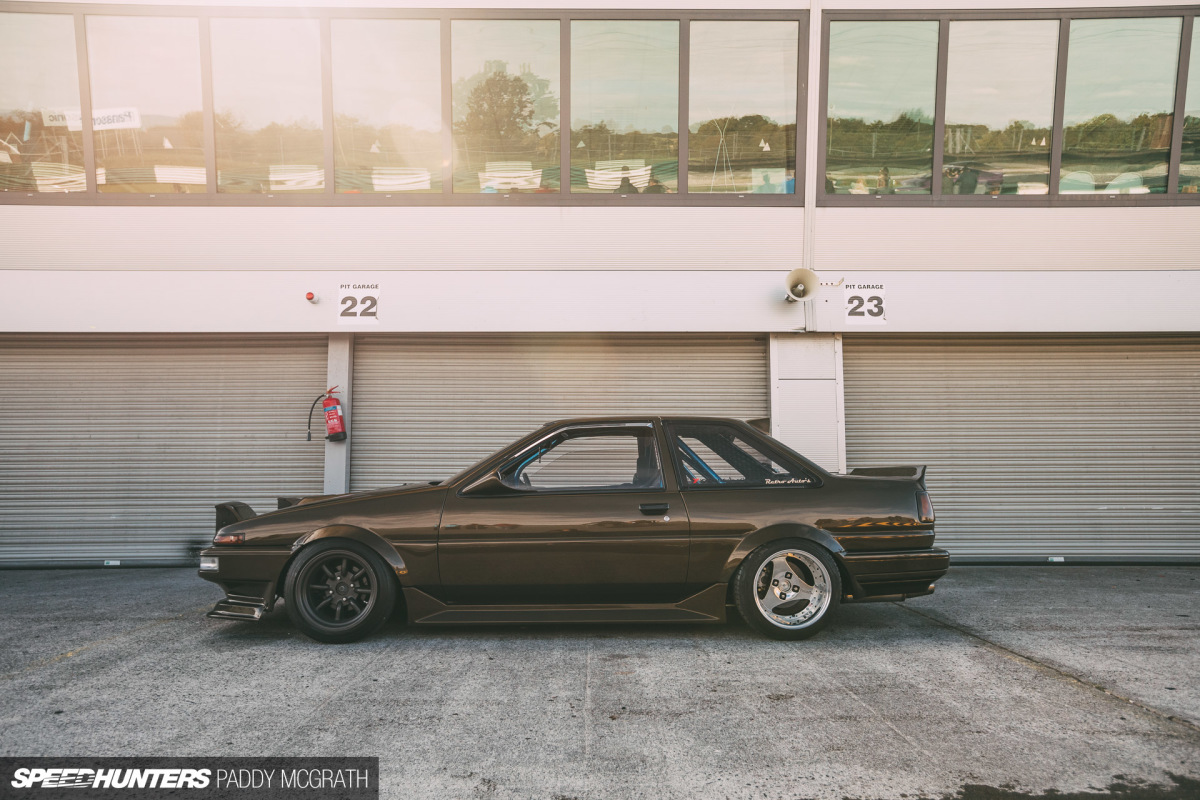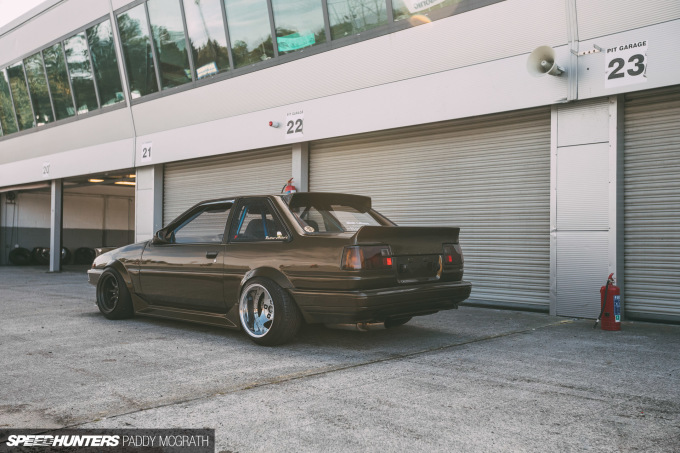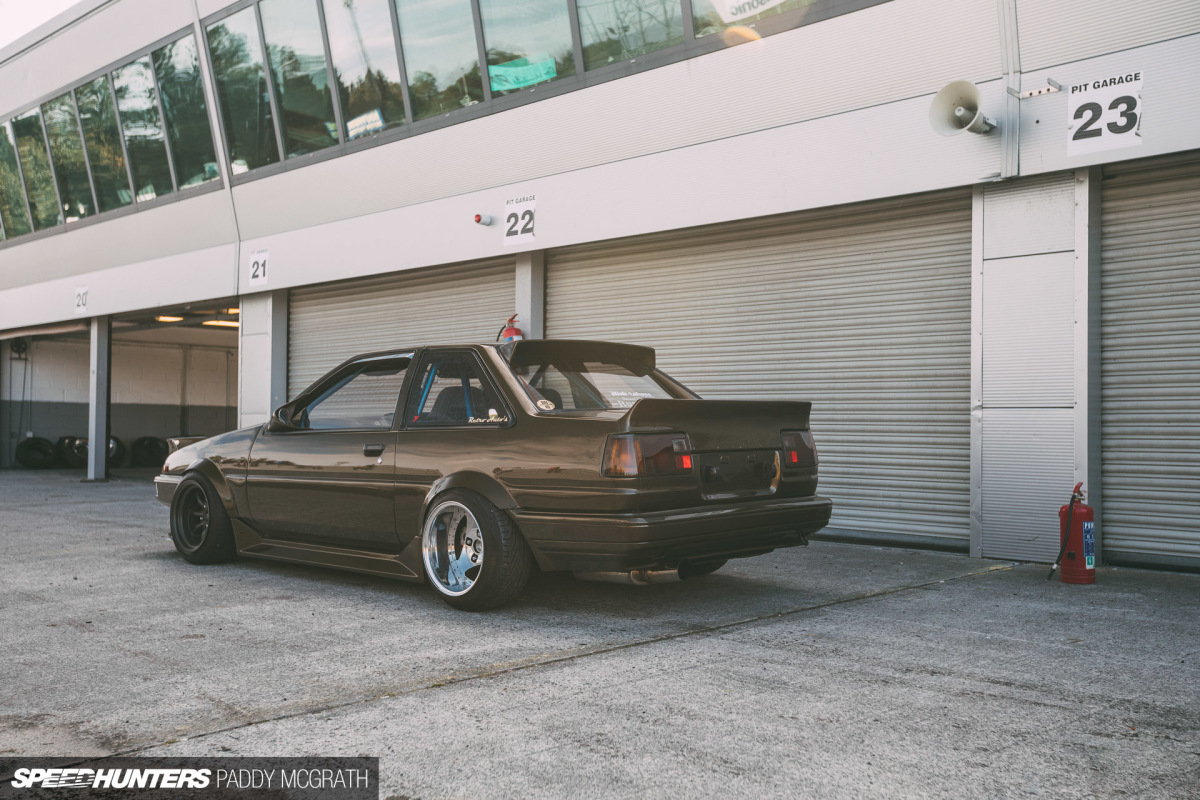 The brown colour – a customised BMW shade – might not be the first choice for a lot of people, but the Corolla wears it well. Like the car itself, it's nuanced and has a lot of character; it can look almost black one moment and a golden colour the next depending on how direct light catches it.
The exterior is divided between Run Free for the side skirts and vented bonnet; Rocket Bunny for the upper and lower rear spoilers and custom arches. This is an area which will always be entirely subjective, of course, but I think he's made the right choices with proven parts.
Wheels can vary depending on the hour of the day, but there's typically a 15×9-inch Watanabe on the front, with a 15×10-inch rear. Normally, there's matching Watanabes on both axles, but at a drift day, there's a selection of fairly tasty vintage Japanese wheels to choose from for the rear.
As you probably expected, the interior is light on decoration, although it has been painted with the same attention and detail as the outside of the car. Mis-matched bucket seats, a Cusco bolt-in cage with matching further Cusco braces front and rear along with a Ueo upper brace help the ageing chassis hold its strength in addition to it being seam welded during its re-build.
There's even more bracing underneath, too. Along with curious looking fender braces in the engine bay which Paddy suggest are just something of a novelty.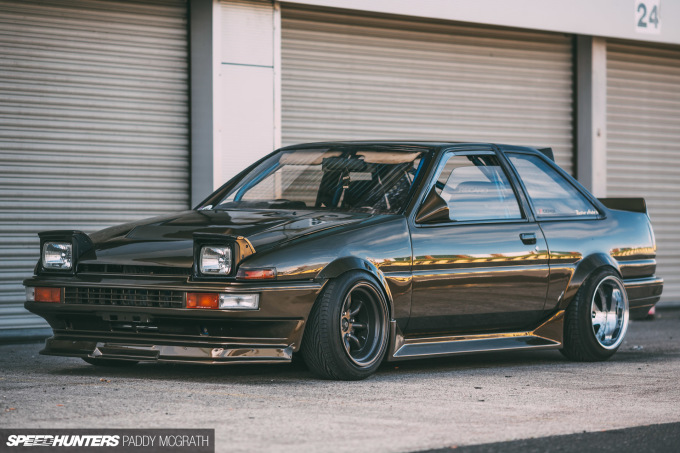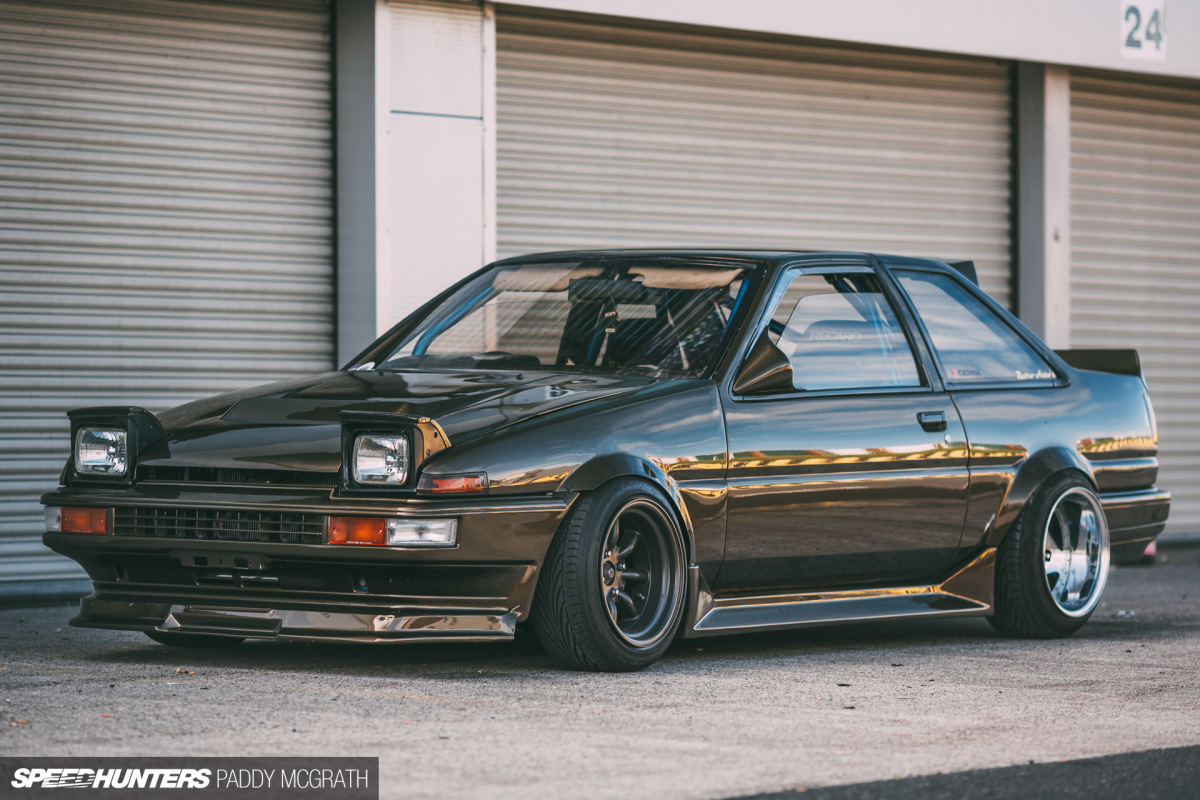 I do, however, have a slight confession to make.
When I earlier wrote that this was all Toyota, I wasn't being entirely truthful. While it's certainly Toyota where it counts, there have been a couple of small upgrades sourced from outside the family; a Mitsubishi Pajero axle with a custom LSD, Nissan S13 front hubs and brakes and even Volkswagen rear brakes.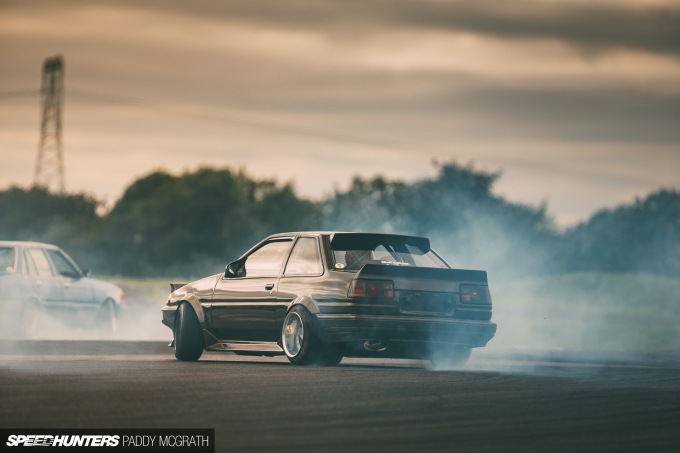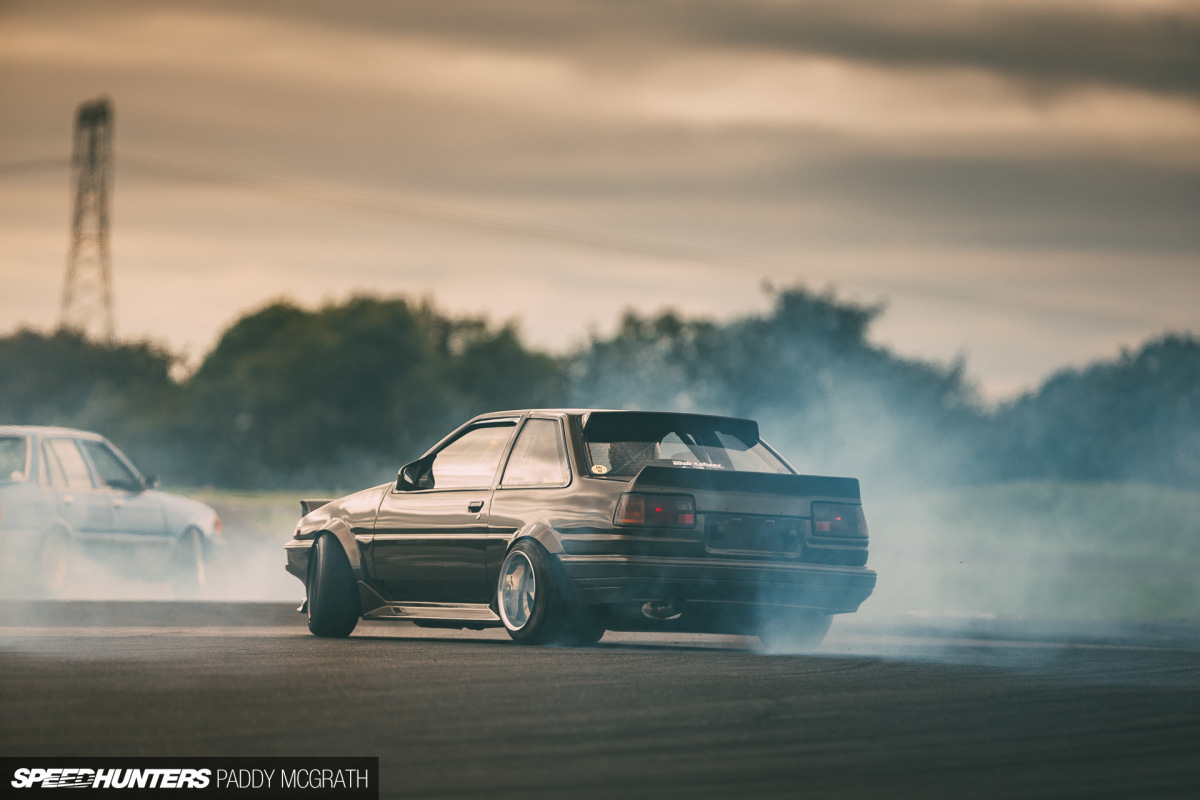 I'm sure you'll forgive him for venturing outside of the Toyota parts bin, because sometimes, needs must.
There are an almost infinite amount of approaches that could have been taken for this build, especially when considering the intended use of the car. It would have been just as easy to drop an SR20DET in and make double the power, but then the car loses a little bit of what it's supposed to be.
By choosing the more 'obvious' route of a high-revving, naturally aspirated inline-four and putting it into a light and strong body, it not only retains the character which the AE86 is renowned for, it also ensures that due to its simplicity, it can spend more time on track being driven in the correct manner. That is, flat out, everywhere.
And when that's the result, it proves that the right decisions were made.
Paddy McGrath
Instagram: pmcgphotos
Twitter: pmcgphotos
paddy@speedhunters.com