The rocky road from Dublin
Unless you've been living under a rock, you're more than likely aware of something called the economic crisis. Whilst some countries are back on their feet, others are still struggling. People react to this situation in two different ways. They either accept it and wallow in self pity, or they laugh in its face and make the most of things. This is a story about the latter.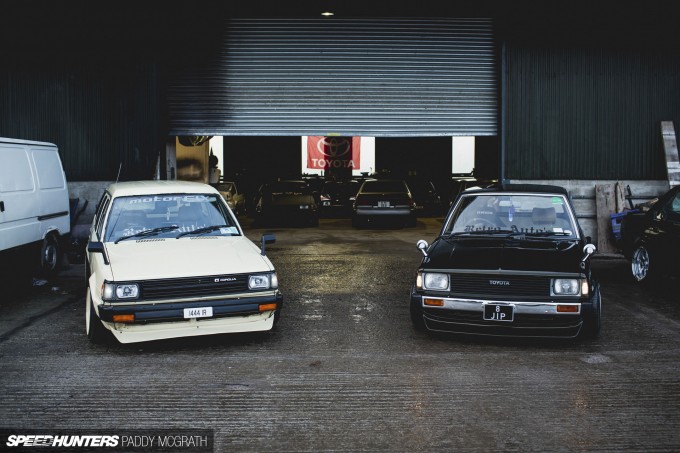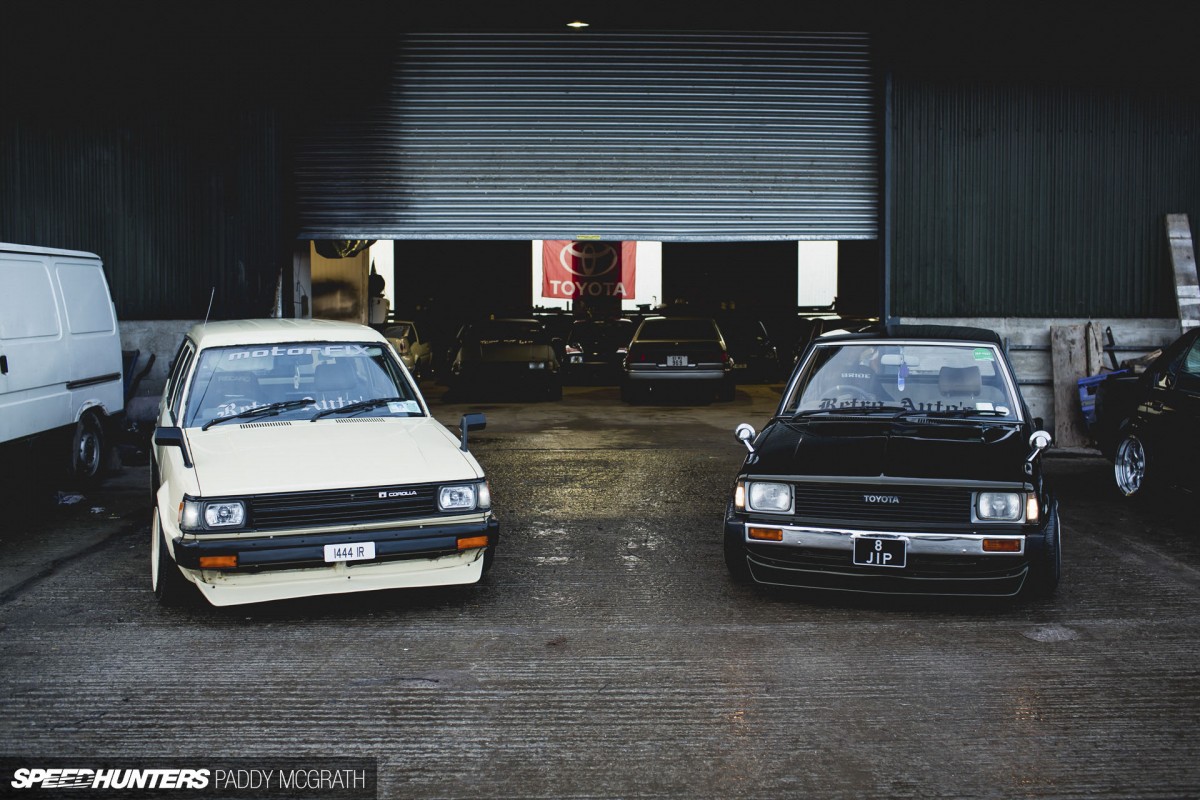 It was a damp Friday evening when I found myself amongst the mass exodus of commuters from Dublin's city centre. I knew what direction I was headed, but didn't really know where I was going to end up. I knew I was looking for a discreet agricultural outbuilding about an hour from Dublin. The problem is, Ireland is full of said sort of buildings. I guess that's the beauty of it – you never know what lies behind closed doors…
The voice on the phone was giving me directions. I was guided off the motorway, across a roundabout and up to a crossroads before I was dawdling along a narrow back road. A figure stood in a gateway and guided me down a potholed lane towards a discreet but modern-looking barn with roller shutter doors. I parked up and was introduced to a group of quiet but smiling friends. I was introduced to everyone by name, but immediately forgot them as I was distracted by a pair of wagons lying out front.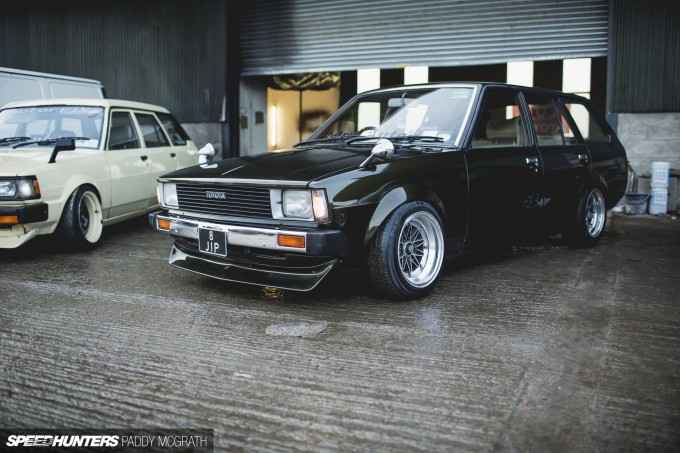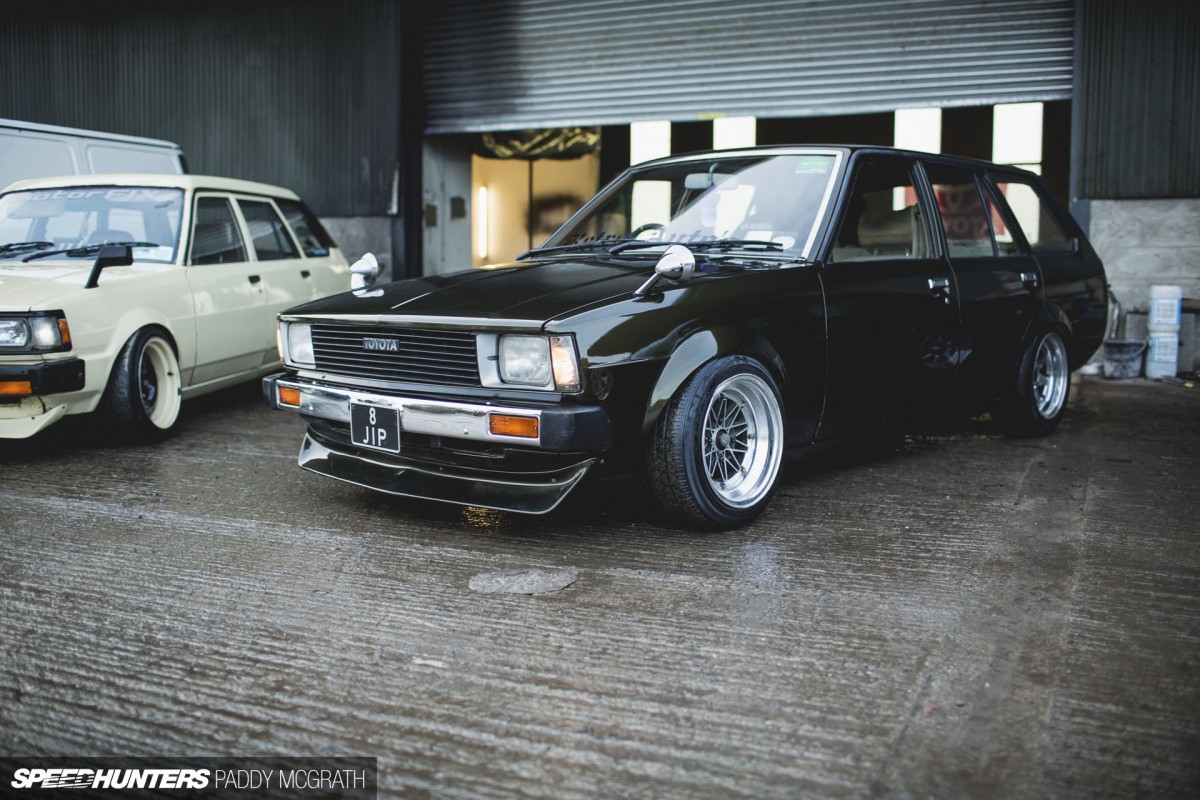 I had done some research online to get a feel for this group of friends who, between them, rent the building for €500 a month.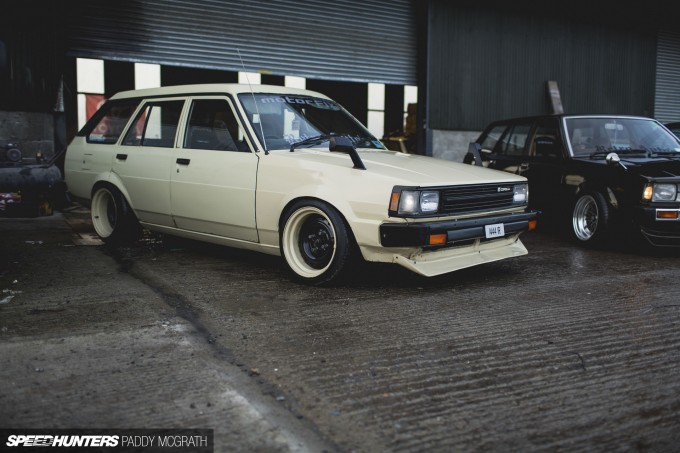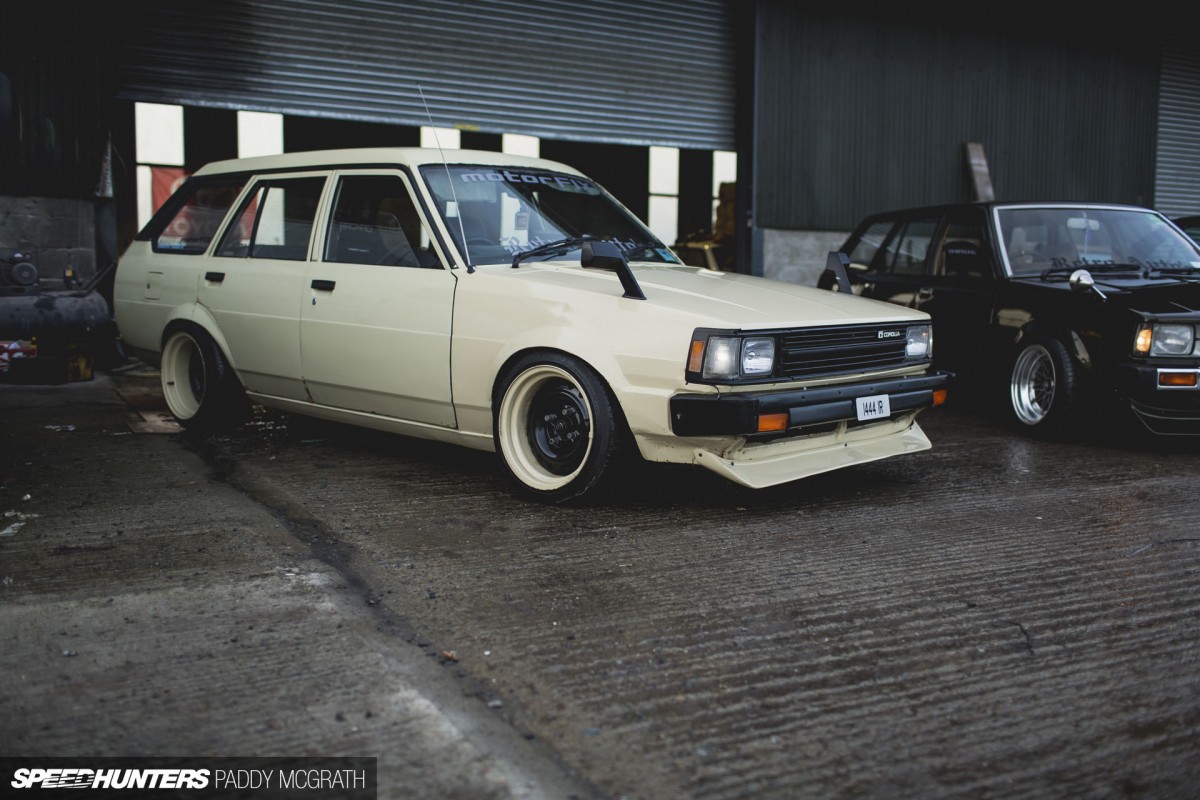 Reading their posts on local forums, it was clear that this was a group doing things solely for themselves and their own enjoyment and satisfaction.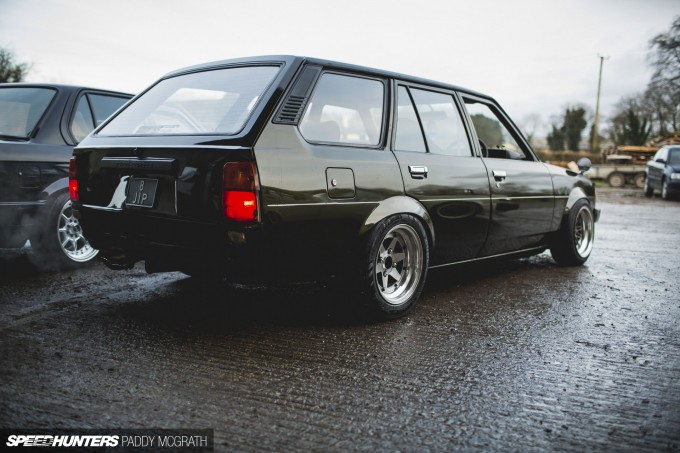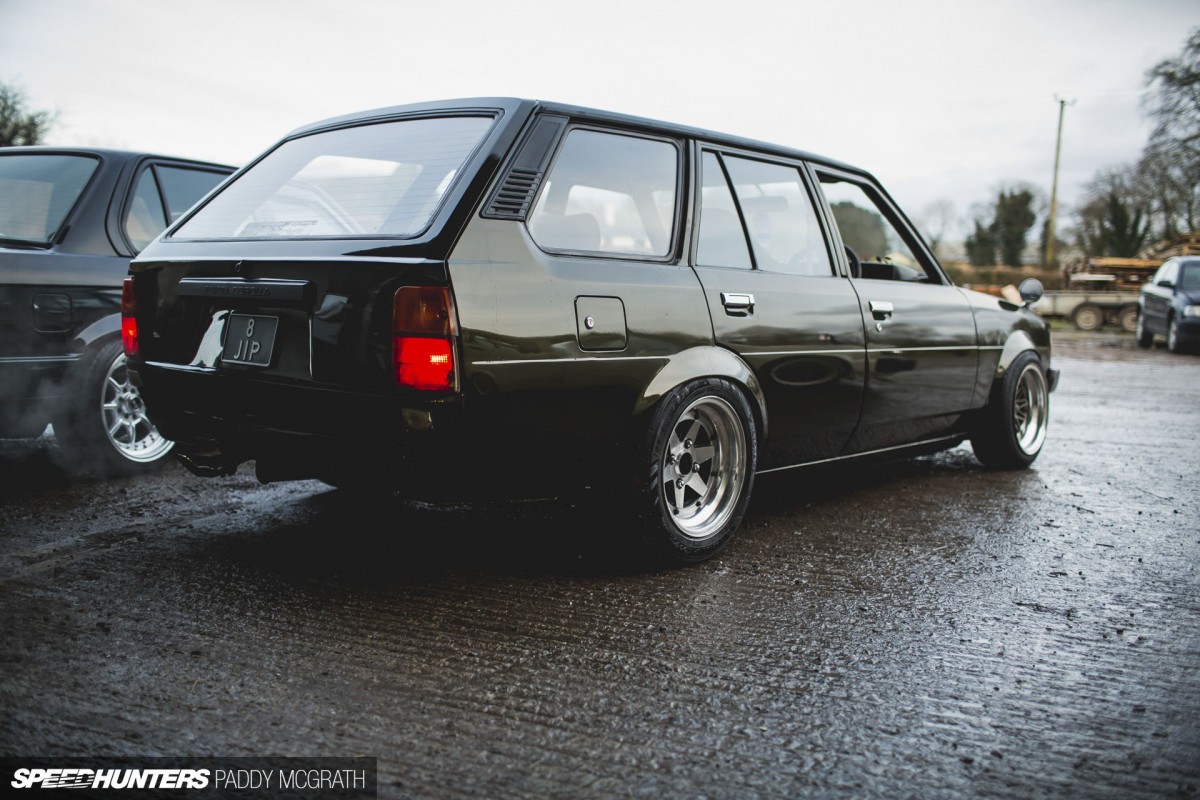 Rather than get distracted and end up getting lost in my own thoughts, I made the decision to check out each car as I came across it and let the owner talk me through it. The first was this stunning KE70, fully repainted inside and out in a dark green. Sat on SSR Longchamps (14×7 in the rear) and SSR Collins (14×7.5 at the front), I was pleasantly surprised to hear that this was the owner's daily driver.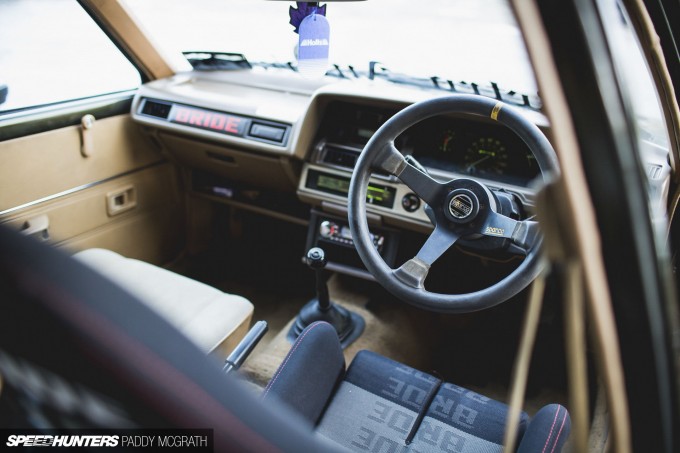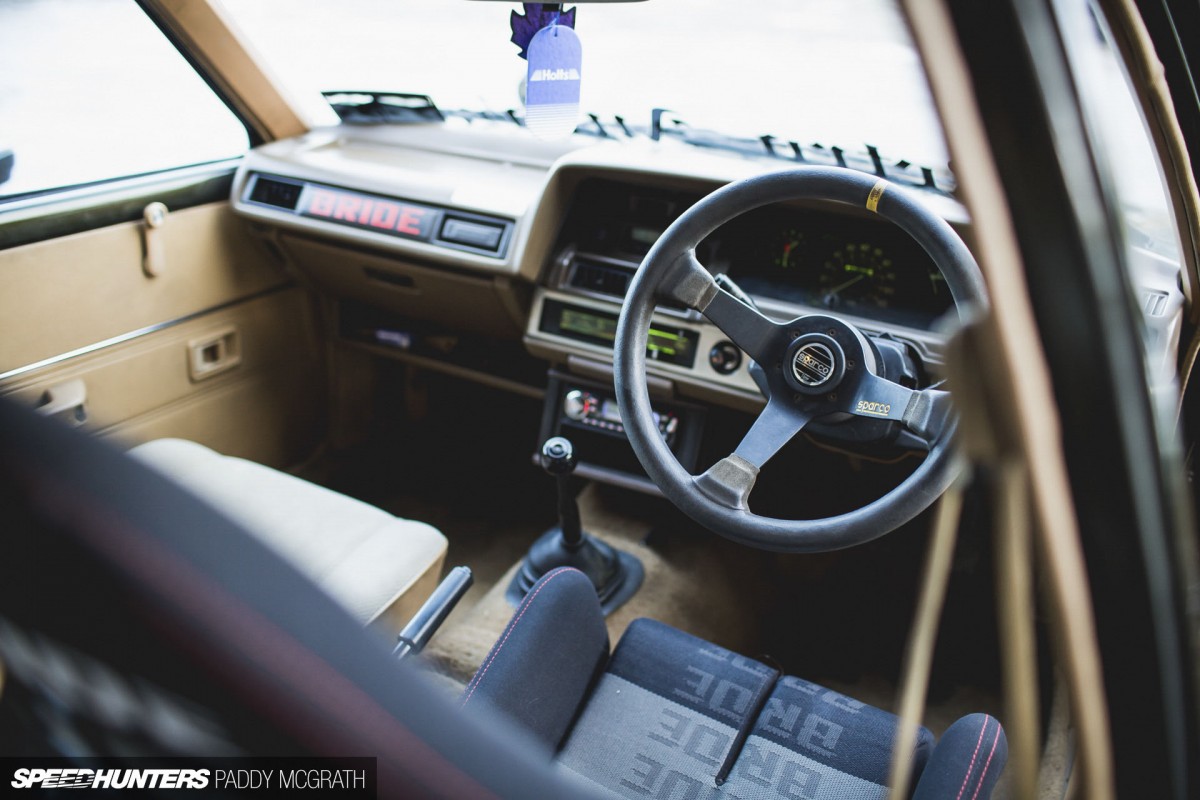 For a bit of background information, Ireland has an annual road tax system which all motor vehicles must pay. Prior to 2008, every car is taxed based on its engine size with a 2.0 litre costing around €700 per annum to tax. If a car is not taxed, it can and will be seized and impounded. It's an unfair system as those who can afford to buy new cars pay a much lower rate of tax in general.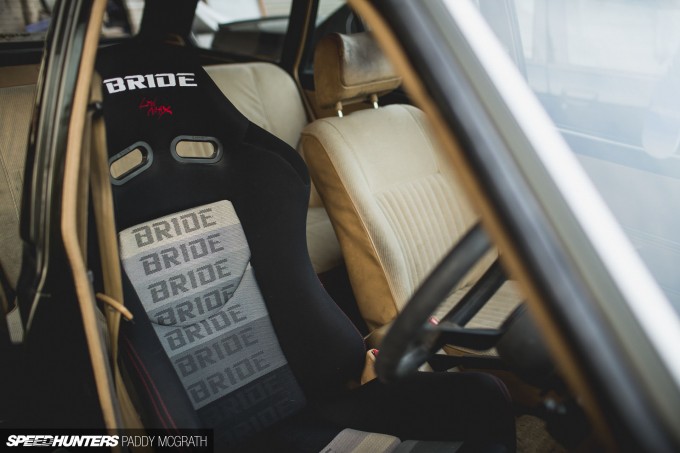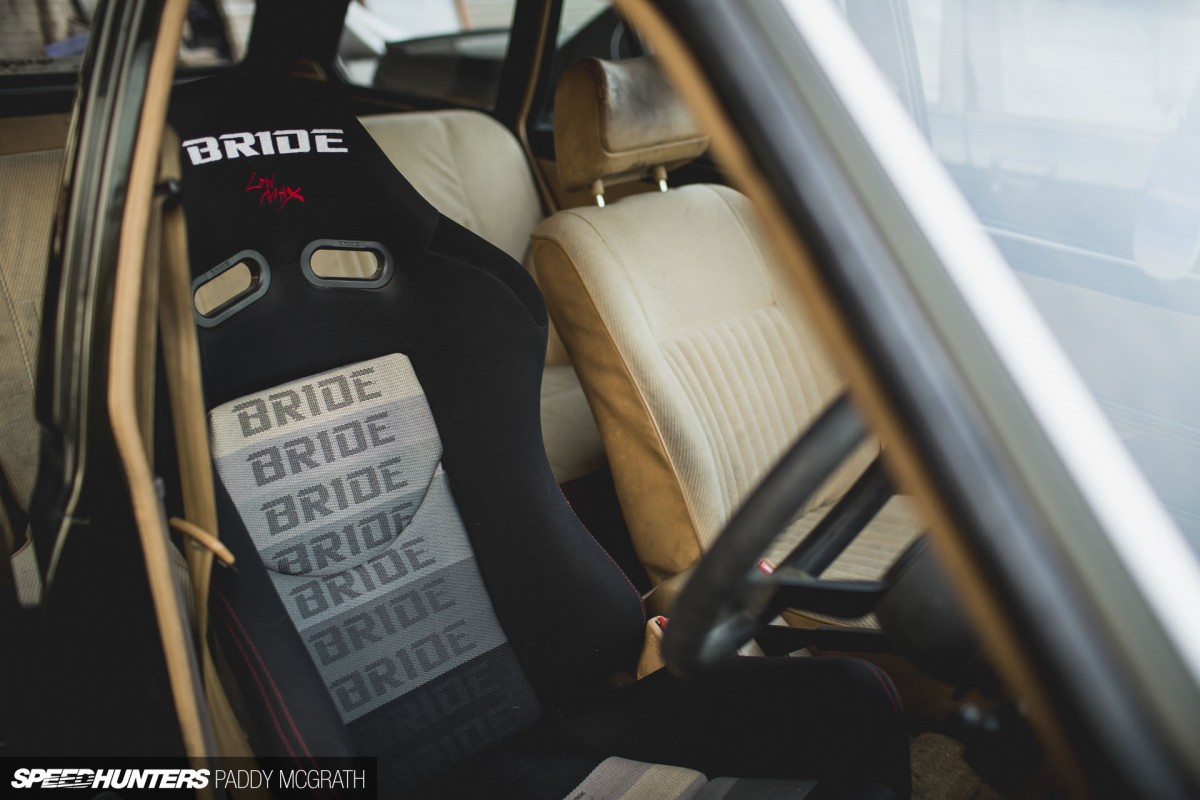 Because the car was first registered in 1981, it's classified for tax purposes as a classic and avails of a much lower annual rate with no regard to engine capacity. €56 to be precise. With a coy smile, he told me that it's still running its original 1.3 litre 4K engine for the moment, but he has plans to add a 4A-GE in the coming months.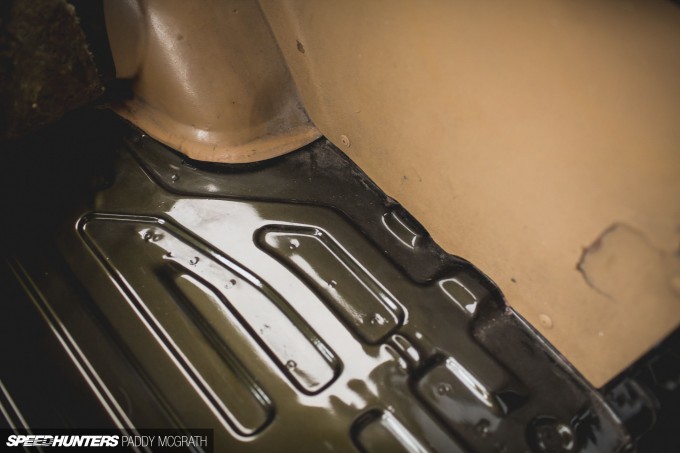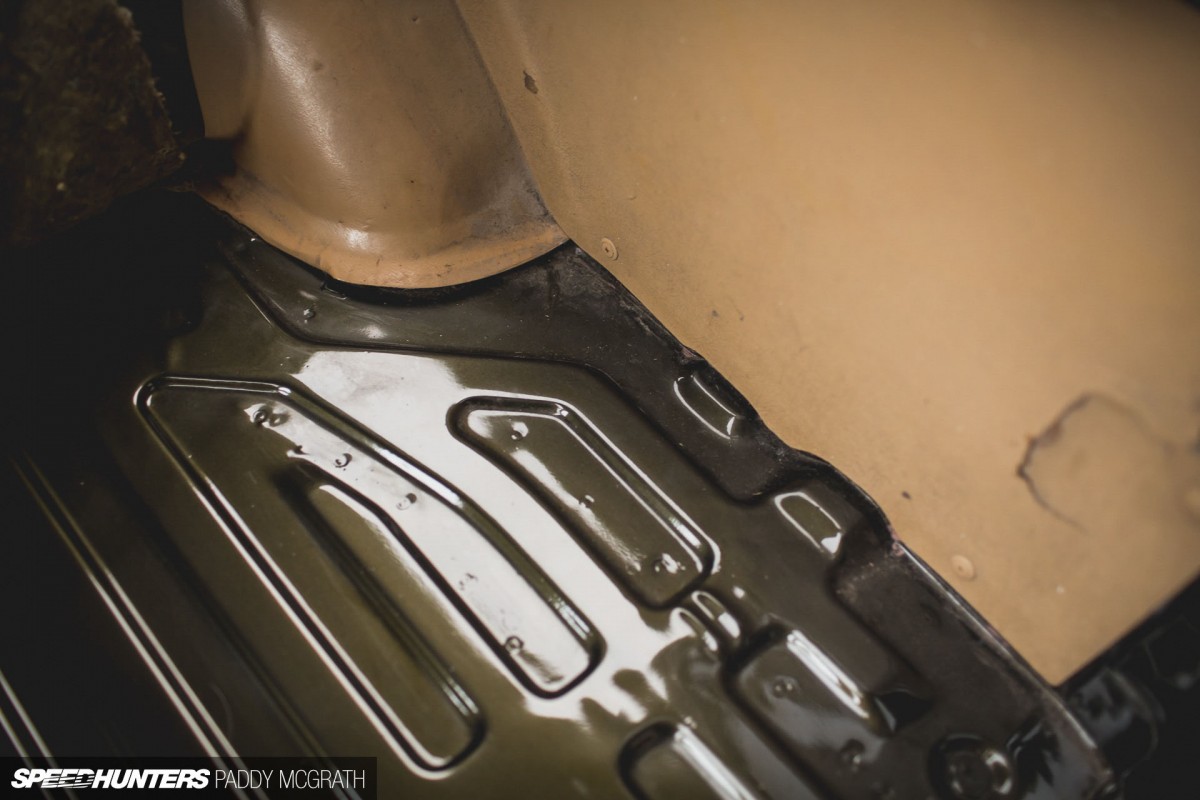 Despite being a comfortable and reliable daily driver, he was quite proud to show off just how mint this KE70 is. The body is completely rust free (a rare sight in Ireland) and every inch of metalwork has been painted in the same green hue.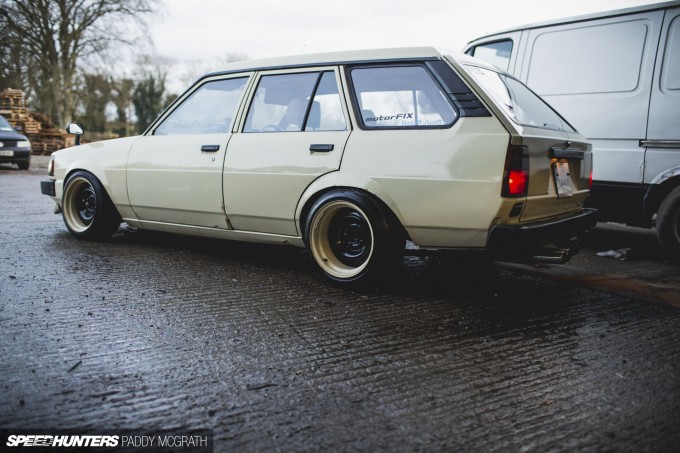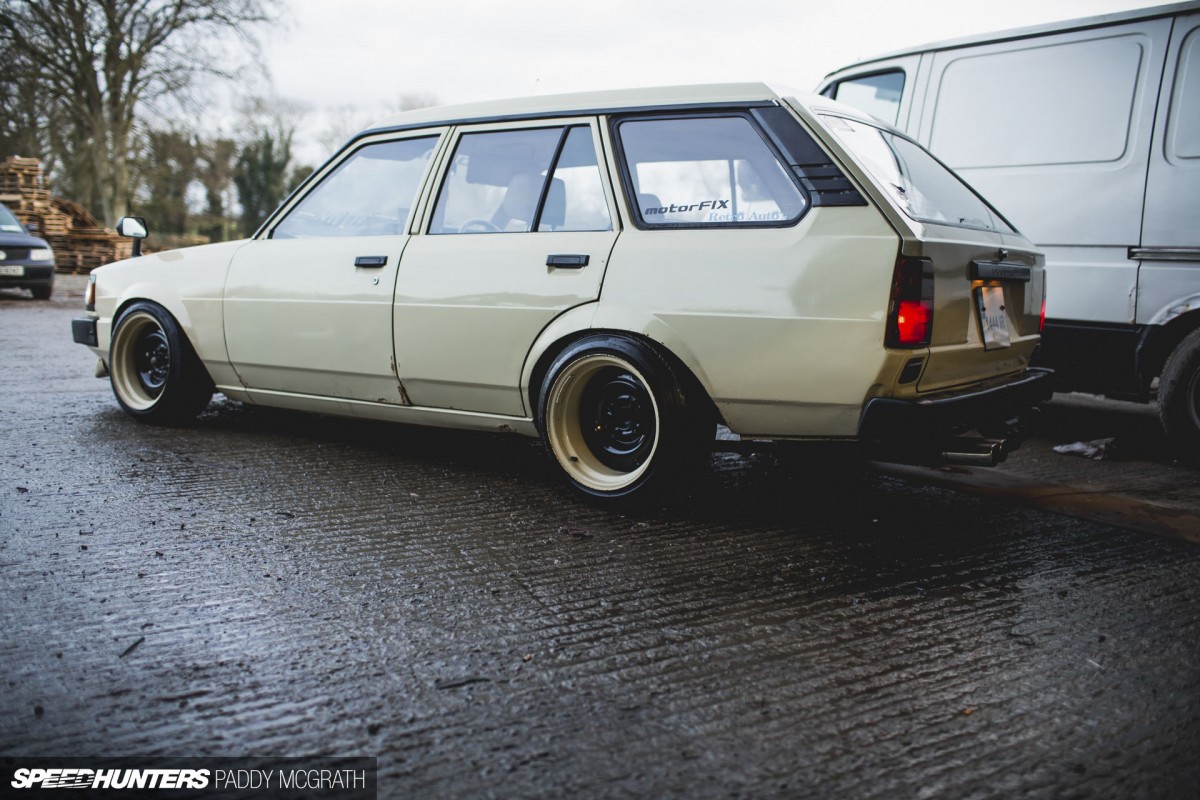 Beside it sat another KE70 of similar vintage. Again, this was a different owner's daily hack and a car used for towing other cars about when needed.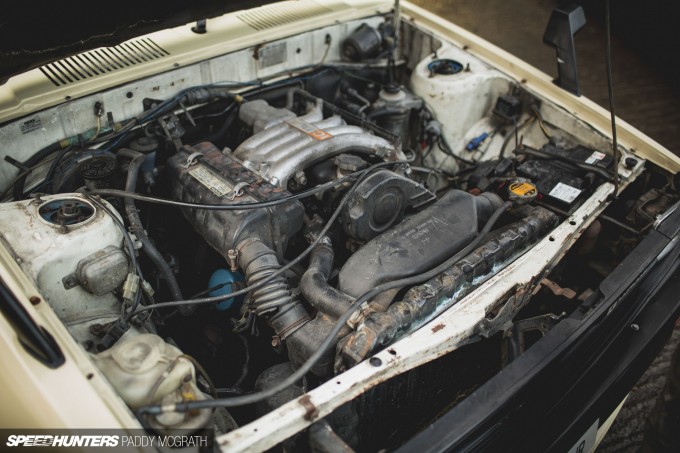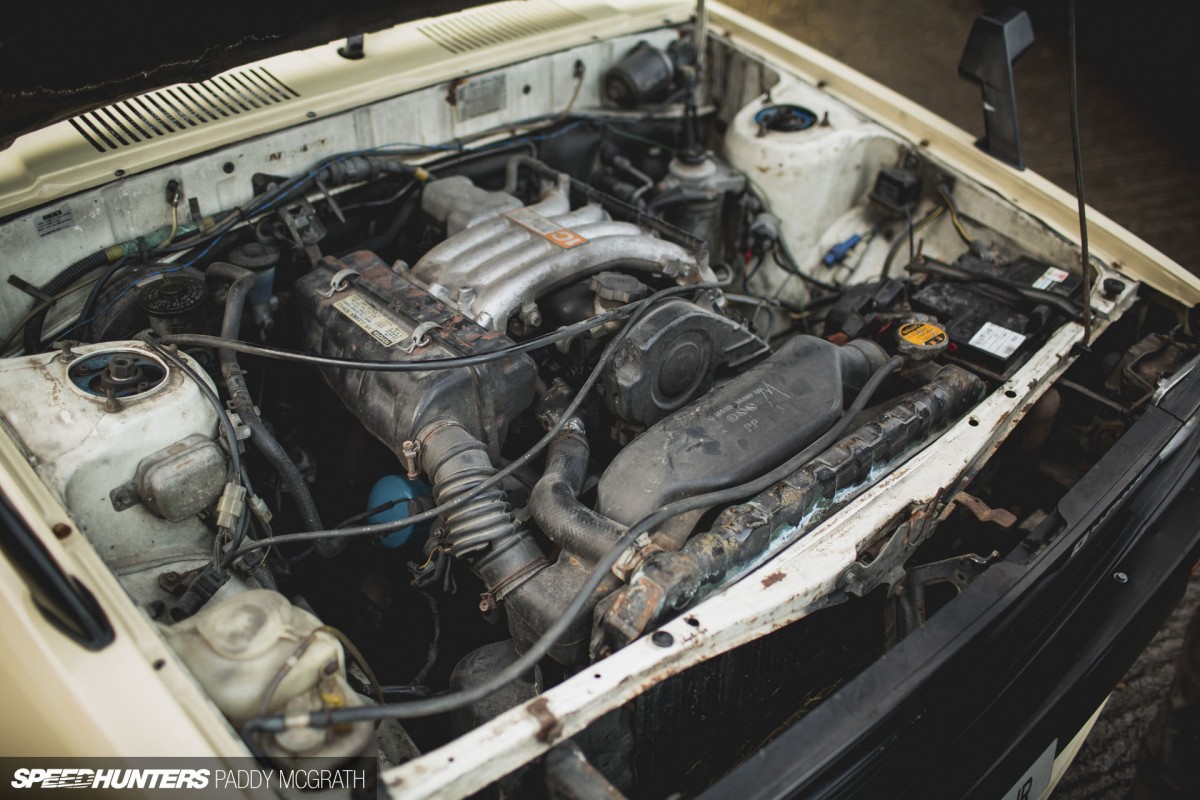 Again sticking with the original power plant but this time it's a more torquey 1.8 litre diesel 1C engine. It's not pretty, but the car starts on the button every morning for him.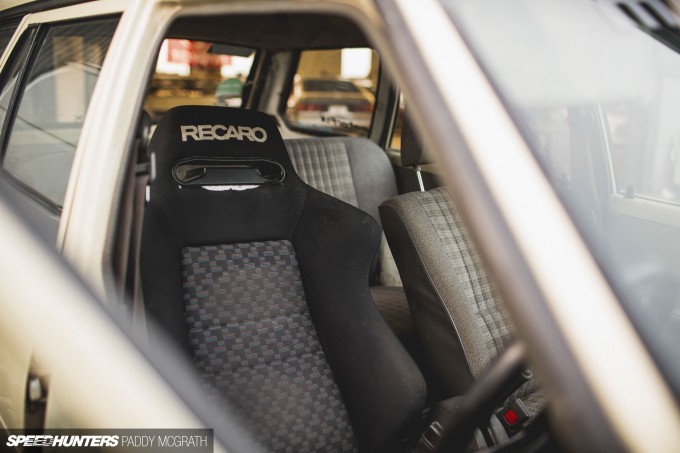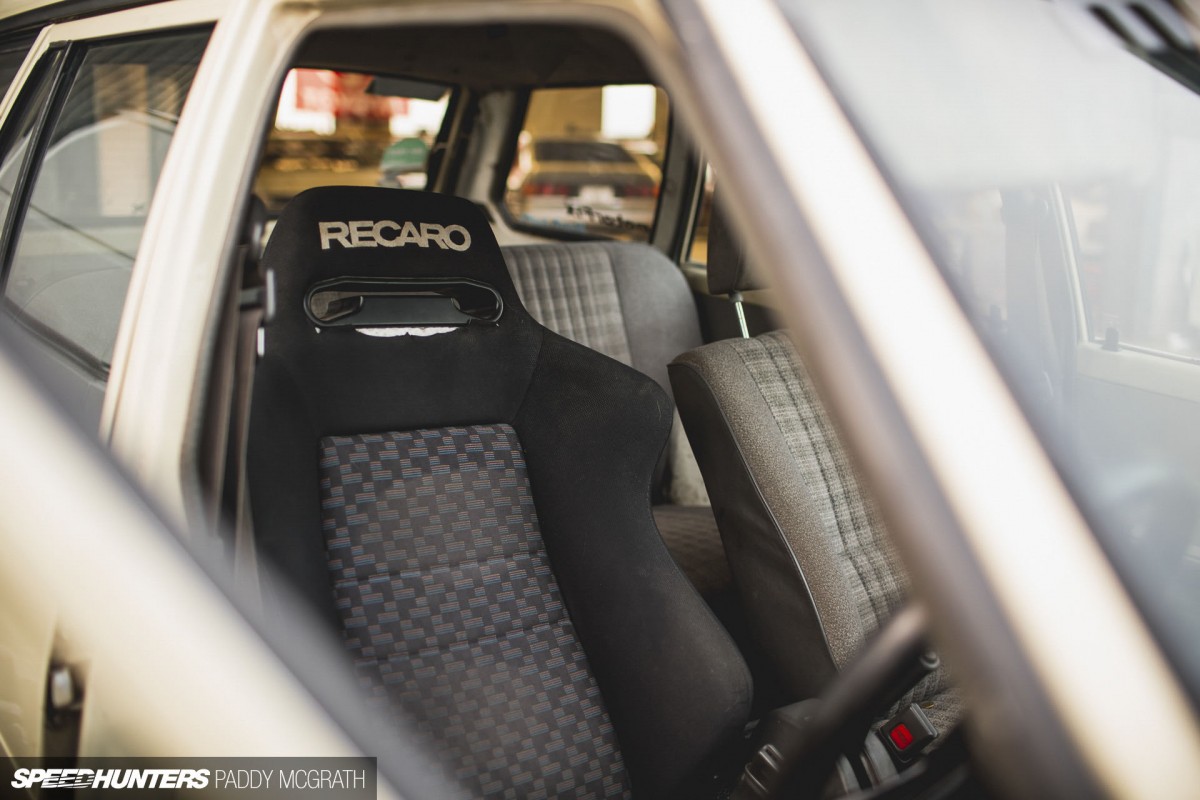 Like the green KE70 beside it, the interior is a mixture of original and a slightly more contemporary reclining bucket seat.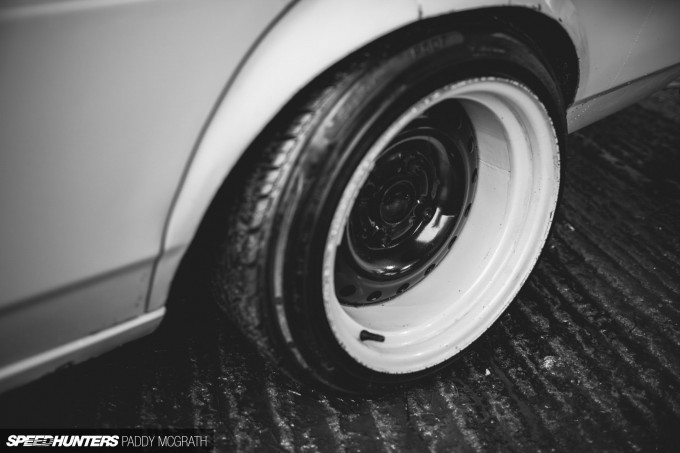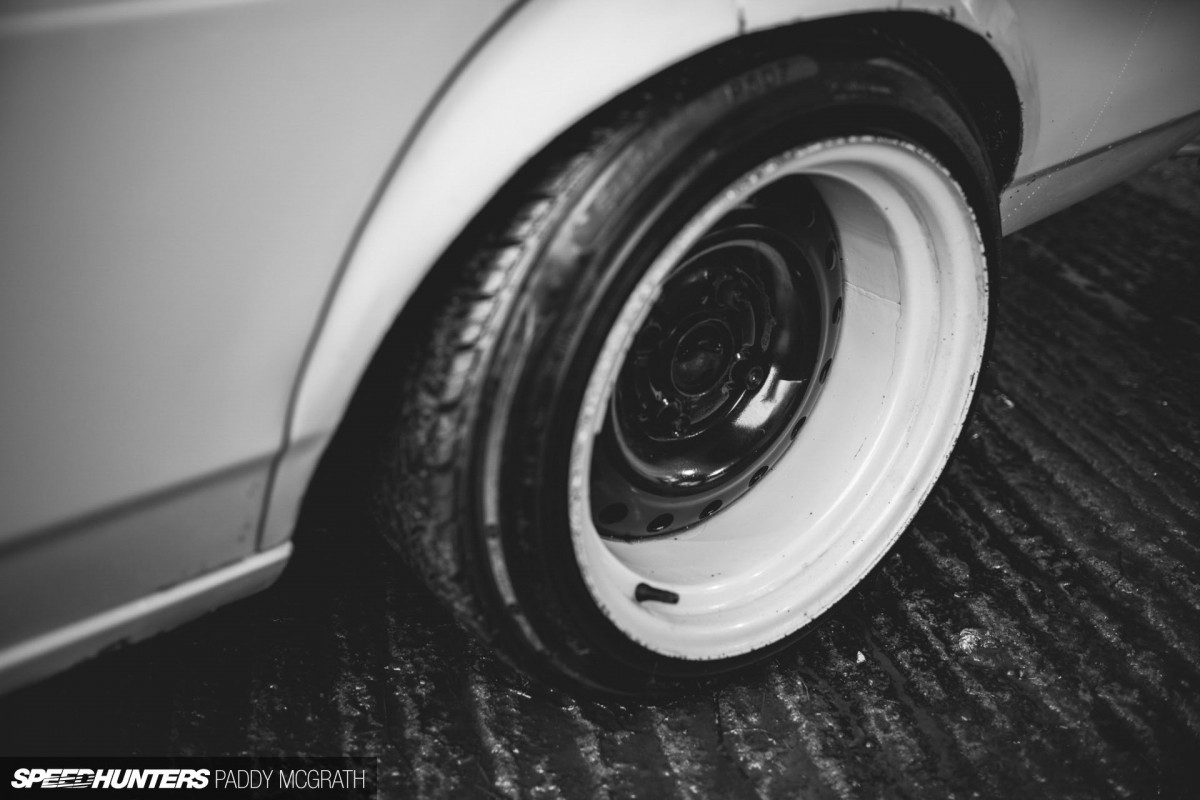 Whilst it previously also sat atop some Longchamps, the owner swapped them for a complete set of 15×8.5 and 15×9.5 banded steels, which he painted the lips of in the same colour as the body.
Going inside…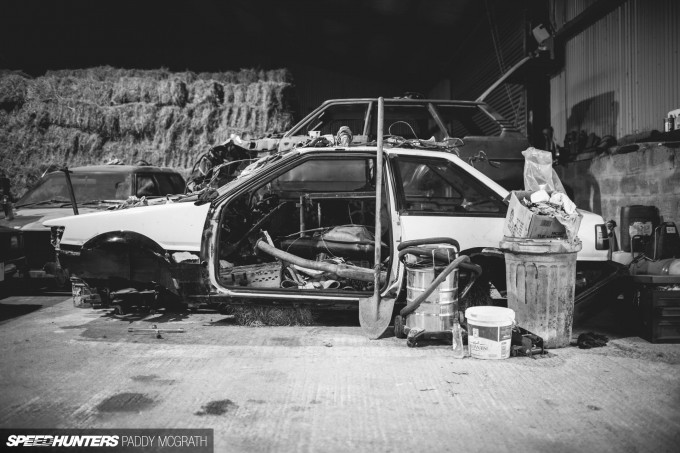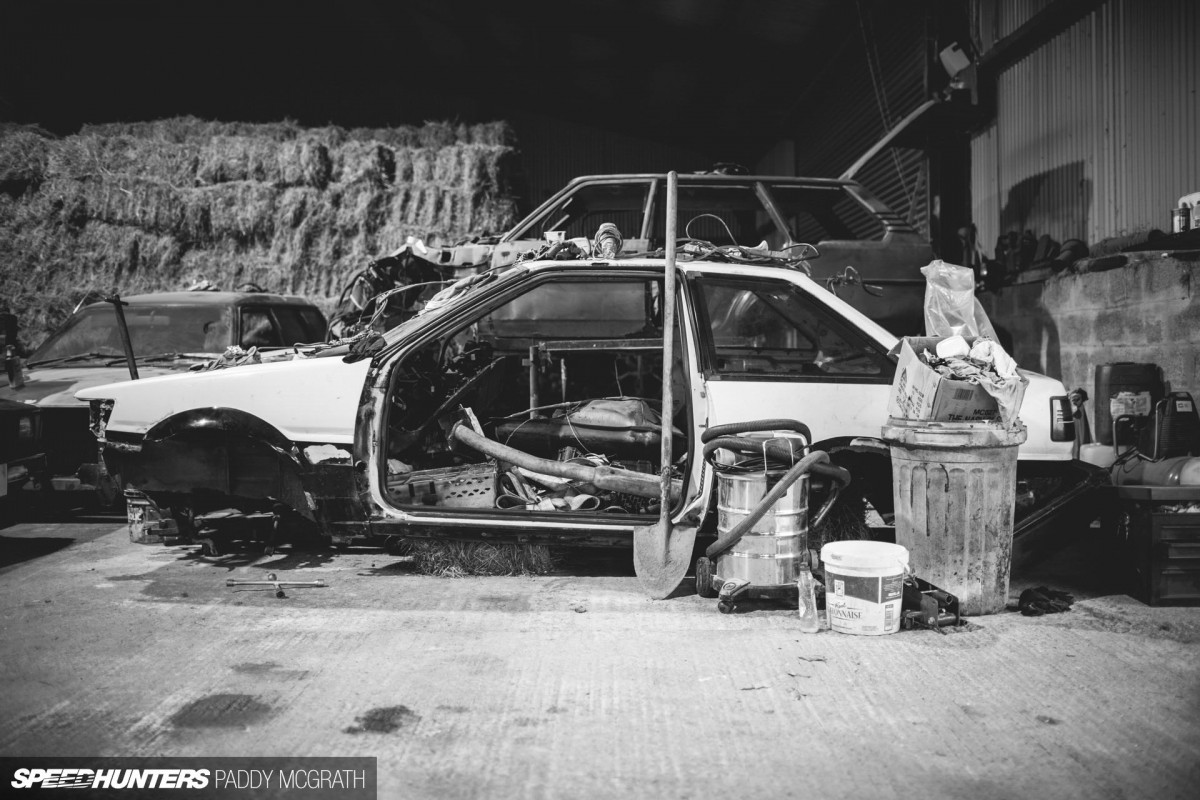 With the light fading and the cold rapidly setting in, we headed inside to take a closer look at what else was lurking. The area was comfortably big enough to store a lot of cars, with bales of hay used to divide the barn into two areas. One which the guys were using and the other which was for storing agricultural machinery.
Although the concrete floors and high ceilings were positively industrial, there was still something homely about the set-up. A place where you could easily find yourself after a day's work, tinkering with this or that.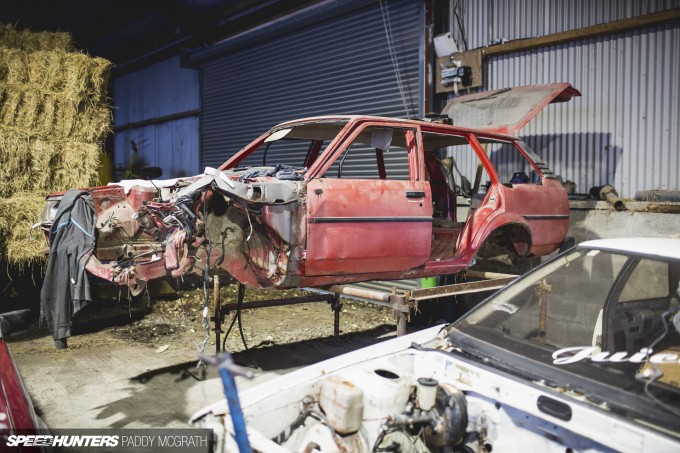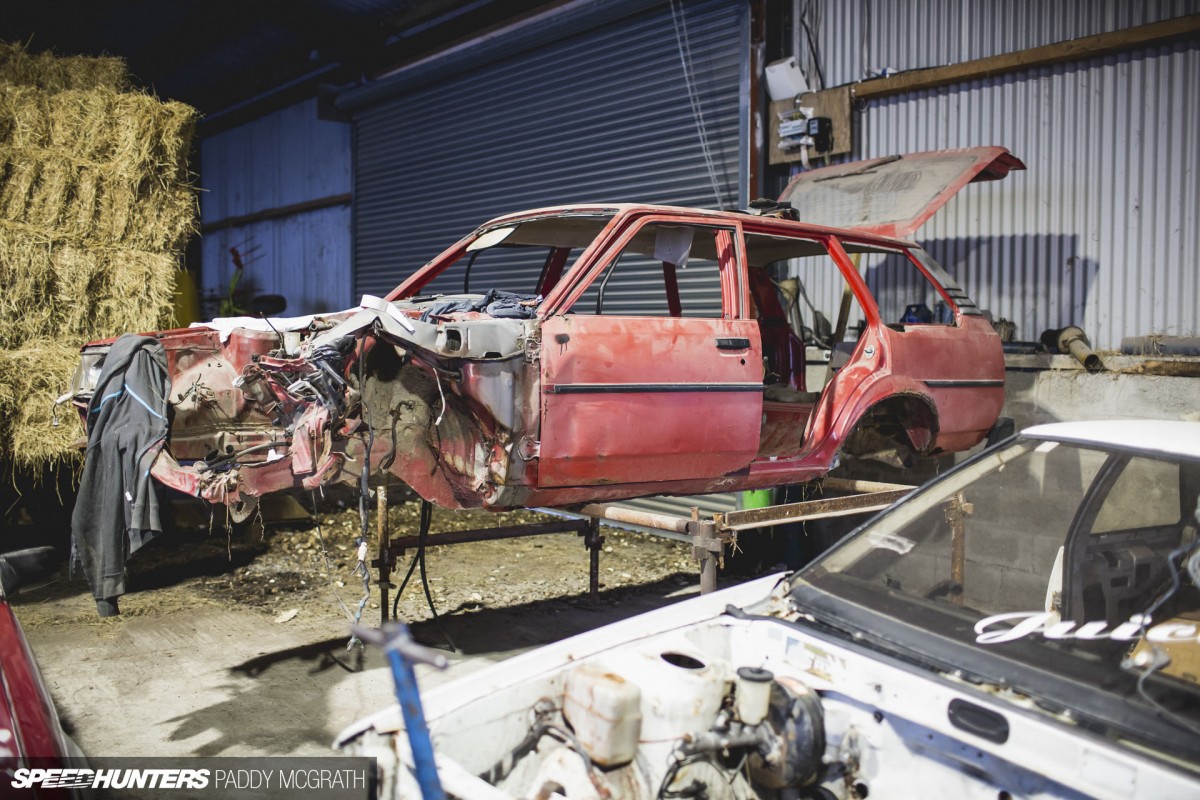 Most of you will be sad looking at this, but fear not. Pretty much every car here is a constant work in progress, with plans for resurrection or improvement somewhere in the future.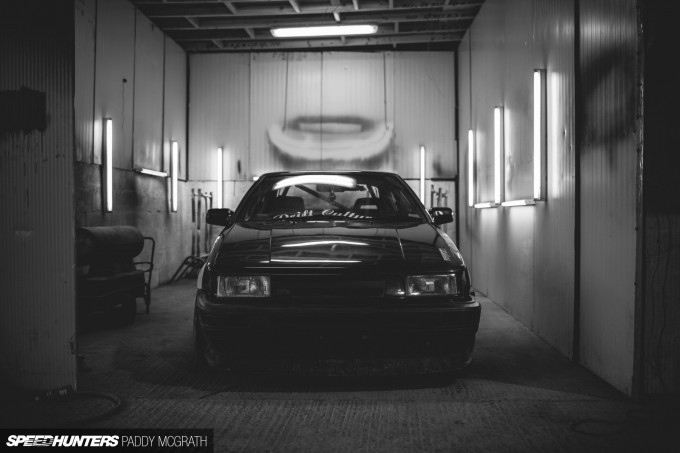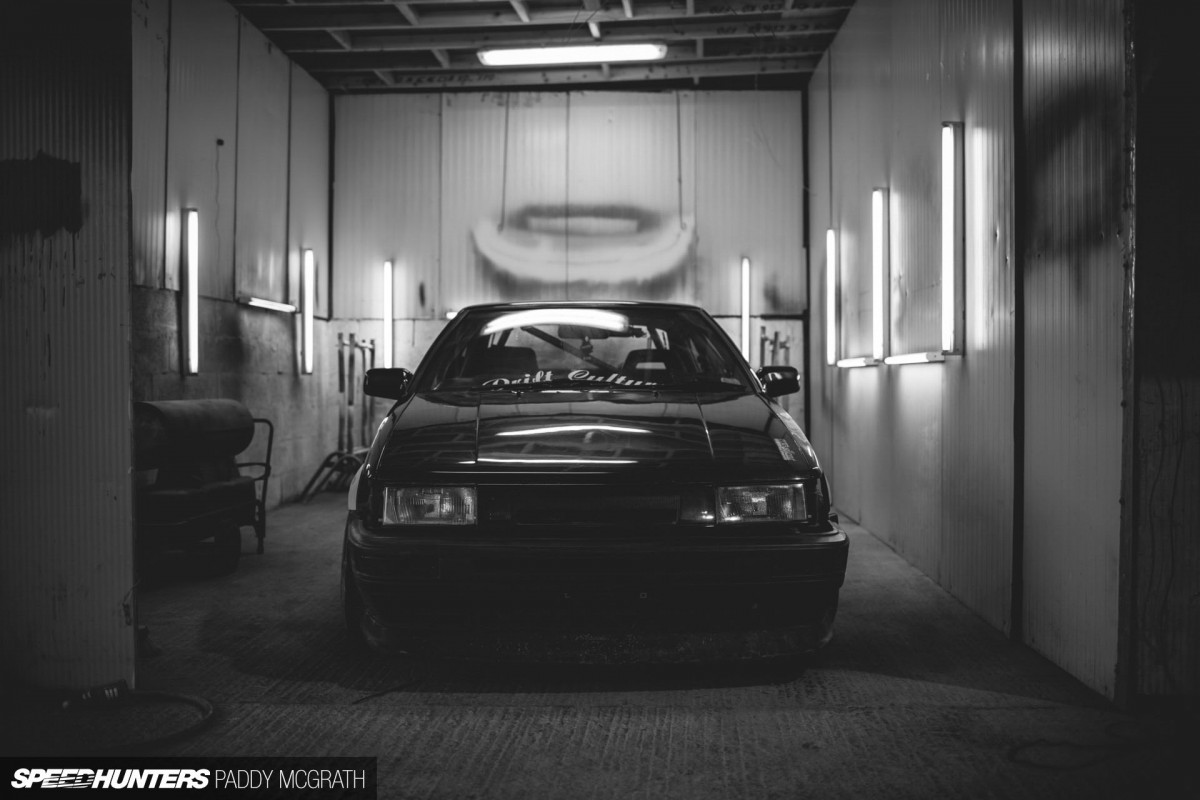 With their own spray booth built in the corner, they have no reliance on anyone else to help complete their cars. This AE86 has been brought back to life courtesy of the white over black hachiroku two pictures up.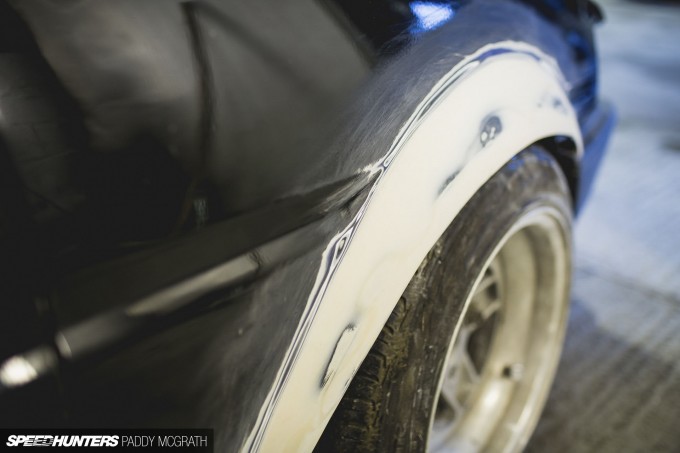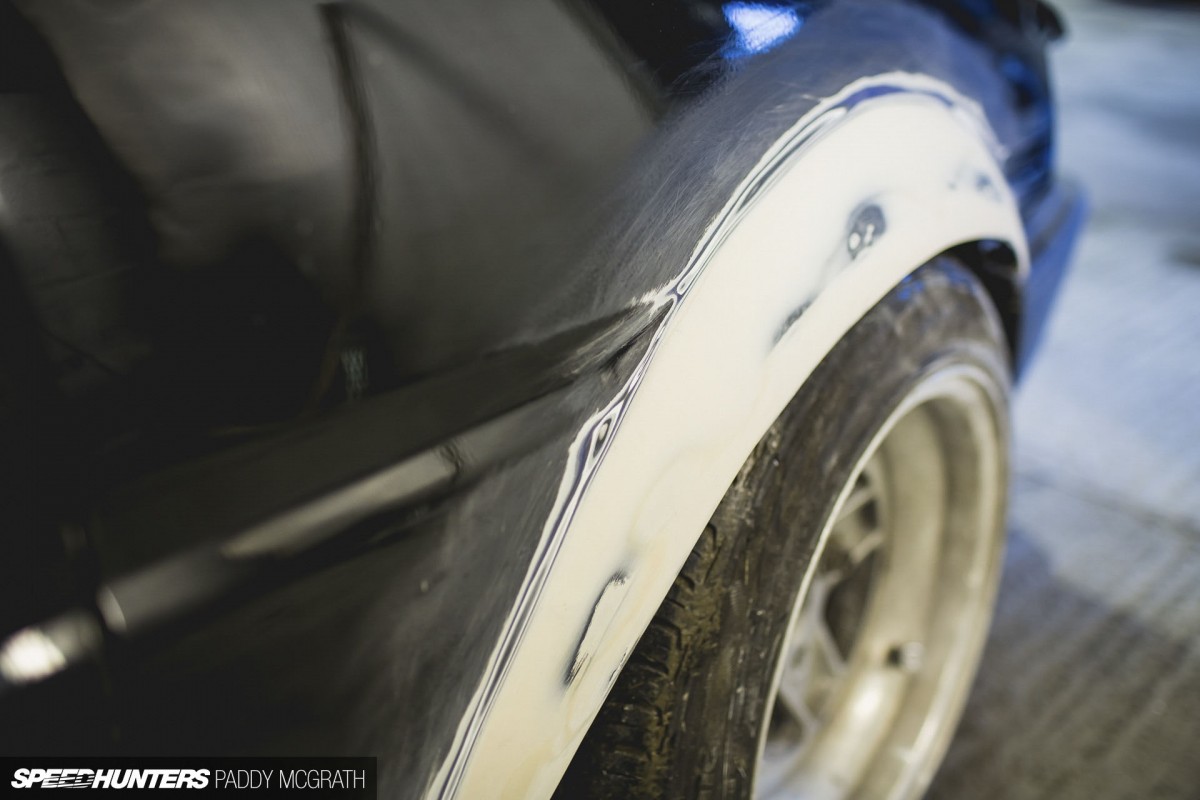 All the metalwork is done in house, and there's a lot of pride taken in this. All of the flared arches are done by hand, and whilst not every one of them is identical, I think this adds to the character of each car rather than distracting from it.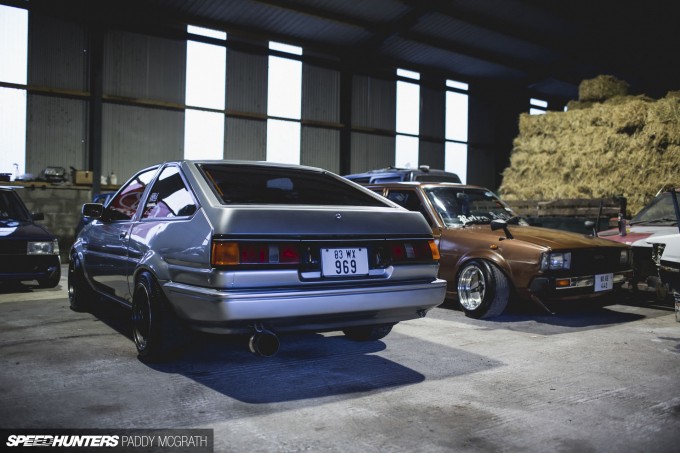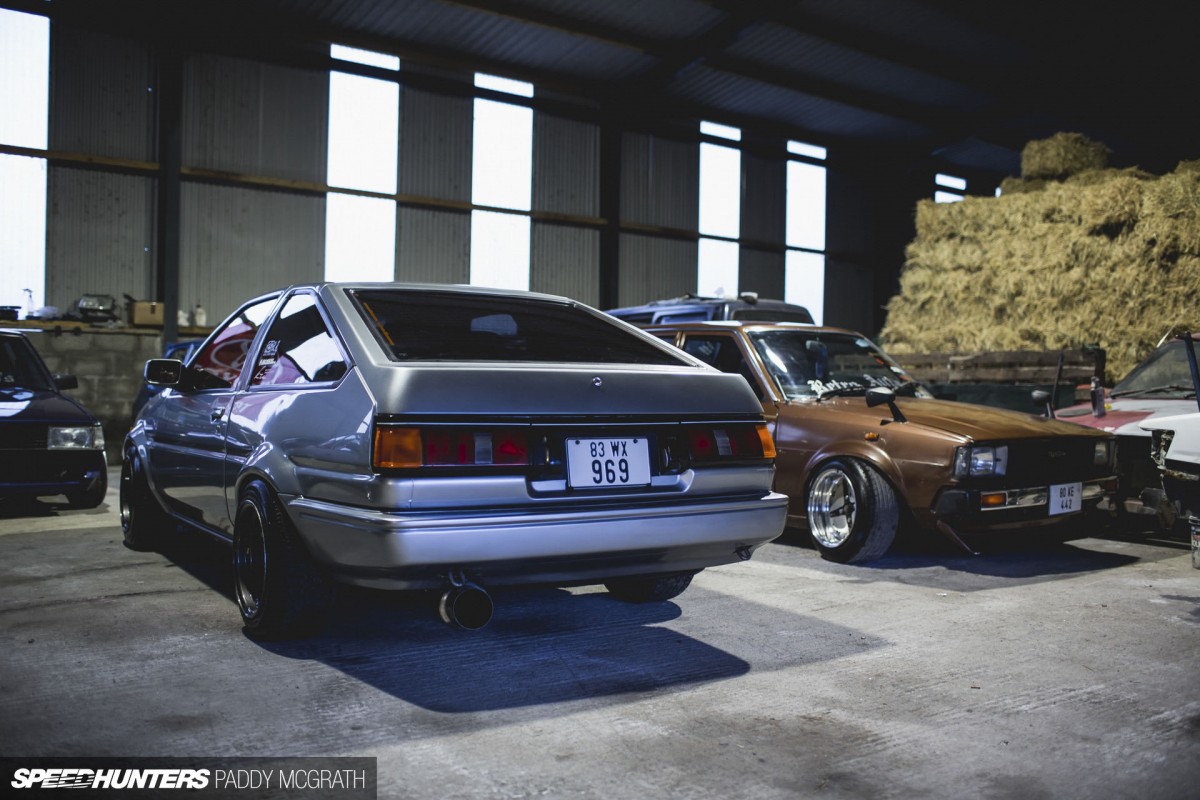 The next car we moved onto was this immaculate AE86 sat in the midst of its other Toyota relatives.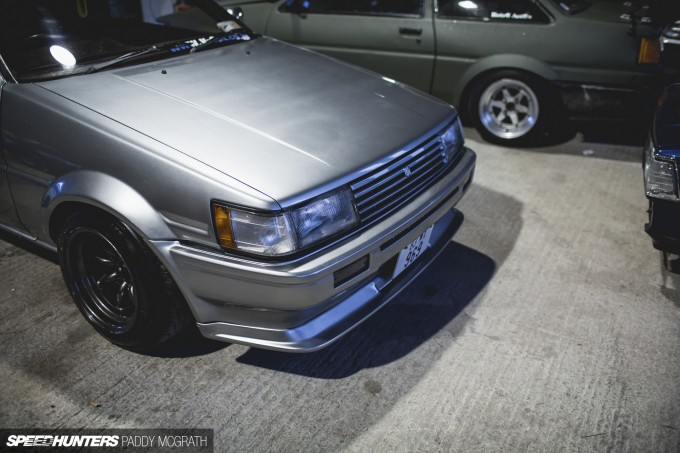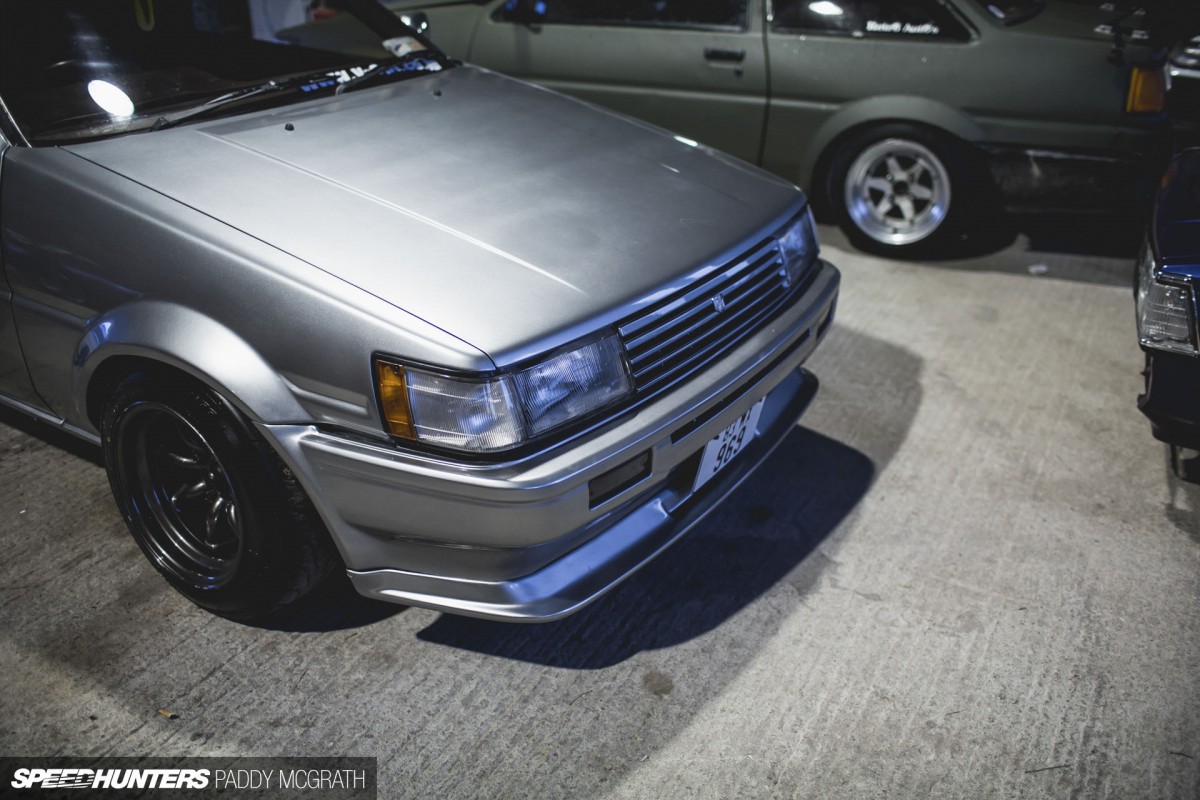 The bright silver paintwork is complimented by the 14×8.5 Watts all around, with Toyo R888s up front.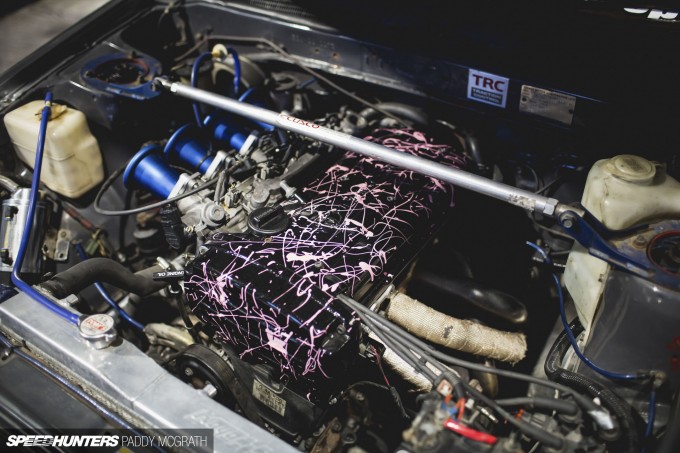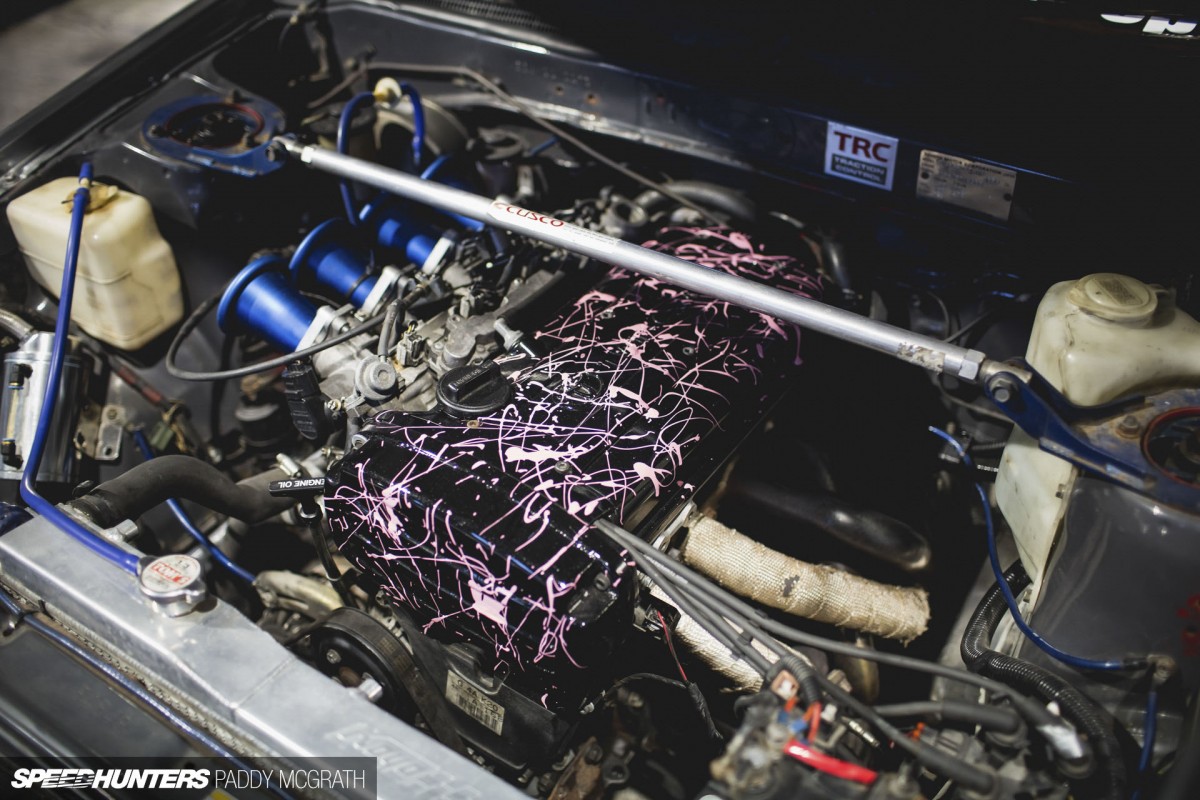 The soul of this particular car lies beneath the bonnet with an AE111 20-valve blacktop lurking where a 16-valve engine previously called home.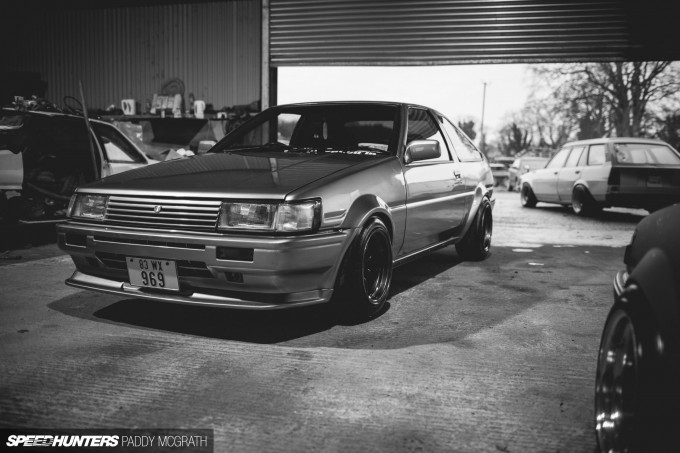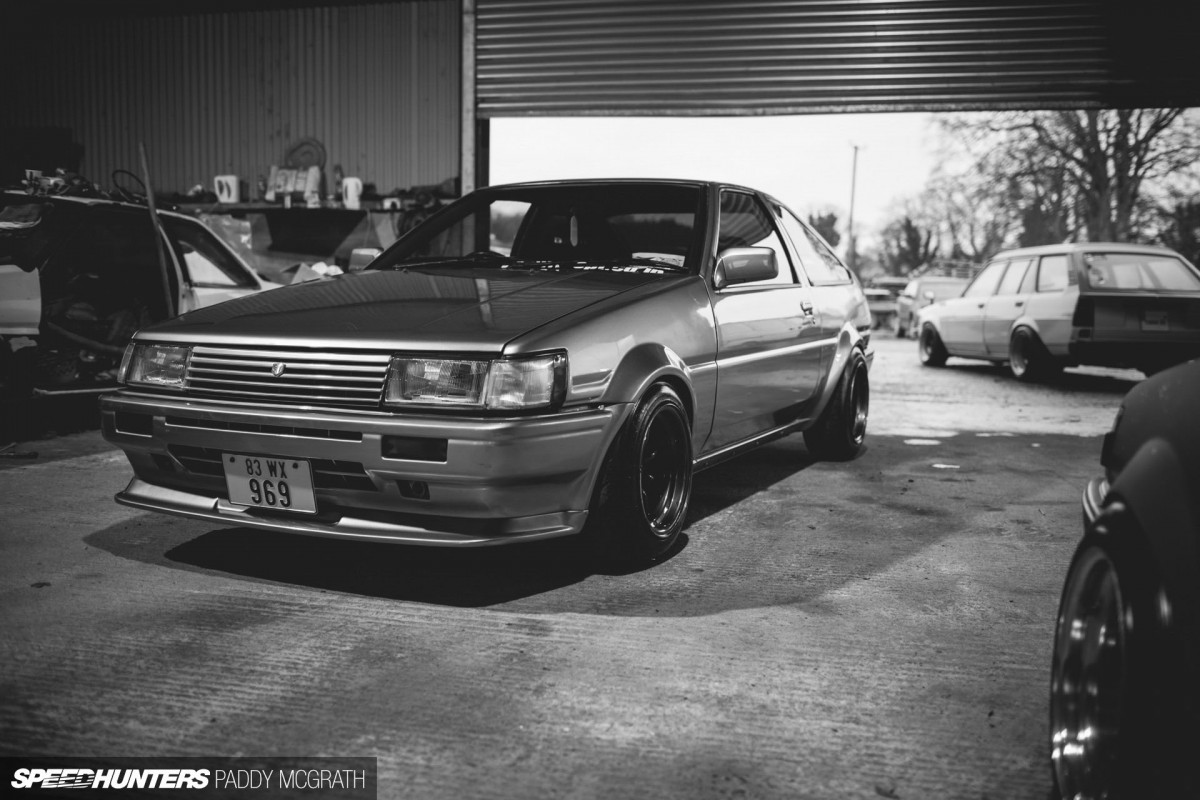 The engine exhales into a full Kakimoto N1 exhaust system with a 4-2-1 manifold. Management is controlled by a Gotech ECU. It's a subtle car with huge potential. There's nothing ostentatious about it, it's a car that any one of us would be proud to call our own.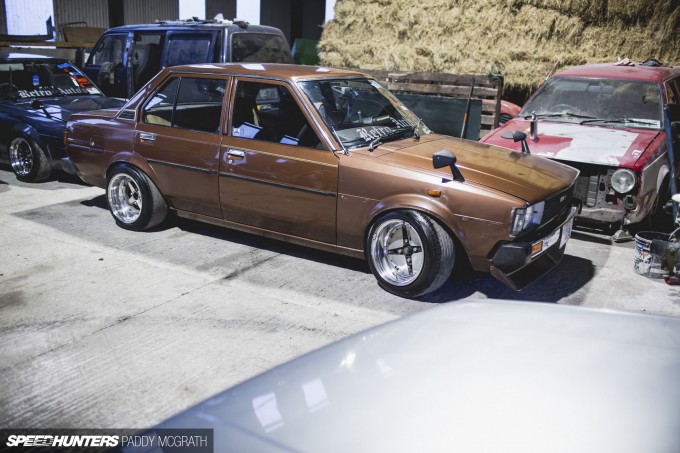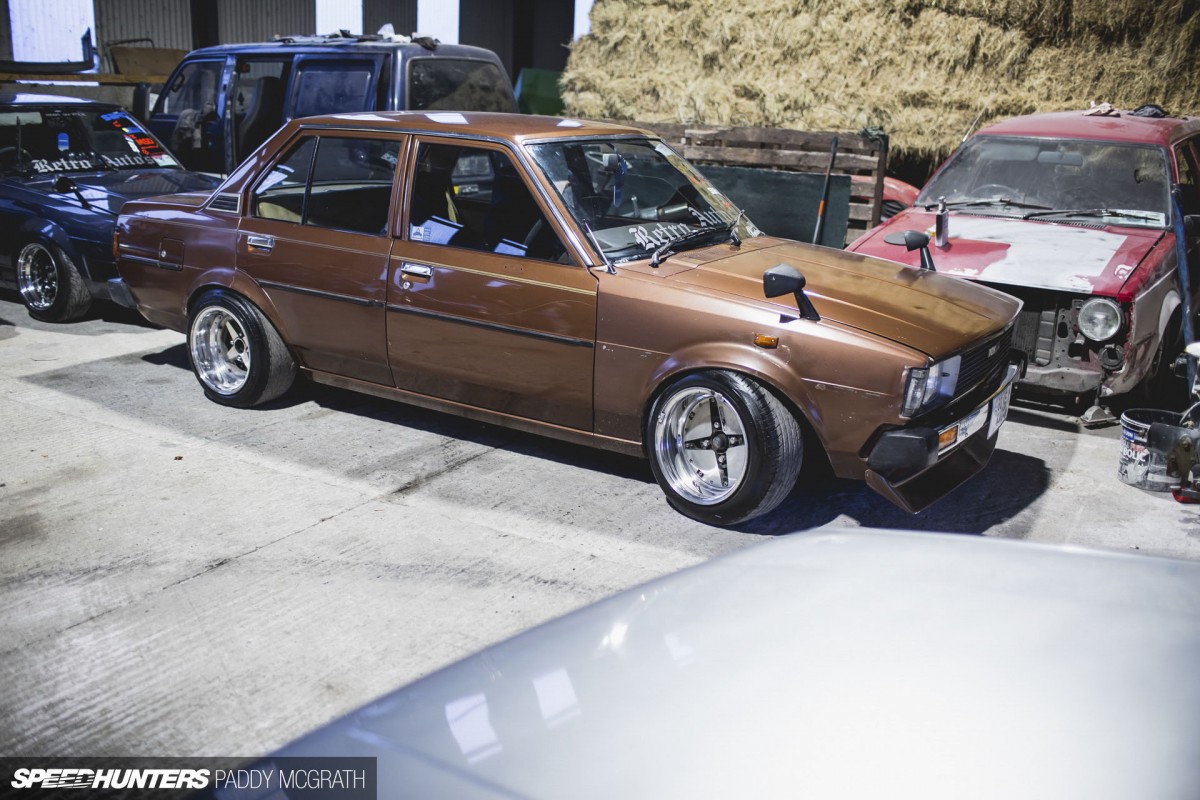 Beside the '86 lay another KE70, although this time in saloon form. The car is still sporting its original from factory paintwork, although it will be refreshed at some stage in the future.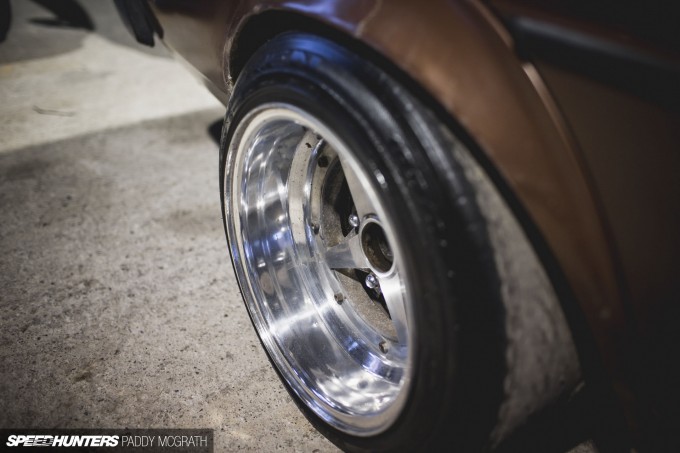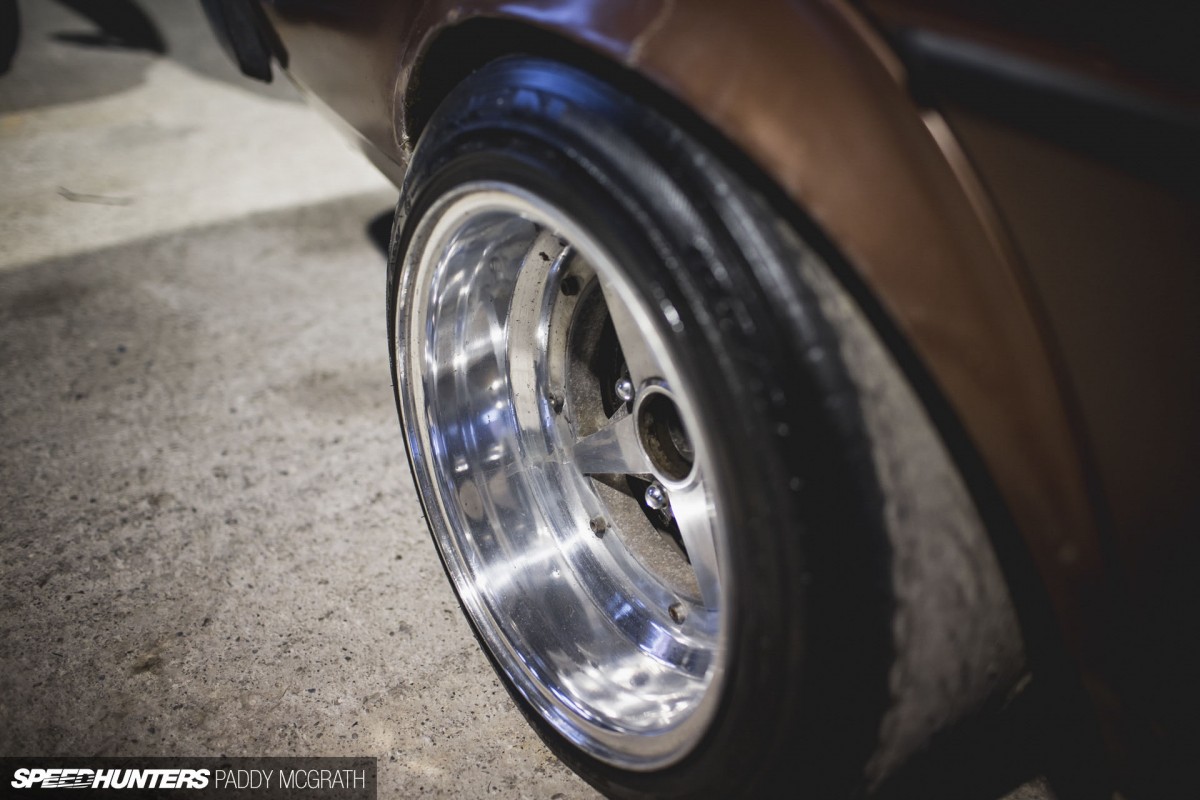 Offsets are negative all around, with 14×8.5 Hoshino Impuls up front and 14×8.5 Work Equips out back. The car has been treated to a fully polybushed set-up, along with T3 adjustable arms and an AE86 coilover set-up with TRD shocks. This is pretty much the same recipe for most of the cars in the barn and when I enquire as to why, I'm told that it's just the done thing because it's a proven set-up which just works.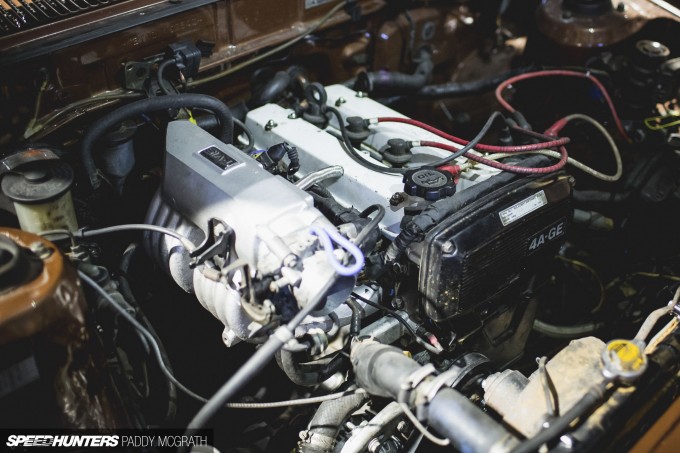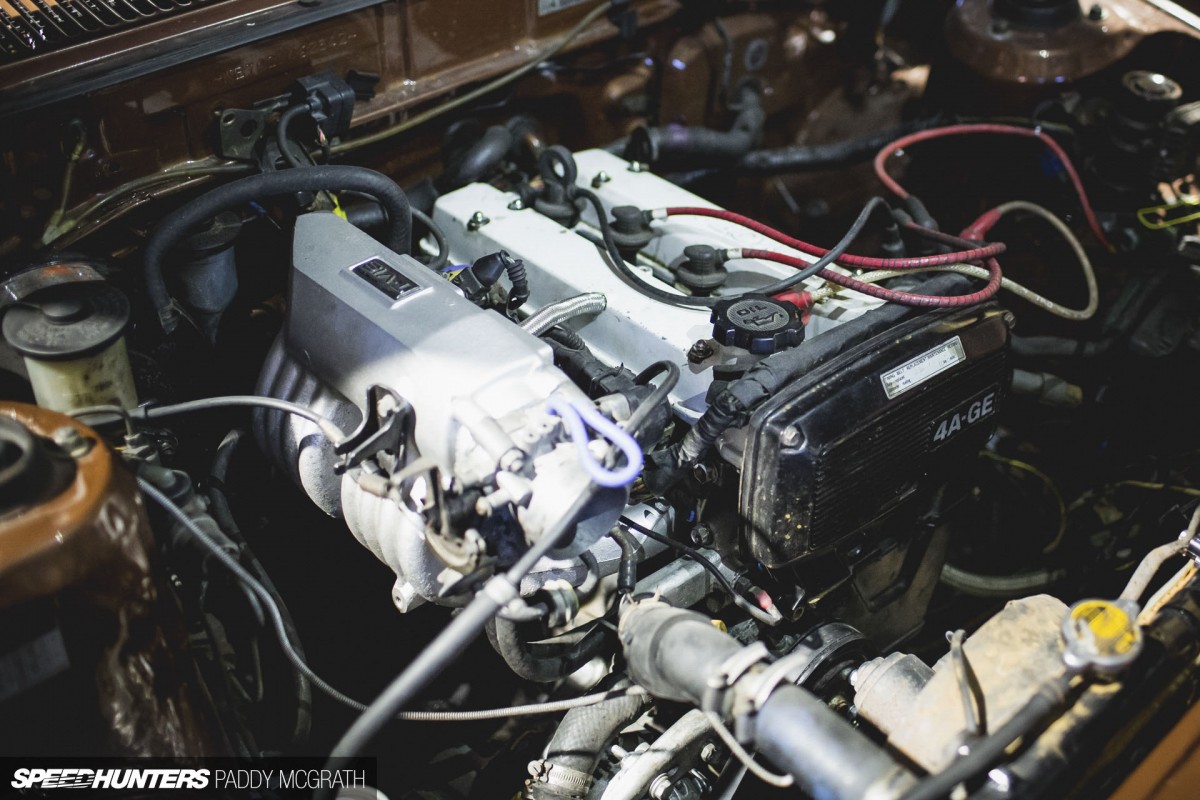 With a 4A-GE inside and recently repainted engine bay, it's certainly a KE70 with both show and a relative amount of go too.
The one that started it all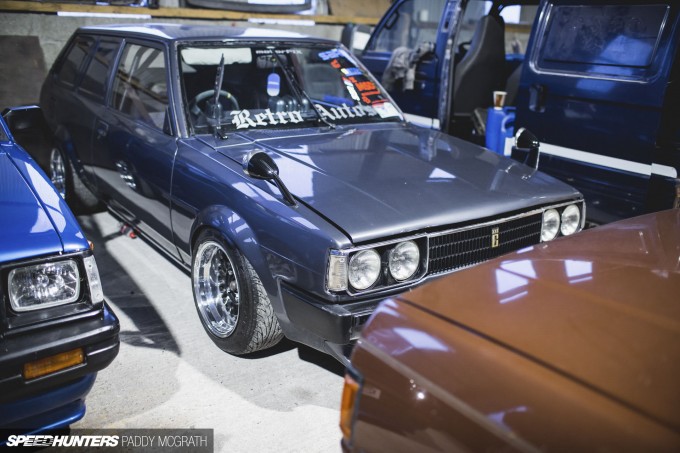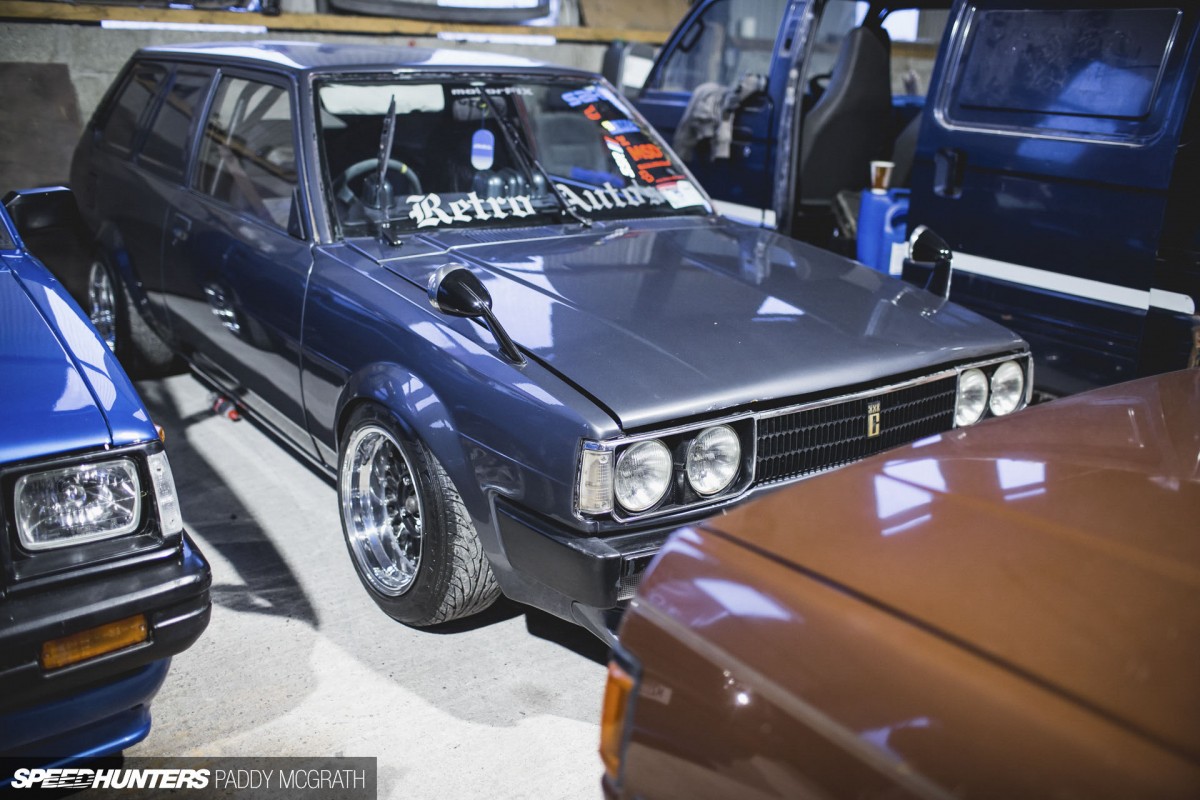 Arguably the most important car in the building, was of course the one hiding in the corner. This car is partly responsible for kicking off a lot of the other builds surrounding it.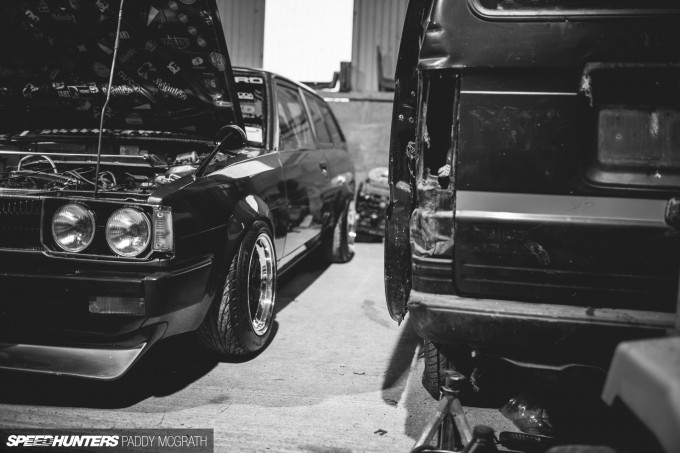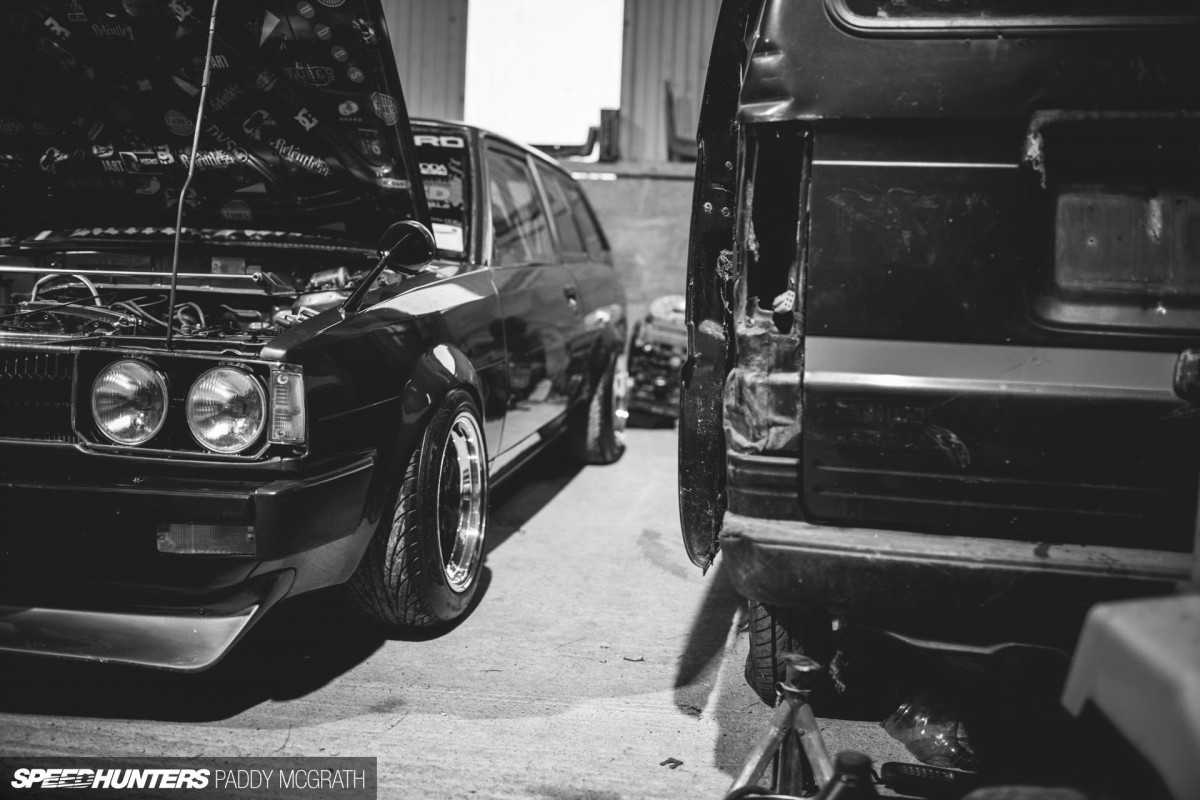 It's an original Irish-registered 1984 KE70 panel van which has had its face cut off, shortened two inches and fitted with the nose of a 1980 JDM KE70.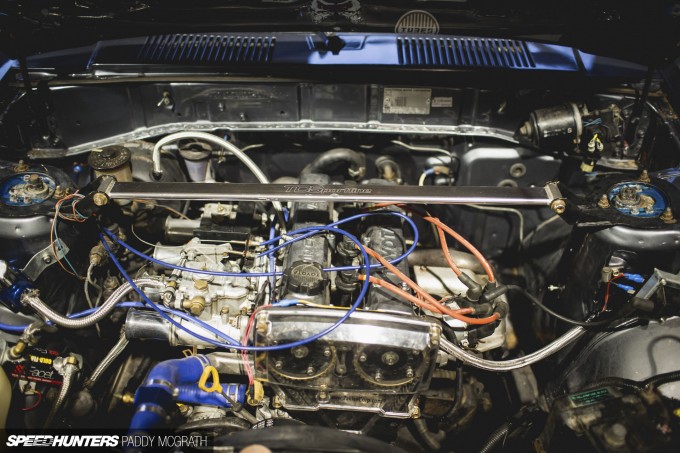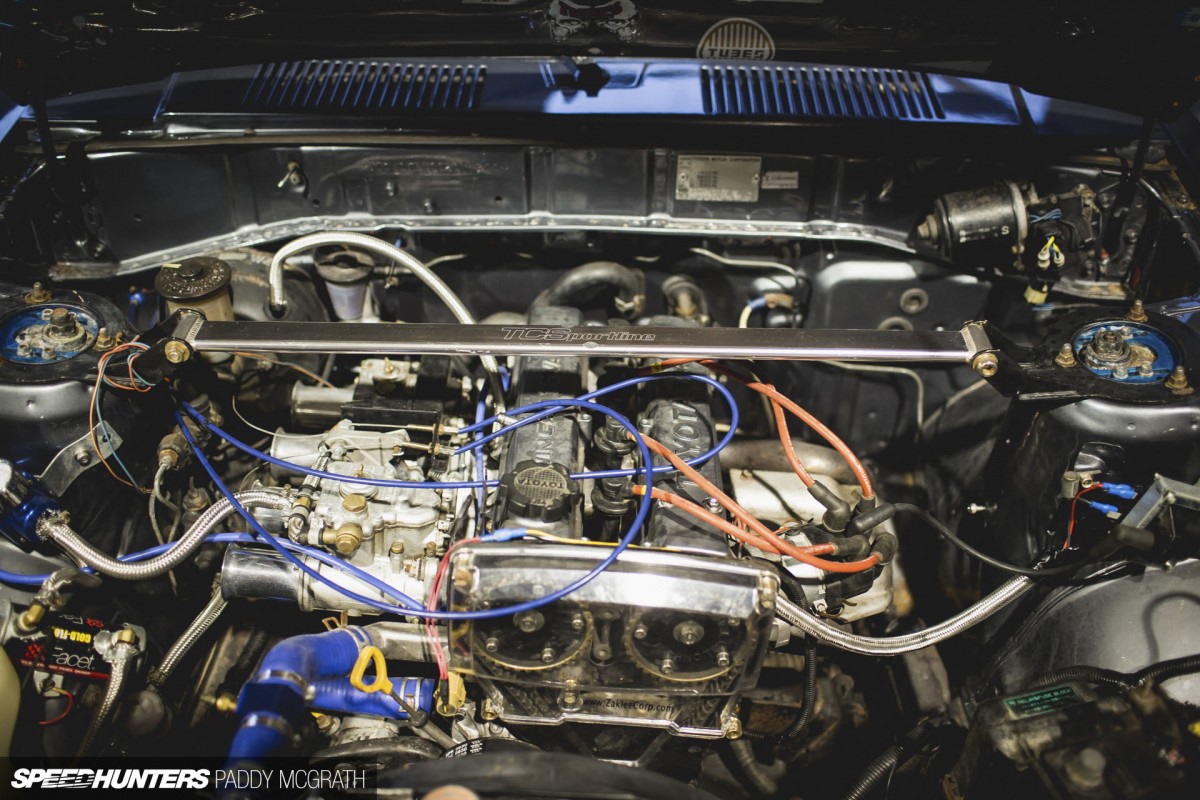 I don't think it would be allowed into the barn if it wasn't Toyota-powered so you'll be relieved to know that it's not only been the recipient of a 4A-GE but it's also been treated to some twin forties along with some other work.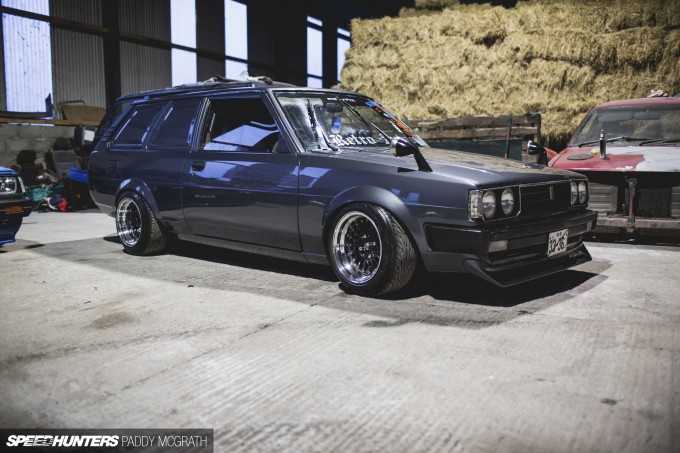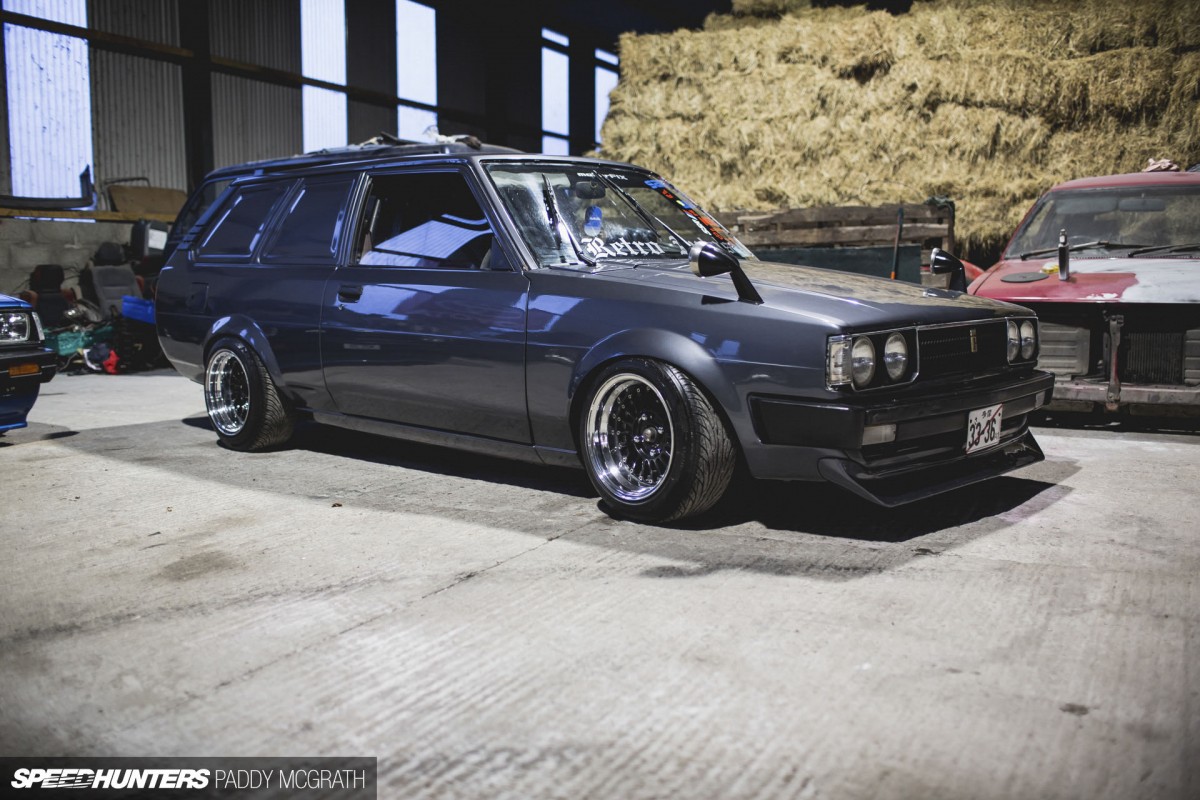 Again and like the previous KE70, it's on AE86 coilovers with adjustable top mounts, TRD dampers and is again fully polybushed.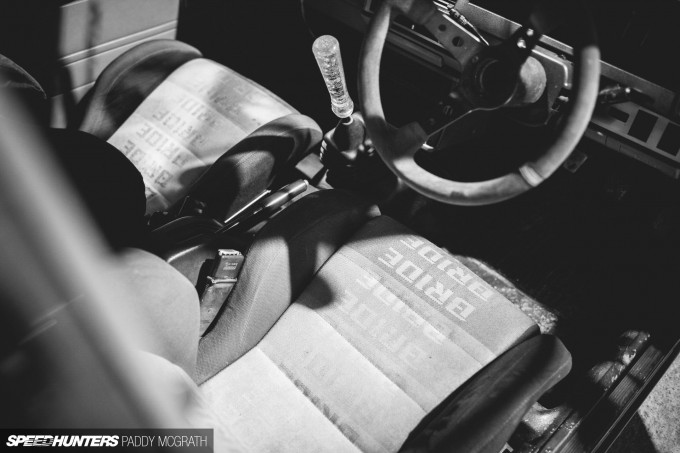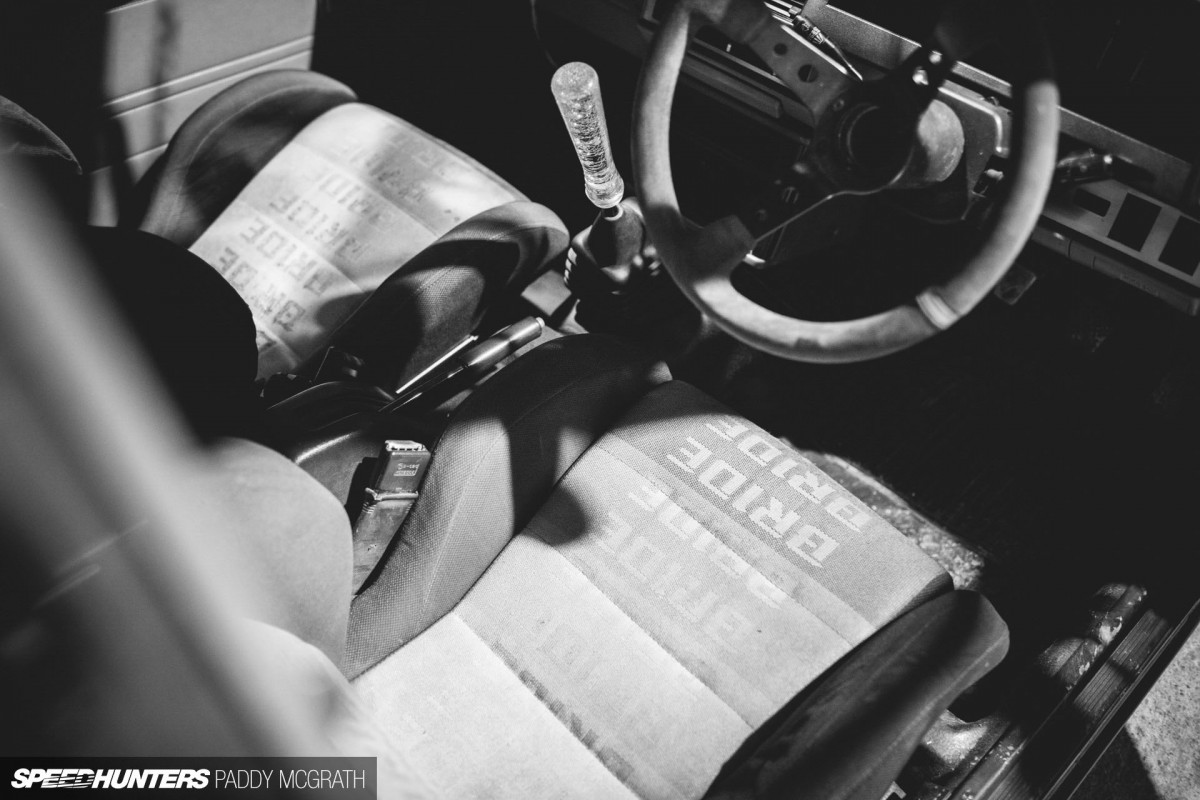 The interior is a standard enough affair with two Brides (remember, pronounced "Bu-ri-ddo") seats and a Sparco wheel.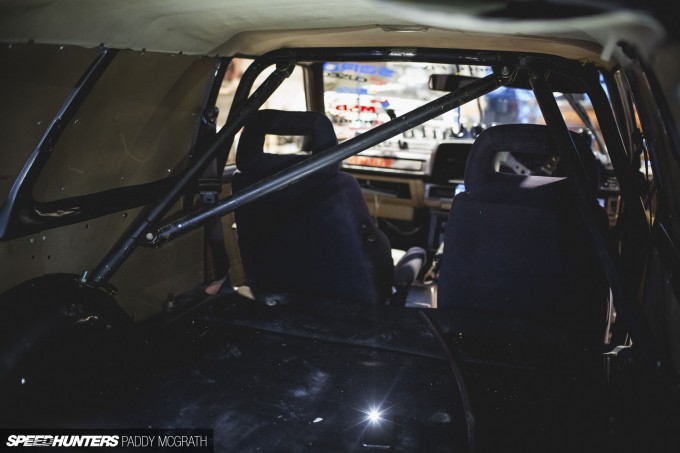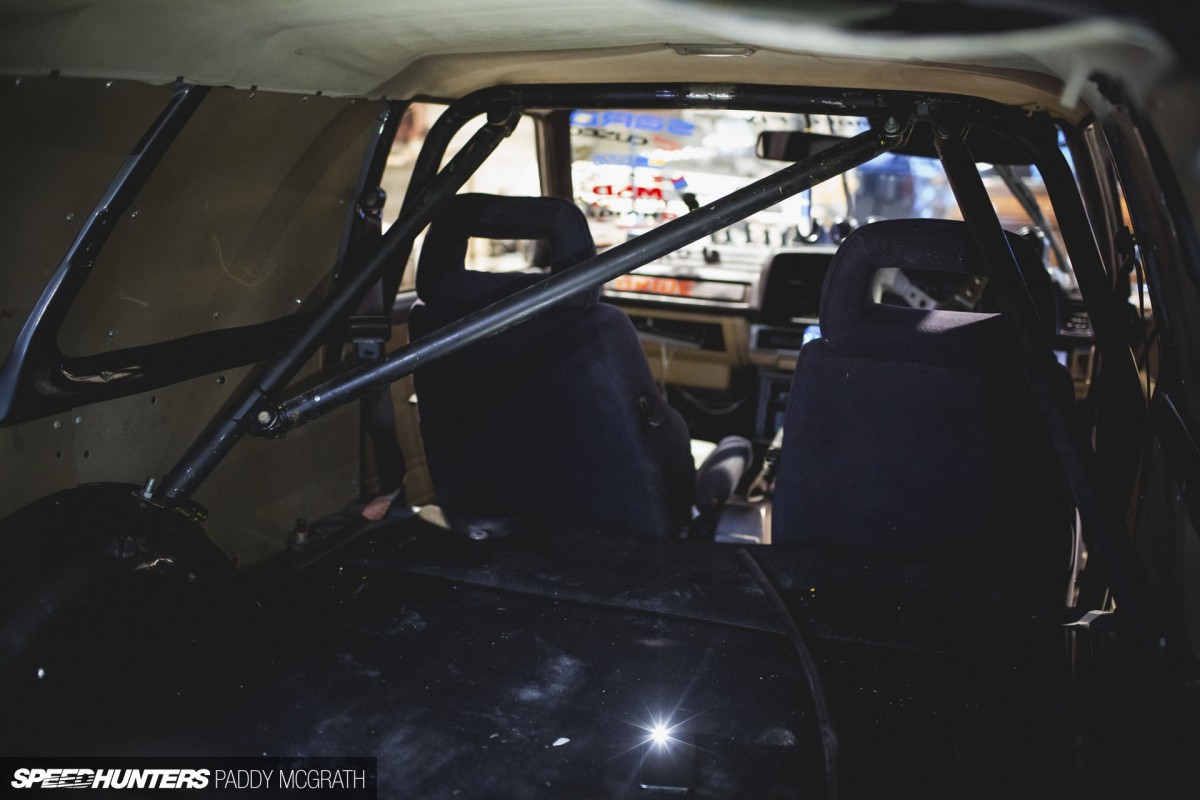 A bolt-in cage is the sole occupant in the back of this van.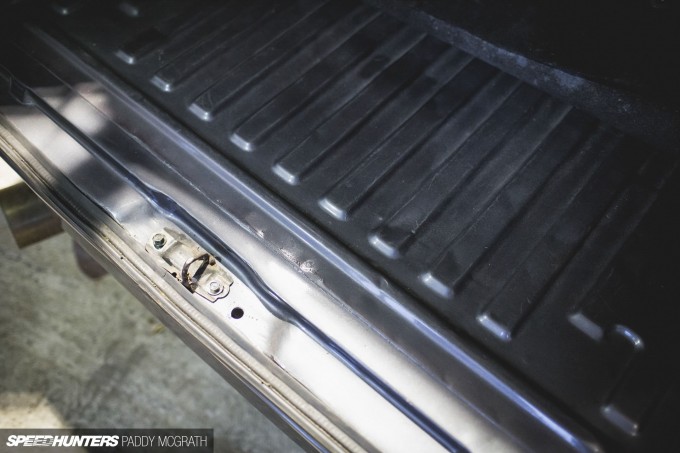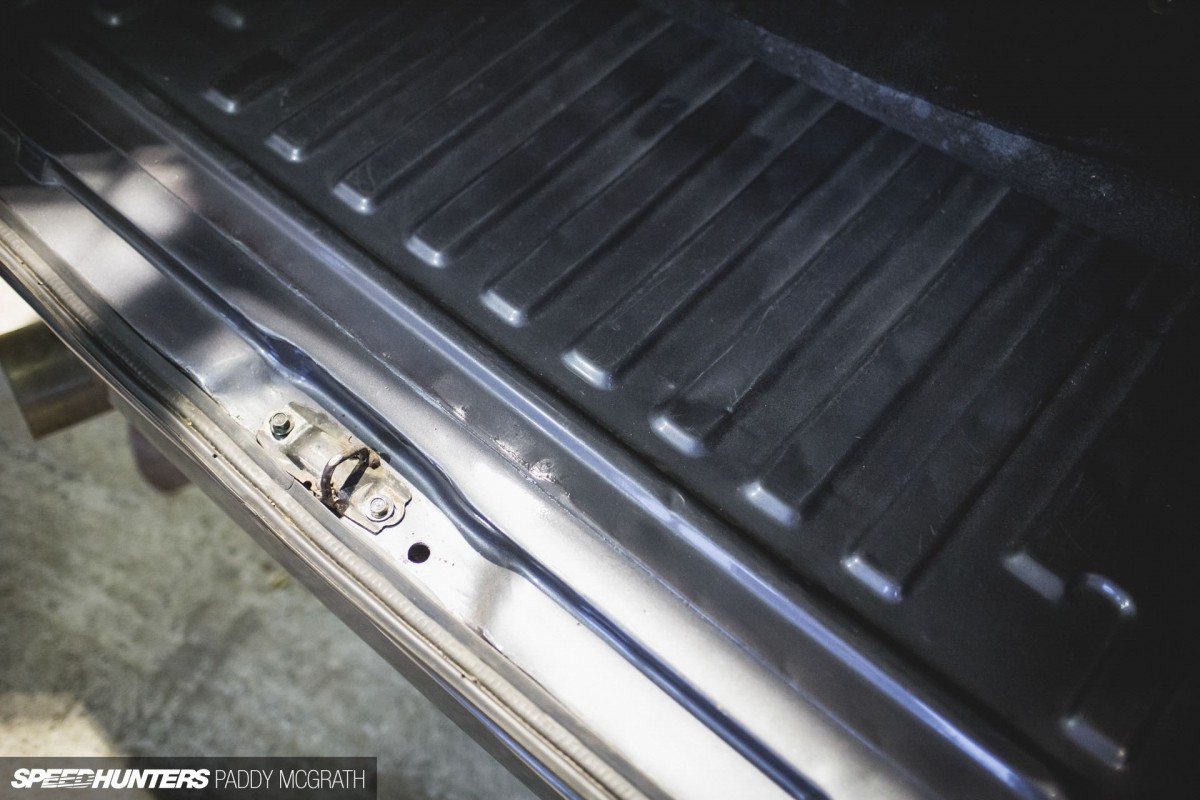 Again, the bodywork is immaculate throughout, with the van's body having been fully restored before being refitted with its new parts.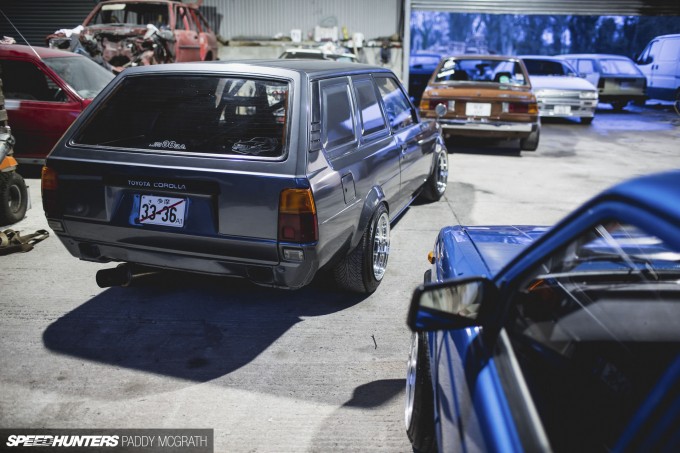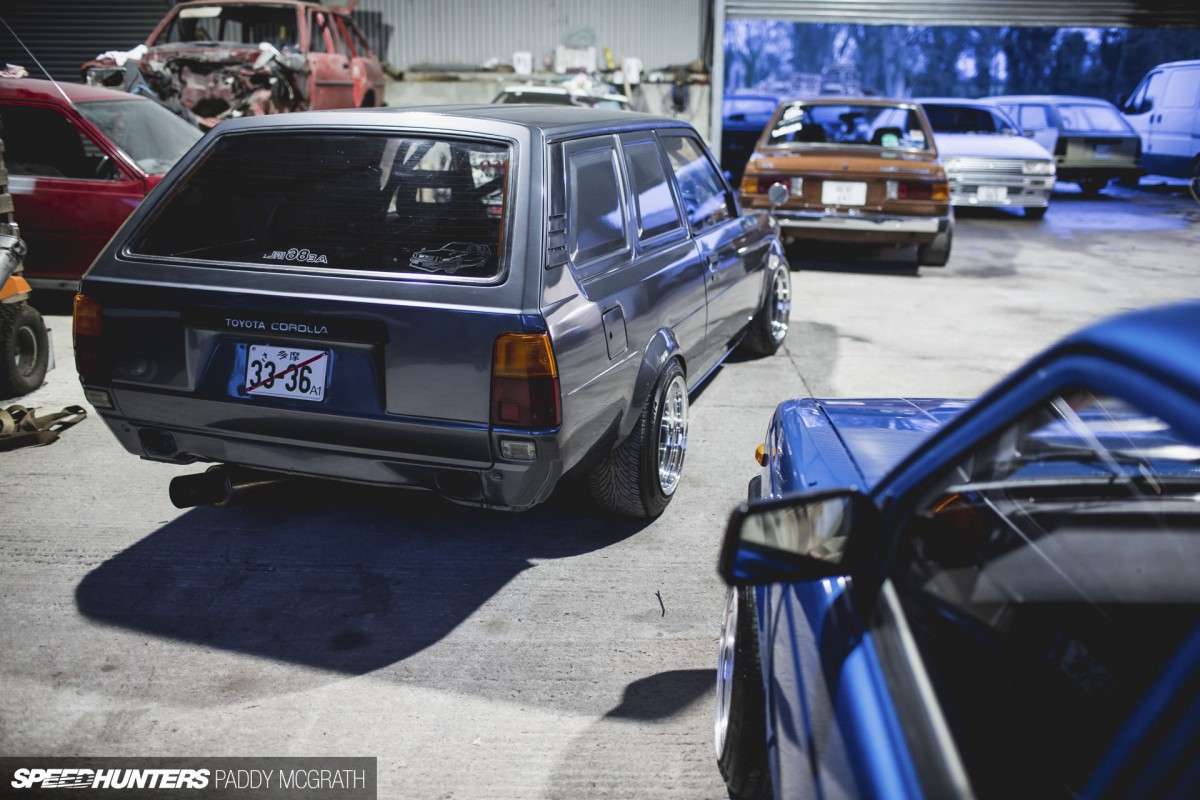 14×8 & 14×9 Volk wheels finish this van off, but the owner tells me that there's still more to come.
Ain't Toyota? Ain't care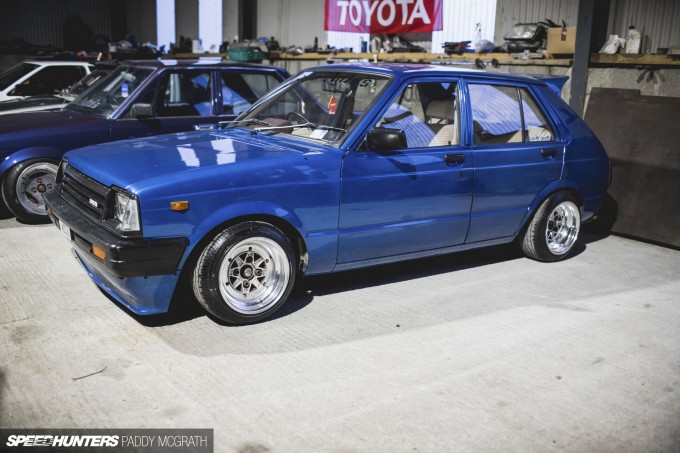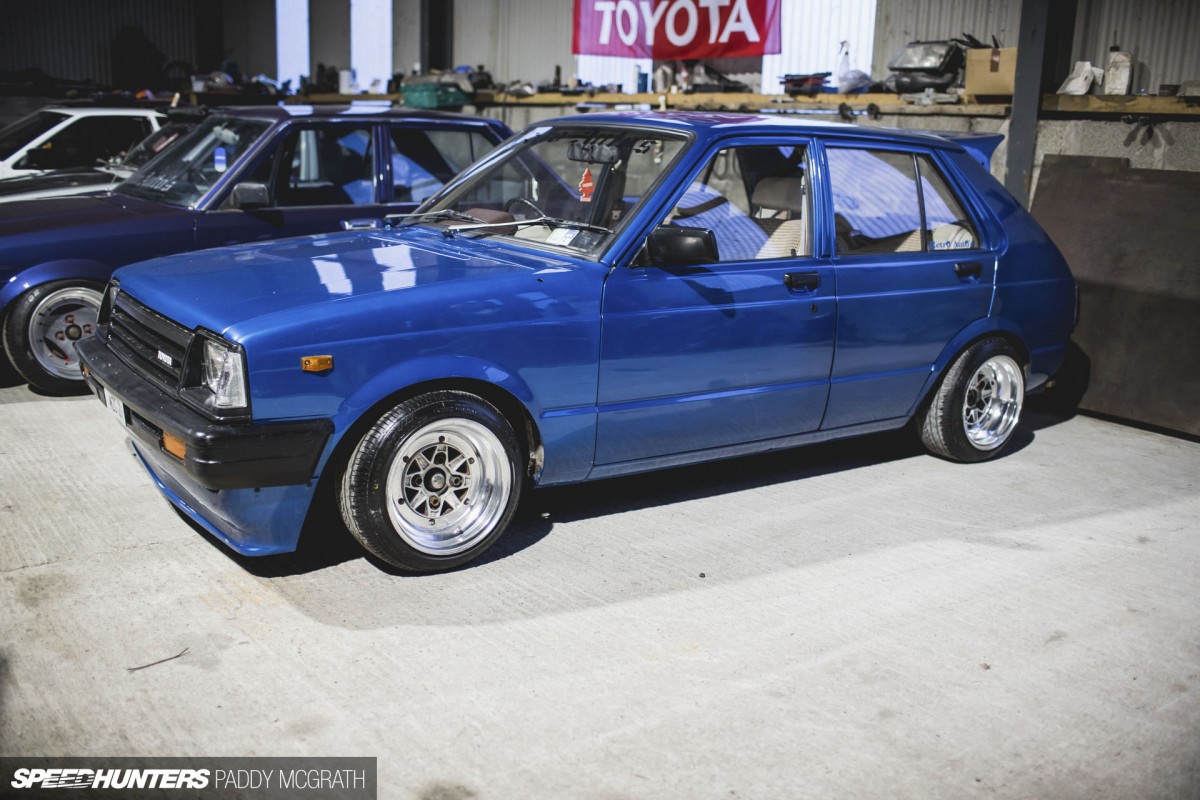 It took me this long to find a non-Corolla hidden at the back wall. I've always had a soft spot for KP Starlets after watching my uncles rally and rallycross them during my youth. This KP61 is a great example too, which belongs to one of the occupant's girlfriend.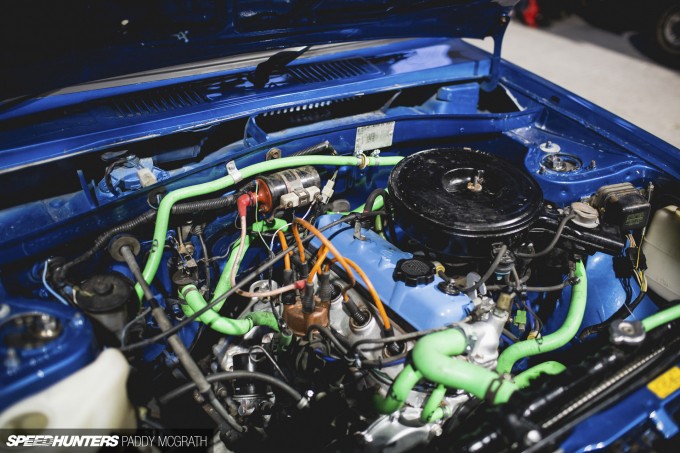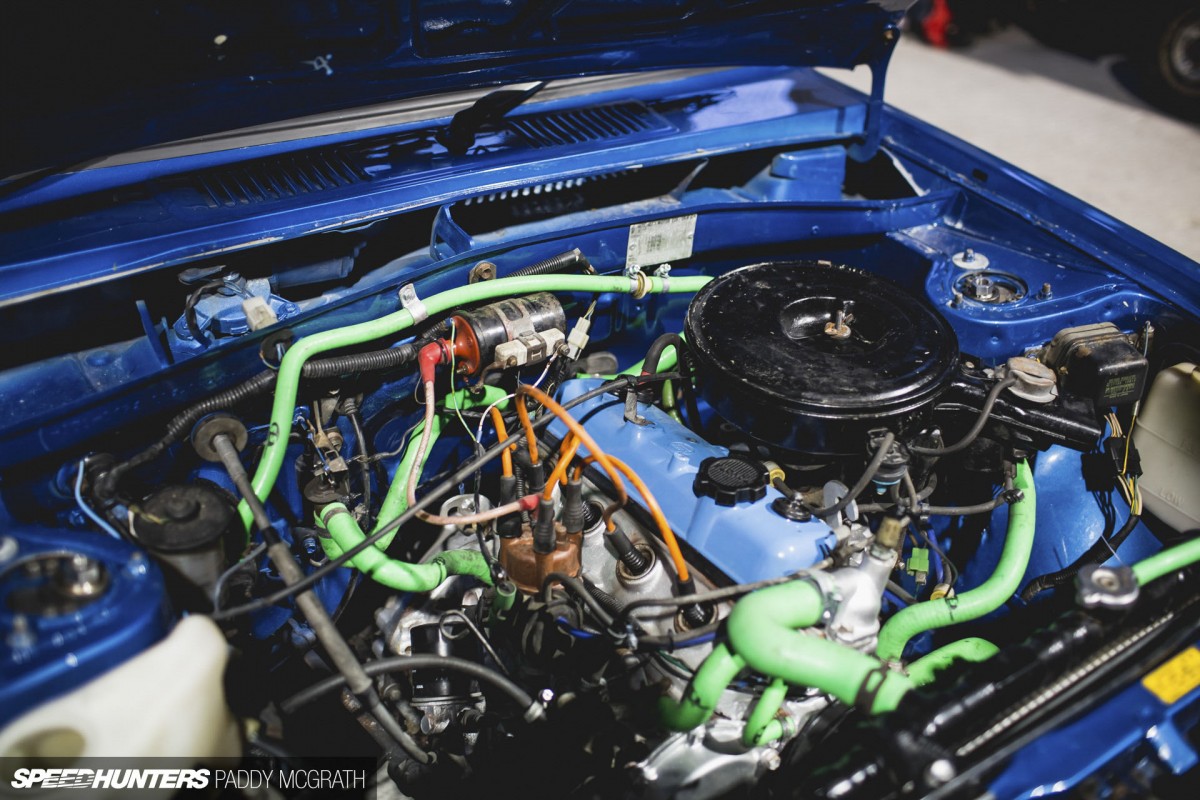 Nothing crazy to be found here but the original 1.3 litre 4K. You don't even need to be told what they've planned to swap into it in future.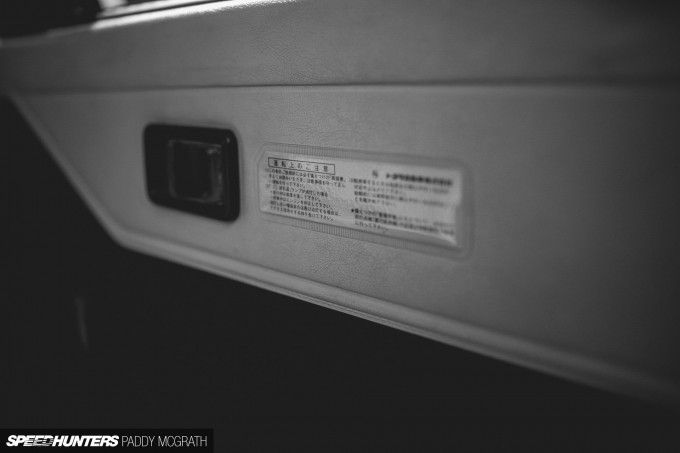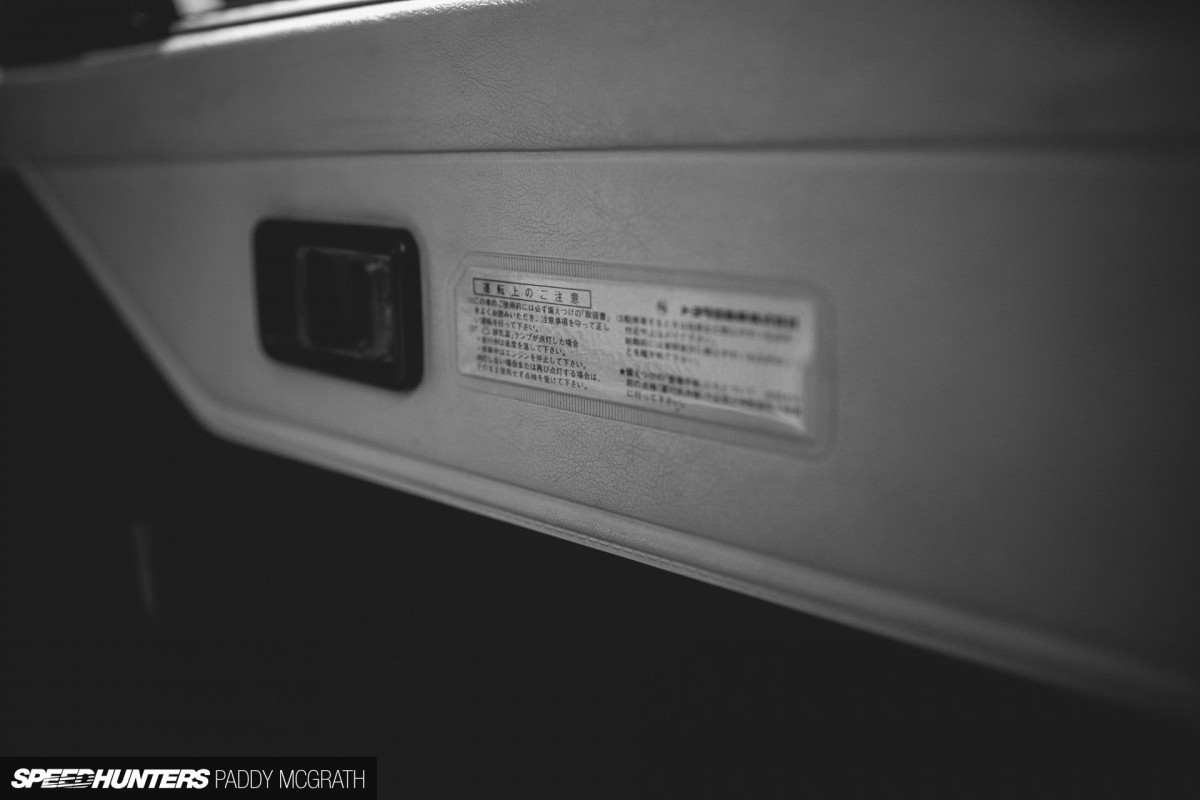 I think the interior is actually pretty sweet and will have JDM enthusiasts drooling the world over.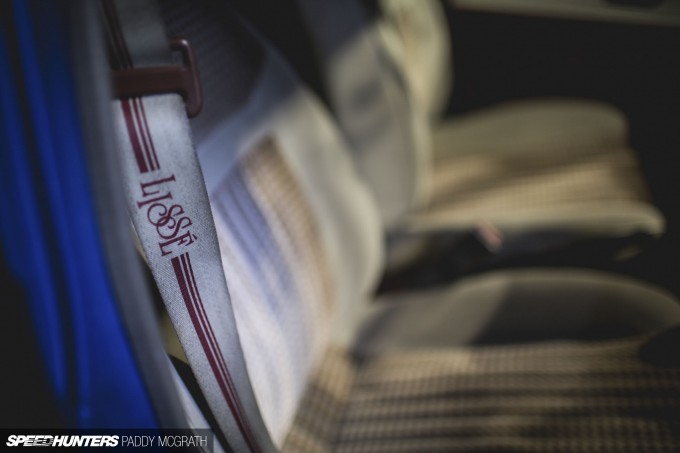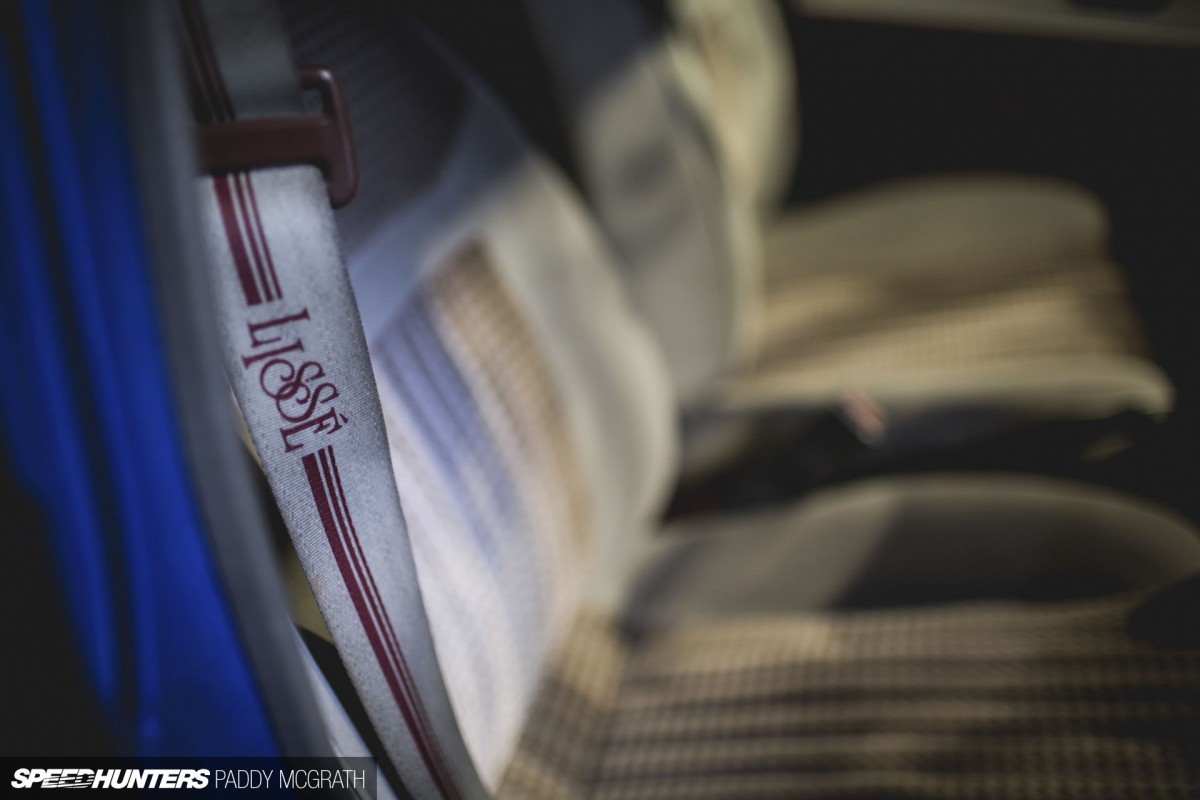 This particular Starlet is home to a full Lissé interior with matching belts.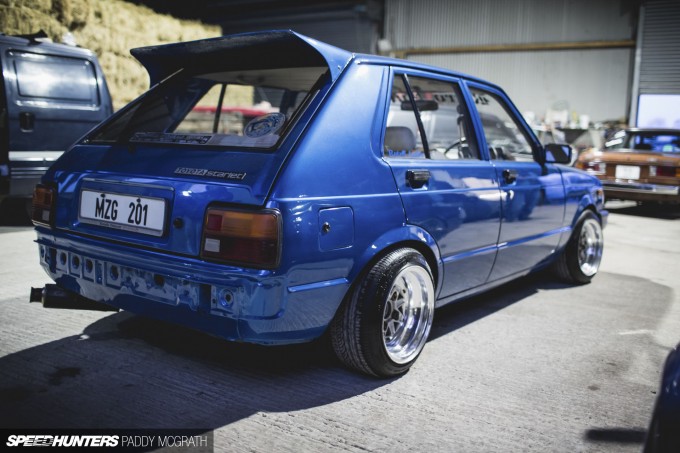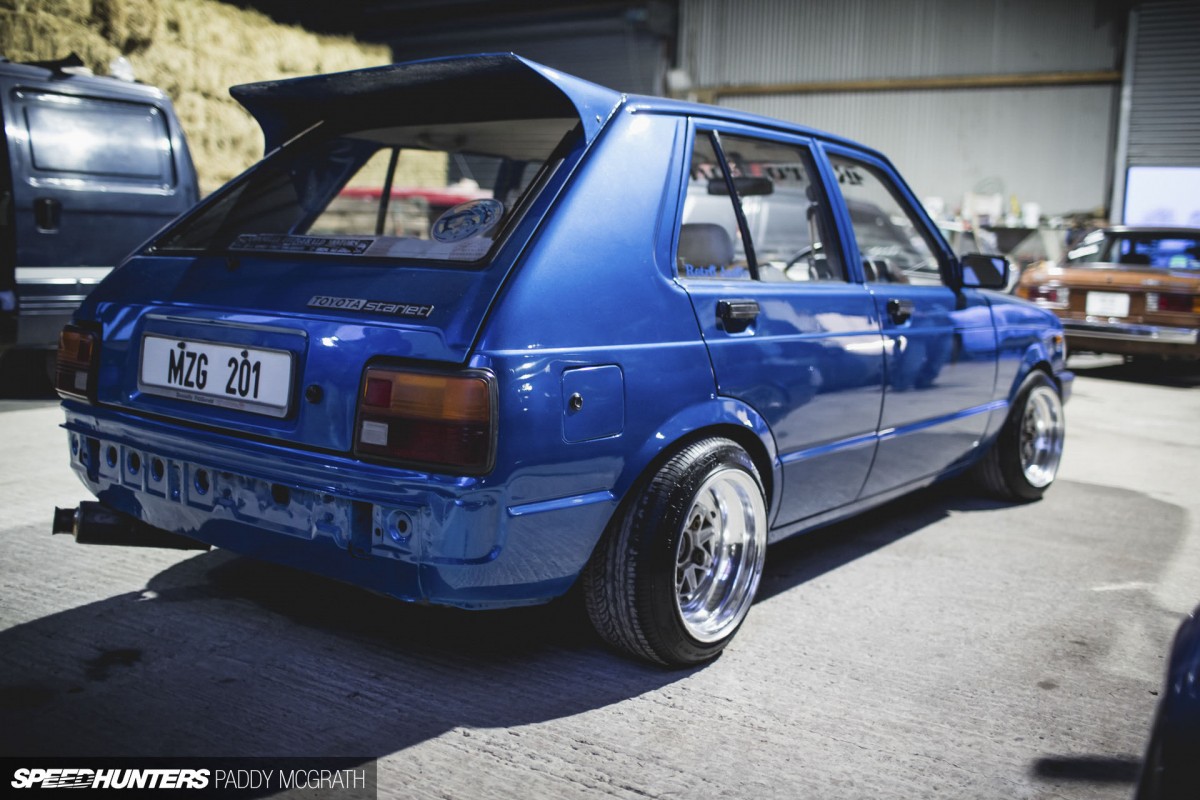 With 13×8 SSR MKIIIs all around, the car has quite the right stance without too much poke or stretch.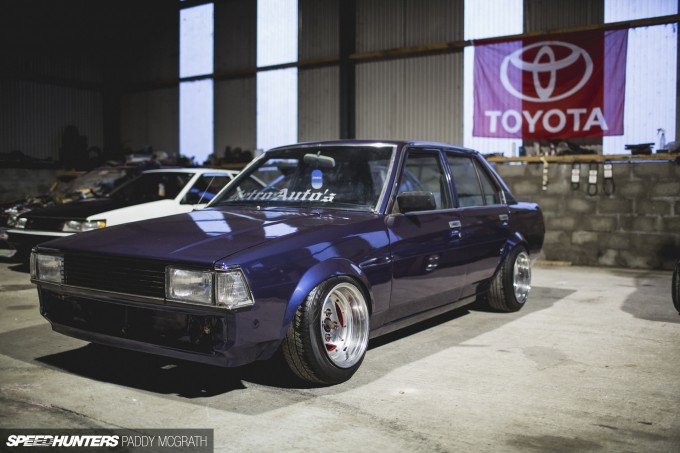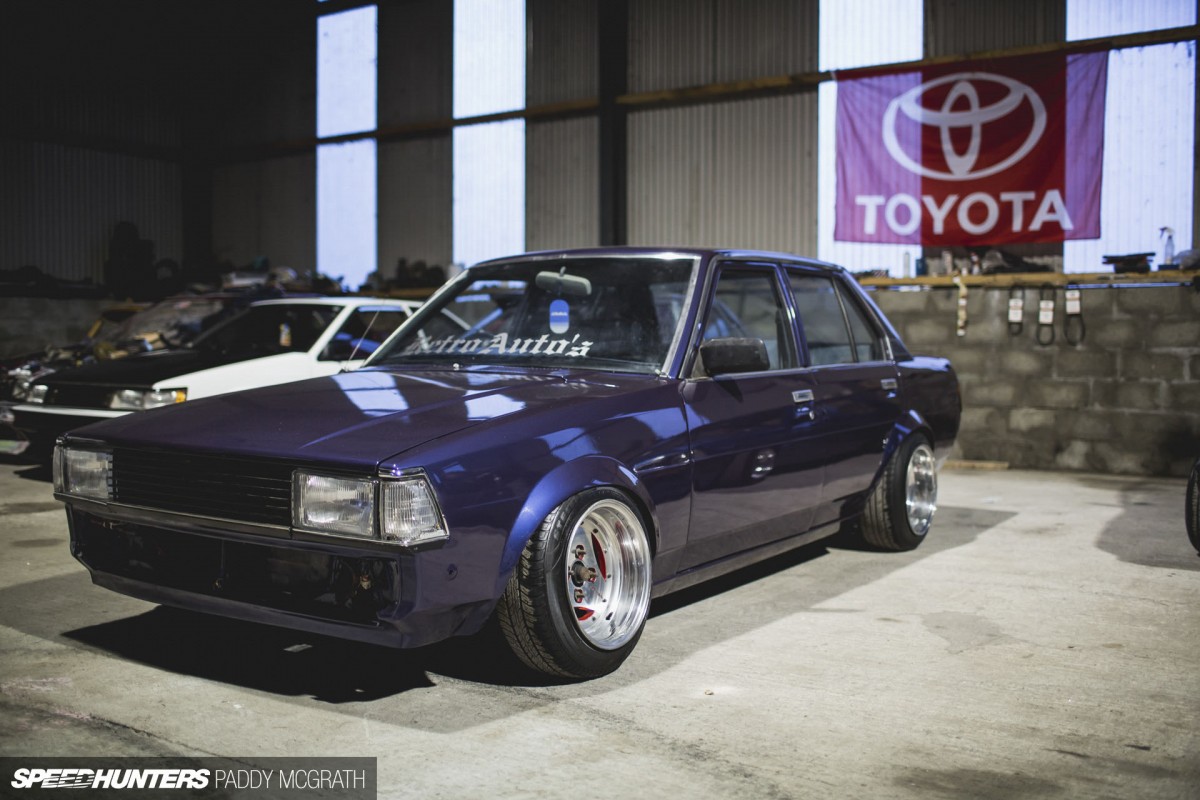 By this stage, my mind was literally overwhelmed at what was tucked away and out of sight. Another KE70, this time on 14×8.5 & 14×9.5 Advan A3A's.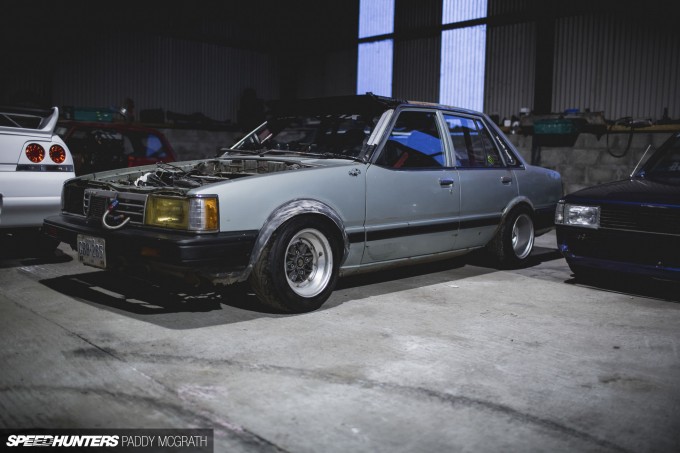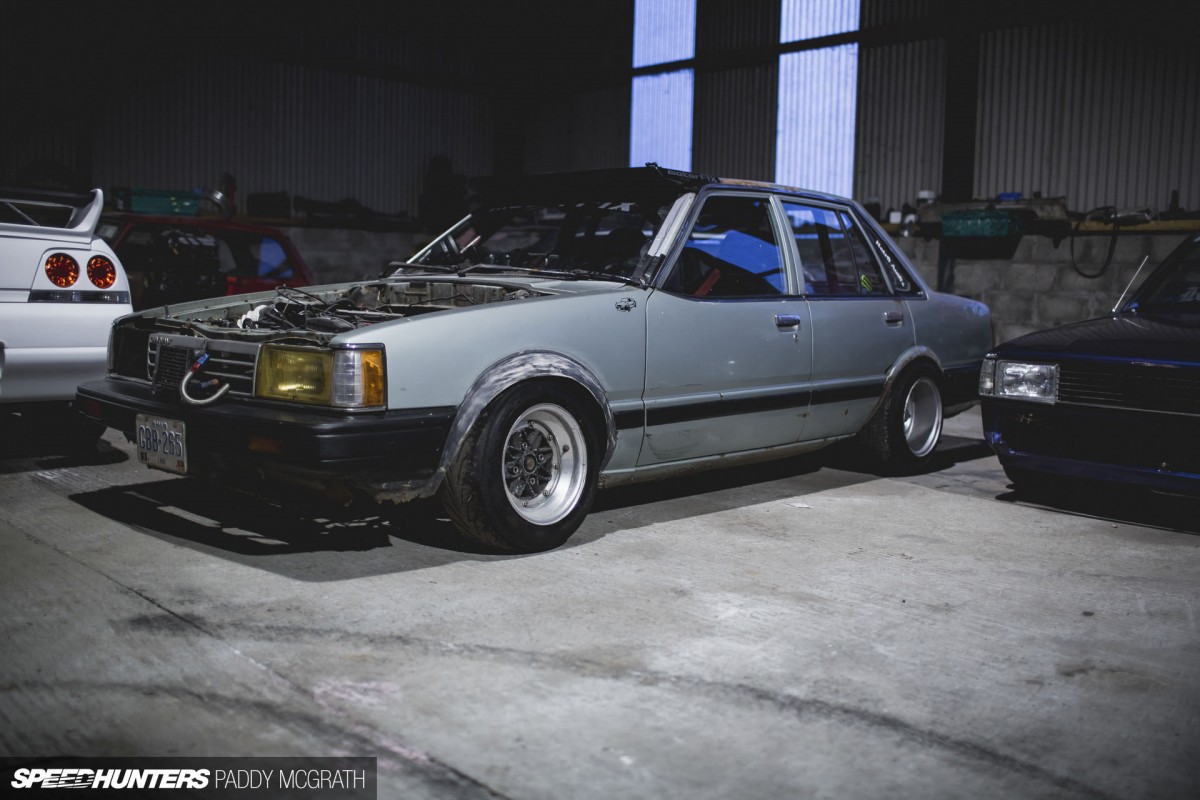 What about this Daihatsu Charmant built as a missile drift car?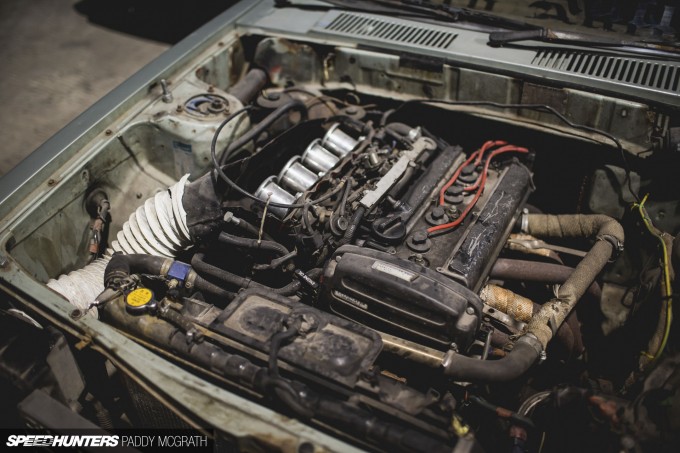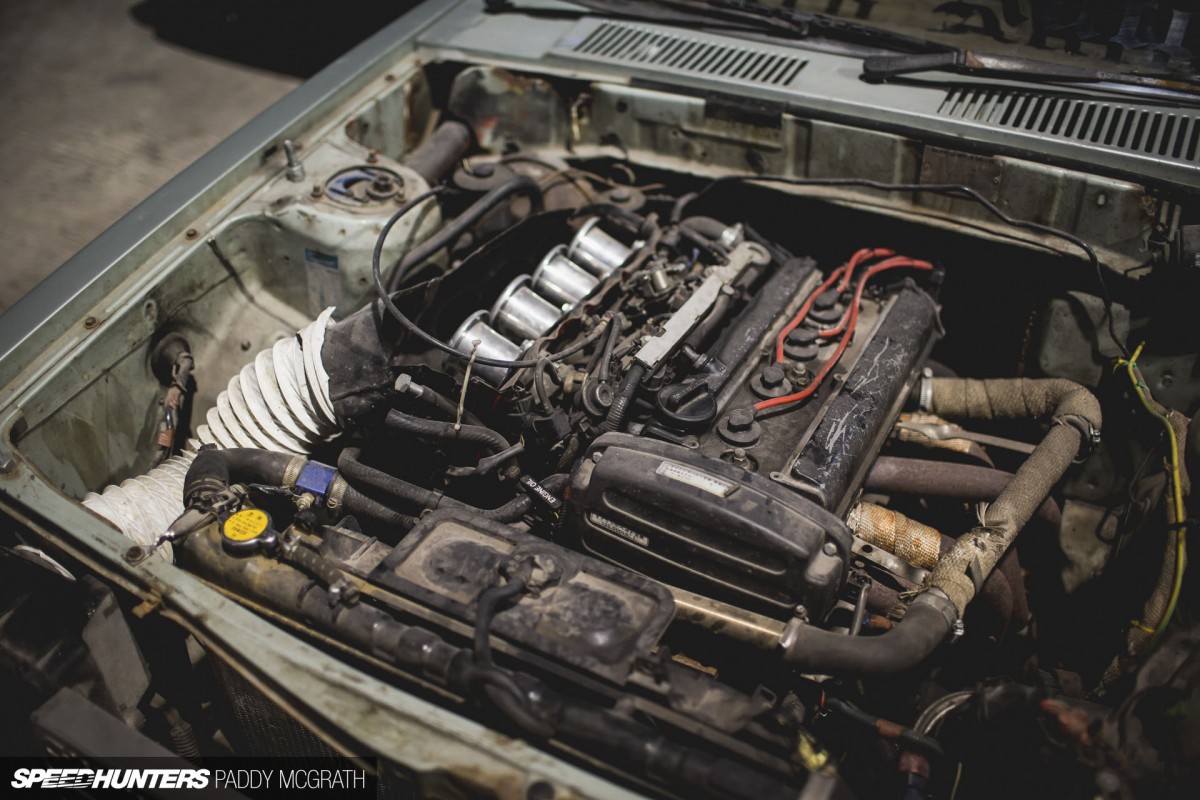 With another AE111 blacktop lying around, it was always going to be the solution to providing this Charmant with more power.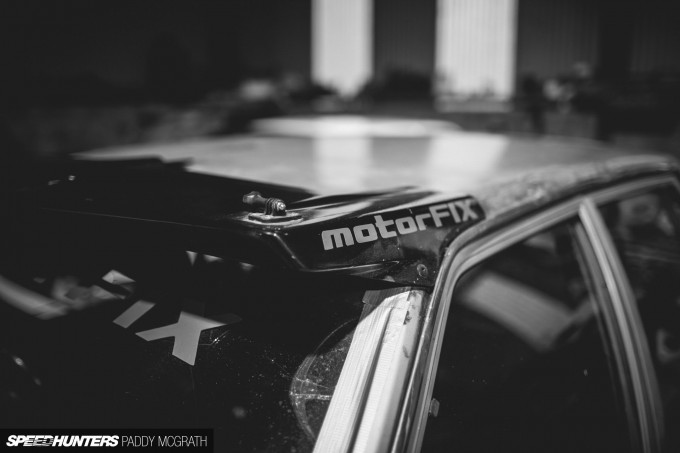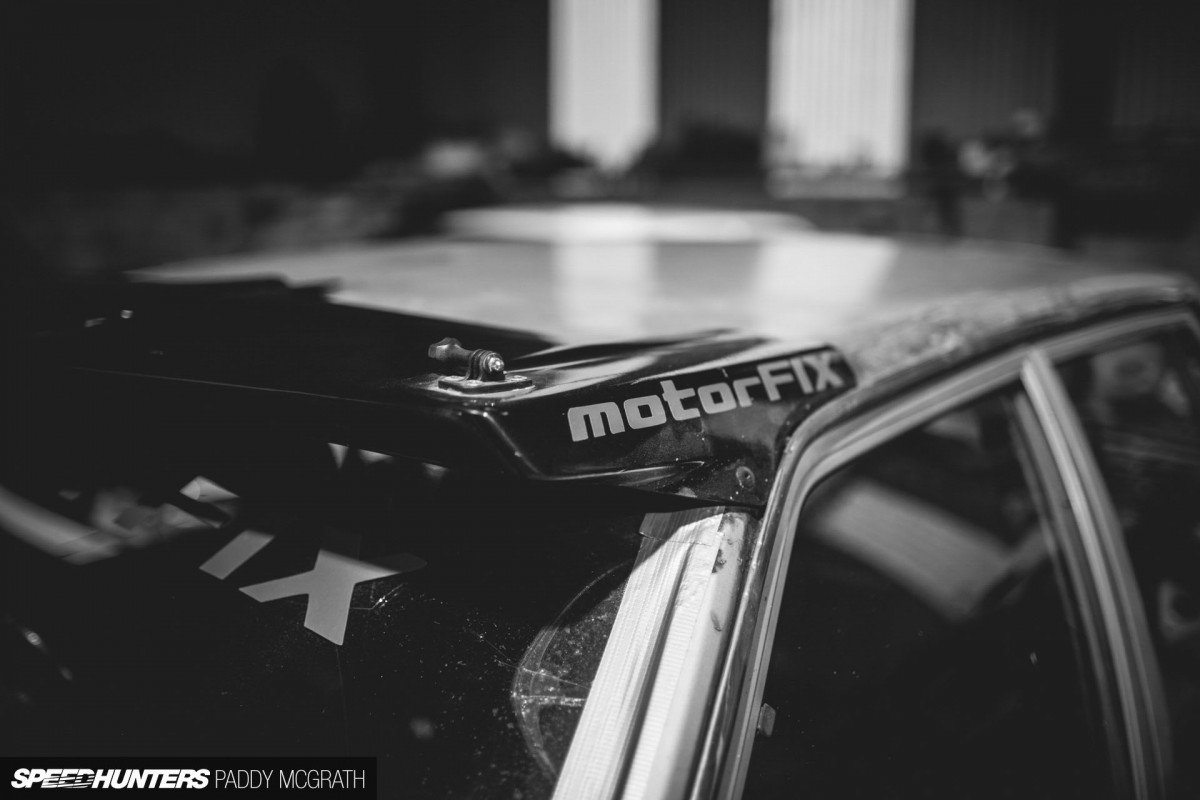 You don't have to guess where some of their inspiration comes from…
Looking around, all I could see were parts from Work, SSR, Volk Racing, TRD, Kakimoto etc. – essentially all reputable brands that we're all familiar with. It's quite interesting that these guys have opted to buy these over cheaper replica parts. Okay, most of the stuff is second-hand and acquired online or through a friend of a friend who happened to be selling them, but it's a refreshing sight. Especially in Ireland which is awash with knock-off brands.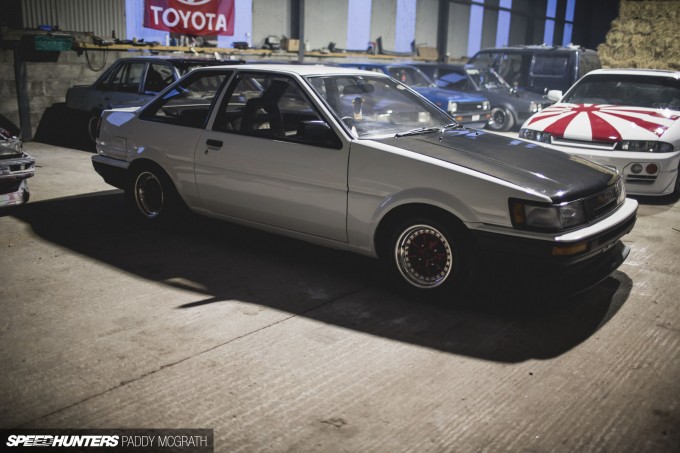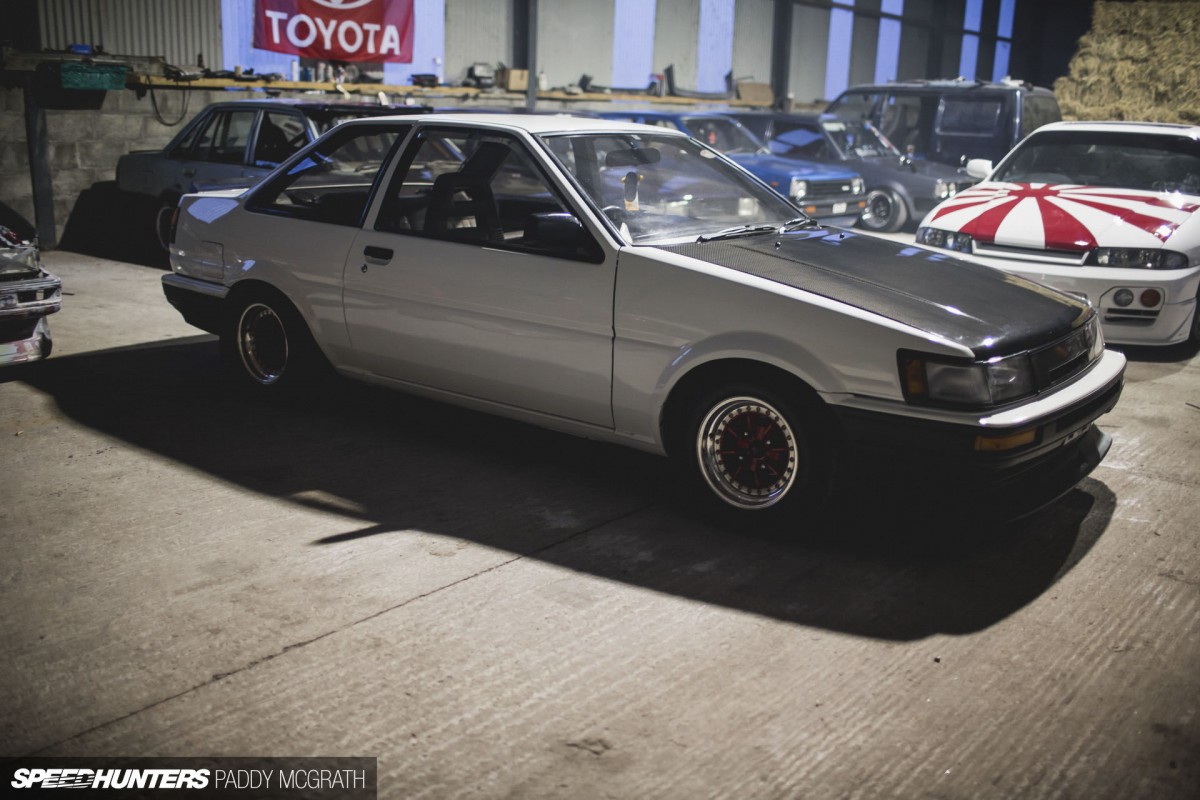 That wasn't the end of it either as there was still time to drool over this booted '86 coupe on 13×7.5 Braid wheels.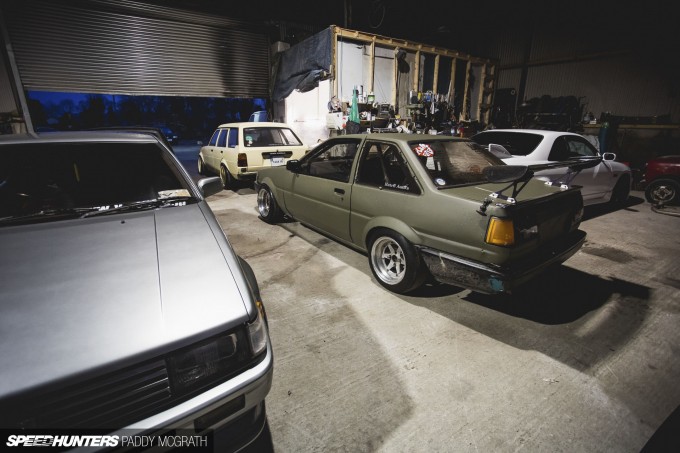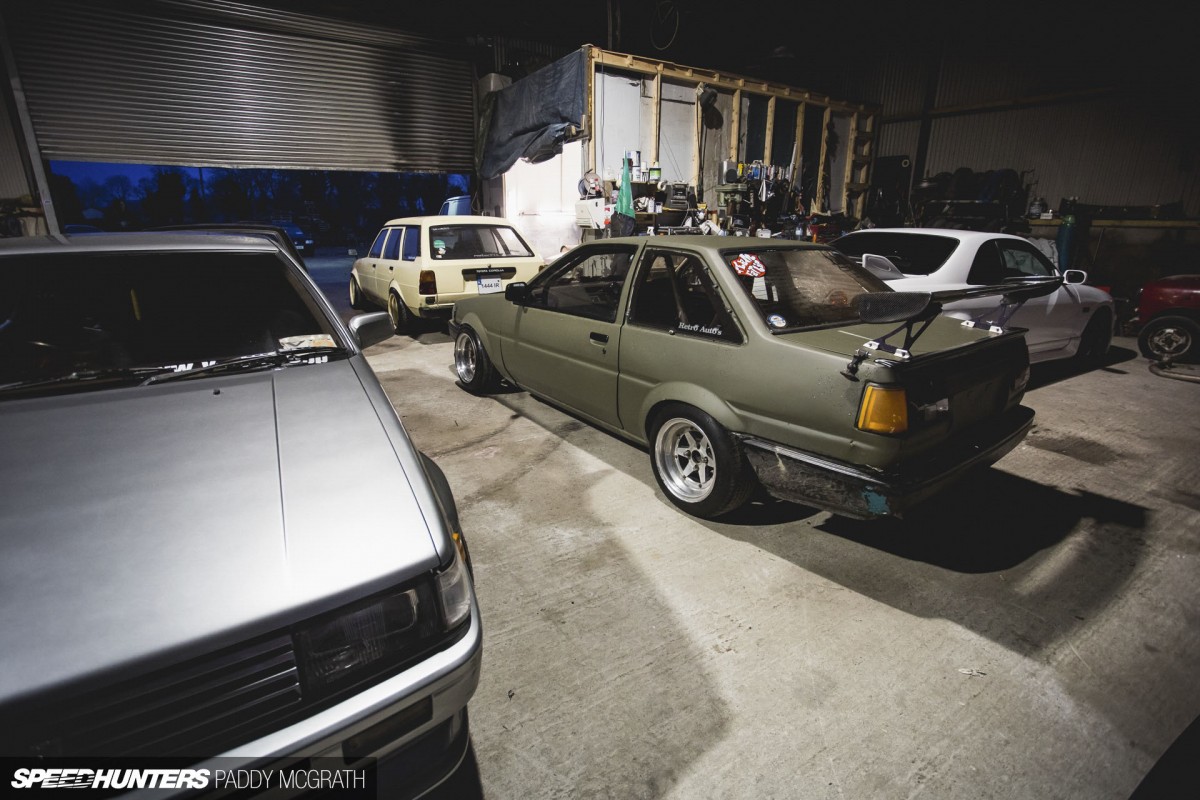 Not to mention this built-for-the-track AE86 with a BEAMS 3SGE on a combination of Work and SSR wheels.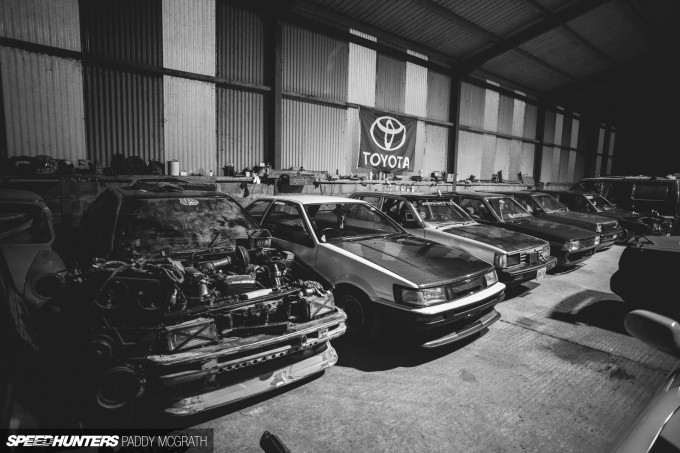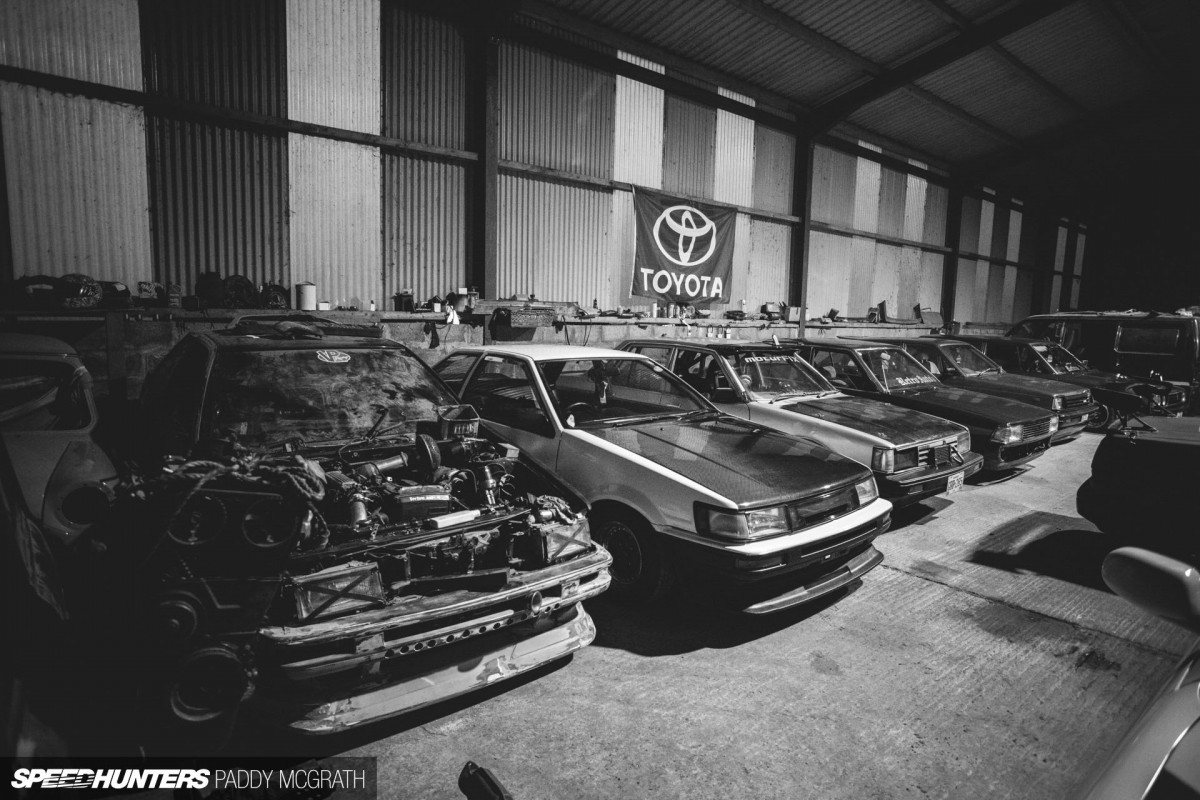 In a world that's become obsessed with big money builds, it's such a breath of fresh air to be reminded about people like this. They've no interest in e-fame or building cars to please others; it's all about their own enjoyment and what they get to take away from it. In a country that has been rocked by recession, these guys are an inspiration to others with regards to what can be done with nothing but dedication and passion. It's from these sort of situations that the greatest things emerge.
What this group have created is not just a convenience. Sure, having a dedicated and secure indoor area to come and go as you please is great. But they have created a second home for themselves with friends. Rather than going down the pub and drinking themselves into a stupor, they have somewhere to channel their passion and focus in a constructive manner. If something goes wrong, there's never someone too far away who can help out. I can't help but think how much better off we all would be if this sort of thing was more commonplace.
So, next time you pick up a spanner, remember to ask yourself why you do what you do.