The Great British Brake-Off
Alcon is a brand that you're probably familiar with.
Best known for its motorsport braking systems, this British company has been bringing vehicles to a rapid halt since 1983. The team at Alcon were kind enough to extend Speedhunters an invitation to visit its Tamworth headquarters for a behind-the-scenes tour of its day-to-day activities. It'd be rude to turn down that sort of hospitality, and as it turns out there's a lot more to what Alcon does than just brakes, and a lot more to manufacturing brakes than you would think.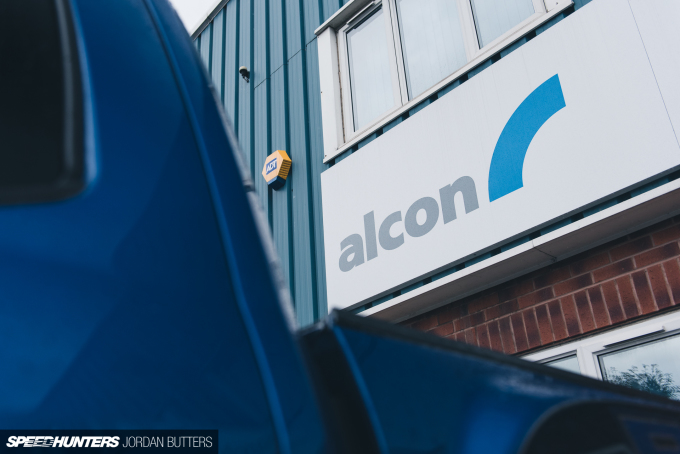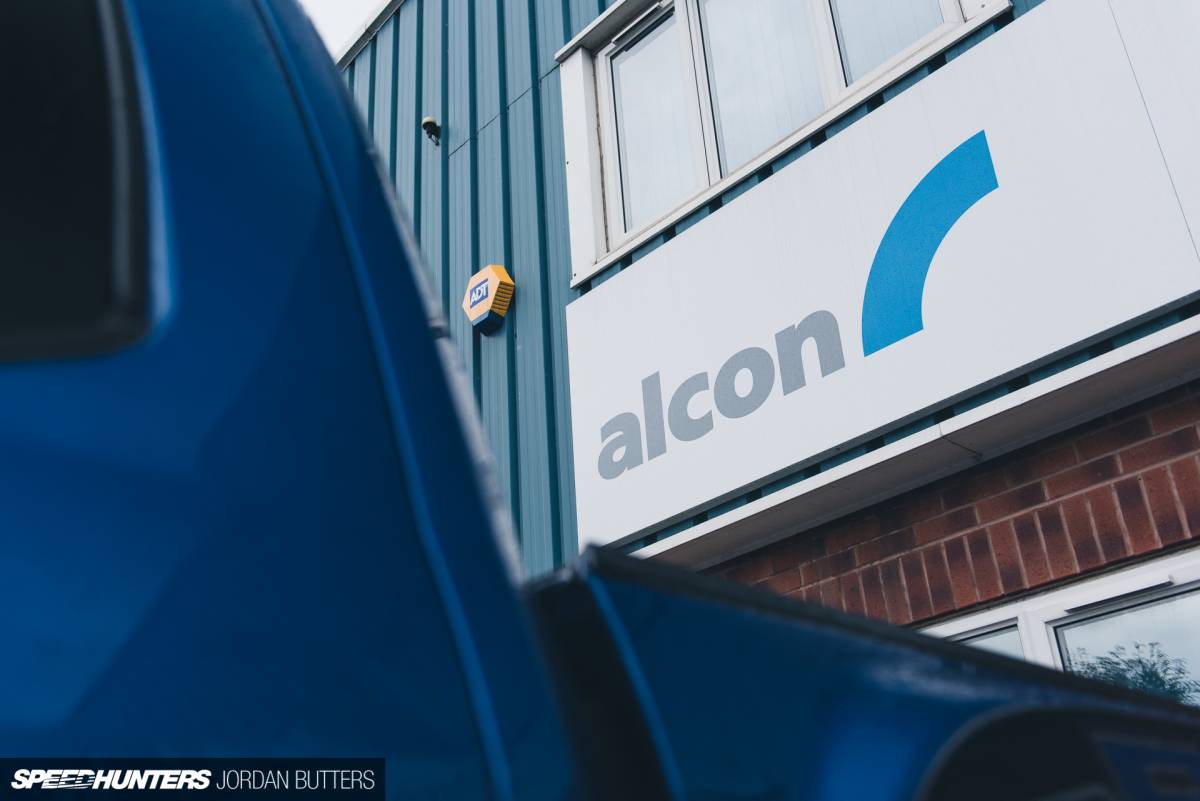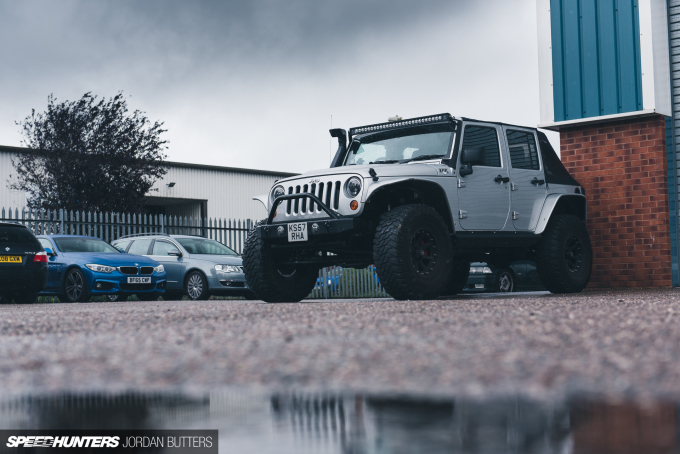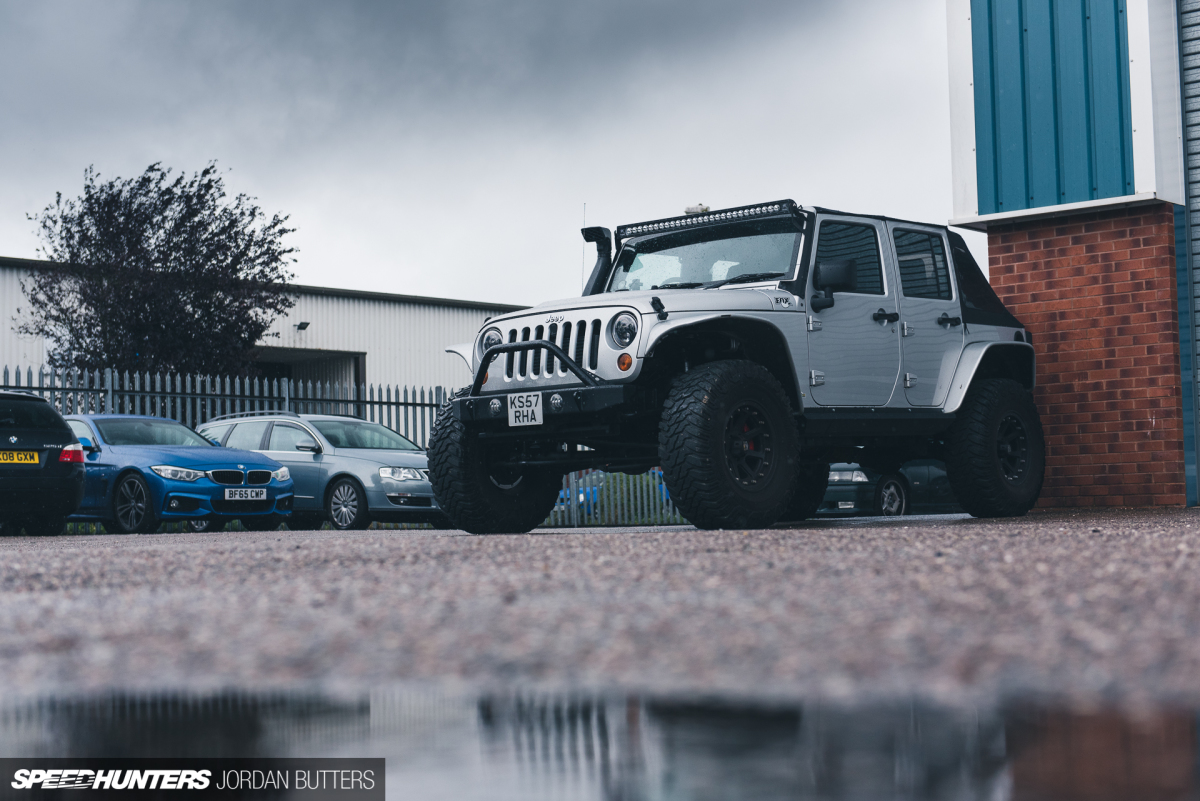 It's fair to say that Alcon is considered one of the 'big three' specialist and performance brake system manufacturers in the world. What separates them from the competition, however, is that it's the only one that's still privately owned. That makes Alcon pretty unique in how the company works, the type of products that it's able to produce, the way it can produce these products, and the speed at which it can bring them to market.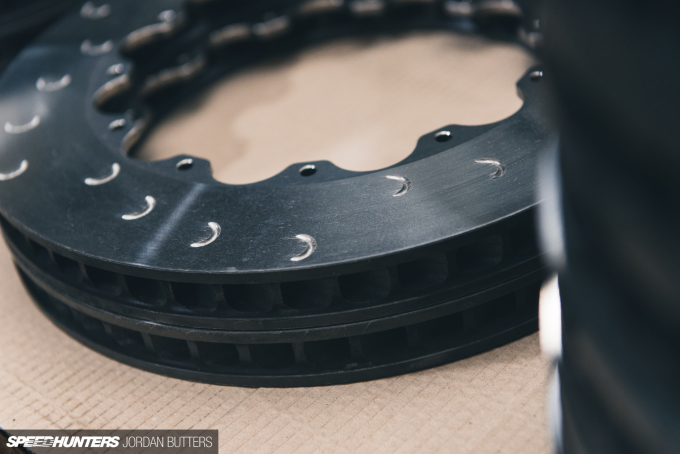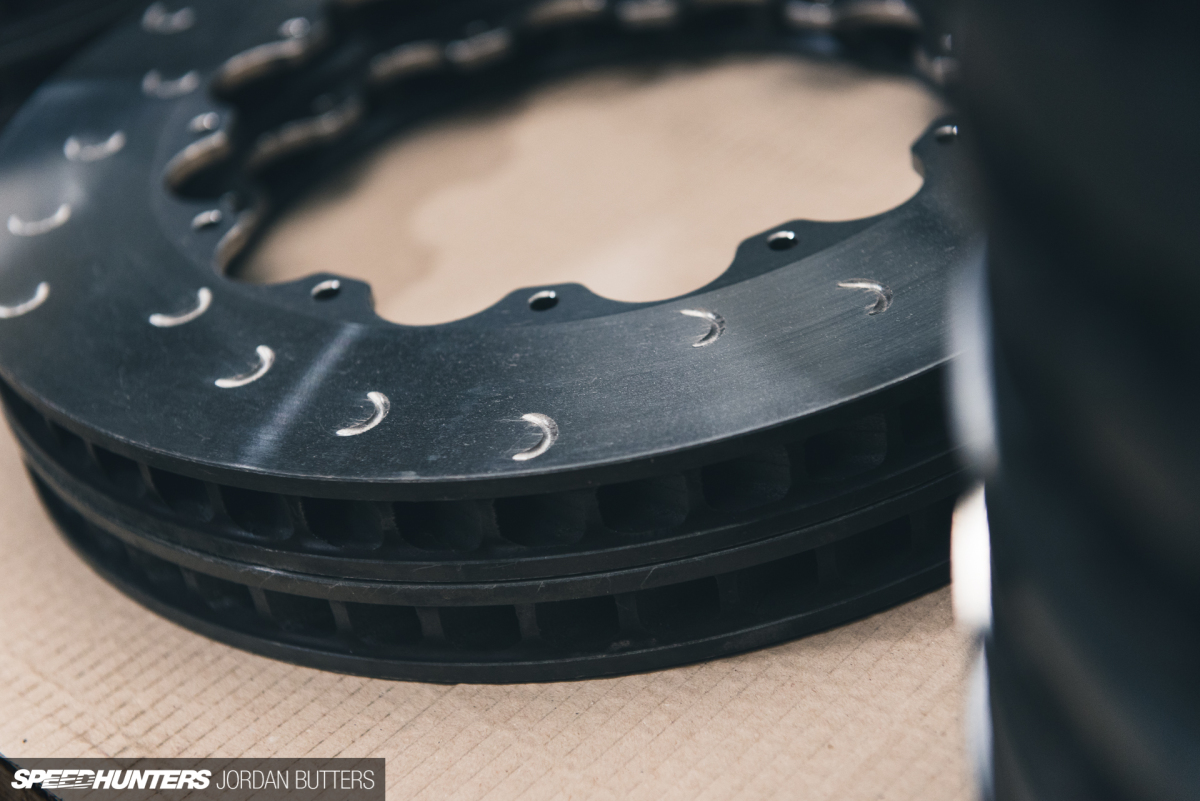 The company, initially called Alexander Controls, was established by engineer and racing driver John Moore. Like all fledgling brands, Moore needed to get his products into the hands of the people that would use them, so he ambitiously approached Audi Sport about making the brake system for its Group B rally car, the Sport Quattro S1. Alcon may not have been a household name at the time, but Audi believed in Moore's ability. In case you're not up to speed on Group B, the S1 did quite well, and Moore had the springboard to expand Alcon from humble beginnings into the brand it is today.
Today, Alcon's headquarters in Tamworth, England, is home to its full research and production operation. Being British and all, it's nice to see a UK company making such big moves around the world. It's probably not one of the more 'shouty' braking manufacturers, so you might not know its credentials out in the real world, but Alcon brakes can be found on Aston Martin's Racing projects, all Formula E cars from the inaugural season until now, the record-breaking Pikes Peak Volkswagen I.D R, countless WRC, World Rallycross, Formula Renault, Formula 3 and FIA GTE, GT and GT4 teams (Aston Martin Racing, Bentley, McLaren and Jaguar), as well as in NASCAR and touring car competition around the world.
That's alongside more than a handful of OEM applications, such as Audi, Peugeot, Bentley, Brabus, Jaguar Land Rover, Ariel, and Noble, to name but a few.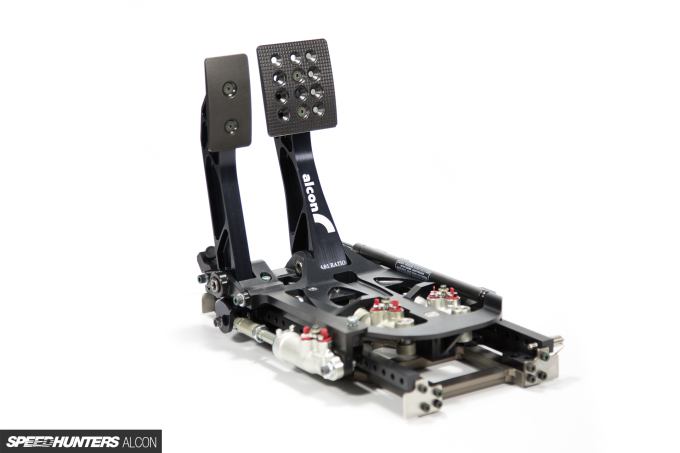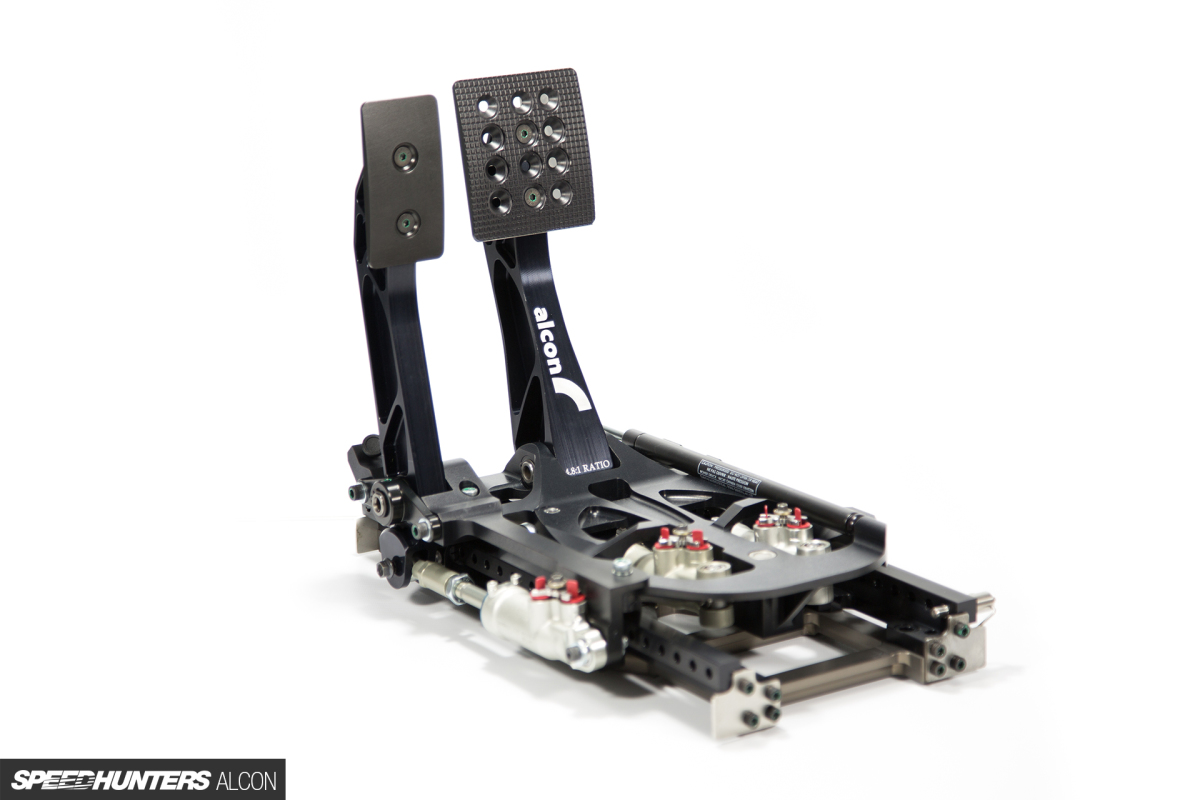 There's far more than brakes here, too: Alcon also produces clutch systems for motorsport and OEM, as well as a rather sexy motorsport pedal box.
Braking The Mould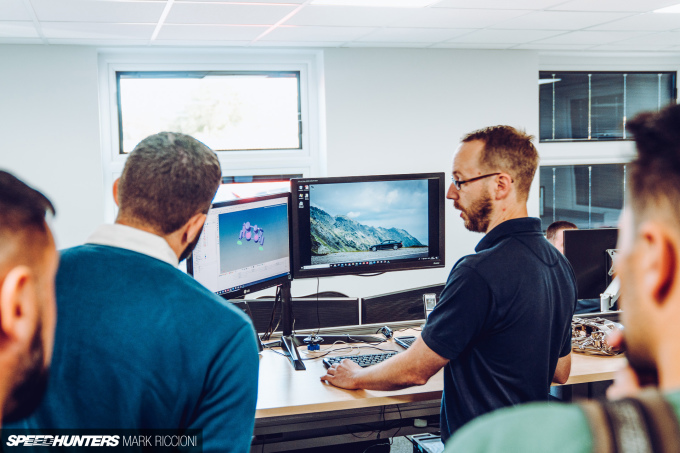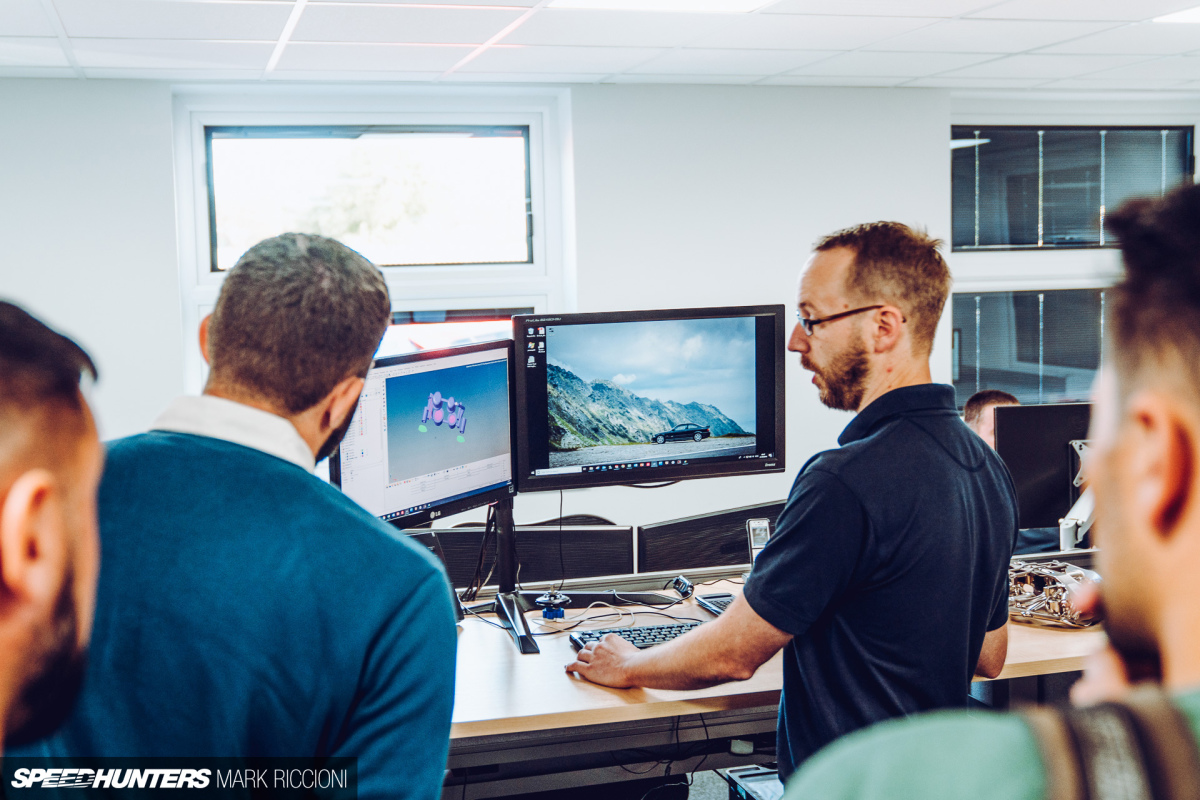 Through reception, past a host of meeting rooms (each named after famous circuits around the world and boasting some pretty cool wallpapers) and into the main offices, and our first port of call is Alcon's 'Rapid Response' team. One of the big advantages of not having to answer to shareholders and having the ability to manufacture in-house is that Alcon is able to make snap decisions on projects and products in order to find quick solutions for those that need them. The bulk of the work done here is for high-end motorsport applications that require a fast and precise turnaround from design through to final product – the likes of F1, WRC and GT-class racing.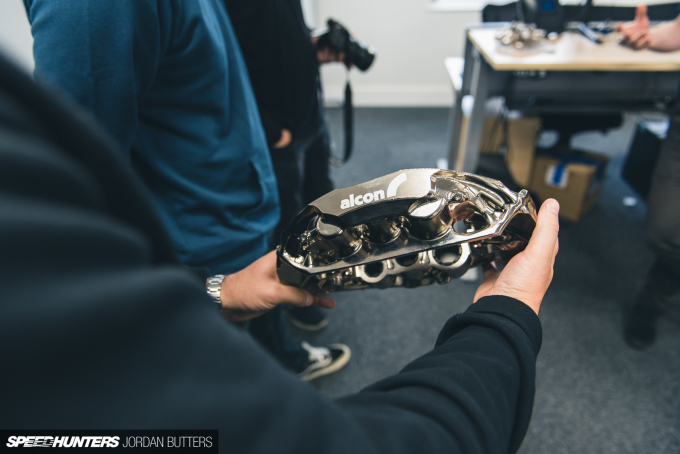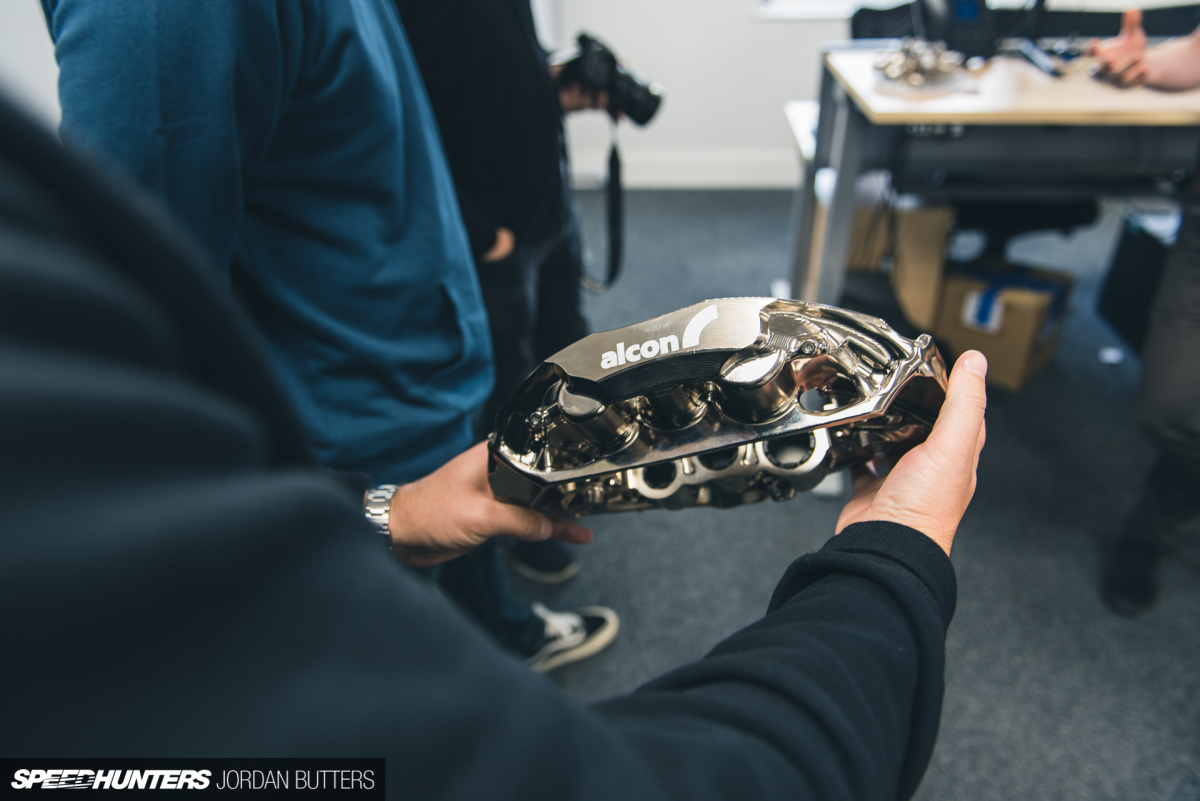 This is one of Alcon's optimised billet motorsport calipers, destined for an Aston Martin Vantage GT4. In contrast to the more solid and blocky-looking caliper you and I would generally see on our road cars, the somewhat organic design of this component is the result of a computer-aided engineering process solely lead by optimising the component for strength, whilst making it as light as possible.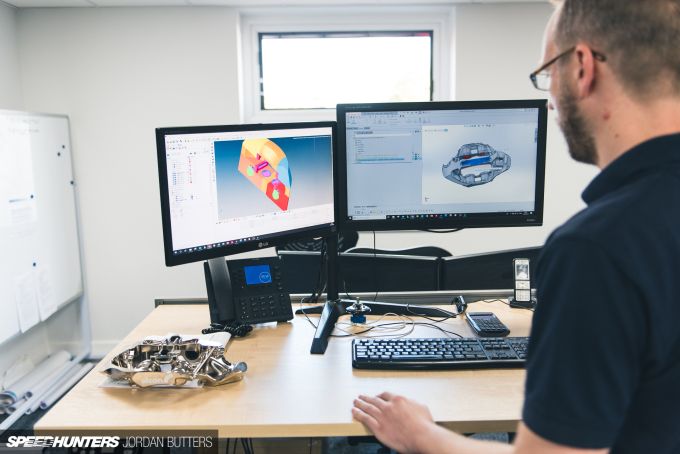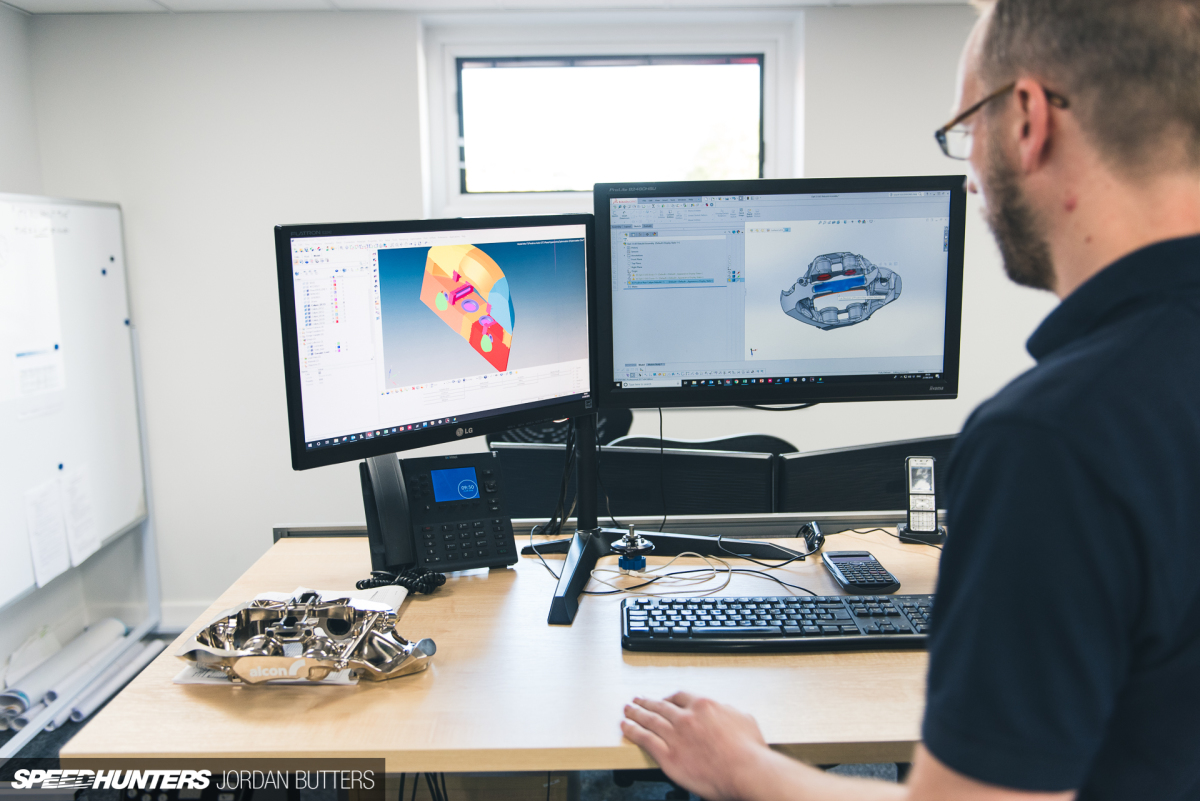 Software such as SolidWorks, OptiStruct and HyperWorks are used to simulate stresses on the structure of the caliper, before trimming down unneeded bulk, or reinforcing areas of high stress. After several passes of testing and refining, the result is a one-piece optimised caliper that is as light and as strong as it possibly can be.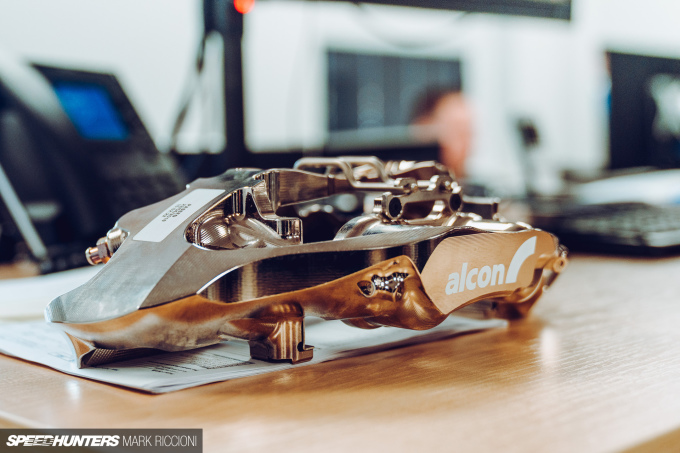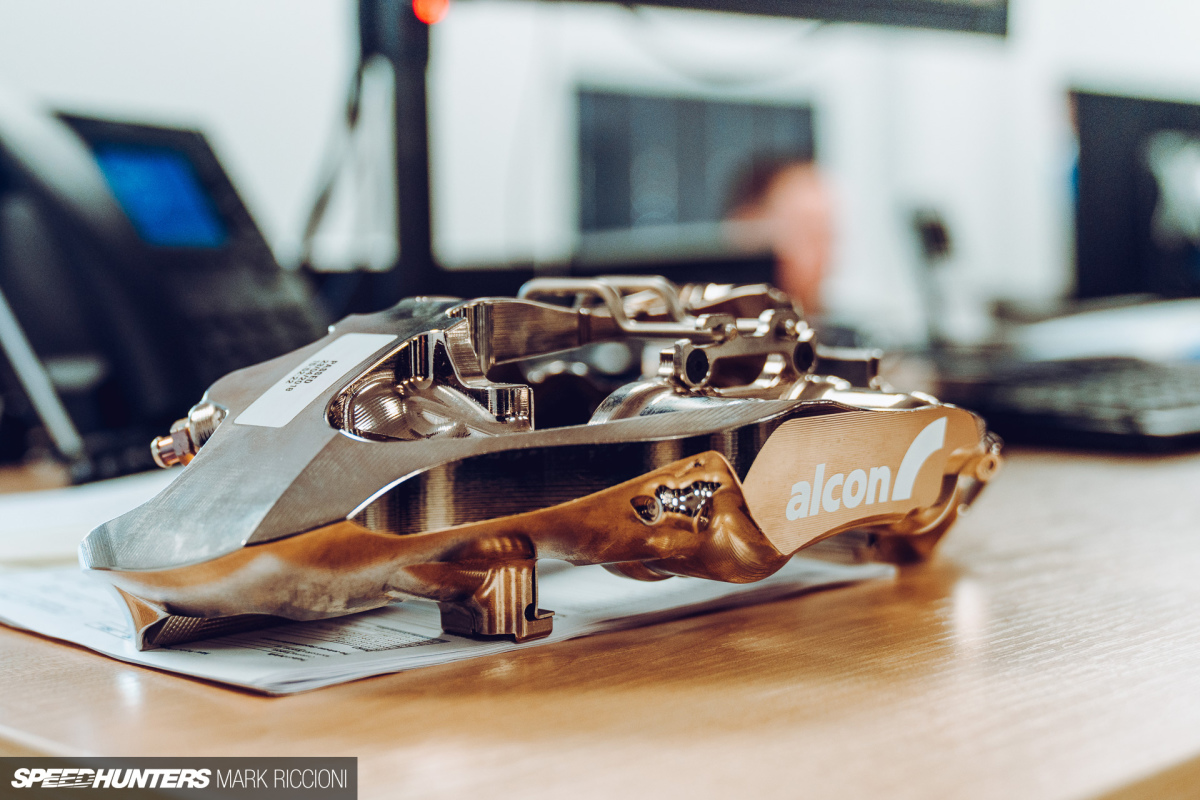 It ends up being something really quite sexy, too. Who can resist a lovely bit of machined billet?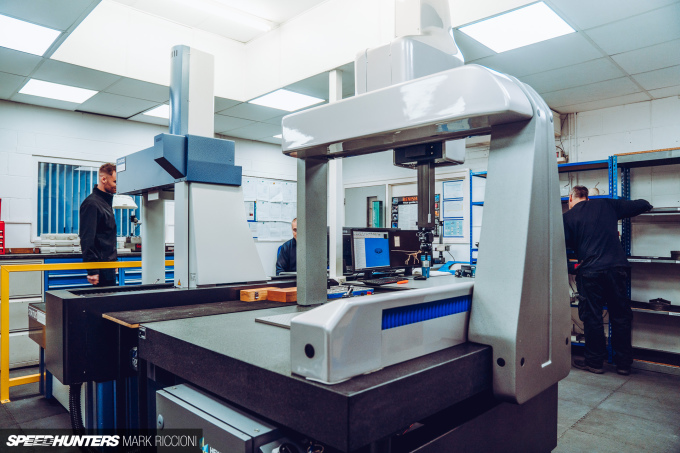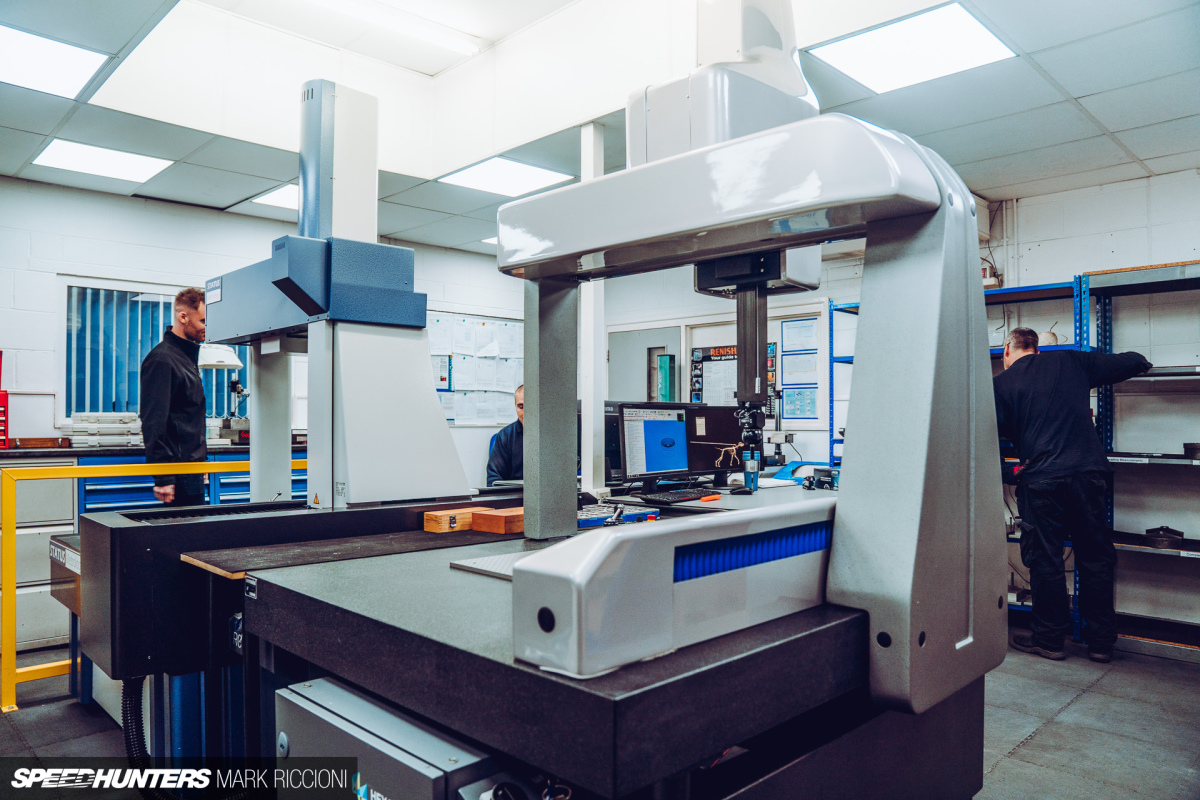 Precision is a huge part of manufacturing something to such fine tolerances, and the next area we moved into, Alcon's Quality Control division, reminds me of an operating theatre or science lab. It was pretty chilly in here, but I was quickly distracted by a very fancy coordinate measuring machine working its way around one of Alcon's one-piece billet motorsport calipers.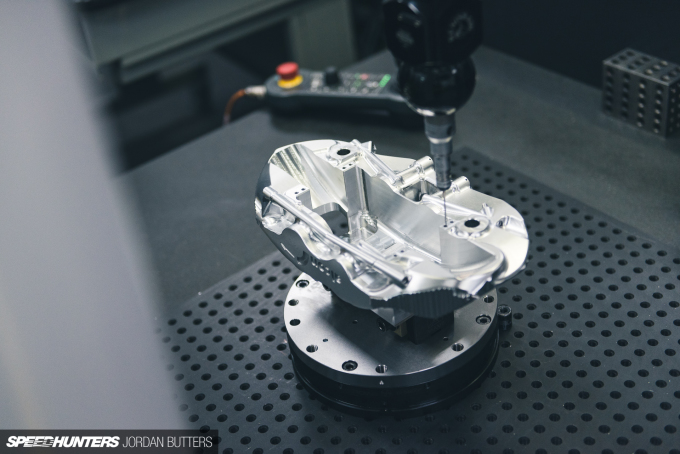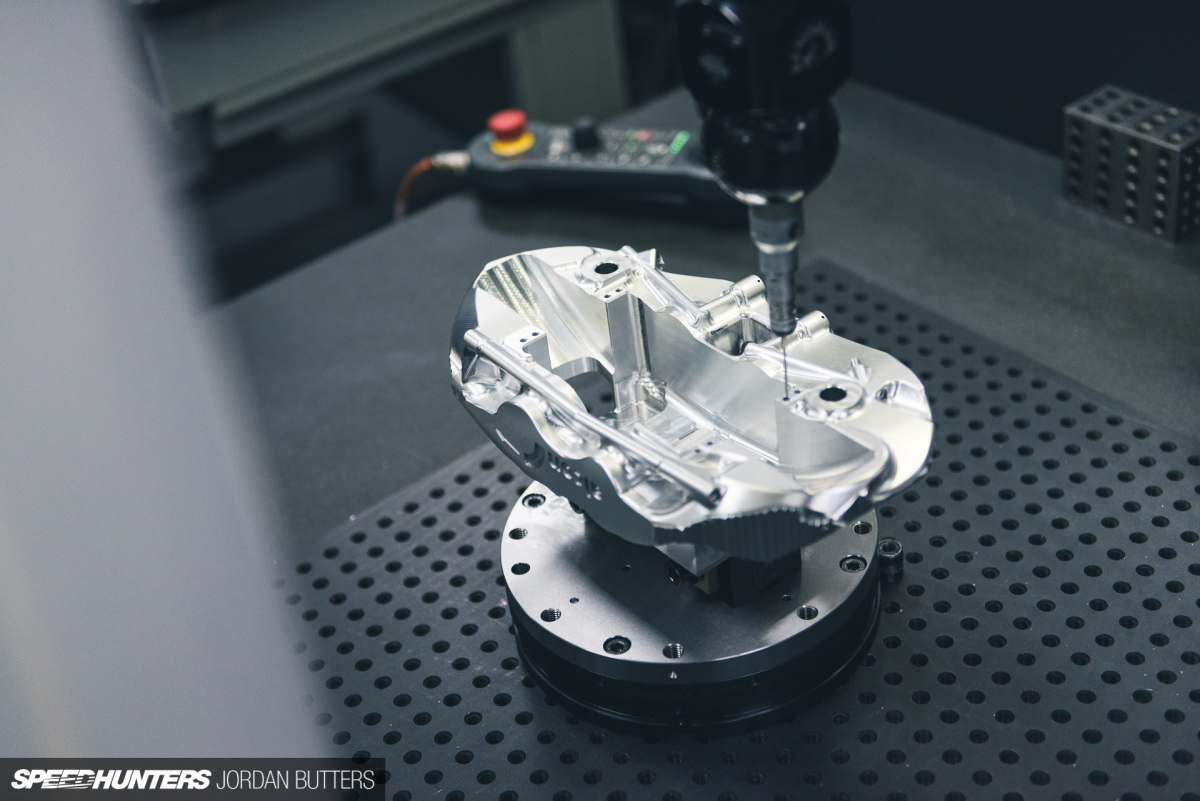 With one half of the caliper machined, the component is mounted in place and the machine measures and stores each variable against the design data by way of a small stylus. If all is as expected, the caliper then returns to the machine shop for machining of the upper section, and is measured again once completed.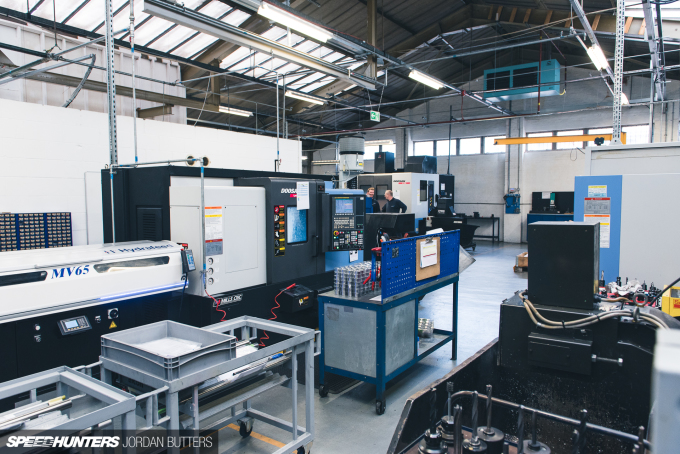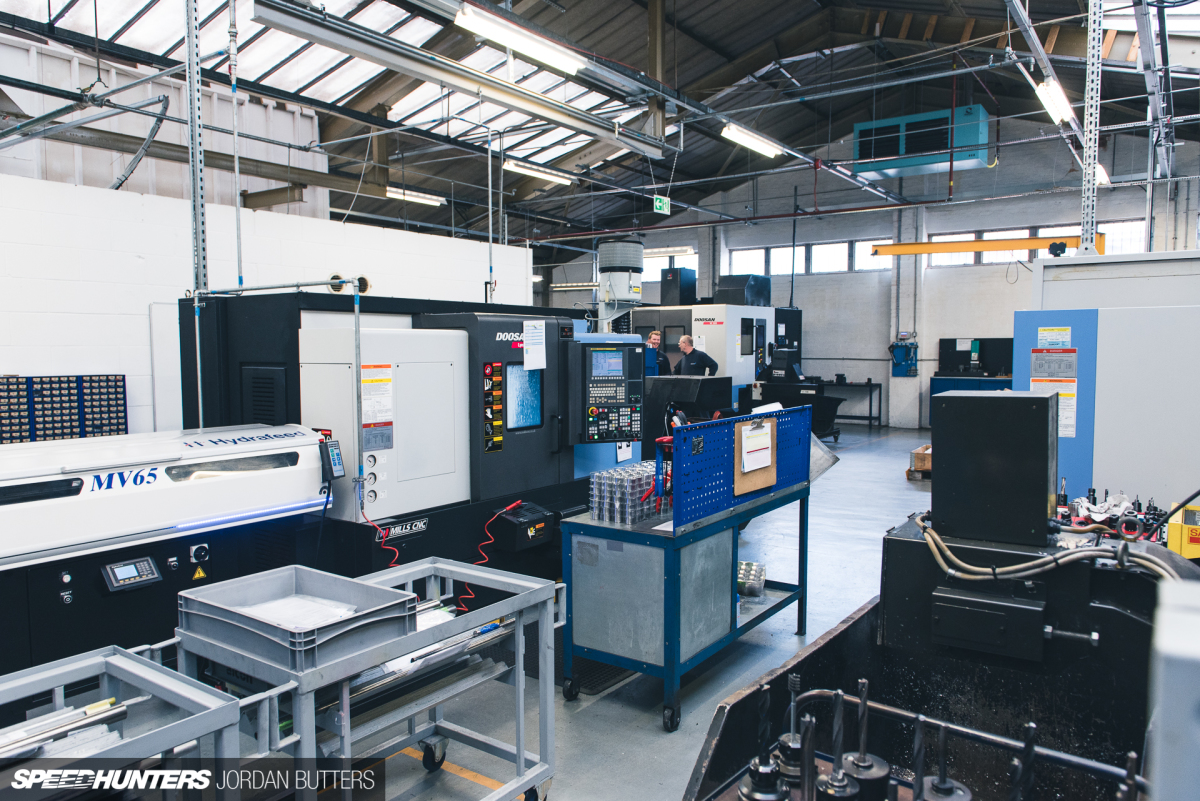 Into the machine shop – this is where the magic happens. Rows upon rows of CNC machines worked away, sculpting works of art out of solid blocks of aluminium. Everything from bells to brackets, master cylinders, calipers, clutch components and discs are machined in-house by Alcon.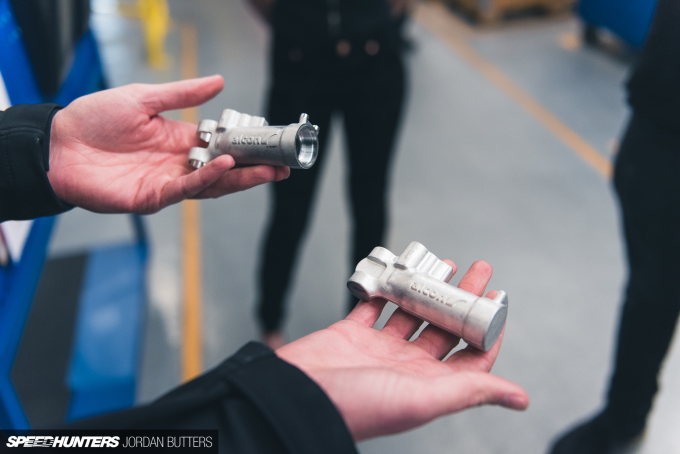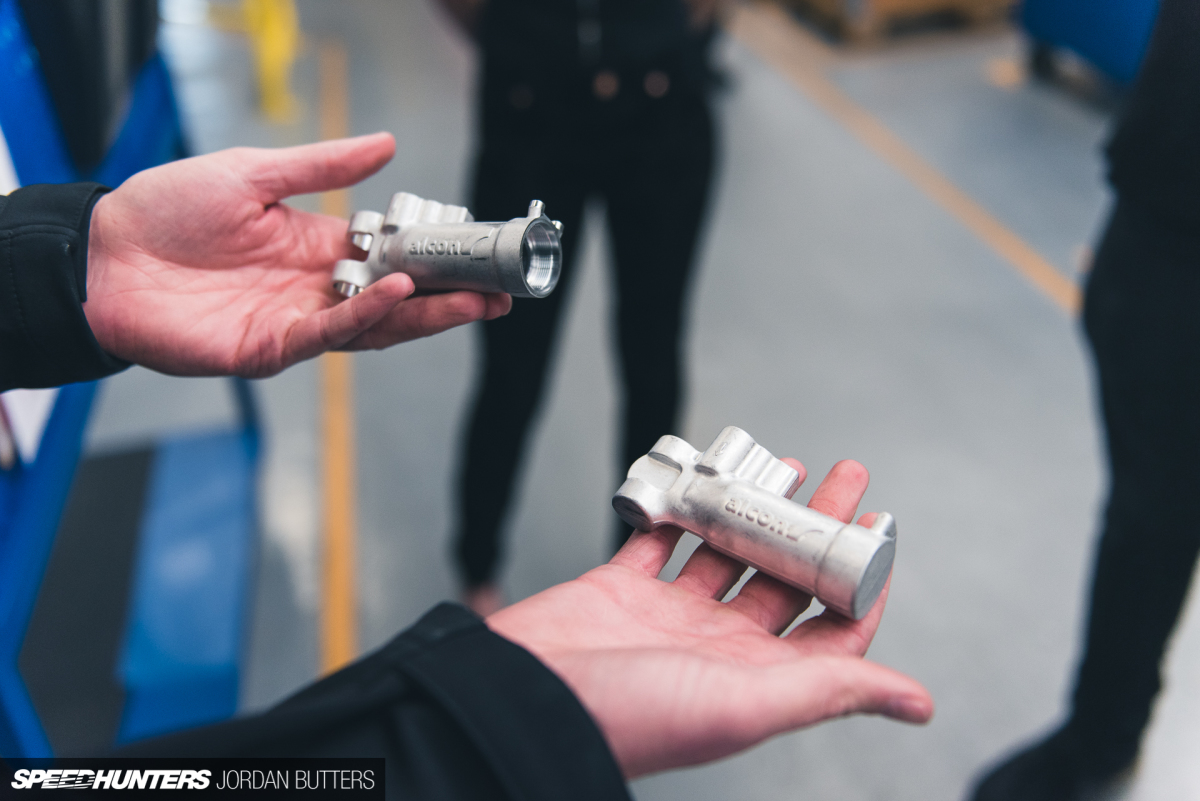 Some components are created first as cast or forged components before being precisely machined, whereas others, such as mounting brackets and motorsport calipers, are CNC'd from solid blocks of billet.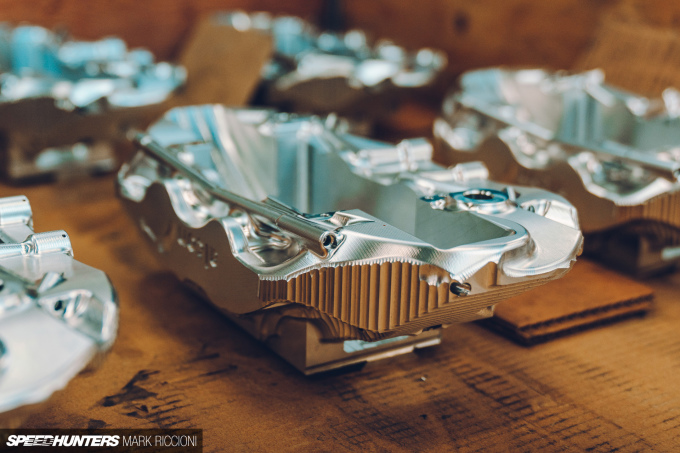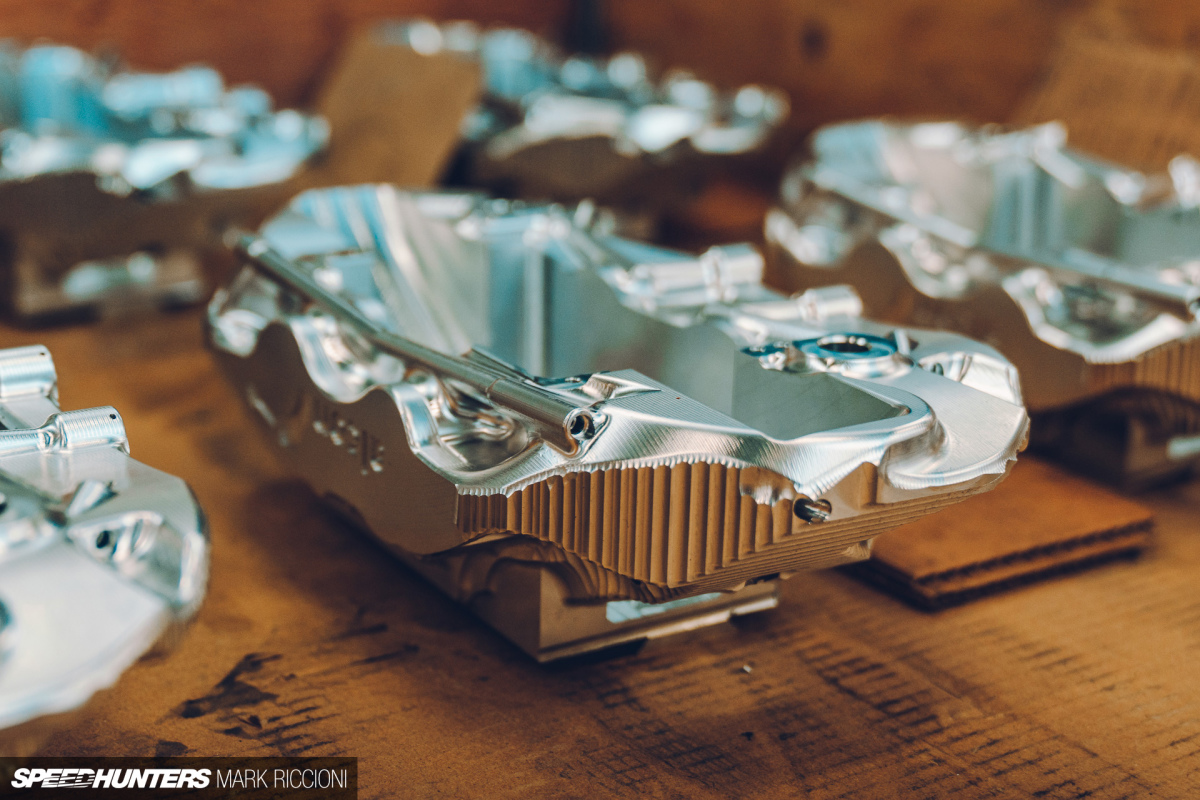 It's pretty mesmerising to watch something so detailed and intricate be honed from a single block of metal.
This is a monoblock billet caliper, destined for the new Aston Martin Valkyrie. On the left is the caliper part-way through machining, and on the right the finished product. The sheer size of this component completely surprised me, but when you're packing over 1,100hp and a 250mph top speed, braking power is important.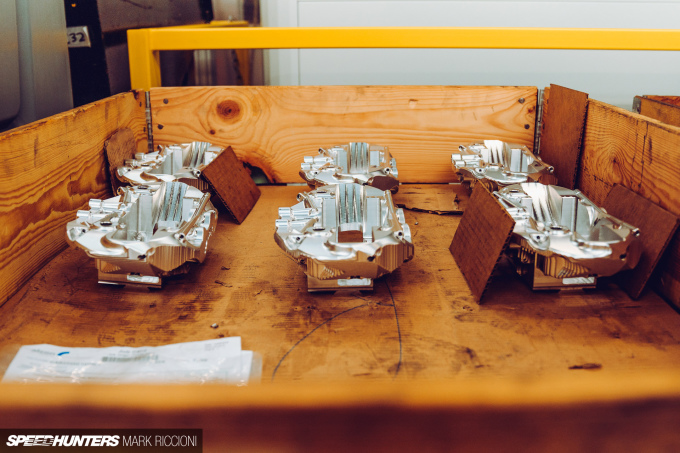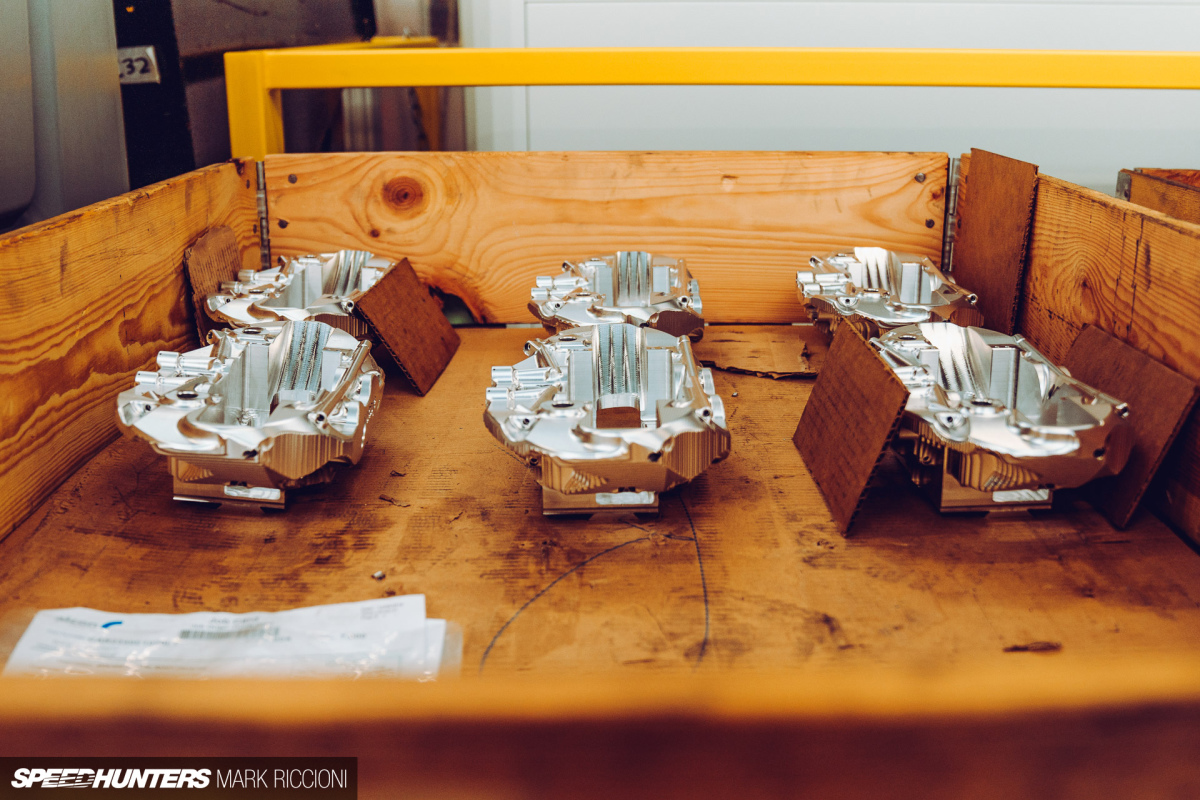 Here are some more part-finished units; these destined for a WRC team. You can see the small bores that form part of the cooling system whereby liquid is pumped around the caliper. This is primarily used on tarmac applications, where the system gets much hotter than on gravel due to faster speeds, heavier application and greater friction.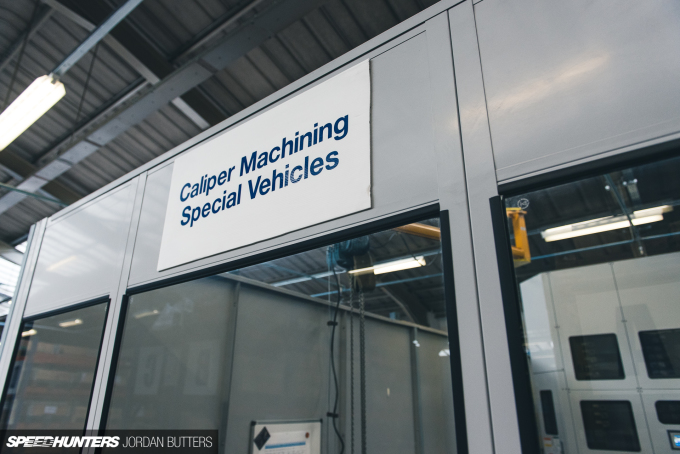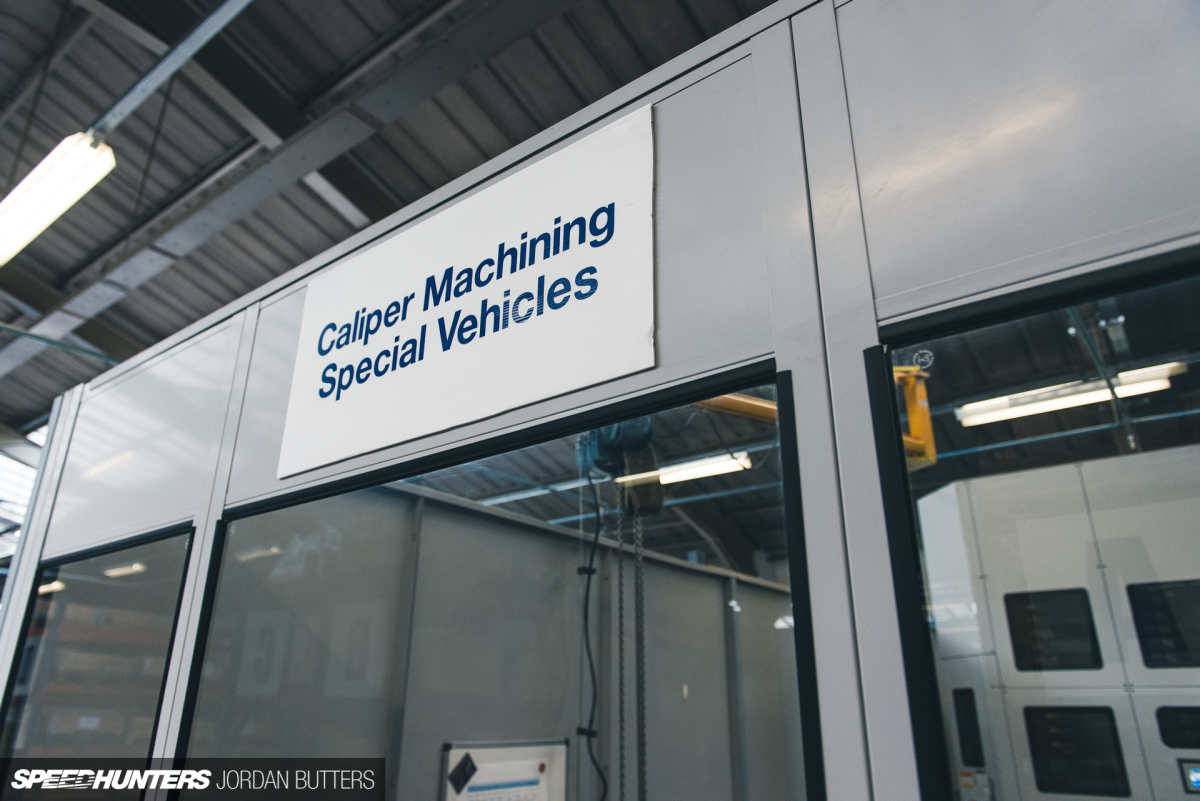 From the very light to the very heavy – it's not all about motorsport. While the manufacturing process is just as precise and involved, the finished product in Alcon's Specialist Vehicles department isn't anywhere near as svelte. Here, armoured brakes for some of the heaviest and toughest machines in the world are created for use in security and military applications.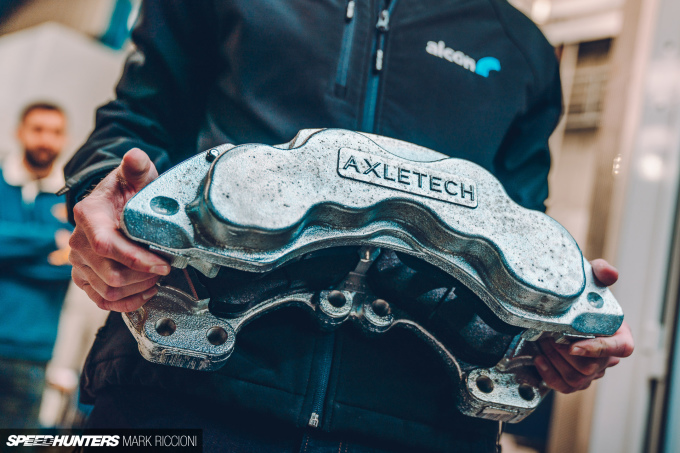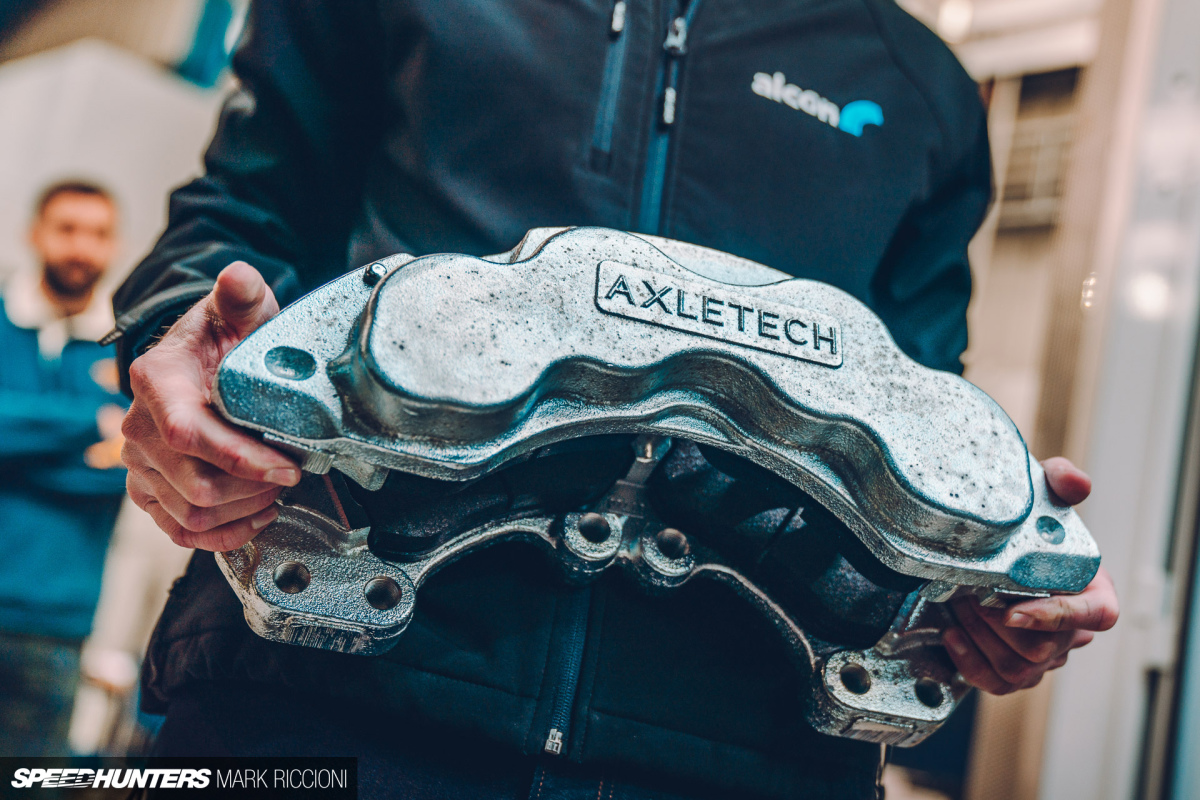 Heavy hitters such as the 7.6-ton Supacat Jackal call for cast-iron calipers that are capable of withstanding far more abuse and in much more perilous circumstances that any road or race car application. Brake systems for vehicles weighing up the 30-ton are manufactured in-house; can you imagine the stopping power involved in bringing something that heavy to a swift halt?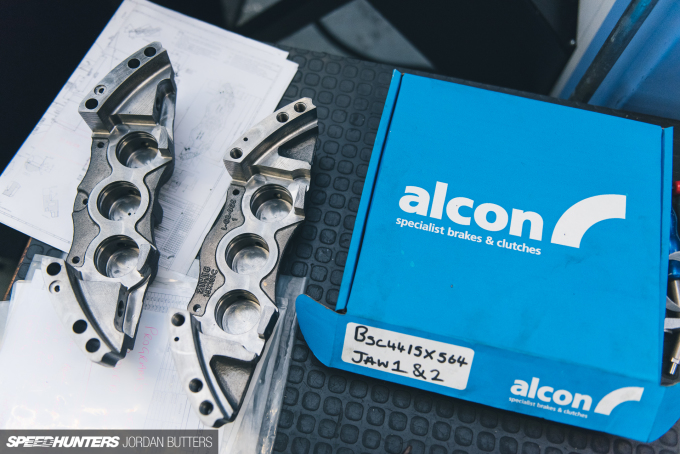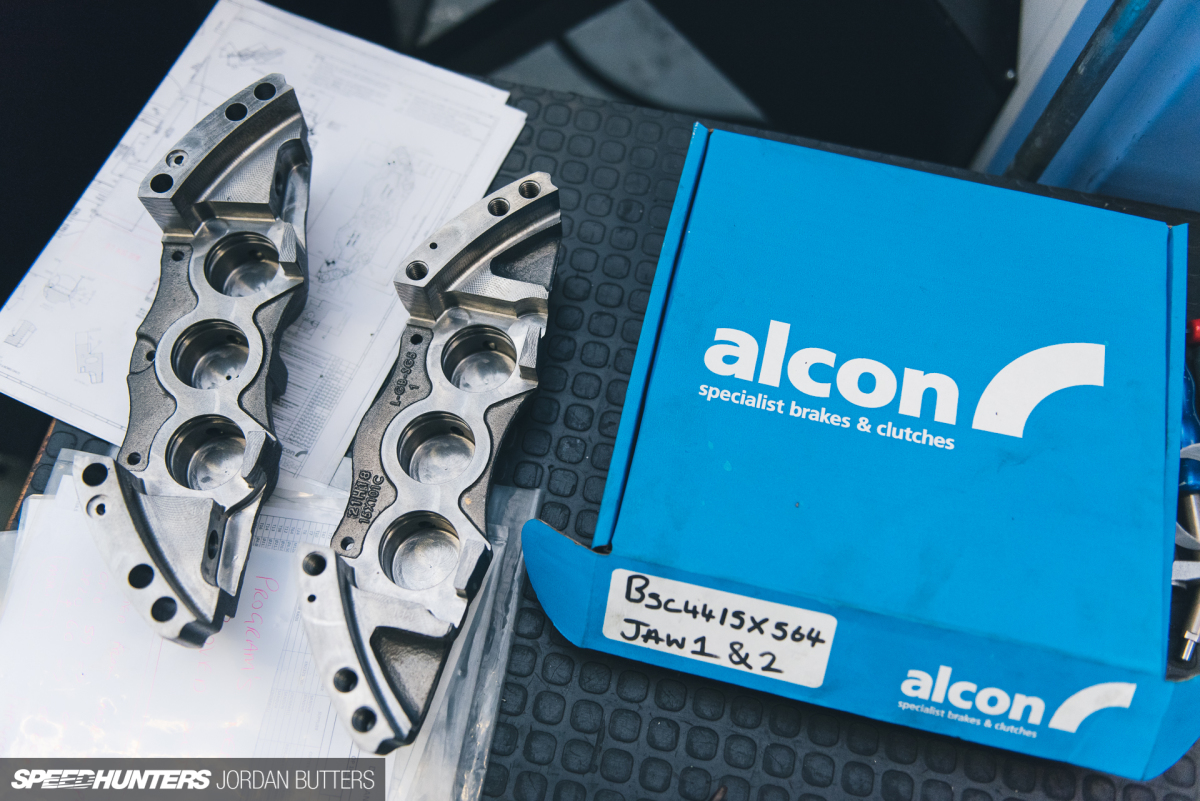 Occupying a smaller part of the machine shop, but an area that Alcon is quickly advancing into, is the aftermarket sector. Here, Alcon's lightweight two-piece forged RC4 (4-pot) and RC6 (6-pot) aftermarket calipers are machined before heading off for paint and finishing.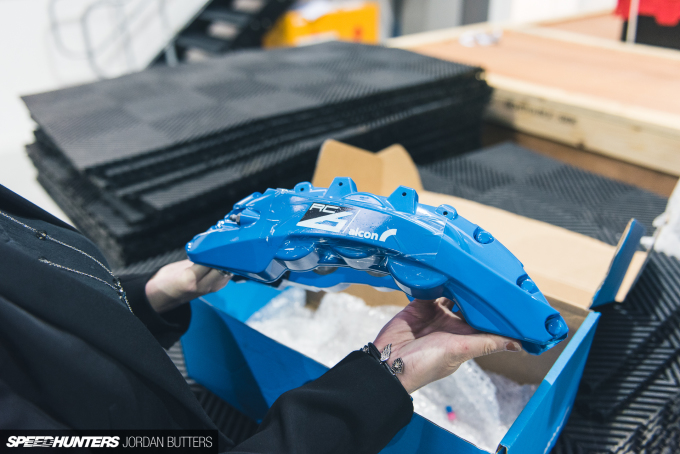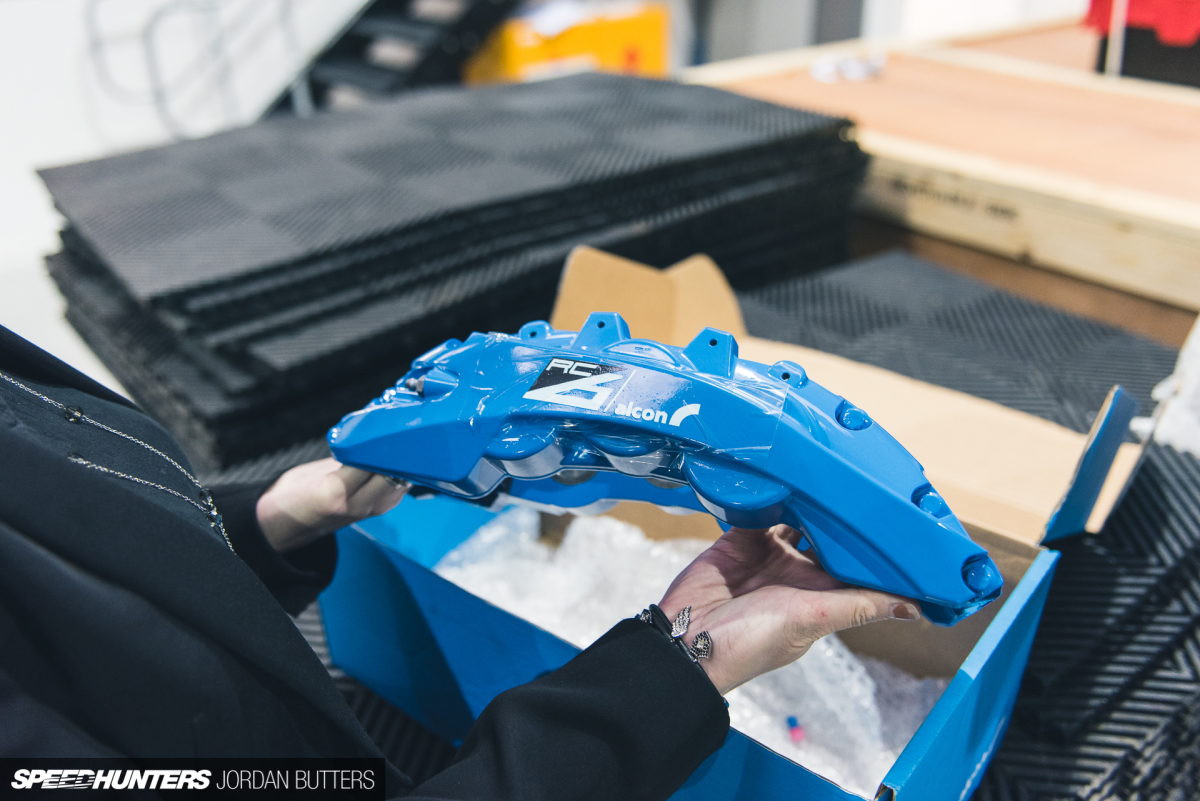 And here's the finished product. The 'regular' colours for the RC calipers are black, silver and red, although Alcon's latest R35 GT-R Superkit is also available in blue. Designed to play host to some impressive-sized discs, I really like the swooping design of the RC calipers and being forged they're pretty light too. I can see these quickly becoming a popular choice in the aftermarket.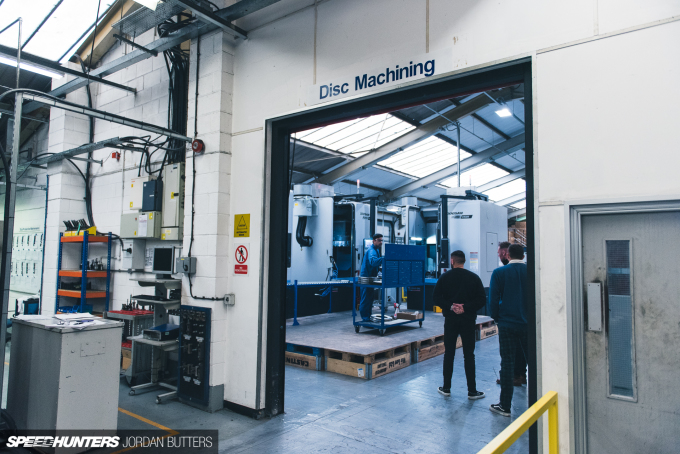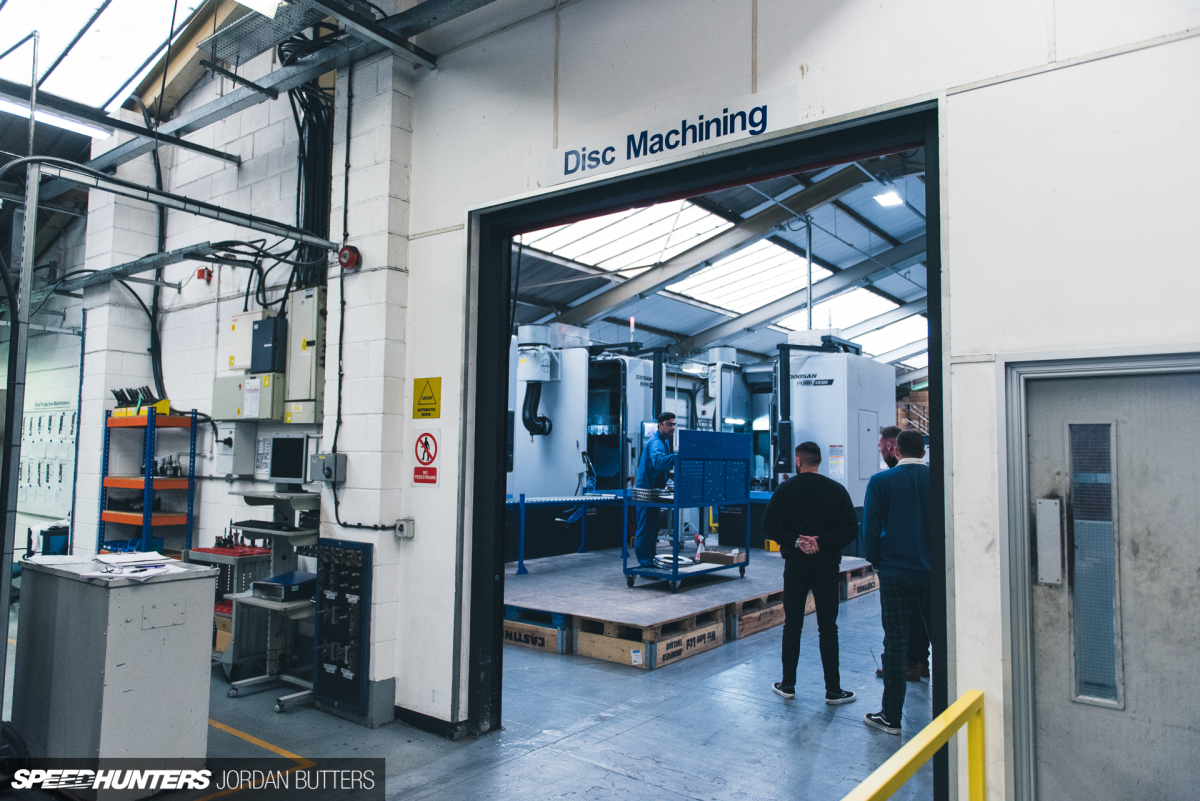 The machine shop seemed to just keep going. Through another door is where Alcon's brake discs are transformed from raw cast components into the finished articles.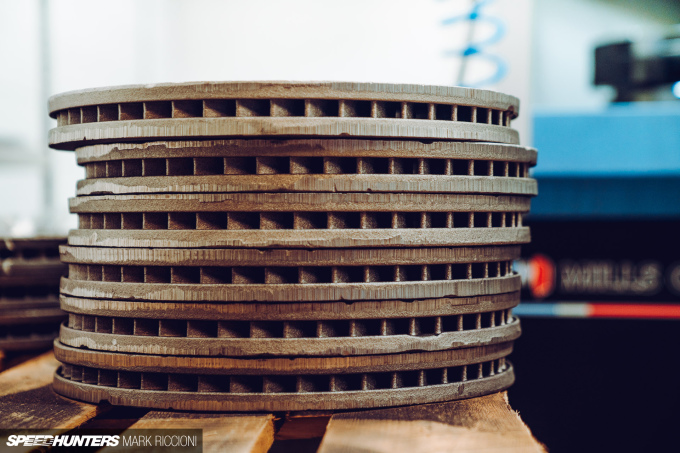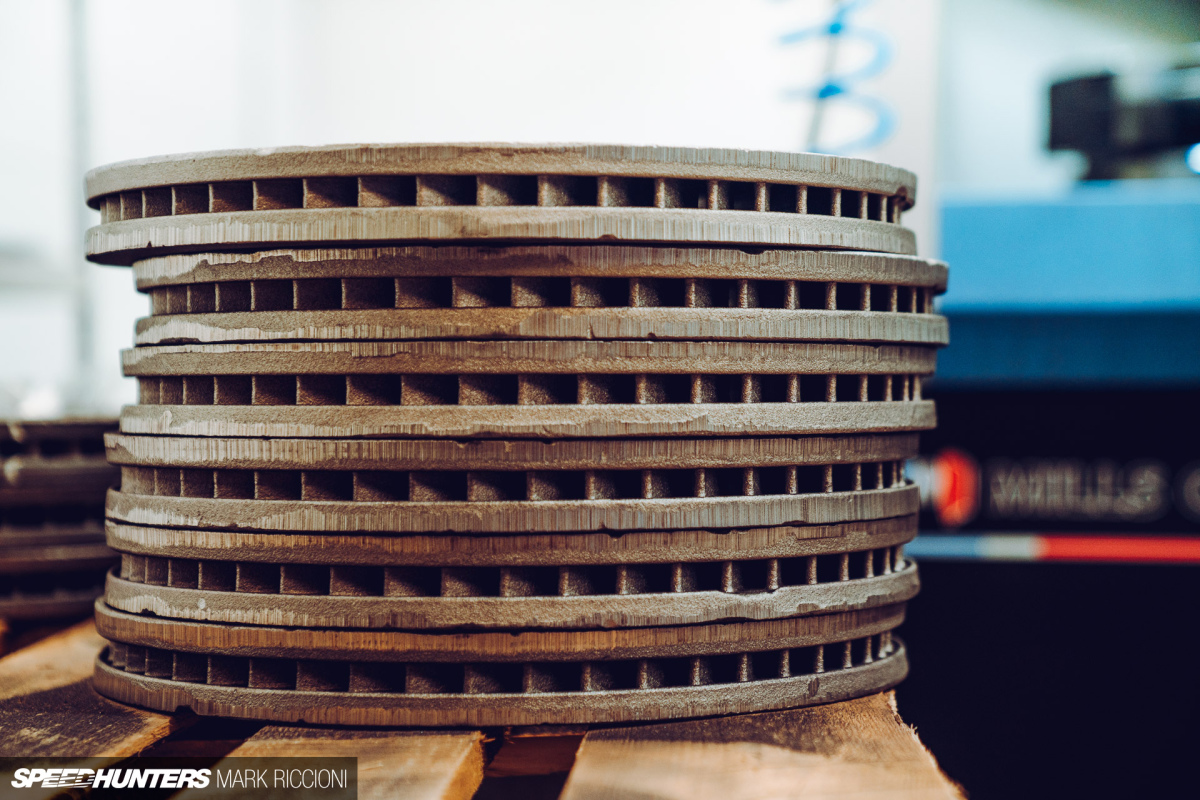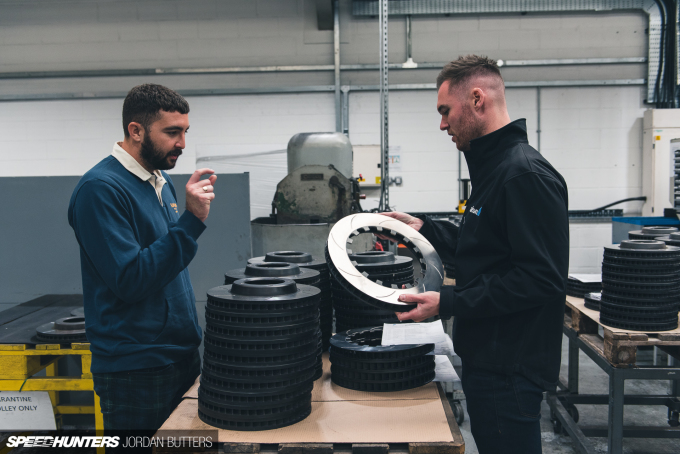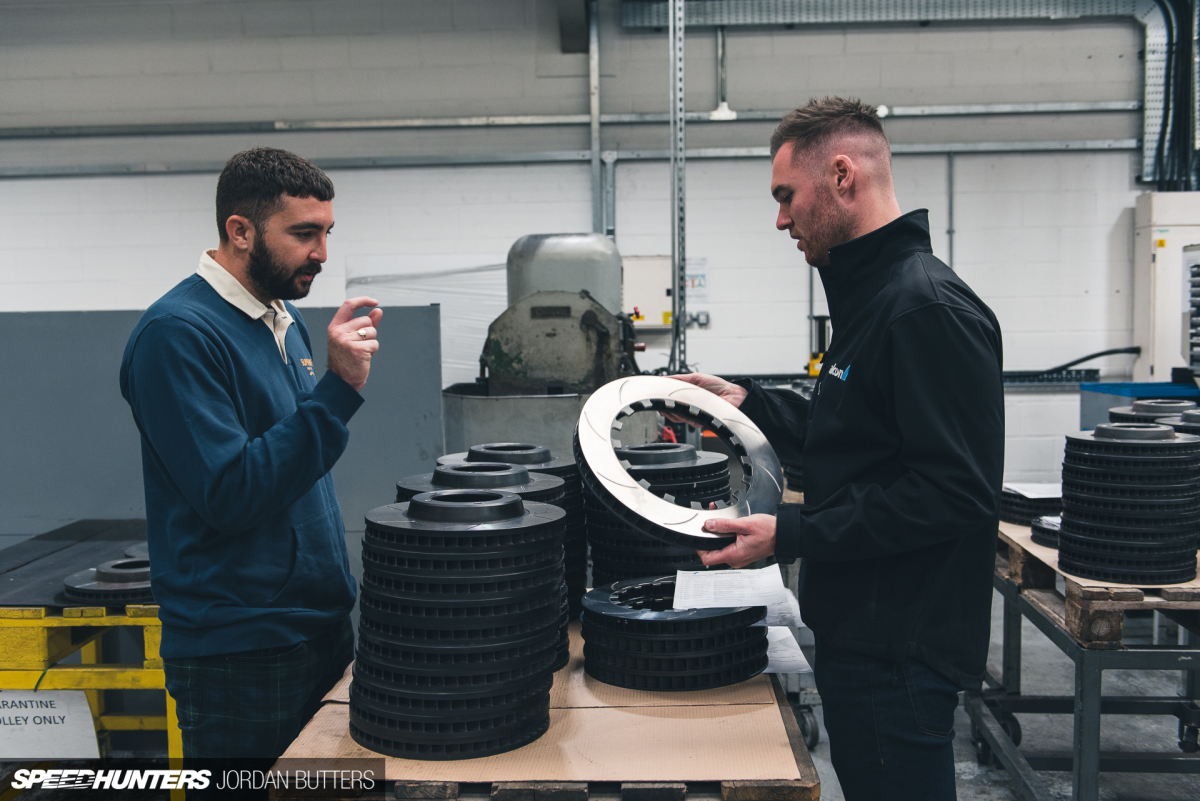 Starting out as blanks, with only the vents making them recognisable as brake discs, this part of the manufacturing process machines the discs down to the required thickness before adding any slots or grooves.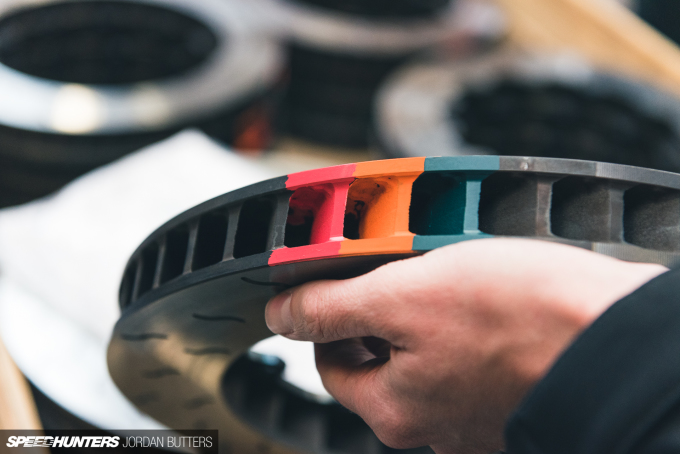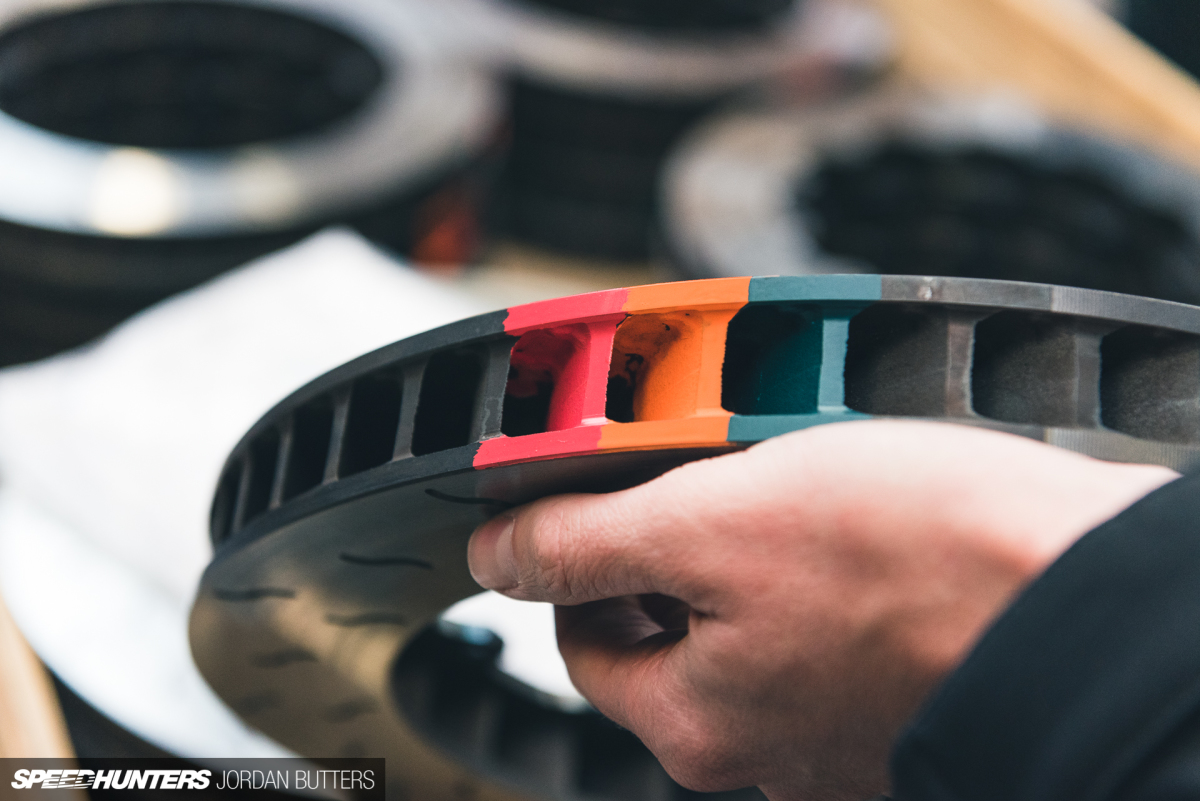 Mounting tabs are then machined, as well as heat-reactive paint added in some motorsport applications, allowing the customer to perform a quick visual check on brake temperatures. Each different shade of paint turns white when a certain temperature has been reached.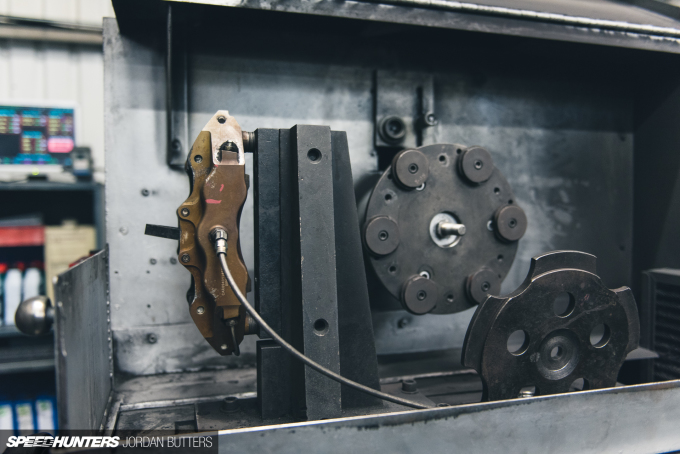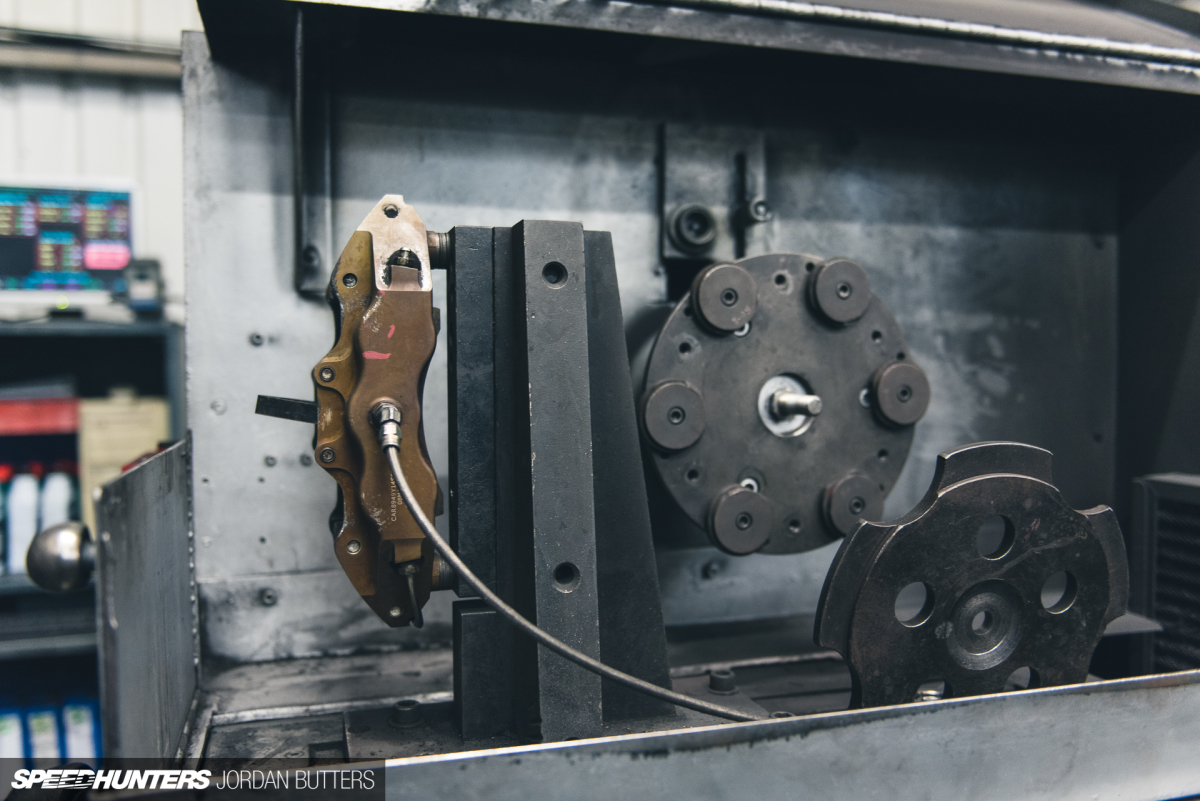 Alcon also offers a bedding-in service for certain applications – again, motorsport is the most common. This rig can be used to bed-in discs and pads prior to them arriving with the customer, allowing for instant performance on the track.
One Stop Shop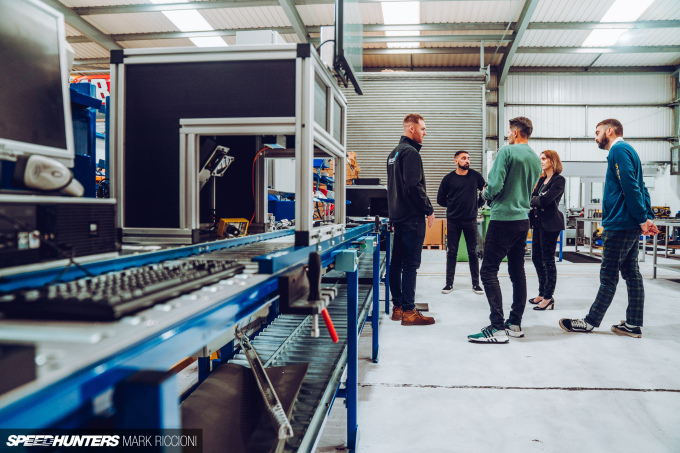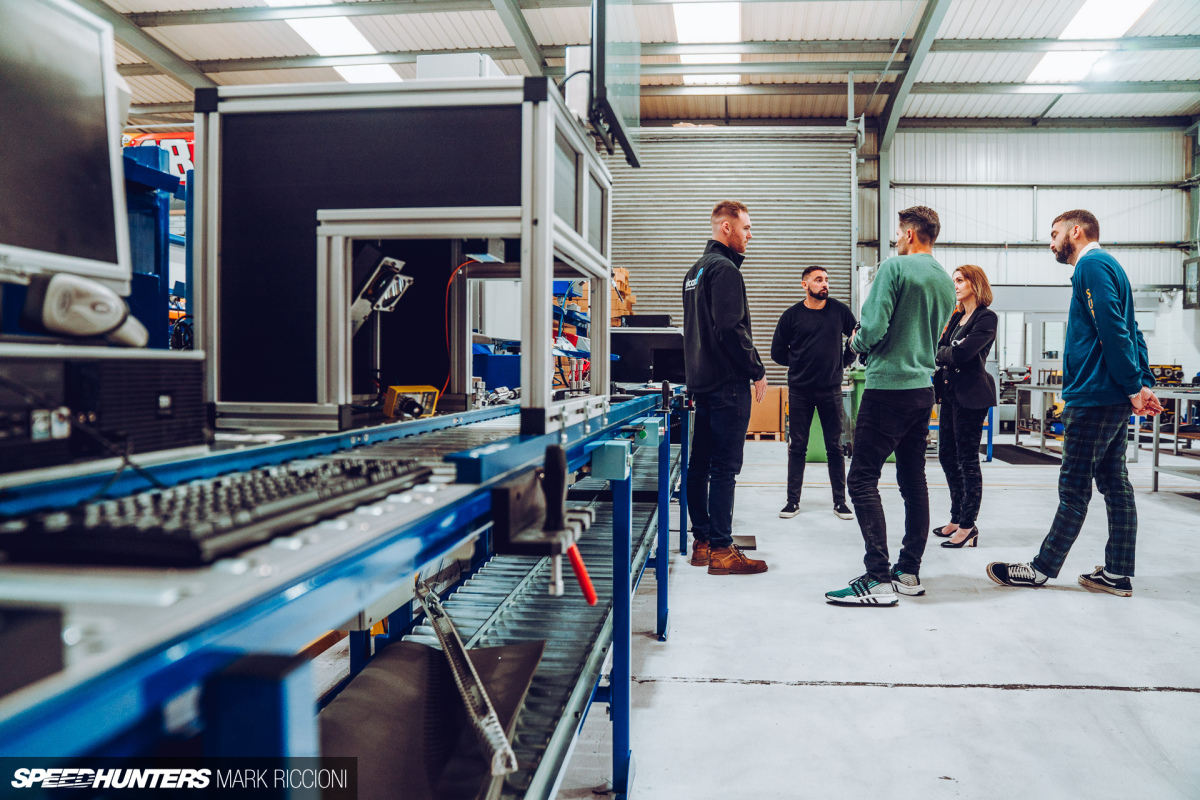 Our tour led us into Alcon's large assembly warehouse, an area that's just as high-tech as the rest of the facility.
During each stage of the line the components are locked into a rig for assembly. The work is then checked by computer before the product is allowed to be released along the line, removing the risk of human error. A rather clever scanner at the end of the line checks every element of the assembly process to ensure that everything is exactly as it should be.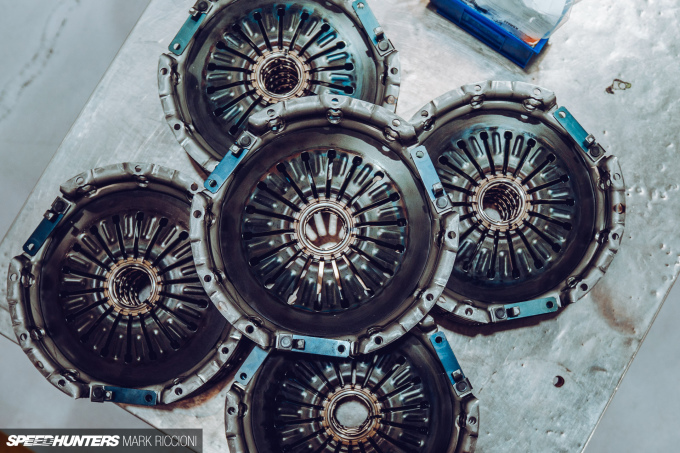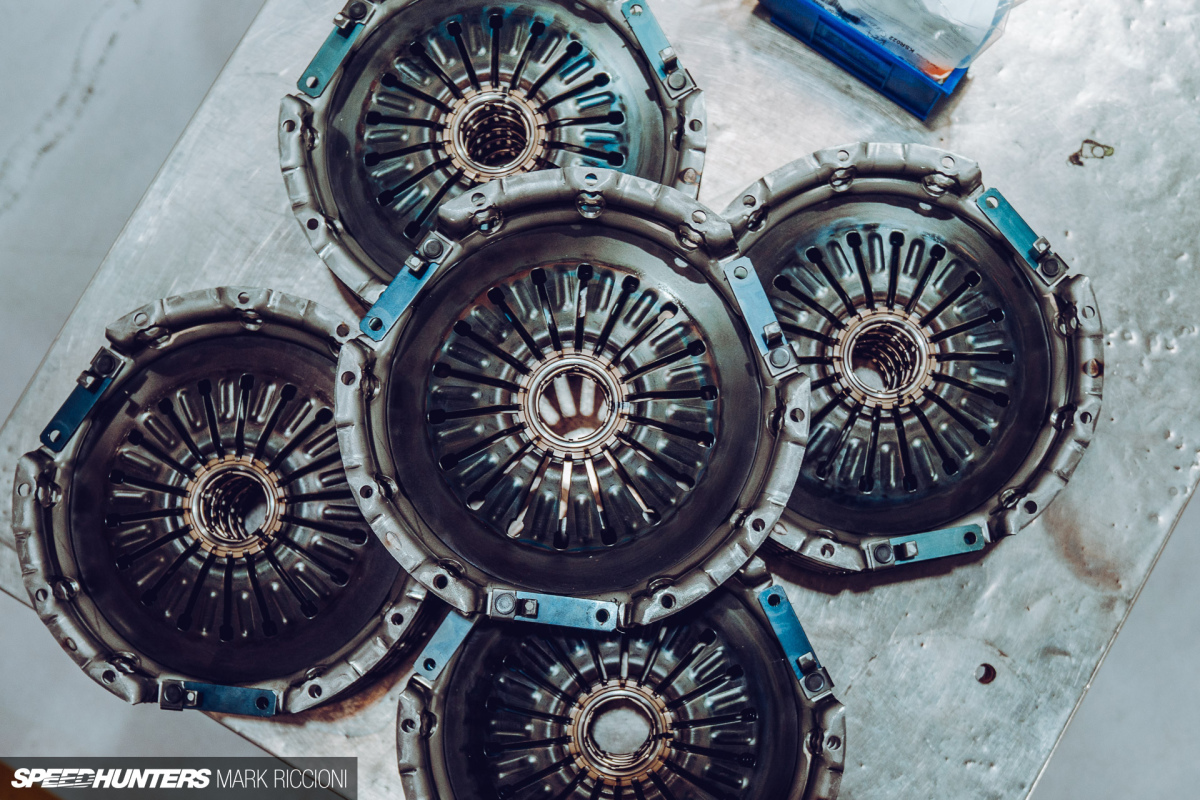 This is also where final assembly of Alcon's clutch kits takes place.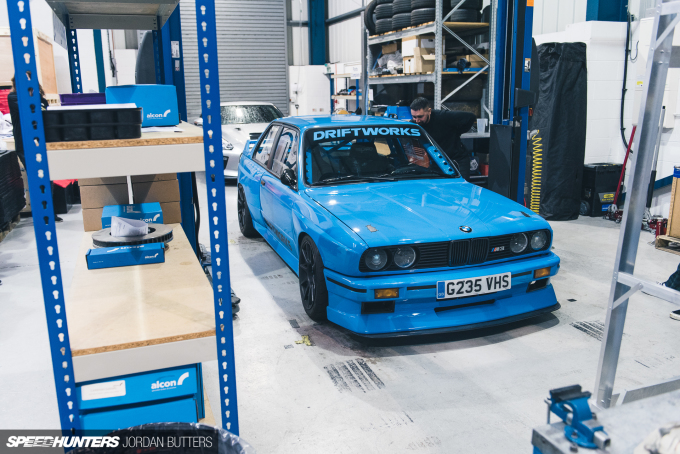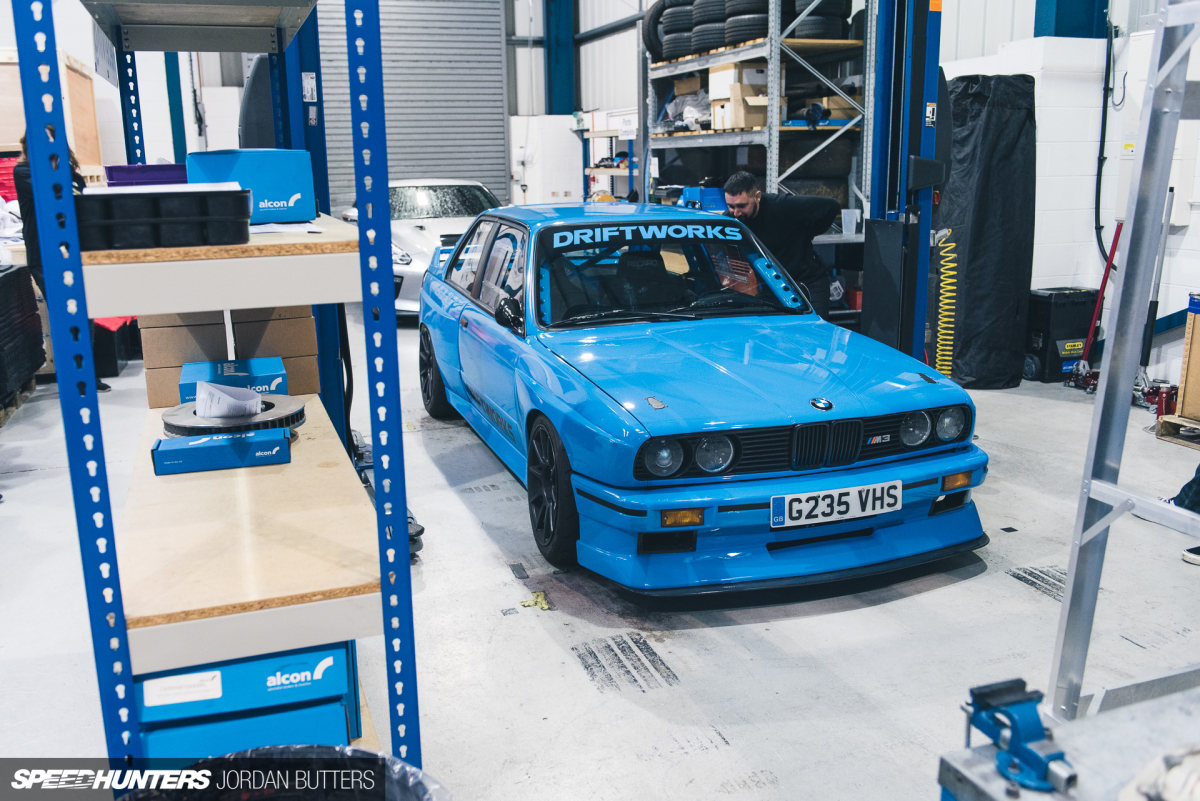 Our tour wrapped up with a quick visit to the Research & Development department in the building next door. Driftworks' gorgeous and raw S65-equipped BMW M3 was in for a quick visit for some last-minute tweaks before its first track shakedown.
Driftworks boss man Phil Morrison actually drove the car to Alcon from Birmingham on a very wet day – apparently it wasn't a pleasant experience. We're hoping to bring you a full feature on this amazing machine once it's up and running soon.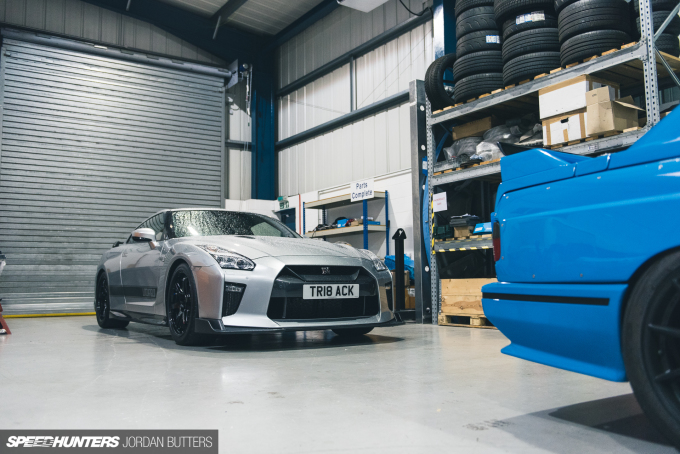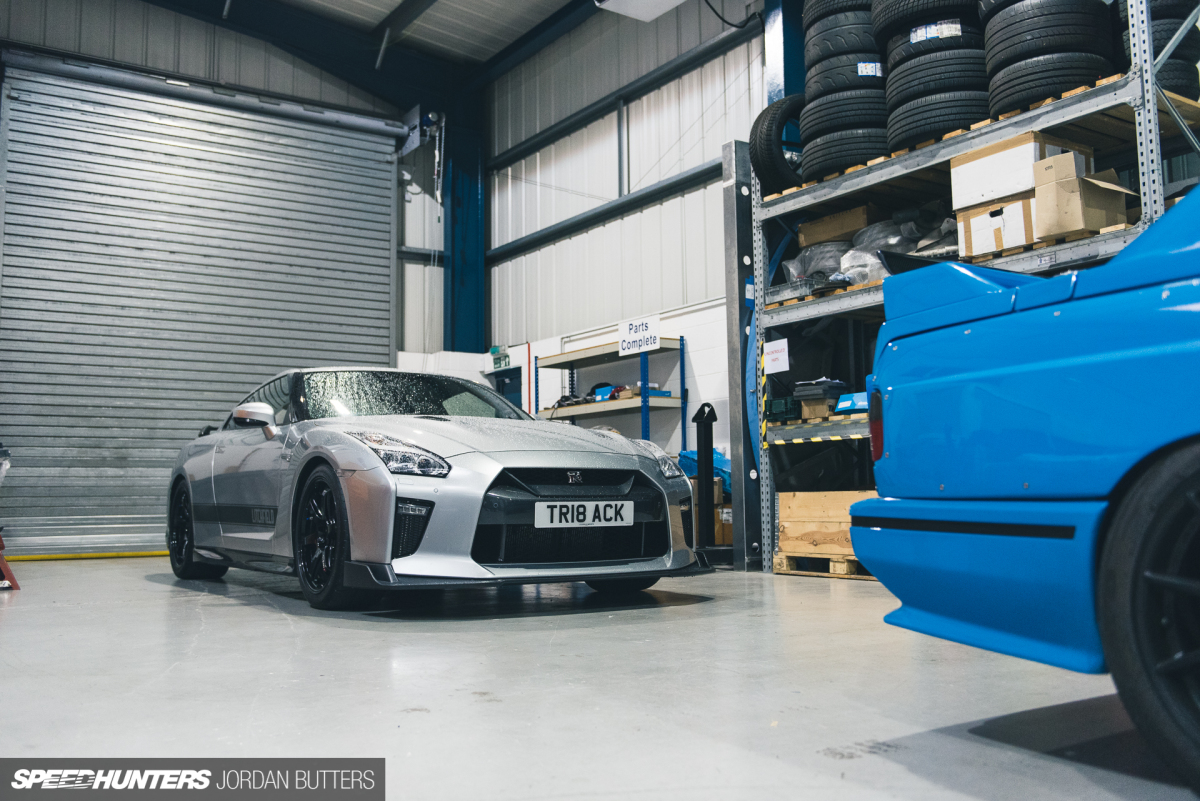 Also visiting was Litchfield's latest toy, Nissan's Track Edition R35. This car is soon to be fitted with Alcon's R35 Superkit, a 6-piston monoblock billet caliper and monster 400mm two-piece floating disc at the front with 6-pot billet rear calipers with 385mm discs. That's 15.7-inch front and 15.1-inch rear discs for our imperial friends.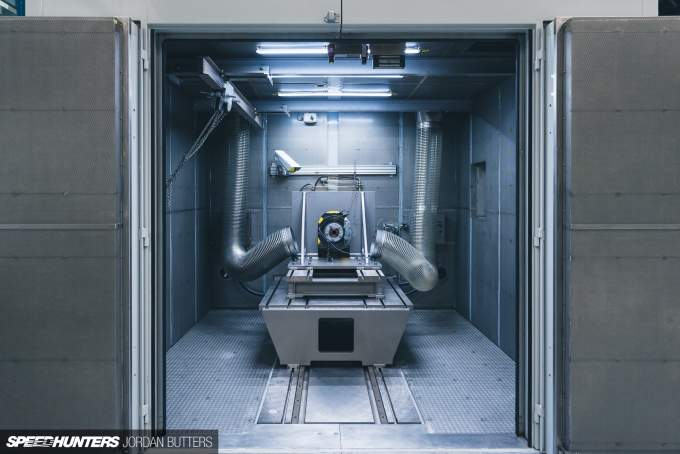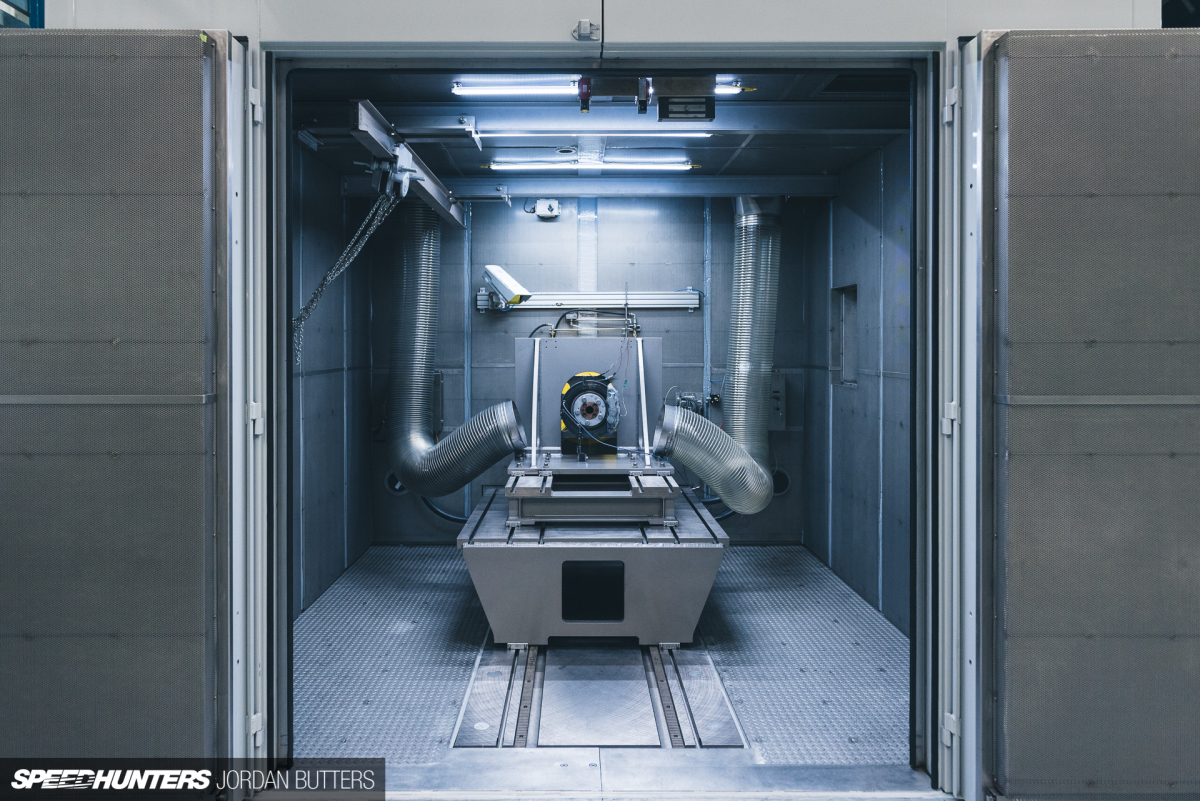 Pride of place in the R&D department is Alcon's new brake NVH dynamometer. This huge setup allows the team to detect, measure and eliminate brake noise and vibrations during the development phase of a new product. It's a pretty posh bit of kit that not many manufacturers have in-house.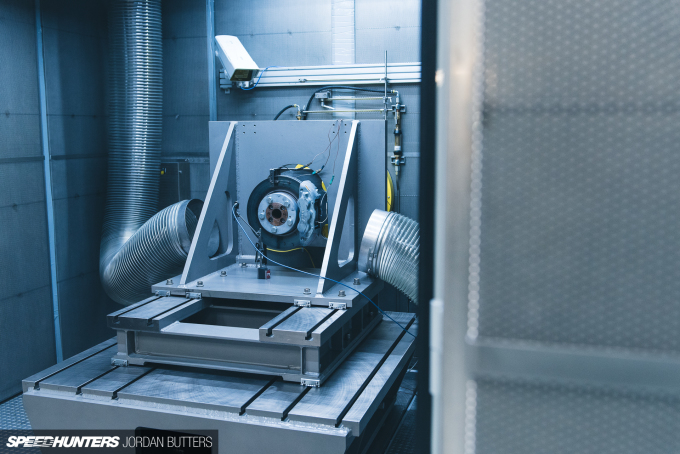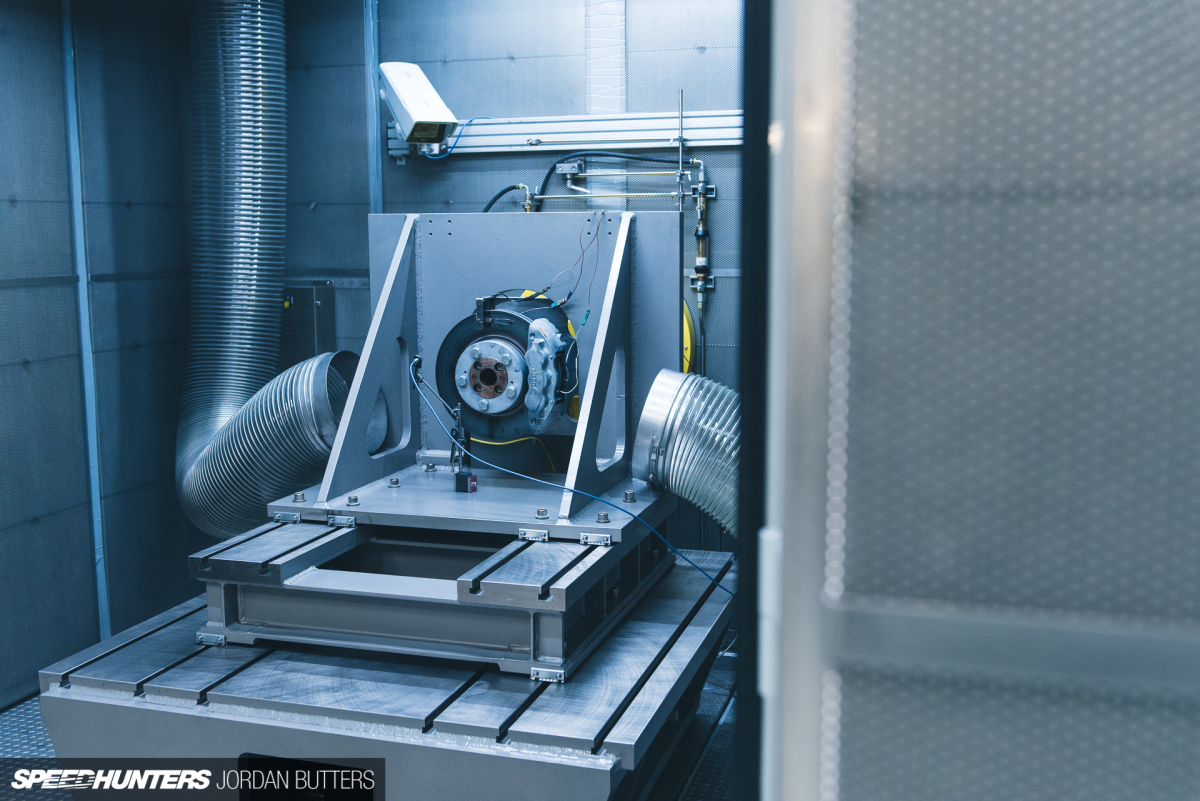 A huge footing had to be dug for the dyno, which was then insulated with foam before the unit was dropped into place. The dyno is completely isolated from the outside world, so any vibrations or feedback from the environment surrounding the dyno won't affect the readings from within.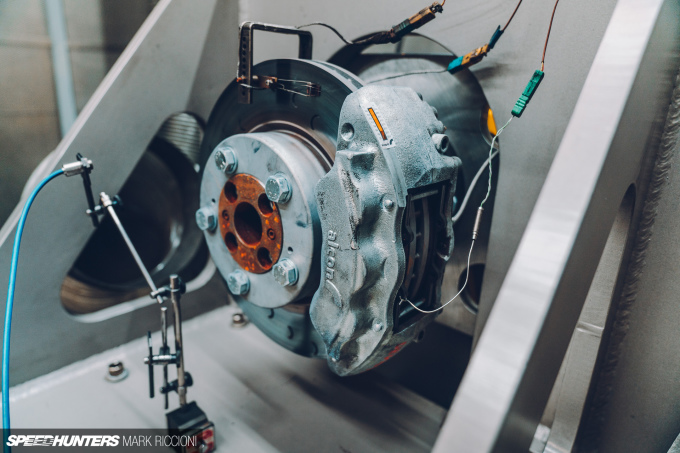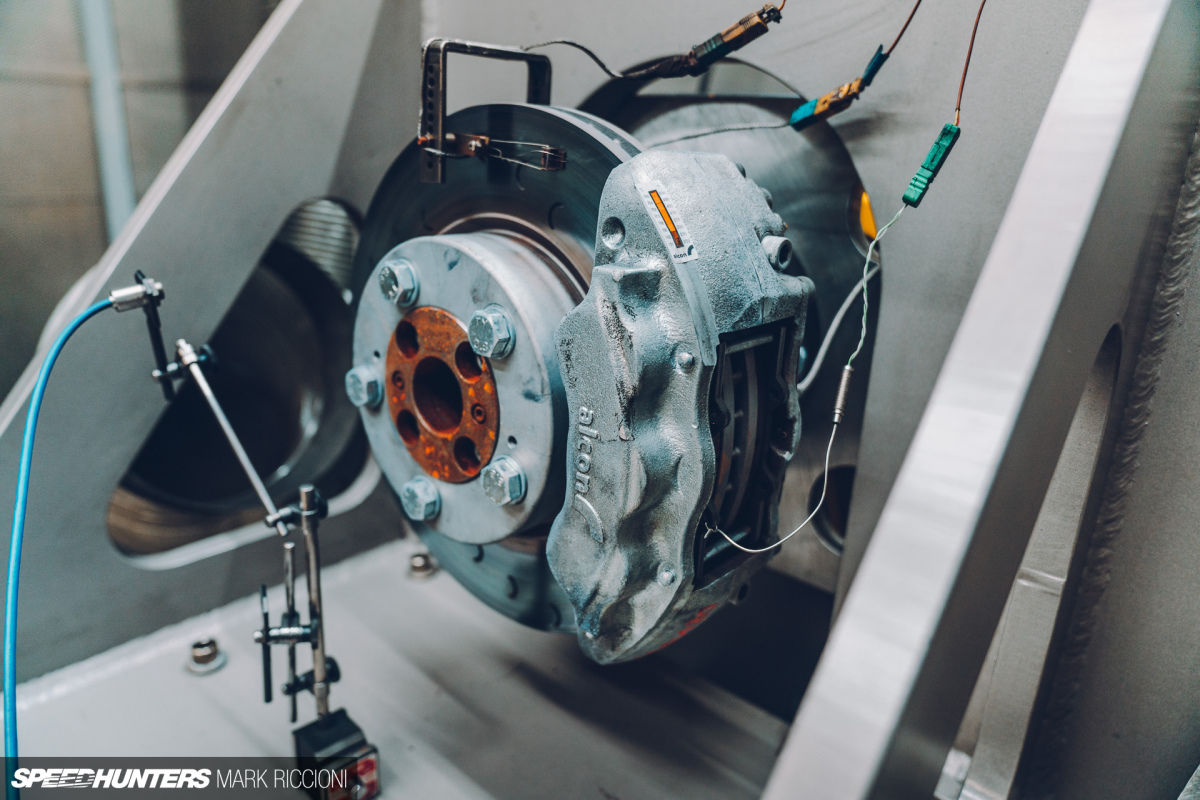 To quote our own Ben Chandler at several points throughout our tour: "There's a lot of science that goes on here." He's right, you know.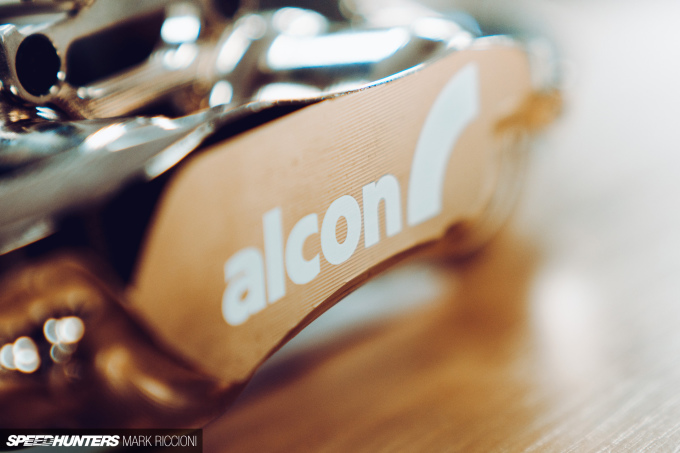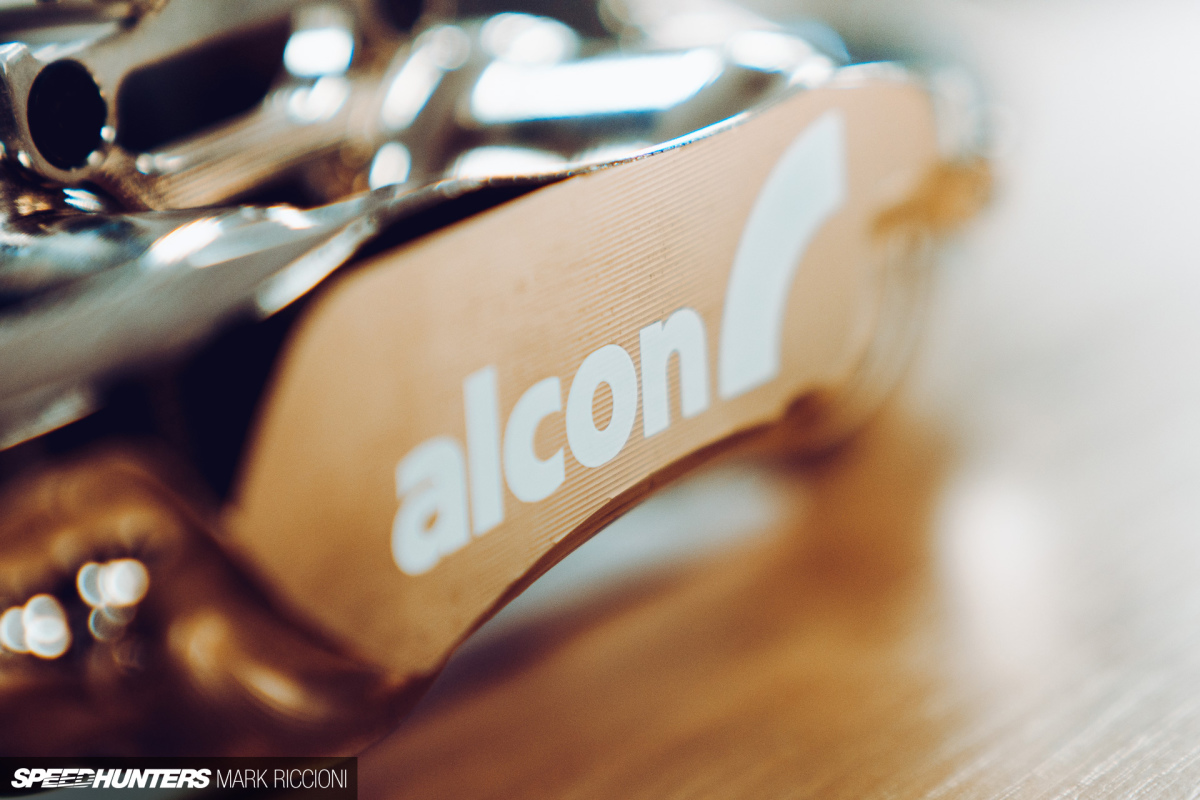 That concludes our look behind the scenes at Alcon. Don't worry though, we'll be bringing you a more technical insight into braking systems in an upcoming Ask The Expert with Alcon's technical team.
Jordan Butters
Instagram: jordanbutters
jordan@speedhunters.com