Hawthorne Effect
The 'Hawthorne Effect' is a sort of reactivity that happens naturally when people change the way they act because they know they're being watched. It's what takes place when an observer — me — enters an unfamiliar space — Los Angeles, California — and goes around… observing.
Despite what you might assume, I'm personally not all that familiar with Southern California, nor the area's storied car culture. I've been to plenty of planned events and taken photos of a number of cars in So Cal, but I've never shown up out of the blue to a proper meet to take it all in.
Actually, I have, but they were never quite the right ones, and a story never materialized. Having made some good friends in the Southern half of the state more recently, I figured it was time to find the right meet during my trip to Long Beach to cover the massive Japanese Classic Car Show this weekend.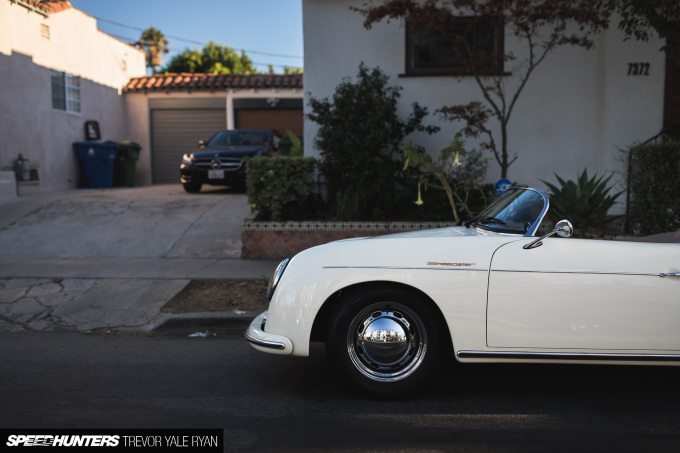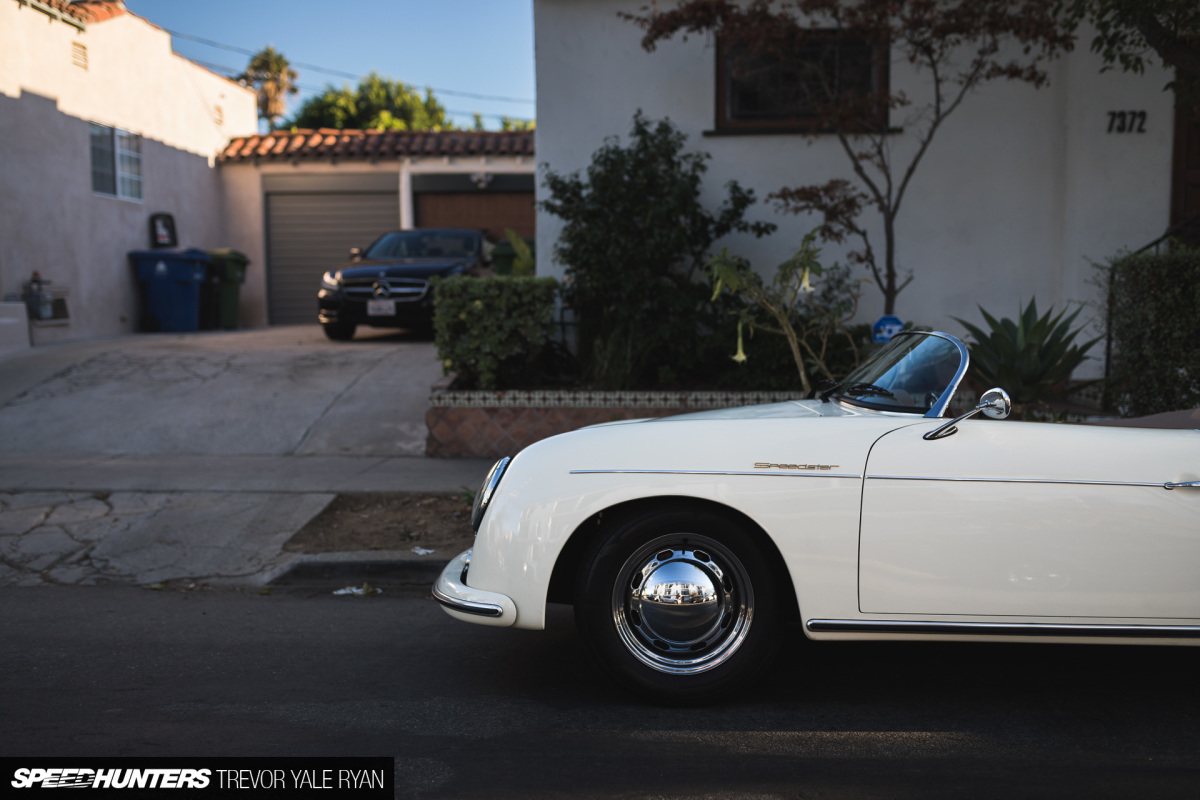 LA is a place that has a long history of love for the automobile. With no less than four active road courses within a few hours' drive of downtown there's decades' worth of racing folklore floating around. As such, anywhere you go you'll find something interesting, be it a vintage Speedster or a questionably modified exotic.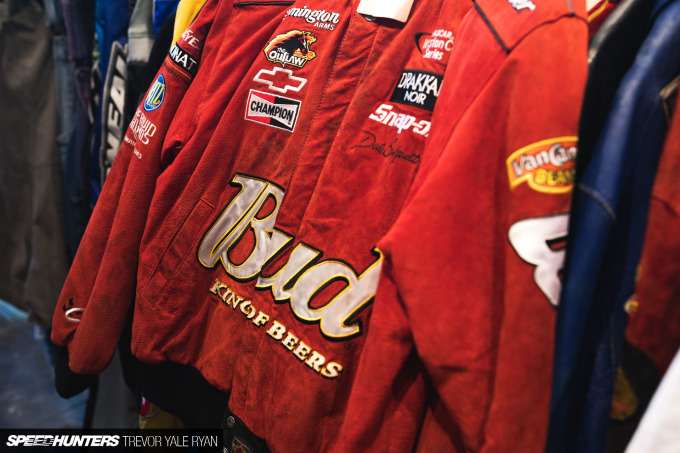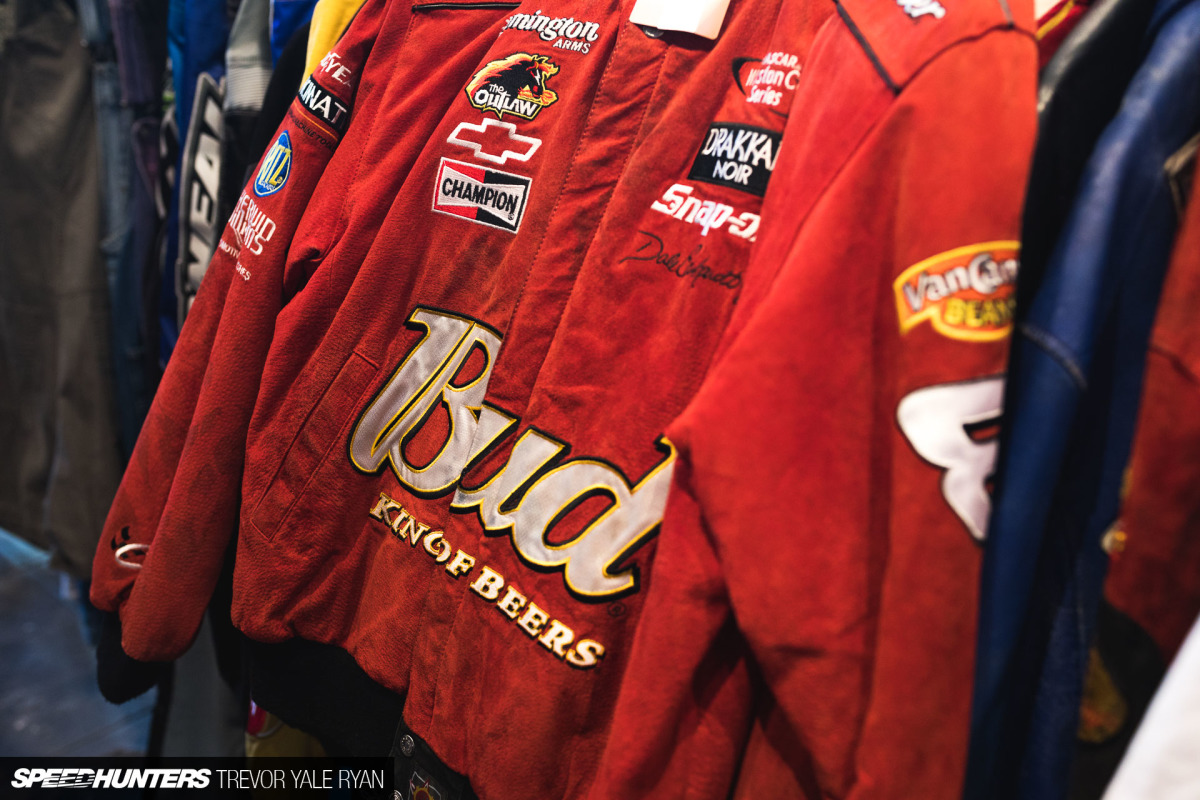 Or an incredibly American jacket. At $125, I thought better of it; I really can't imagine any scenario that I'd actually wear the thing. And, you know, I wasn't really here for vintage clothing anyway.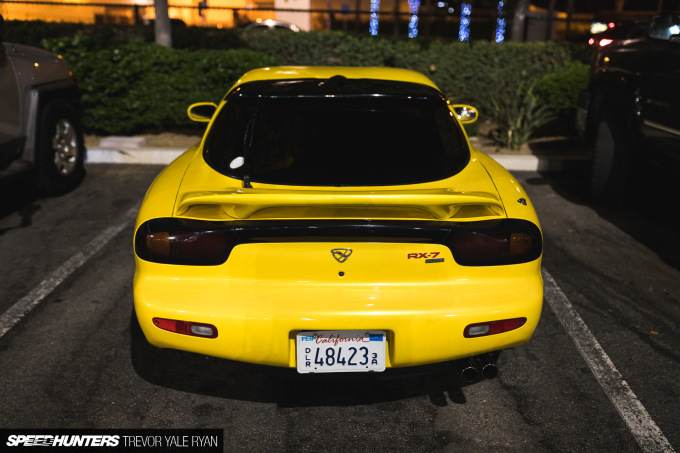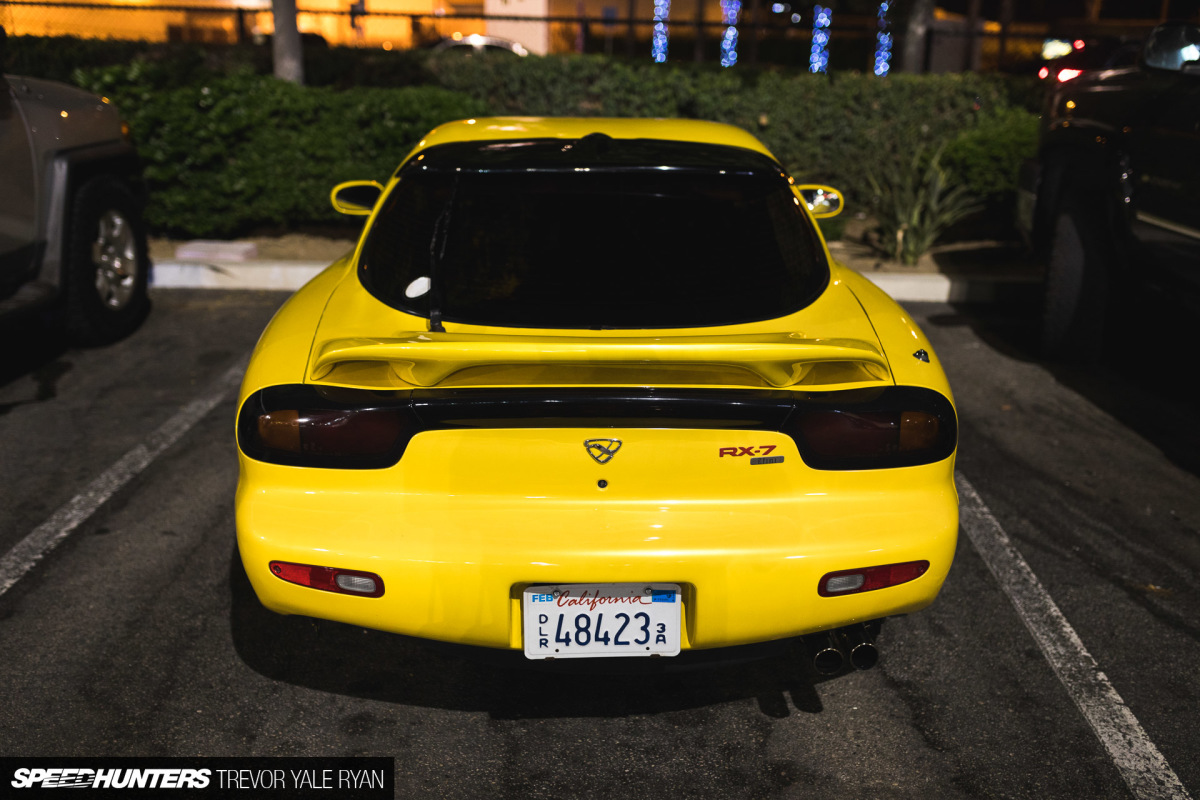 I was here for cars. More specifically, all things old school JDM. So, the night before the monumental Japanese Classic Car Show, I made it a point to attend a meet that's been running strong the better part of a decade, the aptly coined Oldschool Japanese Car Meet.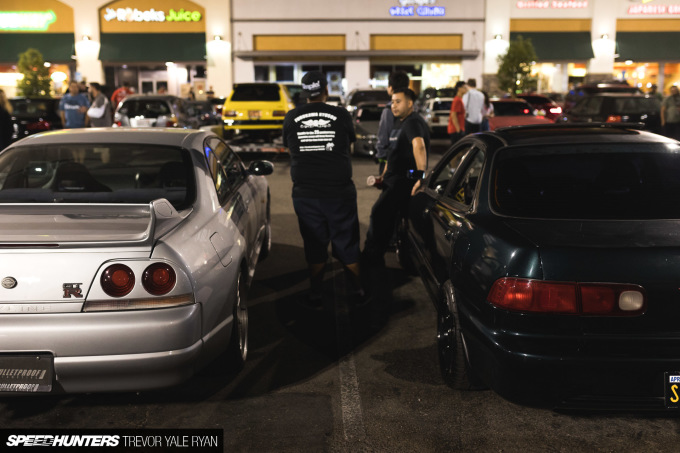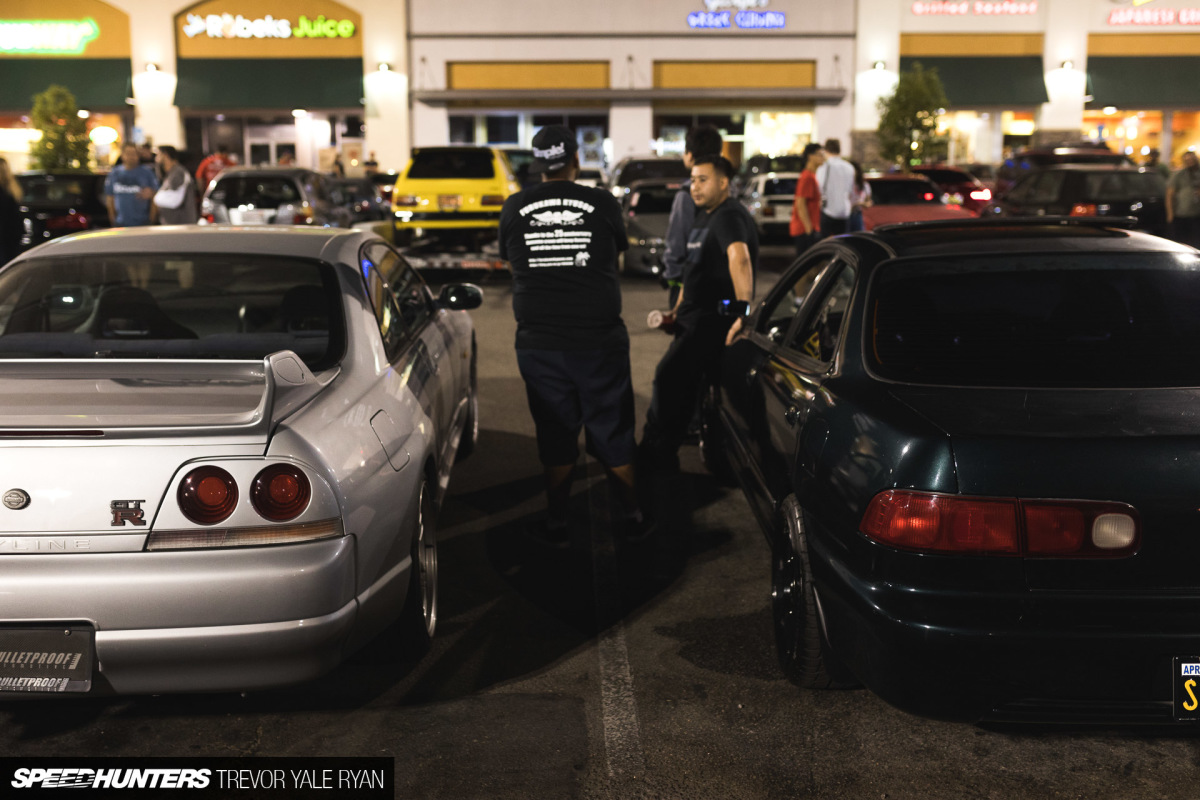 I specifically wanted to make it to this after-hours get-together for a few reasons. The first is that I only knew a couple people who would be there, meaning that no one there would know me either. And while I told a couple friends I'd be coming — and I'd wager they likewise told a couple friends the same — I wanted to get a natural feel for what a casual meet is like in Los Angeles.
The second reason I chose this meet is that car culture in LA is very much under attack; the general population sees coverage of sideshows, reckless driving, and the like on TV news and immediately jumps to conclusions. Namely, all modified cars must be bad. This is happening, to some effect, all around the world.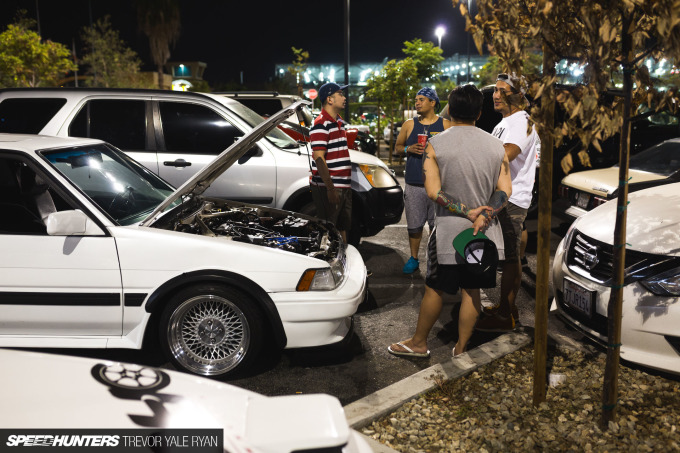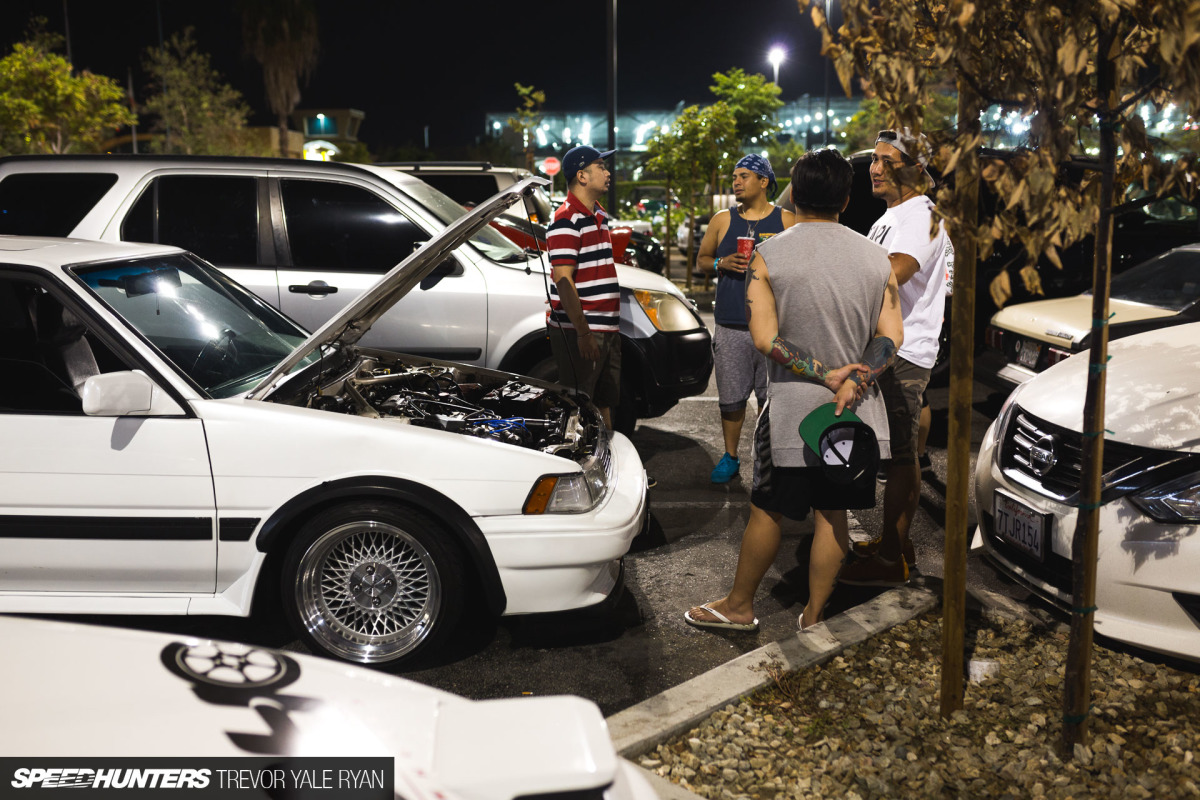 This meet, on the other hand, is one that's established and mature. What I mean by this is that the people who attend are self-aware; they understand they're in a public space surrounded by (at least in the early hours) other cars and people going to and from the businesses the meet gathers in front of.
What felt most attractive about the Oldschool Japanese Car Meet was the quality over quantity ethos. We've probably all seen the flyers that say 'no burnouts or revving,' 'respect the location,' and so on. This meet solves this problem altogether by not having a flyer, not being in a location that's easy to see from the road, and not spamming social media to bump up attendance. While social media is a huge tool for organization — and should be used as such — it's all too easy for things to get out of hand, especially when the wrong people get involved.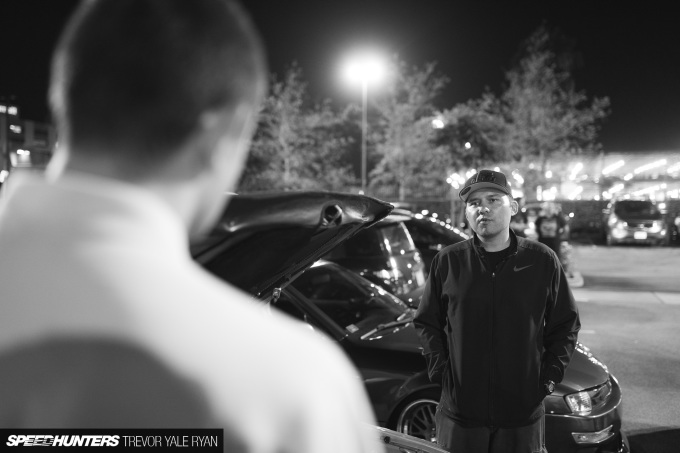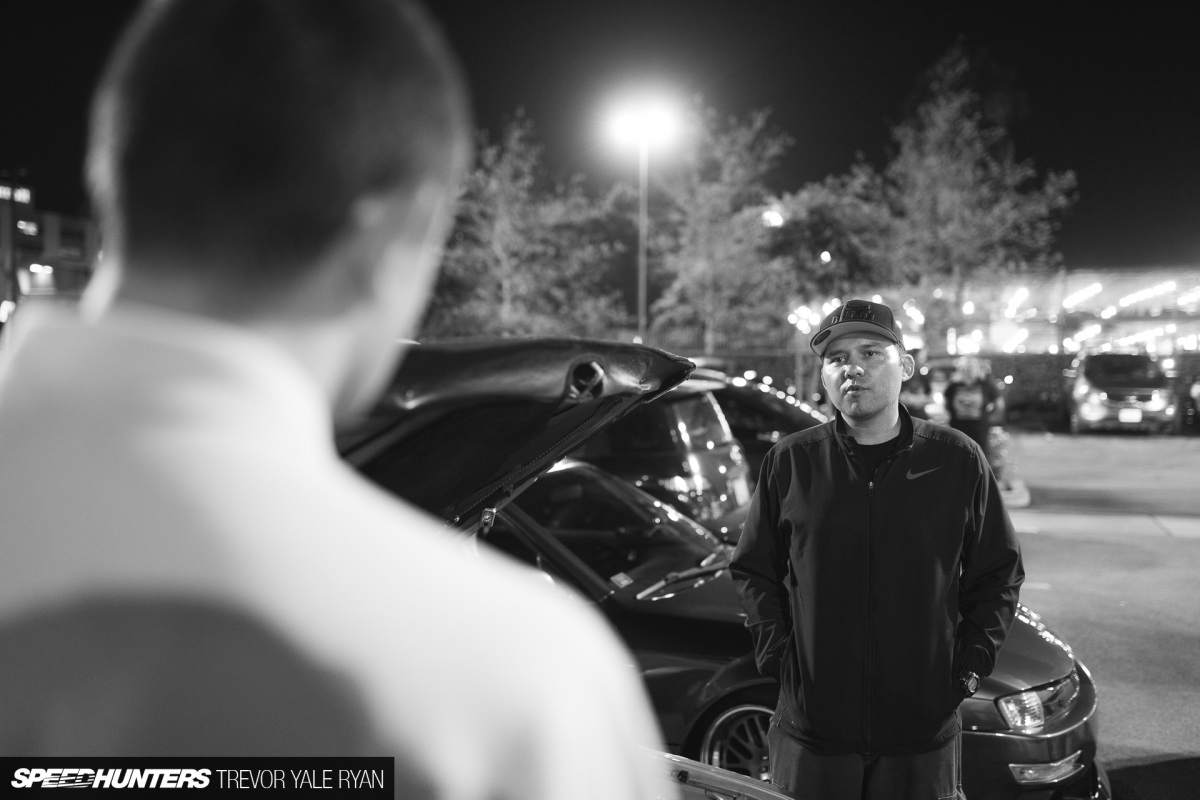 This meet was started years ago by Frank and a few friends who felt like they weren't quite fitting in to the local meets anymore. Older Japanese cars were falling out of favor and the guys grew weary of the increasing police involvement when things got out of hand.
Instead of trying to fit in, they simply left and started doing their own thing. Keep in mind, this was before social media was king, and Frank says they would literally flag down cool old Japanese cars while they were driving around during the week and ask them to come out to the meet spot on the weekend.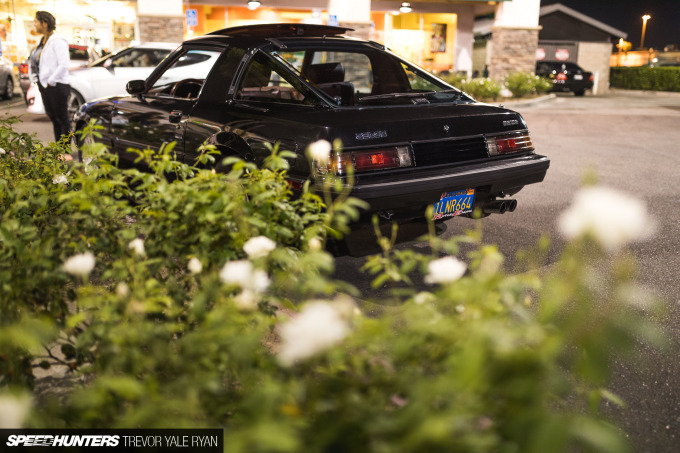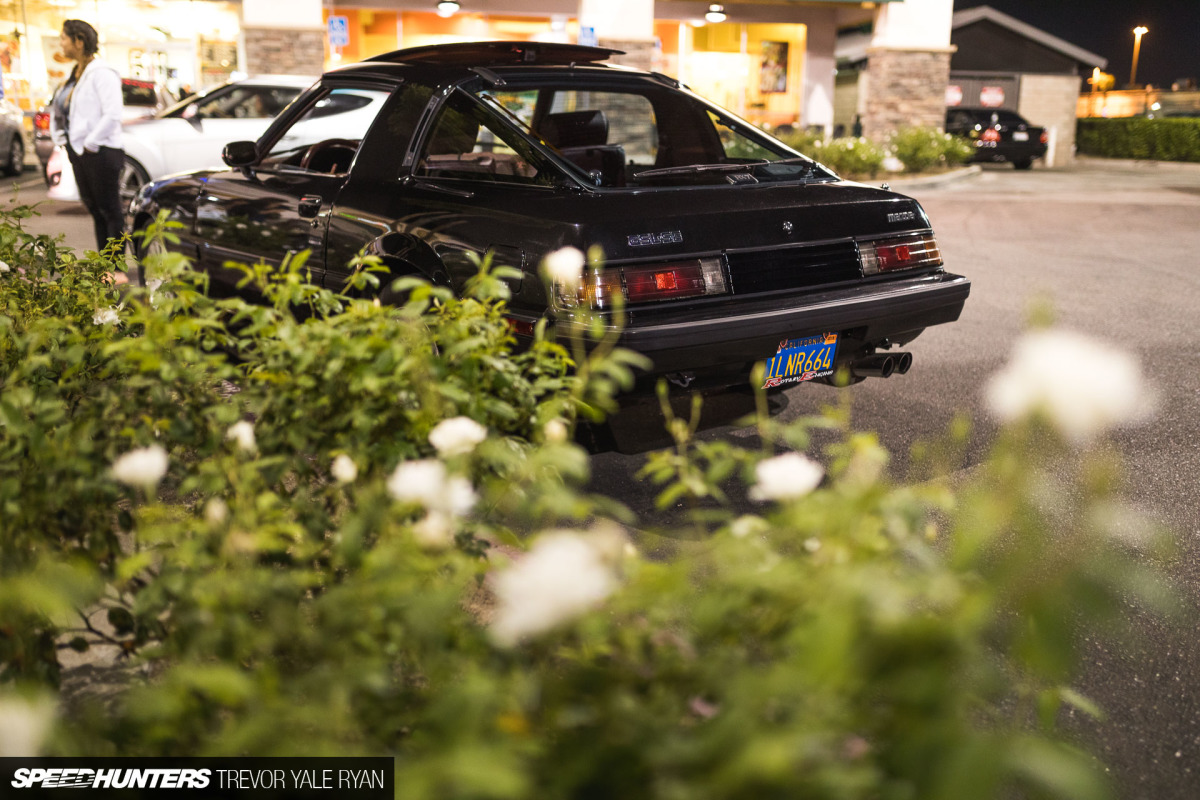 While things started small, years have passed and the crew has grown. But all the while the same mentality applies: old Japanese cars that have either been built well or survived the test of time. If your car isn't this, you shouldn't park it up here.
I really wish more meets in California applied this sort of loose rule, but that's a topic for a different day… The takeaway is that this gathering was full of people who truly love their cars and take care of them.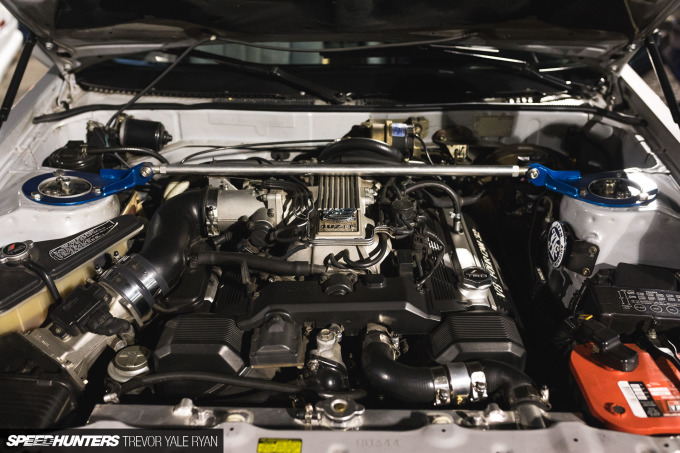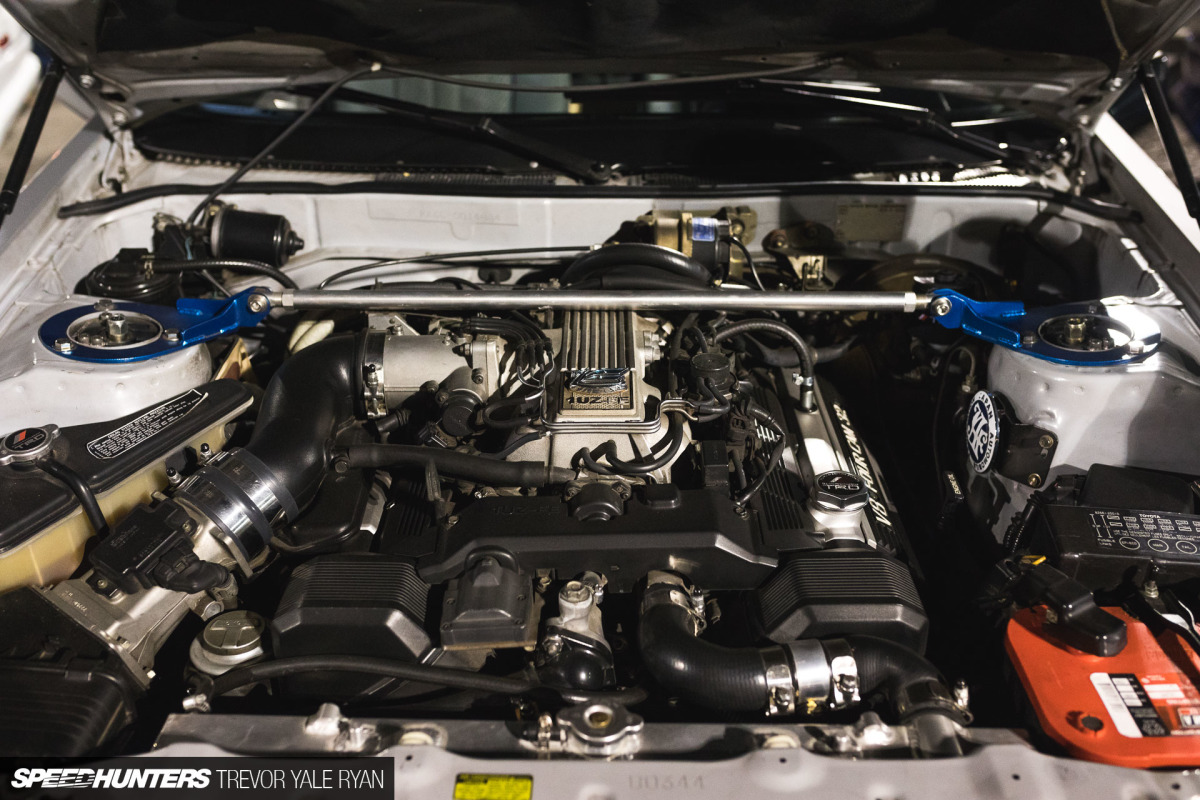 This, for example, is Frank's 1UZ-swapped Celica. You'd never guess it looking at the completely factory exterior and interior, but lo and behold here lies a V8 so clean and straightforward that it could have been a factory fit.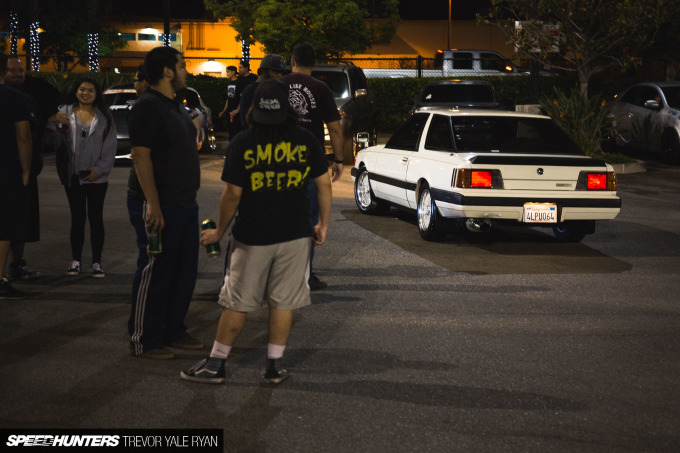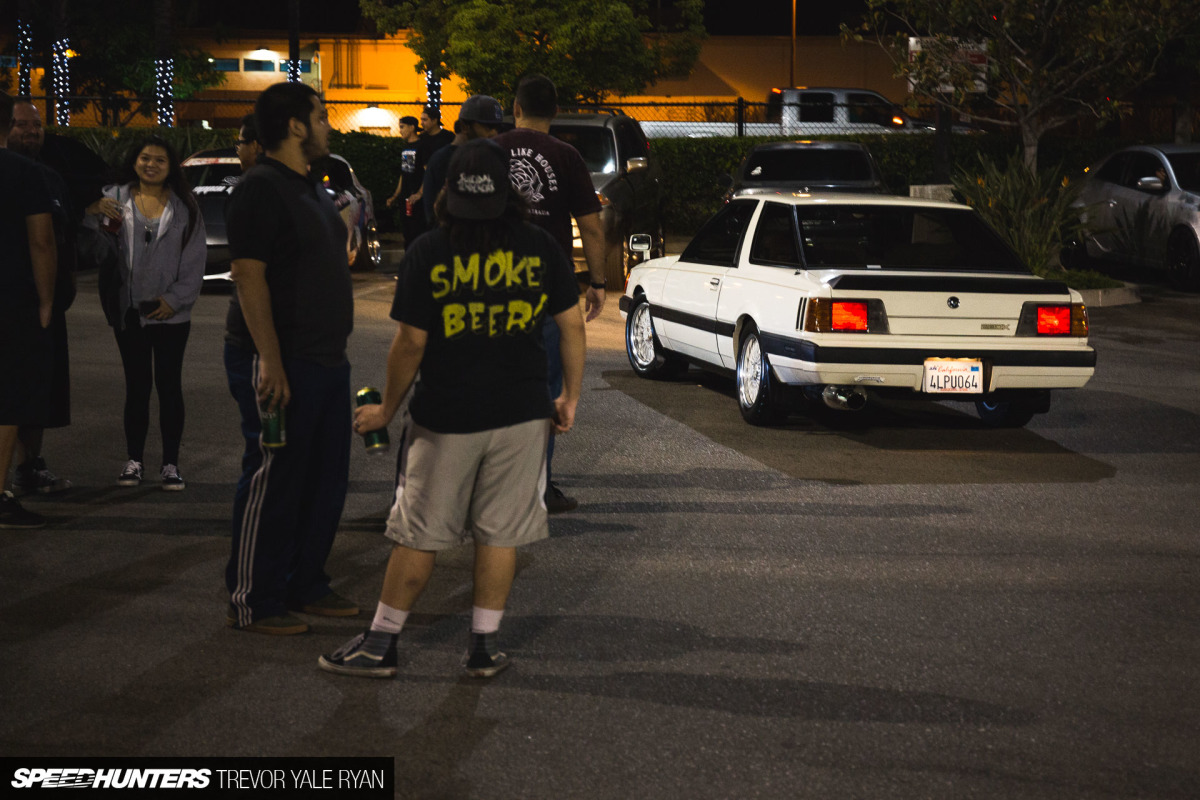 As the night went on, other awesome Japanese cars that you don't see every day (at least here in California) came out of the woodwork.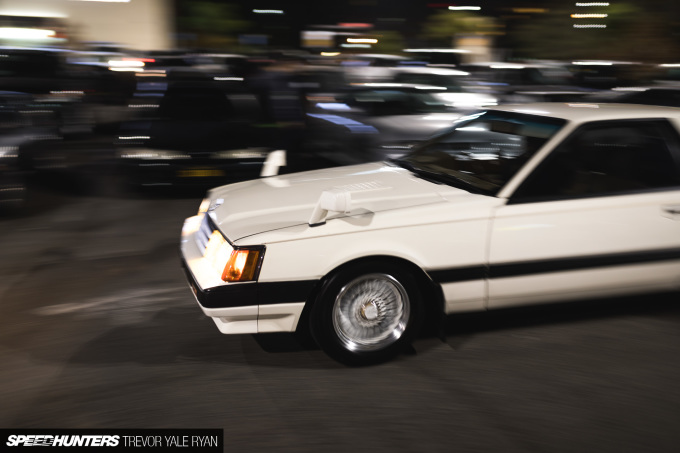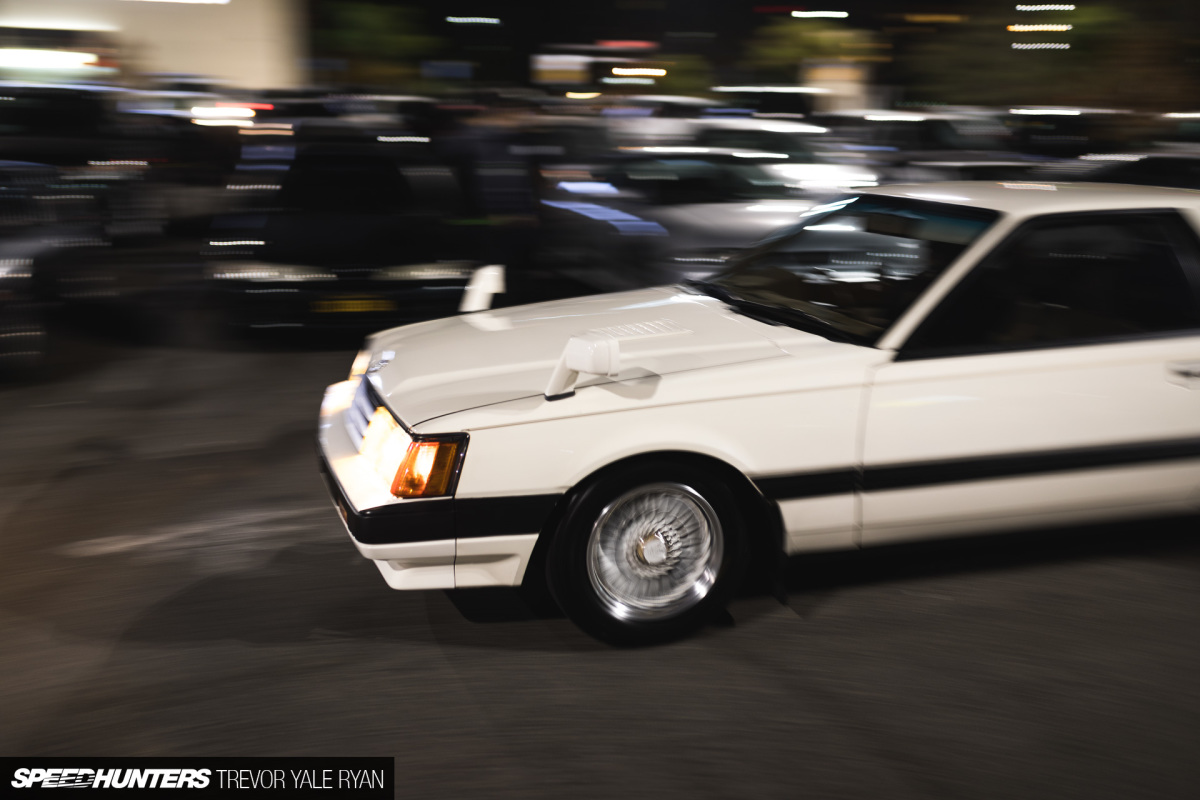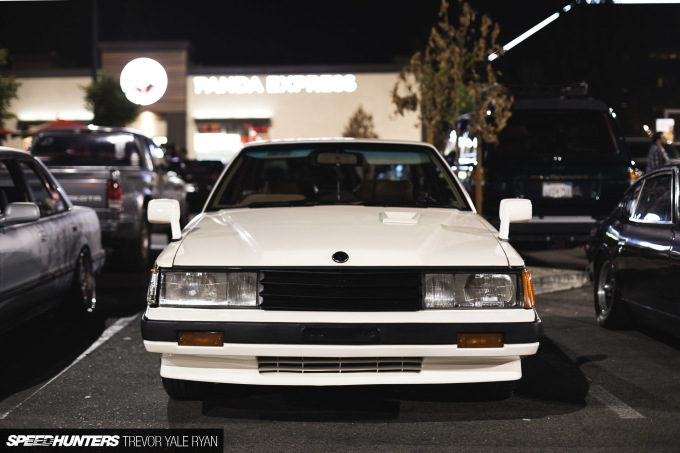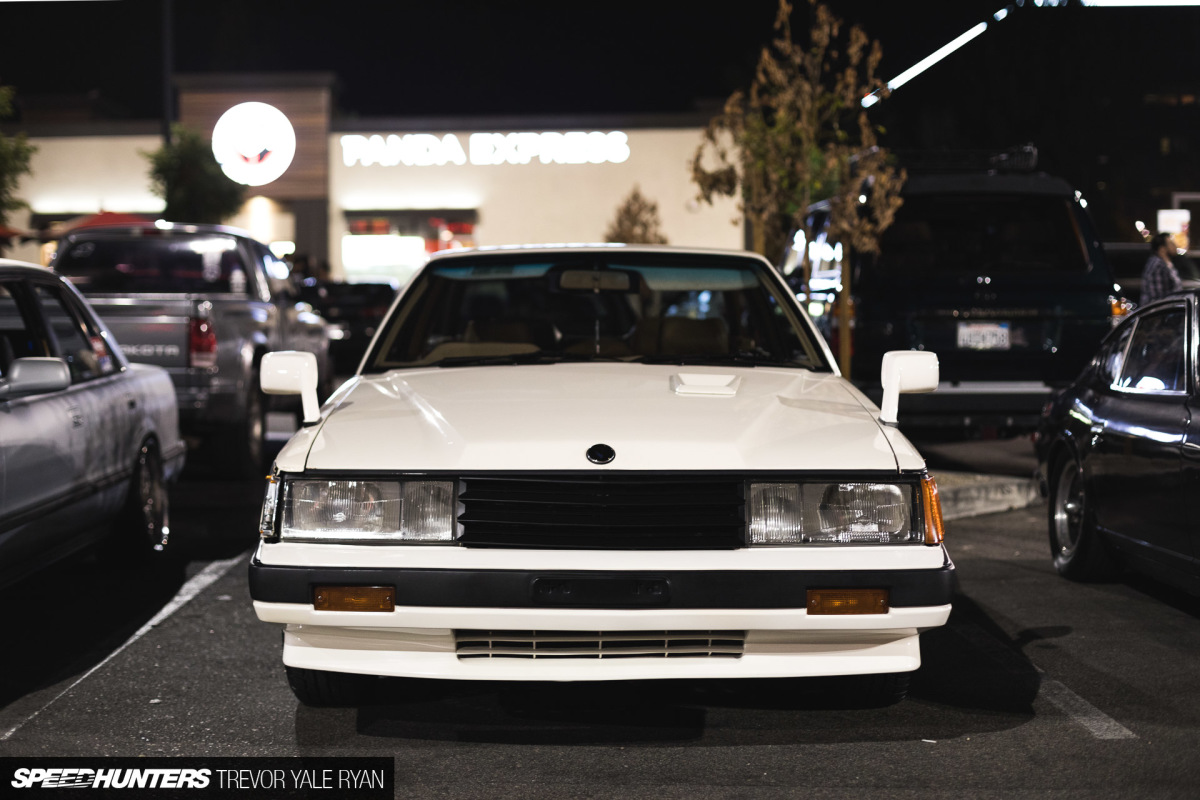 This Leopard is a car that would be at JCCS the following day, and I wasn't sure how the big show would affect a meet like this. Would people be saving their cars for the following day, still working on their cars, or be going to sleep early? Not really, as it turns out.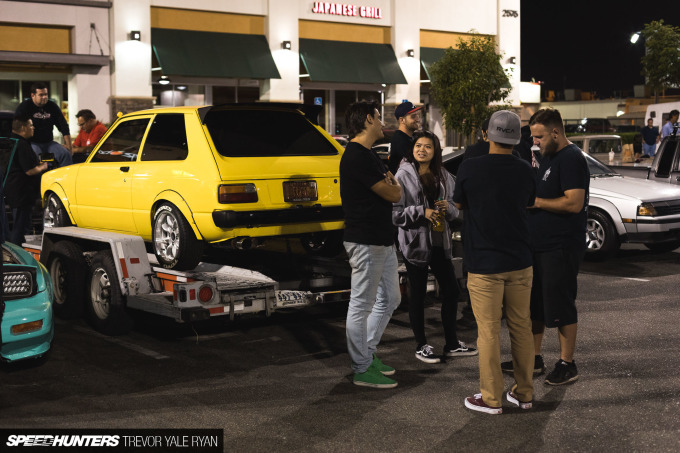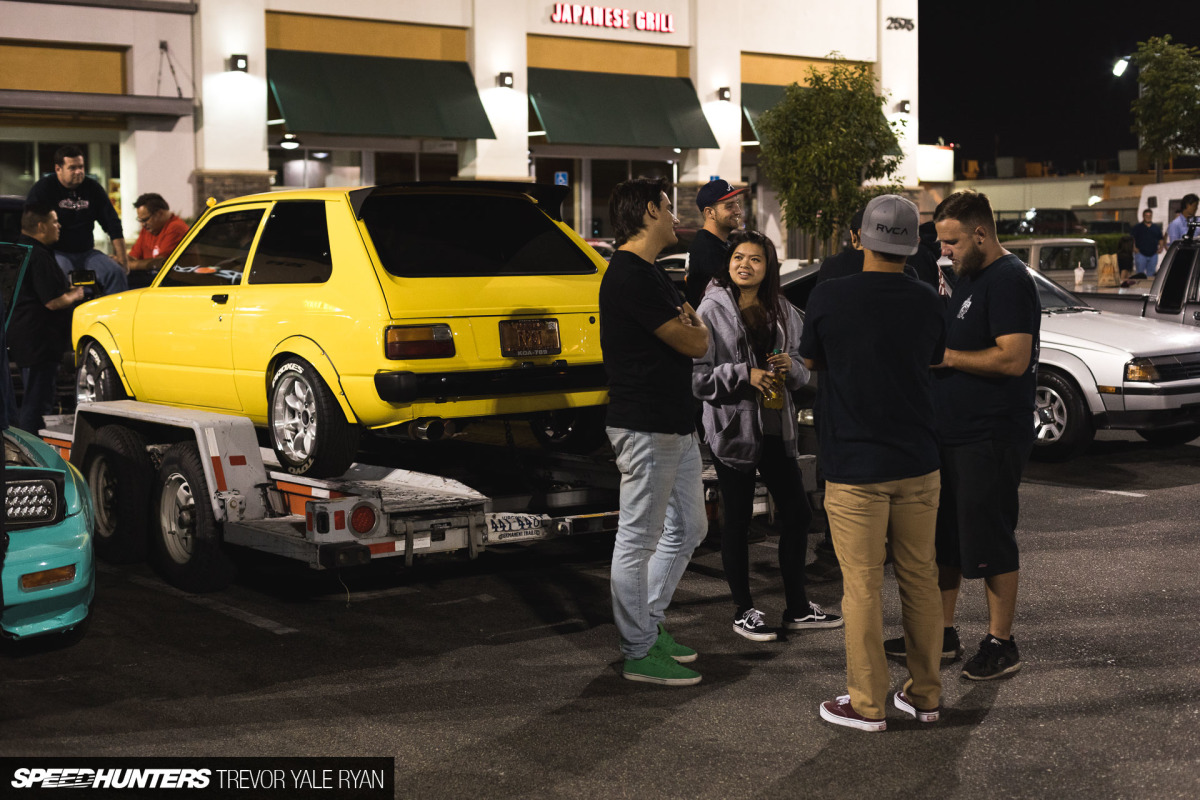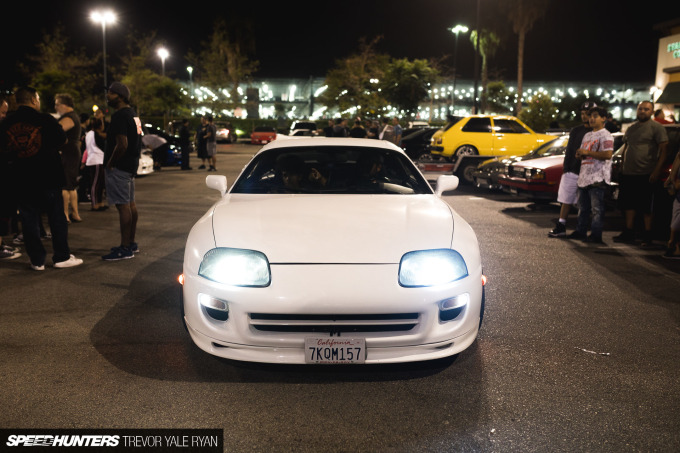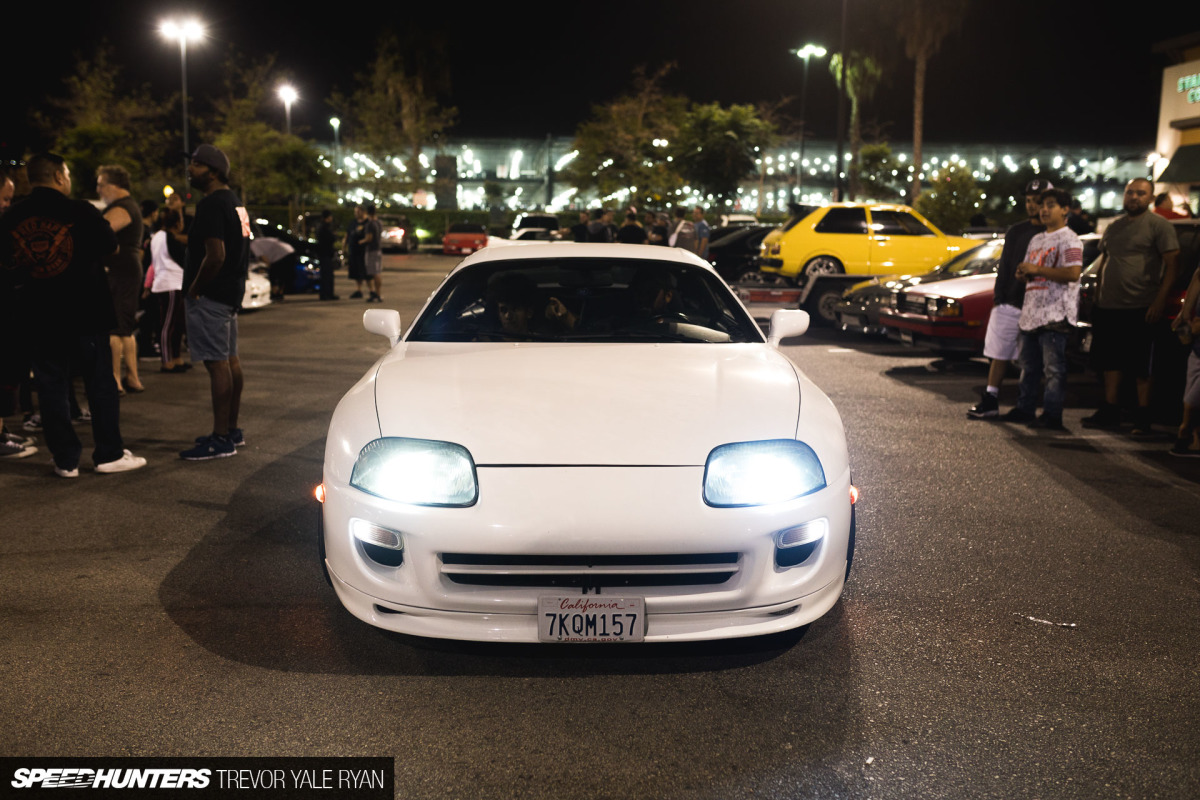 It's LA after all, and I was pleasantly surprised by everything that showed up. This included a handful of JZA80 Supras, a car I just don't see enough of up home. If you're hiding a good one in your garage in the SF Bay area, shoot me a message.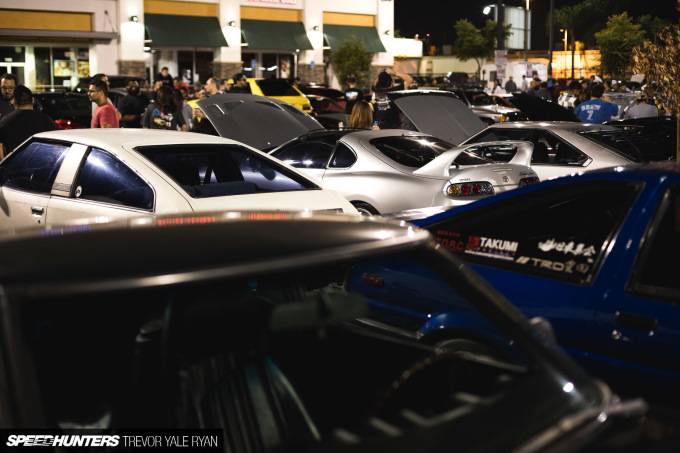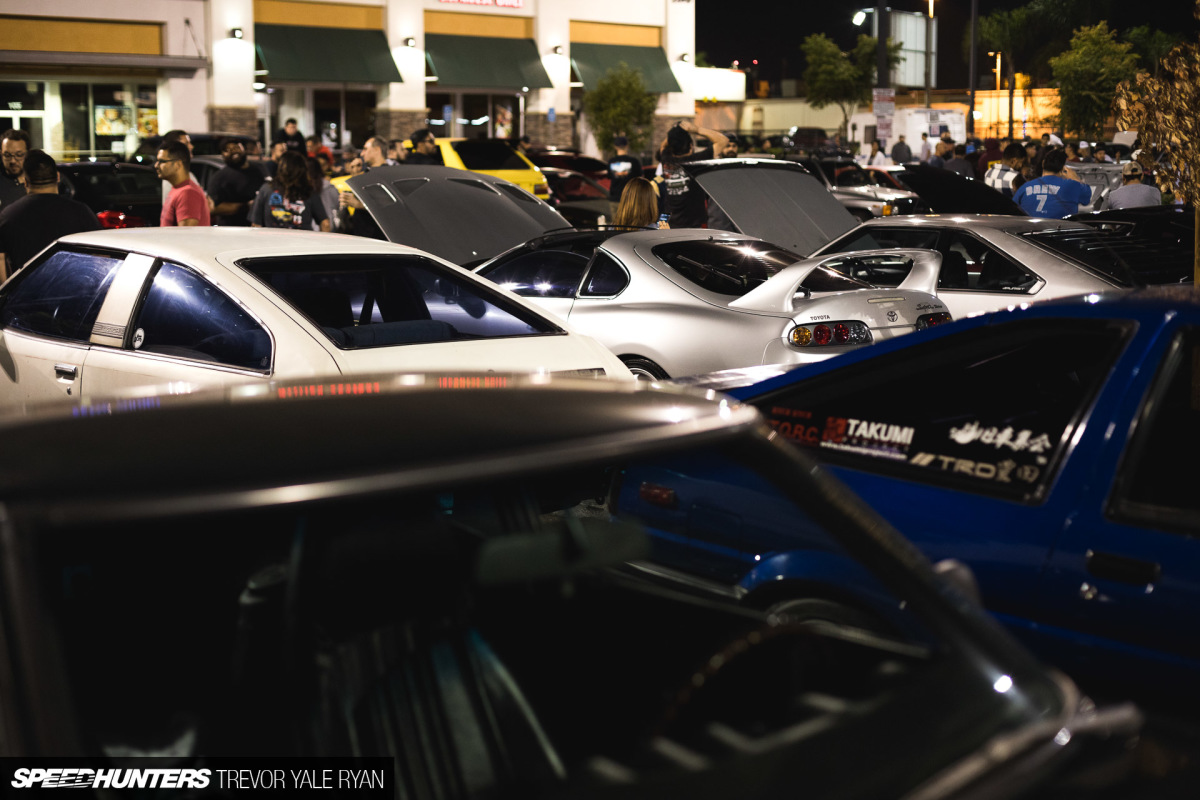 I expected to see Eddie and one of his Supras here too, and this time out he opted for the MkIV. He also owns a MkIII, which is in paint getting the front repaired, as well as a wild '80s mini truck-inspired MkII with wild Santini paintwork.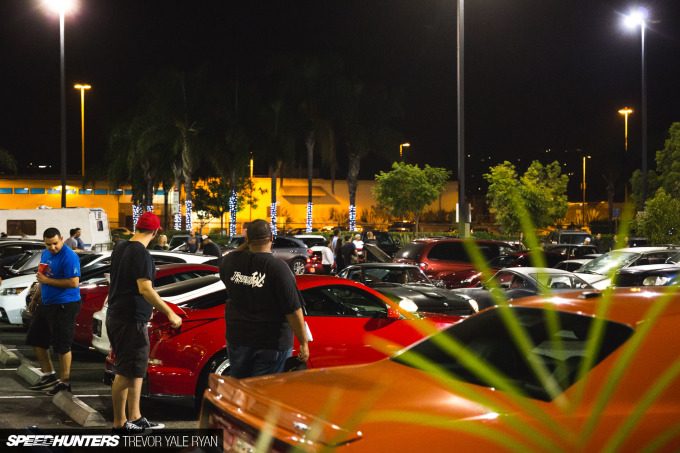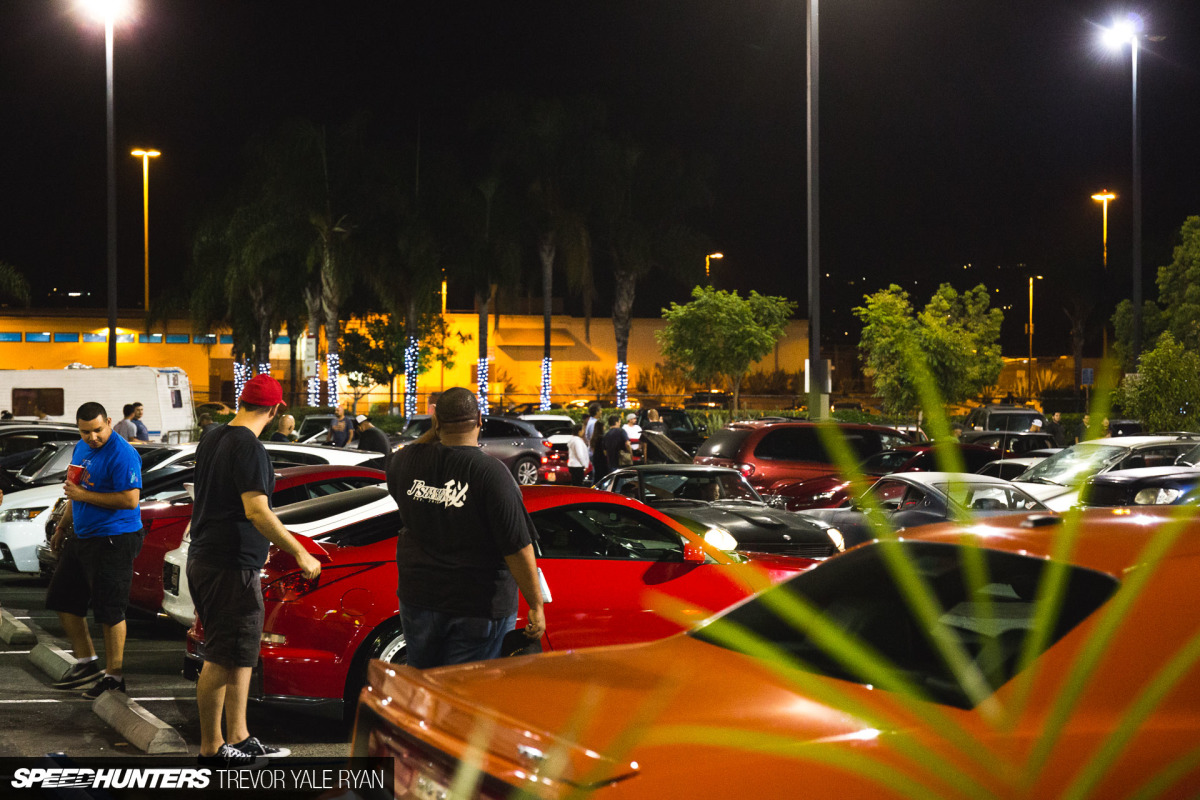 Naturally, there were plenty of S-chassis offerings out on the night, but for every car you'd expect to see at a meet in 2018 there was also something just a bit off the wall.
Something Different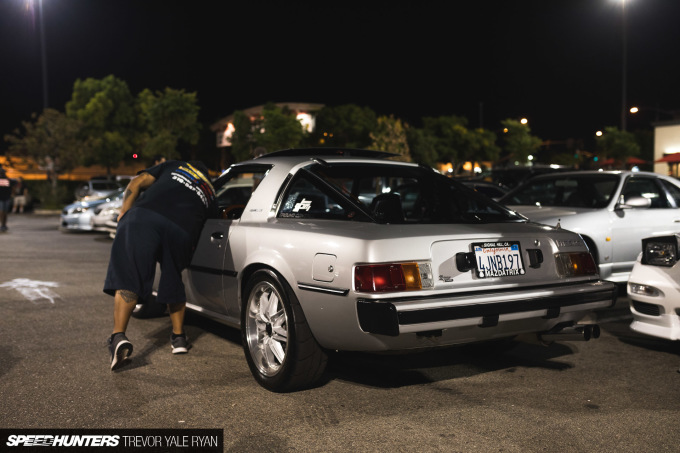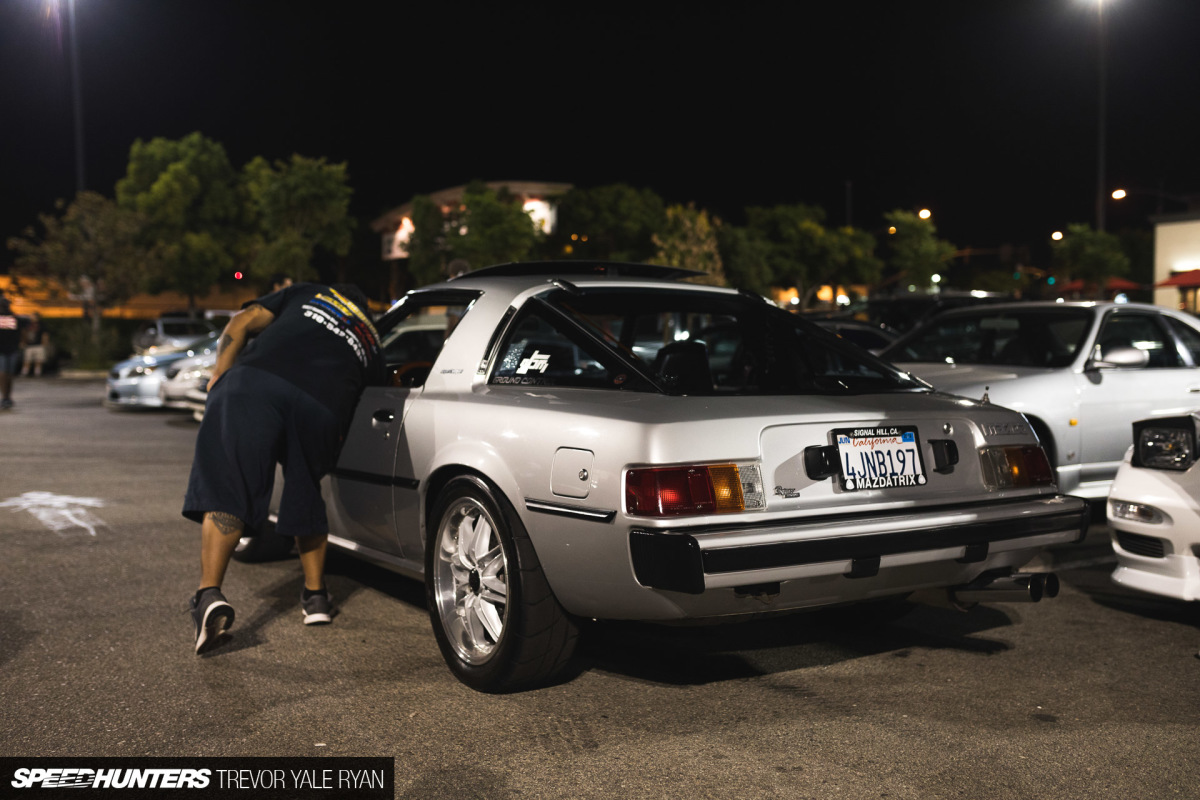 The next car to really suck me in when it pulled up was this first-gen RX-7. I've always maintained that these are sort of dorky, making them the perfect platform for something out-of-the-box and really cool.
The car was attracting plenty of attention, and once I got around to the front it made sense why. The supercharger also explained the crazy sounds the car made as it pulled up and, as much as I can get behind a swapped car, there really is something special about a good, healthy rotary power plant.
While I missed out on getting a proper soundbite of the thing, I did catch another RX-7 starting up and rolling off. Along with a quick clip of another Supra arriving, the little video above should help give you a feel for what the meet was like.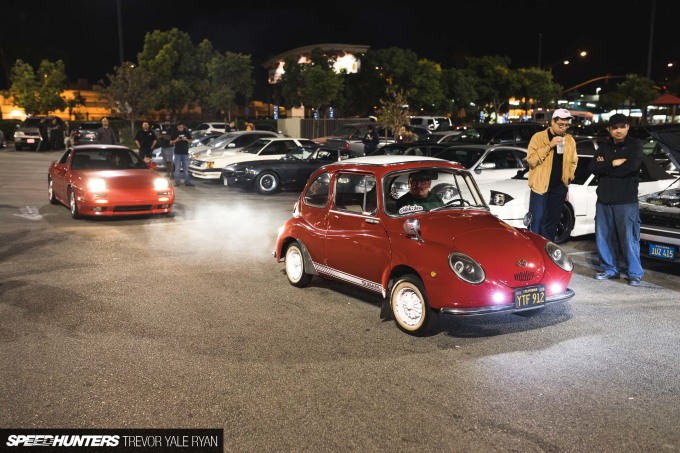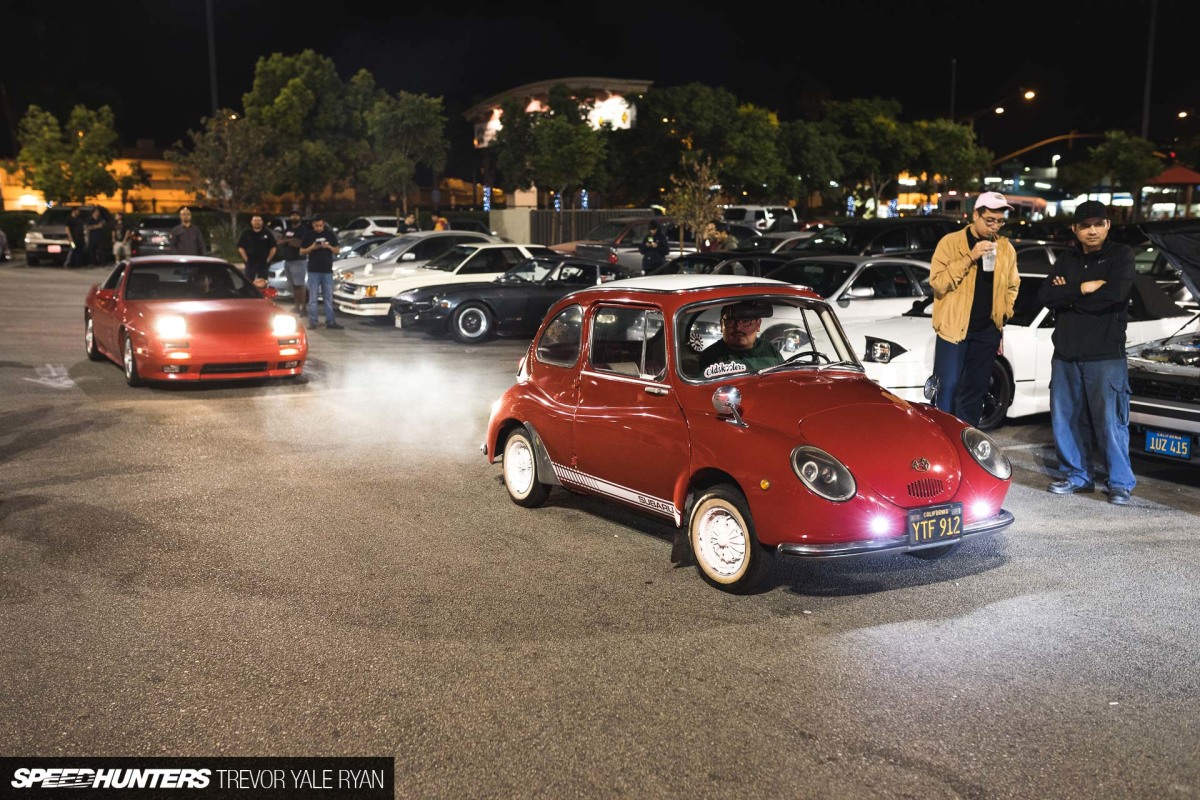 Furthering this, here's a Subaru 360 that's still on the road thanks only to the dedication of its owner. I heard that he went so far as to have a one-off set of factory wheels remade just for him so that this car could continue life as it had in decades past.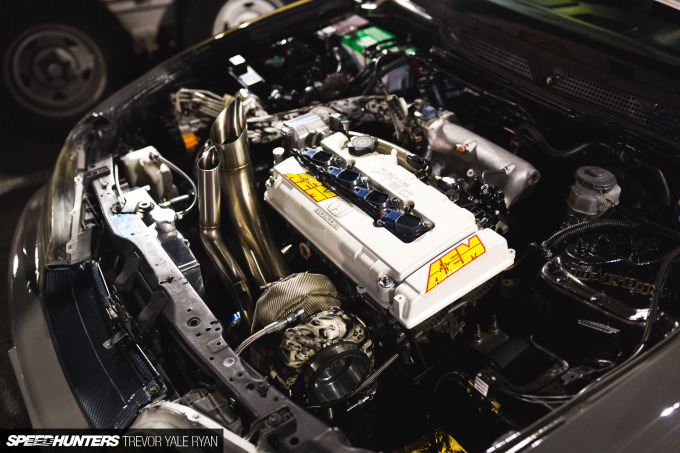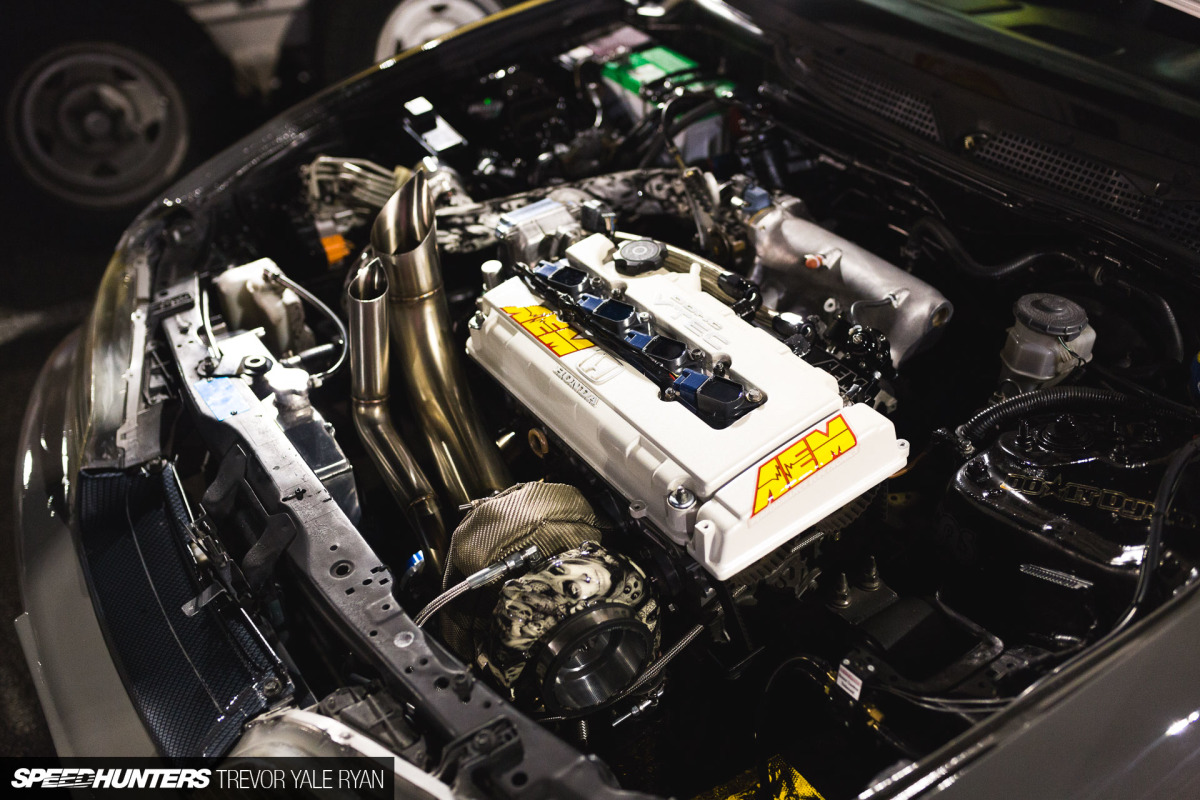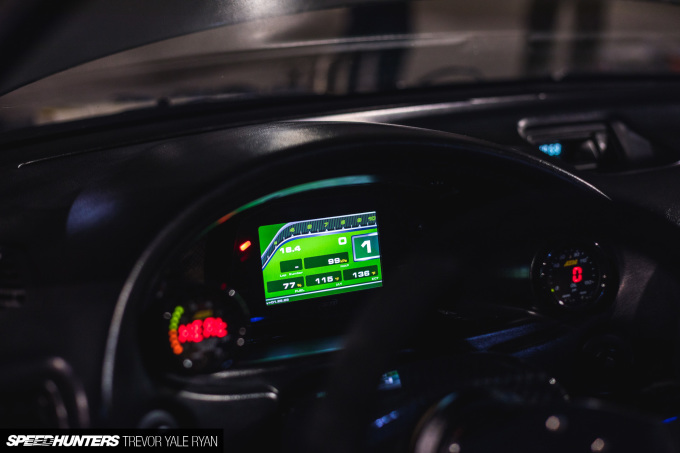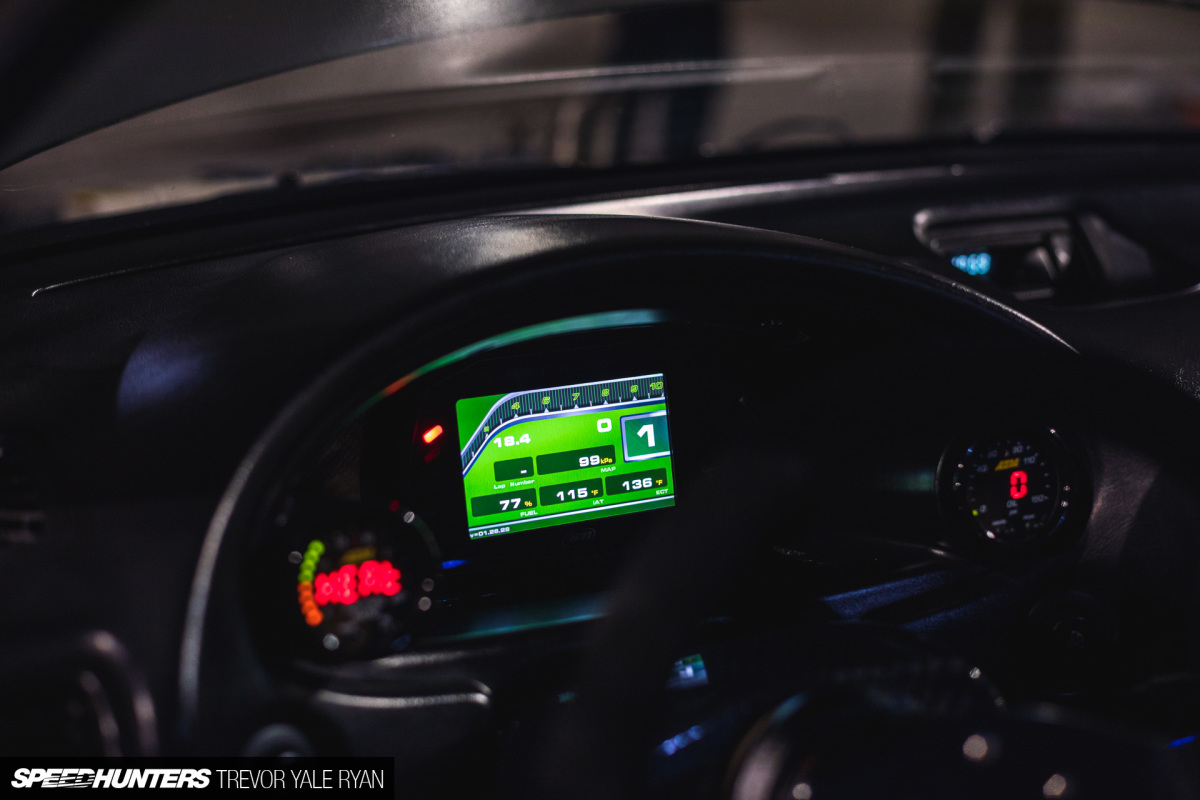 On the complete opposite end of the spectrum was this 10-second Integra. Down on weight and completely stripped out, the B20B has powered the car on to a 10.4-second ET in the quarter mile. With a new engine being built, the owner hopes to knock a couple full seconds off that.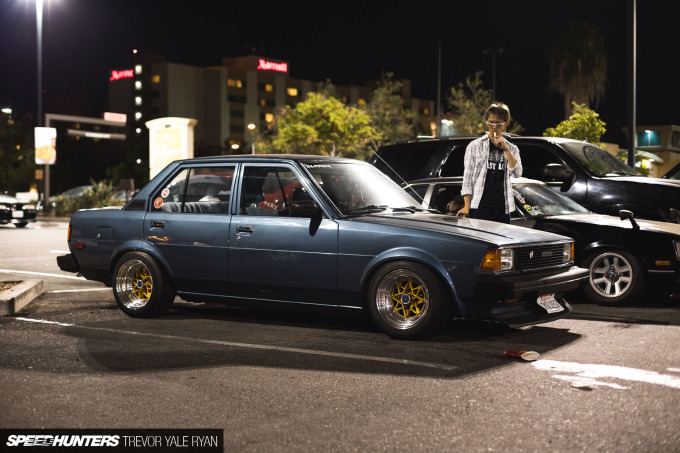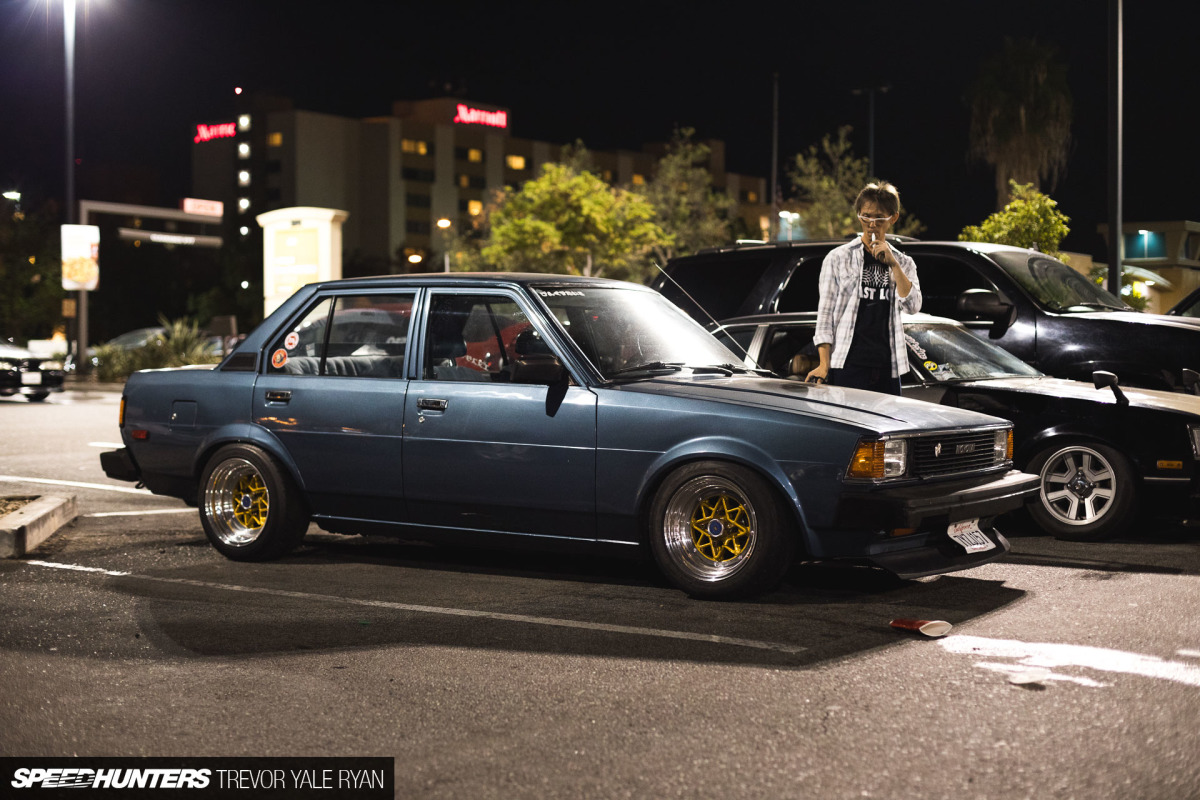 Dozens of other older Japanese cars came out to play, but what I like most about this particular photo is the guy admiring the '80s Corolla.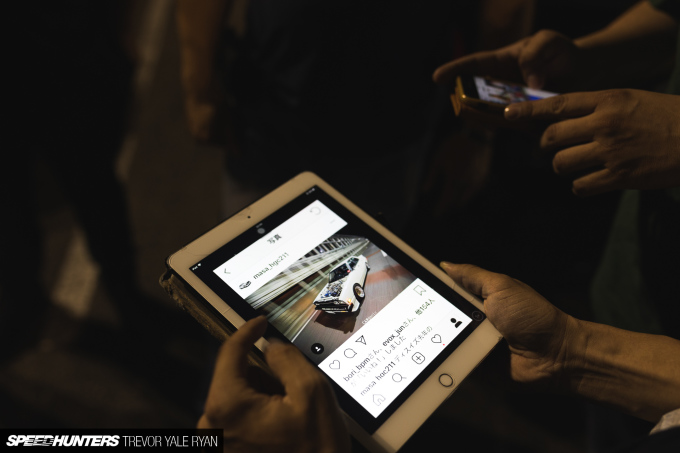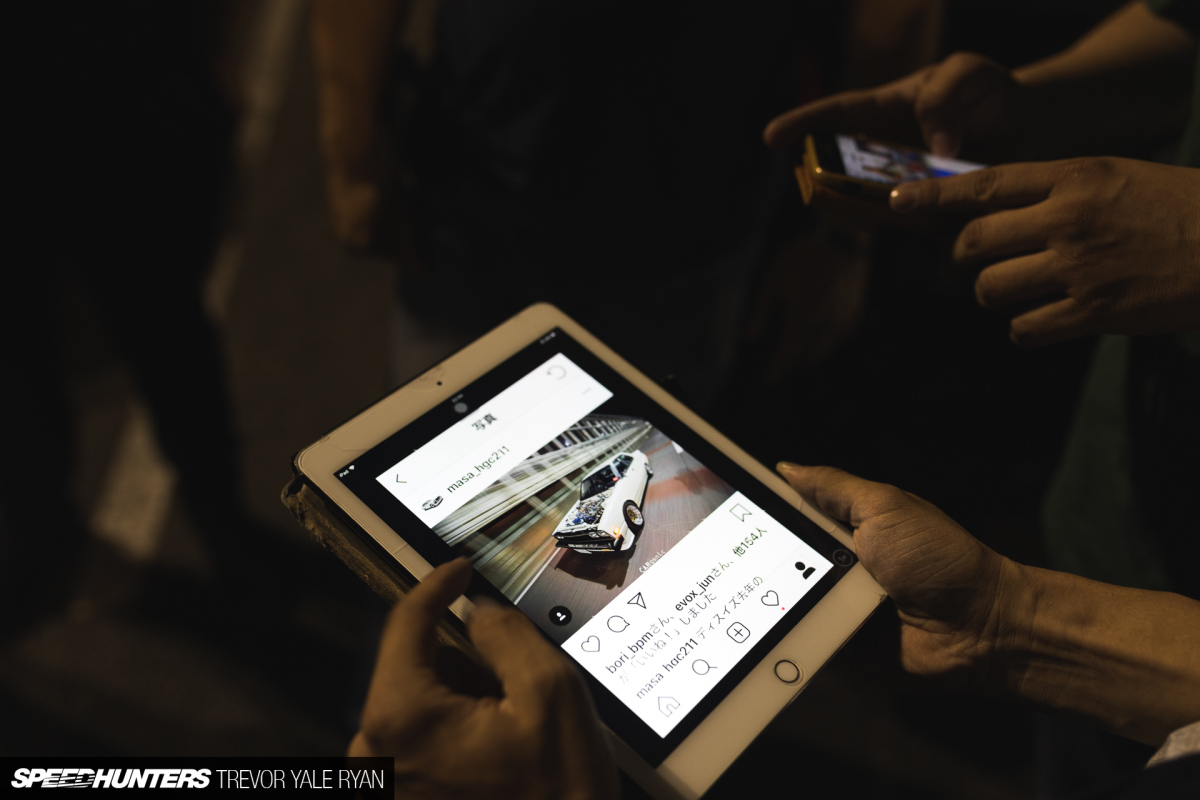 Masa came all the way across the Pacific for JCCS on Saturday and, as it turns out, Dino did a spotlight on his car last year. It always amazes me how small the world really is.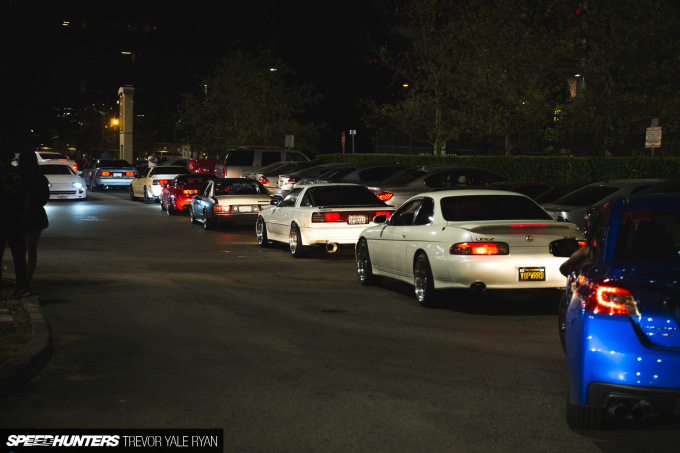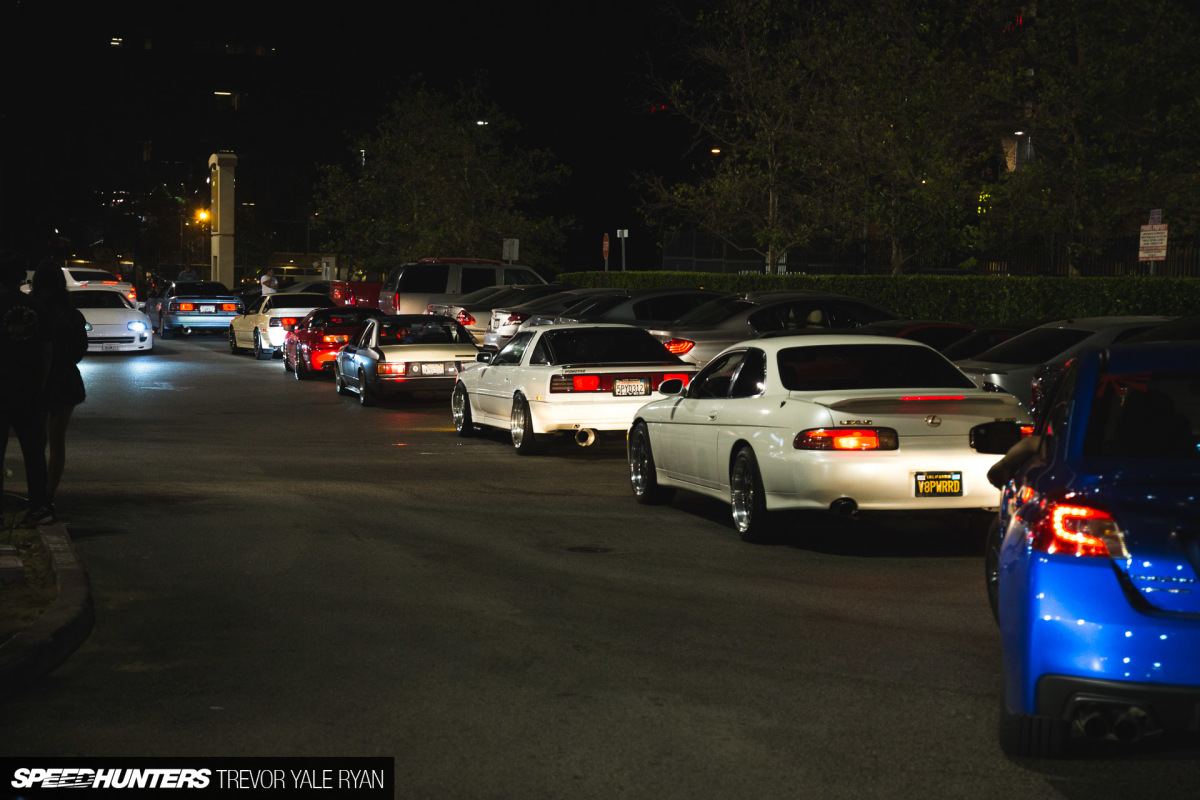 As the night went on and businesses closed the lot emptied out, only to be filled right back up with more old school Japanese cars.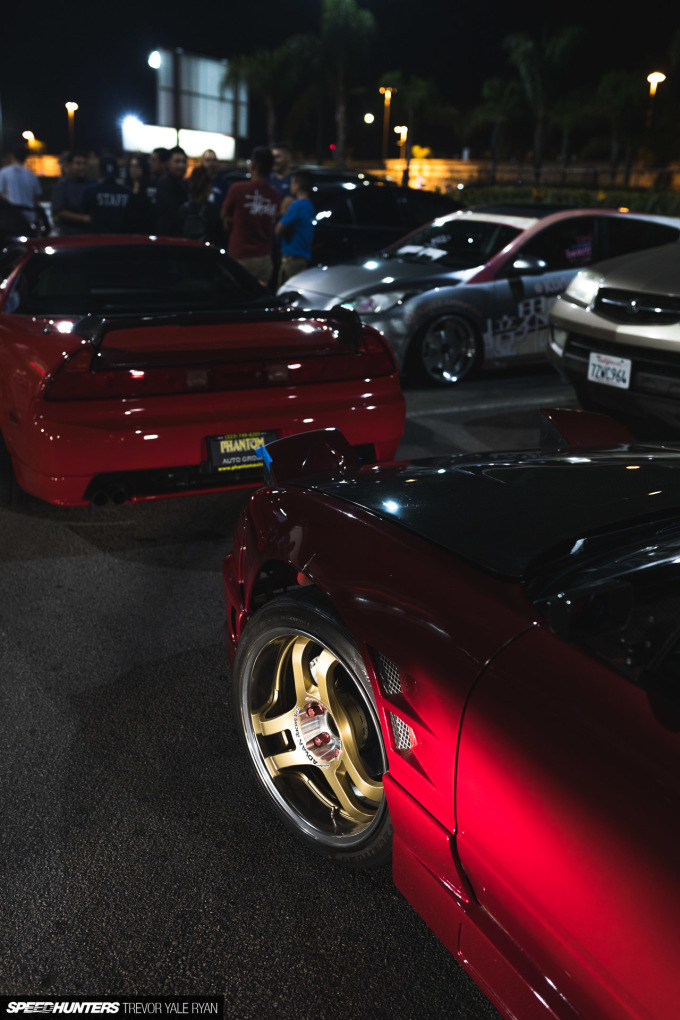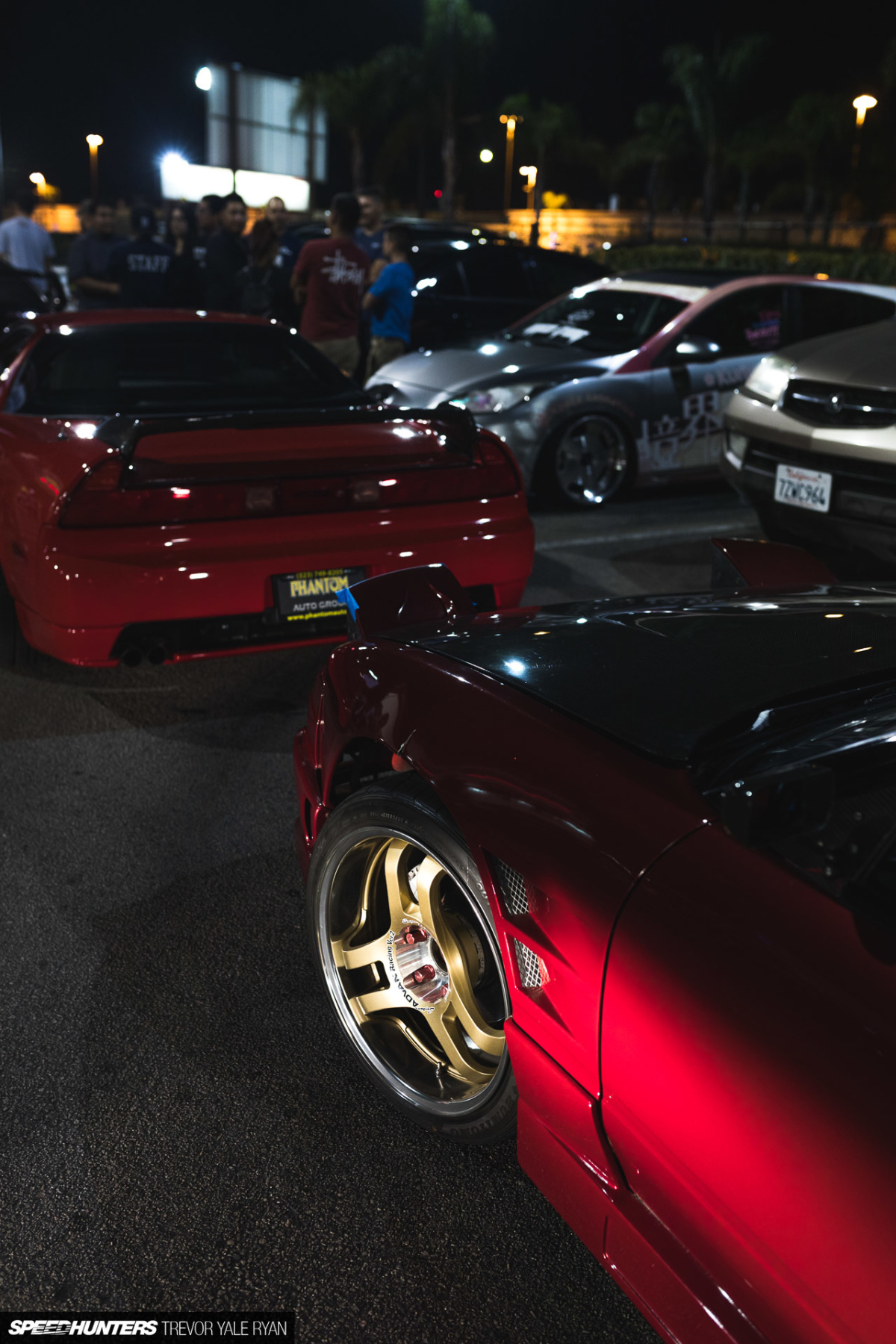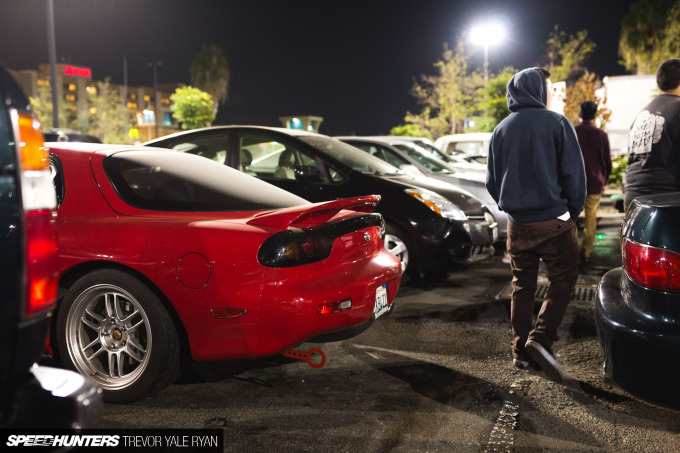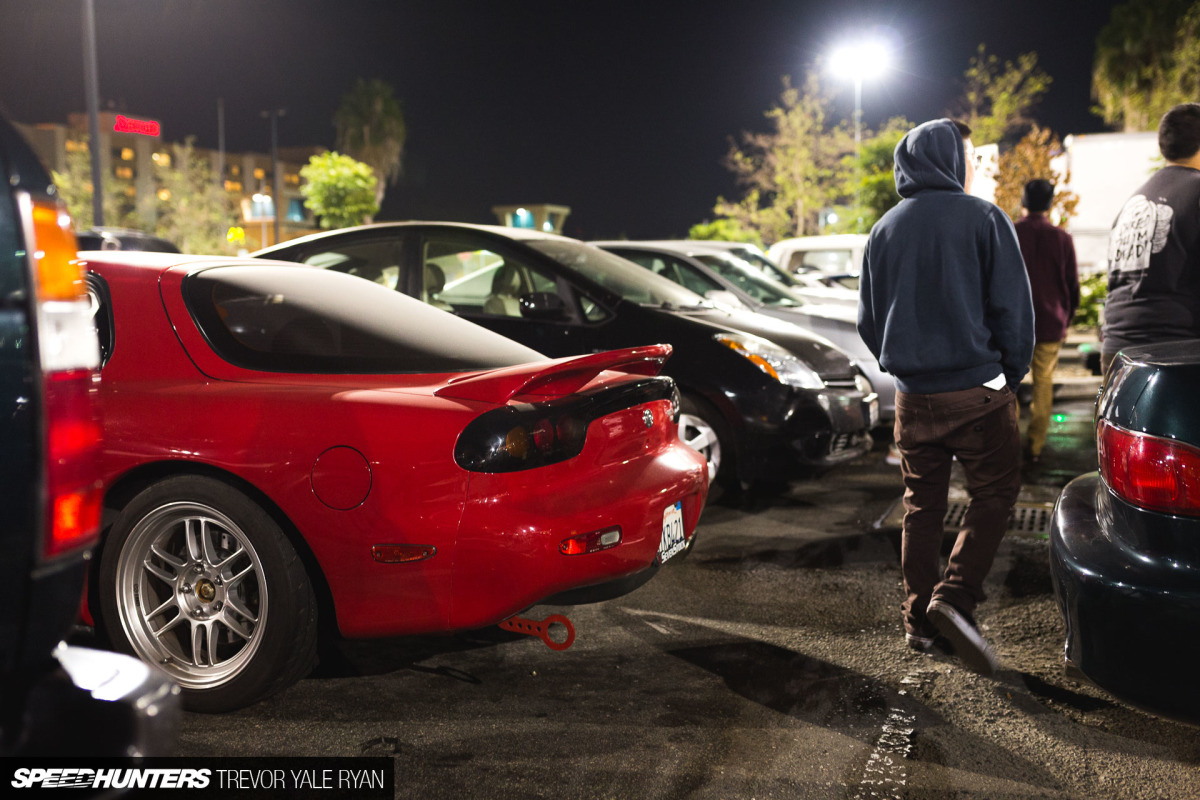 This wasn't the biggest meet in the world, likely not even in LA, but it really did finally feel like the right one. Cars continued cruising in but, being the delicate flower I am, I had to call it an early night.
Well over 300 incredible cars would assemble the following morning for the Japanese Classic Car Show, and I'd have to be ready for them. Coverage is on the way but, first, my body unfortunately requires sleep again…
Trevor Yale Ryan
Instagram: tyrphoto
TYRphoto.com
Into The Night