Pete Santini
The name Santini was vaguely familiar to me before I met up with Eddie Perez to take a look at his second generation Toyota Supra. It turns out he snuck along a MkIII and MkIV as well, but I'll get to those in a bit.
For now I want to focus on Pete Santini, who originally painted this car in 1987. Santini Paint & Body has been alive and well in Westminster, California for over four decades. Santini's work has been featured on more than 20 SEMA Show builds over the years, and he's sprayed everything from motorcycles to hot rods to the Supra you see here.
His workshop is still active in Southern California and just months ago he did a bit of touch up work on Eddie's Supra, along with a matching job on the new engine under the hood.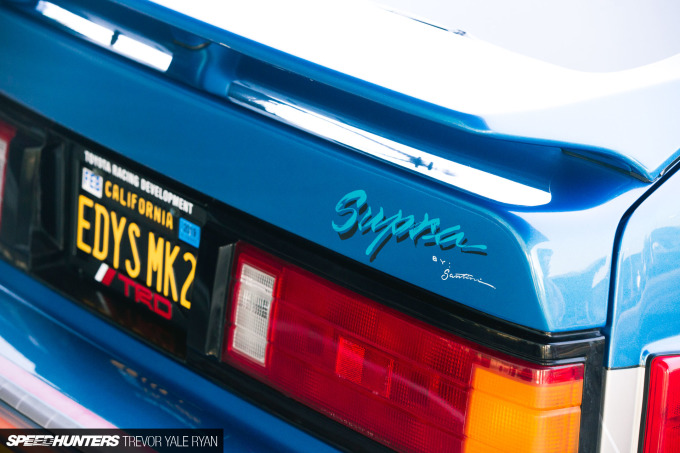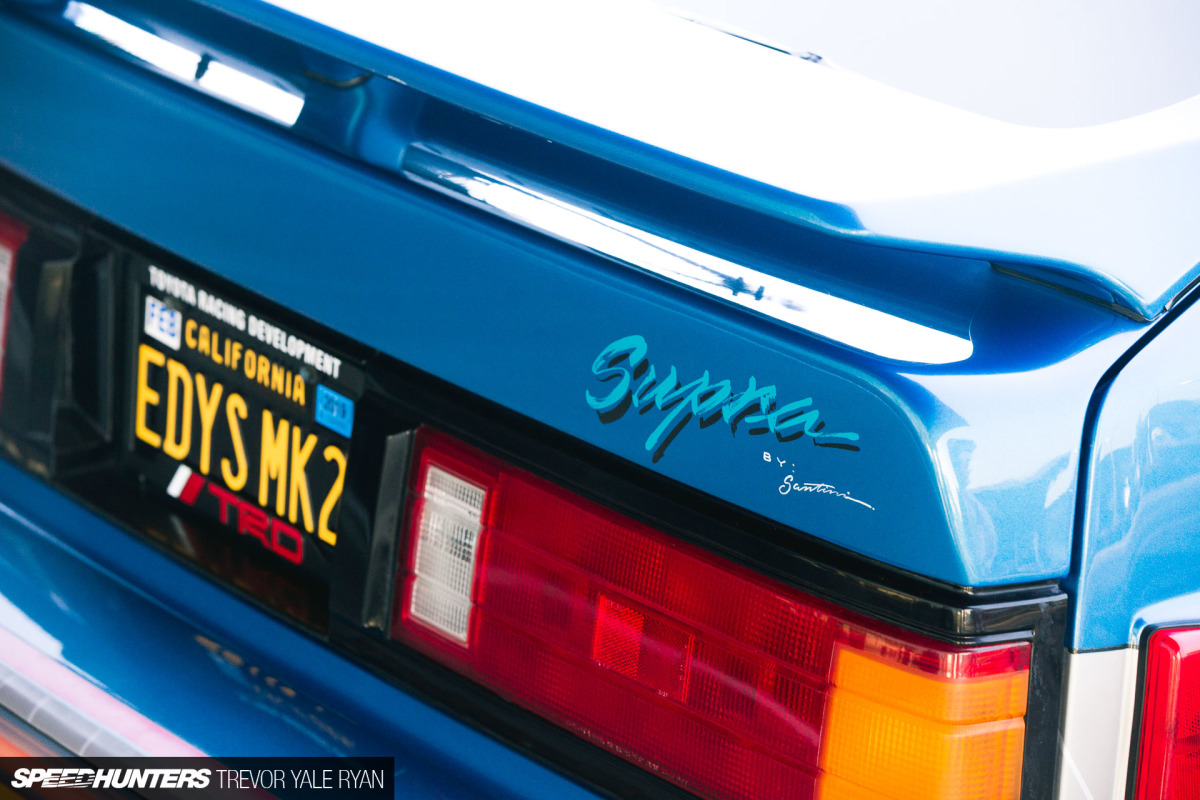 Eddie says that when Santini saw the car he was amazed that it was still around. For 30-year-old work, it's held up phenomenally well too. But what strikes me most about the paint job on this '85 Supra are all the little personal touches and details that were worked into it.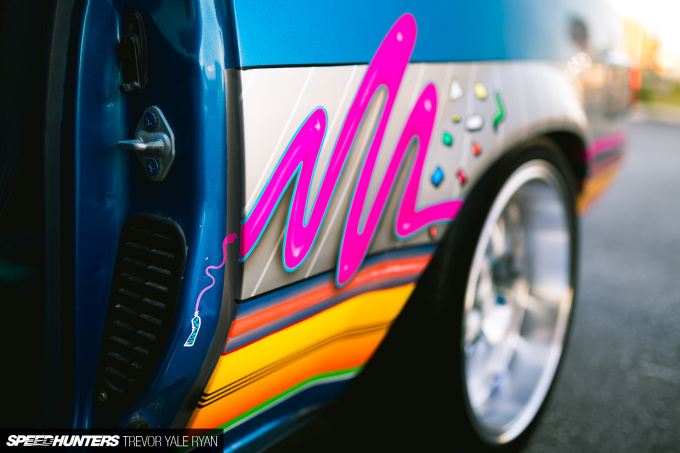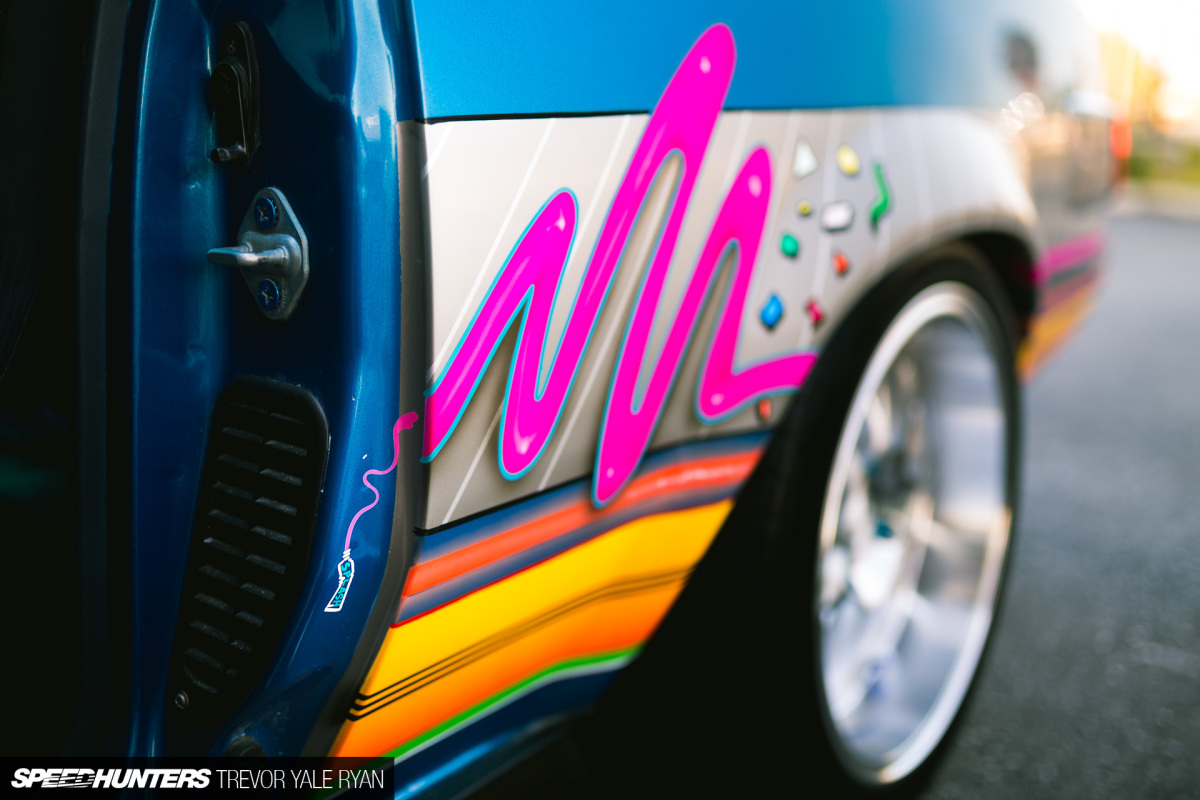 It all starts here…
And continues through the back end and around the entirety of the car. The creative design and color palette is so 1980s, and it works so well. Whoever wanted to do this in the first place definitely had some gonads; it's a bold statement and something you would expect to see from this era alone.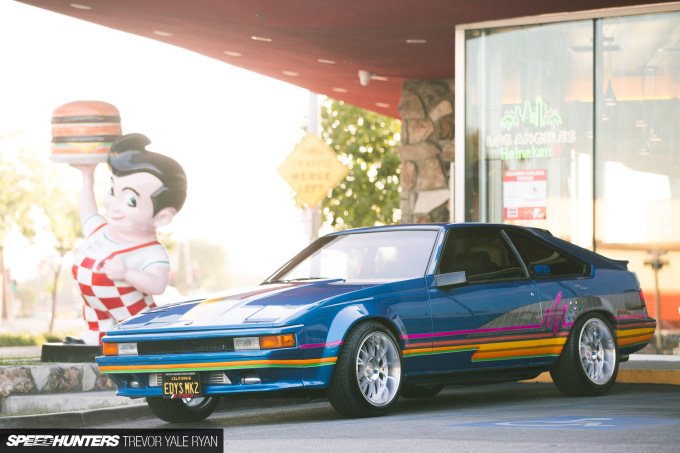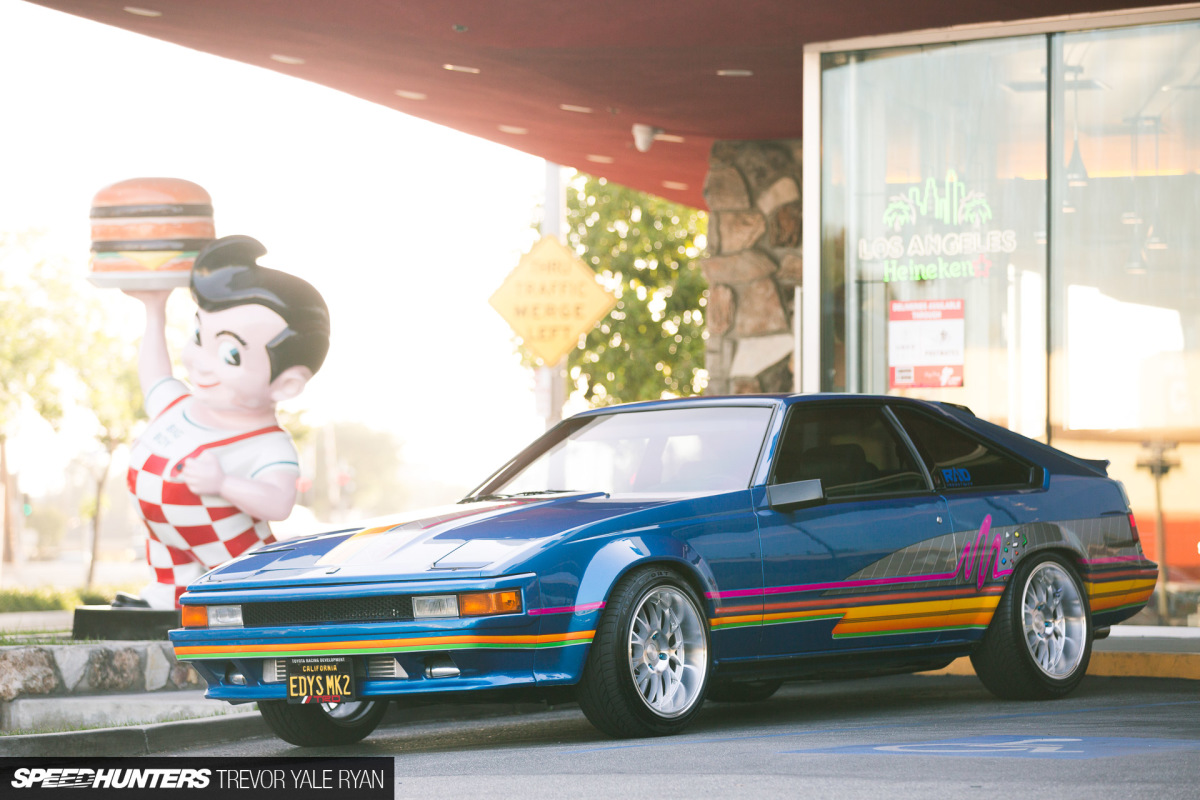 The whole package is very tidy and complete, playing nicely with the molded bodywork. An honest car, I wanted to experience it at an honest location, so we met up at Bob's Big Boy in Burbank, the home of many meets in this area.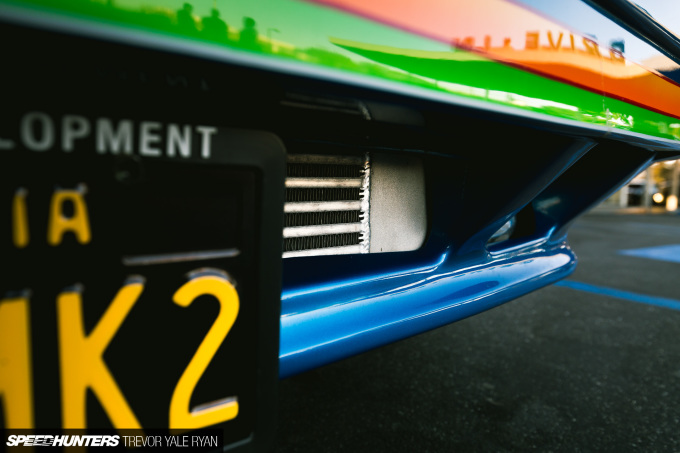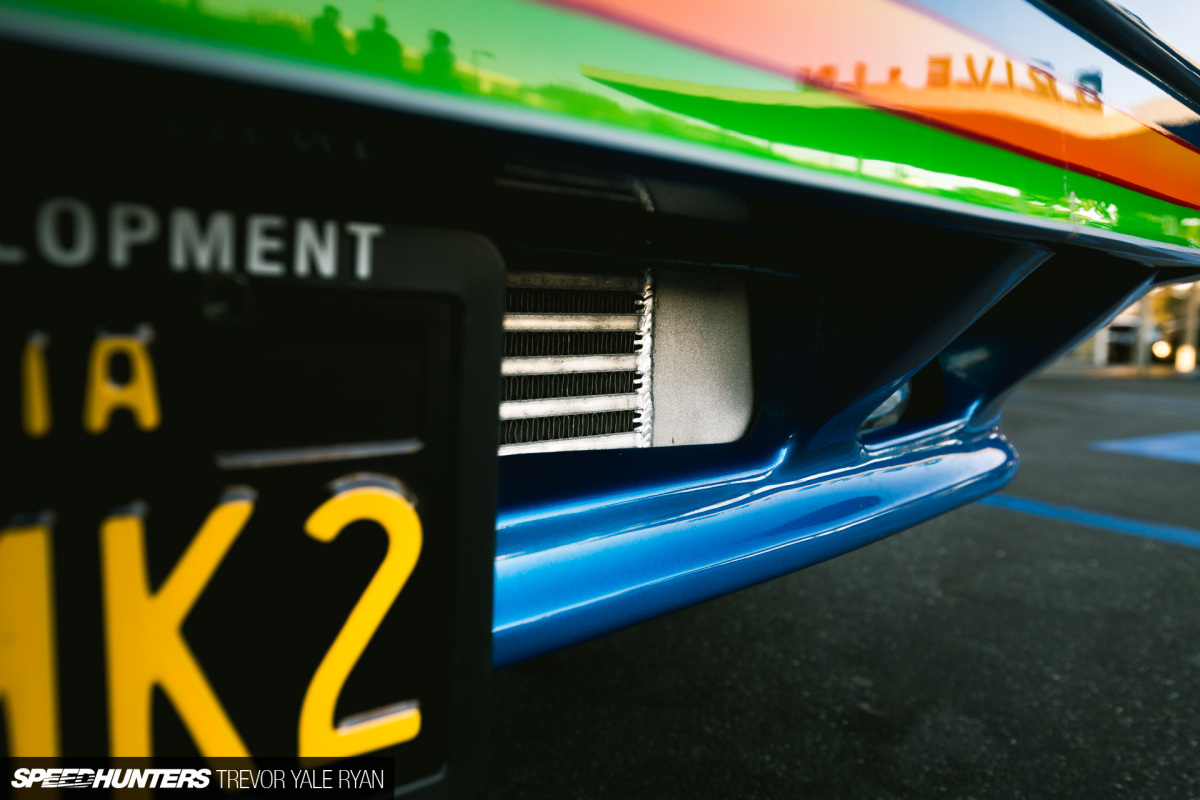 But the Supra is hiding something. As charming as the car is to take in, there's a big hint up front that a lot more is going on here.
RAD Industries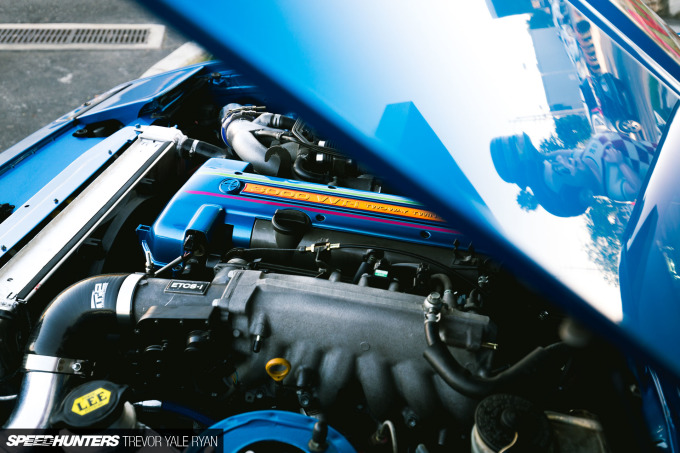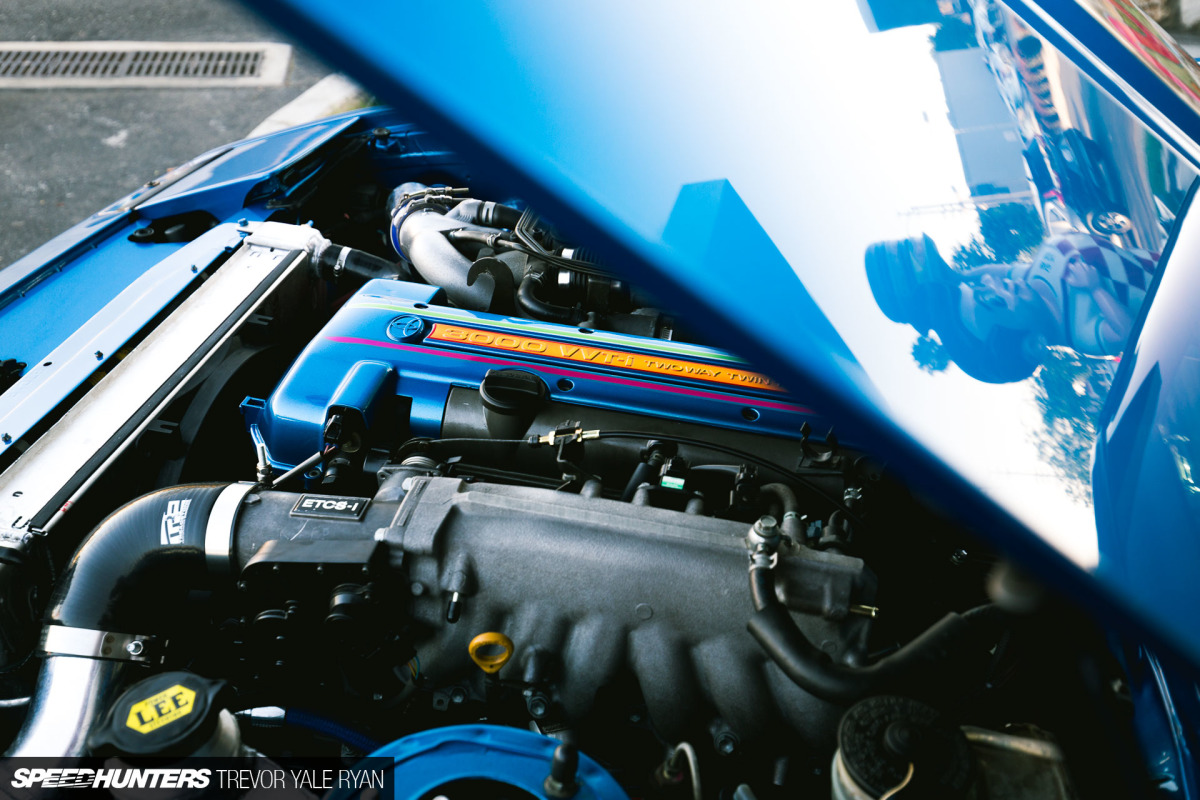 That something is a 2JZ-GTE that's been swapped in by RAD Industries.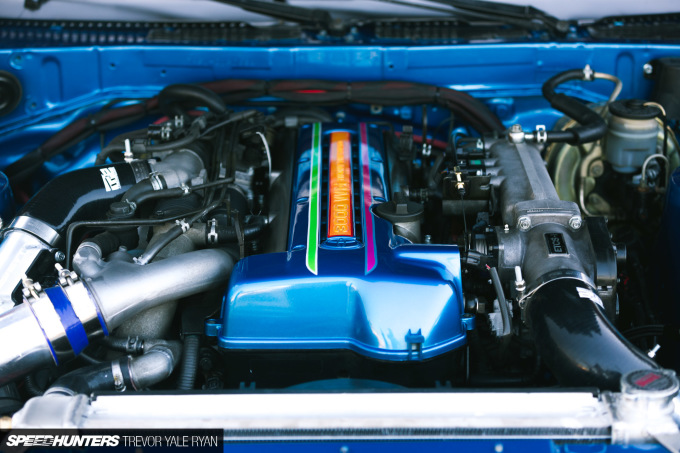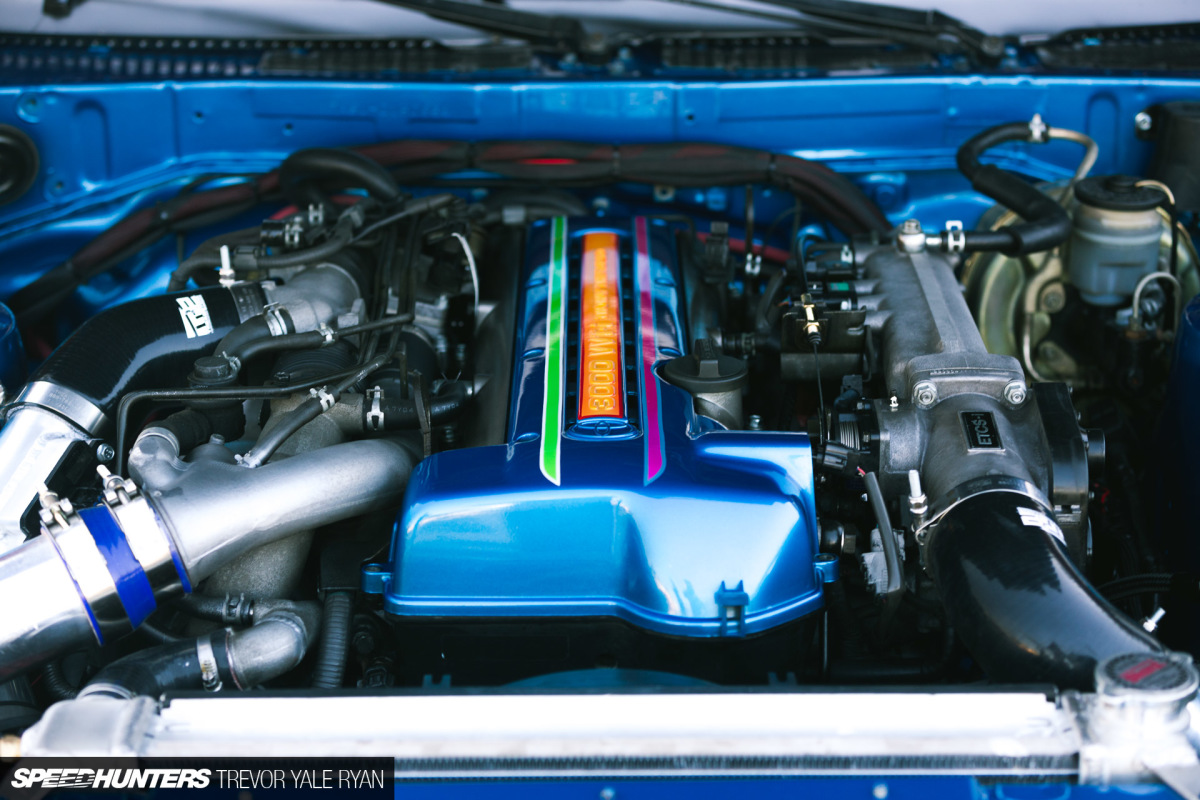 While certainly not the first time a 2JZ motor has found its way into an older Supra (in fact, a couple of Eddie's friends showed later, one of whom had also done exactly this), this has to be one of the coolest examples in existence.
I love that Eddie appreciated the original custom paintwork enough to go to the man himself to have the valve cover matched up. Santini's attention to detail really shows and the quality of his work is as good as ever.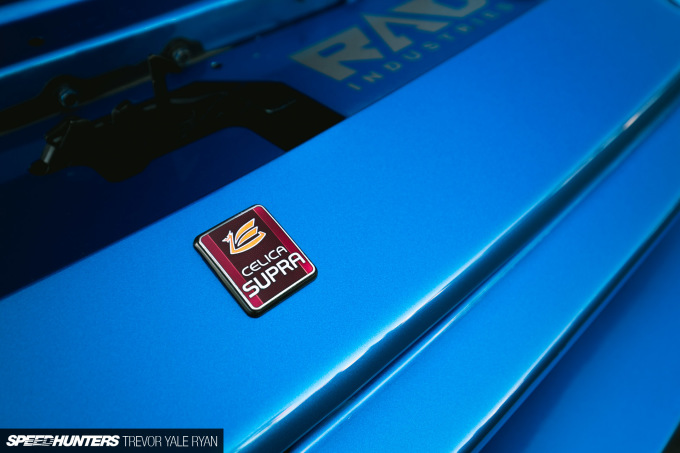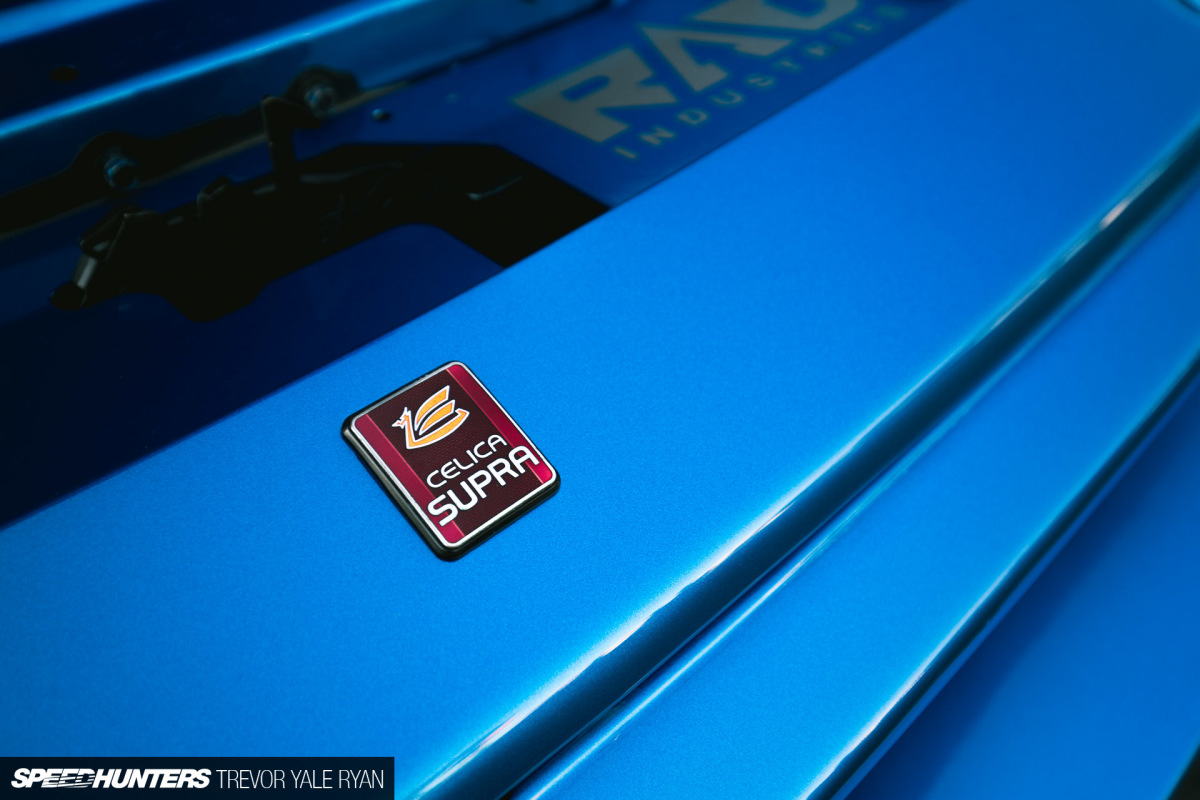 With the fairly straightforward swap, the Supra — or should I say Toyota Celica Supra — has been really livened up by the new twin-turbo powerplant.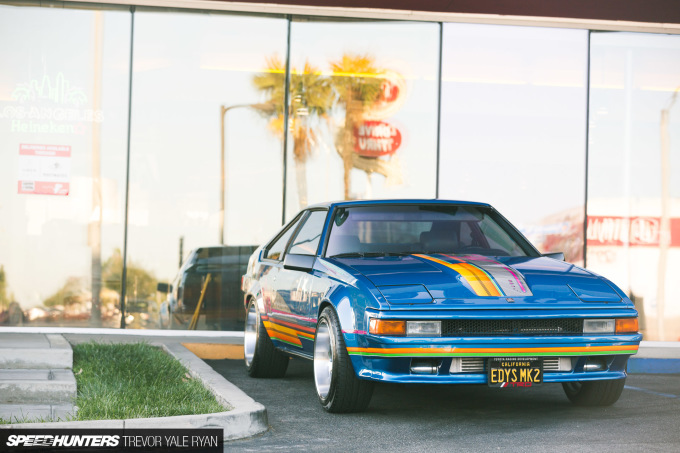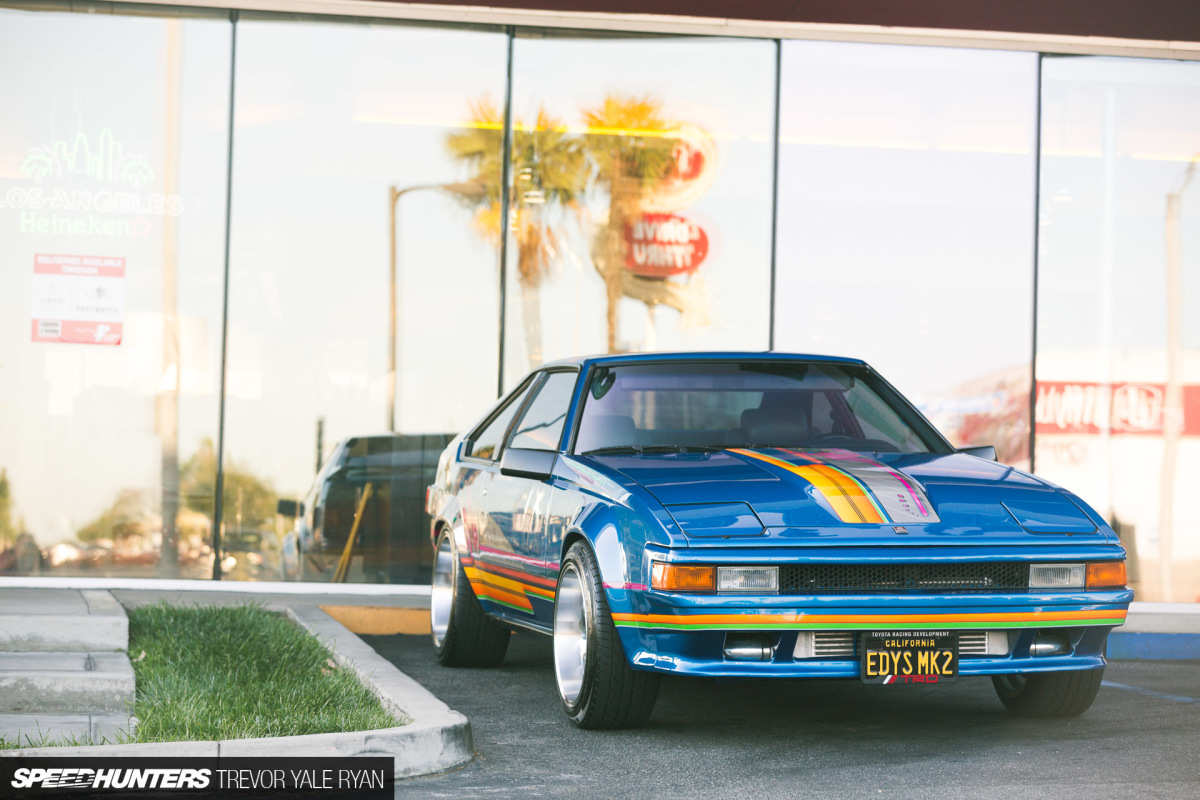 It's a conventional recipe that's been applied to a car that is anything but.
Hello '80s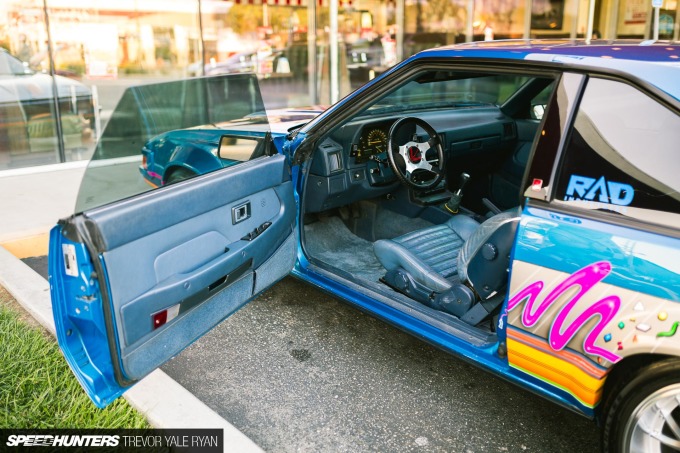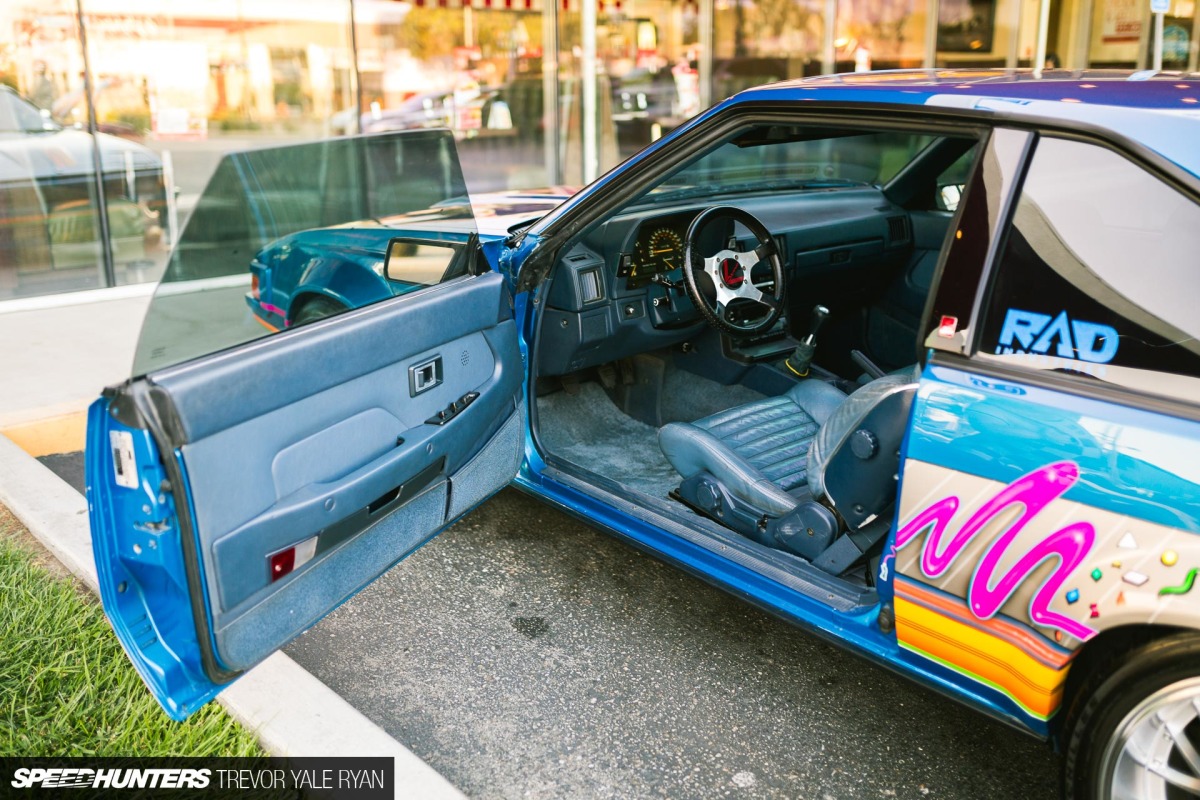 Inside the car you'll find that almost nothing has changed.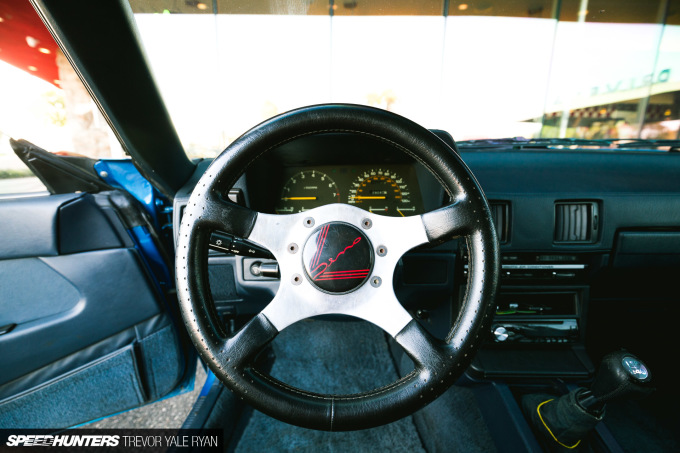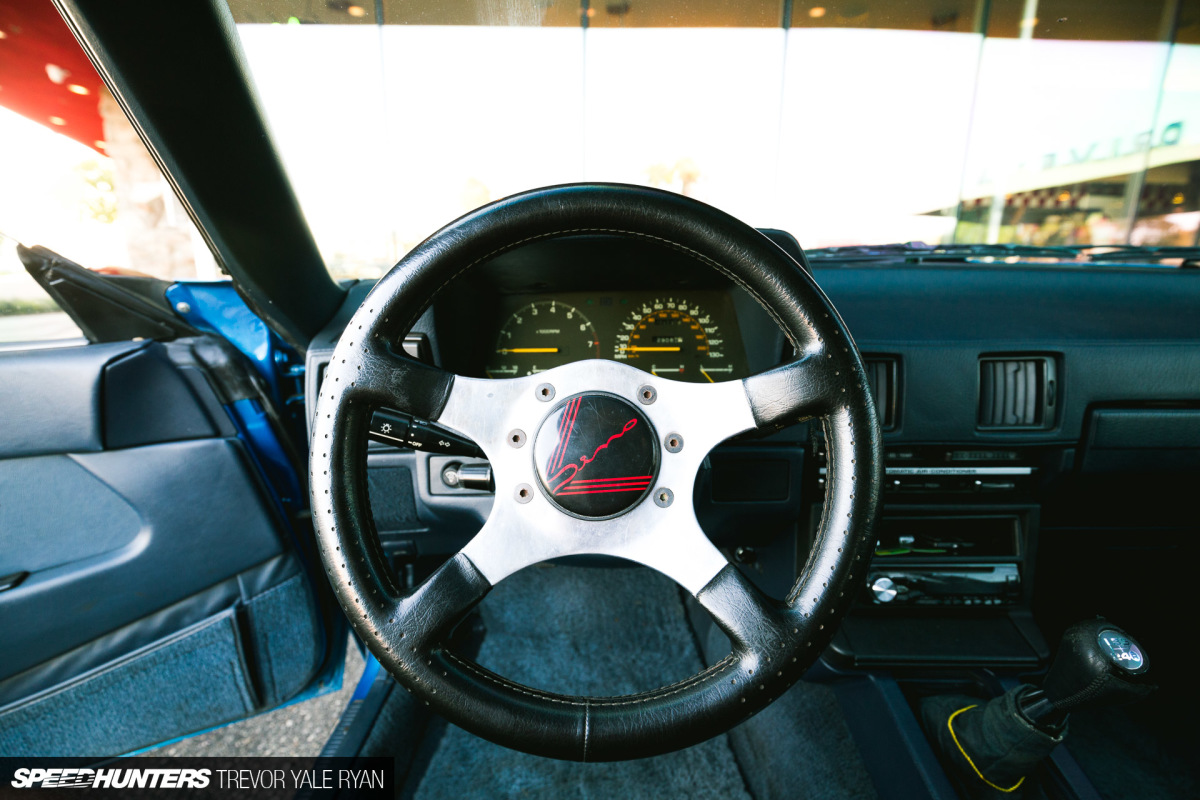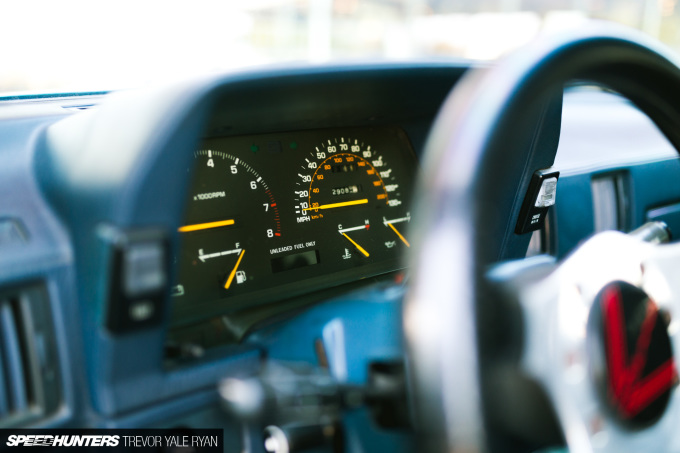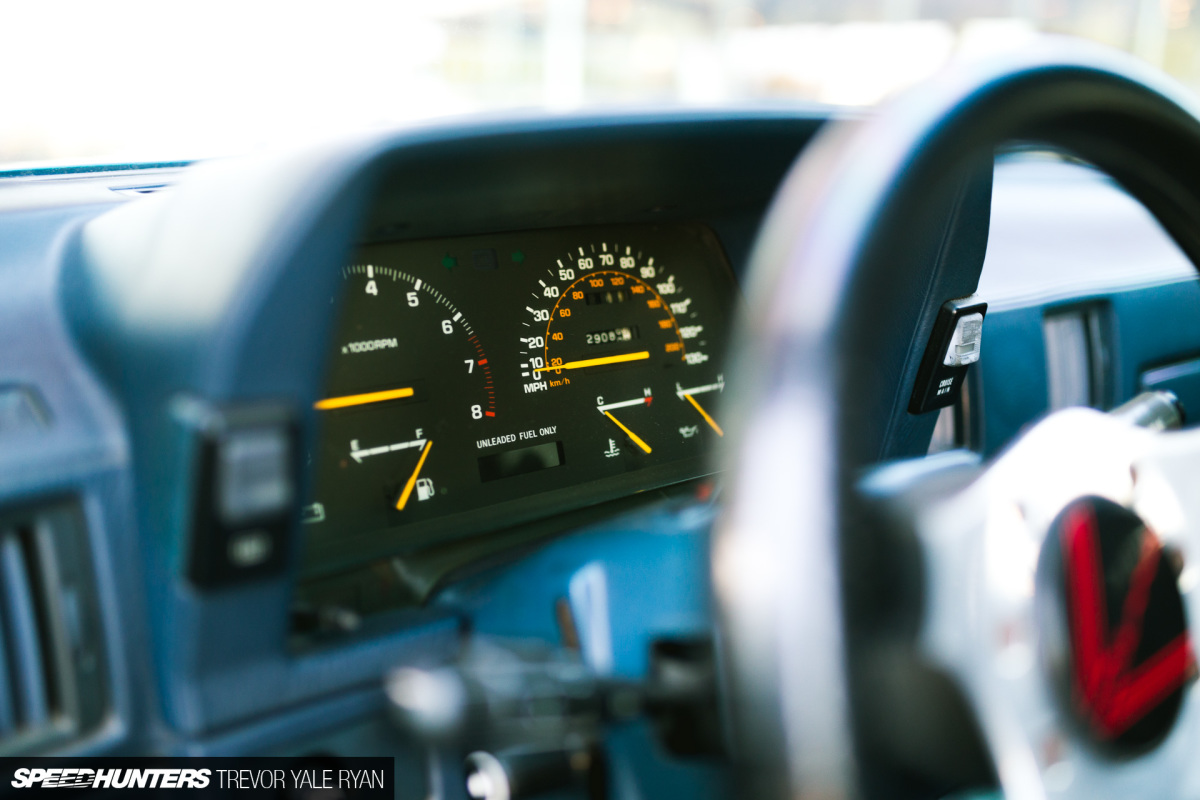 As with the exterior, the interior is surprisingly clean and intact. With the period-correct paintwork on the body there really is no sense updating anything. It's really quite nice as it is, and certain details, like the stock gauges, really spoke to me for a reason I can't quite place.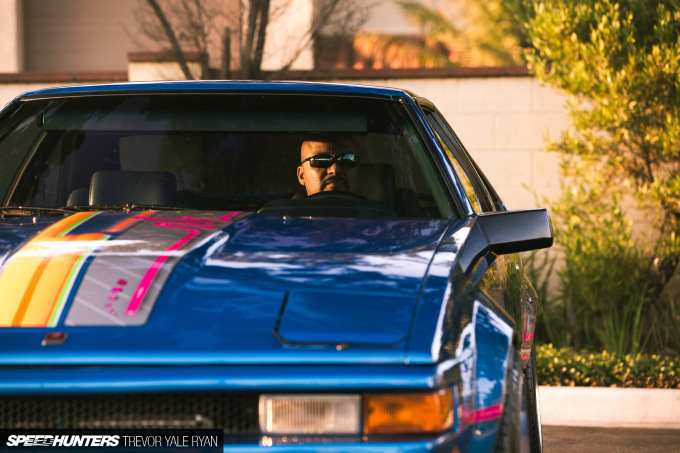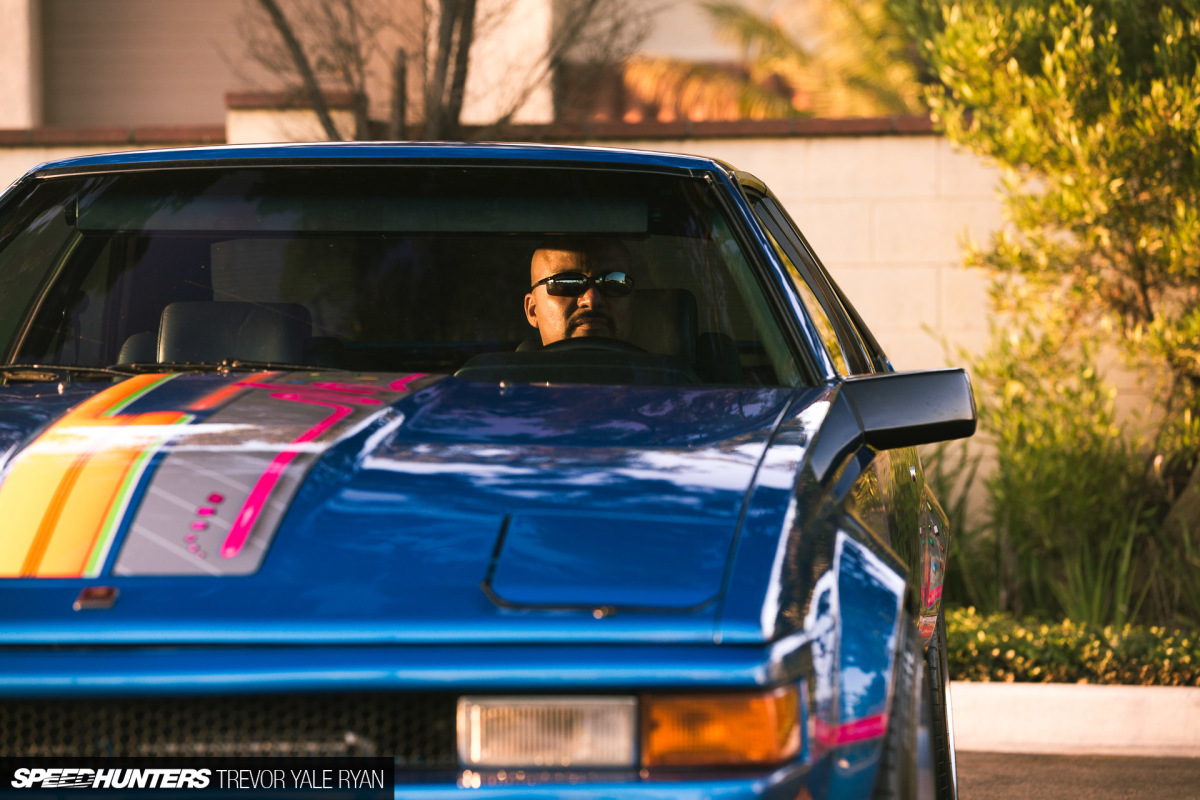 I'm just stoked that this car ended up in the hands of someone who appreciated it for what it is.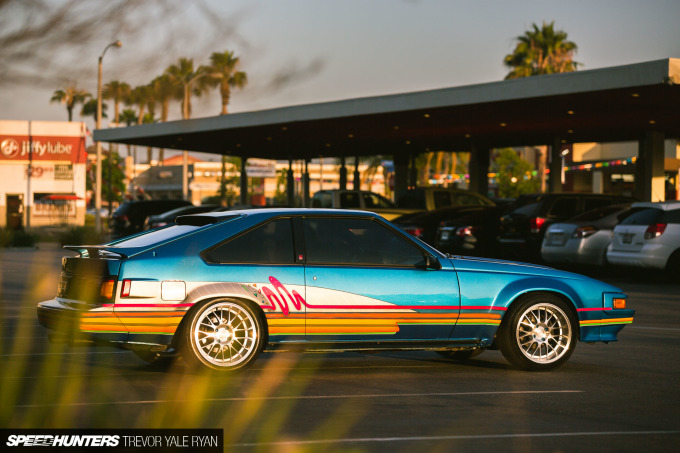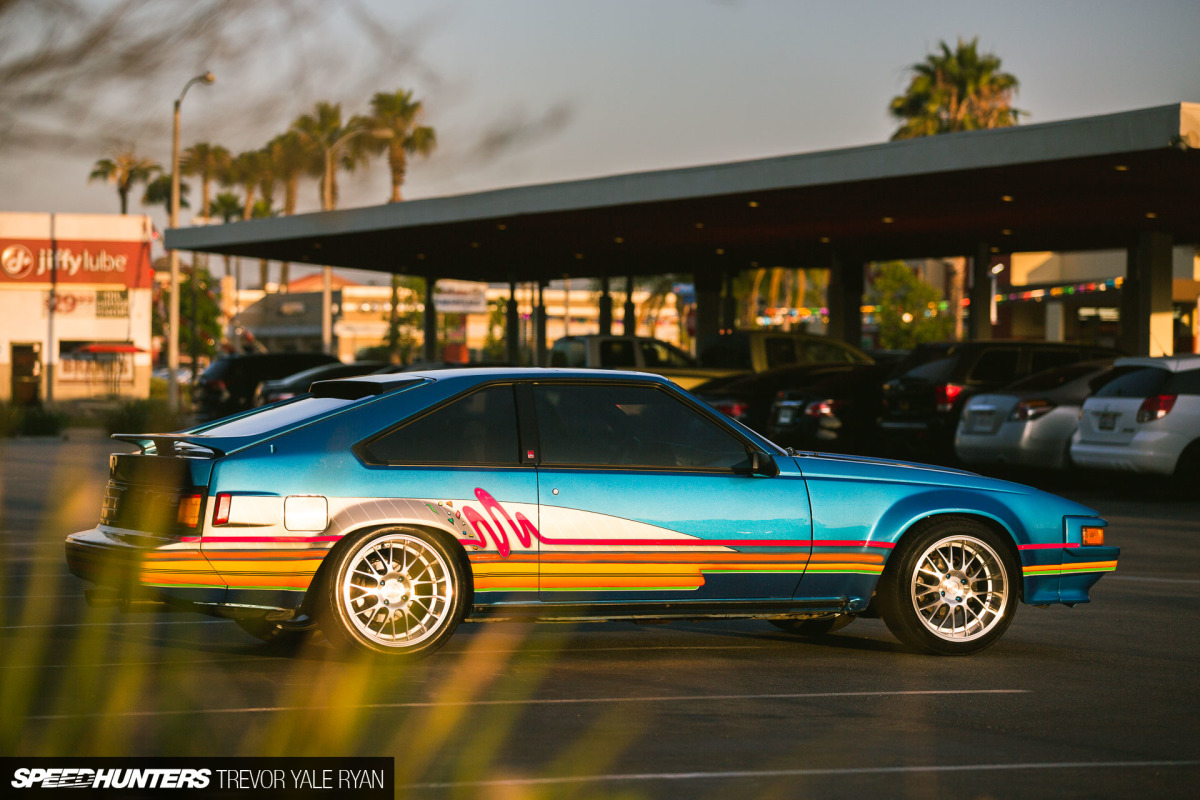 I really hope that this paint job stays exactly as it is forever.
Come One Come All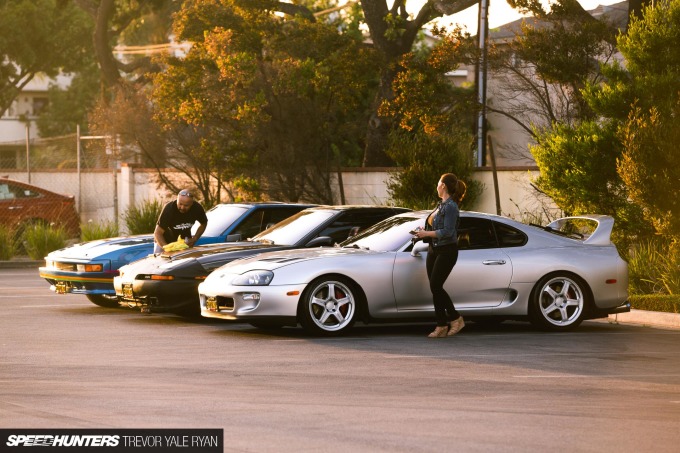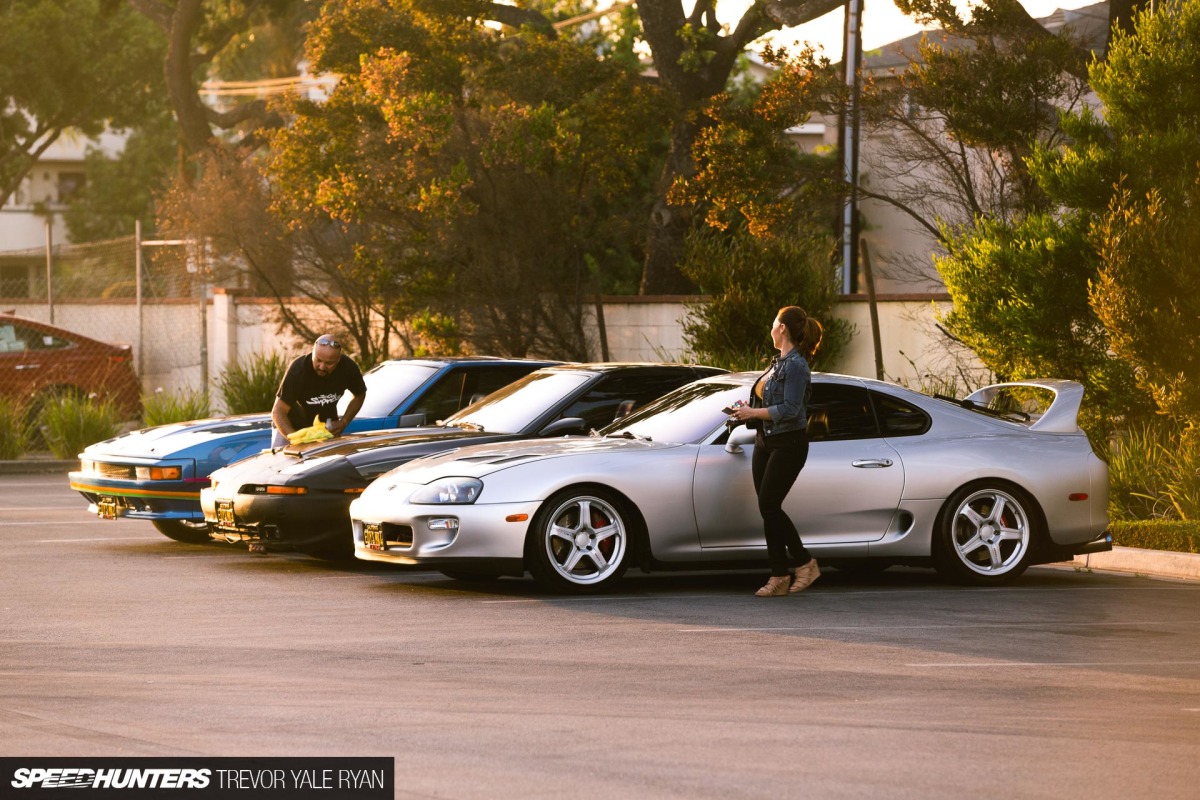 As I mentioned, the singular Celica Supra just wasn't cutting it for Eddie; with the help of his wife a couple newer generations showed up. It all started when Eddie's son started driving and the 16-year-old wasn't so hot for the out-there look of the '85.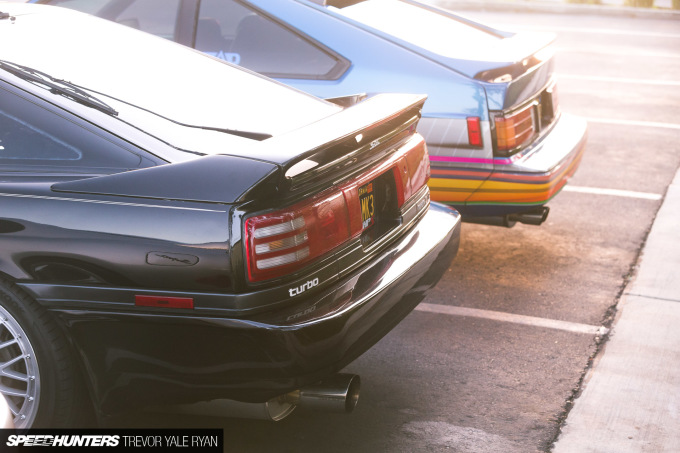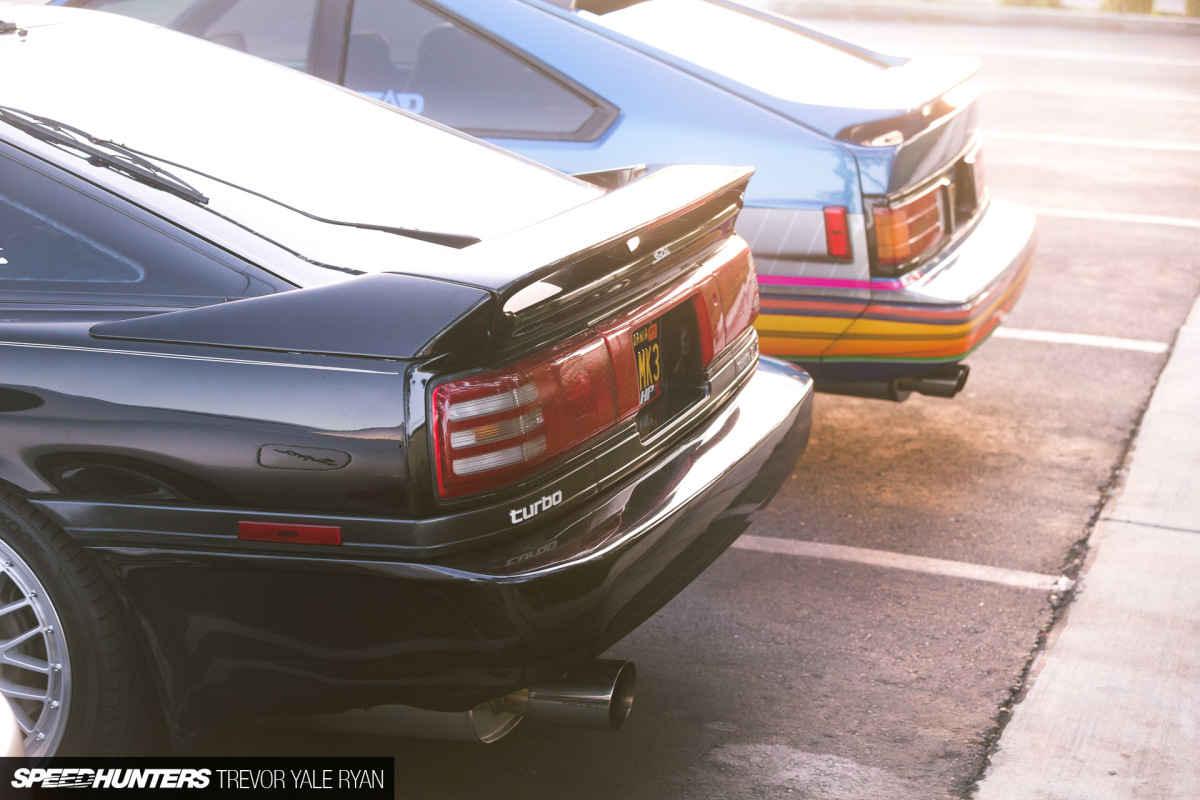 Being the cool dad he is, Eddie picked up another Supra for his son, and like the MkII, his MkIII is a bit of a time machine. Although, the factory theme is much stronger here with the original motor retained along with the factory interior.
While not exciting from a modification perspective, it's just nice to see that there are unmolested examples of these cars still around. If you're wondering about the bra up front, it's wearing this while some damage to the bumper is sorted by insurance companies.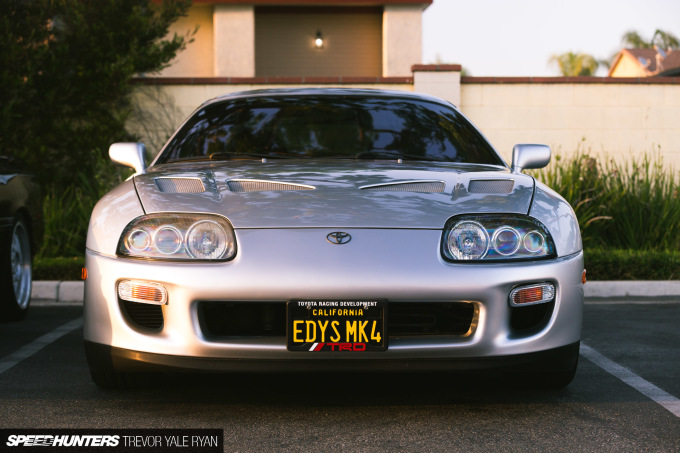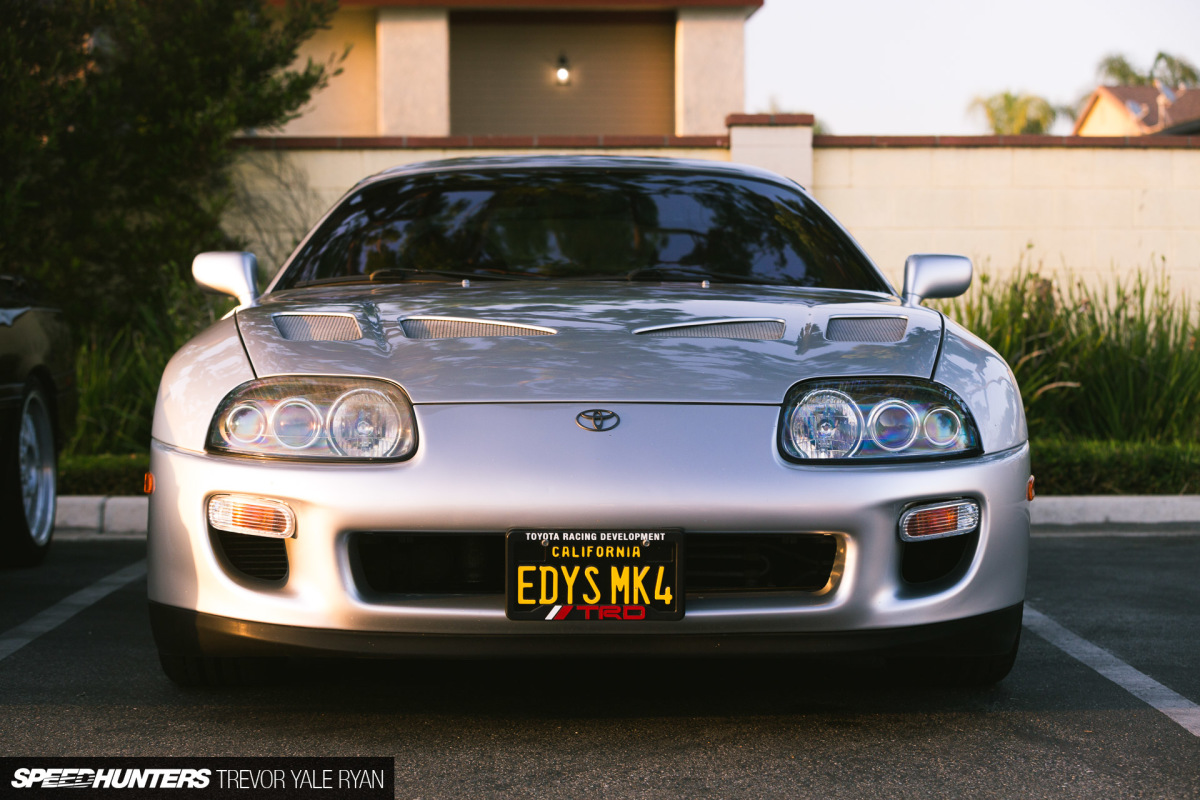 Of course, you might as well complete the set.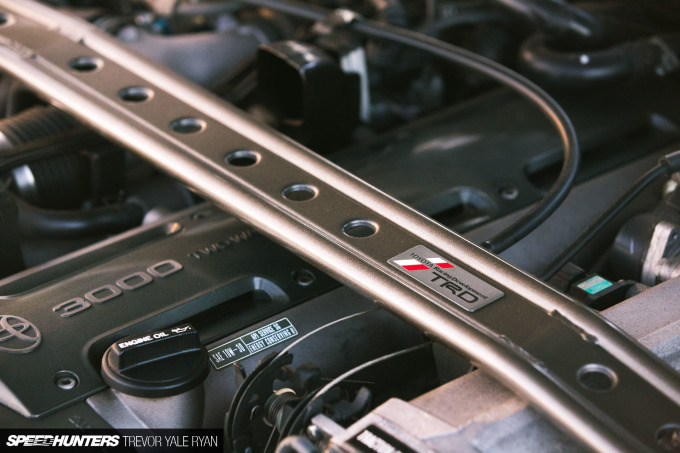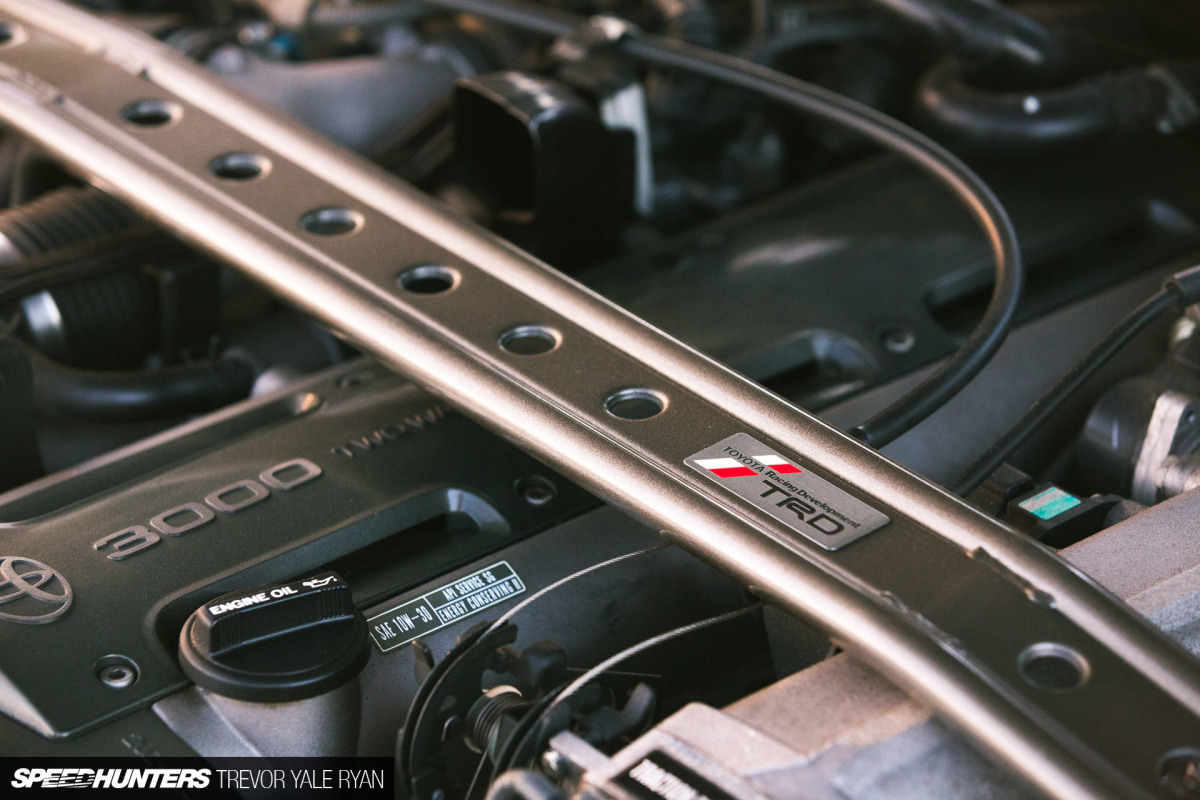 As you might have guessed, not much has been modified on this car either. But even more than the MkIII, the JZA80 Supra is a car that doesn't need it. With lots of TRD goodies from the factory, and some which appear to have been added later on, Eddie's is a really good example.
Bob's Big Boy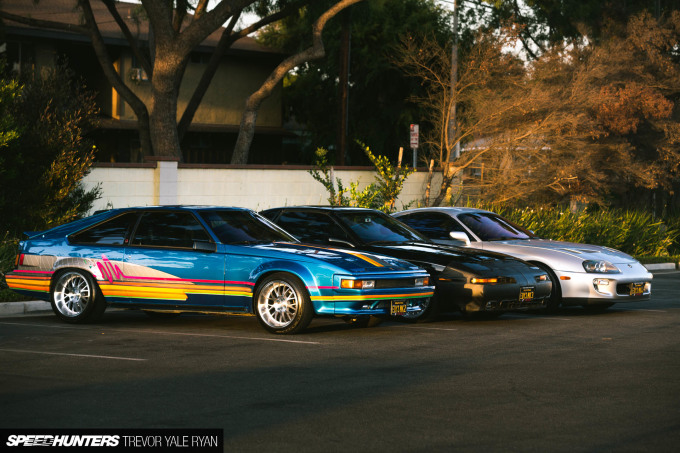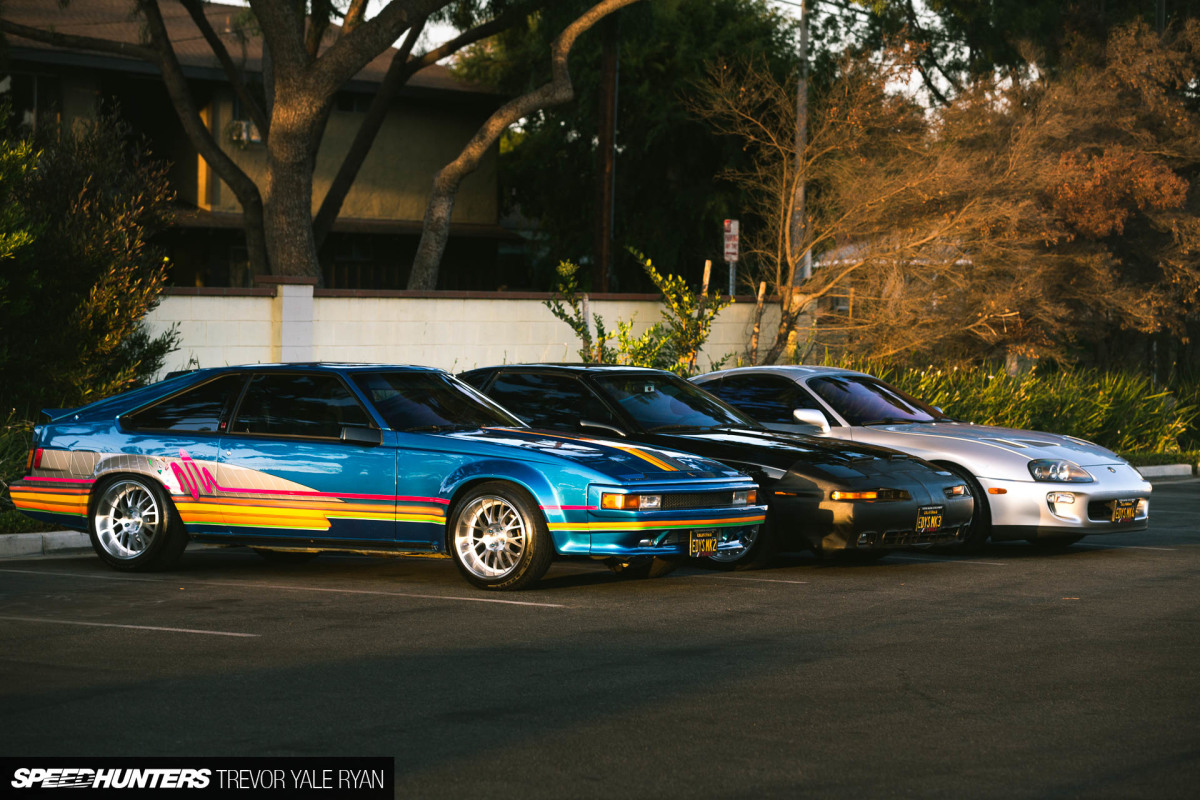 Seeing the three cars together in the lot where Supra meets are normally held was one of those simple and yet so satisfying moments. Over 20 years of Toyota's design work and engineering was on display.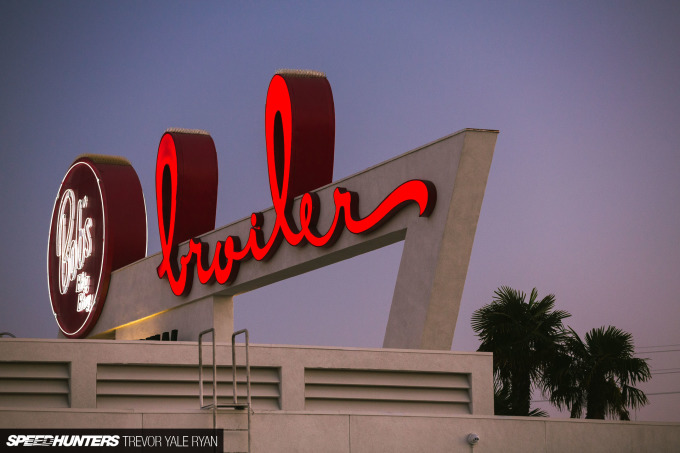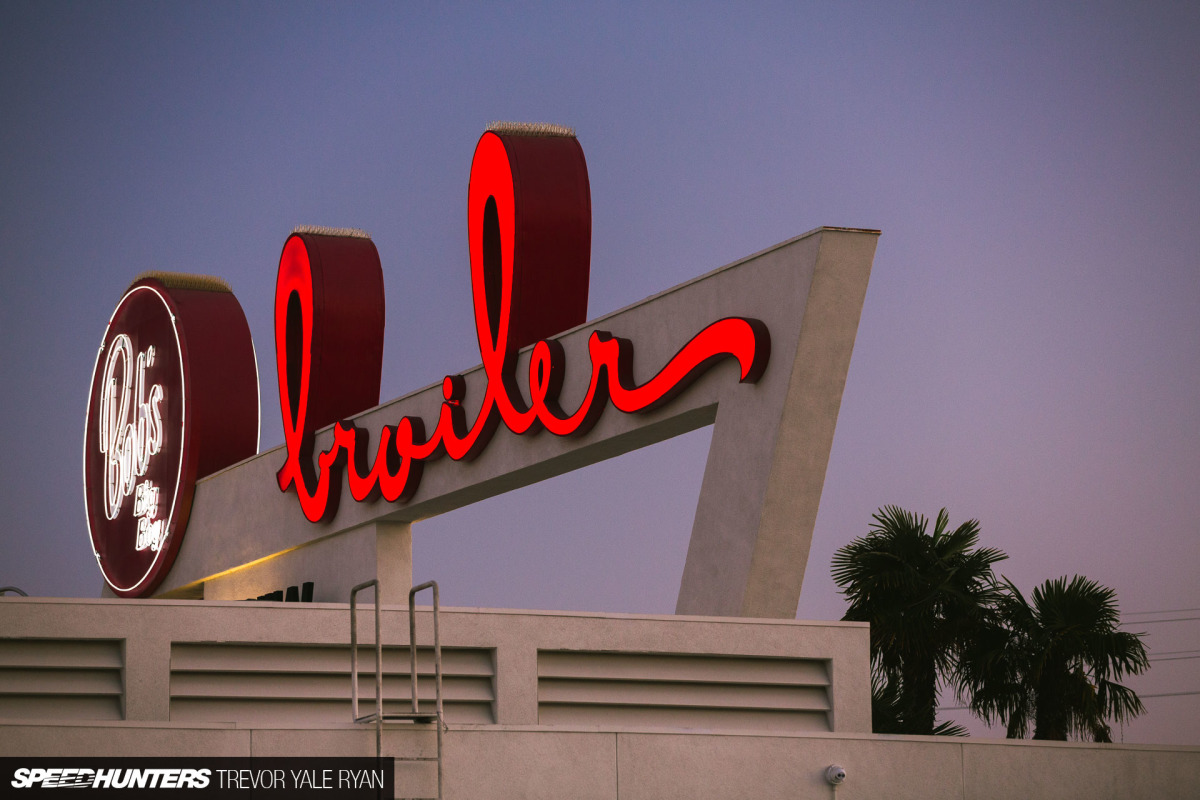 Being the meet spot for local enthusiasts, what happened next shouldn't come as a surprise.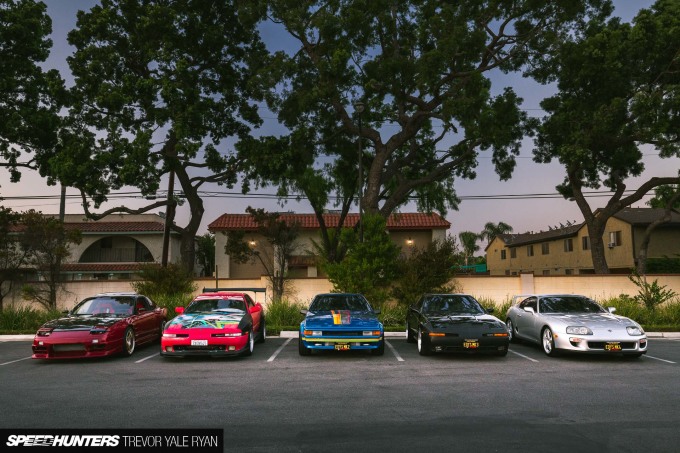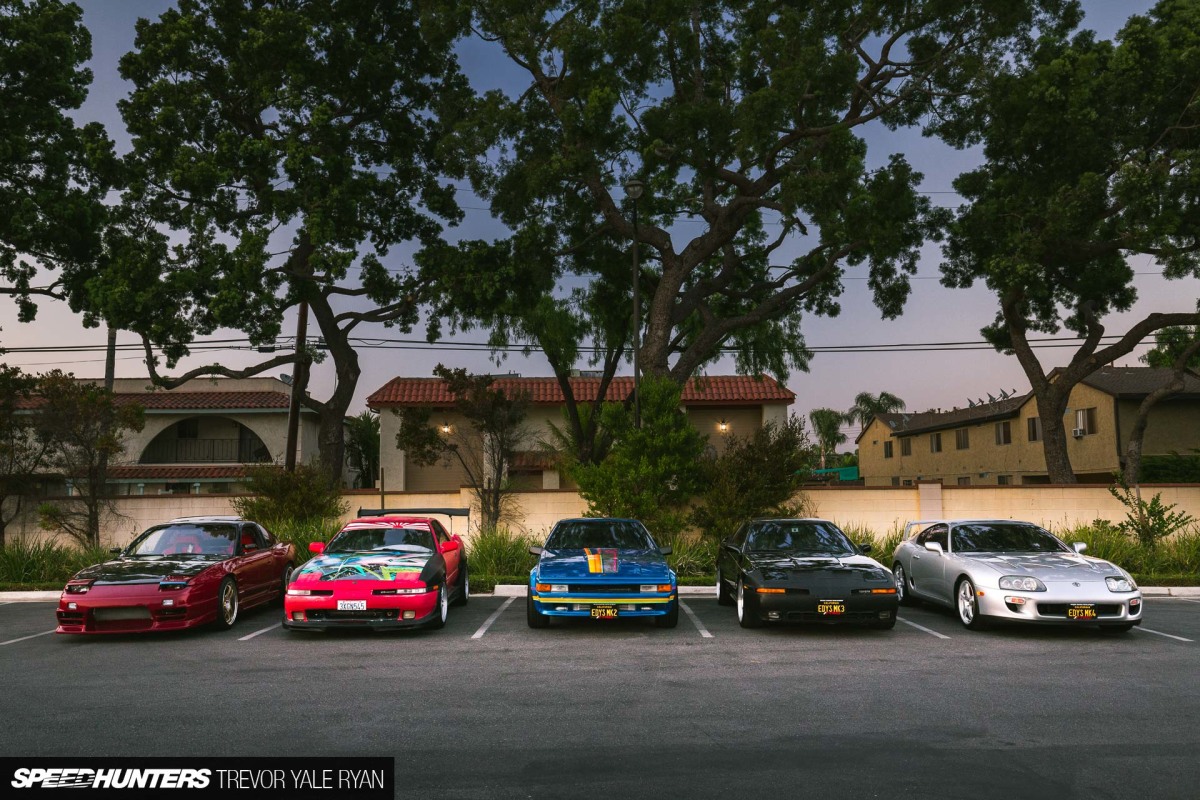 Eddie had invited a few friends and their cars along to hang out and talk about the local scene.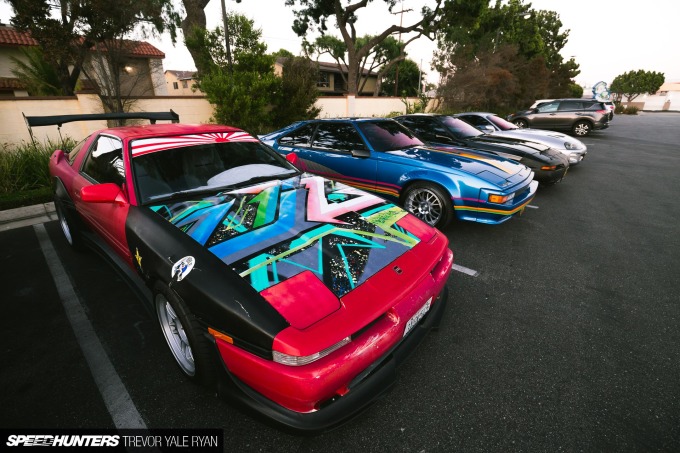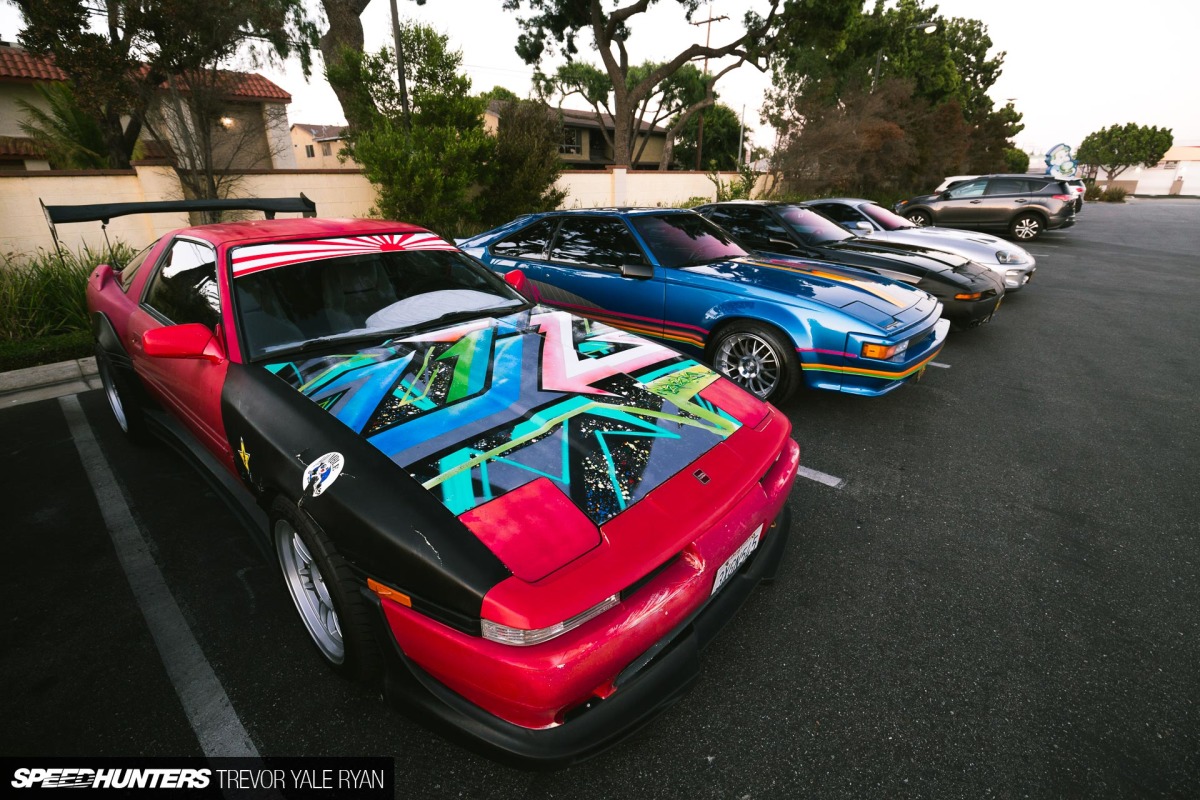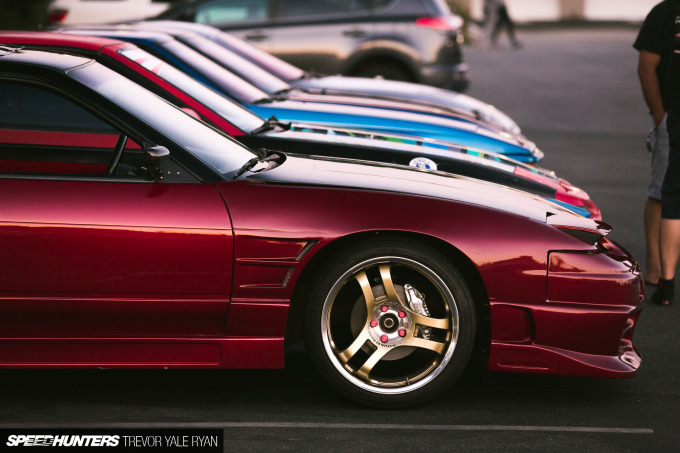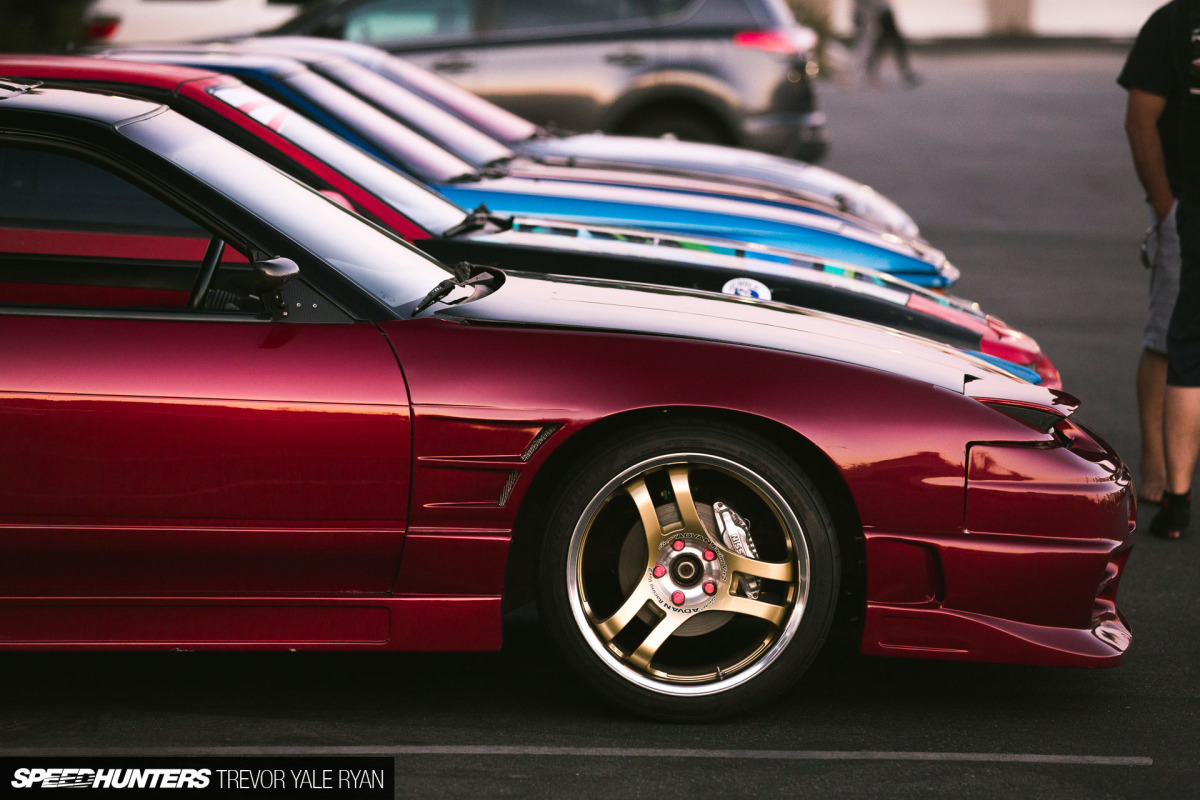 A 1JZ-powered MkIII and an SR20-swapped S13, to be exact. If you stare long enough you'll notice the hand-painted hood, which has nothing to do with Santini and was found as-is, reads '1JZ.'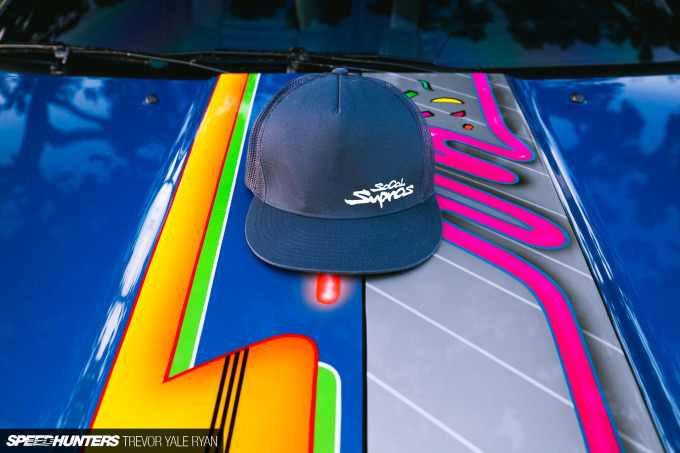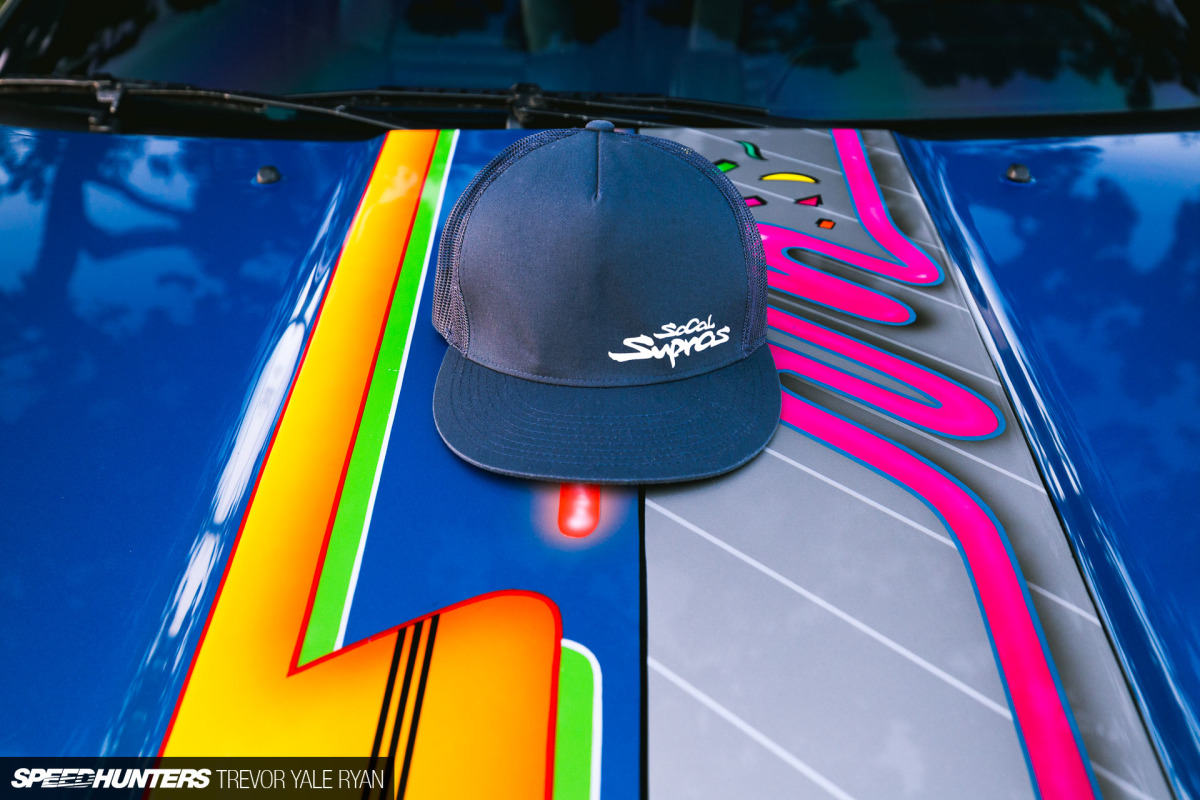 The guys promised that if I give them some notice the next time I'm in town they could fill the expansive Bob's Big Boy lot with Supras. It certainly sounds like something I'd be interested in, and it just goes to show how unifying car culture is.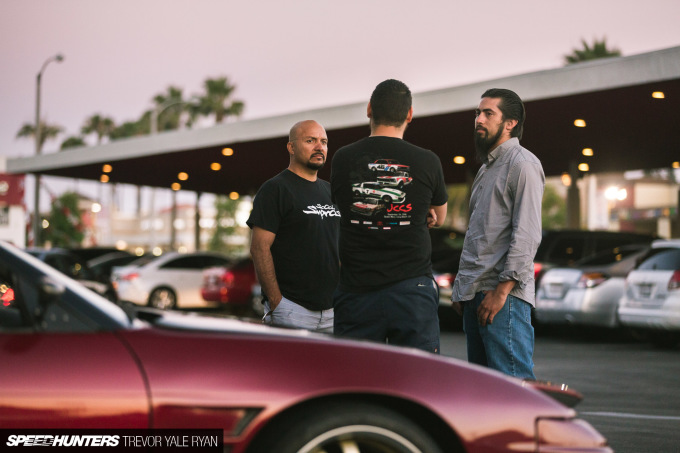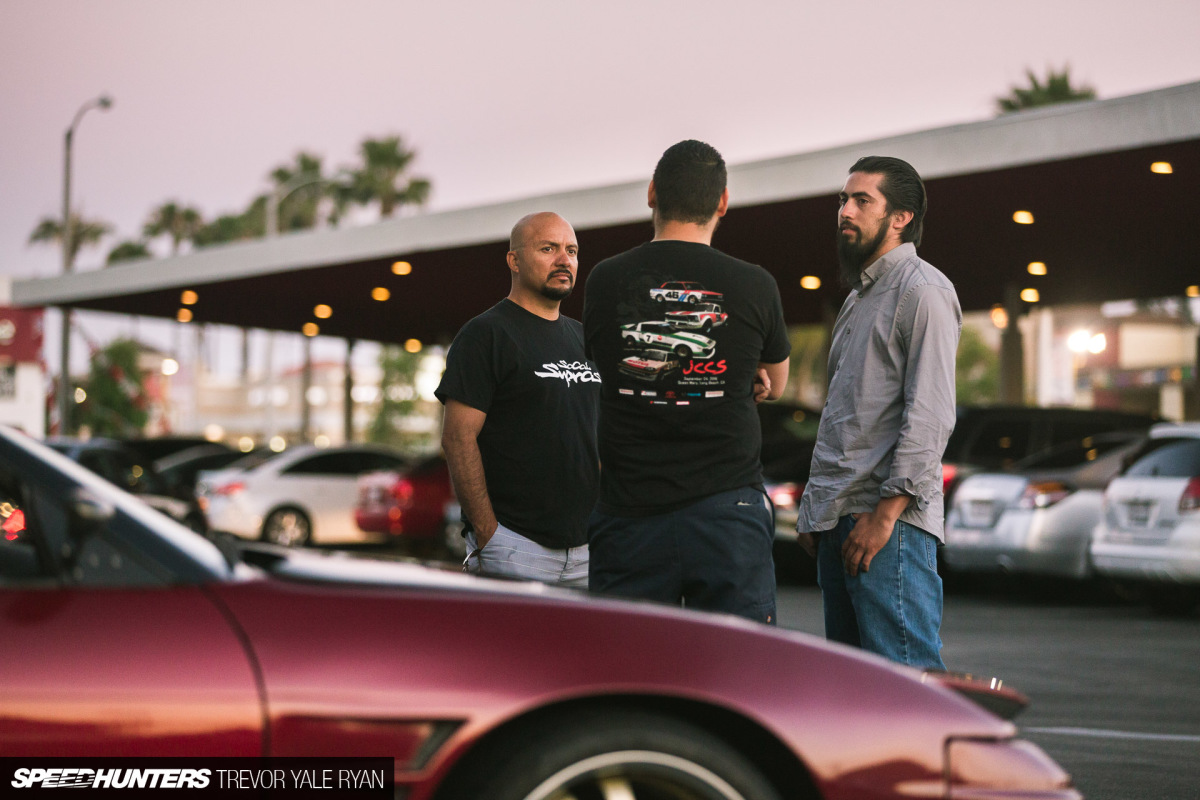 Regardless of what you have or have not done to your car there's always common ground; it's really about kicking back with friends and having a good time. And as serious as Eddie looks here, I promise he is having a good time.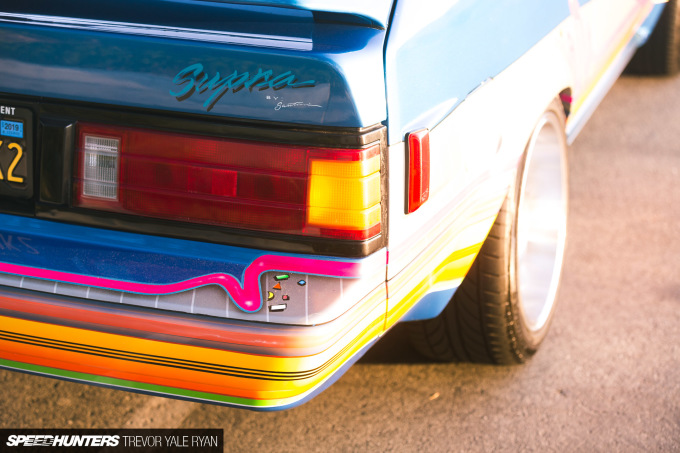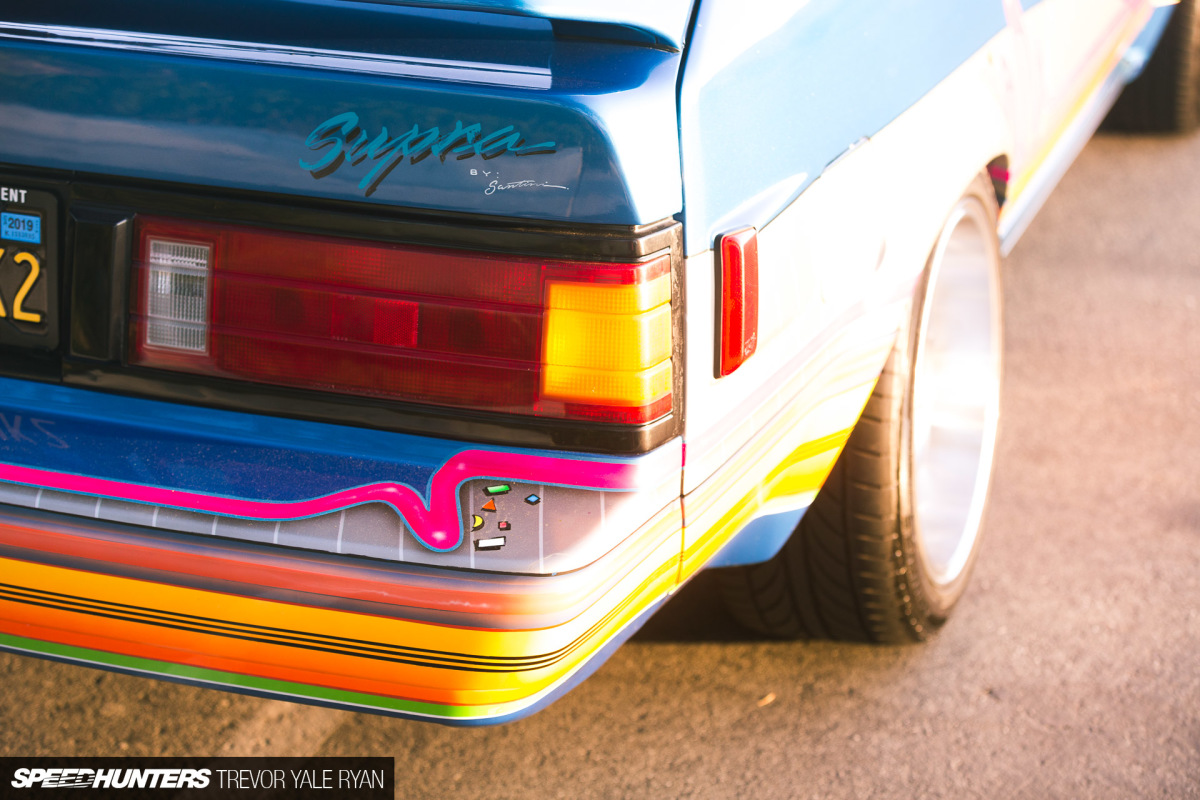 No matter where you go, you'll always find something different. I just never thought I'd find something like this.
Trevor Yale Ryan
Instagram: tyrphoto
TYRphoto.com
Mini-Meet