I Am The Parts Hunter
It's always exciting to see how the whole tuning scene surrounding the Skyline GT-R and the R35 GT-R keeps on expanding as the years go by. Like I touched on in my R's Meeting 2018 introduction post, it's the little refinements that keep us enthusiasts interested.
At this point in time it's more about the small solutions that tuning shops and parts manufacturers keep finding, seeing the latest tech trickle down to our favorite chassis in the R line-up, and how you can continue to perfect some aspects of the cars and keep them relevant in the modern era.
That's the fun part of tuning: playing around with what's out there, swapping in new parts, and keeping the research and development going. This post is all about some of the parts that I came across at Fuji Speedway on Sunday, upgrades that extract that little bit more drivability, refinement, performance, and of course style.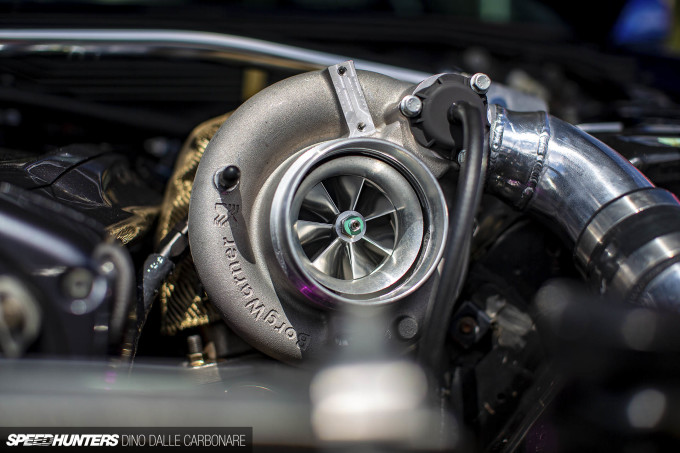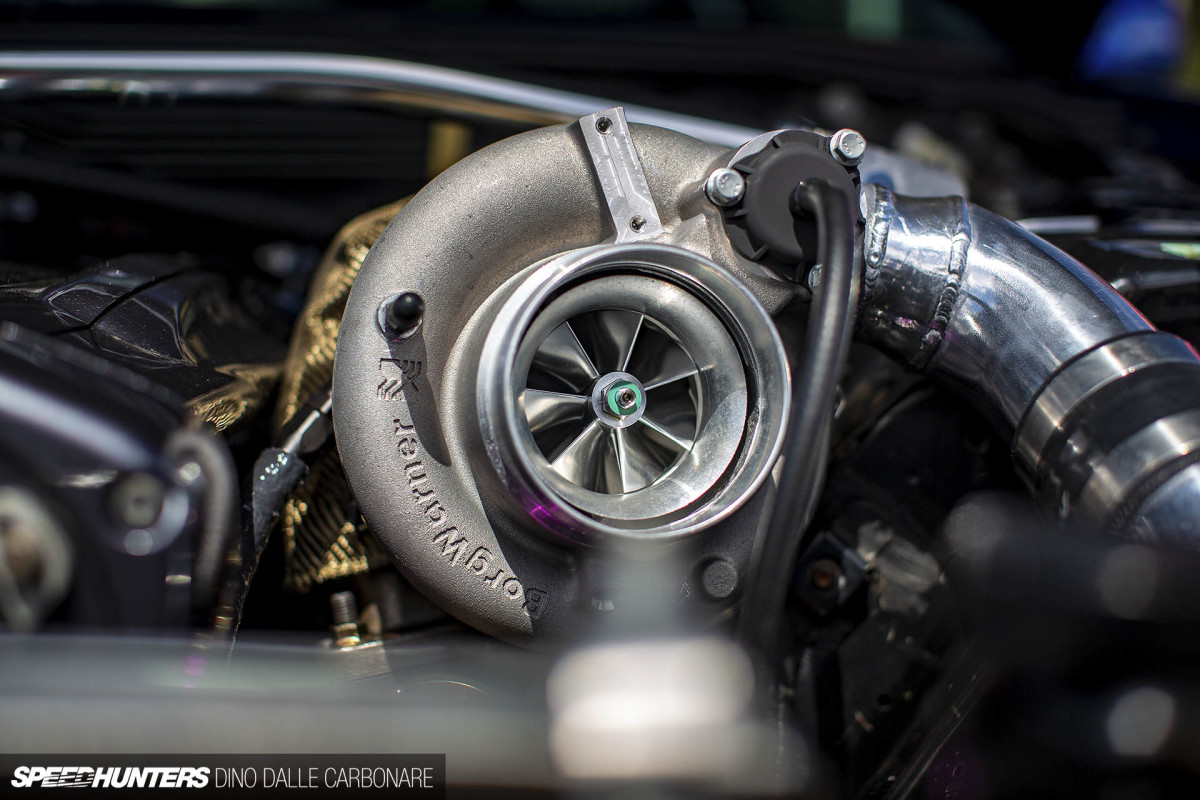 And one thing we've been seeing for years now is how more and more shops are leaning towards single turbo conversions on the RB26. It's nothing new, of course, people have been ditching the factory twin-turbo setup in favor of the power capabilities big singles offer since tuners started playing with RBs back in the 1990s. But that's always come with a sacrifice in low-end response and pick up, something that the newer crop of big single turbos, like those in the BorgWarner EFR series, have managed to address thanks to twin-scroll designs, less inertia in turbine/compressor impeller assemblies, and details like built in recirculation valves.
Like the above setup in a Garage Saurus BNR34, the EFR turbos continue to gain popularity in Japan as more and more tuners experiment with their capabilities once bolted to an appropriately built and modified engine.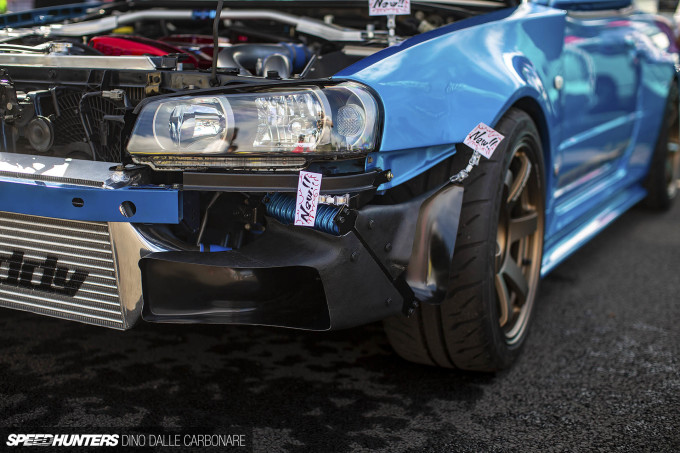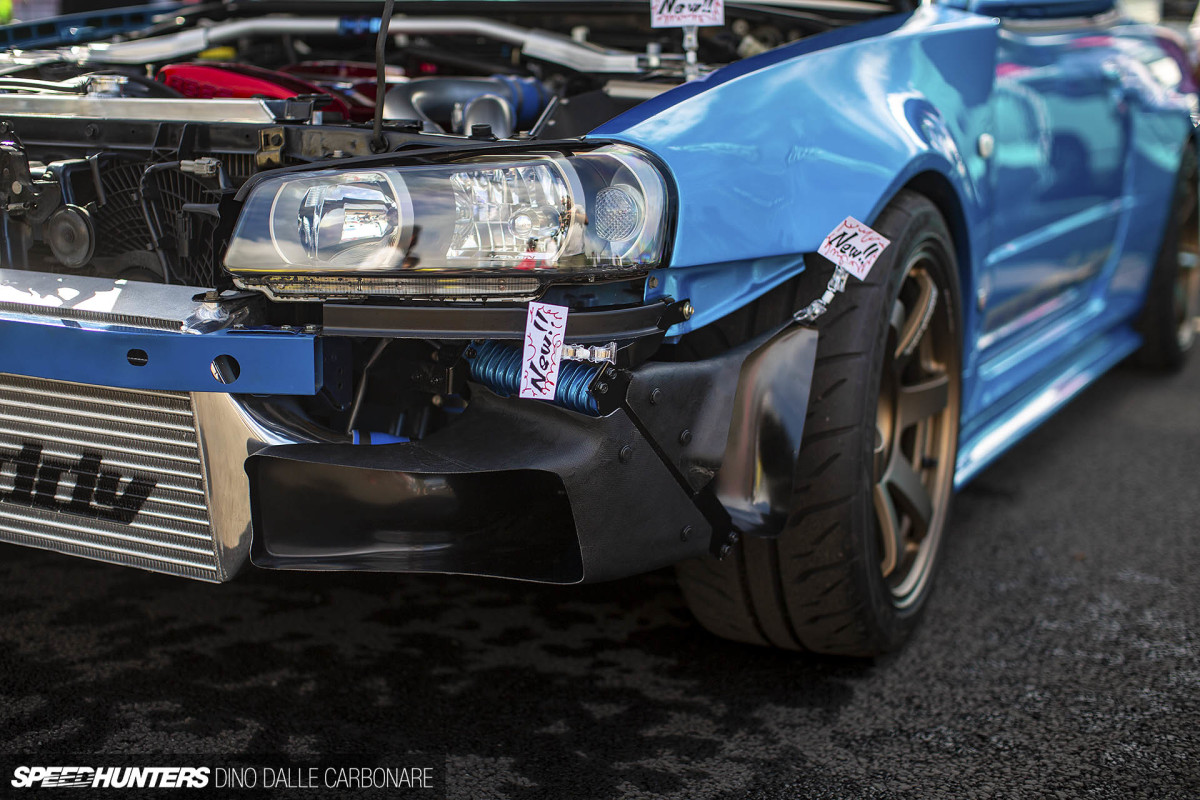 Then there's the whole notion of taking an existing design and perfecting it based on user feedback, which is exactly what GReddy has done with their new oil cooler kit. This comes with an air guide to take full advantage of the intake and outlet of the Nismo Z-tune bumper, which continues to be one of the most popular aesthetic upgrades for the R34.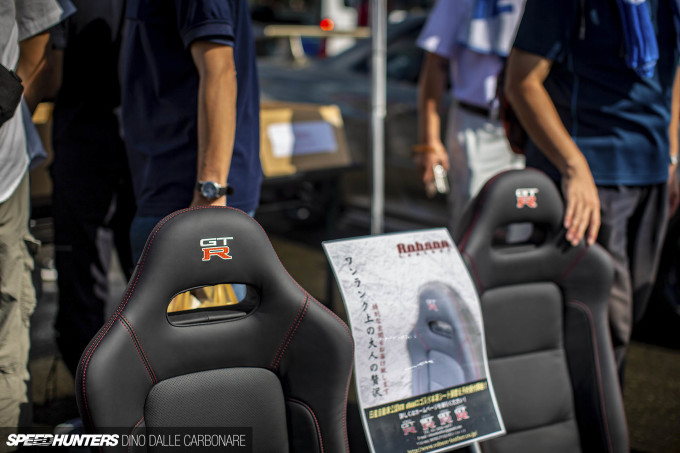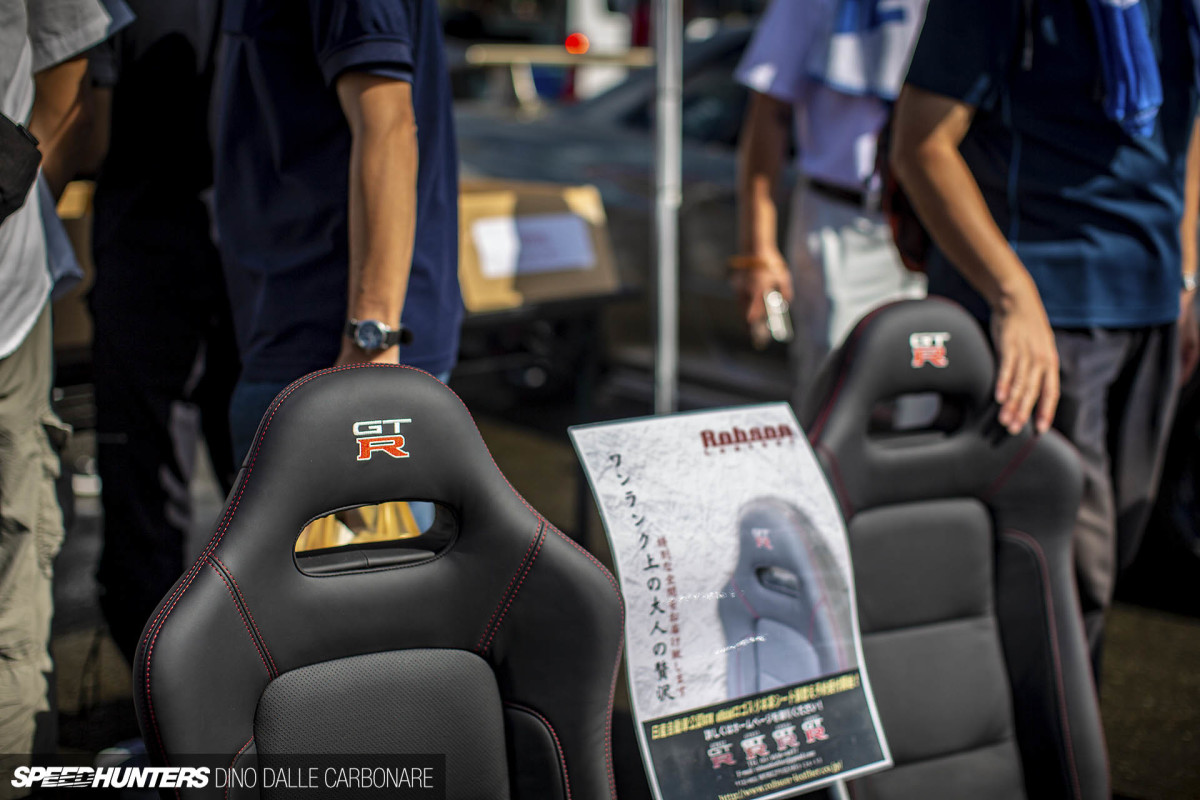 Talking to the Robson Leather guys, it was cool to hear that after years of trying they finally got the OK from Nissan to use the official GT-R logo on their reupholstered leather seats. It is indeed the little things that count.
It's so easy to get lost in beautiful details, especially with parts that once you fit you'll probably never see again. Stuff like the Tomei Expreme Ti titanium front pipes which are nothing short of a work of art. They're not exactly road legal, but the sound this hand-welded exhaust system section makes might be worth the risk of running into issues every time you bring your car in for a shaken test.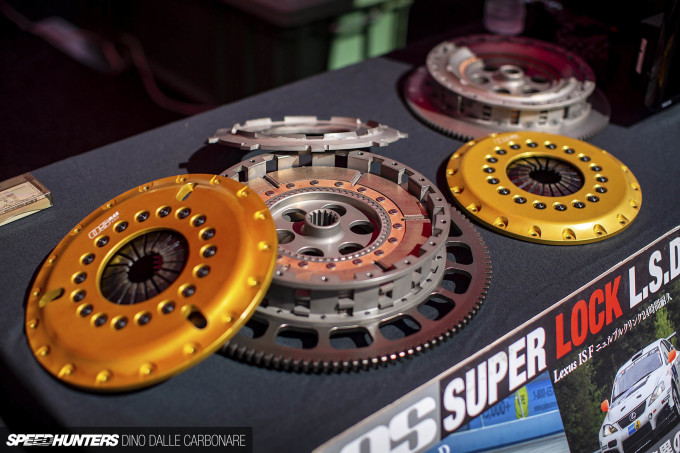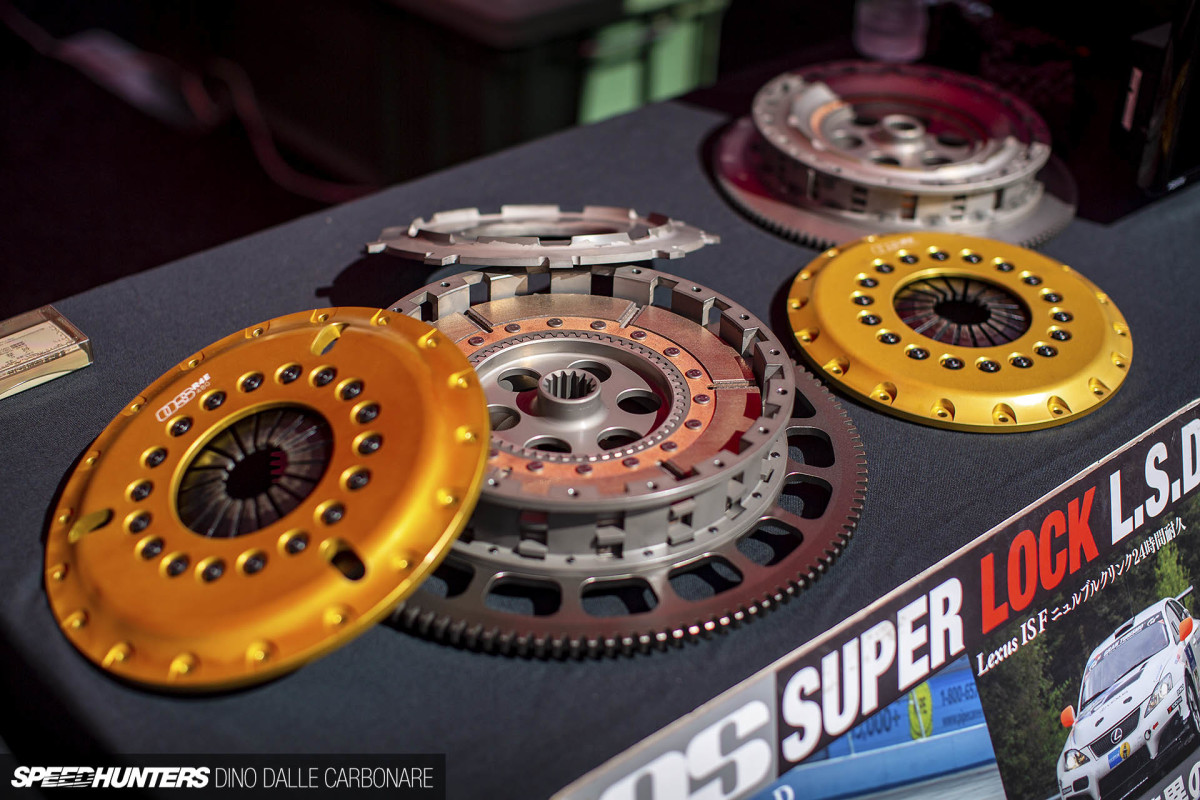 One brand I have the utmost respect for is OS Giken, which is why I always have a nose around at their booth to check out their line-up of goodies like LSDs and clutches.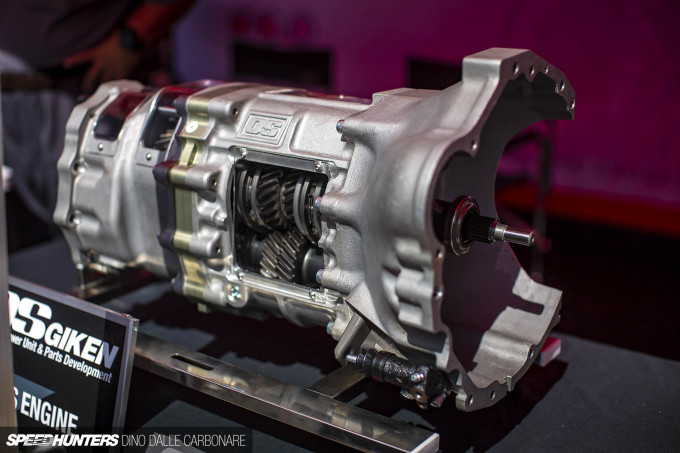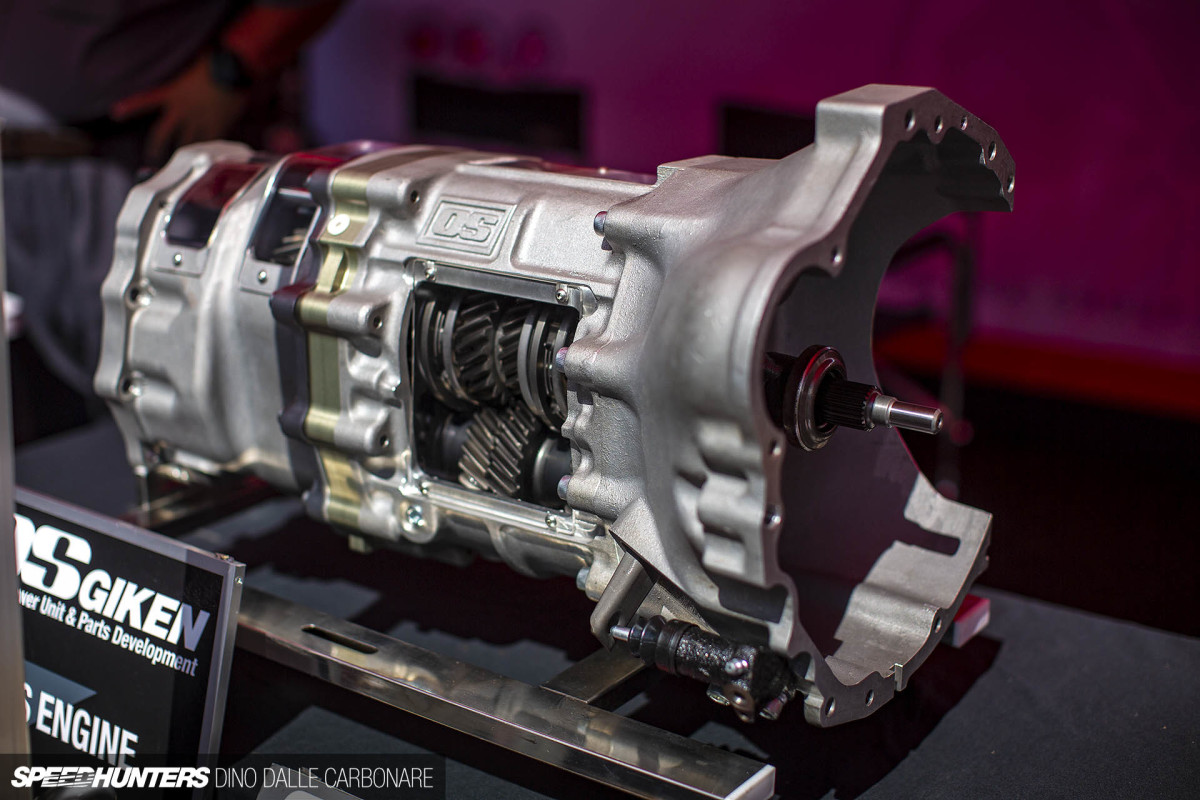 I was very keen to see if they would be showing their new OS-FR7 7-speed sequential transmission which was just launched last month, but seeing that it's only for FR applications it probably didn't make sense bringing it to a GT-R event. Still, they had their OS-88 with a cut-out to showcase the goodness inside.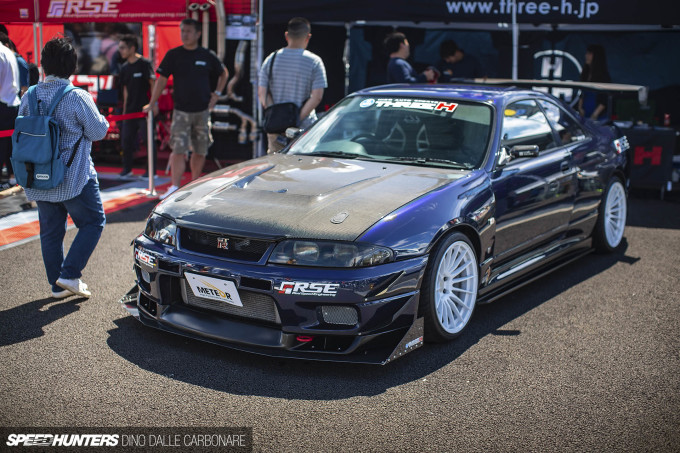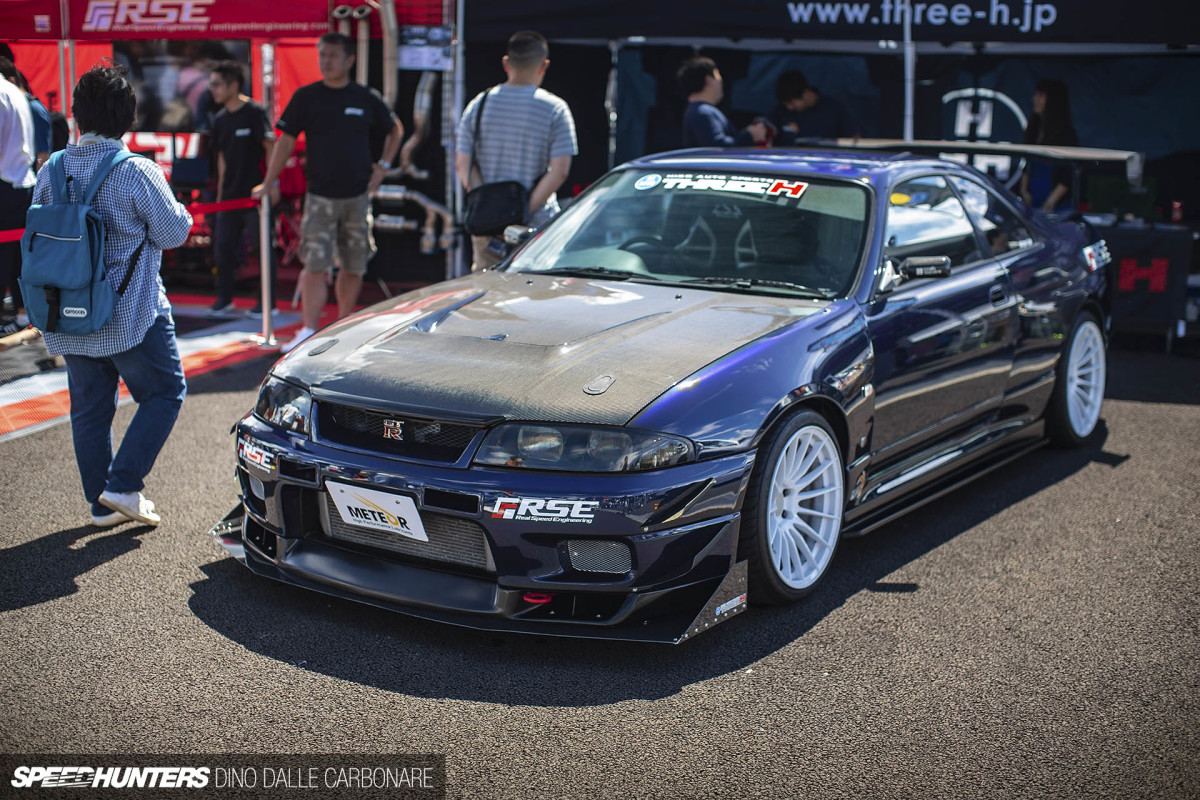 Thee-H had a real nice track-focused BCNR33 on display. It sits on white Enkei RS05RR wheels and boasts a bunch of track-oriented aero additions, as you'd expect to see.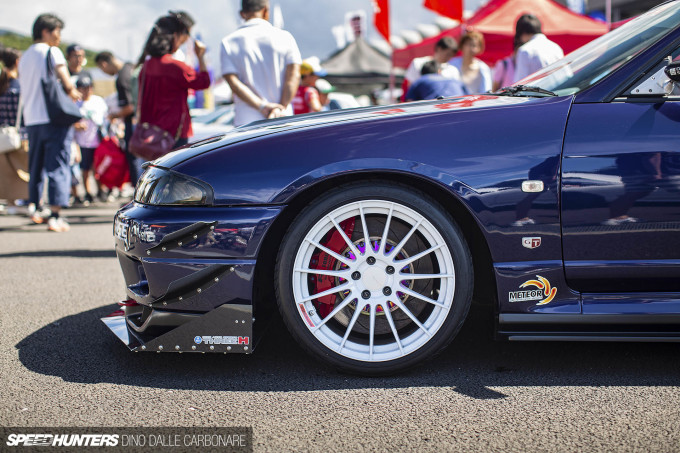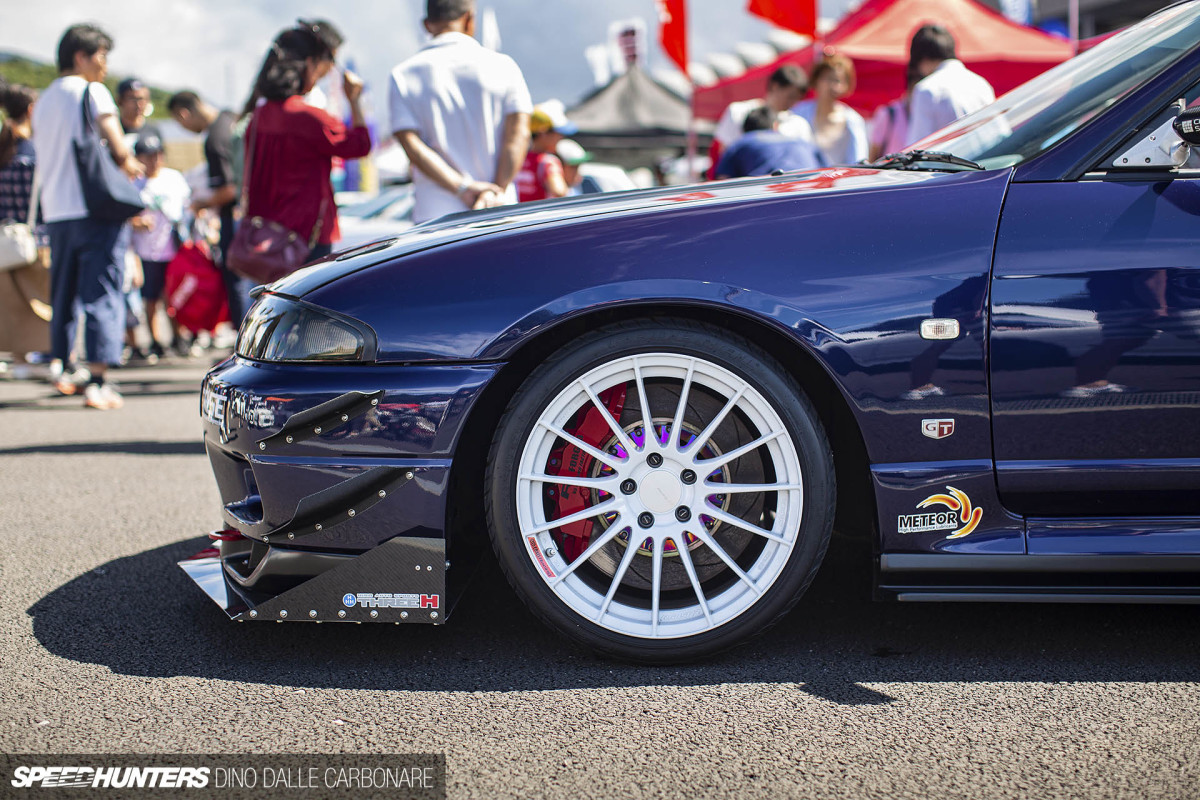 It was, however, the size of the front calipers that stood out the most. I guess you can never have enough braking performance.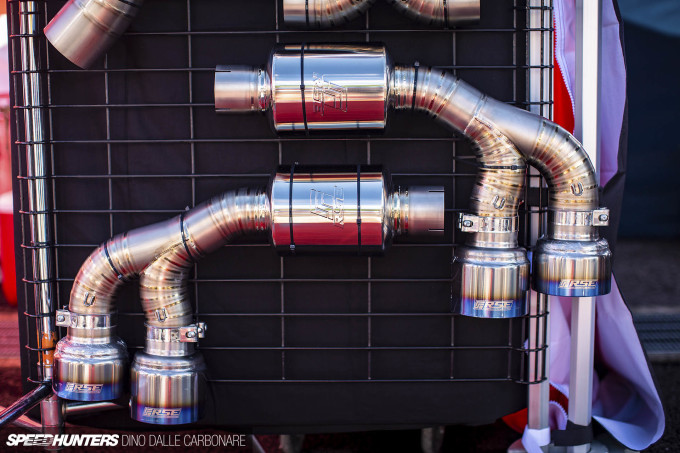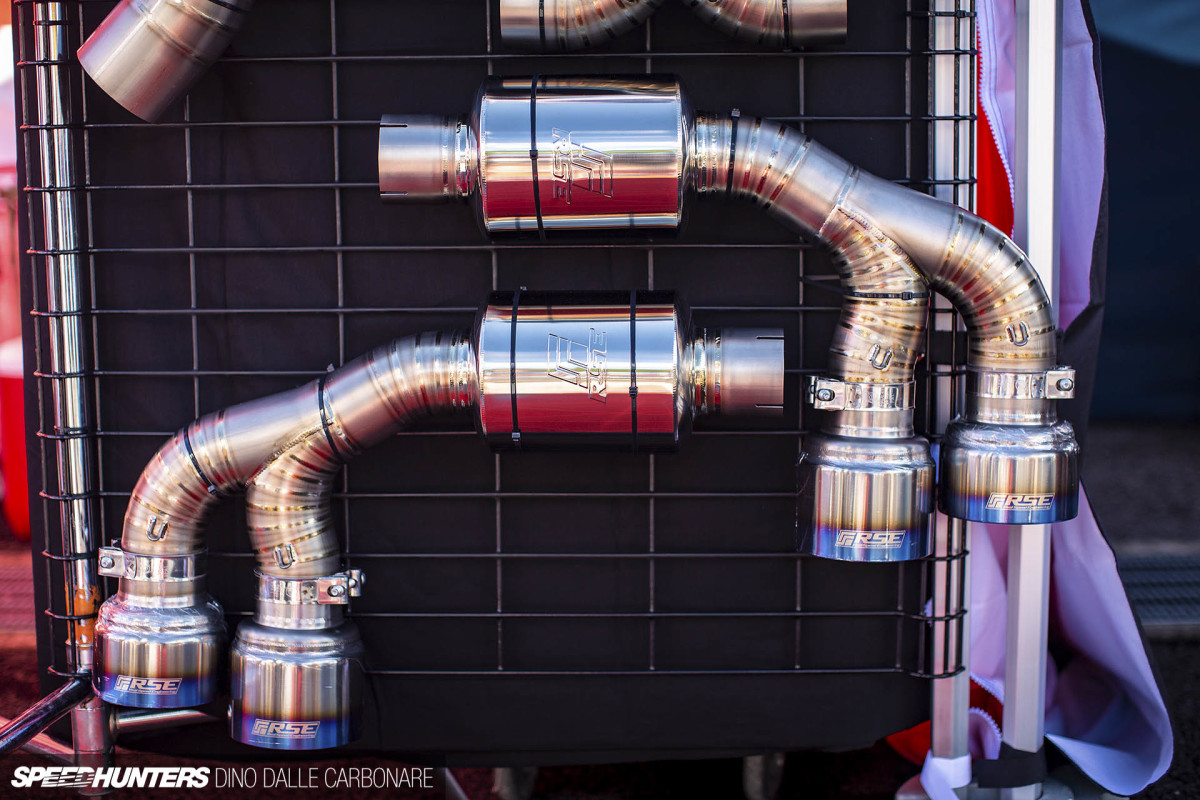 More titanium exhaust awesomeness, this time from Real Speed Engineering and for an R35. This whole system hits the scales at 15kg (33lb), which is half of what the stock exhaust weighs, and is perfect for big-power application with a main pipe diameter of 101mm. Material thickness is 1mm throughout.
RSE, which came out of a collaboration with Tomei USA, also has a comprehensive catalog of parts for all the popular JDM engines.
It's All In The Details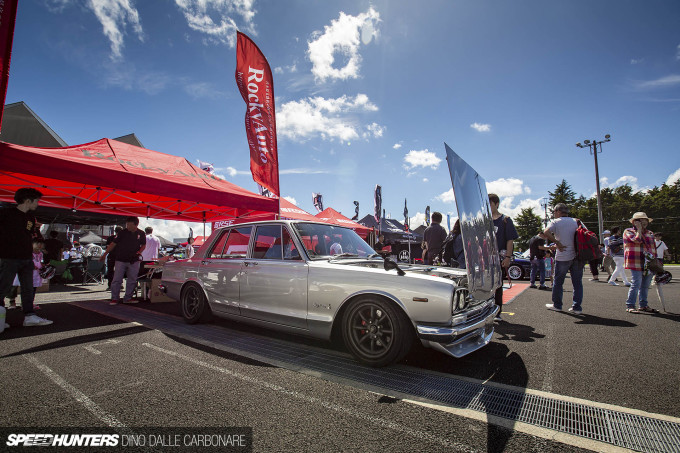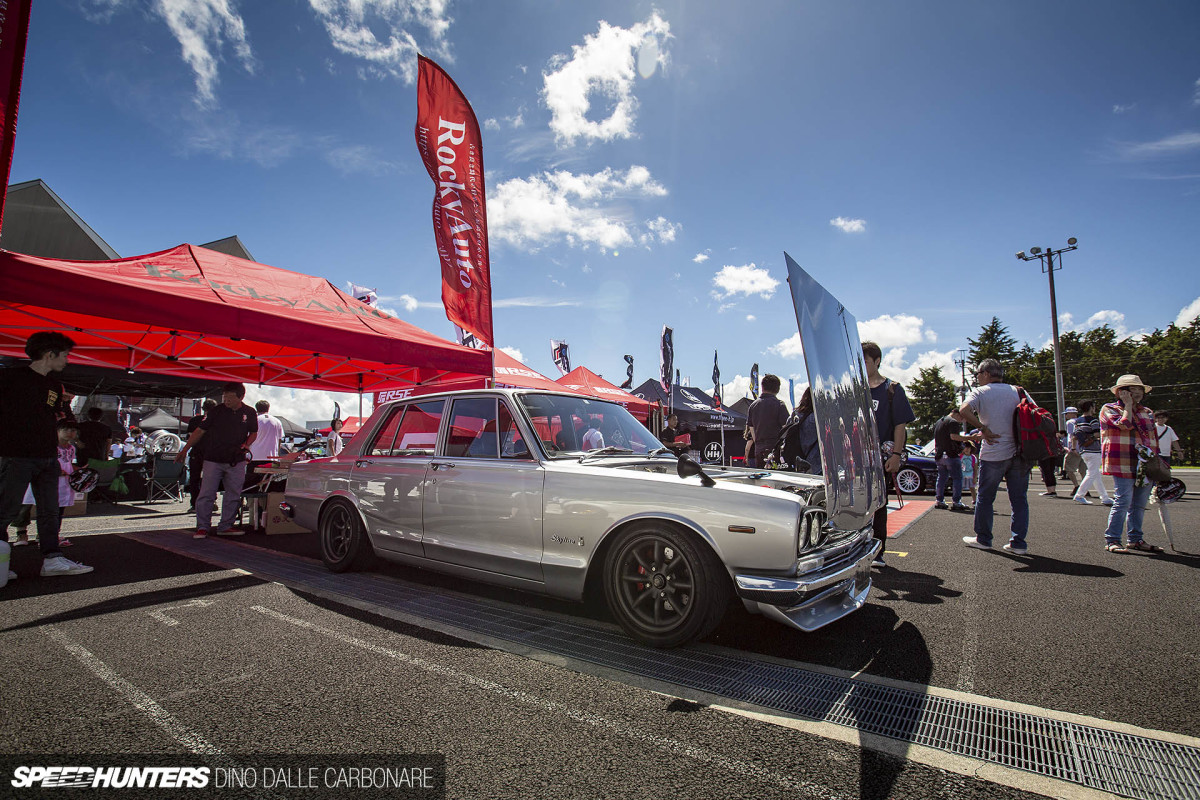 With so much attention being given to the second and third generation of the GT-R, I always feel it's important to never forget where the whole legend started: the PGC10 Hakosuka. This beautiful, unrestored example comes courtesy of Rocky Auto.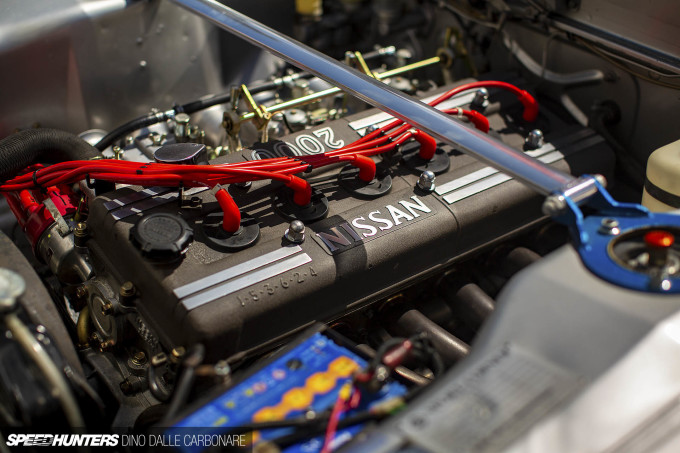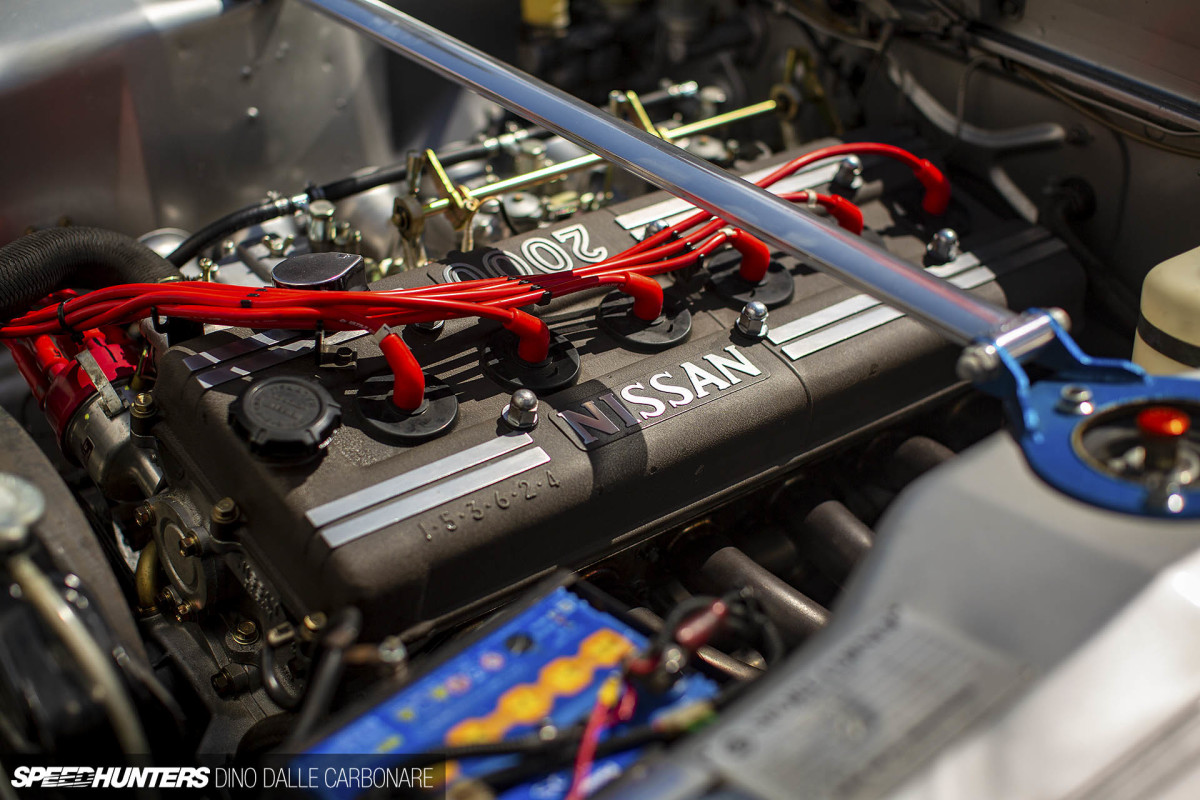 Looking in the engine bay, you'd believe this to be a factory-perfect and untouched example, except the S20 powering it hides a little secret. In fact, it should probably be called an 'S26′ as its internals have been bored and stroked to 2.6L.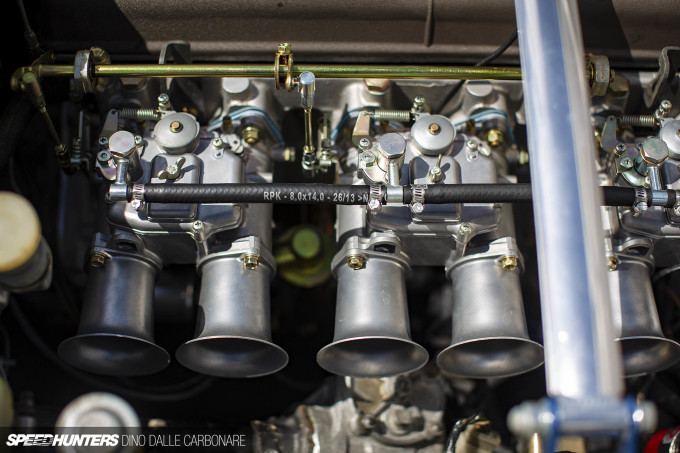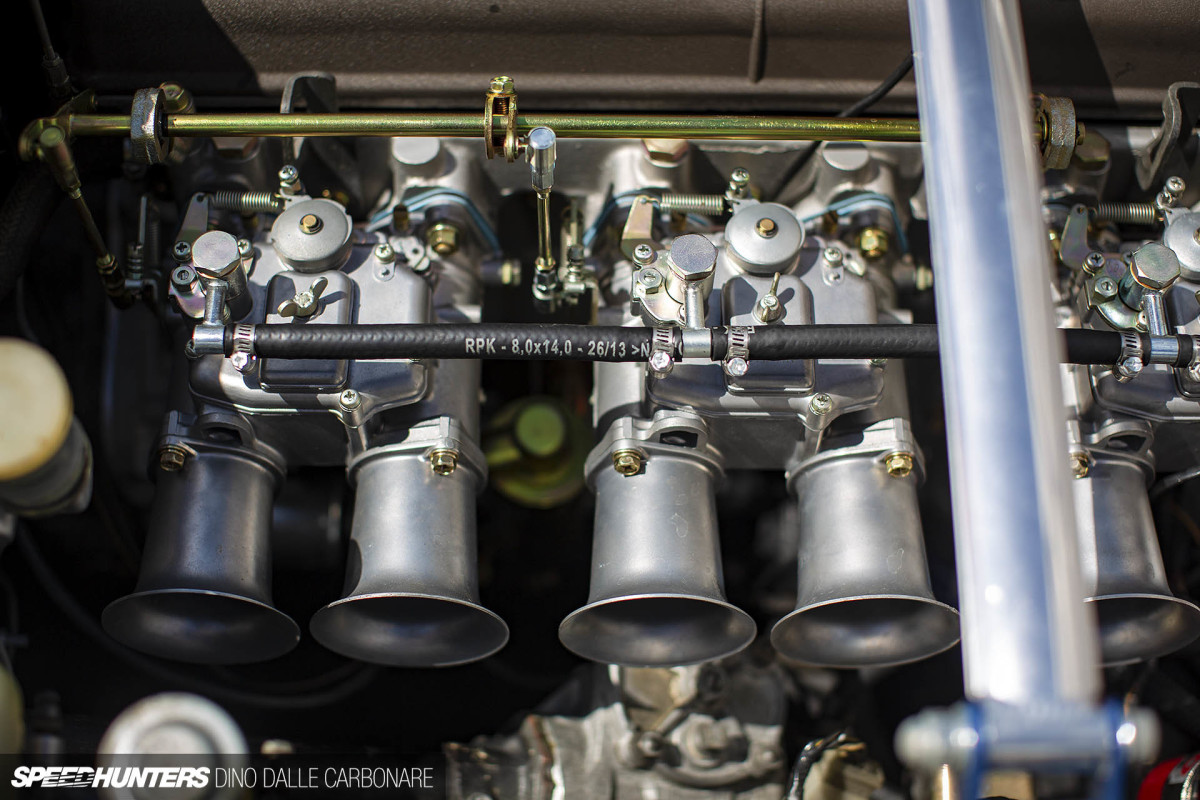 The carbs are have been kept conservatively sized at 44mm in order to take advantage of the newfound low-RPM torque the extra 0.6L of capacity brings. In this state of tune it develops 280PS, but with bigger carbs, maybe around the 50mm range, 300+hp would be possible. Not too bad for an unsuspecting, close to 50-year-old car.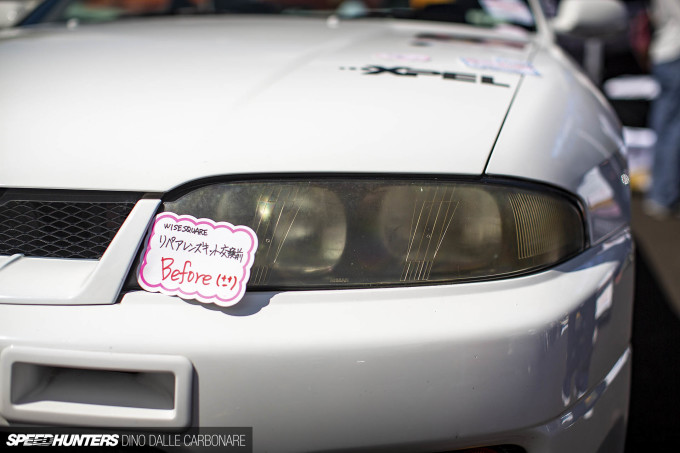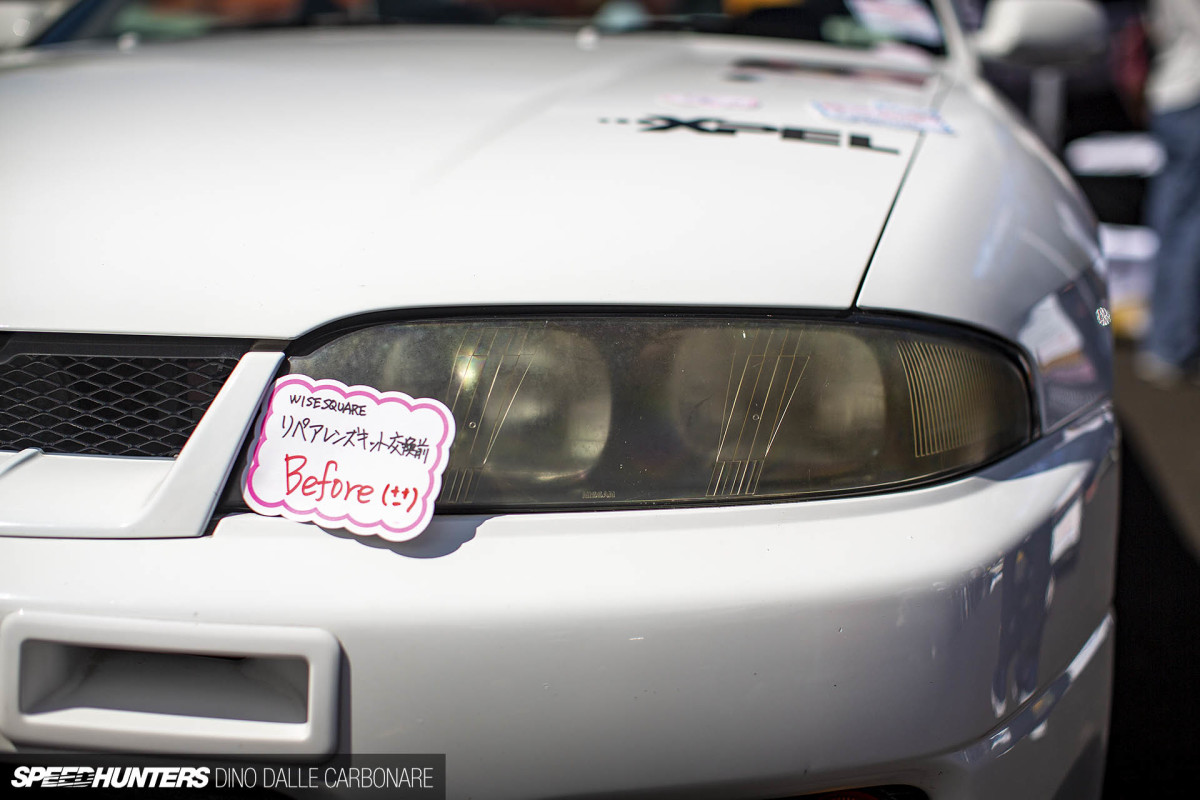 What's the biggest pain about owning, running and maintaining an older car? Deterioration. There's very little that doesn't degrade over time, especially if it's not looked after well, and for owners of '90s and '00 cars discolored and clouded headlights is a big issue.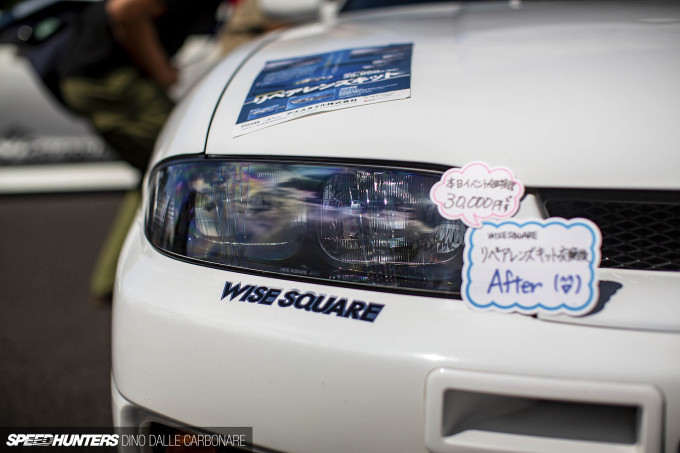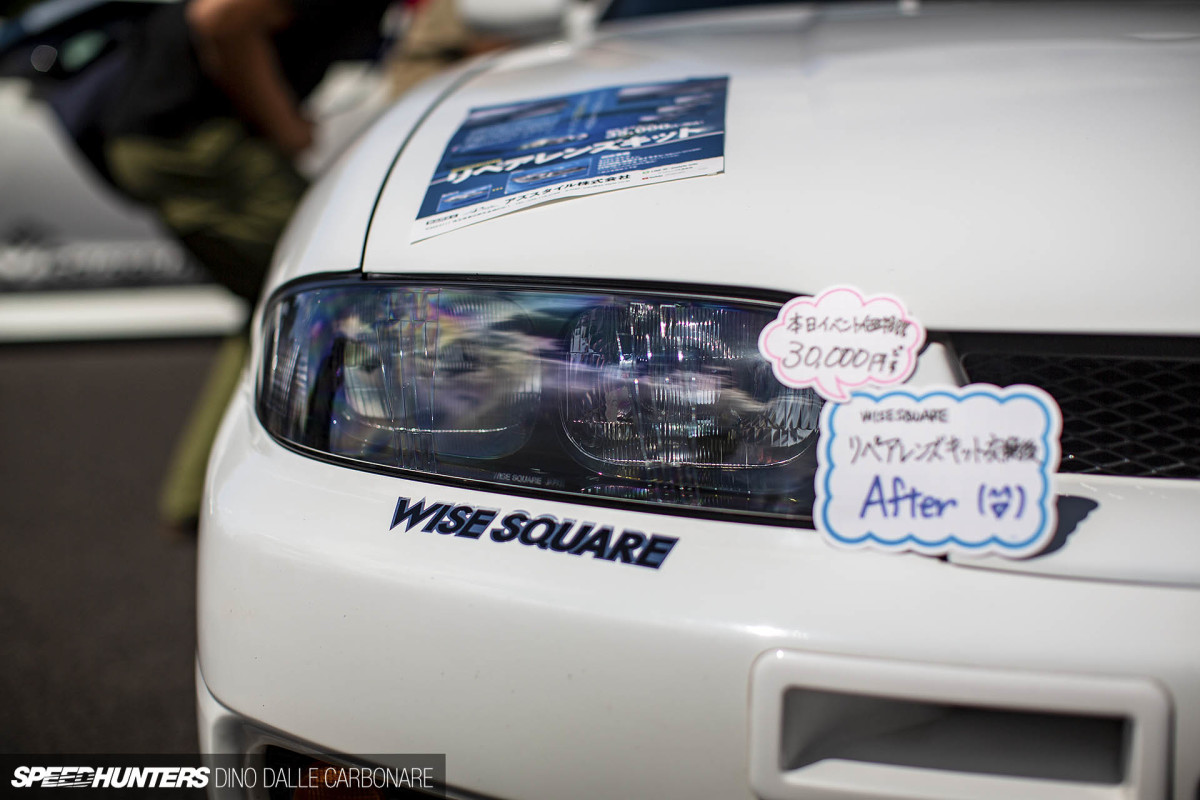 That's where a company called Wise Square comes in. These guys offer replacement clear covers for R32/33/34 Skylines, something that instantly brings some factory freshness back.
At about $300, it's a much cheaper solution than buying replacement headlights from Nissan, which cost an arm and a leg. These were probably the hottest-selling item at R's Meeting this year; all 40 R34 covers they brought along were gone in about an hour.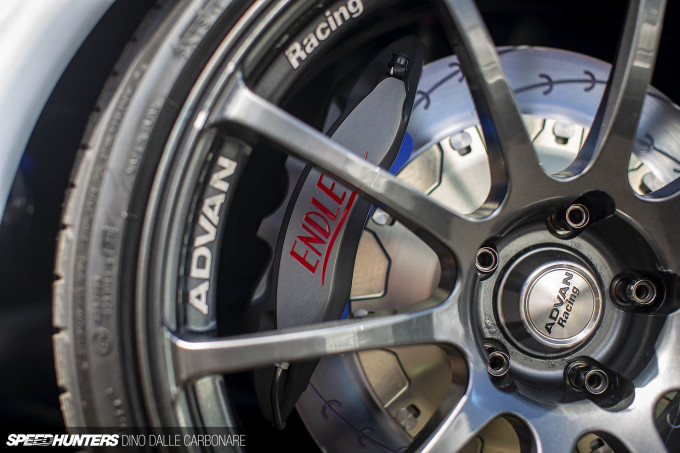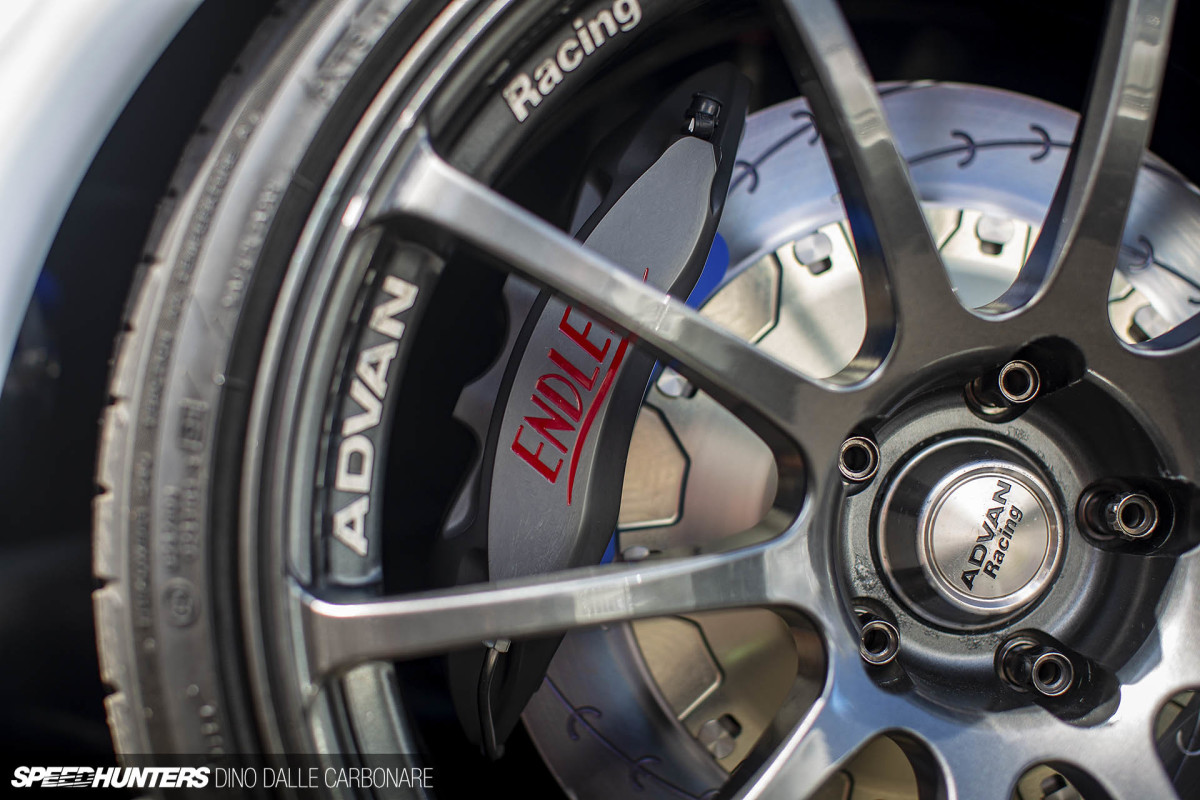 This doesn't really classify as a 'new' product, but I did see that Endless now offers the choice of a different logo on their monoblock caliper kit.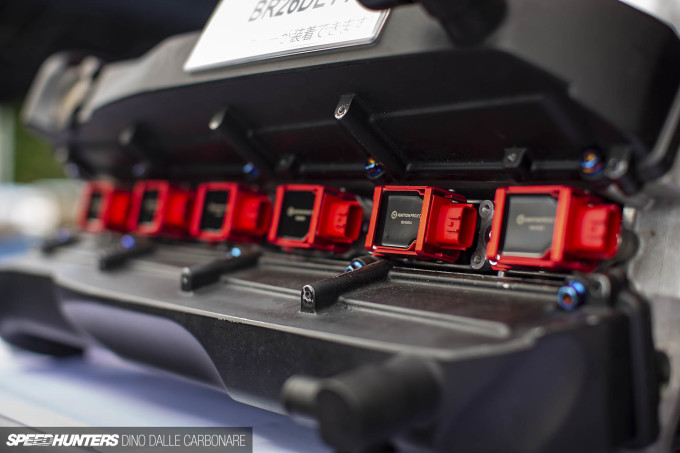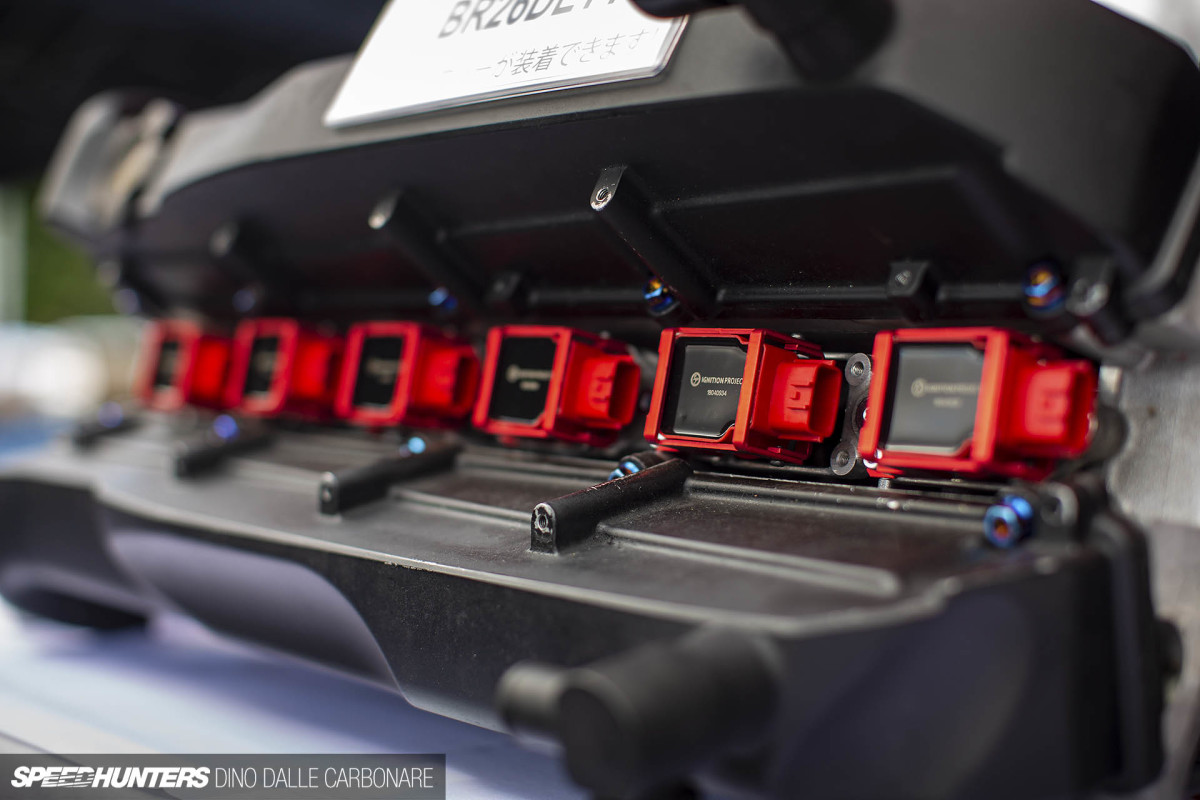 Now we move over to something that put a massive smile on my face: coils. Yes, I must be sad or boring, or both, but stuff like this makes me excited and it's the perfect example of what I talked about in the opening to this story – evolution.
There's nothing wrong with the RB26 ignition coils that Ignition Projects have made up until now, which I have fitted to Project GT-R, except for the fact that installing them hasn't allowed you to re-fit the stock center engine cover. This is something that's put off a lot of potential customers.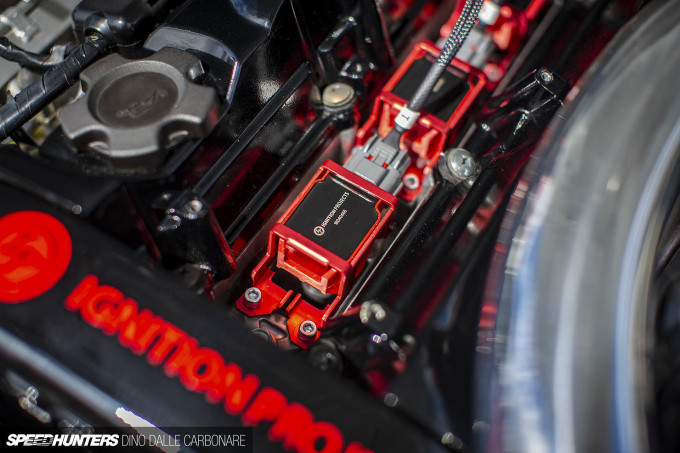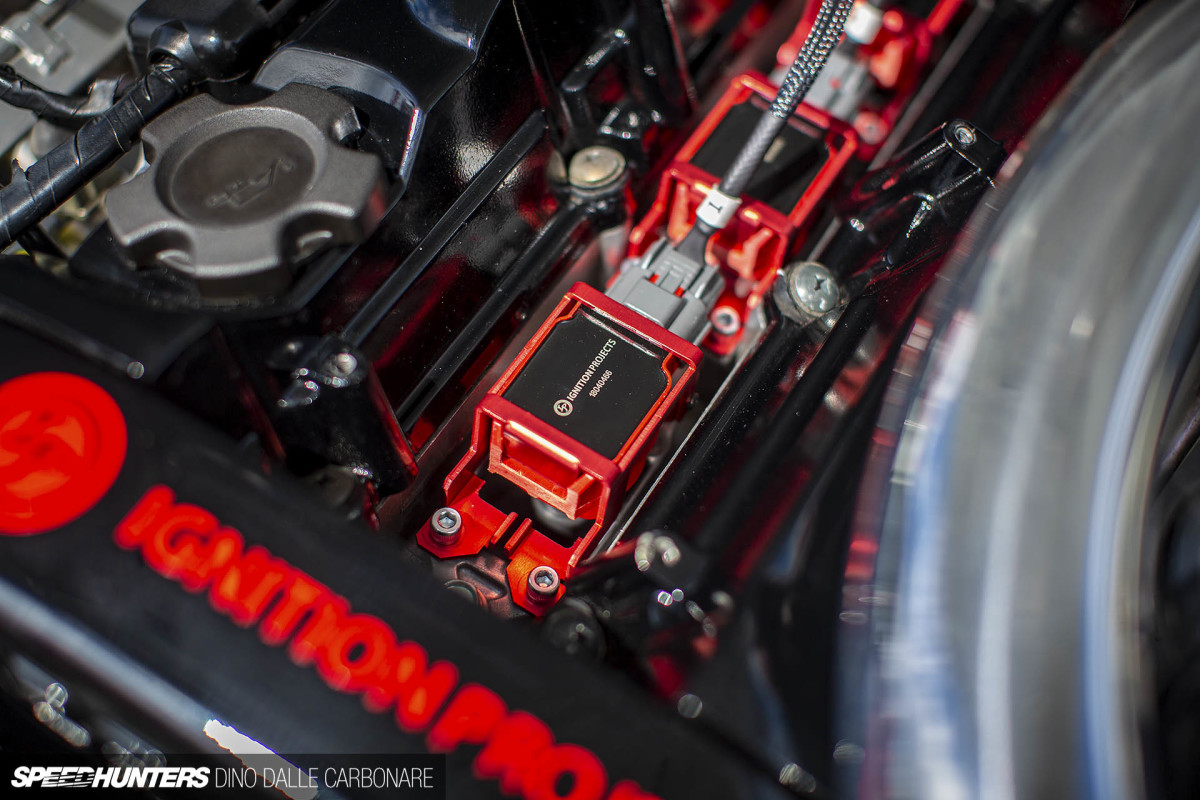 So Ignition Projects took the criticism on board and came up with a solution that offers the same spark intensity and power yet fits under the stock center cover. The result is what you see here, based on the R35 GT-R coil packs but custom rewound and rebuilt to give the same benefits in a more compact package. I can't wait to fit these things to the 34!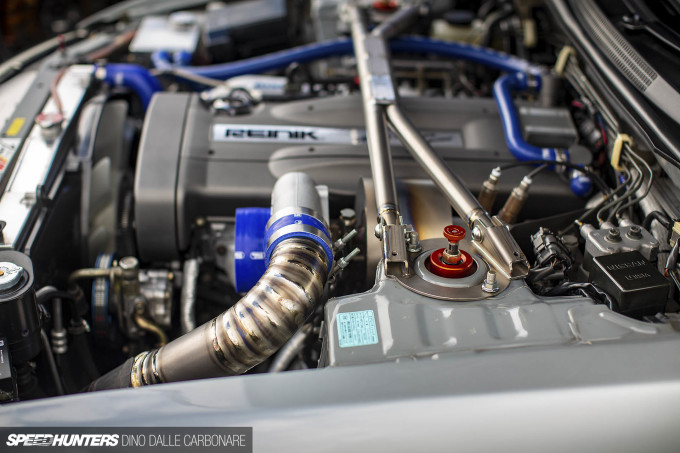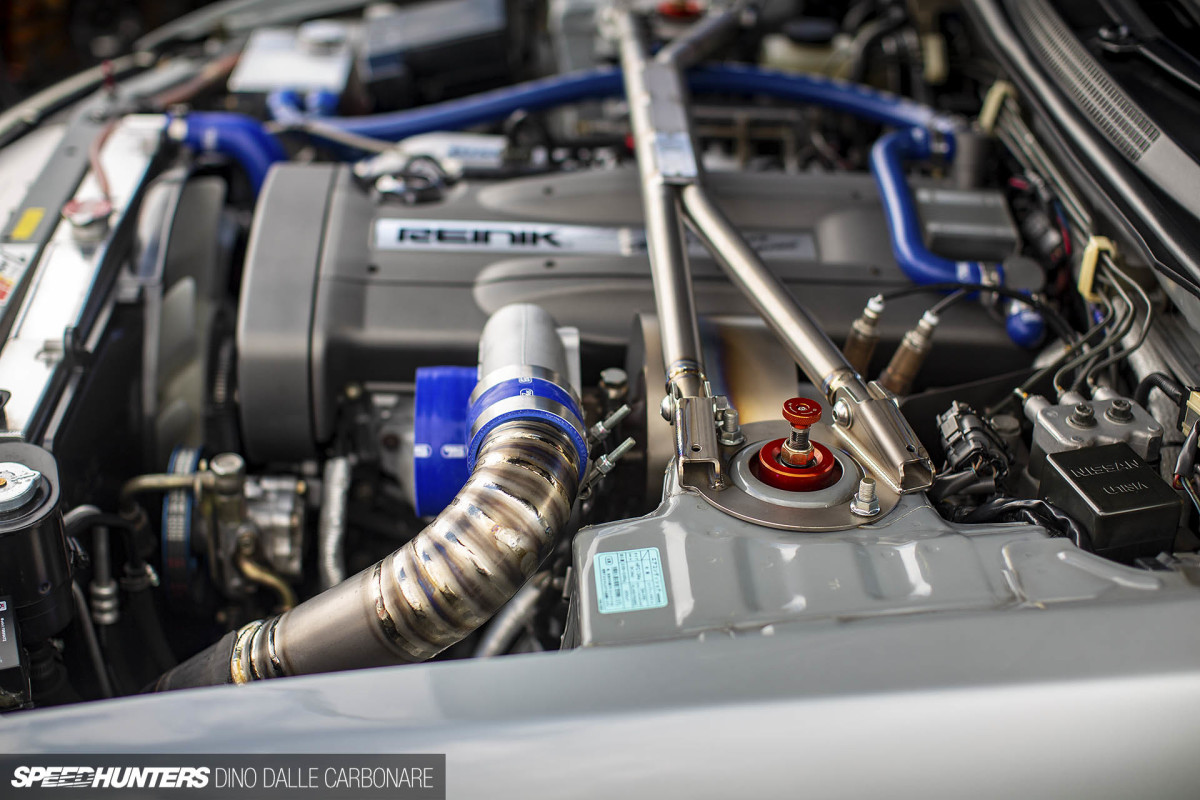 Here's another thing I'd love to see more of. Custom titanium intake/turbo piping is one of the nicest things to see when you lift up the hood on a GT-R of any generation.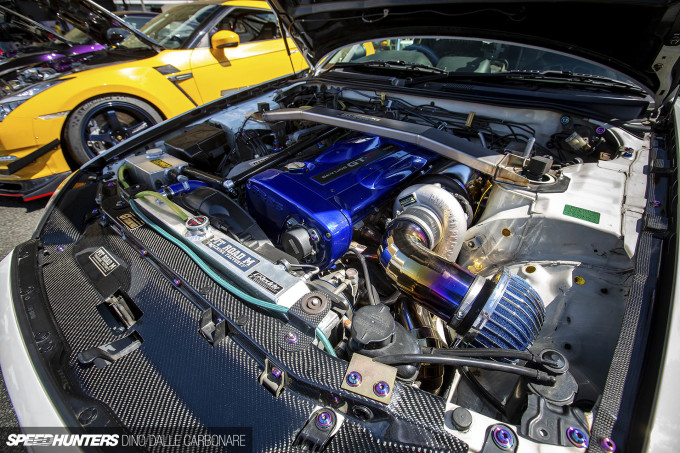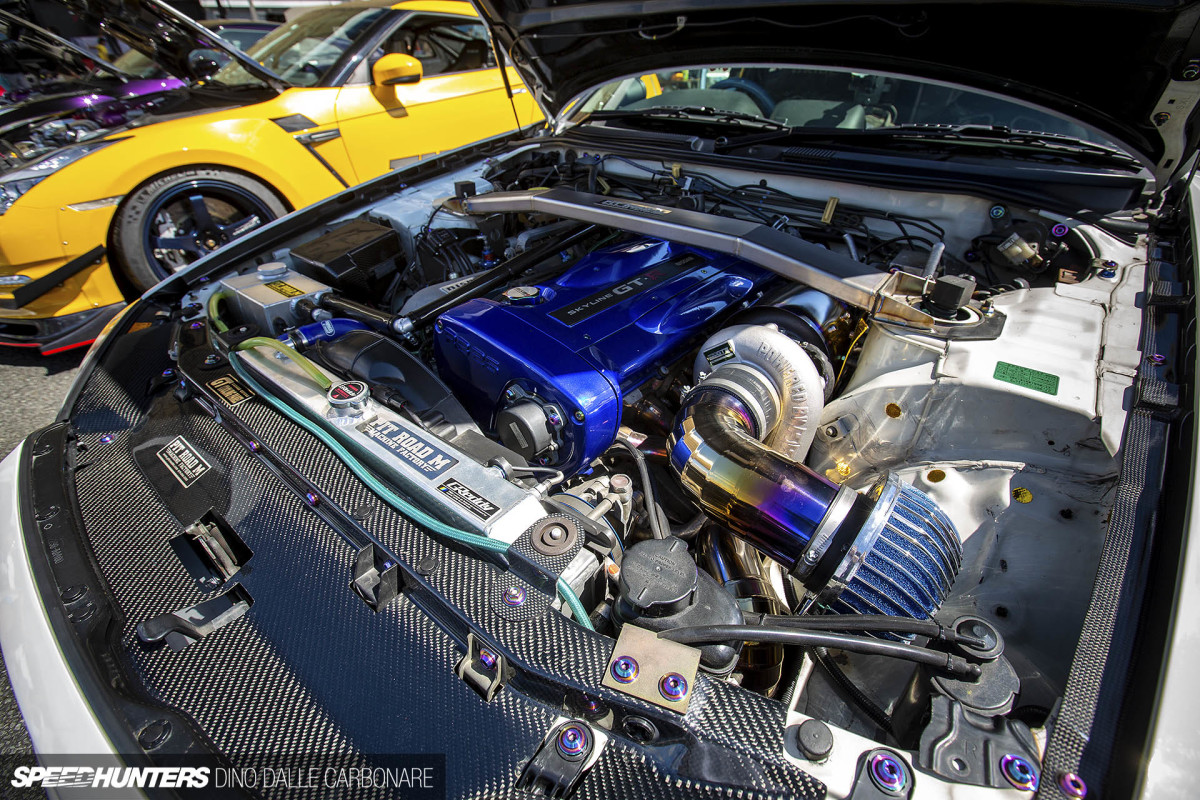 In my opinion, this is always a great way a shop or tuner can showcase their custom fabrication skills. So yeah, more of this please Japan.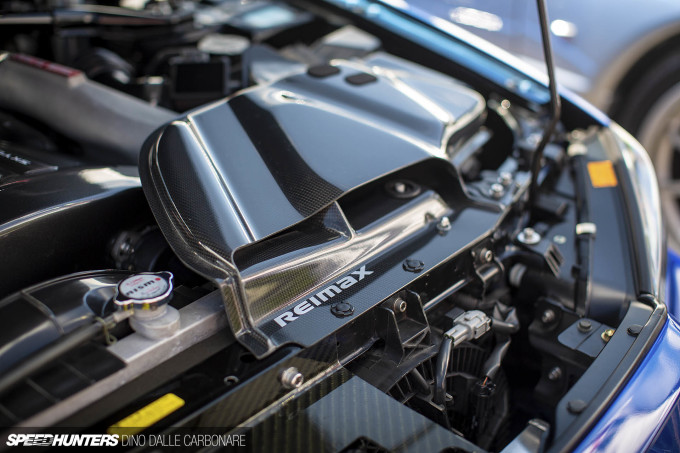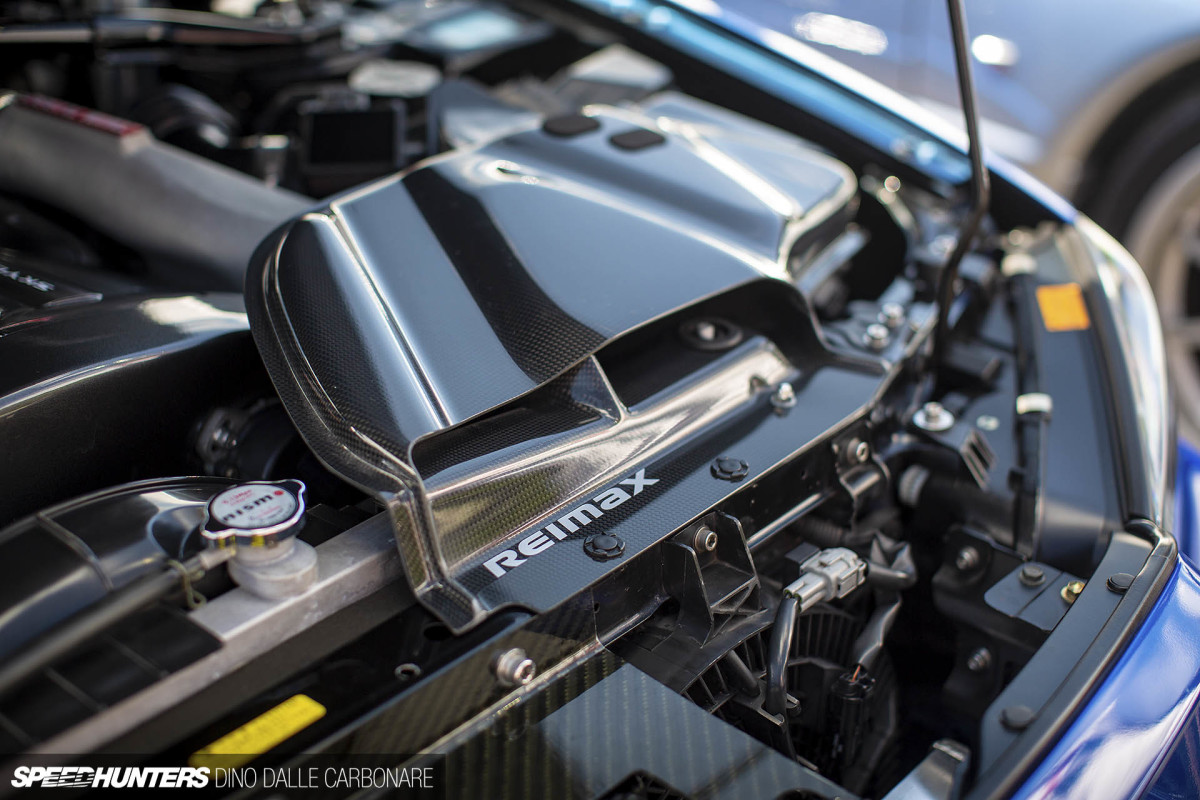 Then of course there is carbon fiber, which always a good way to dress up any engine bay. Here is Reimax's carbon air guide for the stock airbox on the R34.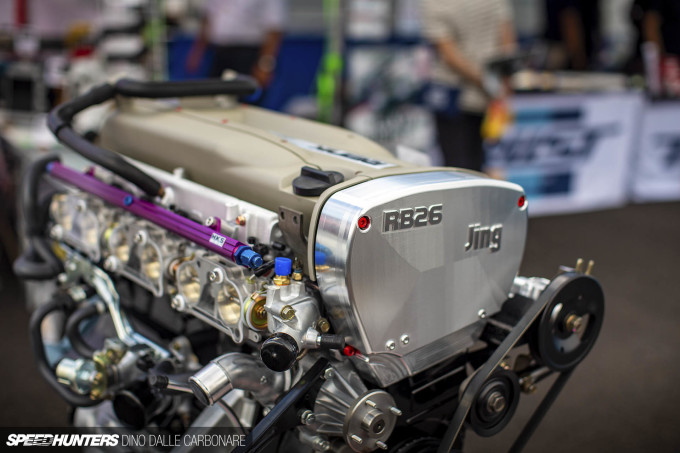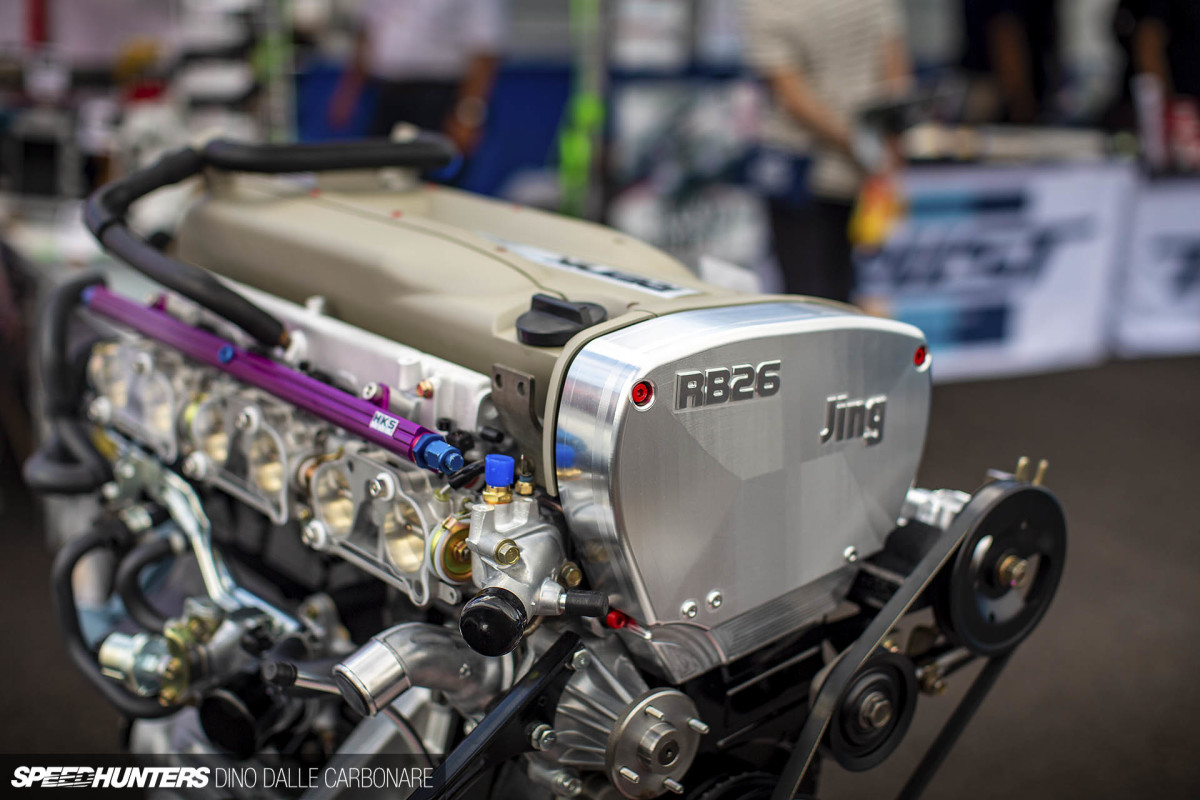 We saw Jing's billet cam cover last year, but this time around there was a chance to get a better look at it on their display engine.
It's so clean when you dump the stock cam trigger sensor, which of course is replaced by a far more compact and modern magnetic sensor and matching crank trigger disc. This is now the standard in Australia with a few companies offering such trigger/ignition timing systems, something I hope the Japanese tuners play around with more in the future. Oh, and I also spotted some ceramic-coated Tomei Expreme exhaust manifolds on the motor.
More To Come In The Future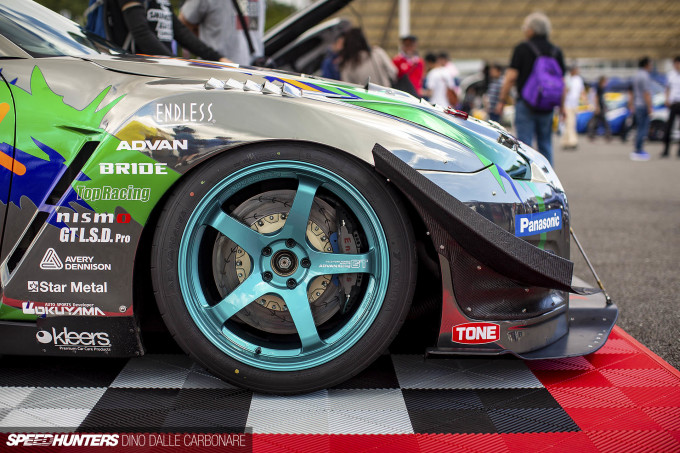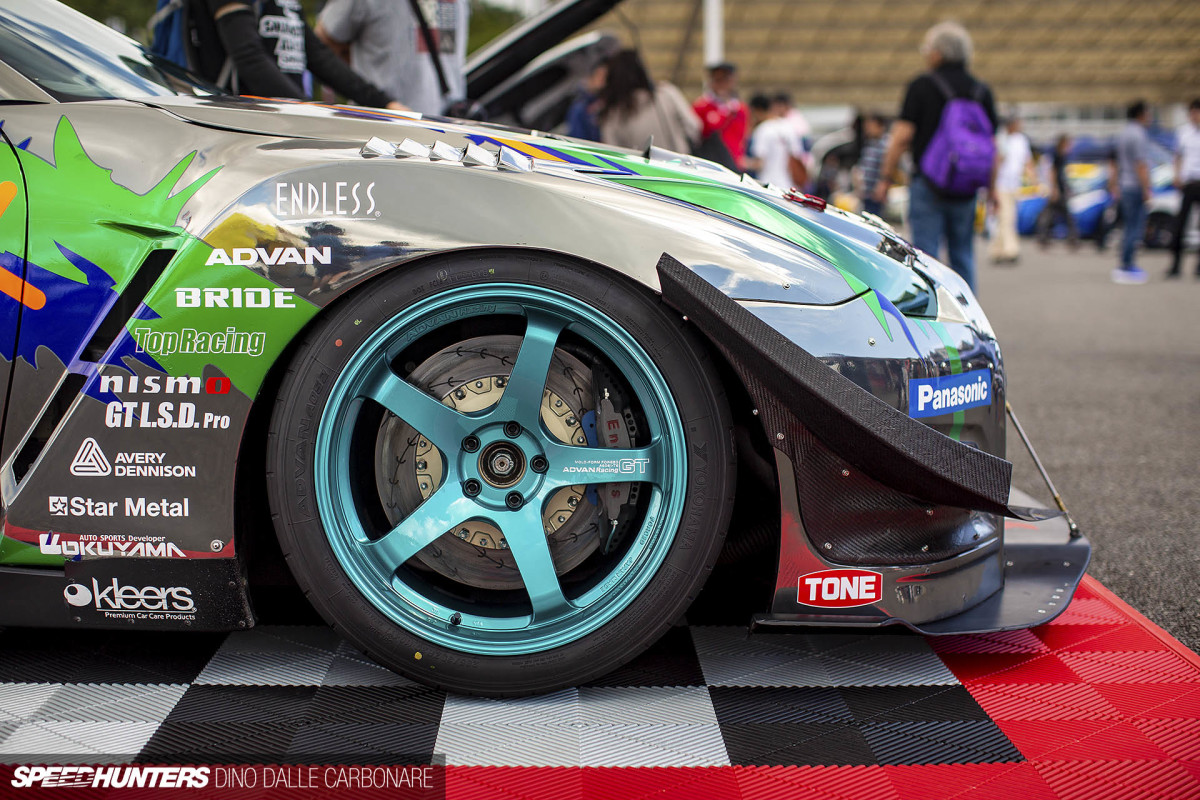 Here's a closer look at the limited edition 'Vivid Green' Advan GTs that will only be sold in the US market, as worn by the HKS GT-R time attack beast.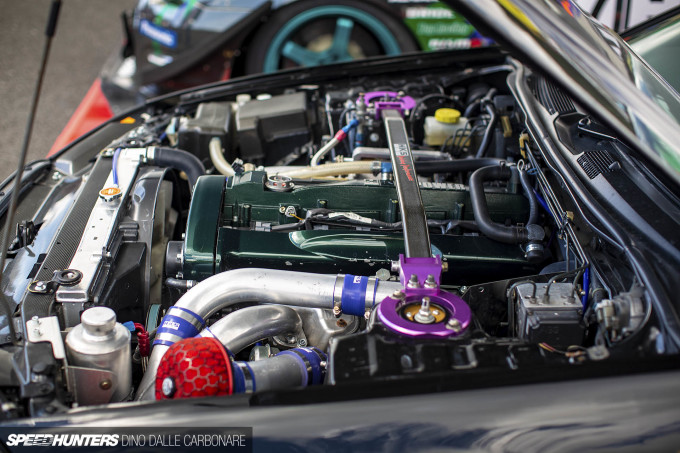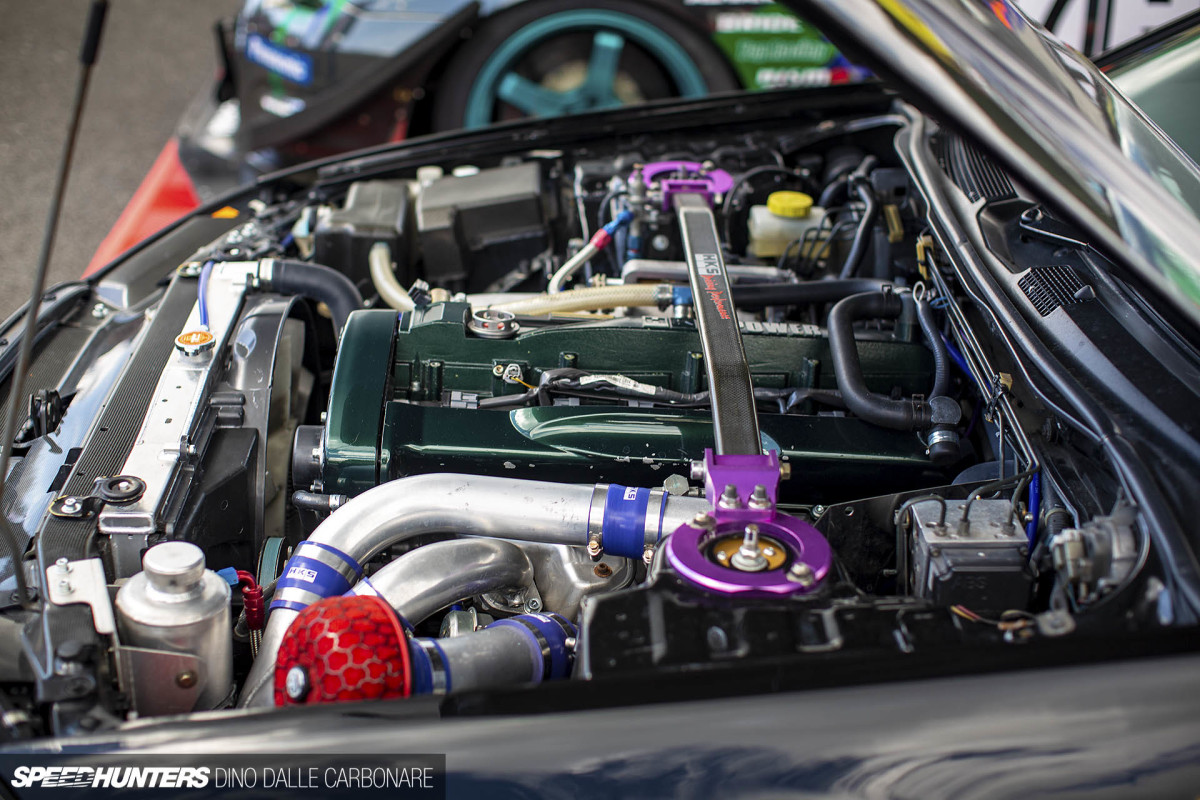 Next to the R35 was HKS's R34 development car, which will soon be fitted with some all new internals. HKS was keeping tight-lipped about what this will actually be, but with the continuous demand for their stroker kits maybe it's the right time for them to push the envelope a little. Release date is TAS 2019.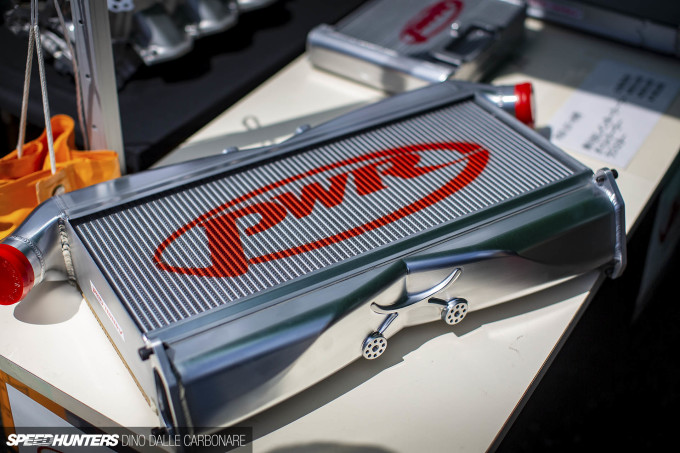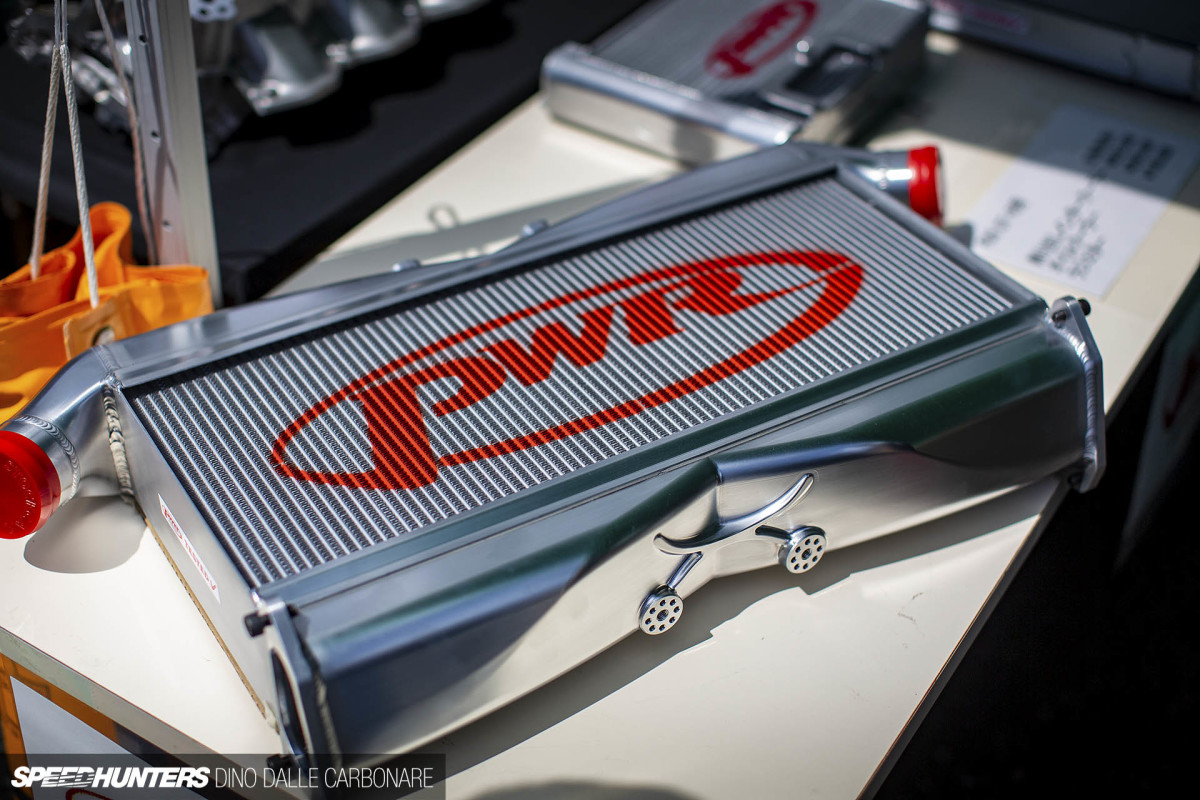 Over at Midori Seibi Center, another respected GT-R tuner that's been around since the beginning, was a mouthwatering selection of PWR aluminum coolers for the R35. It's nice to see the Japanese exploring other solutions from around the world.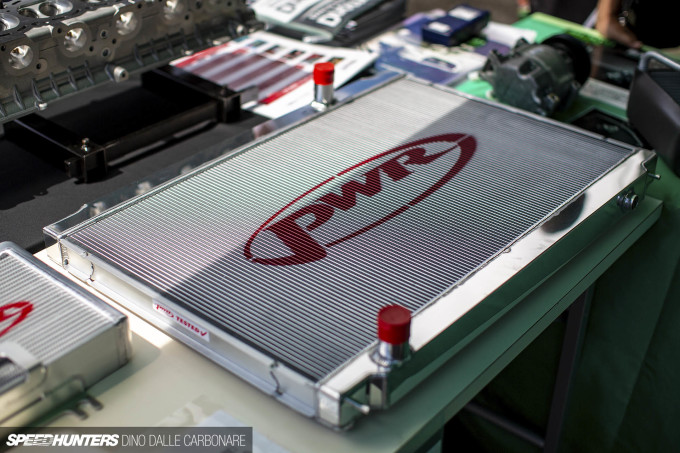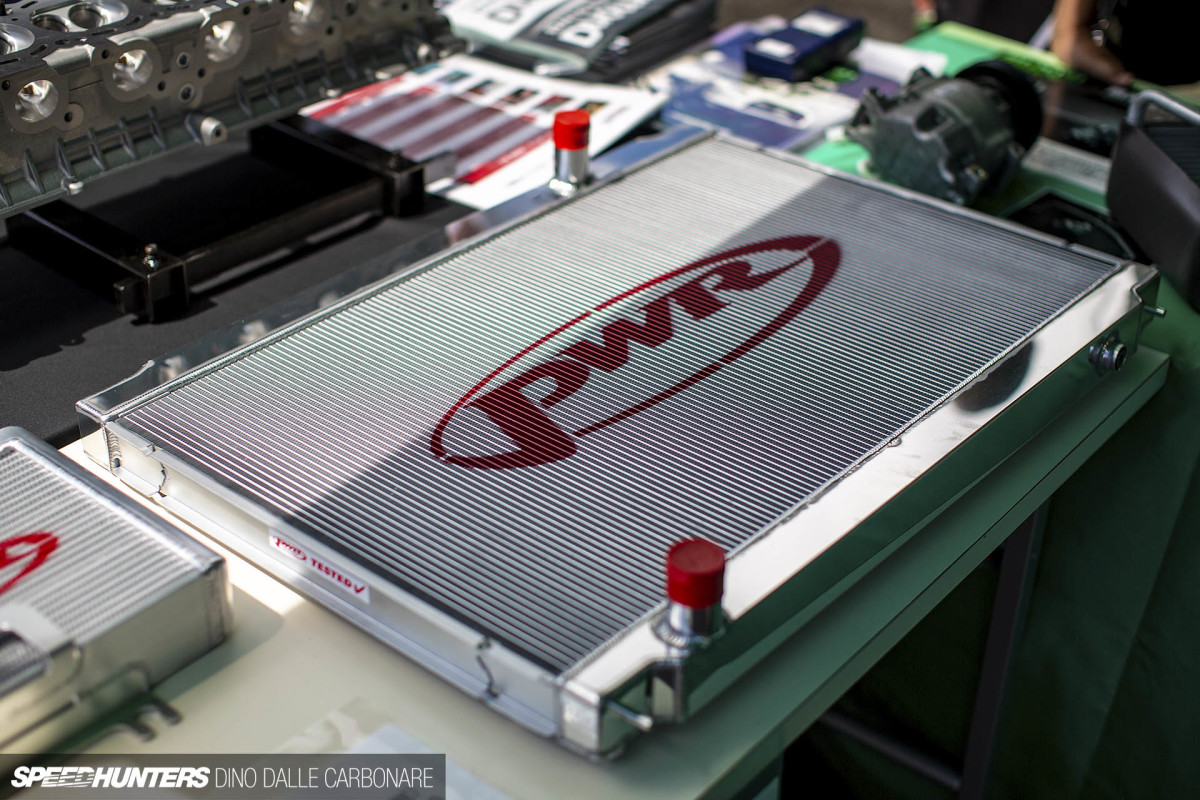 Currently the line-up is made of an intercooler (previous image), an oil cooler, and this oversized radiator.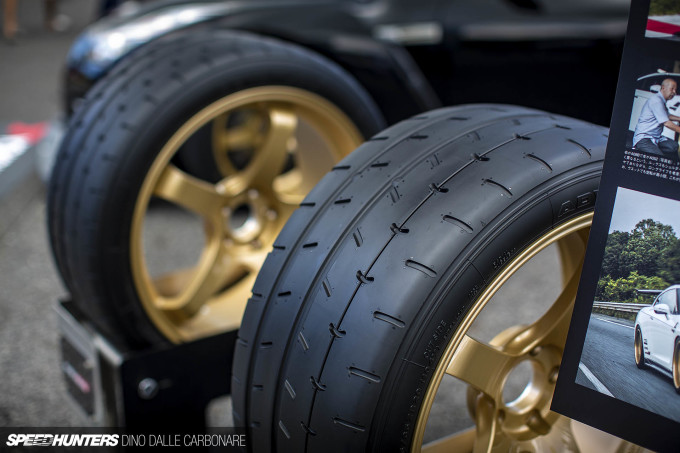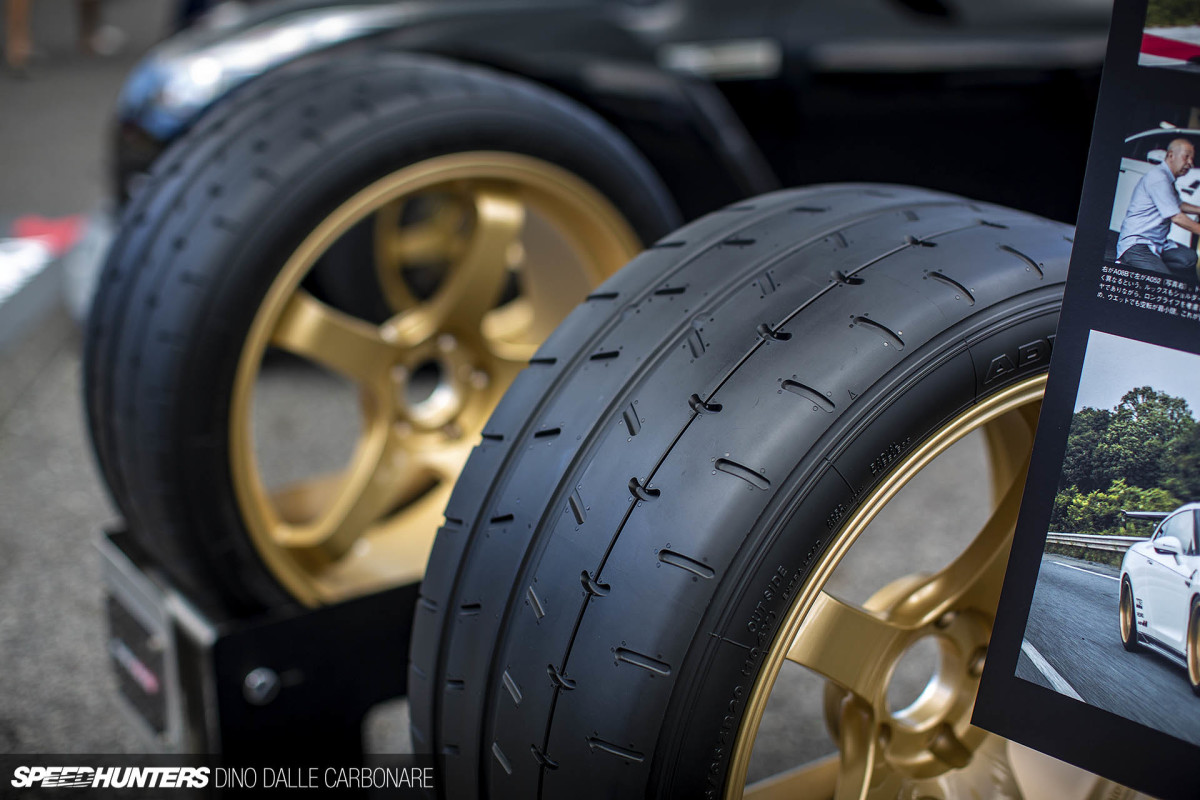 When it comes to tires I've always liked symmetrical tread pattern designs like the Advan Neova AD08, but I have to say that the A052's cut-slick look is impressively sexy. Tire tech is another area that continues to support the way in which performance cars continue to get faster and faster.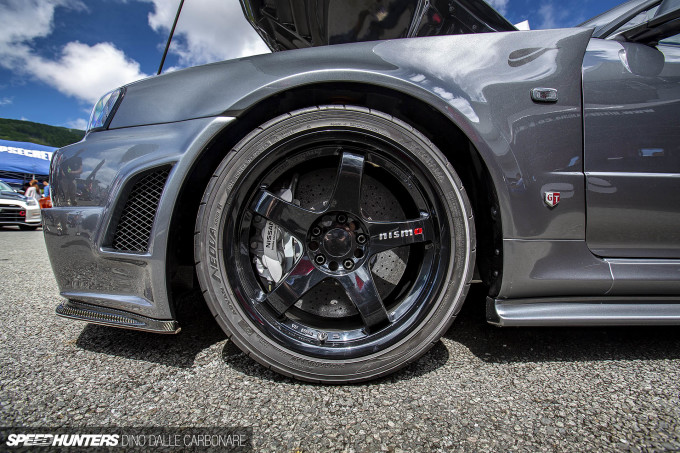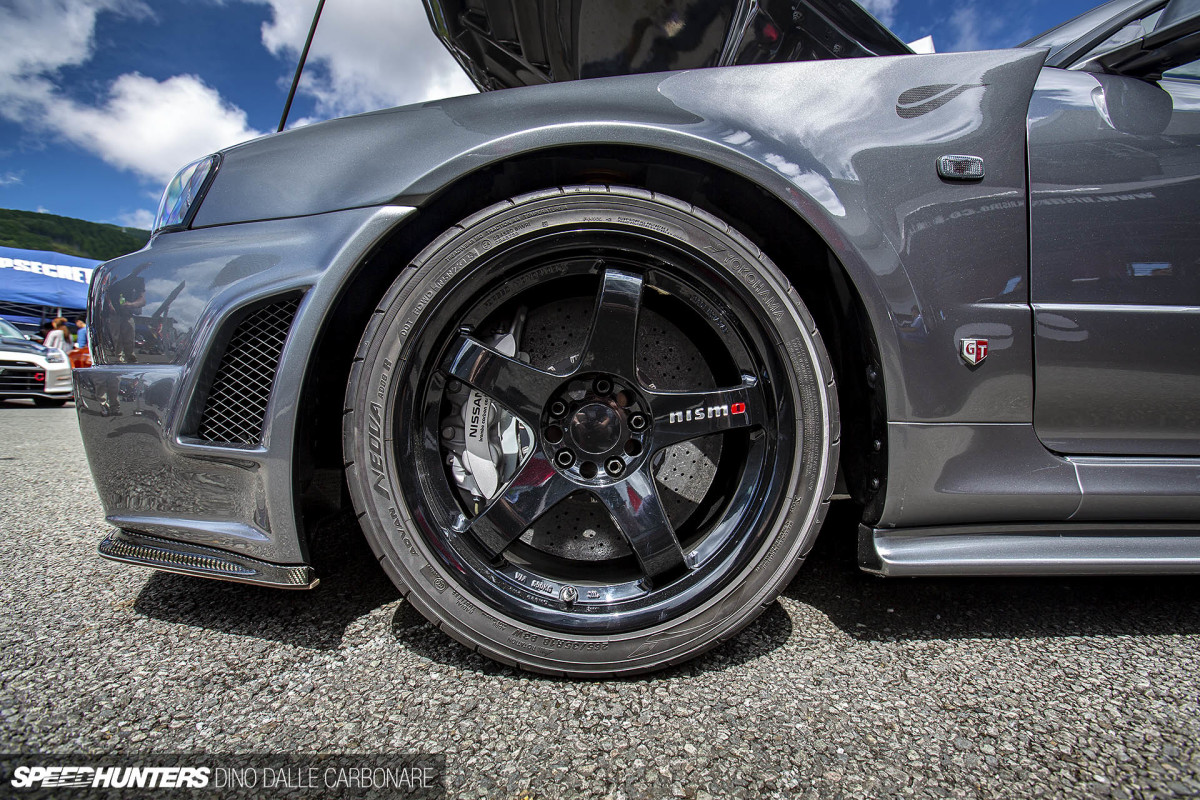 If you were wondering what the difference on the Nismo Clubman Track Spec edition BNR34 that I mentioned in the last story was, it's the addition of the R35 SpecV carbon ceramic brake package – a cool ¥5m (USD$45,000) upgrade.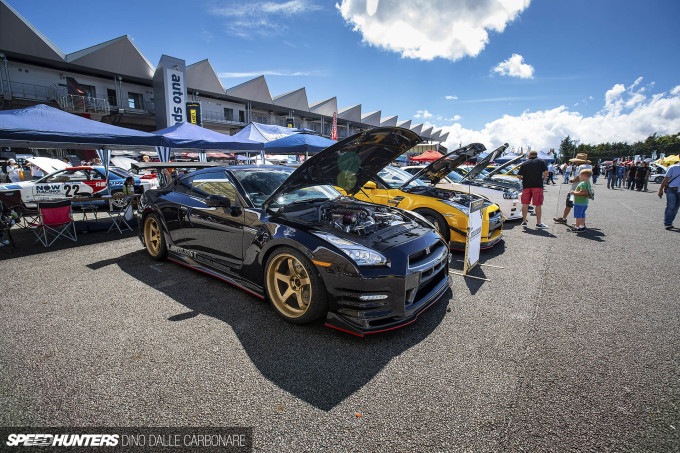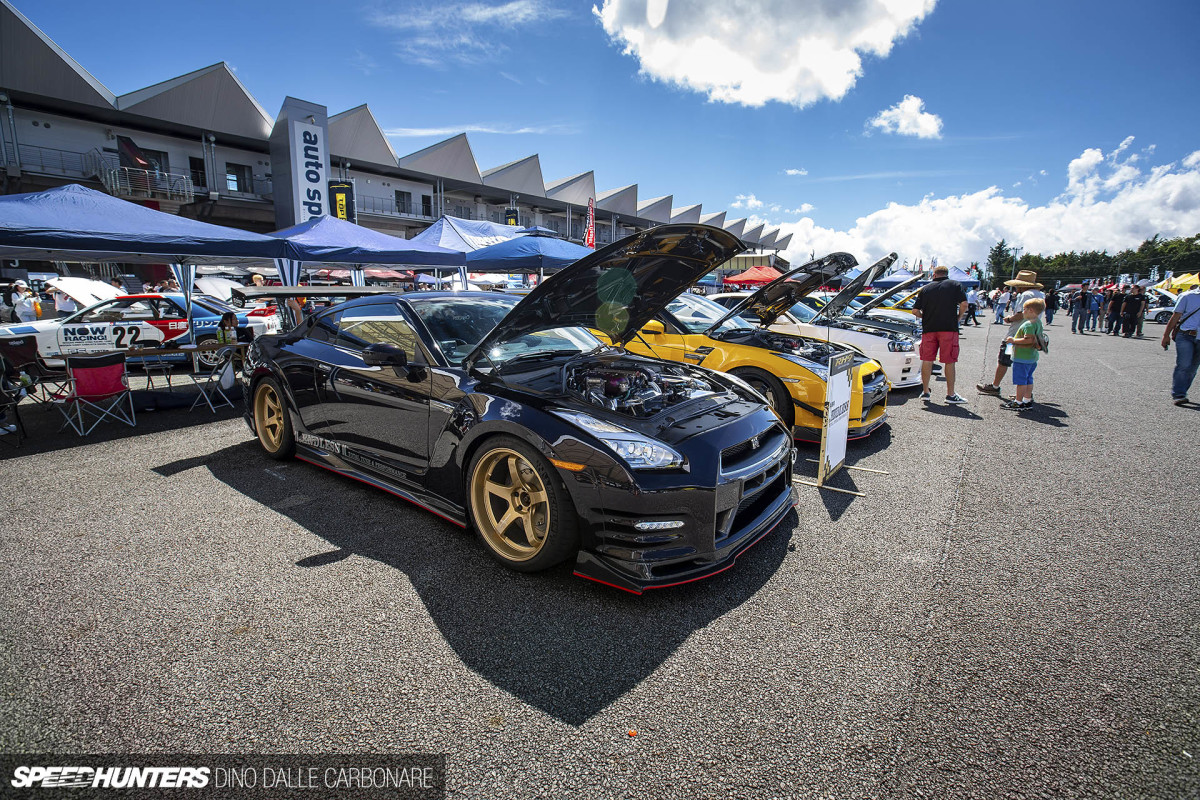 After being so consumed with RB26 tuning, it's always a bit of an anticlimax to take a look at some of the modified R35s that are around at R's Meeting.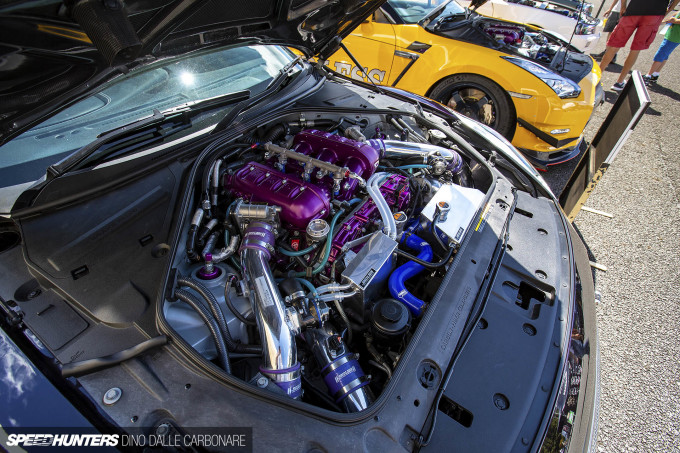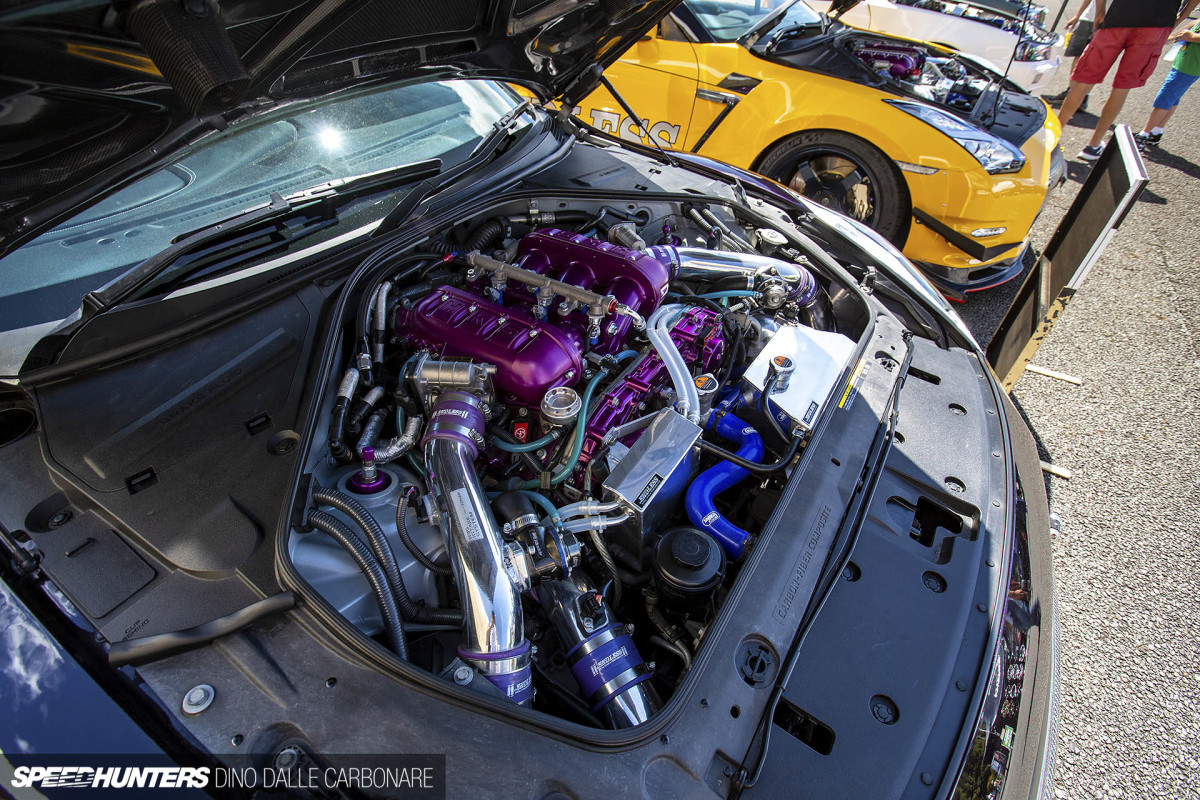 It seems 1,000hp is the new 500hp, and it sort of puts things into perspective of how quickly and exponentially tuning is evolving. And that's without looking at what our friends over in the US are achieving with their big-power standing mile and drag cars…
I'll start serving up a few spotlights next, so check back for more from R's Meeting 2018 soon.
Dino Dalle Carbonare
Instagram: speedhunters_dino
dino@speedhunters.com