All Shaken'd Up & Ready To Go
Project GT-R updates have been a little thin on the ground lately, but we all know how things like this can be temporarily shelved when there's a lot of other stuff going on – in my case a packed schedule of Speedhunting! But right around the time the shaken was up (that's the bi-yearly, $700-plus check you have to do in Japan to make sure your car is roadworthy), my R34 started developing an intermittent misfire. I asked around and everyone pretty much said the same thing: check the spark plugs, the coils, wiring and so on. I did all that and everything looked fine, but the problem persisted…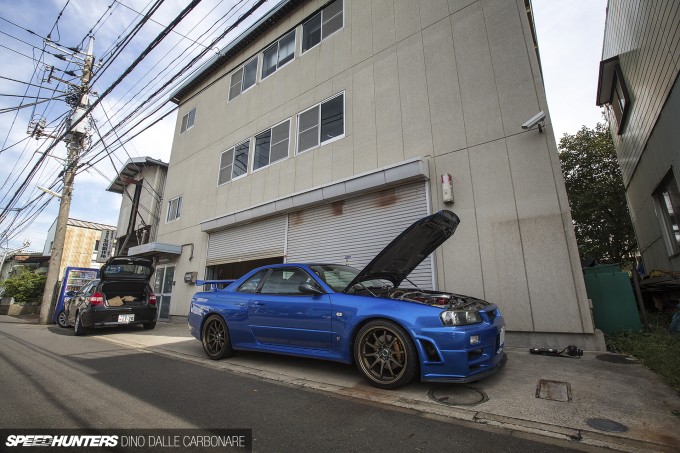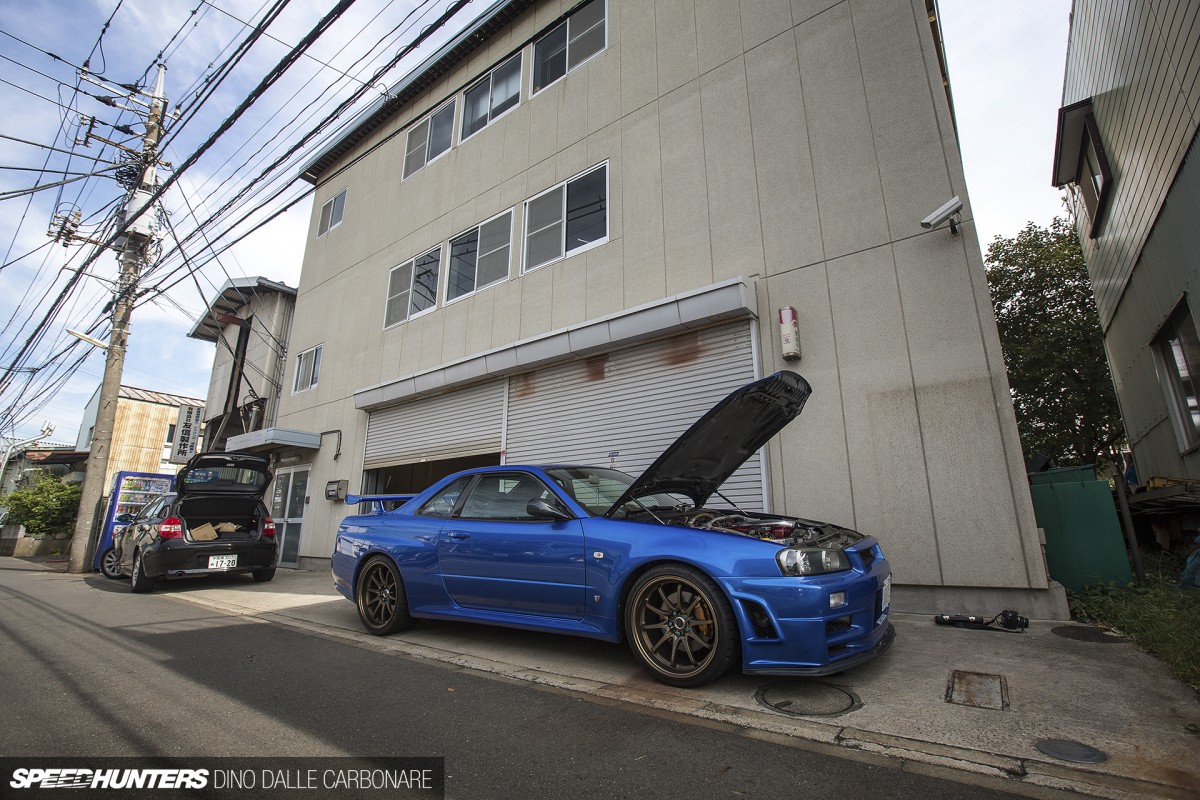 A little dispirited, I decided that I'd leave it for a month while I was busy with work, which would give me time to source the few remaining bits and pieces I need for the long-time-coming turbo upgrade – and then I could kill two birds with one stone. Of course, even the best laid plans don't work out sometimes, and parts delays meant that it never happened. That is until last week, when I received a call from Ito-san at Do-Luck telling me that Ignition Projects were looking for a BNR34 in good condition in which to test out an all-new coil upgrade. Upon hearing this I got off my butt and immediately awoke the sleeping GT-R. Or at least I would of if its Optima Yellow-Top had not died sometime in between… Even my CTEK charger could not revive it, so I had to wait a day for a new battery to arrive before I could finally fire up the RB26 and take the car to the shaken center for its inspection. For this, I refitted my old 19-inch RAYS Volk Racing CE28N wheels, which run a slightly less aggressive offset than the TE37RTs, and therefore pass the inspection without any problems. Which it did, albeit with a silencer bung in place to quieten down the Tomei exhaust. Street legal again, the next day I woke up bright and early and drove the Skyline down to Do-Luck in Yokohama.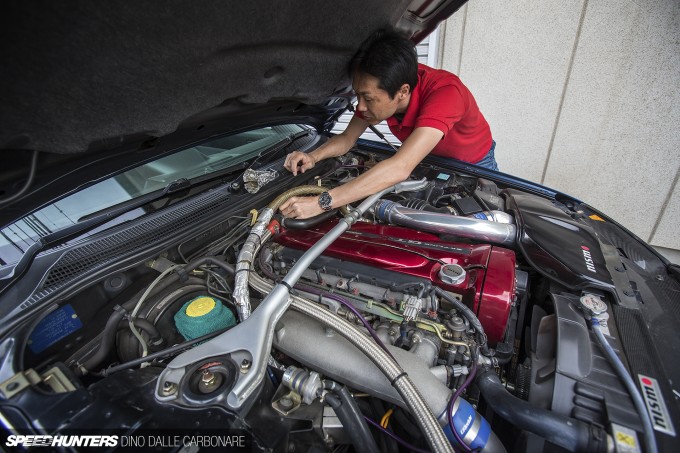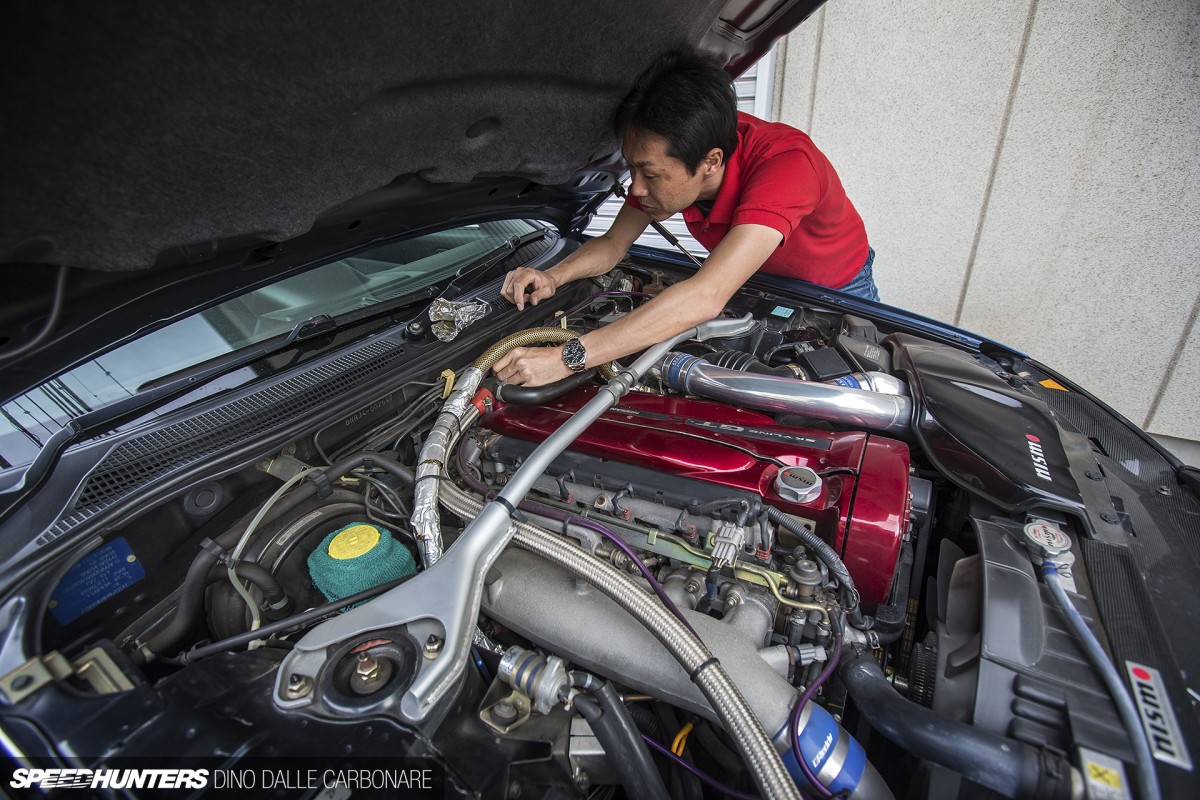 That's where I met Akira-san from Ignition Projects, who wasted no time popping the hood and getting busy with my car. Unbolting and removing the spark plug cover was first on the list.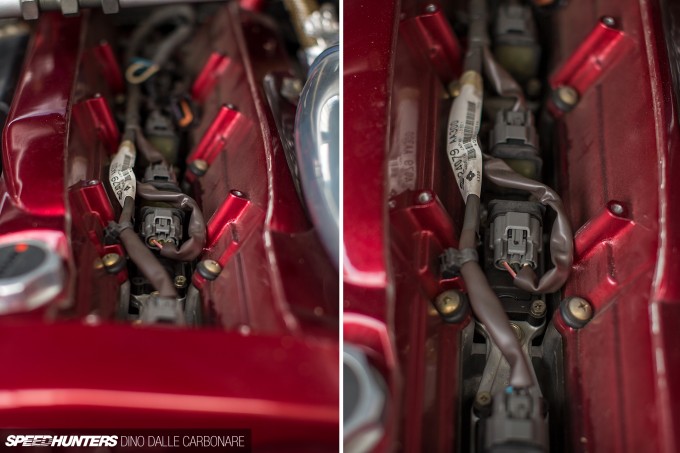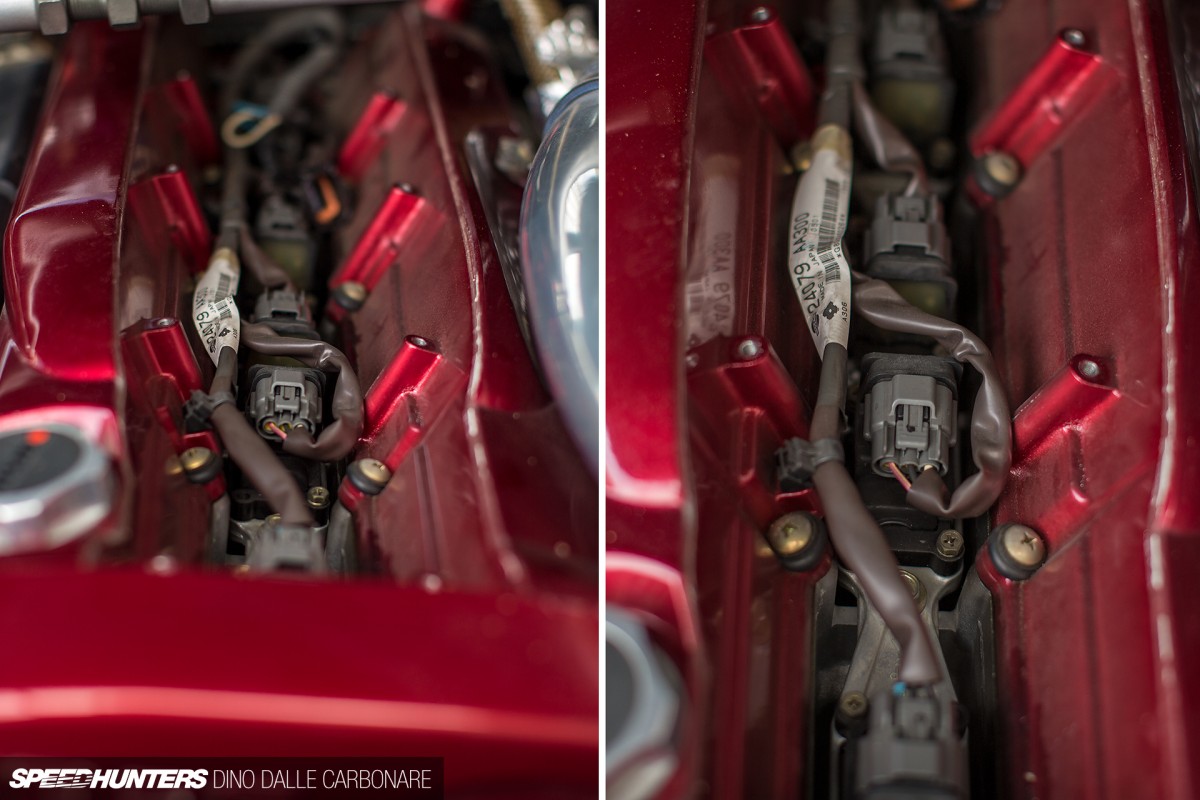 This gives you access to the six individual coils that are neatly laid out in between the two cam covers. Well, it's mainly the connectors and the wiring loom that you see first, but the coils are under there!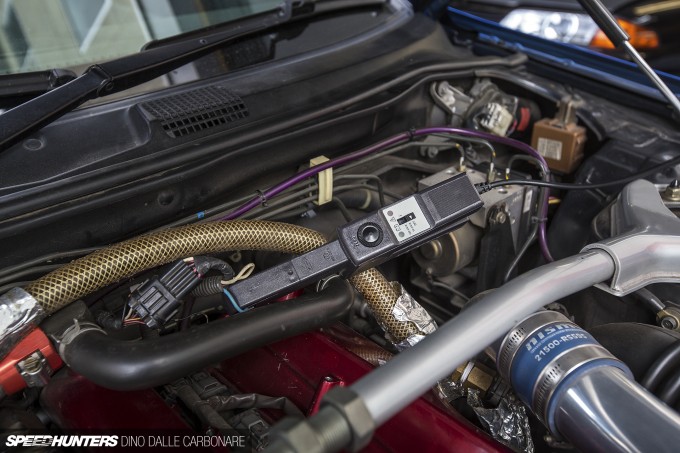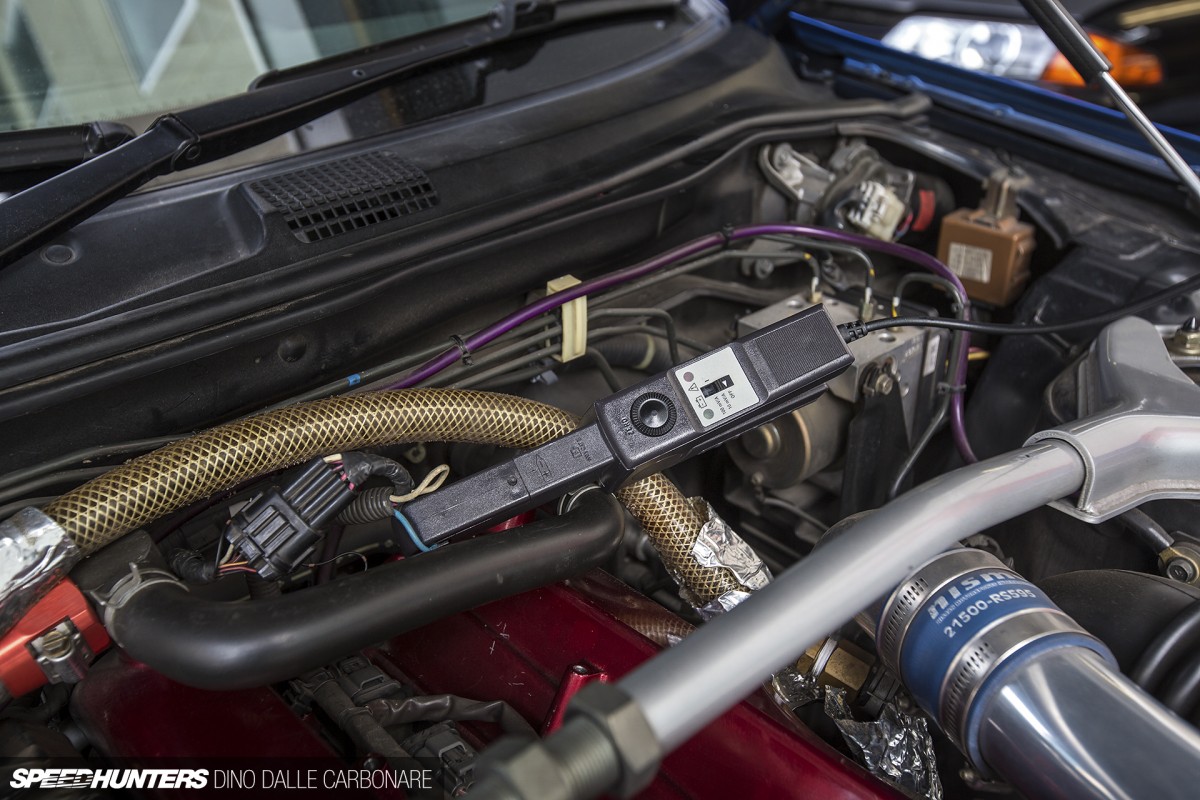 Seeing this was the first ever install of this new coil system on an R34, some testing of the factory set up was required to ensure everything was as it should be on a stock engine. To do so, Akira-san whipped out a pretty badass oscilloscope and tapped into one of the wires to measure the current.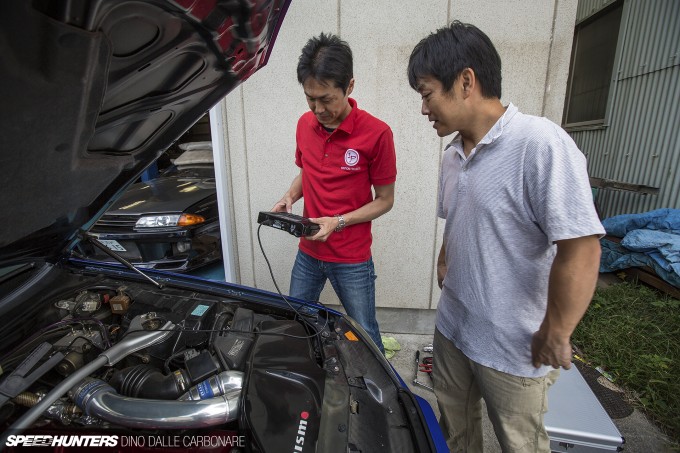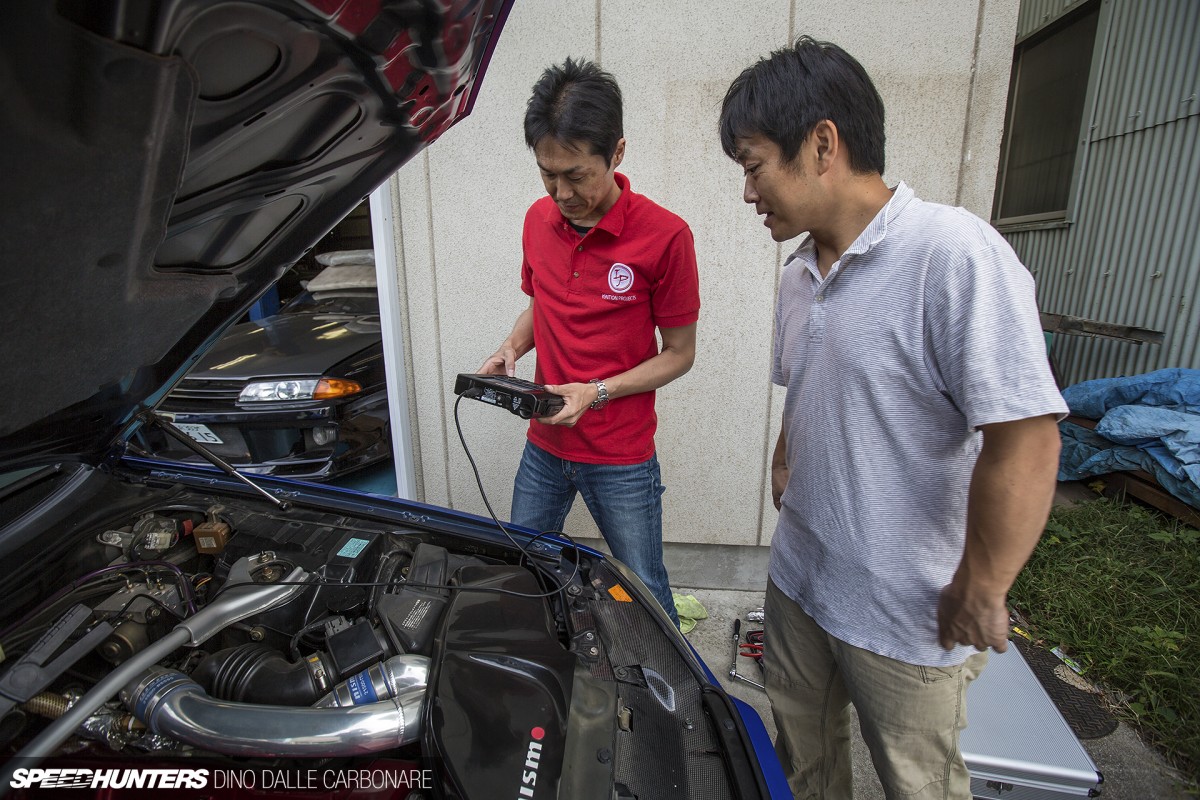 Ito-san came out to check how things were proceeding too.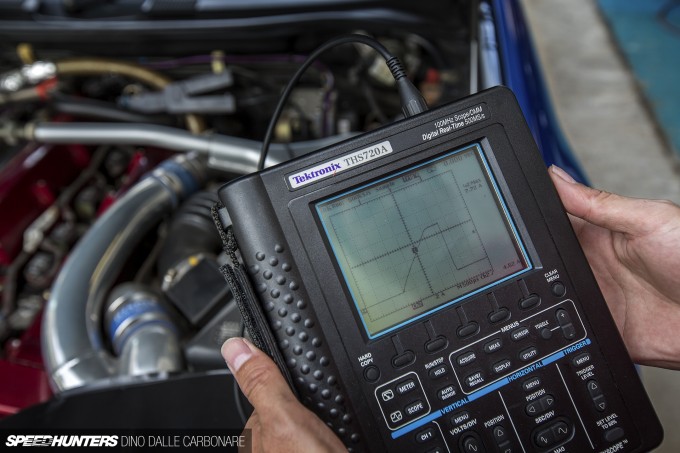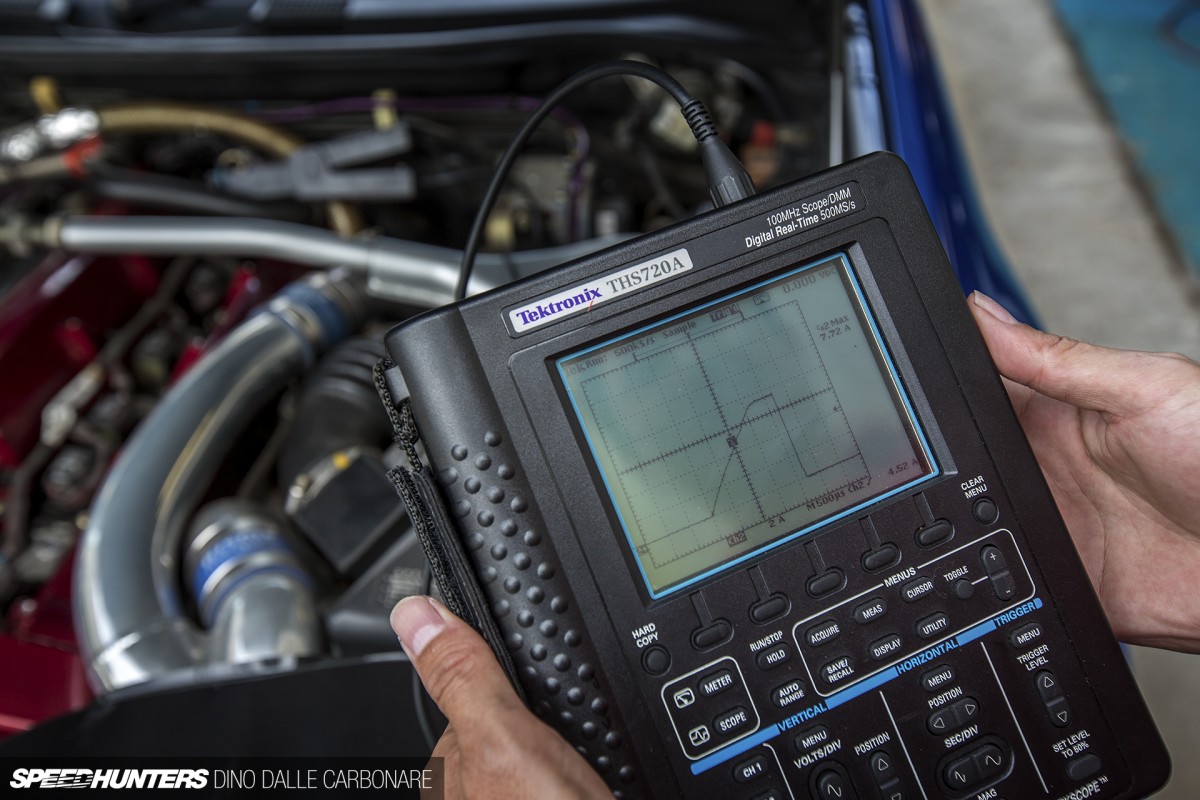 We cranked the engine and observed the current curve, which according to Akira-san was healthy for a stock engine with a peak primary current of 7.72 Amps.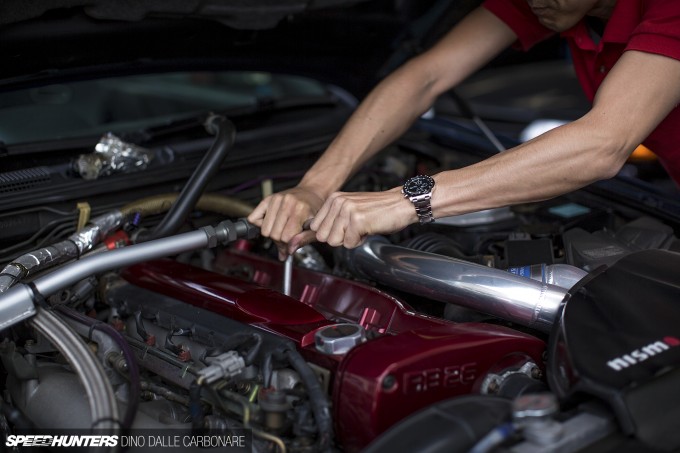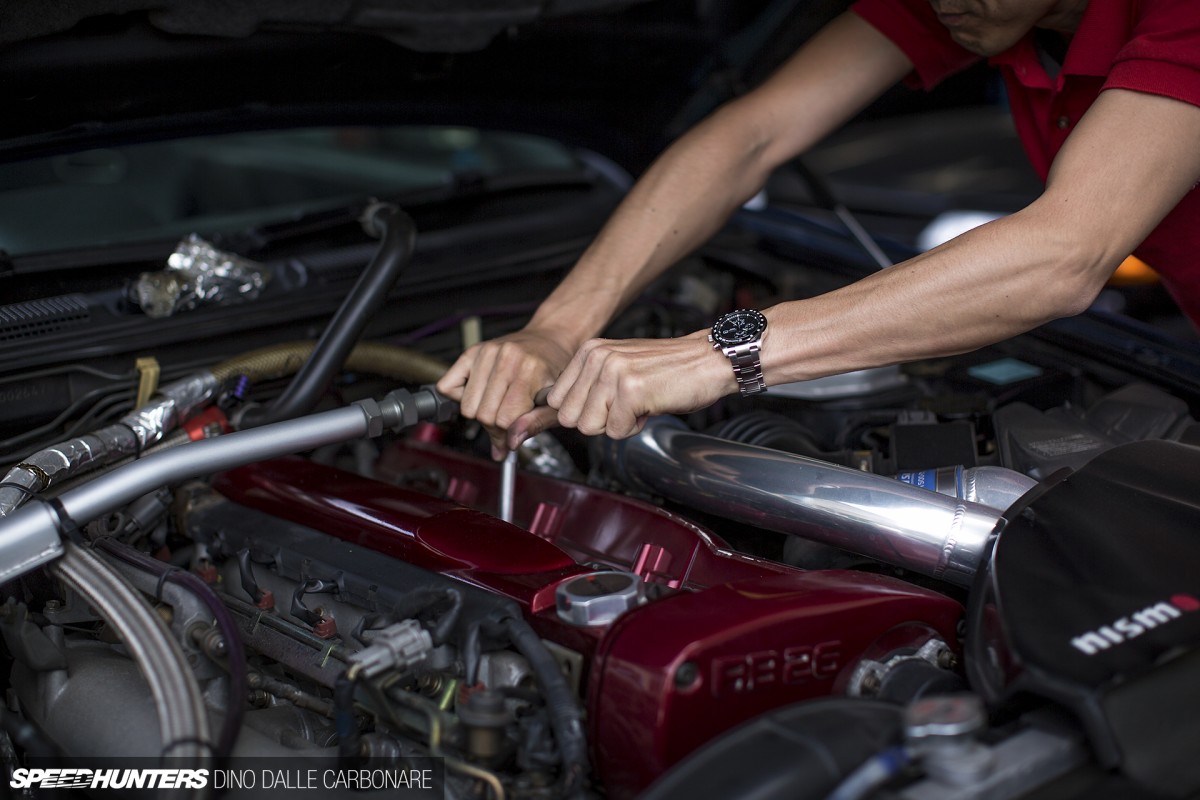 Right, so back to business. Next up the bolts that hold the stock coils in place were removed.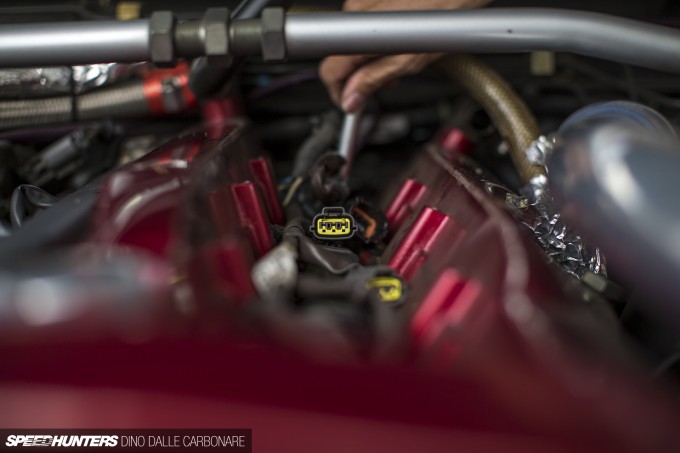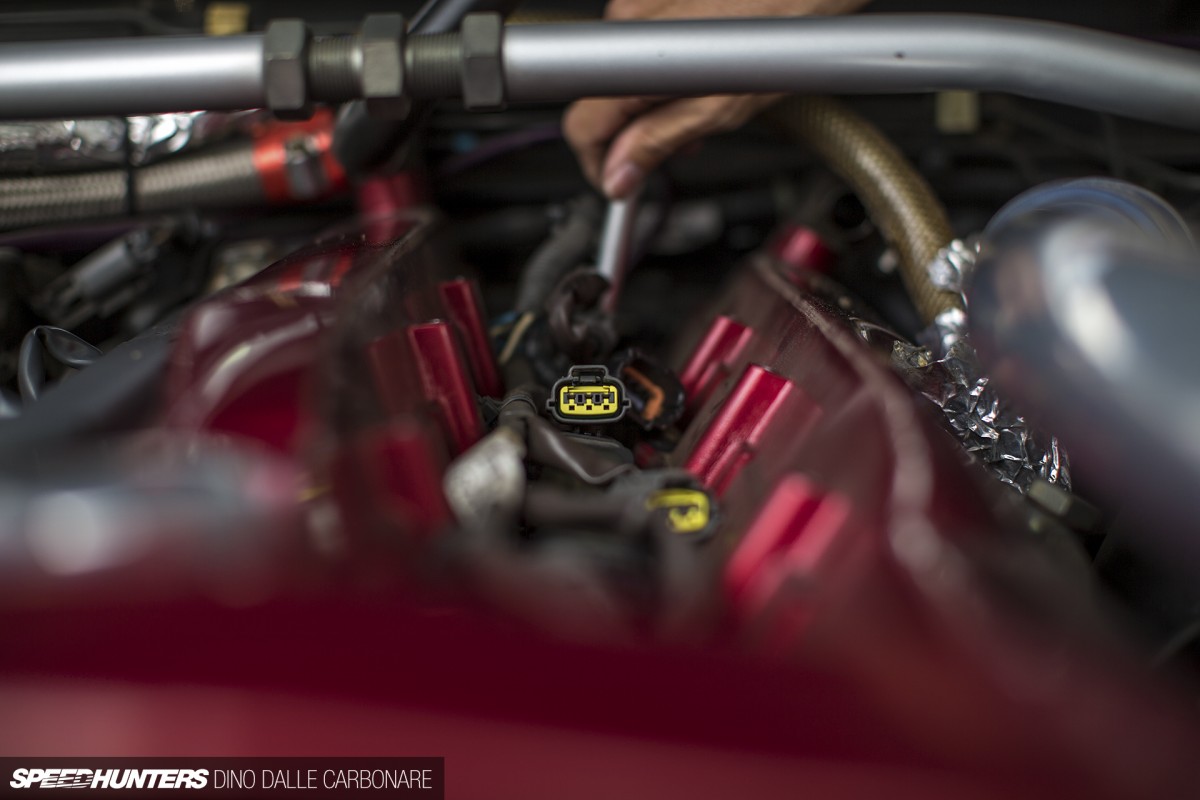 All connectors were then unplugged, at which point both Akira-san and Ito-san commented on how they still looked brand new. The same could be said for the wiring loom, which more often than not are found to be heat blistered and weathered from time. I guess that's a good thing, but at the same time it probably means that I haven't been driving the car hard enough!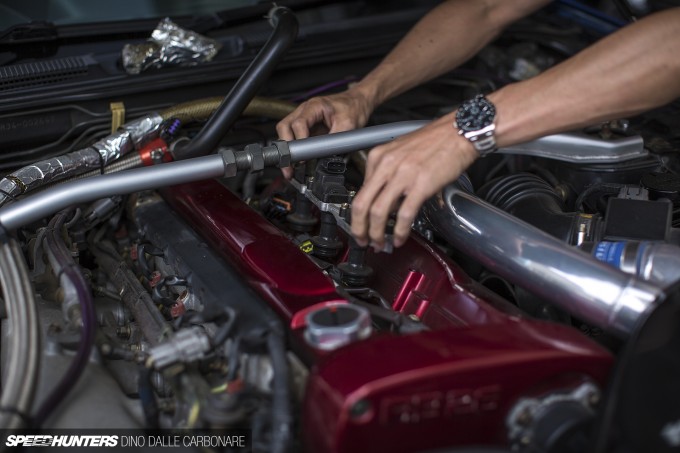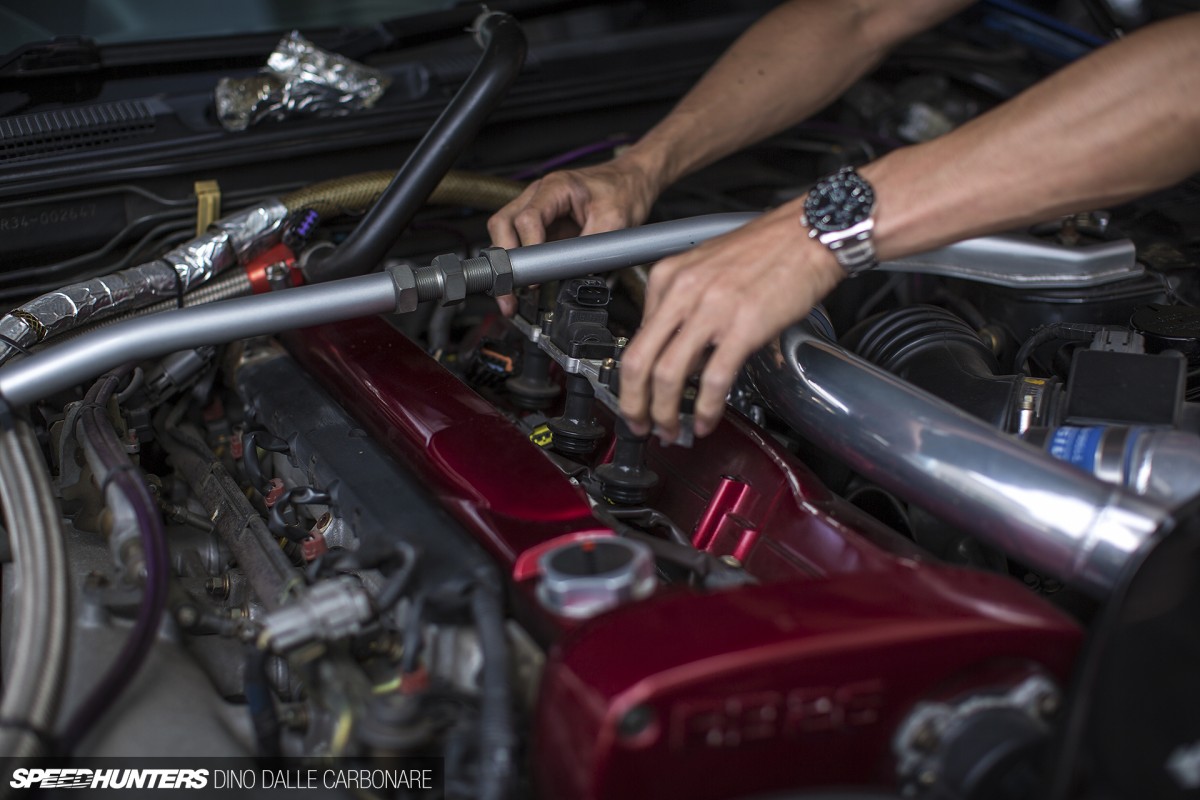 With a little rubbery 'pop' the coils were detached from the spark plugs.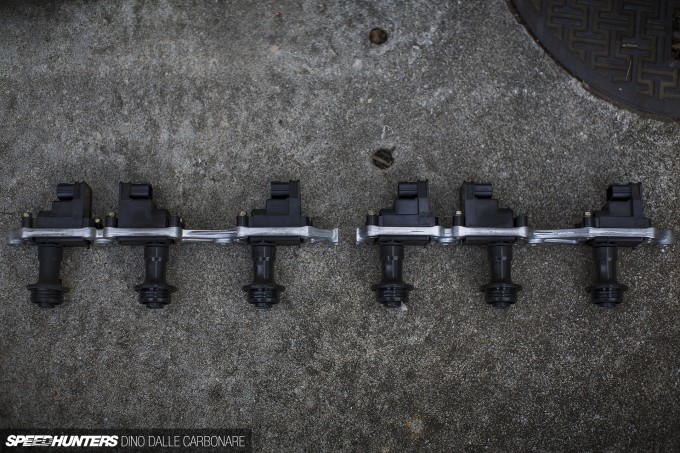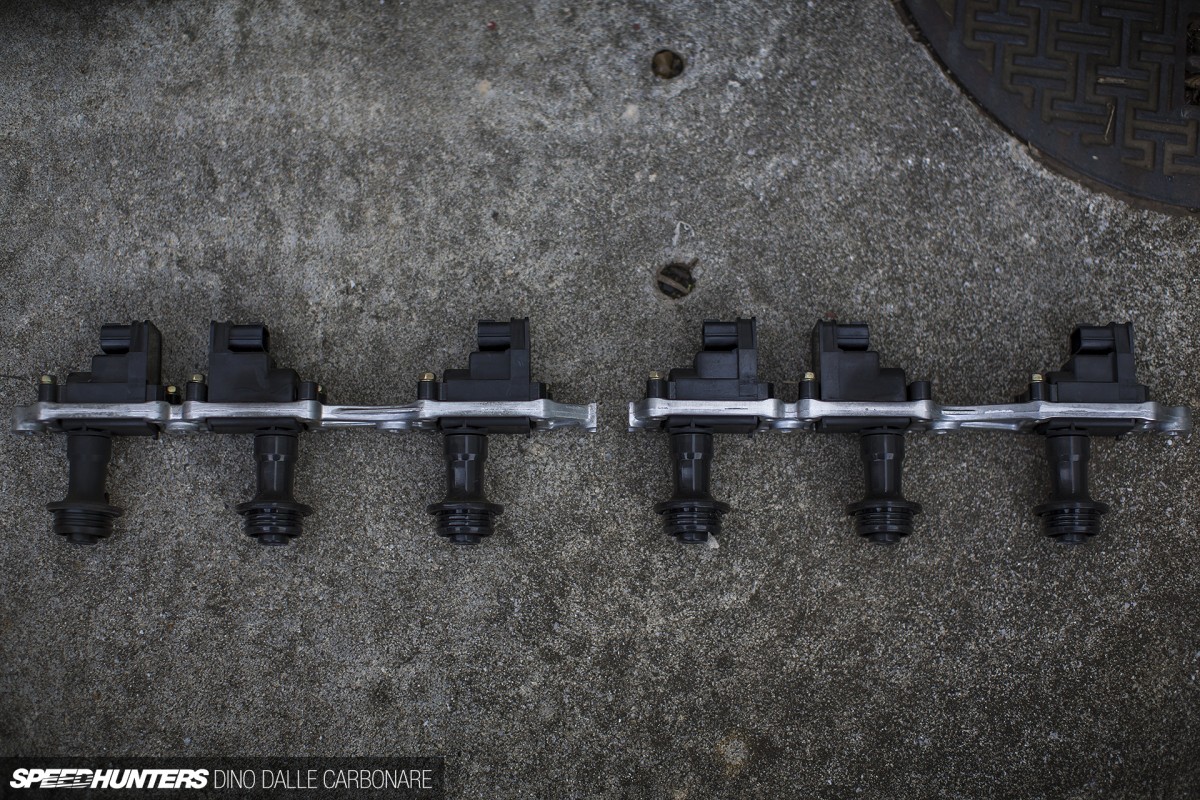 And this is what the stock coils look like. From factory they're mounted onto two separate aluminium plates which hold everything down while ensuring that each coil is isolated so that the best spark can be generated. The coils appeared to be in perfect condition, so we still had no idea where that misfire was originating from.
A Quick Check To Start Off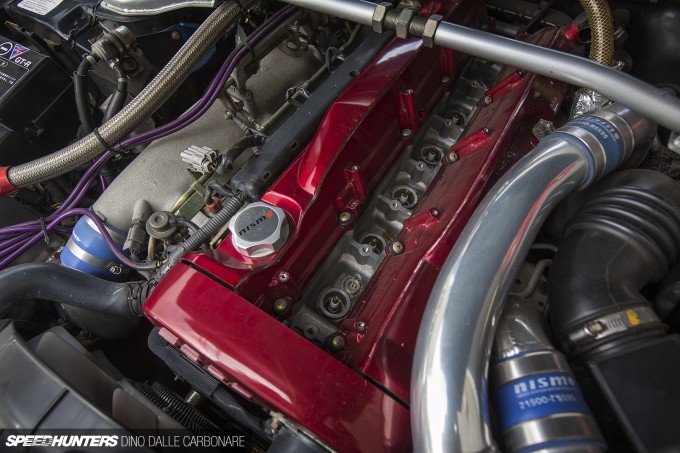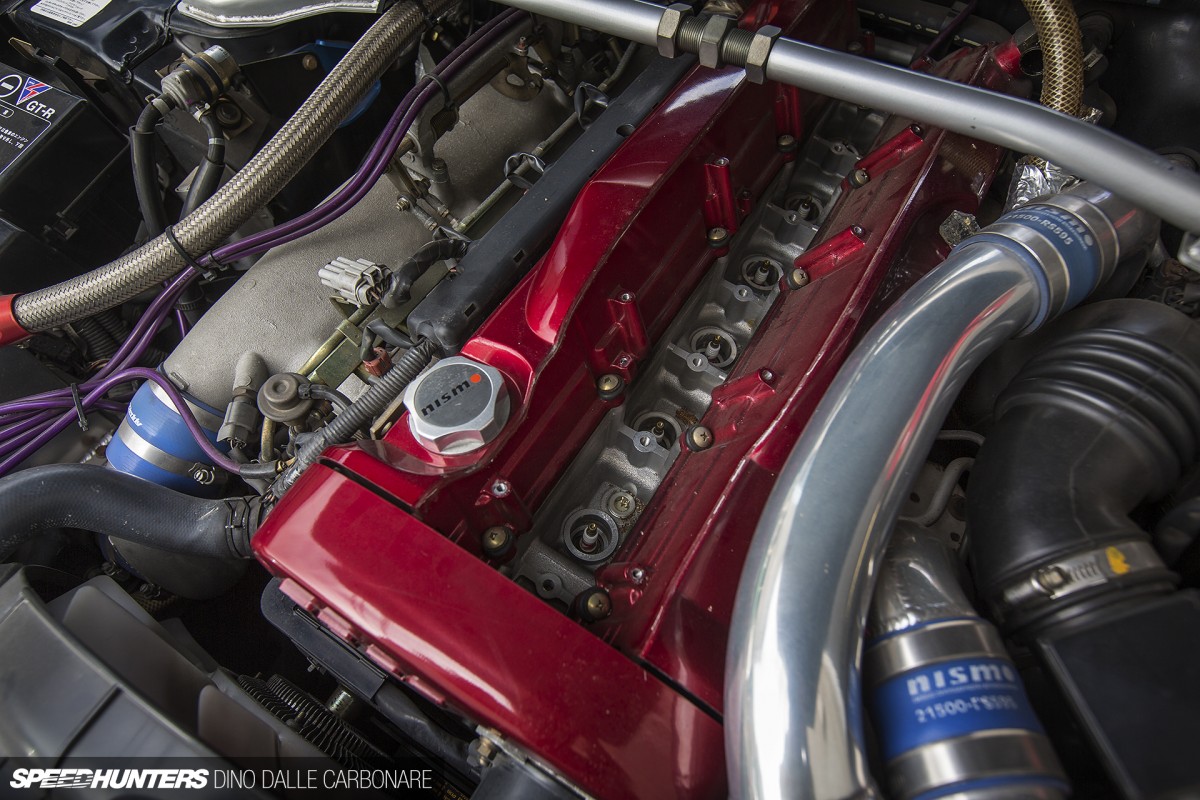 With the coils out you finally catch a glimpse of the six spark plugs.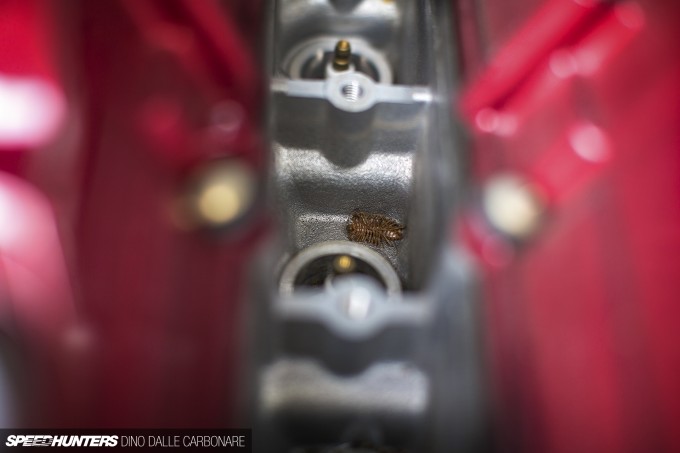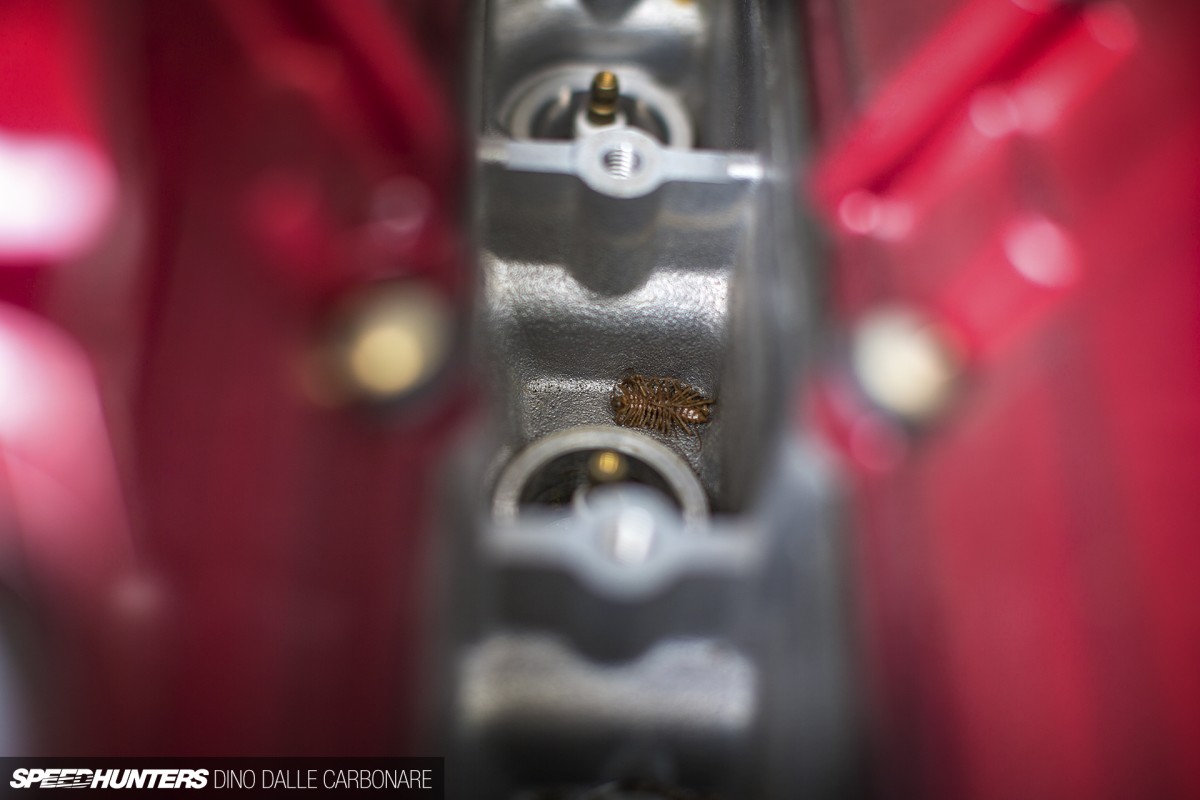 There was a lot of dust and a little bit of debris that had accumulated over time, as well as a funky bug that probably assumed he had found the perfect place to hang out – before being baked to a crisp.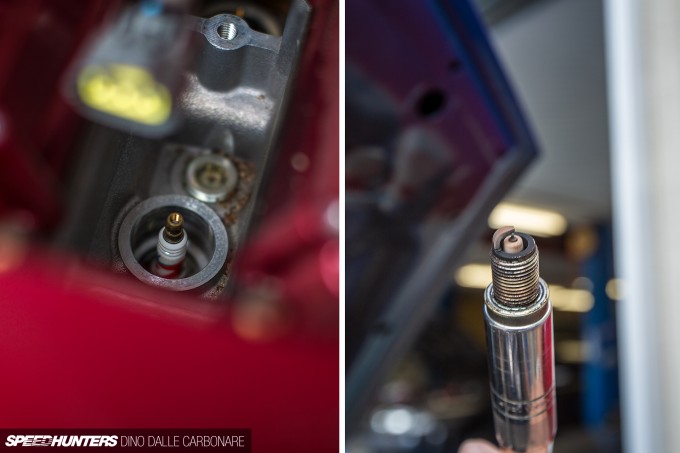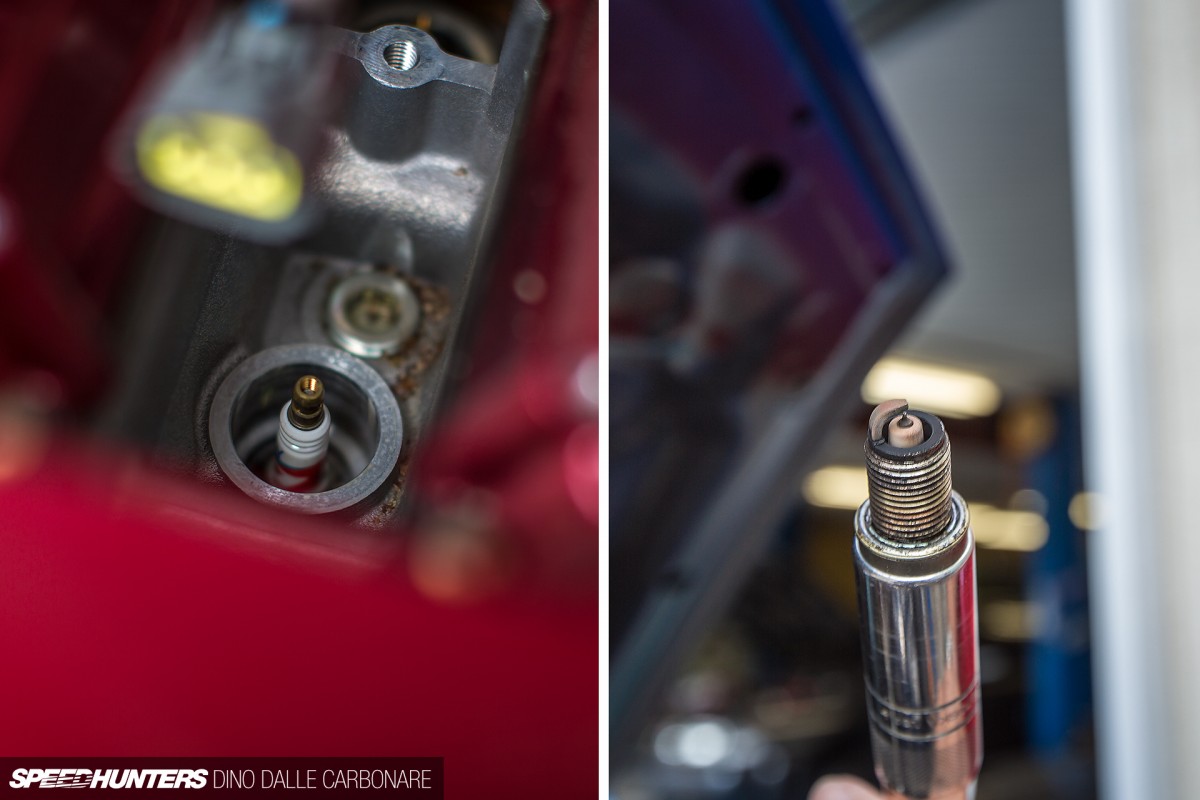 Before continuing we took a look at the condition of the NGK Iridium #7 spark plugs I had previously fitted. They all looked like they were in decent condition, so were refitted and we carried on.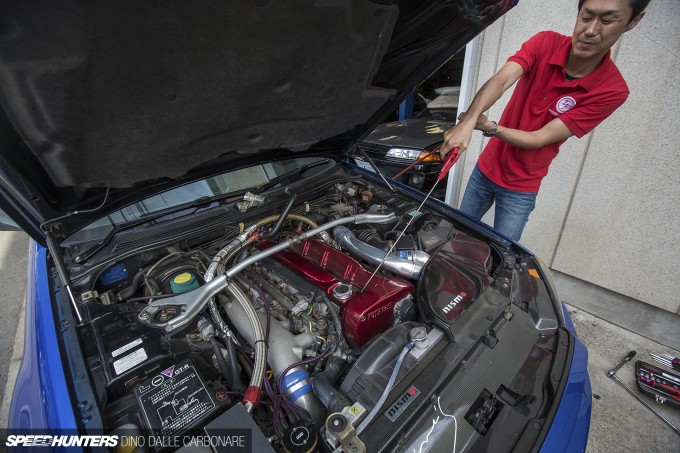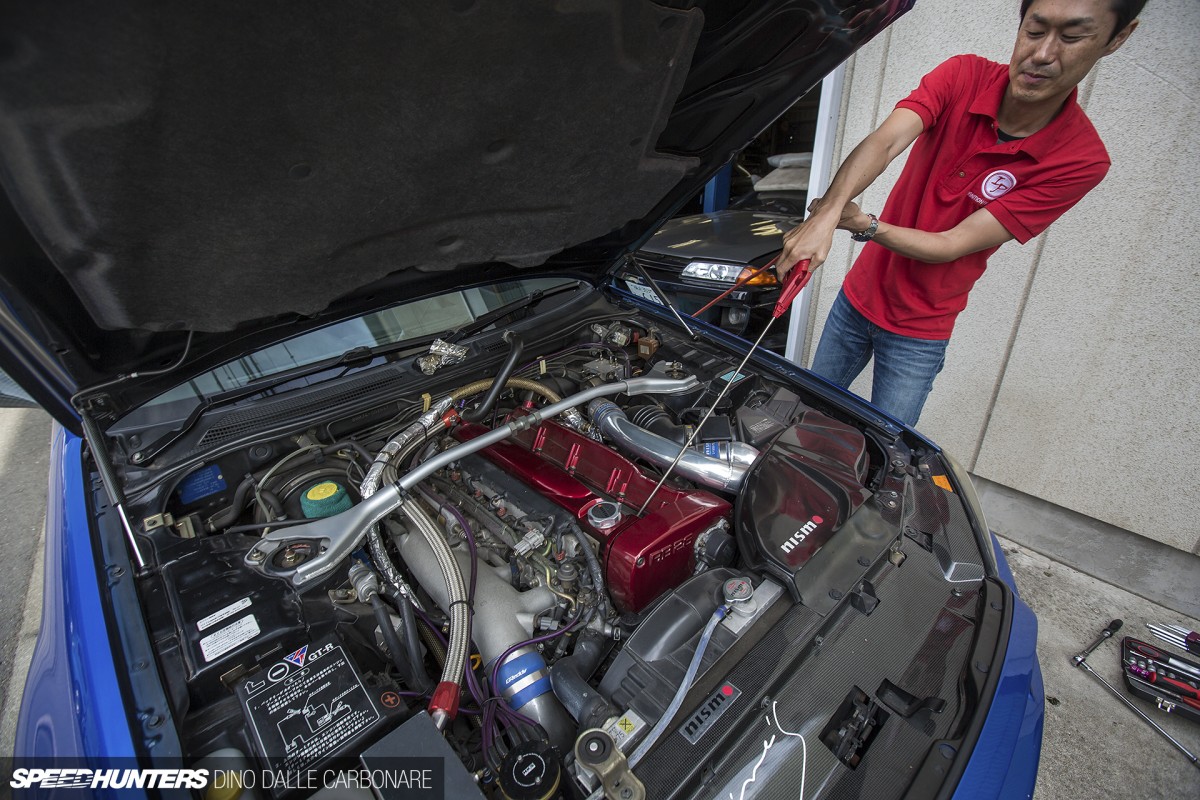 Before we went any further though, it was necessary to get rid of all the crap that had collected in the RB26's deep valley – nothing a few quick spurts of compressed air couldn't fix.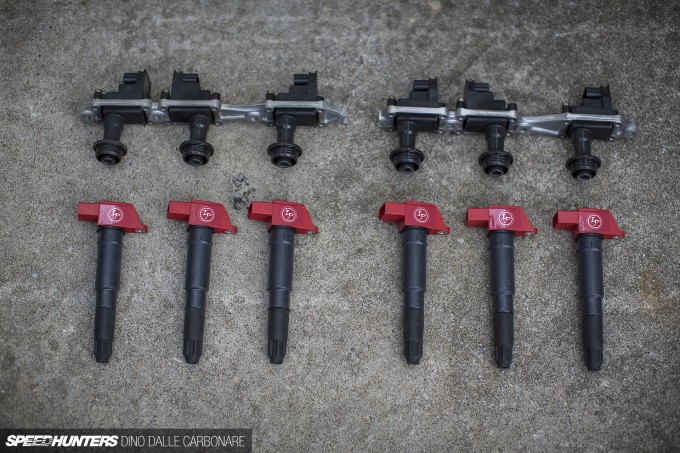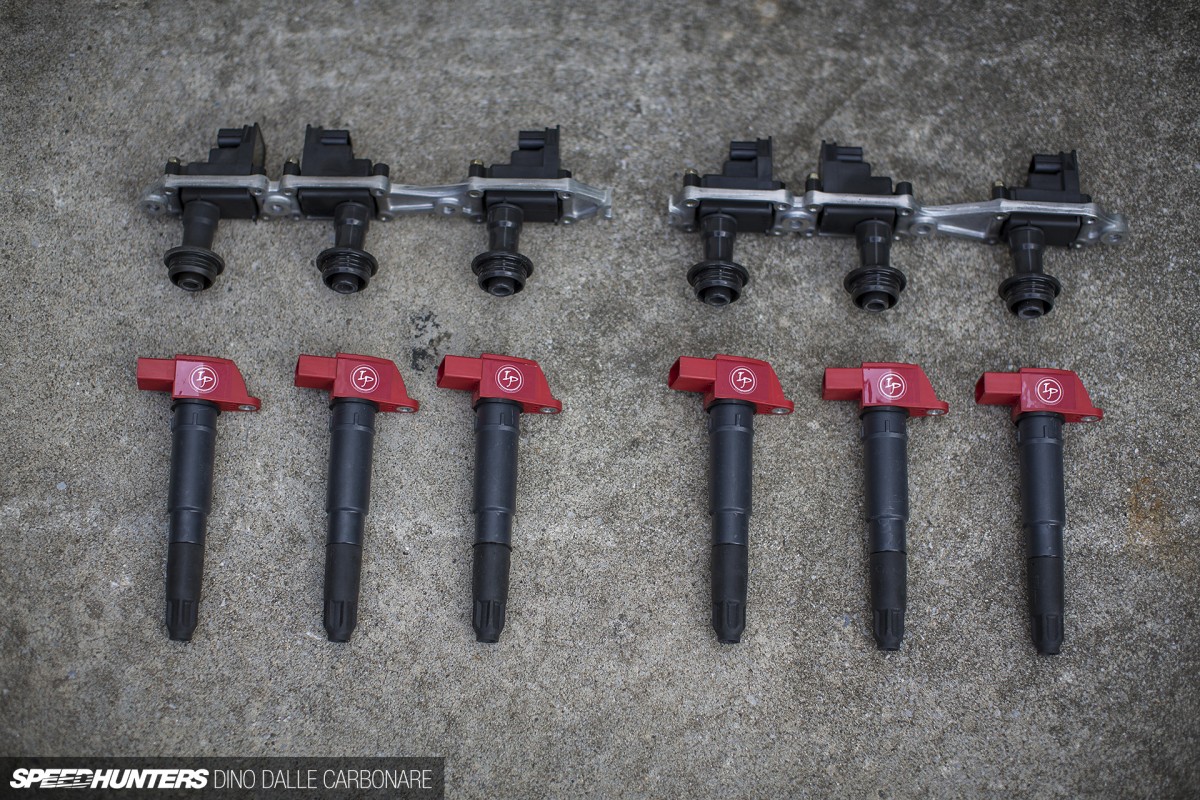 Akira-san then whipped out the brand new Ignition Project coils, at which point the sheer size of the things really surprised me! The idea with this kit is to provide the strongest primary and secondary current possible, therefore guaranteeing the healthiest and most intense spark.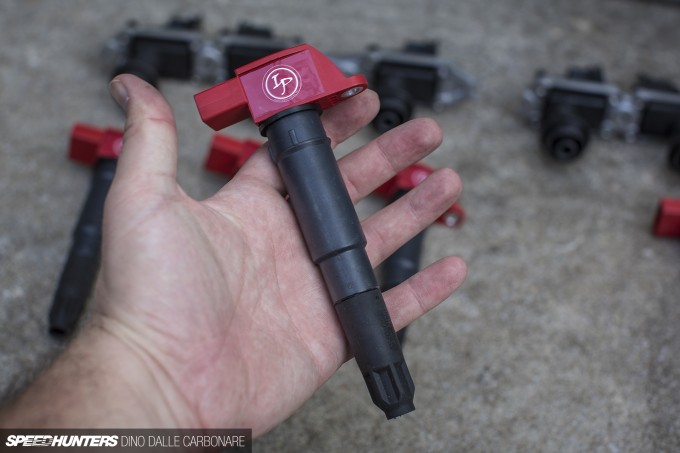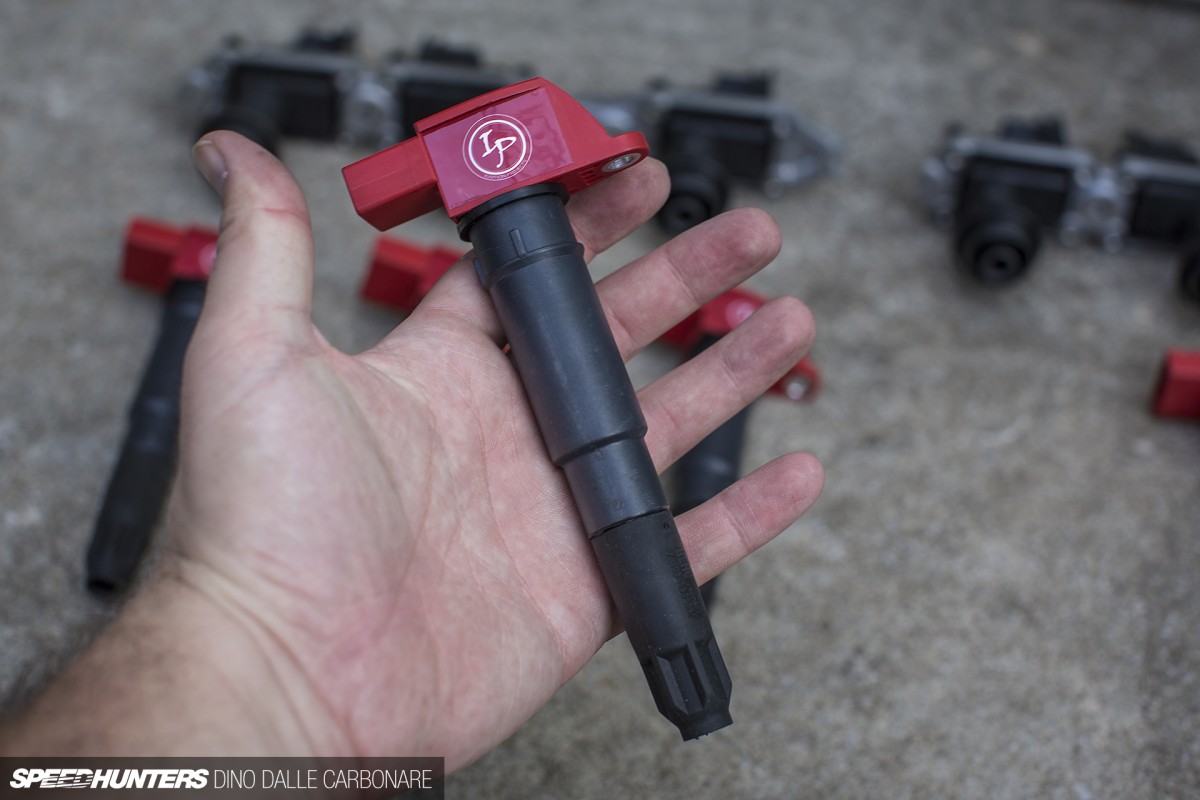 These are good to use on a stock engine all the way up to a fully-tuned RB packing 800-1000hp. Should you need more spark in your set up there are even bigger, remote-mountable Ignition Projects coils available too.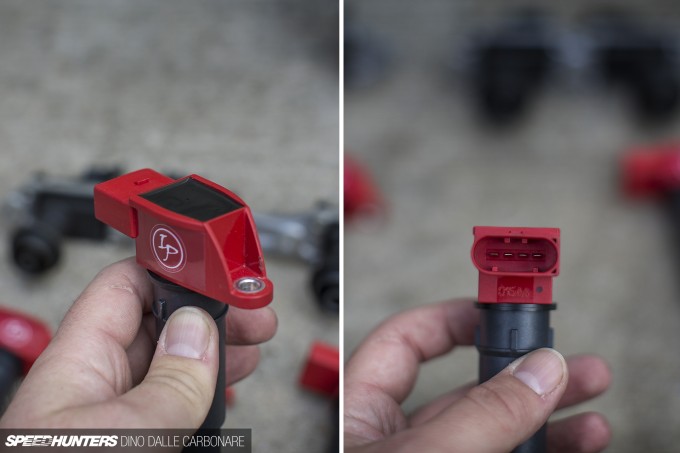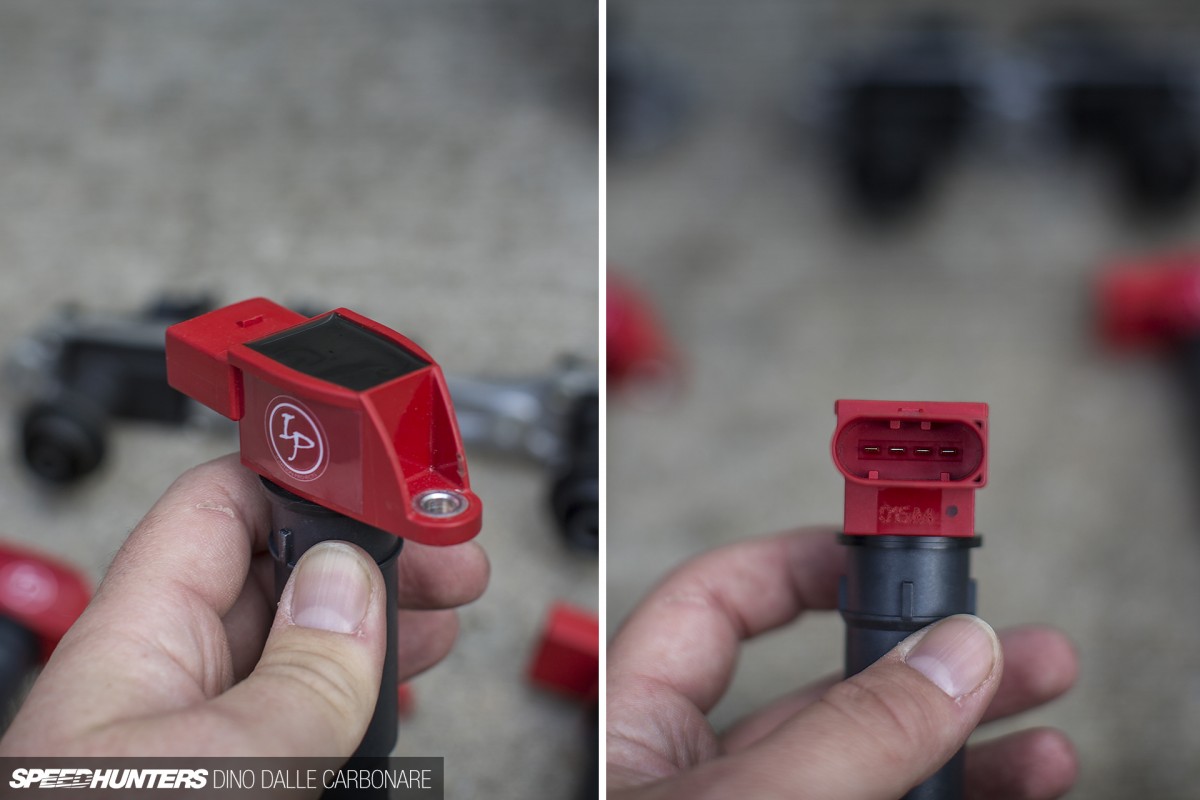 Big spark performance calls for something much larger than stock, hence the size to help keep distance between the individual coil and the igniter. The actual length also guarantees that they stay cooler than a smaller set up would, which is good thing, as Akira-san explained one of the biggest enemies for coils is heat.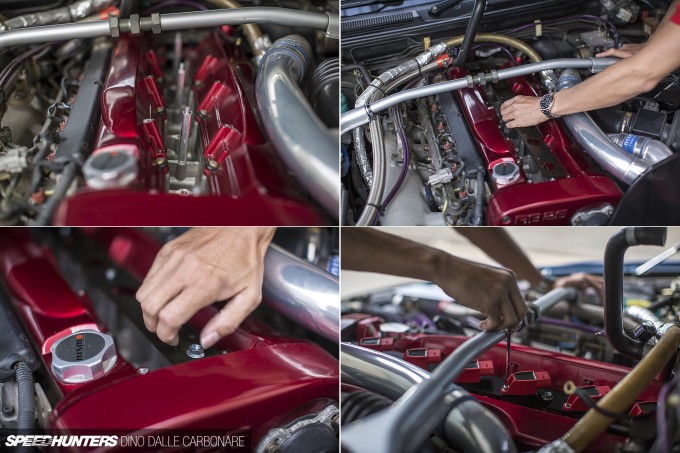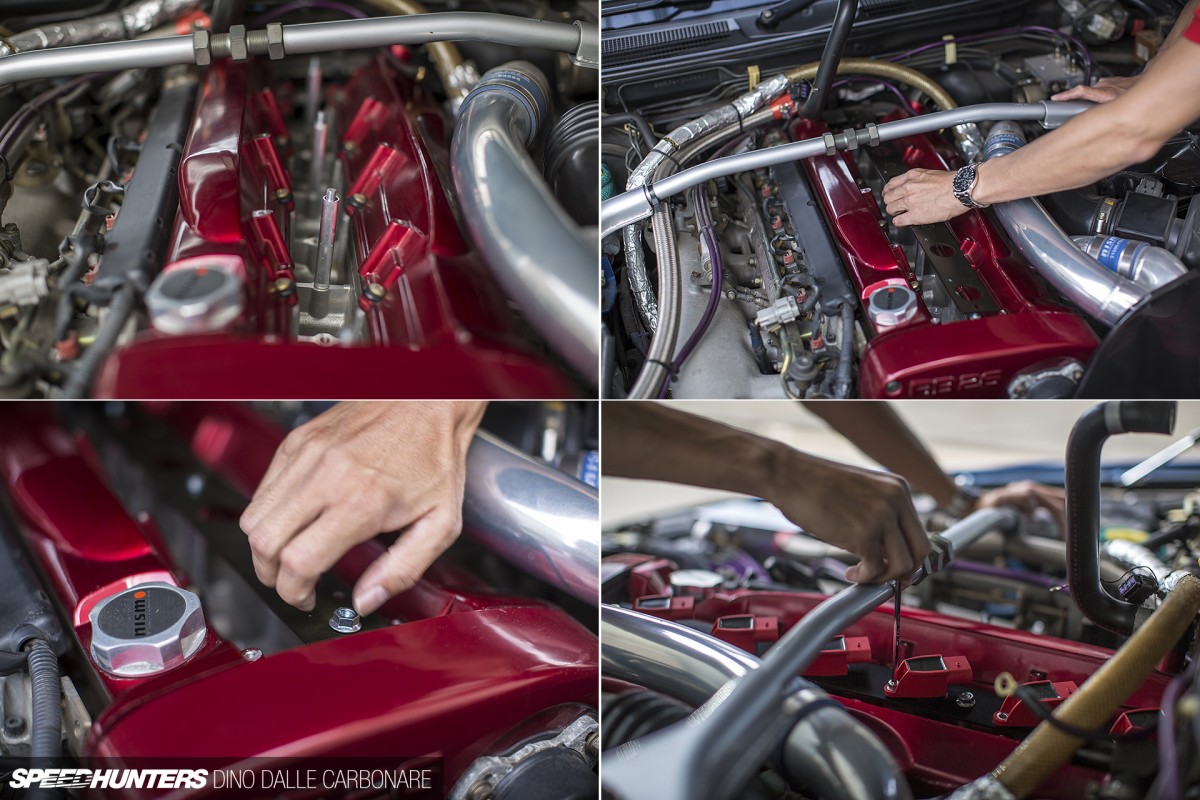 The mounting is fairly straightforward. First of all the three long-threaded mounts are put in place, followed by the mounting plate. Then each coil is simply dropped into position and pushed down over their respective spark plug.
Nice Presentation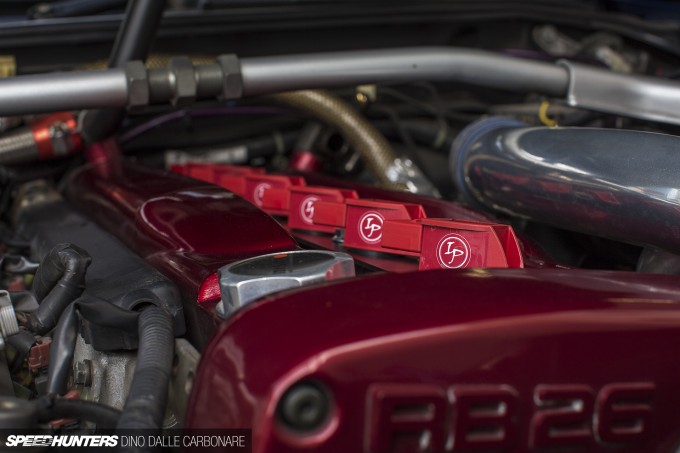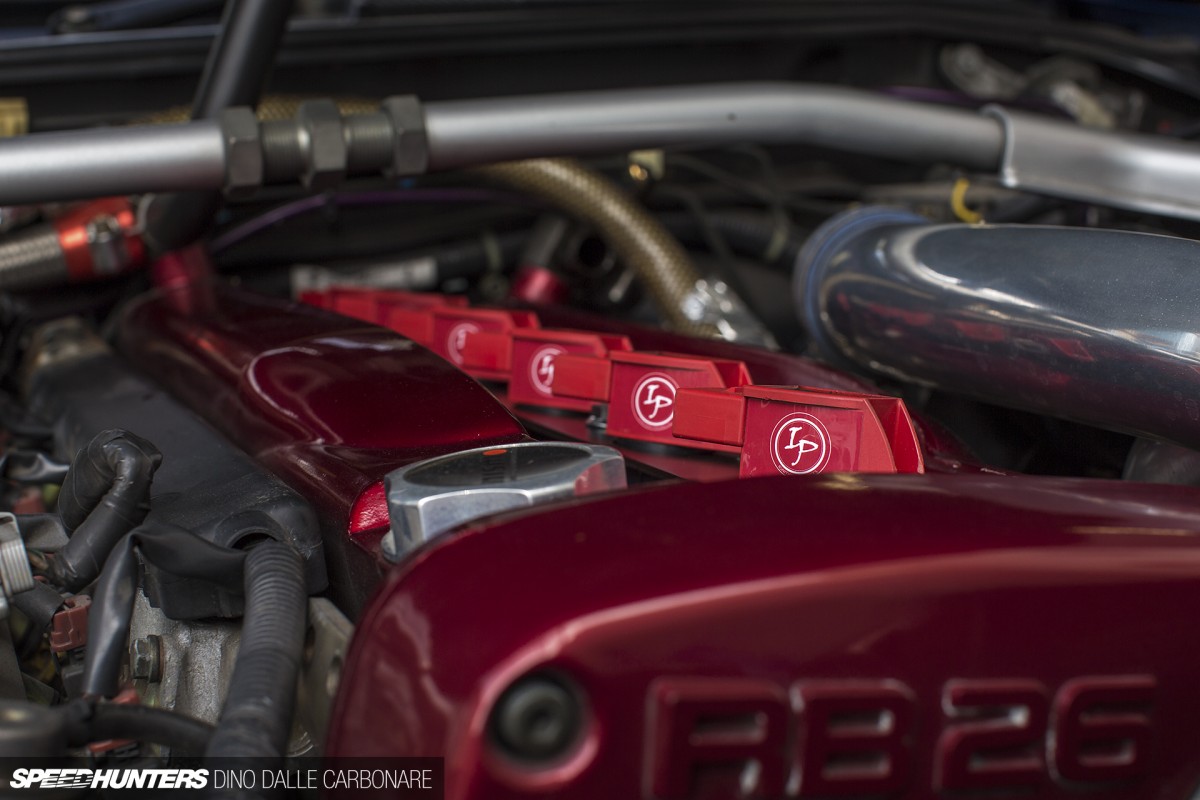 With the six units in place I really like the way they look. If you are wondering, yes – the stock spark plug cover does not clear these bad boys. This is actually much better for cooling, and in case you have a vented or louvered bonnet there is no need to worry as each coil is weather sealed. Akira-san tells me there is a plan to create a cover for the RB26 to satisfy owners who prefer their engine to have a smooth, more factory-like cam cover look.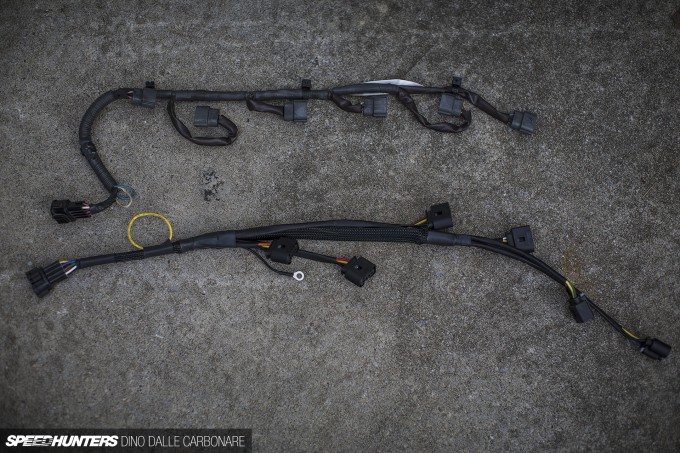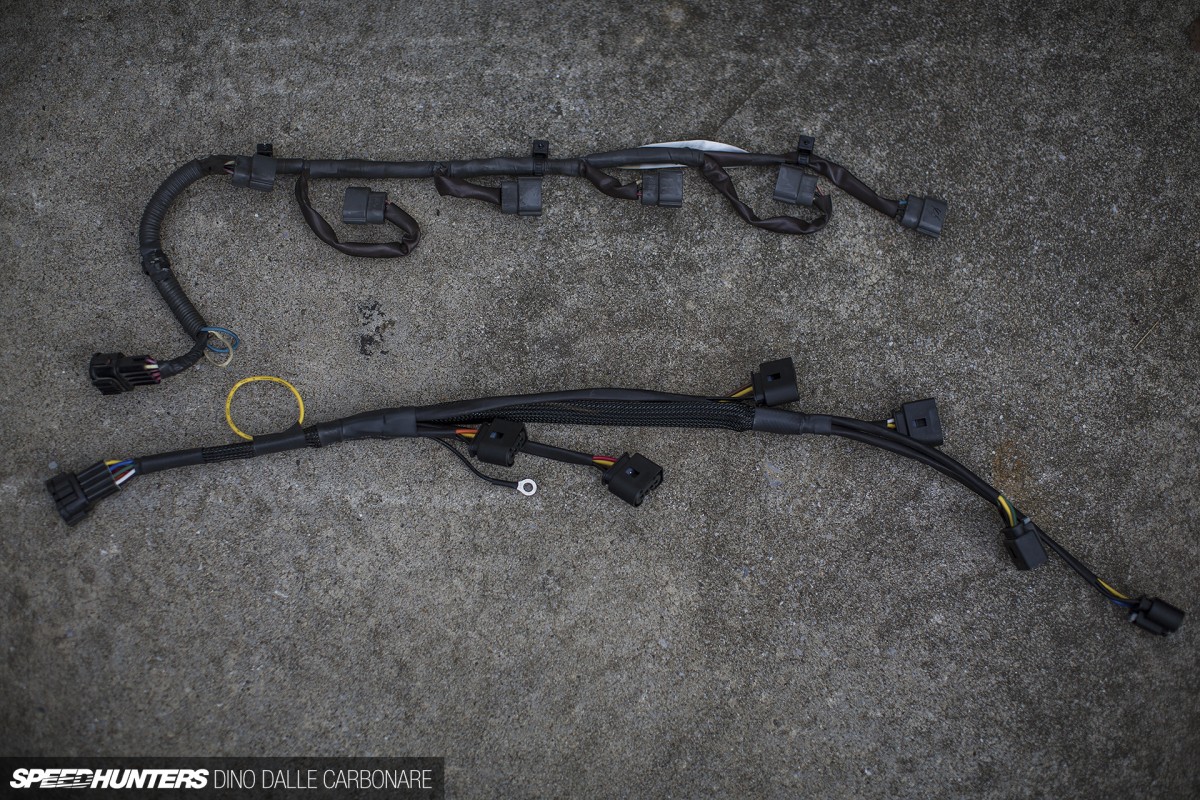 Here's a comparison between the two wiring looms – the bottom one being the handmade Ignition Projects item.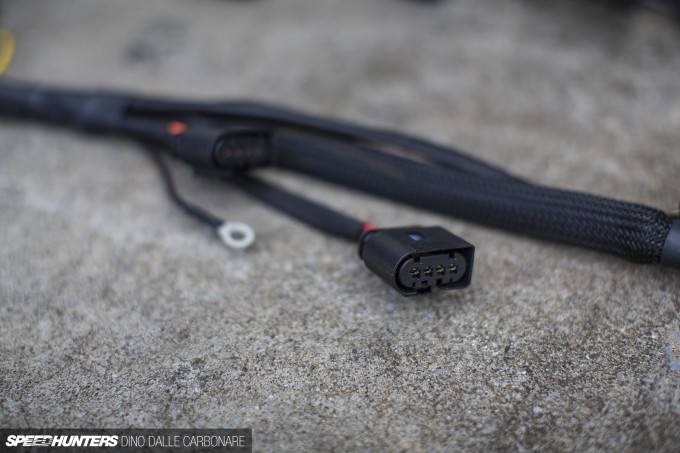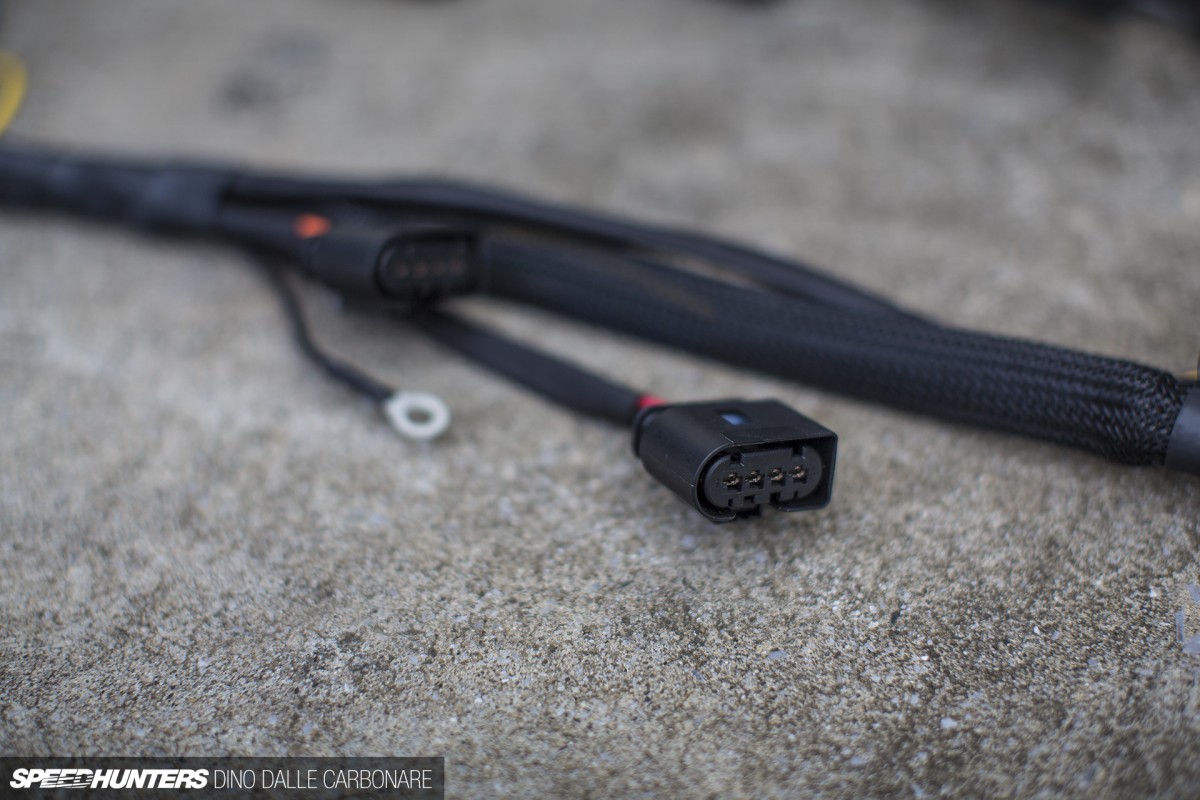 I really like how it's all neatly laid out with the wiring separated into braided sleeves, topped off with some nice looking connectors.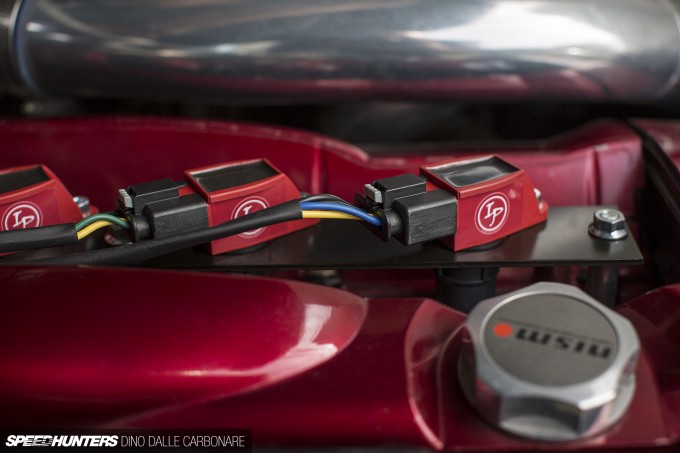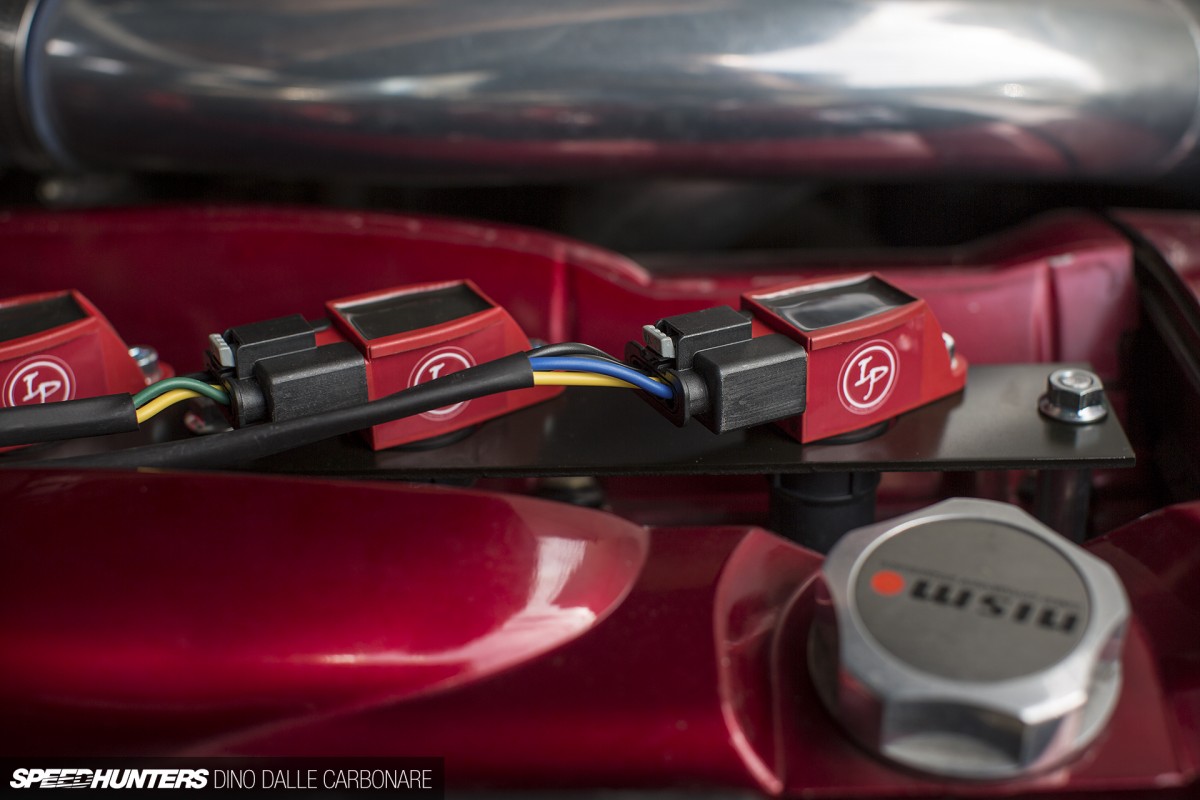 And that's how it all looks when connected up.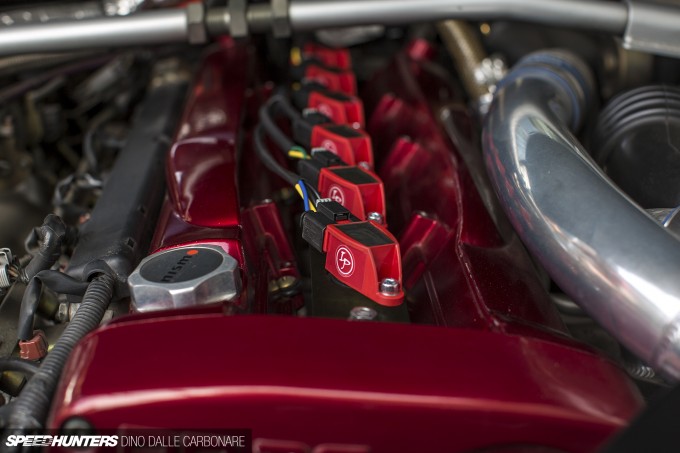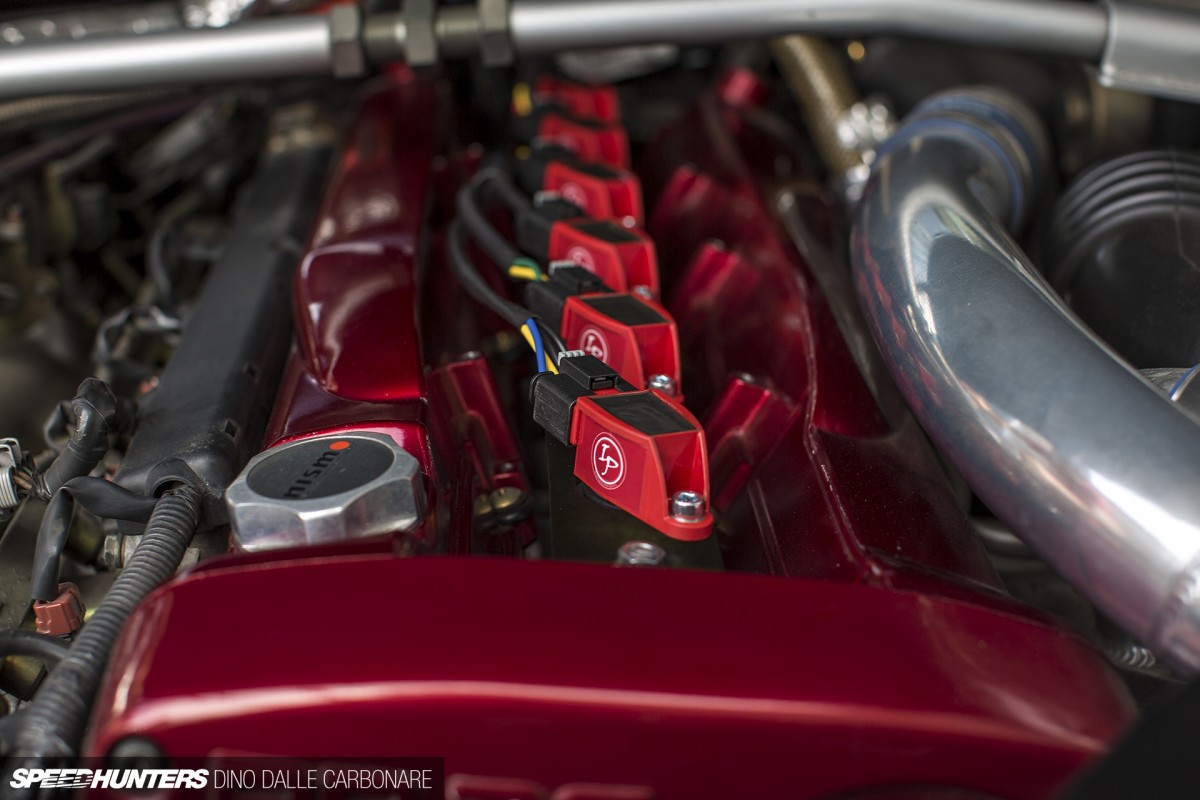 If you are trying to pull off a stealthy setup then this might not be the solution you are looking for, but it suits me fine!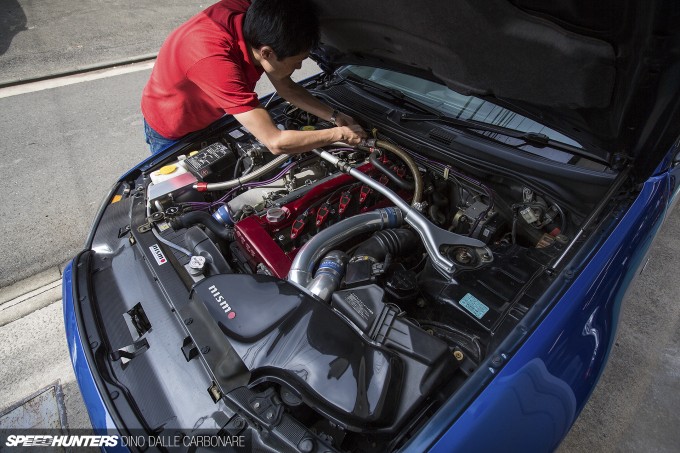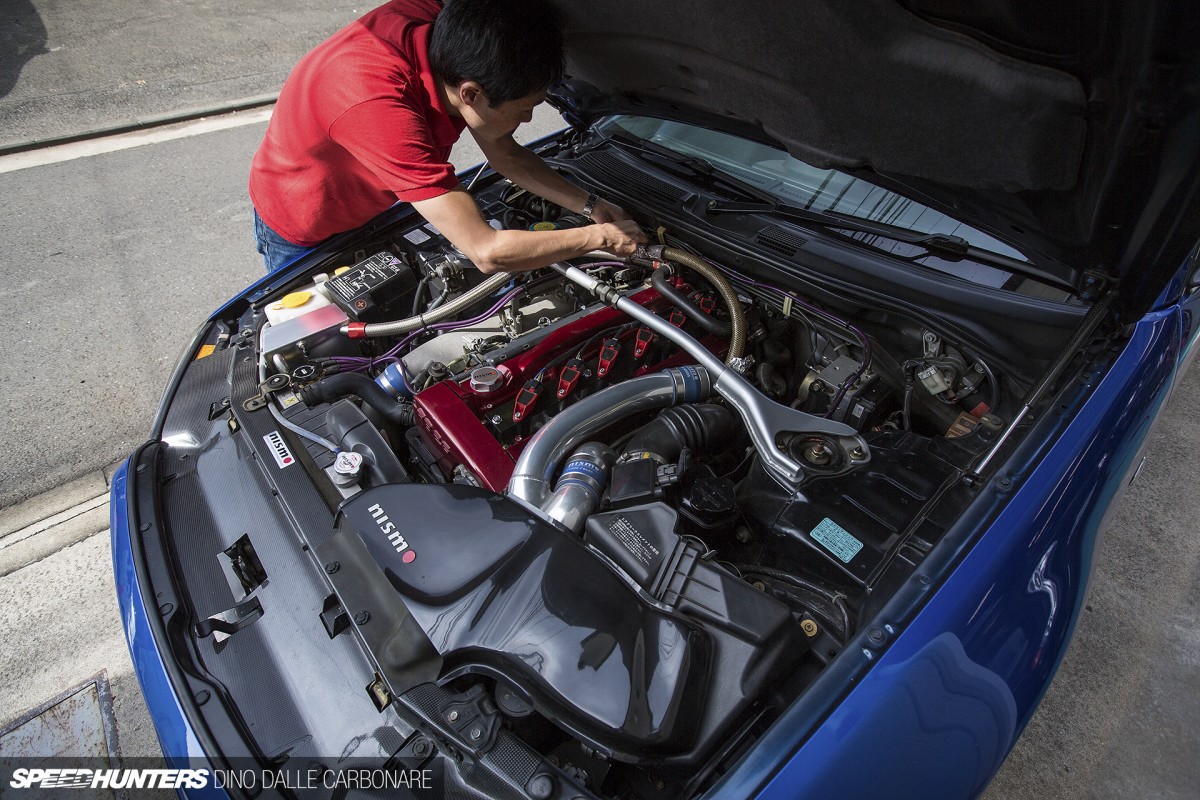 To me, the exposed coil packs add a touch of aggression to the engine bay, and the look reminds me of those crazy-powered drag cars from the '90s with massive coil upgrades borrowed from much larger engines.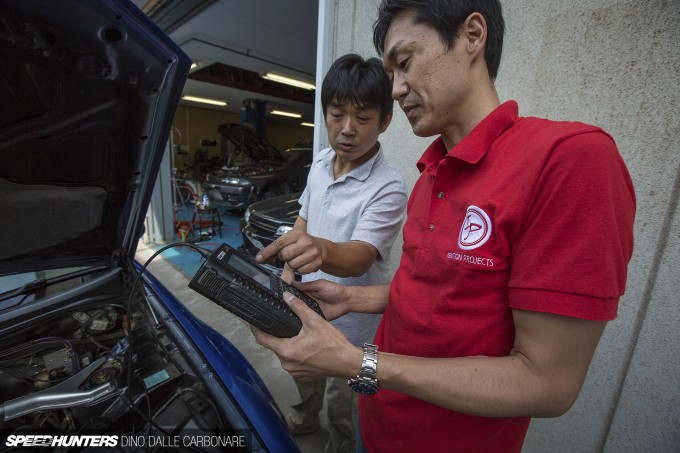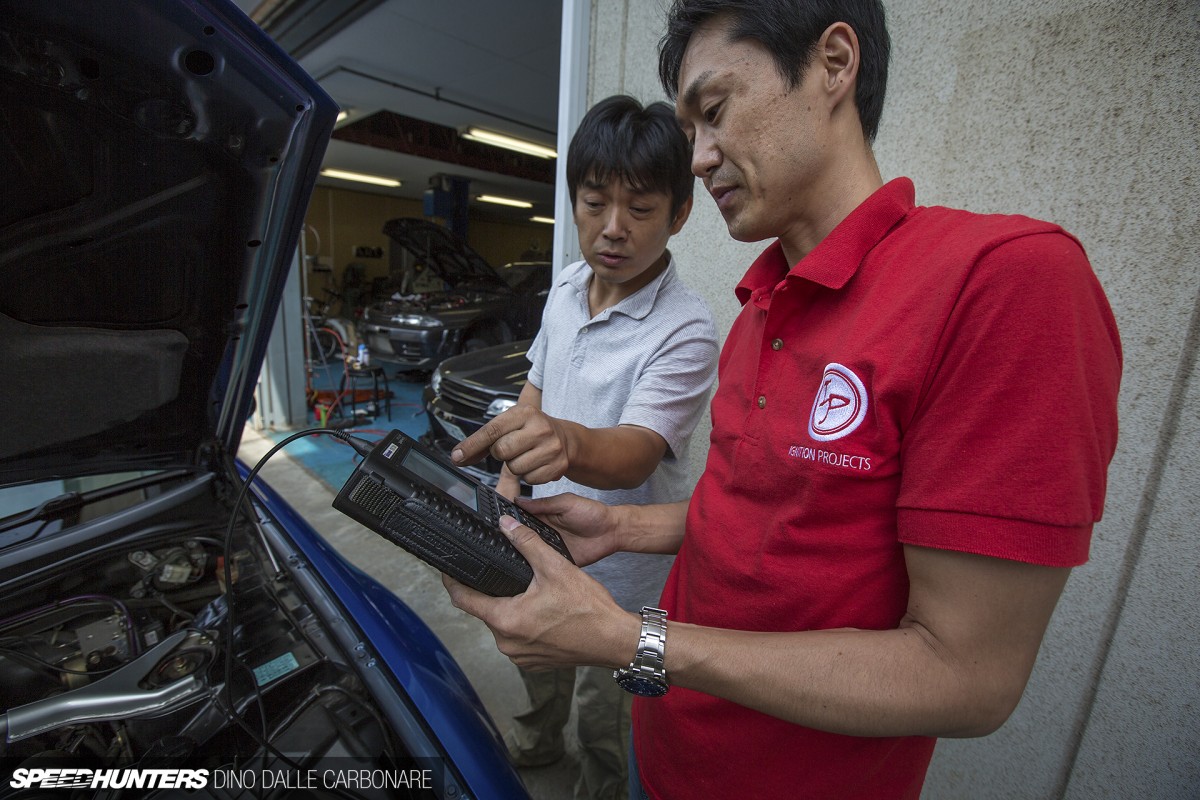 In typical Japanese meticulous fashion, each connector was checked then rechecked again before the engine was fired up – which it did instantly, and exhibiting a slightly lower-pitched sound.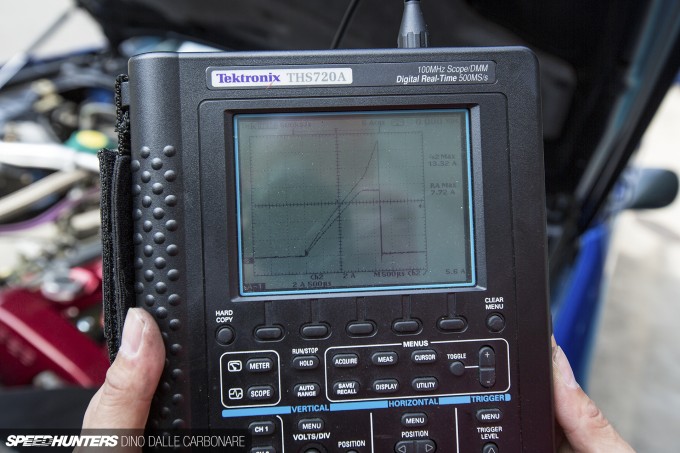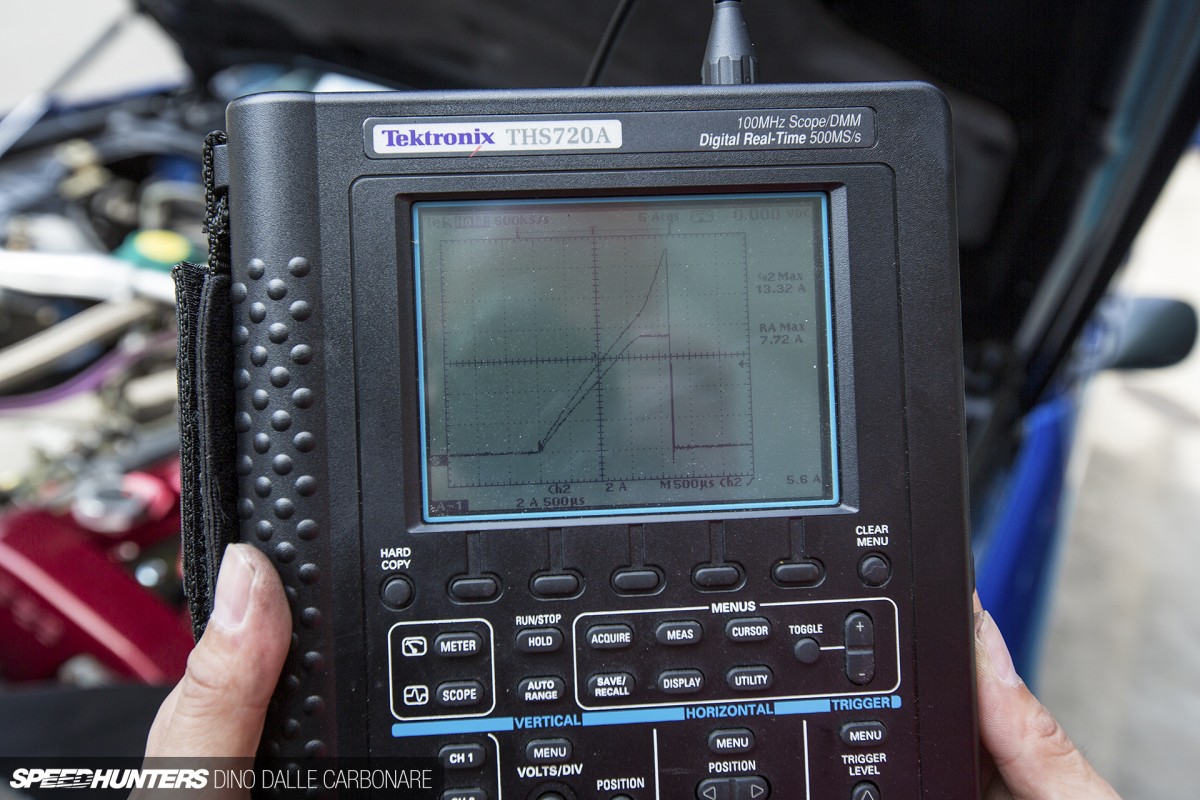 With the oscilloscope reconnected the new current curve was traced out on the graph. To make it easier to note the difference, Akira-san loaded up the stock curve he had saved earlier and displayed both at once. Current now rises to a pretty solid 13.32 Amps with a visibly steeper curve which will hold right throughout the rev range and with higher levels of boost applied.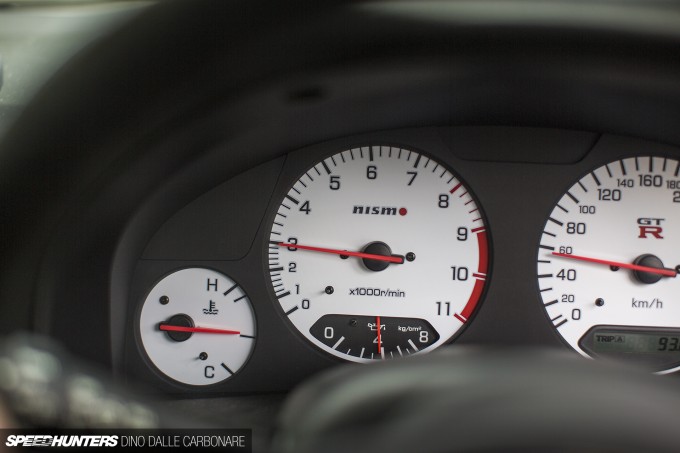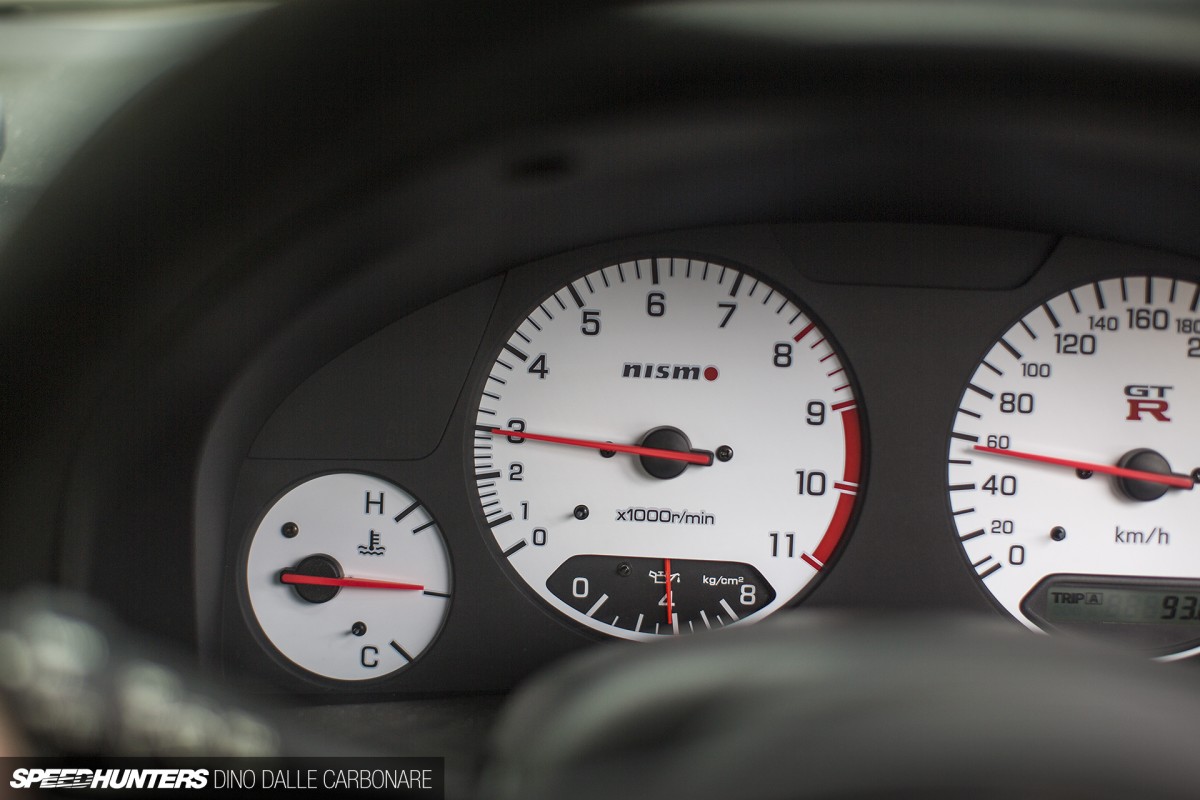 What does that translate to out on the road? Well, as you can imagine the difference is small, but the overall feel of the engine has somewhat changed. As I mentioned, the sound seems to be deeper and meaner – something really noticeable when the engine comes on boost. Throttle response is definitely crisper and pick-up has a little more urgency.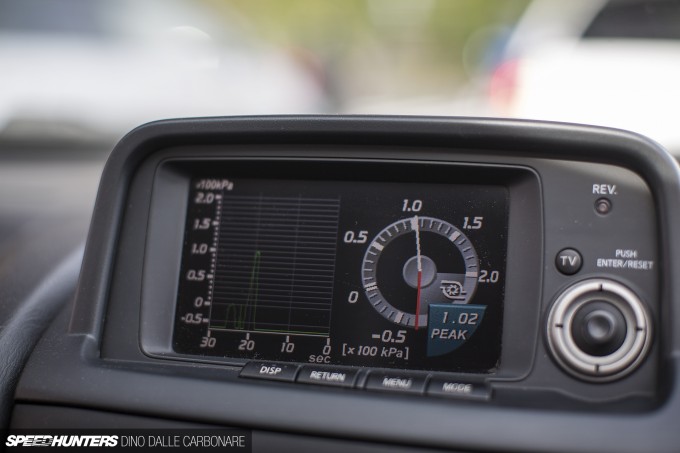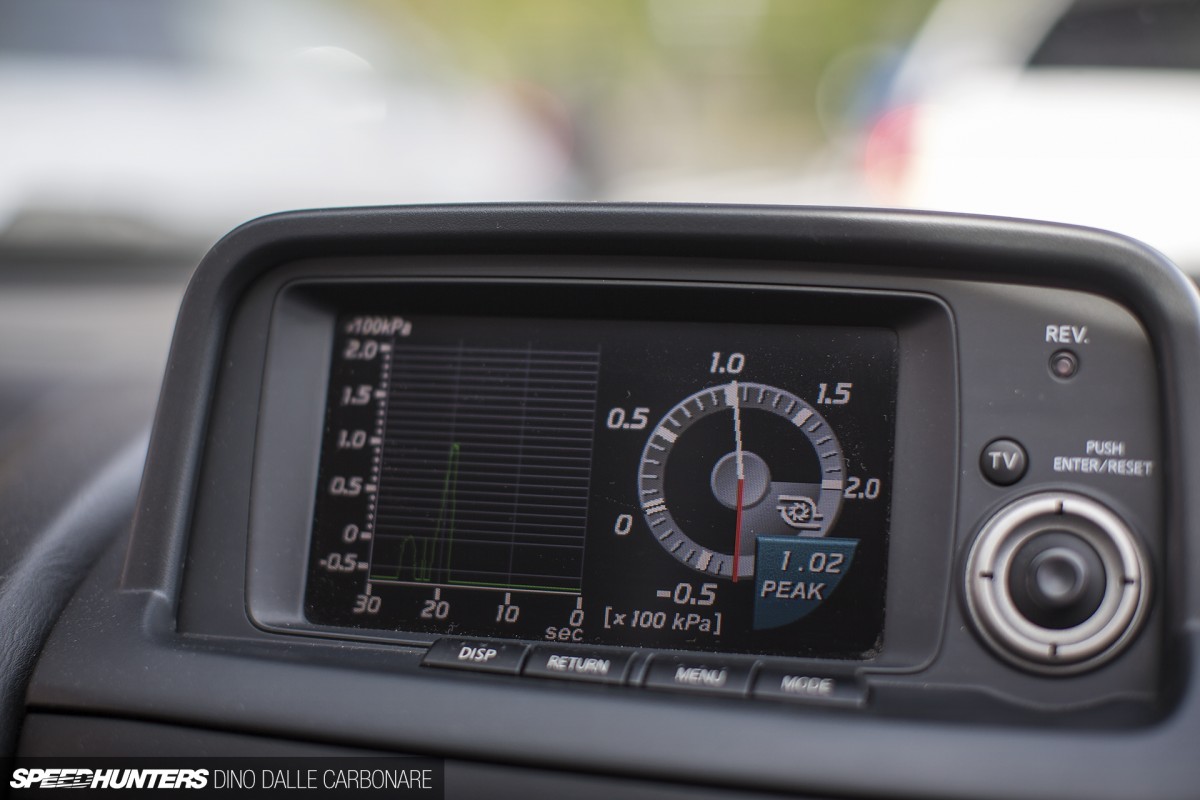 I'm also reaching peak boost (which is now set to 1.05-bar) quicker – something you can see on the steep boost curve the MFD displays. It seems to be touching 1.0-bar about 100rpm lower than it was previously, which I'm very happy about. Response has always been a big goal for my set up. Even better, there is no sign of any misfire and I can rev out the motor all the way to redline without fear of that dreaded sound.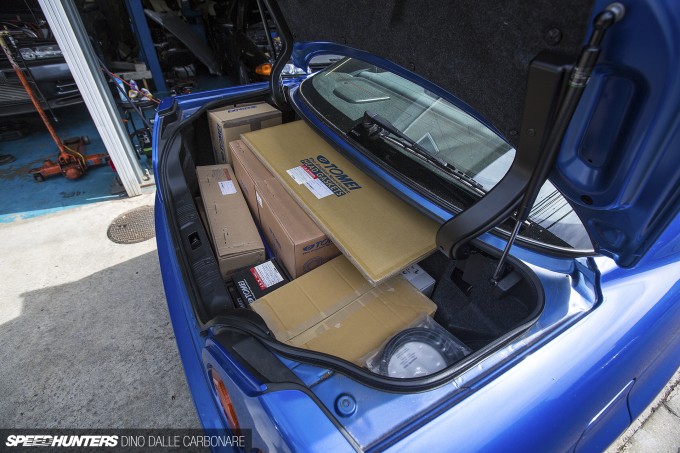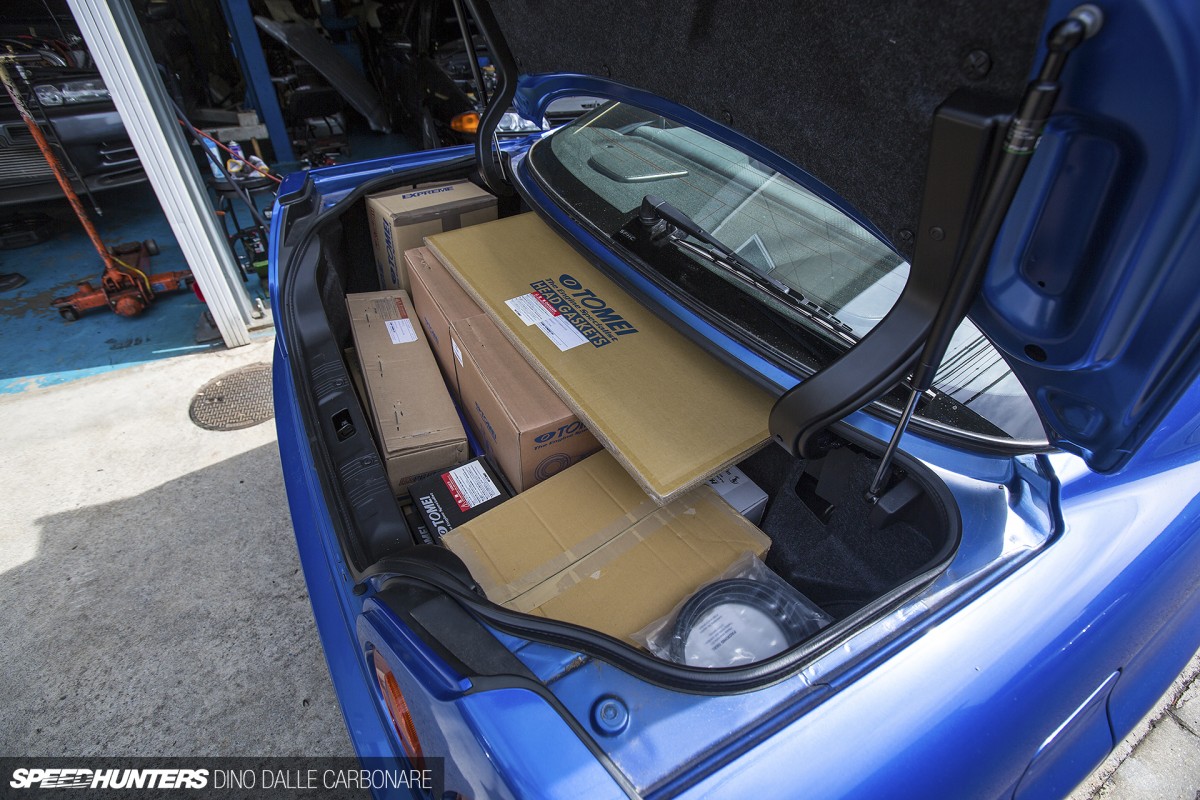 Of course, this upgrade will go hand-in-hand with all the parts I dropped off the same day at Do-Luck, that will soon be fitted. There are other bits and pieces that have been sent over to the workshop too, and a few last ones are on the way now. After what has seemed like a very long wait – Ito-san will soon start making Project GT-R that little bit more special…
Dino Dalle Carbonare
Instagram: speedhunters_dino
dino@speedhunters.com