Am I overreacting?
I honestly don't know what to think after seeing these pictures that some friends sent through to me following their experience at Umihotaru Parking Area this past Saturday.
For many years now, 7's Day celebrations in Tokyo have seen huge gatherings of cars at Daikoku and Umihotaru PAs, and obviously the local police have been quite aware of it. But this year their approach wasn't so passive.
These photos reflect the scene at Umihotaru's outside ground floor area where trucks usually park up. The police had set up lights to illuminate the area and were running two separate inspection spots. All cars entering the parking area were filtered through a road block, and any that looked like they might have illegal modifications were sent to the check-over area.
There, shaken test officers went over each car with a fine-tooth comb, looking for anything that would fail the mandatory bi-annual inspection. These included de-cat pipes, exhaust systems without JASMA approval, adjustable suspension arms, big aero and the like.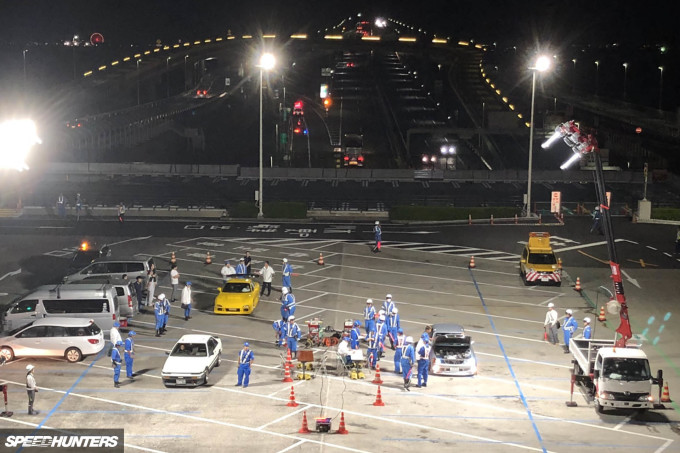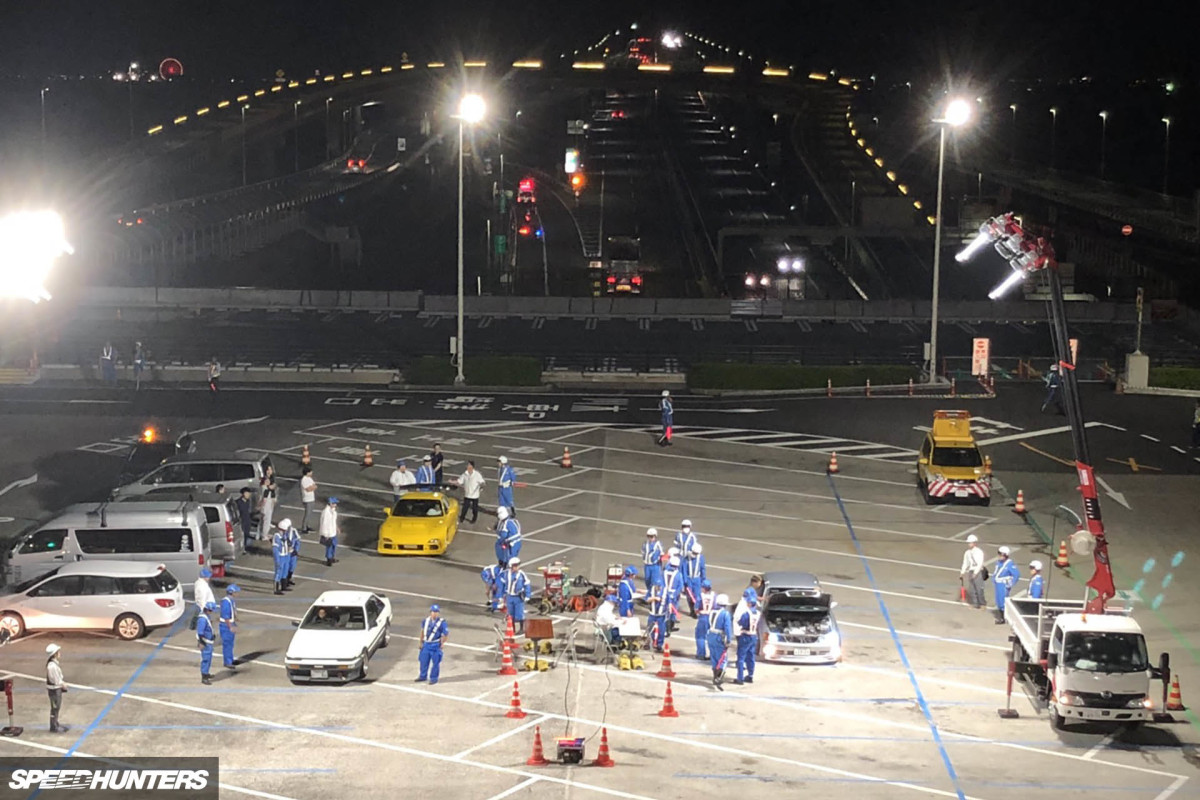 Blake was out cruising that night and sent me the picture above. Apparently Project NSX was waved through, but the almost-stock-looking BNR34 behind him got pulled to one side. Either he was lucky or as he put it, "just respect for the true JDM king, mate." He might be onto something though as the NSX has always commanded more respect than cheaper tuner cars. It was celebrated in its heyday and people know it and remember it, the police included. Maybe. Or he was just lucky…
This isn't the first time something like this has happened in Tokyo. The police like to hold these mobile inspections every once in a while at Tatusmi PA, but normally on a smaller scale. But ever since the Hardcore Tokyo x Super Street meet at Odaiba Decks last year that made the television news for all the wrong reasons, the police have really ramped things up, obviously unlocking more budget from local governments to crackdown on illegally modified cars. And an operation like this, which would have taken a lot of pre-planning and involved 30 or so officers on the night with big trucks for the lights and a whole lot of other equipment, wouldn't have been a cheap exercise.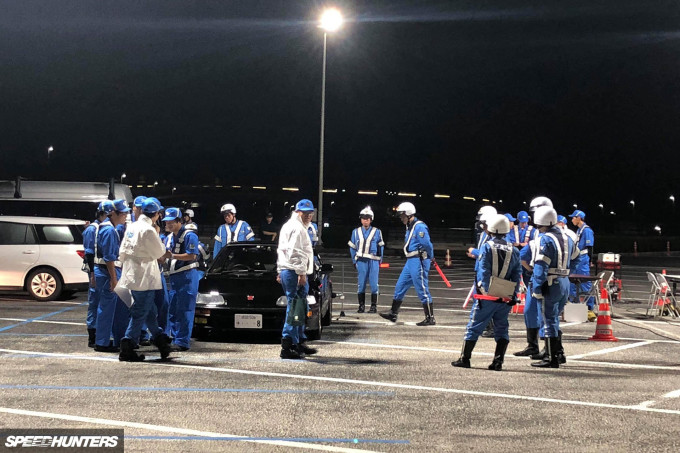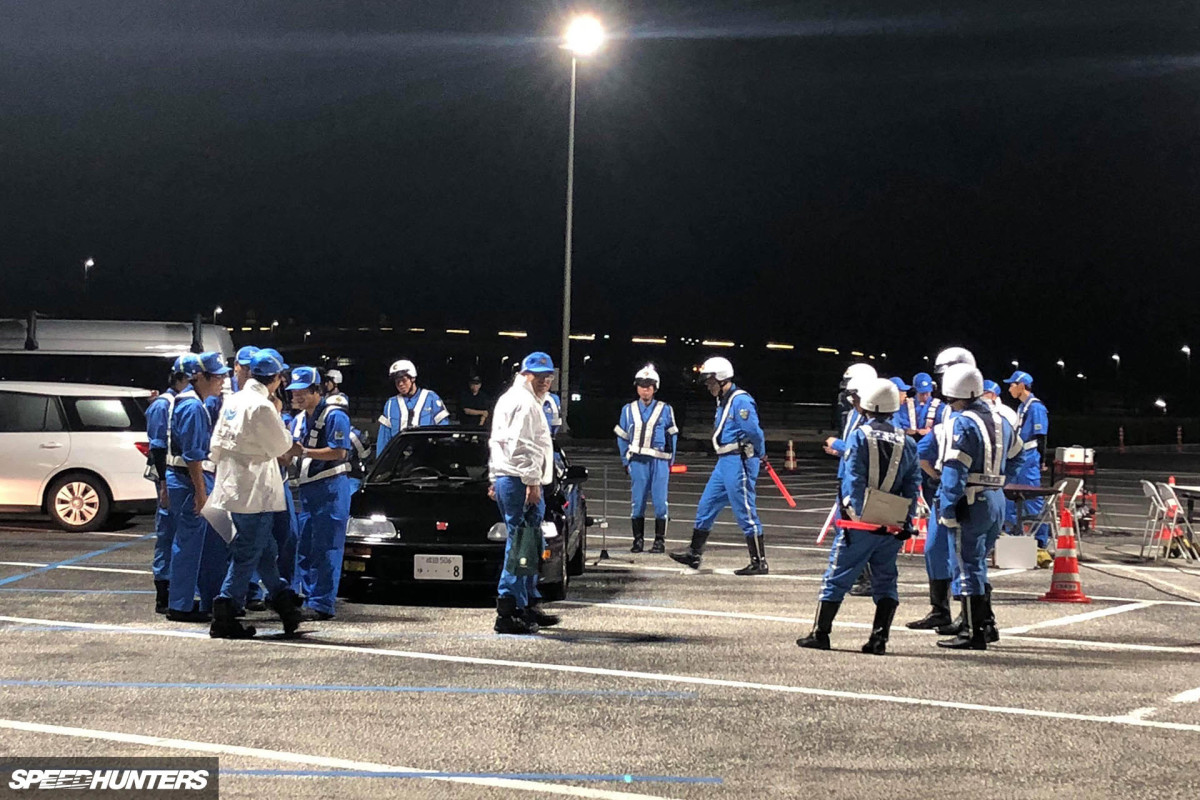 As I mentioned in my 7's Day post from Daikoku PA, Miguel from Newera Imports got caught on his way back home. As soon as the police saw his CR-X SiR they asked for a closer look at it and Miguel obliged; he had just got the shaken on the car in the weeks prior so didn't expect the inspection to delve too deep.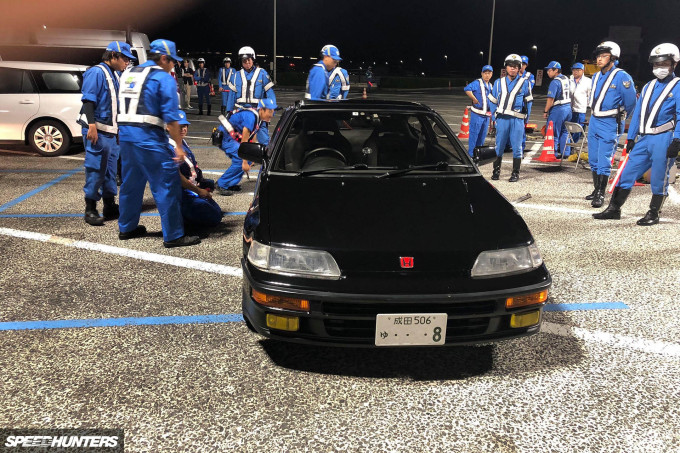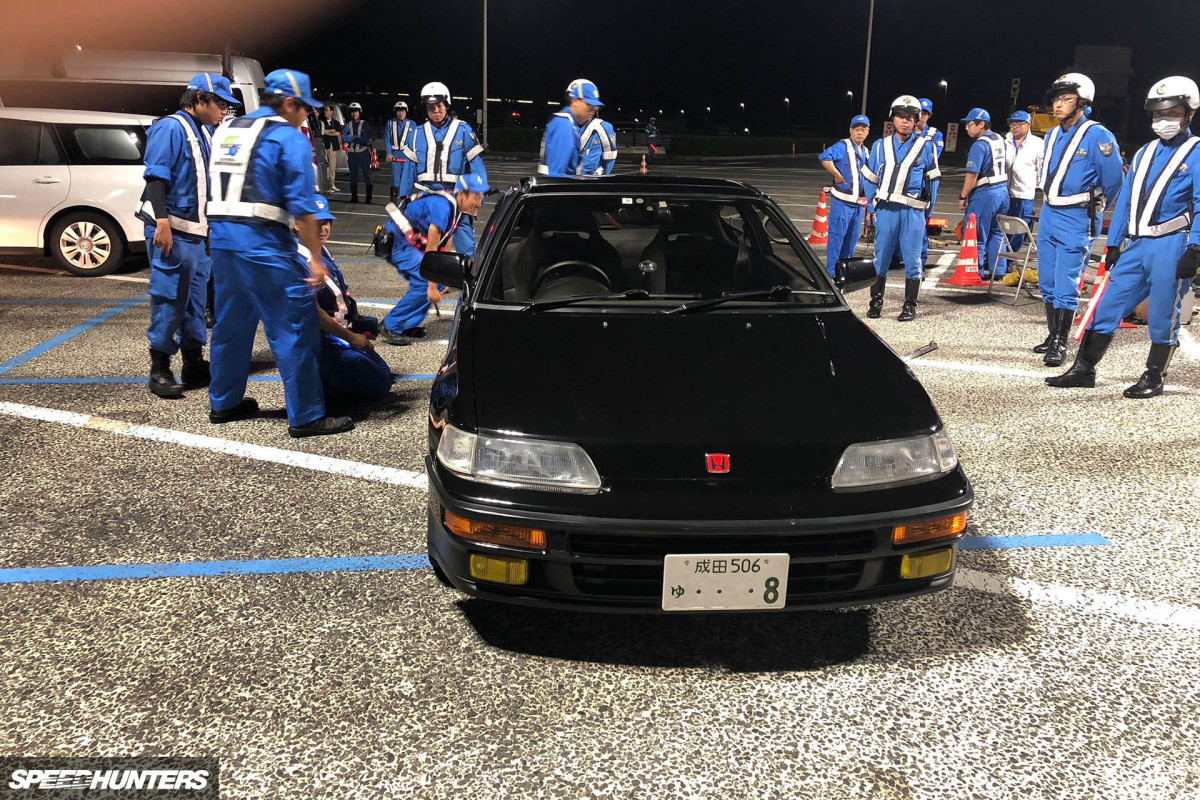 Unfortunately for Miguel, it did. After he passed the shaken test he had refitted adjustable front and rear suspension arms and a de-cat pipe – two things that were spotted straight away. They gave him a little print out that listed the things he has to address before getting his shaken back.
When I spoke to Miguel, he said he wondered what would've happened if he had declined the offer for the on-the-spot shaken test. Maybe they aren't allowed to do one without the consent of the owner? Everyone here is too polite to say no, but Miguel will definitely try if it happens again.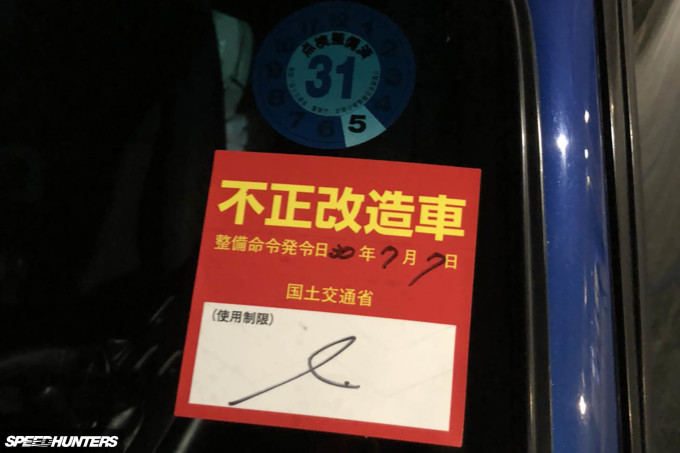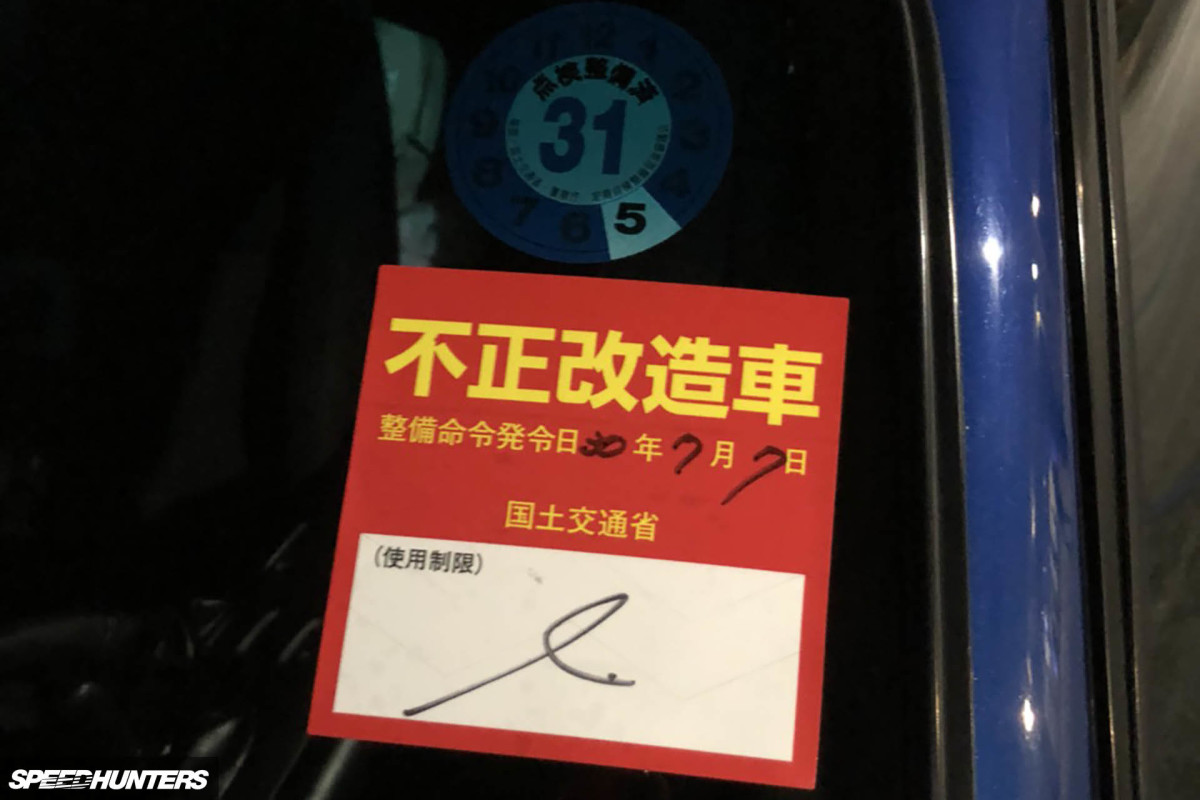 Any car caught with more extreme modifications, like aggressive aero parts and super-low ride heights, had one of these 'Illegal Modified Car' notices slapped on the windscreen. It can only be removed once the car is returned to a legal state.
The police and shaken inspectors were also paying special attention to cars fitted with temporary red-slash kari-namba plates, which are only supposed to be used when driving a car from a workshop to the shaken center. These have long been used by car guys to drive their heavily modified cars to the track and other events or meets like 7's Day, but anyone caught on Saturday night would have copped a fine, plus then had to organize a transport truck to get their car back home.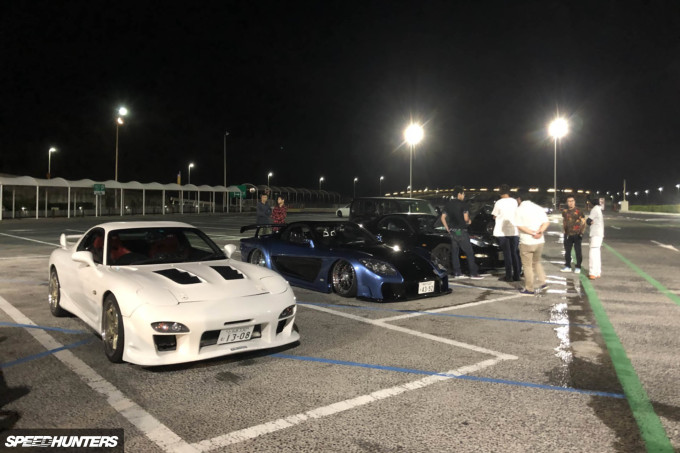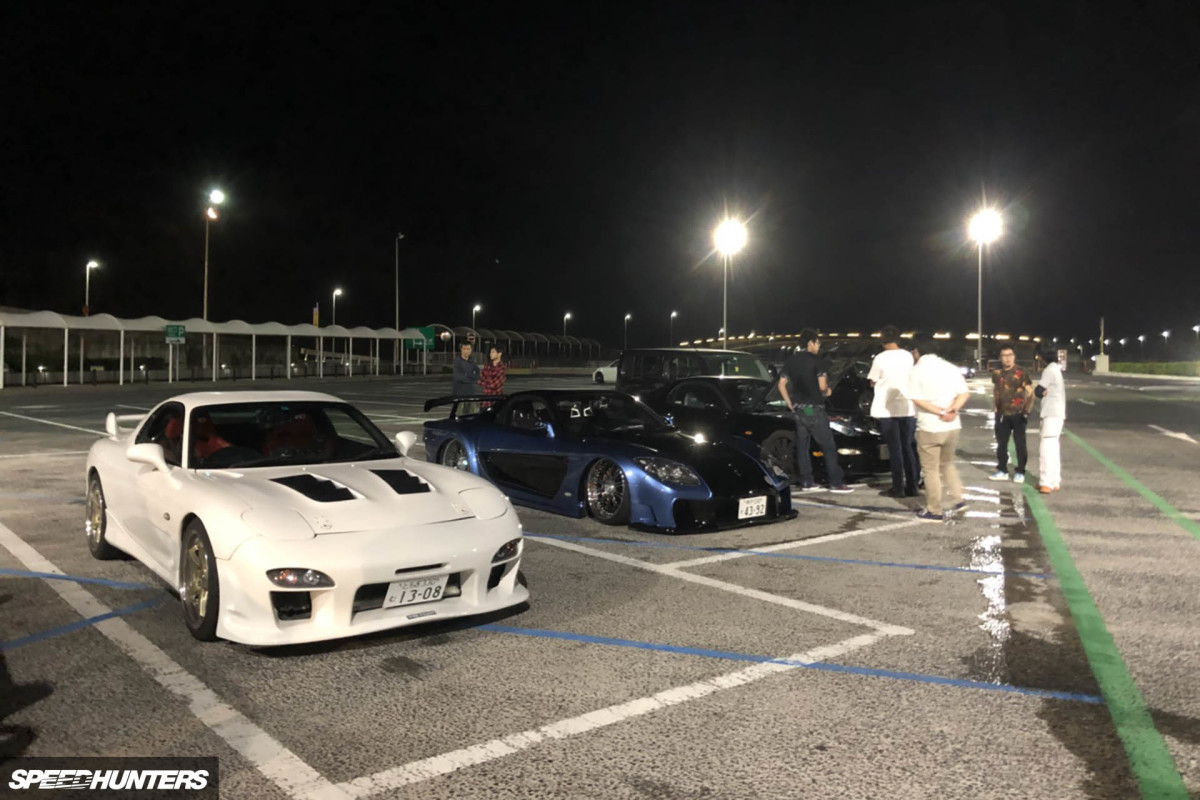 At midnight the police packed up and left and a small meet materialized. It's Japan after all.
So what to make of all this? These sorts of crackdowns can only spell bad things; it's a step in the wrong direction and I don't like it one bit. I don't think the police here are taking notice of the sort of stuff that happens in police states like Australia, this is just their own way of trying to eradicate the problem. Funnily enough, the major complaint that the police get from gatherings at PAs are from truck drivers that show up to park and get a bit of sleep, but find all the truck spots filled up by loud, modified cars. The police need to respond to this, and then it sets the cycle in motion. I guess the best way you can avoid it all is to be smart and prepared; don't go over the top on your car and know your laws. And if you know the police are planning something, just don't go there.
Tokyo car culture is still safe for now, but it all depends on the way car enthusiasts respond. Funnily enough, supercar morning meets at Daikoku and Tatsumi never seem to receive even a second glance from the police, but those tend to be frequented by wealthier, older gentlemen with import cars. I've never seen a Diablo with a 130db straight-through exhaust and a massive wing get stopped for checks.
Food for thought…
Dino Dalle Carbonare
Instagram: speedhunters_dino
dino@speedhunters.com