Heading Down To Daikoku PA
With July 7 landing on a Saturday this year, there was a lot of anticipation for the annual 7's Day meets at famous parking areas in Yokohama and Chiba. Unfortunately, the police seemed pretty excited about it too…
In the days prior to the event, the digital information signs along the Wangan and Aqua-Line were displaying a special message.Translated, it read: "On July 7th, modified cars will be subjected to roadworthy checks by the police at Umihotaru PA." What a way to spoil the fun before it had even begun.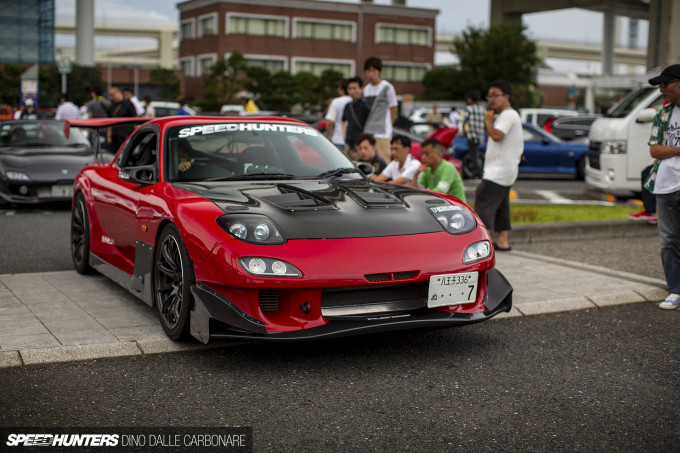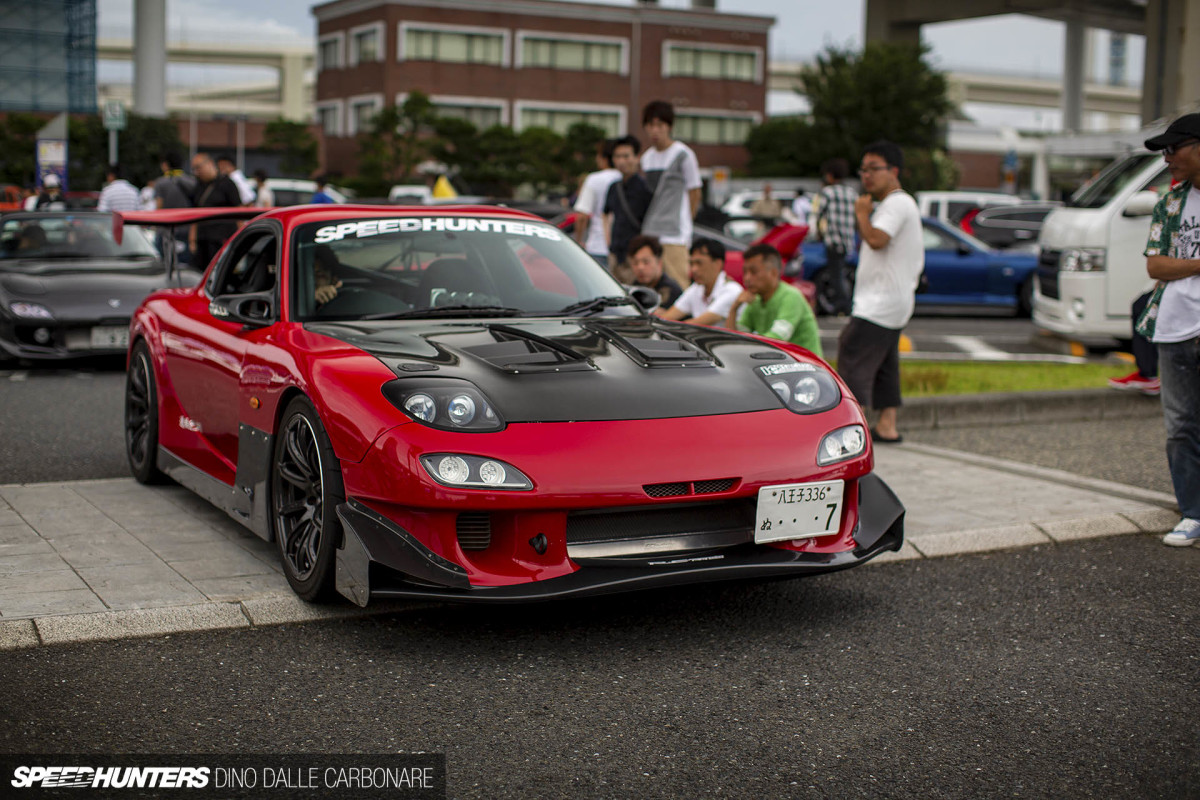 Fast forward a few days and I made a few calls to people in the know to see what the plans were. The general consensus was that everyone would meet up at Daikoku PA, but not hang around too long as there was also a rumor that the police would also close down that parking area at 9:00pm. It was hardly the best way to kick off Japan's biggest celebration of all things rotary, but not wanting to miss out on anything I made a plan to head down to Yokohama in the afternoon. That way, if they police did indeed close the gates early I was at least stuck in the right place.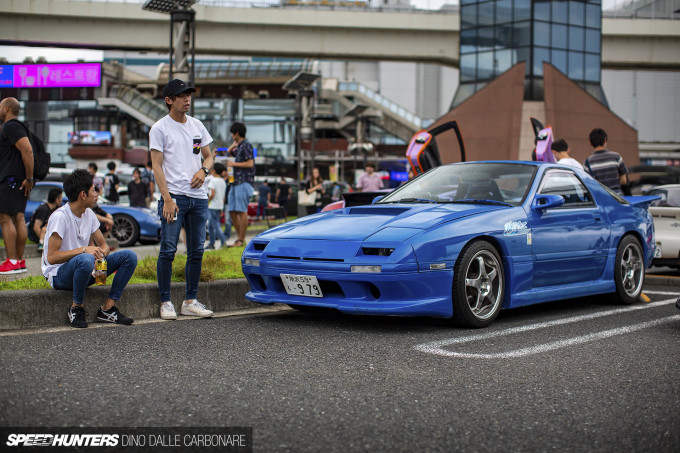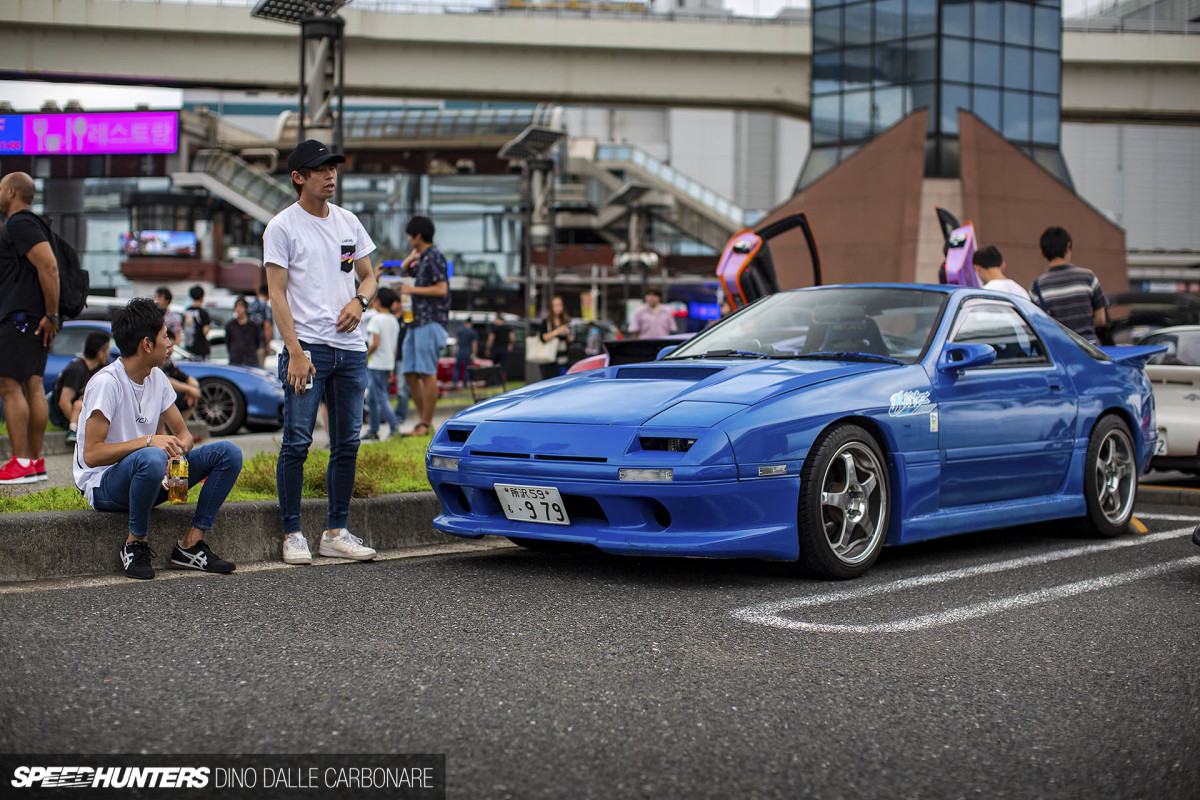 On arrival it seemed like others had my idea too. Sure, the meet was a little smaller than what we've become used to, but that was to be expected given the police's pre-advertised plans. That said, the Daikoku PA was still pretty packed, which meant there was a lot to look at.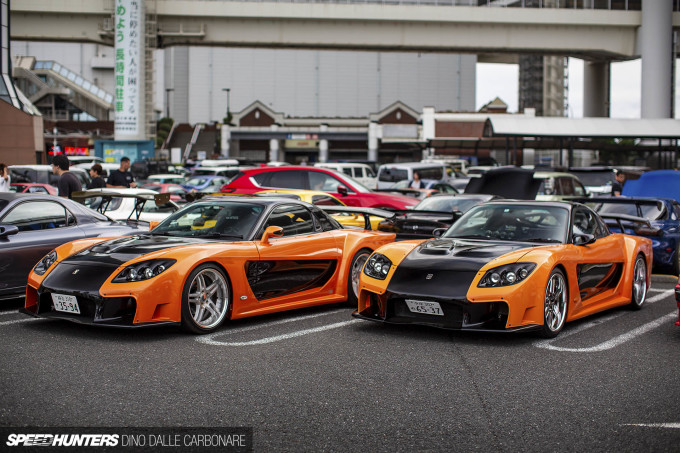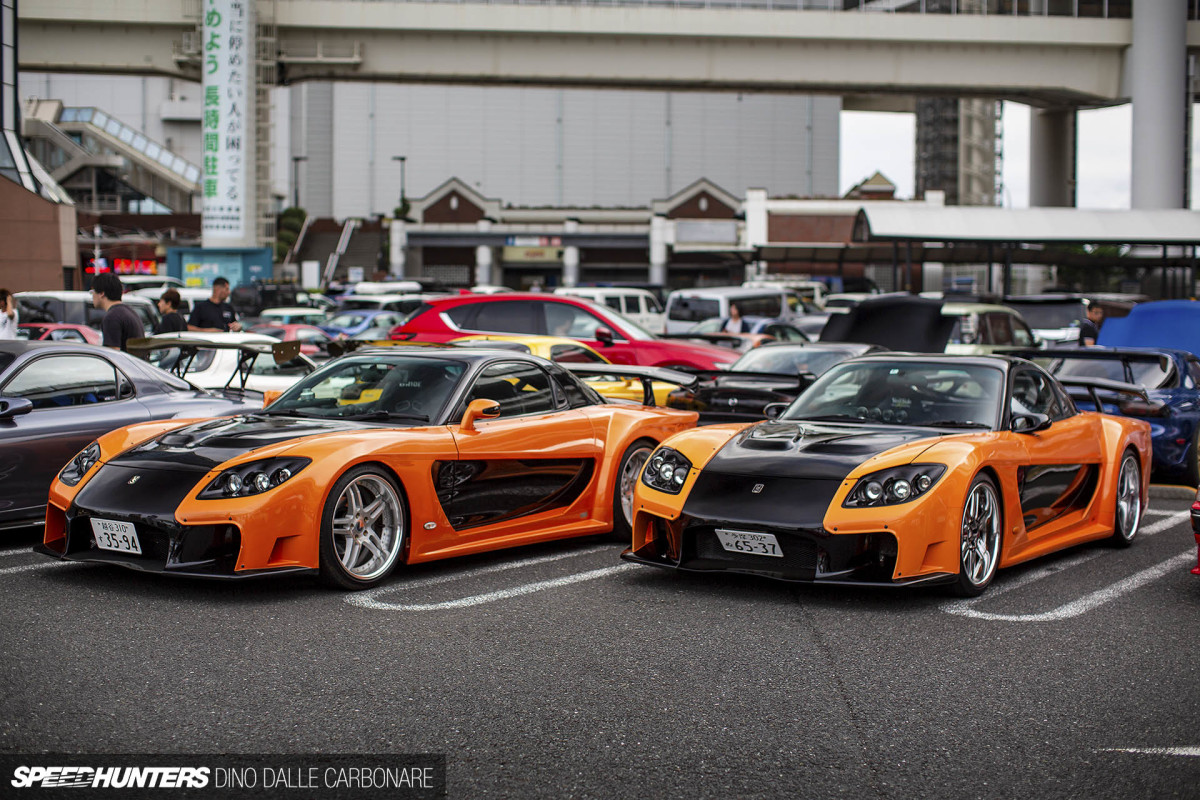 The first couple of cars I stopped to look at were these two Veilside Fortune RX-7s. Every time I see one of these wide-bodied creations, memories of visiting Veilside and shooting Yokomaku-san's maroon demo car prior to Tokyo Drift having even been made come flooding back.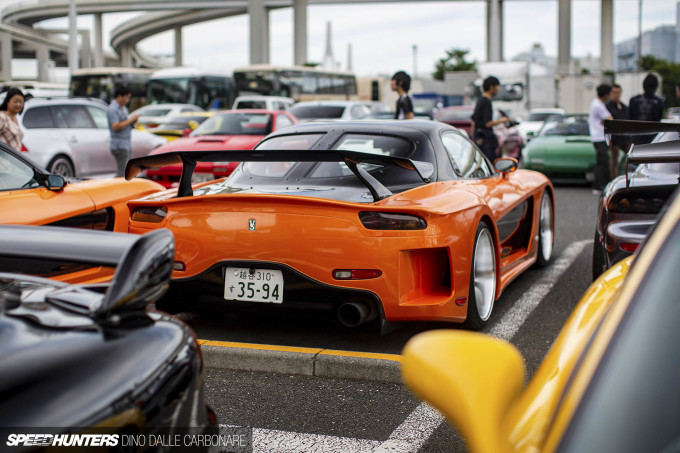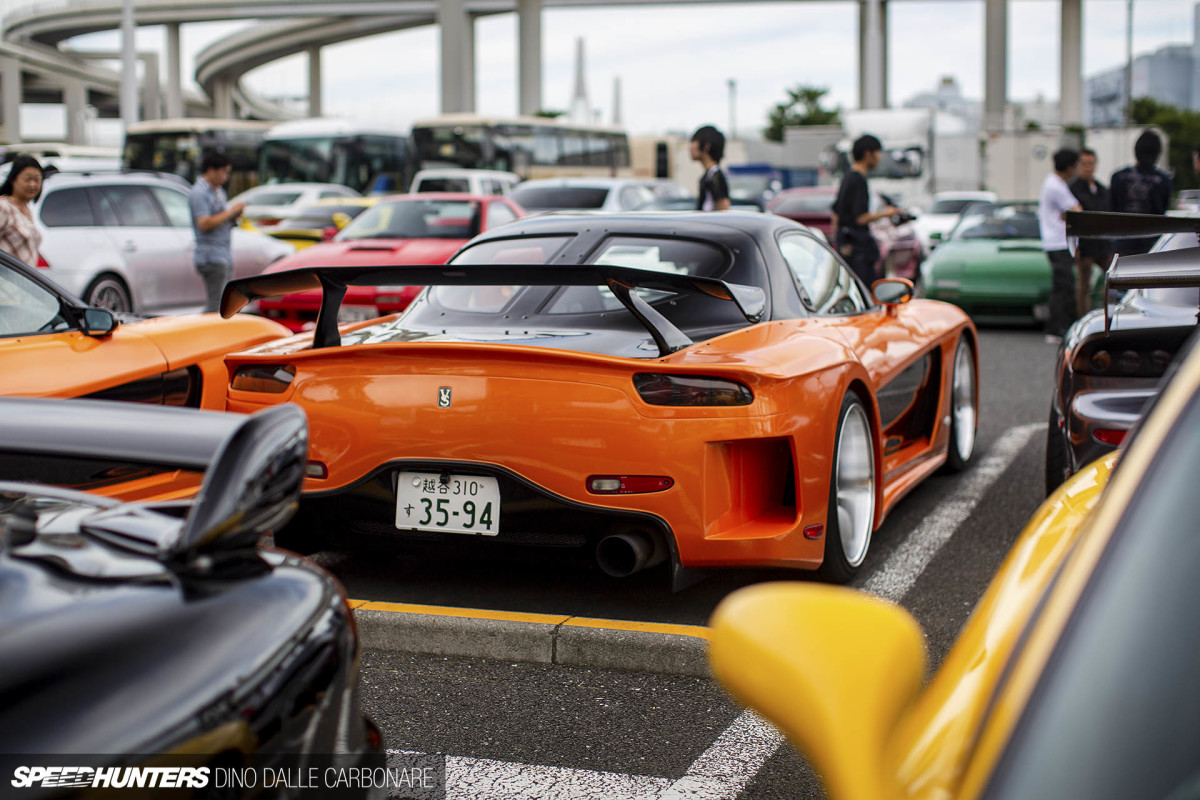 If I owned an FD I'm not sure I'd go down this modifying road, but the Fortune is something special: It's a visual reminder of the time JDM tuning car culture met Hollywood and in the process picked up legions of new fans.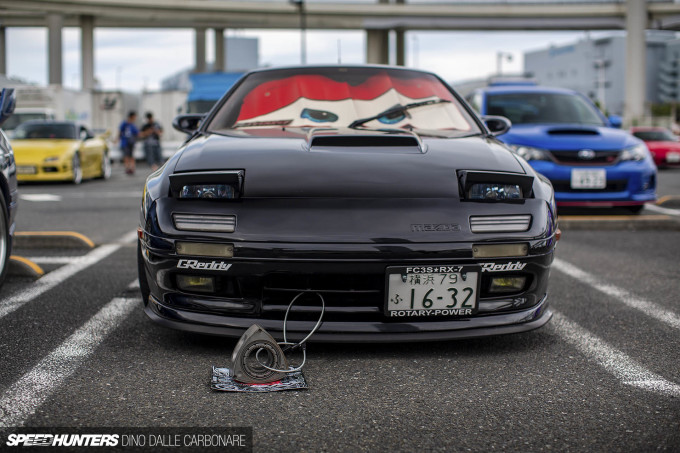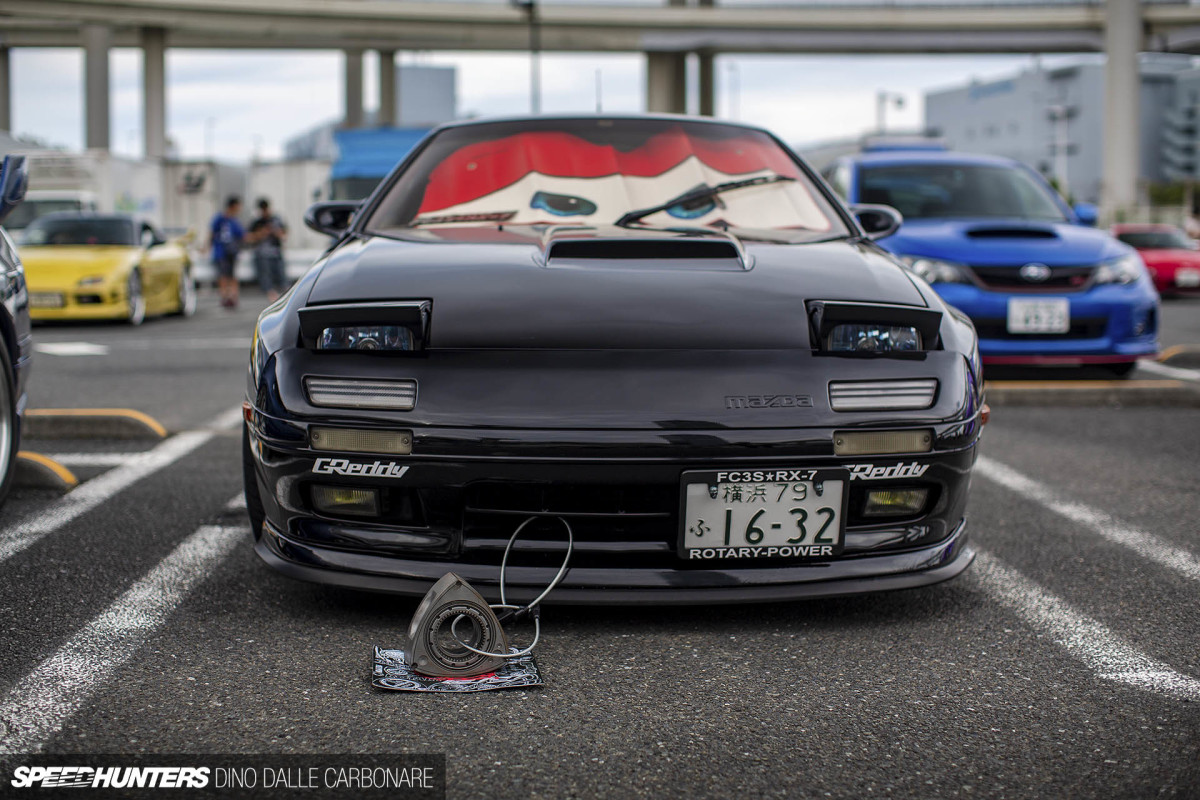 I come across this Yokohama-based FC3S at this event every year, and every time I can't help grab a shot of it with that rotor strapped to the front bumper. If it was a piston and a connecting rod attached to a four, six or eight-cylinder car it just wouldn't have the same effect.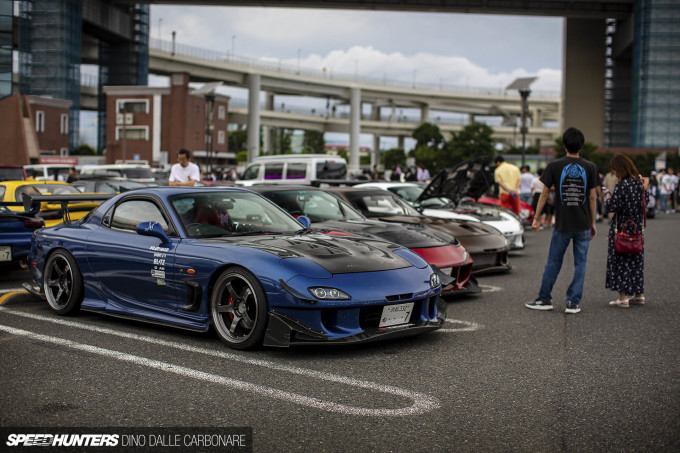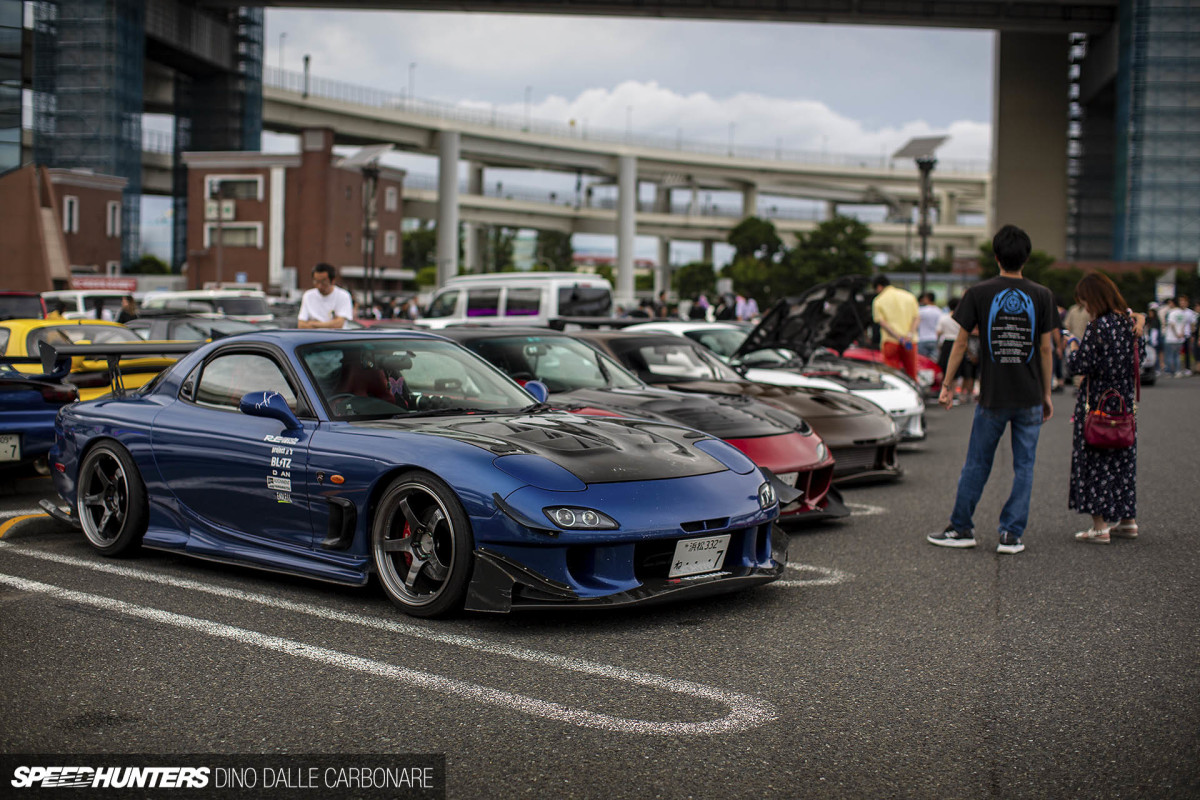 Most people who showed up didn't hang around for long, which meant that the parking area was more likely a running gallery of cars.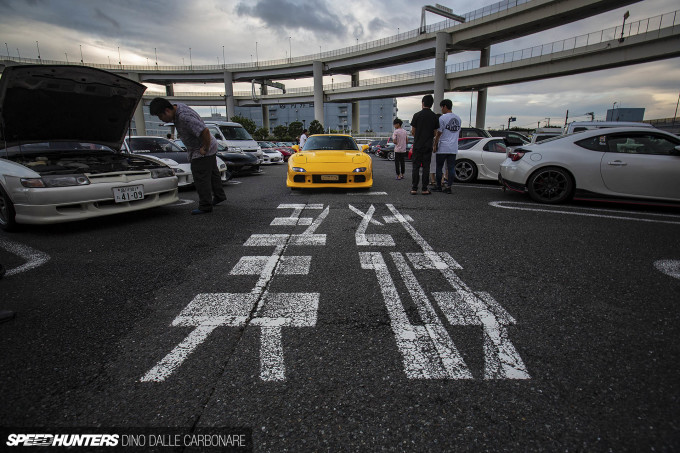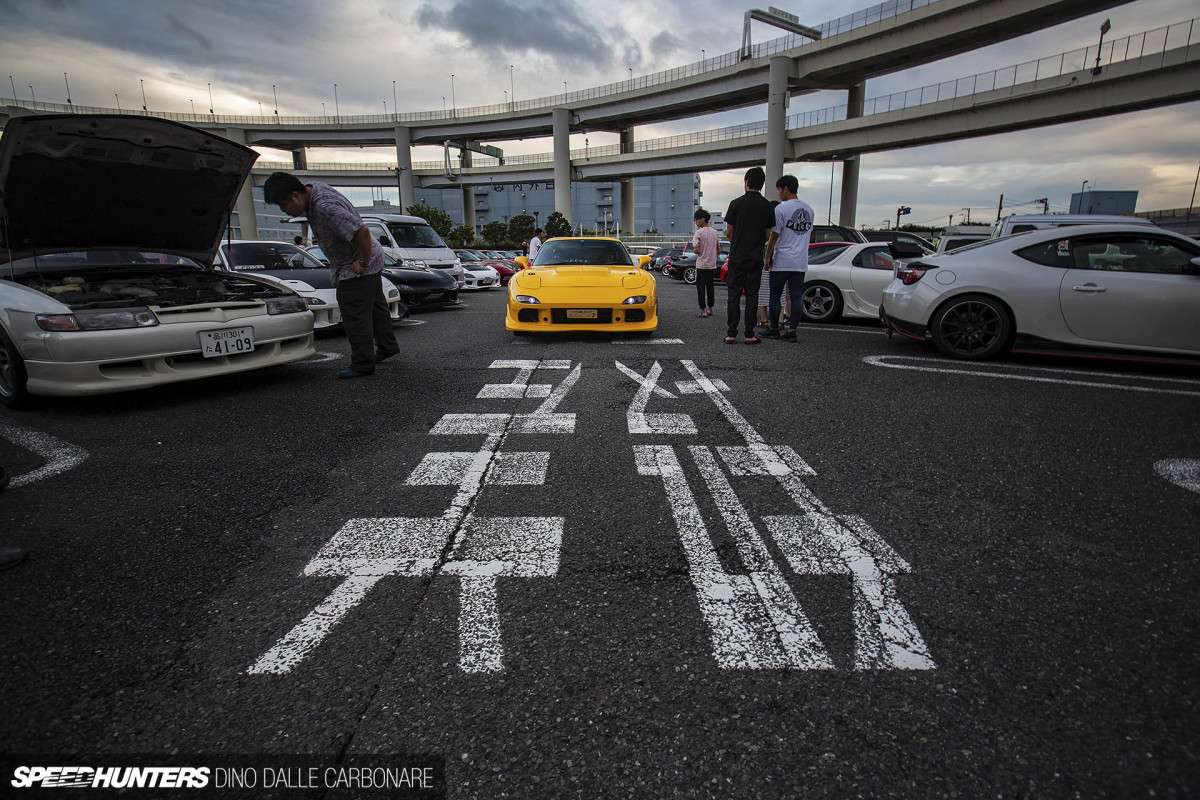 But that is what's cool about this meet, it continuously evolves and changes right before your eyes. It forces you to keep circling so you can be sure you haven't missed anything, and in the process stop and say hello to the same people you've been catching up with here for so long, 'car friends' as I like to call them.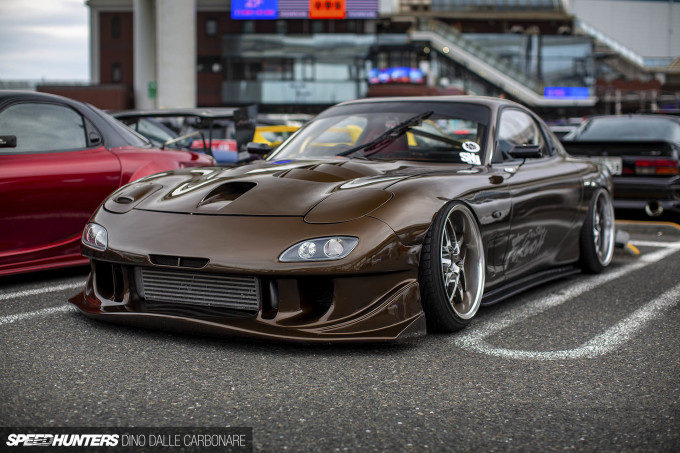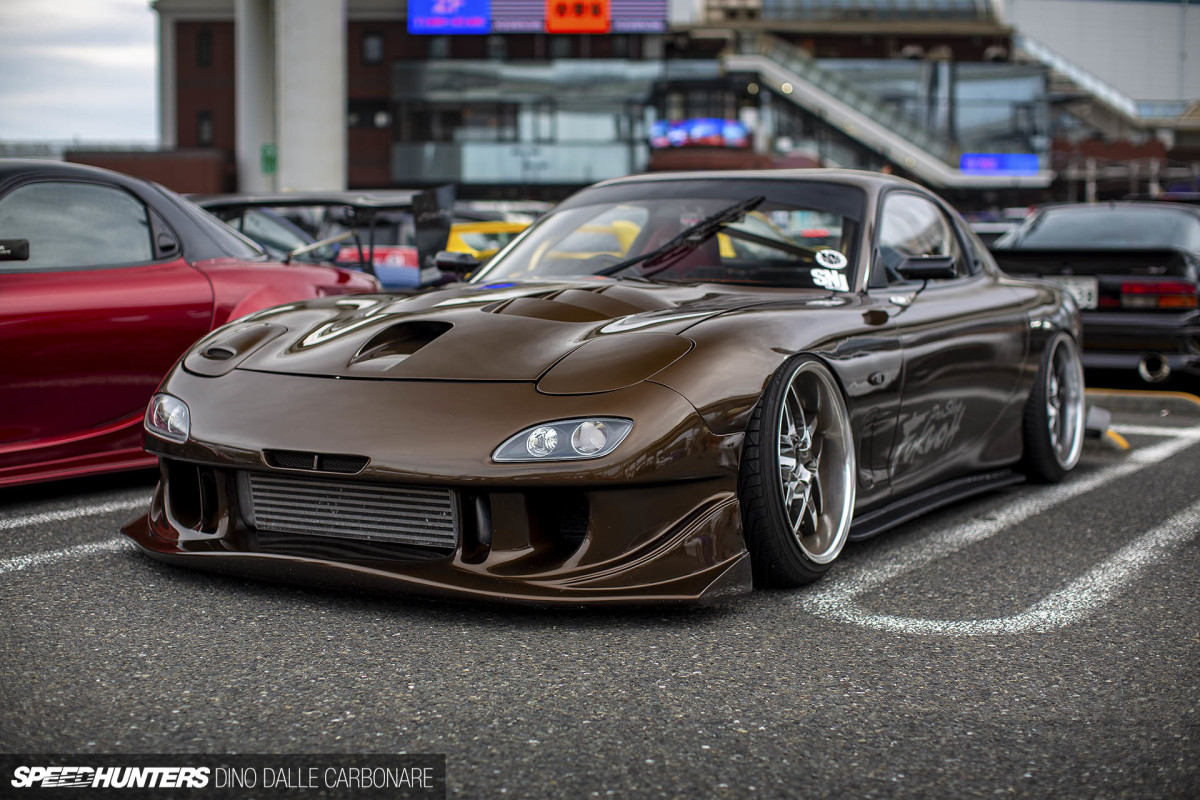 I had to pause for a longer look at this metallic brown FD built by Pro Shop Fukuoh in Mie Prefecture.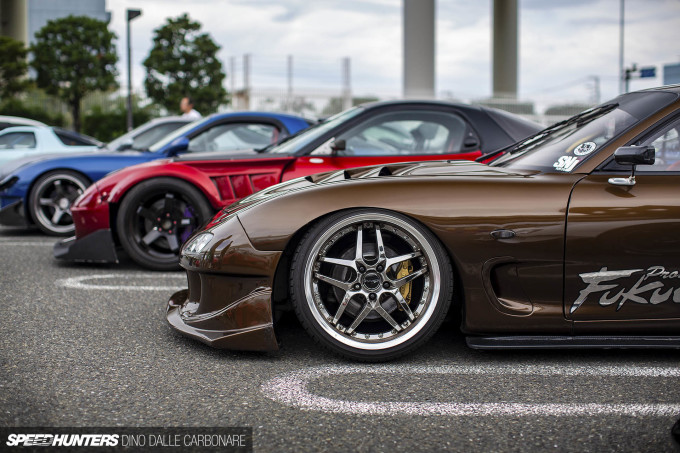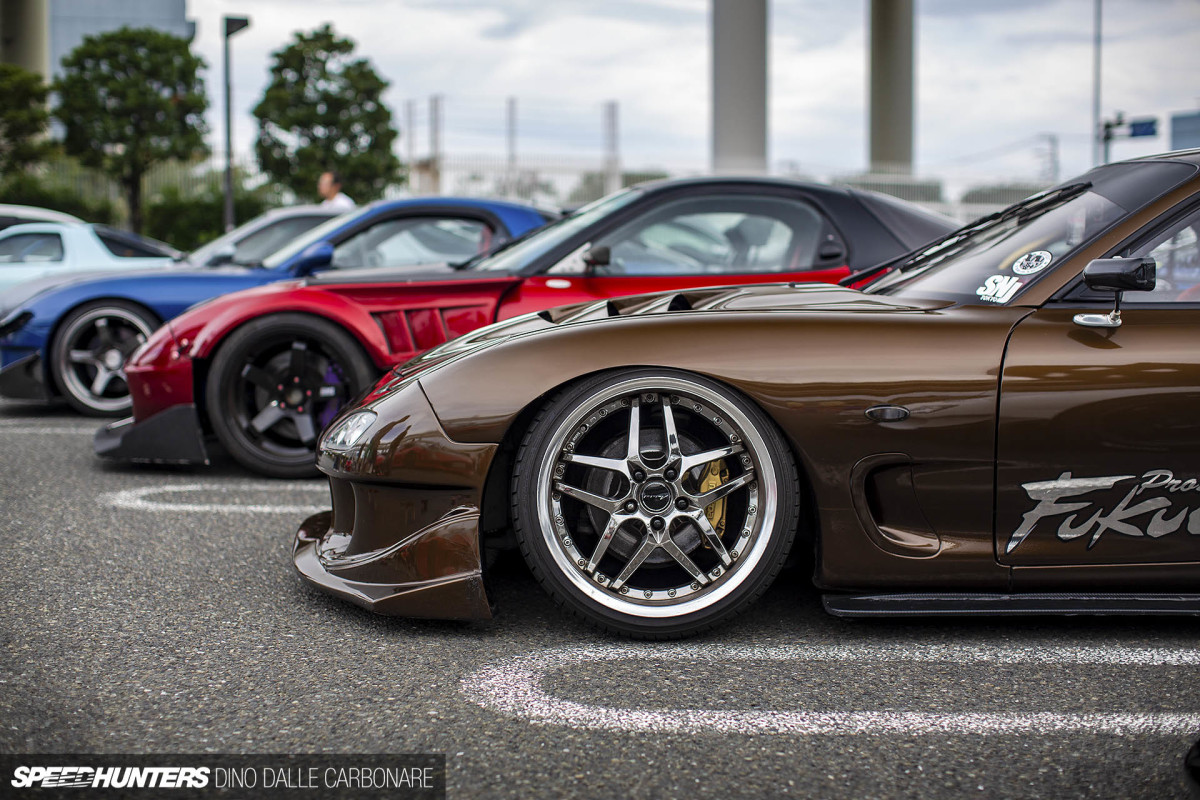 Visually, it may have leaned towards the whole form side of things, but I know nothing ever comes out of this shop without decent power. So I'm sure there would have been plenty of function worked into it too.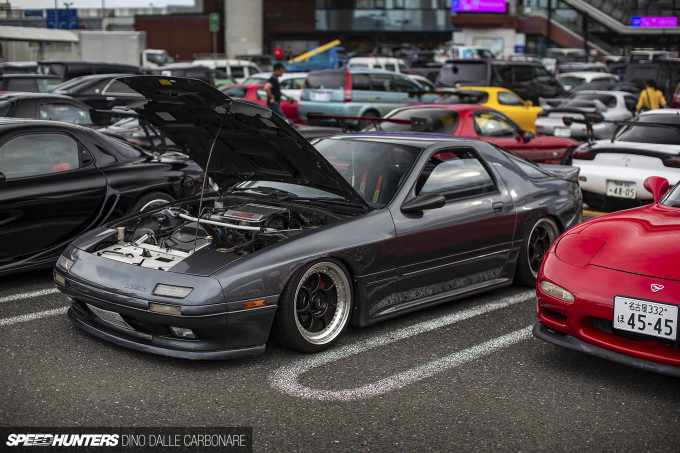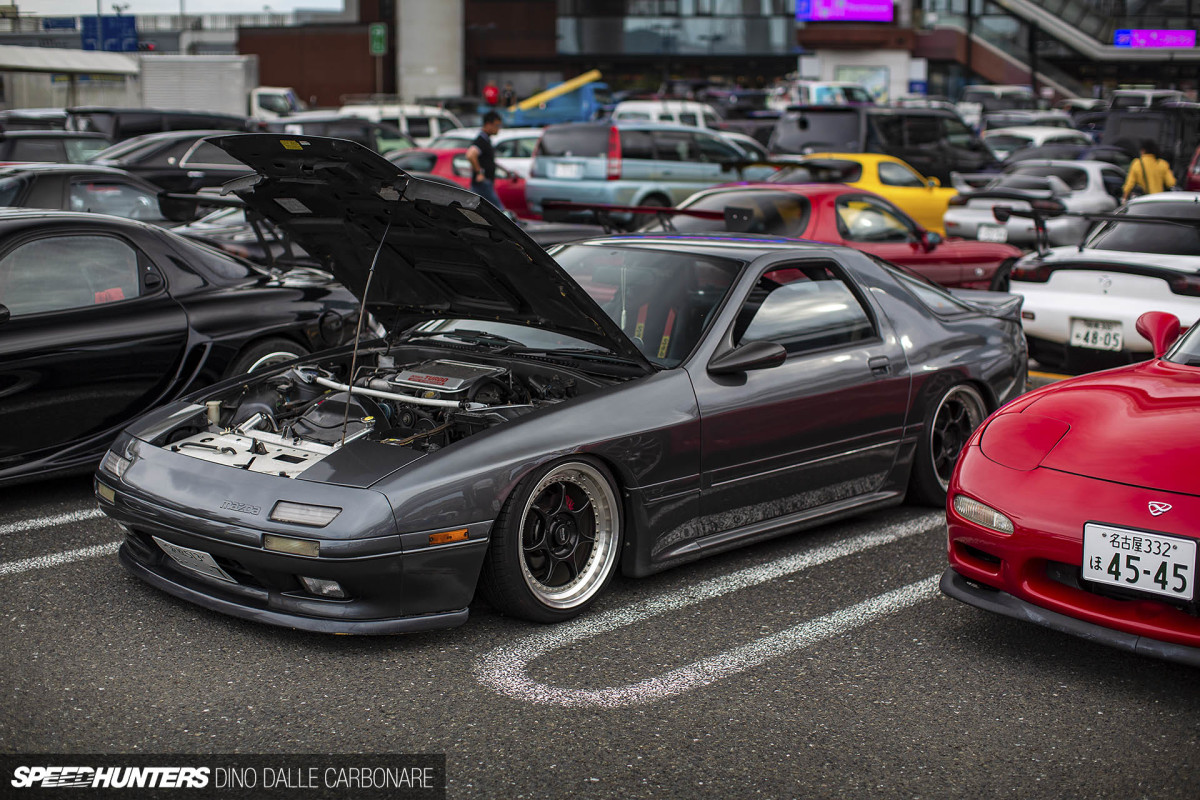 I really dug this FC3S for its period correct feel, and it brought back memories of Pan Speed's old high-speed challenger. It was very simple, running what looked like a mostly original engine setup with the factory top-mounted intercooler, something you definitely don't see much of anymore.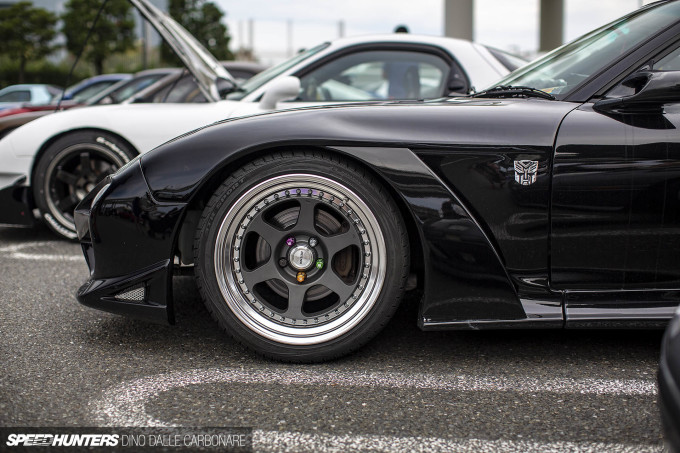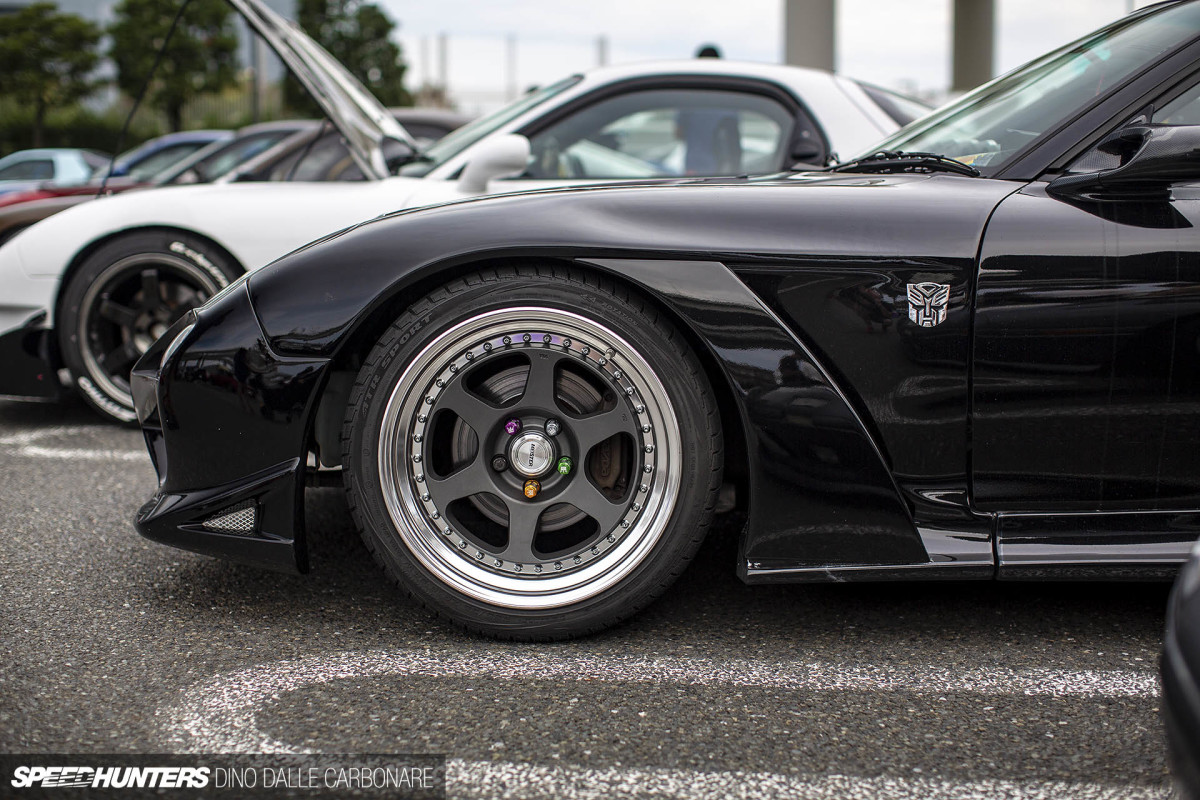 I wonder what this FD transforms into?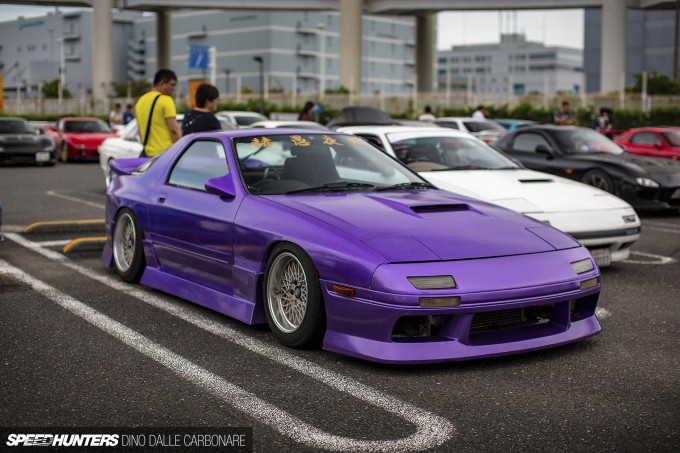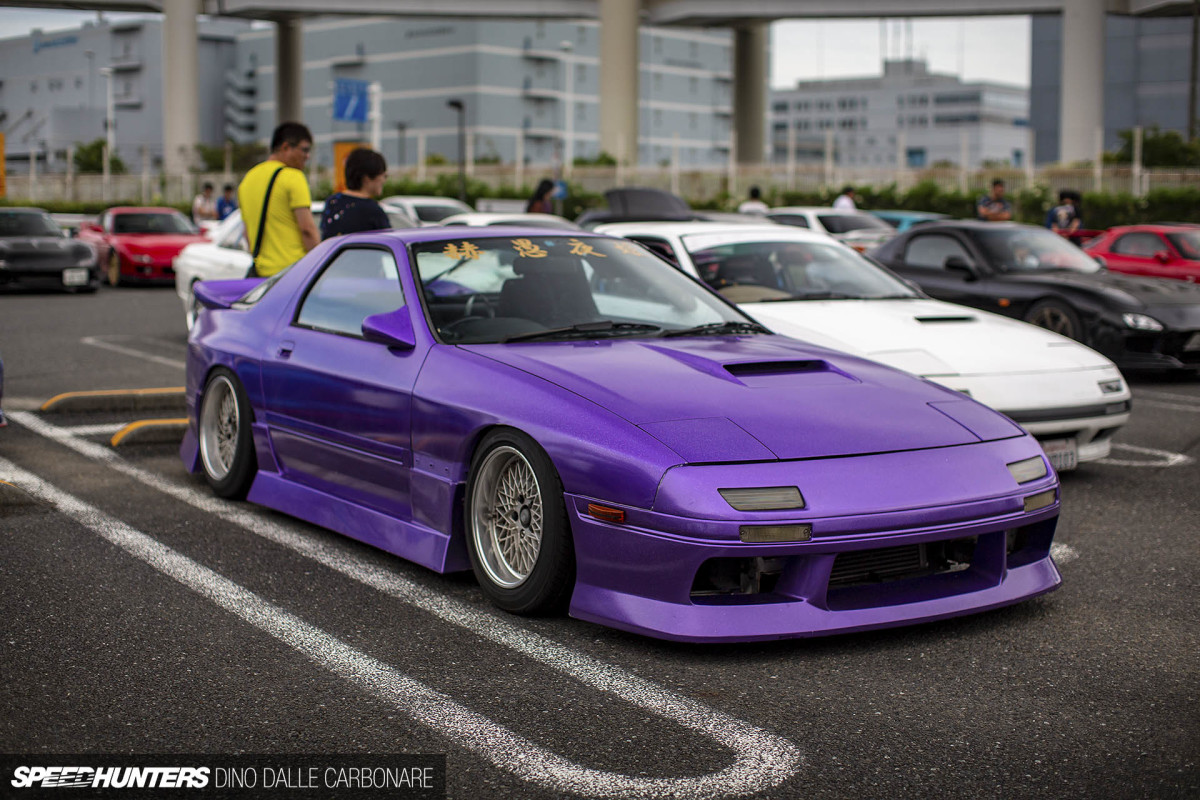 My incurable attraction to FCs only gets worst at 7's Day, and there were plenty of examples that caught my eye on the weekend.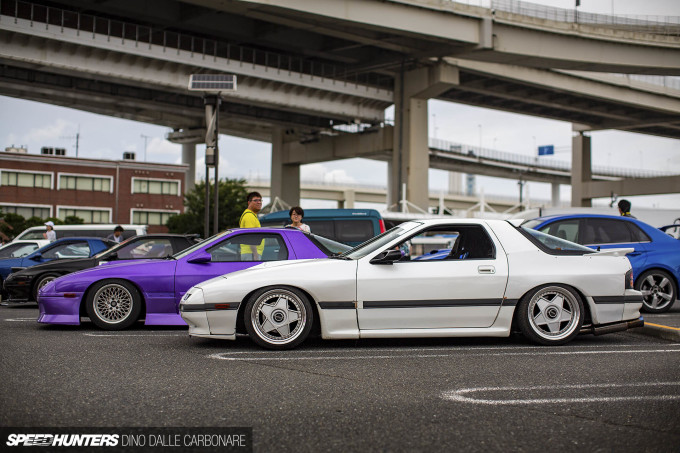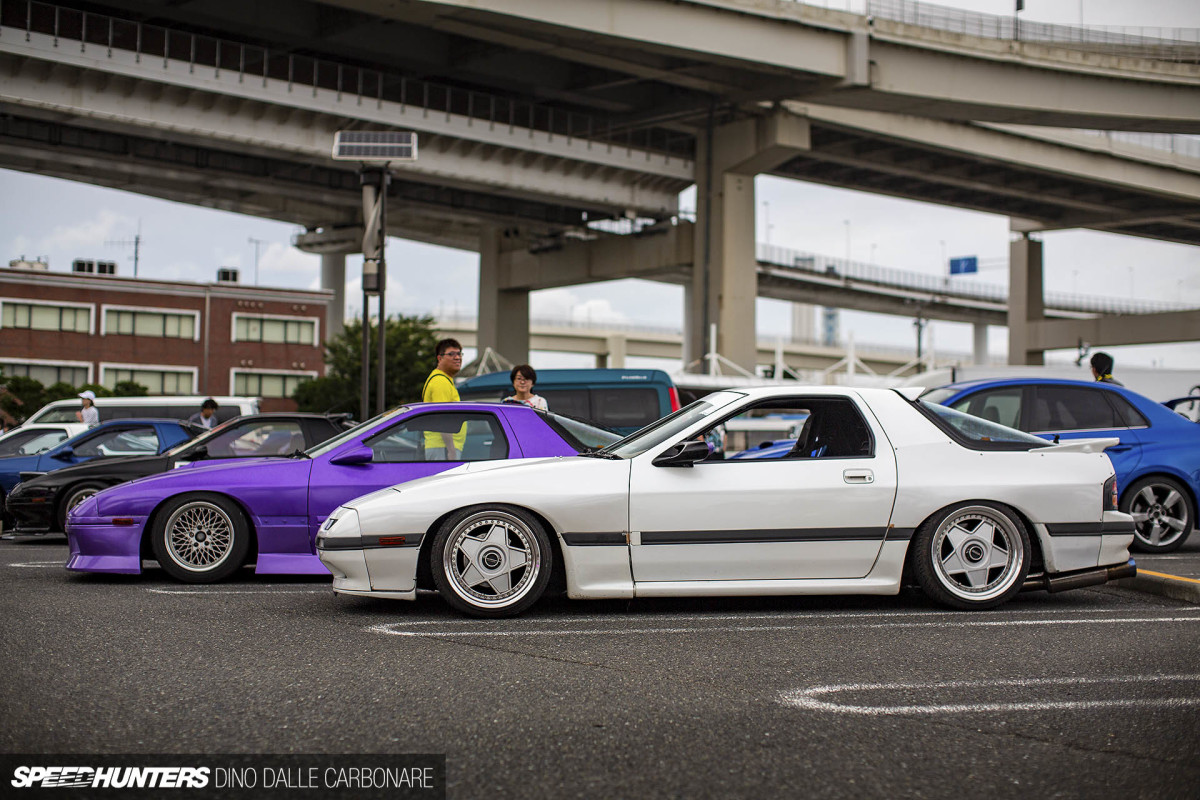 The purple one looked ace, but the wheels and fitment of the white one… yes!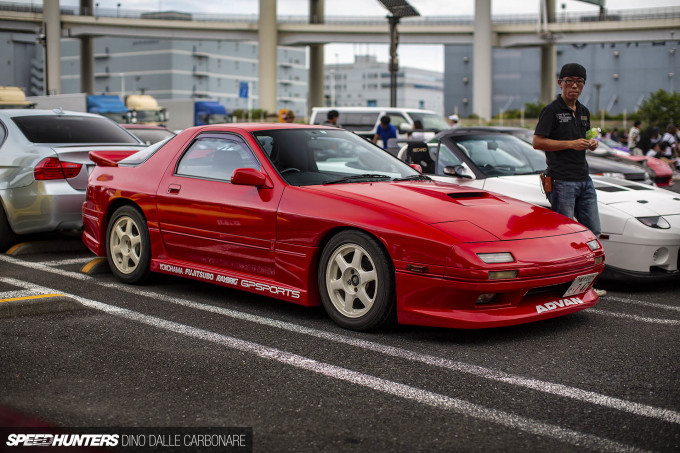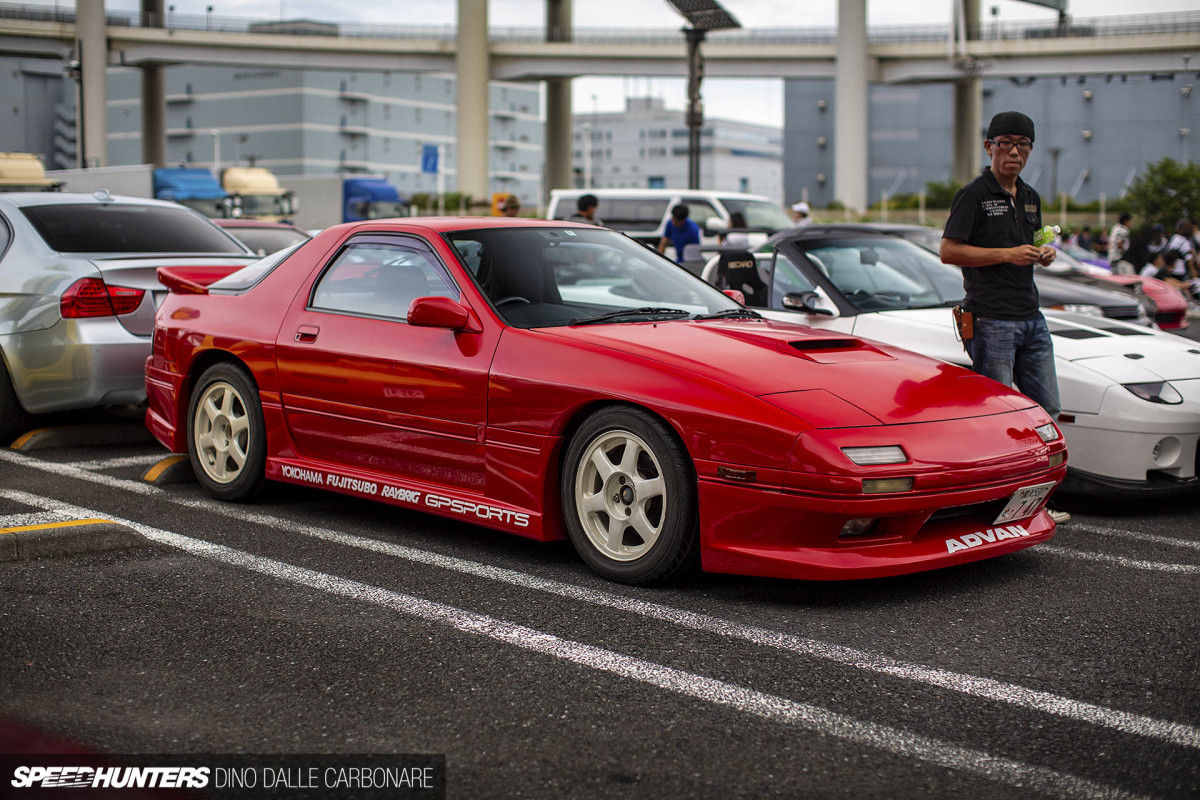 More period correctness right here.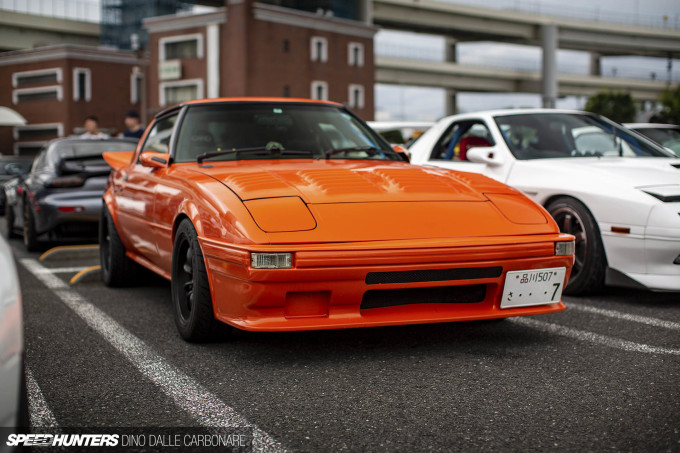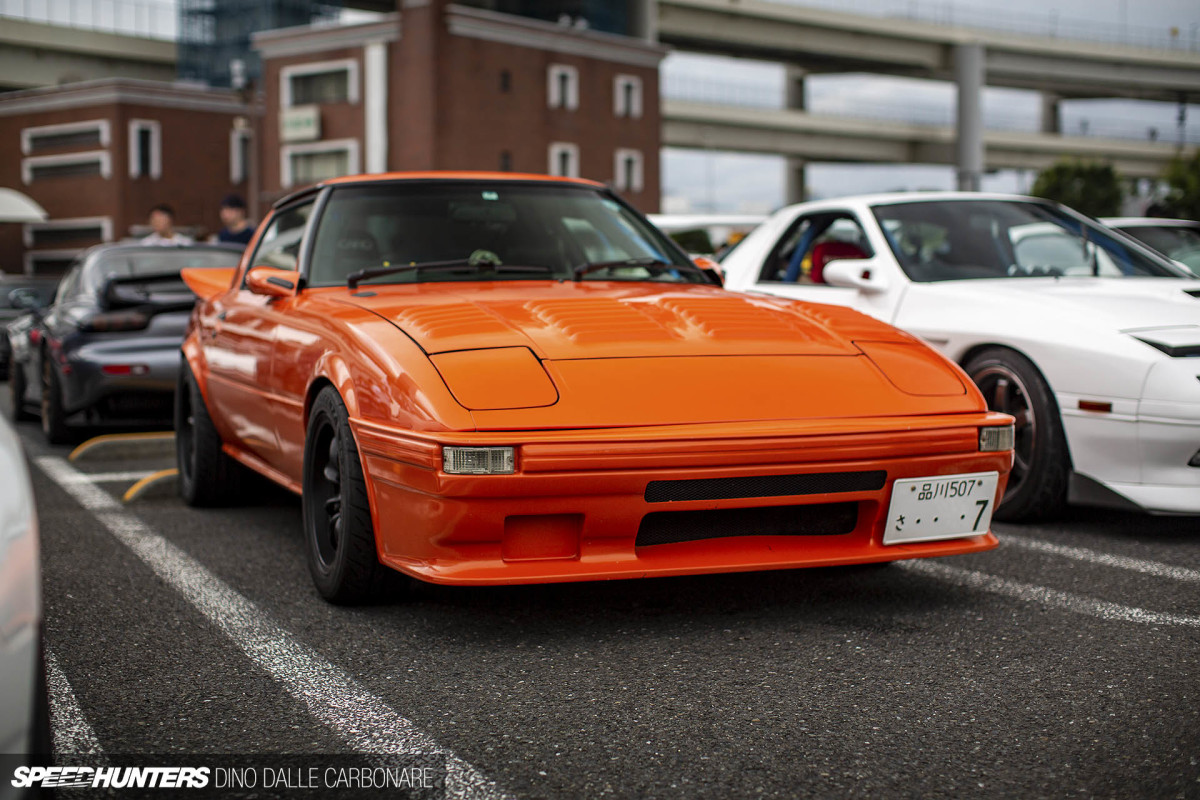 You can always count on a few SA22s RX-7s to drop by on 7's Day, and this orange one is a guaranteed attendee.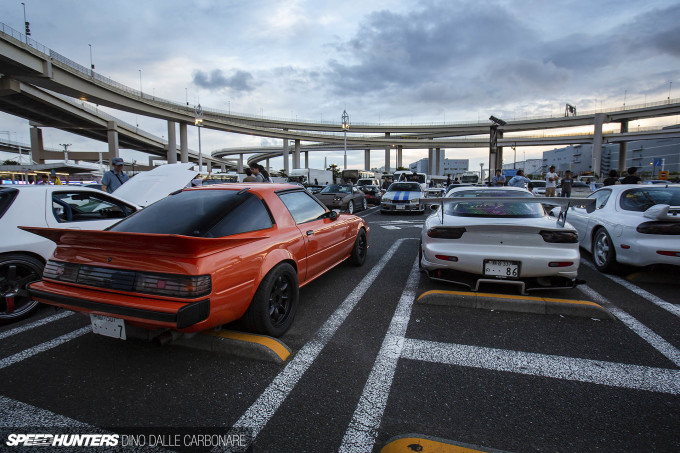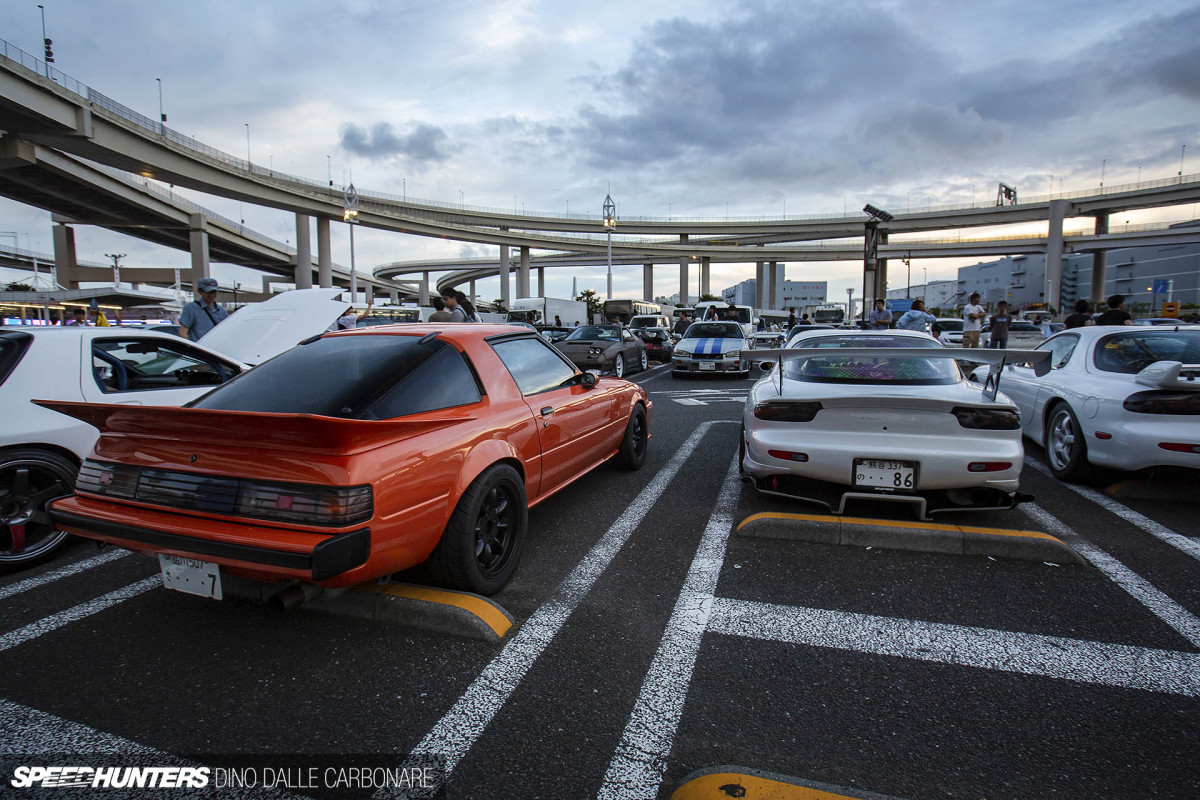 I just love the louvered hood and mean hatch spoiler.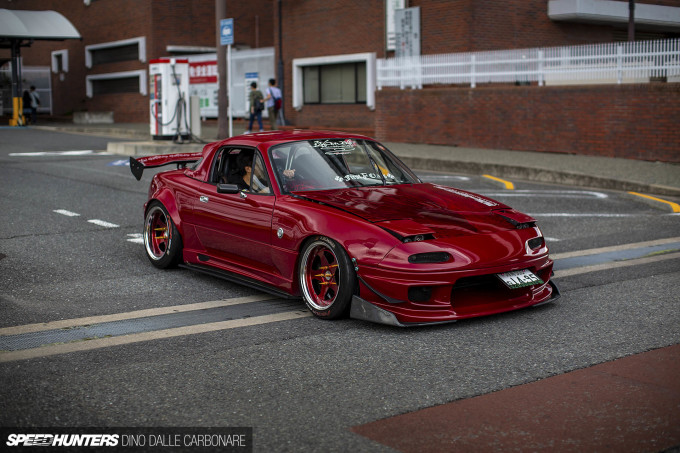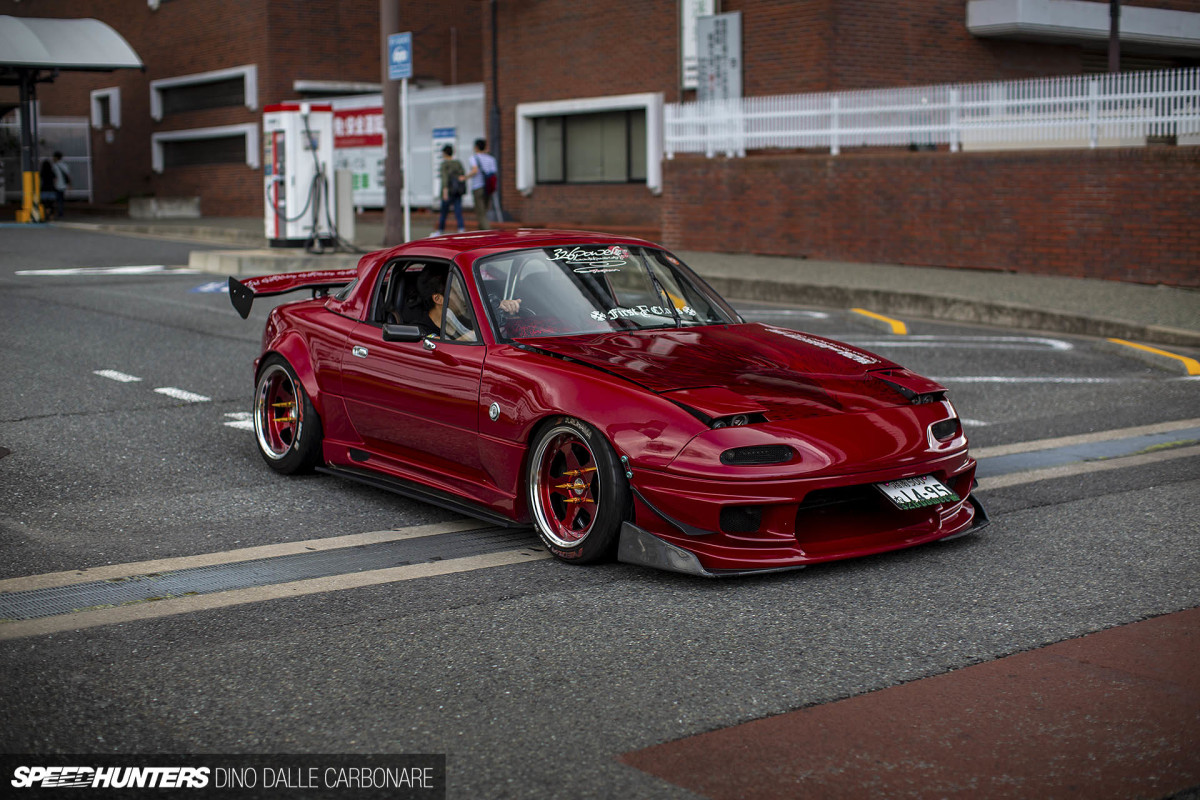 Although this is a special day for Mazda owners, there are always other interesting cars that turn up. This was one of three NSXs I saw over the course of day and early evening, and the 326 Power NA was possibly the craziest Roadster there.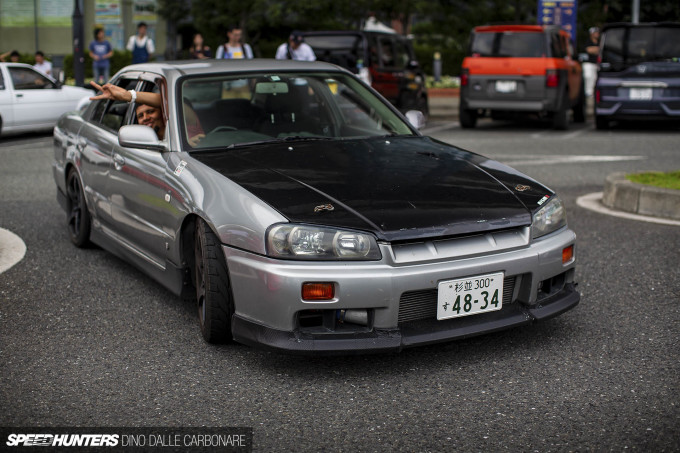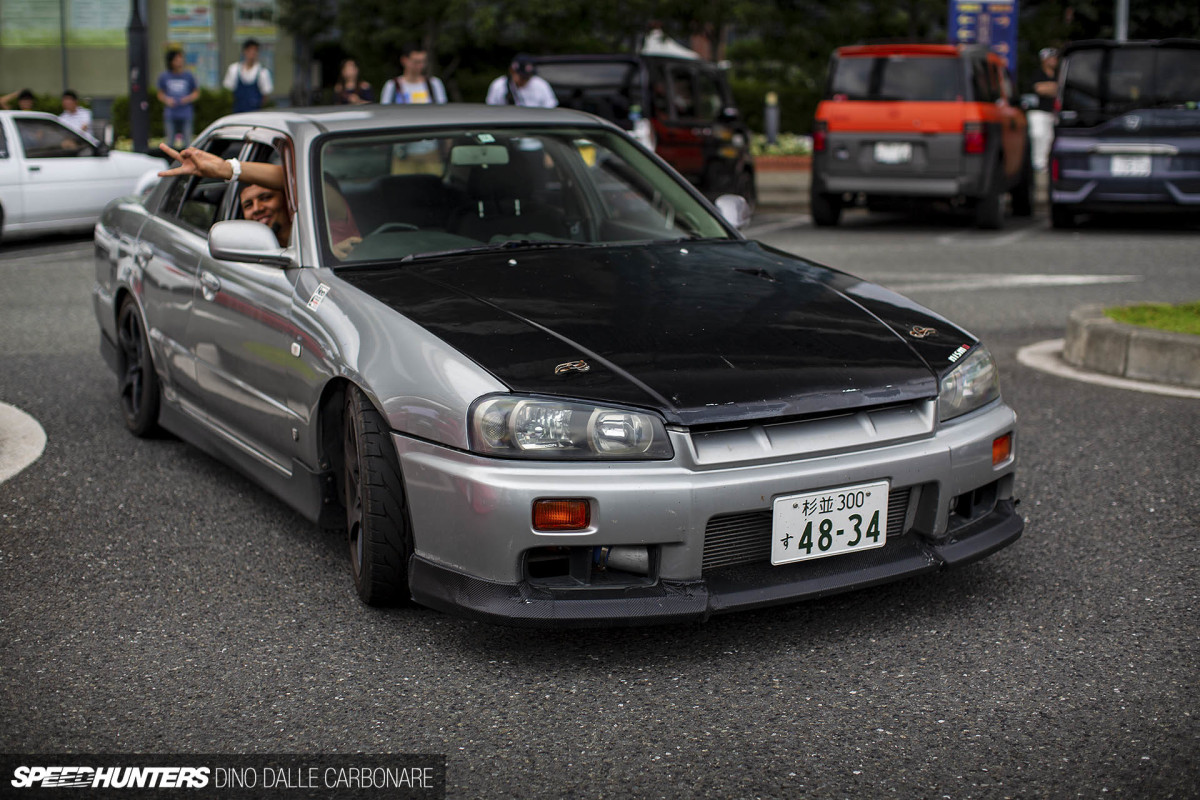 Not long after I arrived, Ron dropped by with his ER34 Nissan Skyline. He was at Daikoku to film the event, so make sure you check out what he's got coming…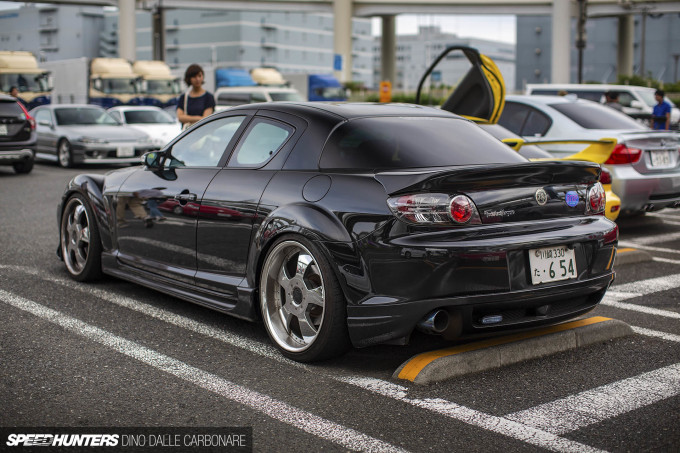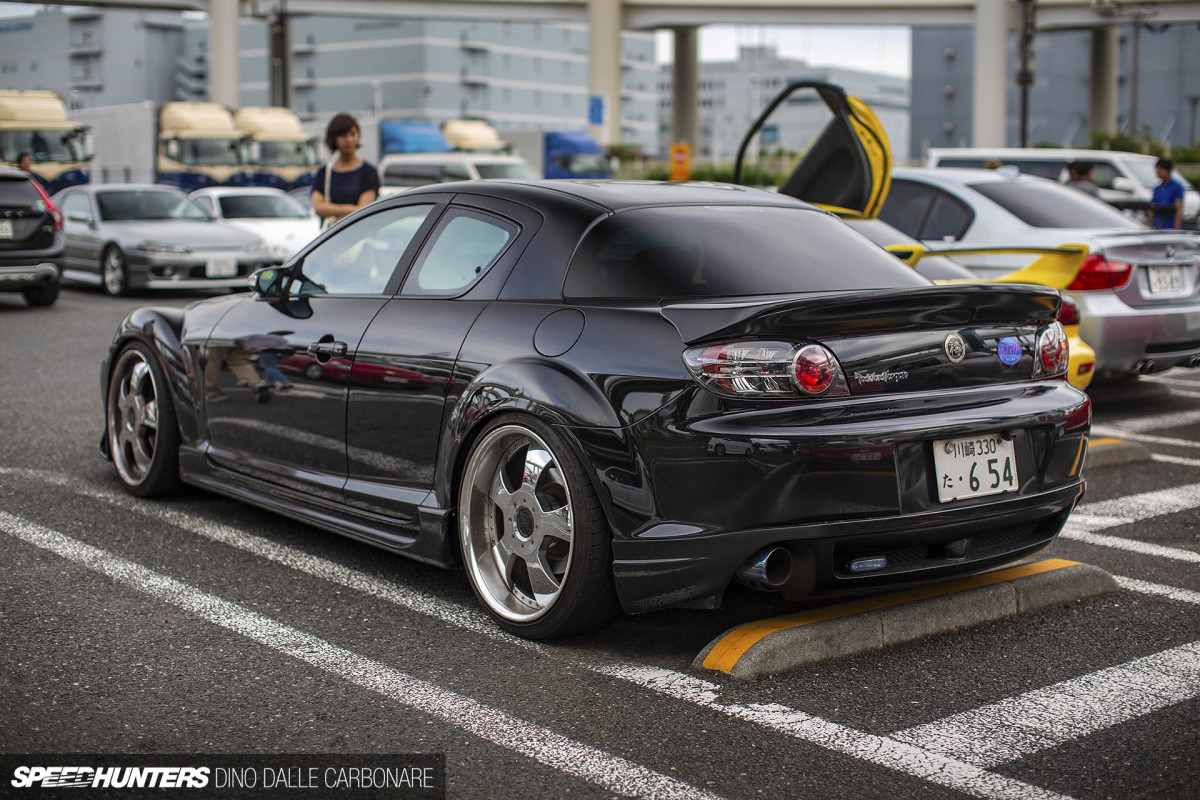 Ahhh, how could I possibly forget the last rotary-powered model Mazda has given us. There's always a nice selection of RX-8s too, and this particular car had the cool license plate '654' which is the capacity of each rotor chamber in the 13B engine.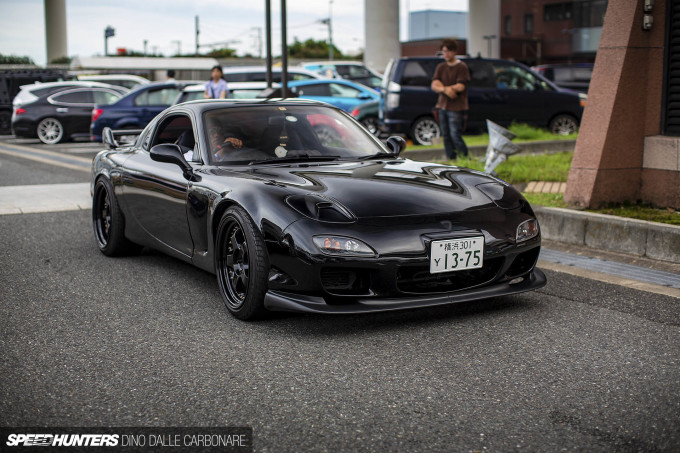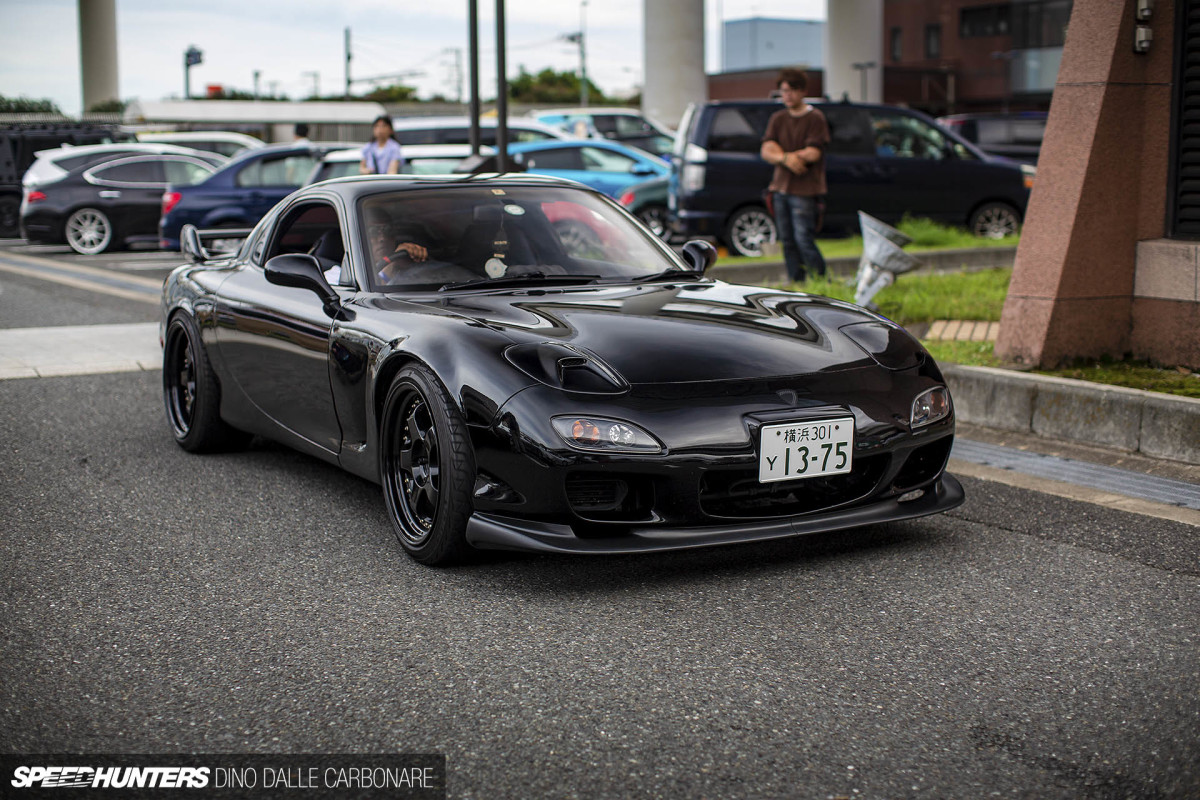 As I was grabbing some shots of this black-on-black FD from one of the US military bases in Japan (you can tell by the 'Y' on the license plate) I heard a rather loud, raspy sound. It sounded older, and naturally aspirated.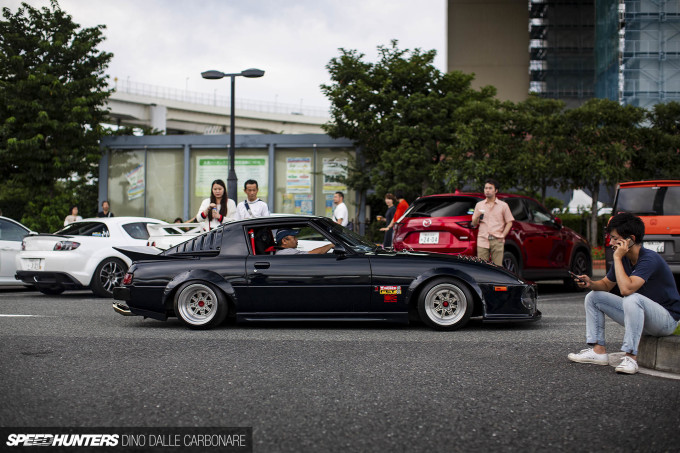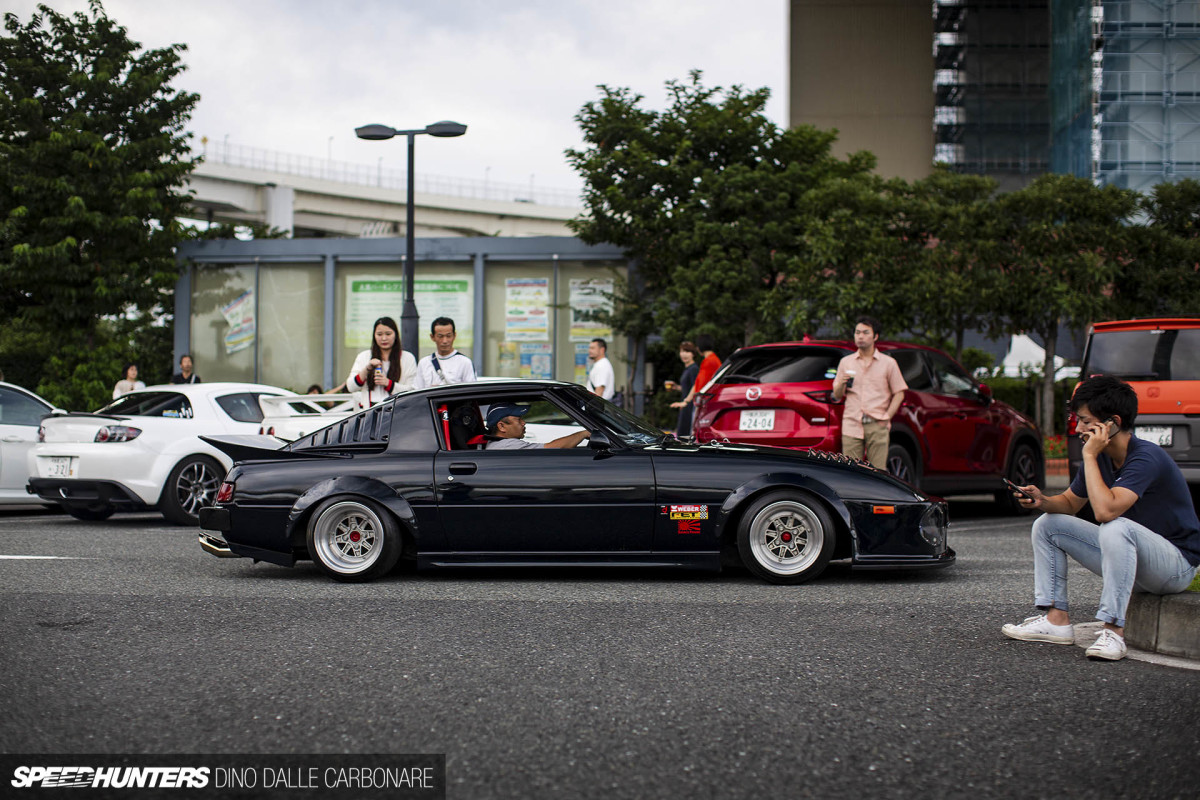 My ears hadn't deceived me. I gave chase as this SA22 rolled through the parking lot looking for a spot.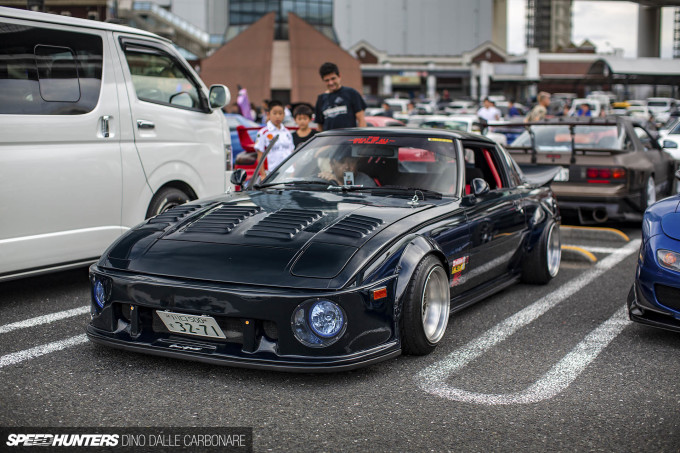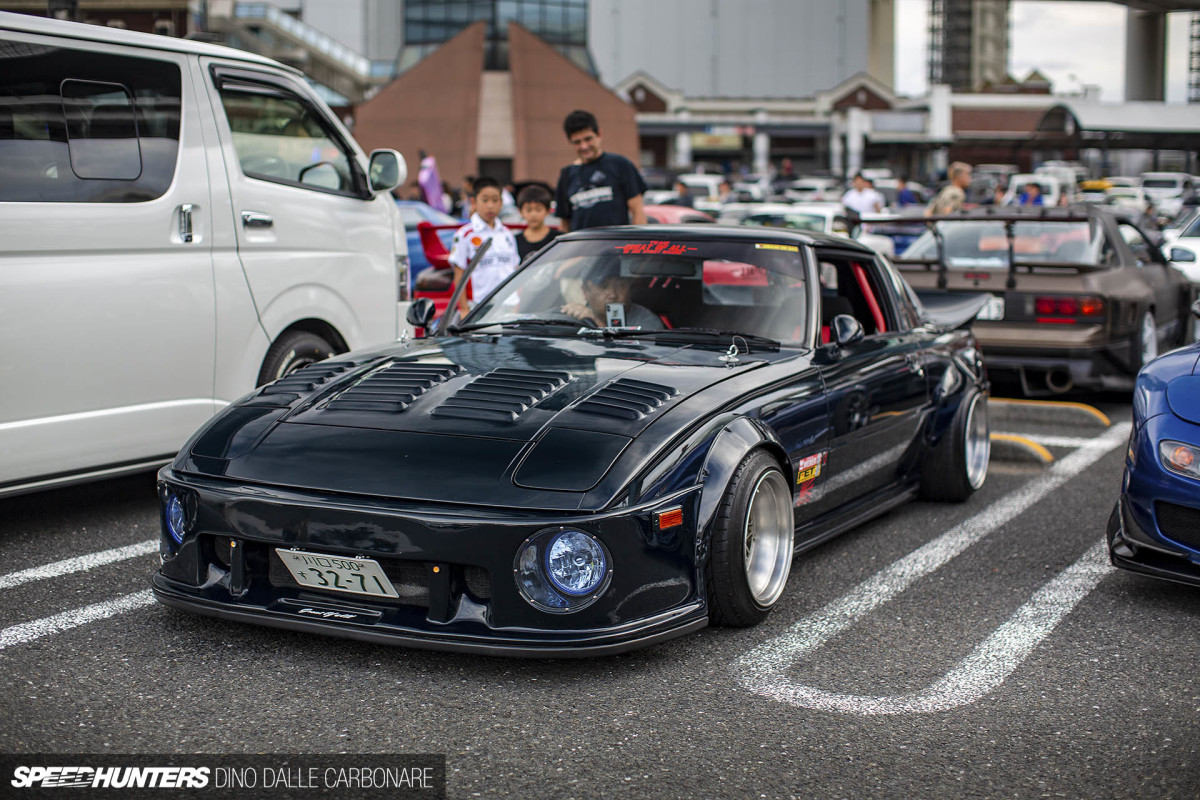 This thing certainly ticked all the boxes in the looks department, its race-inspired front bumper sporting massive spotlights, plus fender flares and a hatch conversion that's pretty much transformed the entire rear end.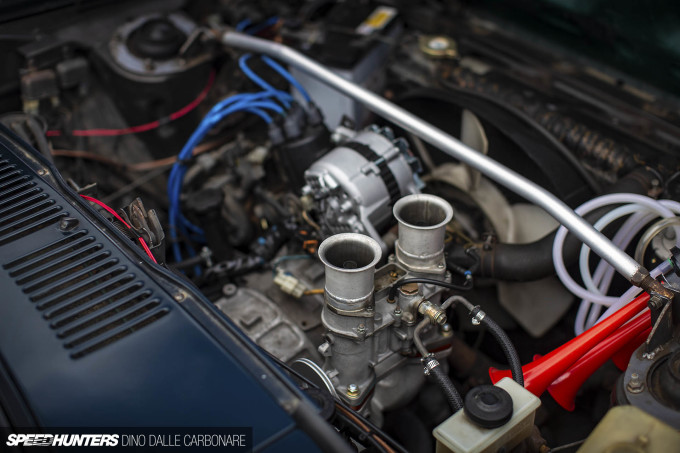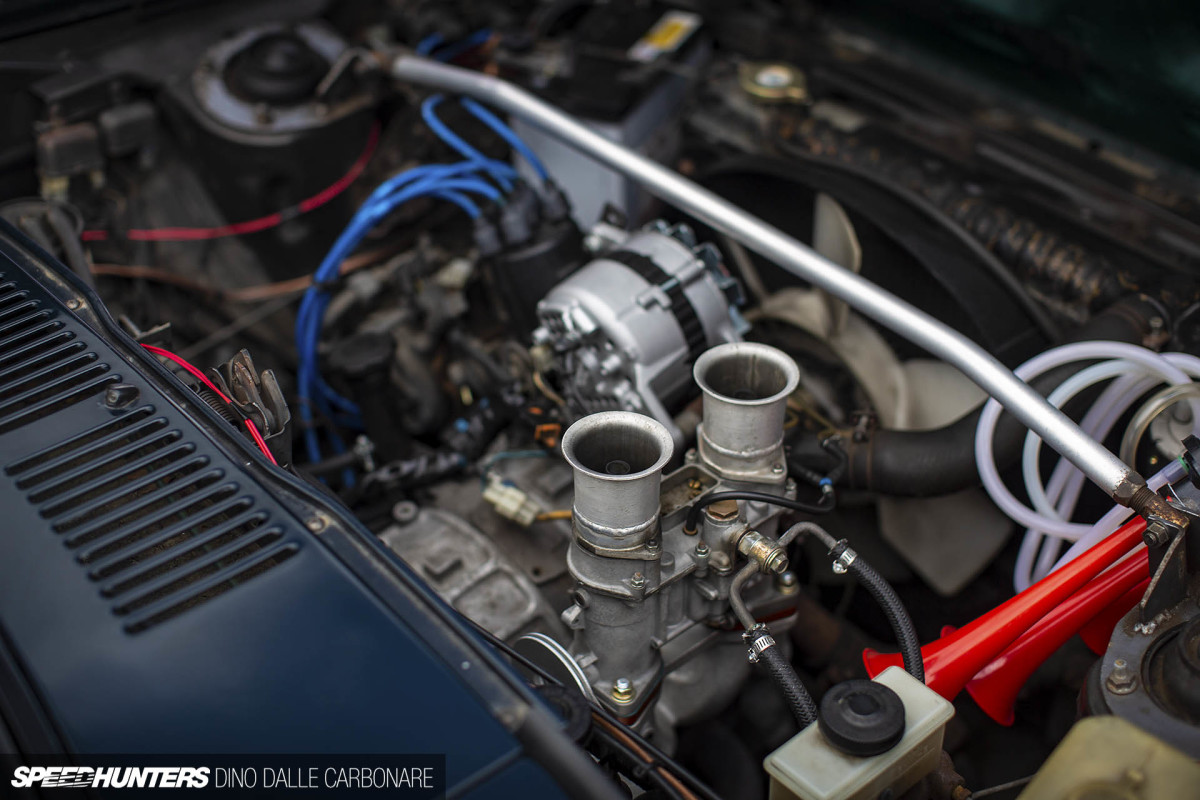 The owner popped the hood for a minute and I managed to get a glimpse at the NA and carbureted 12A. It was nothing too wild, but it definitely showcased just how small these engines are in their most simplistic form. Of course, a car of this style wouldn't be legit without a set of airhorns.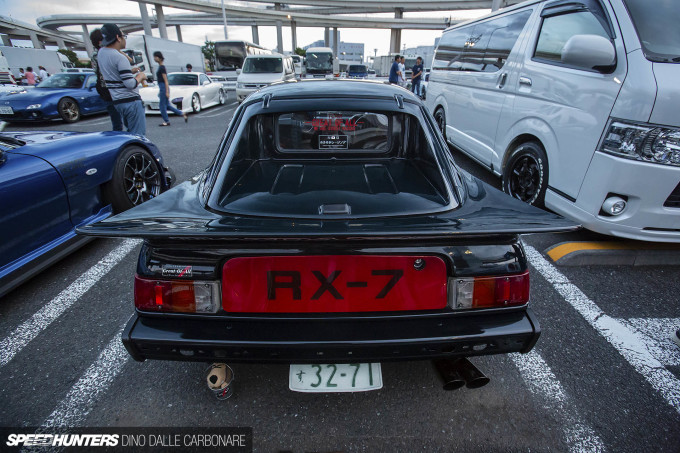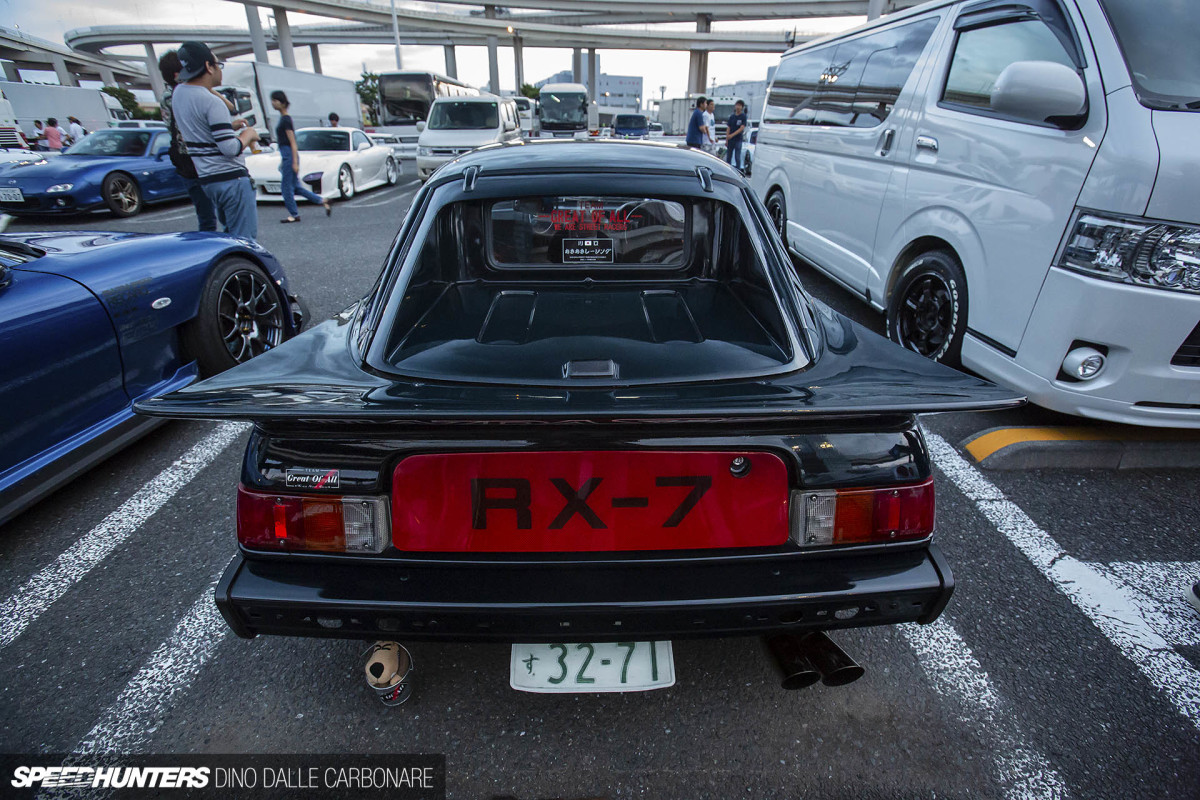 The massive wing is an exaggerated interpretation of the deck spoilers used on Group 2 and Group C SA22s in period. The flat hatch conversions are my favorite on these, and possibly a way to make the cars look like the silhouette racers.
Rotaries & More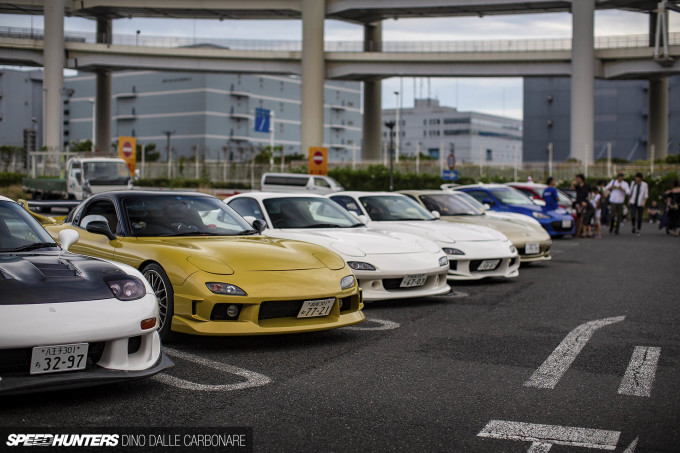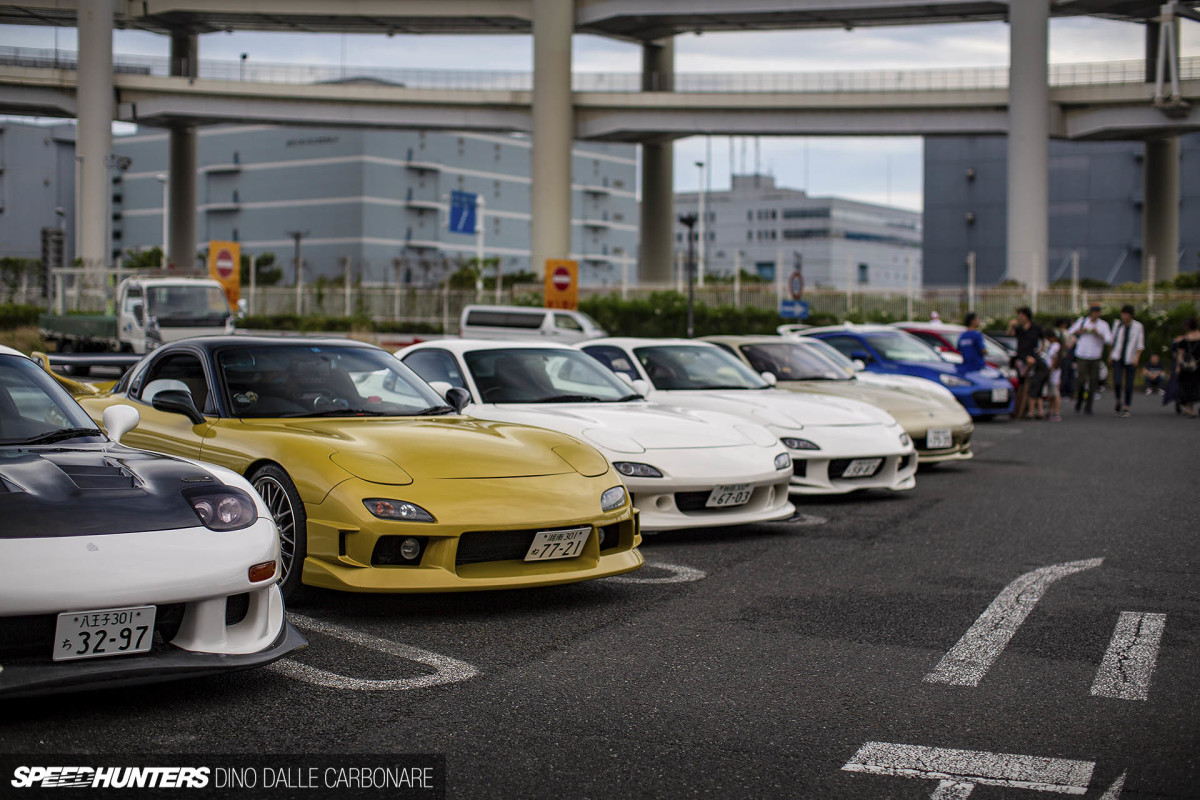 As the light dwindled, more and more cars arrived, and people were already talking about what was going down at Umihotaru PA. That's usually where this meets ends up, but for 2018 Daikoku would have to be it.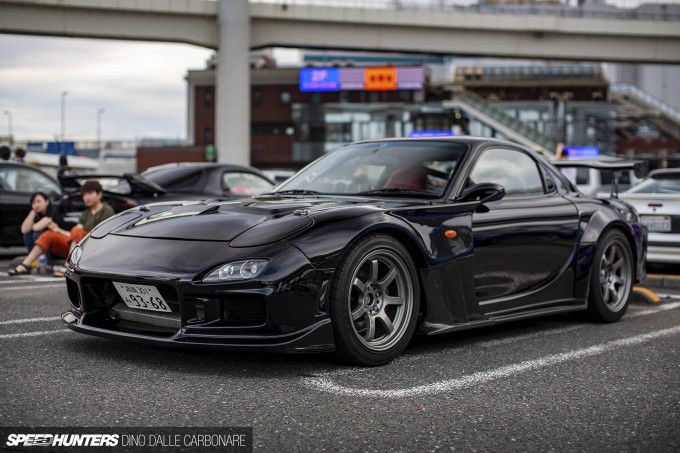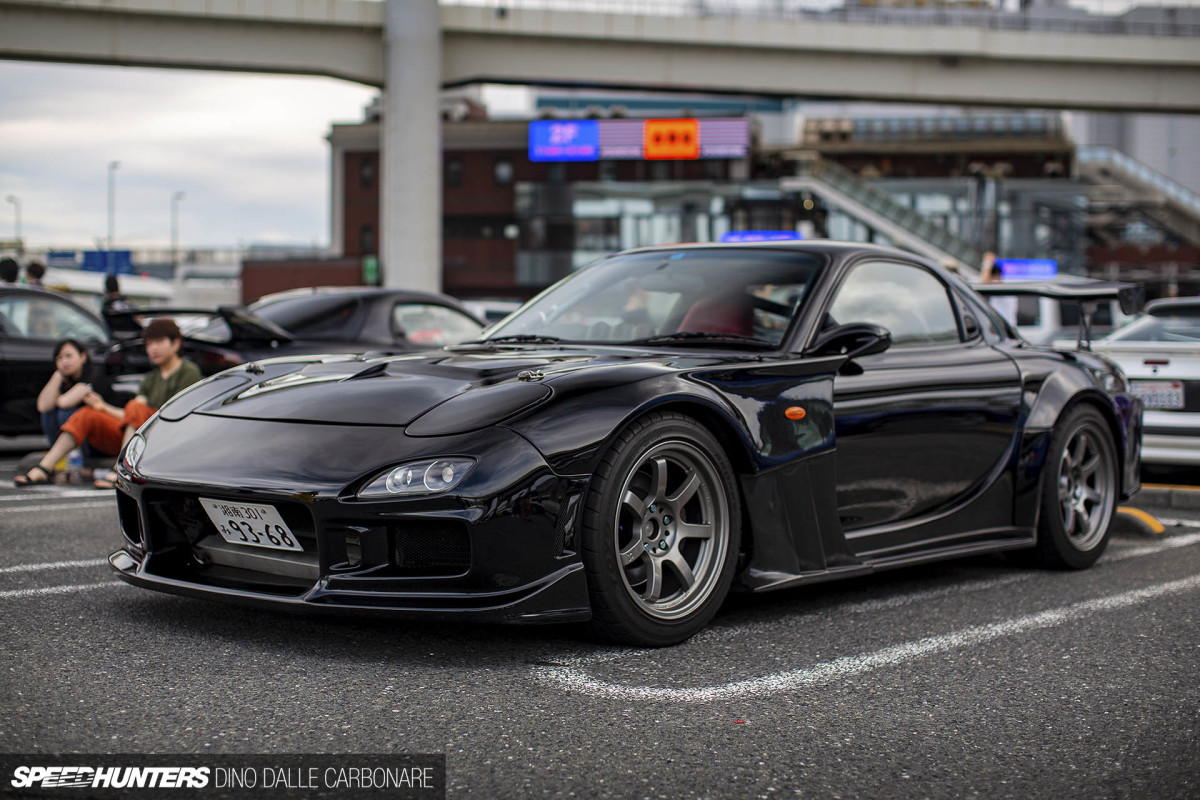 It's not often you see a TCP Magic aero kit on a street car, and aside from the weak wheel offset this thing looked pretty mean.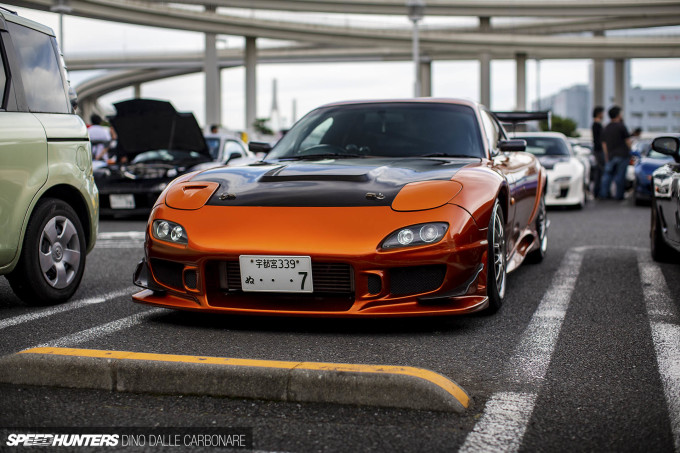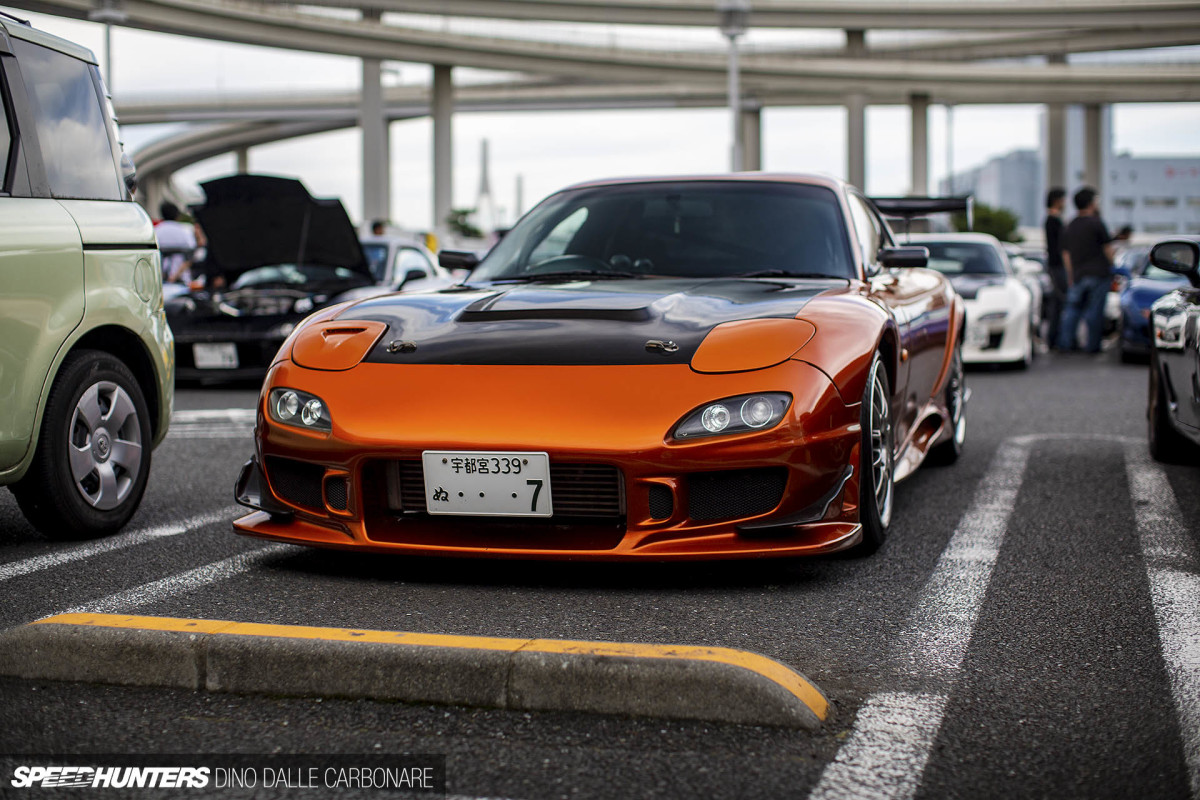 With so many different flavors on show, I can safely say that no FD looked like another at Daikoku. But with the police ruining things, really wild conversions from the likes of RE Amemiya and Scoot didn't make it out.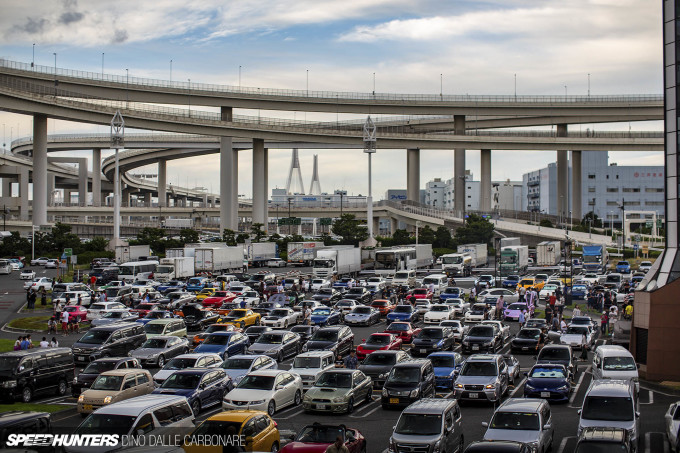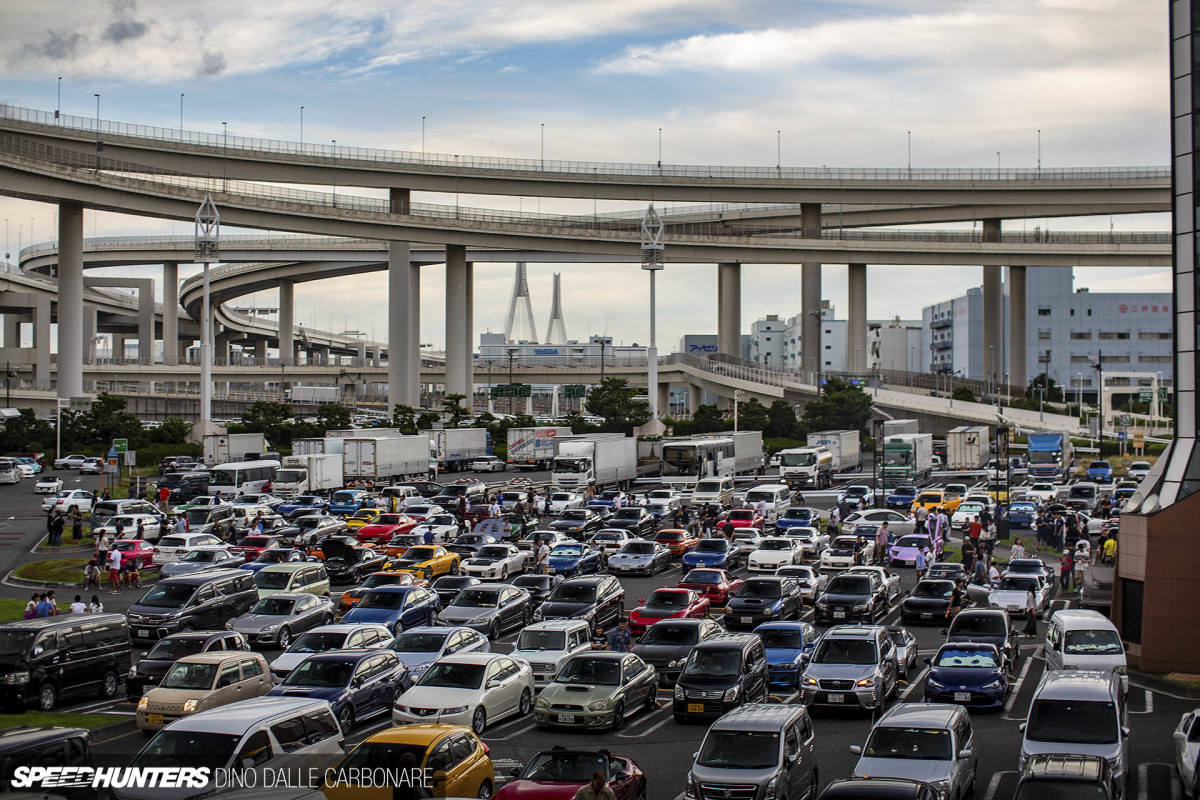 This is what Daikoku was looking like right before the sun took a dive for the horizon.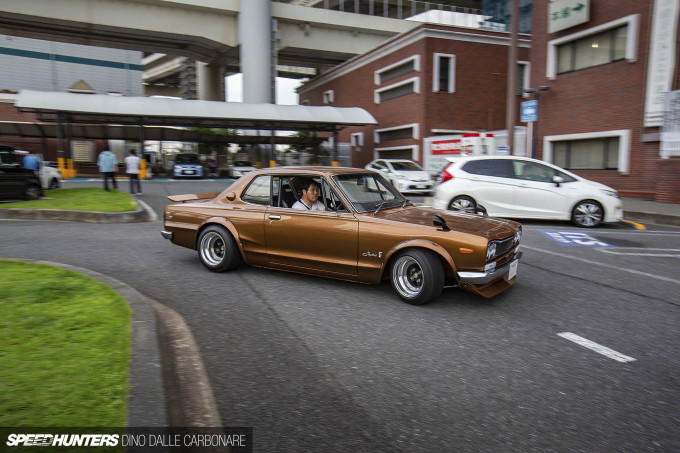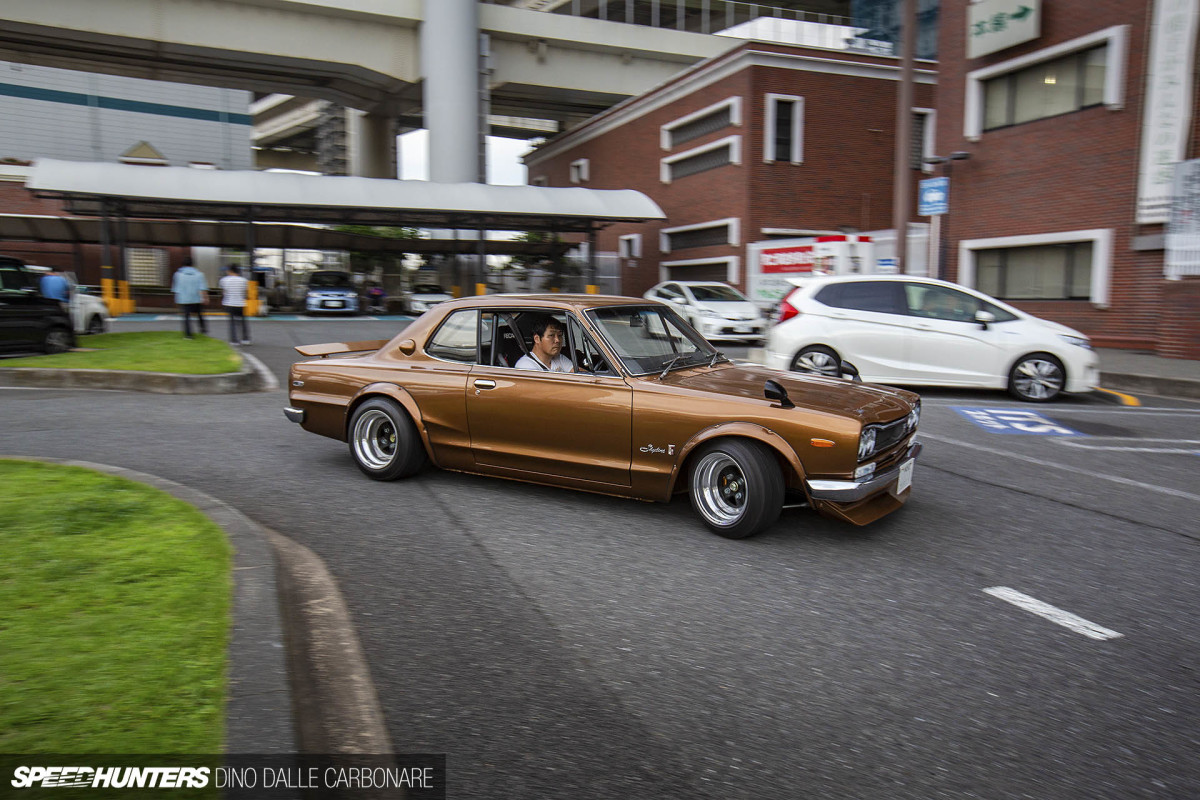 As I've already mentioned, there were plenty of cool non-rotary rides out at Daikoku too, so here are a few, kicking off with a stunning restored Hakosuka.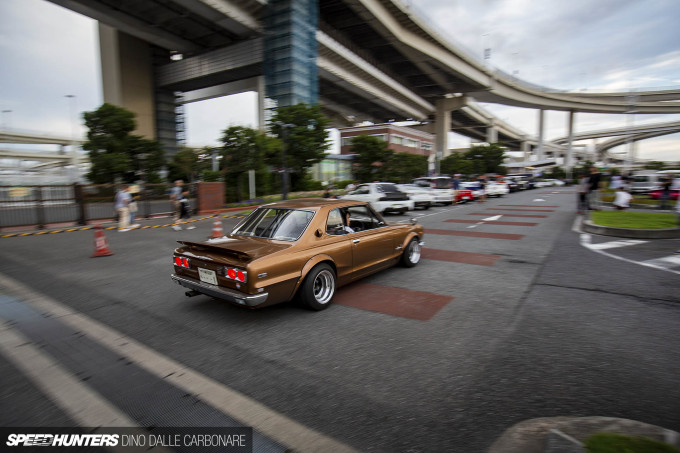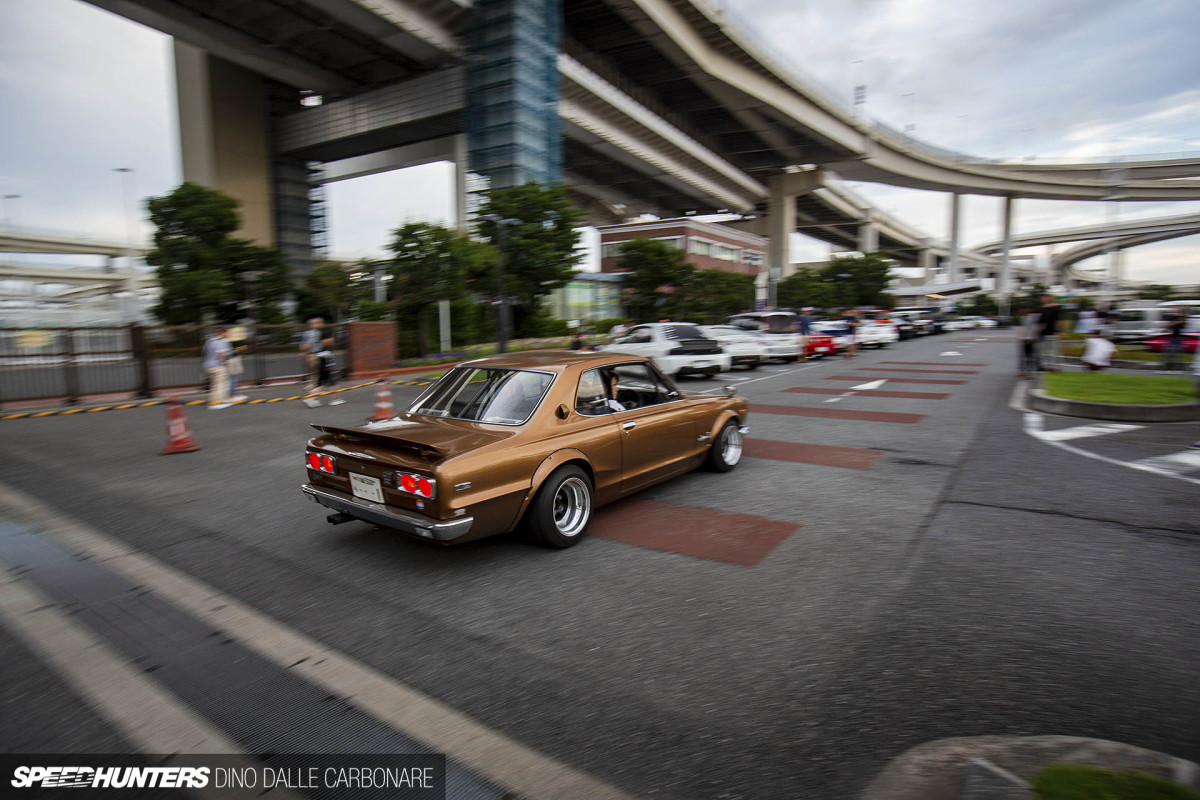 It's a shame Japan doesn't try to make life a little easier for the owners of these older cars. The government should come up with a program to help people continue to run and look after what are historic vehicles; that would help the newer generations appreciate Japan's domestic car culture, similar to what they do with American cars in some states of the US. By this I mean come up with special license plates and put the brakes on the annual road tax. It's not like these cars are daily drivers, and thus they shouldn't be treated as such.
Here's something you hardly see around these days, a Mitsubishi GTO, and a kouki version at that. I've always had a thing for these cars but have never had the pleasure of driving one.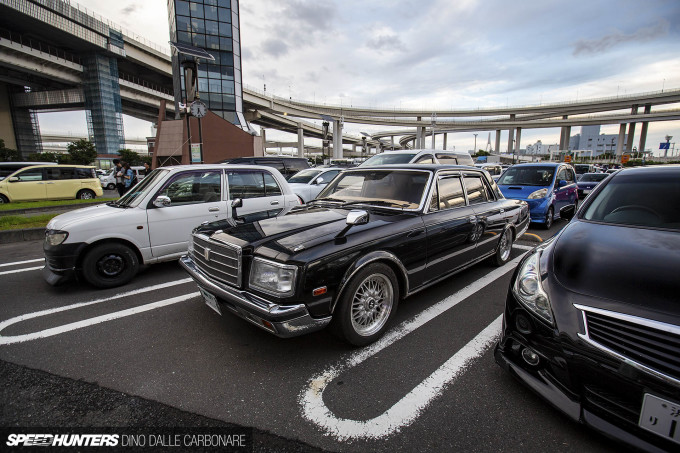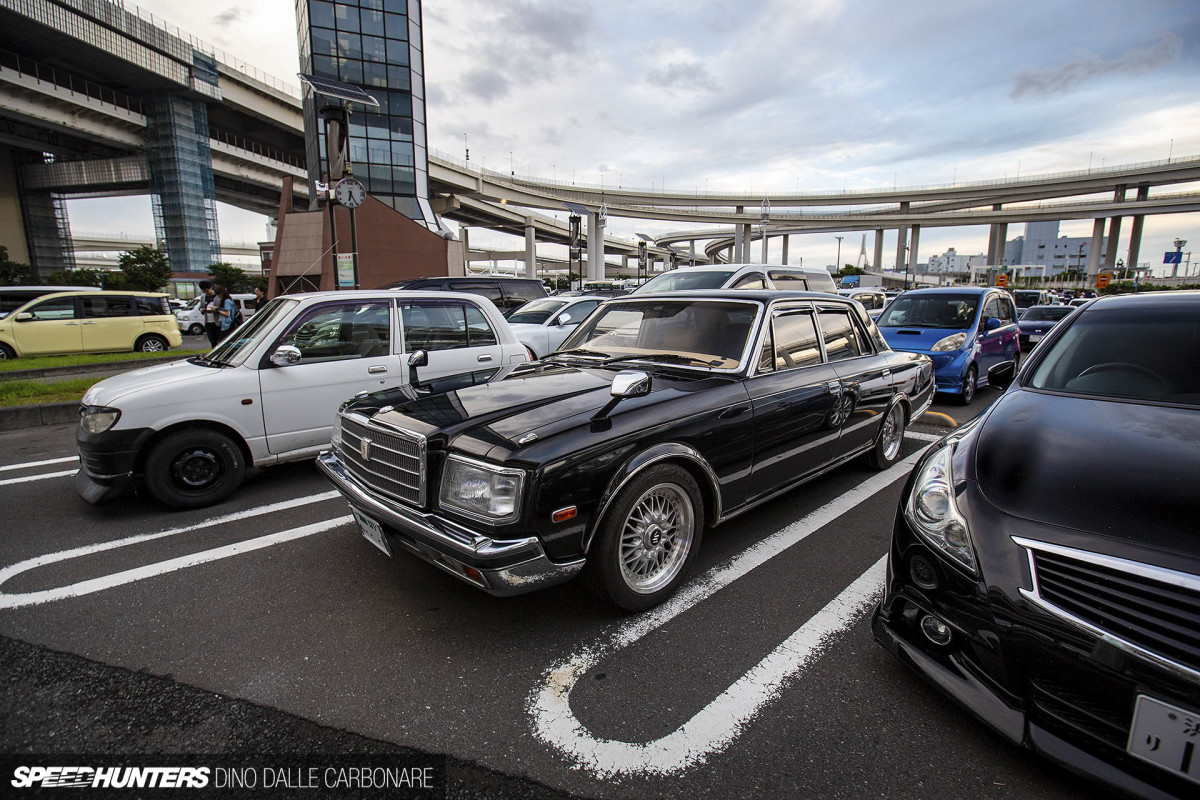 Toyota Century, the most conservative car Japan has ever made, and in this case an older generation VG40 from the early '80s.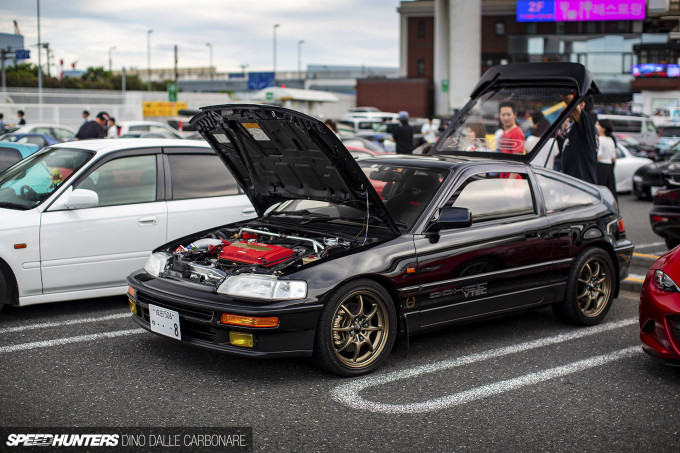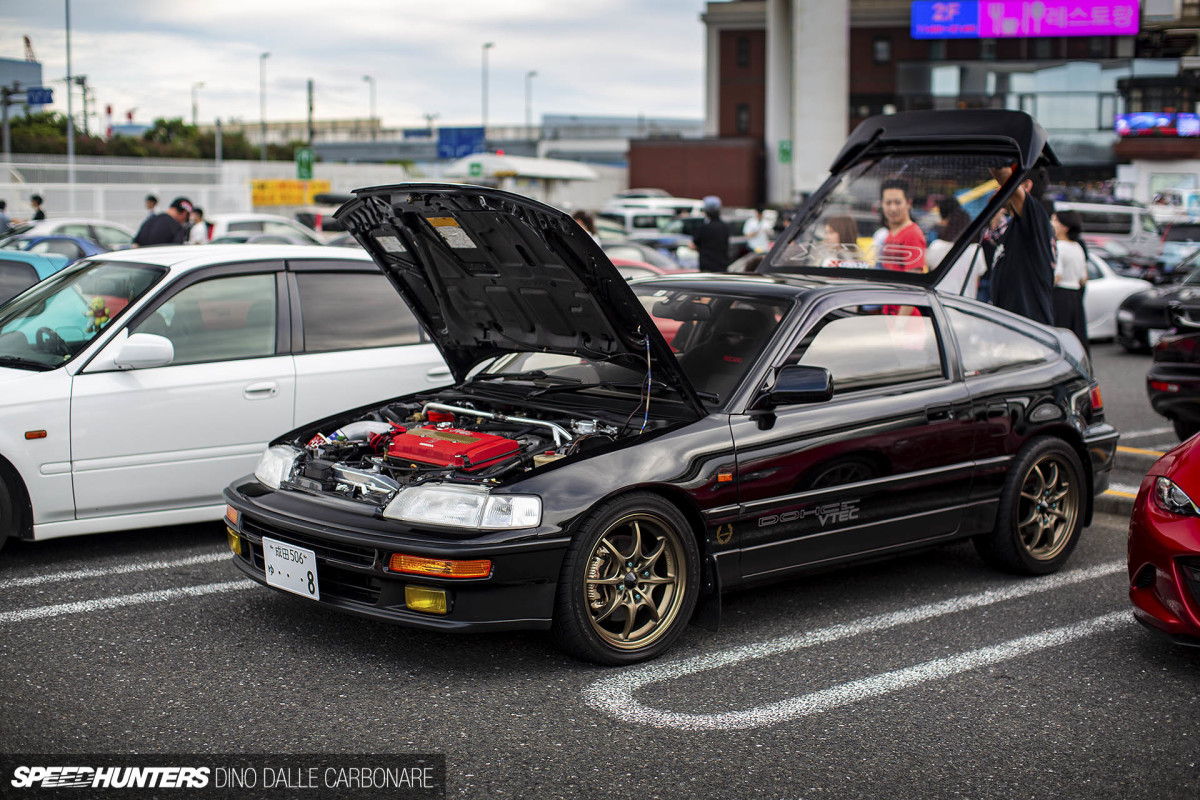 Miguel from Newera Imports brought along his recently registered (check out the '8' plate) EF8 Honda CR-X SiR, except on the way back home across the Bay he was stopped at Umihotaru PA by the police. I'm actually prepping a post on the incident as it's something I'd like to talk more about. Because of that, I'll have to wait a little longer to pick the car up and feature it as he now needs to address some illegalities.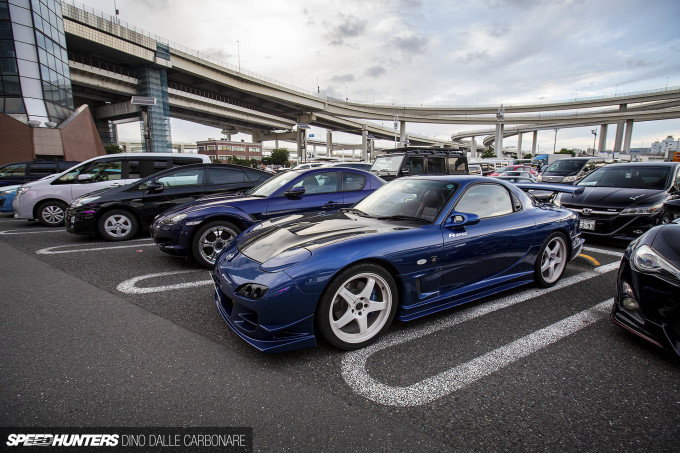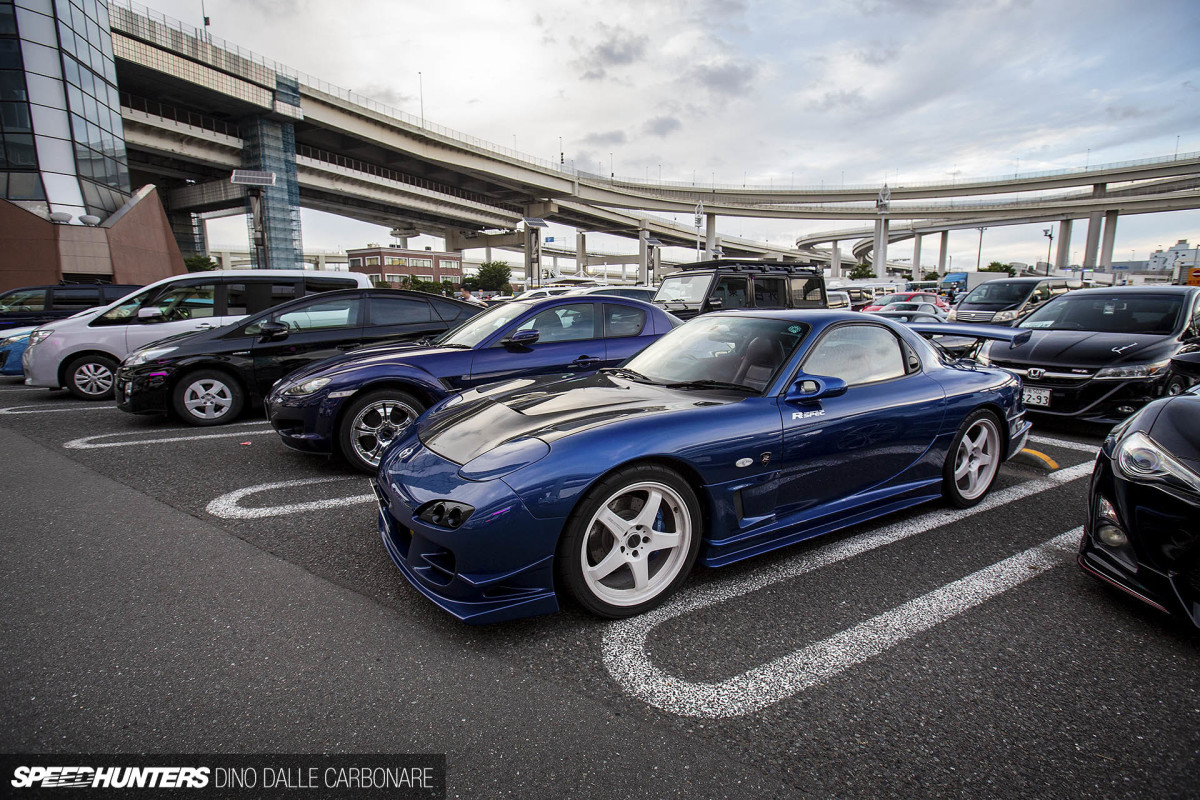 Despite how easily an FD can be transformed, the more authentic and simple approach is the one that I appreciate the most. This car is a great example; it's running complete Mazdaspeed aero, Mazdaspeed wheels, and even a Mazdaspeed brake package. It's like a Nismo Z-tune variant for Mazda.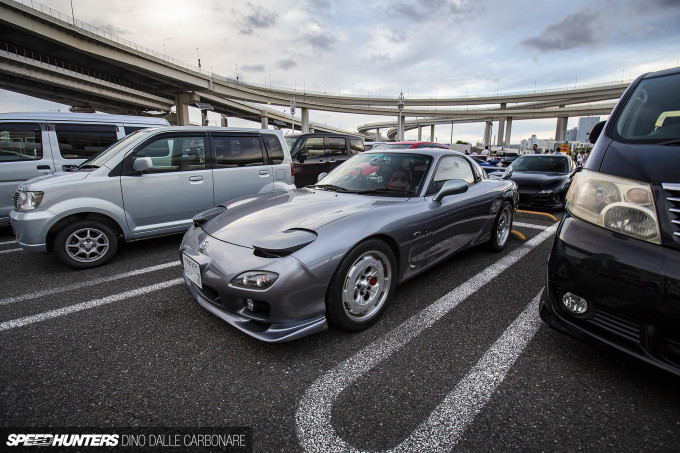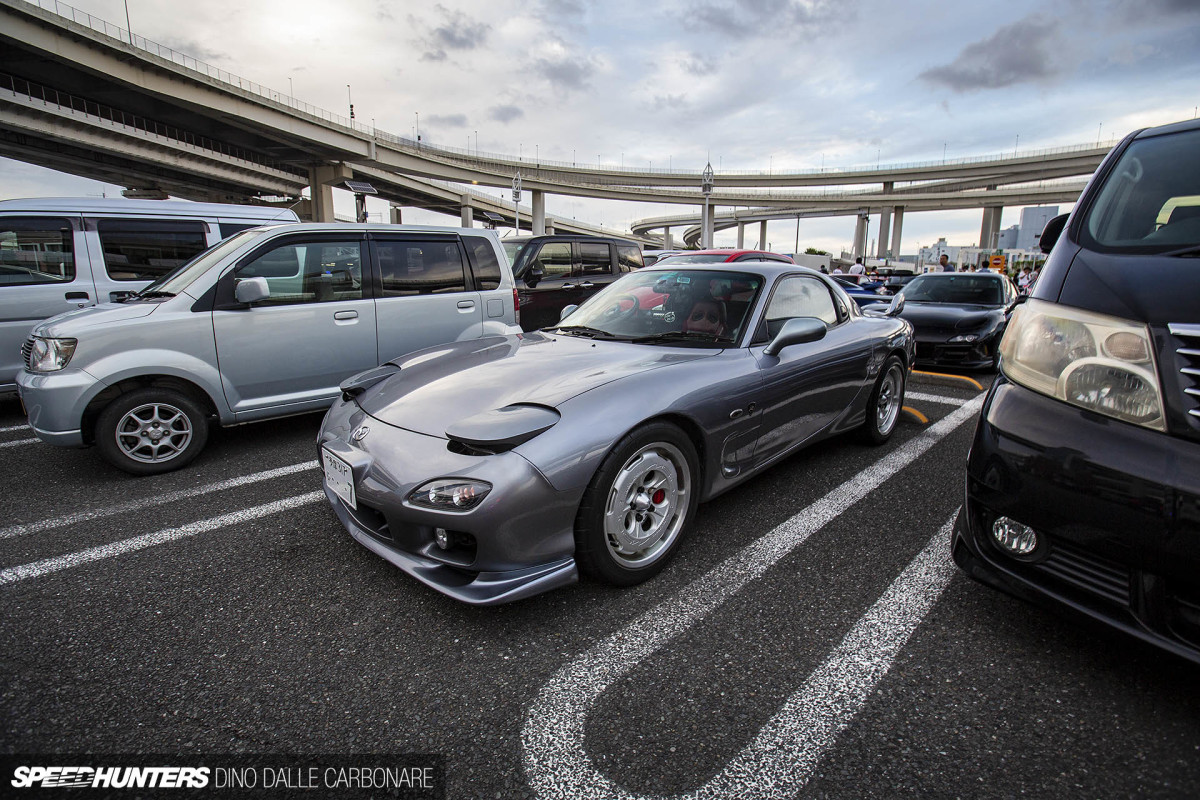 And since we are on the subject of Mazdaspeed, I spotted an FD on MS-02s wheels.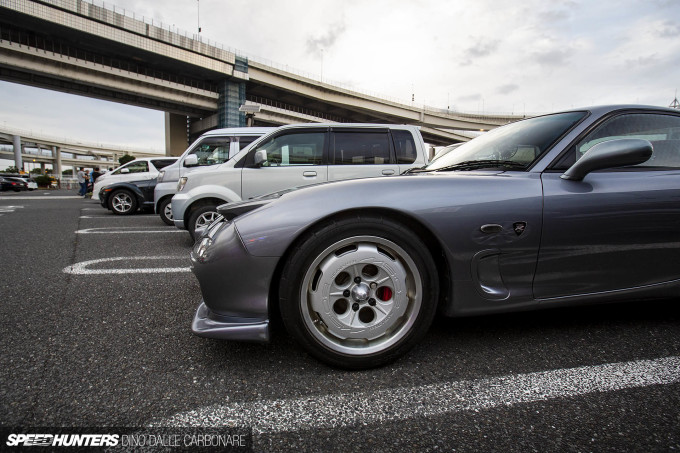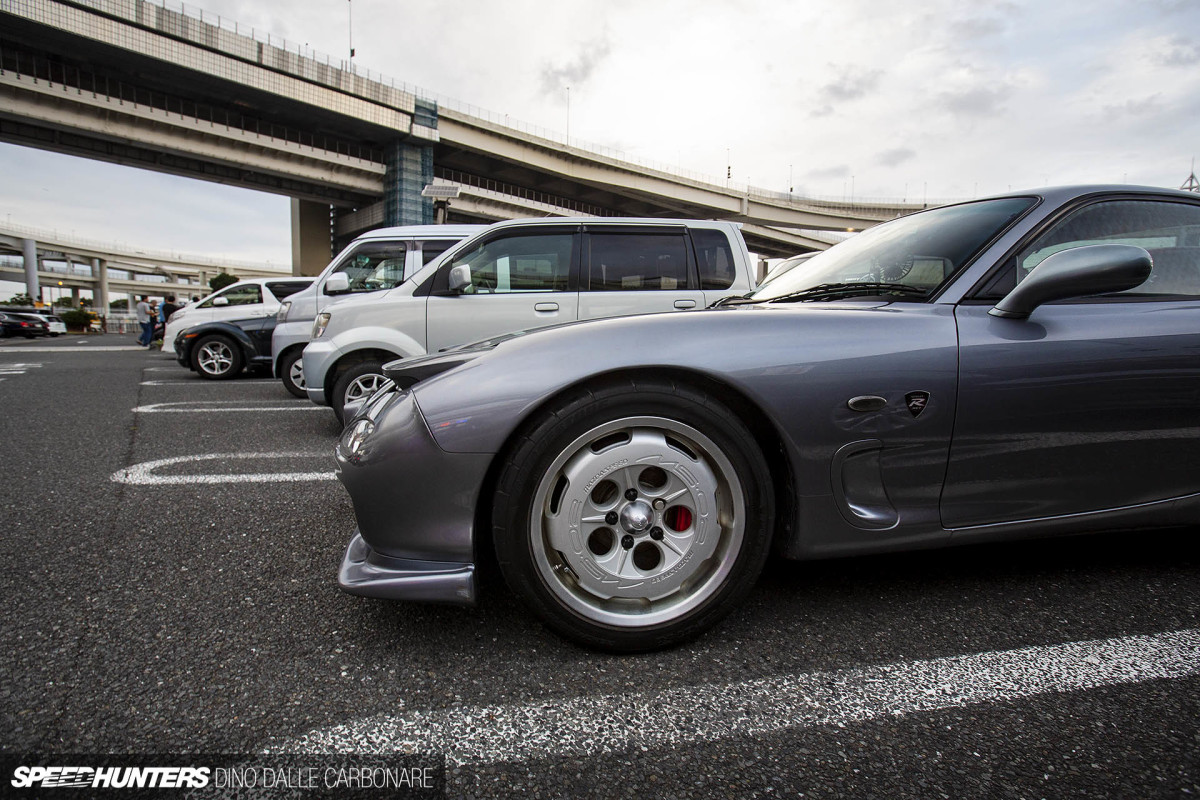 This has to be one of the most adventurous designs that a manufacturer's tuning arm has ever gone for, and they were of course manufactured by RAYS. You either love them or you don't, but there's no hiding the fact that they're unlike anything else from the same era.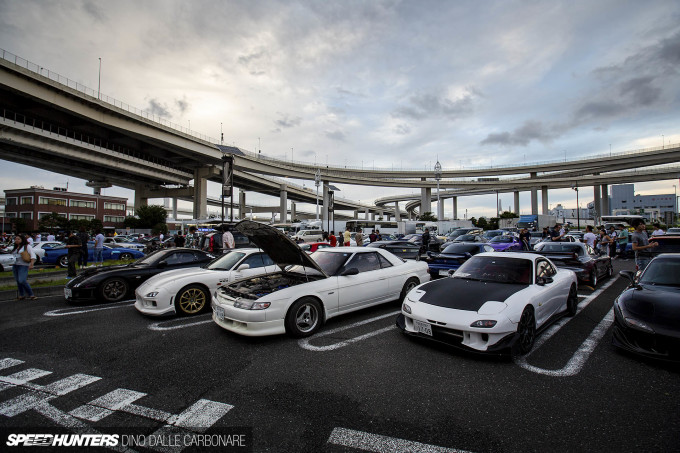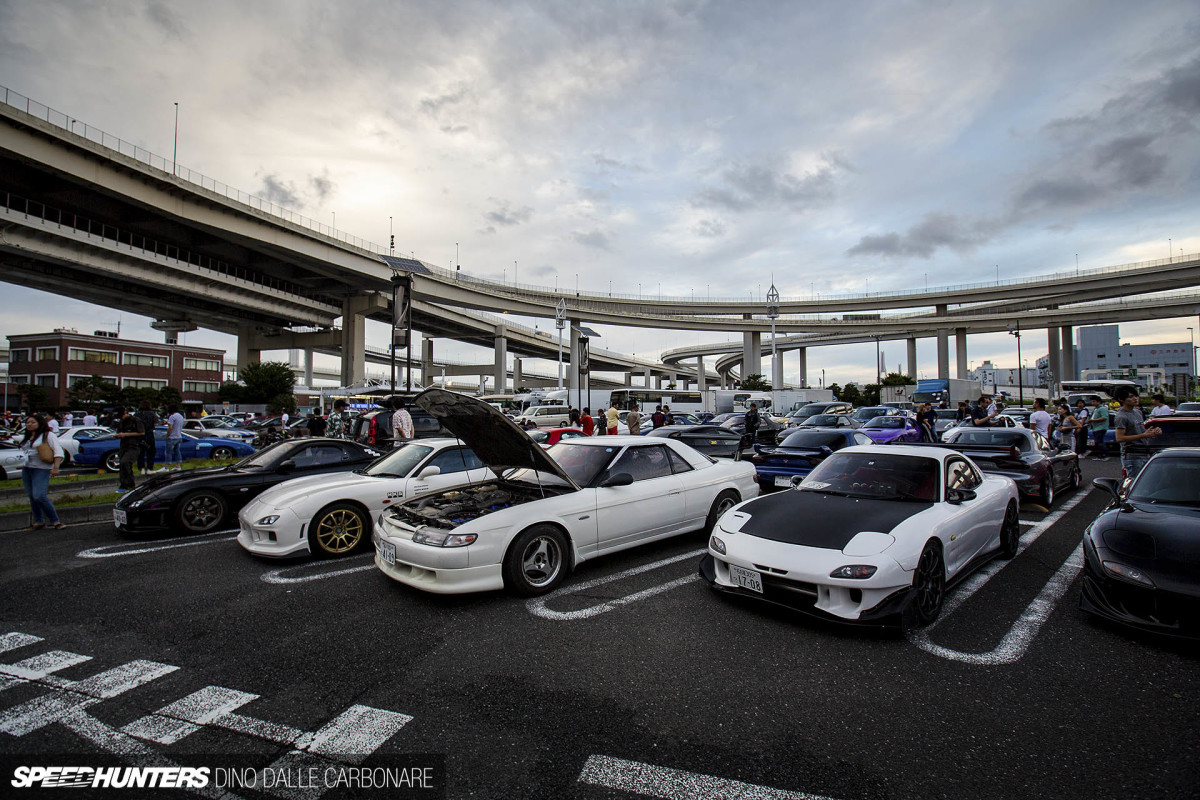 I couldn't possibly finish off this main event coverage without talking about one of my favorite Mazdas ever, the JC Cosmo.
There's something about this car that just gets me every time. The 20B three-rotor engine, the luxurious and plush cabin, the unique design, and the tech that Mazda threw at it – I want one so bad it's not even funny.
The Police intervention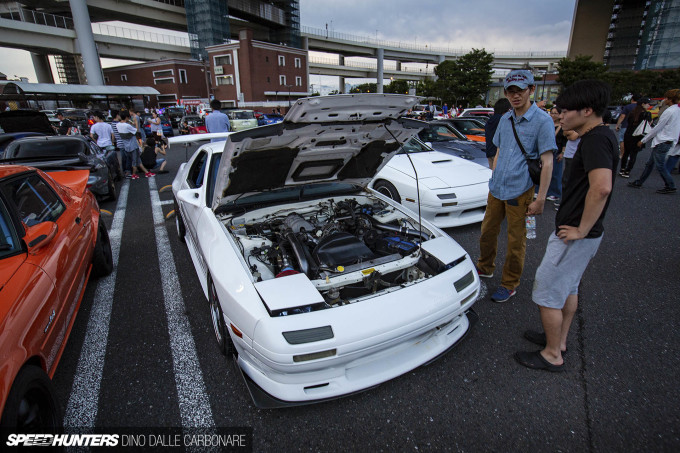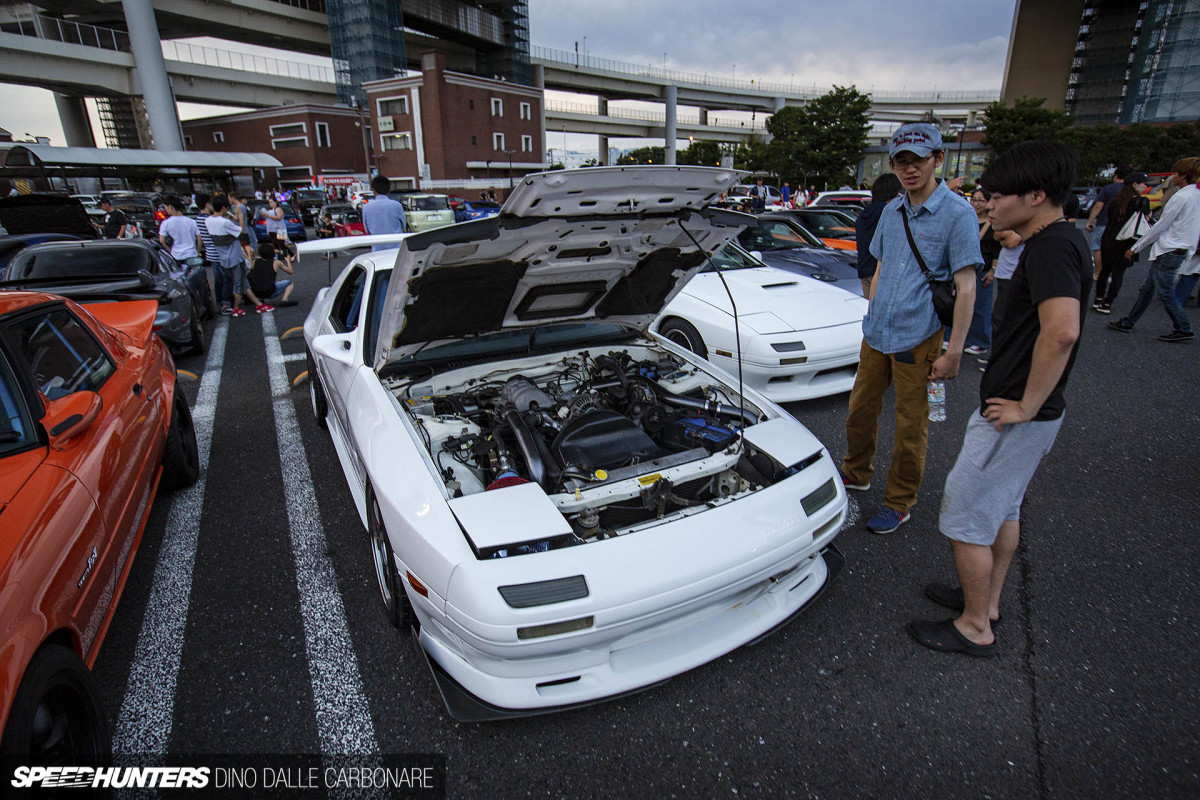 As the day started to turn into night the party really got going. In one corner of the PA a bunch of vans with massive audio systems started to blast music; it was quickly turning into the Daikoku that we all know and love.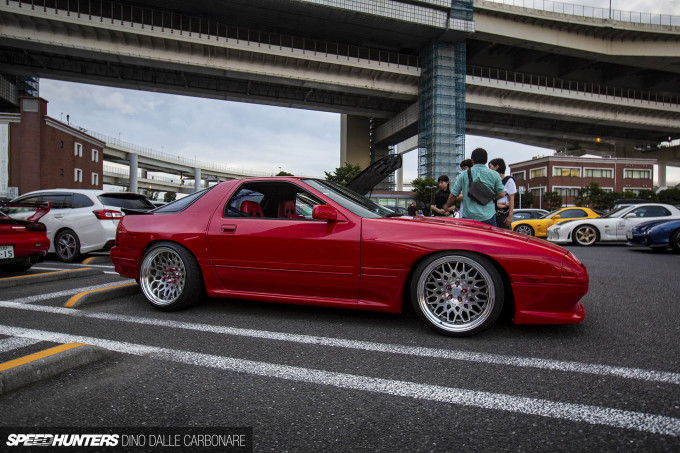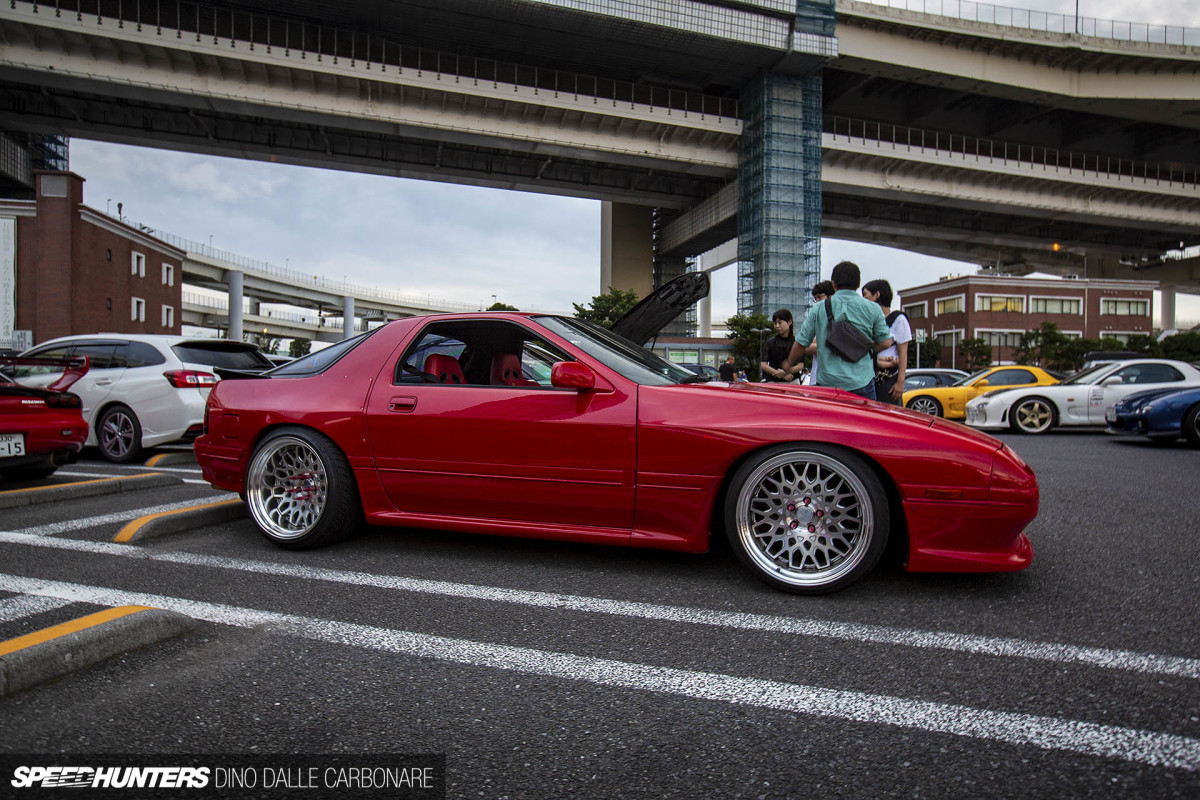 Here's another excellent FC build; a super-clean stock body on Work Seeker wheels.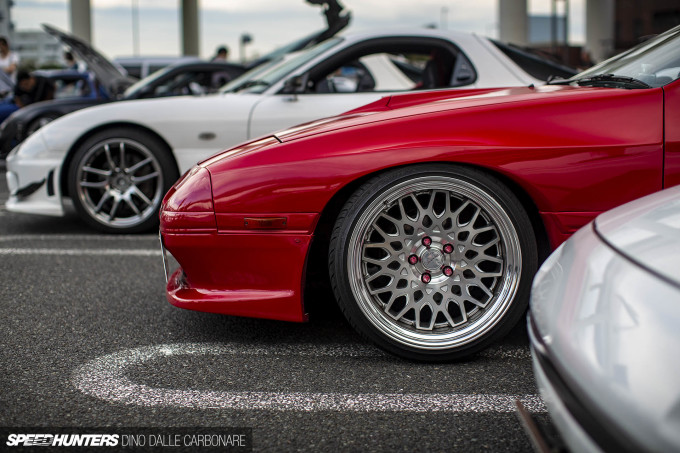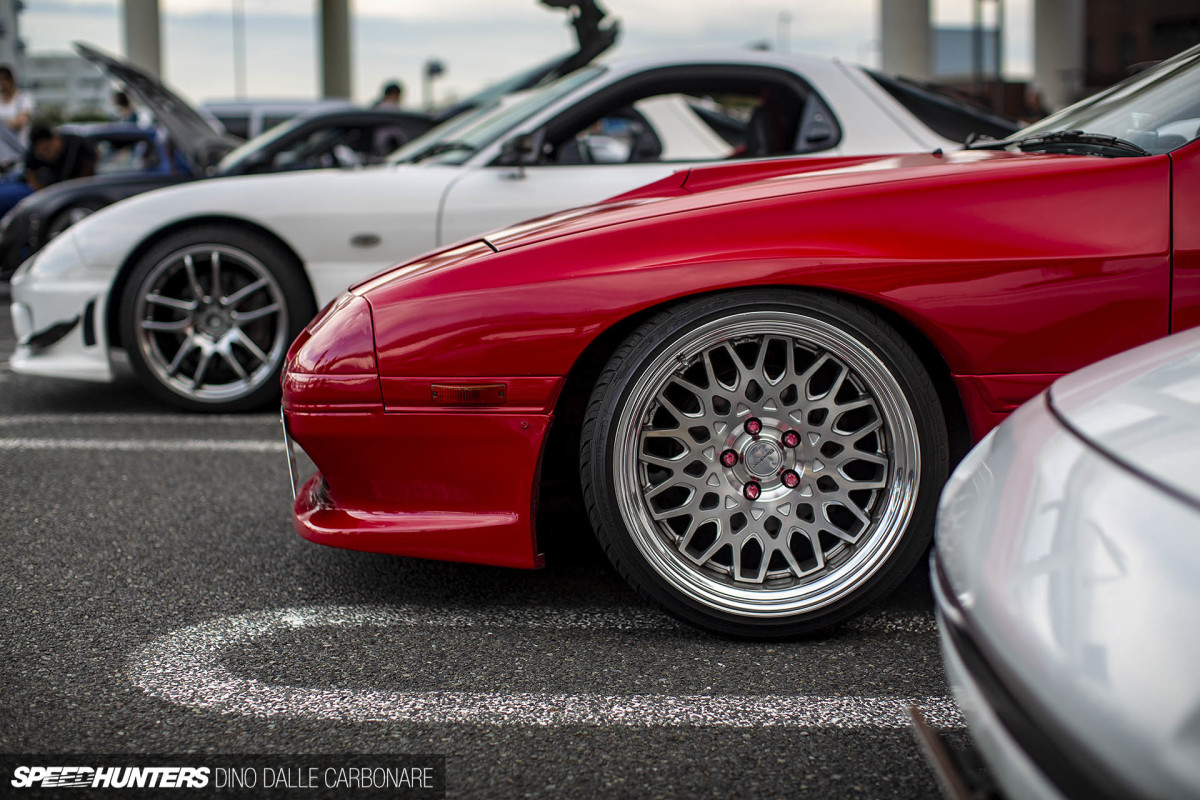 As much as I like the period correct feel, it's not hard to be drawn in when old meets new.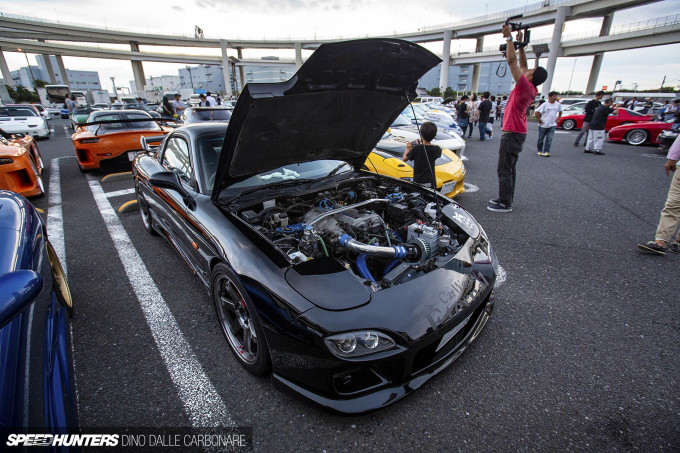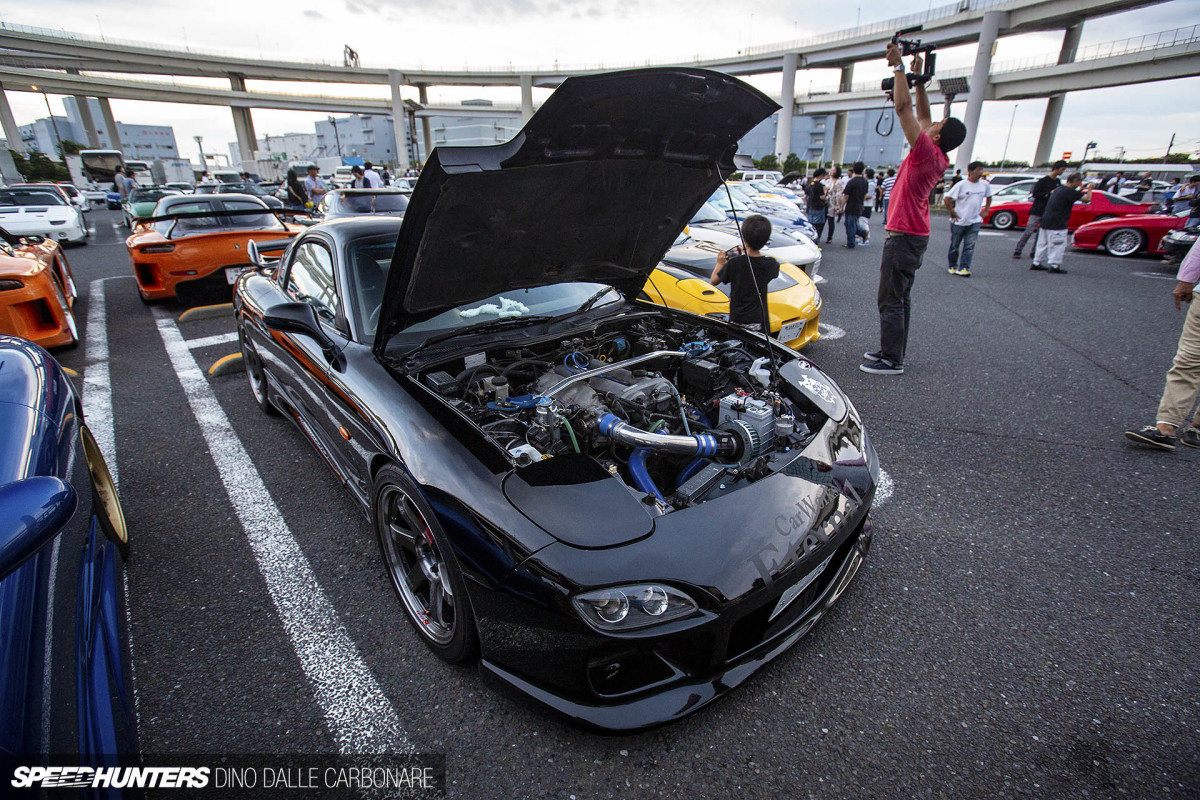 This FD3S, however, was causing a lot of confusion.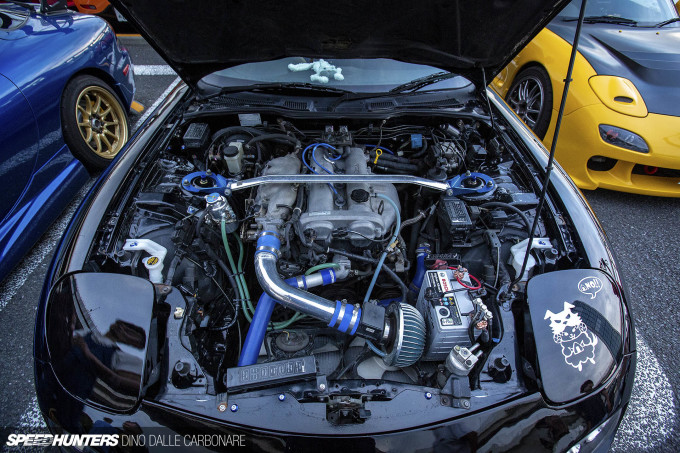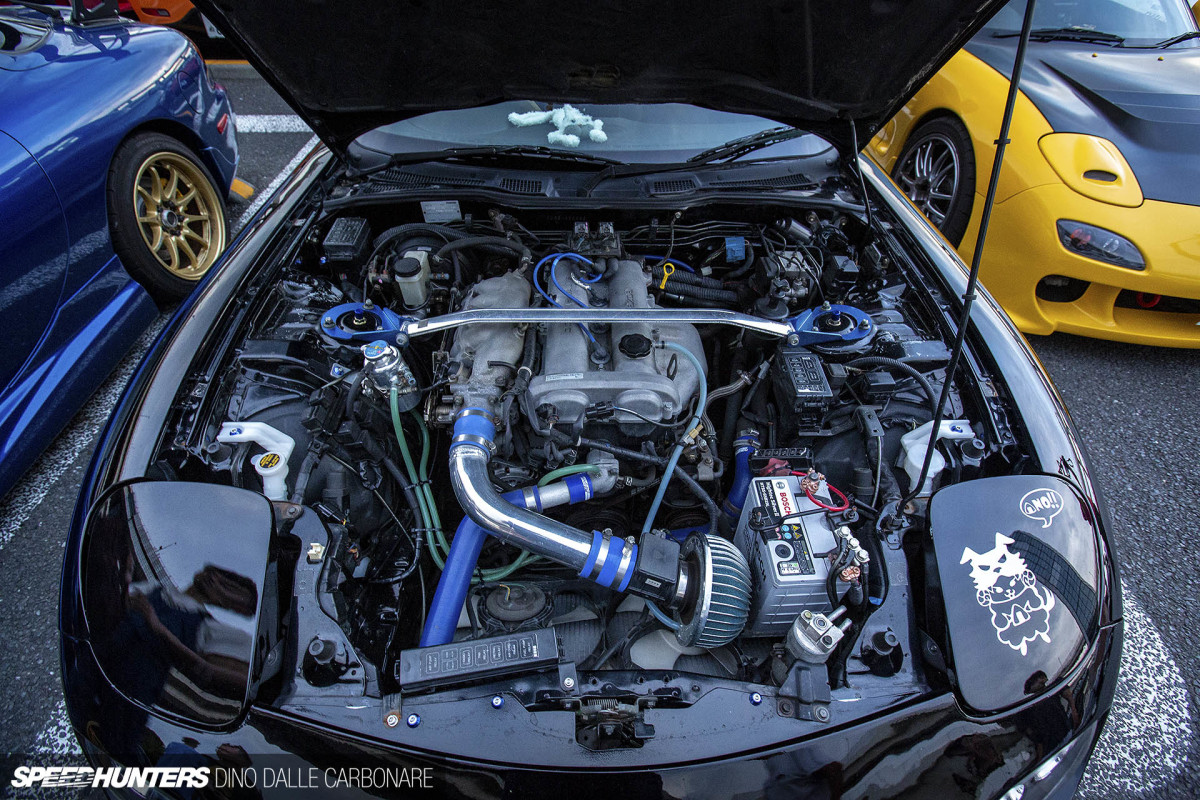 Yes, that's a 1.8-liter four-cylinder engine from a Mazda Roadster. At first glance it seems like a very odd thing to do, but when someone explained it to me it sort of made sense. The original 13B engine was apparently a tad too powerful for the car's young female owner, so when it went bad she had this motor swapped into the car. I was told it's very fuel efficient, something that's never been said about any RX-7. Ever.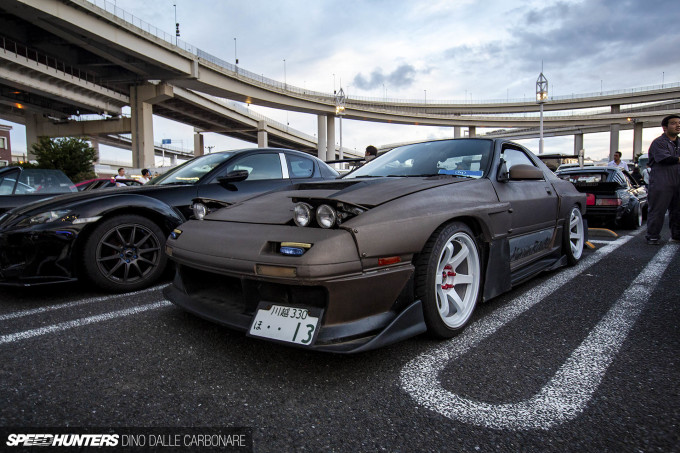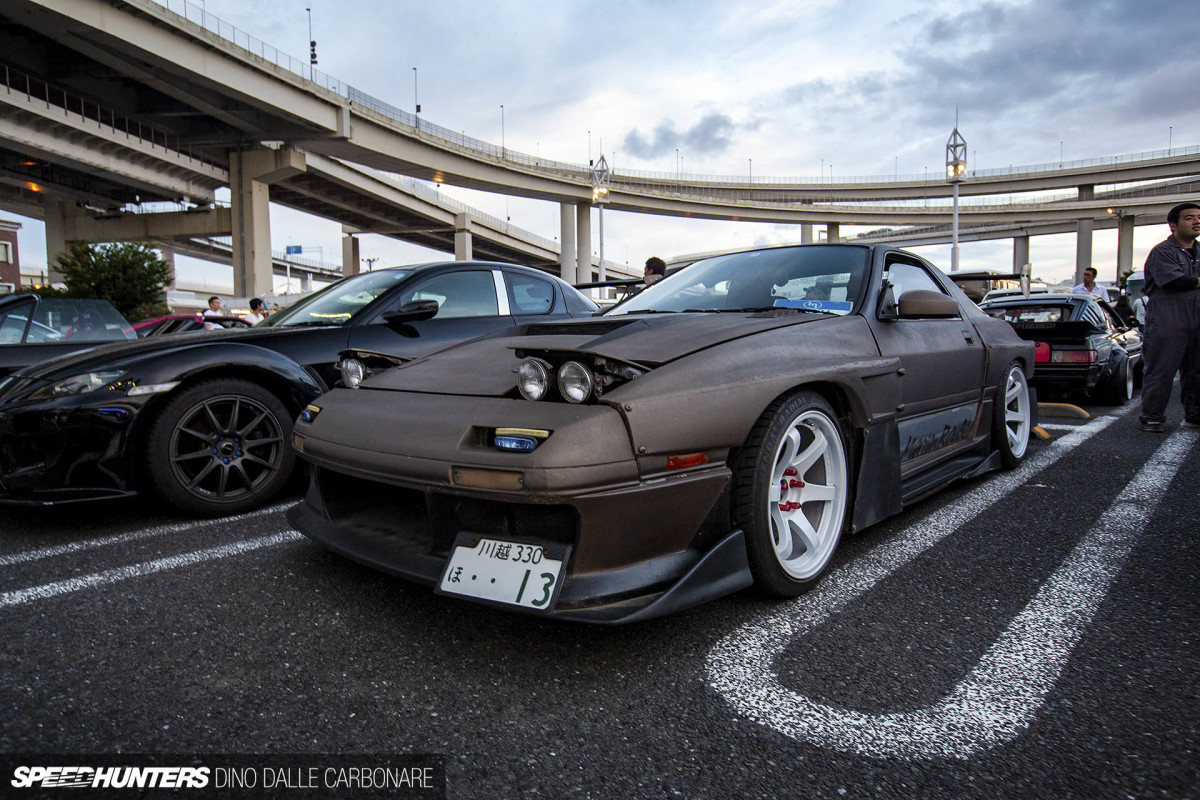 Apocalypse style FC?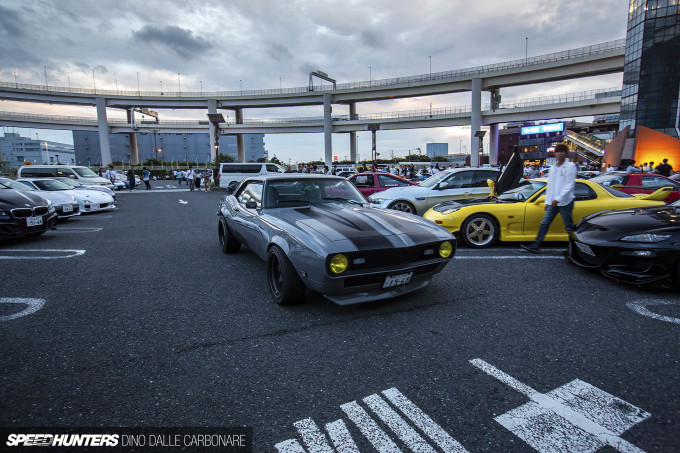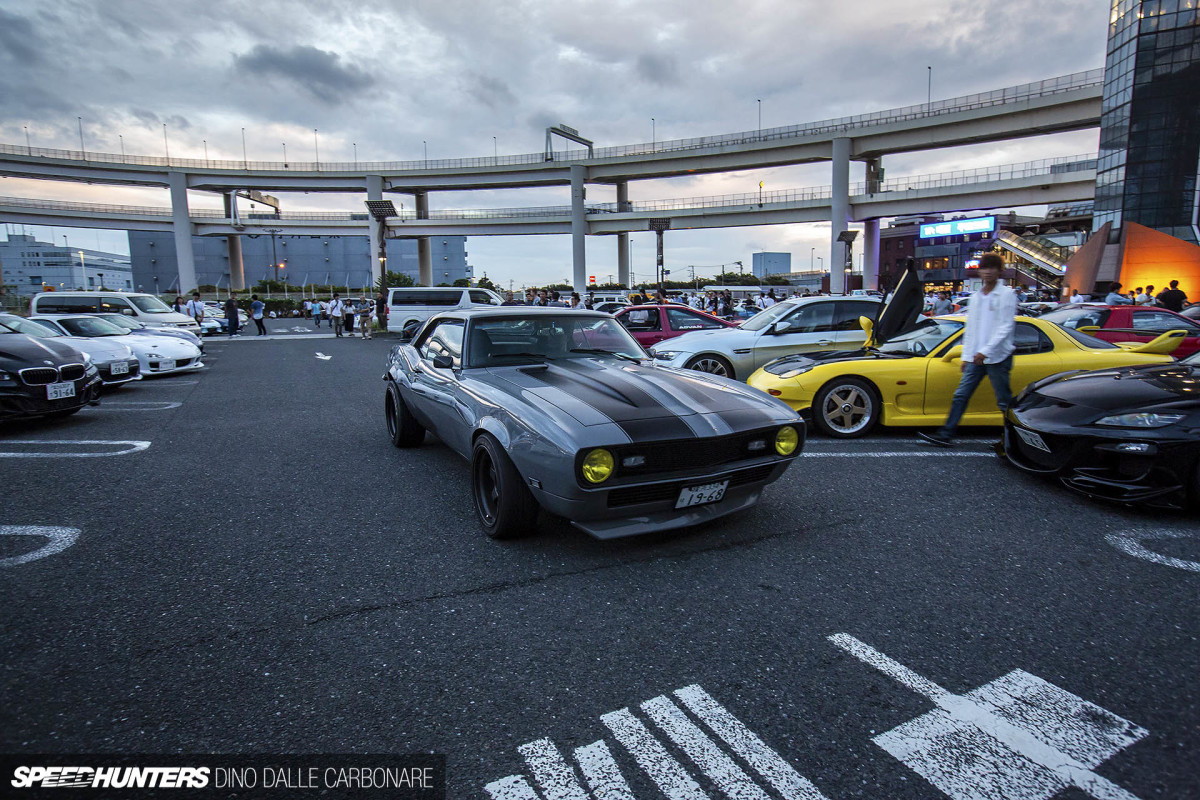 Even some good old American muscle made it in.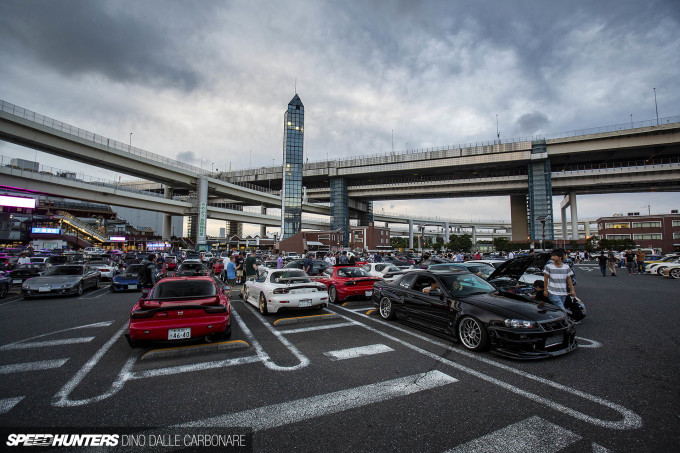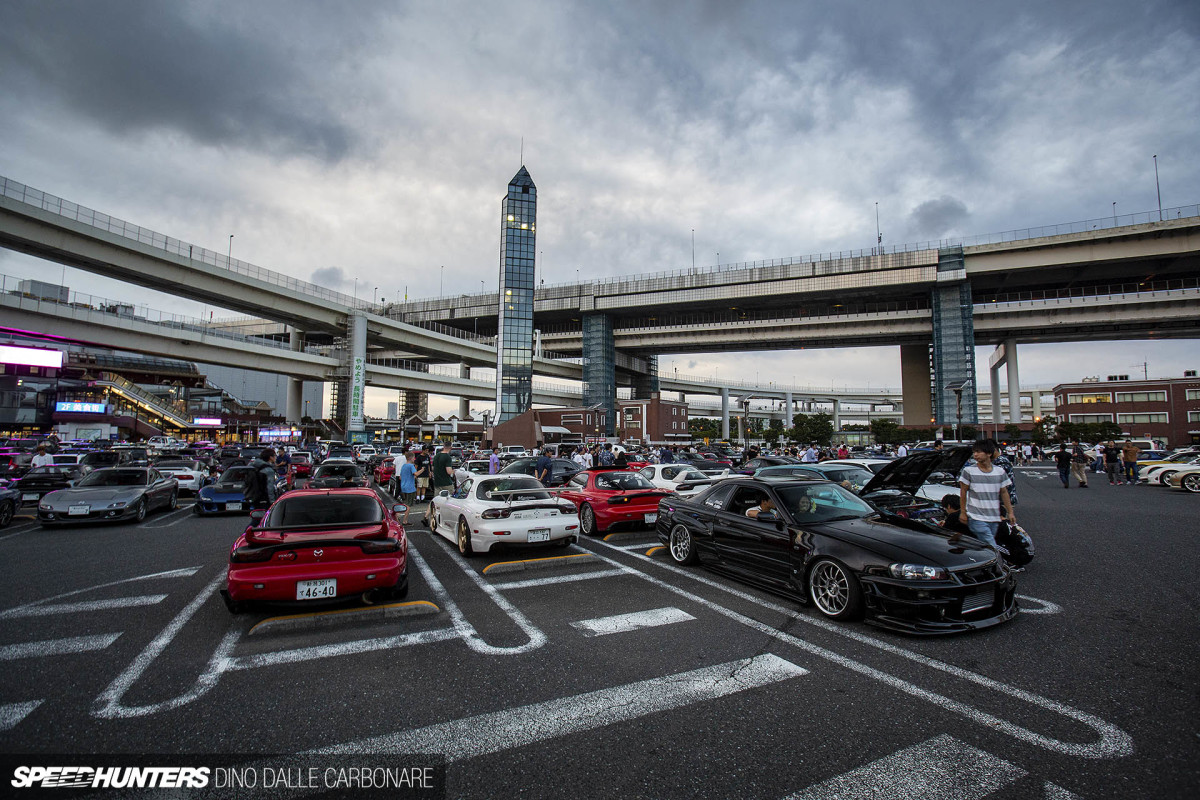 It was about this time that many people started to leave; police cars had begun rolling through the PA and the guys with the wilder, less likely to be fully legal cars, quickly got the message.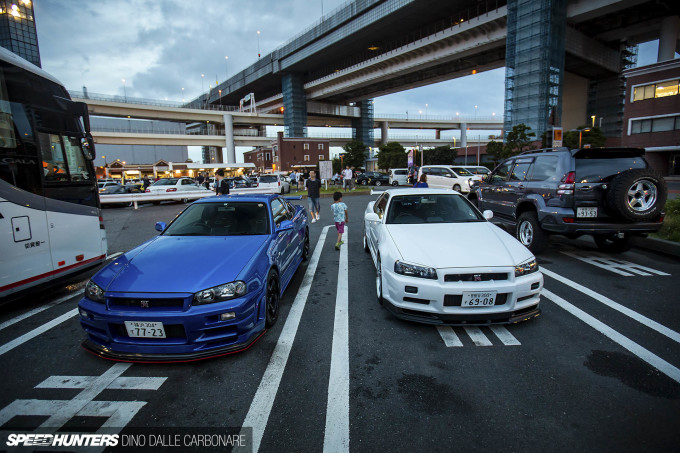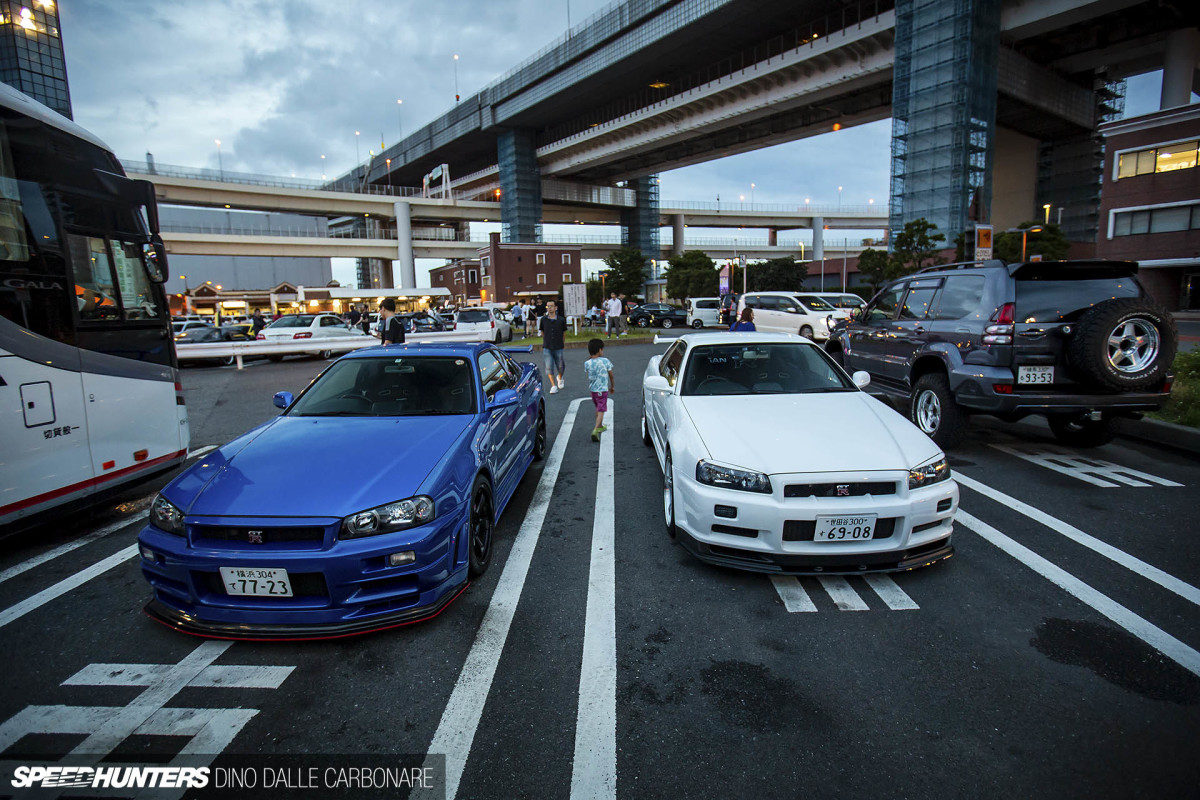 I found a little corner that I called home. Looking at this pair I wished that it was March 4th and that my GT-R was back on the street. Maybe 2019 will be Project GT-R's year…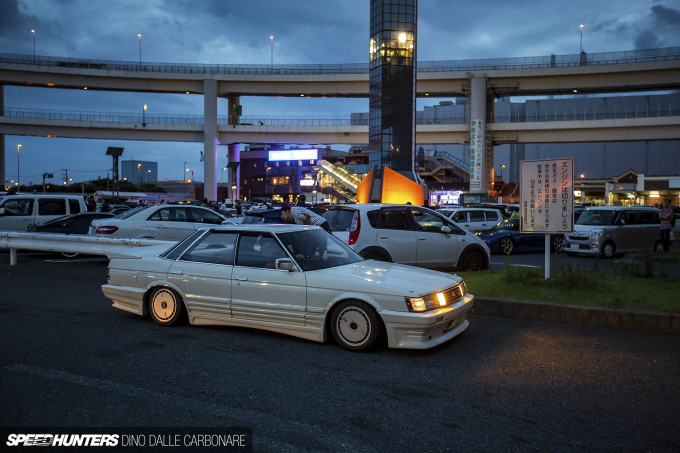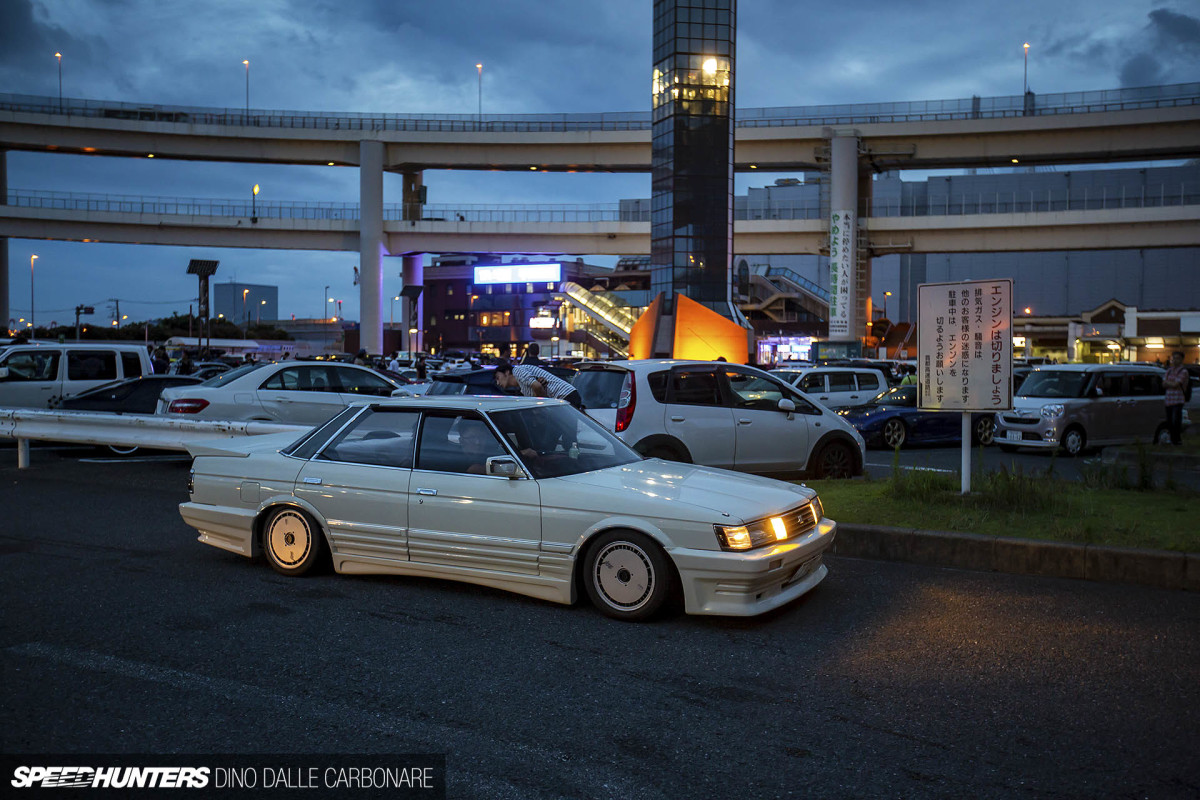 This must have been one of the very last cars to make it in, as shortly after the slip road that leads into Daikoku PA was completely blocked off.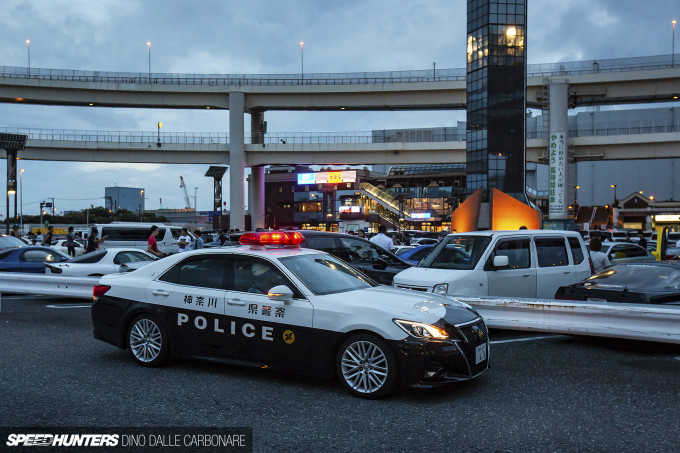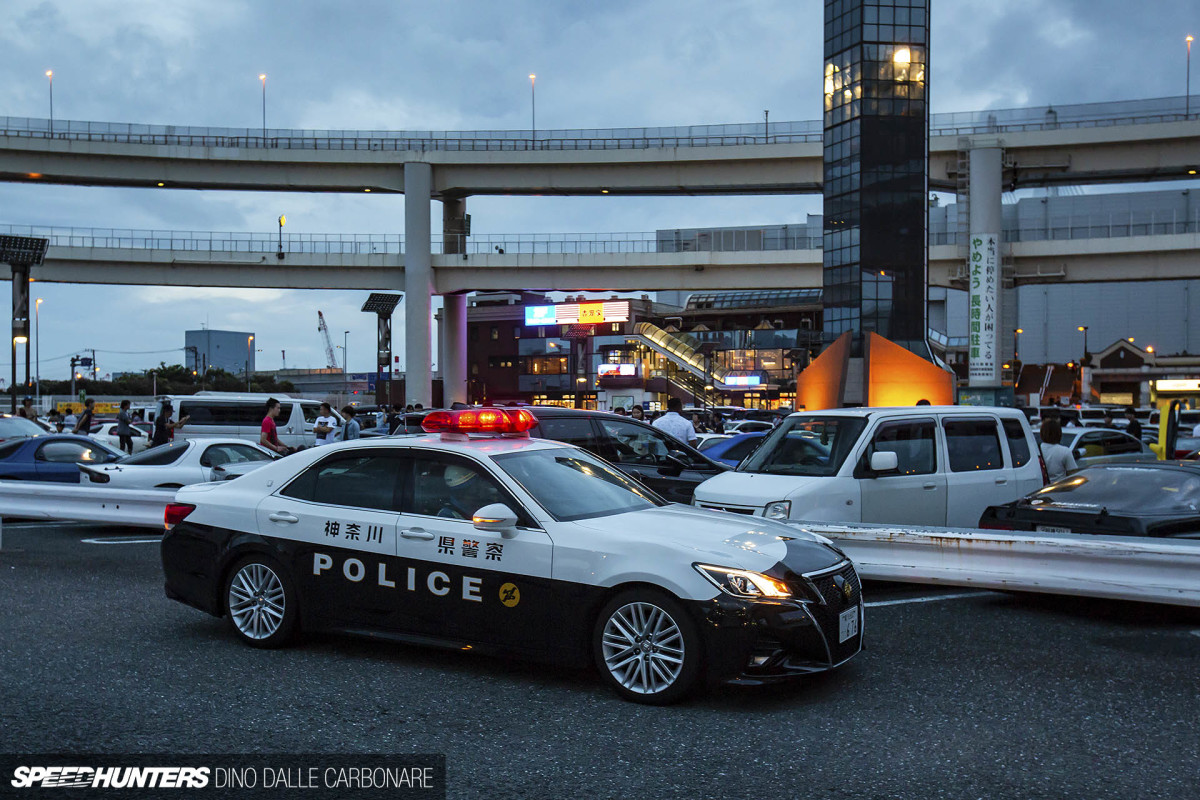 From then on, the police concentrated on getting the whole PA emptied out, and I was the very last car to leave. My second stop for the night wouldn't be Umihotaru PA, but the heart of Shibuya, which by that time was already taken over by low riders. More on that soon.
I'm not totally done with 7's Day though; I've got a spotlight of my favorite car, as well as one post I'd like you guys to get involved in with discussion. The whole situation at Umihotaru PA has resonated pretty deeply with the car scene in the Tokyo area and a lot of people are wondering if this could possibly be the beginning of the end for JDM car culture.
Dino Dalle Carbonare
Instagram: speedhunters_dino
dino@speedhunters.com