A Scene That Keeps On Growing
Welcome to the quickest expanding slice of Japanese car culture, the kyusha scene.
It's a pretty simple outcome I suppose. There are far less interesting and fun new cars being made in Japan, so as a consequence, we've all been into the same generation of cars for quite a while now. R32 GT-Rs, AE86s, FCs and FDs, T160 and T180 Celicas, early Evos and WRXs – they are all sought after modern day classics now and with this shift the whole scene has grown massively.
And honestly there isn't much to follow them. Will a Toyota Prius and Nissan Cube be revered by car connoisseurs in the future?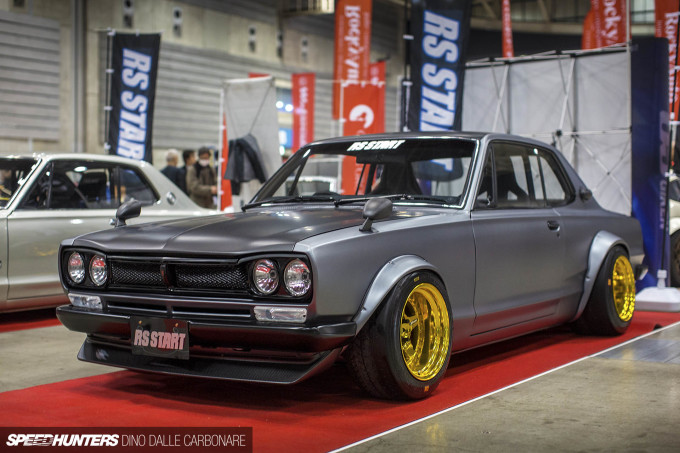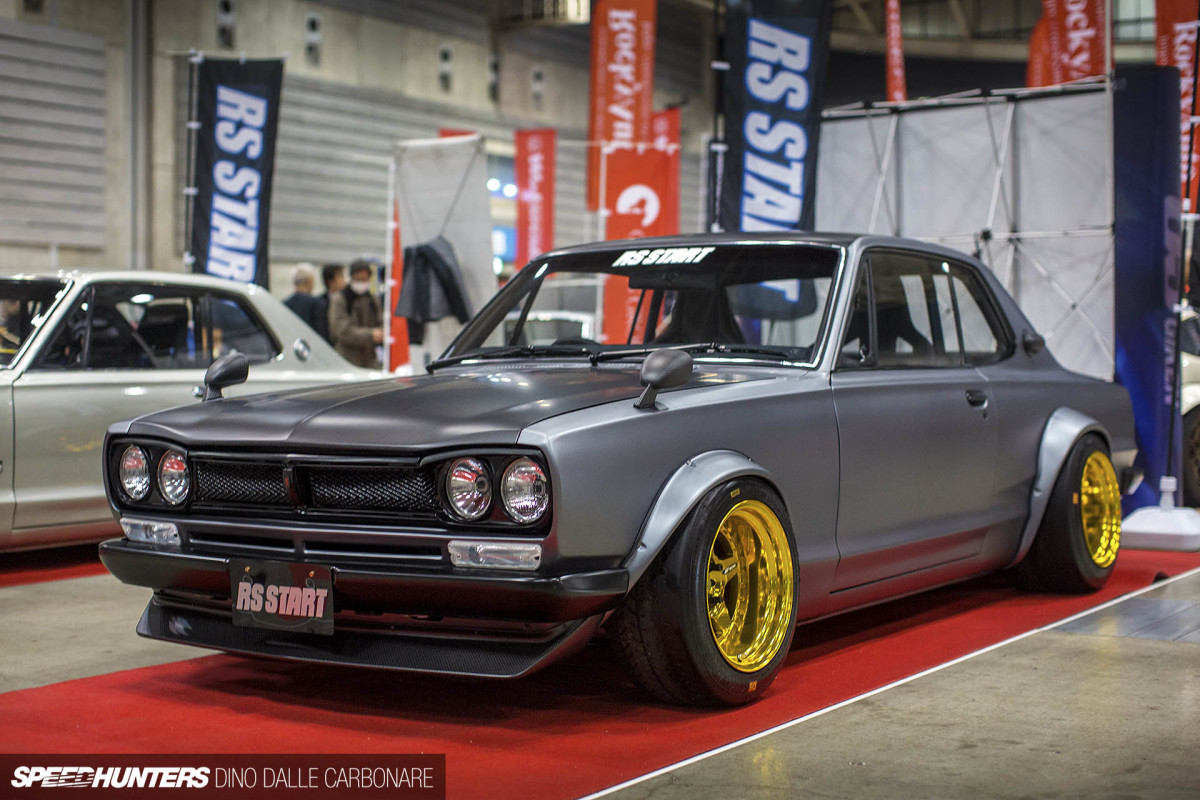 Will the current Nissan Skyline and Toyota Mark X become something young kids might want to play around with in twenty or thirty years? I somehow think not.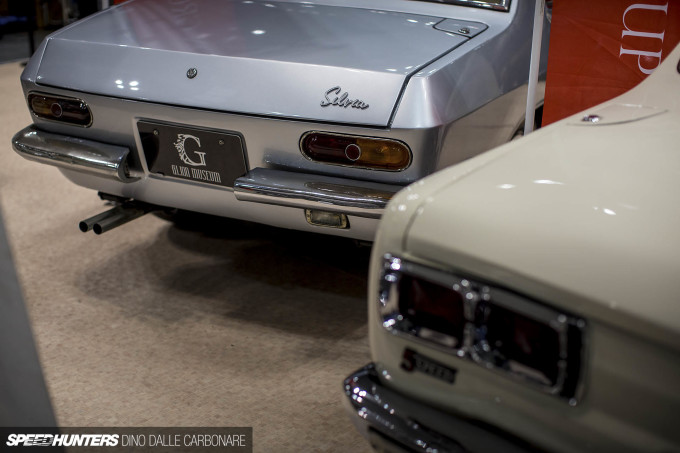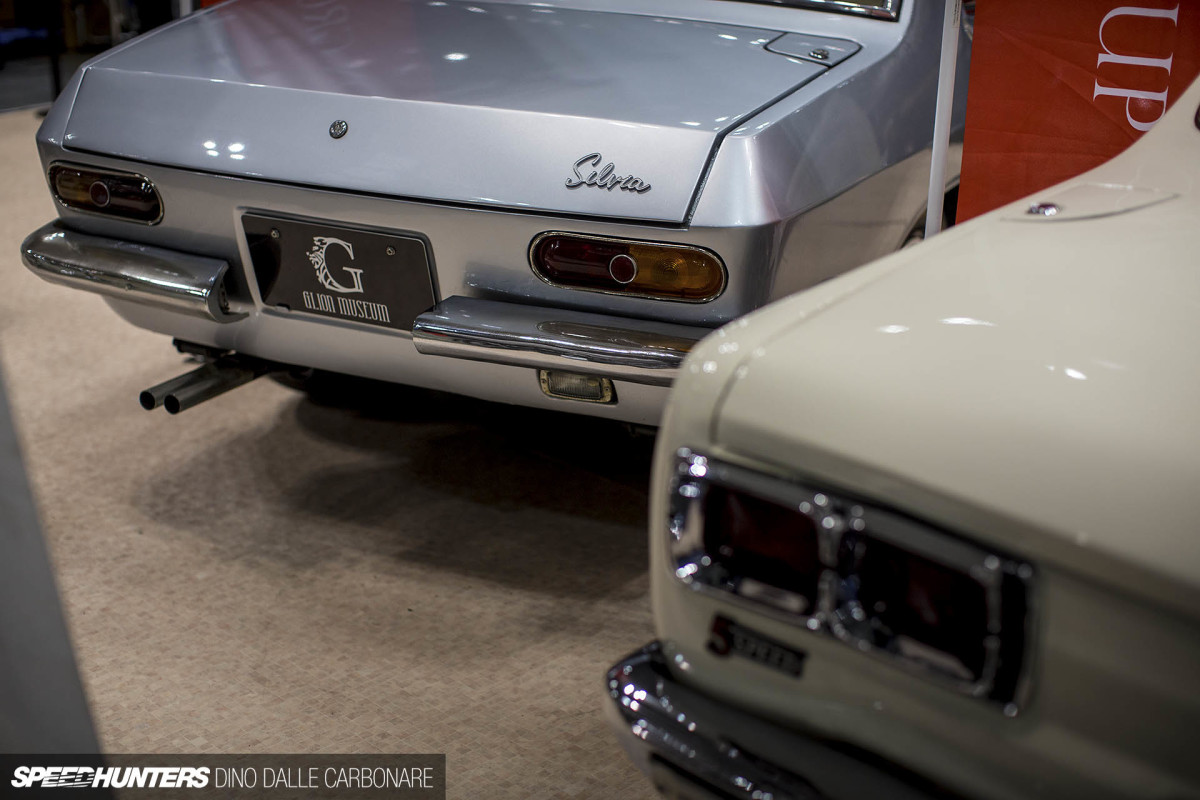 I do worry, but then again maybe I shouldn't. There is plenty of fun to still be had with these older cars. If you think about it, what we cover on Speedhunters pretty much revolves around the older stuff, meaning stuff from the '90s, and it blows my mind referring to this decade in such a way.
The reality is that time flies, the years go by and the cars we dreamed about as high-school and collage kids are getting dated. It's a normal to feel nostalgic about the cars we grew up dreaming about, and with everyone into them, it helps grow the industry to support this never ending love.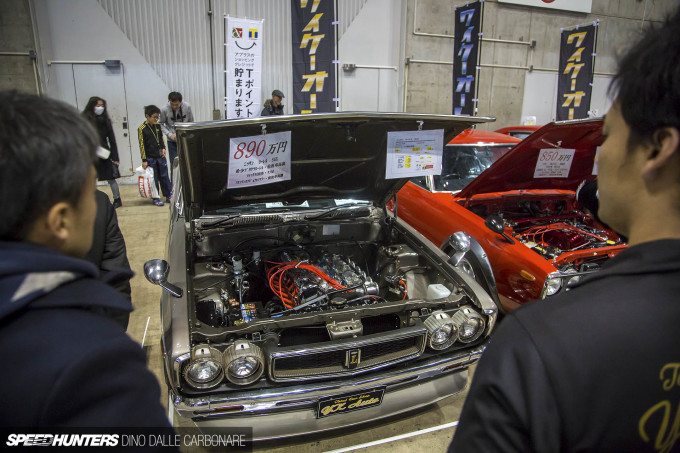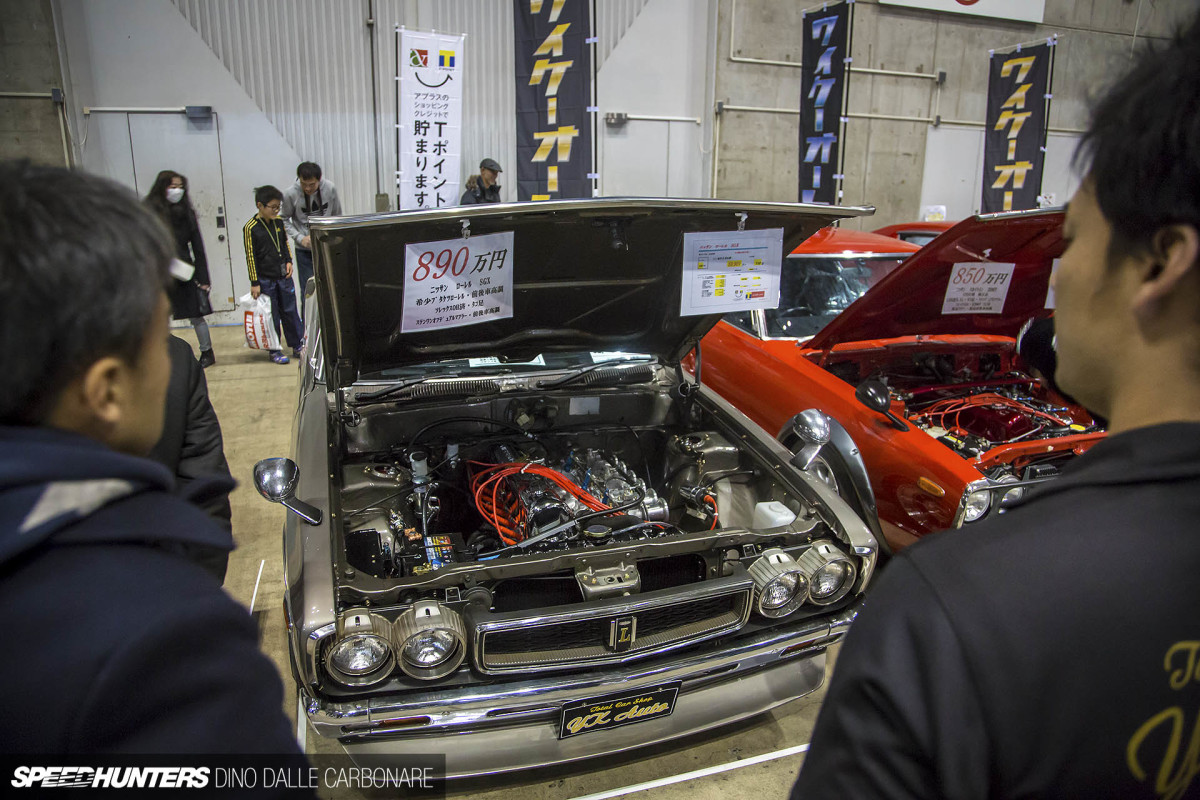 The Nostalgic 2 Days show is precisely that, fueling this love for cars from the '70s and '80s but slowly opening up to 'our' sort of stuff too.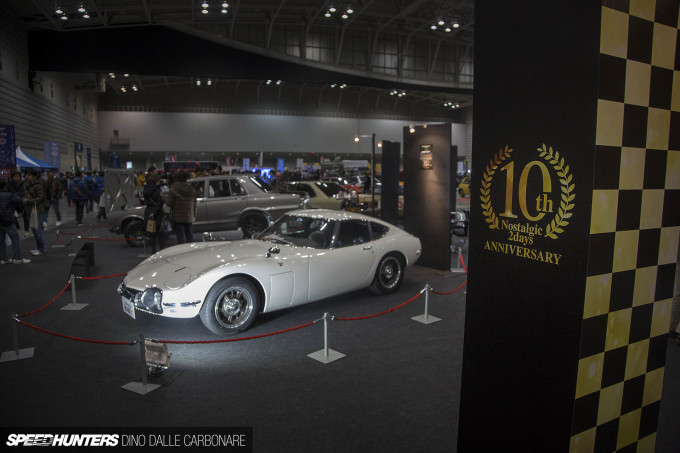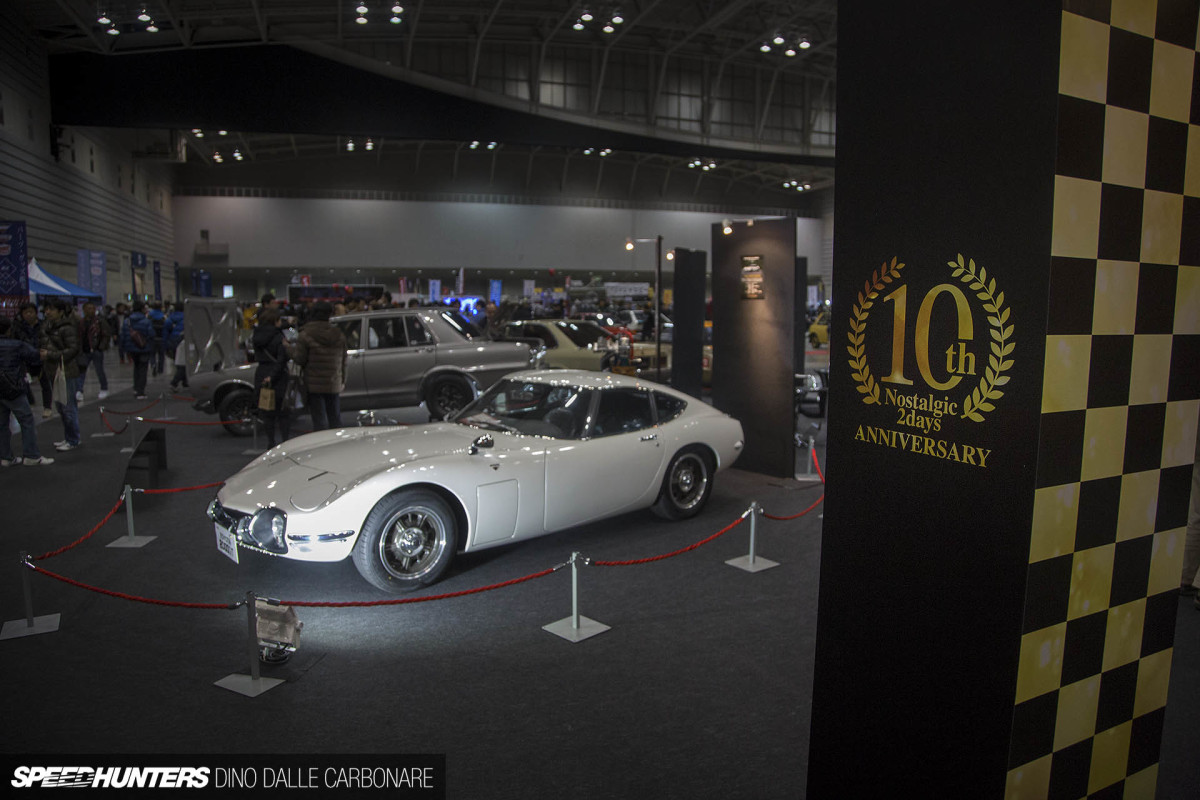 Now in its tenth year, it has grown and evolved into something that everyone can truly enjoy, a place to see and learn about the older stuff as well as get a feel for what the next step will be.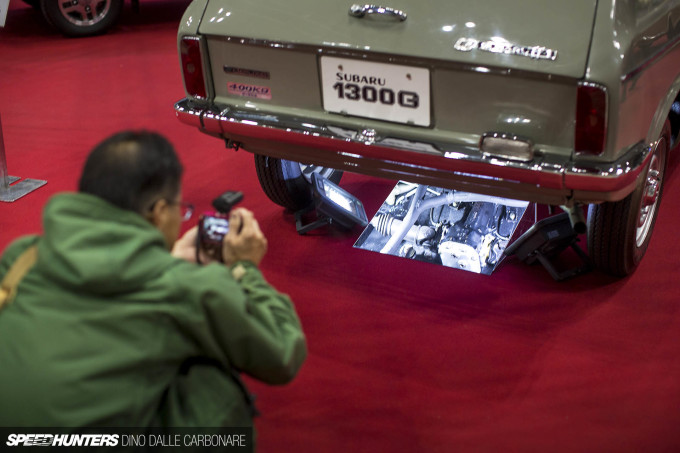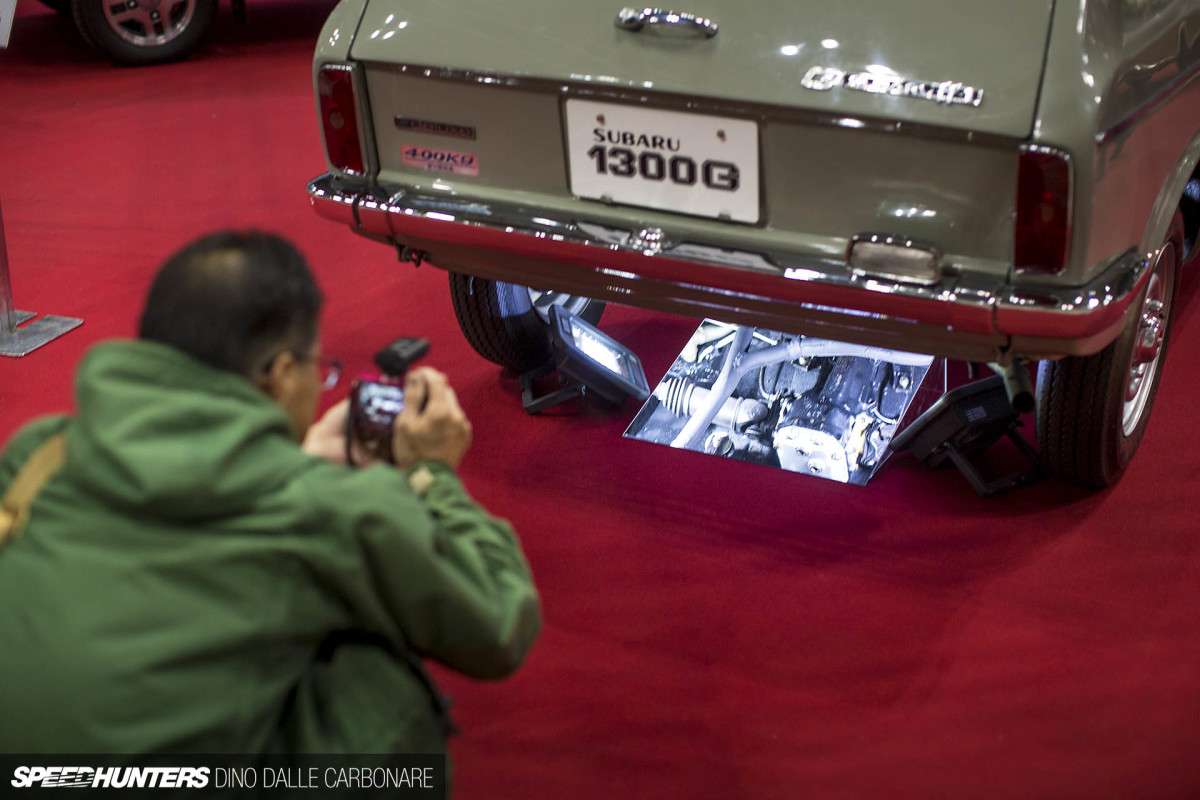 It's a superb place to roam around and do some proper Speedhunting, and unlike at Tokyo Auto Salon the dirty upskirt shots are of a different variety.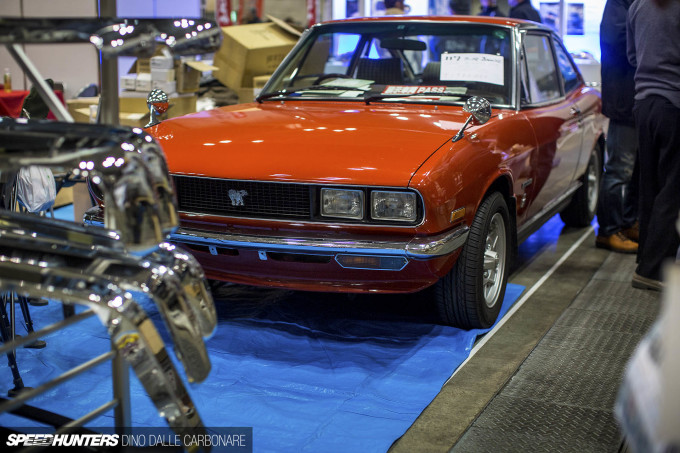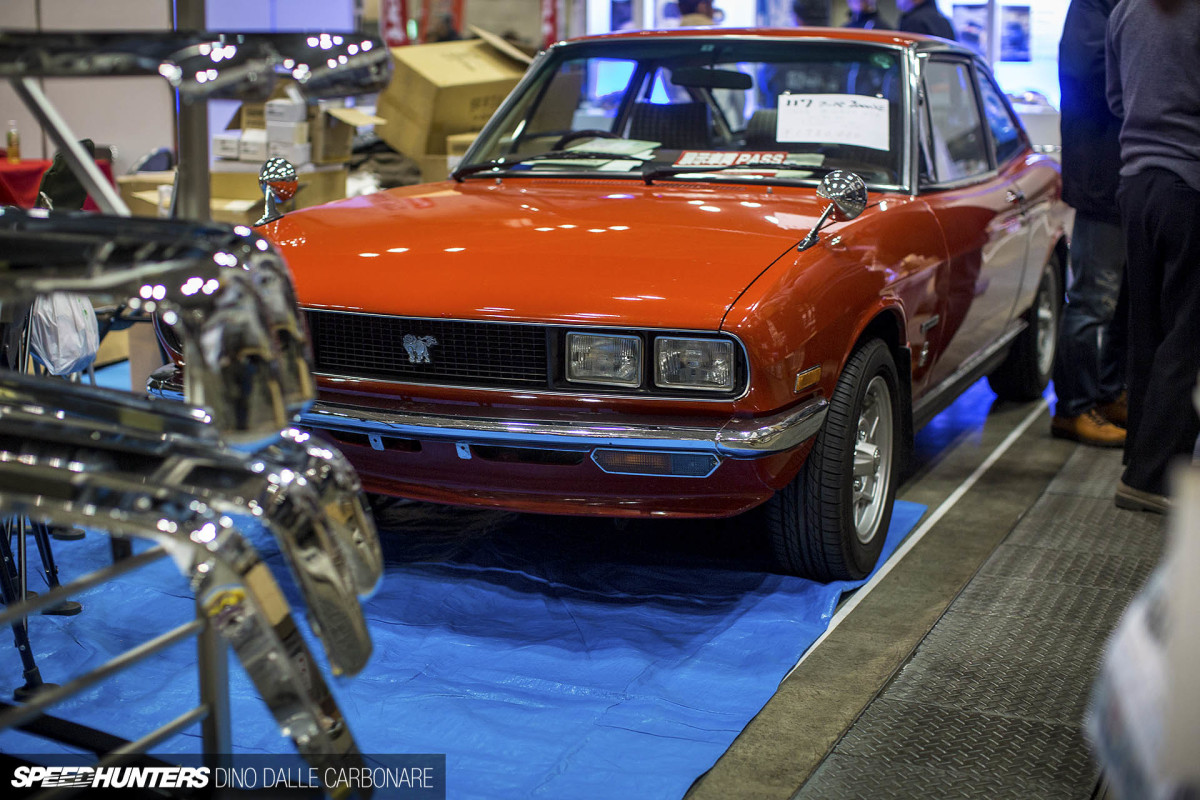 We haven't been to the show for a few years, so it was surprising to see how much the event has changed. While it's definitely geared towards allowing shops to show off their cars, parts and inventory, I was surprised to see that manufacturers have been getting involved.
I'll get to that part later on and again in the short but more in-depth posts that will follow.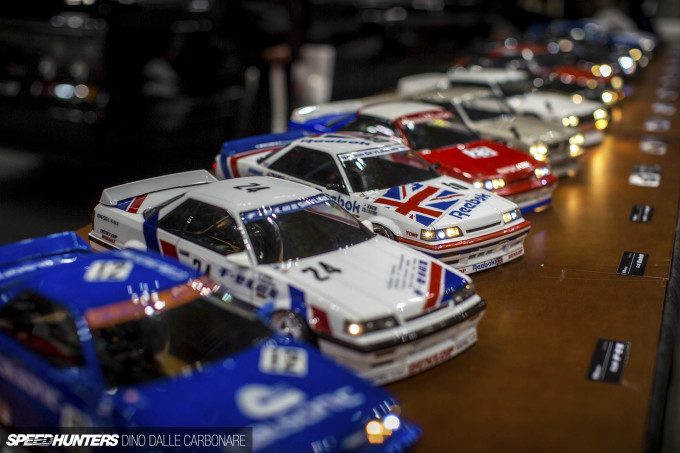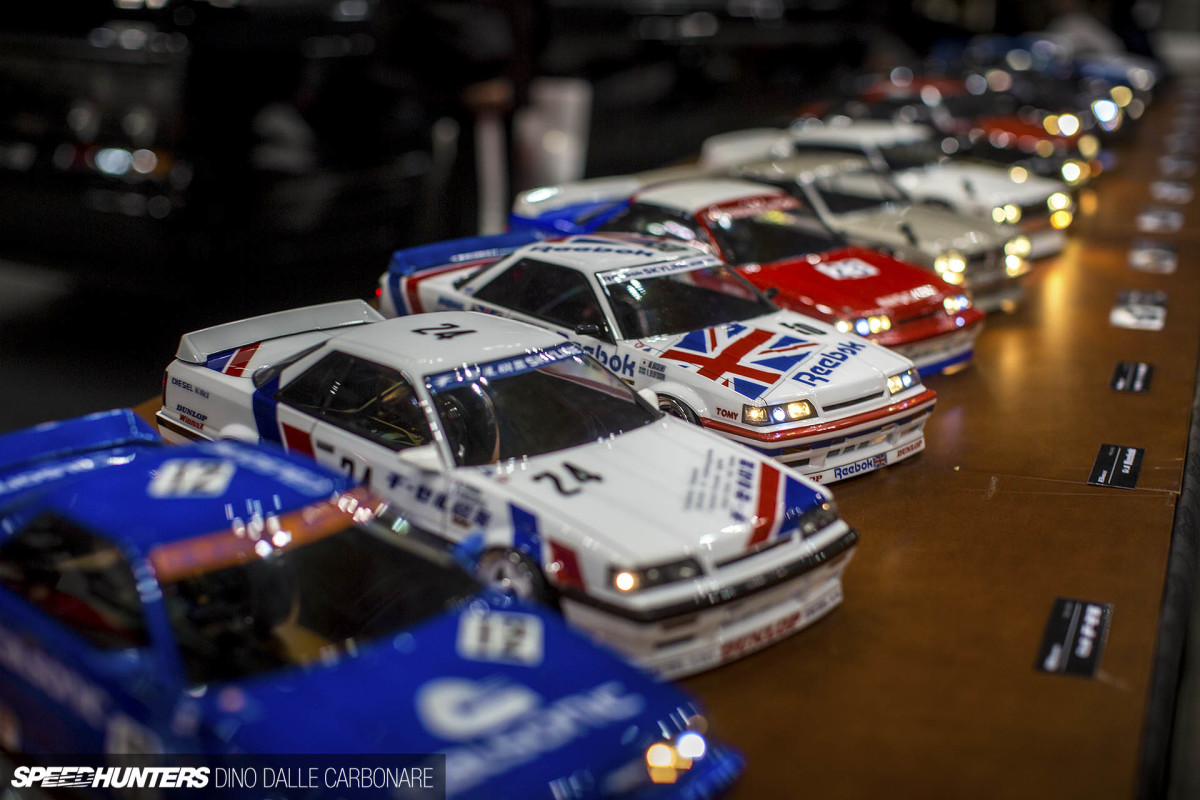 First I want to take you for a general walk around, a quick paced tour of the variety on show, starting off with R31 House.
These guys were present with their more tantalising stock, from fully built wagons and sedans to GTS-Rs and crazy demo cars like the drift build above. I'm purposely stopping here as we are planning to head down to their shop again in the coming months to take a proper look at their two big builds for this year.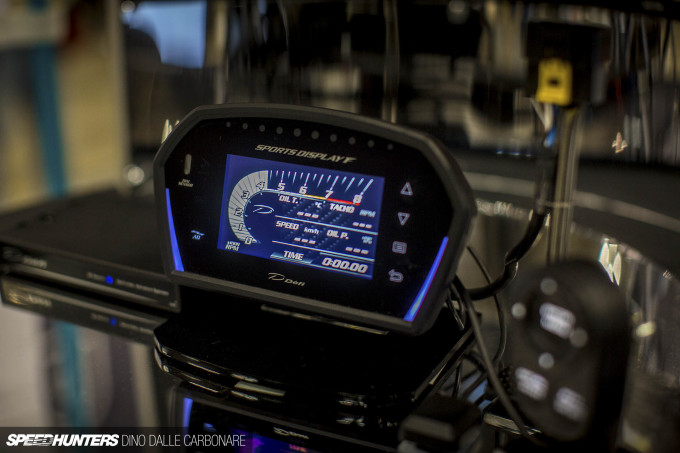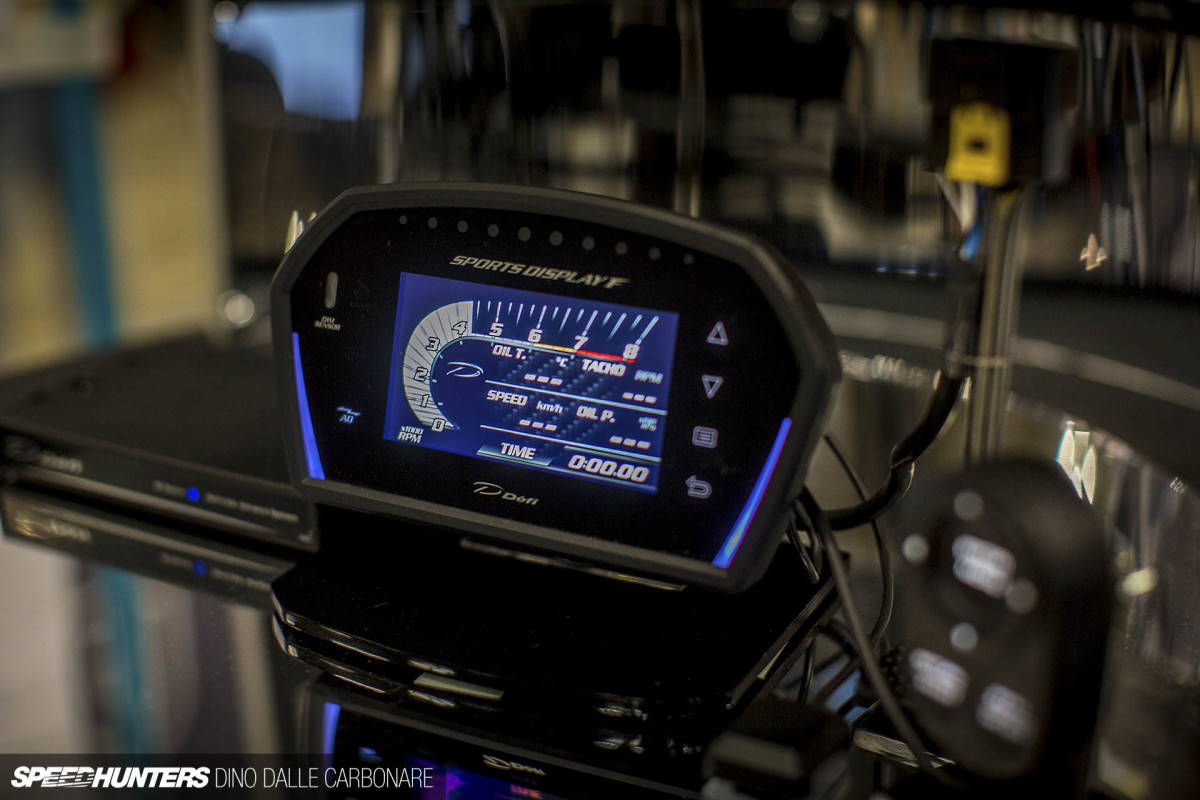 I'd say that 50% of this event is all about the parts. More so than TAS, in fact.
Old cars break, and older parts are getting harder to source so there is a massive business around this and tuning such cars. Both schools of thought are well catered for though; those that believe the factory look is the way to go and the other that thinks if something breaks, you might as well replace it with an upgraded part.
There was a ton of cool stuff to look at, like this new Sports Display that Defi has just started shipping.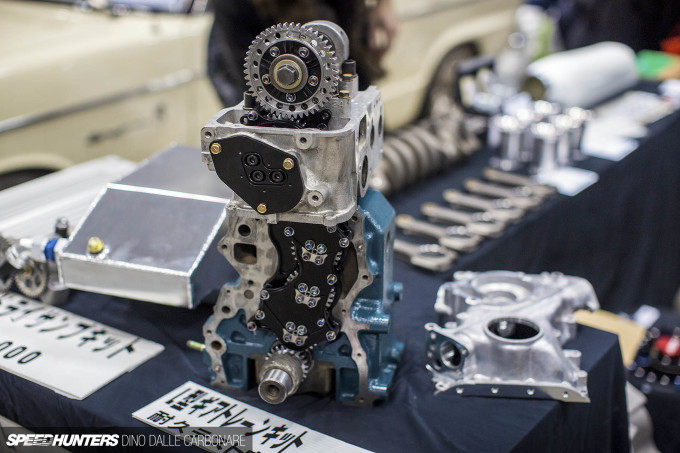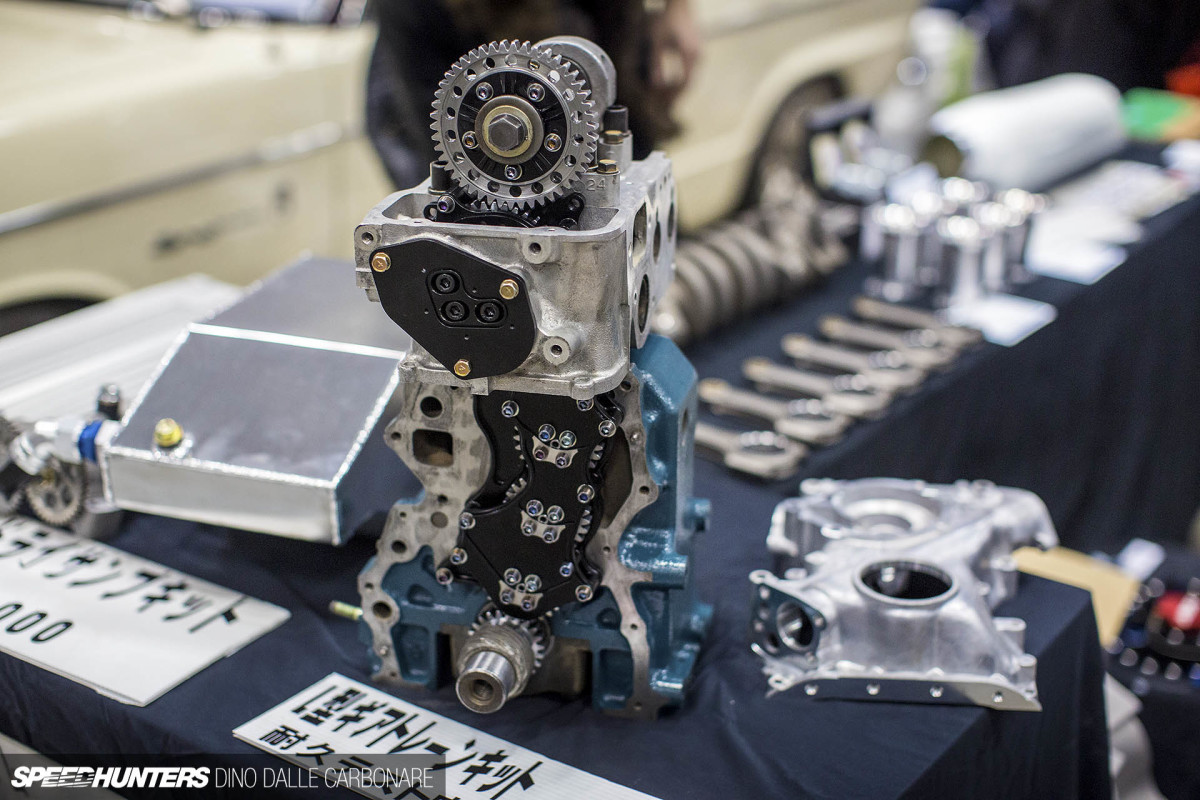 This was something that really caught my attention. After recently driving a TA-Auto built S30 Z all I think about is the appeal these cars have and the crazy things you can do to an L-series motor. On top of stroking the hell out of it and making it rev to astronomical RPMs, you can now add this to the list: cam drive. This is something I have to hear in action.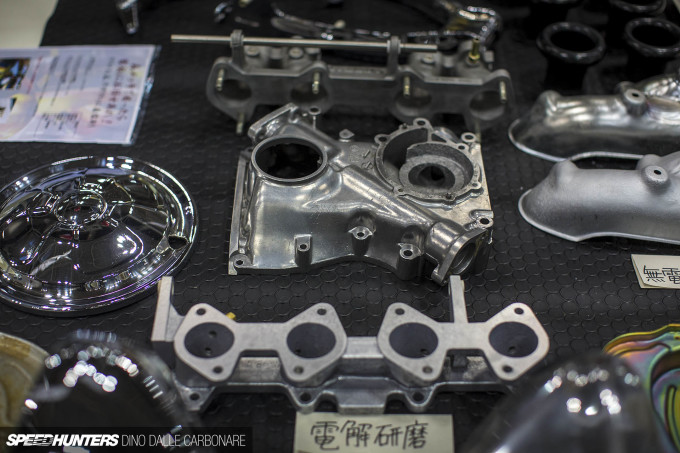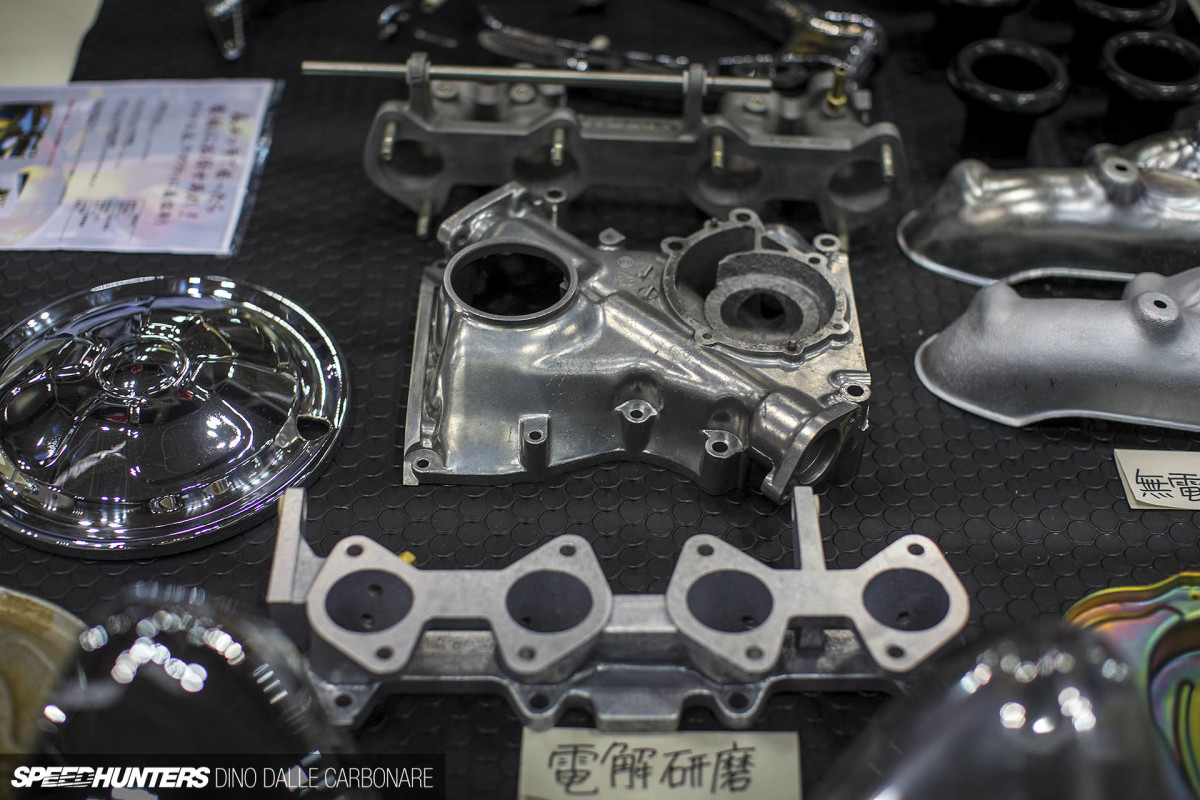 It's all about cool parts…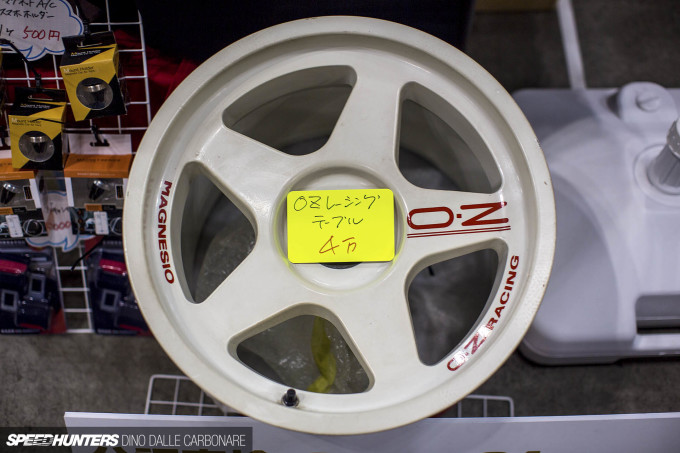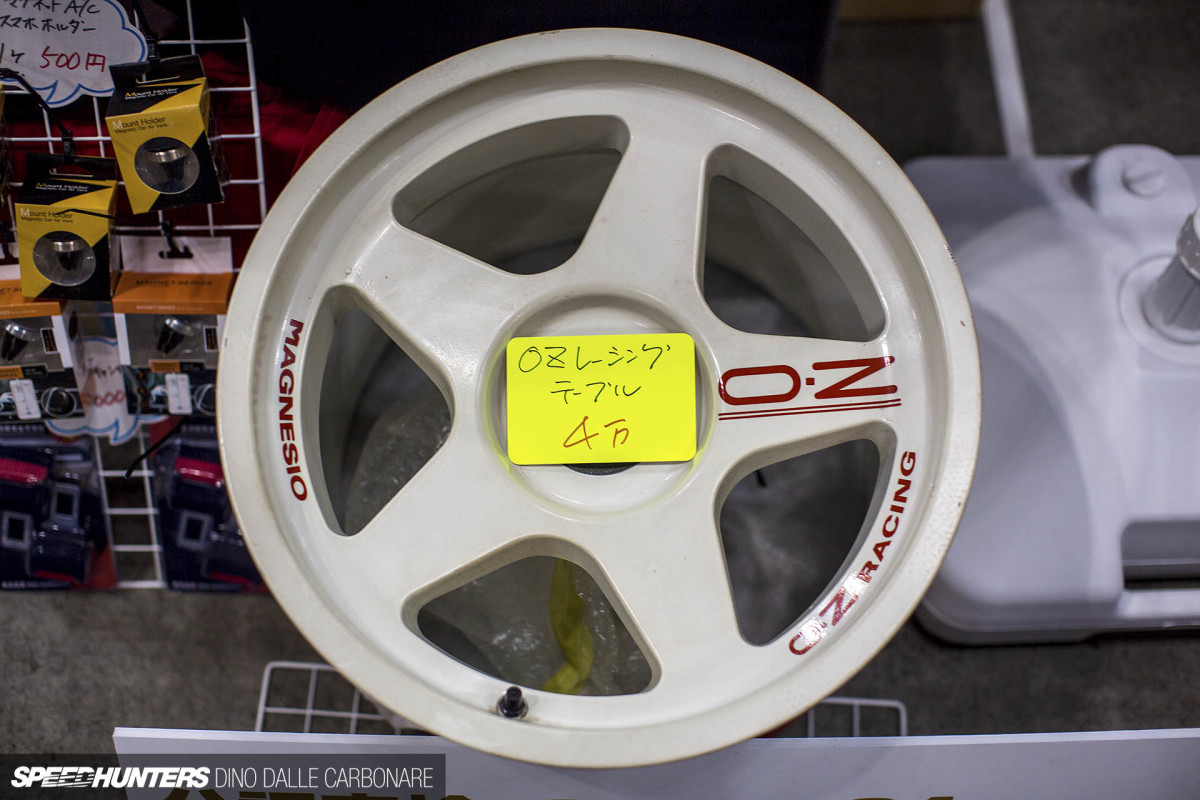 …and cool wheels. Fancy some magnesium alloy centre-lock OZ five spokes? The Nostalgic 2 Days has you covered.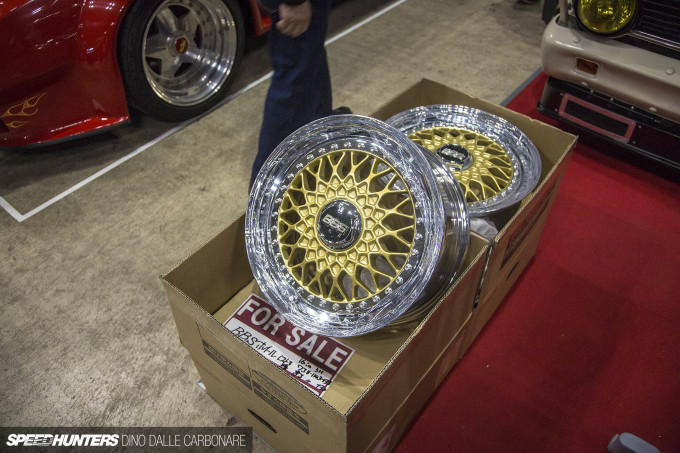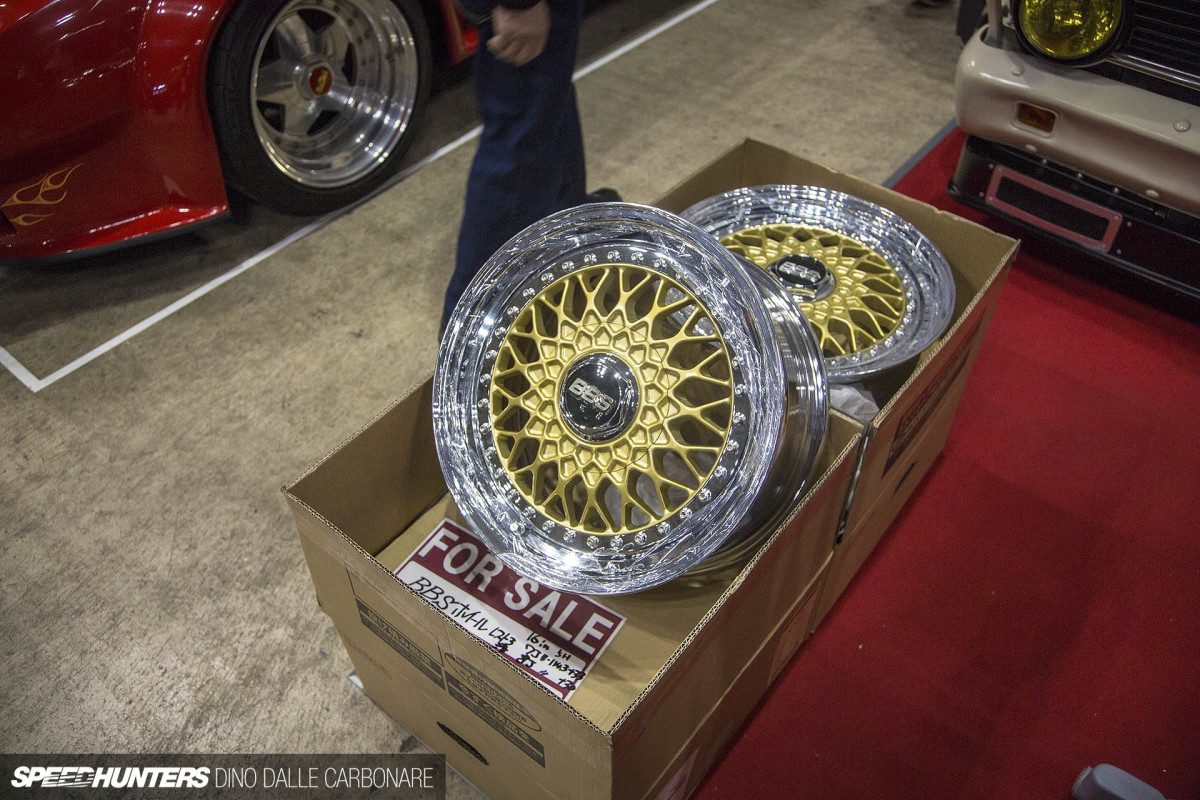 Or maybe some BBS mesh?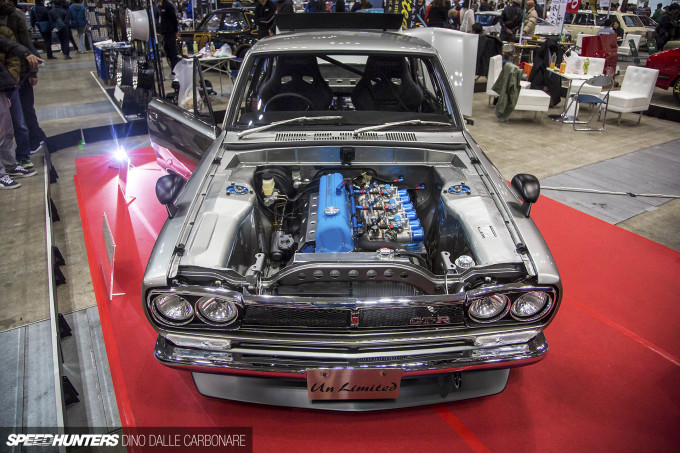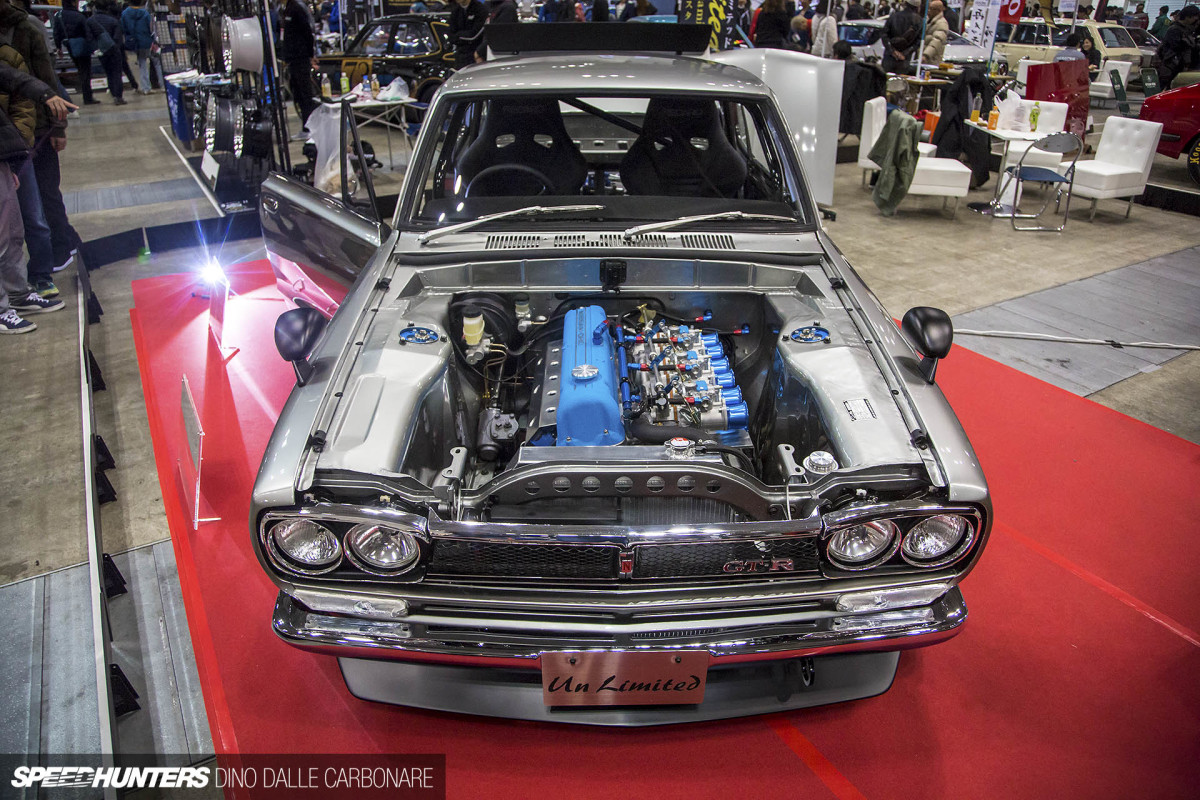 Speaking of wheels, Un Limited had teamed up with RAYS for the event to show off their recently finished Hakosuka project.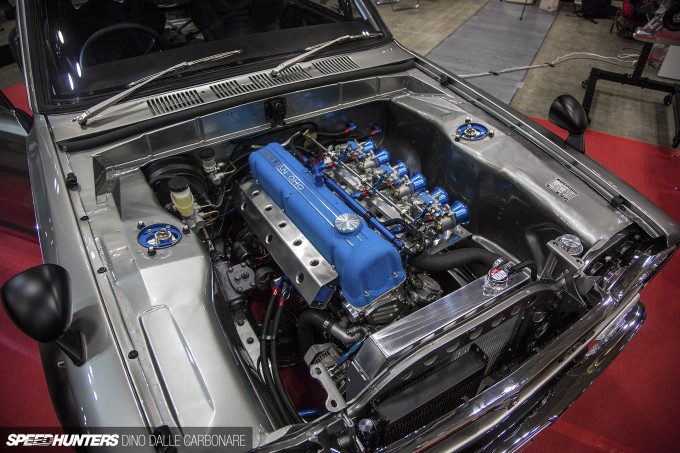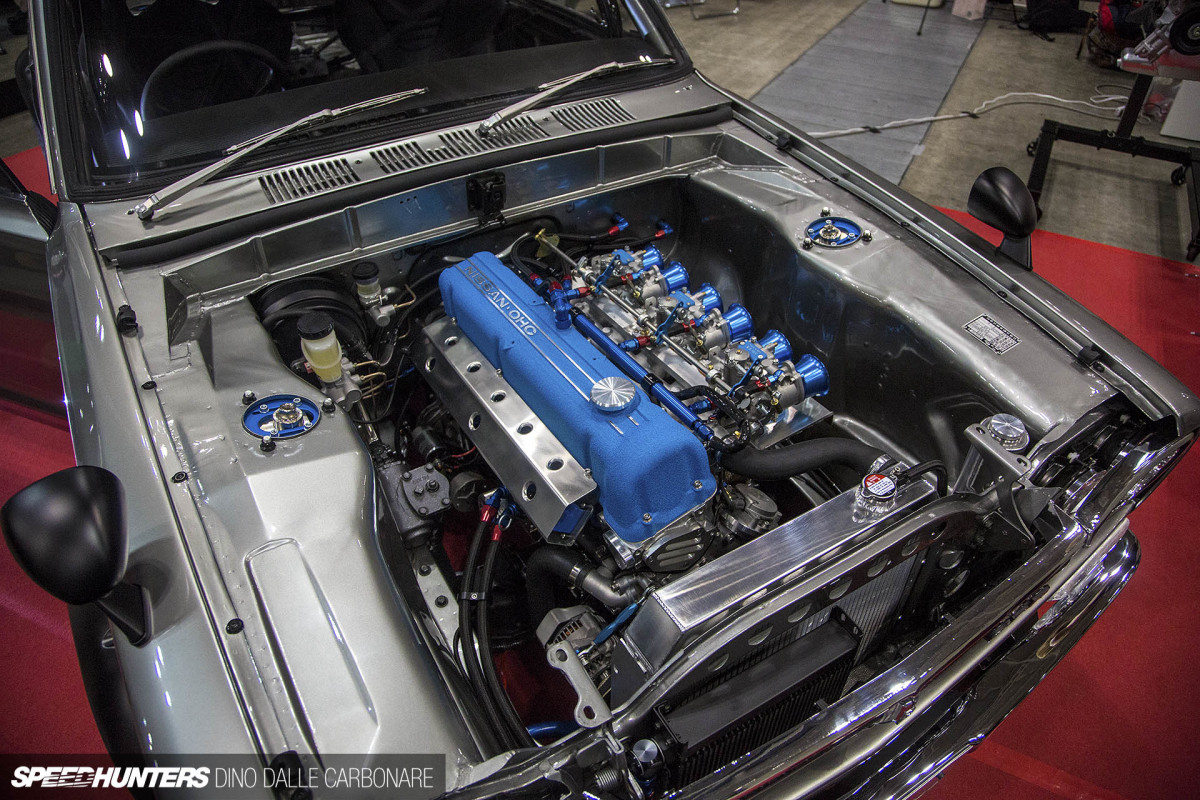 It was hard not to fall for the sheer simplicity and execution of the L-28 right down to the way the head cover was color matched to the blue anodized velocity stacks and fittings.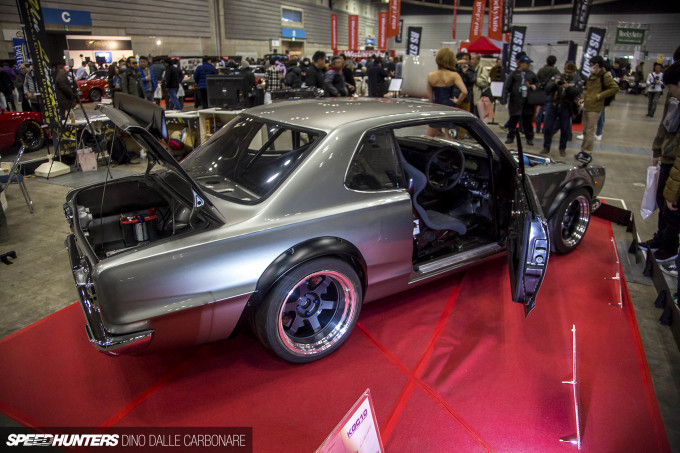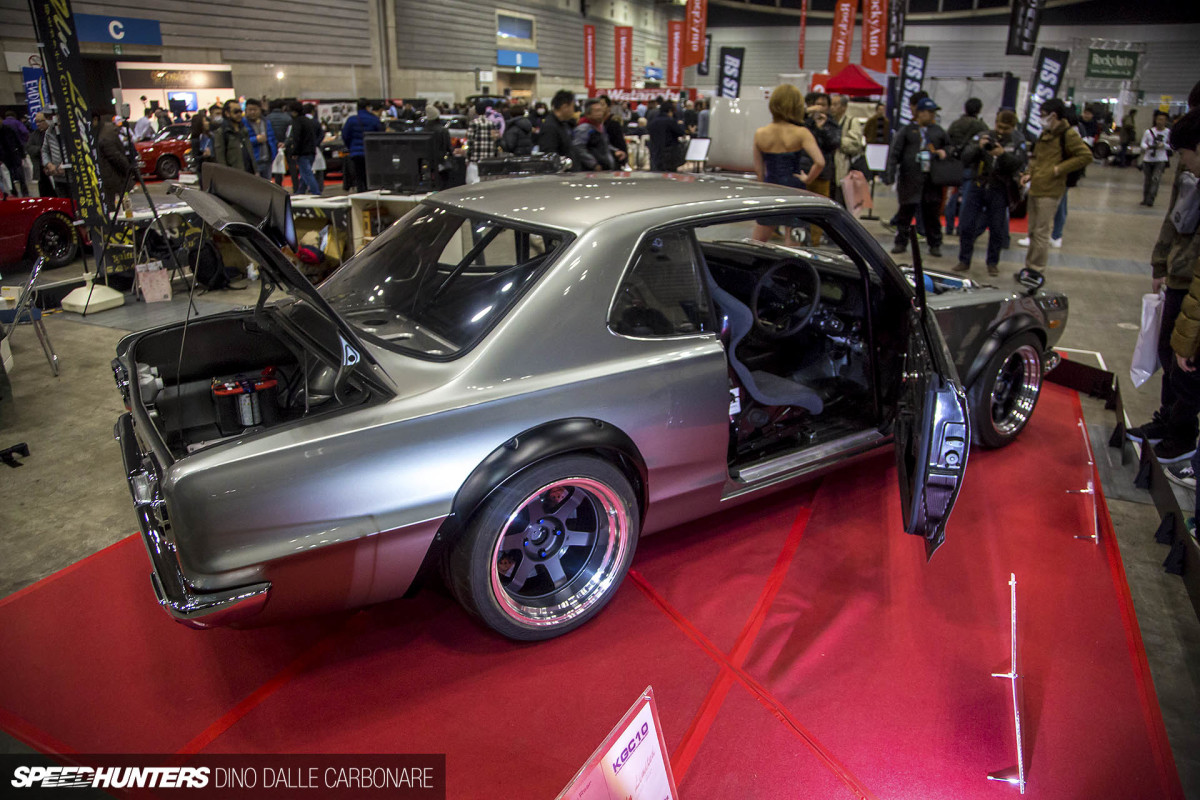 The two door hardtop was sitting on Volk Racing TE37Vs with custom painted dark blue centre sections.
I Am The Parts Hunter
For owners of vintage cars, the amount of parts that you can score at this event is impressive. Everywhere you look there are plastic boxes filled with neatly packaged bits and pieces; emblems, fender mirrors, gauges, trim pieces, you name it and you can probably find it.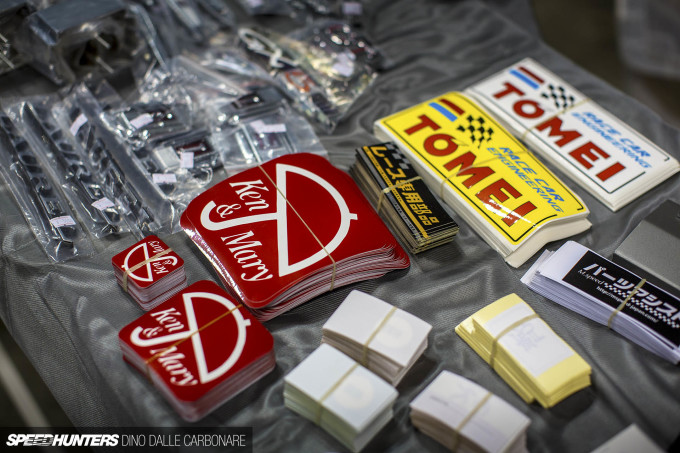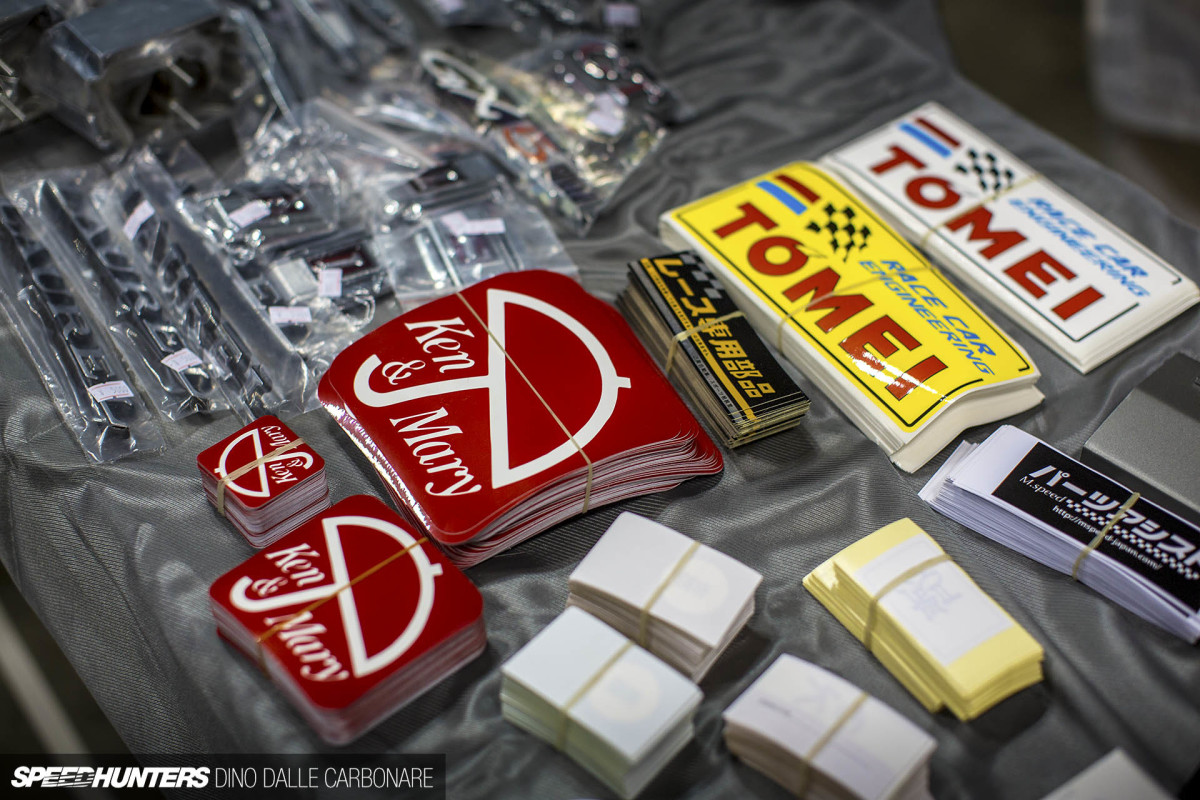 However you'll pay dearly for it, prices have been on a steady increase and those numbers can get pretty silly, pretty fast.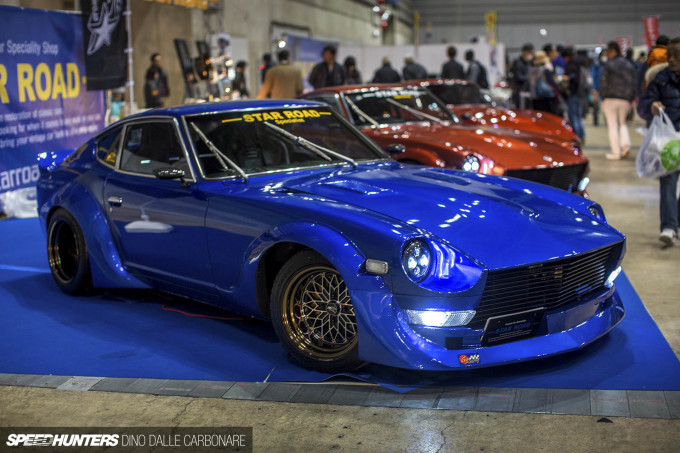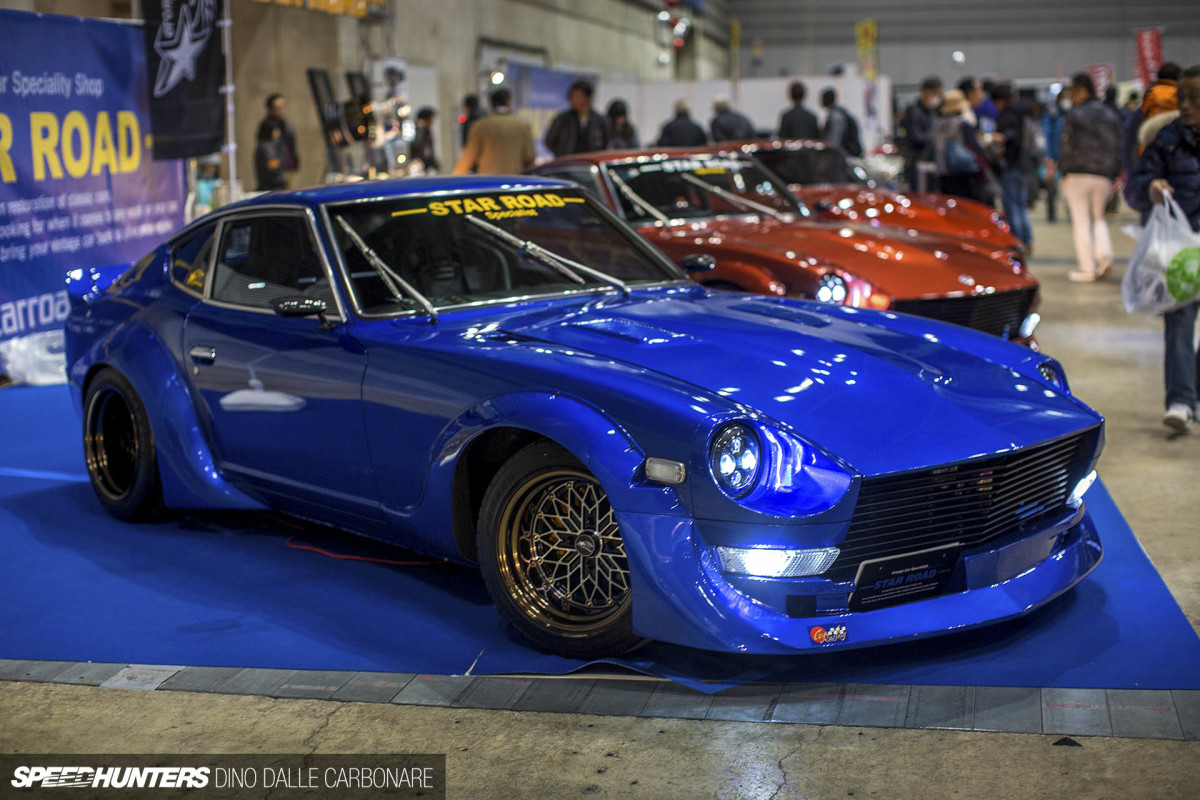 You could forget scrummaging for old parts and take the Star Road approach and inject some modernity into your vintage ride.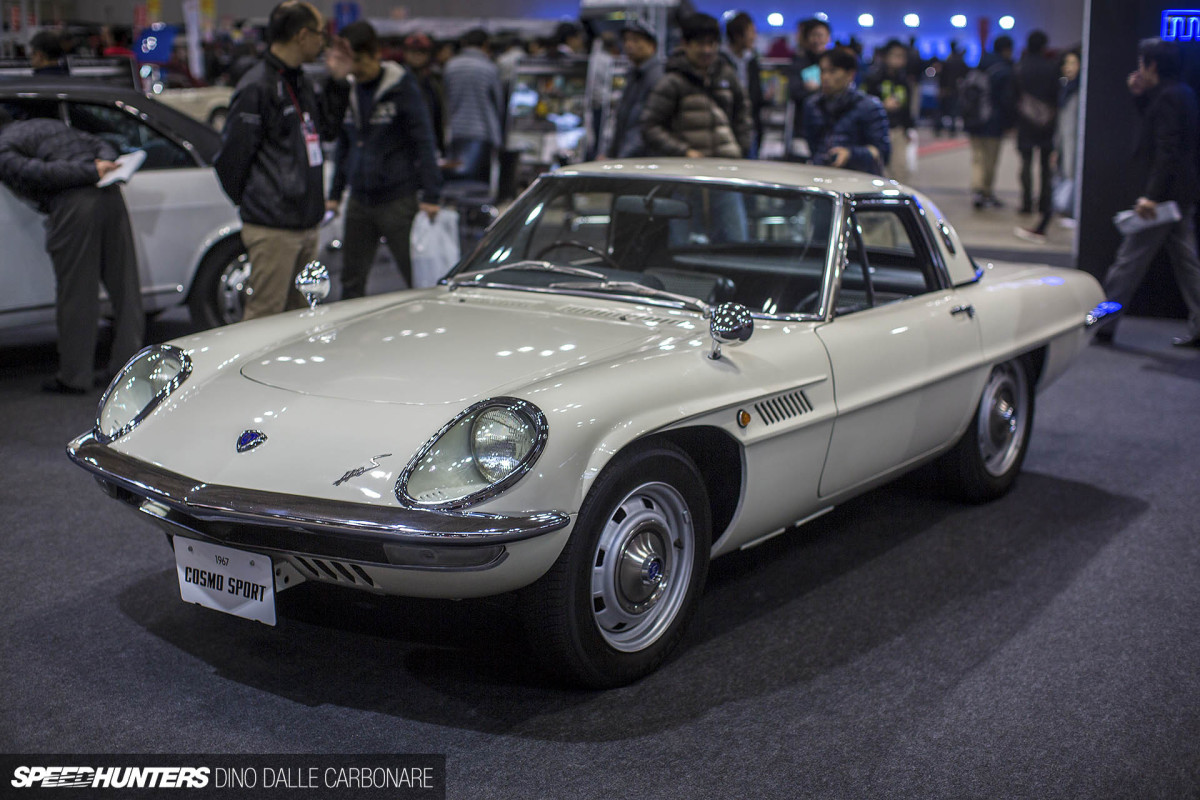 Mazda was present at the event to showcase the Eunos Roadster restoration service that they recently launched and that we'll take a closer look at in a separate post, but they didn't forget to bring some cars to remind people of their heritage.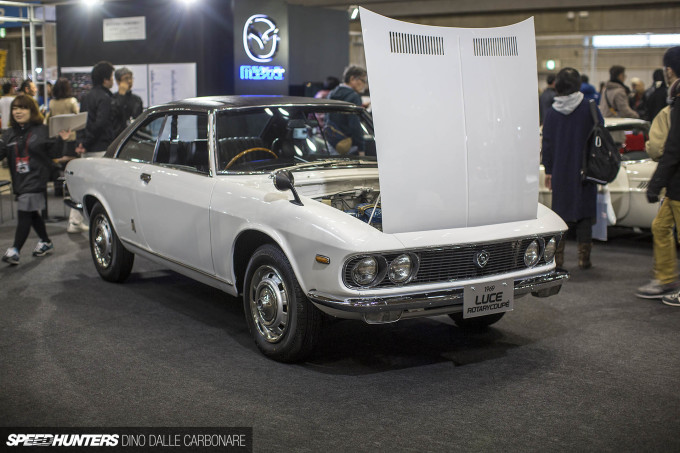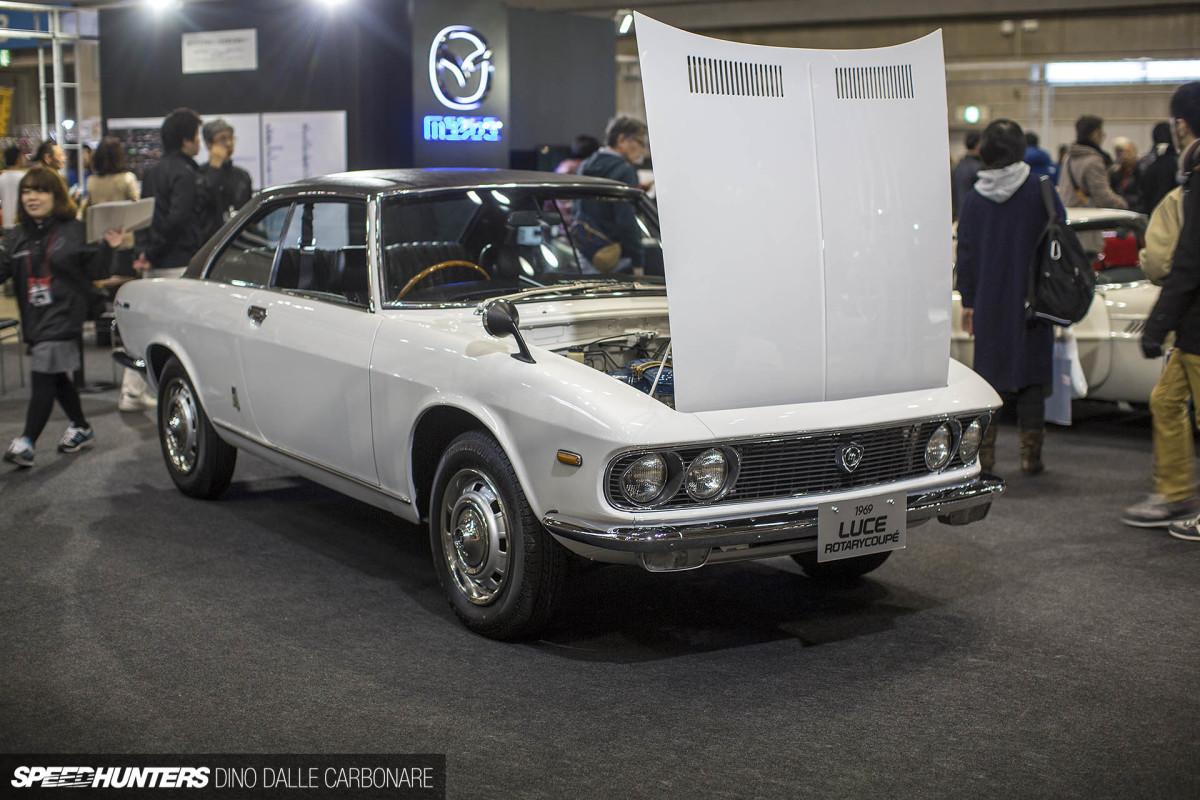 So along with the Cosmo Sport, there was also a superbly cared for Luce Rotary Coupe from 1969.
The 13A disappears in the vast engine bay, and the interior details were spot on, like the rotor background on the Mazda emblem. Is it just me or was anti-glare coating on gauges pretty advanced for 1969?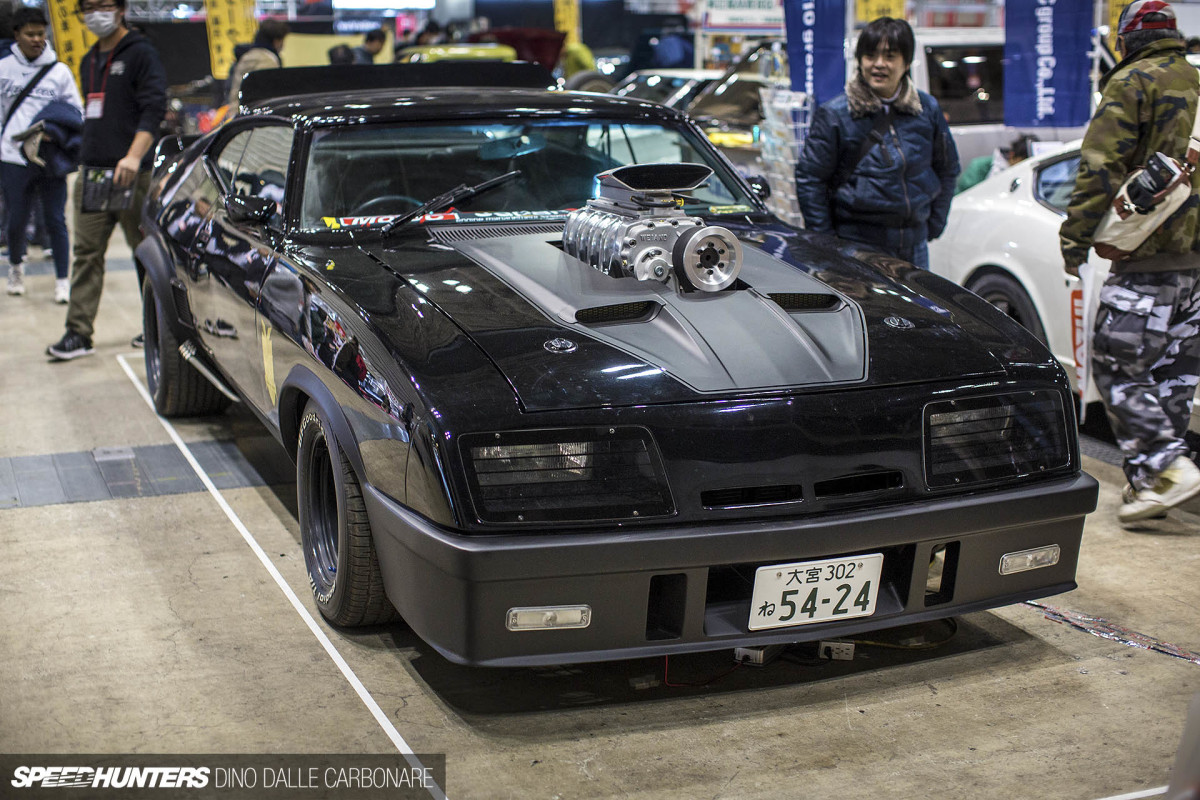 And now for something totally different, from supercharged American fury…
…to the best that Japan has ever had to offer. The 2000GT will be a topic of conversation on a post I'm working on, and I thought I'd share these couple of images of a restored chassis ready to be rebuilt.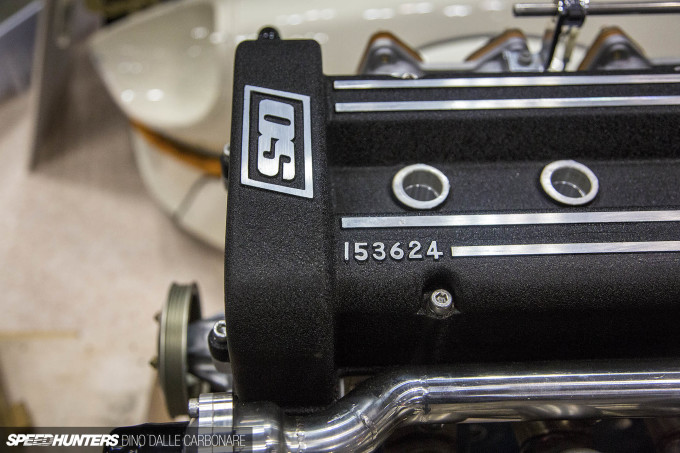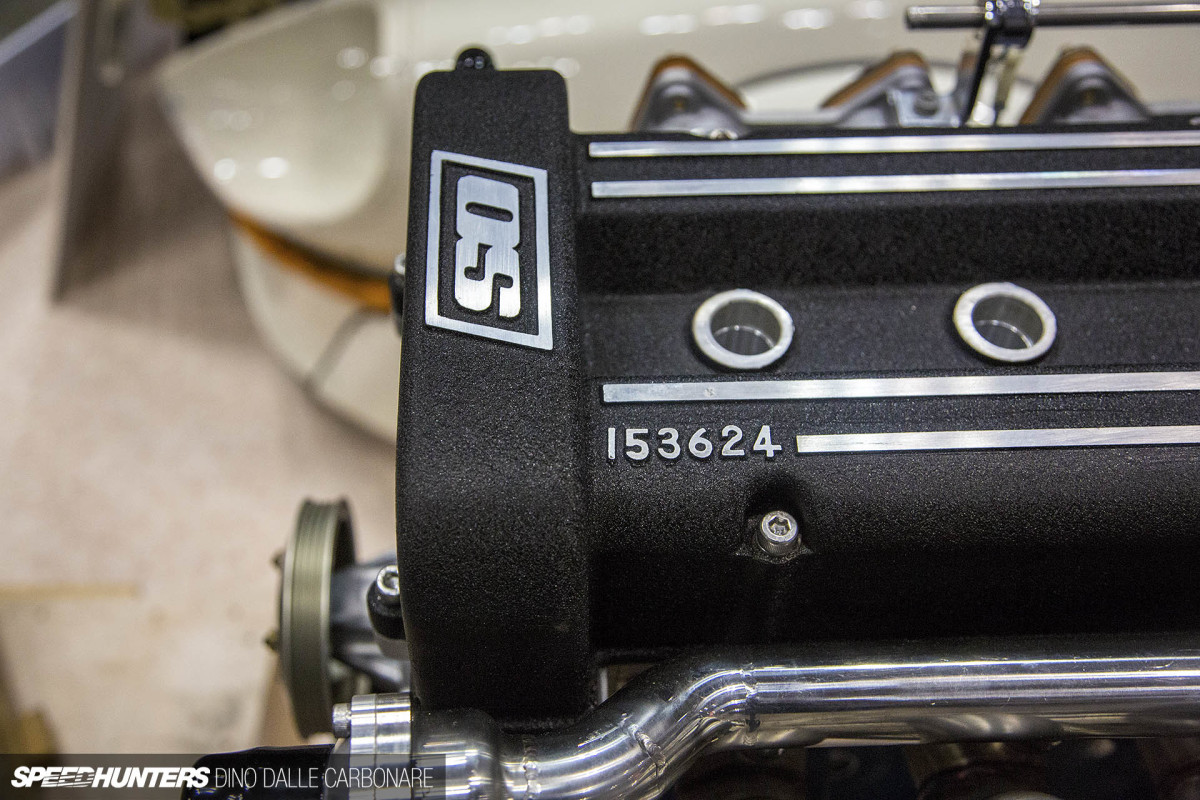 Our friends over at OS Giken always have a nice display of unobtainable goodies at their booth and the story was much the same this year with a few TC24 equipped cars on display.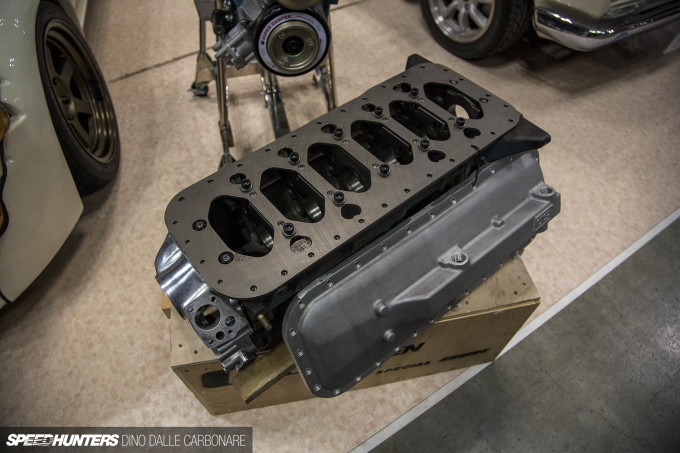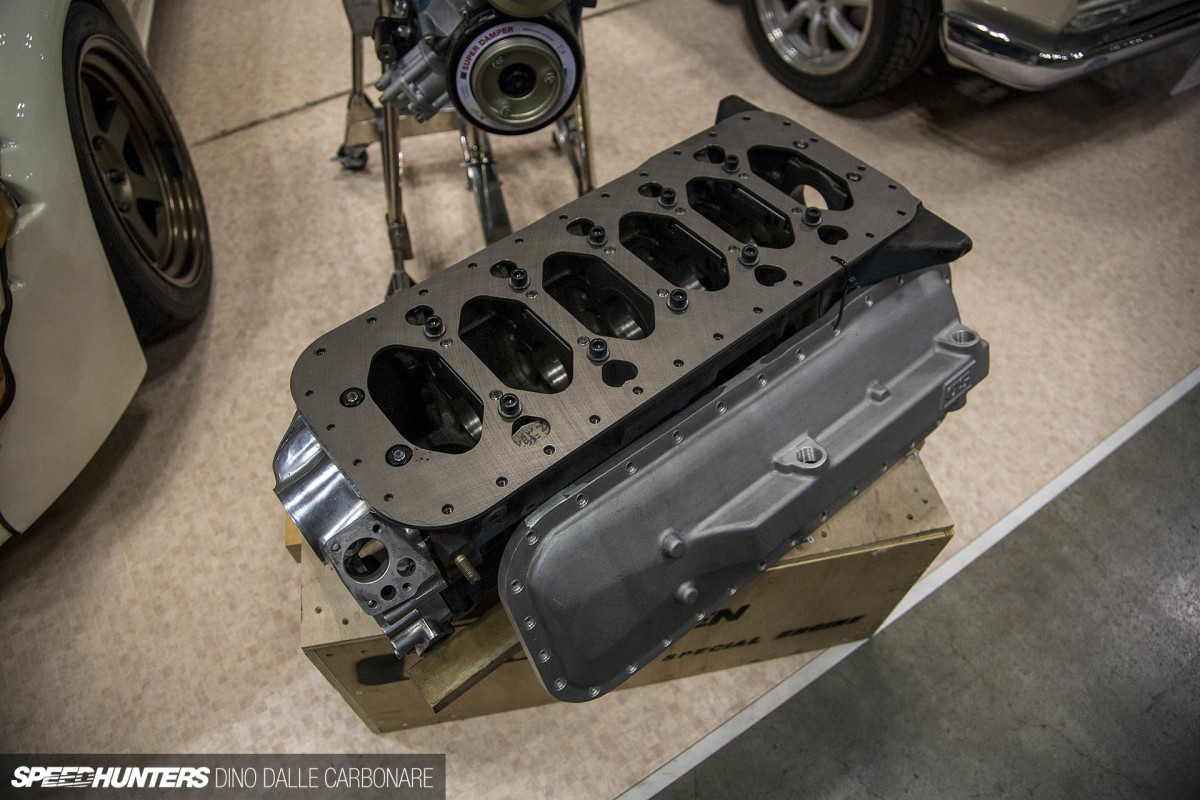 However, this is what I spent some time looking at. What better way to add much reinforcement to your engine block, in this case an L-series, than a strong girdle. This OS kit even comes with a redesigned cast and baffled sump pan. If money was no issue, you could build a pretty insane L28 with this.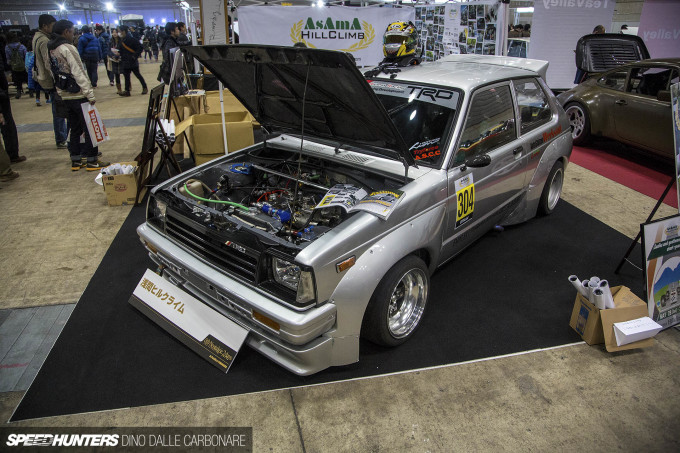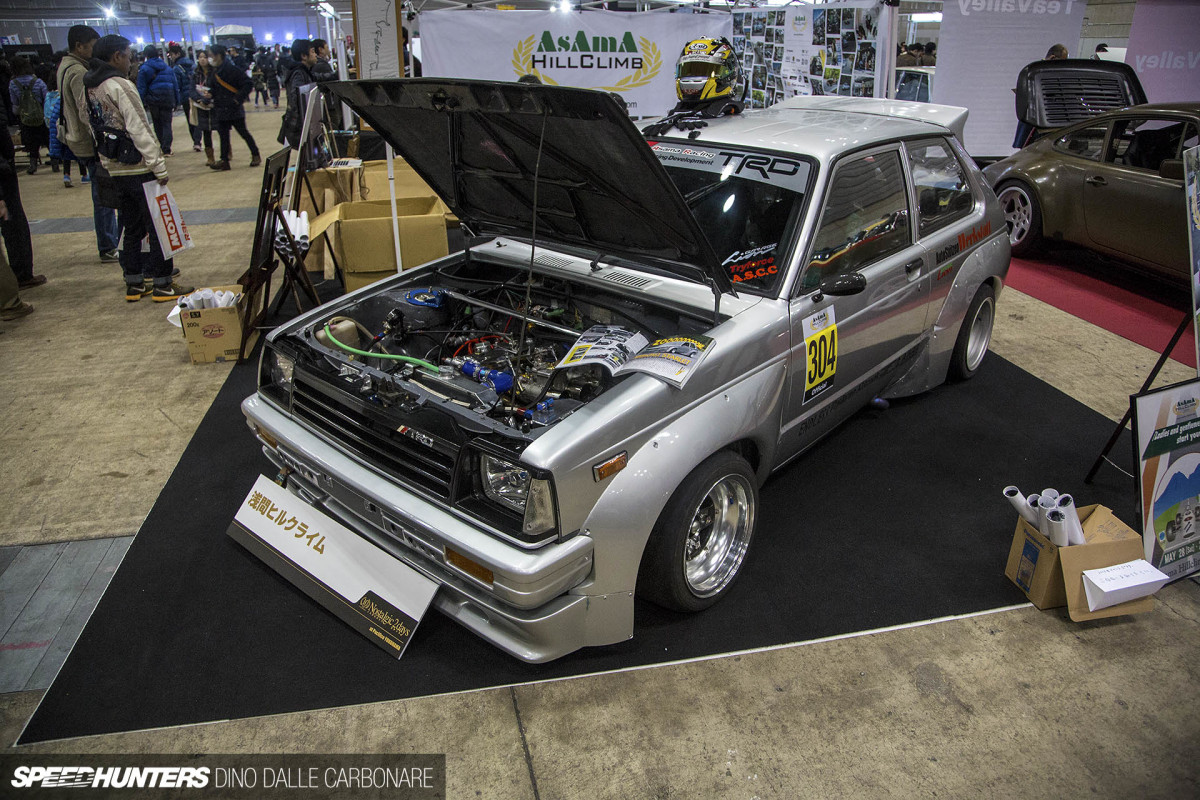 Asides from all the cool cars that were on display to promote parts, companies or in the case of this little Starlet, events like the Asama Hill Climb event, the rest was all about cars for sale.
Everything Has A Price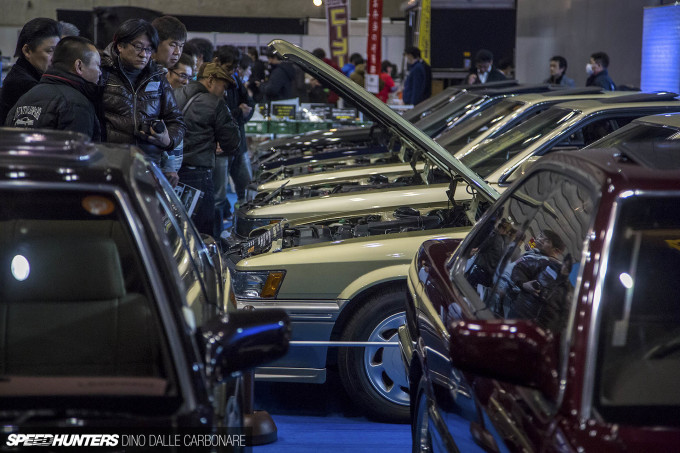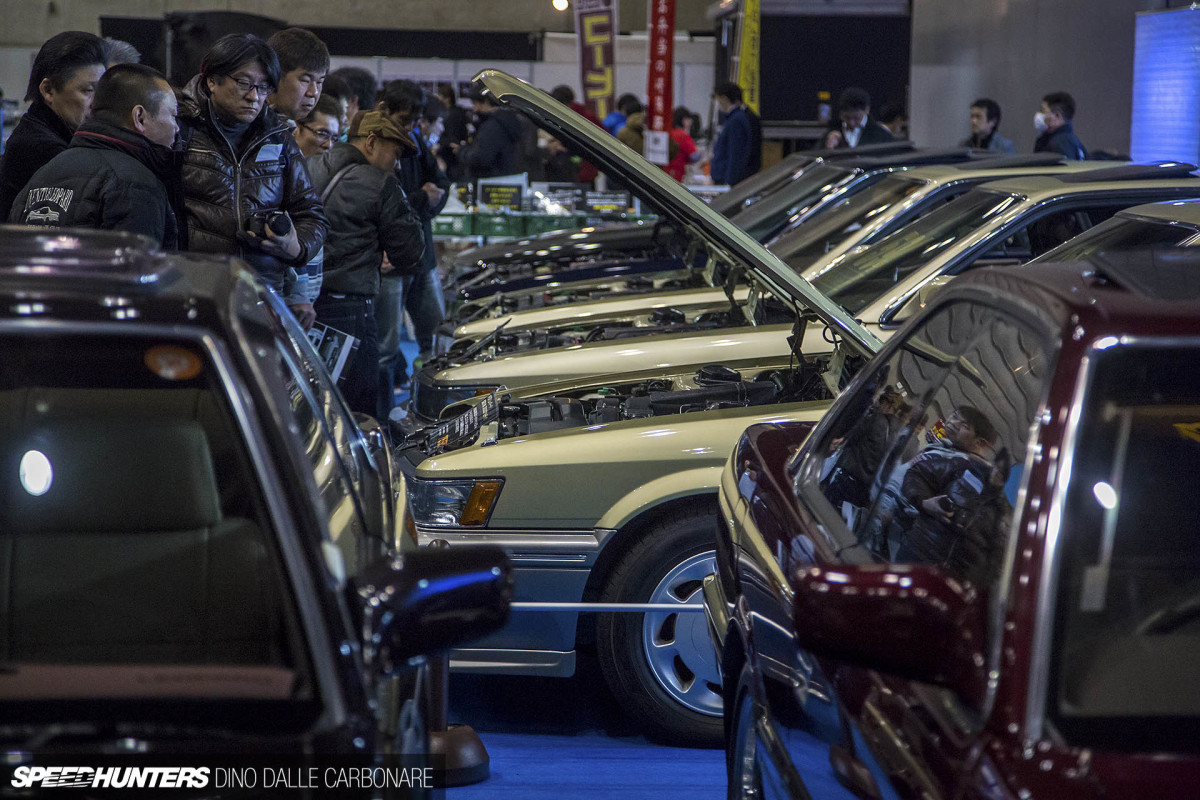 Probably 80% of the cars present either had a for sale sign, or a price in the window. Those that didn't, you could probably have made an offer with the shop or owner selling.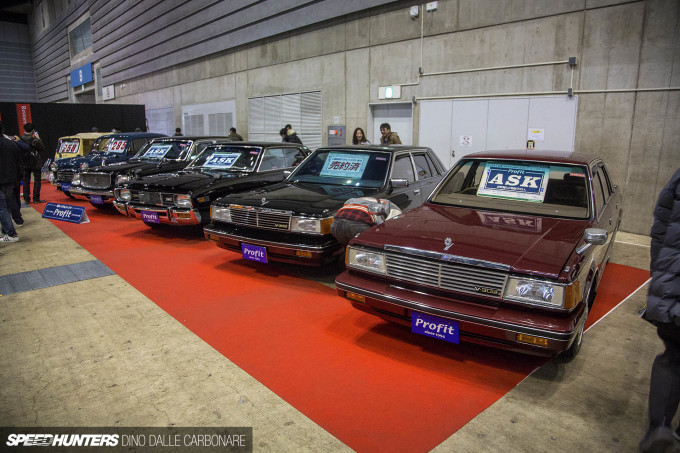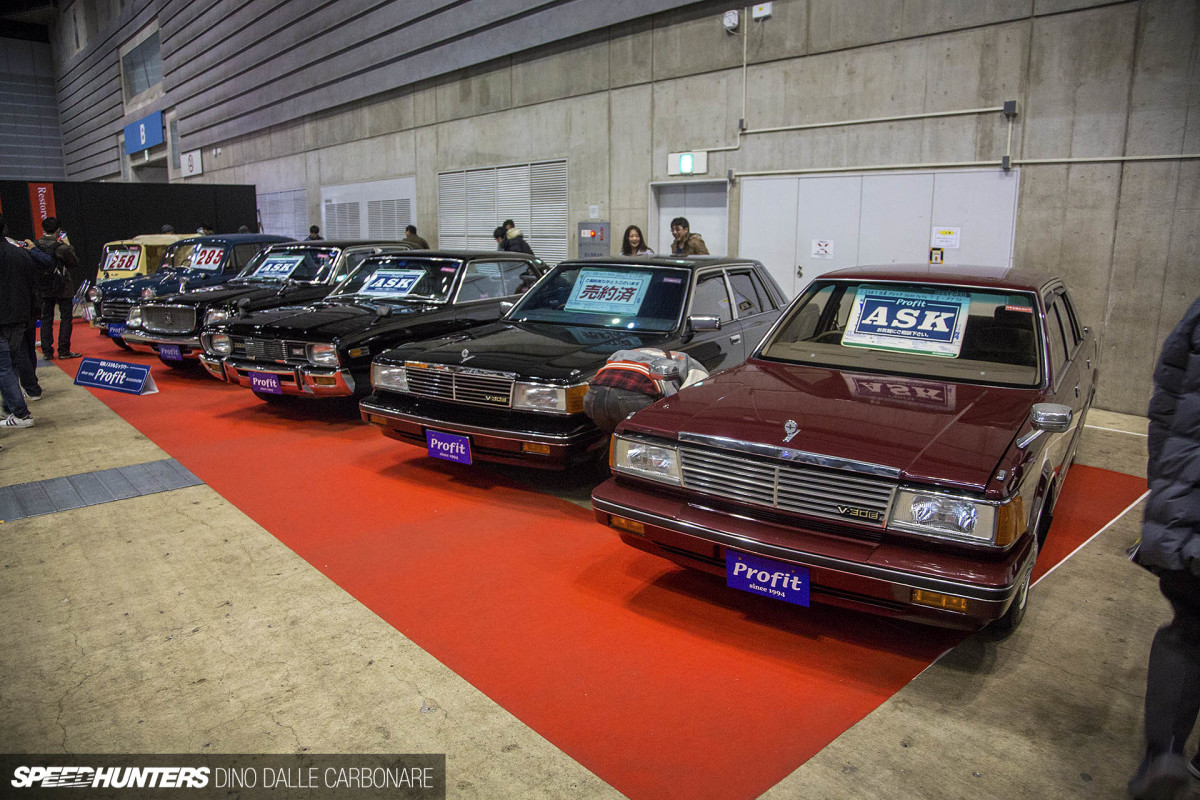 I think this takes a bit away from the show as a whole, but then again with cars like this, most people are either in it to make a profit or to sell one car and get into something different to keep the passion flowing. I just wish it didn't look like a big car lot.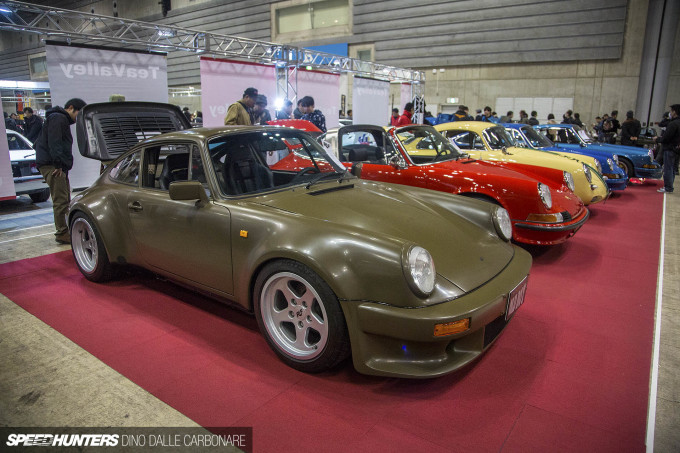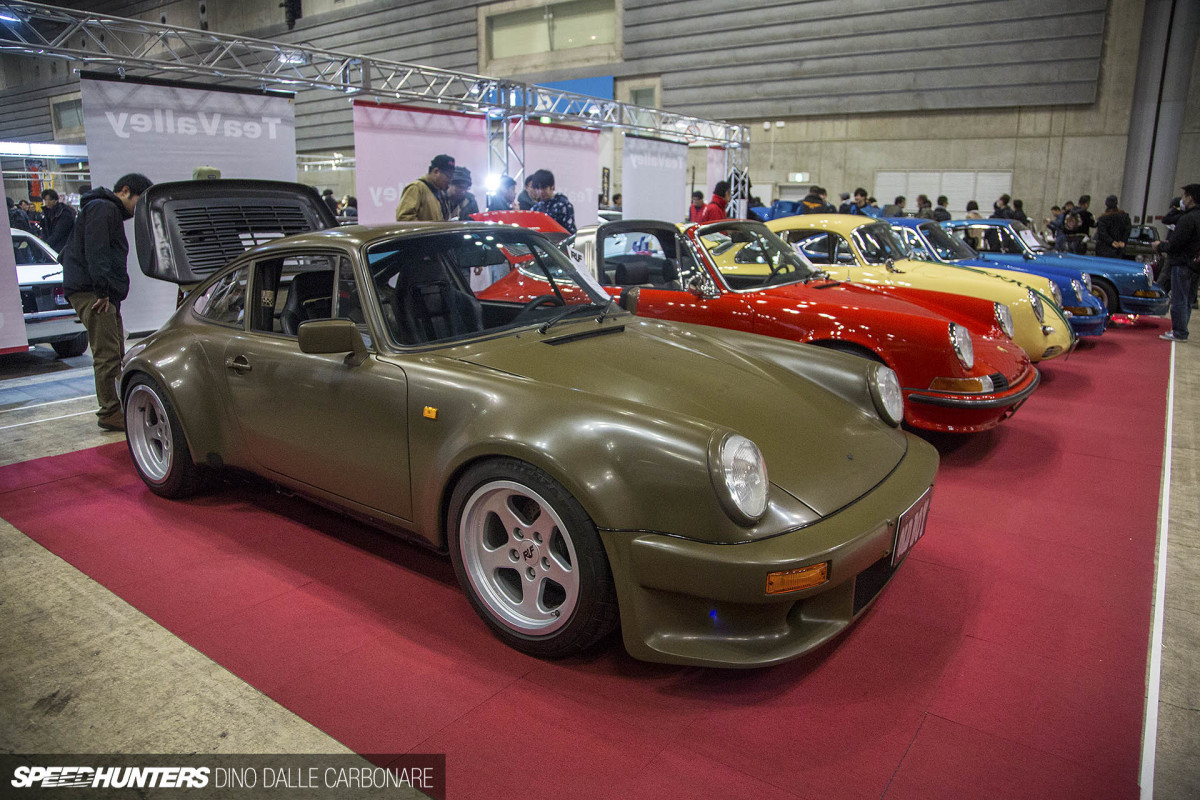 Even this line up of restored Porsches from Old Boy were on sale, including this 911 which was advertised as the RUF Nato prototype. It's a bit tough to say if this is indeed the real deal, a car that in 1986 was used by RUF to develop a bunch of parts before their regular line up of cars came out.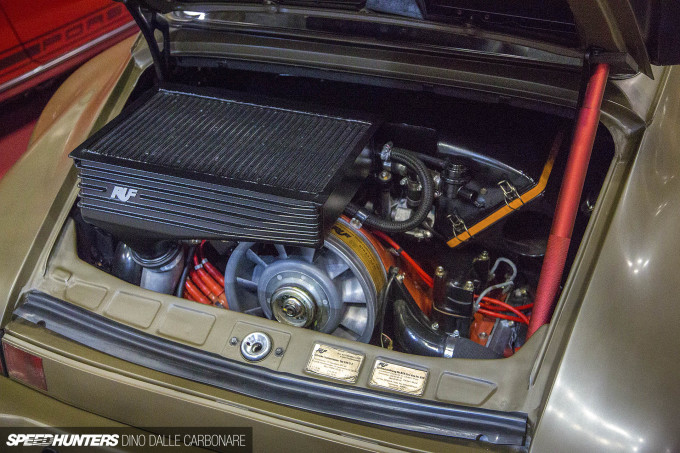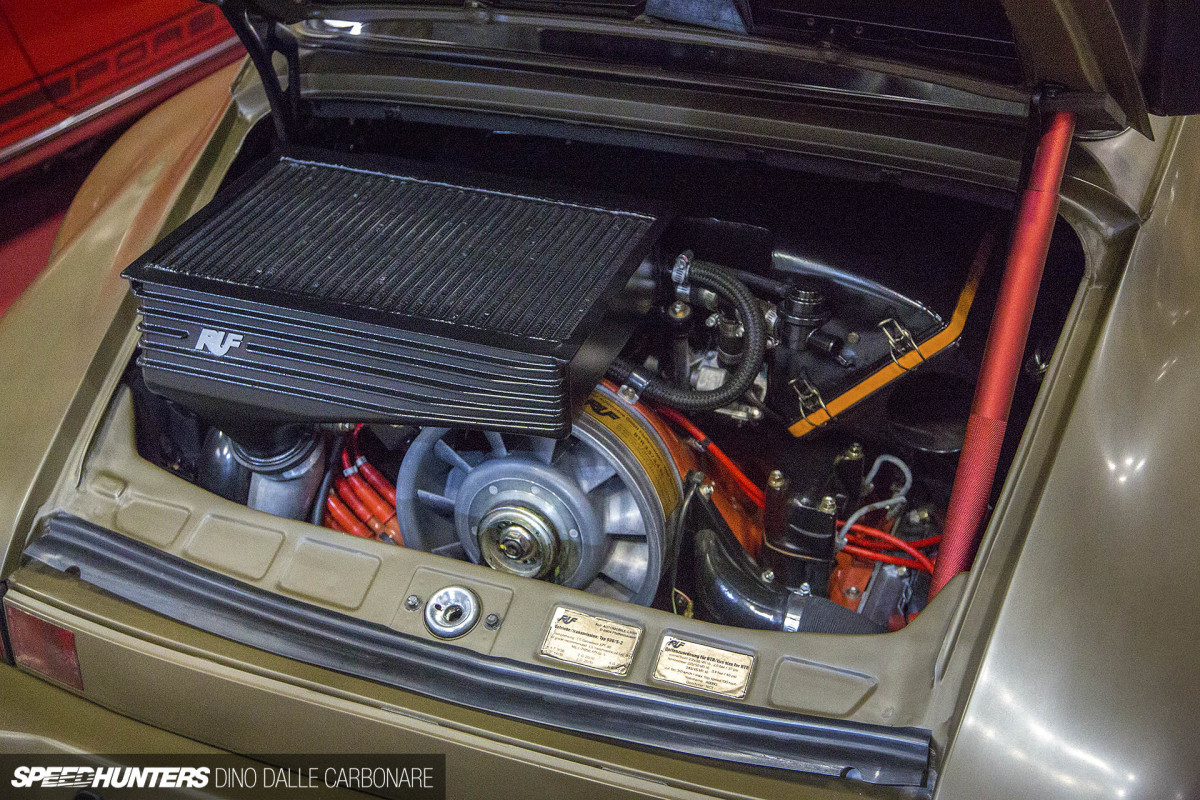 It seems to be pretty legit, and inside I spotted the for sale sign which advertised an asking price of ¥70,200,000 or $660,000. The 911 market is officially out of control.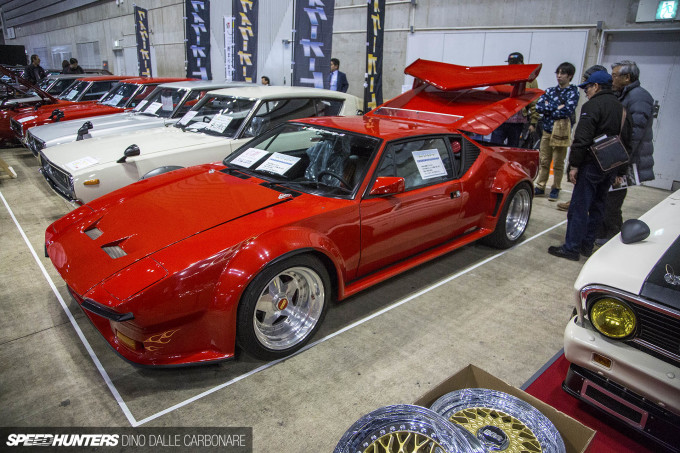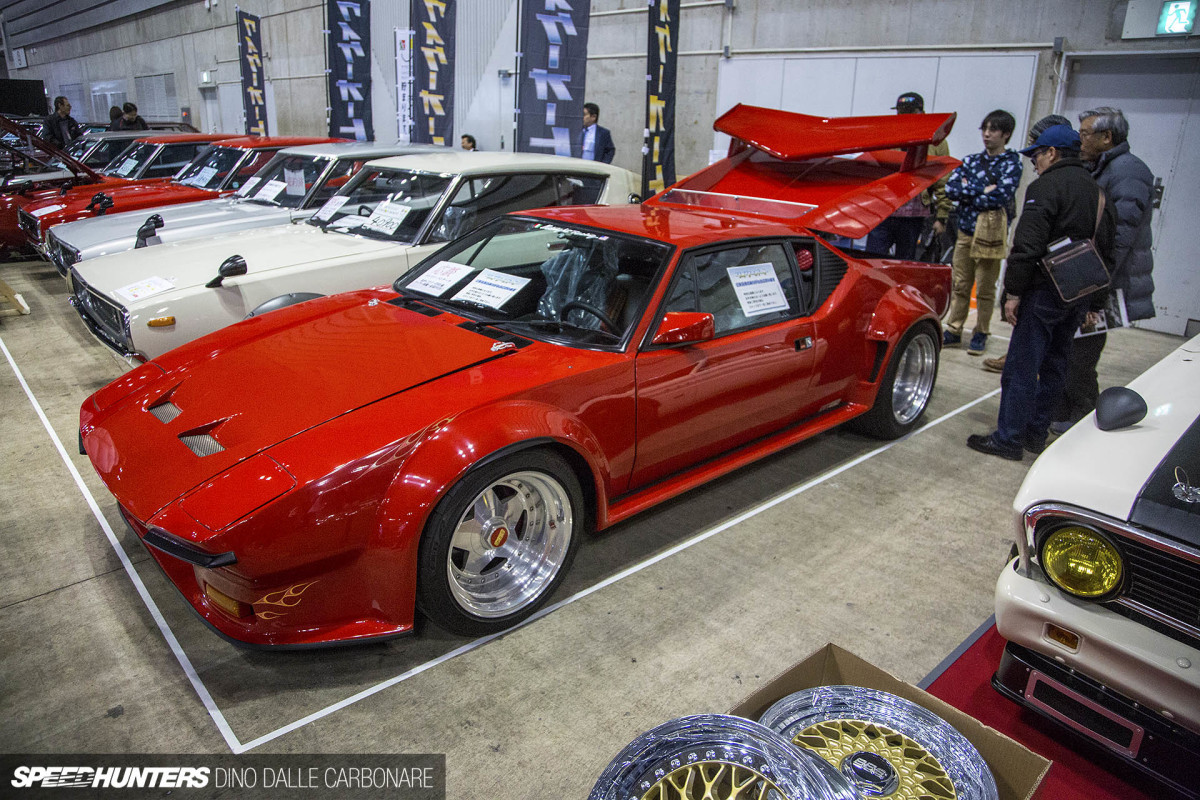 How about something Italian? Well, sort of. The car was built in Italy at least, while the founder was from Argentina, sort of like another Italian sports car manufacturer we've had the pleasure of visiting on many occasions. Except Pagani uses German engines…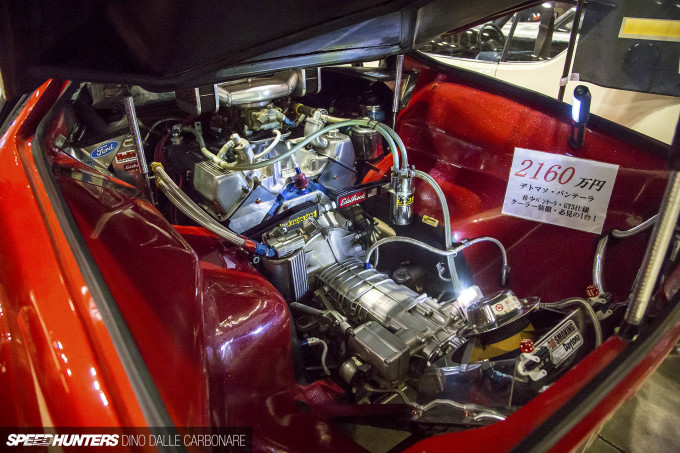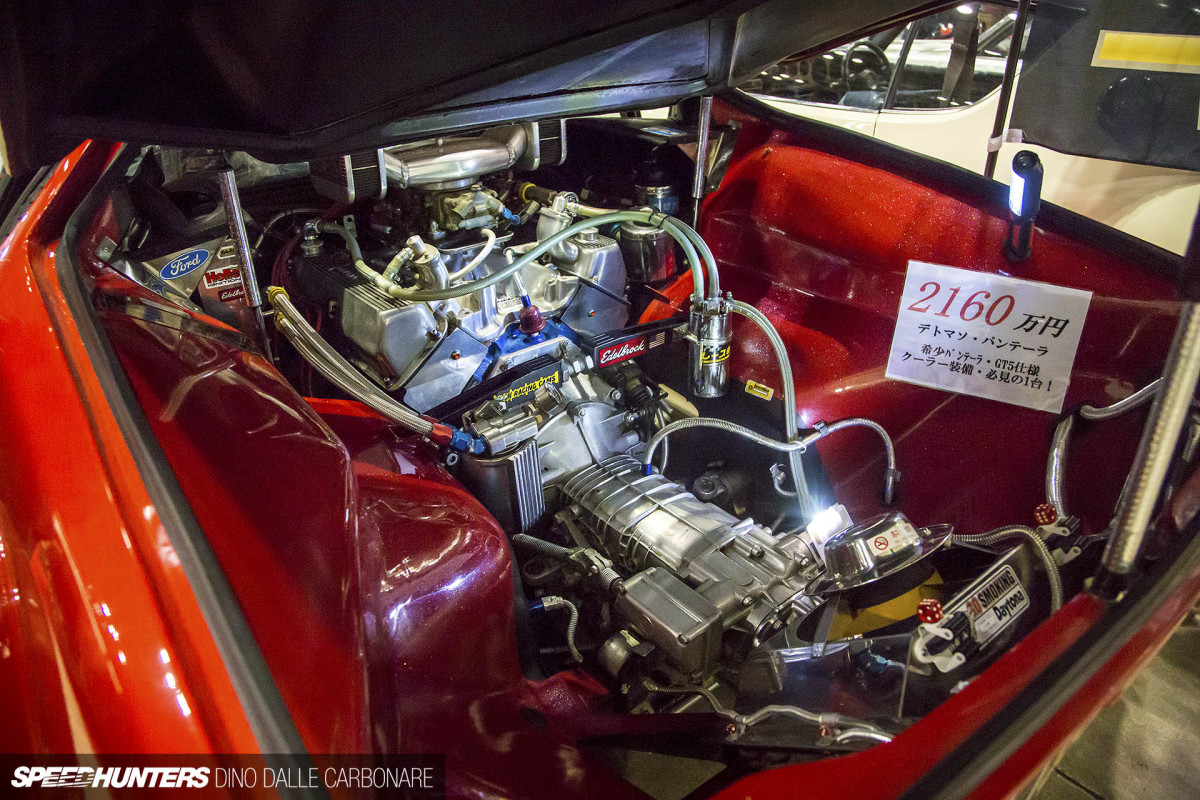 …and not American muscle. Again, this Pantera was on sale, with the price was right there in the engine bay, just add four-zeros to get the correct number.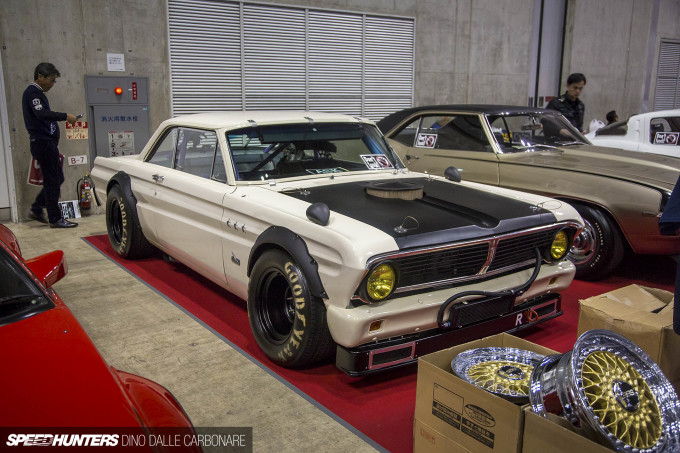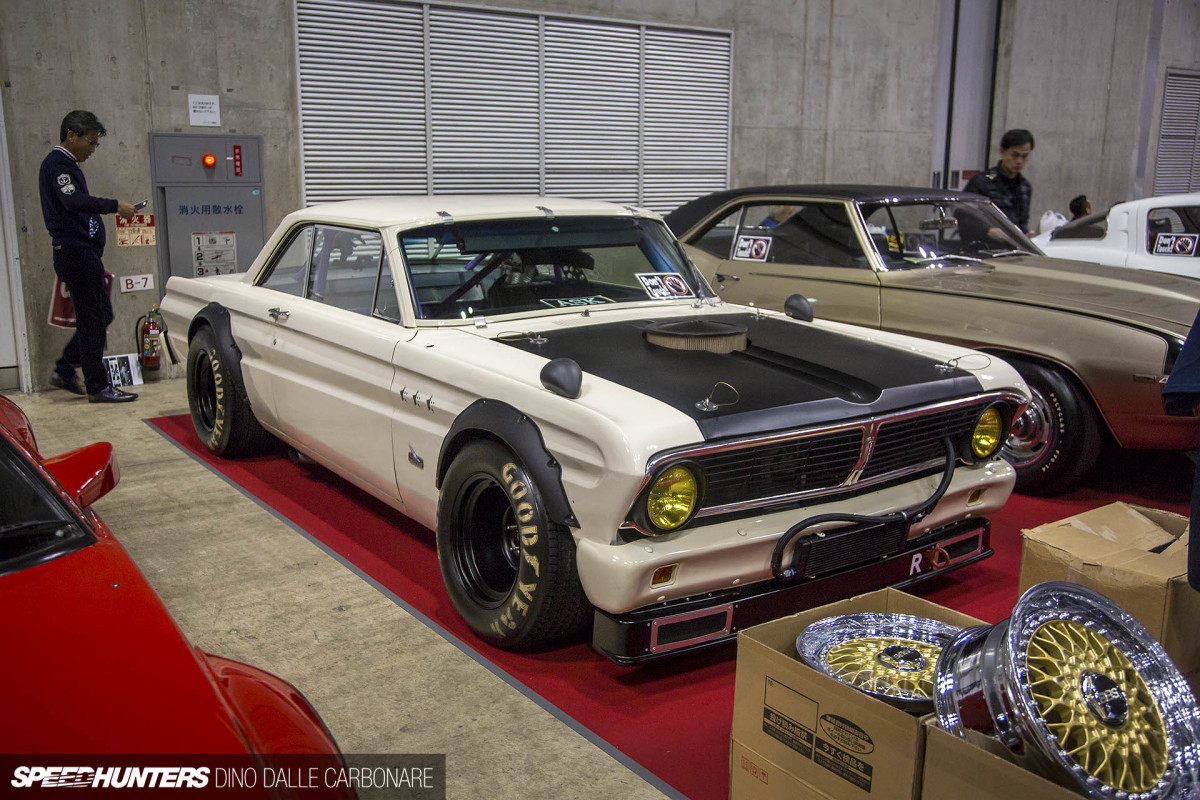 Remember this Ford Falcon? It looked way different when we featured it in 2014, with purple wheels and some pretty loud graphics, but now after being rebuilt into its second evolution – yes, you've guessed it – it's up for sale.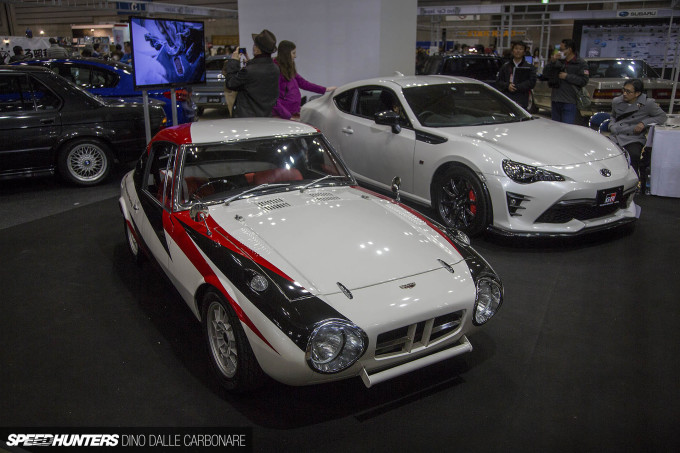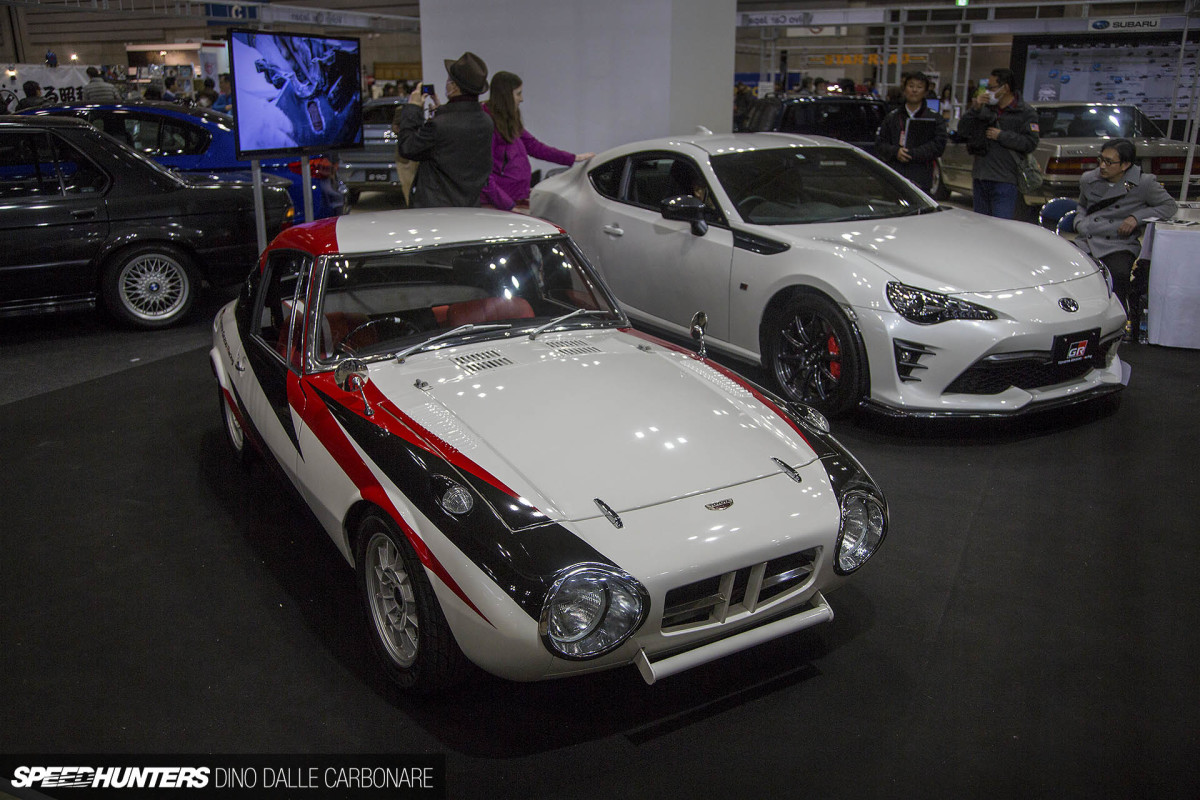 Another manufacturer that was present was Toyota with its Gazoo Racing motorsport division, sort of hinting that the new generation '86, should have probably been called Sport800, or rather something like Sport2000, to be more in-line with the boxer-engined car that it was inspired by.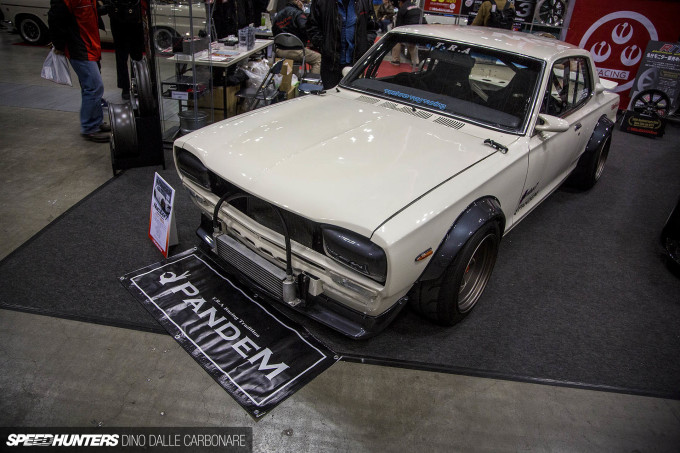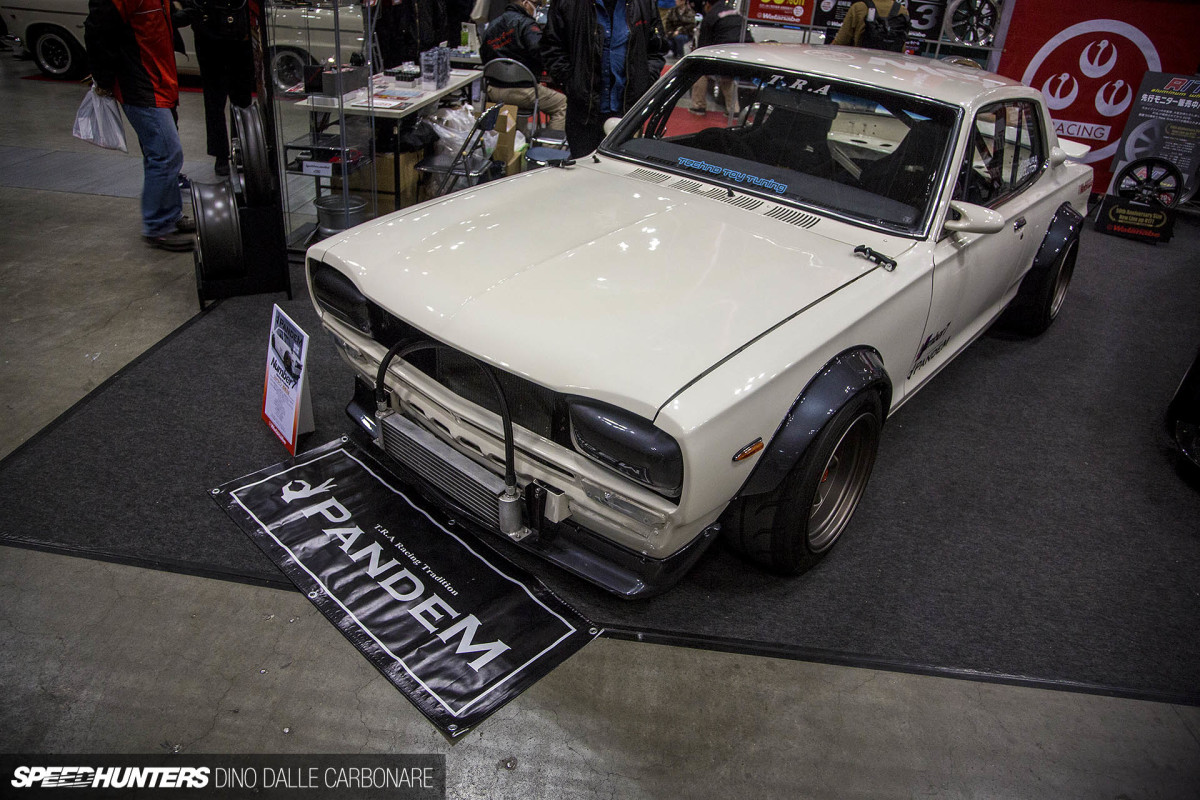 For a second there I had totally forgotten that Pandem even did a kit for the Hakosuka. The real question is what cars hasn't Miura-san catered to yet?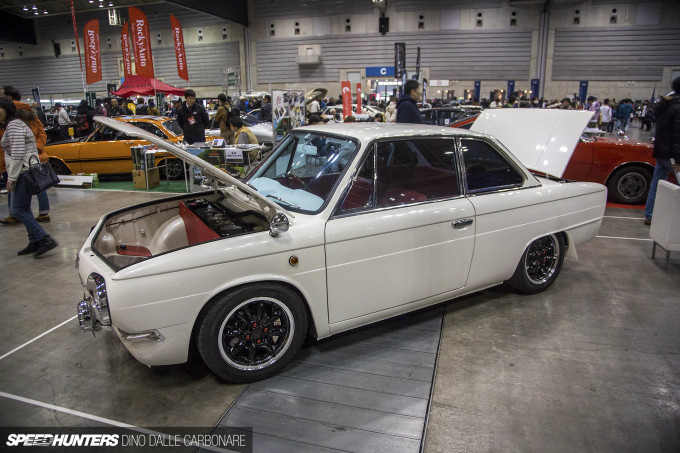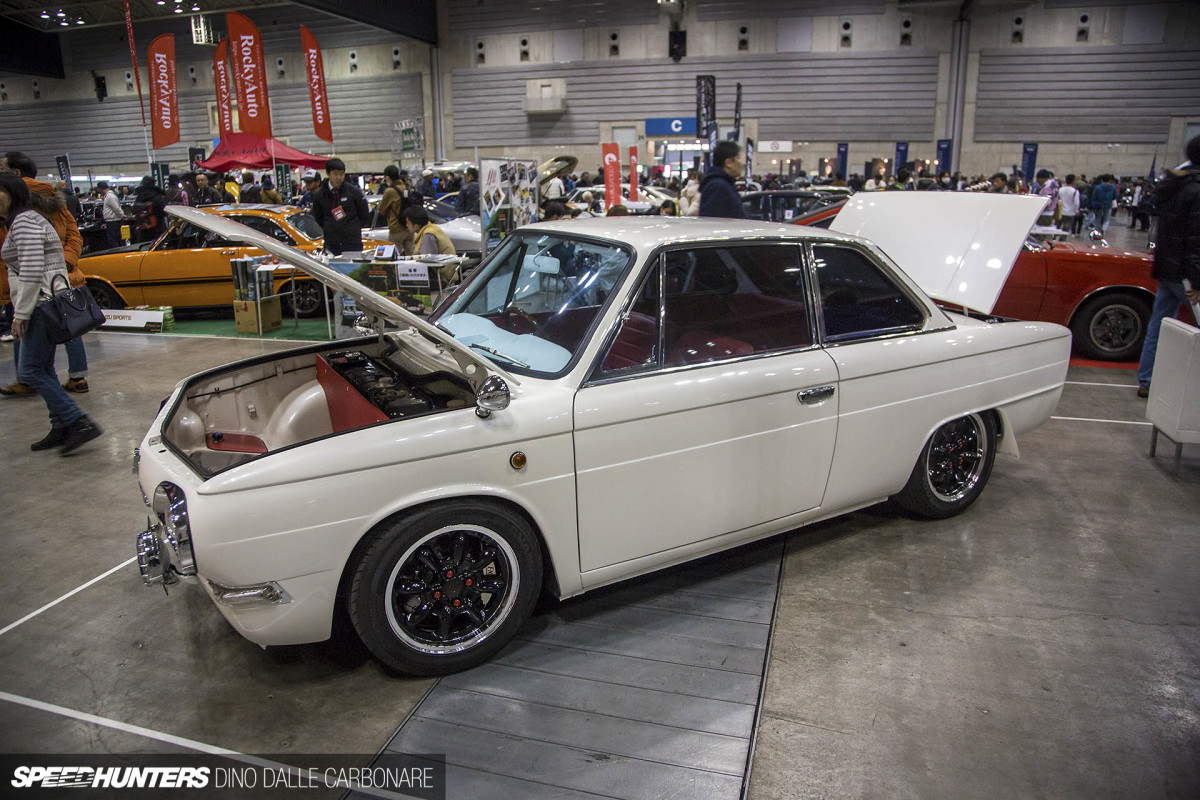 Did you even know Hino made cool cars? Well they did and the Contessa 1300 Coupe was something as different as you could possibly get back in mid-'60s Japan. This is what Enkei and Endless did with it, a car that was first shown at TAS last month.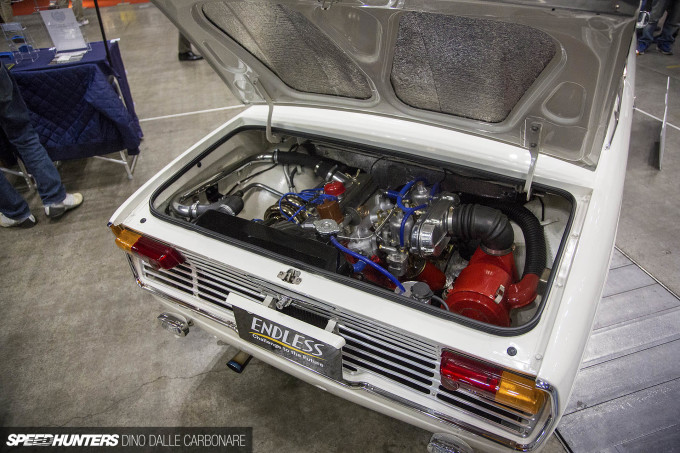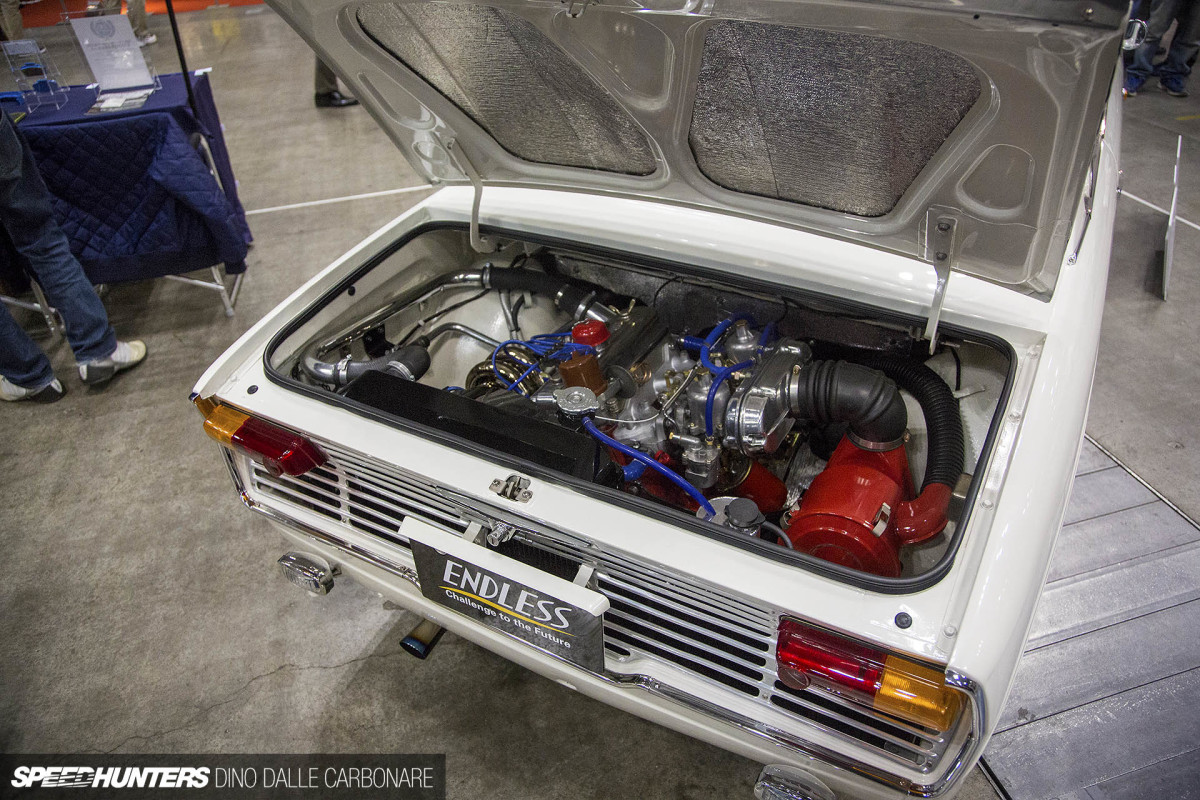 Giovanni Michelotti designed this and it was a rear wheel drive, rear engined and four seater coupe. From a time when the Japanese actually dared do crazy and wonderful things. This is precisely the sort of thing Japan needs right now, or then again it could also be a reason why Hino no longer makes cars. What do you think?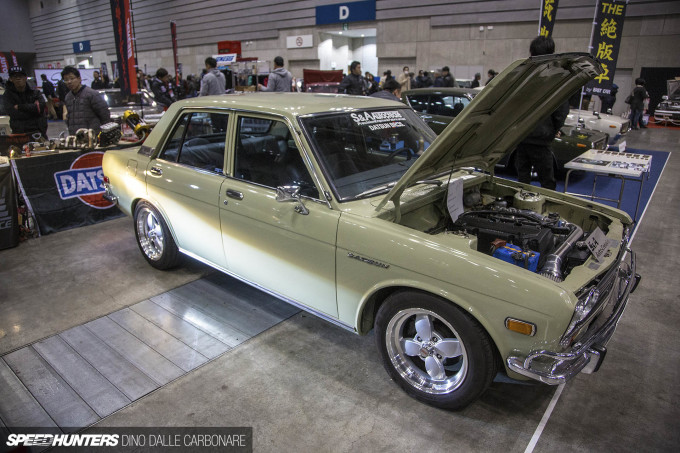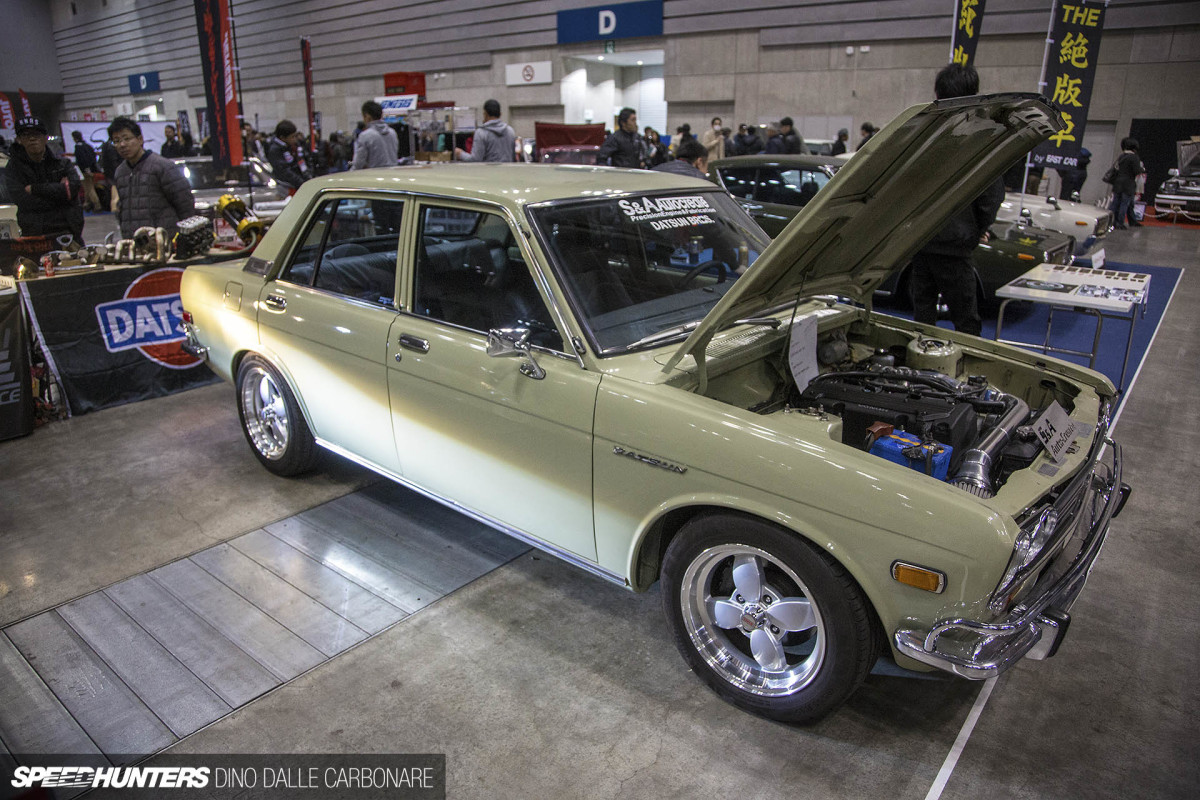 It doesn't matter the type of show, we always seem to run into the guys from S&A Auto Create lately. I call them the masters of engine swaps, not because they are the only ones doing it, but because they are the best at it. Not only can they stick any powerplant in anything, they make it function properly and look its best.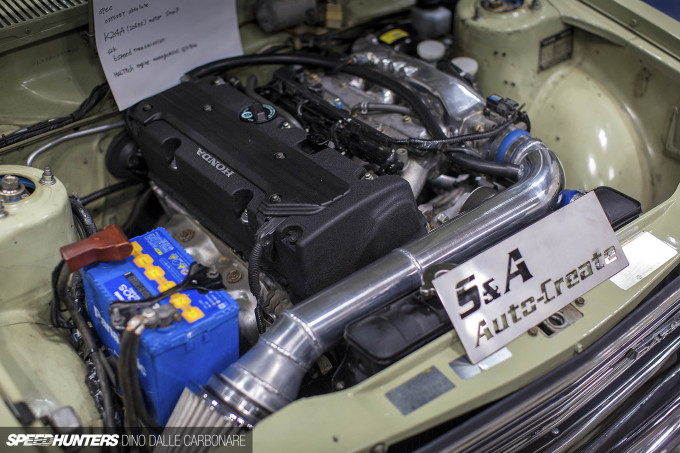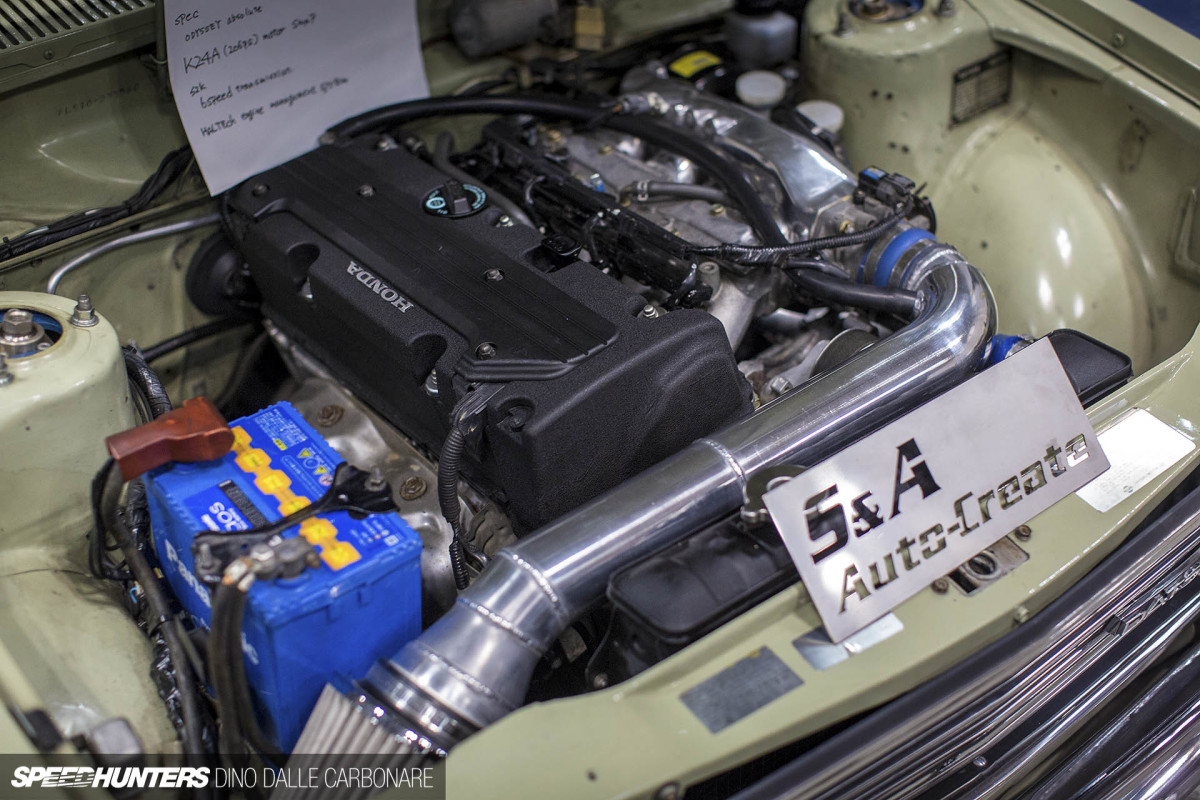 This Datsun 510 runs a Honda K24A mated to an S2000 six-speed. I just love seeing engines that were devised for transverse orientation sitting longitudinally. This car also runs a Haltech ECU and I bet it's a damn hoot to drive.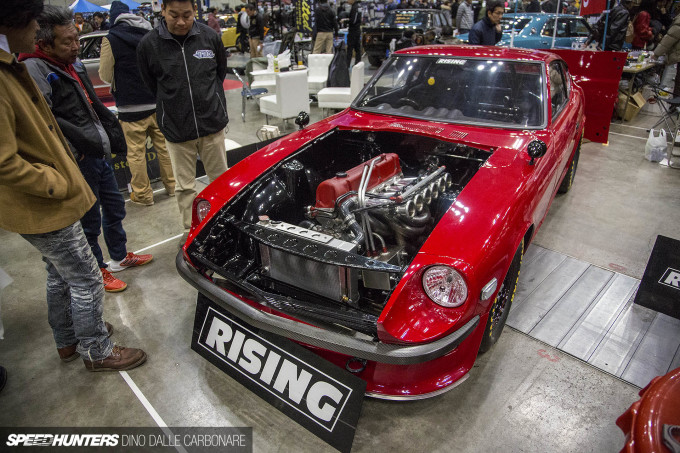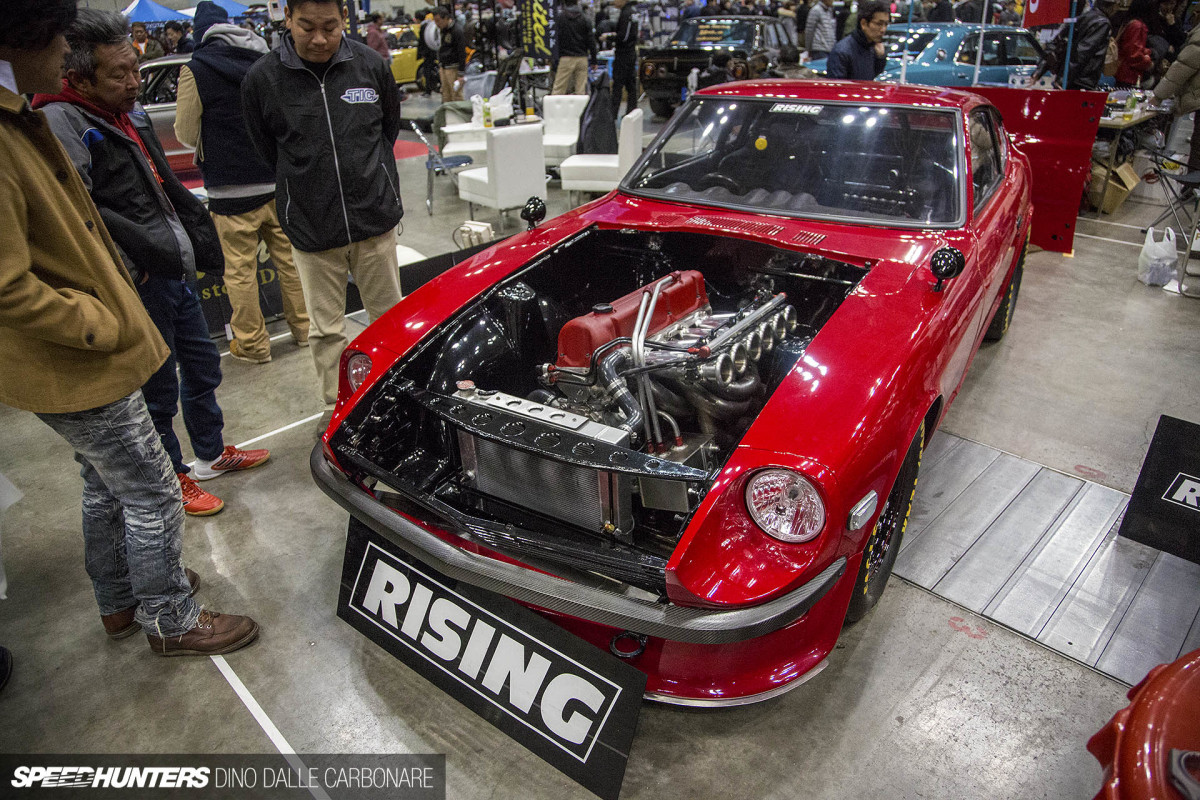 Next door to S&A was Rising with their drag S30 we saw last year at Wekfest in Nagoya. The mostly carbon fiber car still looks amazing as the day I first spotted it.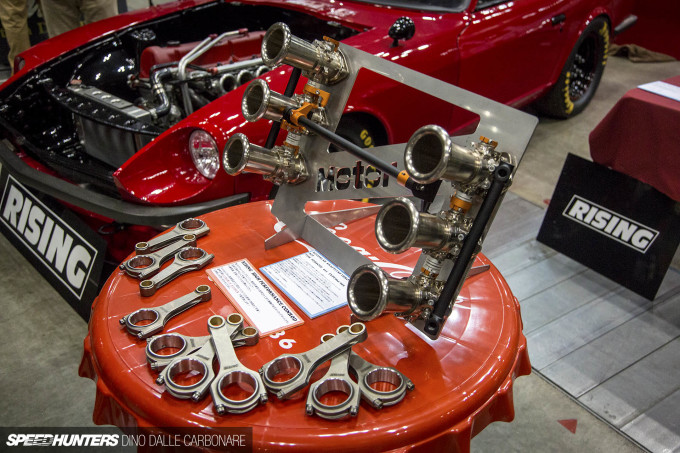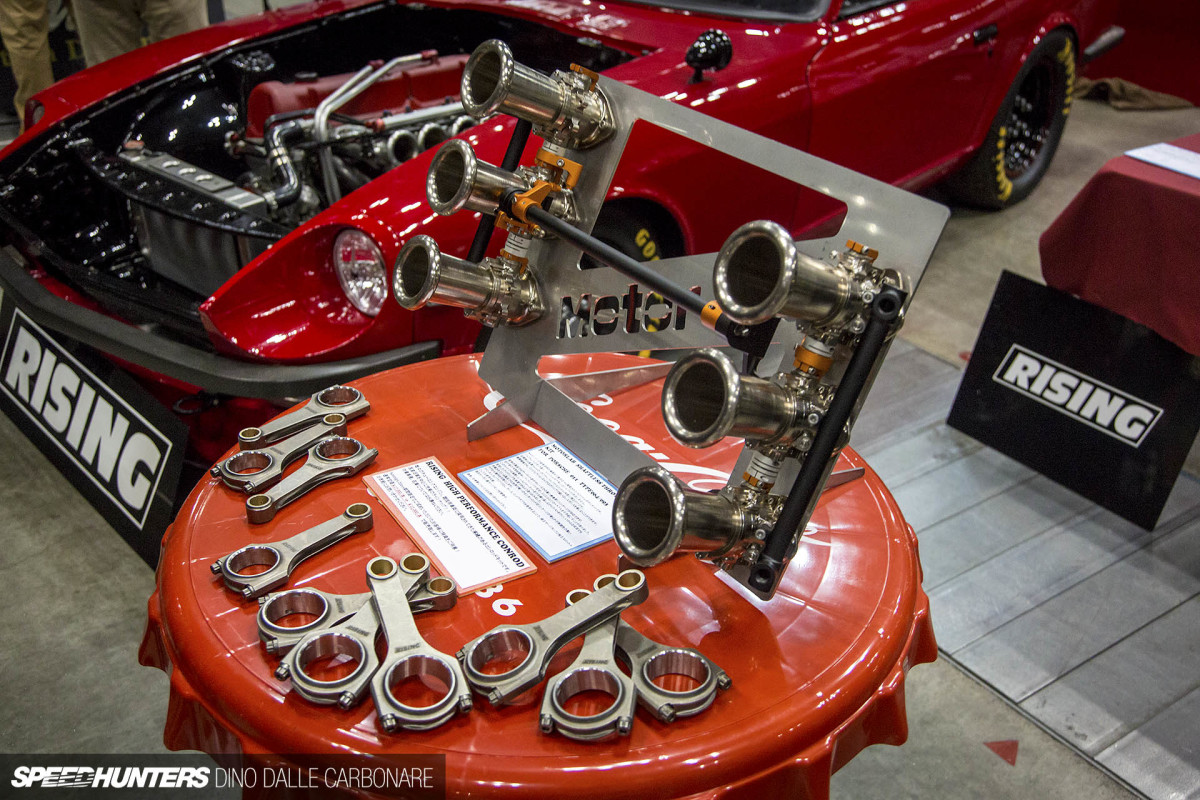 They had some cool engine parts on display, like their own branded connecting rods and a Motorlab shaft-less throttle assembly for the 964 & 993 flat-six. Man, if I ever get an air-cooled car, that's one of the first things I'd fit to the engine, the induction must sound sublime.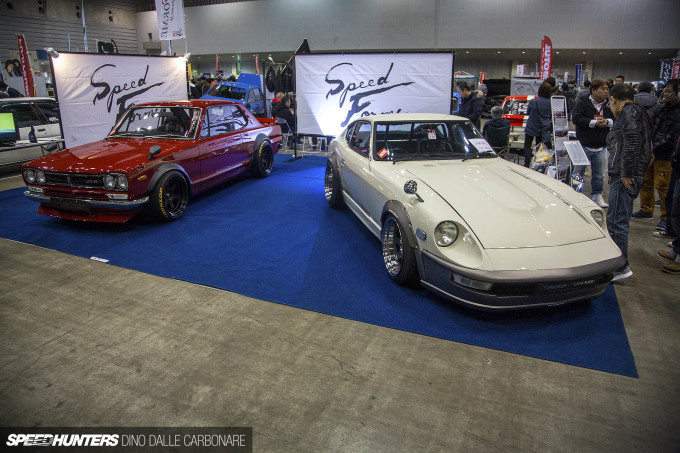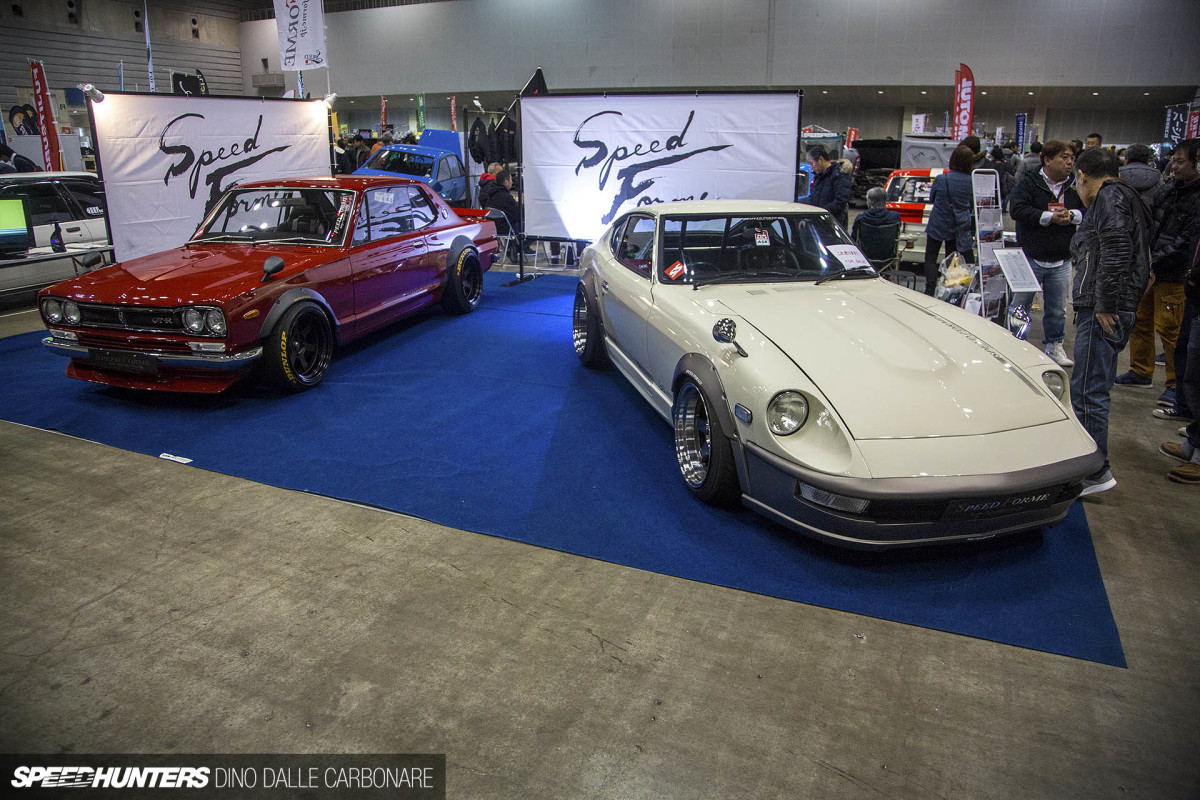 I had the chance to chat with the guys from Speed Forme, an aero specialist from Osaka. I loved their approach of taking resto-modding onto the aesthetics of cars like the S30 Fairlady Z and GC10 Skyline. It just reinforces the idea that the things you can do with older cars are limitless, it's only up to one's imagination.
If someone asked me what was one Japanese car that you just don't see stock versions of any more, the RX-7 would be pretty high up on the list. Yet here are three examples, two FCs and one late generation FD. These are all cars from RX7 specialist Total Seven who have recently launched a restoration program to clean up 7s of any generation. Very appealing, but I'd still like mine with a turbocharged 20B.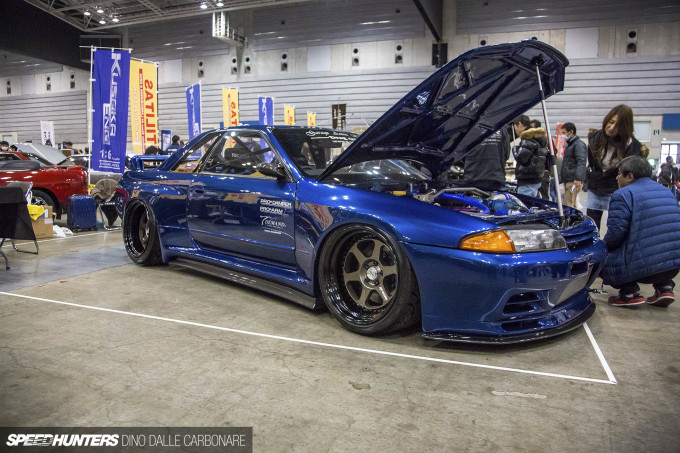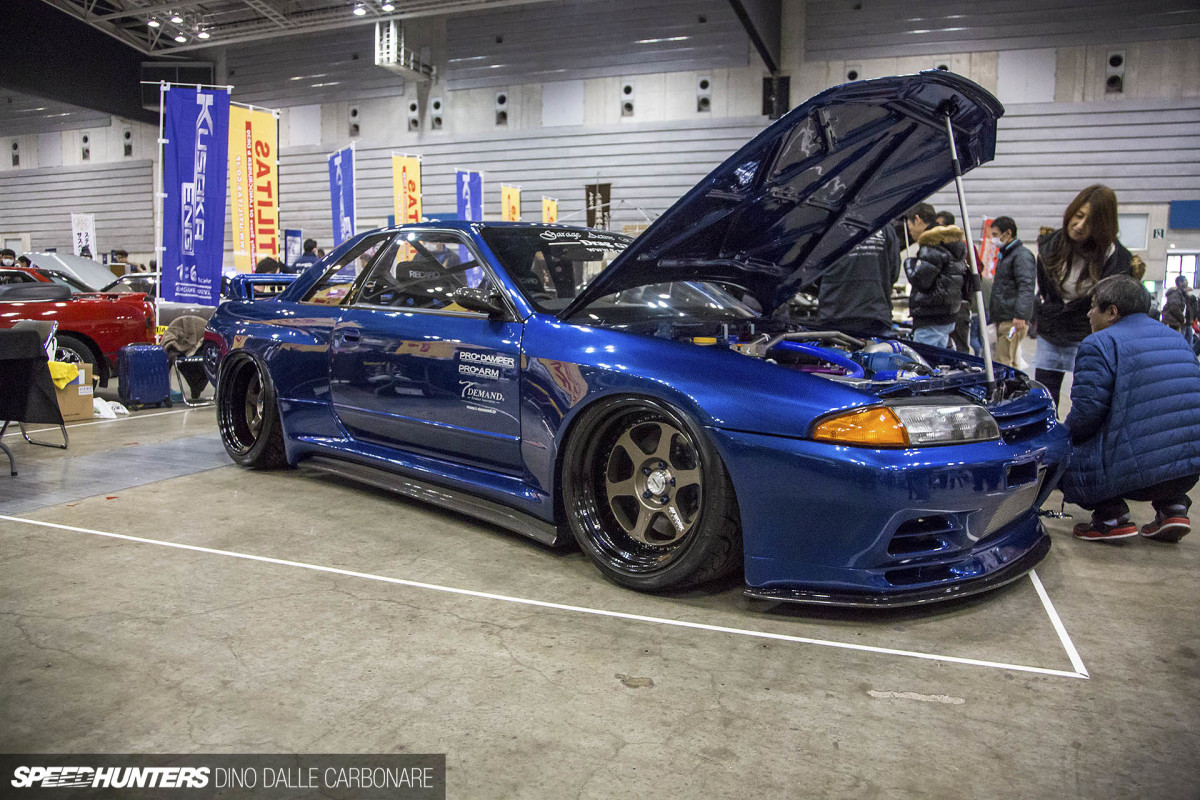 How about a 900hp carbon wide body R32 GT-R built for drag and time attack? Is that a classic? Is that a nostalgic car? I guess it very much is. Hell, even the R33 and the soon to be 20 year old R34 is now considered one as well. Blows my mind, but at the same time I kind of like how respected and sought after they've become.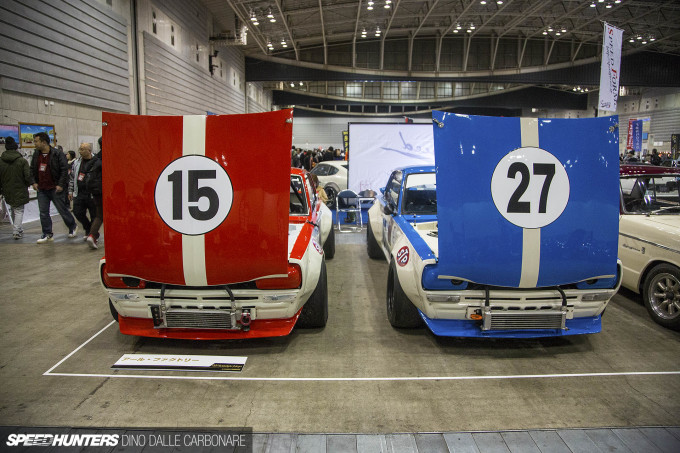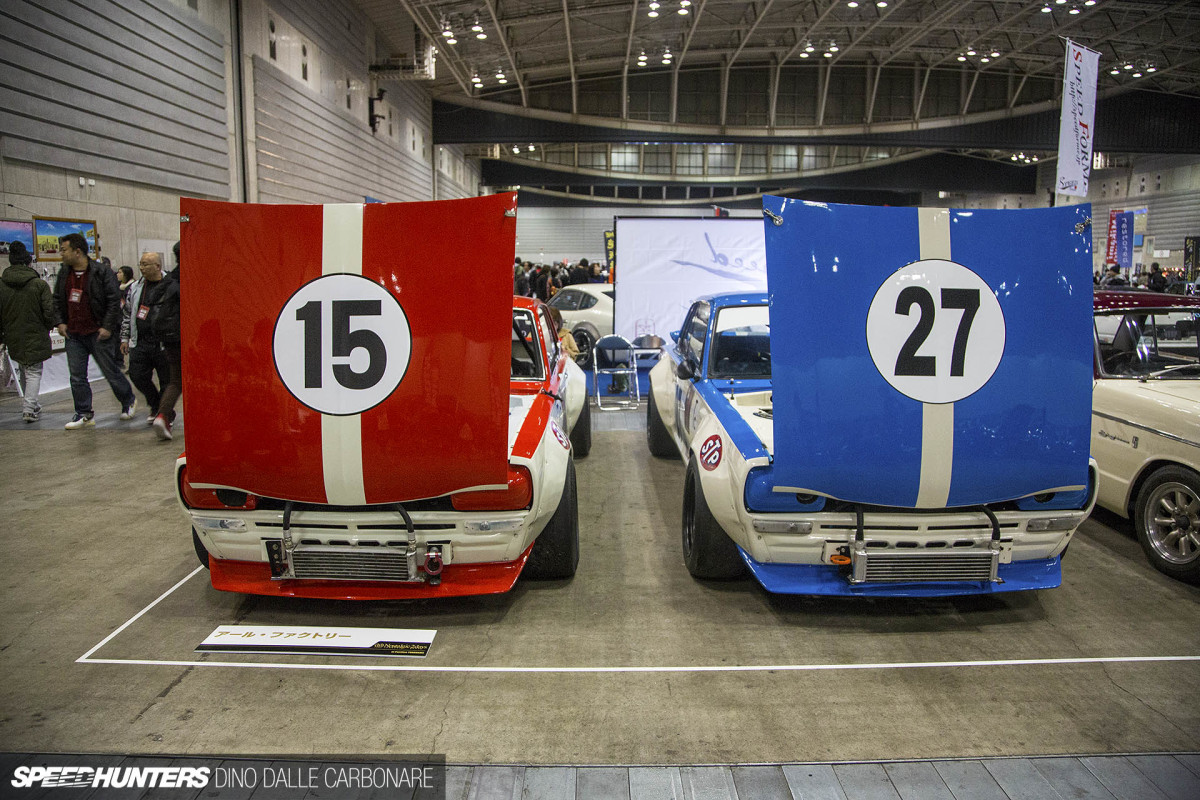 R Factory had serious stuff on show.
Left or right, take your pick, both S20 powered racing beasts!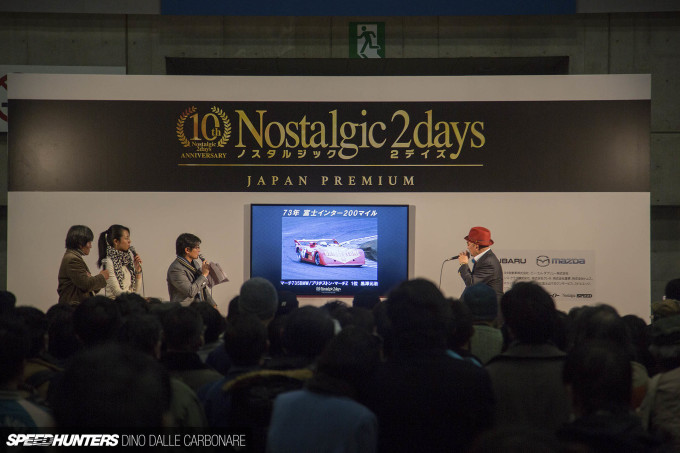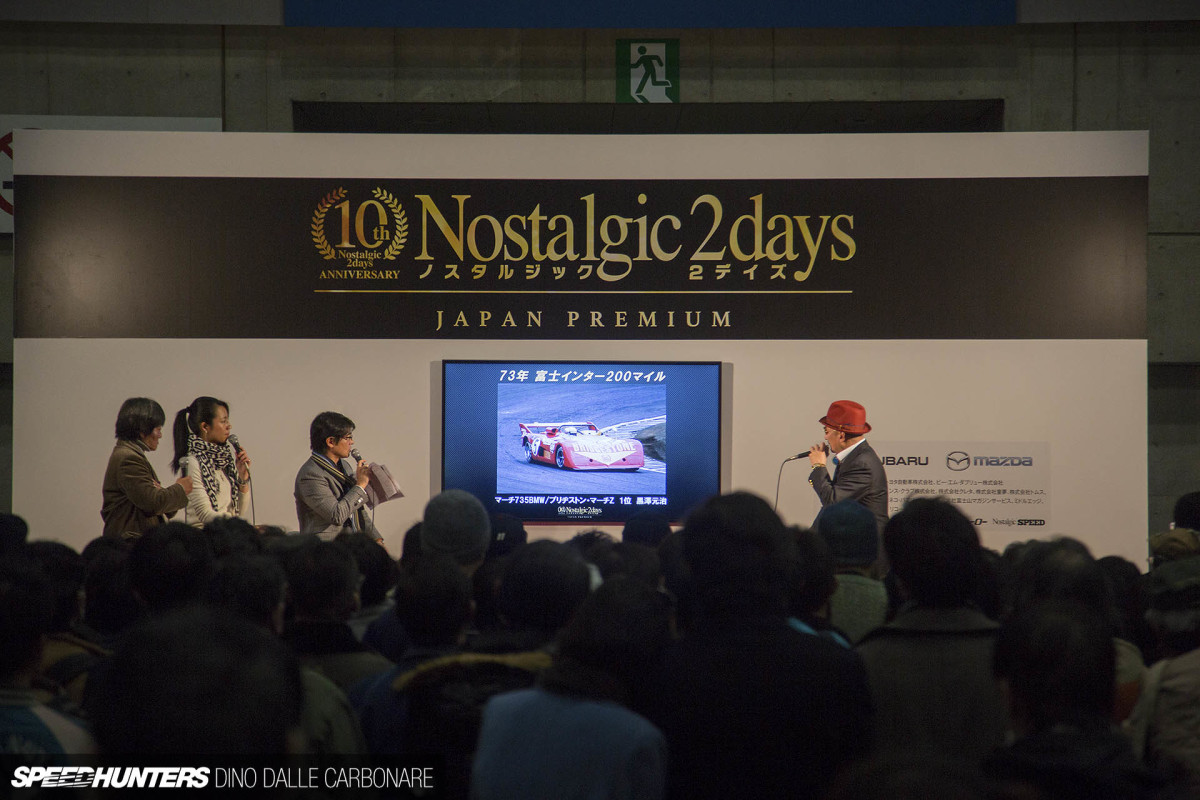 Up on the stage there were talk shows to keep the racing otaku happy with guest appearances from the likes of Sunako-san and Hoshino-san, talking about their years racing back in the '70s and '80s.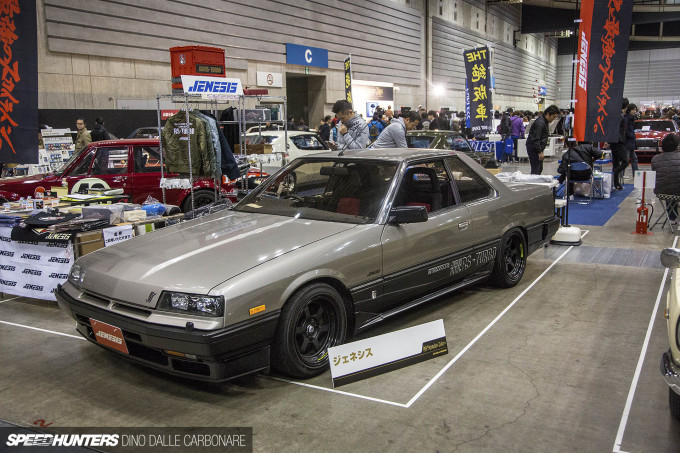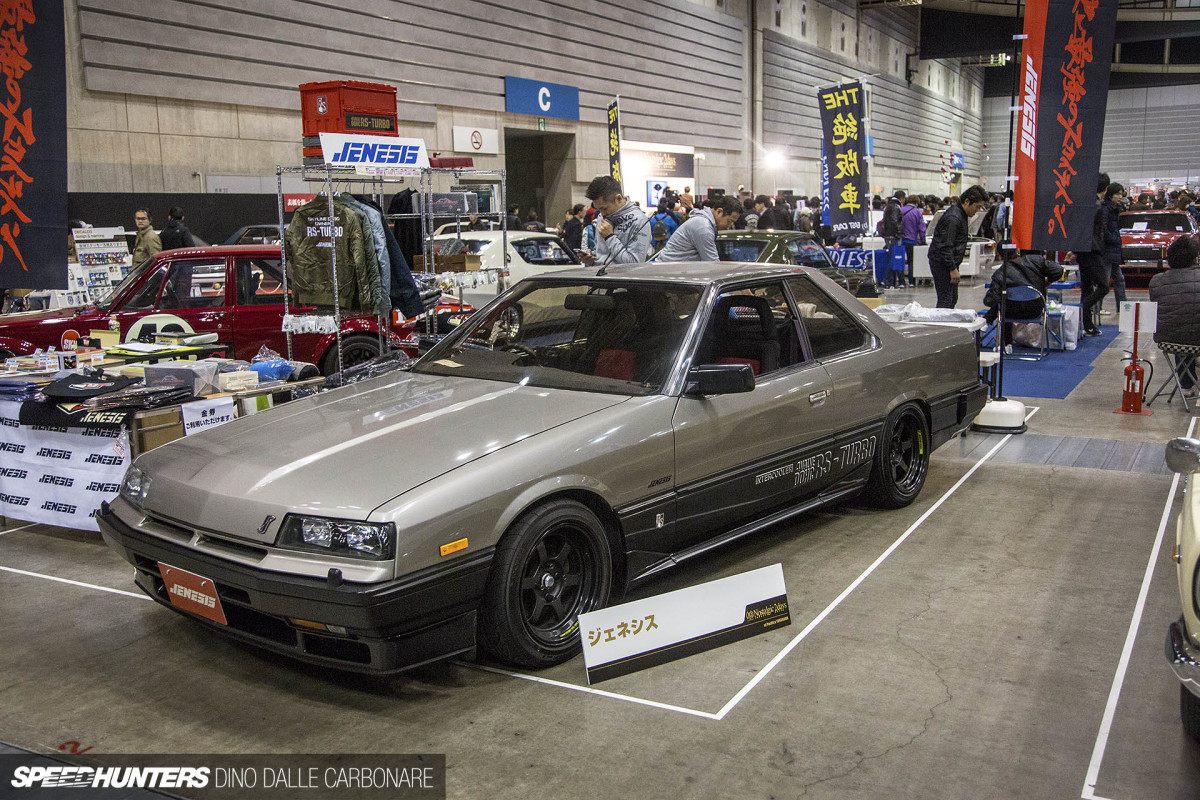 The Nostalgic 2 Days is a true indulgence for fans of gems from the past, along with the surpassed and forgotten that for some special reasons we just can't keep out of our hearts.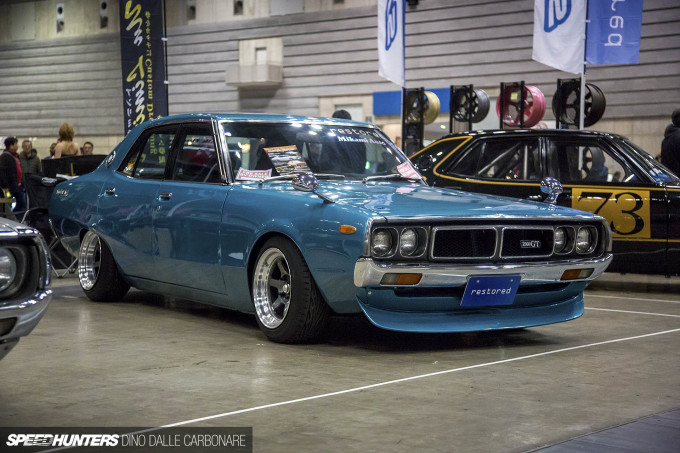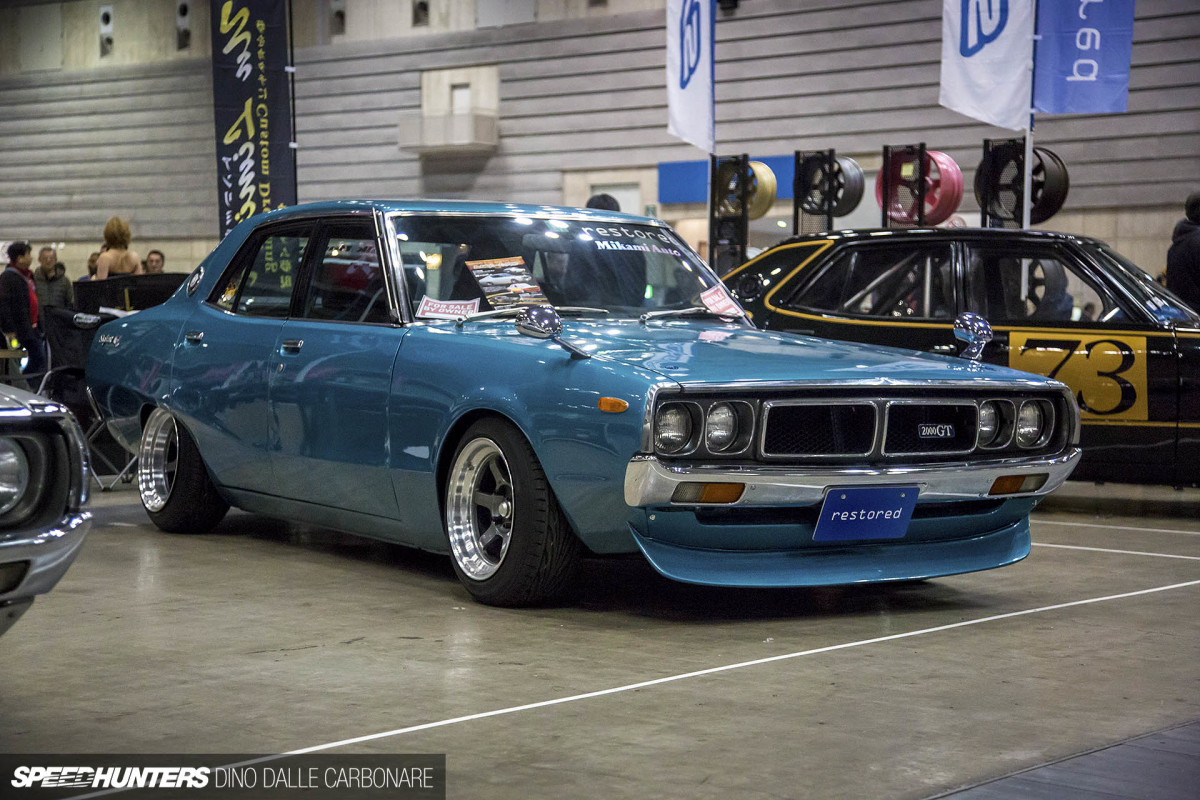 I'll close off this first post from the show right here ,but expect to see much more vintage awesomeness coming your way over the next few days.
Dino Dalle Carbonare
Instagram: speedhunters_dino
dino@speedhunters.com