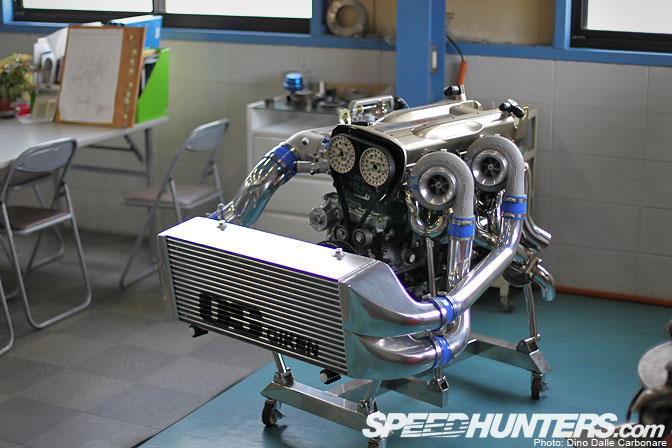 One of my other ports of call each time I am in Okayama is OS Giken. It's a company I, along with many other enthusiasts around the world, admire for its incredible engineering capabilities. Anyone that is remotely interested or part of the GT-R community will know what great products they create so when I got a call from Yoshi, who takes care of the international side of the business at OS, telling me I should drop by to check out some of their latest creations I instantly took him up on the offer. What follows is a major nerd out, so if you are not into drooling over exquisitely constructed engine parts I suggest you don't scroll down. If you are then prepare for some OS Giken art!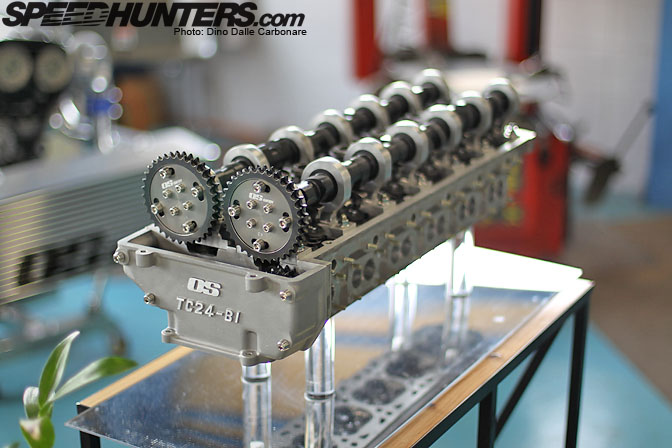 First up the famous OS TC24-B1 twin cam head for the L24 engine which transformed Nissan's straight 6 into a 9,000 rpm race engine capable of developing 330 HP with supporting modifications. This, along with the TC16-MAII engine, is what put OS Giken on the map back in the day.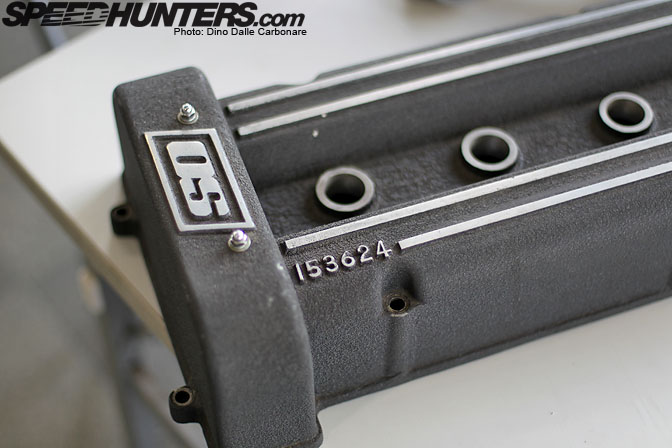 The cover for the TC24 head with firing order nicely visible in the corner. Only 11 heads were produces and to this day remain the most sought after item by owners of S30s or L-series powered cars.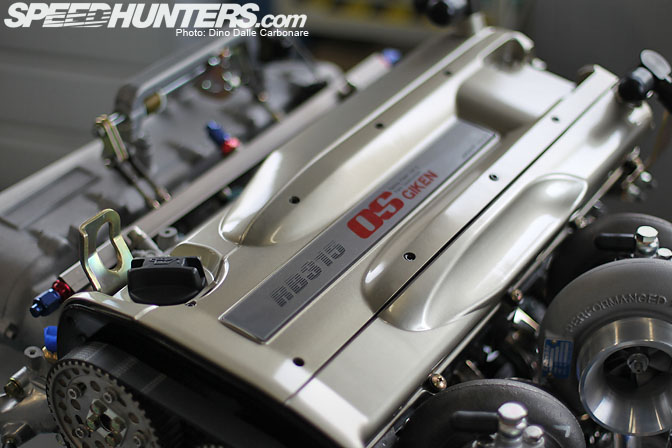 Something a little more modern. This display engine is fitted with the new OS RB315 stroker kit which brings up the capacity on the RB26 from 2,568 cc to 3,138 cc thanks to a 3 mm increase in stroke and a 0.5 mm increase in bore.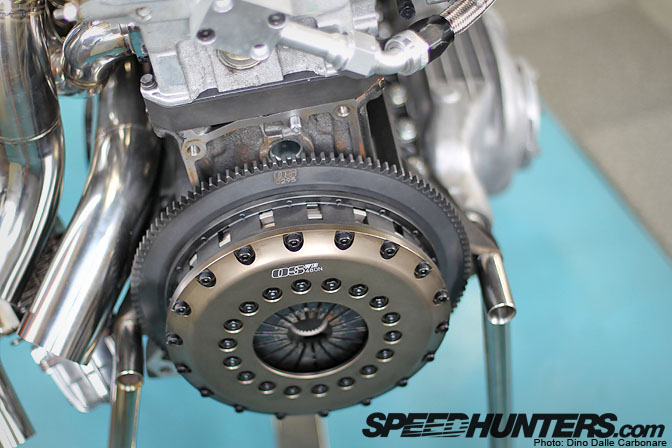 This, like their RB30 kit (86 mm x 86 mm), employs a 26 mm spacer (24 mm for the RB30), added between the head and block. You can see it in the picture above along with the beefy OS Giken quad-plate clutch.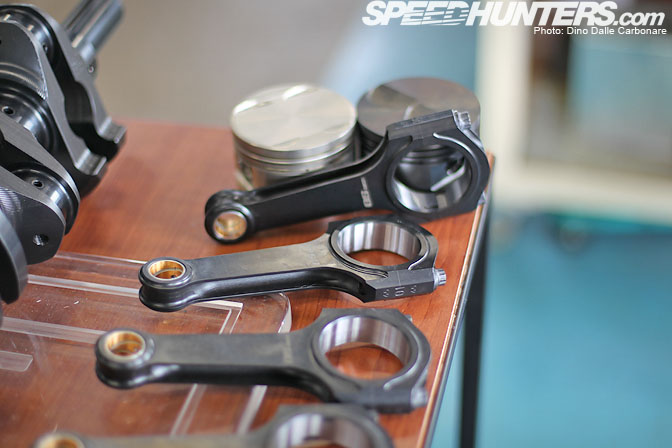 H-section connecting rods as used in the kit.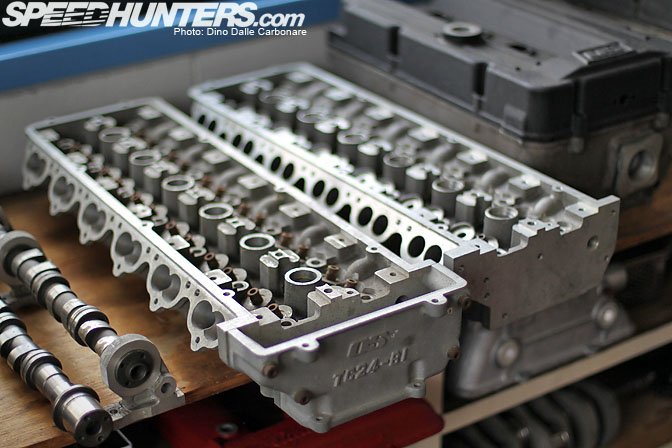 Ok this is where people with L-series engines will faint. Finally, OS Giken has decided to do another limited production run of the TC24-B1 head! It's not quite sure how many will be produced but with such high demand anyone wanting to secure one should get in there quick! Anyone recognize the smaller engine on the far right?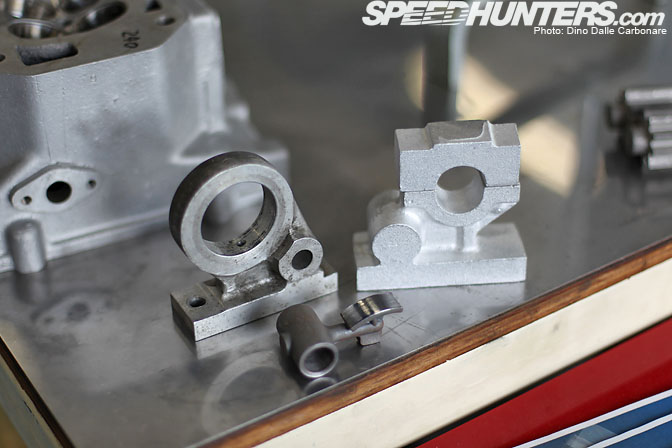 The new run of heads will feature some changes like 2-piece bearing caps (right) rather than the one-piece item you can see above on the left.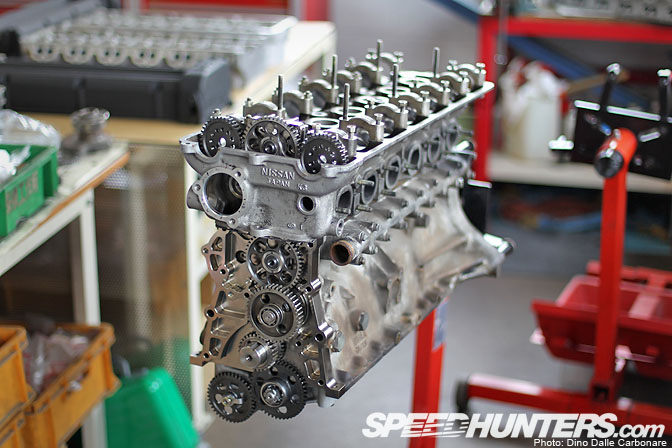 Another one for the otaku among us. This is a project the engine-specialist at OS Giken has singlehandedly been working on, which converts this rare Nissan S20's timing, from chain drive to gear drive.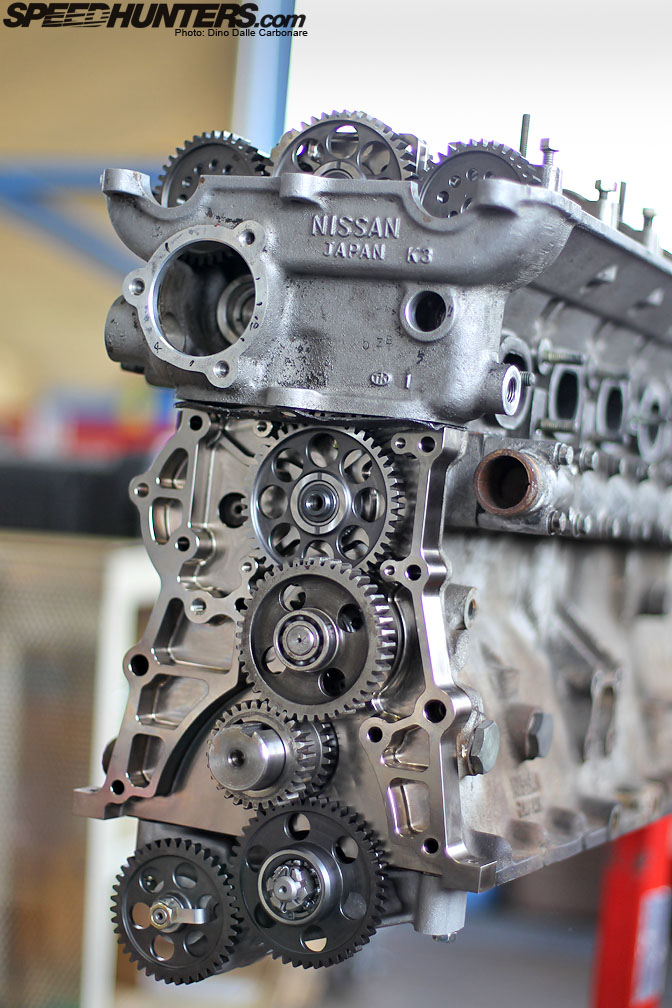 All the cam gears have been meticulously built in house and engineered to give this S20 a very unique character.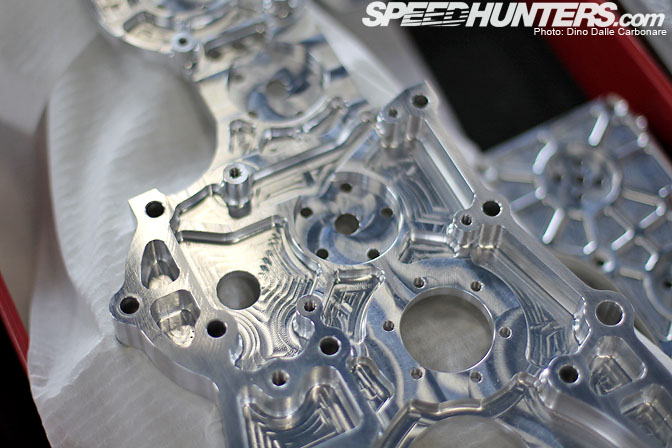 A billet cover had to be precisely machined to clear all of the gears and attach on to the other half. This will completely seal and protect the cogs.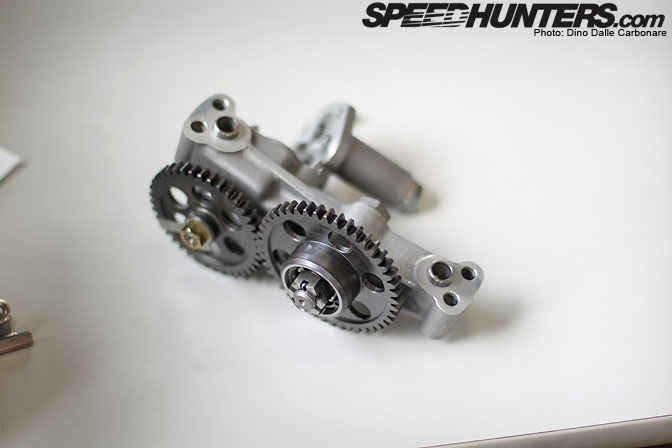 And to go with it, the oil-pump with it's own gears! A work of art to say the least! This should totally change the feel of the KPGC10 Skyline 2000 GT-R the S20 is fitted to, giving it a smoother operation as well as a different sound. I can't even being to imagine what it will be like at 8,000 rpm!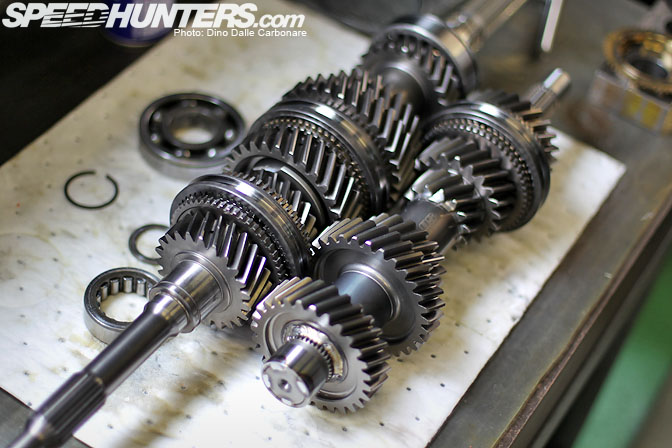 In the transmission department I was shown this close to production version of OS's much awaited Z33/Z34 gearbox kit.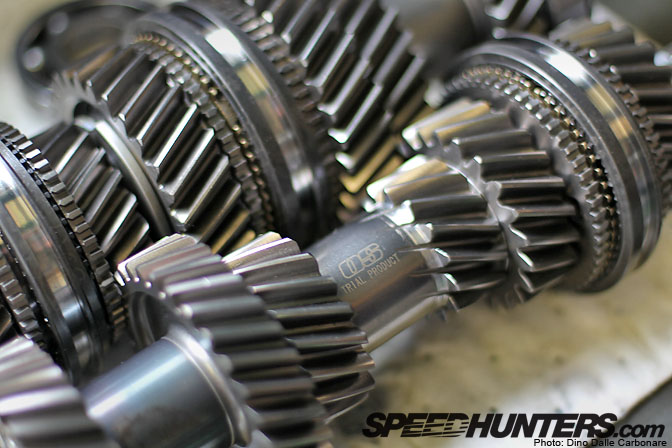 It's currently in the final stages of development and testing but will give owners of highly modified Zs a bullet-proof transmission option with very strong gears and synchros.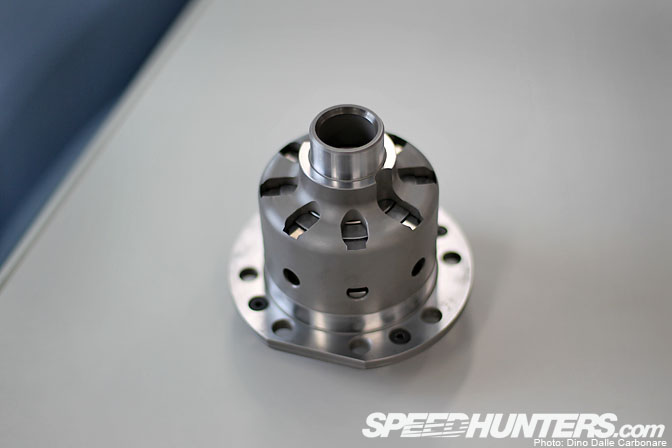 And to conclude, OS Giken's wide line-up of limited slip differential has just been joined by a front LSD for the R35 GT-R a part that is selling like hot cakes at the moment!
Hope you enjoyed seeing a slightly more technical look at the JDM tuning world.
Nerd-mode off!
-Dino Dalle Carbonare