Facelift & Bodywork
It's been a while since I brought you all a proper update on my 1998 Subaru Impreza 2.5RS (GC8), but in the midst of the racing off-season I finally managed to put aside some time to bring you up to speed.
This is a big one, encompassing every upgrade I've made to Project Bunta since October last year.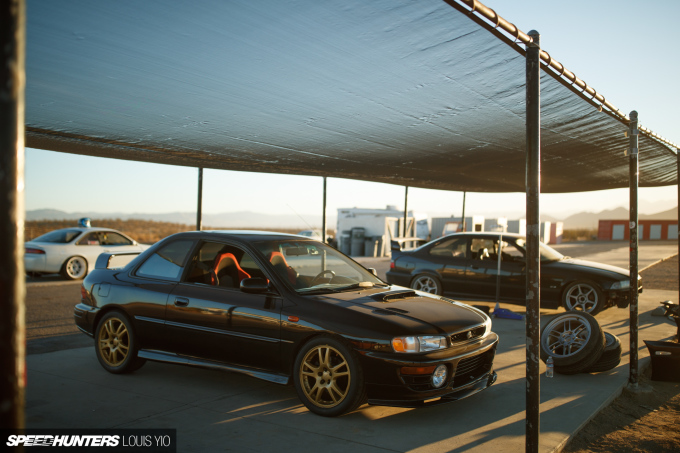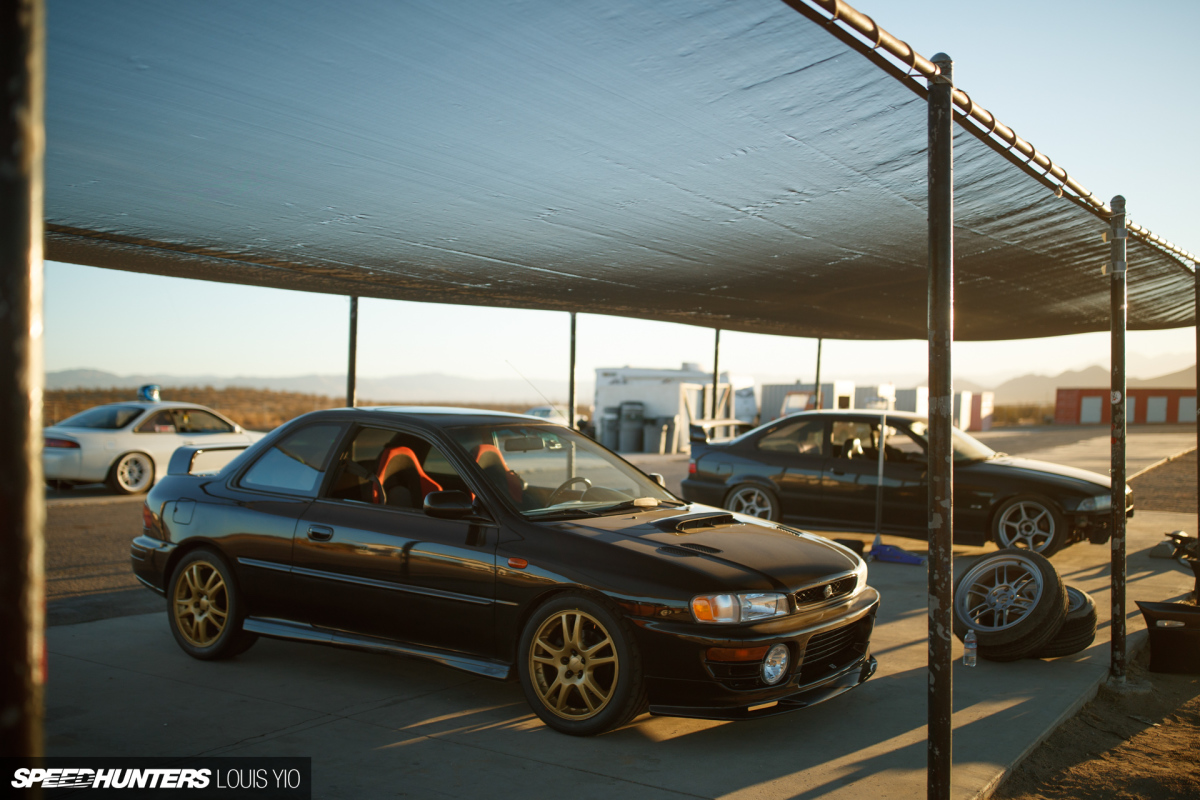 In my last post, I covered off the installation of my new ST Suspensions XTA coilovers, and later in this one I'll go into detail about how they've been performing both on and off the track.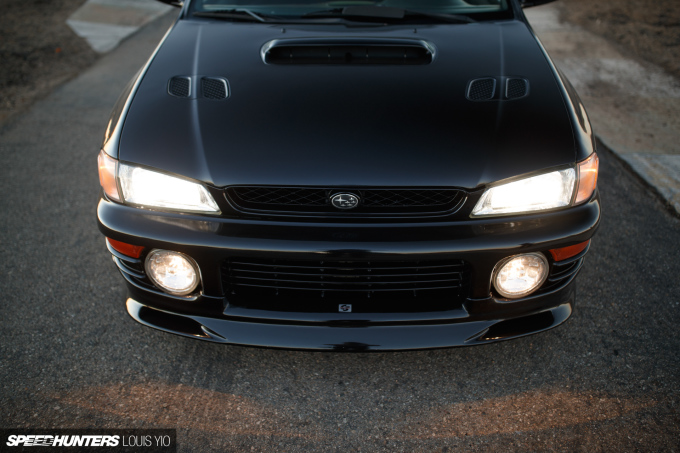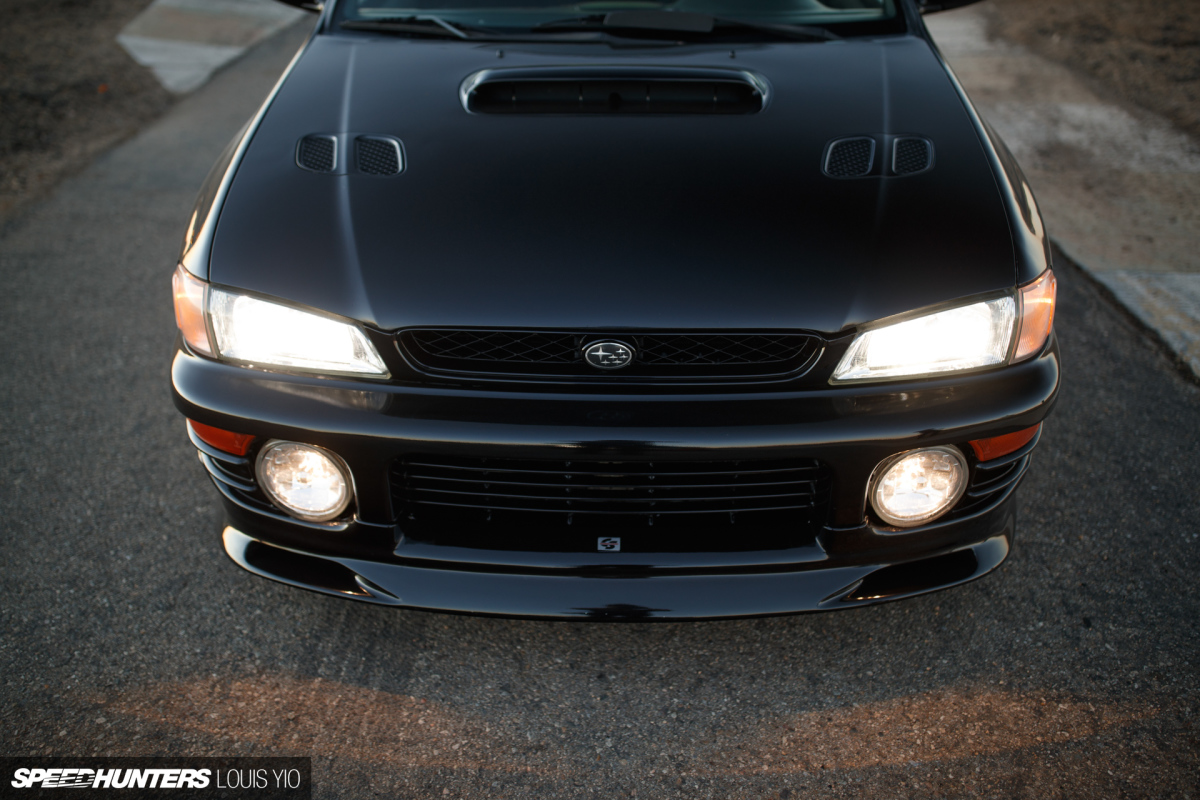 But first, we need to talk about Bunta's facelift.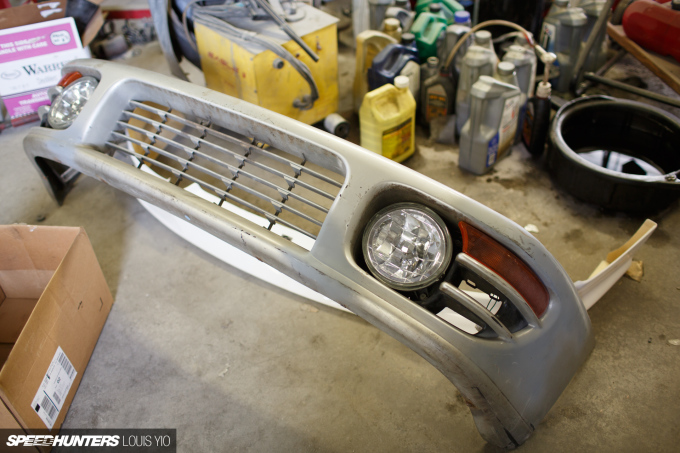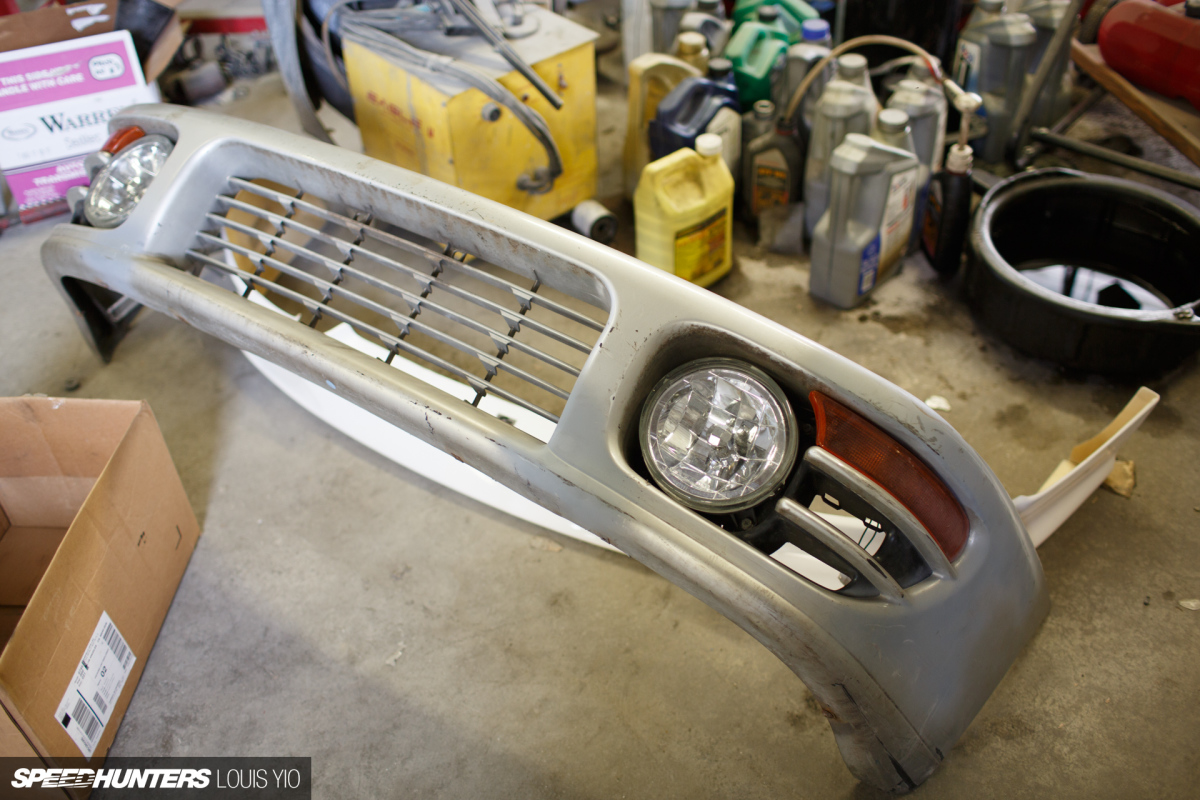 While overall I really liked the way my car looked as a '98 2.5RS, the front end bothered me a little; it just didn't look aggressive enough for my tastes. I spent a few weeks looking online for a new bumper, and around August I found an importer out of Fresno, California, who was selling a used STI Version 4 front bumper from a JDM donor car. It came with working turn signals and fog lights, and was insanely cheap, the latter being a reflection of some previous damage. I decided to pick it up anyways.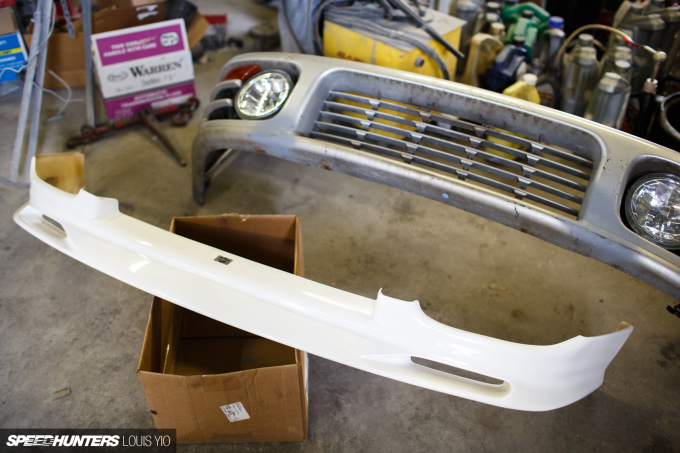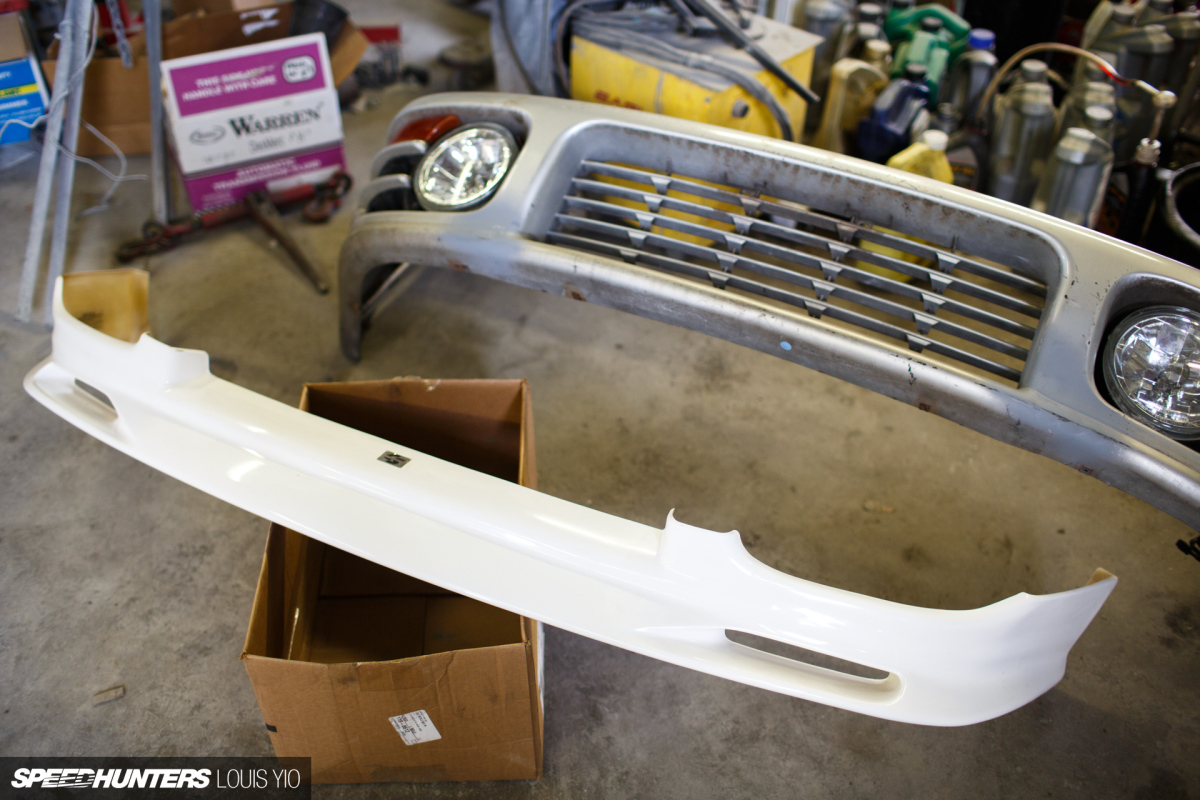 As I'd need to have the STI bumper repaired and painted to match the rest of the car, I figured I'd add a front lip too, and I found what I was looking for in the Chargespeed catalog. It turned out that I didn't even need to pay to have it shipped to me either; the guy from Chargespeed was in town for business the day after I ordered it and was able to drop it off.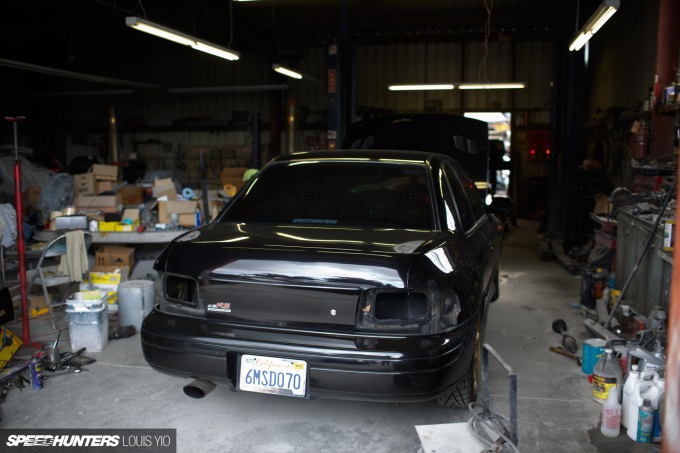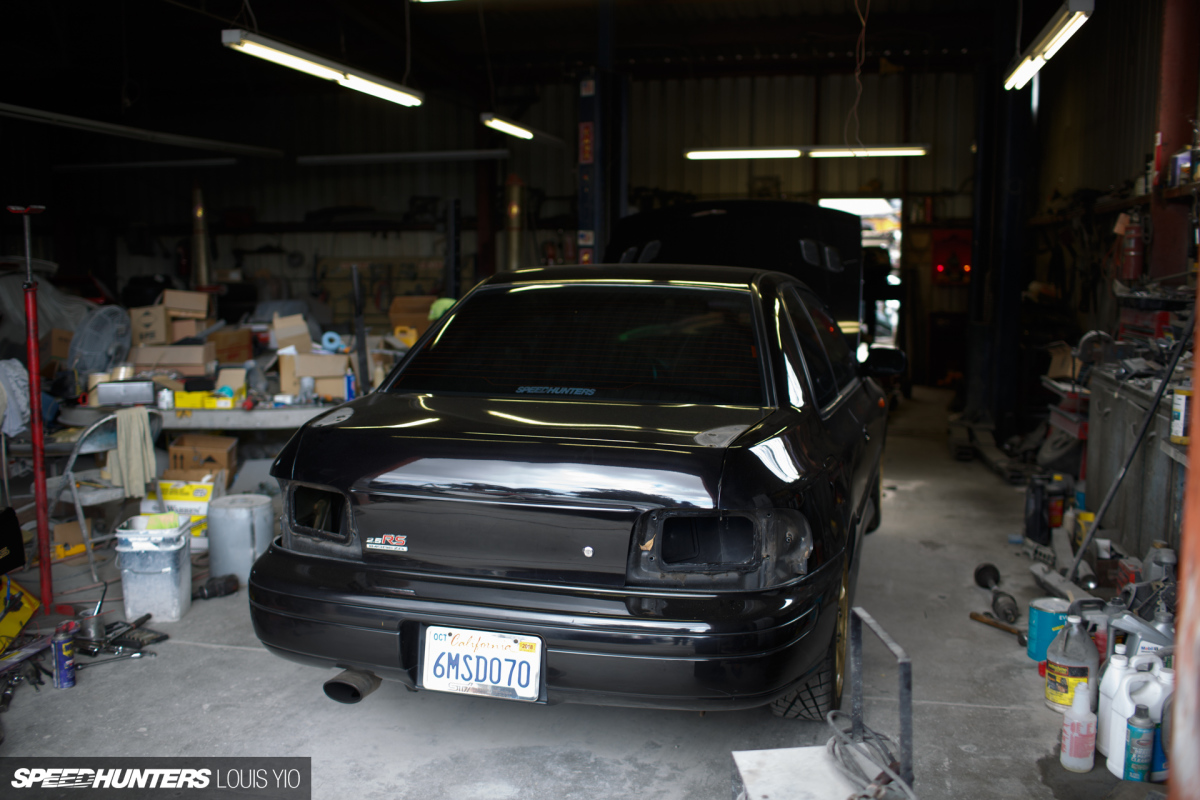 Fast forward to October when my friend's dad offered me a bro-deal on the new bumper install, along with bodywork and paint for the entire car. He was moving out of his shop the next week and figured he'd be able to squeeze in one more respray before then.
The JDM STI bumper doesn't fit over the '98 front bumper beam, but as I wasn't keen on switching to the flimsy JDM equivalent, I ordered a USDM 1999-2001 2.5RS beam which would do the job nicely. Subaru still makes new parts for many of its older models and you can order them online and pick them up from almost any official Subaru dealership.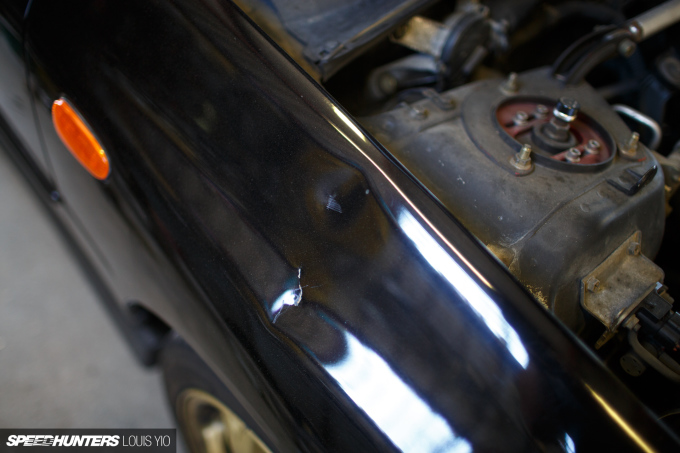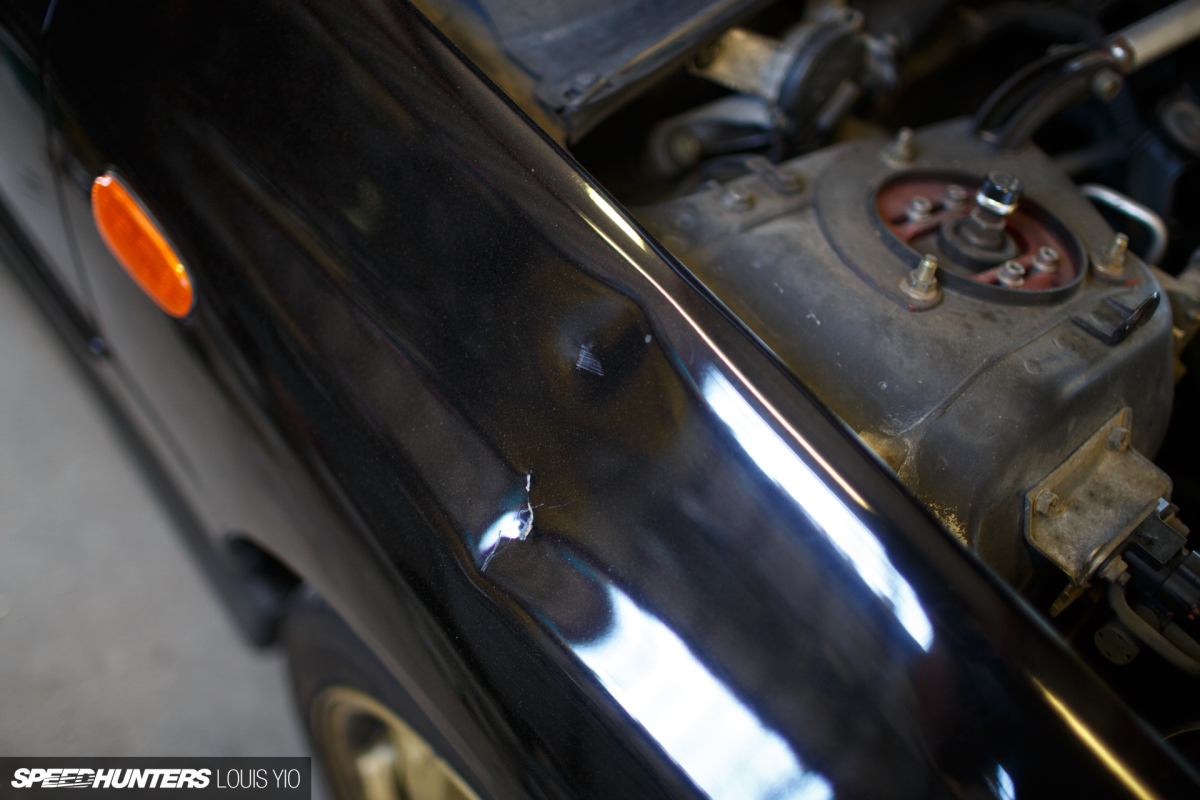 As you can see, my GC8 was littered with small dents all over the car and a few randoms spots of rust, so my friend's dad went to work on it.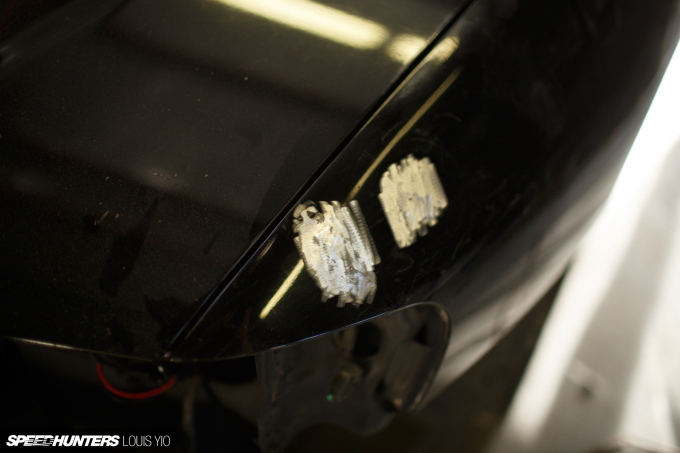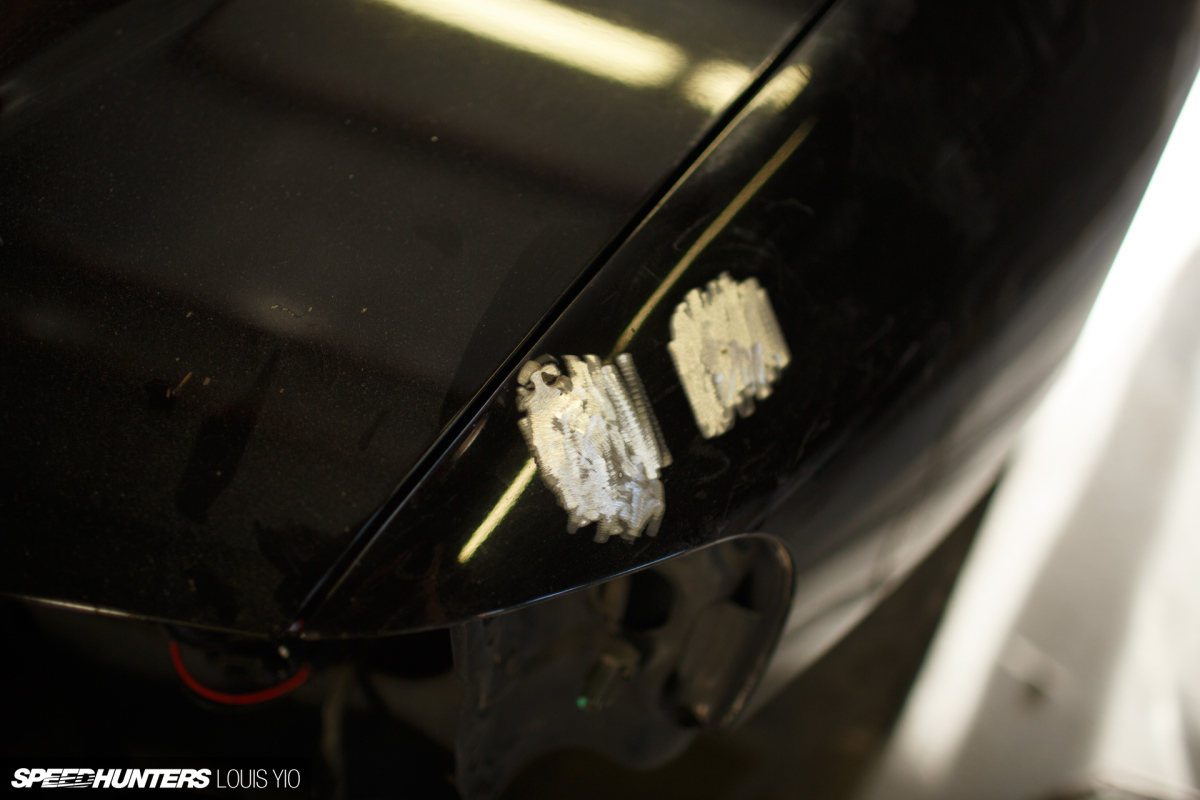 He spent a few days pulling the dents, removing the rust and filling gaps.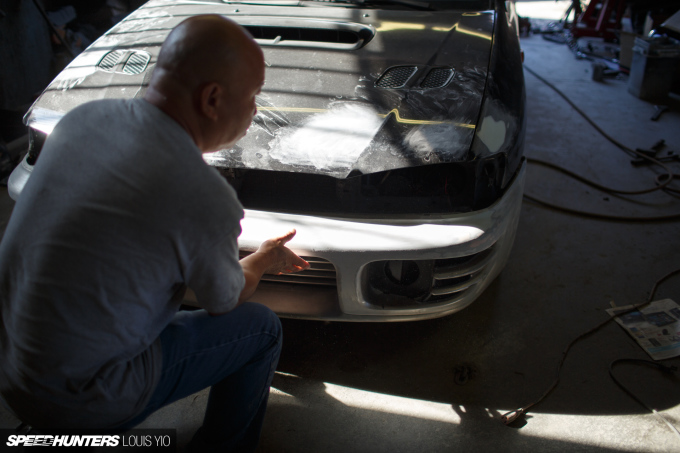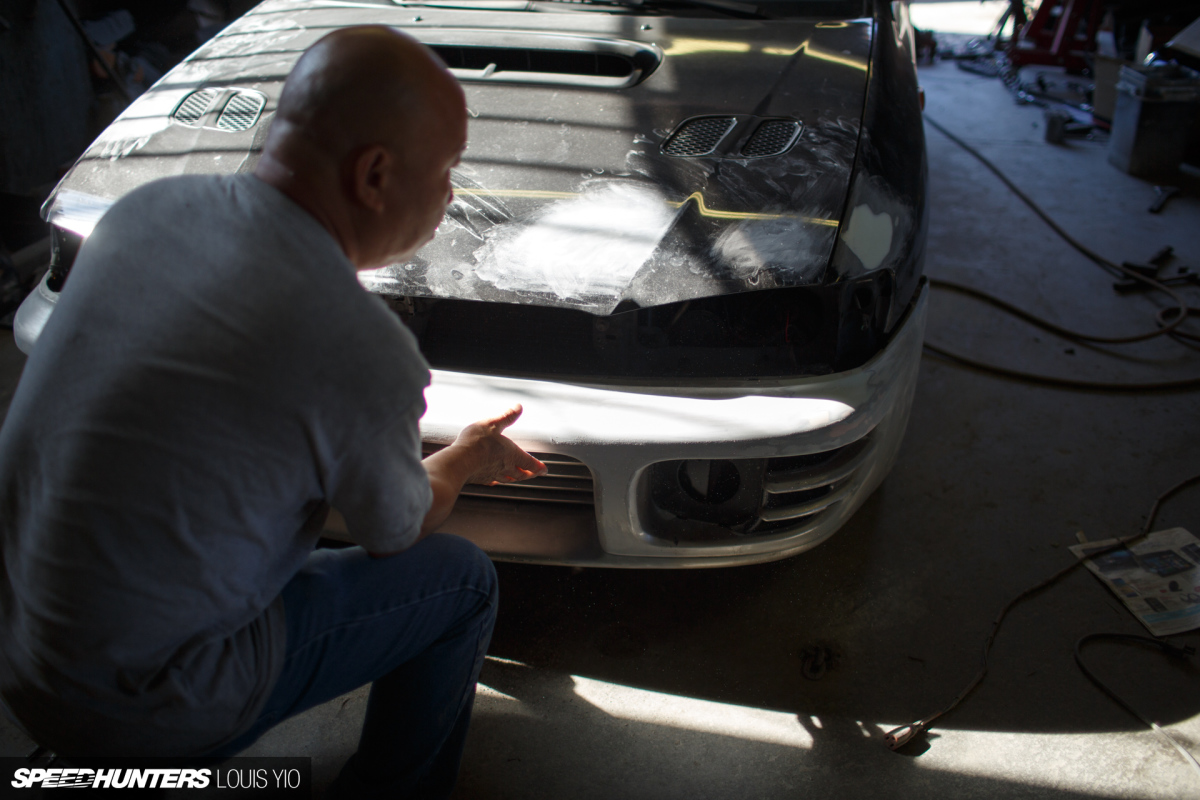 I got my first glimpse at how it was going to look when he began test-fitting the front bumper. I really couldn't contain my excitement at this point; Bunta was finally starting to look like the car I've wanted it to be.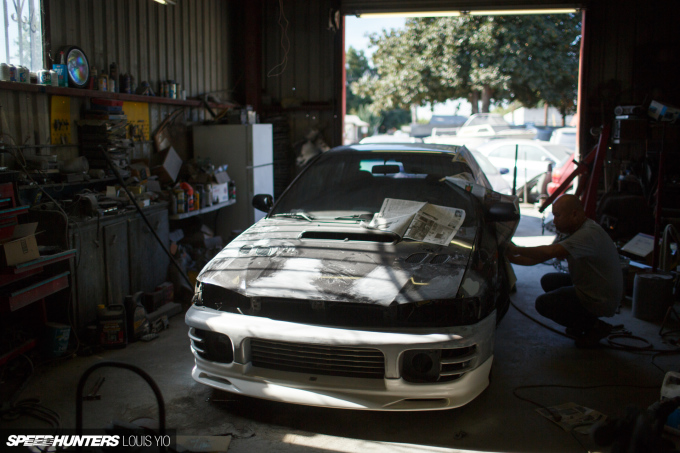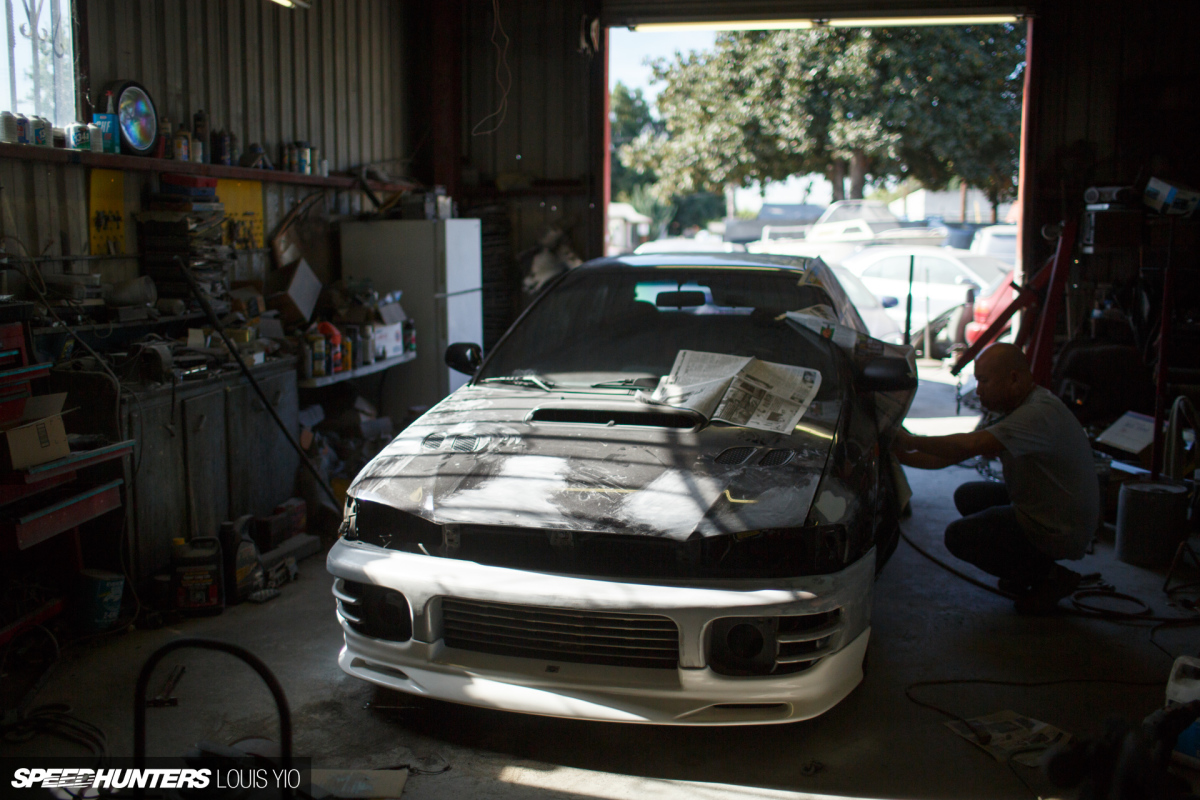 A day later, all the surfaces were smoothed out and the preparation for primer and paint had begun.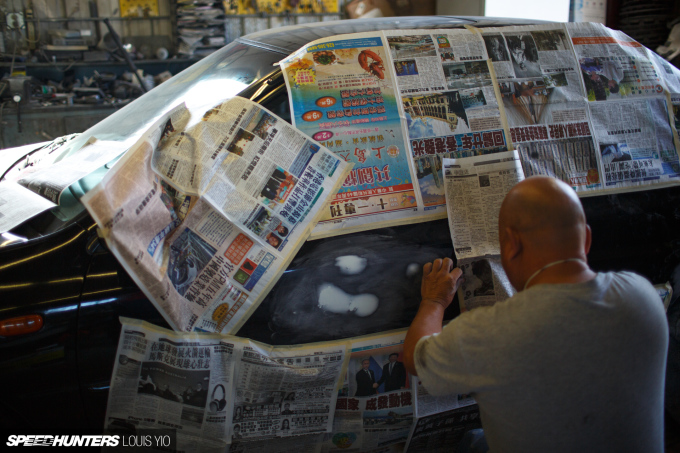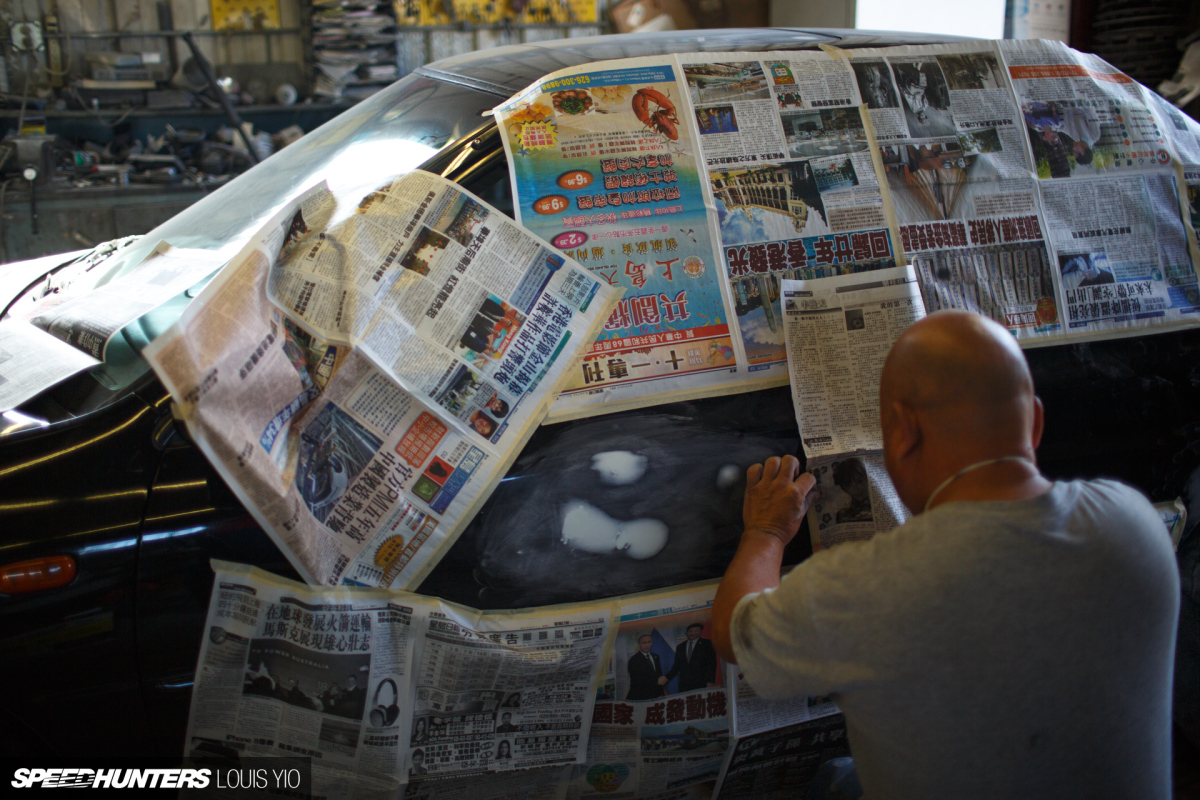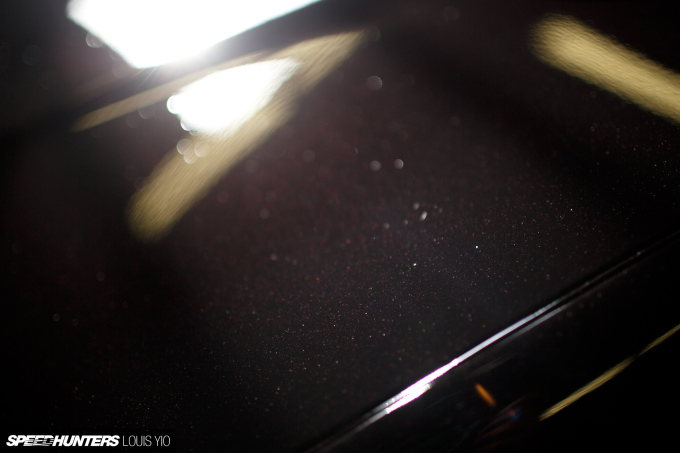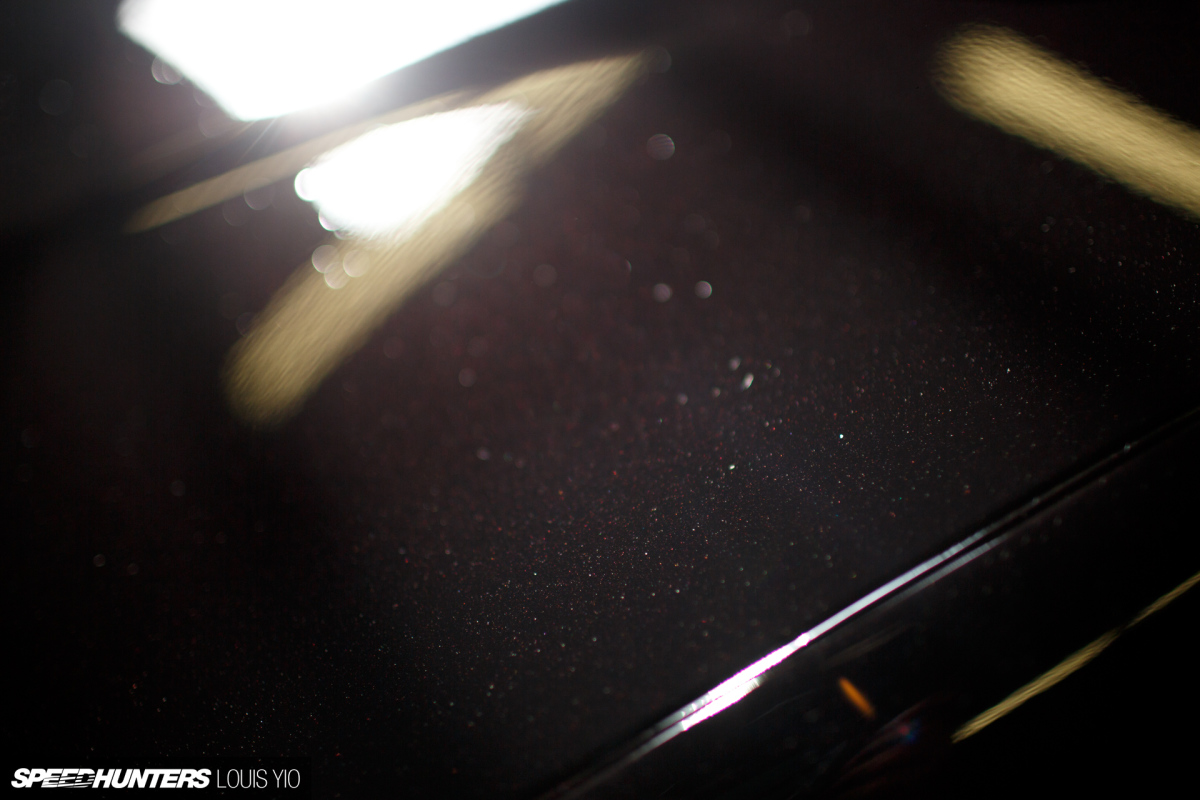 I wasn't there when the car was painted as I was busy on official photographer duties at Red Bull GRC, San Pedro, but it was resprayed in the same paint color it left the factory 20 years ago – Black Mica Pearl.
It's kind of hard to show in the photos, but the color really sparkles in the sunlight, something I'd never seen before from the original paint because it had dulled so much. These pictures were taken before any wet sanding had taken place, so the paint looks a bit choppy.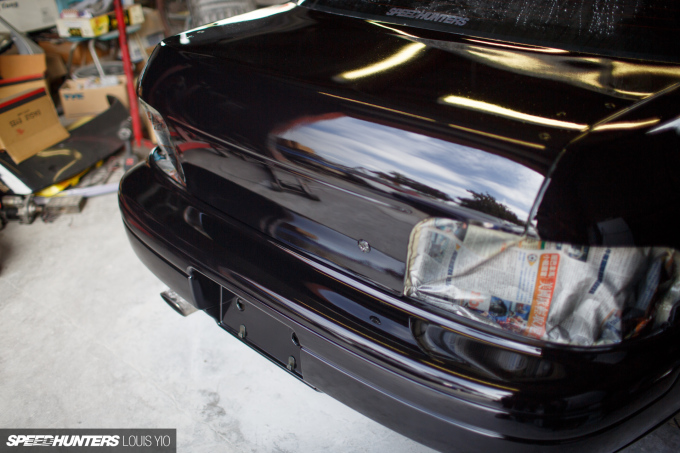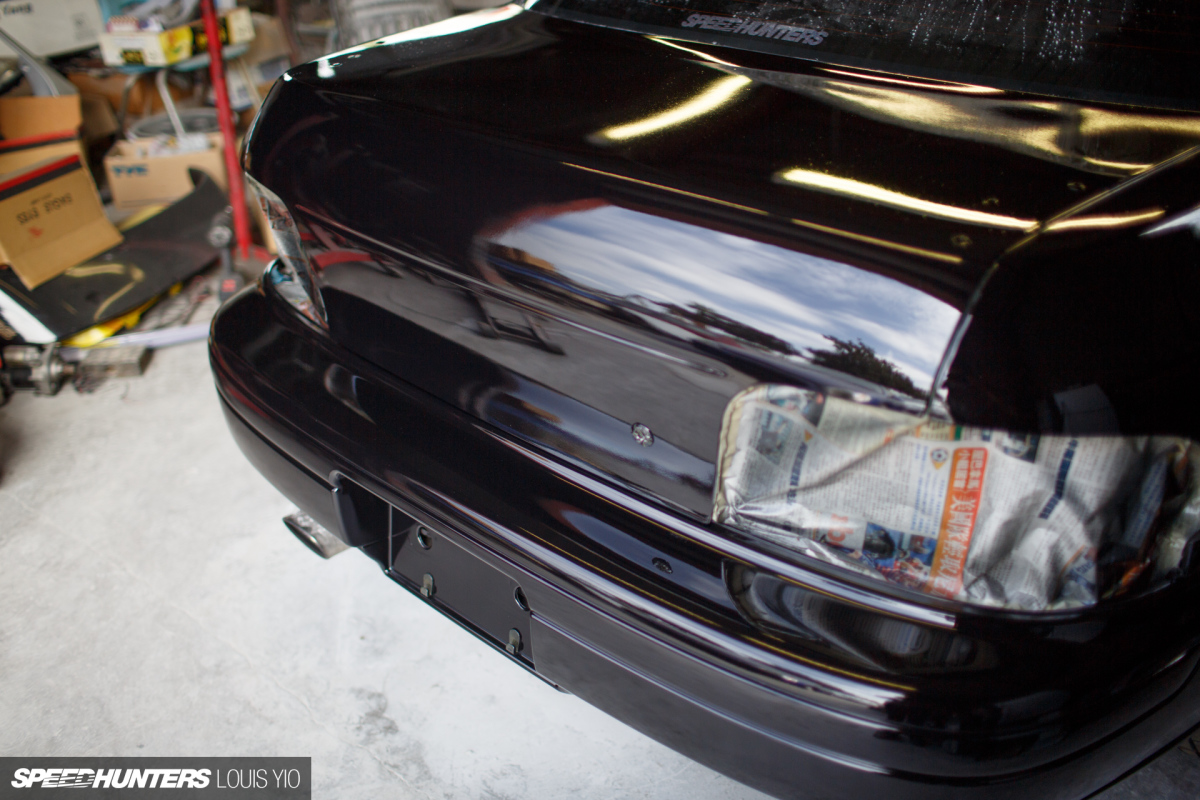 I really liked the way the car looked without any badges on it, so I've decided to leave it like this.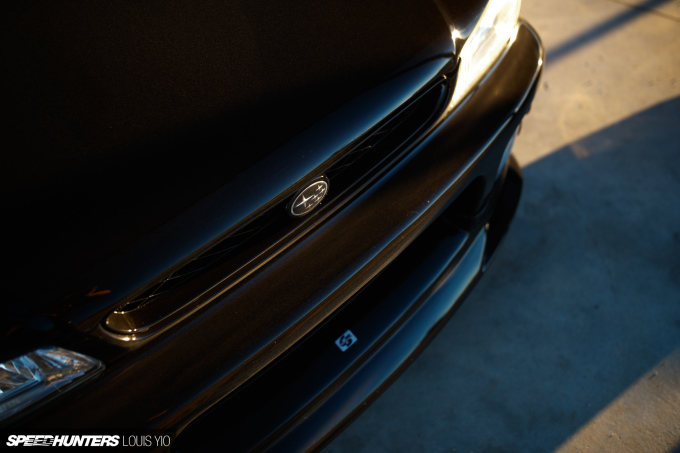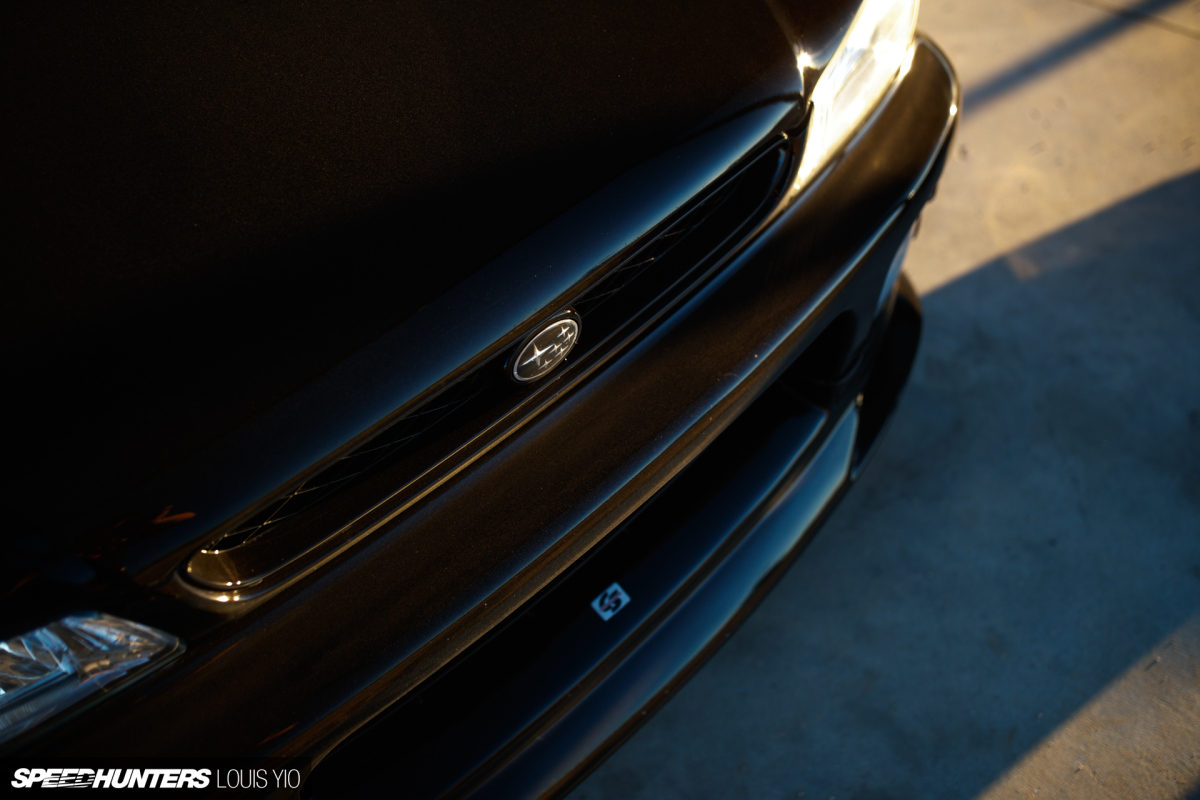 I was told to let the paint settle, so for the next few weeks it sat untouched in my garage. But it's not like I could have taken the car out even if I wanted to, because at this time I was just too backed up with work.
Hitting The Track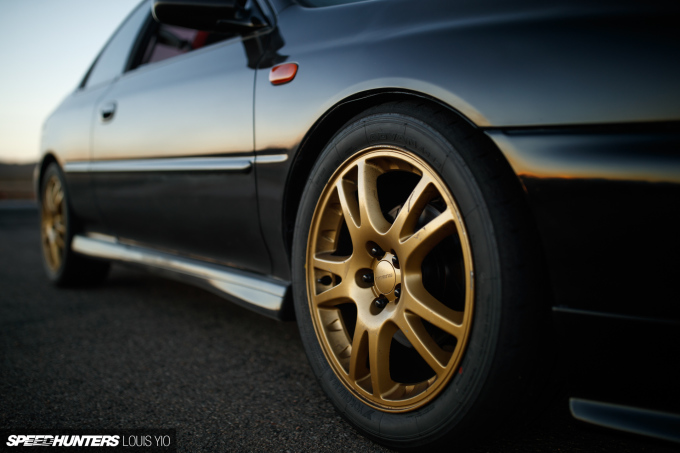 Back in July I had picked up a set of imported JDM STI Version 7 wheels from someone I met off the NASIOC forums, and in the time since they had sat in my garage waiting for tires.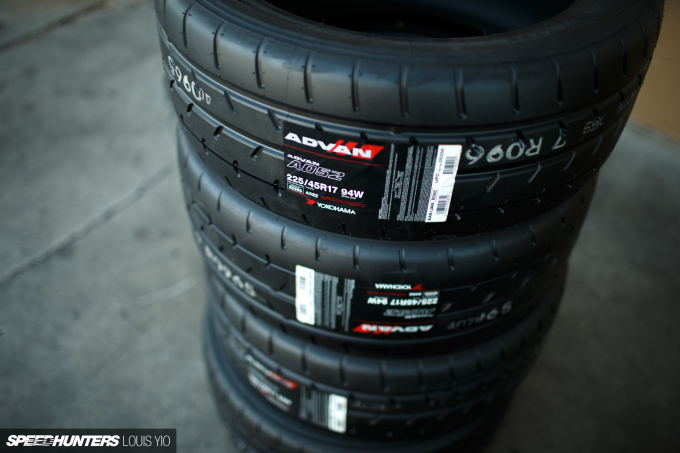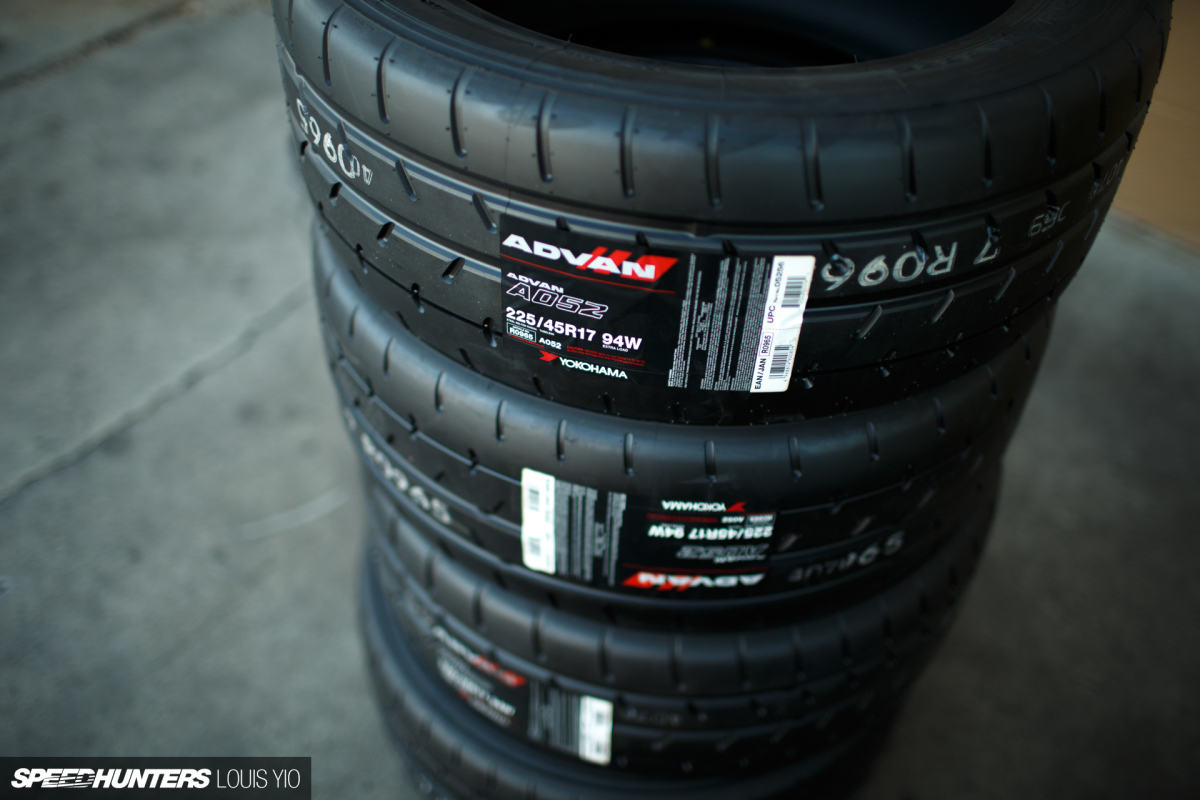 Right after the SEMA Show in November, I picked up a set of Yokohama's new Advan A052s.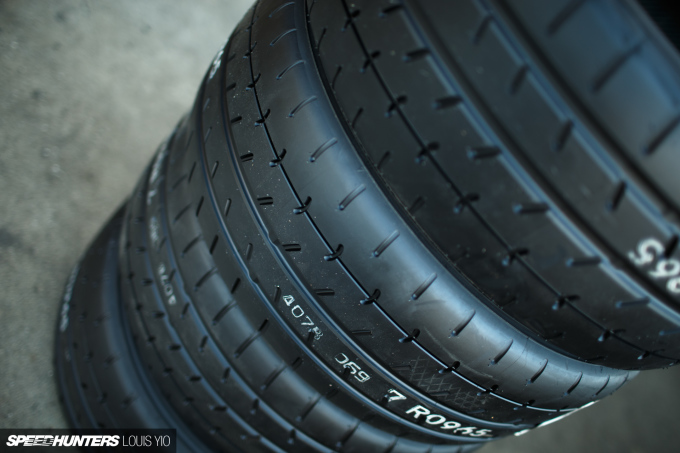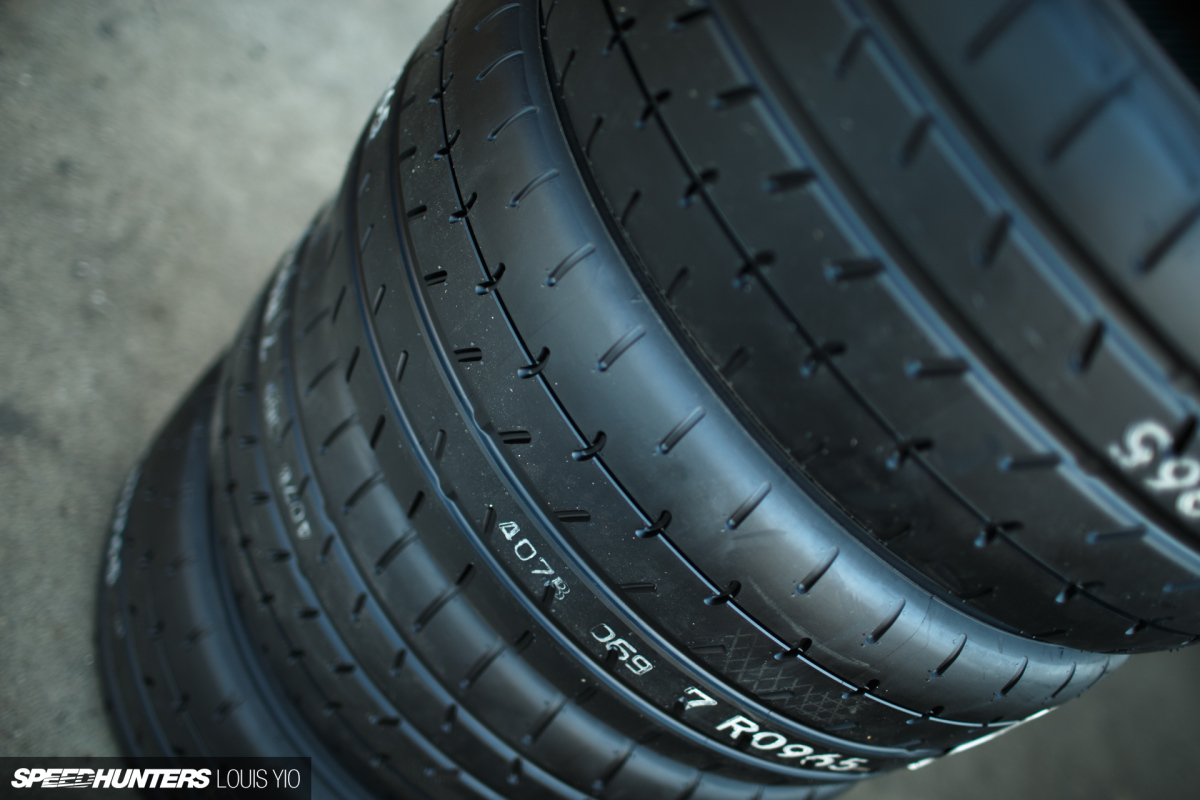 This high performance summer tire has a UTQG rating of 200 – perfect given my plans to play around at a few Global Time Attack events in the Street AWD class.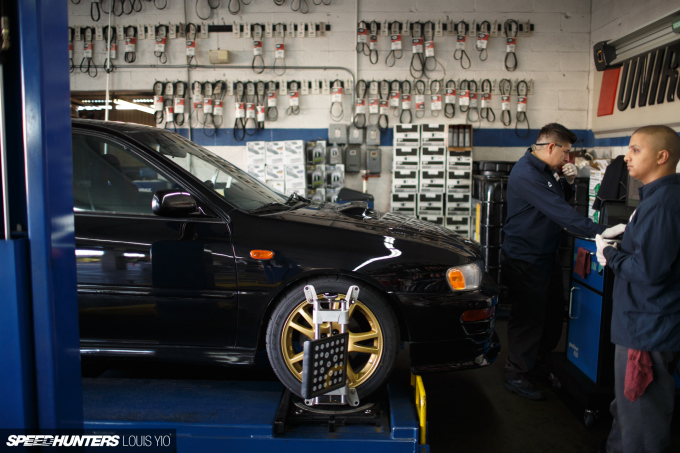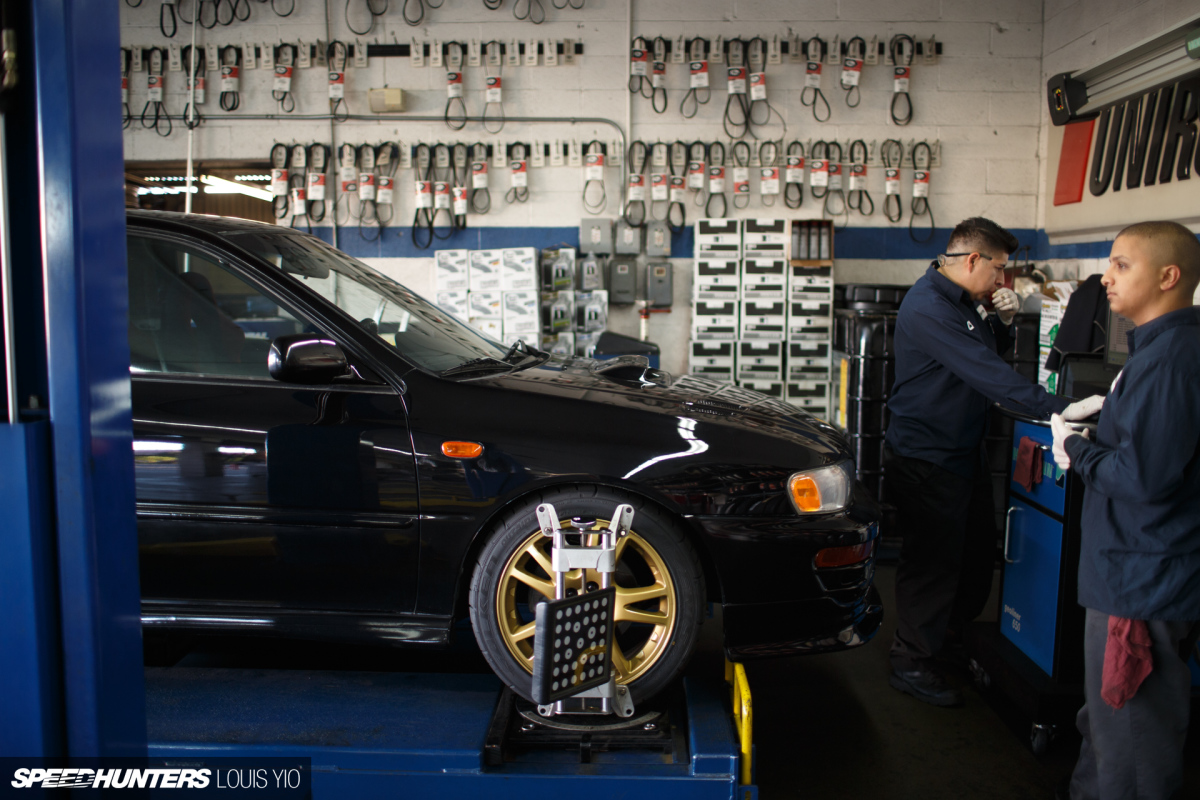 As I mentioned in the previous update, I had the tires fitted and the wheels aligned straight after having the ST XTA coilovers installed. The same day, I drove Bunta up to Grange Motor Circuit in Apple Valley, California.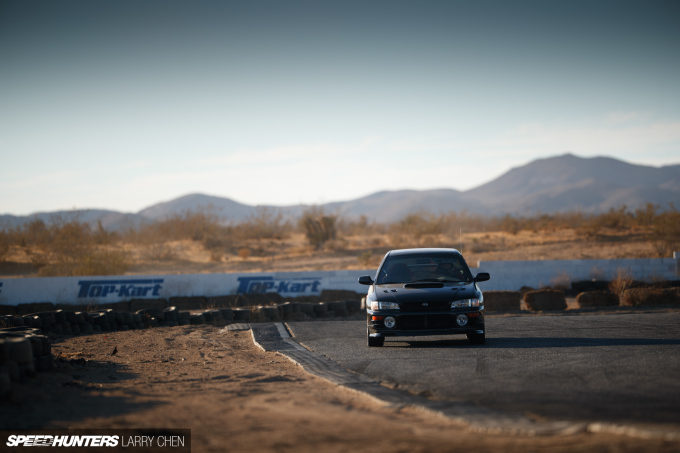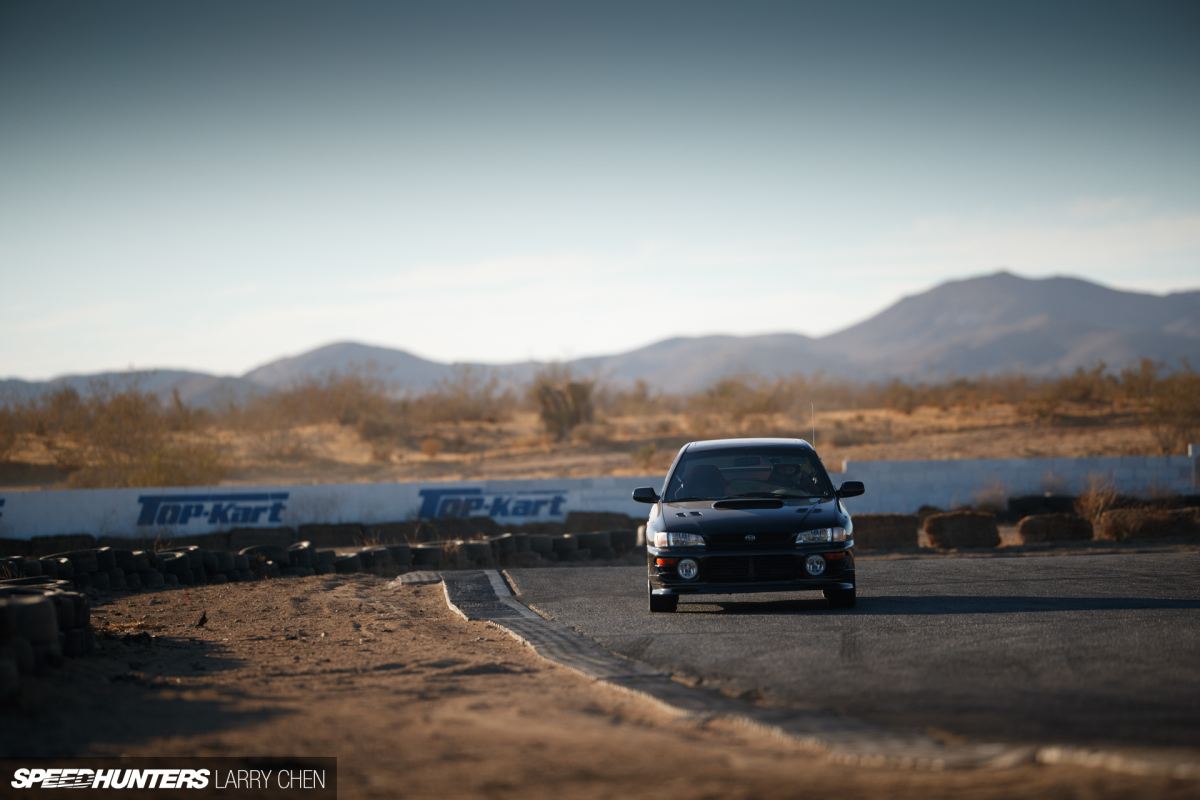 I arrived at Grange at around 1:00pm, which gave me about three hours of track time before it closed. Originally, this 1km-long circuit was designed and built with karting in mind, but as it's wide enough for cars to thrash on it's become a very popular spot for grassroots drifting and drivers like me who want to hone their skills. Most of the turns are pretty tight and technical, and as such there isn't much shifting involved. Most people attack the circuit in 2nd gear with 3rd used on the front straight and sometimes on the back straight. You could think of it as a big autocross course.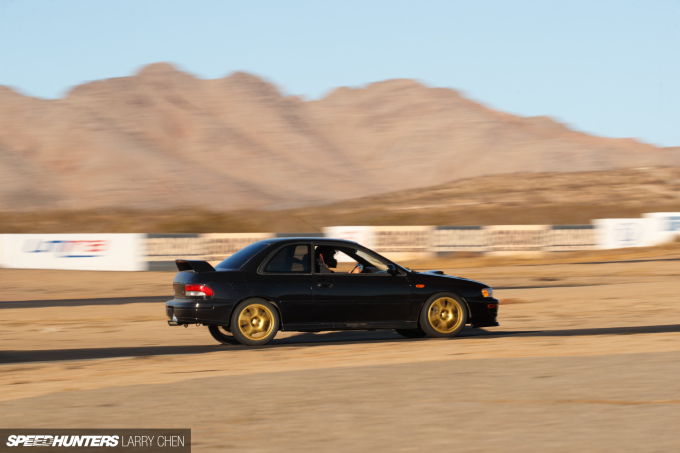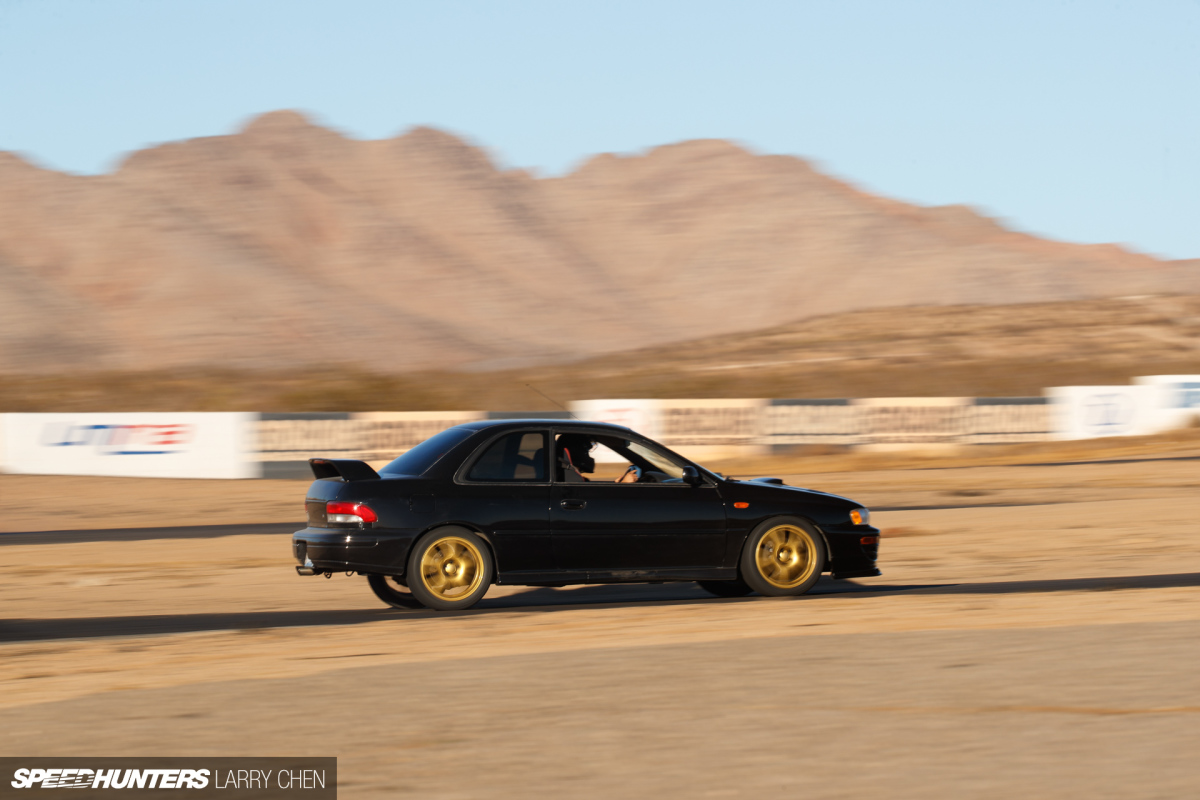 I really wanted to test the performance of the STA XTA coilovers and the grip of the new A052 tires in a road course environment.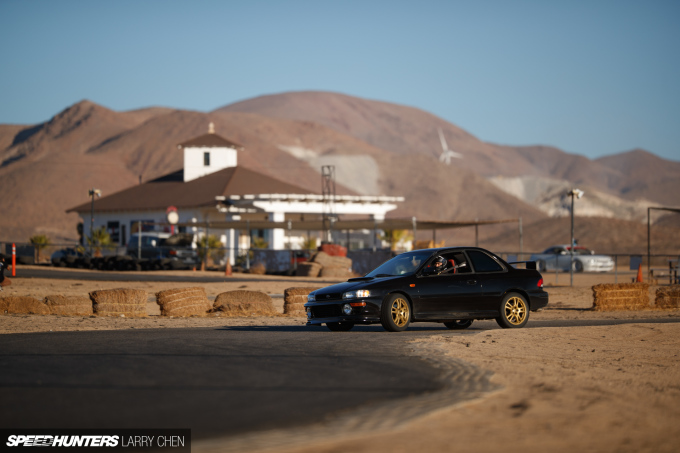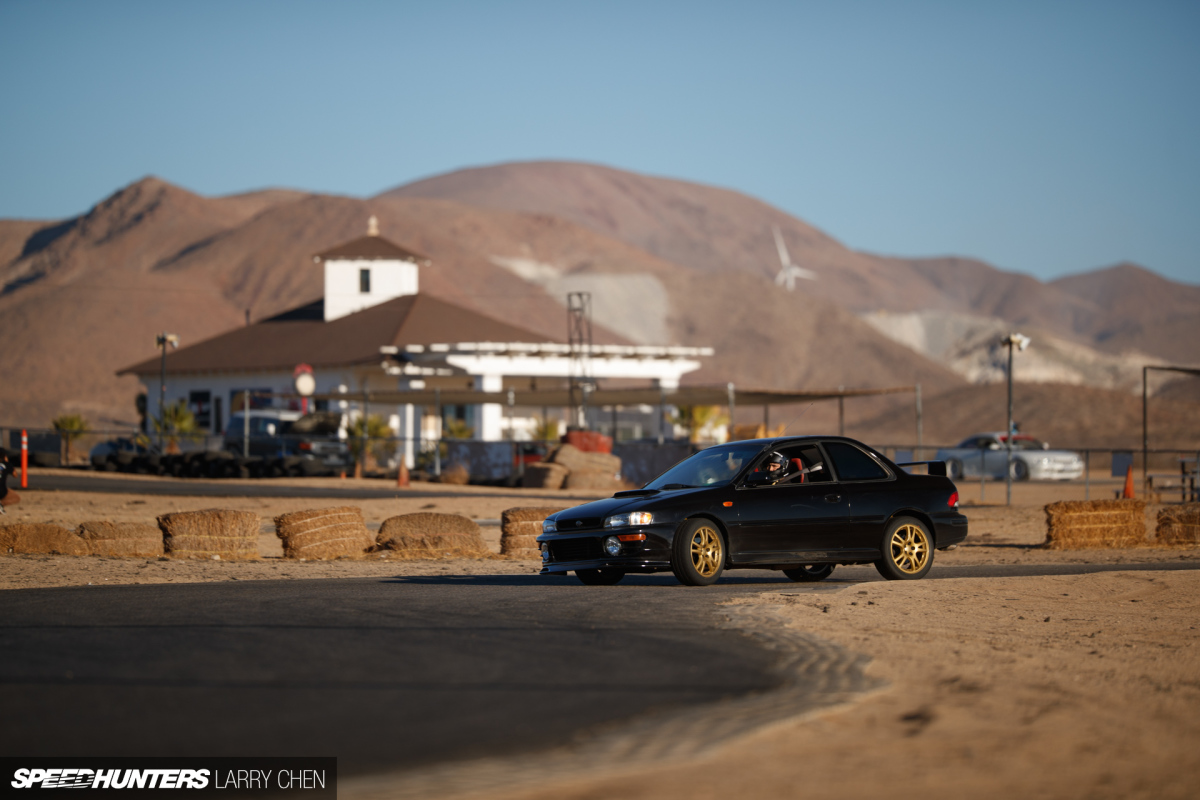 The XTAs are a street-oriented coilover, and in some aspects that showed through on track. But I can't deny how amazingly well the car handled given that this suspension provides a really comfortable ride on the street.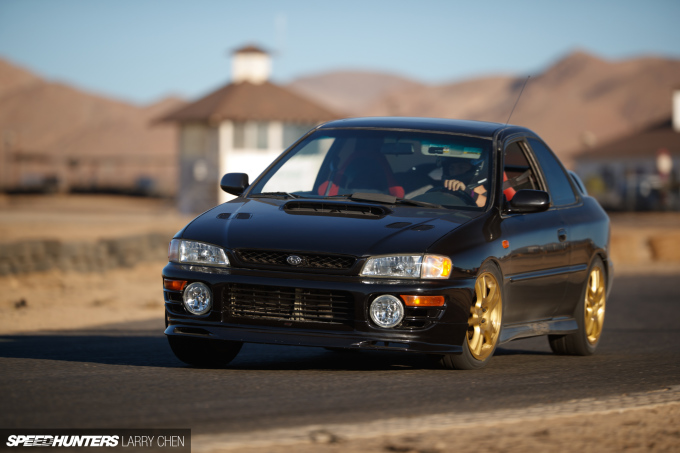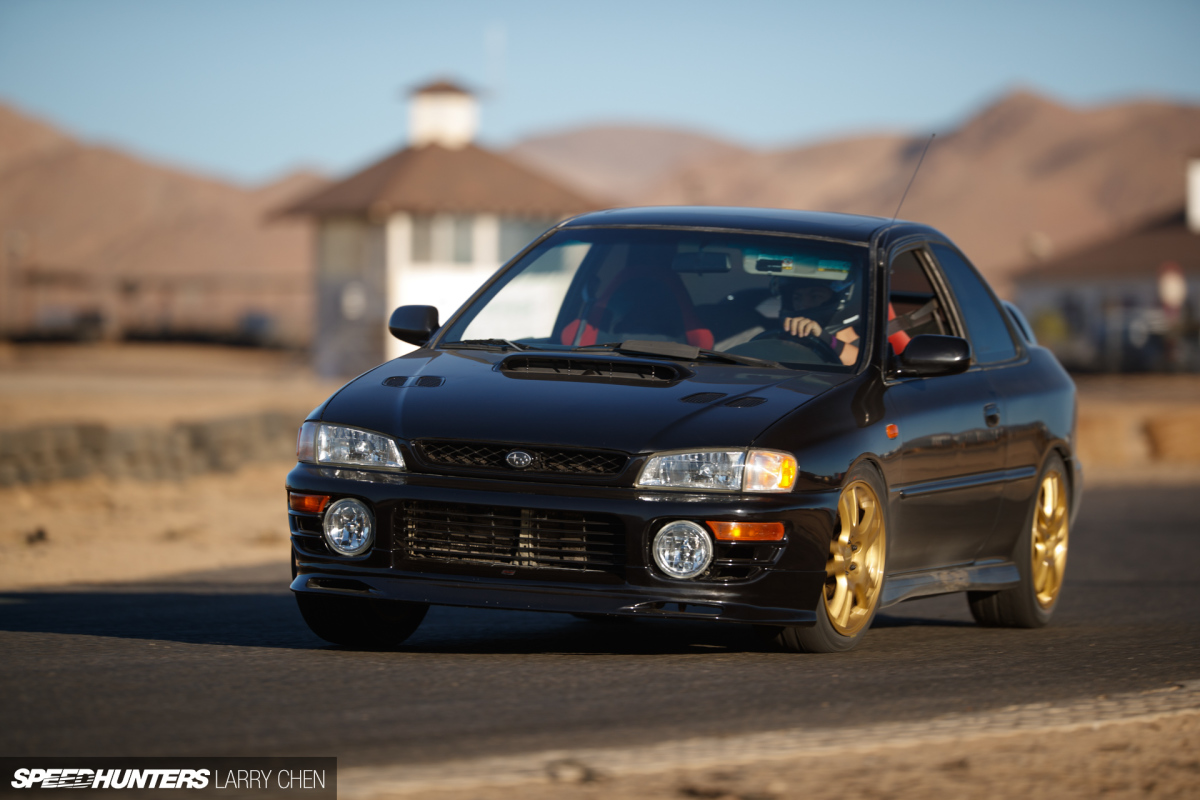 As they come, the coilovers are set up quite soft, and I decided to leave them that way while I familiarized myself with the car's newfound handling and grip around the track.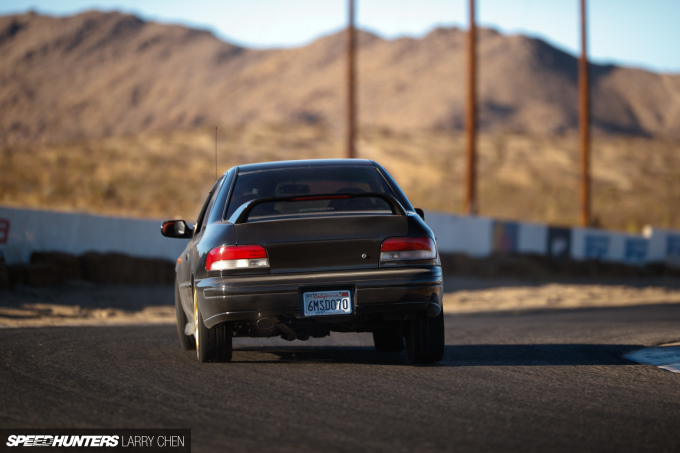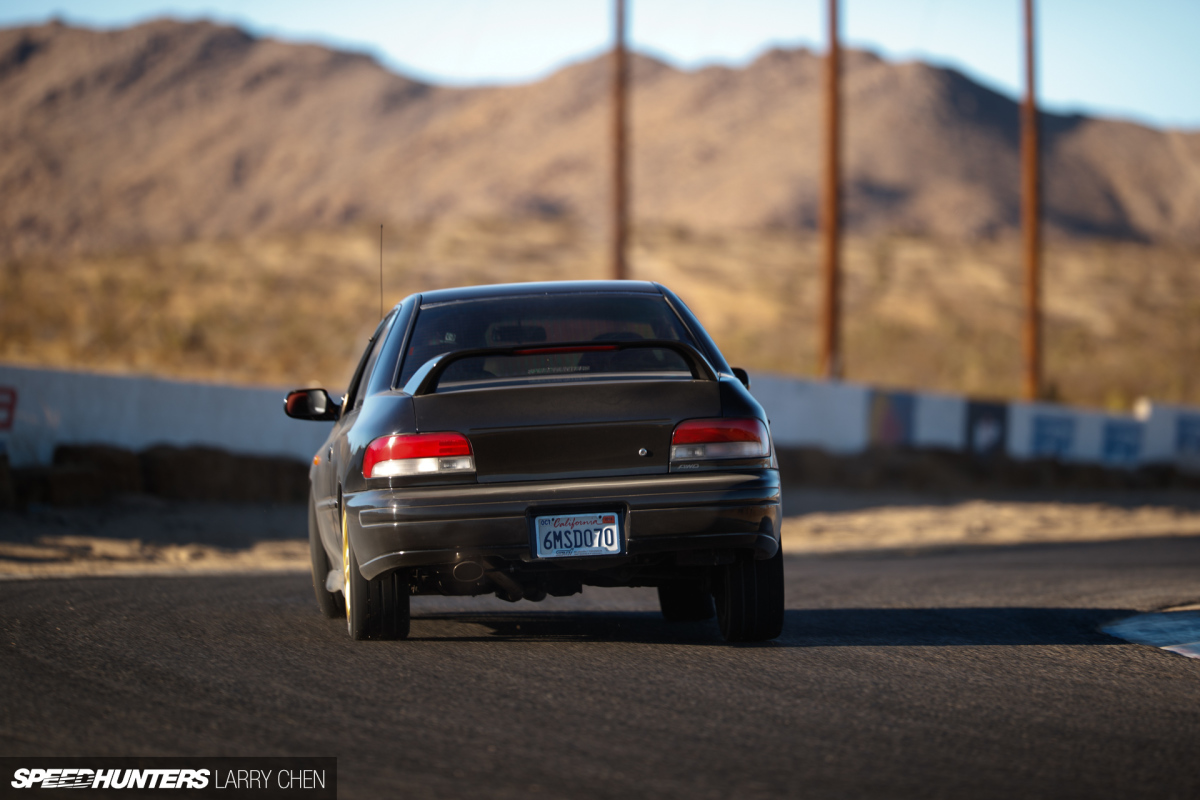 I'll definitely increase the rebound force for stability next time I'm on the track, and I'm also thinking about upgrading my sway bars. Before I do the latter though, I really want to get a proper feel for the coilovers as I know there's a lot more in them.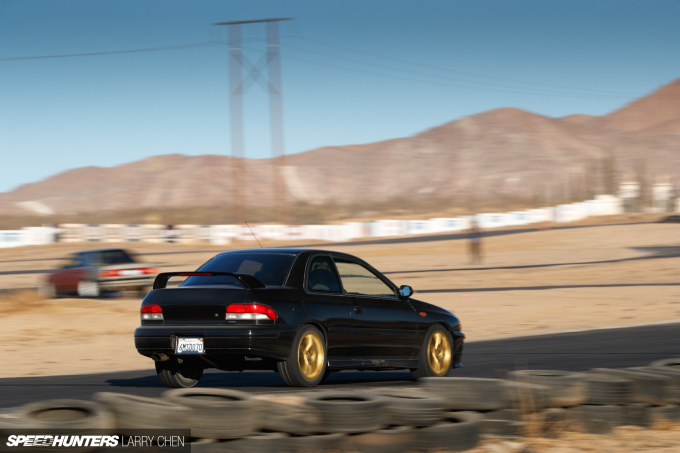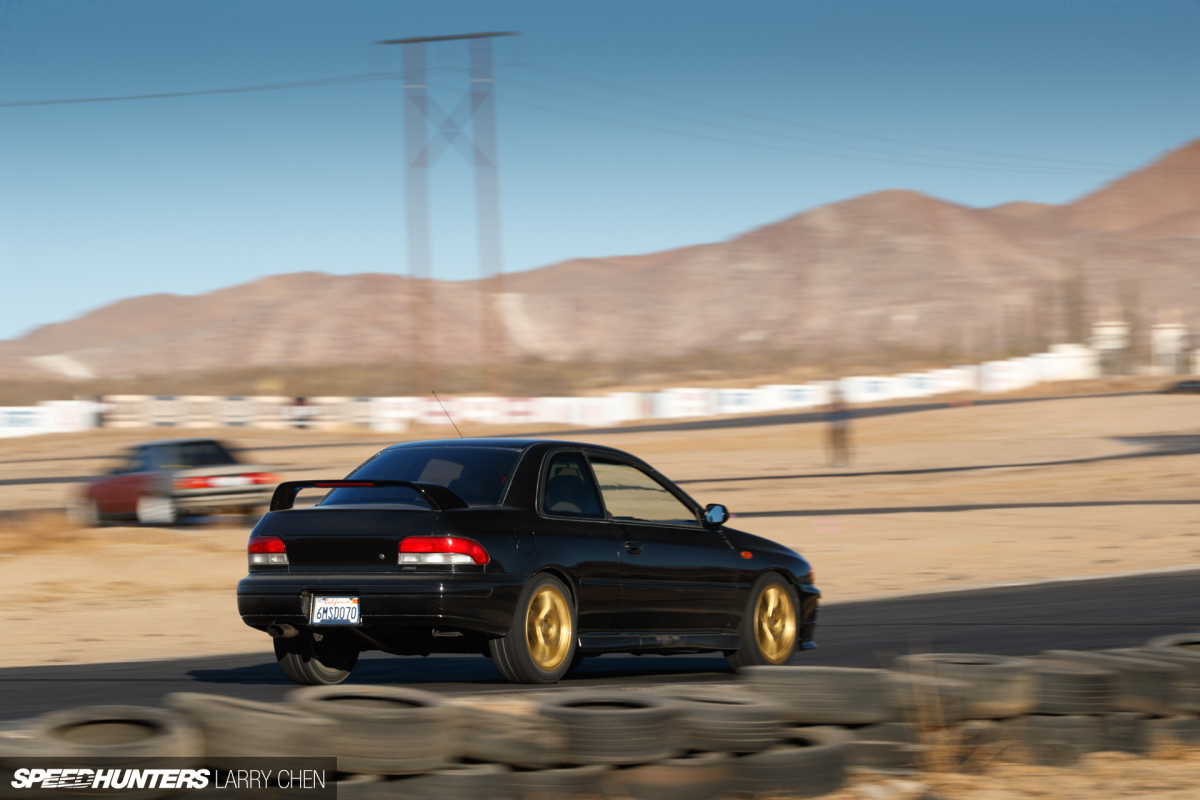 The Advan A052 tires were seriously impressive as well, both in how quiet they were during my hour and a half drive up to the track, and with how much grip they provided after coming up to temperature at Grange. My corner exit speed has improved dramatically; I can now basically throttle down knowing that the tires will hold the grip.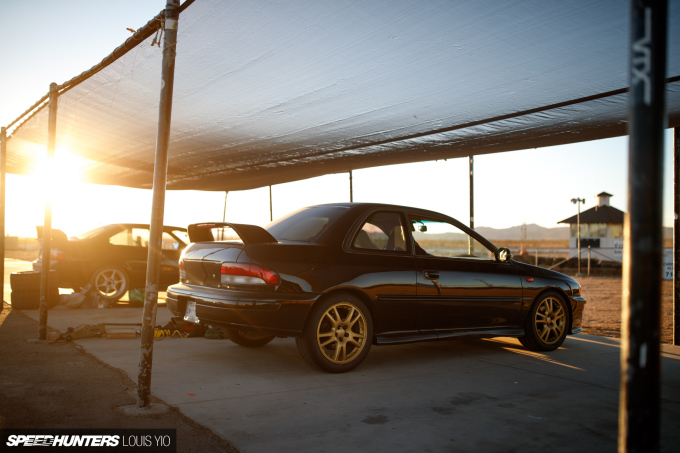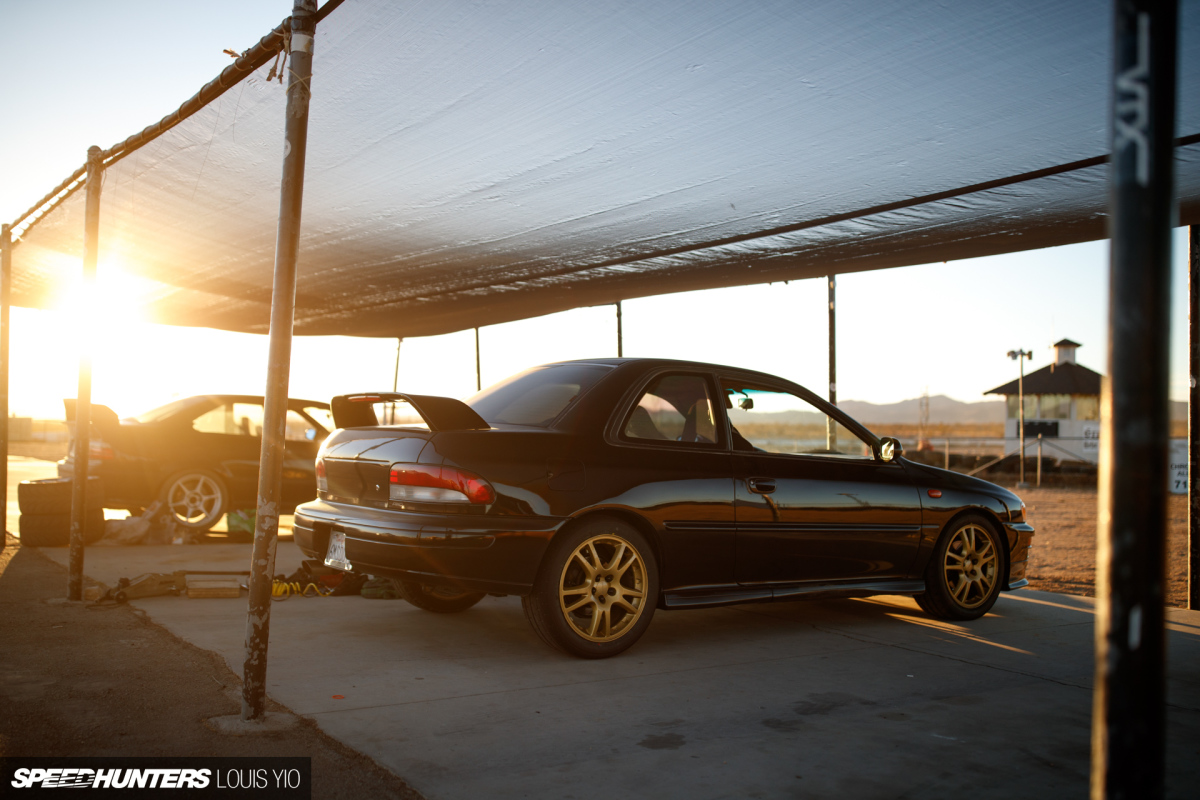 I ended the day running a 1:11 lap in the track's clockwise configuration, but feel like I should be able to dip below 1:10 with some more practice and some suspension fine tuning. But the way the XTAs are set up right out of the box can't be faulted for street-spec coilovers.
The track went cold right around sunset, so I took the opportunity to snap some shots with my camera.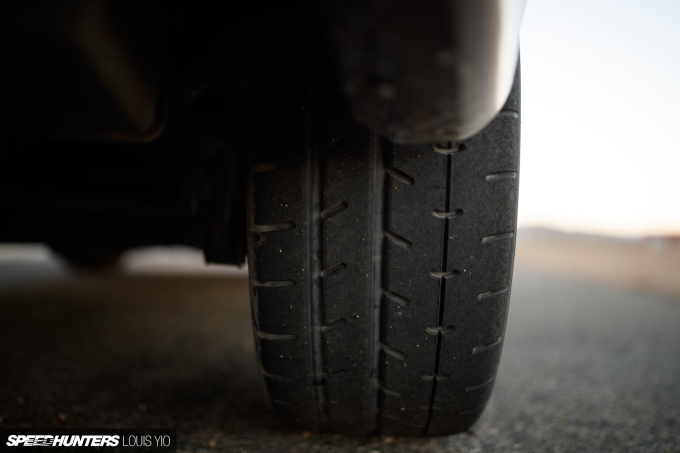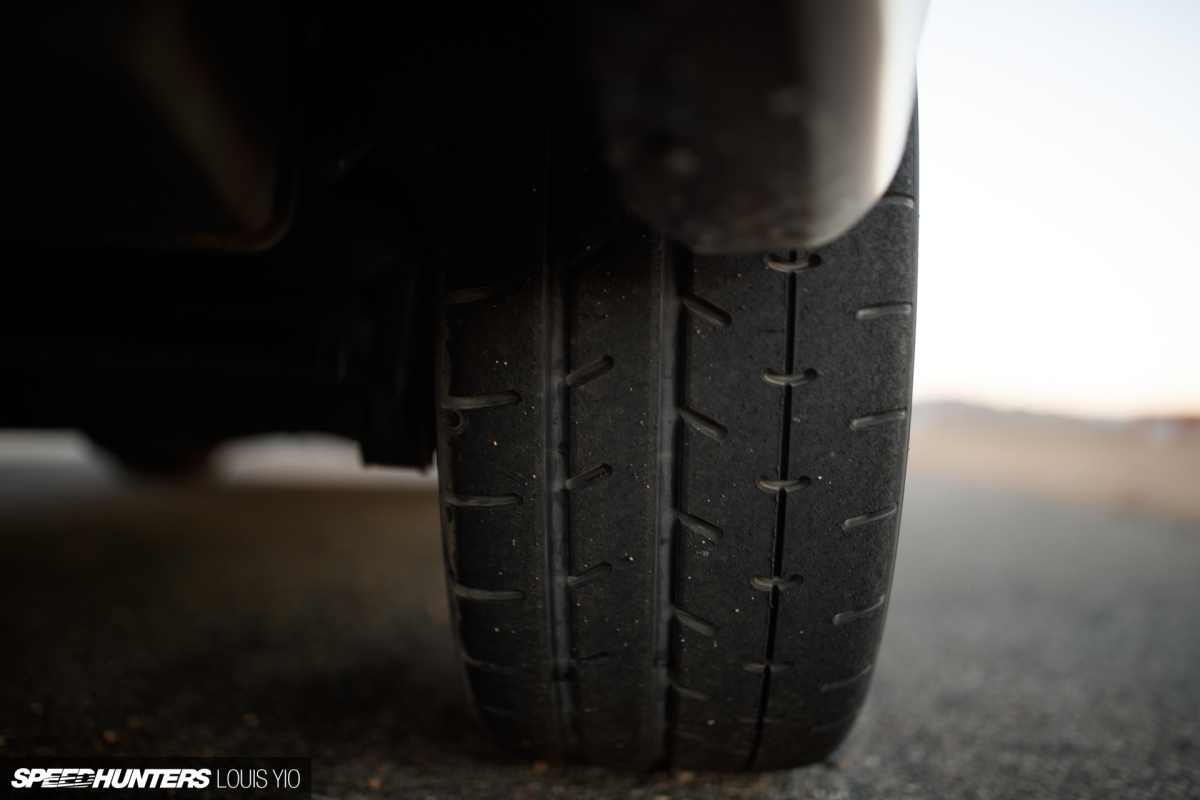 In terms of wear, the Advans didn't seem to lose too much rubber, but having arrived quite late I didn't do too many laps. I guess time will tell how they hold up, but so far so good.
Upgrades!
I don't have a photo of it, but the battery in Bunta died while I was parked at my local Ralph's supermarket a few days after the track day at Grange. I didn't expect it to happen seeing as I keep it charged up all the time, but I guess the battery just became too old.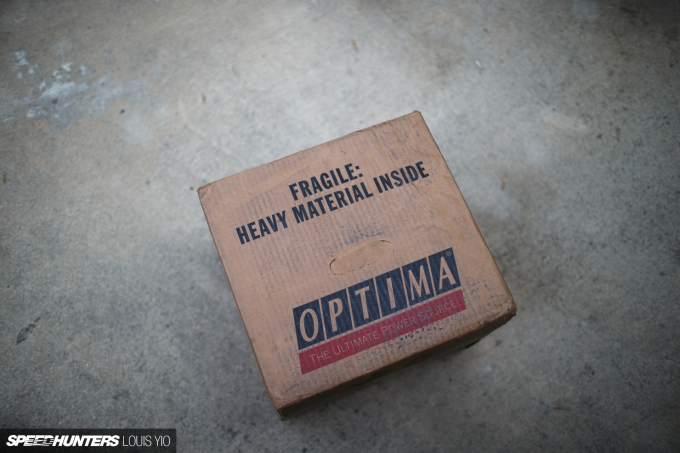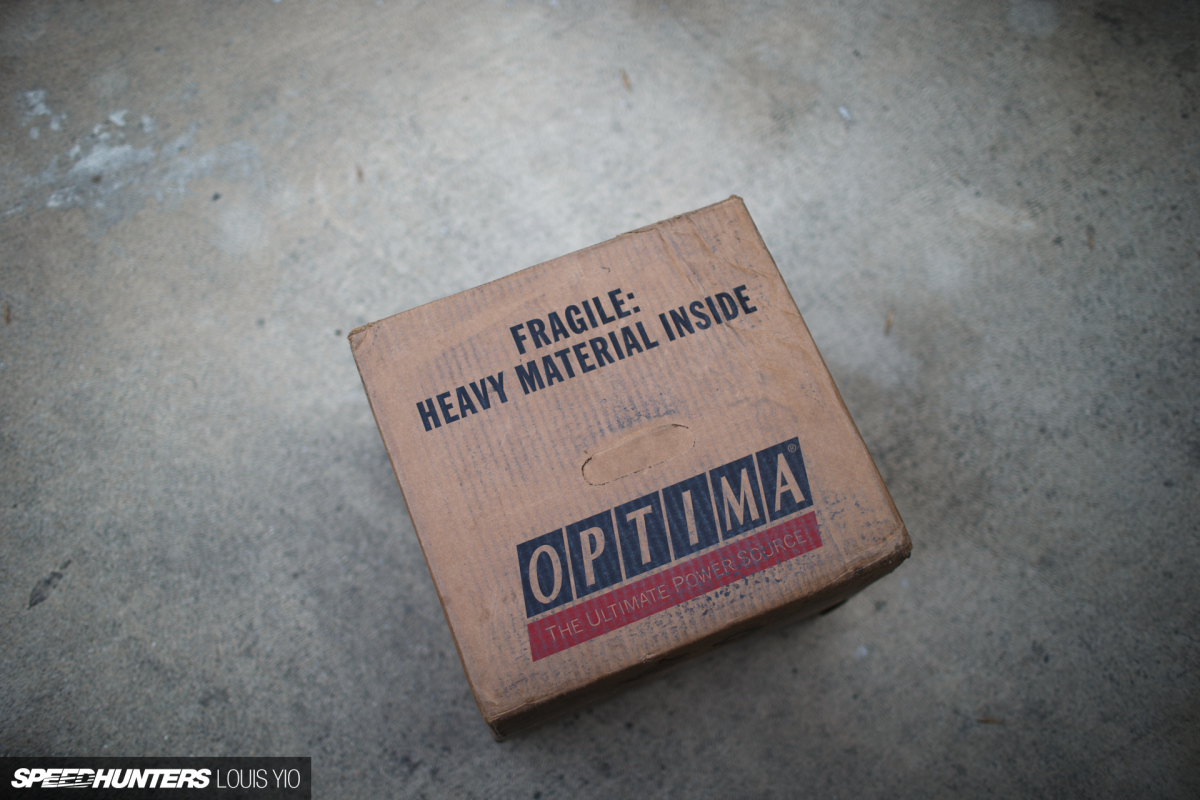 A new battery was a necessity, so I took the opportunity to make another upgrade. This time I went for an Optima Batteries Red Top.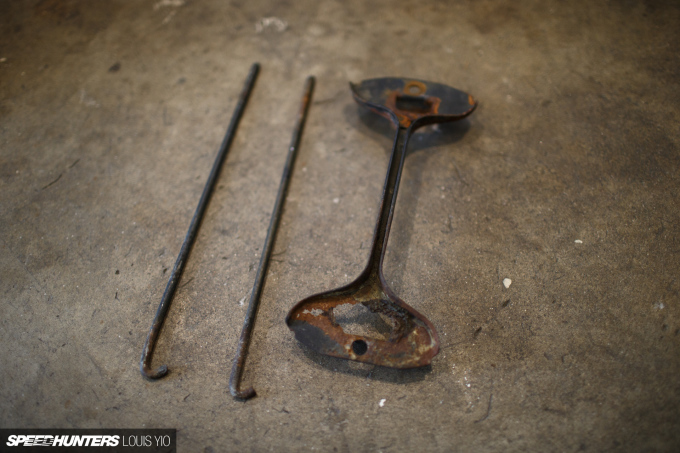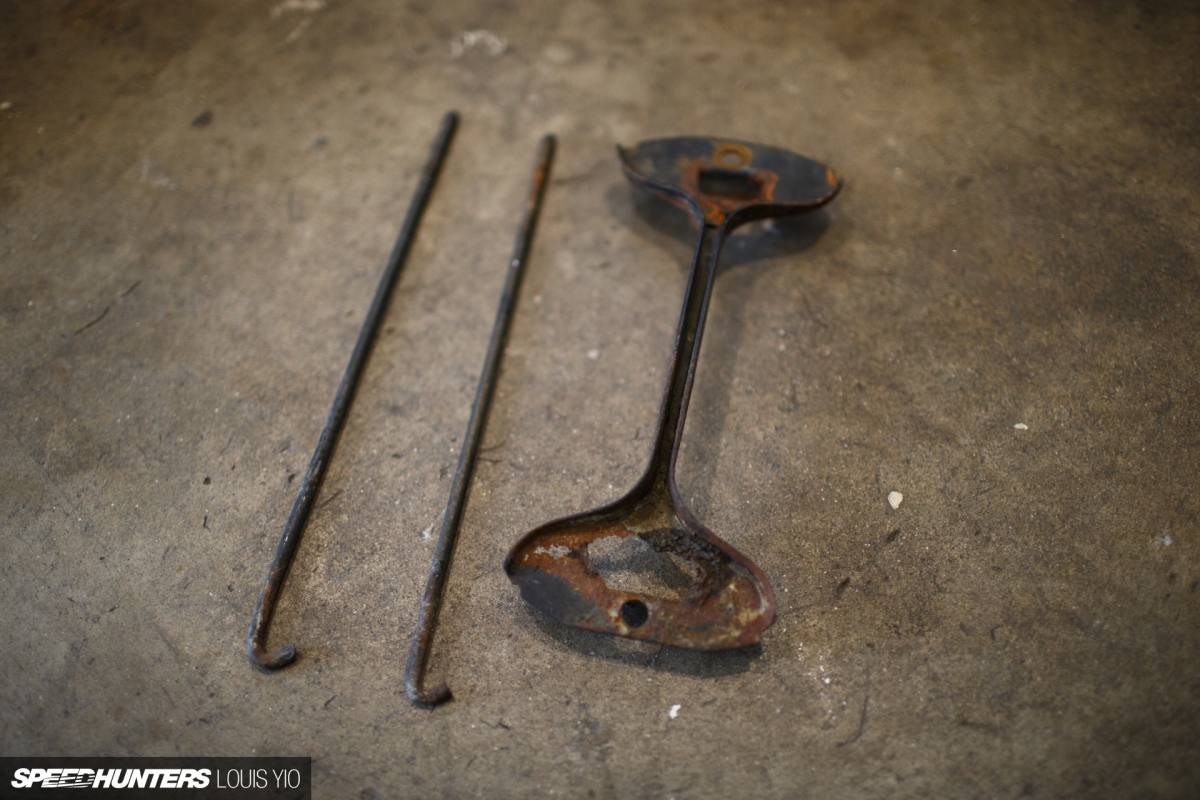 I'm very lucky too, because upon inspection my original battery tie-down hadn't even been securing the battery properly.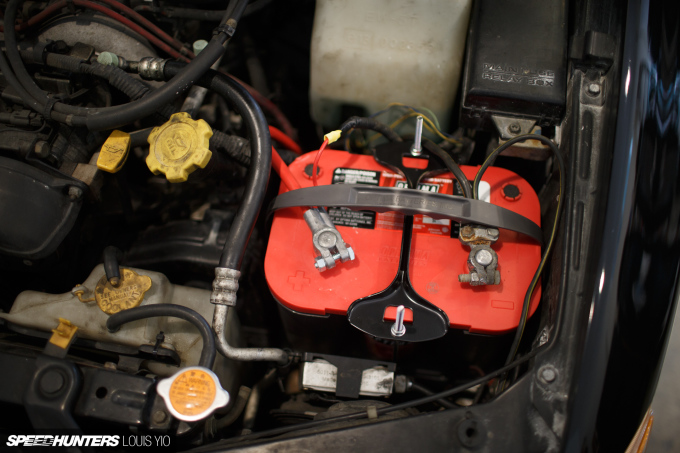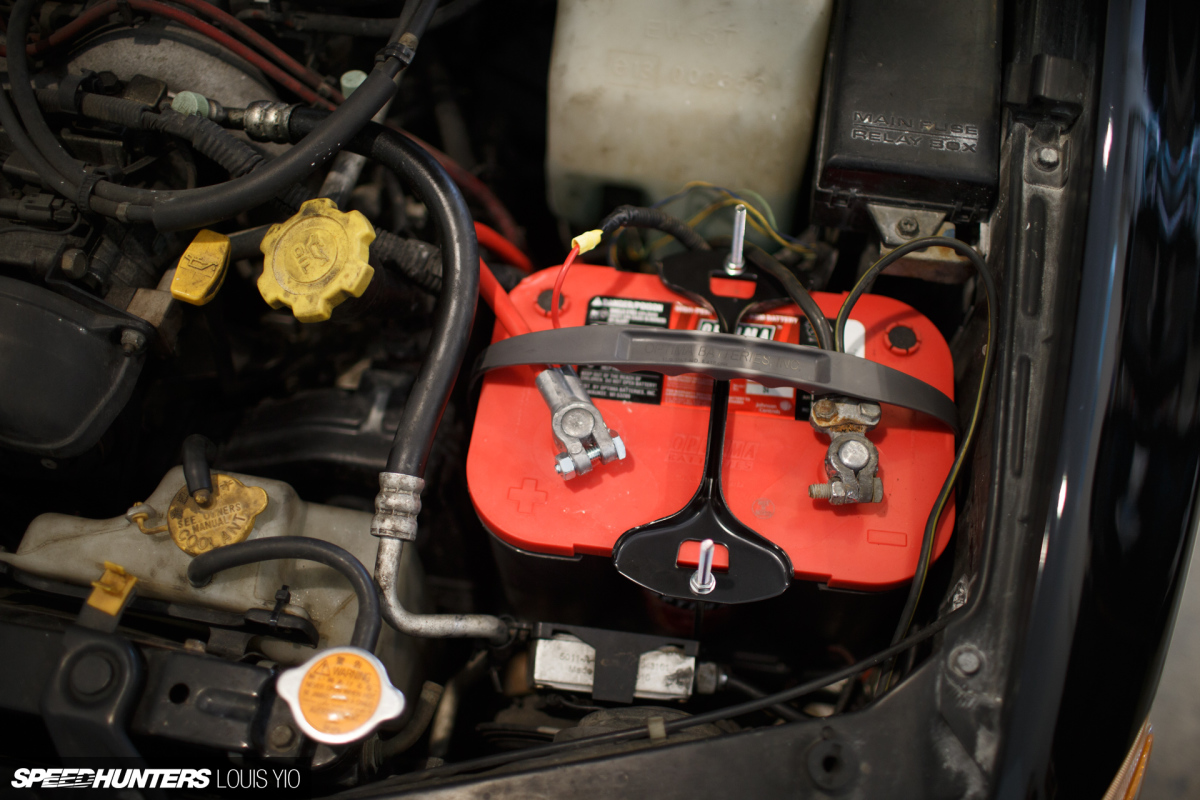 I picked up some new clamps from a local Subaru dealer and installed the new Red Top 34 into Bunta's engine bay.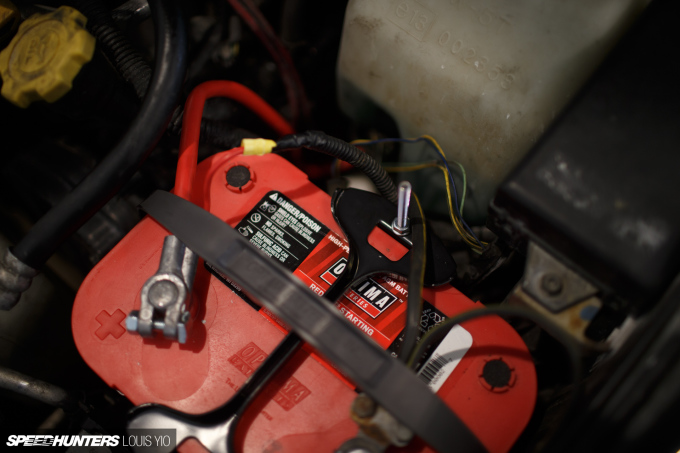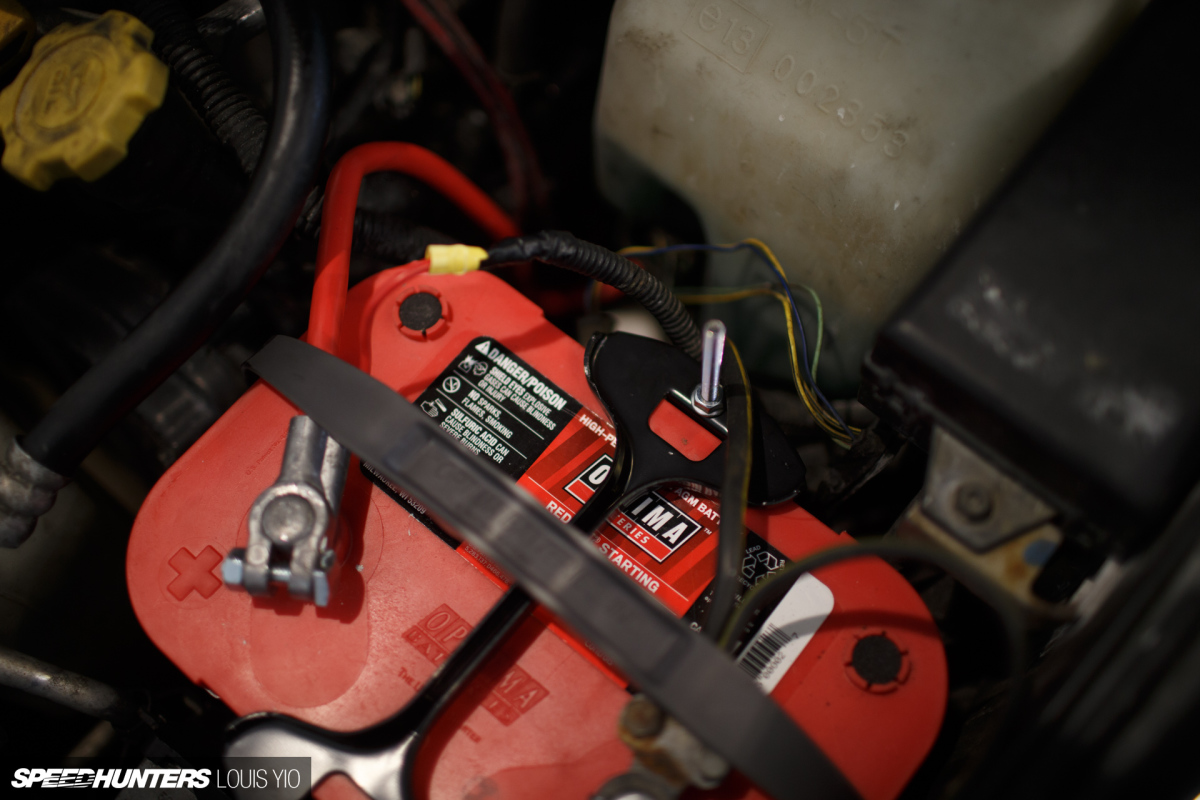 I also picked up a new positive cable since my original one couldn't reach.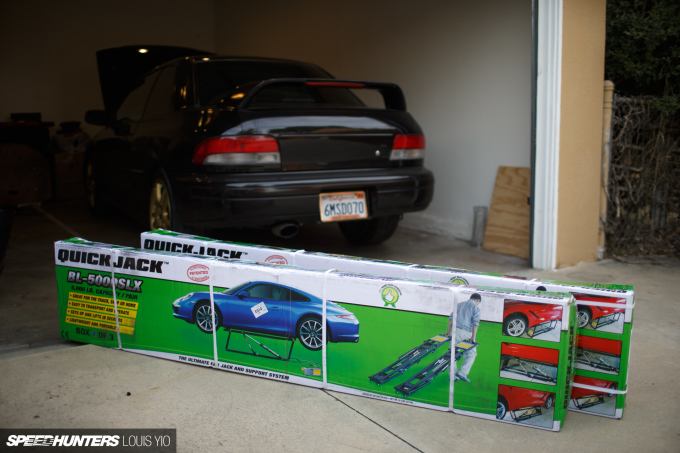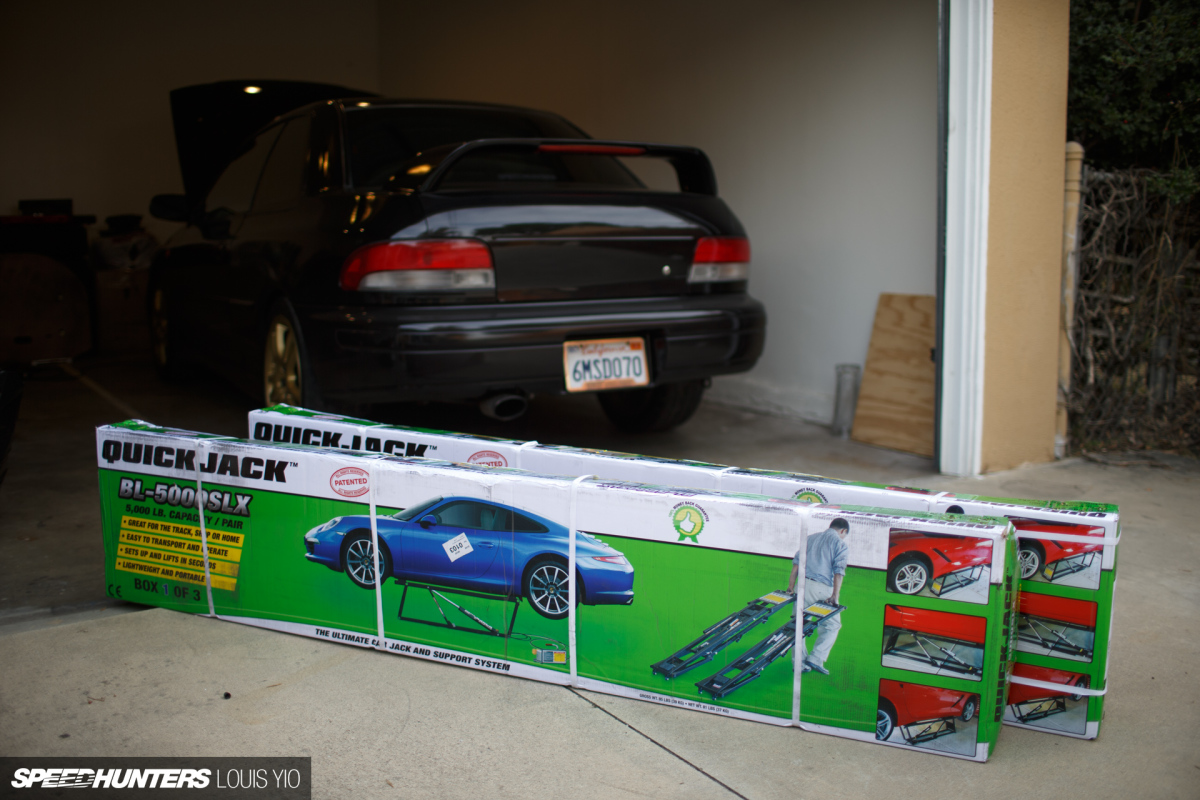 In December, I made another purchase, although not specifically for my Impreza. My friend has a QuickJack BL-5000SLX that he uses to lift up his Subaru Legacy GT and Forester, and after seeing the convenience and time savings it offers him, I decided that needed one too.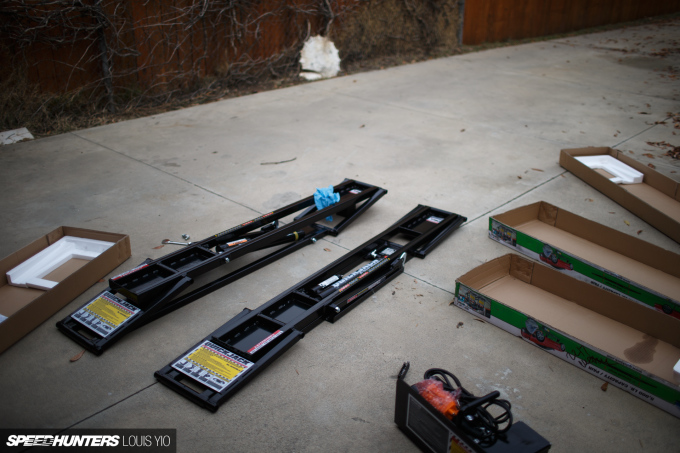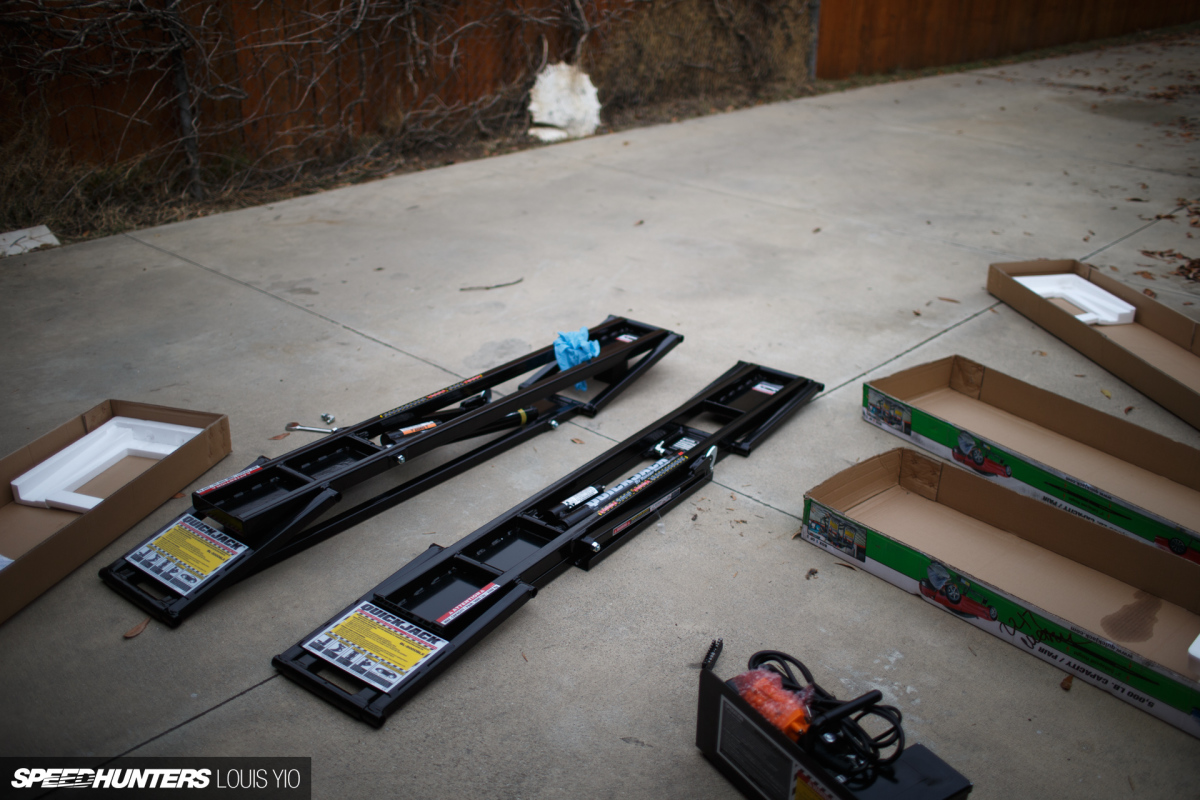 These jacks are offered for various vehicle weights, starting with a 3,500lb model and running up to an 7,000lb model. I talked with a QuickJack representative via the company's website chatbox before settling on the 5000SLX (5,000lb) model. The 3500SLX would have sufficed with the GC8, but now that I've been fiddling with the project car here and there, my parents have been calling me and asking me to work on their Audi A6 as well. The setup takes about 15 minutes, then you're basically ready to go.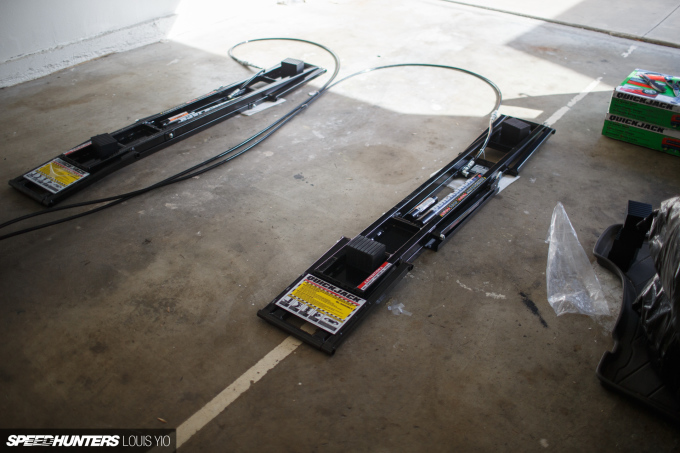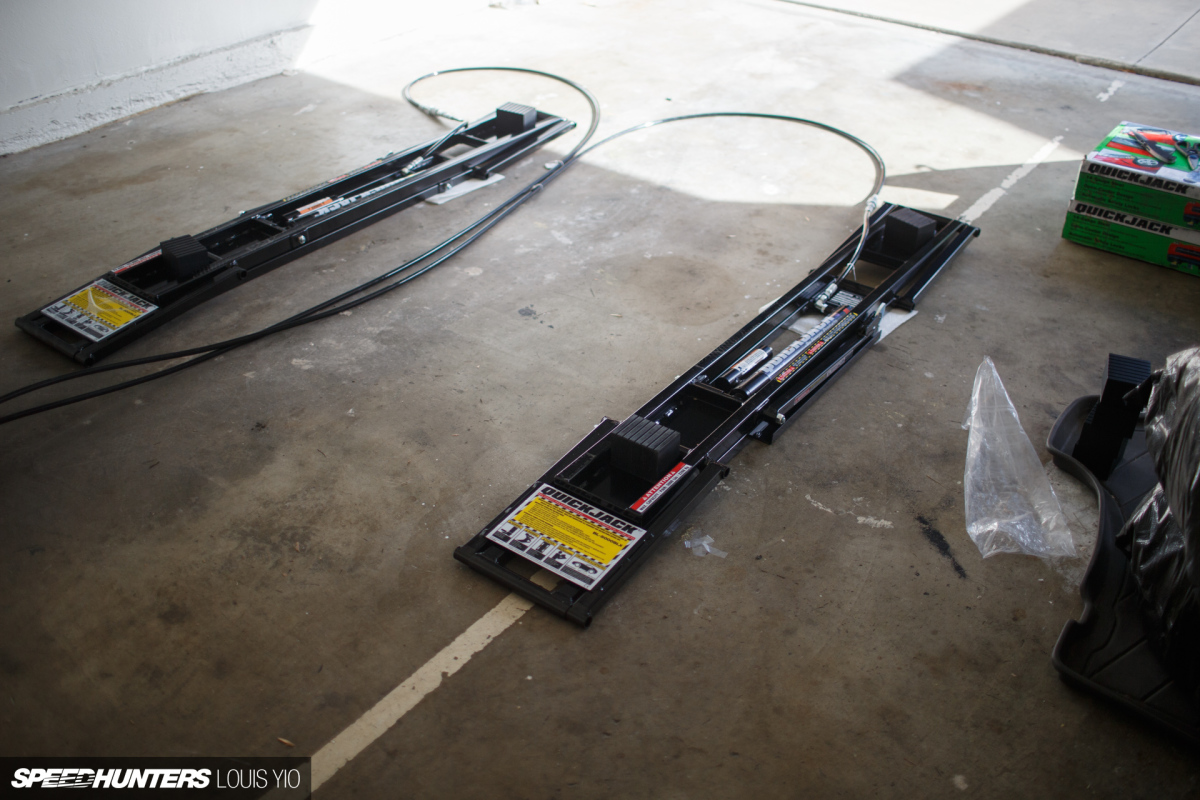 The hydraulic setup is quite nice and keeps things pretty simple. You can set the height up to around a foot and a half, making it easy to work on anything underneath the car.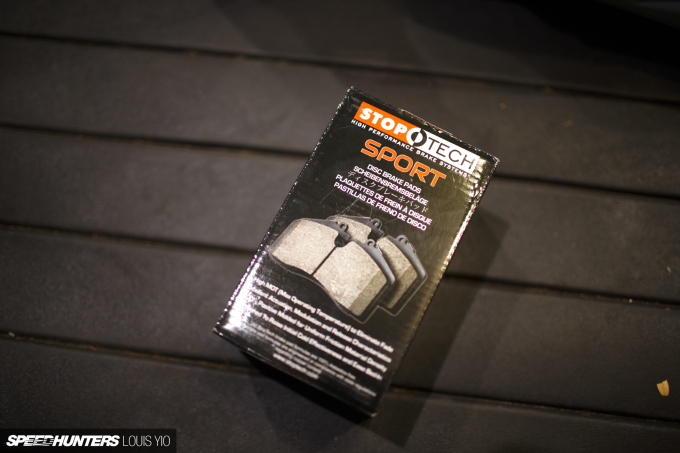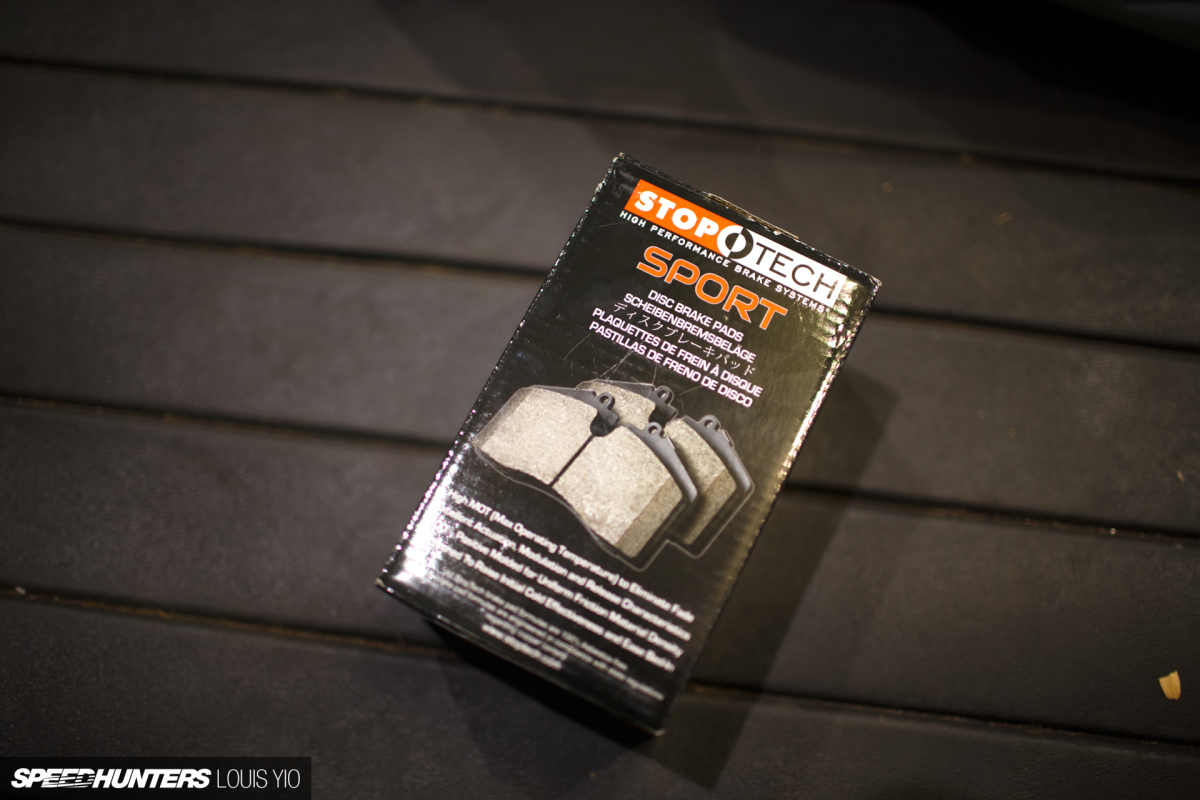 That night, I went right to work installing new StopTech Sport brake pads up front.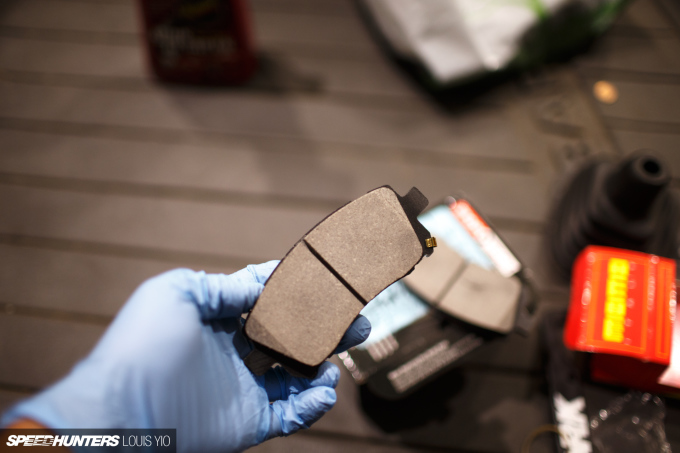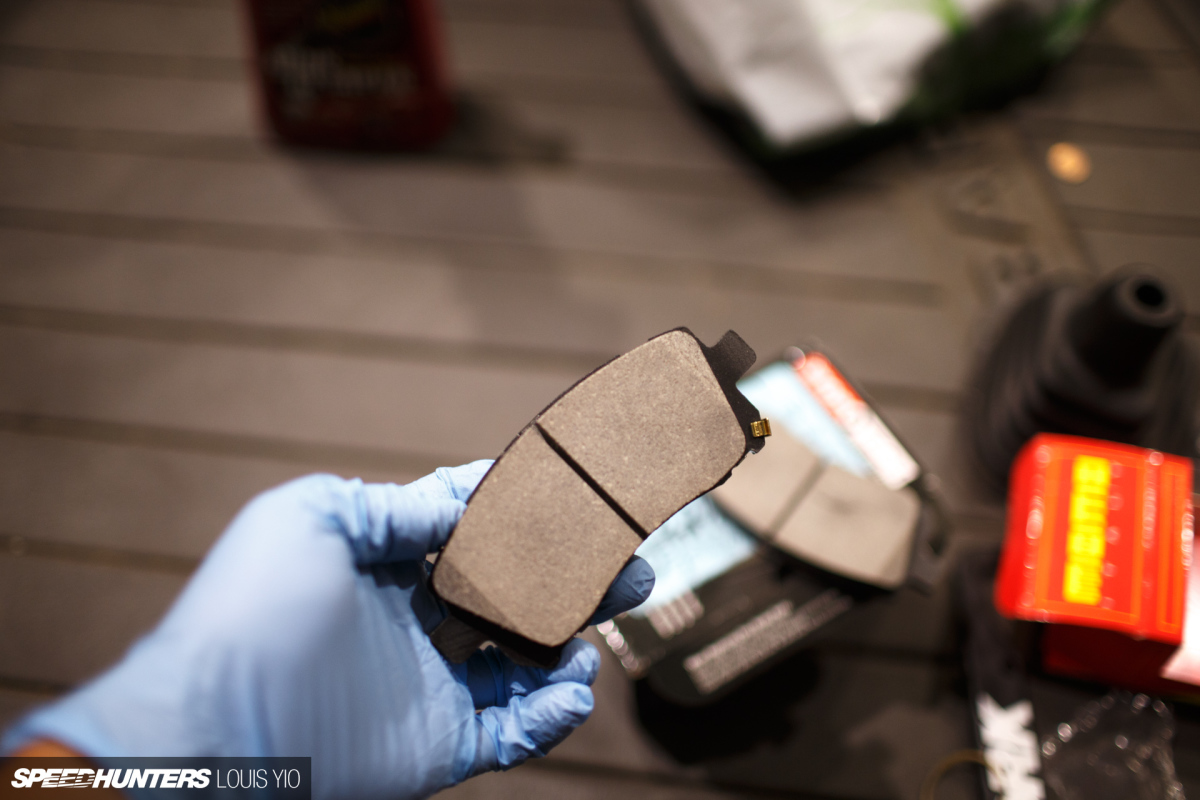 While the Centric Posi Quiet pads I had fitted were nice on the street, at Grange they fell a bit short.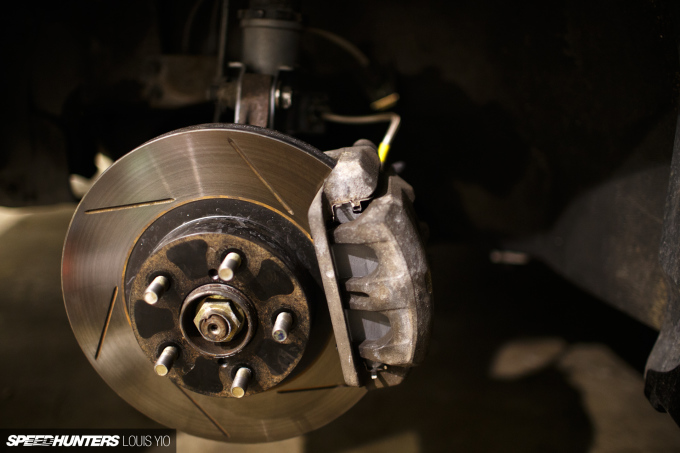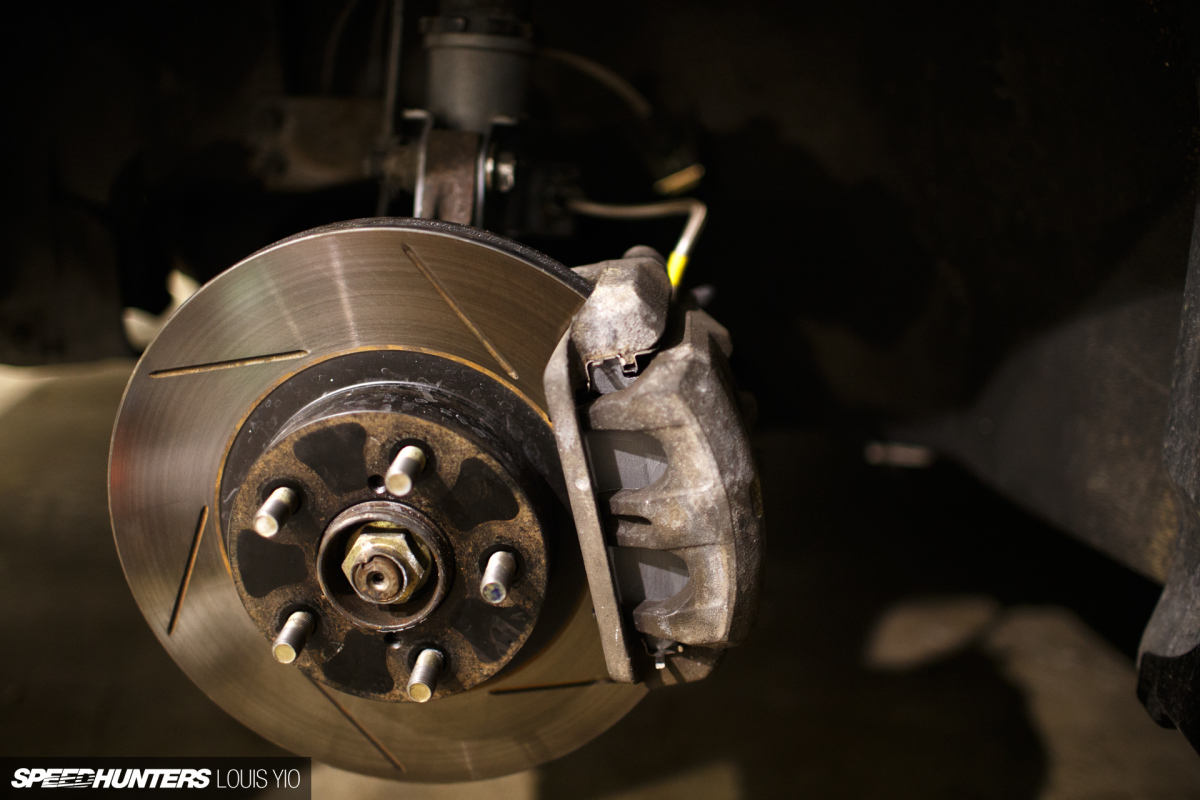 So far the new StopTech pads up front have been excellent, but I've resisted swapping out the Posi Quiet rears until I've done a bit more testing as there's a chance they'll suffice.
While I was at my local auto parts store to pick up hydraulic fluid for the QuickJack, I also grabbed a bottle of differential fluid. I definitely should have changed the diff fluids when I first picked the car up as it has over 200,000 miles on the clock.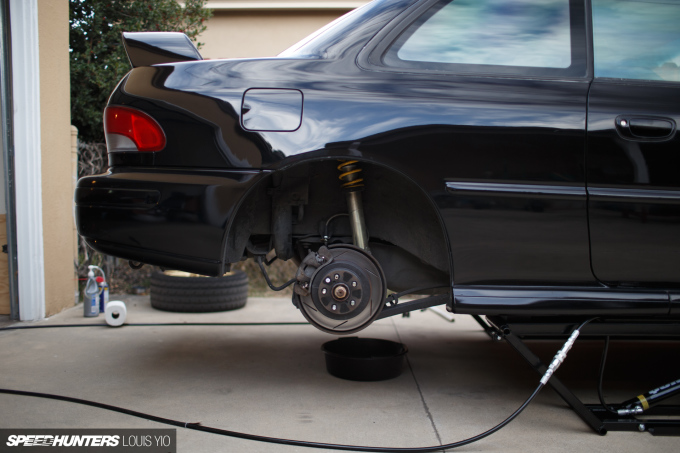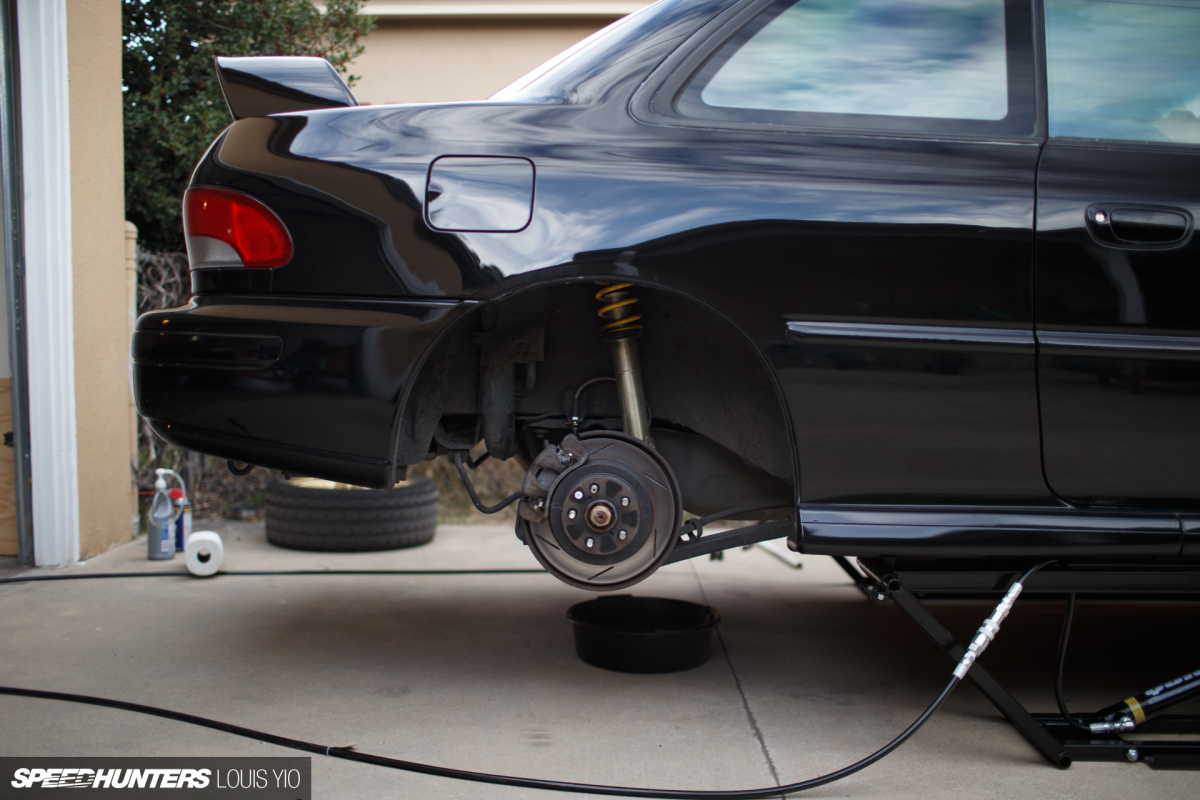 That same day, I also wanted to adjust my coilovers; the rears were sitting a bit high and the fronts needed a some negative camber.
There are two safety locking positions on the 5000SLX and the first one offered enough clearance for what I needed.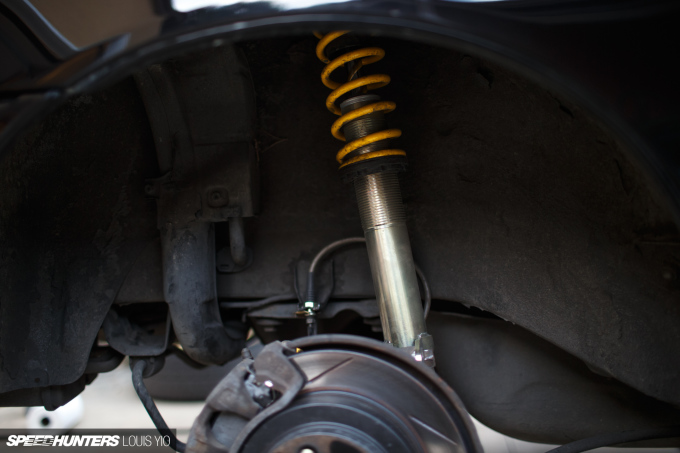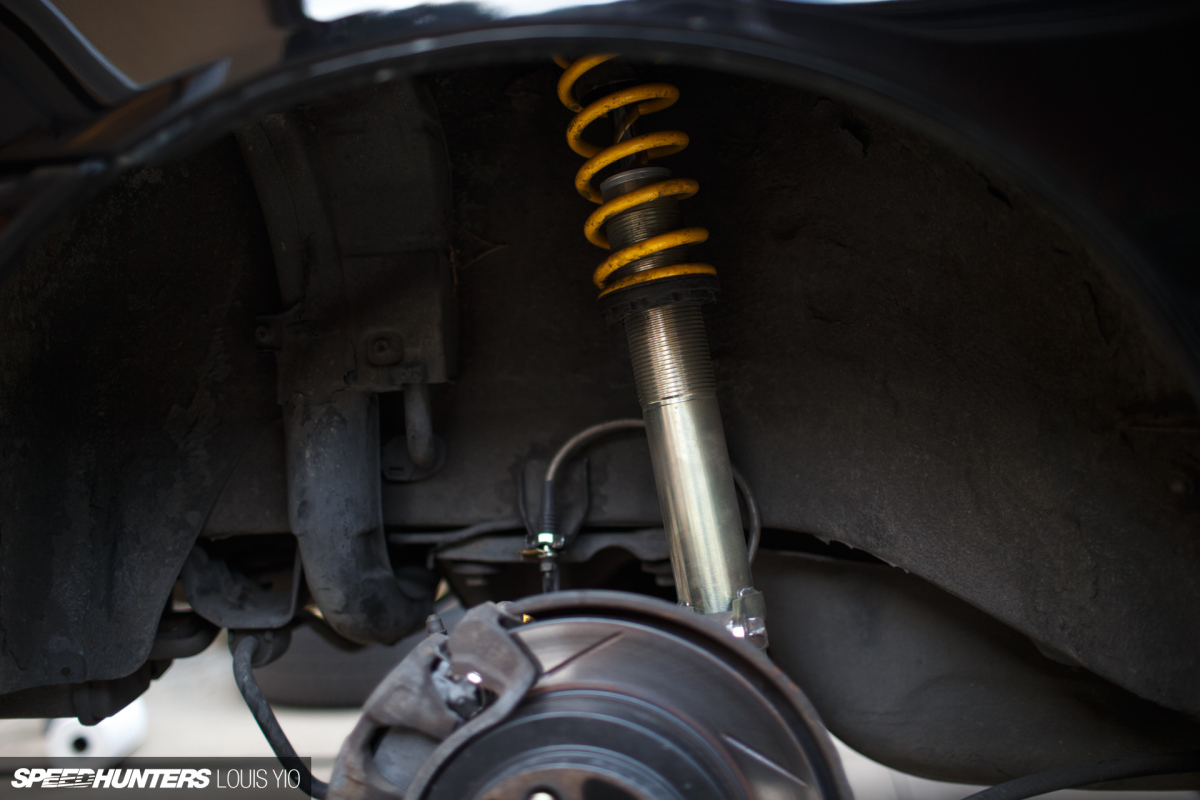 ST Suspensions provides a spanner wrench with its coilovers, and after a quick measurement I lowered the rear about half an inch.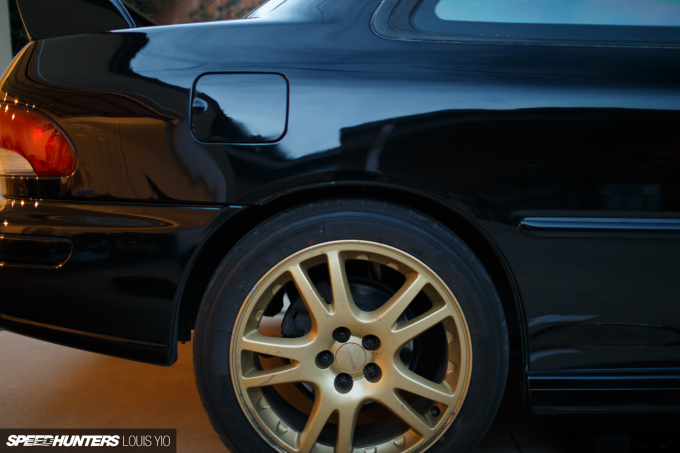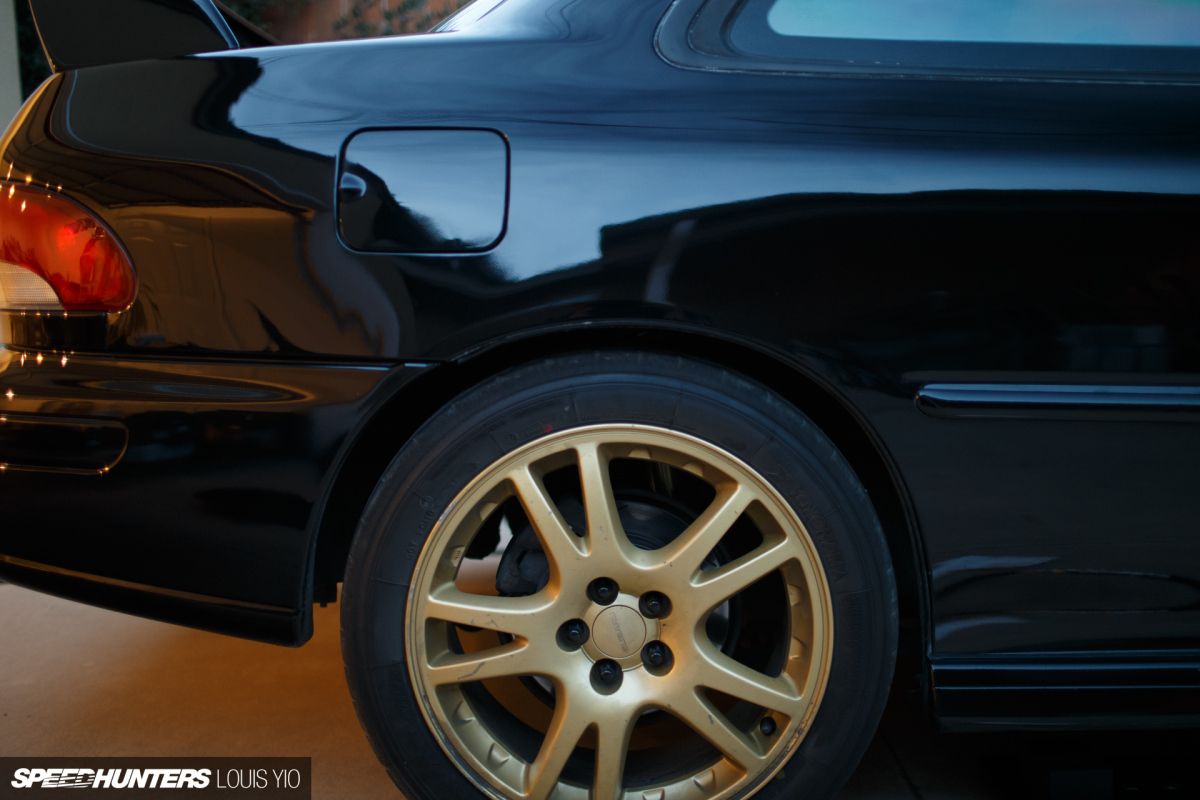 I'll see how it goes with that but I'll probably drop it another half inch soon. I really like the height that it's sitting at right now though.
Hitting The Streets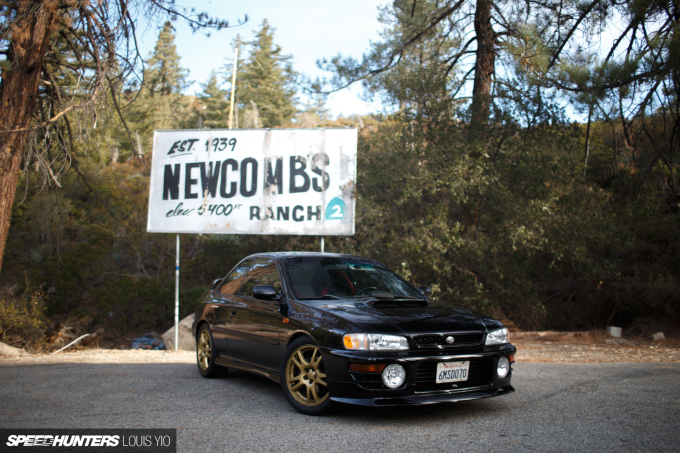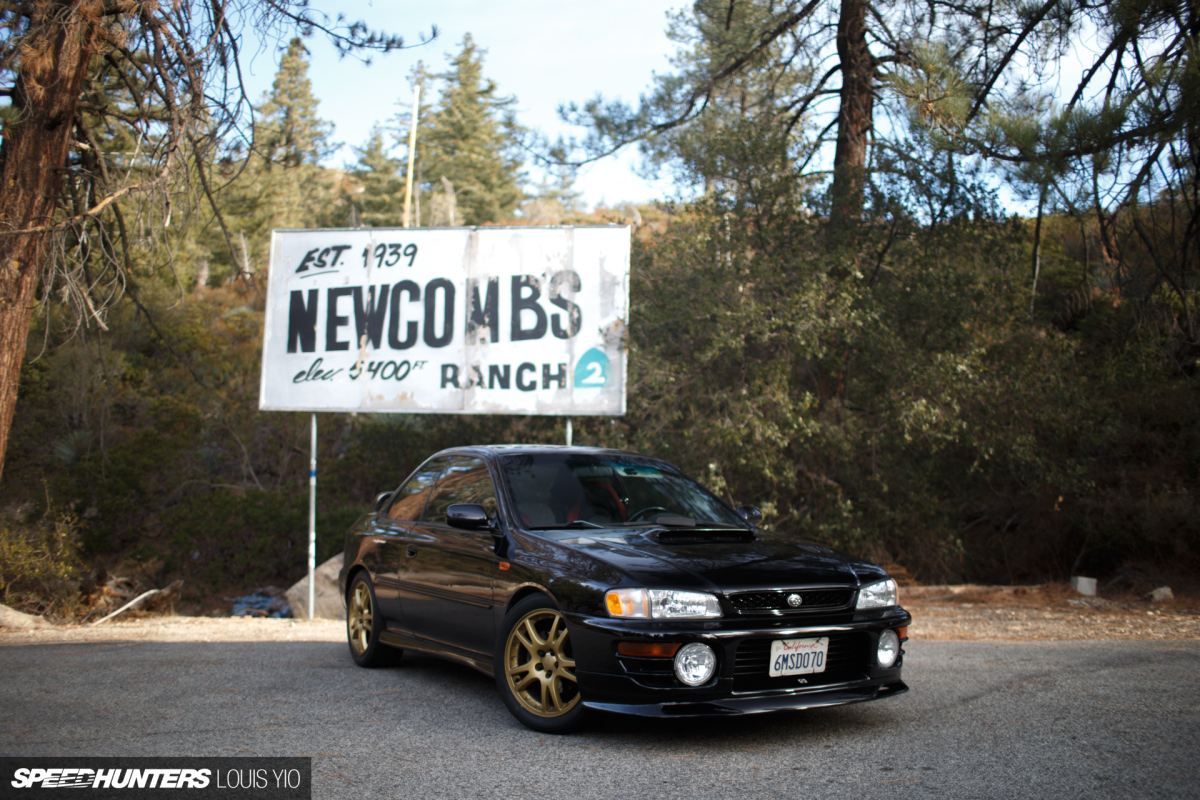 The next morning, I drove up to Newcomb's Ranch to get a feel for the lowered rear end and the added camber up front. With more tire contact patch on the road through the corners, the car felt amazing as I cruised through the canyons that lead to the restaurant. At this moment in time I really wanted to punch myself in the face for not adjusting it while I was at Grange.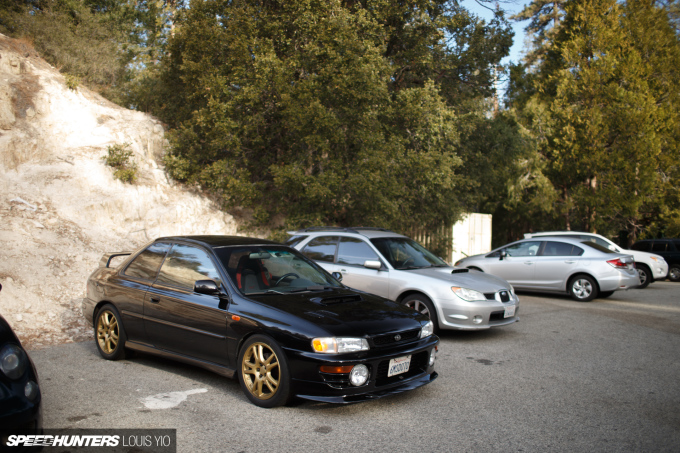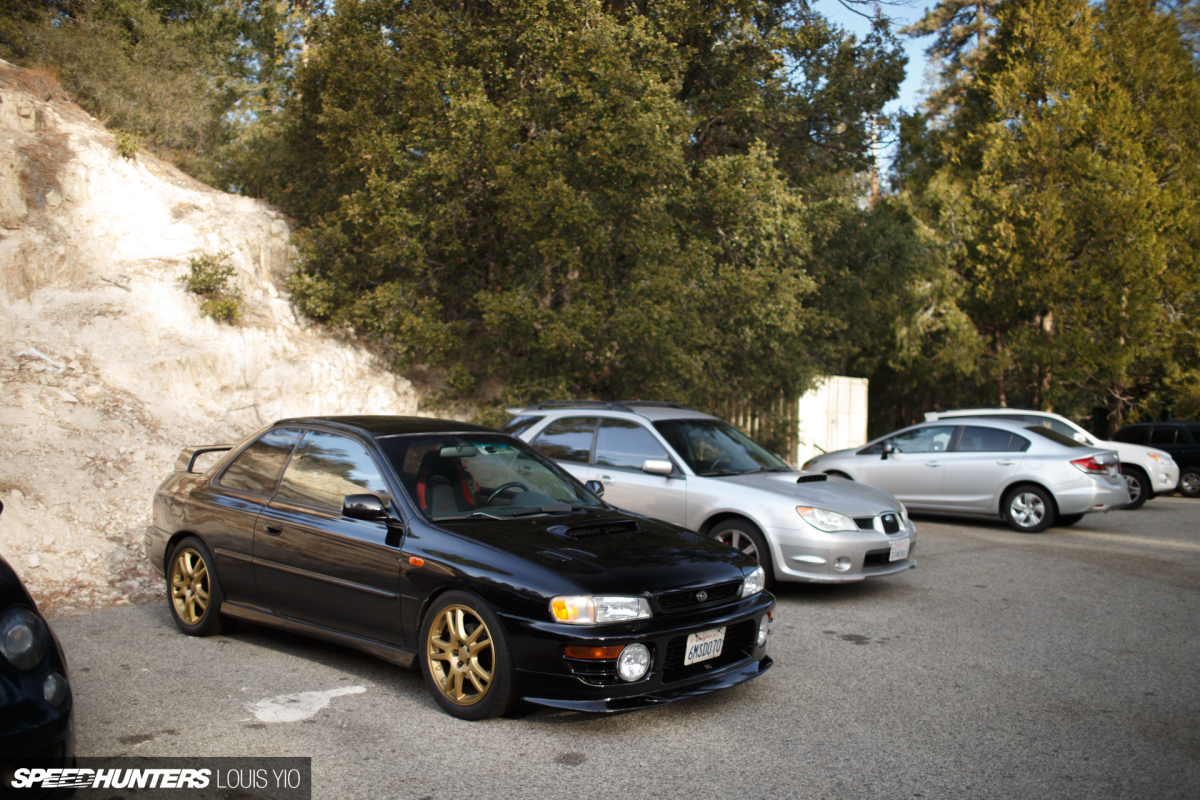 In terms of stiffness, the car felt perfect.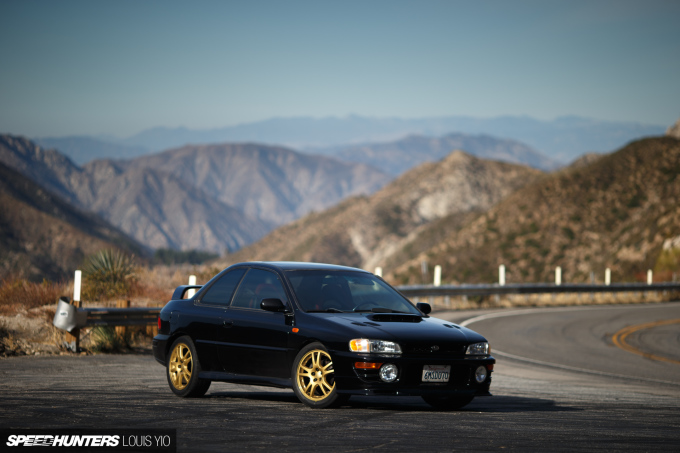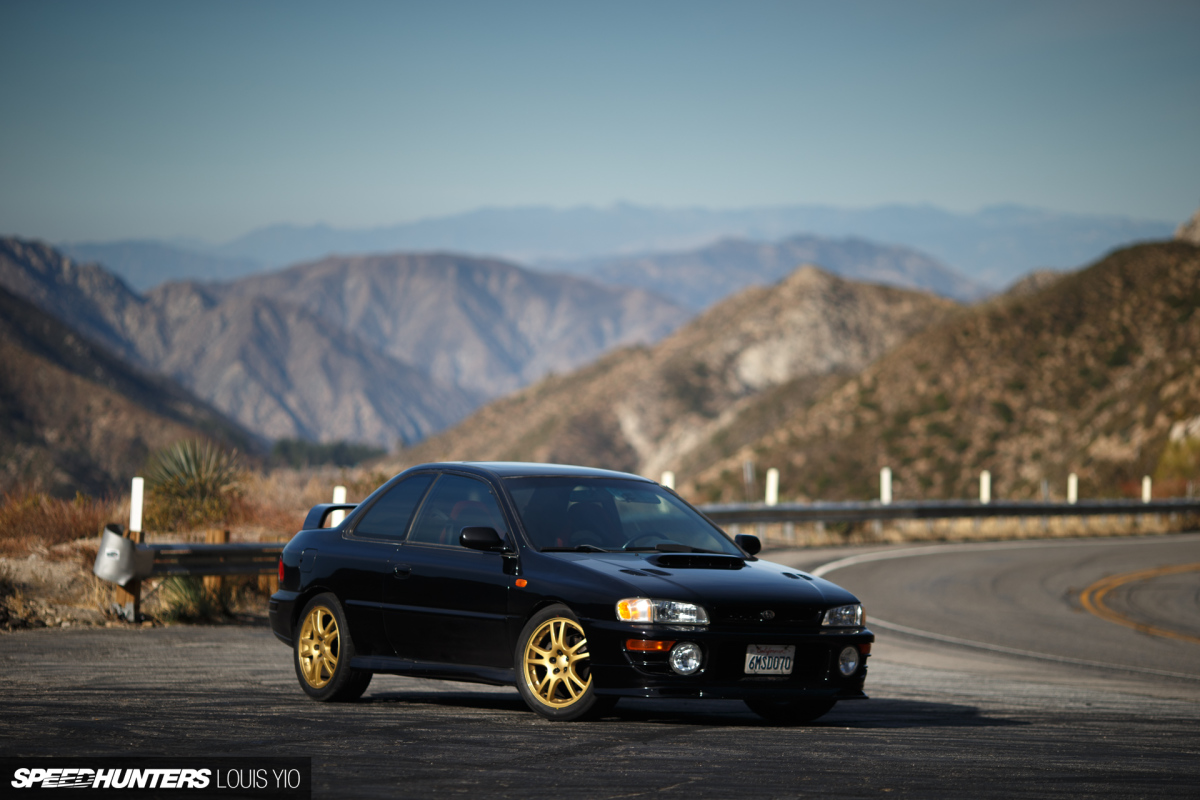 Bunta really shined on its way down the mountain, too. While I obviously wasn't pushing it as I was on public roads, everything seemed to click really well; the car felt right at home in the canyons.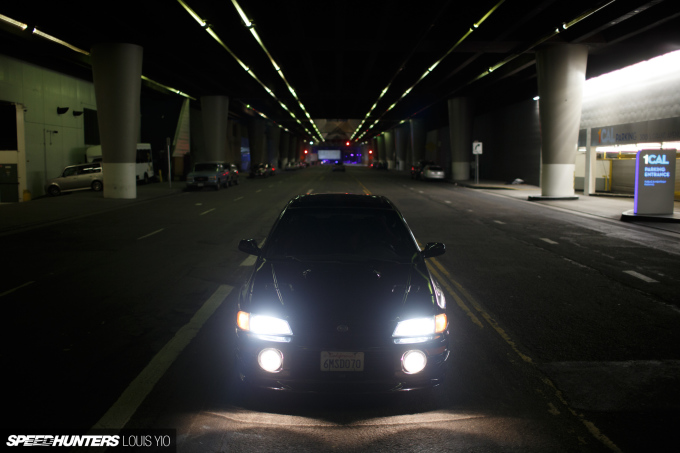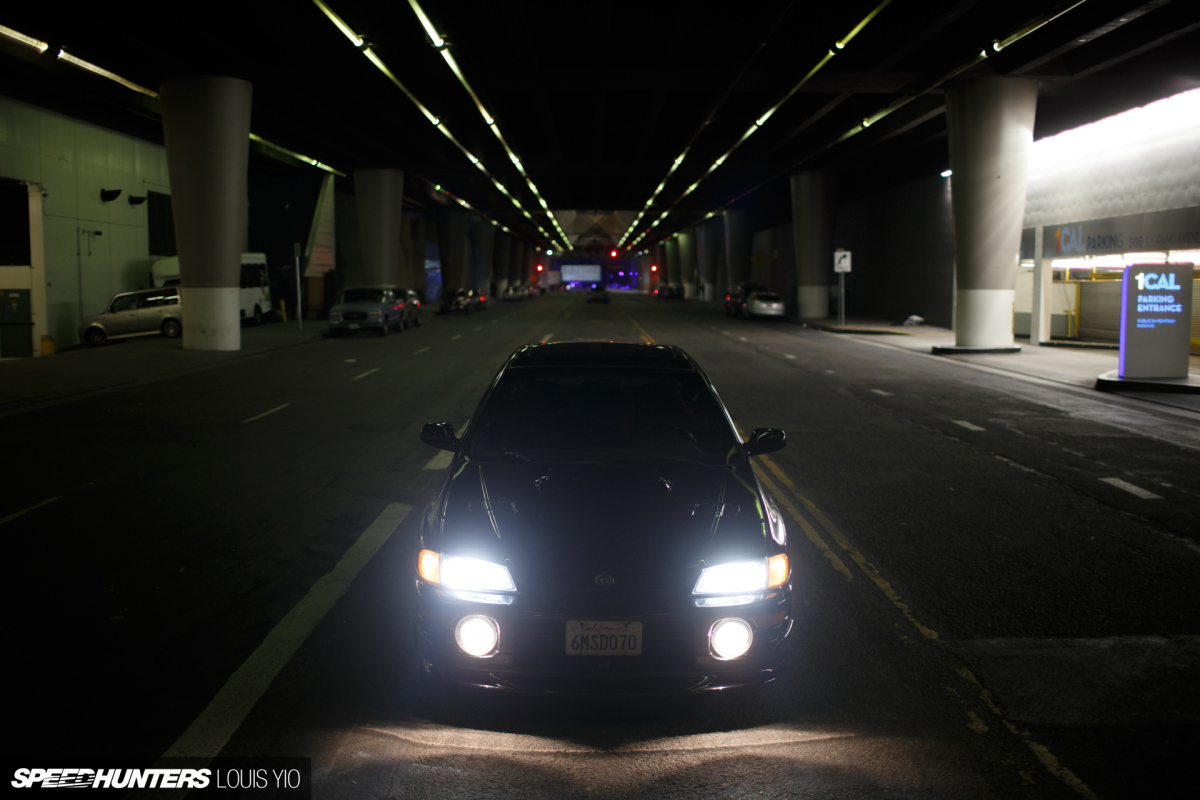 A few days later, my automotive video friends from the East Coast, Gears and Gasoline (who made a video on Larry last year), were in town and wanted to scout some locations.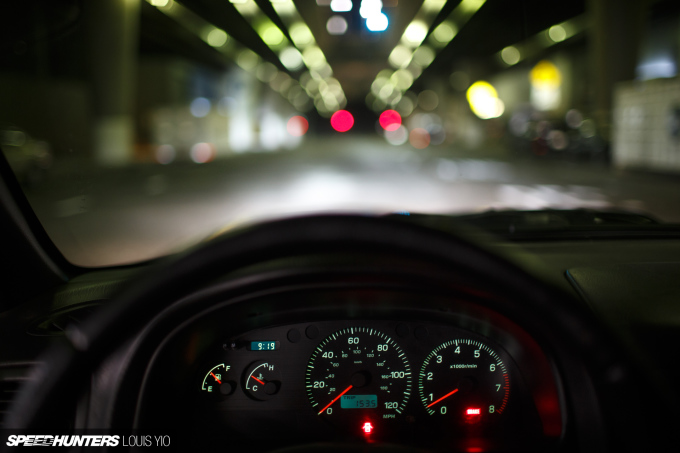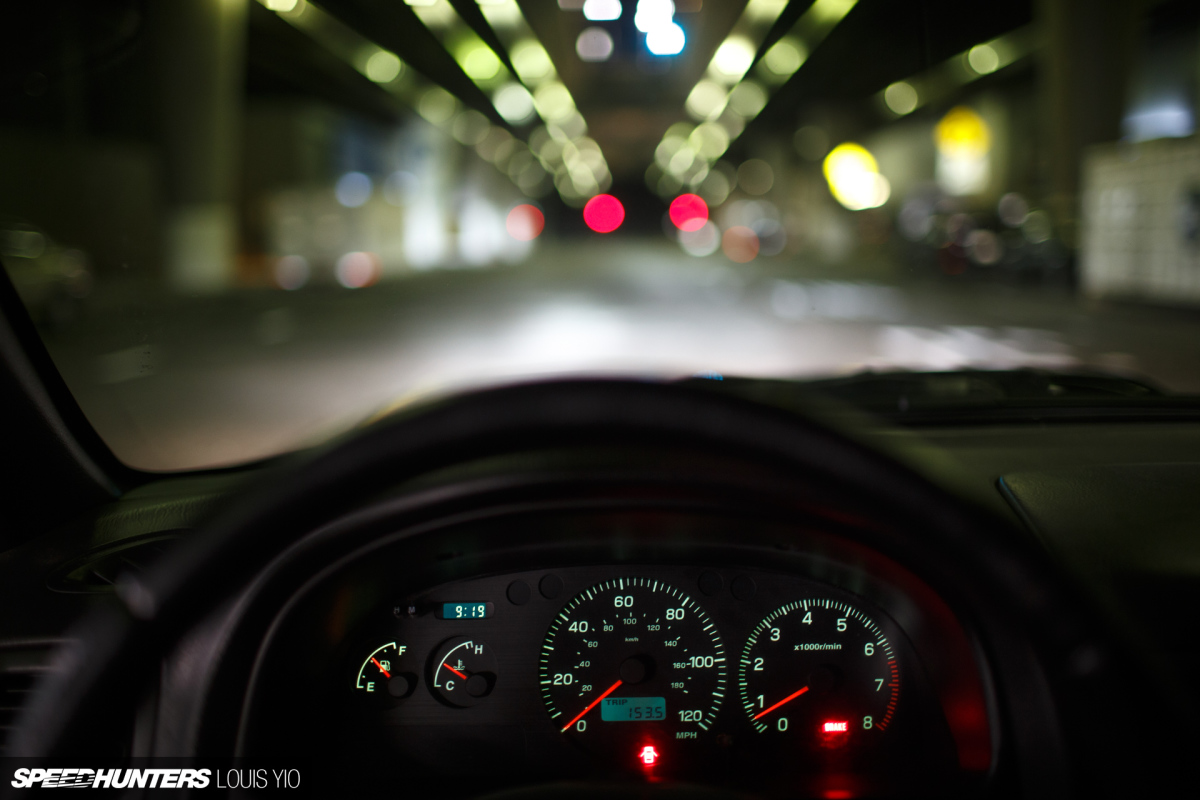 Because I live about five minutes from downtown Los Angeles, I figured I'd help them out. I took them through Lower Grand, the 2nd Street tunnel, 4th Street Bridge, Chinatown, and a few other DTLA spots.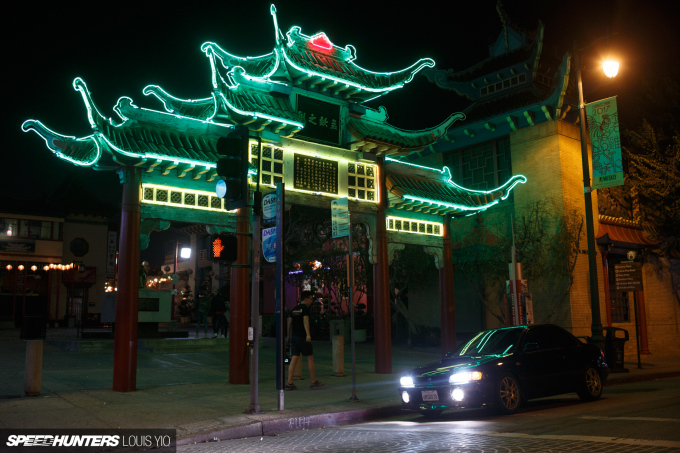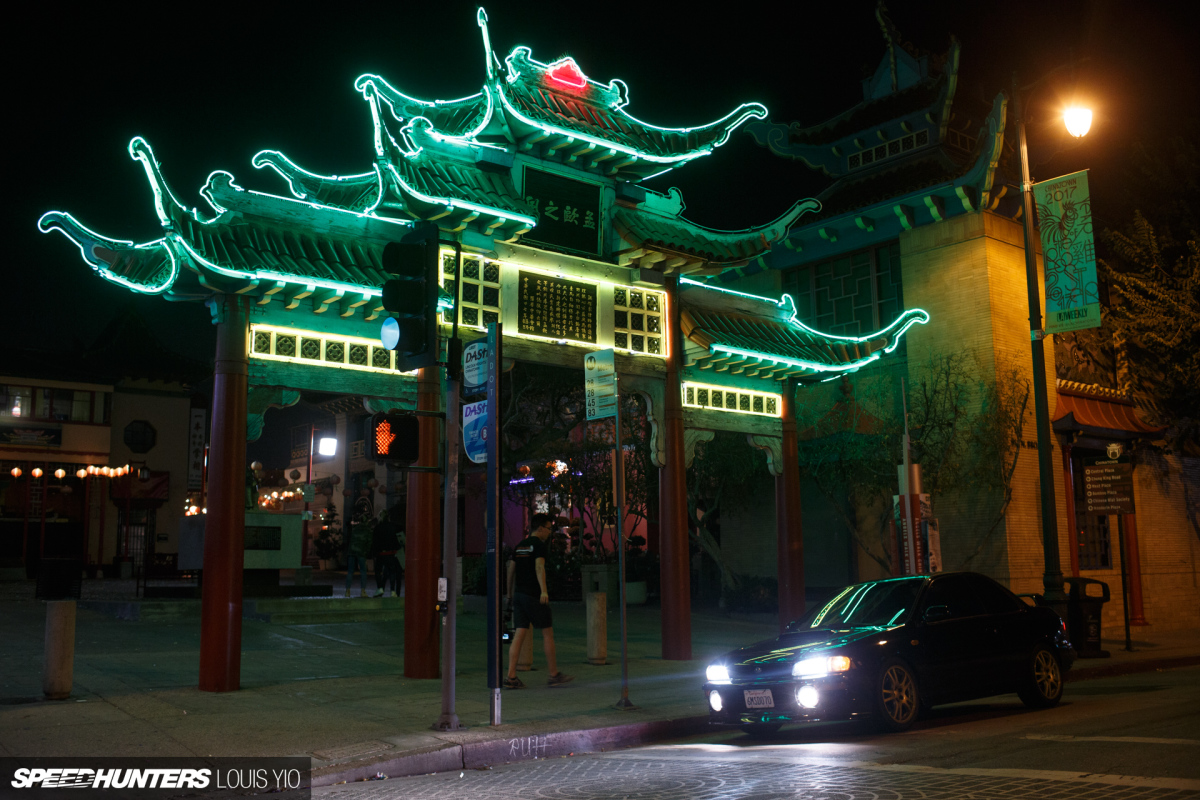 I'm thoroughly surprised with how well the ST XTAs are handling downtown and the rest of LA's pothole-infested roads. In the few months that I've had them, I've put more miles on the GC8 than in my actual daily.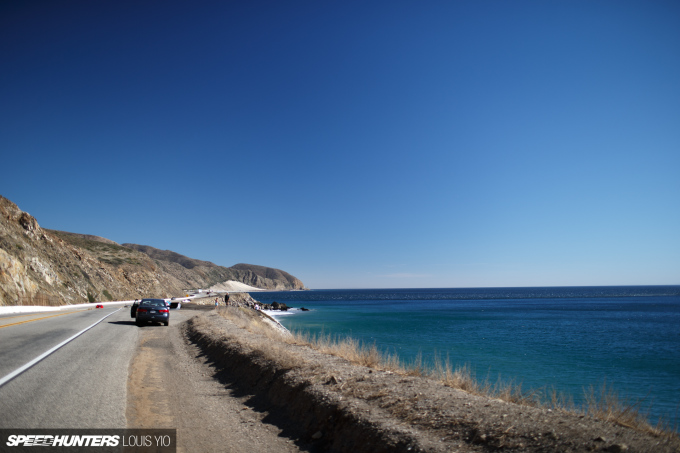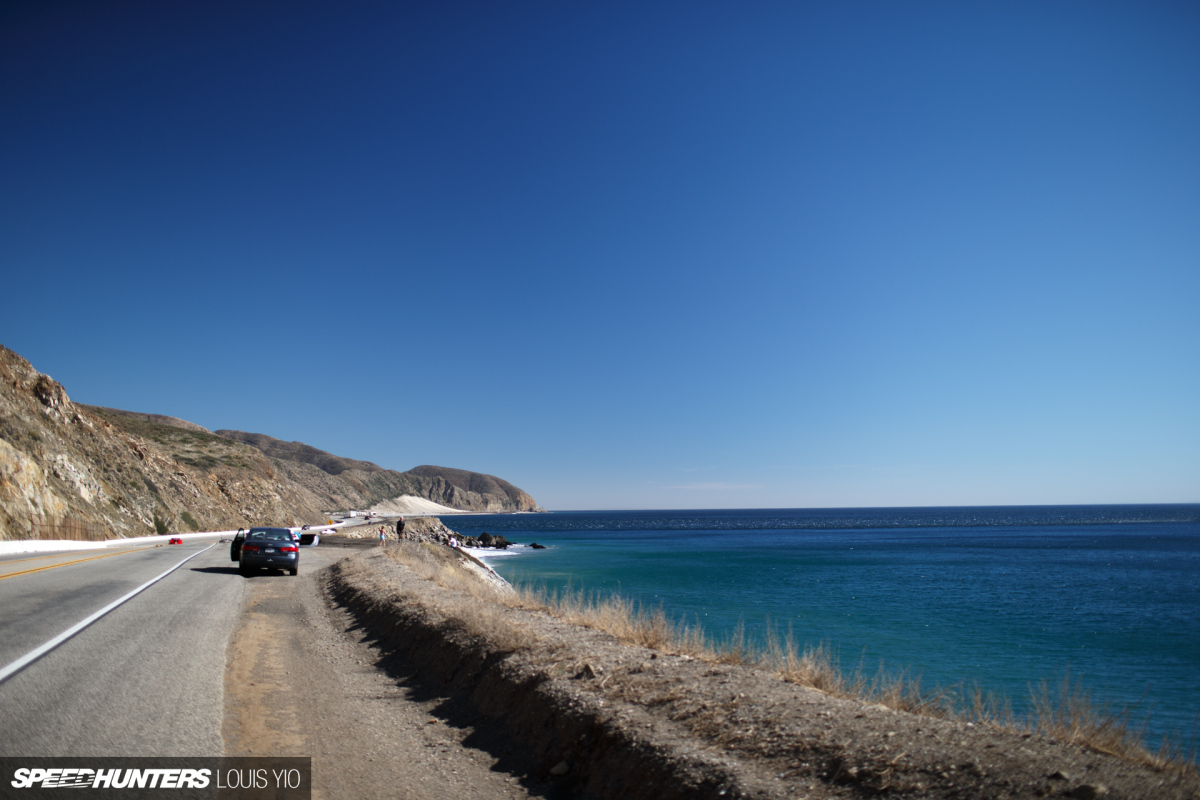 I also took the opportunity to take my car out to Ventura, a county north west of Los Angeles about an hour and a half away, for a Subaru meet that was happening out there.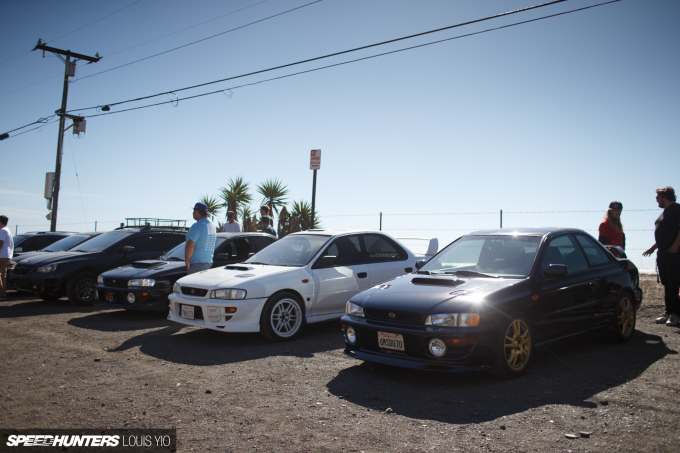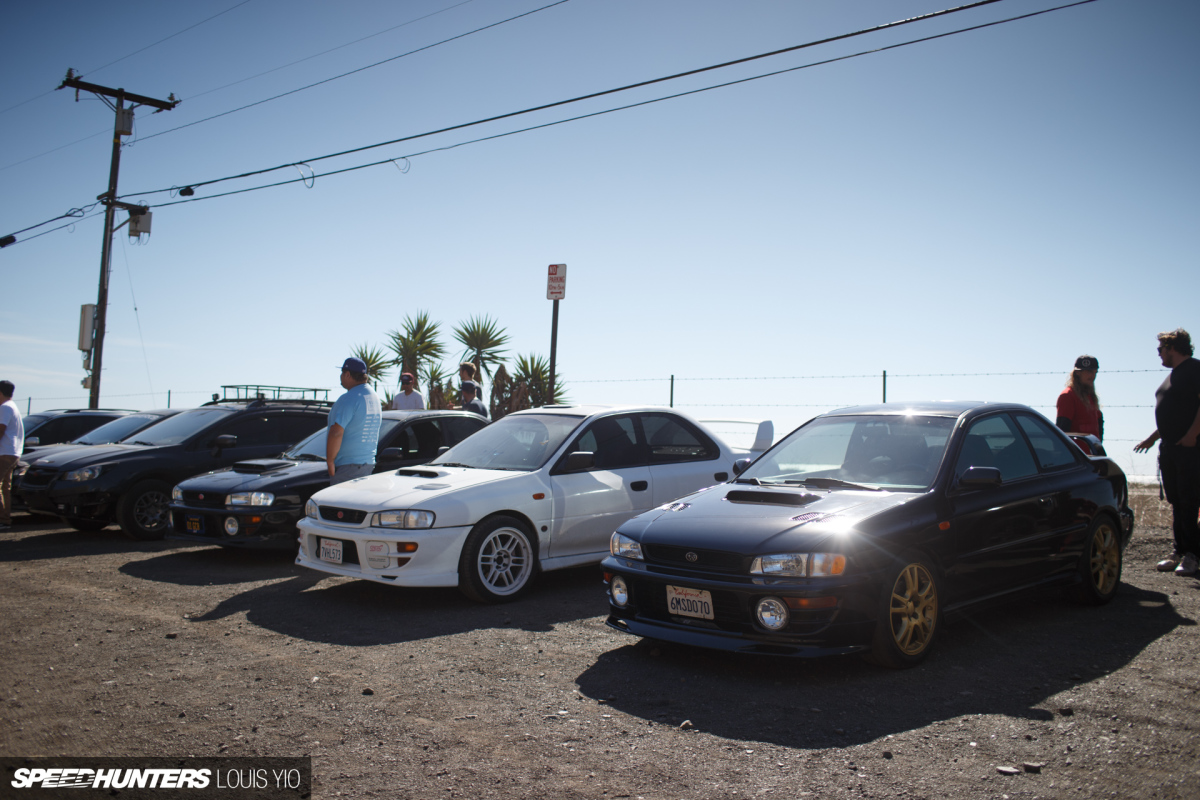 I don't take Bunta out much and had only been to one other Subaru meet a few years back (before I owned the car), so I wanted to really see what the local community had in terms of cars and setups.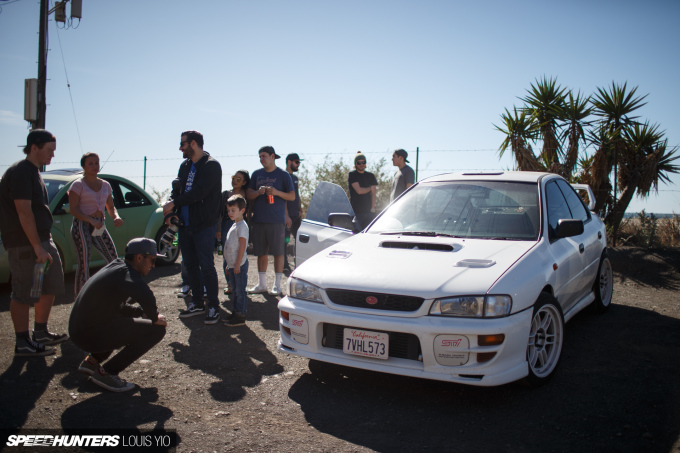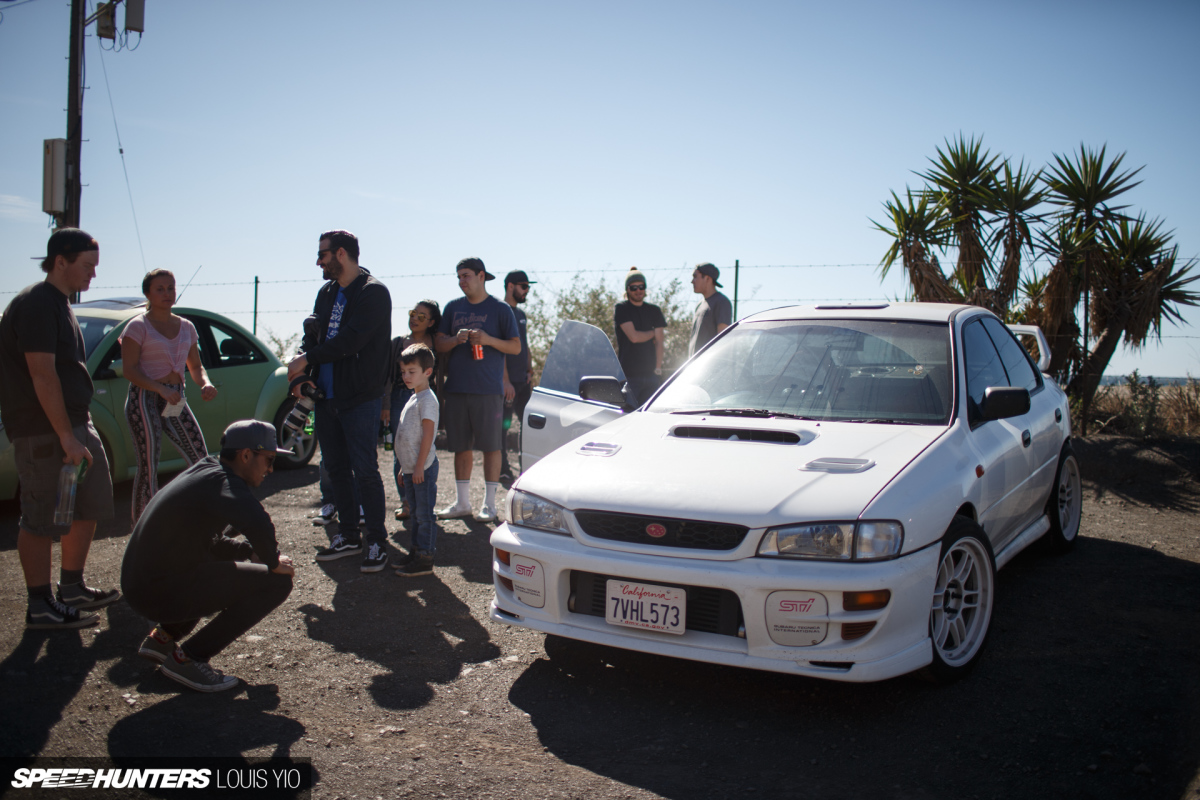 There was a pretty wide selection of cars present, from off-road prepped Foresters to this fully gutted, 600hp GC8.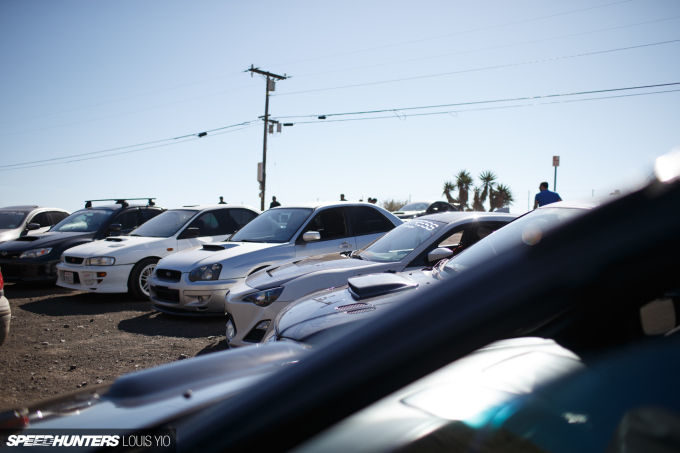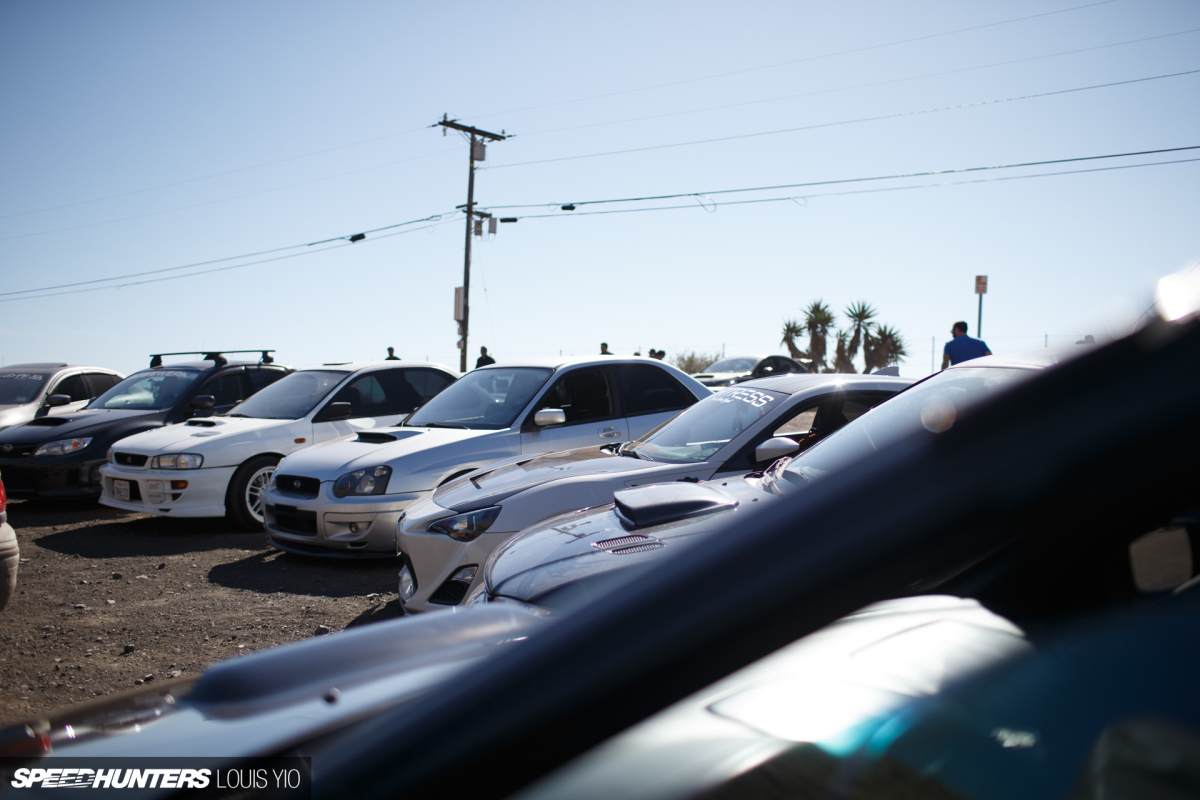 The meet was organized by an Instagram page called Subiewerks555 which contains nothing but awesome photos and videos of Subarus.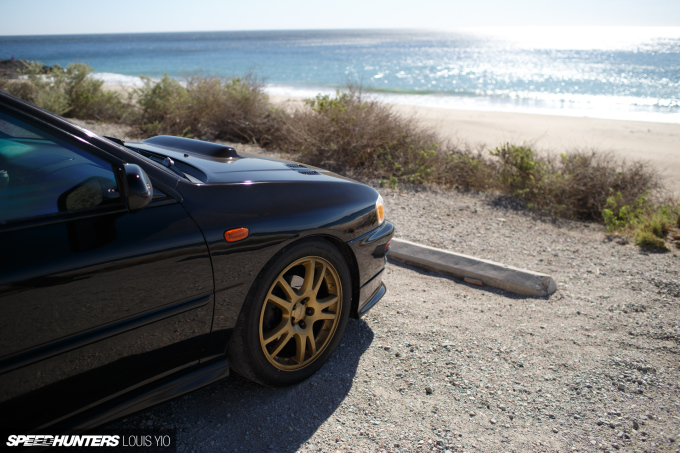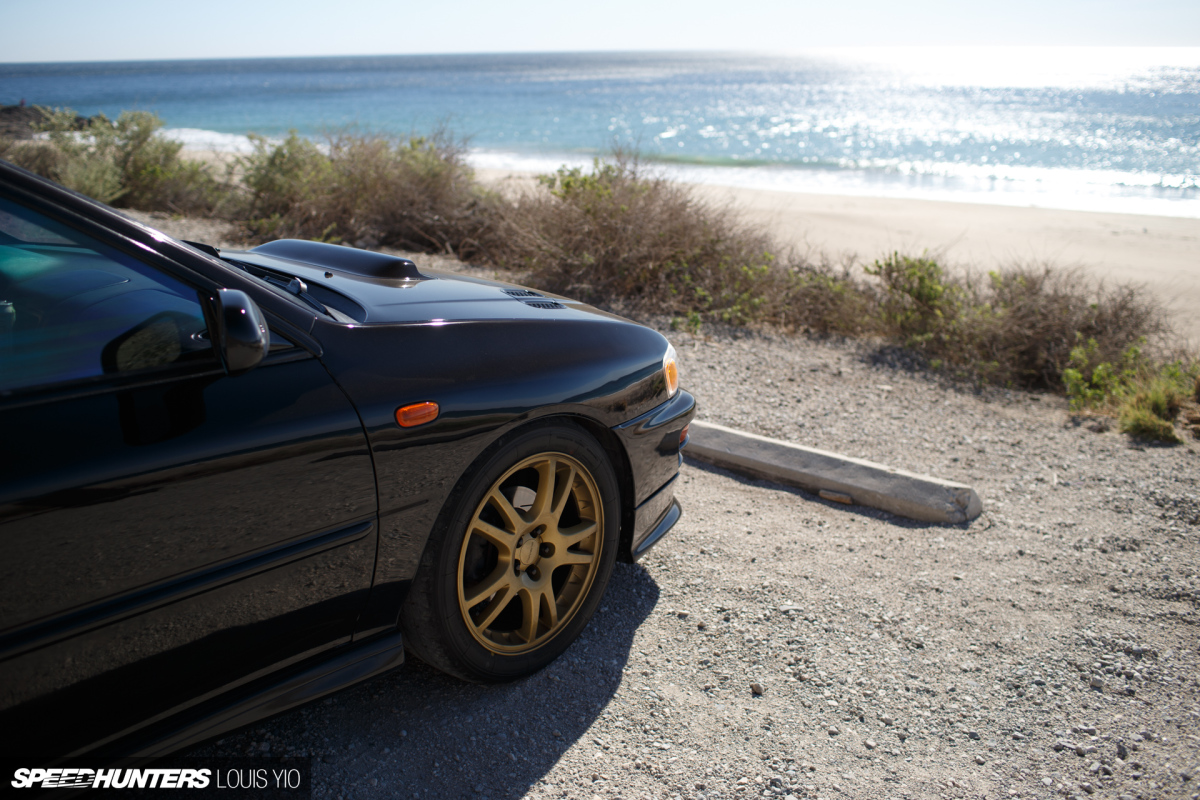 The drive back was down California's iconic Pacific Coast Highway.
Since fitting the ST XTA coilovers, I've logged about 3,000 miles on the car. I really should be driving my daily a lot more, but the GC8 is starting to be more and more fun to drive on a daily basis.
Next up, the hunt for my STI donor car…
Louis Yio
louis@speedhunters.com
Instagram: lusciousy