Location Hunter
Nat Huynh's Lexus LS460 is a car that I've had my eyes on for a long time.
I came across it nearly a year ago at a local meet and the car has been on the back of my mind ever since. I am usually not huge on VIP-style cars, but this car is a blatant exception to that preference.
Nat's owned the car for nearly a decade and it's been put together so nicely each step of the way. My only worry about featuring it here is the war zone that may develop in the comments for uttering the s-word, but we can't let that stop us.
It's just too good to ignore and besides being stanced, which is simply a requirement for anything VIP, it also has a supercharger.  That's an s-word we can surely all get along with, right? And this build is so much more than that.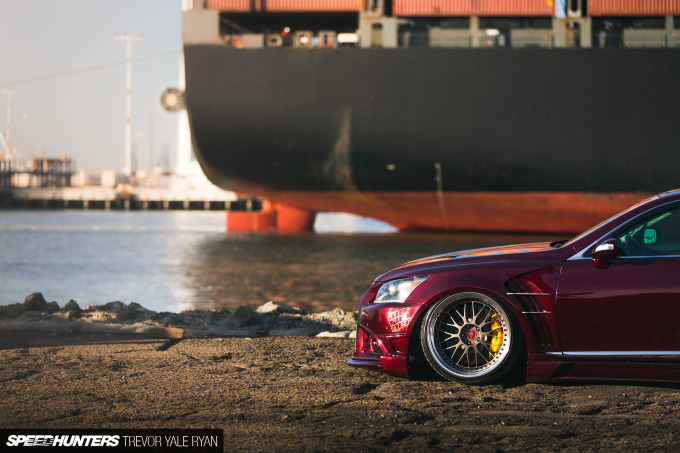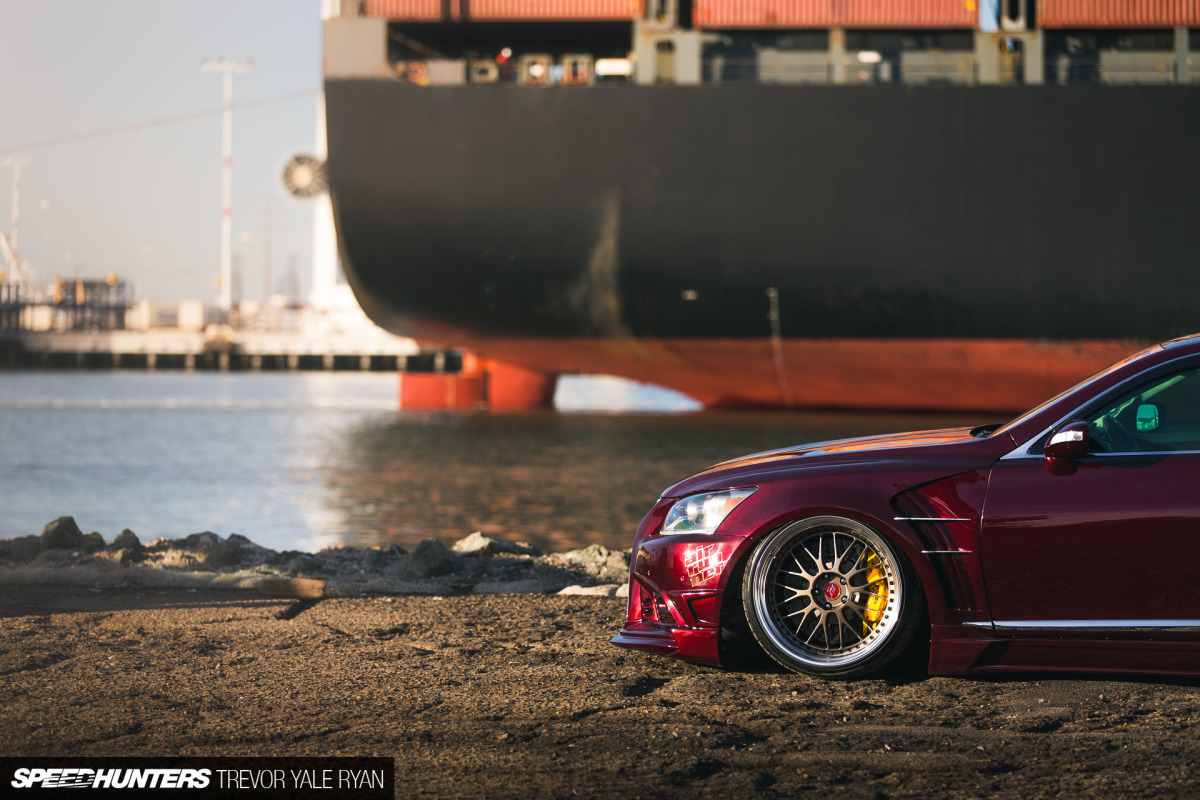 We'll take a good look under the hood later, but before I even got in touch with Nat I put a good bit of thought into where to shoot this car. I tried to avoid the Alameda Naval Air Station as it's a fairly overused spot, but I finally caved.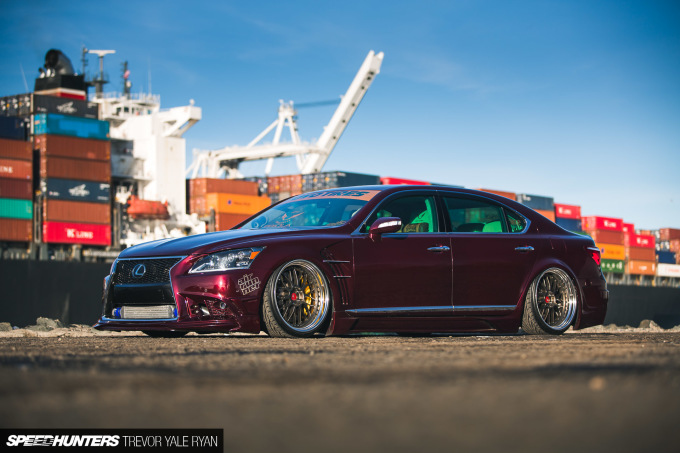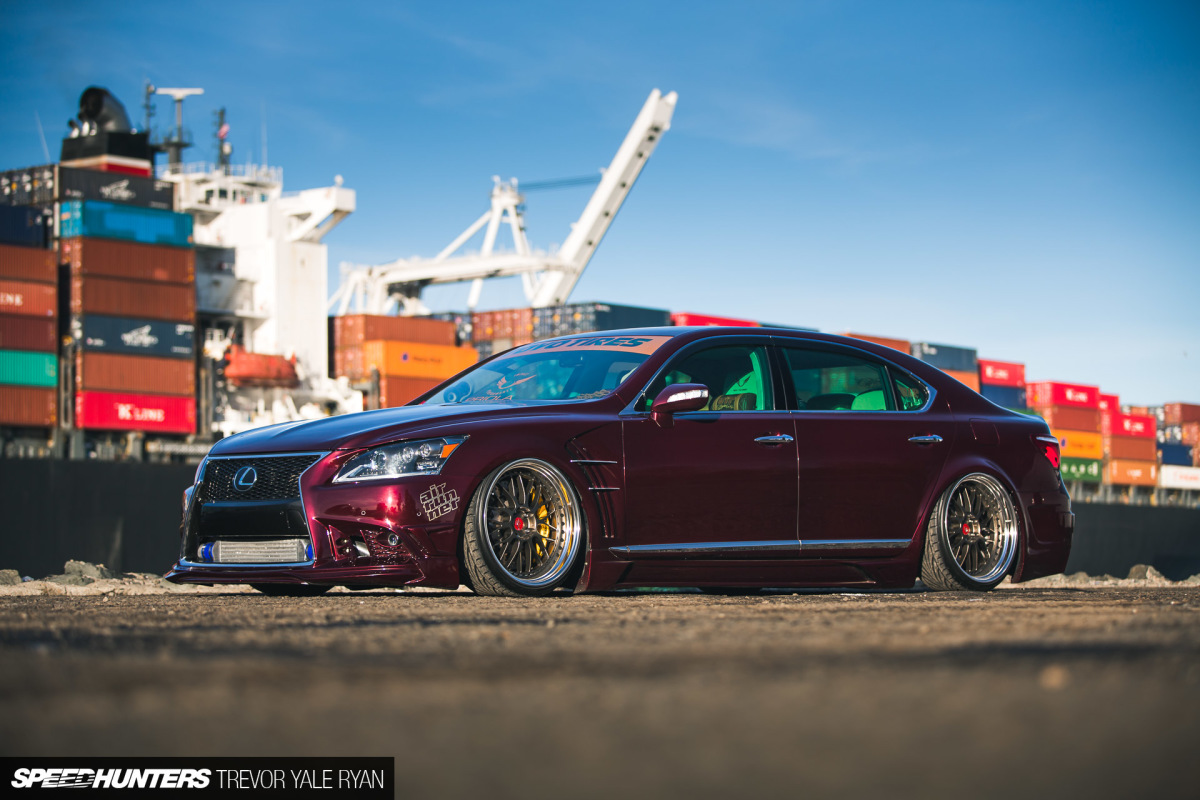 I really wanted that shot with the San Francisco skyline at sunset, and, after all, what better place to shoot a boat than surrounded by other boats?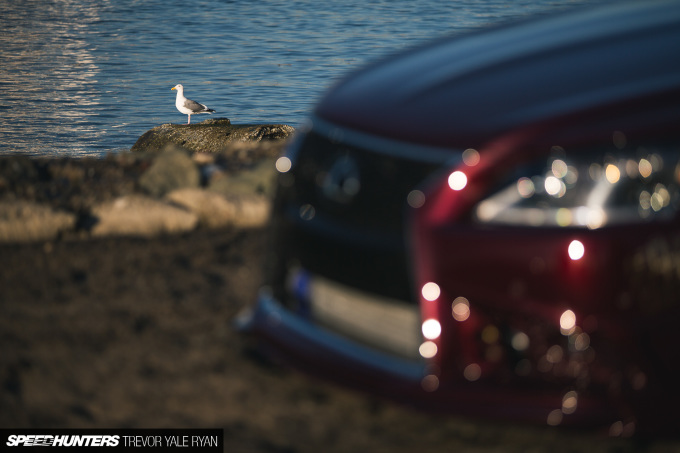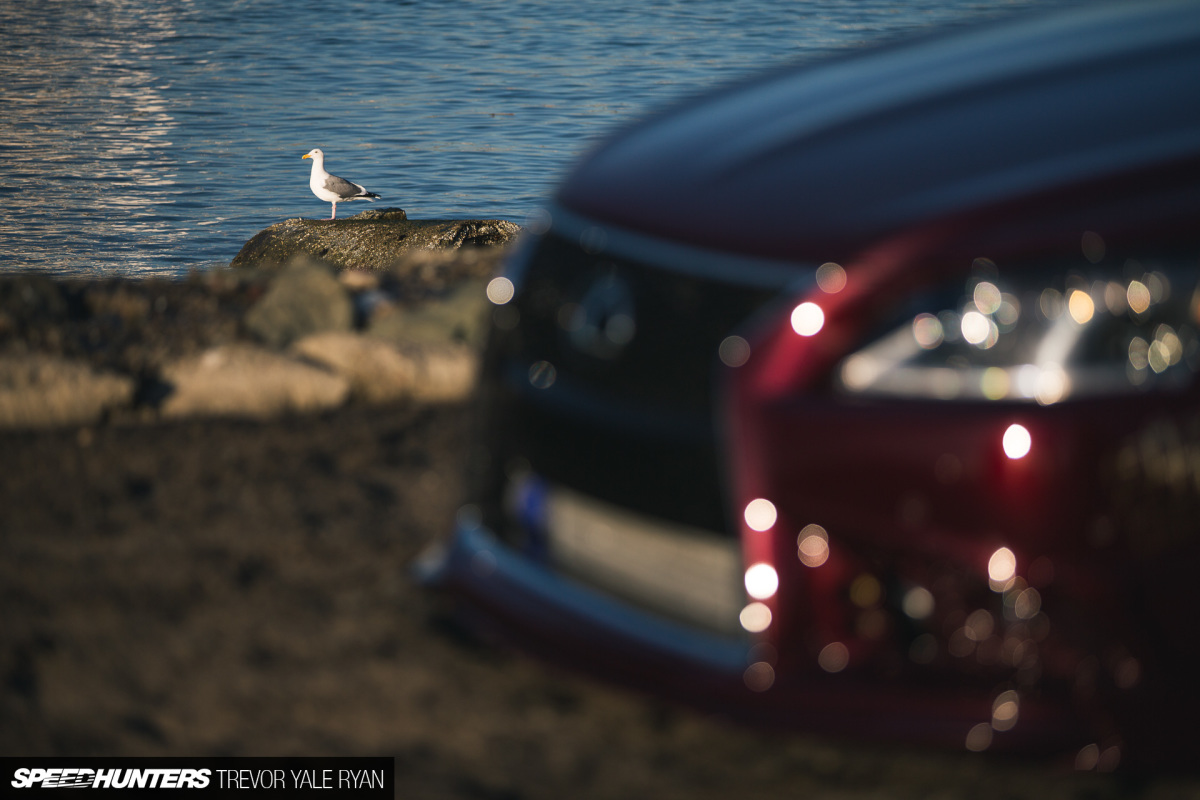 Jokes aside, it's a great place to shoot with almost unlimited locations; there's the water's edge and plenty of abandoned industrial areas leftover from World War II to choose from. I hope you'll forgive me if I end up here again in the near future for another feature. Anyways, I'm getting off topic.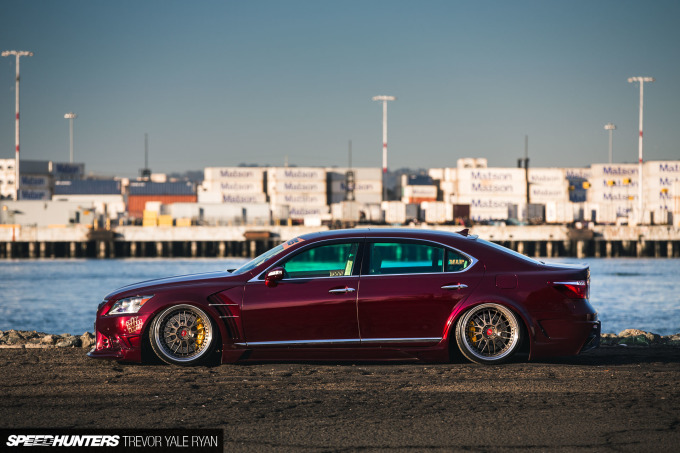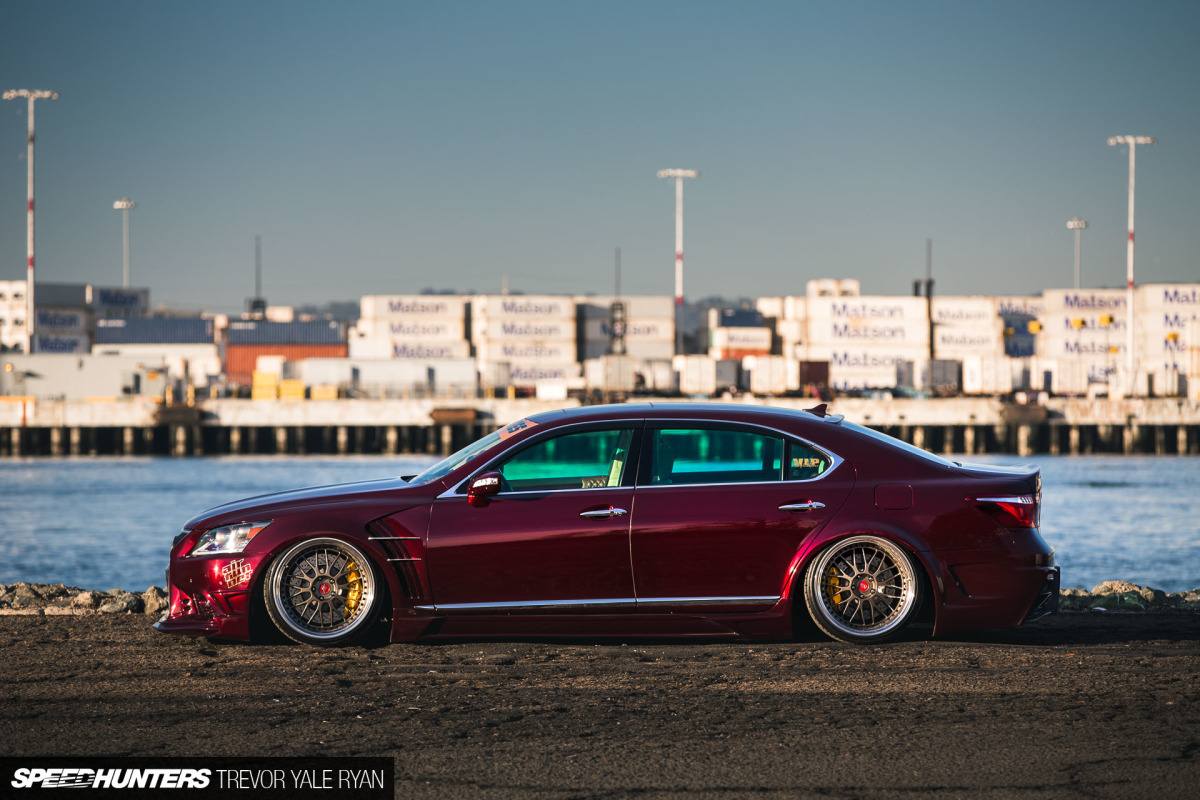 The VIP-style Lexus is what brought me here in the first place, and one of the first things you notice about the car is the stunning paint. The first thing that Nat wanted to change on the car, which was originally white, was the color.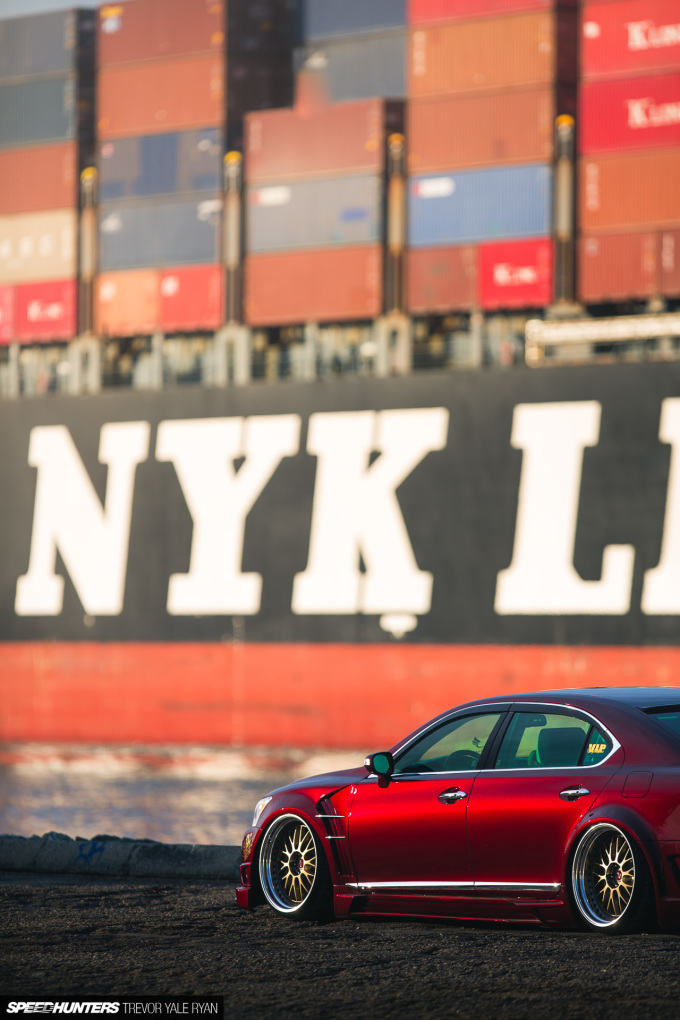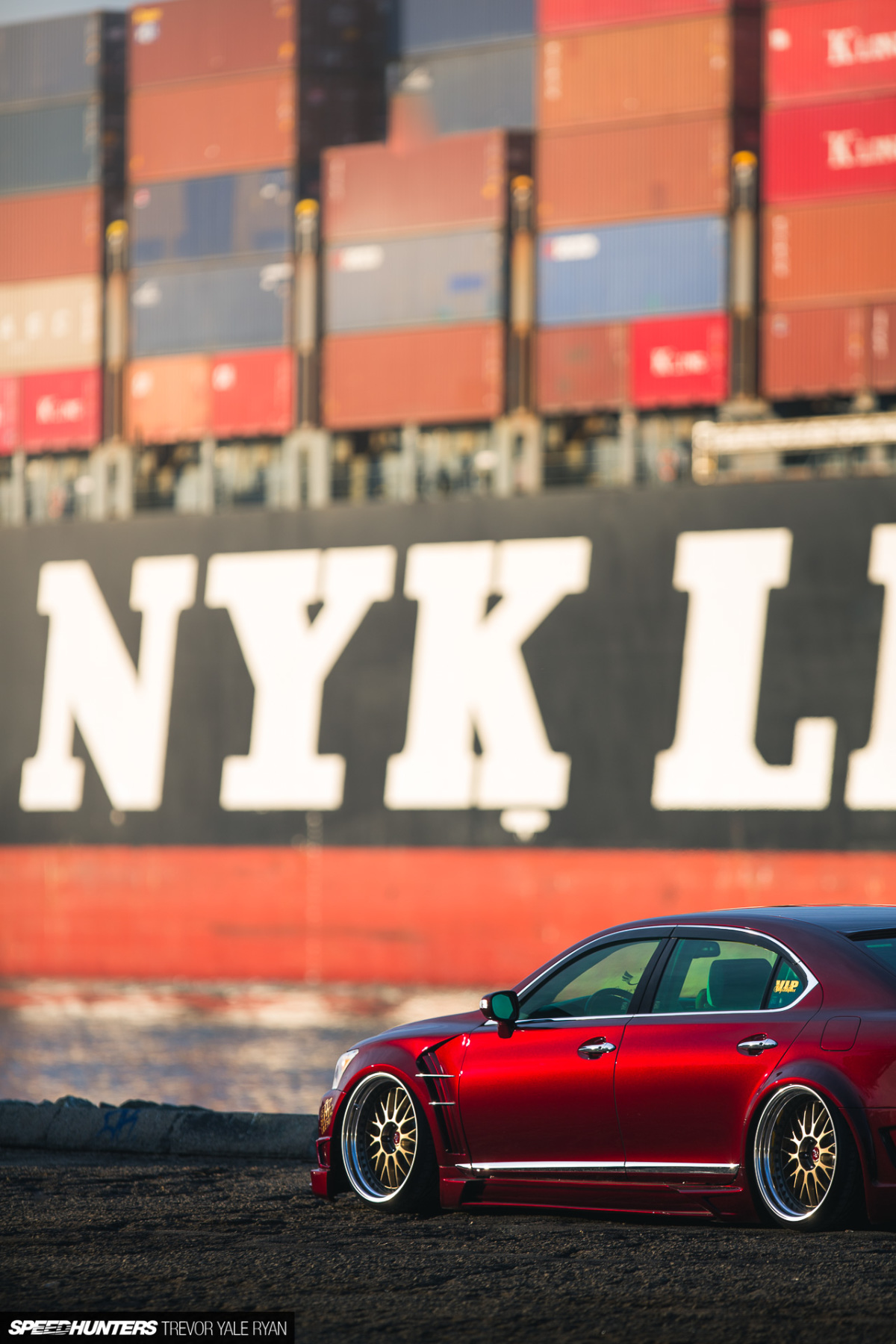 Now, you have an amazing candy 'brandywine' job that's very reactive to light. Having seen the car previously only on overcast days or indoors, I didn't realize just how red it can be.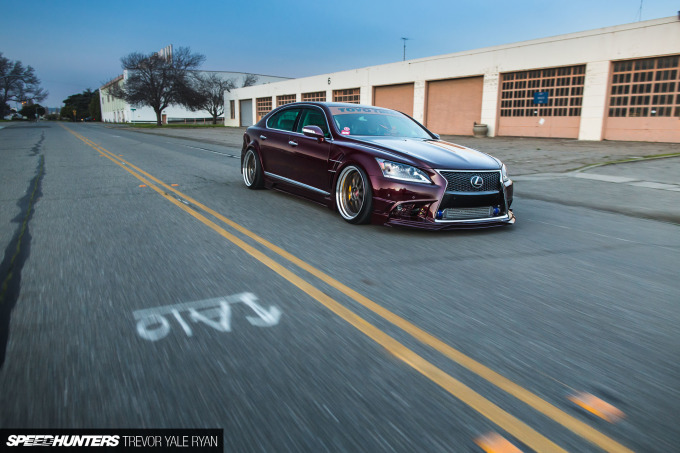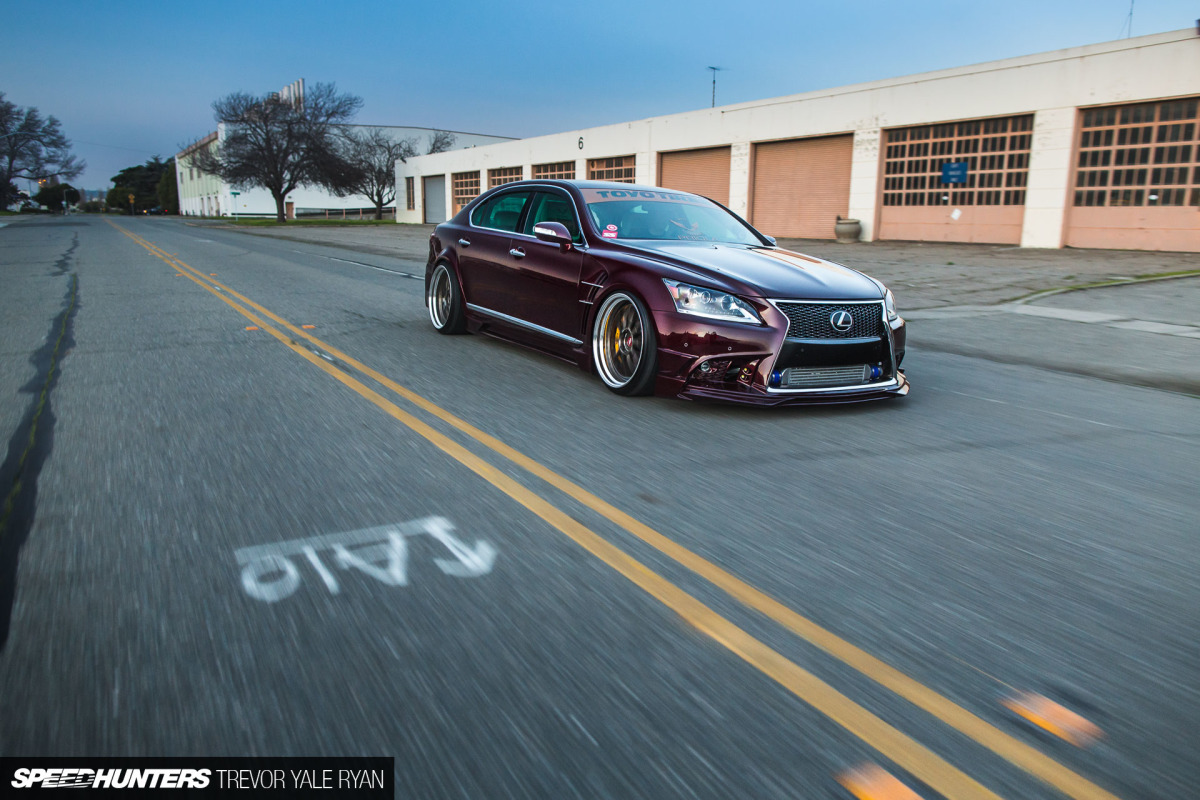 After sundown it's practically a different color, like a nice deep red wine. Likewise, the car as a whole has just been getting better and better as time goes on; Nat has completely transformed the LS460 into his own creation.
Around The Outside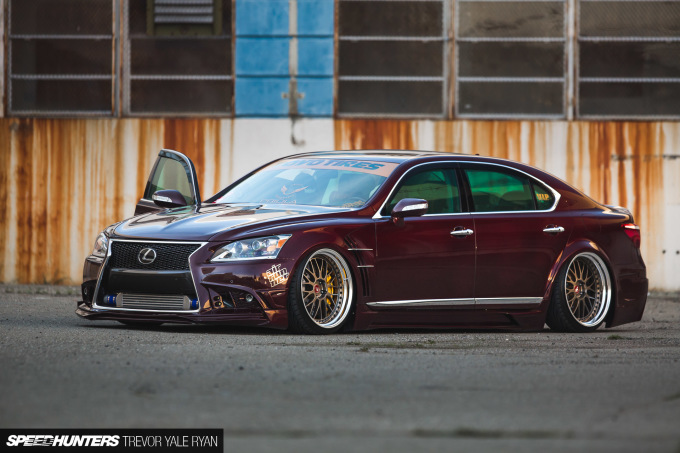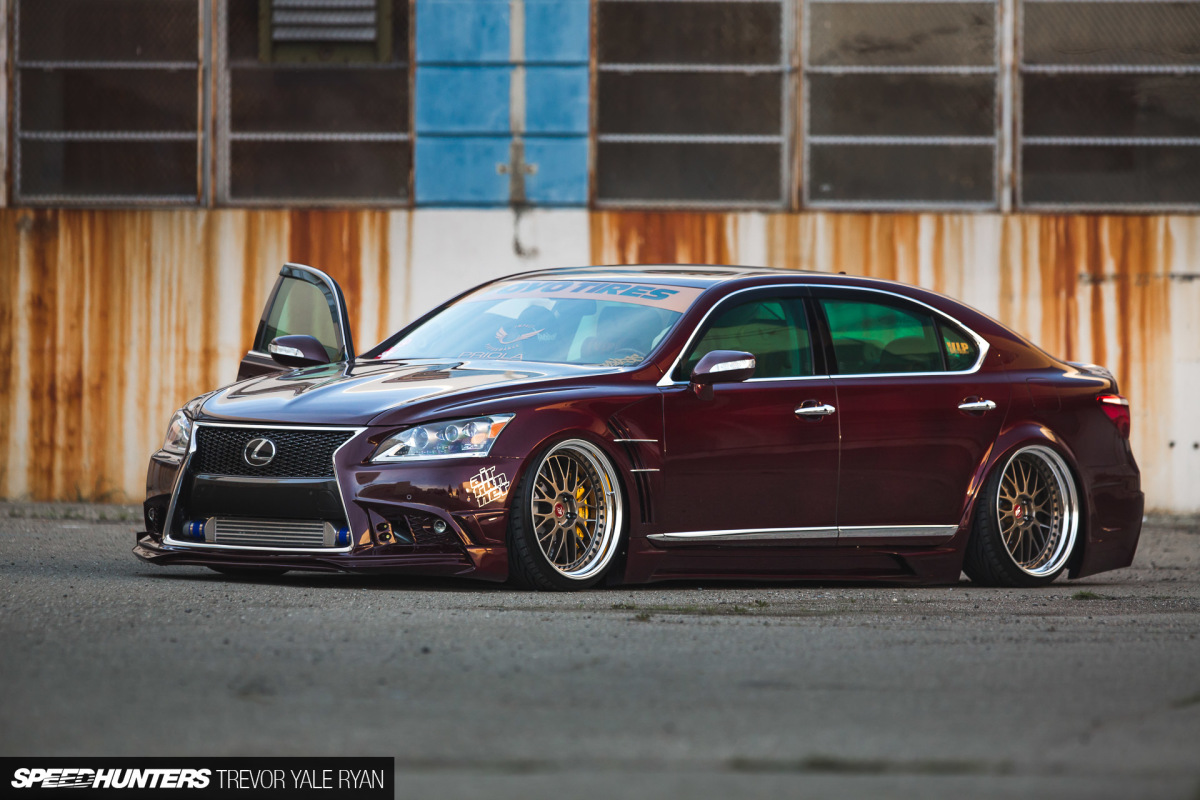 Of course, when you're looking at a VIP build the paint is a small part of making the car what it is. Most obviously, you'll have a kit, wheels, and yes, the stance.
Thanks to Josh White of Priola Bodyshop, fitment of the aggressive Black Pearl kit is perfect and looks amazing in conjunction with the Wald fenders and rear wide-body. You'll also notice it's had an F Sport conversion carried out on the front end, which plays very nicely with the other aesthetic choices for the car.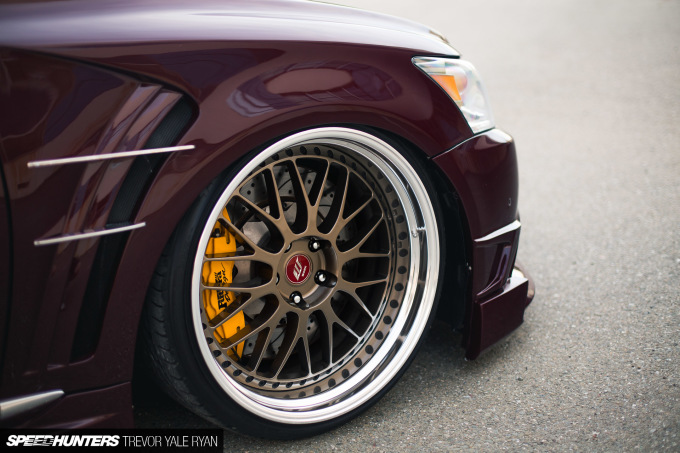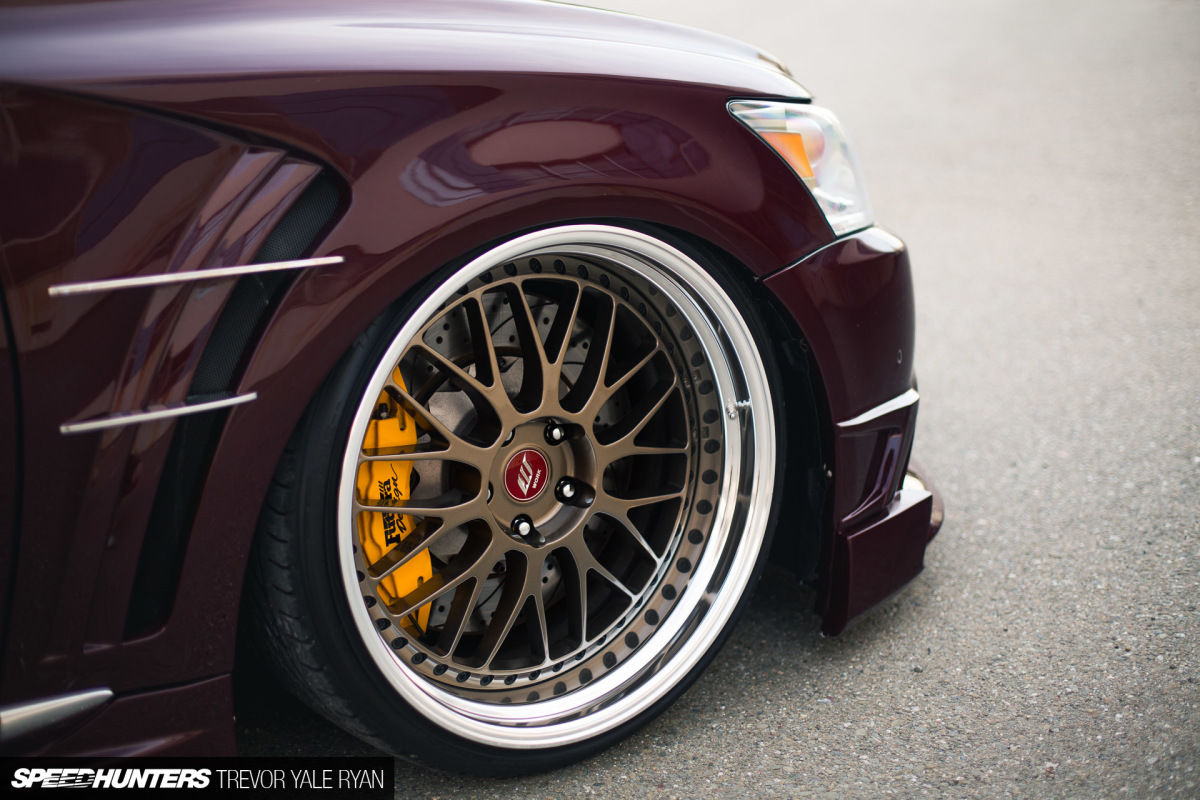 The Work Wheels W10Ms are a suberb choice for the car, measuring 21×10.5-inches all around. As we know, wheels can really make or break your build, and Nat's chosen just the right offset front and rear to get the look he wanted. Of course, there's that little tuck in the back to get the big body sedan almost on the ground.
Air Runner OTG suspension was chosen for the build and with controls tucked away neatly inside, it's easy for Nat to make quick adjustments. Even at slightly higher and driveable ride heights, I just love how this thing sits.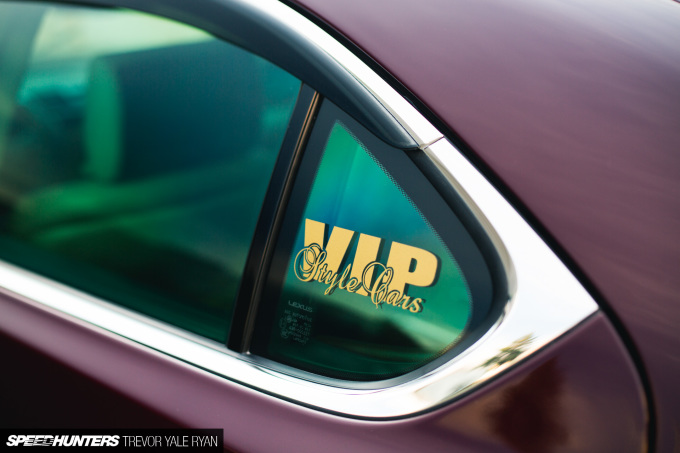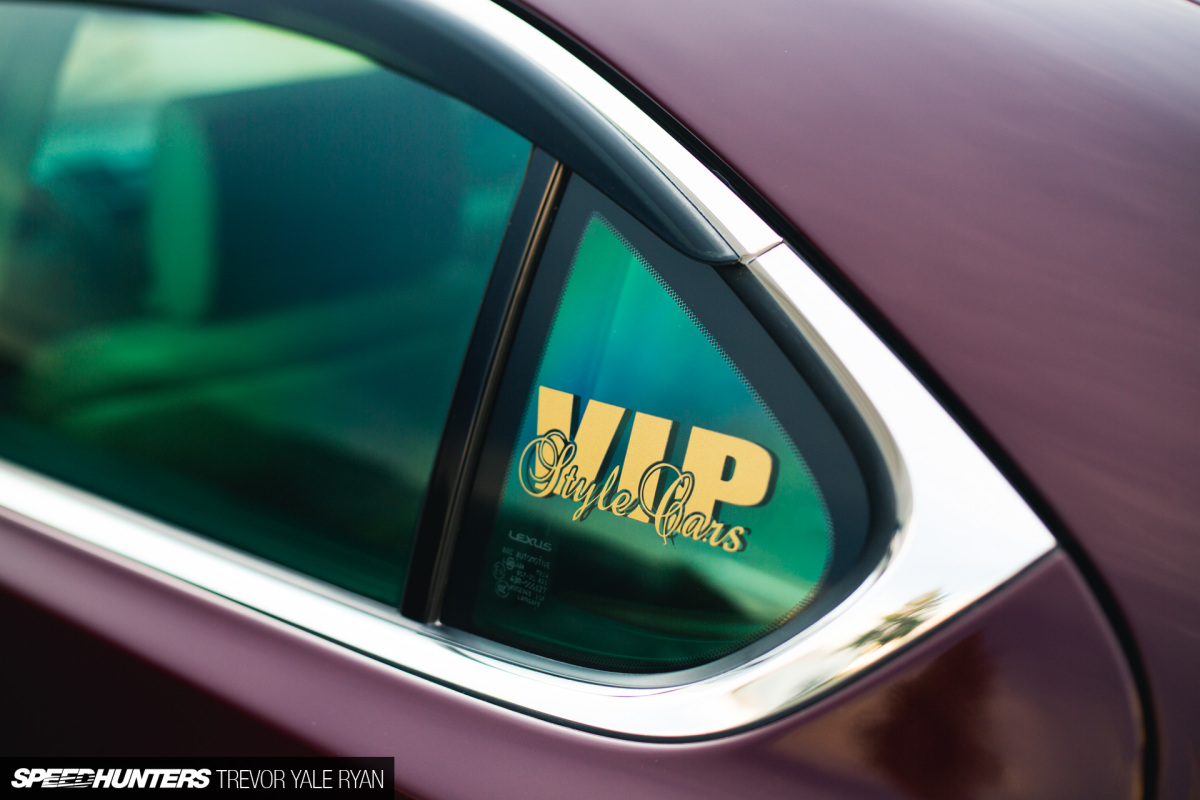 It's all part of the formula for a proper VIP build.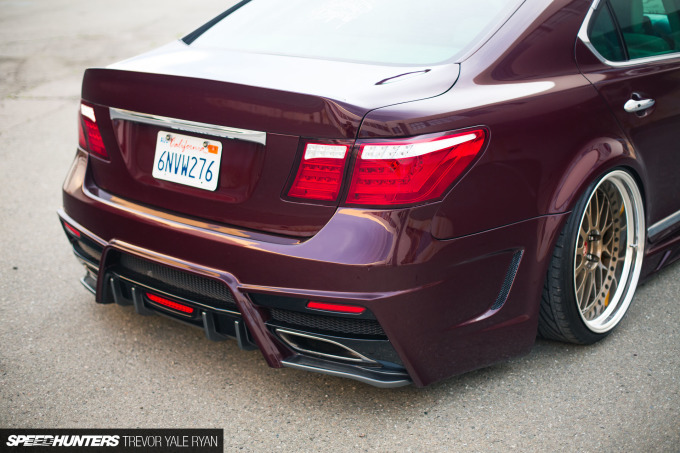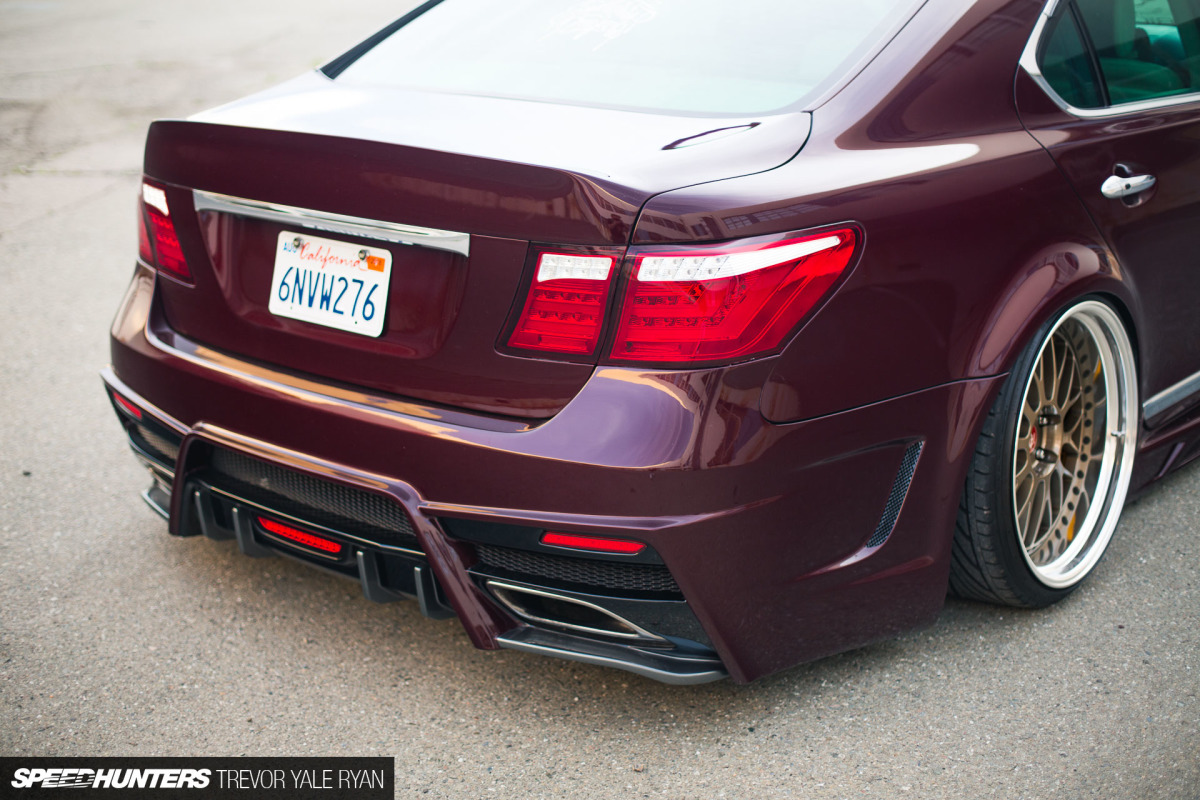 The look of the Black Pearl bodywork is maintained around the back end as well, along with the molded ducktail, giving the once curvy and slightly swooping LS460 a mean finished look.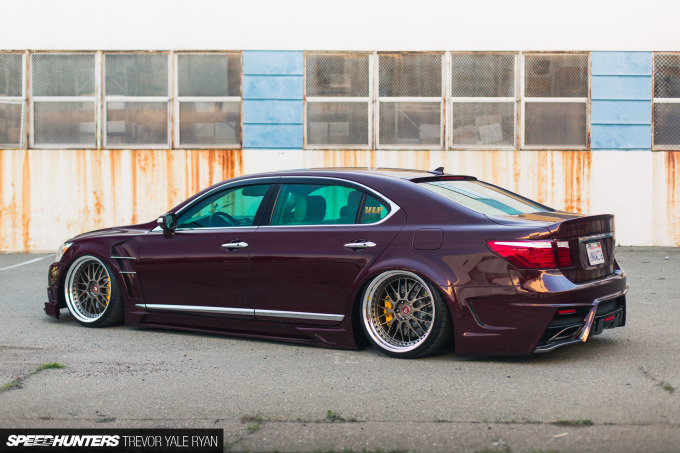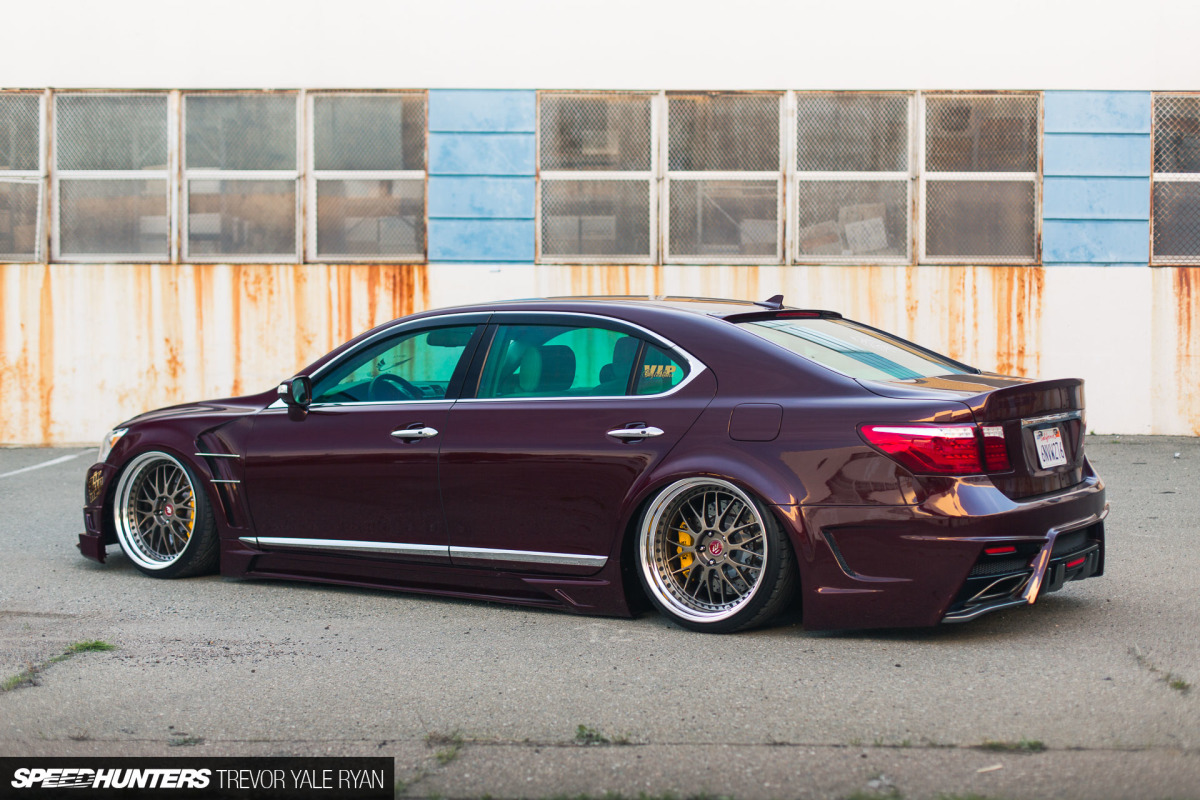 I've seen so many stanced cars that are done as a halfway job, sort of always in progress with no destination in sight. This car is anything but that; it's very driveable (and actually quite fast), polished and complete, something that Nat should take great pride in.
Party Piece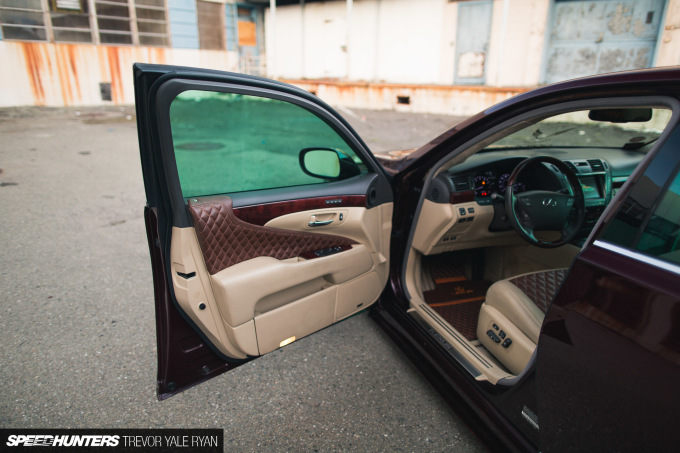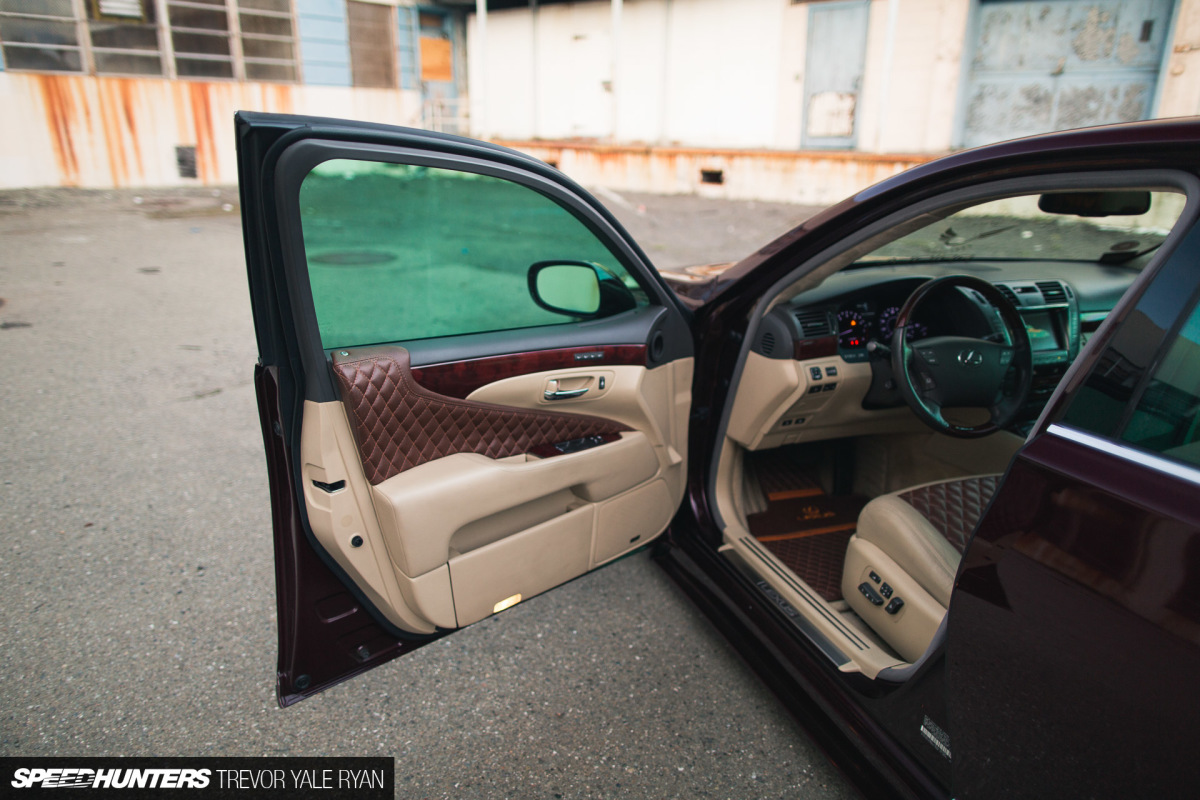 If a quick look outside the car didn't make it clear to you, surely once you step inside you'll recognize you're sitting somewhere special.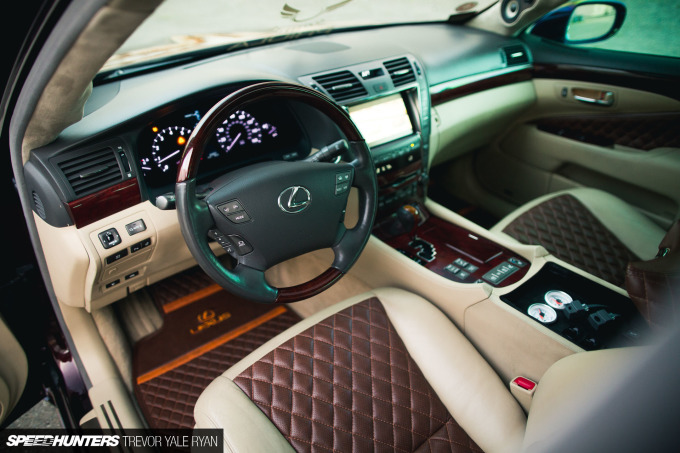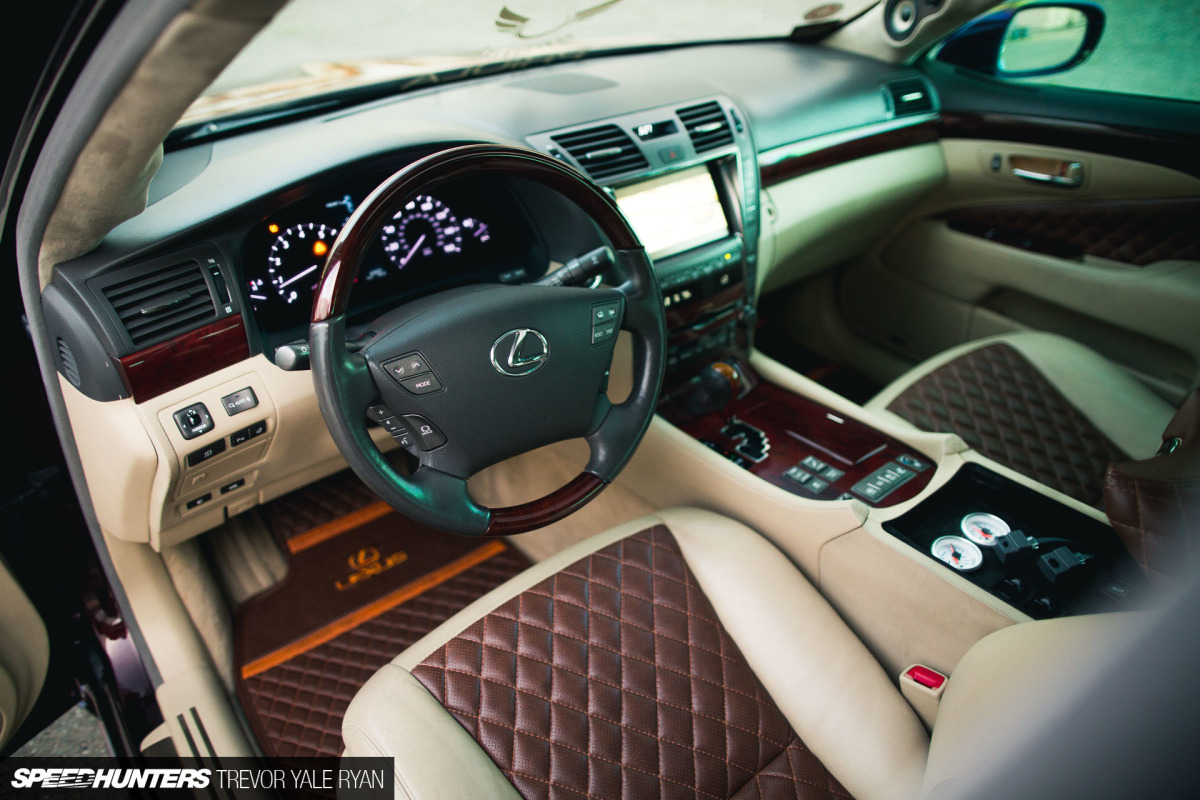 You'll find that many of the stock items remain, but only if they fit into the VIP aesthetic. I see so many show cars where the interior is completely overstated and it ends up looking a bit tacky, if I'm honest. Meanwhile, Nat's gone with a much cleaner and more refined look.
Starting with a 2007 LS460 as the base, you have a lot of high-end trim items from factory, and the owner just worked to improve and complement these features rather then completely tear them out.
Along with the door panels, the seats have been beautifully restitched with matching floor mats. It really didn't feel appropriate wearing shoes inside the car.
And no, the white balance on my camera hasn't had a fit here, the inside of the car has a healthy tinge of green thanks to the window tint that Nat selected.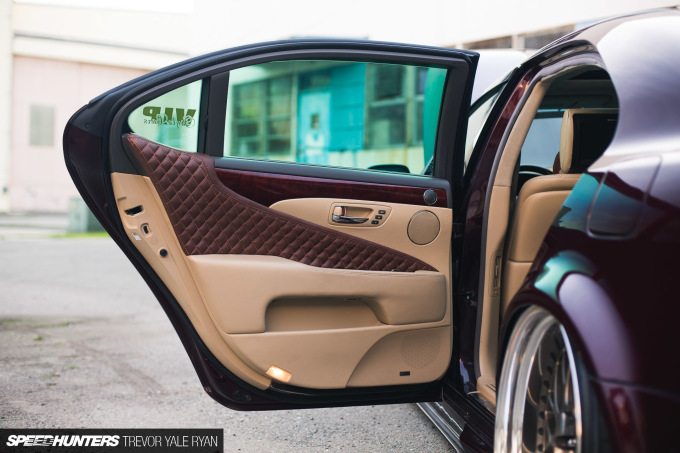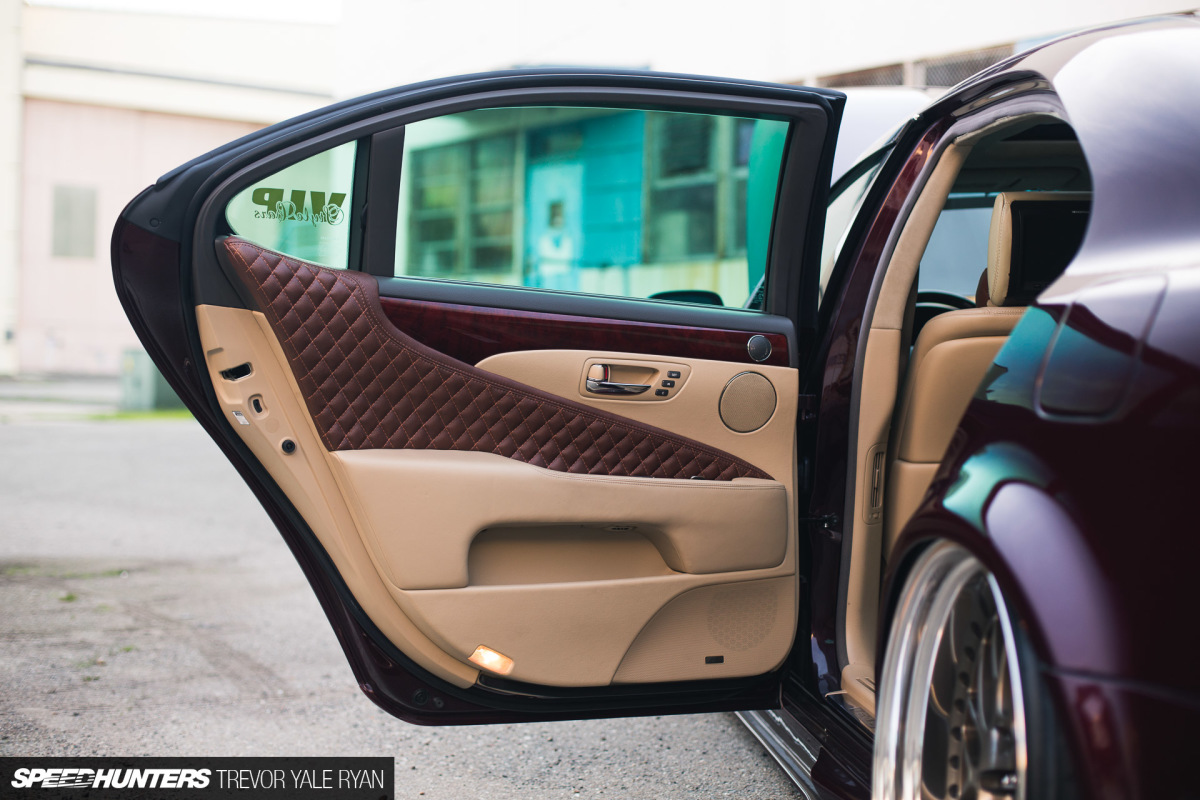 And it's the same story in the back of the sedan.
Re-stitched seats, more of the same on the doors and custom woodwork for those sitting in the back. Nat does have three kids, so I figured they might be the ones occupying the space back here most often. Surprisingly, he said they aren't all that interested in the car — one of his daughters thinks it's cool but otherwise it's just "Dad's car".
Like Ryan said in his story, where he went from Birmingham to Tokyo for two car shows, it's easy to become jaded when you have too much of a good thing. I grew up surrounded by computers in the early '90s because of my father's profession, and didn't realize until years later that some of my friends had never used the internet.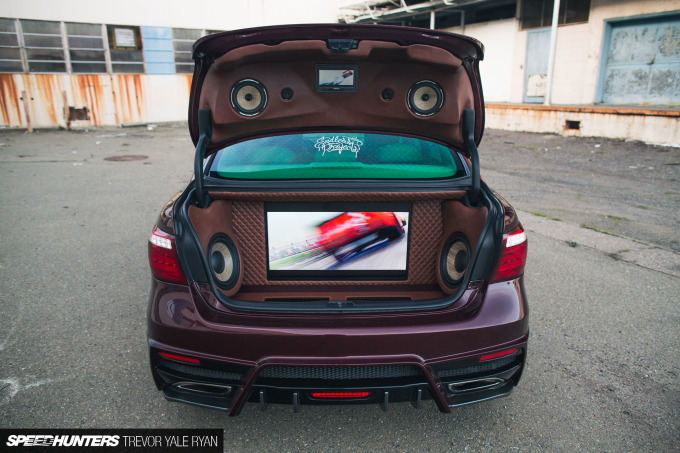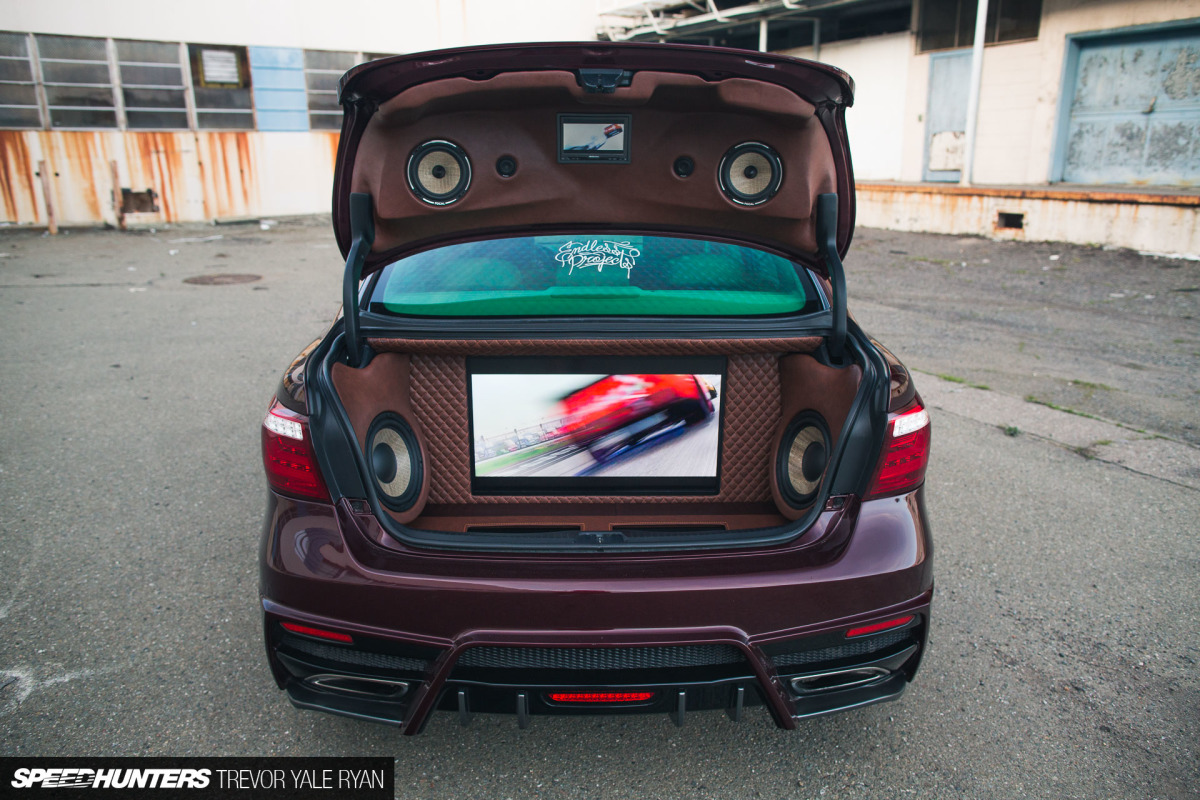 But I digress, as this car still had a trick (or two) up its sleeve. I've seen TVs in cars before of course, but not quite like this. With a full Focal/Arc audio setup, a 32-inch TV, two 10-inch subs and nine-inch screens in the headrests for your backseat passengers, this is just phenomenally done, with perfect fit and finish all around.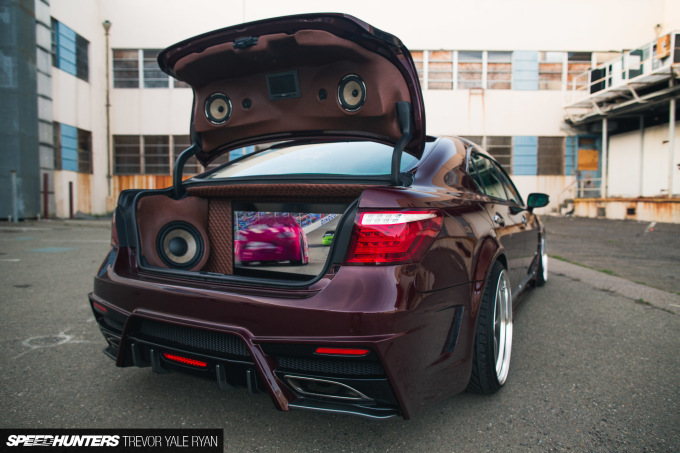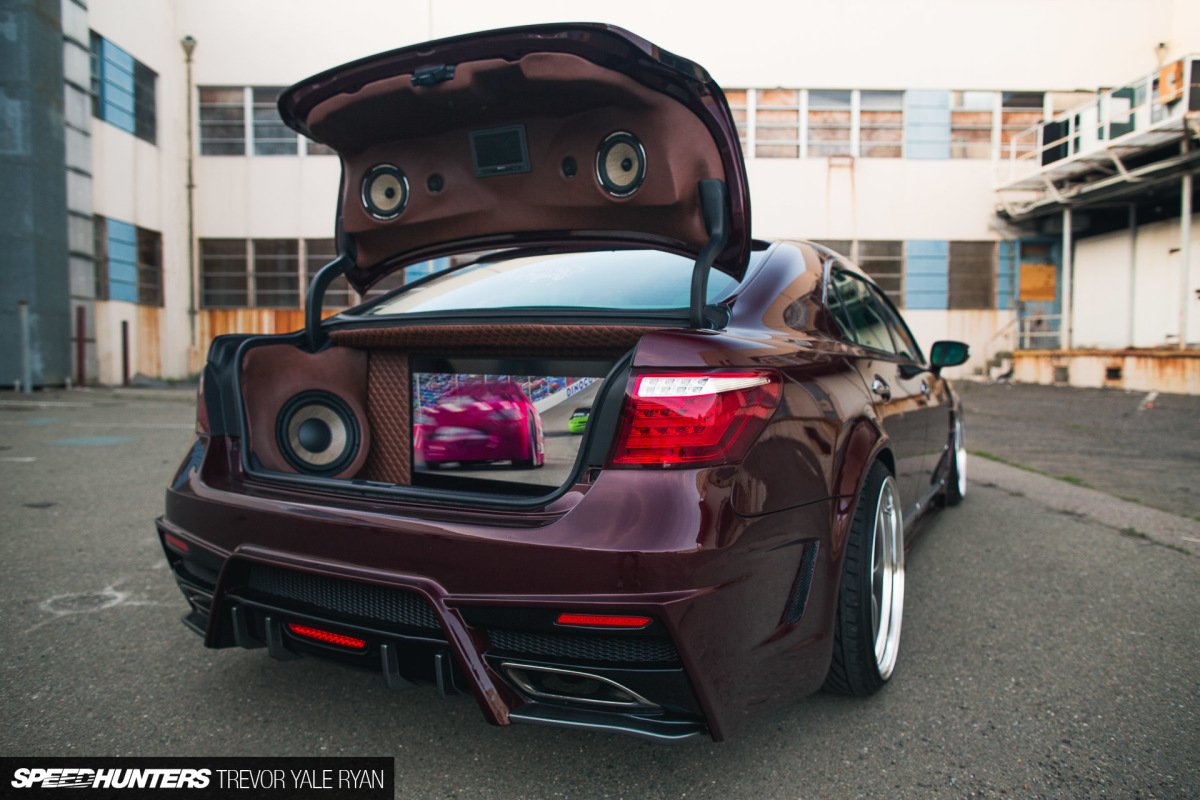 Seriously, how can the kids not get a kick out of this? They'll appreciate it later, surely.
Under The Skin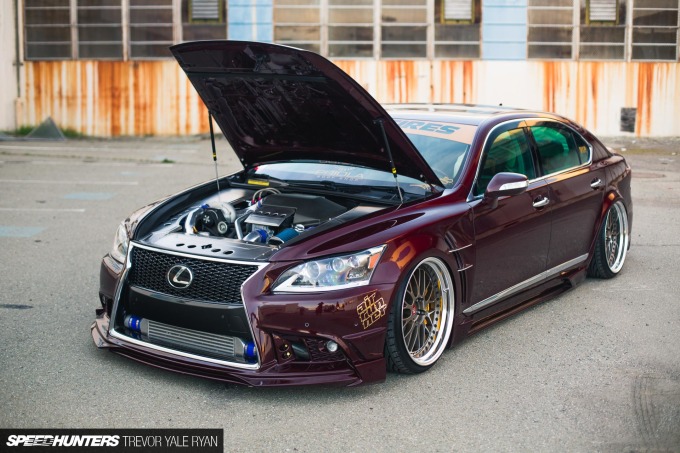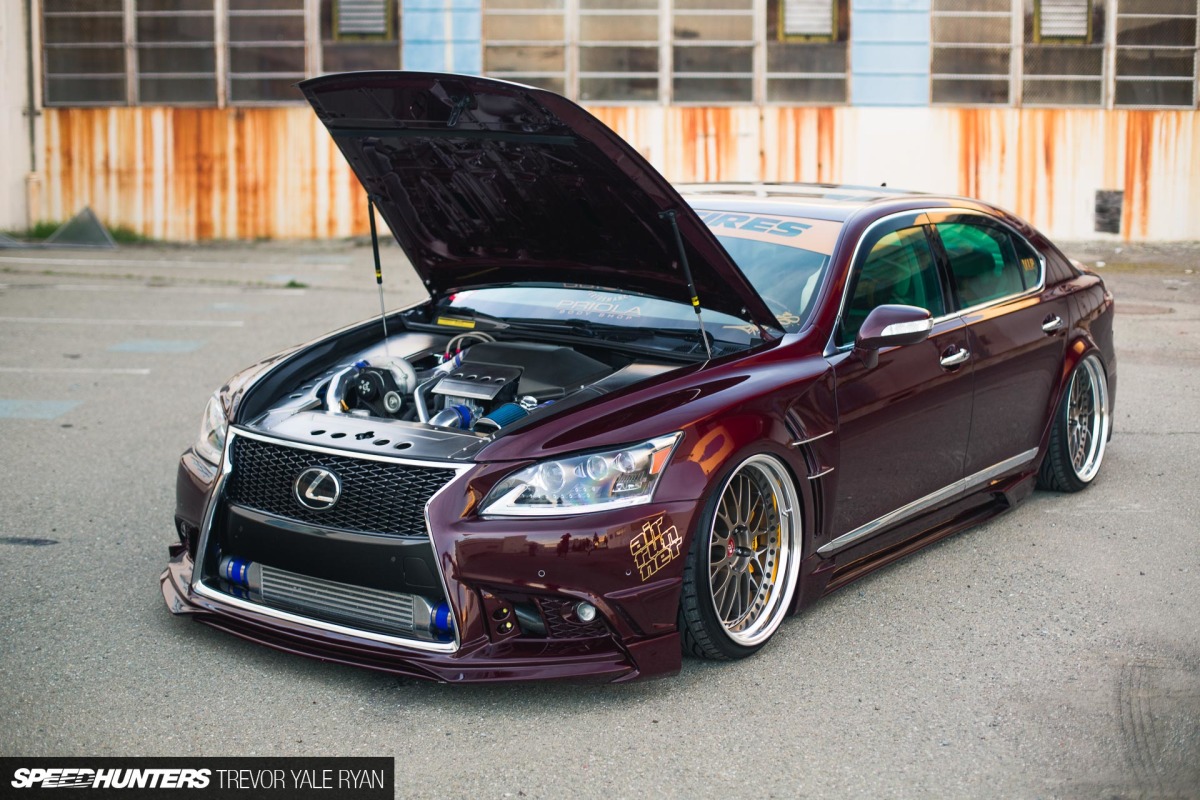 While I feel most cars built to this style seem to stop where I've left off above, Nat's does not. Under the hood the LS460 is just as good as it is everywhere else.
A HKS supercharger sources some extra power for the already torquey 1UR-FSE V8.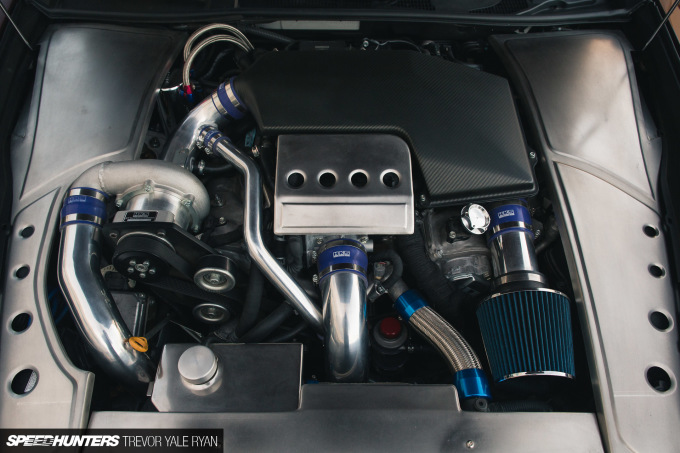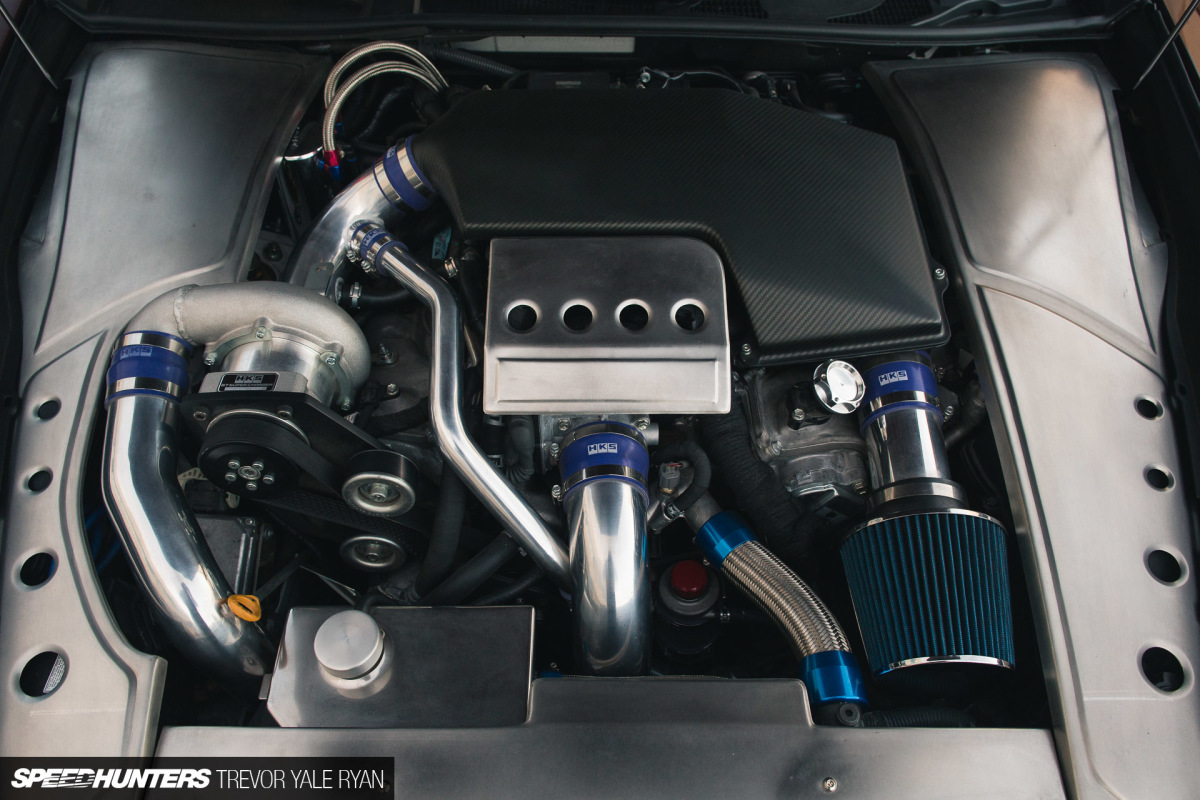 Just look at that engine bay, though. If you know what this car, or nearly any from the 2000s, looked like from the factory with a bunch of plastic covers (read: crap), you begin to understand the amount of work that Nat has put into this thing. It's all stainless steel and carbon fiber, two of the best materials you could use.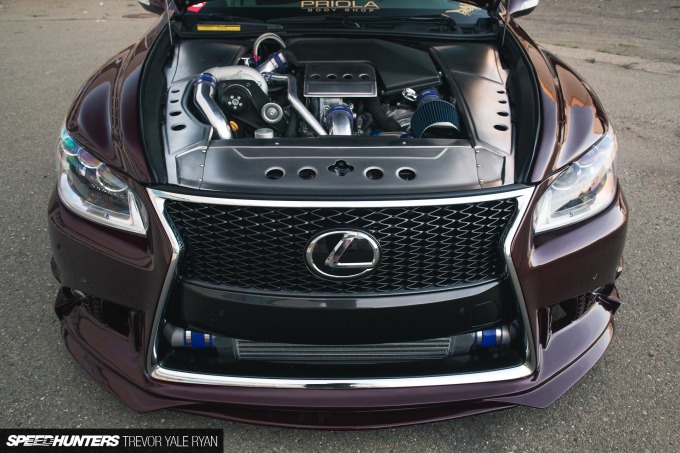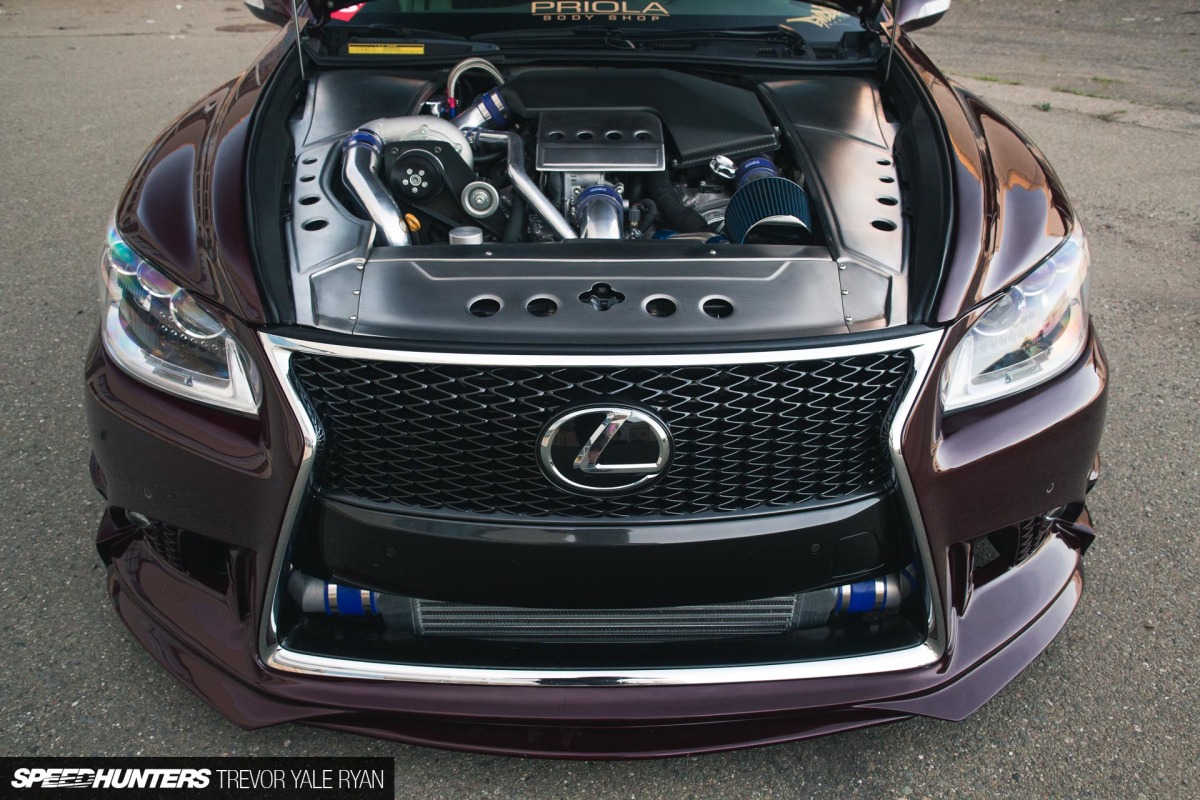 This Lexus is the full package, with no stone left unturned. While often busy with the family, Nat makes time for at least a few shows a year, where he can roll up, drop the car, and hang out with buddies all day.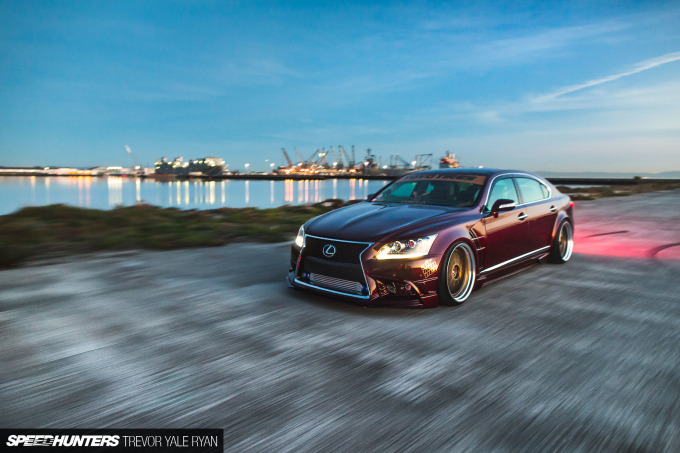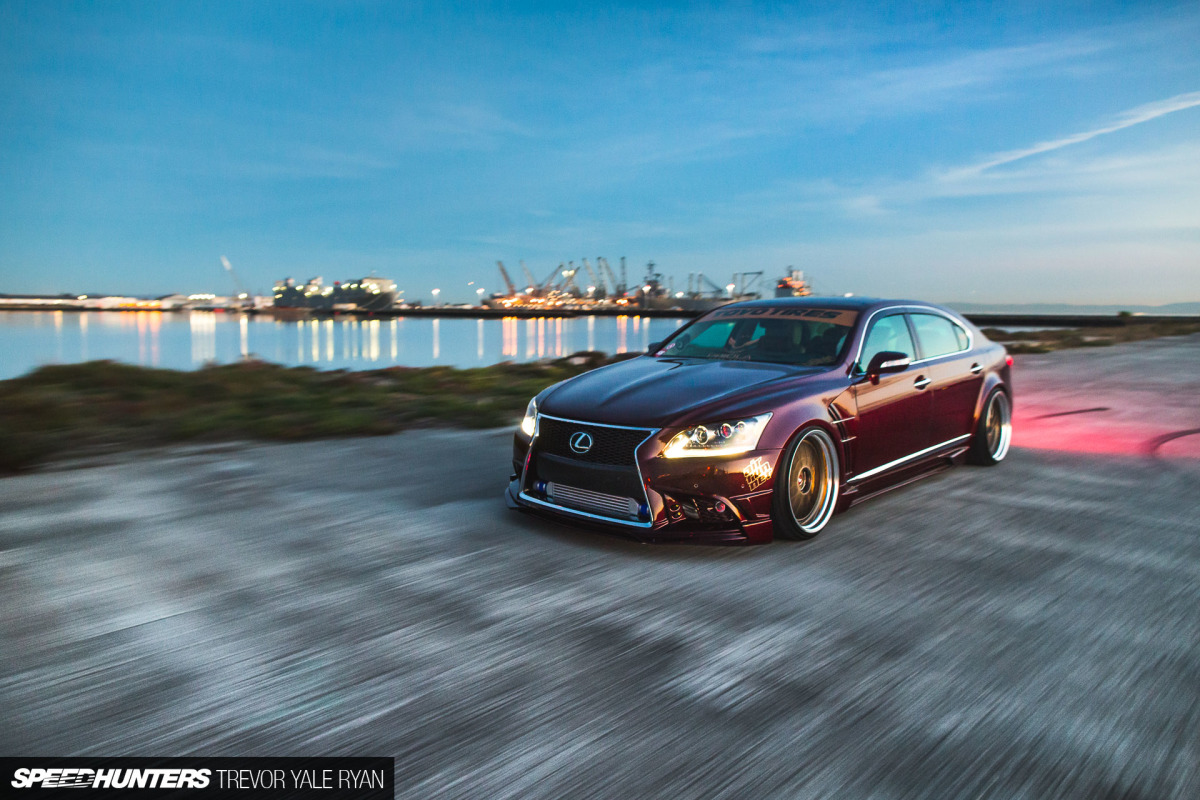 But Nat's LS460 looks good in motion, too; to help come to a stop a Futura big brake kit is hiding behind the big wheels. With the extra horsepower and stopping power, it doesn't feel like the two-ton car it is, which is especially surprising considering how low to the ground it rides.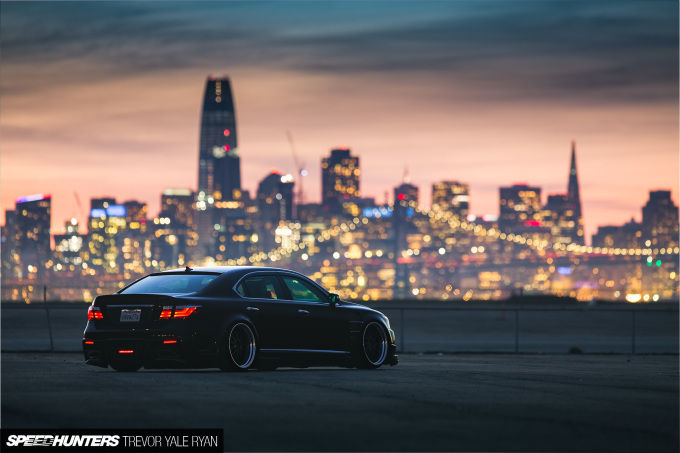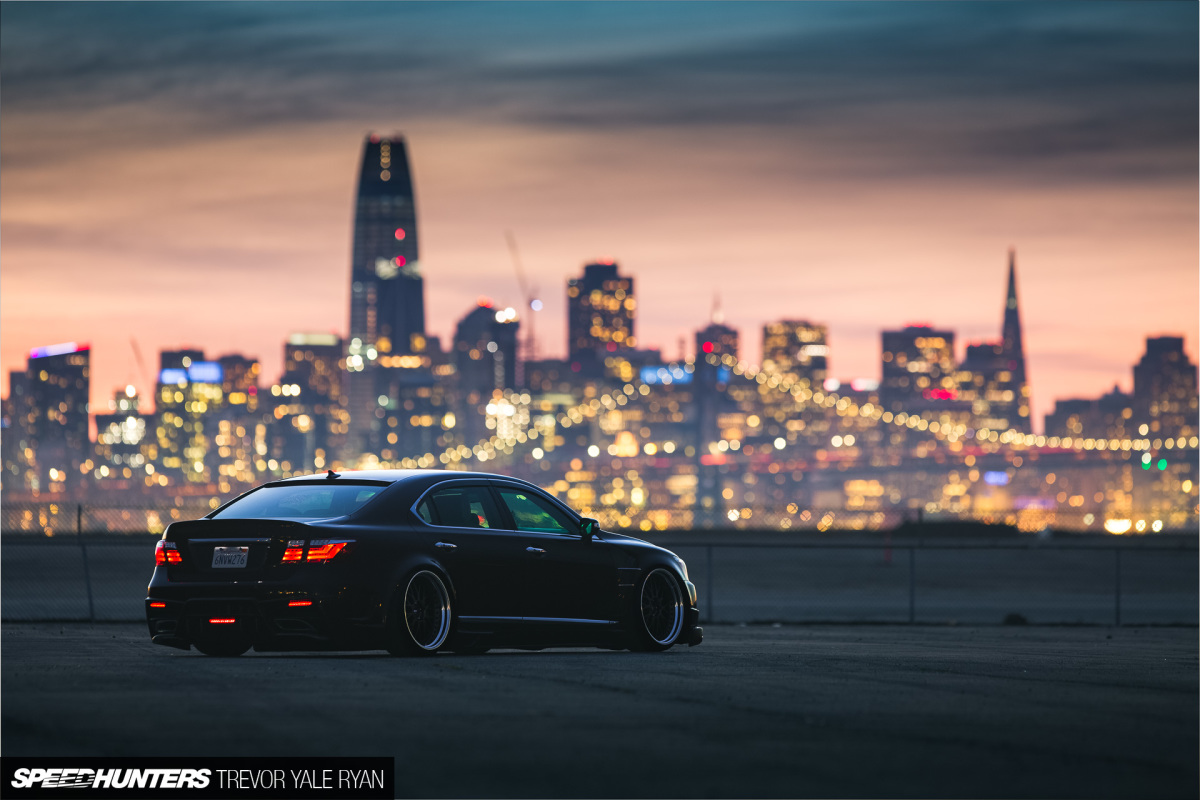 While I typically see VIP builds as a sort of novelty item for car shows, Nat's Lexus is worlds past that.
This is exactly how a show car should be put together.
Trevor Yale Ryan
Instagram: tyrphoto
TYRphoto.com
Cutting Room Floor