To Review
It's been over nine months since my last post on Speedhunters where I gave you a glimpse into my R33 GT-R's interior modernization project, but now there's a lot more to share.
To summarize, my friend Cesar in Mexico had handcrafted a bespoke interior for my car, covering all plastic parts with genuine, high grade leather. Even though he had sent all the parts back to me in Japan, the next step was to find someone to install the larger pieces that I could not, while further upgrading and modernizing the interior.
Now, as any gear-head knows, projects sometimes take an unexpectedly long time to finish, and more so when you've left your beloved in the hands of a true artist. For me, the artist in question this time around was Nakamura-san of Worx Auto Alarm, someone widely acknowledged as one of the best GT-R car alarm specialists in Japan. He himself is a total gear-head who prefers the R33 GT-R out of all the RB26 GT-Rs, but actually rolls around in highly modified Chevy Chevelle wagon.
You may have already seen Dino's post on an LED light upgrade that Nakamura-san did for Project GT-R, and with a demonstrated amazing OCD-level of work quality and a stellar reputation, I felt very comfortable leaving my GT-R with him for what I expected to be a few weeks. The job would involve installing the largest part of the bespoke custom leather re-trim – namely the dashboard (and center console), which I had arranged to be sent directly to Nakamura-san from Mexico, along with an upgraded alarm and stereo. It sounds pretty straightforward and quick, right? Well…
Seems Like A Simple Plan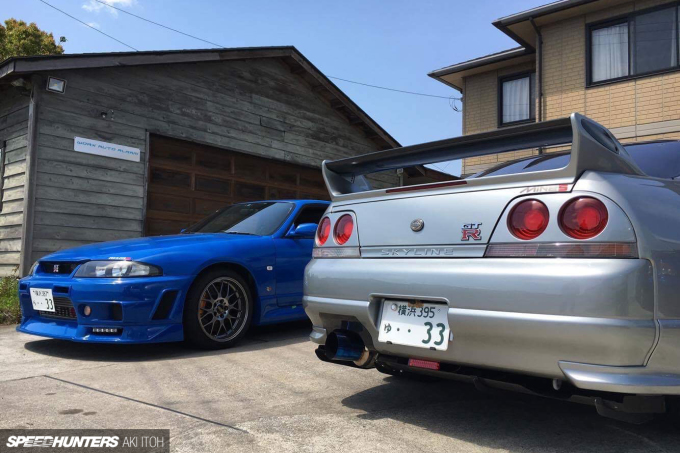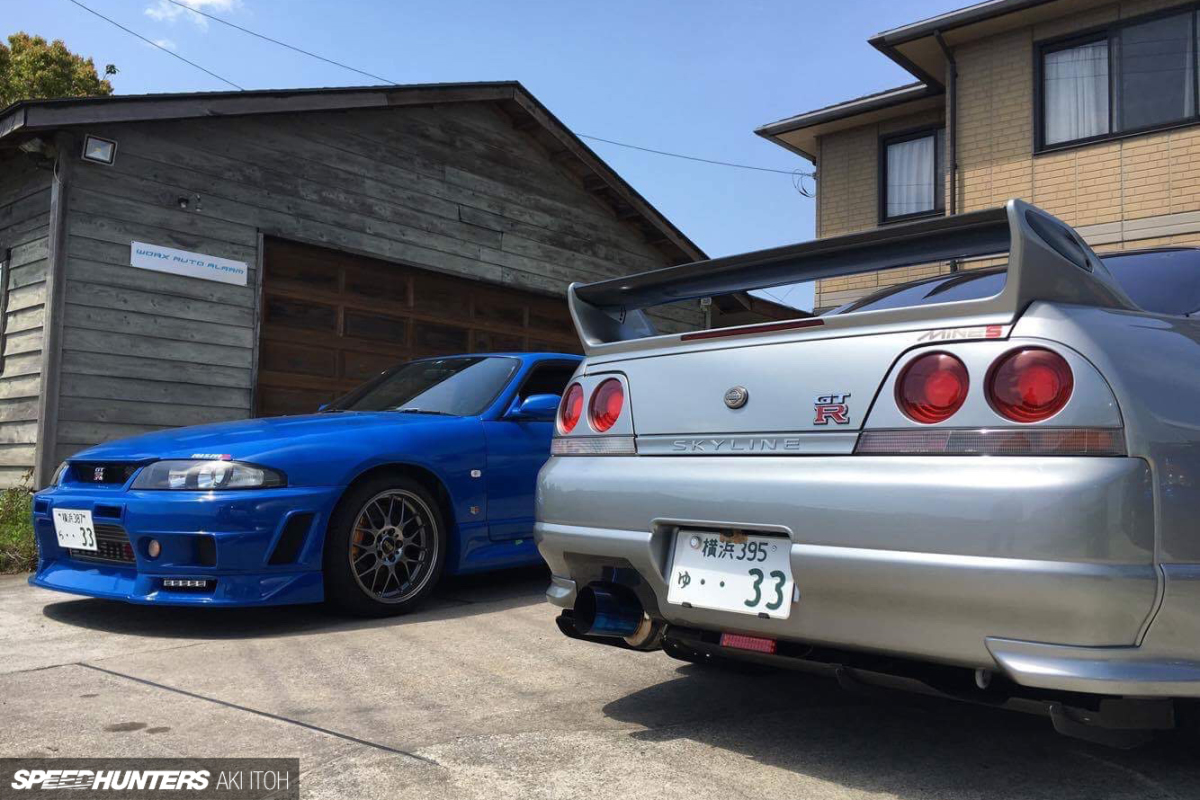 About a month after my first interior upgrade post I headed over to Worx in Chiba Prefecture, on the other side of Tokyo Bay from where I live in Yokohama.
Prior to this I installed the easy stuff myself – specifically the new leather covered door cards (with Alcantara-lined map pockets) and the rear seat side panels. They're bespoke and beautiful, but are not factory perfect, and I like it that way. If you look at the first photo you can see the results of the DIY sound deadening efforts I did several years ago, which I had thought turned out pretty good.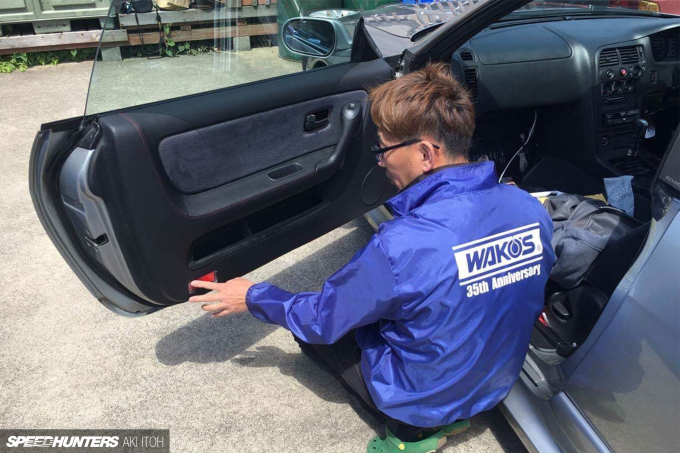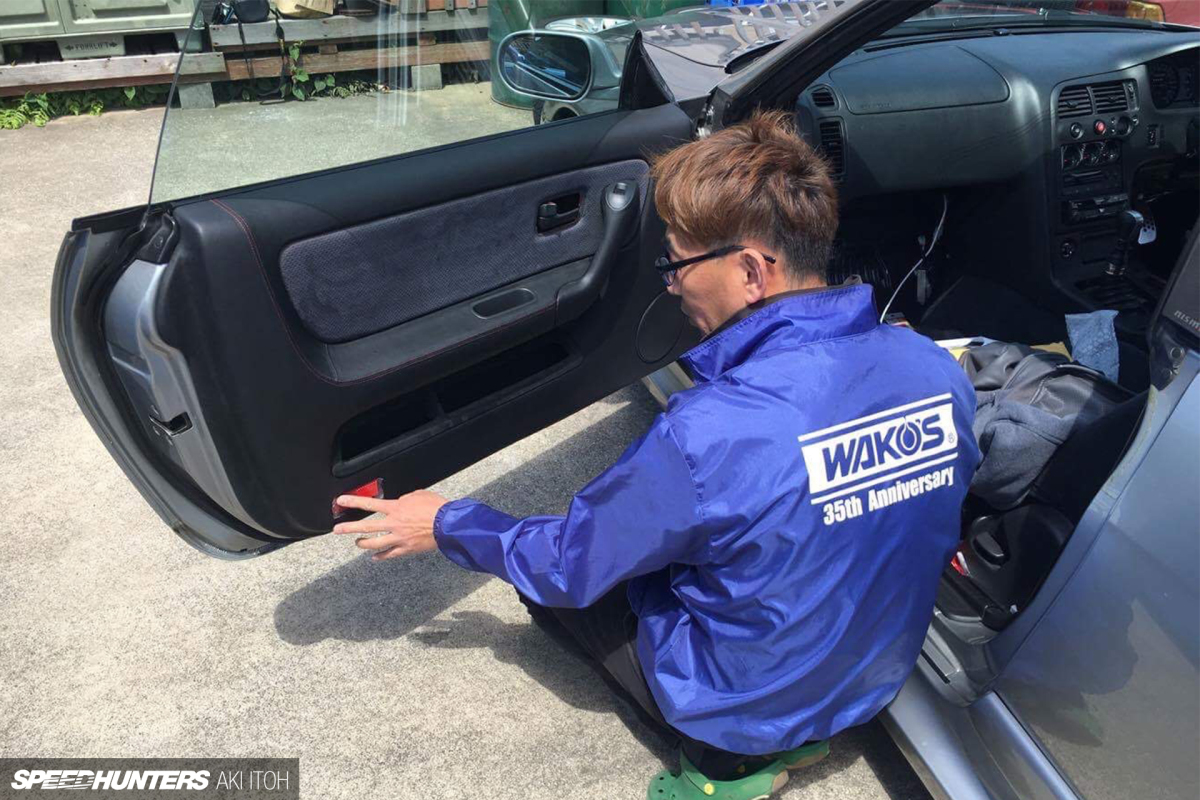 Upon my arrival at Worx, Nakamura-san immediately inspected Cesar's handiwork, which included a sniffer test. "Smells like a Bentley," he said with a grin, "not the artificial leather smell of most modern cars." It's not surprising given that Cesar used automotive grade Cardinal series leather from Wildman & Bugby in the UK.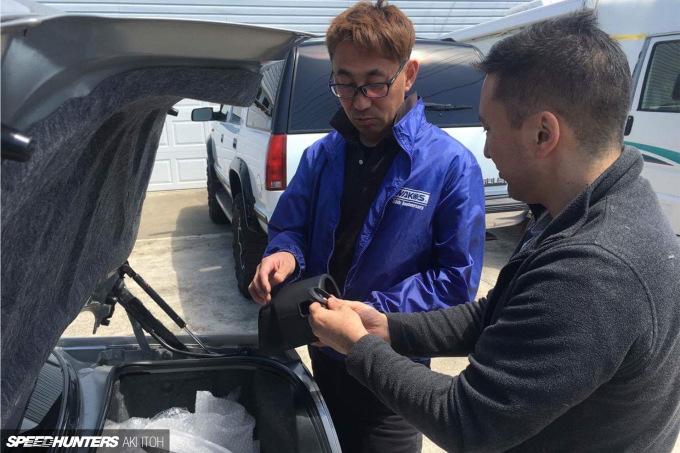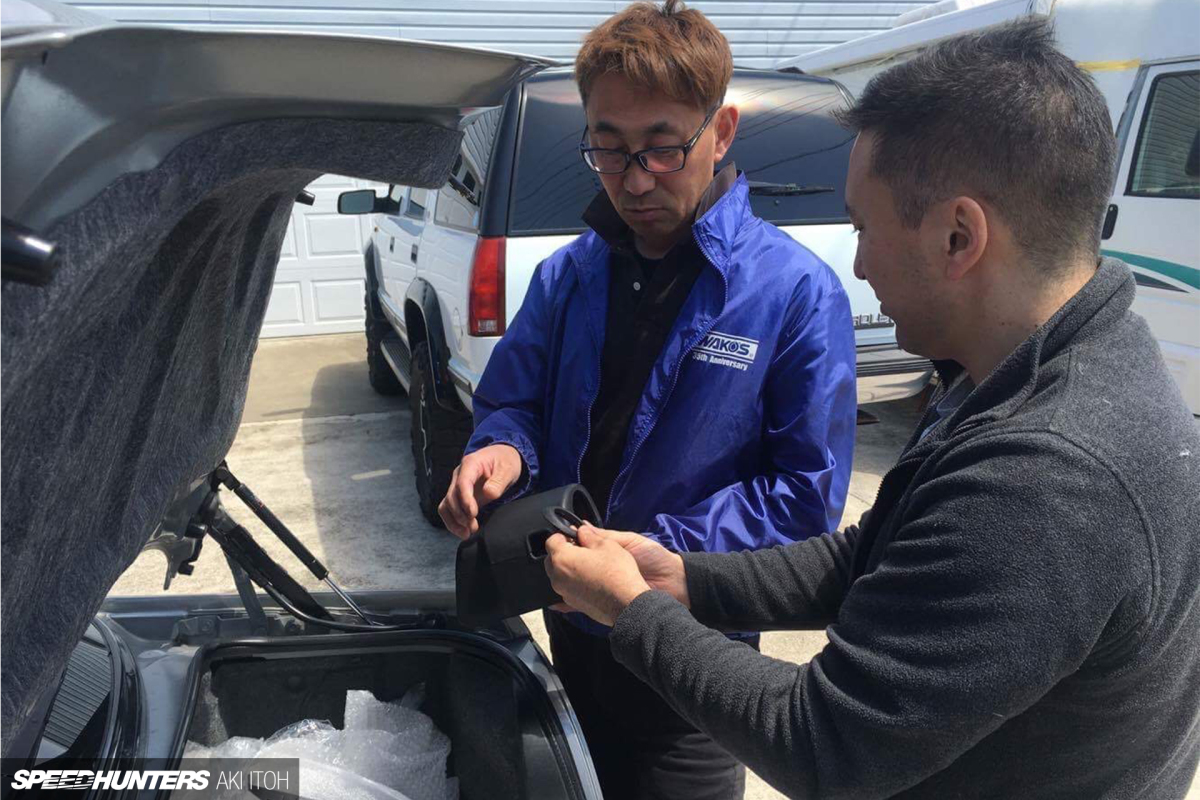 As I showed Nakamura-san all of the leather-covered interior parts from Cesar, we also discussed what other items I wanted to install while he had my GT-R in his care. Likely due to the sudden increase in popularity of the RB26 GT-Rs, thefts of these cars have seen a sharp rise here in Japan, and as my old Clifford alarm had recently conked out, a state-of-the-art custom security system installed by the best in the business seemed like the right thing to do. It made even more sense given Nakamura-san would be replacing the dashboard anyway, and further to this I decided to have him update my circa 2006 Pioneer navigation/stereo deck and speakers with something a bit more modern.
An Artist Must Not & Cannot Be Rushed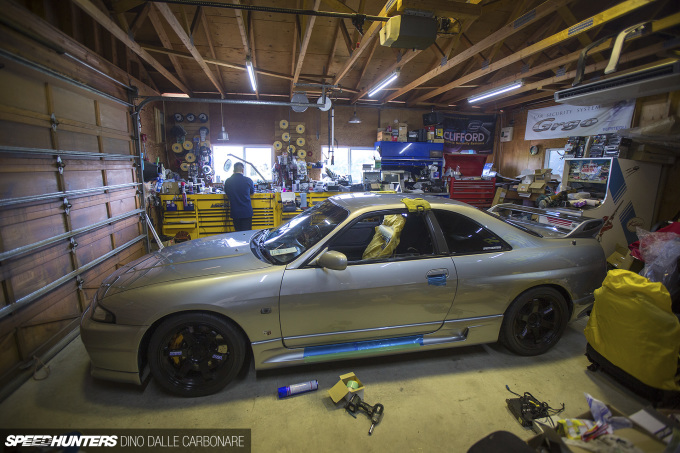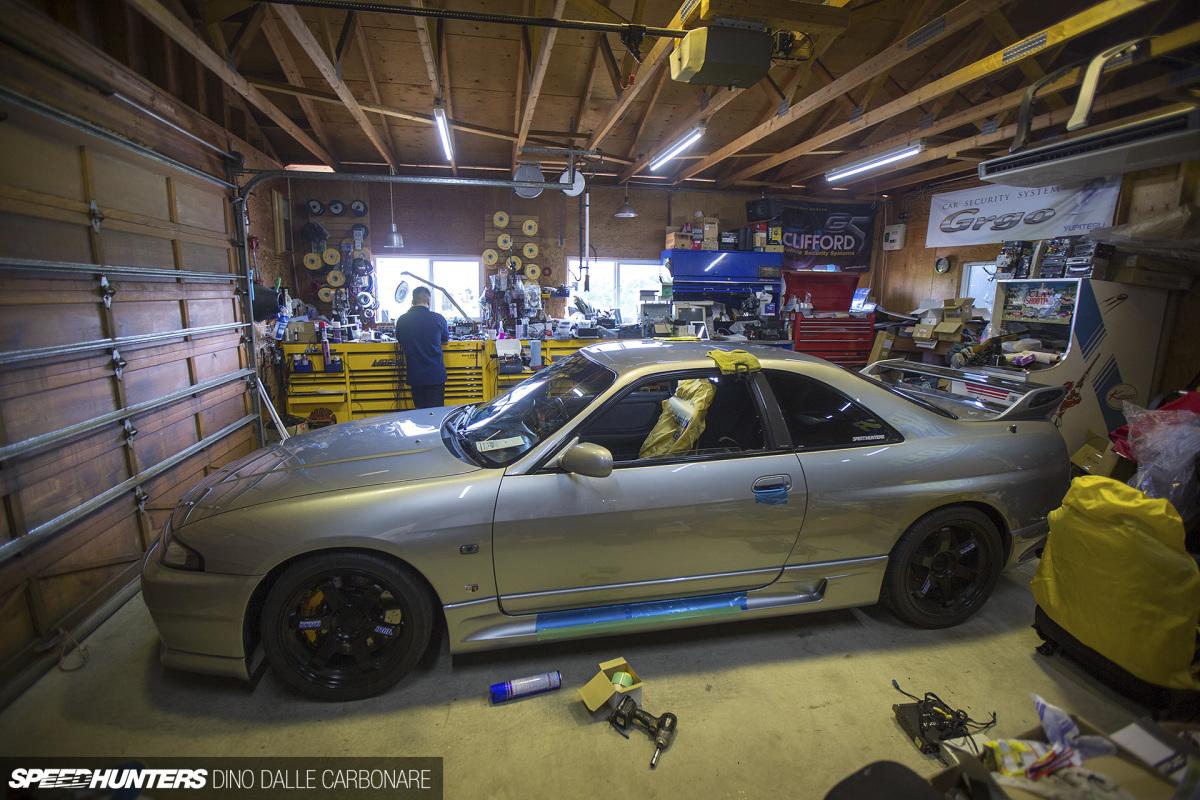 When a couple of months had passed and my inquiries with Nakamura-san were only being met with "don't worry, I'm working on it" and "I have to fix many things," I started to get worried. So, on a free weekend day I dropped by find out exactly what was going on. On arrival I found my car safely tucked away in Nakamura's US-style air-conditioned garage/workshop/man cave.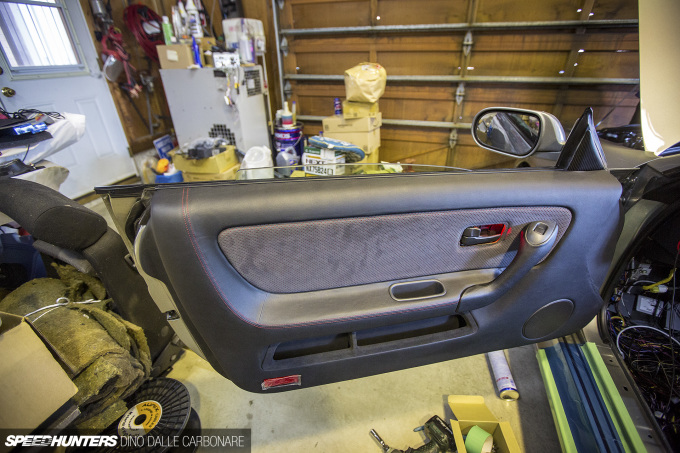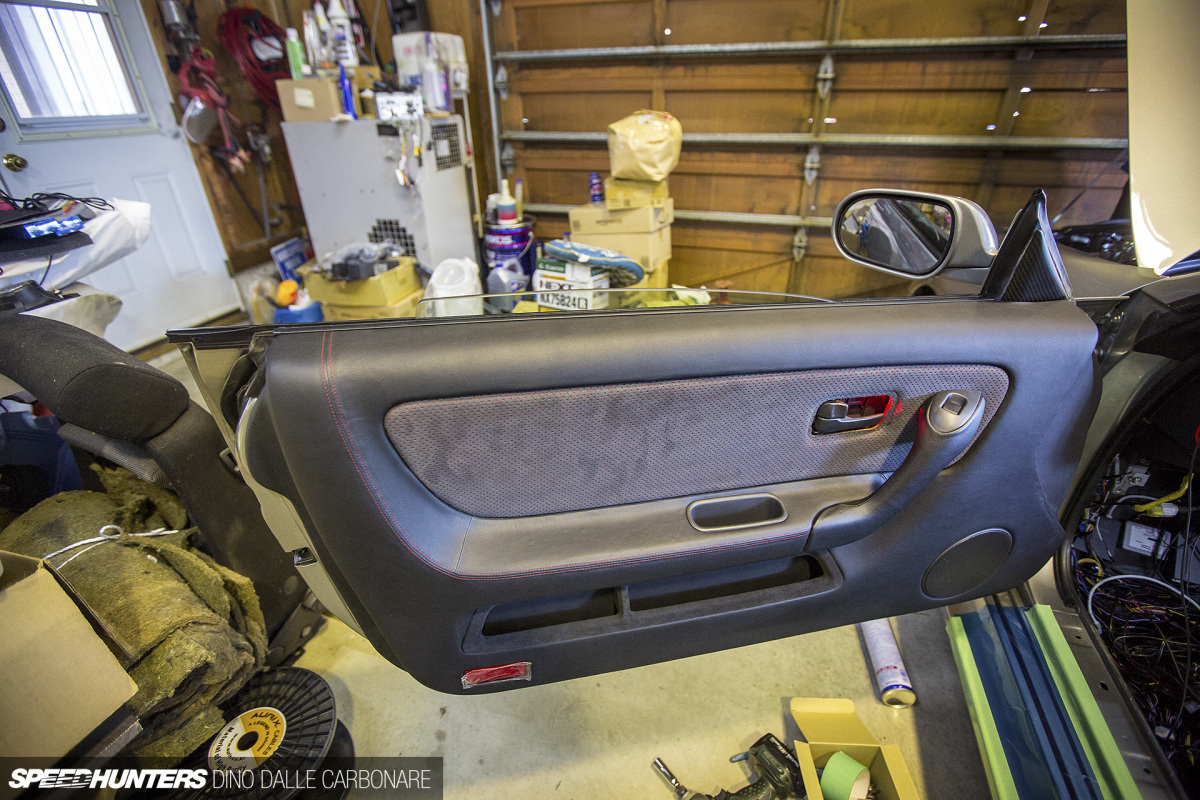 A quick look revealed that the leather on the doors was still looking, feeling and smelling great…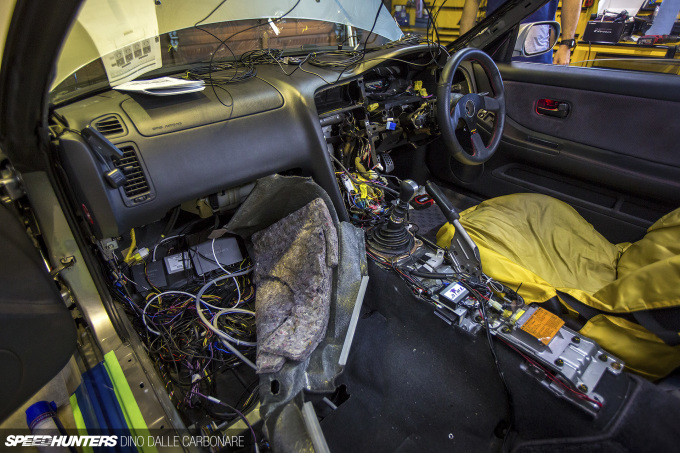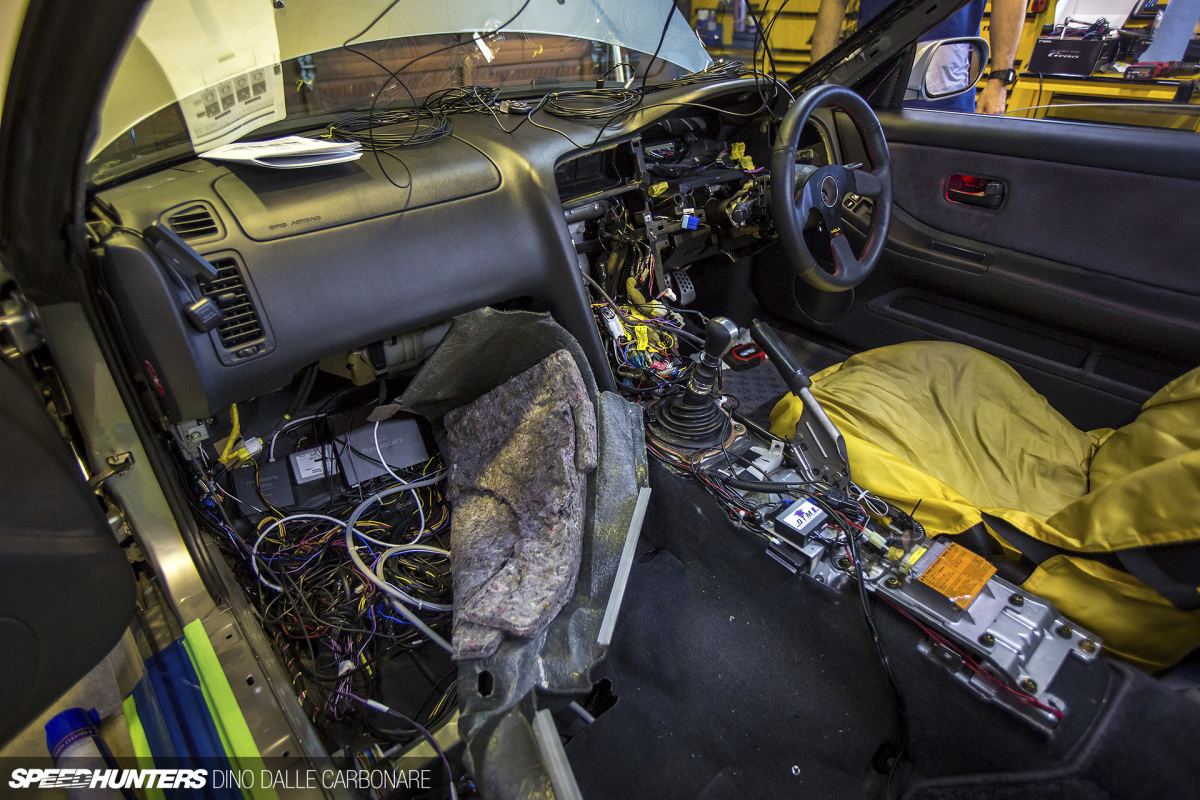 But inside, things had gotten serious. After taking it apart piece by piece, Nakamura-san was meticulously cataloging what he deemed was wrong with the car, beginning with the insane amount of wiring simply stuffed under the front passenger footwell carpet and behind the instrument panel. Apparently this is something he sees a lot of.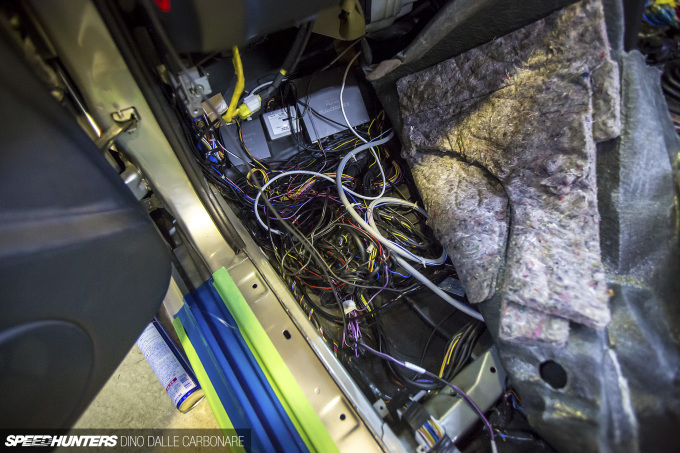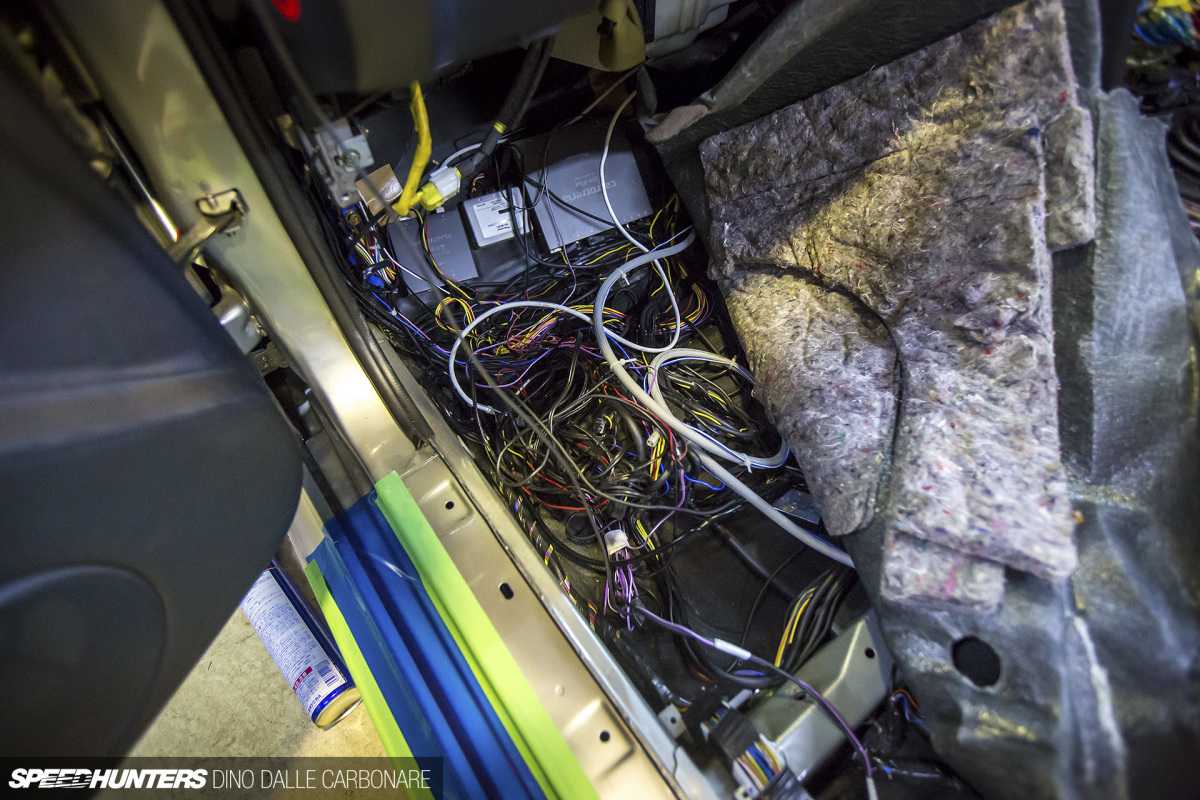 What a mess; I can't believe this was work done in Japan! Then again, the place where I had the original install done was a big automotive parts chain store. Lesson learned.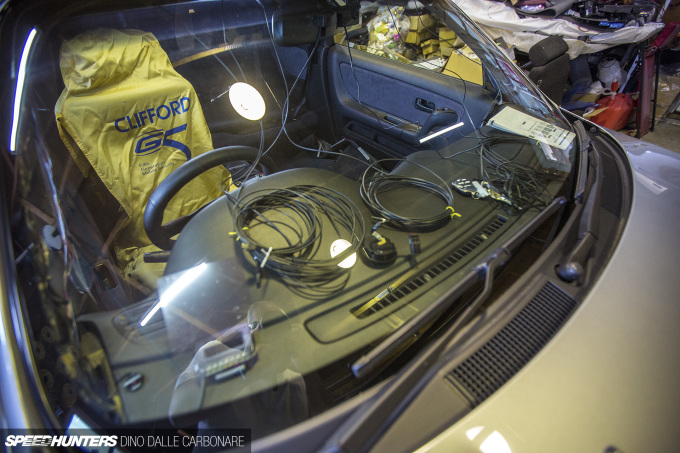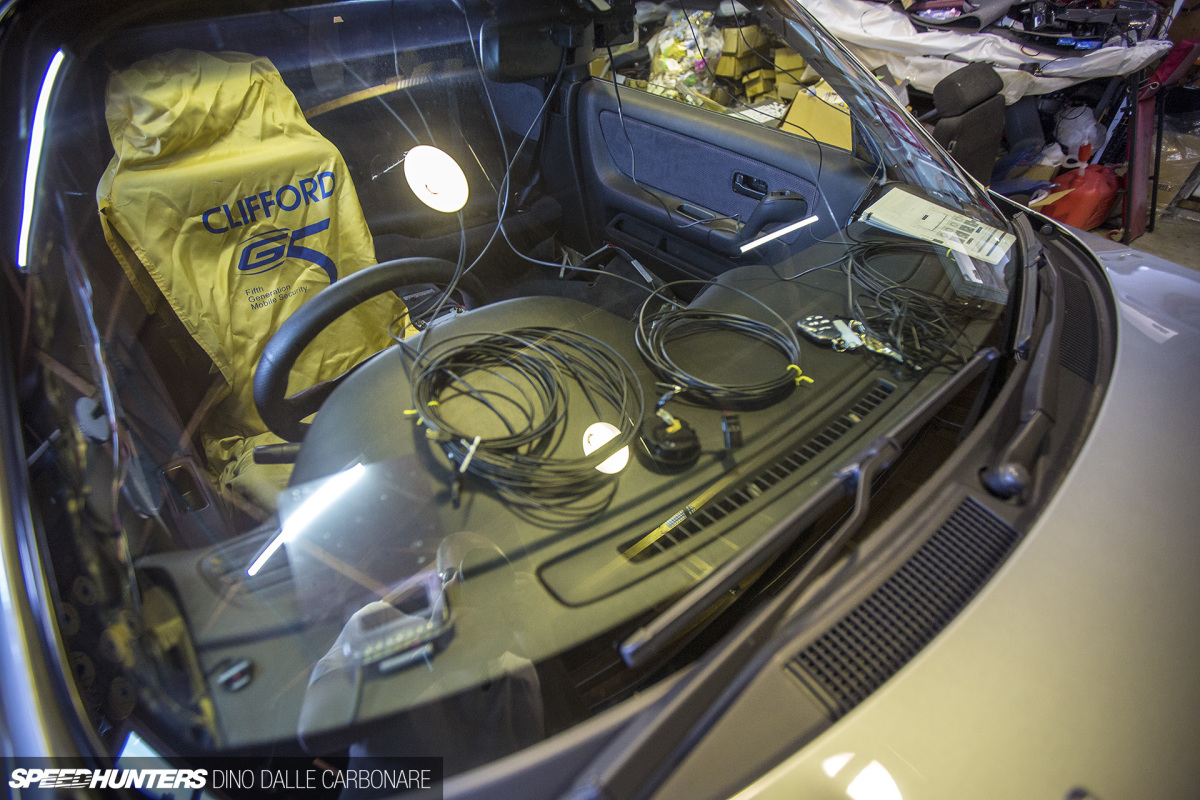 It wasn't just the navigation system that was cause for headache either. Nakamura-san claimed that the original installer of my Clifford alarm had also taken several short cuts, and that the install was unacceptable from a security standpoint. Given what the old alarm had cost me I was surprised and not happy to hear this, but since he's the expert and I'm a DIYer, I wasn't about to disagree. As I was about to receive a new alarm, what happened in the past was now irrelevant anyway.
Satisfied with the progress and with a promise from Nakamura-san that he'd send me update photos as he made more progress, I took my leave to let the artist work his magic.
So Much To Do… Oh & Let's Also Fix The Audio
A few more weeks passed by, and as I hadn't heard much I contacted Nakamura-san again. He claimed the reason why the work on my car was taking so long was because he had decided to redo all the non-OEM wiring he came across that did not meet his standards. Essentially, that was all the aftermarket wiring, be it installed by other tuners or myself in the past. Nakamura-san also sent me several photos to point out how bad my DIY electrical work was, which of course I am too embarrassed to publish here. Suffice to say, every time he'd remove and fix something, he'd send a message begging me not to touch the wiring ever again.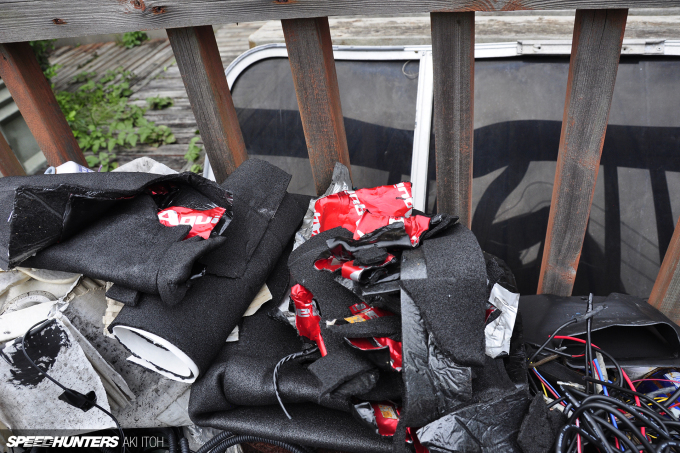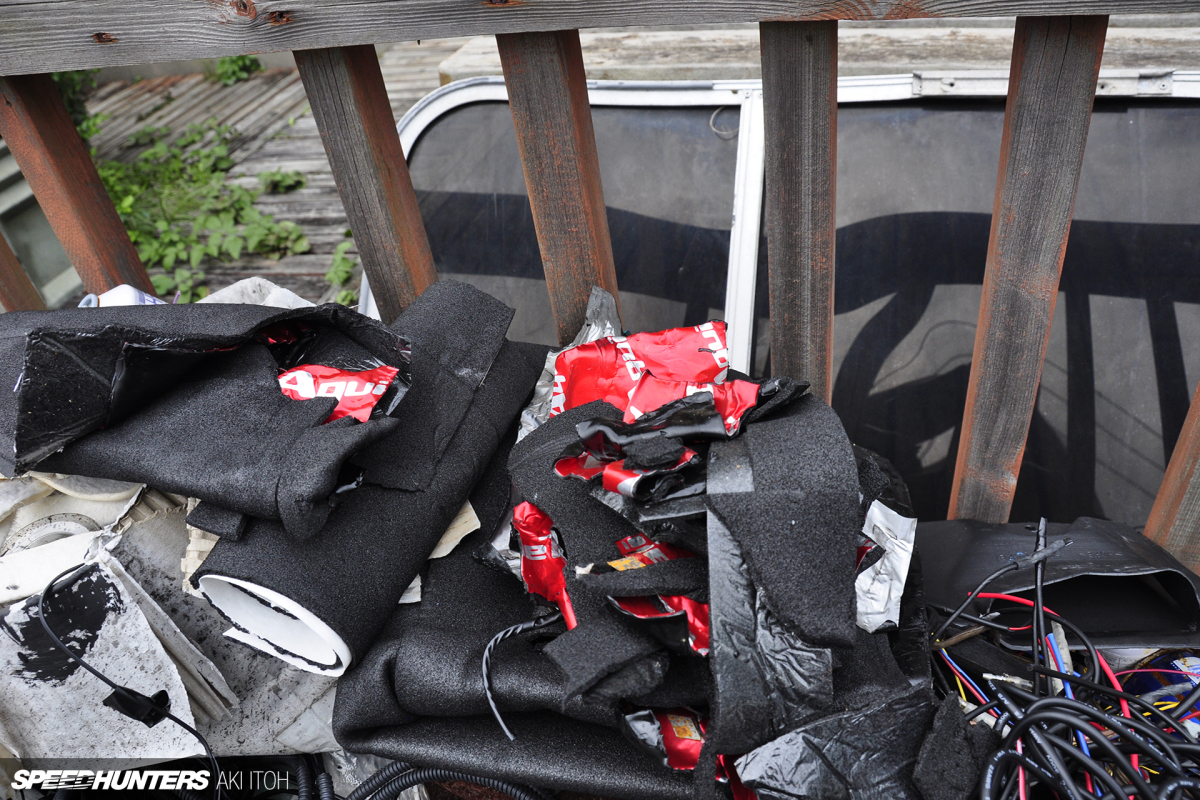 My GT-R is pretty noisy, which means I'm not too fussed when it comes to the audio side of things. I wasn't expecting much work on this front, and in fact, I was perfectly happy with the inexpensive Pioneer speakers I had installed myself several years before, along with that aforementioned DIY sound deadening. But my amateur efforts were obviously not good enough, because Nakamura-san also went ahead and removed everything I had installed and replaced it with the best stuff from StP.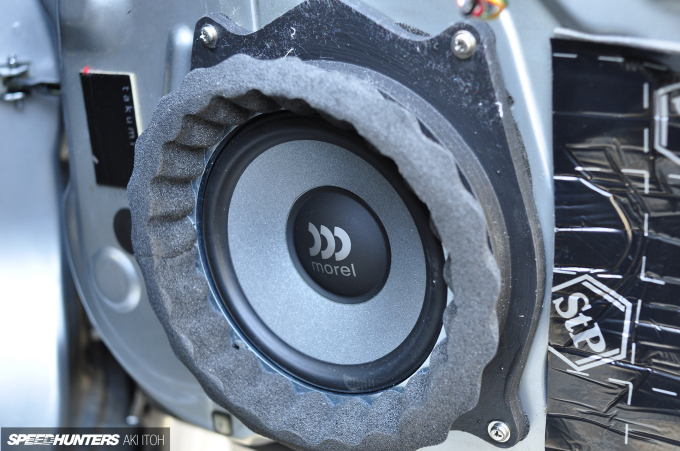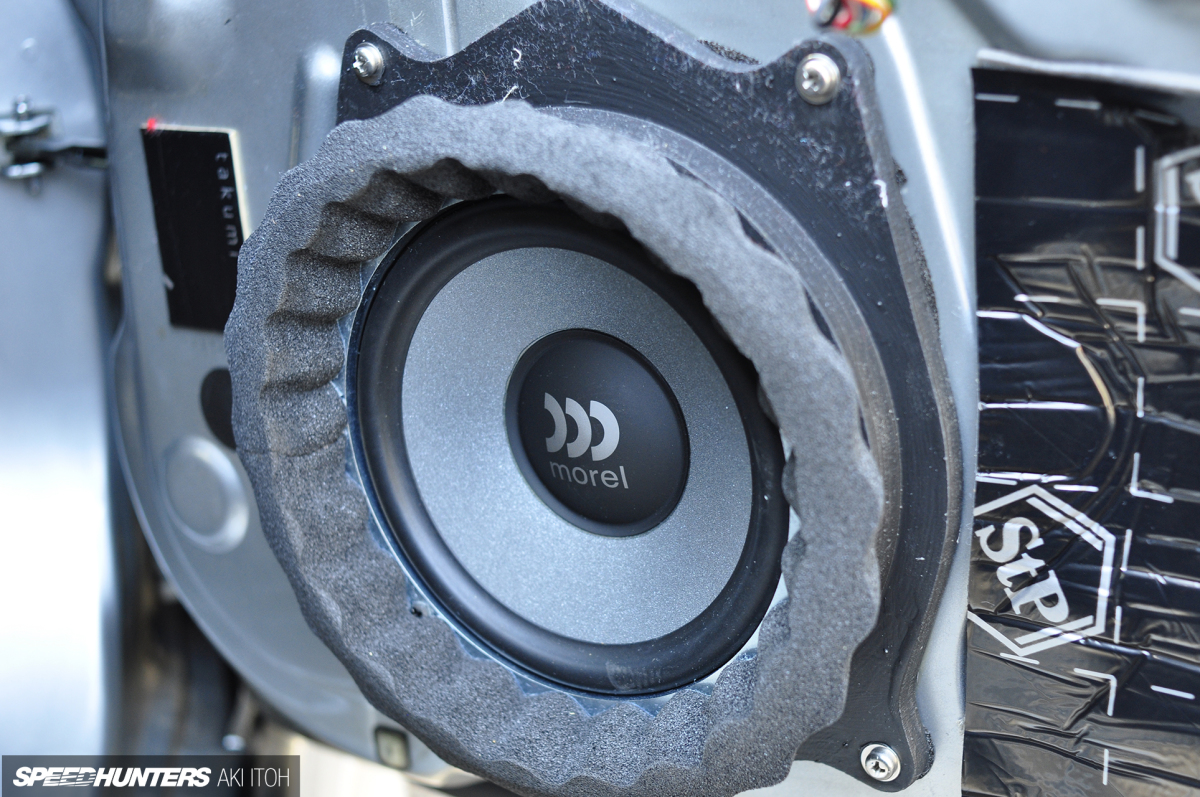 Nakamura-san also upgraded the speakers, fitting Morel Tempo Ultra components up front and doing away completely with the 6.5-inch Pioneers in the rear deck, as he deemed them unnecessary. The Morels were surprisingly inexpensive, and an aftermarket amplifier was apparently not necessary either; Nakamura-san simply added a capacitor to the head unit (along with a custom fusebox in the trunk). Without an auxiliary amp, I honestly wasn't expecting much in terms of sound quality, but I was pleasantly proven wrong. Nakamura-san also chose to install StP's polyethylene-based damping material (for both sound and heat), and used foam around the speakers themselves.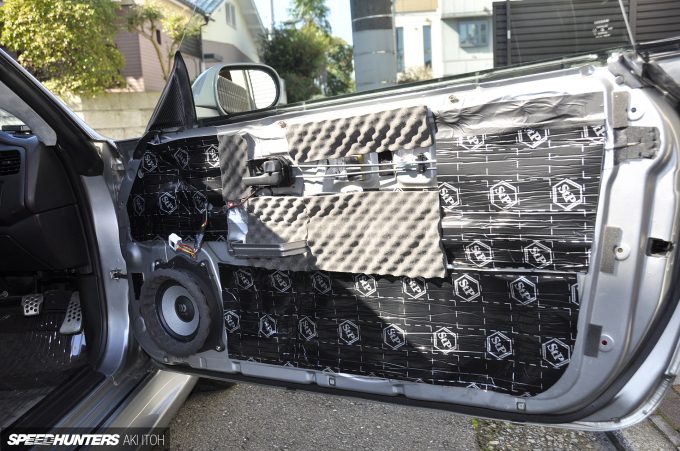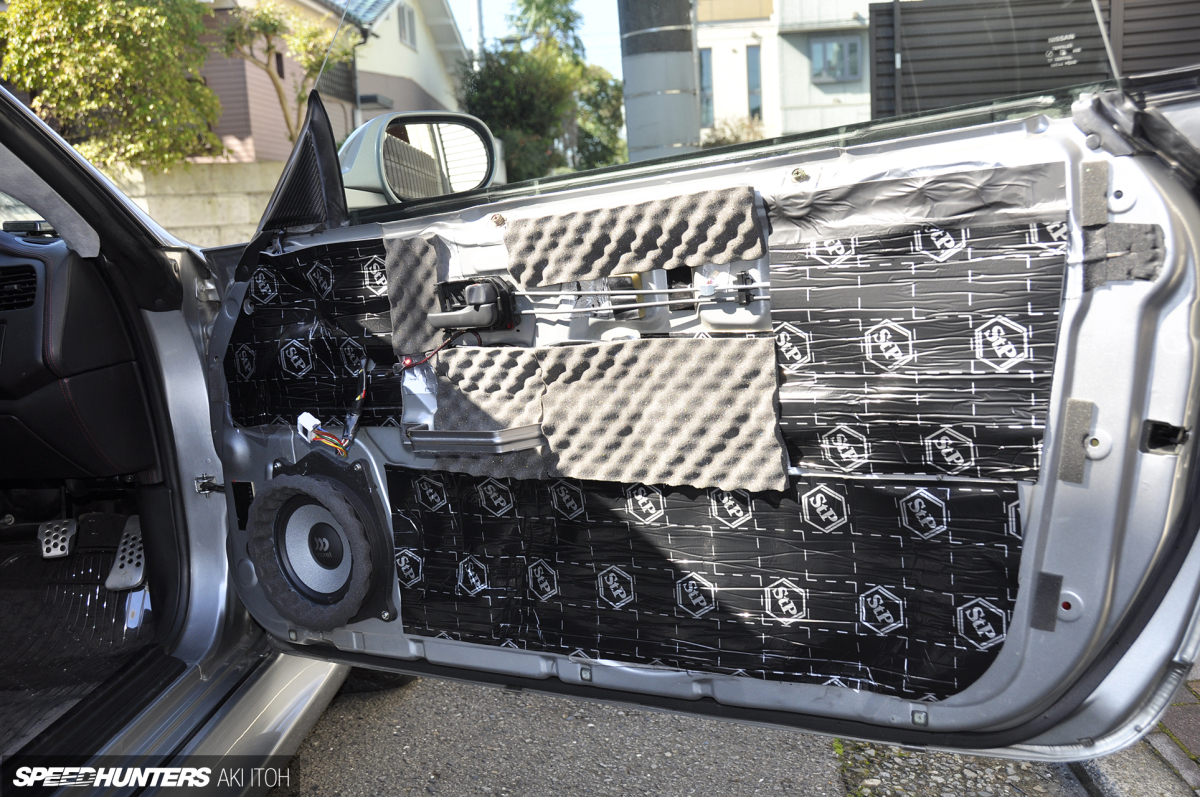 This is how sound deadening should be done.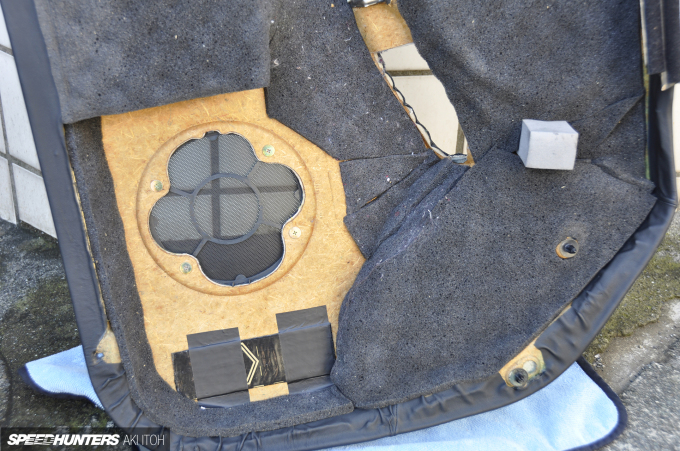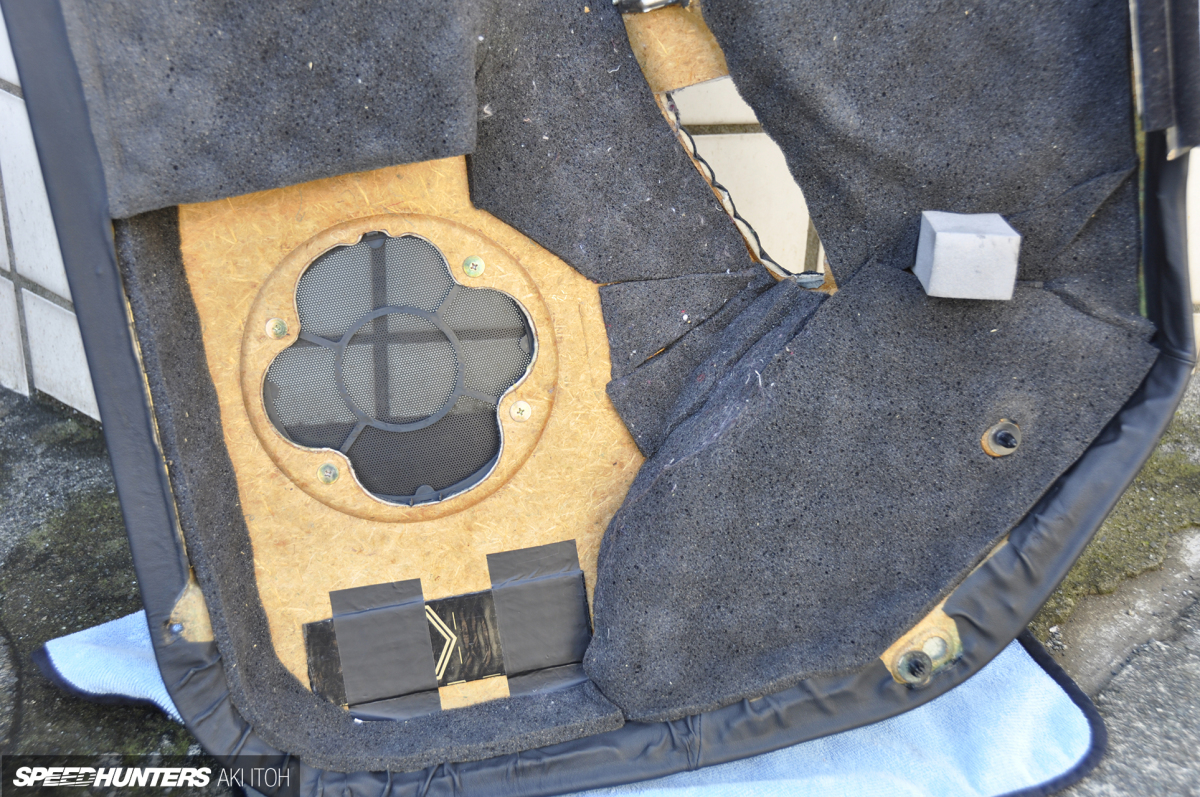 The backside of the front door cards show evidence of some TLC too. It had never occurred to me before that this area really requires dampening material as well.
Done, Finally…For Now…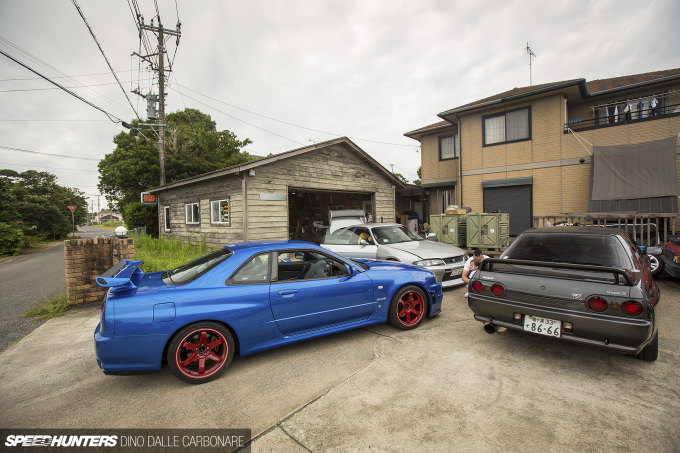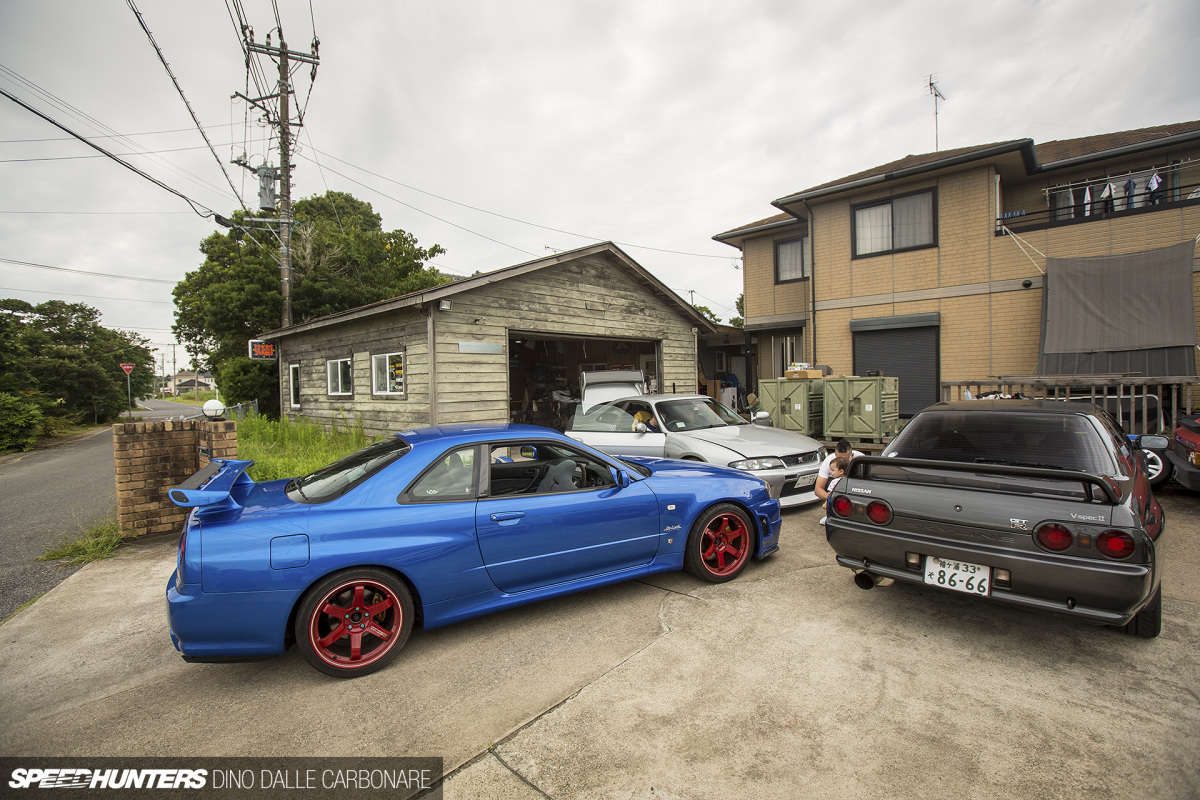 After several more months of email exchanges and phone calls, Nakamura-san finally got in touch to say my car was all done and ready to be picked up. I hitched a ride with Dino and in a flash we were back at Worx.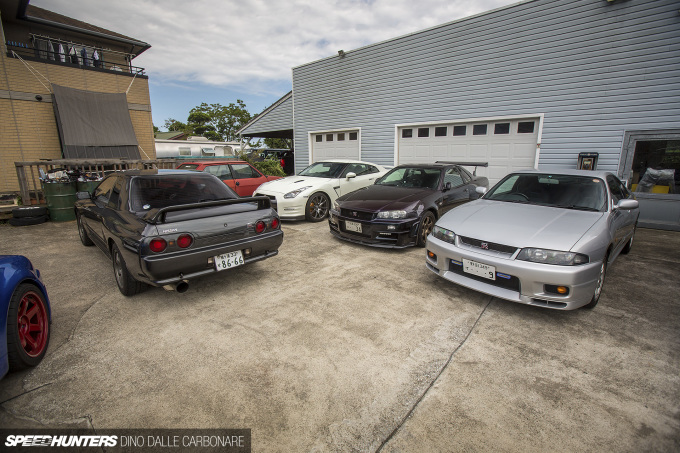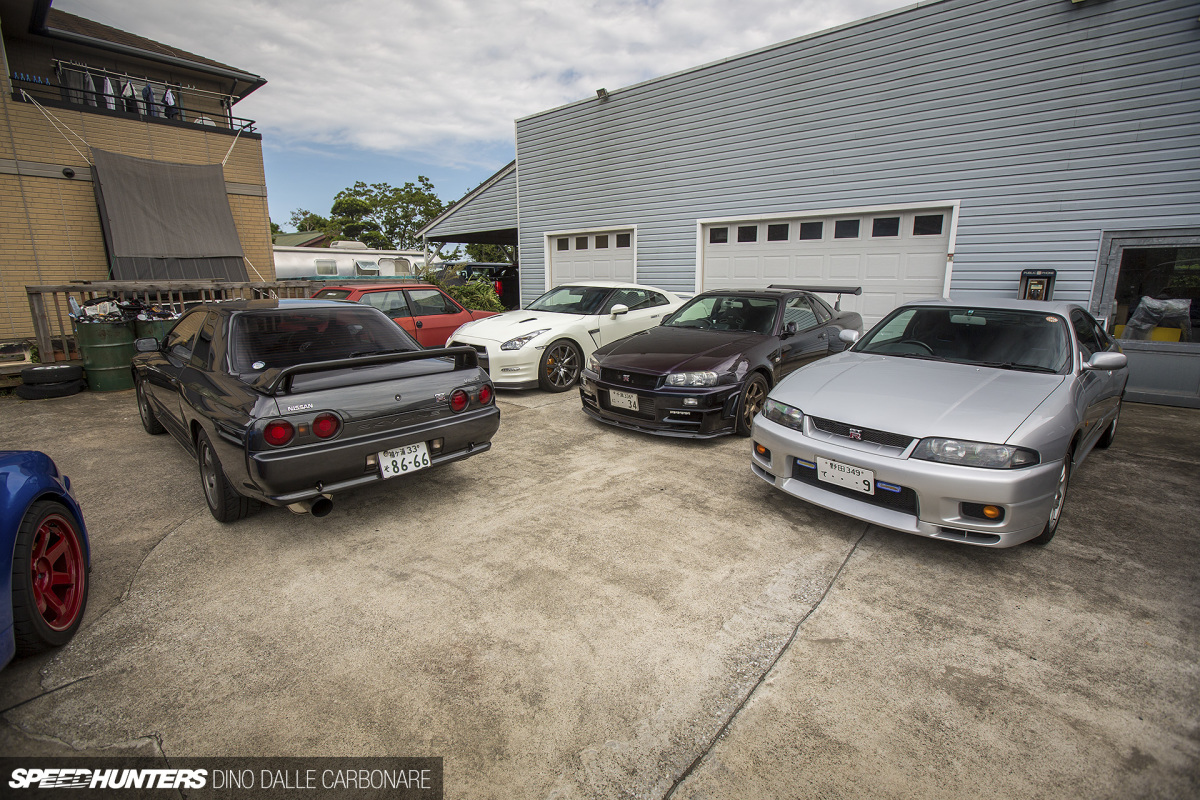 Four generations of GT-Rs, plus my R33 and Dino's R34 – this shows how in demand Nakamura-san is.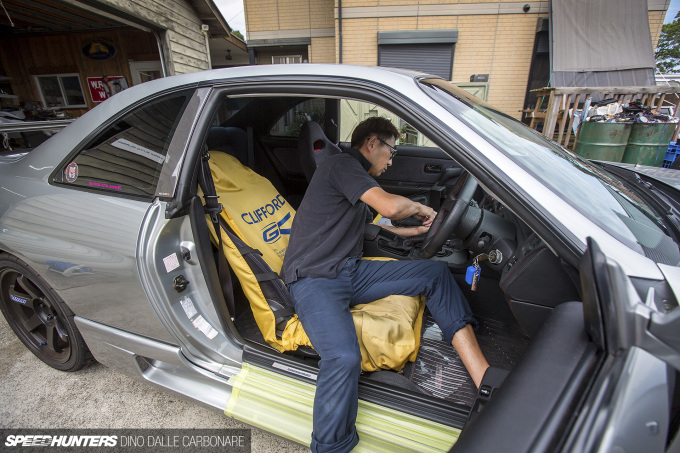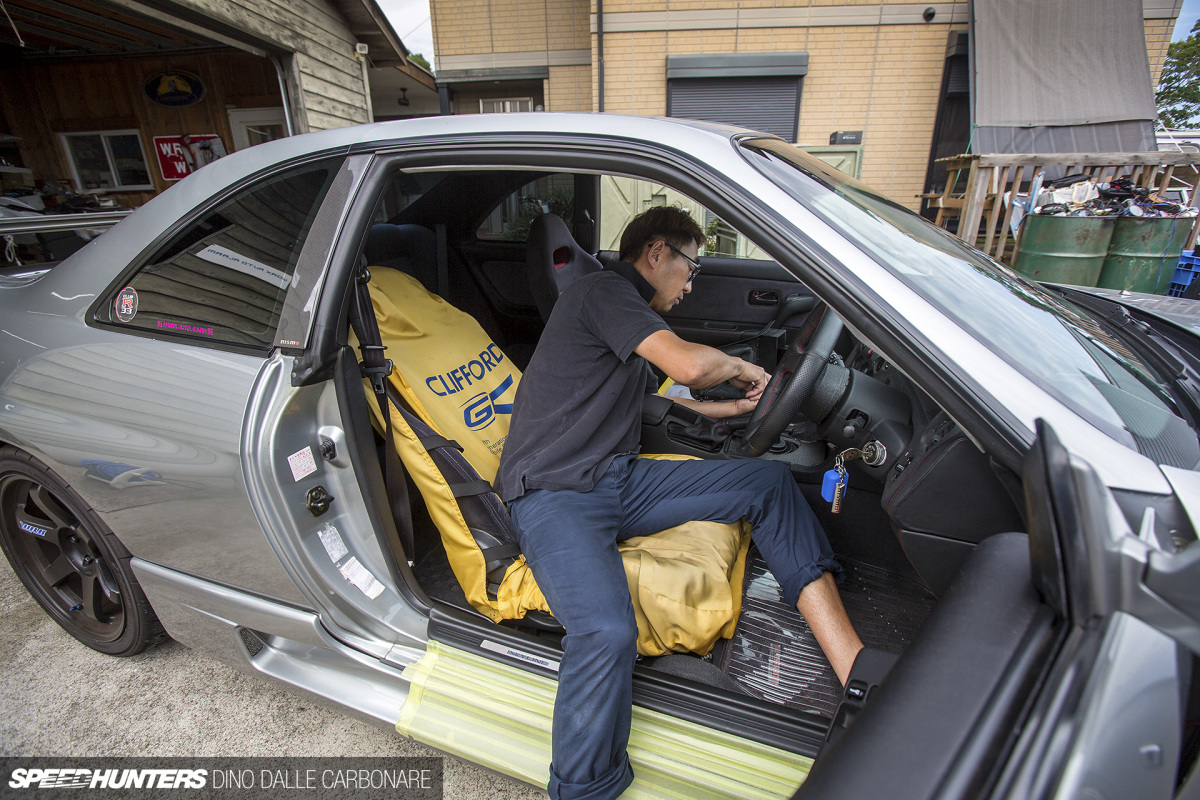 As we pulled up, the artist was busy making some last-minute refinements.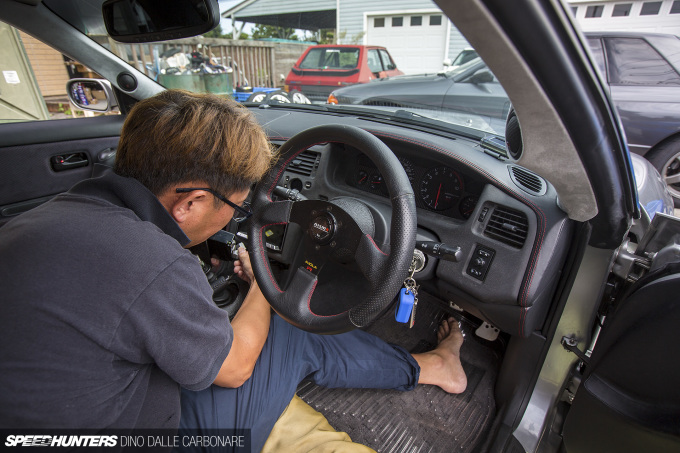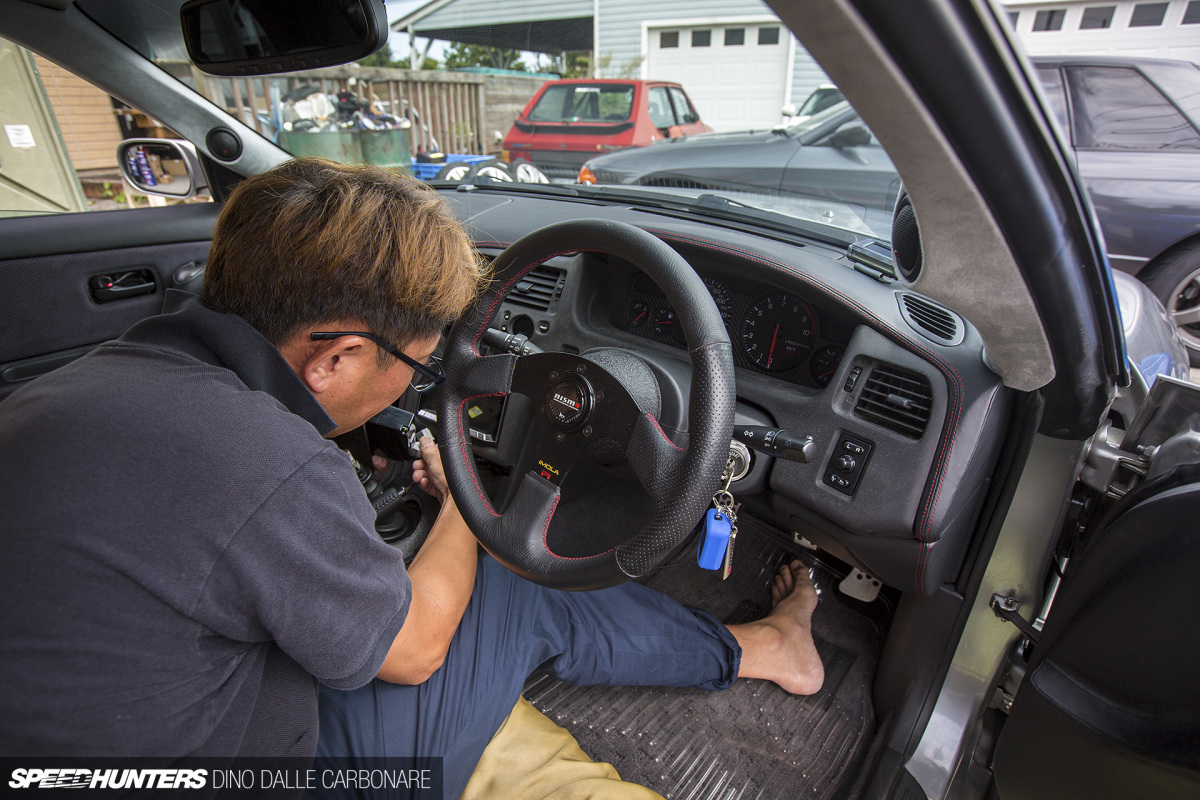 In this case, he was installing the custom-made lower center console that allowed my GT-R to graduate from a 1DIN stereo to a 2DIN unit – something that opens up many options for onboard navigation units. You can also see that in addition to the 2DIN navigation unit, Nakamura-san had the A-pillars modified to incorporate the Morel tweeters, and all finished in a light grey Alcantara to match the OEM headliner.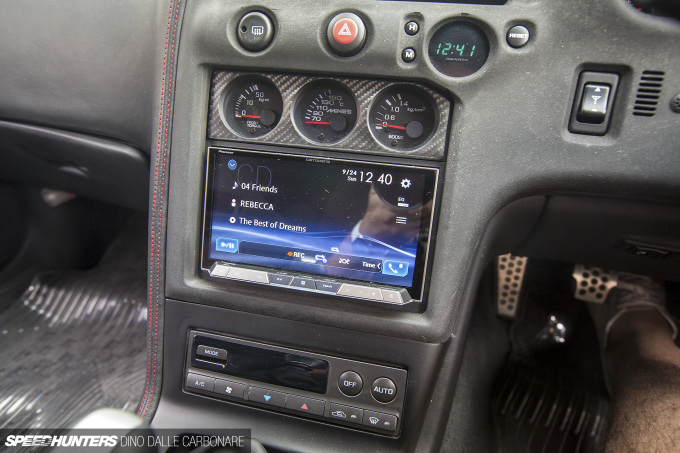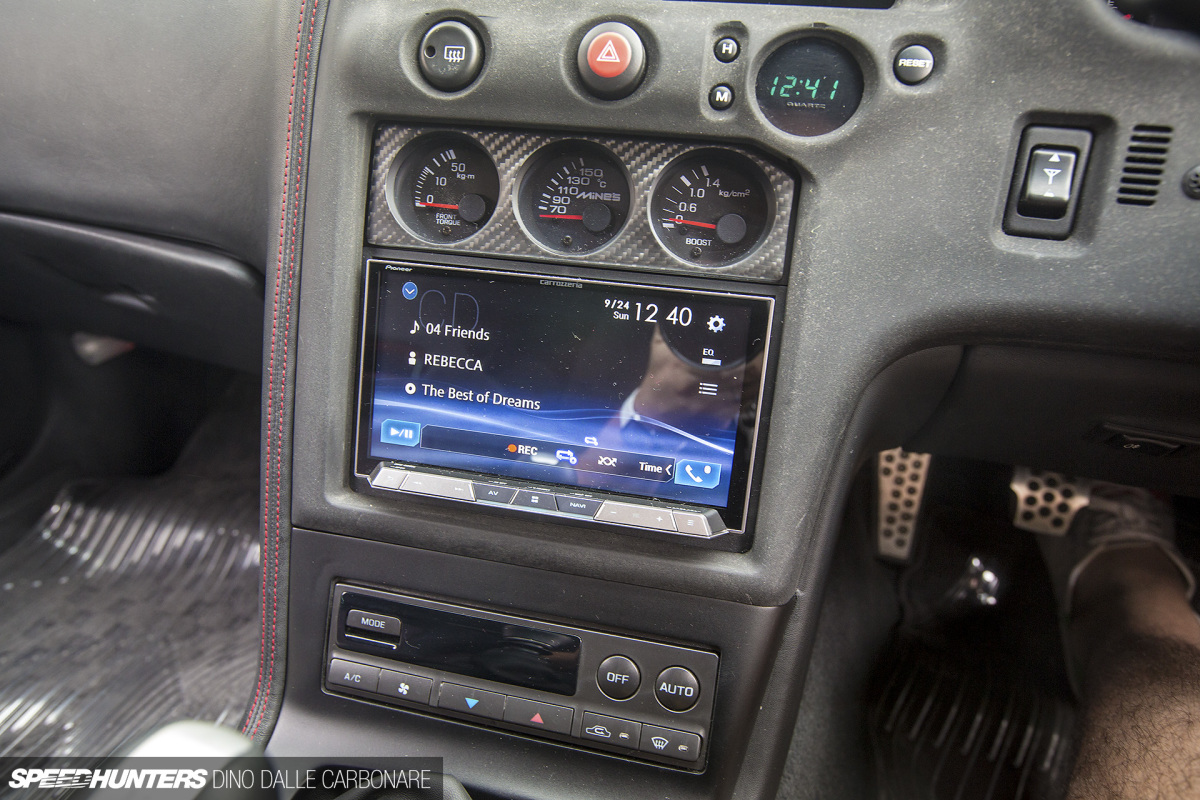 It's might be a controversial mod for some, but the HVAC unit, previously located directly under the three auxilary gauges, has now been relocated to below the 2DIN Pioneer AVIC-CZ900-M CyberNavi unit where the ashtray and cigarette lighter used to be positioned. Readers with an eye for detail may notice the two small problems I immediately spotted, and it's not the choice of J-pop music being played…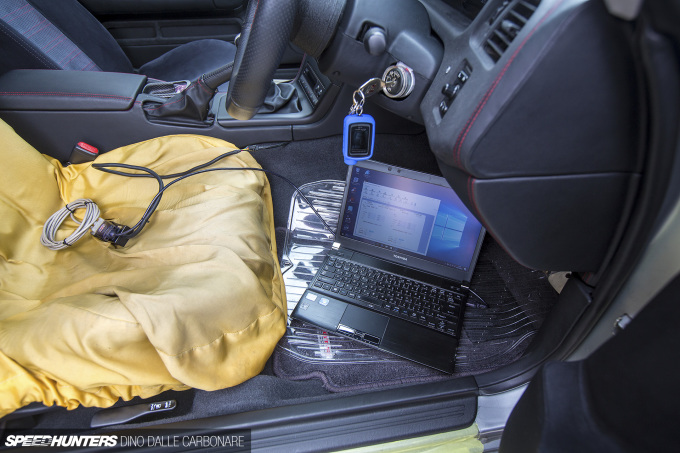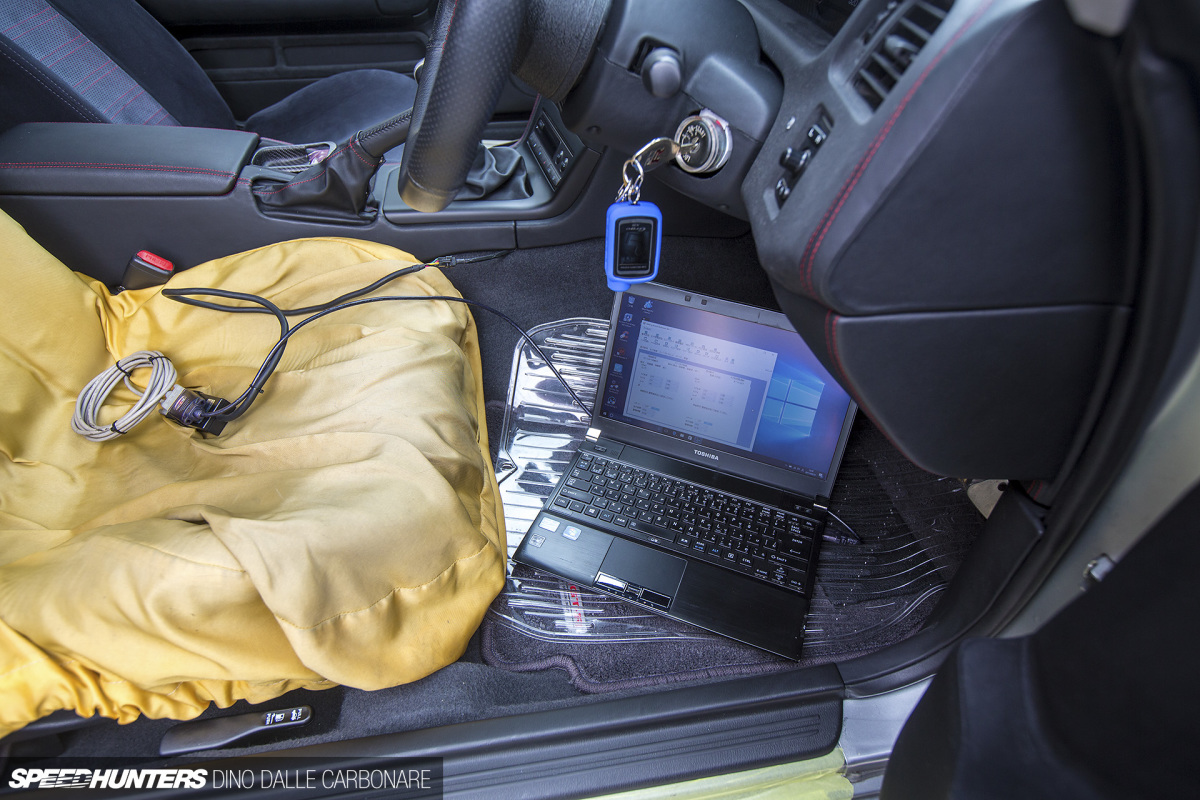 Did I mention the state-of-the-art alarm? At this point Nakamura-san was adjusting how long the new onboard video camera records for after various sensors detect suspicious movement.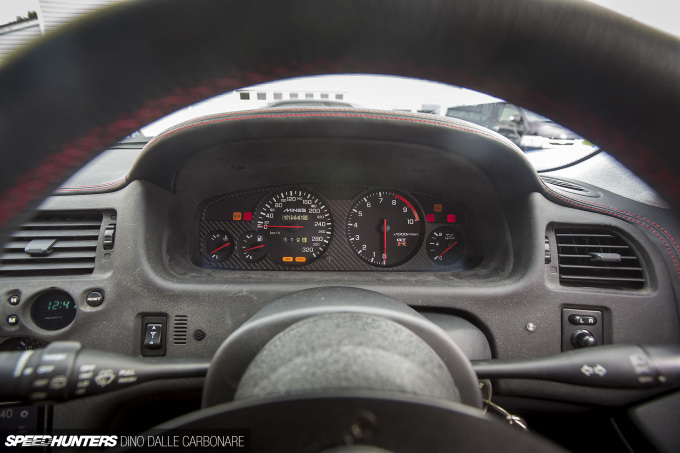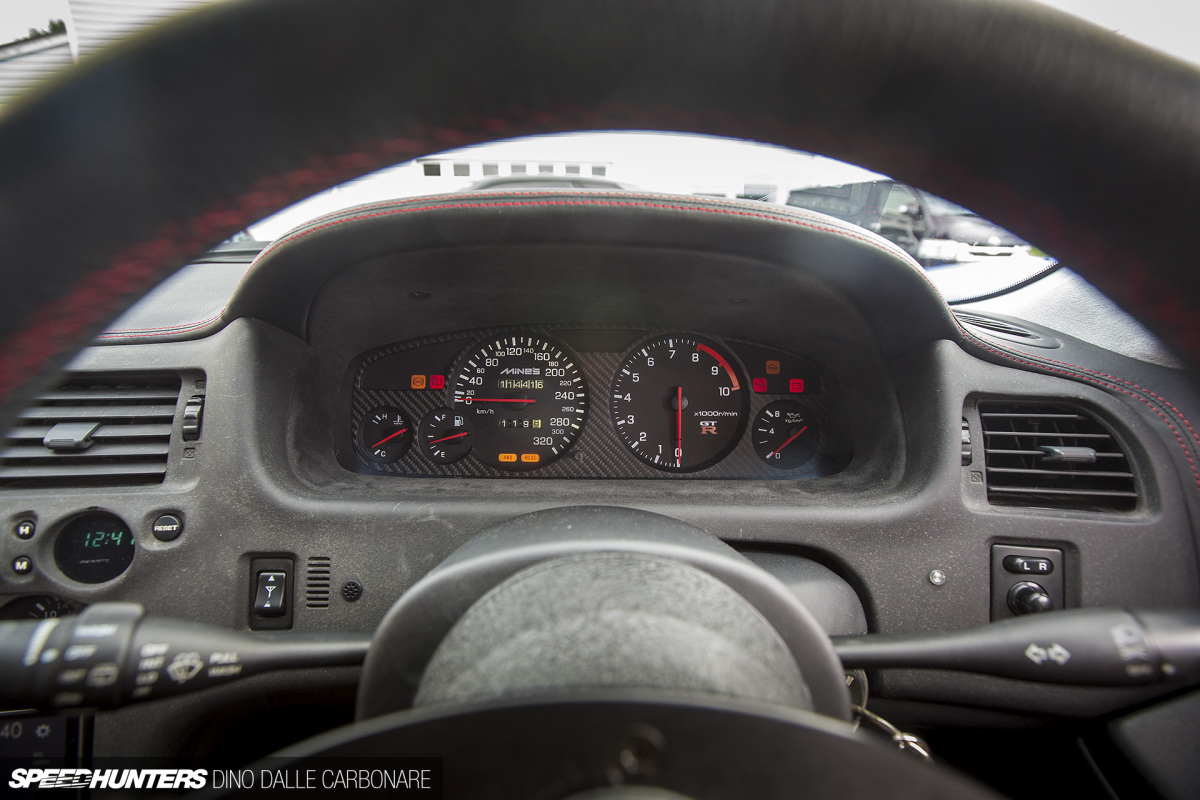 The view from the driver's seat. Sharp eyed-readers will spot three problems immediately – Nakamura-san is OCD-level obsessive, but so am I and it's all about personal taste. These three things along with the two mentioned before may serve as the genesis for a third instalment of this interior upgrade series. Hint: the instrument panel surround was not the same one that came off my car…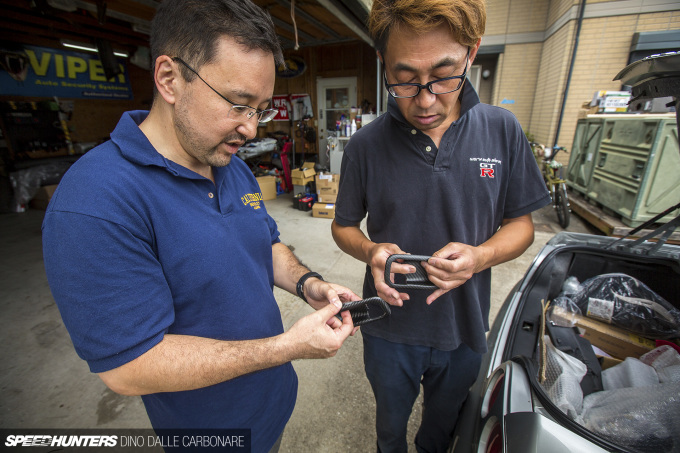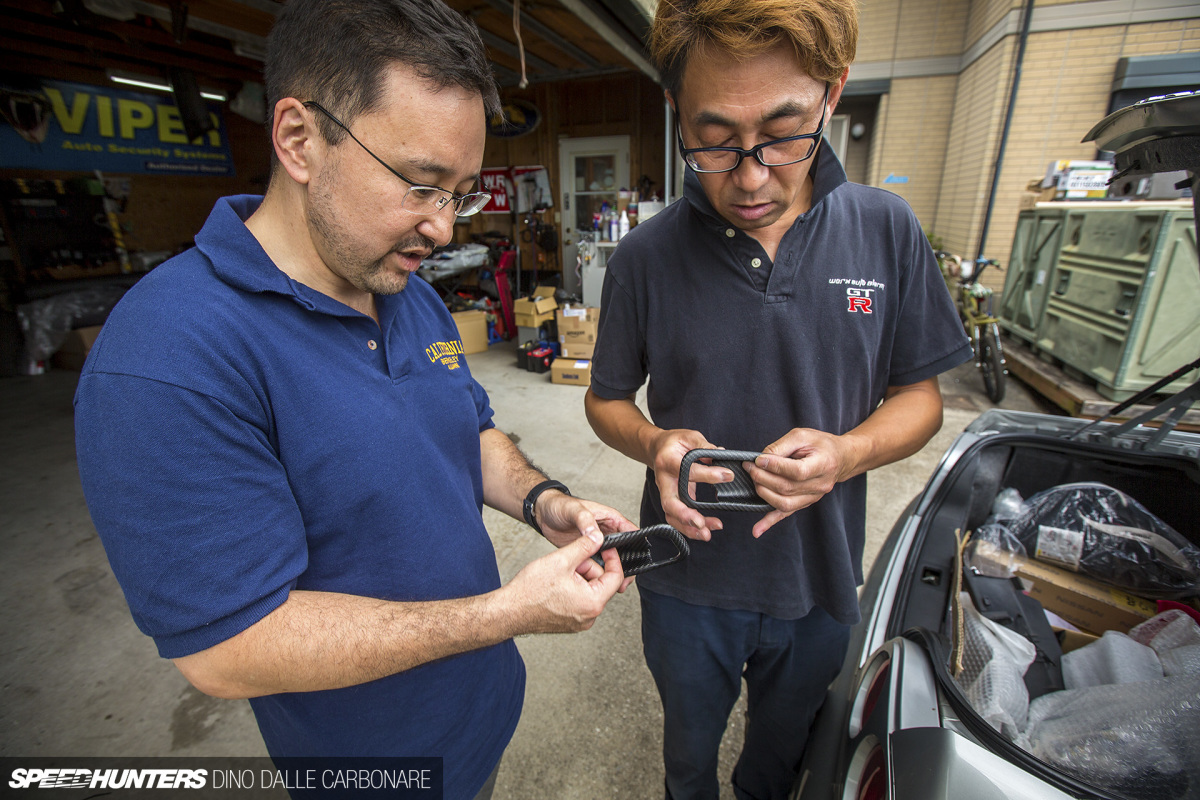 Nakamura-san was apologetic that he couldn't get these real carbon-layered inner door handle scoops, which were custom made in a matte finish by fellow R33 GT-R owner Marc at Xclusiv Carbon, installed in time.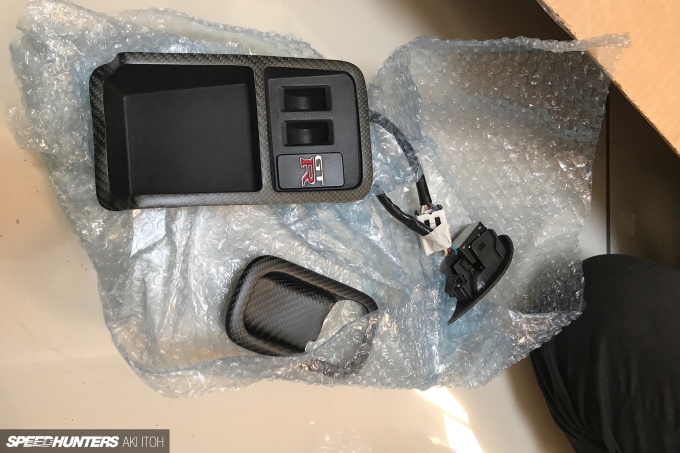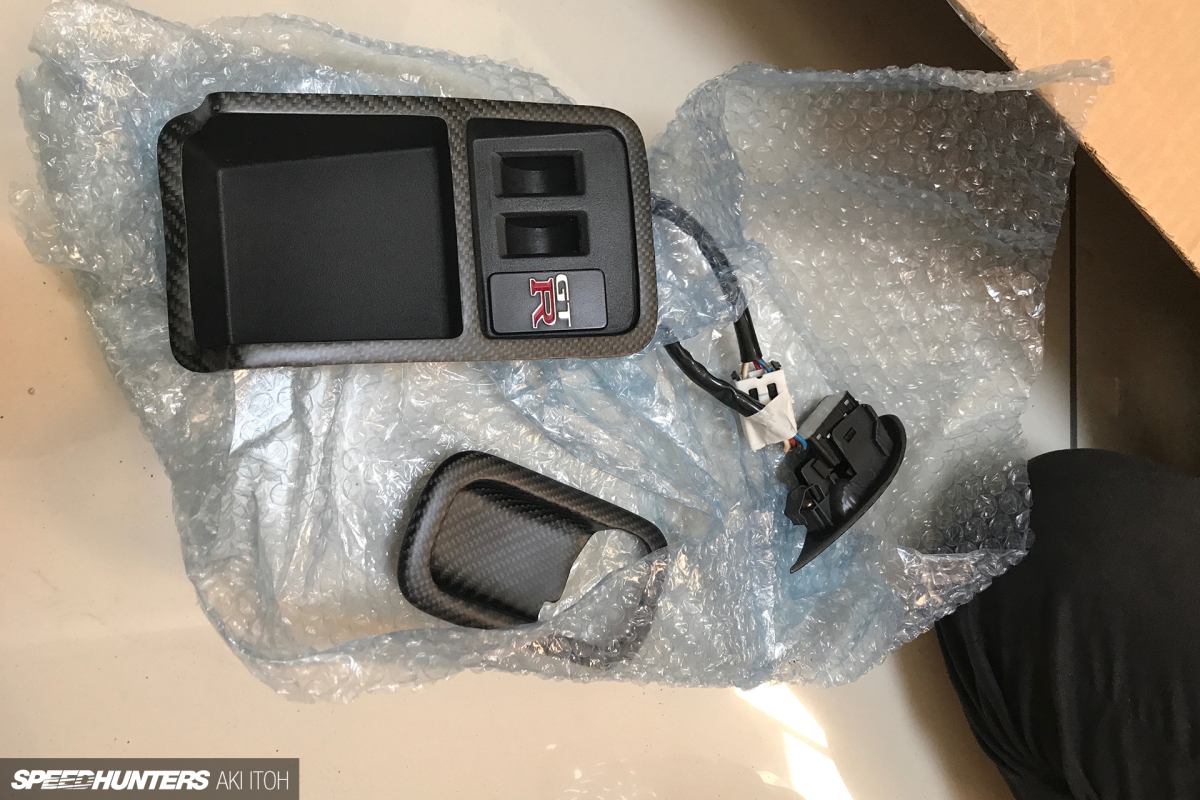 Nakamura-san claimed he also could not fit the center coin tray (with the GT-R logo), also carbonized by Marc, because the leather on the center console was now causing clearance problems. But that's okay, this leaves me some work to do.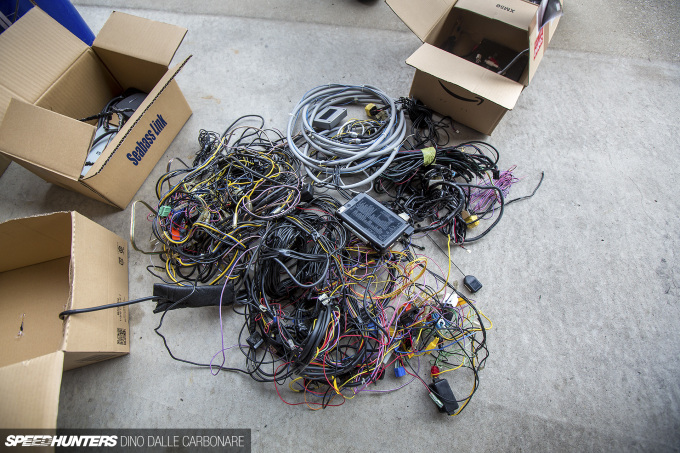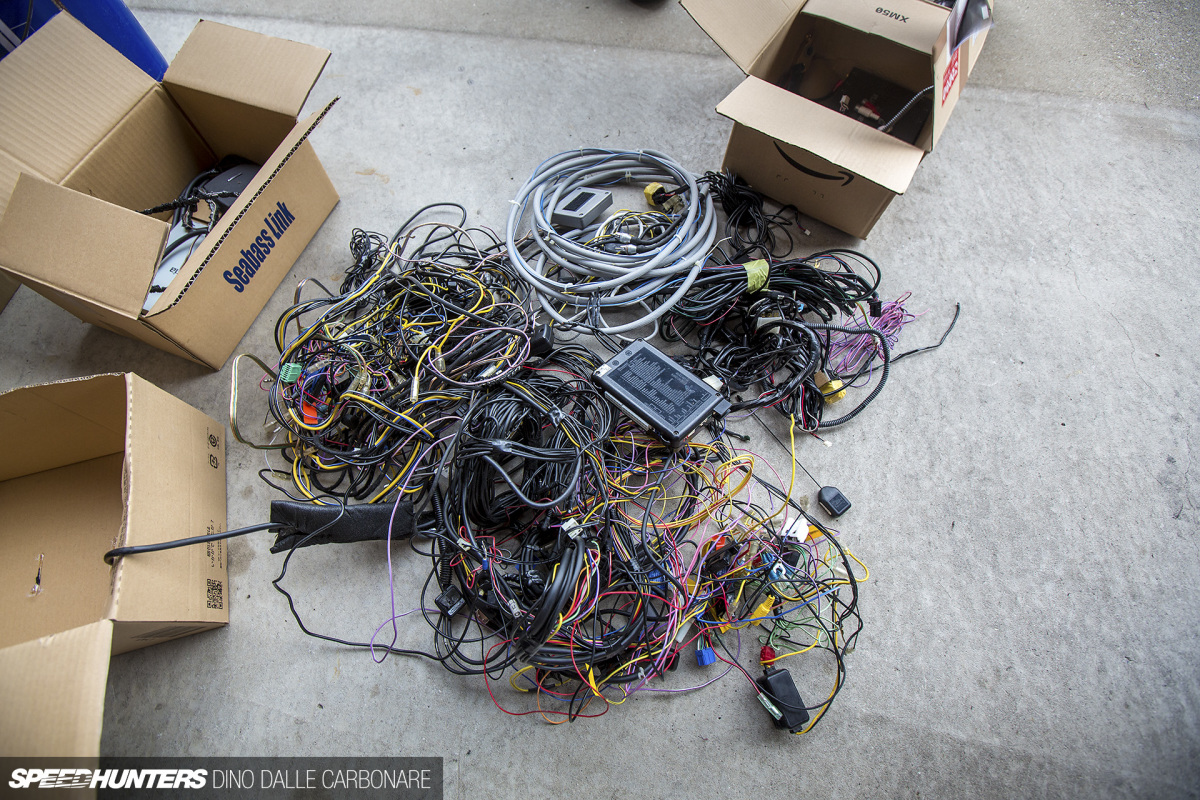 So in addition to the scraped-off sound deadening (and trunk-fitted Alpine subwoofer I had installed myself years before), all of this wiring was removed from the car.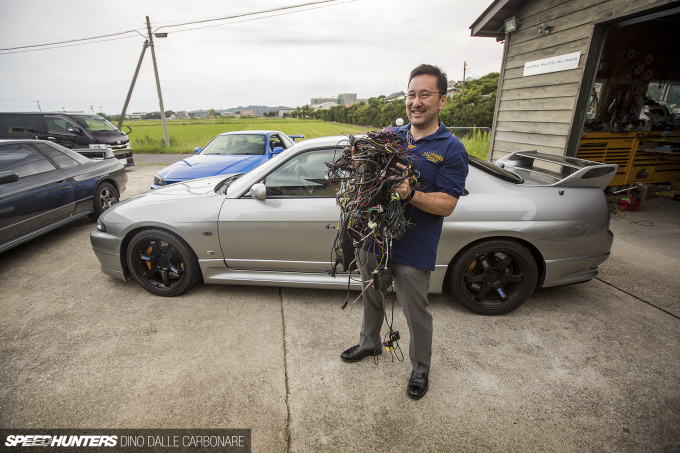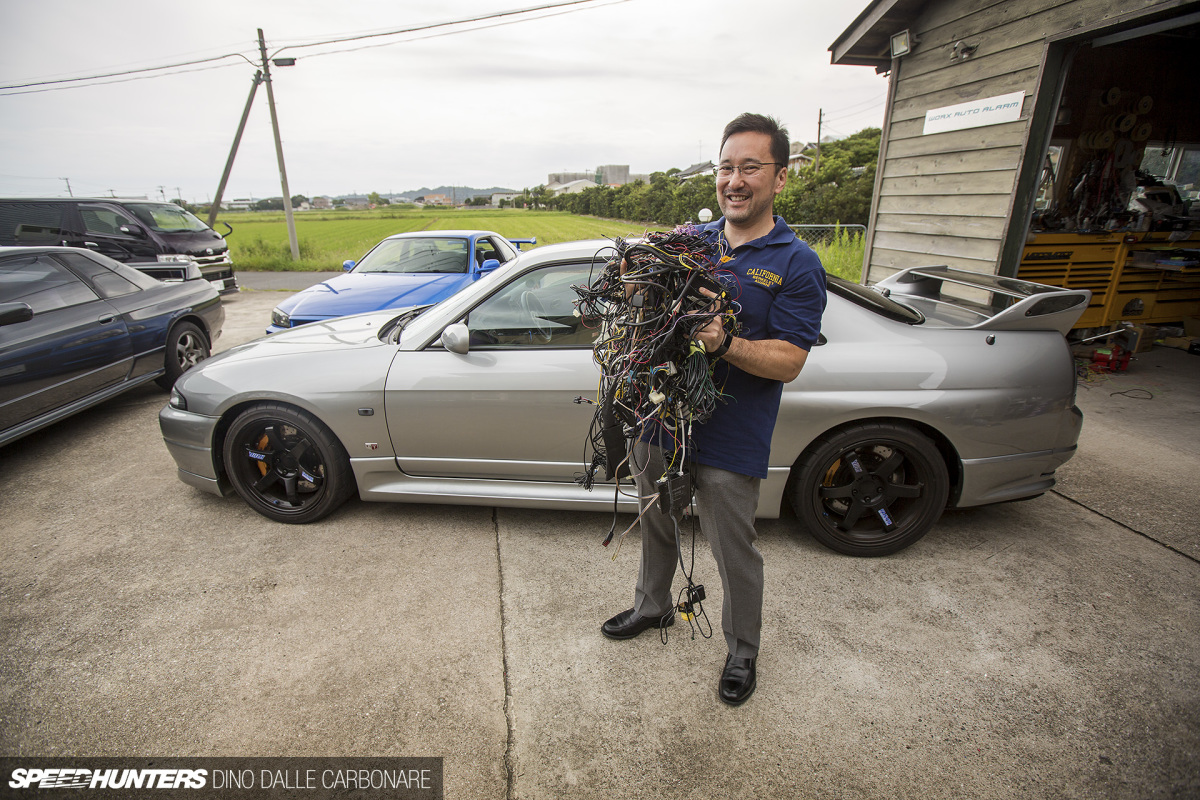 These wires and parts weighed at least 10kg.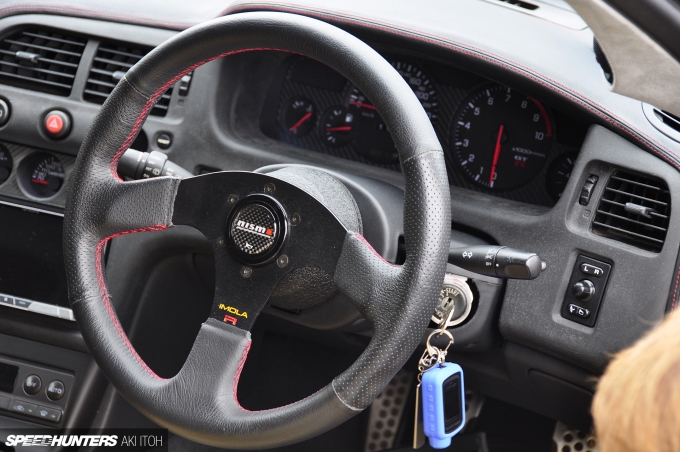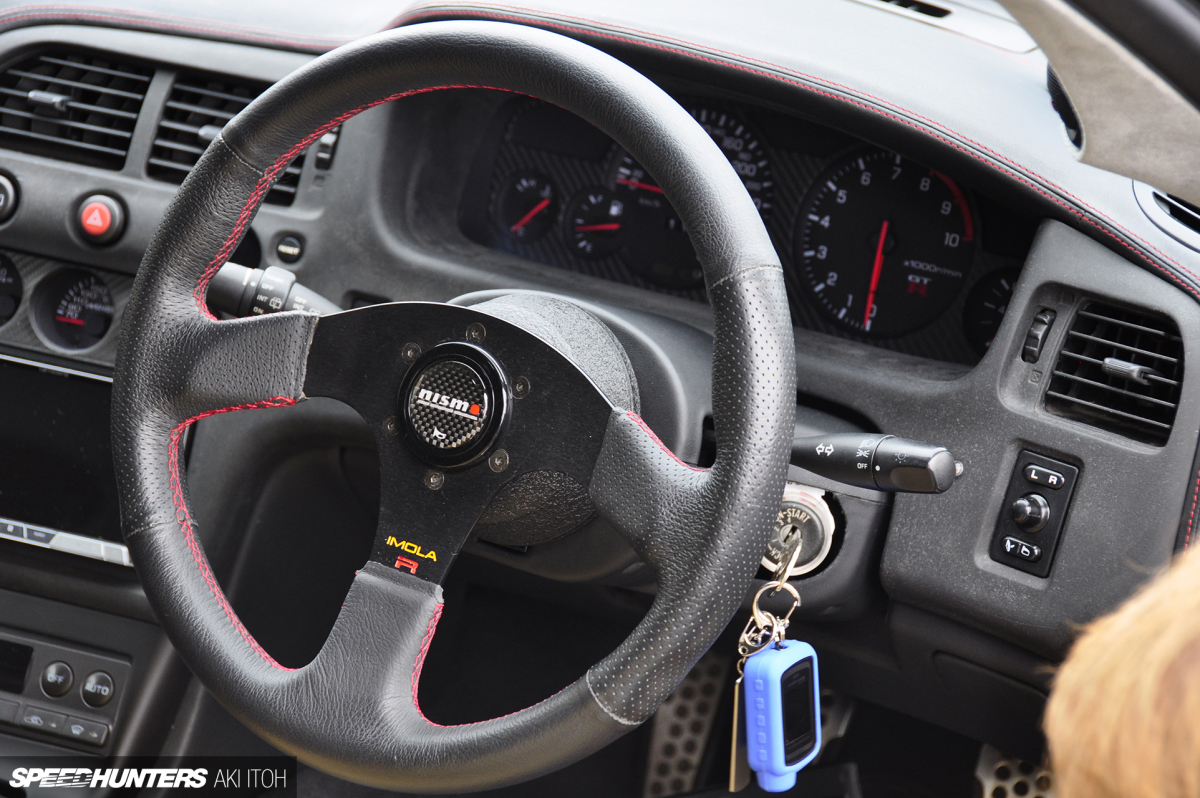 I love how the new red stitching on the edge of the dashboard gives the interior a bit of character. I now wonder if I should have the steering wheel redone to match…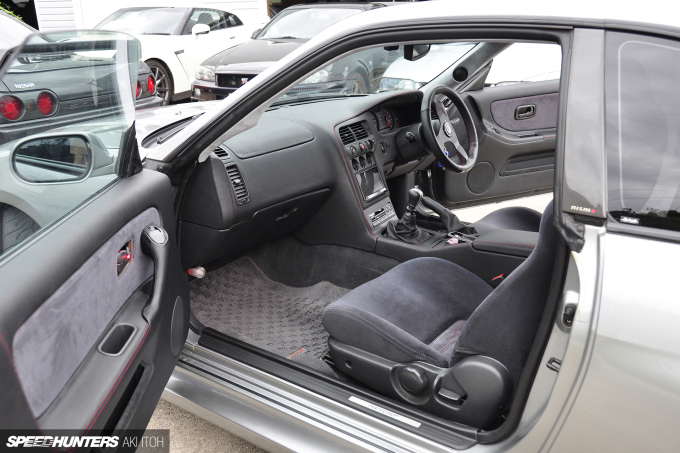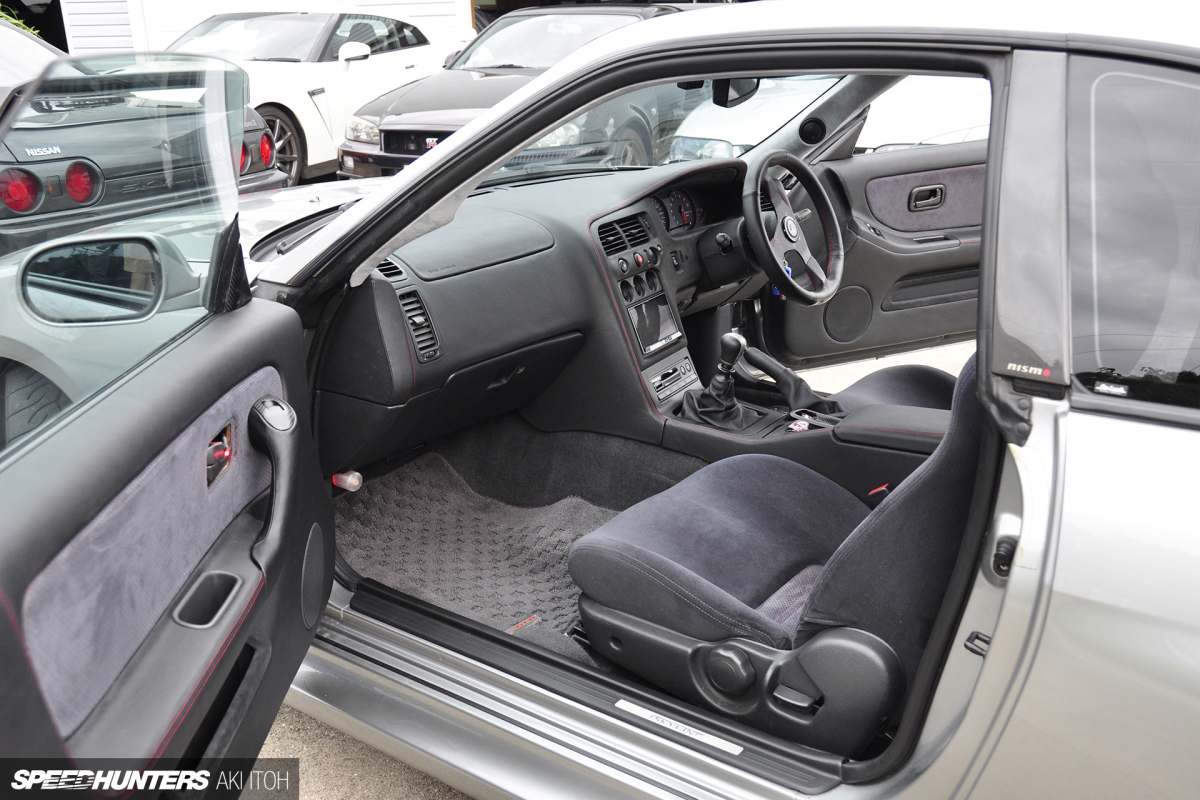 And from afar; the combination of the leather, relatively subtle red stitching and the upgraded navigation unit really changes the character of the car – and for the better. The stereo now sounds pretty good (at least when playing my favorite music, i.e. hits of the '80s), and I can sleep much better at night knowing that my car is protected as well as it can be.
But am I done? Unfortunately, no. As many of you will have no doubt experienced, working with an artist can be tricky. While their creativity is to be cherished, they sometimes lose sight of what the task at hand is and go overboard, and some of them even choose to make, in good faith, decisions by themselves that do not align with the parameters of their task. So while I was thrilled to finally get my car back in October and generally happy with the work Nakamura-san did – especially the cleaning up – I have been spending my free time over the few months since making a few adjustments.
I suspect many of you will have comments that align with my thoughts on what needs to be done next, and I welcome them all below.
Aki Itoh
Instagram: aki_itoh
aitoh@hotmail.com
Additional Photos by Dino Dalle Carbonare