The General Plan
As I've alluded to in prior Project 33 build posts, one aspect of the R33 GT-R that has really bothered me since the day I bought mine is the cheapness of the interior. Granted, cars that Nissan produced after the R33 had, in my opinion, even cheaper interiors (given that Nissan was struggling financially in the late '90s), but to me that doesn't excuse the fact that this was one of Nissan's most expensive cars back then and yet the plasticky interior was only marginally different from the base R33 Skylines.
In any case, consistent with my general modernization theme of 'what might Nissan do if the R33 GT-R was sold today,' I decided to address this shortcoming my own way. Obviously, for those who track their cars on a regular basis, my efforts here may seem to be a waste of time, money and effort – but for me, the GT-R is a jack-of-all-trades and so in addition to its superlative power and handling, I think it should have a superior interior as well. After all, the interior is what I interface with every time I get in the car.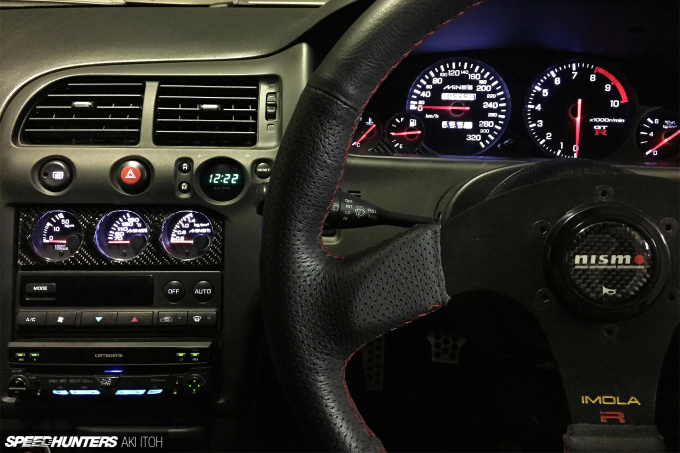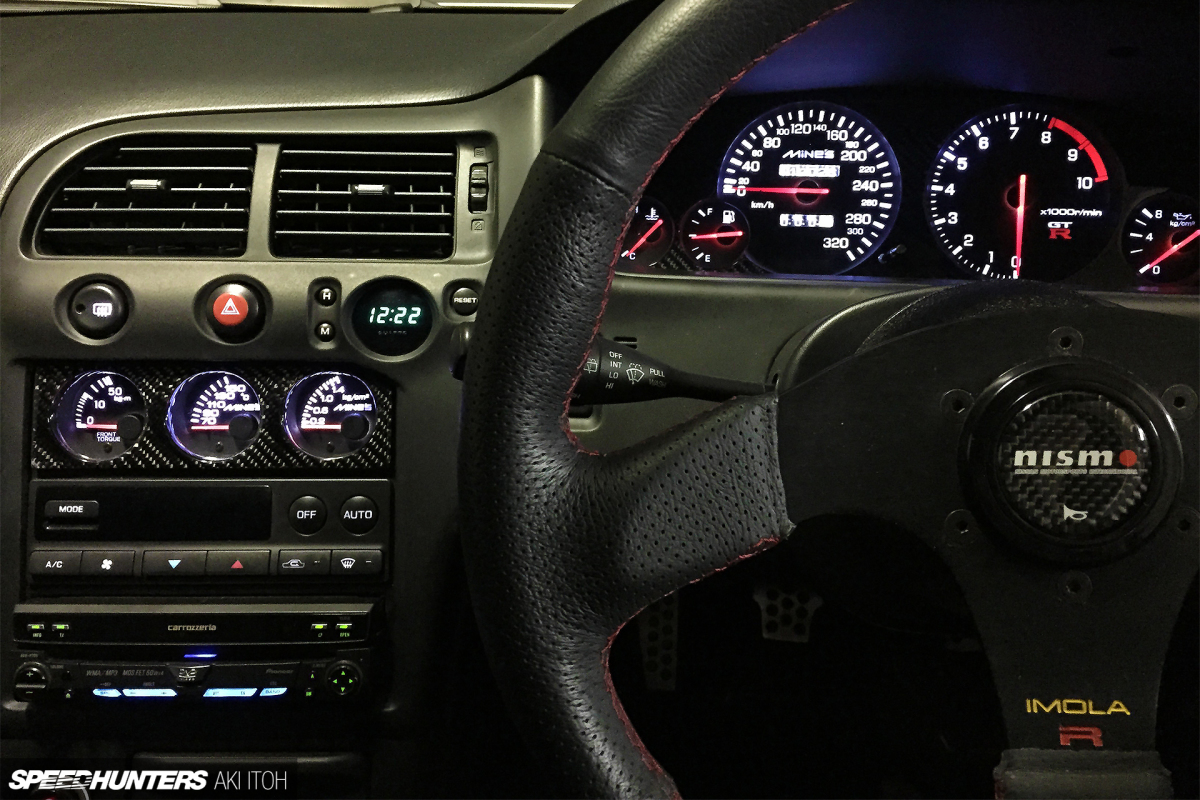 Over the years, I've already made some upgrades to the interior. For example, I  swapped out the speedometer and the R33 GT-R-specific triple sub gauges with very hard to find Mine's units, changed out standard incandescent gauge lighting for special LEDs, replaced the ugly OEM steering wheel with a nice Ital Volanti unit, added some carbon fiber bits and even installed a small Defi heads-up display. I've been very happy with this look, but there was still room for improvement.
The first step was to decide what else could be done to improve the interior. For the R33, as well as other RB26 GT-Rs, I've seen glossy carbon fiber parts, leather and pleather seat covers, Alcantara door inserts and even dashboard flocking. But I wanted to remain consistent with an OEM theme. This meant no faddish colors or materials, just high quality, but in a subtle way befitting the GT-R name. And I wanted to do something different, something never done before.
If you take a close look at the interior plastics, you will see that every piece is imprinted with a pattern to simulate the grain of leather. Now this may have been the height of luxury back in 1997, but to me this was an invitation to replace all such simulated 'leather' with real leather.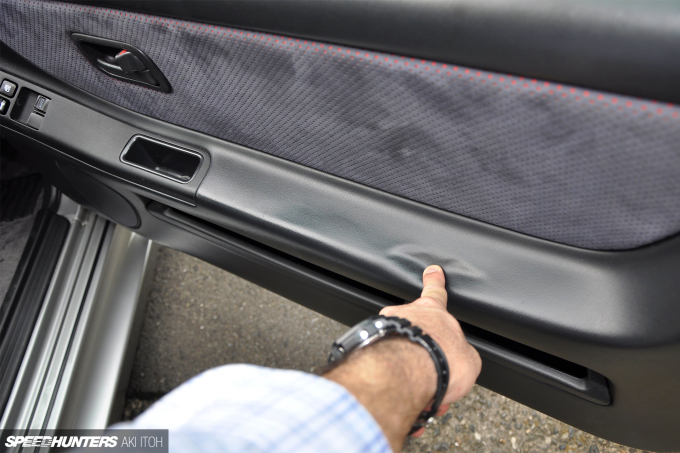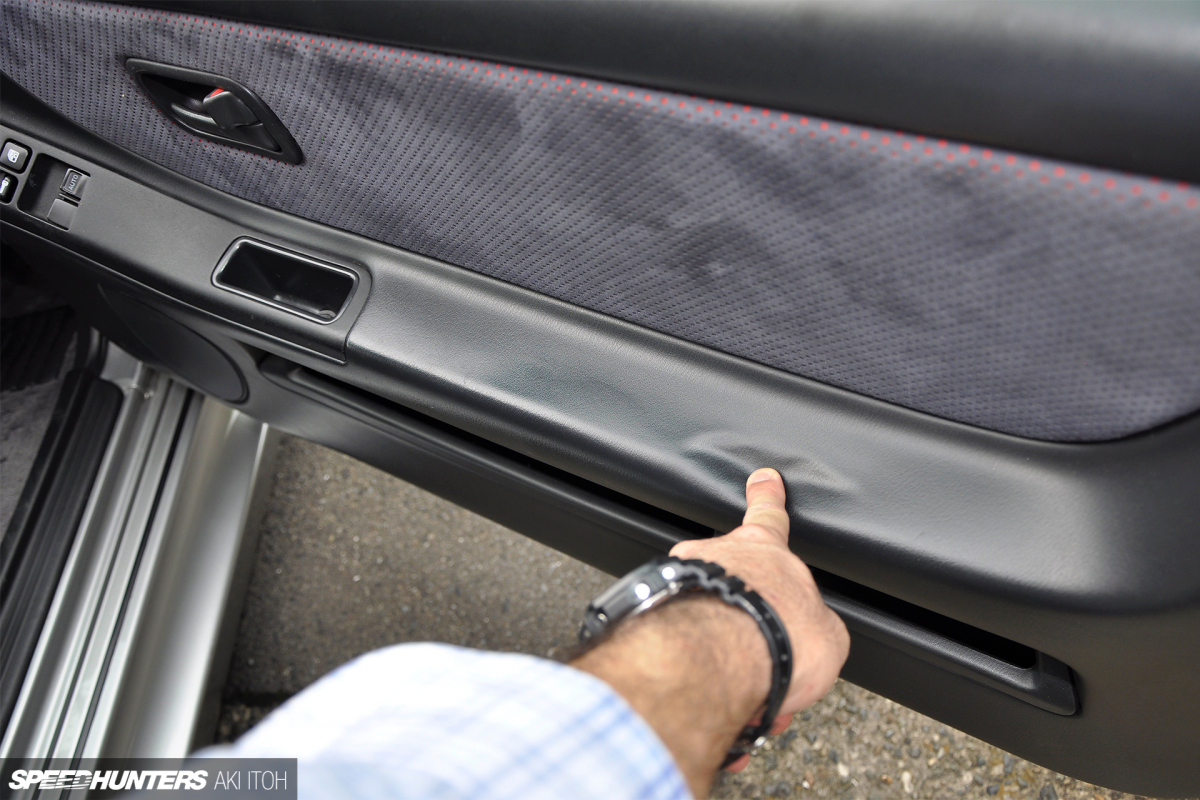 And hey, I have a legitimate and functional reason to focus my efforts on this. As you can see, some places in my car were starting to show wear (more so than the cloth areas), like the driver's side armrest here which is beginning to collapse. I'm guessing the original owner had heavy elbows? For purely functional reasons, something needed to be done, right? I need to drive in comfort…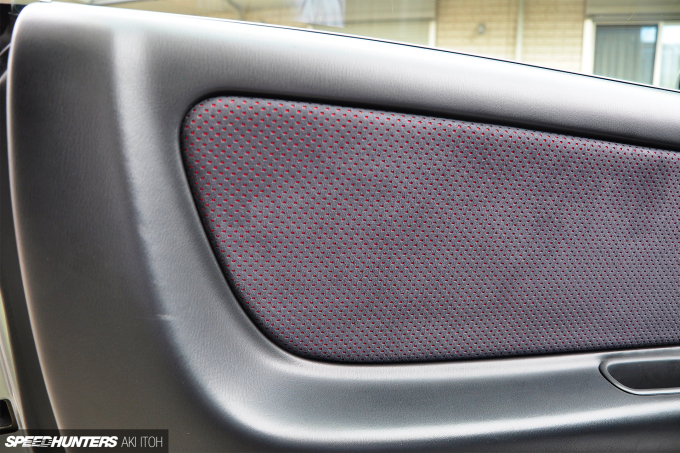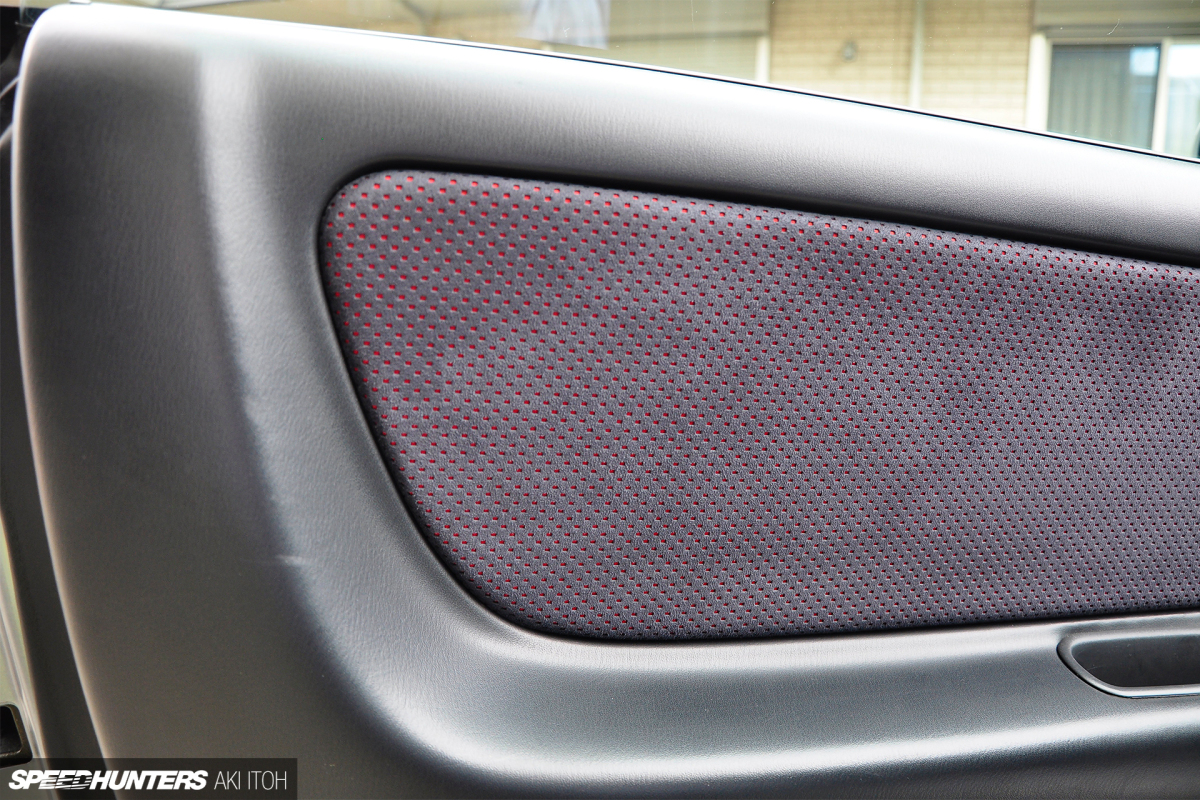 Further, my Series 3 (1997-98) car's interior has red accents, as opposed to the blue found in earlier R33 GT-Rs (from 1995-96). These include the red dotted cloth inserts in the front doors (as above) and rear seat panels, so the challenge was to cover or replace the plastic with leather, but leave those cloth inserts alone to maintain the unique interior look of the Series 3. Obviously, a mass-market solution was not going to work. This would have to be a bespoke job.
Finding A Takumi & Selecting The Leather
Unfortunately, my many inquiries over several years on doing such a real leather replacement (both in Japan and overseas) were met with a plethora of excuses even from well known shops as to why it couldn't be done. Undeterred, I kept searching until I finally found a master craftsman in Mexico, Cesar (aka Cechaflo), who amazingly, and graciously, agreed to do the job as an exception to his usual policy of doing only demonstrative work.
During our conversations, he showed me the kind of stitching (color and width) he thought would work well. I had seen his work on his YouTube channel so I wasn't too worried about his skill, however. But, it confirmed that I could expect very high quality. Because of the Series 3 theme, I went with the larger red stitch.
We then, using photoshopped visuals, discussed where the visible stitching might go on the dash and interior panels.
Meanwhile, after being politely rebuffed by the leather supplier to Ferrari, I had found a retailer in Canada who claimed to sell the same OEM leather, sourced from Italy, that is supplied to luxury marques. I immediately ordered swatches of black leather used by Jaguar, Ferrari, and Bentley, to see what might work in my car.
From left to right, the OEM Jaguar, Ferrari and Bentley leathers versus the R33's plastic surfaces.
It was a pretty tough decision. The photo on the left shows the difference between the Bentley (L) and Ferrari (R) leathers. But finally, I decided that I liked the OEM Bentley leather more. The Ferrari leather was tempting, but not only was it stiffer than the others by design (apparently due to a freeze-drying process during tanning designed to give extra strength in order to reduce creasing in the seats), it also scratched very easily. Since I wasn't doing the seats, this wasn't as important to me as the overall look, feel and smell, so I ended up ordering two hides of the OEM Bentley leather.
Leather ordered, the plan was simple, at least in the beginning. I would send Cesar the parts, and then once he had the leather in hand he'd do the rest. Unfortunately, it didn't go that smoothly.
Sending The Parts
While I was researching what leather to use and send to Cesar, the issue of the parts loomed large. You see, out of a total production of approximately 16,250 R33 GT-Rs, there are only 3,883 Series 3 cars that have the red themed interior. During the project, I wanted to keep my car driveable, which meant not sending my own interior to Cesar. Unfortunately, during this time I never came across another Series 3 interior for sale so in the end I ended up sending my car's door and rear seat panels to him.
As for the dashboard and center console, these were common across the Series 2 and 3 cars (i.e. with the passenger airbag), so I decided to not bother removing mine to send. Luckily, a friend of mine in the UK, Tim Moff, operates a parts service; he located suitable used samples and quickly shipped them to Cesar. At the same time, I also sent Cesar a few other pieces that he would need during the re-wrap. Additionally, I had to send interior pieces that would not be covered in leather, in order to ensure proper fitment afterwards, given that leather has a certain thickness.
Cesar recorded his progress for posterity and uploaded the videos on his YouTube channel. In fact, he was kind enough to set up a playlist for this project. In this first video, Cesar unwraps the package from Tim, inspects the parts, and then shows the additional pieces I had sent from Japan.
Cesar immediately decided that he would fix a few problems he found with some of the dash pieces. This isn't the leatherwork, but even at this stage I was totally impressed with the level of old-world craftsmanship and the attention to detail. If you watch the video, I think you will be impressed too.
He then kept going, fixing what he said was a flaw with the airbag cover, as well handcrafting a stay in the back that had broken off.
Meanwhile, despite my efforts to find suitable Series 3 doors and rear seat panels, I realized that given how rare these pieces were, I was likely to be unsuccessful. Rather than keep waiting for them to pop up on auction or other sites, I decided to send mine over to Mexico.
In addition to the doors and rear panels, I also sent some items that were either missing or damaged from the dashboard shipment, as you can see in the video above.
Once he got them, Cesar immediately found some red thread that matched the red used in the cloth inserts. This would ensure that the red stitching used on the leather would be consistent.
With all the pieces now assembled, we thought that once the leather arrived, we would finally be ready to go.
Carbon Fiber? Why Not!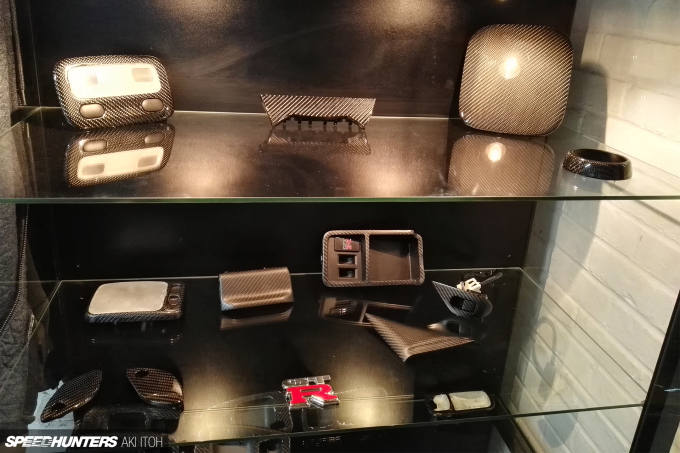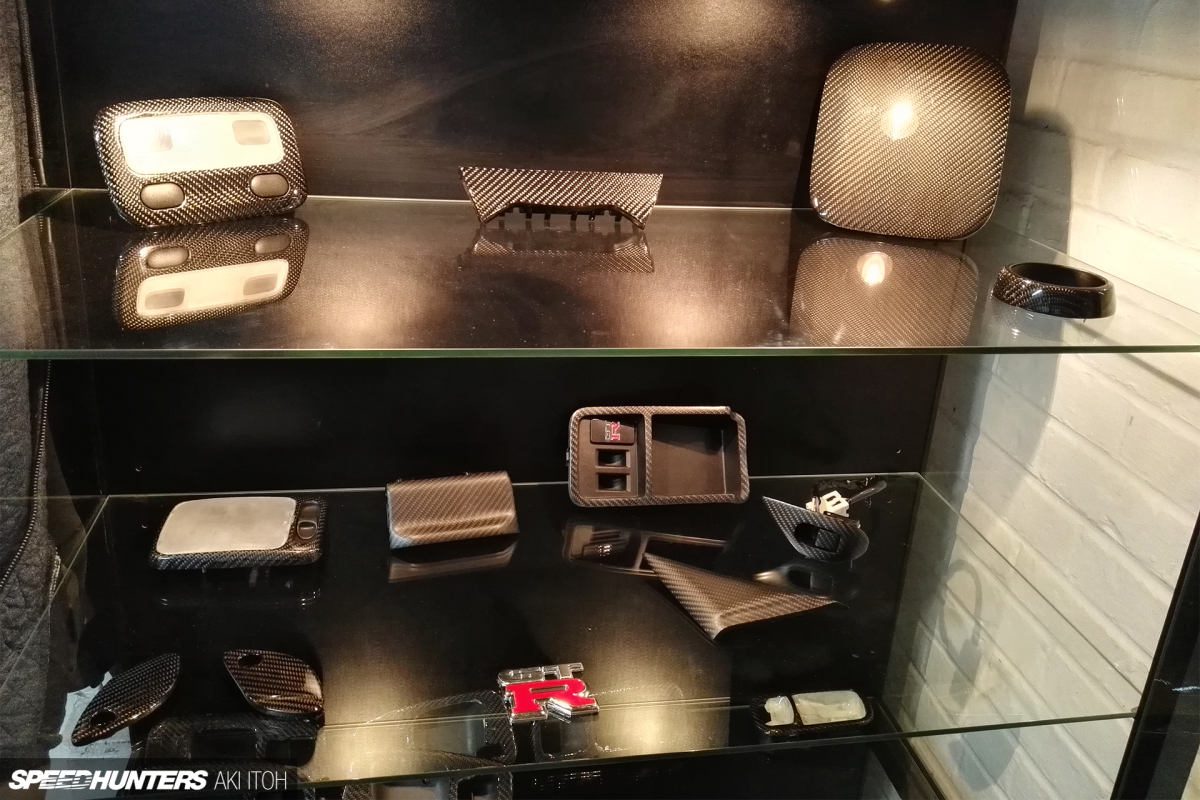 No interior modernization project for a sports car would be complete without at least thinking about some carbon fiber. Granted, I can't afford to commission someone to do bespoke dry carbon fiber pieces, but I knew my friend and fellow R33 GT-R owner Marc Binet, who does amazing custom carbon layering work on the side, would be the next best thing.
While waiting for the leather to arrive at Cesar's, I reached out to Marc and asked him to show me samples of his carbon work, in both gloss and matte finish. As you can see from the above, the pieces look fantastic, and his pricing was very reasonable. Plus, as a fellow R33 GT-R owner, I figured he would make sure everything was perfect. So I sent him some select pieces to work on, and I'll reveal those in a future post when they're refitted.
The Leather Arrives, But…
As Cesar directed, I had ordered the two black OEM Bentley hides skivved down to 1.0mm thickness. Unfortunately, when Cesar got the hides, among other problems he discovered ripples in the middle of the leather, and in places the leather was too thin – 0.8mm – most likely due to some slopping skivving.
Luckily for me, Cesar had in storage three black leather hides supplied by UK-based Wildman & Bugby (its automotive grade 'Cardinal' series) that he had previously ordered for another project.
Having many years of dealing with leather, Cesar knows what works, and what doesn't. As this video demonstrates, he put the Cardinal leather through its paces to ensure it would last and show why the Cardinal hide is superior to other leather commonly used in automotive applications.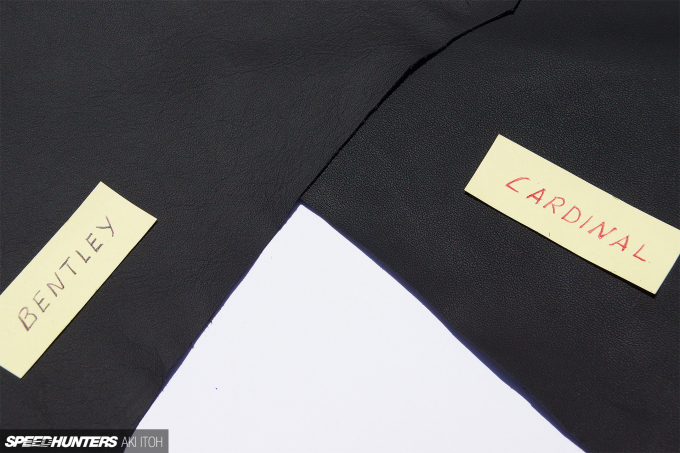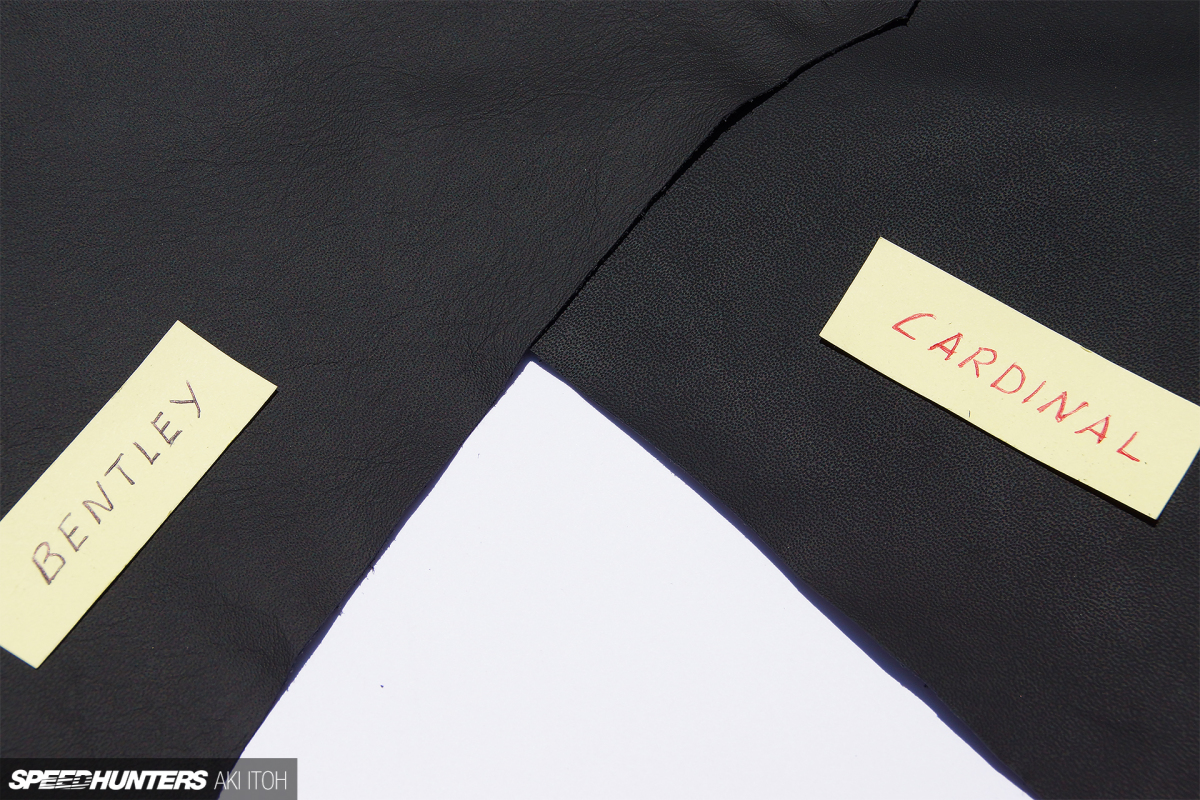 Cesar also sent me some high definition photos so I could compare what I had ordered, versus the Cardinal leather. I could see that this leather was indeed of the same quality level, so instead of reordering and possibly ending up with a several week delay, we made the decision to proceed with the Cardinal hides.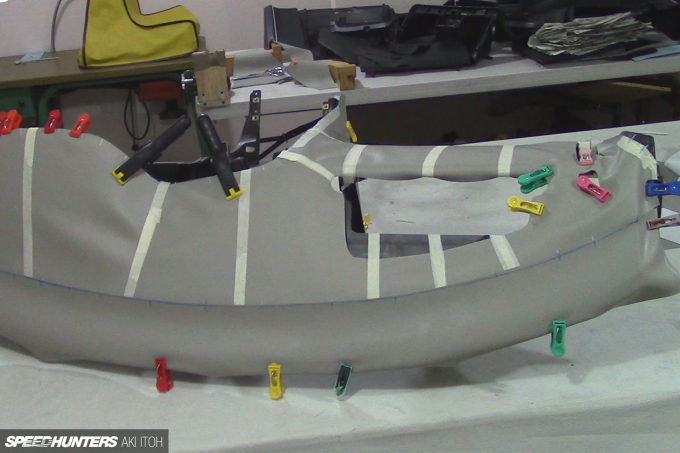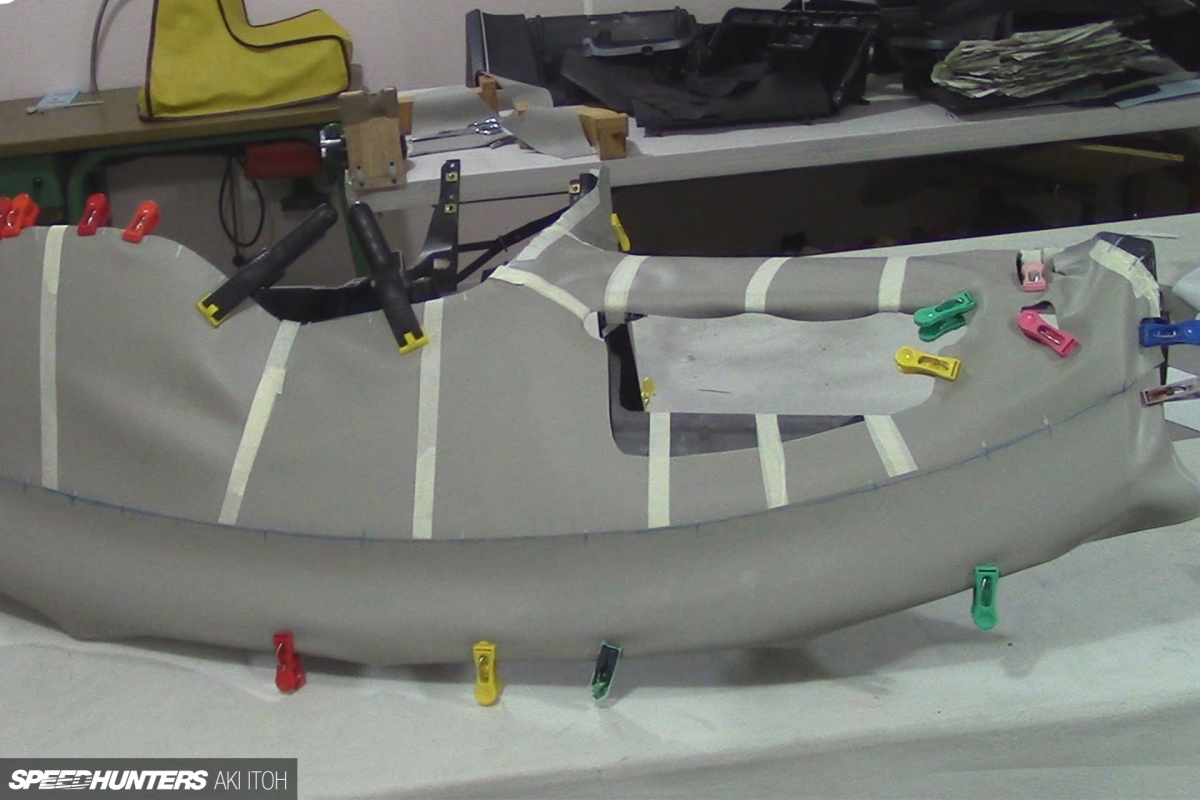 While I contemplated what I could do with the Bentley leather I had ordered, Cesar went ahead and began working on wrapping the pieces that had already been sent to him with the Cardinal leather, first by creating vinyl templates (as shown above) from which the leather would be cut.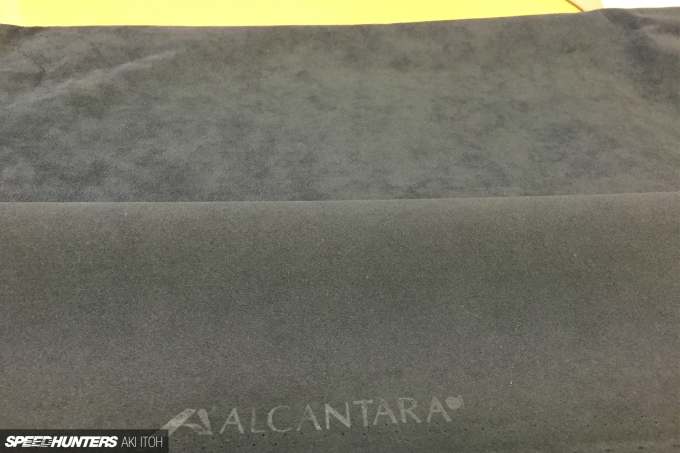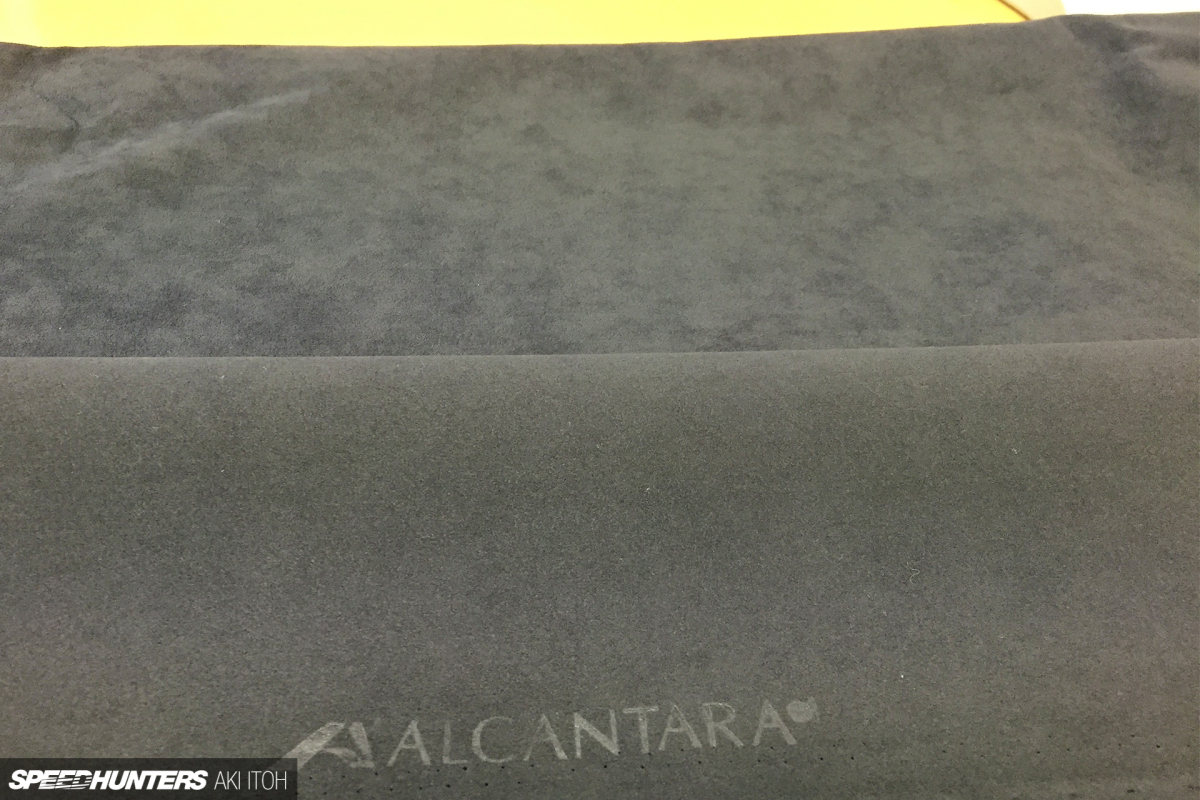 After seeing that photo, I realized that Cesar was almost finished, so I hurriedly ordered and had some Alcantara sent to him. Because what's a leather project without some Alcantara? We agreed that a touch of Alcantara here and there could only improve the end result.
The End Result
As you can see from this video, the end result – not installed yet of course – is utterly beautiful. The details to notice are where he used Alcantara – in the glove box, center console, around the gauges and the door pockets.
The Alcantara looks fantastic lining the center console, and note how even and precise the stitching is. Also, check out how even the JDM-required emergency road flare holder mount is covered by leather.
In addition to lining the door pockets with Alcantara, you can see we also decided on some modern improvements, such as installing red LED reflectors in the doors, as well as replacing the ashtray at the back of the center console with an air vent. But not just any air vent. Details will be forthcoming in an upcoming post.
Finally, you may have noticed in watching the video and wondered why I chose to keep the stitching on the parking brake and parking brake boot, black. Truthfully, I had seen photos of other cars with such red stitching and did not like it. That and because it's how the car came OEM, so I decided to honor that minimalist look and keep the use of red stitching to a minimum.
What do you all think? In my next post, I will cover the install process as well as show you some further interior upgrades. Stay tuned, and comments/opinions are most welcome!
Aki Itoh
Instagram: aki_itoh
aitoh@hotmail.com