Attention To Detail
As you may recall, one big goal I've had with Project GT-R is to modernise it where possible. If things have broken or needed replacing, I've always attempted to upgrade them, something that's helped in a small way to evolve the car over the years. This has included both big and small stuff, like the Bosch one-piece wipers I fitted a couple of years back. As manufacturers continue to push technology and improve things on their latest cars, you can be sure that after a few years it trickles down to the aftermarket. And while wipers may well be the single most boring thing I could possibly talk about in a post on my BNR34, they're something you use often on your daily drive, so they can make a lot of difference to the experience. At times, it's the small details like these that bring the most joy. Seeing the smooth and effortless way in which those wipers clean rain drops away adds a little more satisfaction to the car as a whole; it makes you feel like you've added something positive to it. Either that, or I'm just weird and obsessive, which could well be the case…
But not so long ago I decided to tackle another small upgrade; something that would add an instantly perceivable touch of modernity to the car, as well as making life that little more pleasant.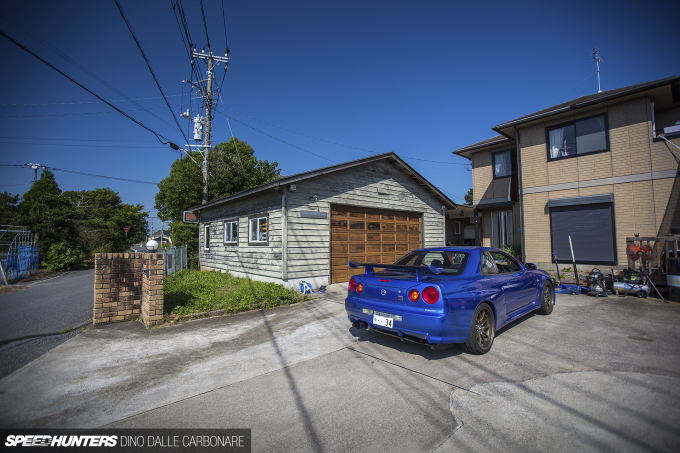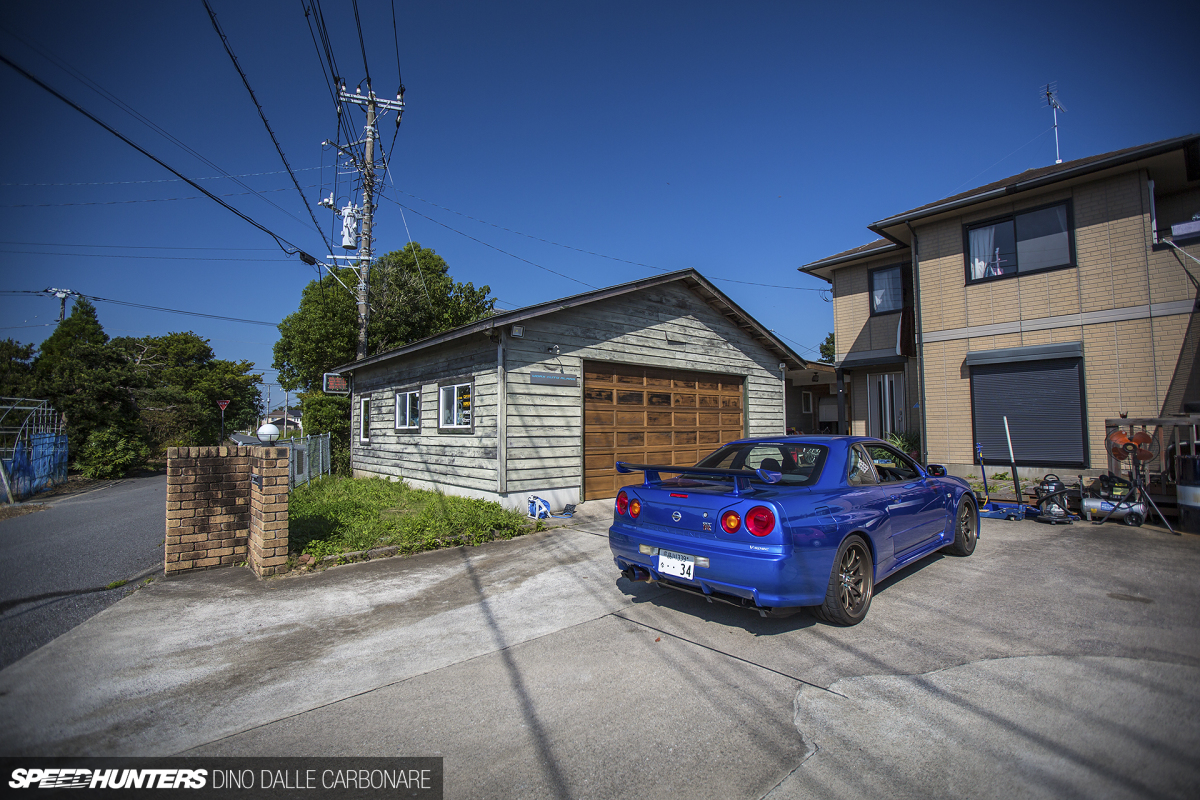 After some online research I came across a company called VLEDS, and was instantly impressed by its extensive line-up of LED options for pretty much every automotive bulb type out there. The thing that interested me the most however, was was VLED's switchback high-power LED lights, which incorporate two colors in one handy bulb enclosure. This sparked an old idea in my head, as for years I've been trying to come up with a nice and simple way to integrate a daytime running light (DRL) setup on the R34, without making it look messy or just plain tasteless. And believe me when I say there are plenty of those horrible solutions available in Japan… No, if I did go down this route it would have to be very clean and almost unnoticeable – like it came from factory.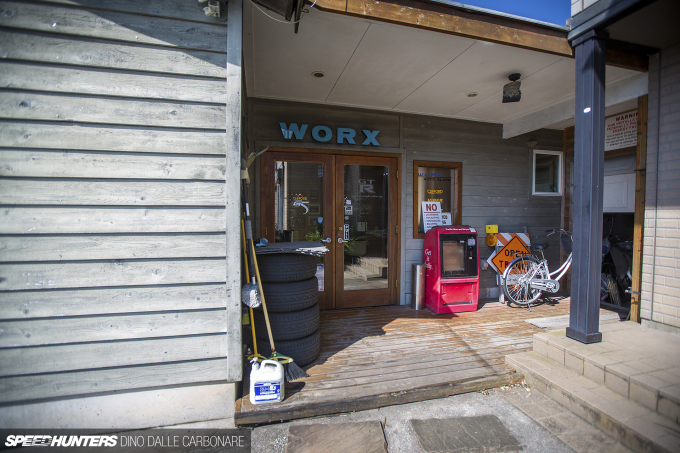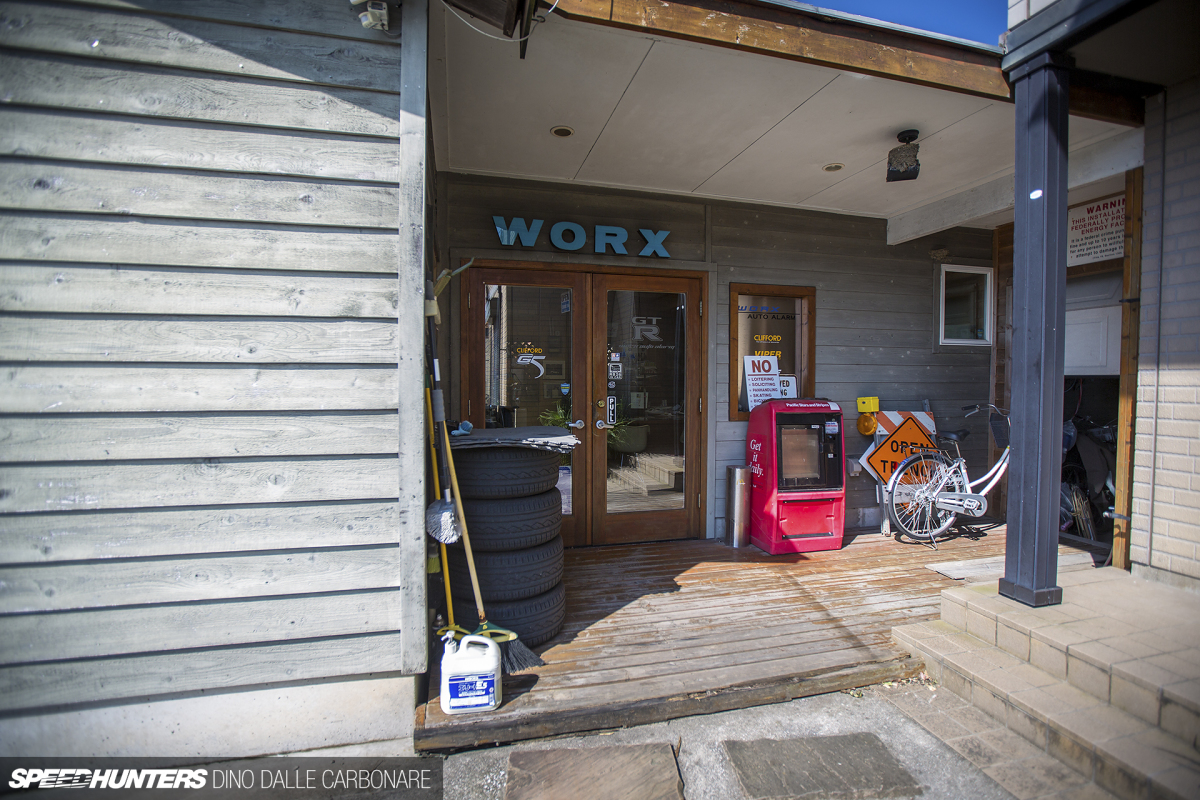 A little while after, I made contact with the guys at VLEDS who were very much on board with the idea of supplying components for a model they had never previously catered for. They sent me the bulbs in question, and without delay I paid a visit to my long-time friend, Nakamura-san of Worx Auto Alarm.
If you happen to be into GT-Rs then you might have heard of this shop before. Worx specializes in the electrical side of our beloved 'Rs' fitting all sorts of aftermarket equipment, from alarm systems to custom audio installs, to the latest craze in Japan – drive recorders (think Russian dash cam videos). Being a GT-R owner himself (he has the whole set!), Nakamura has become a specialist in Nissan's hero car, doing all types of work on these cars and generating a large following in the process. He's very good at what he does and people trust him. Oh, and he also happens to be the same guy that owns the Chevelle Wagon I shot back in 2014.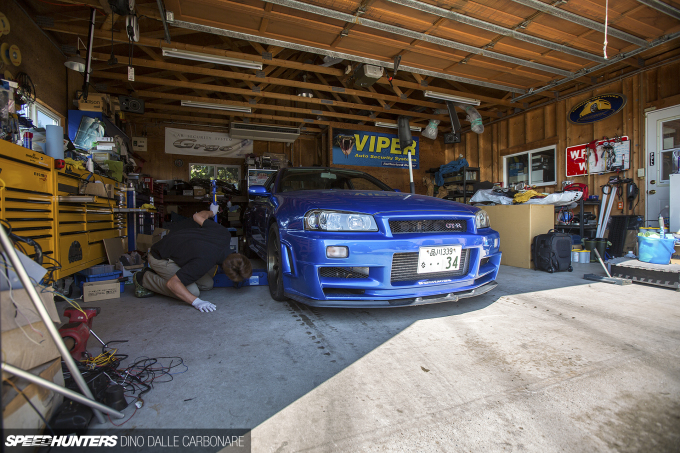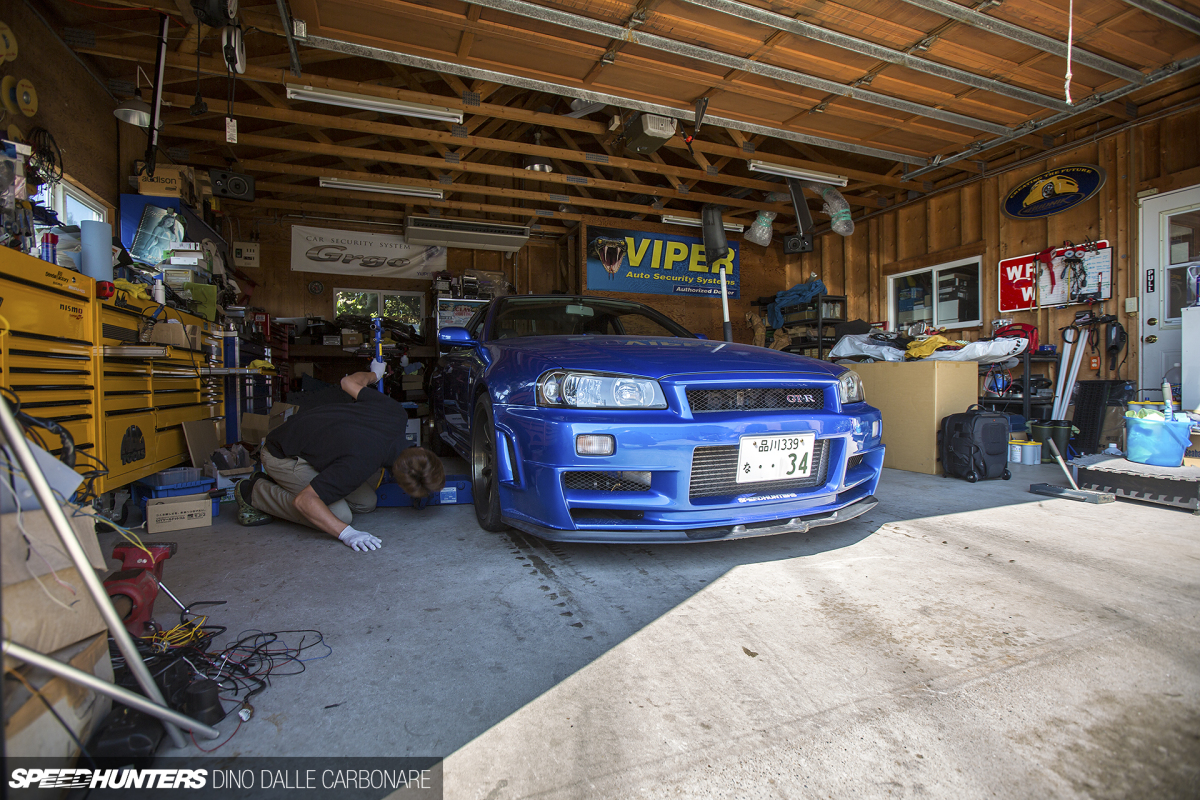 When it comes to having the entire interior ripped out of your car in order to fit an alarm or the like, knowing that someone takes extra care is what makes the difference. In this area, Nakamura-san's OCD is pretty impressive. He also takes his time; working out of little workshop right next to his house the priority is always on quality not how quickly the job can be done.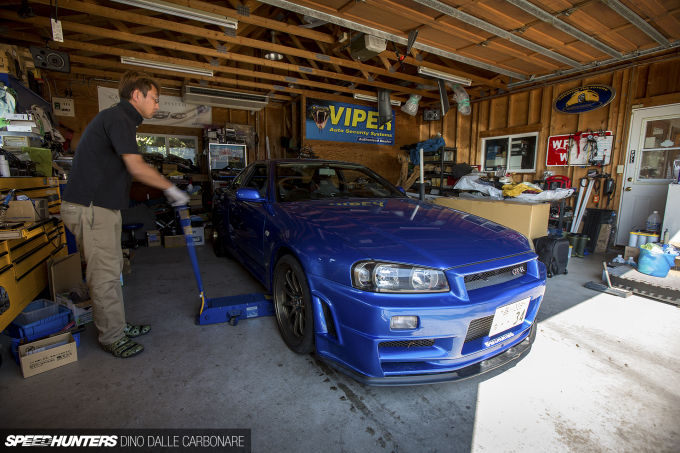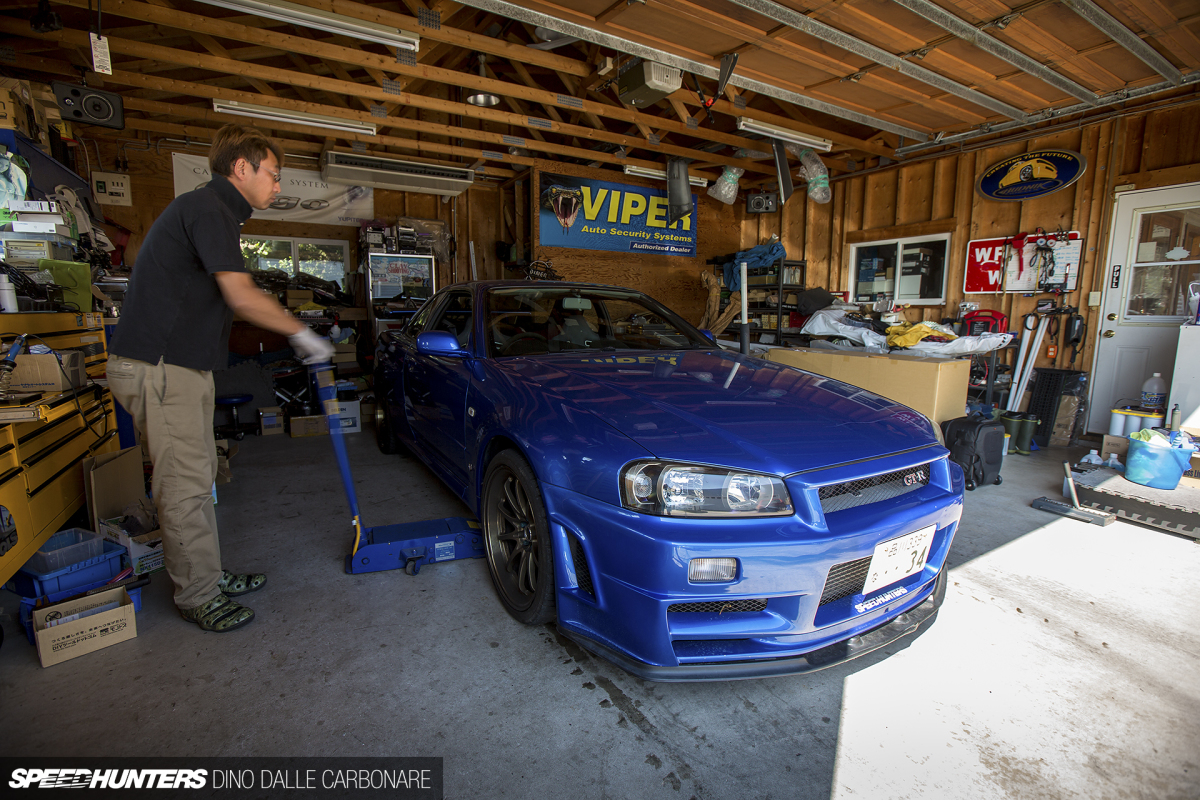 A day out at Worx is relaxing; you just sit and work on your car with Nakamura, nerding-out about GT-Rs and hearing about the crazy custom stuff he's done on his and customer cars.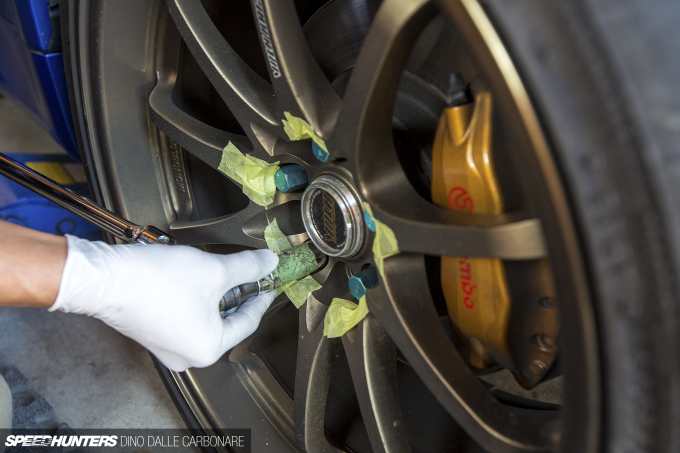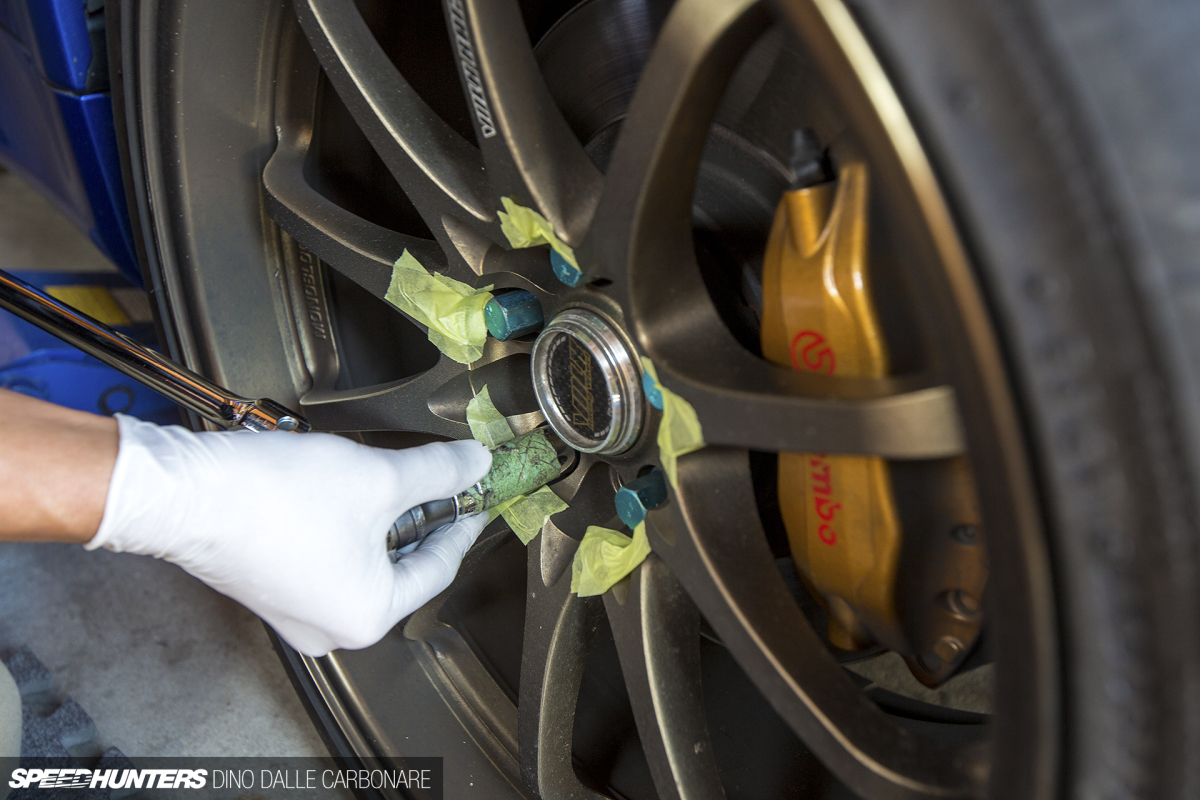 Seeing the fitting of the VLEDS switchback bulbs would require some pretty extensive wiring, the front bumper needed to be removed, which meant the front wheels had to come off in order to get to the inner fender shrouds. Nakamura quickly laid some masking tape around each bolt on my CE28Ns to protect them. Let's call this OCD Step 1.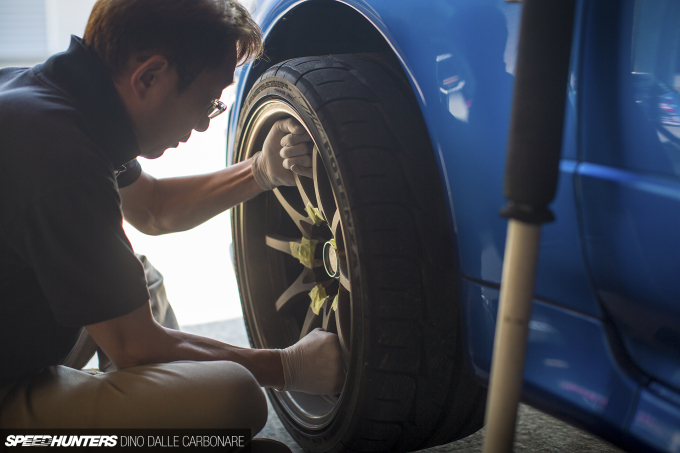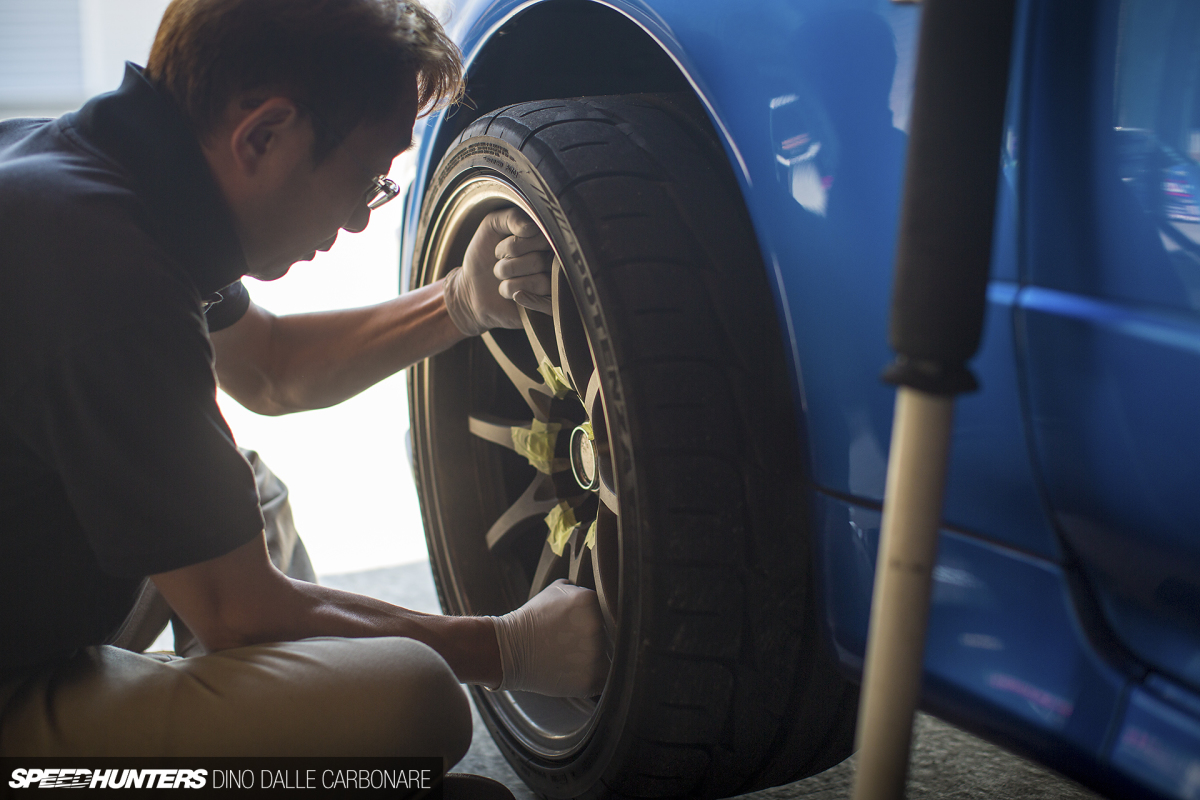 While he got this job taken care of, it was the perfect time to take a closer look at the bulbs.
Triton Power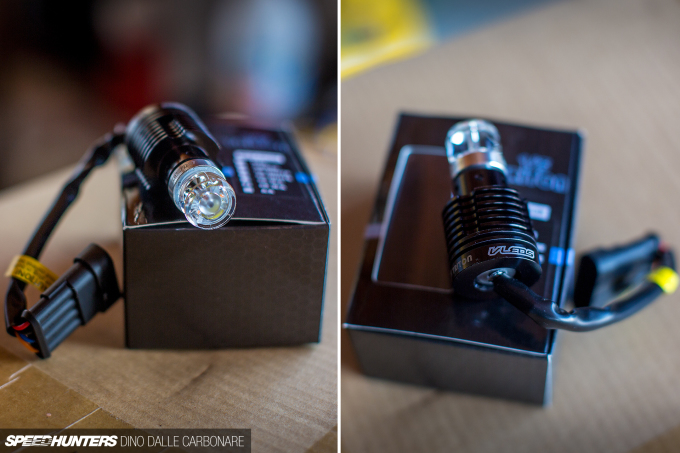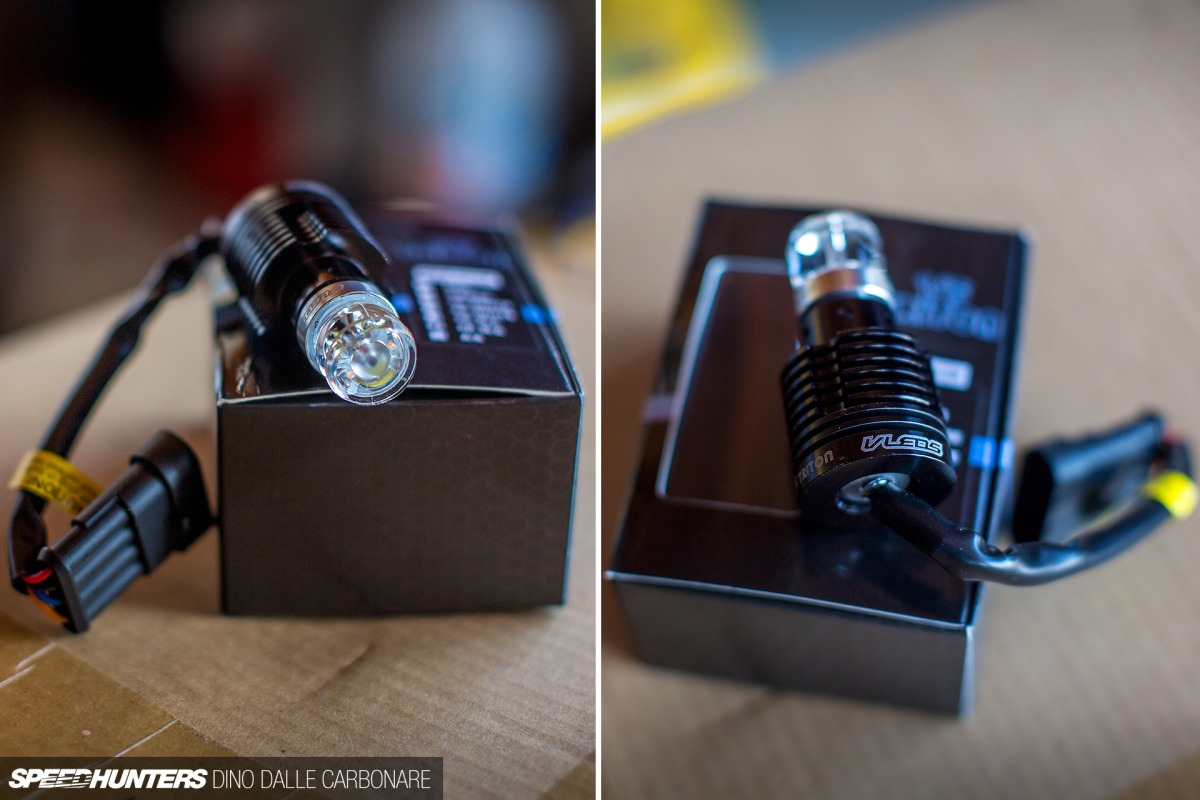 VLEDS V3 Tritons are a good example of how far aftermarket LED technology has evolved over the years. The big, powerful light emitting diodes are encased in a specially designed lens which helps direct light smoothly in every direction. The main aluminium bodies also act as heatsinks to help keep the bulbs running cool, and there's also an adjustable lower section which allows you to position the bulb correctly in any projector to get the best spread of light.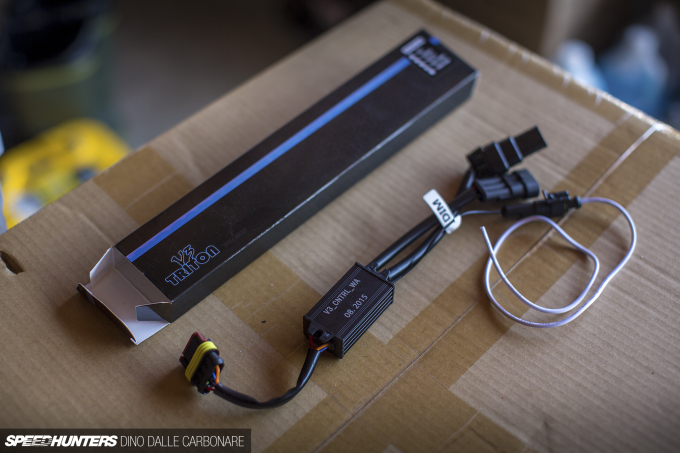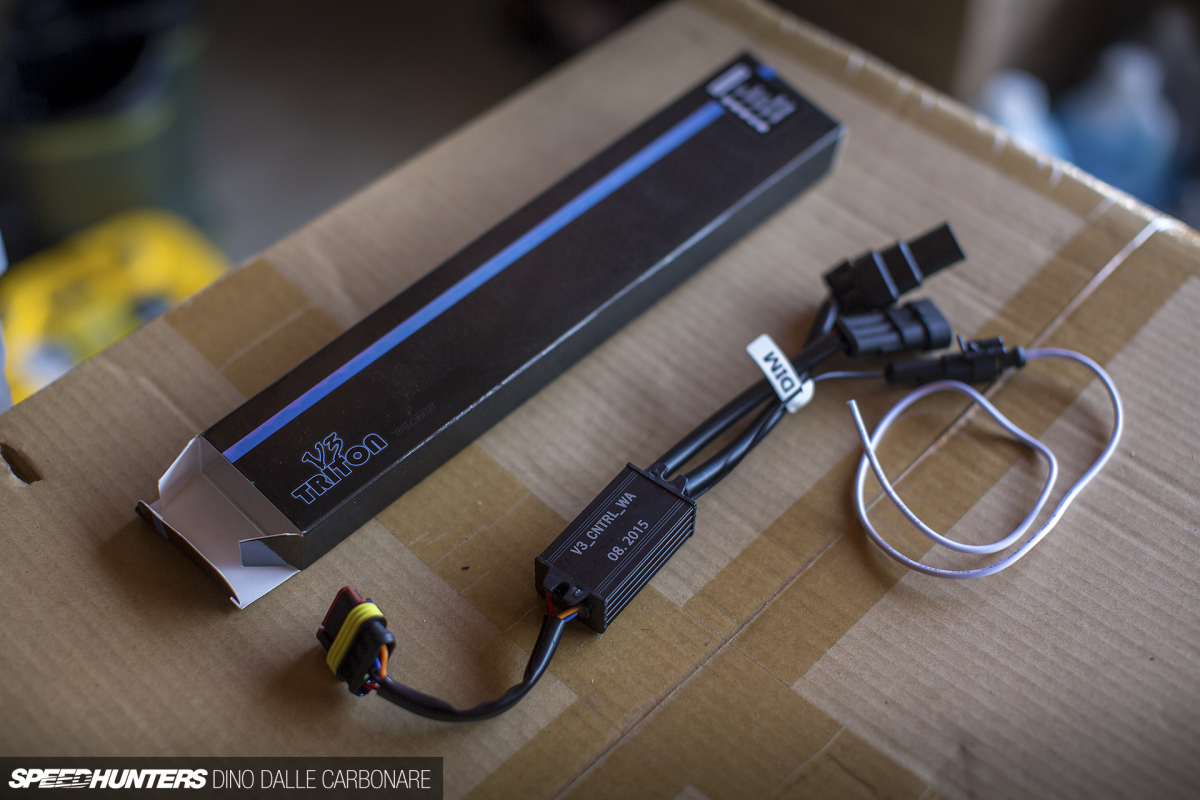 Each bulb is supplied with a control unit and the necessary wiring and connectors to fit in most applications. The white cable is for the dimmer, which decreases power to the white DRL light when the position lights or main beams are turned on. This automatically meant some hot wiring had to be done, so I was glad I had a guy like Nakamura-san on the job.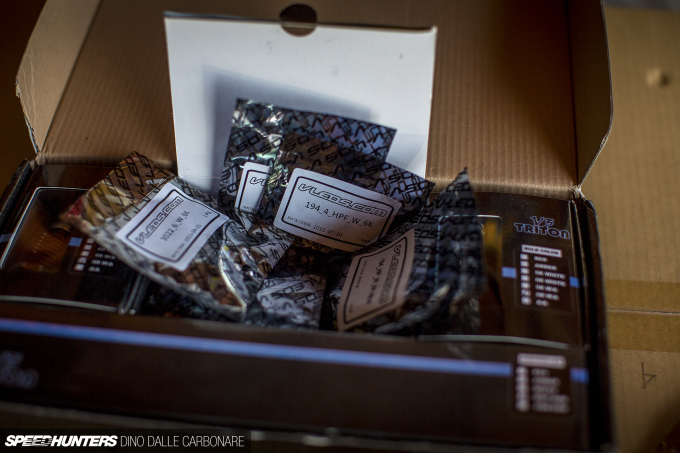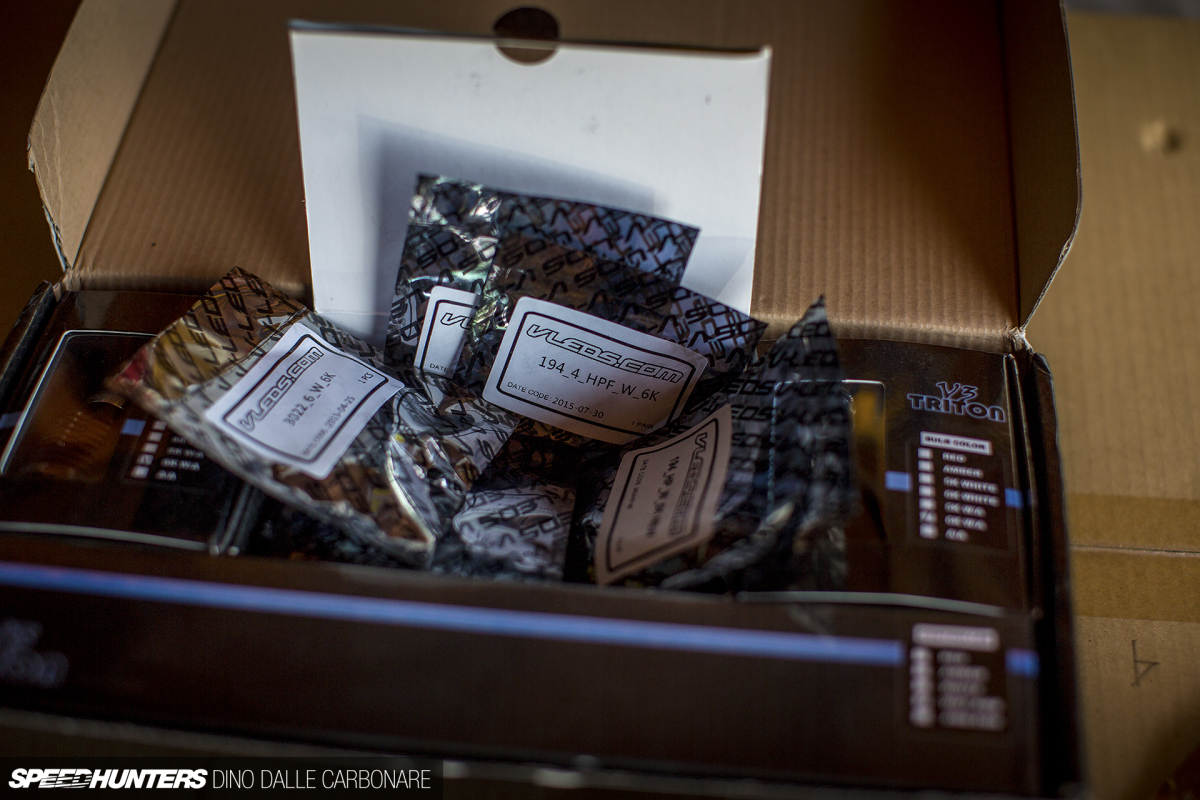 VLEDS also supplied a replacement LED for every single bulb in the BNR34. Not only would these add some modernity and make the car look a little more current, but they'd also decrease the drain on the electrical system. A win-win every way you look at it.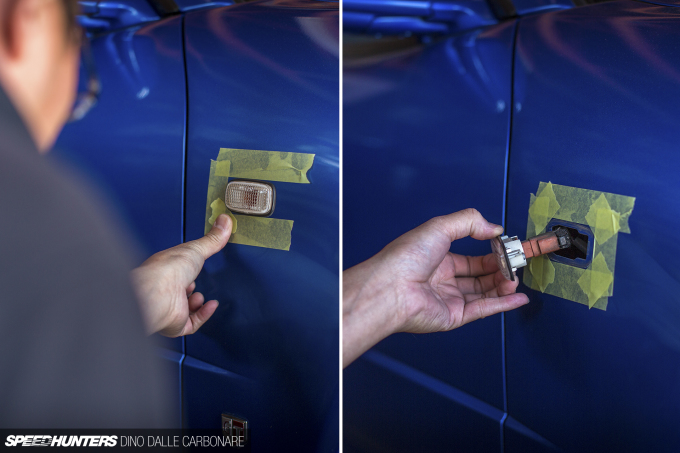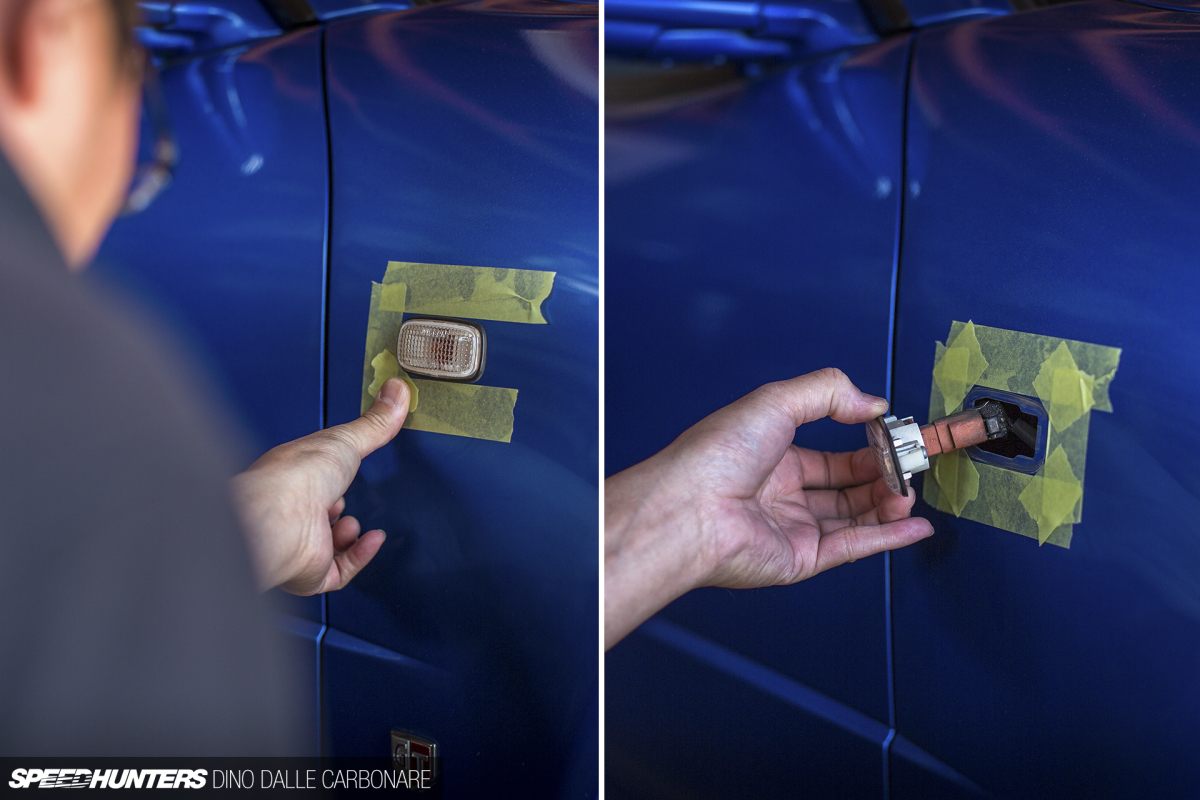 Nakamura-san got started with the side indicators on the front wings. With his trusty roll of masking tape in hand again, he lay down a neat protective square so that when he rotated the repeaters to remove them, he wouldn't scratch the surrounding paint. He then proceeded to get angry at me, asking why I had allowed dirt to form underneath them. Grabbing a microfibre cloth and some polishing compound, Nakamura then went ahead and cleaned up the area before buffing it to a shine. The crazy thing is, he does this sort of thing to every customer car that comes through the door at Worx.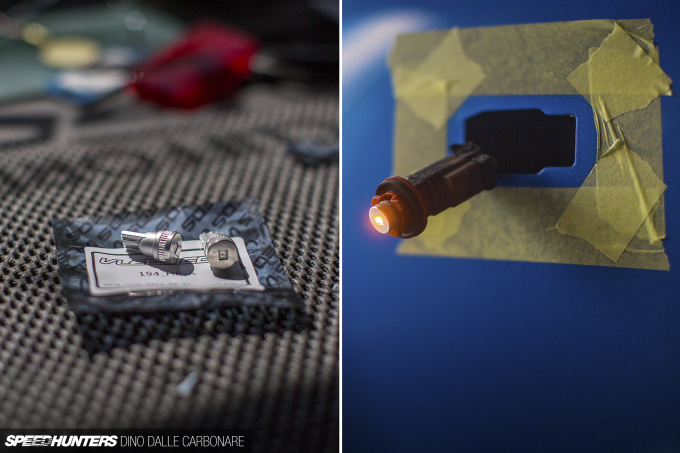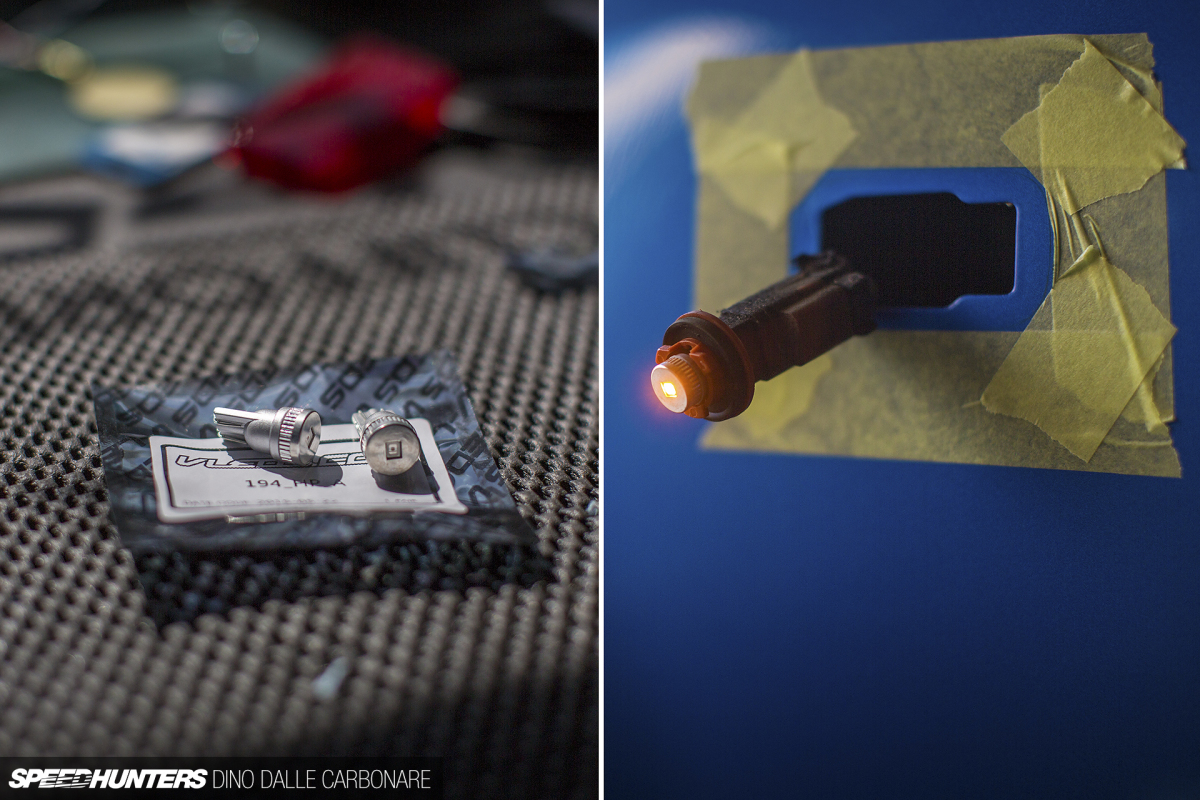 The amber VLEDS bulb snapped in place, and a quick test showed they were working perfectly. They're significantly brighter than the stock filament bulbs, and have that sharp on/off appearance that LEDs in modern cars do.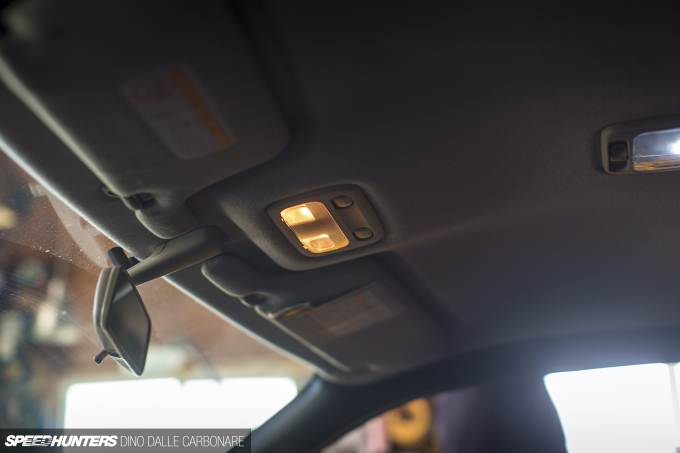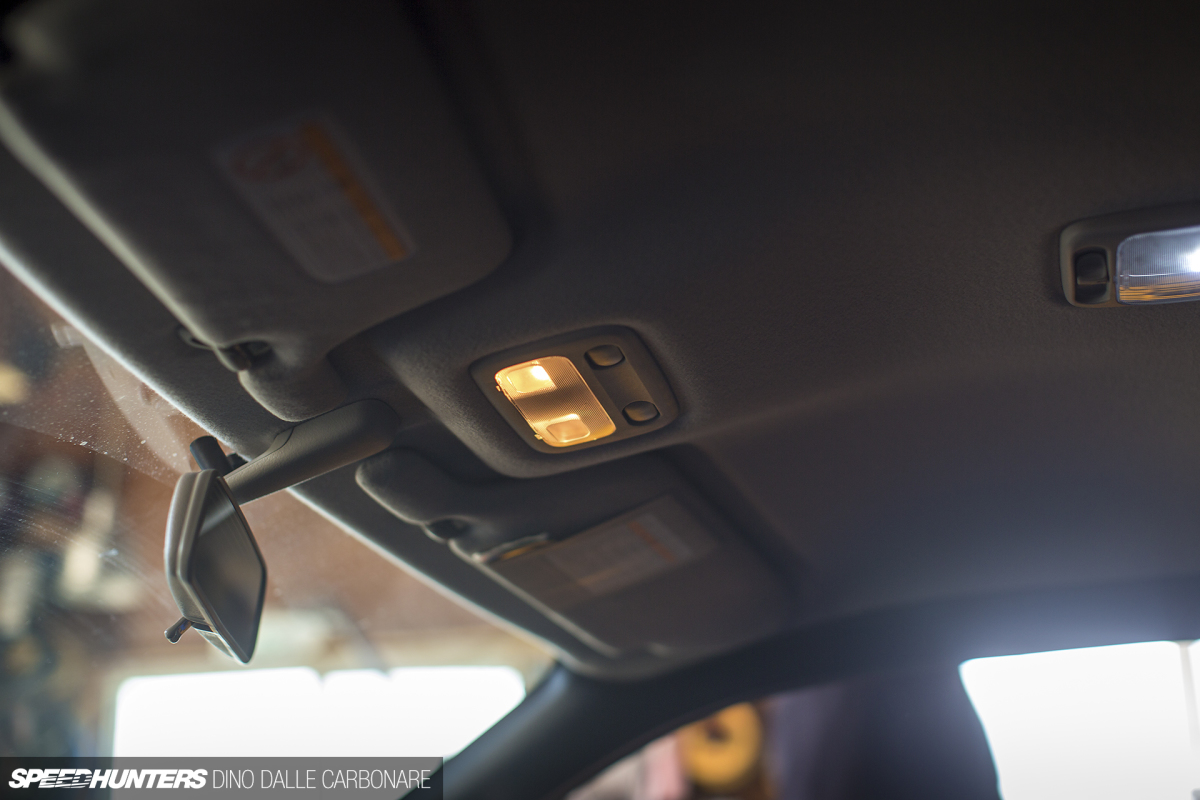 Before the big work of wiring in the DRLs began, we walked around the car and swapped out each bulb with its corresponding LED replacement. Up until this point, the only LED bulb I had fitted in the GT-R was in the main central room light; it looked okay, but wasn't all that bright. And since the map lights were still running filament bulbs, there was a mismatched feeling about it all too.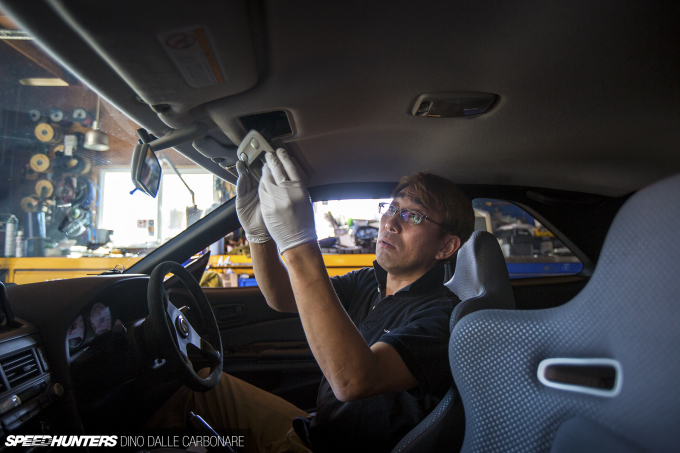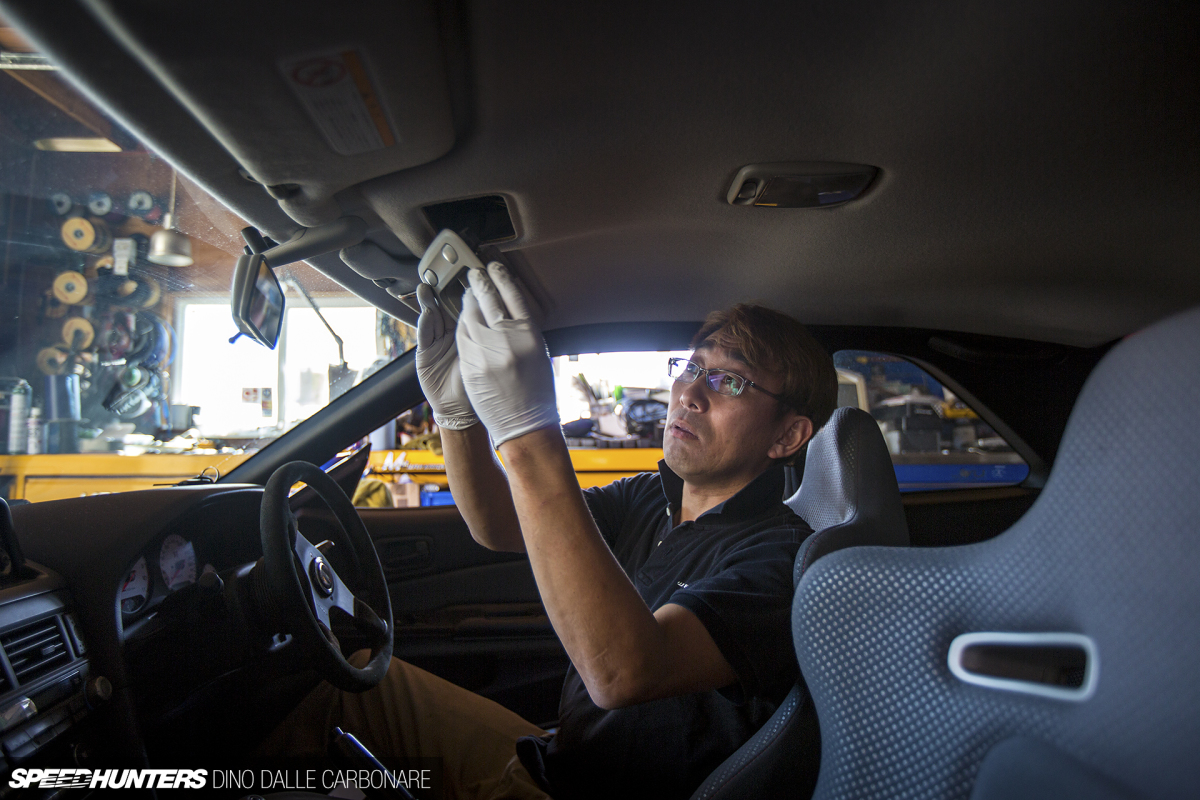 Nakamura-san removed both the front and central assemblies and took them to his work bench. Why? Because it turns out that if you remove the metal shrouding inside of the map light housing you can boost its brightness significantly.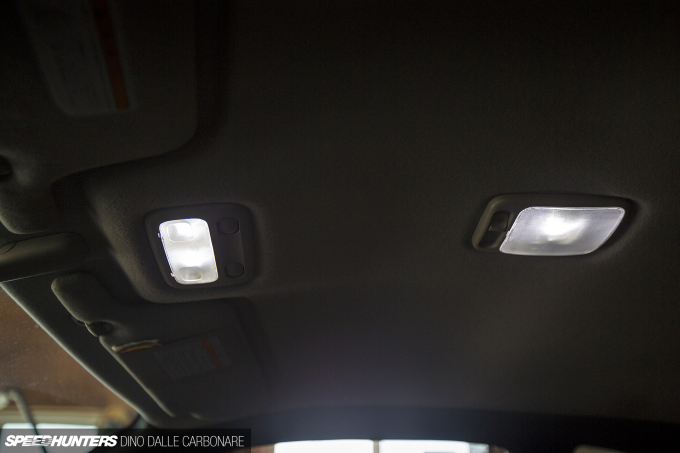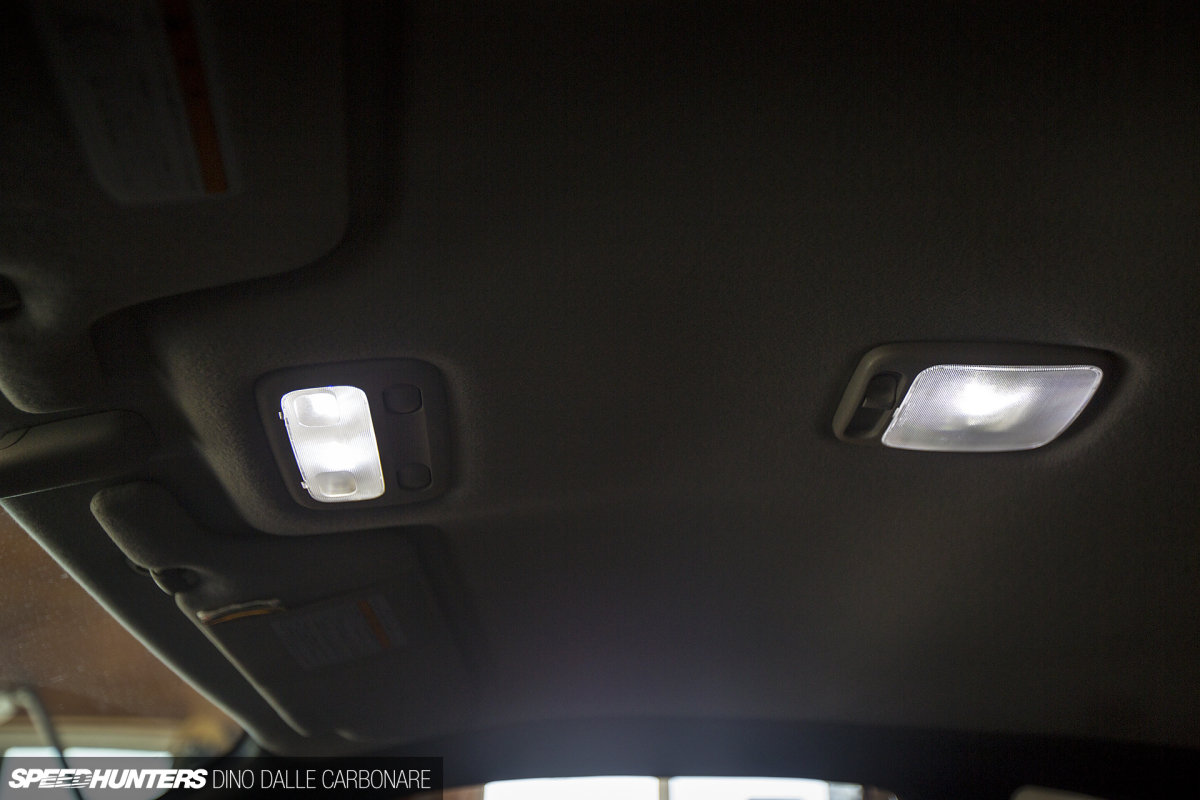 After dropping in the VLEDS, the difference was like night and day. Now I finally have decent illumination for when I'm fumbling around in the interior looking for stuff!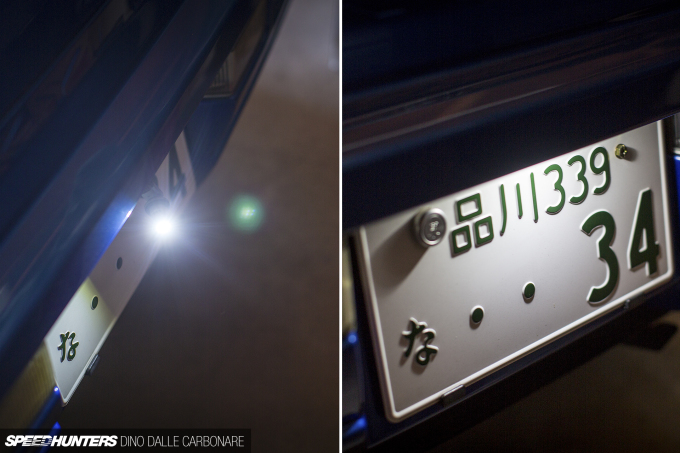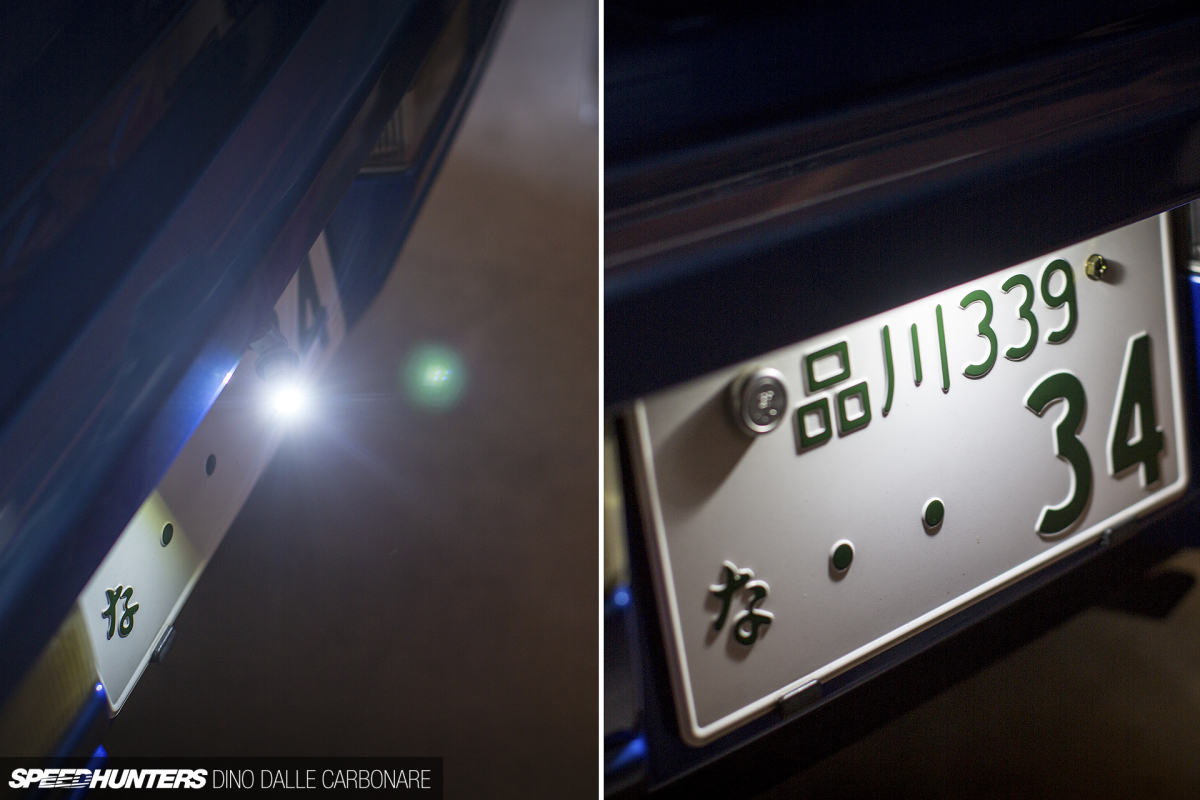 We then made our way to the rear, where the license place lights and reverse bulb were in for an upgrade too.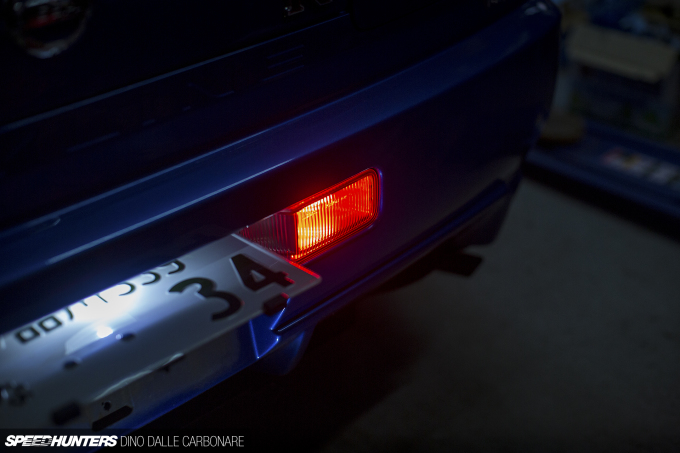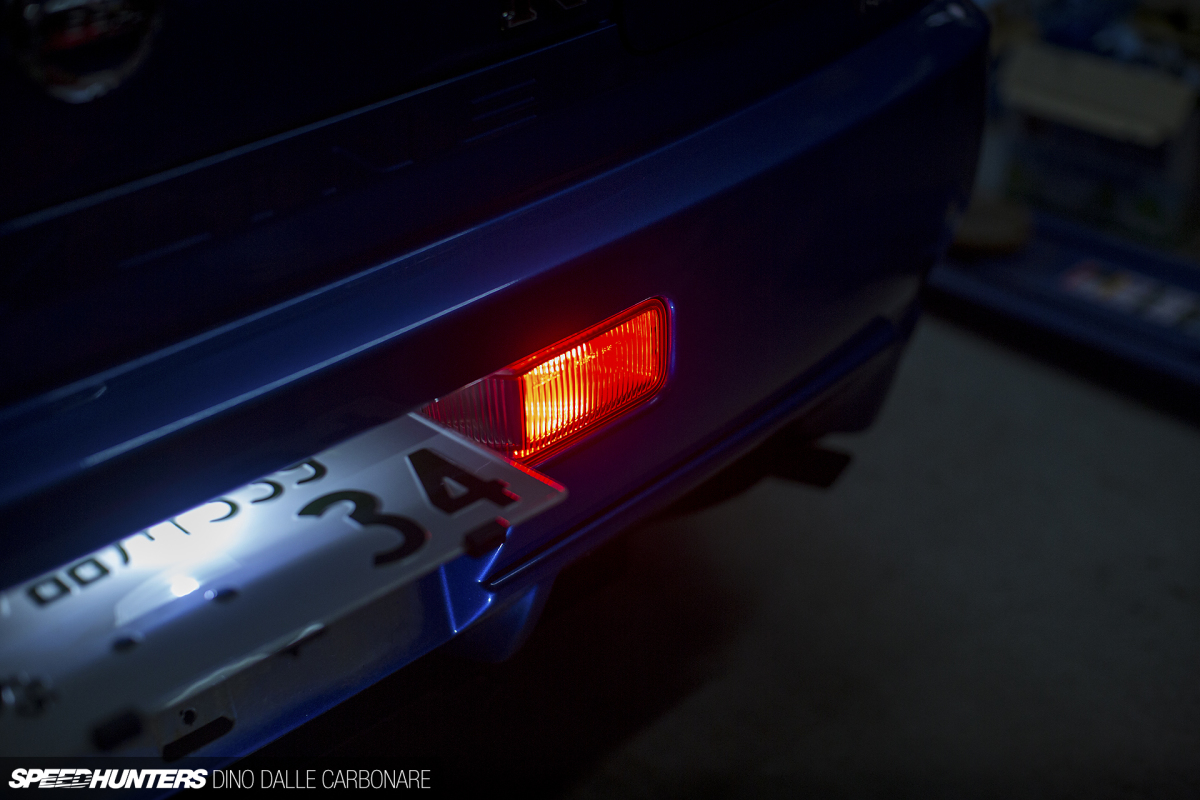 Then came the time to finally get rid of my little custom rear fog light bulb, something I did 16 years ago when I replaced the stock red reflector with a clear one from an ER34. I remember it like the other day; after having no luck with red bulbs I went to my local Autobacs and picked up the brightest Raybrig clear/white bulb I could find, then layered on translucent red Tamiya model car paint – at least five coats. It's done the job, but now I have something brighter and less ghetto doing a better job back there. If you're wondering about the taillights, I already have the Nismo GT LED afterburner lights fitted, and 10 or so years ago I had a friend in the UK GT-R scene make up a custom LED center-brake light. So that's all take care of.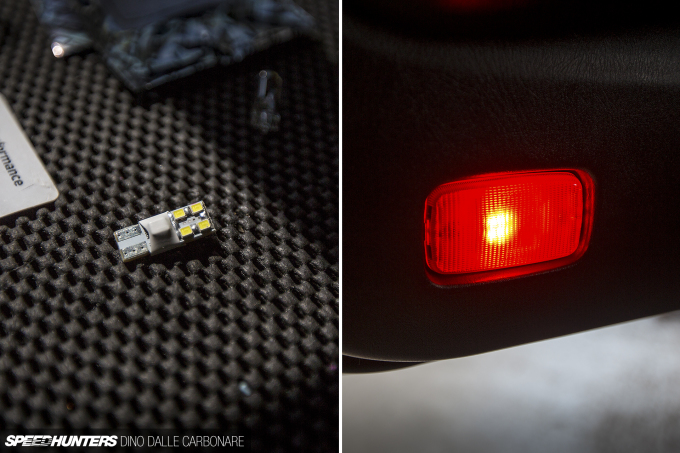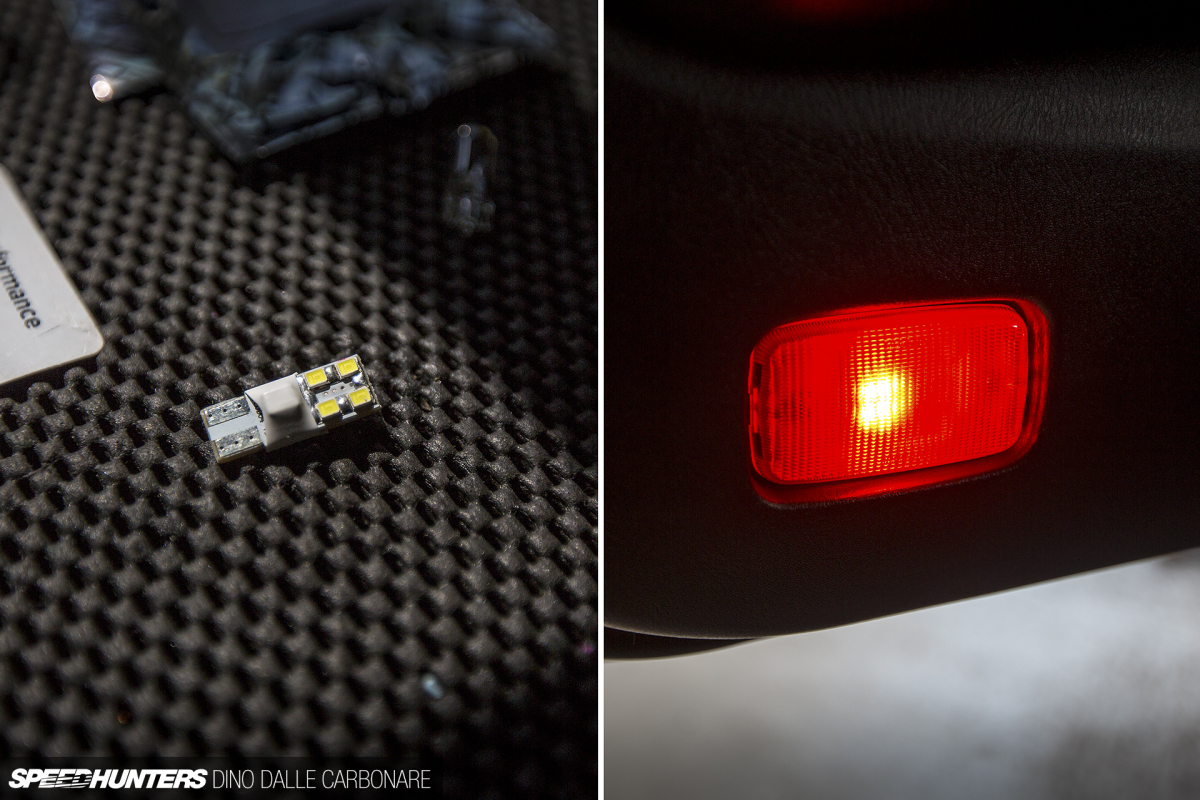 Then came the red safety markers on the door cards; the VLEDS are probably five times brighter than what I had before.
Let The Wiring Begin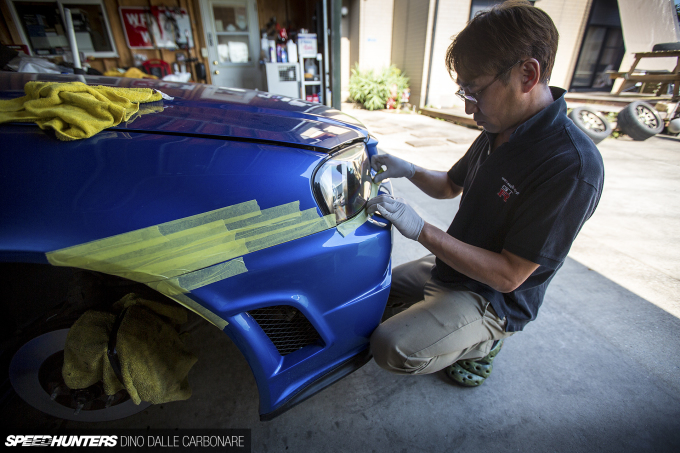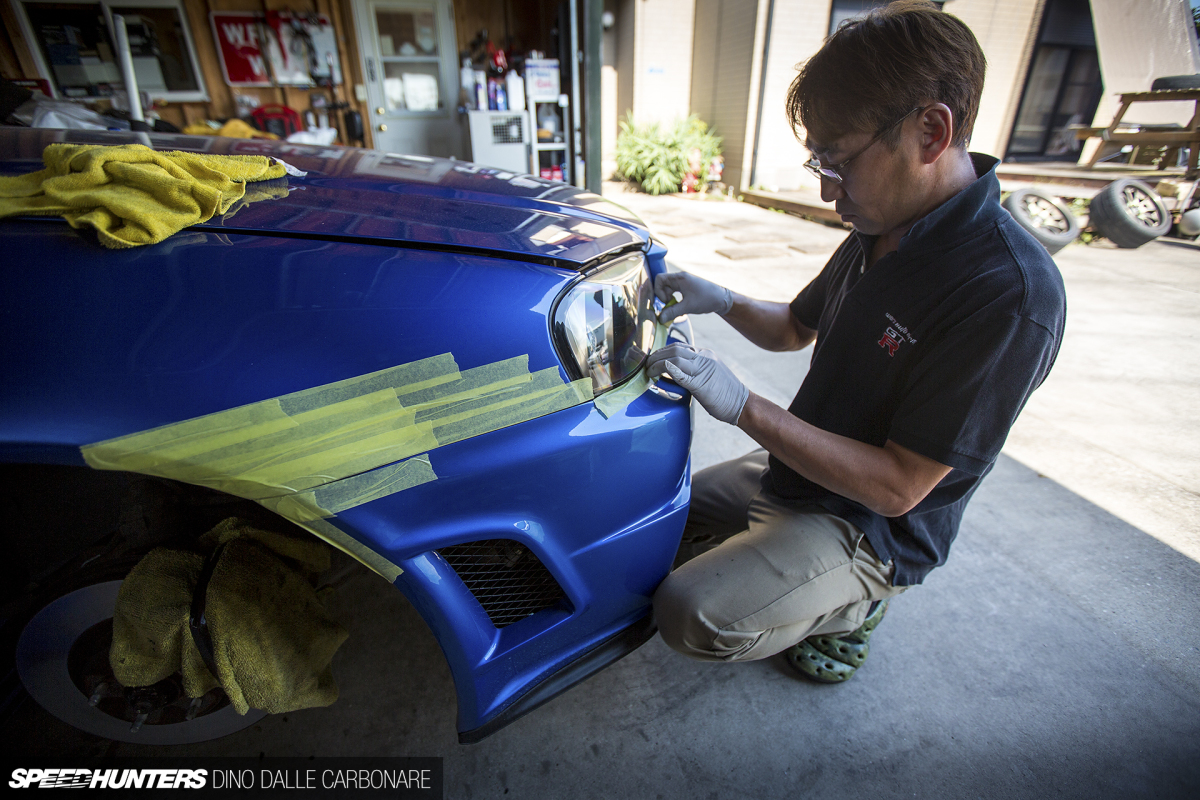 With all the little LEDs taken care of it was on to the big job. When Nakamura-san pulled out his yellow masking tape again, I knew things were about to get serious!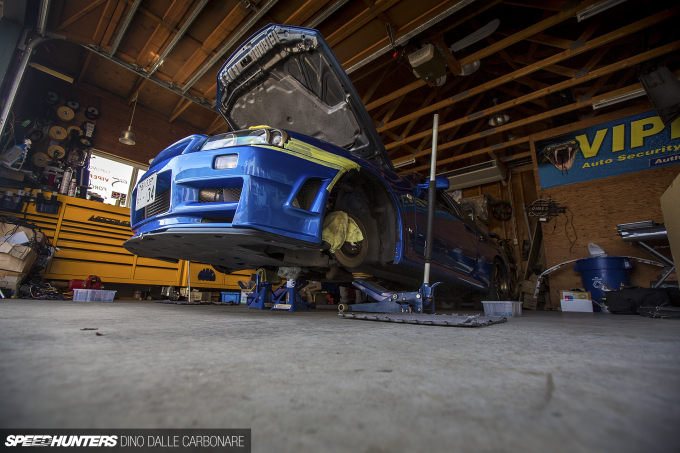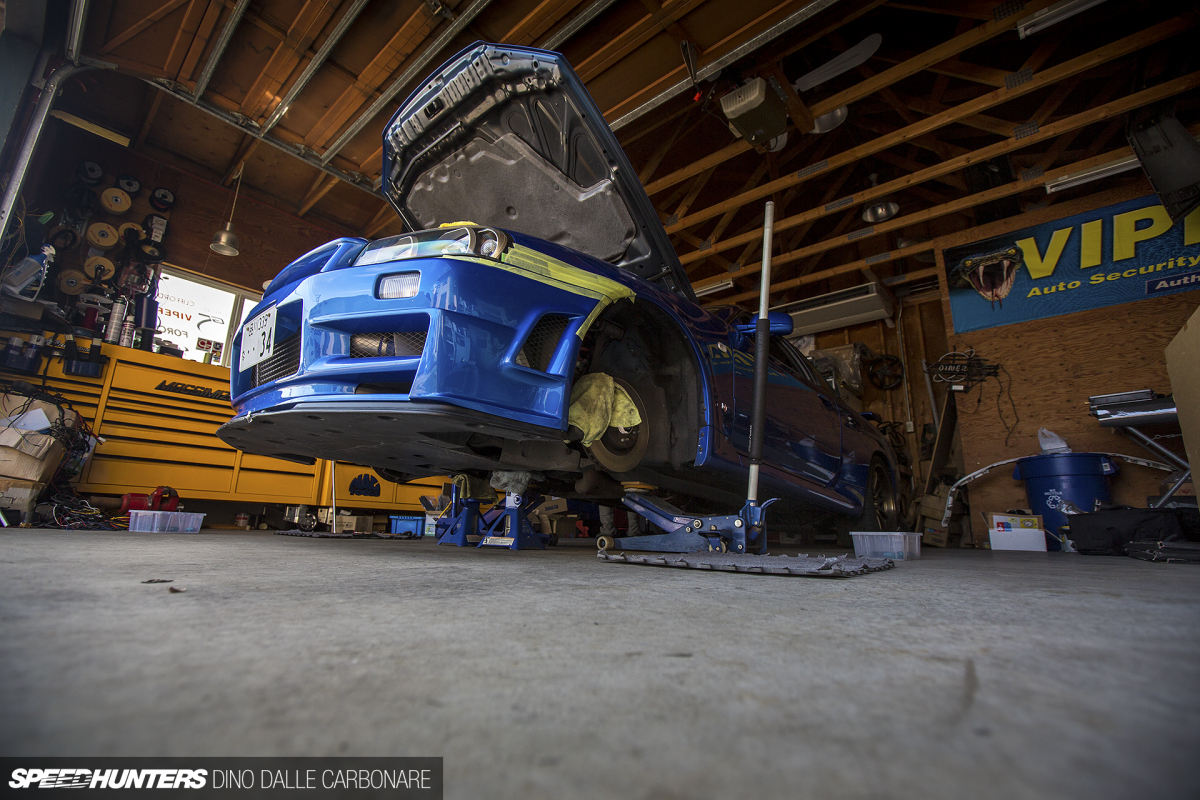 I should also mention that before removing the wheels from my car he wrapped a microfibre cloth around each of the front calipers so as not to potentially mark up both the wheels and the calipers when actually taking the CE28s off. Man I love this guy!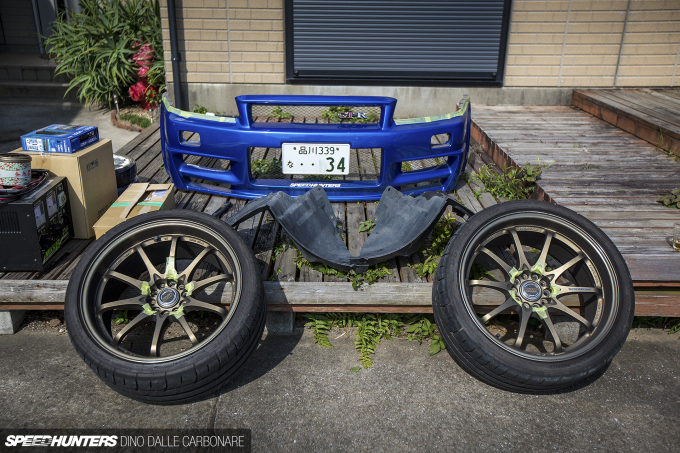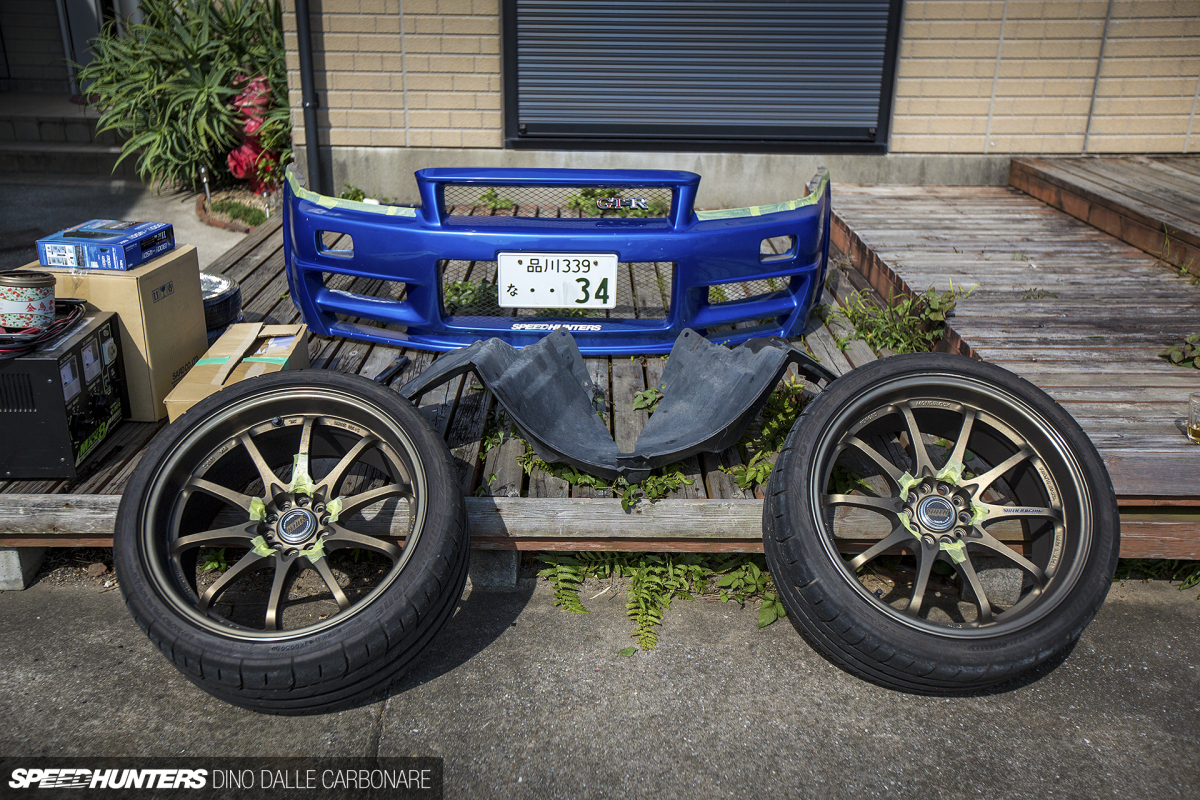 After a serious struggle with some seized bolts holding the under diffuser in place, we managed to remove the bumper as well as the fender liners.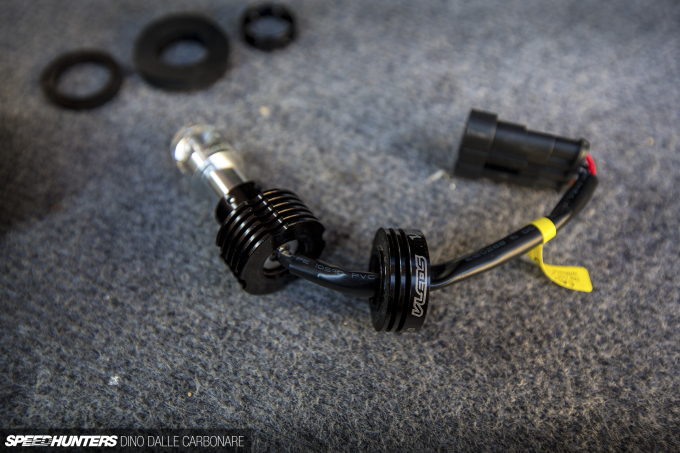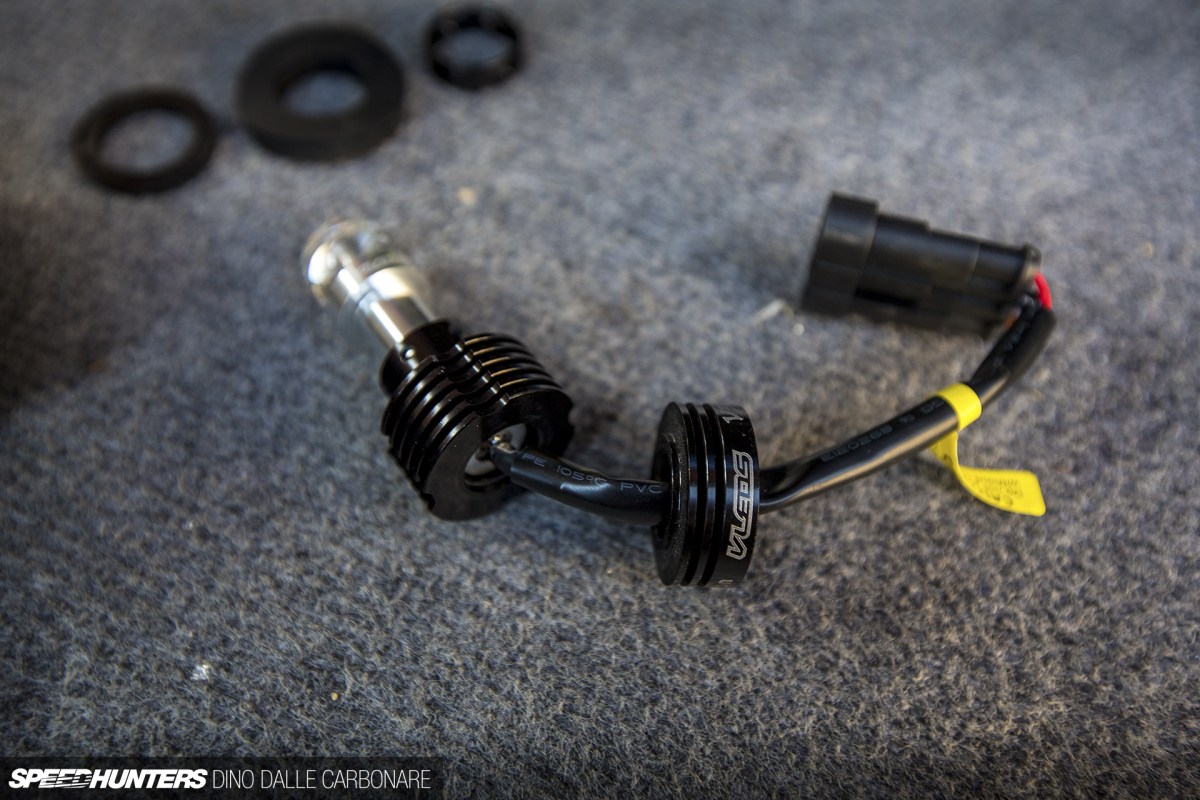 Then it was finally time to prep the V3 Tritons and position them in the Nismo clear front indicators.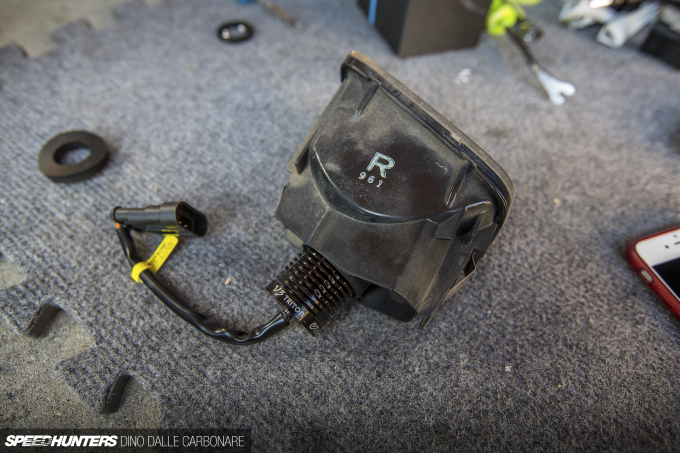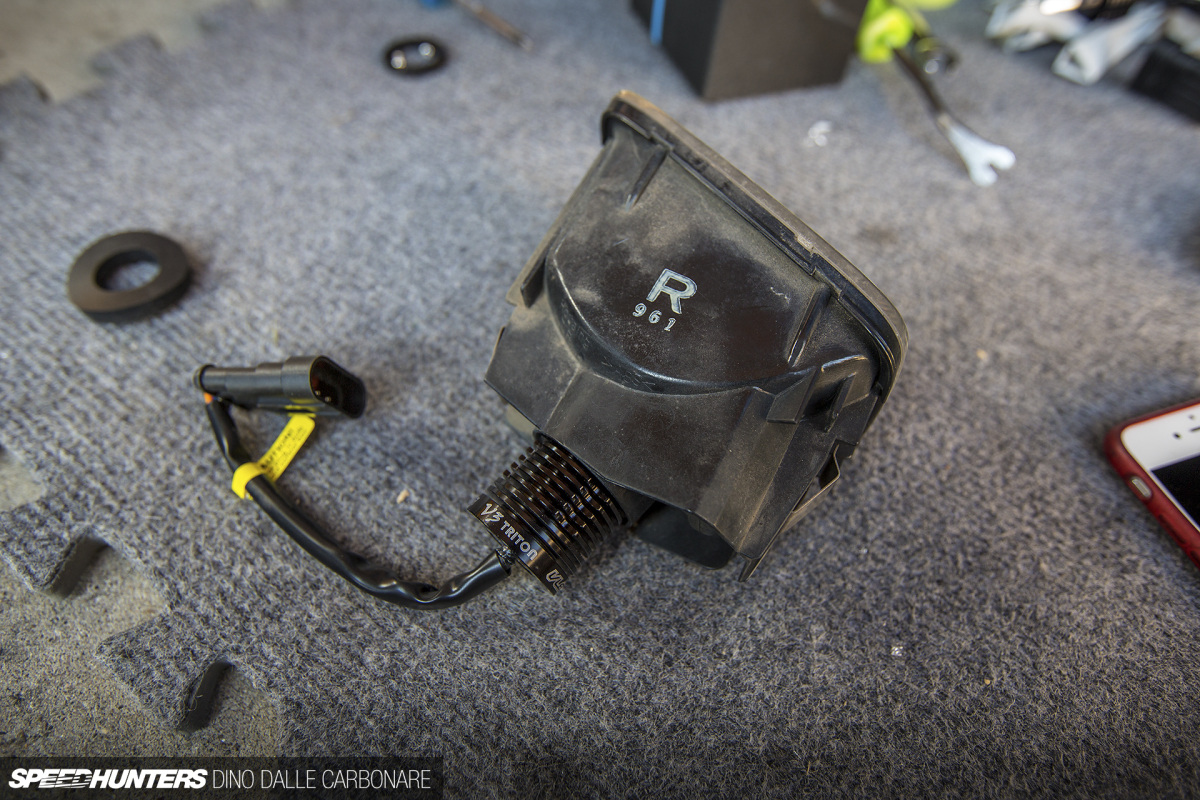 Originally, these units were only there to blink amber when I pulled up or down on the indicator stalk, but the idea with the V3s was to have them go full white brightness as soon as the ignition is turned on. The white light would then dim when the side or main beams were turned on, the amber switchback function only coming into play when the indicators are needed. Theoretically, this would be easy, but in reality it took a good four hours to complete.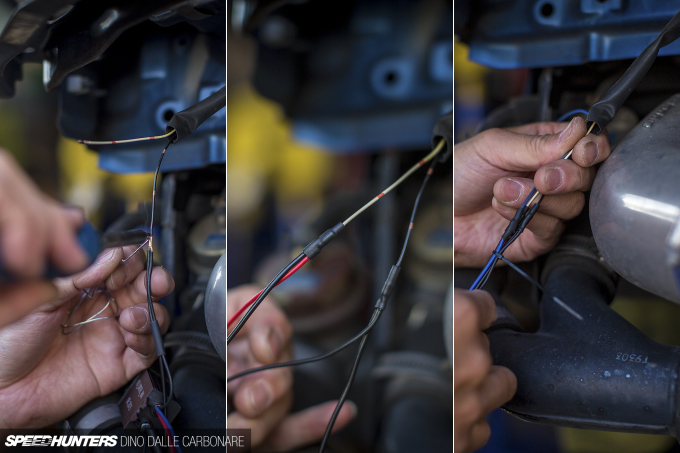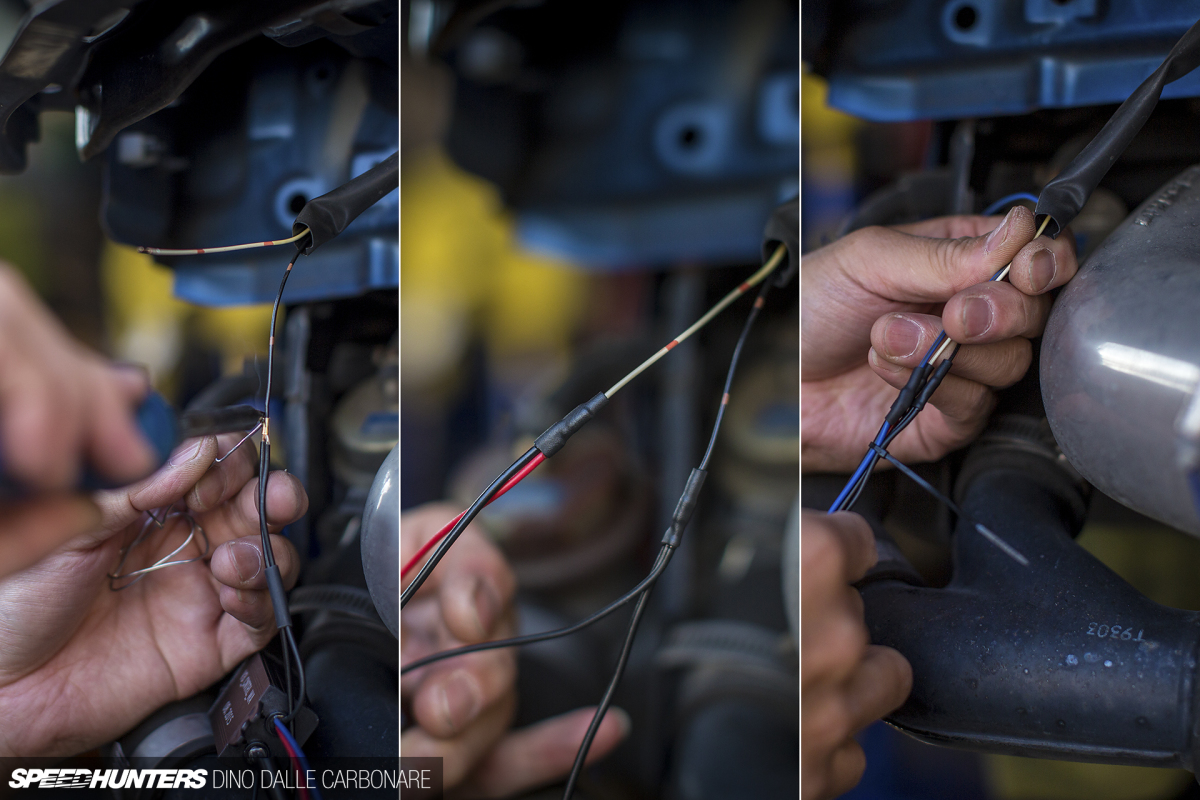 We didn't actually have the correct connectors to attach everything up to the R34's factory plugs but Nakamura wasn't fussed though – he said he has to do custom wiring jobs all the time. So I just stood there in awe as he cut wires, soldered them together beautifully, before sealing them with shrinkable electrical tubing and finally zip-tying them together.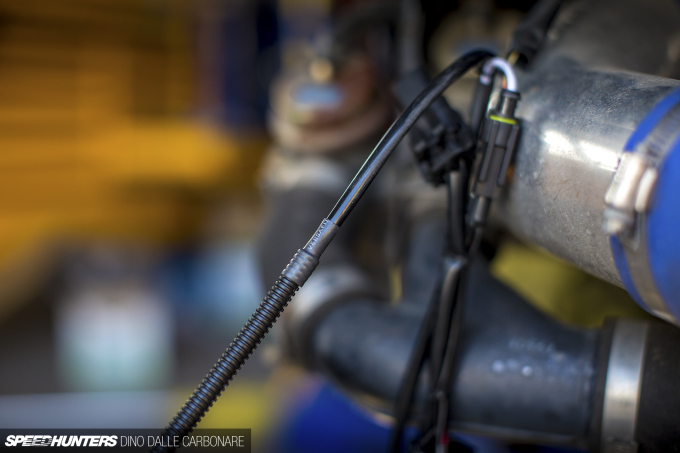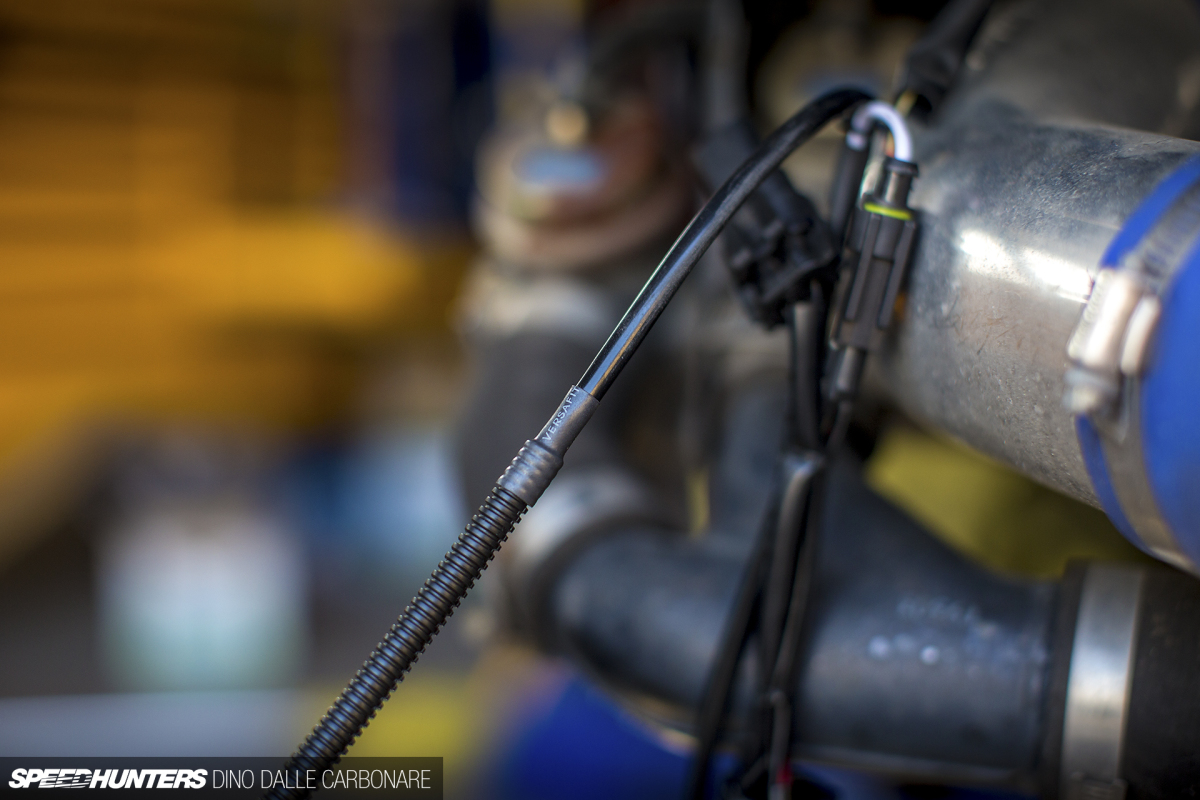 And then it was all properly inserted into flexible electrical tubing before once again being sealed with that handy shrinkable stuff!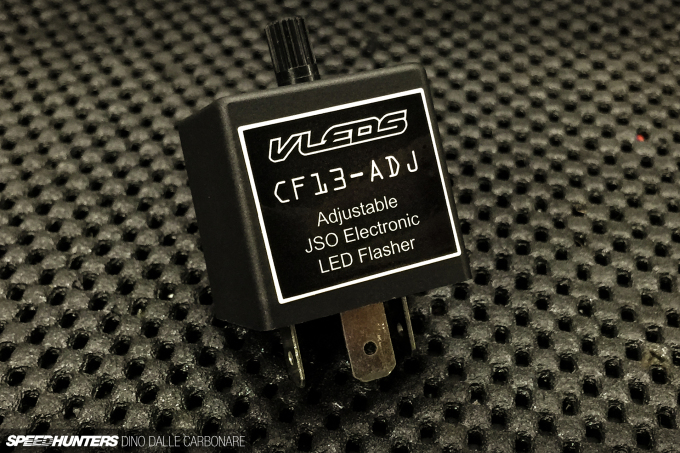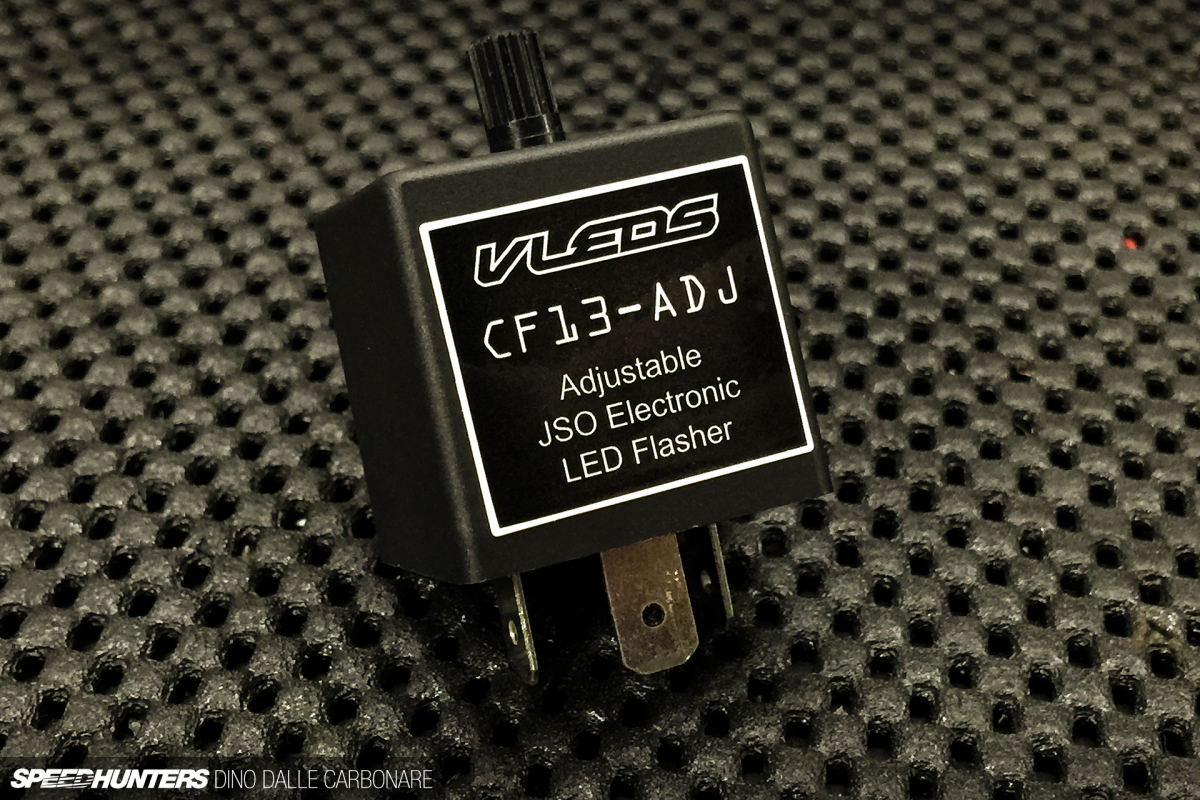 After fitting the LED flasher to make sure the indicators didn't hyperflash, we did a quick test to see that everything was working as it should followed, before Nakamura-san figured out the best way to lay all the cables neatly under the headlights.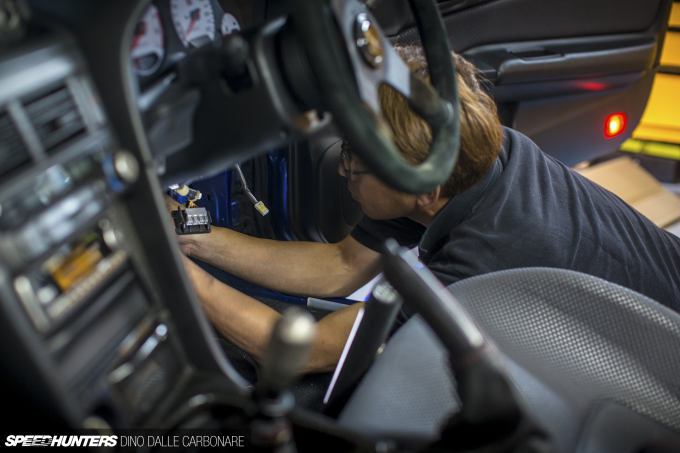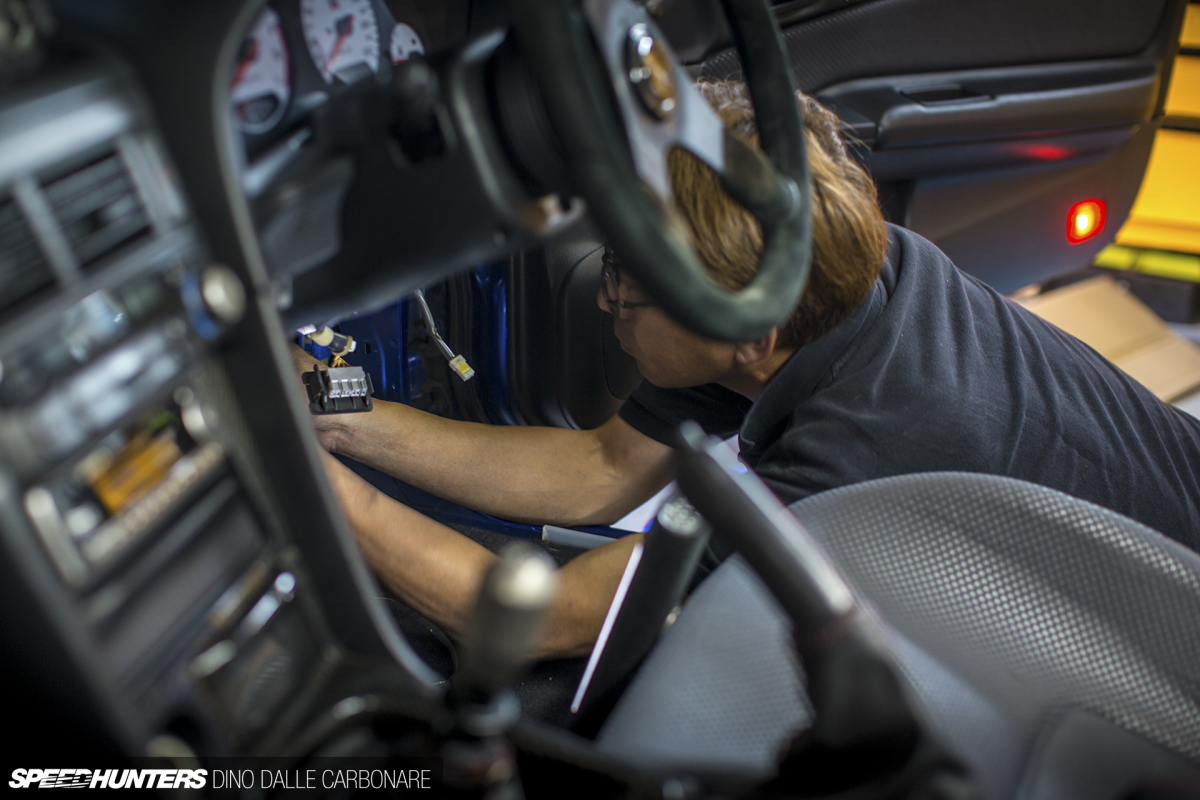 The final thing was to clean up the connection to the ignition and the dimmer through the firewall into the cabin. It's all the little things that take time, and I was impressed at Nakamura's patience. This kind of stuff is something I could never do myself; I would skin knuckles, swear profusely and probably set fire to the car in a matter of minutes.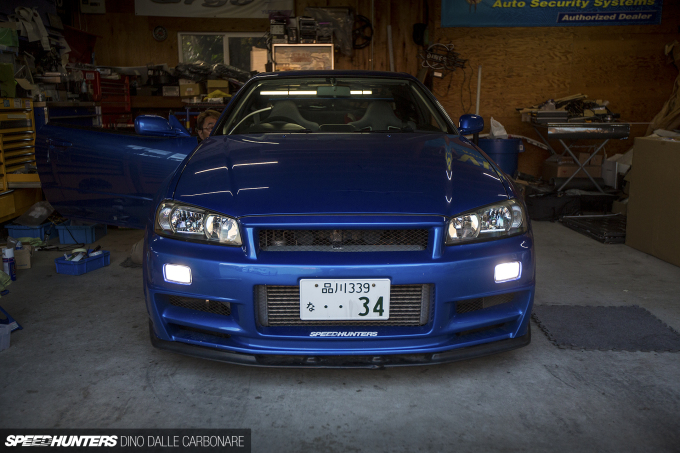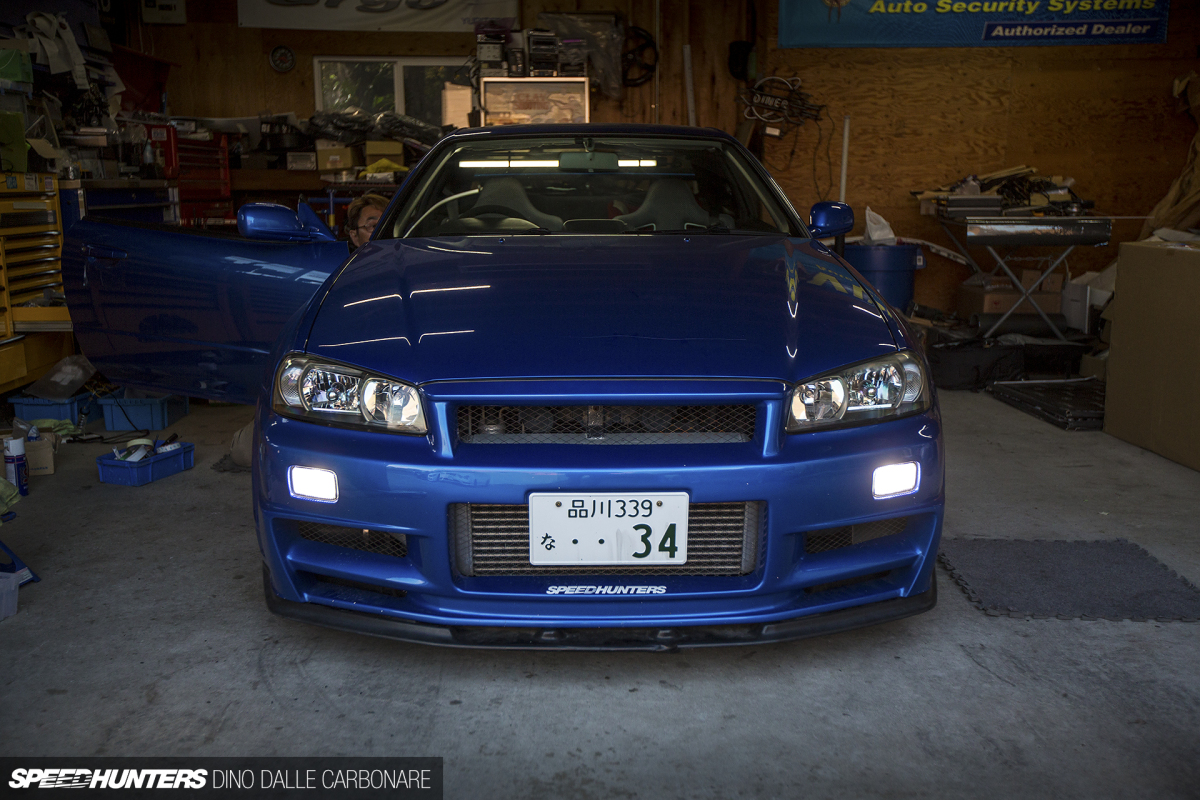 But once the bumper was back on the car, all the effort – well, Nakamura's effort really – paid off. The image I had in my head of using the pointless indicator lenses in the bumper in a better way worked a treat. The V3 Tritons are ridiculously bright, and that makes them perfect for a DRL application like this.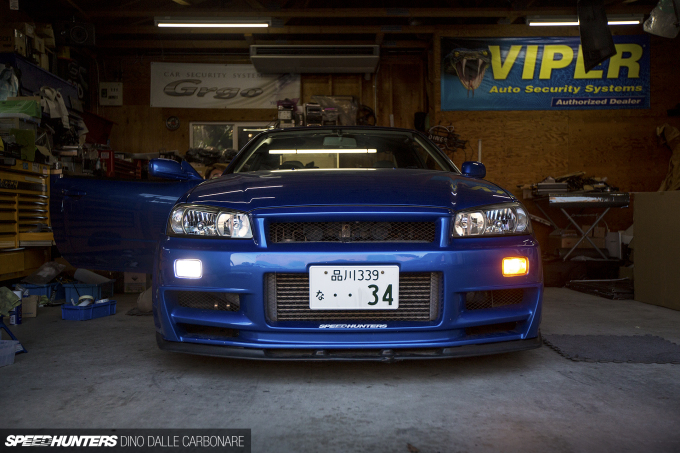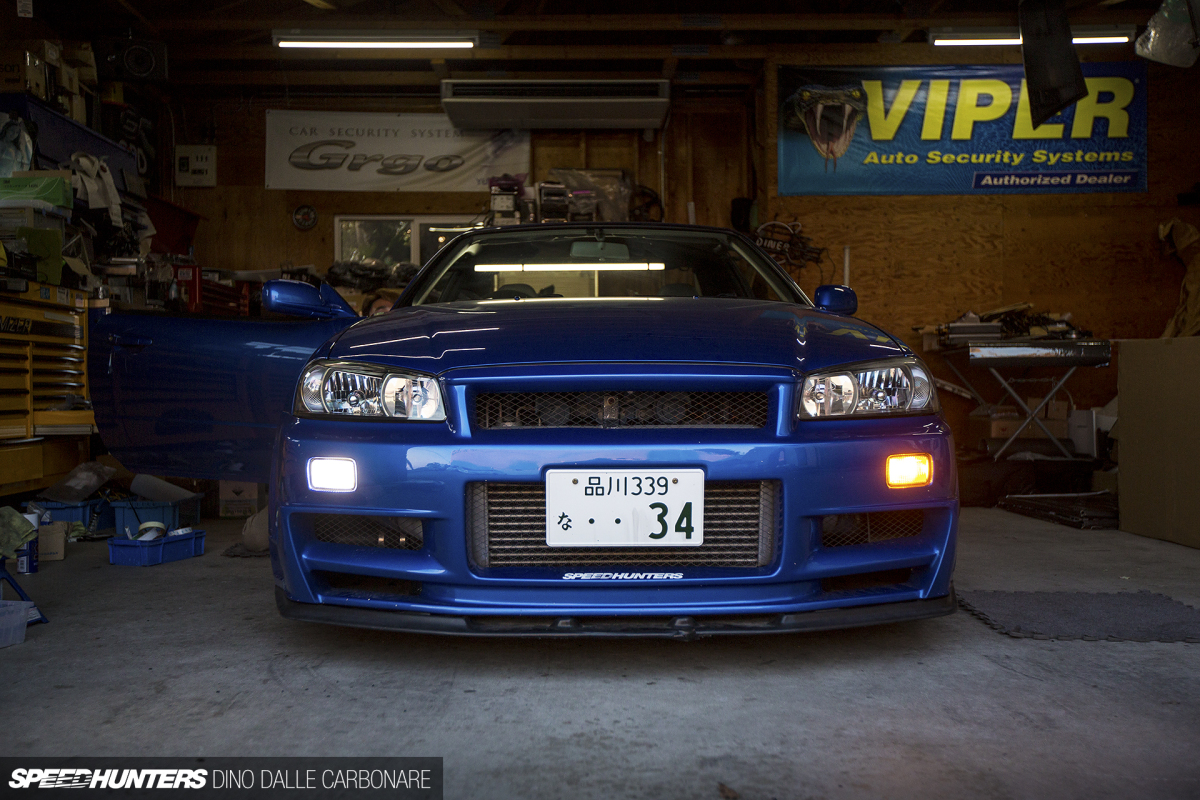 Of course, they are equally as bright when you flick the indicators on too. They flash orange, and then return to white in a split second after the indicator self-cancels.
Here is a (very) short video that gives you an idea of how it all looks.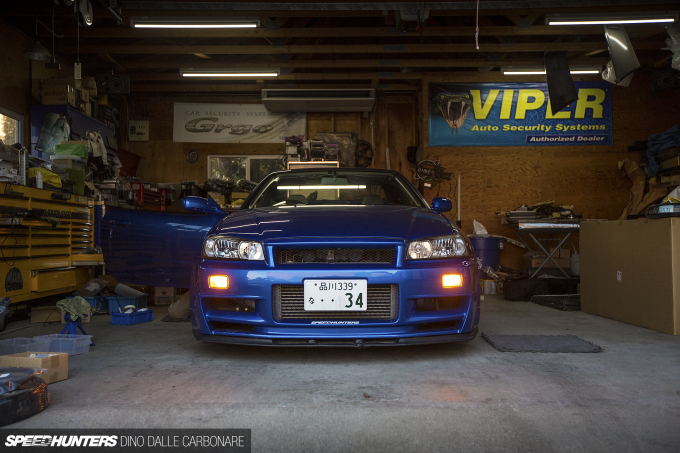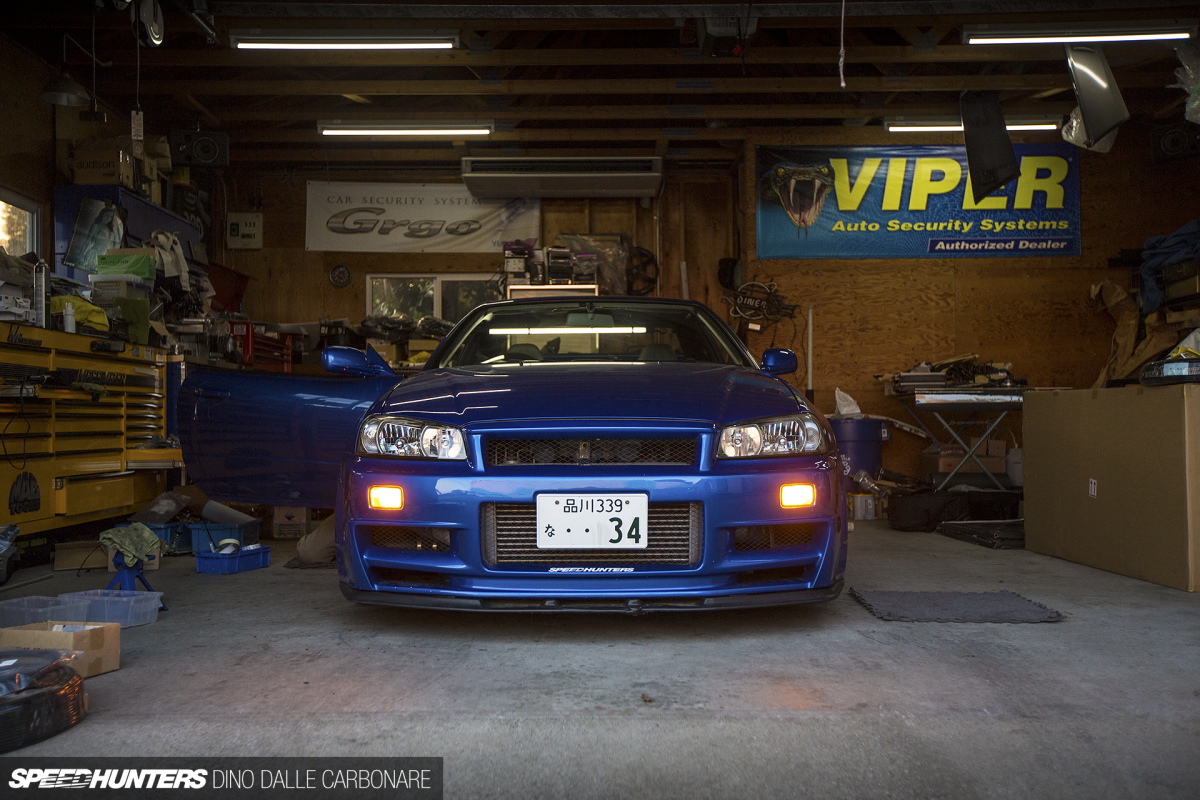 A little test with the hazards on.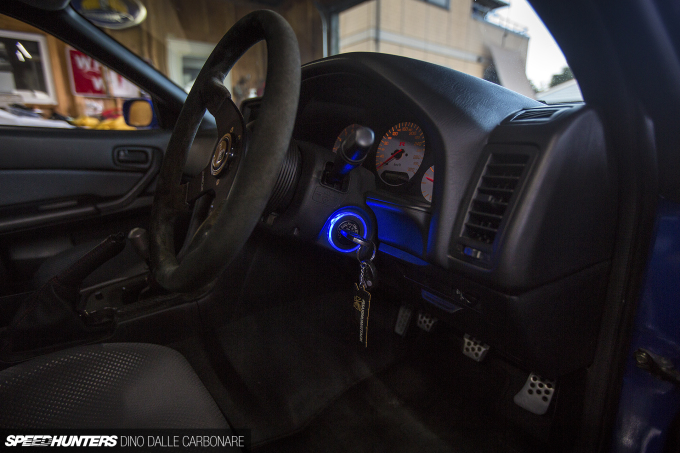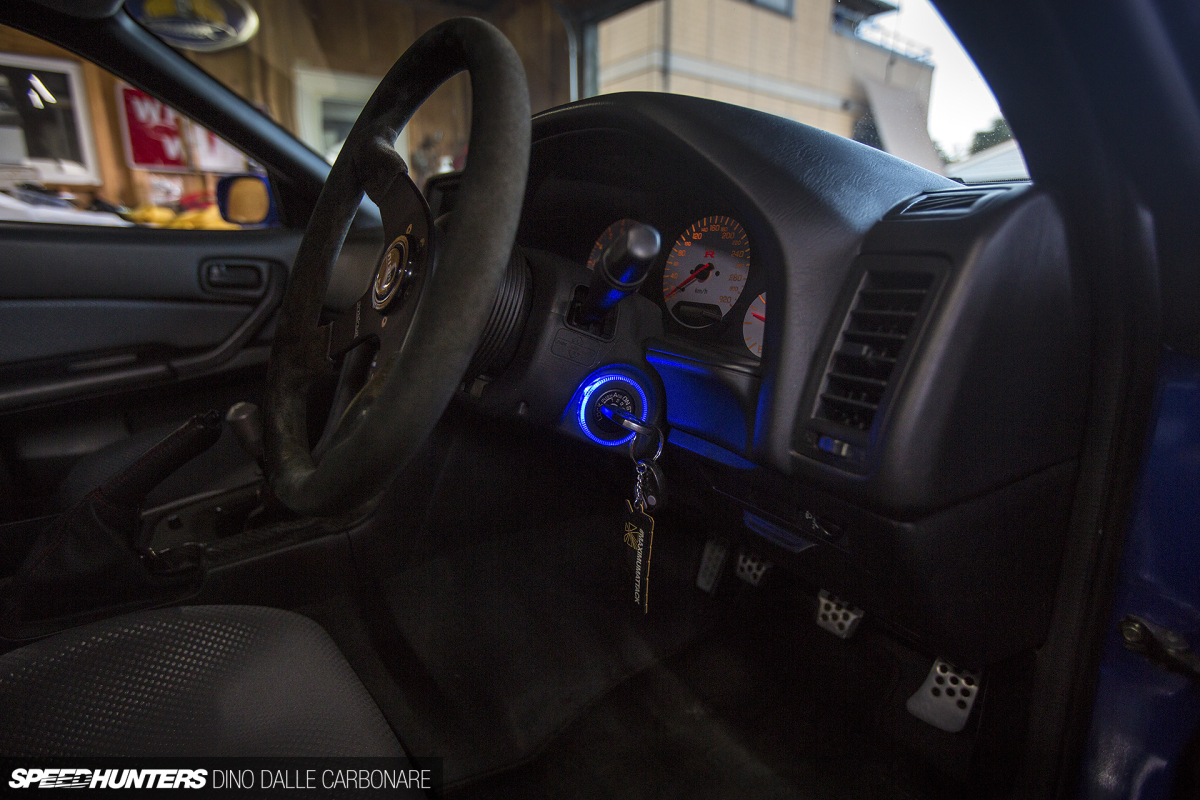 Nakamura-san even had a little surprise for me. Without me even noticing while he was in the cabin fiddling with wiring, he threw on one of his ignition illumination rings – a top-seller from the Worx line up. I was blown away, not only by his kindness but also how cool it looks lit up!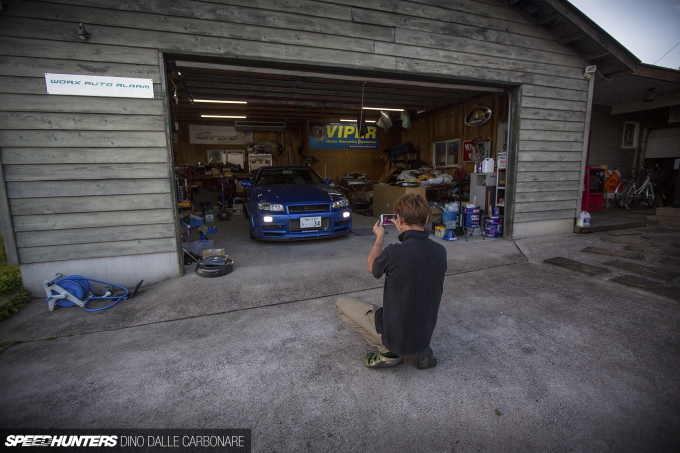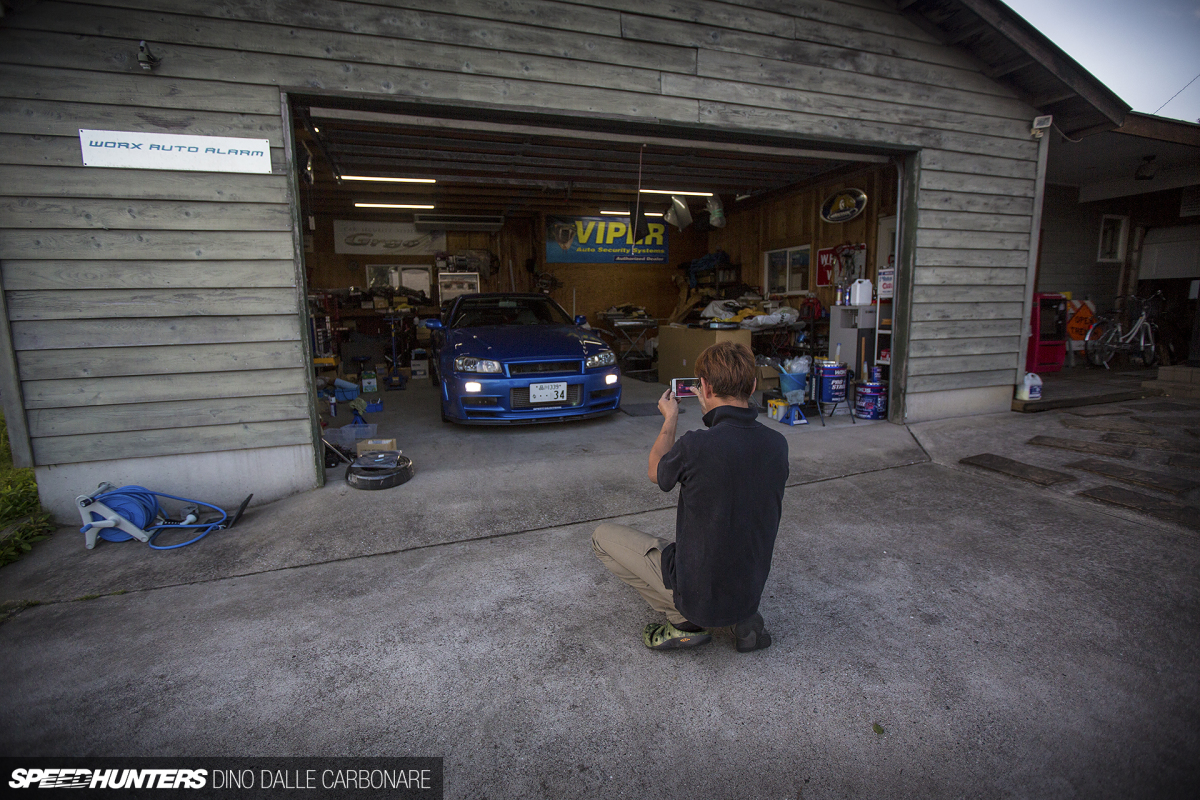 Nakamura-san was also really impressed with how the DRL idea turned out, and thinks many of his customers might want to go for a similar solution too. Me, well I'm not quite finished with my LED update yet, and you can expect another story once I get some more VLEDS fitted. Then, Project GT-R will really have modern day lighting!
Dino Dalle Carbonare
Instagram: speedhunters_dino
dino@speedhunters.com