Out Of This World
When it comes to building stop-you-in-your-tracks high-end show cars, the name J.J Dubec, or 'Doczilla' as he's known online, might be familiar.
The spaceship-esque widebody NSX you're looking at isn't the Vancouver-based physician's first rodeo, but it is the first of Honda's futuristic hybrid supercars to receive the full Liberty Walk wide-body treatment.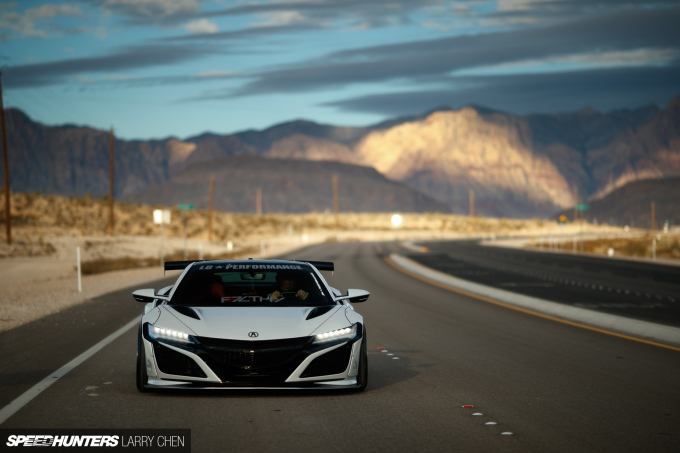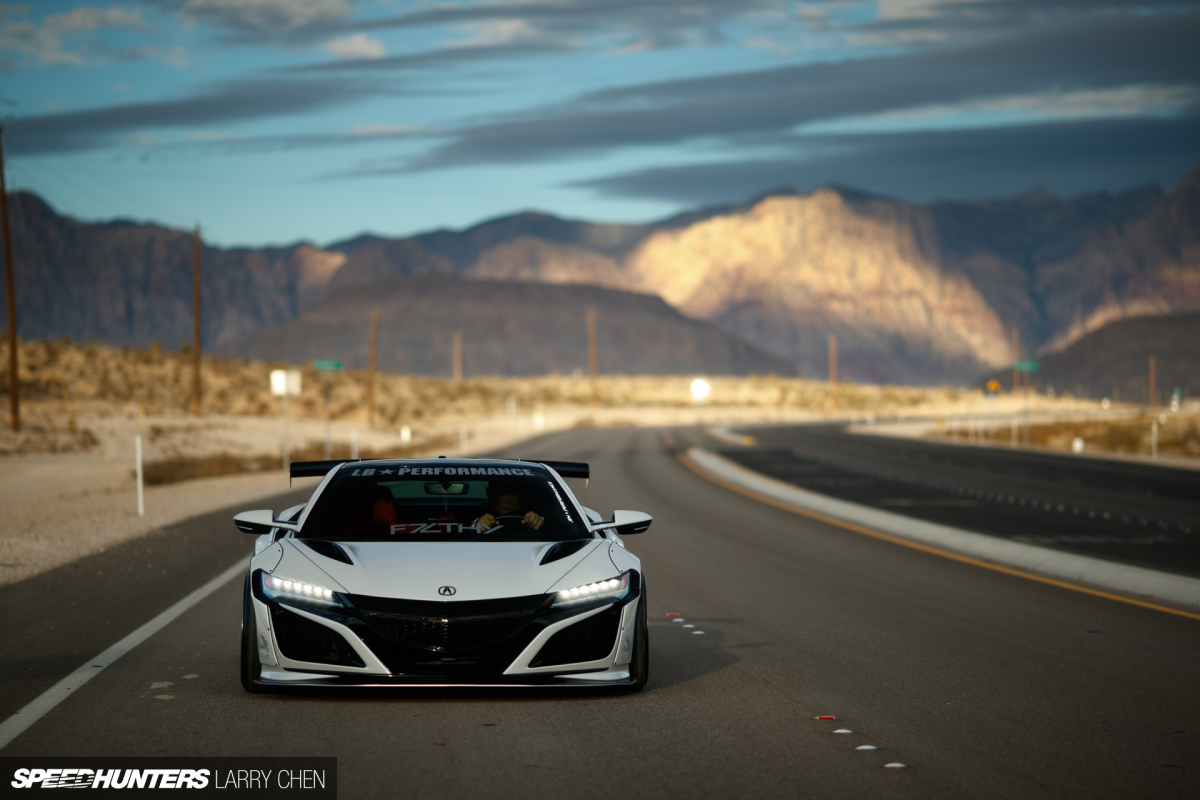 If you've paid any attention to what goes on at SEMA over the past few years then you've probably seen a few of JJ's previous builds. There's been an R35 GT-R and a Ferrari 458, both dropped to the floor over huge wheels and clad in Liberty Walk's finest wide-body makeover, as well as a crazy custom Jeep Wrangler Unlimited – all incredibly hard acts to follow.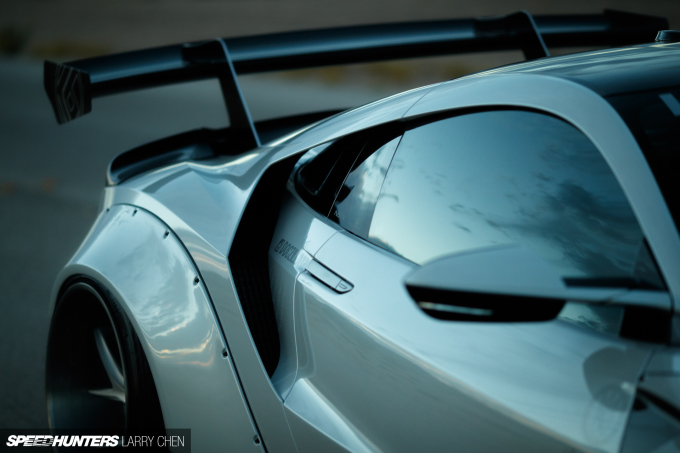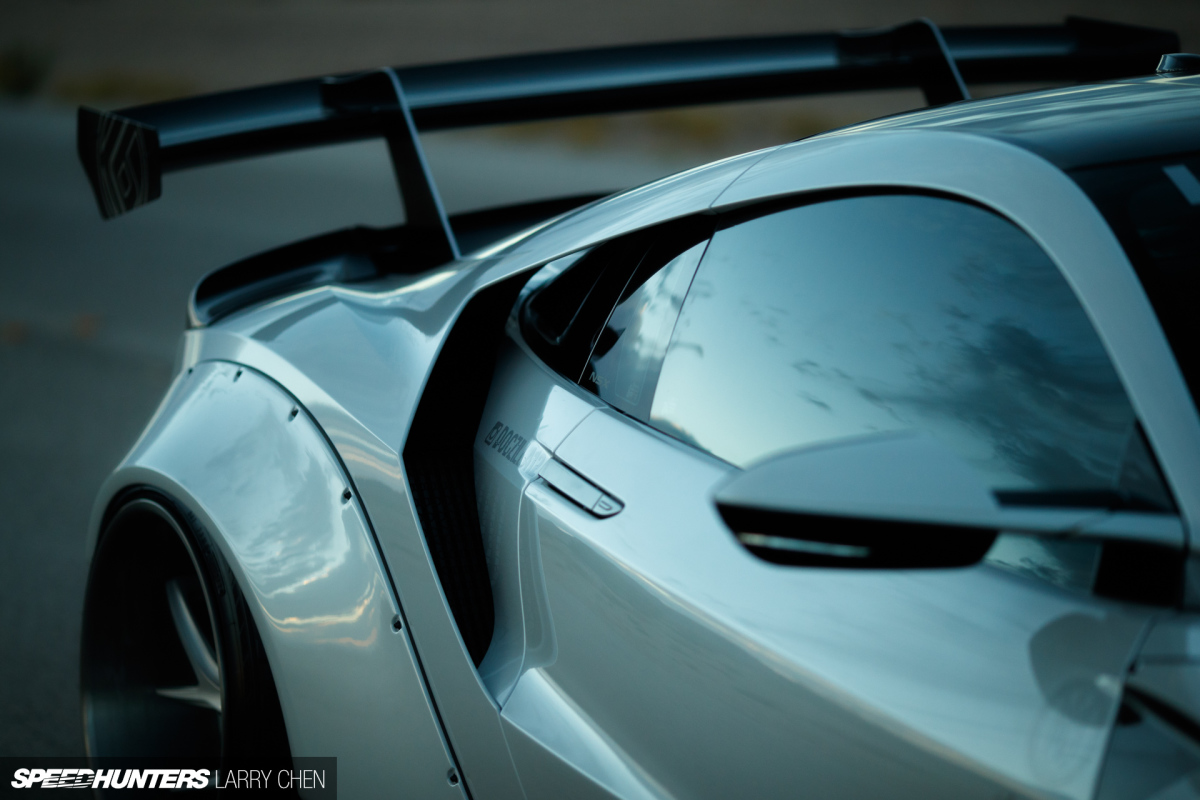 So where do you go from a modified wide-body 458? How do you up the stakes on that? An Acura might seem like the unlikely choice, but when it's a brand new and futuristic twin-turbo hybrid V6 supercar (we can call it a supercar now, right?) then it seems a fitting candidate for modification.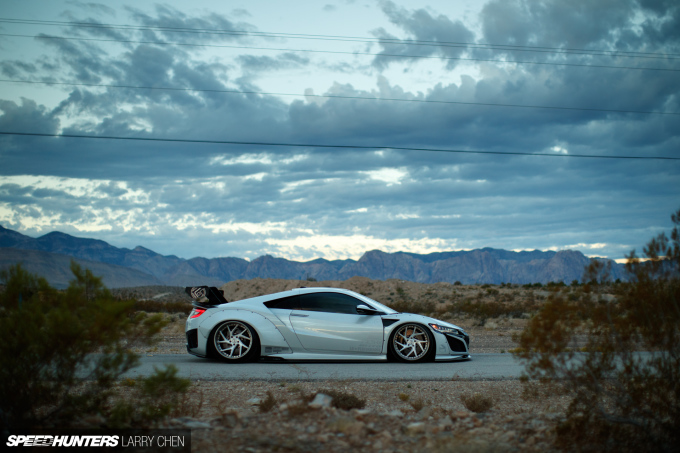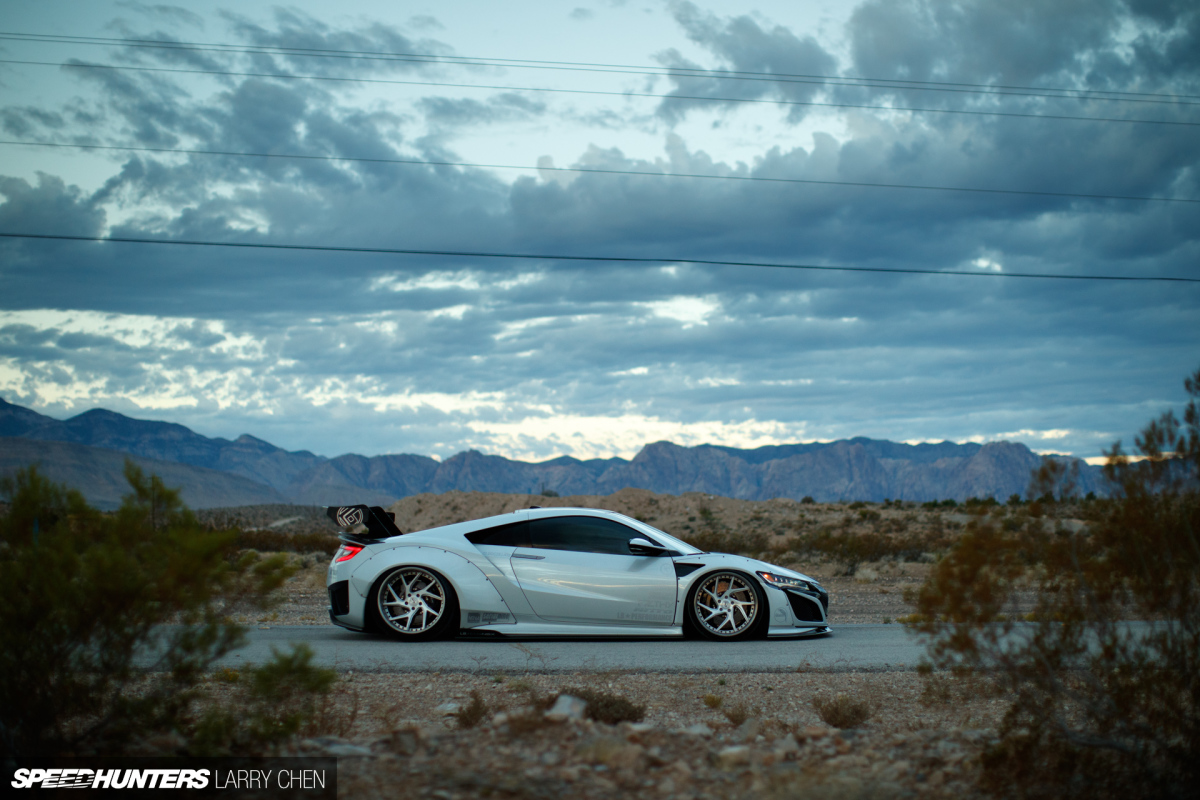 The original NSX is a legendary chassis, and was Japan's first unofficial supercar. When Honda brought a successor to the table, it had a lot to live up to. Before the final production model had been unveiled, JJ had as good as made his mind up, and was formulating plans to modify it. "I really love modifying cars to make them personal. I actually select cars from the outset with modification in mind," he explains.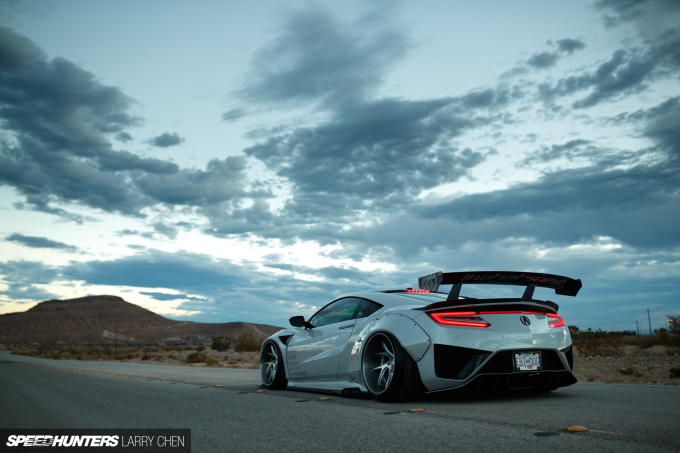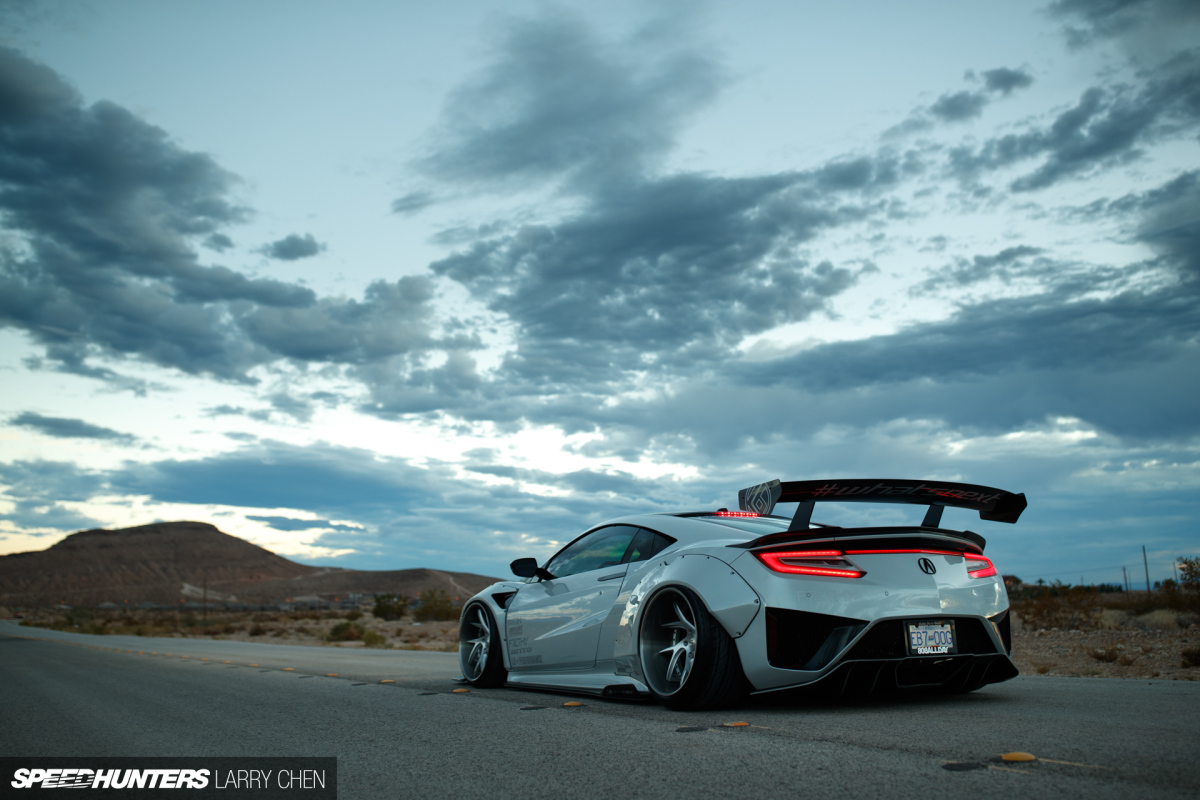 As soon as he could, JJ had placed his order – chassis #0178 was on the way.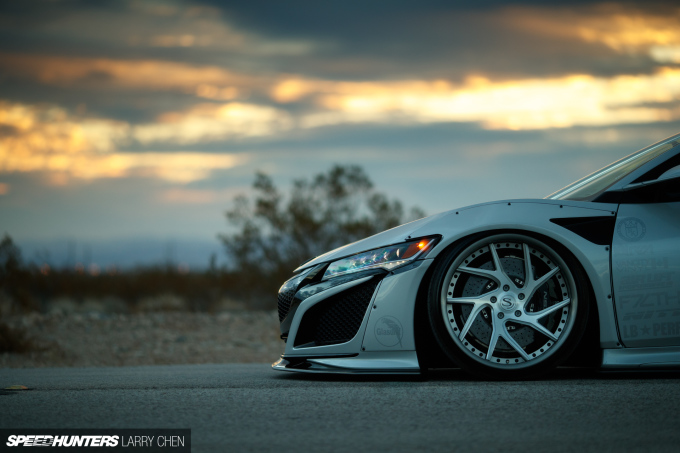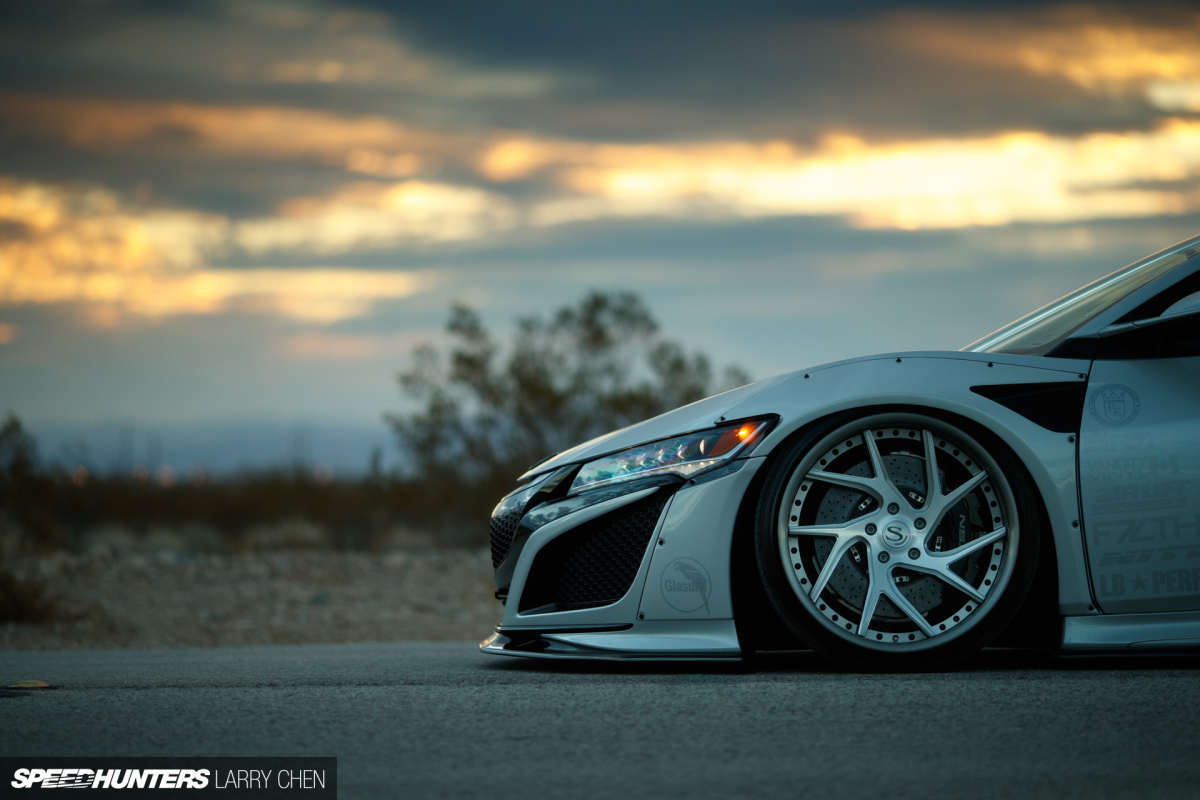 Given JJ's aforementioned history with high-end builds it'll come as no surprise that, long before he's got his hands on a set of keys, the ball was rolling to make his NSX wide and low. The first port of call was, naturally, to Kato-san at Liberty Walk Japan.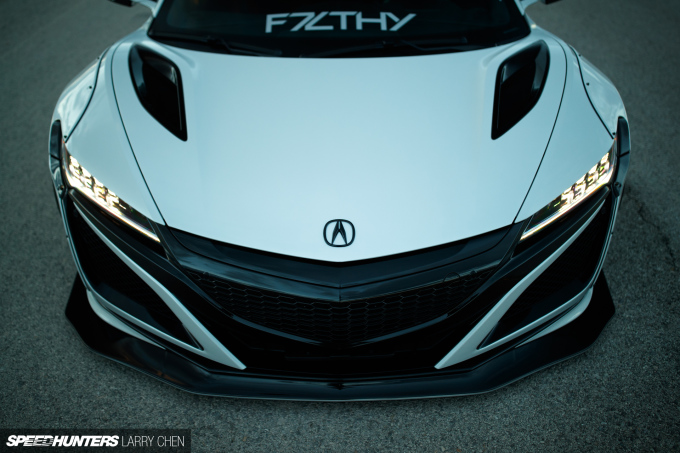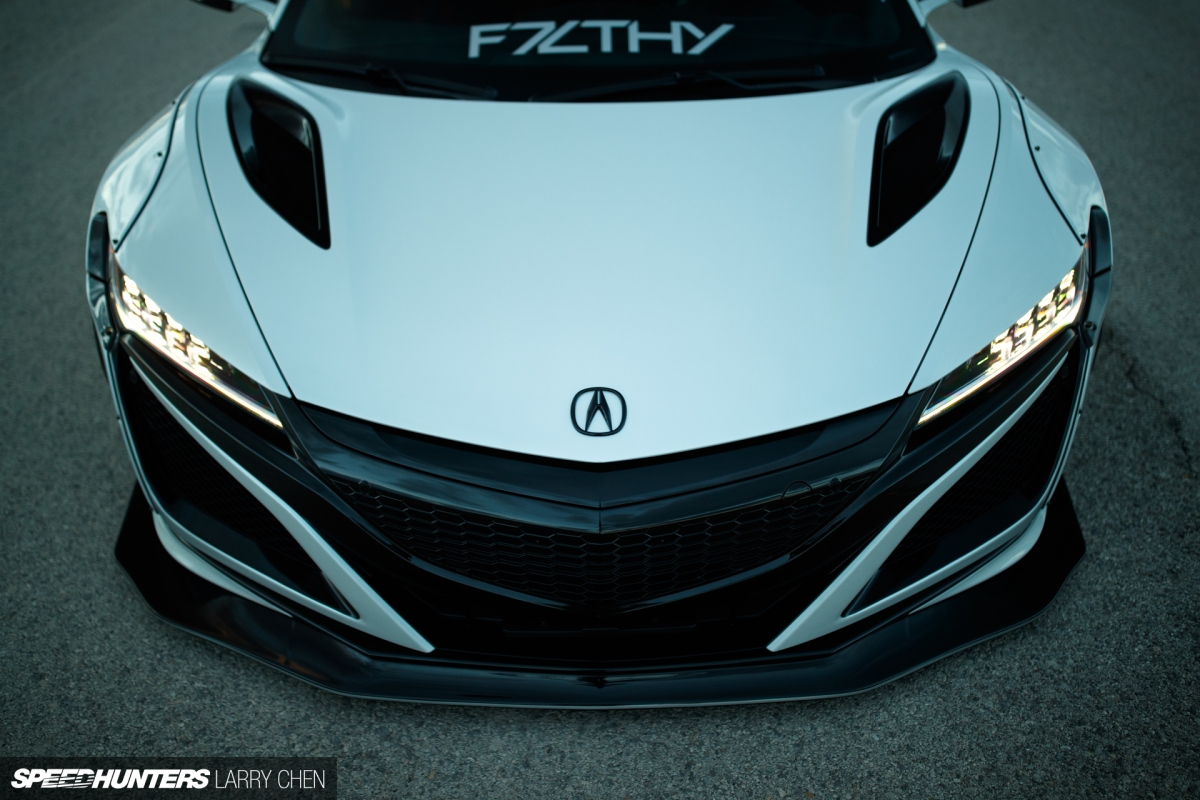 A conversation between the two at the 2016 SEMA Show led to an agreement that JJ and Kato would build the world's first Liberty Walk wide-body NSX, with a view to debuting it at this year's SEMA event in Las Vegas. And that's exactly what they did.
You might remember that Dino featured Kato's early experiments with the new model a couple of months back, but that it was notably lacking the brand's signature overfenders. That's because the very first set were busy winging their way over from Japan to Vancouver.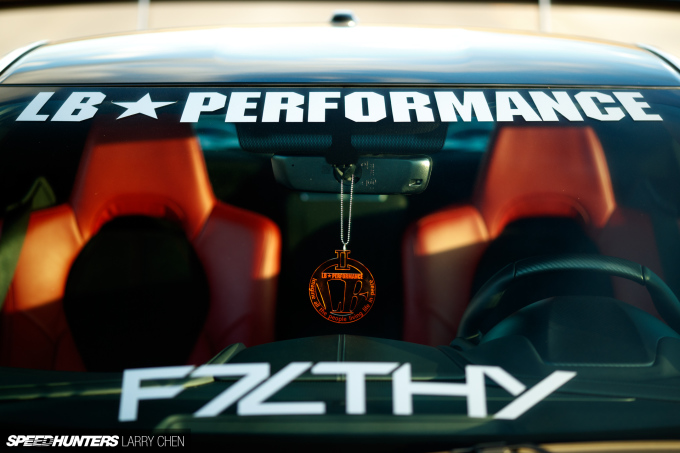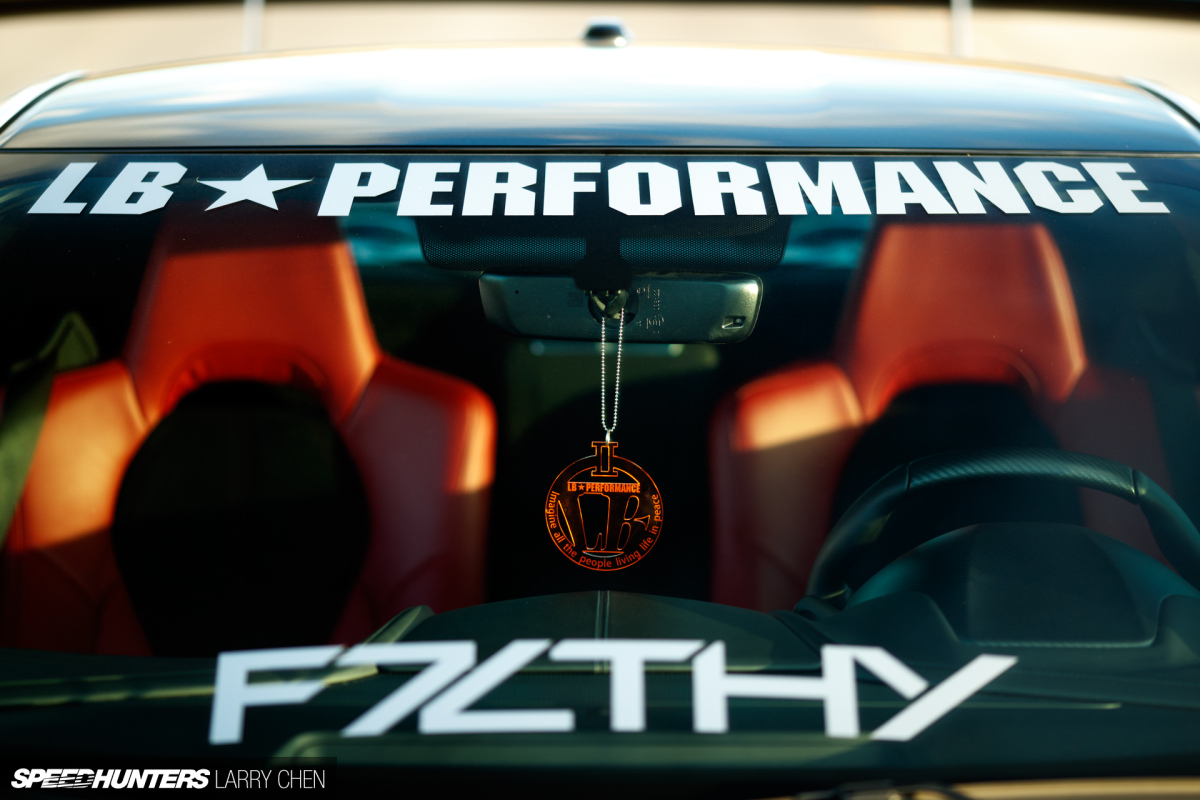 "I love Liberty Walk," JJ tells me. "The friendship that has grown between myself and the crew from Japan is one that I will cherish forever. When they first saw my R35 GT-R, they invited me to display the car at SEMA 2014 without knowing anything about me. They probably thought I was a shop owner or involved in the auto industry in some way. It didn't matter that I was a doctor with almost zero credentials in the automotive world, they just loved the design and the decisions that contributed to the overall project."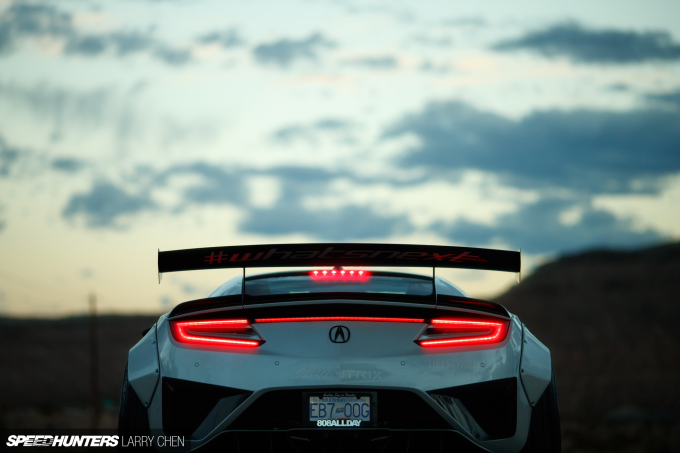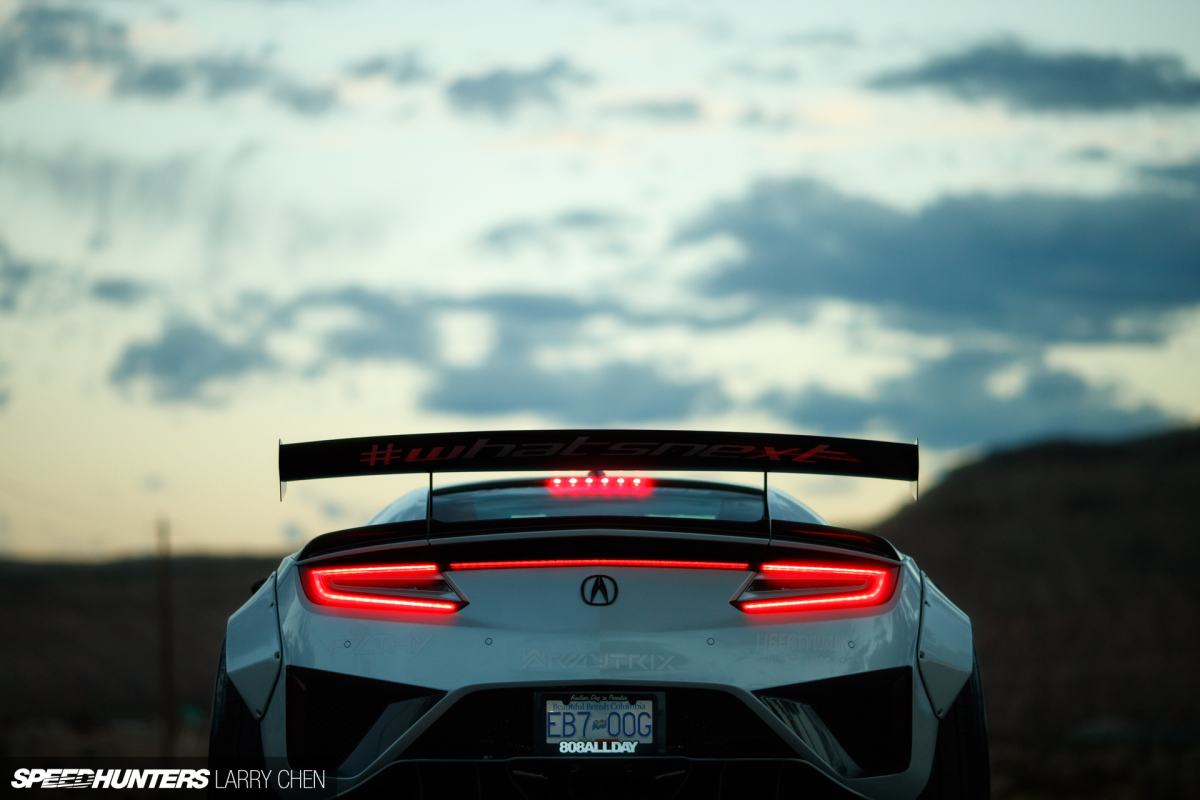 If you're thinking at this point that JJ's NSX is an open cheque book, bought-not-built show car then you couldn't be further from the truth. Before starting work on the build, JJ was eager to get to know the characteristics of the car, and so put it to good use for a year or so before the first incision was made.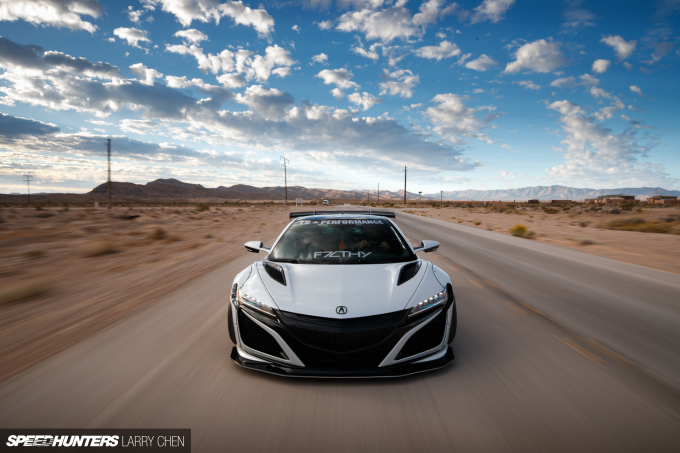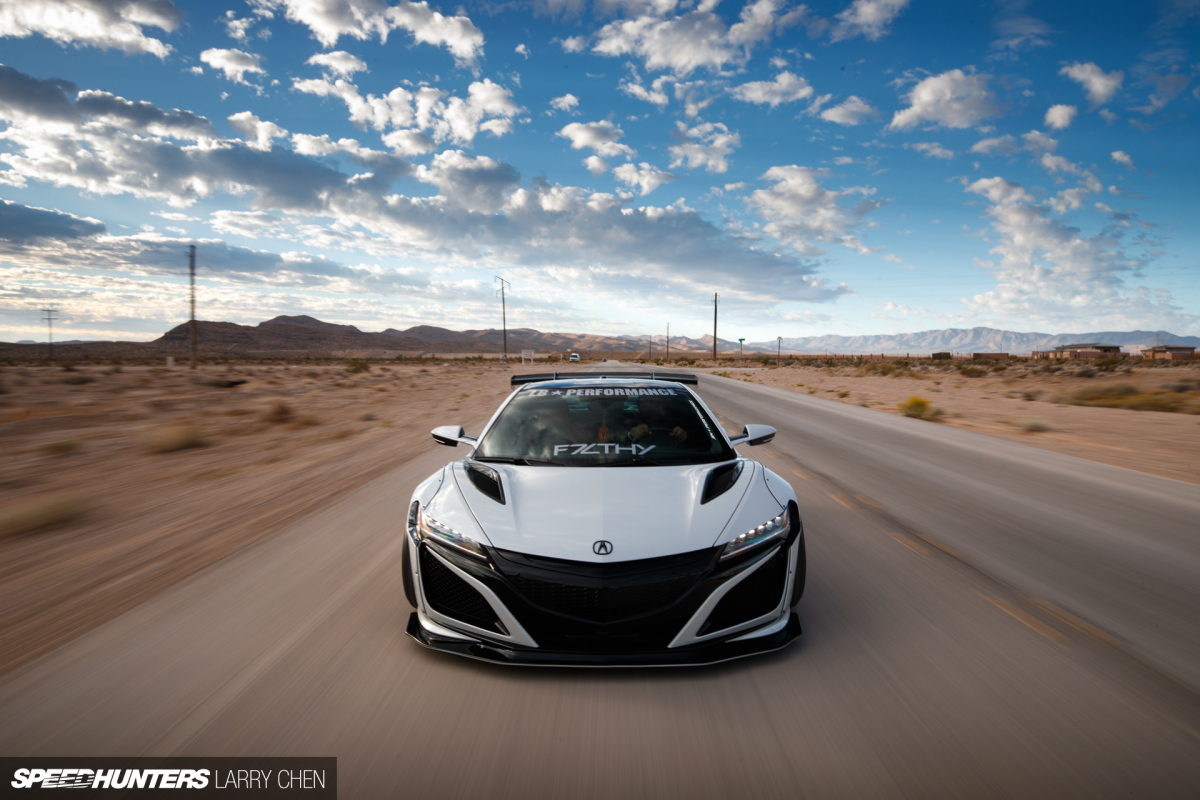 "The NSX is such an amazing car," he tells me. "It has the performance and daily drivability of a Nissan R35 or a Ferrari 458 with the smoothness and refinement of an Accord. That is a very high compliment in my books. The attention you get in the car is very high as well, even when it was still in stock form. The car definitely turns heads even more now though after the customisation changes."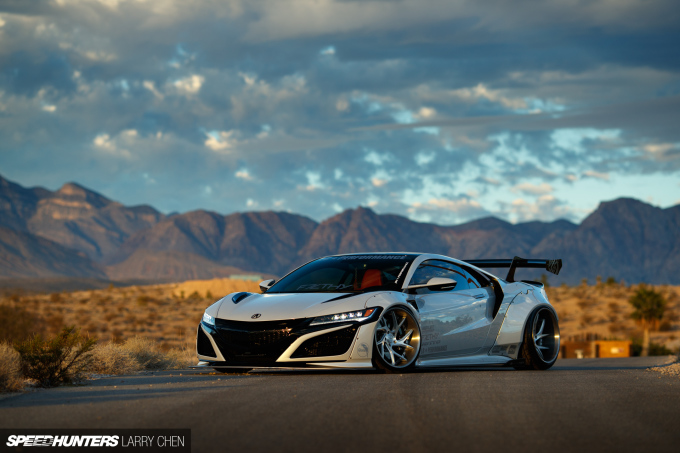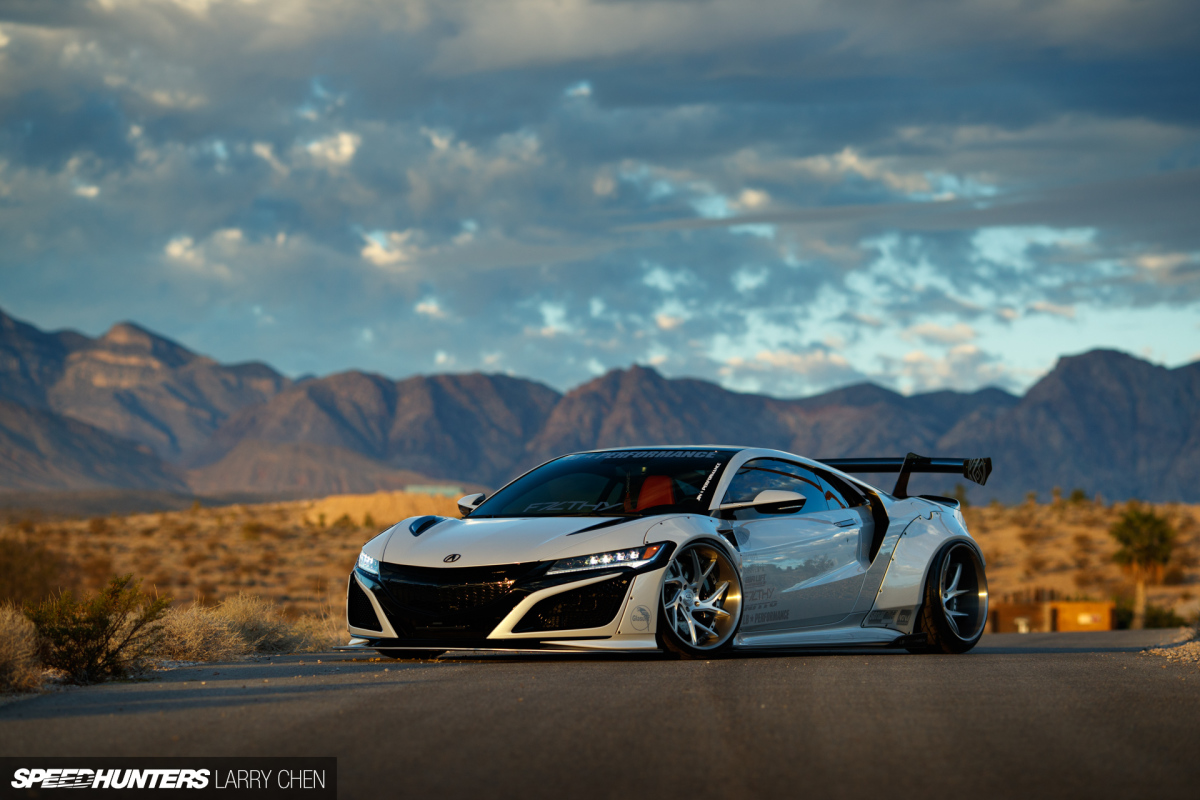 JJ was also hands-on and instrumental in the build, carefully designing the car to suit his vision. He personally took on the daunting task of cutting the stock fenders himself. Along with his eight-year-old son, who lent a helping hand, JJ helped fit, sand and prep the kit for paint too. His other four-year-old boy wasn't quite ready to help with the Dremel – maybe on the next build?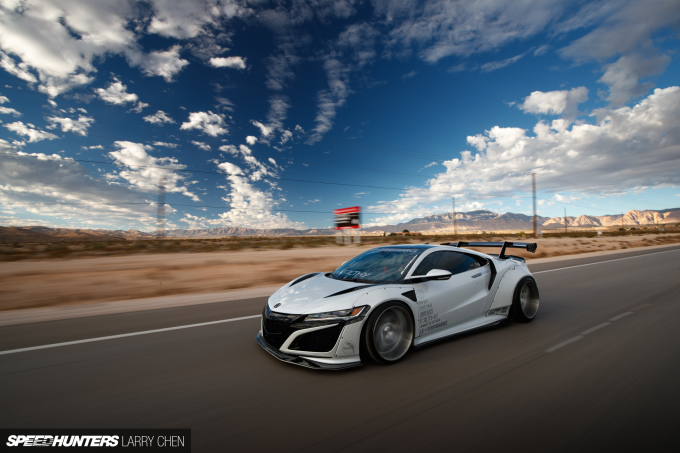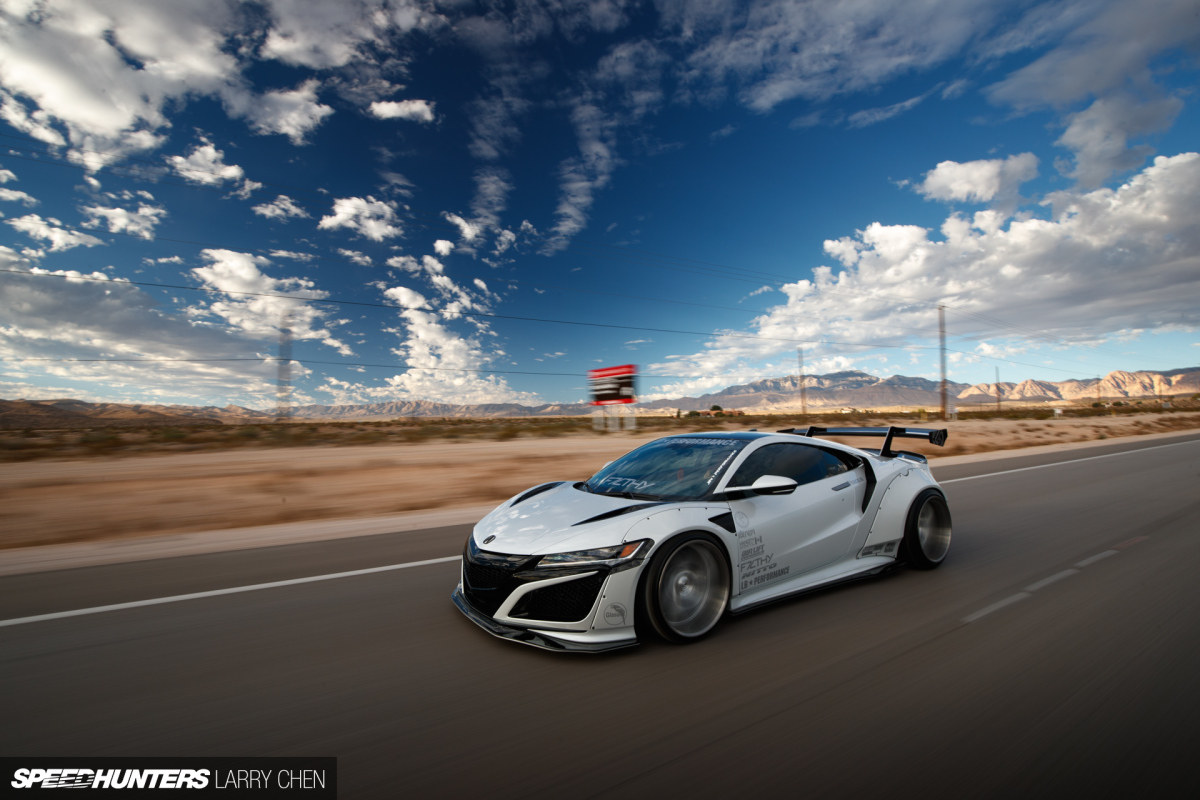 The rest of the body prep was carried out by family-run Midvan Motors in Vancouver, before JJ turned to Phantasy Kolors in Seattle to apply the BASF Glasurit paint. The colour, fittingly for its debt in Las Vegas, is called Casino White Pearl.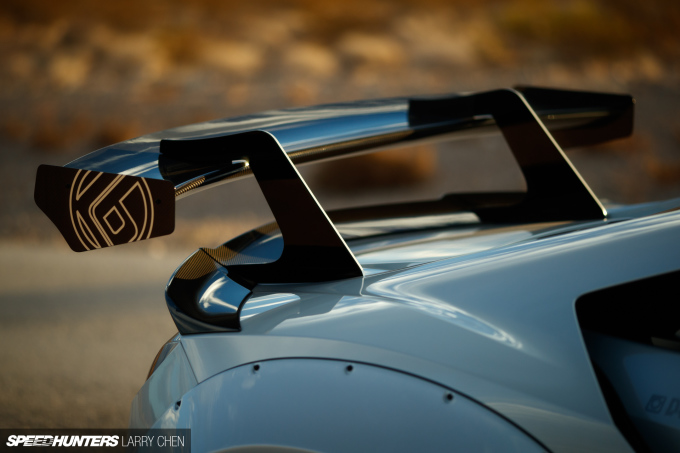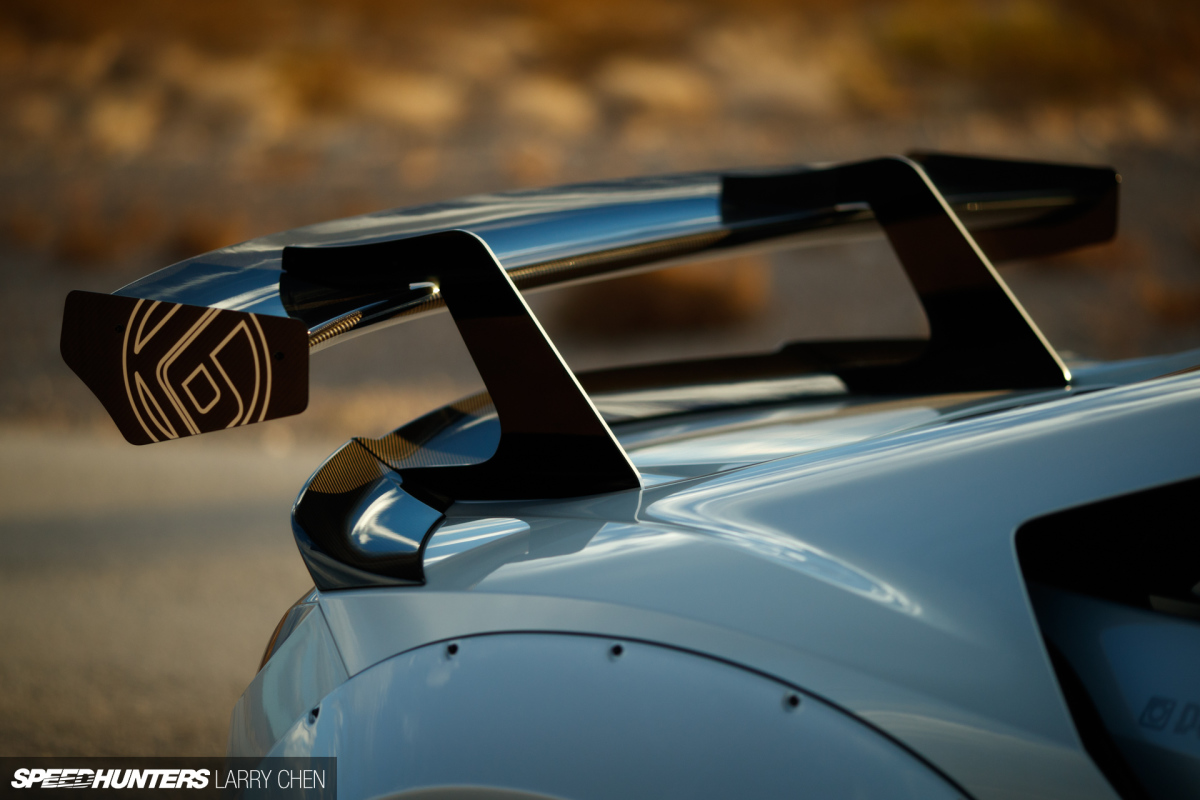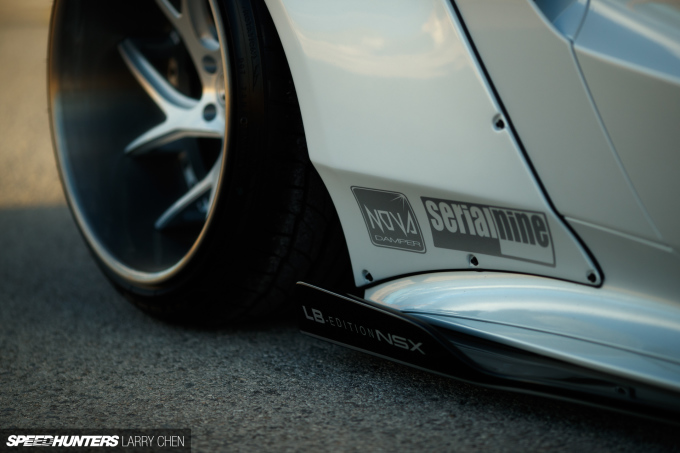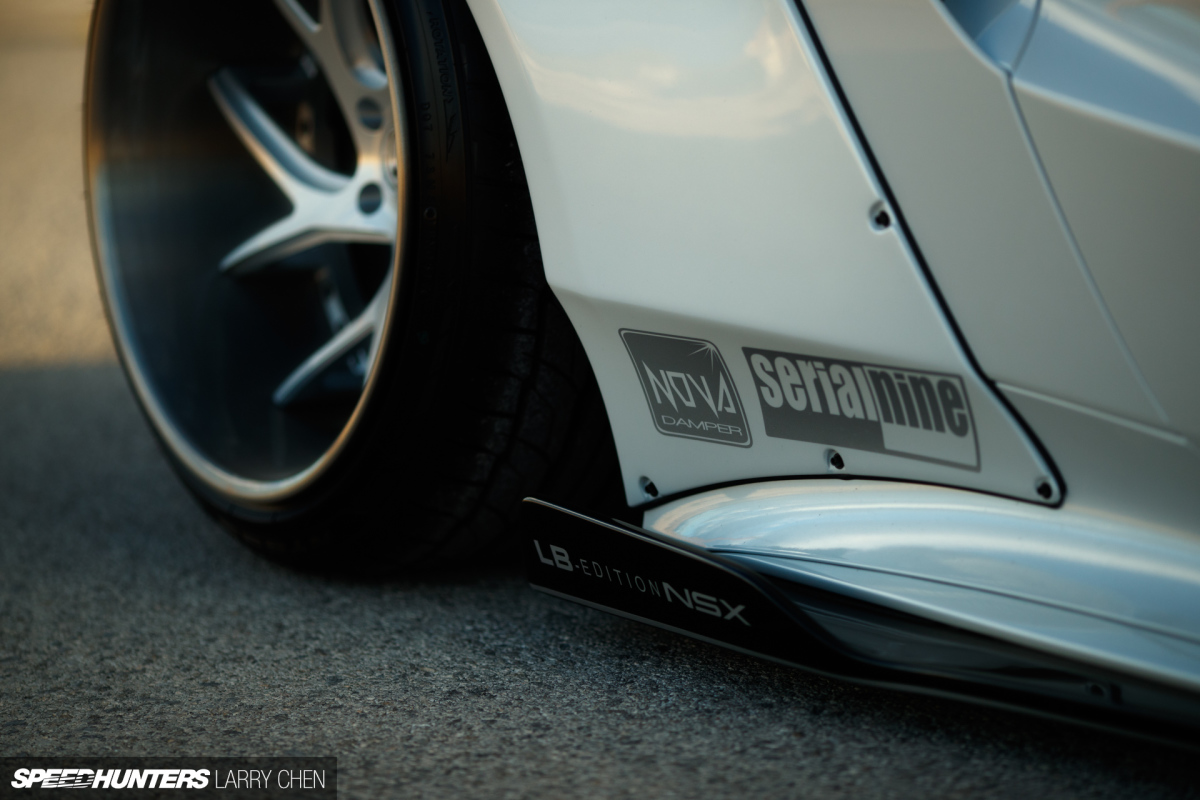 Some of my favourite parts of JJ's build are the flashes of carbon fibre scattered around the car, contrasting with the pearl paint but complementing the generous amounts of OEM carbon. JJ's particularly fond of the swan-neck carbon fibre spoiler design, with the uprights reaching over the top of the blade to hold it in place.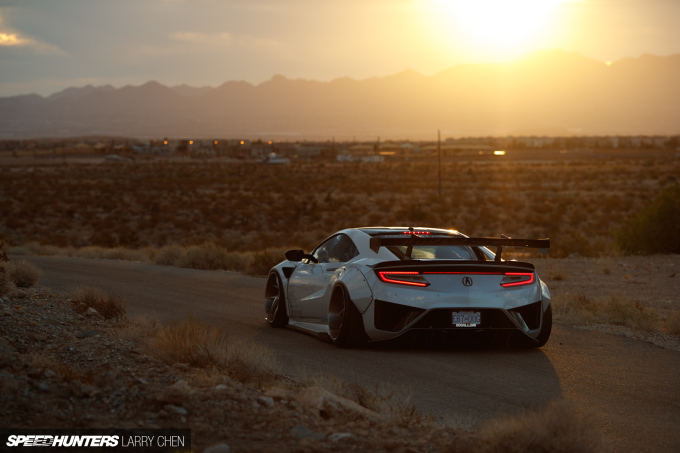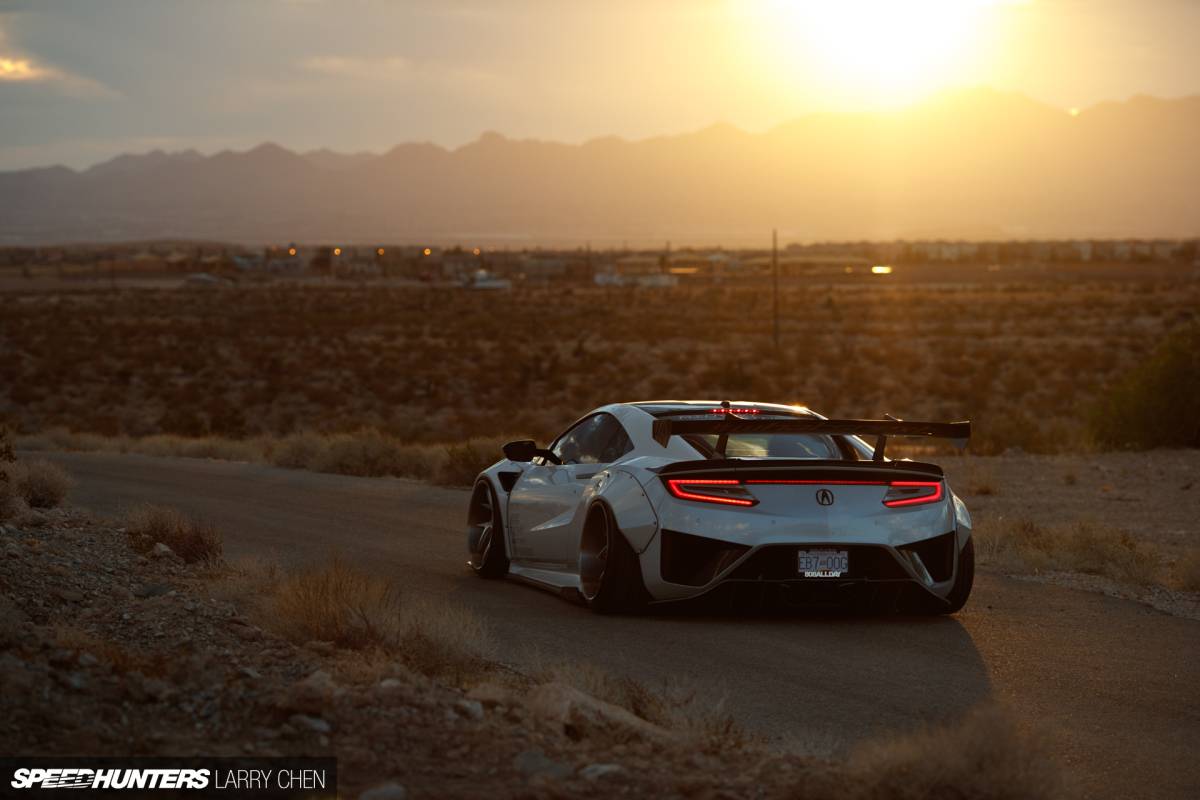 Honda has become known for not shying away from futuristic designs for the past 10 years or so, and the latest generation NSX in stock form is no shrinking violet. Add in the imposing girth of a Liberty Walk wide-body, towering rear wing, aggressive lips and diffusers and overfender-filling deep dish wheels and you've got something that looks out of this world.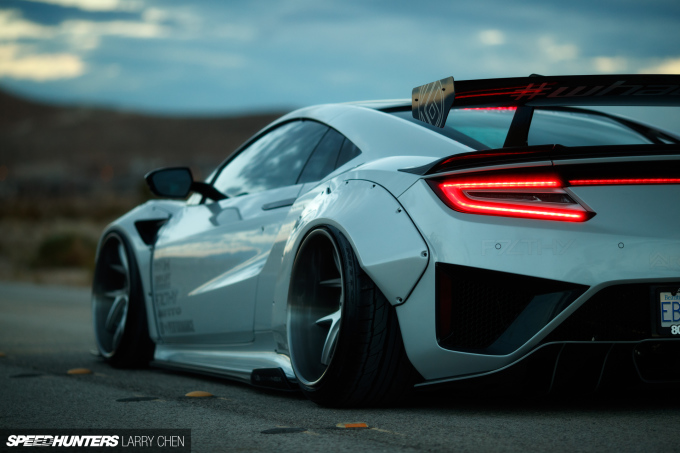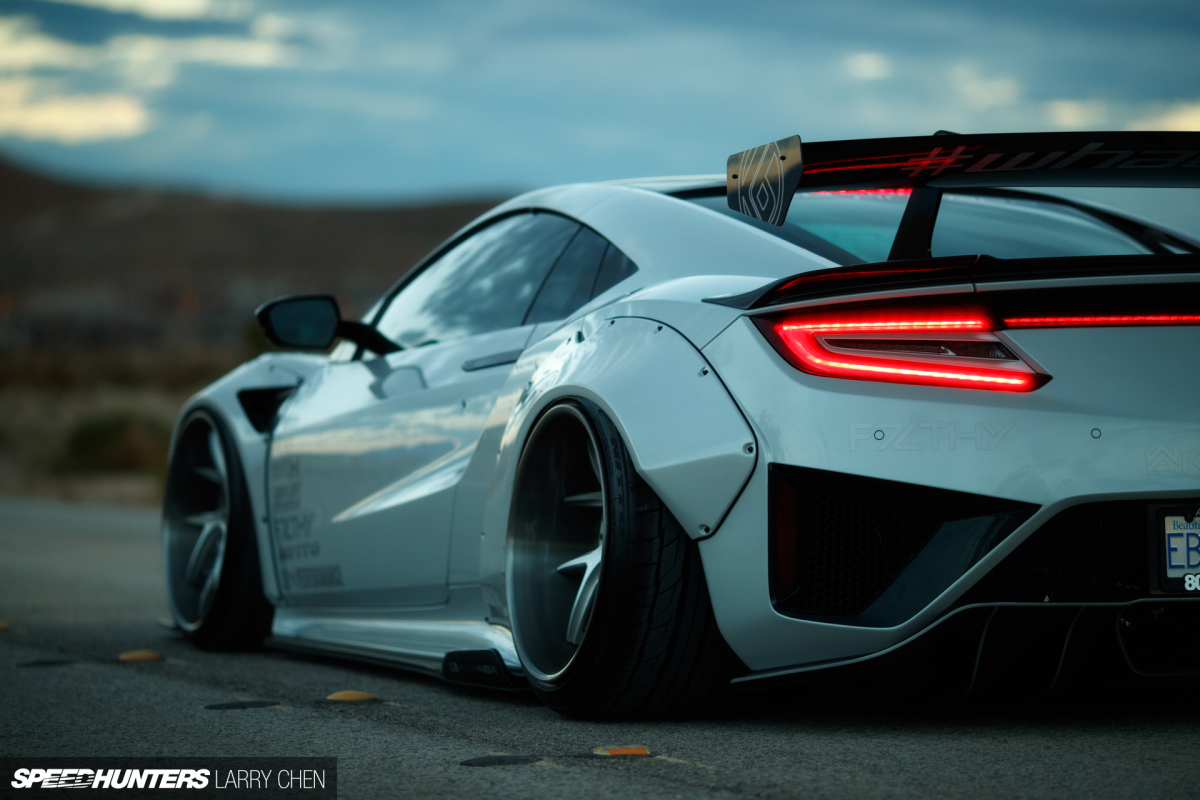 In achieving an aggressive stance, yet keeping the car functional, the solution was always going to be air suspension. With the model being so new to market, JJ had to be proactive in finding a solution.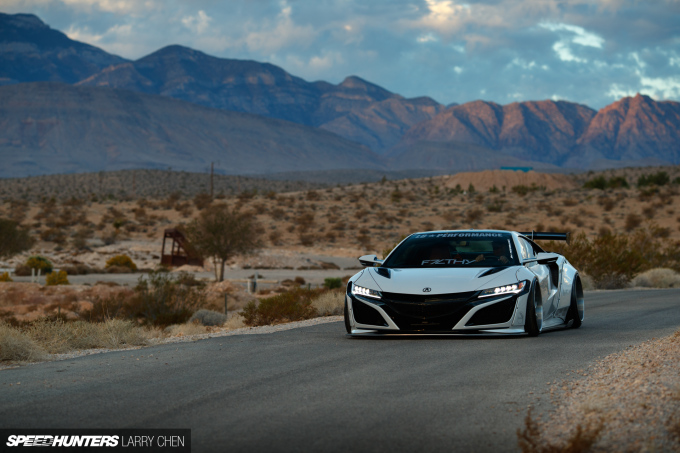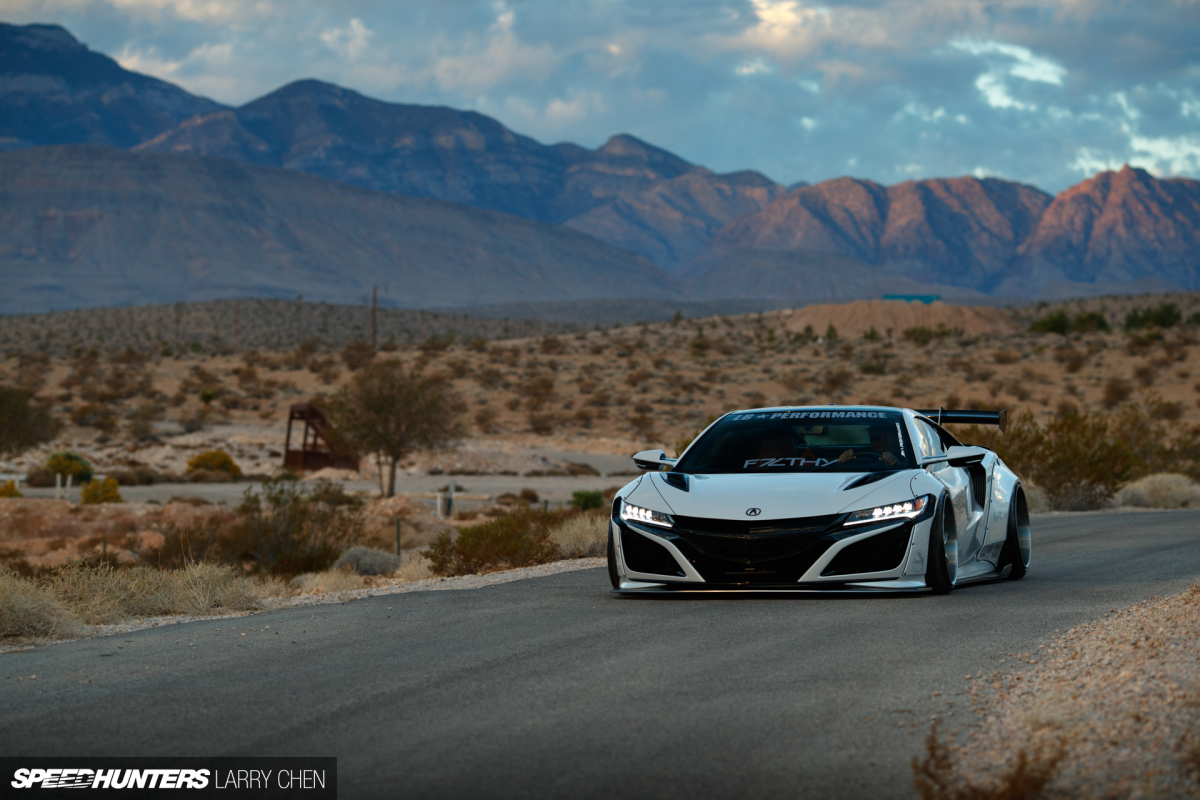 Working alongside Air Lift Performance and SerialNine in Vancouver, JJ implemented Air Lift's 3H management along with custom dampers and airbags. "We designed custom fittings and top hats in SolidWorks and handed them over to SerialNine's in-house fabrication specialist ZeroDivision," JJ explains. "Stance Suspension in the US specified custom dampers, and helped to create the final product specifically for this NSX – it's a flawless air control system that retains the factory suspension's performance feel and still gives a great range of control to deal with different road conditions and driveway angles."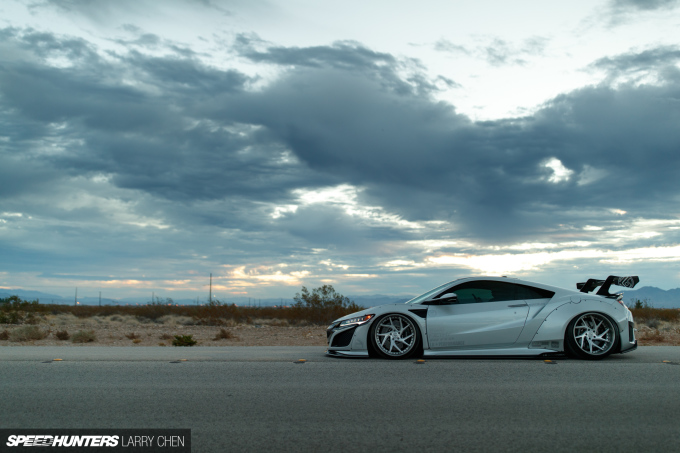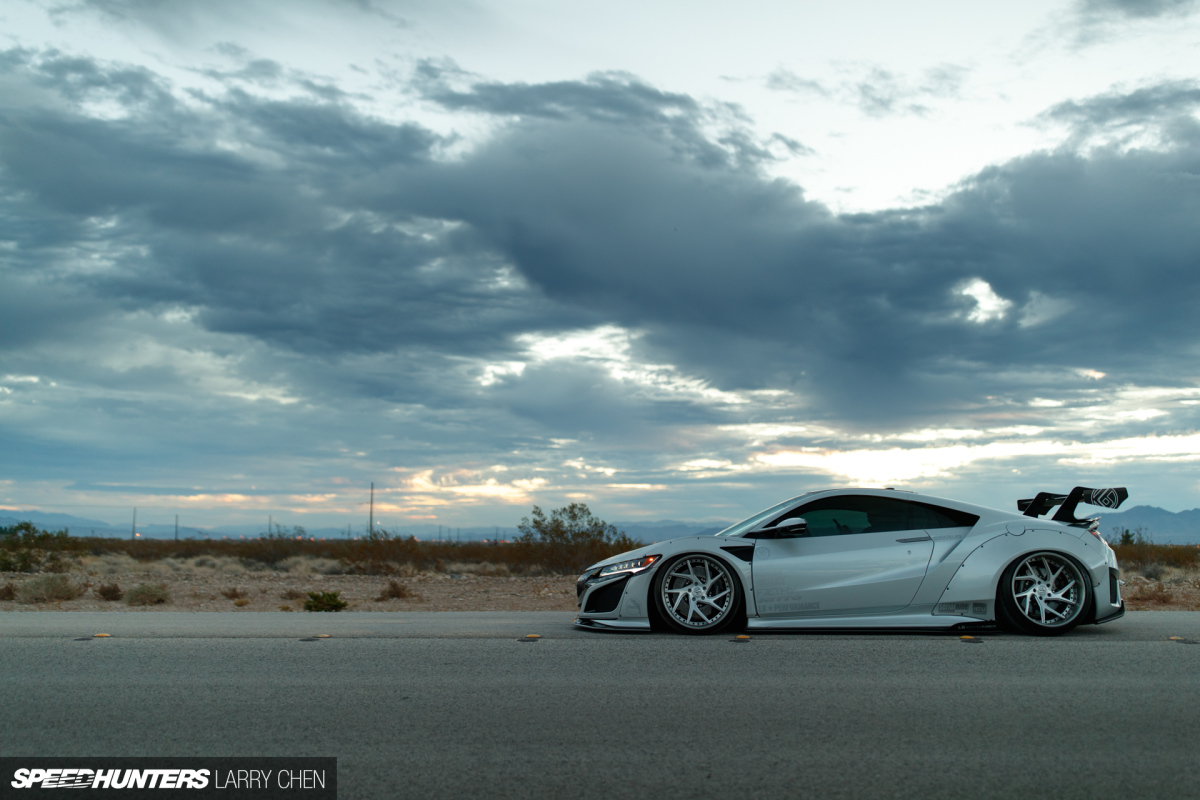 The finished product was then installed and set up by SerialNine, and there's no denying that, aired out, JJ's NSX looks truly out of this world.
A tidy boot install keeps the essential components tucked out of the way, while the controller nestles neatly in the centre console. All of this is at the cost of some luggage space, naturally – this is not the car for doing the Christmas shopping in.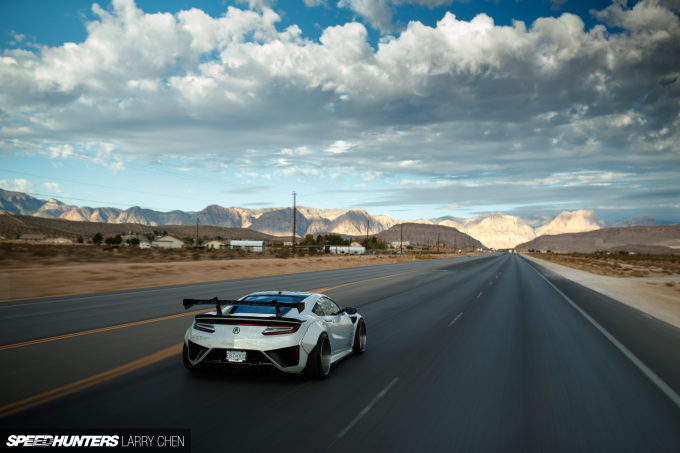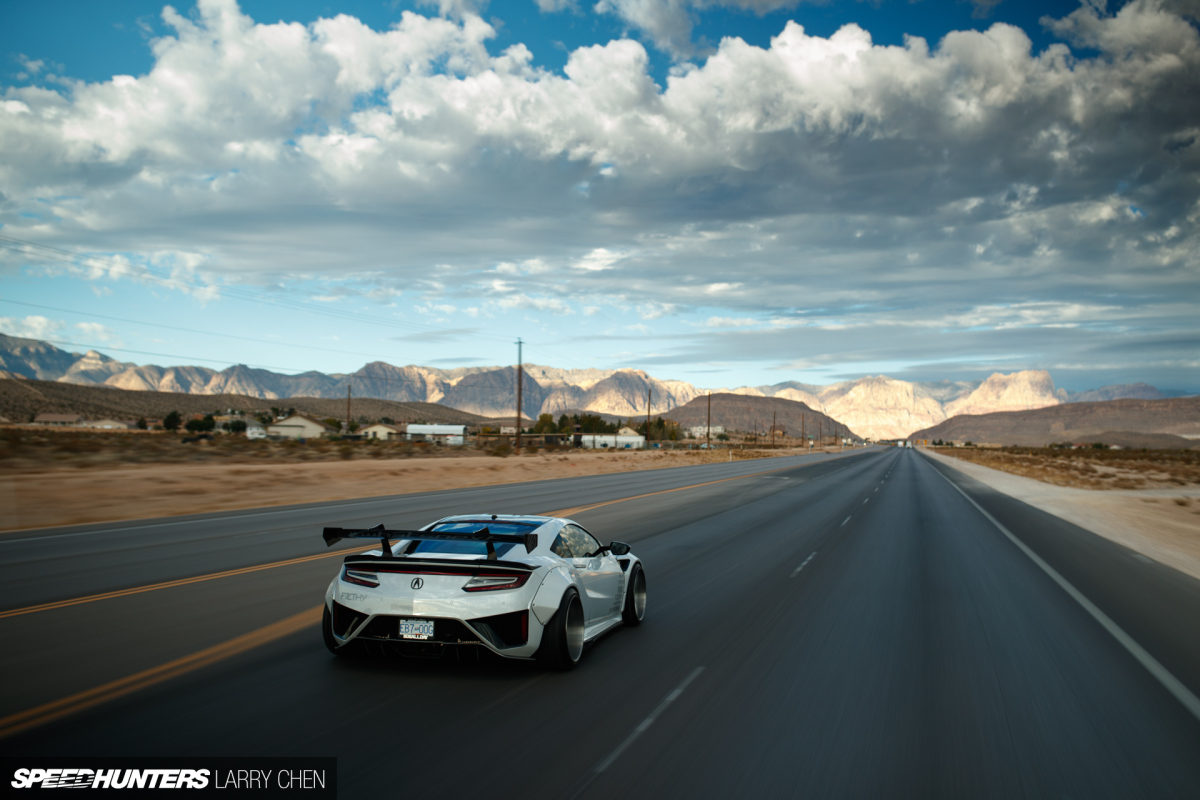 Whether you've already converted to the idea of putting a performance car on air suspension (if not, why not?) or are still a skeptic, tell me – what other form of suspension would offer the same balance of performance, looks and practicality for a car like this?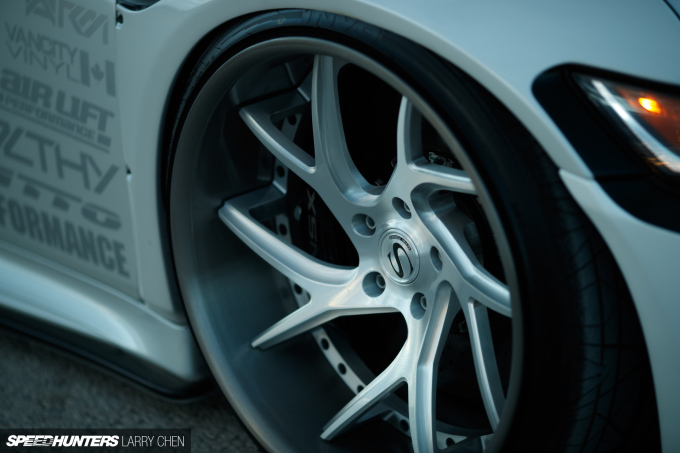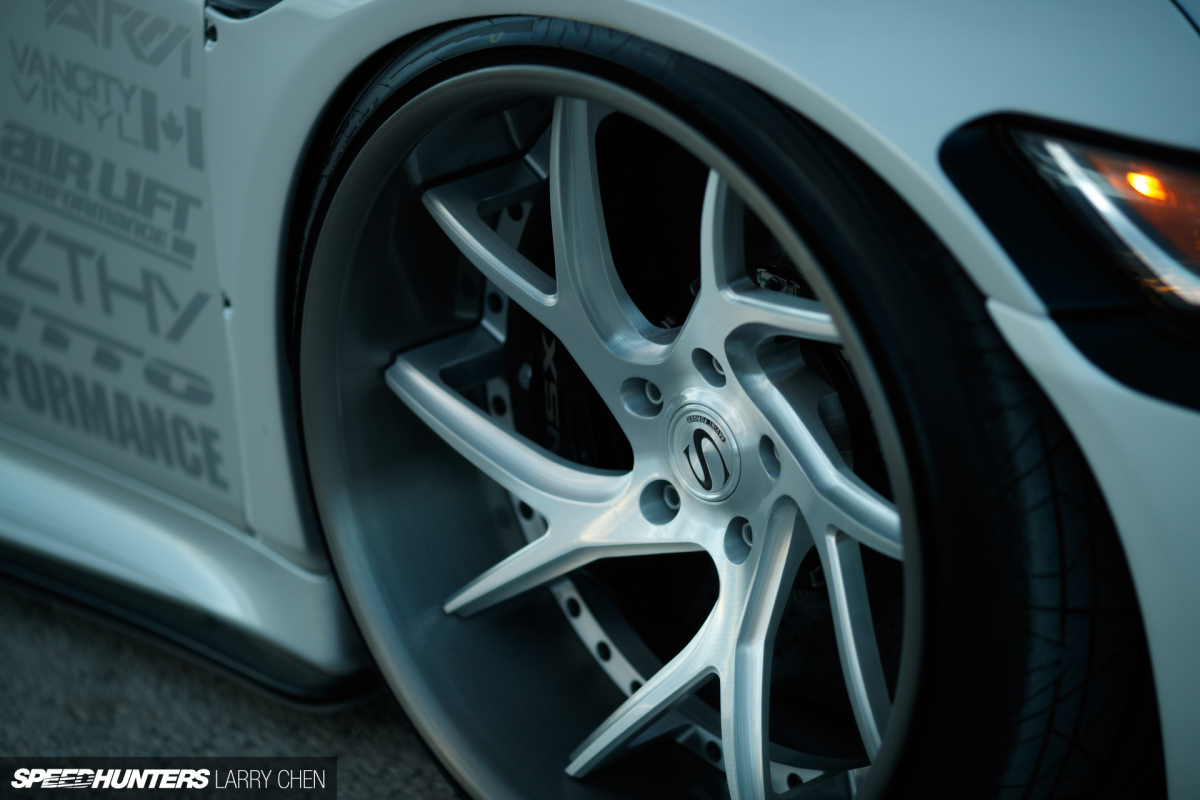 In choosing a set of wheels for the build, JJ turned to luxury wheel manufacturer Savini and ordered a set of their extreme concave SV67-XC three-piece forged wheels, specified in custom colours for the car.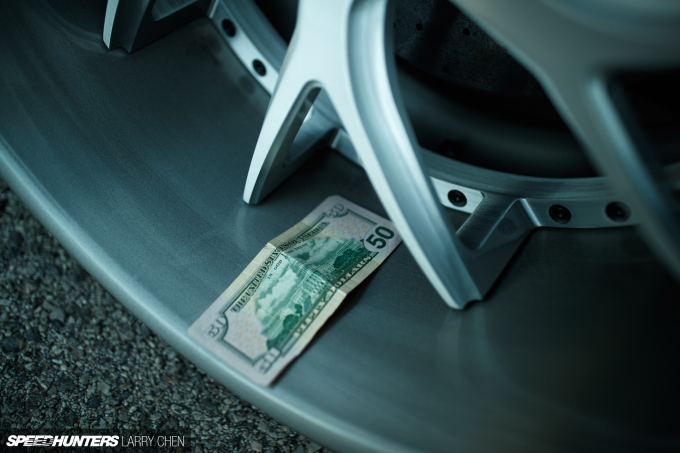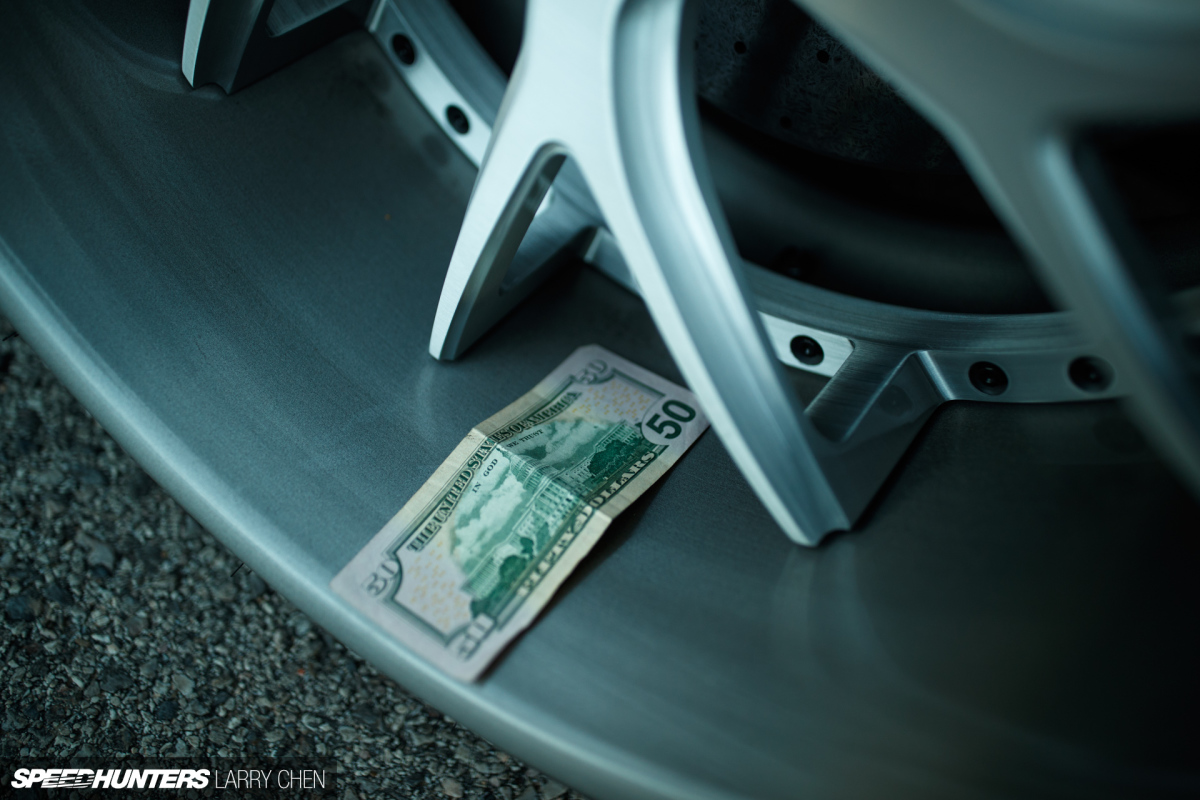 In sizes big enough to make any other fenders blush, the huge 20×10-inch (-10 offset) front and 20×13-inch (-55 offset) rear monsters are wrapped in 245/30R20 and 305/30R20 Nitto NT555 tyres, respectively.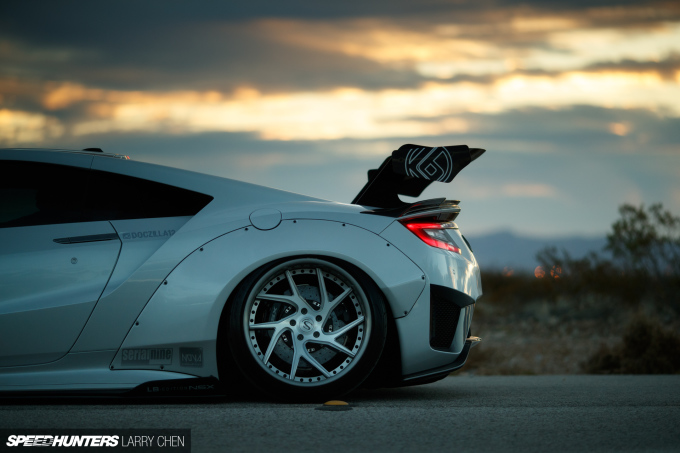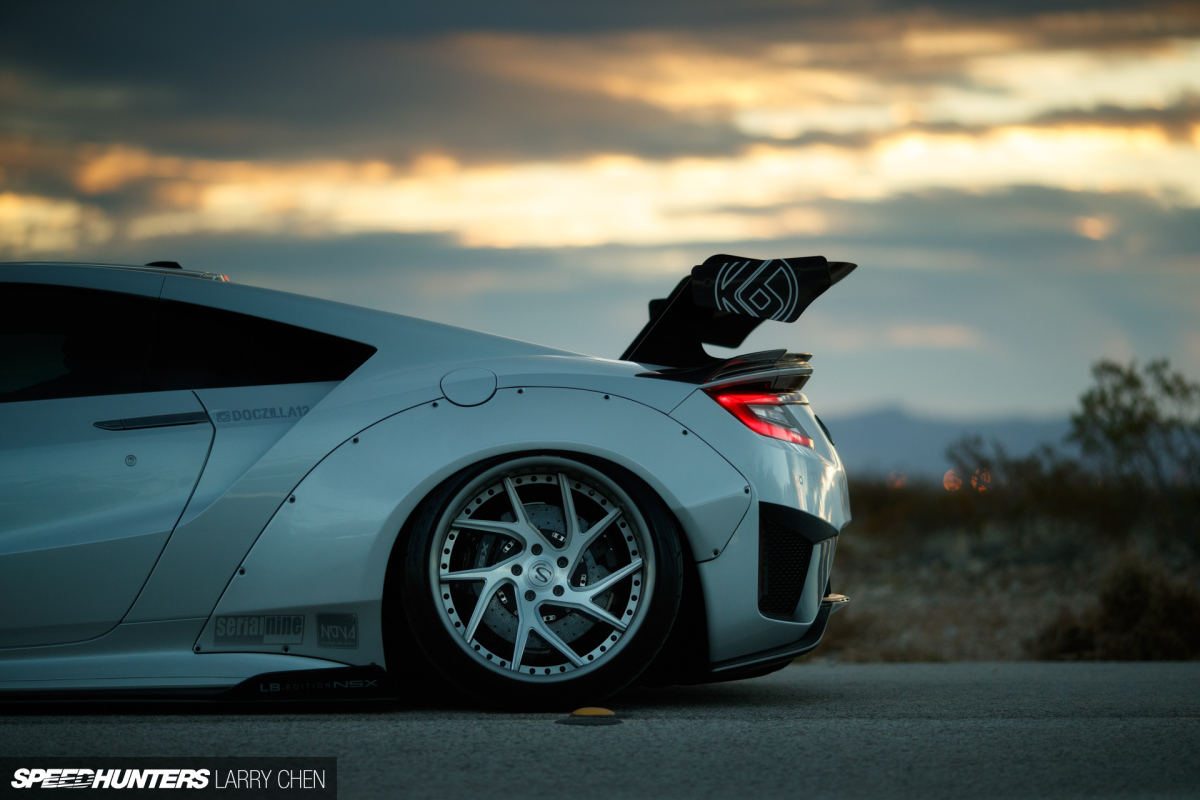 It's a design that's as futuristic in appearance as the car they're fitted to, and the eagle-eyed amongst you will have spotted that they bear more than a passing resemblance to the NSX's stock, and somewhat narrower counterparts.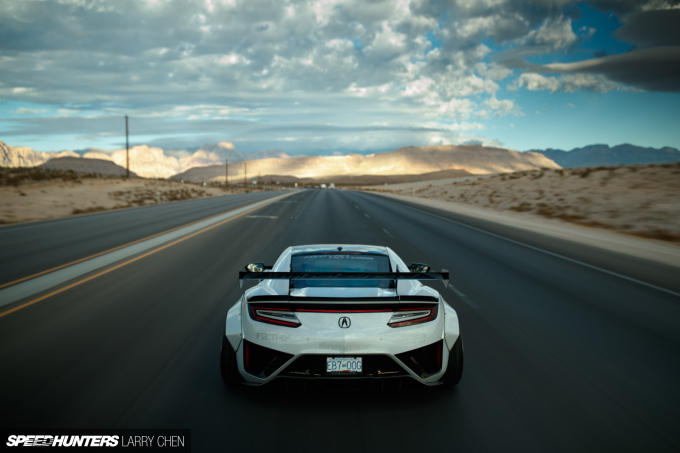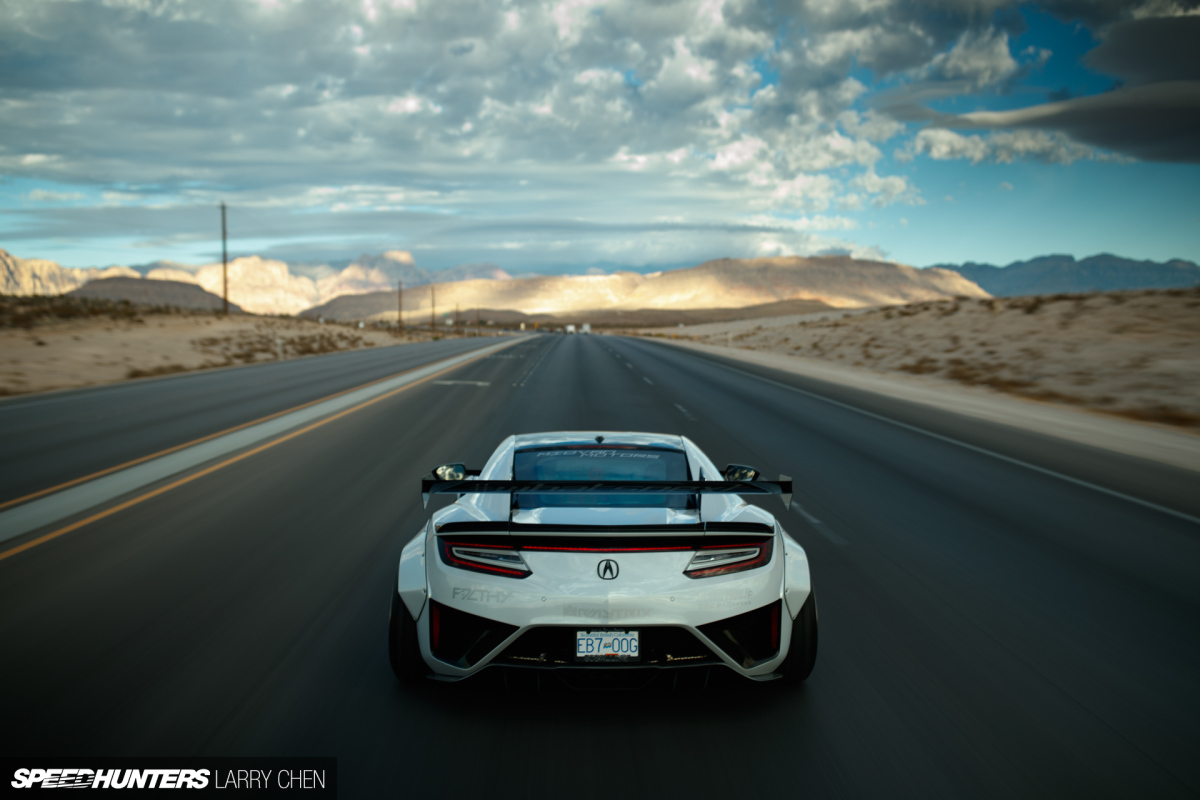 Under the bonnet, the NSX's hybrid 3.5-litre V6 twin-turbo engine has been left pretty much as-is, with the exception of a rather trick Armytrix exhaust (I see what you did there -PMcG).
Again, with this being the first heavily modified new NSX there was nothing waiting on the shelf for JJ. Taking matters into his own hands, he removed the full OEM exhaust and shipped it off to Taiwan for it to be assessed and measured.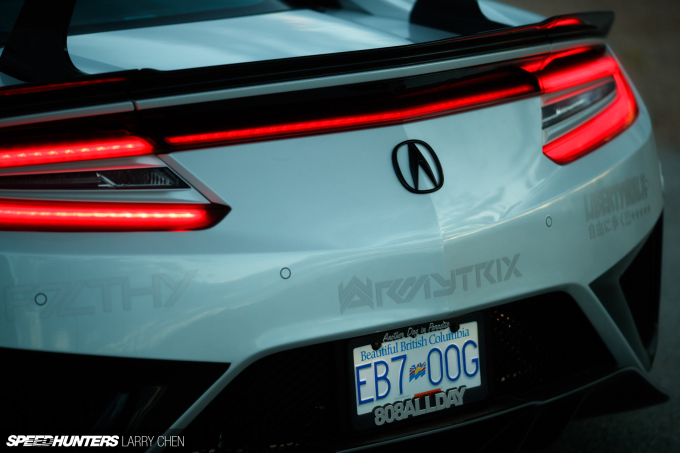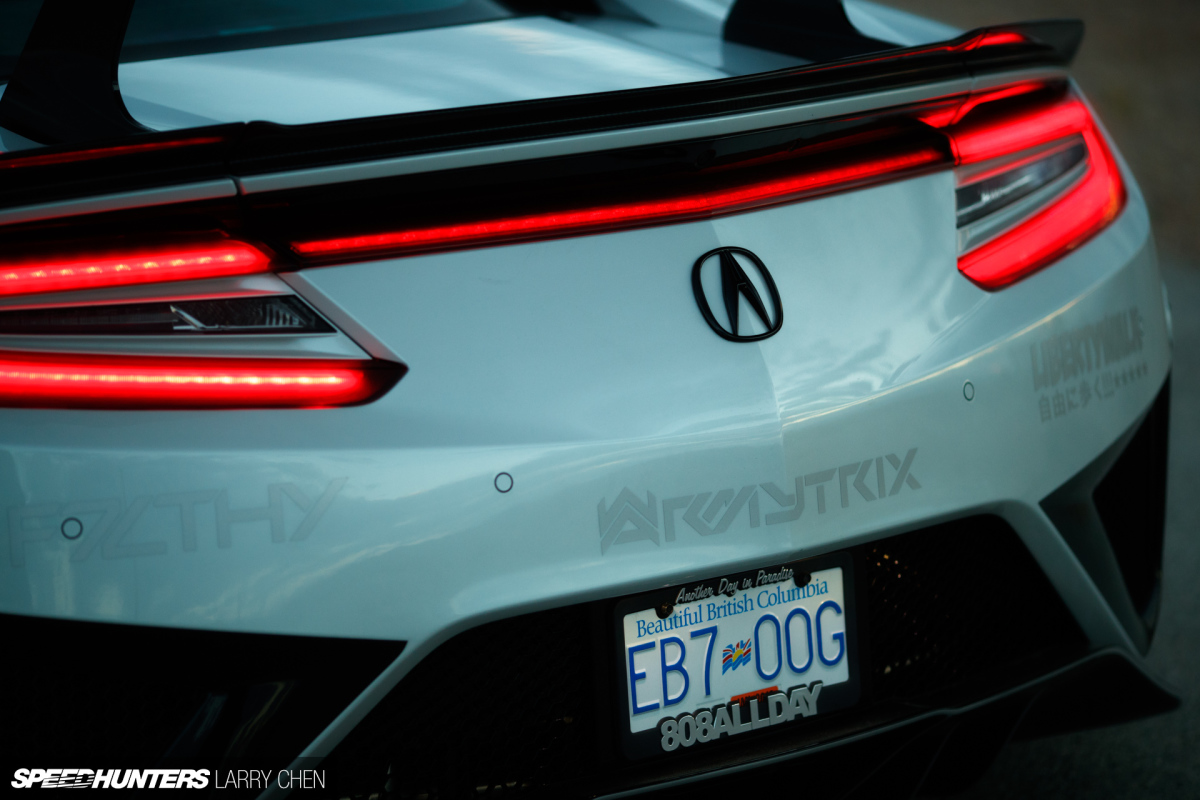 A short while later he received the stock item back, alongside a shiny new full titanium, valved Armytrix system with ceramic coated downpipes. Also packaged in the crate was Armytrix chief engineer Vixon Sy, who flew all the way over the Vancouver to help install the new system. OK, he probably wasn't in the crate, but that's pretty good service, right?
The interior has been lightly fettled too, JJ opting for a custom Alcantara headliner and various carbon fibre accents to complement the black and red leather/Alcantara seats.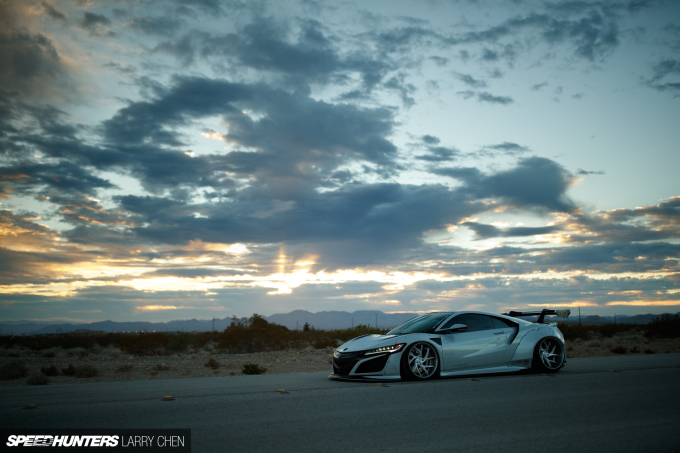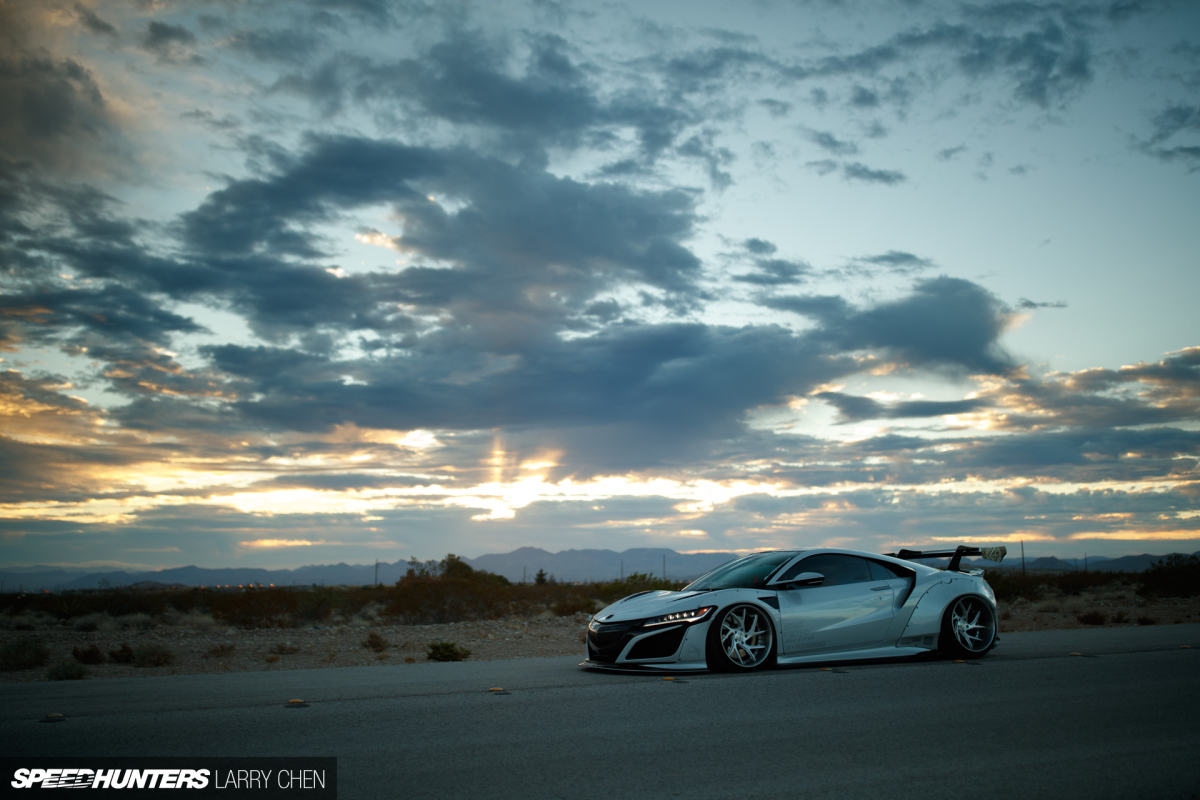 Part of me is curious as to what happens to big SEMA builds once the show is done. Many of them feel detached from the every day, and seem to disappear into the ether, never to be seen again. I think that part of it is that many builders enjoy the creation process and are itching to get on with the next one. It strikes me that JJ falls partly into this camp. In his own words: "These projects are so much fun to do. I'm addicted to the process and the people I have become friends with over the years. Customising is definitely in my DNA now."
Yet, reassuringly, JJ also tells me that he's got no such plans to part with the NSX any time soon. "I love driving this car. It is so precise to control and the power delivery is strong and direct. I really wonder how many folks who had written negative articles about the performance of this car in the earliest months of release actually had an opportunity to drive this car. In my experience, it truly has exceeded my expectations. It is really fun to rip around in. The Air Lift Performance system makes it a take anywhere, go anywhere car around my city and surrounding areas. I also plan to show the car further. I'll be limiting myself to three to four events this year, but I'll make sure they are the best events and give fans an opportunity to see it up close."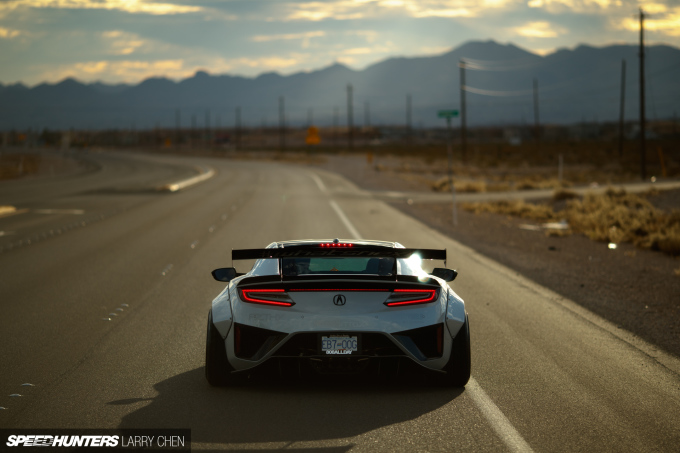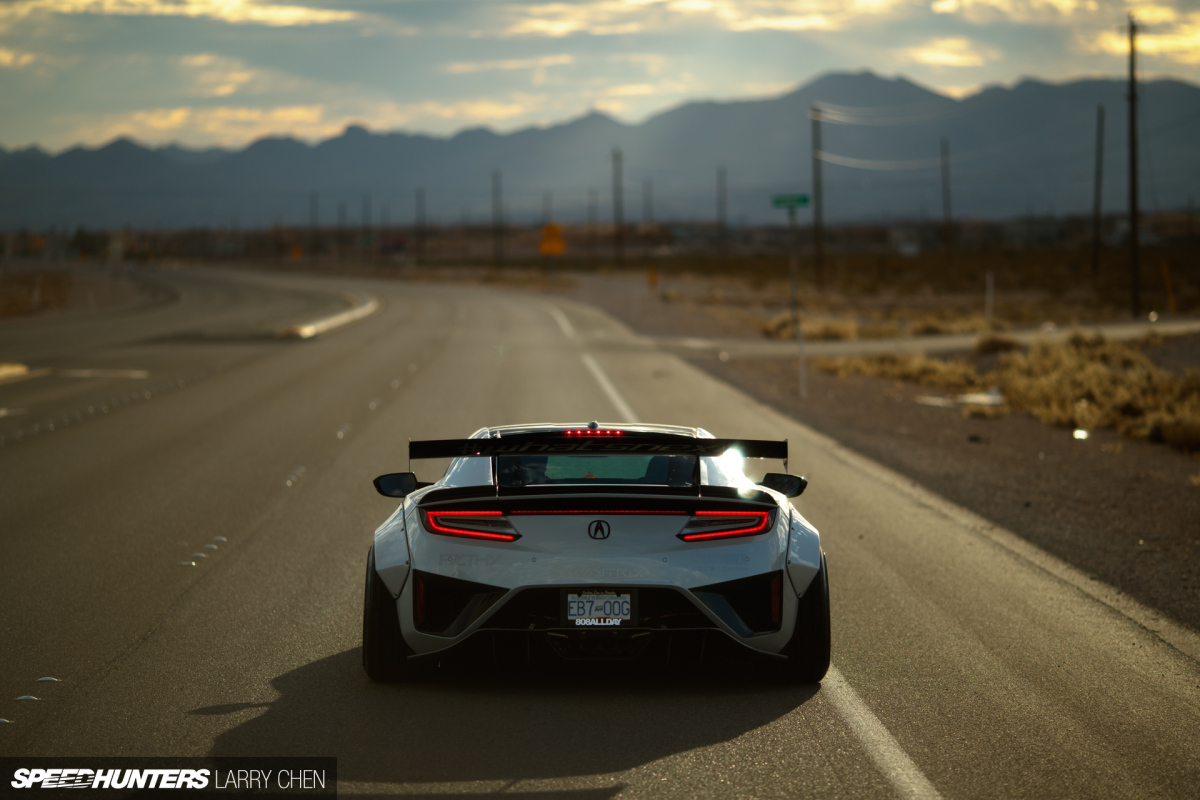 "My thank you list for this build is extensive. Besides the build team I mentioned earlier, first and foremost thanks has to go to my wife and kids. They are the ones that understand me the most. They see the sides of me that are the father and the doctor and know that I have this crazy passion for cars. They fully support me pursuing these projects and I'm infinitely thankful for the unconditional love and support."
Jordan Butters
Instagram: jordanbutters
jordan@speedhunters.com
Photos by Larry Chen
Instagram: larry_chen_foto
larry@speedhunters.com
Cutting Room Floor