Eureka
This isn't an argument, because we're long since past that.
A couple of years ago, around the time I was seriously starting to consider putting Project GTI on air, I came across a California resident by the name of Cody Miles. At the time, he was driving his daily driver, a Subaru Impreza WRX STI, in local Global Time Attack events. This in itself isn't particularly notable; lots of people compete in their street cars at grassroots events all around the world.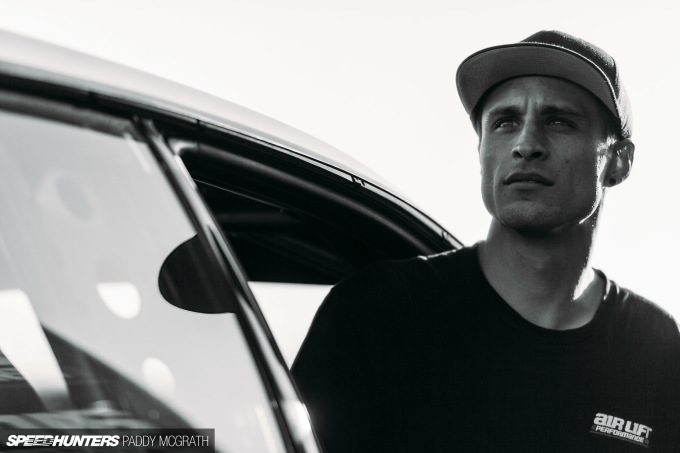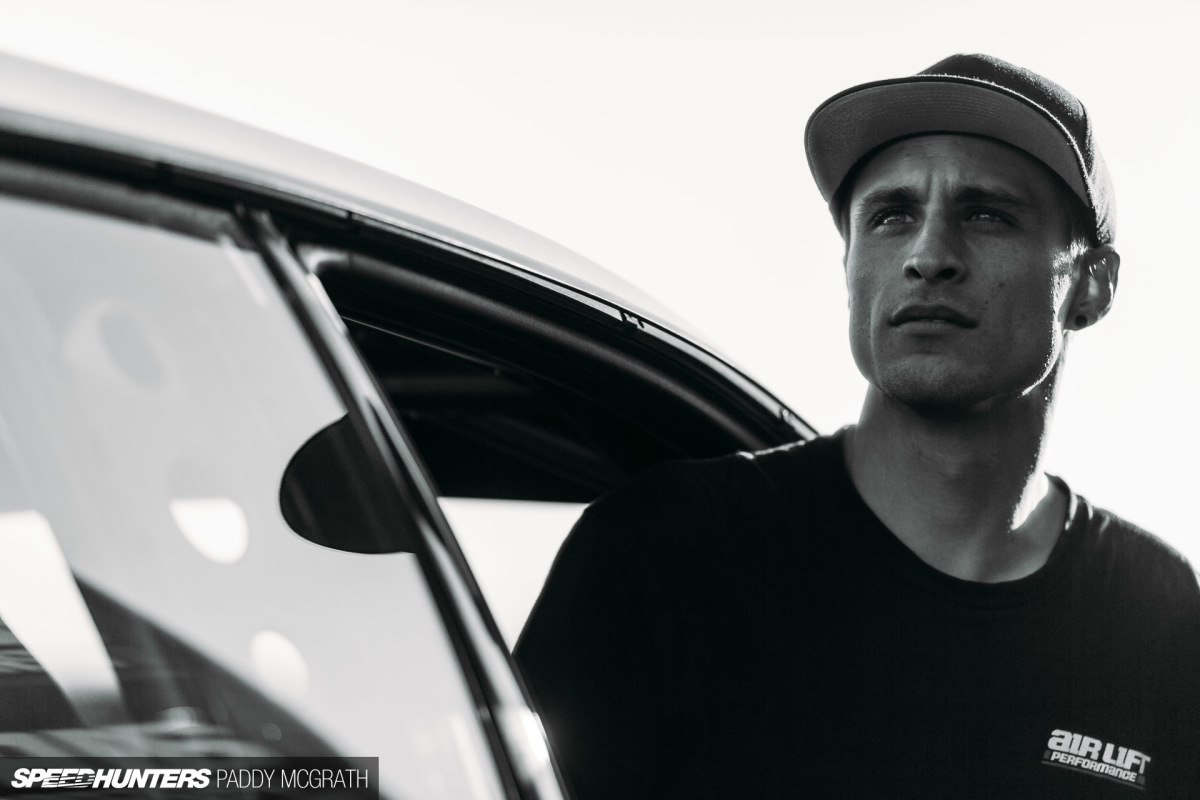 What was notable, however, was that Cody's STI was equipped with air suspension, the supposed antithesis to performance driving. But not only was his car riding on air, he was winning, and regularly.
If you've ever agonised over making a significant change to your car, you'll surely relate to the countless hours researching before taking the proverbial plunge. You'll have spent more time than you will ever admit to your non-car friends and family browsing message boards, reading reviews, articles, or even getting lost in the maze of hashtags of the likes of Instagram, just hoping to find that one morsel of information that helps you make up your mind, or even to reassure you that it is, in fact, exactly what you need.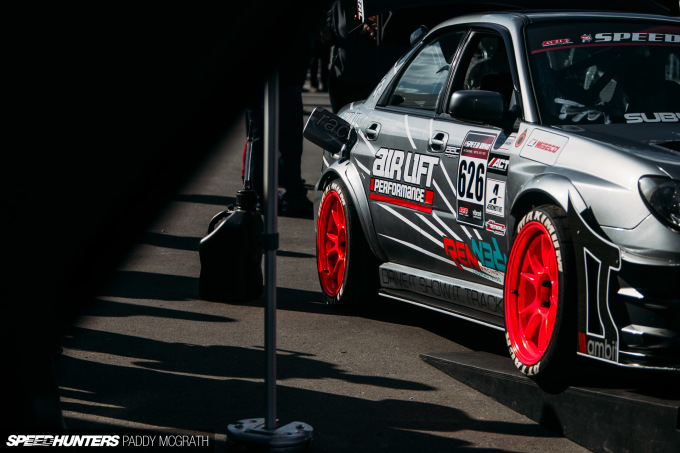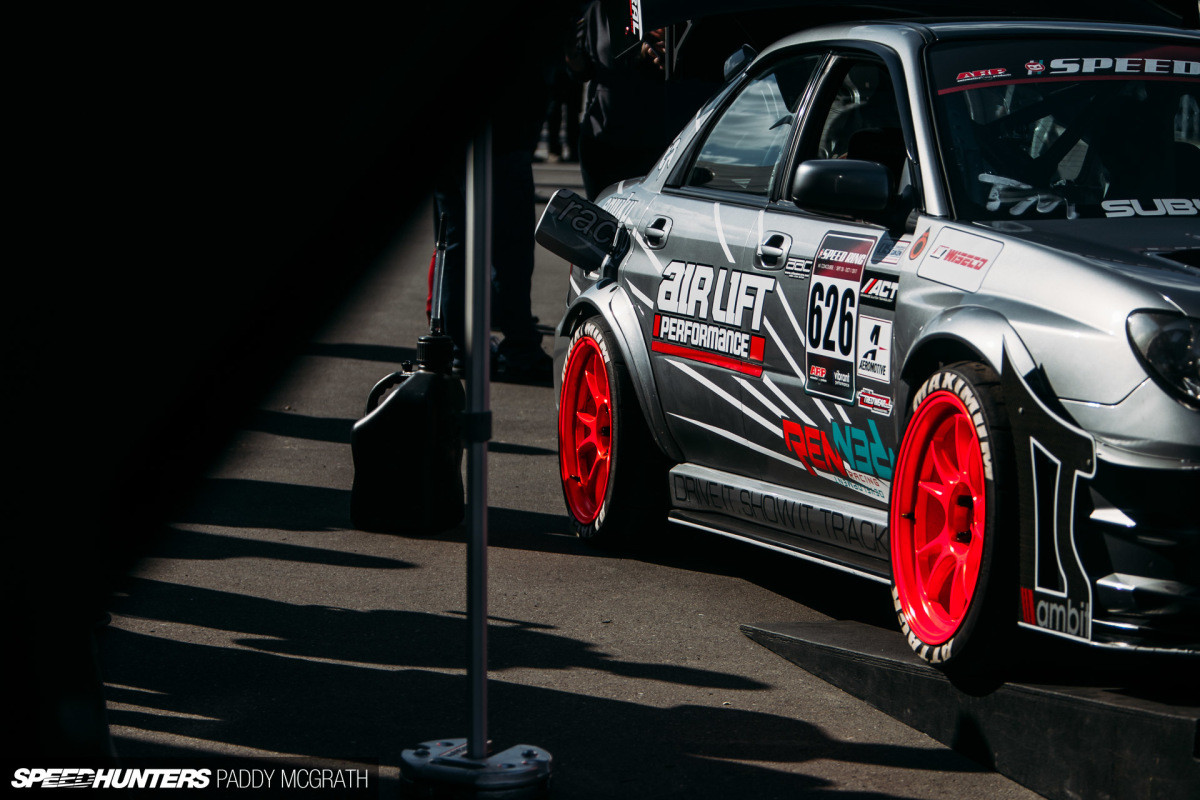 Happening across Cody Miles' Instagram account was my eureka moment. While I could find no shortage of Air Lift Performance-equipped vehicles, Cody's was maybe the most accurate representation of what my ultimate intended use with Project GTI was. From that moment, I was sold.
Although Larry and I put together a feature on Cody's car last year, I had never met or spoken to Cody in person before. There had been a few back and forth e-mails exchanged around the time of the feature, but the man and car continued to elude me. Until recently, that is.
All good stories often start with a harmless enough sounding proposition, and this one began with an e-mail from Corey Rosser at Air Lift Performance. Would I like to come and check out Air Lift's facility in Lansing, Michigan? Of course, I would. Why not tie it in with an upcoming Speed Ring event just outside Detroit at the same time? Oh, and Cody will be shipping his STI across country to compete. Interested?
Abso-f**king-lutely.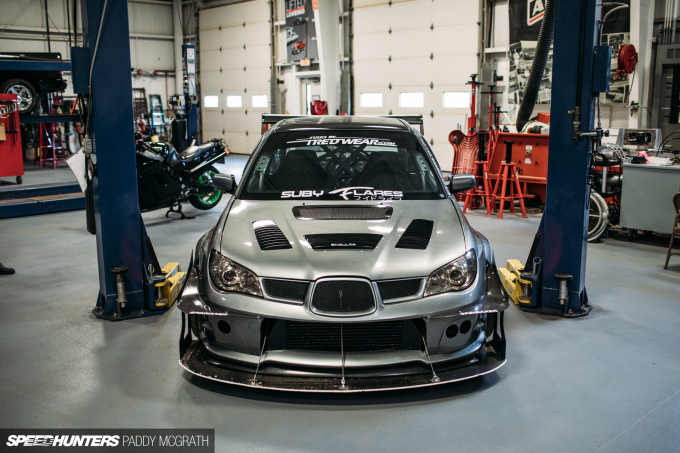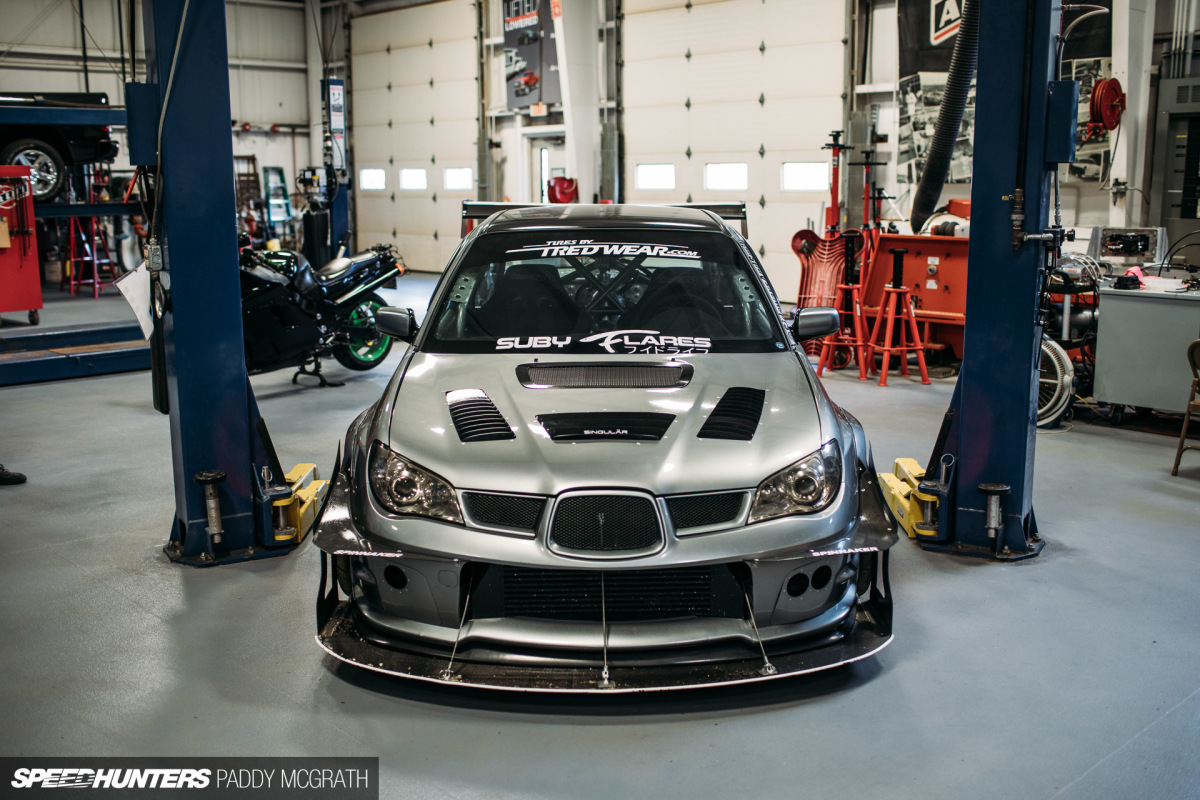 Fast forward a few weeks, and I'm stood on Air Lift's shop floor, the unmistakeable hawkeye STI in front of me. A lot has changed since we featured the car, and its transformation from barely legal street car to fully fledged race car is now complete.
We were invited up to Air Lift's staff break room for some pizza and introductions, although we wouldn't be hanging around the facility for too long. There was time for a tour and to arrange a very special giveaway which will be coming up shortly (if you own a GTI, your interest should be piqued) before loading up for Speed Ring. I'm certain it was a Friday evening.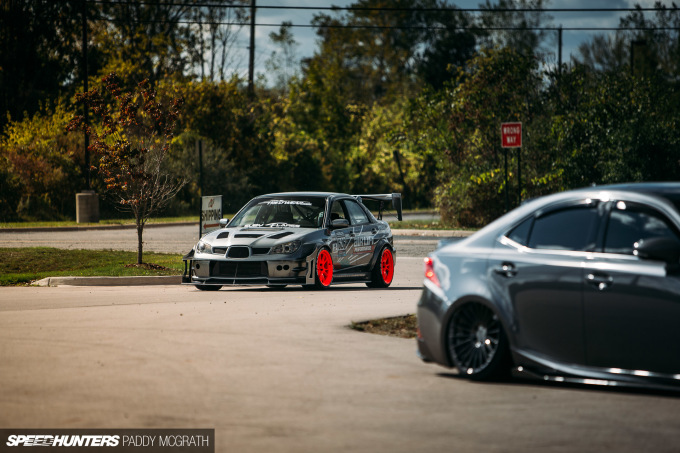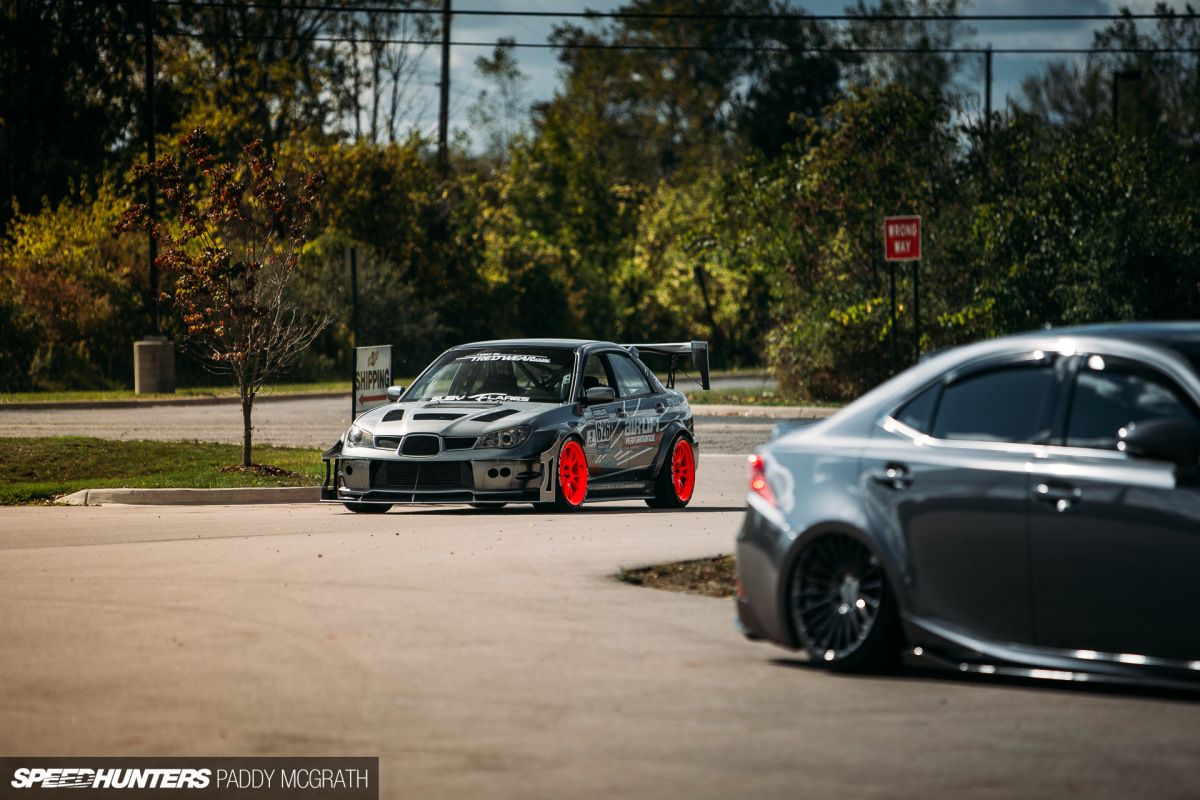 The car had been shipped ahead of Cody, who flew in that morning to Detroit. There was just enough time to gently run the car up and down the parking lot to ensure nothing was amiss, before loading it and a handful of tools and spare wheels into the back of Air Lift Performance's compact two-car trailer.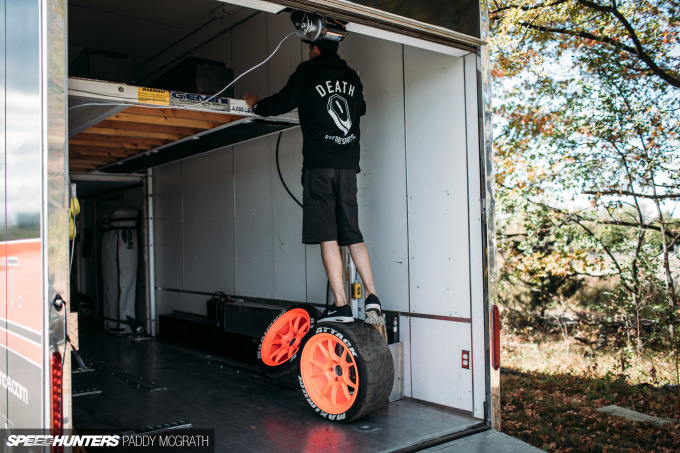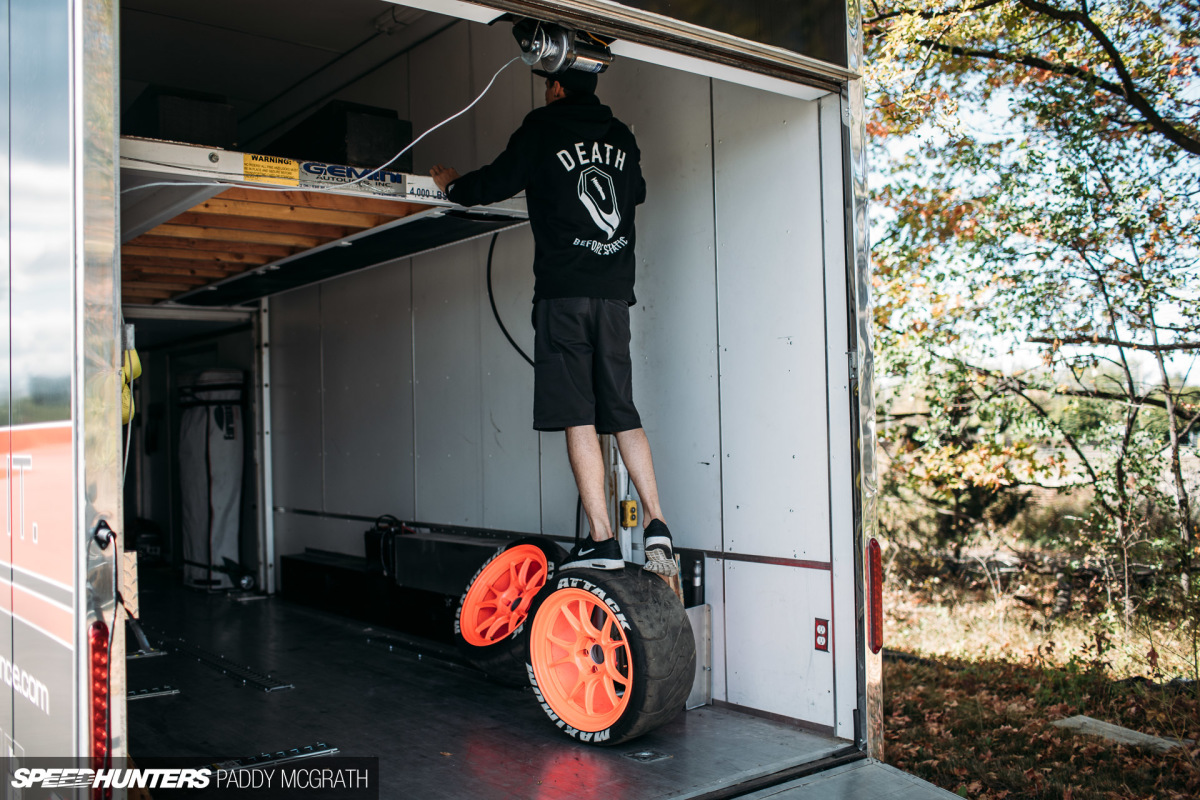 Having spent the season with the Worthouse Drift Team, with their seemingly infinite amount of spares, it was a reminder that there's so many people out there doing it relatively on their own, on much smaller scale. With the help of the Air Lift Performance staff, Cody took charge and had the car and spares secured in no time, taking extra care to ensure nothing would move about during the relatively short drive to the track.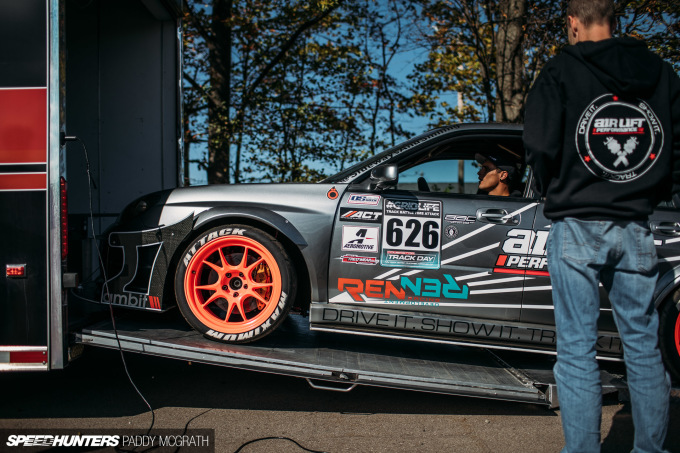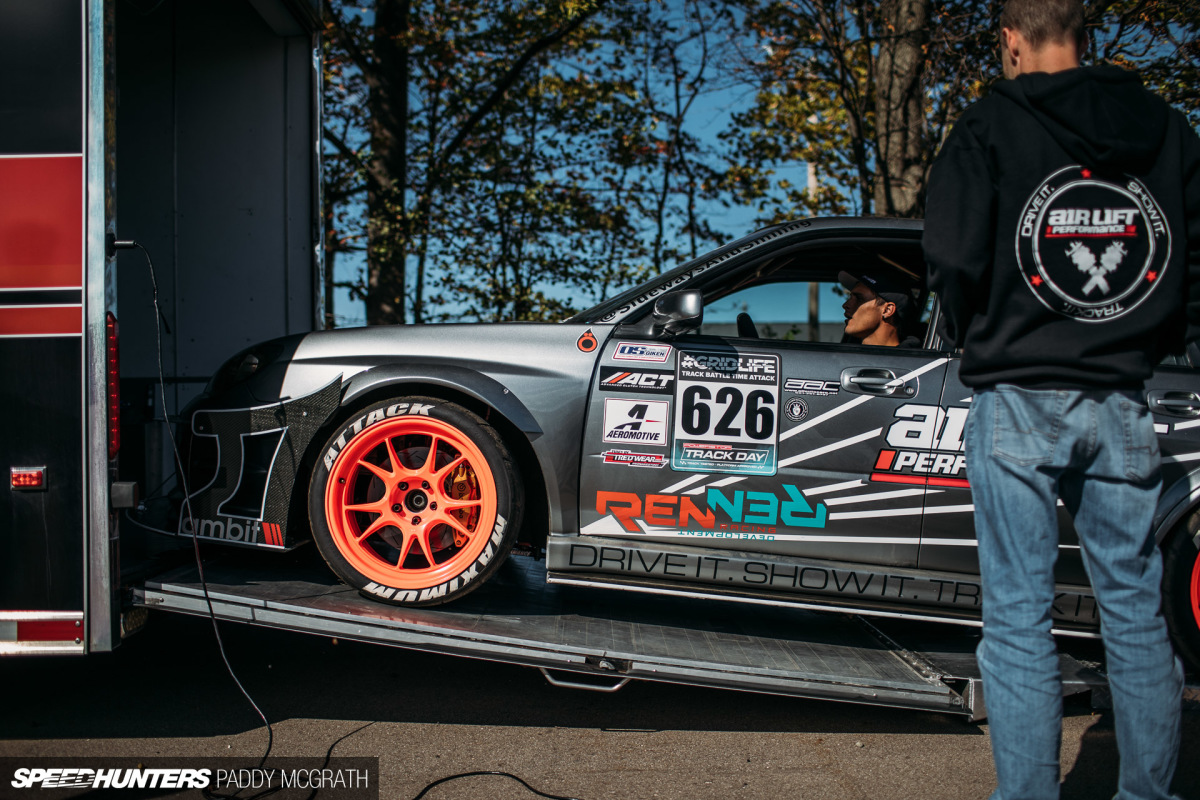 It's only in recent times that Air Lift Performance have officially backed Cody; he was originally just one of their customers and bought his first kit with his own money. I was always curious of this, and I think his success is made all the more impressive because of it.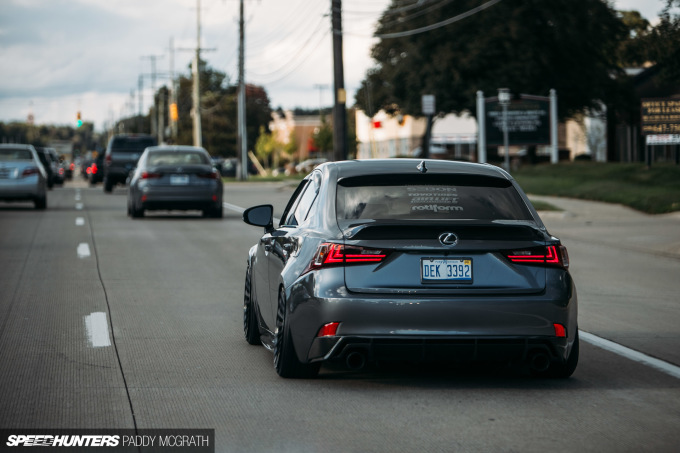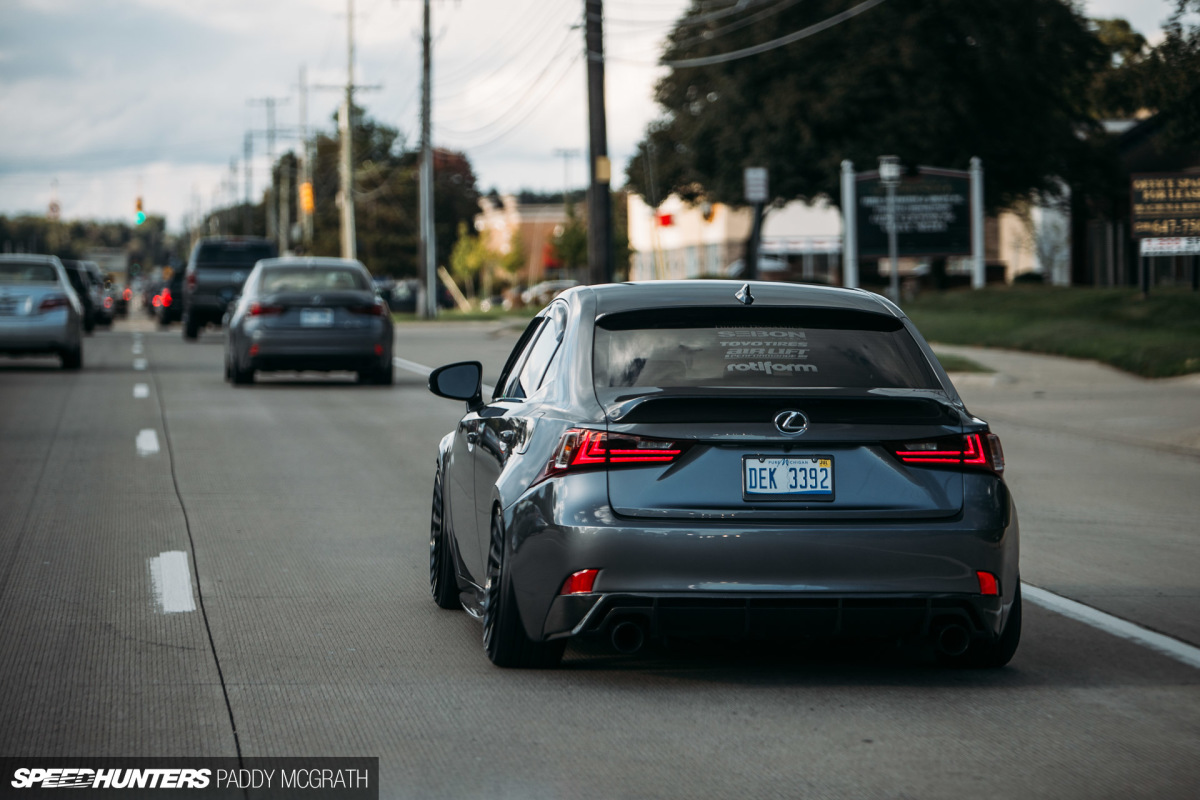 With everything loaded, it was time to hit the road. Destination: Detroit, and the M1 Concourse, a relatively new circuit based on the site of a former General Motors plant.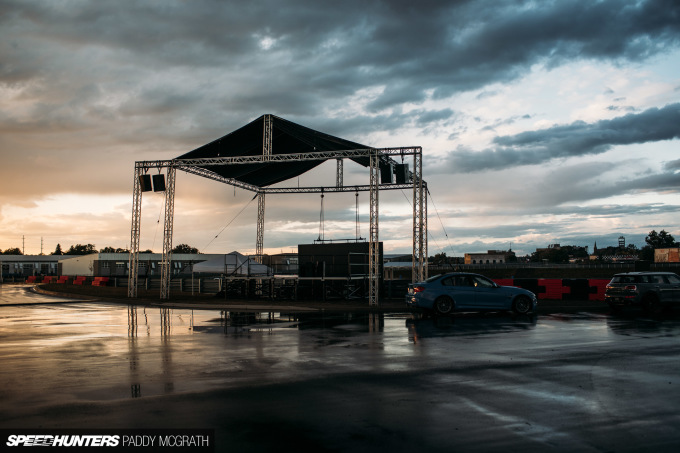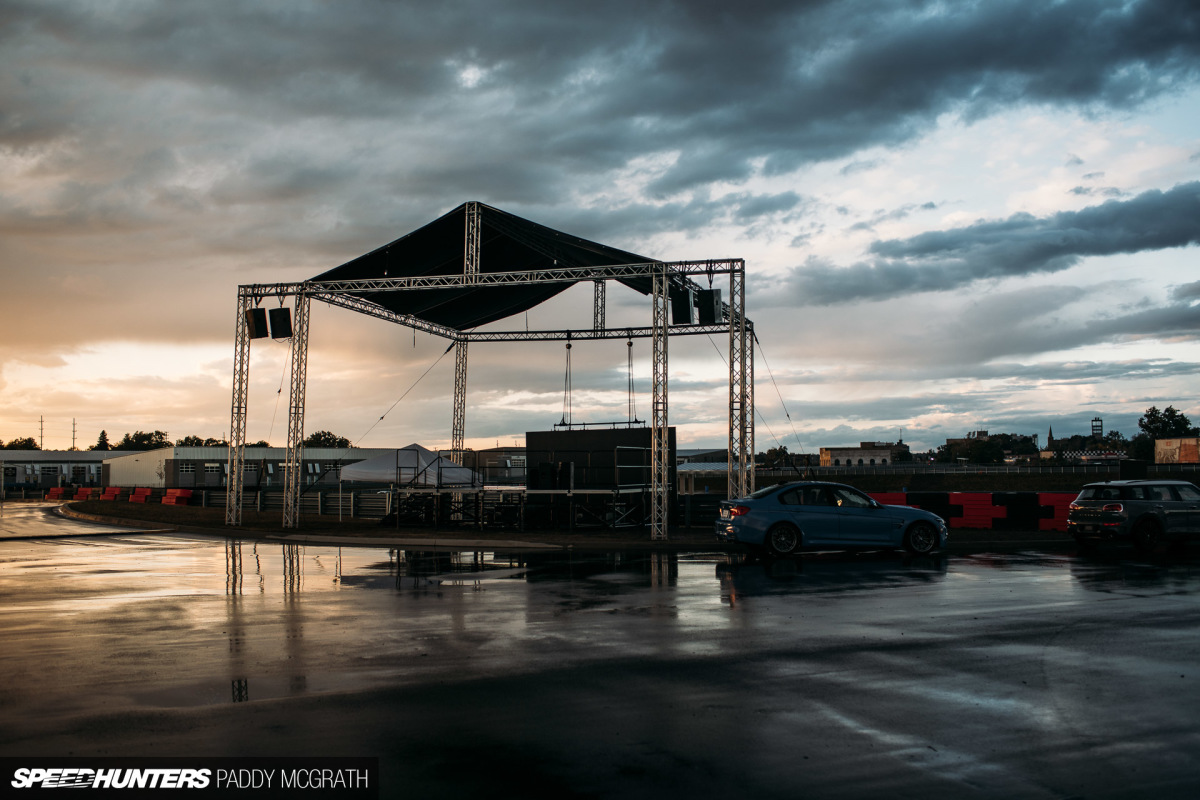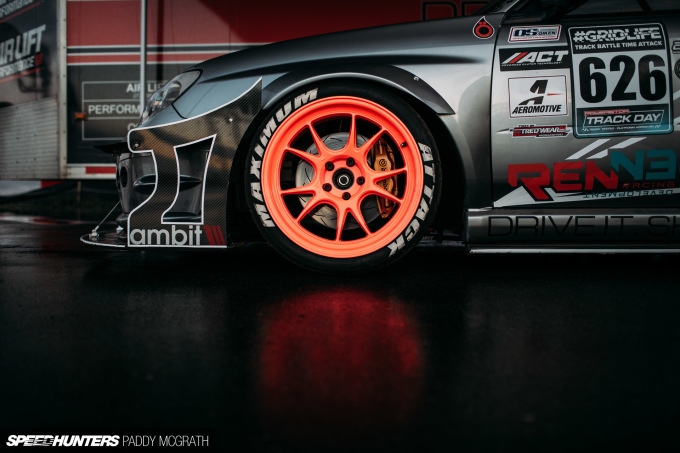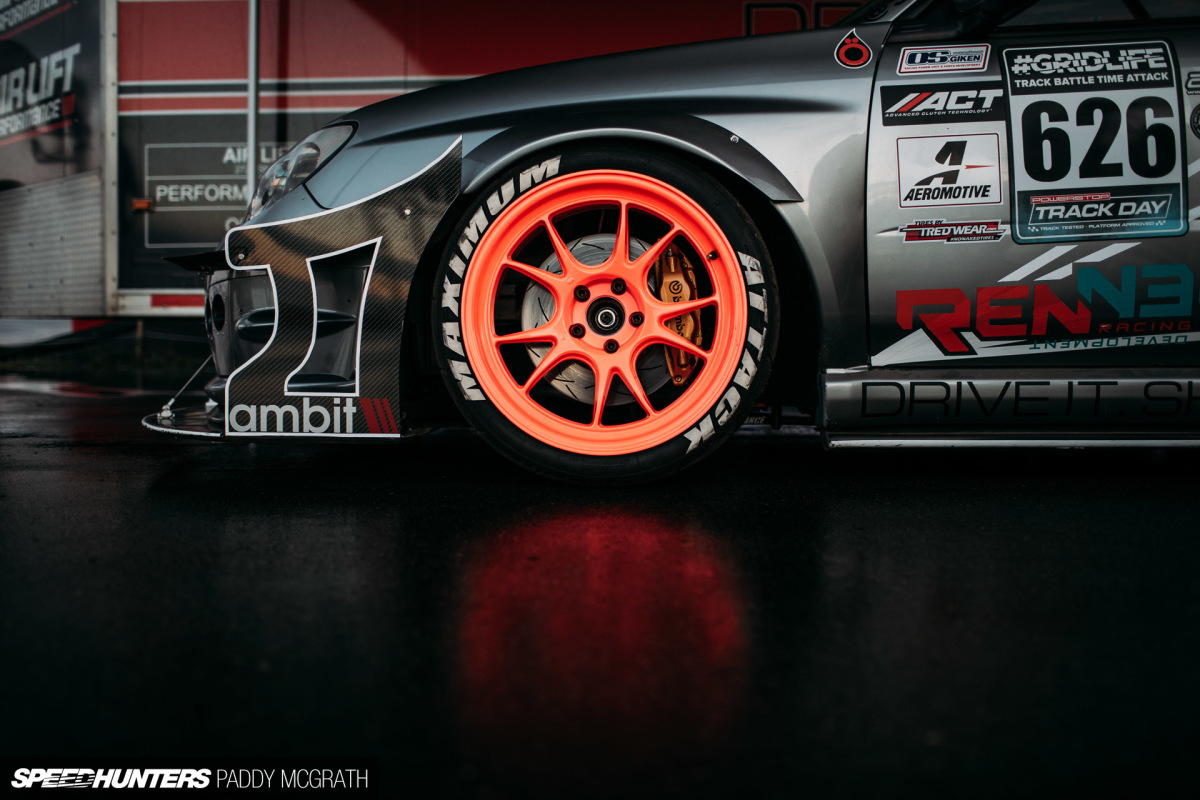 As we arrived, the sun was setting at the previously vacant lot. The freshly laid tar offered an almost mirror image of the world above it, following a brief rainstorm. The evening at the track was brief, with the car unloaded, a tent secured in place, and Cody giving the car a quick clean ahead of the weekend's track action.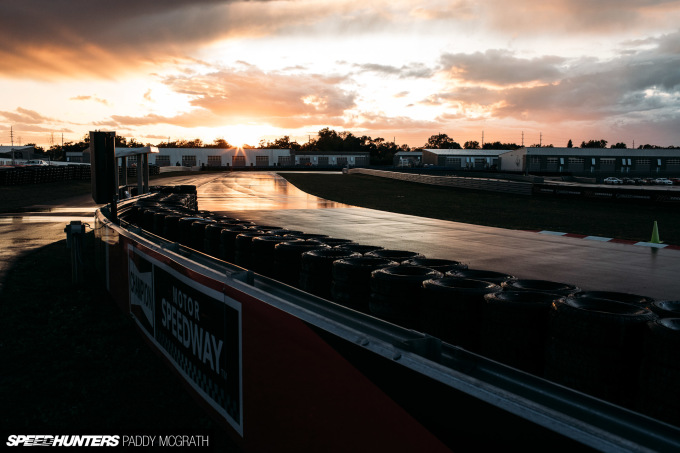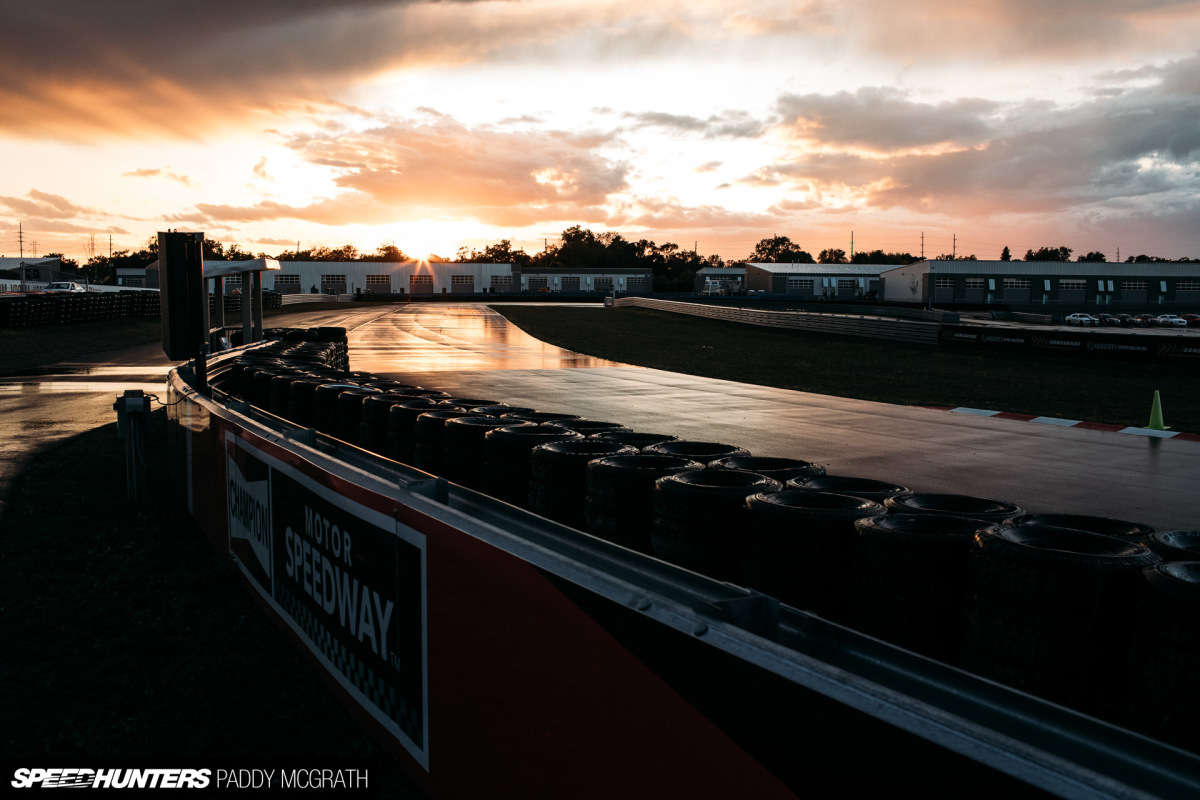 This wouldn't be quite like any other time attack-style event that I, or anyone else for that matter, had attended.
Margins Of Error
Saturday morning gave me my first proper look at what Speed Ring was about. The rain that greeted us as we arrived the evening before was long since gone, and would stay away for the rest of the trip. When we arrived, Cody was ready to roll for his first of several time attack sessions.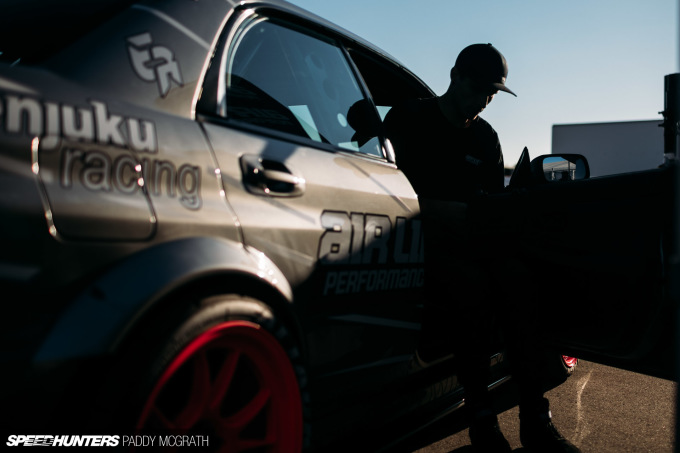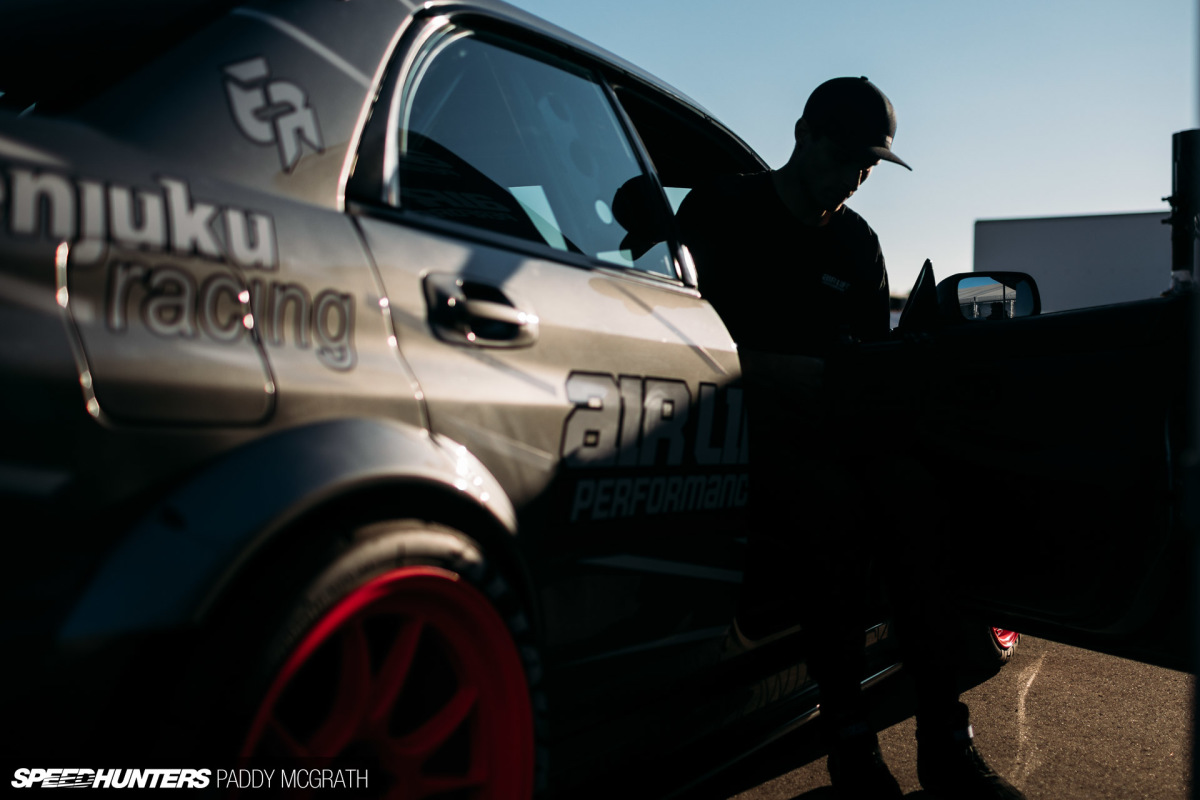 But not before a mandatory drivers' briefing. As the organisers of the event went through the weekend's schedule and regulations, cars continued to arrive for scrutiny. It's been a few years since I last attended a professional-level time attack event, but it's a discipline that I've always admired for its purity, its outlandish builds, and the lengths that teams will go to to find every tenth.
The variety of cars across the three main classes – Street Modified, Track Modified and Unlimited (themselves again sub-divided into FWD, RWD and AWD) – was impressive. All the major marques were represented, with power levels ranging from strictly humble to strictly outrageous.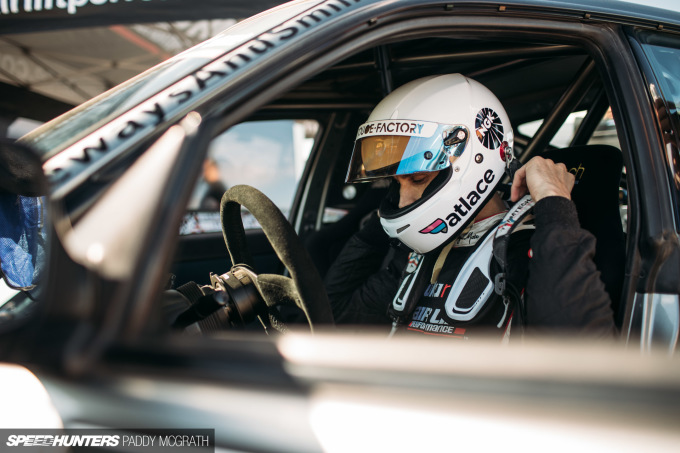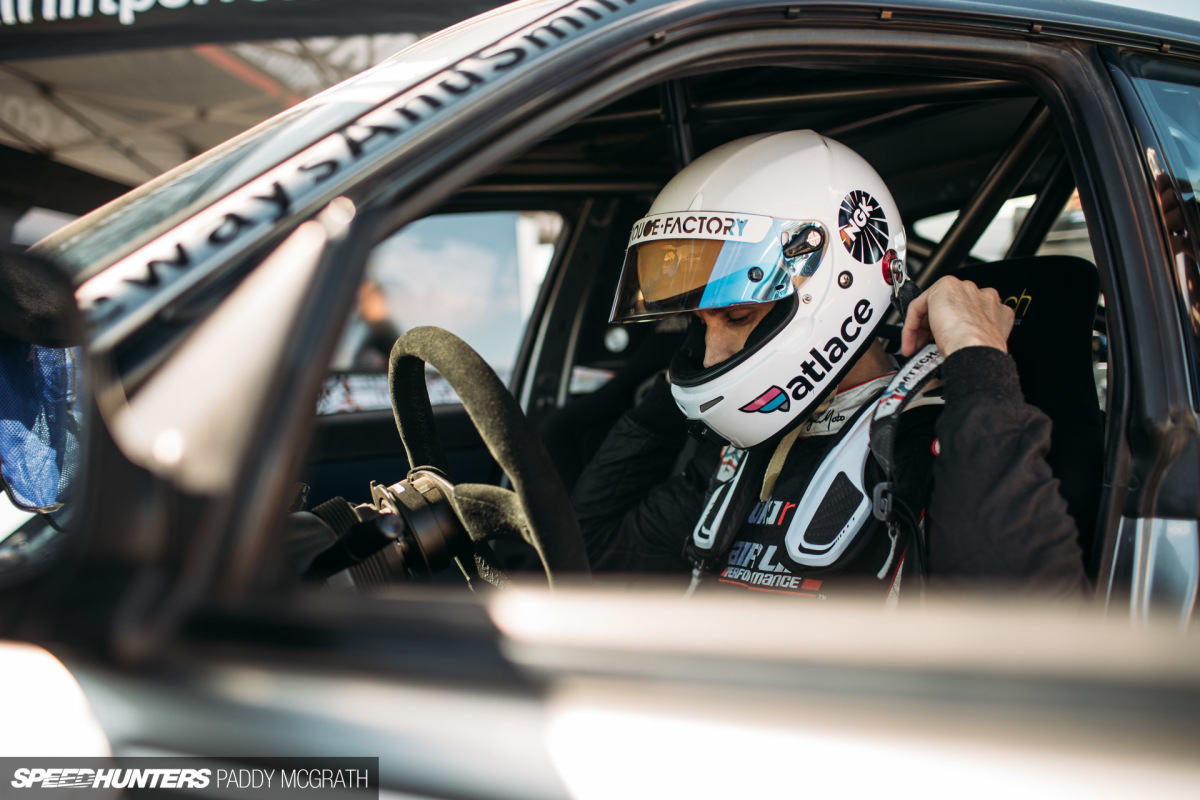 My focus this weekend, however, would be on Cody and how his event would progress. Mostly, I wanted to hang back and just watch how he went about things, both on and off track.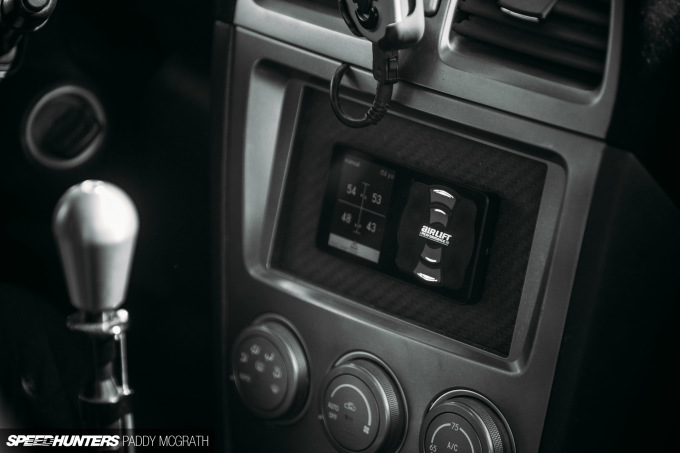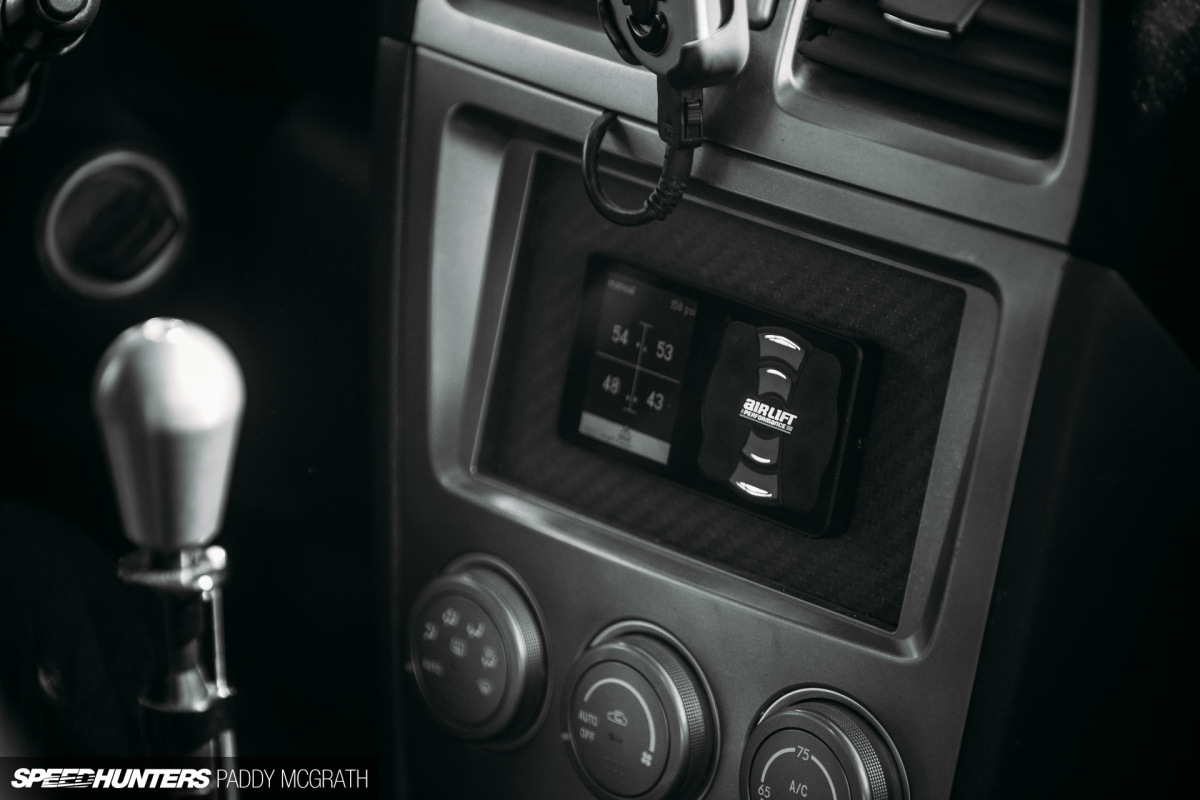 Cody isn't the first to race on air suspension – far from it in fact. Air suspension in motorsport can be traced back to the 1950s. He his a rare sort in today's motorsport world, though. Air Lift Performance themselves, while fully confident in their product, will say that a coilover system is perfect for a vehicle that doesn't require on-the-fly height adjustability, such as a track car.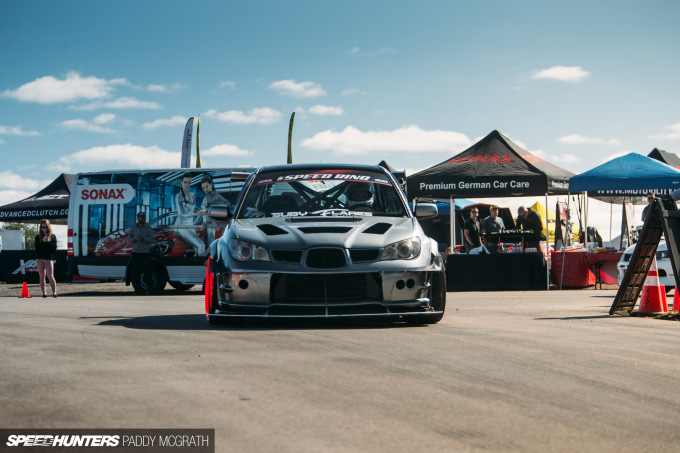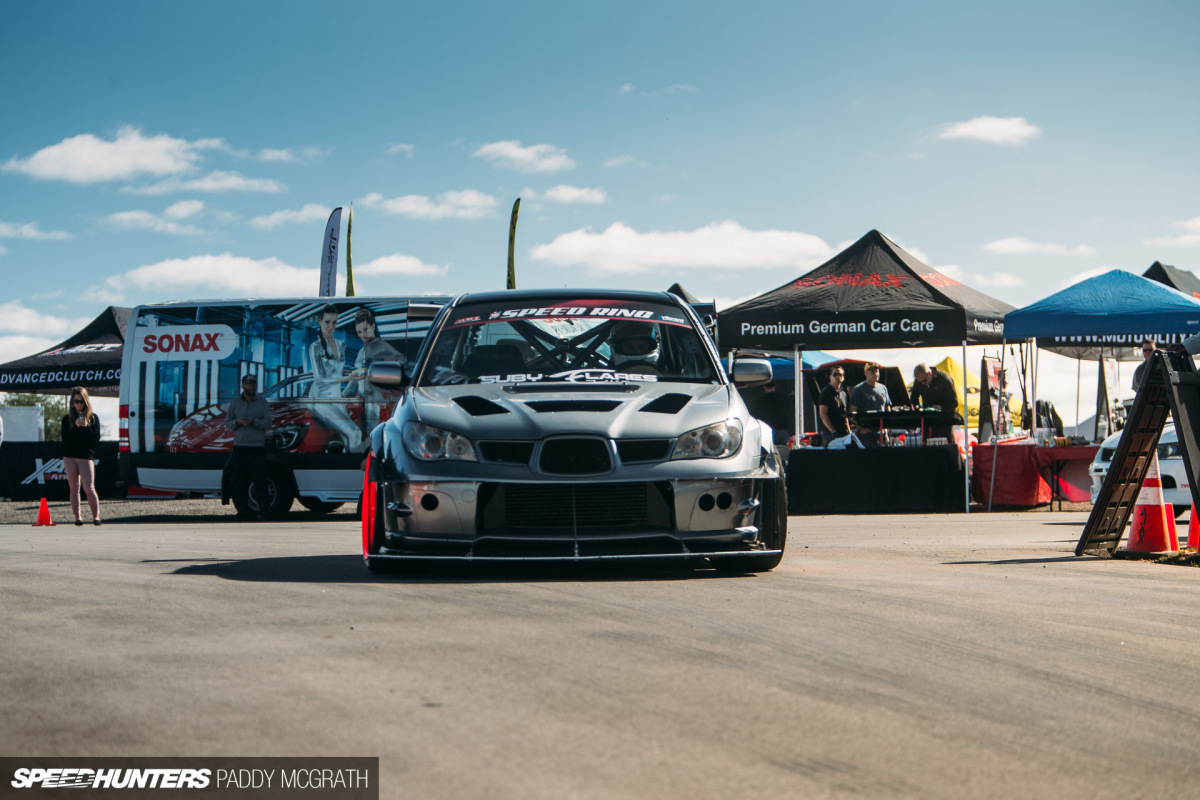 This makes what Cody has achieved all the more fascinating. When he first started he ran Air Lift Performance's V2 system, but last year upgraded to their new 3H system, The kit he runs on his car is off-the-shelf, too. There's no special treatment or secret componentry involved.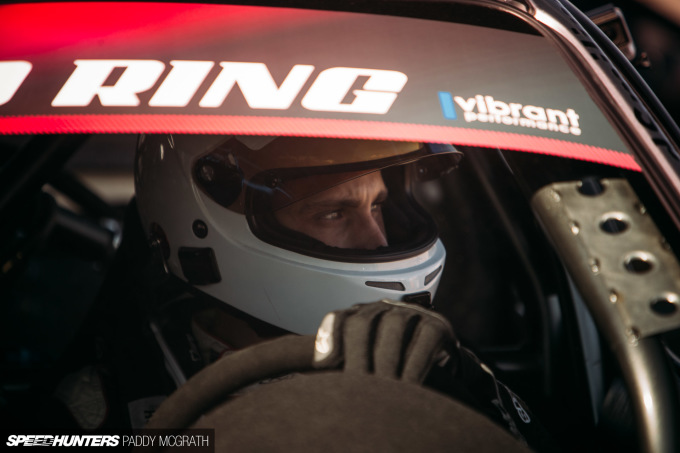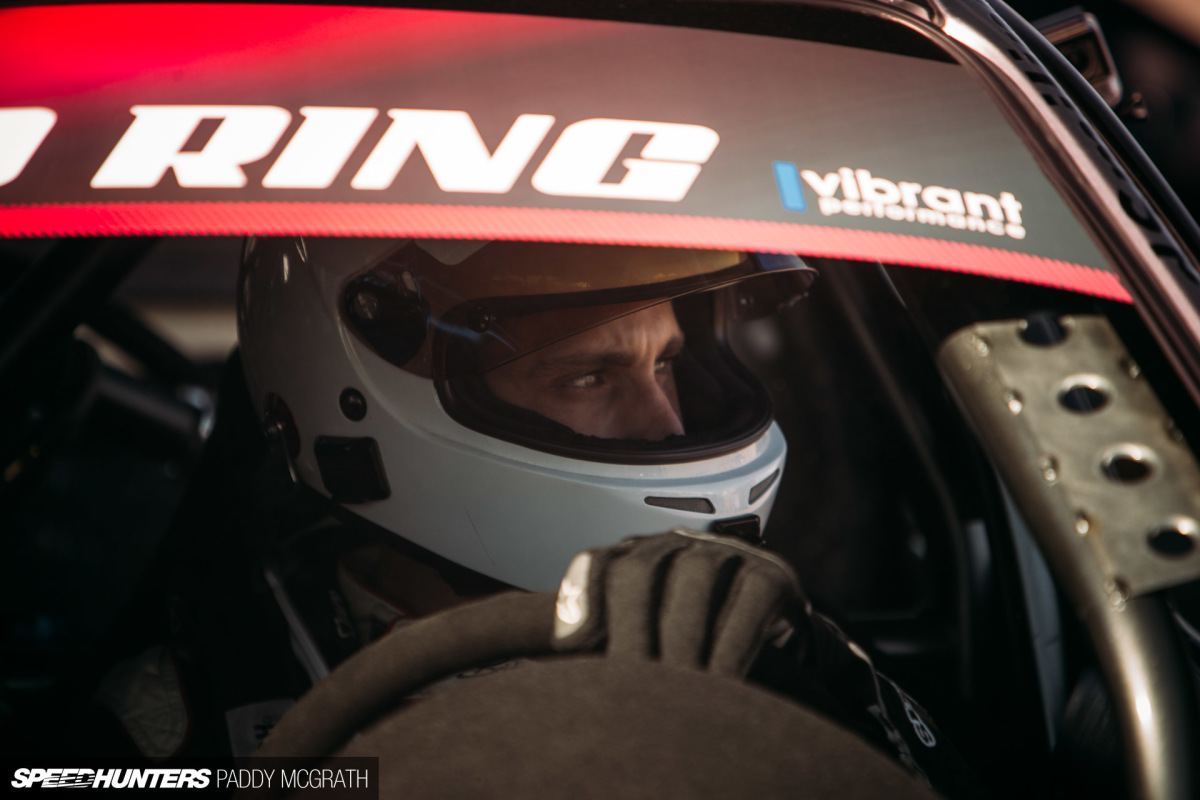 This was what I found most interesting; it's one thing to utilise air to achieve maximum low or the perfect wheel fitment, but it's another to set it up for performance. While a GTI and STI aren't exactly comparable, it did show me that I'm at least on the right track with regards to pressures in relation to damping settings, which is nice.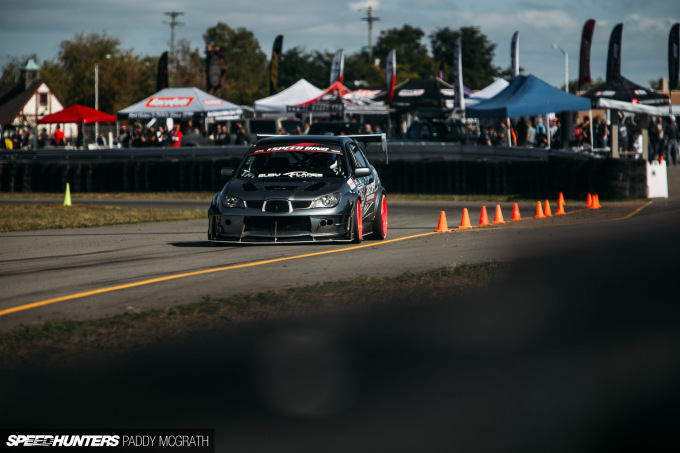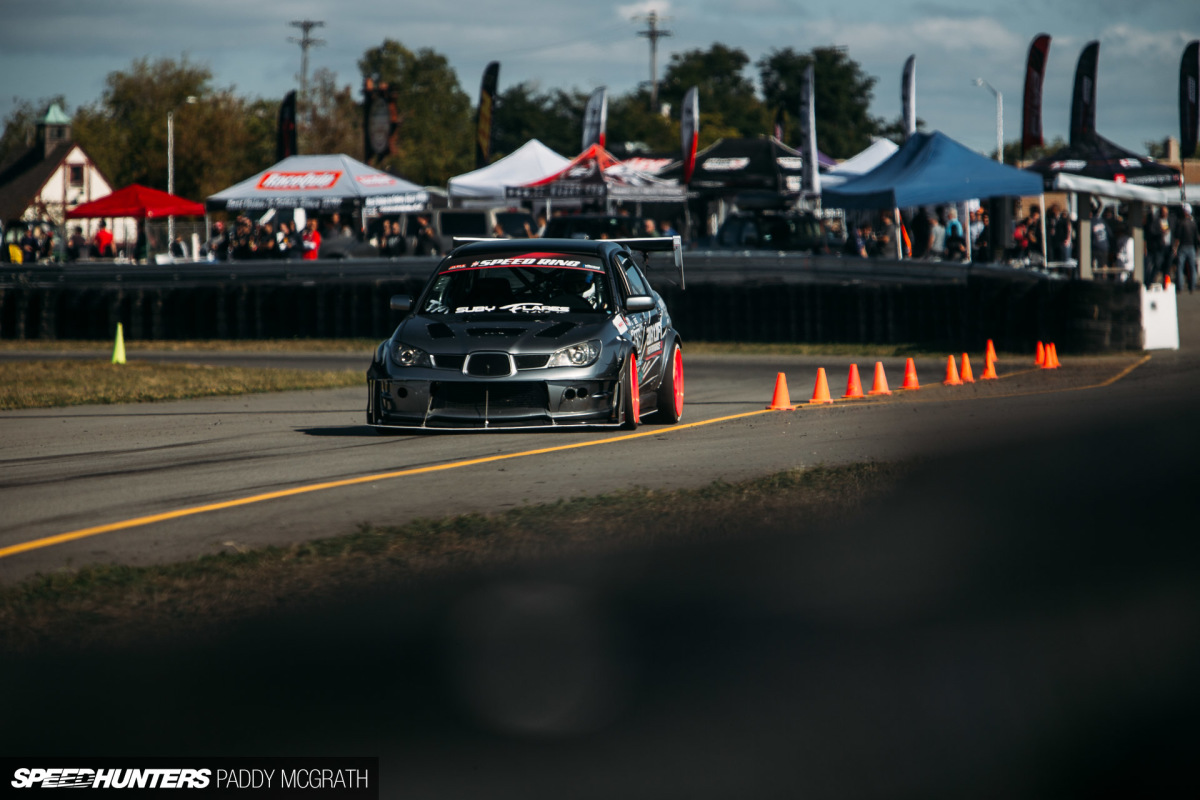 Watching the car on track for the first time – in person, anyways – there's absolutely no way you could tell how the car was sprung. Coupled with Cody's smooth, clean driving style, the car was fully composed during the morning practice sessions, although the tight course, with little run off, did prohibit him from pushing and taking chances.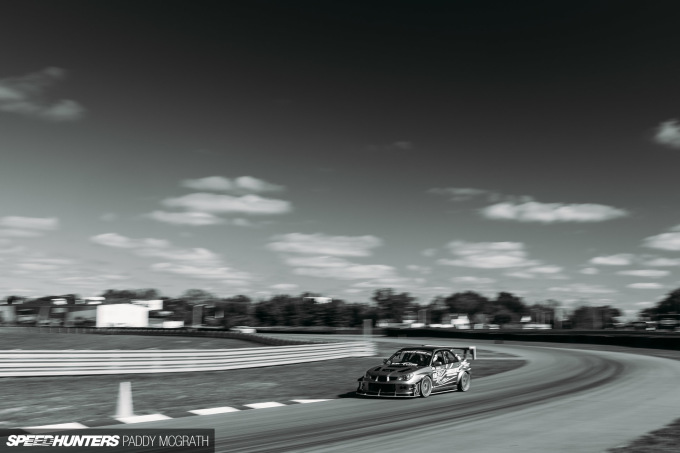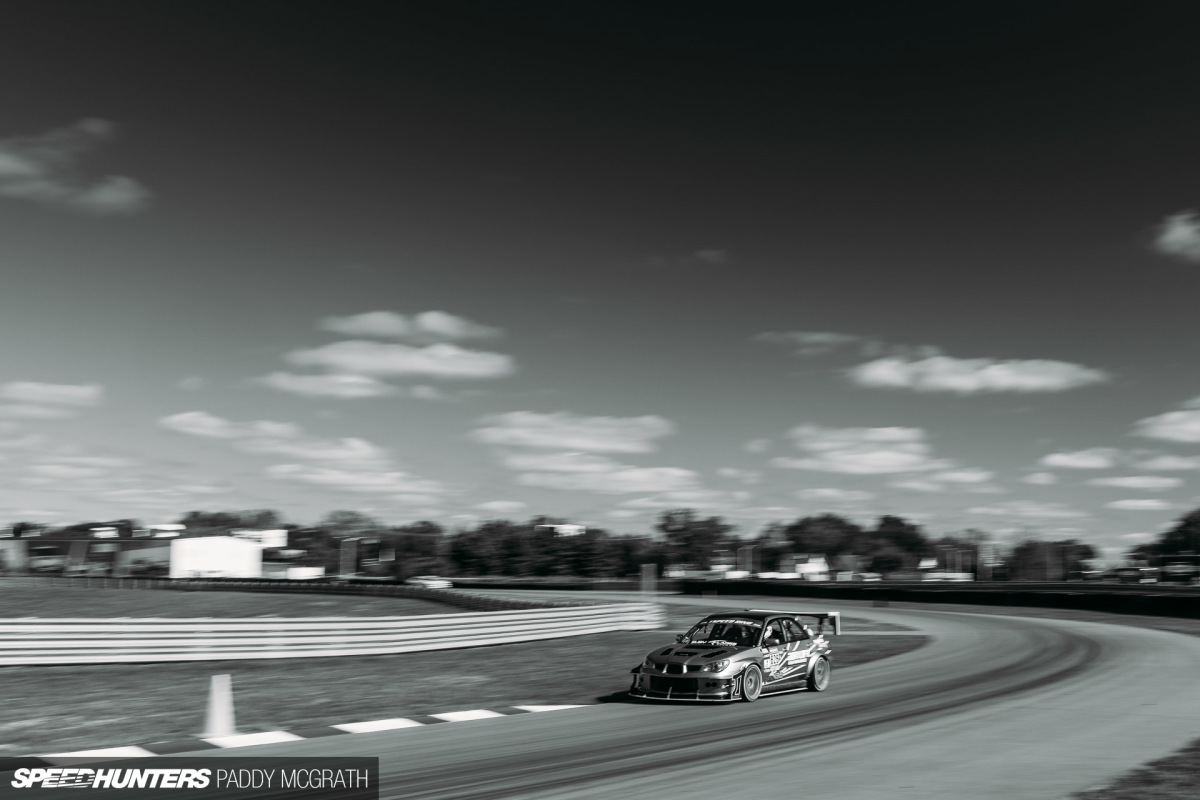 As such, it was a case of slowly adding speed throughout the course of the day. Competing in the Track Modified AWD class, he would share the circuit with RWD and FWD competitors, along with his direct opponents.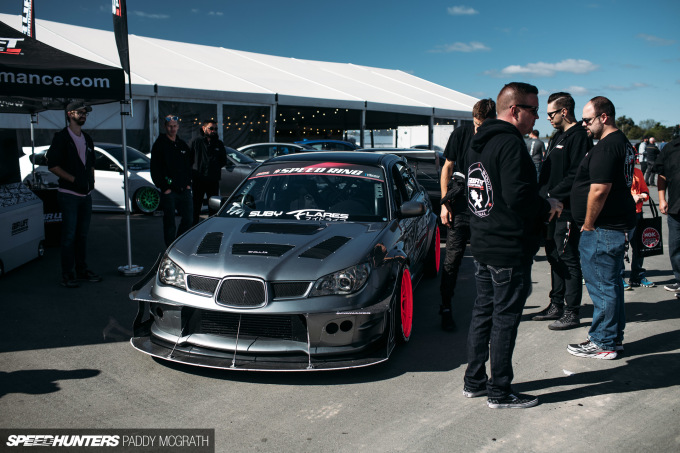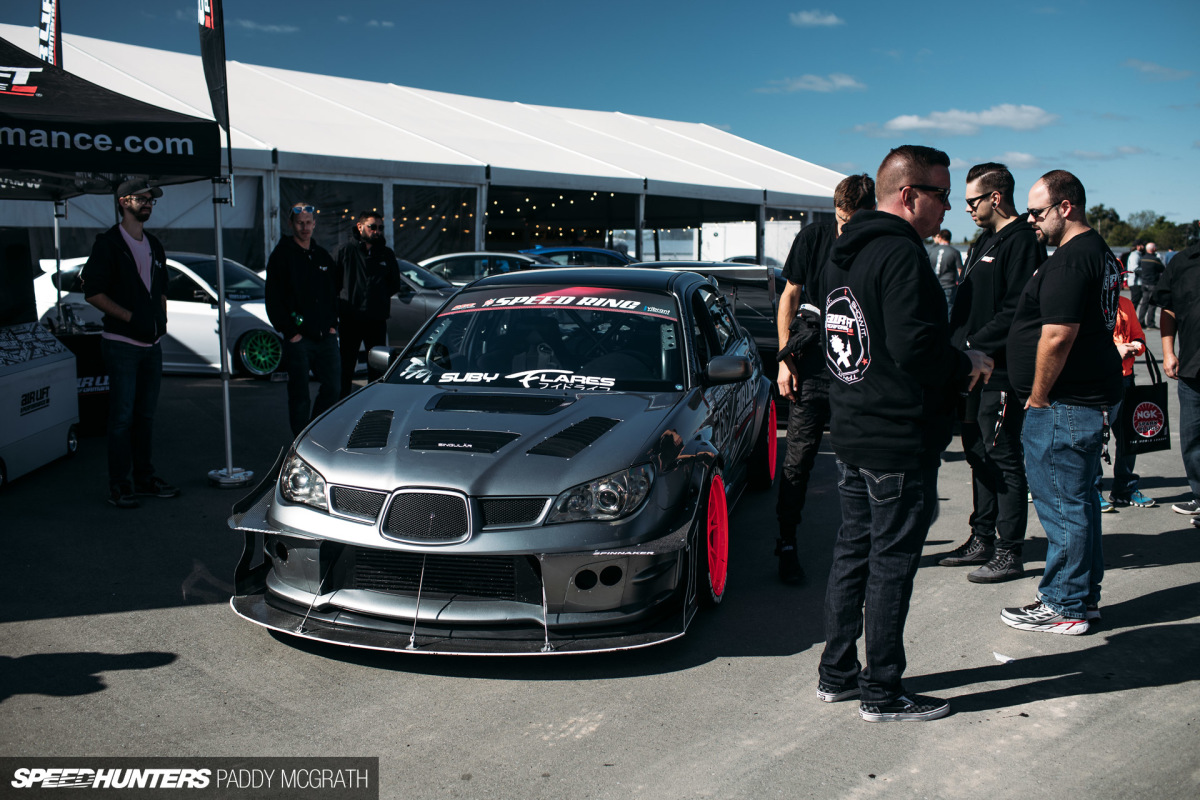 The only issue with spectating at any time attack event, is that unless you're in earshot of the PA system or have your own timing system, it's difficult to gauge just who is fastest. While the early sessions were reserved for practice only, the final two sessions were timed for competition purposes.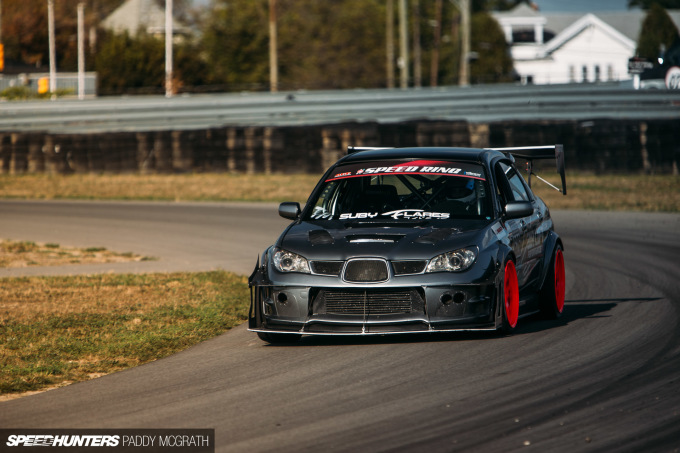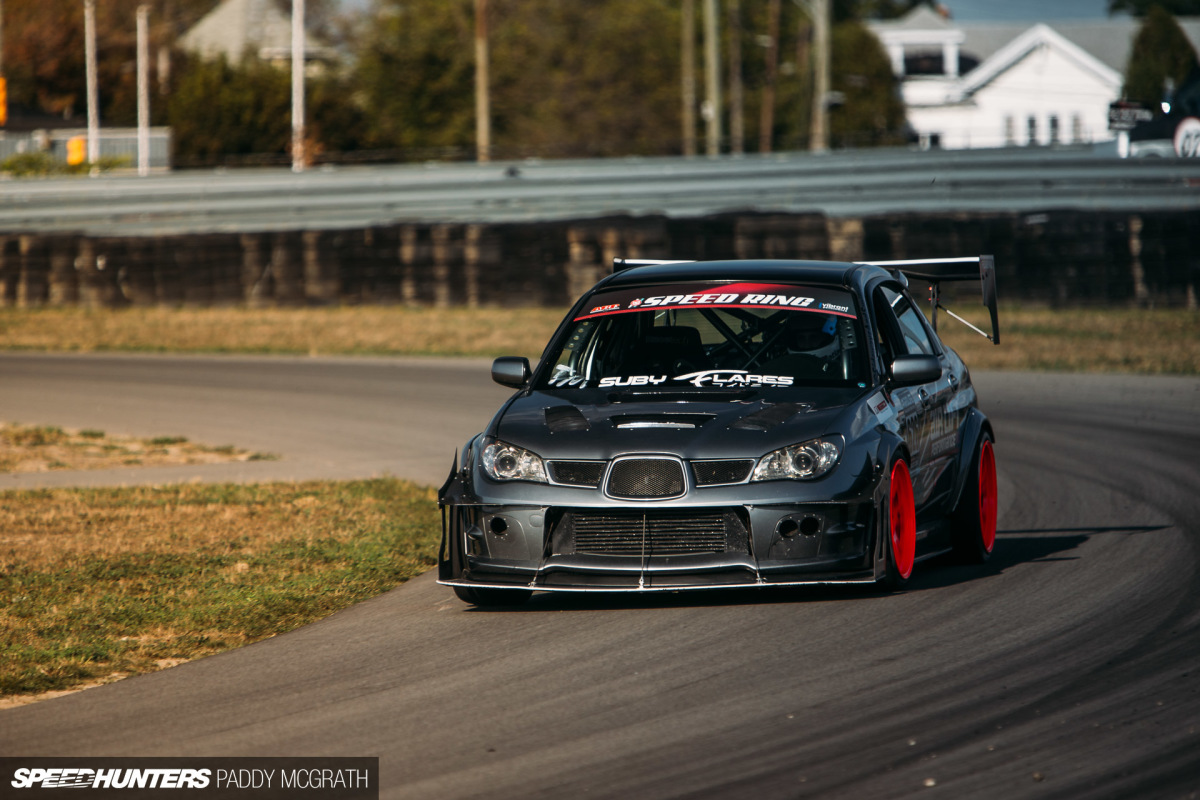 There is a visual increase in speed at this point of the day; the cars are visibly moving around more, using more of the course and generally looking much closer to the edge. On what would be his last flying lap of the day, Cody carried a huge amount of speed around the final corner and onto the short start/finish straight.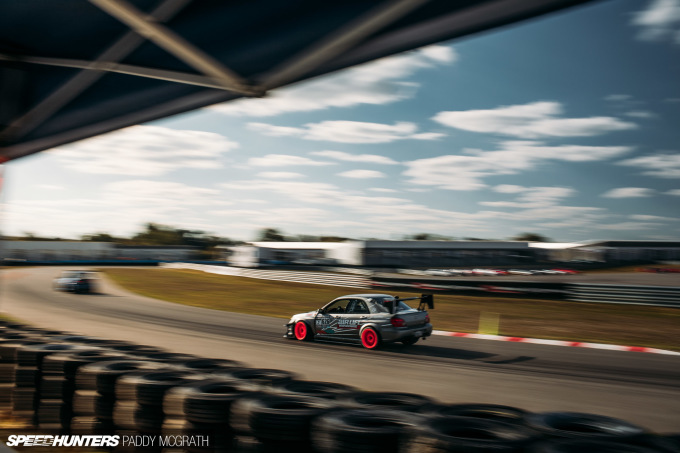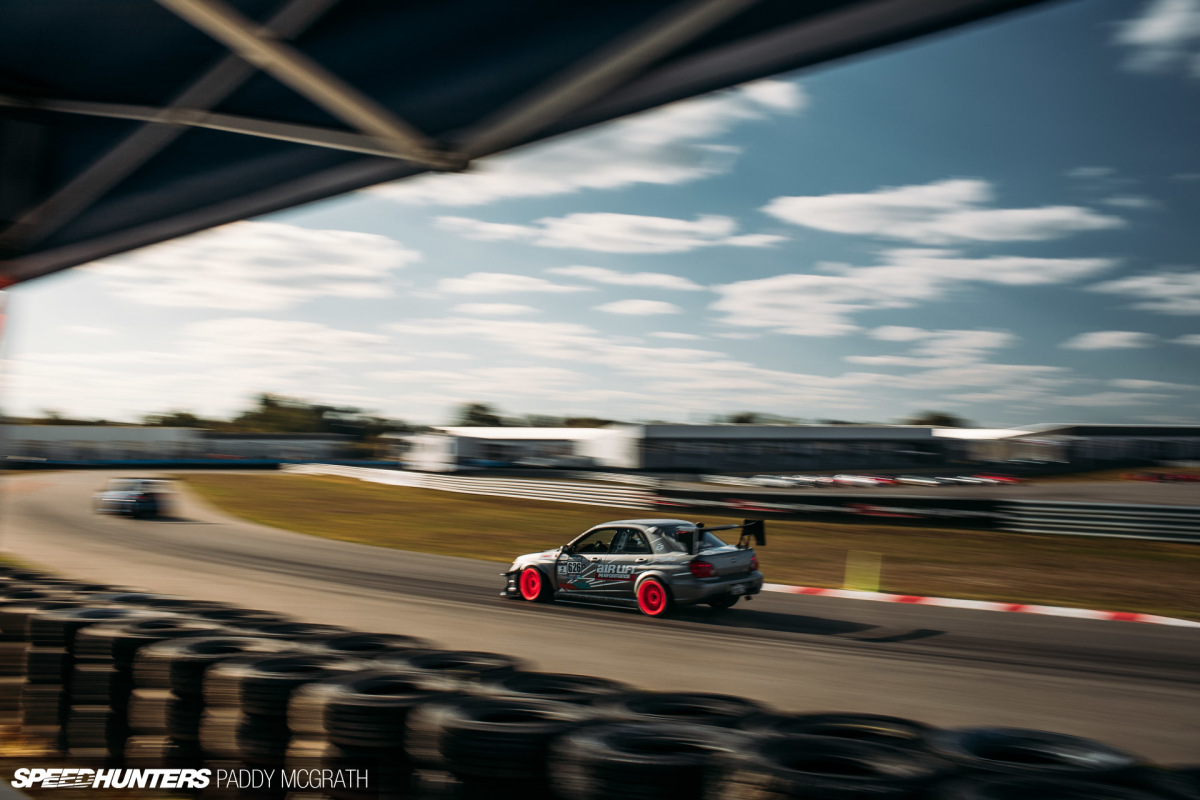 He ran wide, collecting the cones which lined the edge of the course where the pit lane joined the track. It was going to take a miracle to pull the car up in time for the sharp, almost square, first right-hander. That miracle didn't come.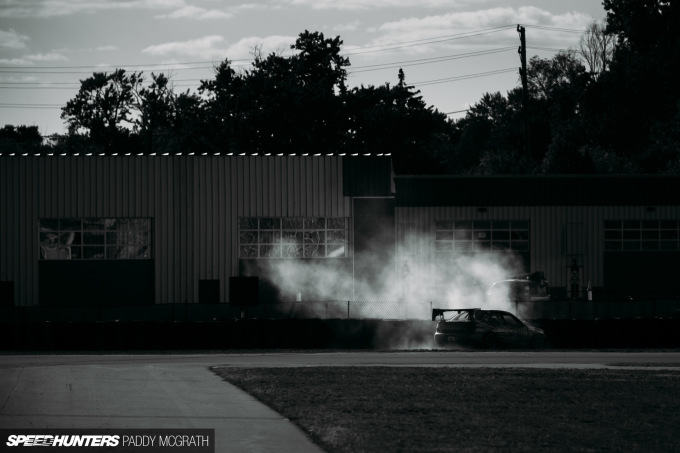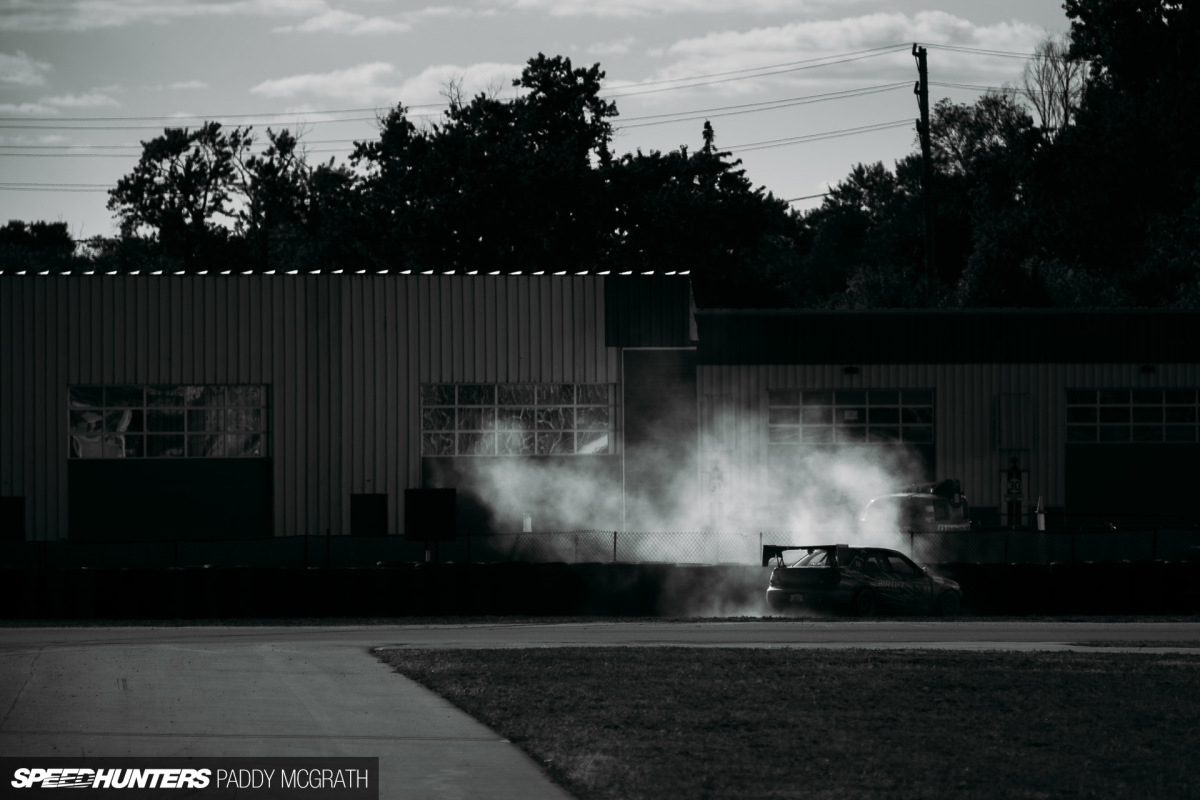 There wasn't a lock up, but a short trip across the even shorter gravel trap and a gentle kiss into the tyres, before the car came to a halt in a cloud of dust. There was a brief moment of silence before the STI reversed back out onto the track and carefully made its way back to the pits.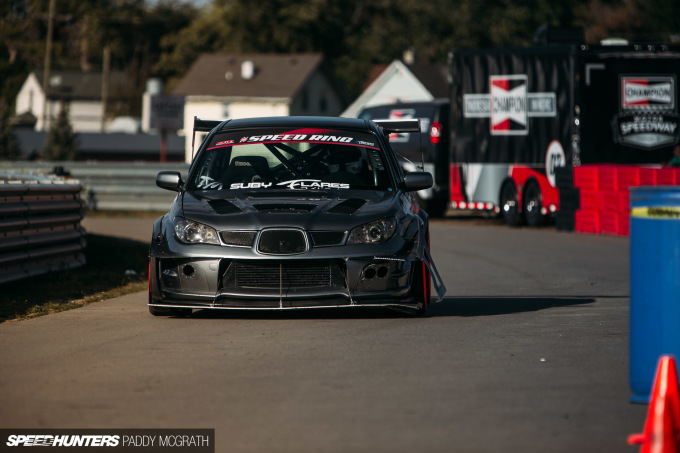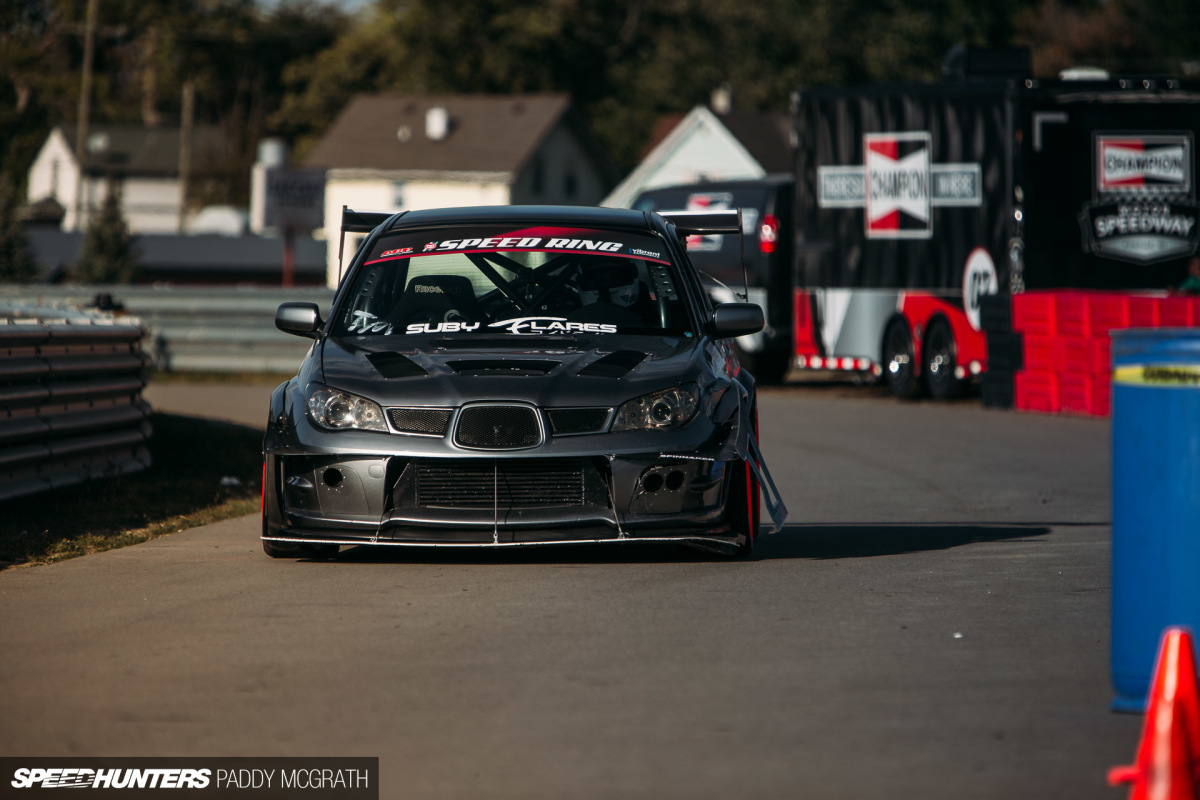 Fortunately, damage was mostly cosmetic, but the mistake potentially cost the class win. When the session eventually saw the chequered flag, Cody would have done enough to take second in his class, behind the Impreza of Richard Gross.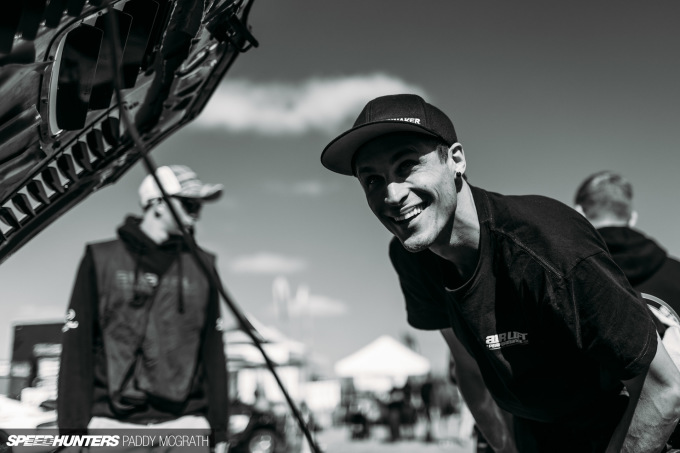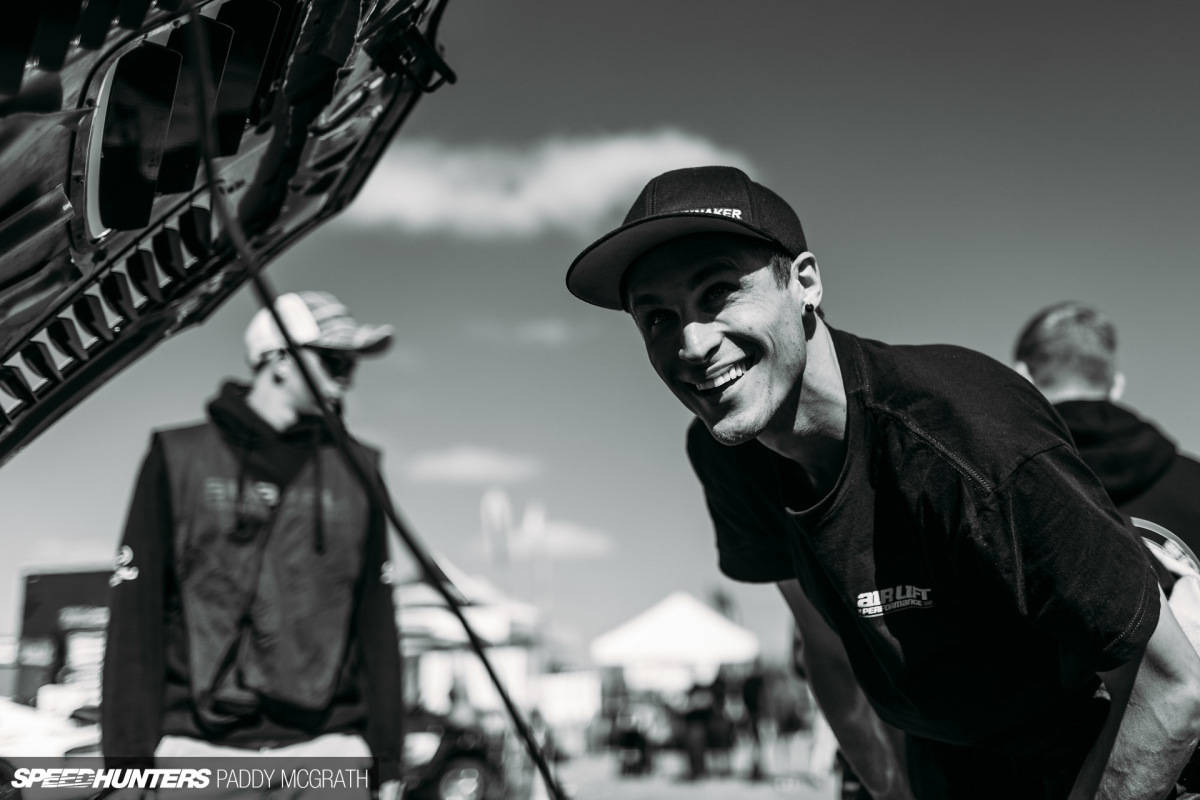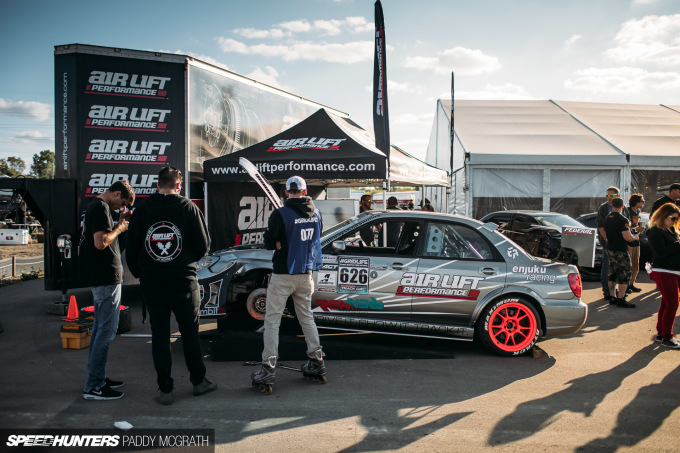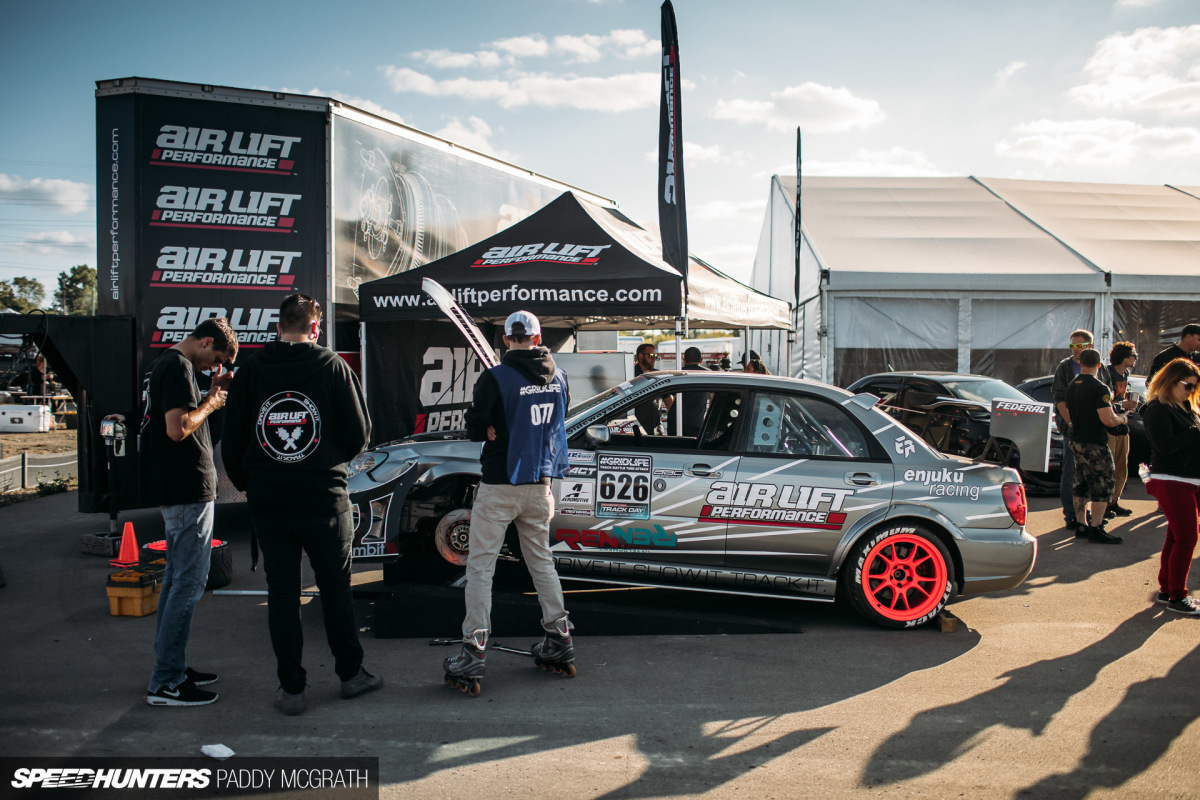 I immediately got the impression the day before that Cody takes a lot of pride in his car, from its preparation to its care during the event. I was curious to see his response in the aftermath to what was a relatively small off. There were some smiles, once it was apparent that no major damage was done, before he immediately started into making the requisite repairs.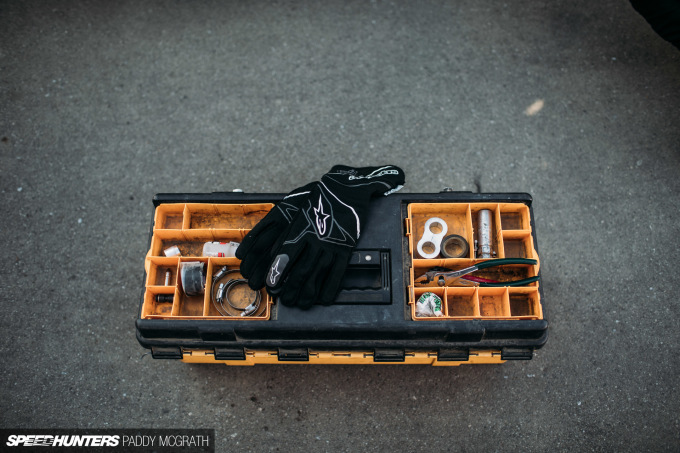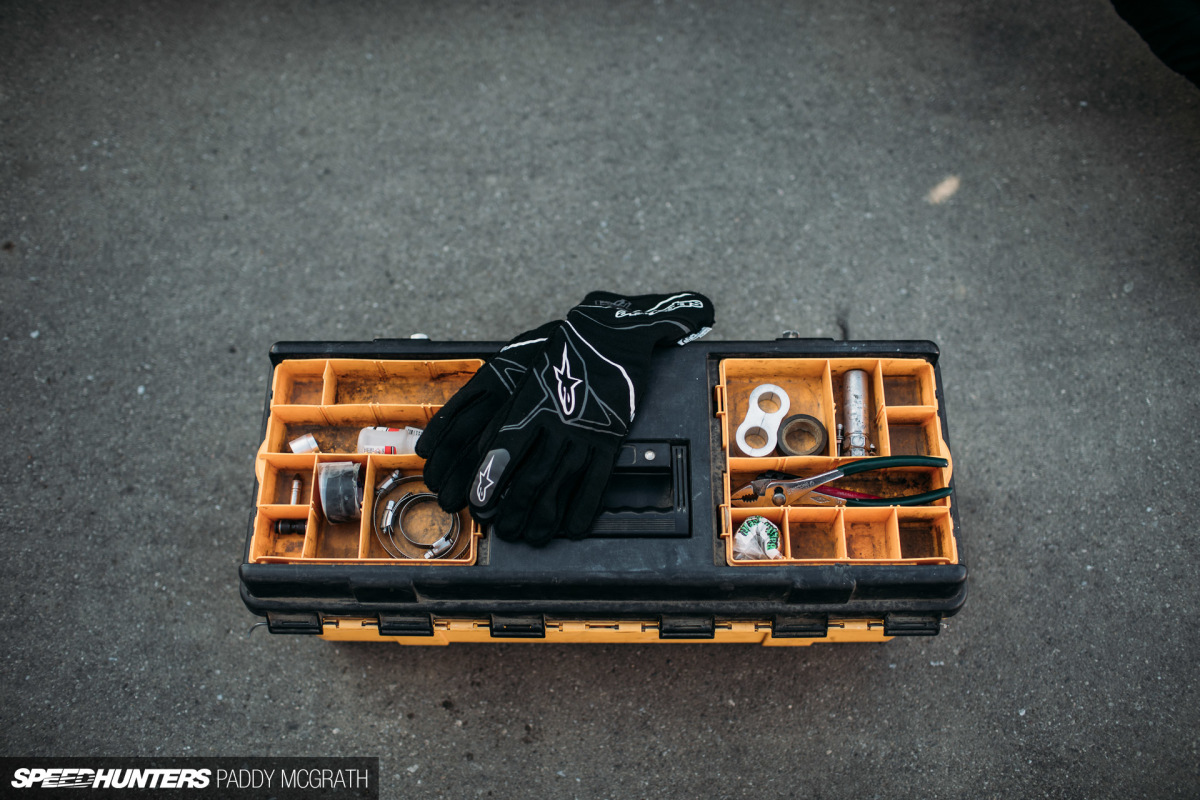 Again, it was apparent that he's more than used to dealing with issues by himself. There's no team of mechanics to take care of it while he goes back to the hotel. Although the Air Lift Performance crew were always on hand to help where they could.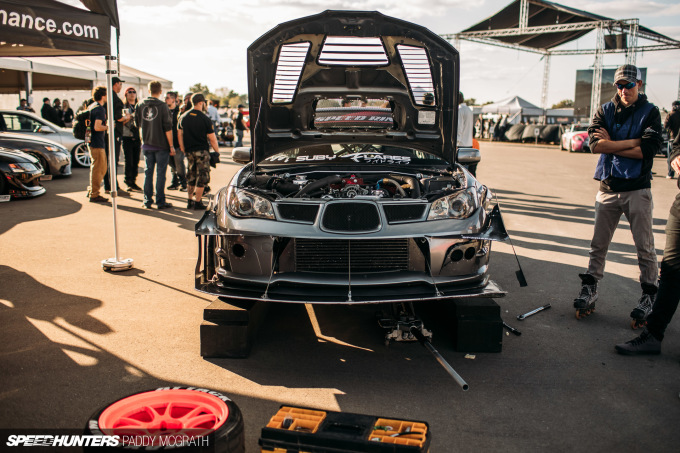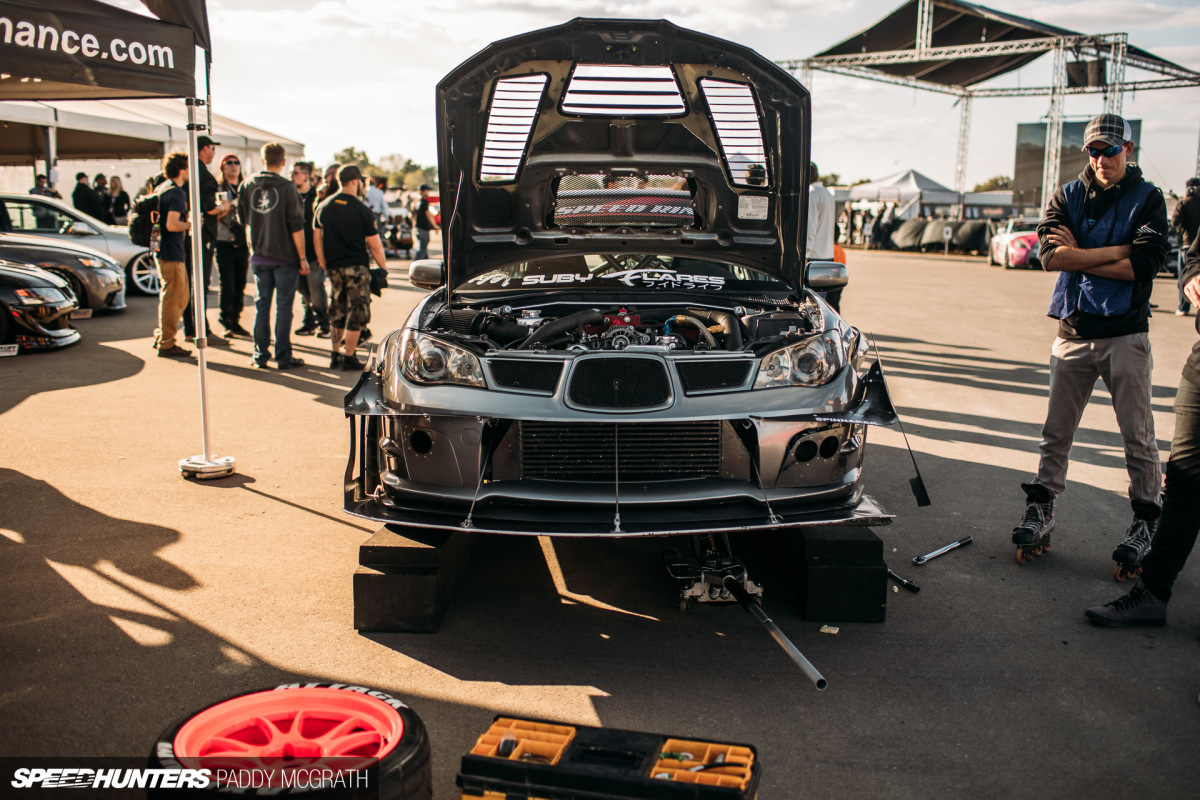 It wasn't the day that he had in mind, but it's the one he got. Still, there was one more day to go. Although the Sunday would see an unusual twist on the time attack format.
Master Stroke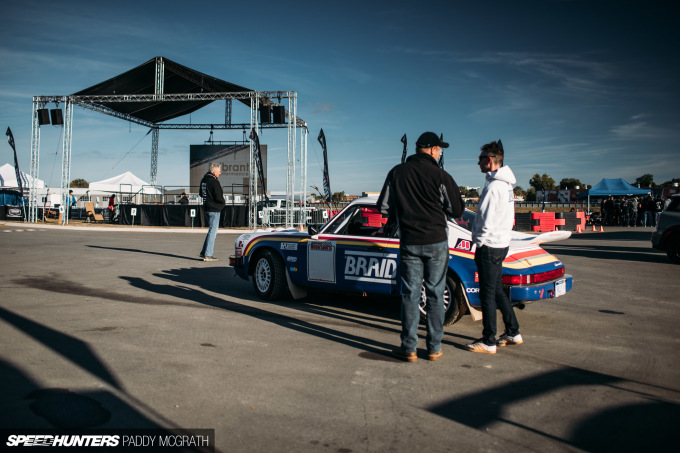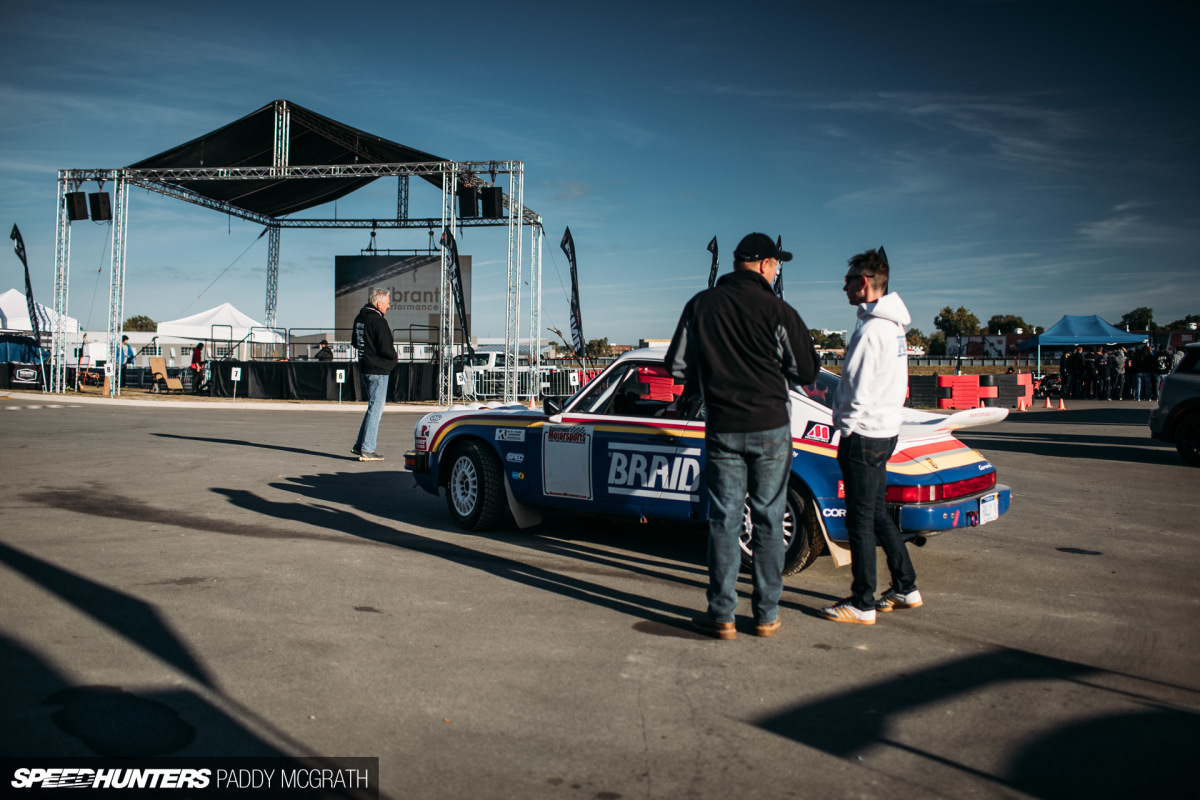 While the second and final day of Speed Ring started in a similar fashion to the first, it would be a very different event. Time attack is a great form of motorsport, but it's more often than not incredibly boring from a spectator standpoint.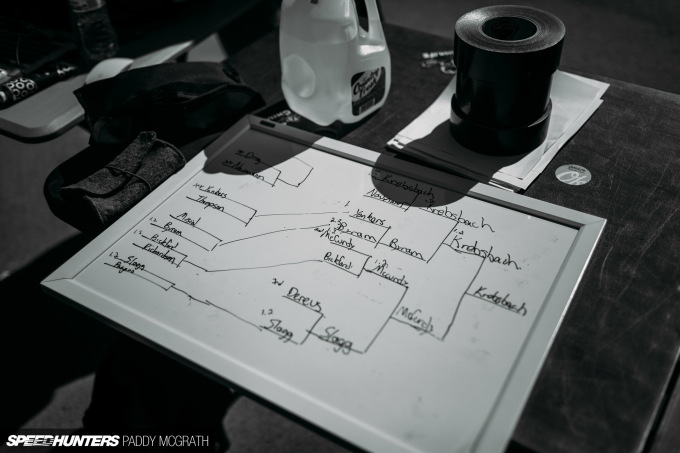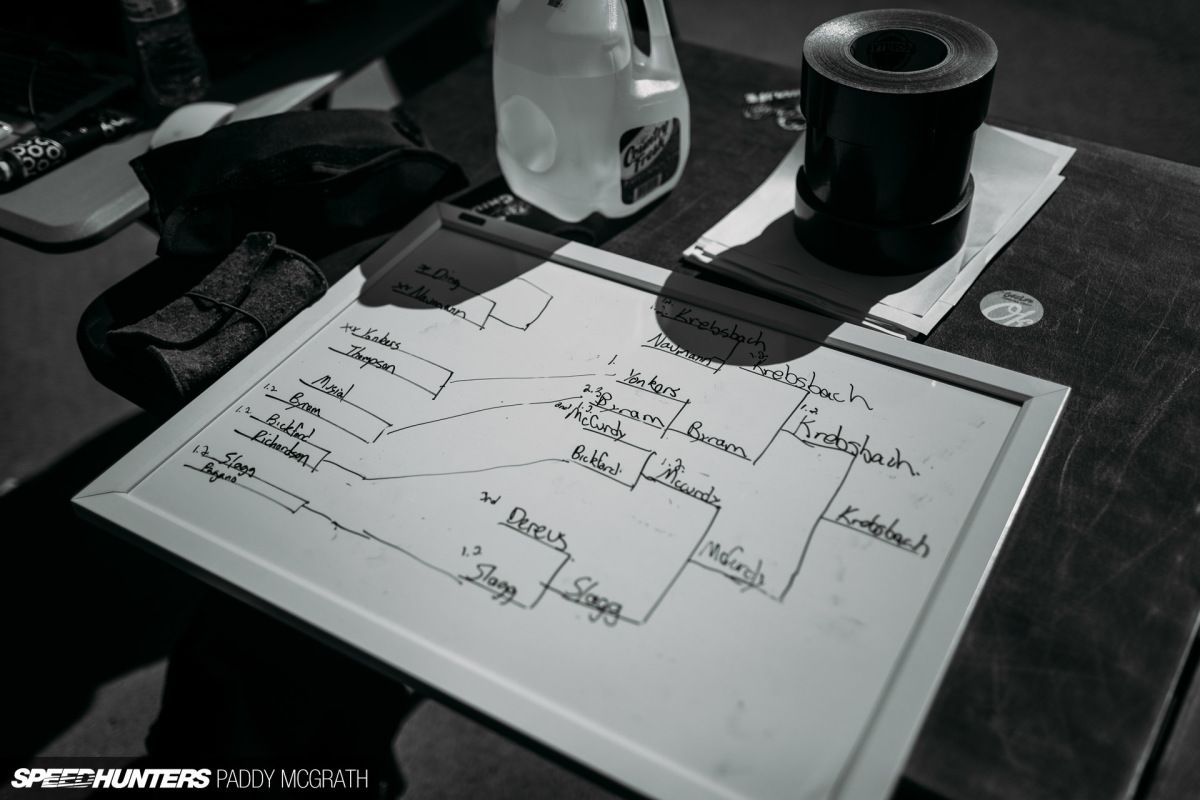 It comes back to what we spoke about previously, in that it's nigh on impossible to gauge who's fastest just from watching trackside. Well, as it happens, Speed Ring have an idea about that: Touge-style time attack.
For this portion of the event, the FWD, RWD and AWD elements of each primary class would be removed. Using the competitors times from the previous day, a bracket system was built for each of the Street Modified, Track Modified and Unlimited classes. This is going exactly where you think it is, and it's brilliant.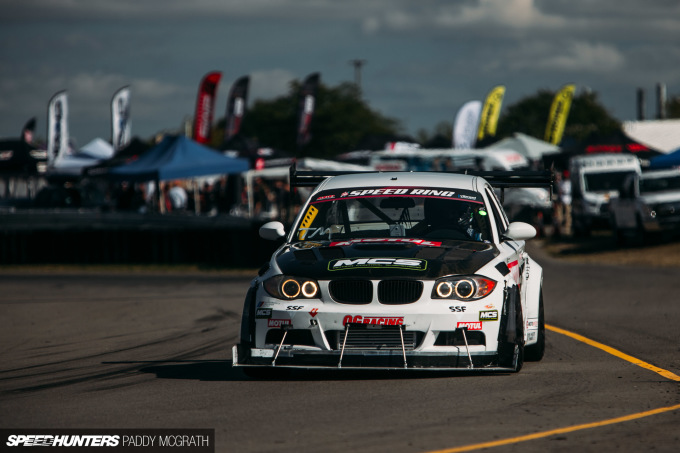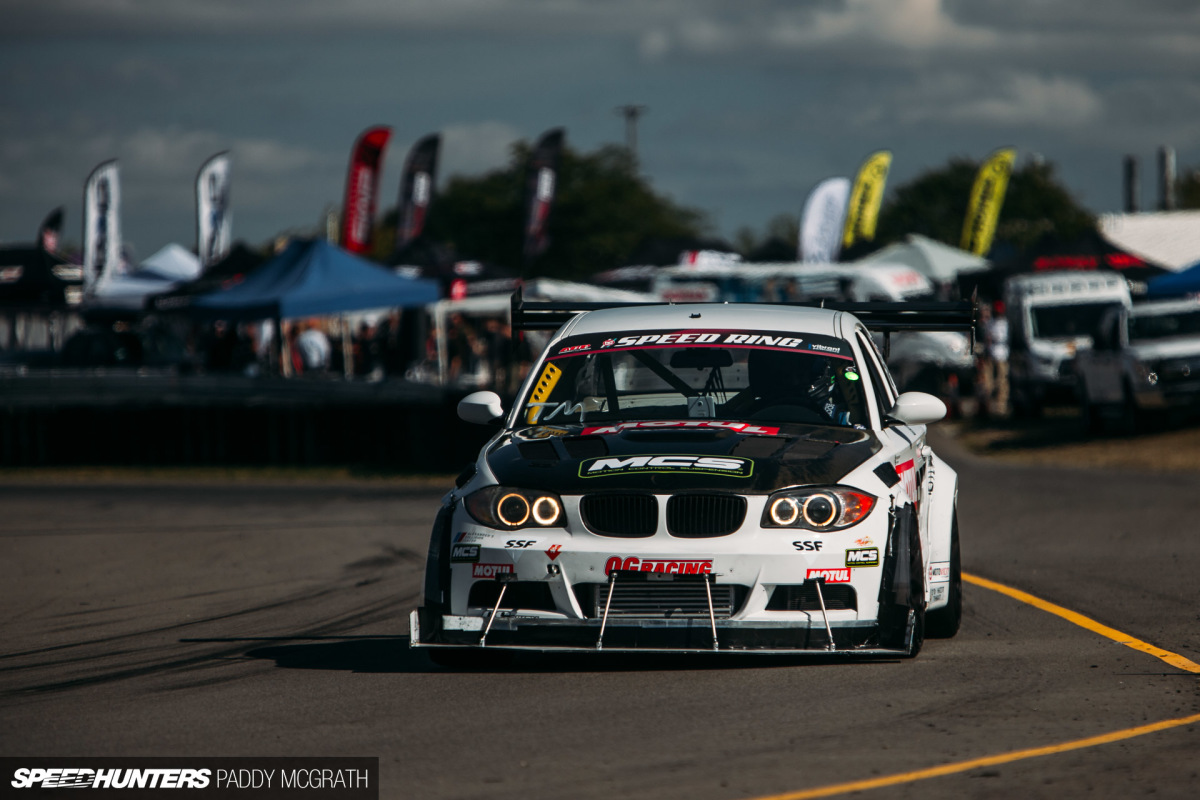 With each pair of cars ready to go, they leave the pits for an out lap, followed by a flying lap by the lead car being chased by his or her opponent. Overtaking is forbidden, and four wheels off course is an automatic disqualification. With the first flying and timed lap completed, the cars slow for another lap, swap positions and then attack again once they cross the starting line. Basically touge rules.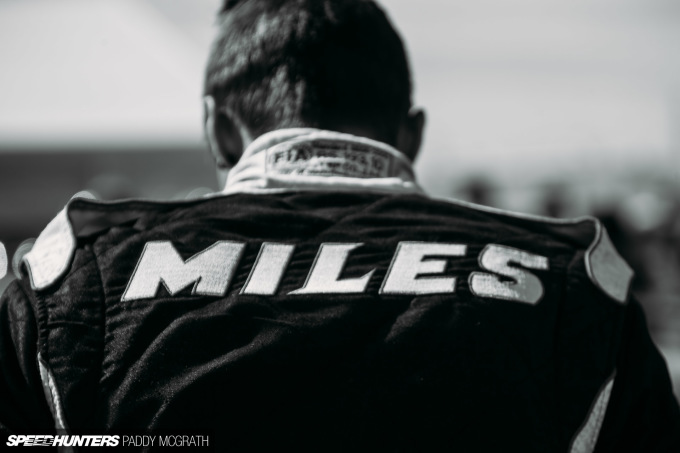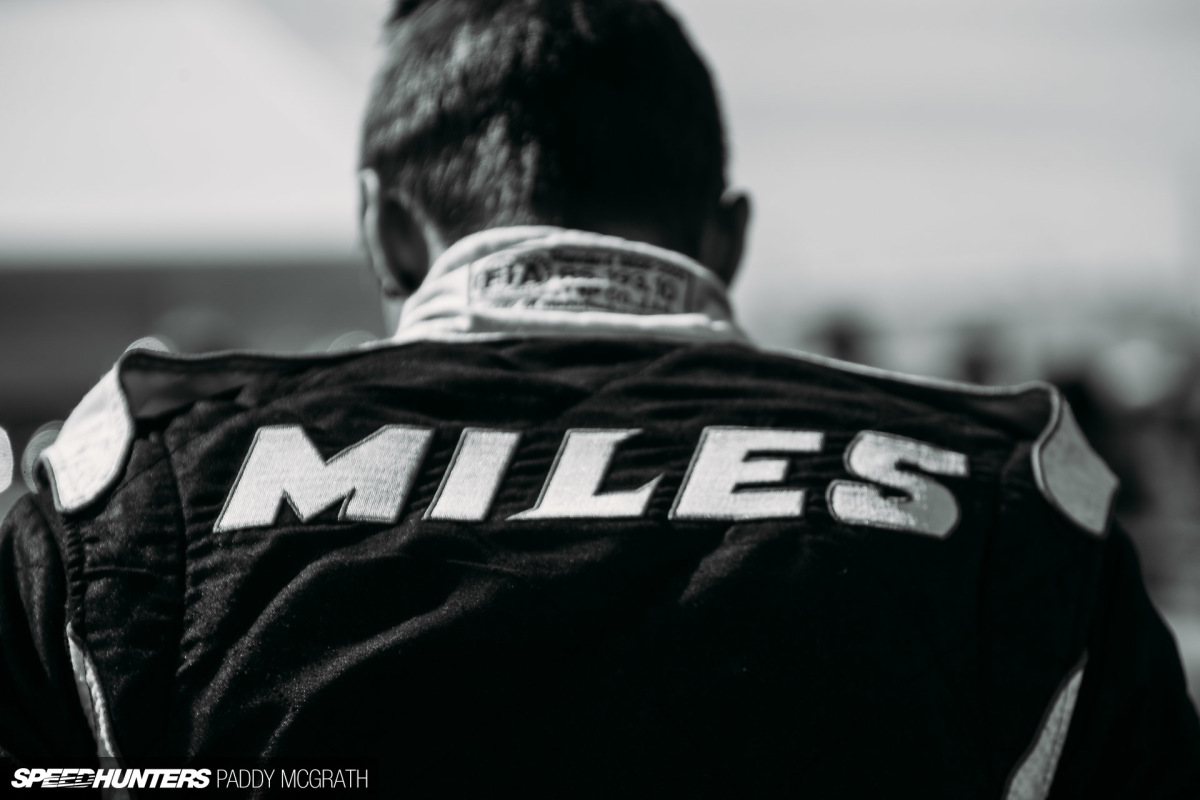 The chase car has no obligation to stay within a certain distance of the lead car; they can absolutely harass the lead car around the course, applying maximum pressure. With both runs completed, the driver with the overall fastest combined time goes through to the next stage of battles. Think drifting, but time attack.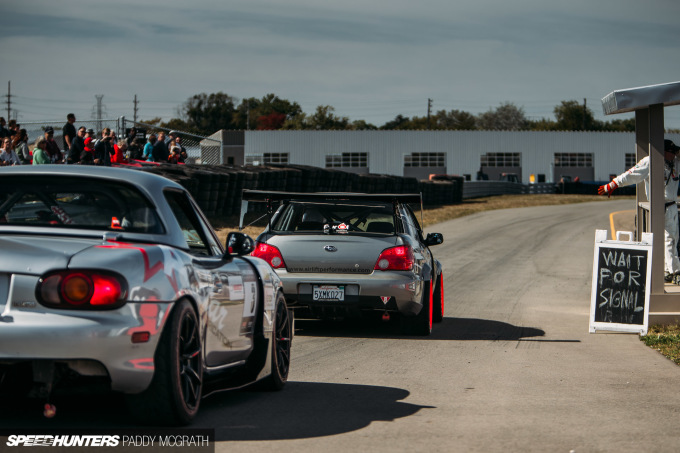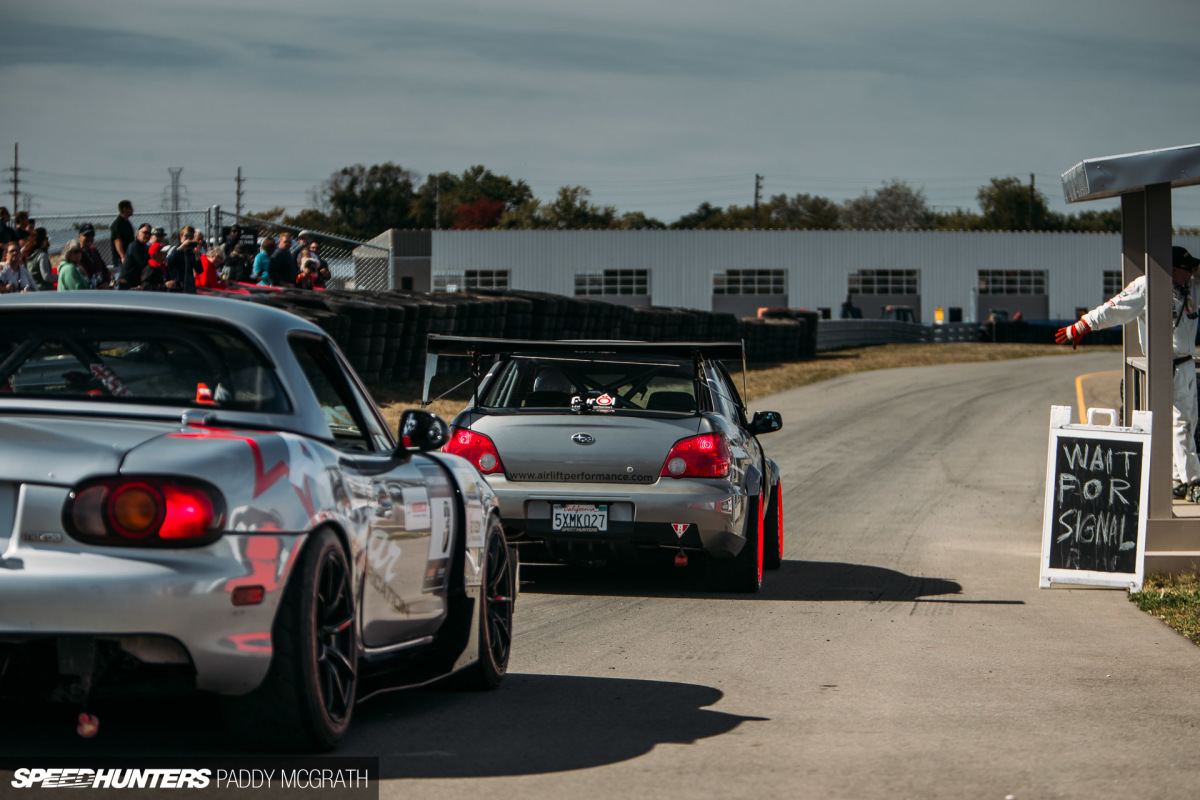 It's simple, but it's completely changed how I view time attack. Cody's first opponent would be Darby Barber and her silver Miata. There was a significant time distance between the two in the previous day's sessions, and it translated into the touge competition, too. It was looking comfortable for Cody, and his advance to the next stage was cemented when the silver Miata spun at turn one and went deep into the gravel.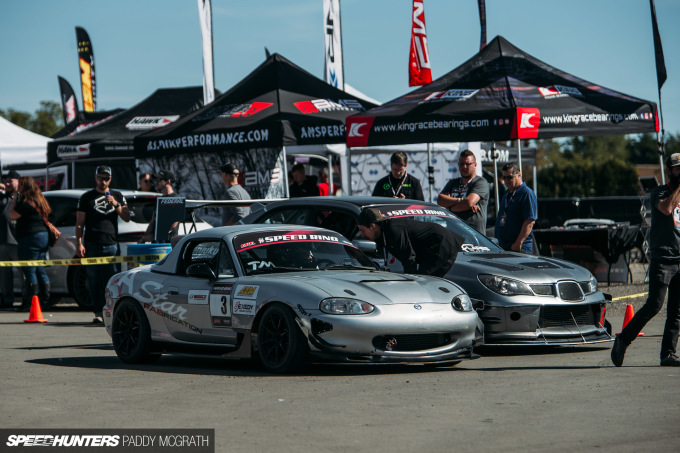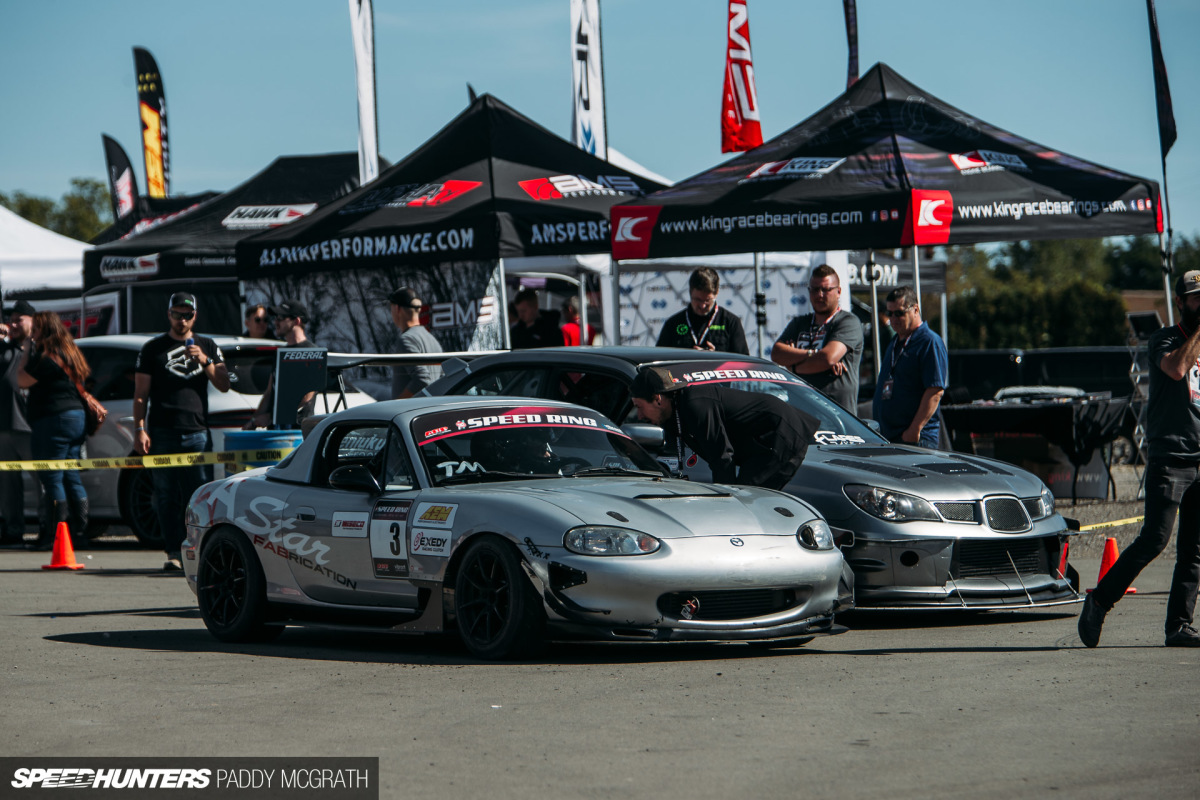 What makes things even more interesting is that this was both drivers' first time on track on Sunday. There's no practice session, just a fast warm-up out lap. It's also a seriously quick-fire event. With the Miata defeated, Cody was directed back to the grid to await his next opponent. I believe it was the first time they had ever tried this format, so it was impressive how smoothly it went.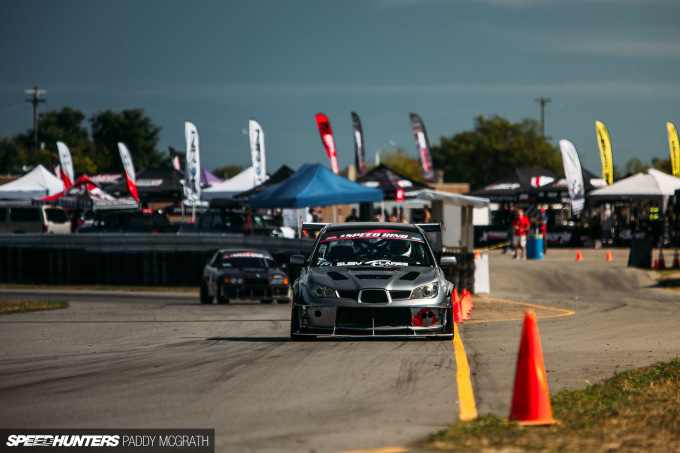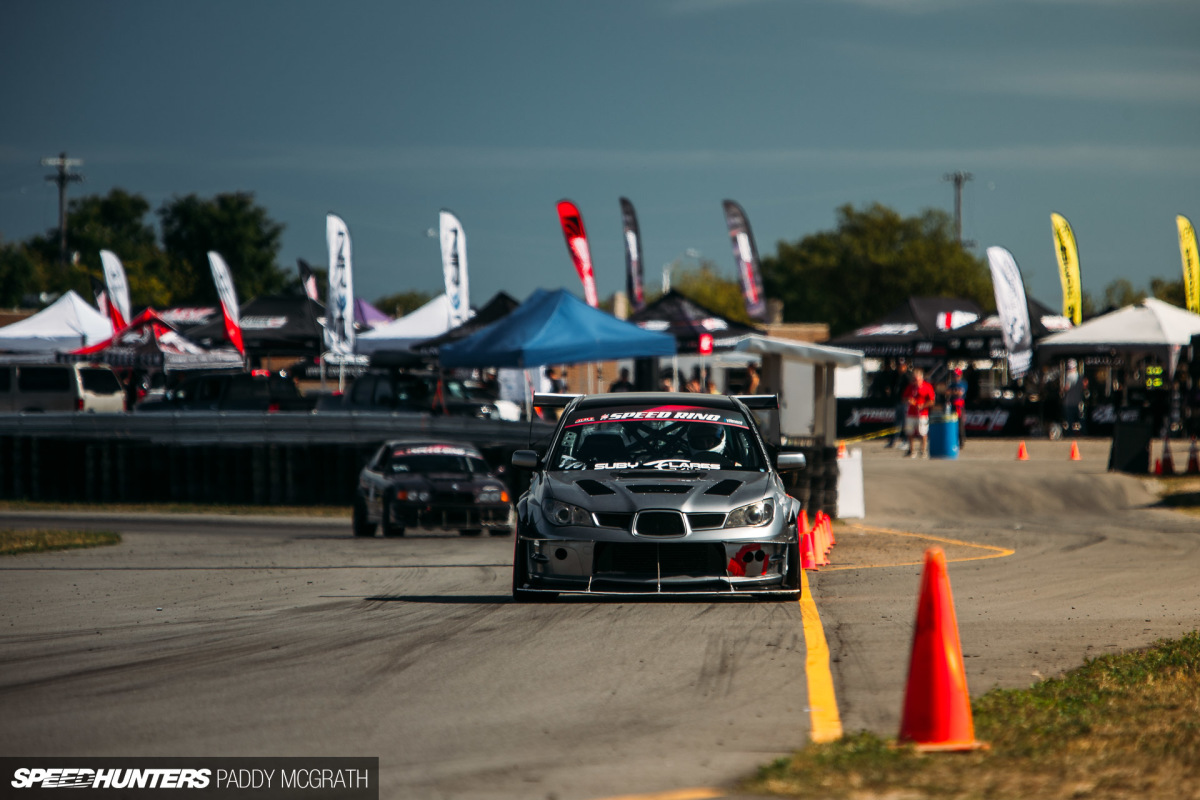 His next opponent was the unconventional LS-powered BMW E36 of Bartosz Orlowski. This was a much closer matching, which showed on-track as they chased each other which much closer proximity.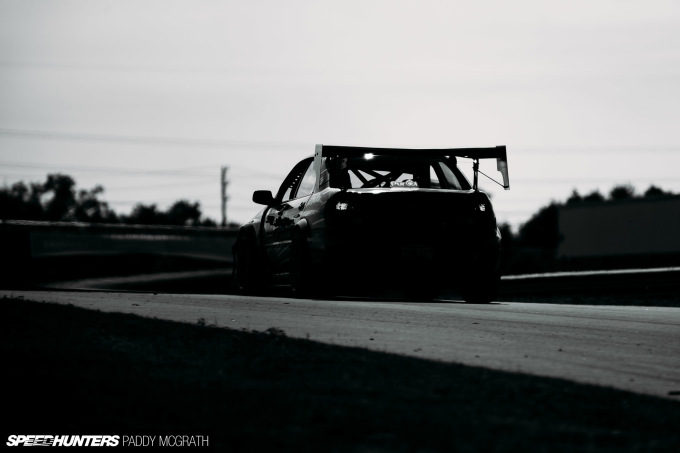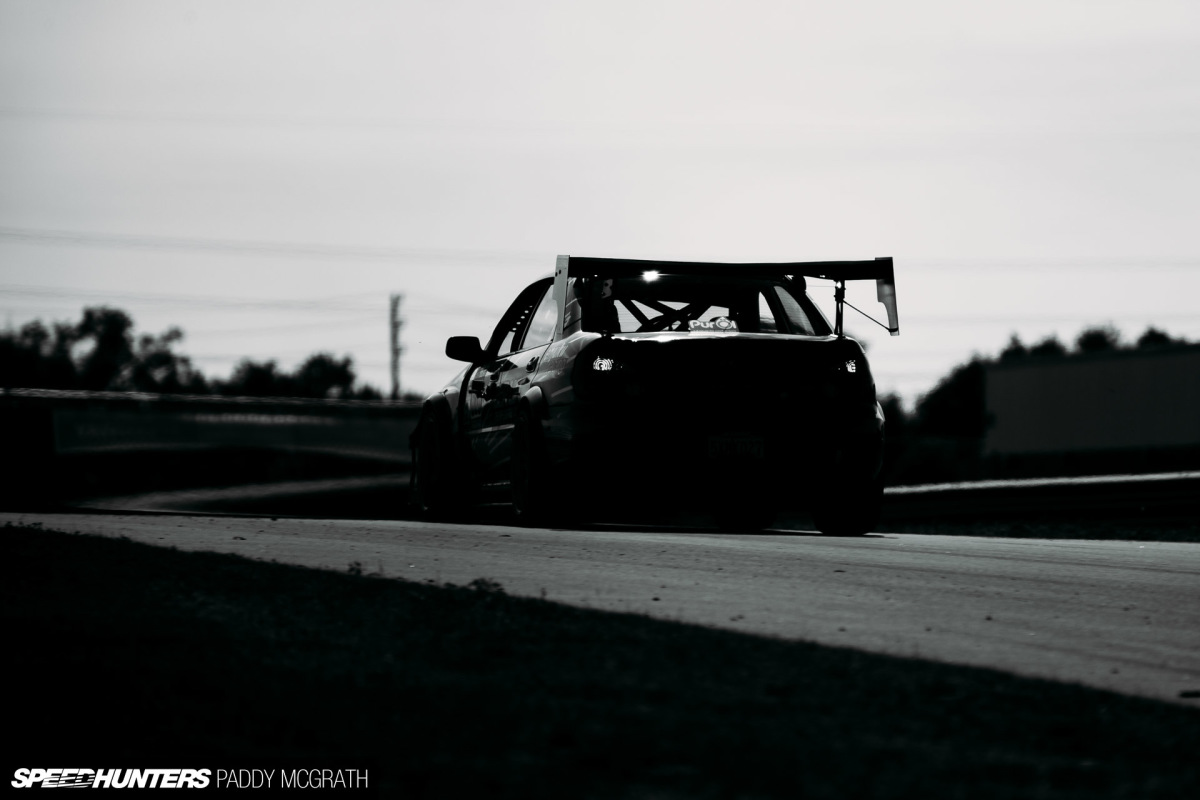 With both hot laps completed, they returned to the pits to discover who the victor was. It would be Cody's second win of the day, and he went straight into the semi-finals where he would face the previous day's Track Modified AWD victor, Richard Grossi's Impreza.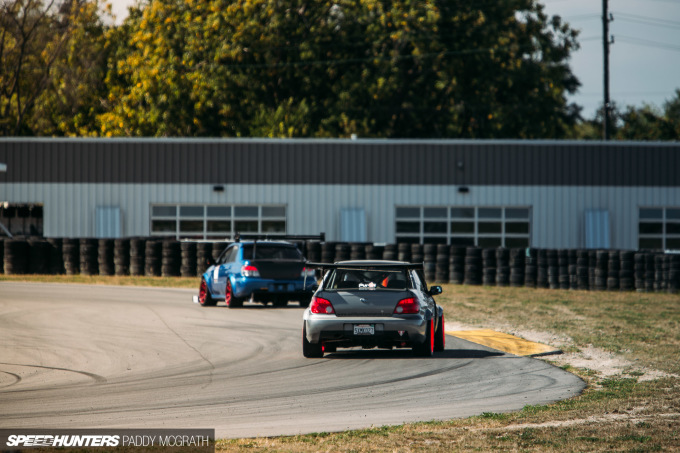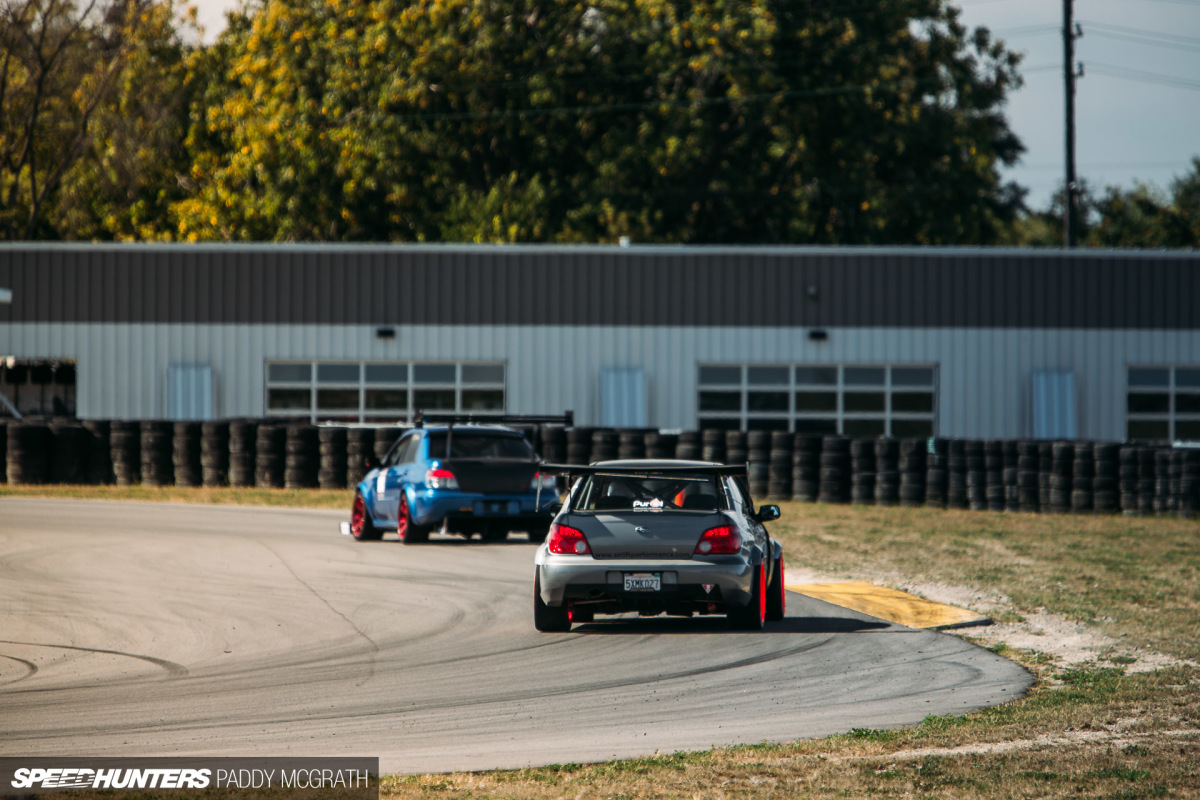 With fewer cars remaining, the pace of the event reaches its peak at this point. There's an incredibly short amount of time between heats, which only adds to the drama for the spectators, and the pressure for the drivers.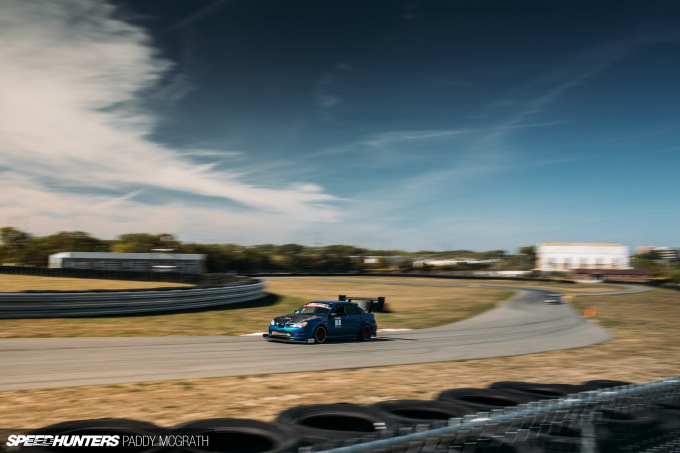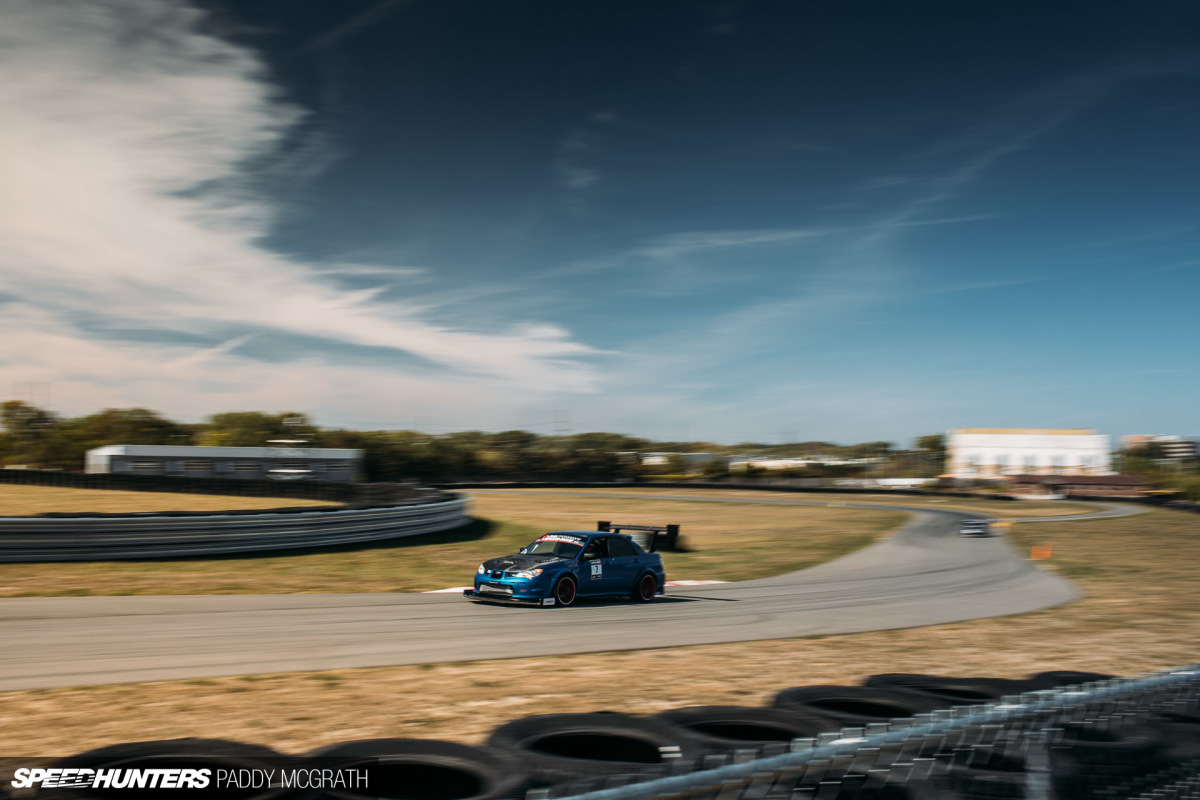 By Cody's own admission, his laps were scrappy which gave his opponent a narrow victory. Still, it was another trip to the podium for him, his second in two days. Ultimately, the blue Impreza would take the Track Modified outright win for the second day running.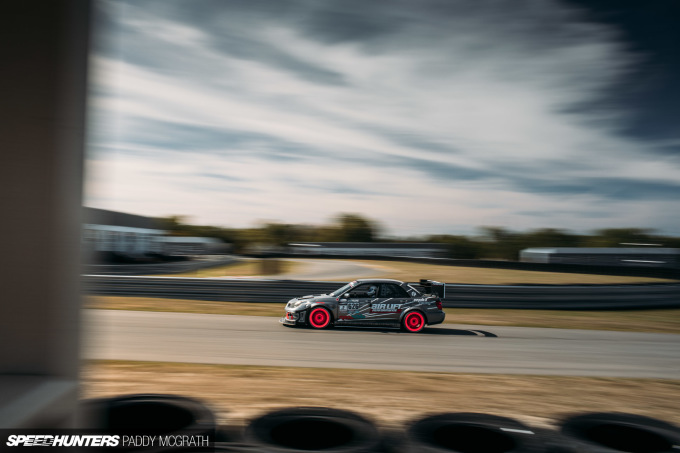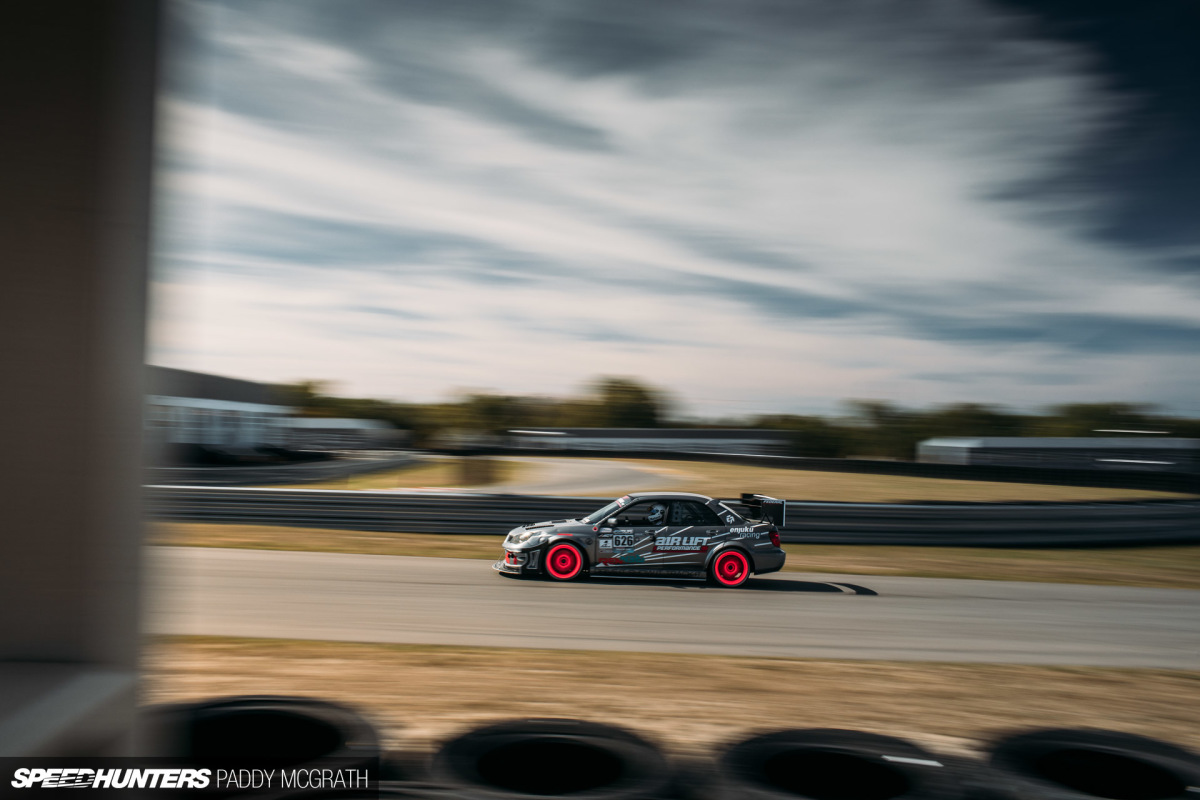 You learn a lot about someone when they lose, far more than when they win. Cody's reaction to his weekend was exactly the same as other succesful drivers that I know and follow. Yes, he was disappointed. I wouldn't expect him not to be.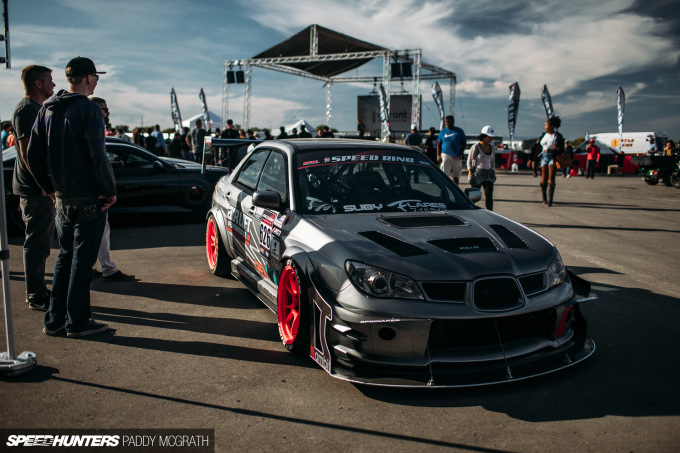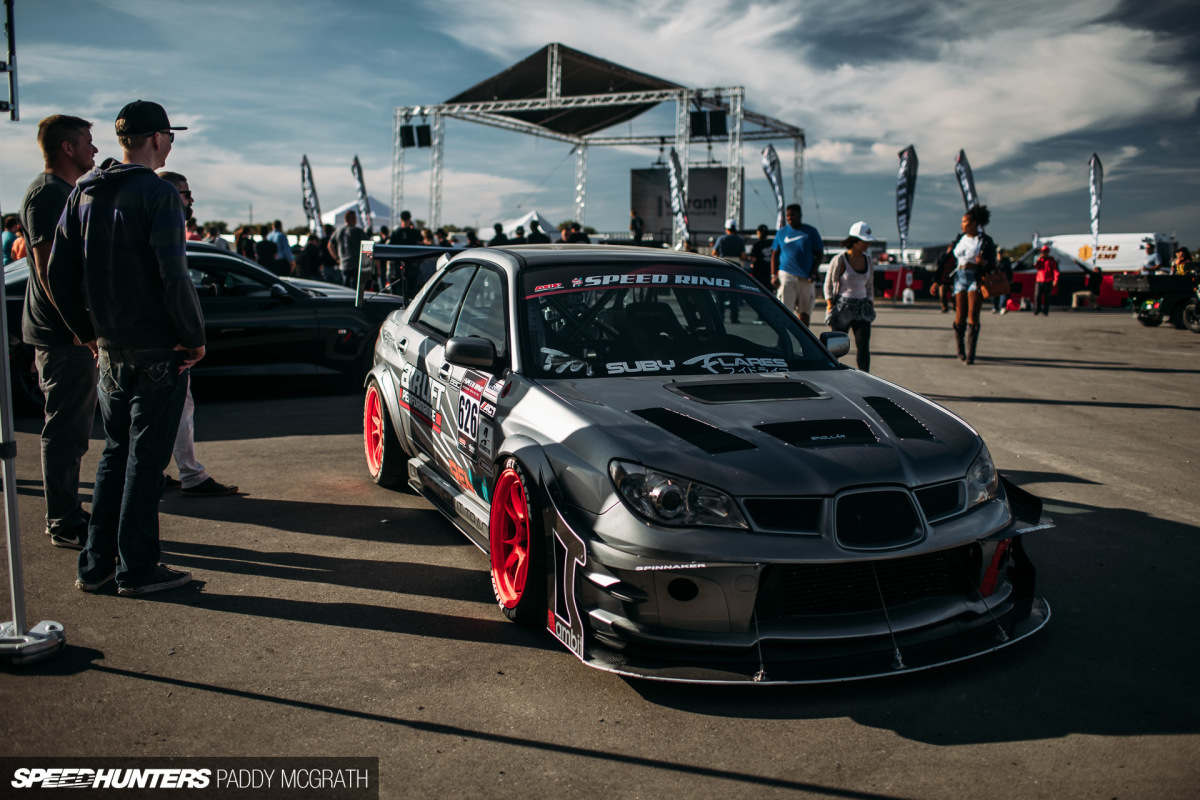 However, he was already hungry to get back to California and prepare his car for an upcoming event at Buttonwillow and improve upon his shortcomings in Detroit. The old adage of learning from your losses most certainly applies.
There was a small consolation for Cody, however. His fastest lap during the touge competition would have given him the victory during the previous day's competition.
Paddy McGrath
Instagram: pmcgphotos
Twitter: pmcgphotos
paddy@speedhunters.com
Cutting Room Floor