Stock cars on air
Preconception is a funny thing. It seems air suspension gets a beating (pun intended) from all sides, with people talking like experts without any first-hand experience, and really very little knowledge about the origins of how it came to be. To some it might feel like a relatively new arrival on the performance scene, but as you're about to see, it's just not. While talking to a couple of the Air Lift team last summer, they told us about a whole raft of sponsored NASCAR and drag racers they've looked after since setting up shop in 1949. 1949? That's right, air suspension been around for half the time we've been driving cars! So Air Lift Performance have been there, done that and taken the photo. What's more, they've kept them all and collected a whole bunch of cool old product over the decades too. 
In chatting with the Air Lift guys this story came about from a simple fact: there are a lot of misconceptions about air suspension. I've always been an advocate of air because I came from the minitruck and kustom car scenes where it's an acceptable, scratch that, even an expected way of suspending your car. Of course, now it's getting widespread love in the Volkswagen/Audi scene, but still, you can't bring up the topic without someone chiming in with their objections.
What's that you say? Air can't be used in a performance application? It doesn't have enough development history for you to trust it? It's overly complex? You should read on.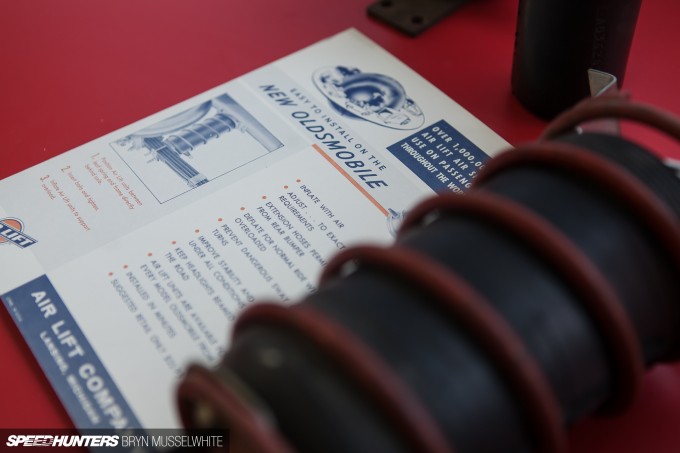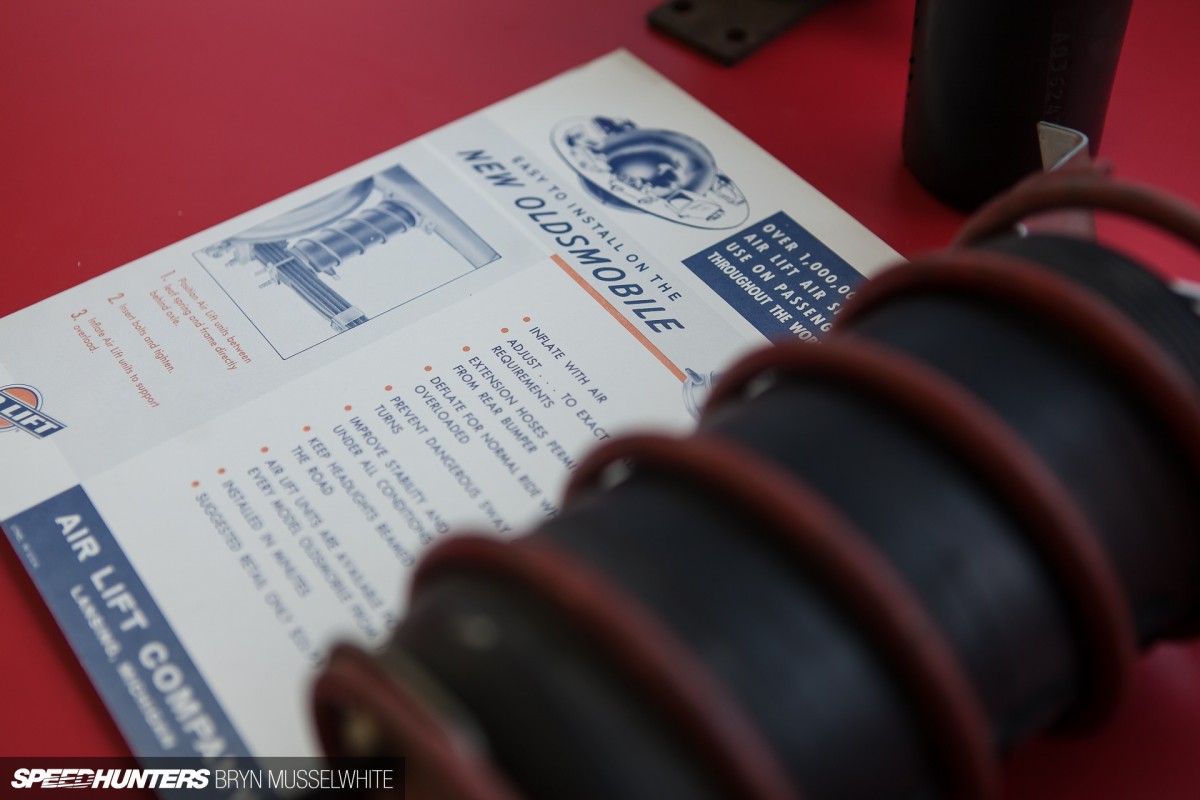 First, a very brief history lesson. After World War II Air Lift founder Claud Pemberton began working on an idea for an air spring that could be installed inside a vehicle's coil spring to boost the load-carrying capacity of nearly any car or truck. By 1949 he was ready to go into business with his new concept, but he didn't know at that time was how much the racing world was going to embrace his idea.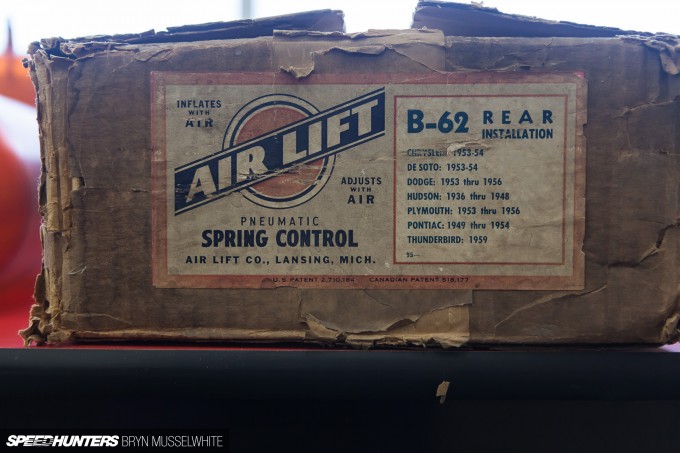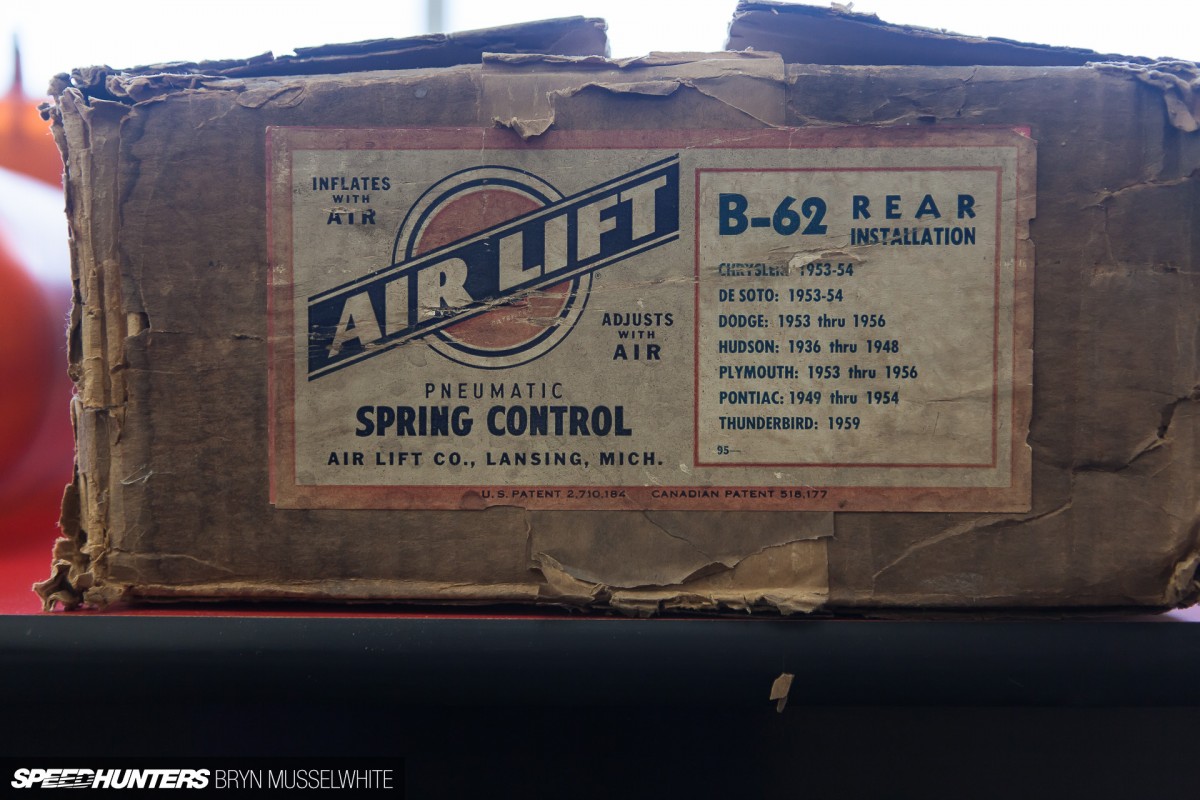 I was able to go right to the source, well two of them actually, to learn and present to you this story of Air Lift's involvement in the racing and aftermarket industries. The first wealth of knowledge is Claud Pemberton's grandson Jody. Since Air Lift is a family-owned business, he was there to witness a lot of what you're about to see firsthand, especially the racing. In fact, he still owns the D-500-1 from the lead image and is currently working on its restoration. Our other Air Lift historian is Chris Garlitz, a 44-year company veteran who saw and did it all. He used to drive that D-500-1, with open pipes mind you, to pick up the mail from the downtown post office.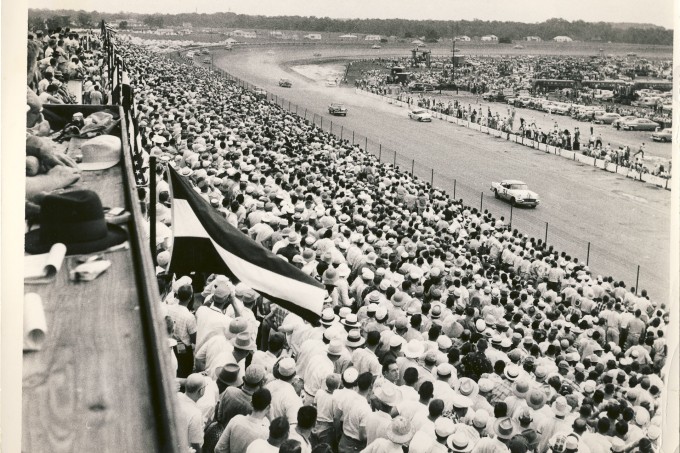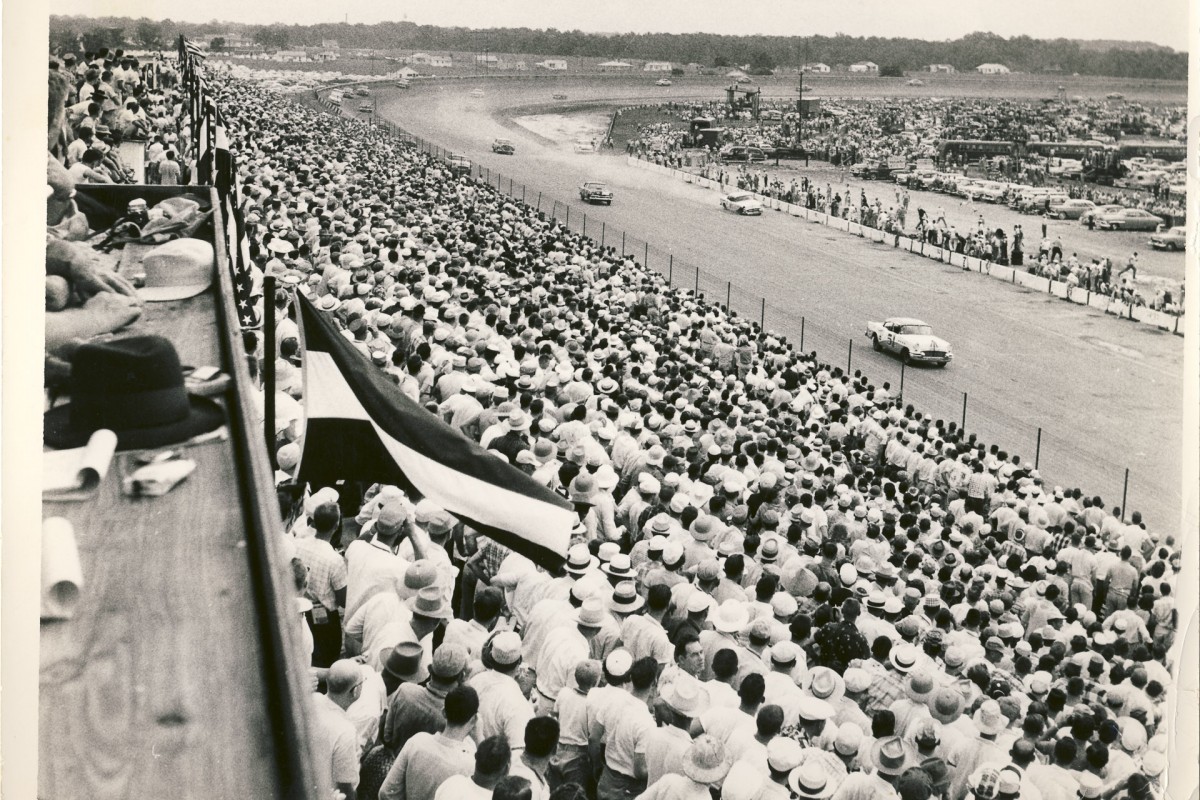 With that out of the way, this seems like a good place to start: 1950-something in Darlington, South Carolina. These were the early days of stock car racing; drivers racing real cars that you could buy at the dealership, on dirt, sideways, and probably a little sleepy from running moonshine the night before. Those moonshine legends? There's certainly some truth to them, and I was as surprised as you are to learn that they used Air Lift bags to keep the rear from sagging under a trunk full of illegal booze.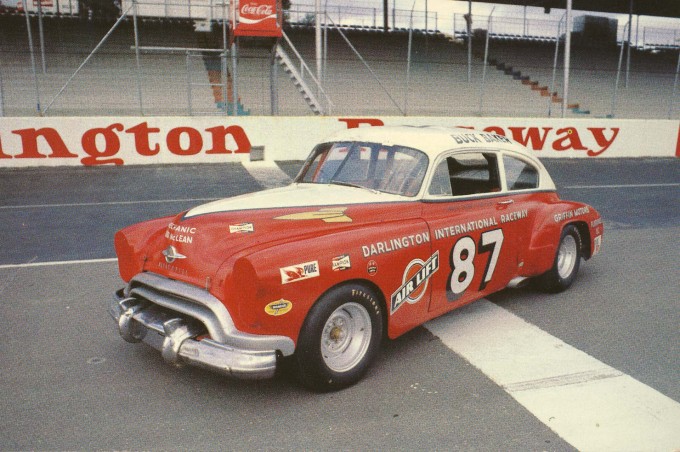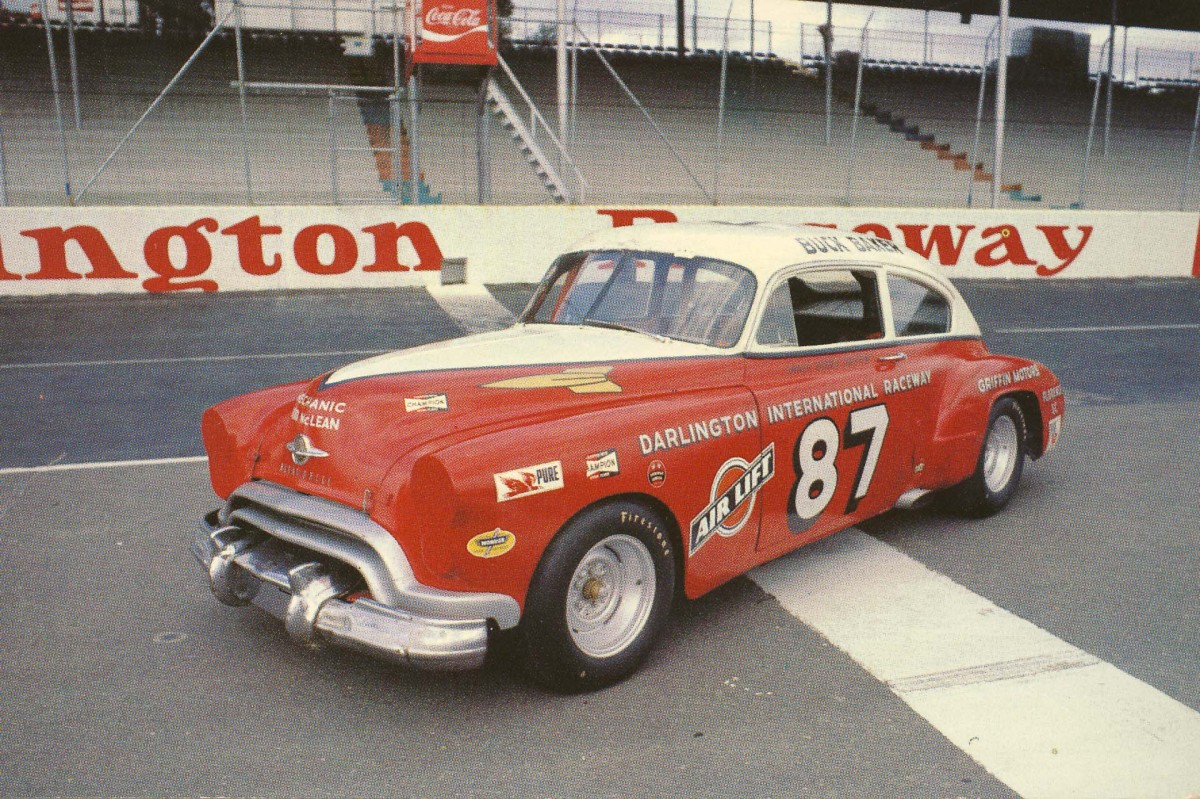 So with that shining endorsement, the drivers started asking for air springs in their race cars too. For example this 1950 Olds driven by Buck Baker, one of the first race cars to really demonstrate what Air Lift's technology could do. The car had inflatable butyl rubber springs at all four corners that were filled with 1-20psi to effectively load each individual corner and influence handling as needed. 20 psi would add 150 pounds of spring rate to one corner, usually to the right side of the car since they were on a left-turning oval. The air system was installed in a parking lot with illumination from a flashlight, on the night before the race. Since then another dozen winning NASCAR drivers have piloted this very car, including Richard Petty's dad, Lee Petty. This car is such a stock car icon that it was shipped to Goodwood a couple years ago along with Dale Earnhardt's #3 car.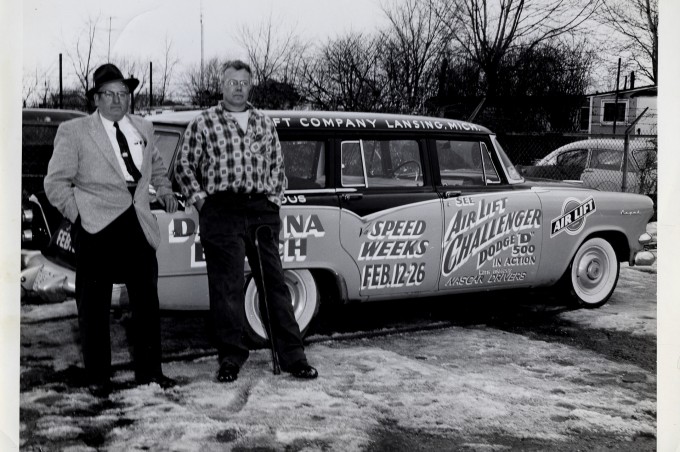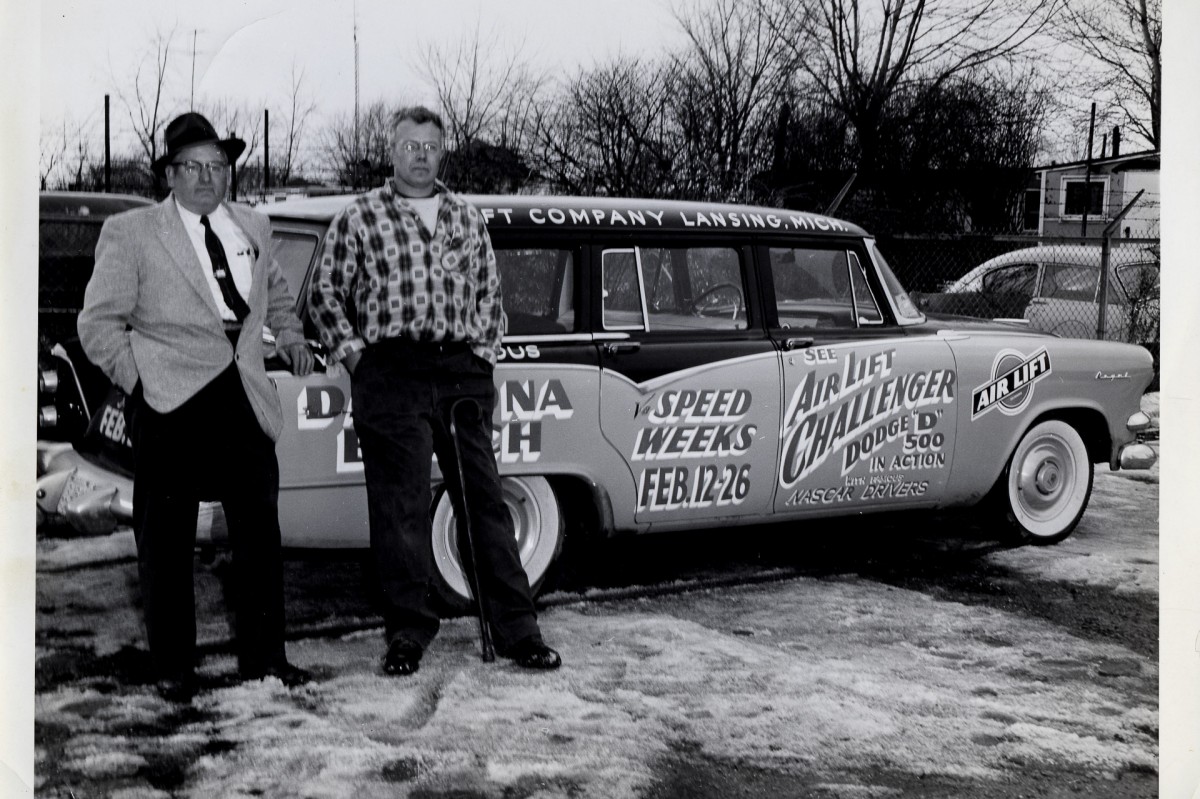 It seems the '50s were really an exciting time for Air Lift. They were preparing high performance promo cars to go racing, sponsoring major teams and even created Air Lift Day during Daytona Beach  Speed Week. It was a full day of performance tests sponsored by Air Lift – flying mile racing, acceleration tests, and even braking trials were set up to find the best drivers on the circuit. Of course, they had to wait until 3.00pm to start the festivities, that's when the tide went out and the beach would be ideal for racing. It wasn't all advertising hype either, legitimate records were set by professional drivers on Air Lift Day.
Seen back in Michigan before their trek down south is Archie MacMillan in the hat, an advertising guy who also hand-painted the wagon he's leaning on. Rod McLean is on the right, he was Air Lift's Chief Mechanic and worked on all the Air Lift-equipped race cars over the years. He's in the Michigan Motorsports Hall of Fame now for his extensive involvement in racing since the '50s.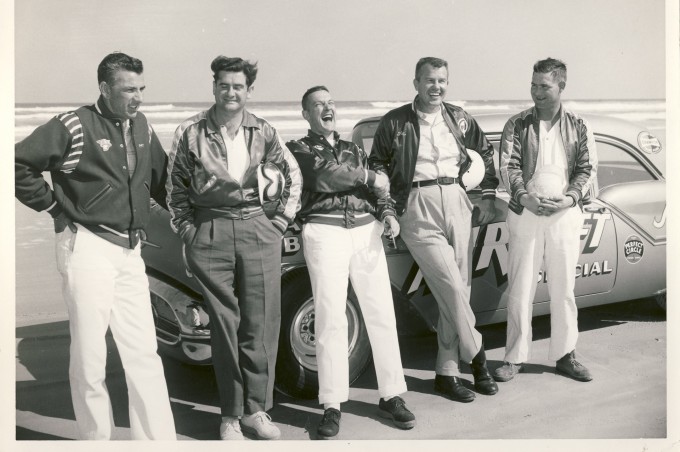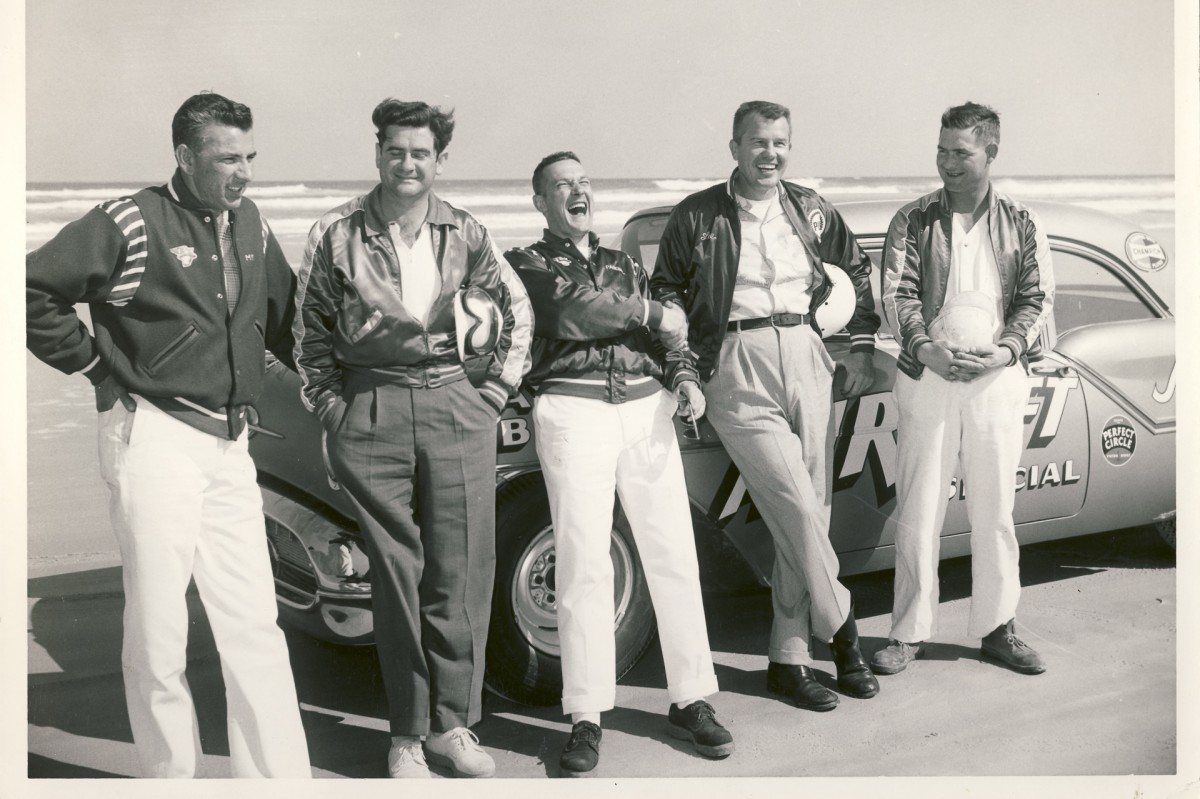 Clearly Air Lift saw merit in their promotional racing efforts. That D-500-1 Challenger seen in the lead image for this story was one such promo vehicle to be raced from a standing start on Daytona Beach. Another was the '57 Olds J-2 Rocket seen here waiting for the top five stock car drivers (L-R Herb Thomas, Buck Baker, Jim Paschal, Lee Petty, Speedy Thompson) to race a standing mile, back-to-back, all in this one car. Rumor has it the Air Lift prize money for those challenges was bigger than even the NASCAR purse at the time, and it was often the only way the winner could fund his travel to the next race.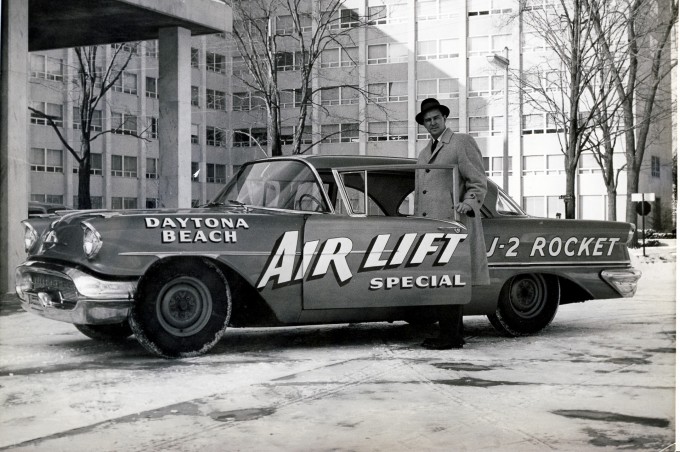 Here's a better shot of the Oldsmobile back in frozen Lansing, Michigan. The Air Lift guys would drive these cars straight to Daytona Beach, change the tires and oil once they got there and then let the drivers have their way with them. After the races they would turn right around and head back to Michigan. How's that for a reliability run?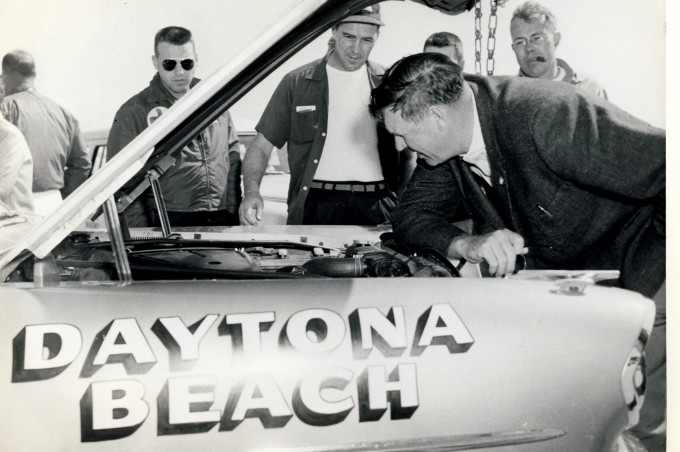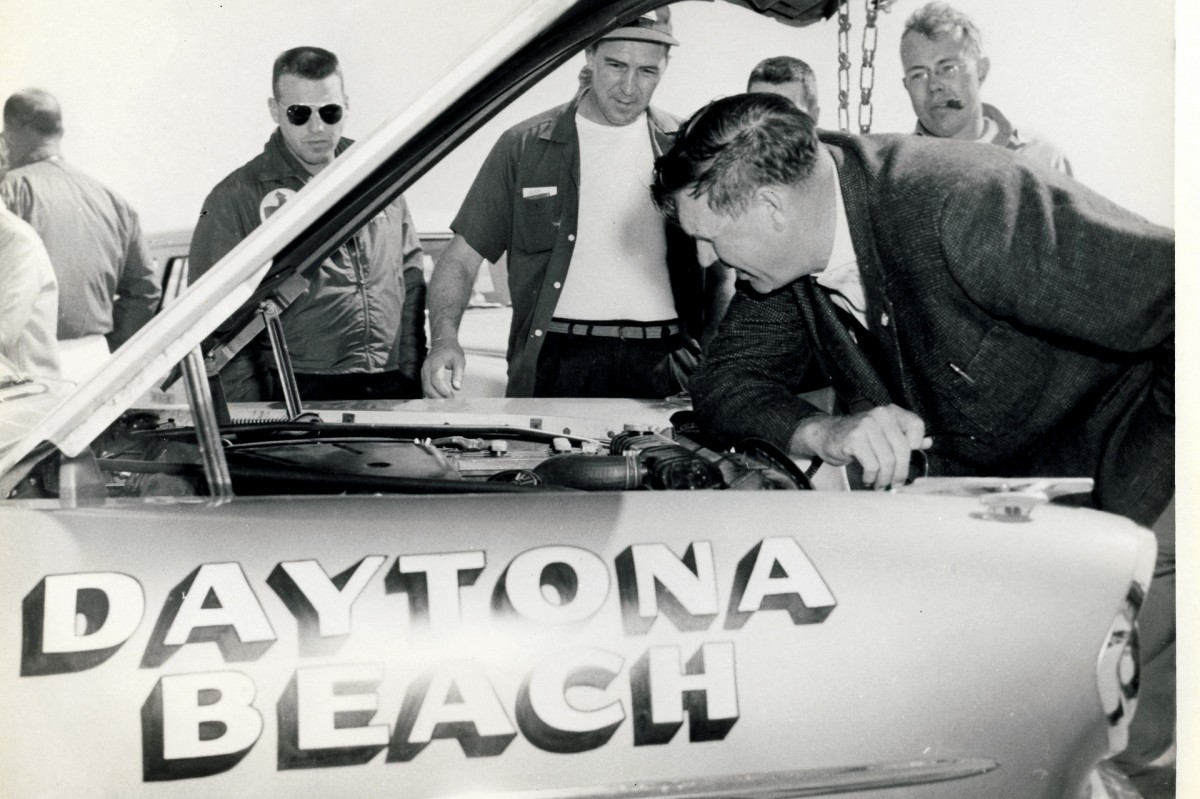 That fella looking under the hood is Bill France, racer and co-founder of NASCAR. That dumbfounded look he has on his face is because Lee Petty just set a huge record at 144mph. Notice Rod McLean again in the back with the cigar.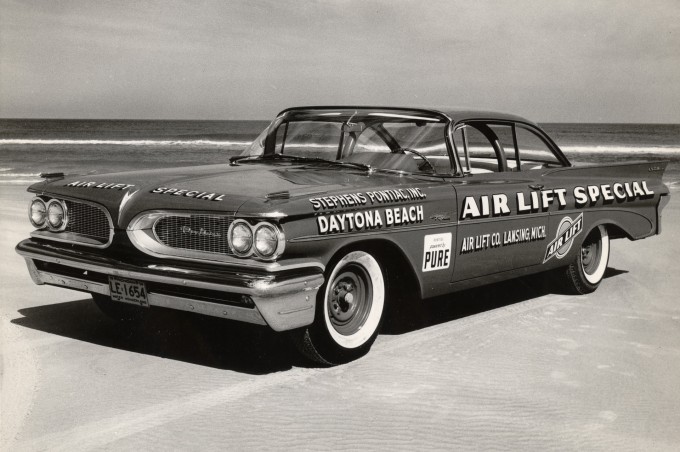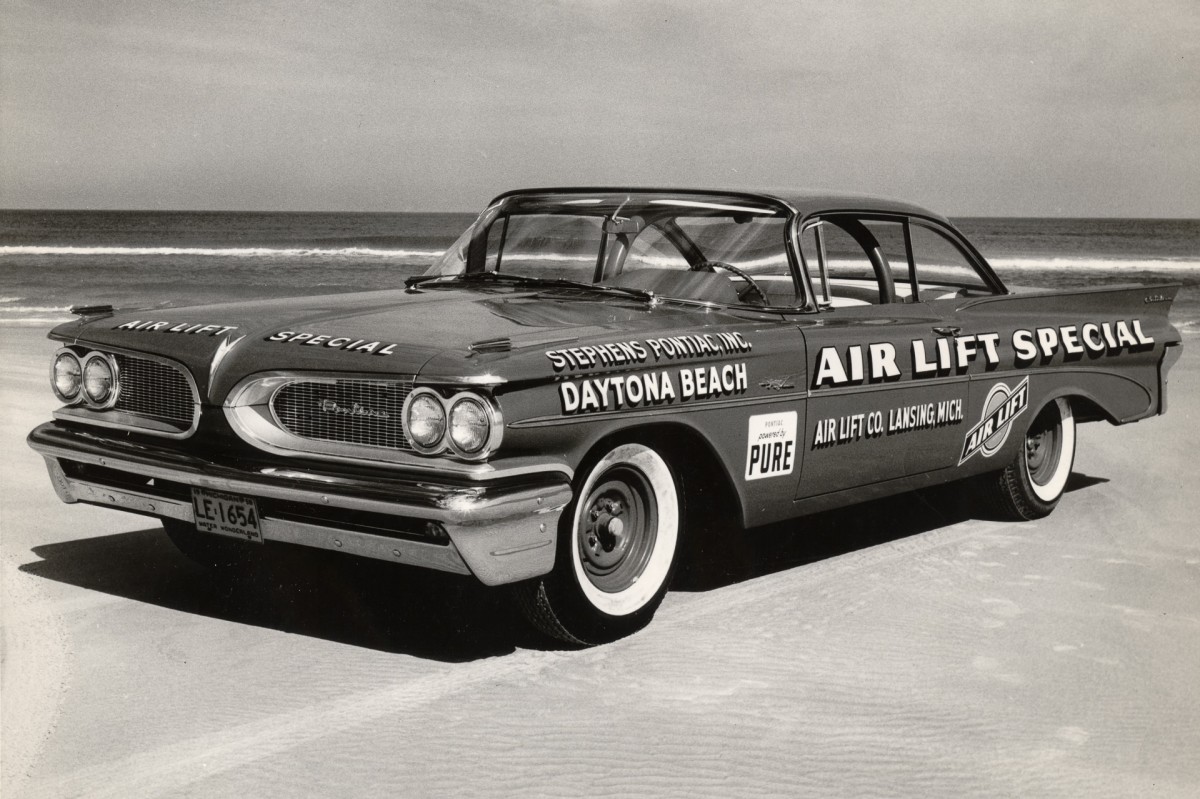 From 1958 to 1961 Jody's dad, Bob Pemberton, raced for Pontiac in factory-fresh cars like this '59 Bonneville. Bob would get a brand new Pontiac up in Michigan and drive it straight to Daytona Beach to break in the engine, transmission and wheel bearings. Once everything was freed up from the drive, he would stop off at Stephen's Pontiac to freshen up the car before the race. The dealership actually shut down its service bays for two full weeks to accomodate the Pontiac teams. Bob won the Flying Mile and Economy Run with this car, and the relationship he built with Pontiac President Bucky Newson often proved beneficial to Air Lift on the engineering side too.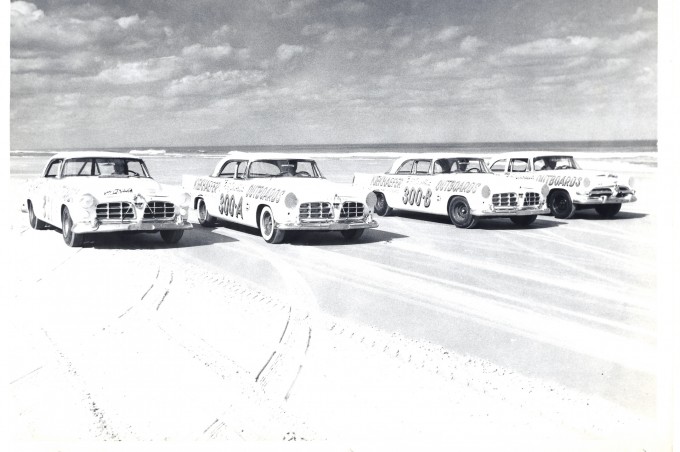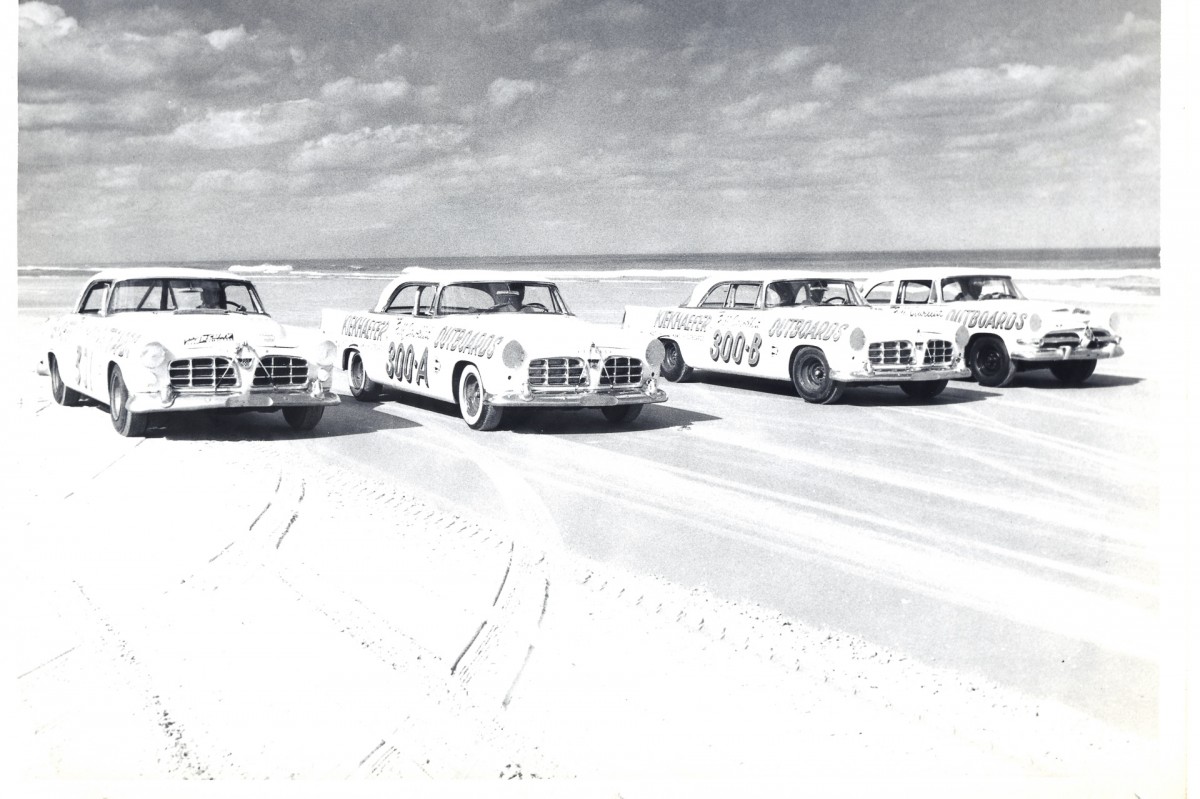 It wasn't just promo cars that ran air suspension though, the race cars ran it too. Around this same time Air Lift got involved with Carl Kiekhaefer of Mercury Marine fame, who funded one of the most serious racing operations of the time. Liken it to the mega-teams of today like Hendrick Motorsports.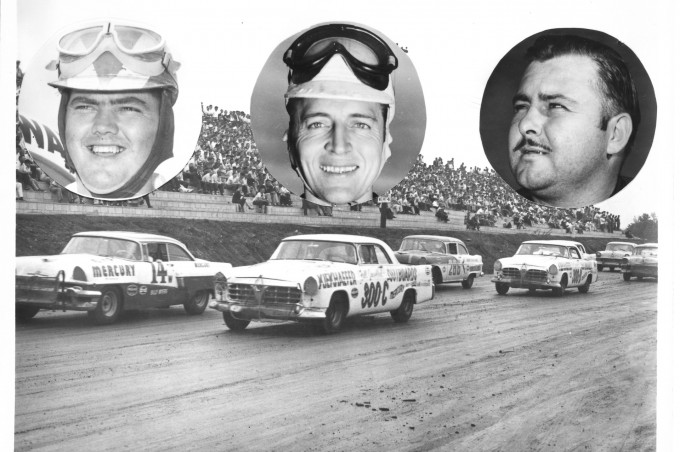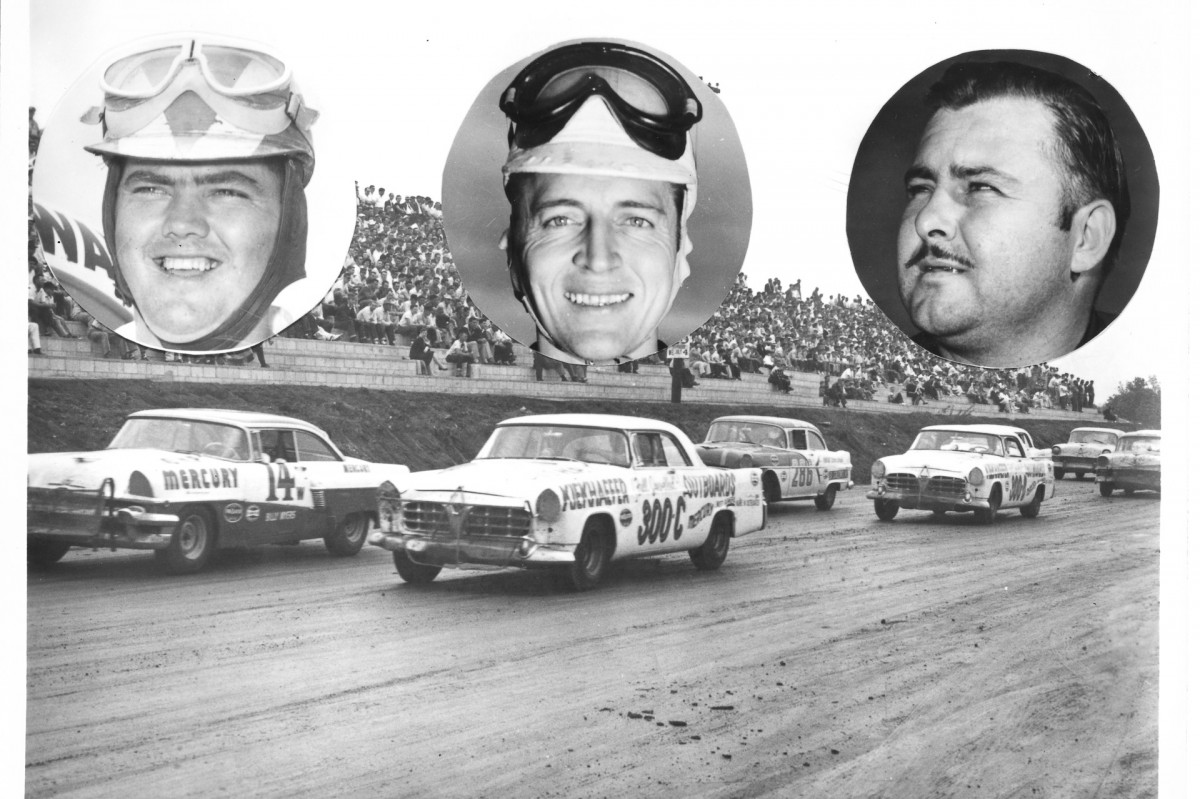 These guys were running multiple race cars, auto transports (at a time when most race cars were driven to the track) and paid good money to persuade top drivers into the Kiekhaefer cars and onto the podium. On the left is Junior Johnson and in the center is Ken Flock, unfortunately we weren't able to identify the third driver. The Kiekhaefer team dominated for the short two years it raced, and set the standard for how a professional stock car team could be run.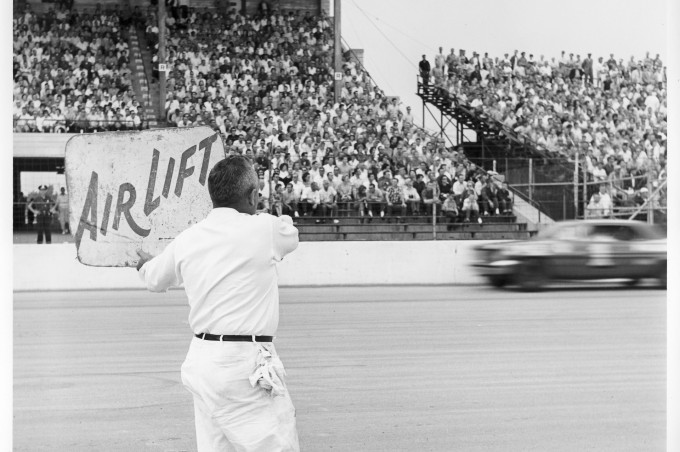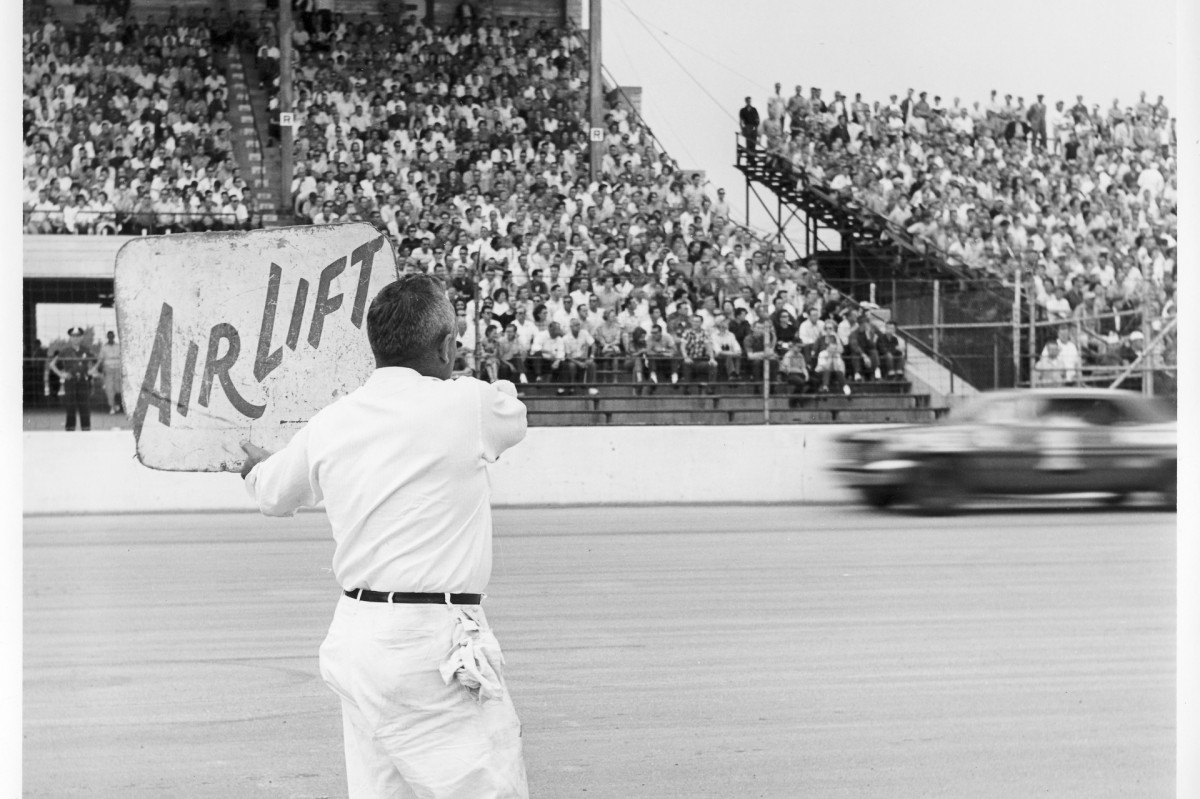 By the early '60s Air Lift was fully embedded in stock car racing, due at least in part to the Pemberton's own interest in racing. The #1 car blasting by is another Air Lift-equipped Pontiac piloted by Paul Goldsmith. This picture was taken at the famous Milwaukee Mile, where an estimate 25-30,000 spectators packed the stands.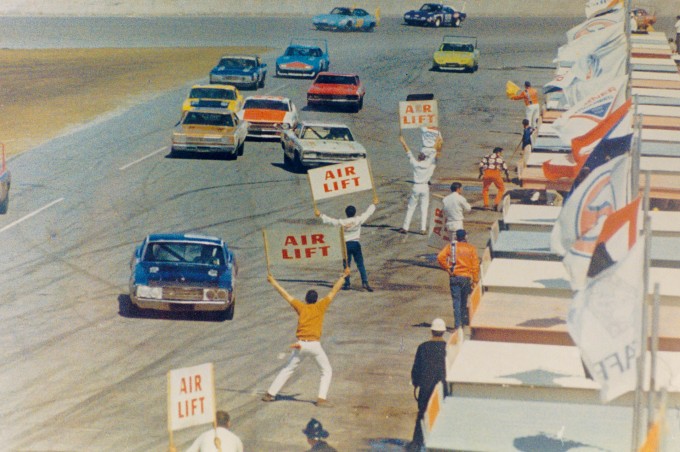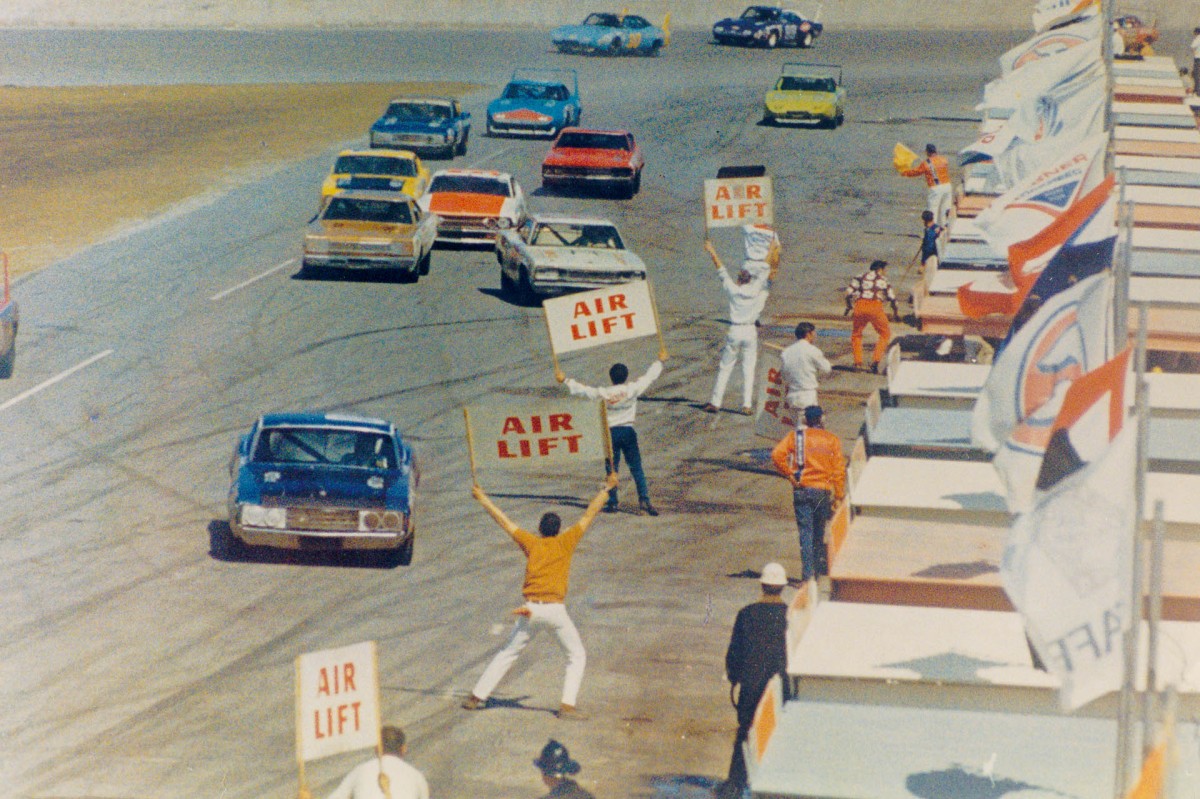 A bit later, at the Daytona 500 around 1969 according to Chris and Jody, we have one of their most prized images. Chris and Jody used to hand paint these pit signs back at the Air Lift shop, then go to track and add numbers for each driver. You have to remember this was before the advent of race radios, so the signs were the only way for a pit crew to communicate with the drivers about when to stop for fuel or tires. The reason the guys are so proud of this particular image is that it was put on the Associated Press wire and printed in newspapers nationwide. The next day they got phone calls from people all over the country who saw the picture with their hand painted pit boards.
Hooking up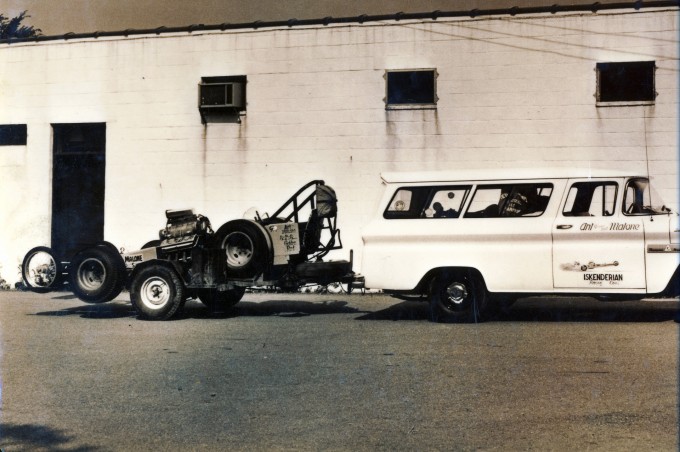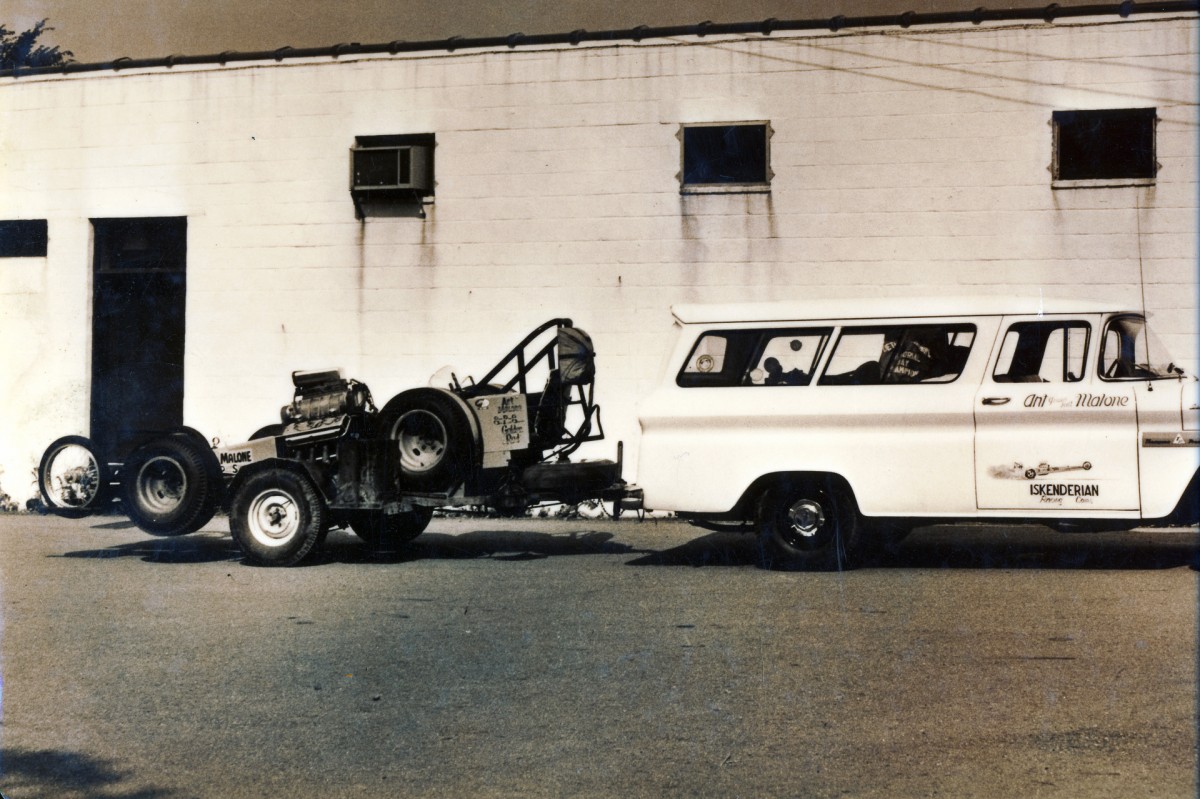 Back in the early '60s Air Lift found another niche in drag racing. When I first saw this picture I assumed it was to demonstrate the helper springs on the back of the Suburban. They're meant to level a tow vehicle when it's pulling a trailer after all. Jody told me that the Sub probably does have bags in the rear, but the interesting part is that the dragster had them too.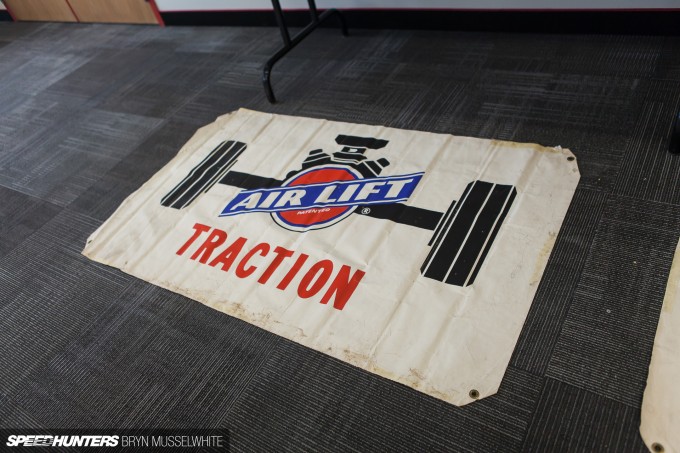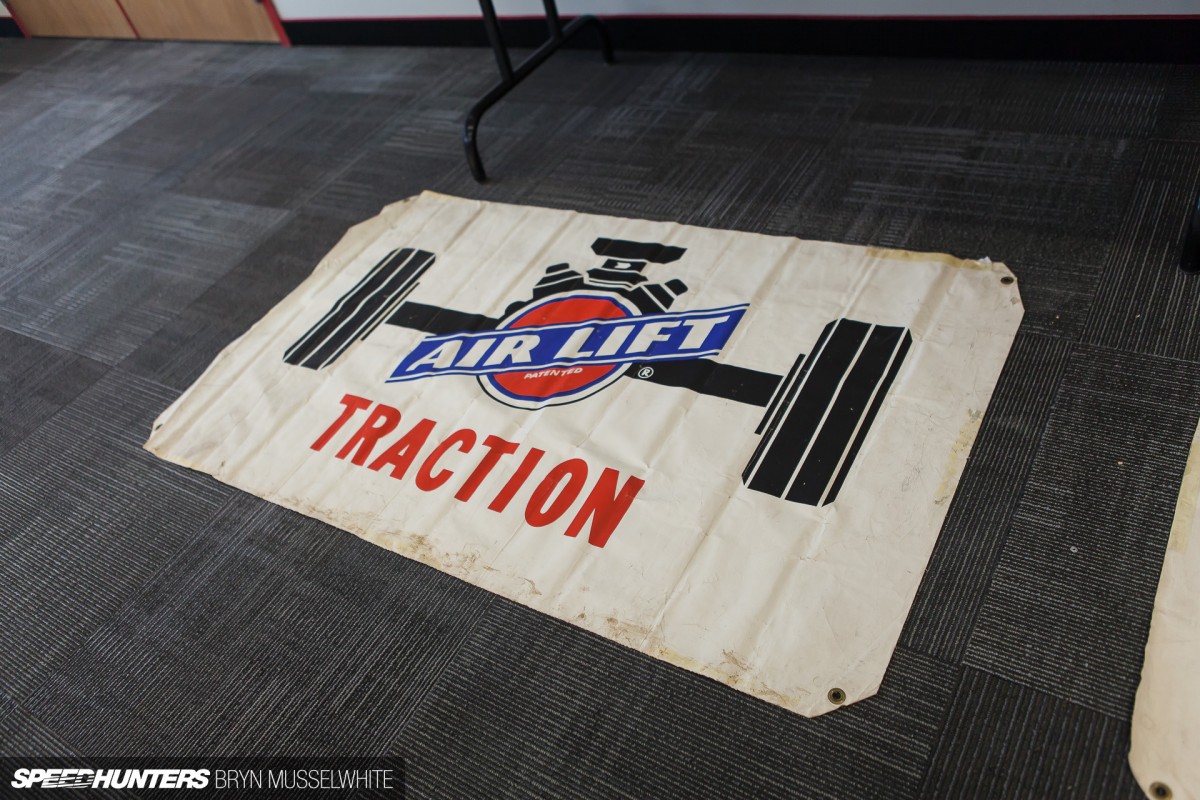 It seems the drag racers had figured out a way to adjust their suspension using air, and Air Lift had yet another racing market that wanted their product.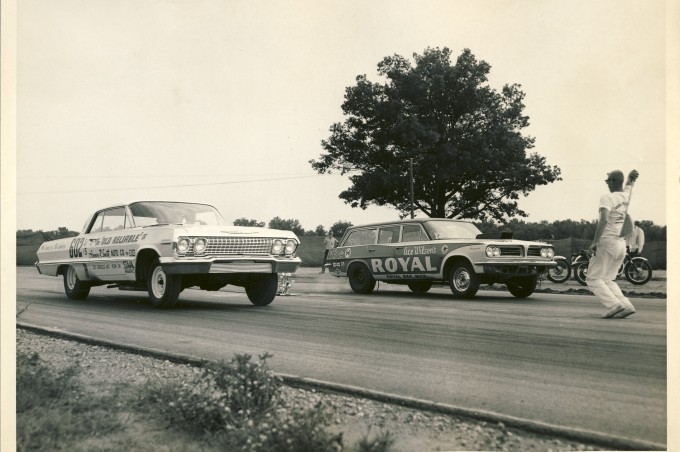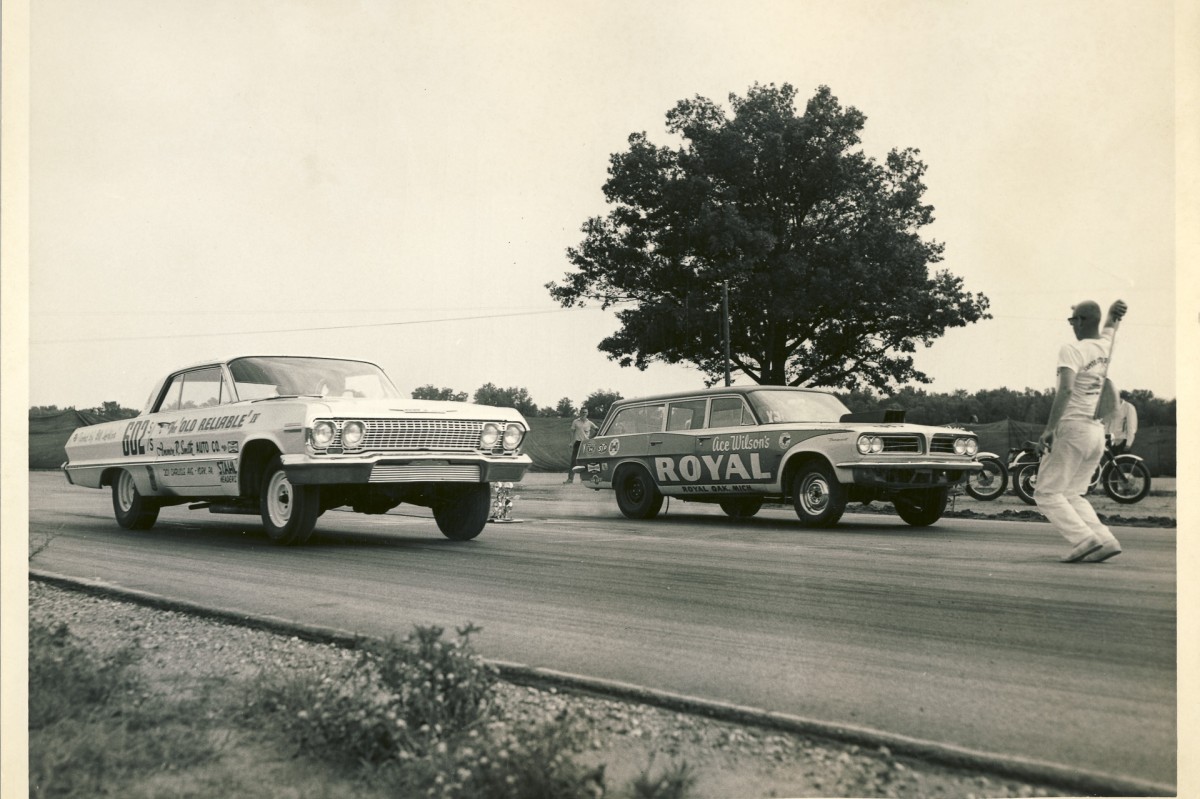 Back in the '60s tire technology still had a long way to go, and racers would try anything to get some traction. Remember the altered wheelbase cars and gassers? These were merely attempts to get the rear tires to stick.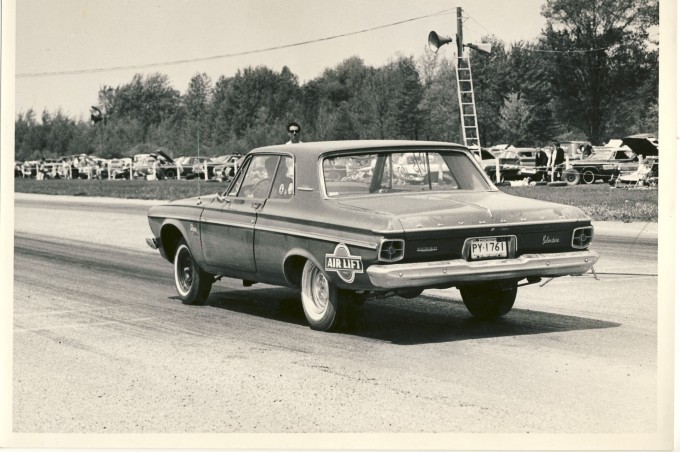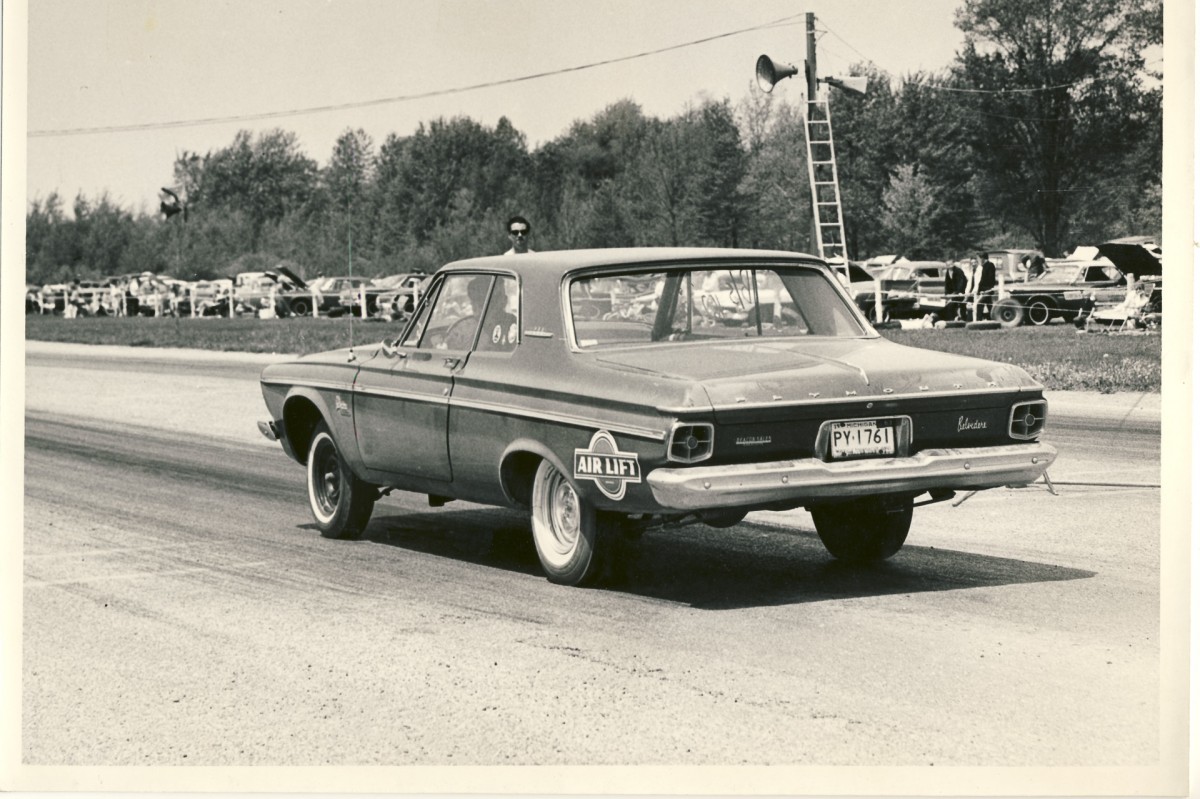 If the drag racers wanted air bags, then Air Lift wanted to be involved, and our historian Chris says he spent many a weekend at tracks around the country sponsoring racers on the spot and installing air springs for them in the pits. All the driver had to do was slap on a decal, and if he won while running the Air Lift logo he would even get a contingency payout. Chris says his installations always picked up at the end of the day as people saw other drivers winning with the Air Lift logo on their cars.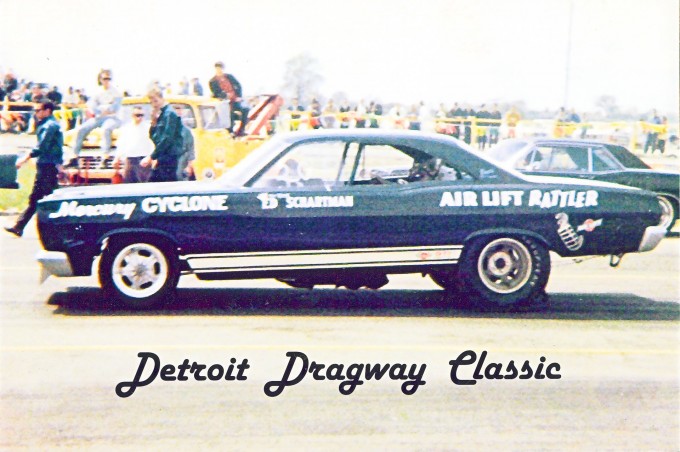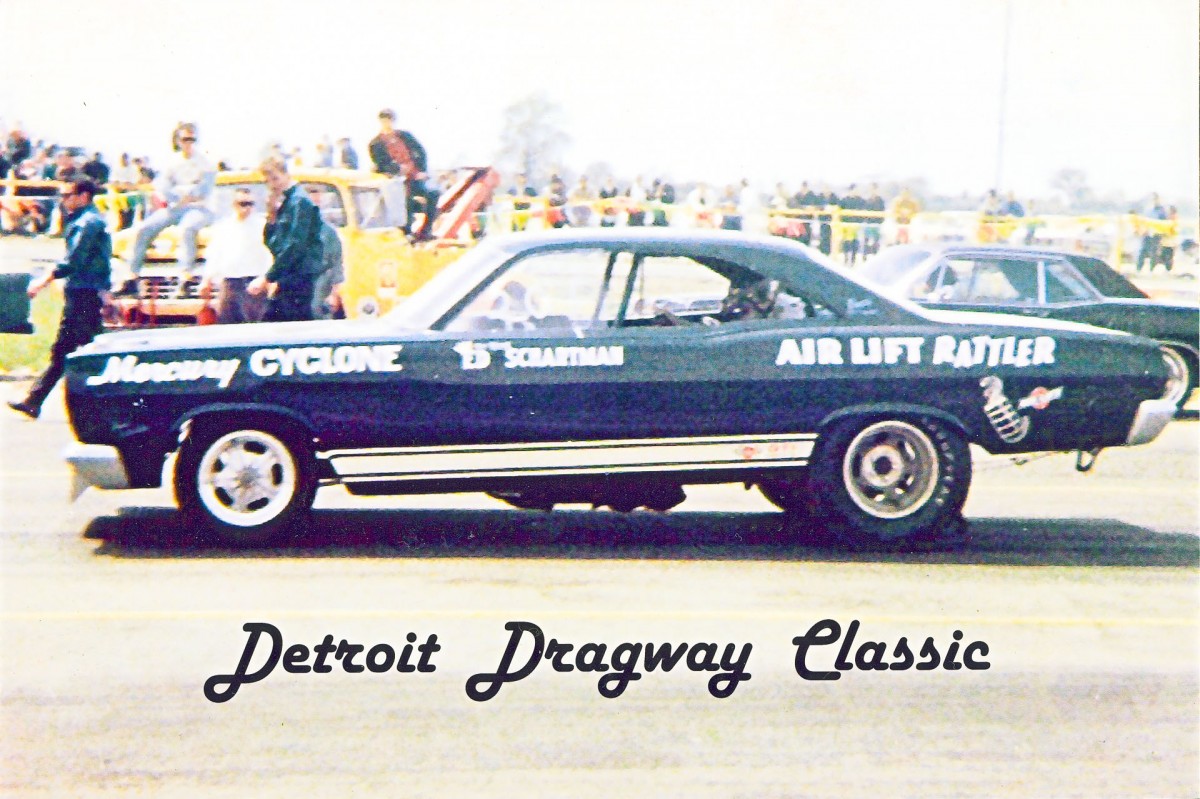 Air Lift ventured into professional quarter mile racing with Cyclones from '65-67 and Eddie Schartman behind the wheel.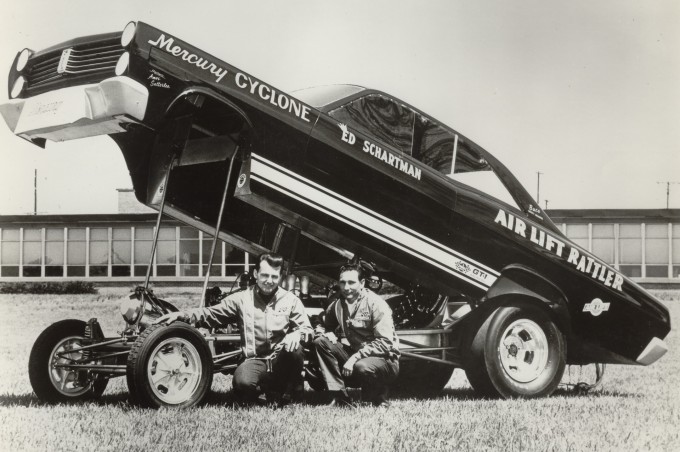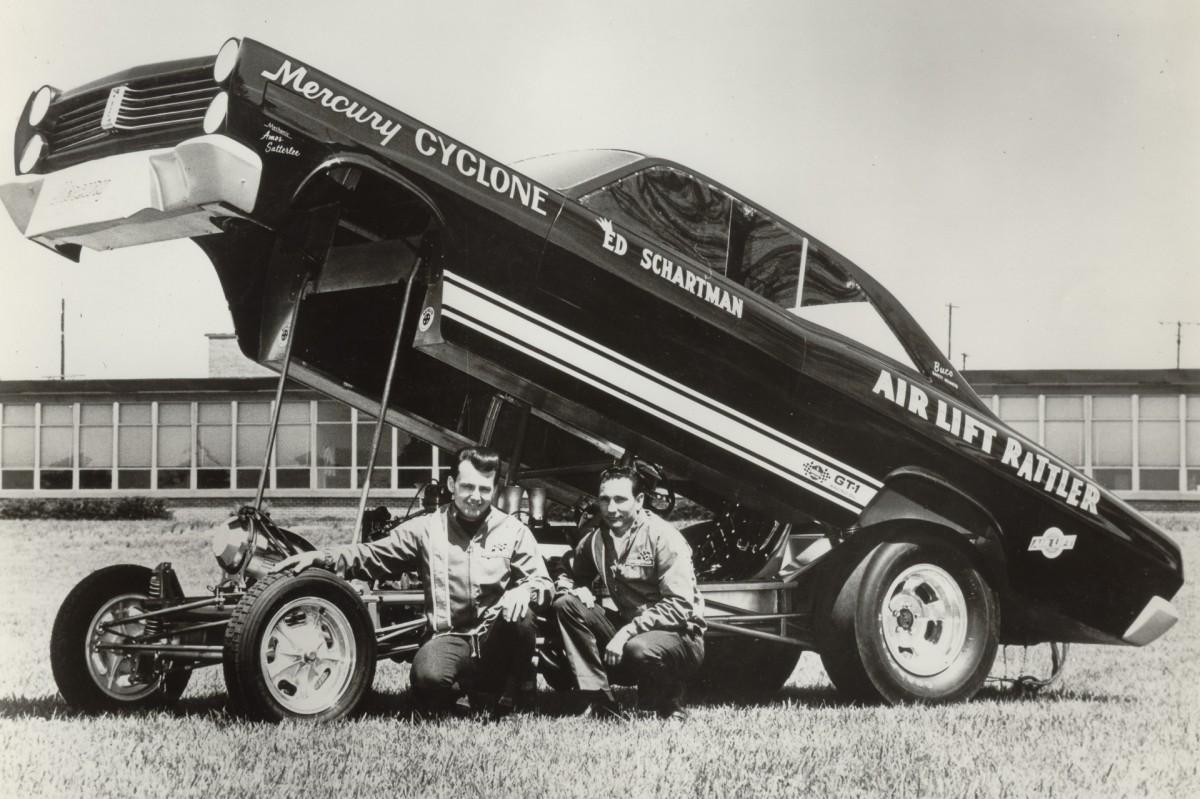 He ran an air spring on his funny cars that was mounted off the rear of the axle and connected to the torque arm to help the car bite as it launched. Apparently it worked for Eddie, because he won a lot of races using this system.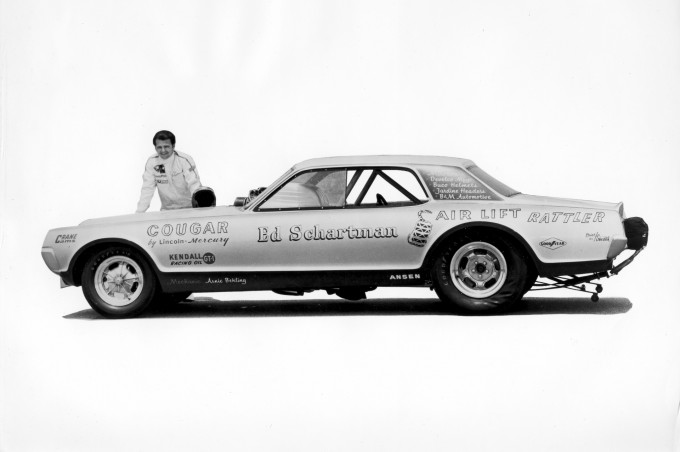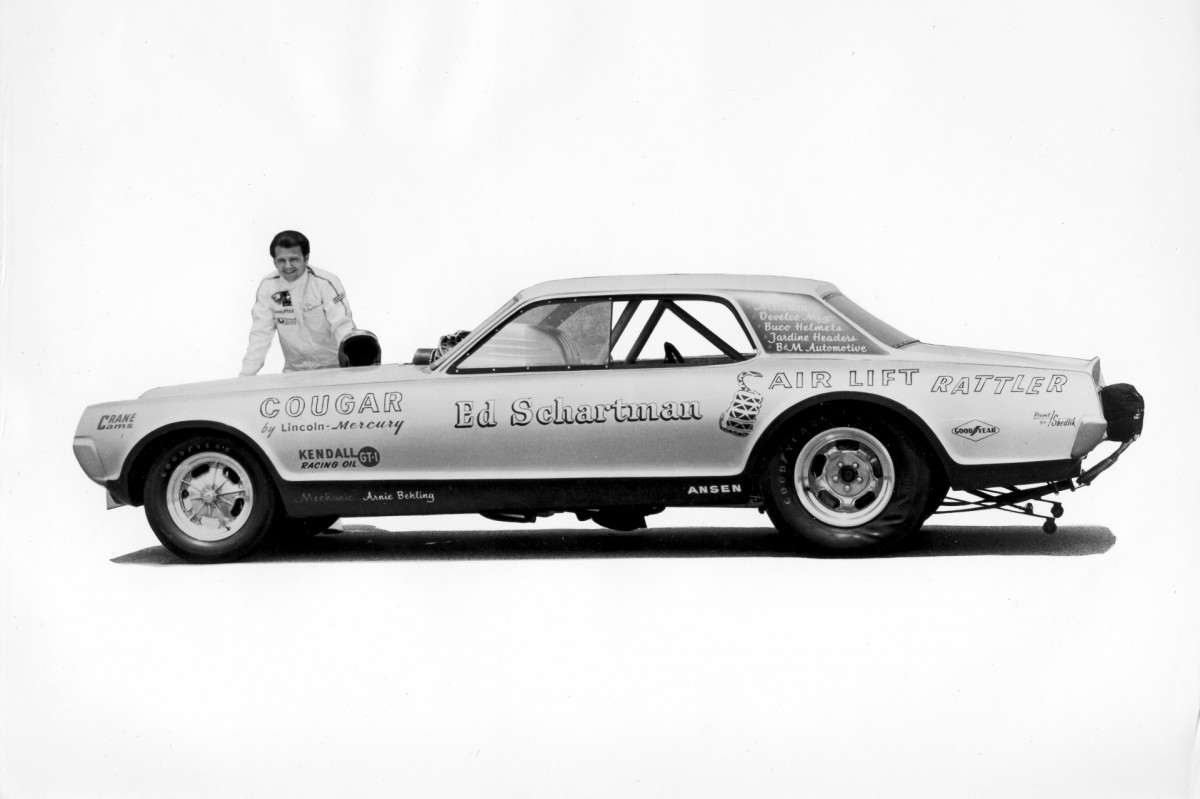 Pony cars rose to prominence in the late '60s and Eddie piloted his most famous car, a 1969 Cougar. Jody tells me it was a beautiful car, with yellow paint that was nicer than any other funny car at the time. They came up with the name 'Air Lift Rattler' and the coiled snake logo became well known when a model of the car hit the toy stores. Kids would come to the races and ask for a Rattler sticker of their own. Yes, it seems Eddie and his Air Lift Rattler were good PR.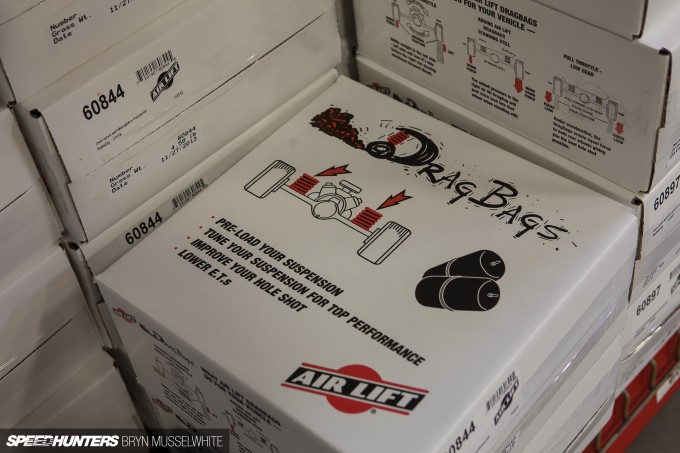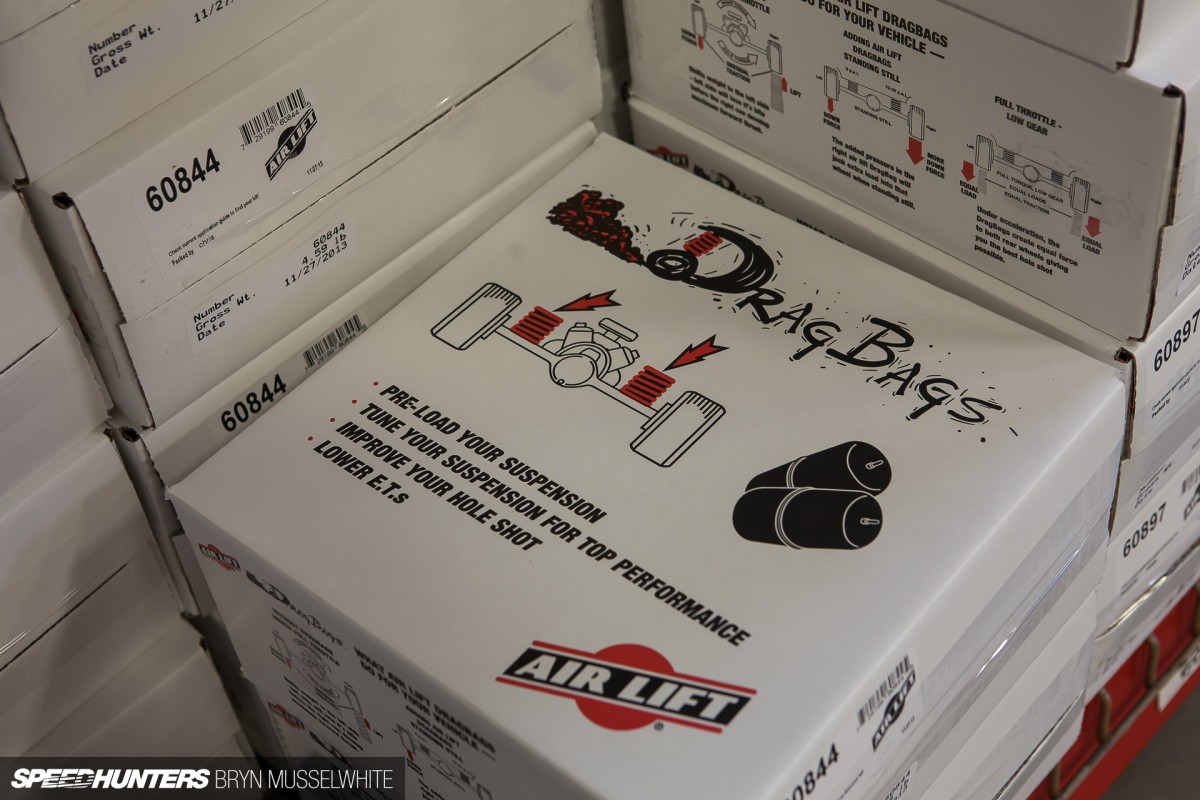 This isn't ancient tech either, Air Lift still has a product specifically marketed for drag racing today.
They've seen it all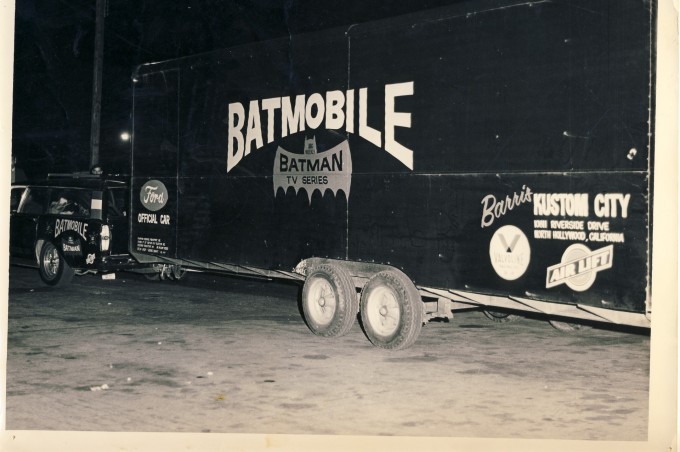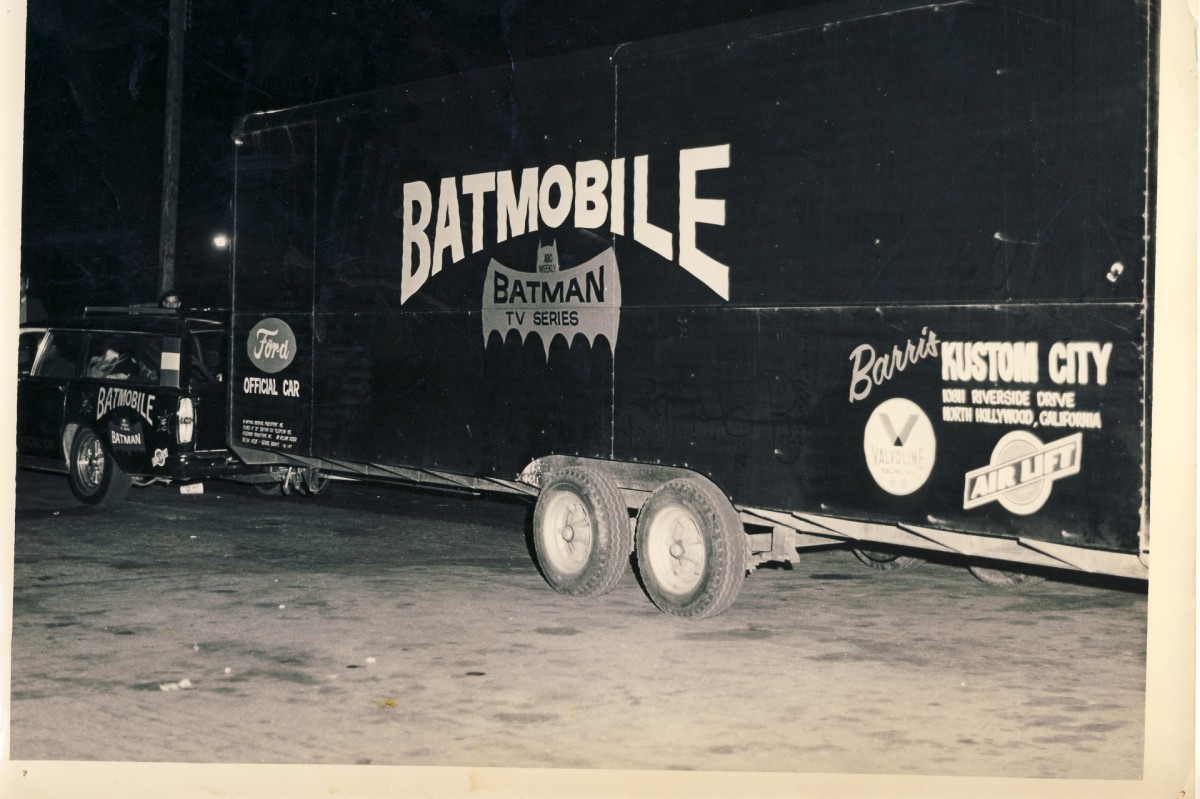 With Air Lift providing products for towing, leveling and all sorts of racing, it started to make sense that the movie industry would seek their technology at some point too. When George Barris built the original Batmobile, he called on Air Lift to provide a suspension that could be used for stunts like jumping a car or flogging it around a corner without leaning over. Chris got to work on this project through Ford, making for an understandably memorable highlight in his career.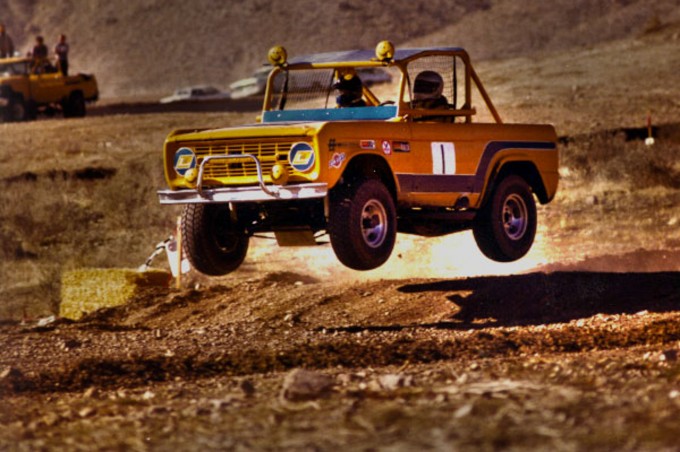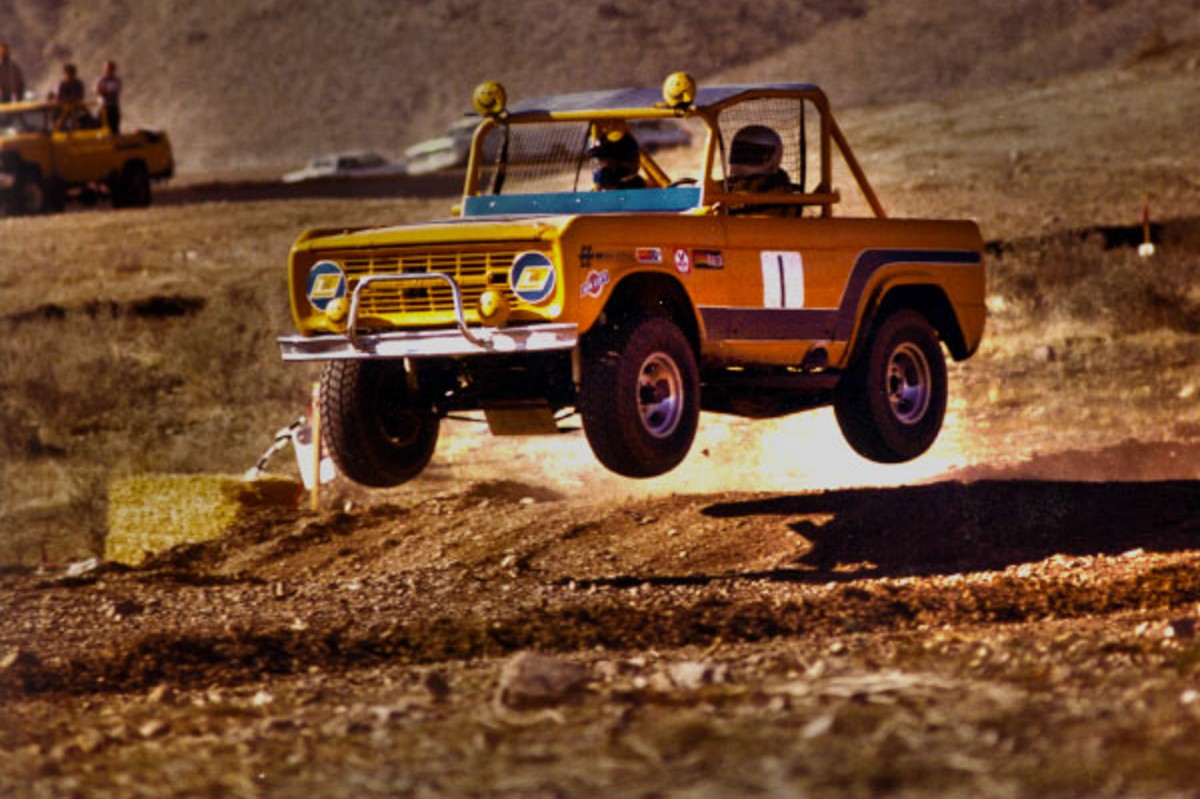 Another Ford project was the early Bronco, which used air suspension for desert racing at the Mint 400 and Baja to keep from bottoming out on jumps. This was way before triple bypass coilovers and jounce shocks existed. Air Lift was also granted a contract to supply their product as standard equipment on Broncos equipped with snow plows after Ford dropped off a brand new truck and requested a solution for the added weight.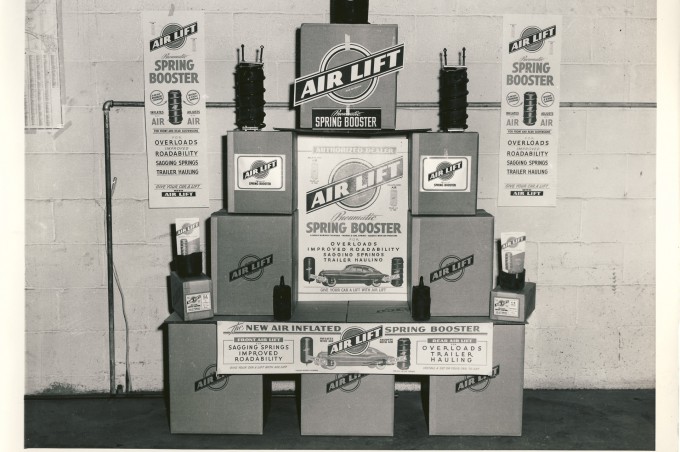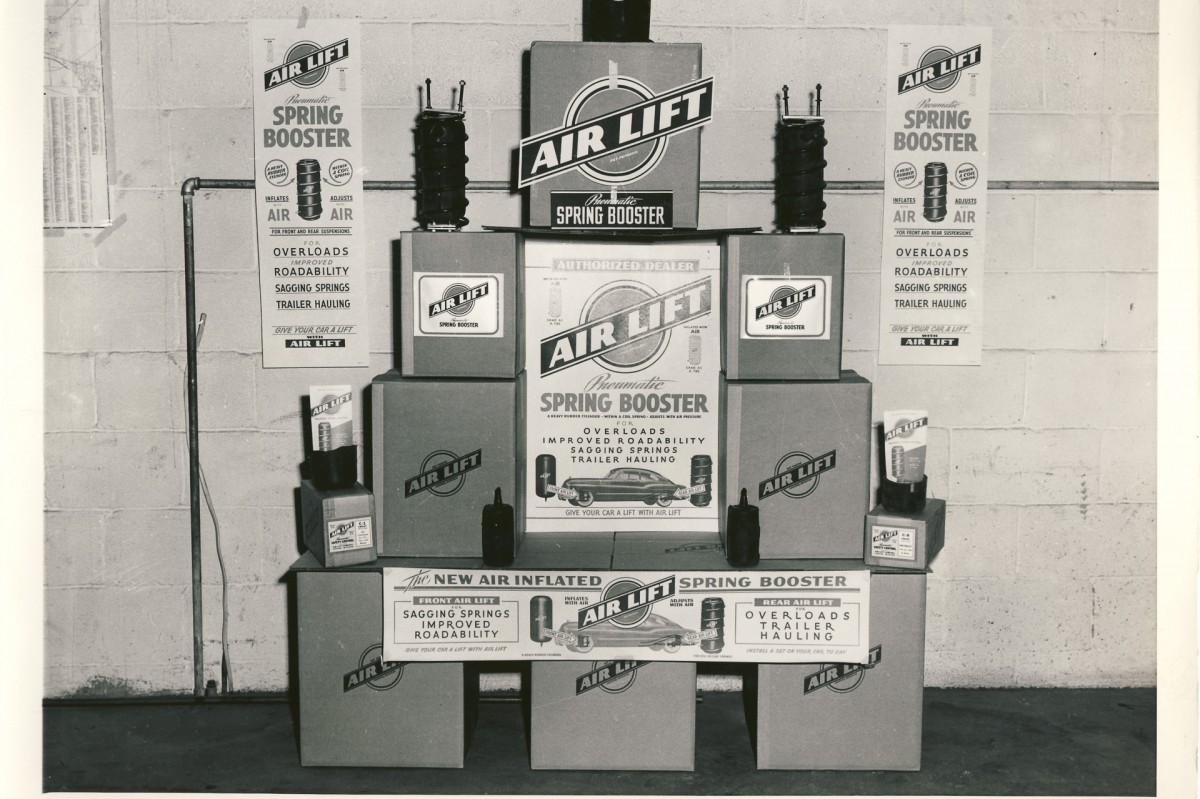 Lifting up saggy suspensions has always been at the core of what they do though.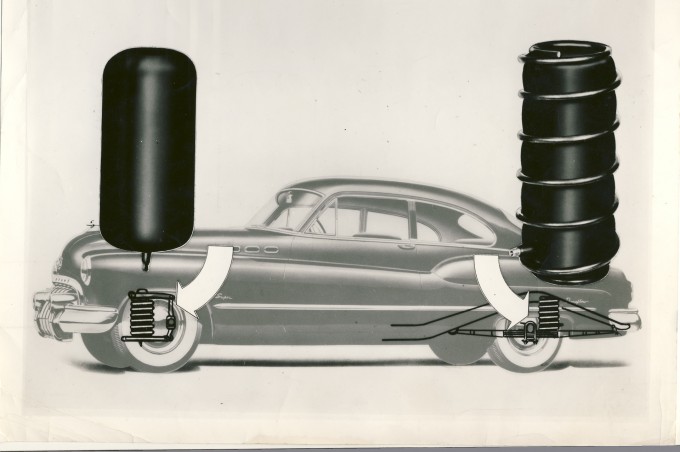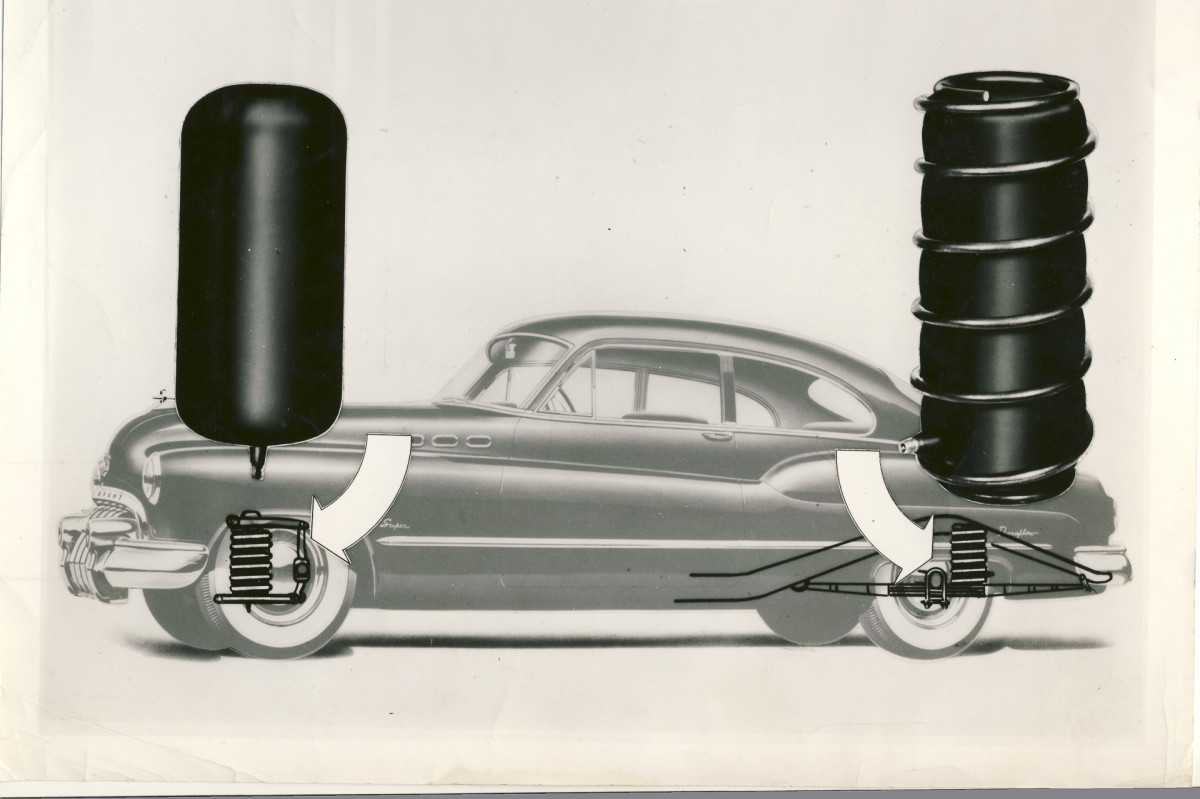 It all goes back to Claud Pemberton's initial idea for an inflatable helper spring that sat inside of a coil.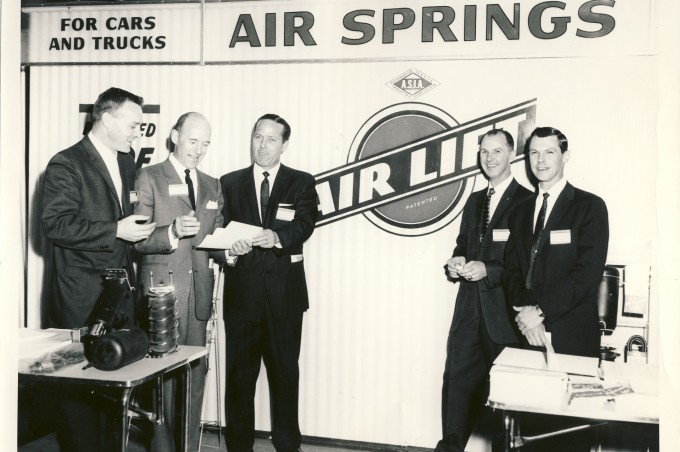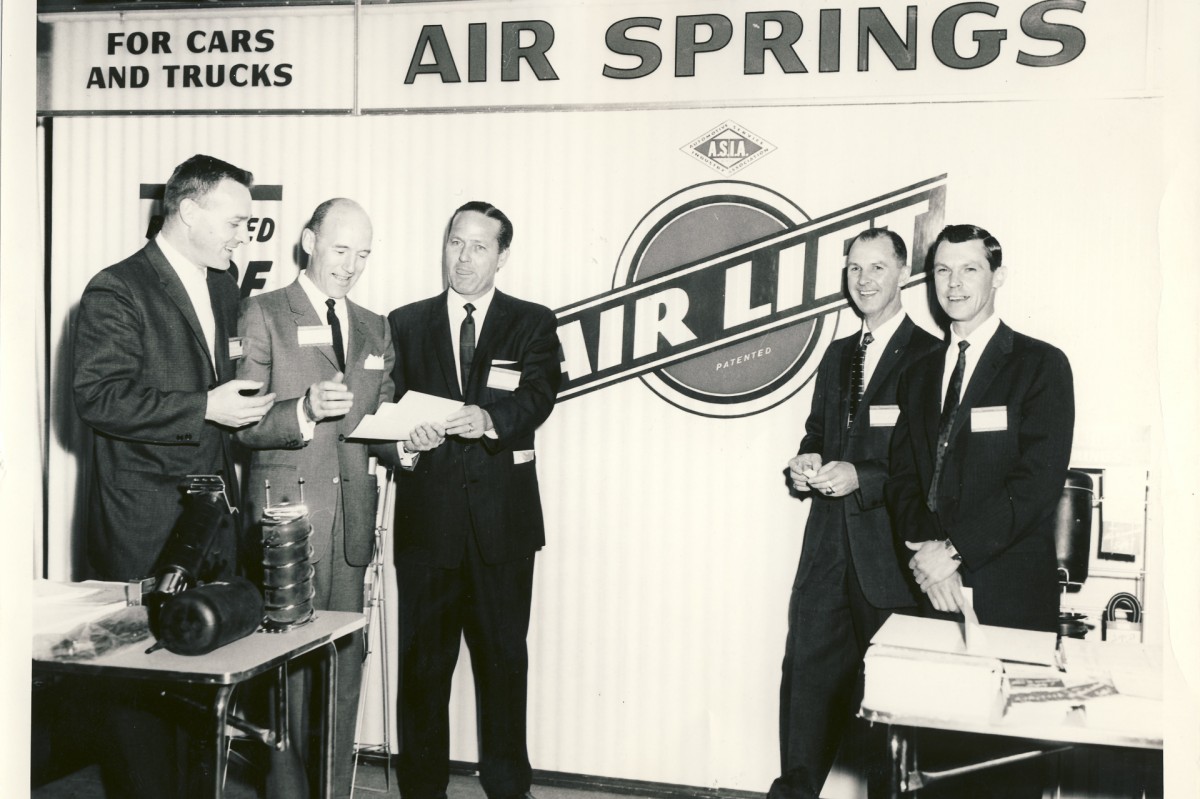 In the late '50s and early 60s this idea was developed further into a product called the L10, seen to the far left of this photo. The idea was similar to an air shock but much more robust, with a machined piston, stamped and cast brackets, and u-bolts that attached to the axle. It proved too difficult and expensive to manufacture and was abandoned after only 18 months. A few examples remain, with one set residing on Jody Pemberton's 1939 Dodge truck. Yes, the 50-year-old springs still hold air.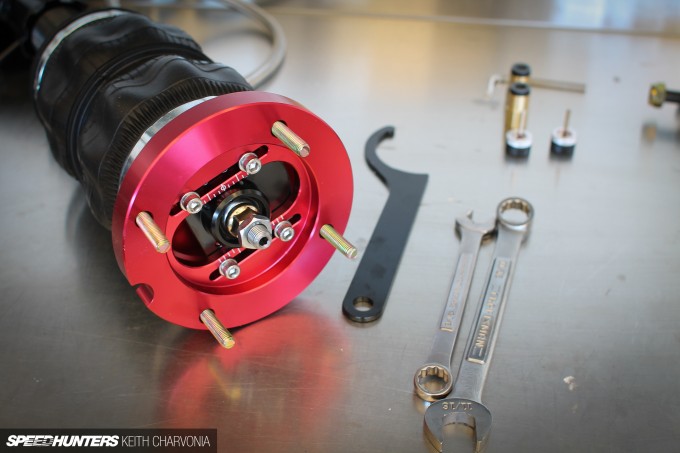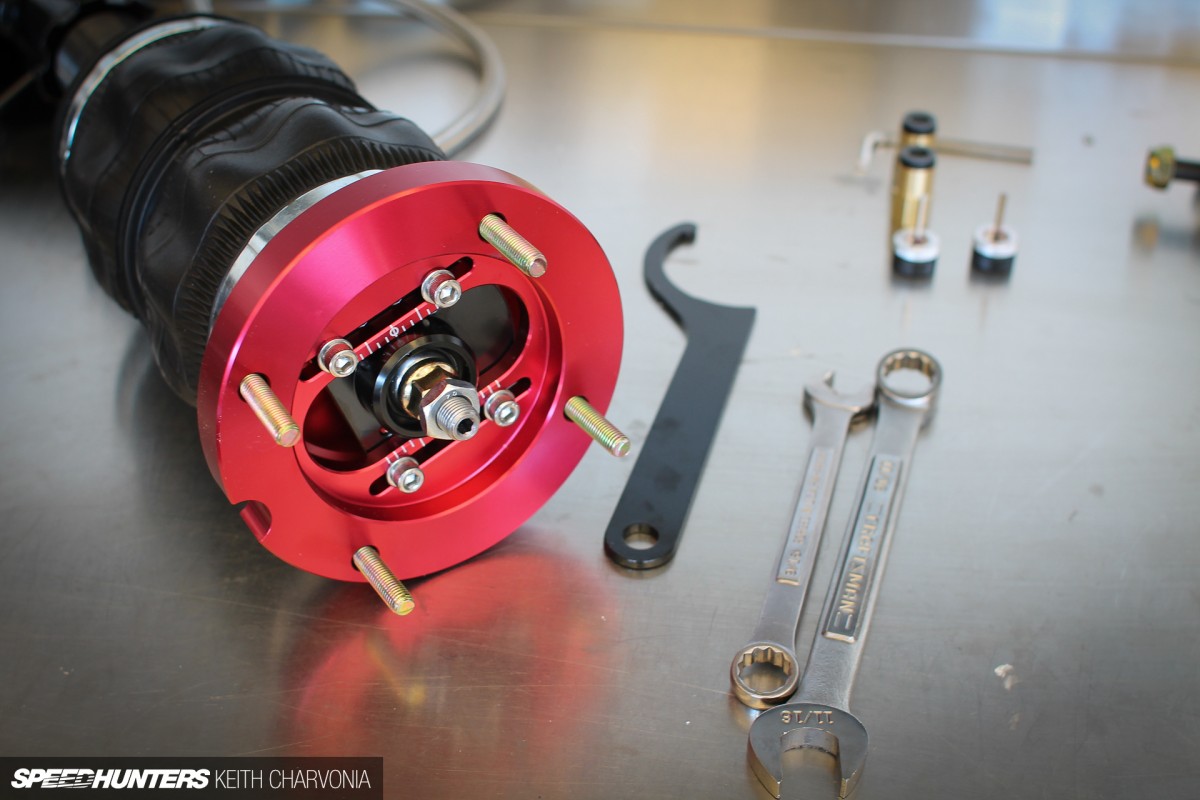 The L10 was strikingly similar to what Air Lift makes today, so it's fair to say it was an idea ahead of its time.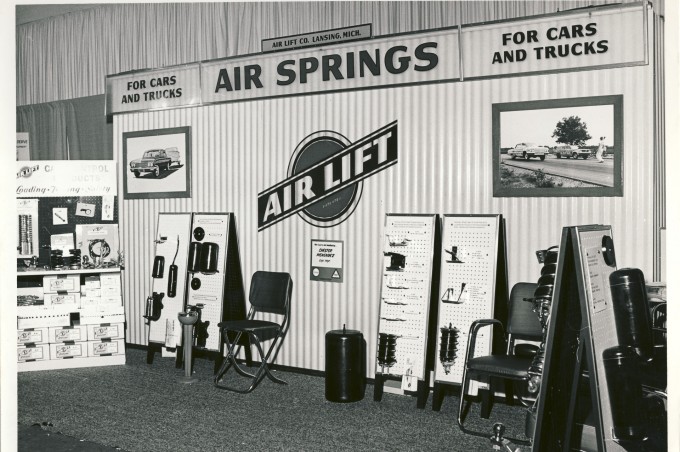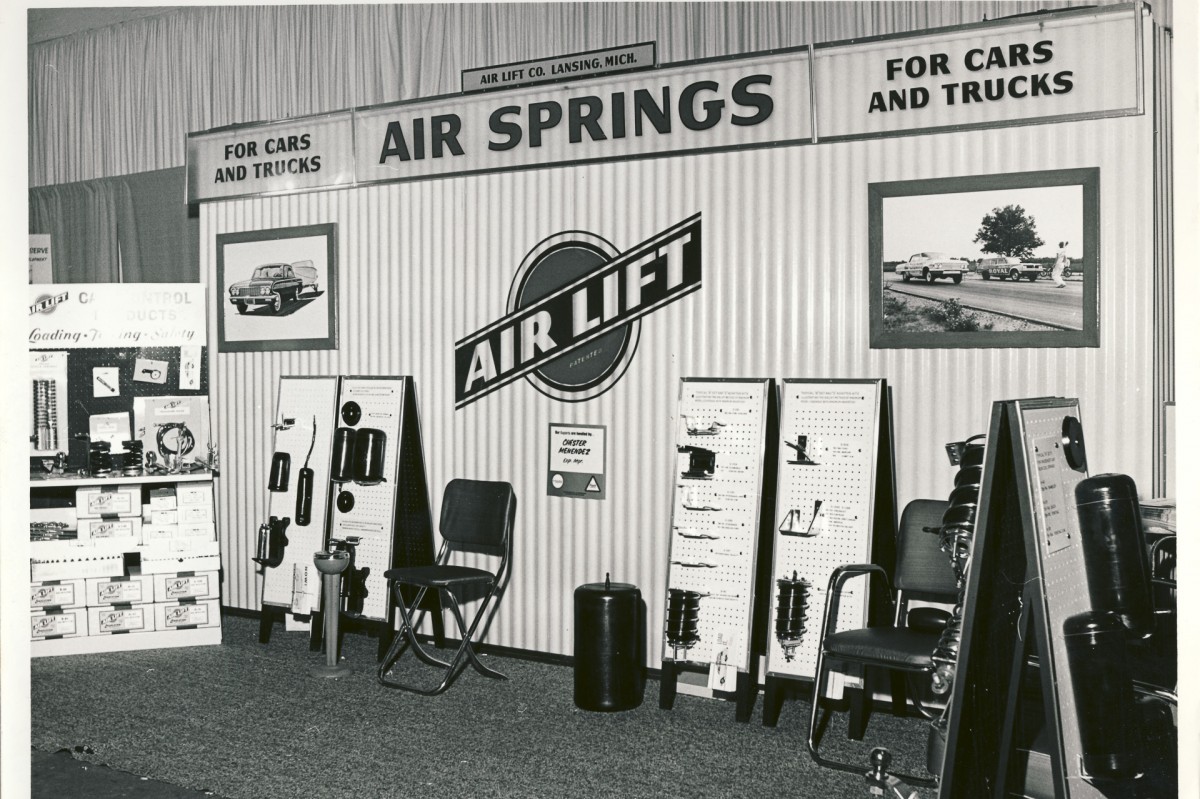 As the years went on more and more people found uses for a tough inflatable bladder. One such use was for the big air bag in the middle of this shot. It was used by General Electric to manufacture the large copper windings found in electric motors. The airbag was inflated and copper wire wrapped around it, then the winding was dipped in wax before the bag was deflated and removed. Other companies found unique uses for Air Lift parts too, like leveling Coke machines and cushioning tractor seats.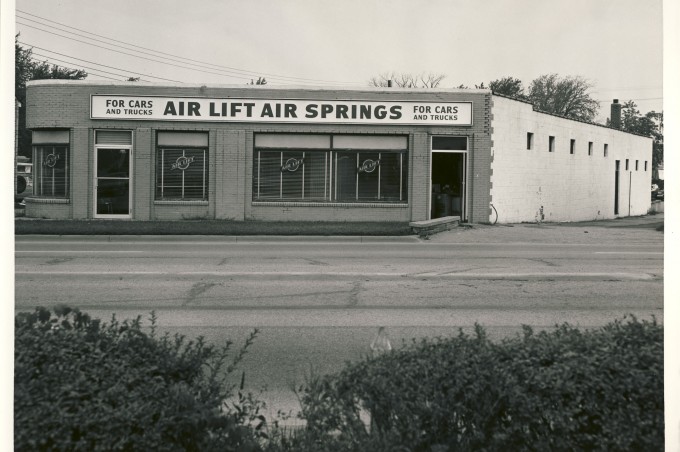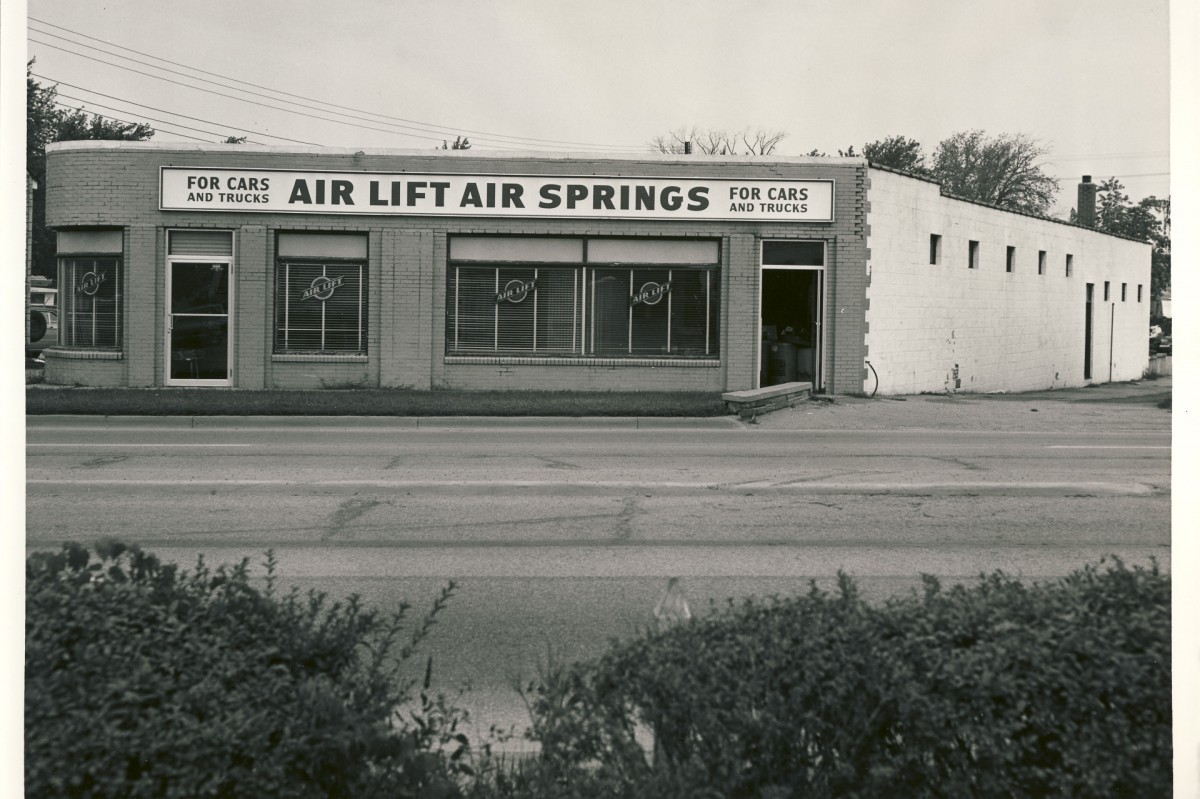 Here's Air Lift's second building which they used in the '50s and '60s for everything from manufacturing, to installation, to sales. The window logos were hand painted using real gold leaf, and when the building was torn down the employees had the foresight to hire a glass cutter to remove the logos. Today Air Lift's board room table features one of the gold leaf logos, Jody has another on his desk and they keep a couple more wrapped up for safe keeping. That's the kind of stuff that you just don't see anymore, and it's worth holding onto.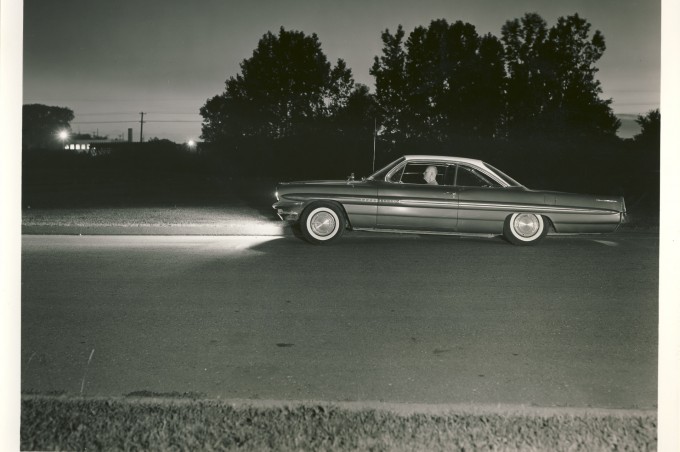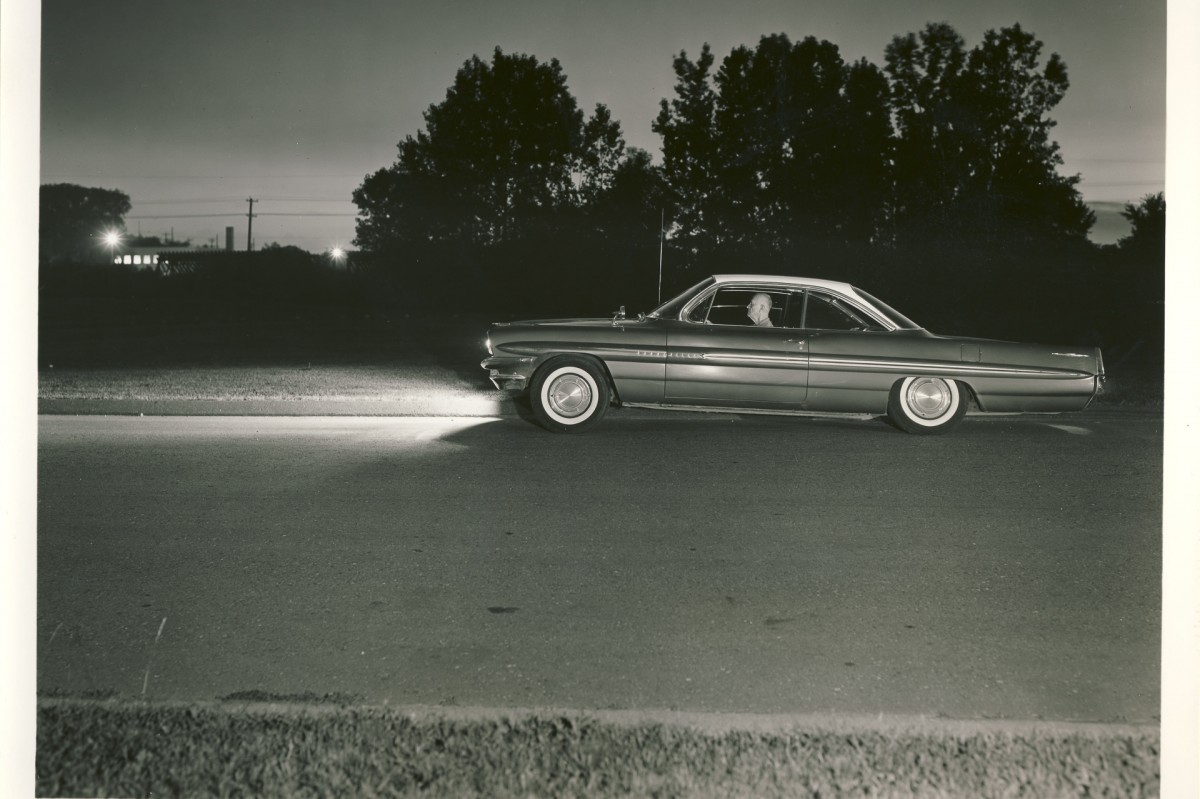 I thought airbags started with minitrucks, and you thought they were a new way to stance a VW Golf, but it turns out we were both wrong. Saggy old car suspensions, overloaded trailers and stock car racing on the beach, that's where it really started.
After 65 years of continuous innovation it's safe to say the Air Lift guys have seen and done it all, and the result is a modern suspension system that's bulletproof, rides great and can hang with some respectable static setups on a road course too. I think they've got this air suspension stuff figured out!
Keith Charvonia
Instagram: SpeedhuntersKeith
keith@speedhunters.com 
A special thanks to Jody Pemberton and Chris Garlitz for their assistance with this story.