Zzyzx Road
Millions of people drive in between Los Angeles and Las Vegas every year. For most, it's a mundane task that partygoers dread after a long weekend of living it up in Sin City. It's also been portrayed to death in Hollywood films, including in the lowest grossing movie of all time. Since I got my driver's license, I must have done the drive over 100 times.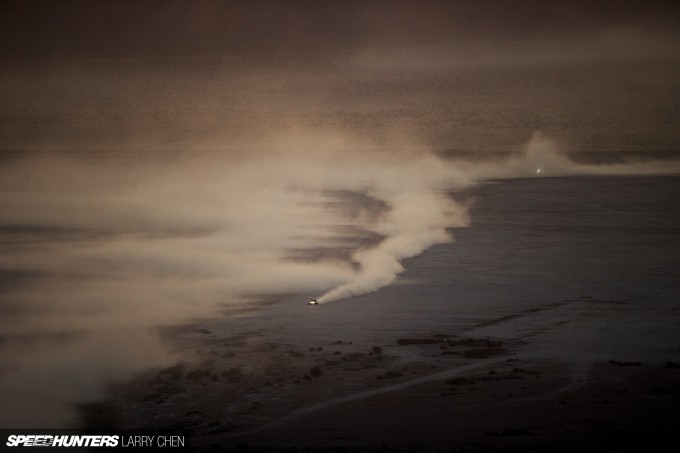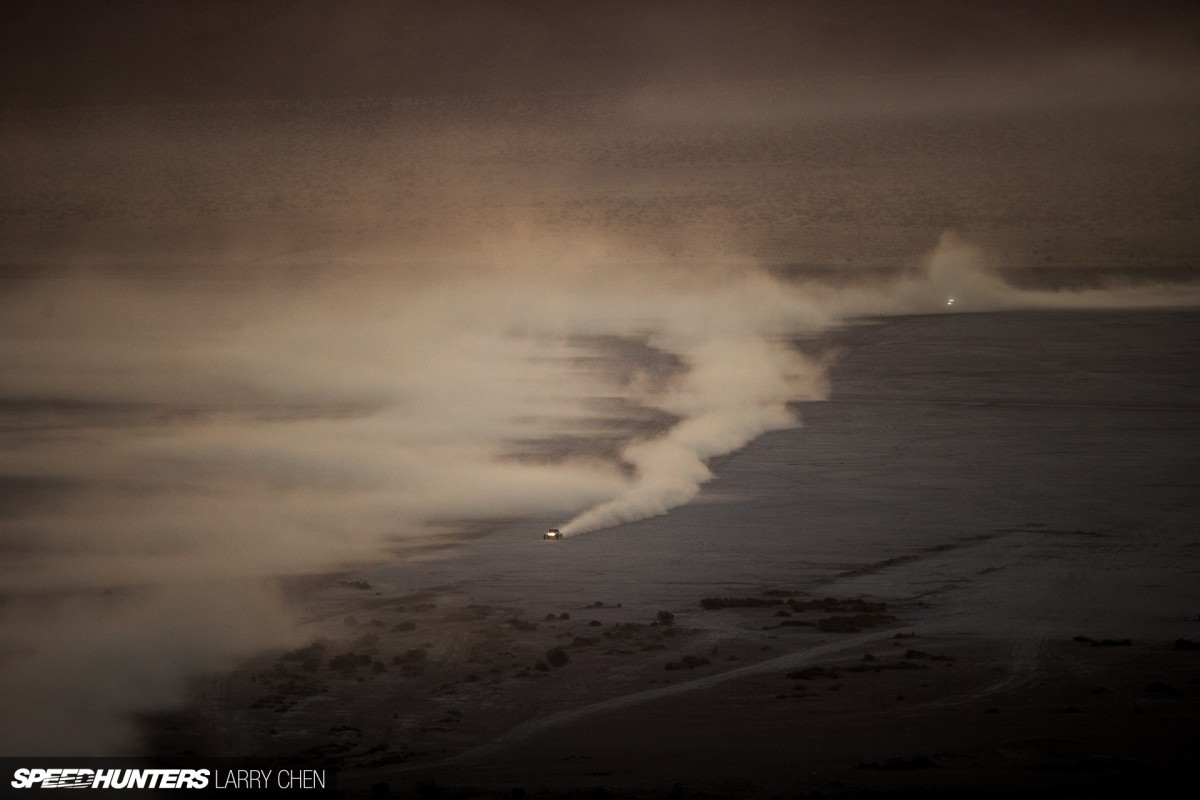 About an hour away from the glitz and glamour of the Las Vegas strip is the Nevada state line, where other than a few service stations and outlet stores, there really is nothing. That's to be expected I guess, given that it's the middle of one of the harshest deserts in the world. It's almost home to one of the greatest cross-country races in North America.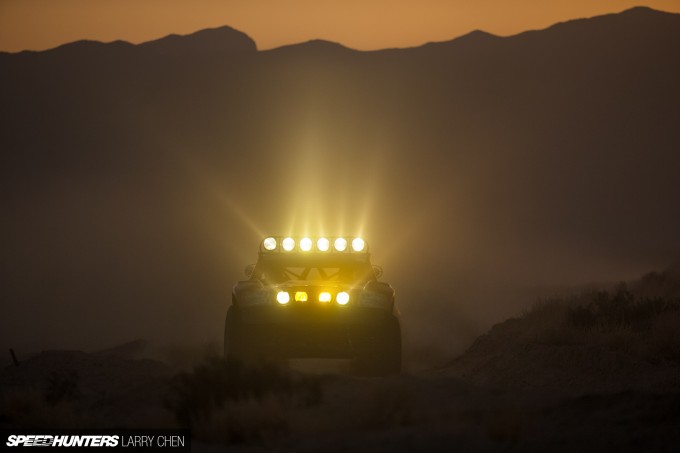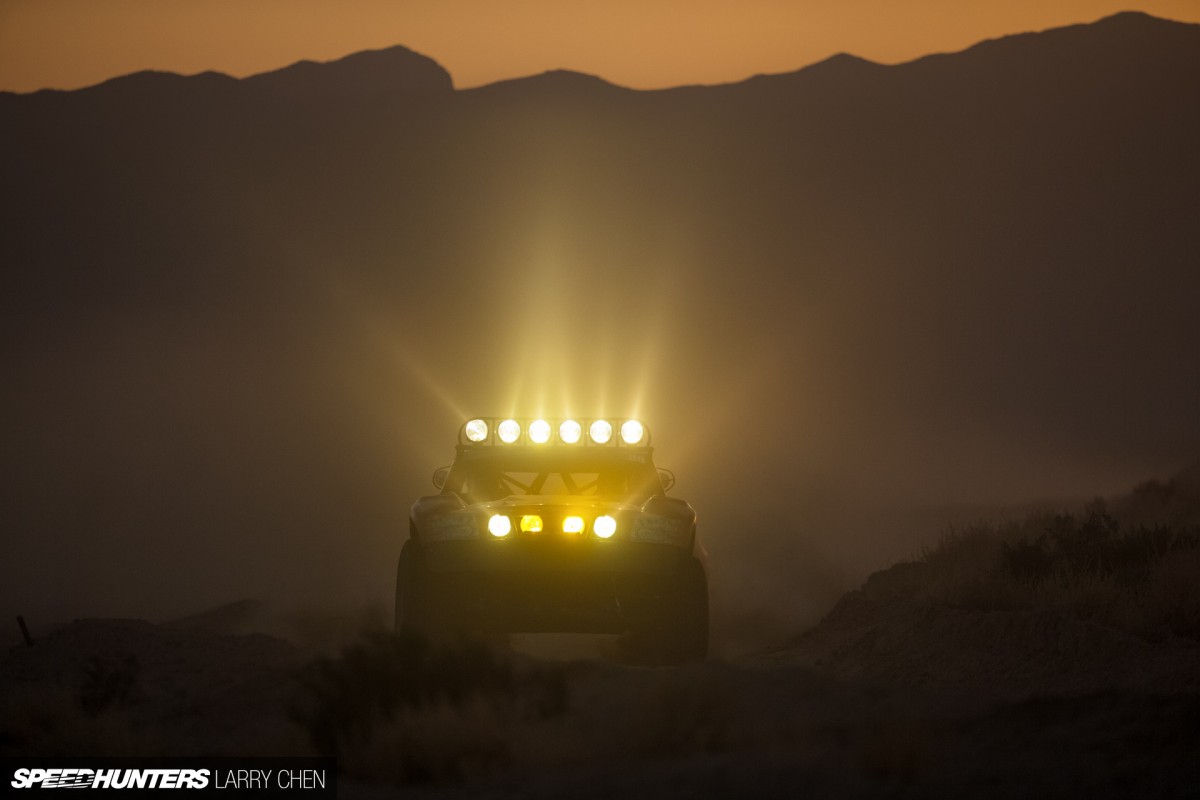 The '2014 General Tire Mint 400 presented by Polaris' drew thousands of spectators from all over the globe. Traffic backed up for miles and before the main race even started some of the prime viewing areas were shut down as there was not a single sliver of available land for vehicles to park.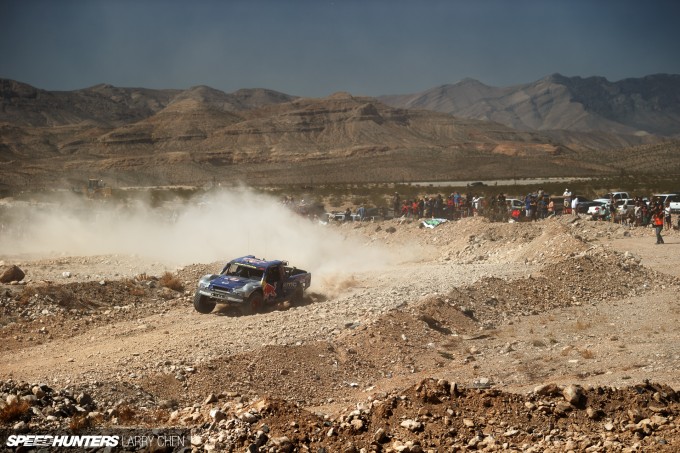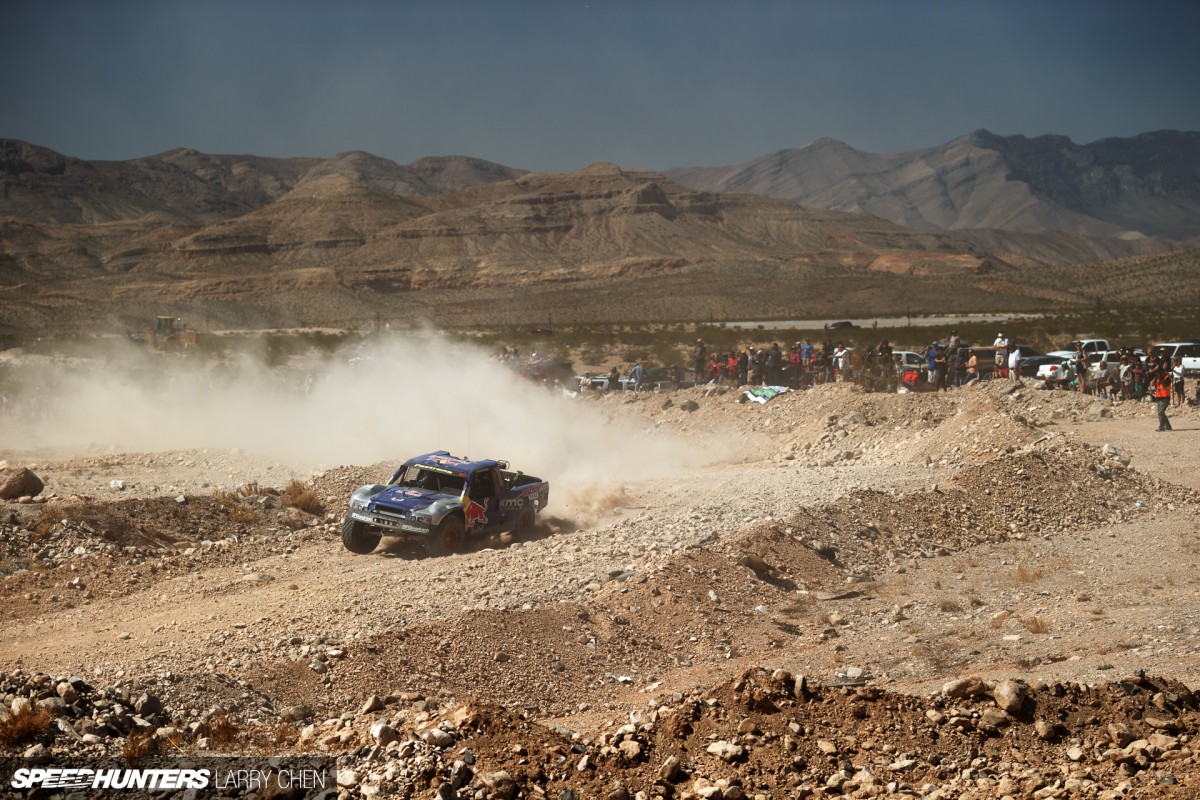 As I mentioned in my first post, this year's Mint 400 drew an all-star cast with drivers like Travis Pastrana competing in a Unlimited class Trick Truck for the very first time.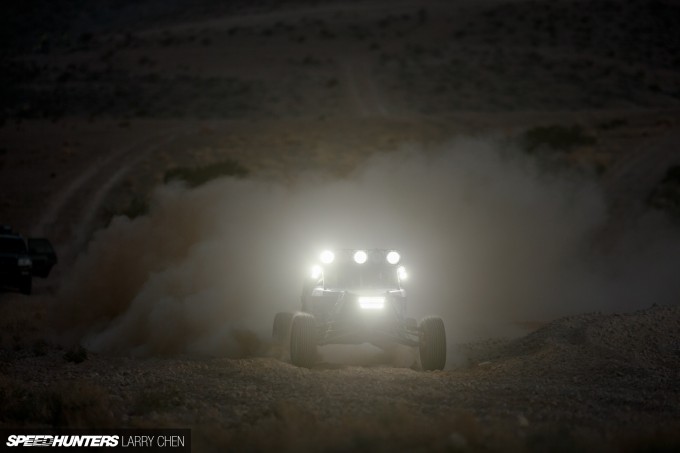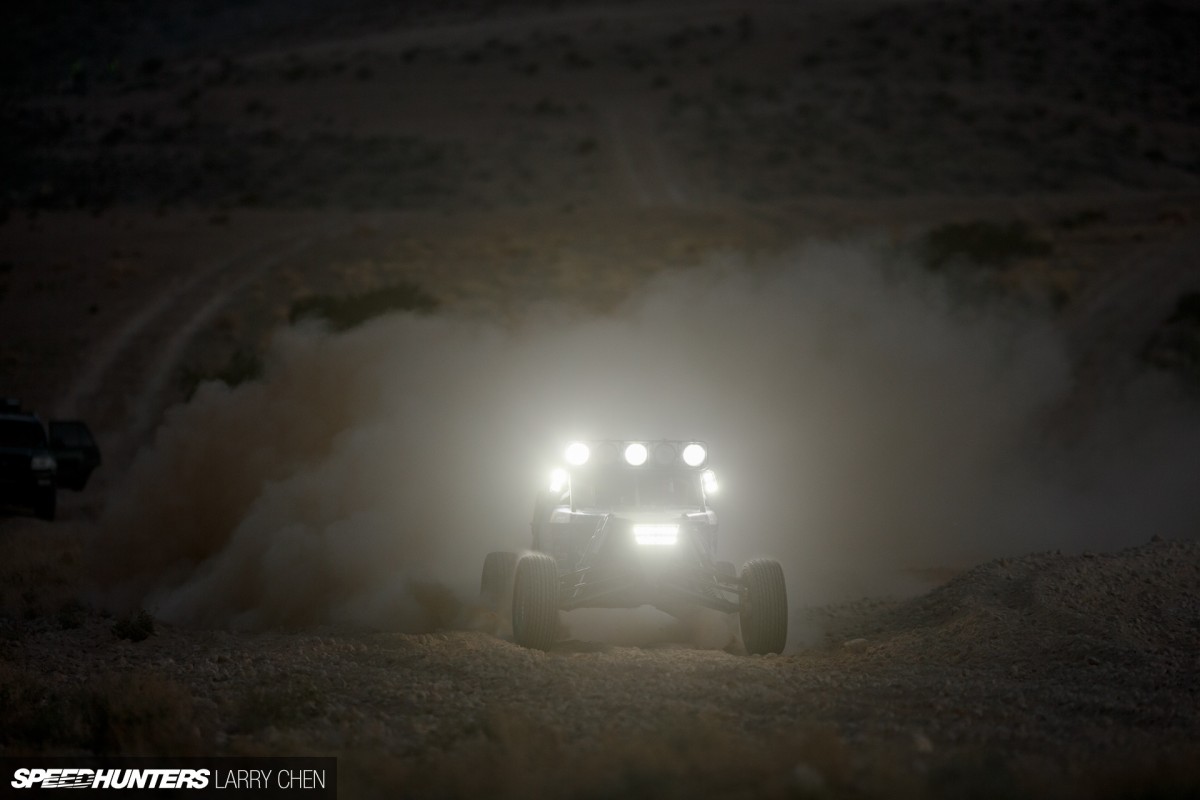 The leaders would finish the main race in under seven hours, but many of the competitors drive right the way through the night just so they can say they finished the 'Great American Off-Road Race'.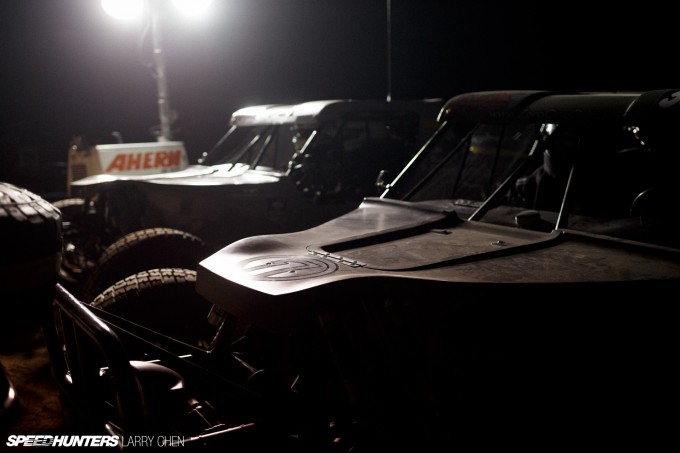 The morning of the race I woke up at 3:30am. I'm a bit of a night owl, so that is right around the time I'm normally getting in bed, not the other way around. The first race, which consisted of the smaller displacement classes, started at 6.00am sharp, so if I wanted to get any paddock shots in the dark I needed to be on the grid by 5.00am at the latest.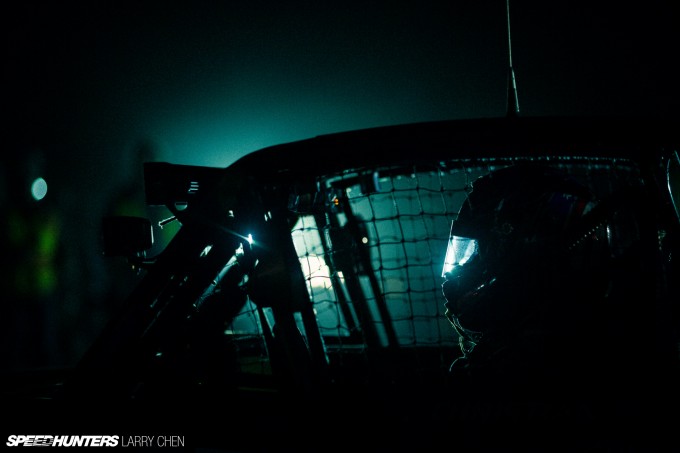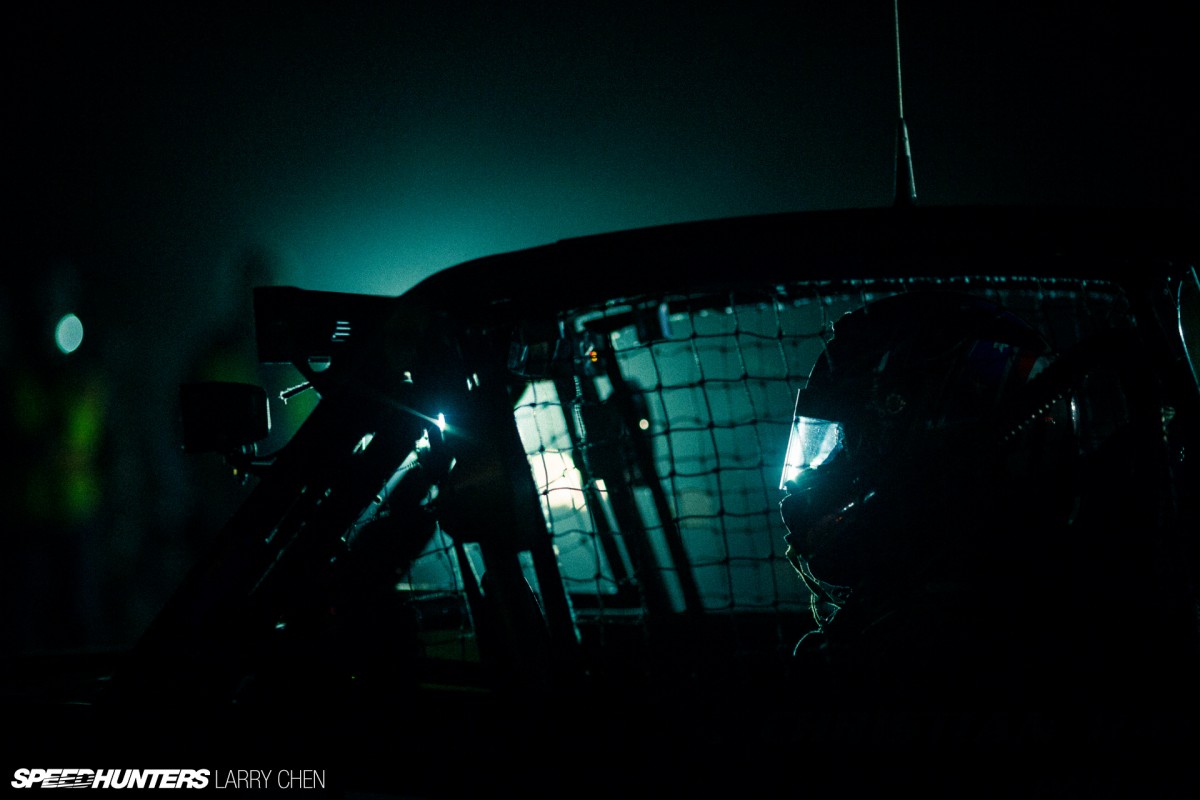 When I attend racing events I always try to cover as much ground as possible. When I'm shooting 24-hour races I normally make my way around the track a few times, and – with the exception of the Nürburgring – make pretty good time just walking the perimeter.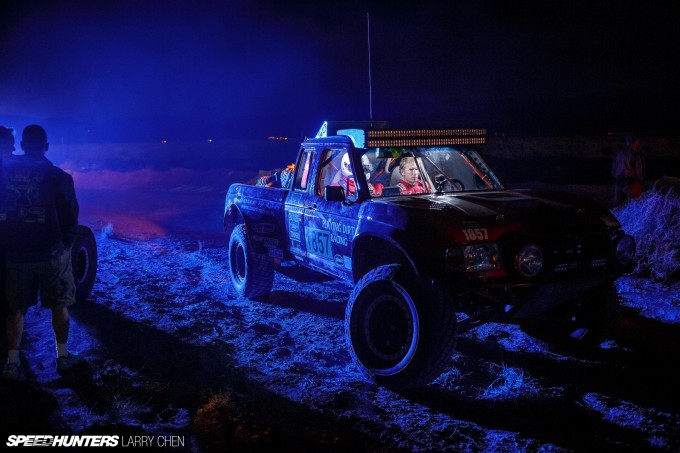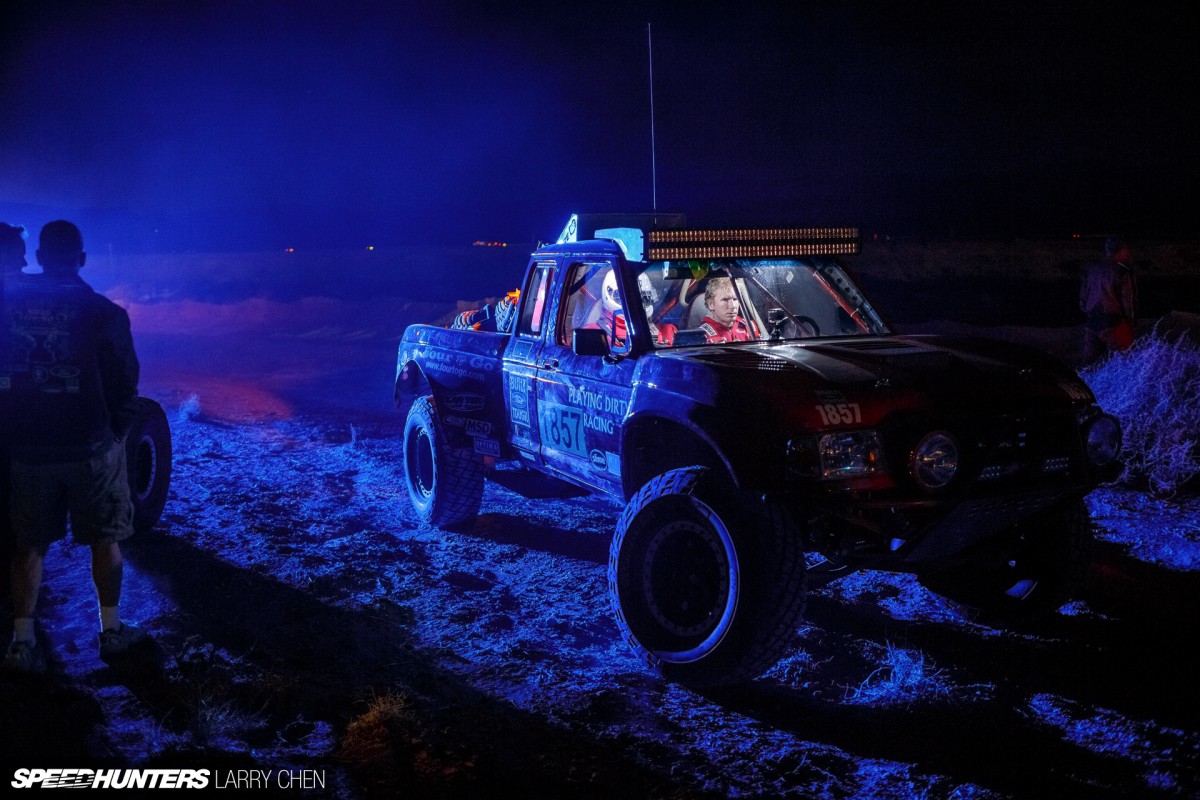 But with 100 miles of tire-shredding terrain, there is no way I could get to every corner of the Mint 400 race course. It's so barren, that I'm surprised that anything besides the desert tortoise could survive out there.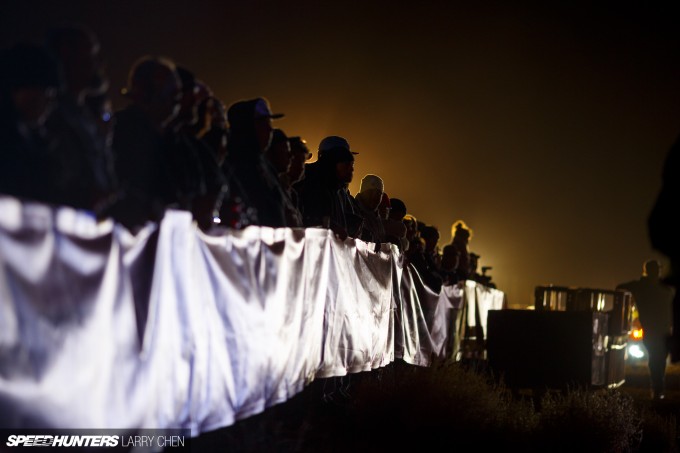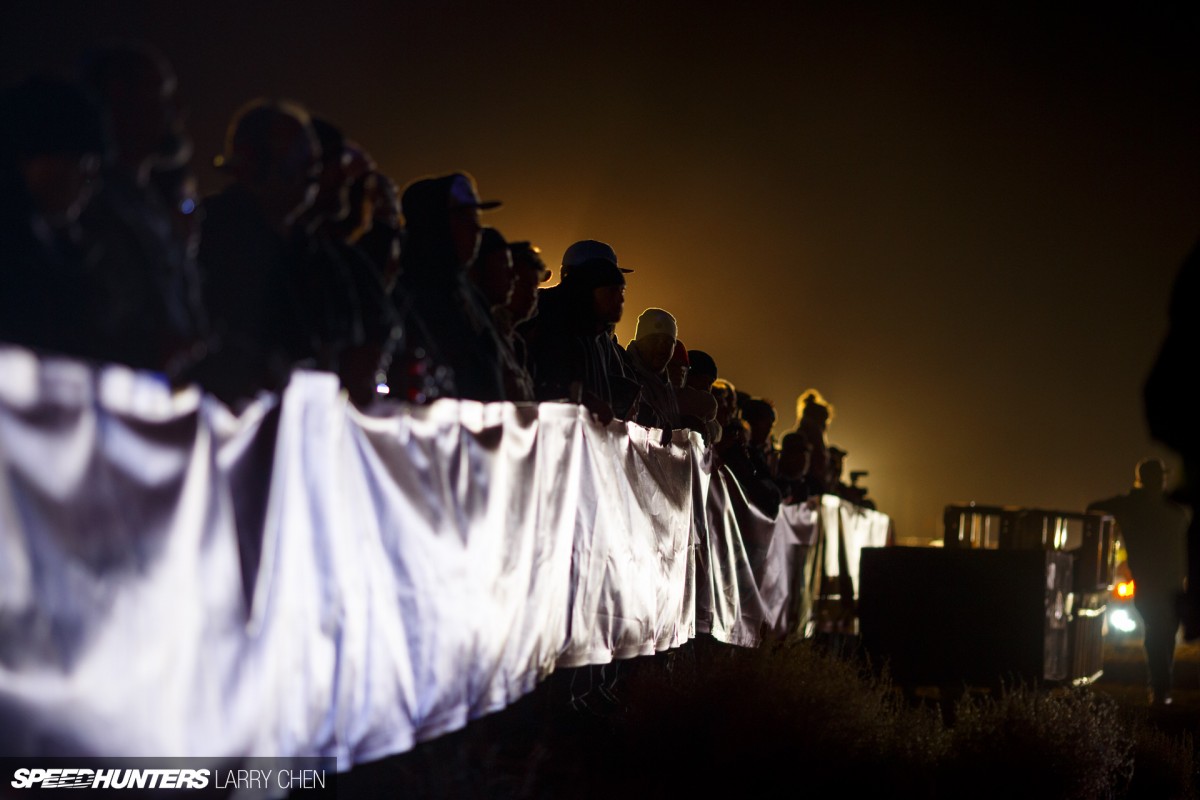 Amazingly, there were quite a few spectators that made it out to the start line just as early as I did.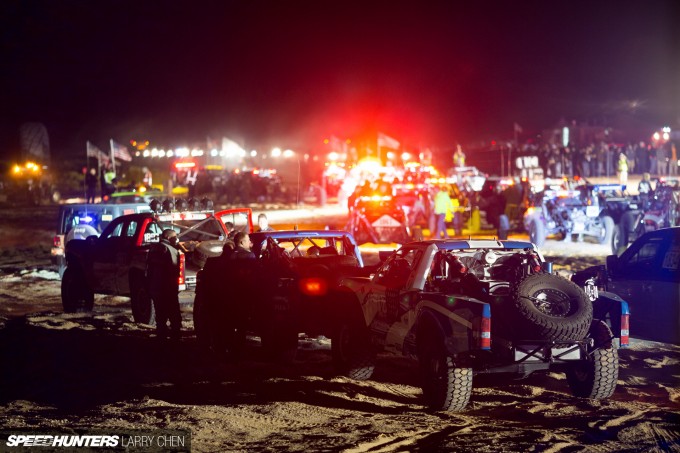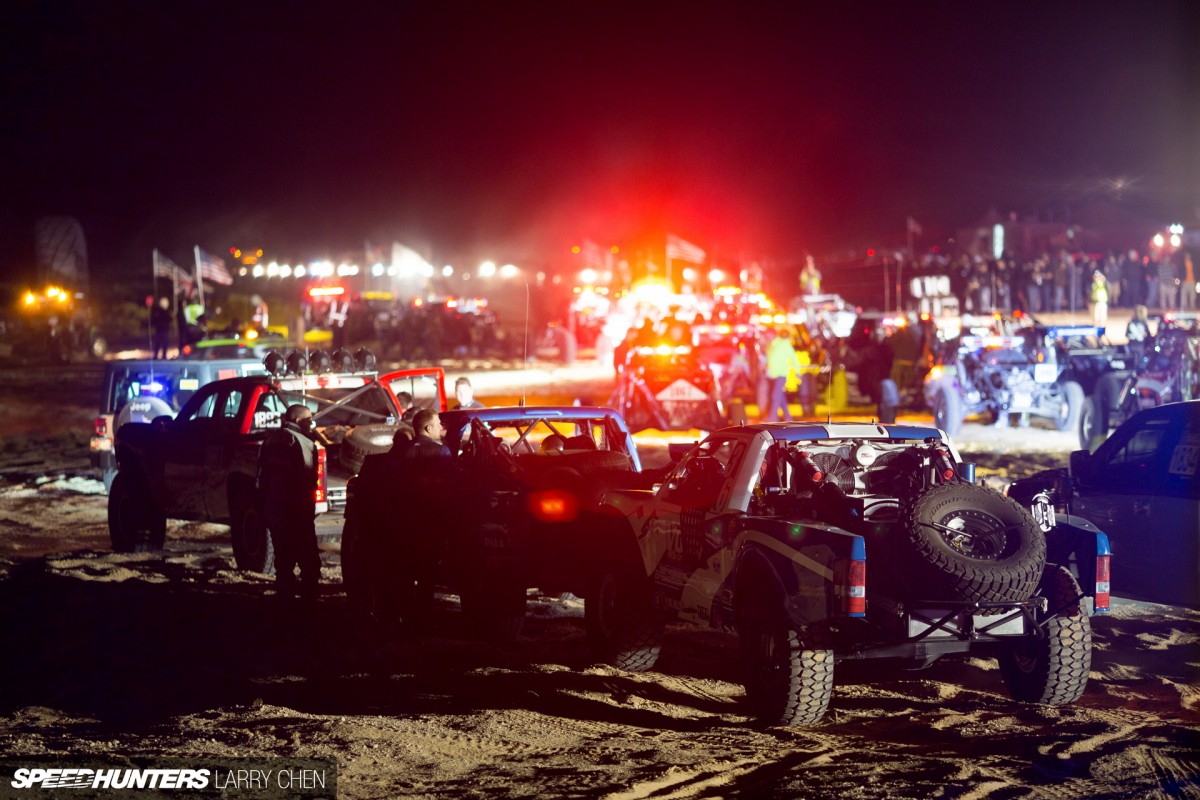 The grid was absolutely packed. The air smelled like race fuel and it was impossible to escape the barrage of noise from revving engines.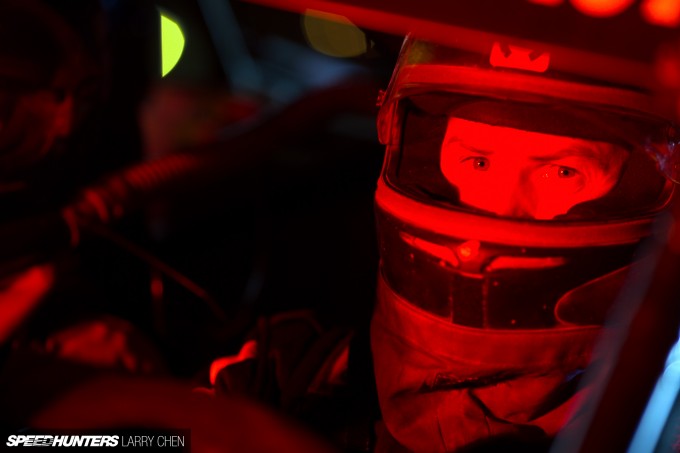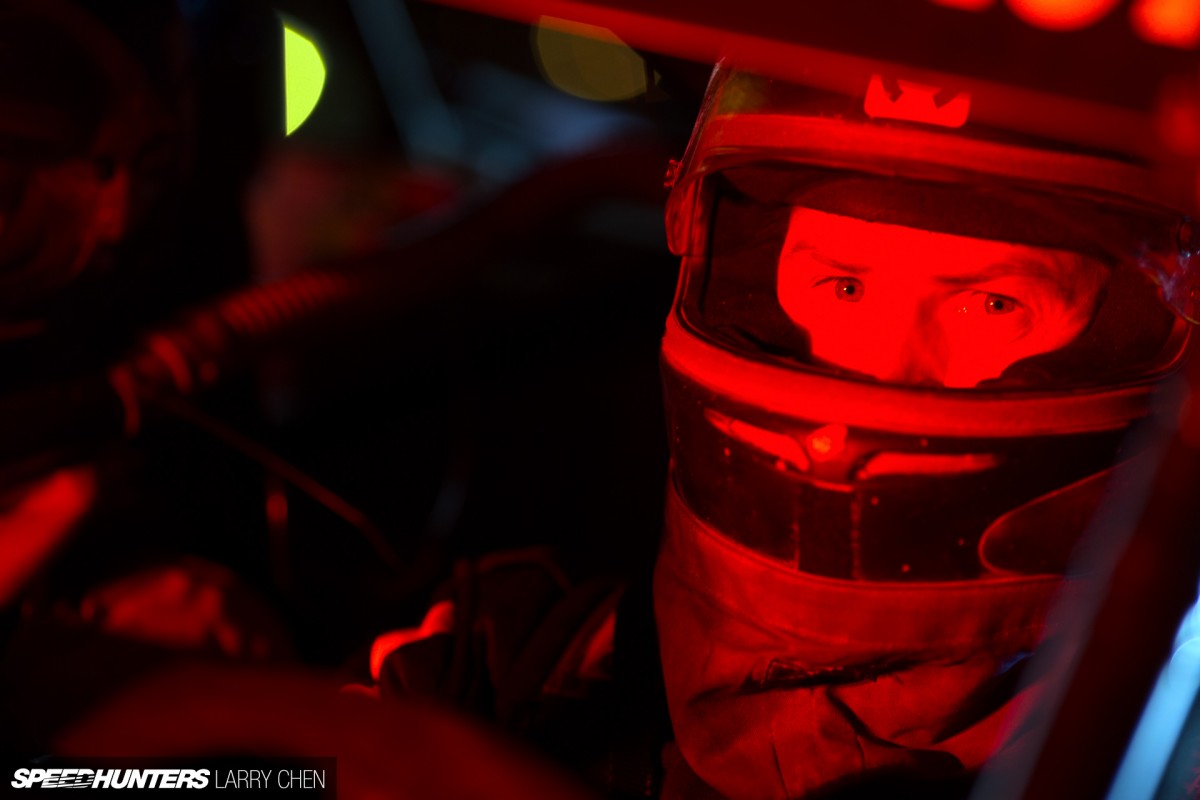 Drivers waited patiently for the start of the race while bathed in light from the brake lights from the race rigs in front of them.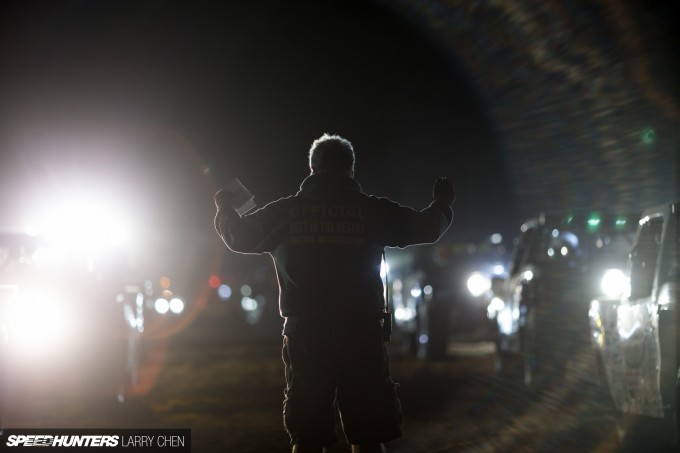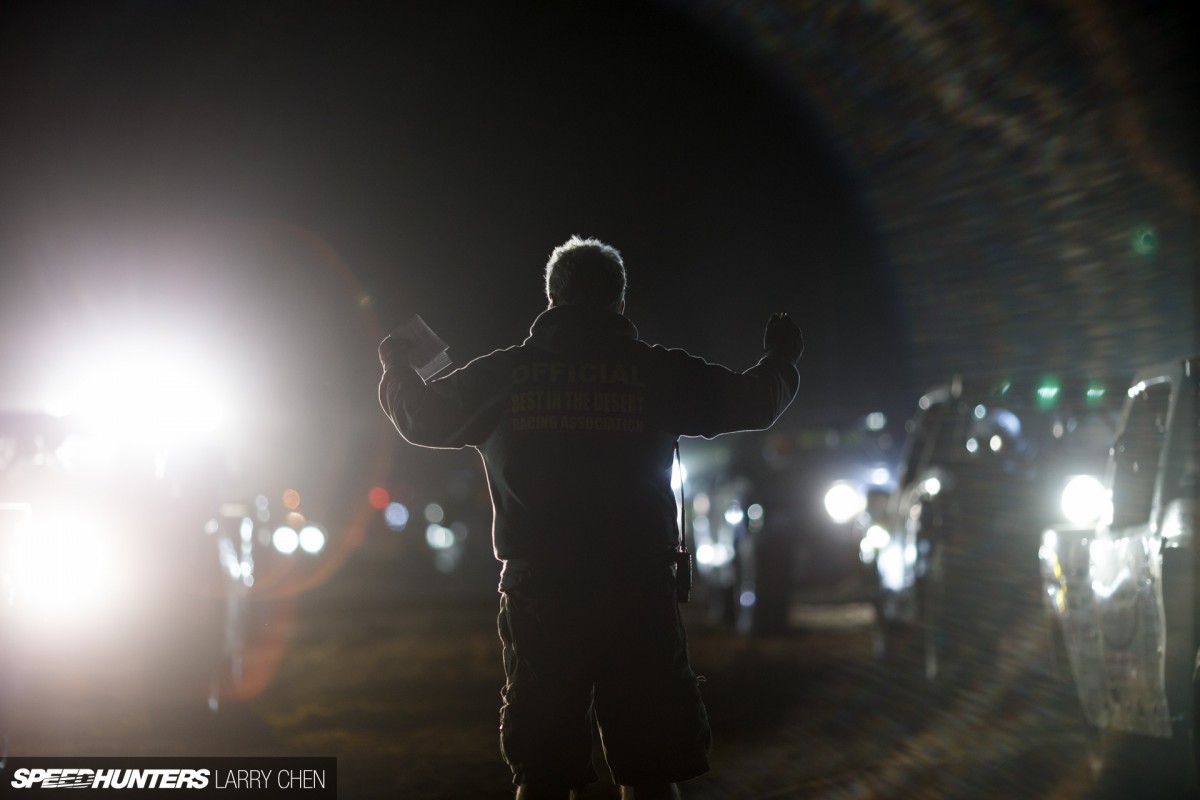 With just a few minutes before go-time, the grid marshal motions for the eager racers to move forward.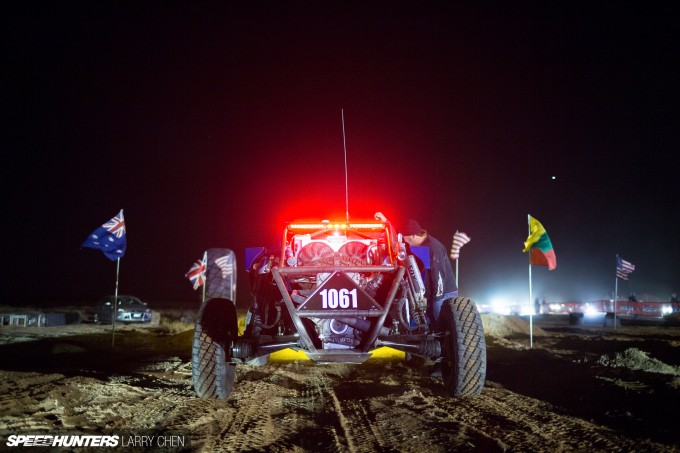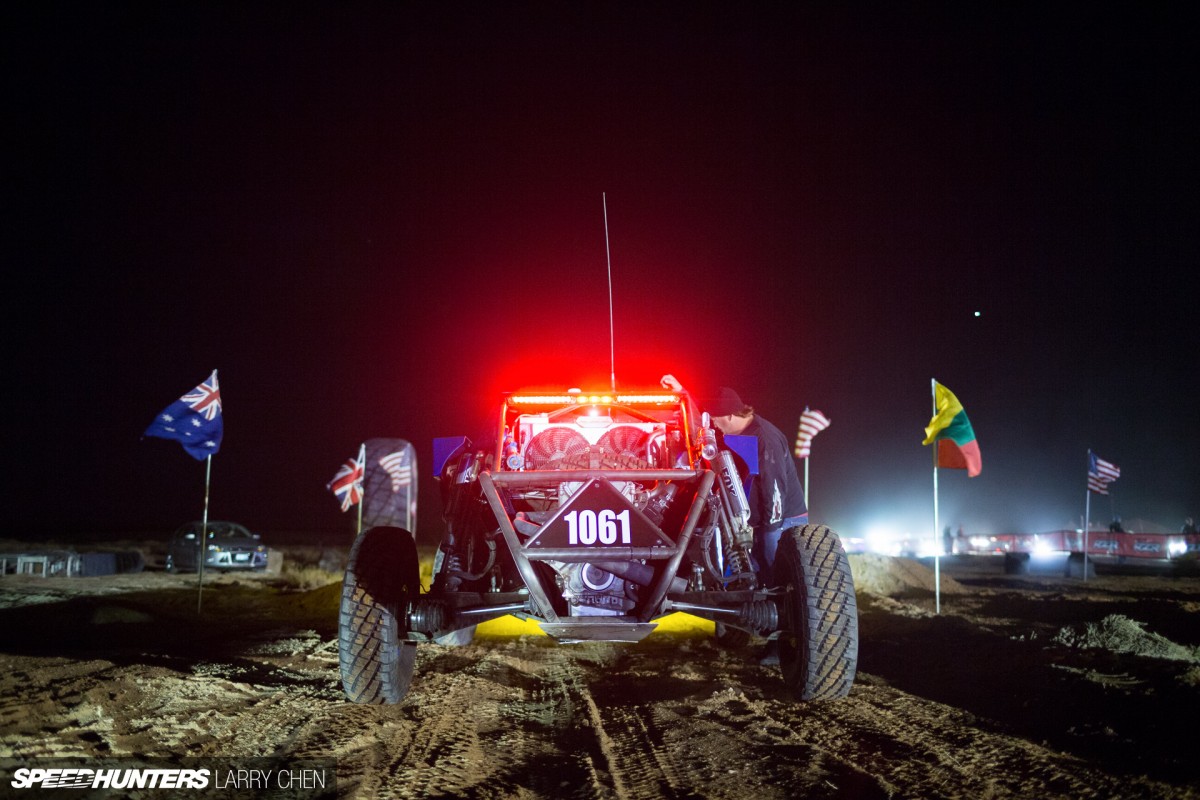 One hundred miles of open course lay in front of each and every one of the teams. There was no turning back now, the start was eminent.
And so it begins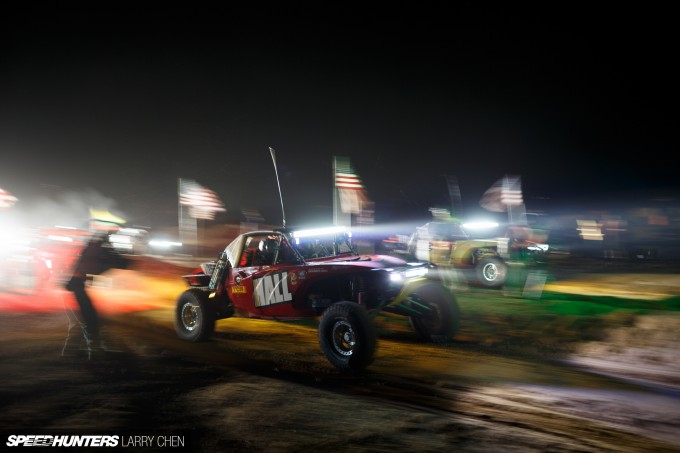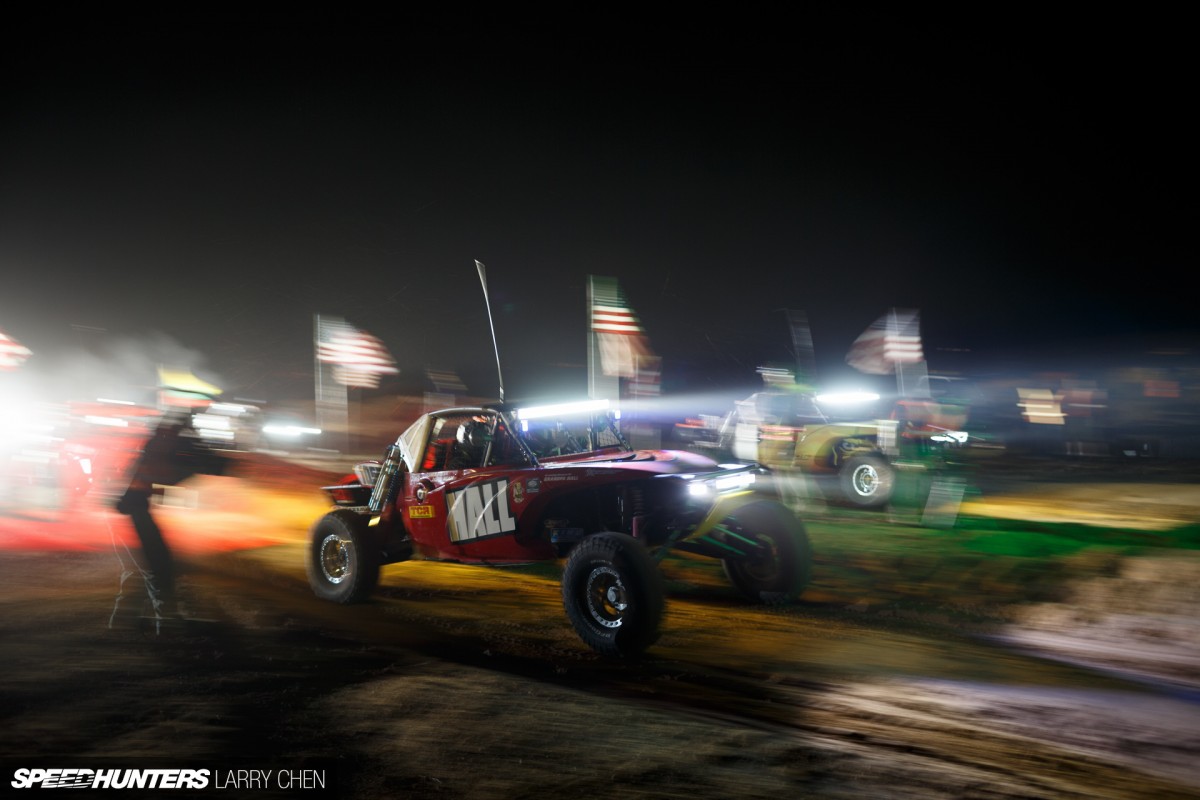 The crowds cheered as the first few buggies and UTVs left the starting line at full noise.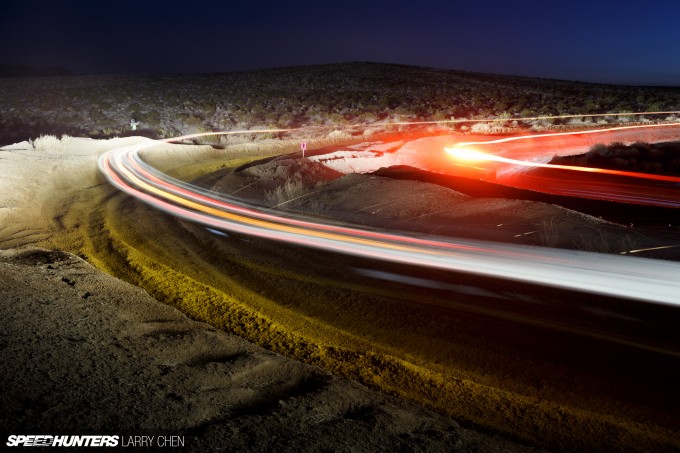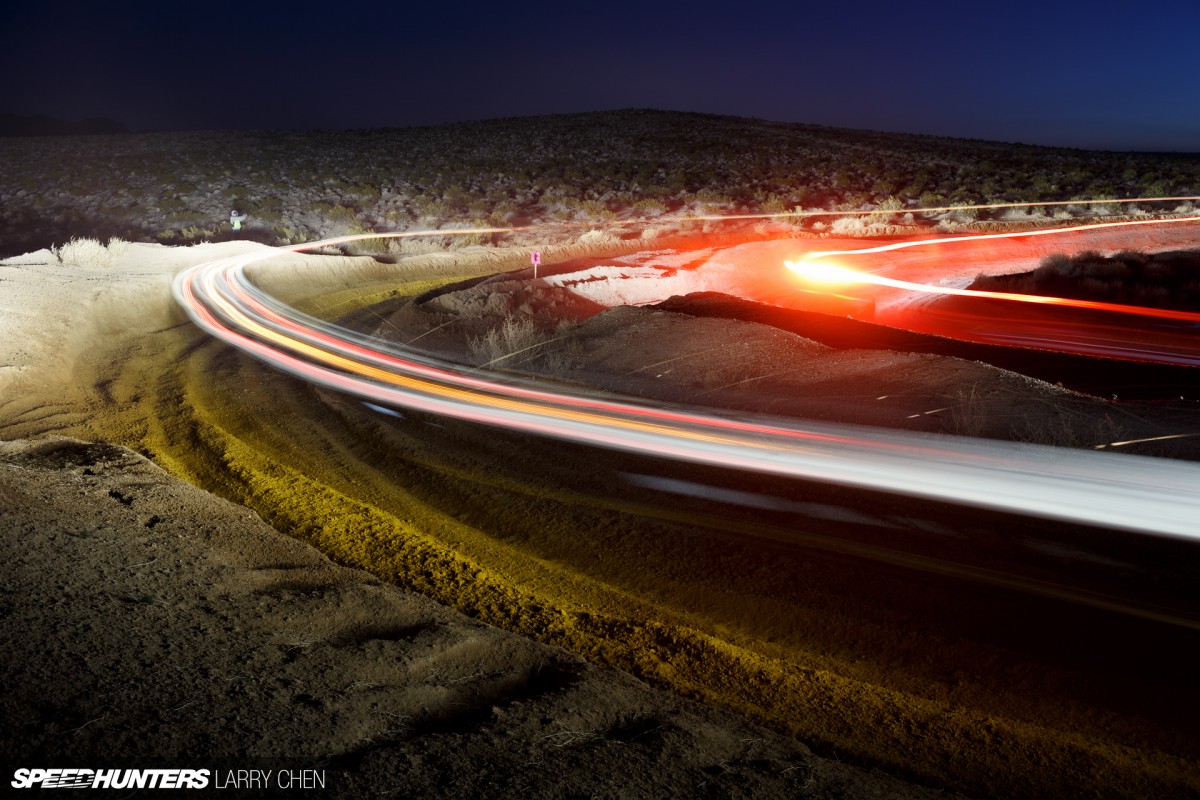 It was still practically pitch-black, so all the vehicles had their lights on. This course would have been hard enough to drive in the daytime, let alone in dark at #MaximumAttack. There was a lot of commitment, that's for sure.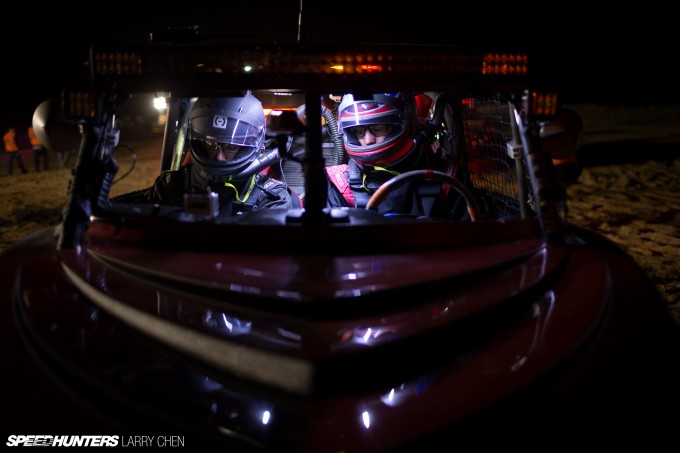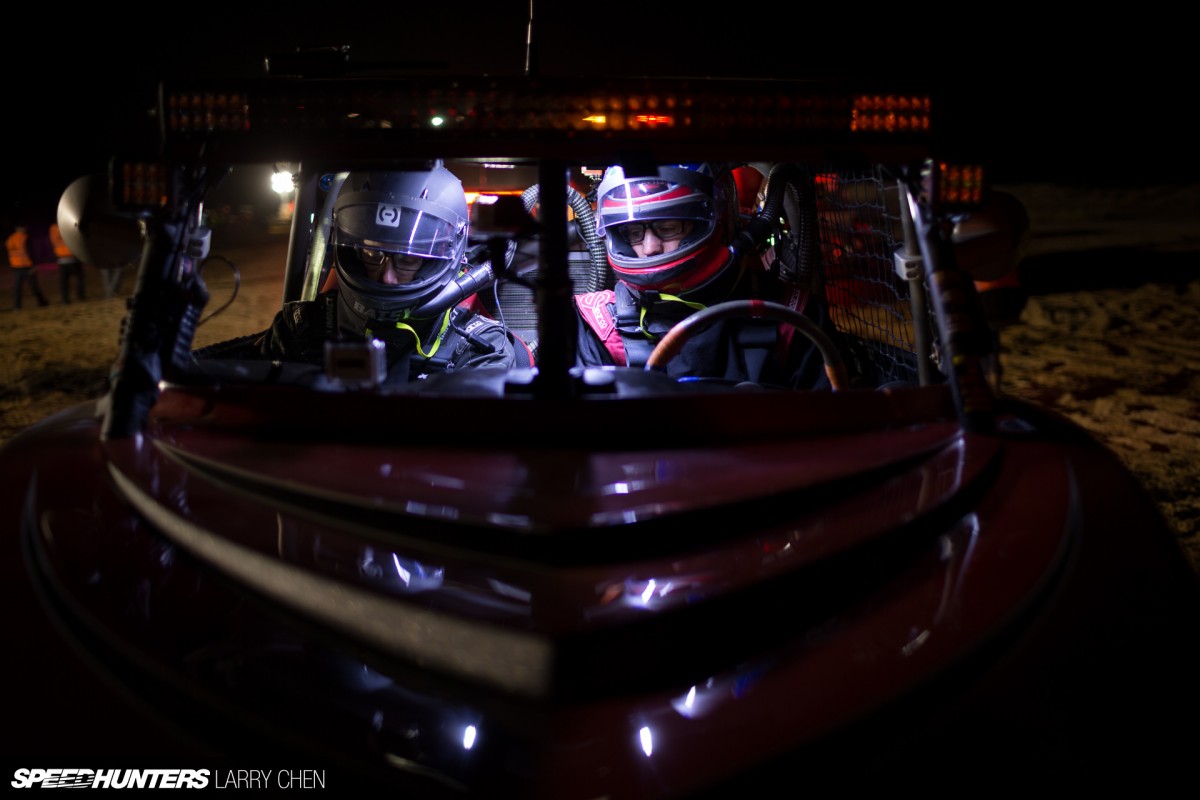 That said, a good navigator/co-driver is an invaluable asset for teams wanting to make it to the end of the race, and in good time.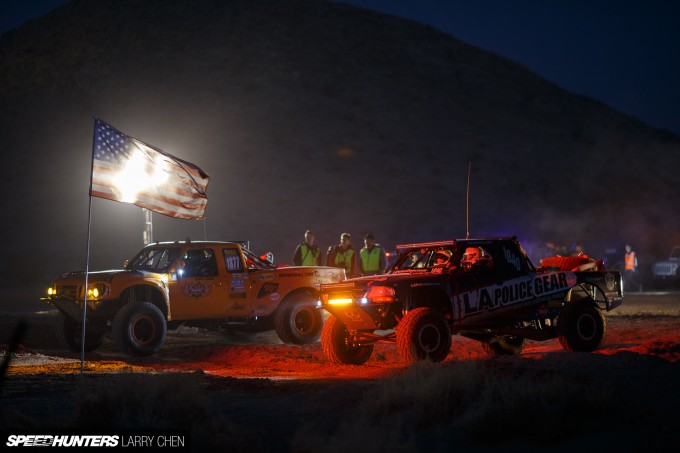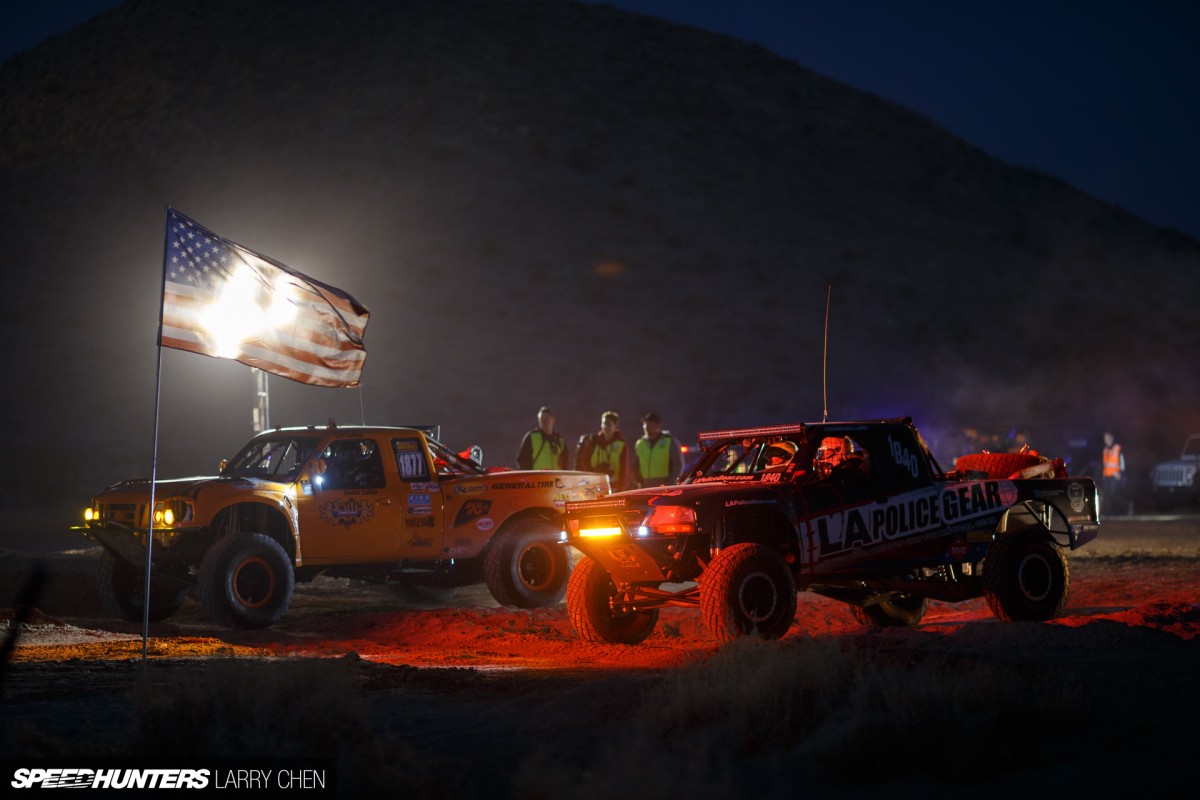 There were 335 competing off-road race cars in total, and even though they were sent off in pairs just a few seconds apart, it took quite a long time for the first group to all be out on the course.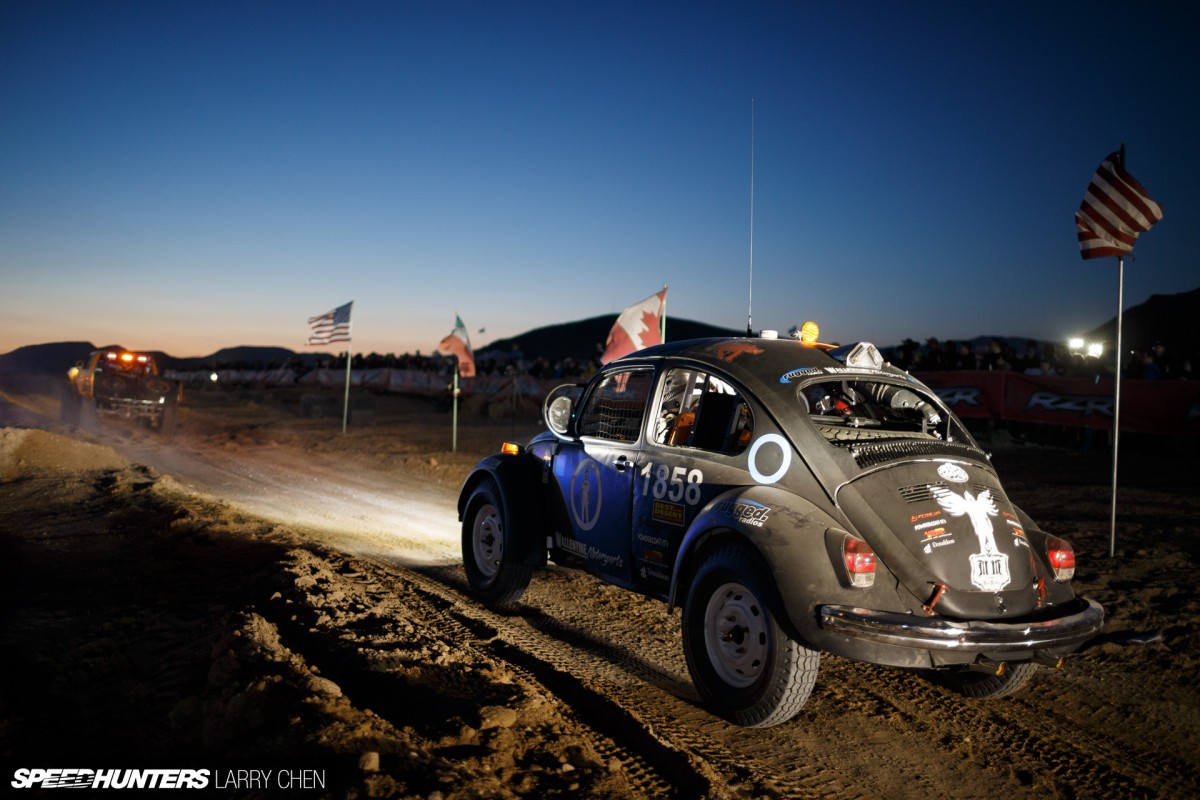 By the time the first light peaked over the horizon, the last of the teams were just leaving the starting line.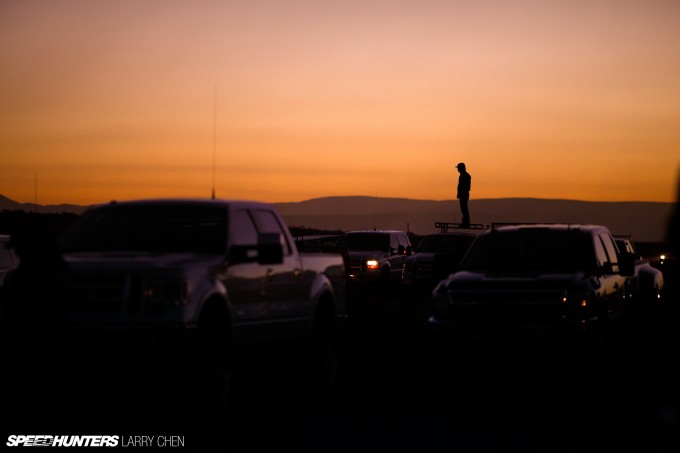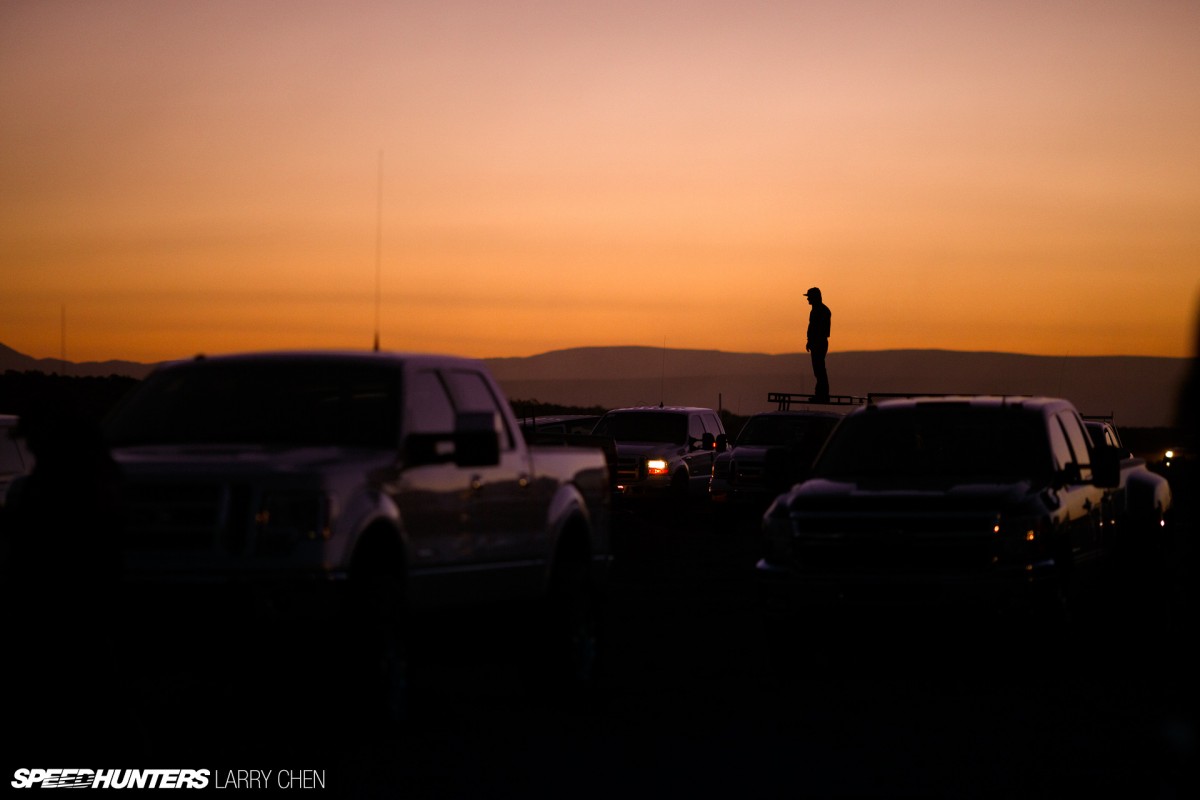 By this time I felt like I had already shot an entire race, but it was only the beginning of what would turn out to be a 22-hour day. It was 6:30am and the sky was beginning to turn an electric orange hue from the sunrise. I wanted to get a high vantage point over the valley to shoot some of the race leaders as they powered across a dry lake bed.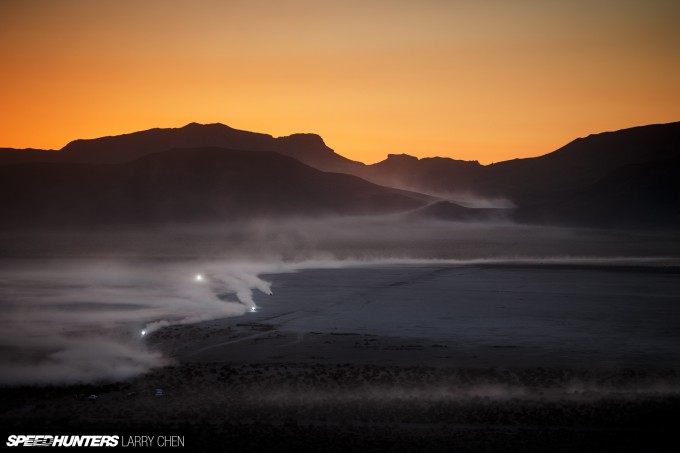 It was quite a long hike from the starting line, but the view was well worth it. The silt was getting kicked up in the air, which actually made it look like morning fog. There was no defined race line on the lake bed, so most drivers cut their own path while trying to maintain clear vision ahead.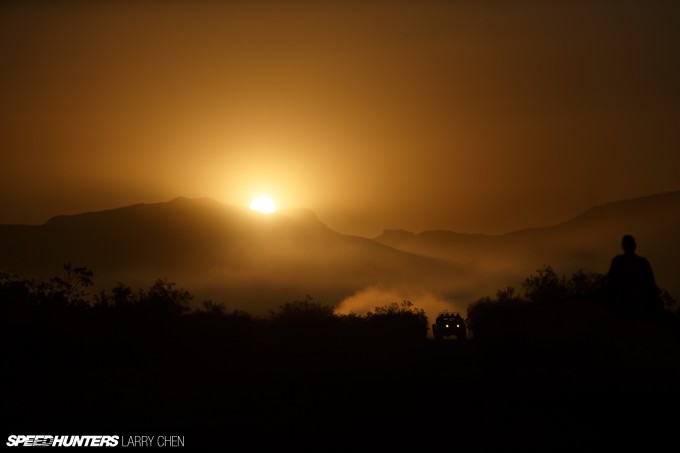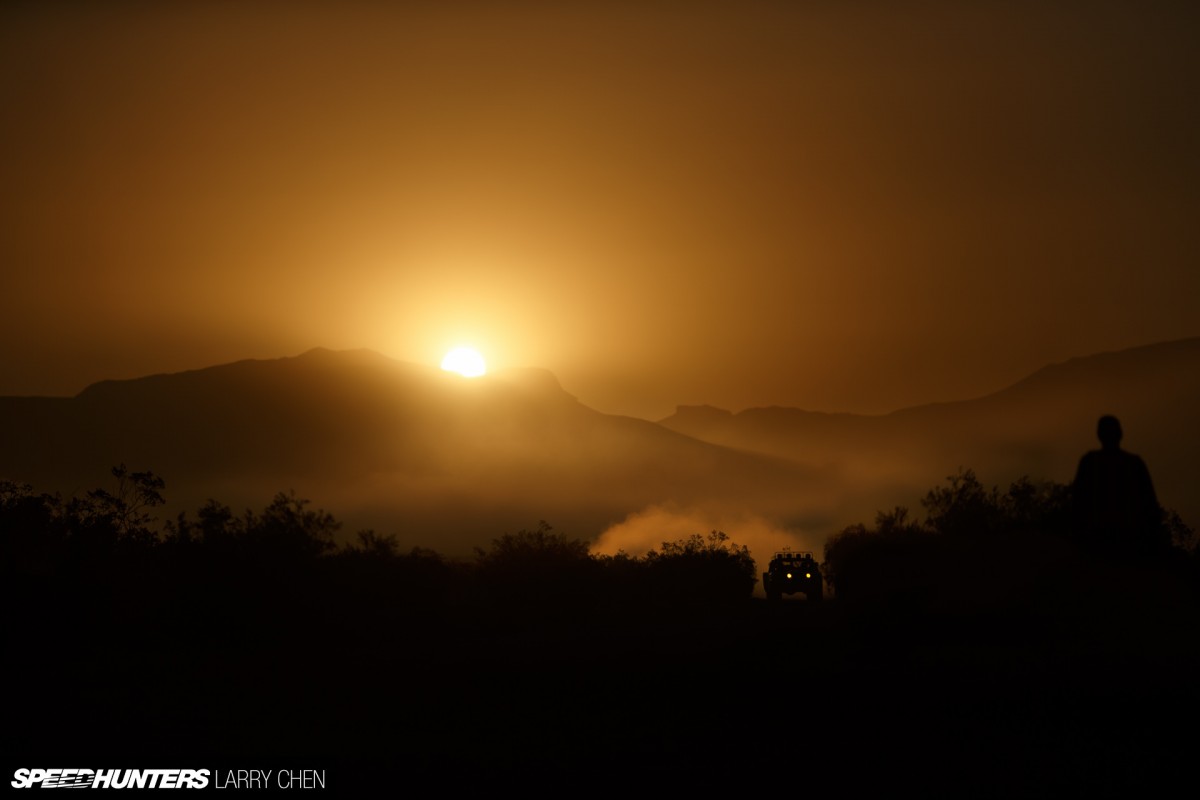 I hurried down to the lake bed to get a closer look. It looked amazing from far away, so I figured it would be interesting to shoot in the thick layer of dust. At 7:04am the sun finally broke over the mountain range.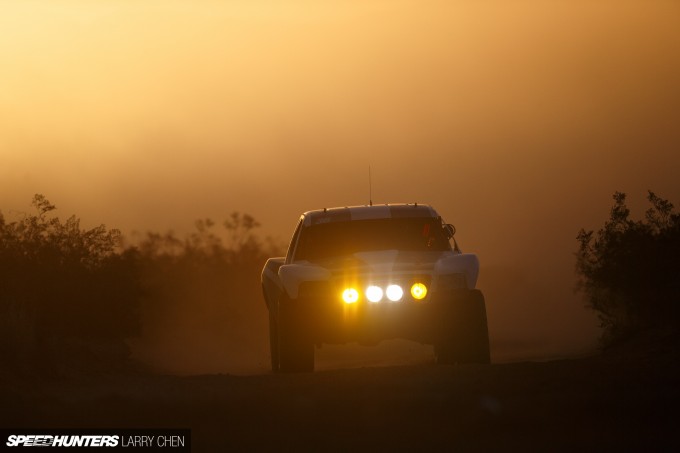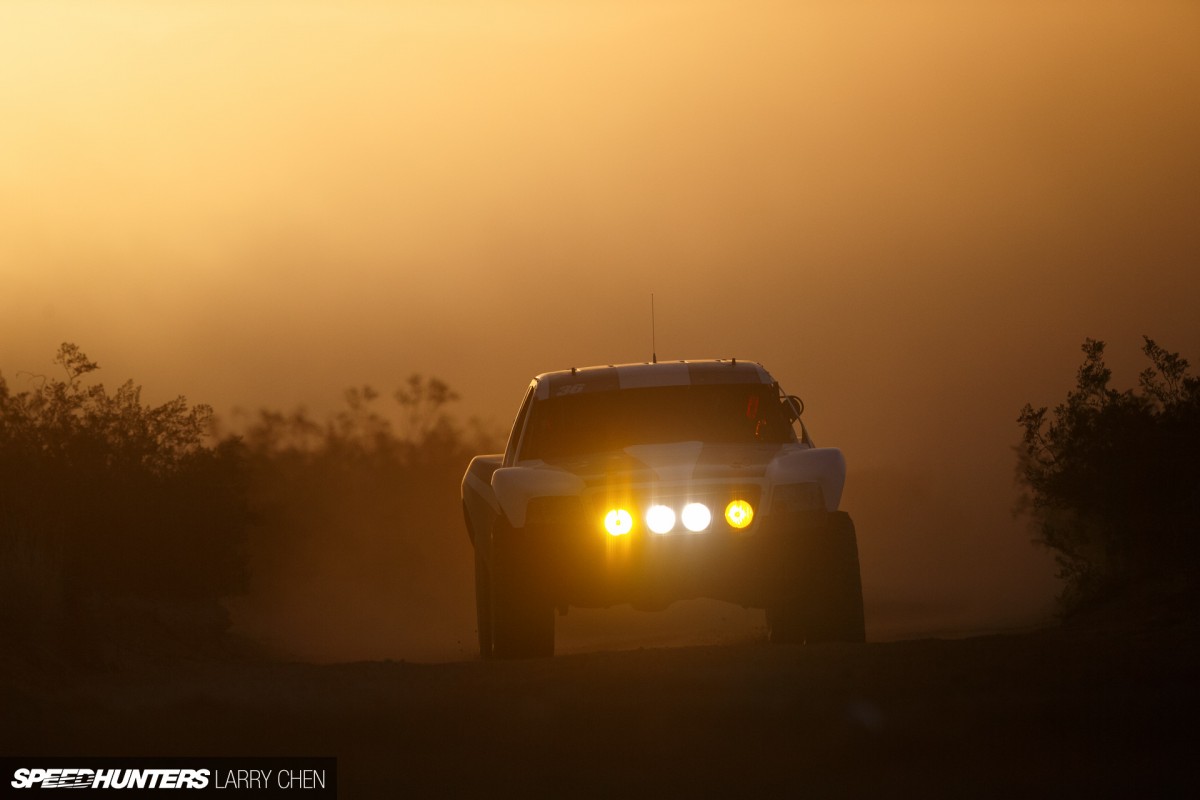 All the race vehicles were barreling down the lake bed, only to be funneled into this narrow road surrounded by dry brush. As the morning breeze seemed to have disappeared, the amount of dust lingering in the air was getting worse.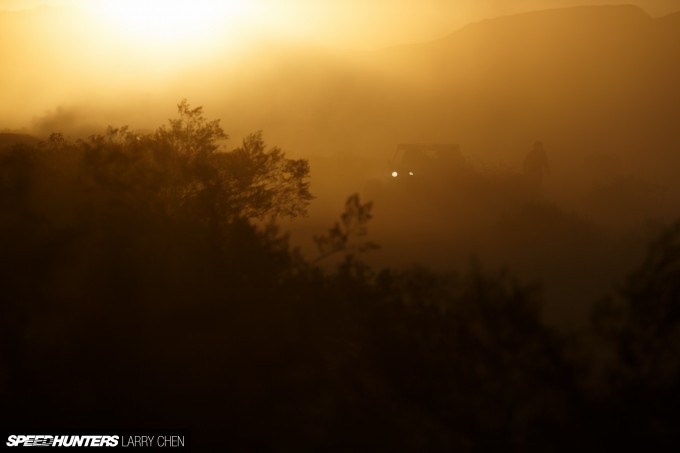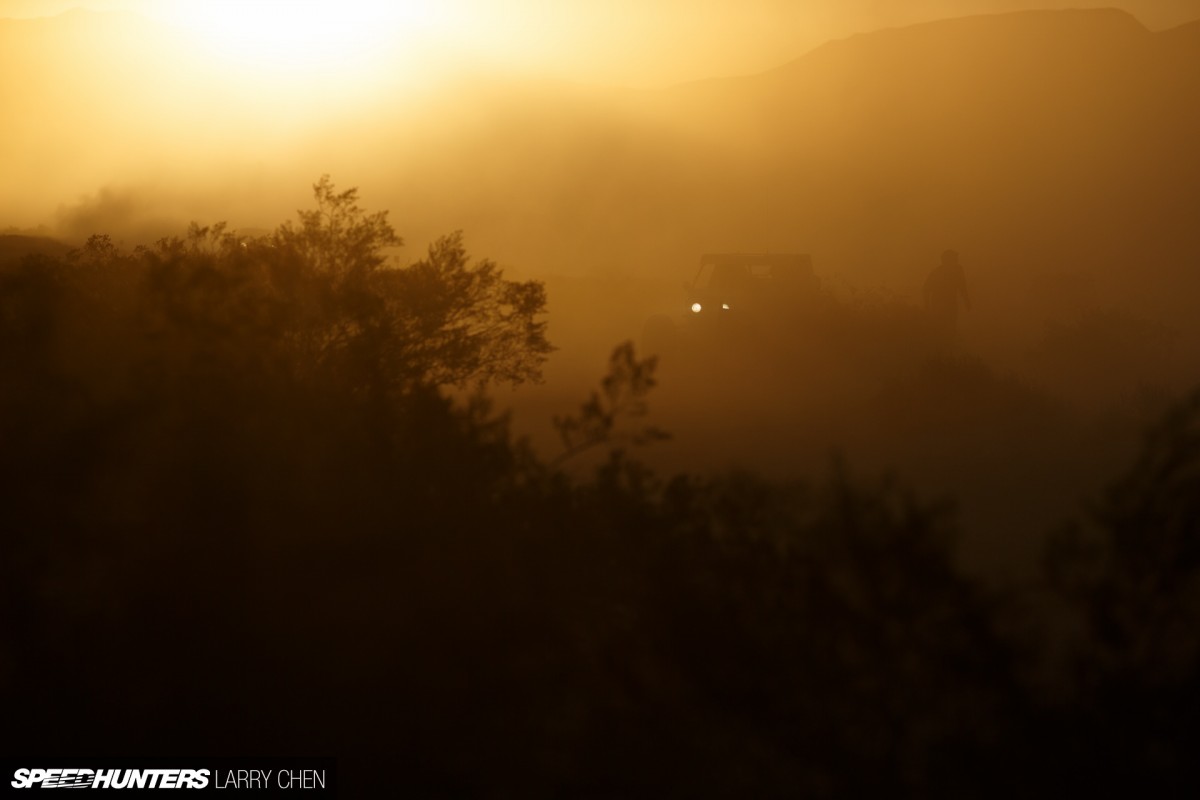 The more cars that passed through it, the harder it was to see. I could barely make out a UTV that was stuck on the side of the course, but I could tell that they were in trouble when the co-driver jumped out to check out what they were stuck on.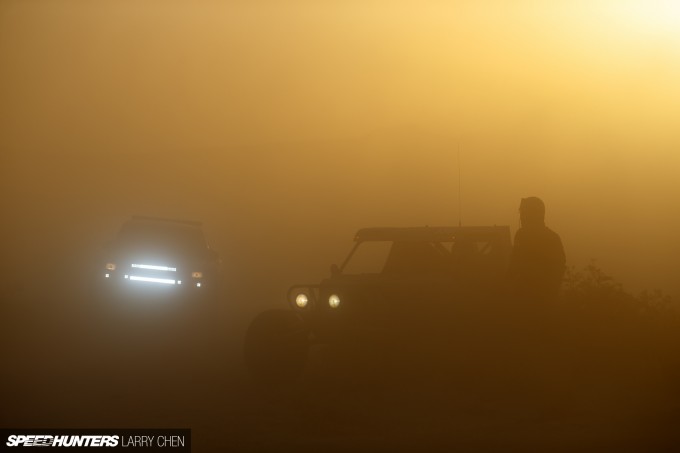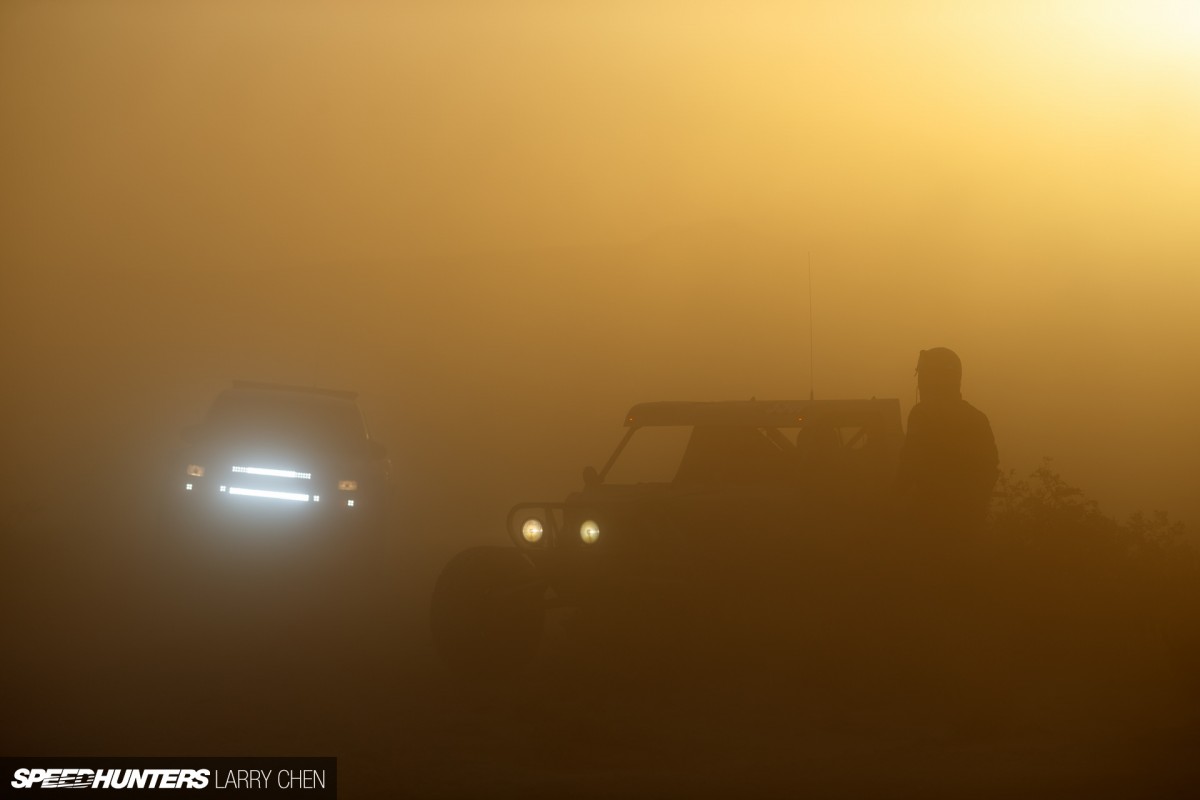 It was a dire place to be stranded. They were practically on the racing line and visibility was down to 10 feet. Luckily, everyone had their headlights on, because apart from oncoming engine sound, there was almost no way to tell when someone was approaching at high speed.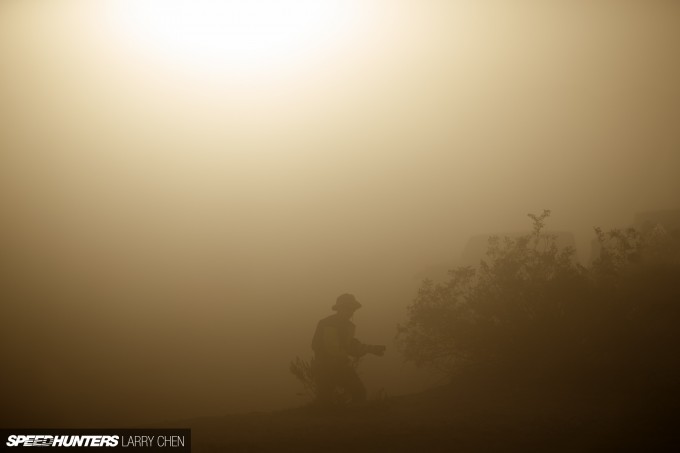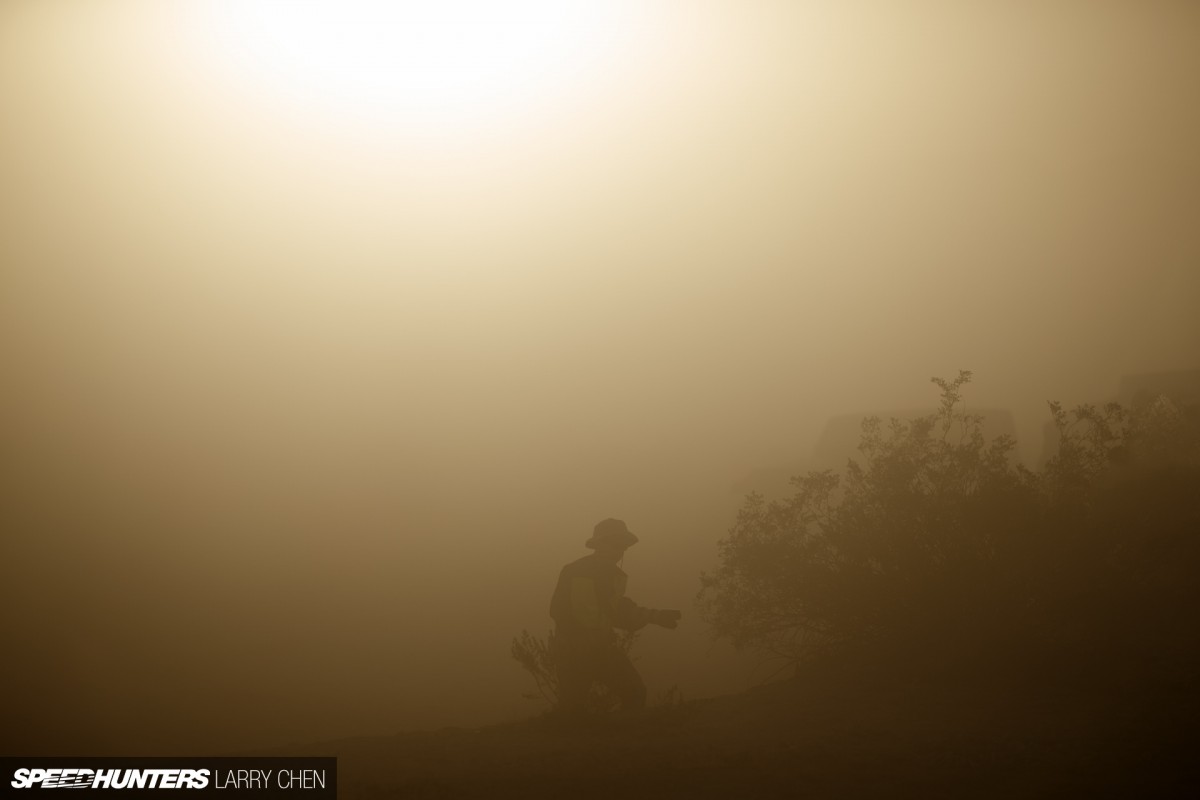 It was like a scene out of a war movie from the '90s as photographers scrambled to find cover. My eyes were wide open and were stinging from all the dust,  but I did not dare close them for a second for fear of getting run over. We retreated back to the edge of the lake bed.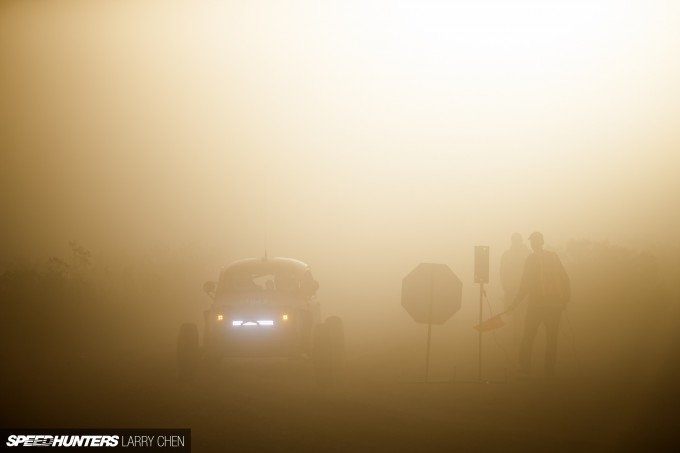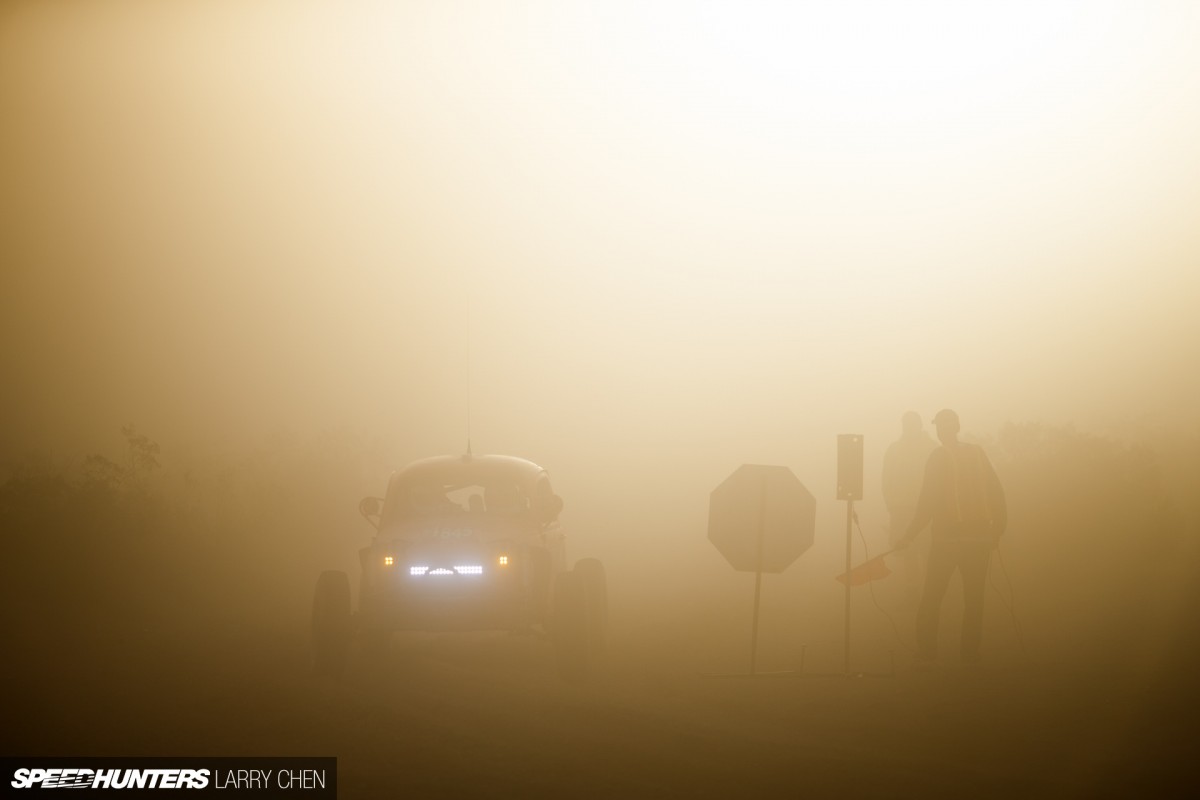 There we found refuge at a checkpoint where all the drivers had to stop for a split second. Their race numbers were written down, and split times recorded.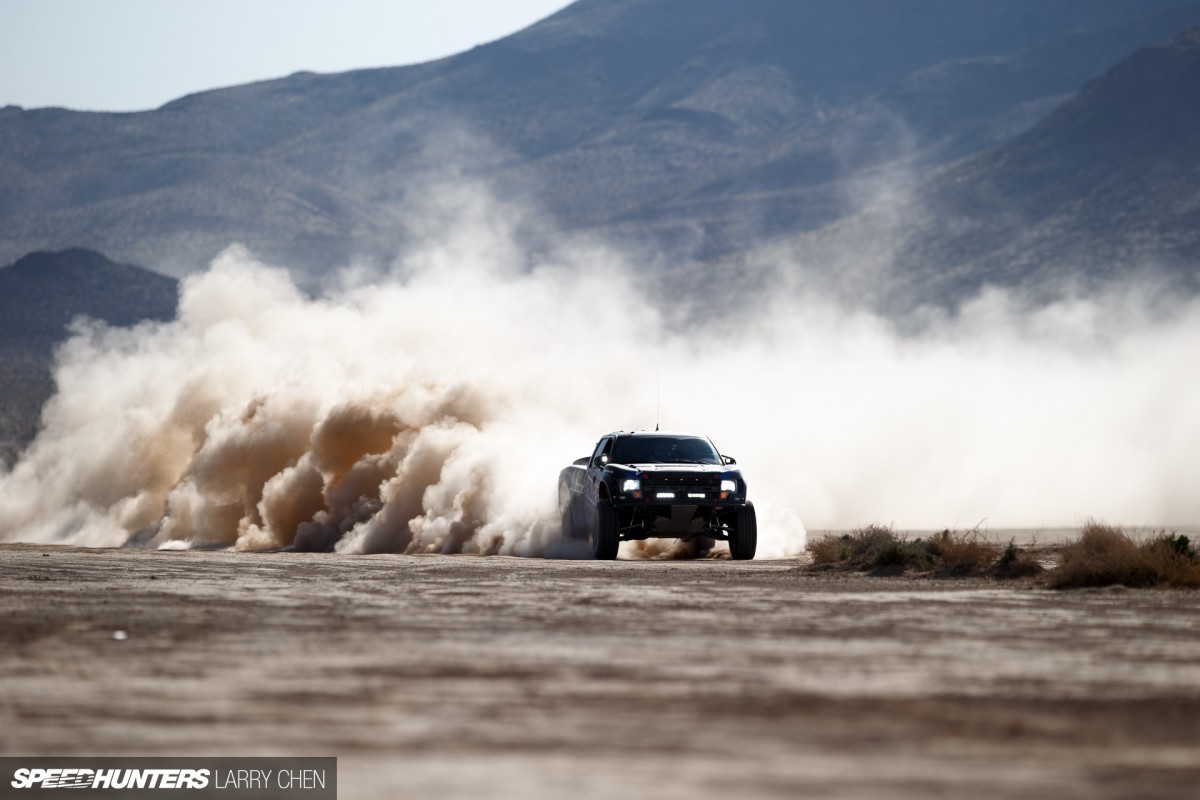 All of a sudden the wind picked up and the apocalyptic atmosphere lifted. I can't say I've experienced anything like it ever before. I spent a lot of time picking dust particles out of my orifices for hours afterwards…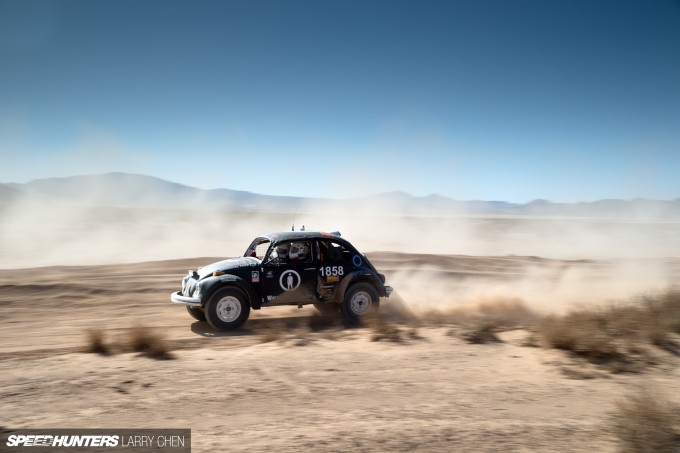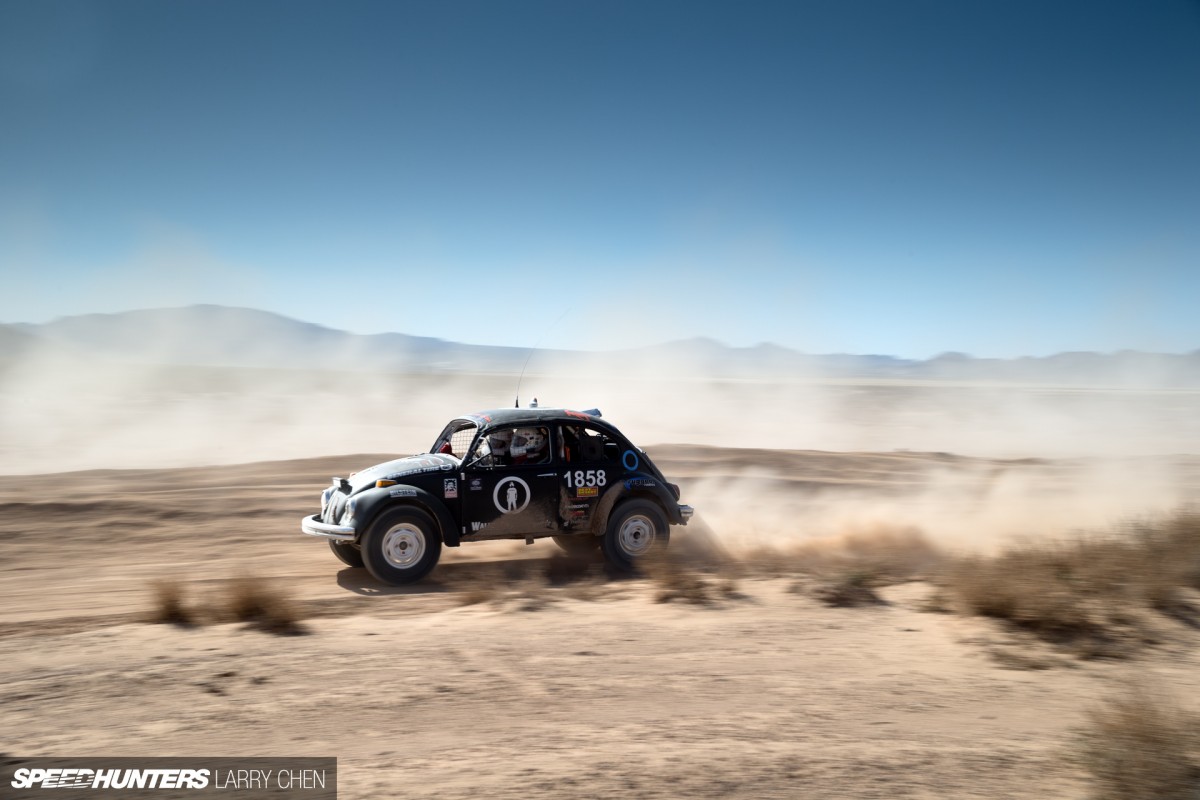 The competitors have around six hours to finish, and depending on the class they're running in, either have to complete two or three laps. At 100 miles per lap, it's brutal whichever way you look at it.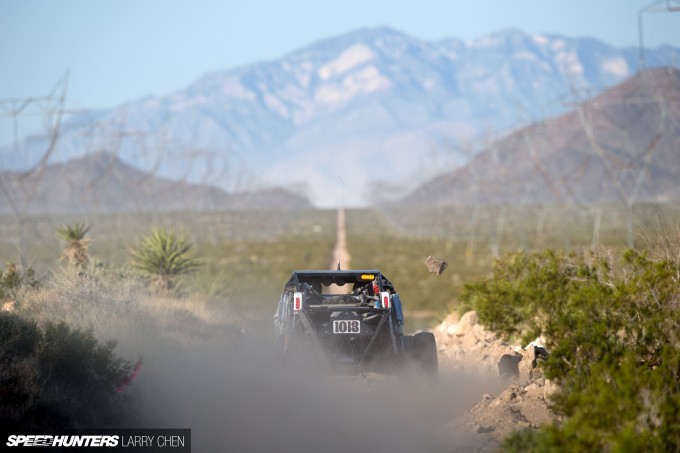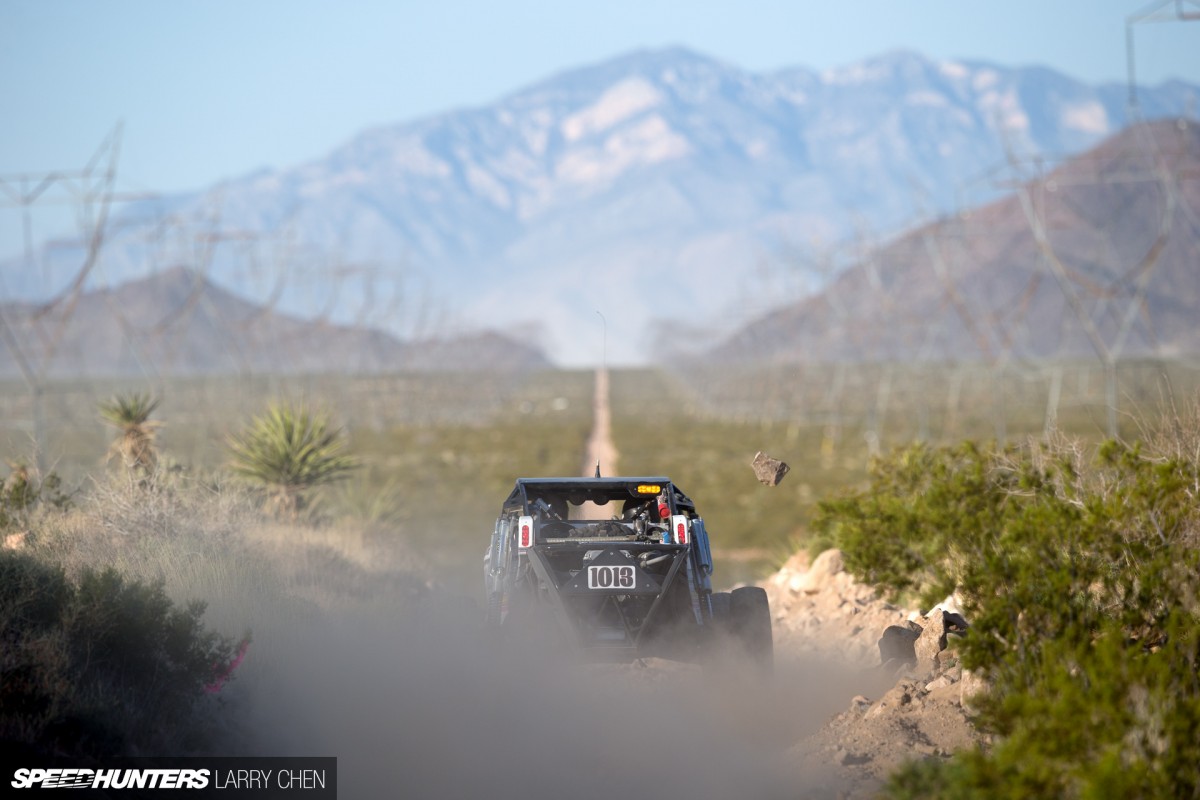 Just check out the size of that rock being kicked up as an off-roader passes through. You definitely wouldn't be wanting to follow too closely, but it comes with the territory of this race.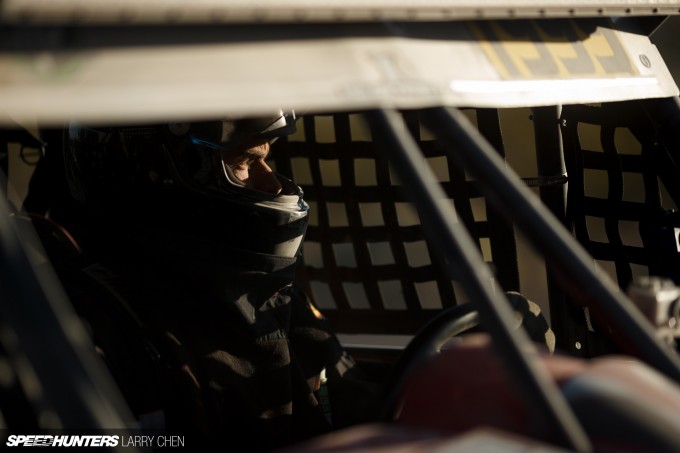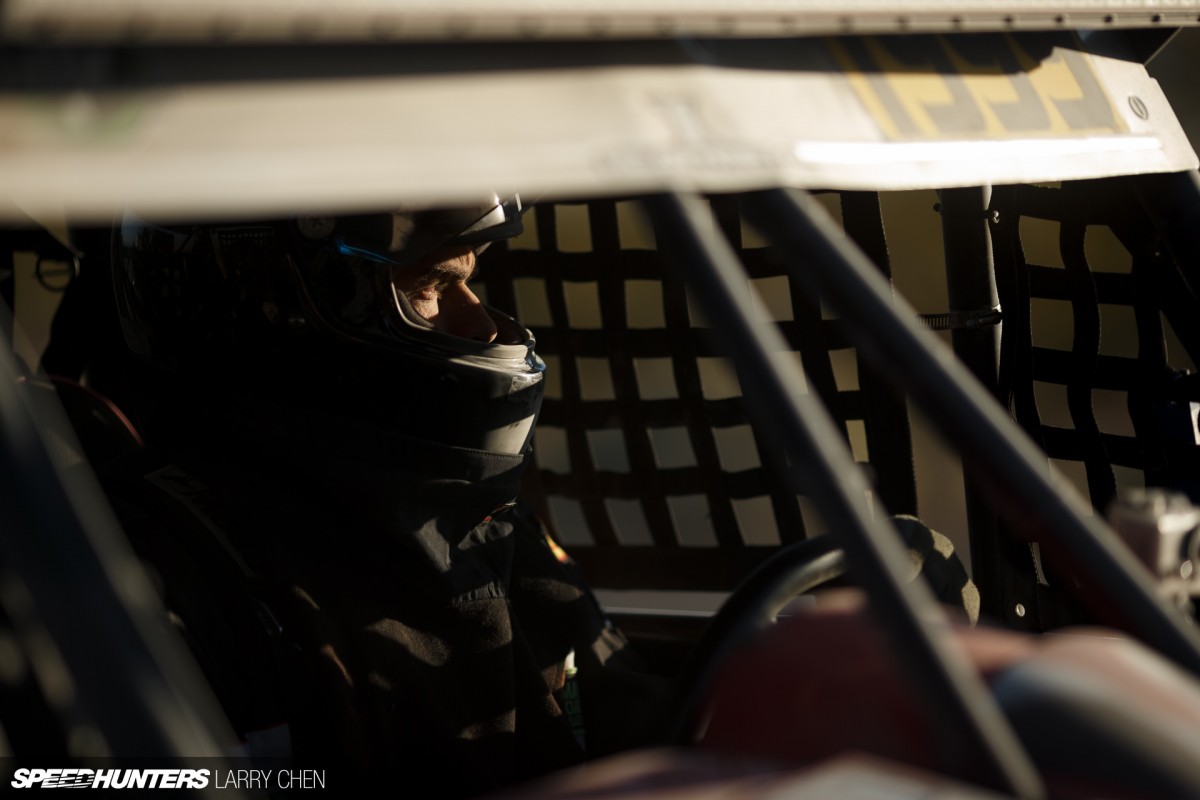 There are three pit stop areas where teams can come in for repairs and a bit of rest.
Breakages are common, so it's always helpful to have a welder on hand just in case something needs to be mended.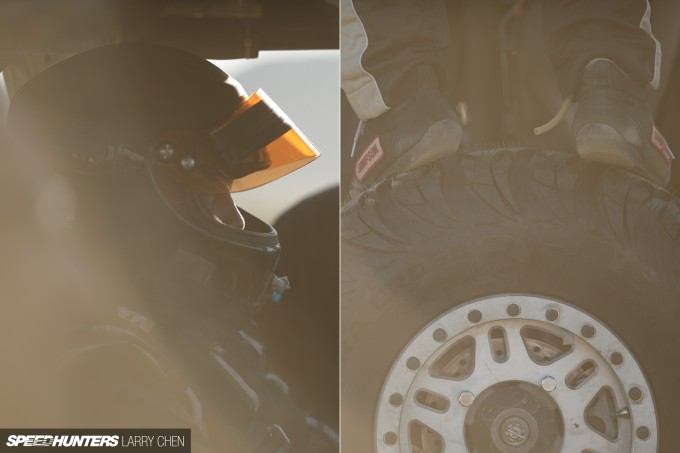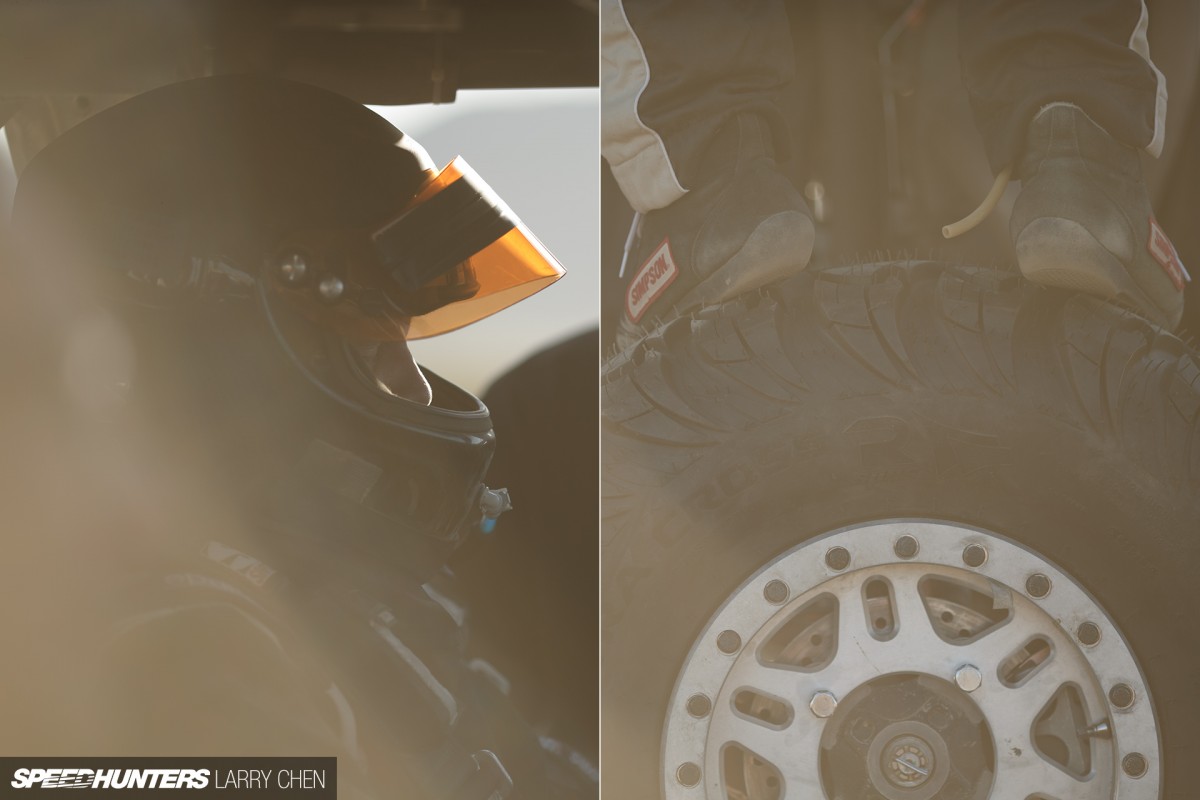 Of course, that is if you can make it to one of the pit areas in the first place. It's not so bad if you only have three-wheel drive, or just one flat tire.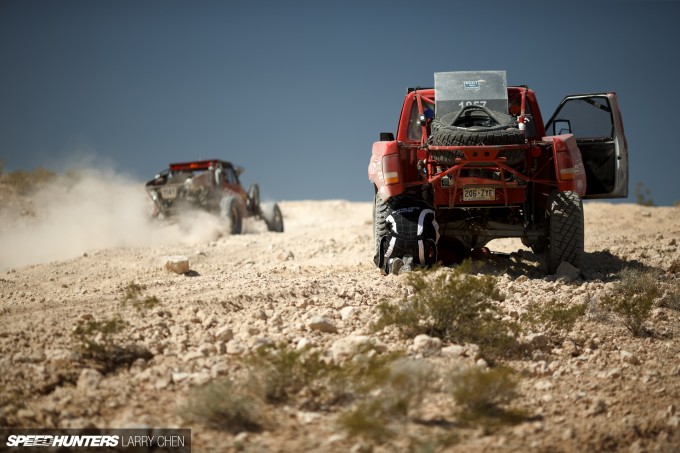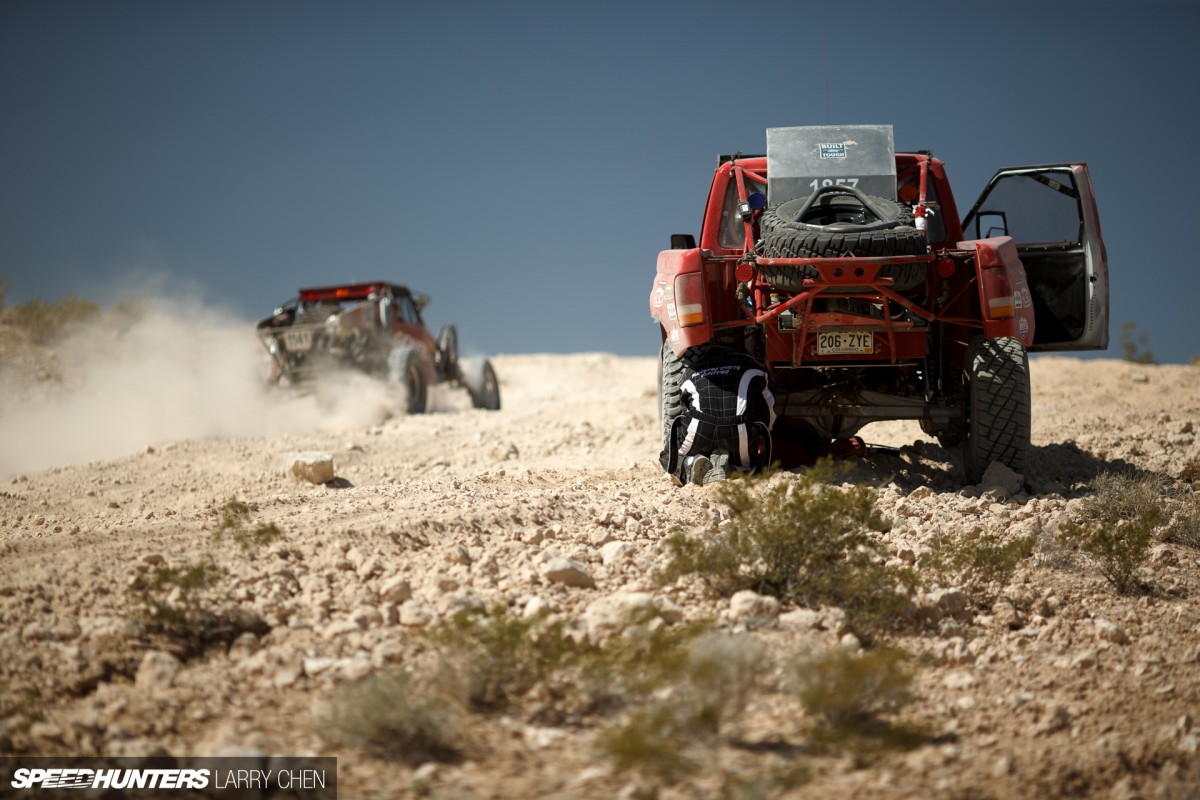 If it's something more serious, then you may just have to stop on the side of the track and fix it yourself while your fellow competitors fly by.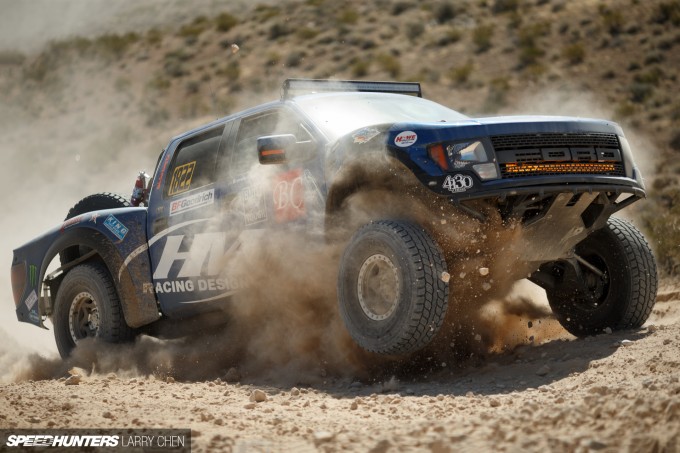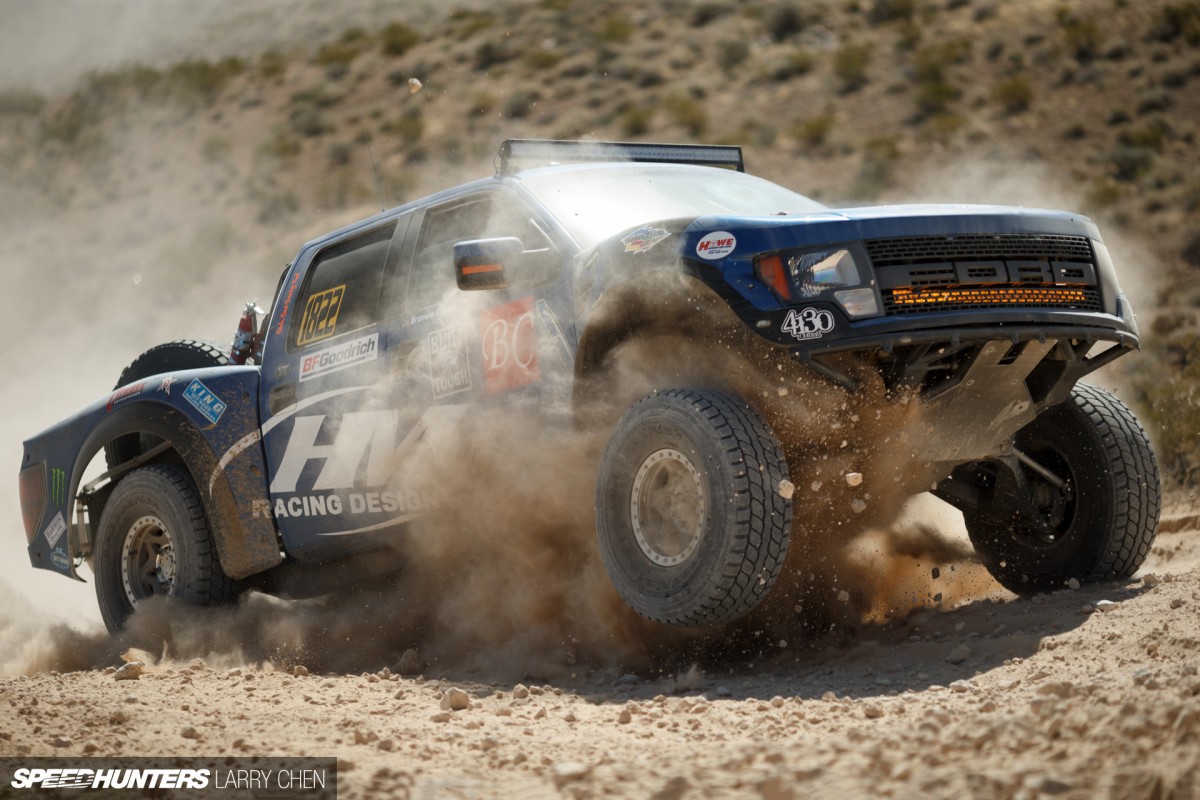 It was already high noon, but the main event had not even started yet.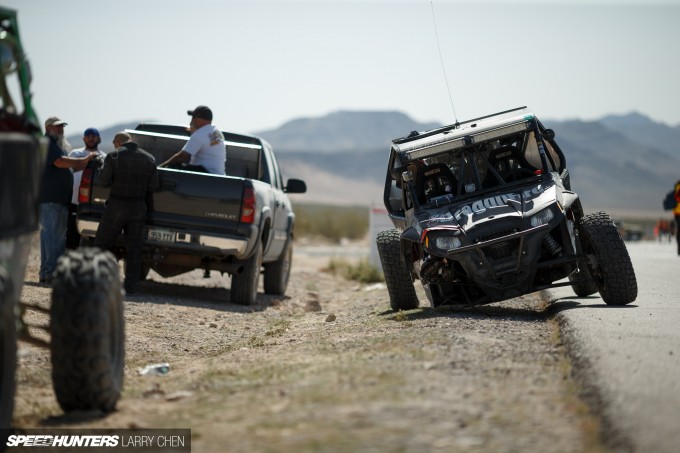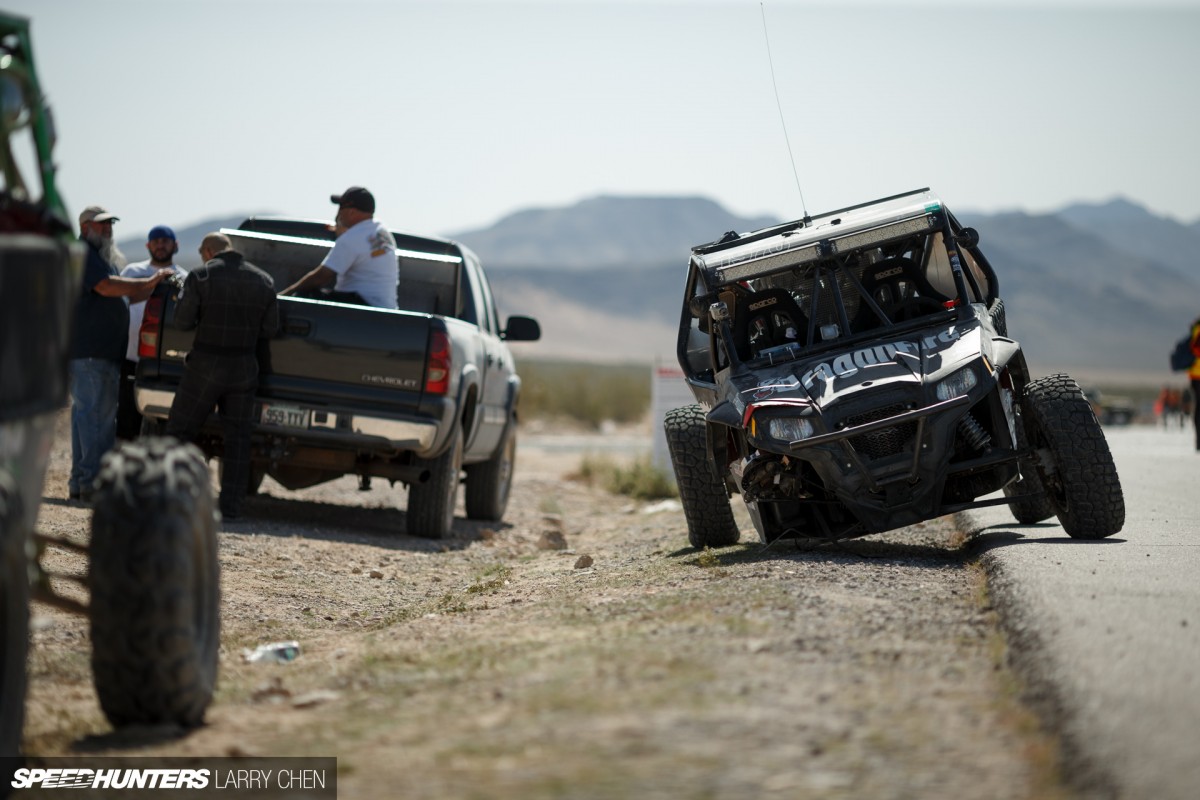 On the way back to the main pits I spotted many casualties of the first race. We even passed a driver and his navigator just sitting in the sun waiting for their team to pick them up. We offered a ride, but all they needed was some water.
The main event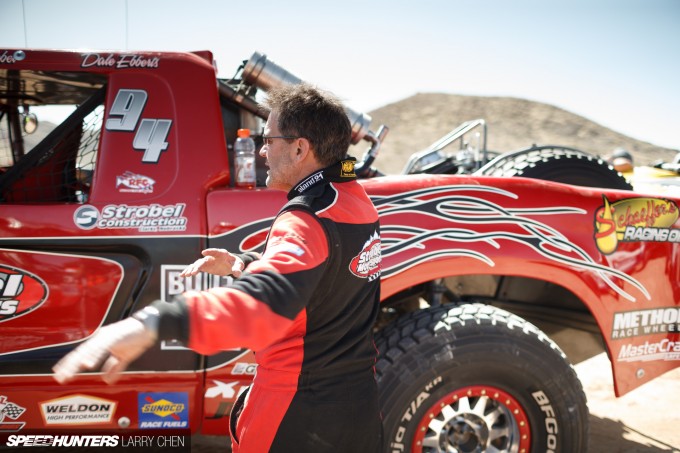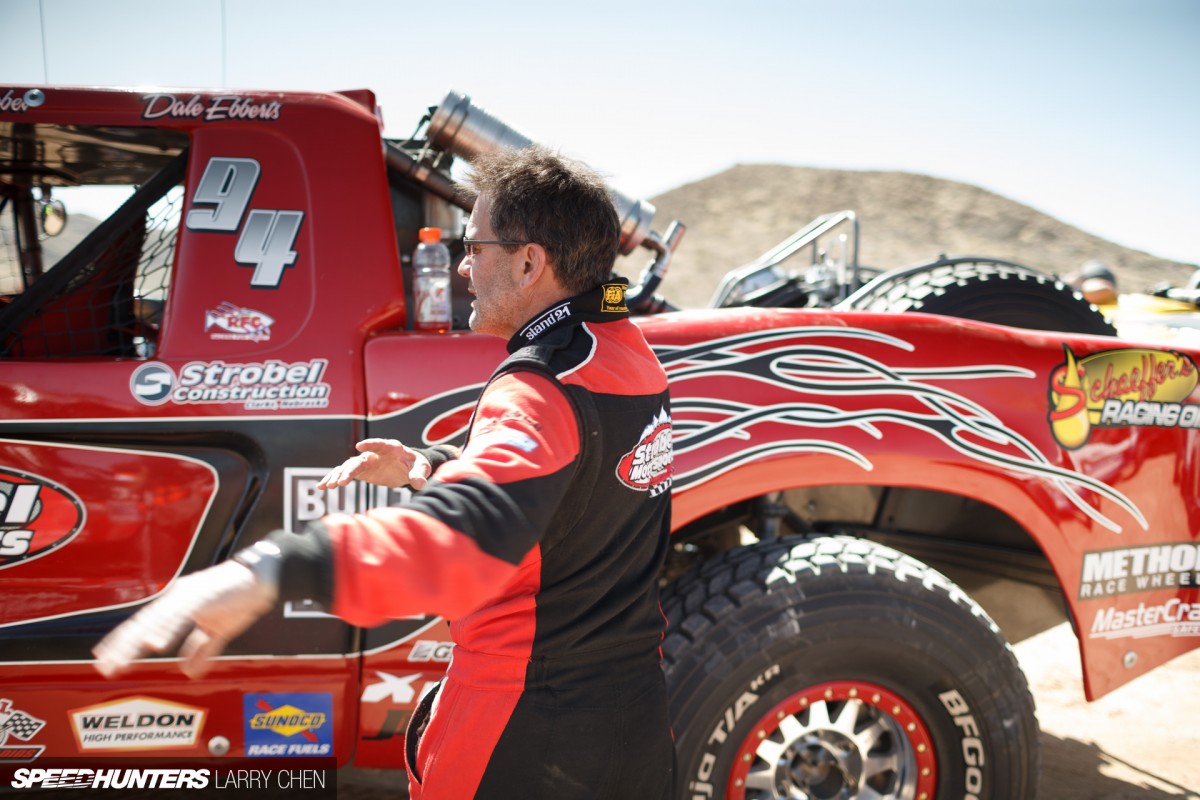 Back at the starting line drivers were getting suited up and ready to go. Some were already strapped up in their rigs, while others remained outside for as long as they could, stretching and relaxing before a bumpy 400-mile drive in the desert.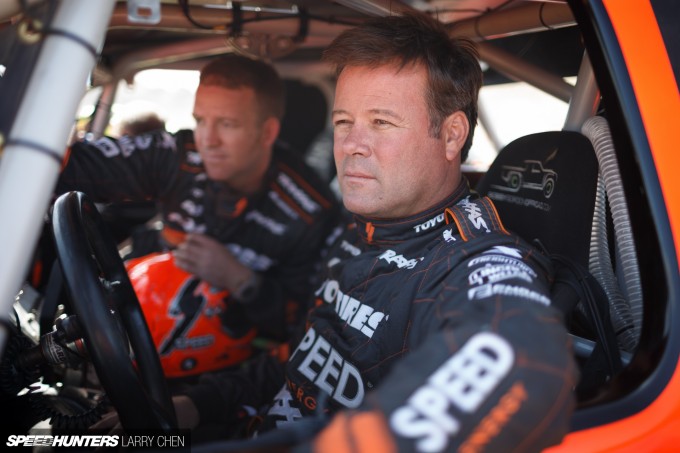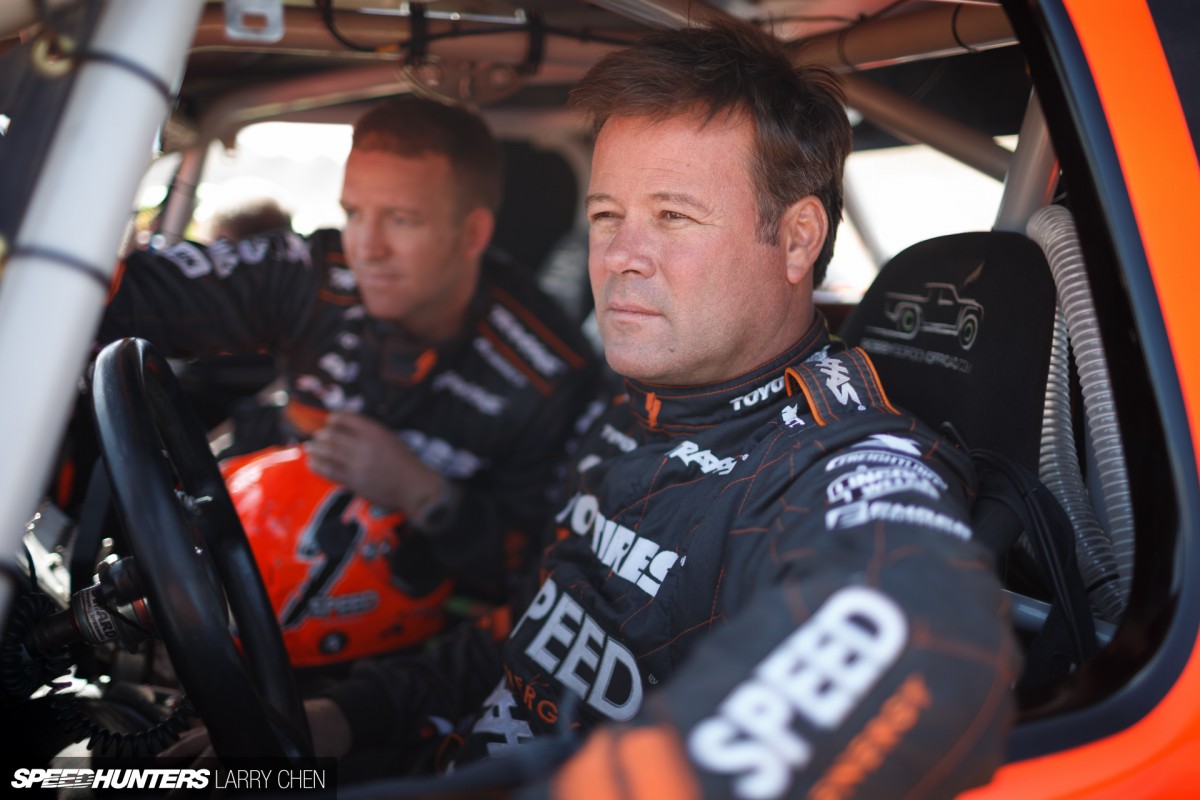 The last time I watched Robby Gordon race was when I went to check out Stadium Super Trucks. He's always a crowd pleaser and I was looking forward to seeing him out on the race course as he attempted to win the Mint 400 for a second time in three years. Unfortunately his transmission failed on him early on in the piece, so I didn't even get a chance to see him pass by once.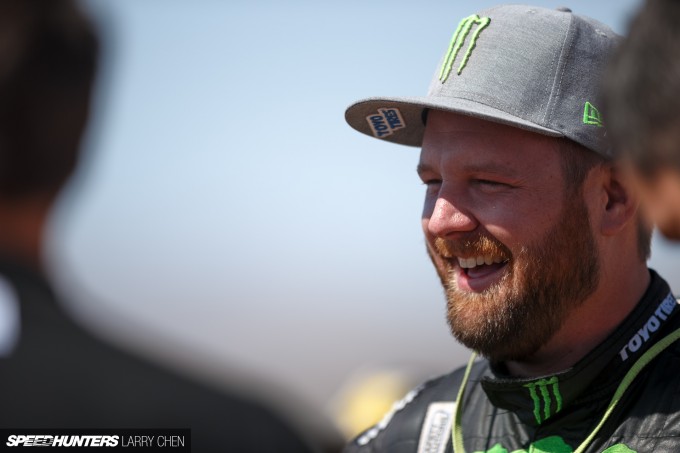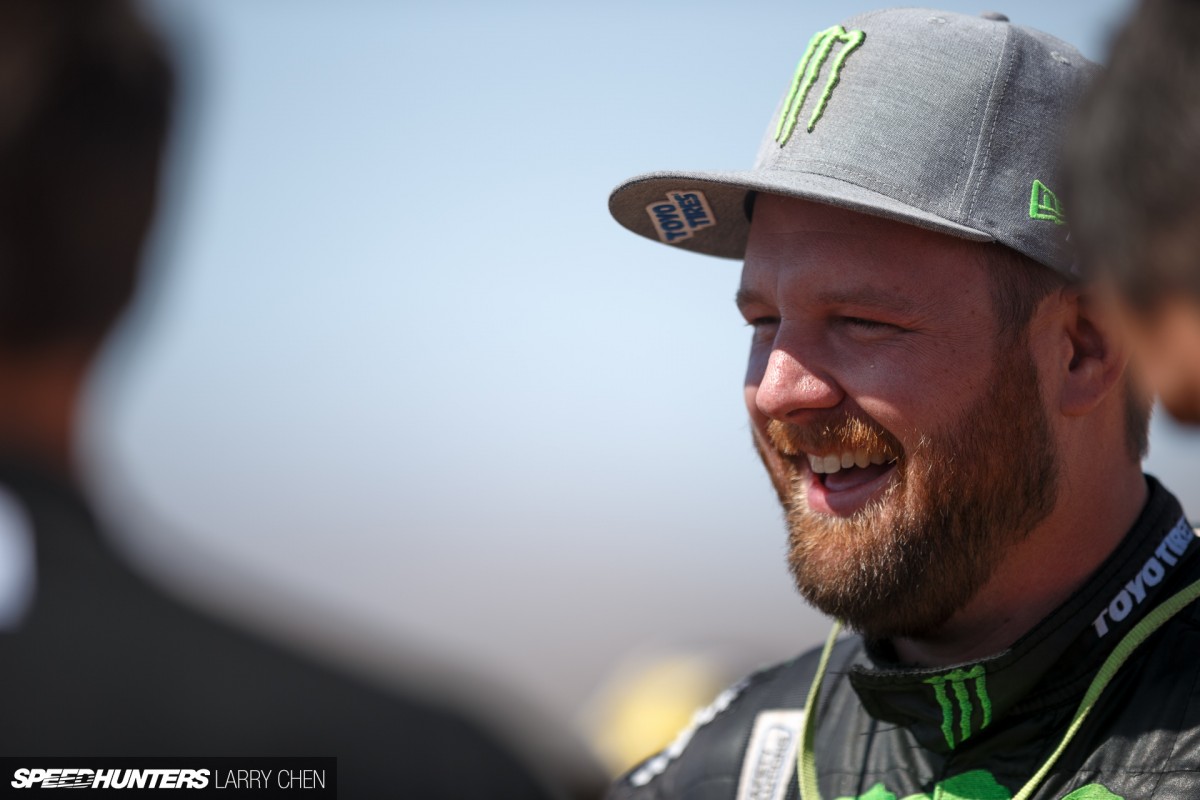 Former Mint 400 champion BJ Baldwin was also gunning for another win, but on lap two the engine failed in his Chevy Trick Truck.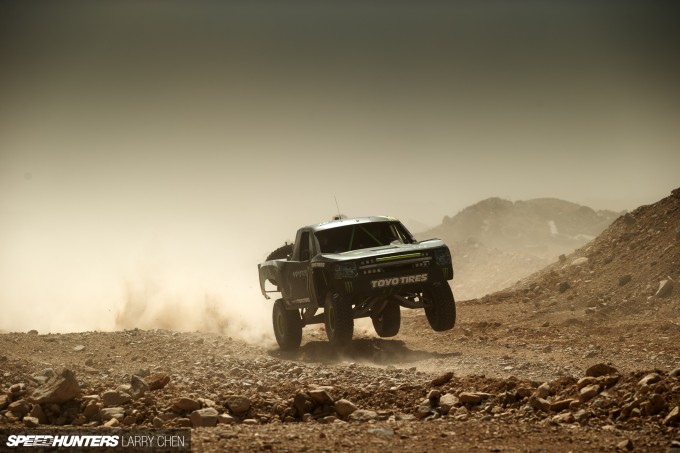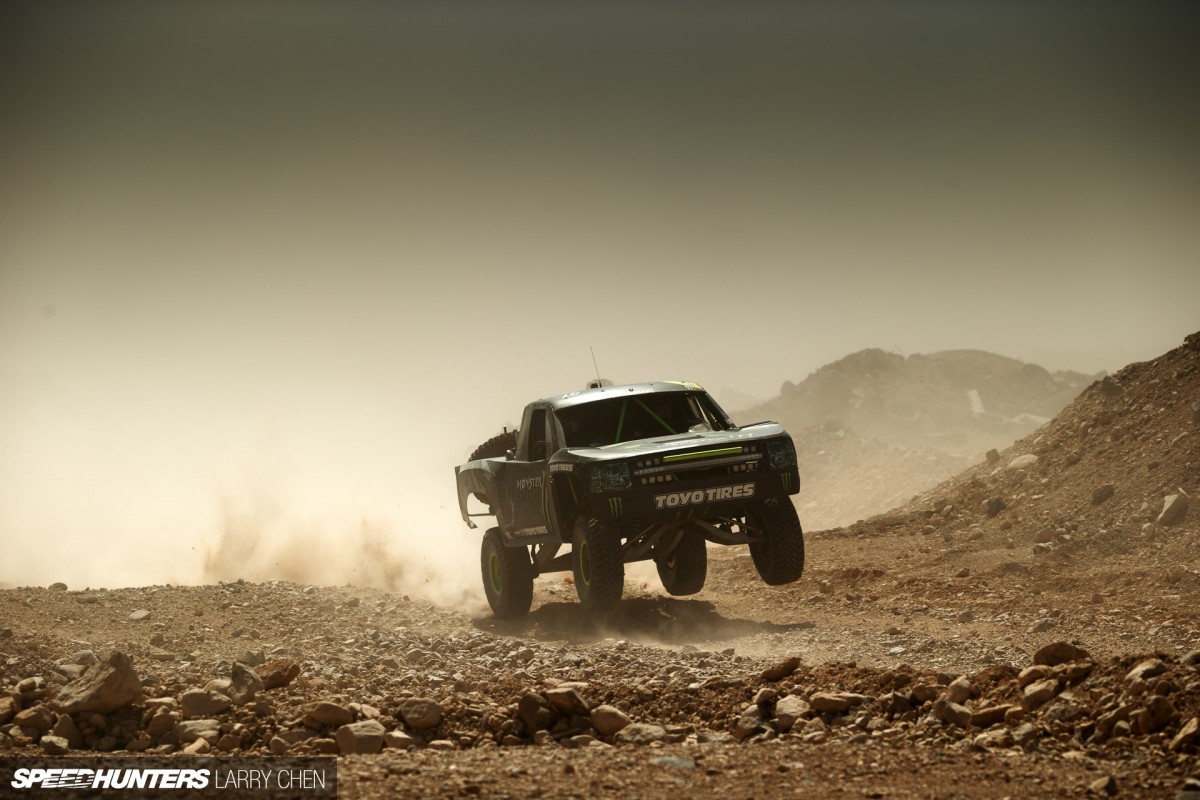 It was truly a race of attrition. I'm sure he will be back for another shot at the title next year.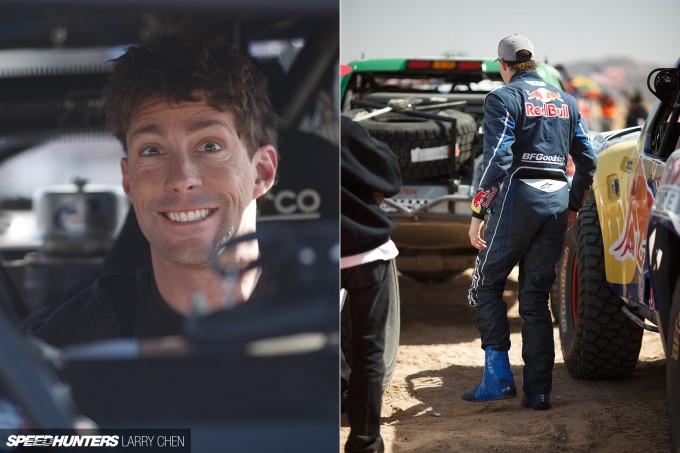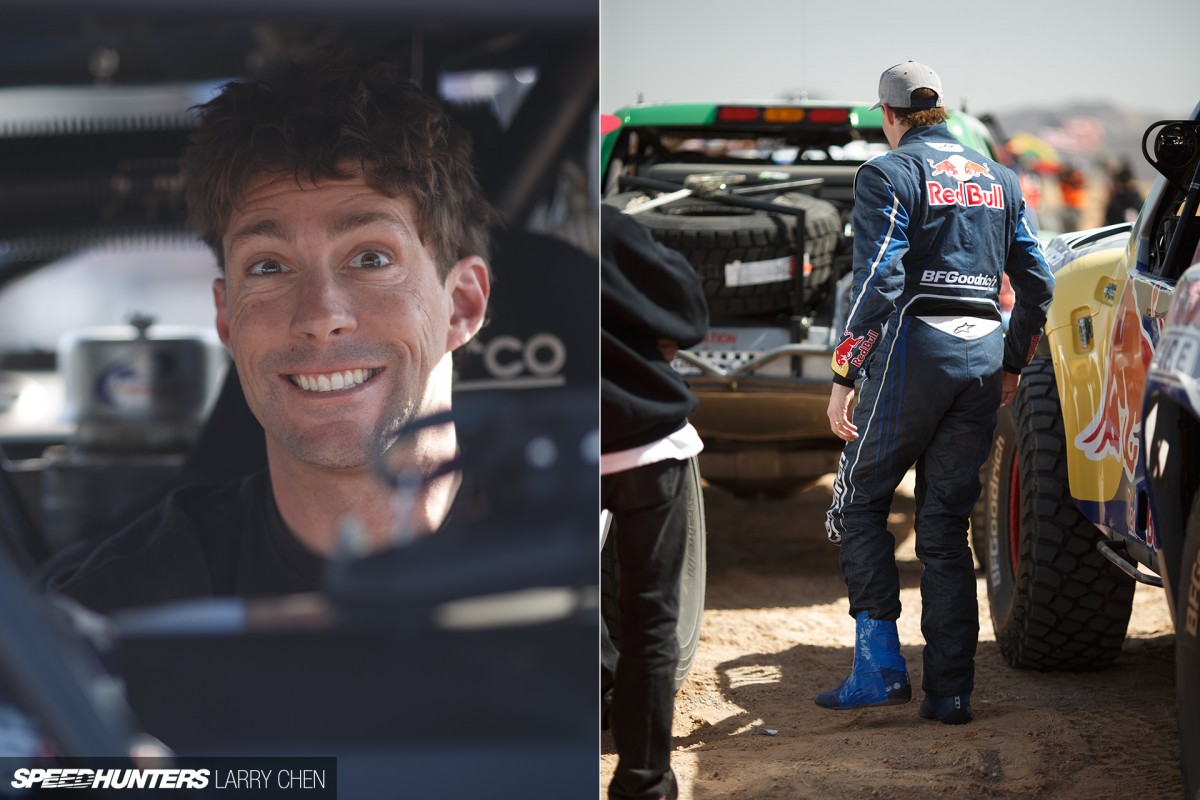 I've always known that Travis Pastrana was crazy, but turning up to race wearing a cast from a leg surgery performed just a few weeks earlier was just nuts. He was walking around with a limp all weekend, but it was seemingly nothing some blue duct tape couldn't fix. Despite it all, he finished a very impressive 4th place overall just 15 minutes behind the outright winner.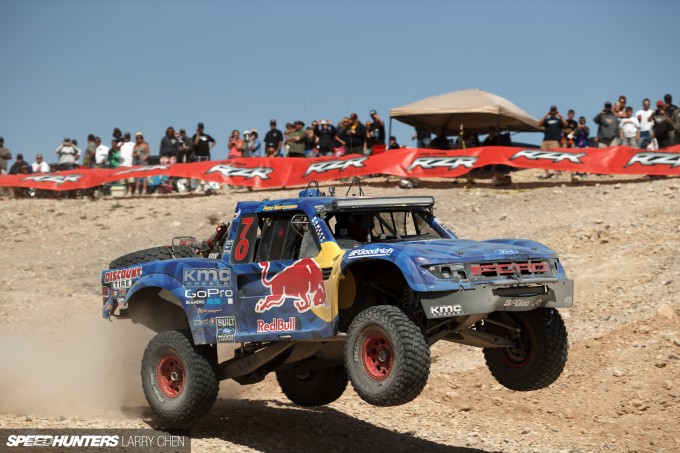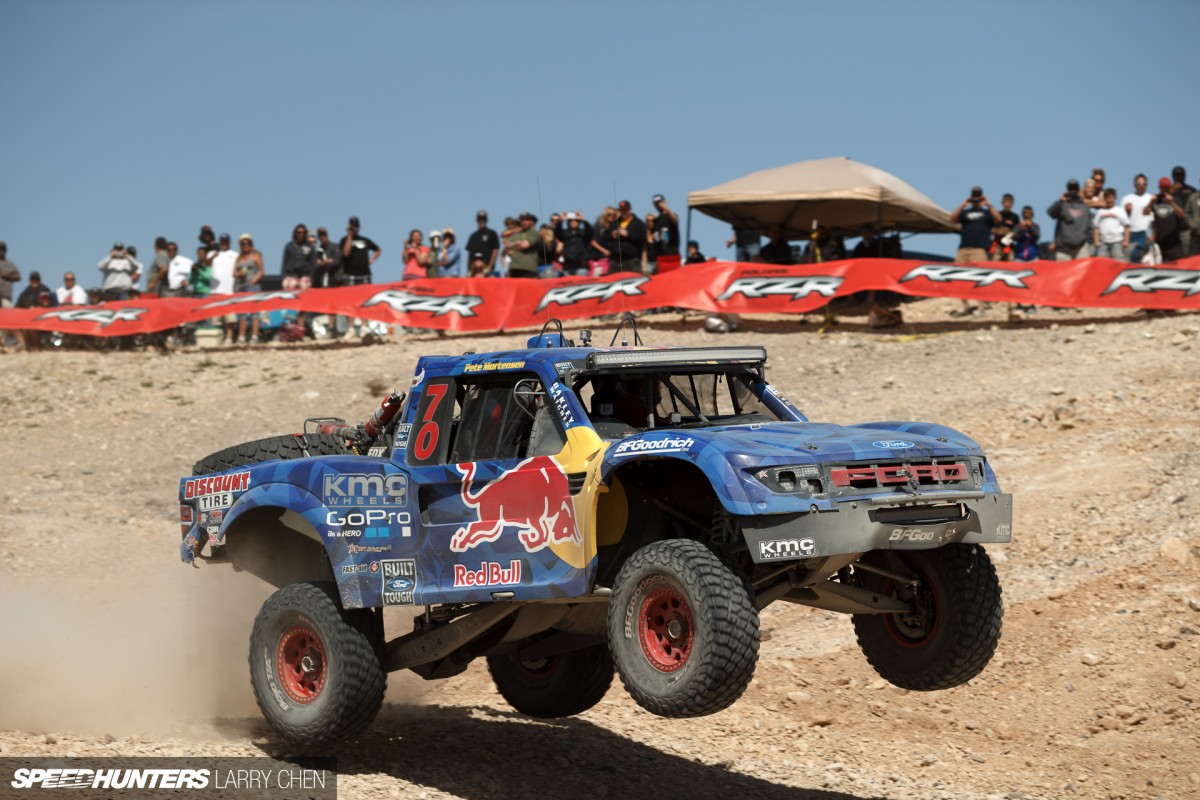 Las Vegas local and 2013 Mint 400 champion Bryce Menzies suffered some bad luck when he drove into a Joshua tree at speed. His team finished 20th overall.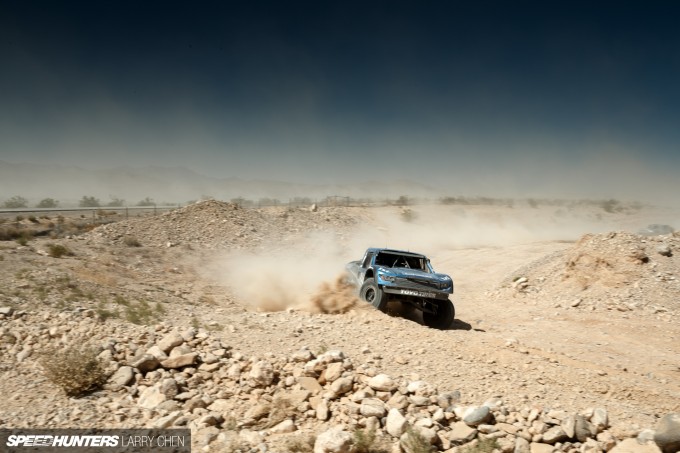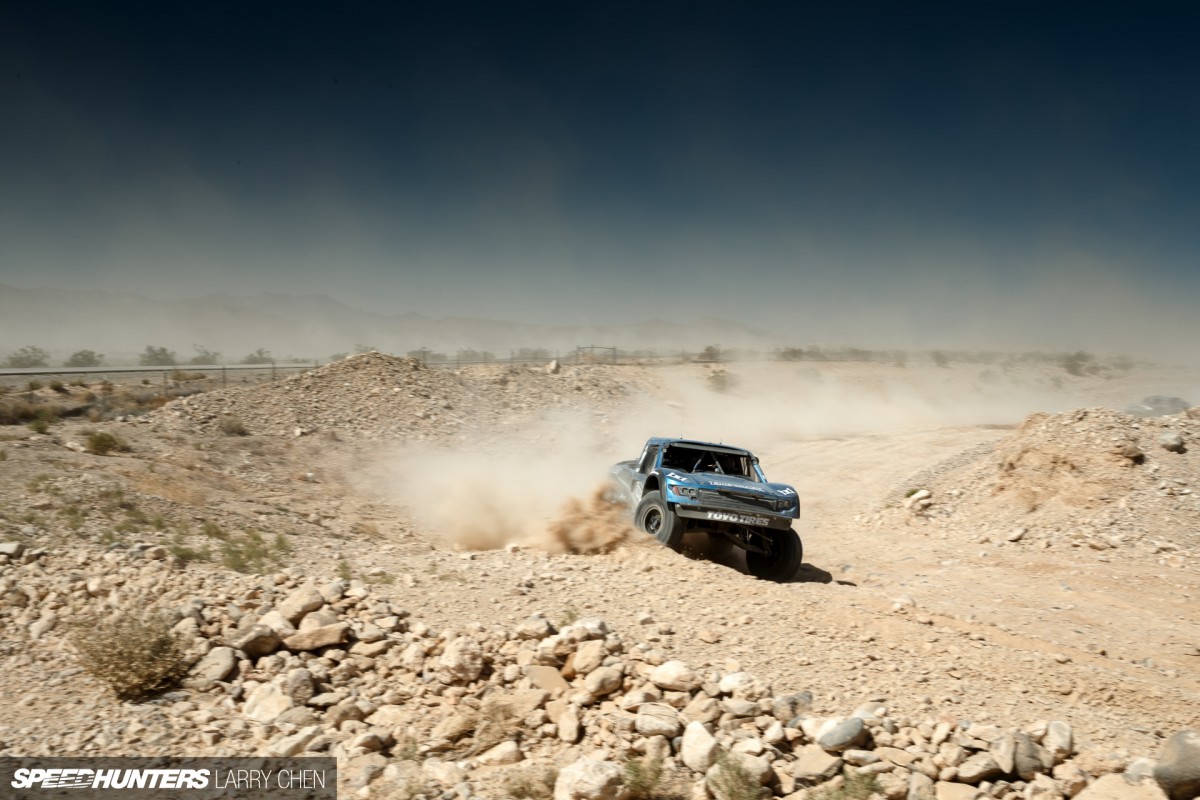 For the start of the race I hiked my way into one of two rock quarries that were setup as a little short course complete with dips and jumps.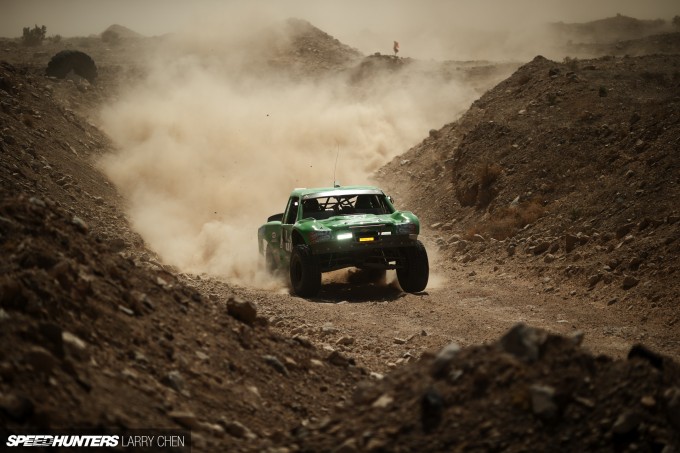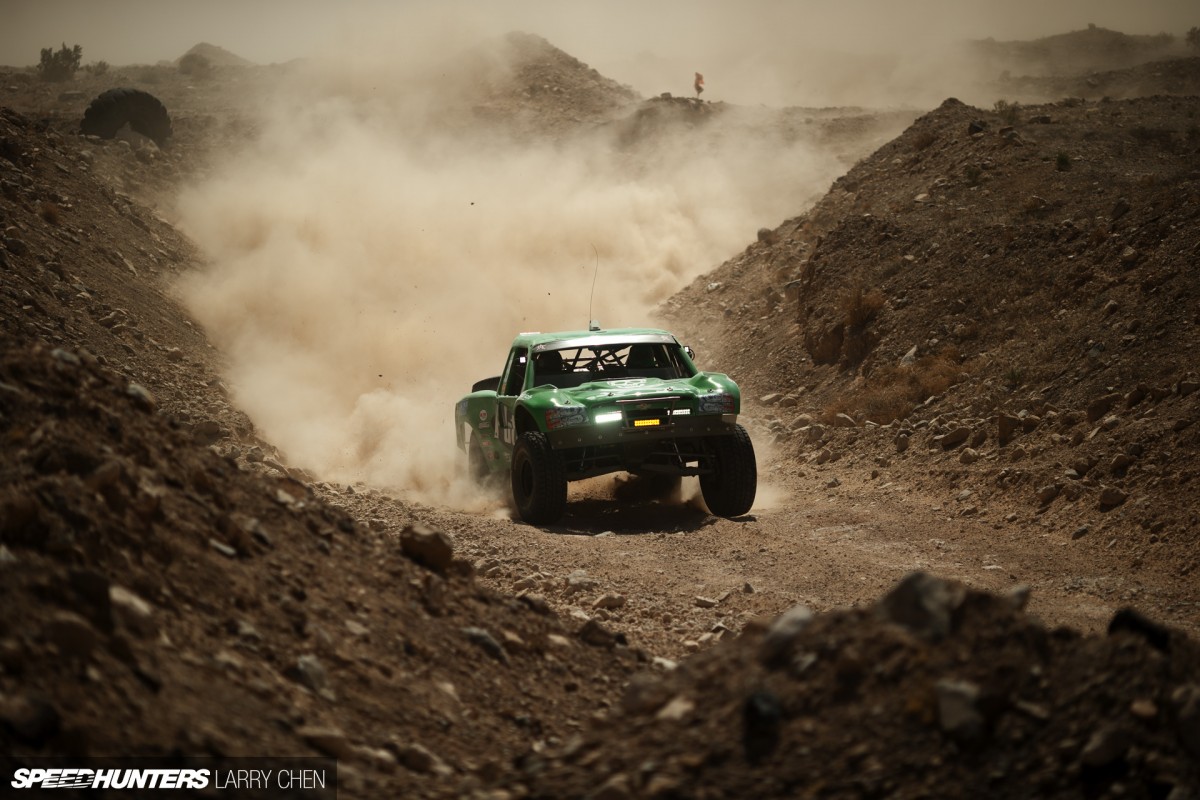 It's a great place to spectate as there's a wide view of all the trucks approaching from the start line.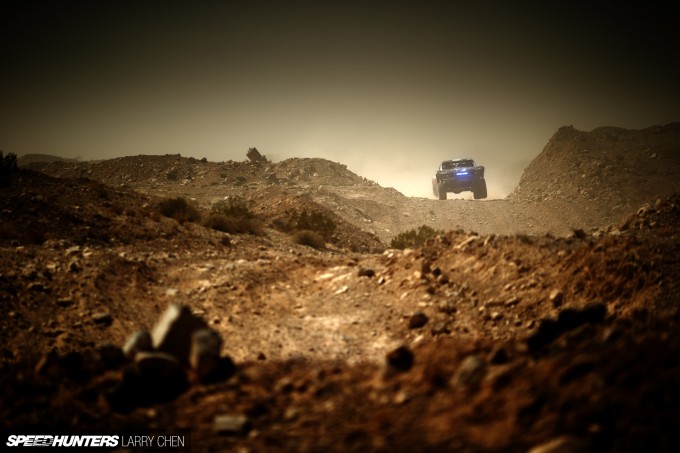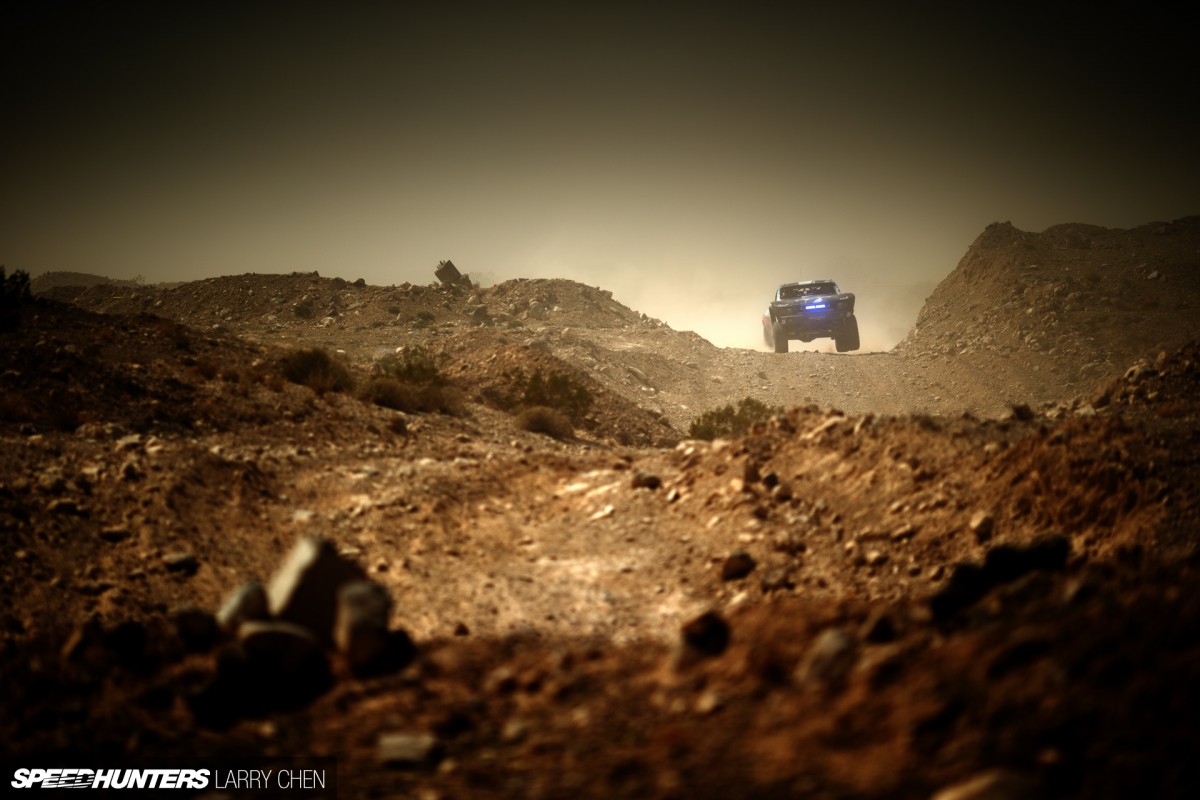 Pretty soon it was overrun with dust, and once again I was finding it hard to keep my eyes open.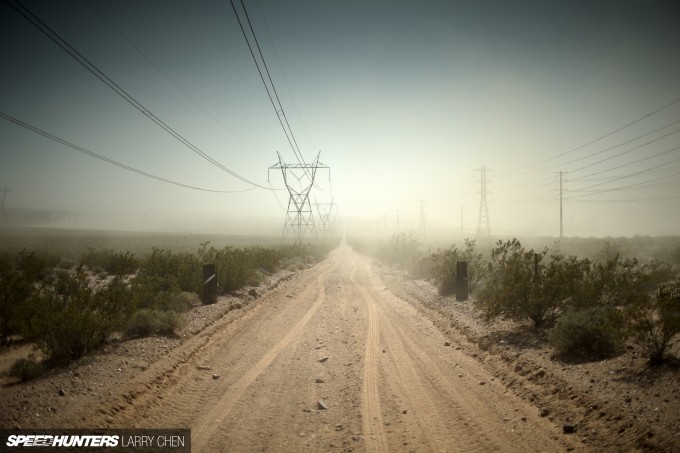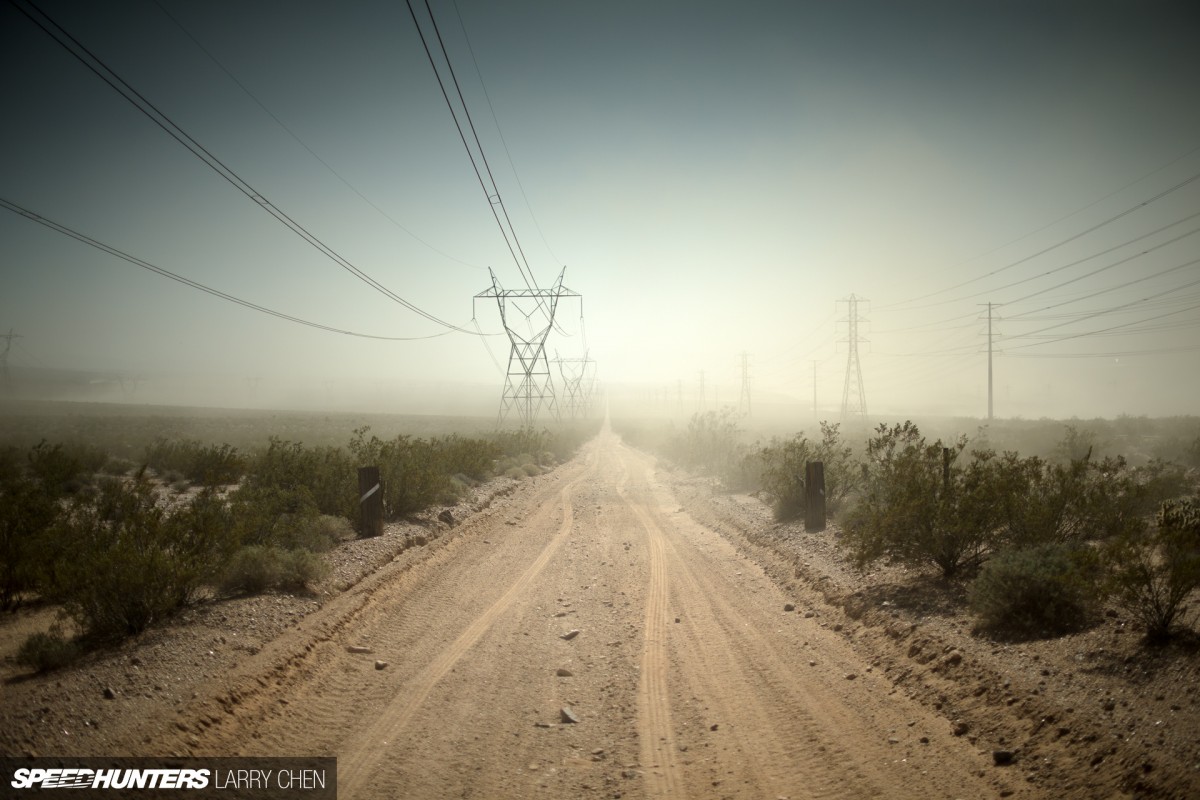 I don't even remember it being this bad last year. Maybe there was more wind then, or maybe there had been rains that matted everything down. This time around though, you couldn't open the door to your car without copping a mouthful of dust.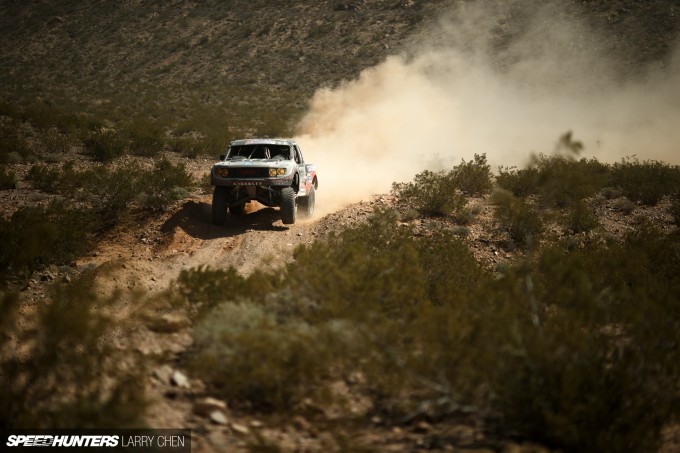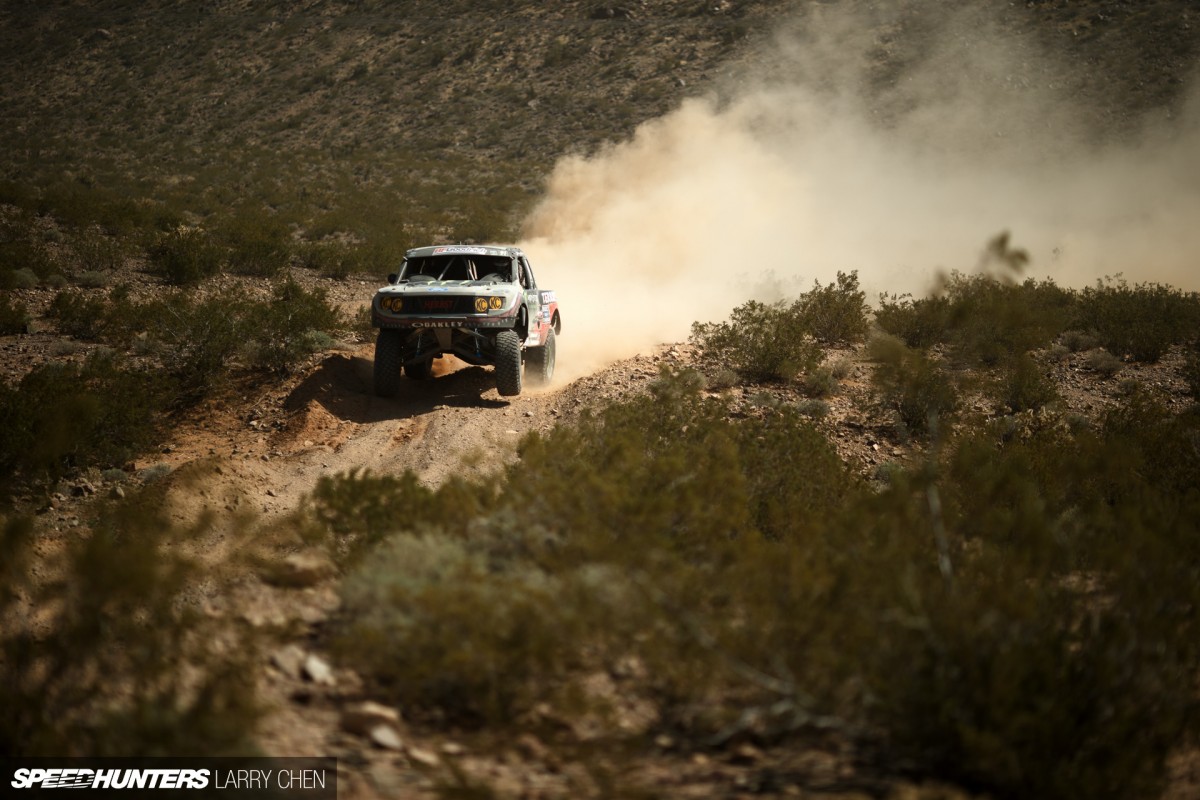 My next stop was a section of the course where two hairpins met and both had check points.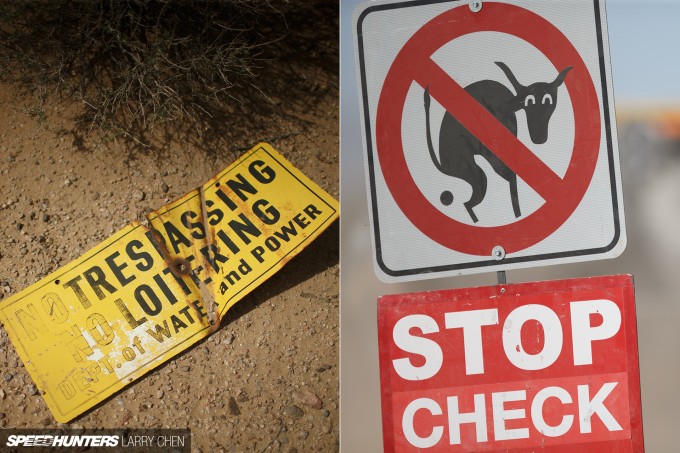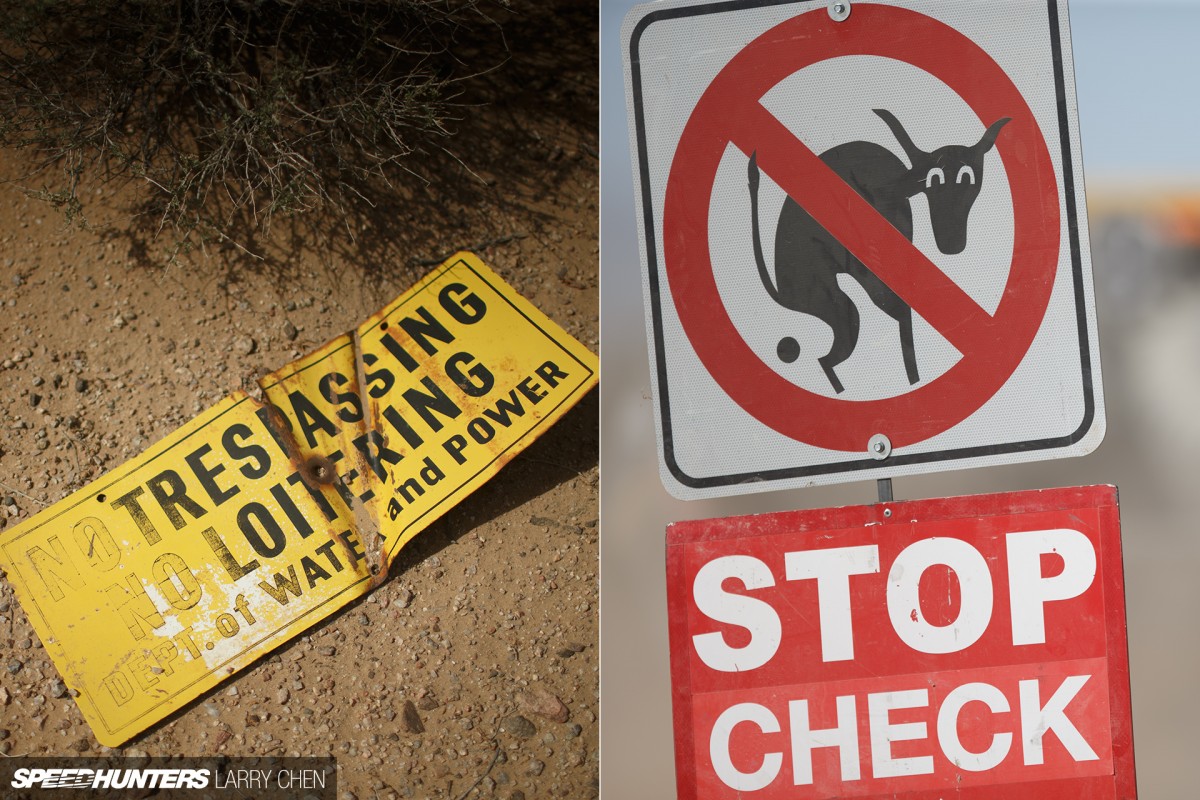 When the officials say stop, they really mean to a stand still.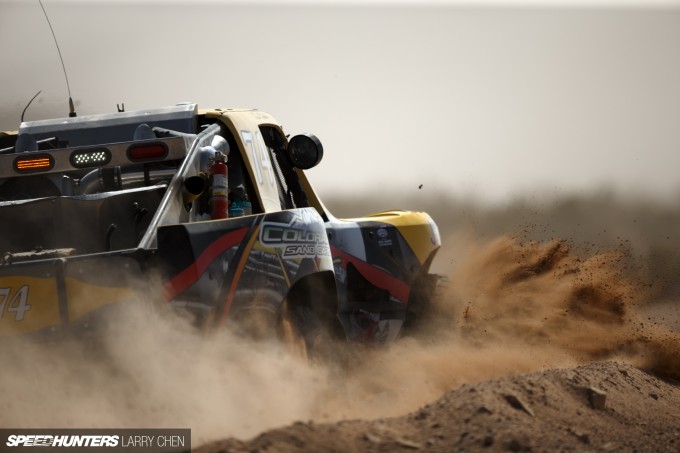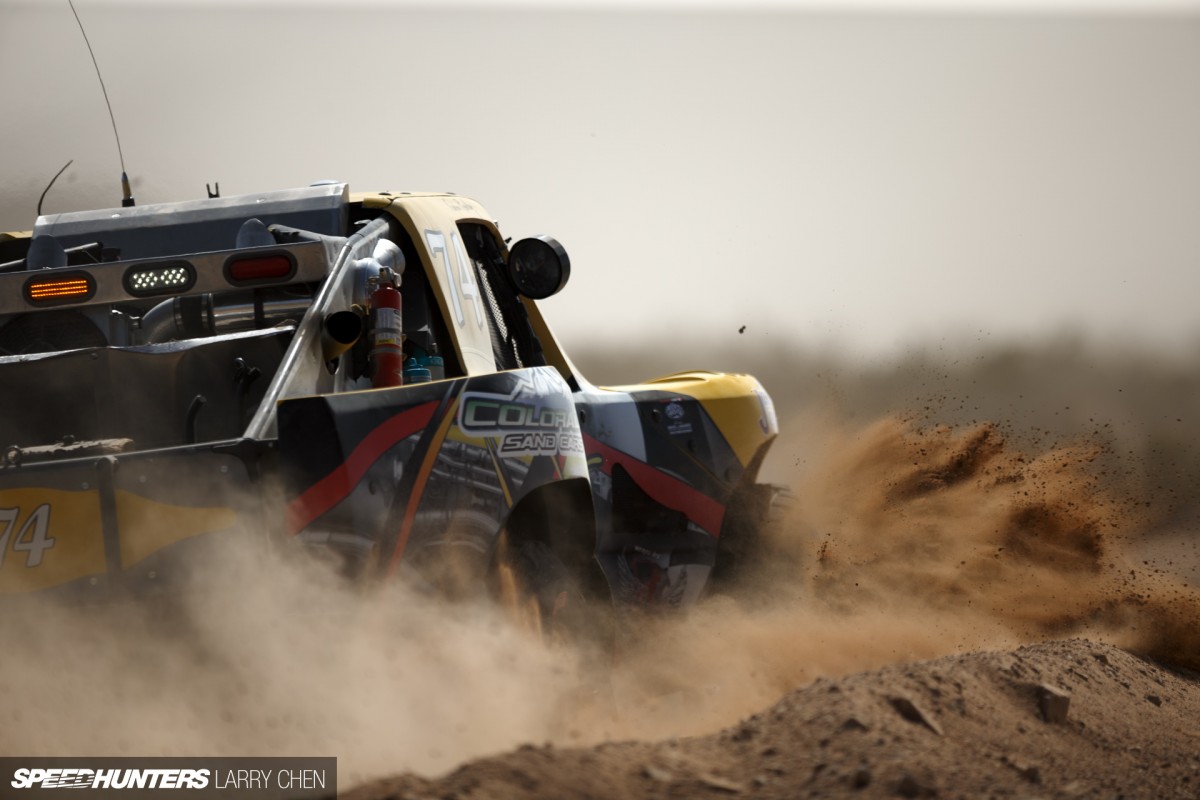 It was awesome seeing the rigs lock up their brakes, only to instantaneously power-out through the ruts.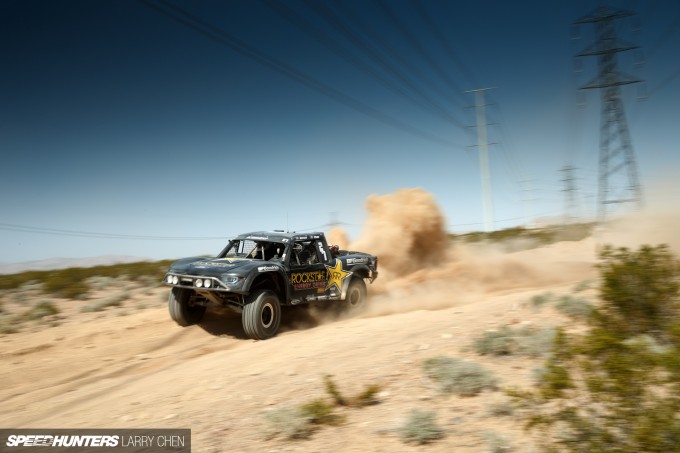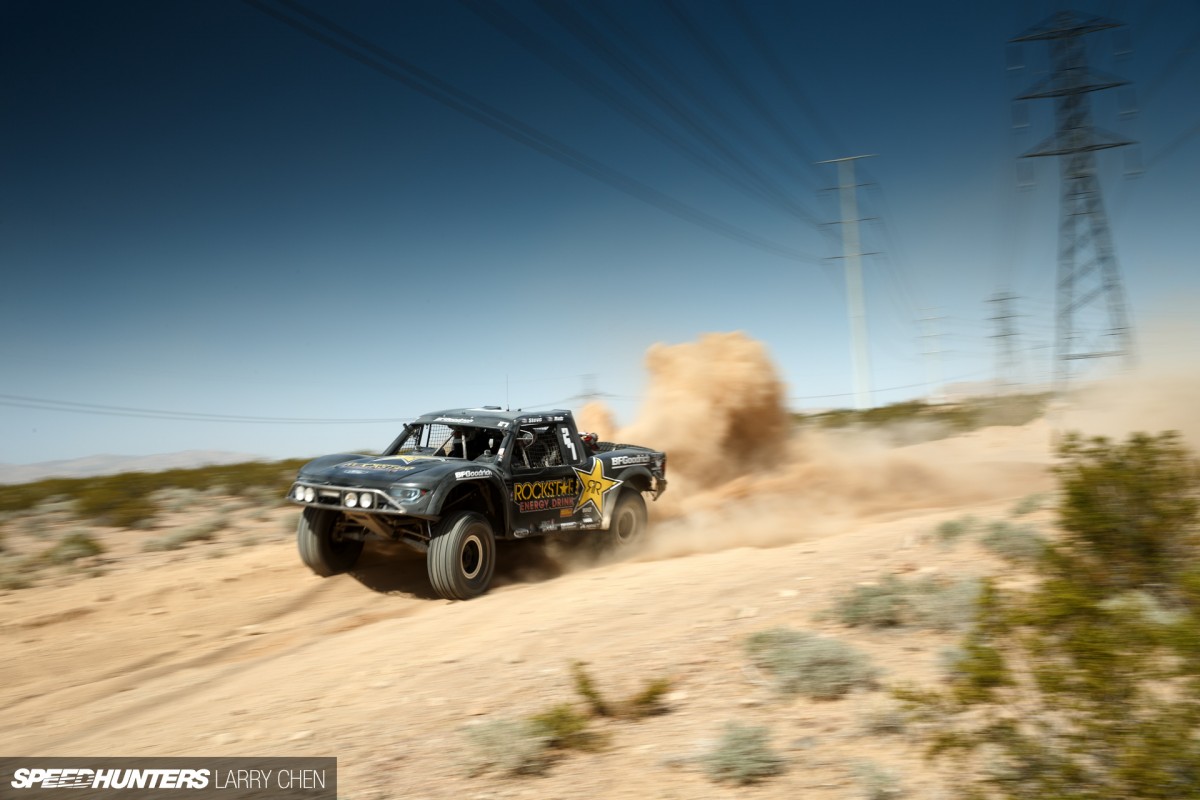 By midday the ruts were so deep that it was torturous to cross the hot track. And I'm talking deep enough that our 4×4 Pathfinder even managed to get stuck a couple of times.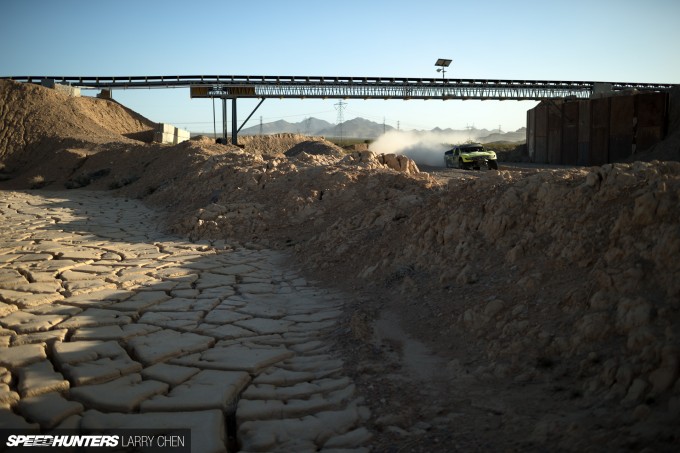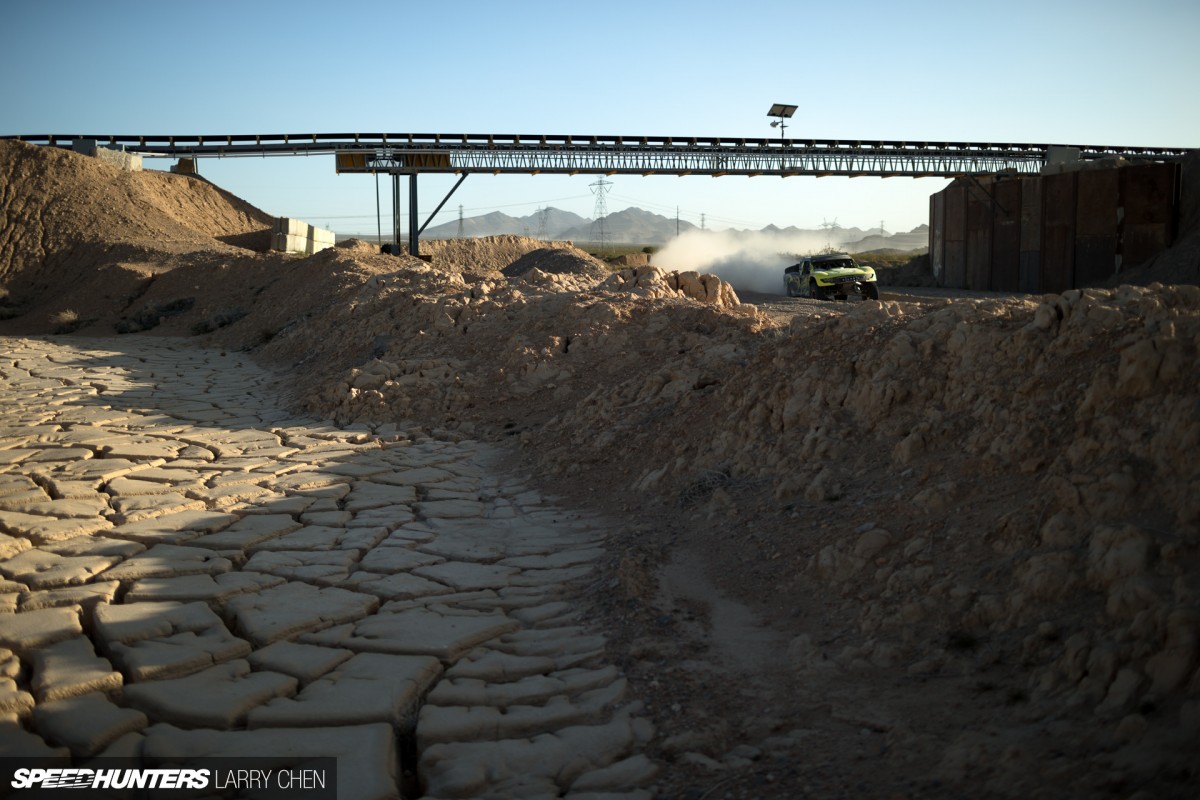 Besides the occasional power line towers, there were not too many man-made structures that lined the race course.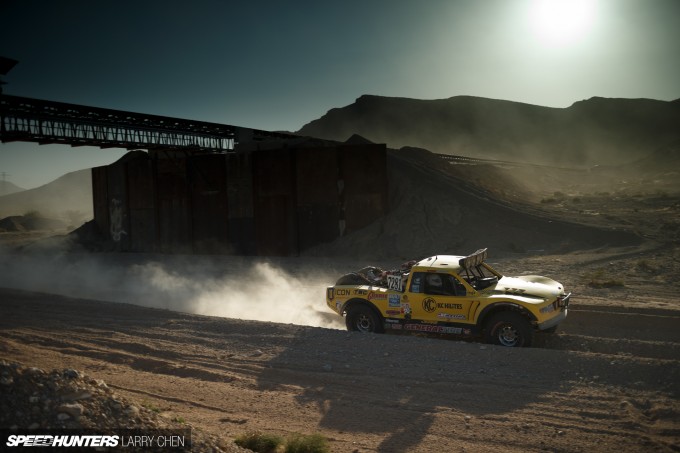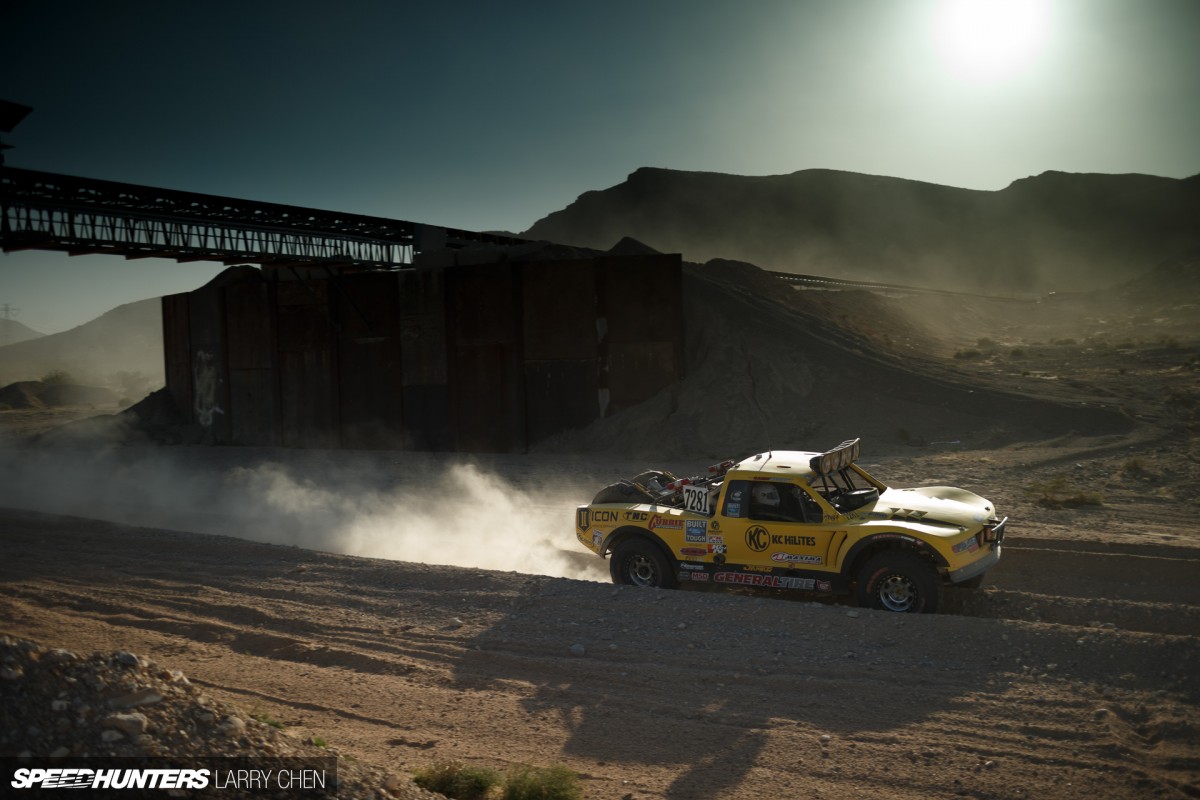 However, there was a section that ran through a mine of some sort.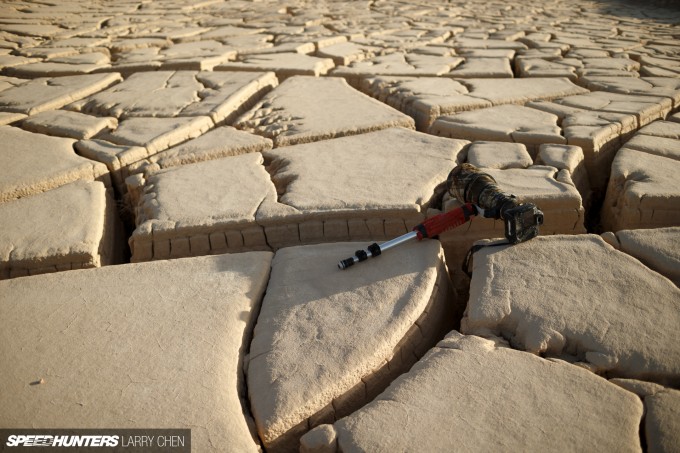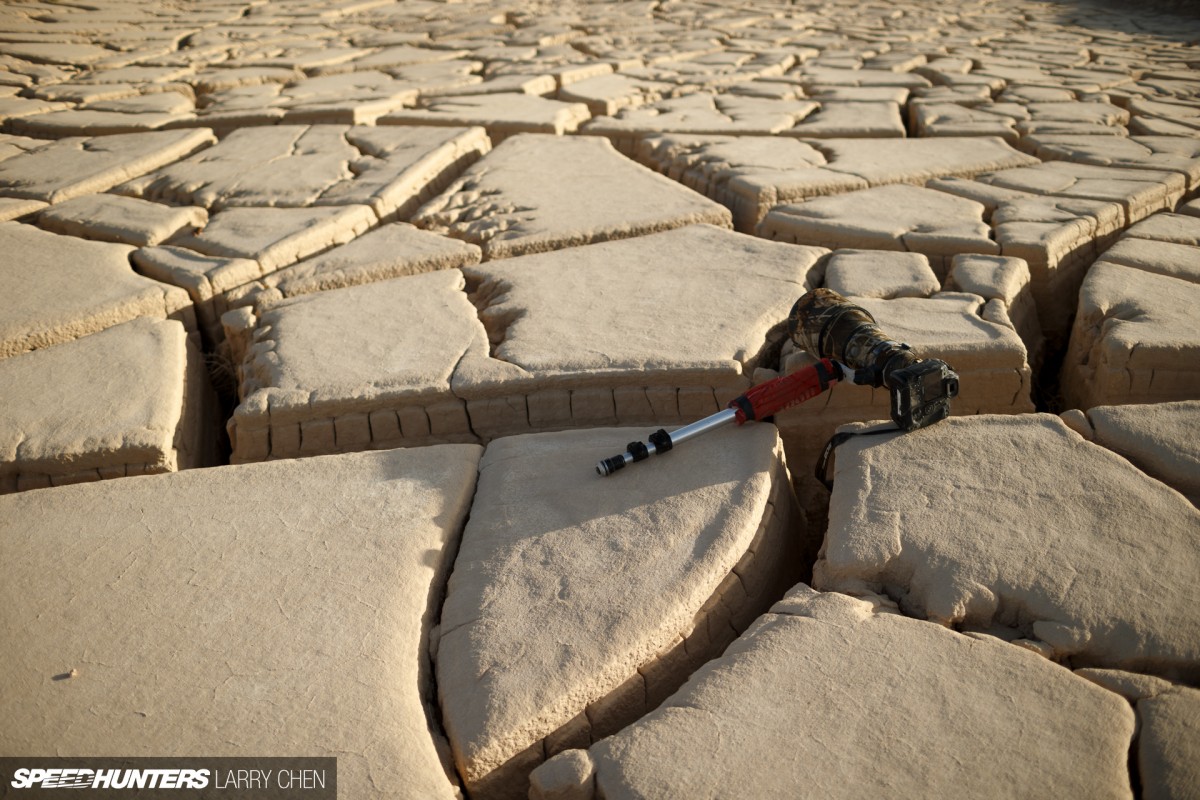 Next to the mine was this dried out moat. The cracks were super-deep in some places and cavernous enough for you to lose your cell phone forever if you dropped it.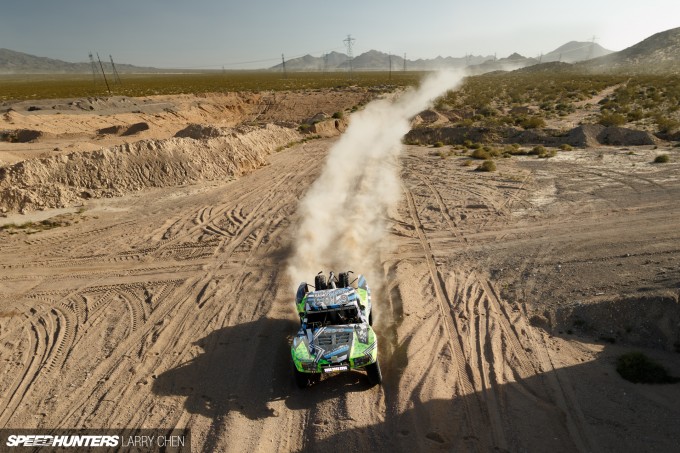 At this point in the race the amount of rigs passing by were much less frequent. Sometimes I would be waiting for more than 10 minutes between cars.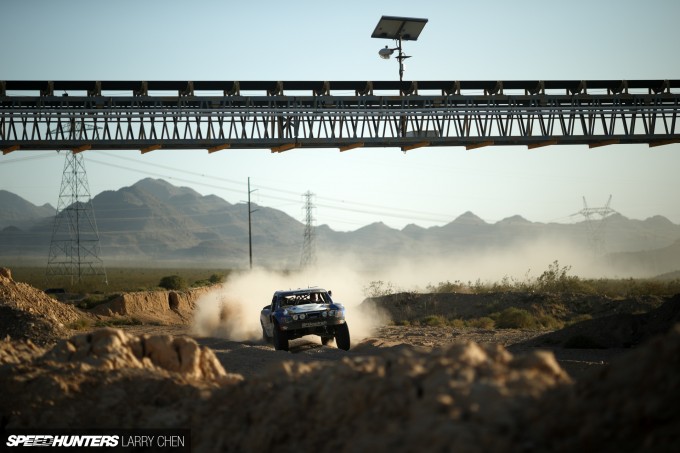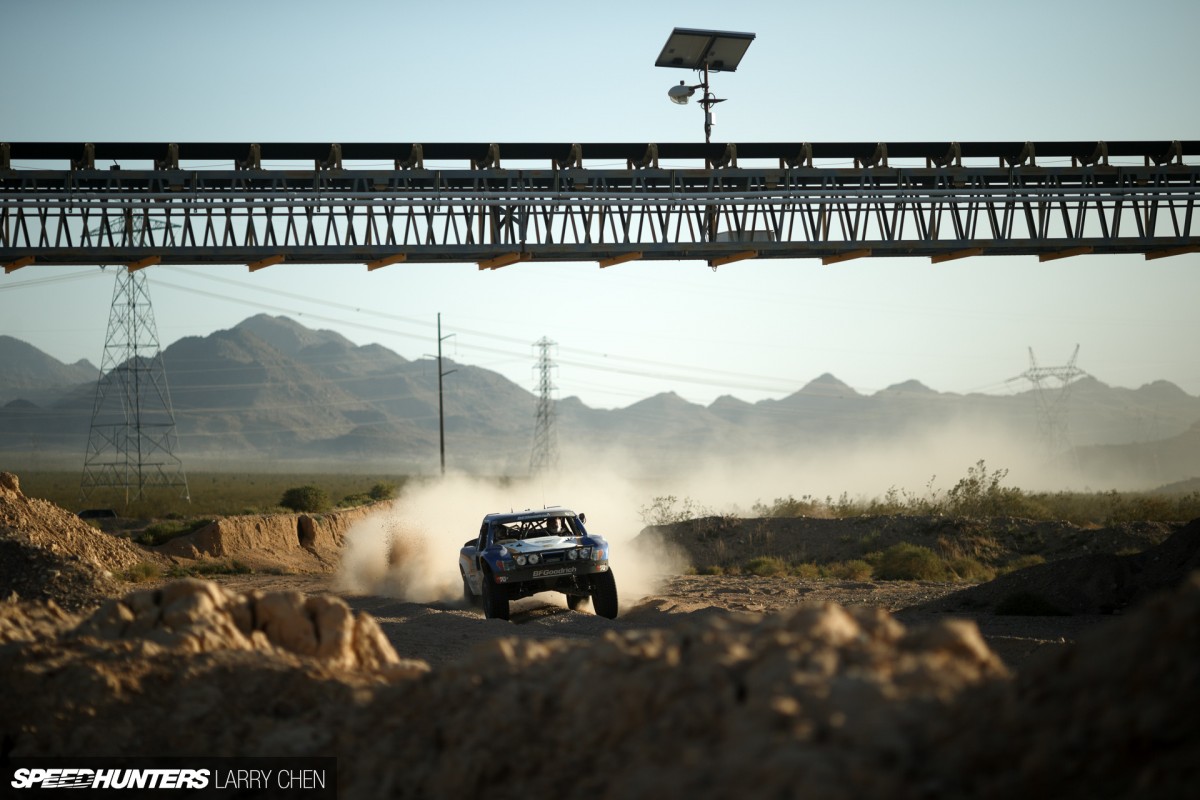 Off in the distance I saw a puff of dust followed closely by a helicopter. It was Andy McMillin – the race leader – on his final lap.
Darkness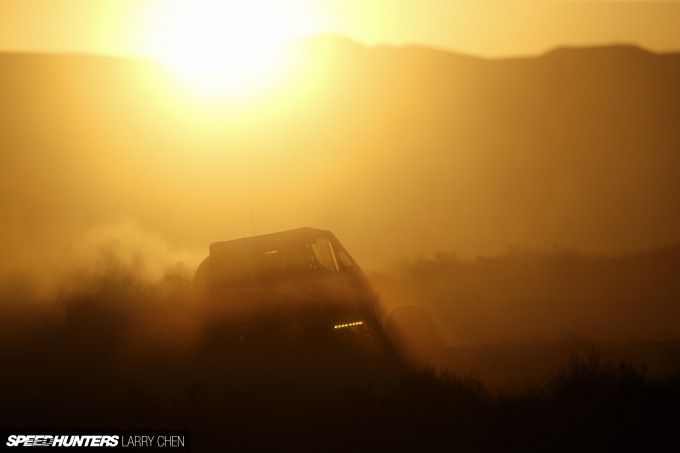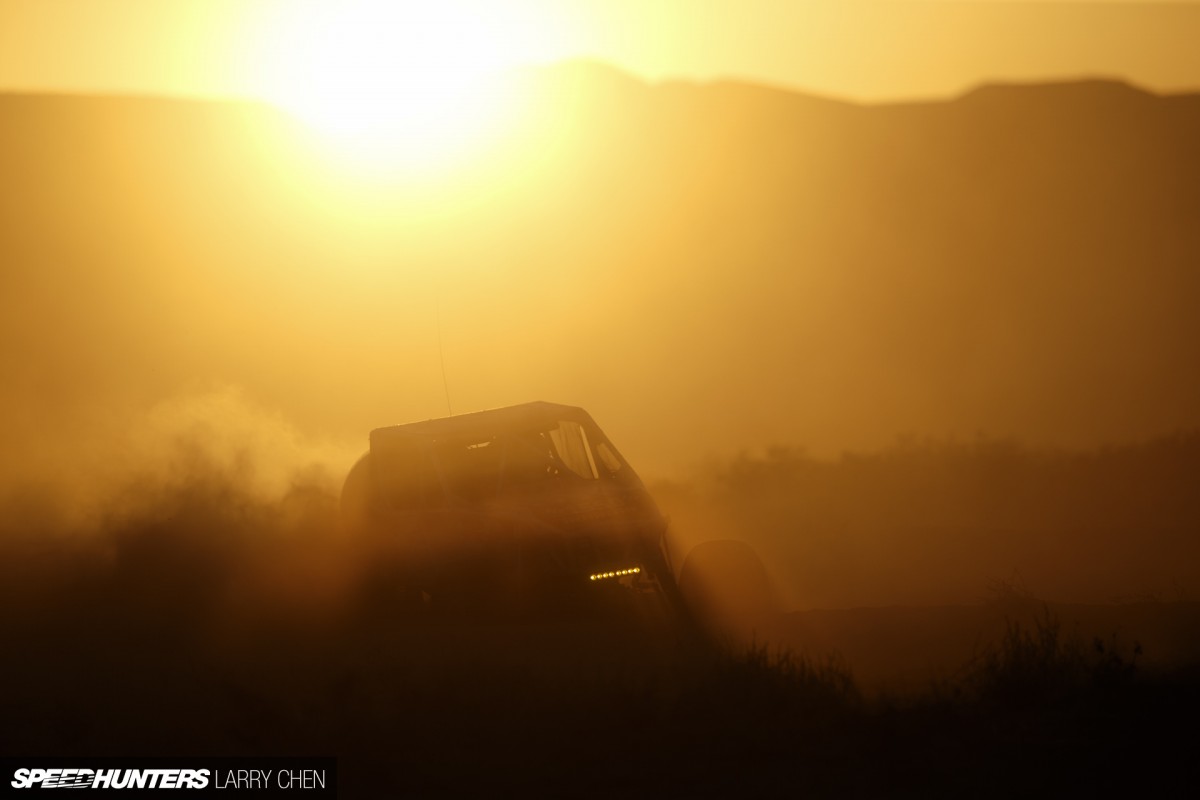 The sun was setting so I headed back to the start line area.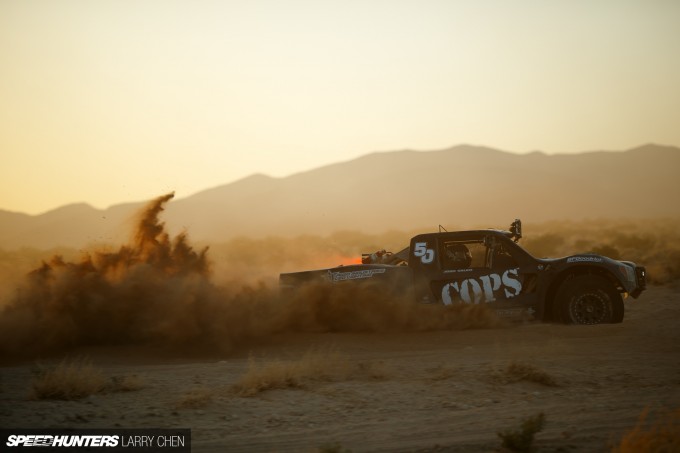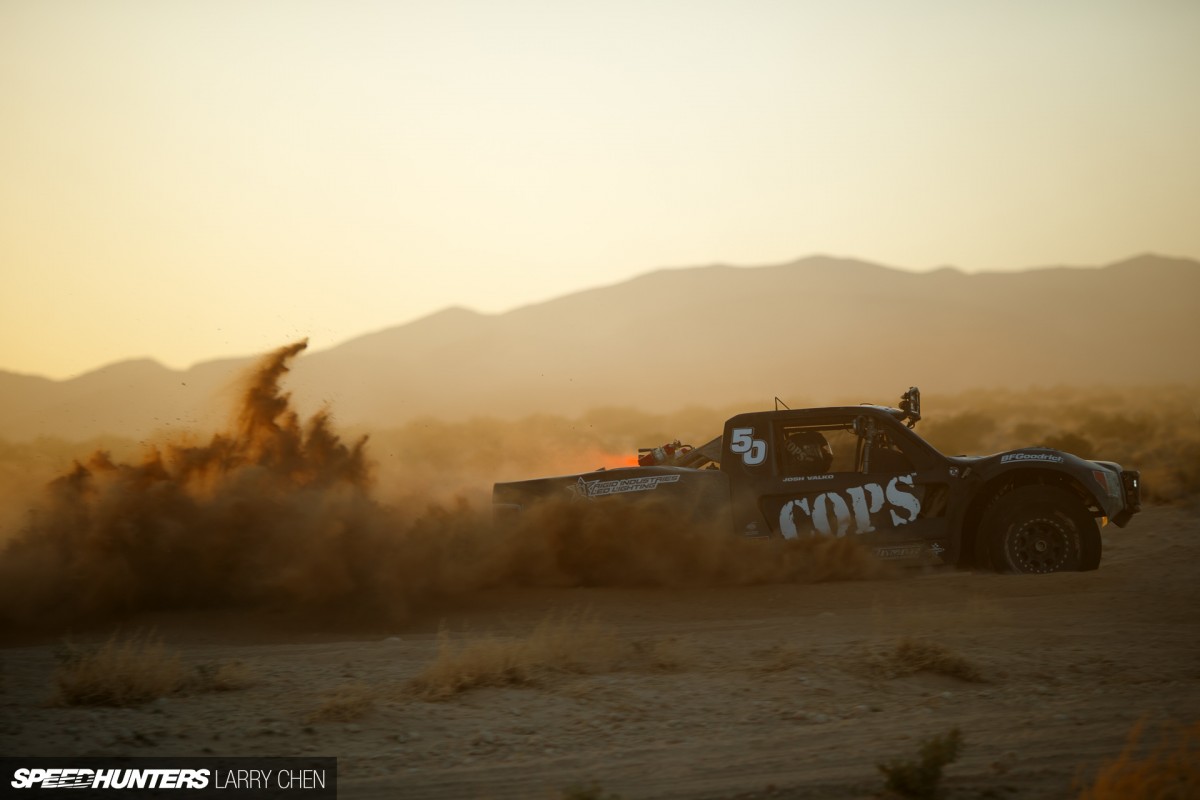 There I watched teams head off on their final lap.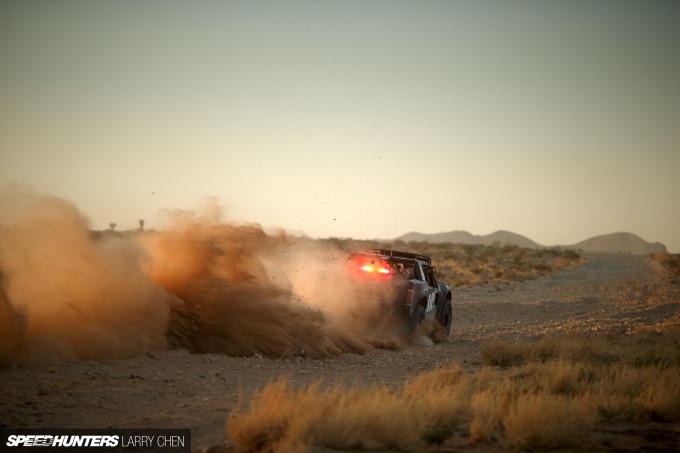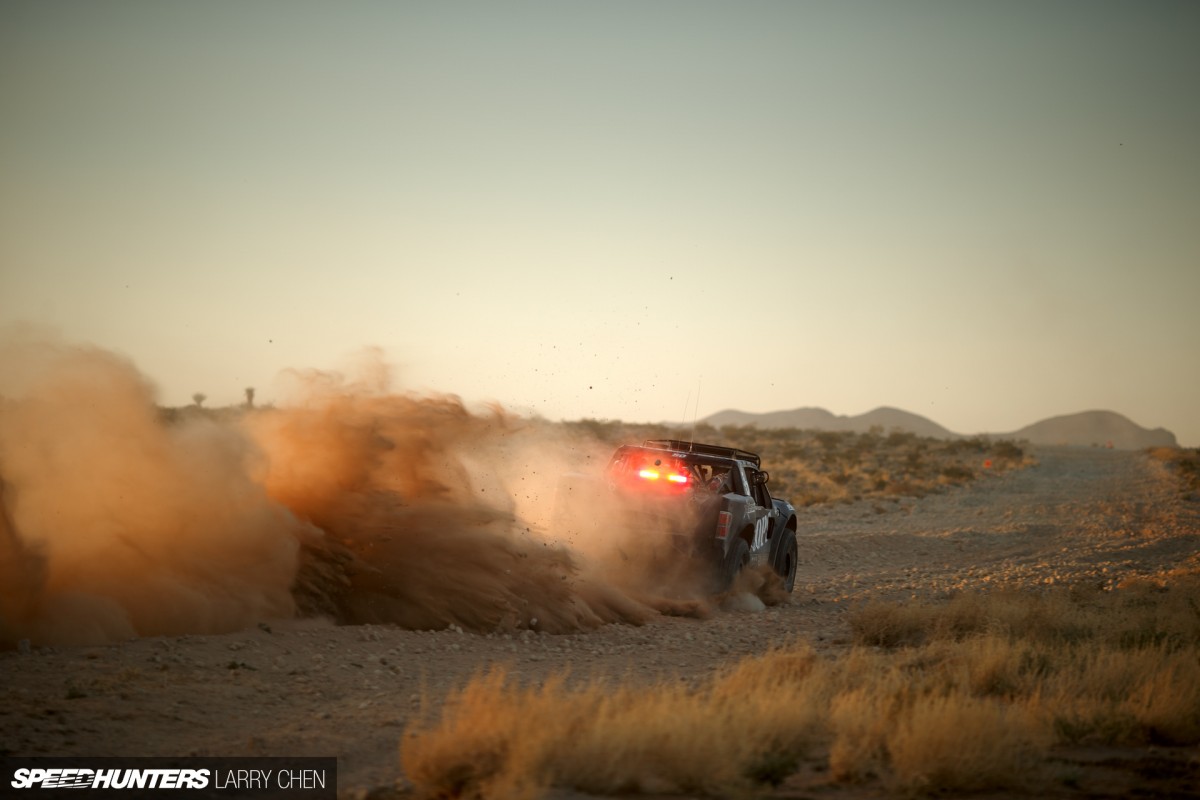 With light fading, everyone was going hard at it.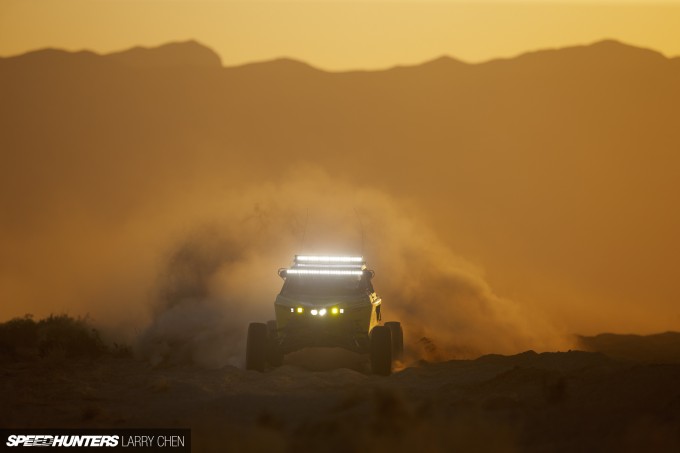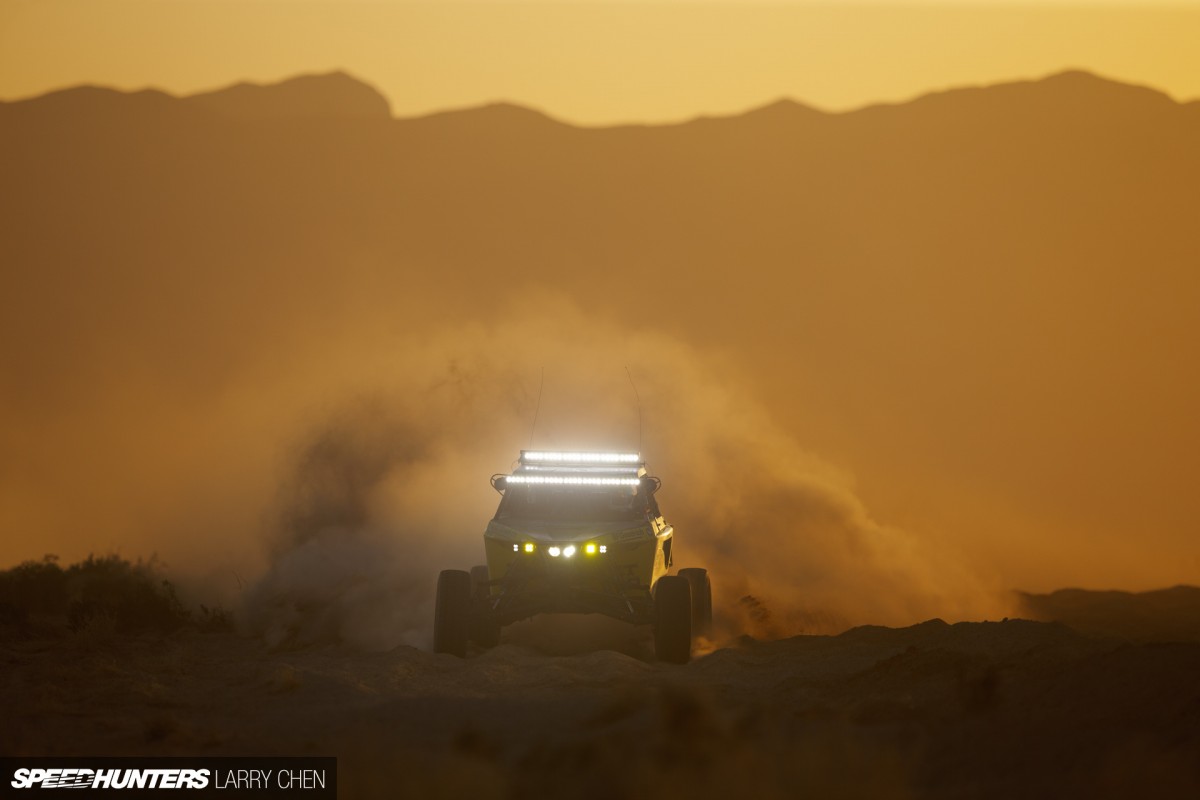 The sunset made for a beautiful spectacle. It's too bad the sun does not just hang there when the light is just right – like in Norway during the summer when you're treated to three golden hours every clear night.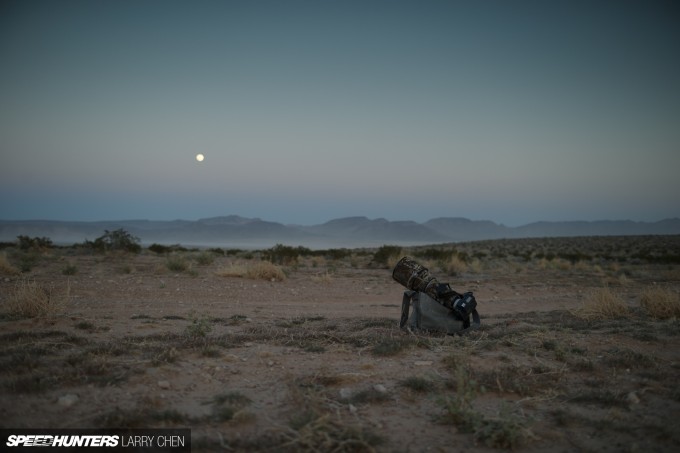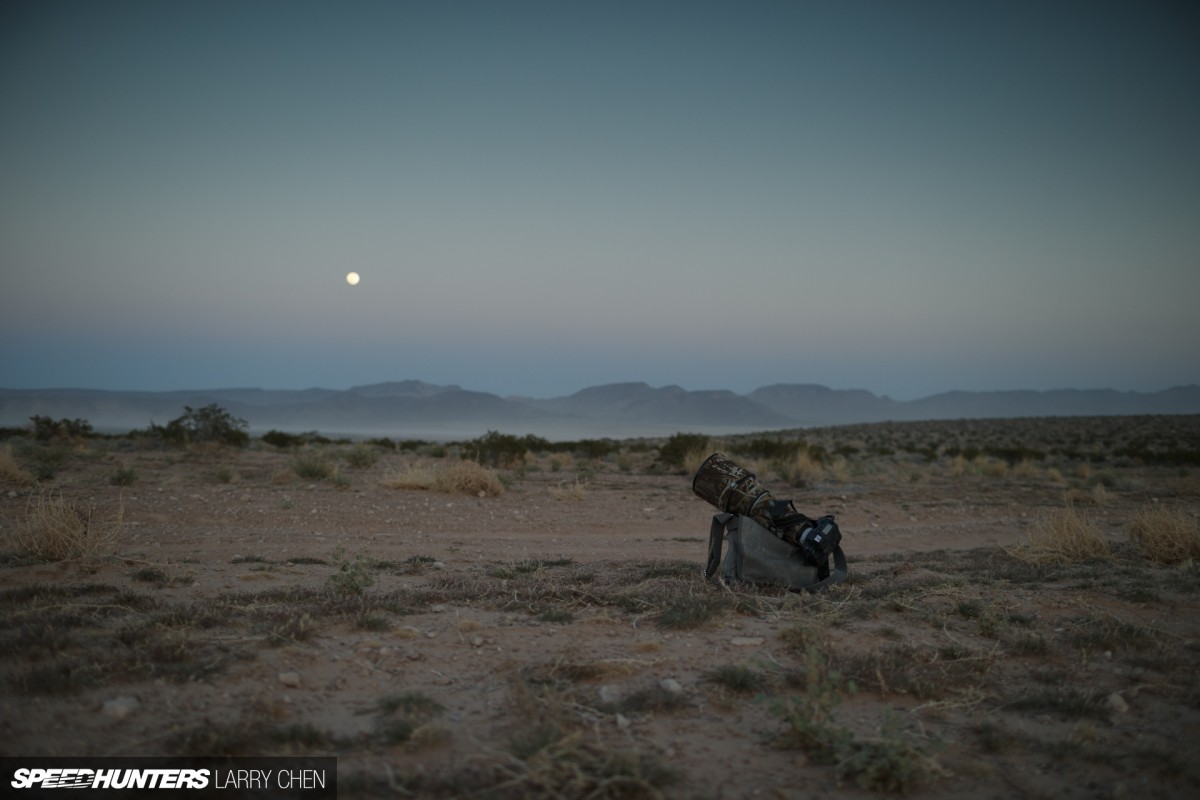 The moon rose up and the temperature rapidly dropped. It was deathly quiet. I thought the last of the cars had gone through when I heard the roar of a V8 far off in the distance.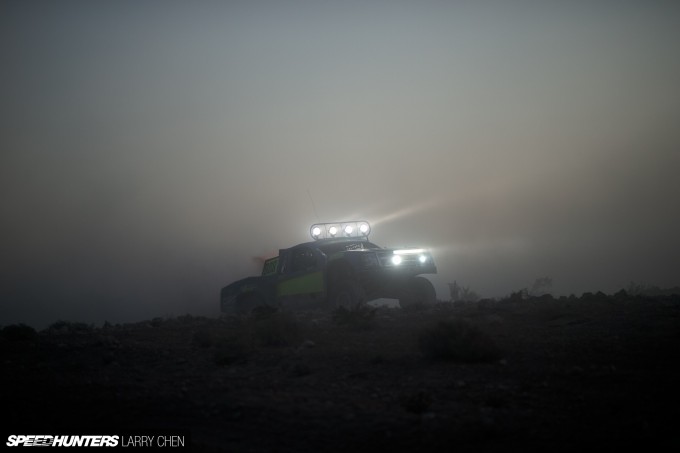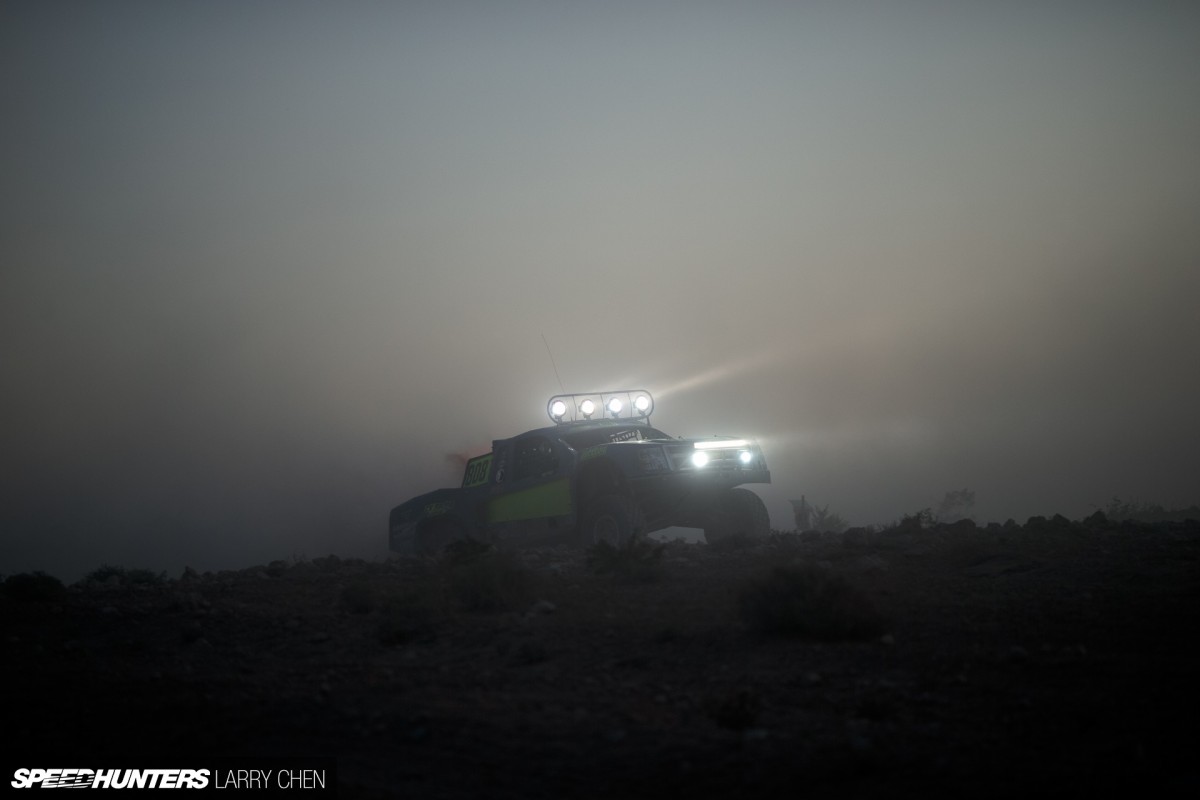 My friend and Formula Drift driver, Matt Field was competing in the Mint 400 for the first time, driving two out of the four laps. I hadn't seen his truck all day until he popped over the horizon in a blaze of glory.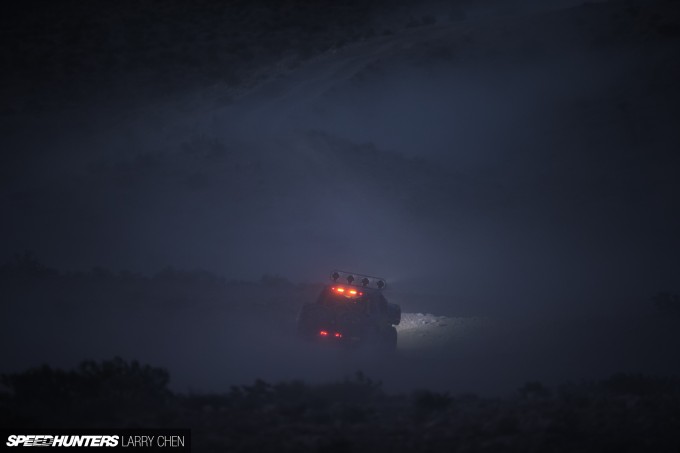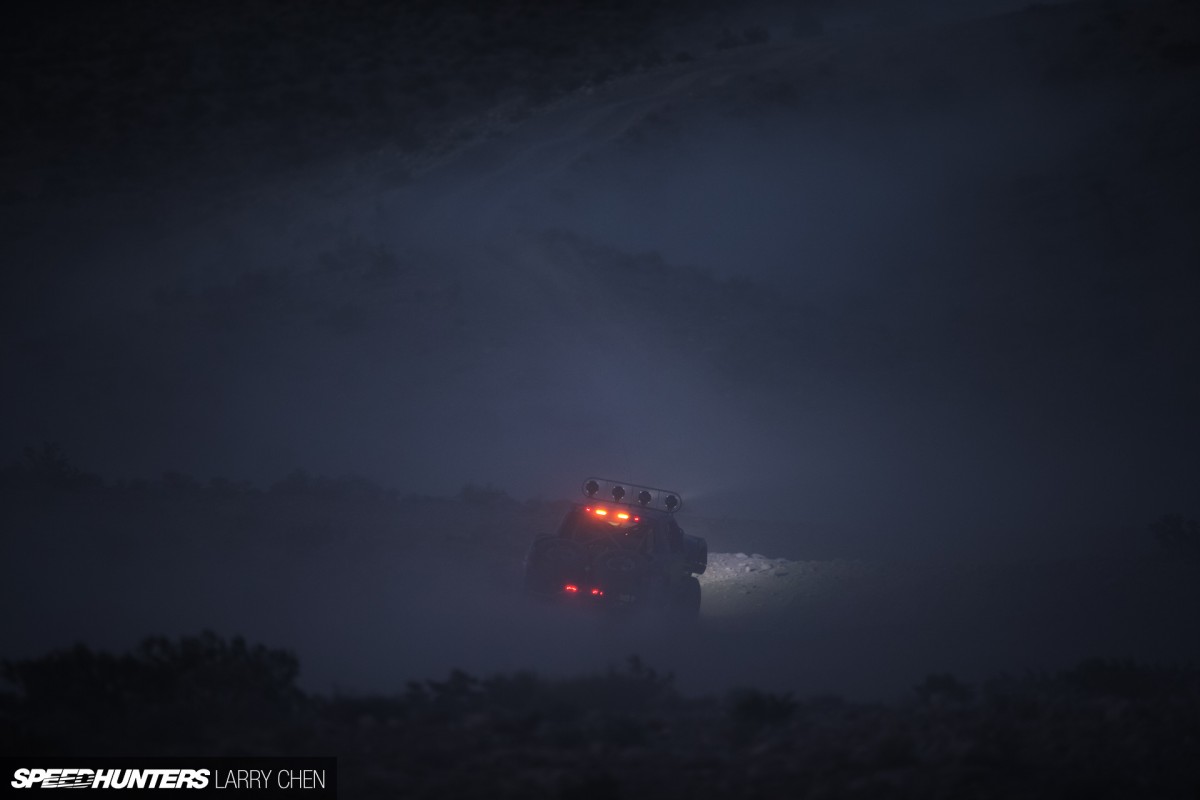 They ran fine for most of the day and only experienced a few minor issues. But in the end their alternator gave out, and the officials wouldn't let them start on their final lap because of the time cut-off.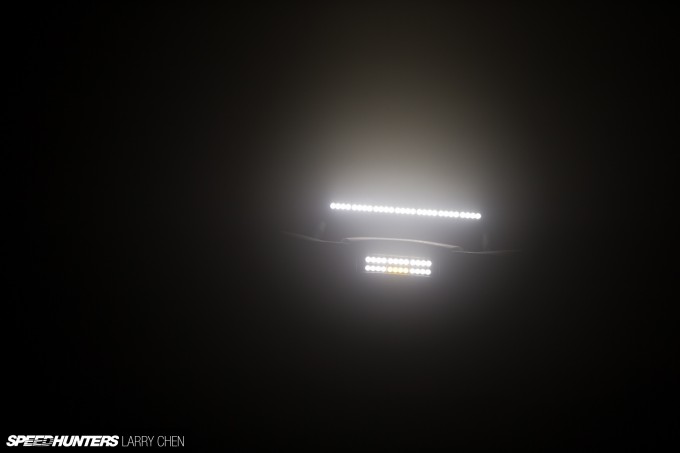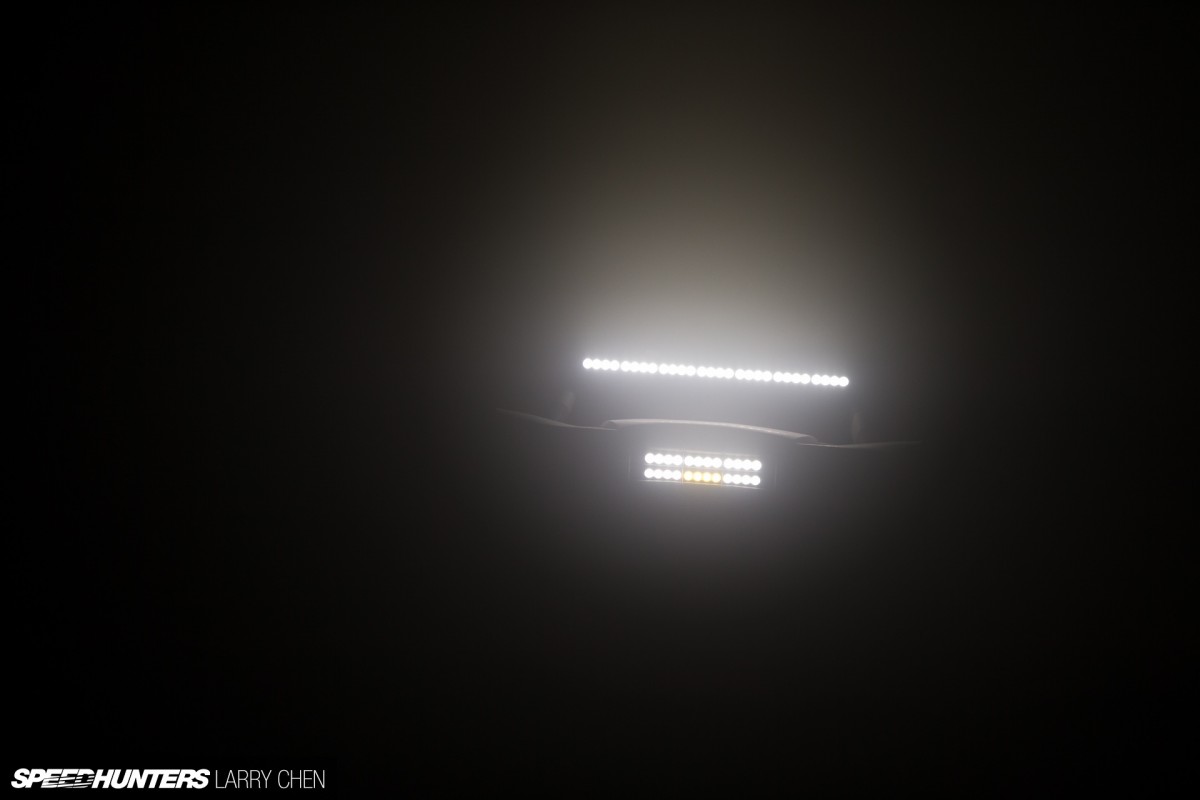 Pretty soon it was pitch black. If it were not for the full moon, you could not see more than a few steps ahead of you. I knew it was time to call it a day.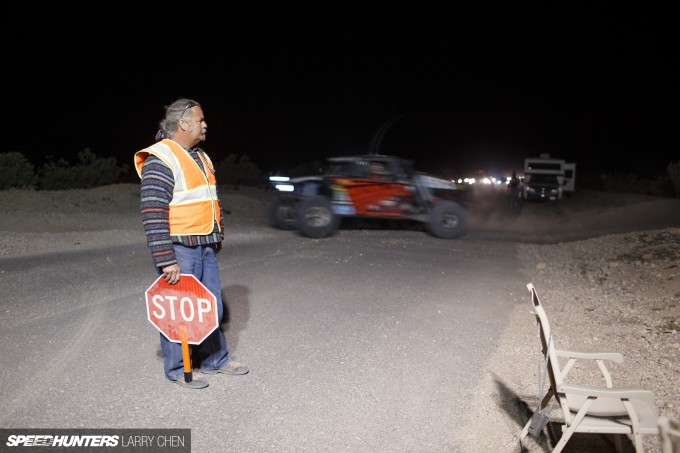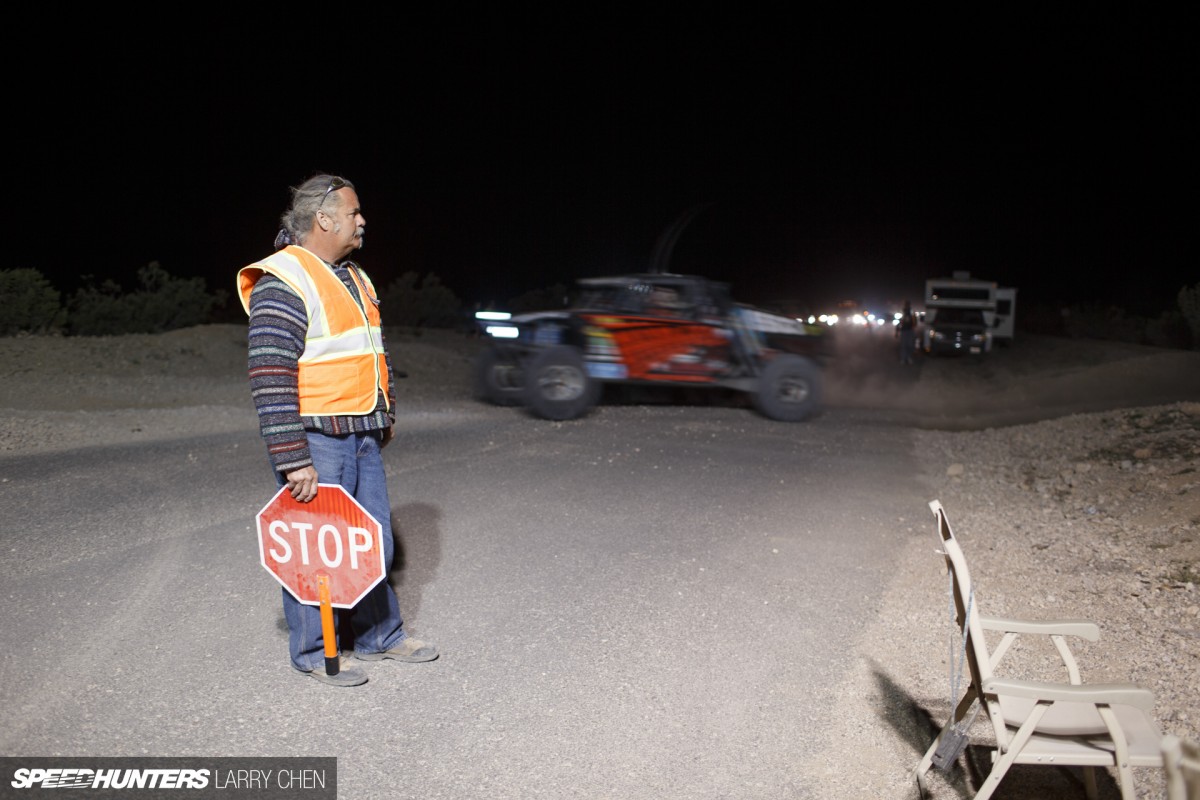 Before exiting we stopped at one of the race crossings where the track intersects the main road leaving the pits. It was already 9.00pm and drivers were still going hard at it.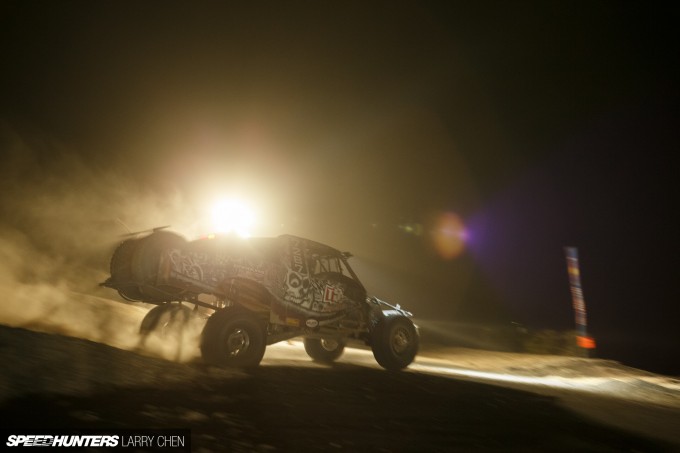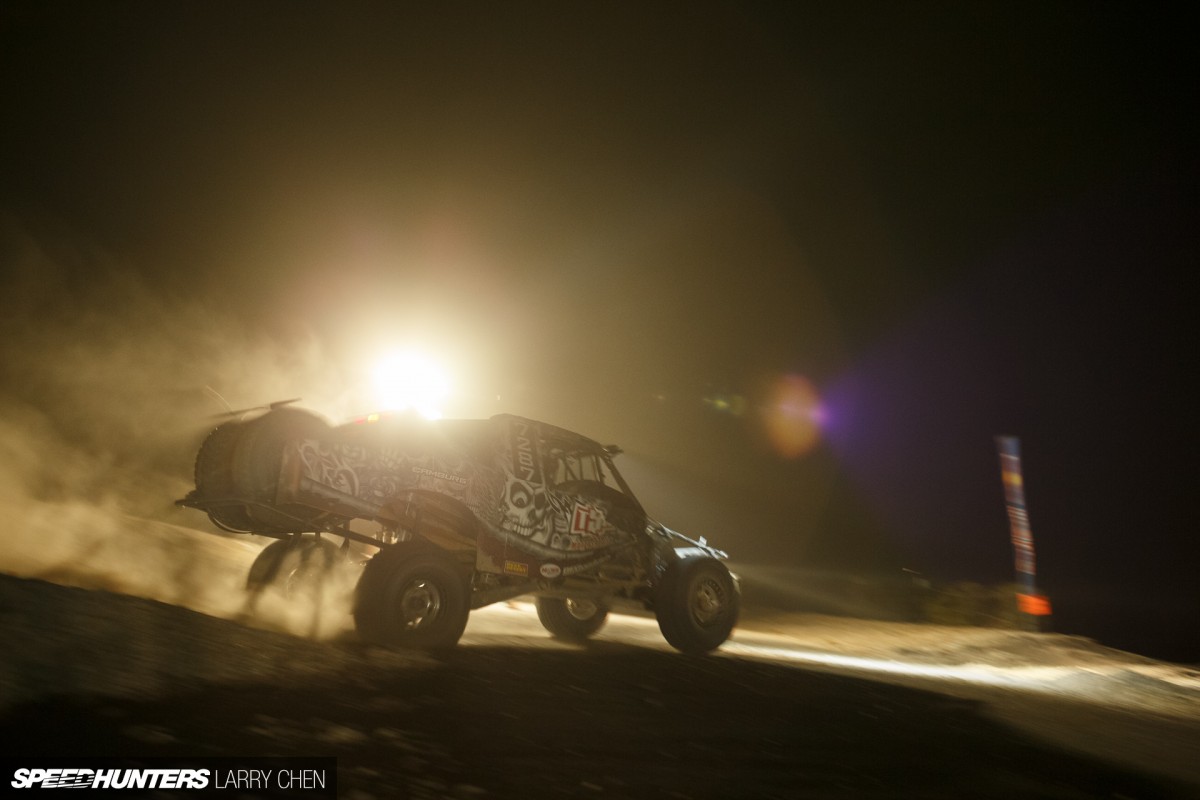 If there was not a cut-off time, I bet some teams would try to drive through the night into the morning just so they could say they finished. It's that sort of race.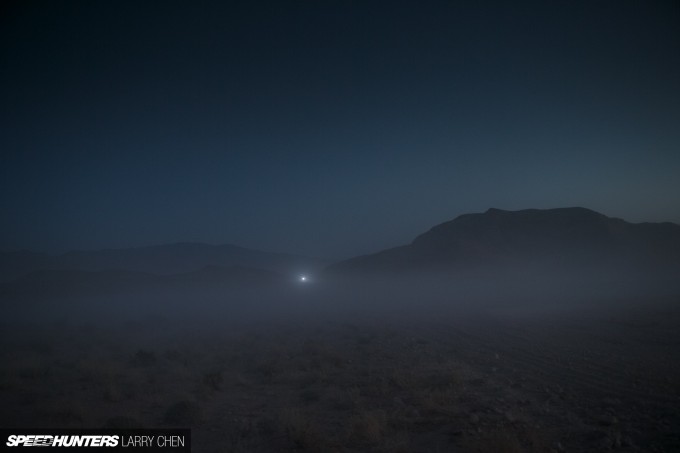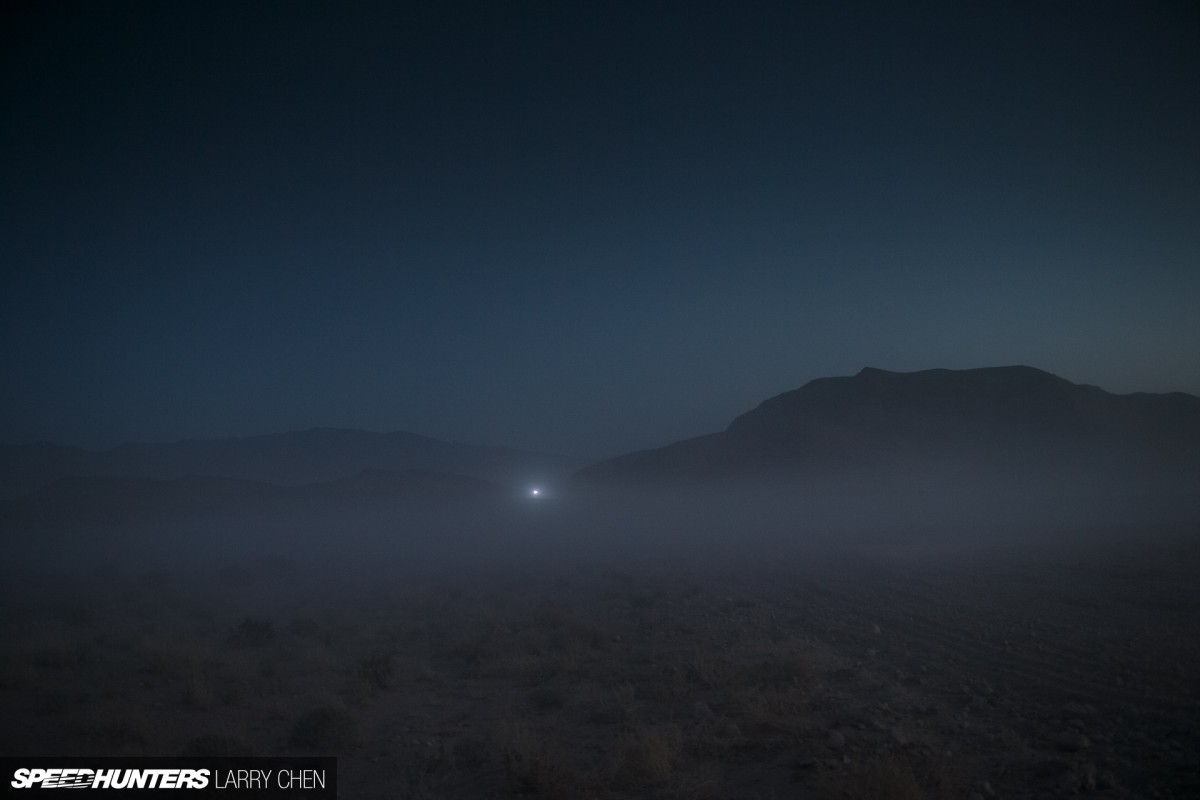 I am still very new to the world of off-road racing, but I absolutely loved every bit of the Mint 400. For the rest of the night I found myself picking tiny rocks and pebbles out of my hair, which made me think about how long I'm going to have to wait until I can experience something as awesome as this event again.. Maybe the Baja 1000 later this year? Dakar Rally? I can dream can't I…
Larry Chen
Instagram: larry_chen_foto
larry@speedhunters.com