Built, Not Bought
To regular readers, the somewhat lairy BMW E30 in front of you probably looks familiar.
That's because our illustrious leader, Mr. McGrath, ran a small spotlight on it from this year's Players Classic back in June. The car was tucked away in the Goodwood paddock, surrounded by onlookers and other cars, and while Paddy was able to give us a tantalising glimpse of the car, we all felt that it needed a more in depth look.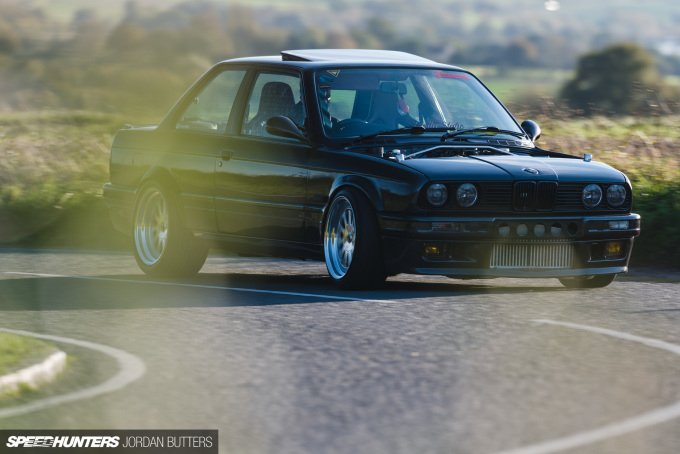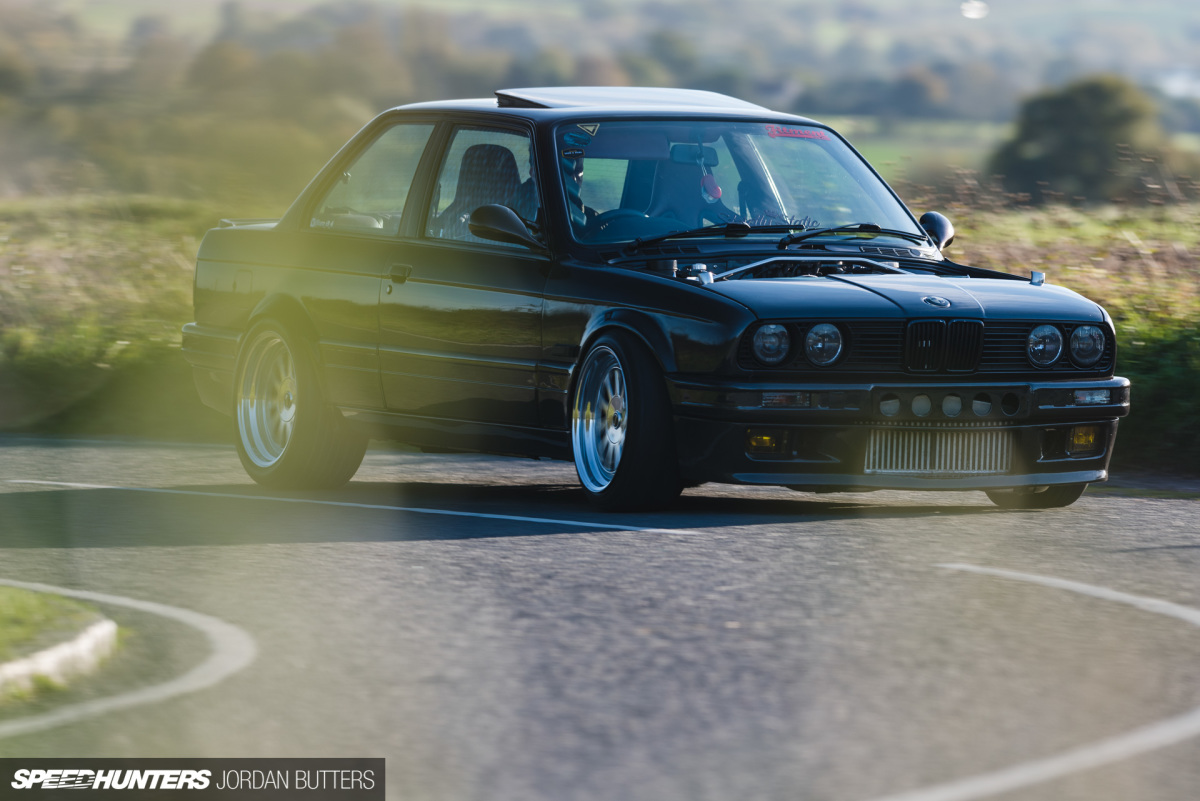 As luck would have it, it turned out that the E30's owner and builder, Ross Bradley, lives in rural Cambridgeshire, just a few miles down the road from me. Given that, it made sense to head down to his workshop and take a proper look at the BMW he refers to as the 'Widow Maker'.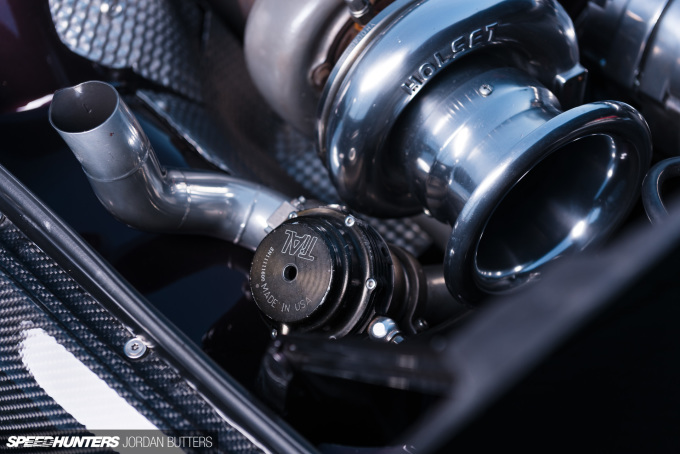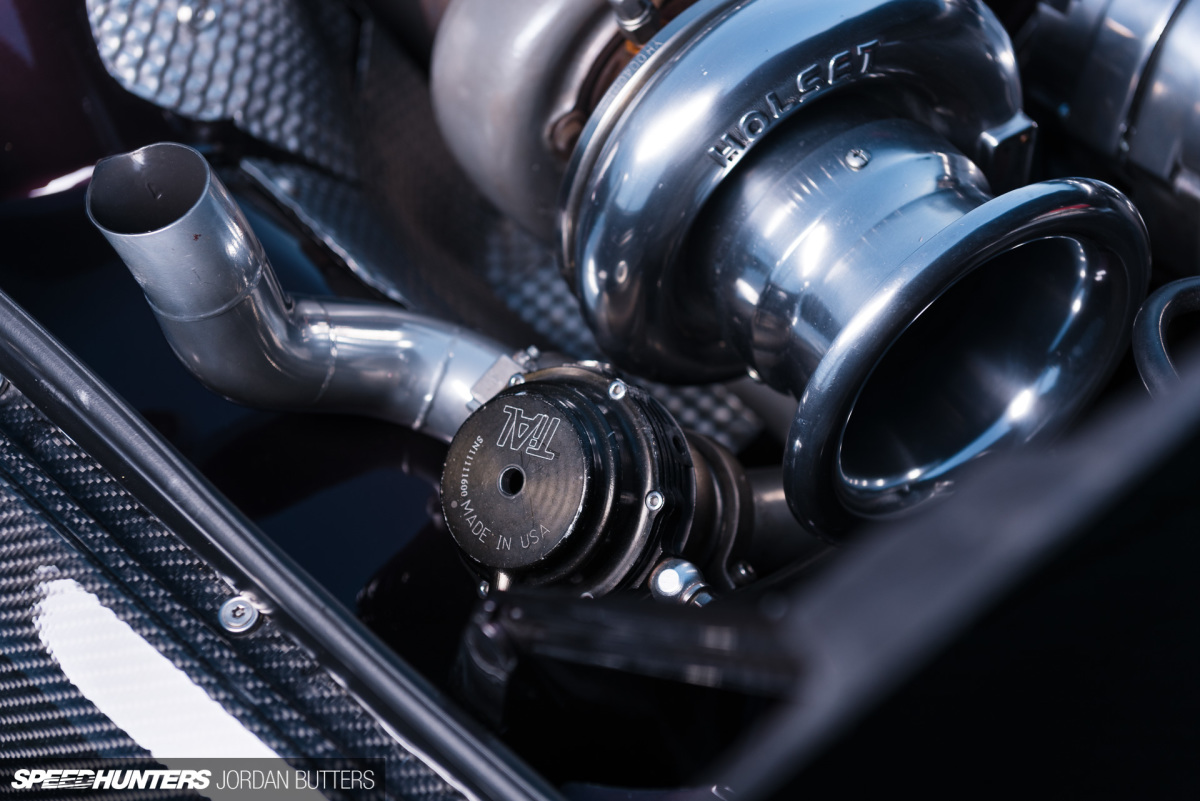 Ross is a hands-on guy, and one unswayed by what people think or say should be done to his car. And with a background in engineering, he's put his skillset to good use with the BMW in front of you. In fact, he's pretty much built the thing from the ground up entirely by himself, to a specification and level that he wanted to.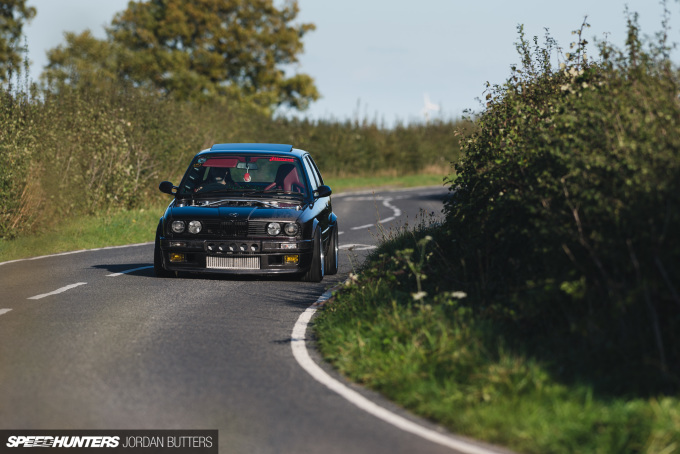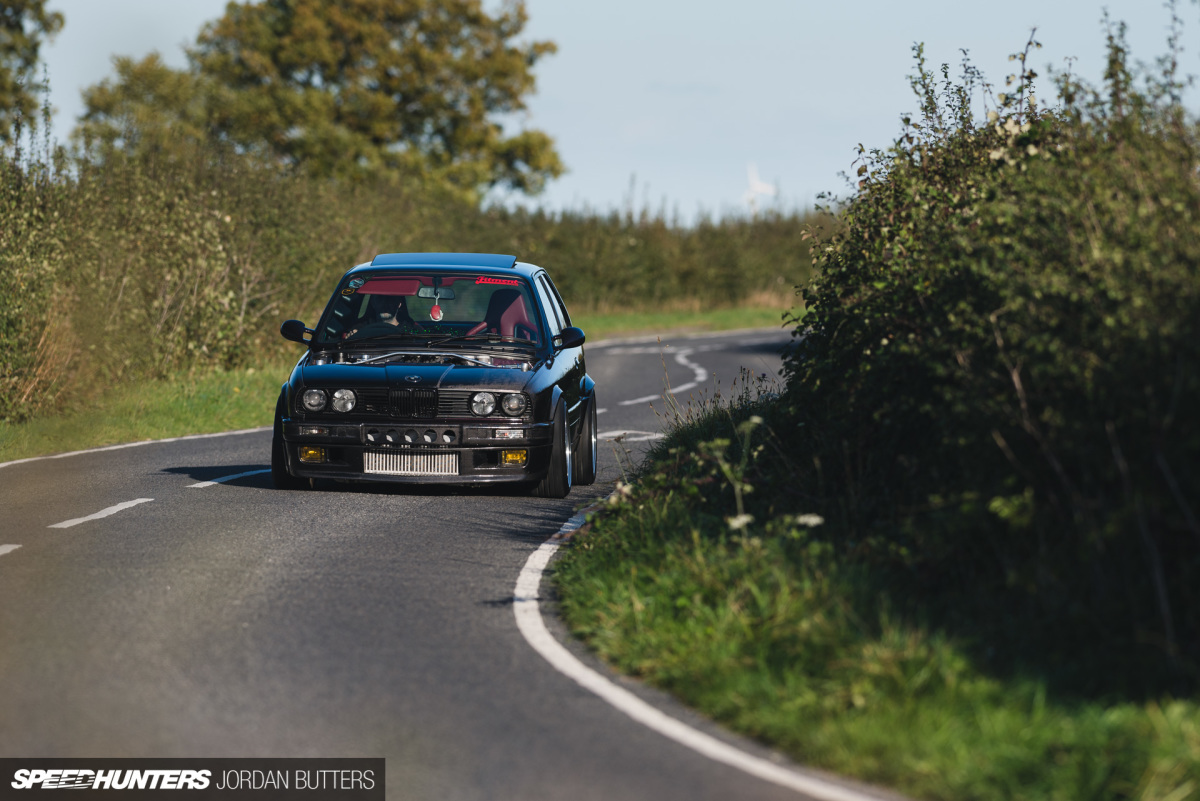 As with many real-world, homemade builds, Ross's E30 has gone through endless changes over the years, and continues to evolve significantly every time I see it. Perhaps that's what makes this BMW so relatable?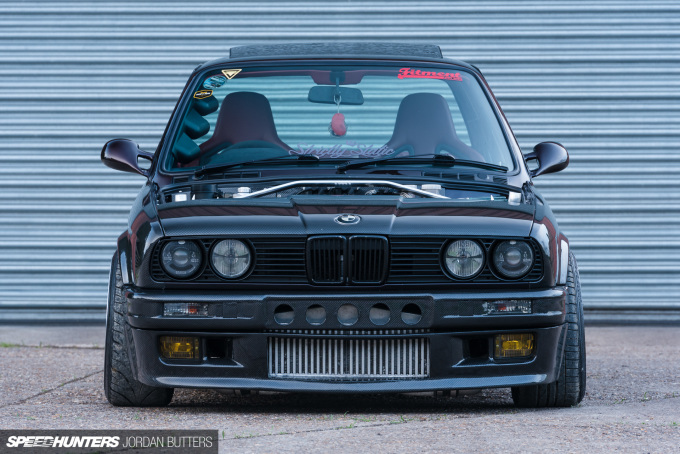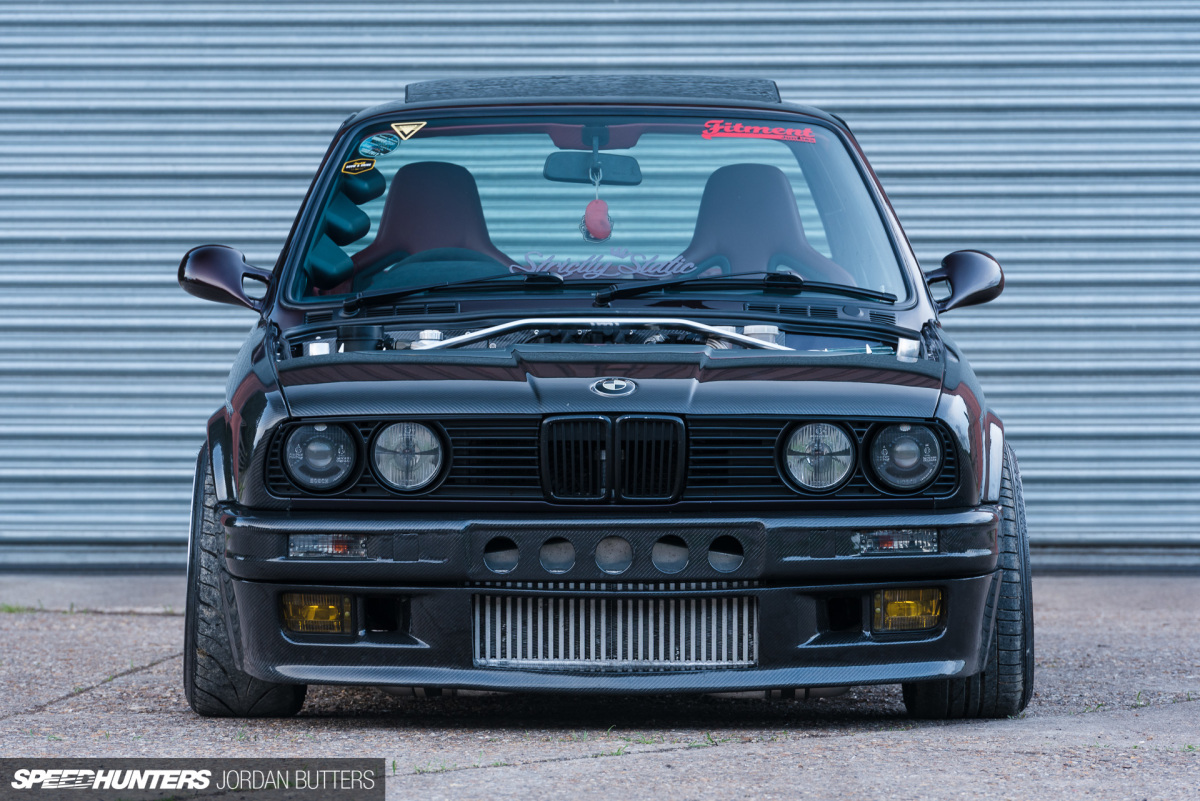 It's not an open checkbook build that's transformed overnight to meet a show deadline or to appease sponsors, but rather an ongoing evolution. Changes are made based on Ross either wanting to improve parts of the car, in the name of overcoming a problem, or simply because of circumstance.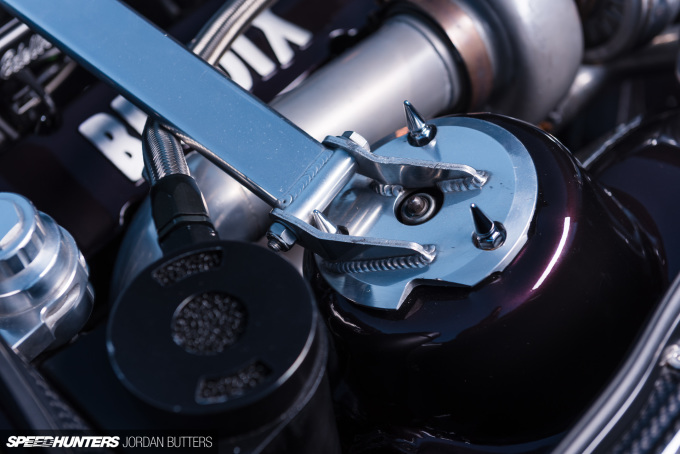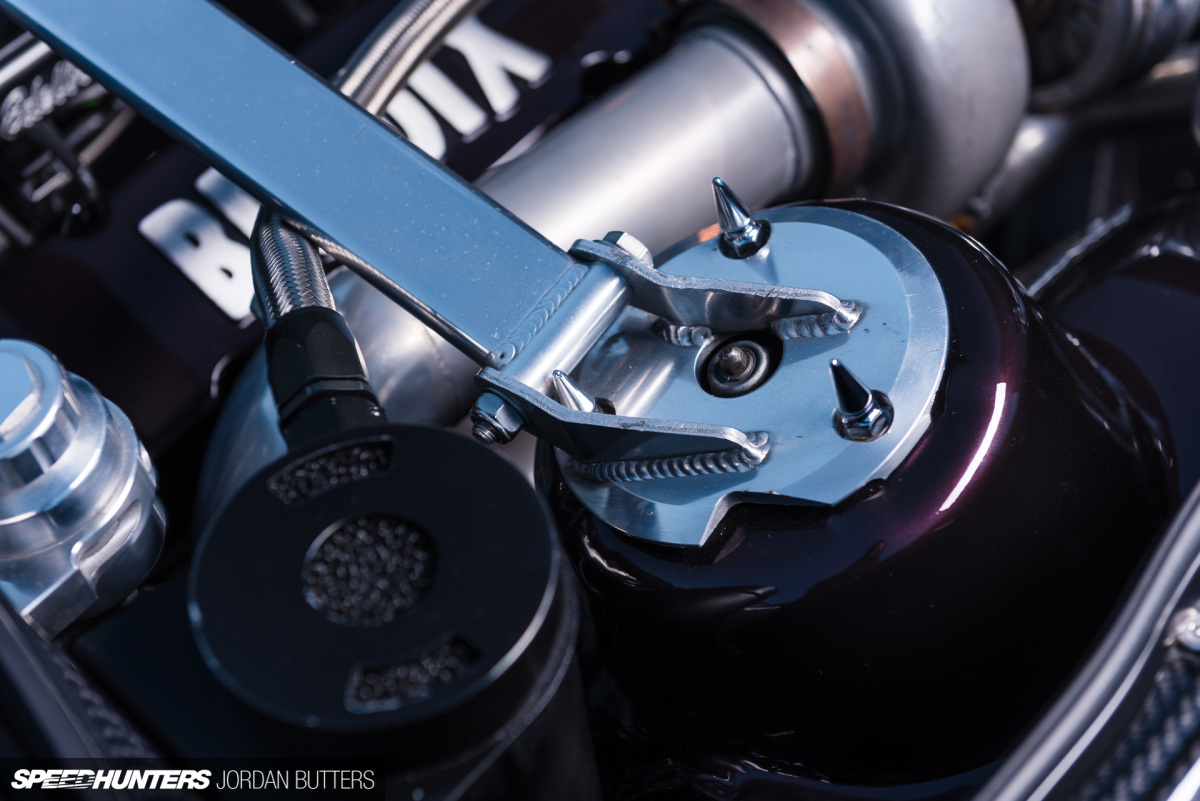 Oh, and occasionally because I get the impression that Ross always seems to need to be doing 'something' to the E30. He just can't stop tinkering with it.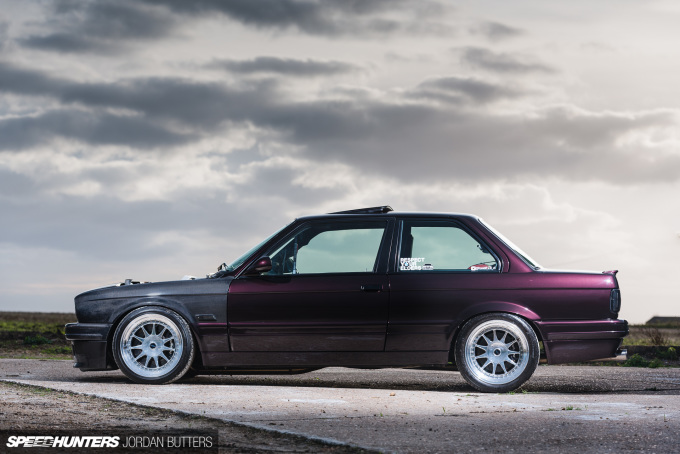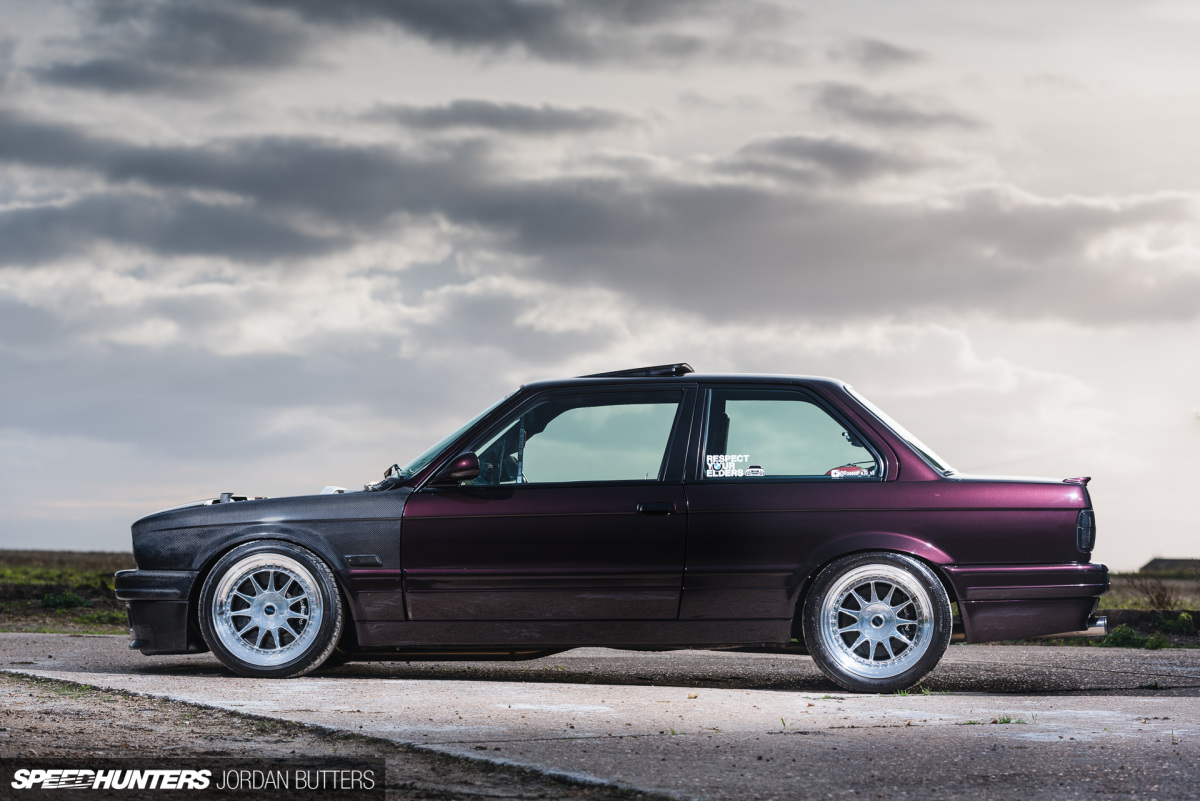 It wasn't always this way, though. The E30 was Ross's daily runaround for several years and for much of this time it remained pretty standard in appearance. Actually, rewind a bit further and Ross's love affair with the little E30 started when he used to drive past it everyday on the way to work. "It was a Lach Silver 320i with moss growing up the sides. I ended up buying it from the guy for peanuts. When I got it home, changed the plugs and put fresh fuel in and it fired up first time," Ross explains.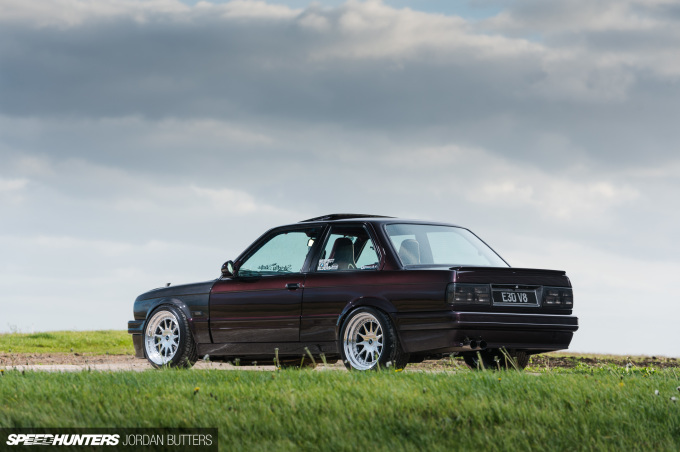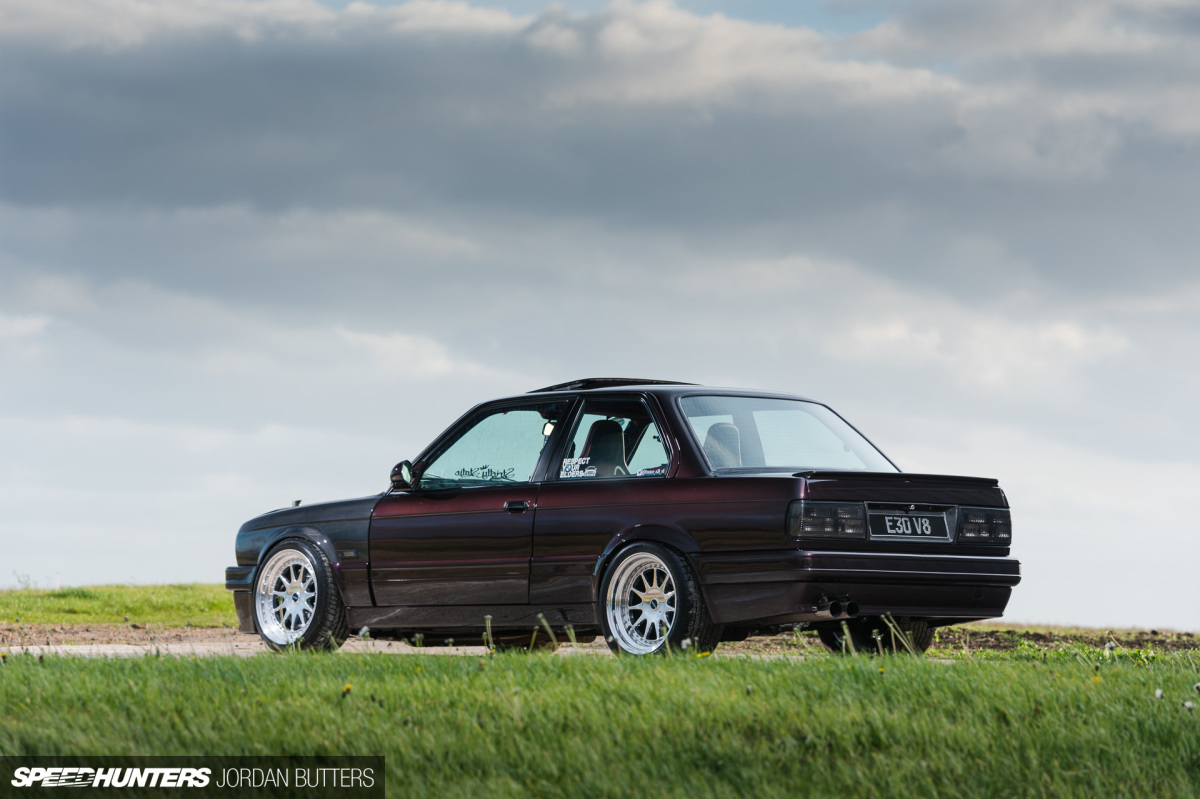 After a few years of enjoying the 2.0-litre M20, Ross decided that the car needed a freshen up, so he took it off the road and started stripping it down. To say the overhaul was comprehensive is an understatement; everything that could be removed, stripped, cleaned, and painted or polished, was.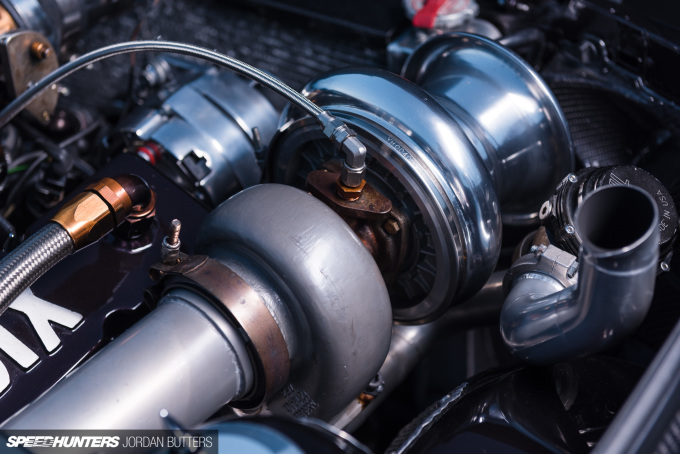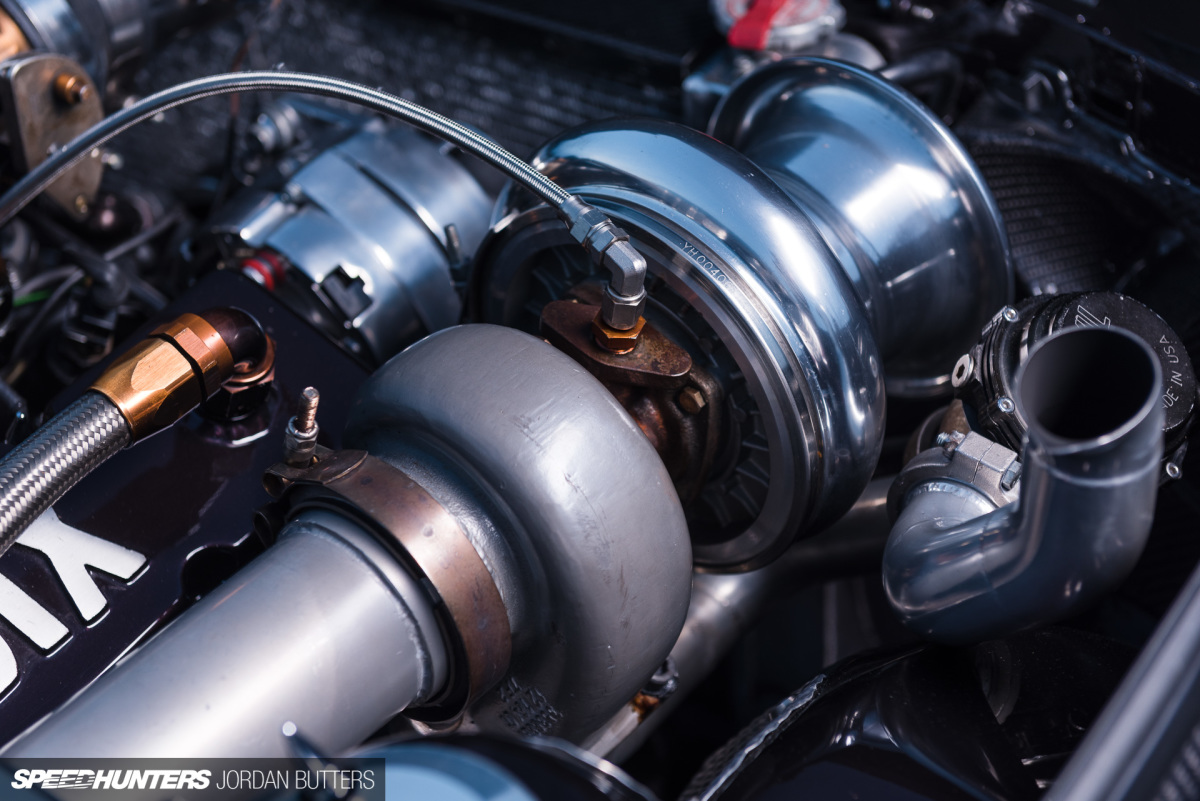 There are brackets on this car that you'll never see which have more love and attention spent on them than entire cars I've owned.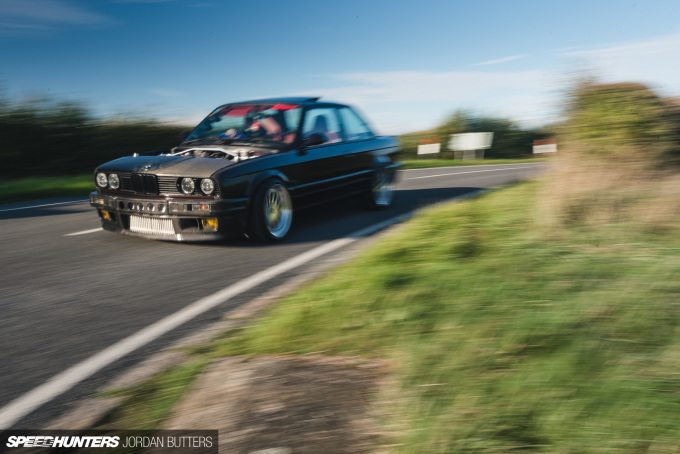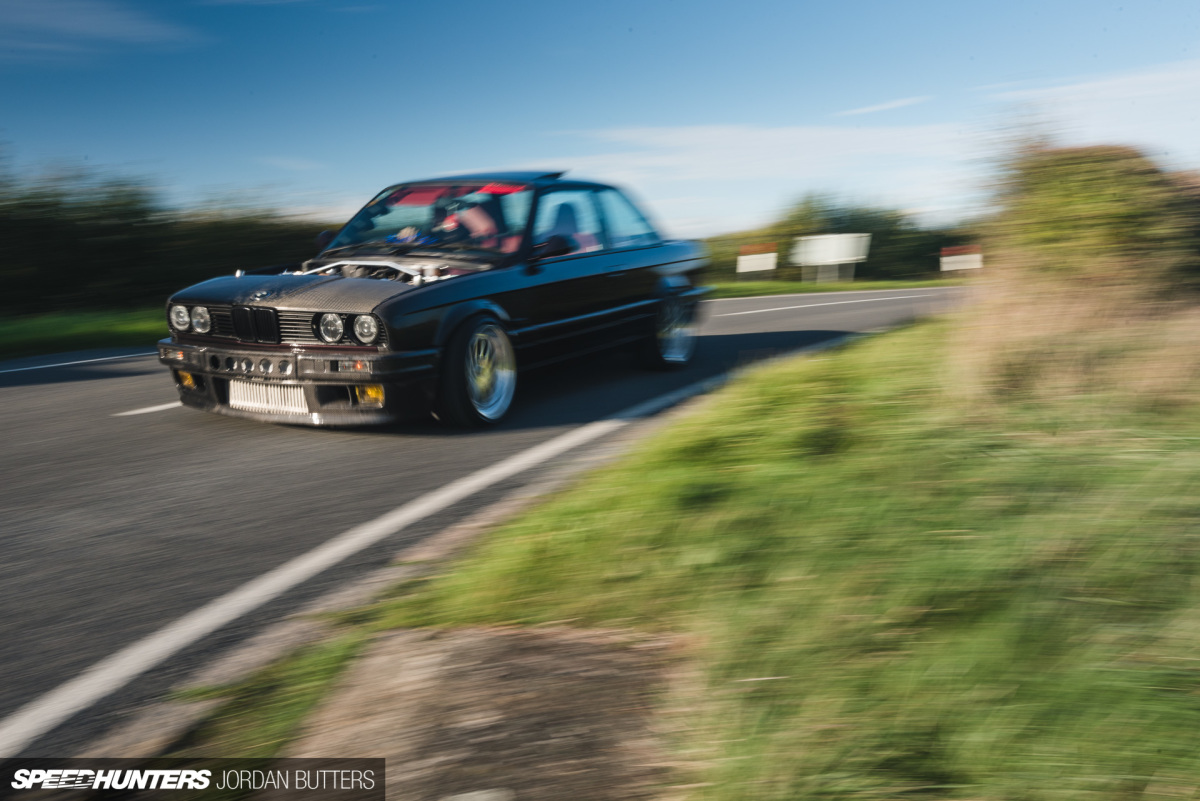 By the time it was put back together it was rocking a turbocharged and forged M20 lump to the tune of around 450hp, and did so for the next three years. But engine issues and Ross's incessant need to experiment got the better of him, and the E30 entered the next phase of its transformation.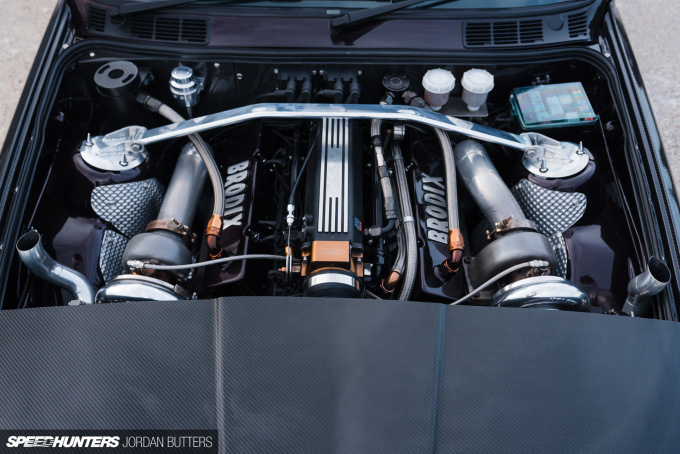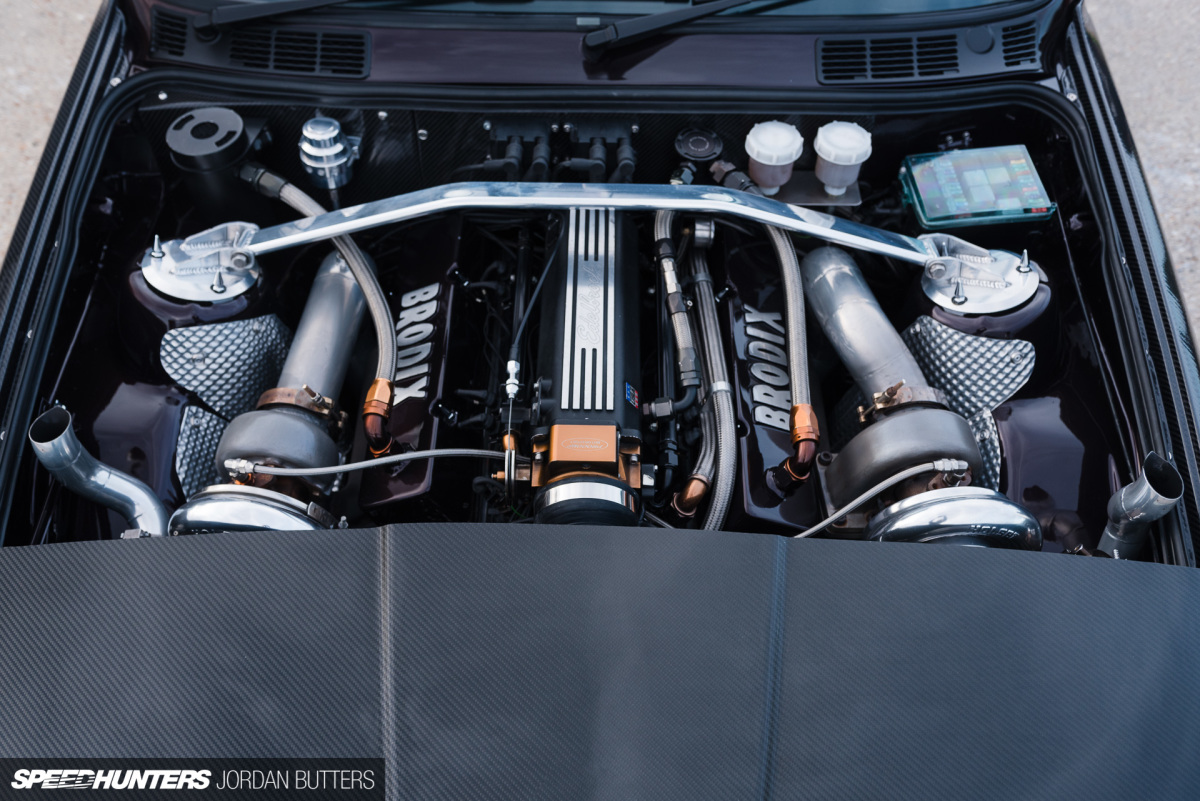 Where we're going, we're going to need more cylinders.
Be A Part Of The Solution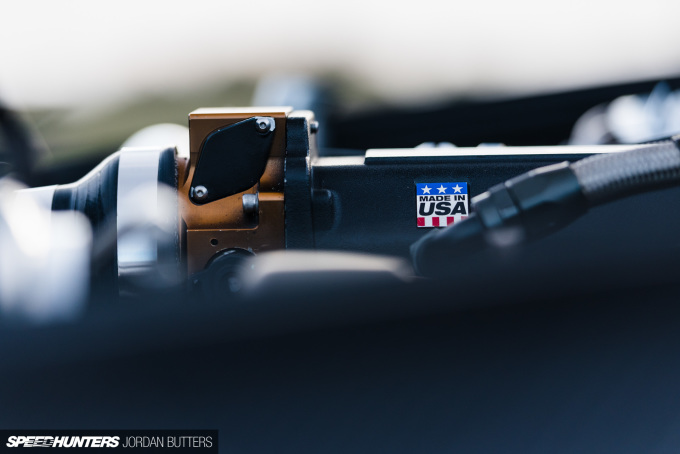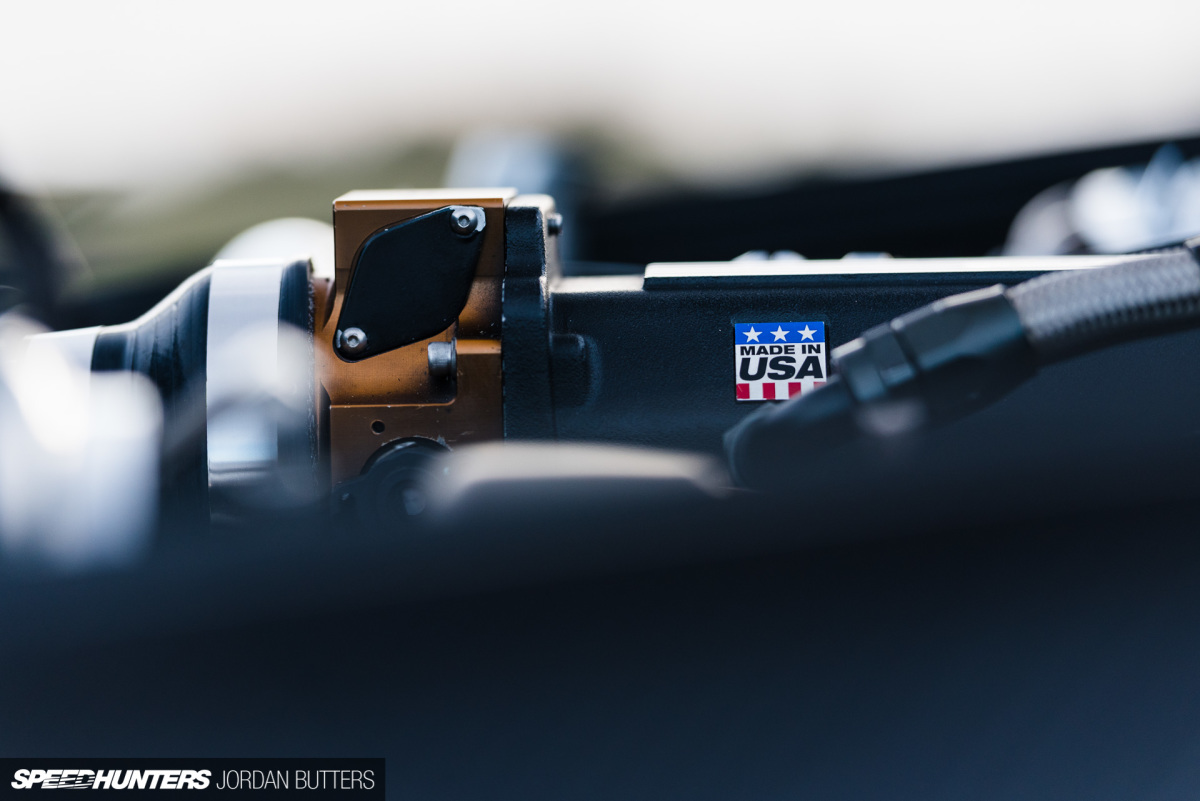 Rather than opt for the traditional choice of swapping in das BMW V8, Ross looked to the US of A for inspiration. "I'll have 5.7-litres of freedom, please," is what he might have said.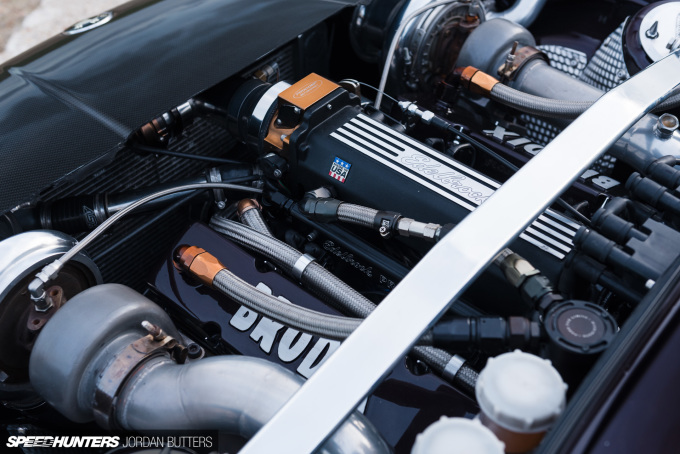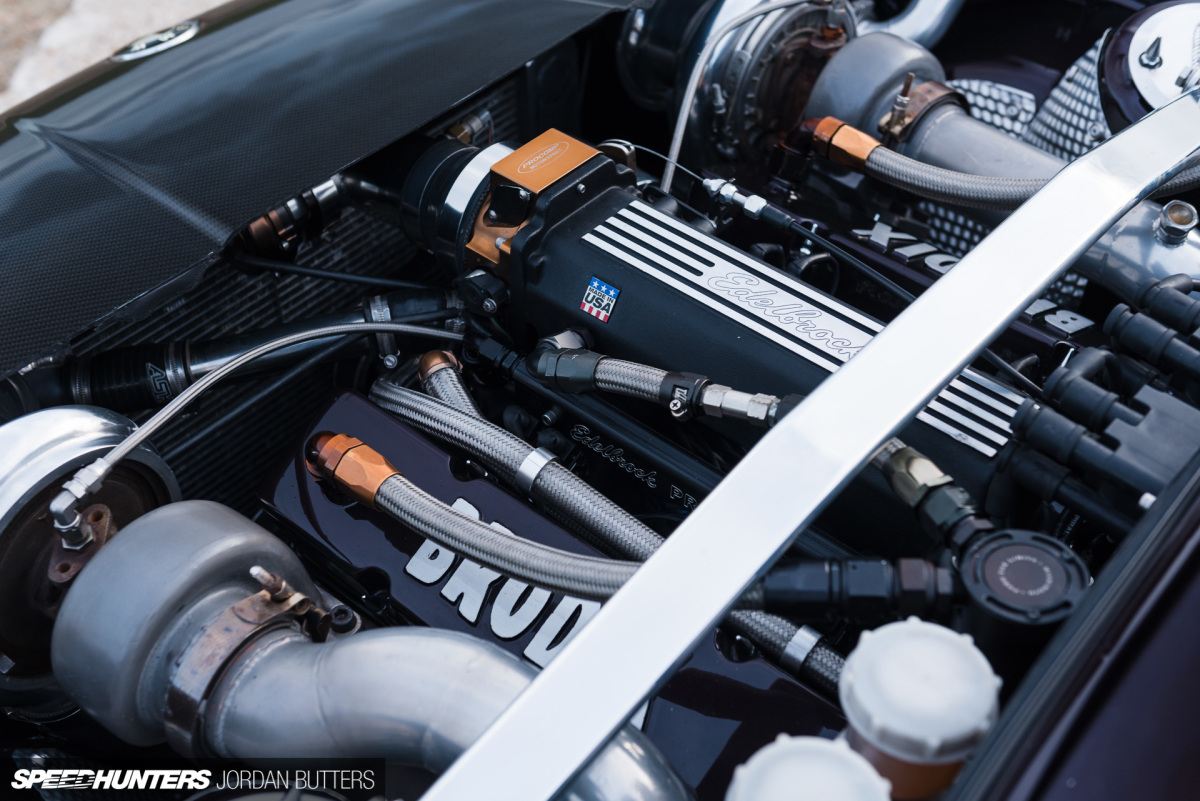 Brought up on American hot rods and drag racing, Ross opted for an older iron block 1977 350ci small block Chevy motor. With decades of tuning knowledge out there, as well as parts readily available, it was an unusual, but savvy choice.
The motor itself would've been a plentiful powerplant in the little BMW, after all, Ross did all the work himself, reboring it to 5.82-litres and rebuilding it with fully forged internals, aluminium heads, billet roller rockers, stainless valves and titanium retainers – you name it. I could reel off the full internal shopping list here but you'll find it down at the bottom instead.
Things didn't stop there, either.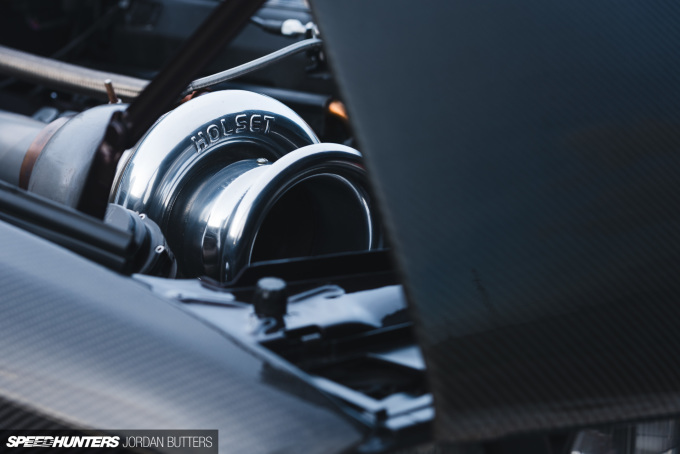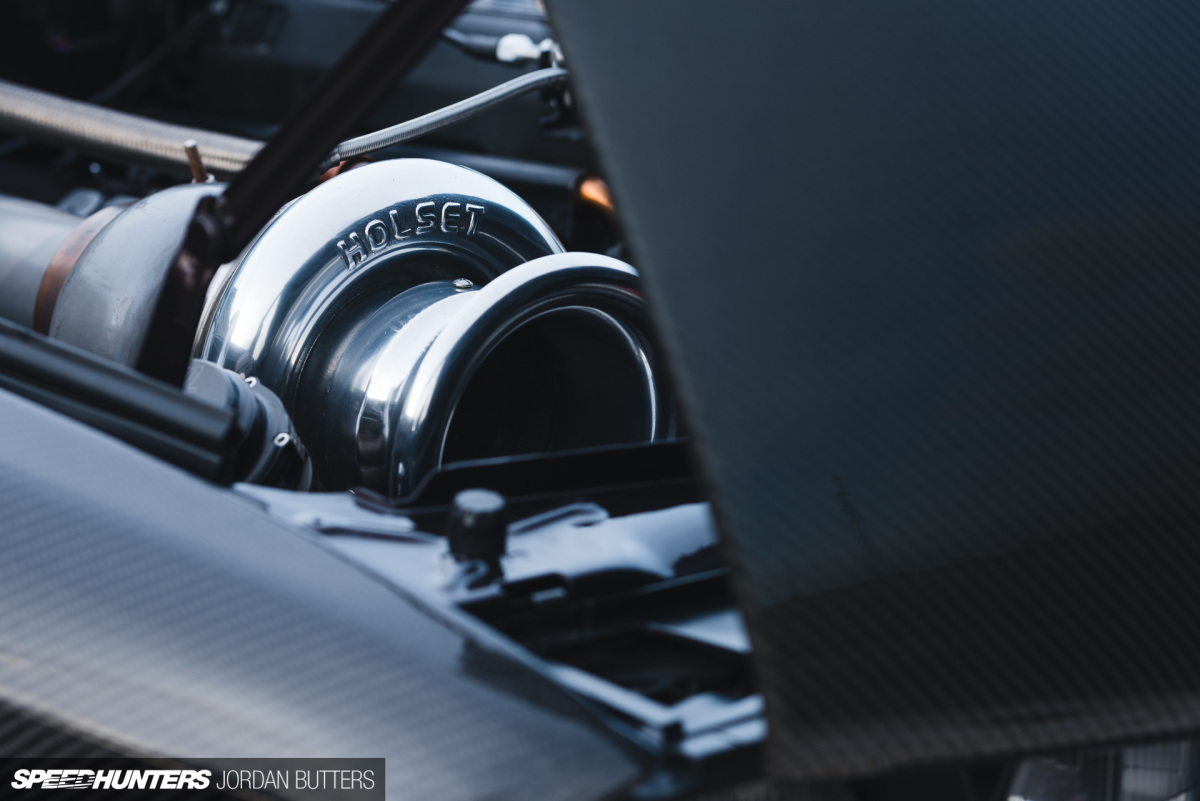 Taking up what little valuable engine bay space is left are a pair of huge polished Holset HX35 turbos. I resisted the urge to place my fist inside the compressor inlet for scale, but I could if I'd wanted, and it would've left ample room. It also would've been a futile display as I could have tiny child-like, or giant monster-sized fists for all you know. I digress.
The entire setup was fabricated and plumbed in by Ross himself over countless hours in his workshop. The space confines meant that finding an intercooler that would not only do the job, but also fit the cramped engine bay was a challenge, but one that Ross overcame by customising an off-the-shelf item, turning the end tank and pipework around to meet up with the Edelbrock inlet.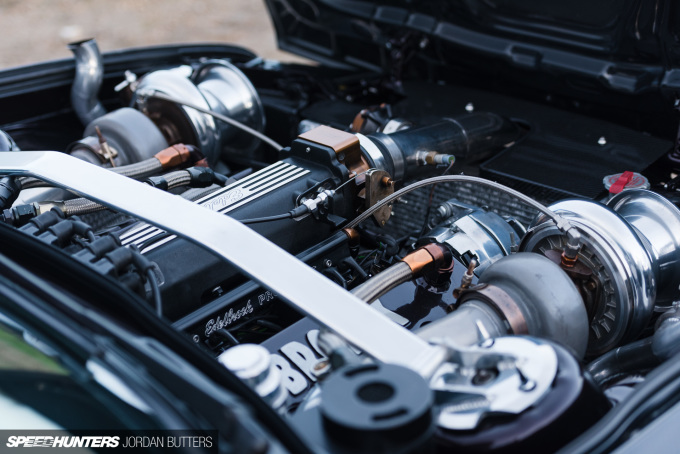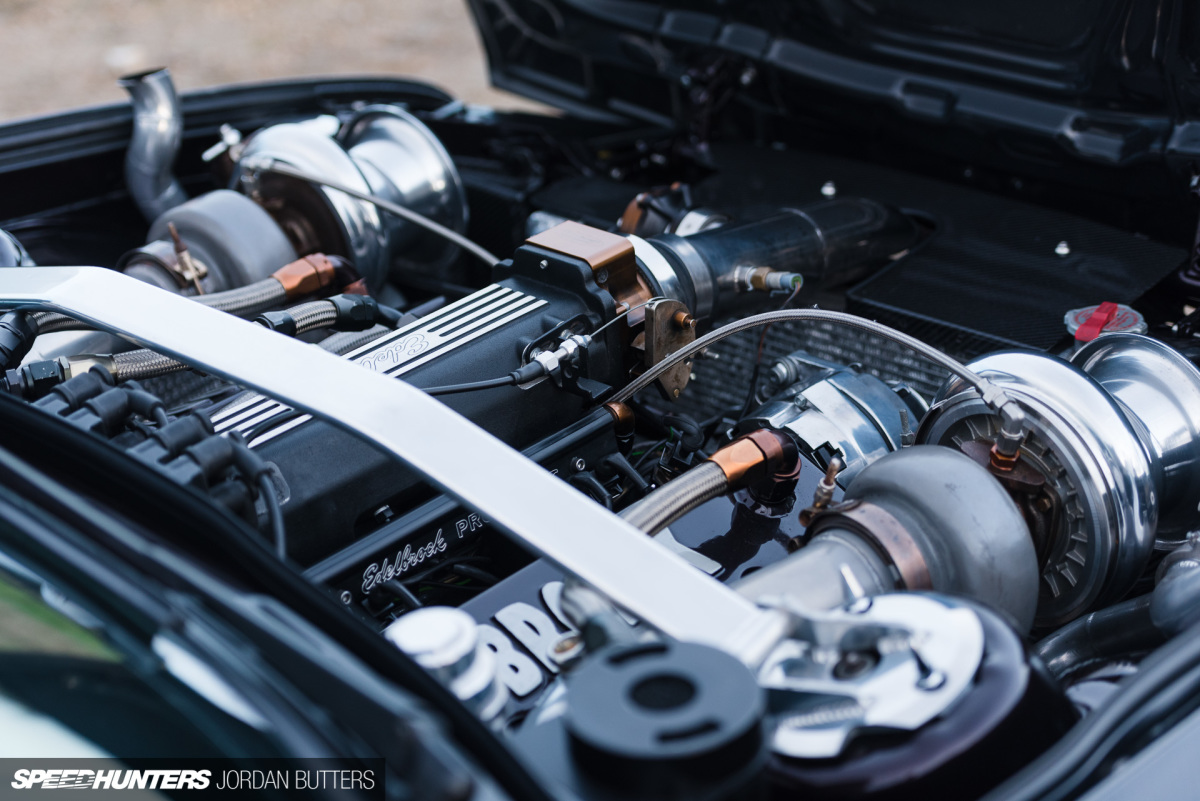 While the parts needed to strengthen and tune the Chevy block were readily available form the States, putting this motor in an E30 is pretty much unheard of, especially here in the UK, so Ross had to fabricate everything from the exhaust to the engine mounts himself. The engine bay alone is a textbook in problem solving, and that's before you follow the drivetrain rearward to find out what else has been done, such as the Toyota Supra MkIII R154 manual gearbox that Ross has – somehow – managed to fit within the E30's diminutive transmission tunnel. I suspect some careful massaging with a large hammer played a part.
Of course, the gearbox has been fettled internally too – there's a theme forming here. Ross refreshed the bearings and added chromoly thrust washers, a solid billet bearing retainer, and billet selector forks as well as a stage four cerametallic paddle clutch, modified to mate to both Chevy flywheel and Toyota transmission.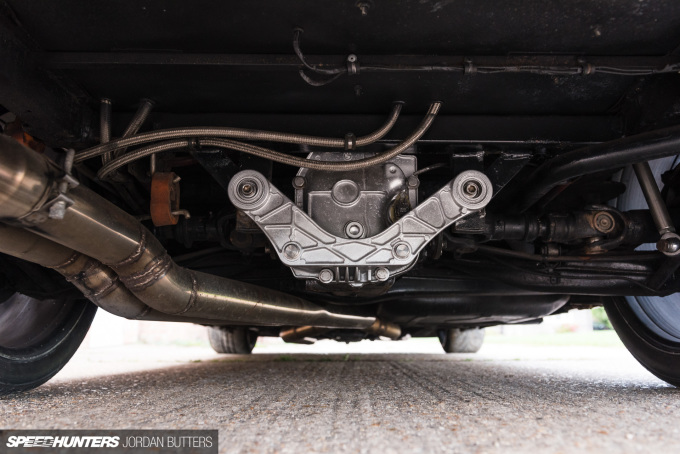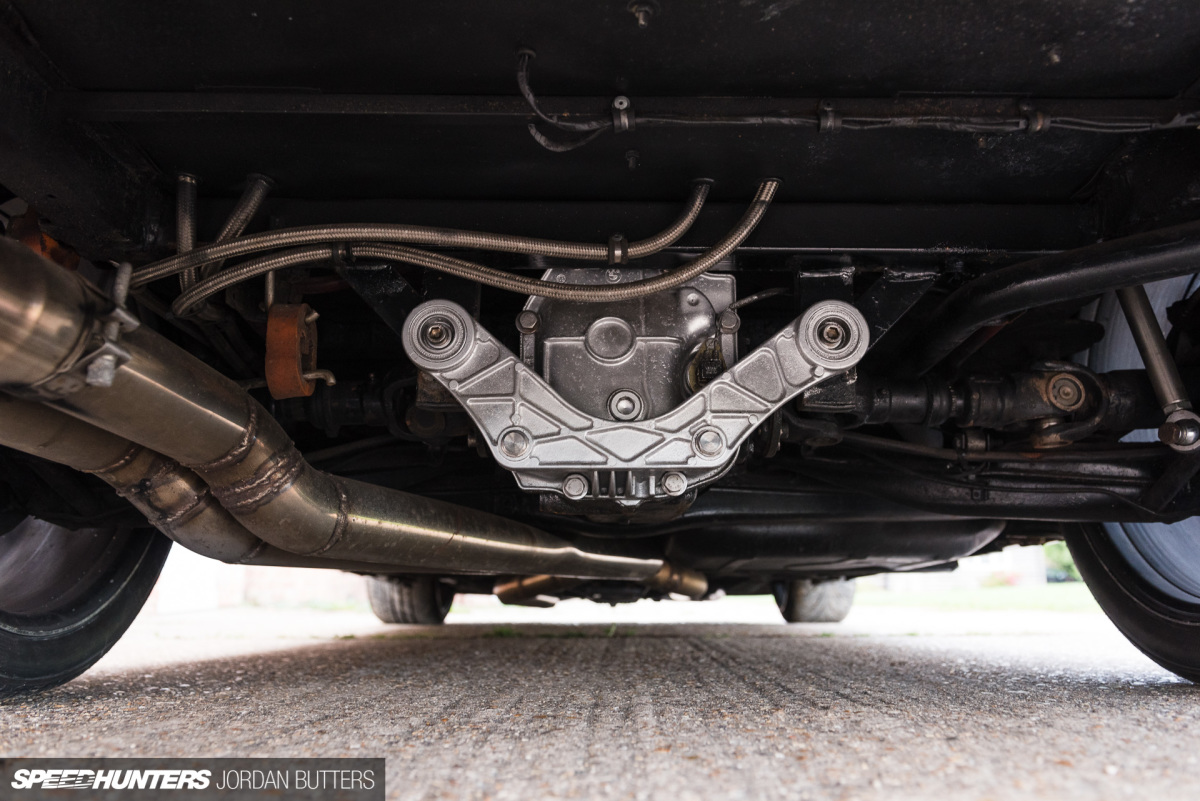 With the drivetrain up to strength up to this point, Ross's attention turned to the rear end. Solution one: the rear subframe was reinforced and braced to cope with the extra power and torque. Solution two: a type 210 large case diff from an E28 M5 was transplanted into the modified subframe. Solution three: Spicer Parts chromoly nickel U-joints with slider middles were specced to withstand 1,400lb-ft torque. That'll do it.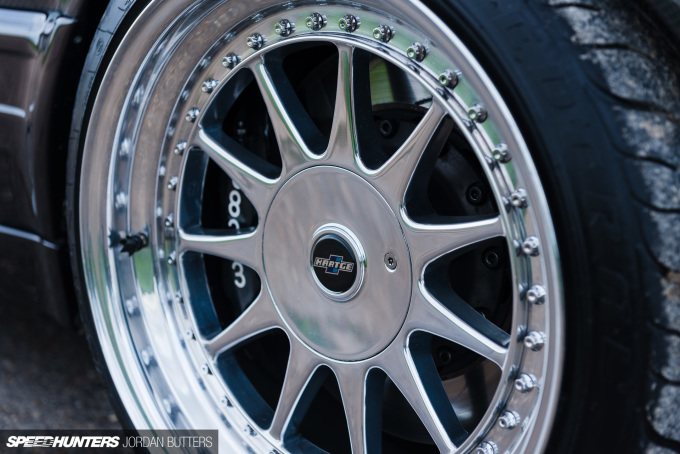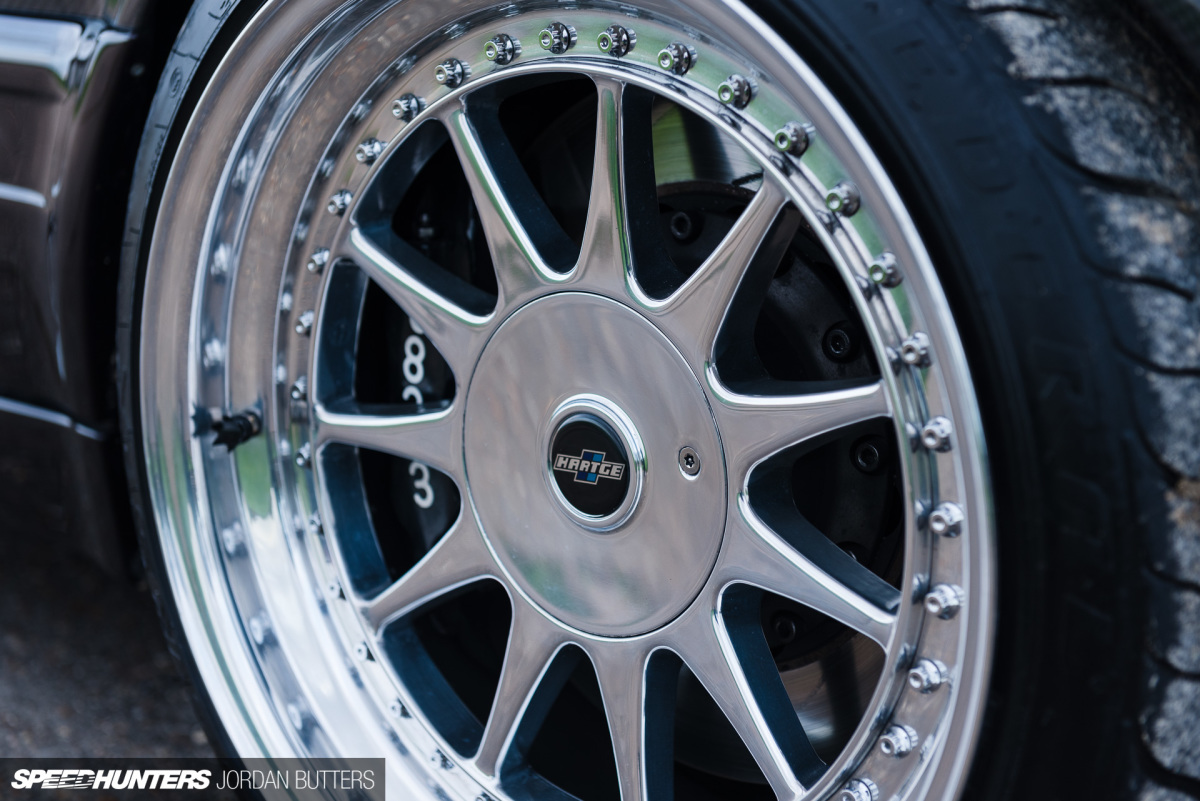 Ross's dream set of wheels coming up for sale in Poland was enough of a reason for him to convert the E30 from four to five-stud (using E36 and Z4 parts), and before you could say chciałbym kupić twoje koła, proszę, the 17×9-inch front and 17×10-inch rear Hartge OZ Racing three-piece wheels were making their way over to England.
With Ross being part-human, part-magpie, these were then stripped down and polished to a mirror finish, and custom-made billet centre caps were added too.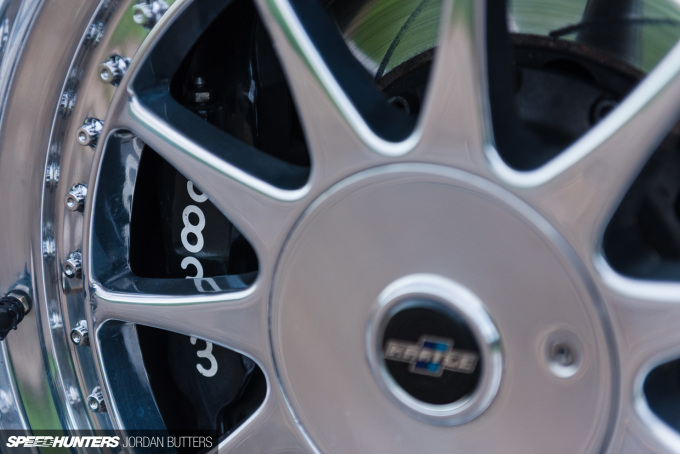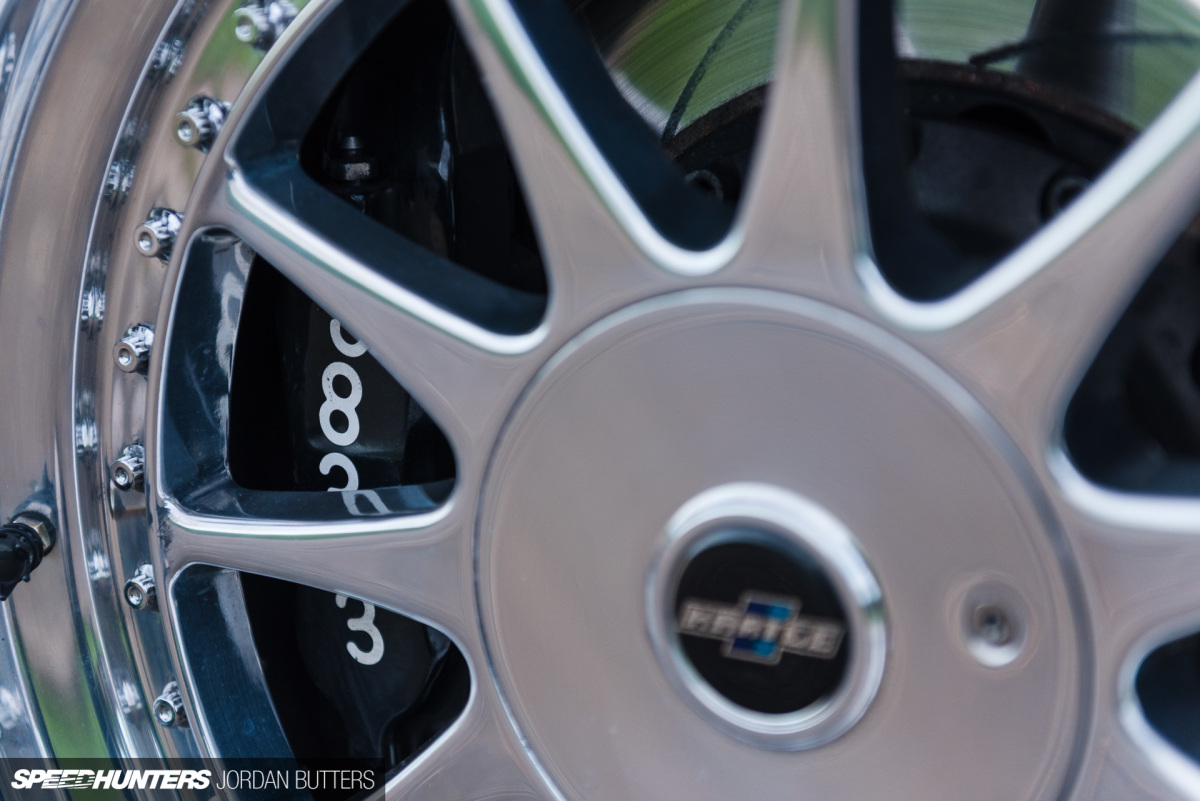 Tucked behind the wheels are dinner-plate size 330mm discs and Wilwood 6-pot calipers up front and 300mm rear discs with Wilwood Midilite 4-pots out back. Sufficient stopping power for the lightweight E30.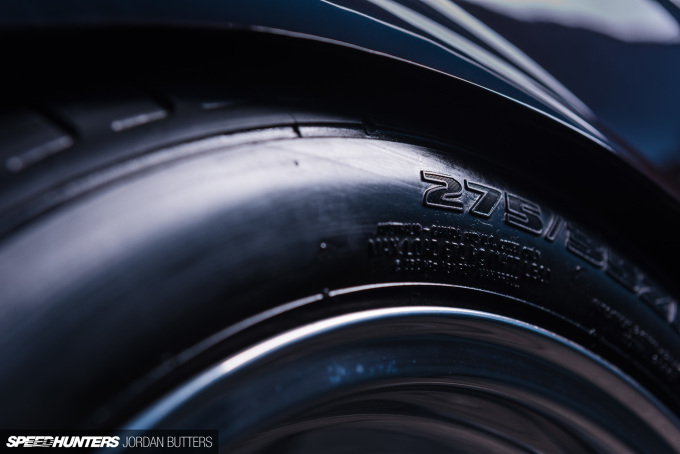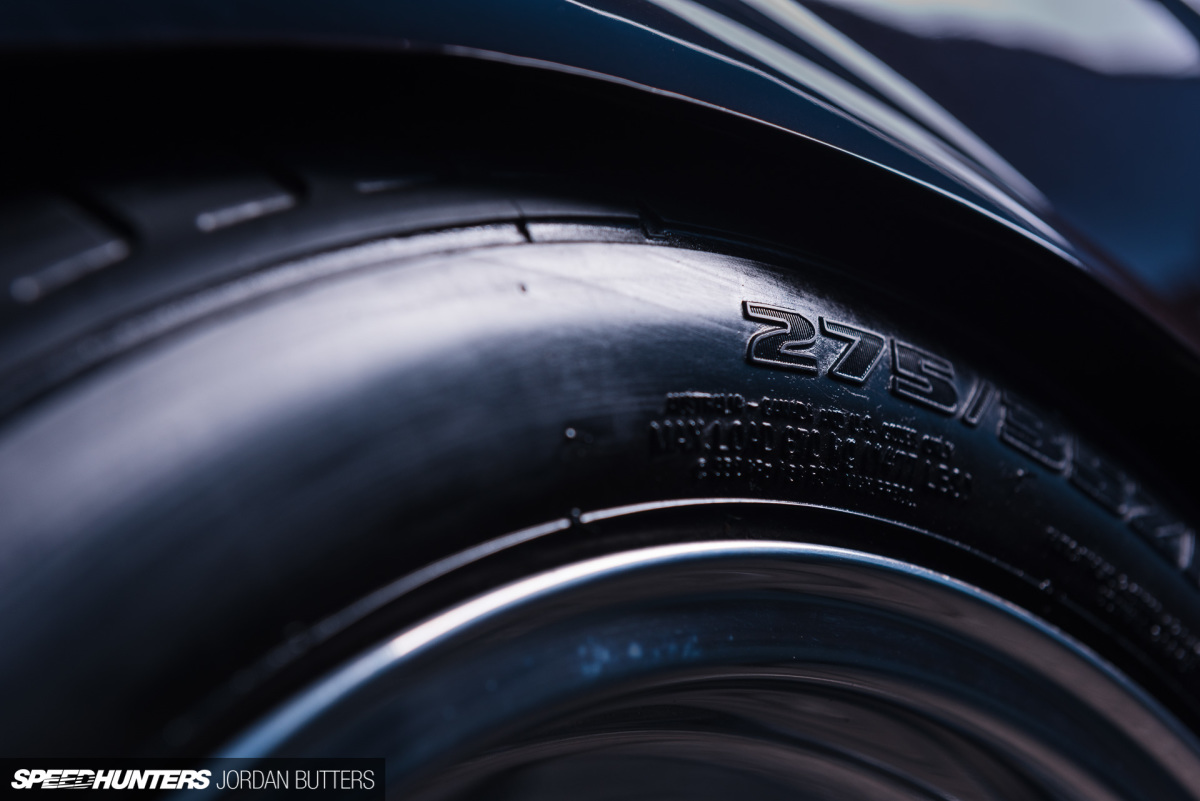 A pair of 215-width tyres adorn the front wheels, while monster 275s are wrapped around the 10-inch rears.
Overkill? Maybe. Awesome? Definitely.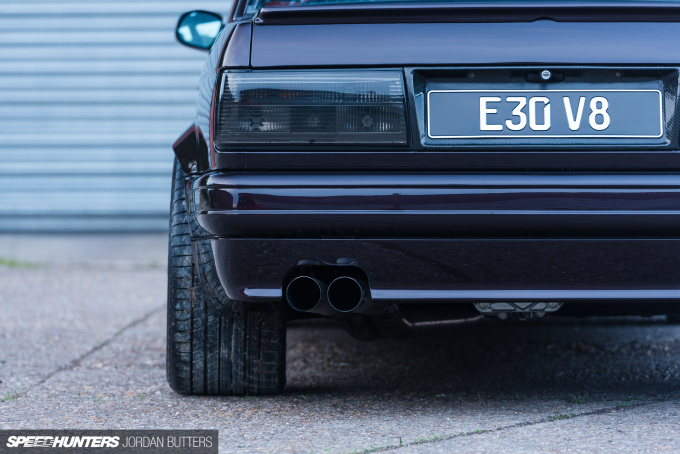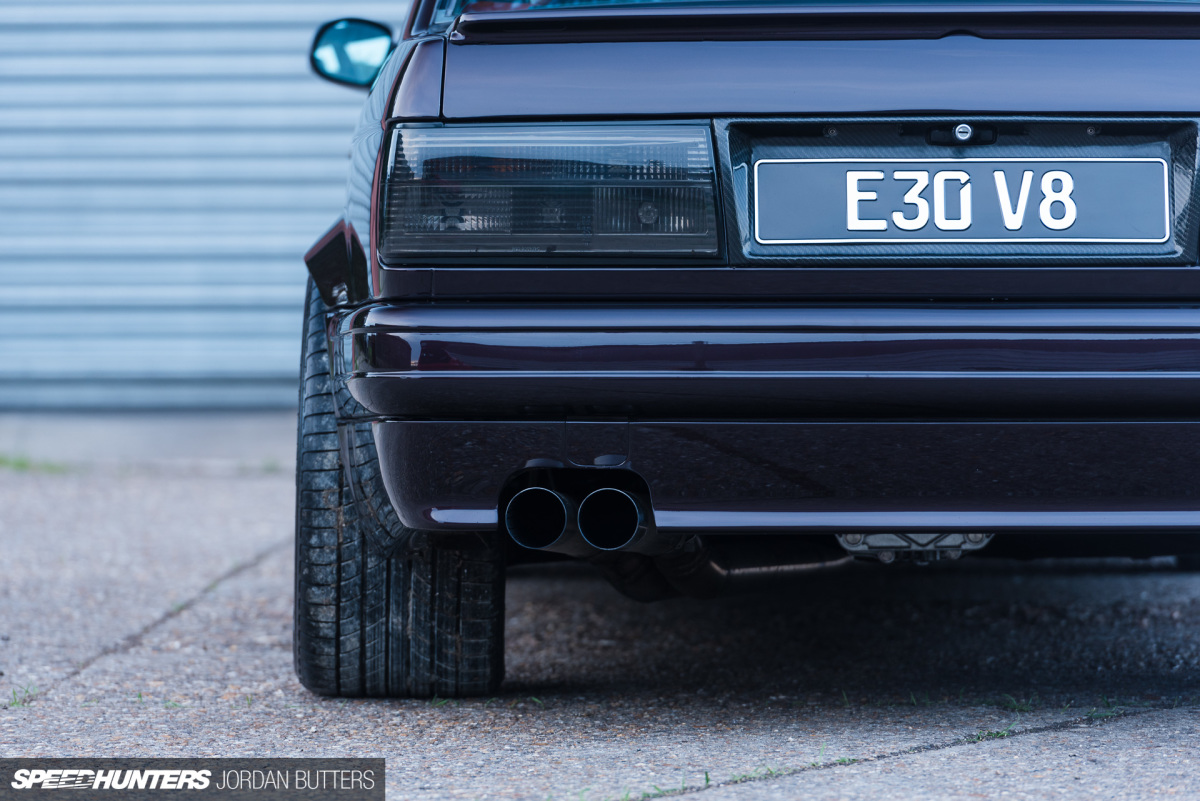 Squeezing 275s onto a near-stock-bodied E30 without running silly amounts of camber isn't child's play, and solving this problem led to Ross coming up with perhaps the build's most unique and discussed feature.
Well That's Different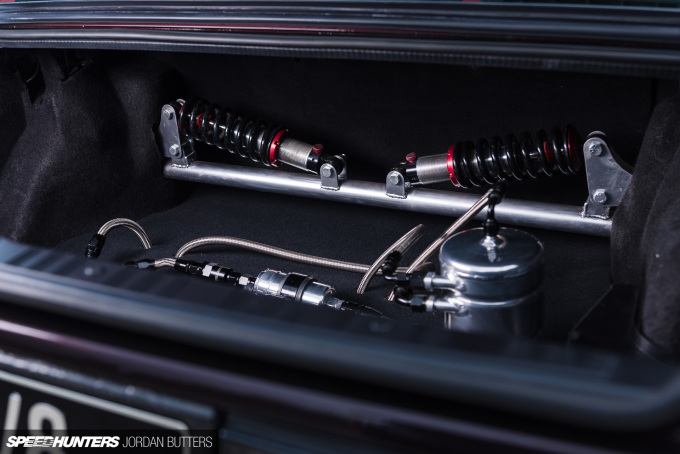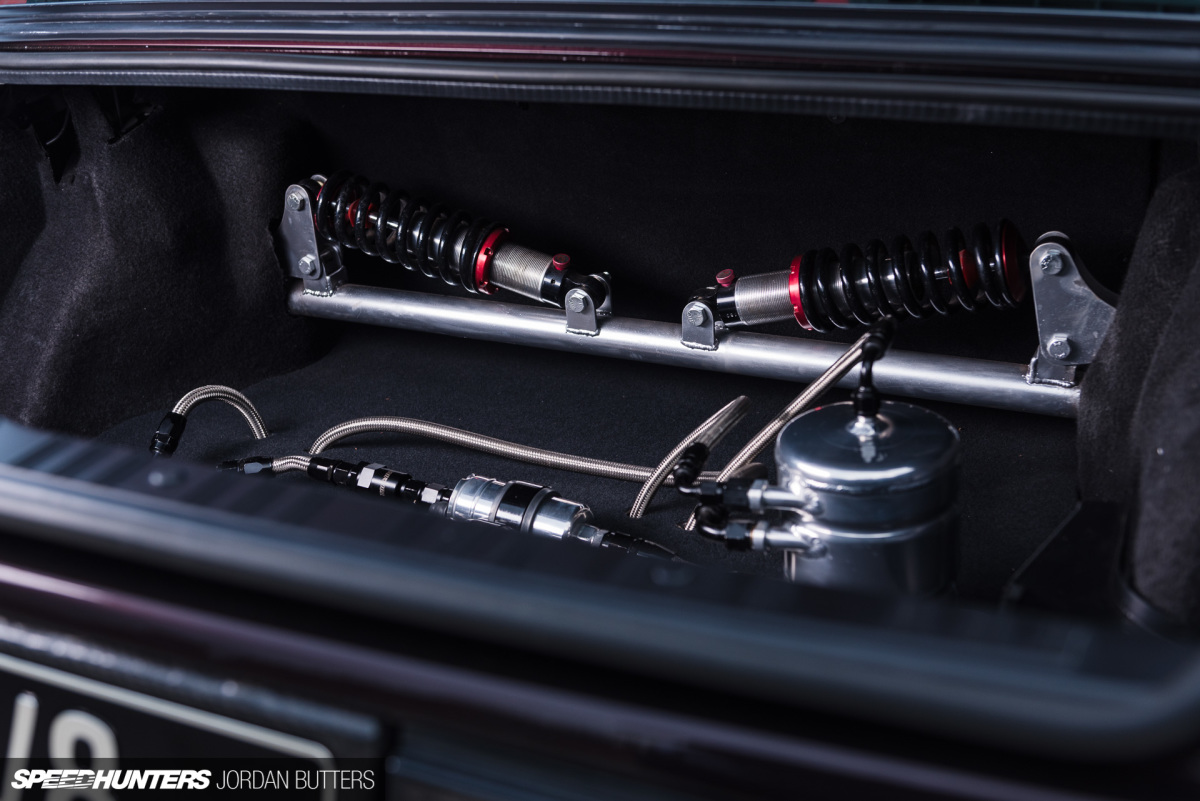 Open the boot and all becomes apparent. Ross found that he couldn't make the gigantic rear wheels fit with the stock coilover setup, so the E30 went back into the workshop while he engineered his own custom cantilever pushrod in-board suspension setup.
Doing so relocates the shocks – in this case Avo items – from the wheel wells into the boot space, and in their place sits a much slimmer pushrod, freeing up the space for wider wheels. The exact physics and science behind the difference in handling between the stock setup and this in-board system makes my brain explode a tiny bit, but Ross's engineering background is reassurance enough that the system is exactly as planned.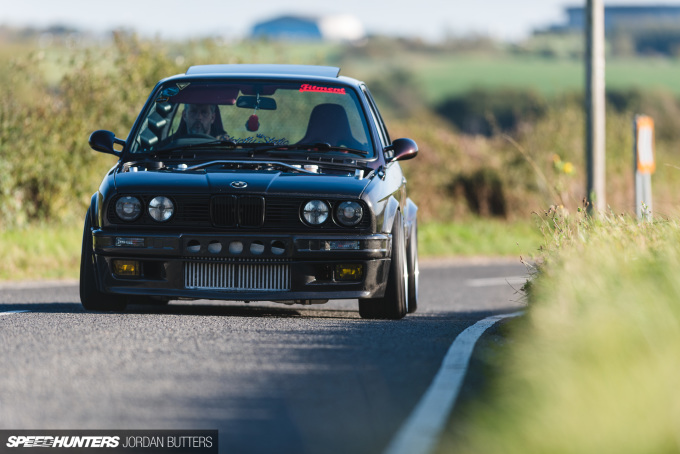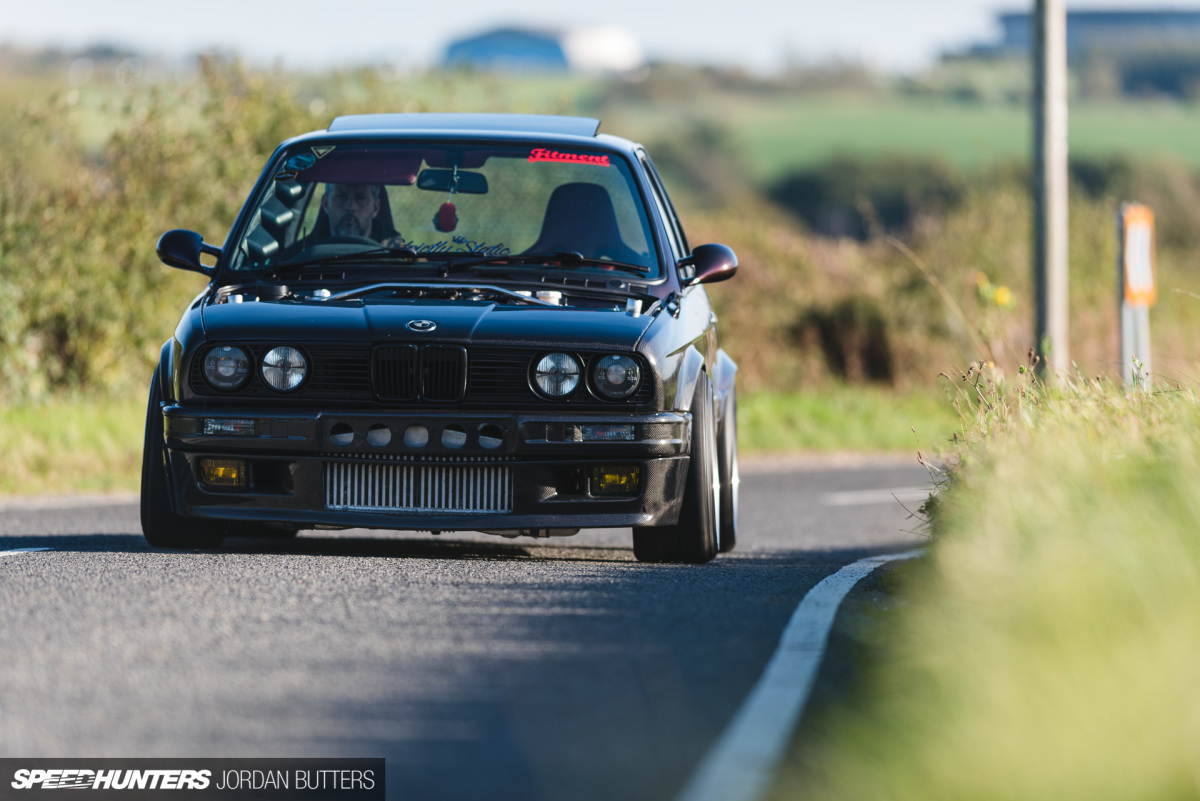 When Paddy spotlighted the car earlier this year there was much discussion in the comments about how optimal this setup was, but Ross has tweaked the shock length and setup since then to be more efficient. As he explains things I see numbers, fractions and equations flying around the air above me. Out on the road, it seems to just 'work'.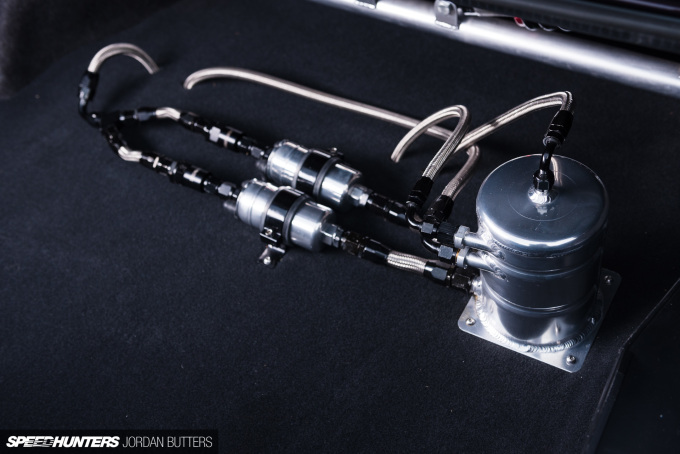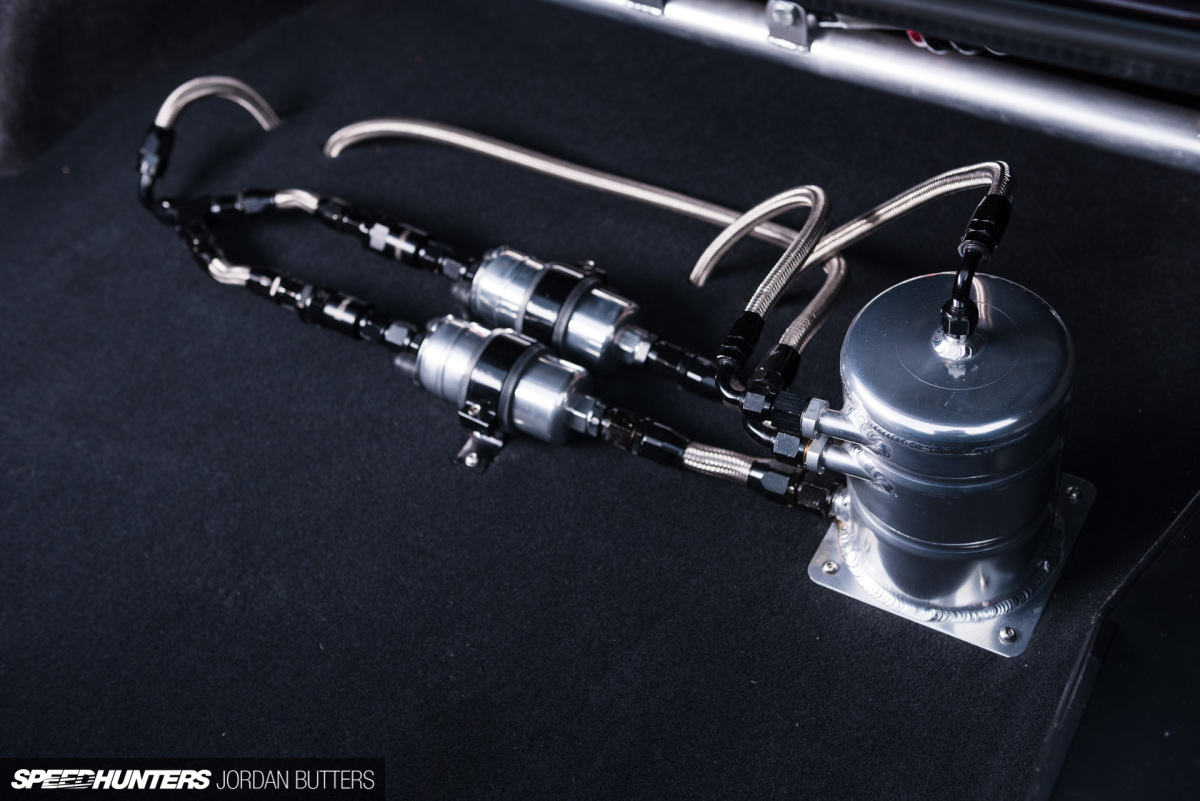 Keeping the trick rear suspension setup company in the boot is a custom swirl pot with high-flow in-tank lift pump and a pair of Bosch 044 engine feed pumps. Fuel consumption ranges from 'a lot' to 'a hell of a lot', weight of right foot-dependant.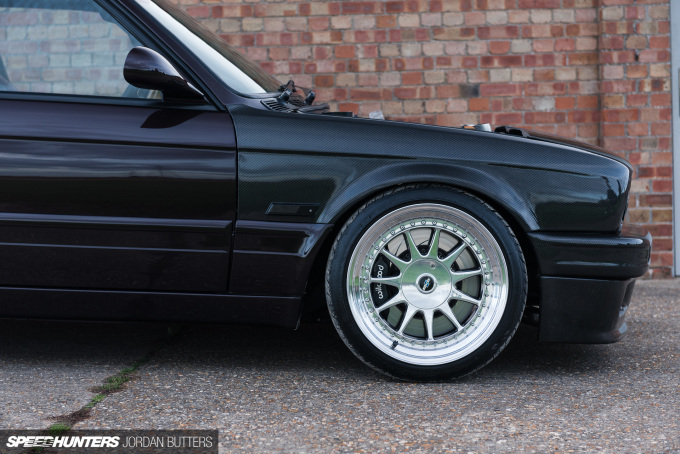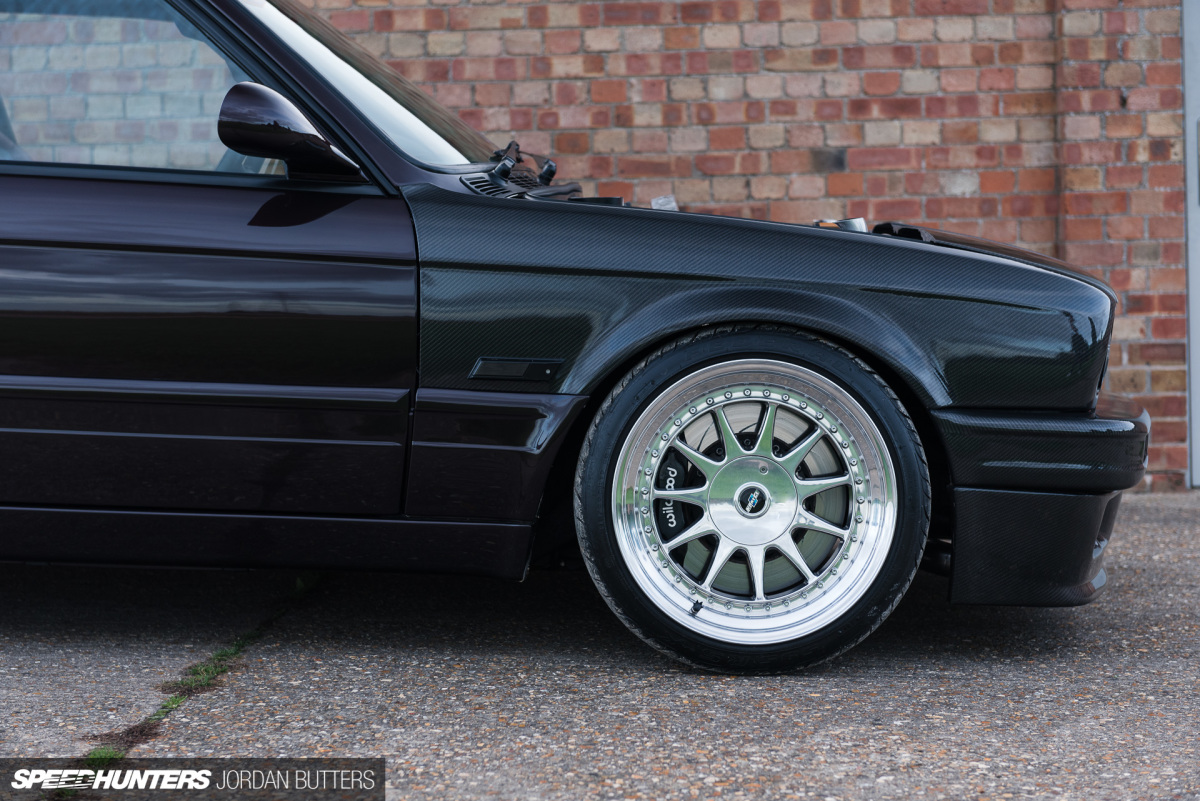 The front suspension is a much simpler affair for a layman such as myself. A pair of Gaz coilovers with Gaz adjustable top mounts provide the required control, while an E36 M3 front anti-roll bar and polished tower brace keeps the front end nice and rigid.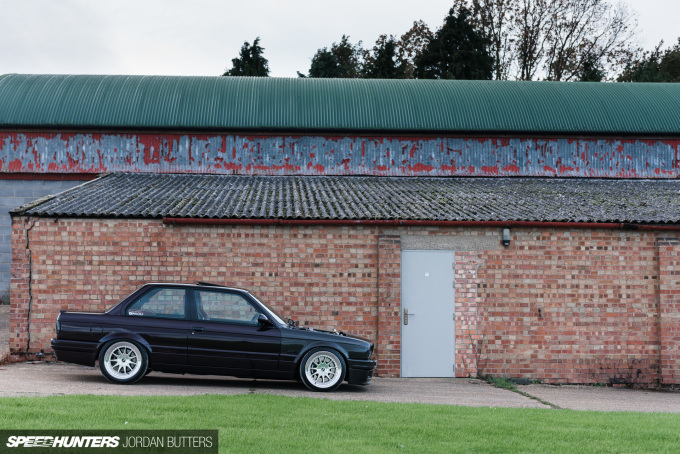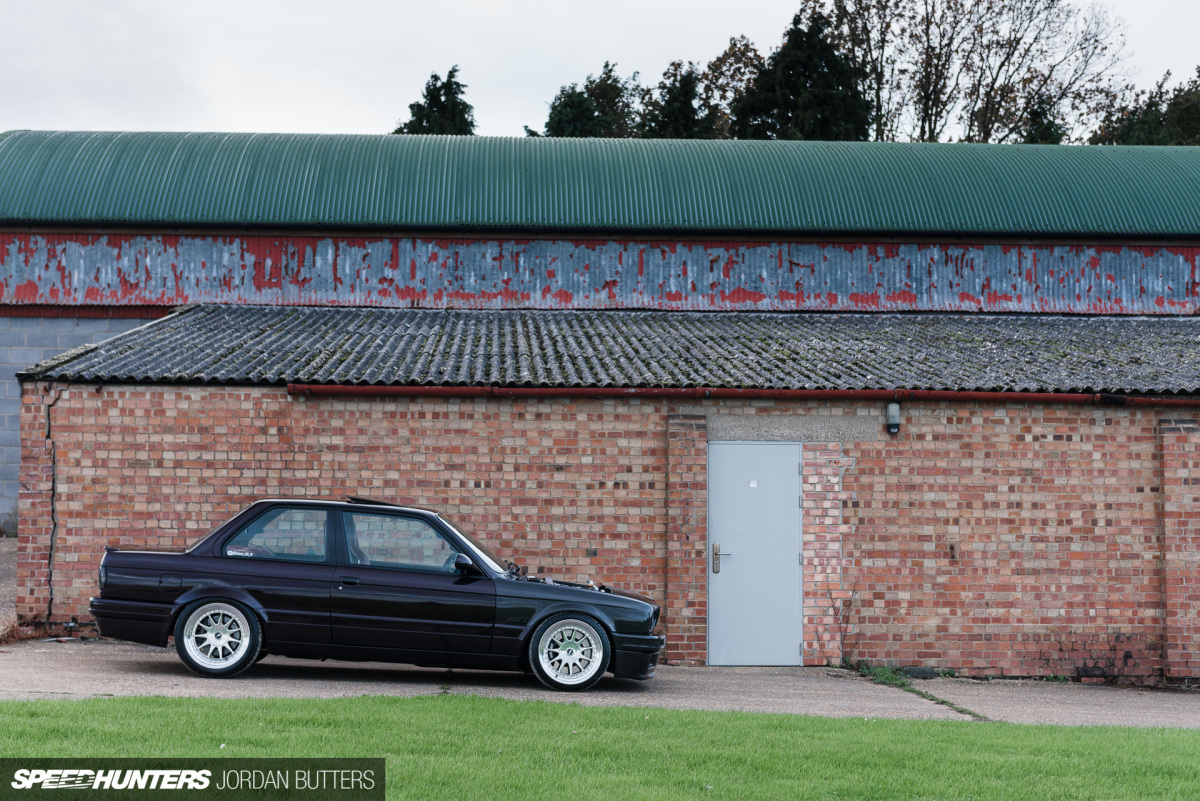 Chunky tyres aside, one aspect that I really like about this build is the E30's purposeful, raked stance.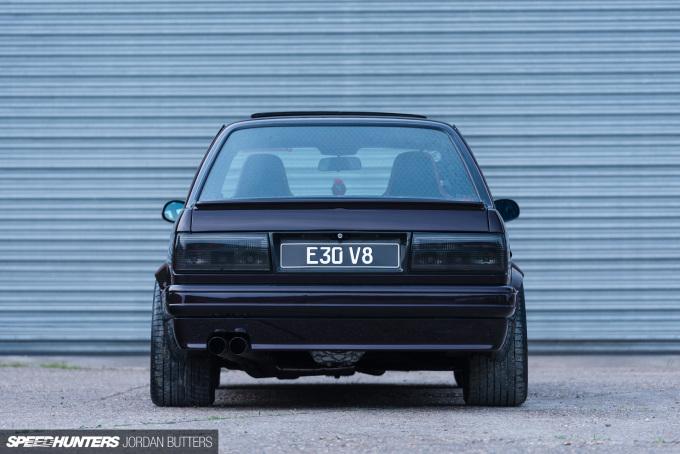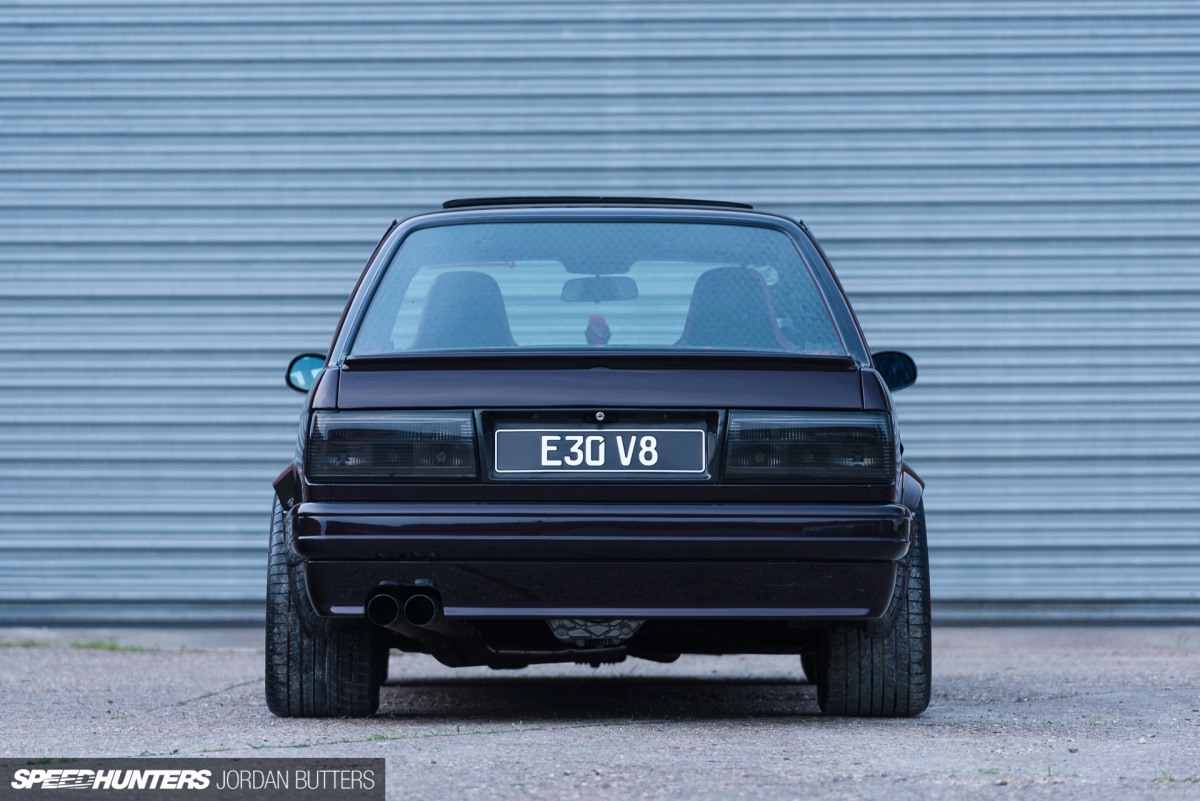 While from the back you can really appreciate the width of the rear tyres, and how comically small the E30 looks in comparison to such girthy rubber.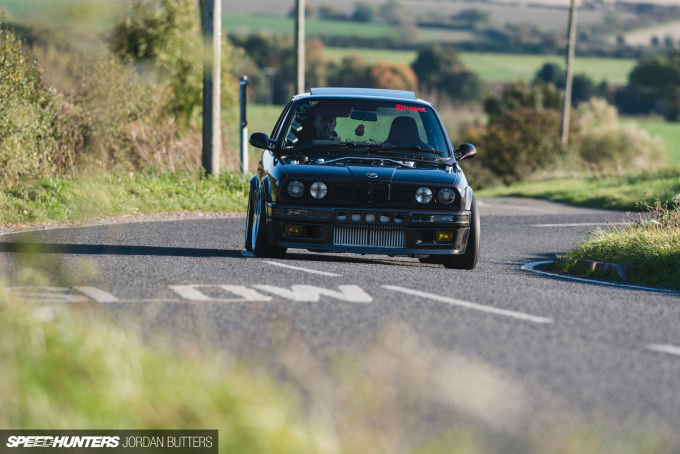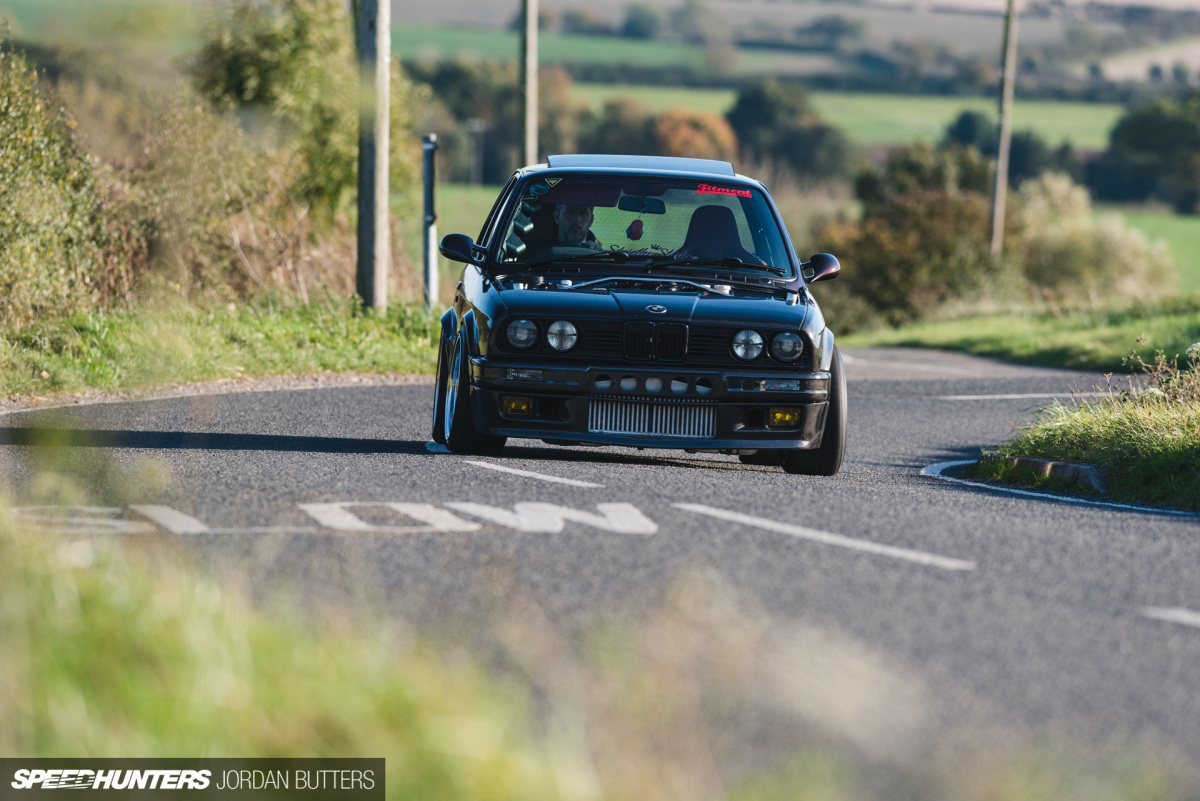 Out in the wild it has an aggressive presence, and Ross's focus on keeping it practical to enjoy on B-road blasts is something that I can get on board with. What fun are performance cars unless they can be driven hard?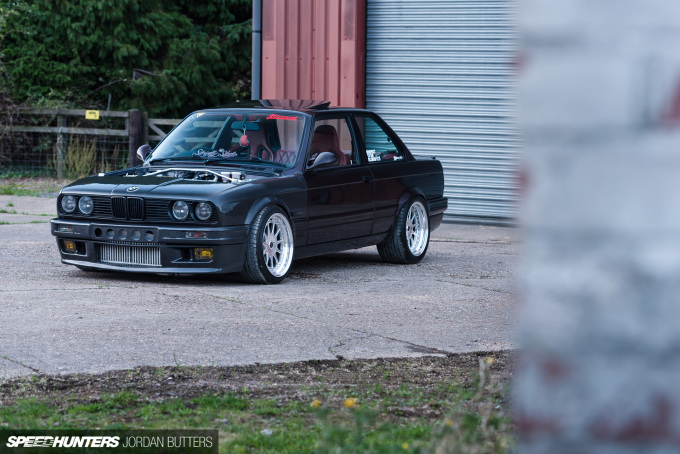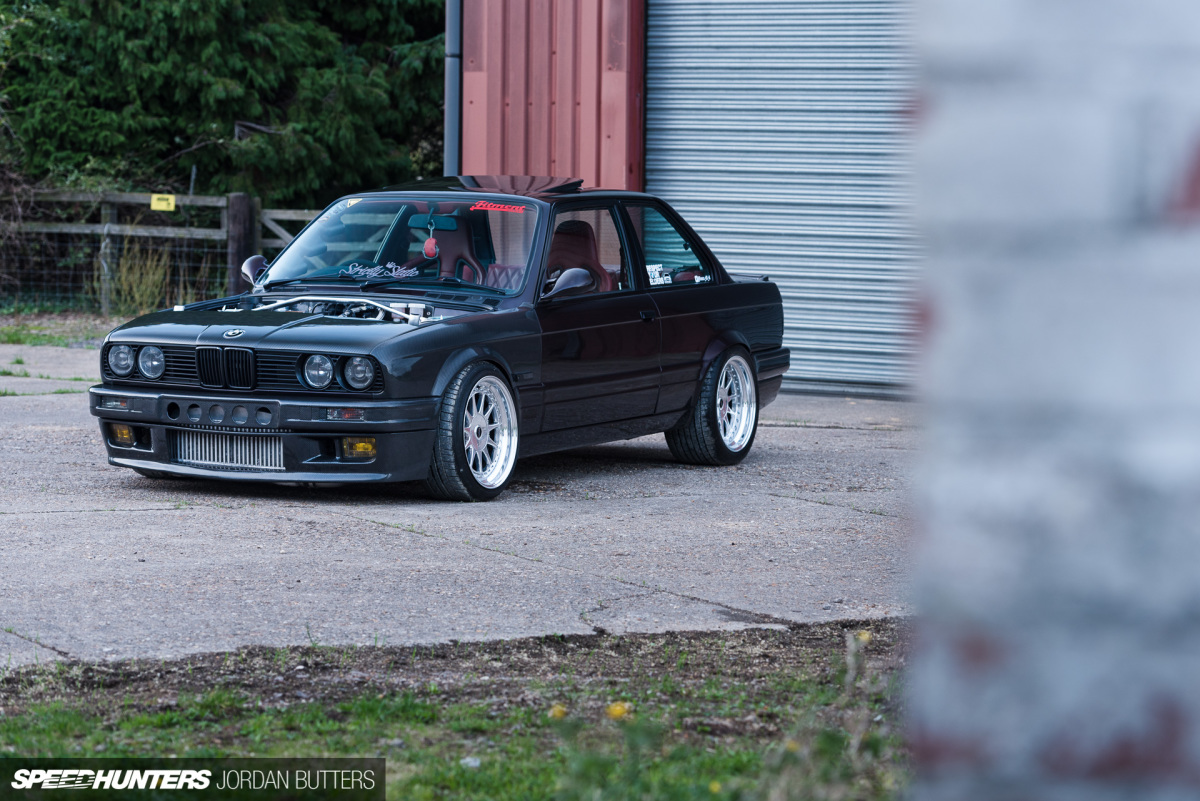 It's not just the underpinnings that Ross gets involved with either, the BMW's exterior and much of the interior is his own handiwork too. The rear fenders received a subtle tweak and flare, whilst retaining the original iconic lines.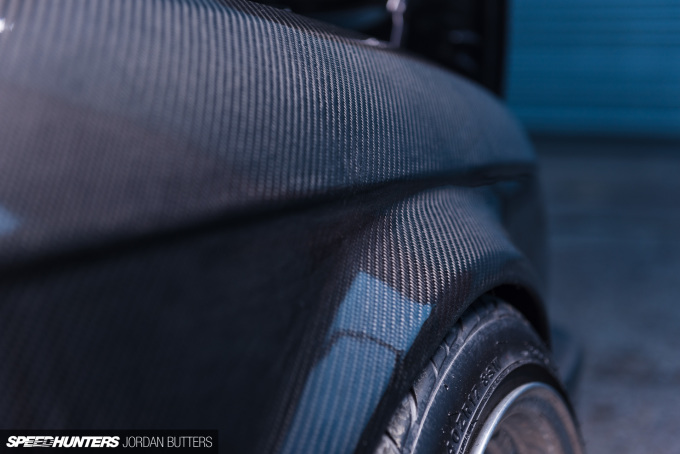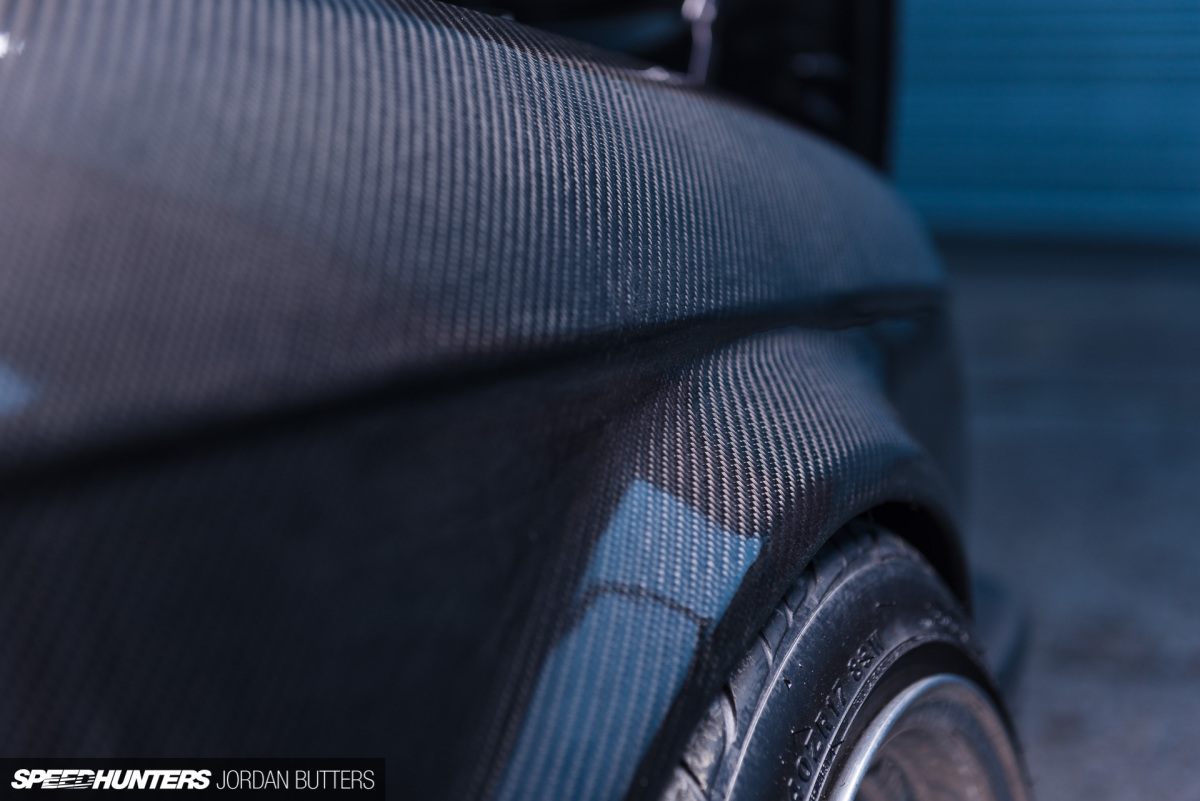 The front end is far less subtle. Ross created the custom carbon fibre front wings, front bumper and half bonnet himself, choosing to leave the coveted weave on show for all to admire.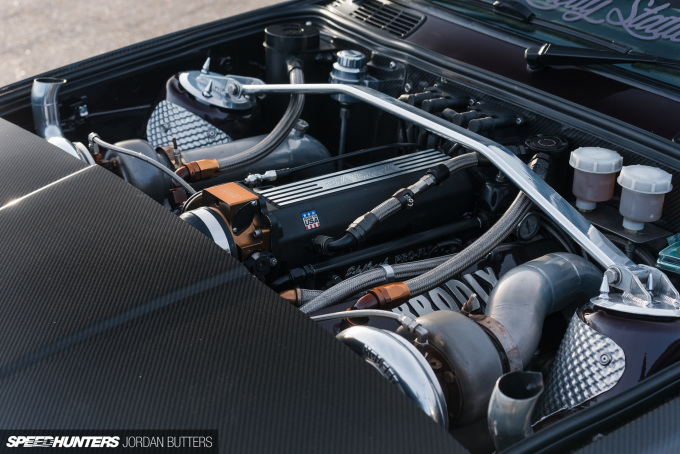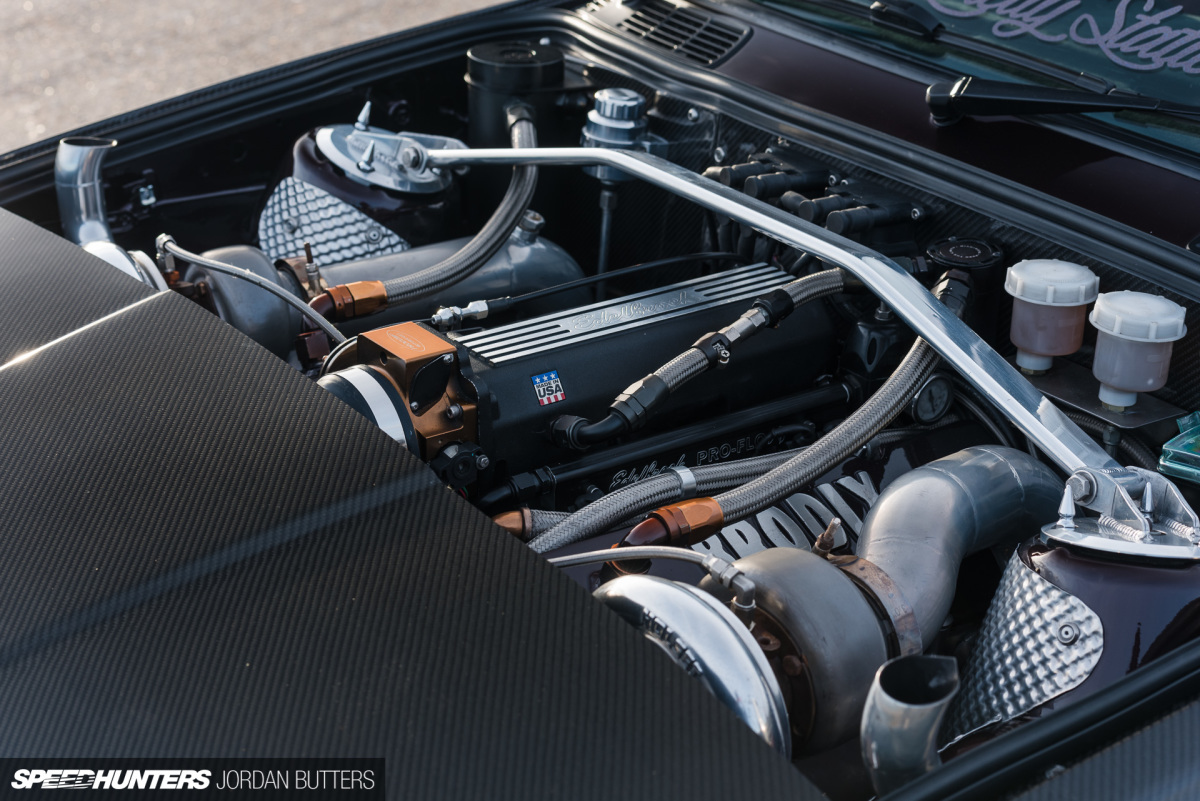 The bonnet itself is the result of further problem solving. Problem one: the crammed engine bay gets pretty warm with a big V8 and two turbos on board. Problem two: there was a small fire which damaged some of the bonnet.
Solution? Slice the back 3/4 off and run just the front part of the carbon bonnet. The result is police- and pedestrian-friendly and lets enough heat escape to keep things cool.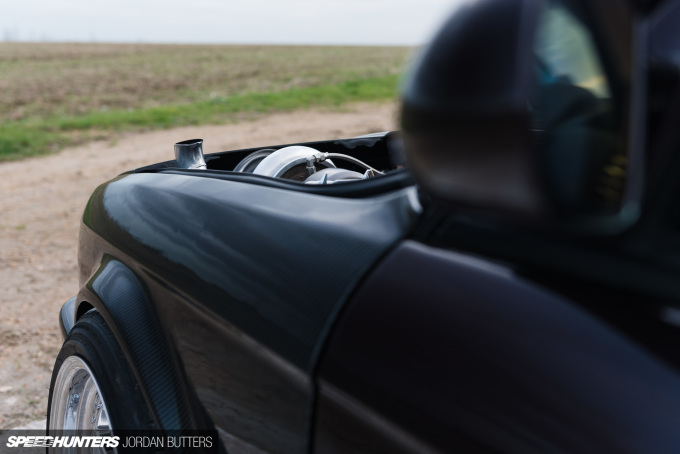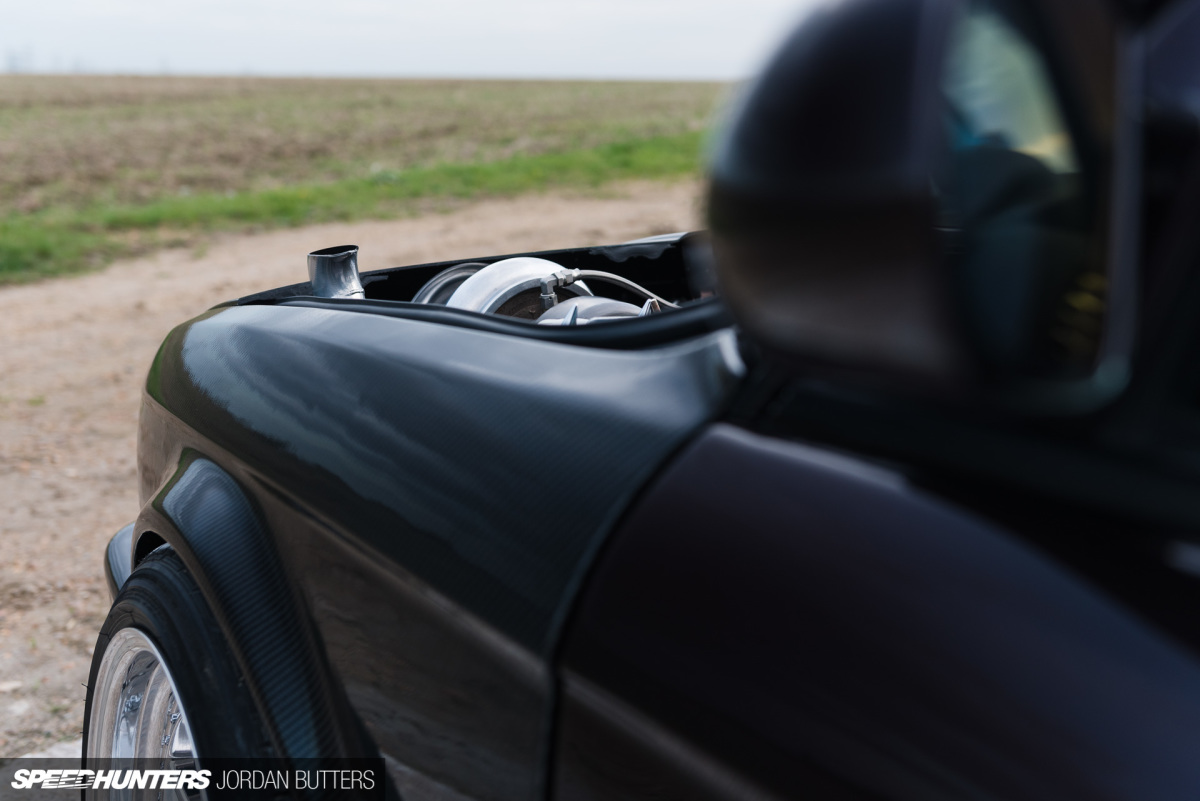 It also gives passers by a peek of the twin turbos and wastegate dump pipes exiting up into the air.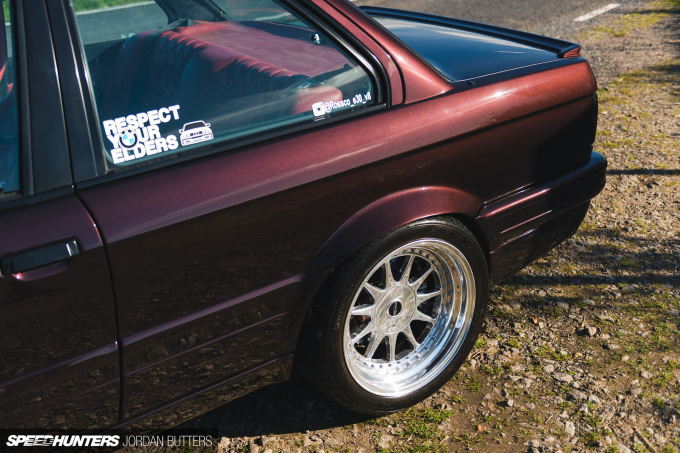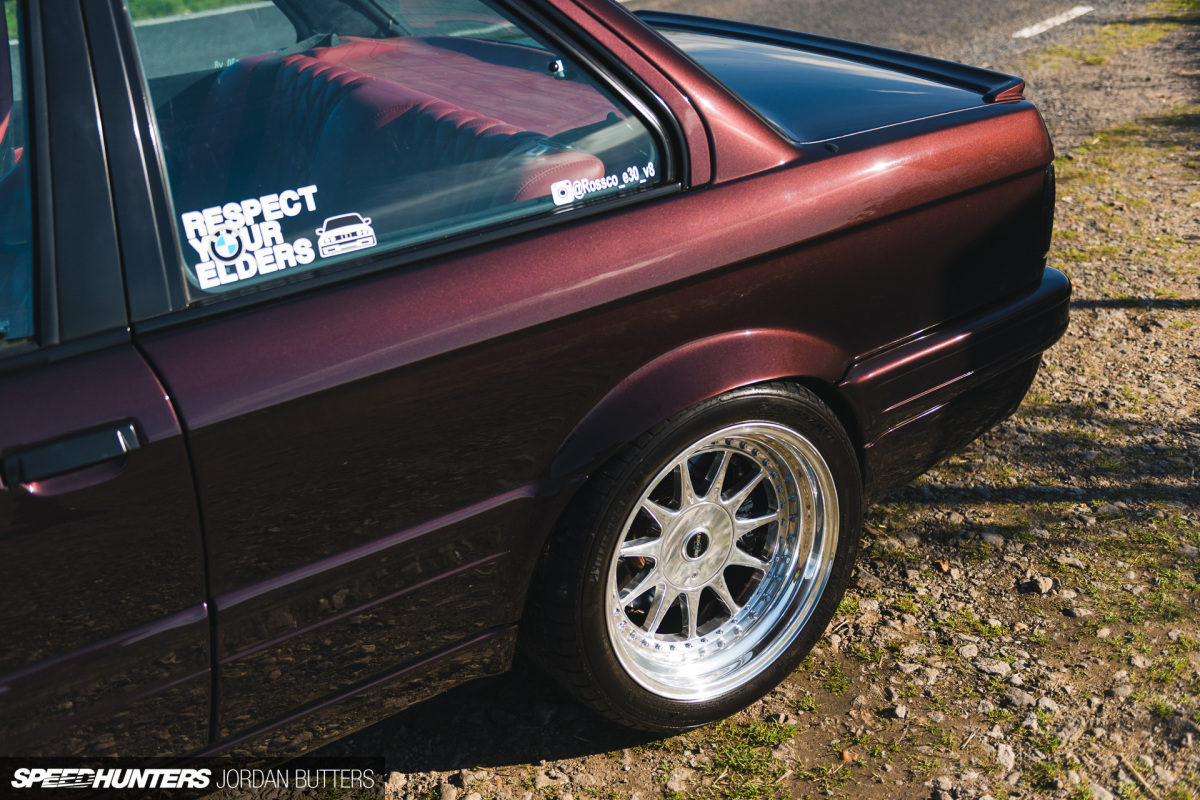 The choice of colour is an interesting one. In all but direct light, you'd be forgiven for thinking that the E30 was black (which it was up until its latest incarnation), but it's actually 'Blackberry Metallic'. Catch a glimpse at the right angle in sunshine, however, and the deep hues of brown, purple and red start to appear.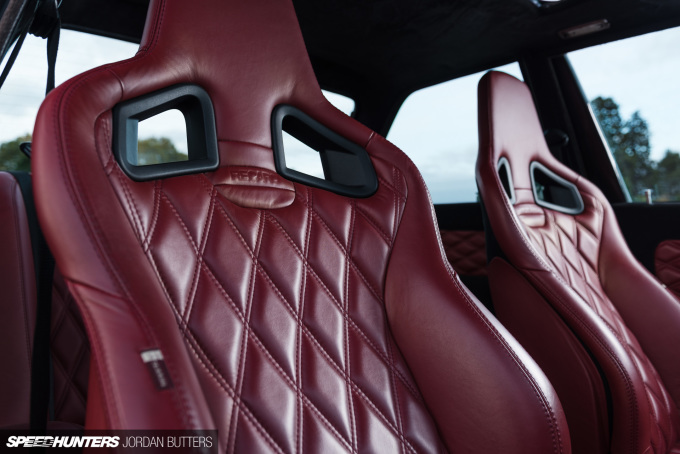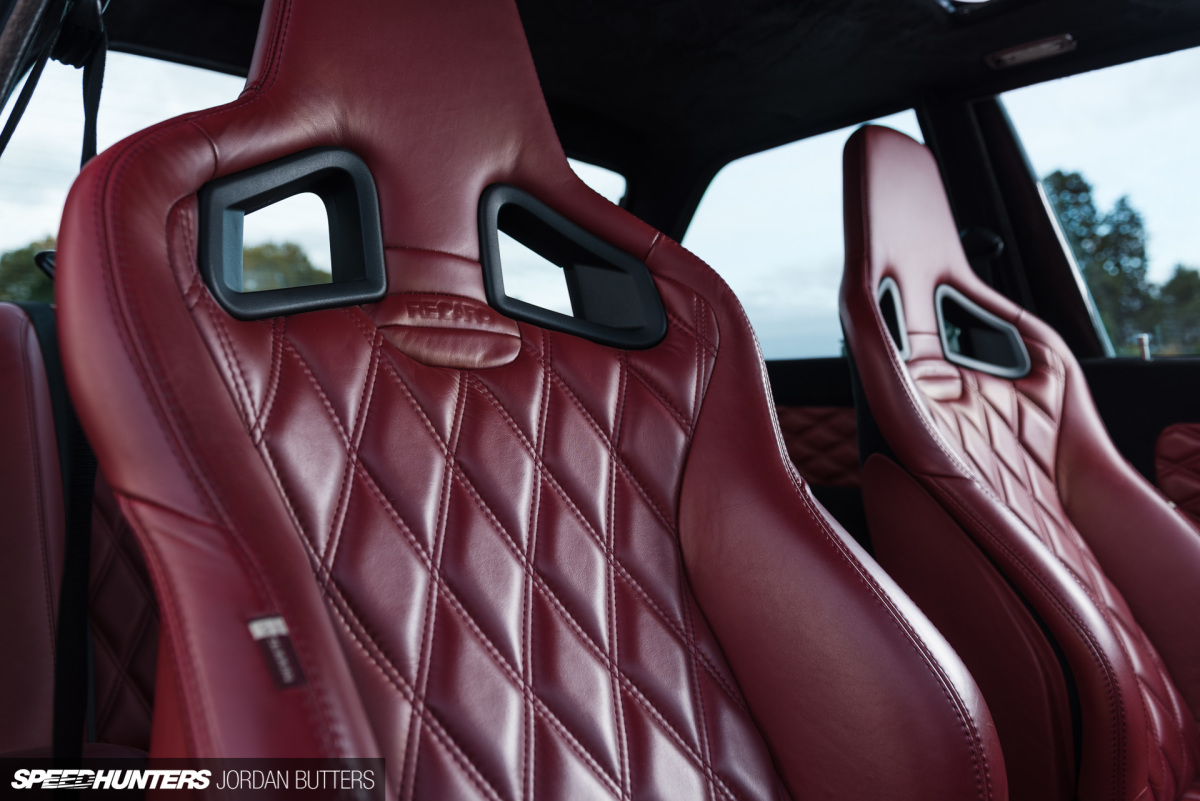 Inside the E30's cabin the custom work continues. A pair of Recaros were sourced from a written-off Focus RS and paired with an uber-rare E30 M3 rear bench.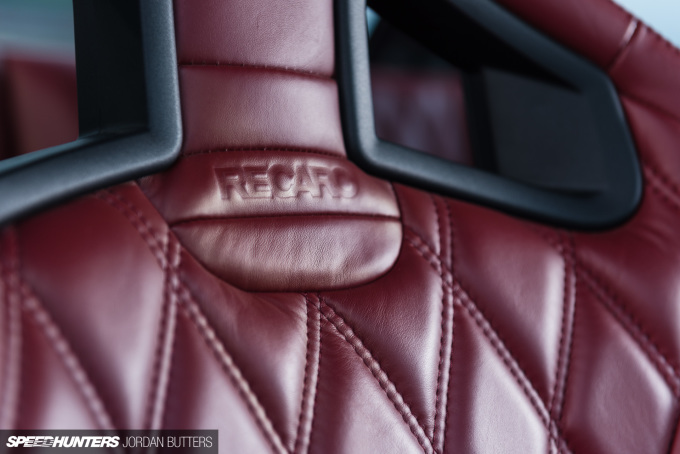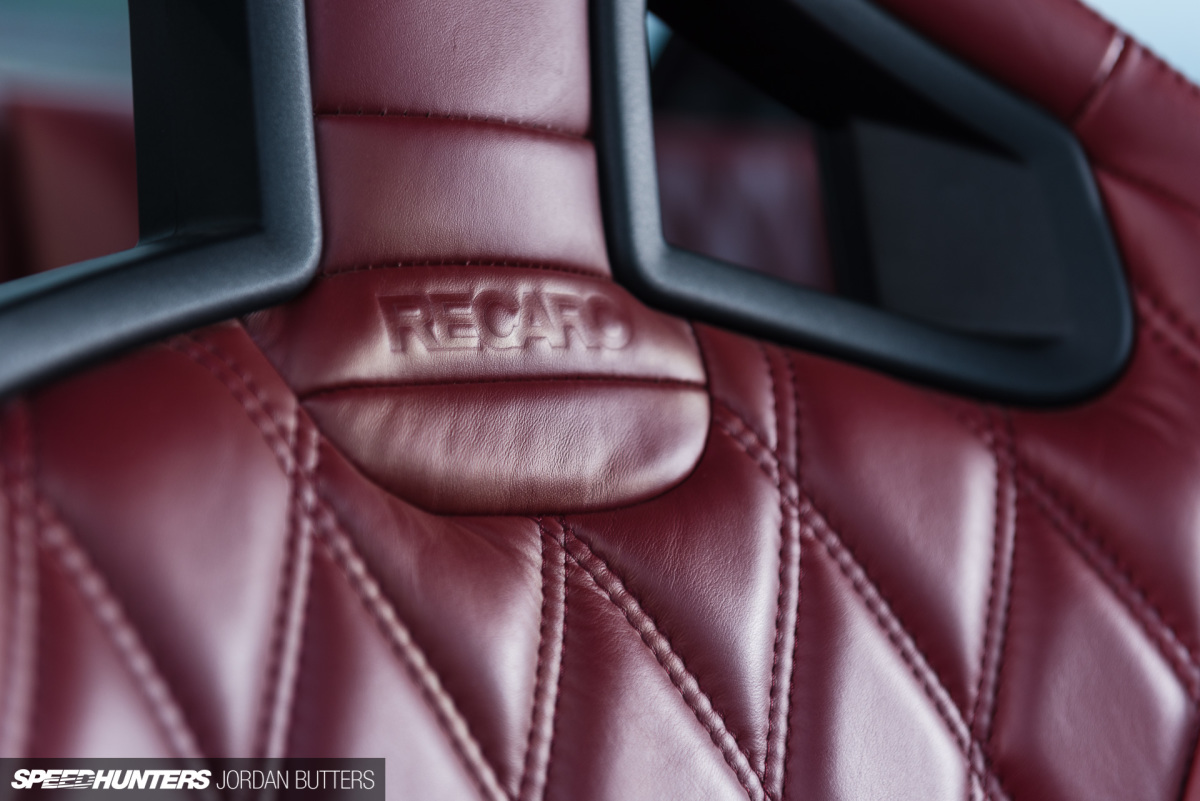 The whole shebang was then shipped off to LG Trimming in North London for a fresh covering of quilted Ruby Red nappa leather – one of the few jobs that Ross didn't take on himself.
Quite literally every conceivable spare inch of the BMW interior was then retrimmed in black or red Alcantara, from dash to door cards and even the roof lining.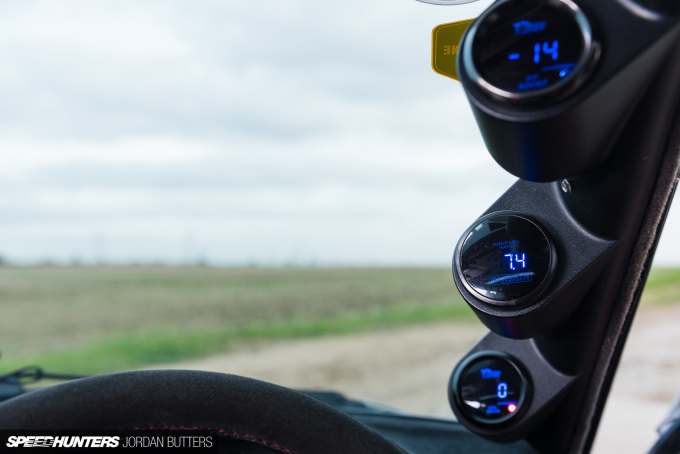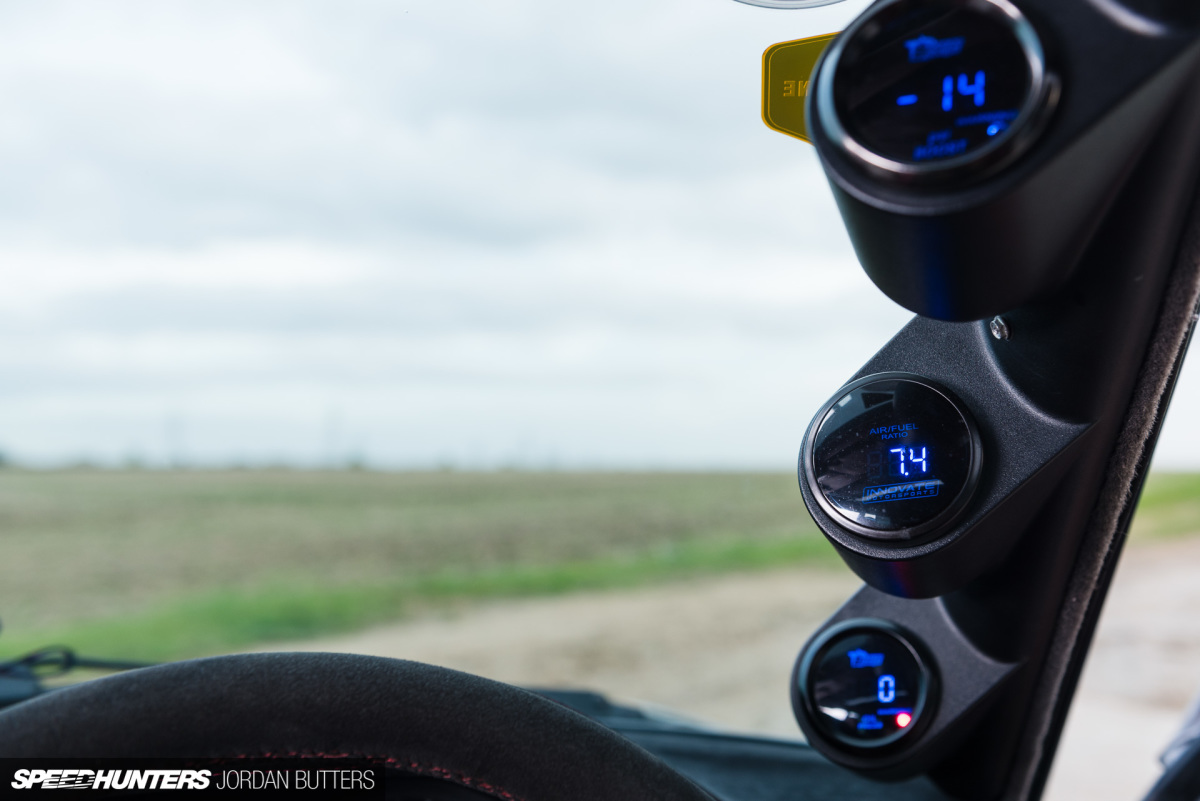 A set of digital gauges mounted in the A-pillar allow Ross to keep an eye on the engine's essentials. The car is driven on a frequent basis and is a regular at shows both in the UK and on the continent.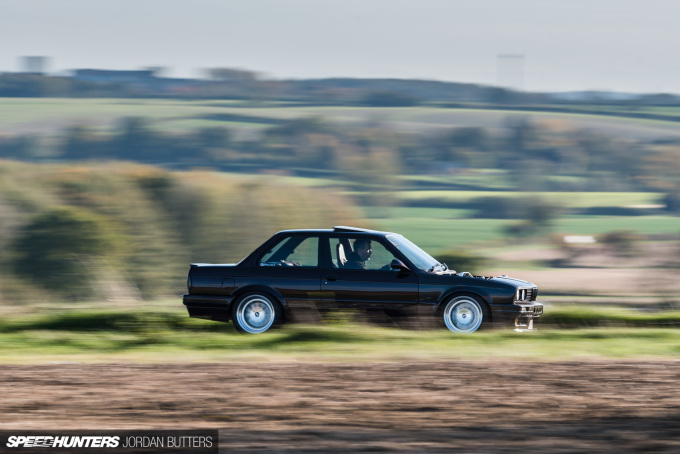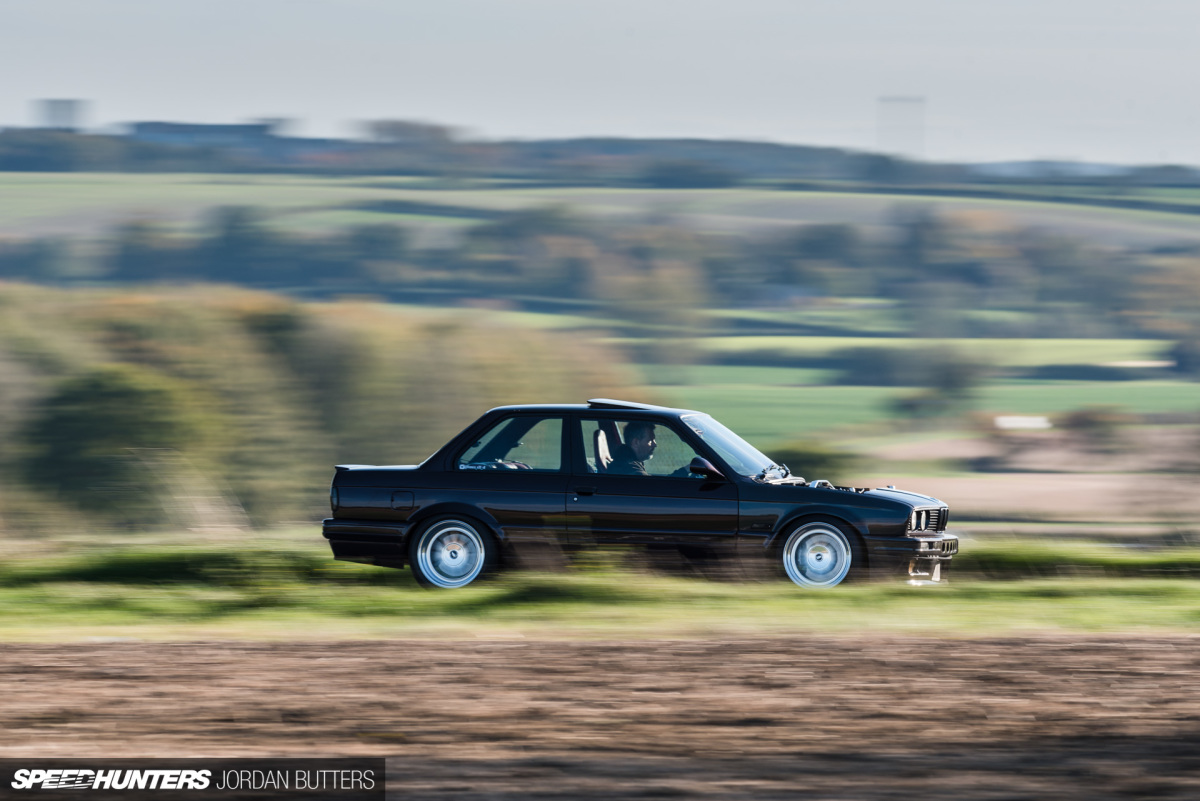 While the car might look pretty complete to you and I, Ross's need to improve the E30 is relentless, and doesn't look like it's slowing down. He's already eyeing up a full rebuild with a new aftermarket block. There's talk of more boost too.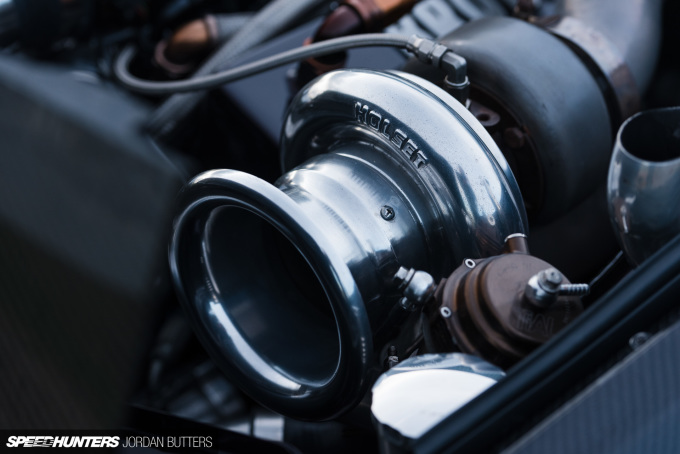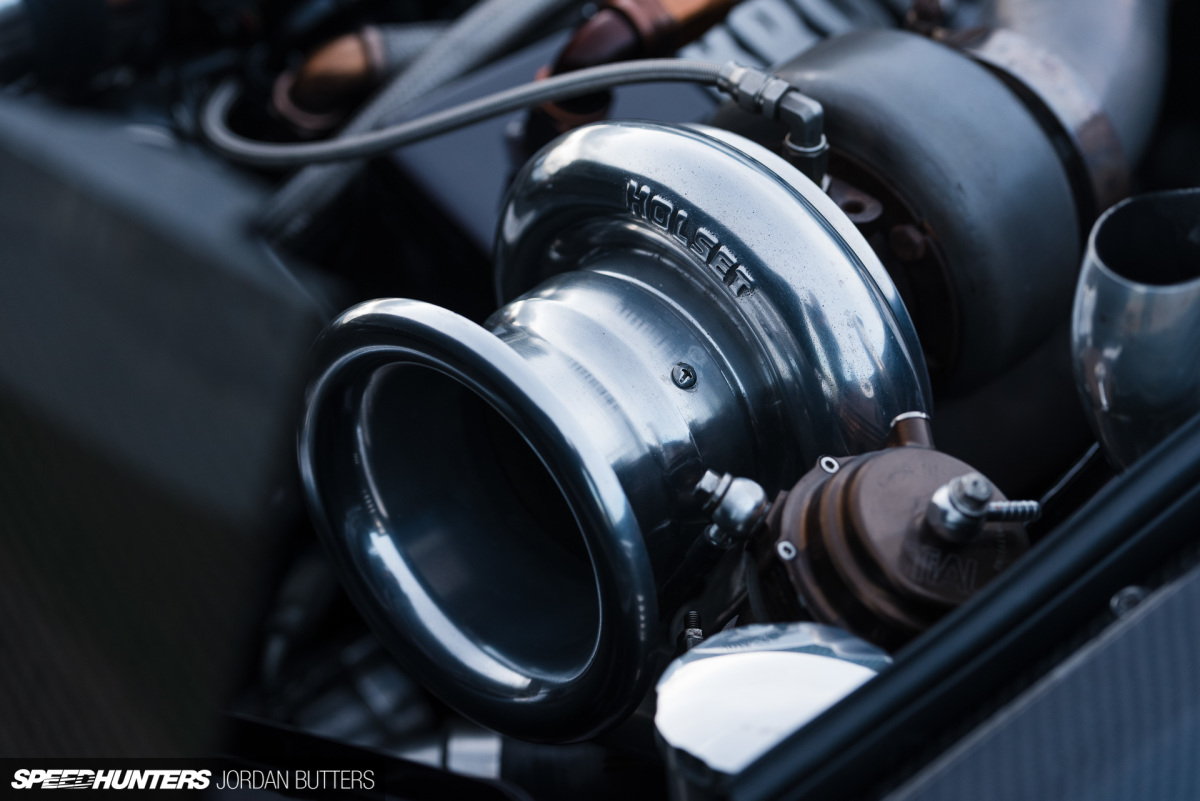 The aim? To breeze past the 1,000bhp mark and keep the E30 reliable at that level.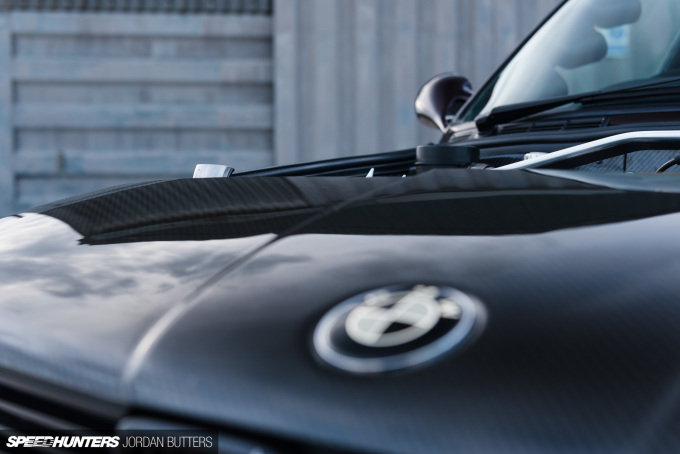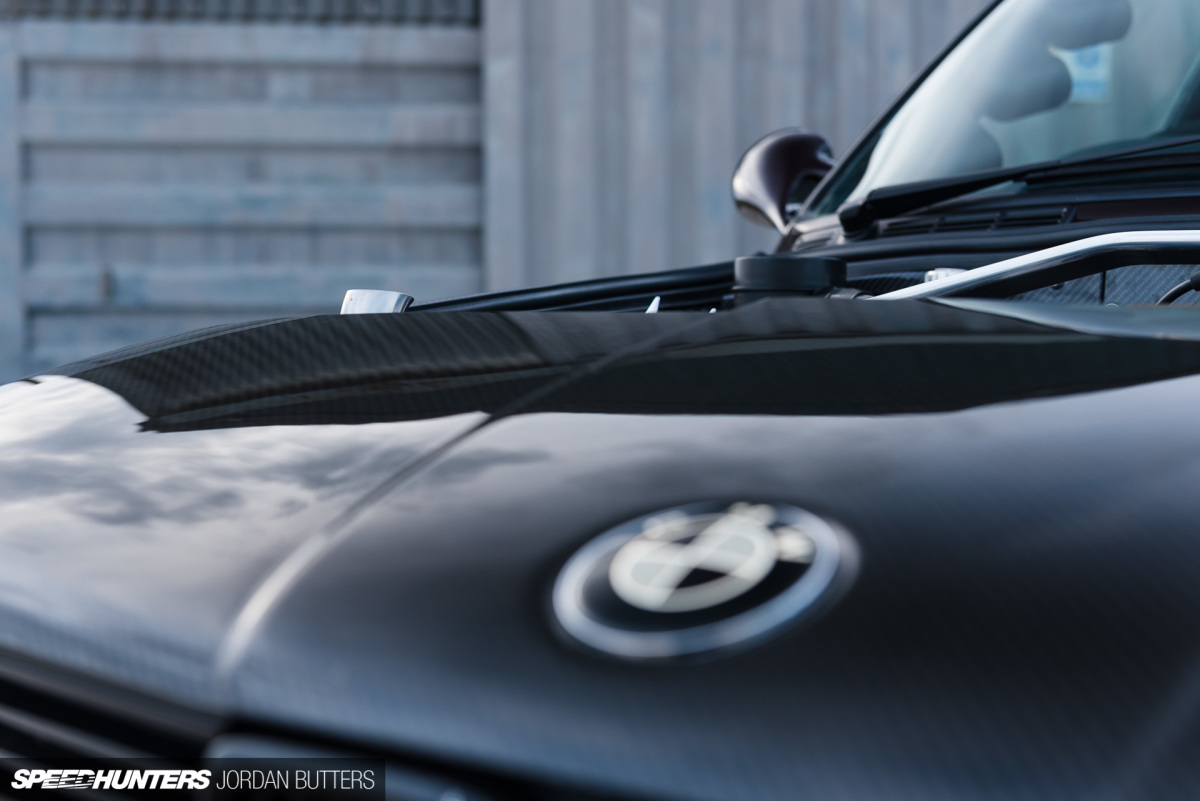 Suddenly those 275-section rears look like they might be undersized for his ambitions…
Jordan Butters
Instagram: jordanbutters
jordan@speedhunters.com