A Hot Morning At Cars And Coffee
For me, one of the greatest joys that comes from hunting speed is the opportunity to discover and experience car cultures in different places.
If you caught my last couple of posts you'll know that I recently took a trip down to Okinawa, a small Japanese island located in the East China Sea. Despite its size (just 1,200km²) and relative isolation, Okinawa has a thriving enthusiast scene. Cars are a lot more than just a simple mode of transportation here; they are a way of life and a release for many people.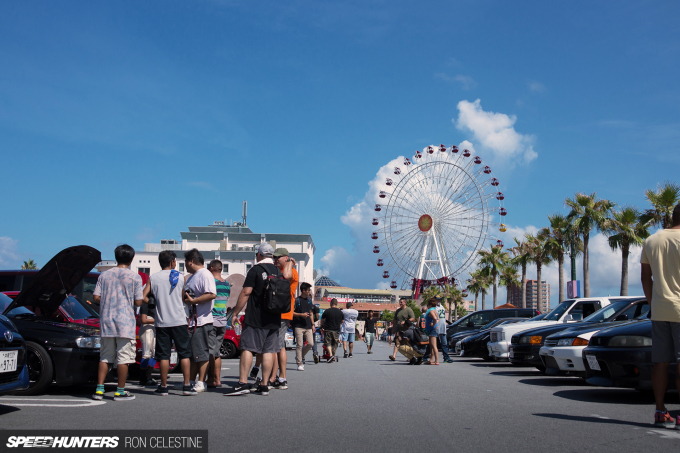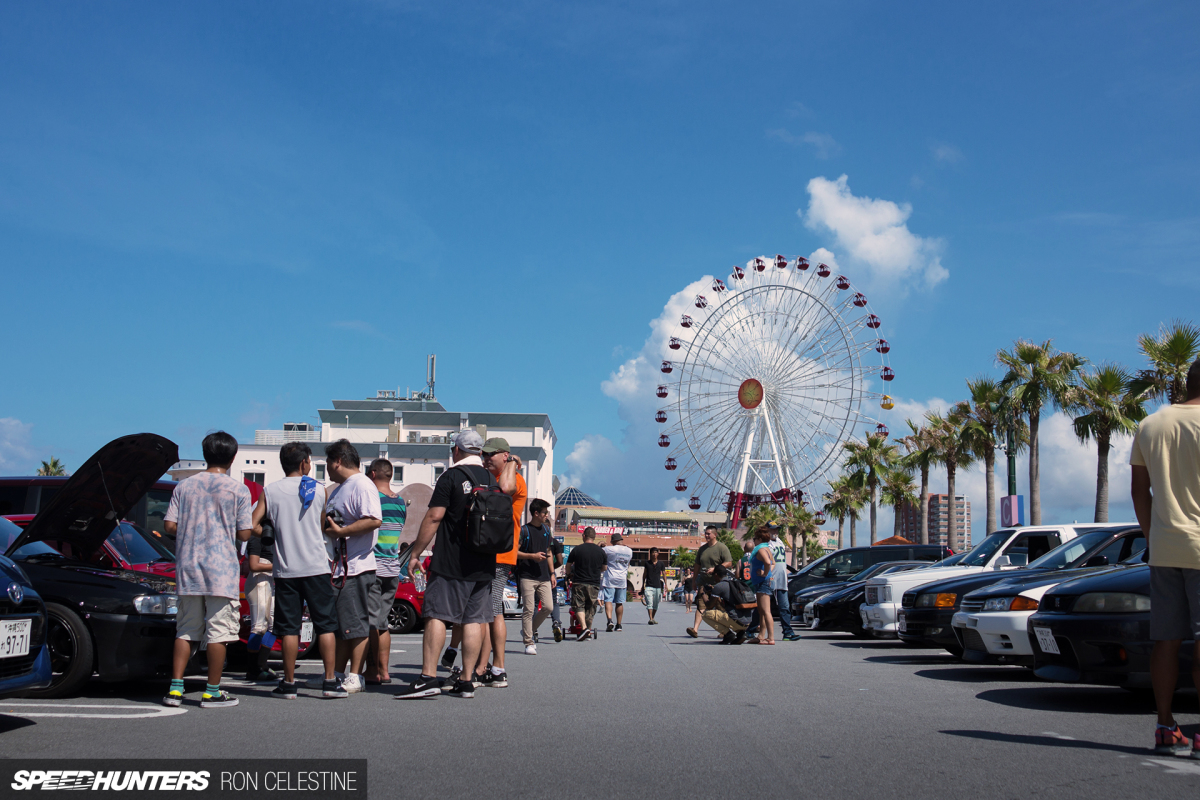 Because I was only going to be in Okinawa for a short amount of time, I wanted to in indulge in as much car culture as I could. So when a friendly invitation to attend the island's popular Car and Coffee event came via its coordinator, Eric Thiergood of Oki's Finest, I couldn't accept fast enough.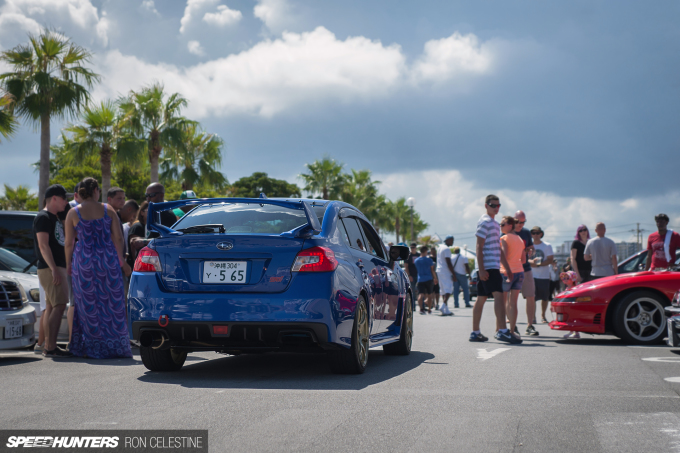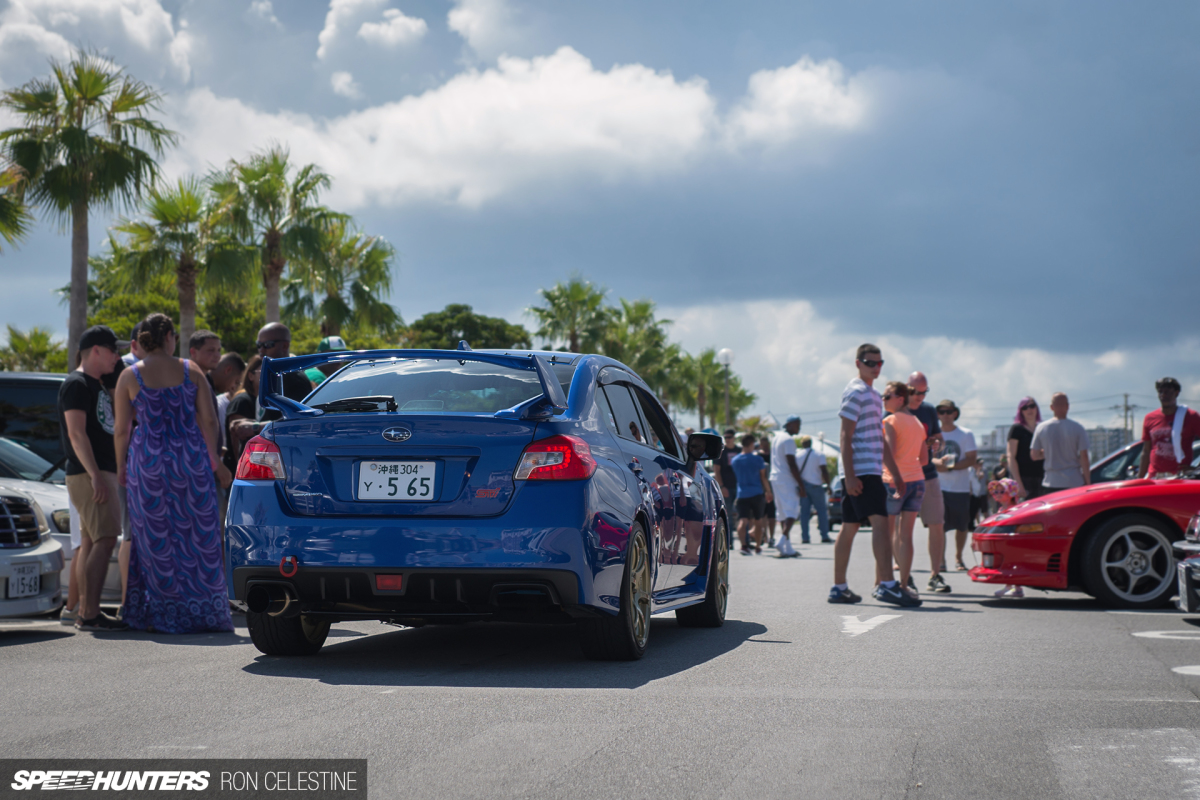 Having been to Cars and Coffee type events back home in the States, I sort of knew what to expect: an extremely early start, plentiful amounts of coffee (preferably cold brewed given Okinawa's summer climate) and perhaps breakfast, and then the main event – shooting the breeze with with likeminded individuals for a couple of hours.
Does a weekend morning get any better?
Before even arriving at the Cars and Coffee location, namely Okinawa American Village, I had been given a warning.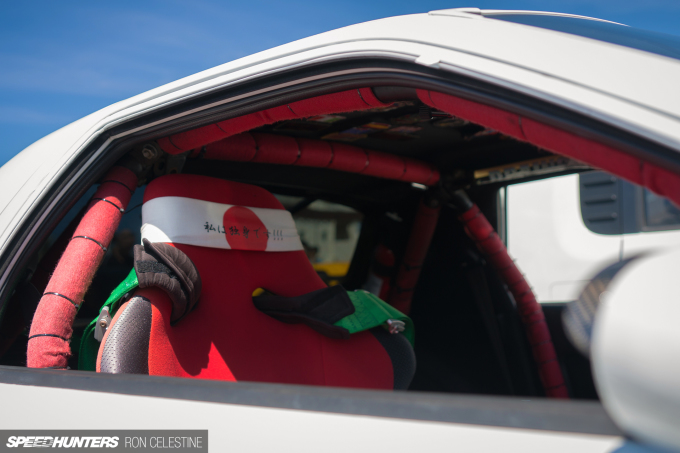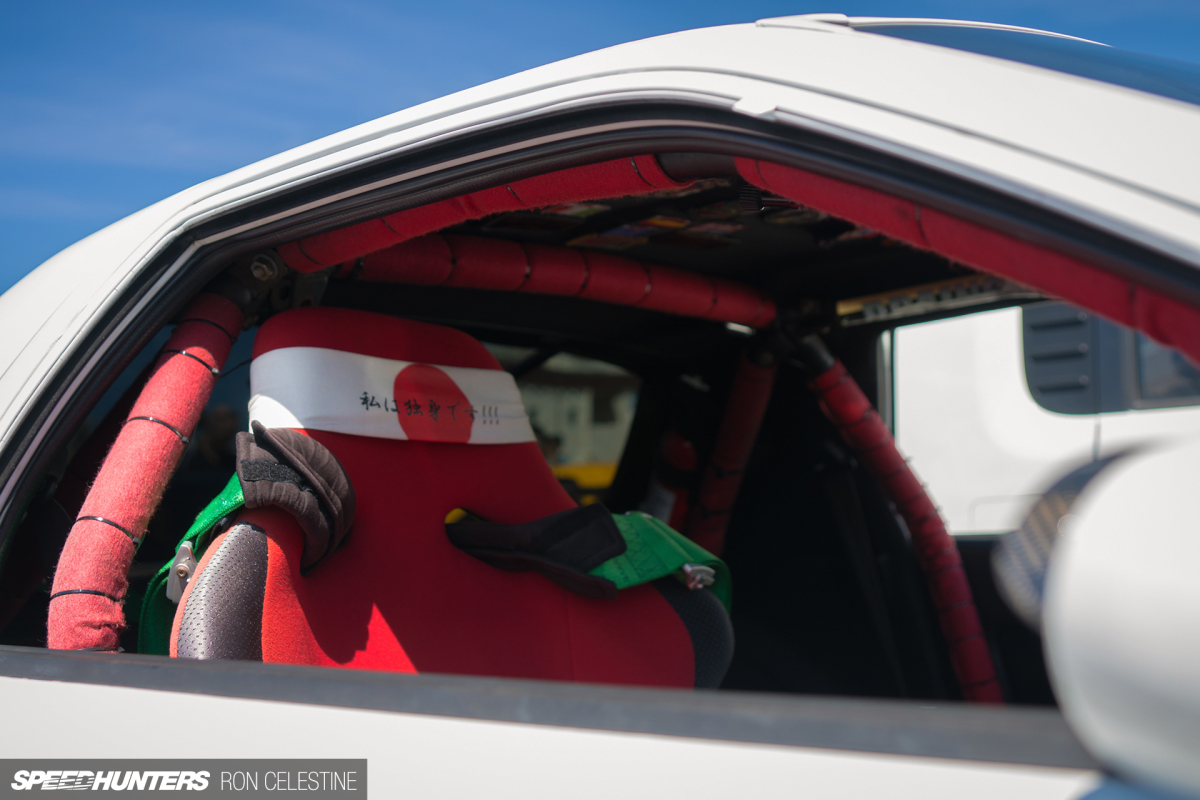 I was told not to get my hopes up too high as the local scene is not as big as what I would be used to coming from the Japanese mainland – and much smaller than it was 10 years ago – and that the standard of cars might not live up to expectations either.
Taking that advice with a grain of salt was the right thing to do too, because what I found was something special.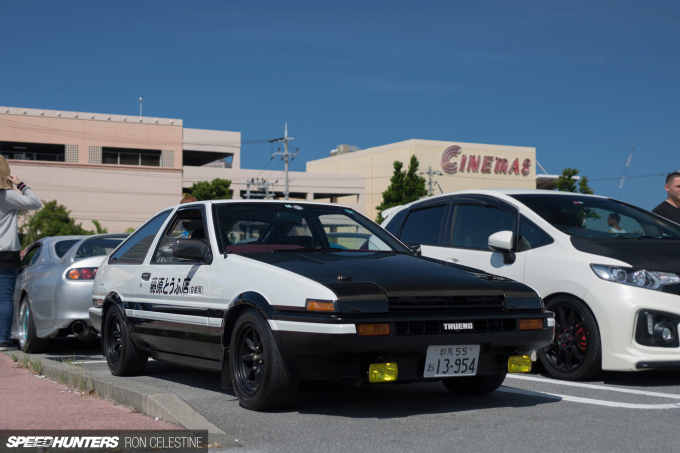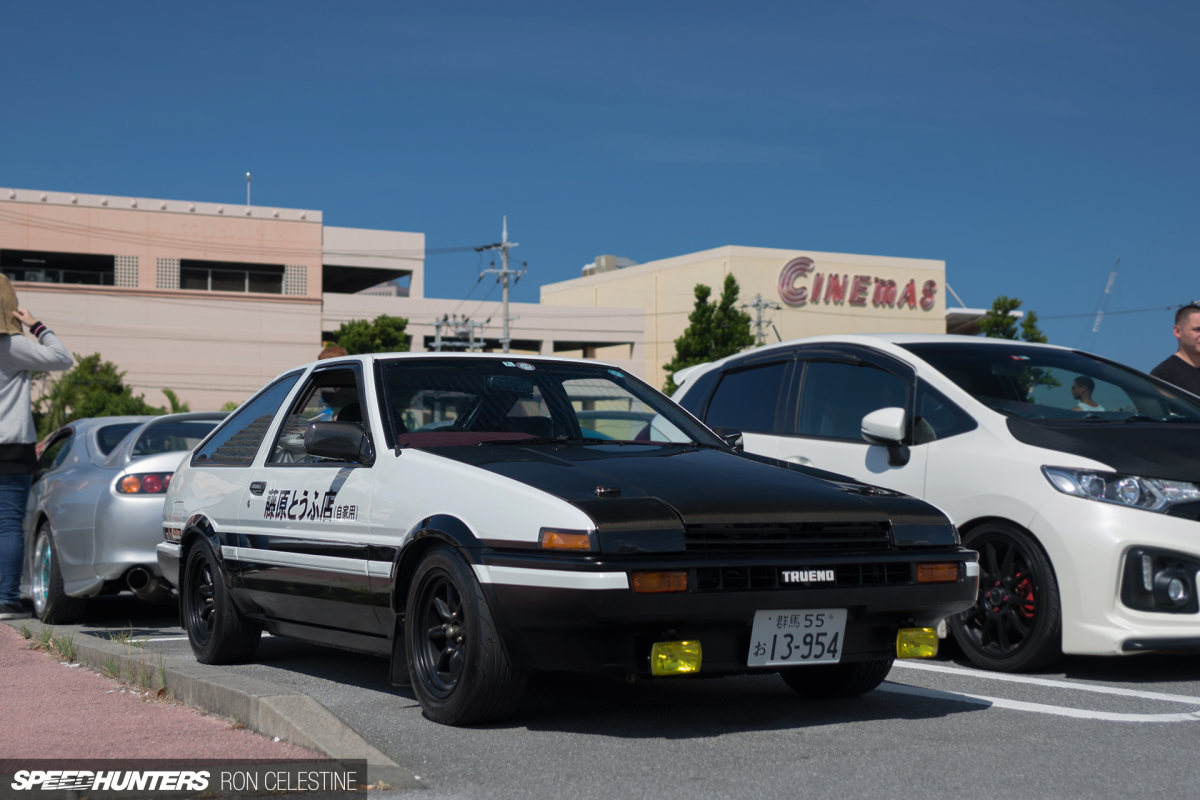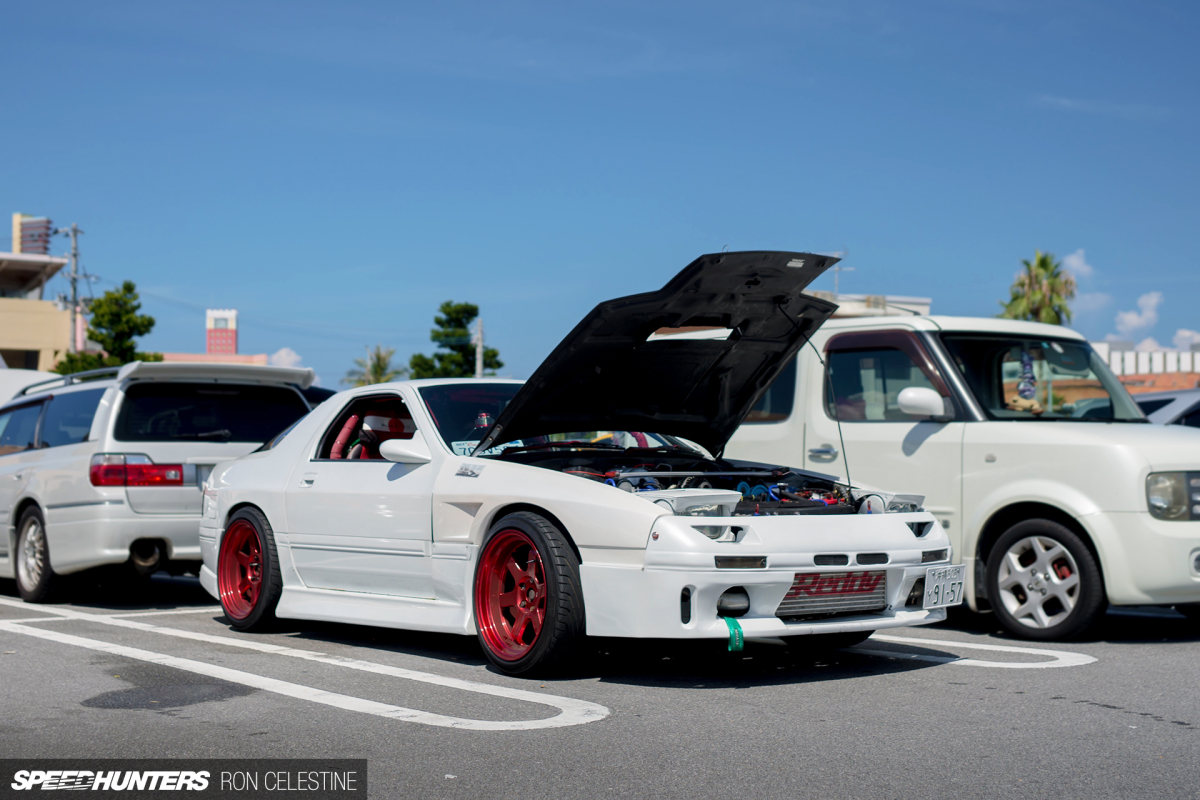 Similar to any other Cars and Coffee event, there was a nice variety of cars parked up in rows. Any qualms that might have been planted in mind regarding quality went straight out the window.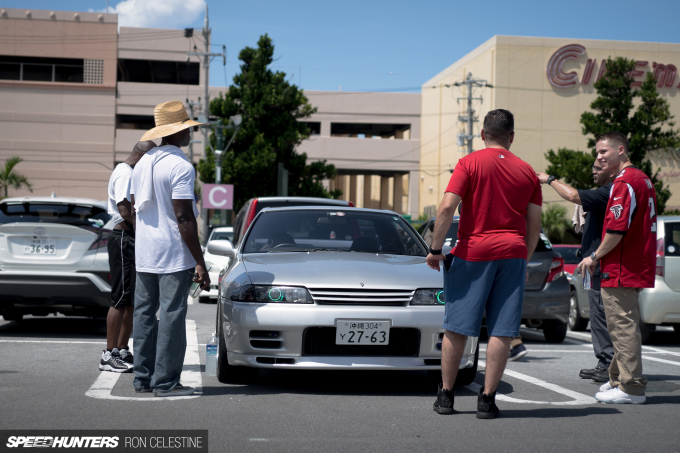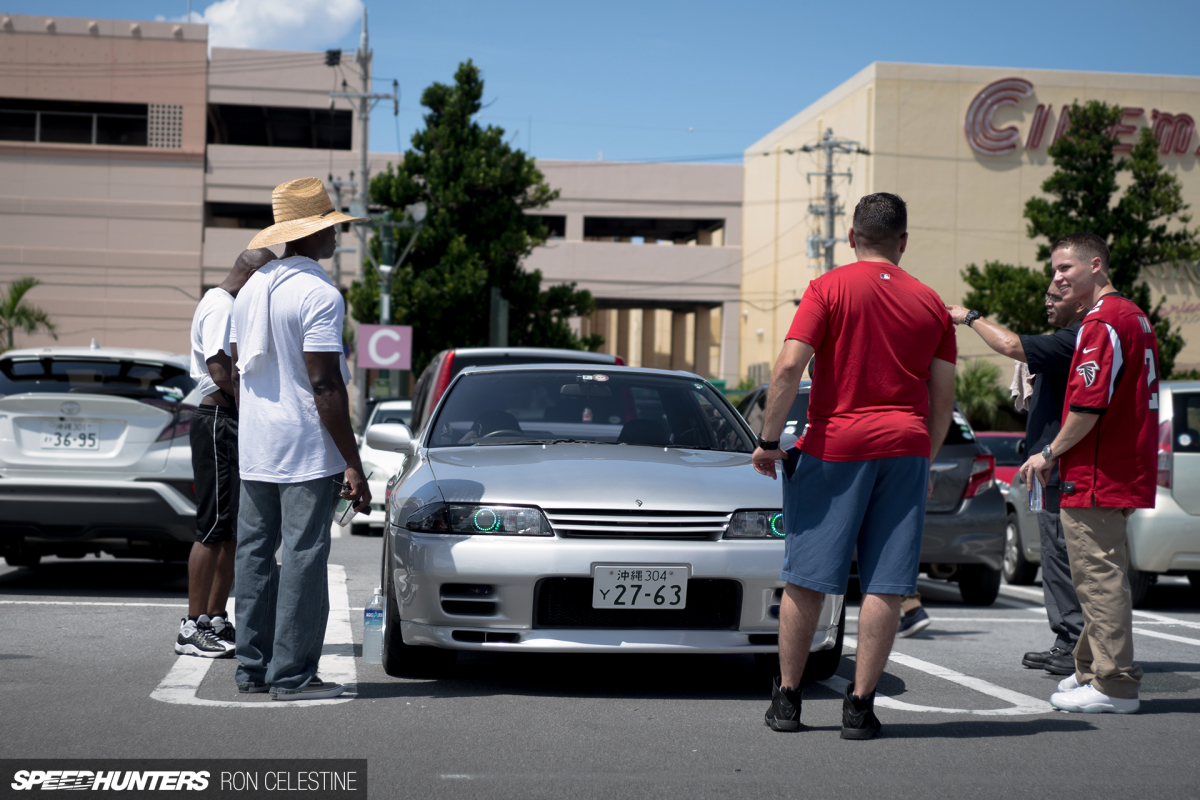 In my last spotlight I mentioned how popular the Nissan Skyline GT-R is among the US military stationed in Okinawa, and that there were no shortage of clean and impressive examples at this casual get-together.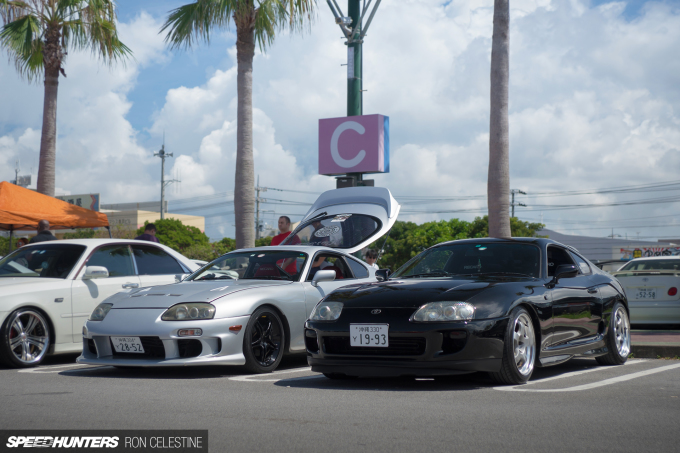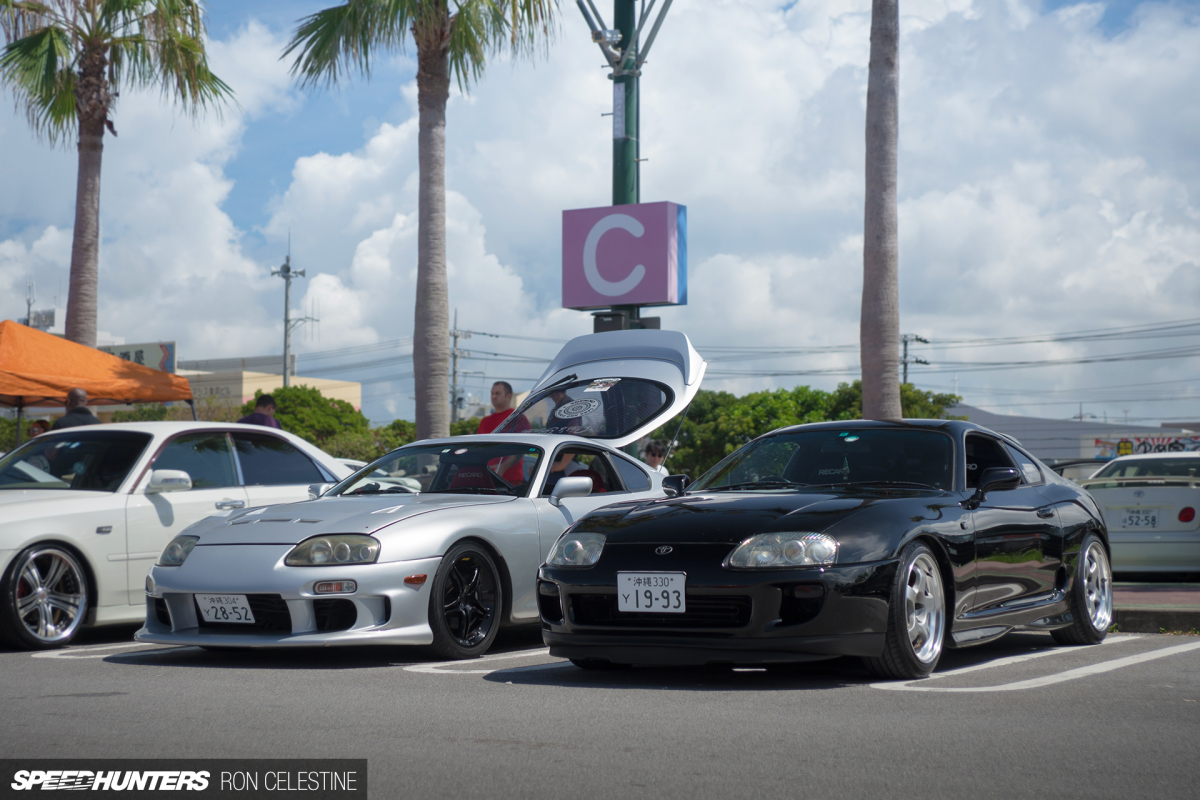 In the popularity stakes, behind the Skyline GT-R – and specifically the BNR32 model – comes the JZA80 Toyota Supra.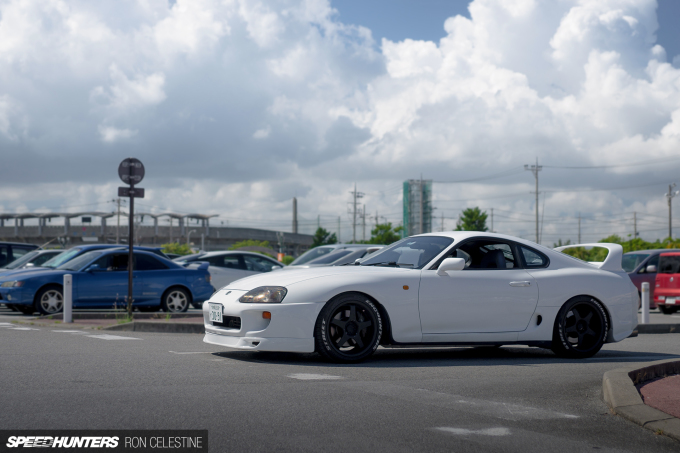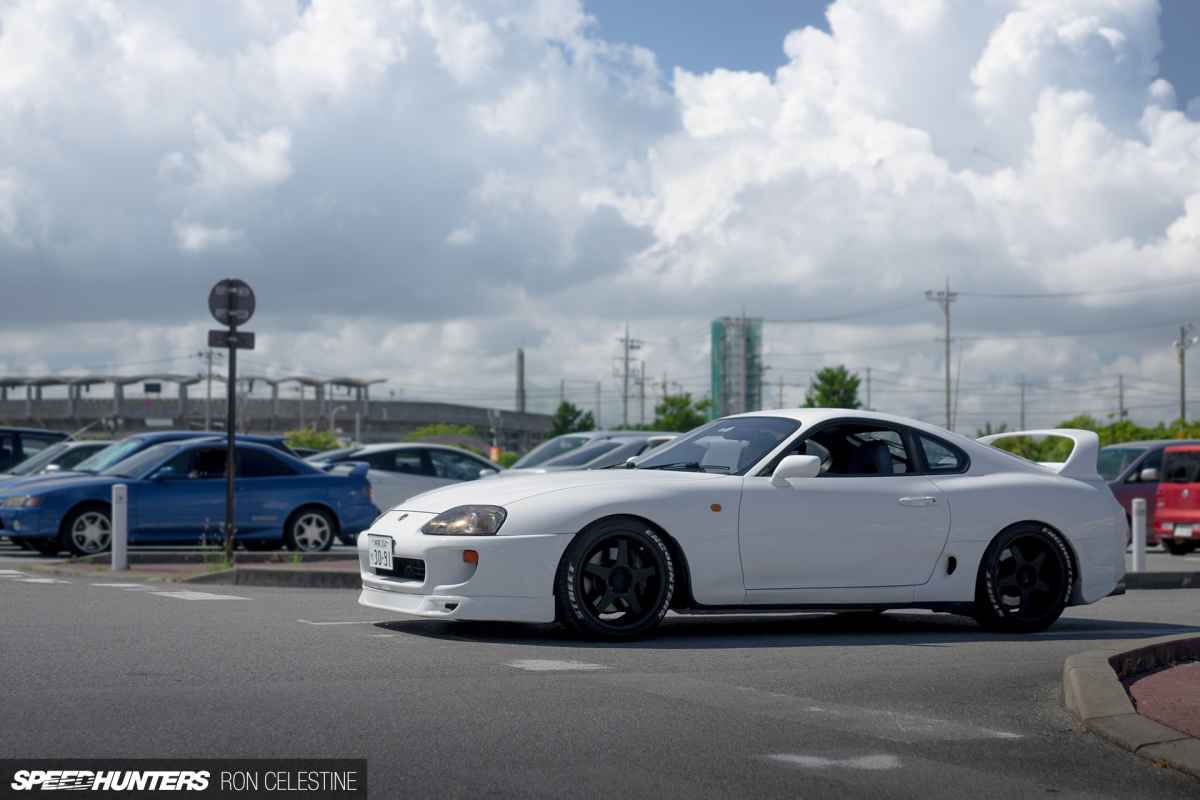 Because these cars were sold new in the US I'm not sure if they'll ever match the GT-R for collectability Stateside, but like all performance cars from the golden era of Japanese turbo technology, their popularity isn't going to wane. That means values will inevitably only continue to rise for well cared for examples. The Supra's key traits: rear-wheel drive and a bulletproof 2JZ-GTE engine capable of silly power output, are pretty good selling points, too.
What's In A Letter?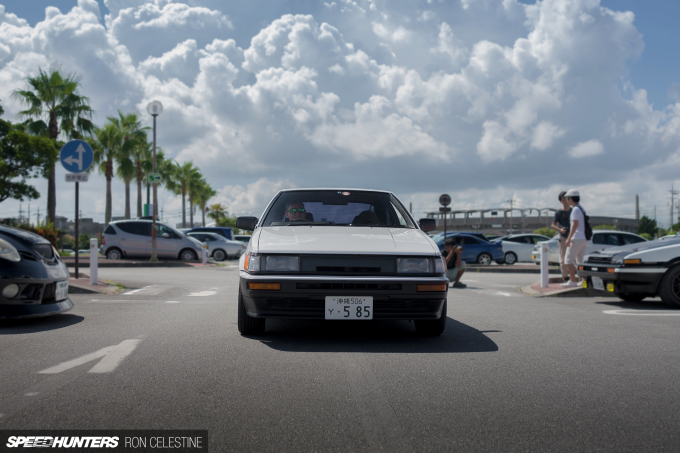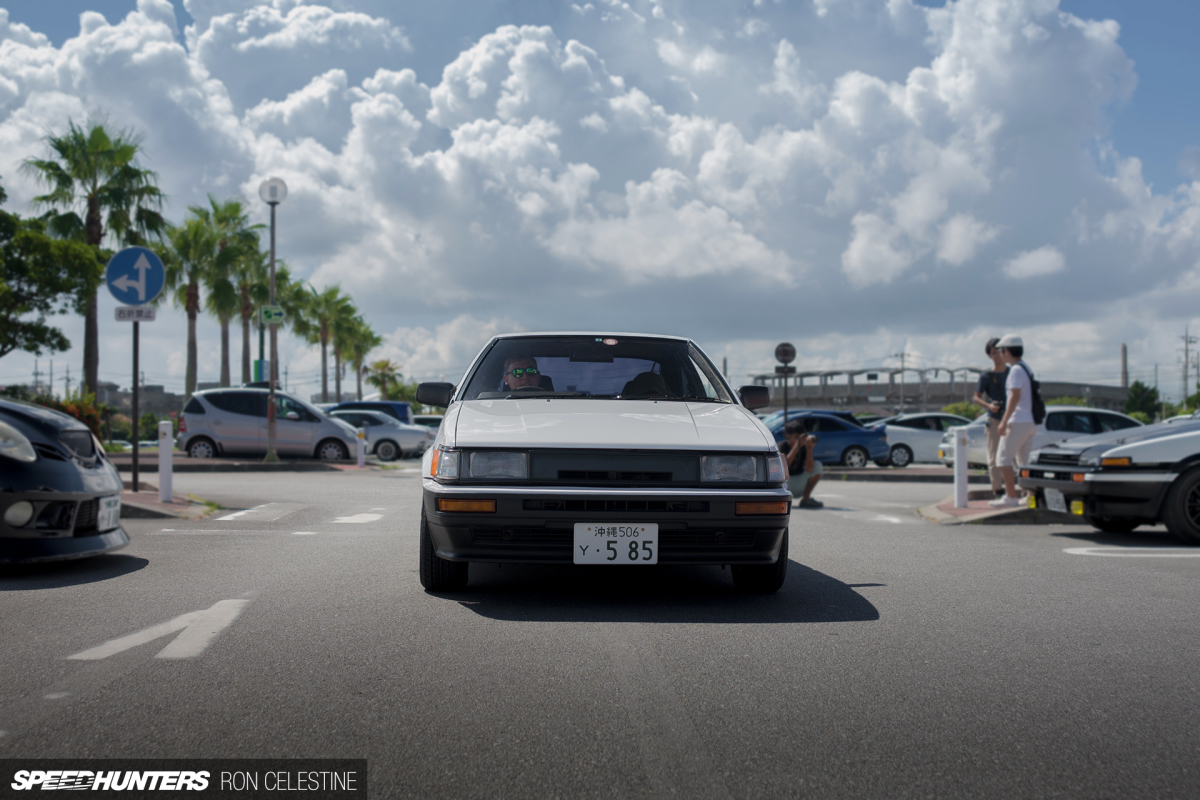 Since we're on the subject of the US military, I noticed that a lot of people wanted to know more about the license plates of service members' cars. 'Y' plates, like the one above, are designated for full-size cars owned by those who work under the Status of Forces Agreement (SOFA) in Japan.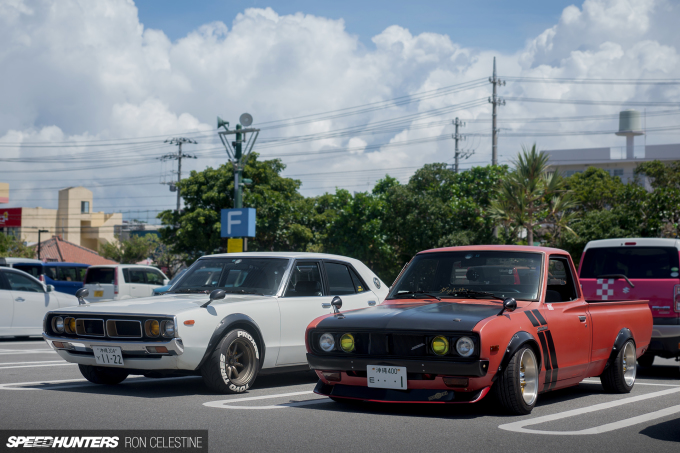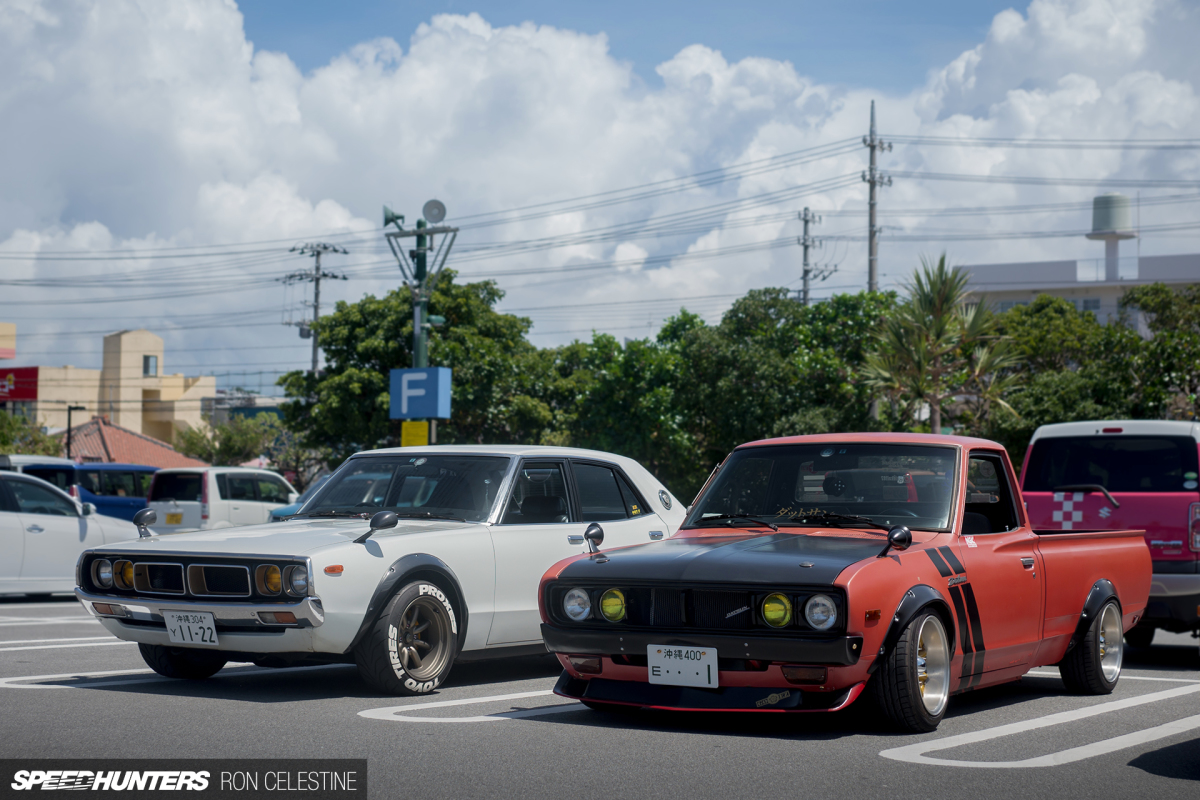 The 'Y' simply came about because the system began in Yokohama tax offices. Don't worry, I'm coming back to that Kenmeri with a feature.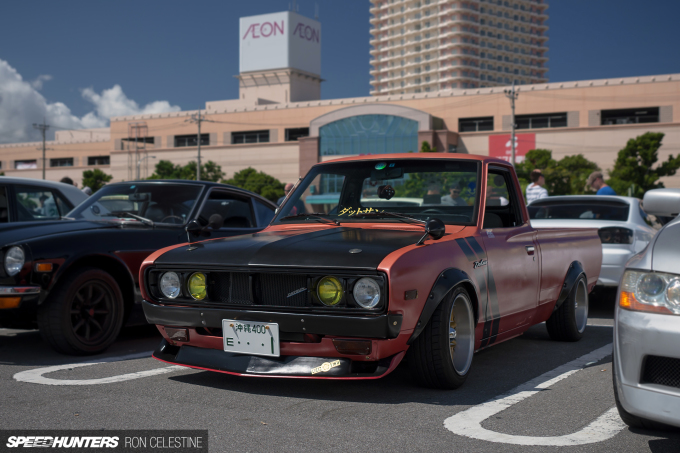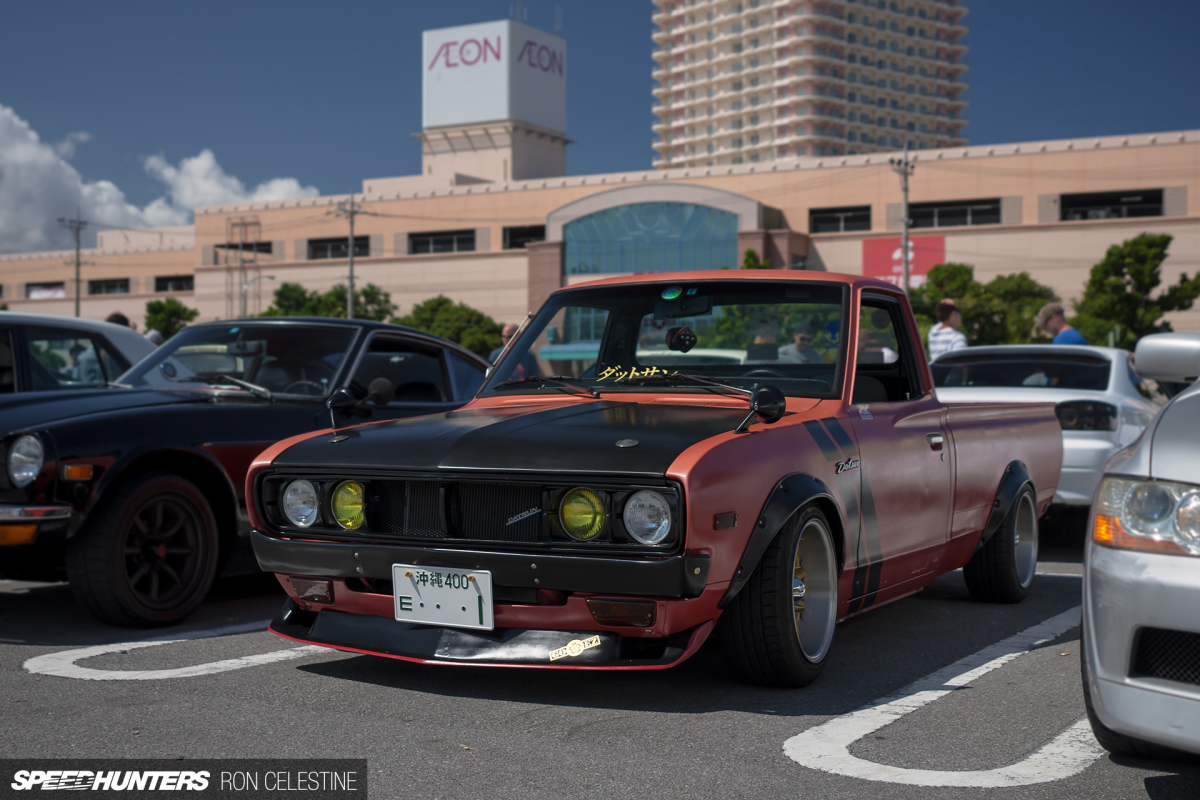 'E' plates, like those on this left-hand drive Datsun 620 pickup, are issued for US military members who bring a car over to Japan from abroad. Japanese import taxes are not paid on these vehicles, but they need to leave Japan when the service member is redeployed. Although I didn't find any on this particular day, there are also military 'A' plates reserved for kei cars (those under 660cc engine displacement).
East Meets West
Although many people who came out to Cars and Coffee were from the nearby US military bases, there were a number of Okinawa locals who brought along their cars, too.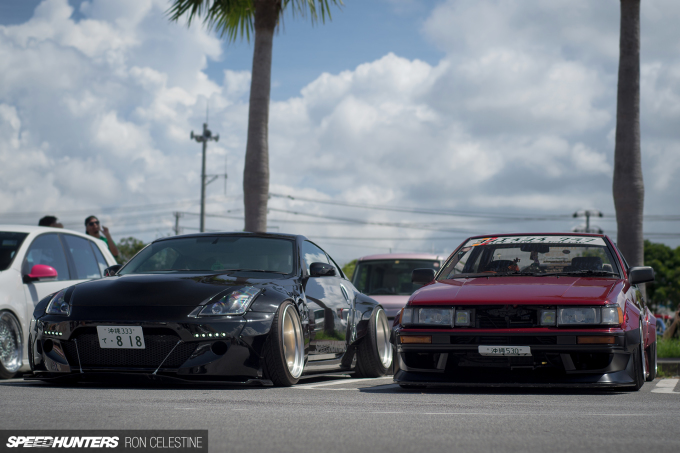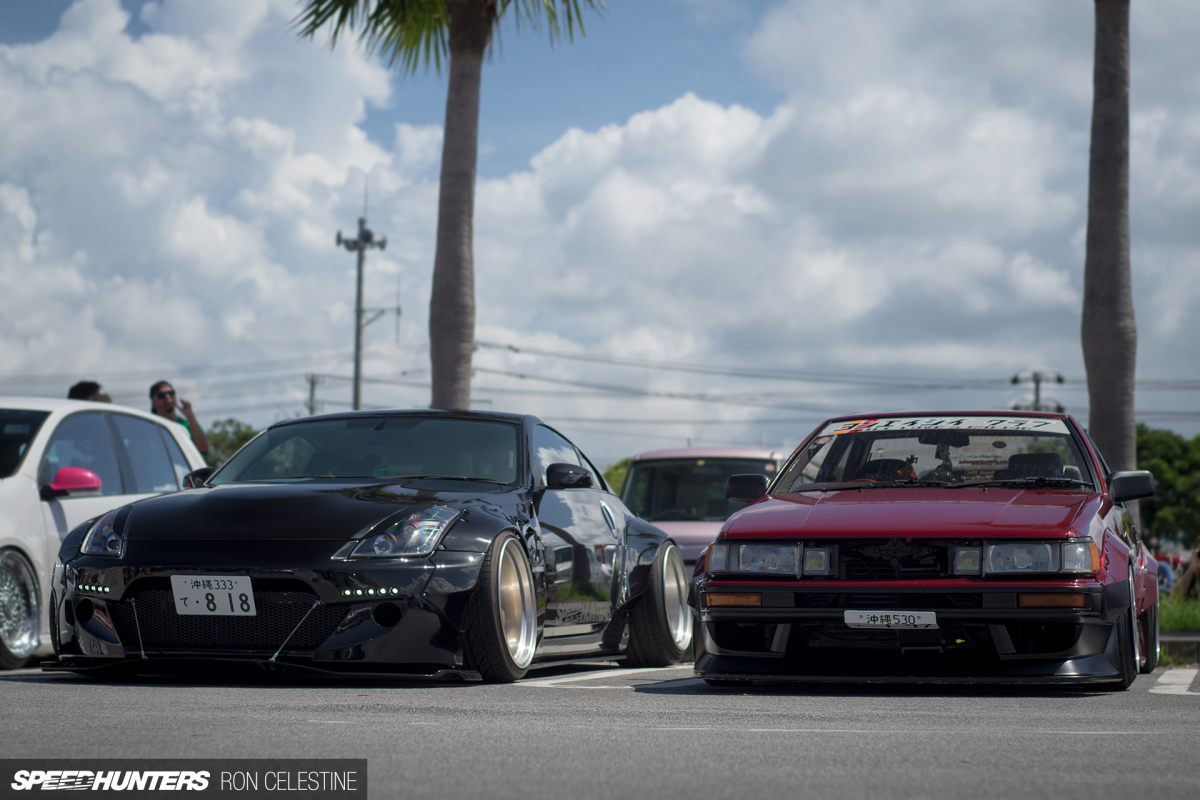 Many of the roads in Okinawa are not as smooth as those in Japan's mainland cities, so I'd imagine this Nissan Z33 would be extremely challenging to drive if it's running a static suspension setup. The Rocket Bunny wide-body kit does wonders for the overall aggression and presence this car exudes, and the Speedhunters banner sticker on the side is a nice touch, too.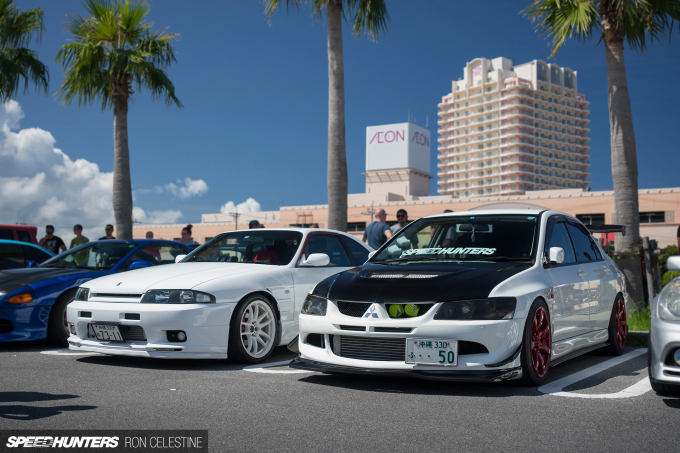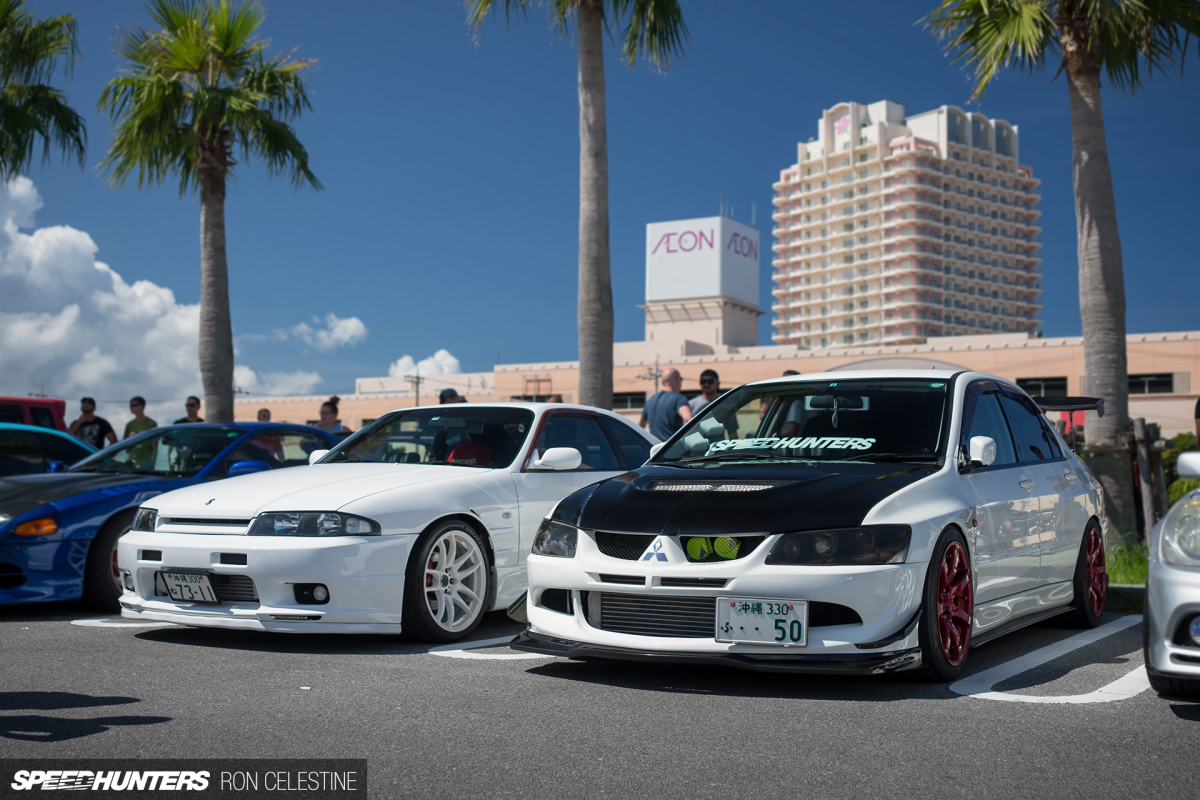 It's always humbling to see Speedhunters getting love when I'm out and about.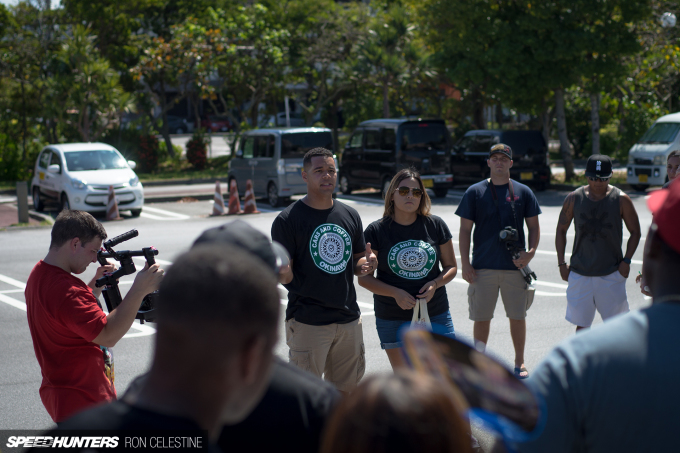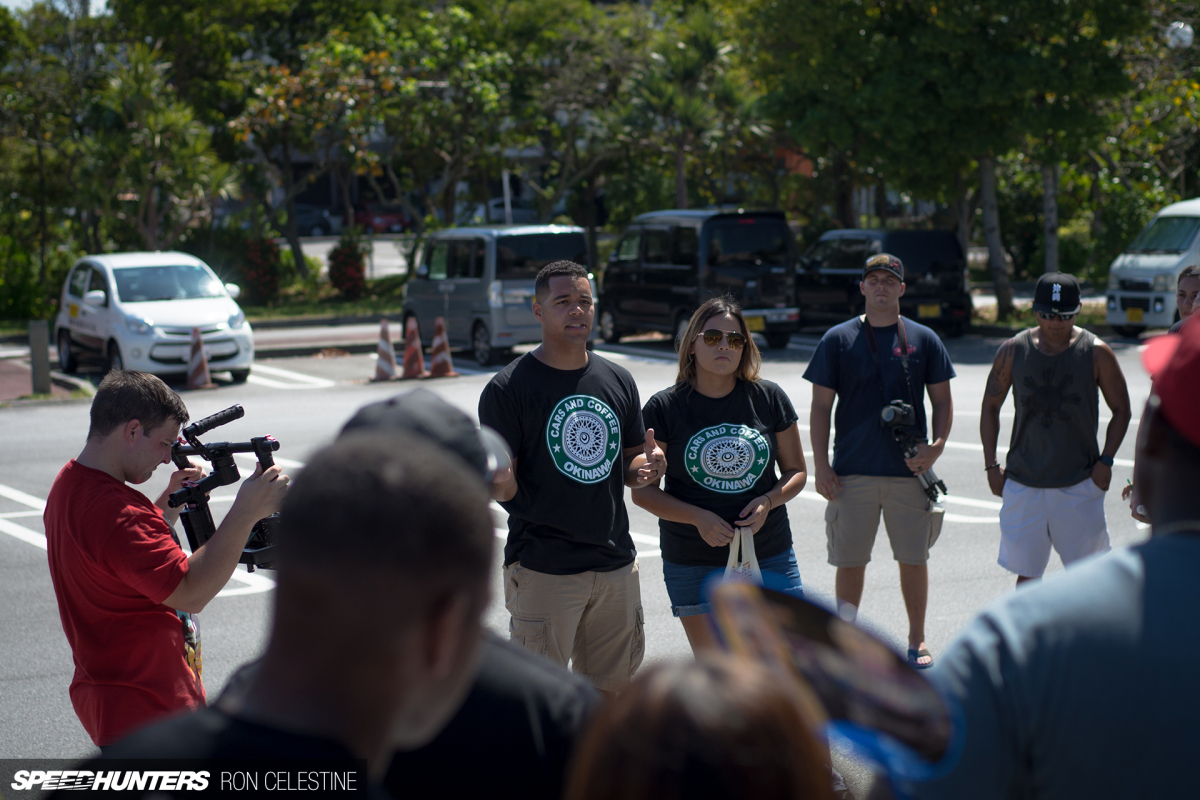 As the late morning rolled onto noon and the almost unbearable heat and humidity began to set in, Eric gathered everyone to make a couple of special announcements. Firstly, a moment was taken to remember Charlie 'Luze' Findley, a fellow enthusiast highly active in Okinawa's car scene who tragically lost his life in the USS John McCain accident back in August.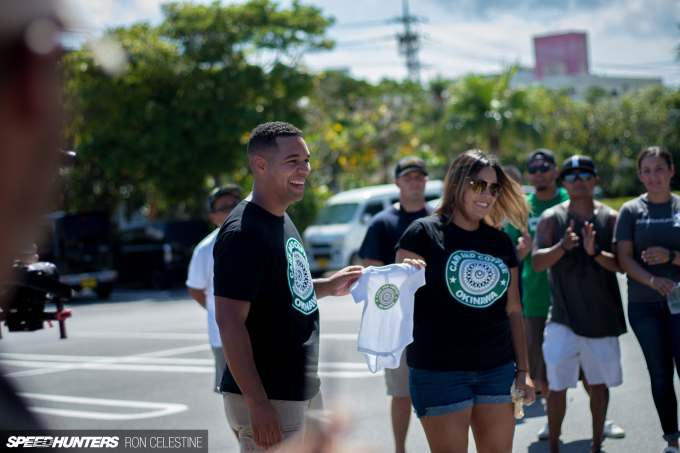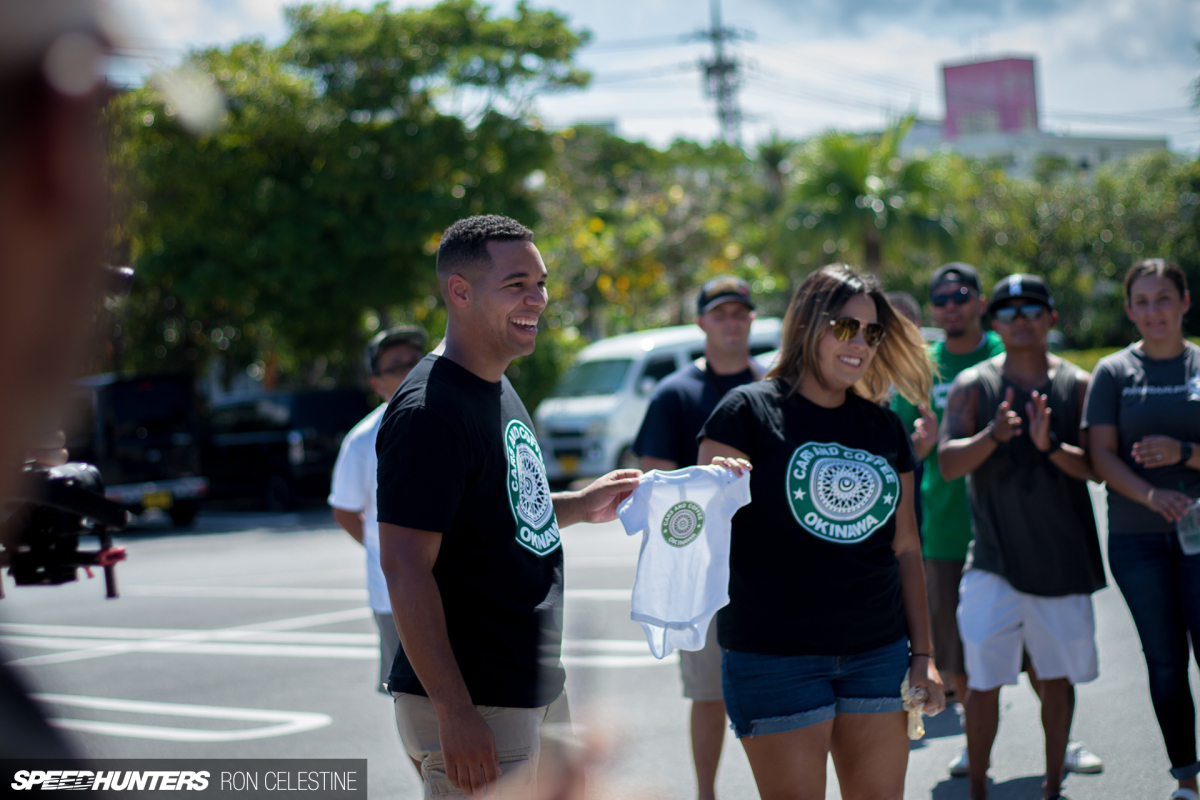 The other news was of an upcoming addition the Oki's Finest family.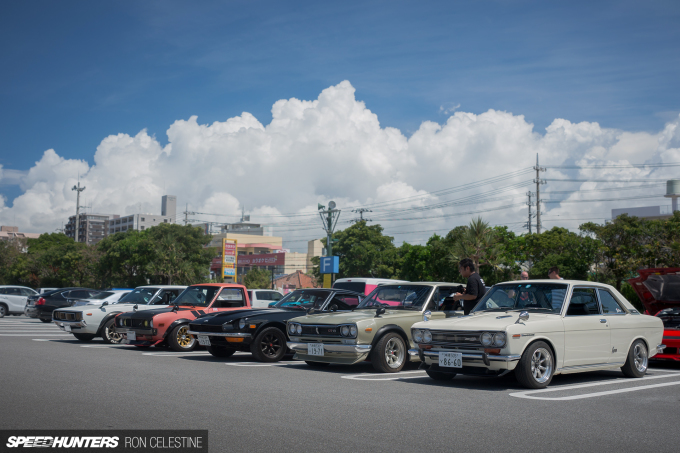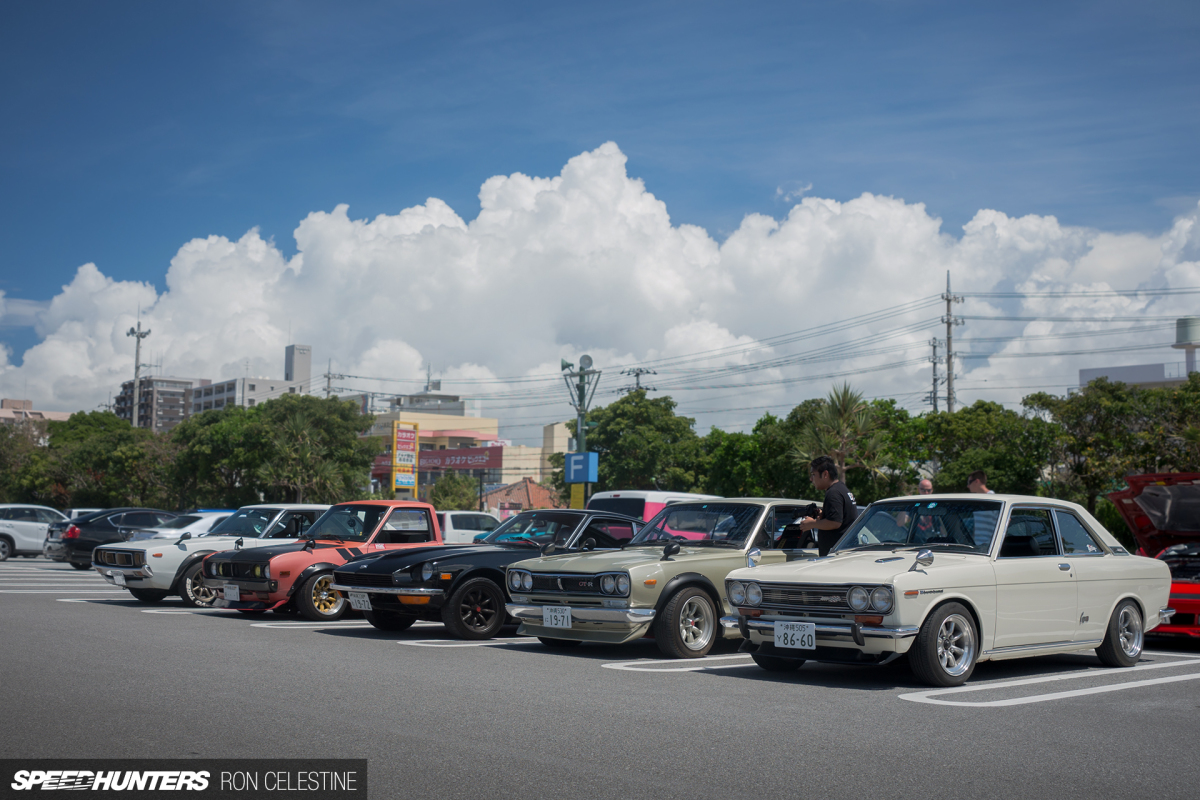 This was the takeaway I got from the Oki's Finest car community. It may be a small group of enthusiasts, but to get caught up on the size is thinking about it the wrong way. It's never about the size of your crew or your community, but how you rally together.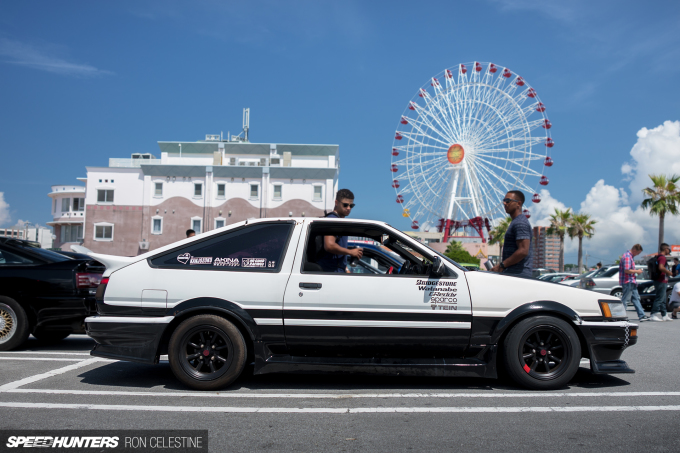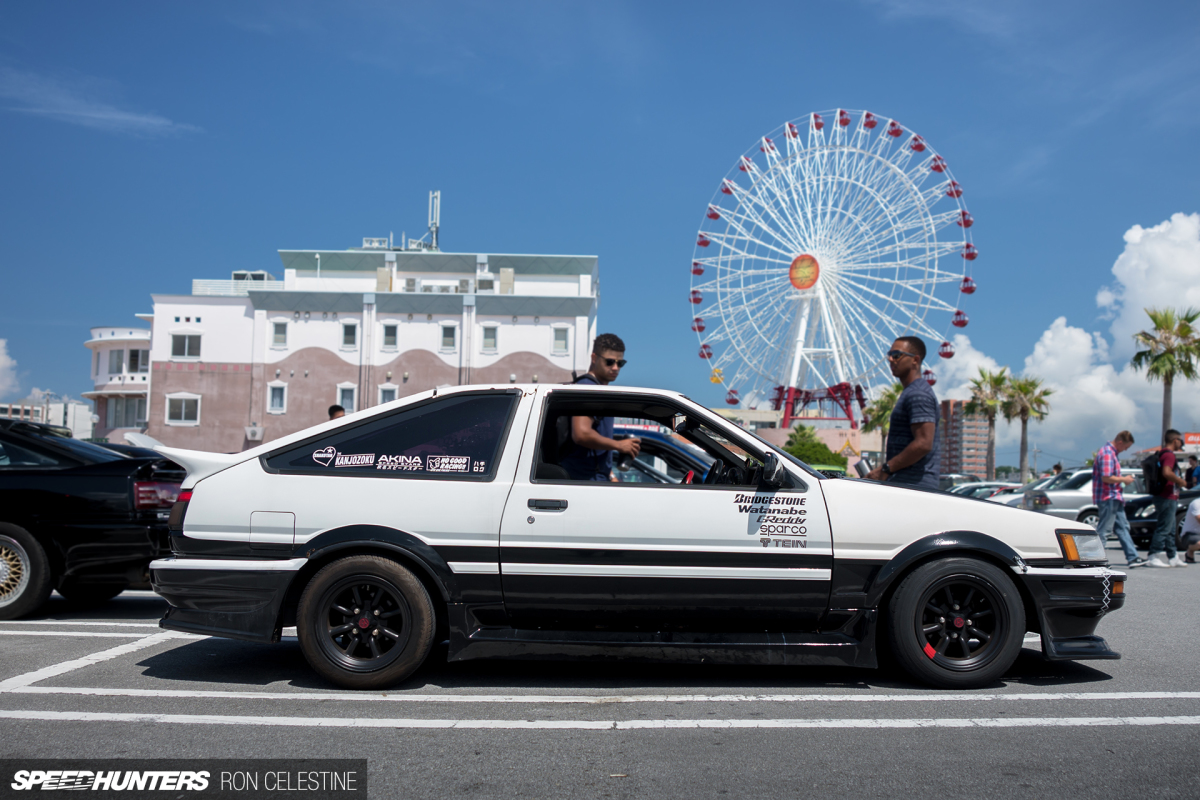 Cars will always be at the center of it all, but the way we act and accept each other is what really makes the car community so special. In that respect, this little island does it right.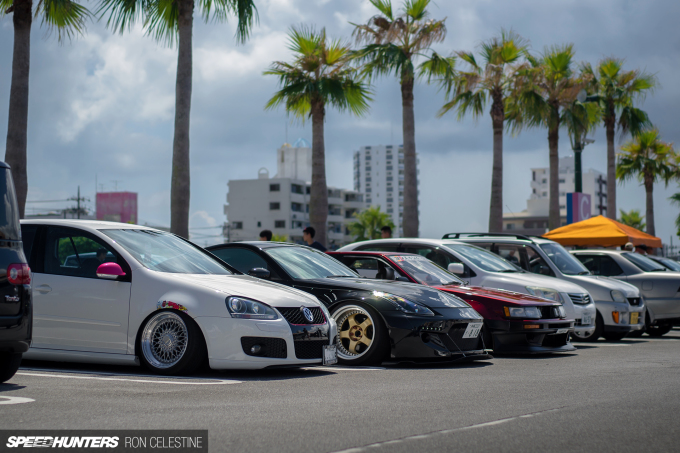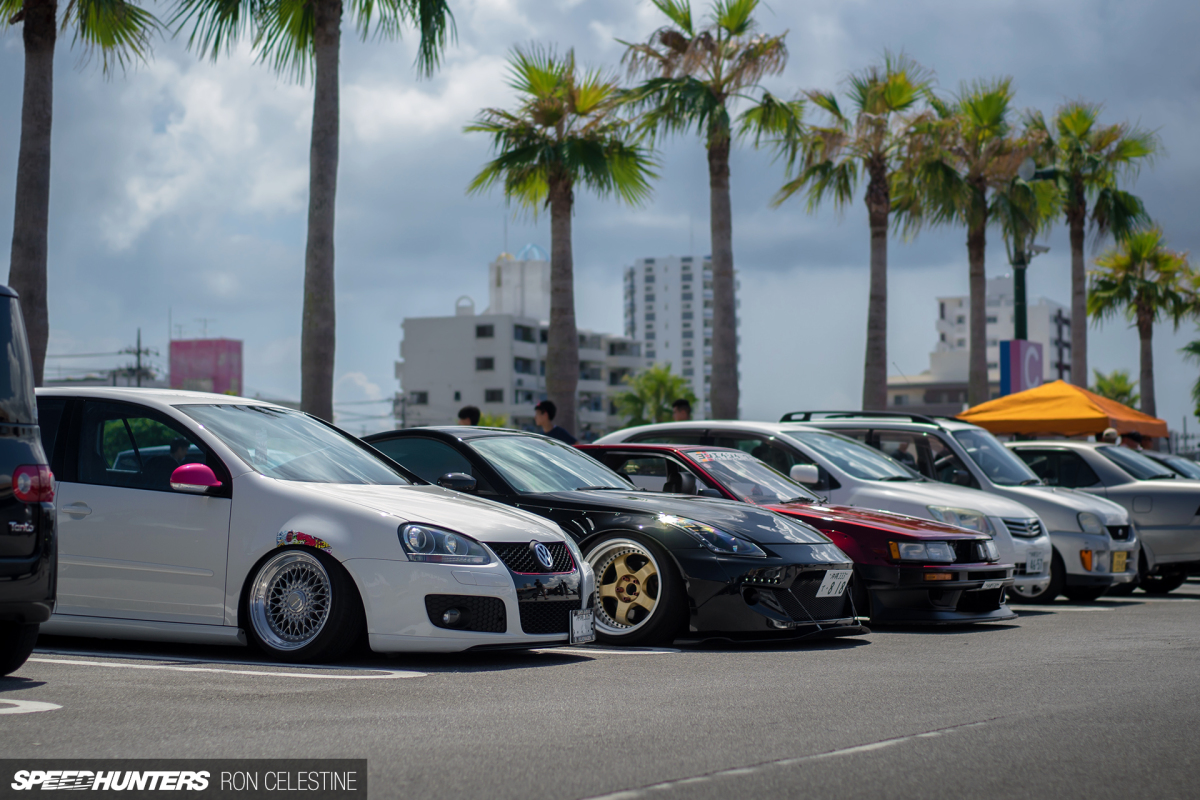 As special as it was, though, by this time it approaching 40°C (104°F), which brought this Cars and Coffee meet to close. It wasn't the end of my Speedhunting day though, so stay tuned for more Okinawan car culture.
Ron Celestine
Instagram: celestinephotography