Thursday, Practice
If there was one feeling that was prevalent in the Worthouse Drift Team before Texas last weekend, it was exhaustion.
This was the seventh round of the 2017 Formula Drift Pro Championship, and for the seventh time this season, the team congregated from around the world to come and do battle. Lots of air miles have been racked up by the team, and the drivers especially. This would be James Deane's and Piotr Więcek's 12th competitive event this year, spanning four countries, two continents, and not including demonstration runs.
At the previous round in Seattle, James had narrowly extended his championship points lead over Fredric Aasbø, whom he defeated in a thrilling final battle which required a One More Time before a winner could be decided. However, with a maximum haul of 107 points at each event and a 57-point lead, James' advantage could easily be overcome should he suffer a shock defeat or non finish in Texas.
Any dreams of a championship win in his first full Formula Drift season were firmly at the back of his mind.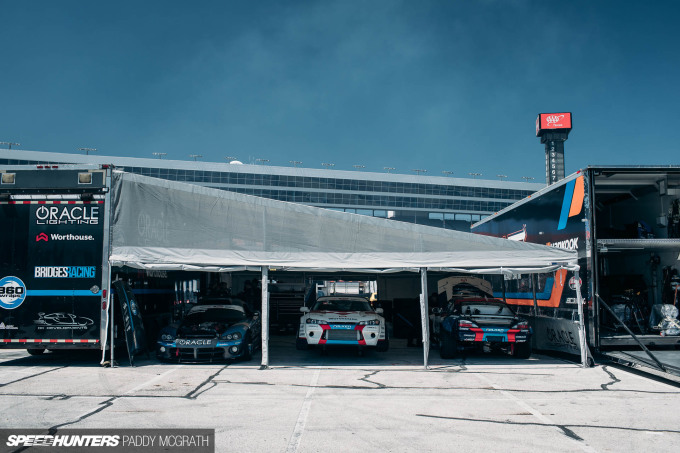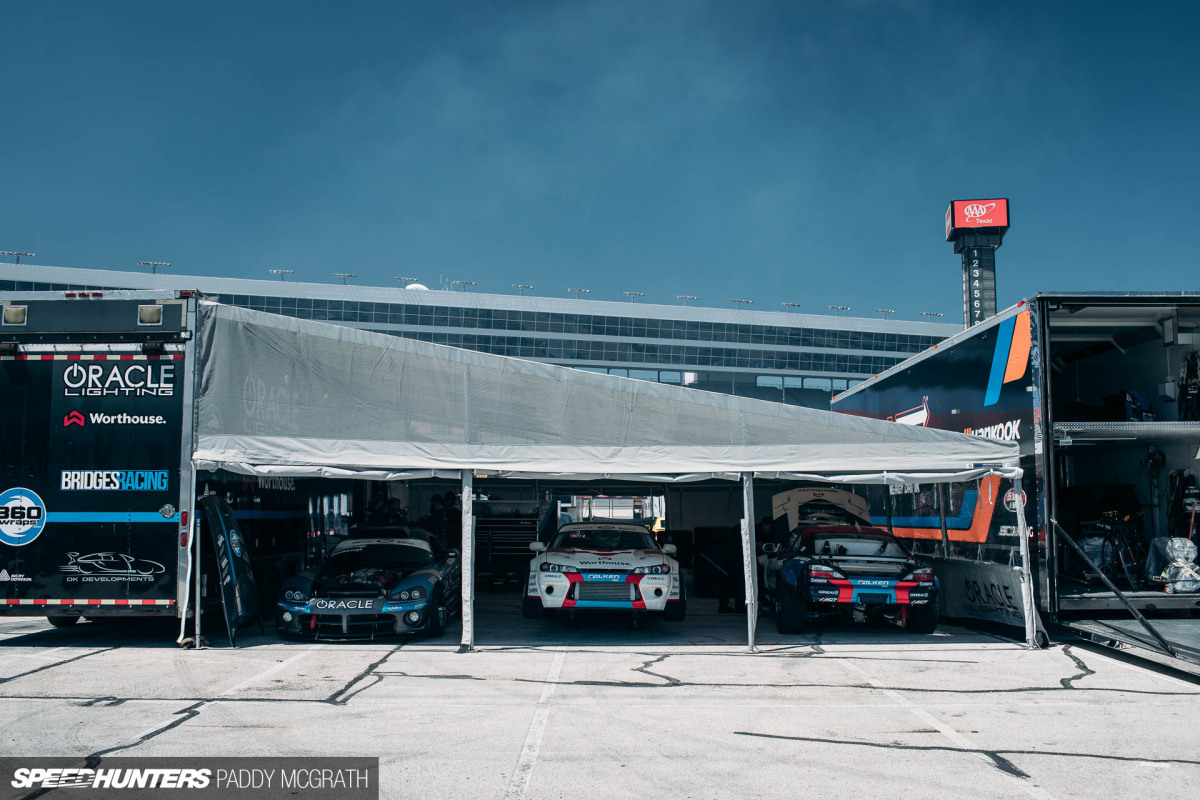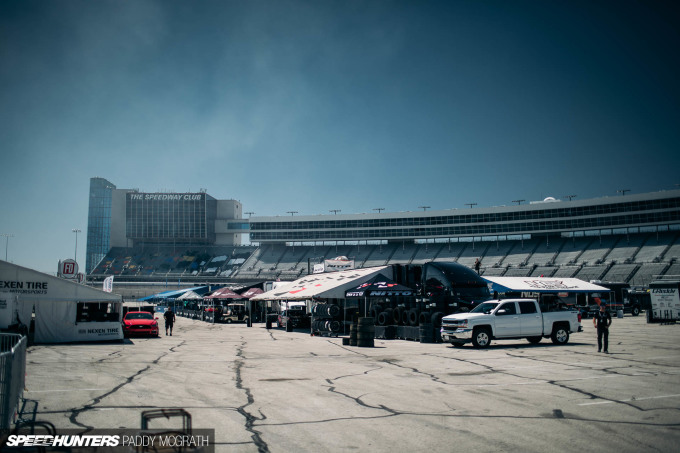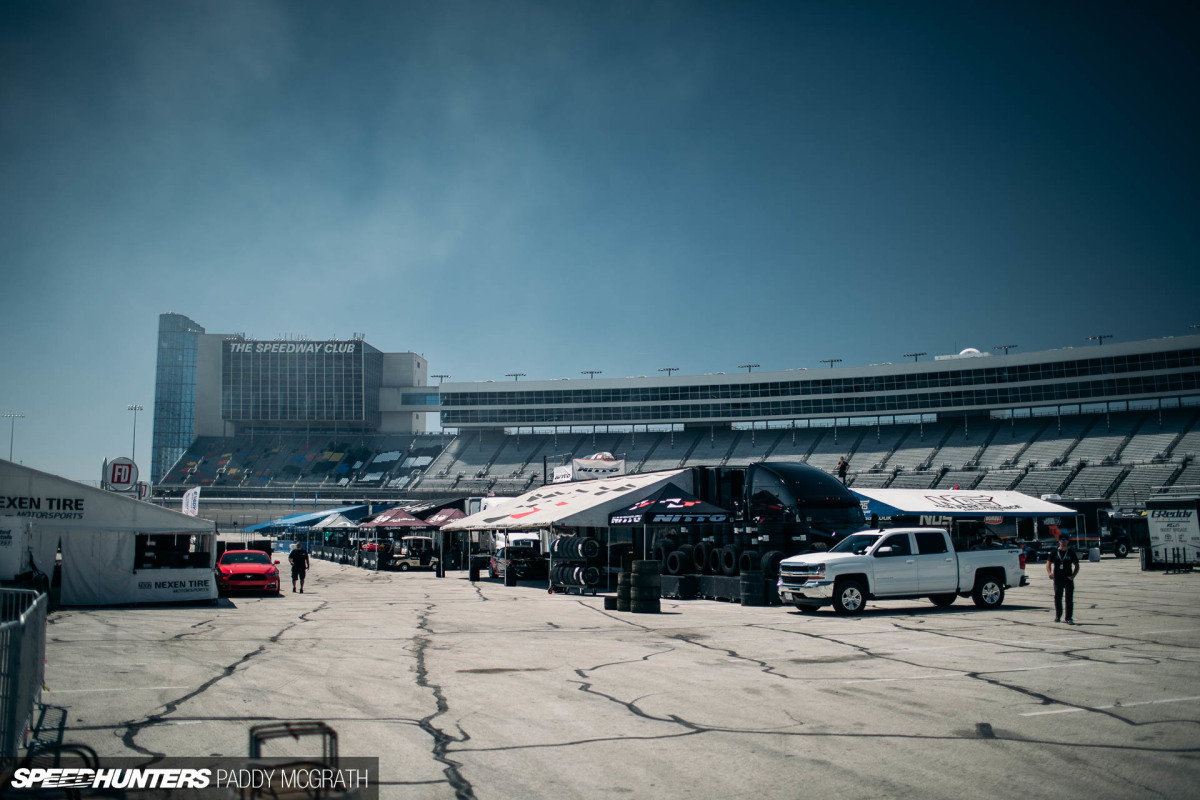 They say that 'everything is bigger in Texas', and they are not wrong. Host to this round of the championship was the 181,000-plus capacity Texas Motor Speedway. I've honestly never attended a venue so large in my life before; it took 20 minutes to just drive around the outside before finding the entrance. It's breathtaking.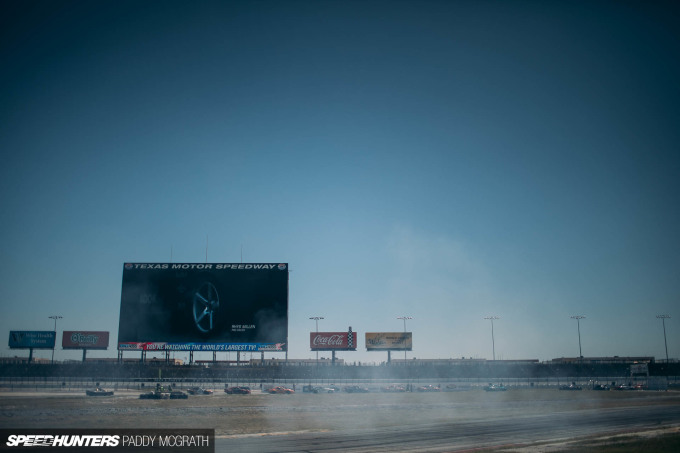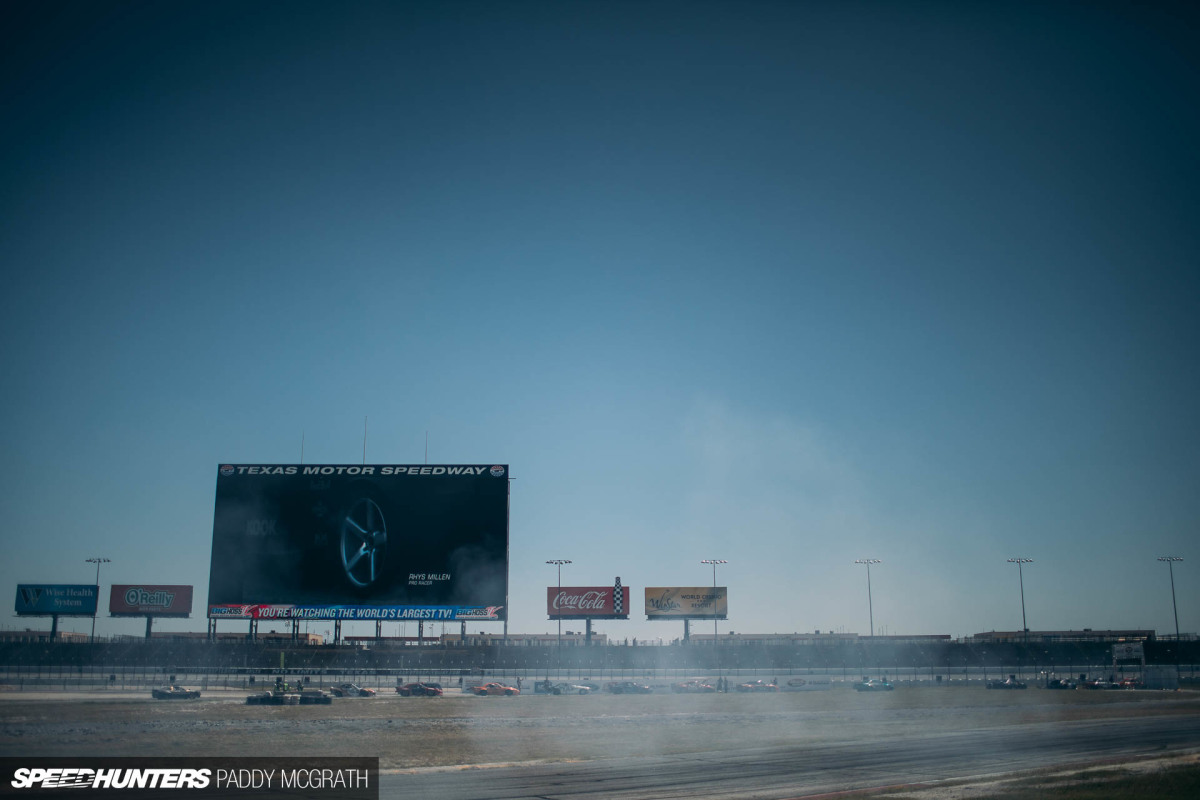 The course used by Formula Drift – sadly – doesn't incorporate the super speedway's banking (although I doubt any of the cars in FD could complete a high line on it anyway, such is its vastness). Instead, the track is laid out on the TMS infield road course. It does feel small in size compared to its surroundings, but never the less, it's fast and deceptive.
Not for the first time this season, the team were faced with a new track that they had never even seen or driven before. Previous years' event coverage were reviewed time and time again, but I guess that nothing quite counts like getting seat time for yourself on the track. It was also the first non oval-based track since Atlanta, despite being held inside the largest oval of the season.
Team meetings in advance are of the utmost importance as setups and strategies are laid out. As the first practice session happens before the first driver's briefing, competitors also have to use some intuition (and watch the Pro2 session) to get an idea of what the judges will be looking for.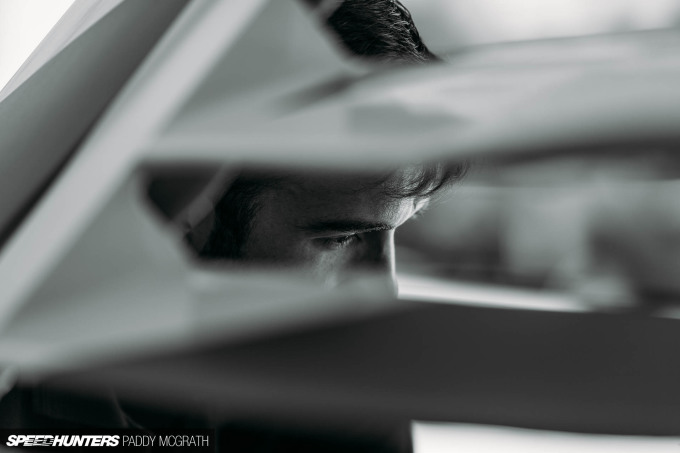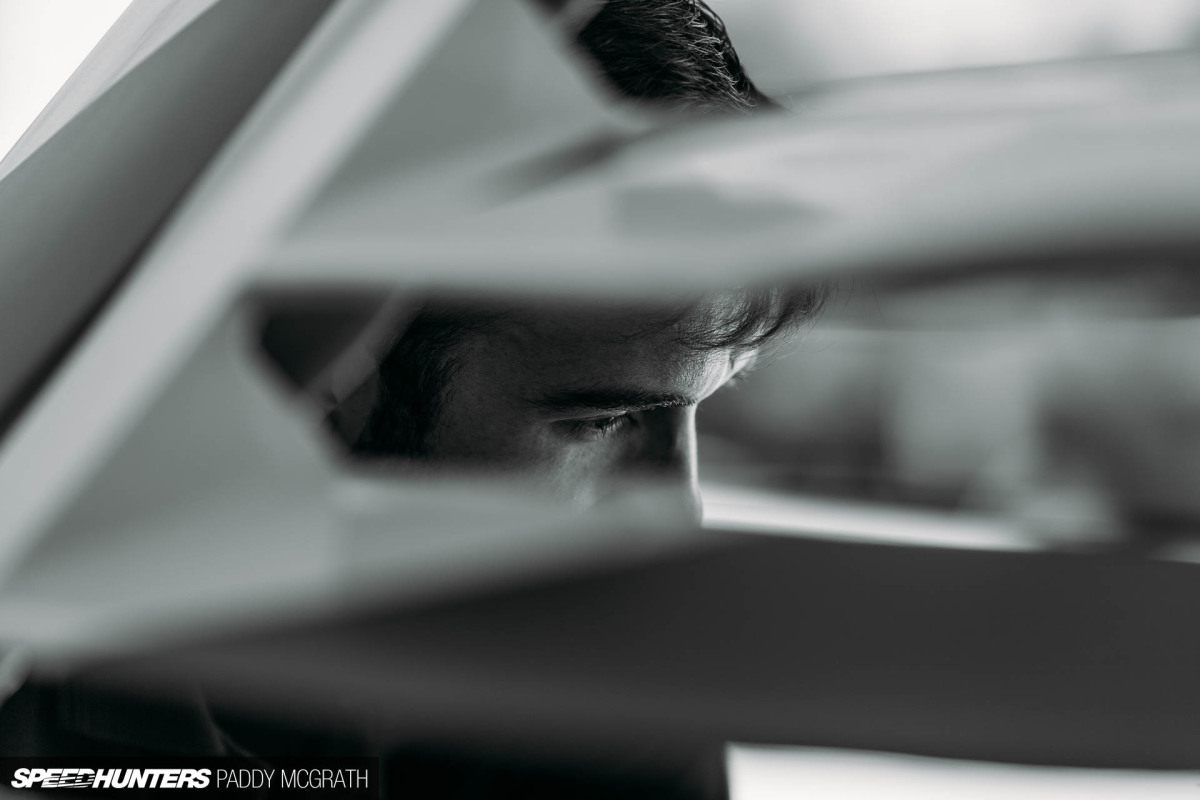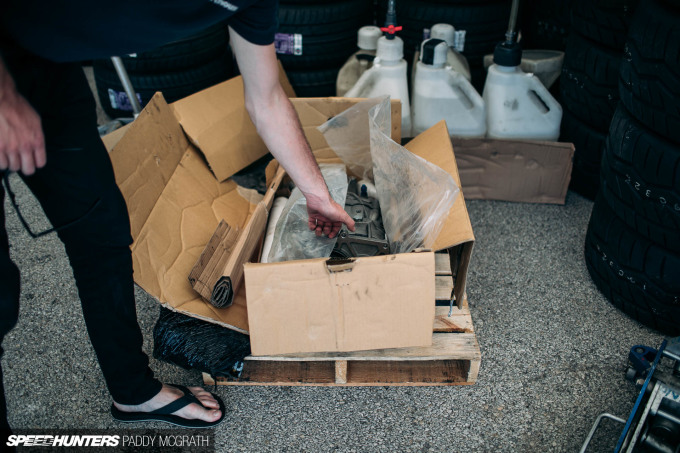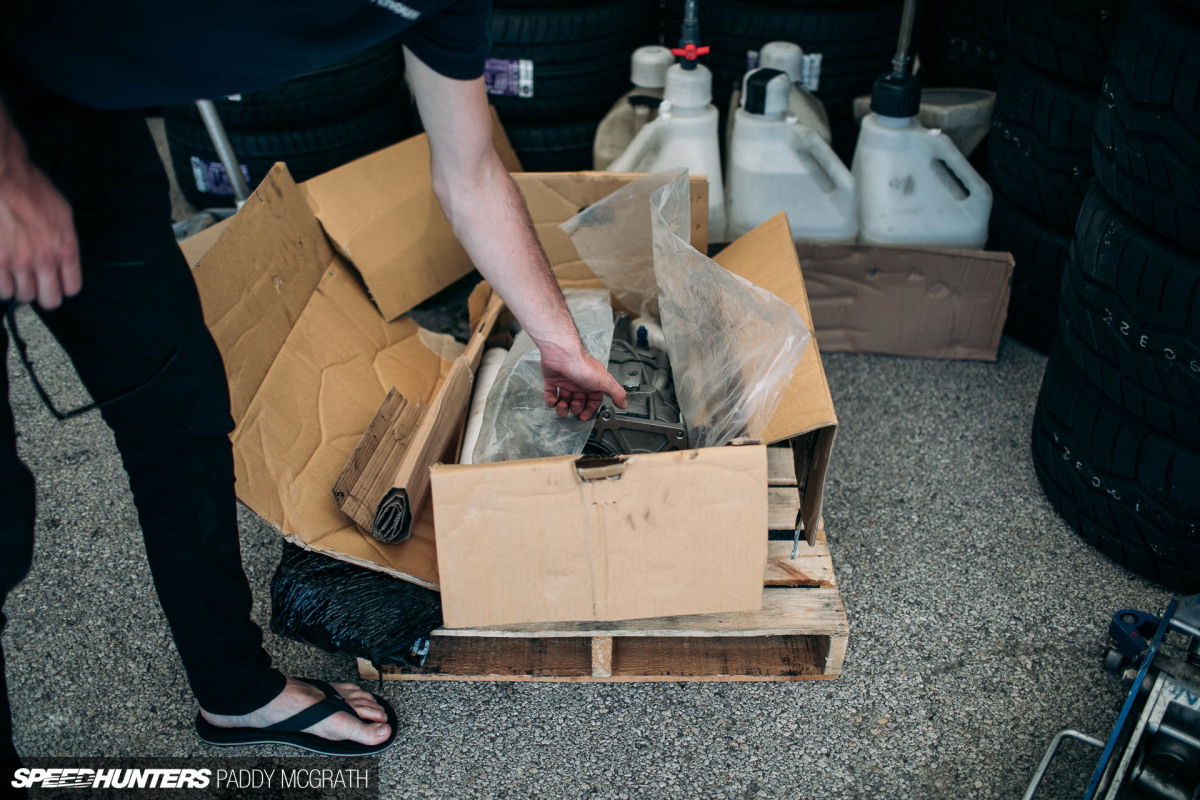 Having had some persistent issues with his gearbox over the last two events, James welcomed a brand new Quaife sequential into his car for Texas. Yes, that is James wearing flip-flops and talking to his new gearbox, asking it to be good to him.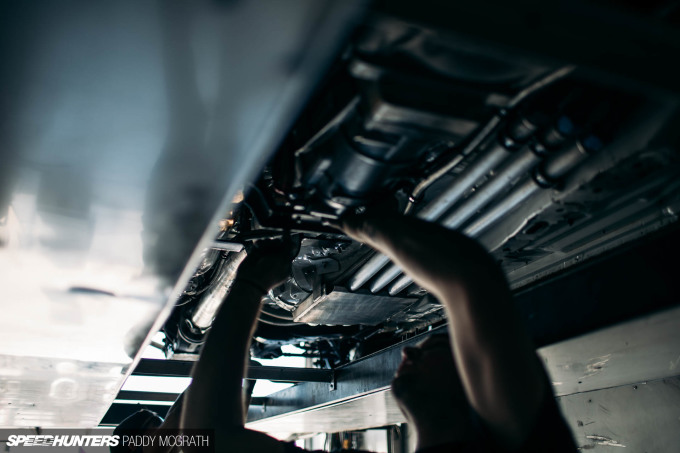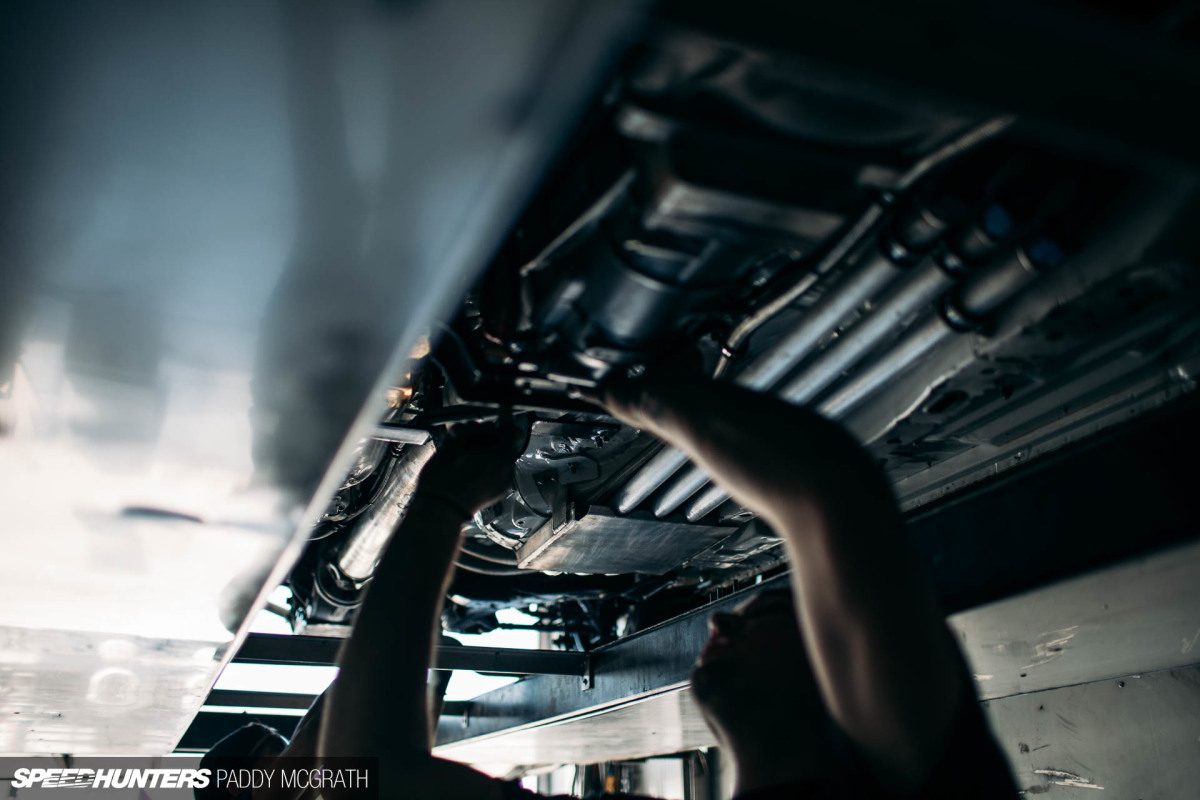 In the time it took us to retrieve lunch from a nearby Subway, the team already had the gearbox swapped in the back of the Bridges Racing trailer.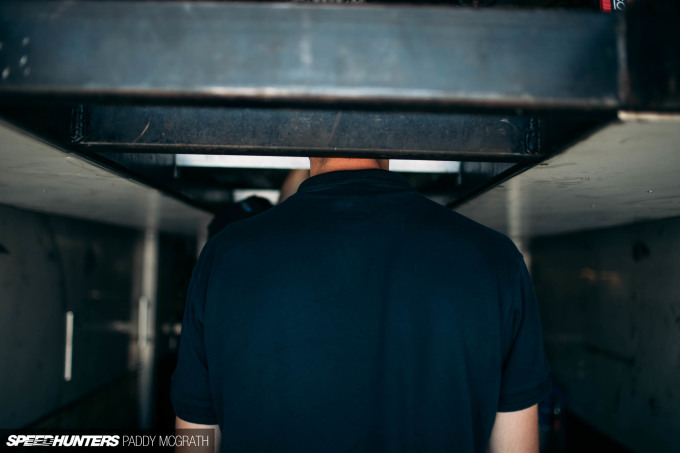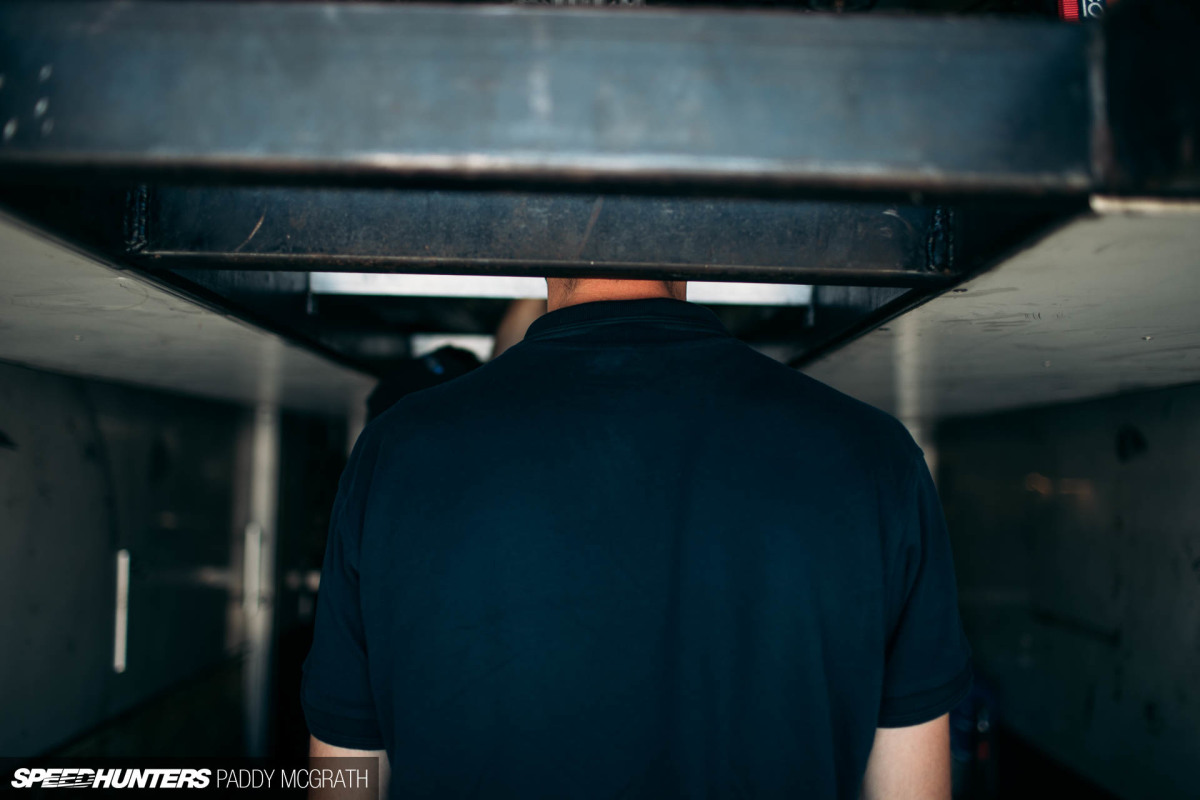 James had a better view of it than anyone else. Or a closer view, at least.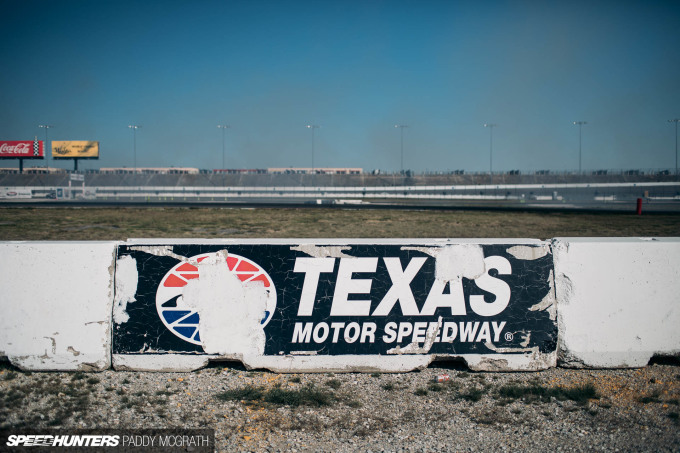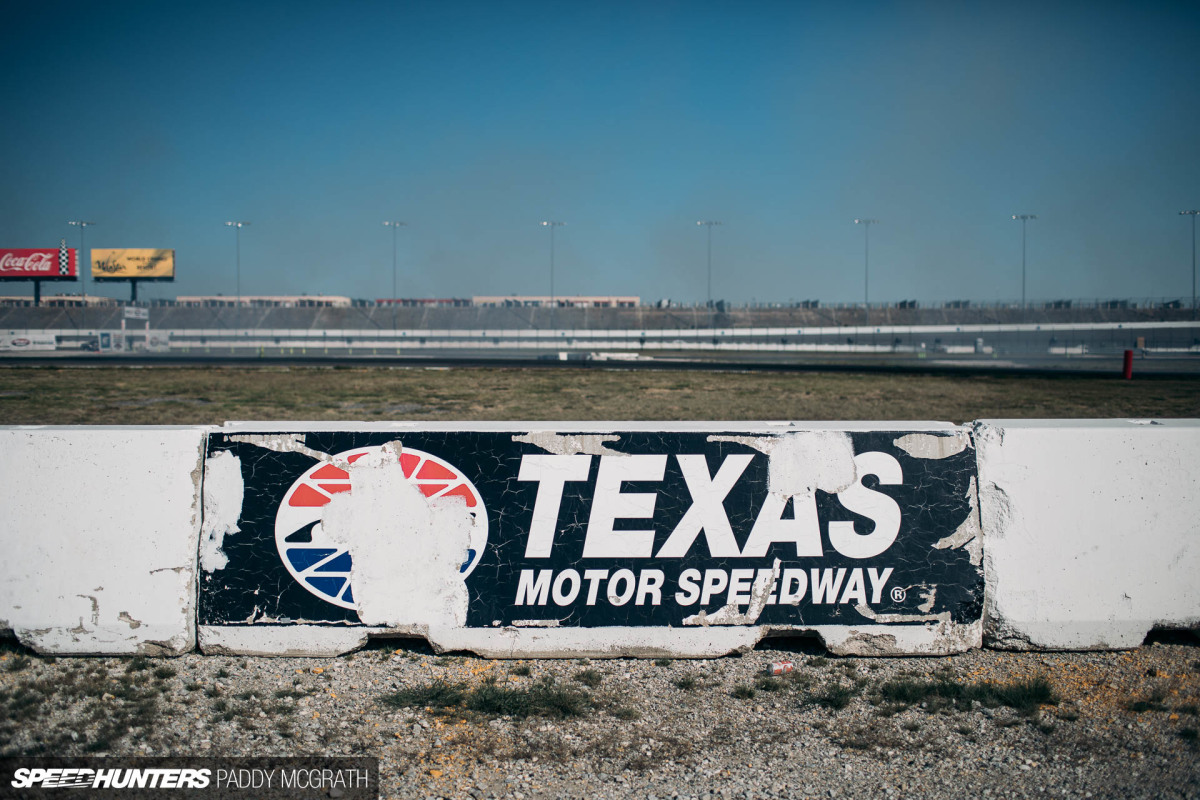 Thursday would host a three-hour-long practice session, from 4:00pm to 7:00pm. I specify the time because it should give you a better insight into the environment, with the day cooling off and heading towards sunset.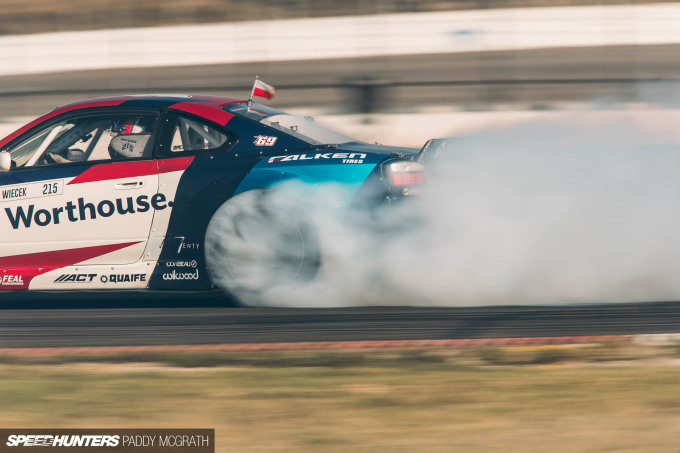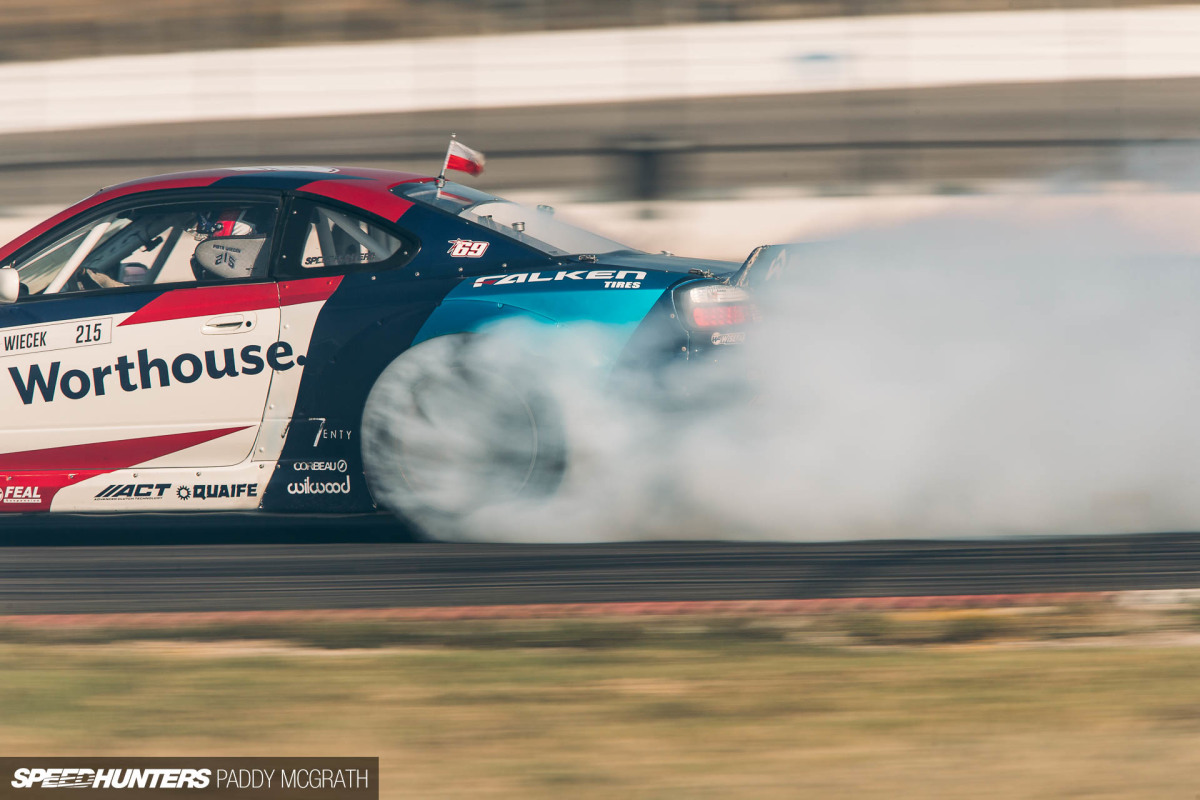 For what felt like the first time this season, Piotr had a problem-free Thursday and his time on track was paying huge dividends. With each run, he was pushing harder and faster, often leaving the chase car blind in his smoke.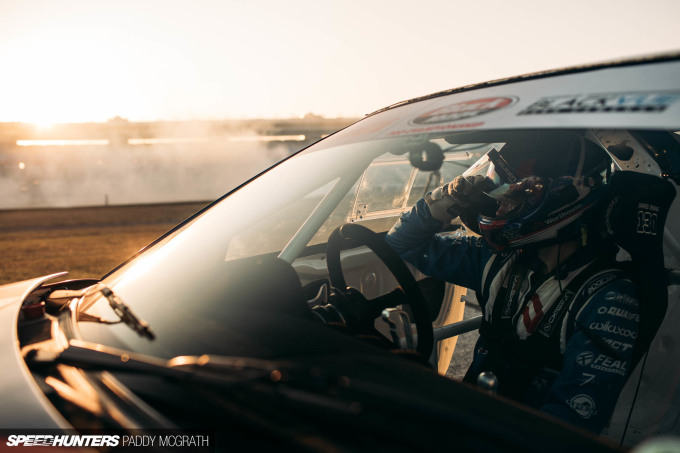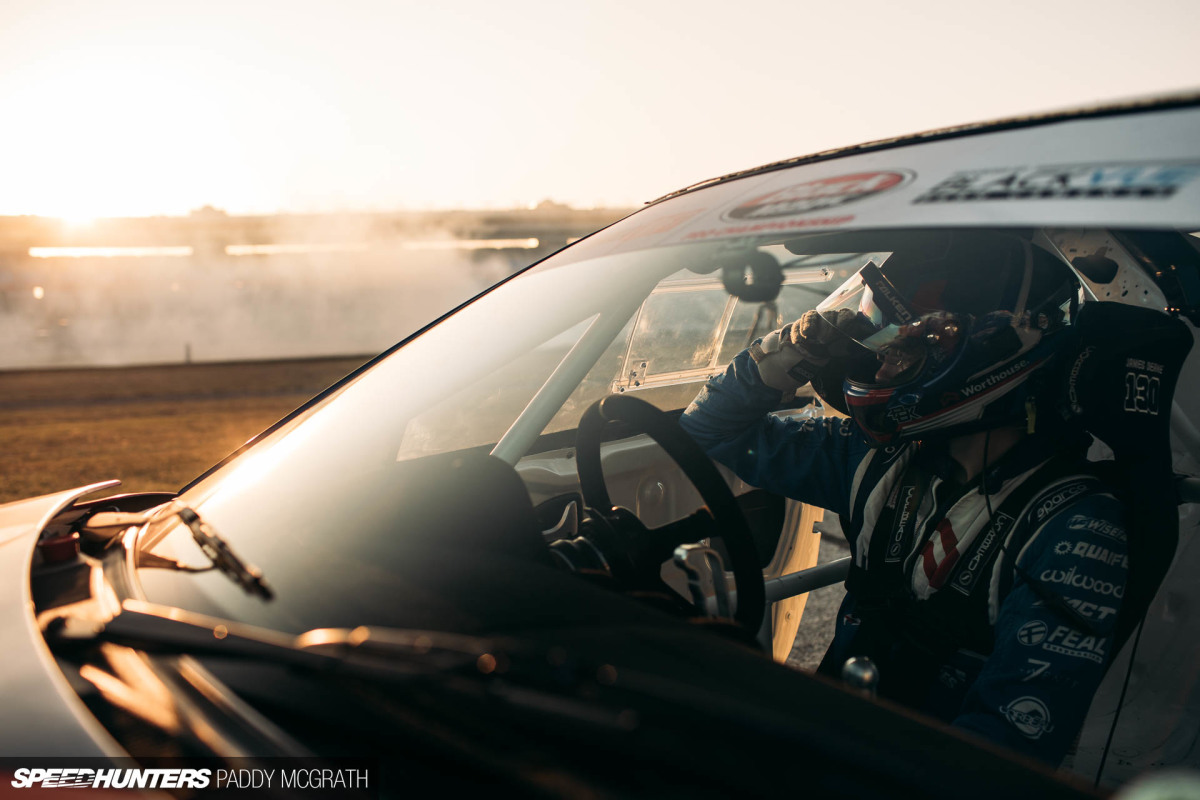 James, too, looked very comfortable on track.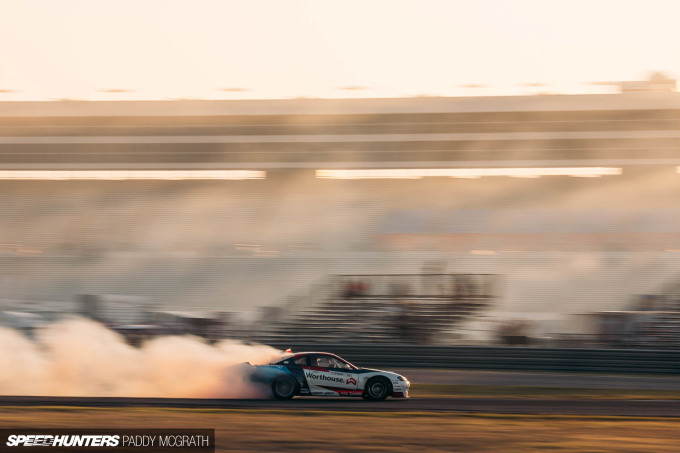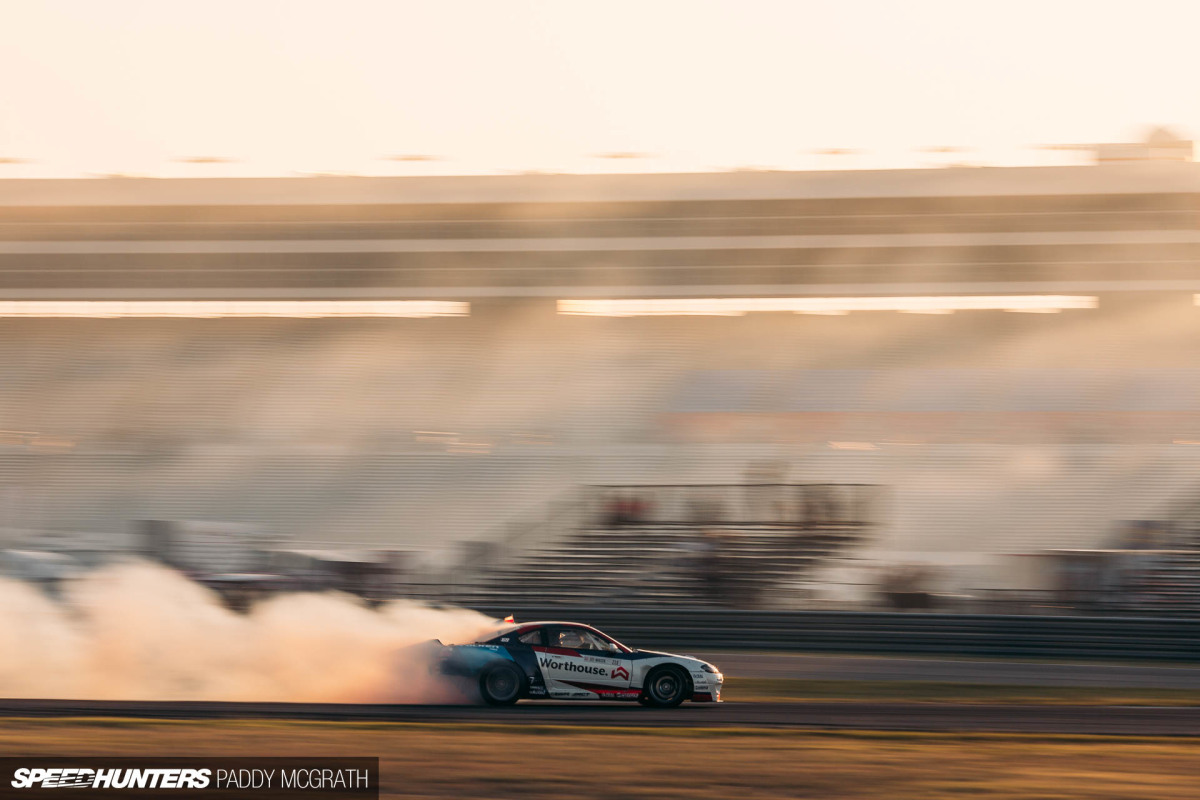 While it's not possible to win practice, the day was a resounding success for the twin S15s.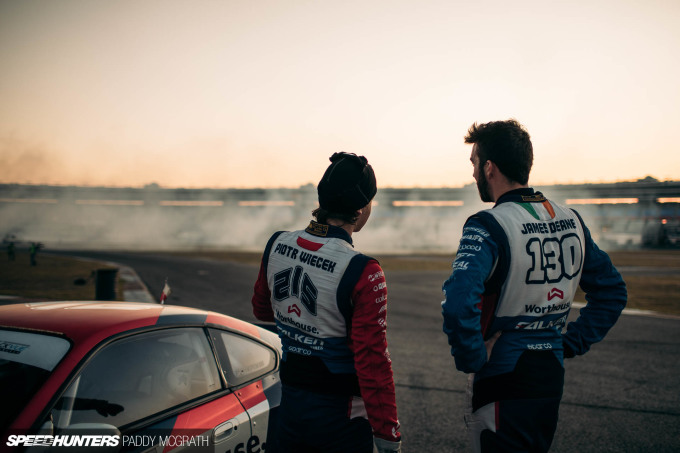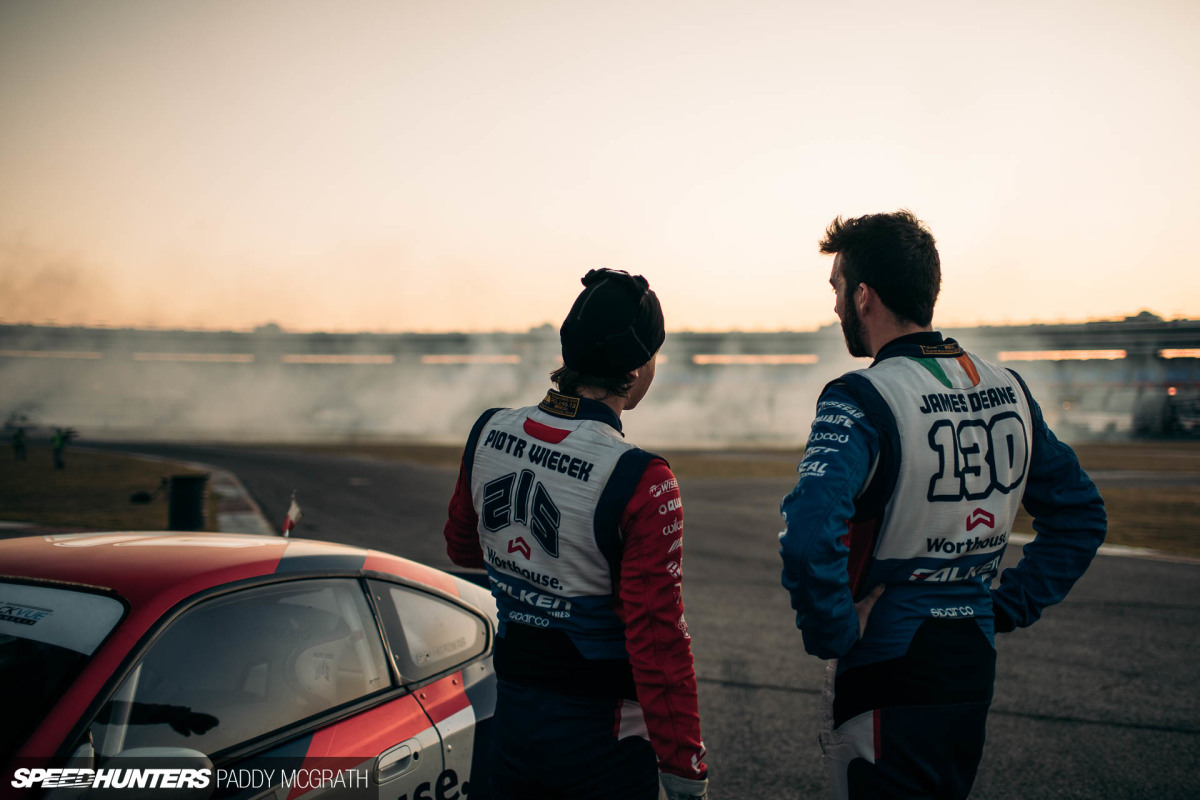 When the session was eventually called to a halt after sundown, both cars had comfortably survived the evening and required only simple maintenance before taking to the track again the next day. From a story-telling perspective, it's not the most interesting of tales, but from the team's standpoint, it's exactly how you want your day to go.
Still, the competition had not even started yet.
Friday, Qualification
Where Thursday was a lot of waiting around before practice began, Friday was quite the opposite. An early-ish start saw the cars prepared in the morning before taking to the track ahead of Pro2 for a second practice session. This session would follow a driver's briefing, giving the grid a chance to speak to the judges and fully understand what was required of them for the afternoon qualifying bout.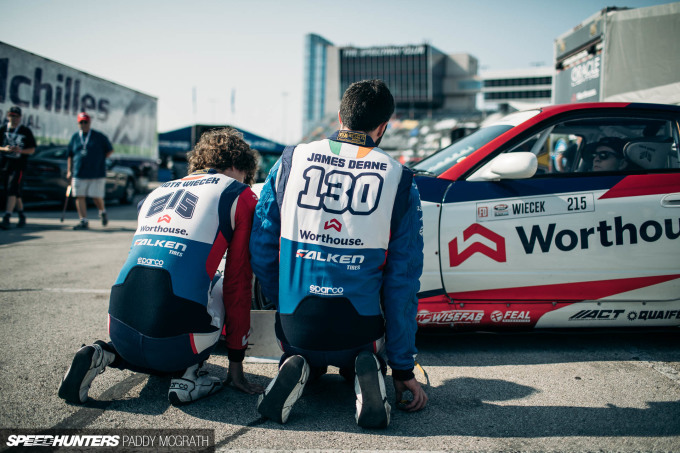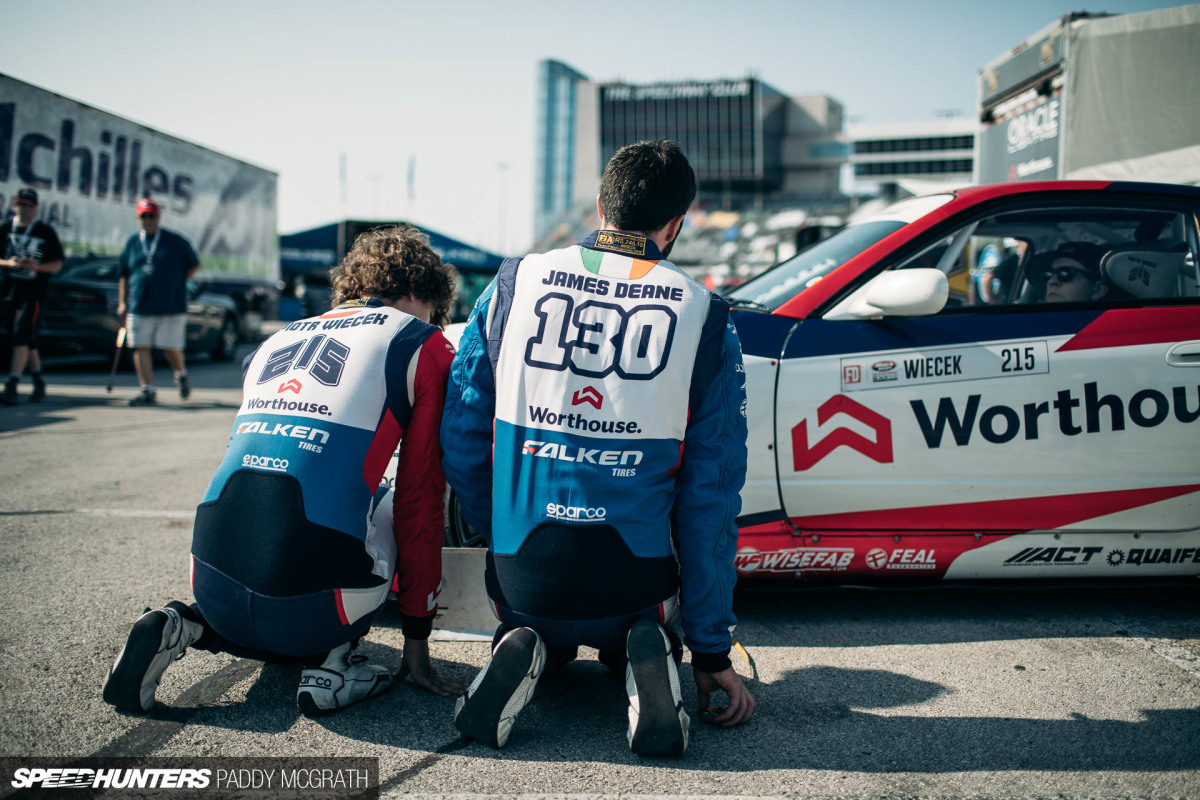 I'm always impressed by the bond that James and Piotr have formed. They've only known each other a few years, but have forged a friendship the likes of which I've never seen in a competitive environment before. Incidentally, they started as rivals. Now they both rely on each other for advice and guidance; they share setups and often lend a hand when the other requires it. It's remarkable.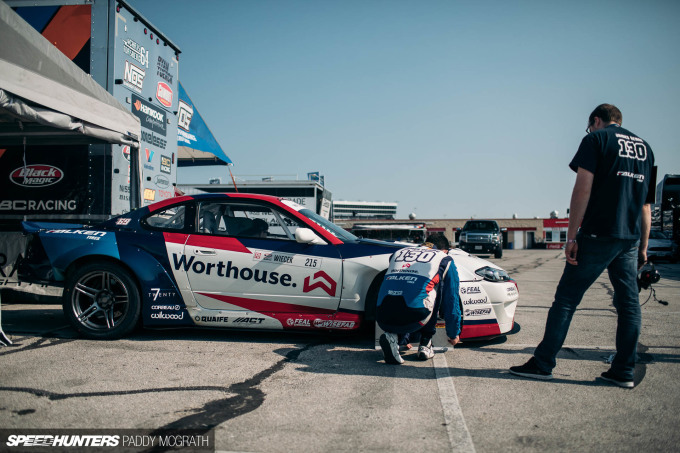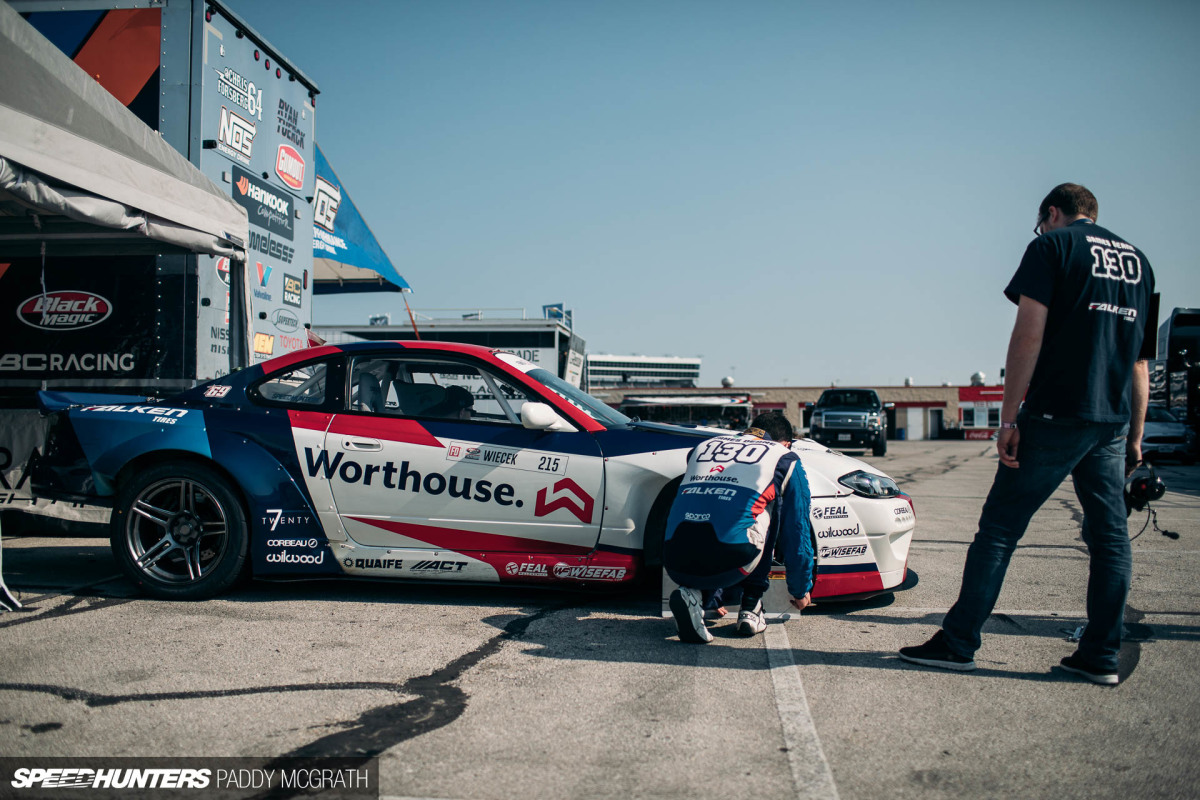 This was them checking Piotr's front alignment before practice. The level of care both drivers put into their cars is another hallmark of this team.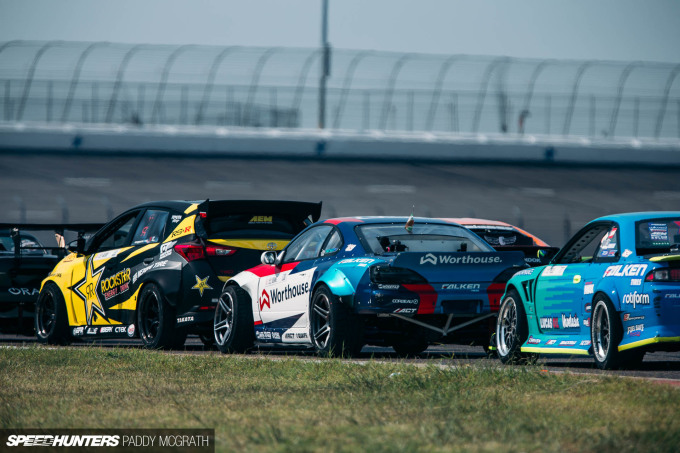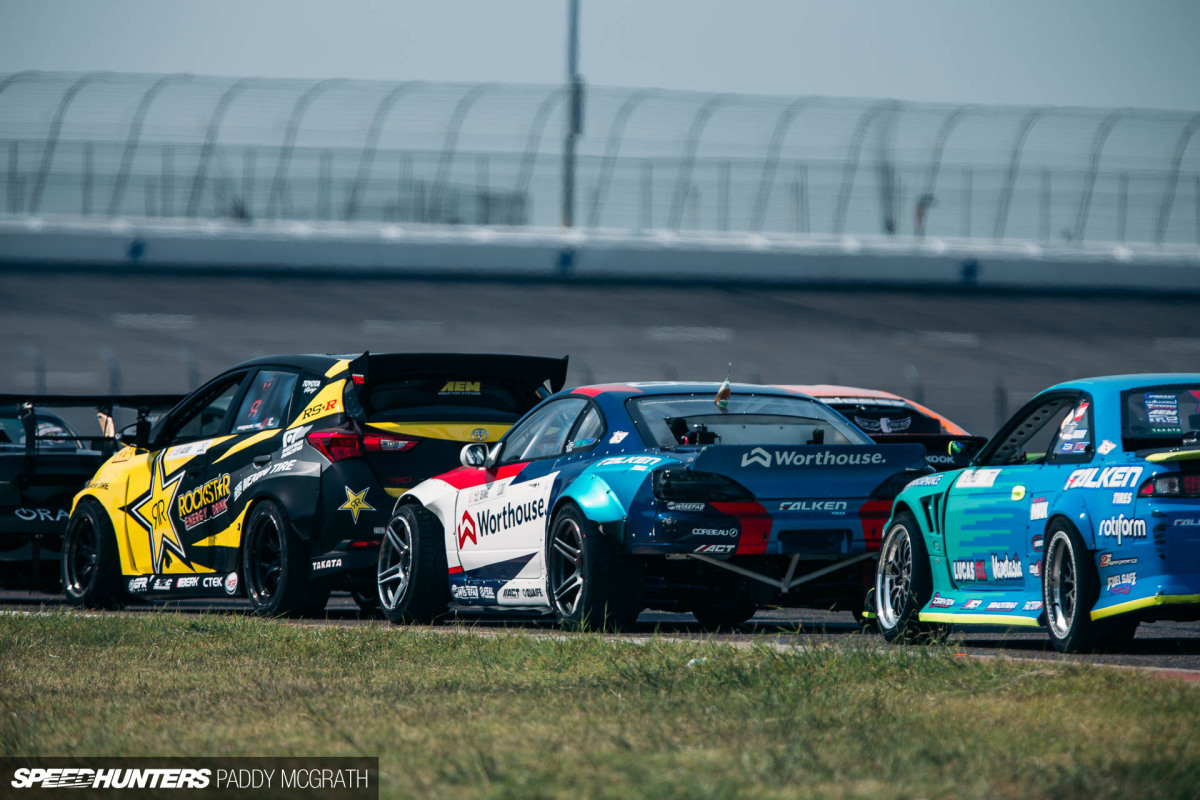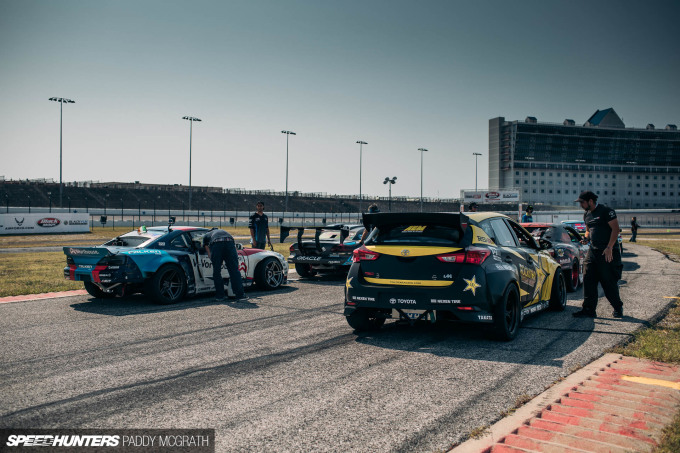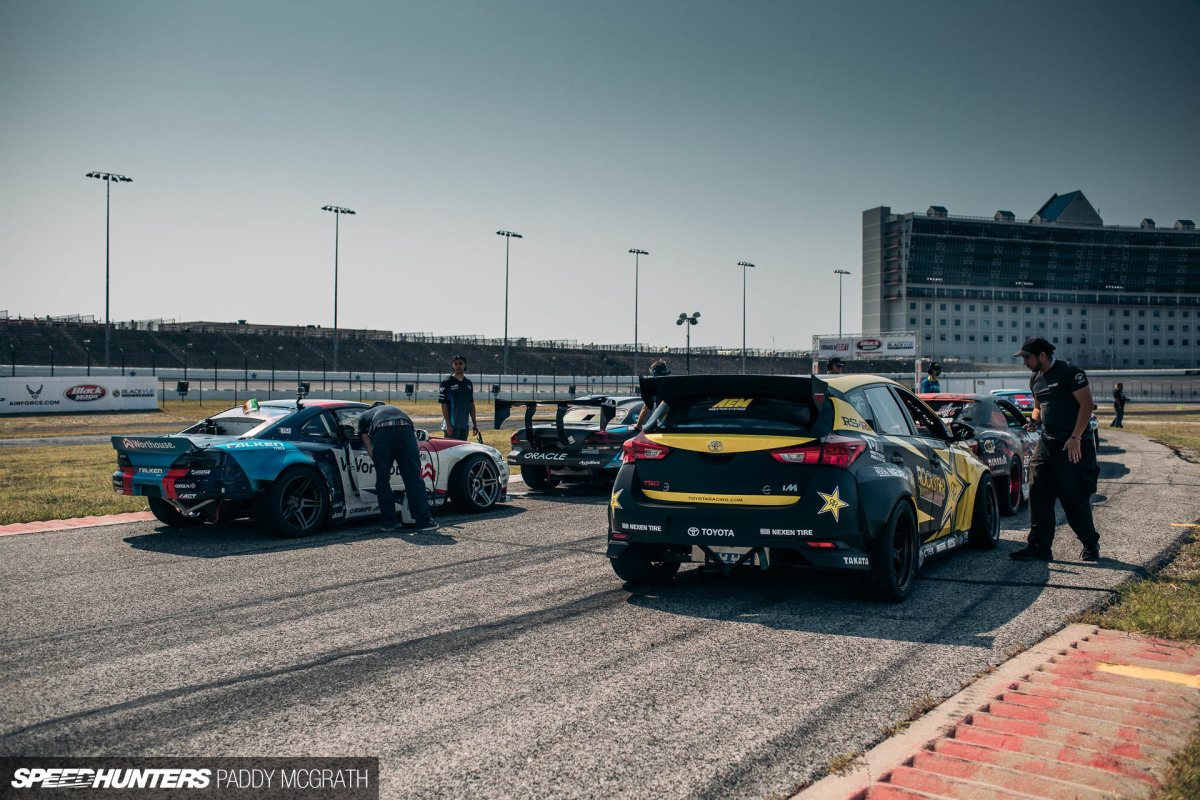 Again, practice went well, on the whole, for both drivers. With qualifying looming, their emphasis was on securing high qualifying positions in order to grab a bye run into the Top 16. As such, I believe the majority, if not all of their runs, during this session were lead runs.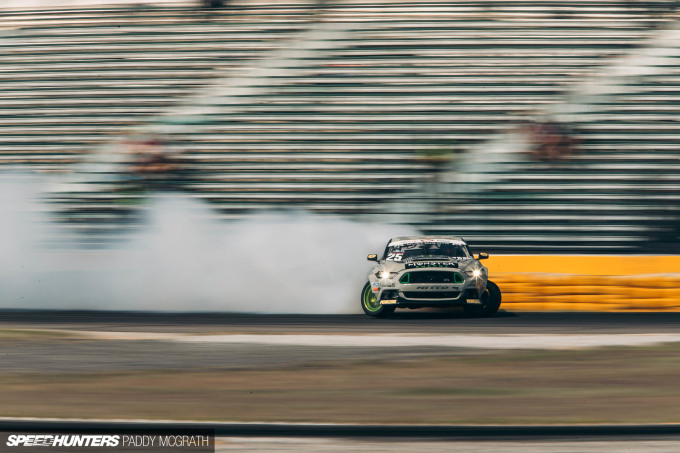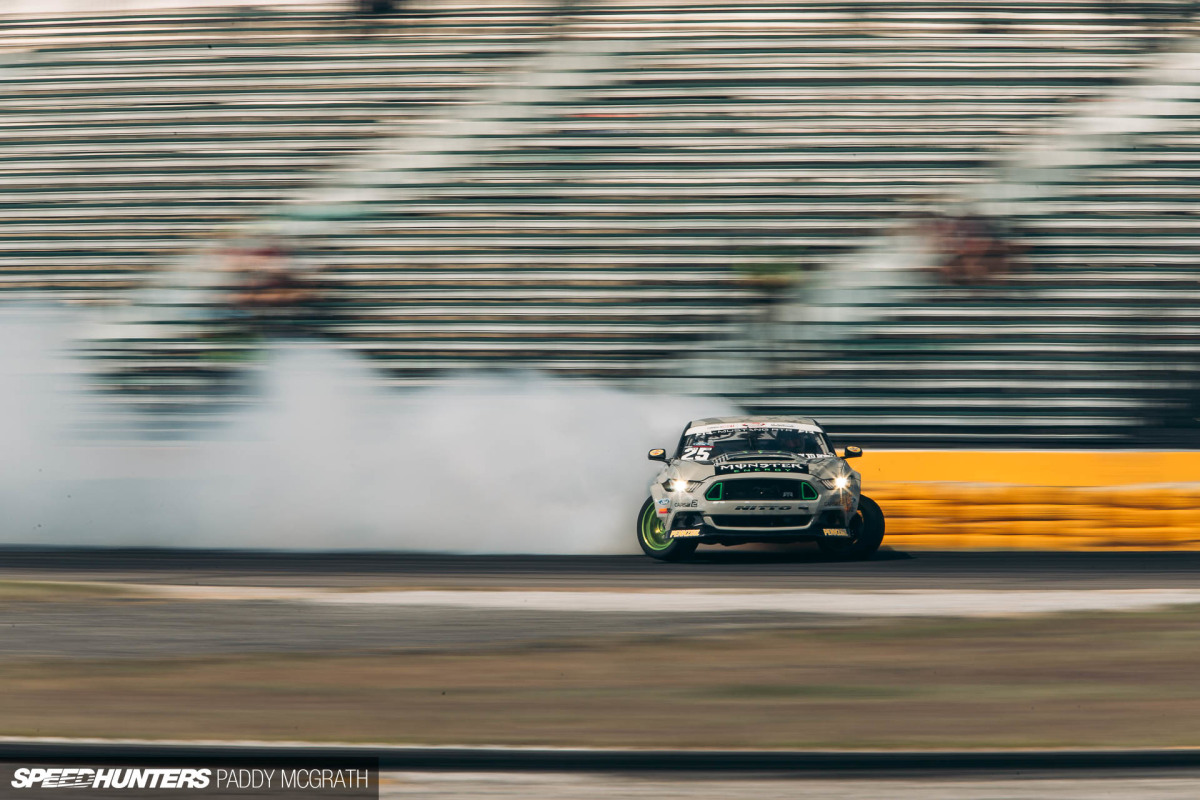 The course in Texas was a peculiar one. The run-in was short, but the section after the first corner was a huge acceleration zone, right towards an outside tyre wall. This tyre wall was the subject of much discussion over the course of the weekend, as it seemed to do more damage than anything else, as it sucked cars into it. It wasn't FD's call to have the tyre wall in place, but rather the strict requirement of TMS, following Vaughn Gittin Jr.'s season-ending crash just a few years ago.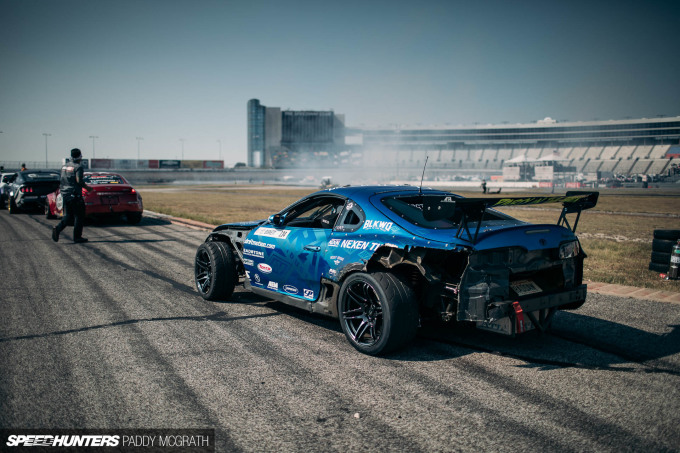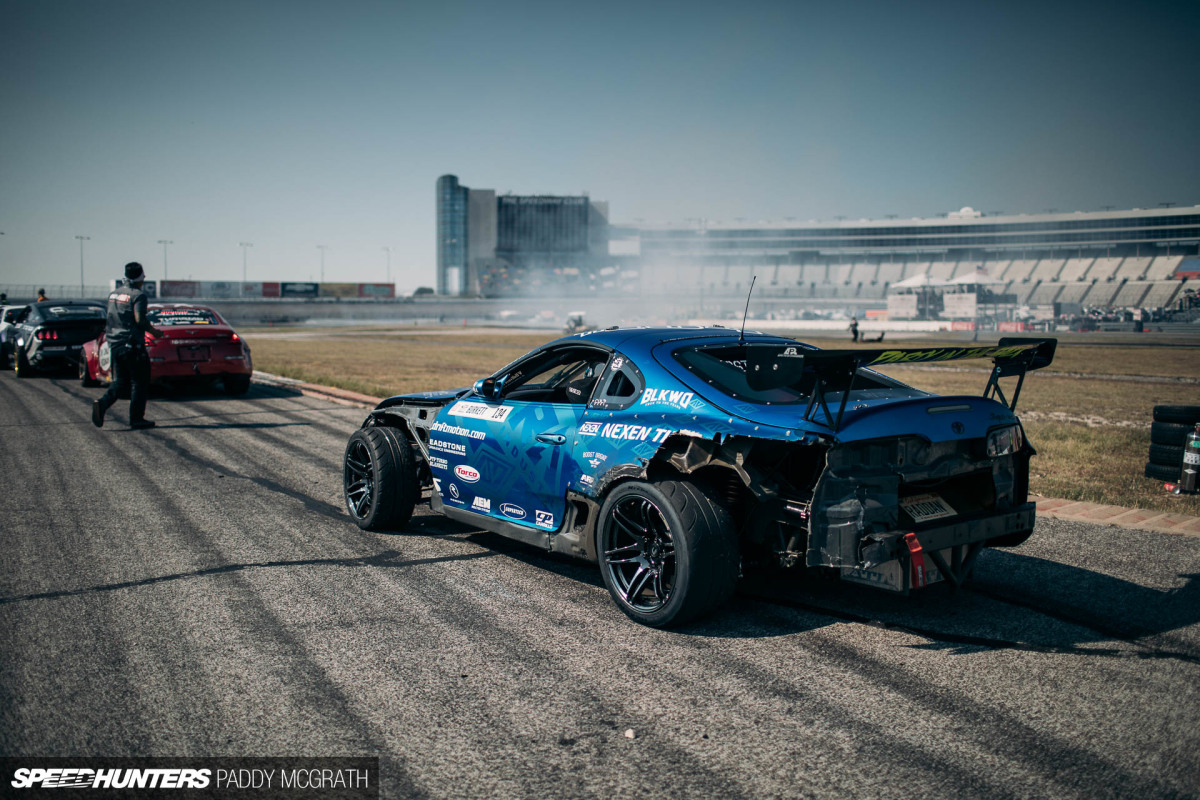 While it attracted its fair share of victims over the weekend, most did make it back on track, despite some heavy war wounds. I actually think Dan Burkett's Supra looks pretty bad ass in this Mad Max-esque guise.
The drivers I would be most focused on this weekend, unsurprisingly, were the first and second placed drivers in the championship: Deane and Aasbø. While it was still mathematically possible for Kristaps Blušs and maybe others to still take the title before Texas, the chances of it happening were so slim that they weren't worth considering.
It was very much a two horse race at this point.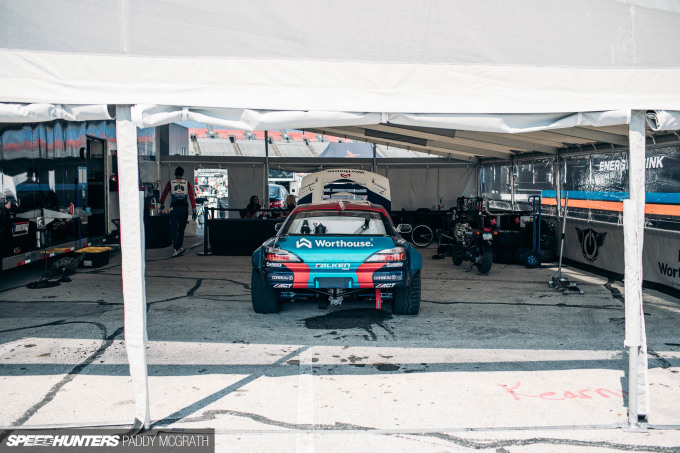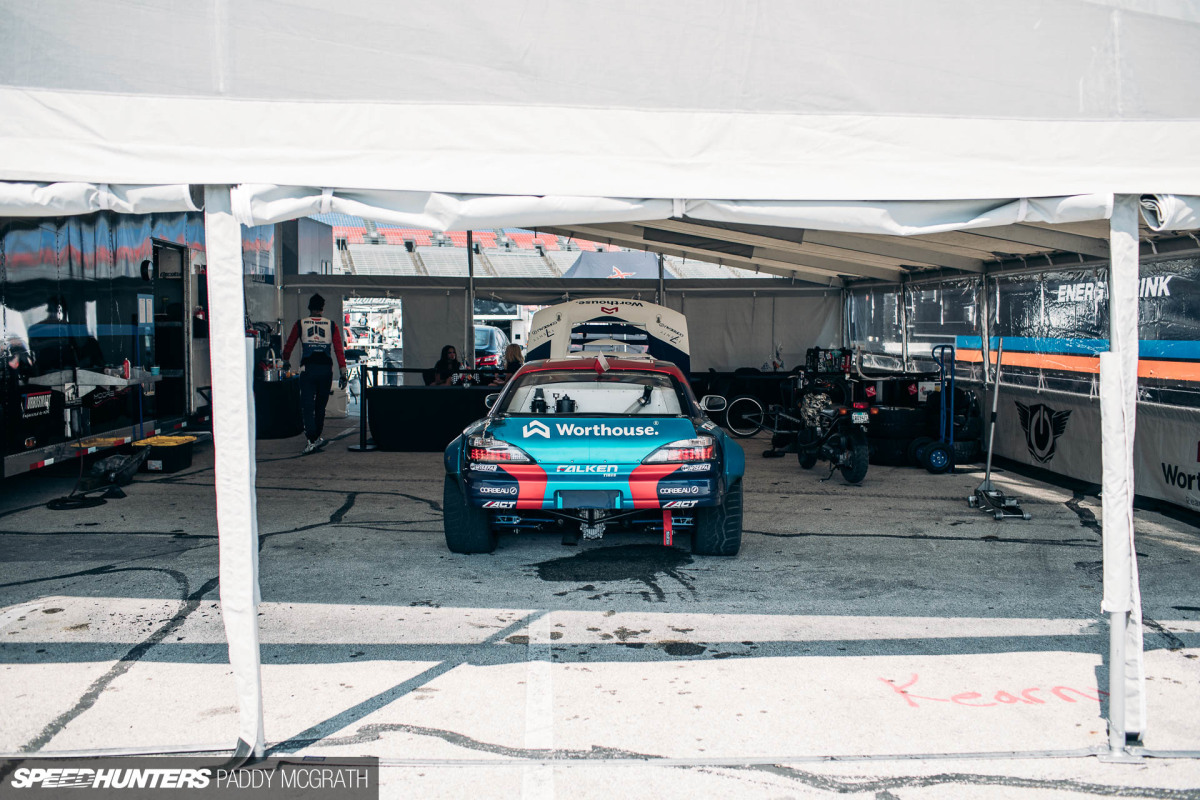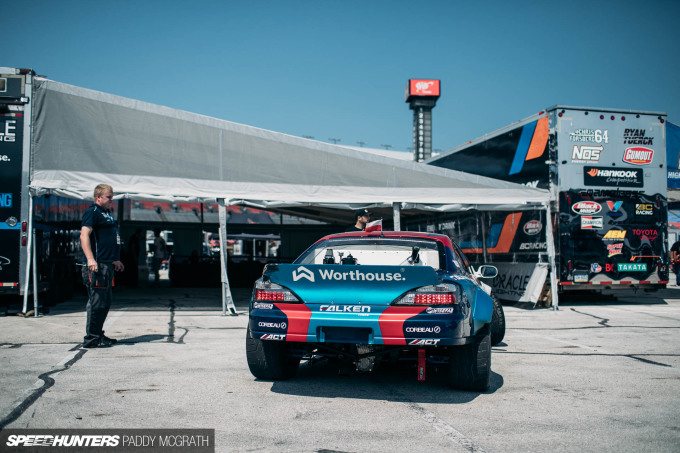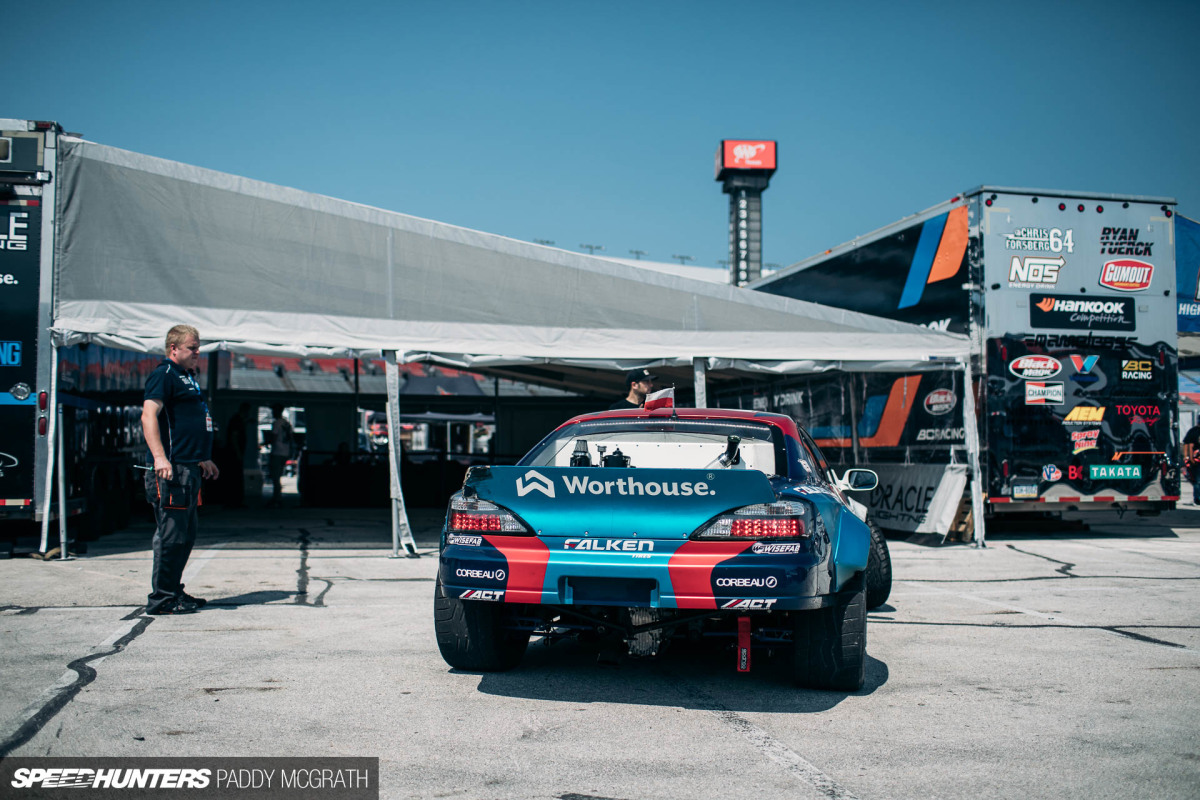 It did almost completely come undone for Piotr half way through practice, though. Powering through the power alley, the S15's power steering pump failed, and it took quite a considerable amount of force and talent to keep the car out of the wall.
Fortunately, the team were well prepared for such a scenario. They had a new pump in, filled with fluid and Piotr back on track in around 20 minutes.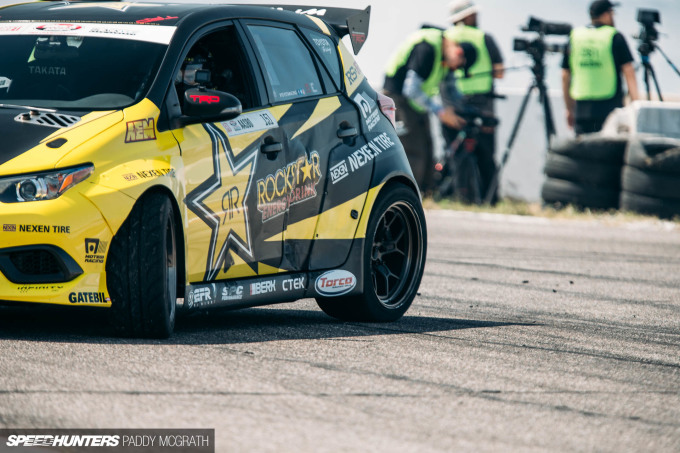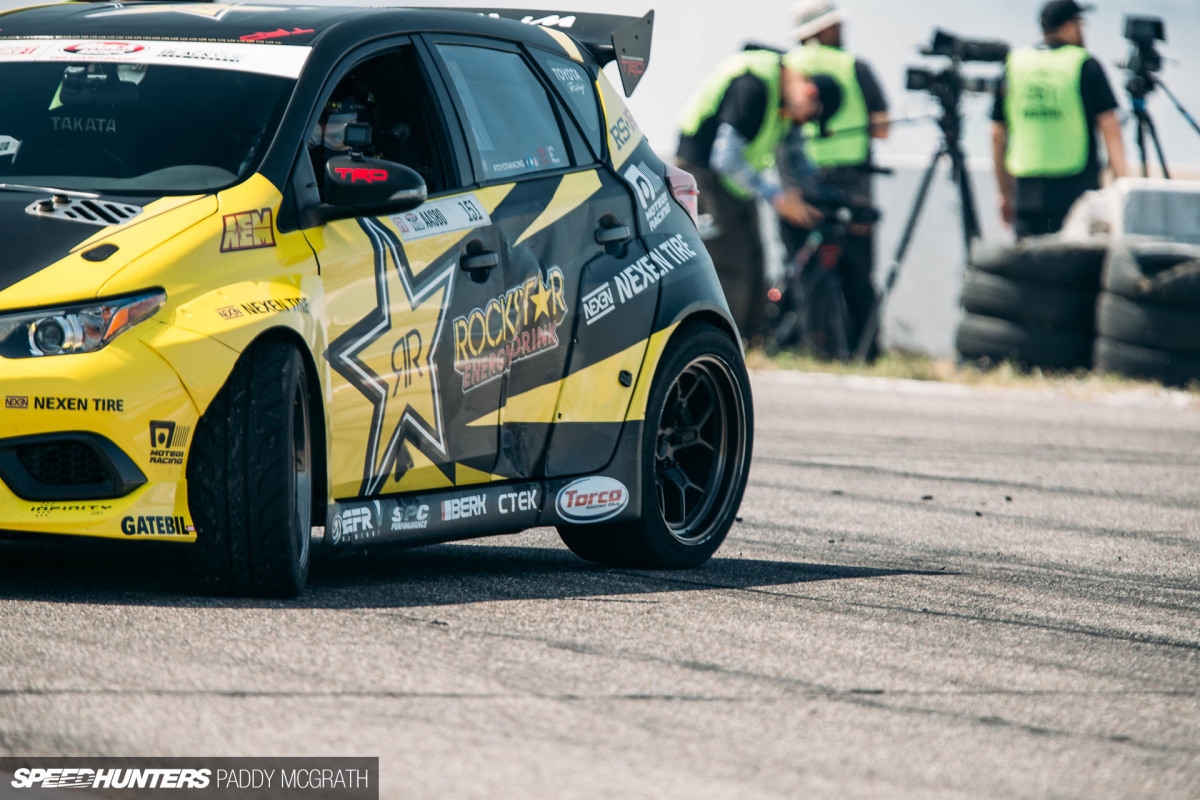 In an action-packed half hour, Aasbø then had a moment when a rear suspension arm broke in almost the same place as Piotr's power steering pump. Again, he was fortunate and talented enough to keep his Corolla iM out of the wall. The Papadakis Racing team wasted no time in making the requisite repairs. Another bullet dodged.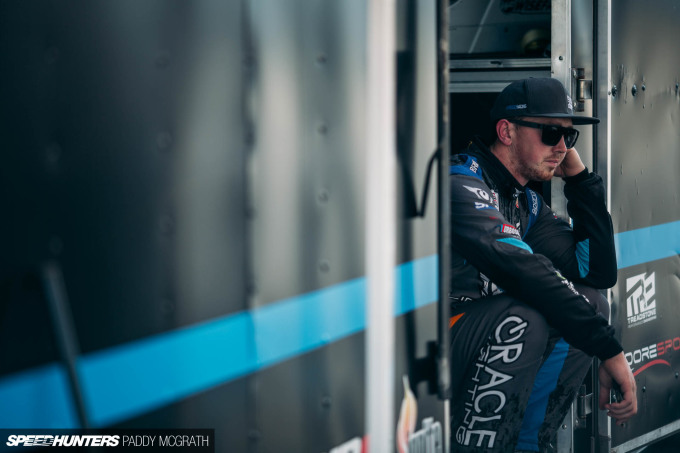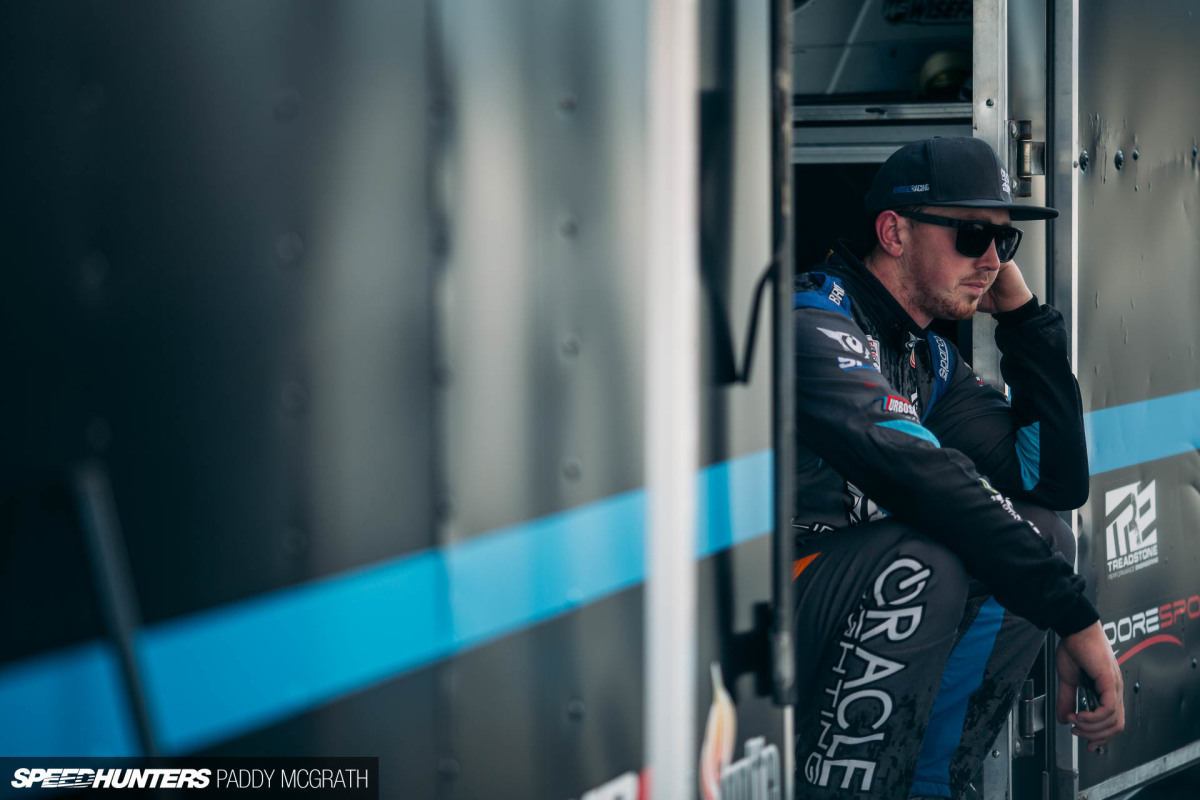 The other driver under the Worthouse tent, Dean 'Karnage' Kearney, was having another weekend to forget. Despite huge preparations before Texas, his Viper just kept throwing problems at him all weekend long, severely limiting his track time. I've known Dean for so long, and I know he's capable of so much more than what the Viper allows him to do. Is it time to change chassis? Or bring out 002?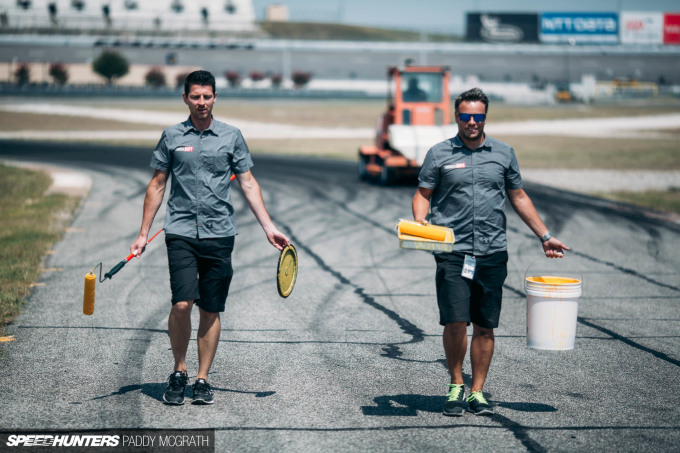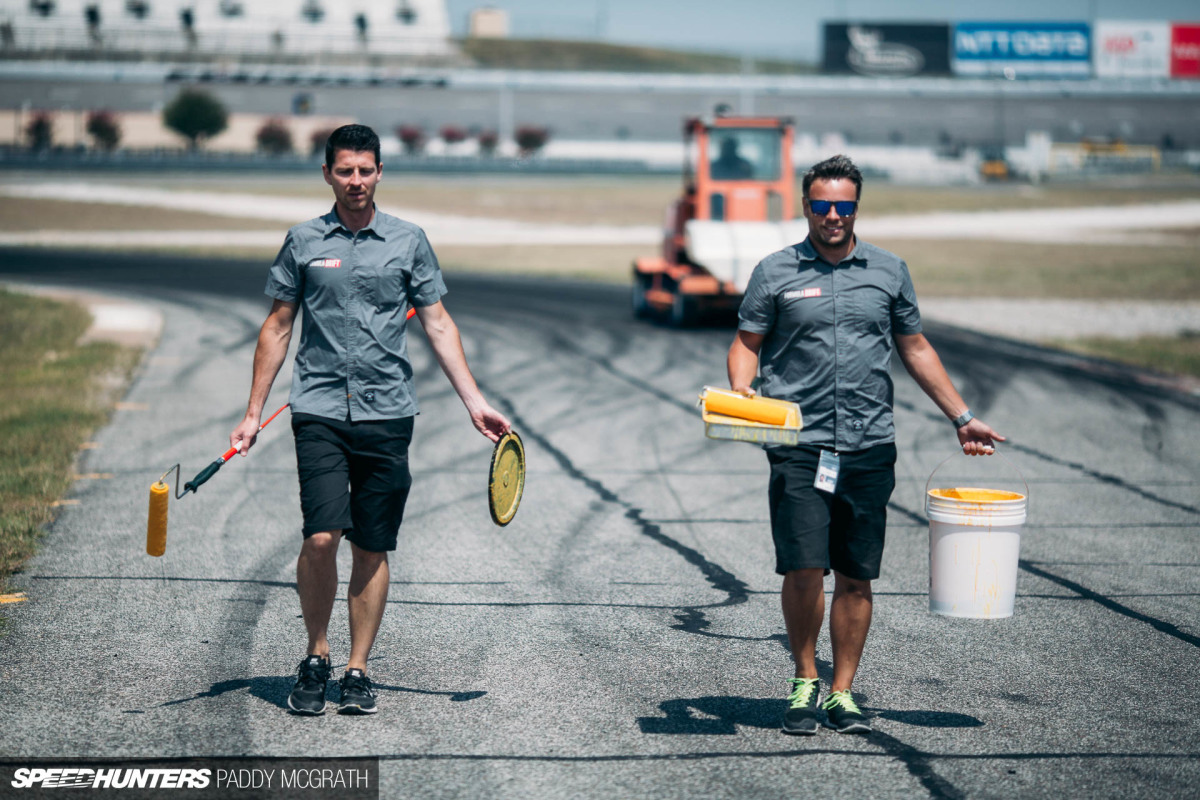 The most thankless job in drifting? Judges Ryan Lanteigne and Brian Eggert touch up the markings on the track before qualifying.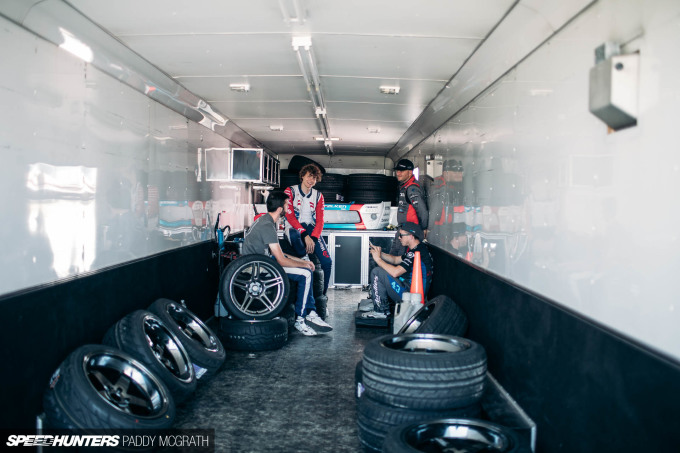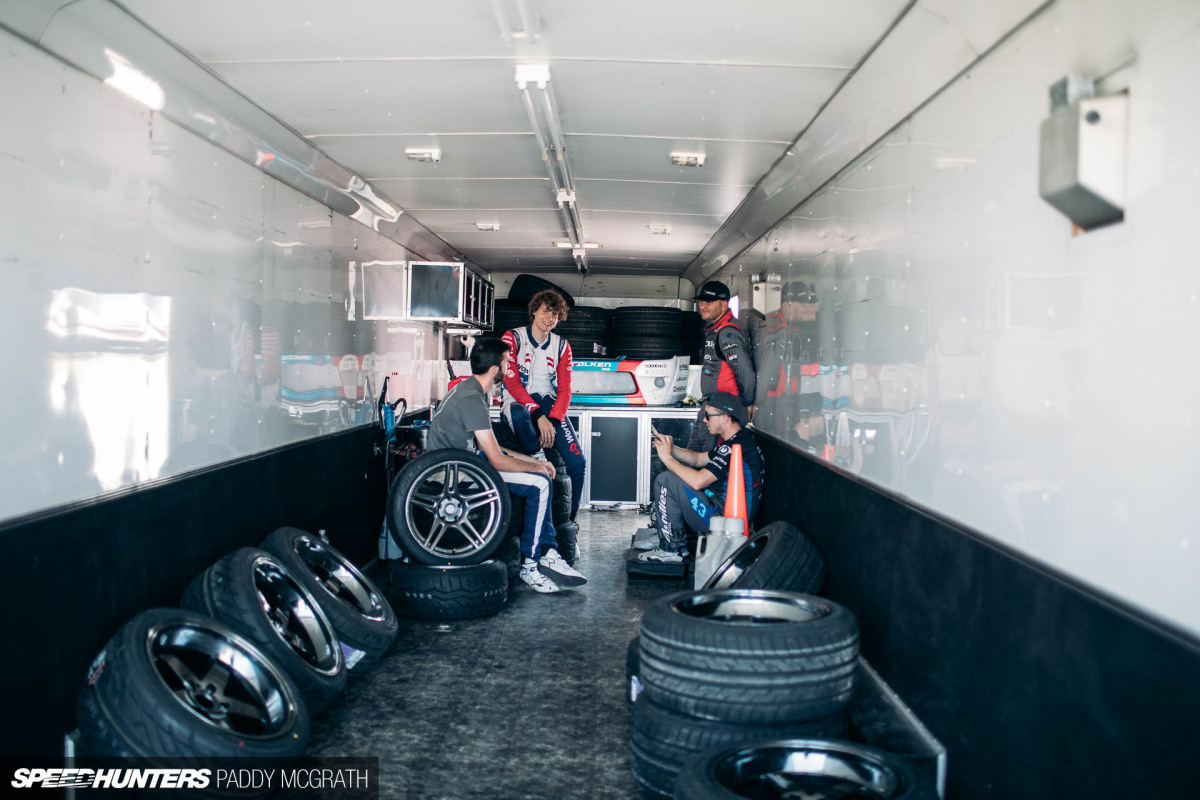 While the weather wasn't as hot as it could have been, it was still wise to take shelter when possible to conserve energy and stay cool. The second Bridges Racing trailer located in the hot pit was perfect for this.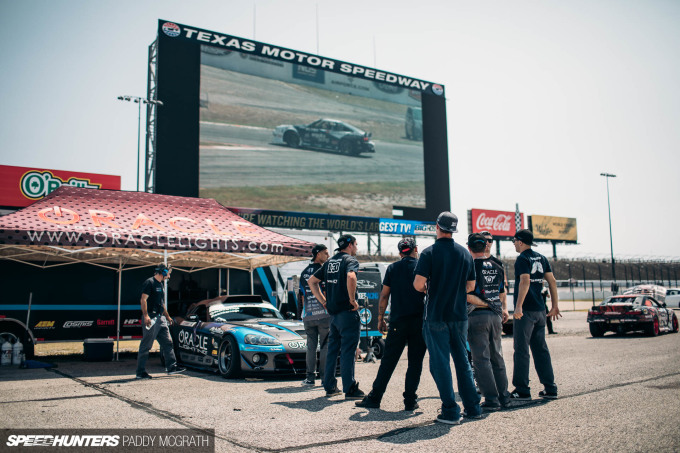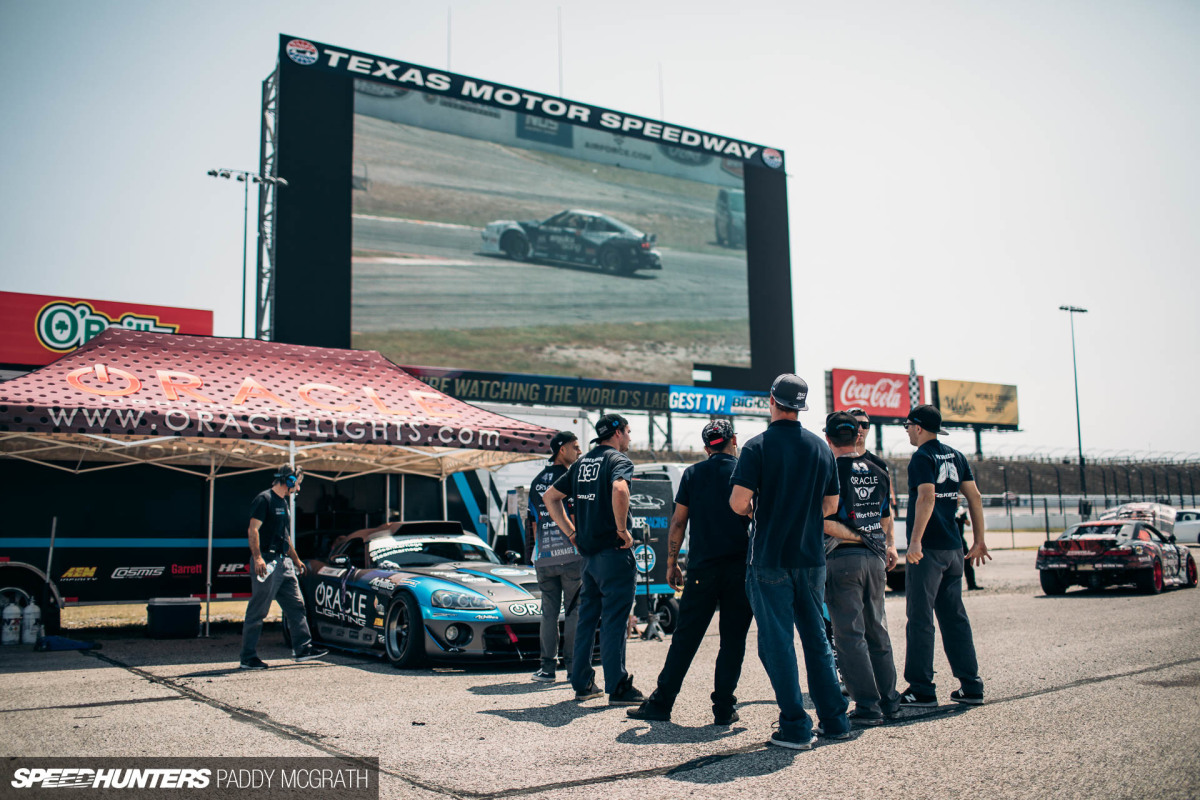 The 'World's Largest TV' hosted the Formula Drift livestream, and many times I found myself watching the screen rather than the action behind me, as it afforded a better view of what was happening on track. The course was so flat, that it was impossible to gauge proximity to clips and outer zones from trackside.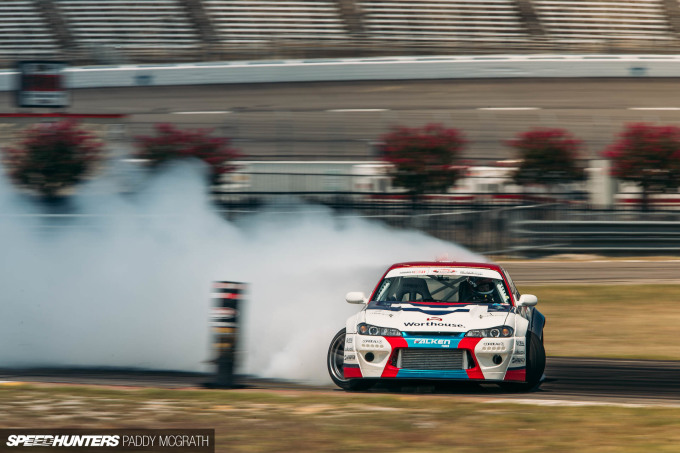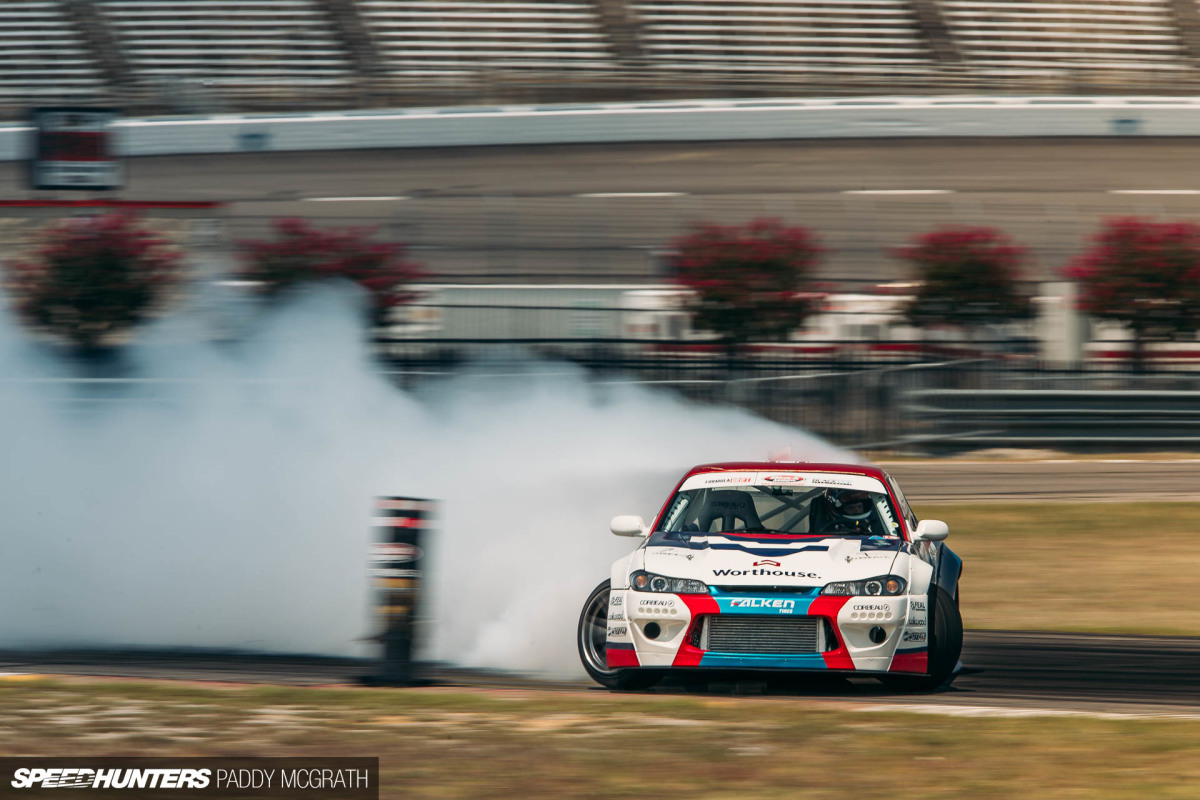 As has been the way all season so far, Piotr was the first of the Worthouse drivers to qualify. He continued his strong form from practice into qualifying, and scored a 92-point run on his first attempt, putting him top of the leaderboard.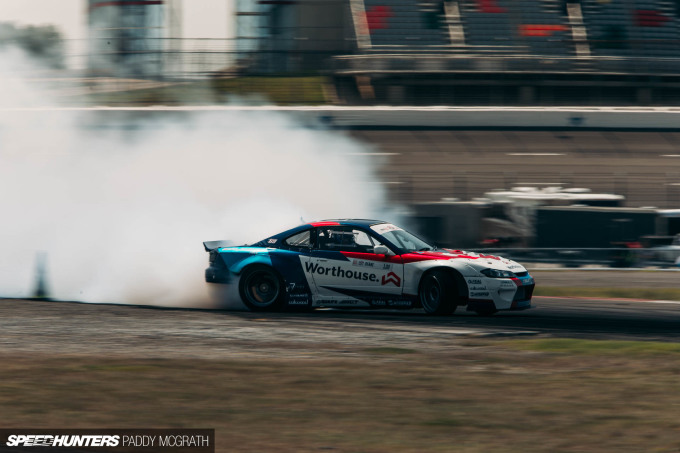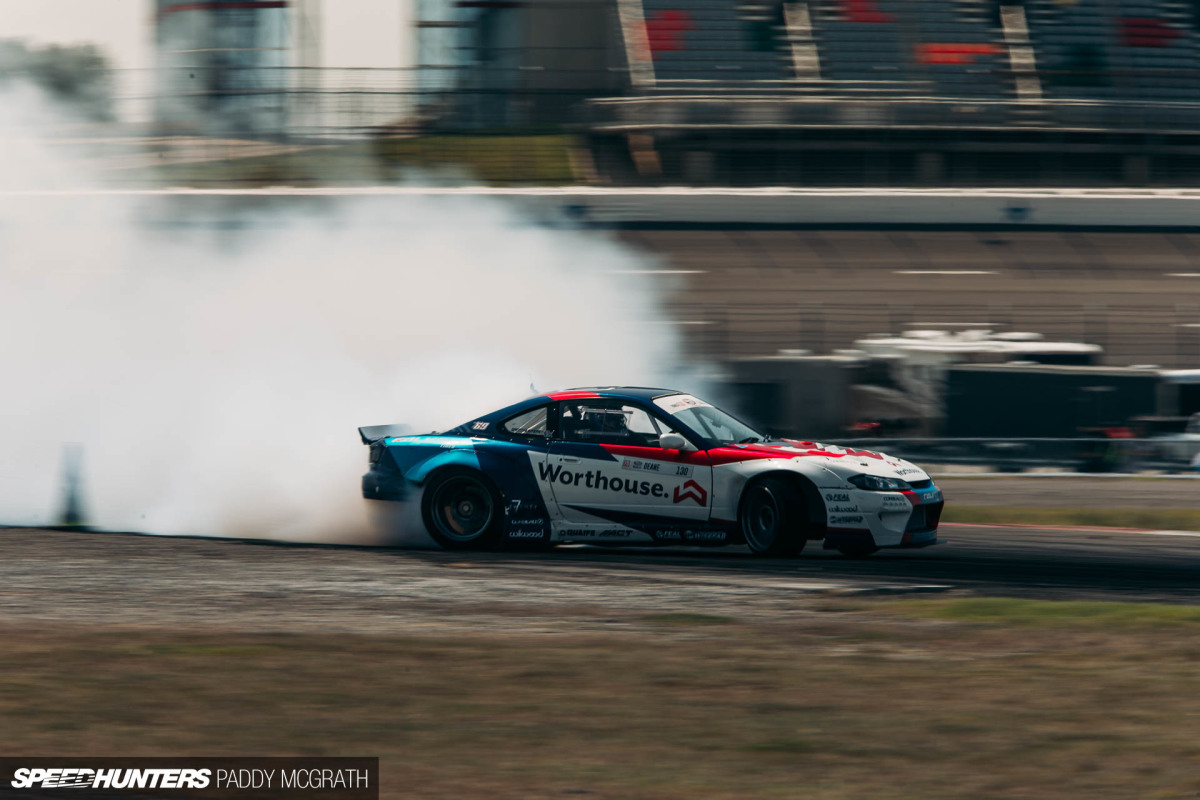 James wasn't too long behind him. In the meantime, others had matched Piotr's score and ultimately, so would James.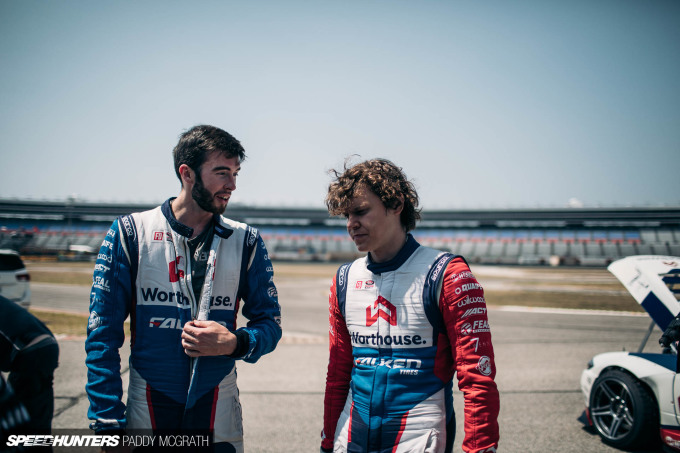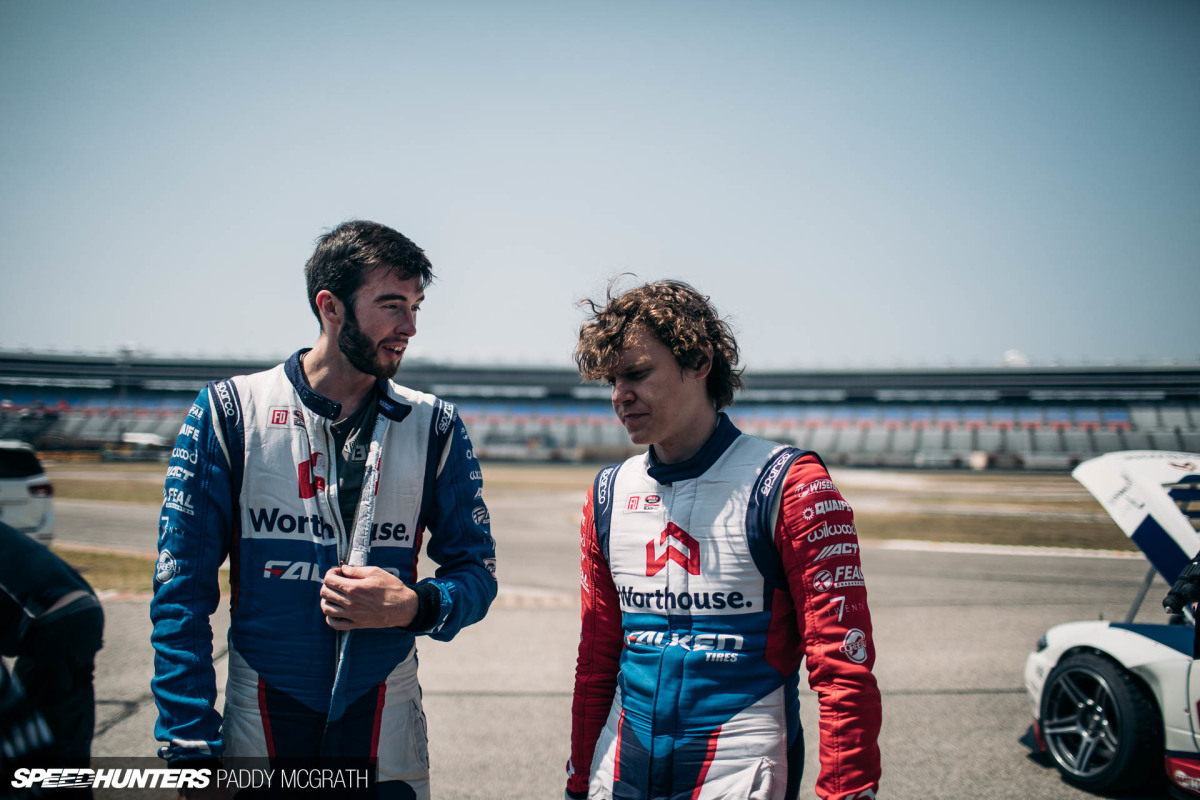 It was a strong start for both of them, and Piotr's best ever FD qualifying result after just one run. The challenge now was to improve on already solid scores.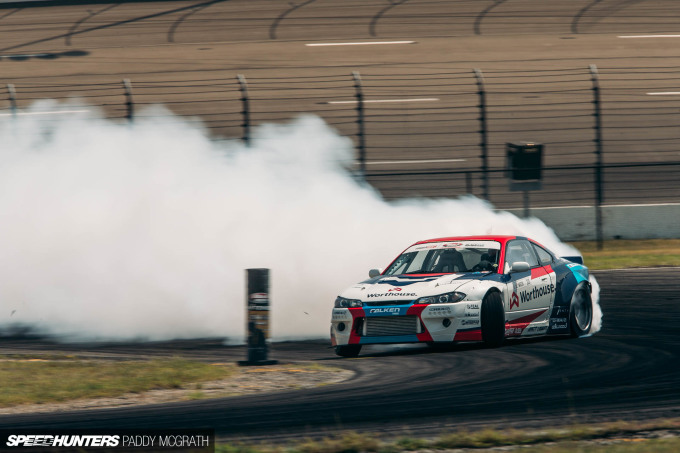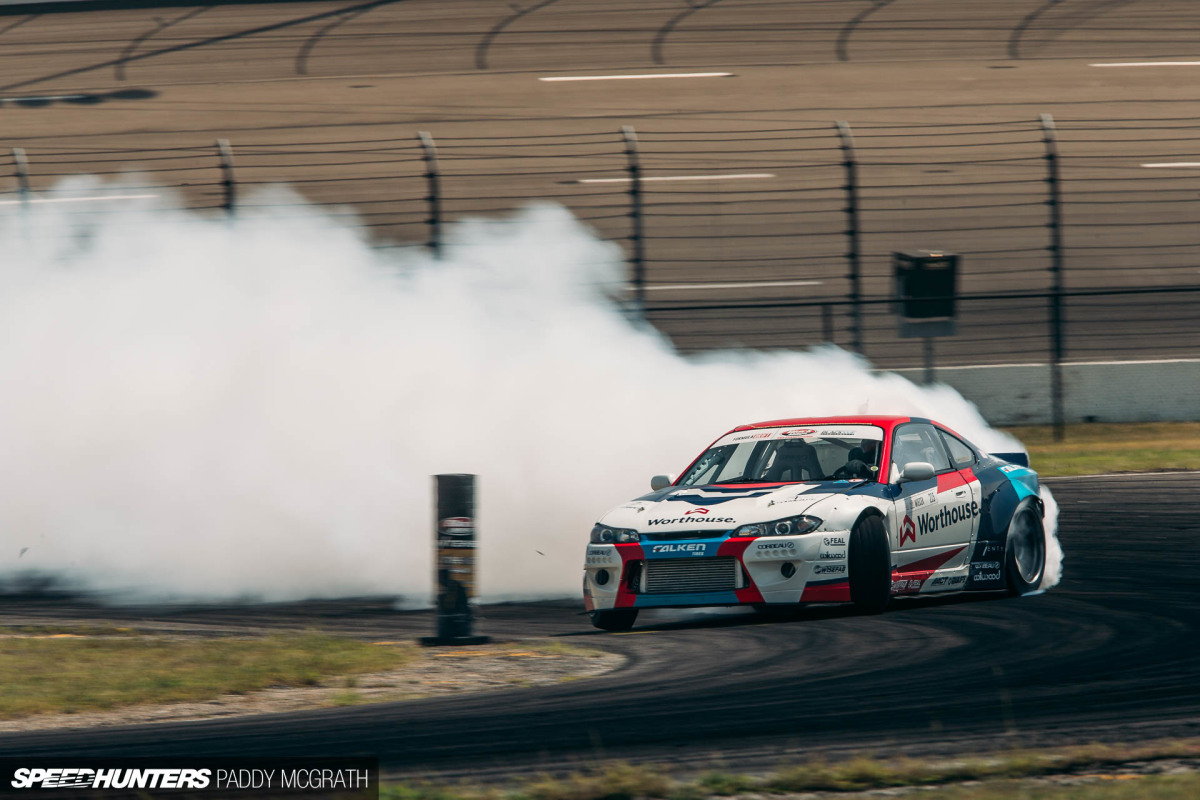 On his second run, Piotr was even stronger out of the blocks and looked on course to completely blitz everyone. That is, up until the last zone, where he went too heavy on the throttle and marginally washed out before crossing the line. Still, it was an 80-point run which ultimately gave him sixth place and lined up a Top 32 battle against 'Rad' Dan Burkett the next day.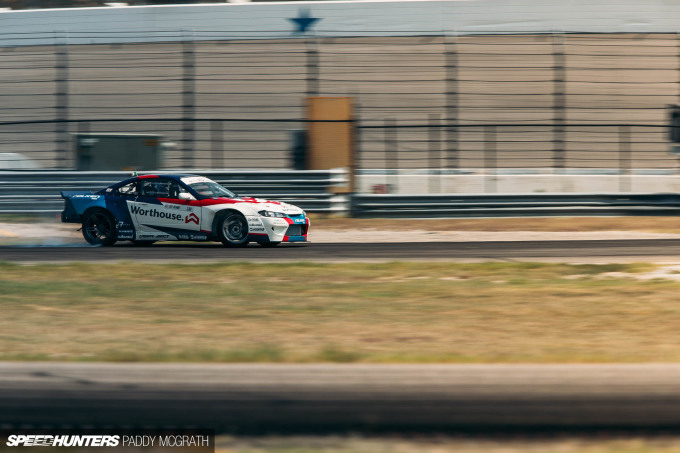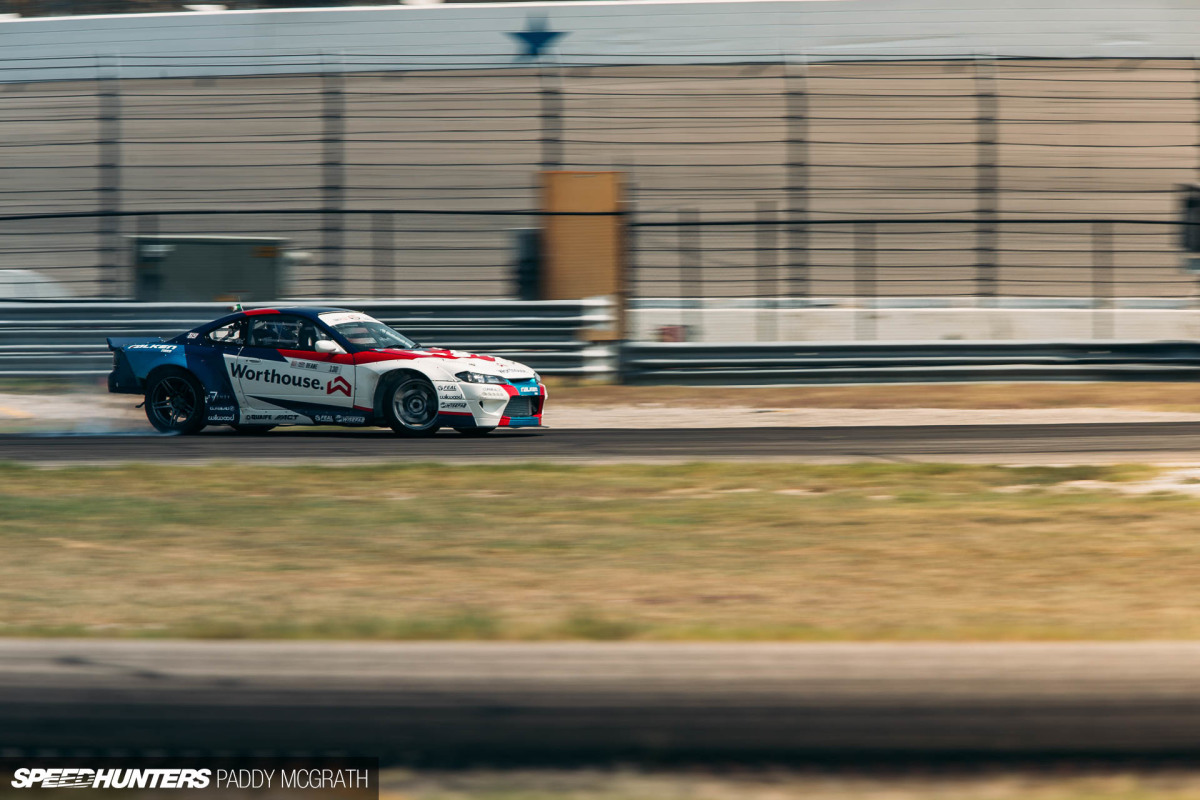 When James came to the line, the top score of 92 had already been beaten twice. Odi Bakchis had put down a 95 before Matt Coffman blew everyone away with a spectacular 97-point run. Ordinarily, you would think that was that, but when James Deane needs to step up, he always does. Powering through the course, James matched Coffman's 97, but because of his higher scoring first run, secured top qualifying spot for the third event in a row.
Another succesful day in the bag for both drivers, and one car guaranteed a place in the Top 16.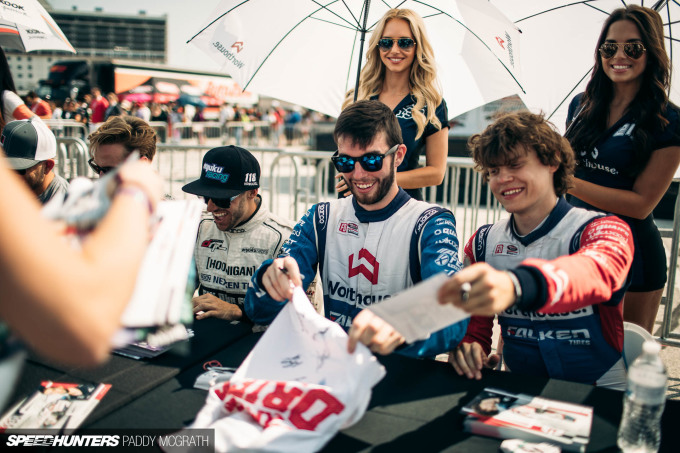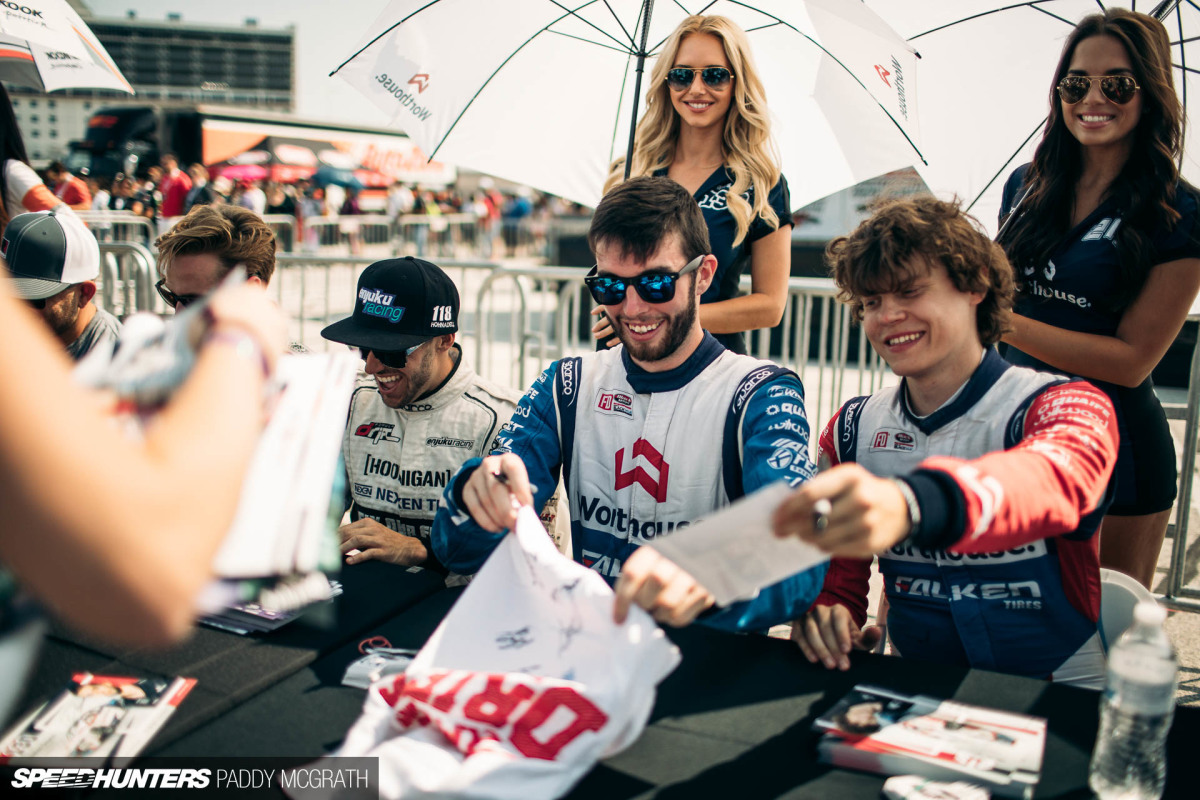 The pre-planned autograph sessions are usually a pleasure or something to be endured post qualifying. Thankfully, it was the former on this occasion. Yes, that is the queue in the background. I'm always impressed by how much support the FD fans bring to each event; it's unlike any other series I've attended.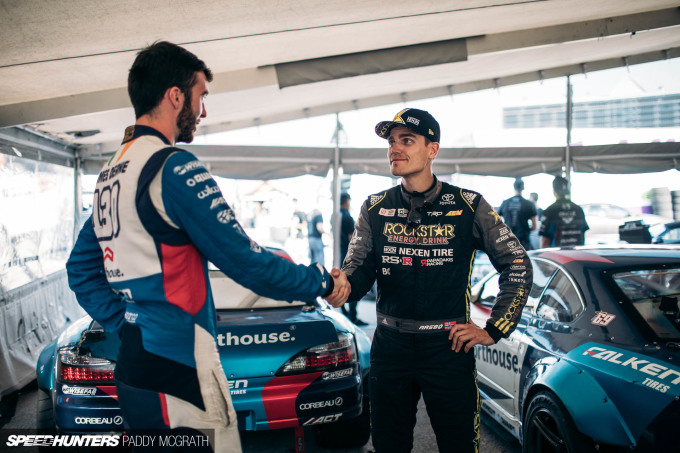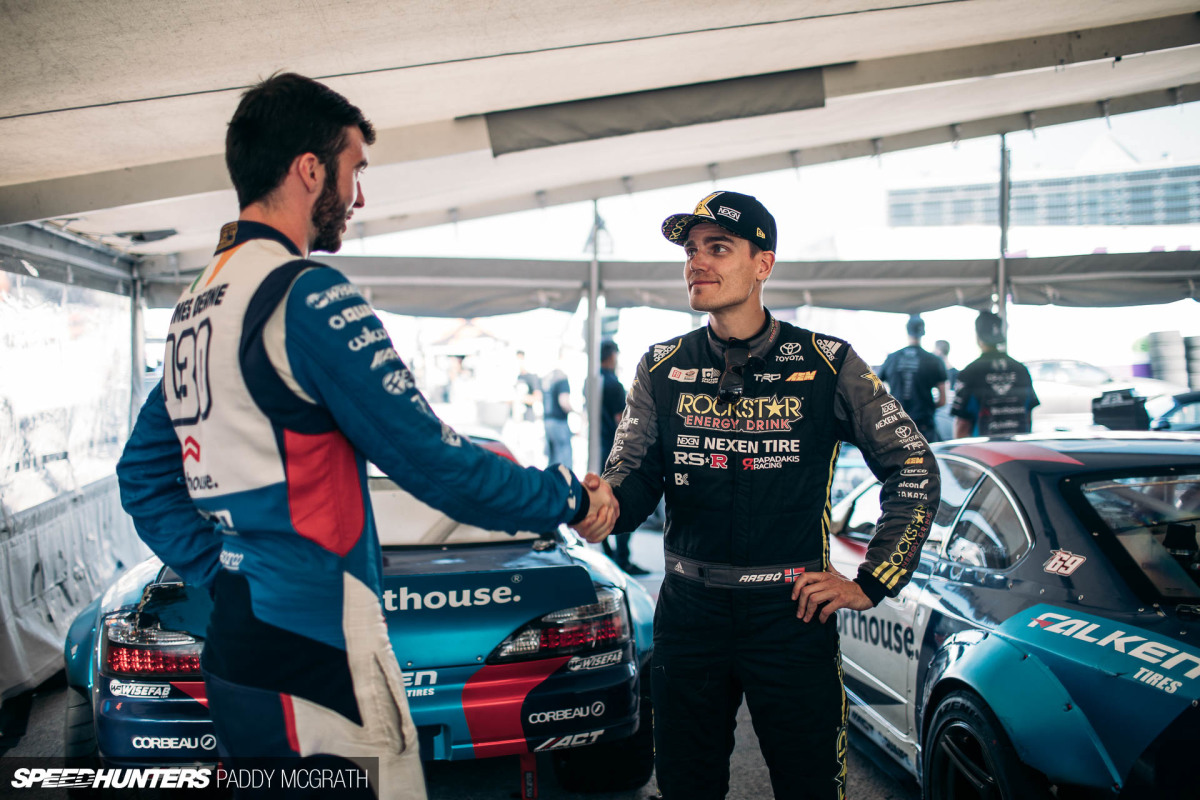 Securing top spot allowed James to extend his lead to 60 points before the battles commenced. After the autograph session, and before the post-qualification briefing, Fredric took the opportunity to call by and wish James the best of luck going forward. They're both such decent people, with the utmost of respect for each other and the sport. While it's not the vicious rivalry some would want, it's absolutely the best kind.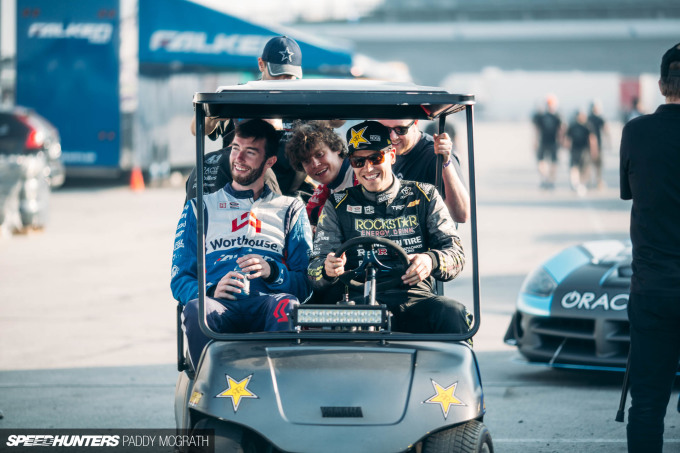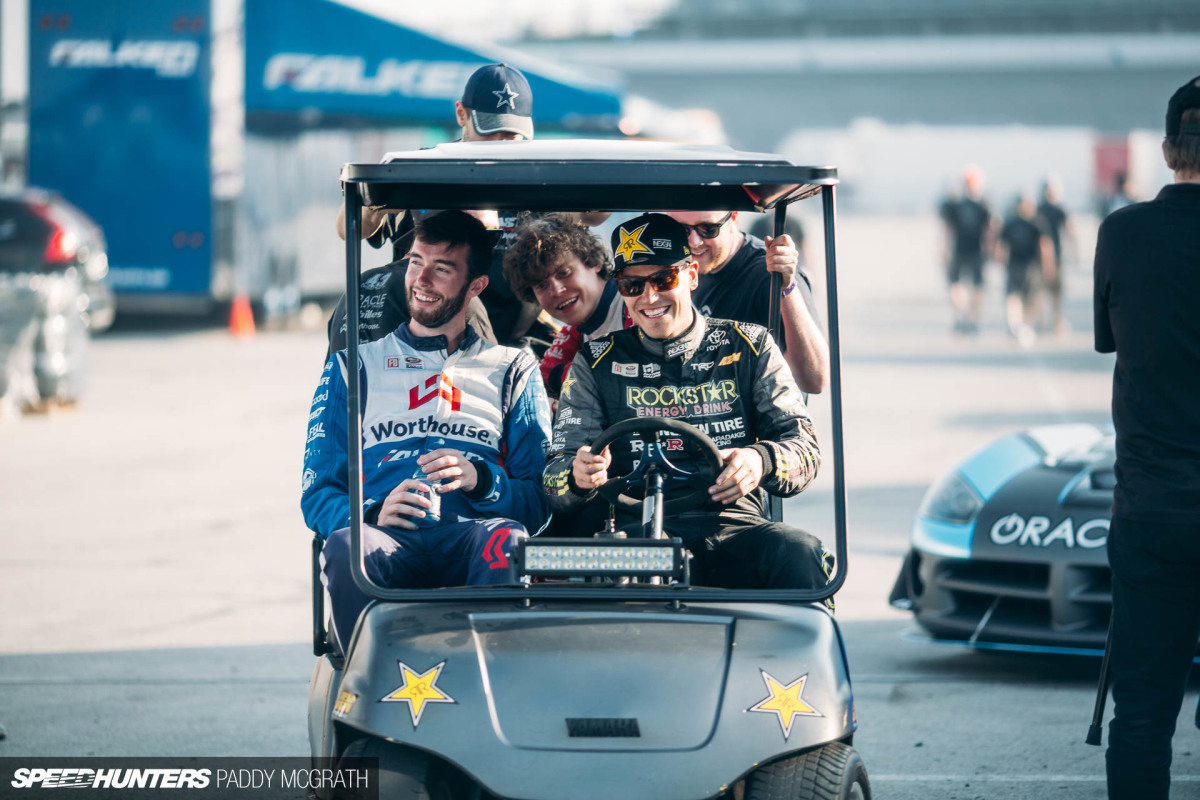 With the sun setting on another day, they all set off together towards the briefing on an overcrowded golf cart, with Kristaps wearing a Dallas Cowboys hat hanging off the back. I've seen stranger things, to be honest.
Saturday, Battles
Prior to this, I was convinced that the Top 16 in Seattle was the most important set of battles all season. For some reason though, I was more nervous beforehand in Texas than any at any other event. This was proper make or break stuff.
In theory, James could have been crowned champion in Texas, but it would have taken an outright win and Fredric to have been knocked out at Top 16.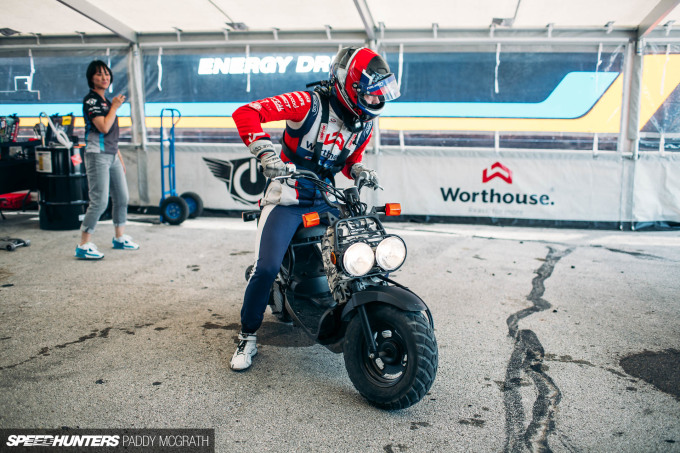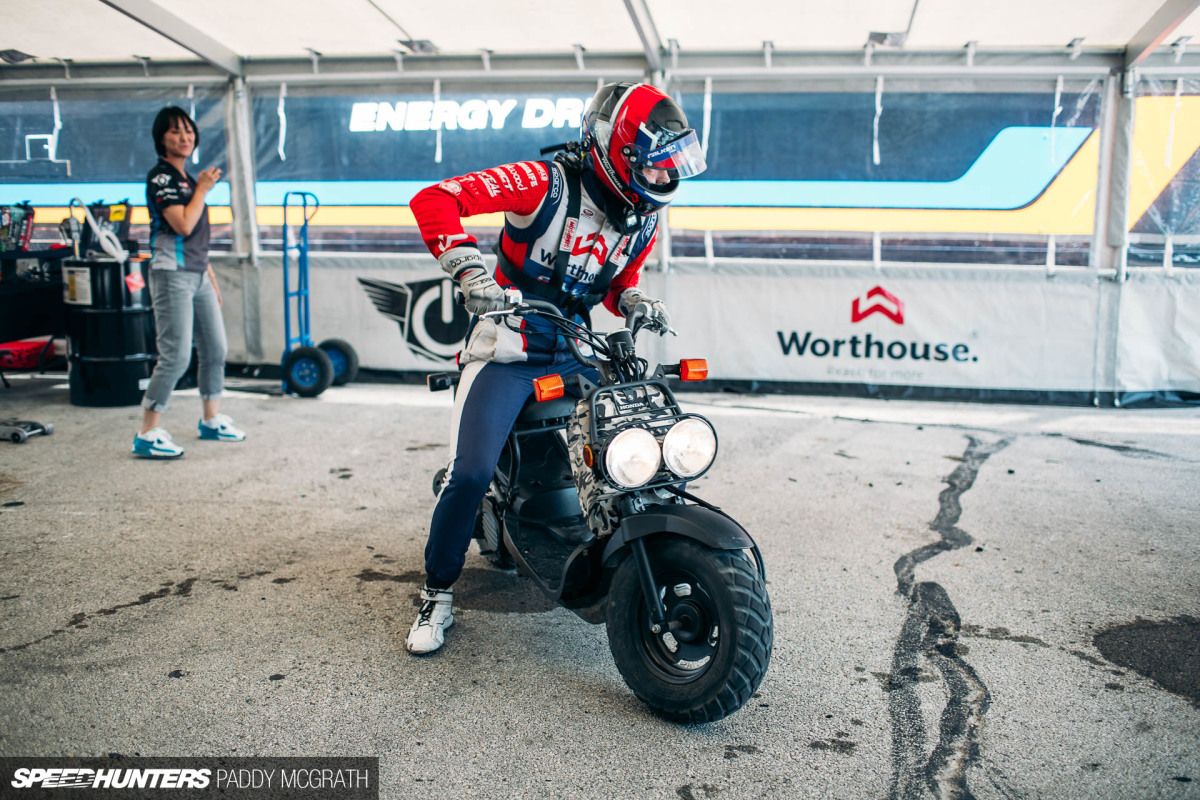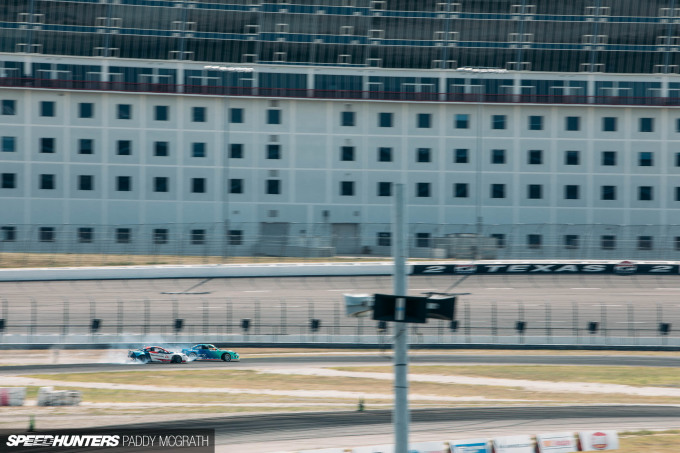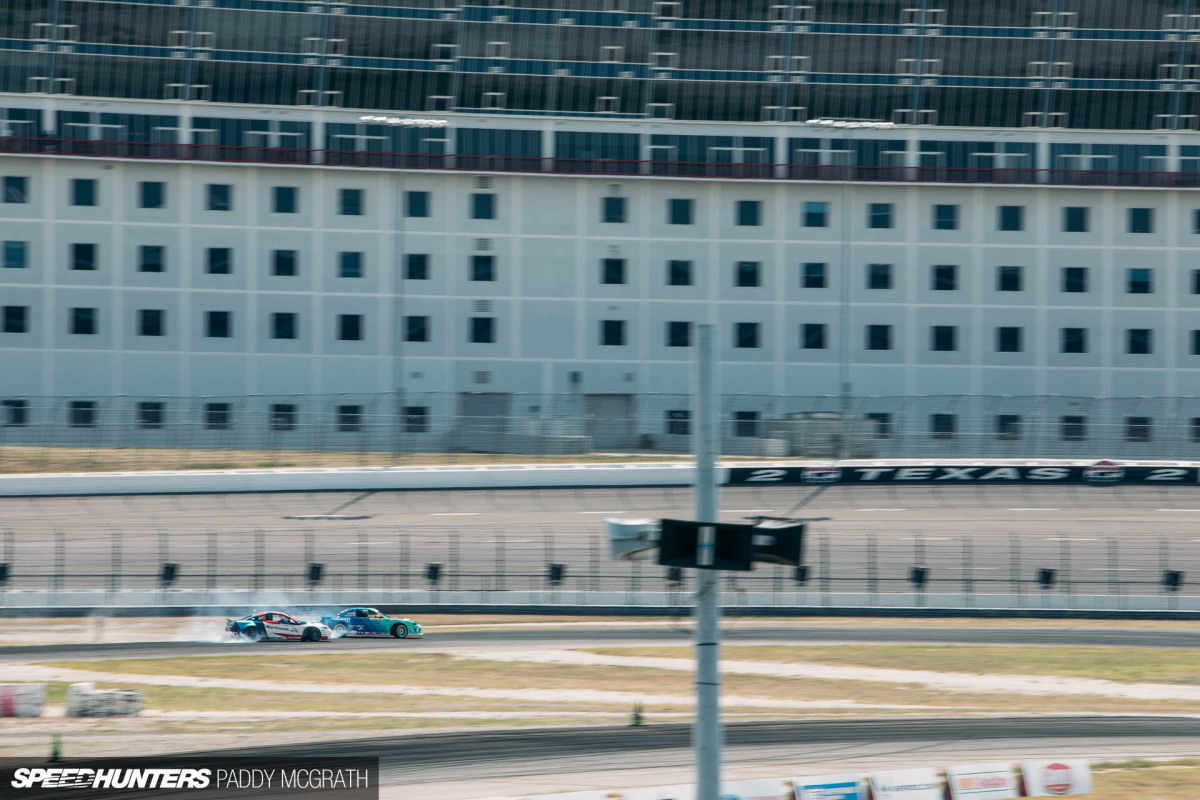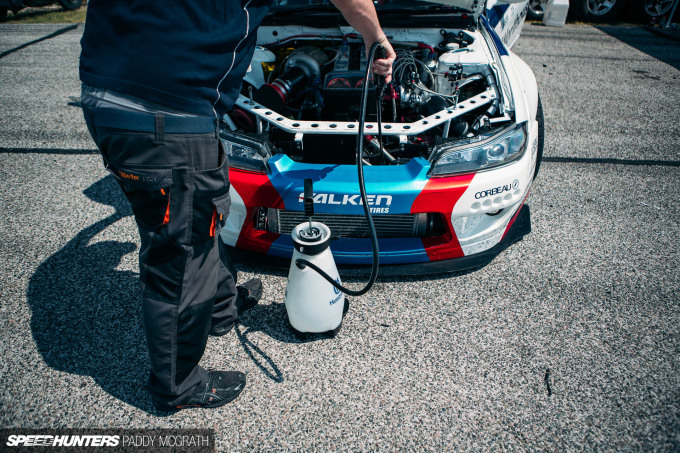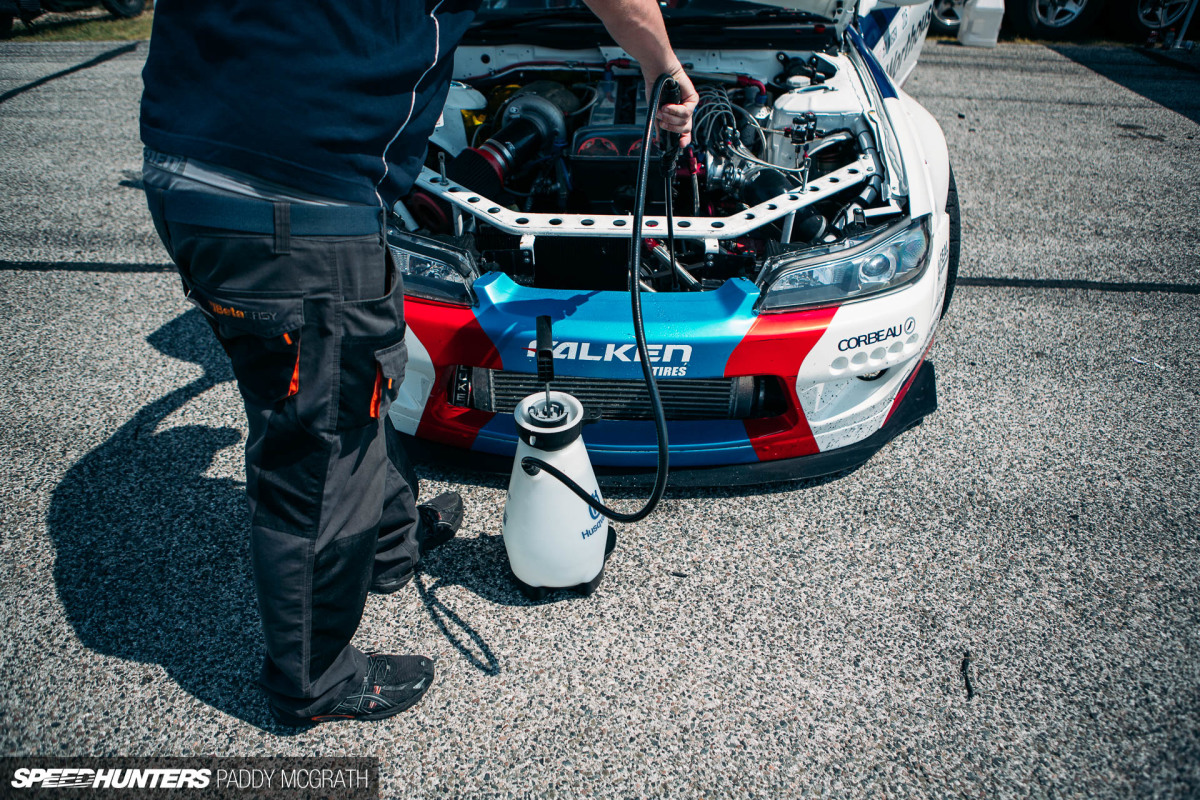 In hindsight, there was an awful lot of practice in Texas. Maybe it was the same as other venues, but it felt like more. That was perhaps due to how bland the venue is to shoot, and every angle feeling like the last one.
In these cases, it's often best to focus on the people behind the smoke, rather than the action on track.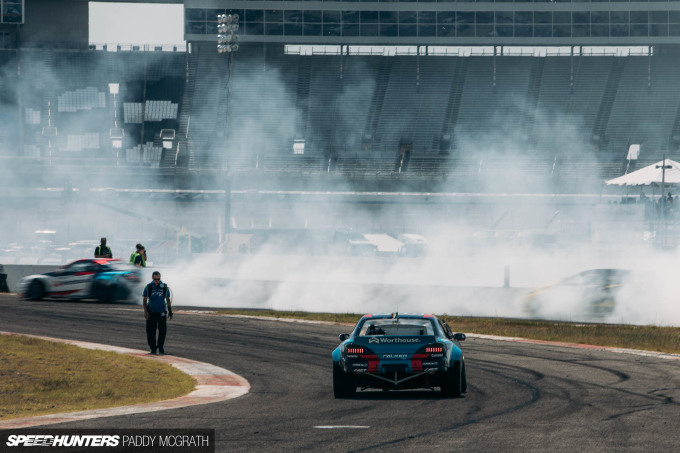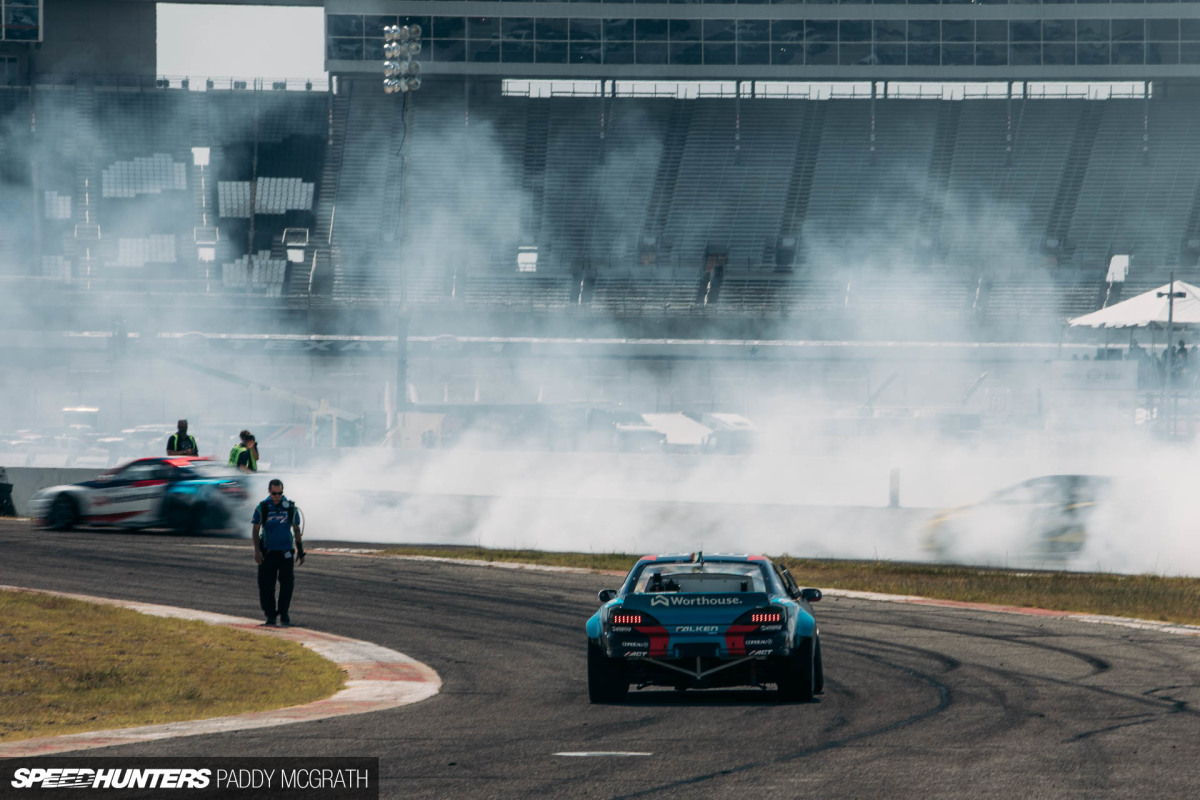 The hot pits' proximity to the track, and in particular to the finish line, is one of the more unusual ones that I've encountered so far on this tour of the United States and Canada. The team are always ready to move if things go awry.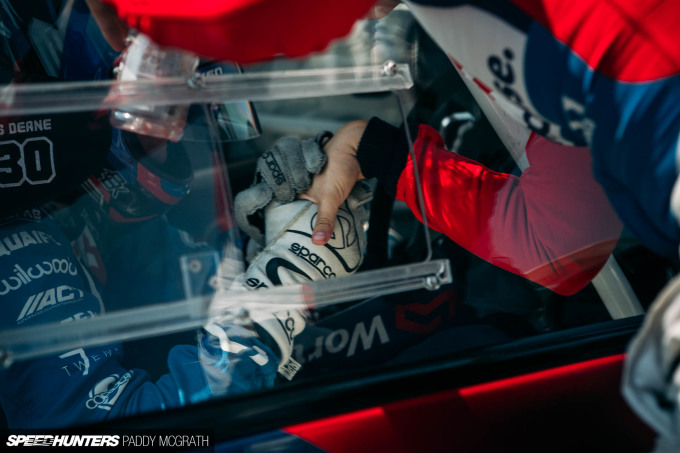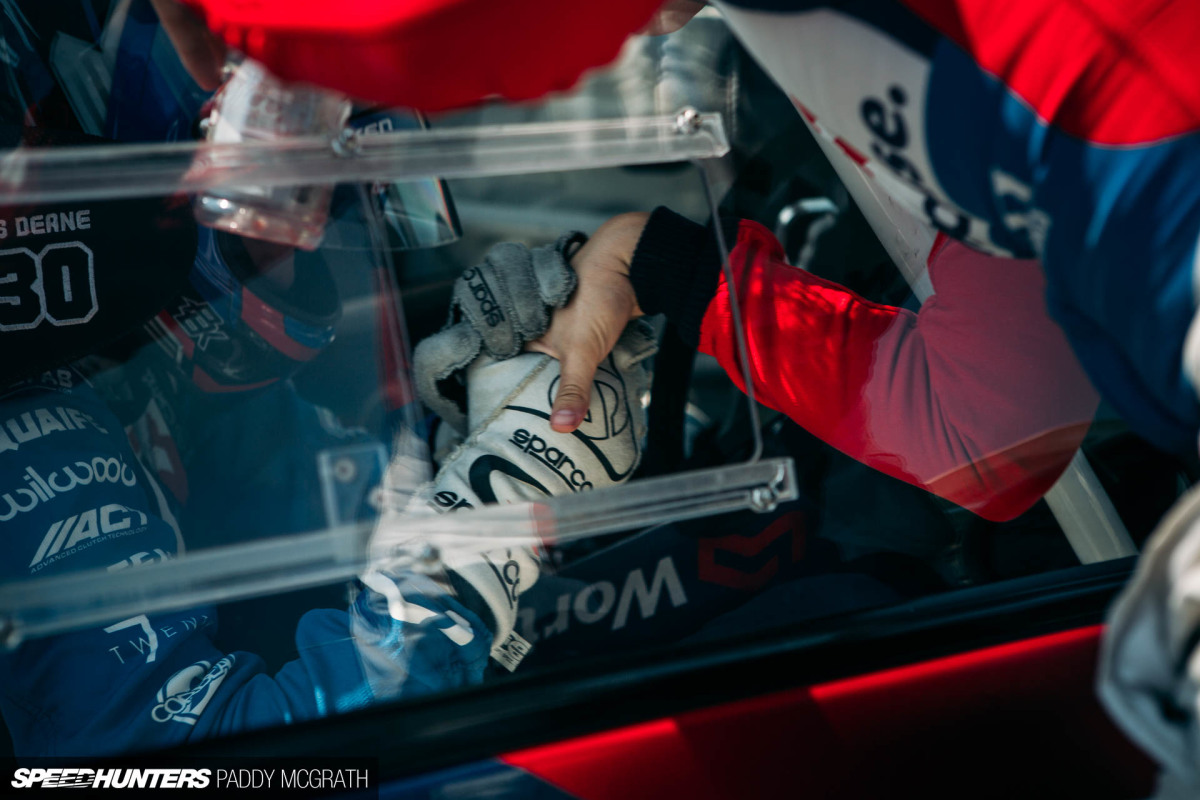 With practice over, and Piotr not due to battle until almost last in the Top 32, the team headed for refuge in the pits. What was I saying about that bond?
With the luxury of the big screen, James, Michael Sheehan (James' spotter) and Bryan Bridges (eating snacks) watched on from the front of pit area.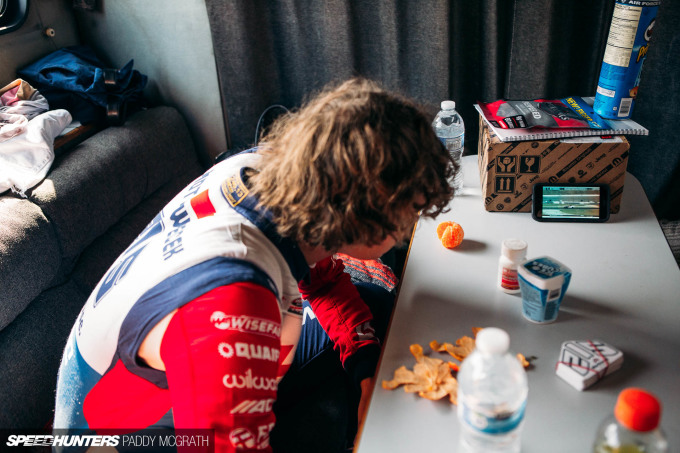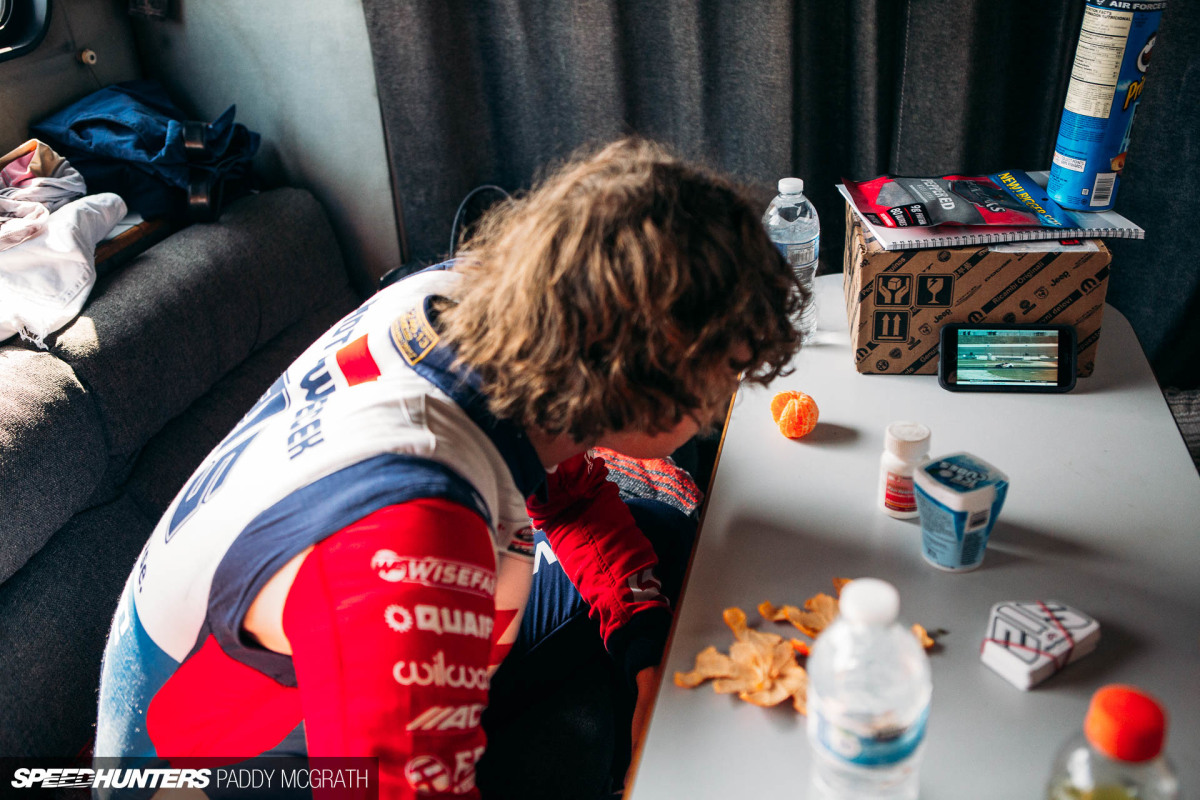 Piotr opted to cool down in the air conditioned truck, watching on a significantly smaller screen, before heading to the grid.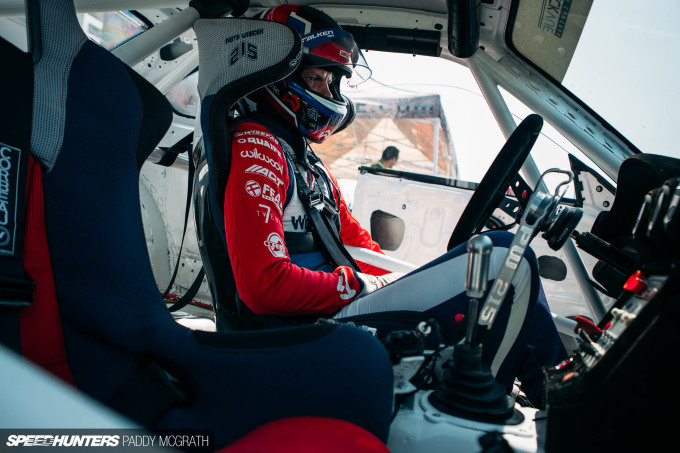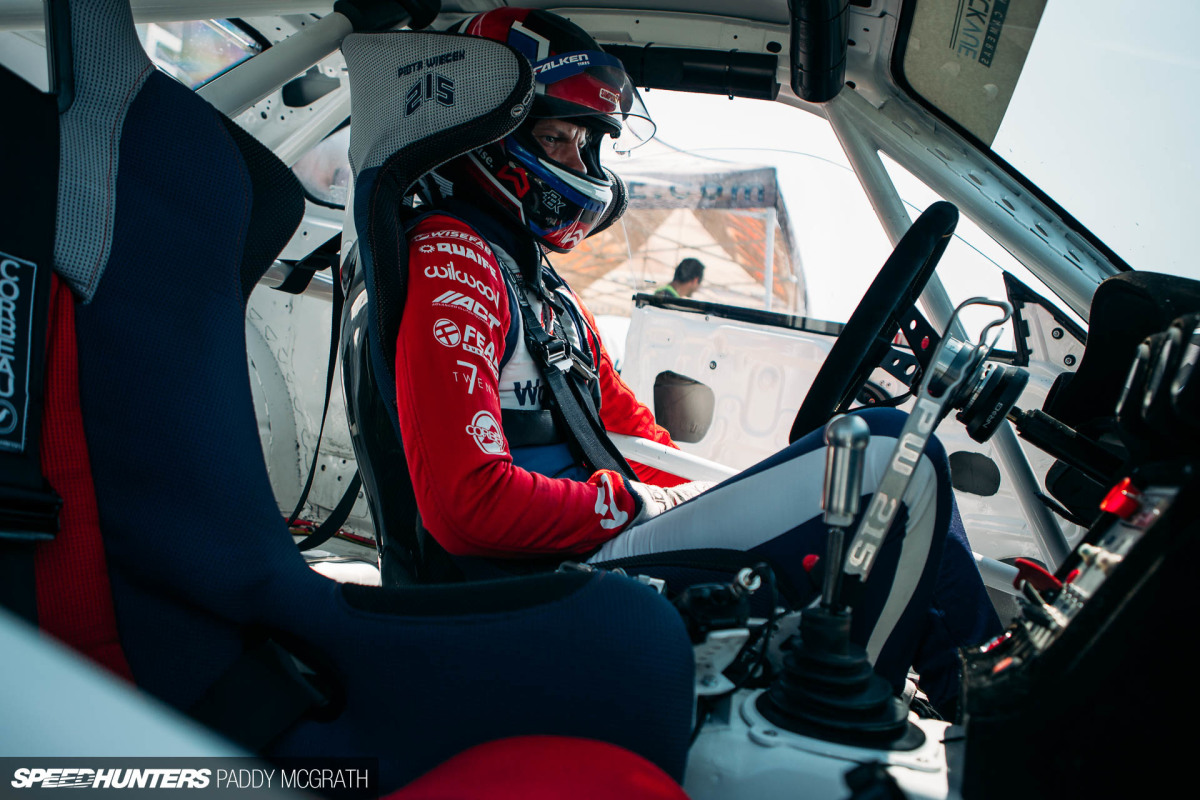 Neither Piotr or James run cool suits, and are amongst the only drivers that I can recall on the FD grid with sealed cockpits. As such, it gets hot, so they try to spend as little time in the cars where possible. Just get in, strap in, and drive.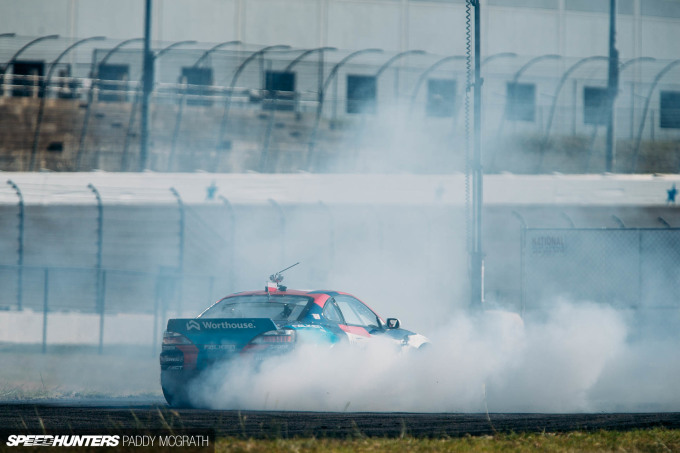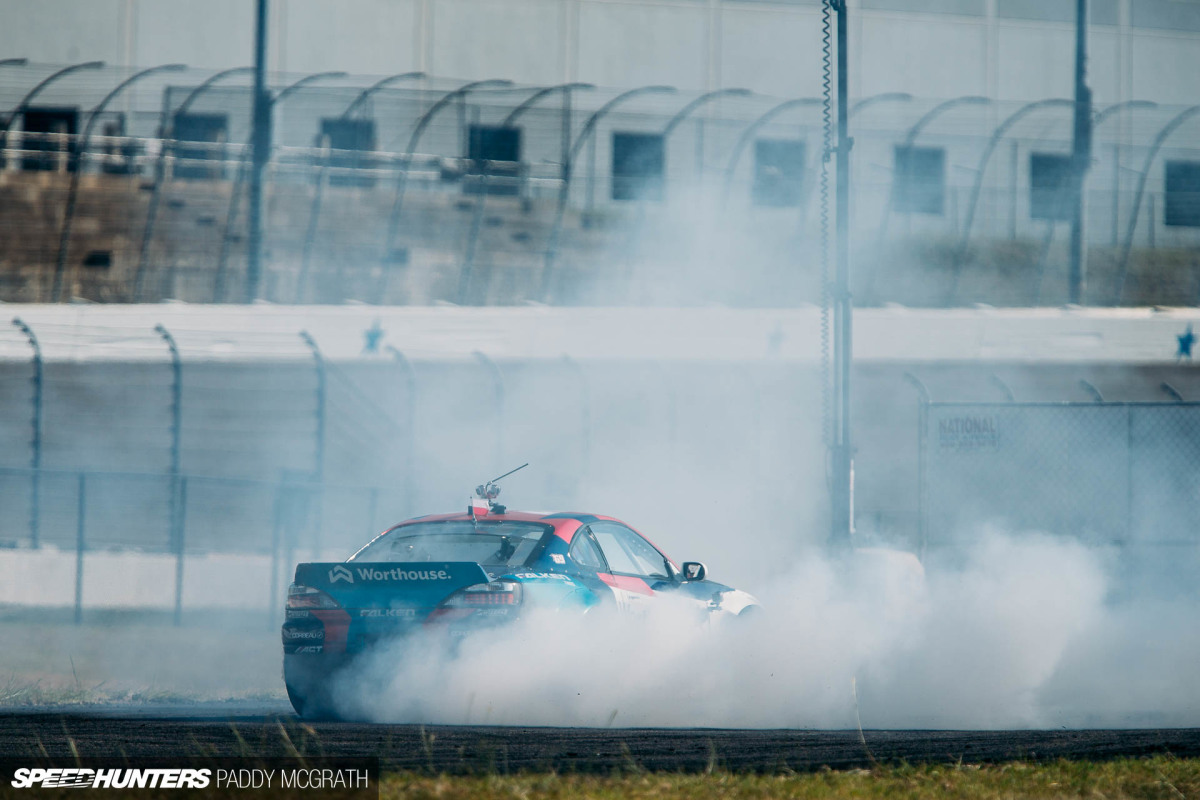 Each battle follows a familiar pattern. Queue up and warm up in burnout box (something which FD drivers spend far more time in than any other series that I've seen) before heading to the line.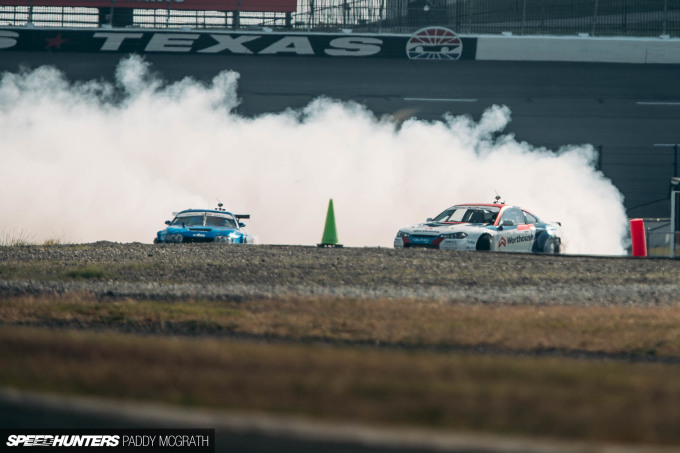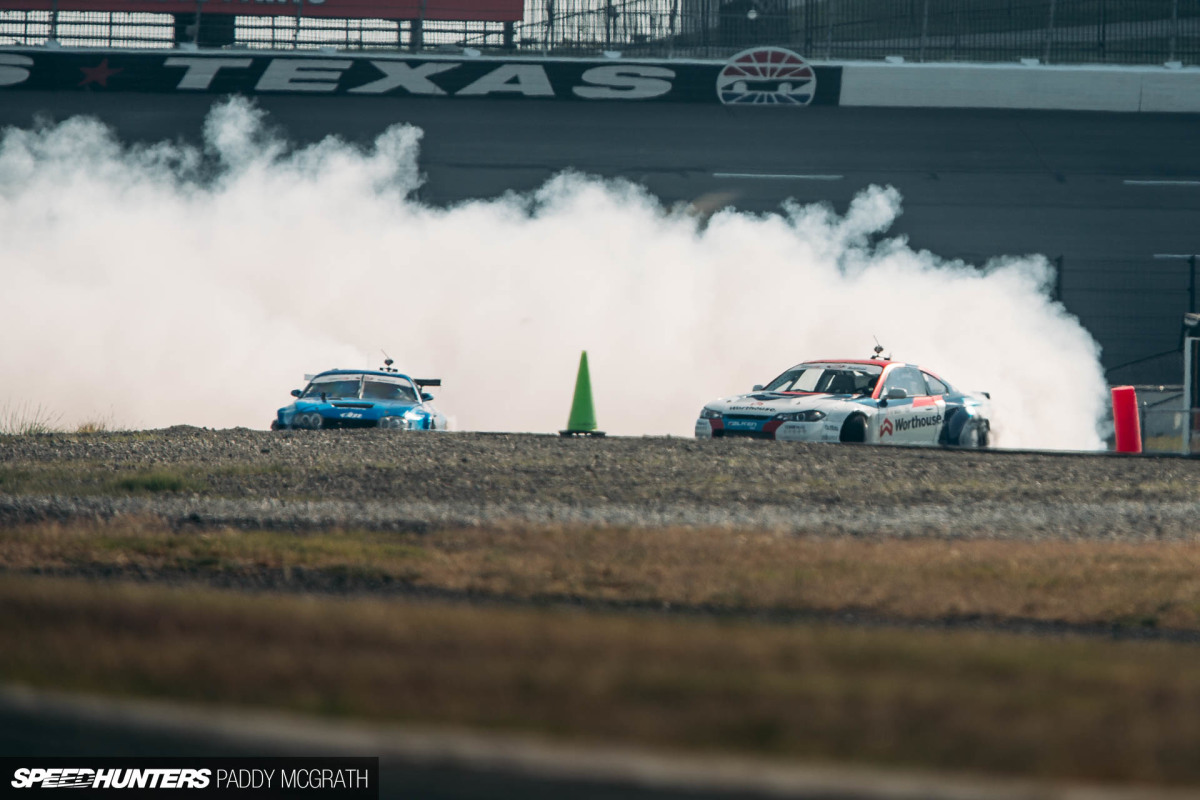 Piotr's opponent in the Top 32 was fellow rookie, 'Rad' Dan Burkett. Burkett had an off in practice, but seemed to be getting comfortable again. However, this battle was typical of many others during the battles, where the vast differences in speed between drivers was evident. On its lead, the 2JZ-powered S15 left the Supra pretty much for dust.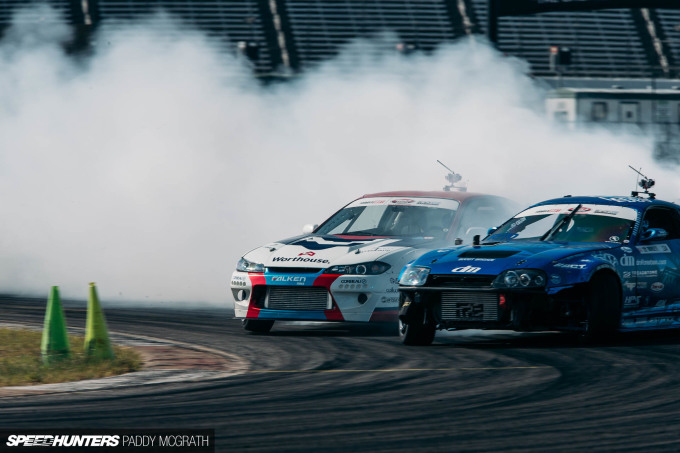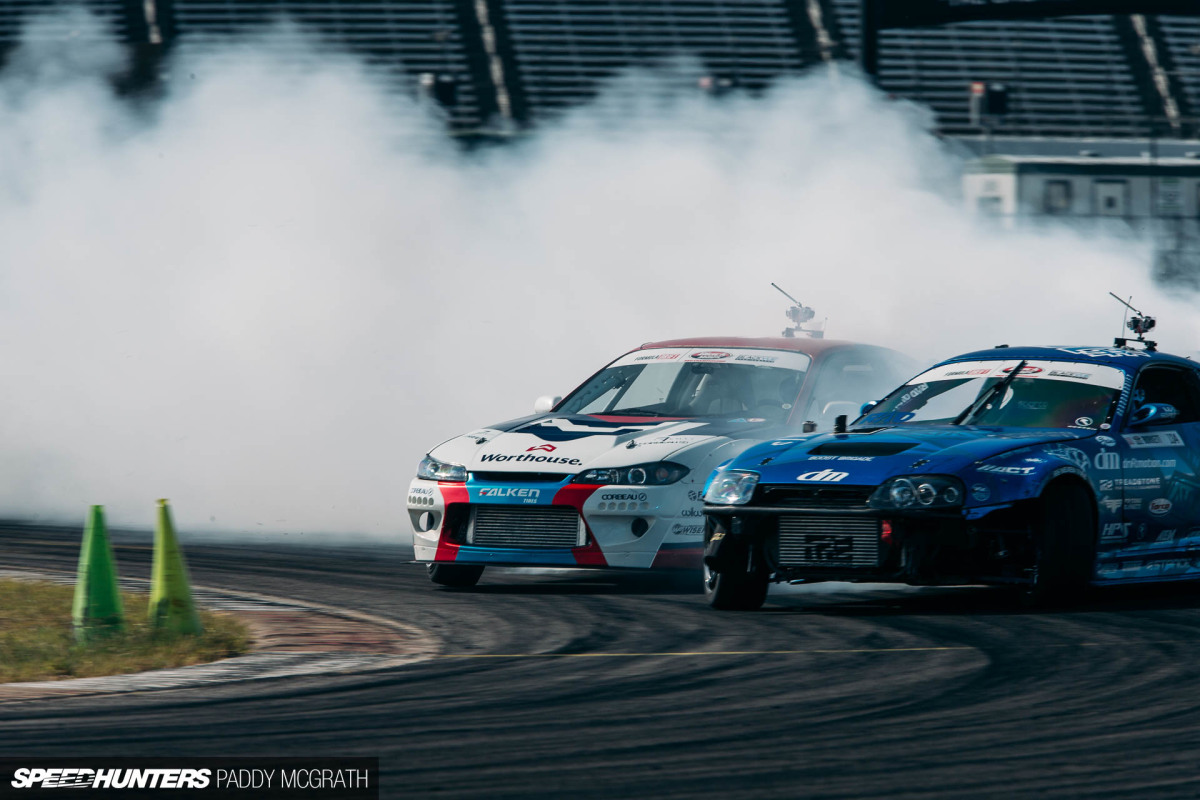 In the chase, the white, red and blue Nissan was practically stuck to the wounded Supra.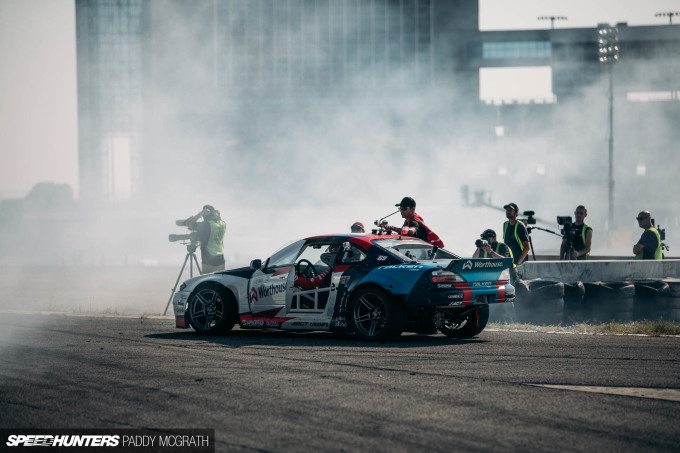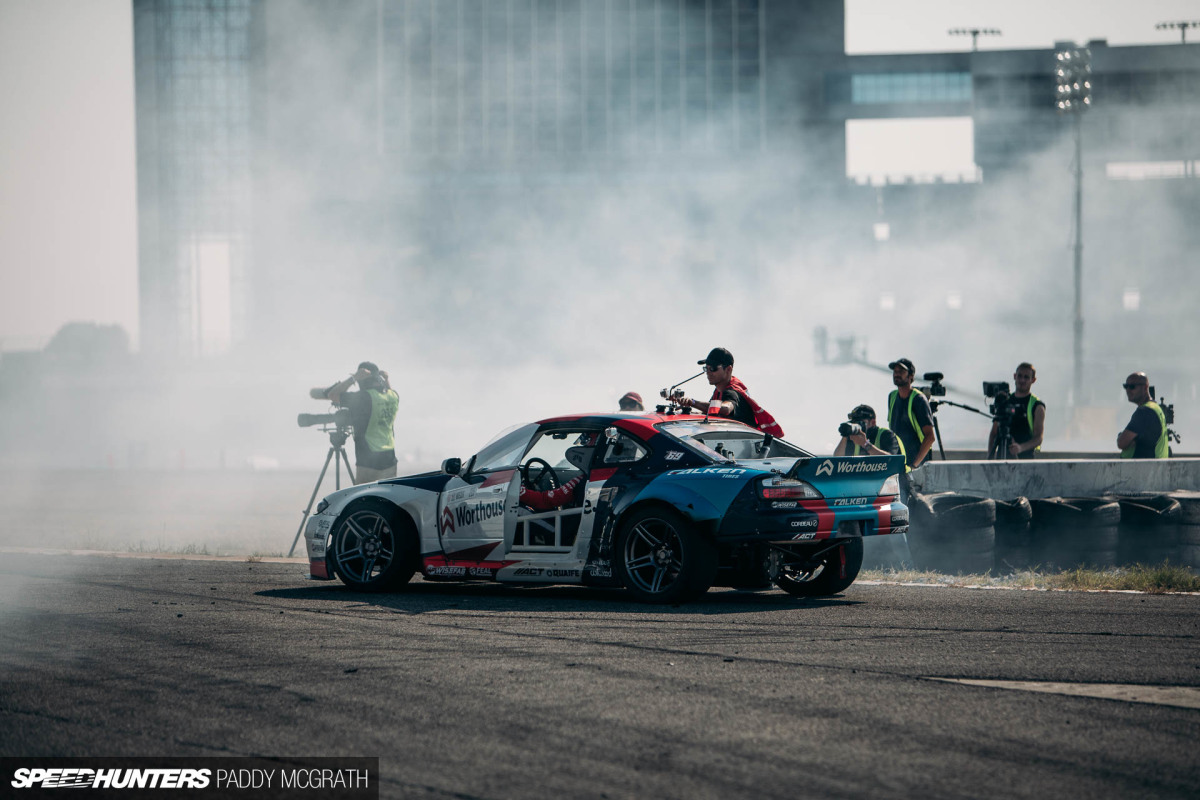 It was a quick decision for the judges, and Piotr would join James in the Top 16.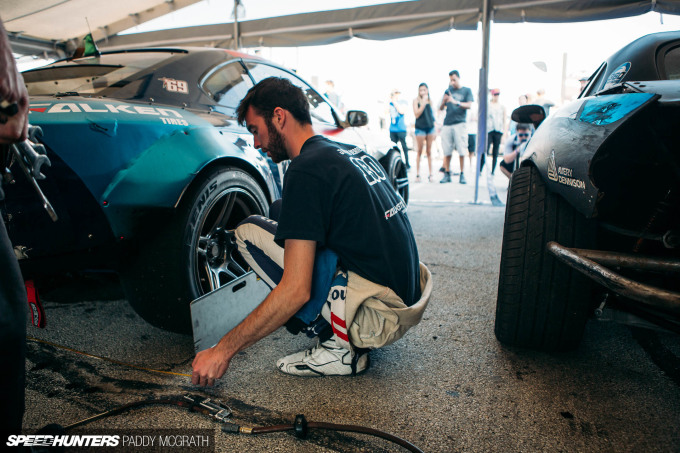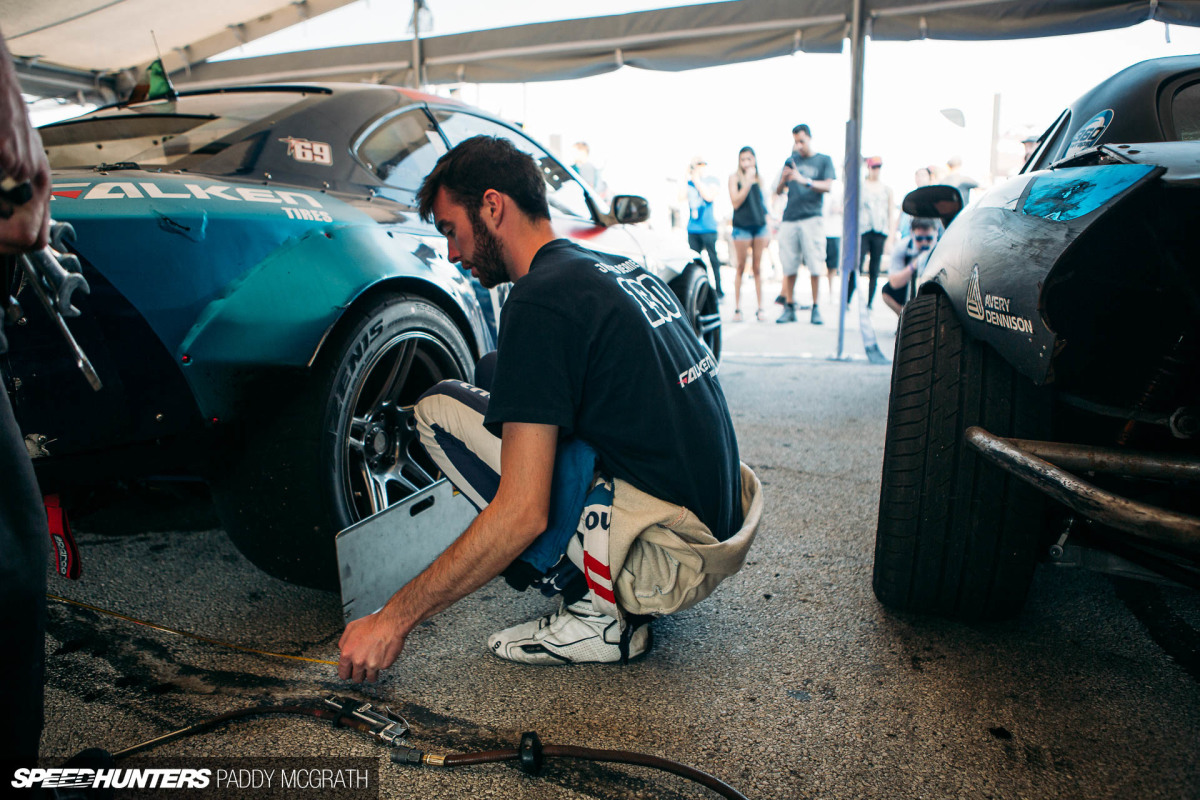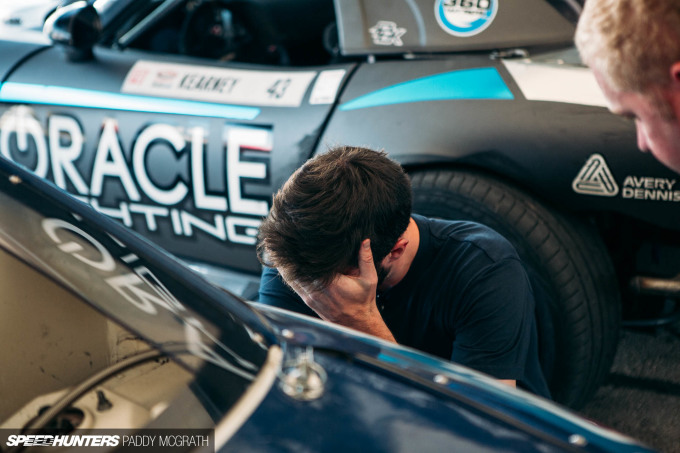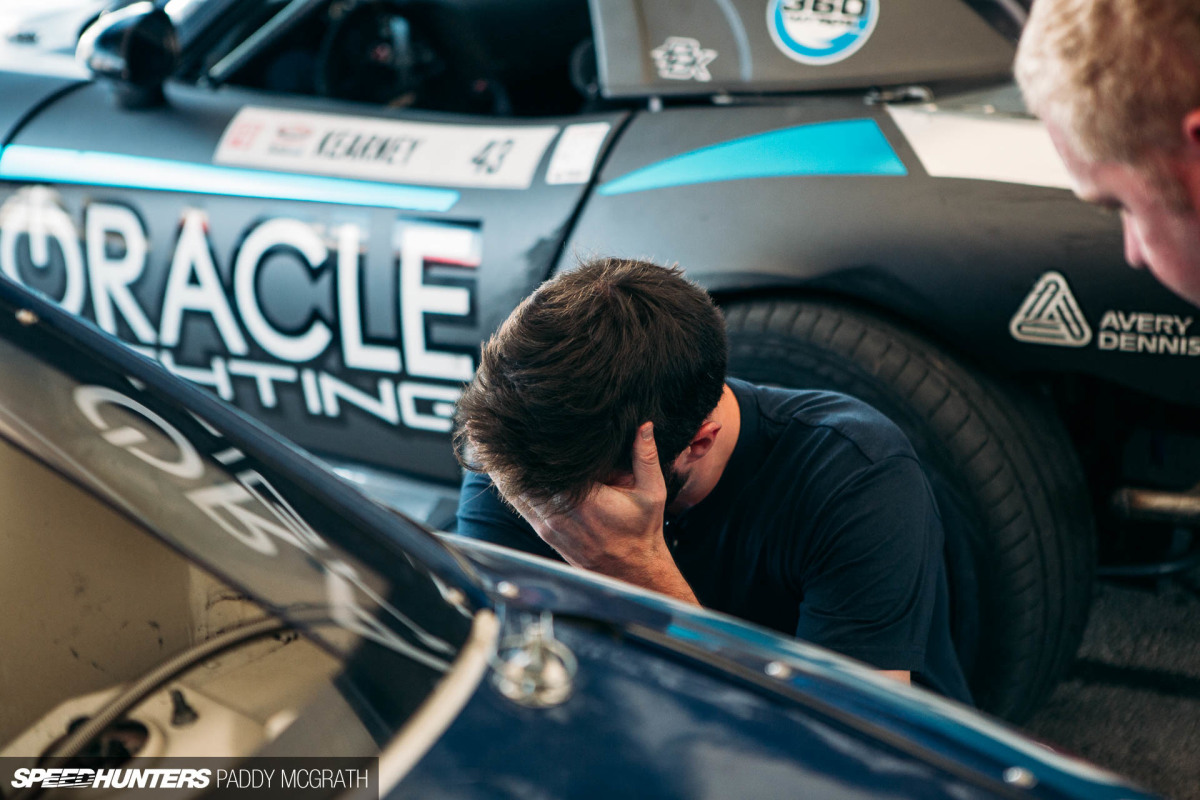 Back in the pits, James was deliberating with regards to making adjustments to the car in order to add more grip and speed before the Top 16 commenced. Having watched the Top 32, he was acutely aware of how fast some of his rivals were and was concerned about the pace of his S15 in comparison.
In the end, he decided to work with what he had qualified in and not change anything.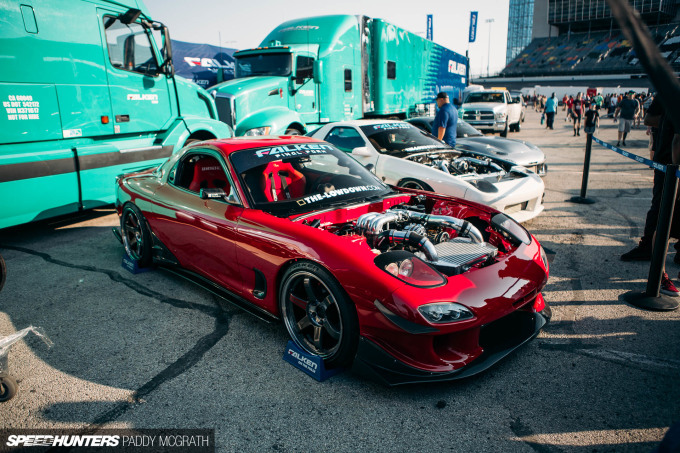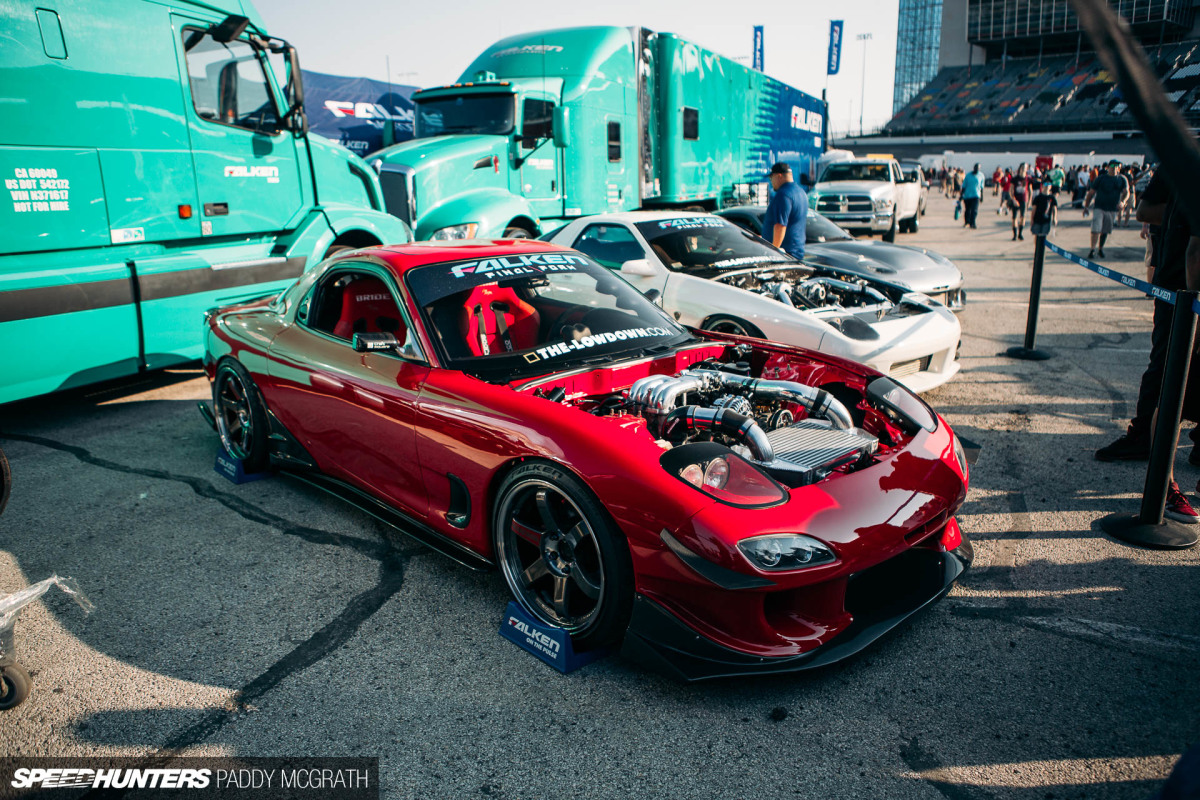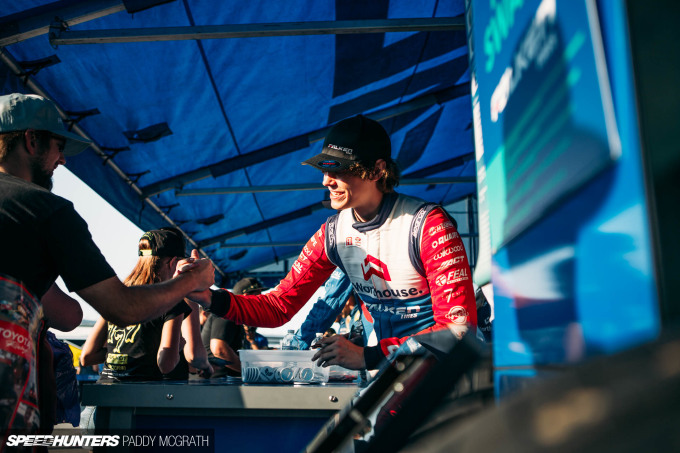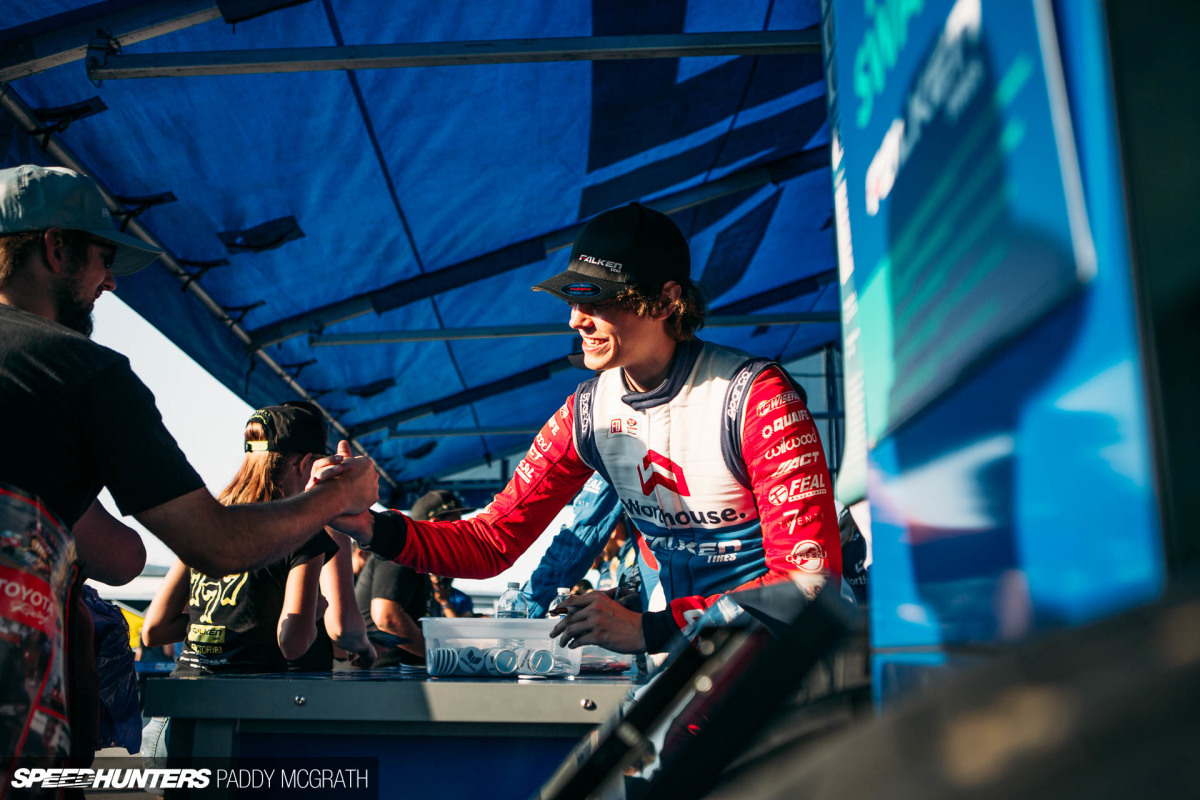 There's not a lot of time to stand around and think at events. Between briefings, team meetings and sponsor obligations, every driver's schedule is full from start to finish. Still, that RX-7 though…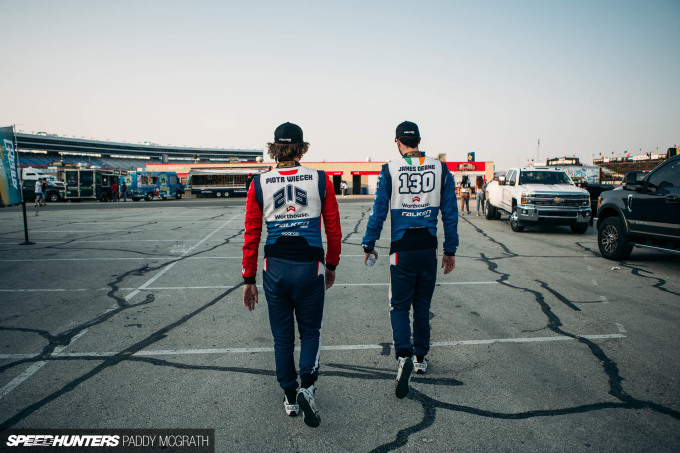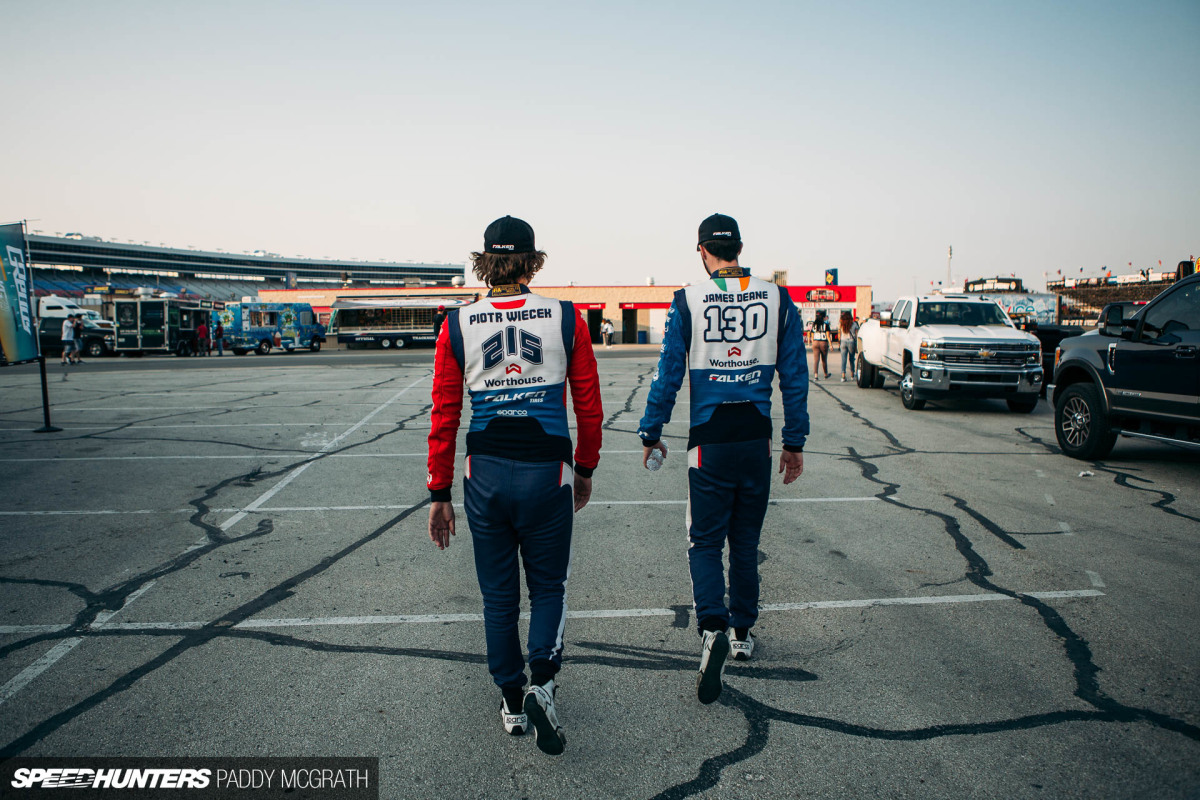 It wasn't a long walk to the grid, but it's an important one. I would think that every driver's goal at an event is to be in the main event, at the very least.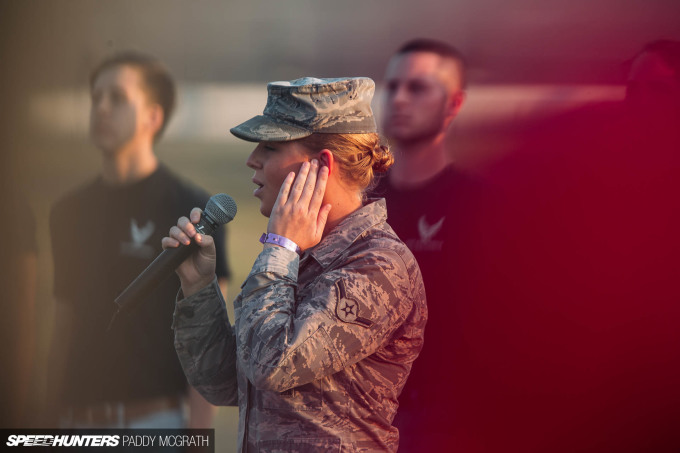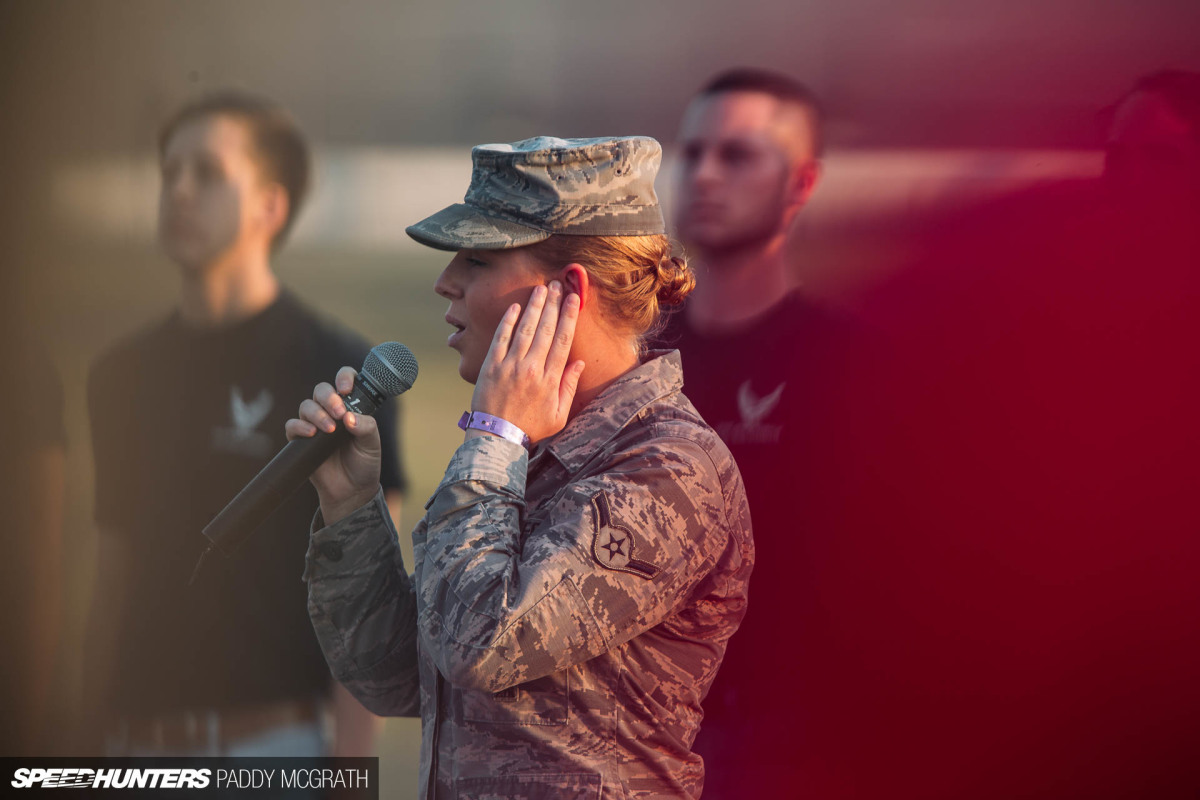 Like the battles, each ceremony follows a similar pattern and routine. The swearing in of new Air Force recruits and the national anthem, followed by driver introductions.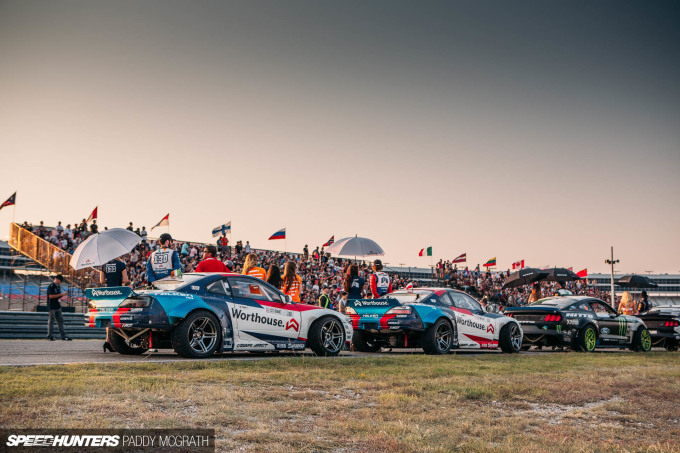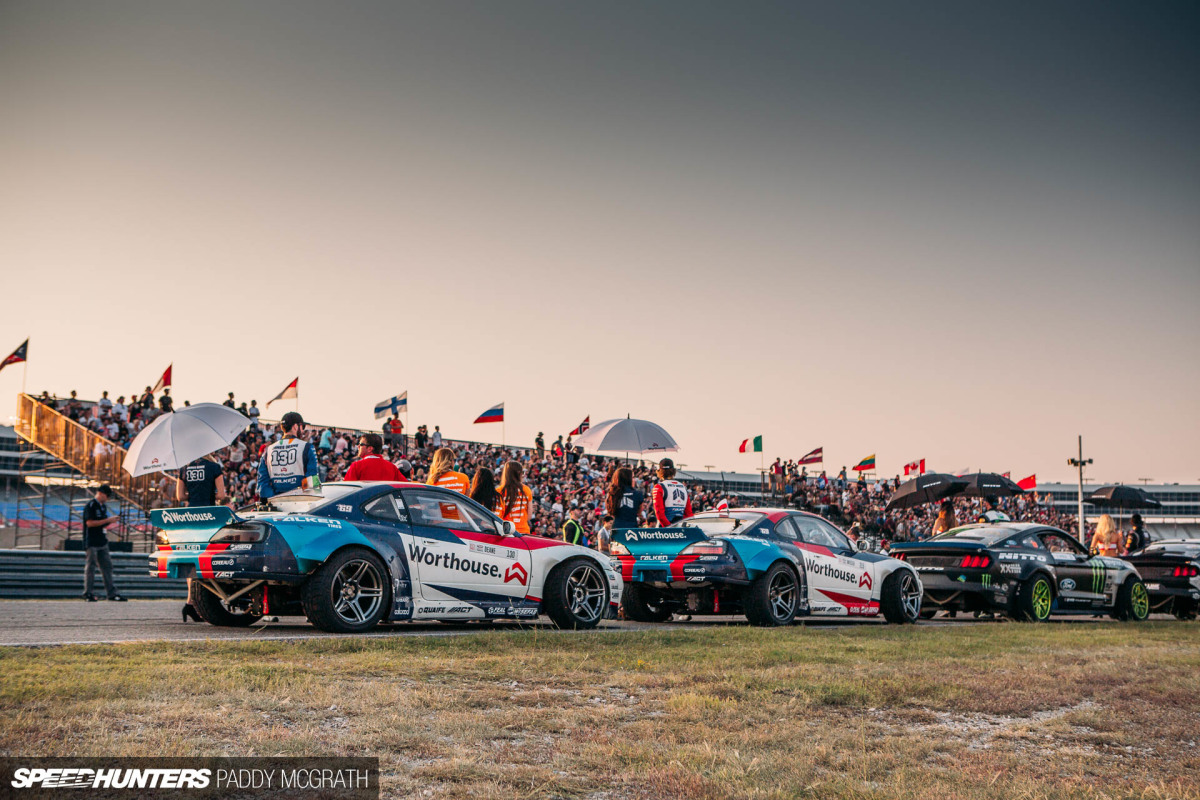 The crowd in Texas was smaller than usual, but they made up for it with noise and support that could easily be heard across the way in the hot pit.
As top qualifier, James was the recipient of a $500 prize, supplied by Black Magic, but he returned it so it could be donated to a charity supporting the victims of the recent hurricane in Houston. It was a heartfelt gesture, and one I'm sure that will be appreciated.
On a personal note, I found it was almost surreal how unaffected the Dallas and Fort Worth areas were last weekend, considering the devastation less than 300 miles south. Our thoughts are with all of those affected by Harvey and Irma in recent weeks. Stay strong.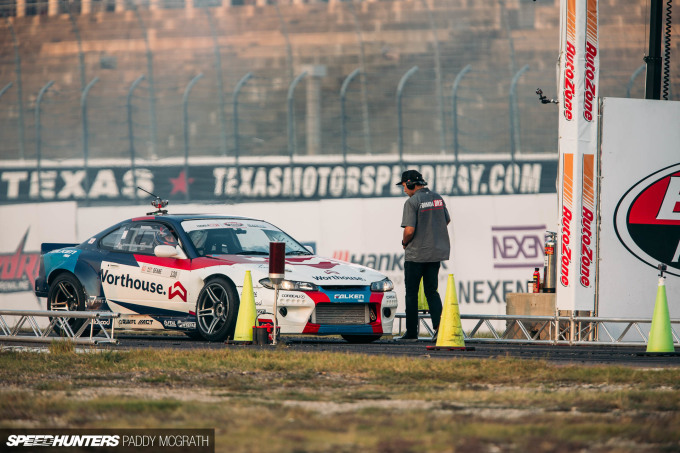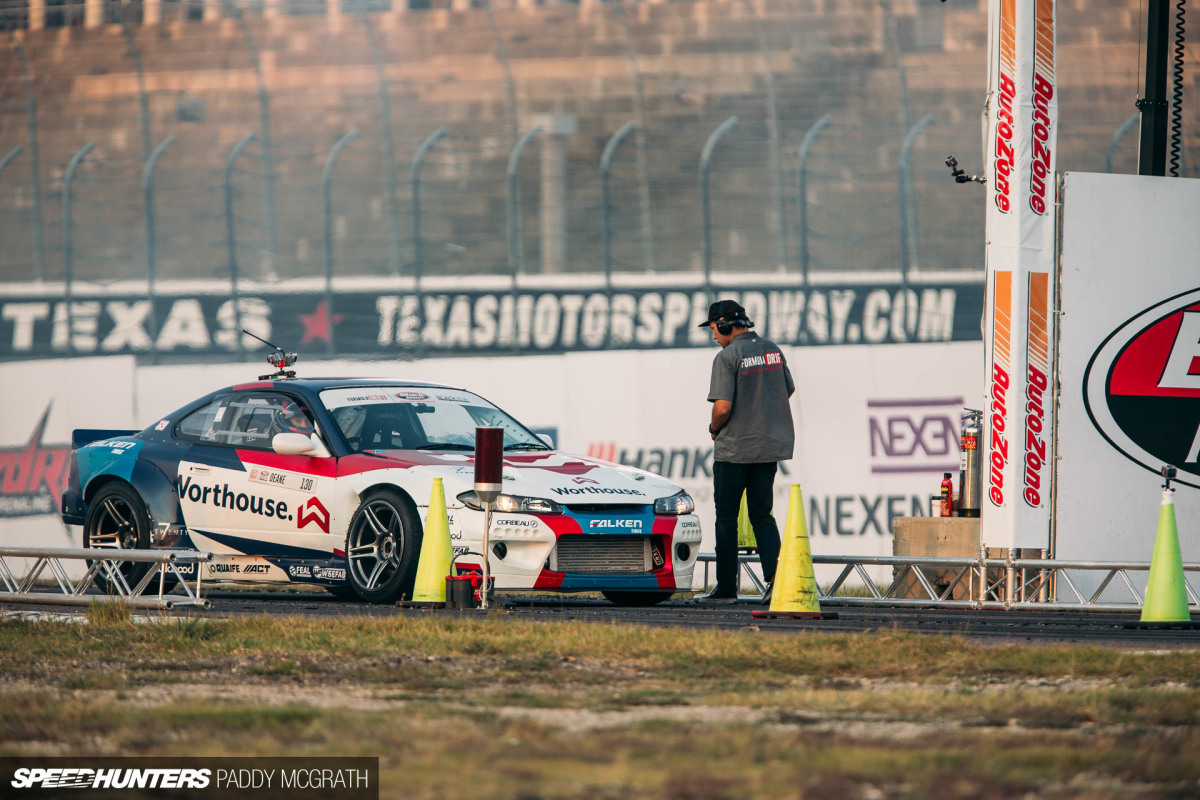 First place qualifier and first to the line for the Top 16.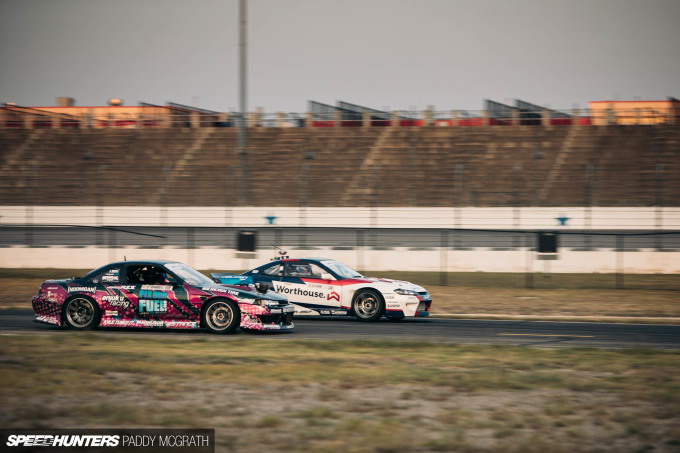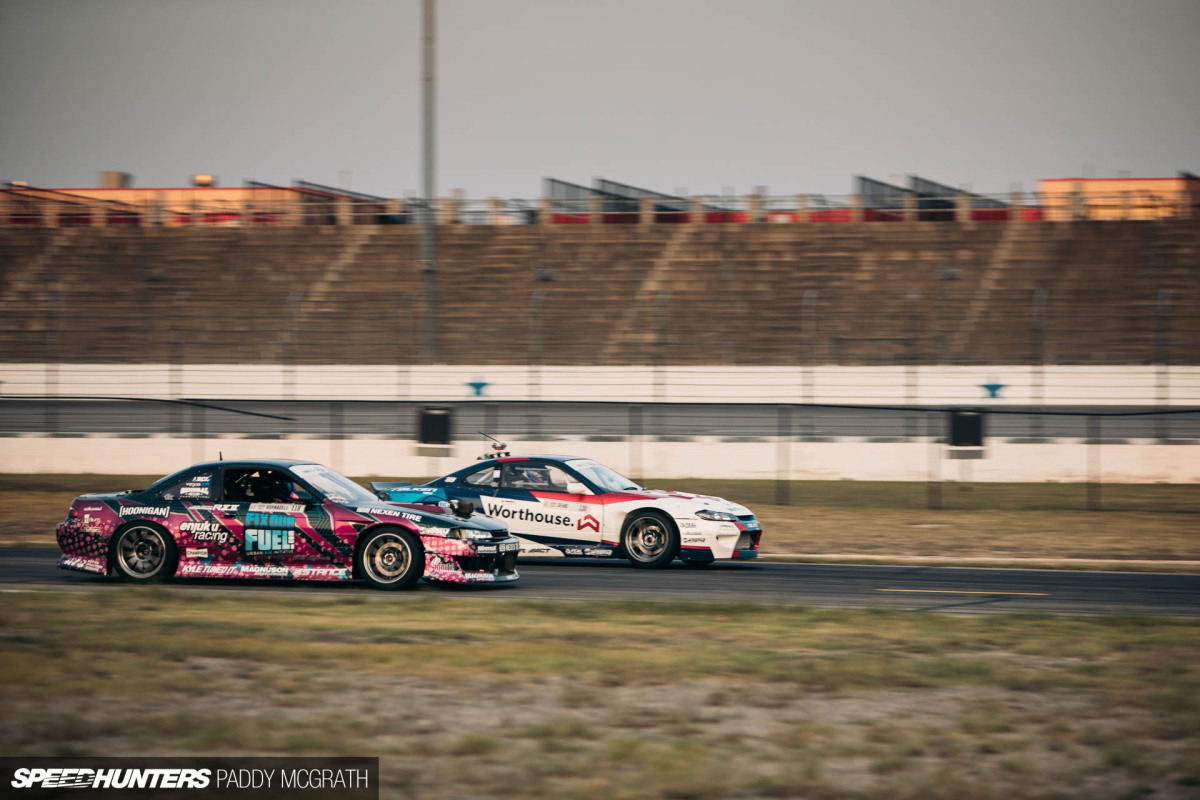 There was serious anticipation before this battle against Alec Hohnadell within the Worthouse team. Hohnadell is one of the fastest drivers on the grid, and I think it's the car and driver combination that James least wanted to face so early in the battles.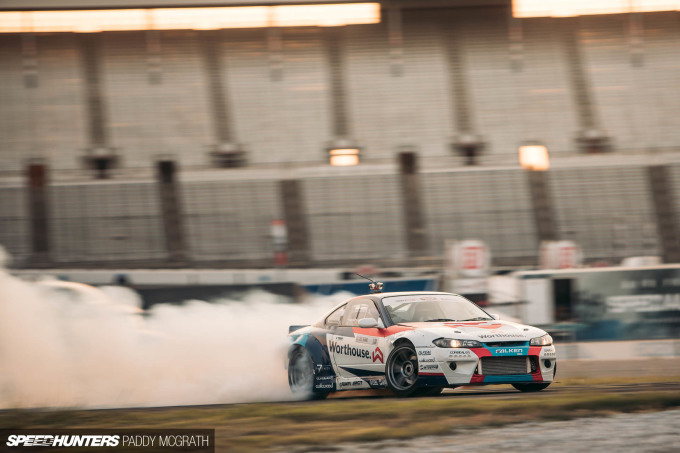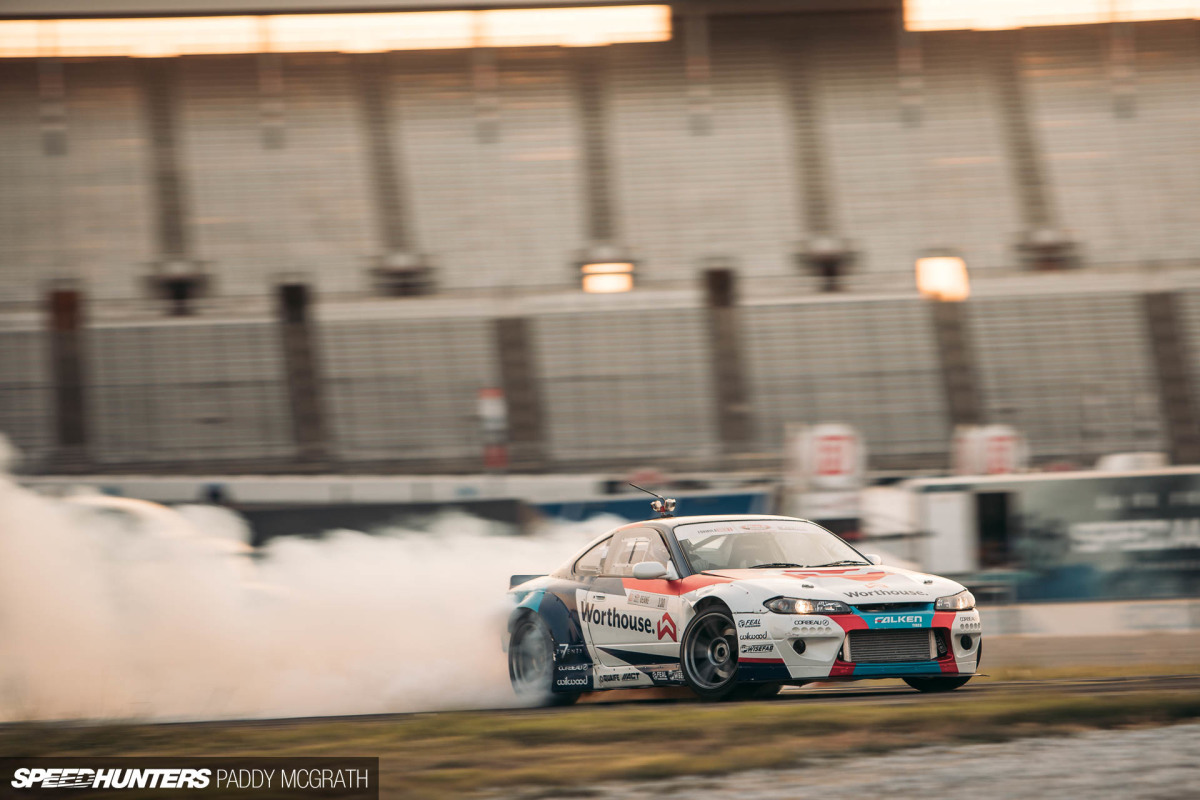 It was, however, a short lived battle.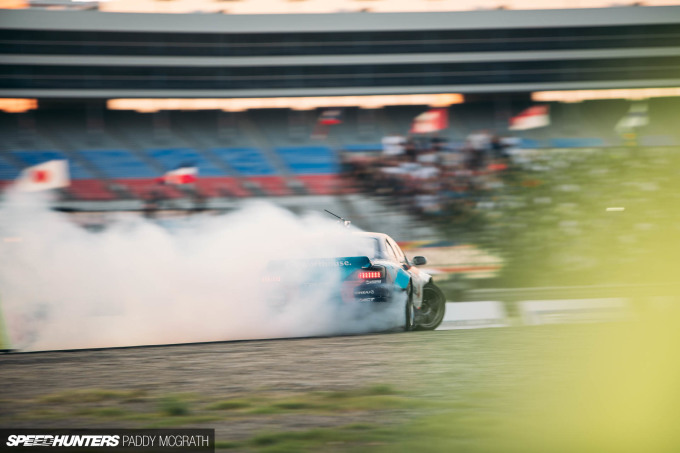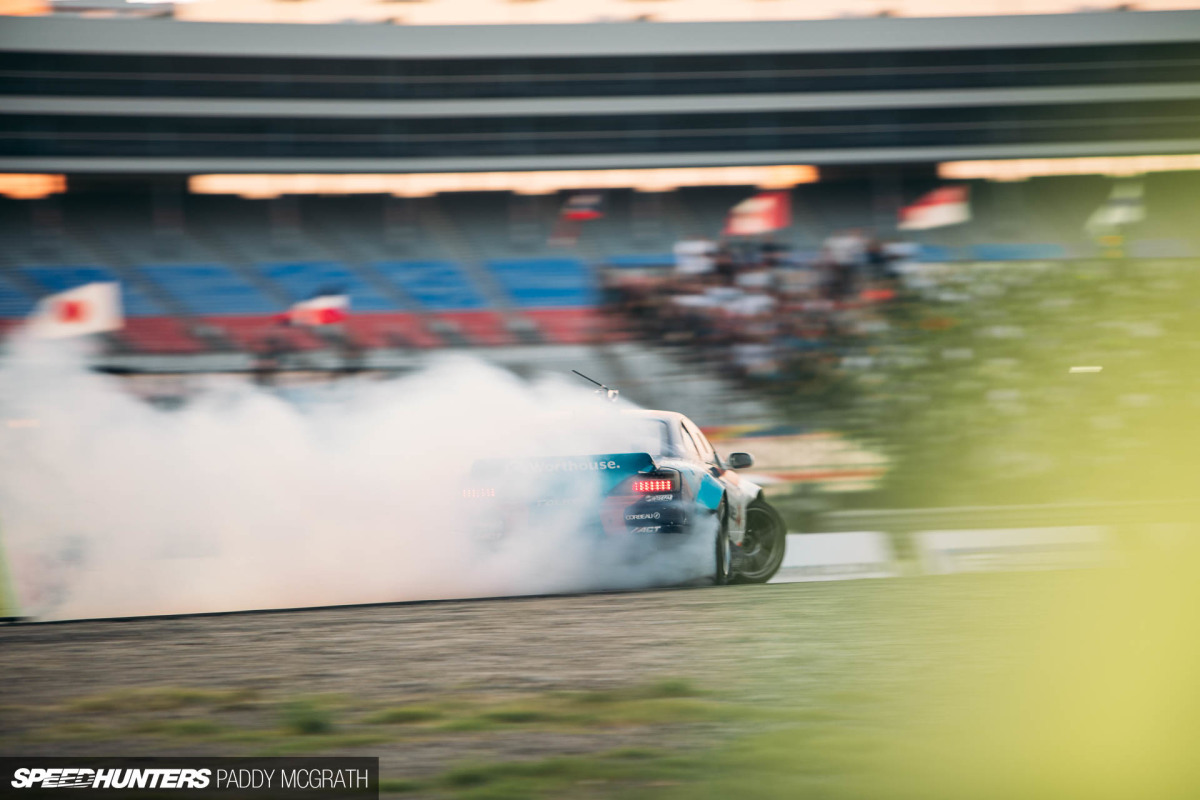 Hohnadell barely made it off the line before his differential decided it'd had enough and left him to coast around the track and out of the event. A five-minute rule wasn't nearly enough time to sort the problem, and James coasted into the Top 8 following a bye run.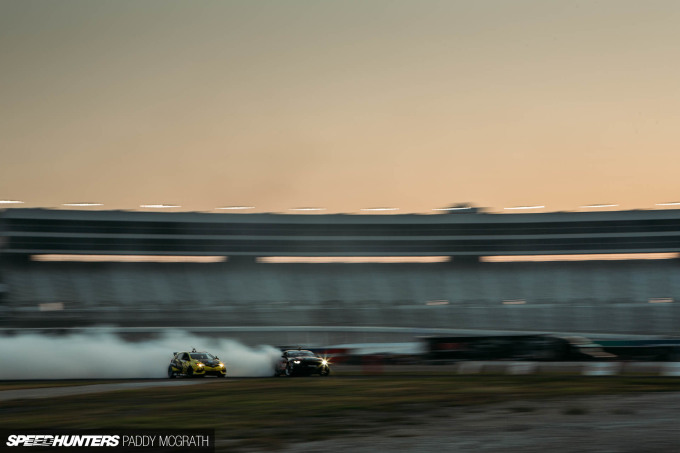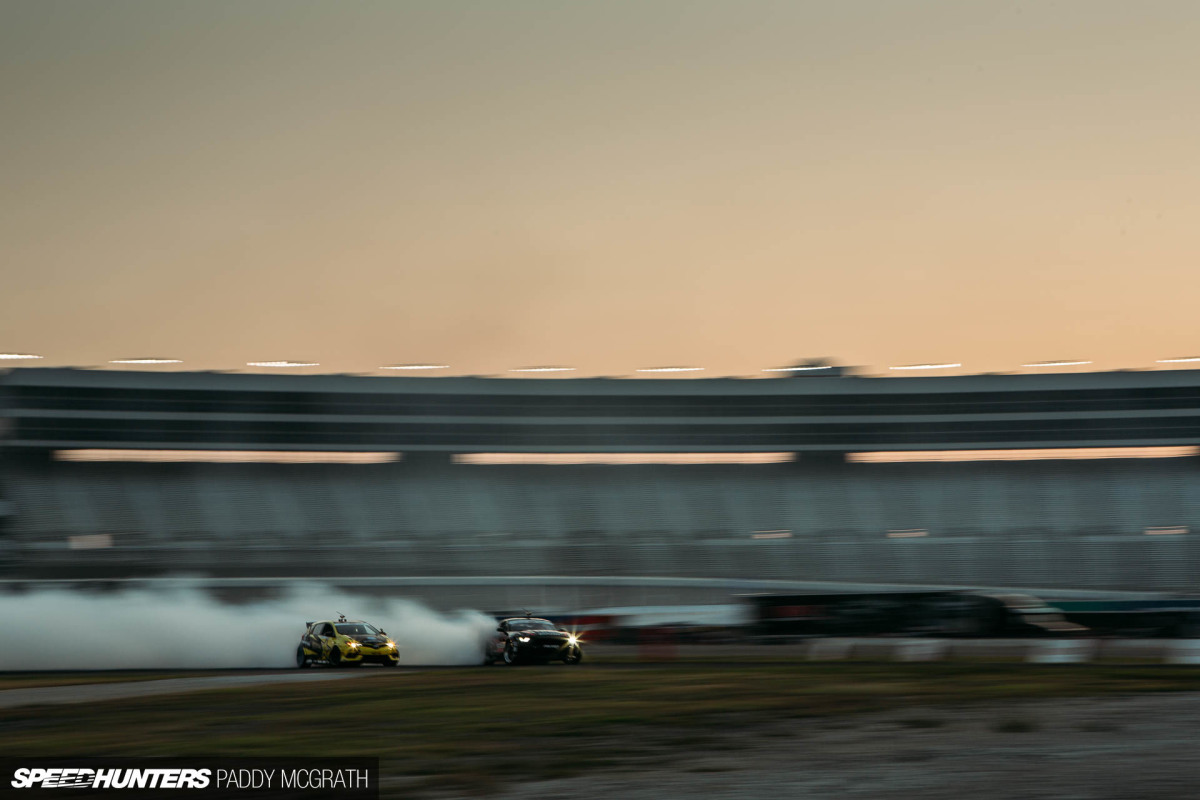 Aasbø drew Justin Pawlak in the Top 16. A defeat for Aasbø here and an outright win for James would have sealed the championship, but 'The Norwegian Hammer' isn't one to go down without a fight. It did take a OMT to get past the on-form Mustang, but a win is a win. And with it, Aasbø ensured that he could, at the very least, bring the title fight all the way to Irwindale.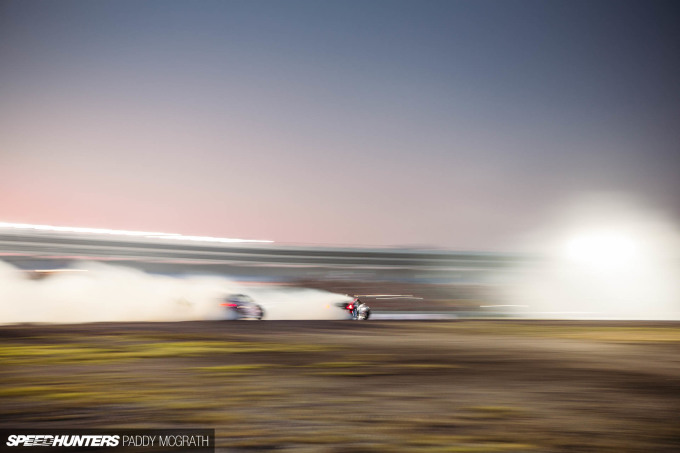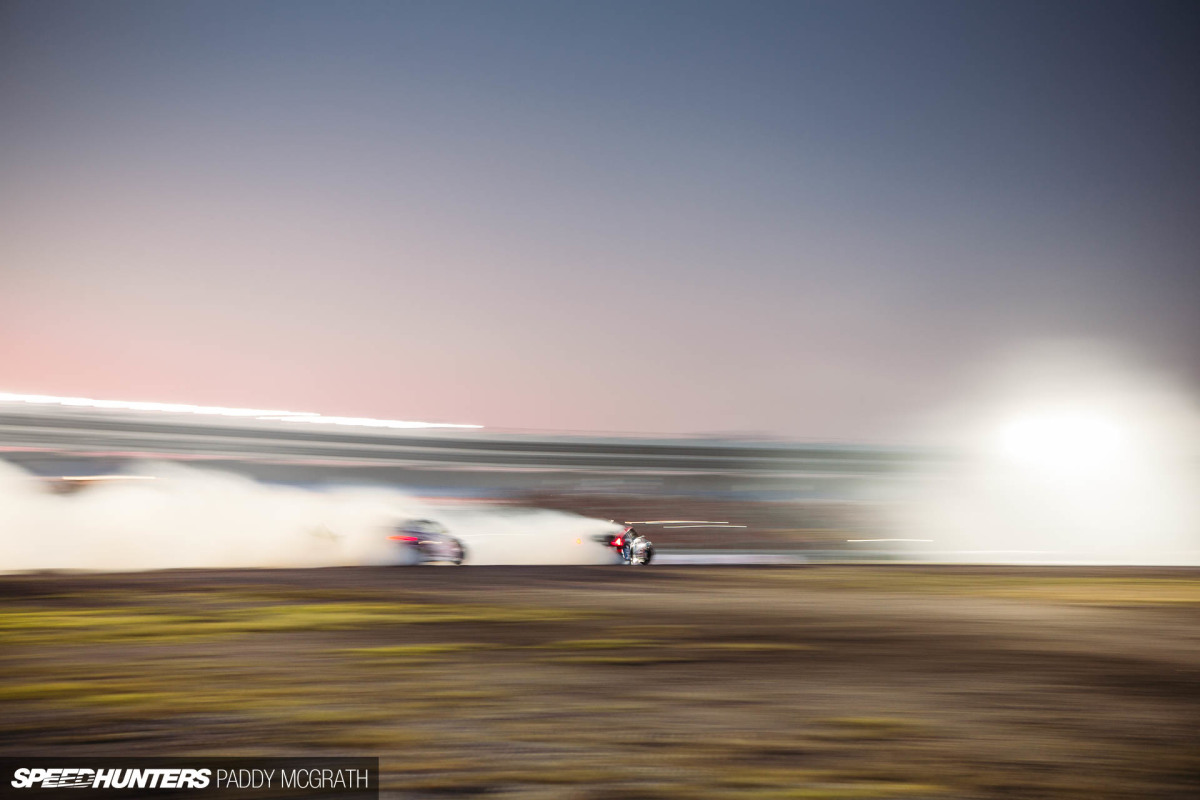 Maybe the only time that the TMS infield is photogenic, is as the sun sets and turns the Texas sky different shades of orange, purple and blue. On a similar note, the orange, black and blue 370Z of Chris Forsberg was rampant through the Top 16. Forsberg has had a tough year, but he isn't a multiple FD champion by luck, and was always going to have his moment of resurgence. It's great to see him in flying form once again.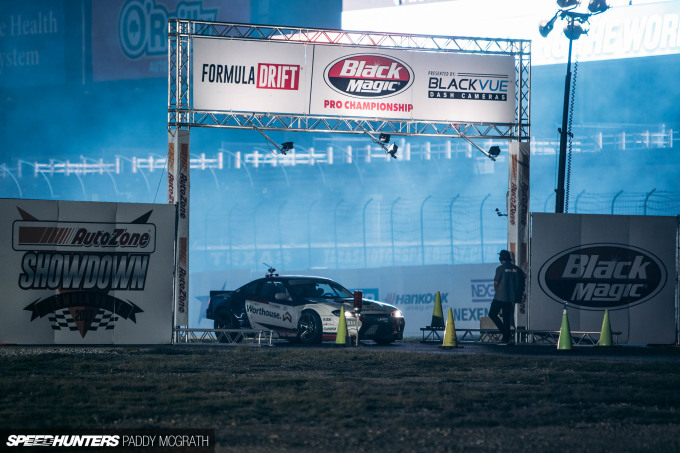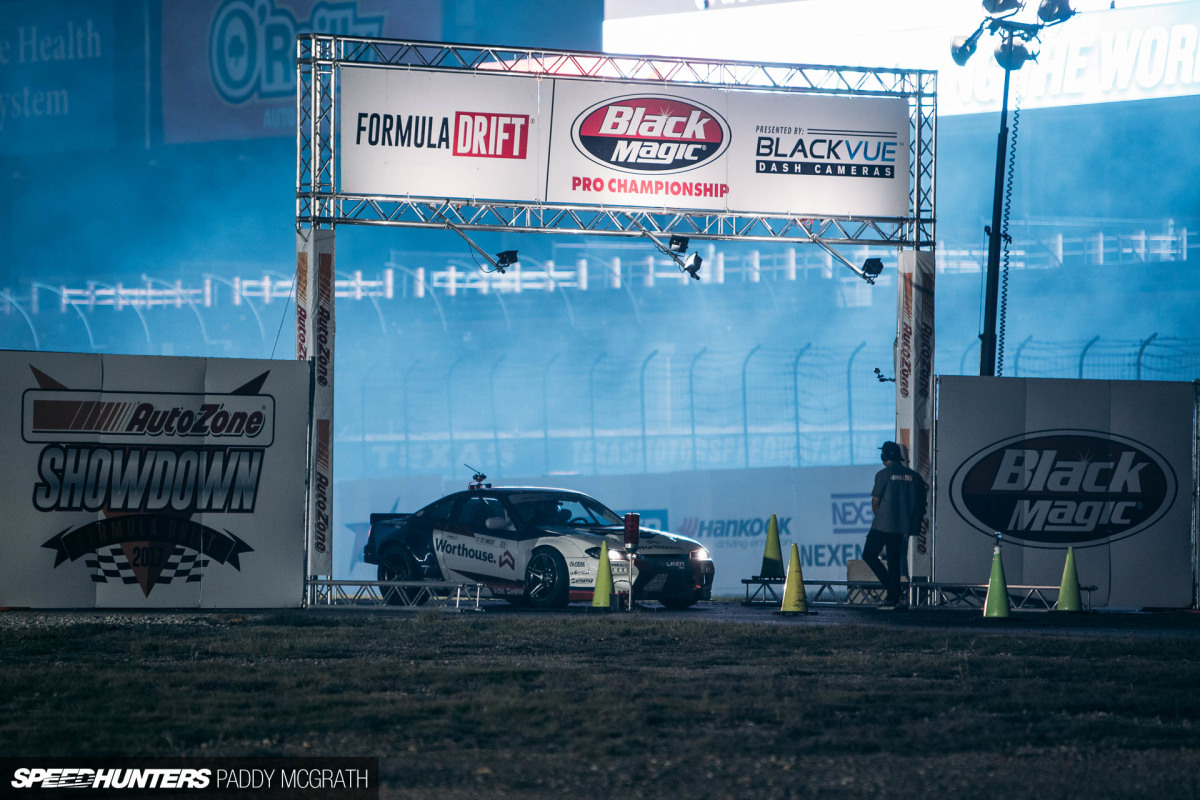 By the time Piotr made the line for his Top 16 battle with Dai Yoshihara, the sun was fully set.
I recall James advising Piotr beforehand that he couldn't have got a better opponent than Dai in the Top 16. By 'better', James explained to Piotr that Dai was an honest driver, that he could commit fully behind him. There would be no games, just a clean fight for the Top 8.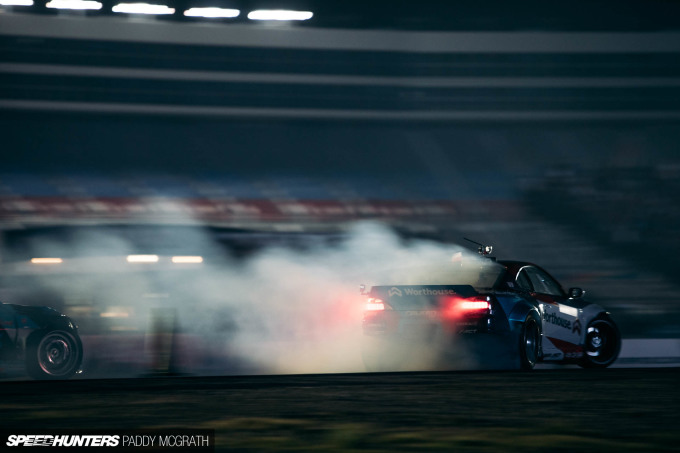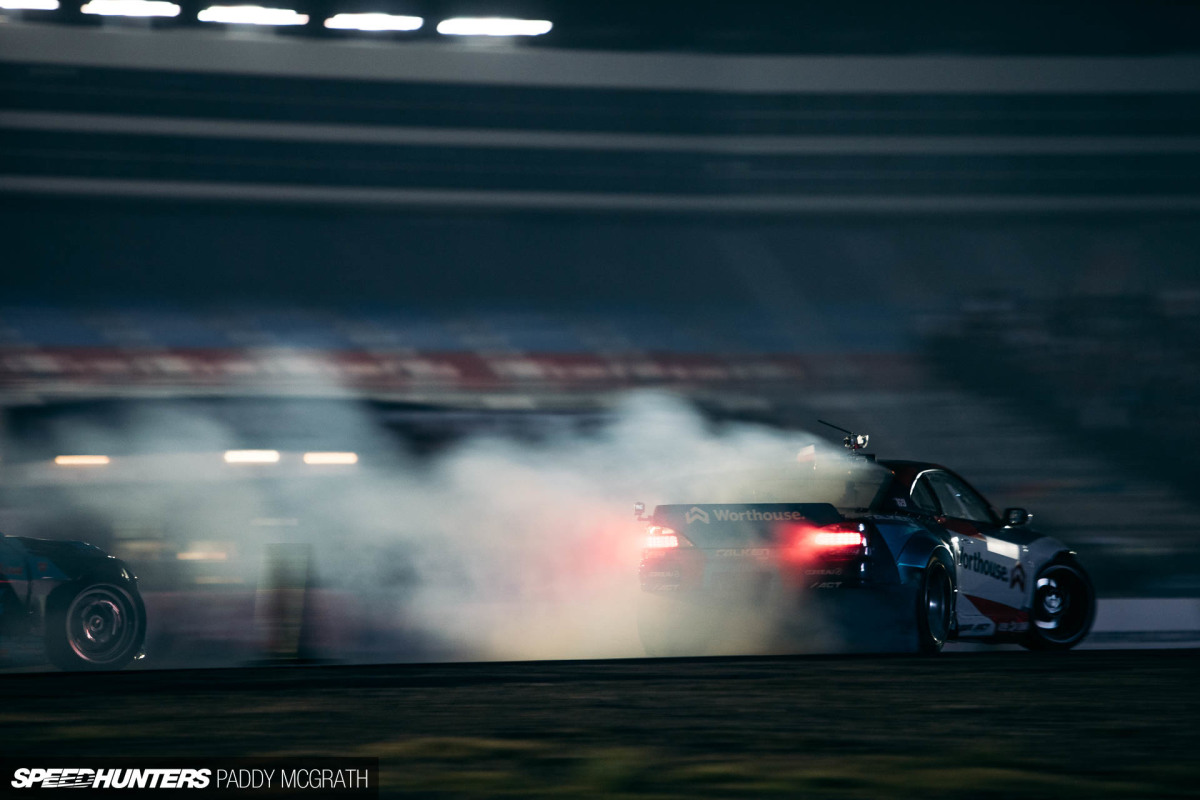 Leading on his first run, Piotr was solid, but for running wide on the first inside clip. The rest of his run was textbook with Dai staying with him.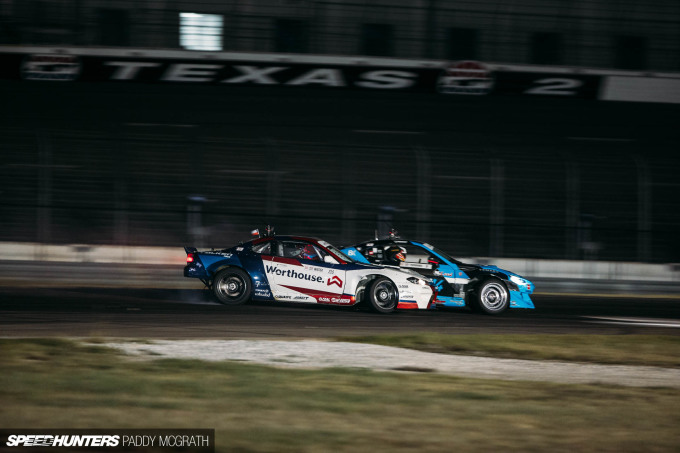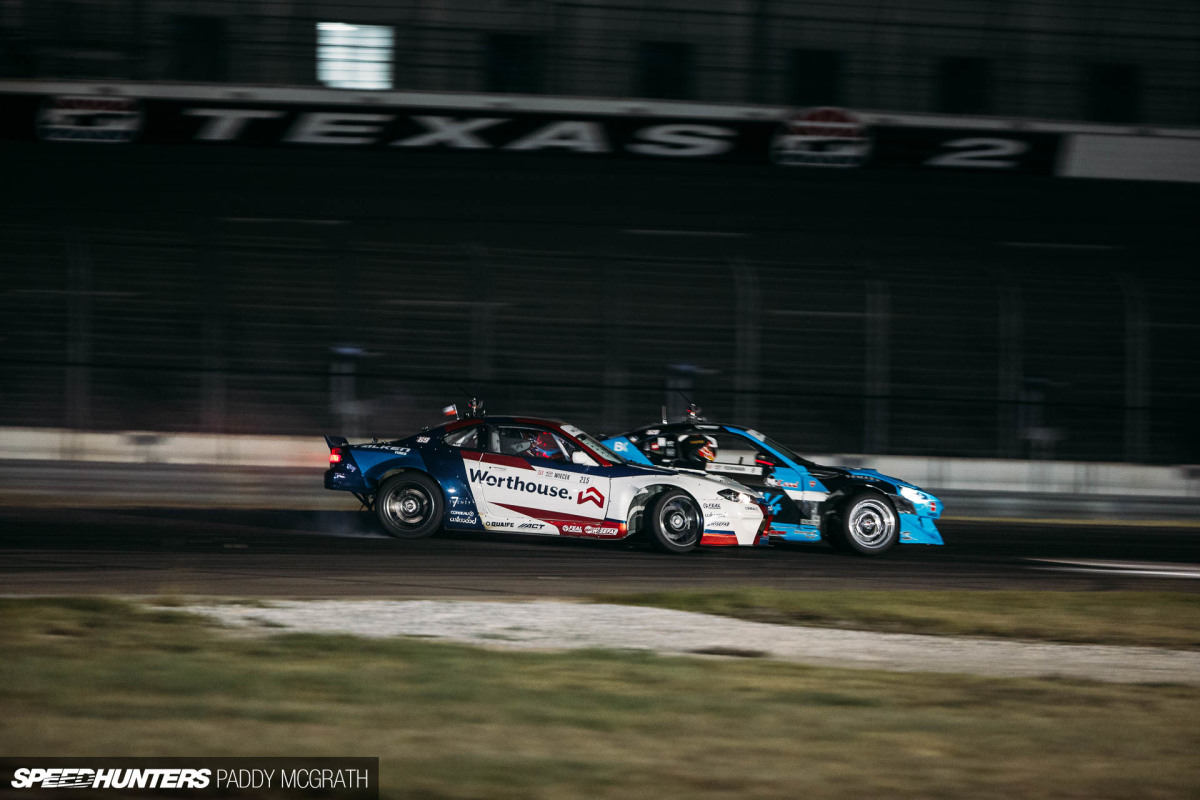 On the second pass of the course Piotr started strong, but he touched Dai passing the first inner clip and dropped off slightly through the power alley. He caught Dai again and cozied right up to him as they crossed the line.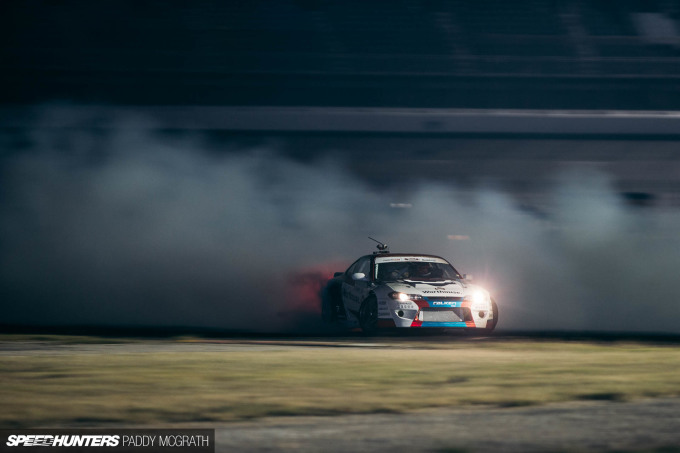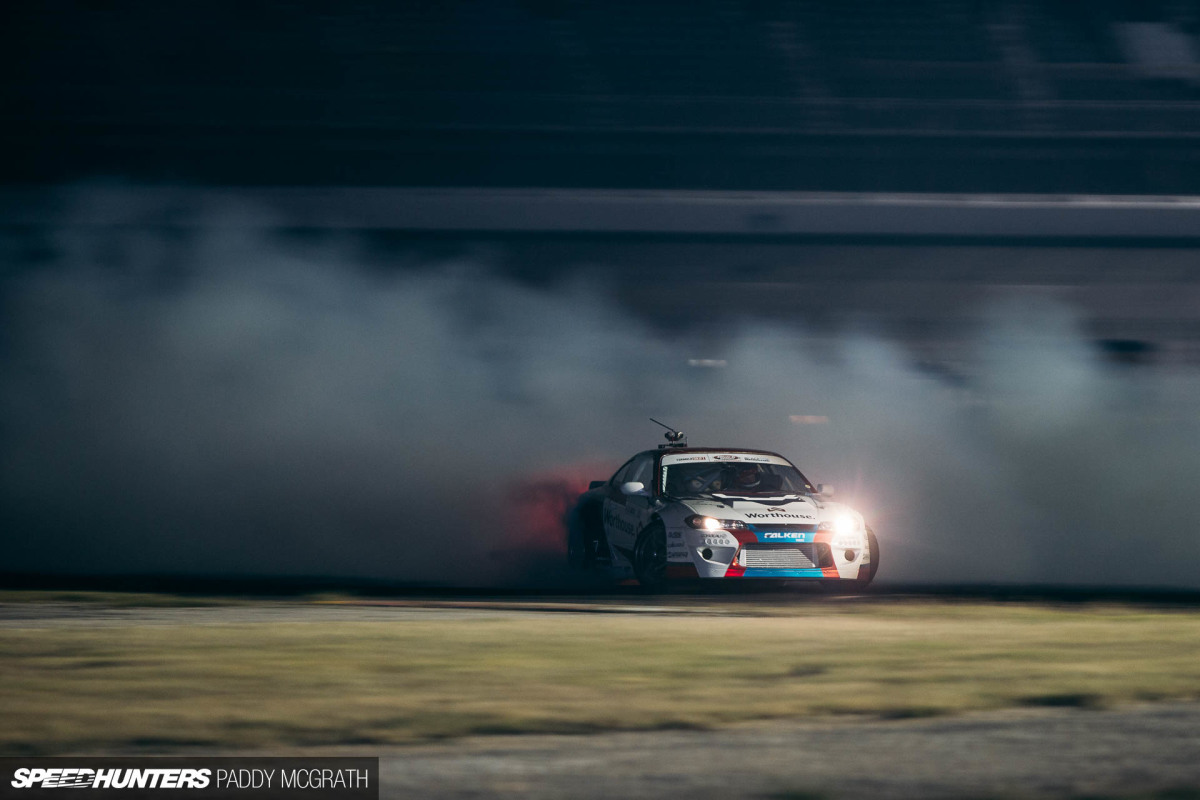 While his two mistakes were small, they were just enough for a split decision in favour of Yoshihara. Piotr was disappointed, but as he has told me many times, he's loving every second of his Formula Drift rookie season and is already waiting for 2018 to commence.
I can't wait until he gets fully up to speed next season, there's going to be plenty of surprises.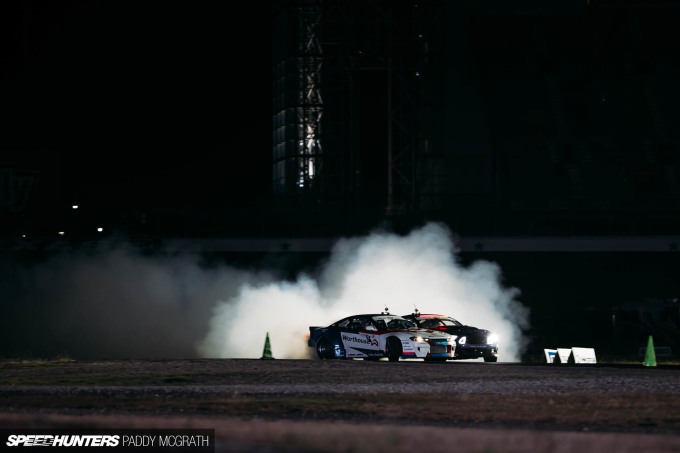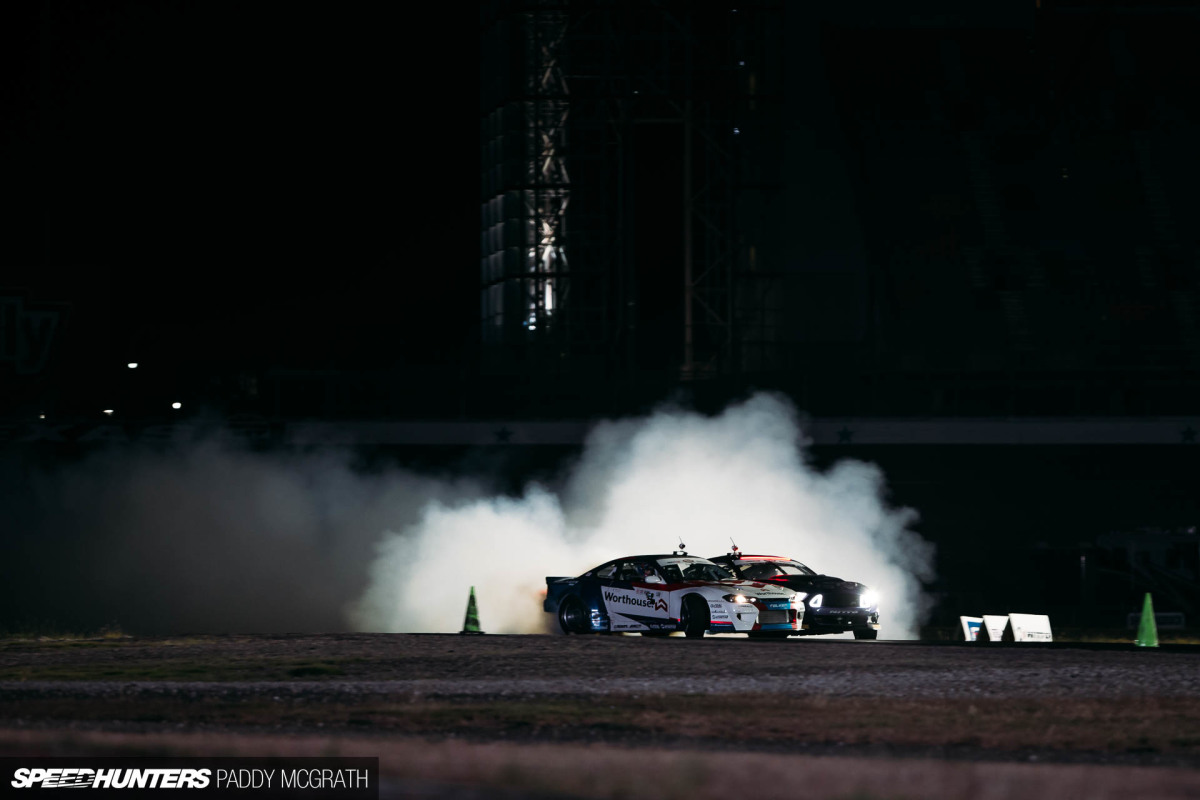 Straight into the Top 8, Deane would face the Mustang of Chelsea Denofa for the first time this season. Denofa had just eliminated Blušs, putting a concrete end to any hope the Latvian had of the championship.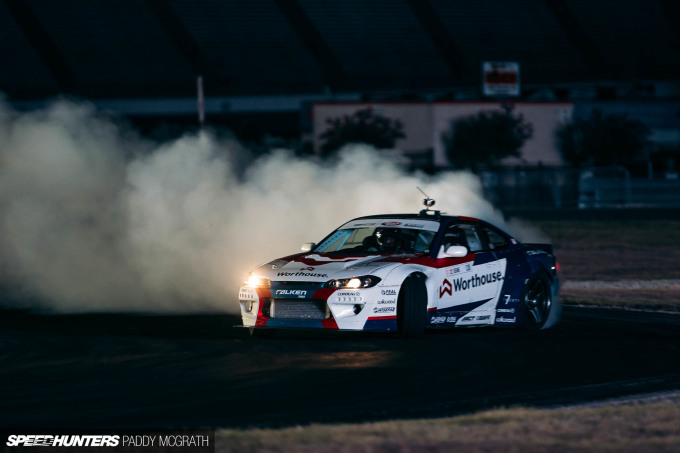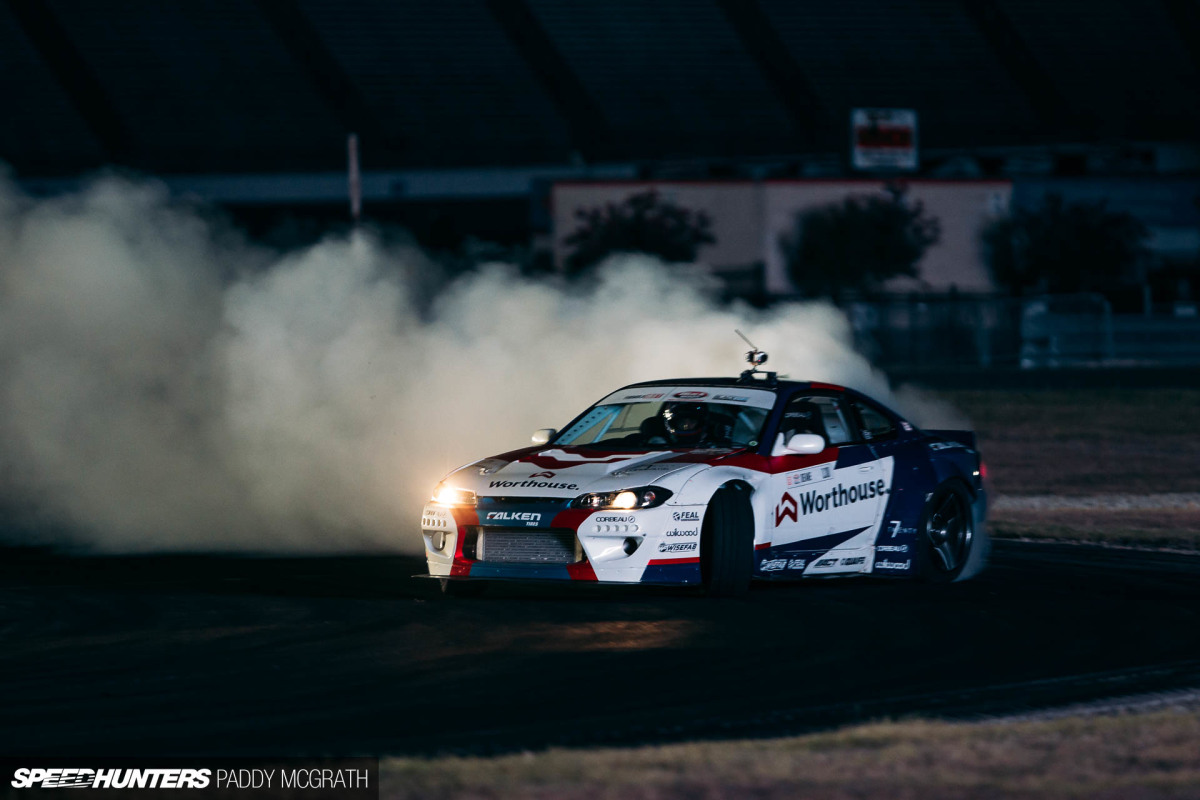 I'm not sure you can get two more different driving styles in one battle. James is the equivalent of a surgical blade, where Denofa is the sledgehammer. They're both very good at what they do, but it was James who took a big advantage on the first run, despite the fireworks from the Mustang banging what I assume was a titanium guard on the ground twice during the battle. Those Fords are epic to watch.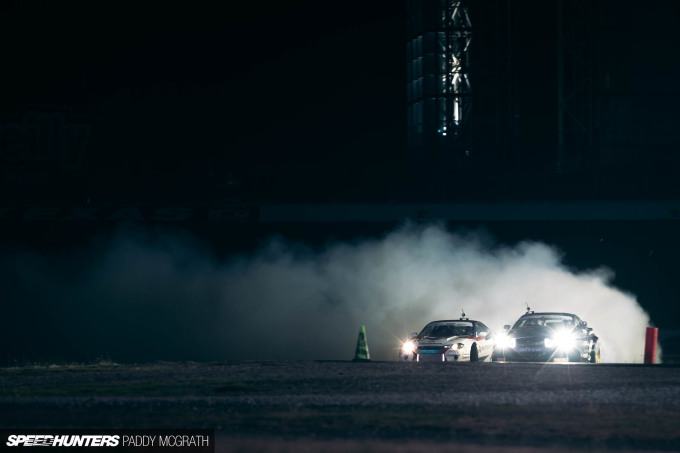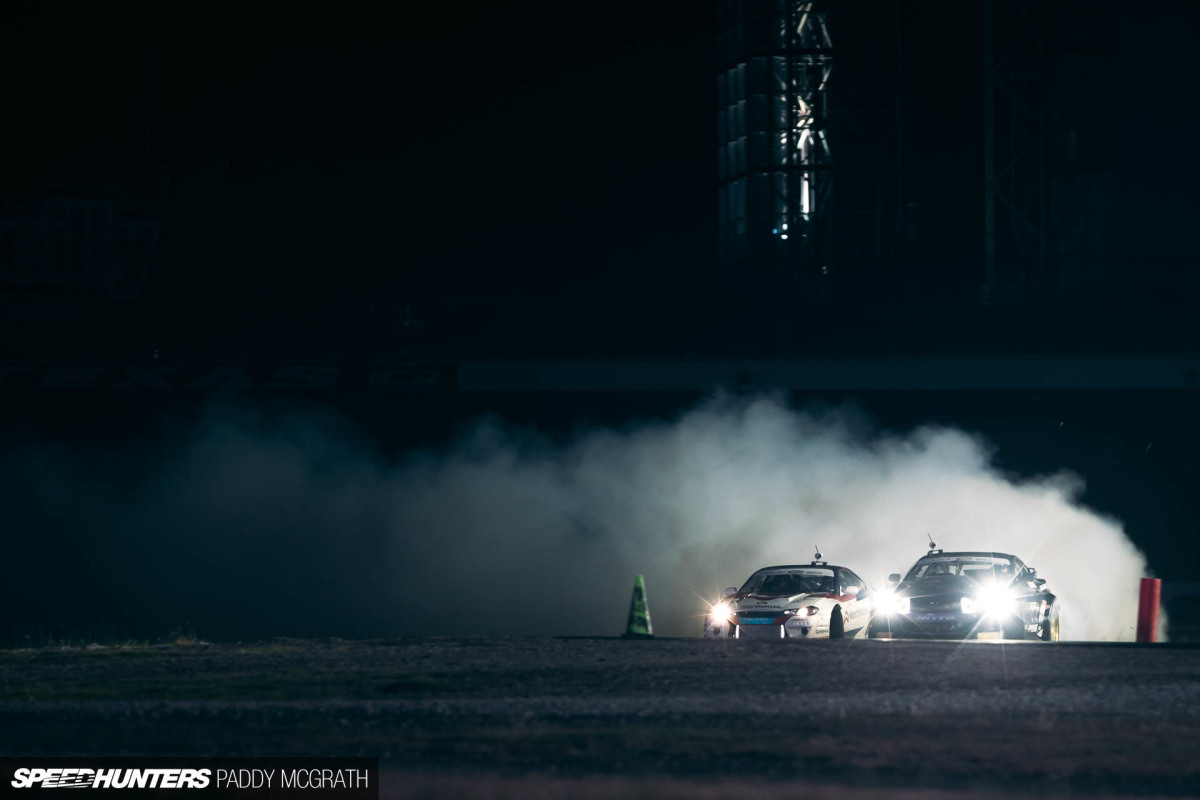 There was no sparks for Denofa's lead, although there was a big moment as he threw on huge angle coming to the second inside clip in front of the stands.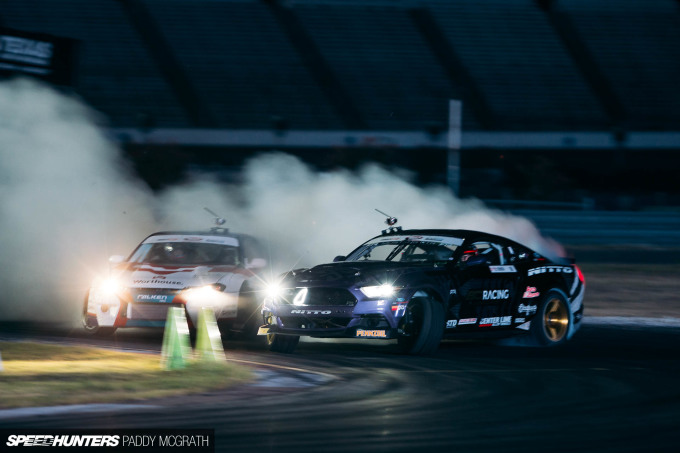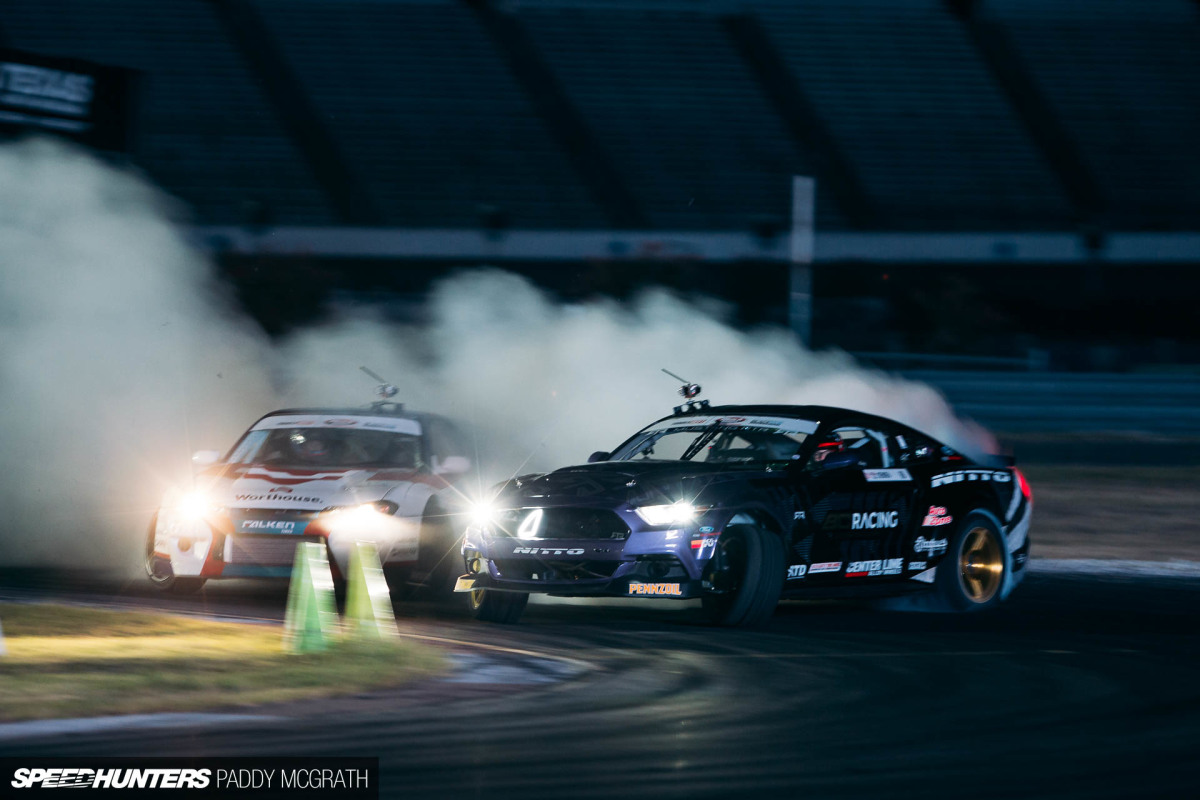 It was that moment that would decide the fate of the battle. For me, it looked as if Chelsea was going to over-rotate and James backed off to prevent contact, as such he missed the outside zone by the tyres, just like Chelsea did on his chase. Again, it was a split decision with one OMT, but two decisions for James.
With that victory, James was guaranteed another podium spot for the third event in a row and the fifth time this season. It would also mean something far more significant in the chase for the championship.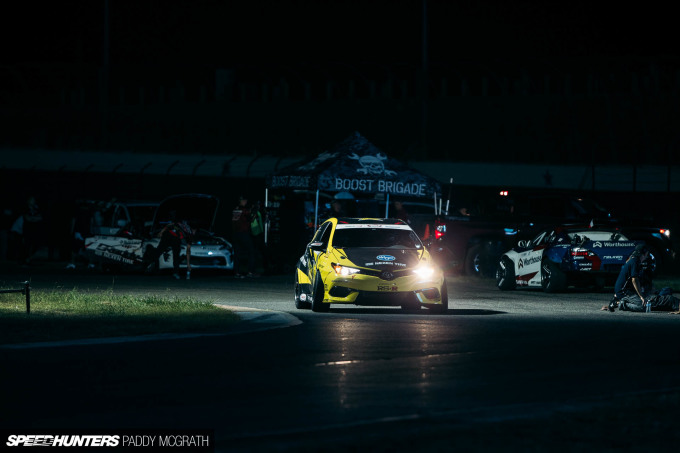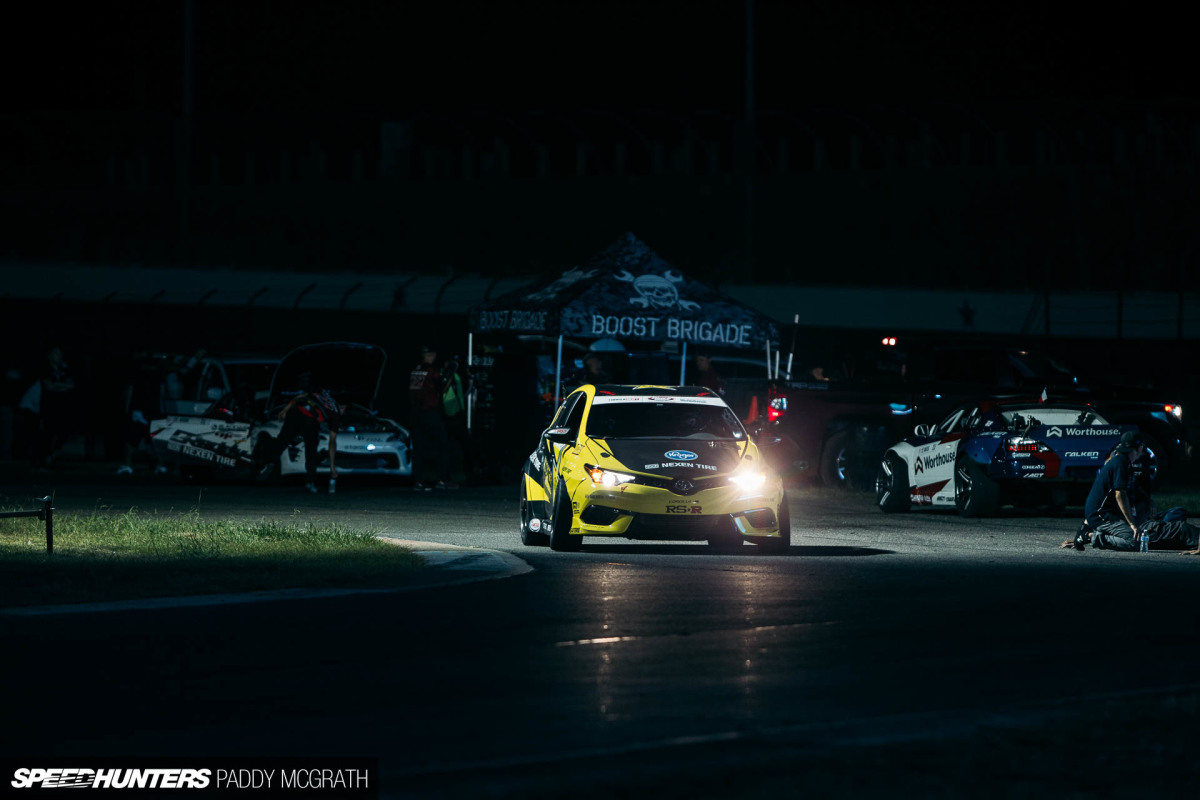 He would ultimately meet Aasbø in the Top 4.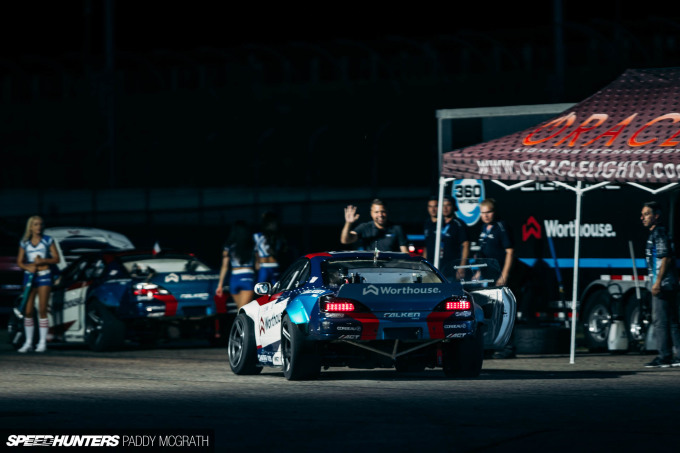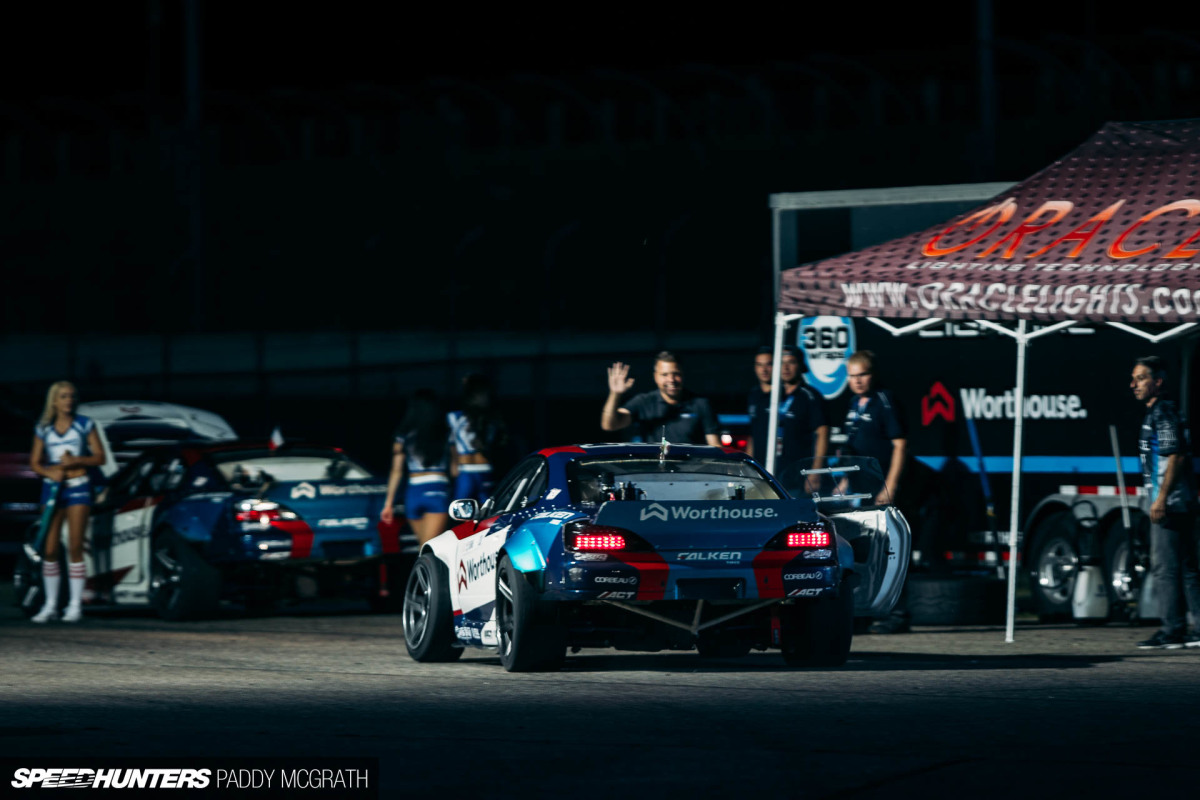 There was a brief respite for him first, however.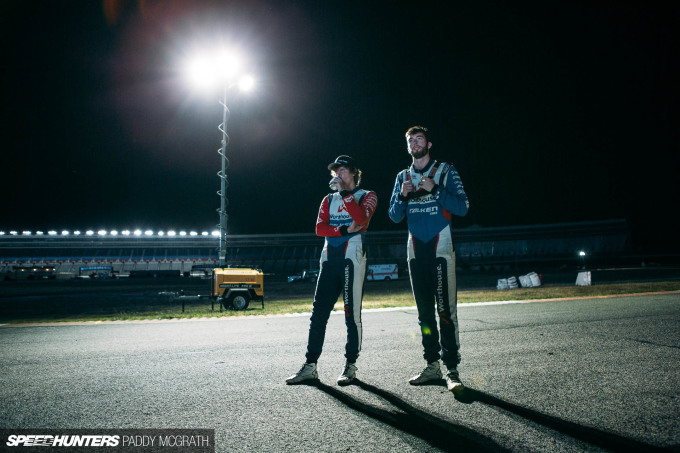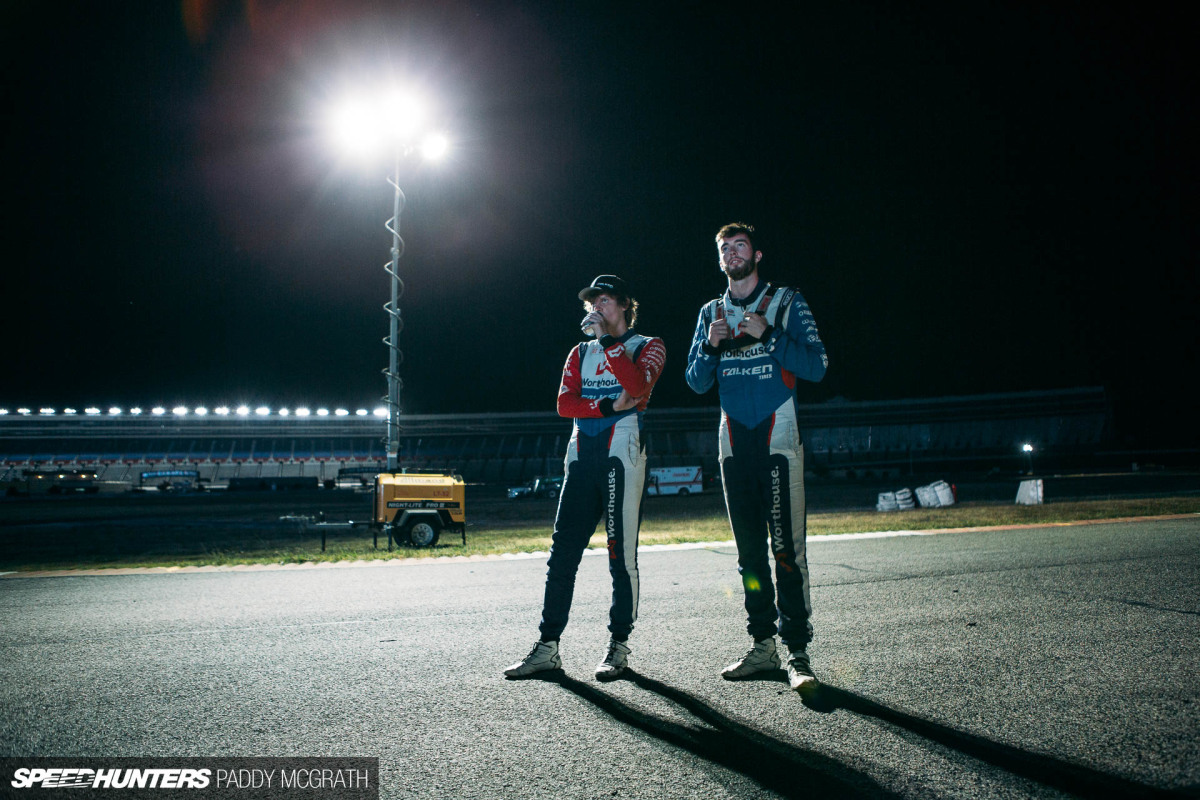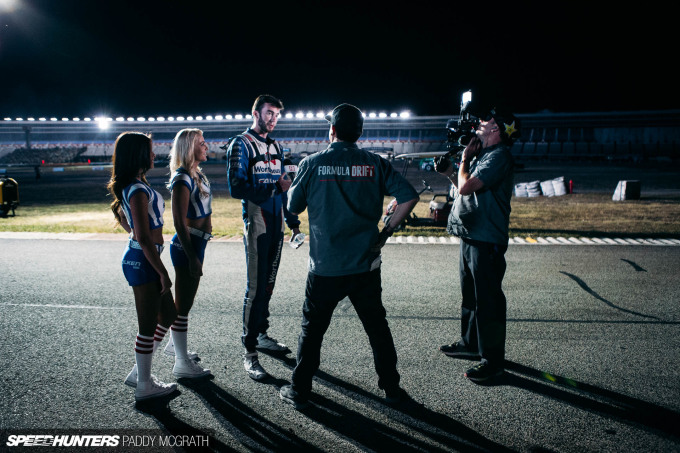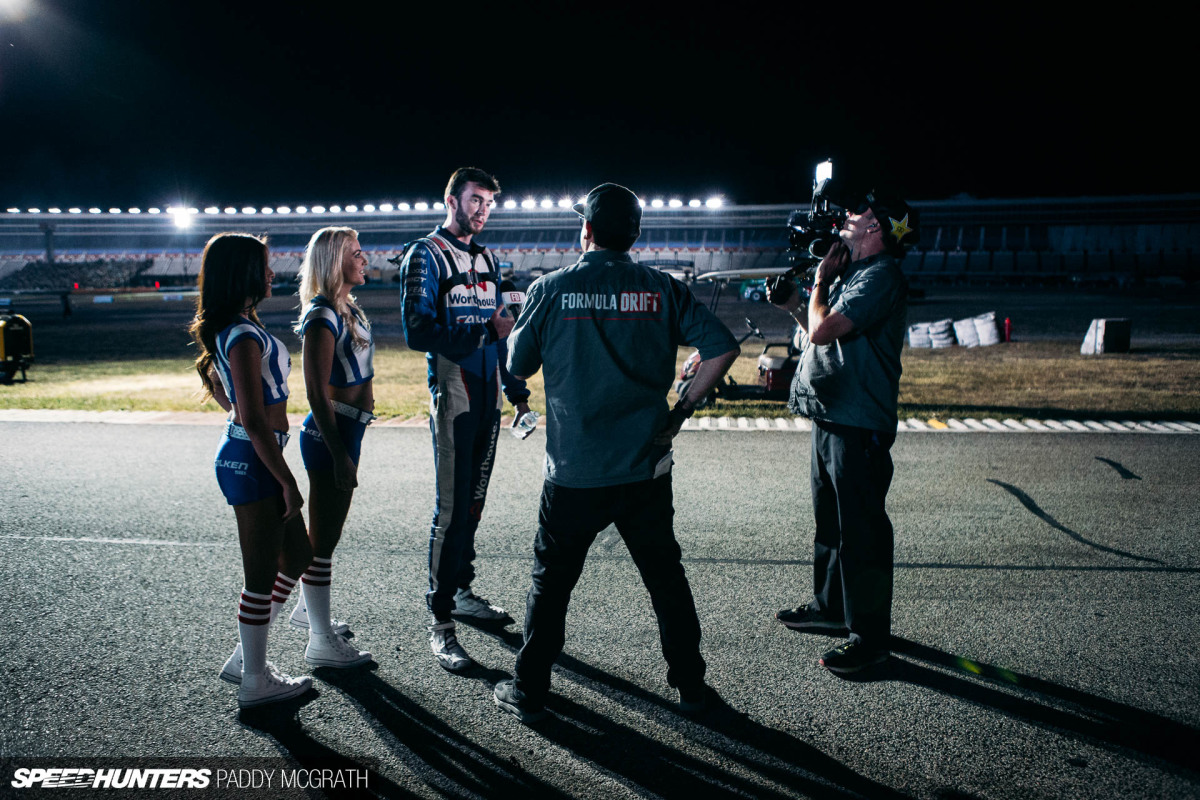 With some time to catch the other battles, his crew made quick repairs to something that I've completely forgotten about (that Pulitzer is all mine, folks) and carry out his multiple post-battle interviews, one for the TV show and one for the livestream.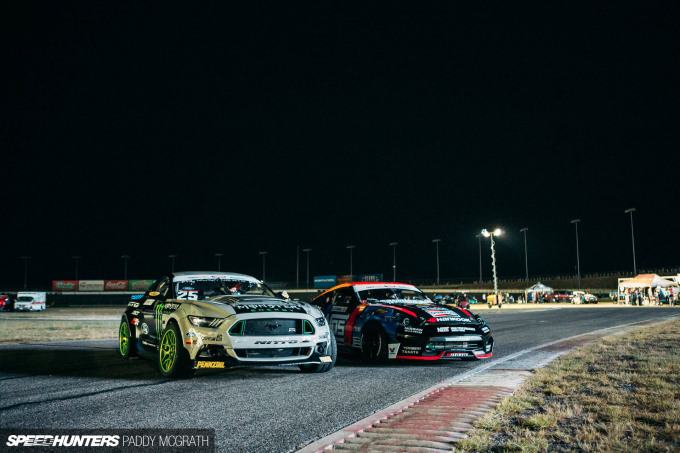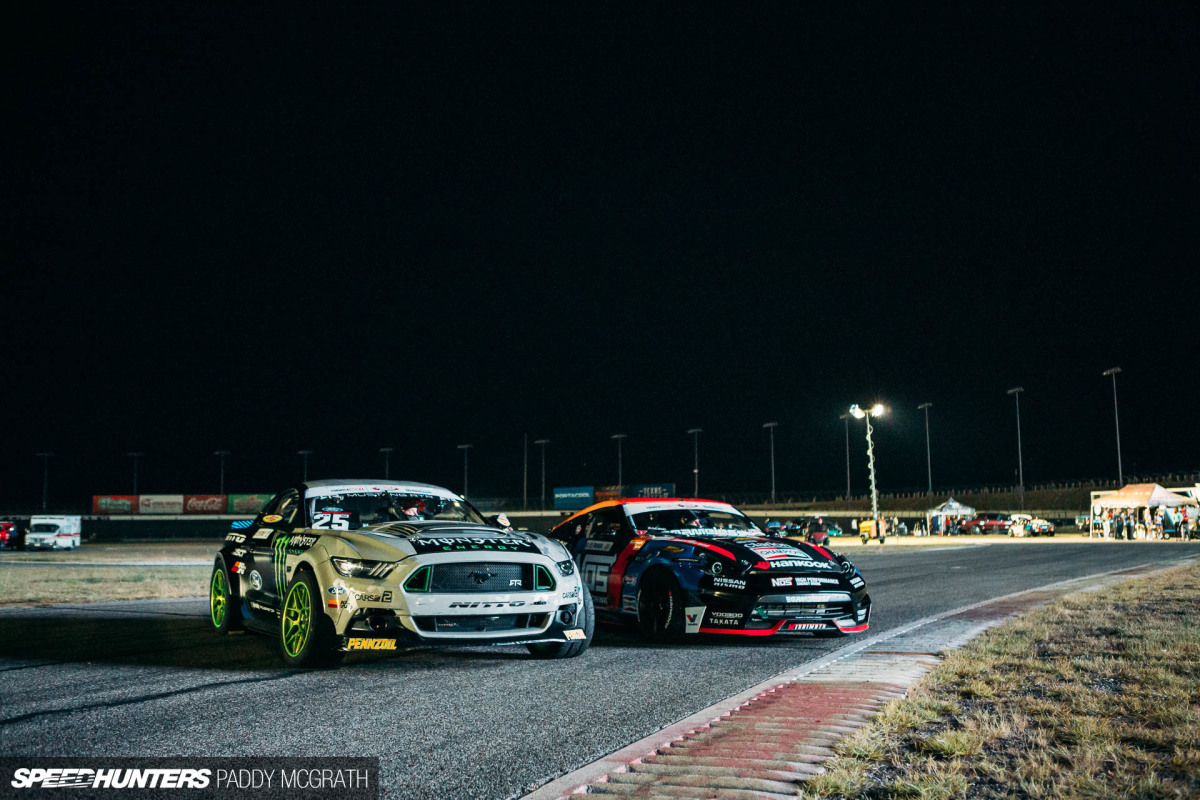 The illumination from the TV is the only real source of light at night on the infield, aside from a couple of underpowered floodlights. I don't think these two will be beat for best couple at a Saturday night drive-in.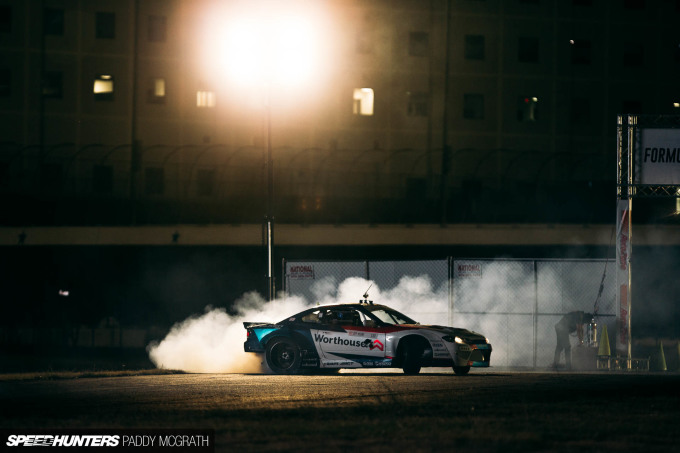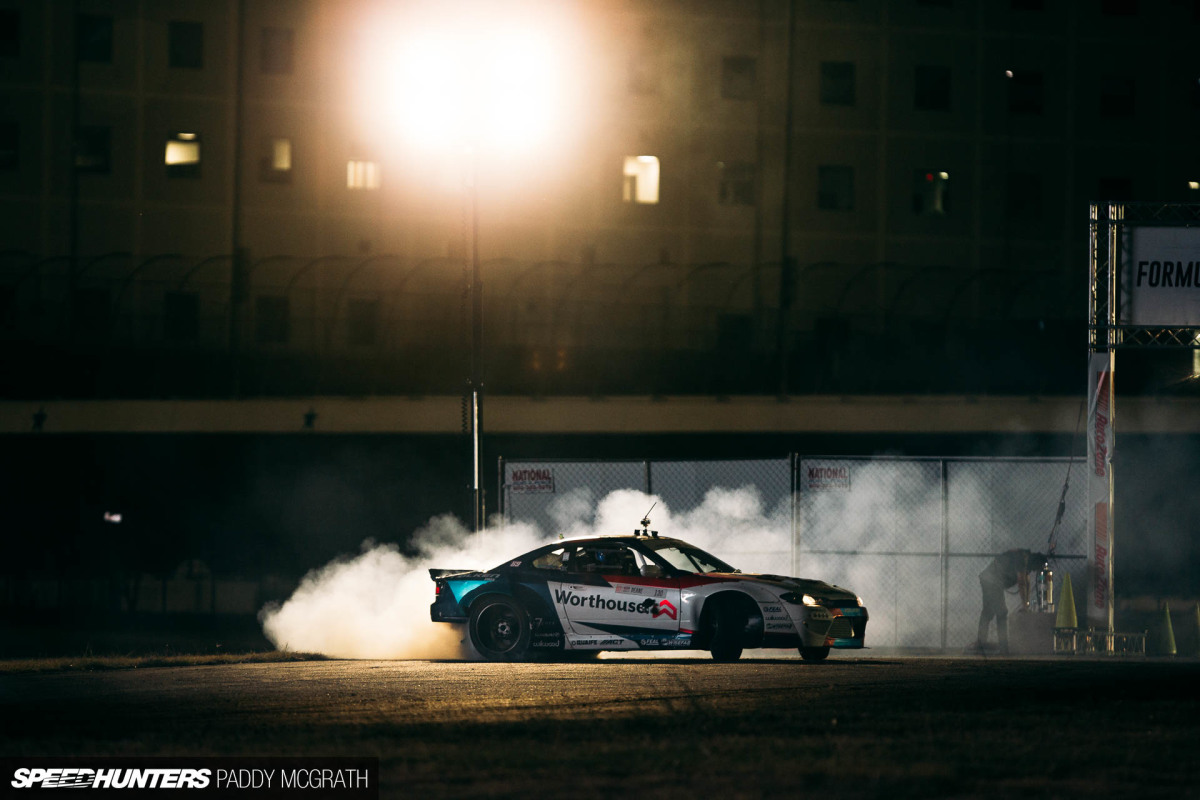 If you want to be champion, you have to beat the best. In truth, this statement applied to both Deane and Aasbø before their Top 4 encounter.
If James won and won the even, he could extend his lead to an almost insurmountable lead of 96 points heading to Irwindale. If Aasbø could beat James for the second time this season, he would reduce James' point advantage to 30 points. Remember, 107 points is the maximum points haul for an FD Pro1 event.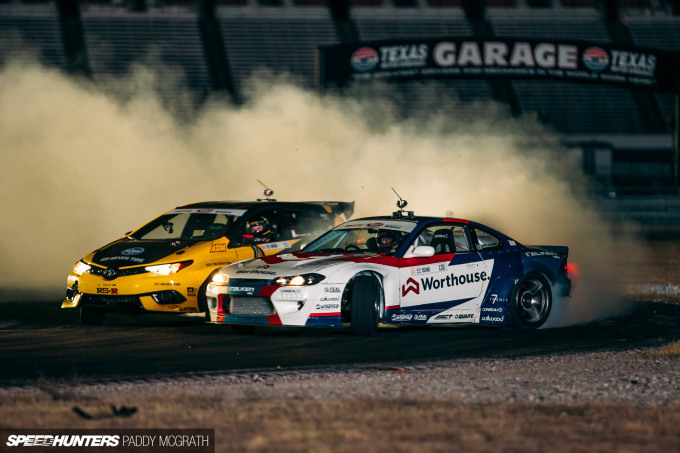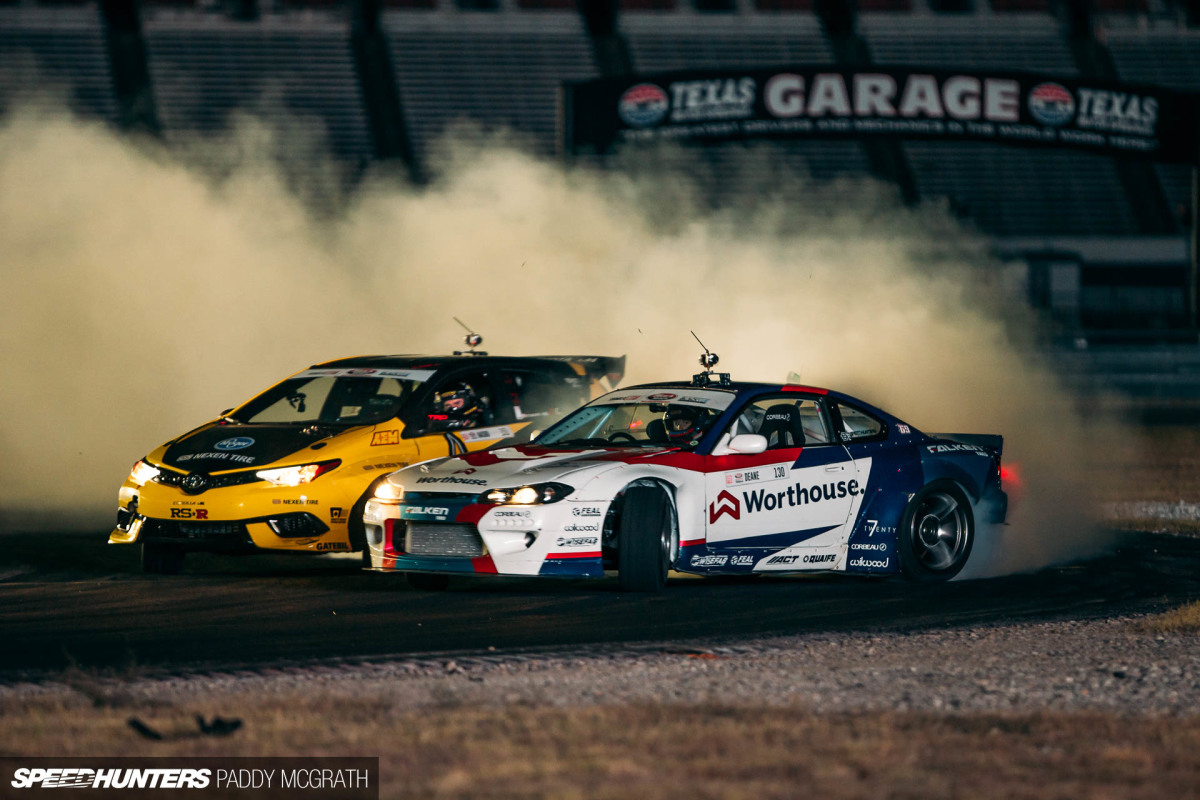 Essentially, this was all or nothing in the race for the championship.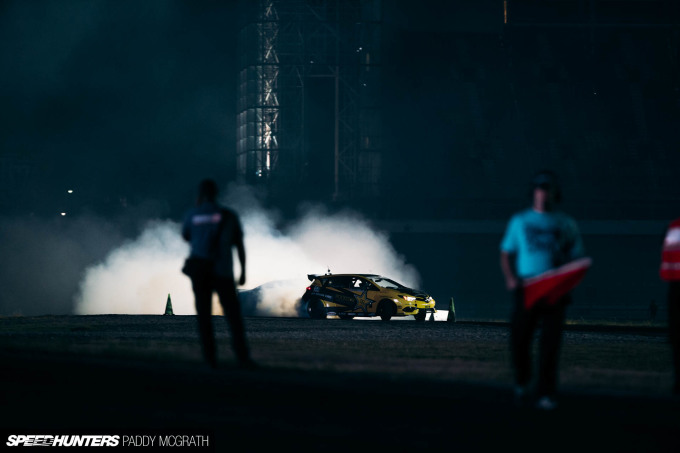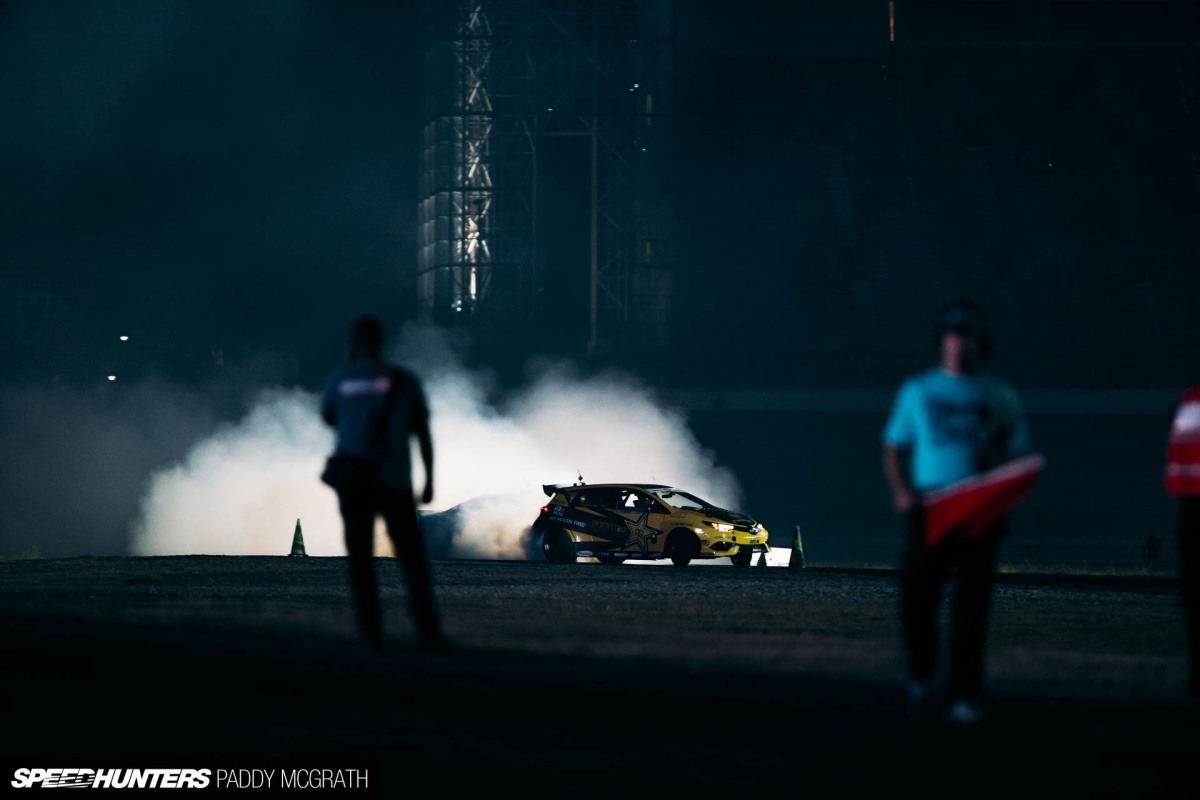 As was to be expected, there wasn't a whole lot to separate the two over both runs. Much like Seattle, it required the splitting of hairs to reach a decision.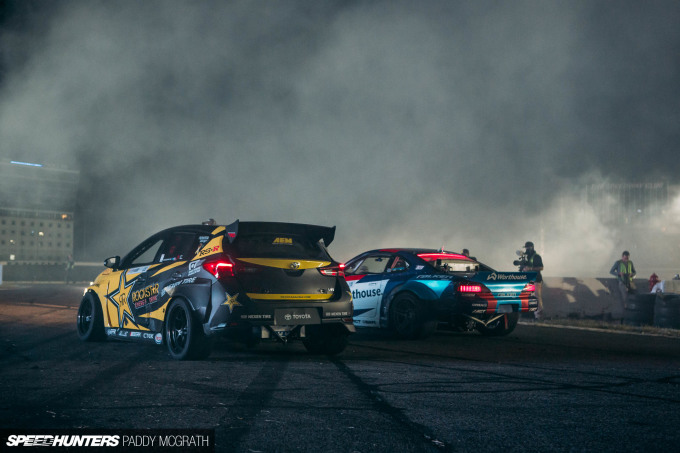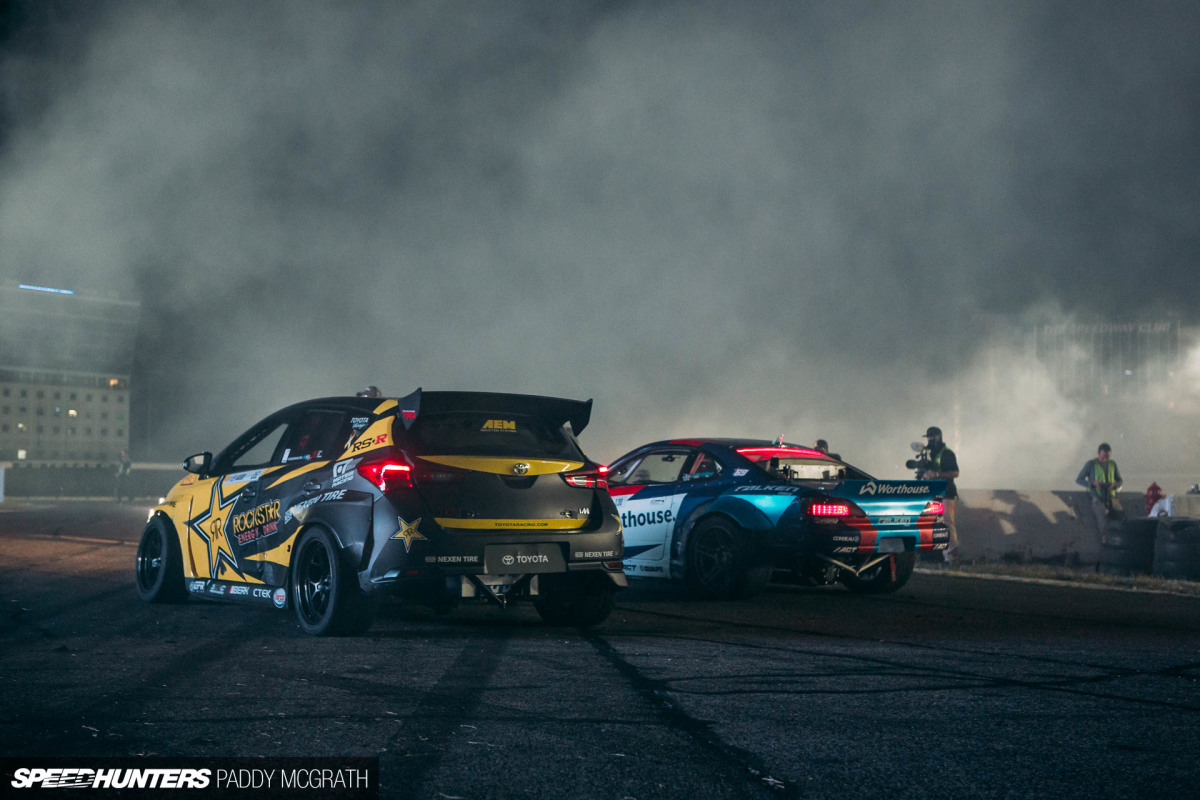 Both drivers waited patiently in front of the big screen for a decision, leaning forward in their seats and peering out the windows.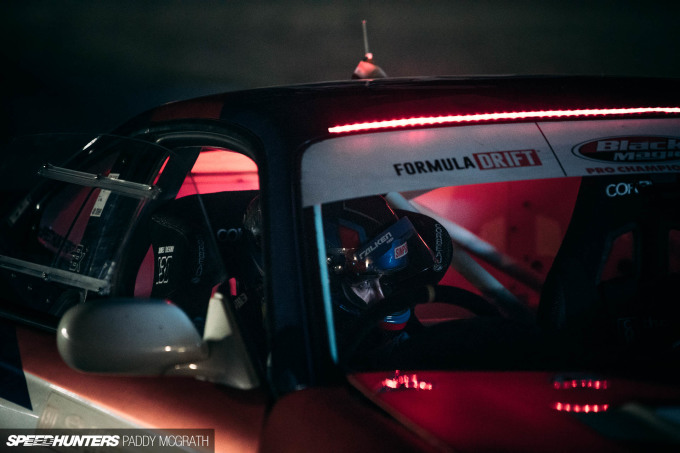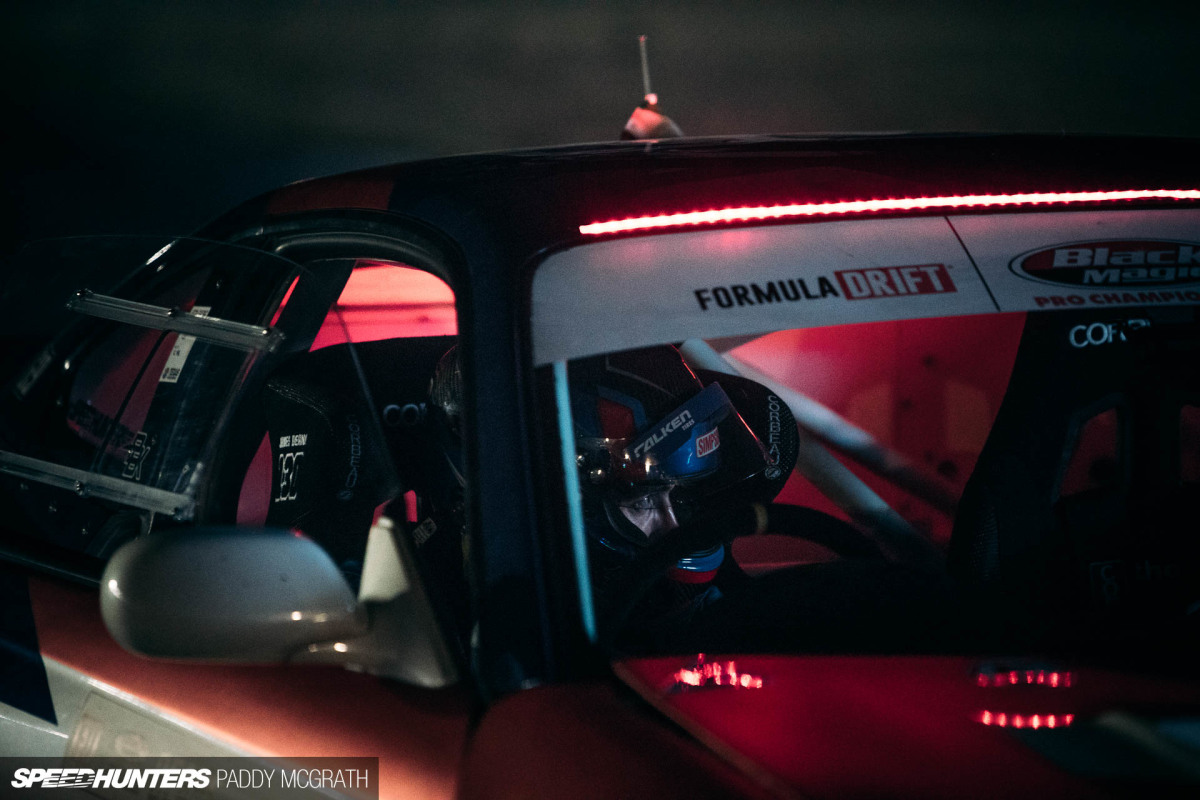 The decision was again split, a single OMT versus two votes for the victor, James Deane.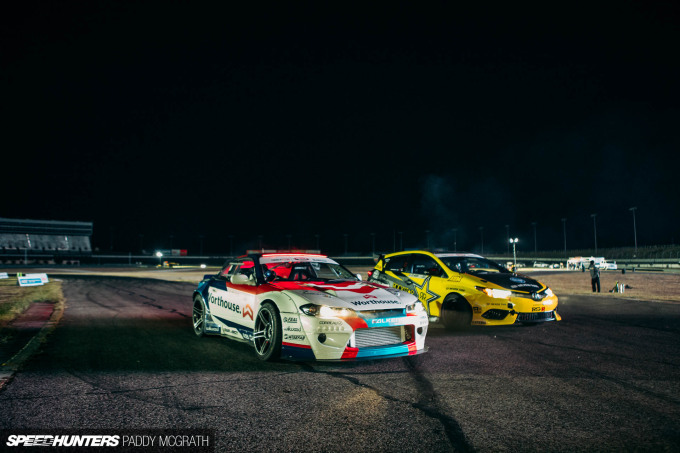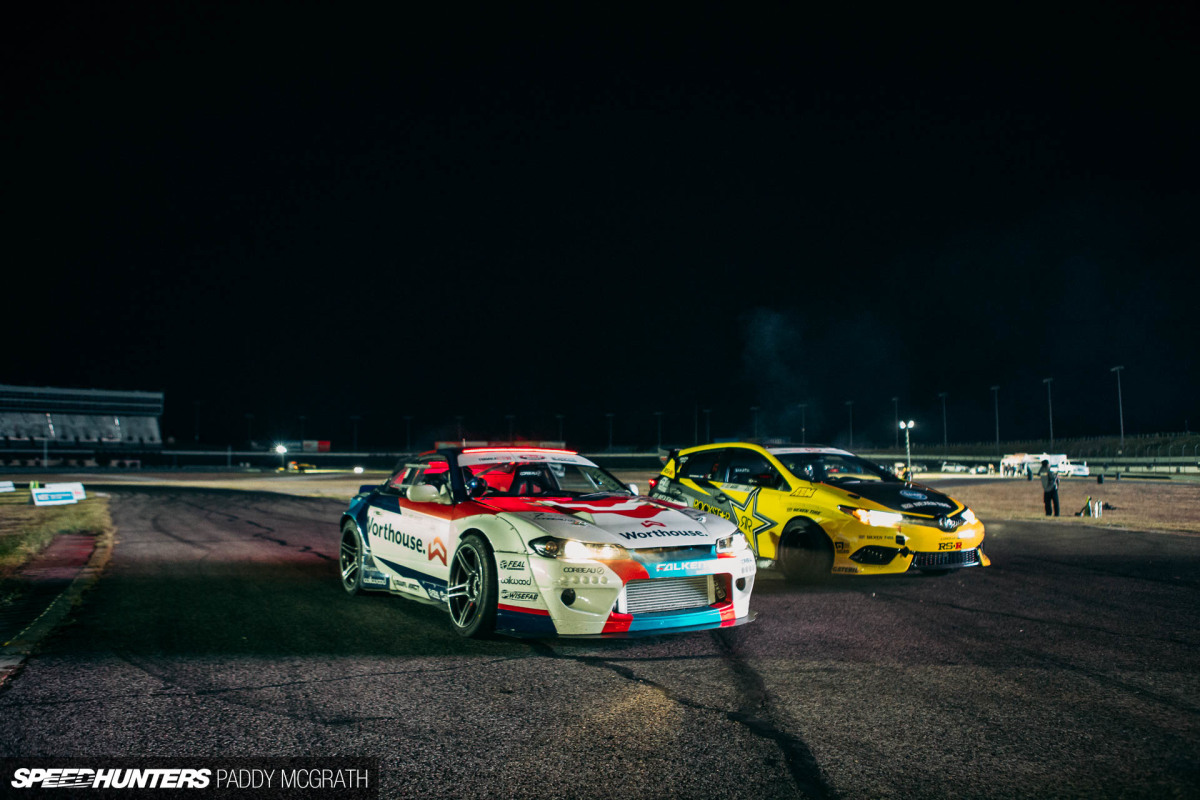 Having rewatched the replay of the run multiple times, I can only conclude that Aasbø's marginal error of getting lost in James' smoke and hesitating slightly was what cost him. Other than that, the runs were almost identical.
At the very least James' lead would extend to 76 points, regardless of what happened in the final. A huge amount, but not unbeatable, as proven by Kevin Lawrence's incredible Pro2 victory a day earlier, when he went from fifth to champion in one event.
James and the team, Piotr especially, were already elated at another Worthouse podium. After the victory over Aasbø, I can't even begin to describe the atmosphere in the hot pit. Still, there was a job to do and the potential to open an even bigger gap at the top of the standings.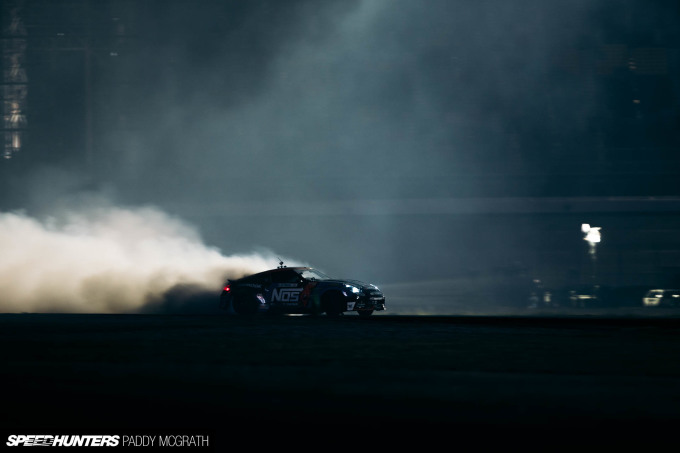 The only thing standing in James' way was three-time champion Chris Forsberg.
Strangely, Forsberg had made a similar journey to Deane, as he travelled from Ireland to compete at Formula Drift in Texas. He made an appearance at the first Festival of Drift, which he won, and promptly donated the significant prize money to the 2nd, 3rd and 4th placed competitors.
He was already high on my list of good guys, but he's pretty much locked in a top spot now.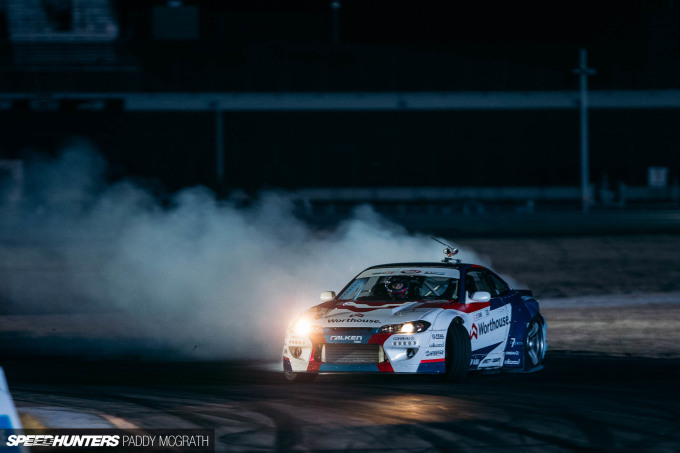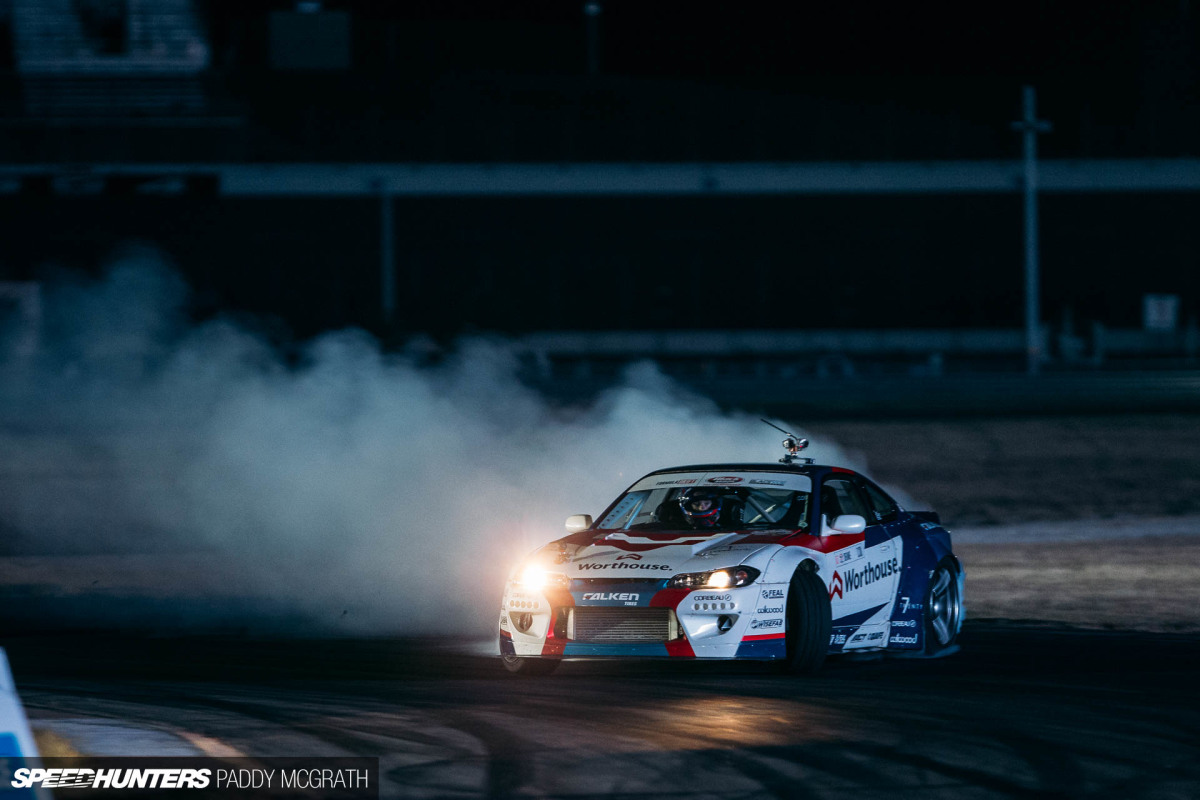 James' lead was a carbon copy of his previous runs, the almost perfect qualifying line. Once in the power alley, the Toyota-powered Silvia pulled away from the 370Z, blinding Forsberg in the smoke and forcing him off line.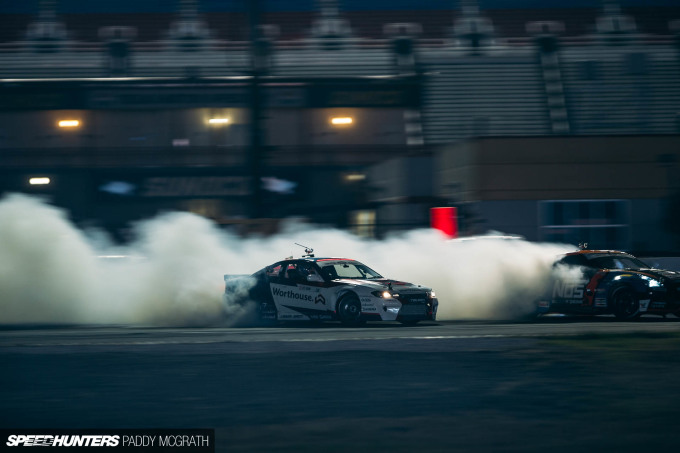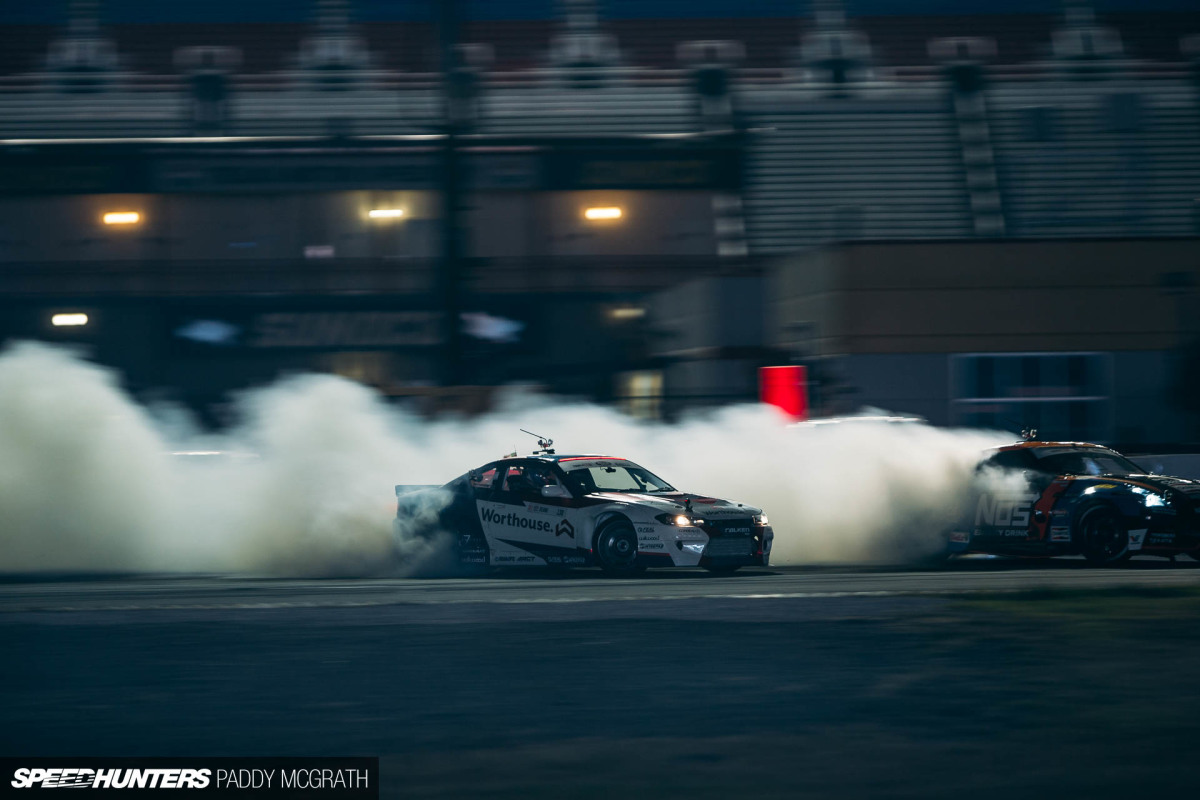 James' chase was text book. He didn't give Forsberg an inch anywhere on the track, and followed the lead car's line to perfection.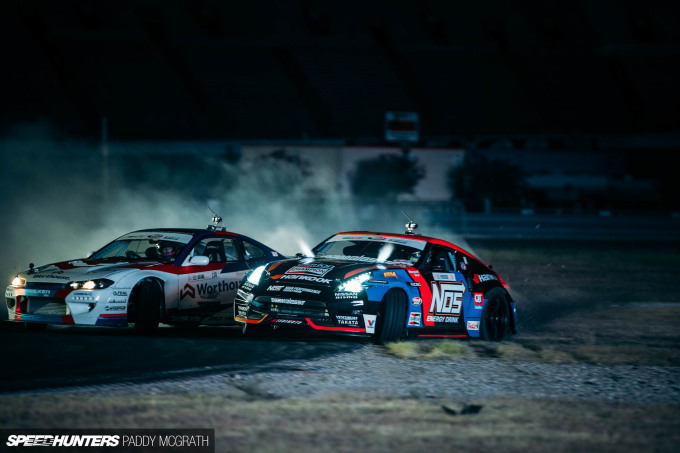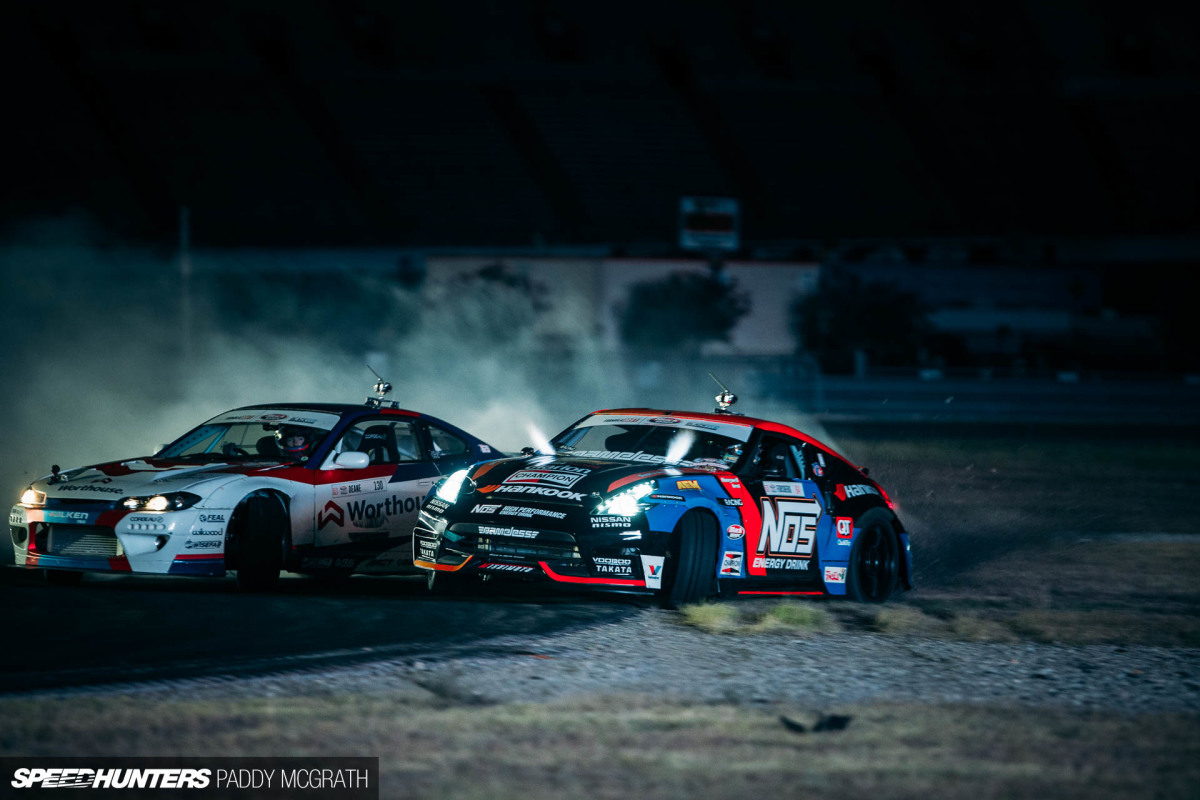 The difference as the cars crossed the line was obvious. It was maybe the most clear-cut decision of James' evening.
The decision was swift and unanimous. For the second event in a row, and fourth time this season, James would take the top step of the podium.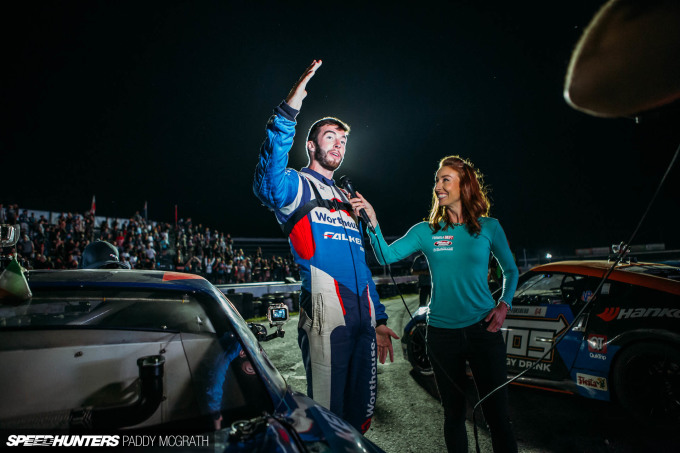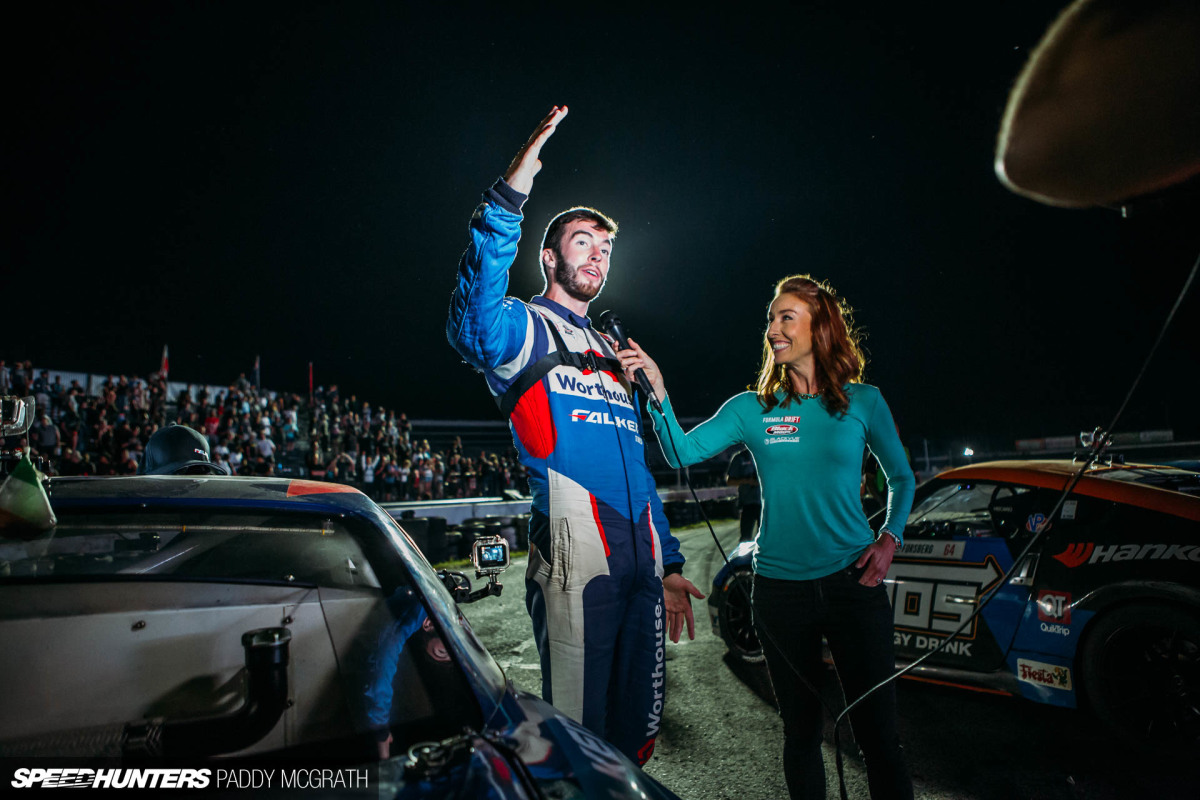 Although lots of fans, both in Ireland and around the world, said it was going to happen, no one in the Worthouse team ever planned on challenging for the title. Certainly not James, and certainly not in such dominant fashion.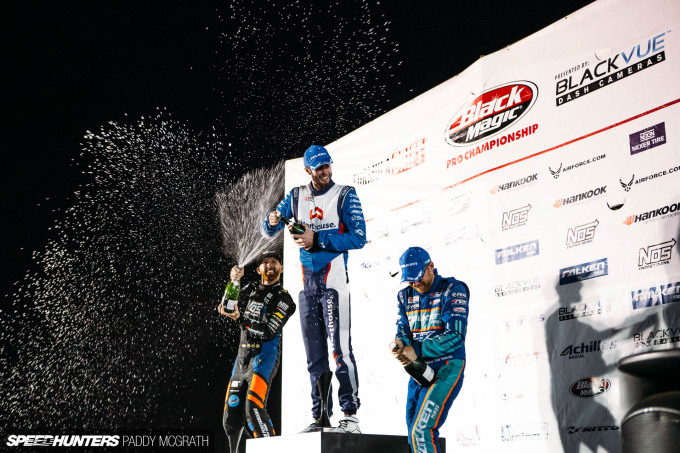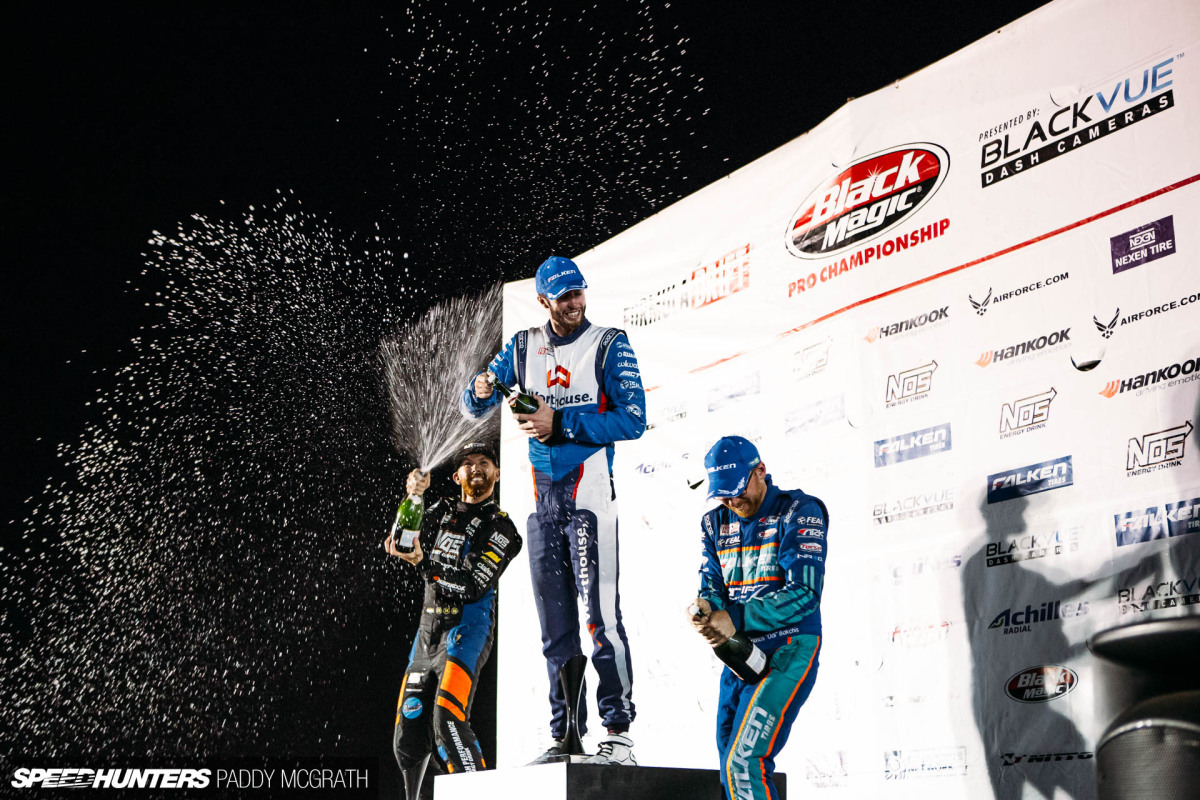 In fact, James' goal this season was a pretty humble one: to get one podium and bring a carbon fibre trophy home to Castletownroche in County Cork. Anything beyond this would have been a bonus.
As the season has progressed, this bonus has got pretty f**king big for James.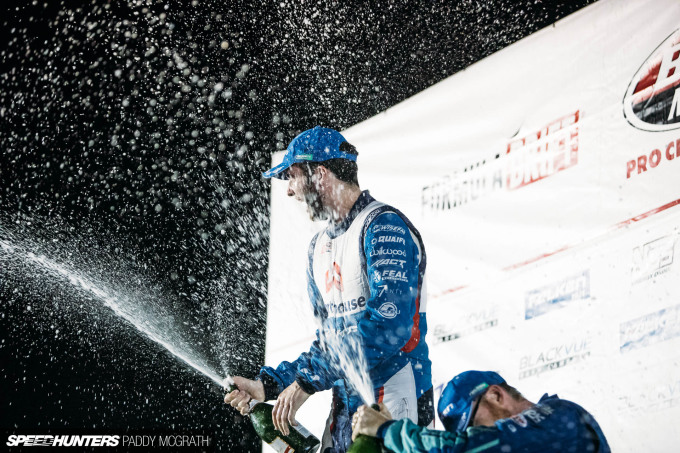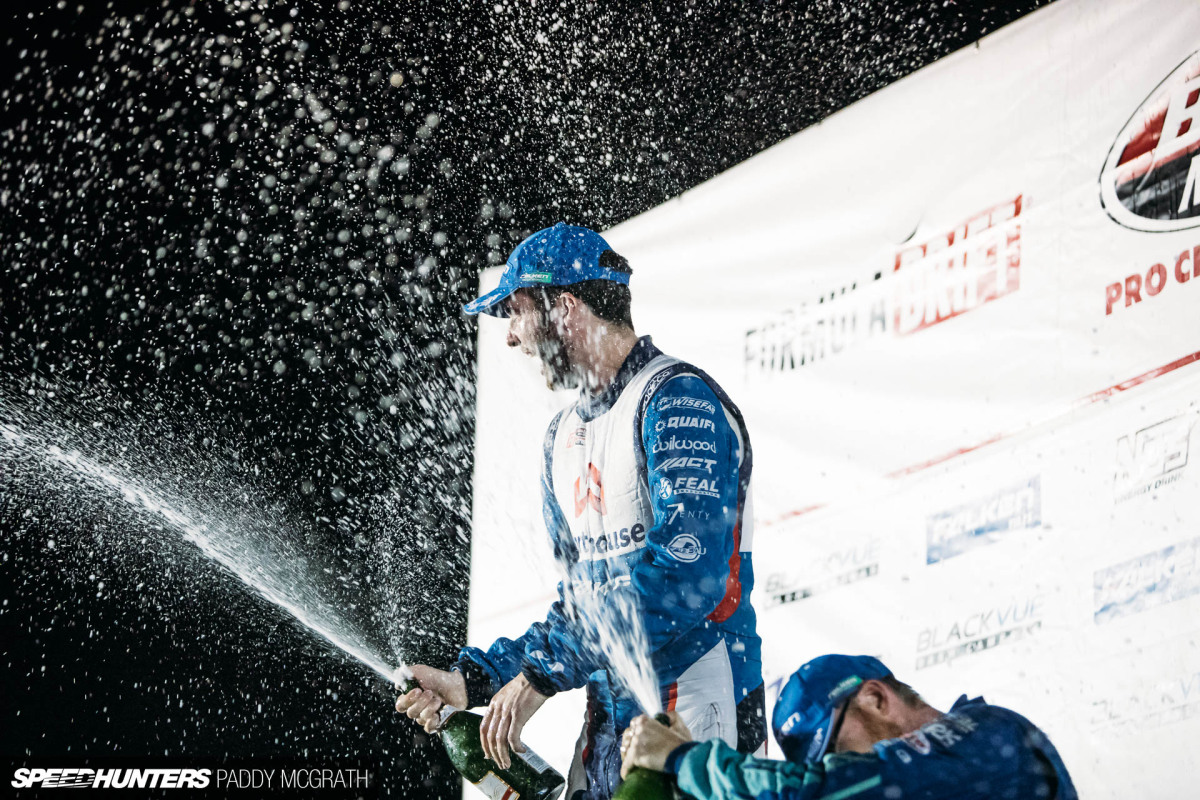 With just one round left in this championship, James commands a 96-point lead heading to Irwindale. In theory, at least as in far as I can figure out, he just needs to qualify for the Top 32 to become champion in his first full Formula Drift season. He needs 12 points to go one point out of reach of Fredric Aasbø and to seal the deal.
I briefly spoke to Fredric after the event to get his thoughts. He was disappointed, of course, but without even hesitating, he told me he was going all-in at Irwindale to do whatever he had to do to cause an upset. He has nothing to lose and he's not going to give up without a fight. Nor would I expect him to.
James on the other hand, has it all to lose. He knows that he still has to perform at Irwindale. A mechanical issue, a coming together with the wall, or any number of things could put an end to his dream season in an instant. There's no guarantees in motorsport, and he will be aiming not just for the Top 32, but for the top step of the podium once again.
For the first time this year, he even spoke to me about winning the championship. If it does happen, he has promised to put on one hell of a show in the battles.
James Deane, off the leash? Roll on Irwindale.
Paddy McGrath
Instagram: pmcgphotos
Twitter: pmcgphotos
paddy@speedhunters.com
Cutting Room Floor