Not So Stock
When I spotted this Mazda at Wekfest SJ where it won Best RX-7, I knew I would need to find time to take a closer look. After all, it's not every day you see a car that is this transformed from its original state.
I made the drive out to Modesto in Stanislaus County, California where SSautoPower's workshop is located to get some images of the car as well as take a peek at a certain, secret project that's underway. You may know these guys from their popular online presence as SSworxs where they sell all manner of parts, many of which are designed and built in-house.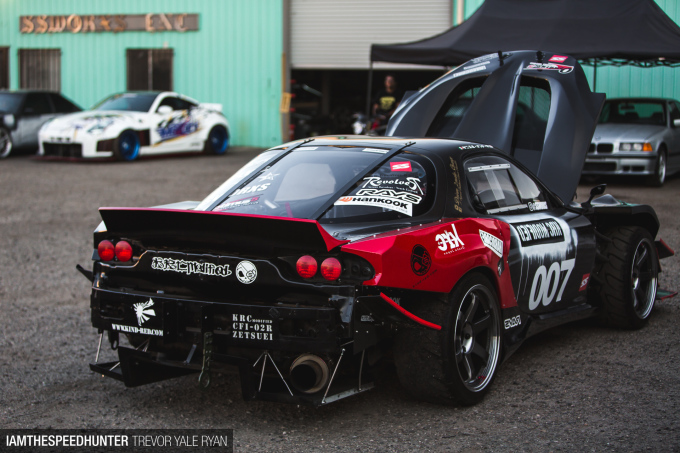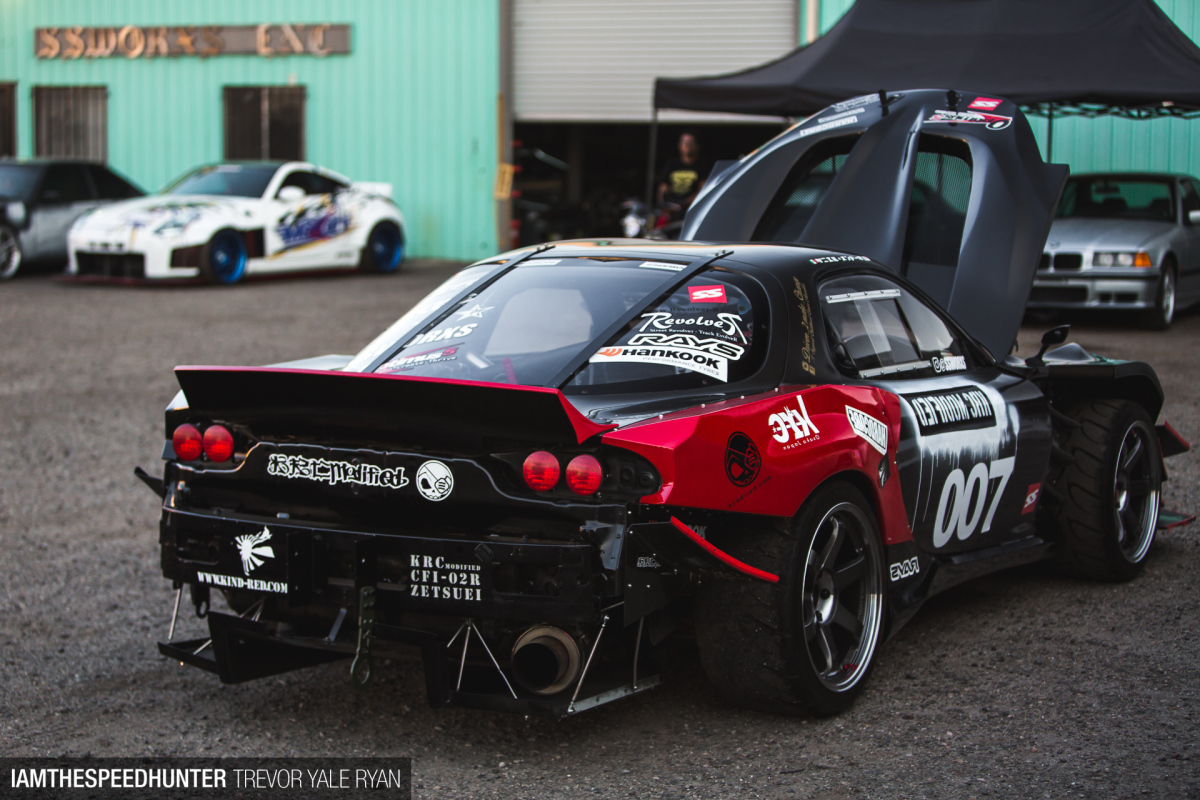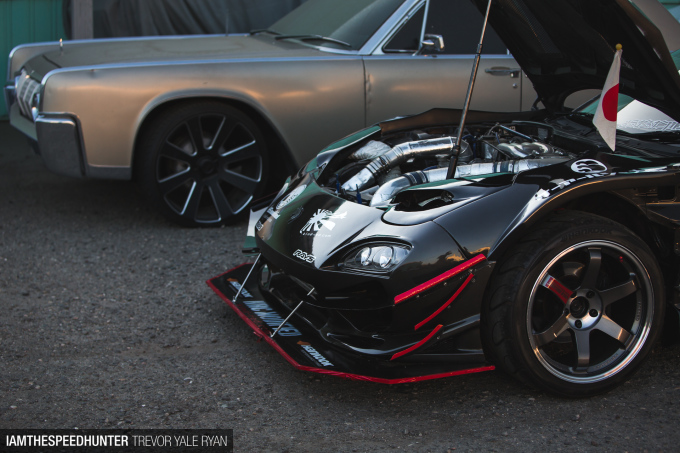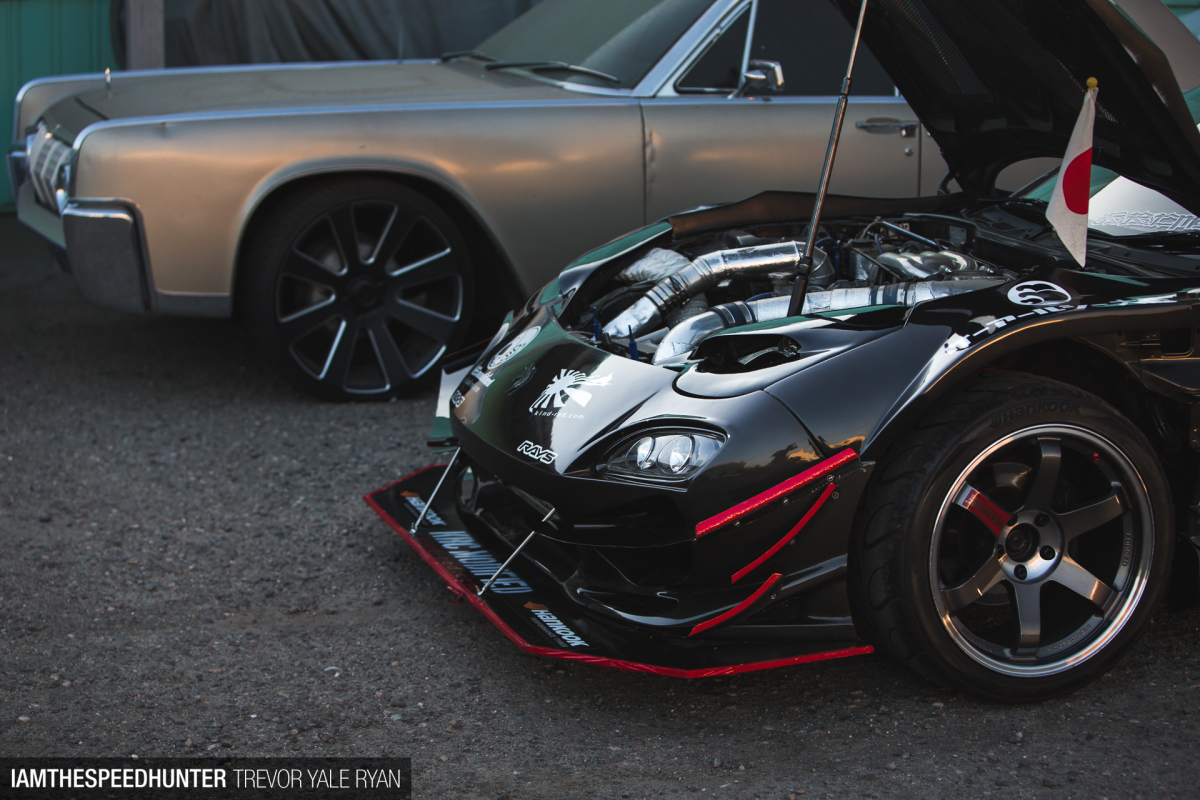 I was greeted by the sound of the FD's motor warming up and was again amazed at the extensive level of recreation and redesign that's taken place on this car. It's obvious that the selected parts are not of the ordinary, off-the-shelf variety, either. This is a car that has very much gone under the knife using highly-developed components.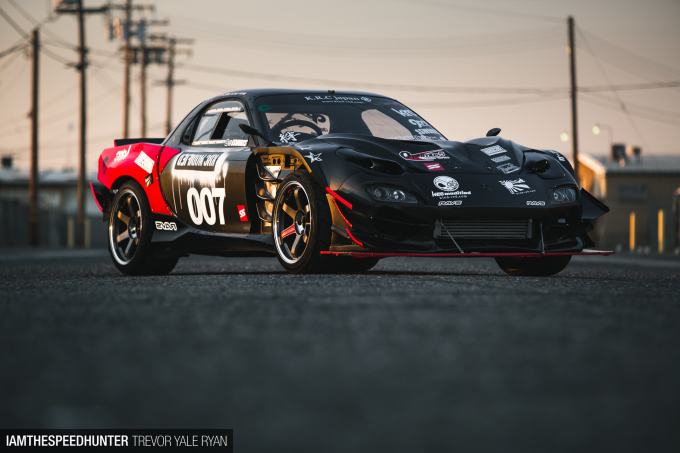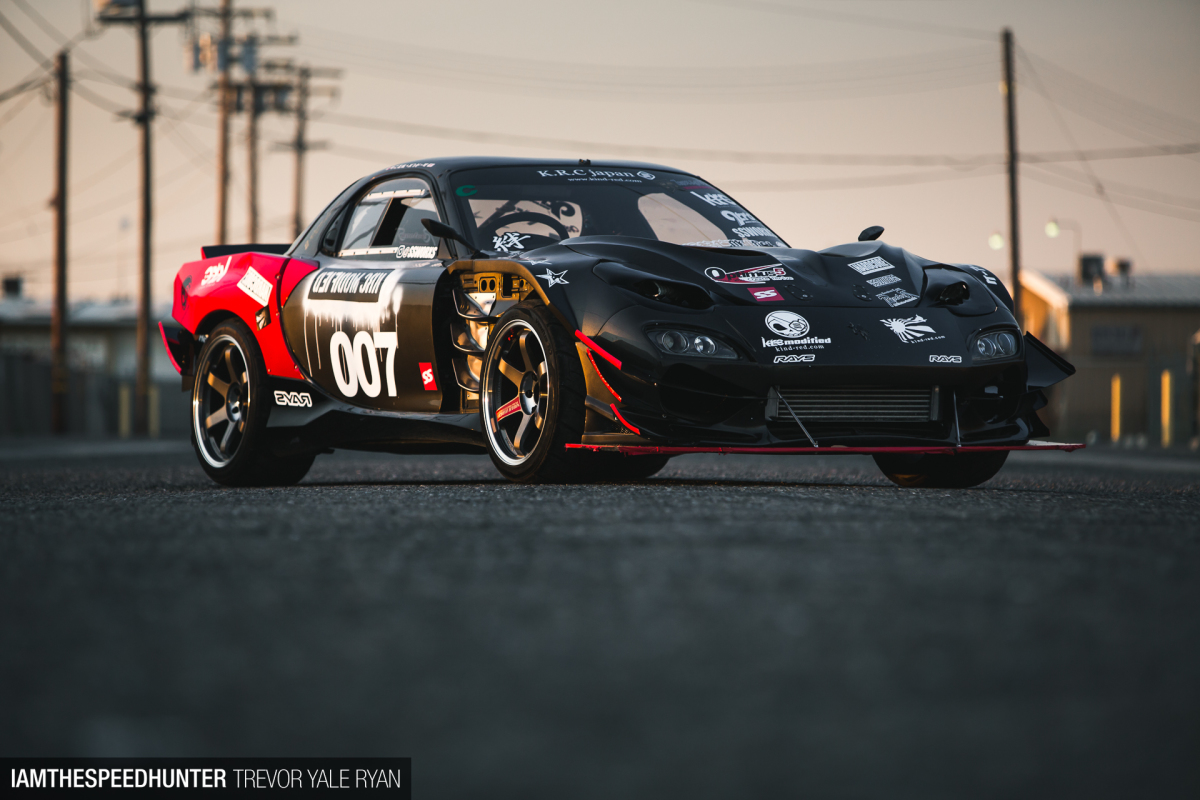 I'm sure the results will displease a number of Mazda purists and I fully understand the cult-like following these rotary-powered cars have; the last FD I featured got a lot of heat for ditching the 13B.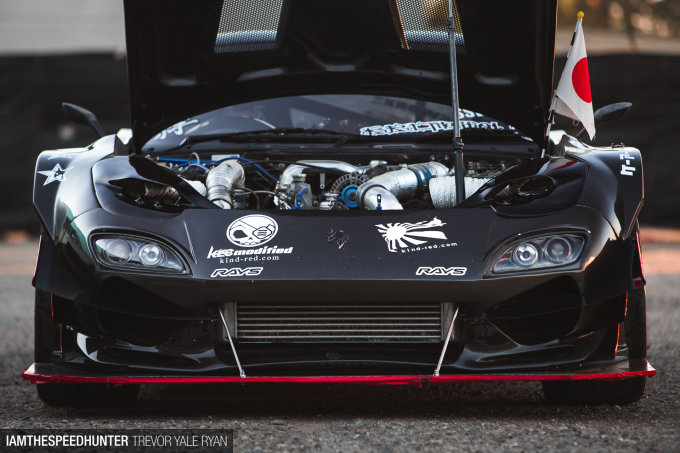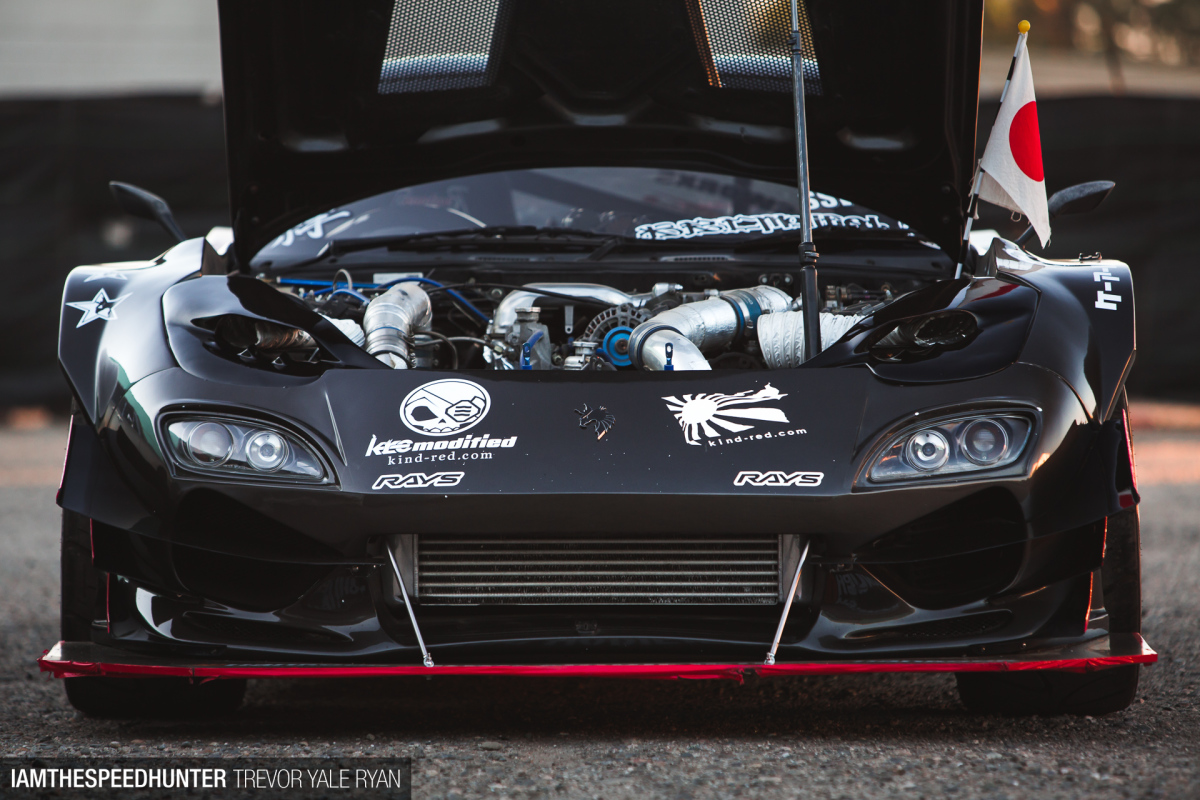 Thus, while some may cry foul, I'm sure everyone will be quite pleased to learn that this car retains the proper rotary powerplant, if not the classic body lines. Those lines have been replaced by new panels which were all built in-house at Kind Red Company (KRC, also KRCmodified) in their Osaka headquarters, like all other body kits that the company ships. It's also worth mentioning a percentage of KRC's profits ends up in Japanese charities.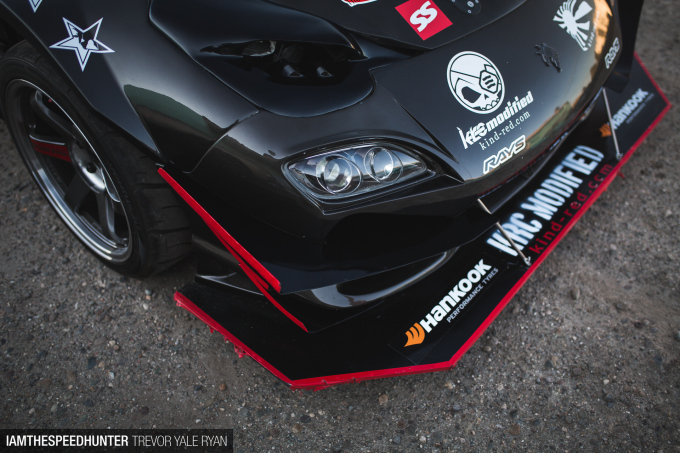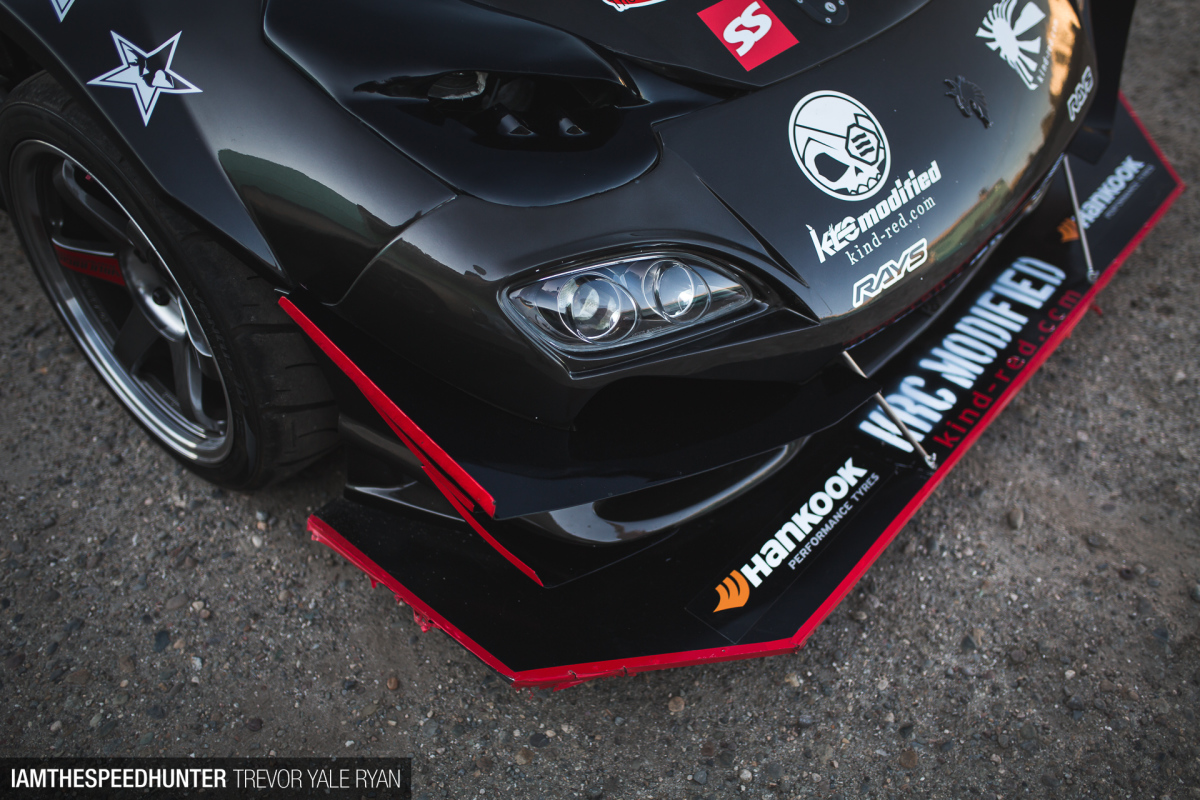 The RX-7's owner, Tsutsui-san of KRC, was kind enough to lend the car to SSautoPower for a few months, and during that time it won multiple awards at major California car shows and saw some track time at Laguna Seca (previously it had been driven in Japan at Okayama Circuit, Suzuka Twin, and Fuji Speedway). So, this isn't just some hard-parked show car, but instead a hardcore, functional build.
The Brutality Of The Thing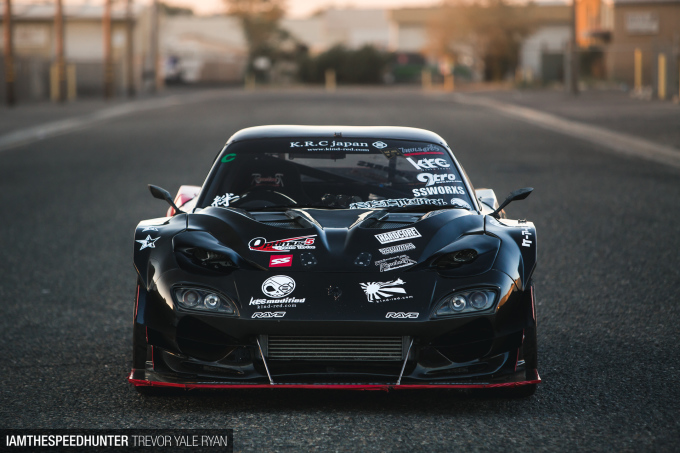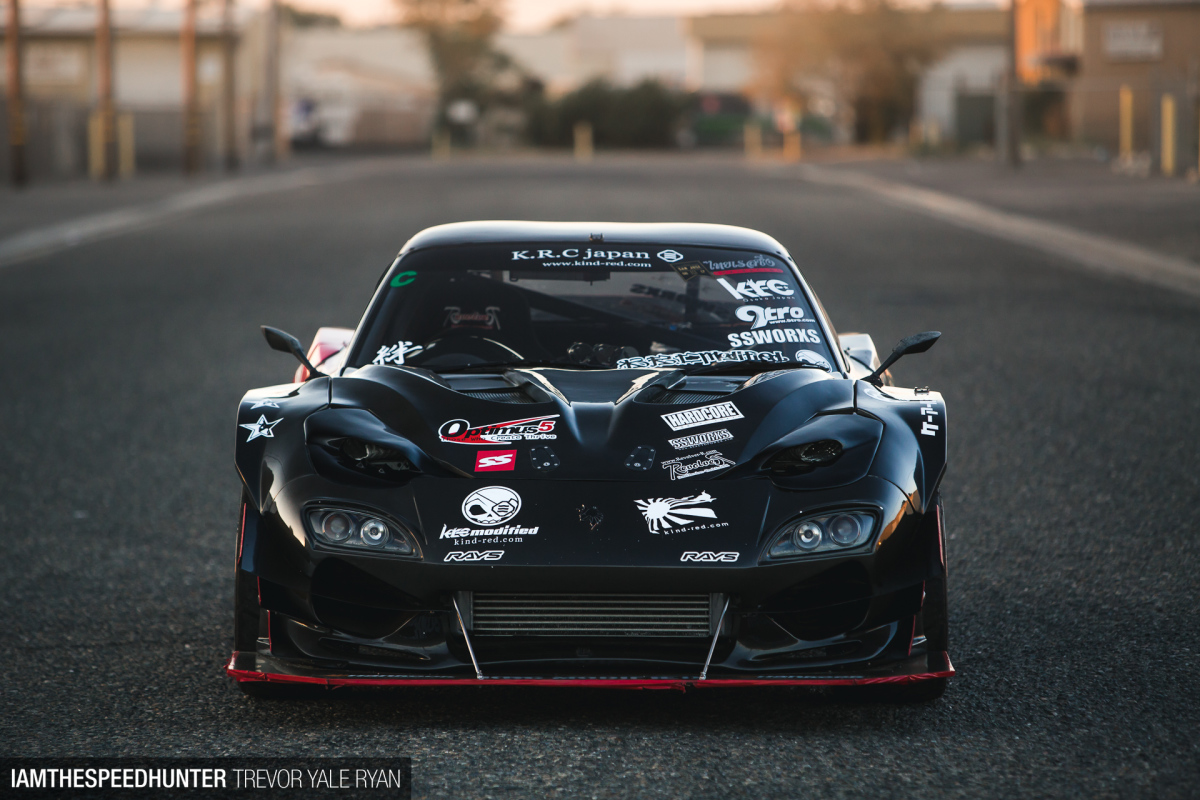 Of course, the first thing that really (almost literally) jumps out at you is the exterior of the car. While the aesthetics of the machine have been completely redesigned, it's done so in a way that keeps the soul of the 1995 FD3S intact.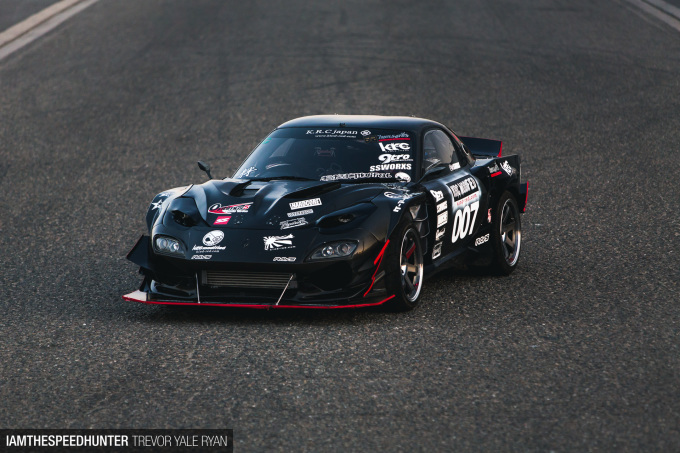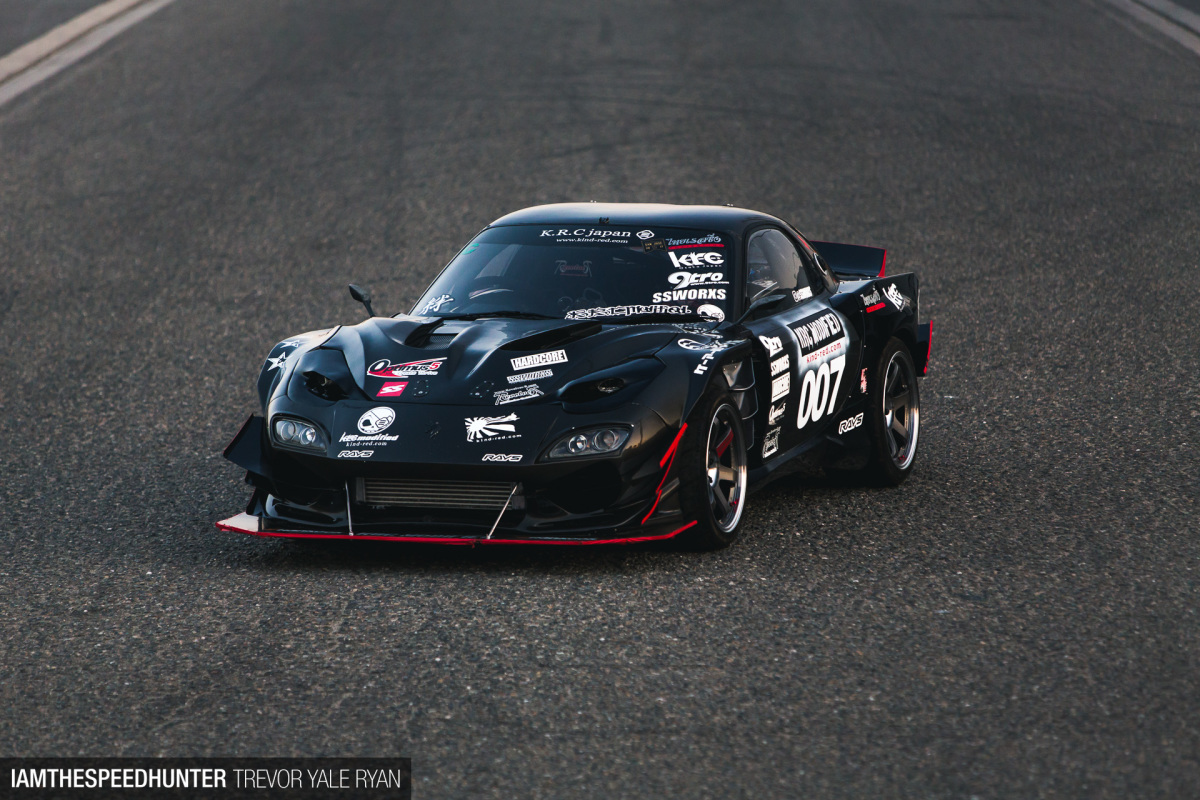 The car is certainly wider, bigger, and far more aggressive than the original design, but it still manages to appear small and agile. The KRC kit also ensures that in addition to its modified appearance, each part of the car now provides some additional functionality. Firstly, the kit is quite a bit lighter (Lexan windows help here, too) than the original panels — always a good thing.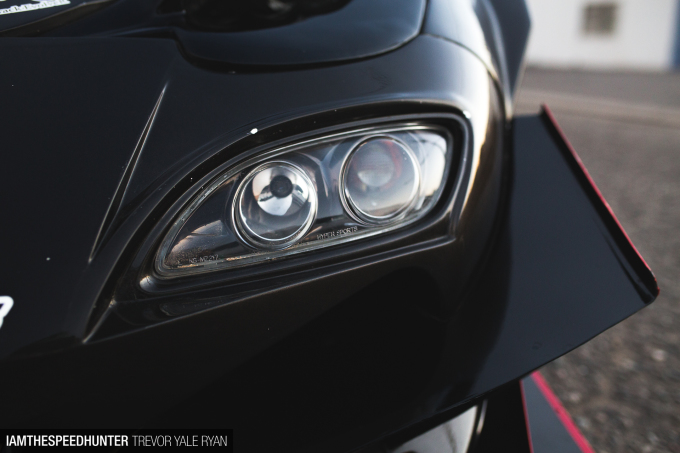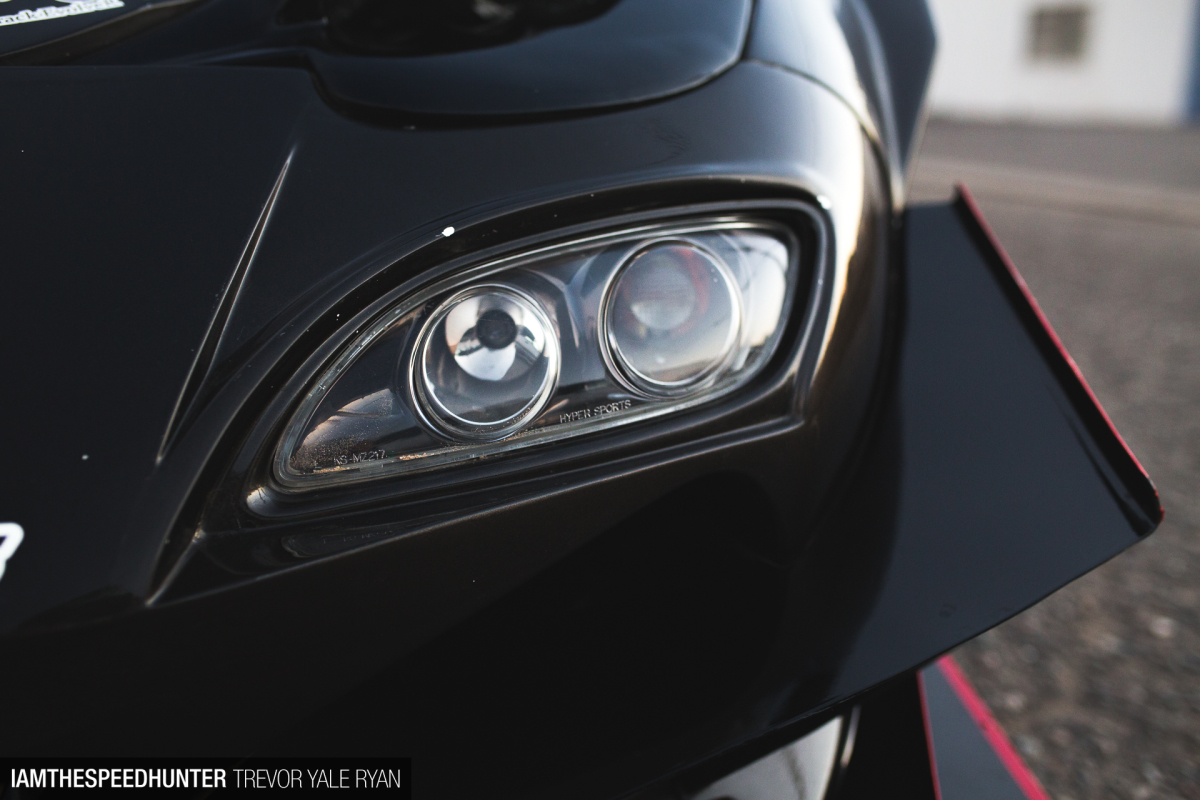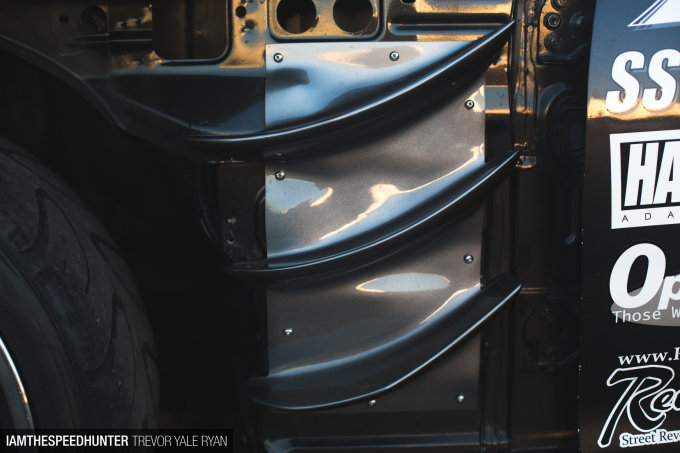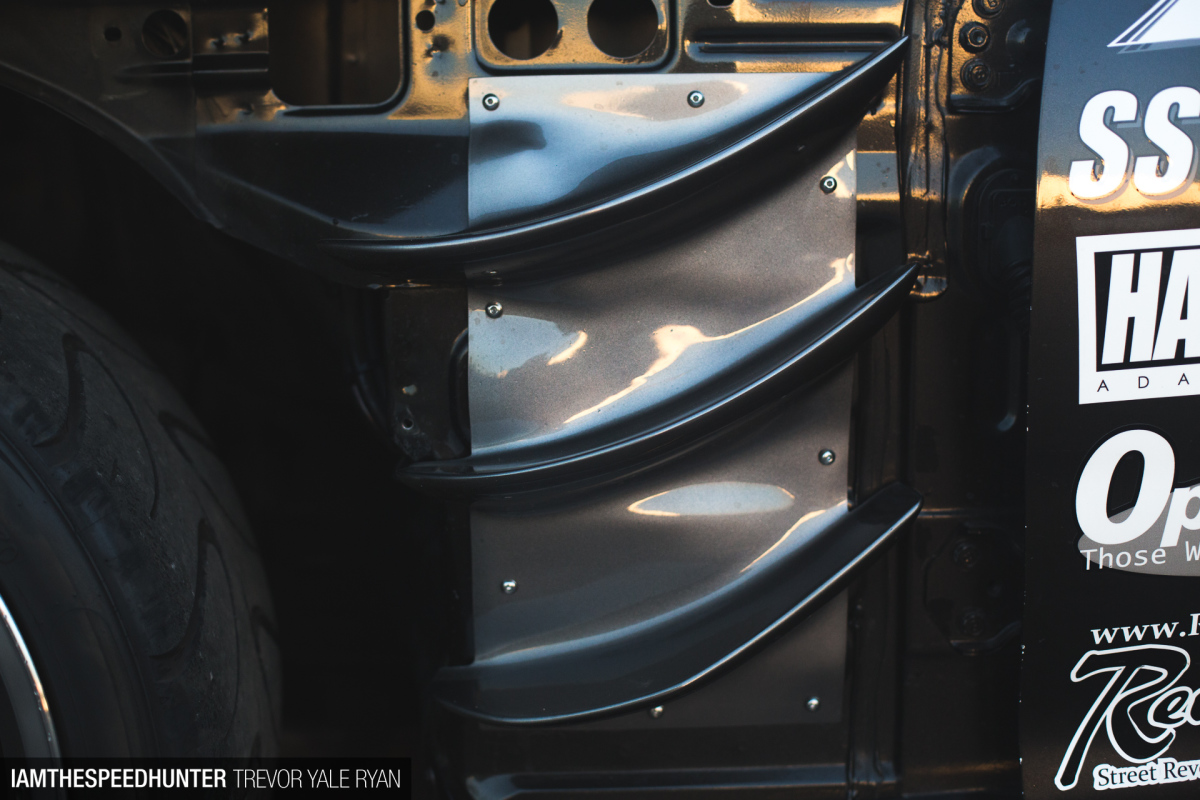 Also, each area now supplies a bit of added downforce, as well as vastly improved heat extraction to help the C&R Racing aluminum radiator keep everything cool. The rotary platform isn't exactly a shining example of long-term reliability, so any bit of heat you can remove from the engine bay is a step in the right direction. Especially when you're making boost.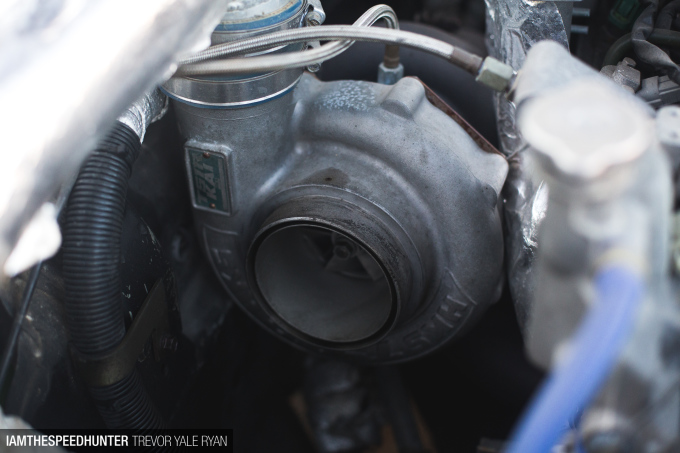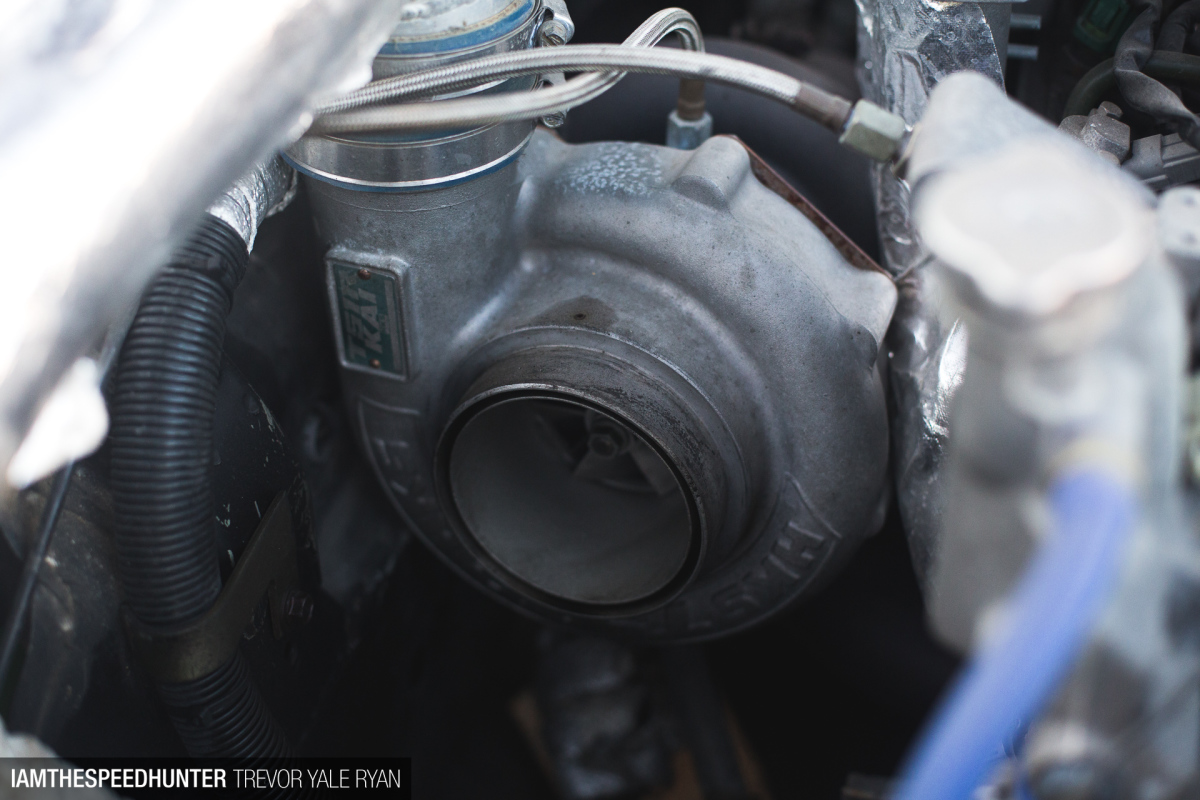 An HKS T51R Kai turbo helps add a healthy dose of power to the rear wheels of a setup that was already fast. The turbo is paired with an HKS F-CON V Pro ECU which was tuned by SSautoPower to make a hair over 700 horsepower. Of course, this would not have been possible without a dependable 13B build, a feat performed by Fujita Engineering in Osaka, along with a number of other power mods.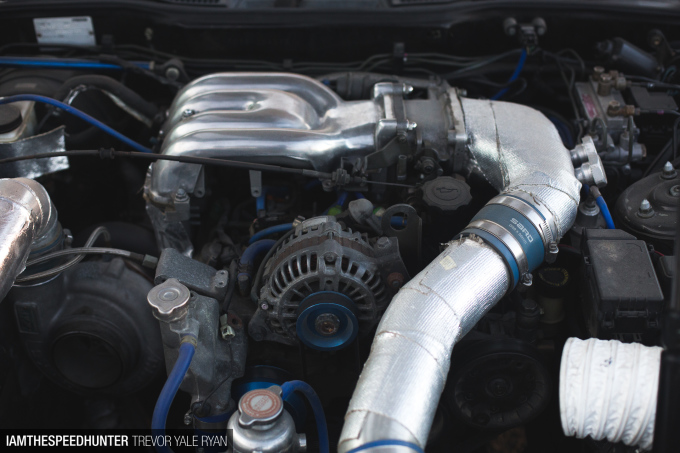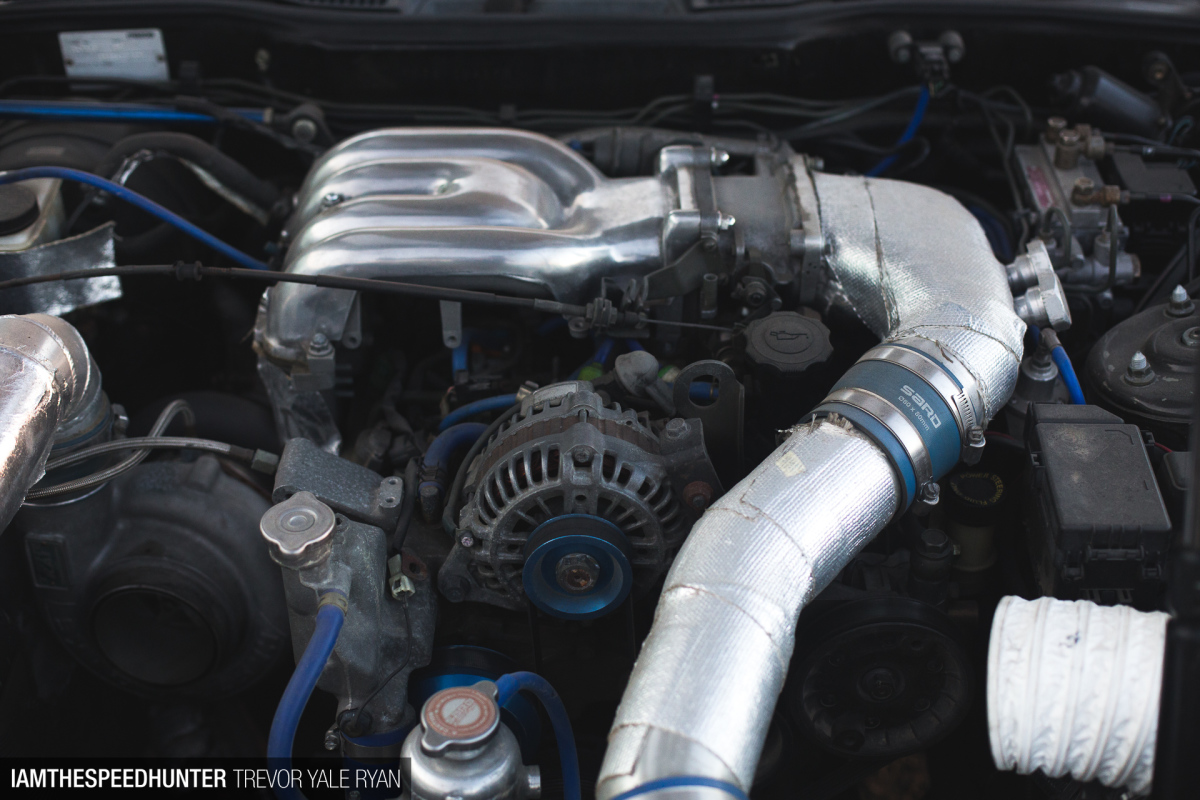 Additional upgrades to the engine bay include a ported intake manifold and throttle body, along with a front-mounted intercooler which supplies plenty of air for the Sard injectors to mix fuel into. After ignition occurs, spent gasses are sent through an HKS manifold and out the back via a titanium exhaust, also courtesy of HKS.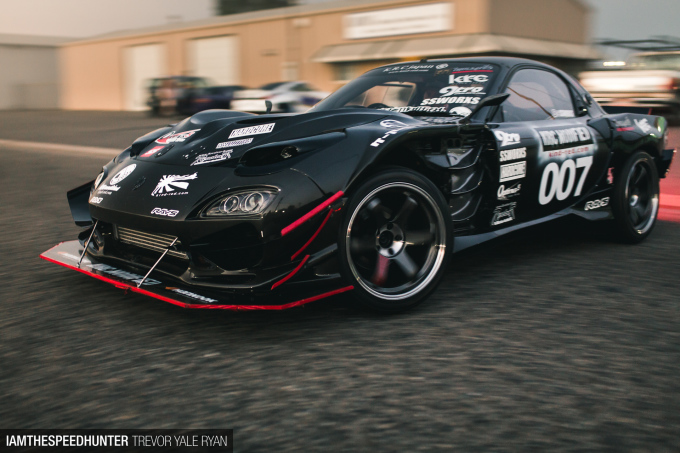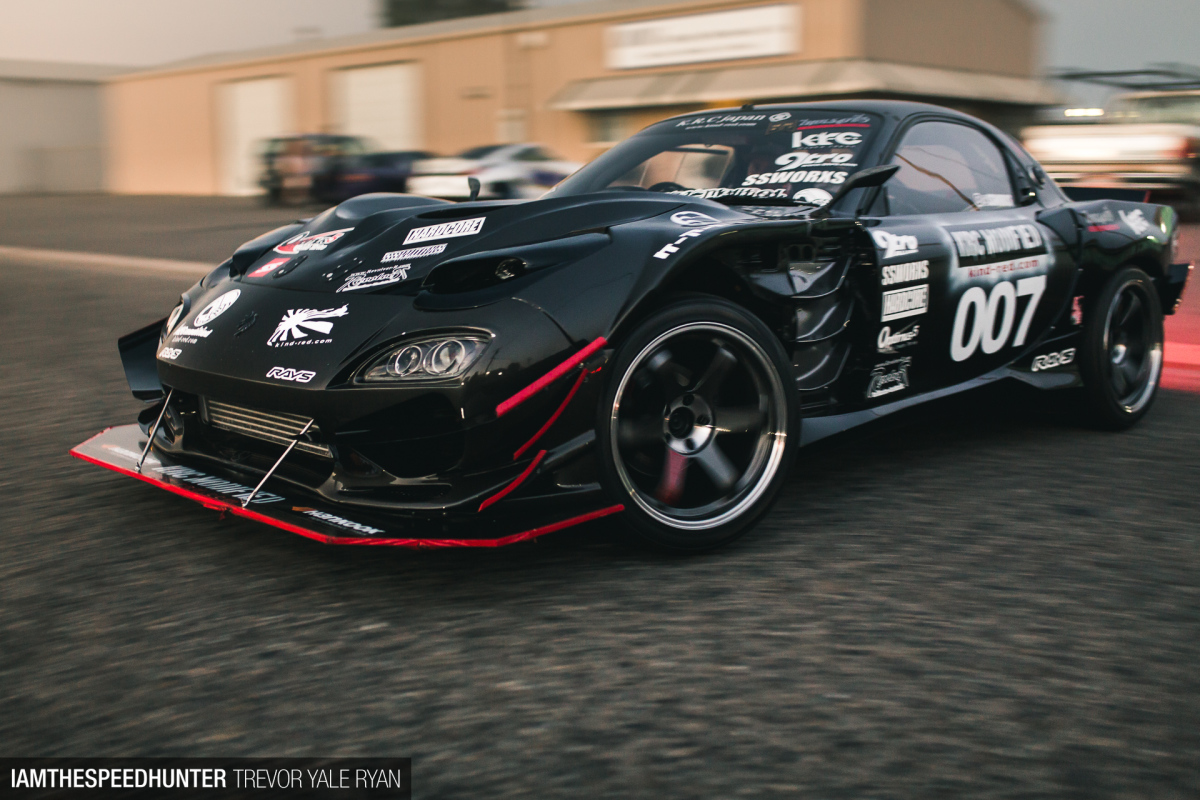 Perhaps best of all is the fact that the power travels into an HKS dogbox which uses an ORC twin-plate clutch. The combo is an absolute blast to hammer on as the responsiveness of this setup is simply mind-blowing. Power is finally delivered to the wheels from a Cusco 1.5-way limited slip differential which creates a car that's great on turn-in and helps make the rear end a little slippery when you'd like it to be.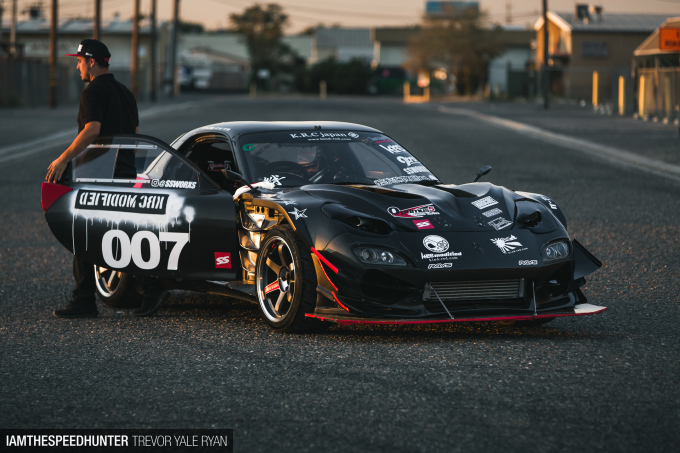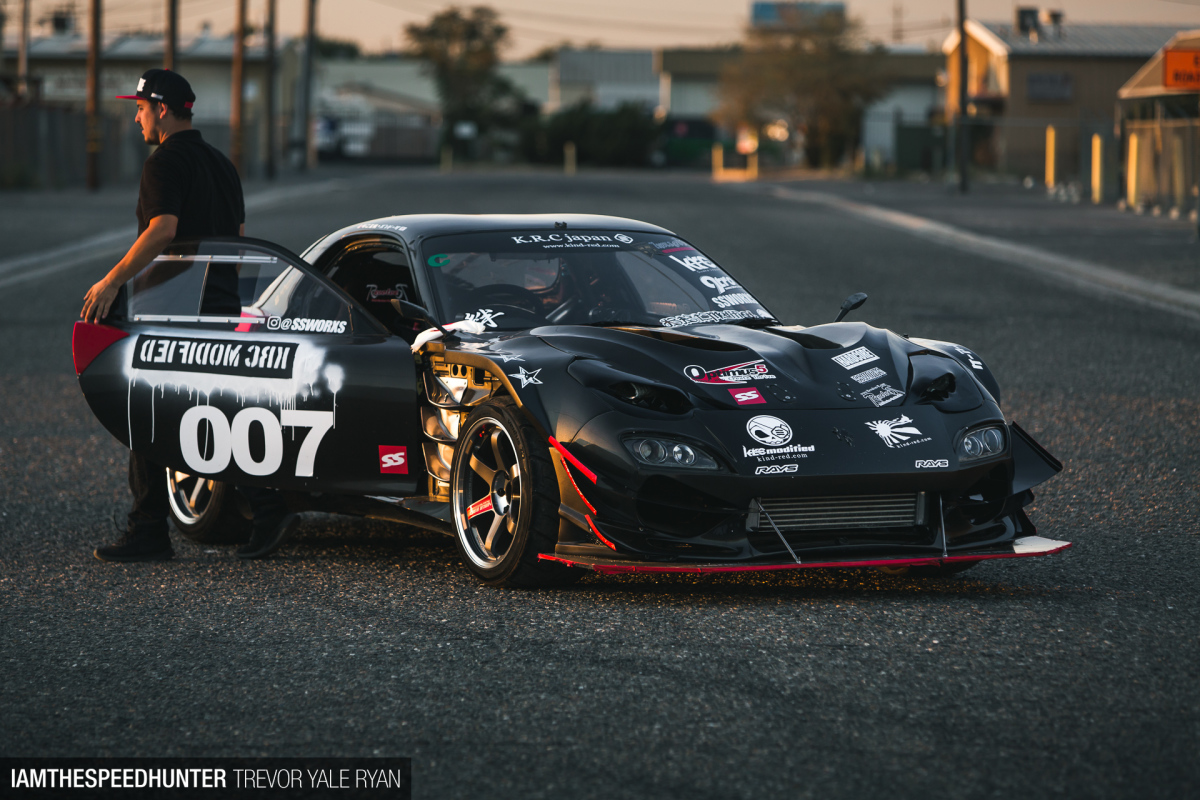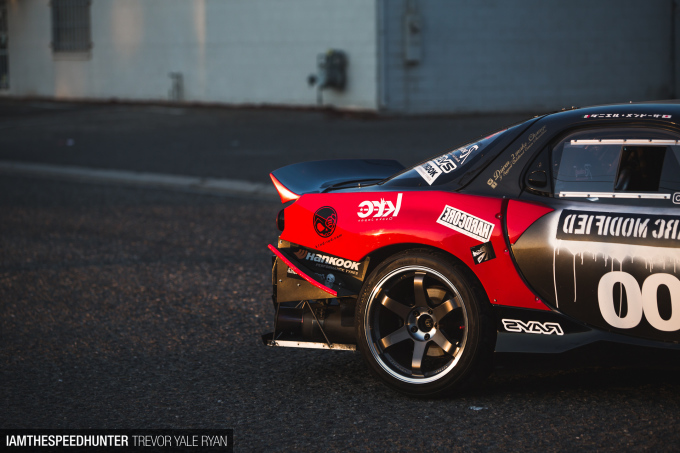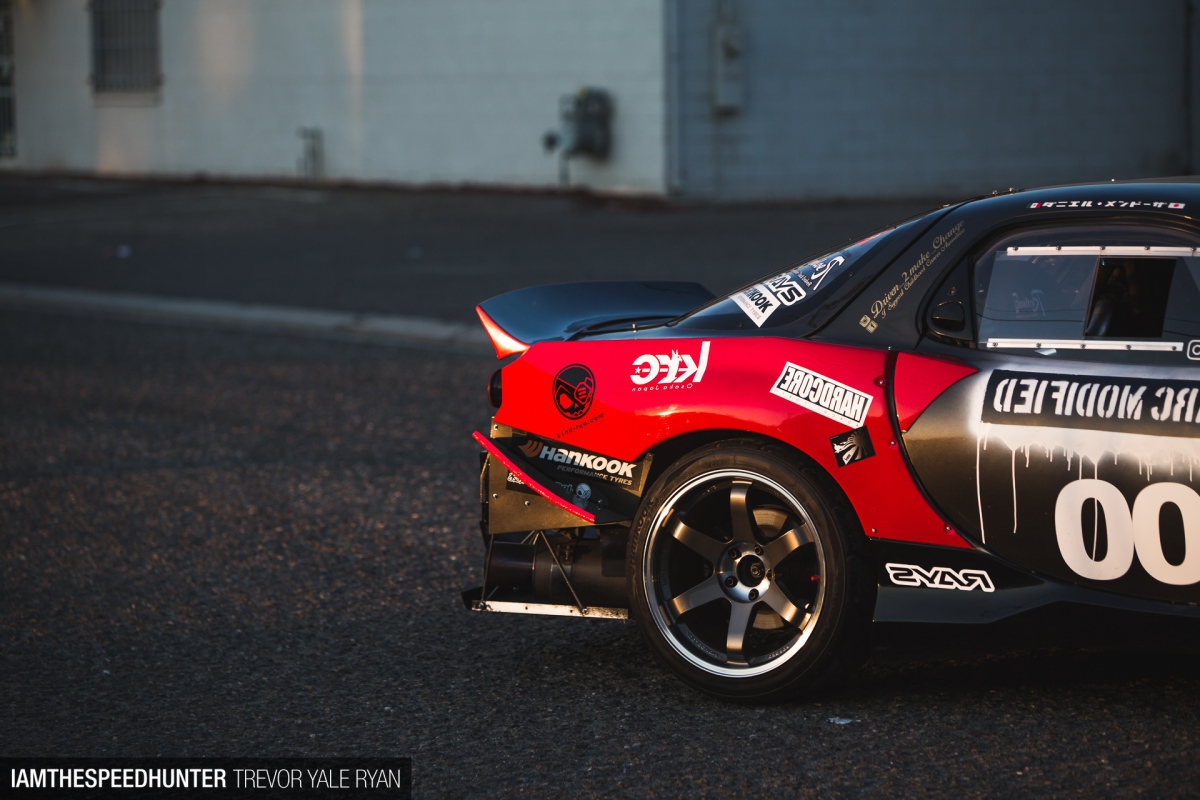 Daniel Mendoza of SSautoPower was caretaker of the car during its time in the States and he was keen to point out the red replacement body panel that resides on the passenger side of the car. I asked if it was by design and he laughed sheepishly — it certainly was not.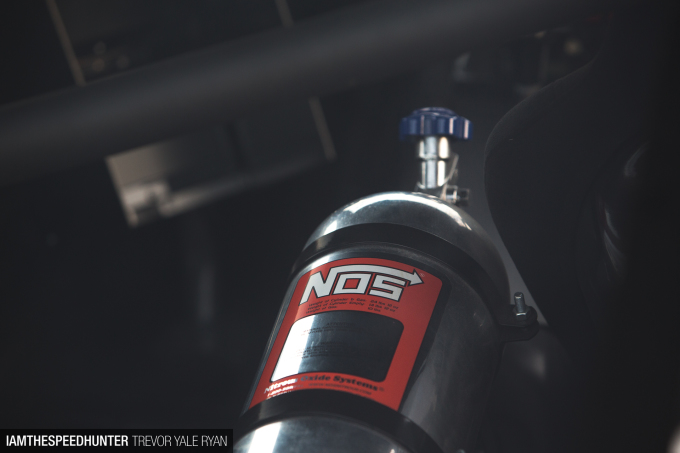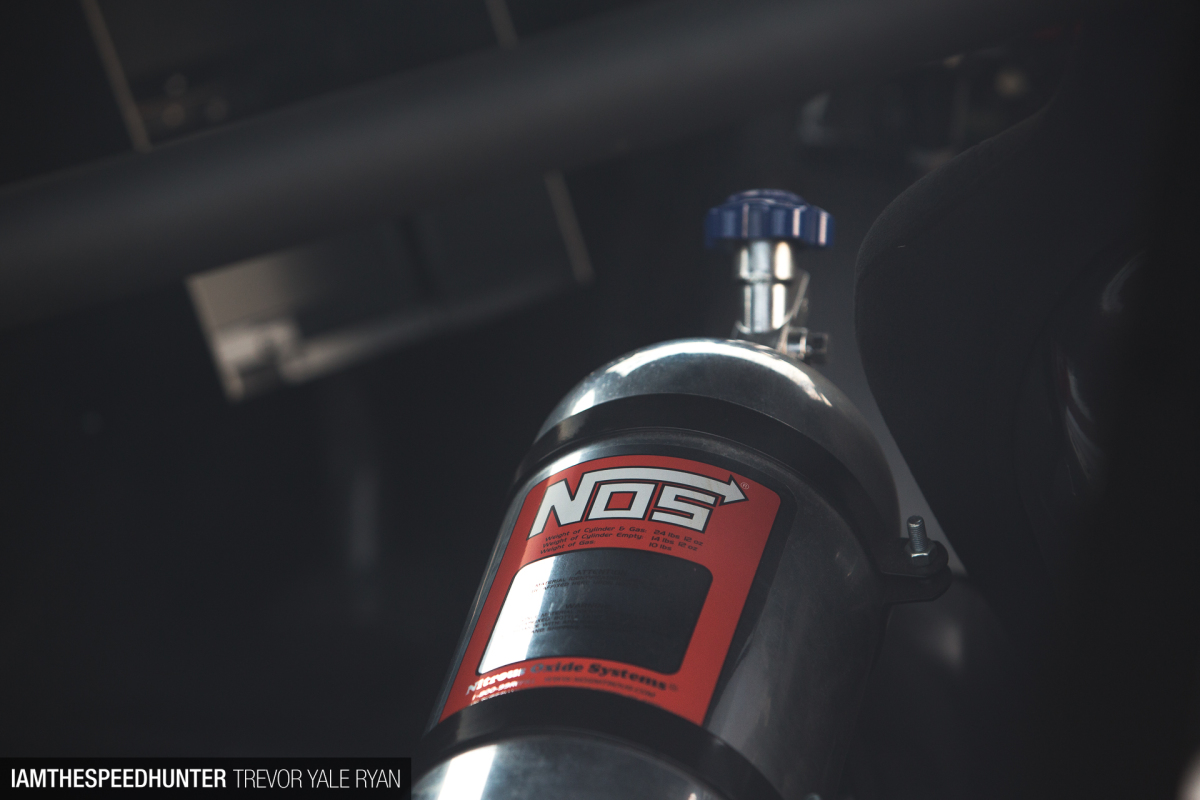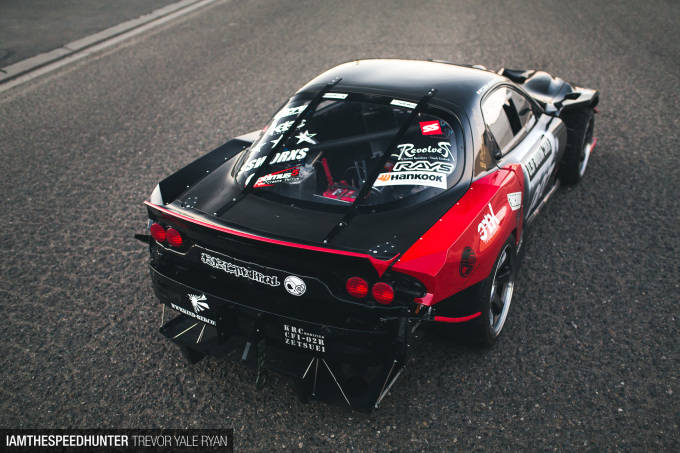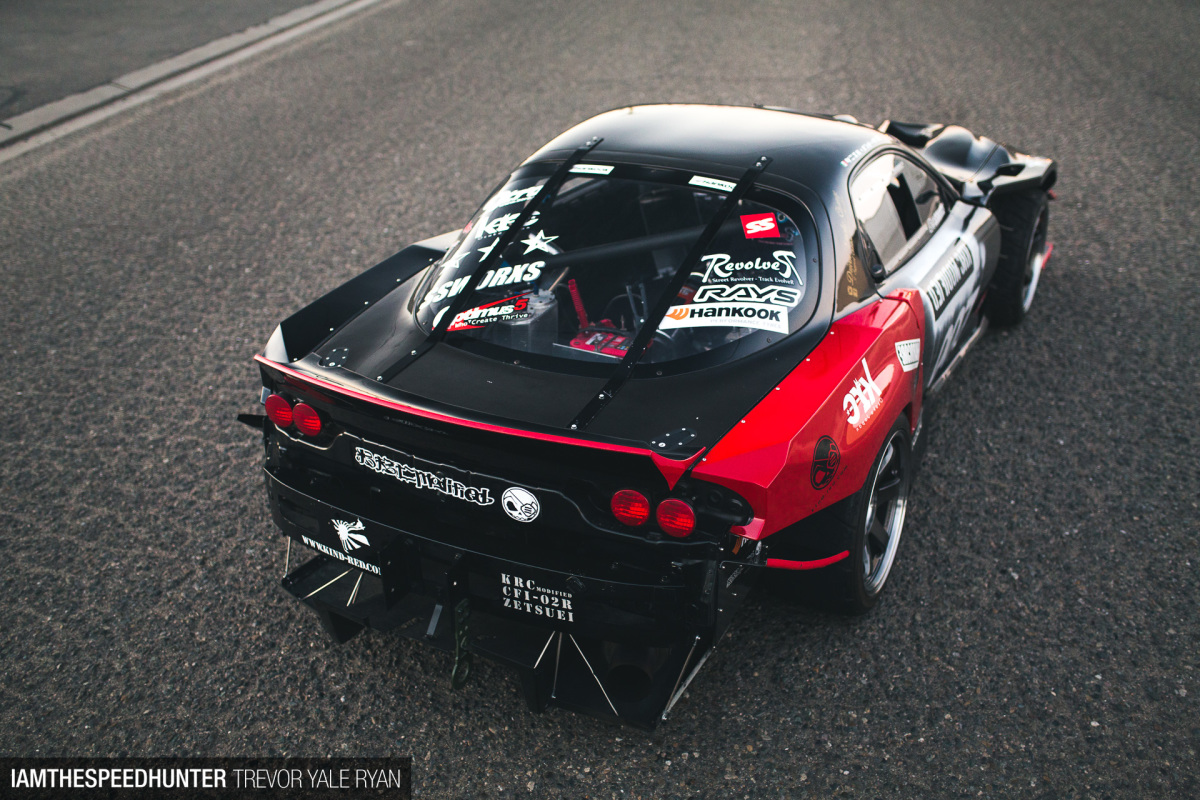 The story is quite simple and goes as I'm sure many do. It starts with the addition of a wet 300 shot of nitrous and ends in a K-wall at the racetrack; Daniel miscalculated through a chicane and sent the car flying off the tarmac with all of its new-found power. Luckily the damage was minimal. The red panels were to be temporary, but now they've become permanent residents on the body.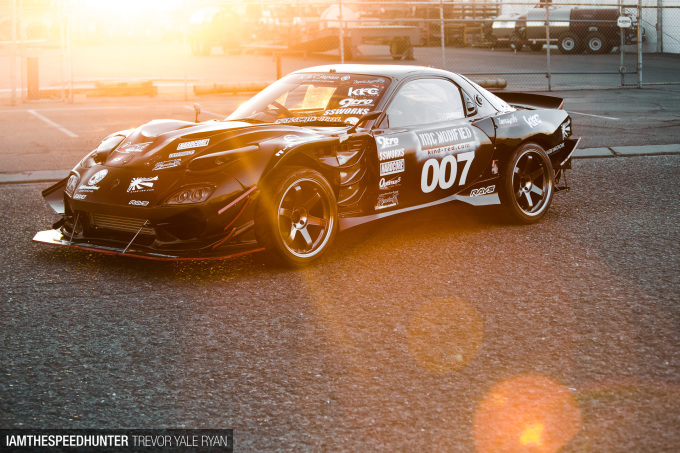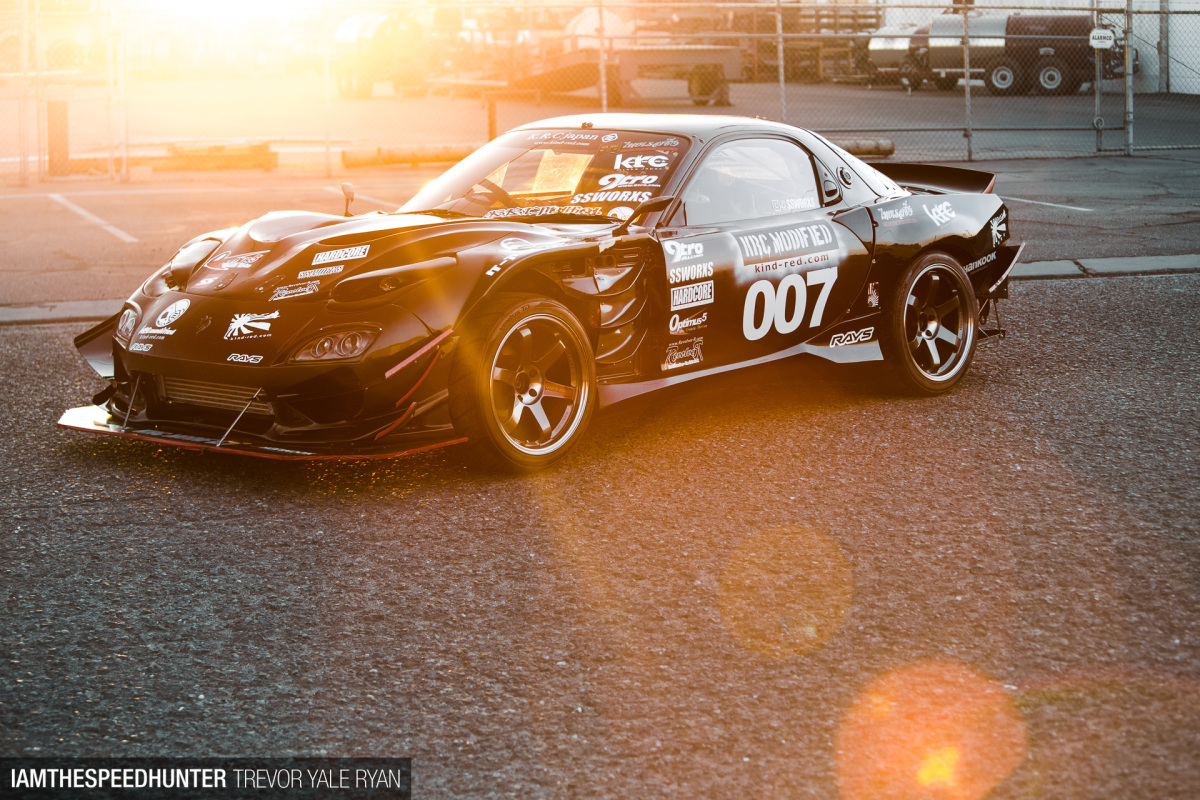 With the nitrous addition, it certainly would be easy to find out too late that you've called for too much of it, especially in a car that weighs less than 1,300kg. All-in-all, it's an absolutely brutal machine.
Raw On The Inside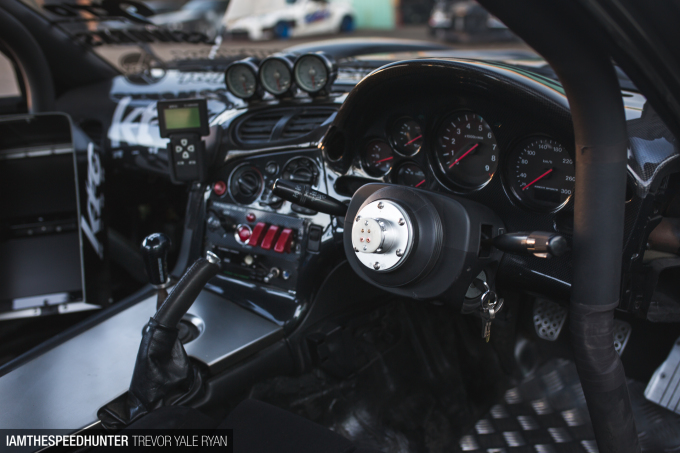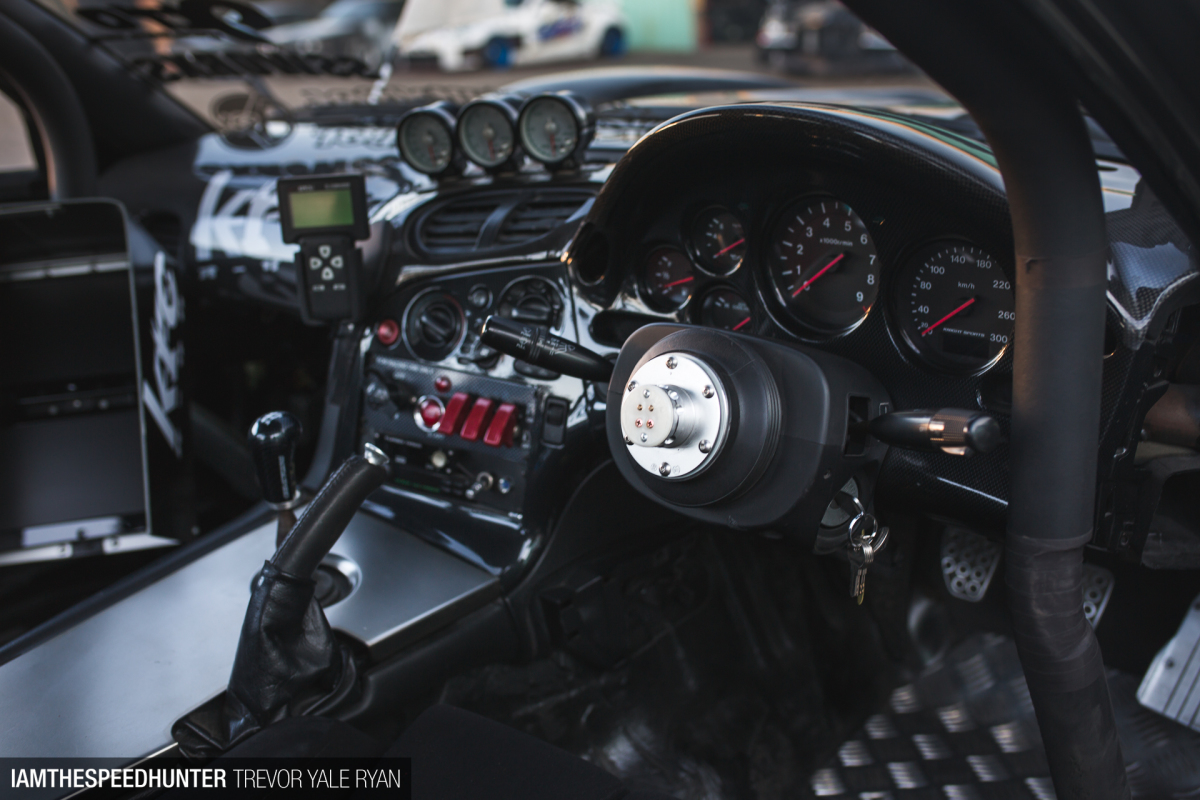 This philosophy carries over to the stripped-down interior as well, where you find a plethora of aftermarket parts. It seems there's not a square inch of this car that hasn't been modified in some way or another.
While much of the interior is no longer present in the spirit of adding lightness, there have been a few additions as well. Most interestingly the side-mirror camera system, which nicely fits into the aesthetic of the car. I don't know how I feel about looking at a screen versus a traditional glass mirror, but I'm sure I'd get used to it if I was lucky enough to own the car. Besides, the extra functionality on the street would far outweigh any disadvantages with the system, which works well in low light as well.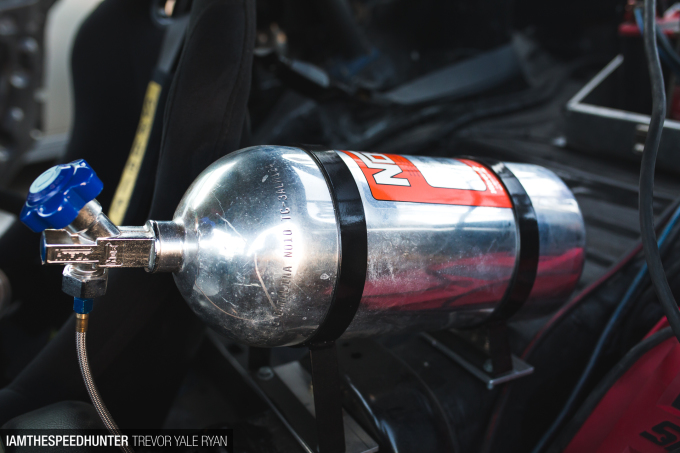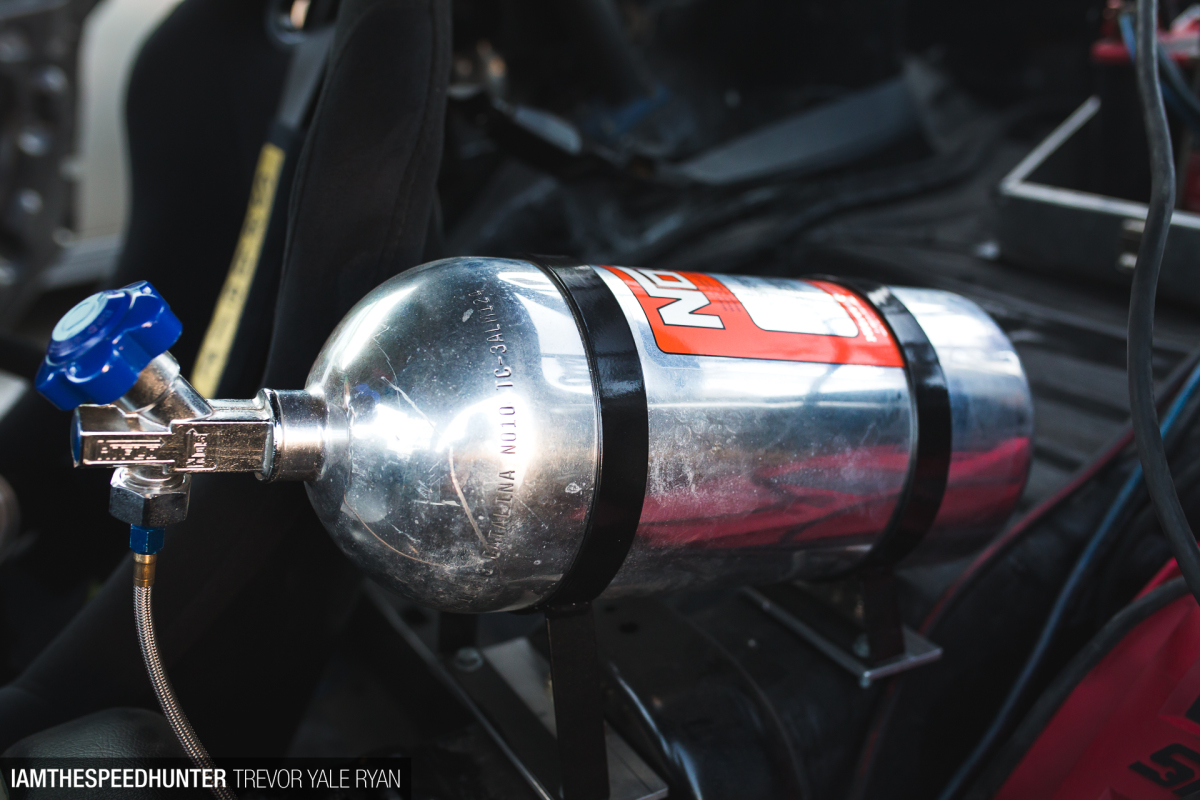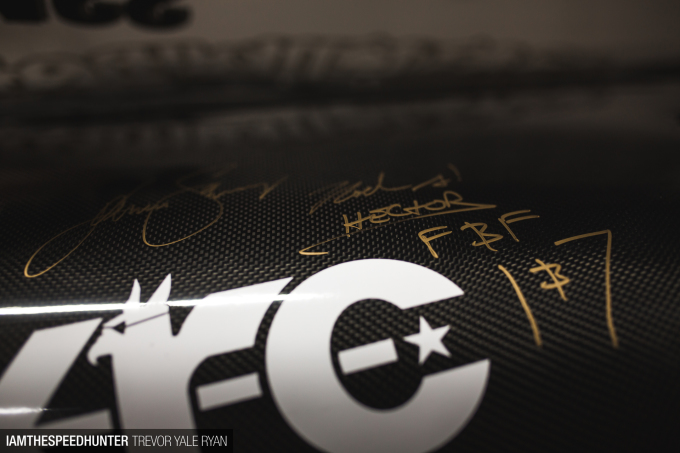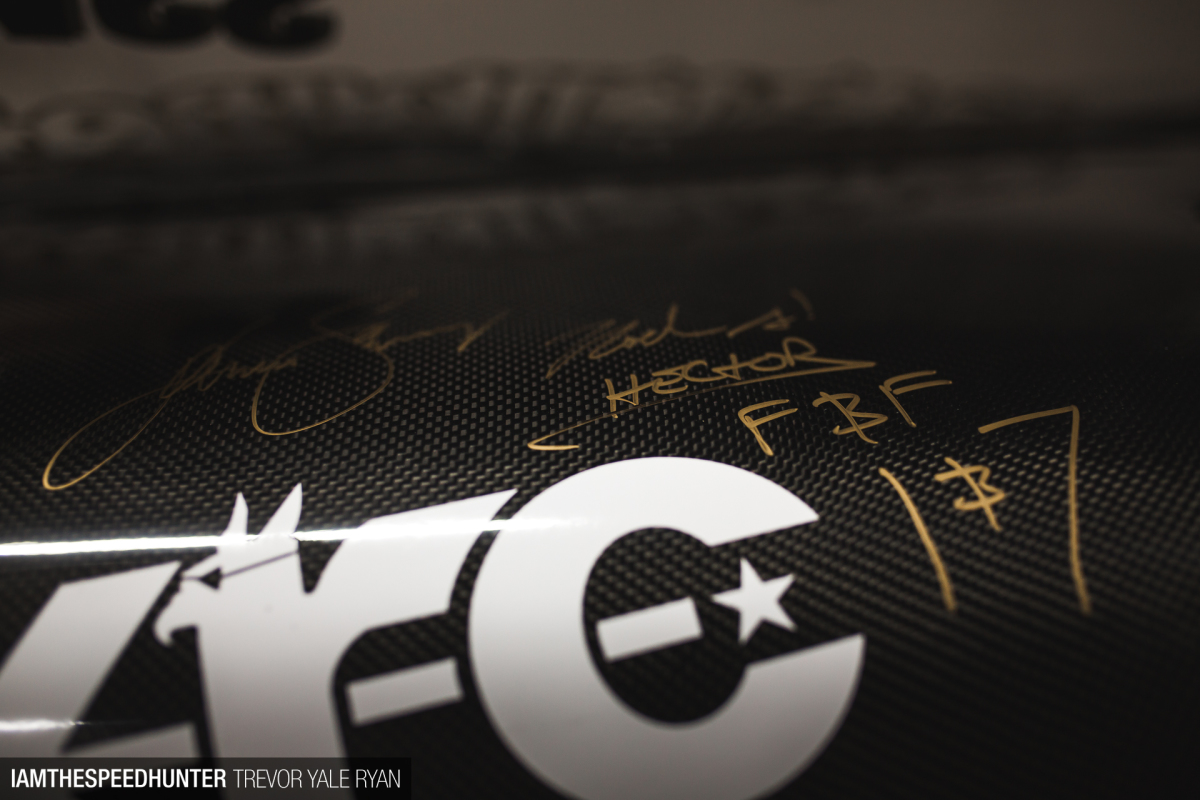 Another obvious addition is the giant nitrous bottle in the center of the car; if the build wasn't Fast & Furious-esque enough for you, this ought to do it. On that note, I noticed a certain few signatures on the dash. Turns out the car was signed by members of the cast from the F&F franchise, which is a nice little bonus.
Surrounding the right-hand drive layout you find a KRC carbon fiber dash replacing the factory plastics along with an SSWorxs center race console and a number of switches, including a nice, big, red 'Engine Start' button. Brap brap!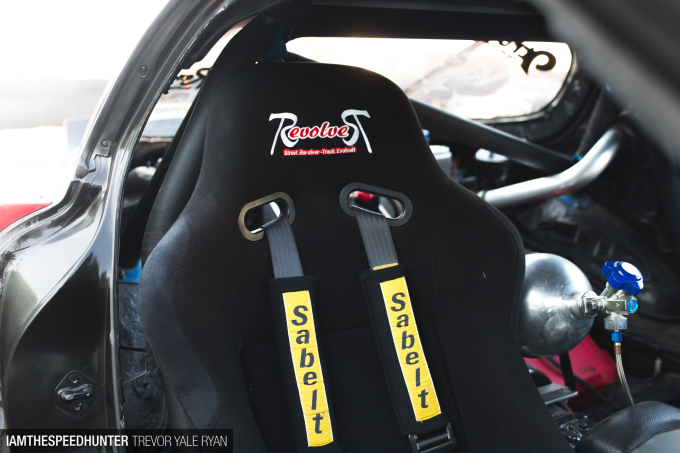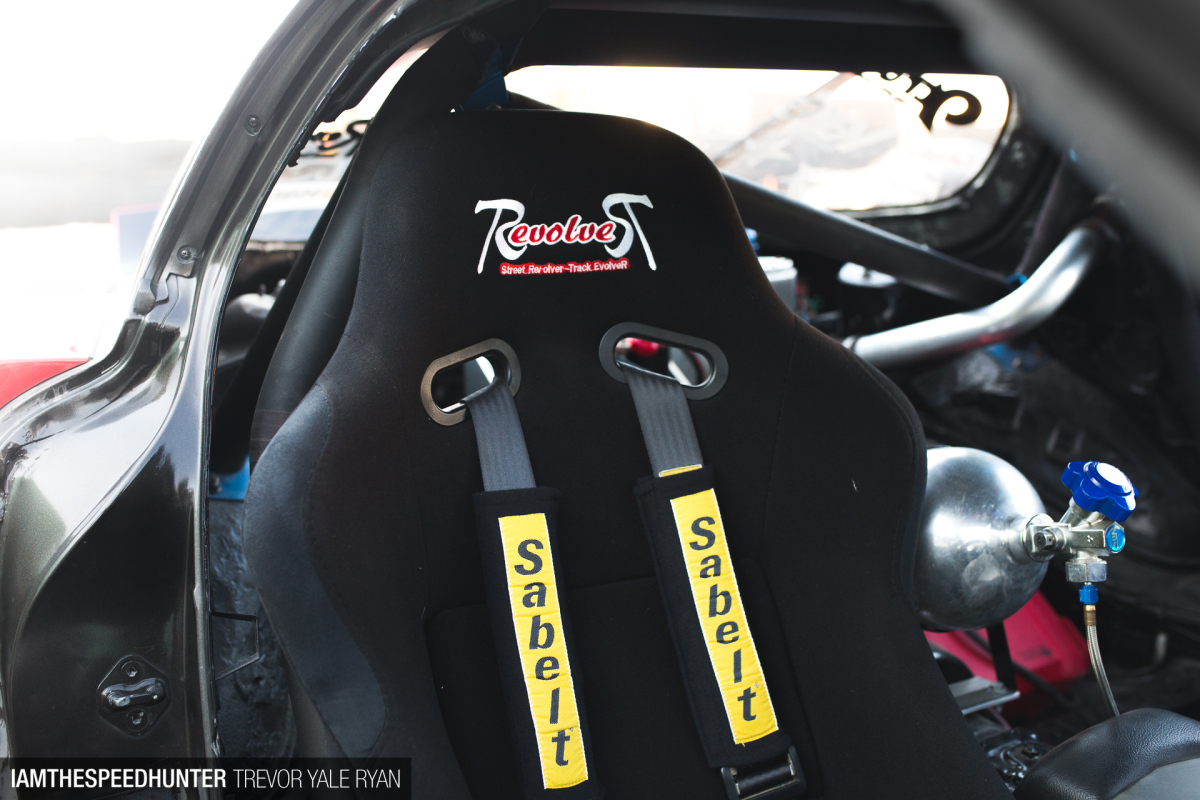 A RevolverR (which is a KRC sister brand) steering wheel and seat aid in driver feel and help keep the pilot, and thus the car, planted. Safety equipment includes Sabelt harnesses and a Cusco chromoly roll-cage.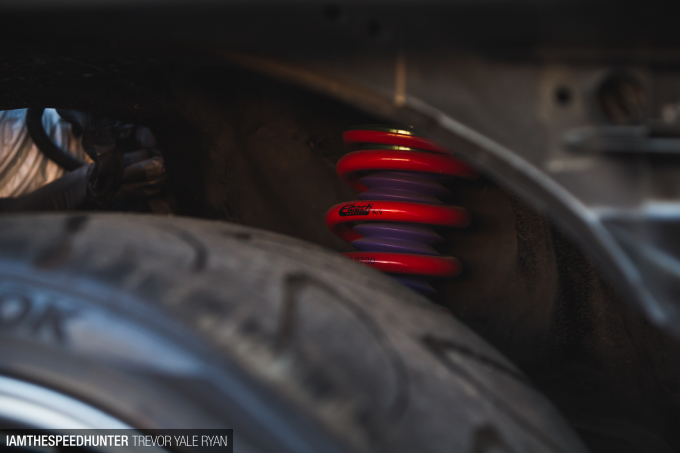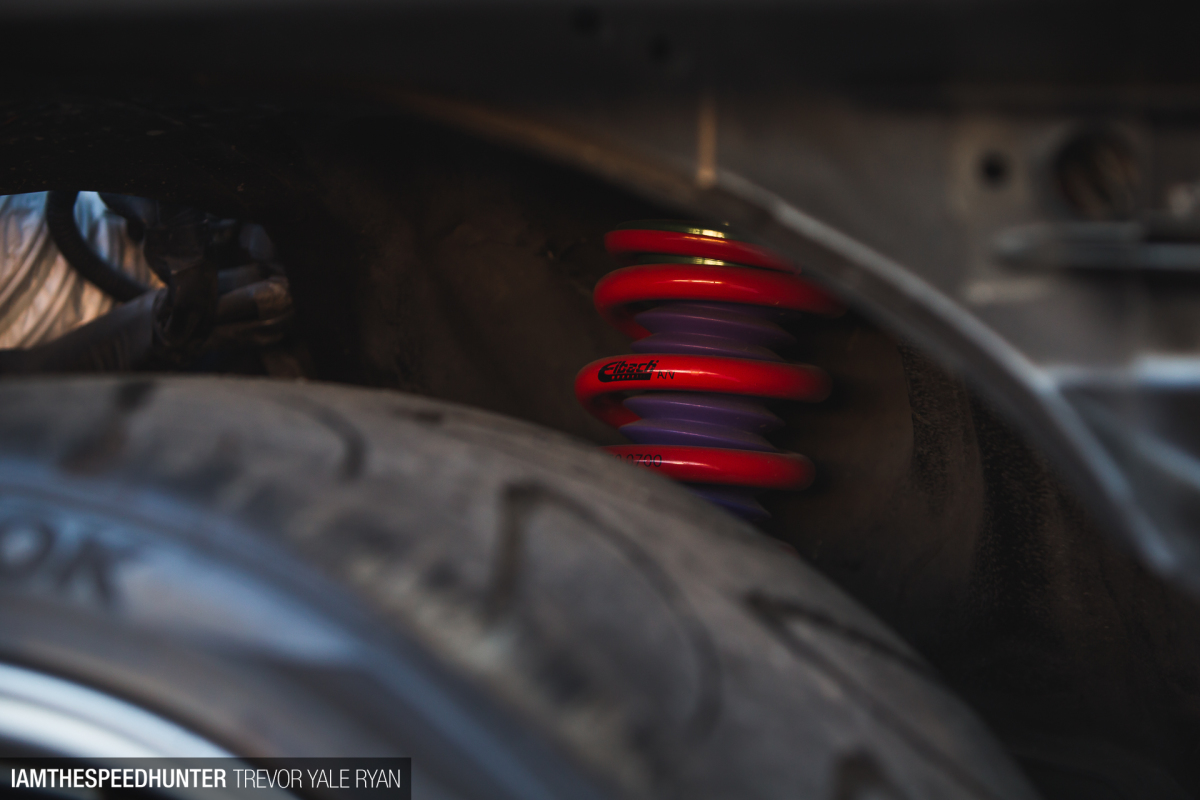 Underneath it all, RevolverR coilovers utilizing Eibach springs provide better handling with an adjustable ride height. Mazda FD3S Bathurst R suspension links and body bushings further stiffen things up, while Project Mu brake pads, rotors, and brake lines help bring everything to a quick stop.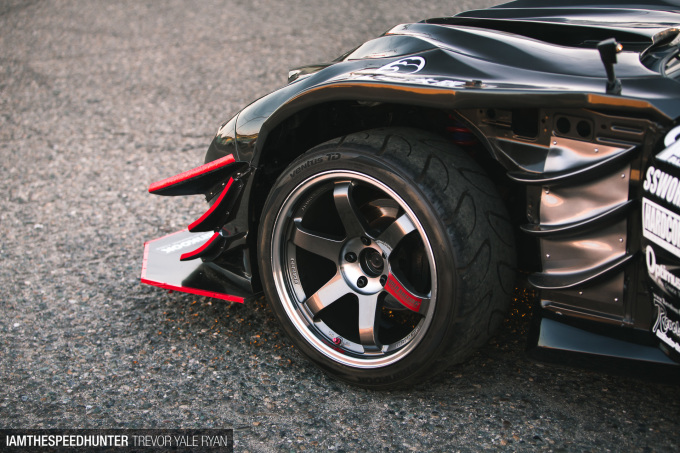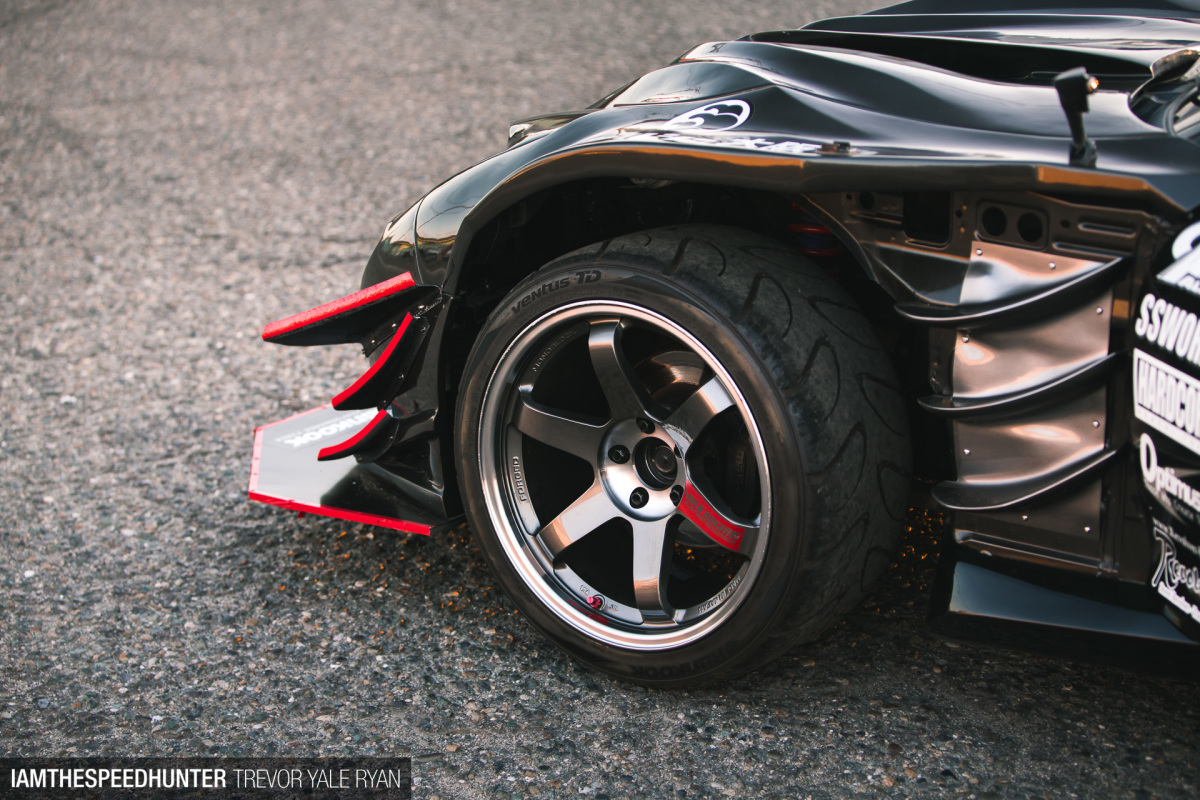 Of course, you can only stop as fast as the rubber on your wheels allows, and here a Hankook race compound only available in Japan has been chosen for the 295-width tires on all four corners. The wheels are 18×10-inch RAYS Volk Racing TE37SLs with a zero offset.
See You Soon SSautoPower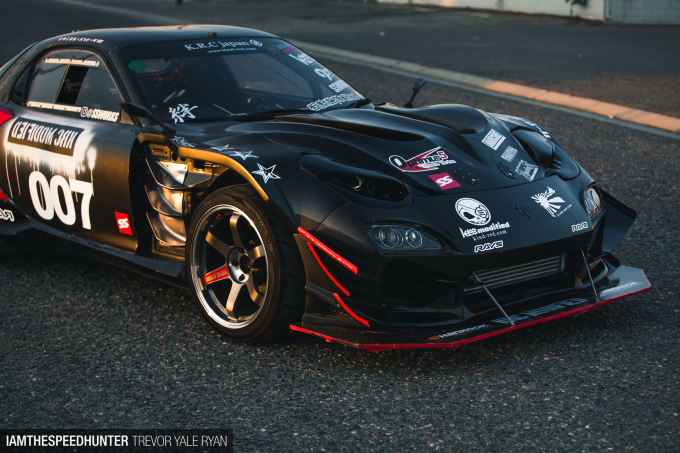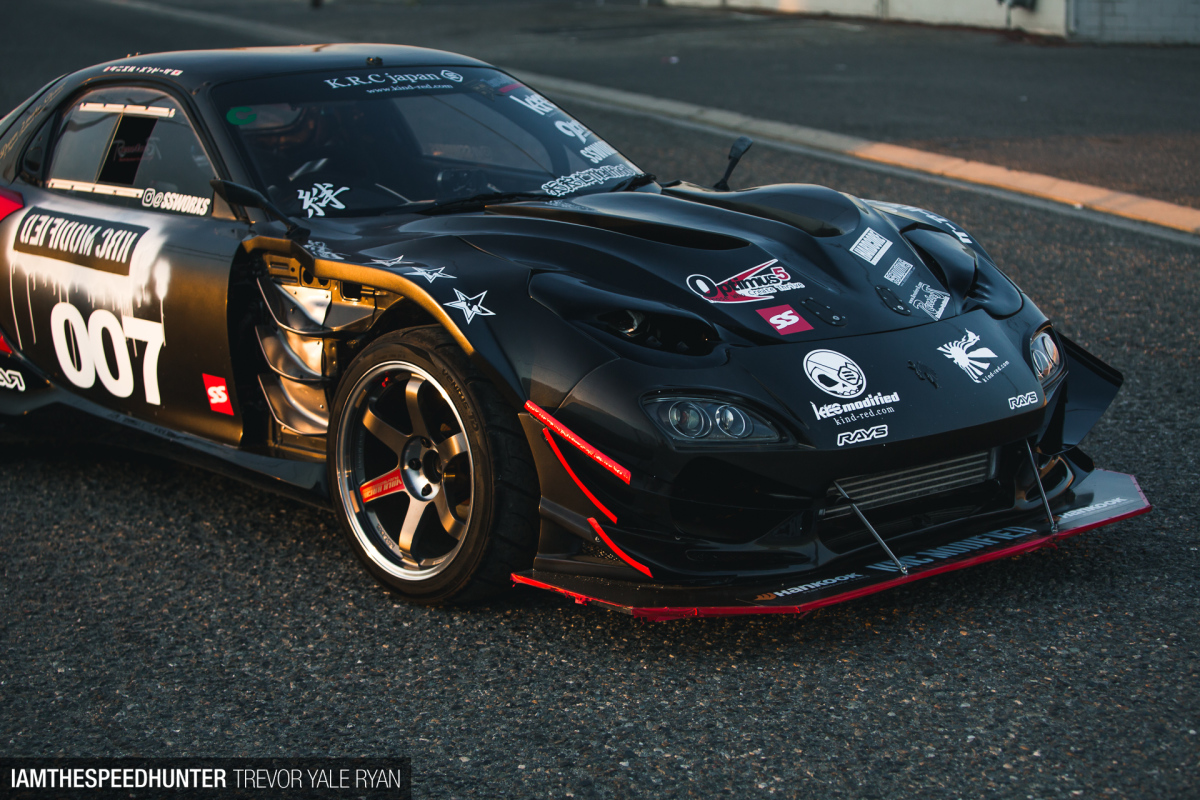 The end result is an absolutely wild FD3S and it is able to drive every bit as insanely as it looks. There's more power than you could ever really need, the crazy aero kit is designed to work, the functionality in the cockpit is phenomenal, and the braking force is paired nicely with the drivetrain. It's balanced; you can feel everything you need to from right behind the wheel.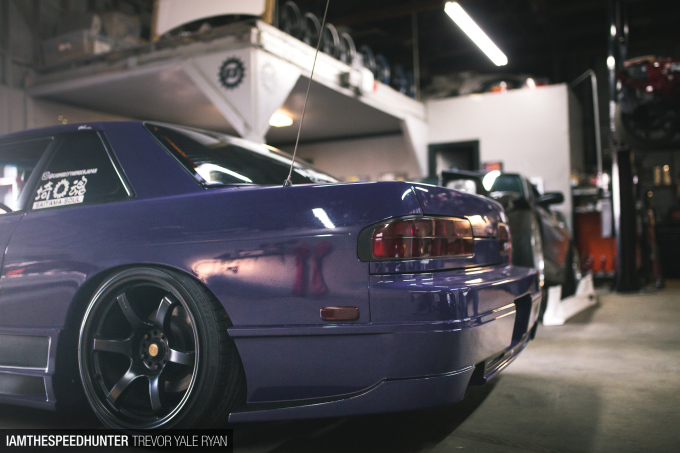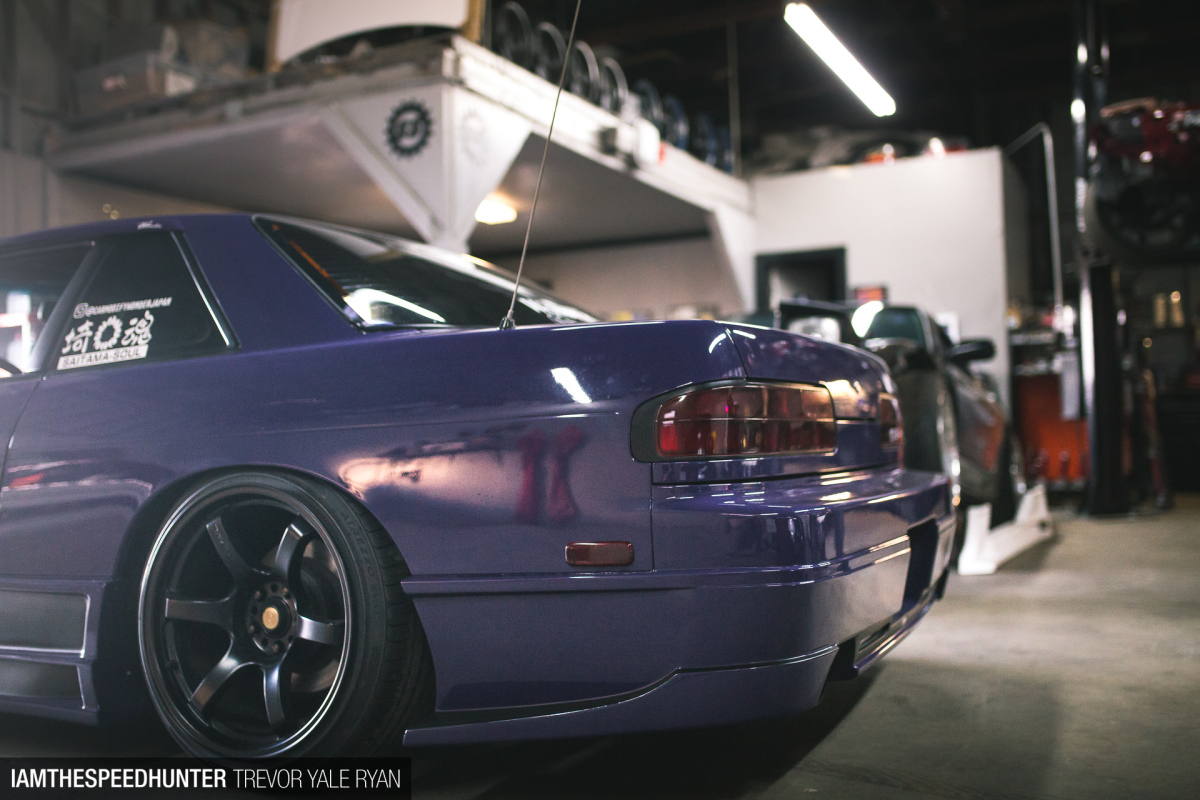 Other cars at SSautoPower, while somewhat more reserved, were also very well-executed. You might be familiar with this yellow RX-7 from Wekfest SJ (where it won Best Mazda in the show) and other local meets like Cars and Coffee Modesto and the Raceworz drag strip event in Sacramento.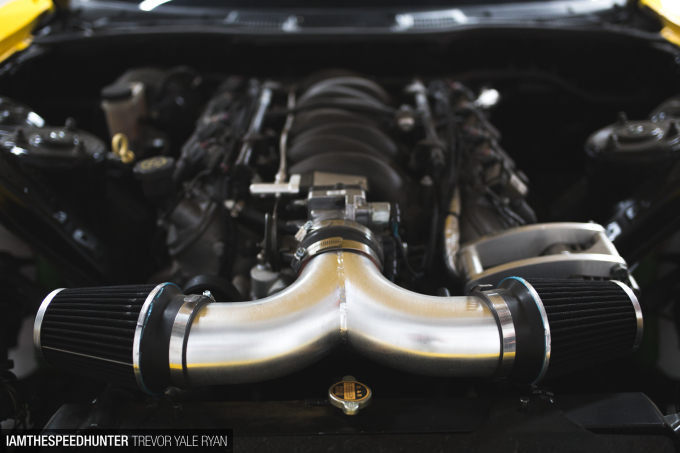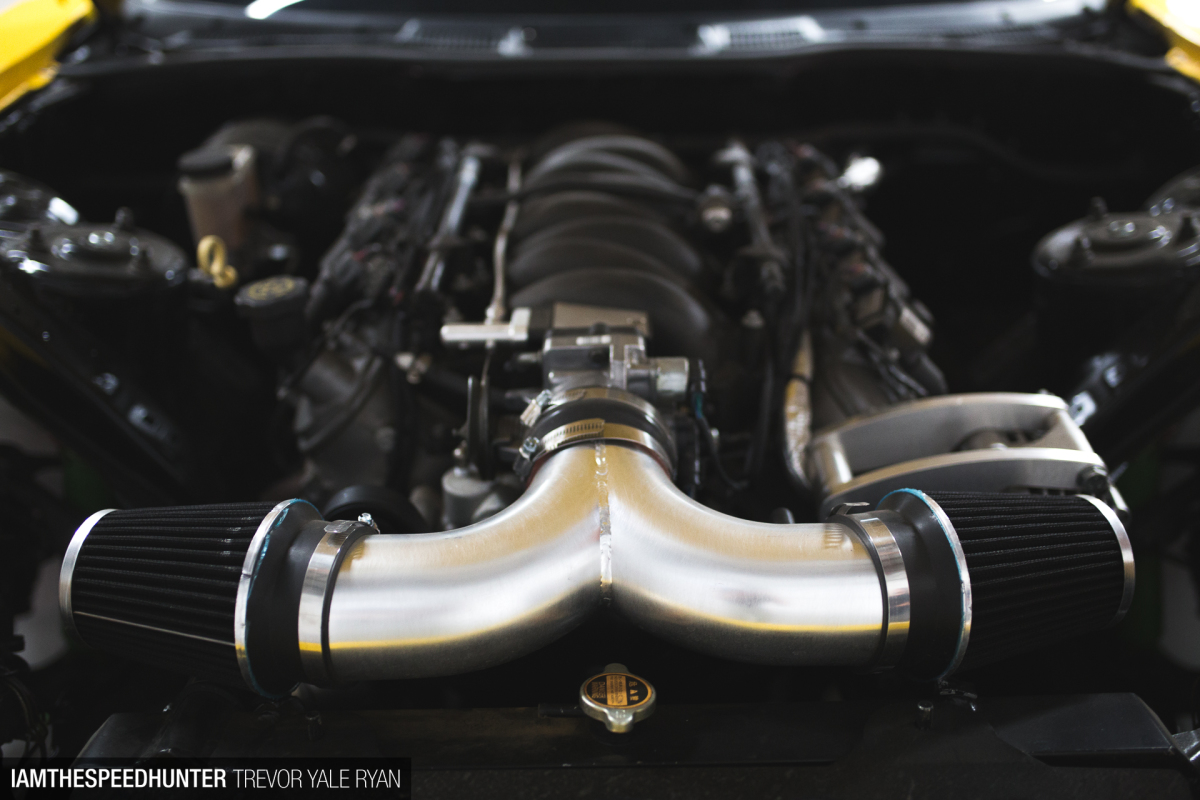 It features a Hummer H2 6.0-liter V8 swap, and borrows some of the same components as the black FD while maintaining the interior and a more factory-like appearance.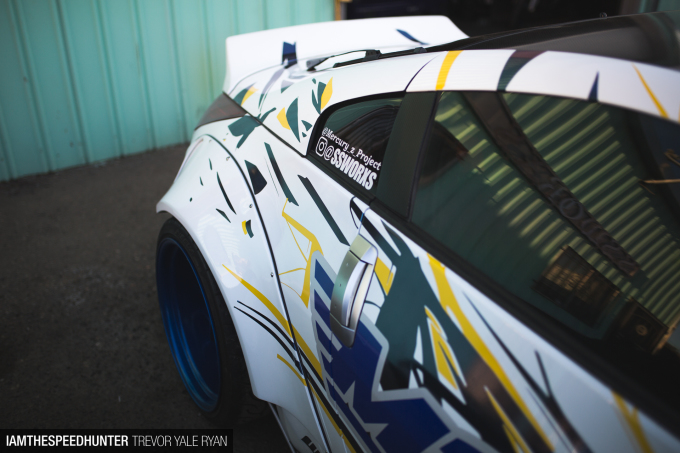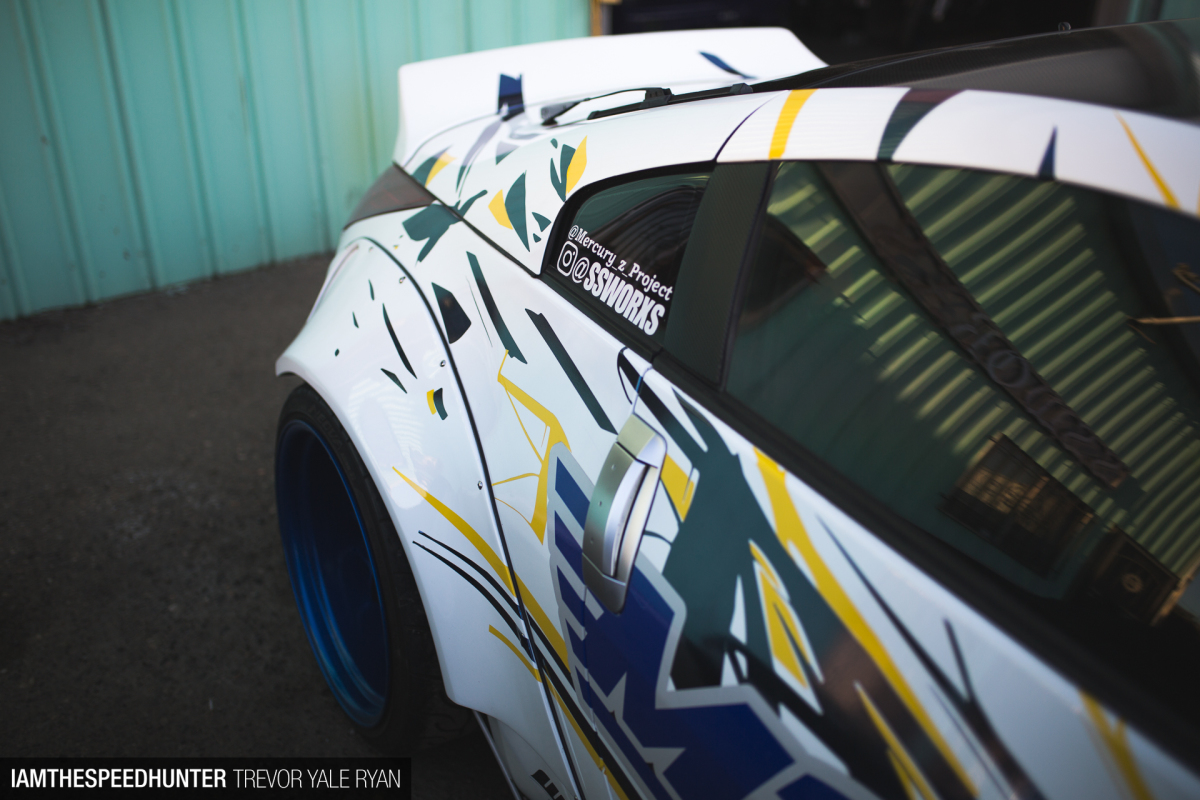 There's also a project going on here that I wasn't allowed to share photos of just yet. It's another reason to make the trip out to SSautoPower in Modesto again, something I hope to achieve before the SEMA Show at the end of next month when the car will be revealed.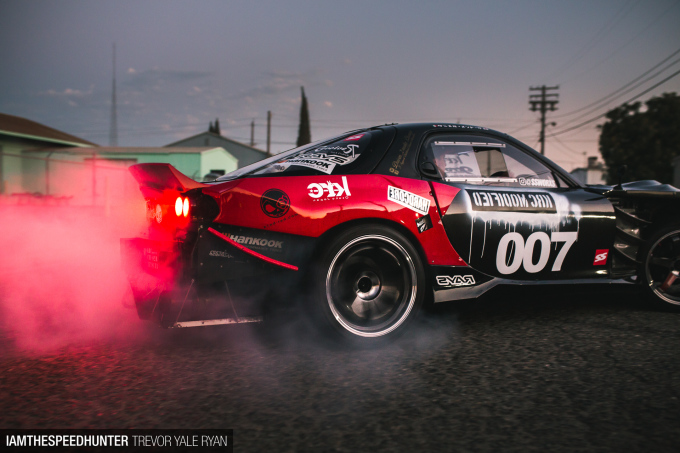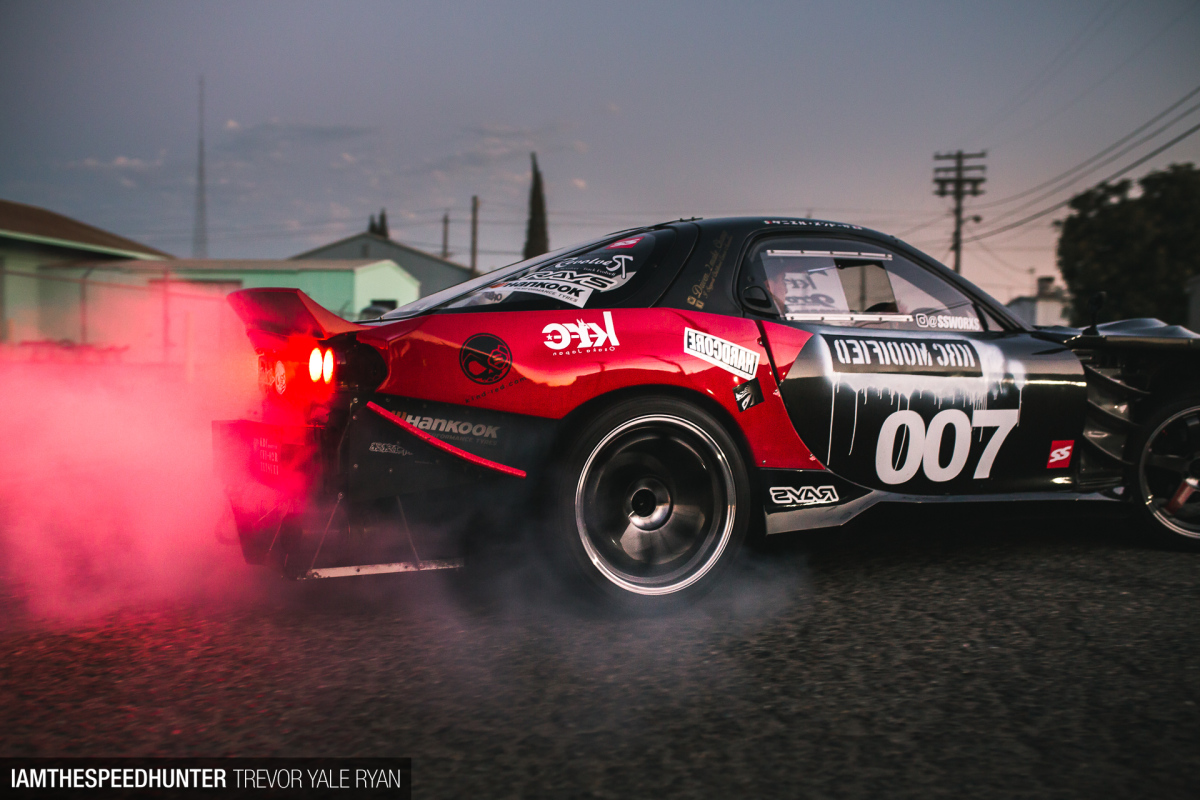 Back to the RX-7 at hand, this would be its last week in America. Daniel wanted to give the car a proper send-off, and in typical American fashion what better way than a burnout? The quality of the streets outdoors were proving to be similar to a cheese grater, so we found ourselves back at the workshop.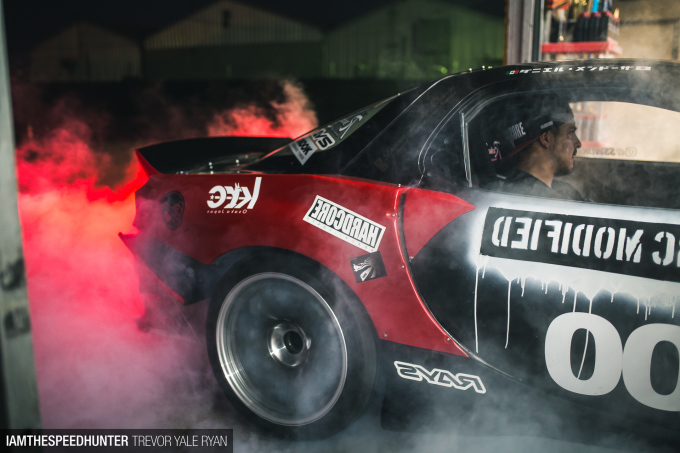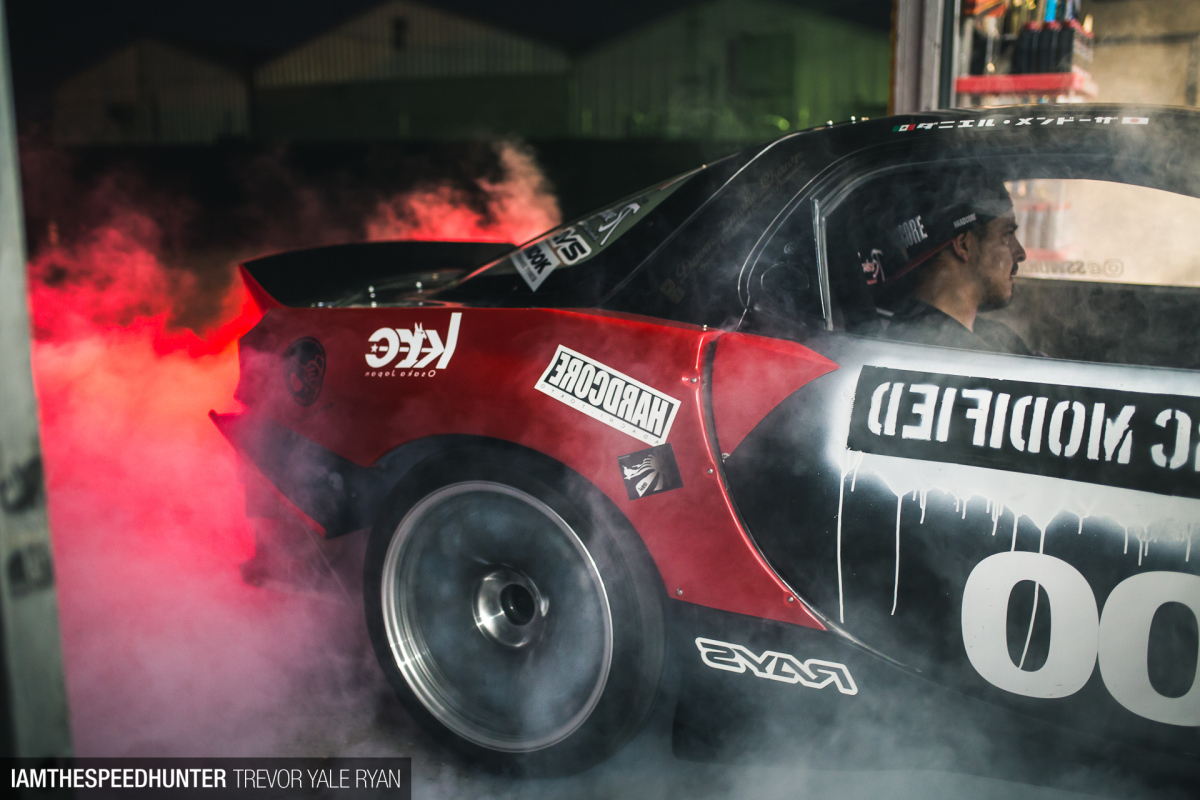 With over 700hp tearing up the rear tires the building quickly filled with smoke, bringing the shenanigans to an end. At this point Daniel flipped me the bird and proceeded to treat me to dinner for making the drive out. A few others who share the shop space came along, and we talked about their future plans as a team and the top secret build that's going down.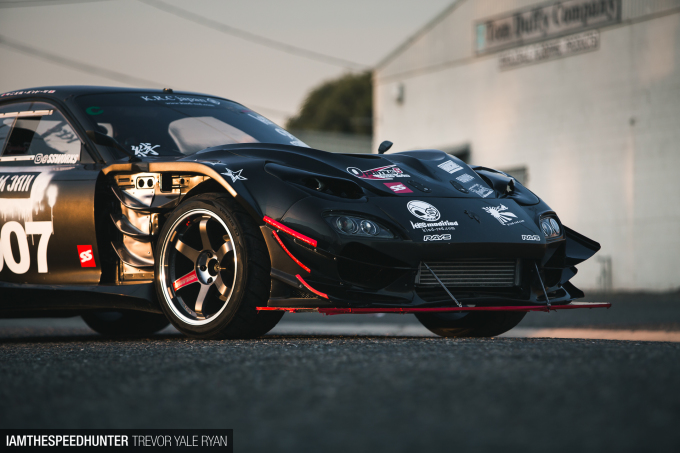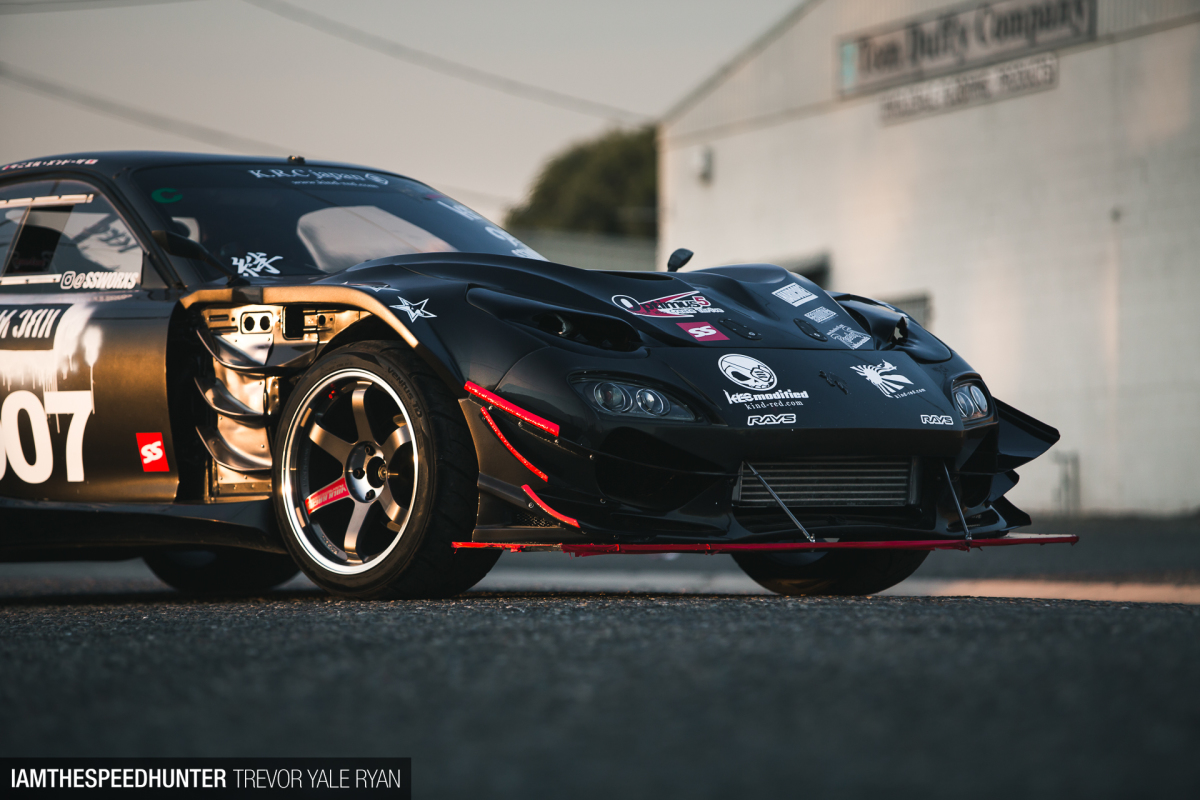 Back to real-time, the FD has successfully been returned to Japan where I'm certain it will find its way back to the Japanese circuits it was developed on and, rumor is, eventually to the Nürburgring. To top it off, this thing is still registered and driven on the road in its homeland. I hope to someday visit this awesome car overseas; we shall see.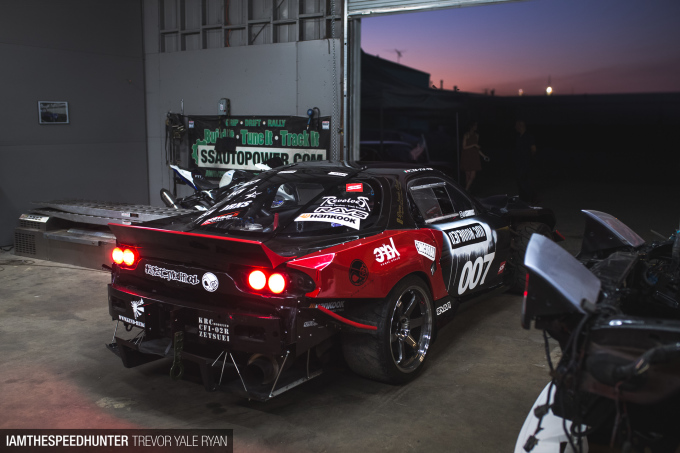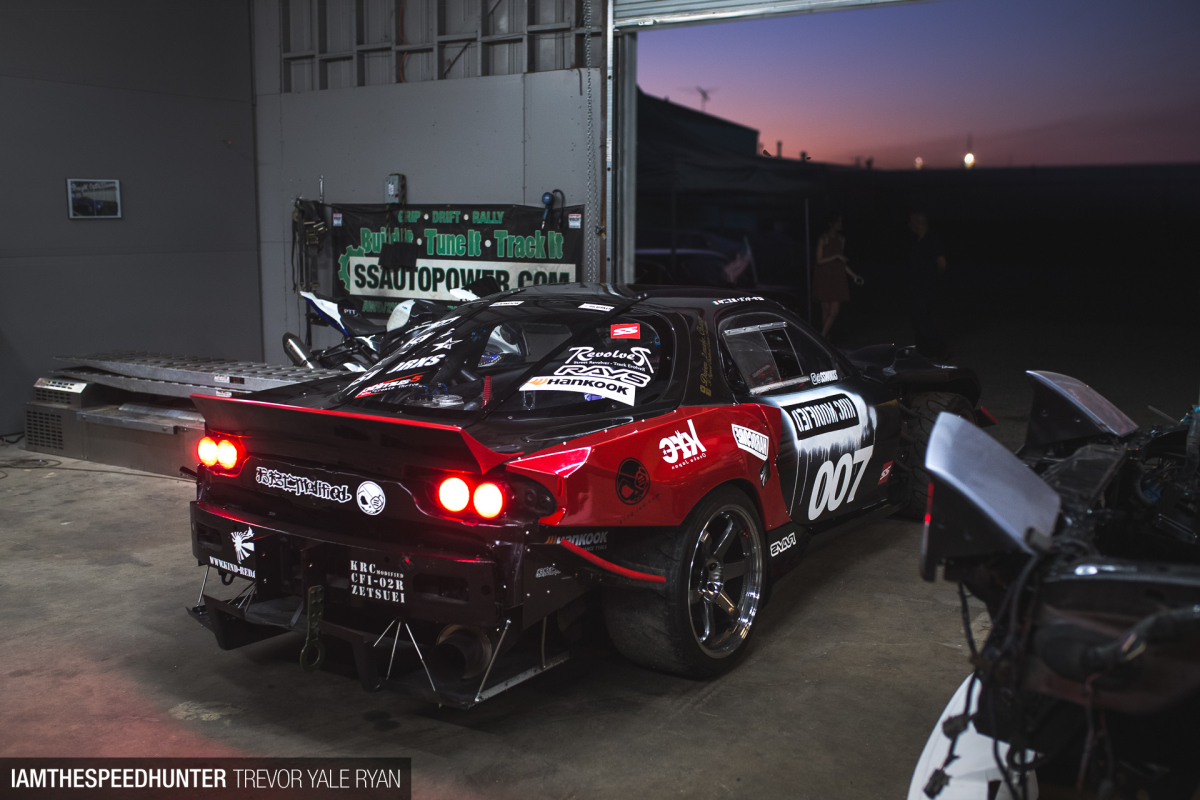 Every square inch of the KRC/SSworxs FD3S incites emotion. Whether you spot it static at a show or you're behind the wheel and trashing it on a racetrack, each encounter with the thing is an experience. To me, it's an exciting, over-the-top build that truly makes you feel something.
Let us know how you feel about it in the comments section below.
Trevor Yale Ryan
Instagram: tyrphoto
TYRphoto.com
Cutting Room Floor