The only thing better than checking out amazing garages like the BMW specialist I recently visited in the heart of Bangkok, is at the same time uncovering an interesting project in the final stages of its build.
Having a personal relationship similar to that of Mr. Miyagi and Daniel LaRusso, Supornsak Ake Martjamroonkul of Bangkok's Hedgehog Tuning & Motorsports had to convince Lek-A-Arm's 'Uncle' Lek that he was serious about building his dream racing machine. Making that task even harder was the fact that the car in question didn't have a BMW badge on the front, but rather Mercedes-Benz's three-pointed star.
Ake's desire to build his ultimate W201 Mercedes-Benz began back in 2005 when he owned a 2.3-16 (the 190E model Cosworth first lent its engine expertise to). A few years after he picked it up, sponsors stepped in to turn the 190E into dedicated track car, and Ake raced it for a season in Thailand before it was temporarily retired for development work.
That little taste of racing was enough to get Ake hooked on the idea of building up a 190E for racing the way he wanted to, and after convincing Uncle Lek that it was a good idea a new project began.
Ake's first challenge was to get his hands on a suitable base, and he found exactly what he was looking for in a Japanese-spec 190E that had previously had its factory-fitted 2.0-liter engine replaced with a 2.3-liter twin cam 16-valve unit from a 2.3-16. In Ake's eyes, it was perfect.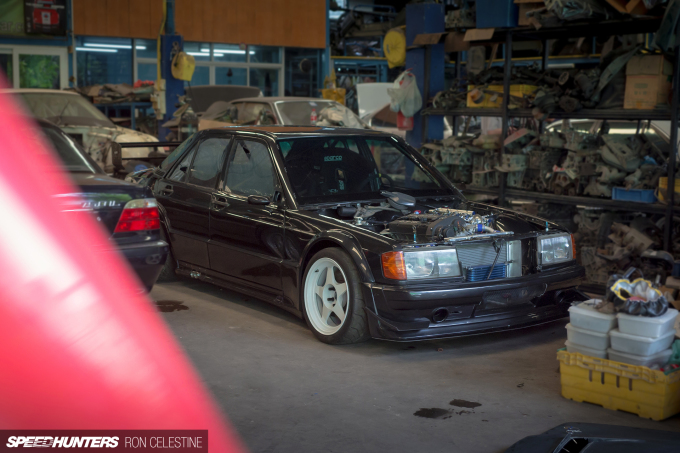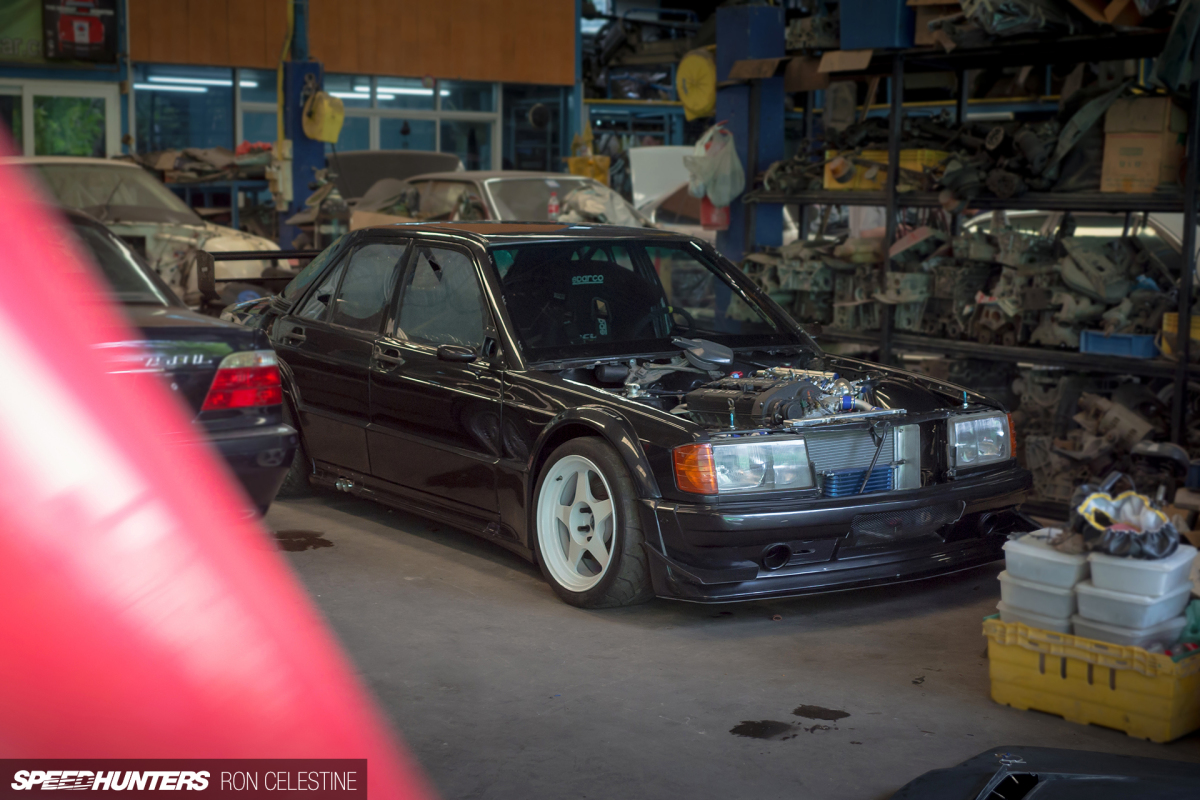 Two years on, the car's DTM inspiration is clear. As a base, a 2.5-16 Evo I bodykit found its way onto the car, Ake opting for a more subdued – and in his mind, better suited to the style – start point than what a Evolution II kit would have offered.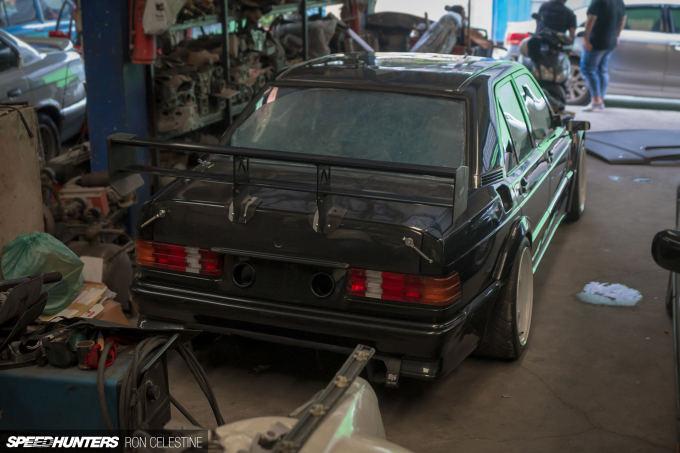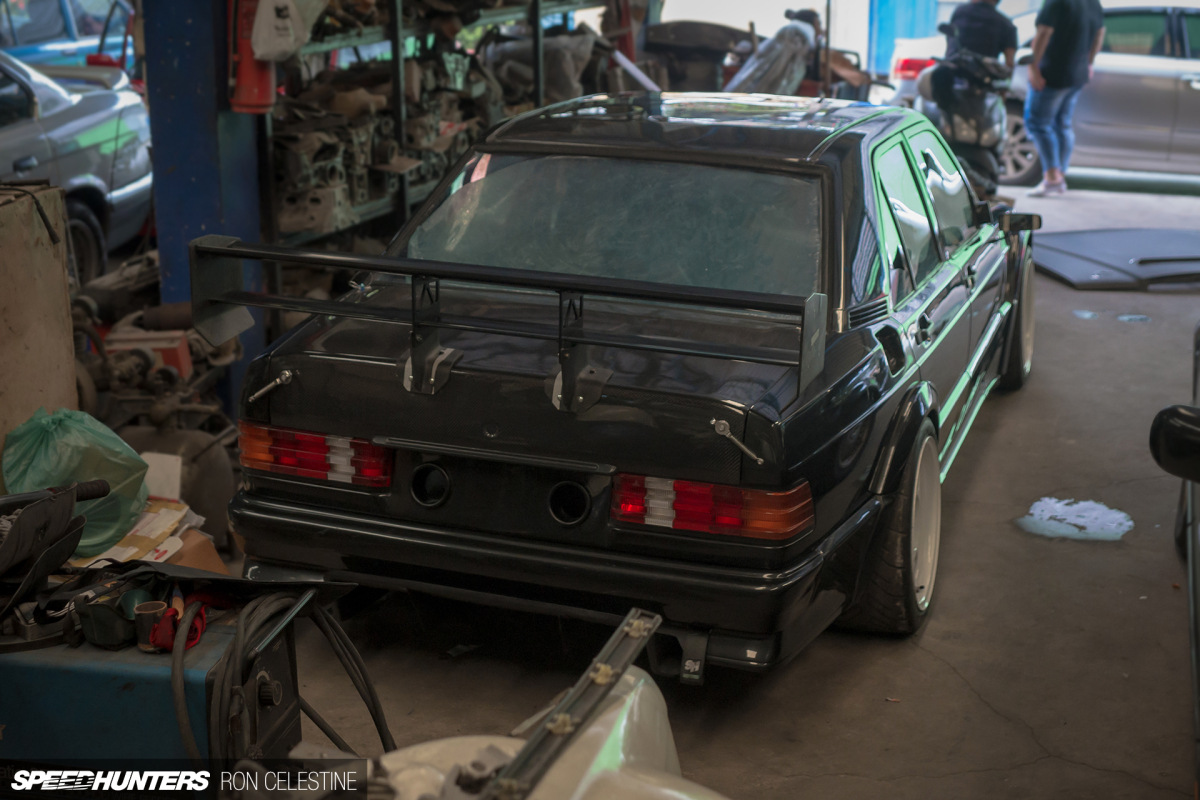 I say inspiration due to the fact that Ake didn't want to limit his creativity by building a DTM replica. He wanted to take a step into the future, hence the car receiving front canards, a full undertray, rear diffuser, and a massive carbon fiber double-deck rear spoiler.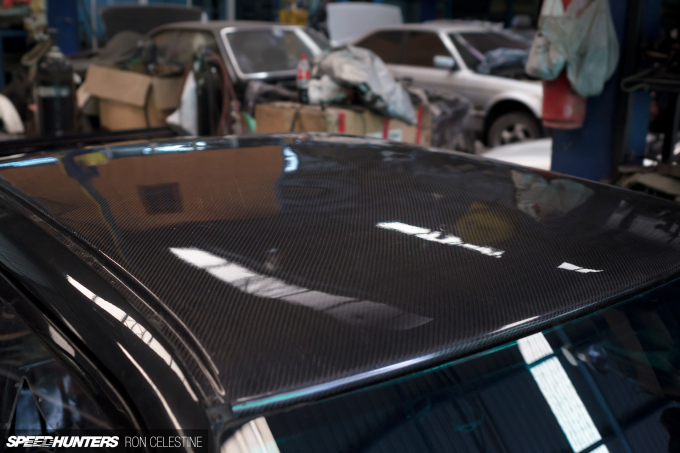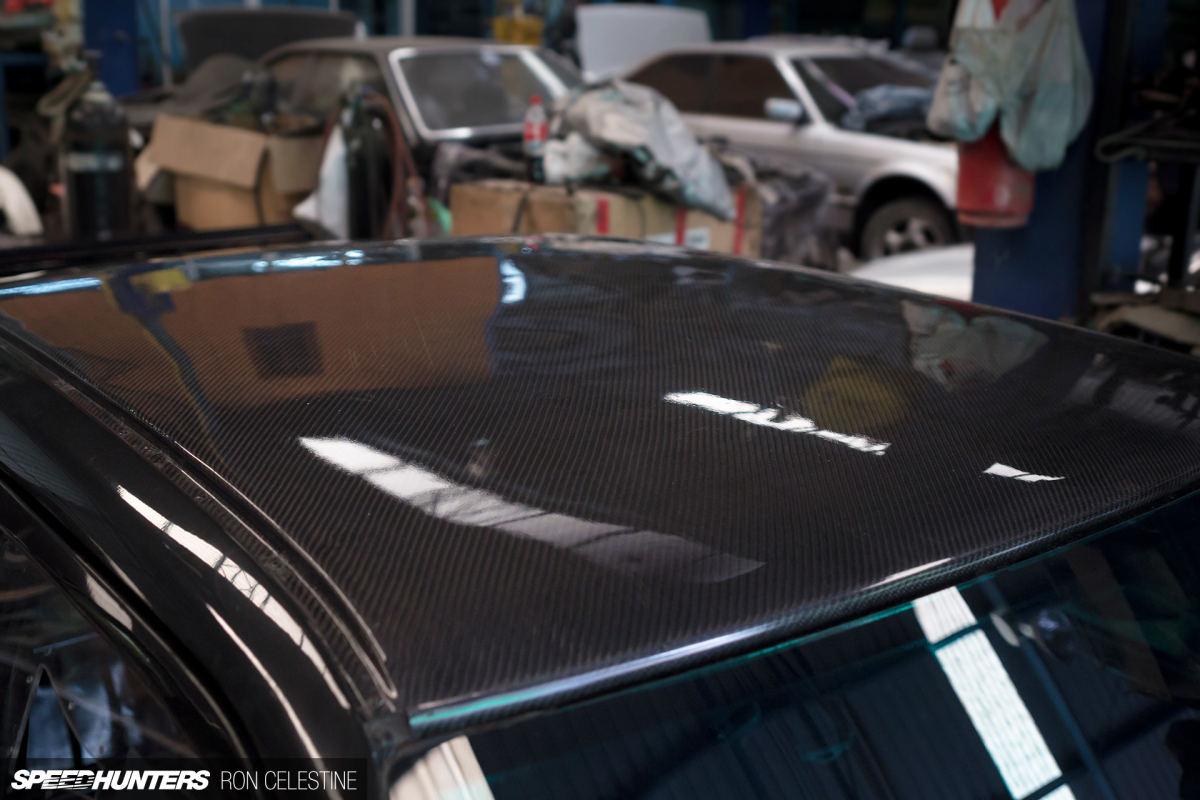 Ensuring the car was light was one of the key build requirements, and to that end the 190E was placed on a serious diet regimen. Everything on the body that could be unbolted was replaced with fiberglass, the only exceptions being the  hood and trunk which are carbon fiber pieces. The roof was also replaced with carbon fiber, which aside from its weight-saving properties has lowered the car's overall center of gravity for improved handling.
The two holes in the rear panel are an experiment to try and disrupt drag and help evacuate vaporized fuel from the fuel cell.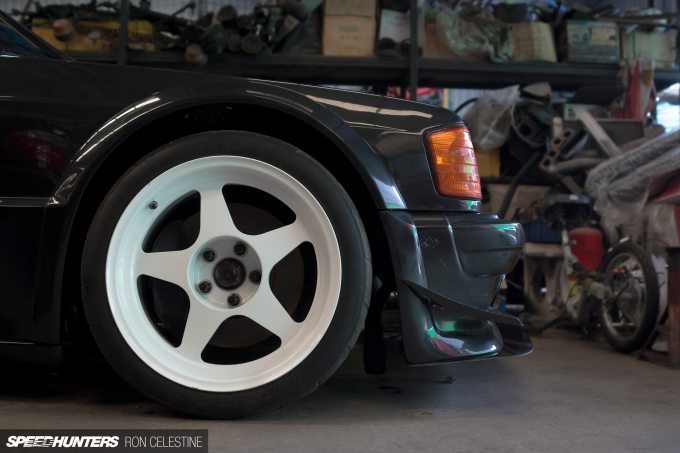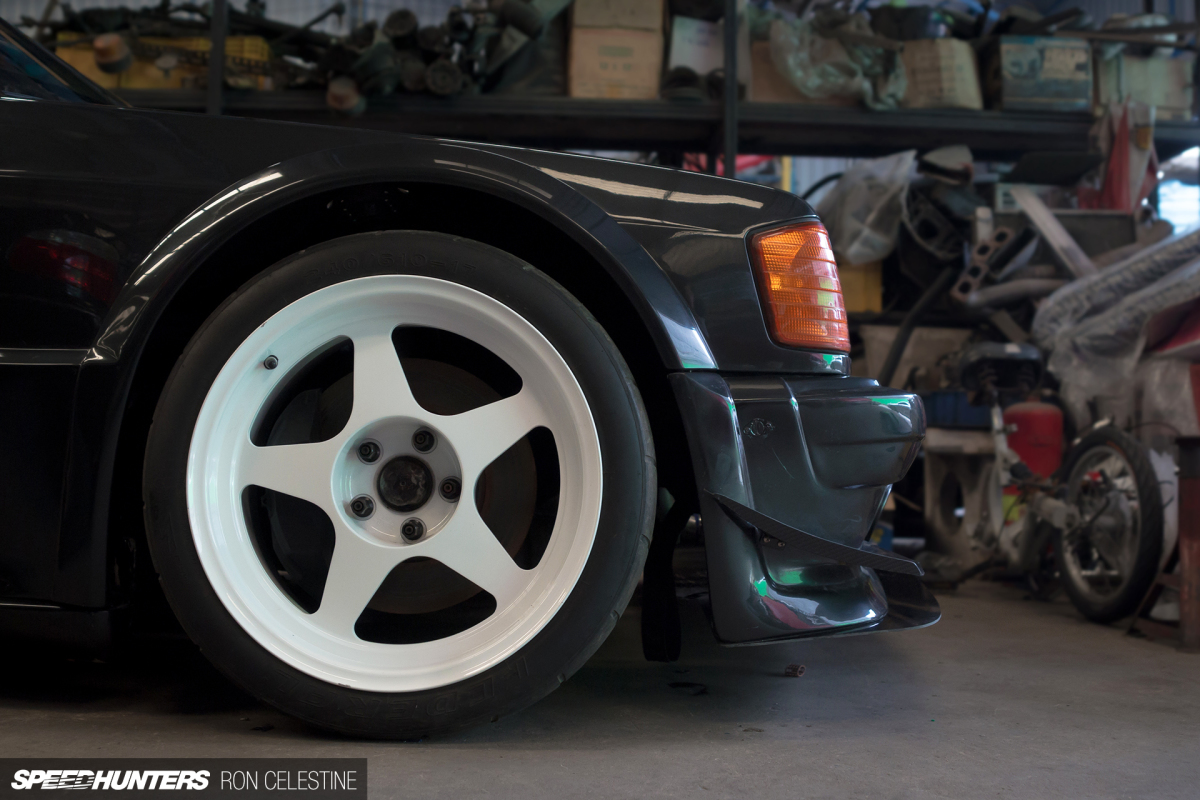 Desmond Regamaster Evo 17-inch wheels were an unexpected addition to the 190E, and some modifications had to made to allow them to fit, but they look great under the fenders. The 4-pot brake calipers up front come from a Lexus LS430, while the 2-pots in the rear are Mercedes-Benz W140 factory fare.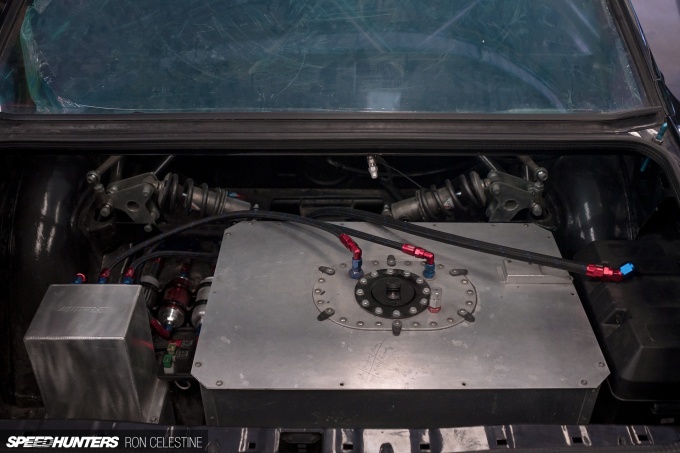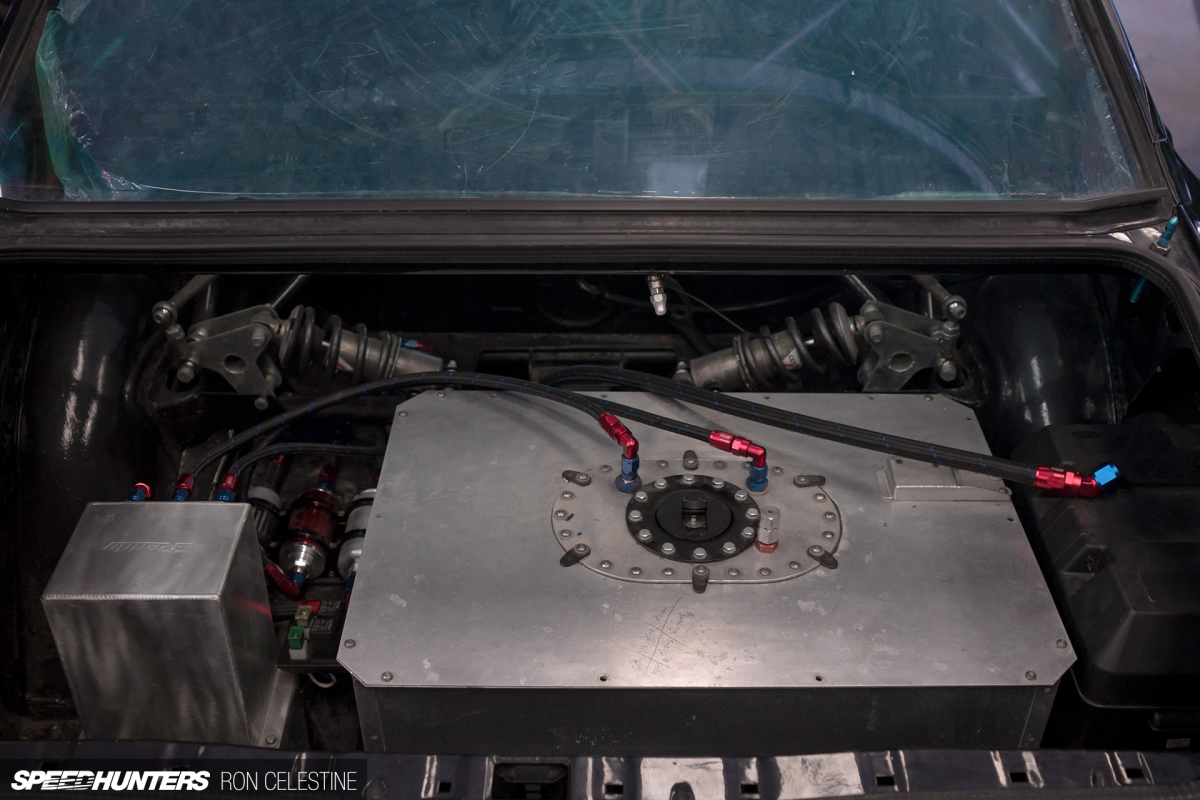 The suspension geometry is where things really get interesting. The front control arms have been custom fabricated to match the adjustability that DTM cars had, however the Koni motorsport shock absorbers mount to Cusco camber plates initially designed for the Nissan S13. In the rear, the multi-link suspension has been done away with and replaced by a double wishbone and pushrod setup.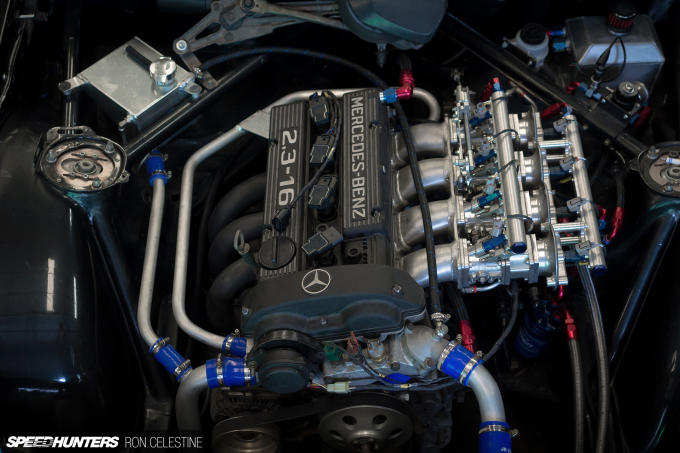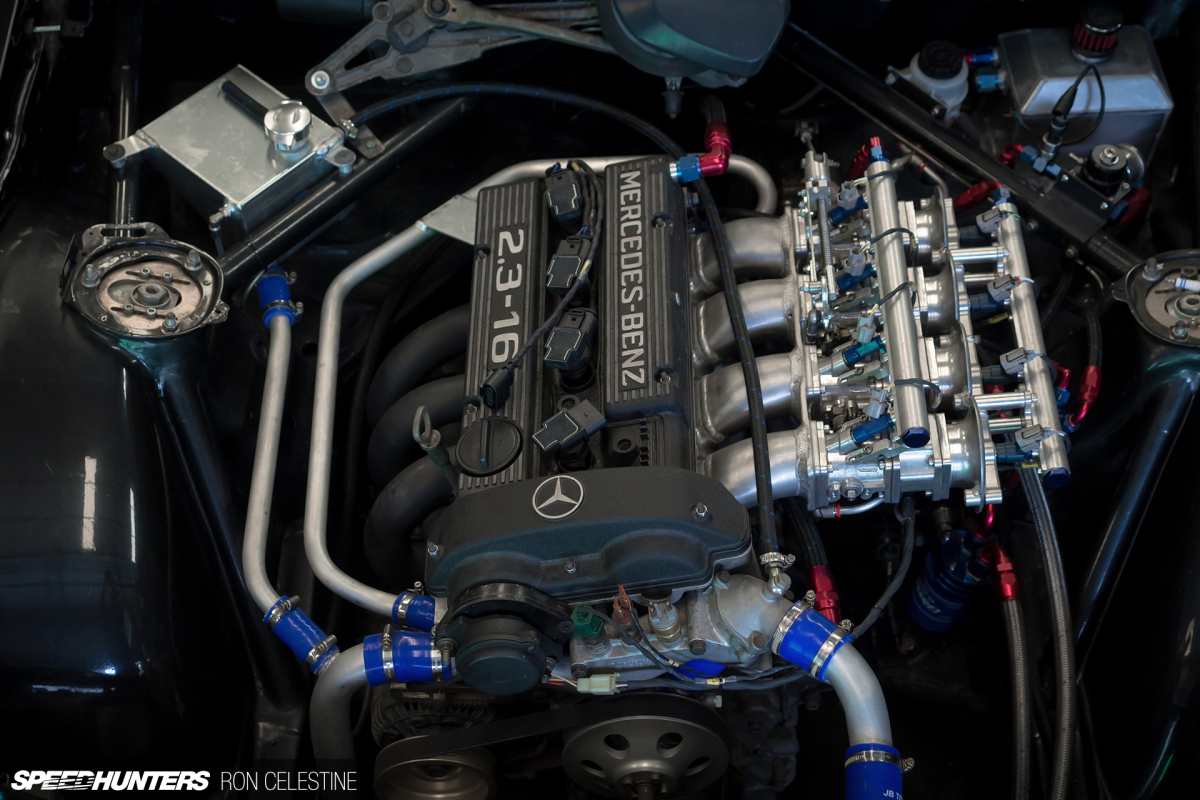 As I mentioned earlier, the previous owner had already swapped in the engine from a 2.3-16 190E, but these days it's far from original spec. Ake set out to extract as much potential from the engine as possible while still keeping it naturally aspirated and reliable.
It's been stroked from 2.3-liters to 2.6-liters, and the Cosworth-developed cylinder head has been ported and polished and refitted with aggressive camshafts and double valve springs based on those used in the latter 2.5-16 motor.
To make the most of it, the engine was placed in the bay as far back as the firewall would allow, which also meant that the steering box and pedal linkage required position adjustment.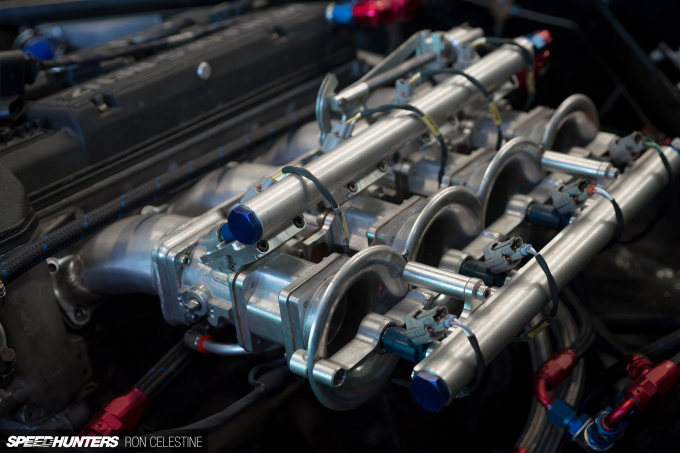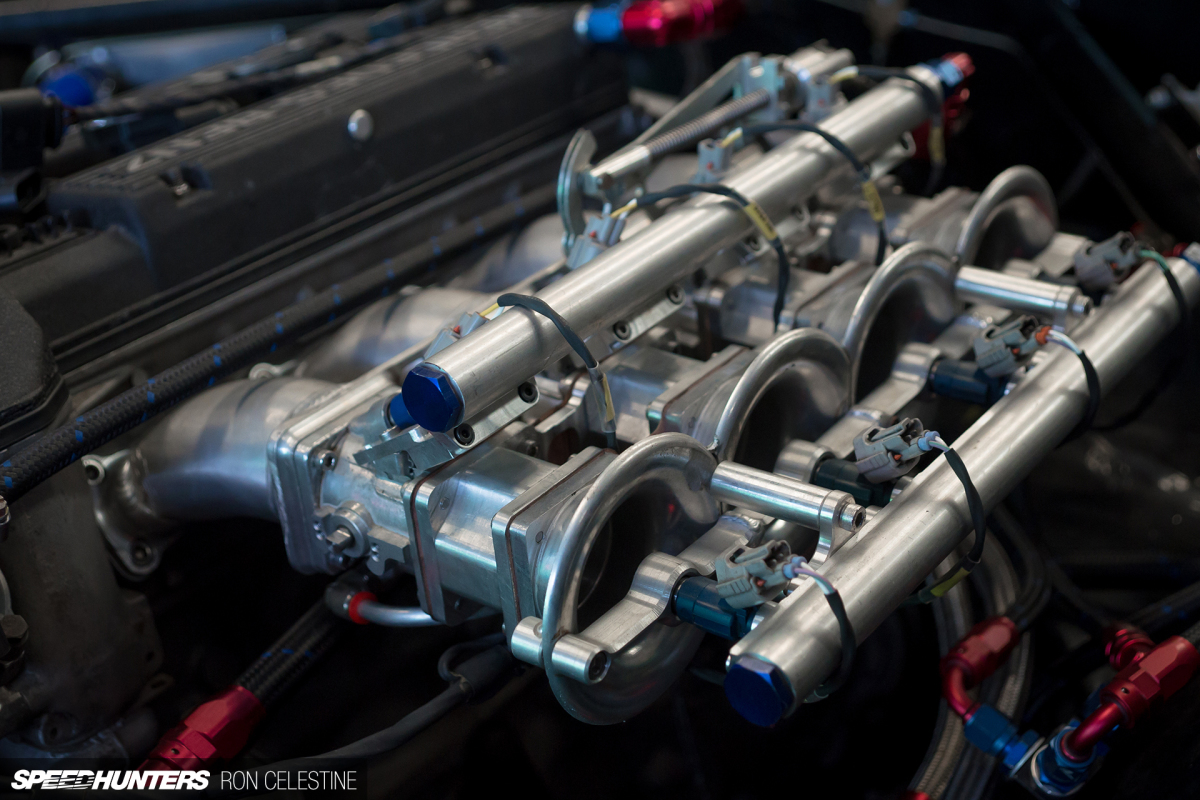 The custom ITB system was designed to operate with eight injectors of R34 GT-T RB25DET and R35 VR38DETT origin, but instead of dealing with the complications of a cable throttle linkage system, Ake decided to have it all directly connected to the go pedal.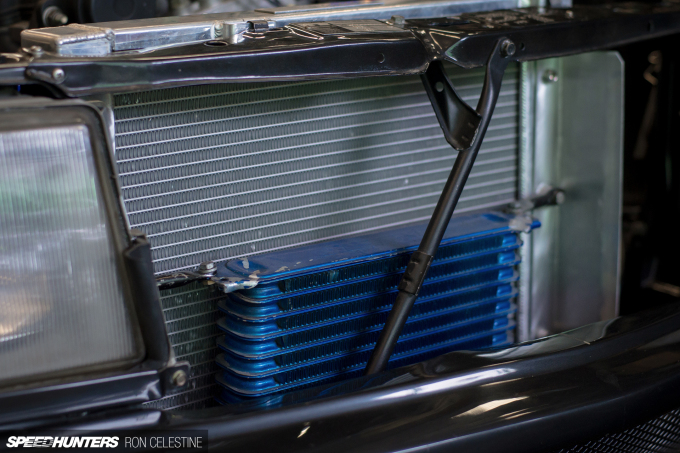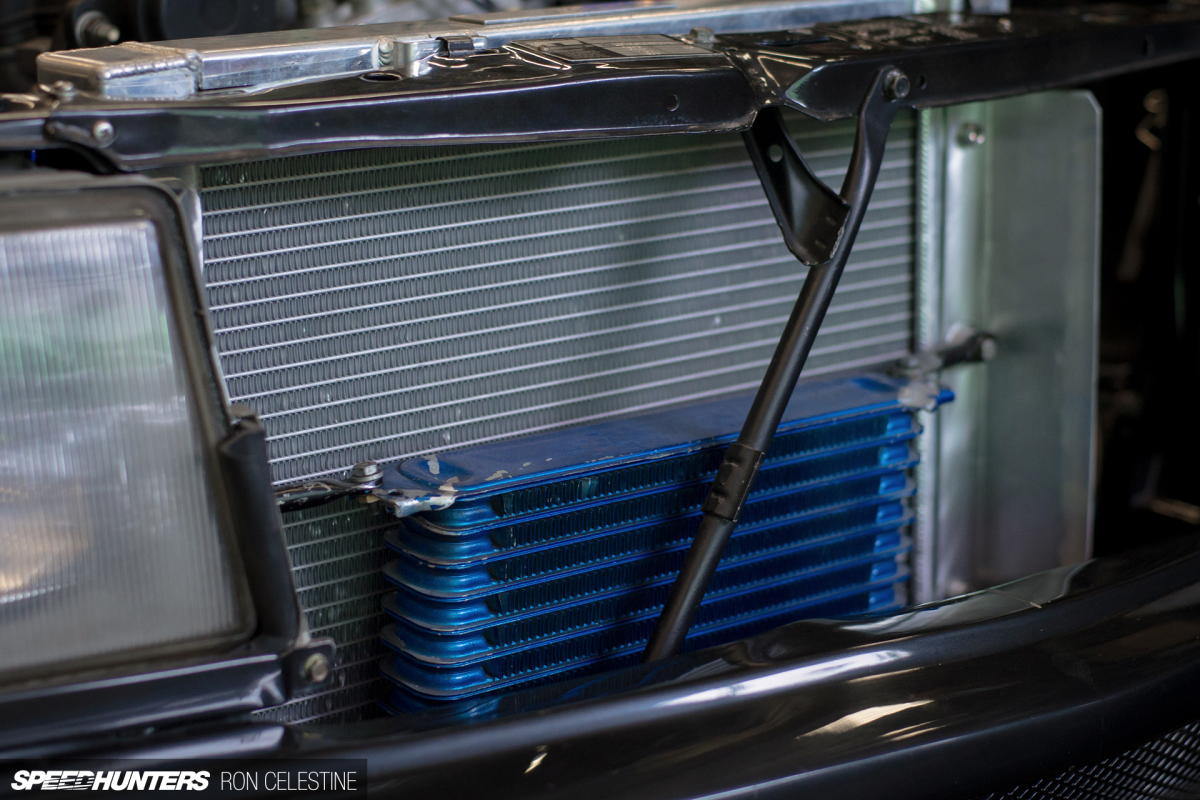 To keep the engine cool there's an aluminum radiator and oil cooler added into the mix.
Finally, power is transferred via a Nissan S15 Silvia 6-speed manual transmission to a custom driveshaft and out through an E36 BMW M3 differential fitted with an OS Giken Super-Lock LSD.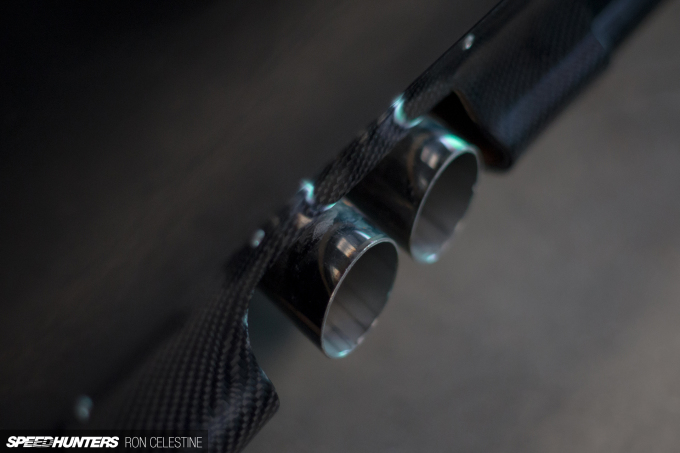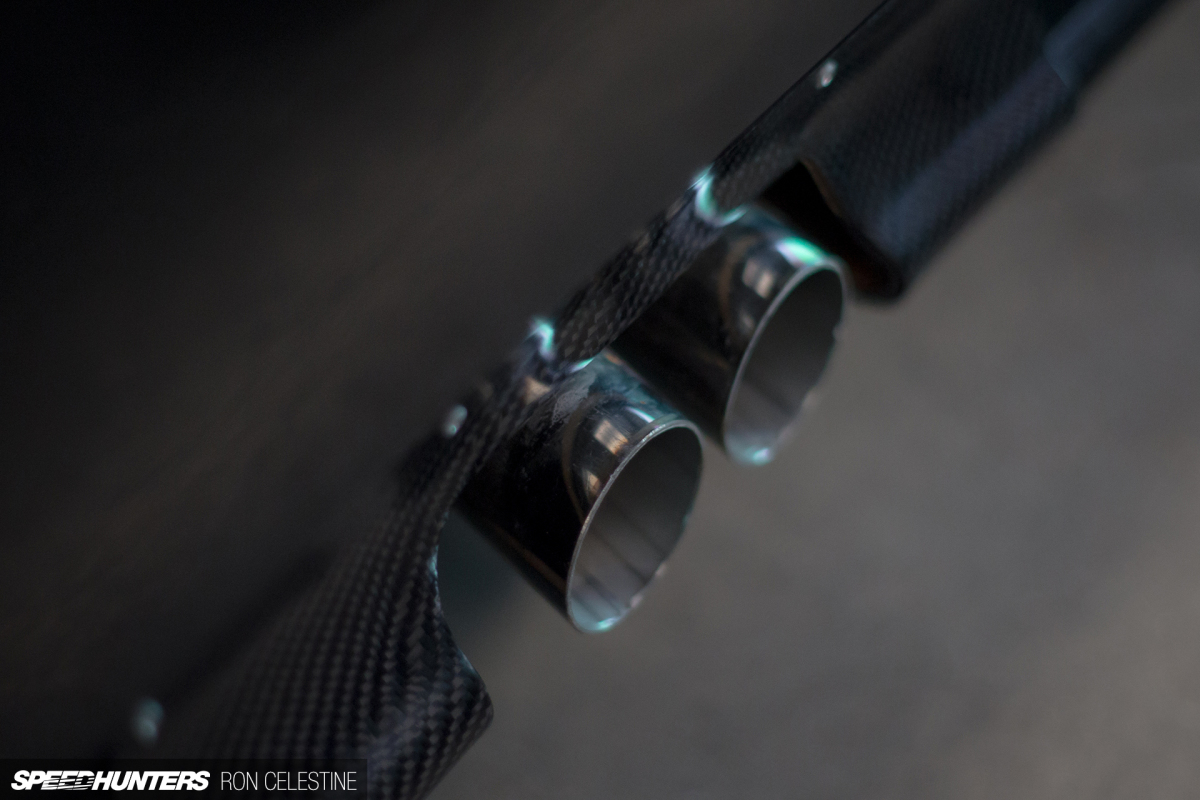 Because of the new subframe setup in the rear the exhaust system can no longer run its factory route, but that was easily solved by exiting the pipes out the side of the car.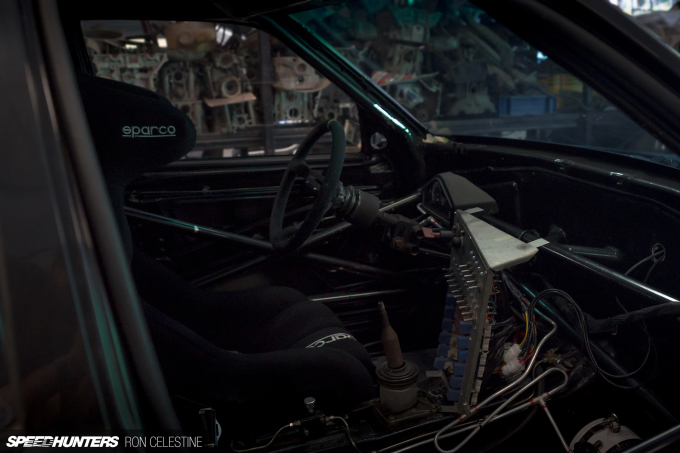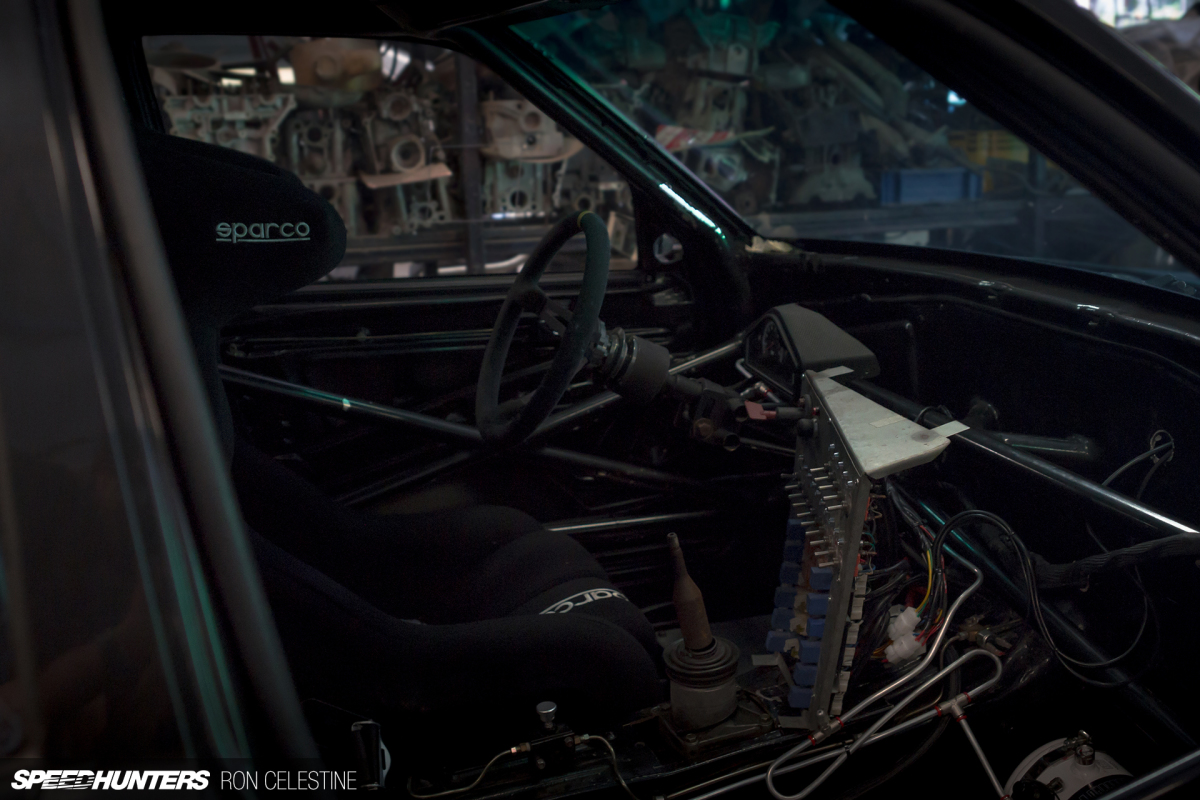 Inside, the 190E has been stripped down to the essentials. The Sparco Pro ADV seat is hard-mounted to Ake's preferred driving location and the entire dashboard has given way to a simple Stack display. A custom console panel houses toggle switches and electrical relays.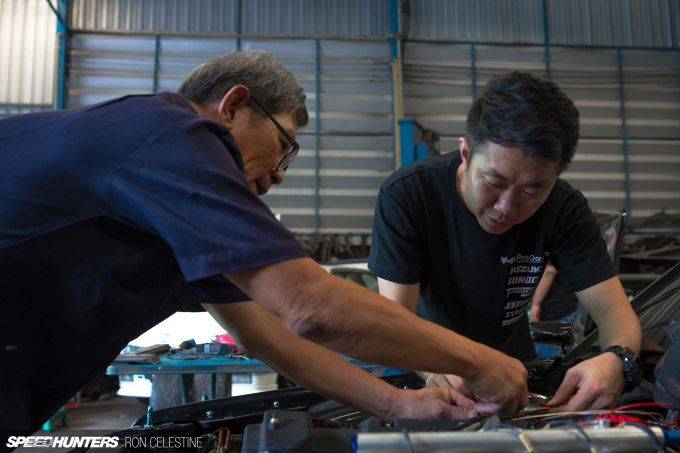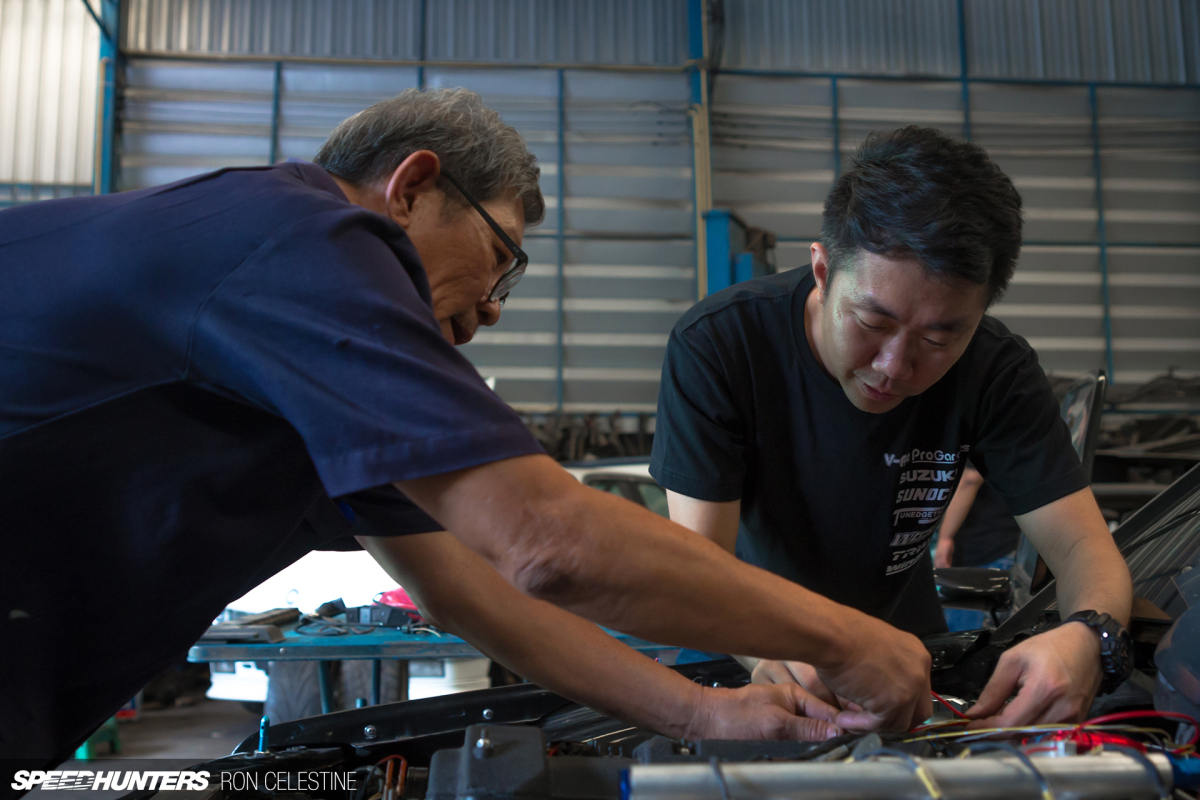 While I was at Lek-A-Arm, Ake had hoped the engine would be fired up for the very first time, but a few minor issues put an end to that. First it was a coil problem, but then a look over the wiring revealed the distributor was also faulty.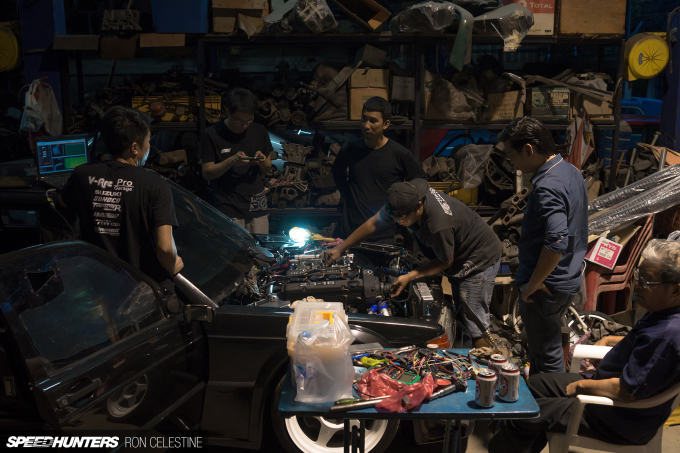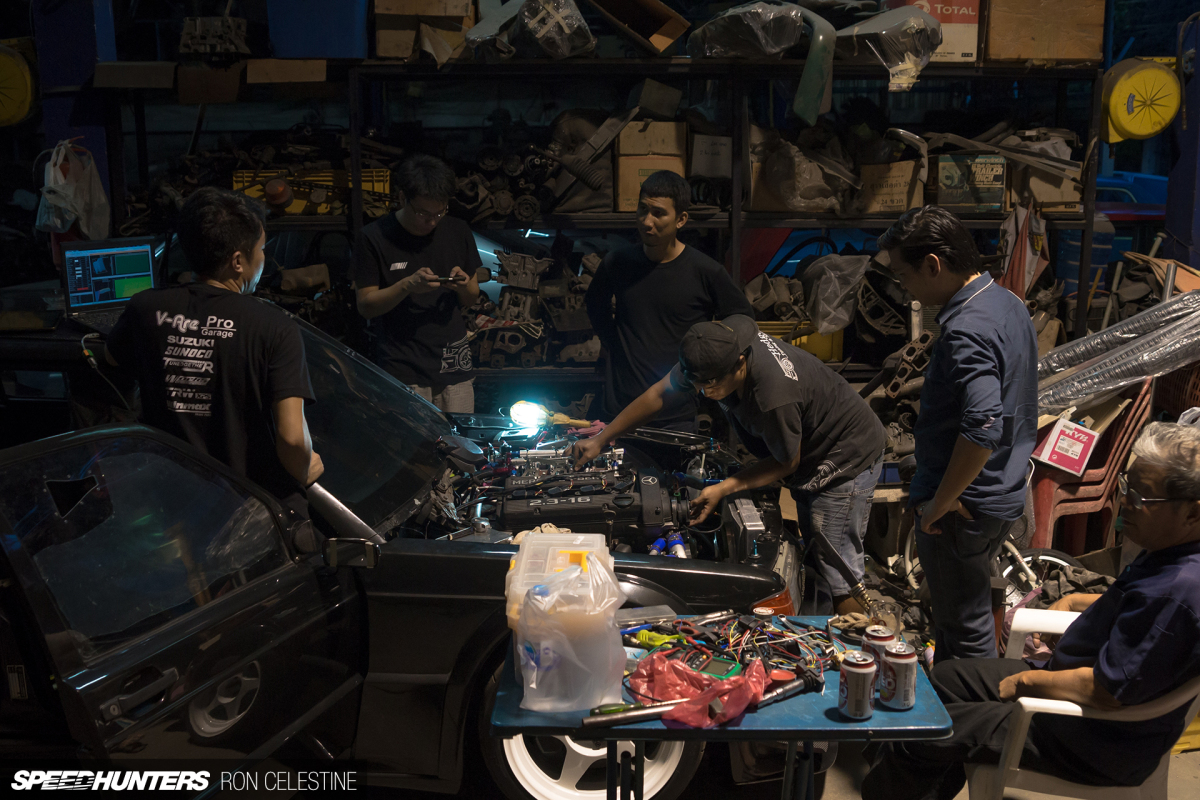 After returning to Japan though, Ake has informed me that the engine is all up and running and sounding much stronger than it originally was. Subsequent dyno tuning has revealed 168hp at the rear wheels from a previous pull while in stock condition. The ITB's are now in the redesign phase to hopefully be able to extract all the available horsepower from the Costhworth.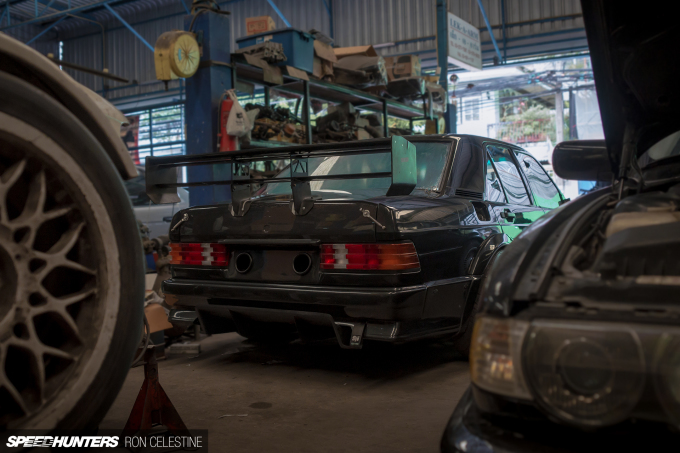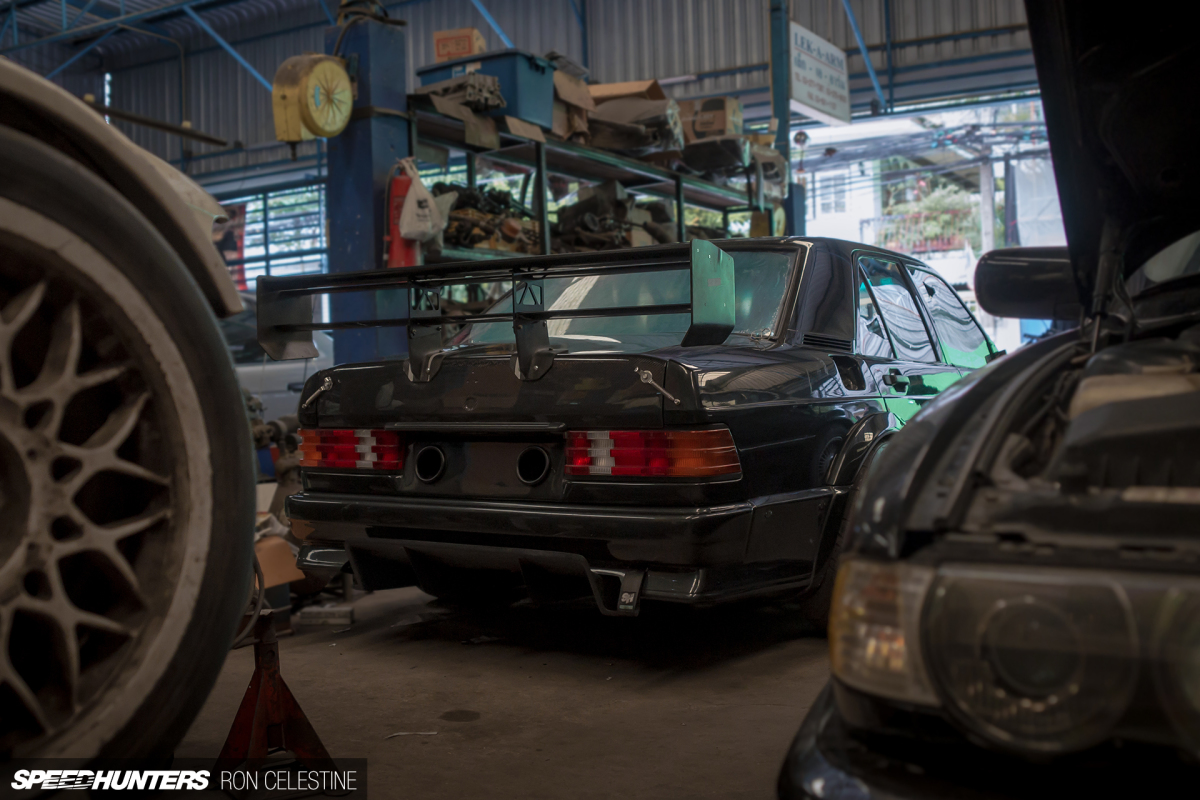 It's taken two years for Ake to realize his W201 190E dream under the expertize of Uncle Lek, and he's undoubtedly pleased with the outcome.
I'll definitely have to make another trip back to Bangkok to get a firsthand taste of what it's like around the circuit!
Ron Celestine
Instagram: celestinephotography