It's All About Real Performance
It's time to step beyond the world of bolt-ons and catalogue-sourced upgrades and kits. Today, I want to share with you the very essence of modifying and building engines.
A tuned motor is nothing more than the sum of all its parts, and it's the quality of said parts and how they are refined, prepared and assembled that will determine, not only the engine's real-world performance, but more importantly the way it will feel.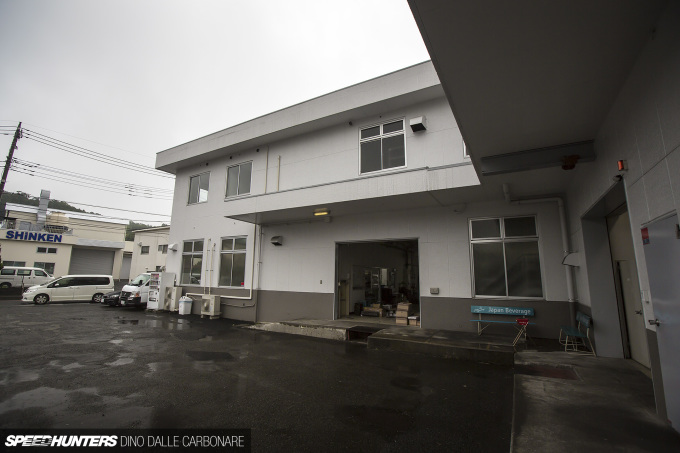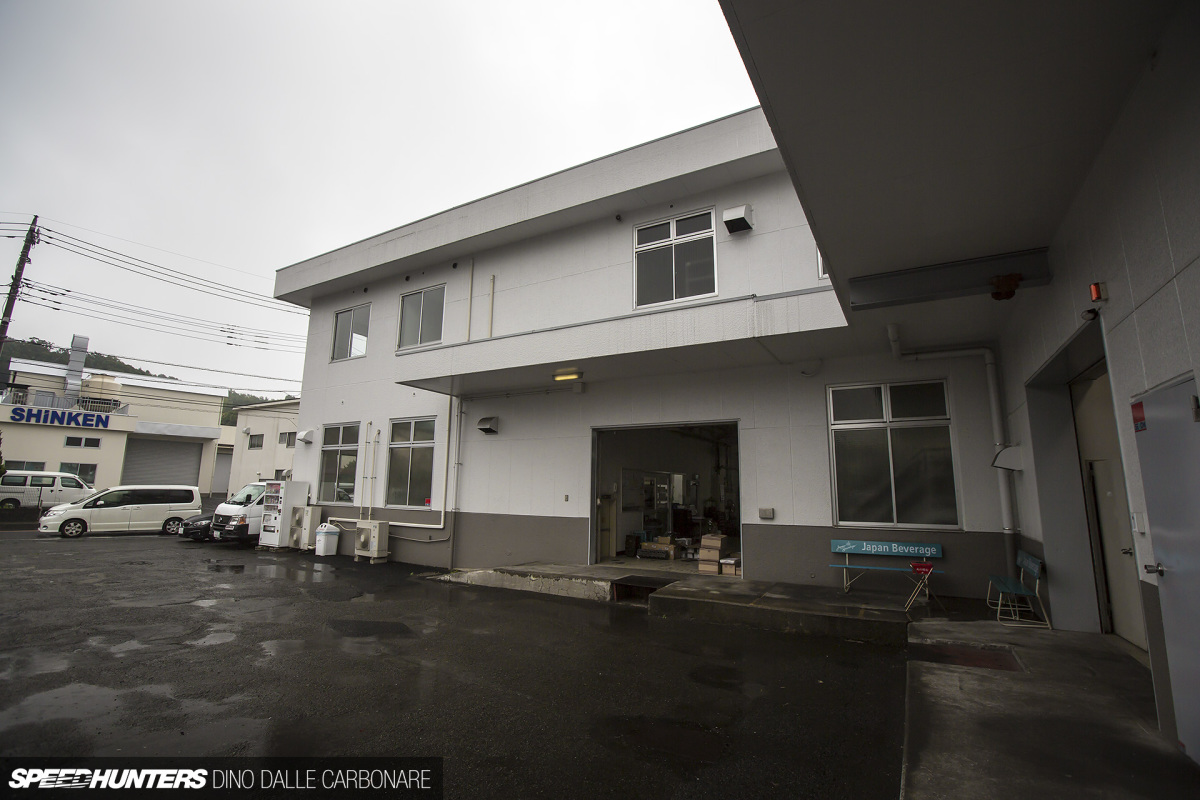 I think too many people get caught up with numbers, but at the end of the day, if you put some well-chosen upgrades together you are going to make more horsepower and in turn be faster. Much more important are the small details and touches that combine to give a defined character to a powerplant.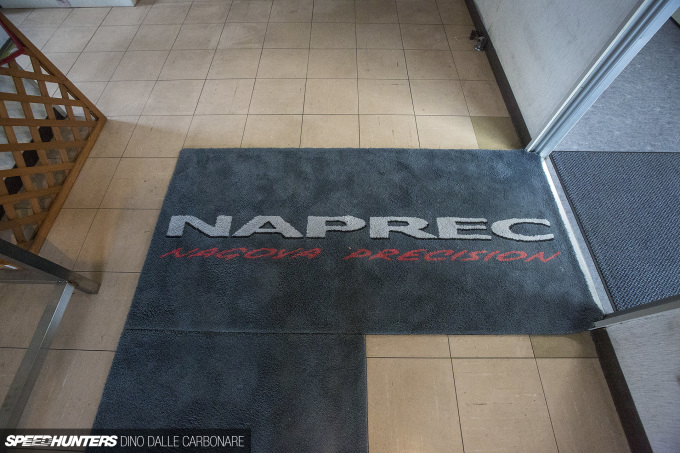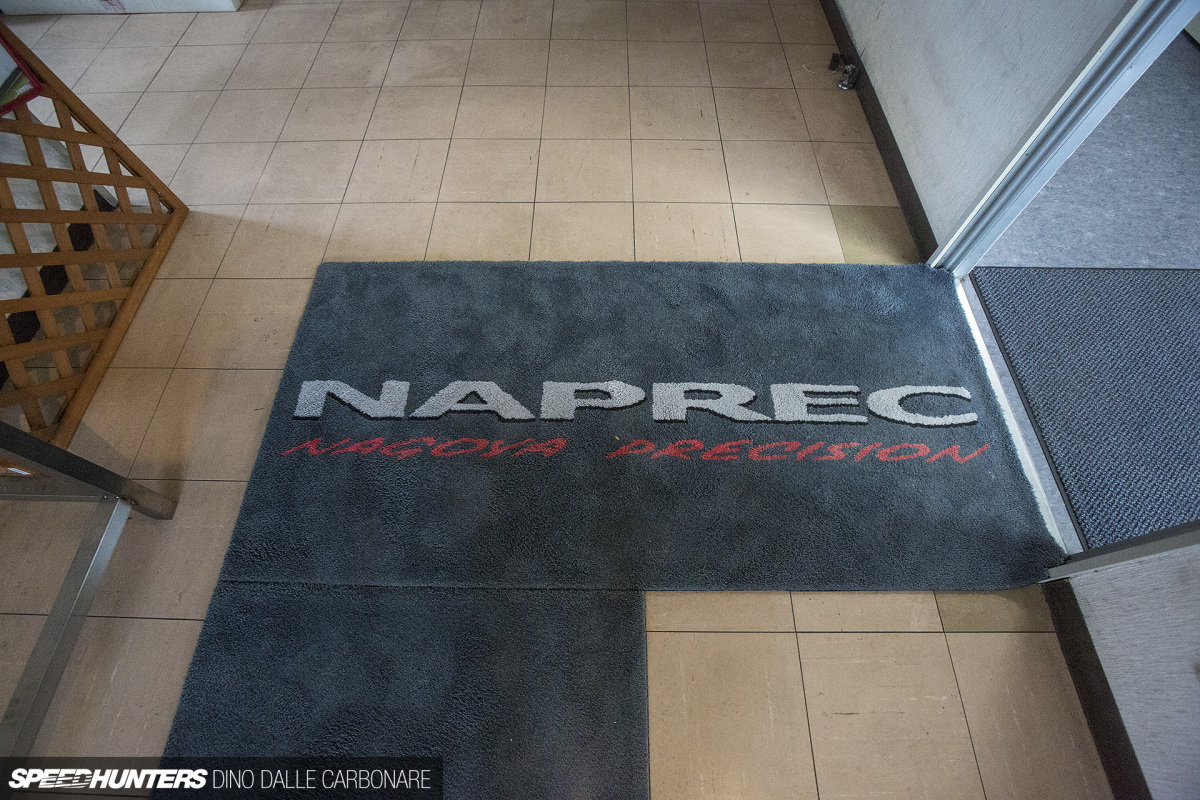 My visit to Nagoya Precision – or NAPREC as it's most commonly known – has been way overdue. Ever since I began covering the Japanese tuning world in the early 2000s, the NAPREC name is one that I quickly became familiar with. Established in 1997 by Nagoya-san in the Fuchu suburb of Tokyo, the company came at a time when machining services that catered to the performance tuning and motorsport markets were in demand. NAPREC quickly made a name for itself in racing circles, Nagoya-san's skills and knowhow when it came to preparing cylinder heads for drag engines at the forefront of its early success.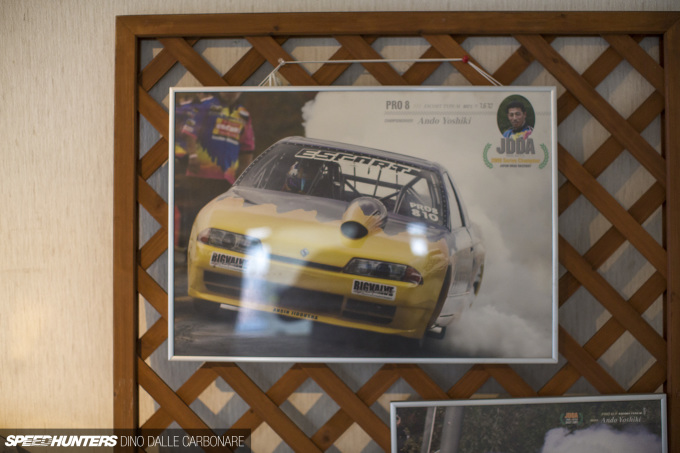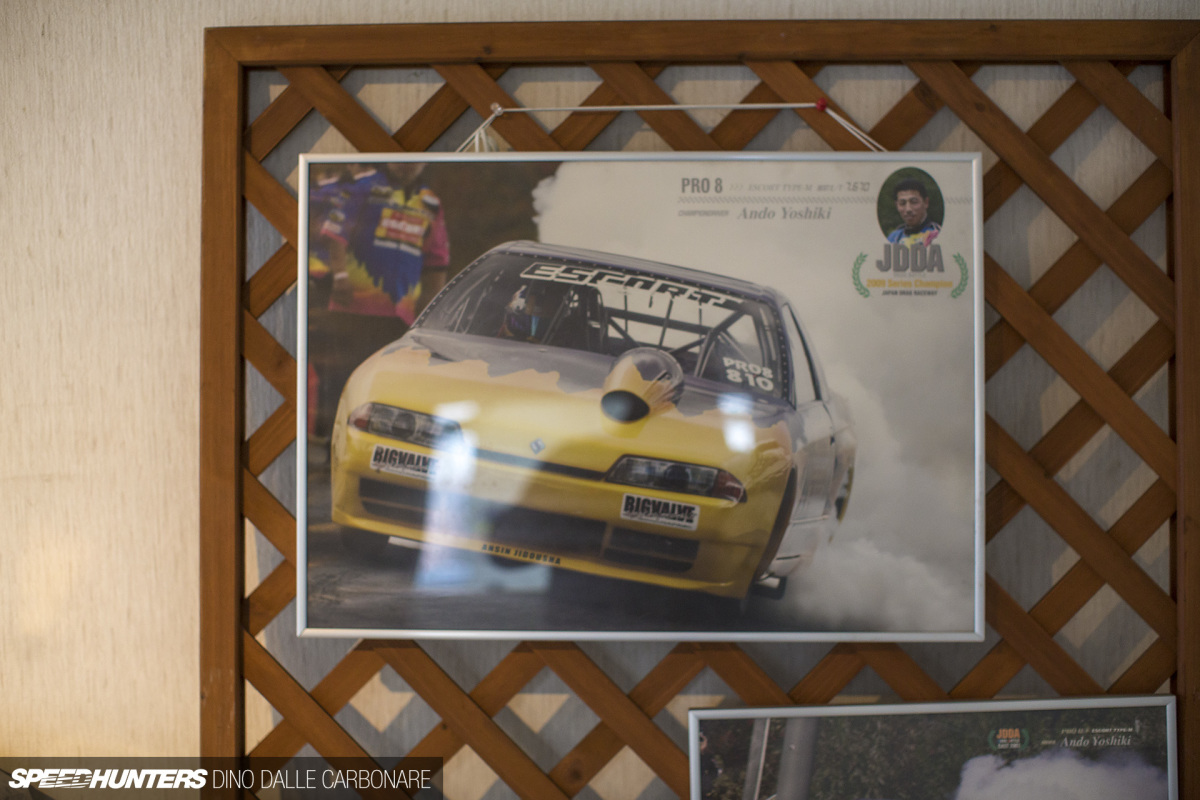 The requests kept rolling in, and within a few short years all the big tuning shops and race outfits in Japan were outsourcing their performance machine work to NAPREC. They moved into a bigger shop in Hachioji in 1999, and remained there until earlier this year when they moved again to this even bigger two-storey facility.
From drag racing to drifting, from time attack to highly tuned street cars, NAPREC is the place to get cylinder heads ported and polished, valvetrain upgraded and bottom ends fully balanced. These are the sorts of things that get my juices flowing – I just needed to see how NAPREC went about everything.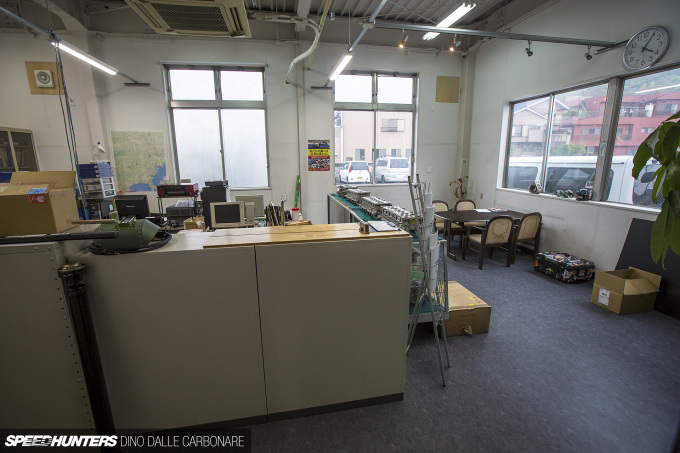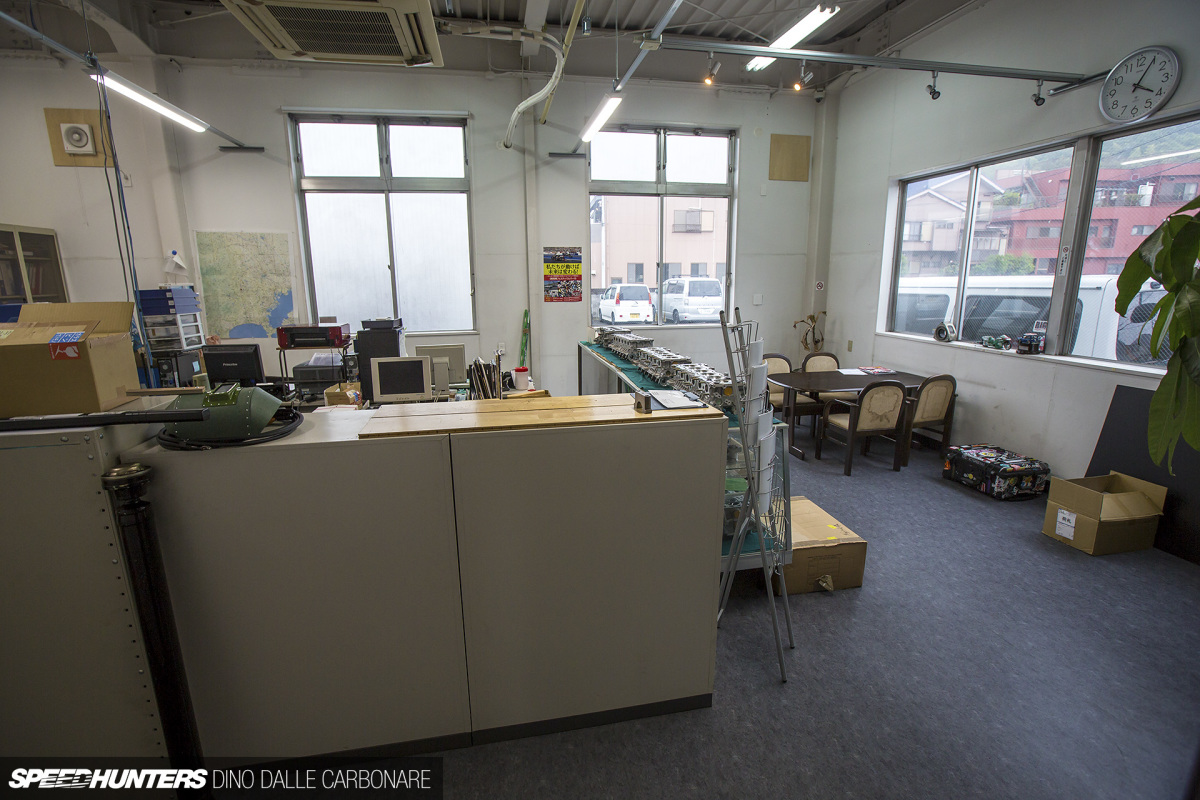 Stepping into the main office, I requested the presence of the man himself.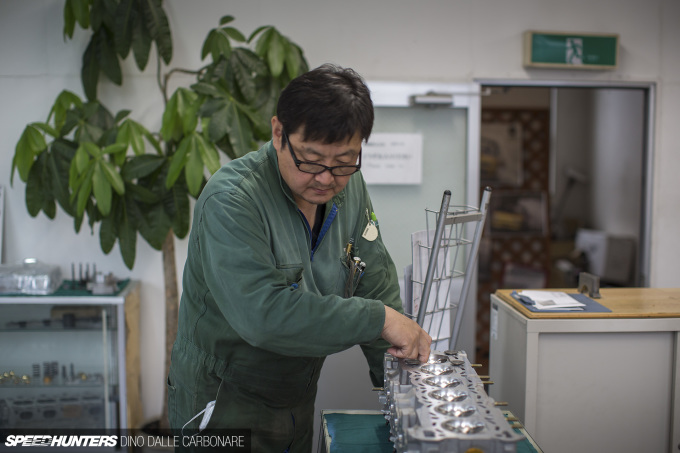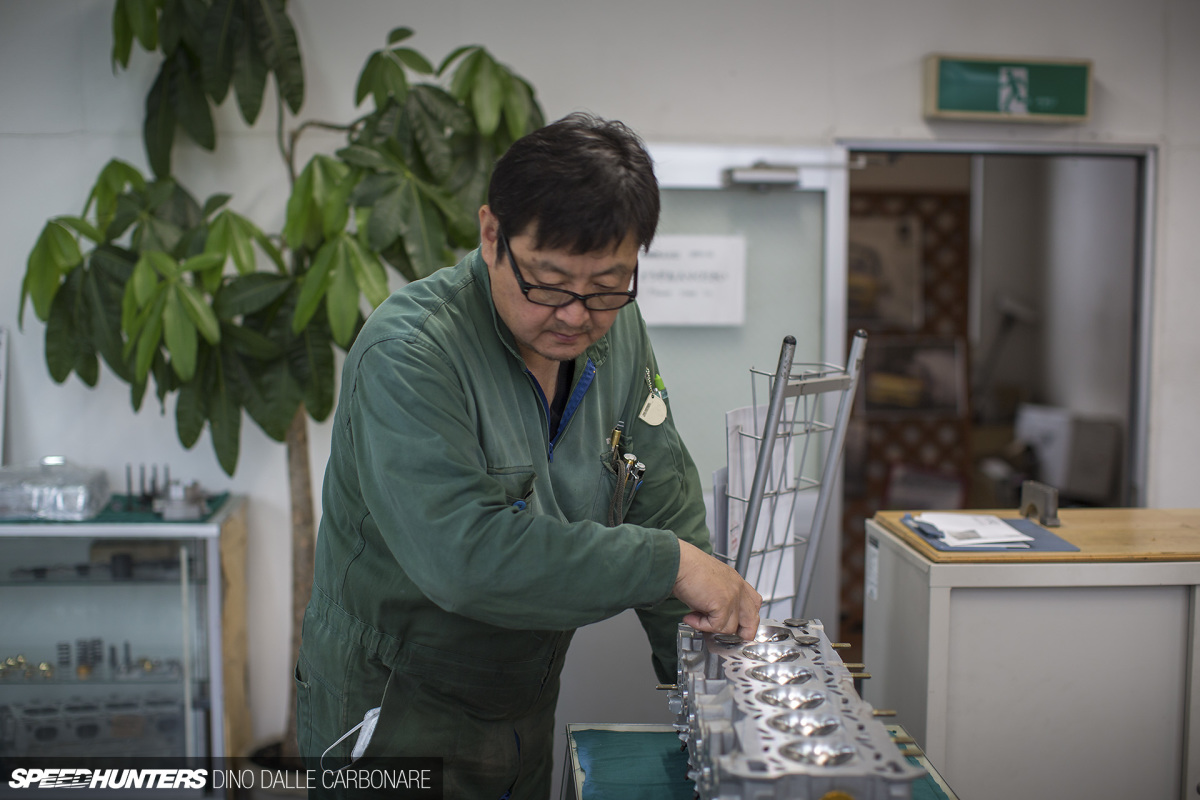 It wasn't long before Nagoya-san stepped in from the machine shop, dressed in a set of the same green overalls all of the employees wear. We got straight down to business; Nagoya-san told me how he follows Speedhunters quite regularly as he's blown away by our levels of photography, and I told him that I spend a lot of time on the NAPREC website dreaming about having his company help extract the best out of Project GT-R's engine.

Fittingly enough, we just happened to be talking over an RB26 head that Nagoya-san uses for displays, and he was happy to show me the modifications they commonly make. From CNC machining of intake and exhaust ports which are then refined with hand porting and polishing to maximize flow, to valve seat cutting, valve guide fitting, port matching, cylinder block honing and boring, to bottom end balancing – and the list goes on. You name it, NAPREC do it. They are also fast, efficient, well priced and have a proven track record. It's no surprise that the business is doing well.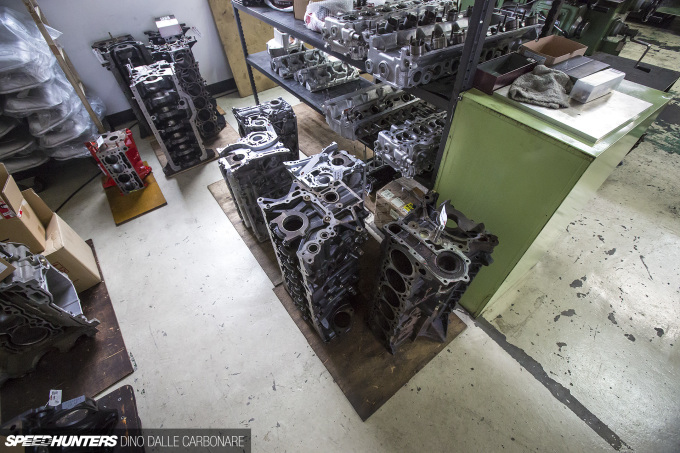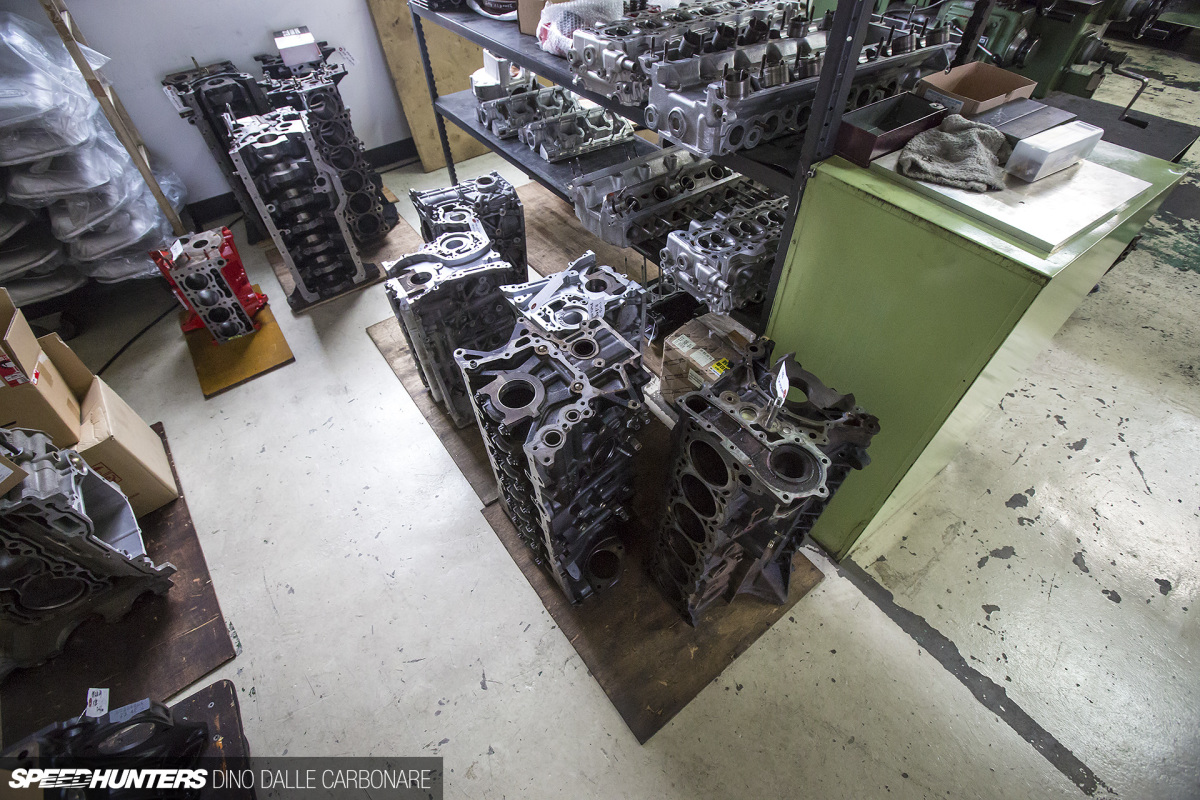 Best of all, once I was shown around each work station and area of the building, Nagoya-san allowed me to roam freely. This is my favorite way of doing things; it gives me time to quietly observe, poke around and ask questions.
The Finer Details
While NAPREC will work on any engine, those from Nissan and Toyota easily make up the bulk of their workload. RB26s, SR20s, 1JZs and 2JZs are everywhere you look. Something I previously wasn't aware of is that a huge part of their business comes from motorcycle engines. It's not only Japanese ones either, Harley-Davidson being among the most popular.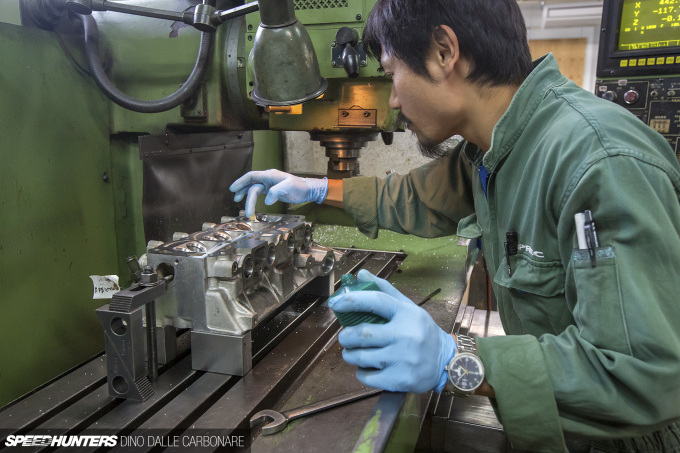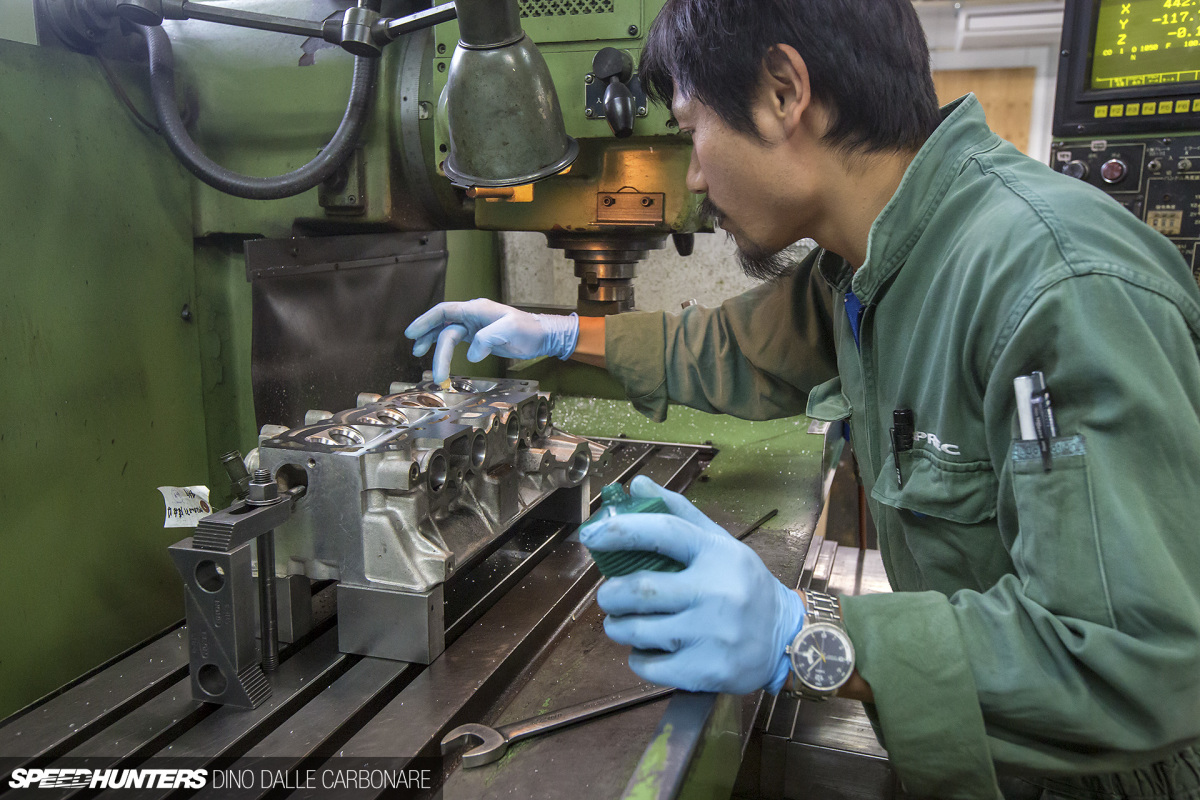 It filled me with joy seeing the lathes and milling machines loaded up with cylinder heads, because it means there are a lot of people and shops who know the importance of this art when it comes to maximizing the outright performance and response of an engine.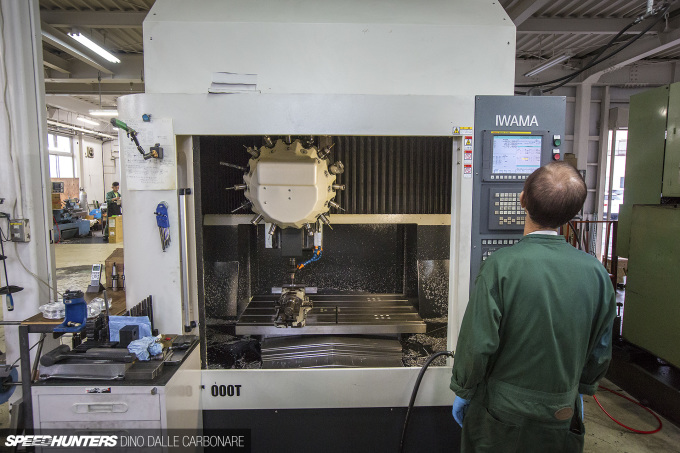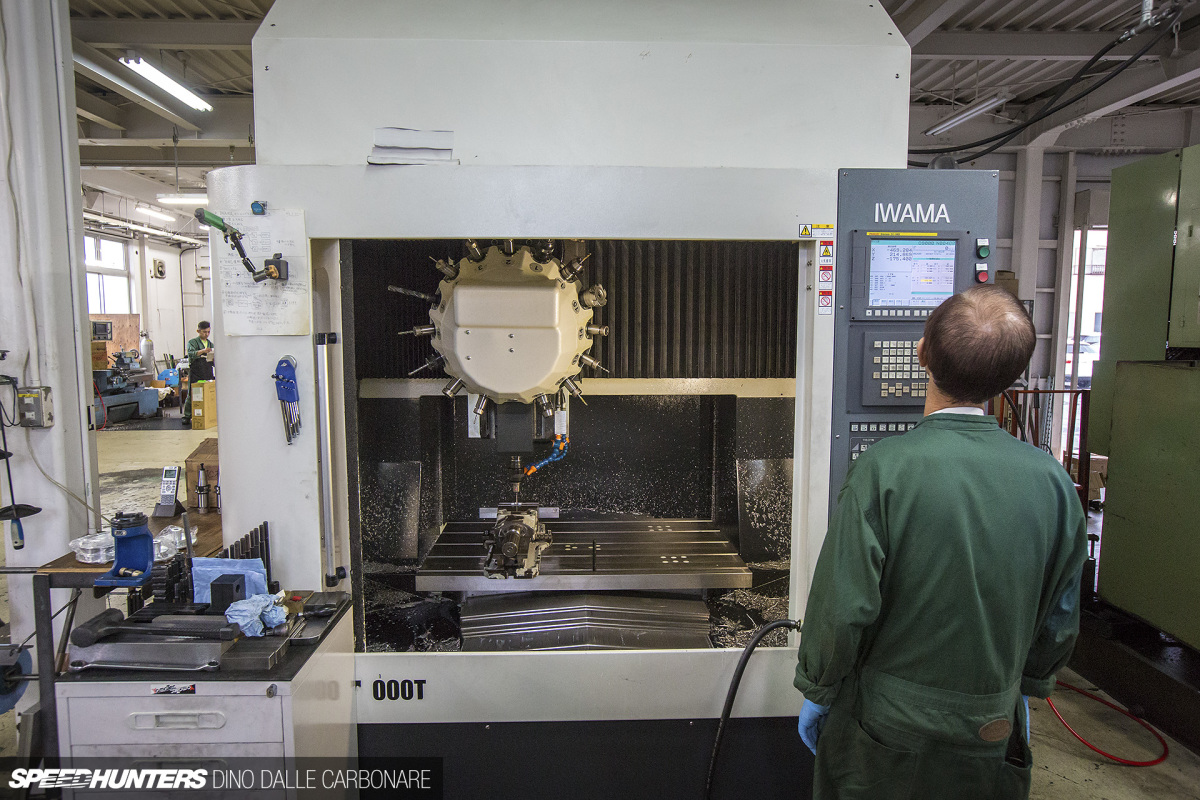 Here is a CNC machine drilling out small chunks of metal – a 'correction'- from a crankshaft to obtain perfect rotational balance.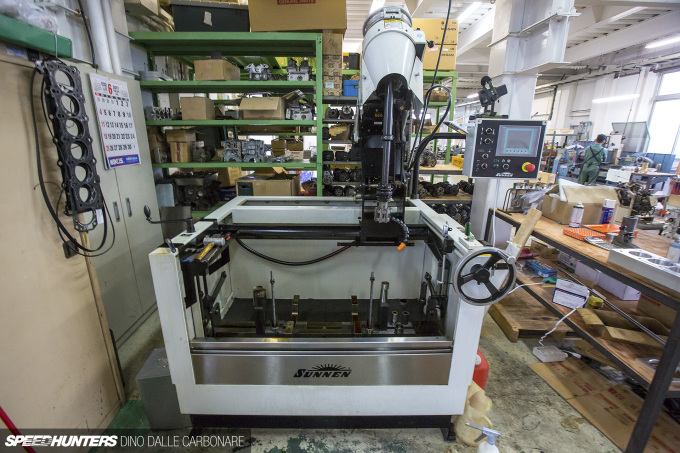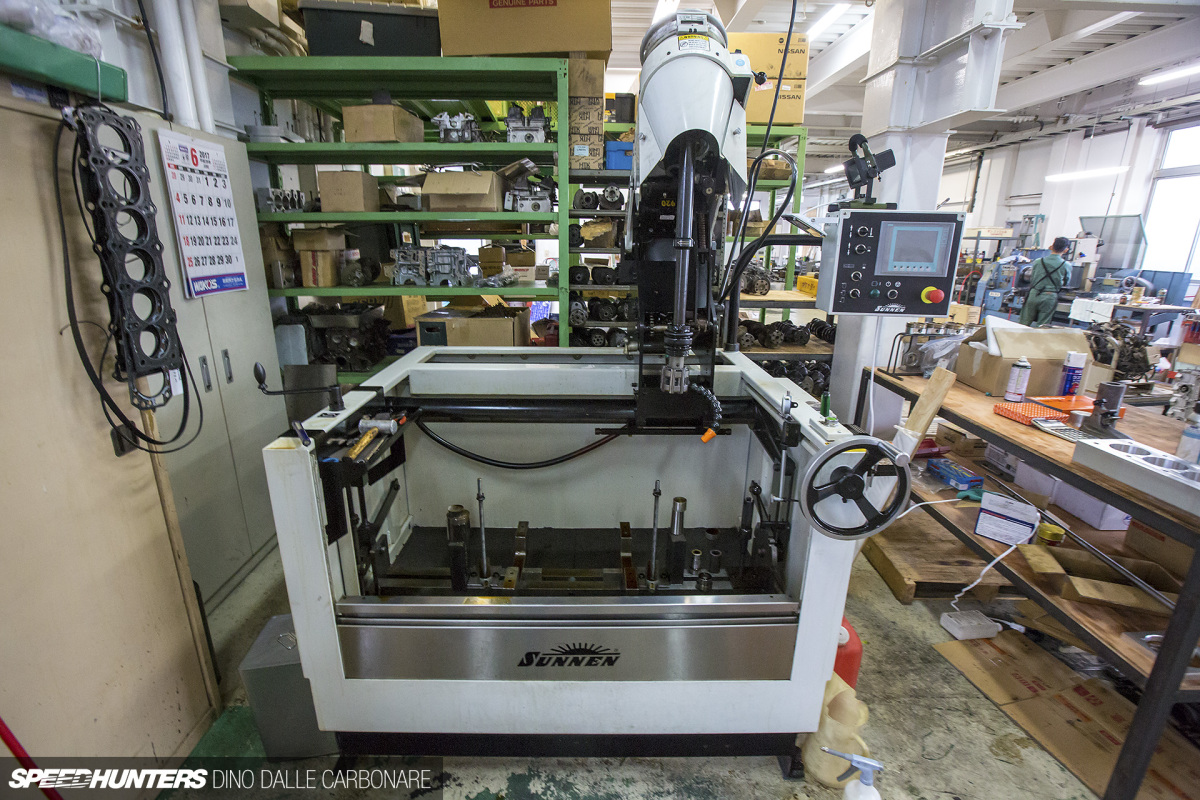 The other side of the shop is where cylinder blocks are honed.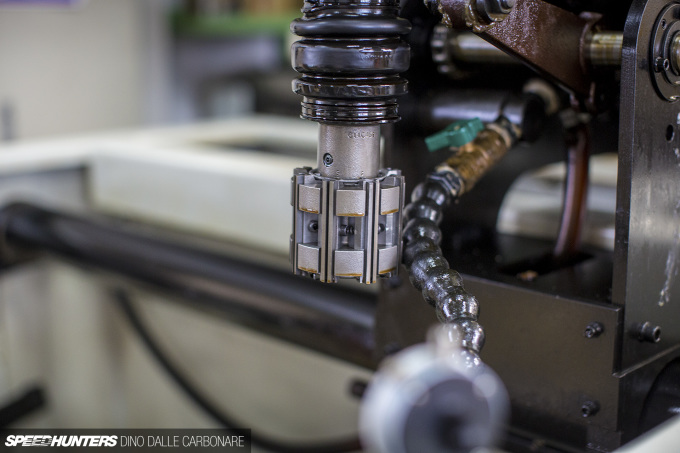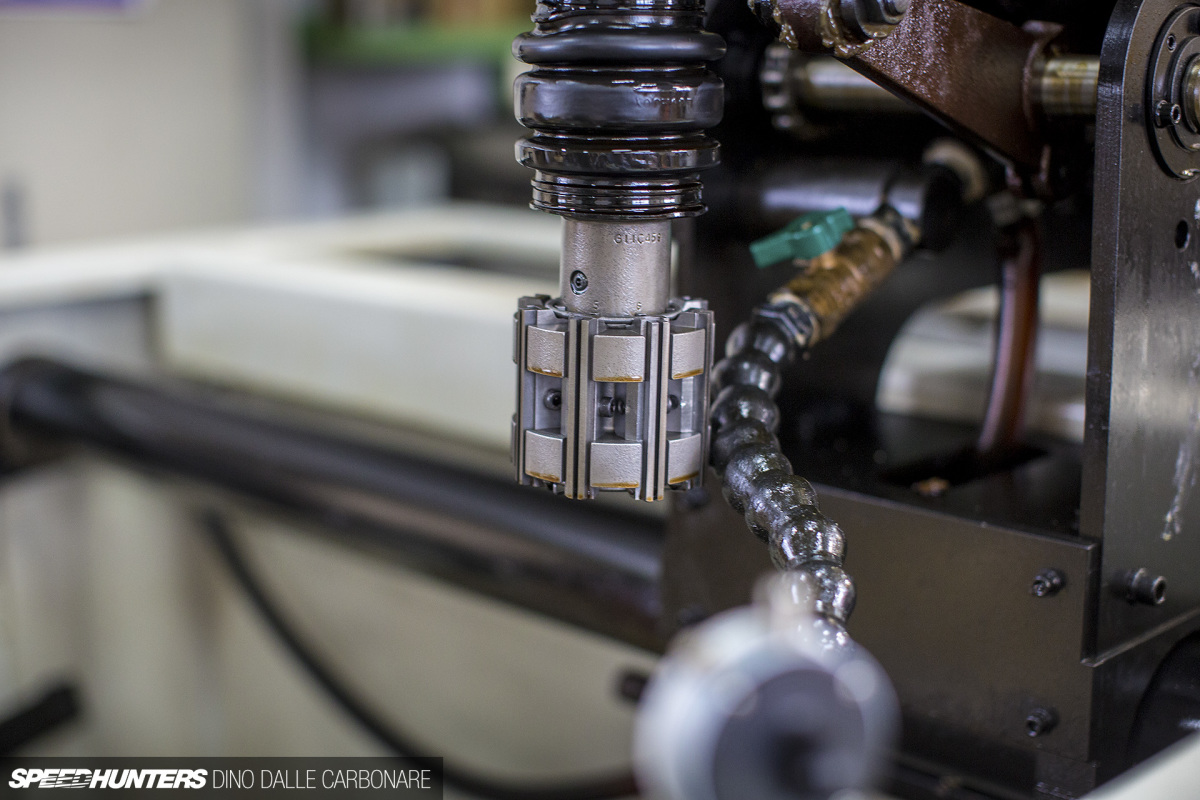 Here's a quick detail shot of the tool which expands to meet bore size, and then will rotate and do vertical passes up and down each cylinder shaving away at the metal to achieve the new set diameter.
Before any boring or honing starts, a dummy head/torque plate is bolted down onto a block with a head-gasket. This simulates cylinder block distortion that would happen when the head is in place, meaning the job can be done with higher tolerances, resulting in improved ring seal, better compression and less oil consumption.
This is what the process looks like, featuring an L28 block.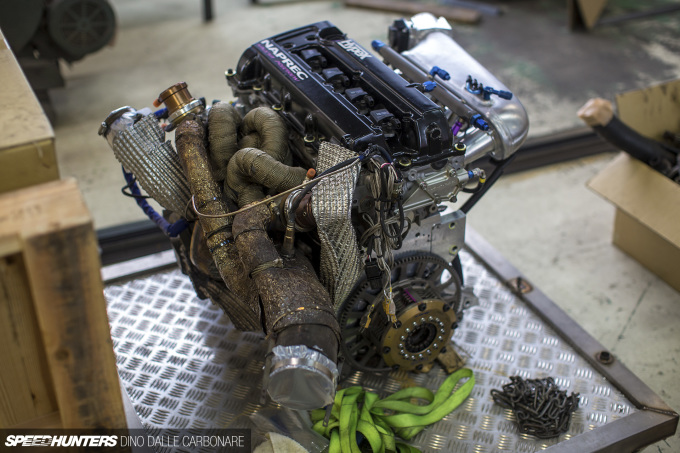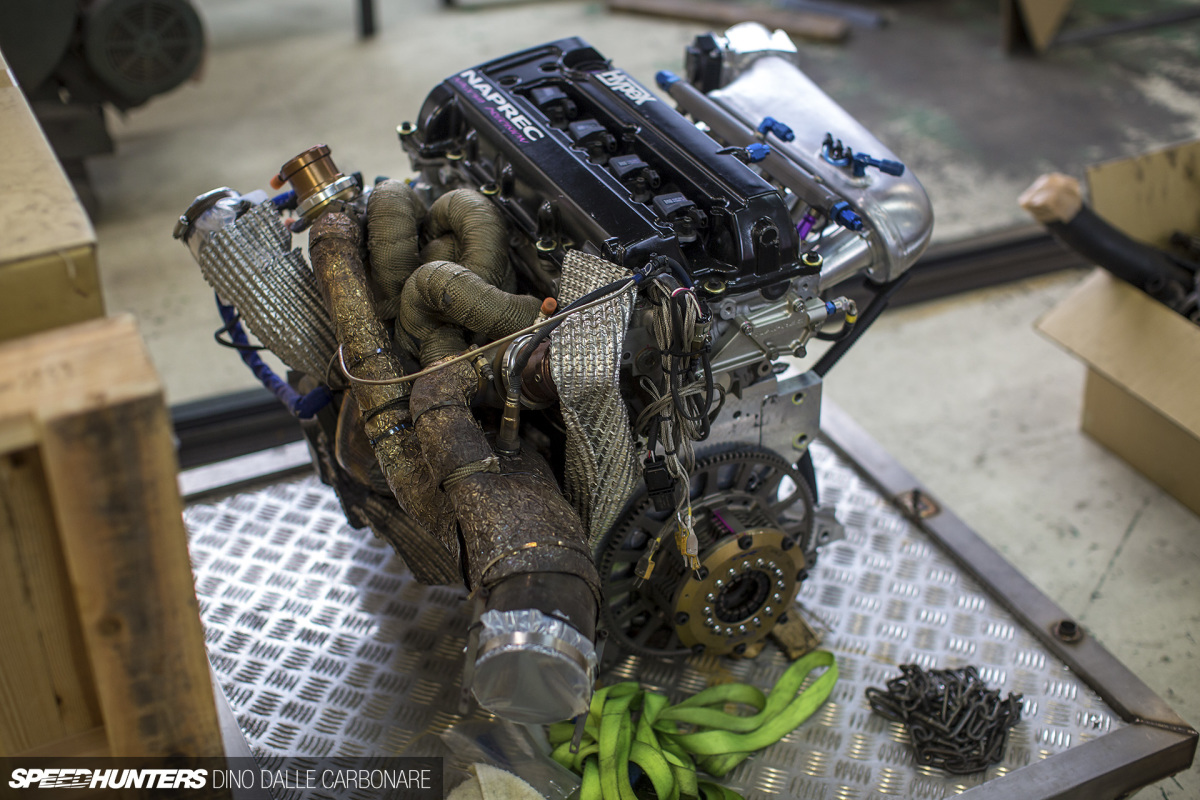 Not far away I spotted a very familiar SR20DET that was in for some refresh work and machining. You guessed it – this is Under Suzuki's billet-block motor. The engine is now back in his S15 that I photographed at the Yokohama port this week ahead of it being shipped to Sydney, Australia for October's WTAC.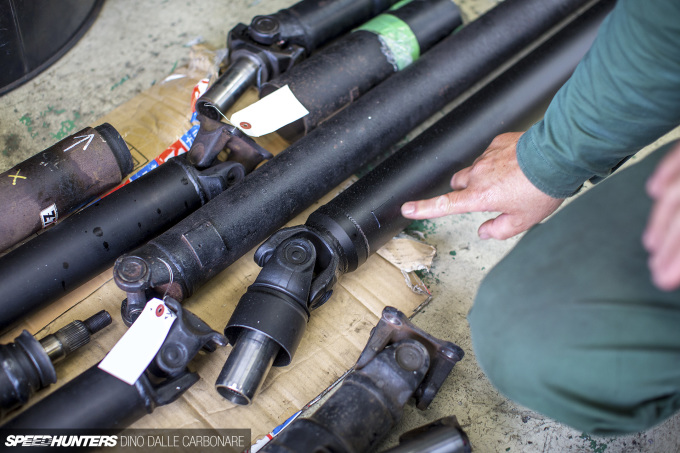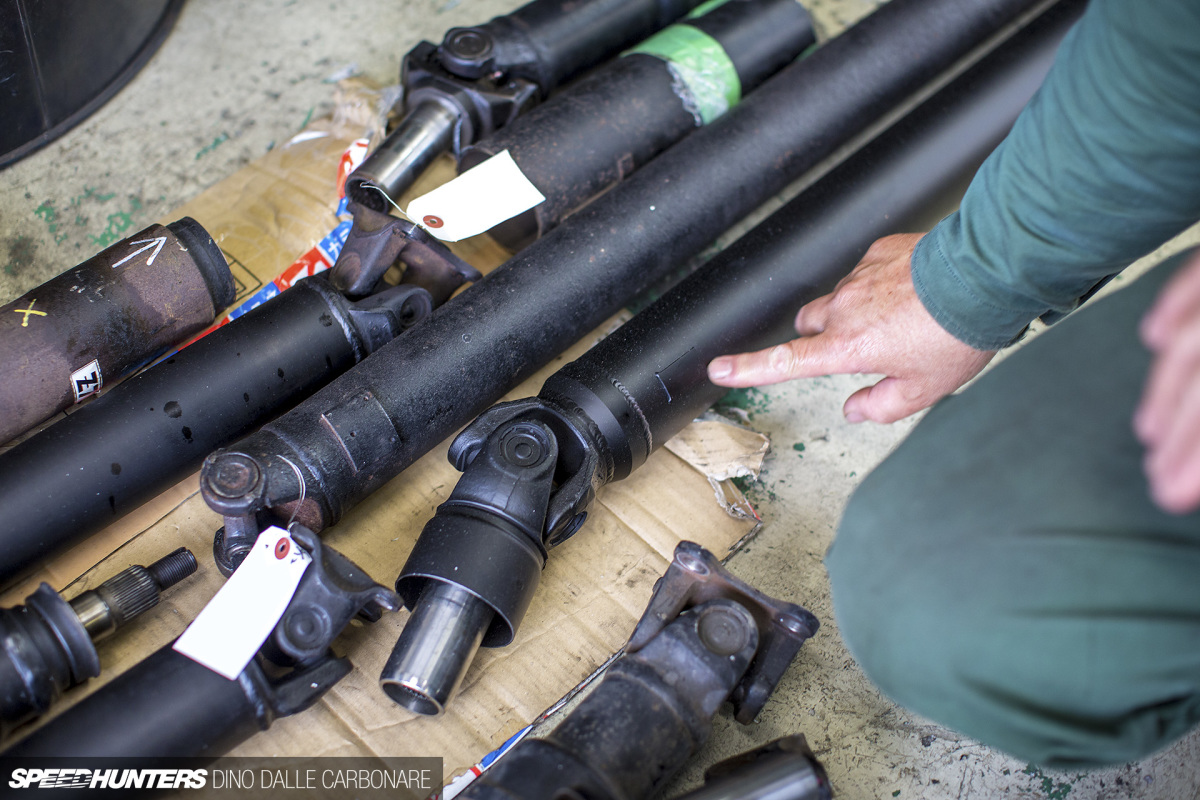 With the increasing popularity of engine swaps, Nagoya-san tells me that cutting, welding and balancing of prop shafts is a popular request he gets. NAPREC also balance aftermarket lightweight propellor shafts.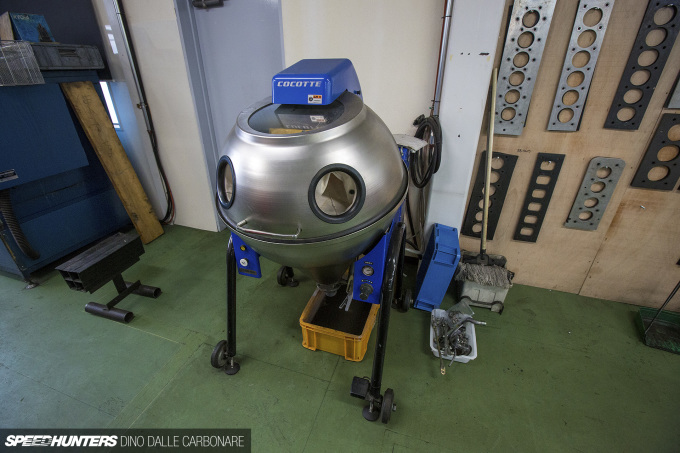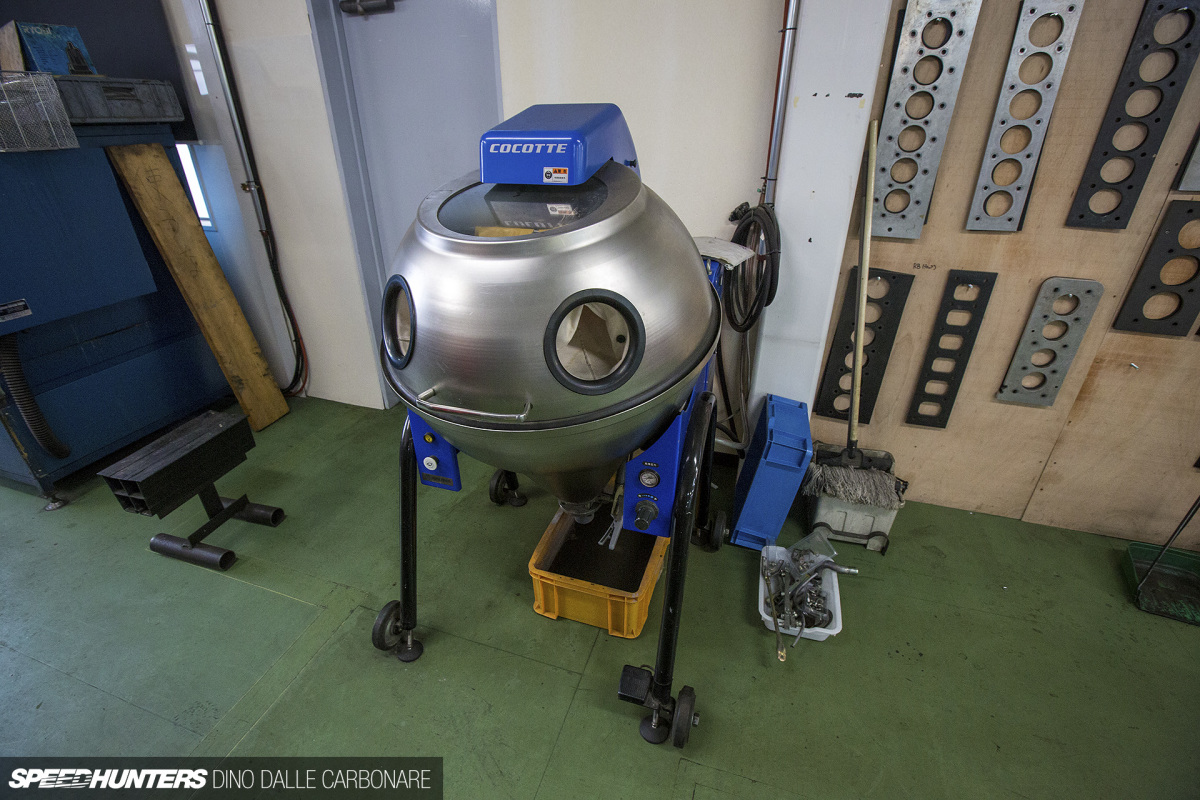 After wandering around in total bliss on the ground floor, I walked up the stairs and met Cocotte-san. This friendly little robot-looking contraption is a wet sand blaster used to removed oxidation, carbon deposits and dirt from any metal surface. Any item that comes through the shop and is small enough to fit inside is cleaned this way; if the part is bigger it gets put through a chemical washer.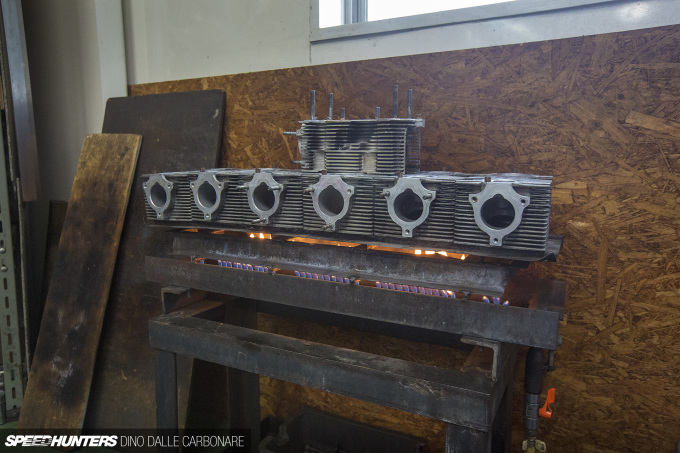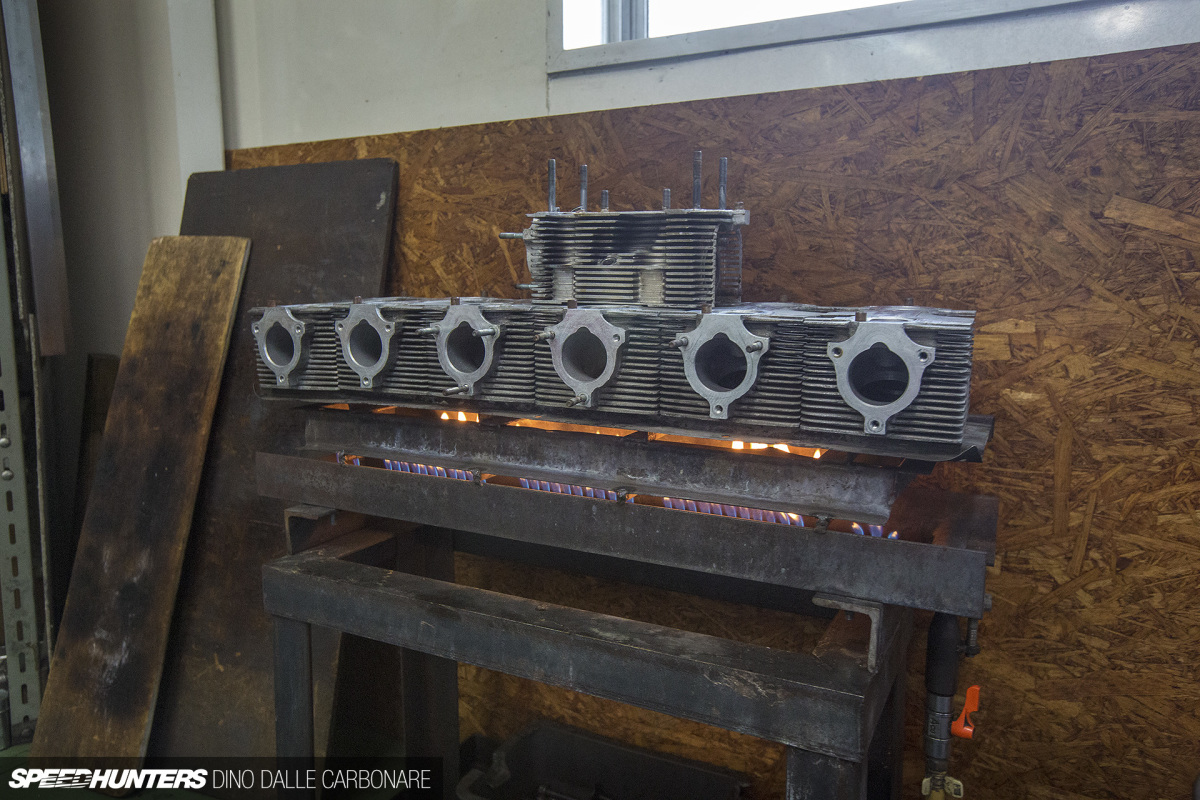 Have you ever wondered how cylinder heads are fitted with valve guides? It's quite straightforward and based on the simple science of thermal expansion. First, the head is heated up to allow the alloy to expand or grow, if you will…
You then take the copper valve guides…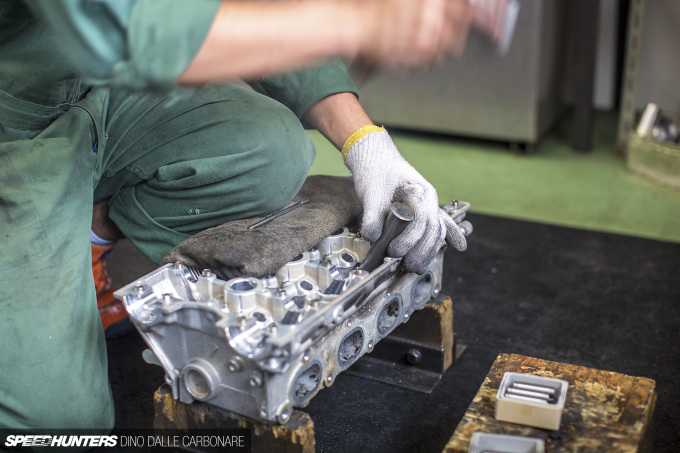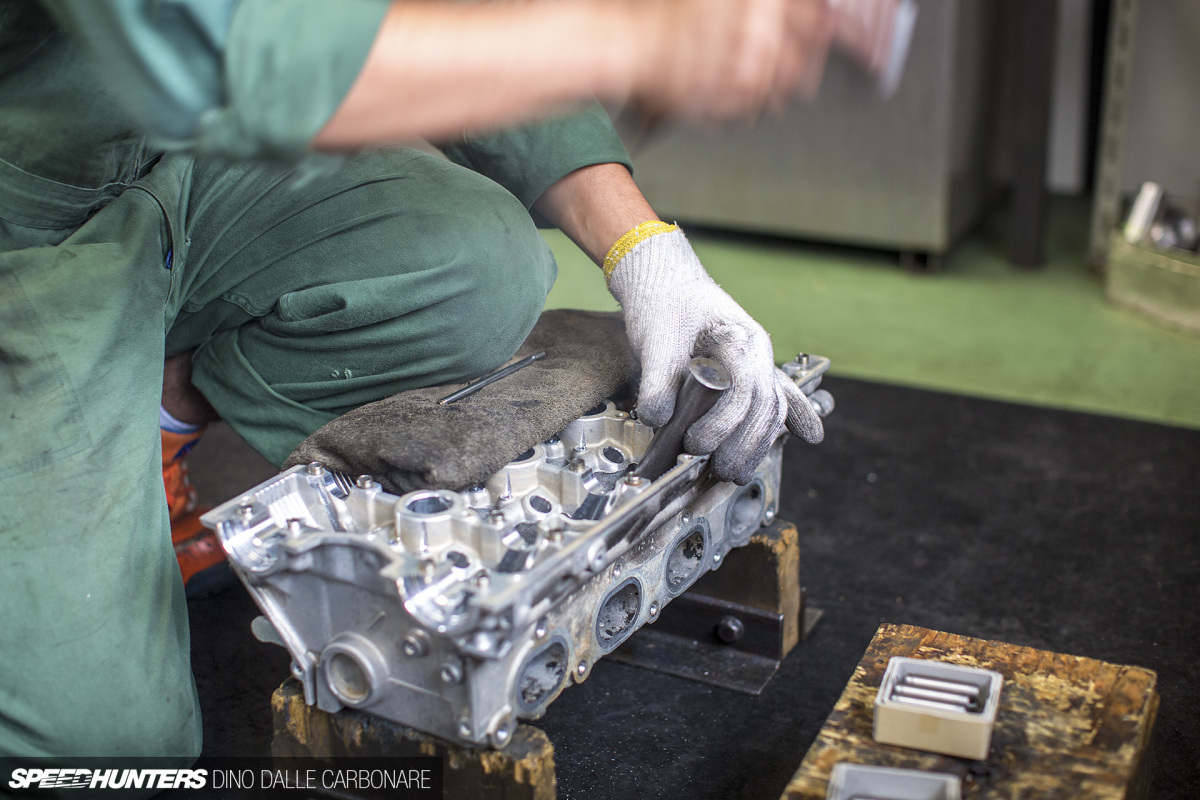 And hammer them into position. Once the alloy cools the guides are locked in place. Of course, during engine operation thermal expansion affects both metals.
Here's another important aspect of cylinder head preparation – radius cutting valve seats. This is done to guarantee that oversized valves seat perfectly with the machined profile/s (up to three different radii can be used)
The Pursuit Of Perfection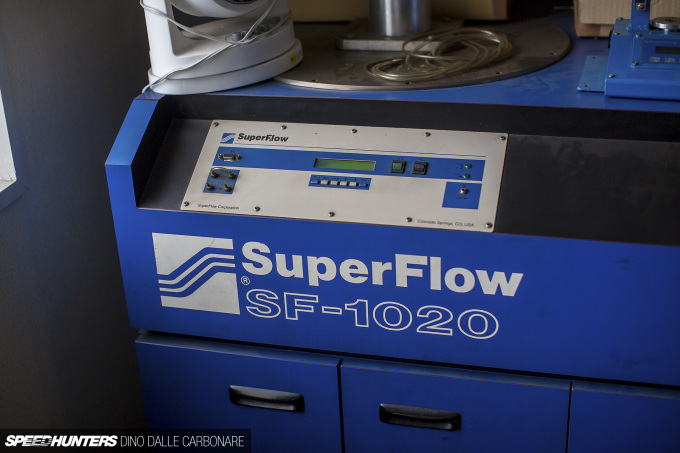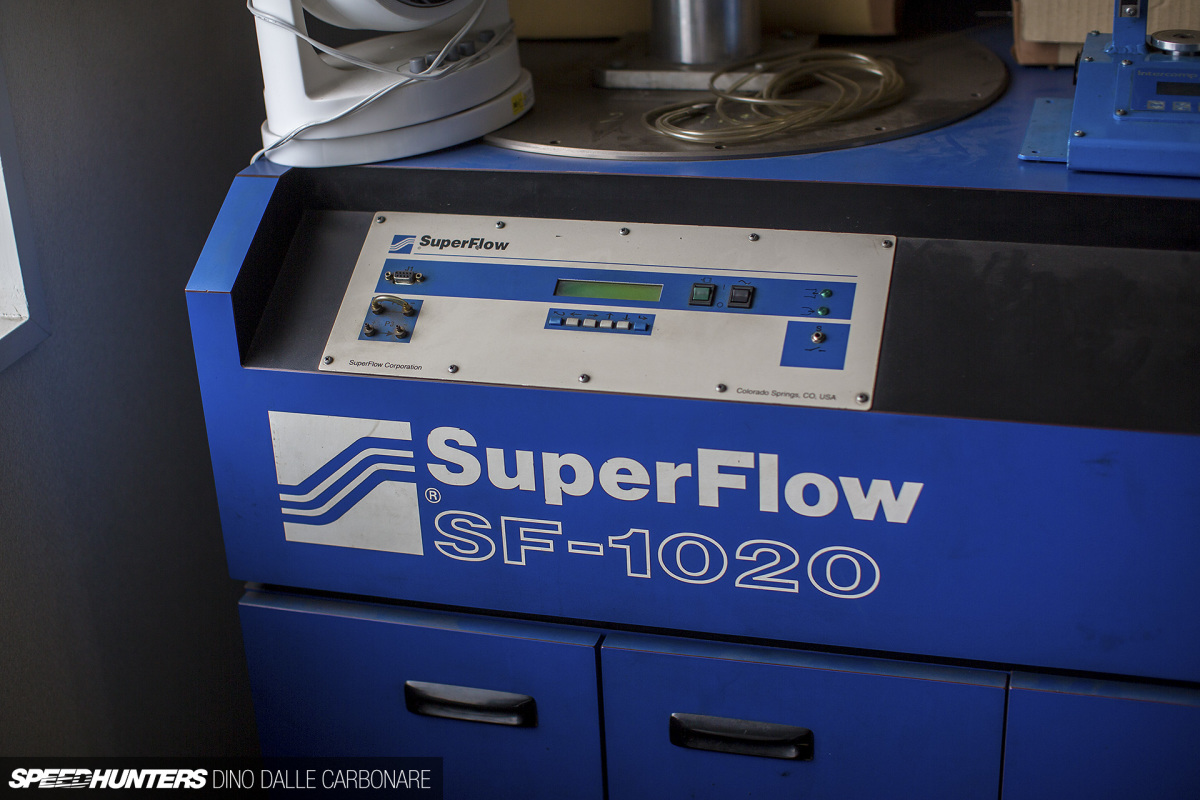 Once cylinder head modifications and upgrades are complete, testing can be carried out on flow benches to measure improvements. Each and every one of NAPREC's kits and steps have been developed and tested to bring quantifiable gains.
Nagoya-san showed me some examples of engines that come in for work, like the Lamborghini V12 block that was sitting on the floor and this high-dome piston from another vintage engine. Like I mentioned before, NAPREC will work on anything.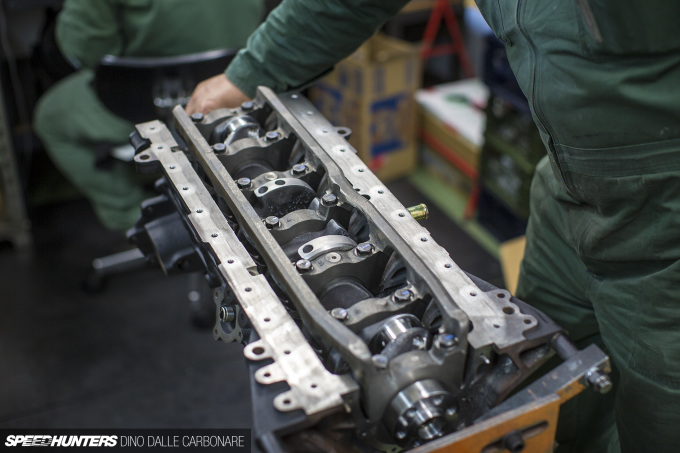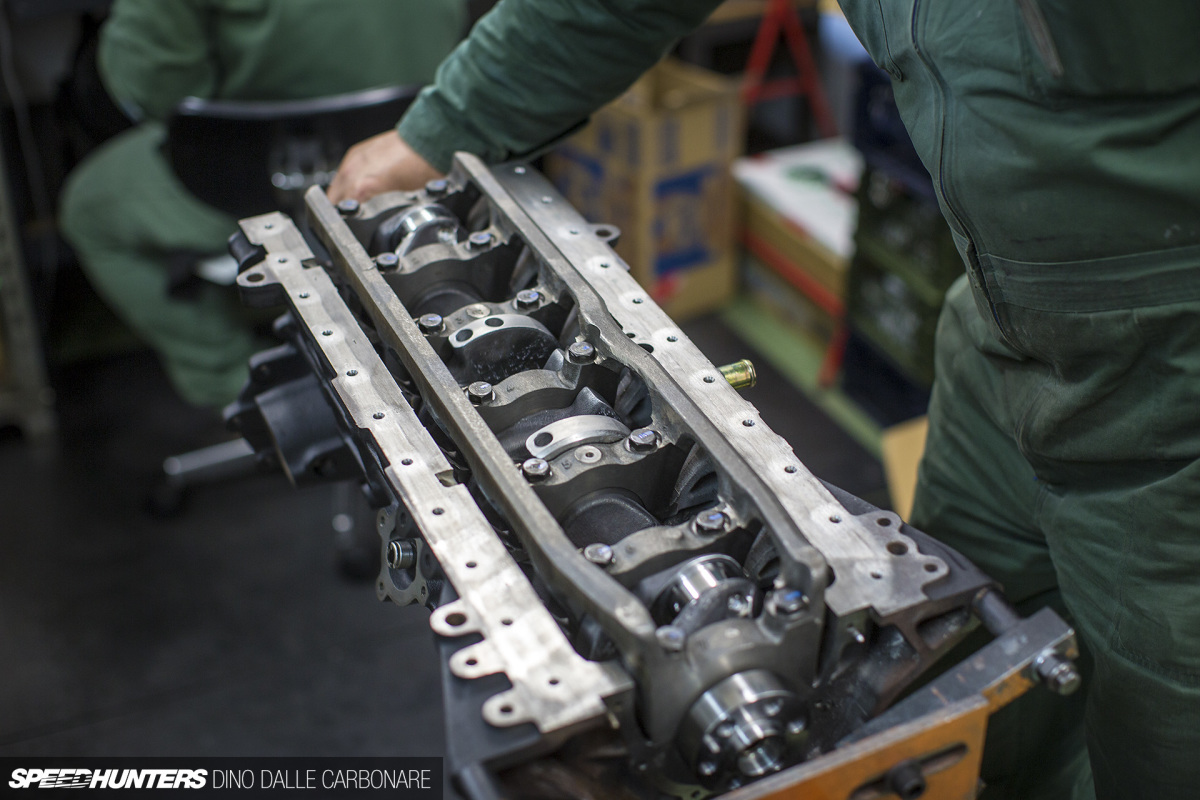 Curiously enough, when I asked Nagoya-san what he thinks the next popular engine for tuning will be, his reply was the RB25. As more people are doing more things with them they're becoming really popular. This example of Nissan's 2.5-liter DOHC 24-valve inline-six was being put together in the engine assembly room.
Over the years, NAPREC has tried out a ton of products from various parts manufacturers so they are always able to offer plenty of advice and choices to their customers.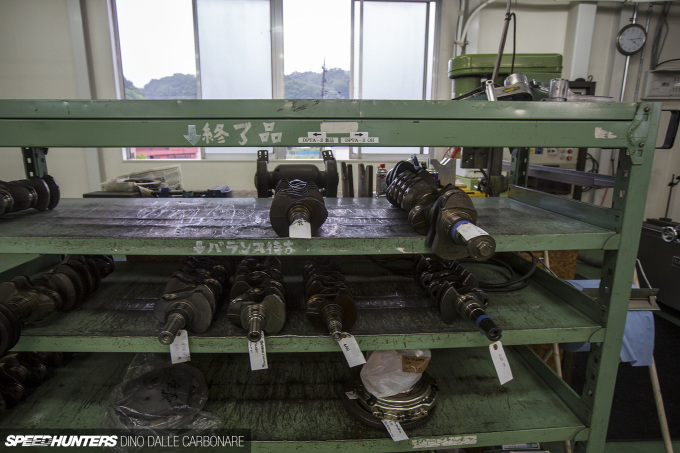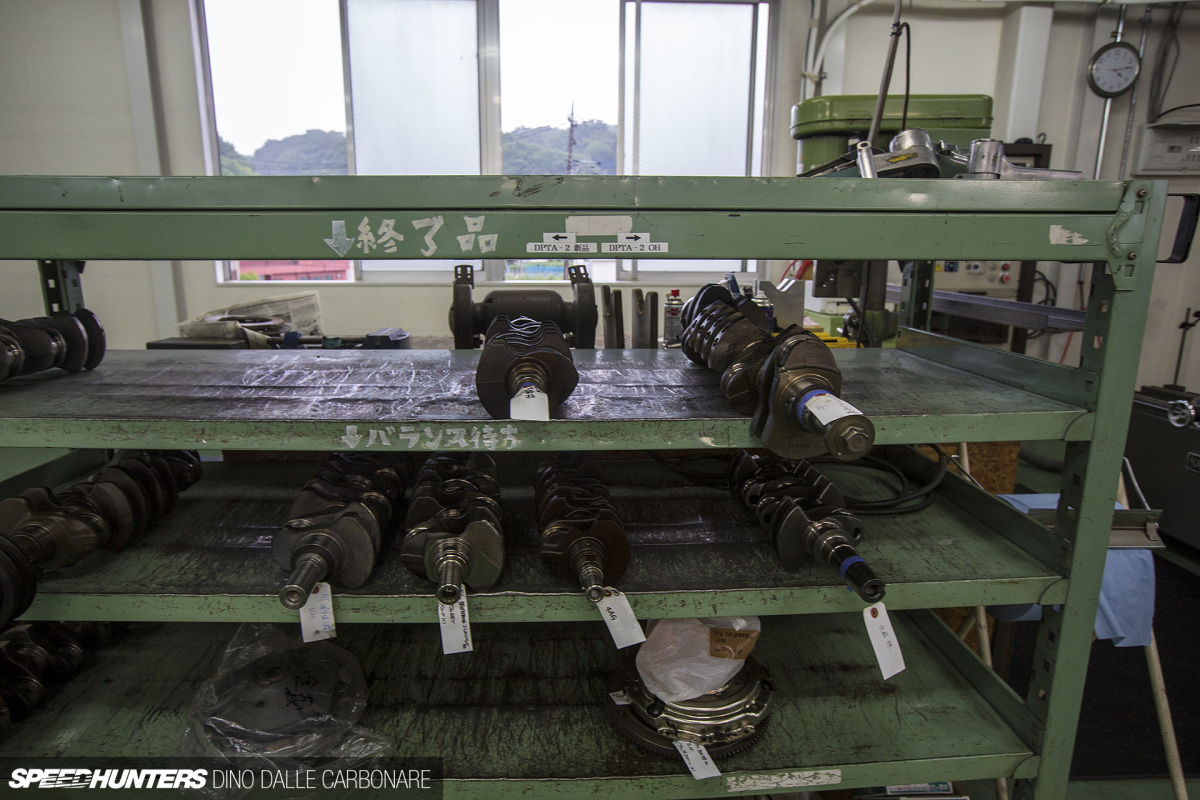 I came across this rack of crankshafts all in to be processed prior to being used in fresh rebuilds.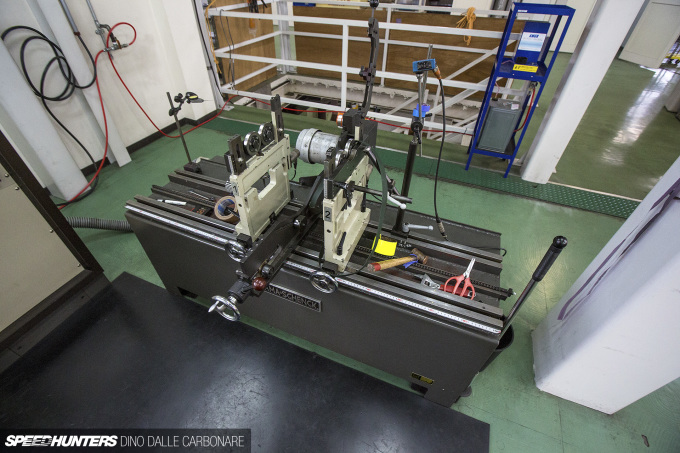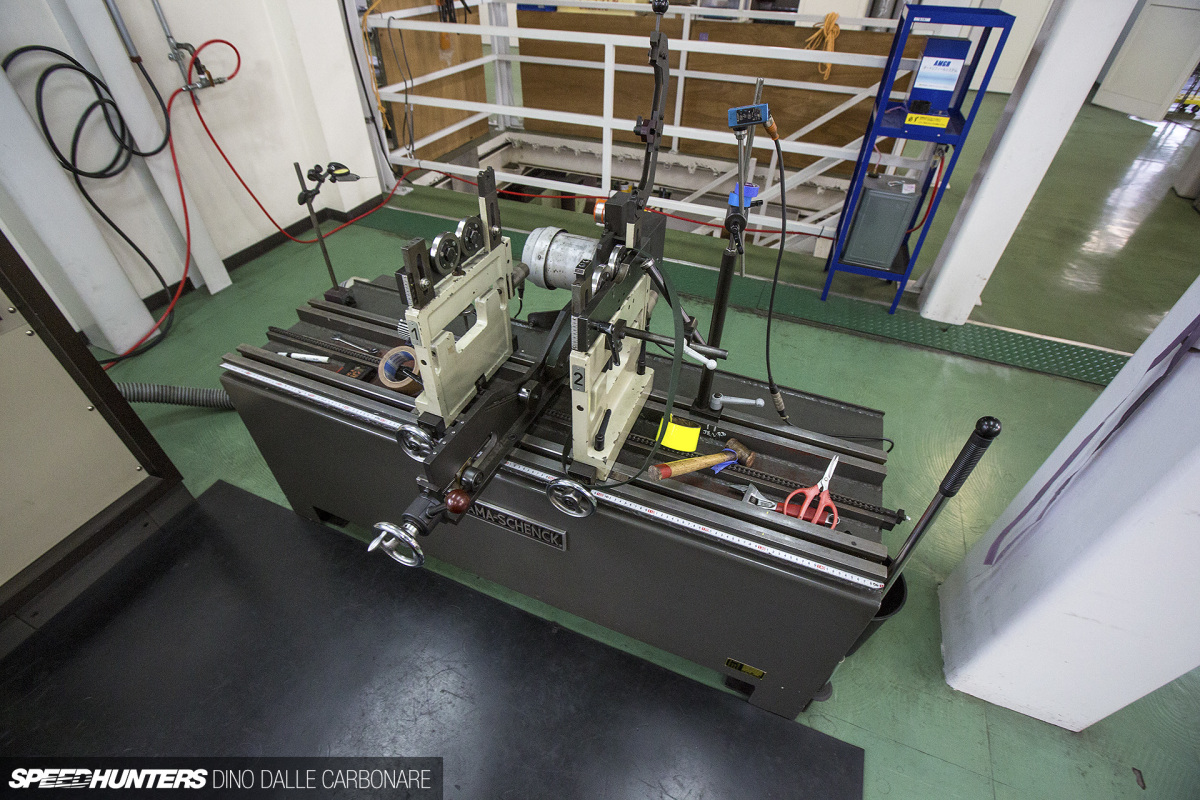 And here is the machine that the cranks get placed on, rotated and balanced.
Hit play to see it in action with a VR38 crank.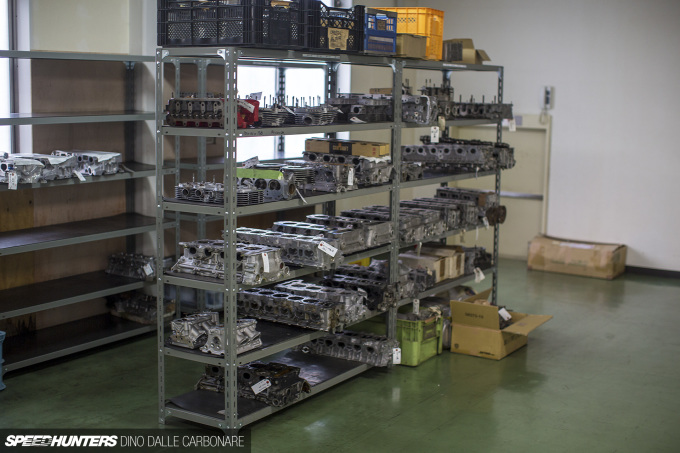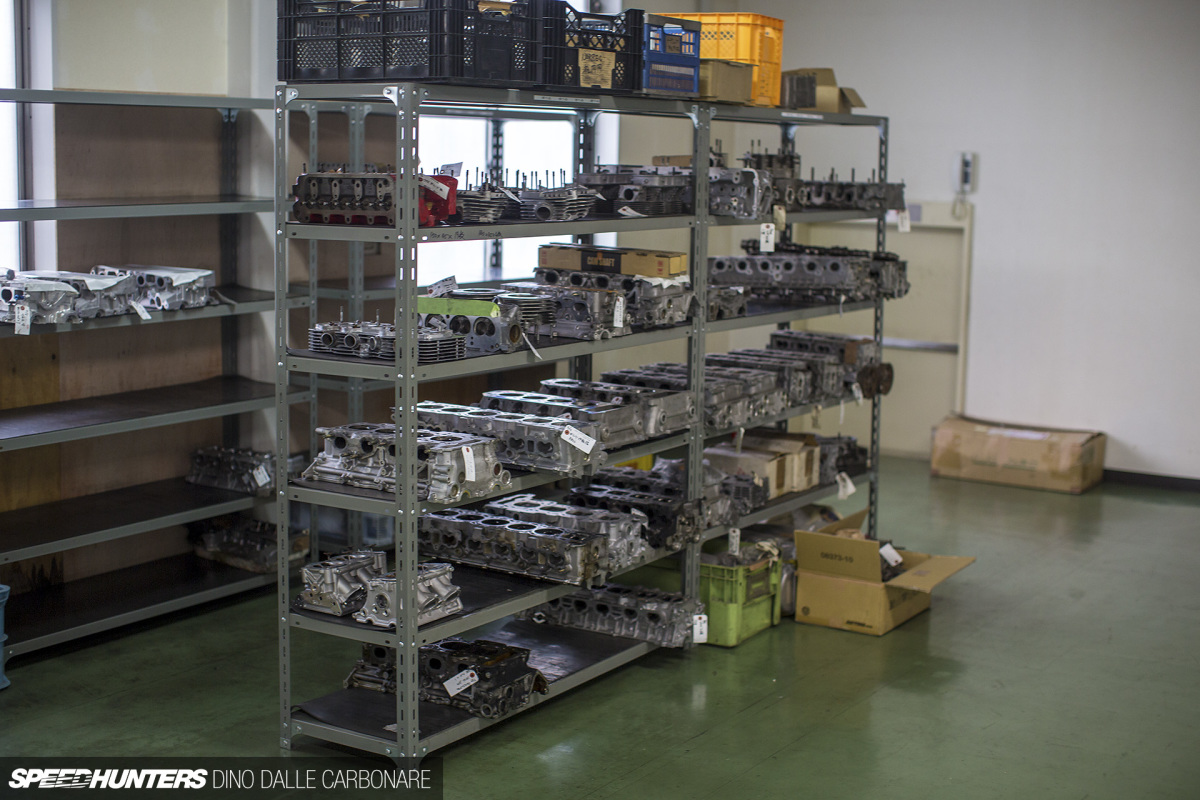 This rack was laden with a large variety of half-completed cylinder heads, but one in particular was very interesting to me.
Can you guess which one? They were all waiting for the very final step, which ultimately will make all the difference to throttle response and the actual character of the engine.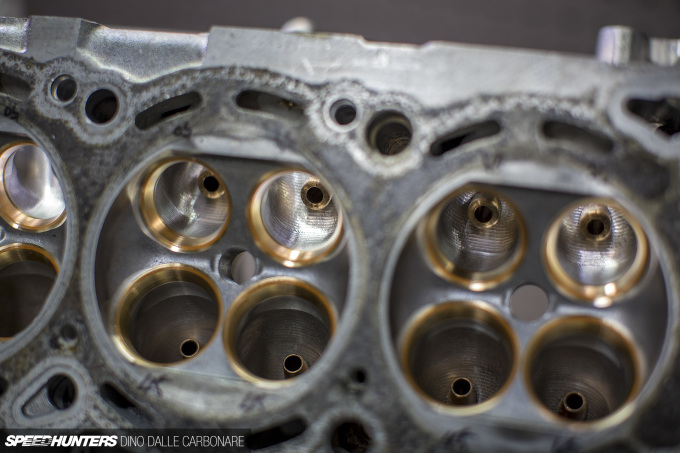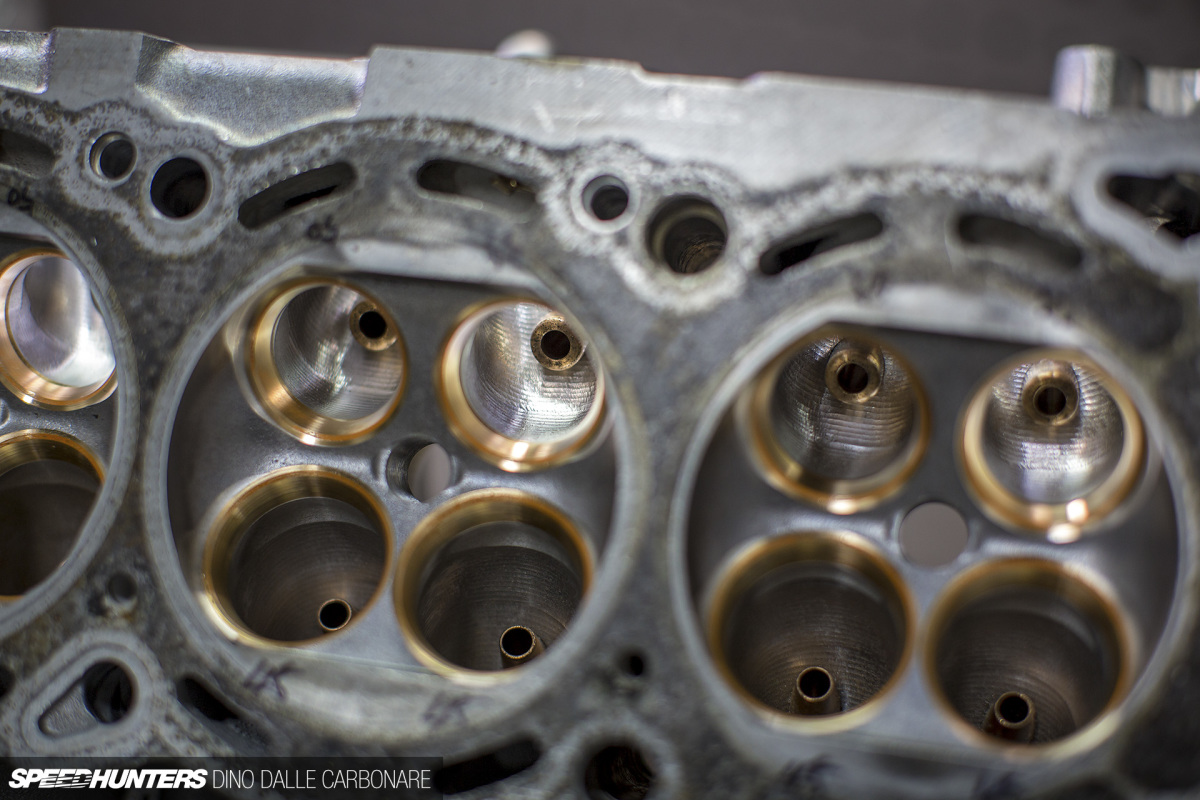 These will soon receive Nagoya-san's knowhow and be hand finished to correct and fine tune the areas that even CNC machining isn't able to get quite right.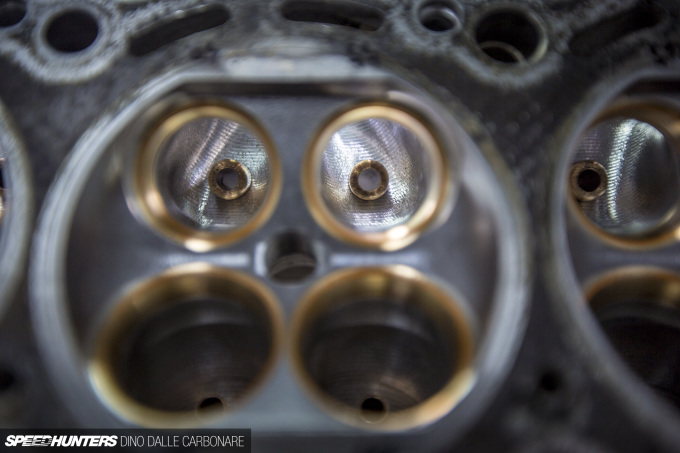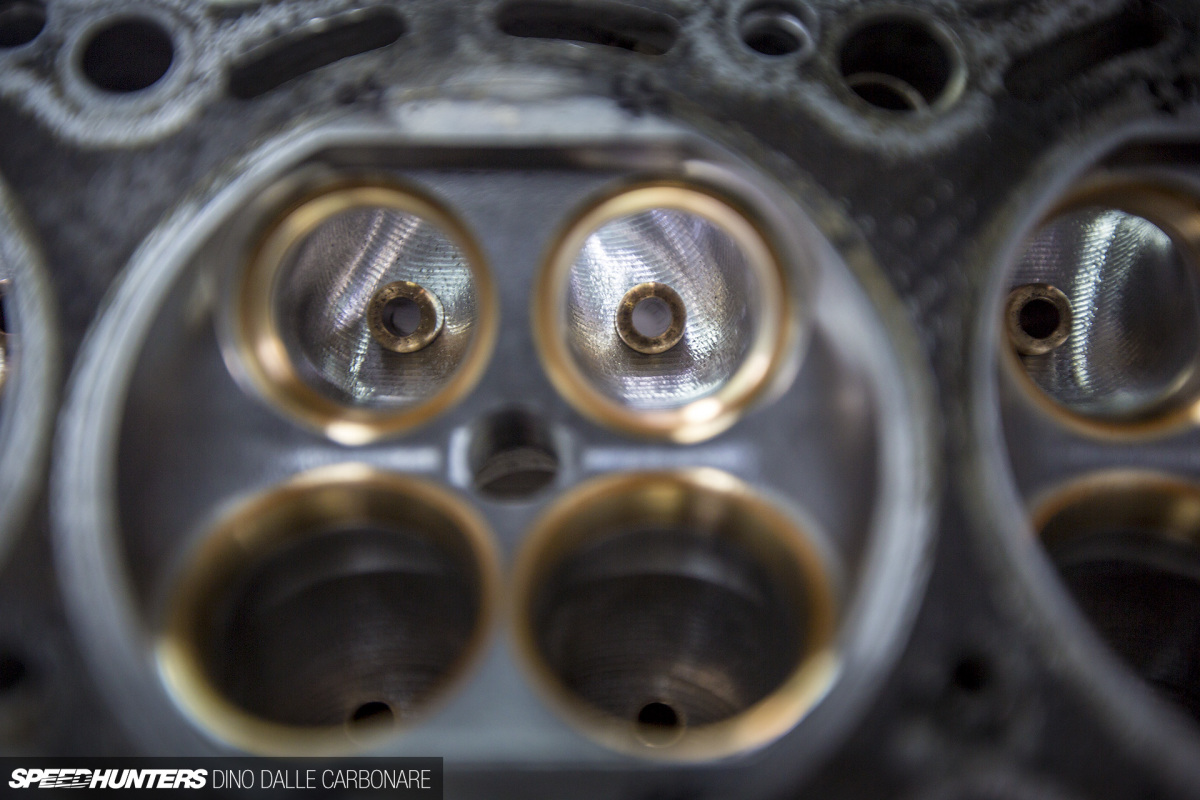 Each engine is different of course, and this is where 20-plus years of experience comes in very handy. I really can't wait for the time I can proudly bring my RB26 cylinder head to NAPREC and follow each step of the machining process.
Man I love these nerdy posts, and I hope you guys do too!
Dino Dalle Carbonare
Instagram: speedhunters_dino
dino@speedhunters.com