Magazine Hunting In Japan
Ever since I was 11 years old, a car magazine has never been far from hand.
Today, my apartment is full of them. If I'm flying, a recently purchased issue is tucked into my carry-on. During the week, I keep one in my briefcase for those rare quiet lunch breaks at work. Since moving to Japan nothing has changed. In fact, I've found myself in car magazine heaven.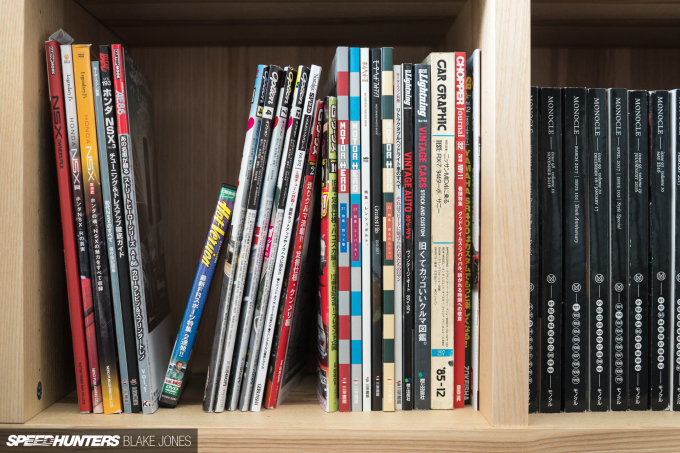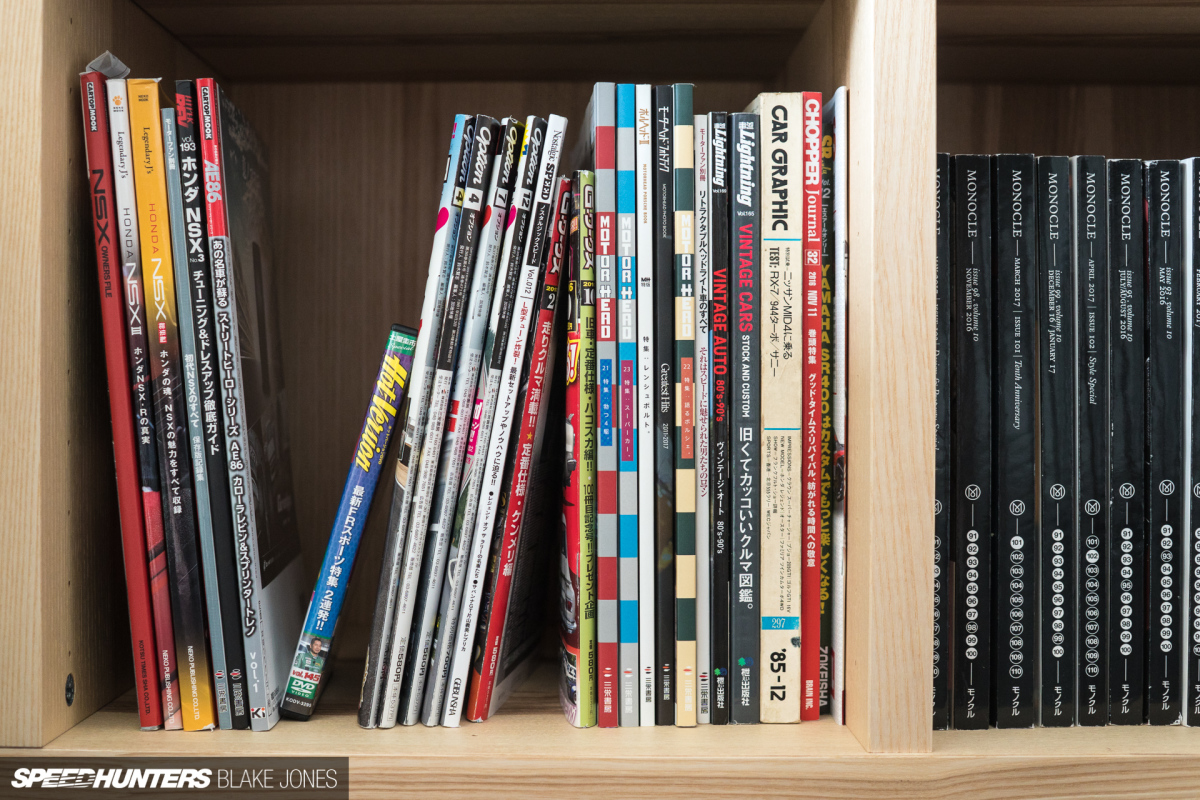 I remember very well the first car magazine that was truly mine (as opposed to one pilfered from my old man): the December 2001 edition of CAR, featuring a 996 Turbo, ageing Lamborghini Diablo VT 6.0, and E46 M3 finished in stunning Phoenix Yellow on the cover – a Christmas gift from my parents. It was the PCOTY (Performance Car Of The Year) issue and although I knew nothing of oversteer, steering feel or lateral Gs, for some reason I was captivated by what lied within. Fifteen years later and I'm still gripped by the same enthusiasm for printed car content. Pictured here is a shelf dedicated to the Japanese-language mags I've picked up over the last 12 months.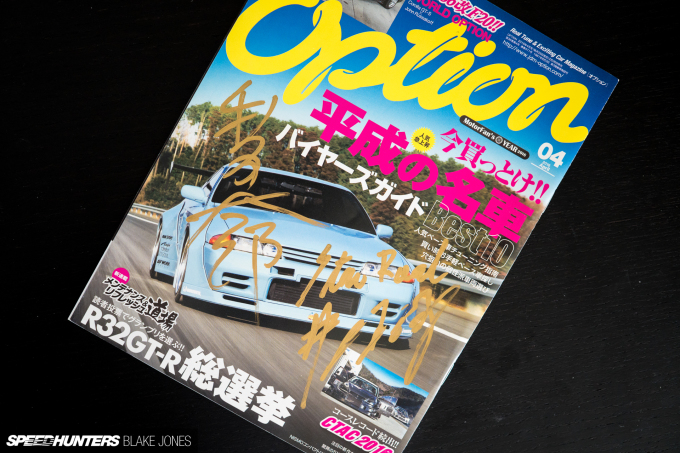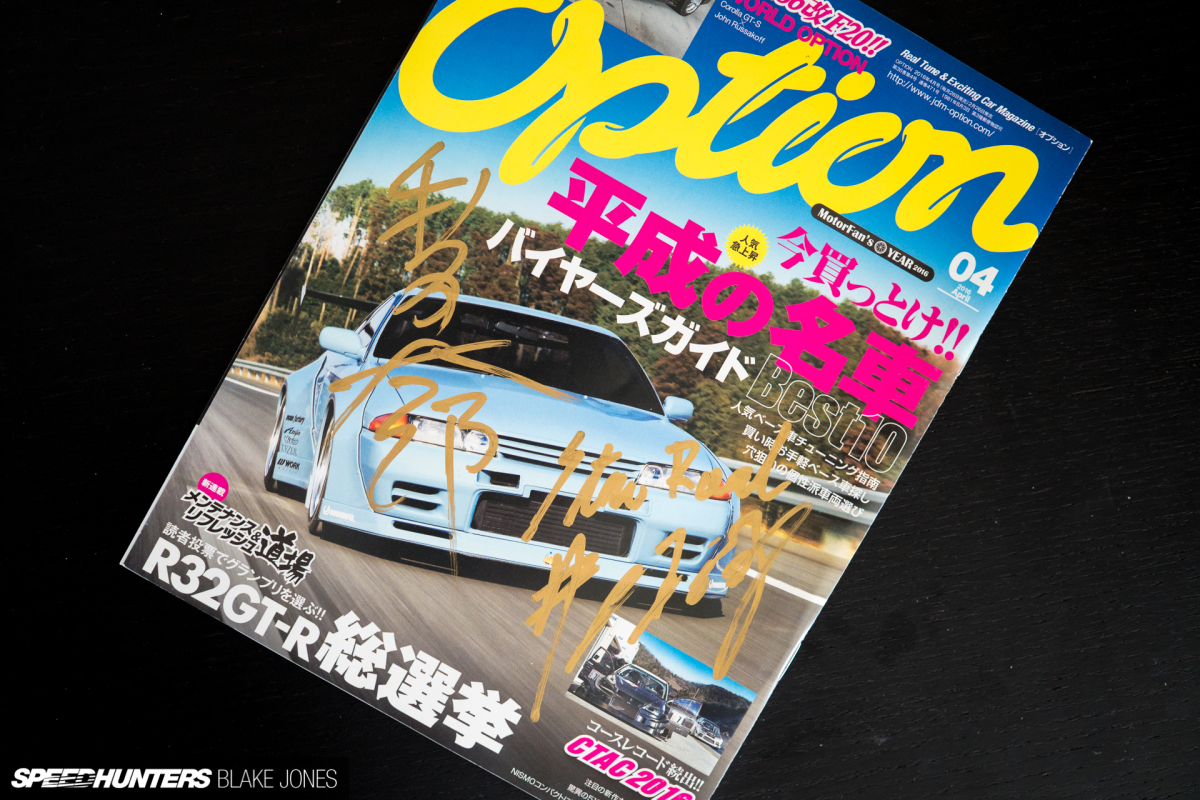 Throughout most of the world car magazines – and magazines in general – have been dying a protracted death. As readers turned to digital sources soon so did the advertisers, and many staple titles in the automotive publishing world disappeared as they began to realise that the high-speed, low-cost online model was not just a passing fad. The glossy mags I coveted as a youngster not only fostered my interest in cars but also in automotive photography and writing, and in a way led me down the path I'm still following to this day as a Speedhunter. Seeing them disappear from the shelves, one by one, was kind of like losing old friends.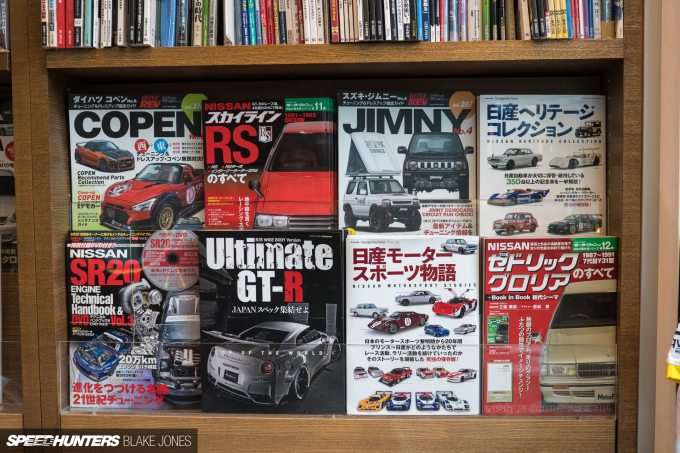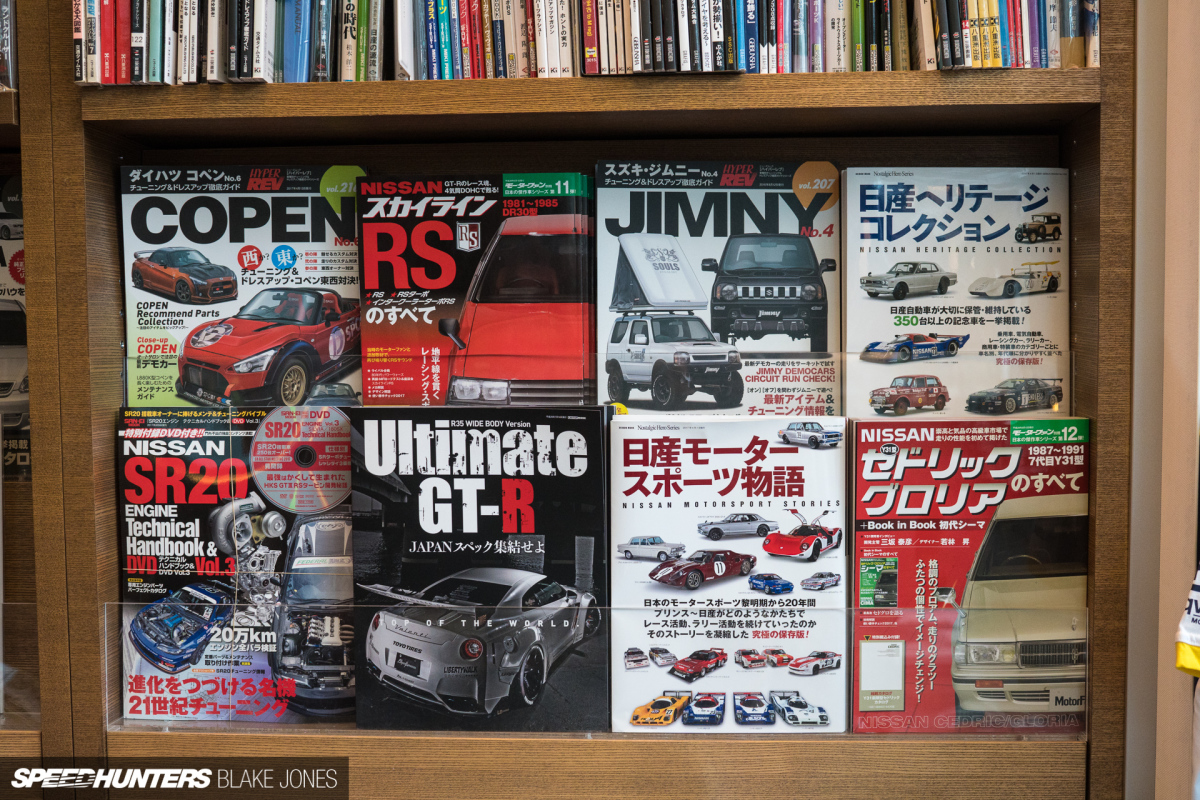 But is it any surprise that in Japan, this 'inevitable' trend doesn't seem to be taking root? Sure, the younger generation seems to be less interested in cars than ever before, but a quick stop into any newsagent reveals that there's still a huge and varied fanbase for the automobile and the publications that celebrate them.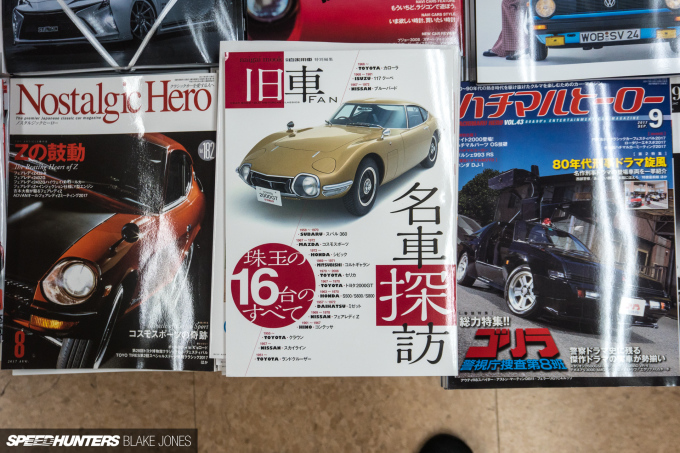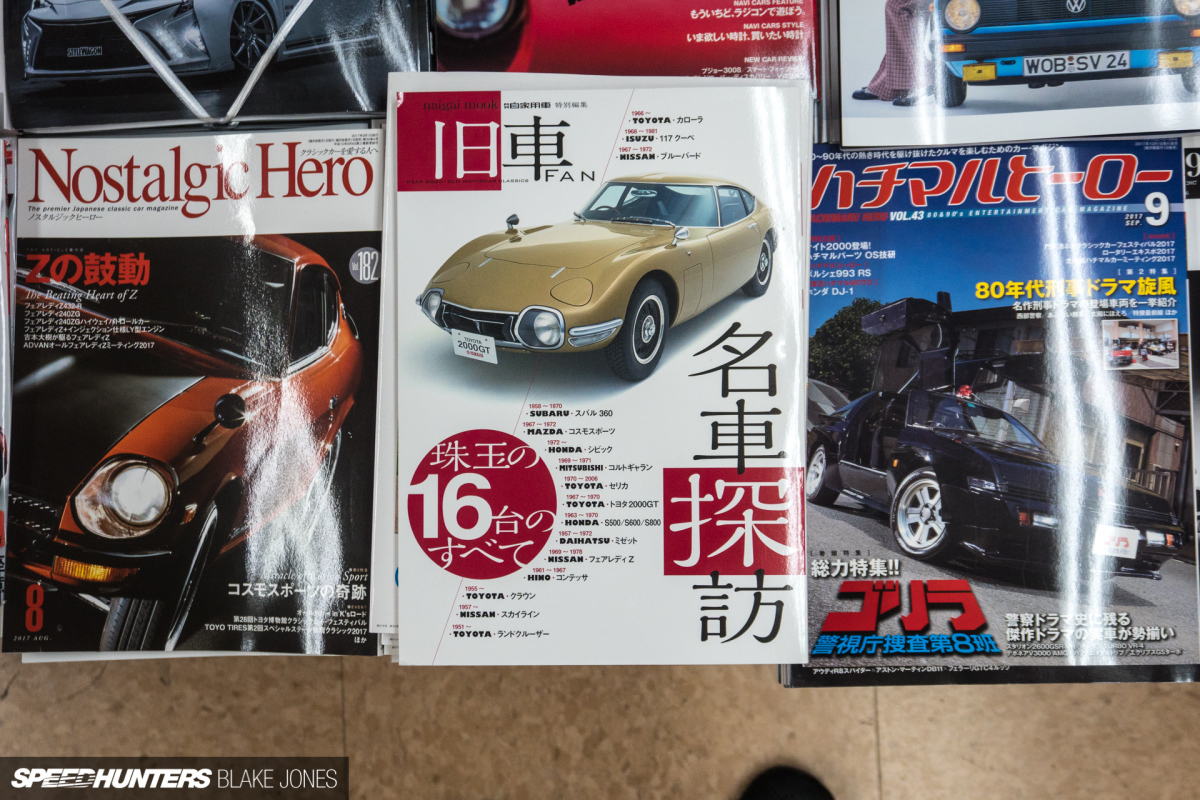 The cover photo of this story is the automotive section of the store closest to my house, and represents what you'll find at any decent-sized metropolitan newsagent. How does it compare to your local? Even here, every base is covered – from your selection of classic domestic car magazines…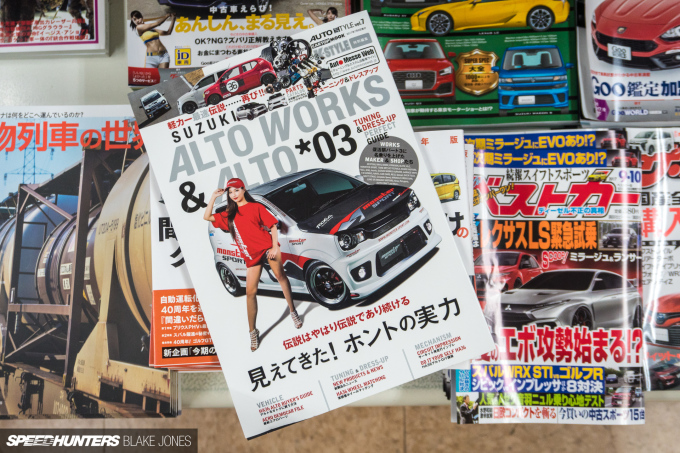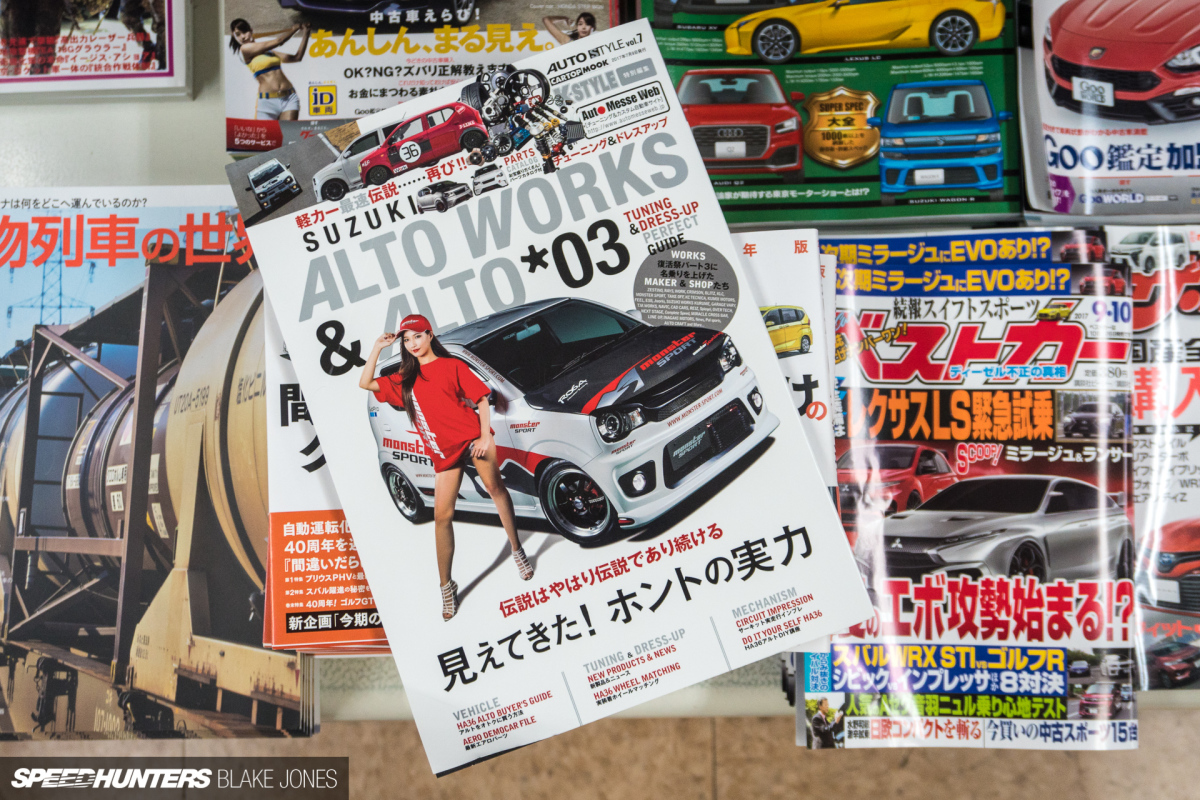 To specific issues for the latest models, including the cheapest performance car currently on sale in Japan – the Suzuki Alto Works. The turbocharged kei car is receiving a huge amount of support from the aftermarket and is becoming a super-common sight at track days. I think I should drive one soon to see what all the fuss is about.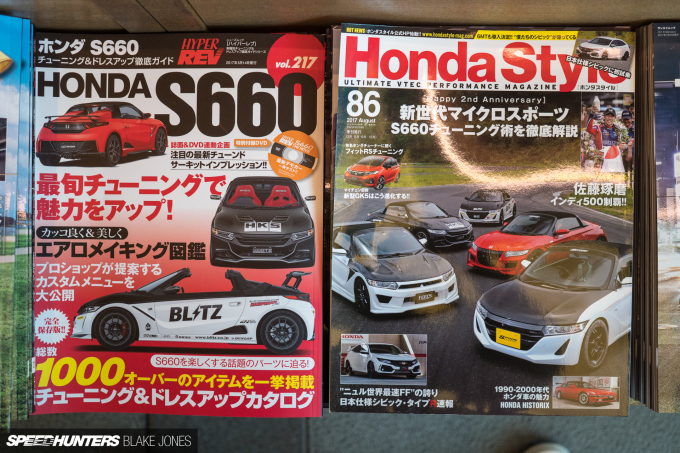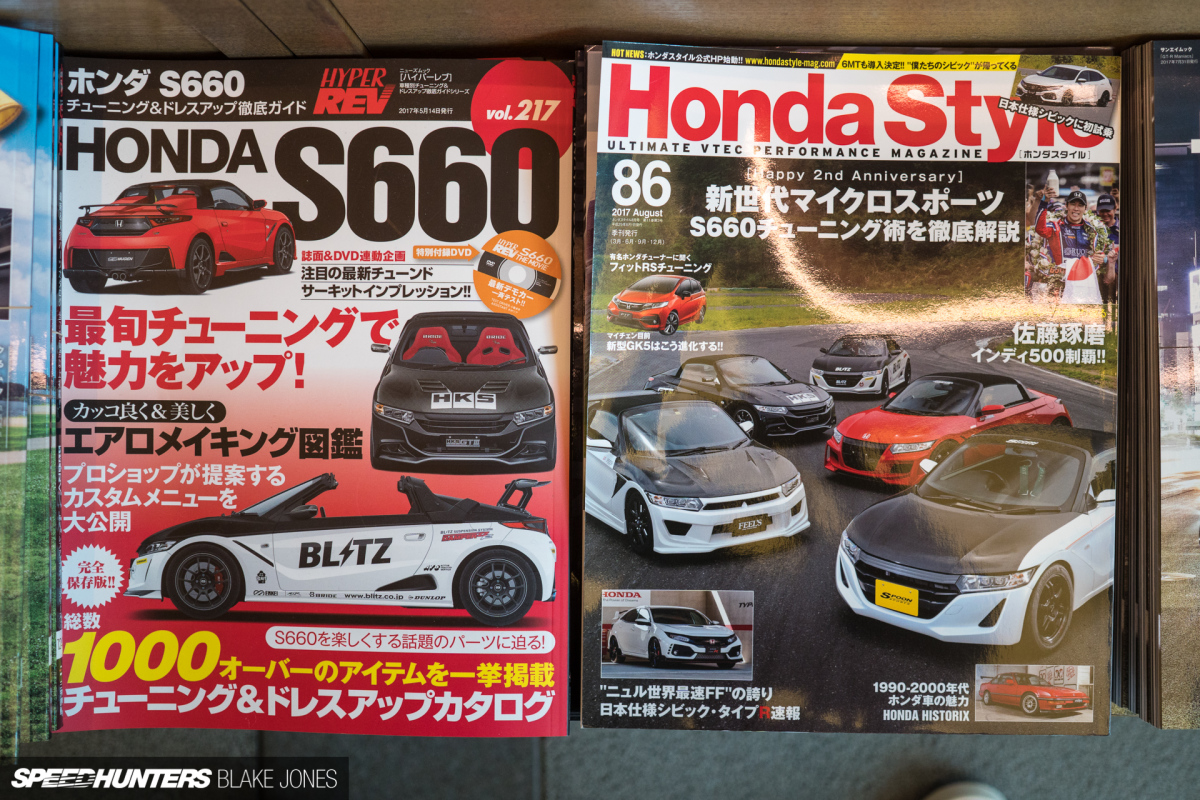 These model-specific magazines aren't released on a regular basis and lack any of the 'filler' content you might be used to seeing stuffed into car magazines. They are a must-have for budding modifiers; each issue is thick with parts reviews, DIY walk-throughs, tuning tips and more, but as a result, they are typically priced a little bit higher than a regular monthly mag.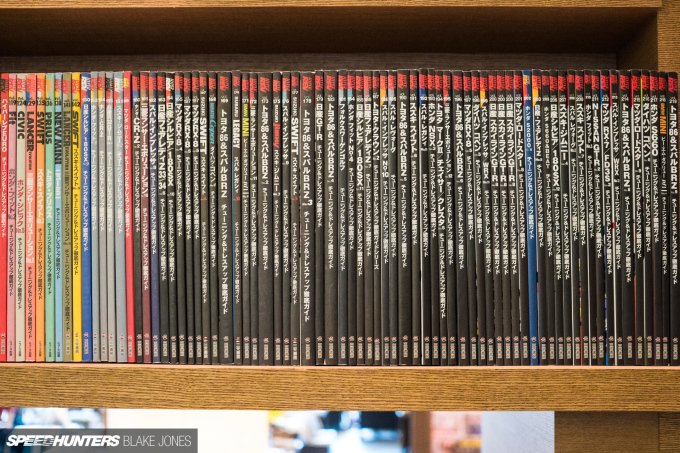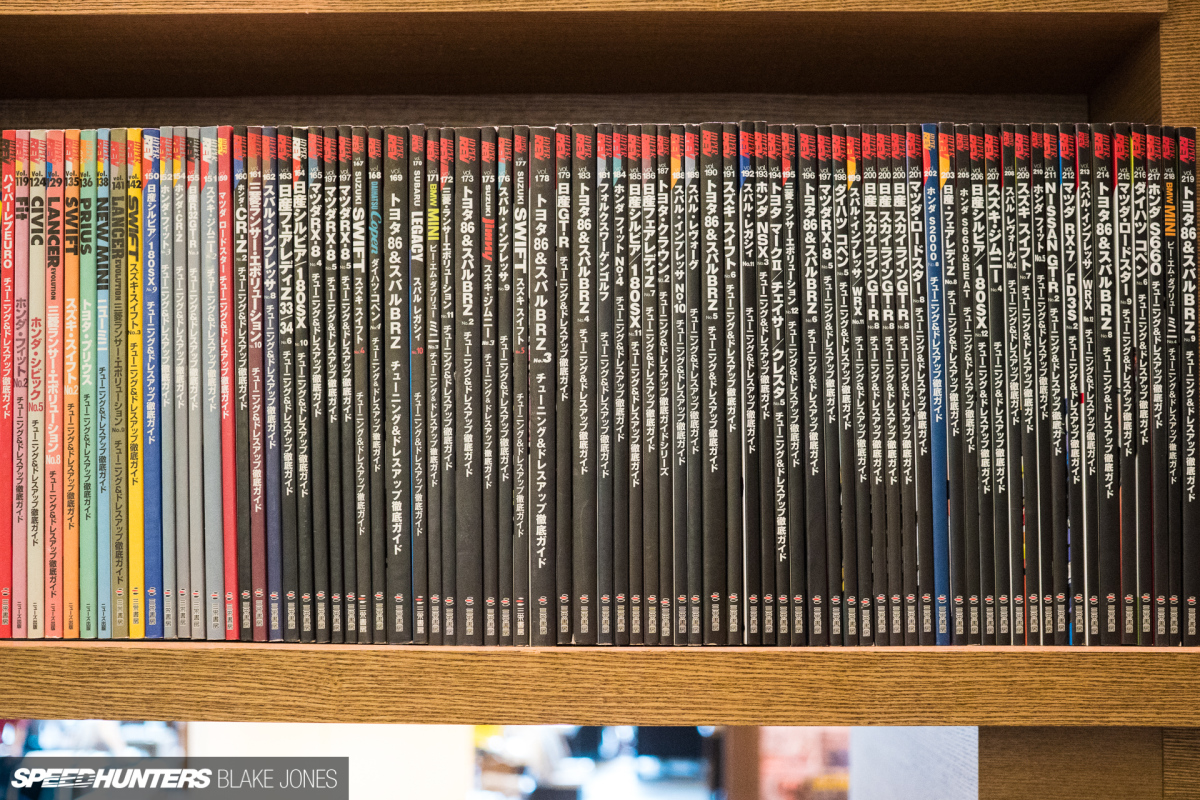 Hyper Rev churns these out for almost every model of interest, just a small selection of which you can see here.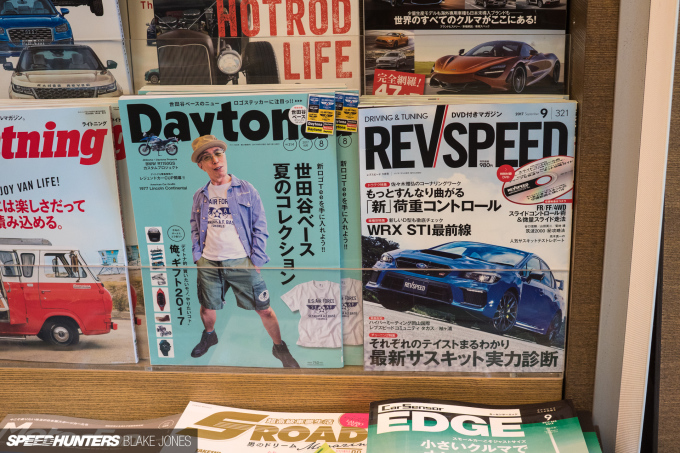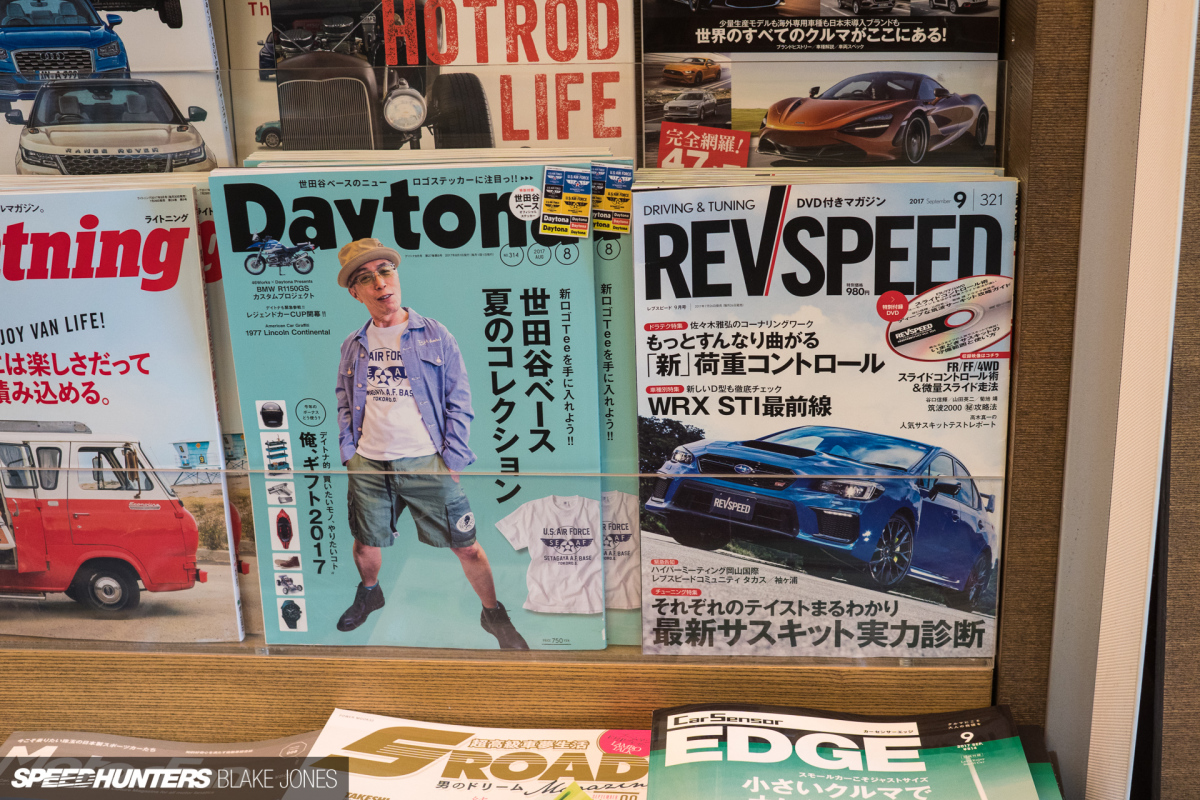 Rev Speed is interested in one thing only: the pursuit of constantly lower lap times. In addition to in-depth coverage of the Japanese time attack scene, the magazine also hosts its own popular events throughout the country.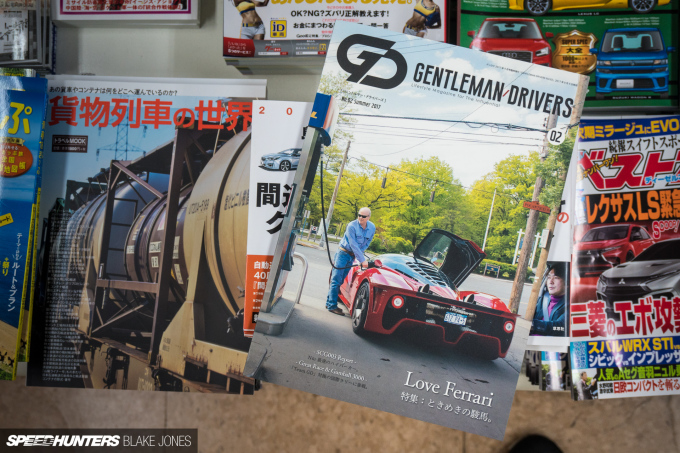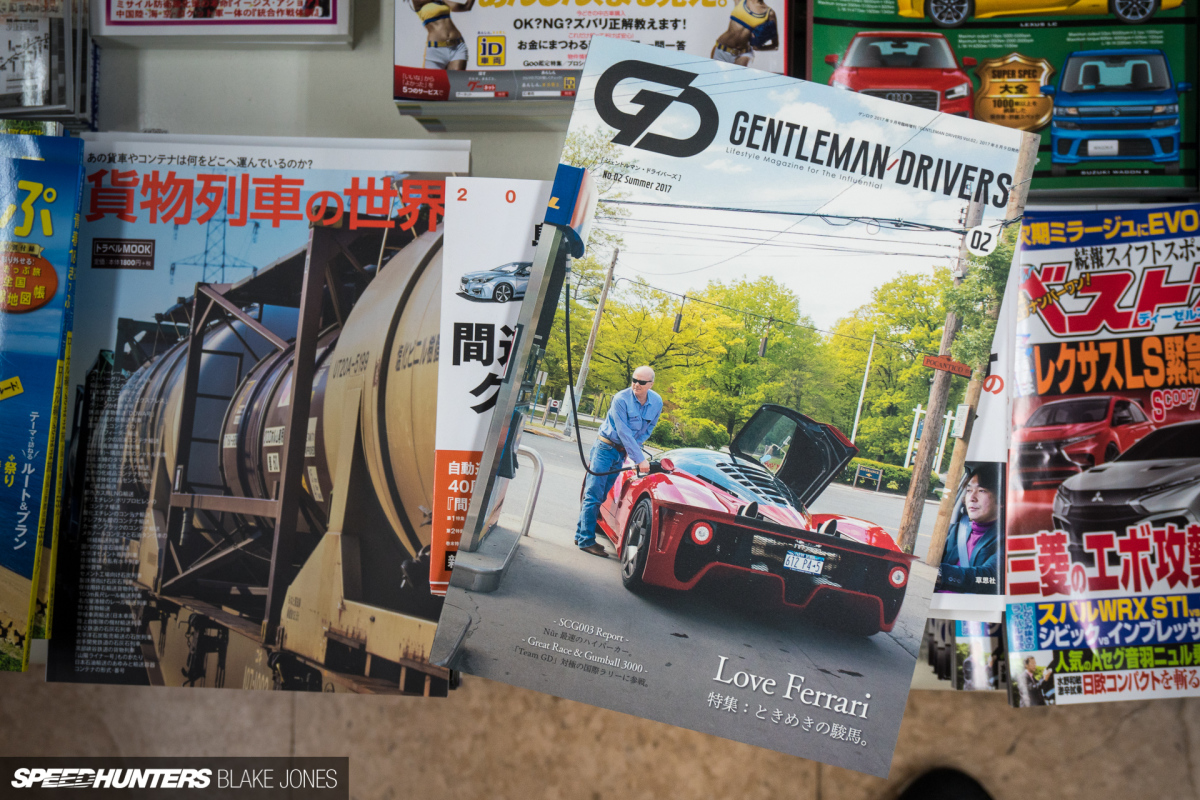 Some magazines are less concerned with technical specifications and more about the driving experience. The team behind Motorhead – a magazine many of you will already be familiar with – has recently launched a new title called Gentleman Drivers. The paper stock, photography and overall design is beautiful, but the ¥2,000 price tag reminds me that I'm poor just as the Ferraris inside do (I guess it's all part of the experience).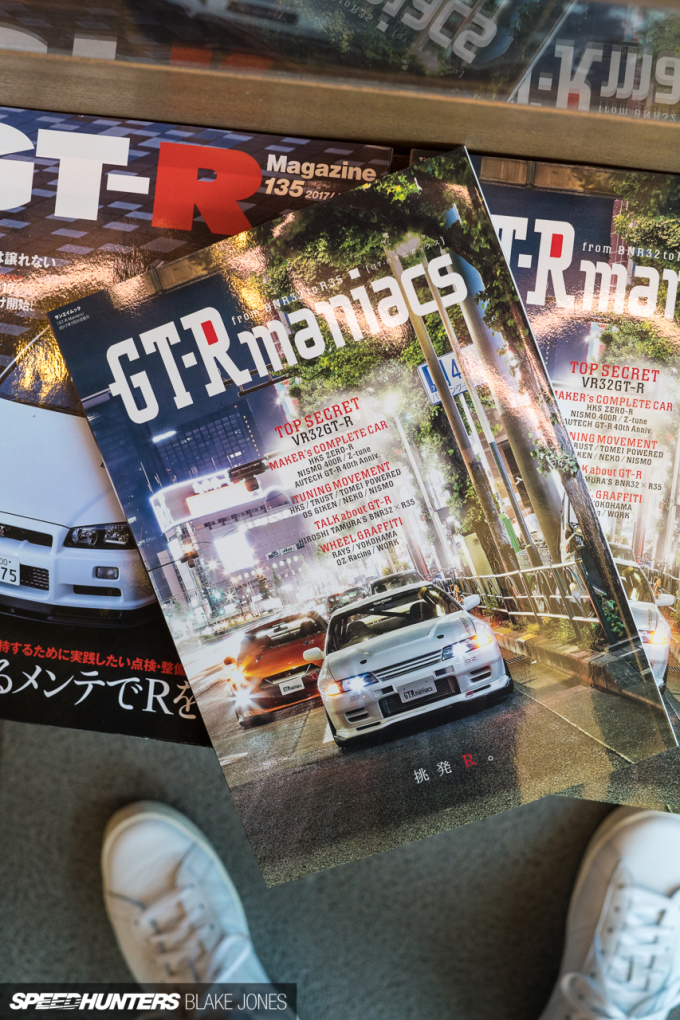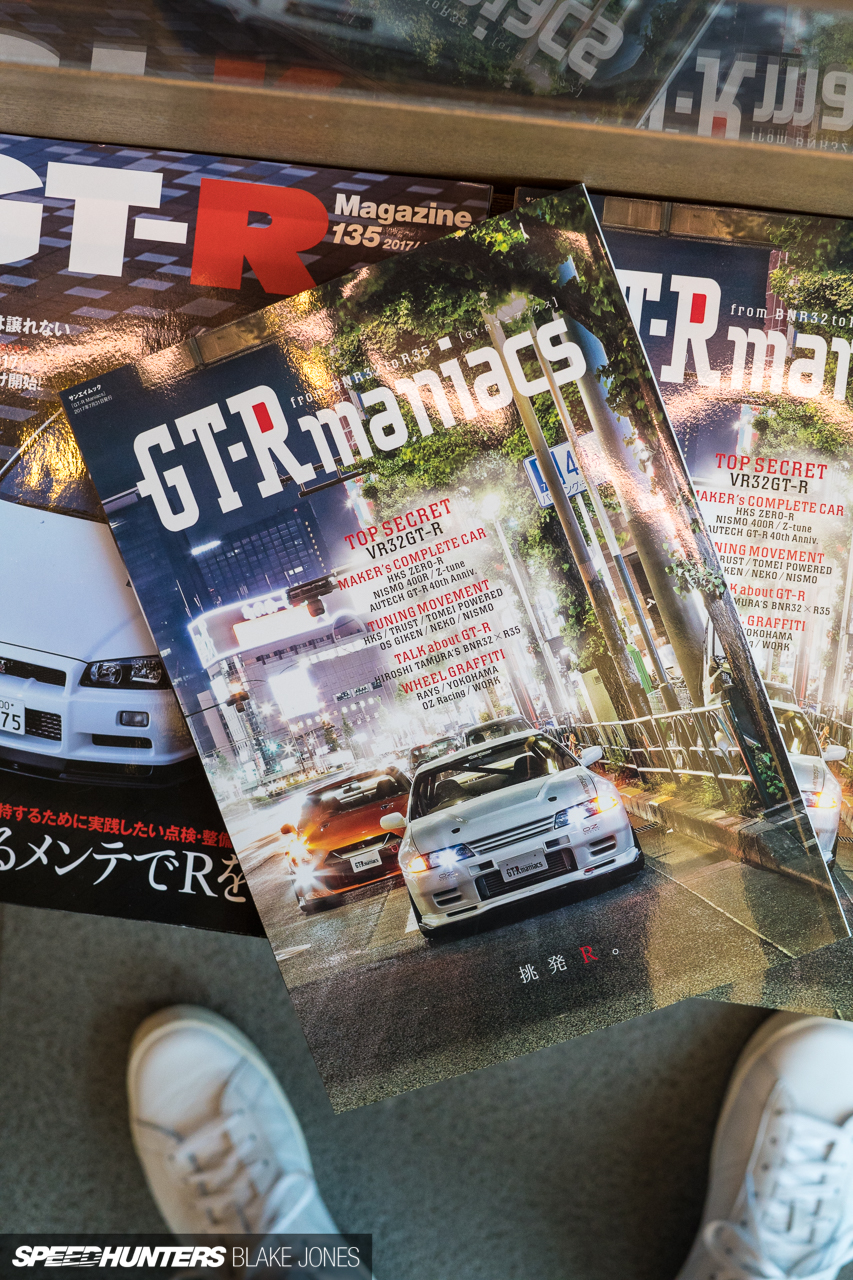 These premium titles are a more recent addition to the shelves and represent innovation from an industry usually criticized for lacking any. Instead of trying to compete with online publishers, they are offering a tangible, high quality product experience and are charging appropriately. I'm sure GT-R fans out there would die to get their hands on a copy of GT-R Maniacs, which brings together everything I love about Japanese car magazines into a single package.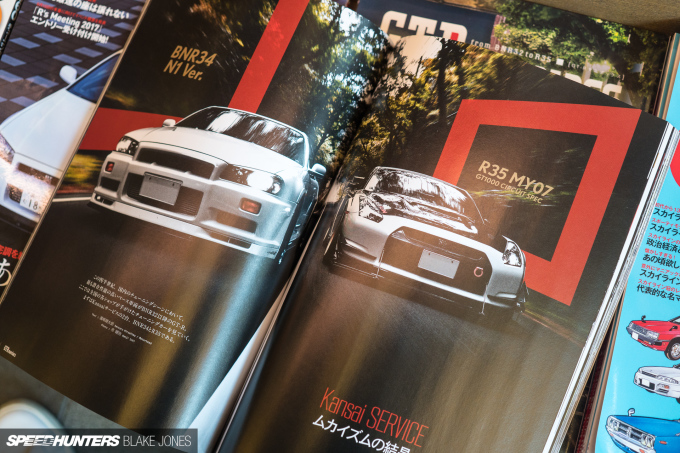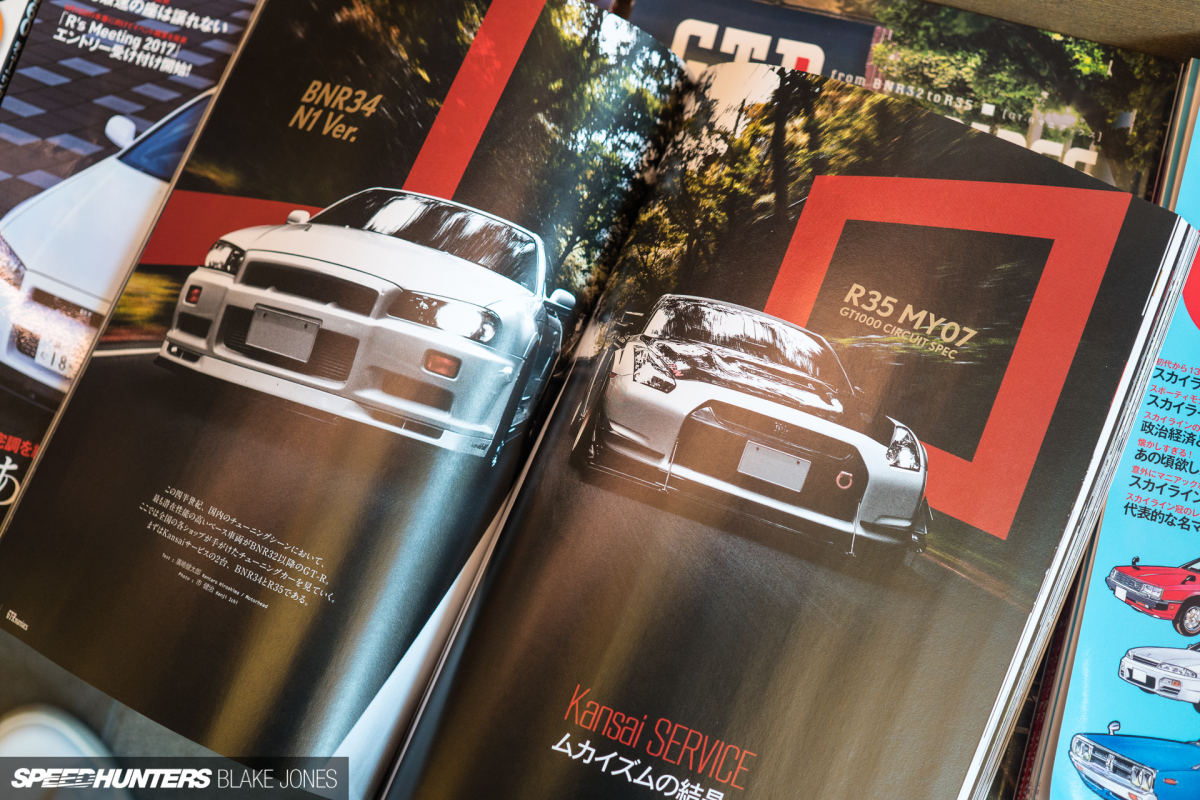 Specifically, an obsessive enthusiasm for a single car, a preference for function over form, and beautifully photographed comparisons of rare and modified specials.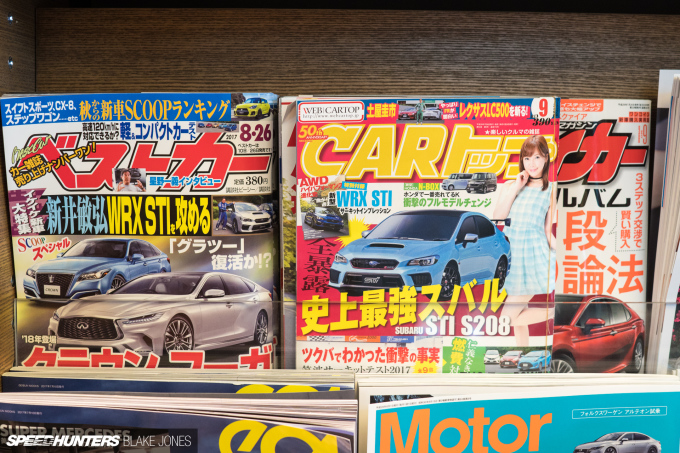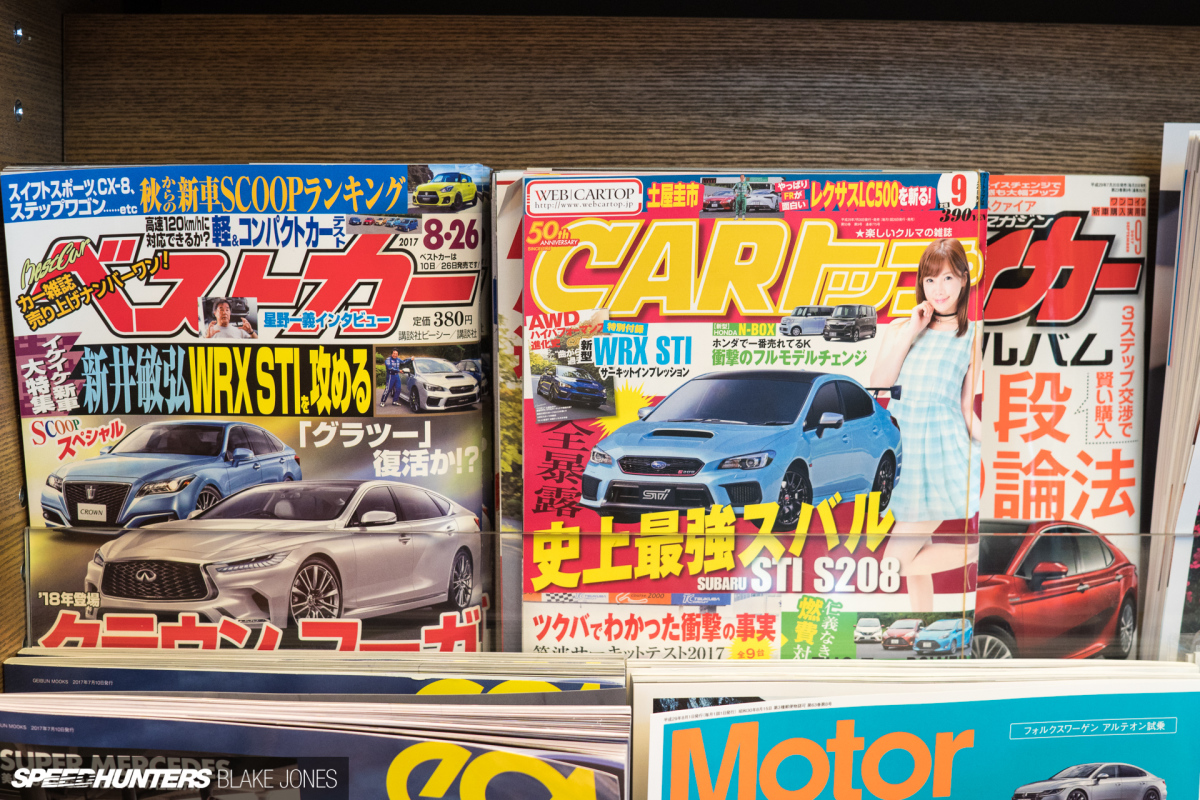 At the other end of the spectrum long-time staples Best Car and CarTop serve up the latest industry and model release news, and have an uncanny ability to correctly predict the exact details of future vehicles from Japanese manufacturers, oftentimes even using the internal product codes to really rub in the fact that their sources are the real deal. When it comes to Japanese cars, I can basically ignore anything speculated by the international media unless these two publications are saying the same thing.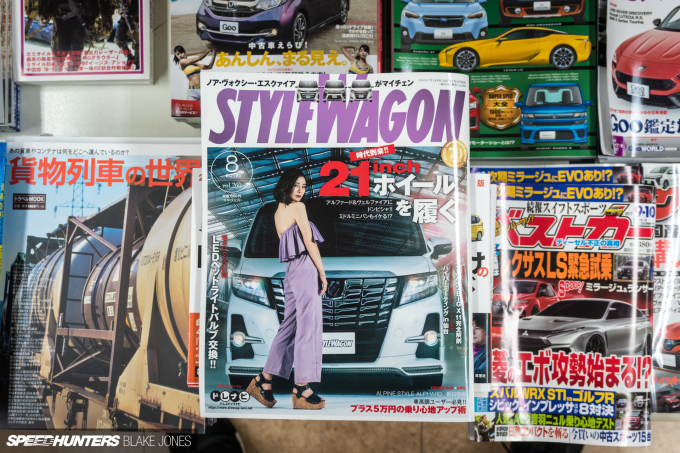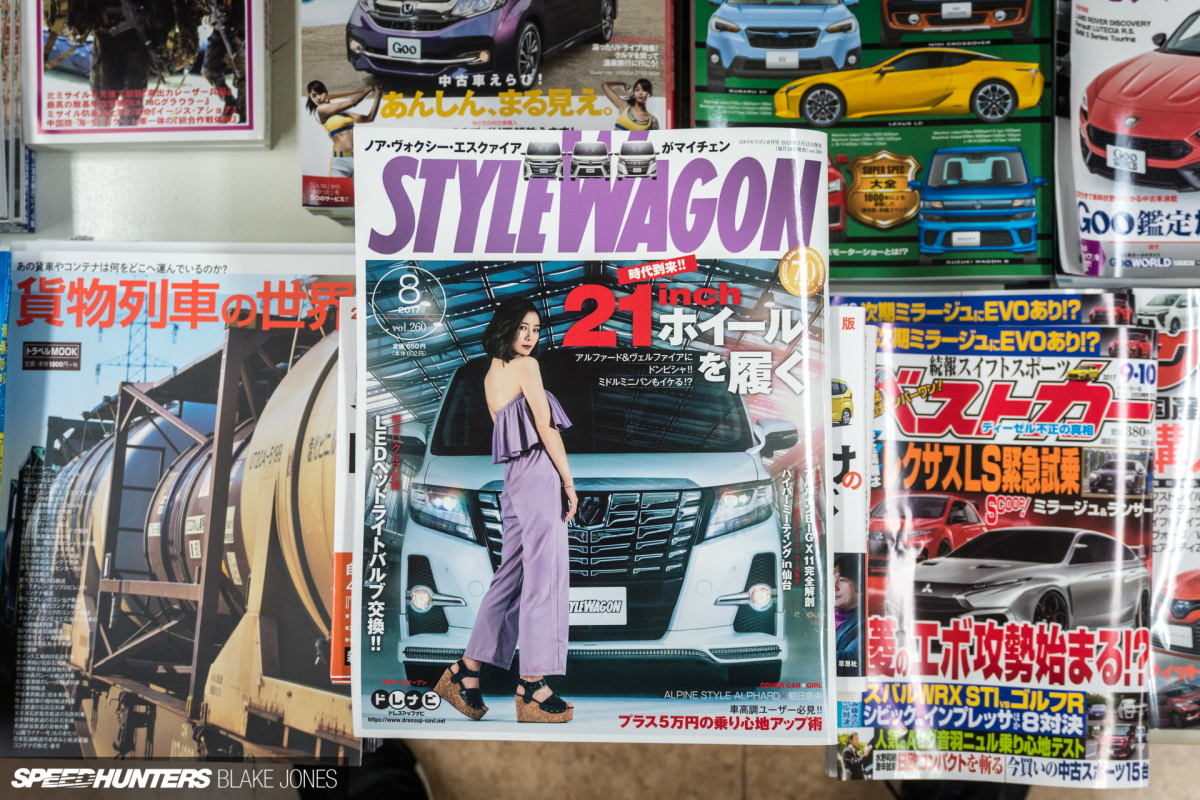 Style Wagon accommodates the huge legion of minivan drivers who want to stand out from the crowd. Because nothing attracts beautiful women like the family van riding on 21-inch wheels and pushed low to the ground by the weight of your six children in the back. Right, Dino?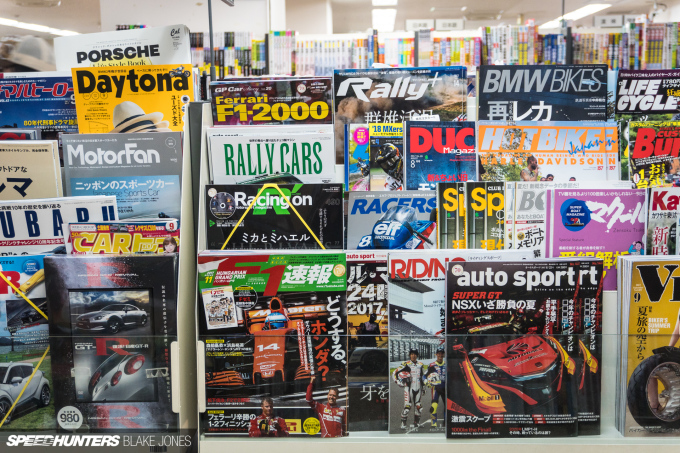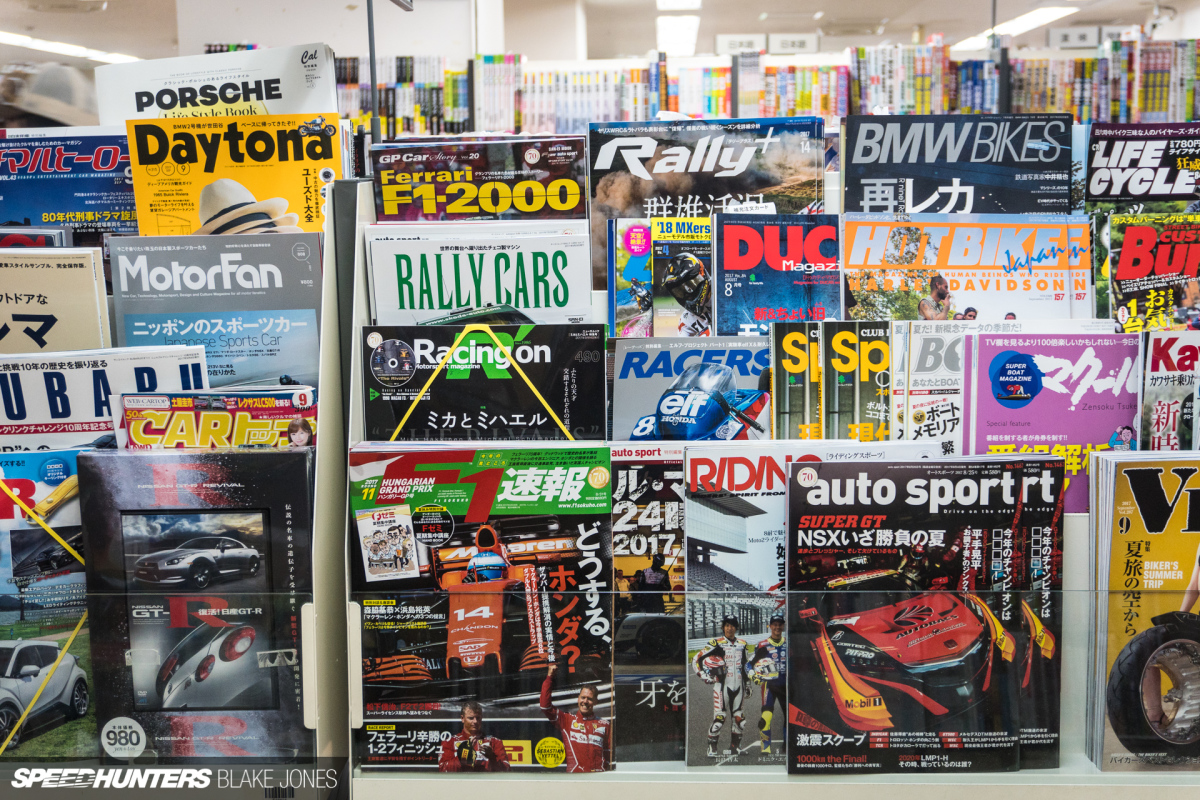 I don't have time to go into them in depth here, but there's also typically a great selection of motorsport-specific publications to choose from.
The Motherload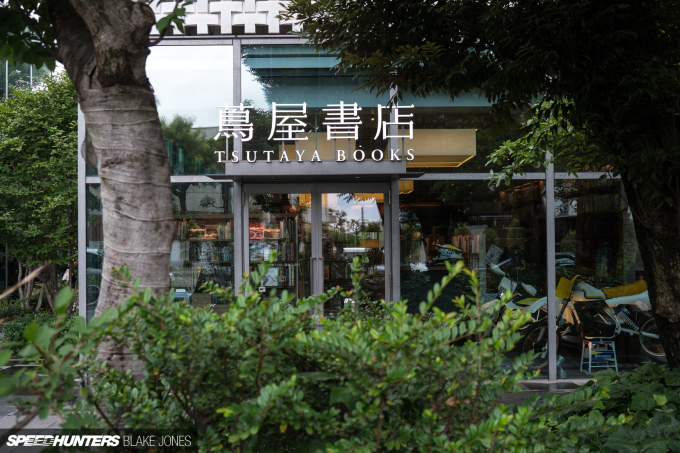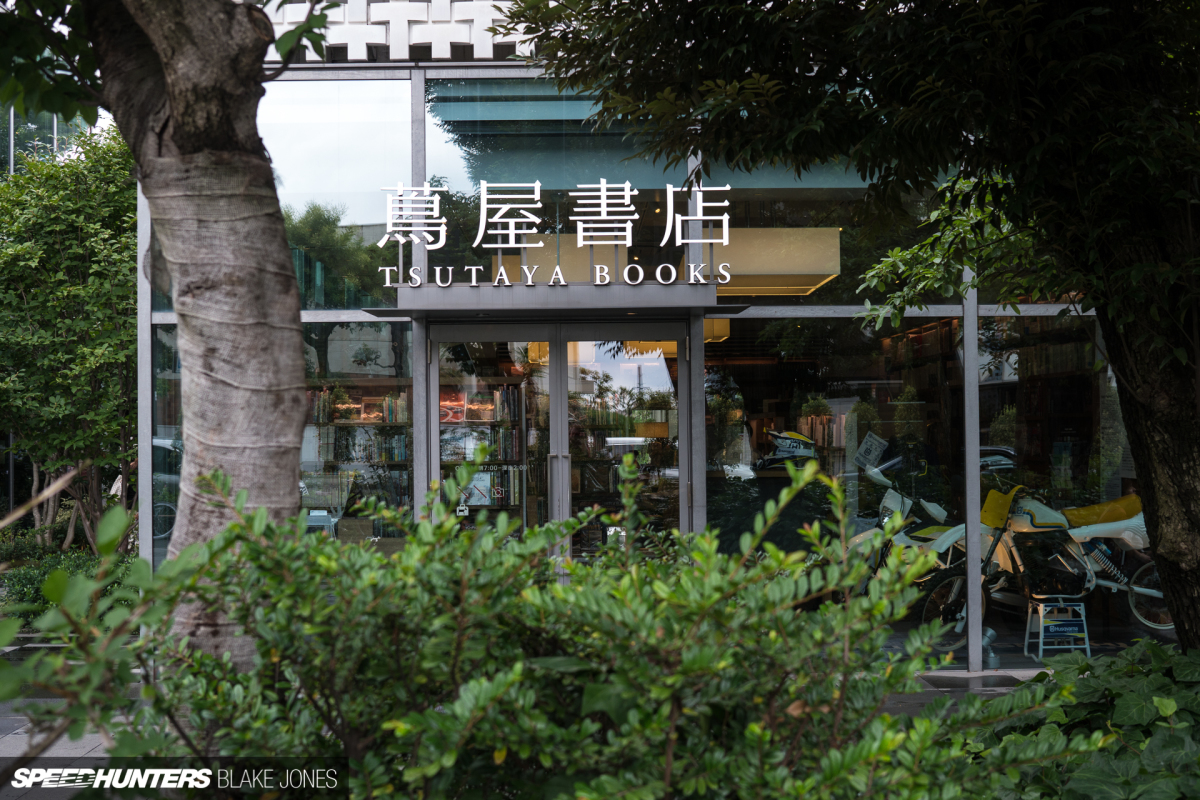 As good as my local newsagent is, I knew for this story I wanted to show you somewhere a little bit more special. Amongst high-end boutiques and embassies in the trendy Tokyo suburb of Daikanyama sits T-site, a massive mixed-retail space that serves as the flagship for the country-wide Tsutaya Books chain.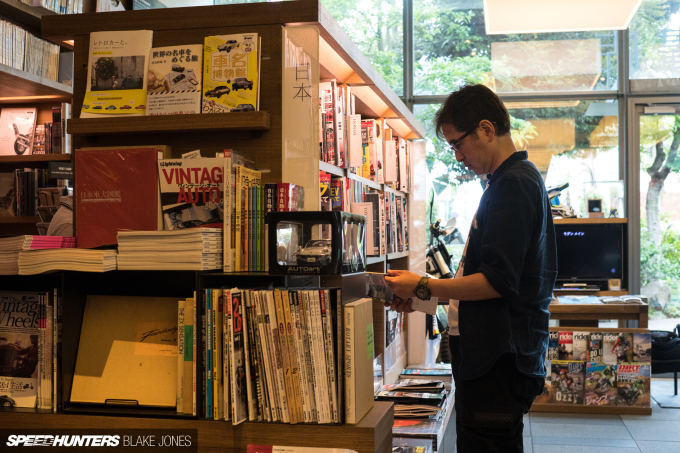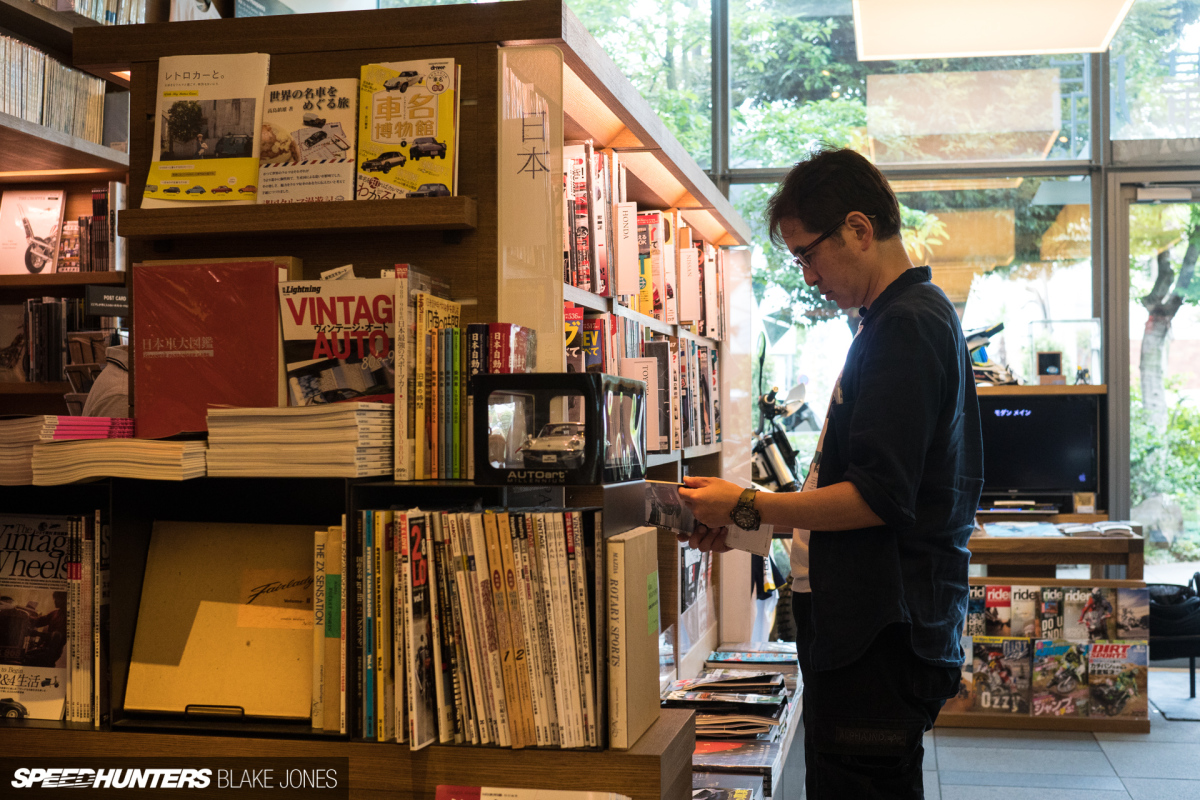 It's worth visiting for the architecture alone, but it's the automotive section that really needs to be seen to be believed; in itself it's larger than many whole book stores! I'd wager that if you can't find it here, you're probably not going to find it anywhere.
But be warned – this place poses a serious threat to your bank balance. Beyond printed goods, there's always a selection of interesting collectables available such as these limited-edition Singer scale models from Japanese company Make Up Co Ltd., selling for about $US250 each.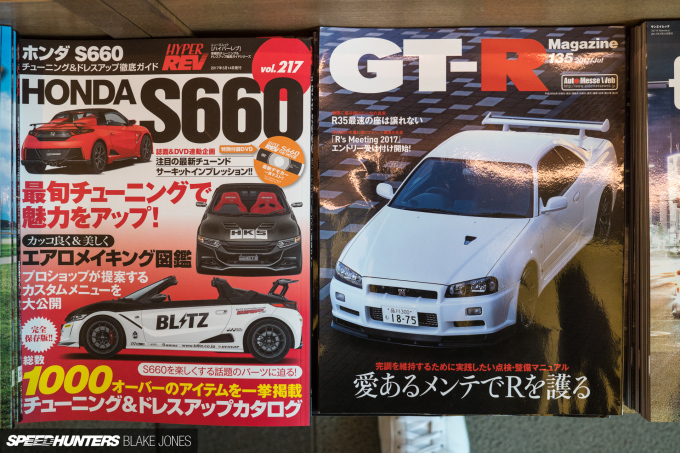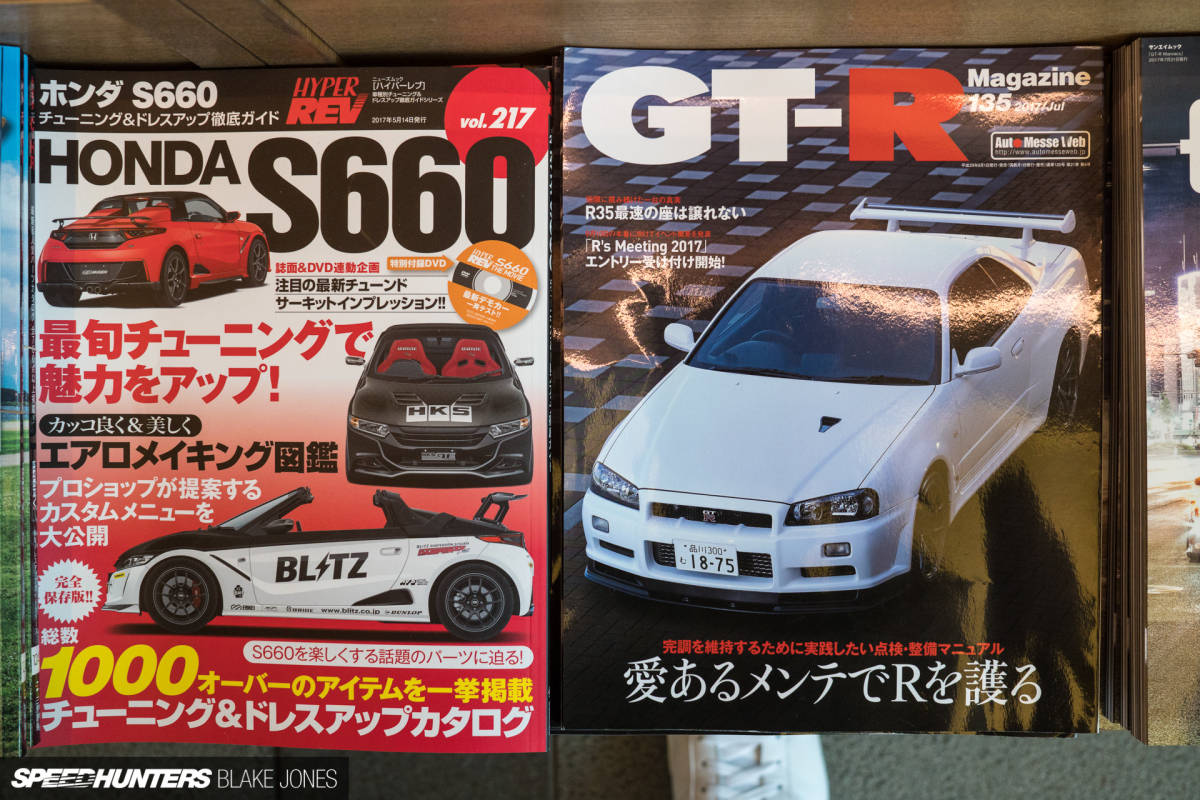 Of course, you can find the same sort of model-specific magazines as a regular newsagent…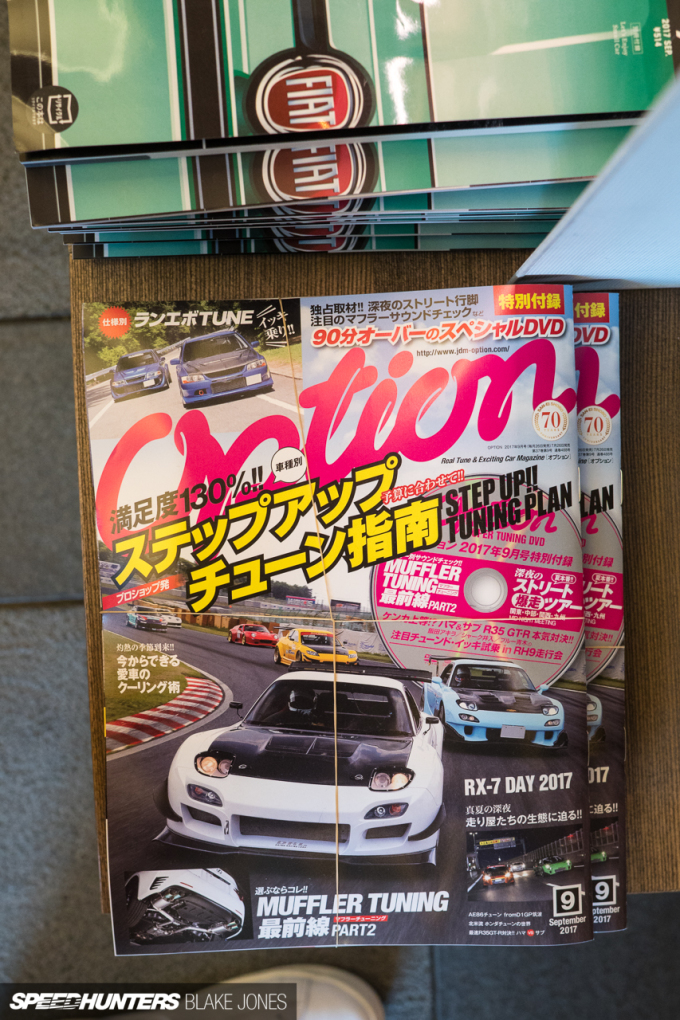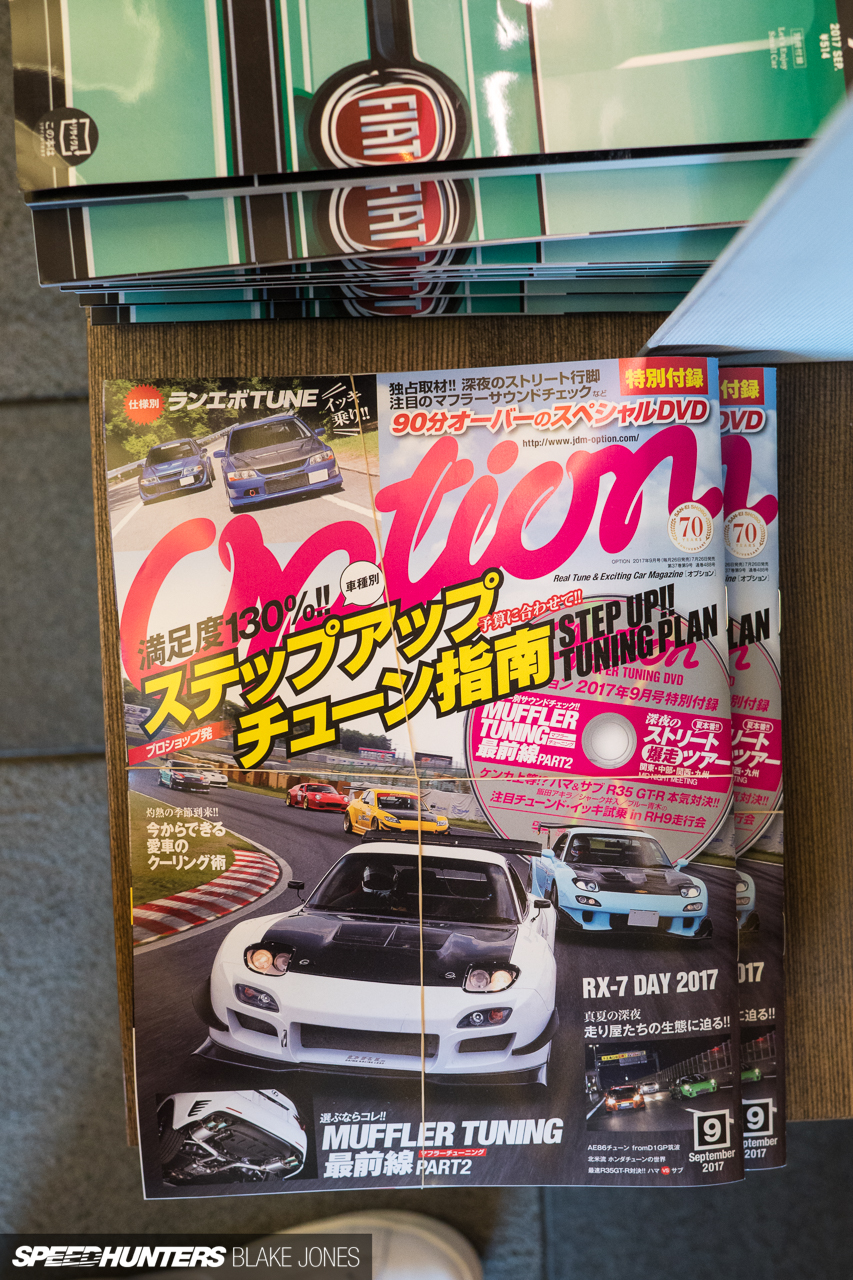 As well as long time favourites like Option - this month's issue headlined by a rotary comparison at Tsukuba Circuit and a "Step Up Tuning Plan". Option is probably the most prolific tuning magazine and can still be found at most convenience stores.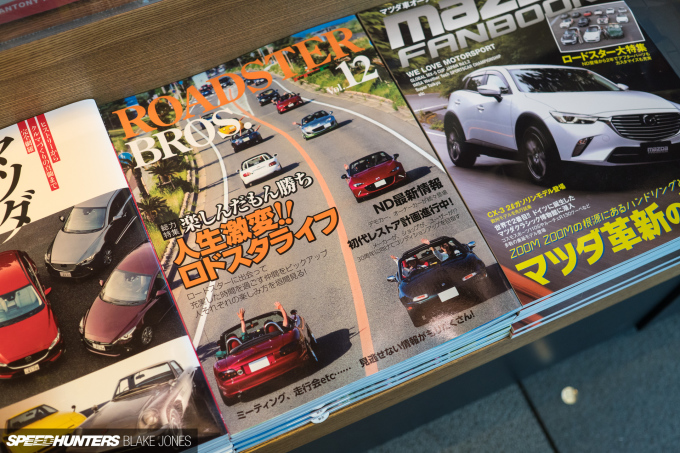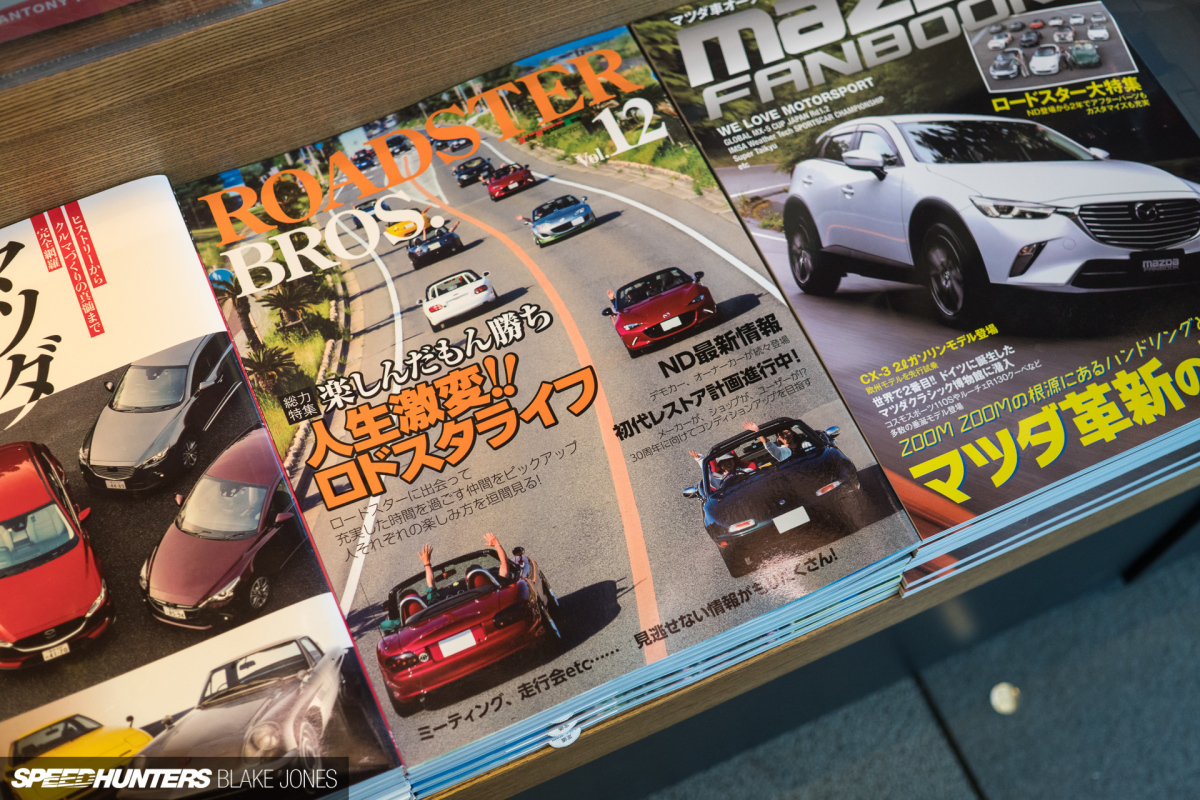 But due to the sheer size of Daikanyama T-Site, there's really no base left uncovered.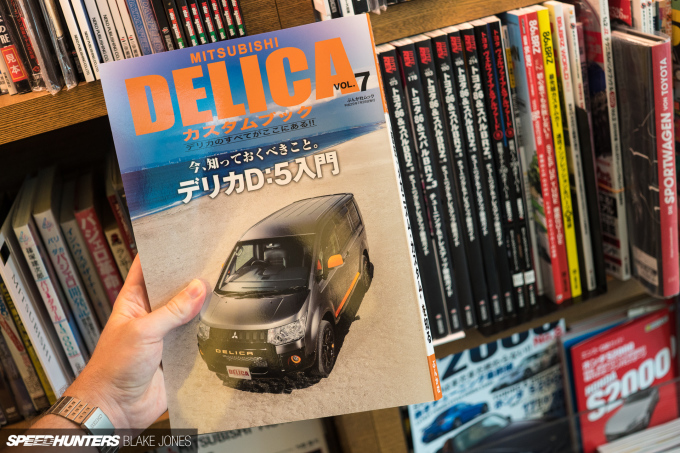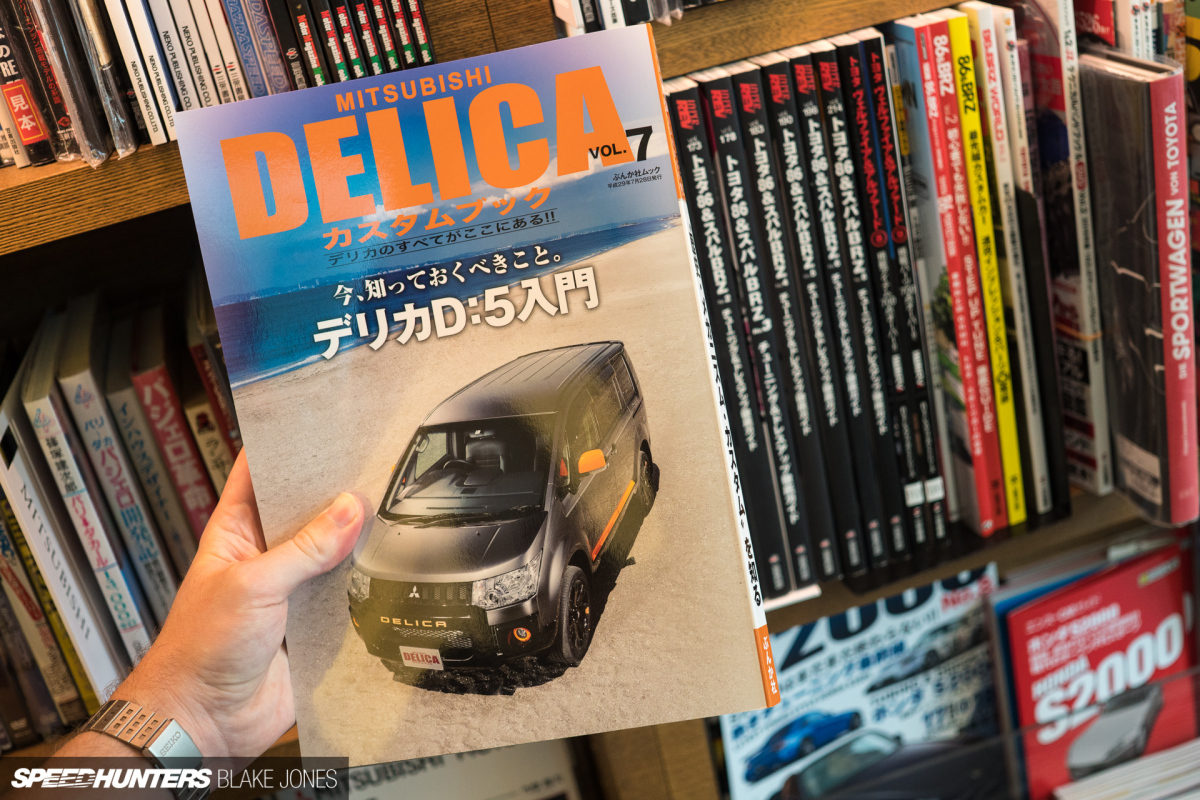 Even JDM-market favourites like the Mitsubishi Delica get their own thick custom bibles. And it's not a one off – this is Volume 7!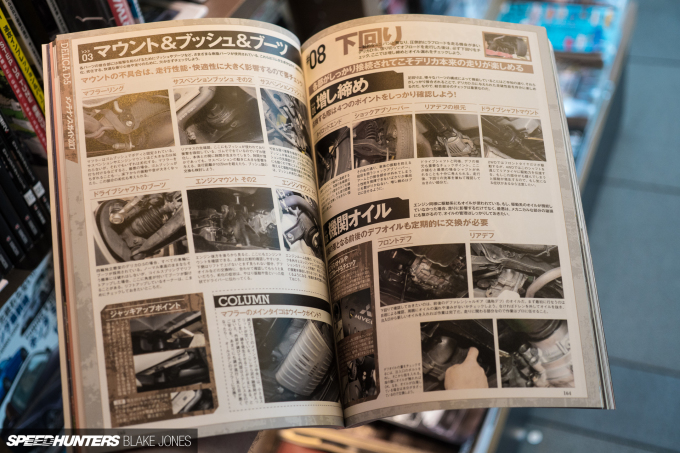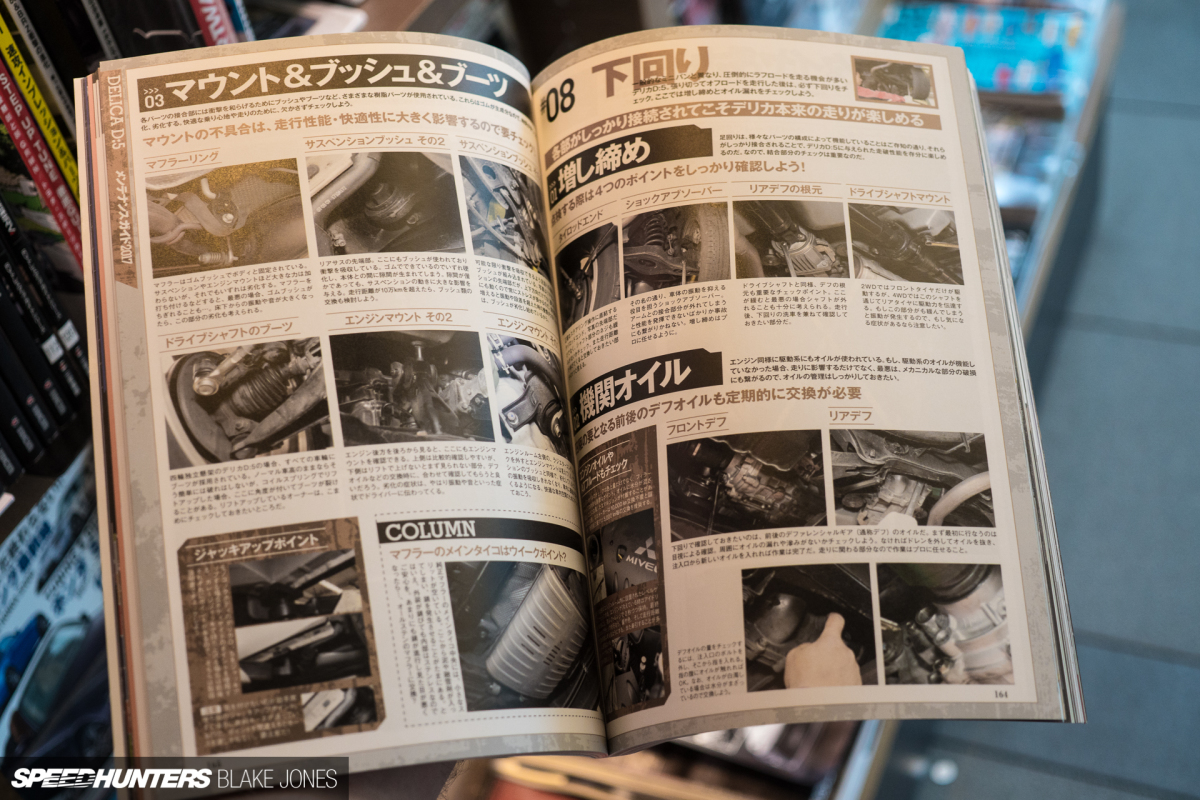 Inside you can find extremely detailed DIY guides for every conceivable job that the home mechanic might attempt.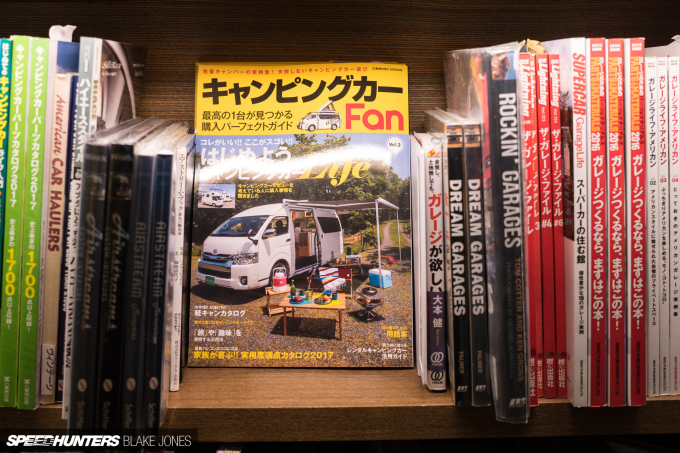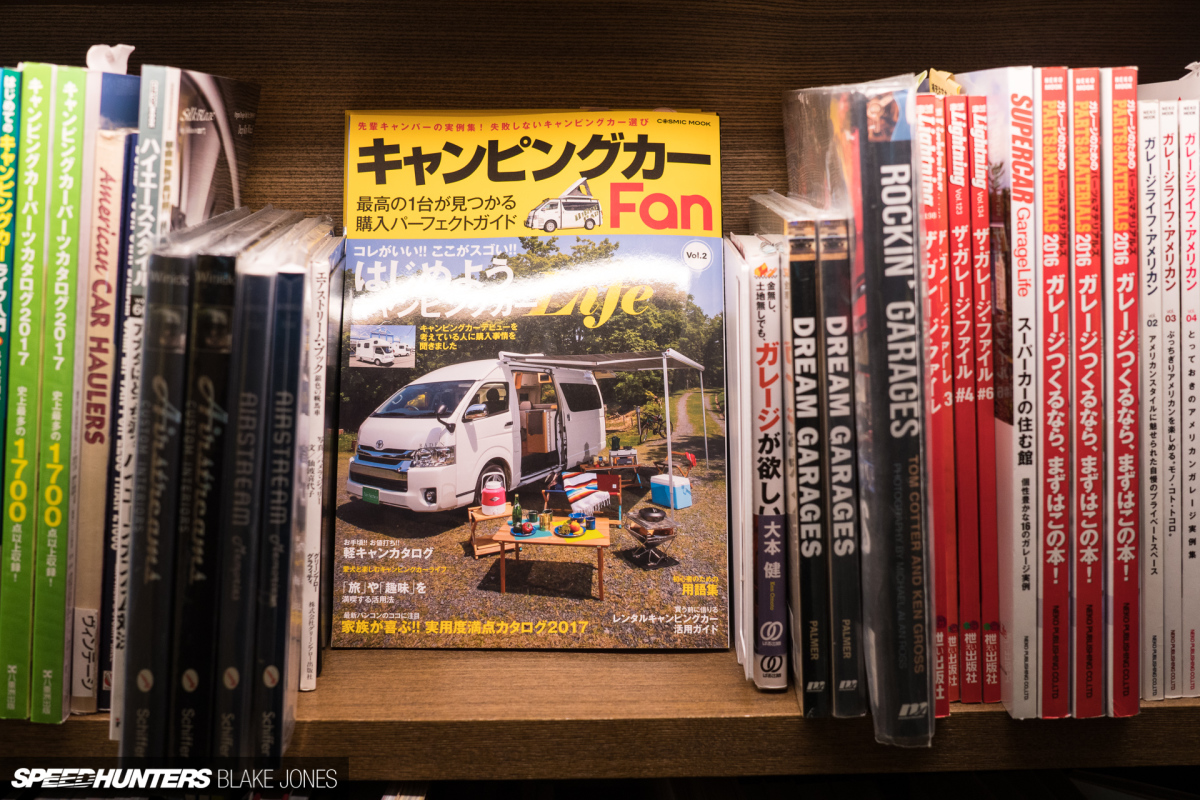 There's even magazines specific to fans of 'camping cars', which are usually converted vans; RVs are a very rare sight on Japanese roads.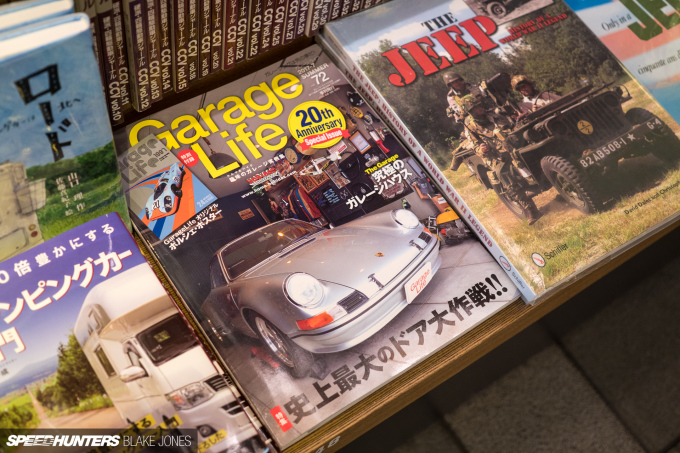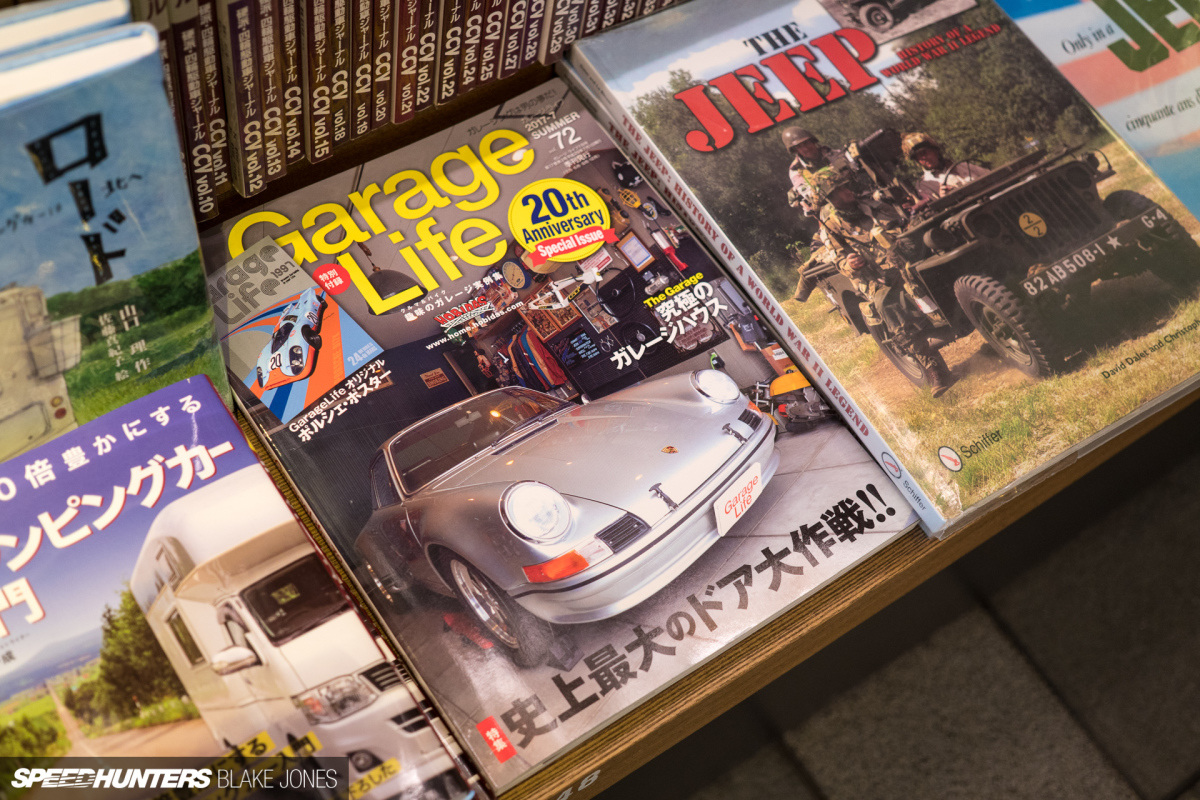 Although it's technically not a car magazine, Garage Life is one of my favourites to leaf through. Instead of focusing just on the cars we put inside our garages, the magazine looks at the space itself including building design, tools, artwork and anything else that makes up these ultimate man caves.
Being Japan, there's some crazy collections to be found of course.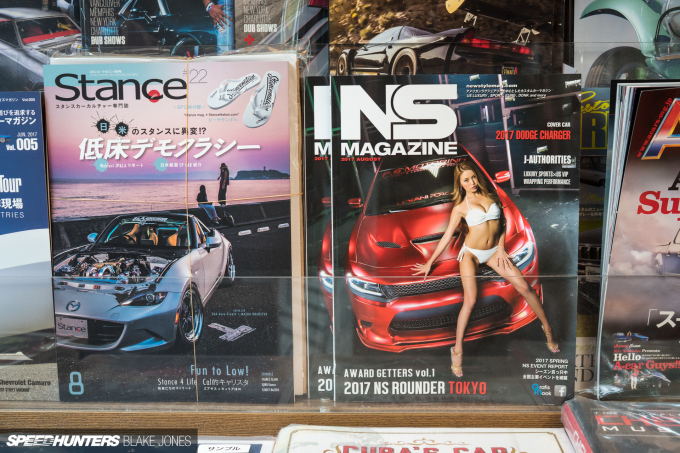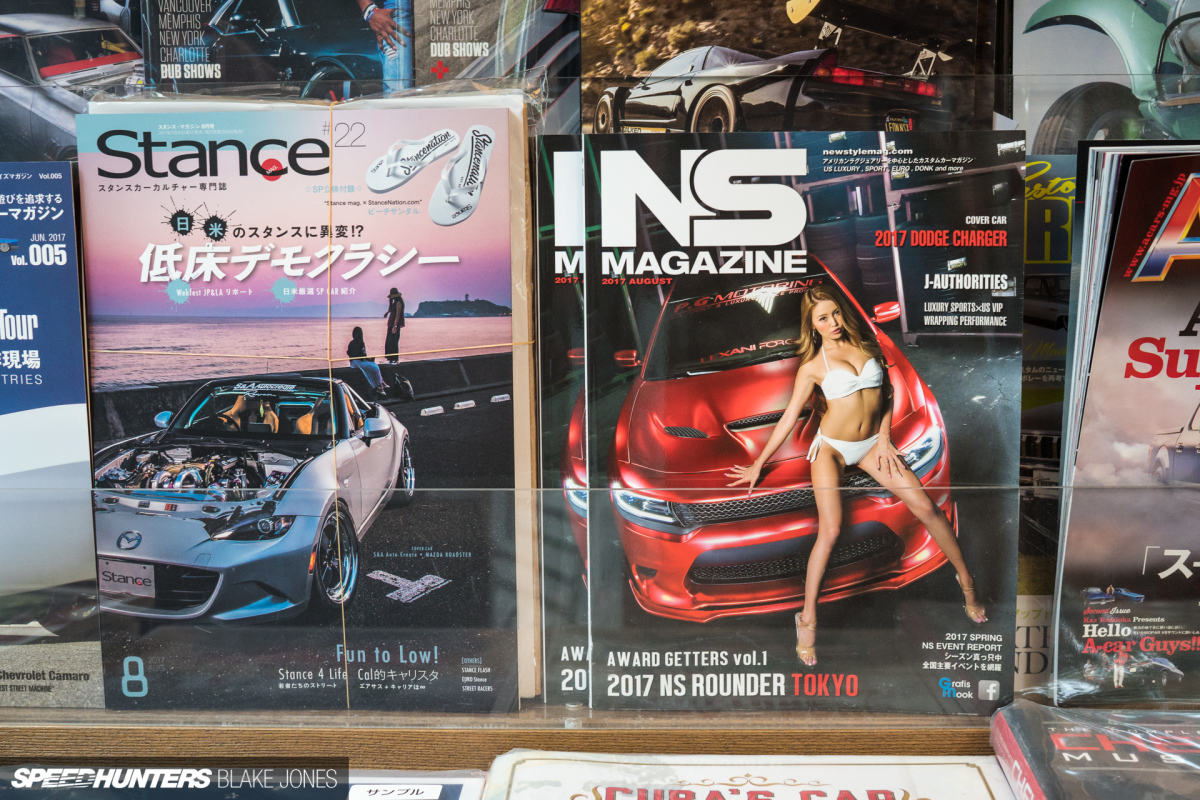 As we know the cycle of Japanese car culture influencing American car culture influencing Japanese car culture is still going strong, and there's a bunch of interesting magazines that try to make sense of it all. Despite mainly containing cars built in Japan, magazines like Stance and NS sit alongside the American publications.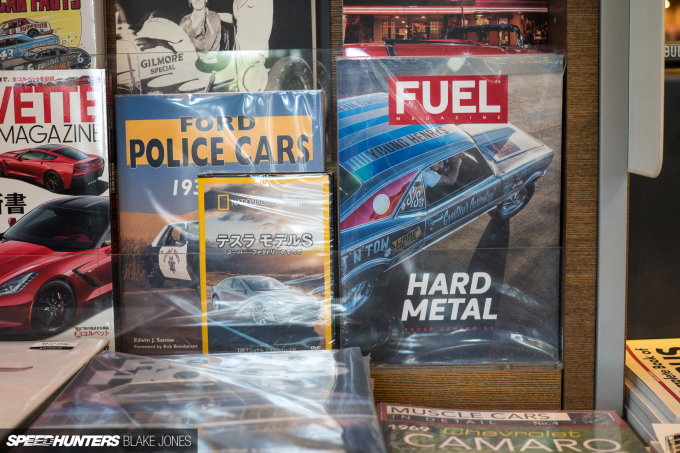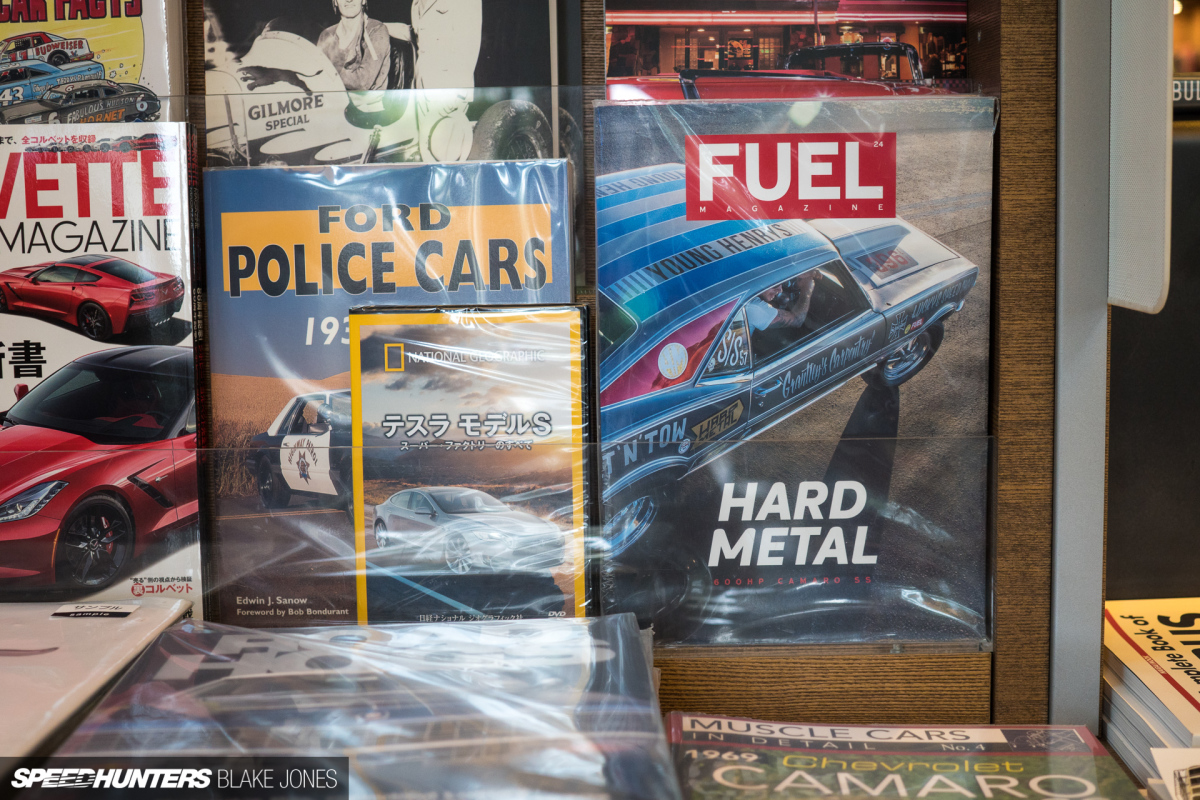 It's also nice to see one of my favourite home-grown Australian mags, Fuel Magazine, on the shelf, albeit also shoehorned into the American section.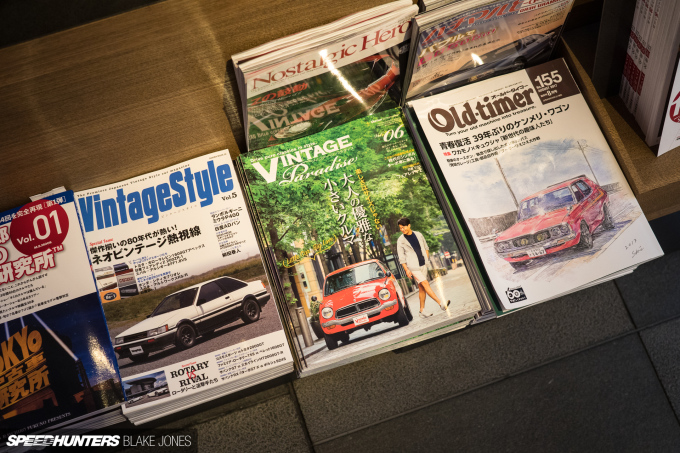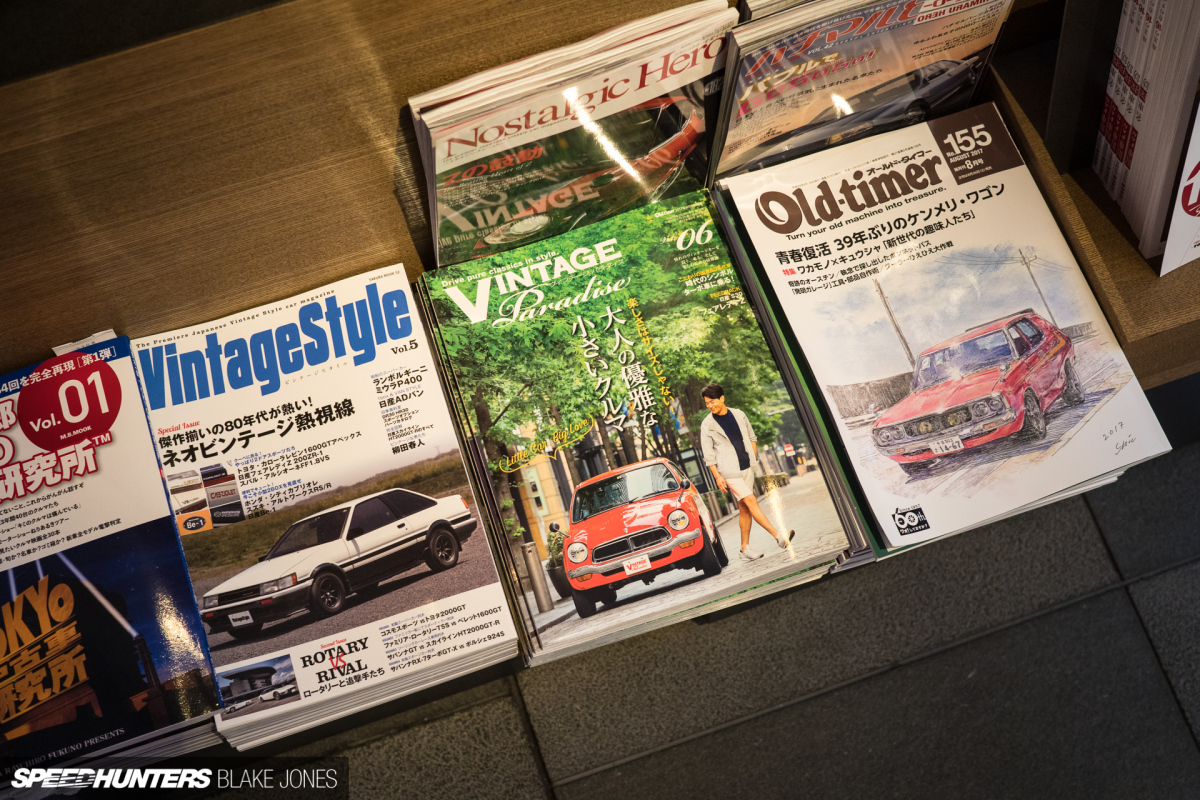 It's worth nothing that in Japan, it's perfectly acceptable to stand in a store for hours leafing through the magazines (the same thing would get me chased out the door in Australia!), and it's impossible to resist doing exactly that with the huge variety of vintage car magazines. I must've simply forgot to take a snap of G-works, which is always packed full of highly tuned Hakosukas and Fairlady Zs, and is my favourite of them all.
Whether it's old rotaries or obscure sporting Mitsubishis that tickle your fancy, you can always learn something new within these pages. It's funny how much misinformation there is out there in the 'English language' world about Japanese models; so much of this never filters through to the 'collective knowledge' on forums, wikis and so on due to the language and access barrier.
Blast From The Past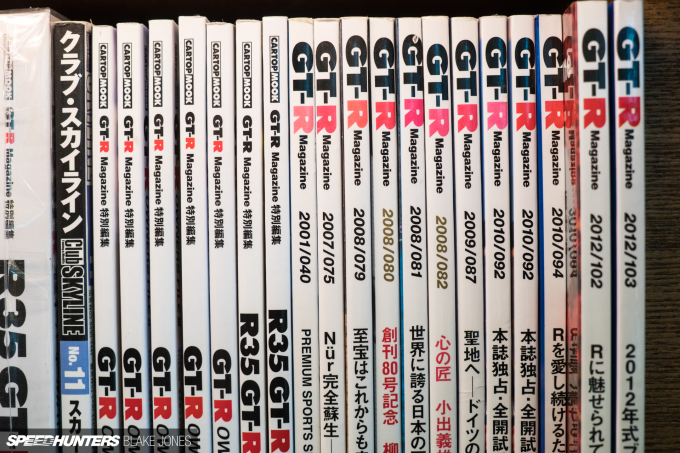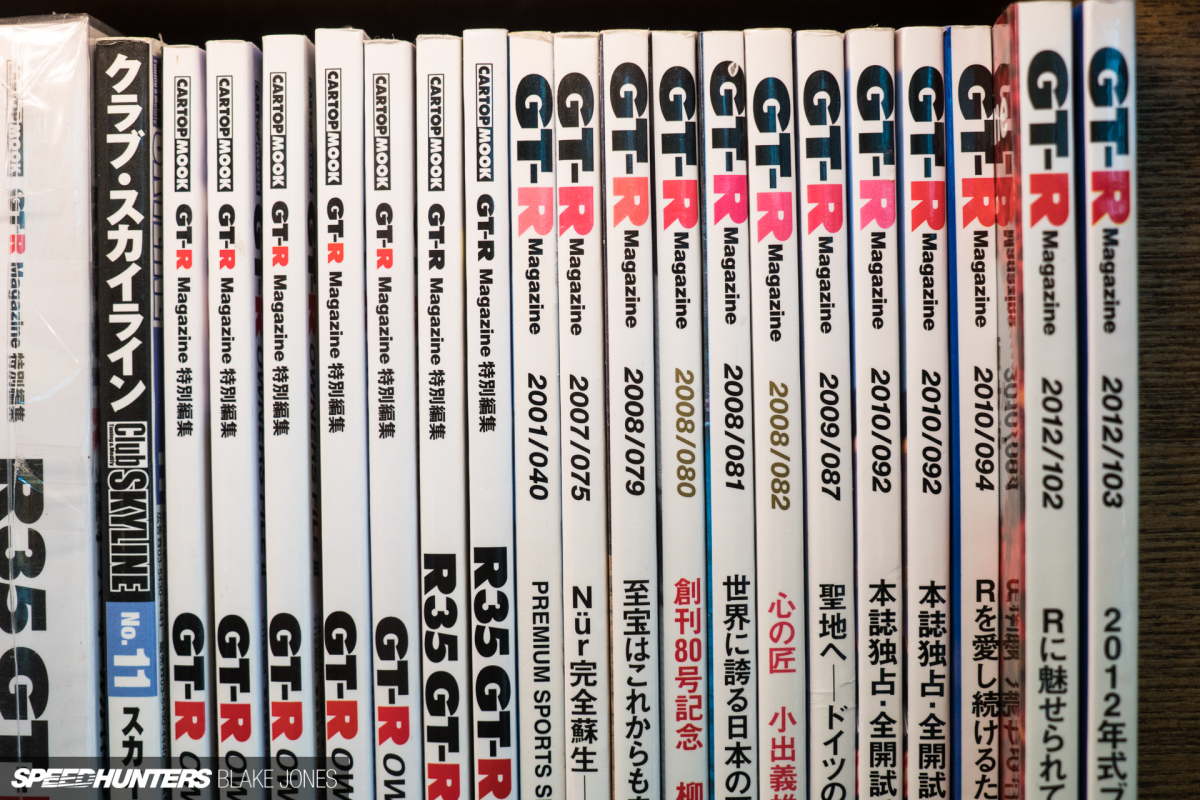 But the real reason I love visiting this particular book store isn't for the huge collection of current magazines…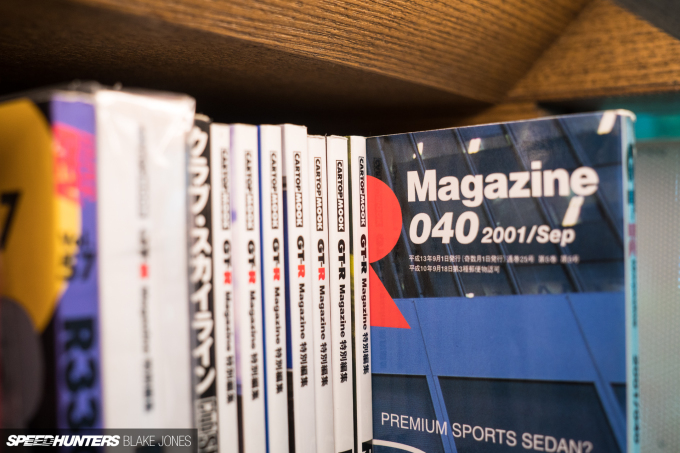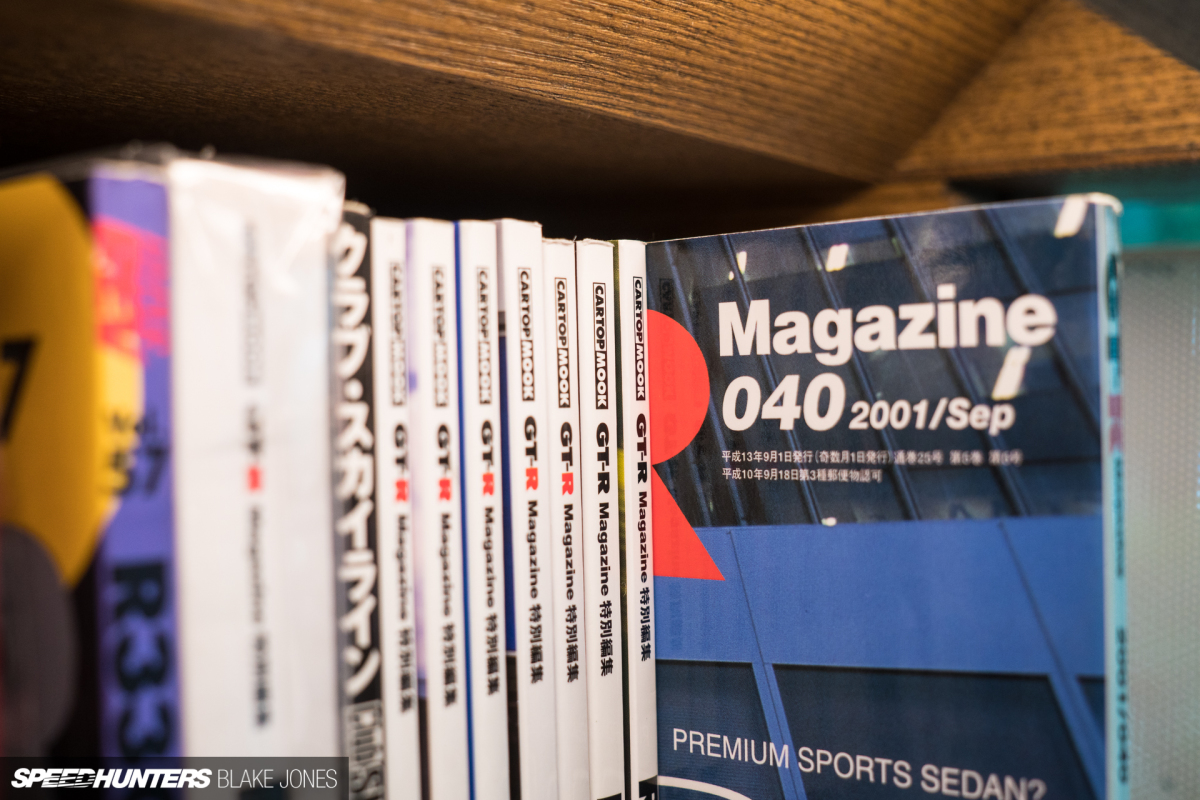 It's for the massive backlog of 'new old stock' magazines still available to purchase.
The prices are comparable to the new magazines, which to me represents pretty good value if you're a die-hard GT-R fan.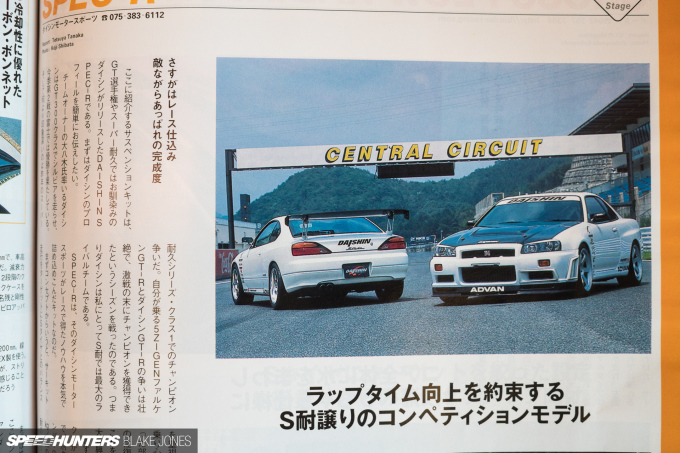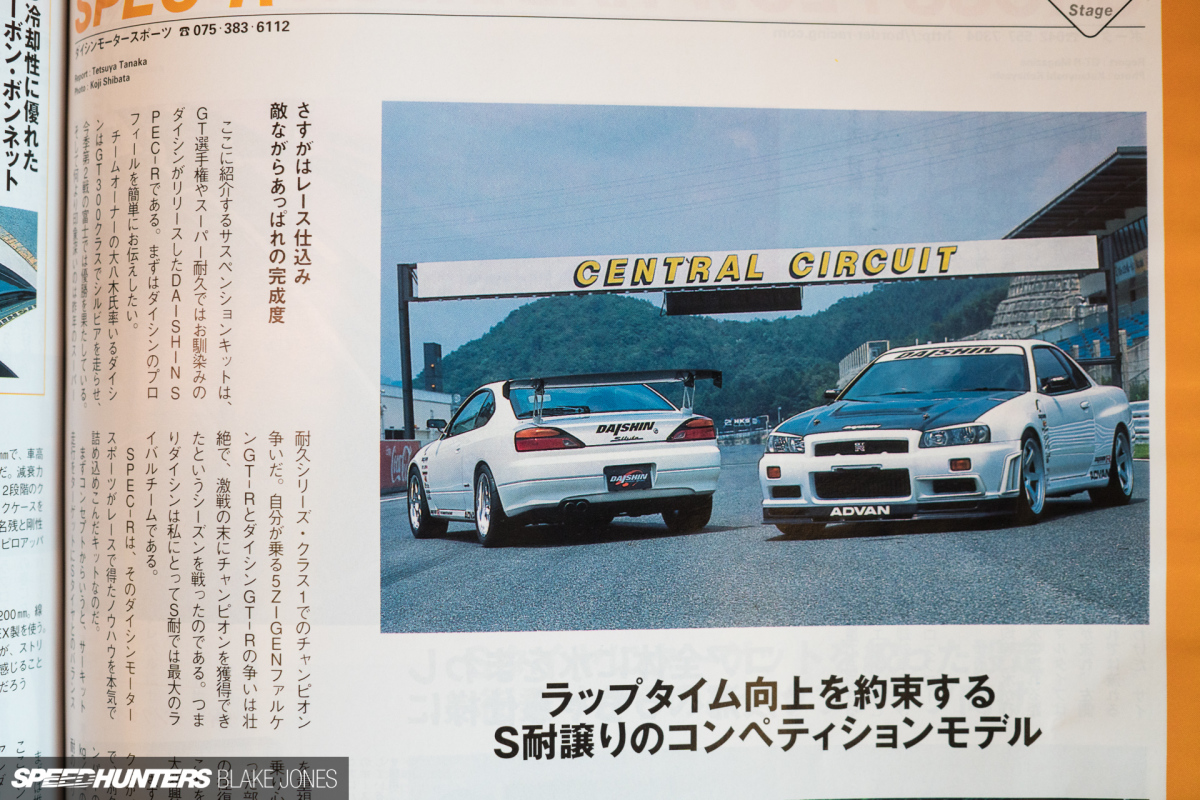 It goes without saying that these are an absolute goldmine for those enthusiasts that chase period-correct style and ultra-rare parts from the likes of Nismo, Mugen and Mine's.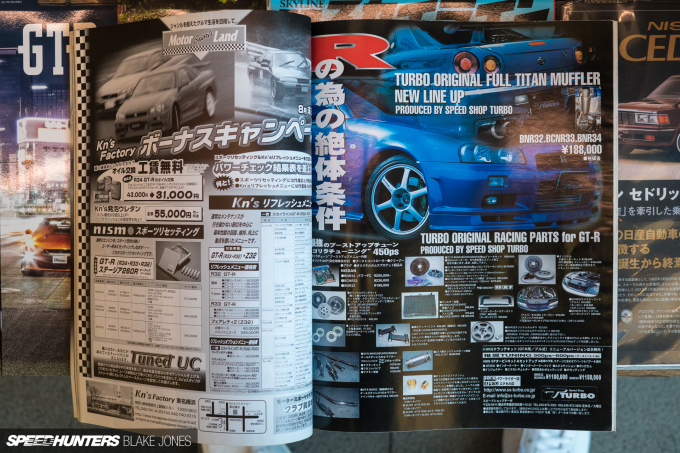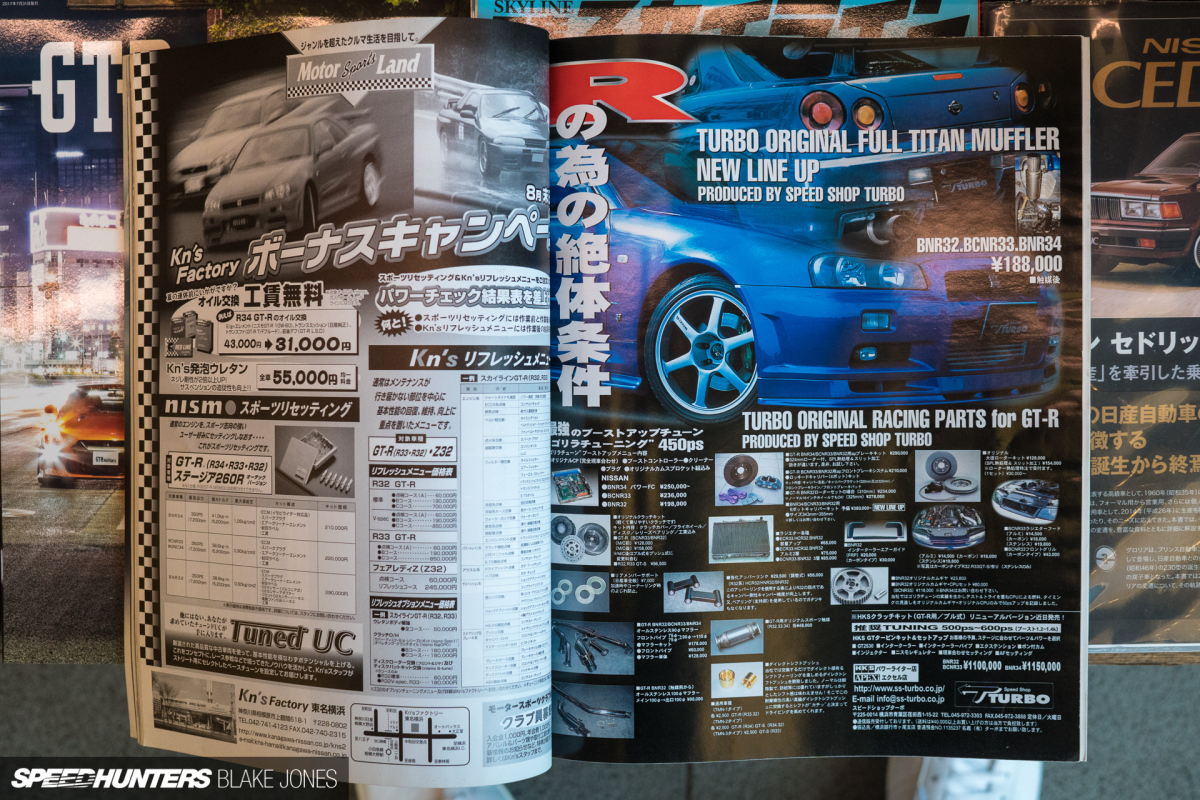 450PS was a very respectable number for a street-driven GT-R back in 2001, so things have changed a little bit.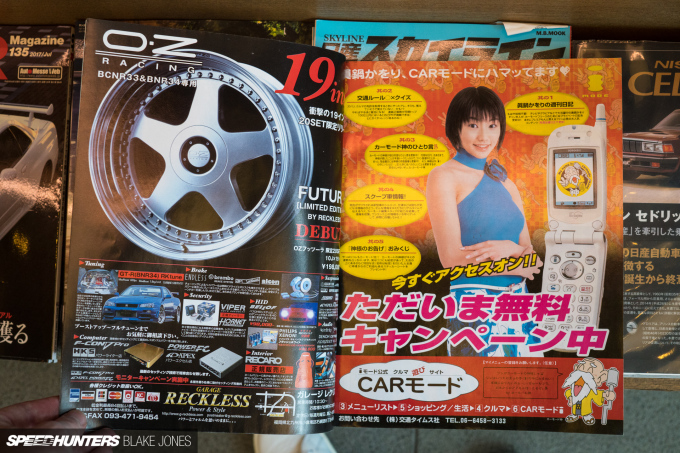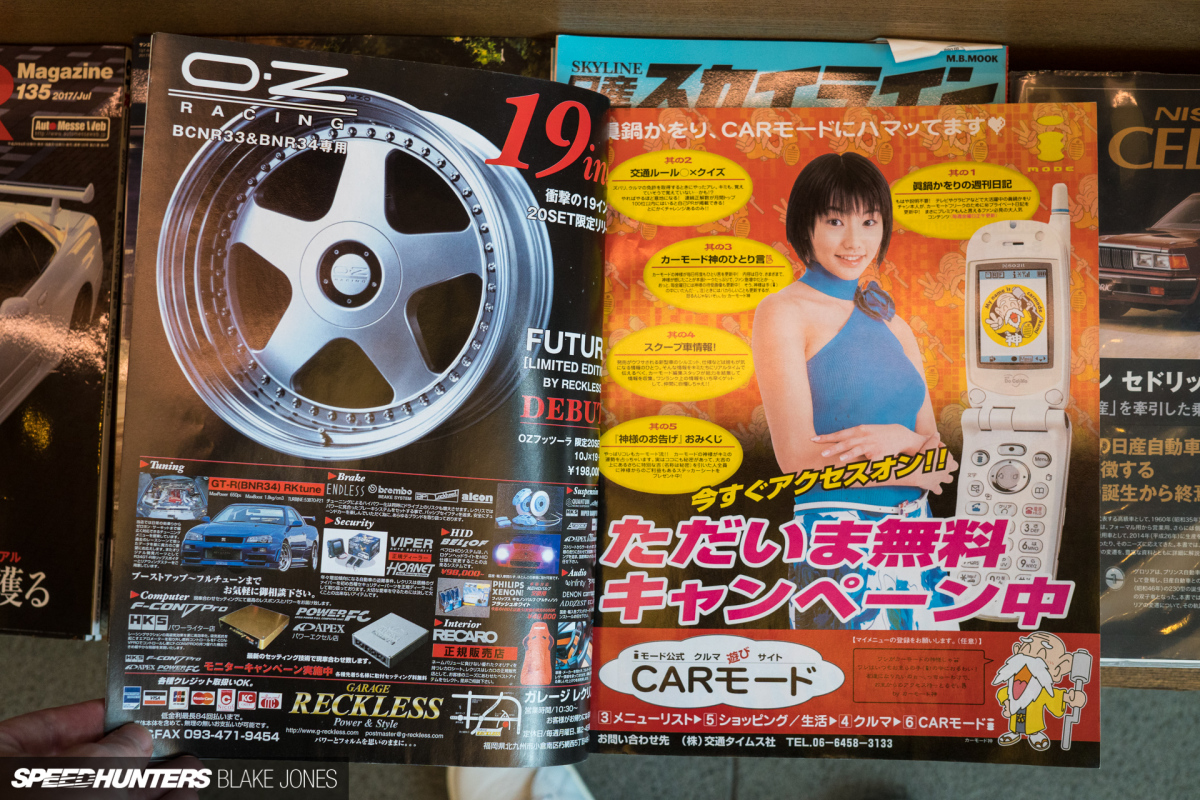 Half the fun in these vintage magazines are the dated advertisements. I guess a flip phone can now be considered old school!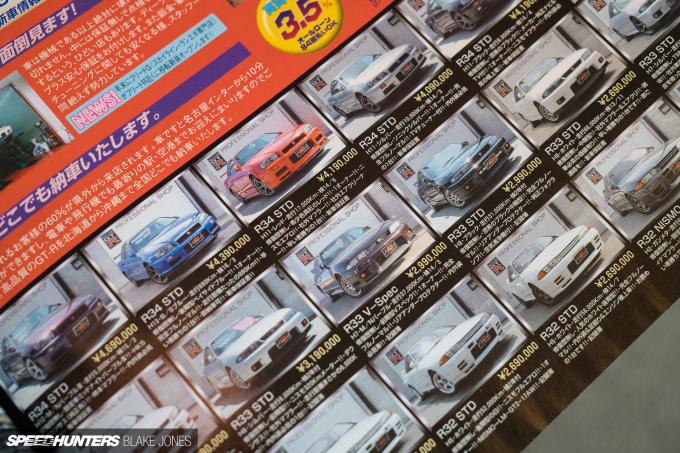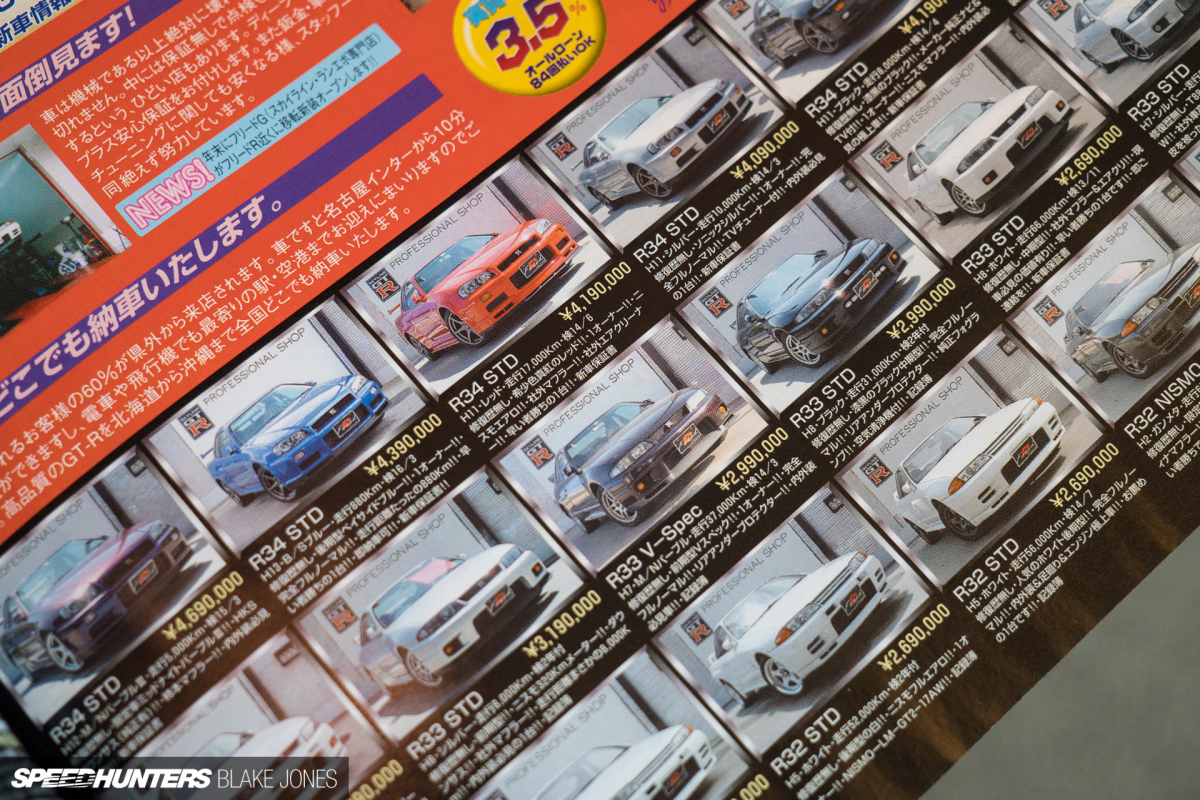 It's also interesting to flick through the dealer classifieds and see what your money could've bought 15 years ago.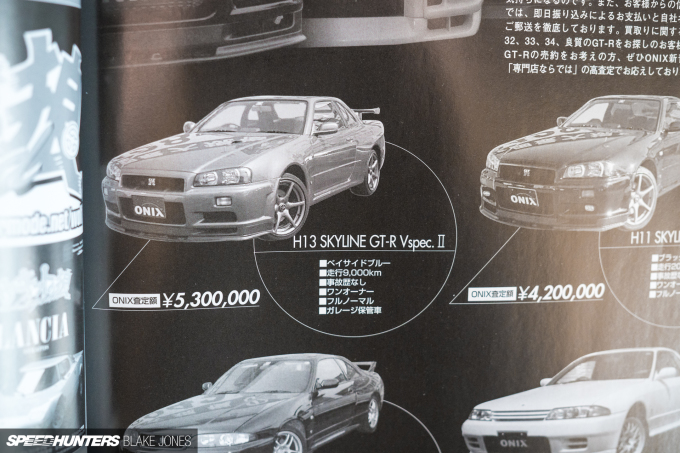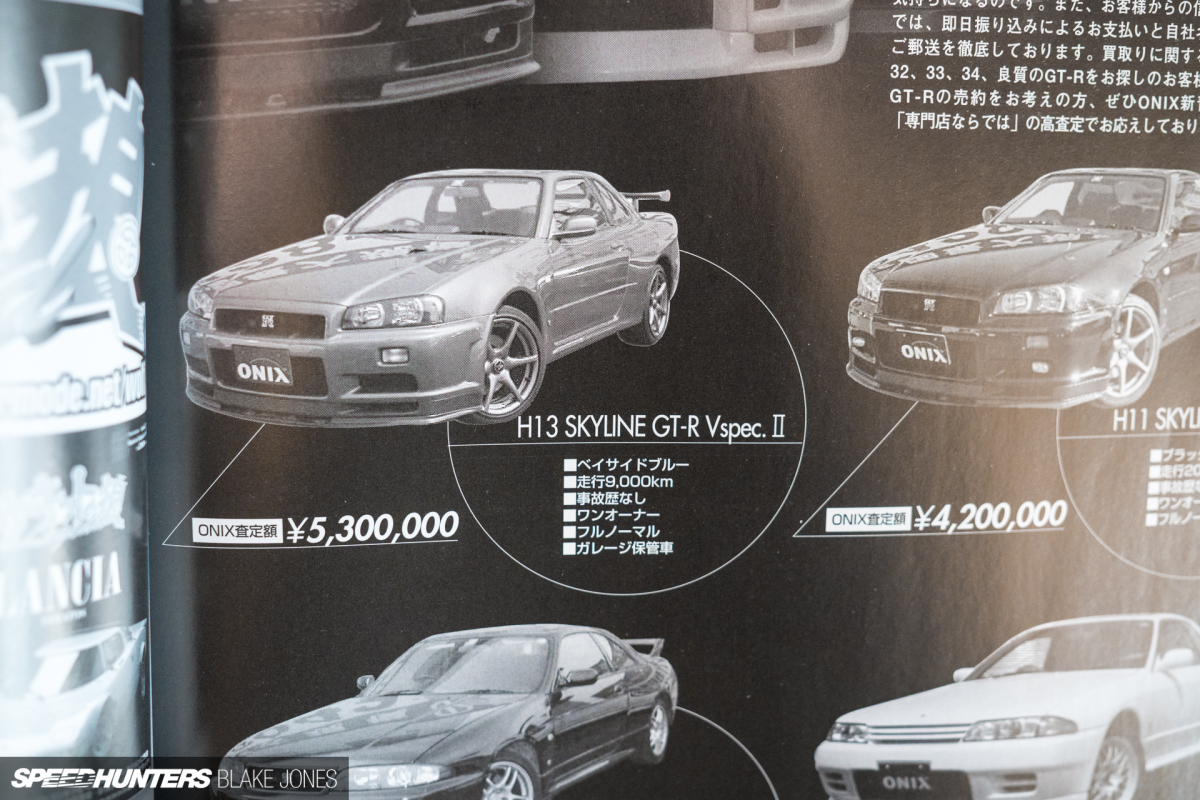 ¥5,300,000 (about US$80K) would've been top dollar for a GT-R back in 2001, but try getting your hands on a Bayside Blue V-spec II with 9,000km on the clock for anything close to that today.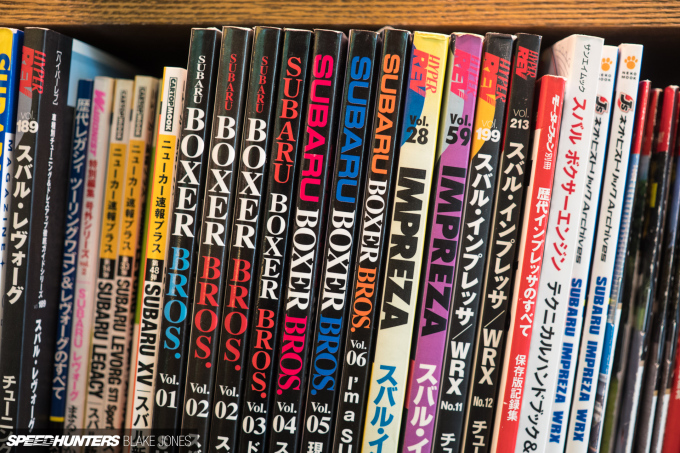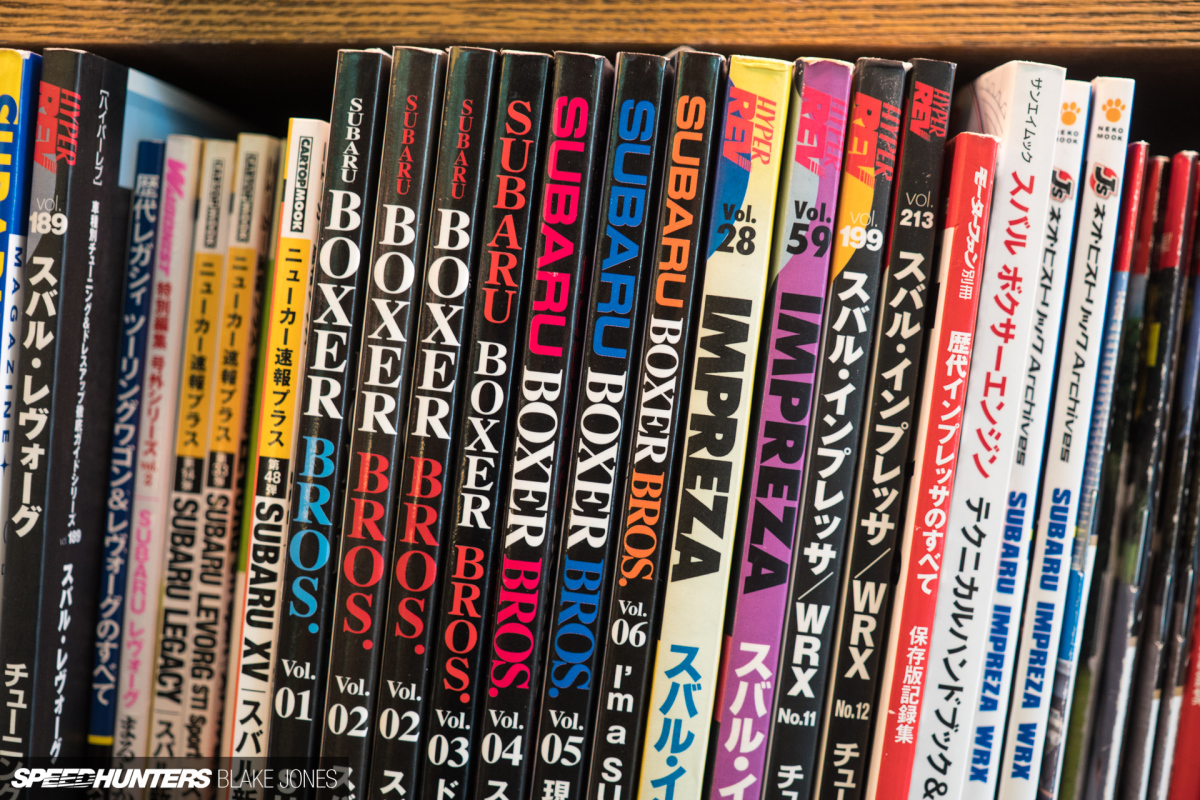 Of course it's not just the GT-R that gets some old school love, Subaru…
Mazda and in particular the Roadster (Miata)…
And Honda are available amongst others. This could be some good inspiration for Project NSX!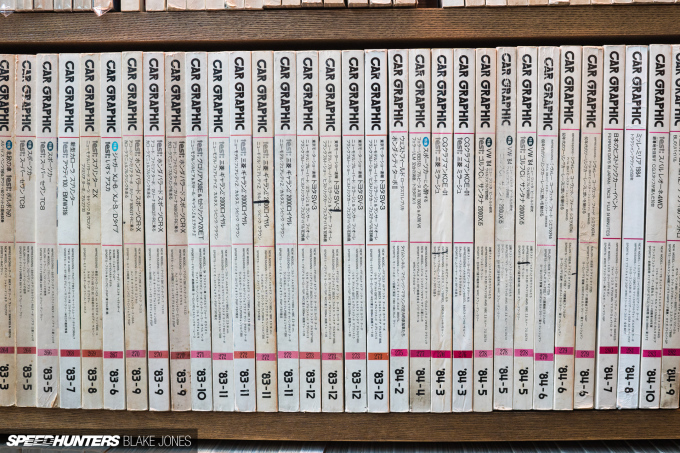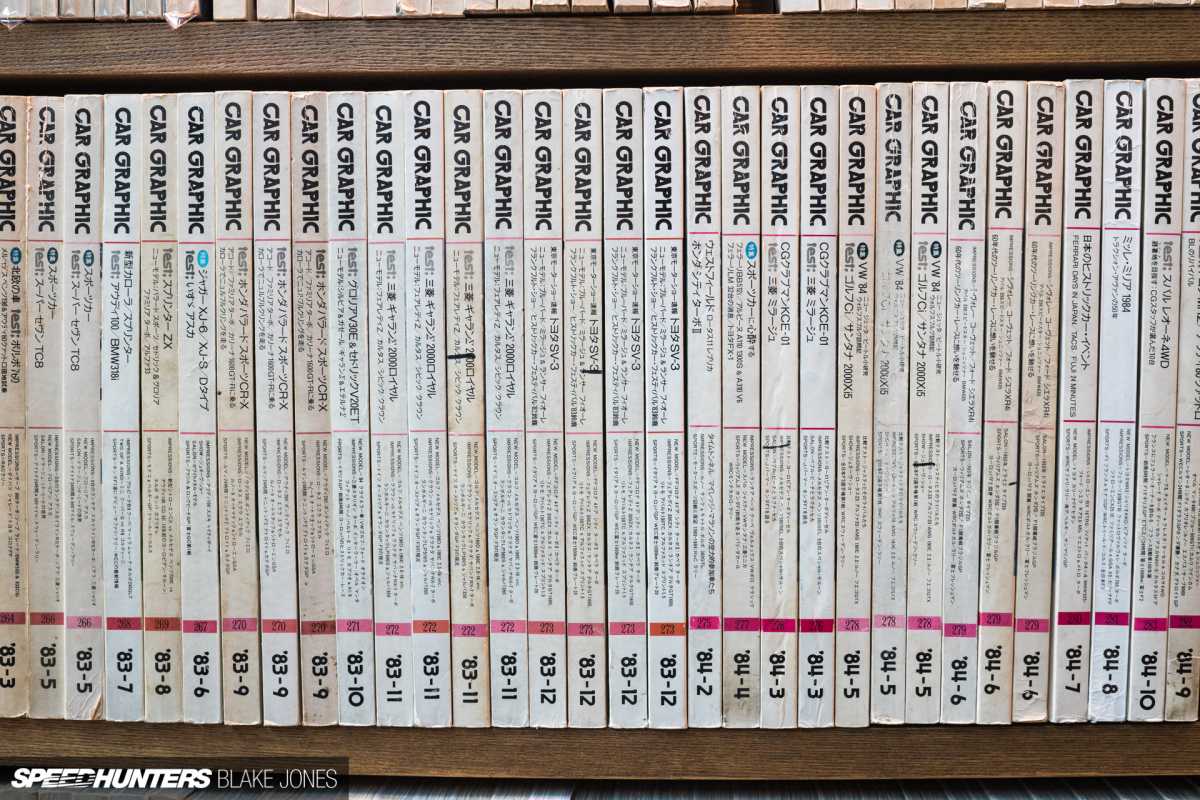 The largest section of vintage magazines is reserved for Car Graphic, one of the oldest and most respected new car publications in Japan. Issues have been released on the first day of every month since April 1962 and a good portion of those can be found on the shelf at T-site.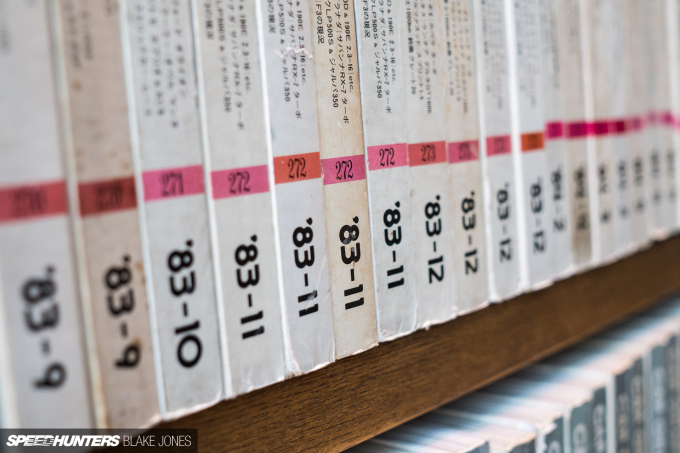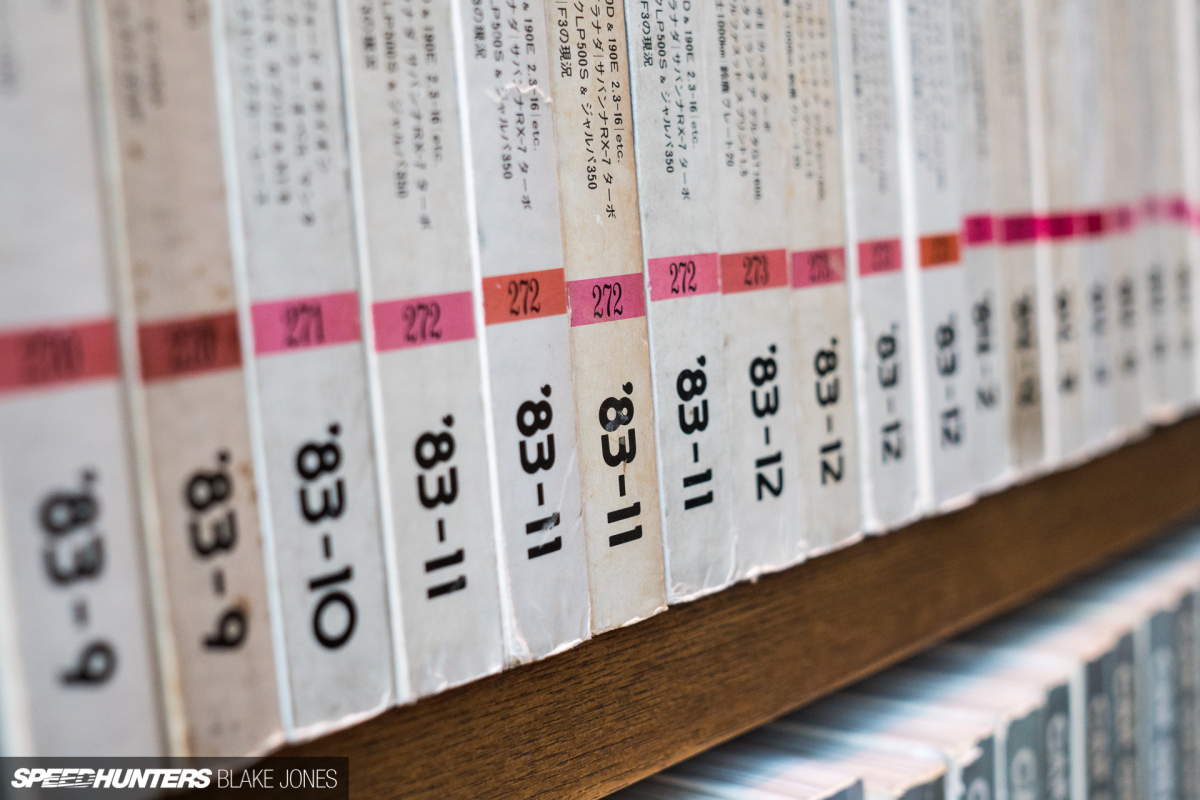 It's great fun to hunt through the issues to find the original review for your car, and I couldn't resist taking home the December 1985 issue that pitted the FC3S Mazda RX-7 up against the brand new Porsche 944 Turbo, as well as a track test of the stunning Nissan MID4 Concept that unfortunately never made it to production.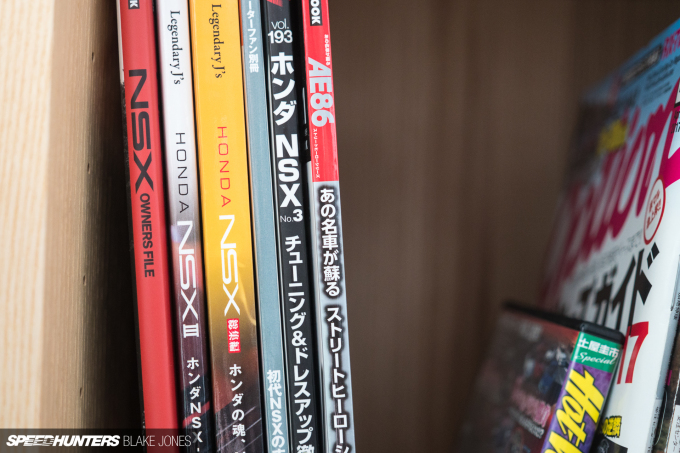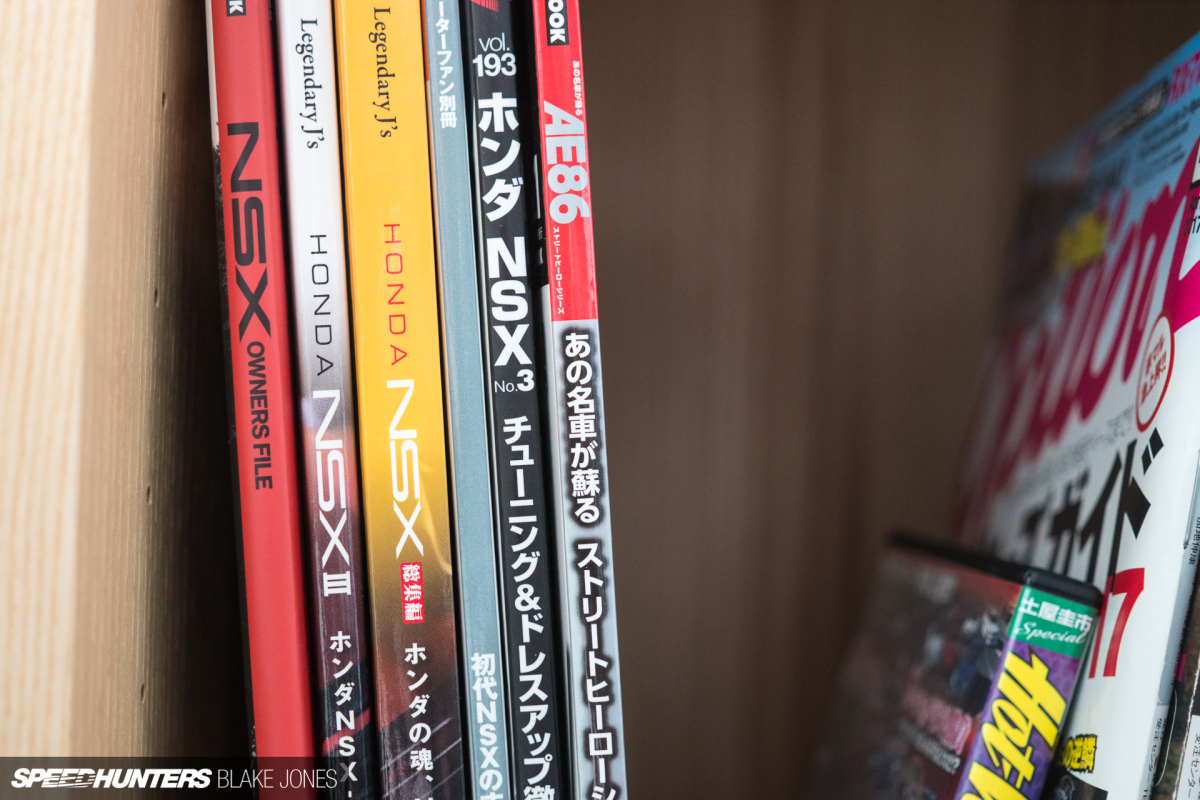 The only problem when heading to T-Site with an addiction to print like mine is that it's always guaranteed to be an expensive visit. With a few new (and old) issues added to the shelf I should be satisfied for a little while longer, and at least I can be glad that my yen will be contributing to a good cause: keeping the amazing car magazines of Japan alive for a few more years to come.
Blake Jones
Instagram: blaketjones
blake@speedhunters.com