A Little Bit Cool
Shortly after the RWB: Life After Birth movie premiere, I regrouped at a private function with Nakai-san, the majority of the film's stakeholders, and the owners of all six RWB Porsches that were displayed. After years of hard work it was finally time to celebrate their efforts.
Over the course of the night I was asked if I'd like to check the cars out properly; of course I was keen as beans to get some quiet time with the six Australia and New Zealand RWB cars that had tantalised me from afar for so long.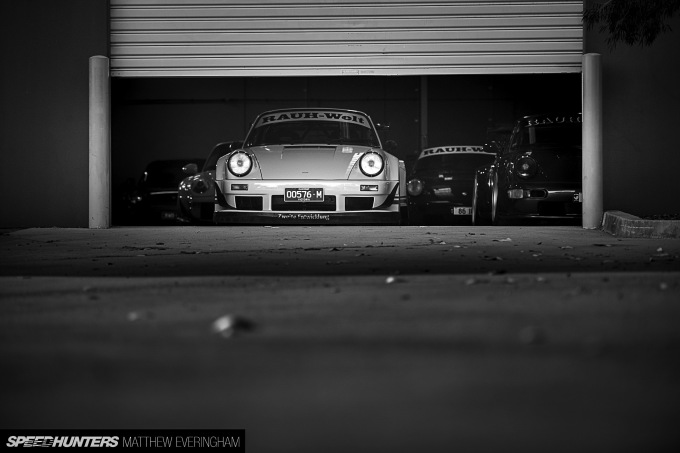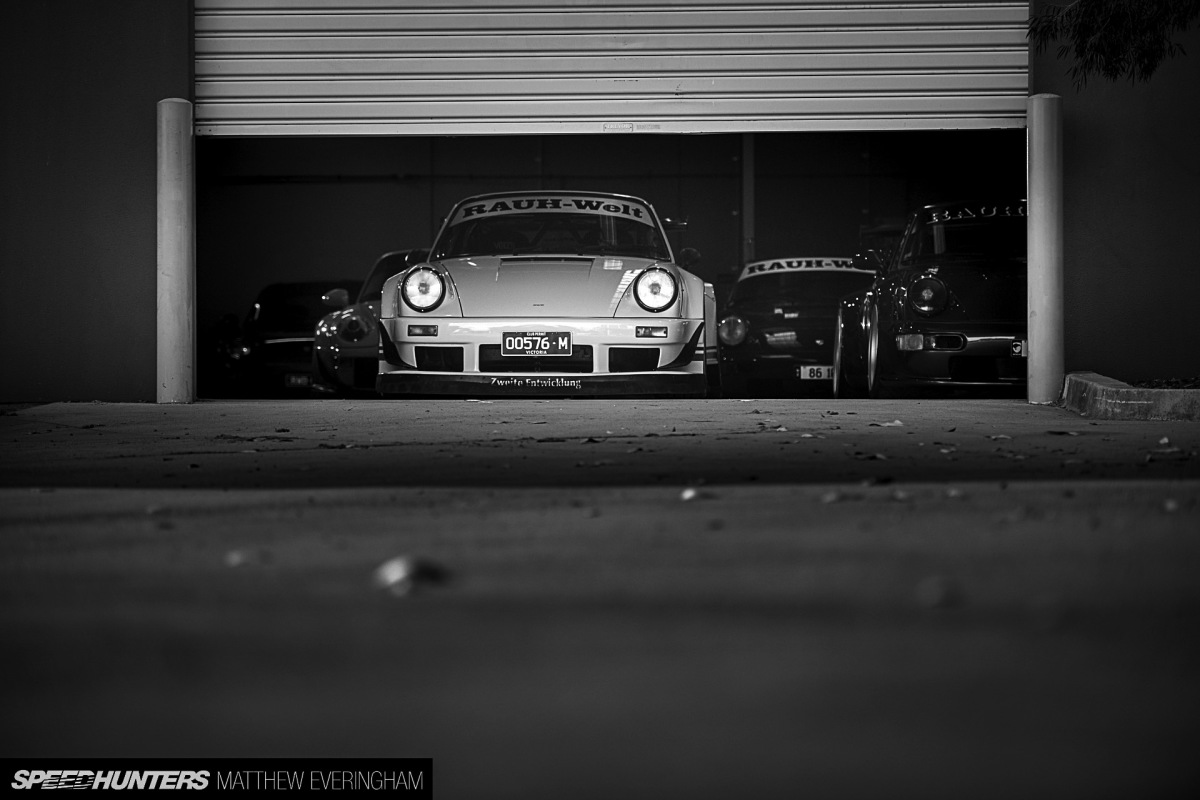 I dragged my sorry butt from my comfortable hotel bed the next morning, still slightly dusty from a great night out, and straight into my private limousine: Paul from Speed Nation's boosted Audi A4 wagon. I'm not sure what direction we headed, or even how long we drove for, but I took advantage of the drive and had a power nap. I was completely alert a few seconds after we pulled into the very nondescript industrial complex though. Being confronted by half a dozen brightly painted RWBs has that effect.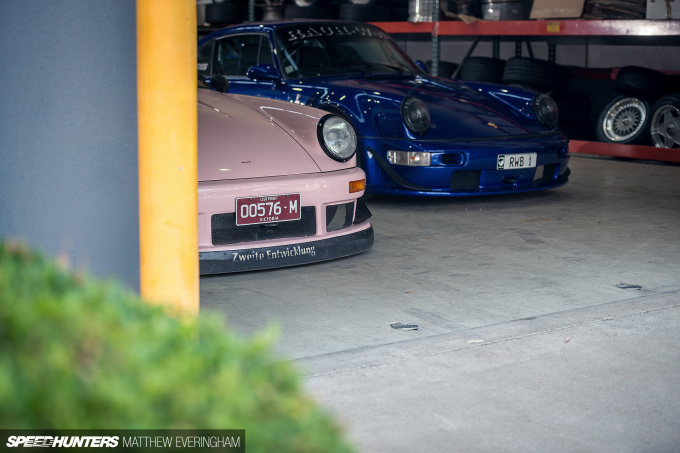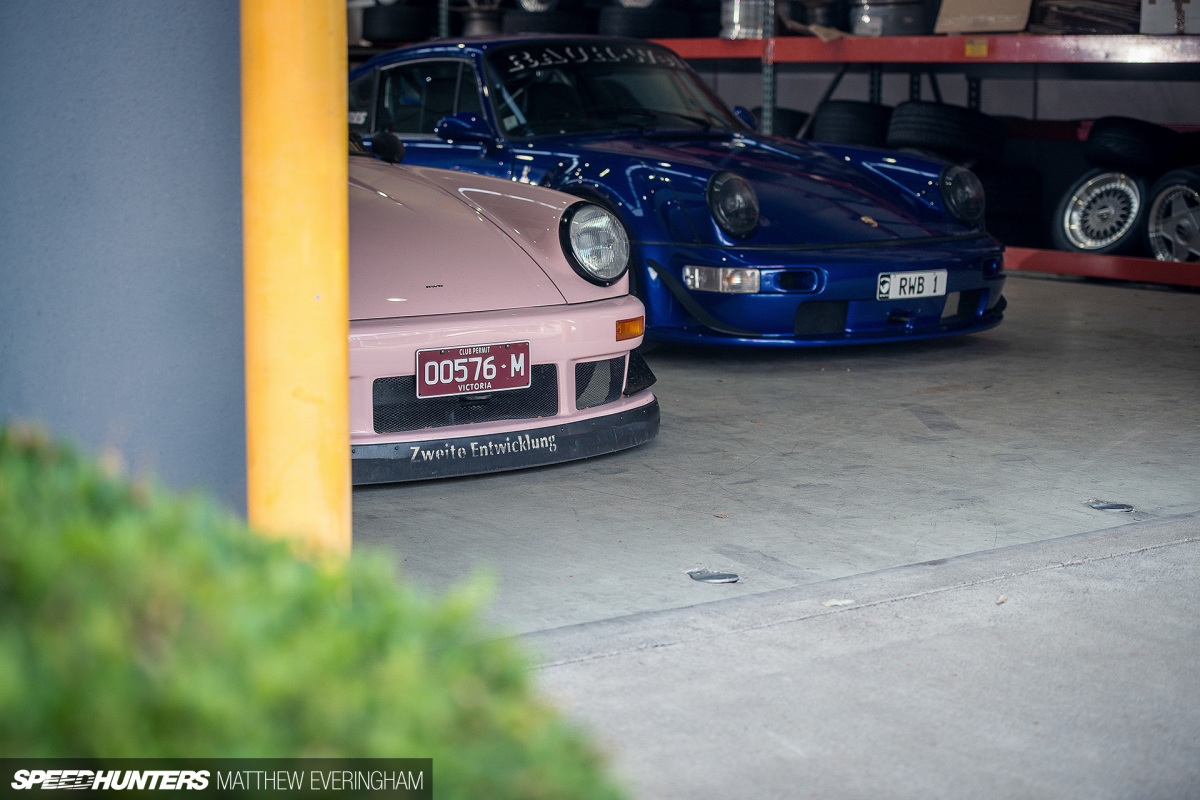 I won't lie, I felt just a little bit cool as I walked into that dream garage. Seeing these cars parked next to each other with no other distractions vying for attention helped to highlight just how different they all are. You hear a lot of criticism that RWBs all look the exactly the same, but they don't. Sure, they're quite similar, not unlike the German canvases they've been applied to, but when seeing them all side-by-side, the nuances become glaringly obvious. So without any further ado, how about I introduce you to my new friends?
Southern Cross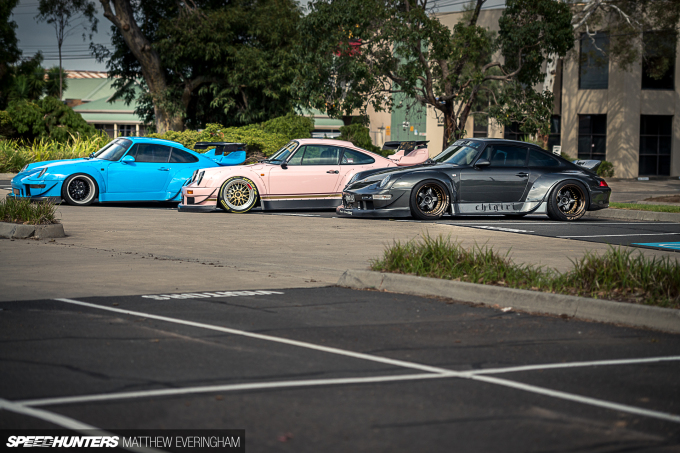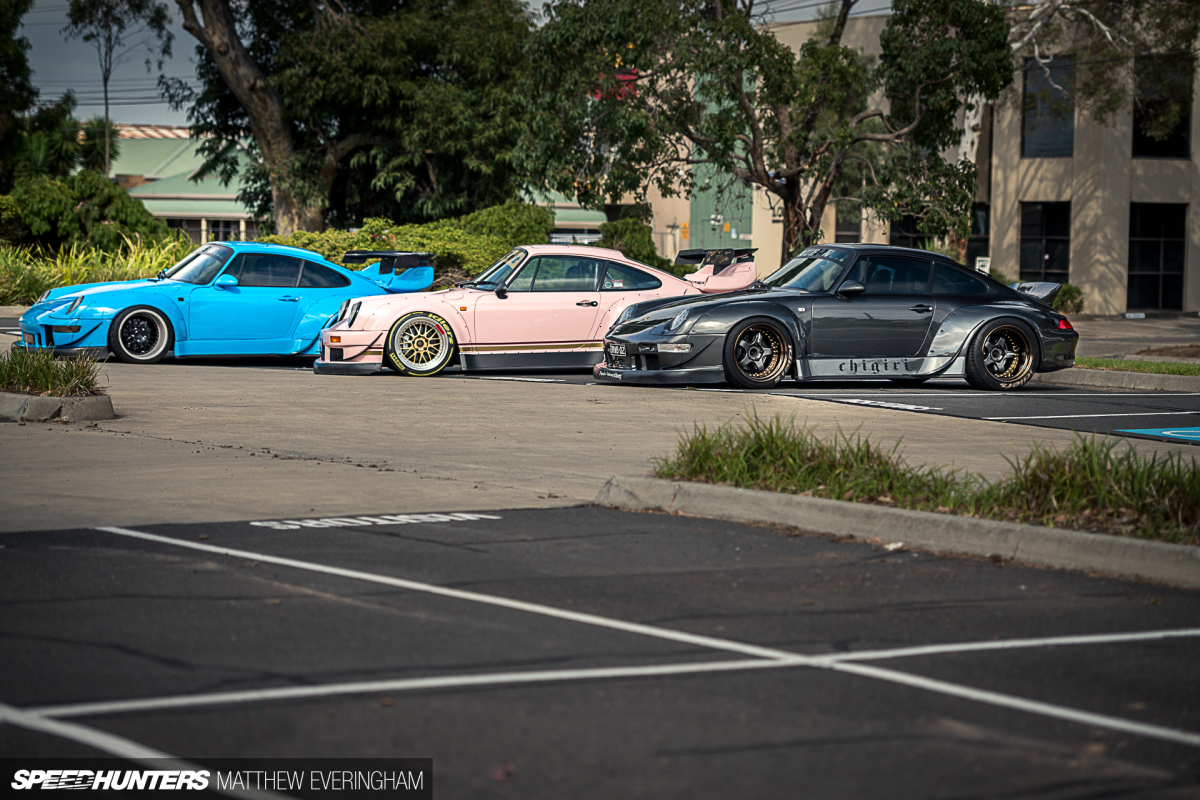 Here's the Australian trio, with Southern Cross centre stage.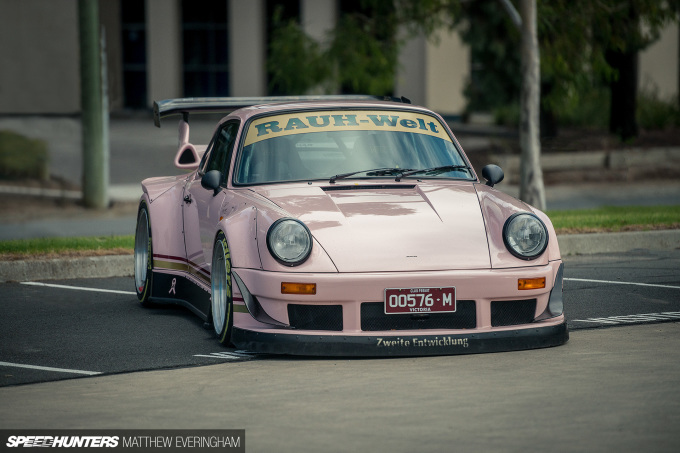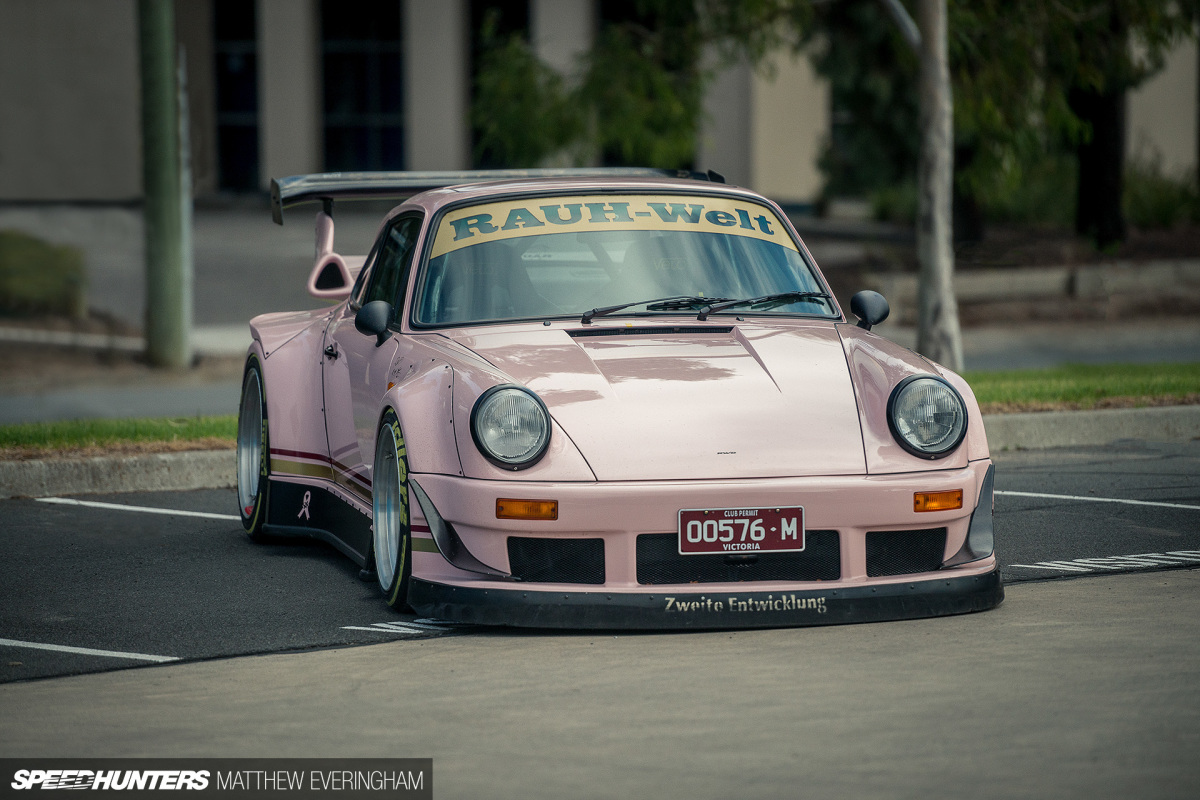 Australia's first RWB, and I'm fairly certain the Southern Hemisphere's first RWB, is also the star and inspiration for the Life After Birth film created by the car's owner Chern Wong. This 930 sports a unique pink paint code that matches a road bicycle with a lot of significance to the owner.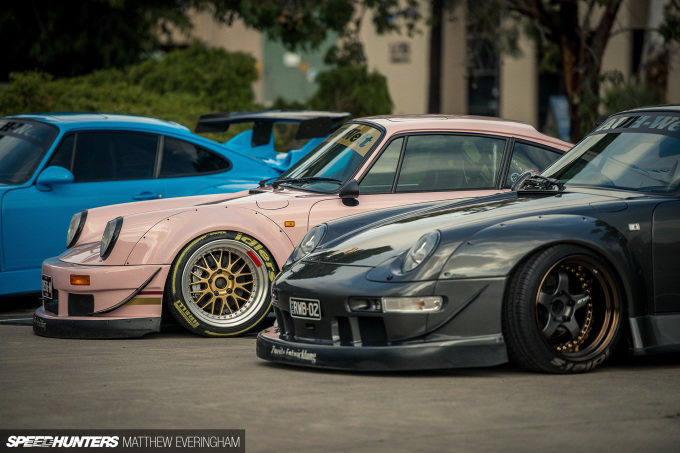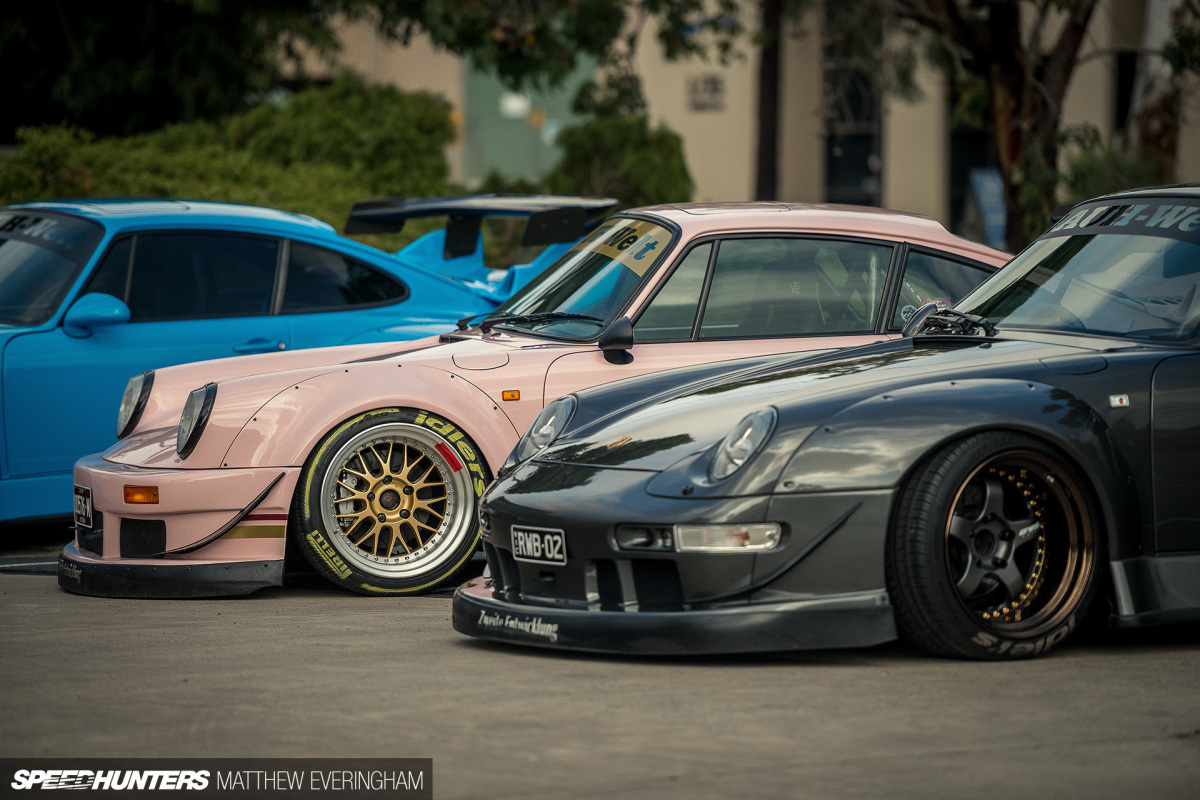 But nowadays Southern Cross is more than just a car – it's a tool that helps to bring the community around it together. It spends almost as much time helping out at various charity and community events across Melbourne as it spends being driven hard along the twisty roads that surround the city's outer suburbs.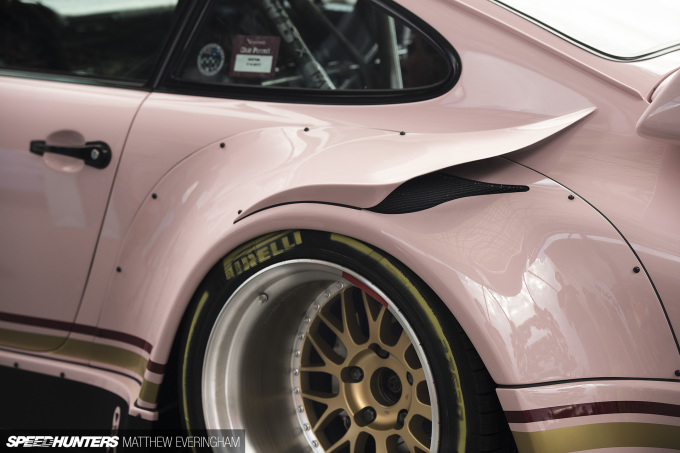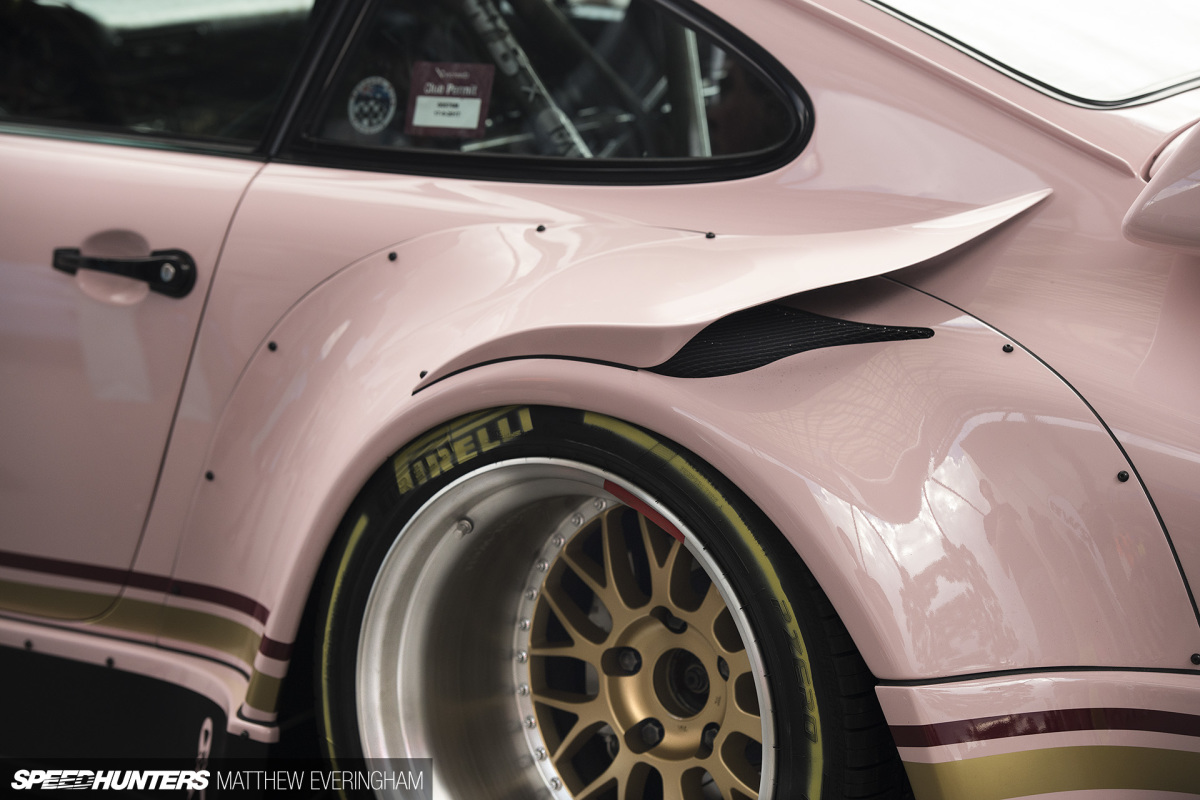 Chern's car runs an extensive RWB kit featuring overfenders front and rear, new front and rear bumpers, a fender wing set, Champion wing and deck lid, front canards and a pair of Hakama side skirts.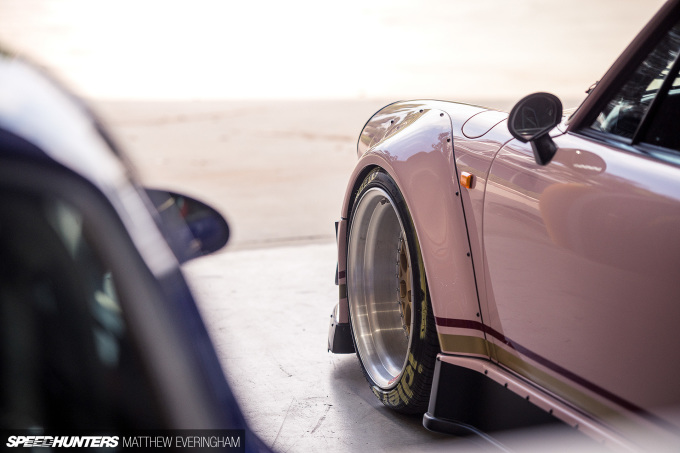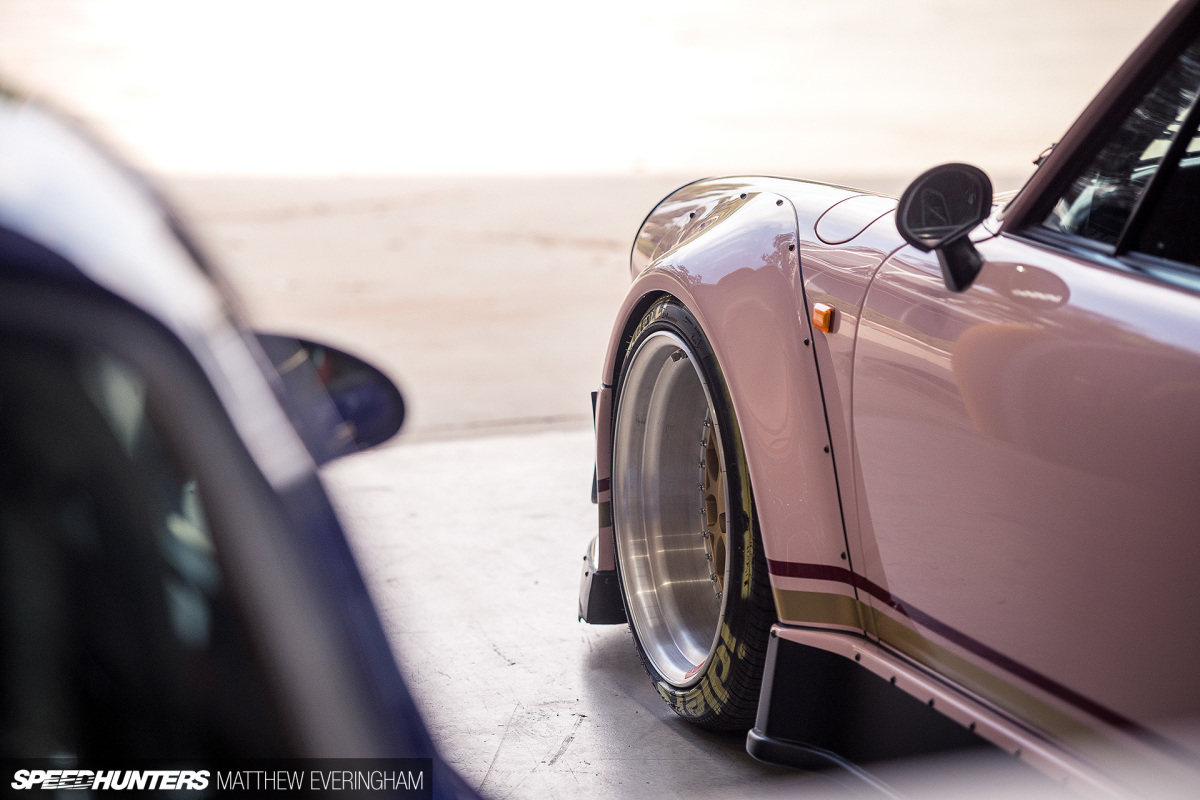 A set of custom RWB-spec Work Meister M1s fill the cavernous guards, measuring 18×10.5-inch up front and 18×13-inch out back. Aragosta adjustable coilovers help to keep the super-wide track under control, while Porsche 996 4-pot calipers and 298mm floating rotors from Rebel Sport Racing bring things to a halt quickly when required.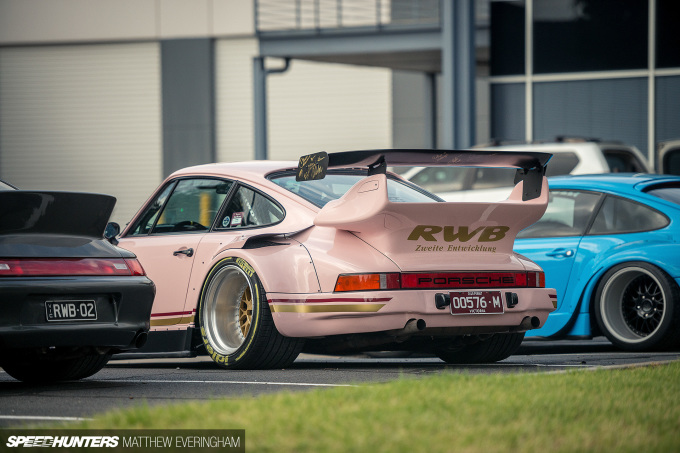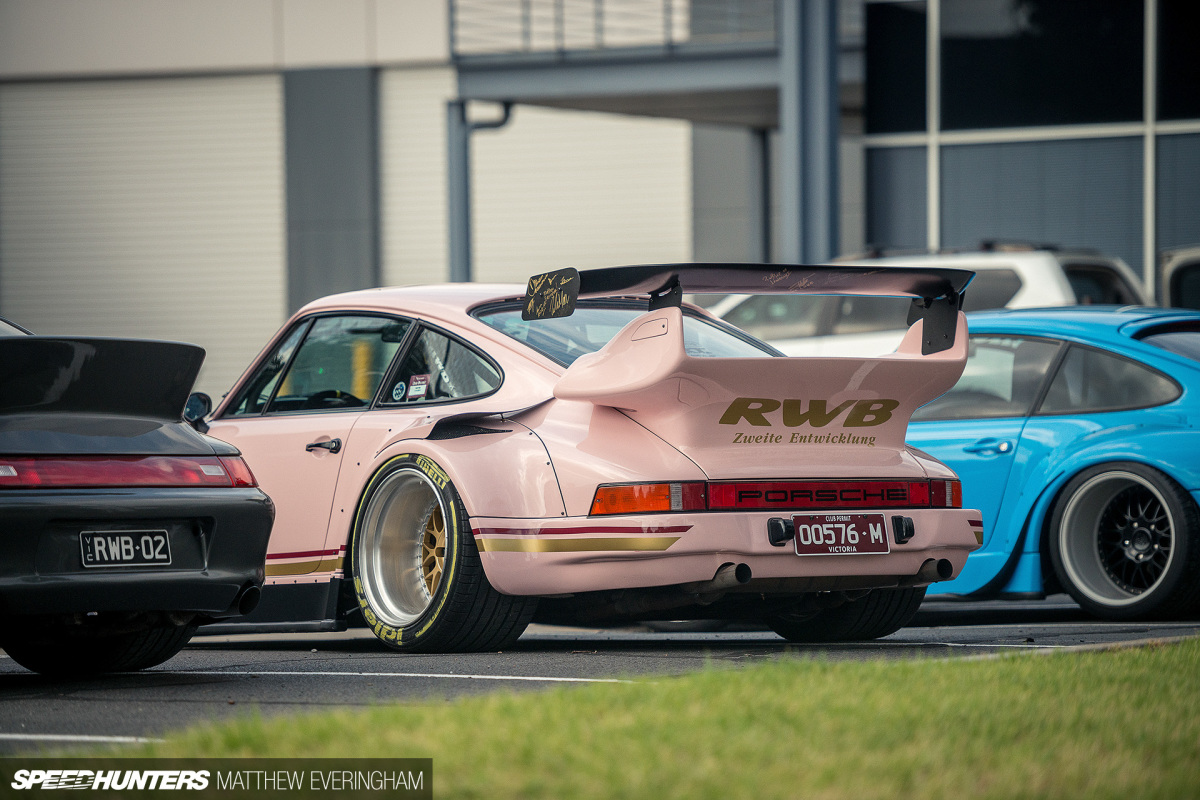 The entire engine/gearbox combo is under development and some massive changes are on the horizon. As of right now though, the powertrain is from a 1986 Porsche 911 3.2-litre Carrera with a pair of 3-1 extractors that flow through to an M&K exhaust. Power is transferred to the massive rear tyres via a 915 gearbox with a Spec stage 2 clutch.
Being the community hub that the Southern Cross is, I probably shouldn't have been so surprised when a few people were asked to sign the spoiler. The massive rear carbon wing proudly showcases the signatures of friends and family of RWB Australia, Malaysia, New Zealand, and even further abroad. I even managed to get my own name on this piece of automotive art, as captured by Aaron Mai, founder of RWB New Zealand.
Chigiri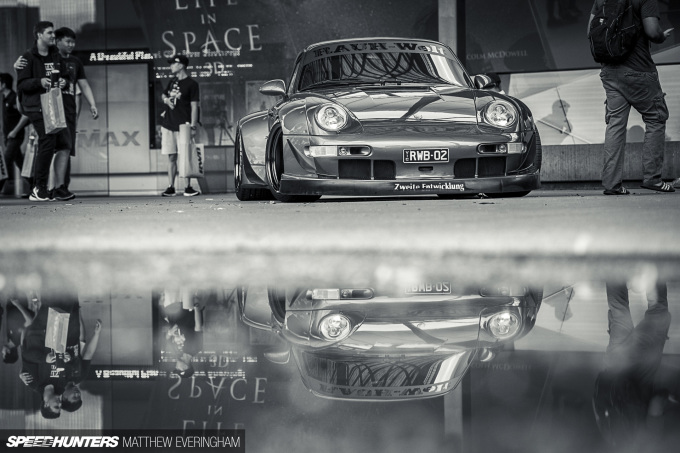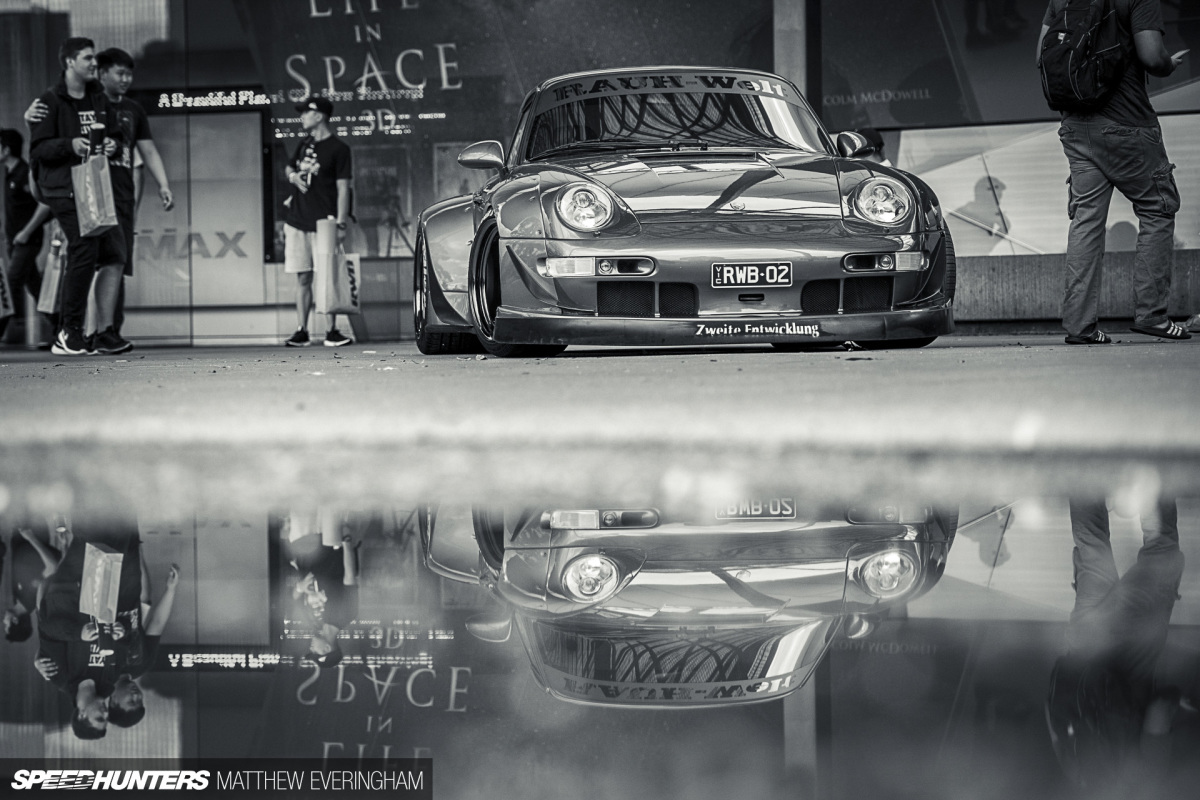 The second Australian build saw Nakai-san transform a 993 into my personal favorite RWB on display at Melbourne. The name Chigiri translates into 'The Promise' and I promise to be super succinct with details on this build. You'll just have check back soon for Chigiri's own spotlight which will cover the build in more detail.
Kodachi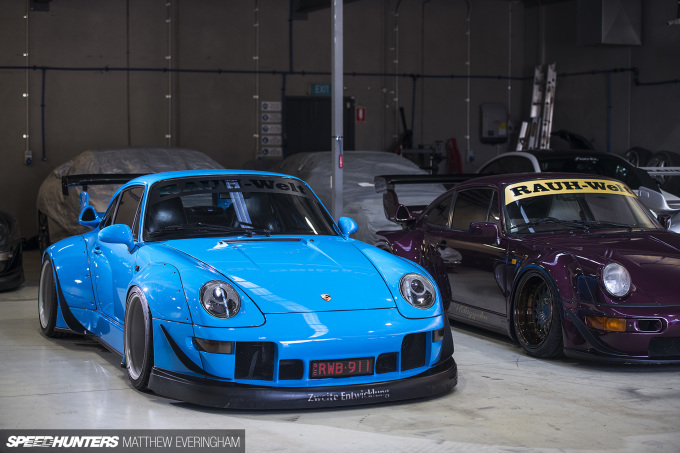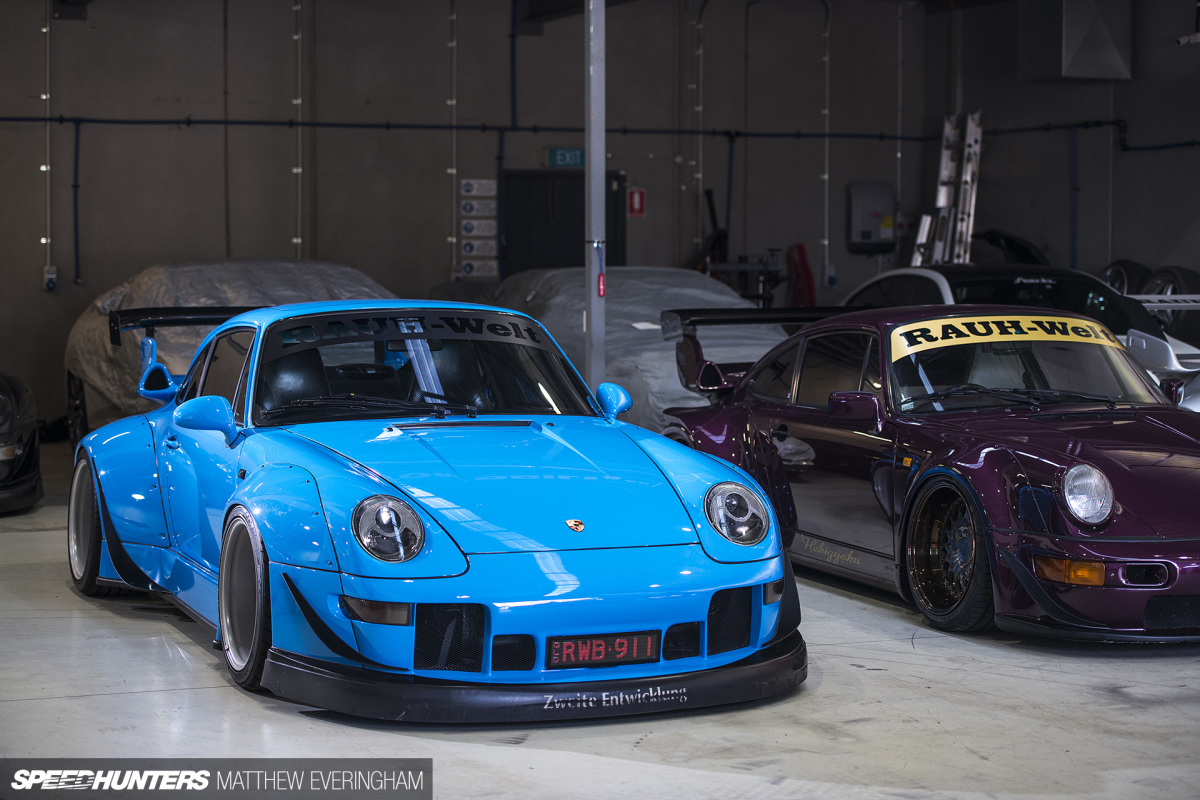 Australia's third (and most recent) RWB build is Kodachi. Nakai-san named the pumped 911 after a short sword used by Samuari in feudal Japan. He must have thought that the final build would be a bit of a weapon.
The project is based on a 1988 Carerra sporting a full RWB 993 kit on remodelled 993 guards. The shopping list includes the Champion wing, canards on both the front and rear flares, and a set of Hakama side skirts.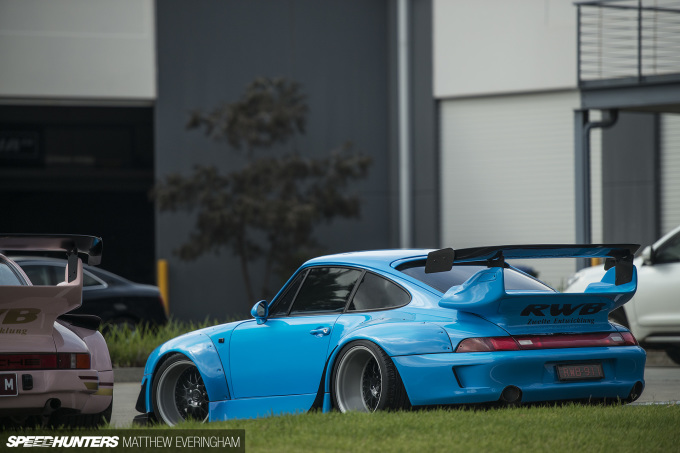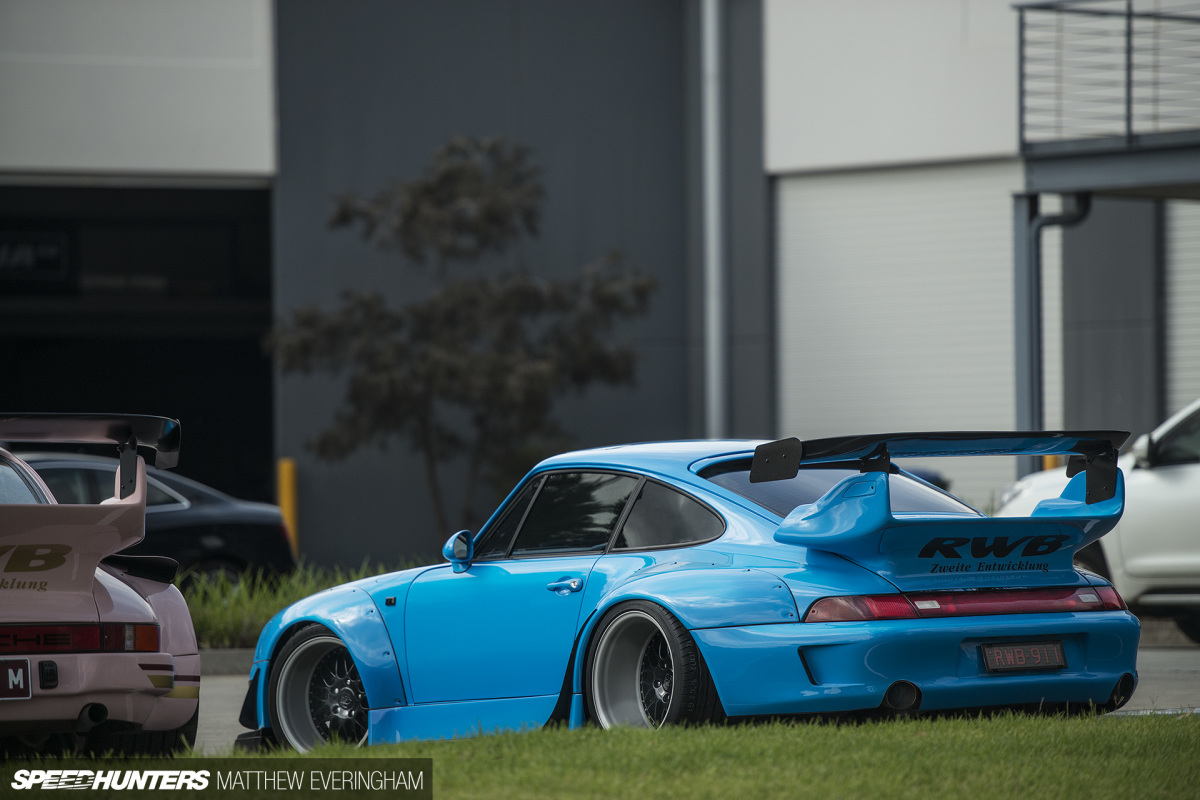 It's powered by a 993 3.6-litre VarioRam engine and G50 transmission. What do I mean by 'VarioRam'? The length of the air inlet constantly alters across the rev range and with load placed upon the engine. Matching the intake length maximises airflow efficiency, which increases the engine's torque output and produces a flatter (and higher) torque curve and increased engine response across the entire range.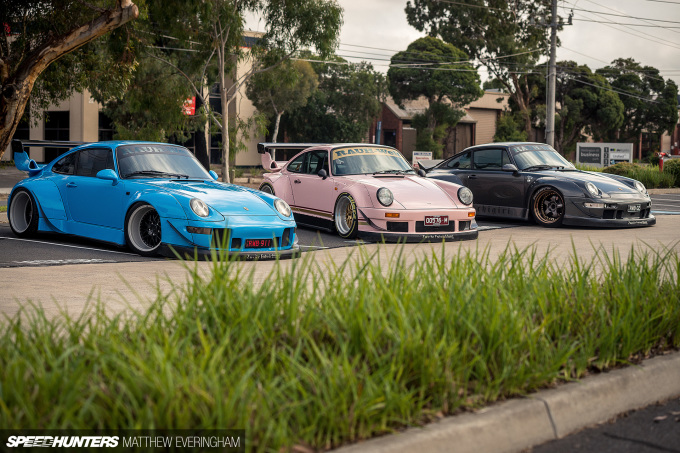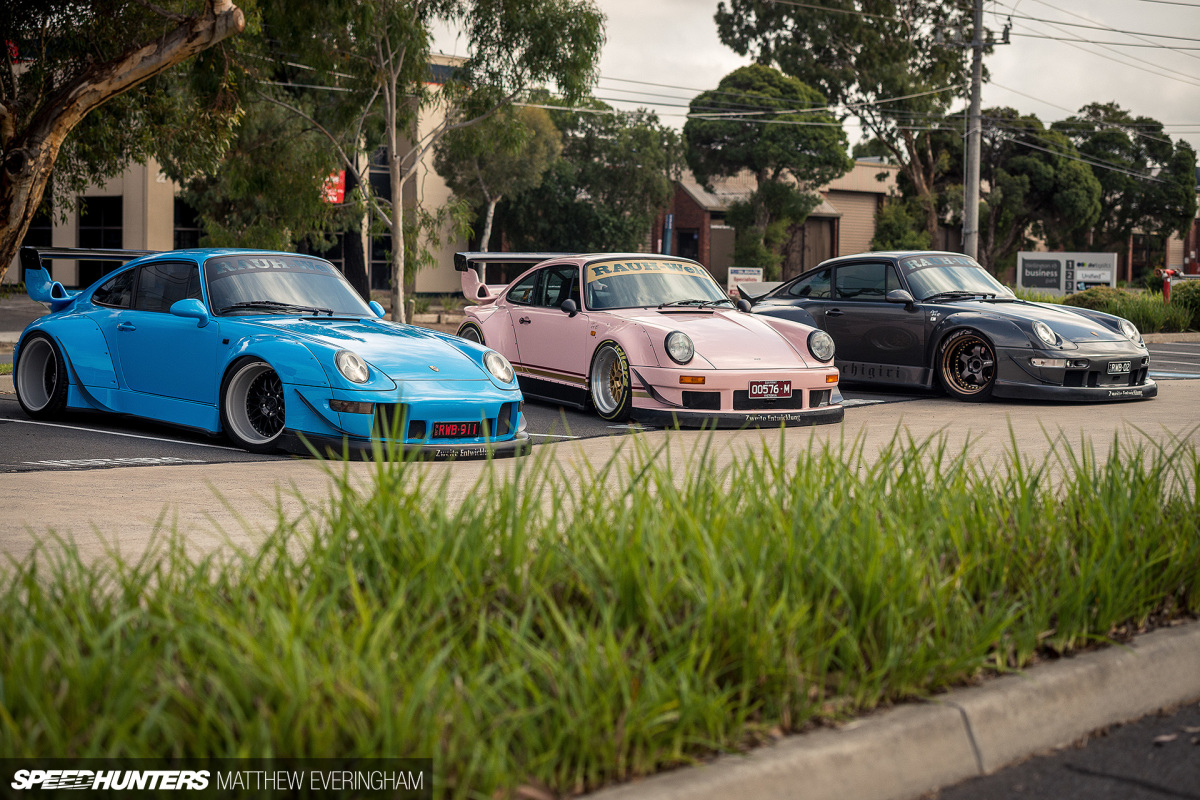 We can only wonder what the fourth and fifth Australian RWBs will be based on. Only time will tell…
Waikato
RWB New Zealand were enthused enough about the movie premiere to ship their own trio of cars across the Tasman Sea to be united with their Aussie siblings. Seeing all six of the cars parked together sure was an amazing sight and not something that we're likely to see again Downunder any time soon.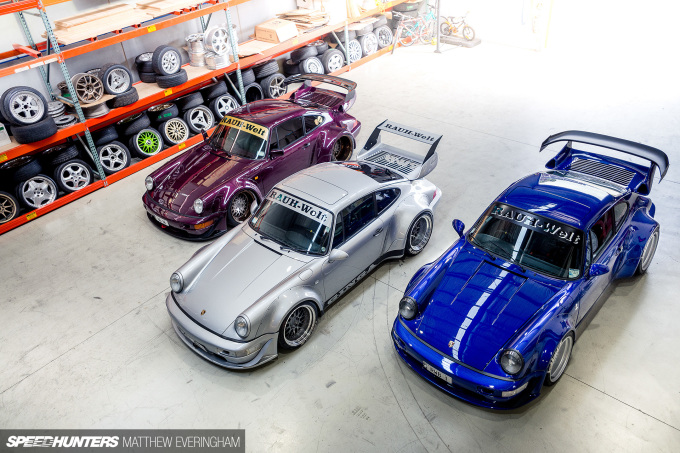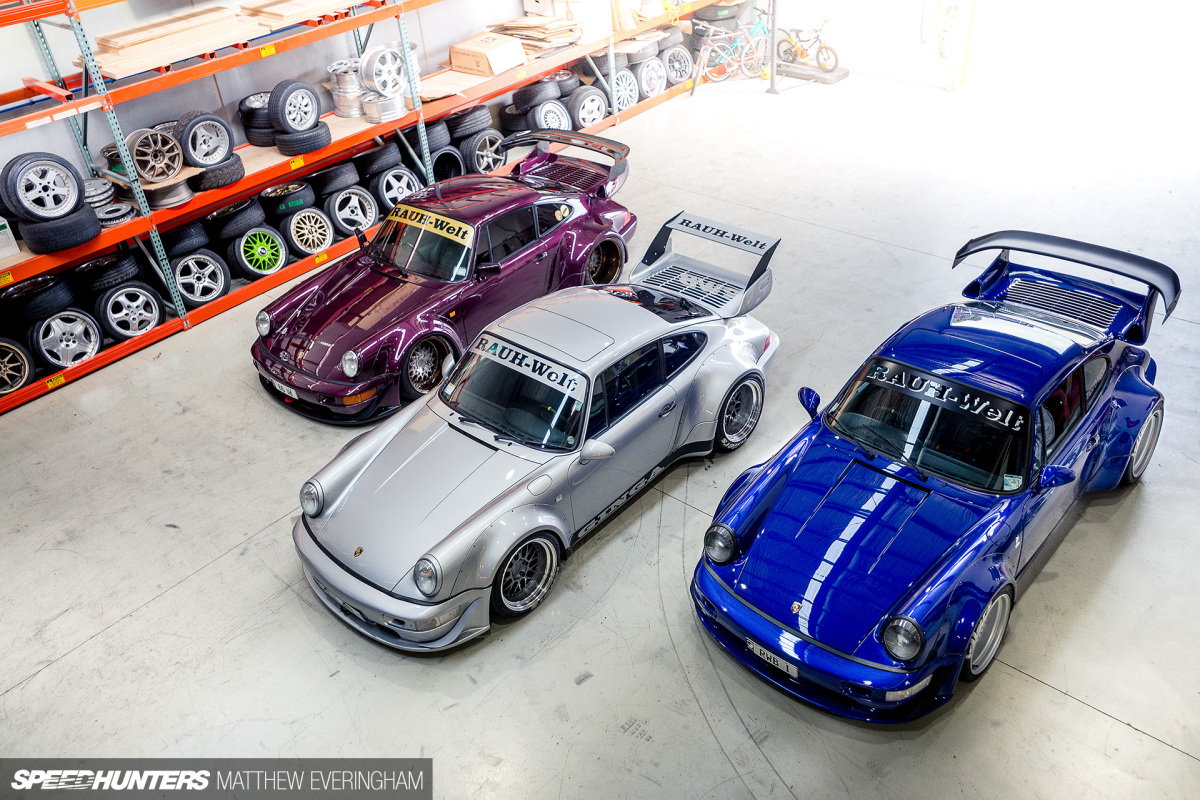 Waikato was the first New Zealand build. Its name, and now deep blue paint colour (it was a charcoal colour when originally built) are inspired by the Waikato River and region that flows across the country's North Island. The word itself is a Māori (indiginous New Zealander) translation for 'flowing water.' It's also the region that Waikato's owner, Anthony, calls home. Oh, and it's partly to do with Waikato Draught, the beer of choice that was consumed in near record amounts during the weeks leading up to the RWB build.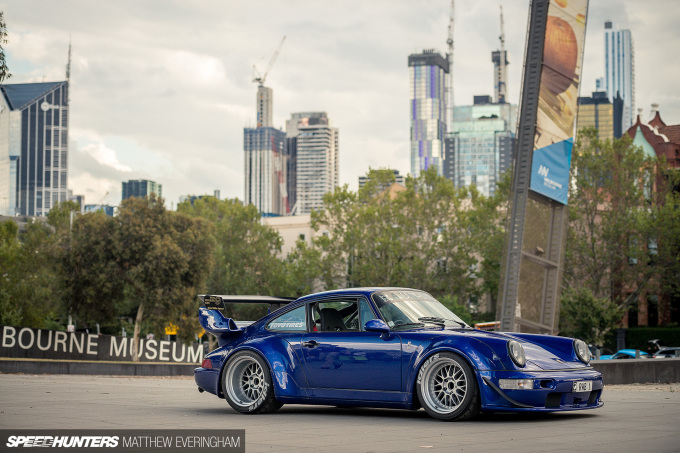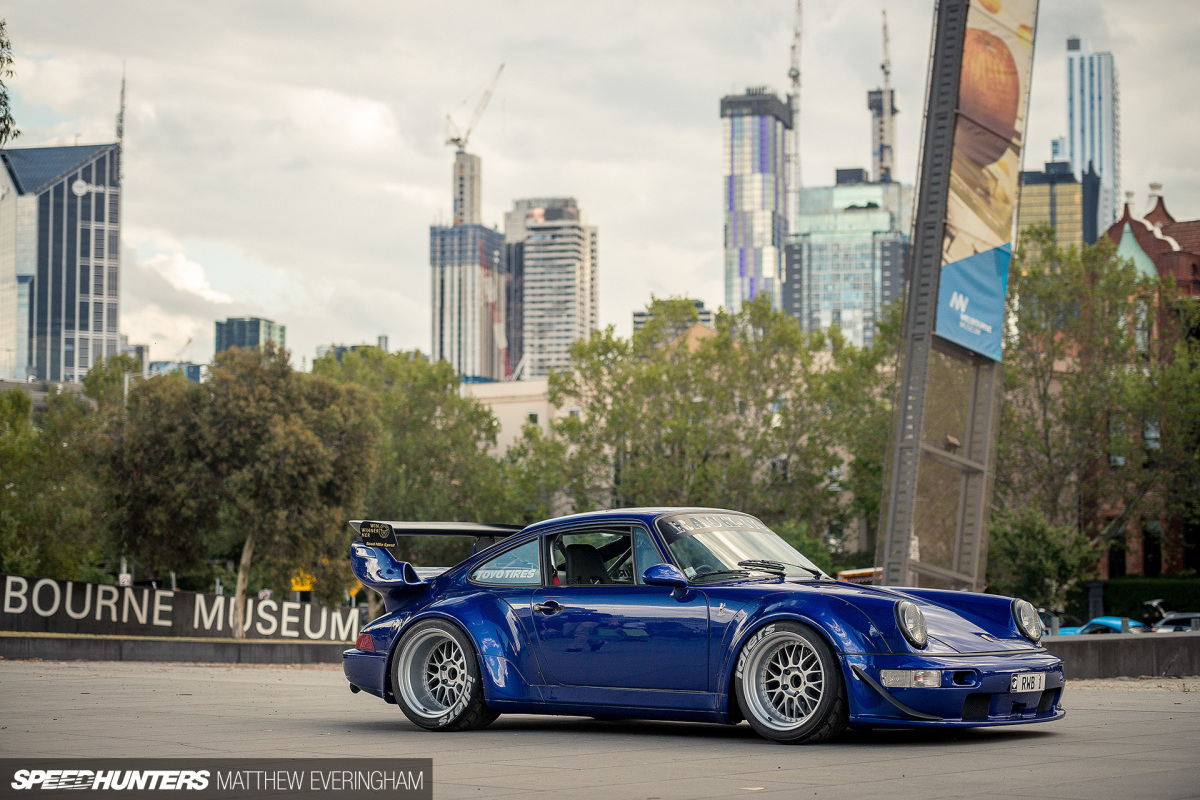 Growing up, Anthony remembers always having a 911 poster on the wall. Unfortunately for most of us, a 911 isn't a realistic first car option, and likewise Anthony owned a number of Hondas while studying and establishing himself. Then again during university, the Porsche bug hit, more specifically a craving for RWB. Ant had stumbled across Speedhunters' first feature on Nakai-san's newly completed Stella Artois. "Matte black. Ultra wide guards bolted on. Japanese wheels. It was ruthless. I had to have one." Fast forward through a few years of hard work and persistence and here we are, featuring Ant's own RWB, which will hopefully inspire someone else's future build.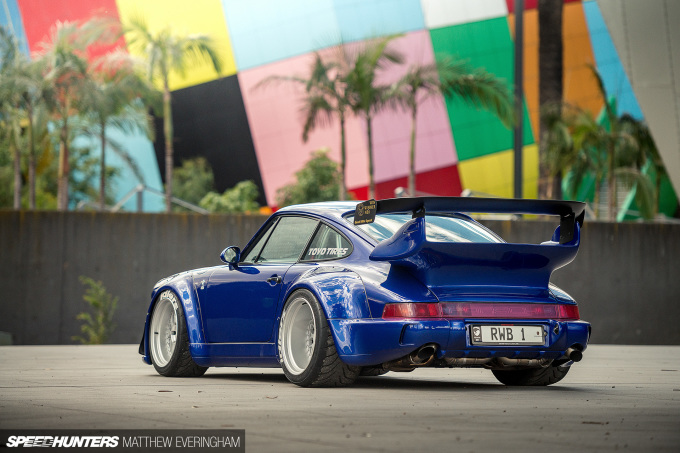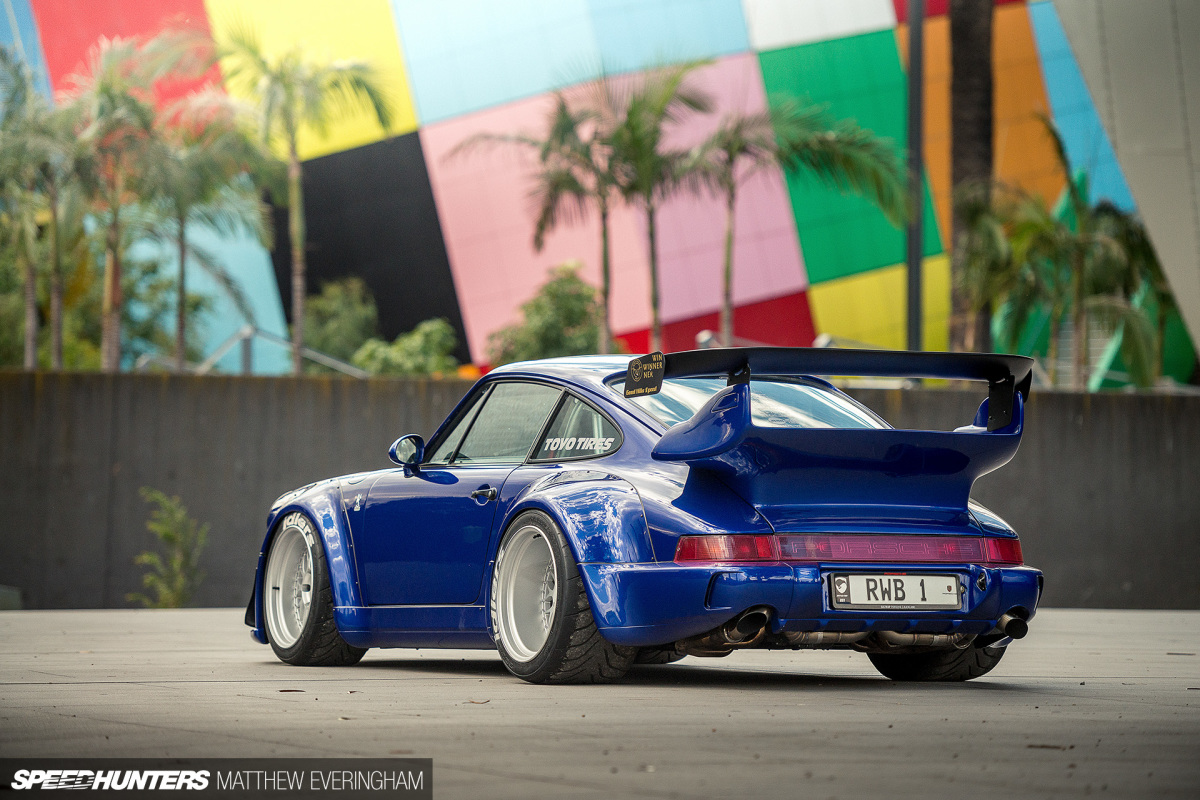 The car is a 1990 964 Carerra 4, with the factory 3.6-litre flat-six engine having been completely rebuilt to RS Cup spec by Porsche specialists LM Automotive. An RS intake and custom exhaust were also fitted up and the whole package has been tuned to extract the most out of it. A set of Bilsteins and RS sway bars improve the handling, while a larger set of 'Big Red' front brake calipers were donated from a 993. Staggered width RWB-spec Work Meister M1s wrapped in Toyo R888s keep Waikato on the black stuff.
The RWB kit consists of front and rear overfenders with front canards, front and rear RWB bumpers and a Champion wing. Internally, a Garage Zeal 4-point chromoly half cage and floor plates provide a bit of extra safety, while a Recaro RS-G bucket holds you nice and tight. A Momo steering wheel, 911 RS door cards and seat belts, and a complete Alcantara re-trim finish things off. It's not a terrible place to be when you get stuck in traffic.
Hekigyoku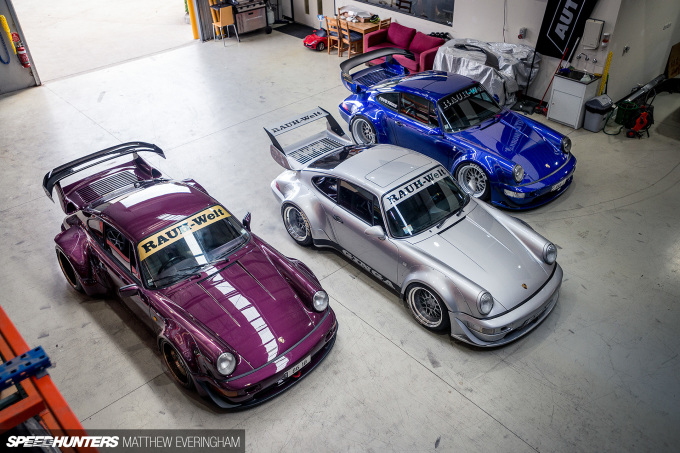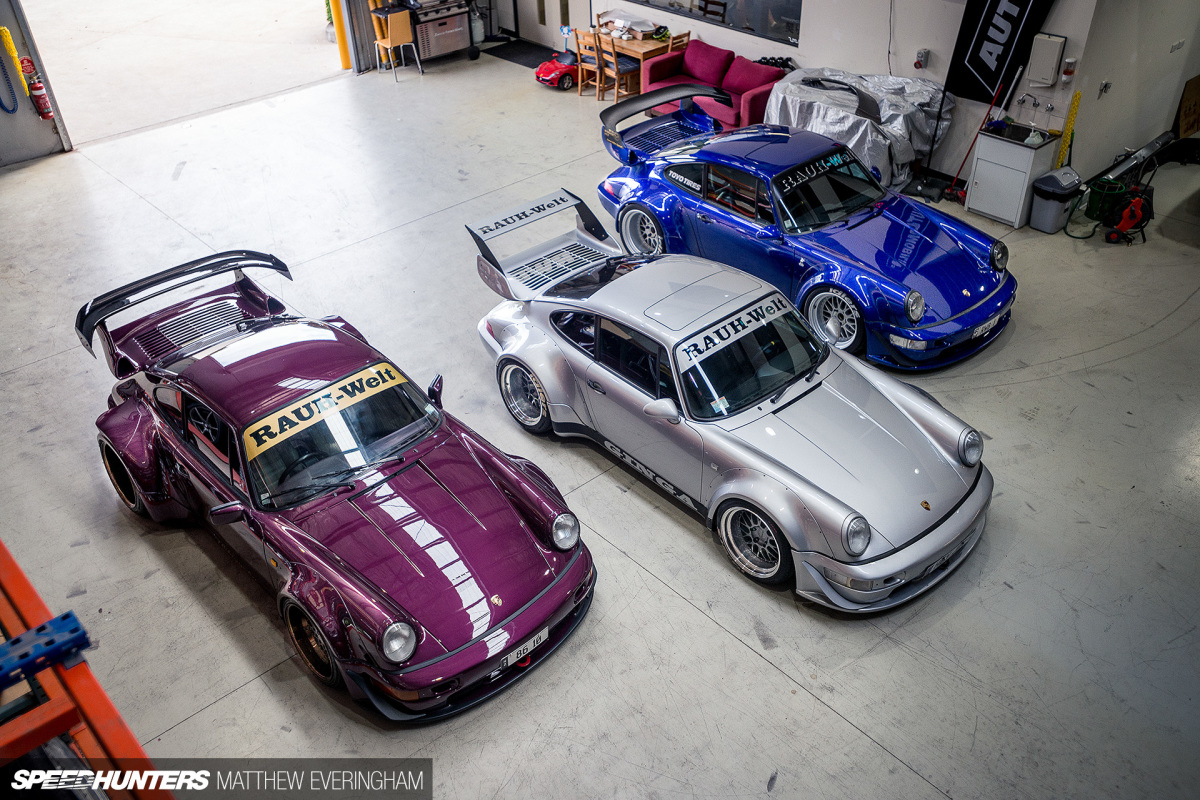 New Zealand's first RWB build was actually a double build, Nakai-san completing Nan's amethyst-coloured 964 C4 straight after Anthony's.
While Hekigyoku translates to 'Jasper' in Japanese, which is a reference to the car's dark brown and red colour, it's only half of the meaning behind the name. This RWB was ultimately built to be handed down to Nan's son, Jasper, when the time is right.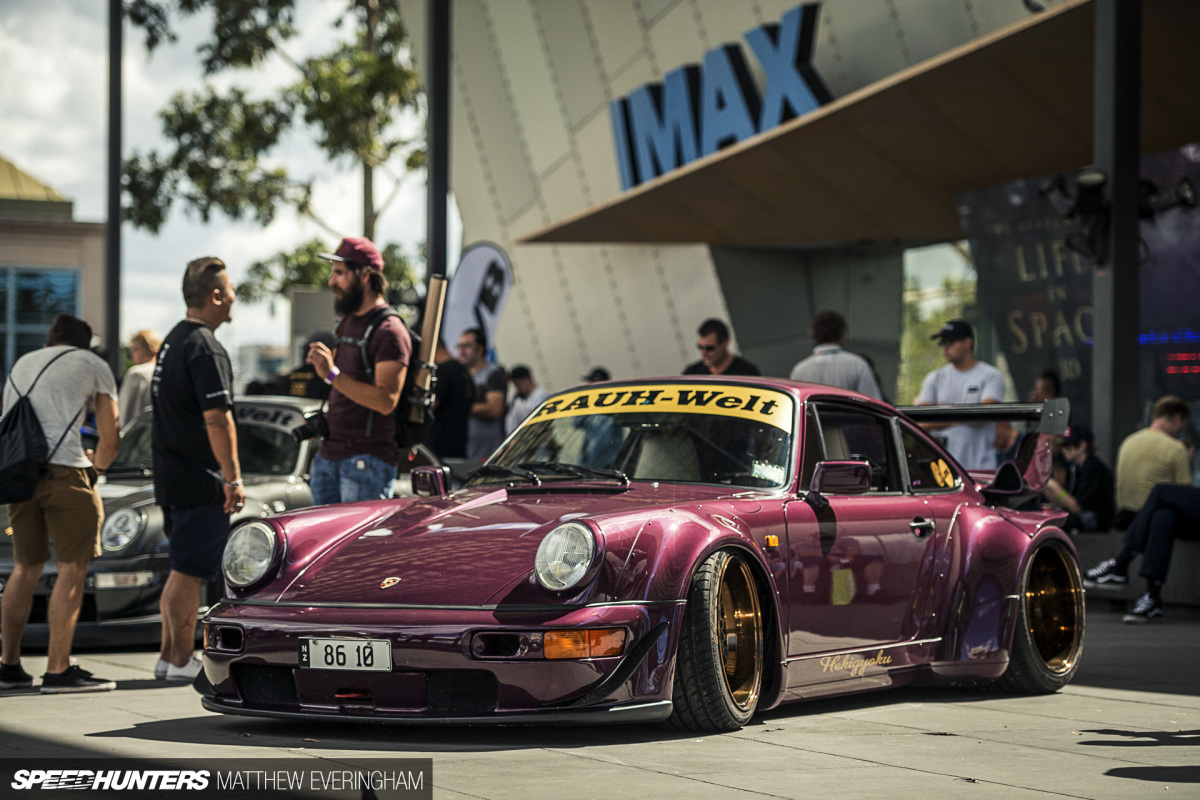 Hekigyoku rolls on a set of staggered 18-inch Avant Garde wheels, while AirREX suspension provides a smooth but firm ride that can be configured for city cruising or adjusted from in the cabin when Nan feels the urge to squeeze the go-fast pedal on mountain roads.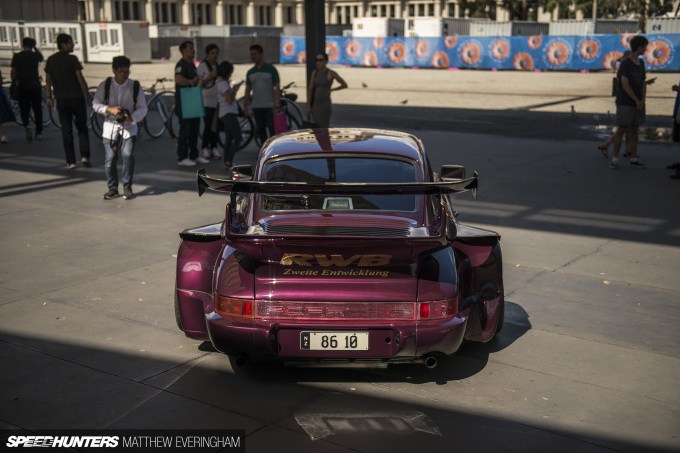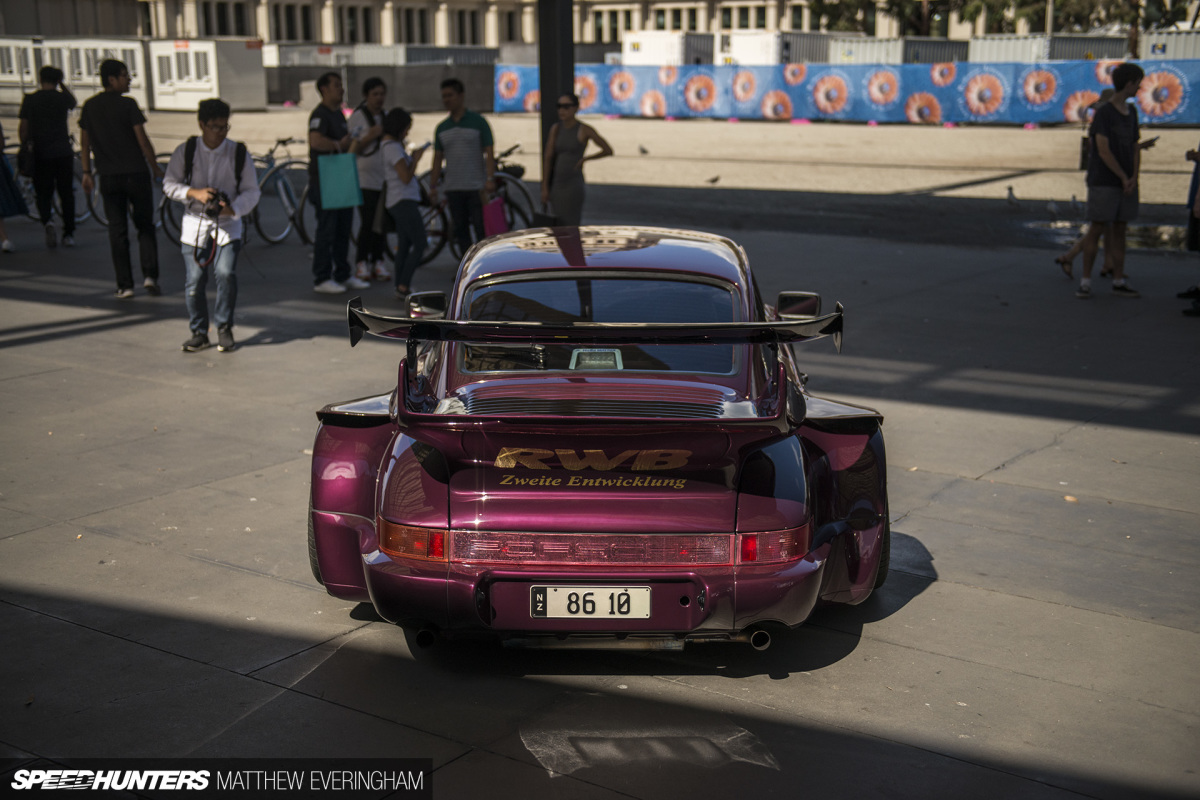 A set of Fabspeed Maxflo RSR headers and muffler have been fitted up to a completely rebuilt 3.6-litre engine. She sounds amazing and I'm told she's quite happy to party when required.
Ginga
The final New Zealand RWB was actually built in Japan almost a decade ago and later imported by its current owner. So while it's not strictly a New Zealand build, the owner, Jin, spends enough time with the RWB NZ crew that he's a part of the family. Since taking ownership, Jin's made a number of changes to personalize the car and give it a second rebirth so to speak.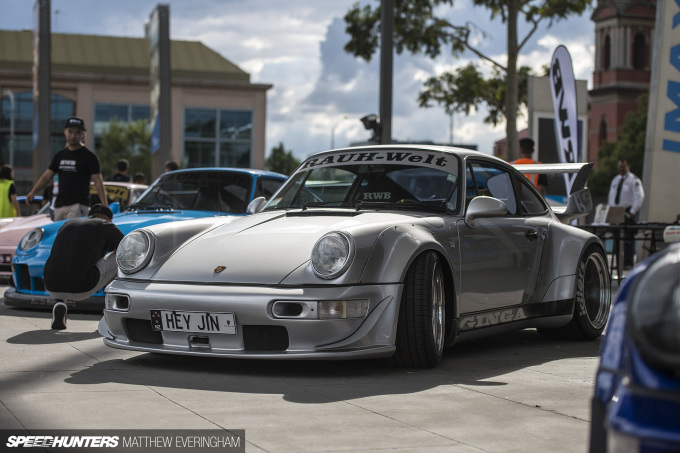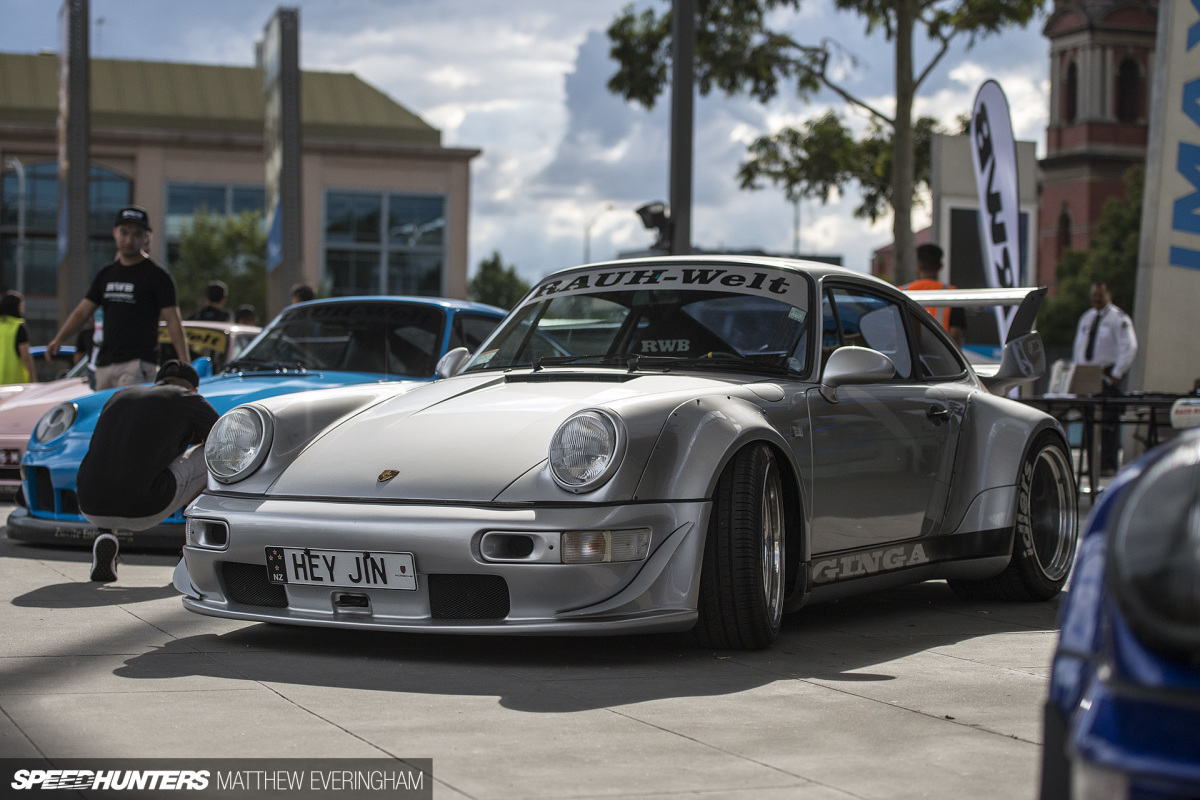 The original car was unnamed, but Jin had a moniker ready before the car landed. RWB 2.0 is now known as Ginga, which translates to 'Galaxy.' Could it be a reference to the millions of stars that sparkle when the pristine silver paint is bathed in sunlight? Perhaps we can make up our own theories…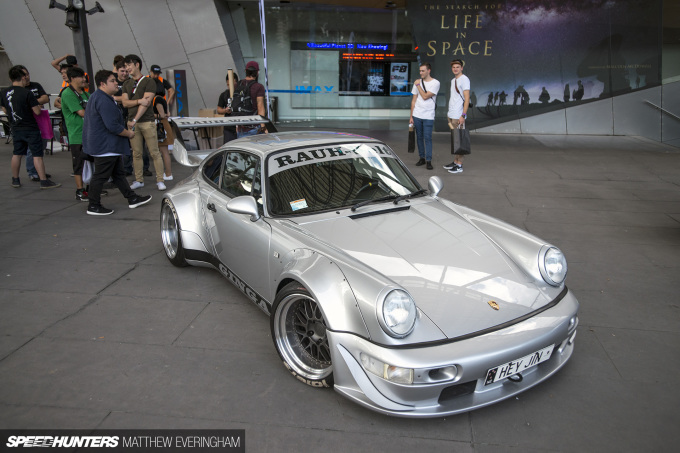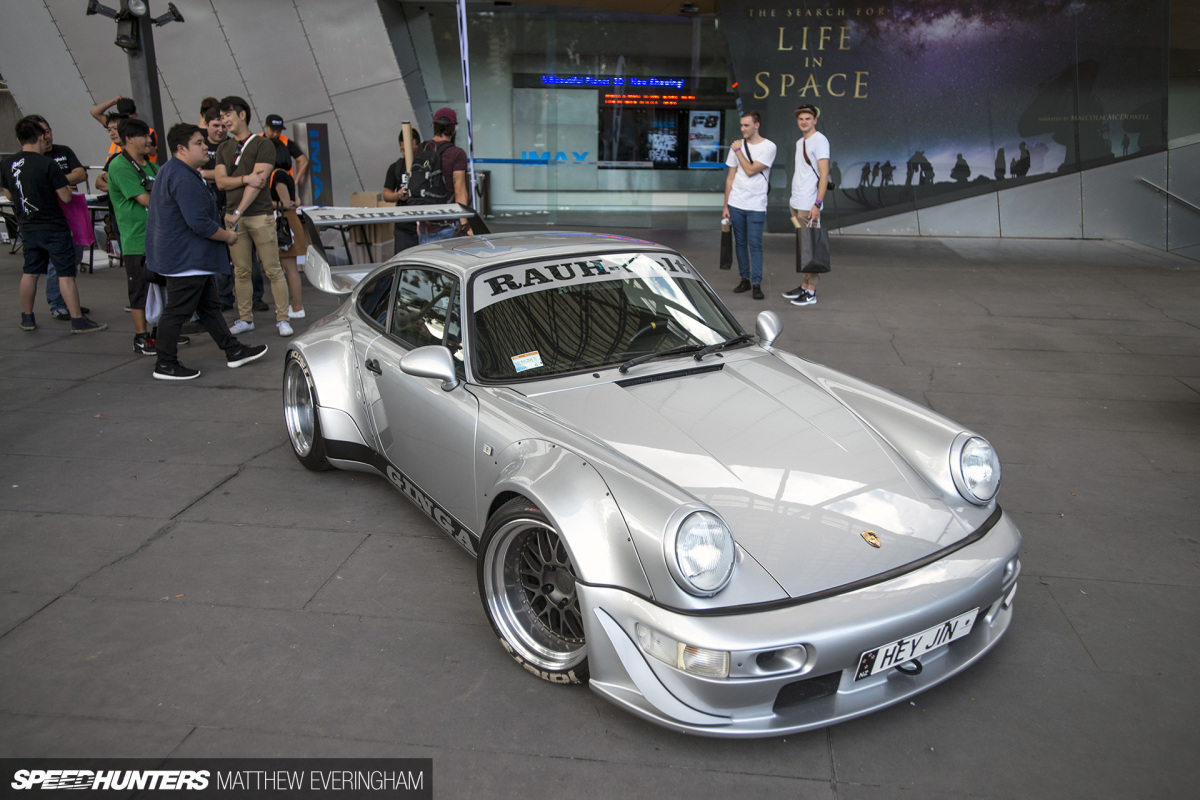 Jin's 964 boasts a similar kit to the other cars, but being a few years older you can see some small differences. For instance, notice how the overfenders are more angular than the newer, rounder-shaped RWB items.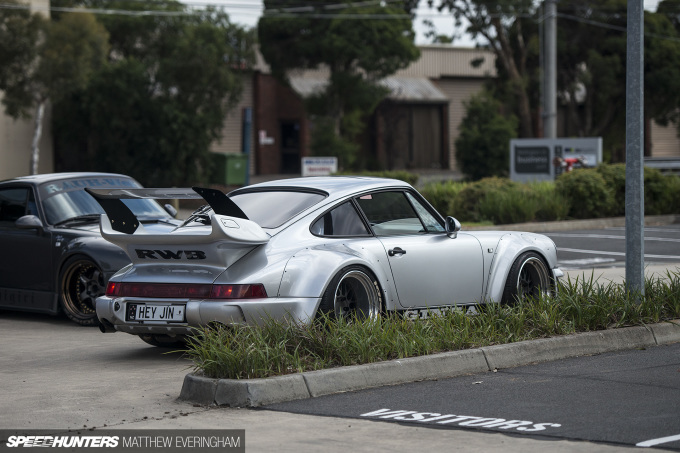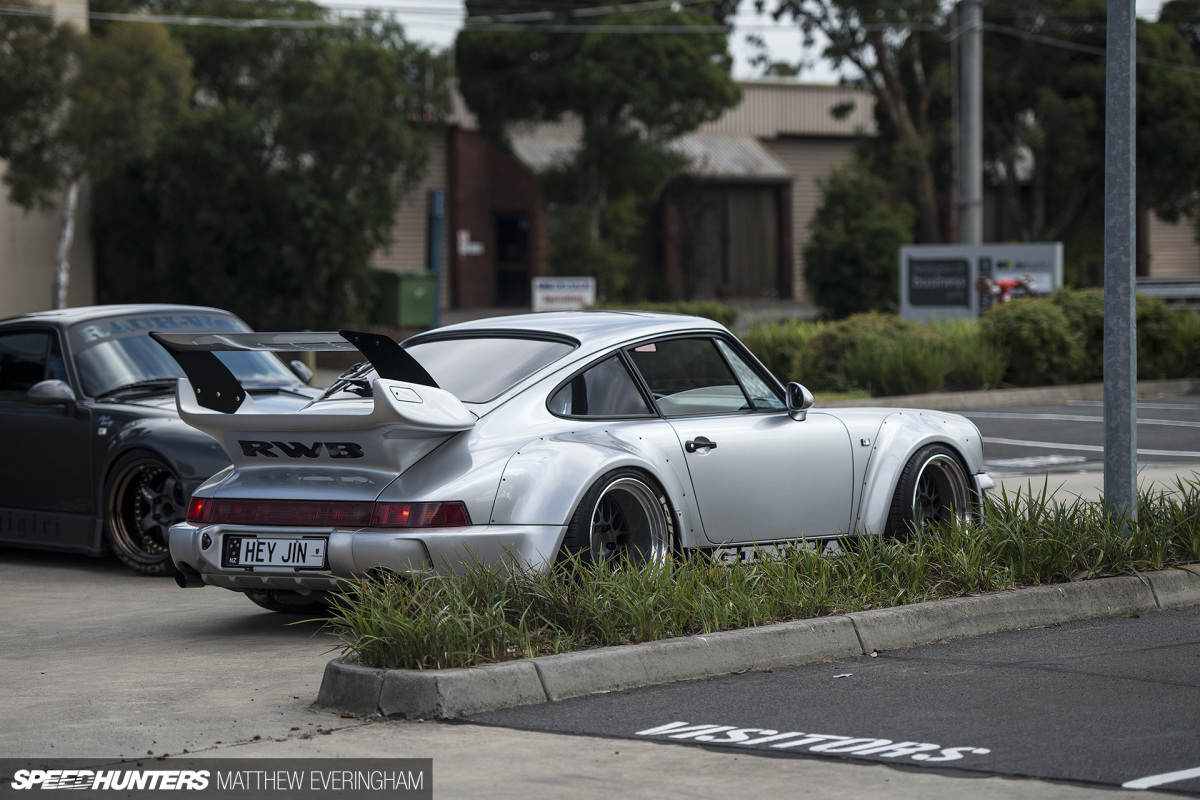 Ginga's super-wide body lines are exaggerated by the silky smooth silver paint; the heavy metallic flake and sunlight really work well. As the the light wraps around those curves it adds an extra dimension that gives you a better idea of how these larger than life builds look and feel when they're not restricted by a 2D medium like a screen or a photo print.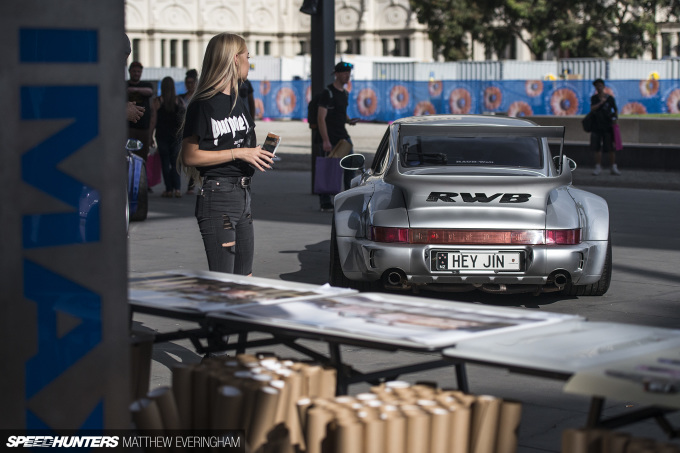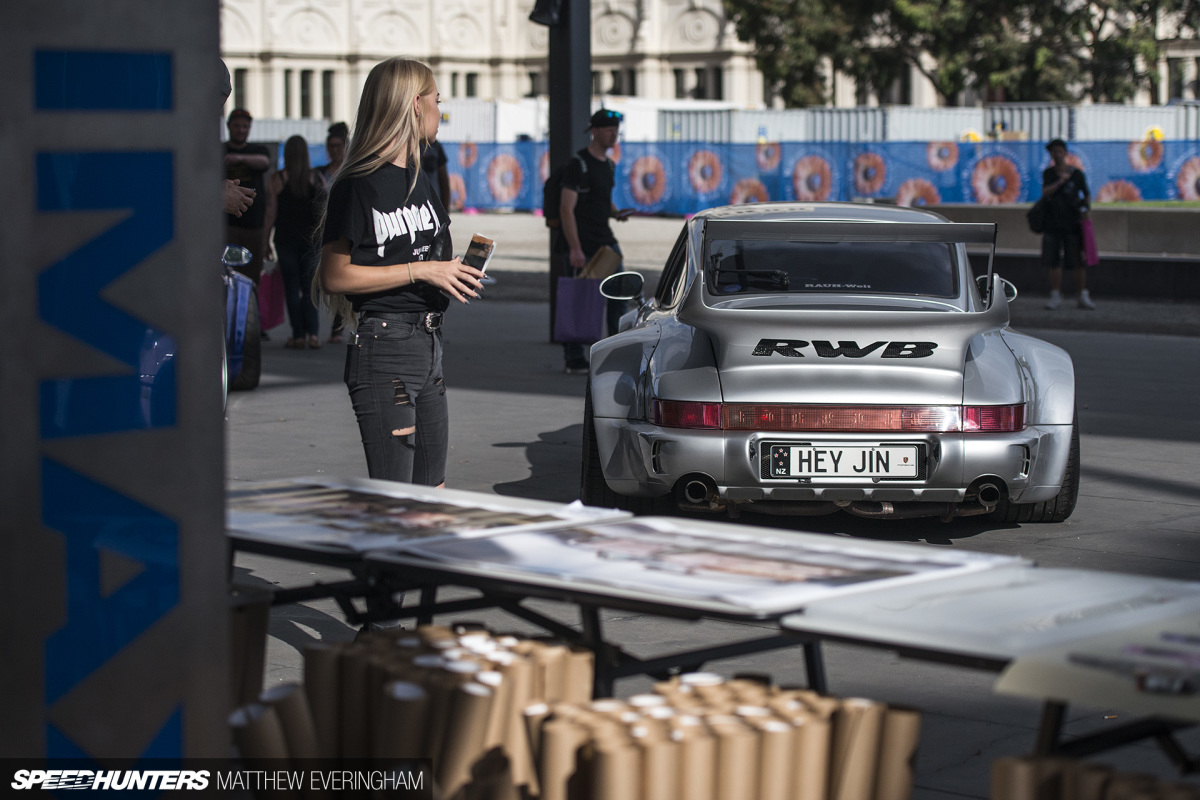 Now you've been formally introduced to all six of the Southern RWB crew, what do you think of our new friends? Which build is your favourite and why? Sound off in our comments section below!
Matthew Everingham
Instagram: matthew_everingham
matt@mattheweveringham.com
More stories from Australia on Speedhunters
Cutting Room Floor