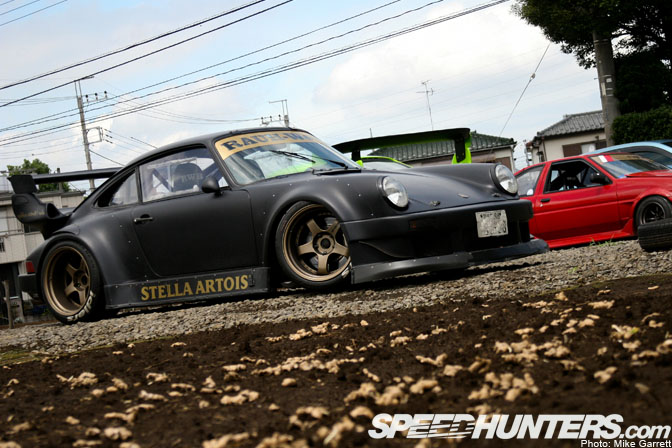 As we get closer to the end of the month and our all out on focus on Porsche, it's time for me to finish up my Rauh Welt car features with the much-anticipated look at Nakai-san's personal 1985 Porsche 930. This is a car over 12 years in the making, and in its current state it is definitely one of the most unique Porsche 911's anywhere in the world. From its extensive bodywork to its laps and laps of racing experience, this car has been a testbed for all of RWB's products, and as you saw in my previous feature, it has inspired Porsche owners all over Japan and more recently all over the world.
RWB is very well known for its bodywork and original parts, but with his personal car Nakai-san has taken things even further. Through its combination of engine/suspension tuning and weight reduction, Nakai-san's 930 has been transformed into a track-going weapon with all the performance it needs to match its sinister Rauh Welt looks.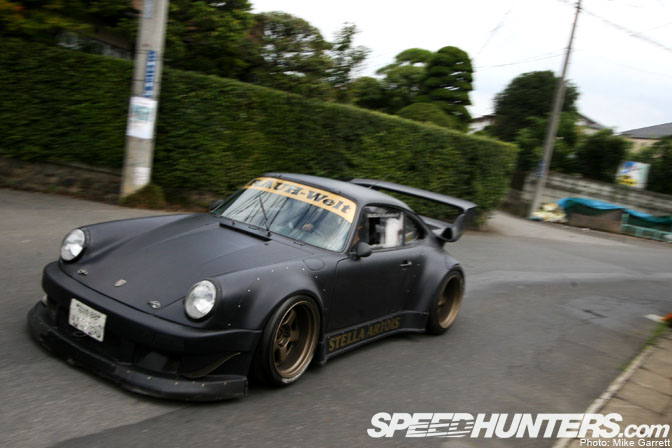 While it's no secret that this car's main purpose is circuit racing, it is still streetable. Nakai-san said that every once in a while he likes to hop in the car and head out to his favorite  restaurant for some ramen. Originally, the car's main purpose was street driving, but as Nakai got more into track racing, the car's focus shifted from the streets and touge to race tracks like the nearby Tsukuba Circuit. All through the years, he has used this car to develop the parts which he sells and installs at his shop and to establish himself as magician of car style and race tuning. In this shot you can see Nakai-san cruising by us for a photo opp. I don't think I will ever forget the sight and sound of this beast rolling down the tight Japanese residential street.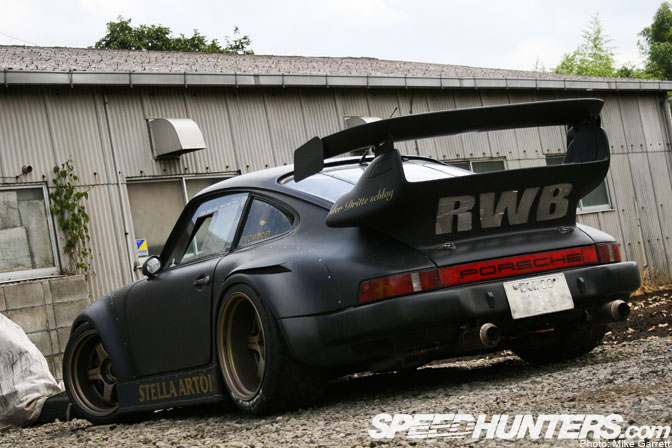 The best place to start on this car is the bodywork, and there is a lot to talk about there. As Nakai-san developed the car, he wanted to be sure that the bodywork would not get in the way of tuning and maintaining the car, and for this reason all of the body modifications are easily removable. This makes for easy access to the car's undercarriage and suspension during those testing sessions at the track. In the photo you can see the rivets which hold on the RWB-original fenders. The giant rear wing is also a custom RWB piece (with a cool RWB mesh logo cutout) and I know it has to help keep the car stable when running through the final sweeper at Tsukuba. The wing is mounted on a custom FRP decklid.
The entire car has a very strong emphasis on weight savings and it is highly evident when looking at the car's exterior. The doors, fenders, and even the roof are all constructed out of carbon fiber. Nakai-san also told us that he replaced the stock hood with one from a newer Porsche 993. With all of weight reduction, Nakai says that he has dropped a total of about 400kg (800lbs) from the car's original weight and that it now hits the scales at just 980kg (2,100lbs)!
After all of the custom bodywork, Nakai sprayed the car in a coat of flat black paint, which as you read in our Rauh Welt shop story was inspired by American custom cars and hot rods seen in Japanese magazines. The Stella Artois logos on the side of the car are an homage to the Belgian beer which is Nakai's brew of choice.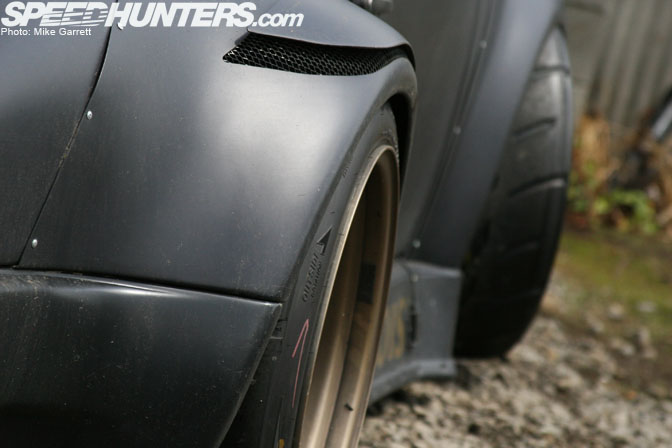 Here is a better view of the details of the fenders. The vents cut into them also add a nice visual element to a car that is all about the details. I'm sure you also can see the dirt on the car in the photo. As Rod stated in his earlier piece on RWB, Nakai-san isn't into washing his cars and he feels that they are best left in their natural state of distress. On the same note, when we asked him if one his new projects would be appearing at Tokyo Auto Salon, he quickly replied with, "I don't like car shows."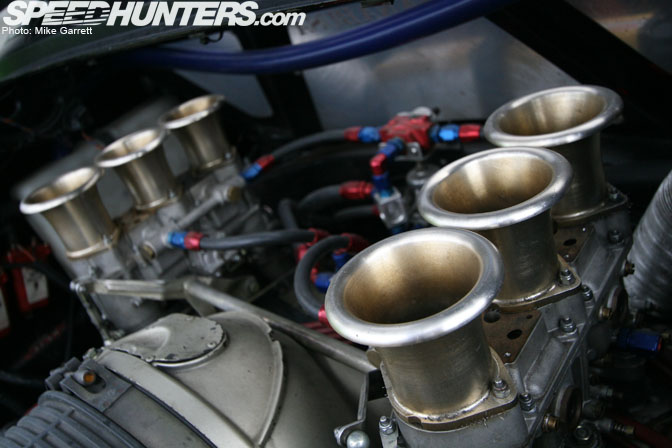 Sitting underneath that huge rear wing is this fully tuned 3.8L engine. As with many other high powered Porsches in Japan, the car's engine work was done by Promodet in neighboring Saitama Prefecture and the naturally aspirated powerplant breathes through a set of carburetors from PMO in Santa Monica, California. The carbs also dominate the engine bay visually. The American theme continues with a trick MSD ignition system and the lovely song of the flat six is heard through an original RWB exhaust system with a pair of mean-looking tailpipes.
We like to keep things pretty simple as far as technical specs go, and when all is said and done the engine makes 360hp with a redline of 8,500 RPM. 360hp might not like sound much when compared to the newer turbo machines, but considering how light this car is, it is a very potent combination.
As far as the drivetrain goes, Nakai-san is running the 915 model Porsche five-speed transmission, and although it's not the easiest unit to operate, it helps to save weight and space. The final gear in the differential is another RWB original developed from circuit experience.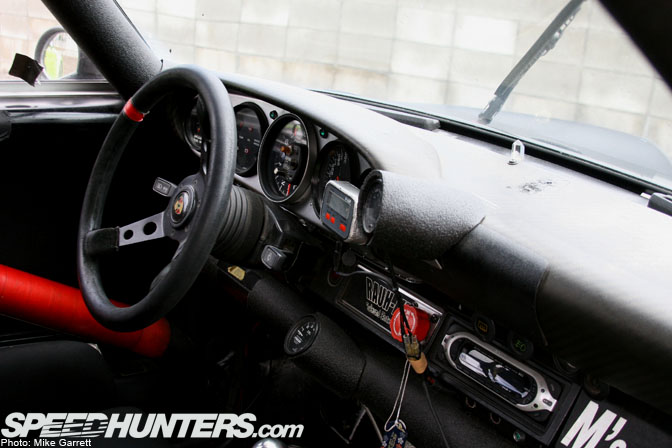 As expected, the interior of the car is all about function. There is a custom roll cage in place and for extra weight savings Nakai-san swapped out the stock dashboard for a one-off carbon fiber replacement. Aftermarket gauges have also been added and the cluster is dominated by a big fat Autometer tach which can be seen through the OEM Momo steering wheel. The digital lap timer also fits with the race car nature of this machine. Lastly we have a CD deck but apparently it's not hooked up to anything…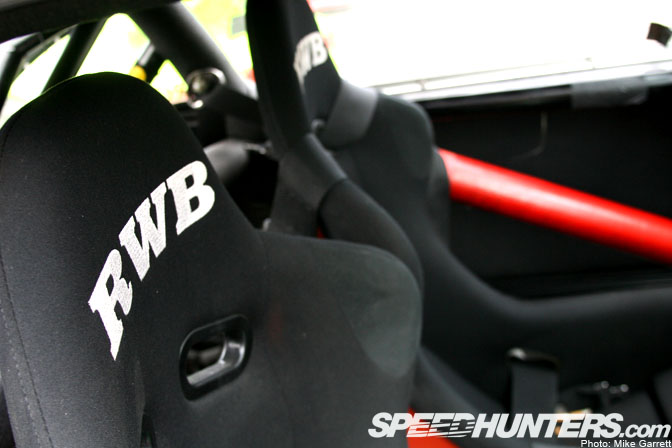 Rounding out the interior is a pair of original RWB-branded bucket seats, one for Nakai-san and one for any person crazy enough to take a ride with him,…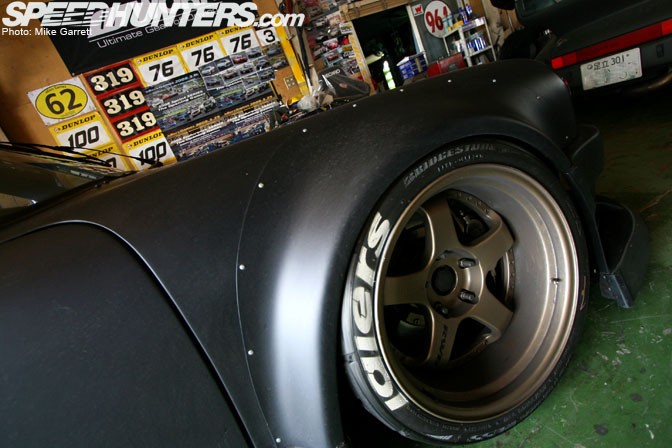 The car has been equipped with both Work Meister S1's and SSR Professors, and recently it has been running a set of SSR's in the same custom RWB specs as the ones on the green car I featured last time. 18″x11J +0 in the front and 18″12J -33 in the rear in case you forgot. The rubber consists of high grip Bridgestone Potenza S-tires with Idlers Club lettering.
Like nearly all of the cars tuned by Rauh Welt, it is sitting on a set of fully adjustable RWB coilovers custom-made by Aragosta. As you can see, the ride height on these things is dialed in quite low. With a mild stretch on the tires and the flushness of the wheels, the stance of this car is just perfect.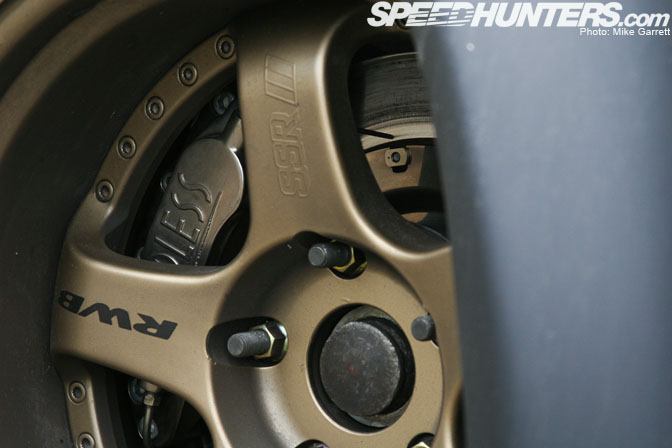 Although the car is featherlight, Nakai-san didn't hold anything back when choosing a brake set-up. You can see the set of gigantic Endless brakes that barely manage to fit behind the spokes of the wheel. When looking at these things up close it creates a sight of mechanical beauty. Nakai certainly gets his money's worth out of these brakes with all of his trips to Tsukuba Circuit.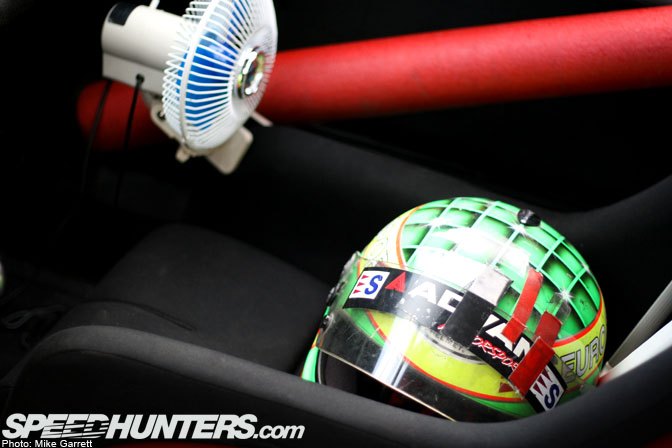 When I was shooting the interior of the car I noticed that Nakai-san's helmet was resting on the seat alongside the fan that keeps him cool while driving, and I couldn't resist taking a photo of it. While the car has an incredible overall presence, it is also full of details that reflect Nakai's personal style and it's those things that help make this car what it is.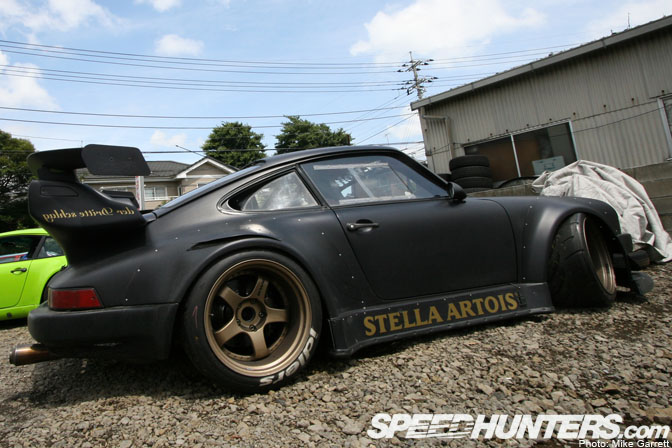 Just another shot to showcase the beauty of this car as it basks in the afternoon sunlight beside the Rauh Welt shop.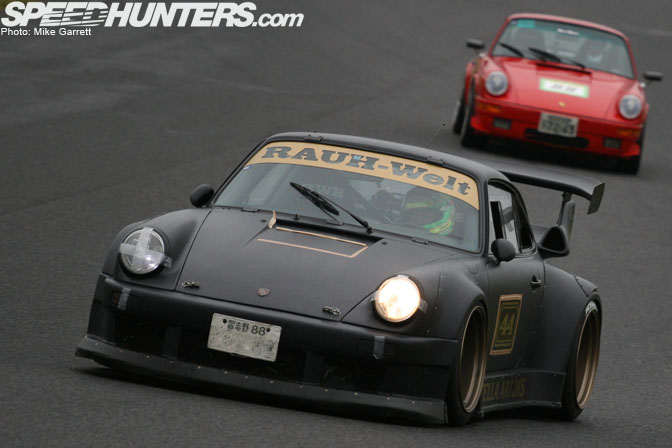 And finally a view of the car in its natural environment at Tsukuba . During last month's Idlers meet, Nakai-san took second place in the Super Cup race finishing just behind another Porsche which was also loaded up with his parts. Nakai says that his car's best lap time on the Tsukuba 2000 course is somehwere in the 58 second range, which is an amazing time for an older non-tubro car like this one.
While the car is a great performer, it also important to note how Nakai-san wanted the car to be fast, but not at the expense of having bad style. "What's the point of racing a car that doesn't look cool?", he says. All in all I'd say he managed to get the perfect balance of both.
In the end, this machine has all the makings of a fantastic car. It's scary fast, it sounds awesome, it looks amazing, and most importantly it is overflowing with character, style, and an attention to detail that we know can sometimes be lacking in today's car builds.
It doesn't get any better than this.
-Mike Garrett