Excuses
It's all too easy to come up with reasons not to do a track day.
It's expensive. My car isn't ready. I just want to wait for one more part to arrive. It's my only car and I can't risk crashing or blowing it up. The weather forecast is terrible.
I can probably go on, because these are pretty much all the reasons that I've talked myself out of doing one over the previous 12 months, alongside a hectic work schedule. I did have a chance to hit the track at Goodwood last year, but events conspired against me that day and it didn't happen (noise regulations). Secretly, I was relieved a little.
As time goes on, however, those excuses begin to be seen for what they are. It was long past due to finally get back out on track.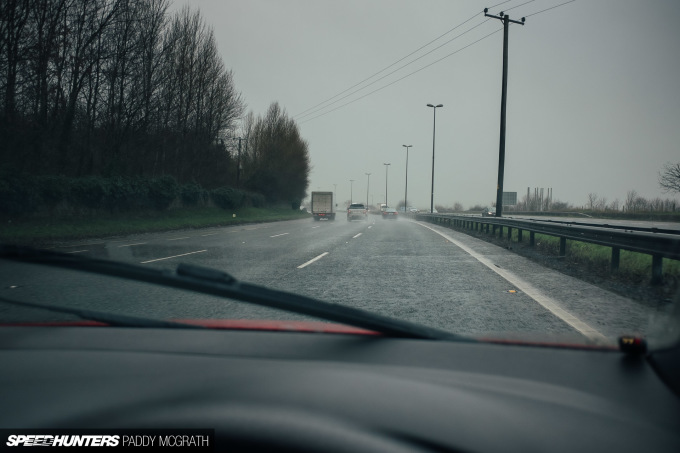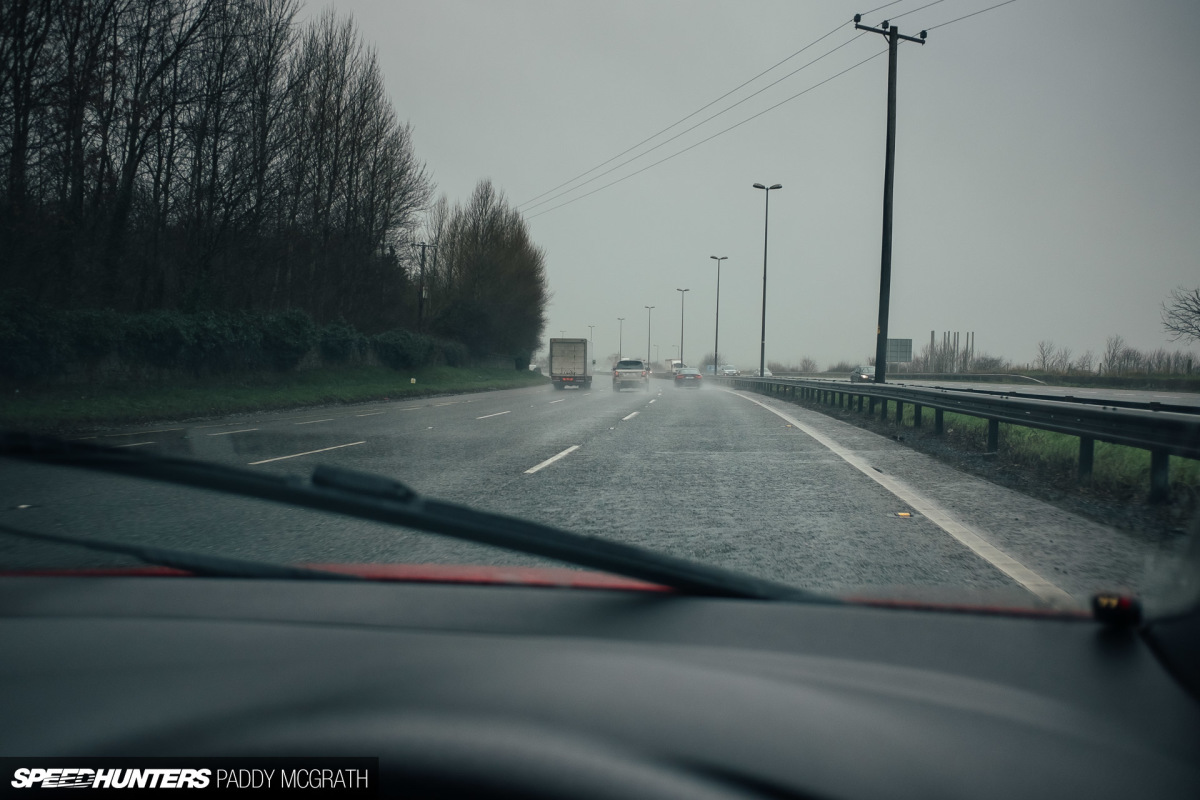 Since I moved to Dublin last year, I haven't been able to stay on top of, or perform as much maintenance as I did before when I had access to a garage and driveway. I still keep an eye on things, but where as before I would sort any issue immediately, now I just add them to a to-do list. Eventually, that to-do list needs to be addressed, and this is why I found myself westbound from Dublin towards Stone Motorsport.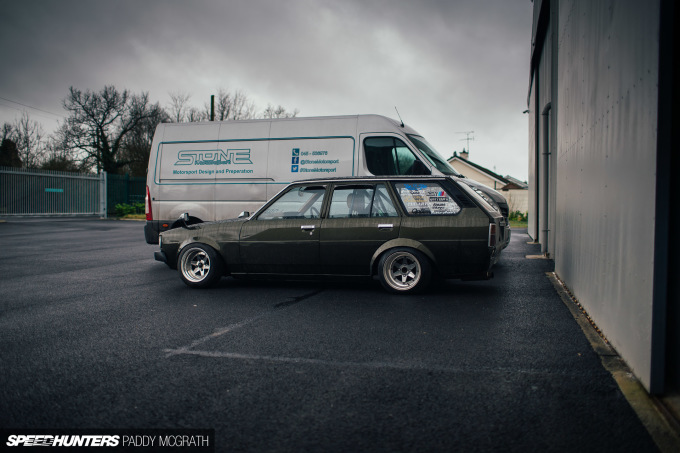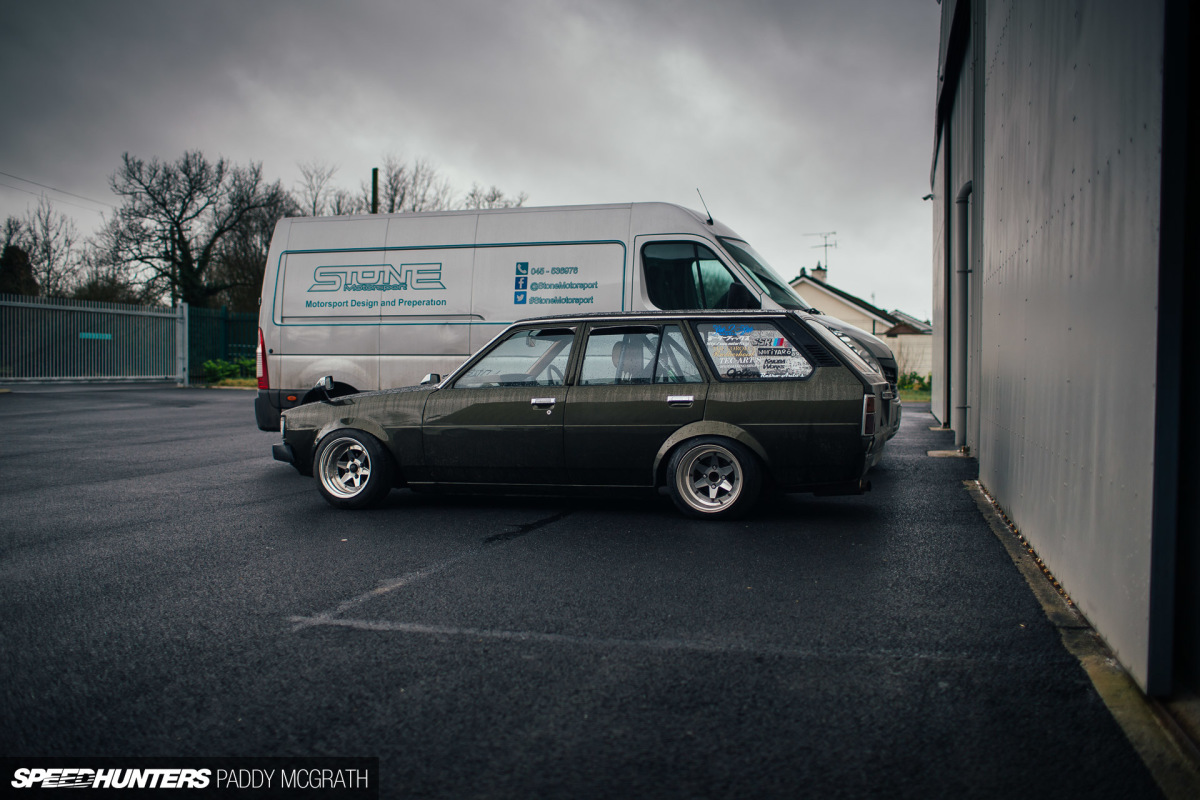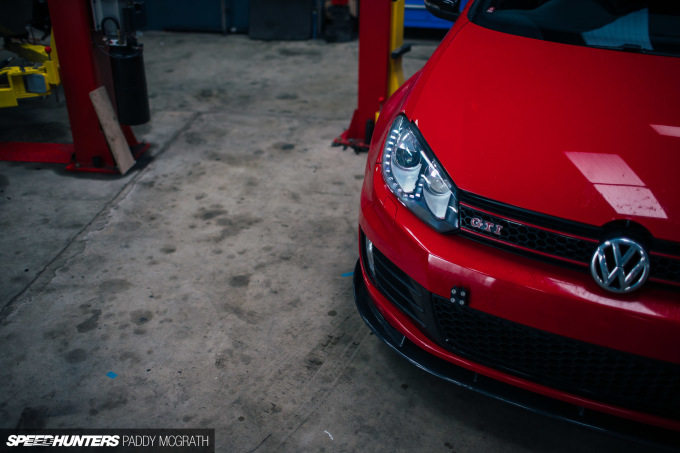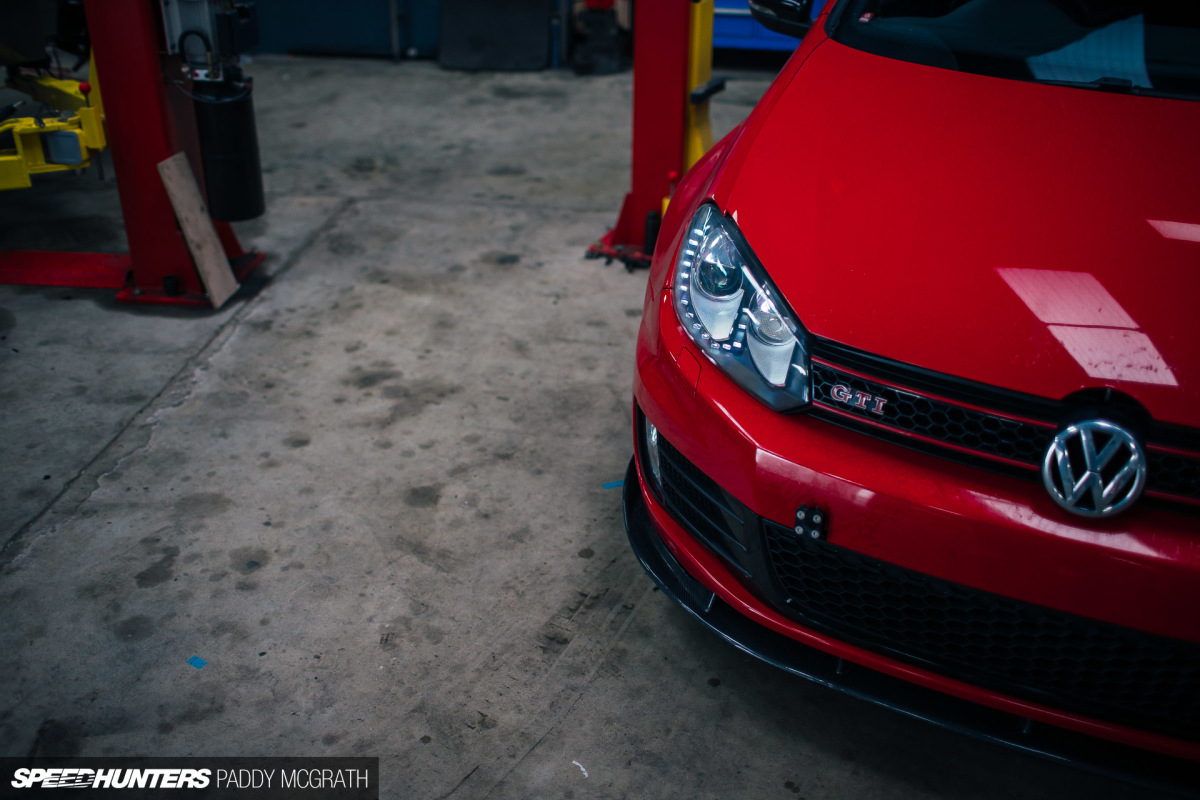 You might have read my piece on Stone Motorsport recently, and their facility remains unlike anything else in Ireland. It just so happens that it's close to me, and that I've known John, Brendan and Bryan for many years through drifting and time attack. It's always an interesting place to visit, as you never know what's going be there at any given time. We'll get into that momentarily.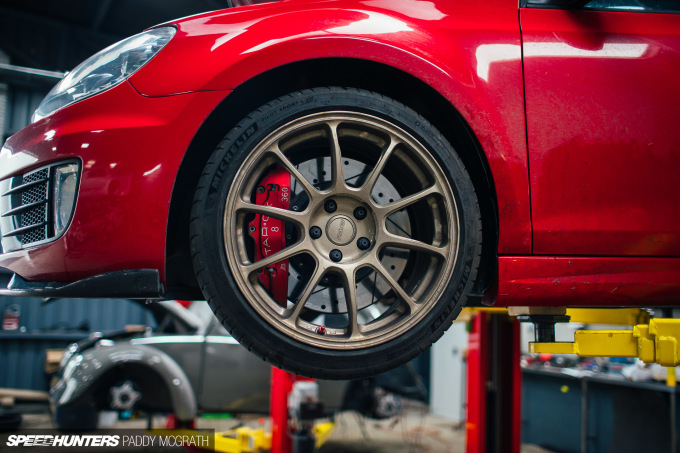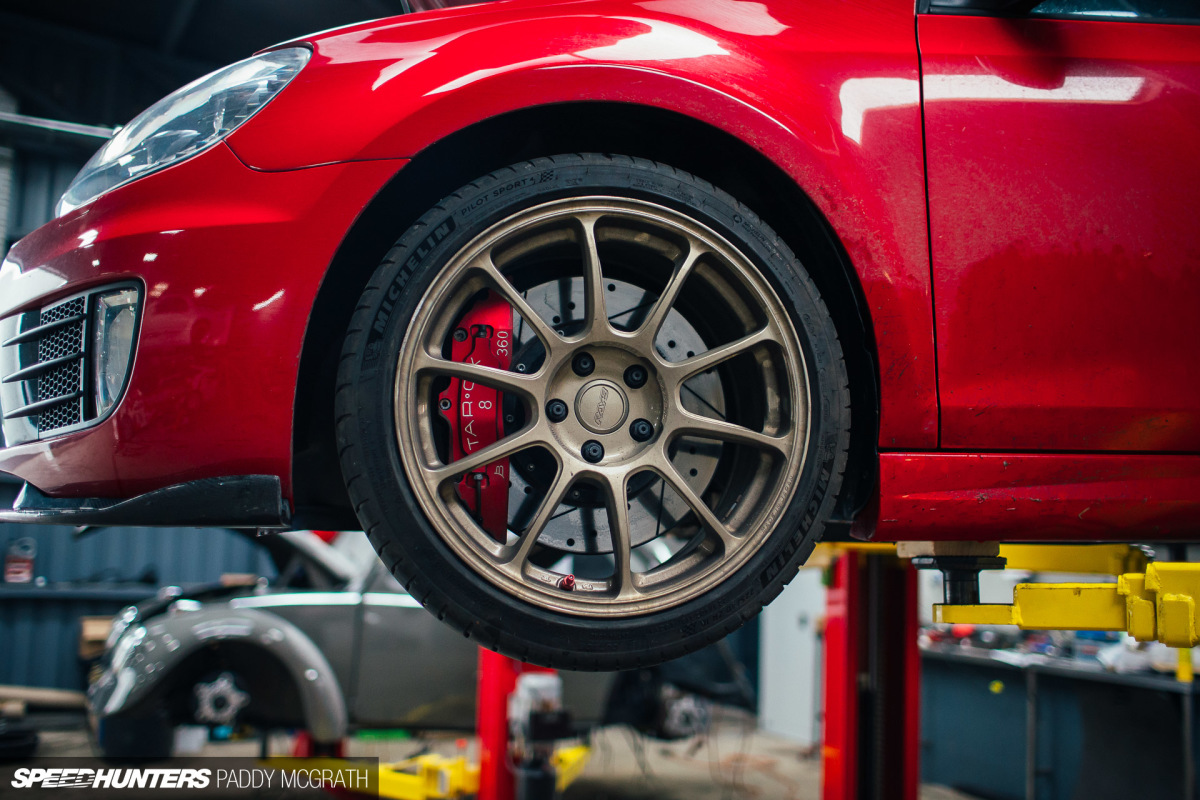 Project GTI has been an absolute pleasure to own since the beginning, and this was more of a check up and an opportunity to have a set of far more experienced eyes look over the car than anything else.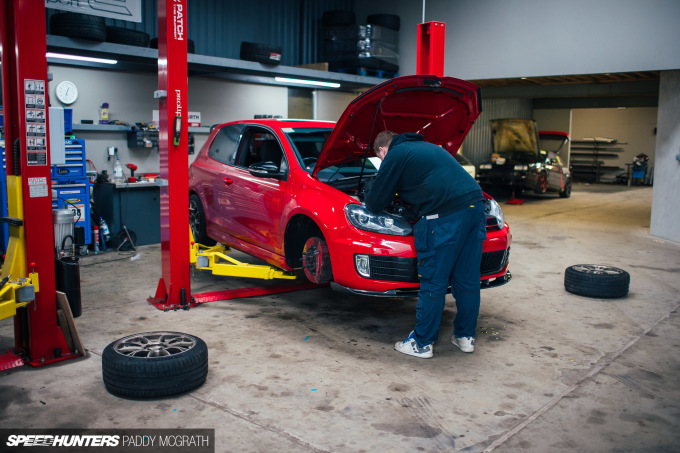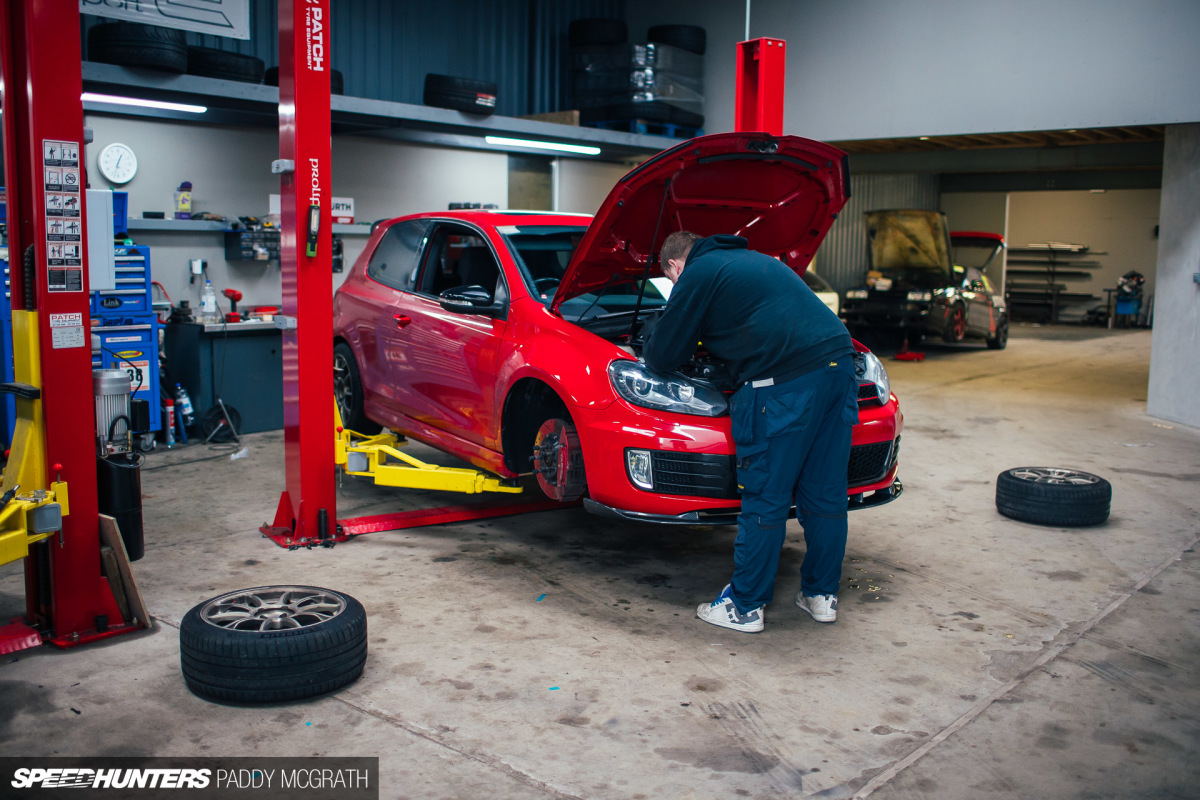 After a quick chat, Brendan got to work, and I went for a quick walkabout the workshop.
As I said, there's always something interesting about. From a Vectra touring car to an RB25-powered FD3S RX-7, a Corrado or two being built for the Irish Touring Car Championship and a Rieger-kitted Calibra, to a huge spec IDC build and a humble 335d wagon, not to mention the other usual residents. It's not somewhere you would ever consider ordinary.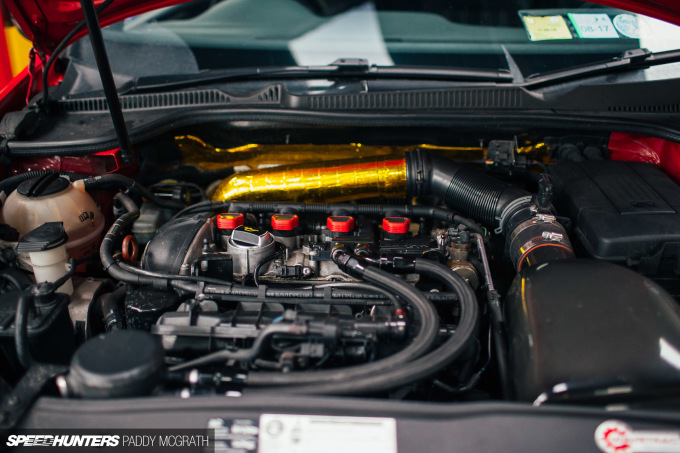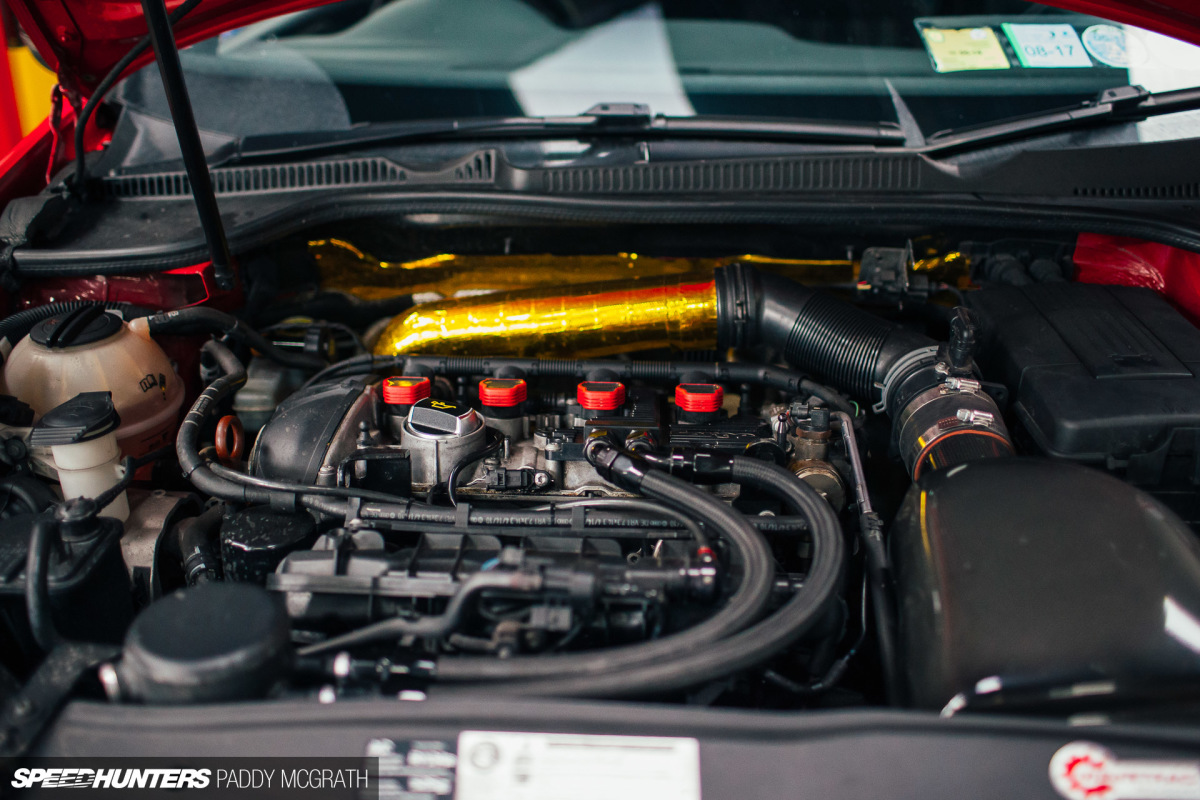 My 2.0-litre TSI EA888 was in good health, which didn't come as a surprise. They're such good engines, even in stock trim, and their potential is amazing. I still think there's a lot more to come from this.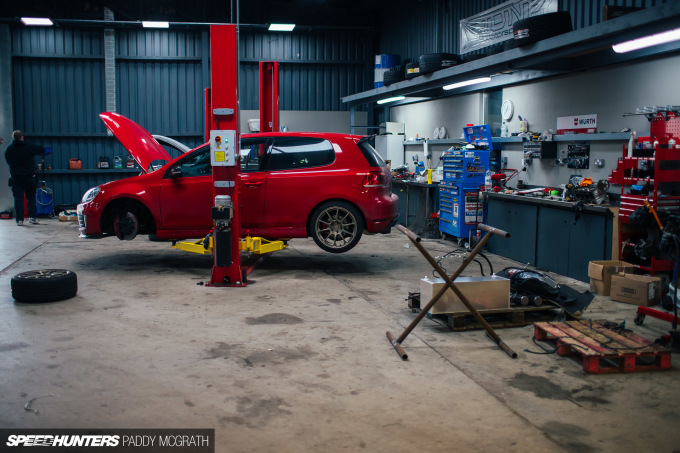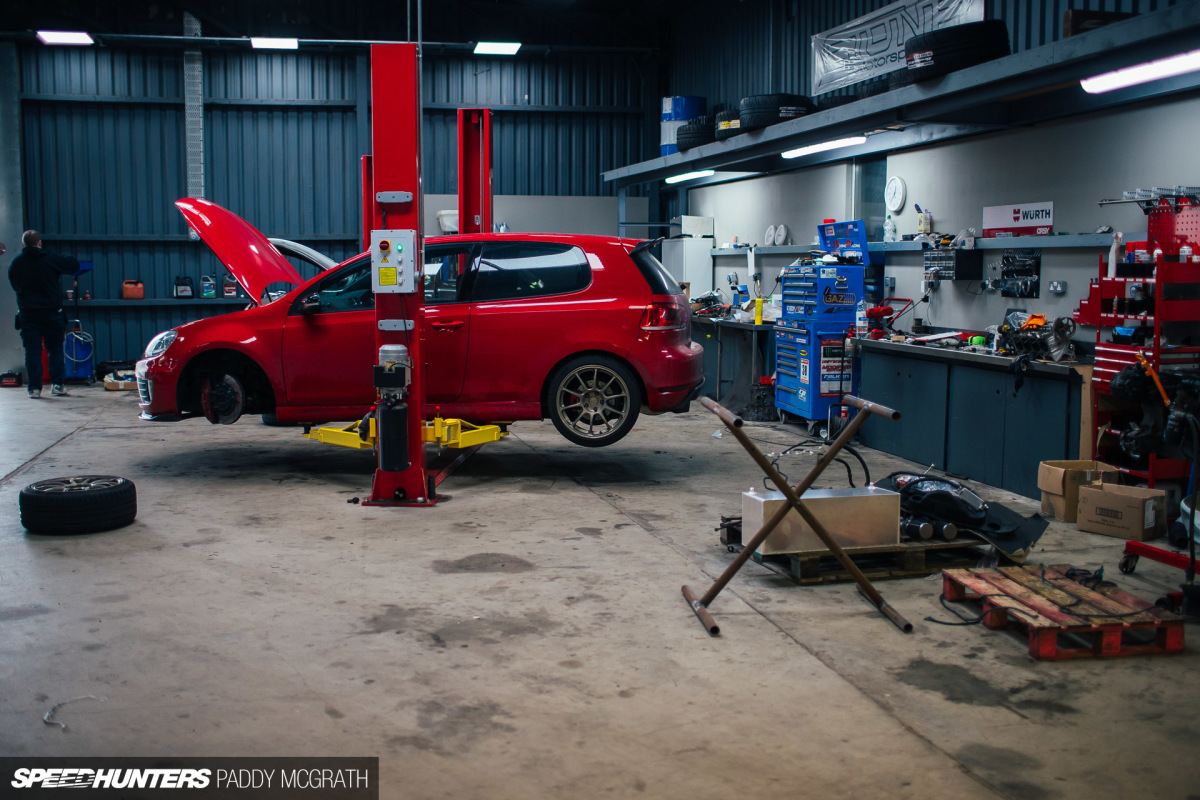 Over the past few months, my brake pedal has slowly started to get a little bit longer, so a pedal-type bleed was required. There was a hint of vibration under heavy braking too, so Brendan advised me that a disc skim was also going to be on the cards after the track day at the weekend.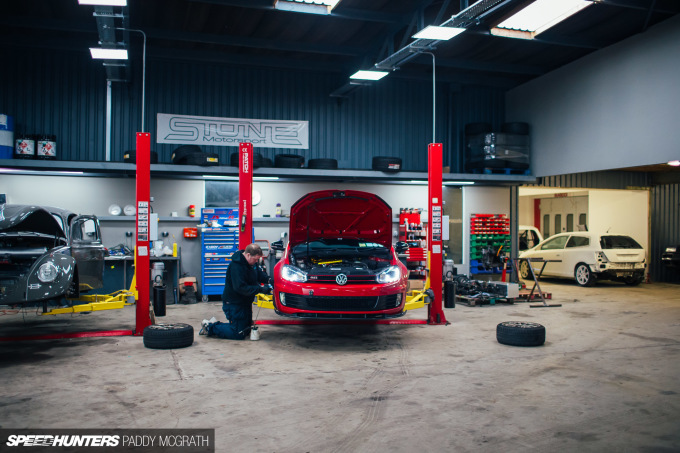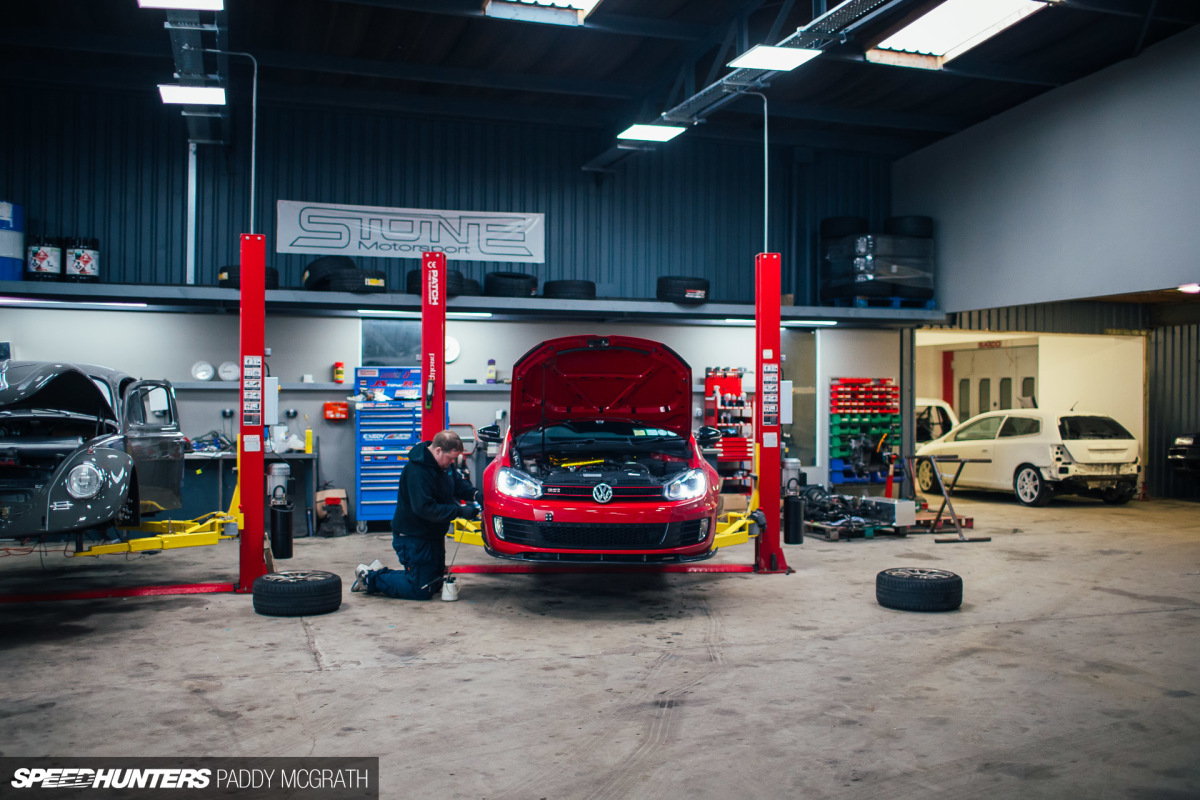 A visual inspection and a test drive yielded positive feedback. My lower control arm bushings were starting to show very slight signs of deterioration, but they would be more than up to the task of track time.
Happy that the car would be circuit-ready, I got my booking into Mondello Park for the afternoon grip session the coming Sunday, which relieved me of €70 for a three-hour spell with an open pit lane. Over the following days, I checked the fluids multiple times, torqued my wheel nuts and packed the bare essentials into the car before hitting the road early on Sunday morning for the tenth Auto Heroes event. It was like Christmas day all over again.
Best Laid Plans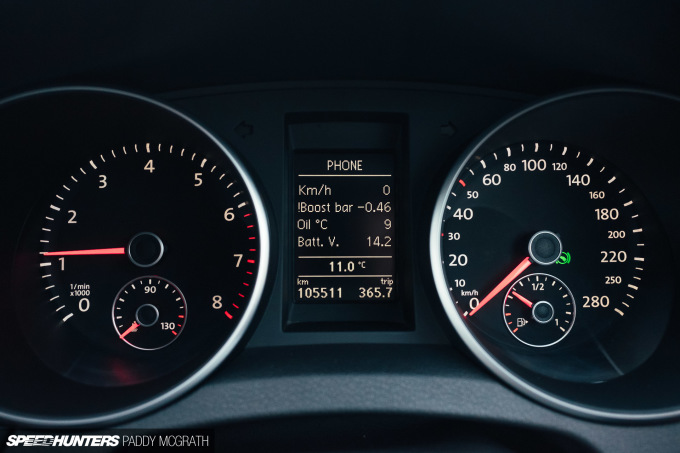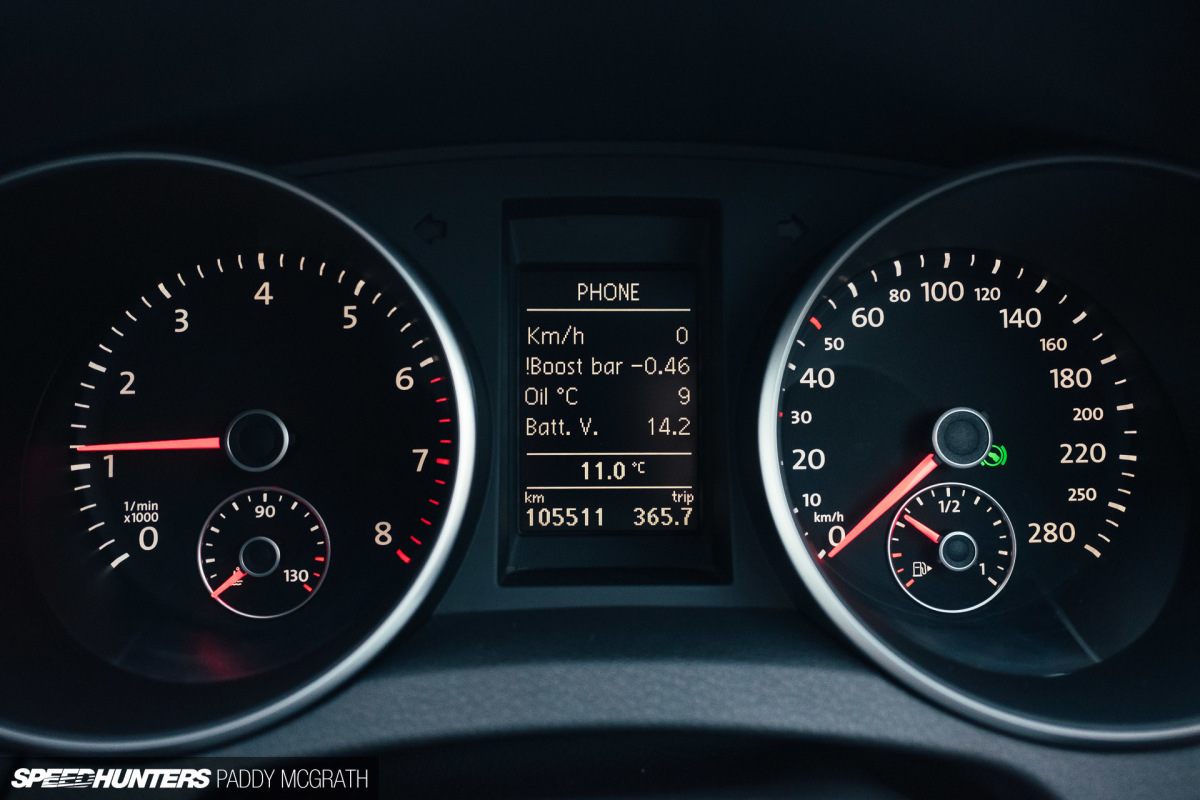 There is something immensely satisfying about a cold start on a chilly morning. Despite the weather forecast saying heavy rain all day, I was surprised to find it completely dry and mild when I stepped outside into the early morning light. There wasn't even moisture on the car, which was cleaned the previous day. It was a perfect start to proceedings.
Dublin traffic can be an absolute nightmare, easily comparable to that of London or any other major city, but early on a Sunday morning it's a swift route out of the big smoke. There was even time to admire a reflection or two along the way. I know I'm not the only one who does this.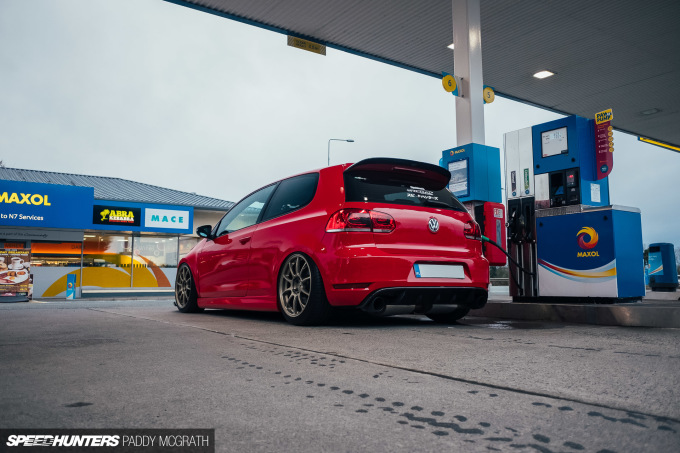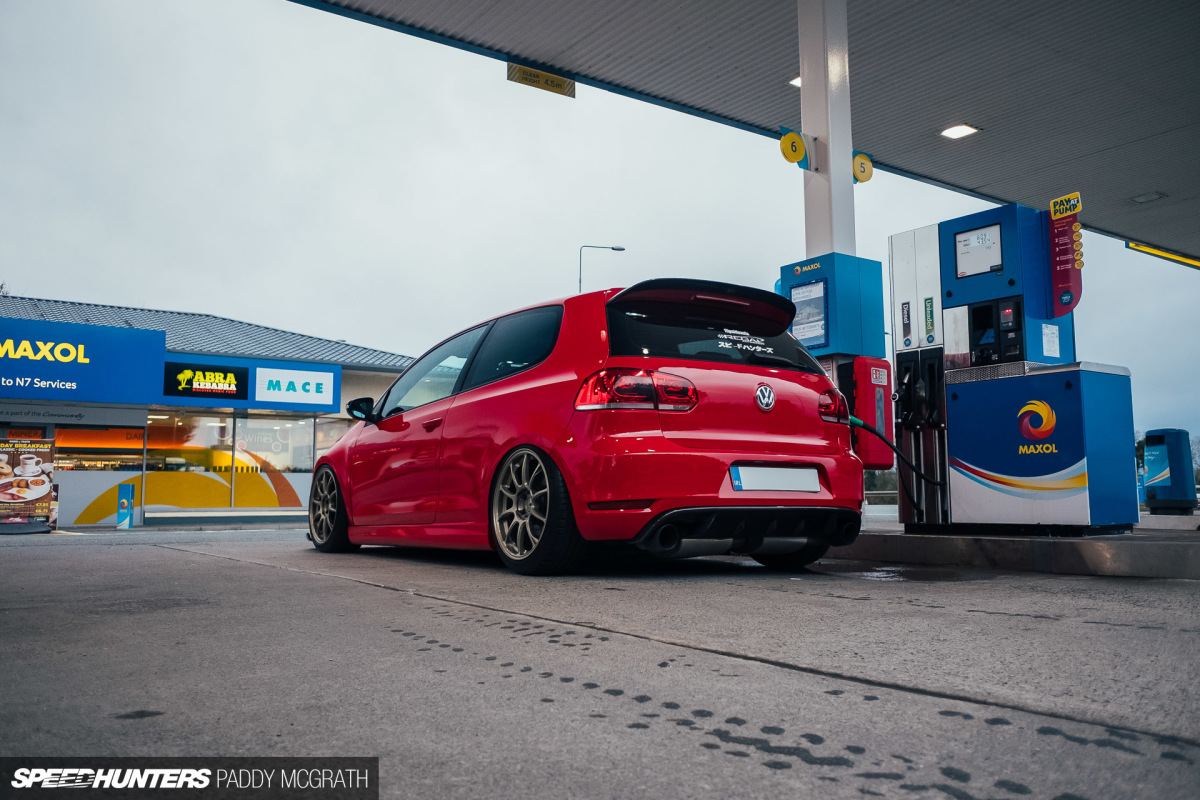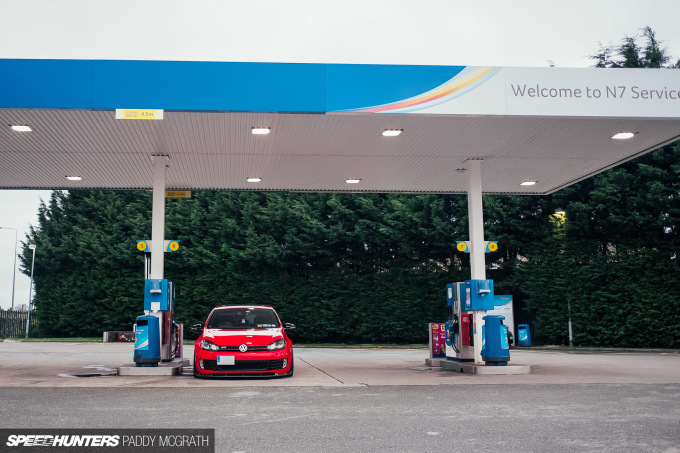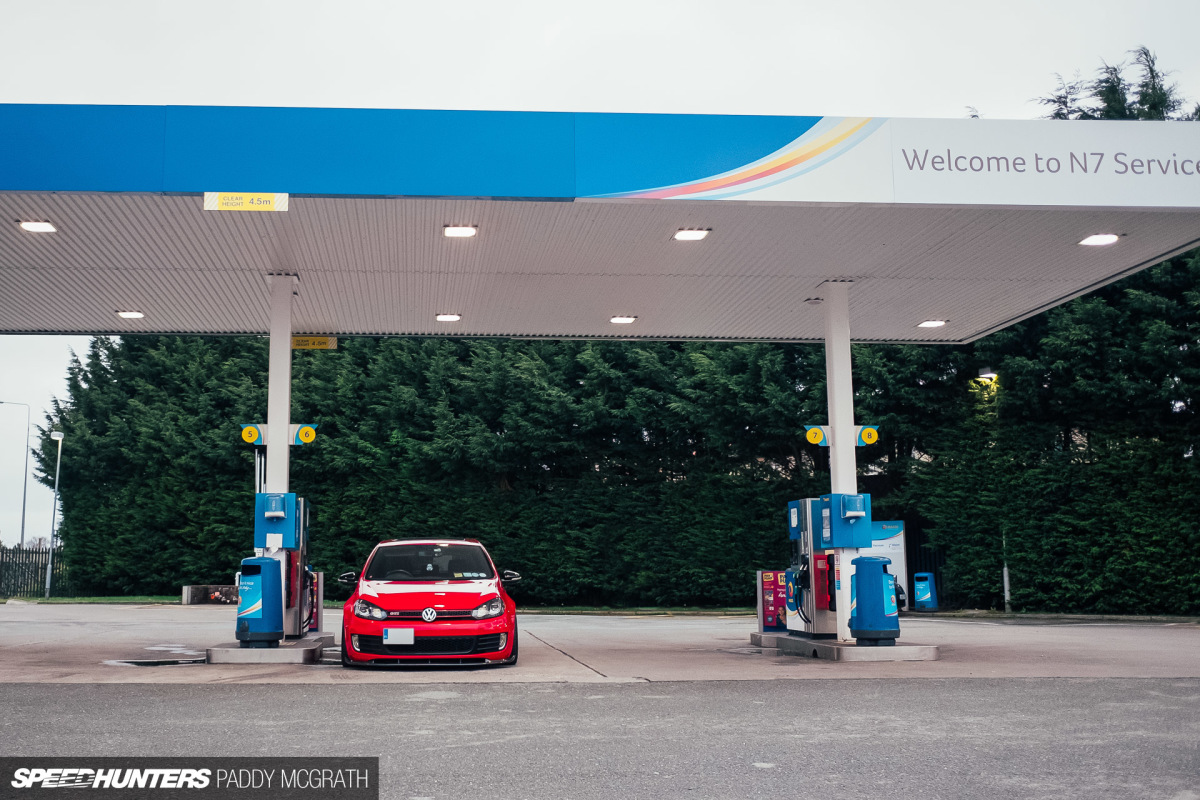 The only fluid I was low on that would needed replenishing was petrol. Fuel prices have been steadily rising here again and are now sitting at around €1.40 per litre (or USD$5.55 per US gallon approximately), which isn't awful by any means, but it was a whole lot better not so long ago. The top-rated pump fuel we can buy in Ireland is 95RON which is comprised of 5 percent ethanol. Again, not great, but it could be worse.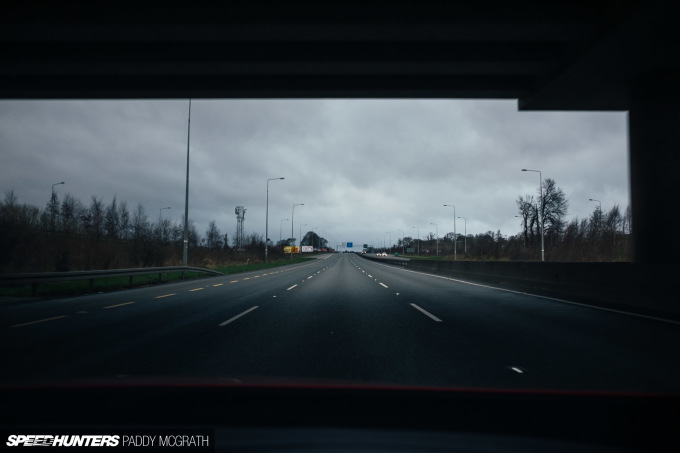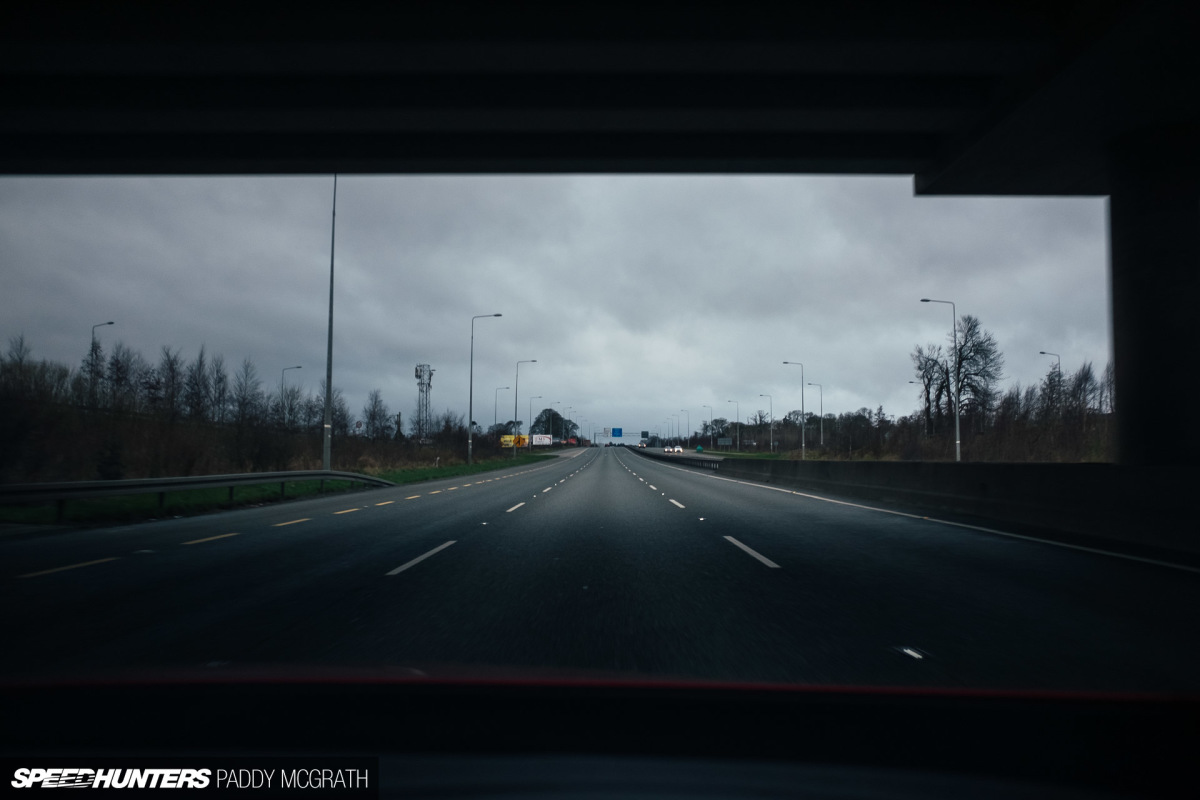 With the tank filled, and hopefully about to be used in spectacular fashion, I was back on the road for the short 20-minute drive which remained to Mondello Park.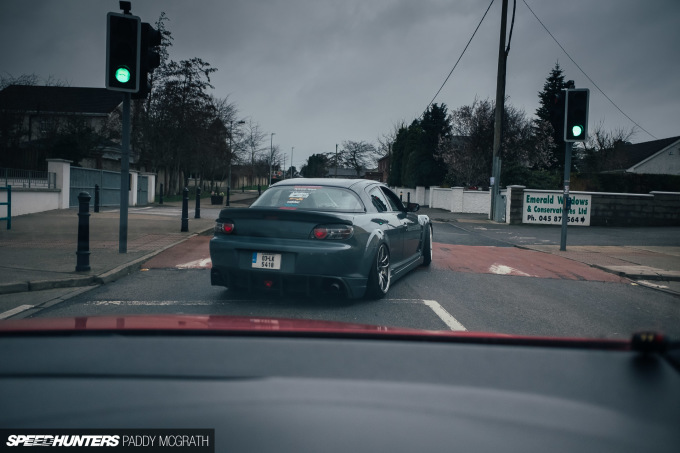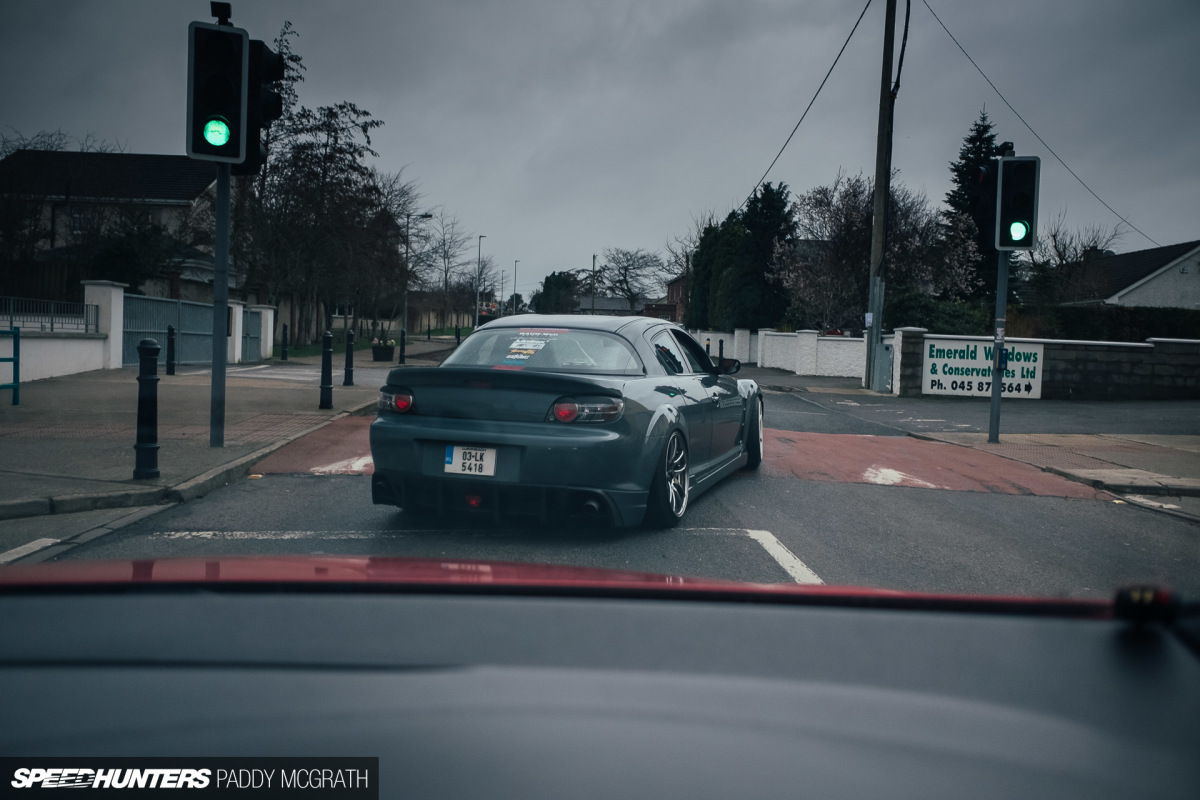 It worked out quite nicely as I was able to catch a few friends who were coming from the opposite direction and join in their convoy. I don't miss having to crab over these infamous speed bumps near Mondello which have claimed many a sump or two over the years. Maybe it's time for a life on air, Flip?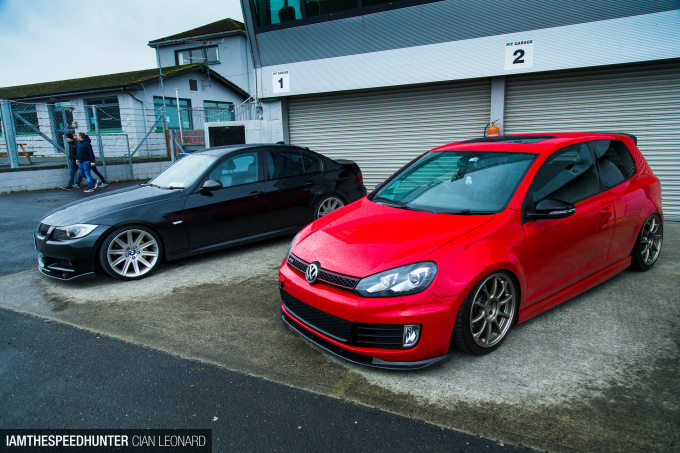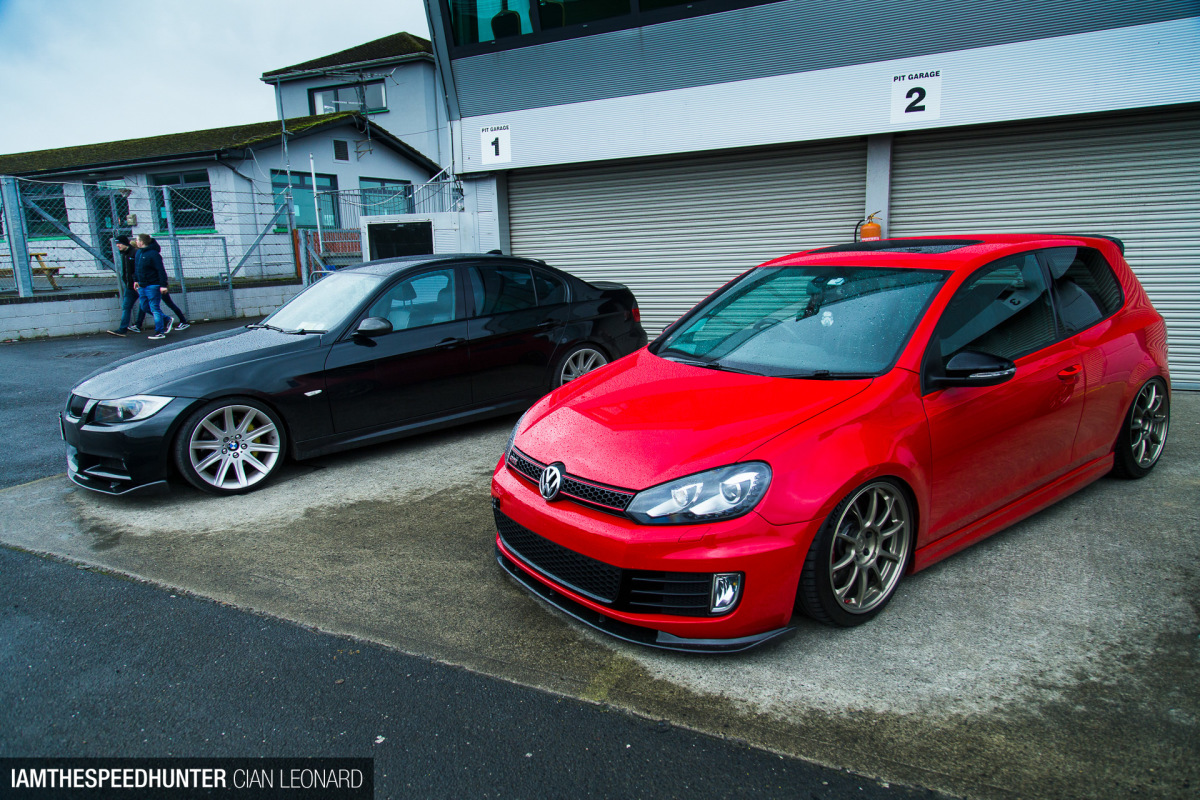 Although I wasn't scheduled to be on track for five hours, Auto Heroes offers the chance to hang out with friends, grab some food and enough automotive entertainment to make sure the time flies by. As luck would have it, I ended up beside my old E90 in the hard-parked area in the morning. I still miss that car.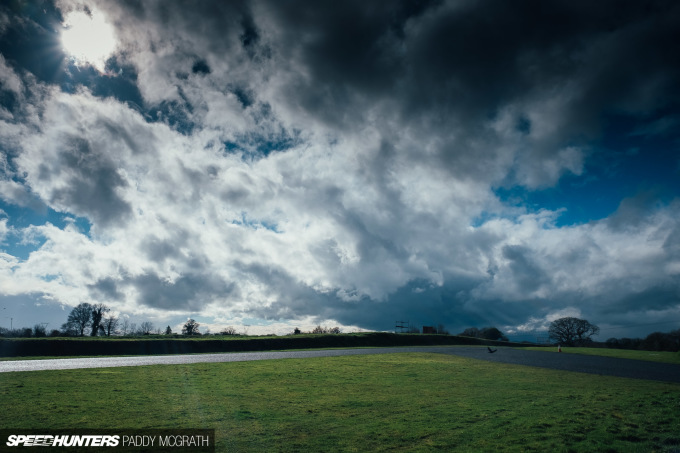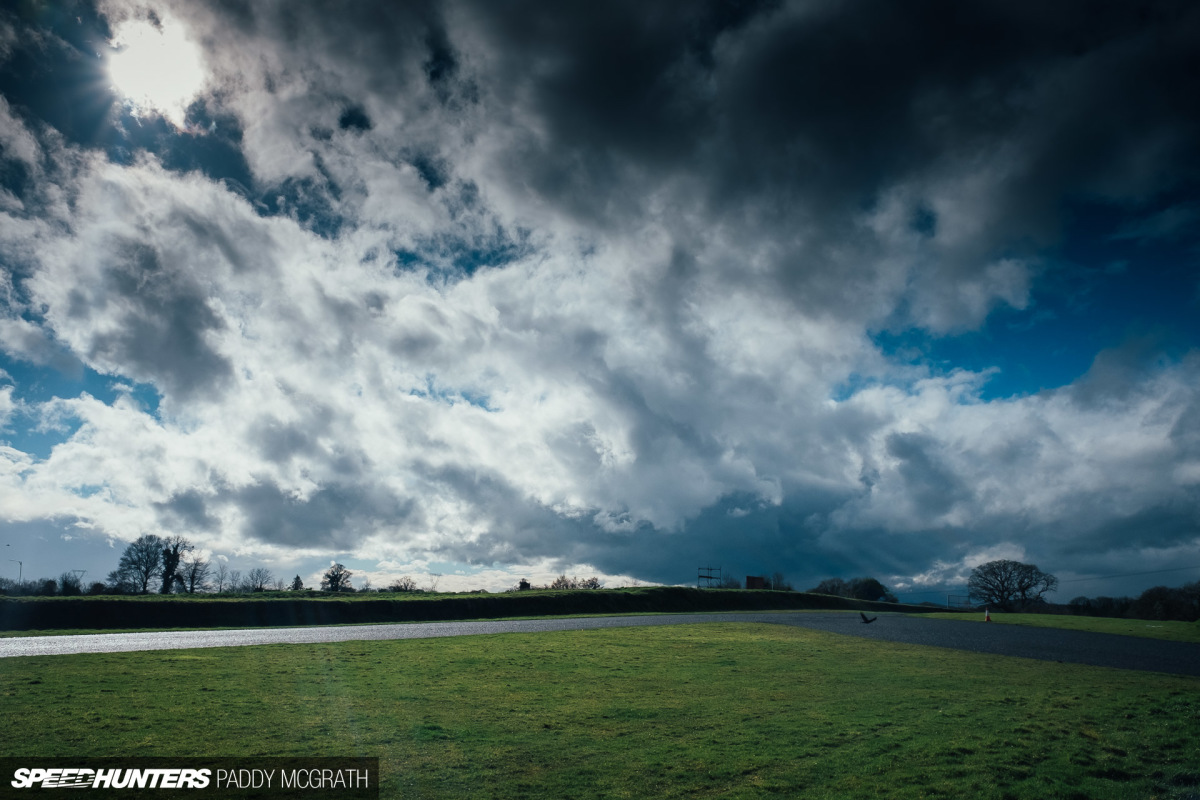 Throughout the morning, I constantly found myself checking the time, counting down the minutes until my session started. For the afternoon, the international loop of the Mondello Park would be my playground. It's a short lap, and features both fast and technical sections, but it's one that I'm relatively familiar with. The constantly changing weather did wind up the difficulty level a couple of notches, but I really enjoy the challenge of driving in the rain so it didn't bother me.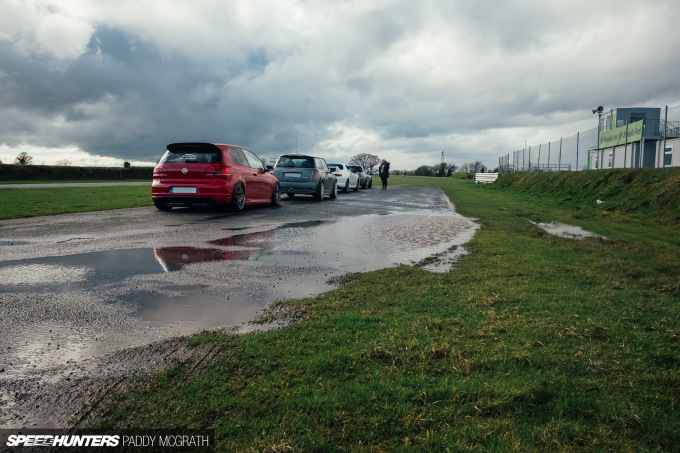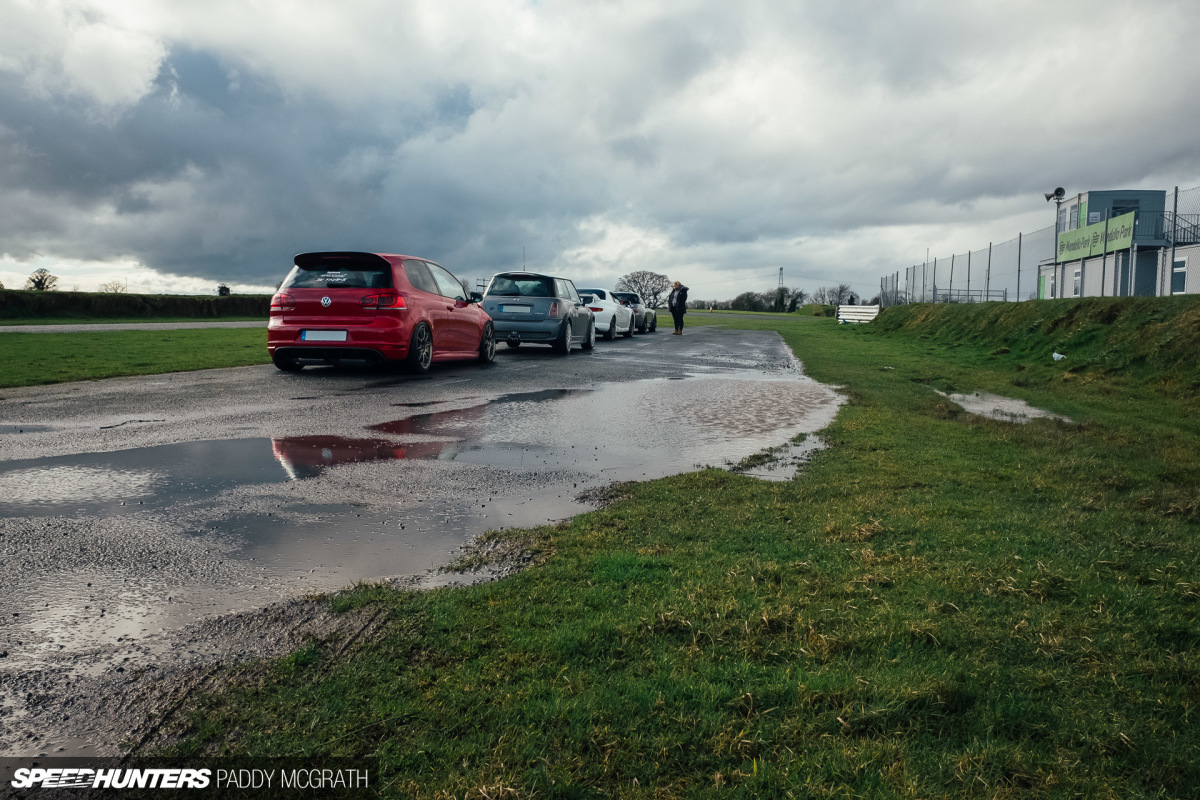 Once I had signed on with the officials, I gave the car one last check over before sitting into the driver's seat and waiting for the session to begin. This would be my first time driving the car on track since we fitted the Air Lift Performance setup, the Tarox brakes, the Wavetrac differential and added a heap more power than stock. I was both nervous and excited.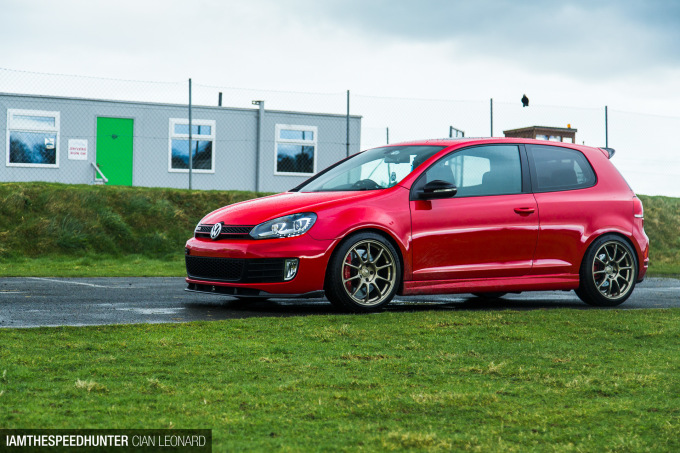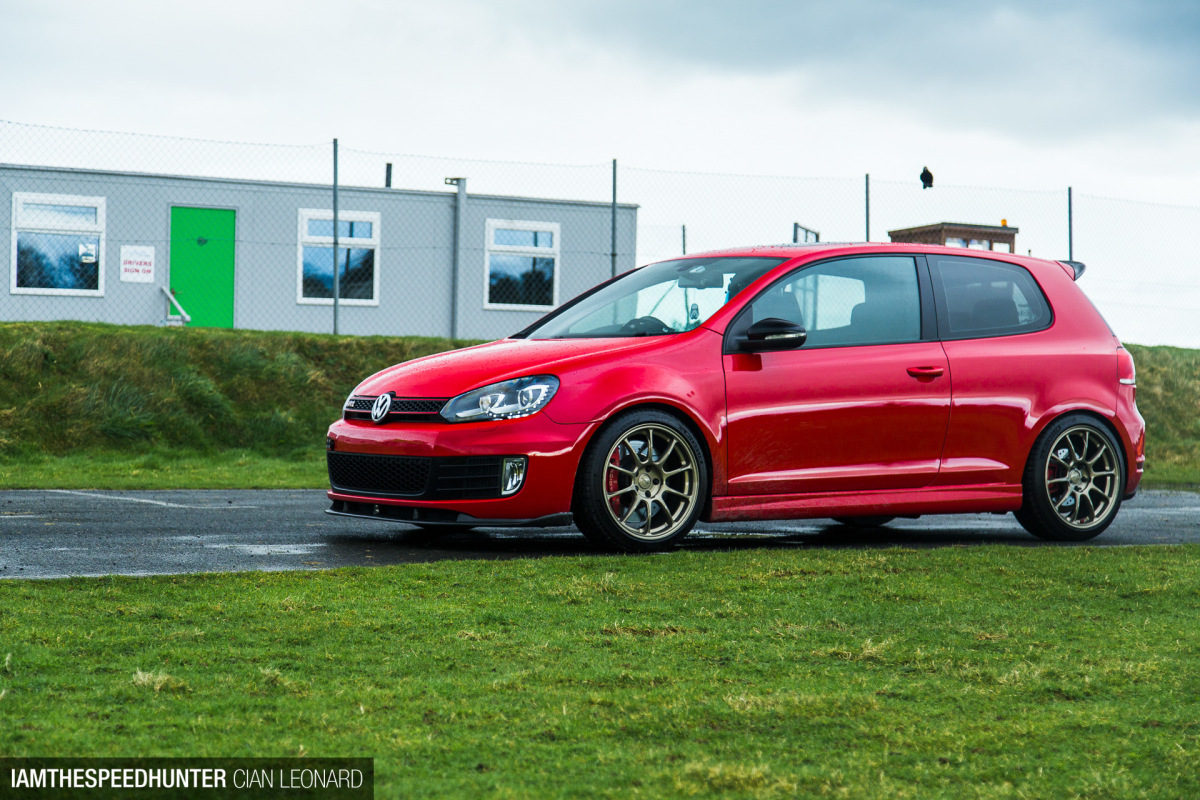 To keep things simple and to get a feel for everything, I decided to start my track time by defaulting to my suspension preset that I use every day of the week. I'm comfortable with it and I know it works on the street and a good back road, so it would be familiar territory. When the car starts to roll and settles, it results in a front air spring pressure of approximately 50psi with 15 clicks of damping (where 0 is full soft and 30 is full hard), with 55psi in the rear and 20 clicks.
This was a bit of a pivotal moment for me, as it would either prove or disprove my ideal of owning a bagged, dual-duty daily driver/track car. There was only one way to find out.
This was my first session out, where I joined a wet track. I've tried to edit out the boring bits where I got stuck in traffic, but I did get a good run of open track from around 1:25 onwards. Obviously, the weather was abysmal, but it was the same for everyone out there so it's just a case of getting on with it and to find where the grip is.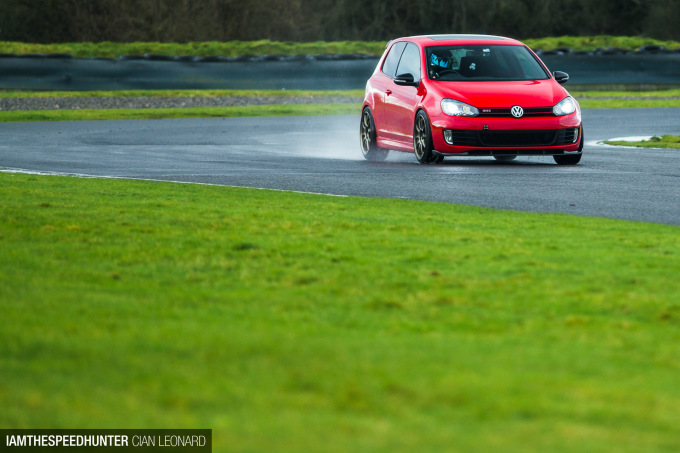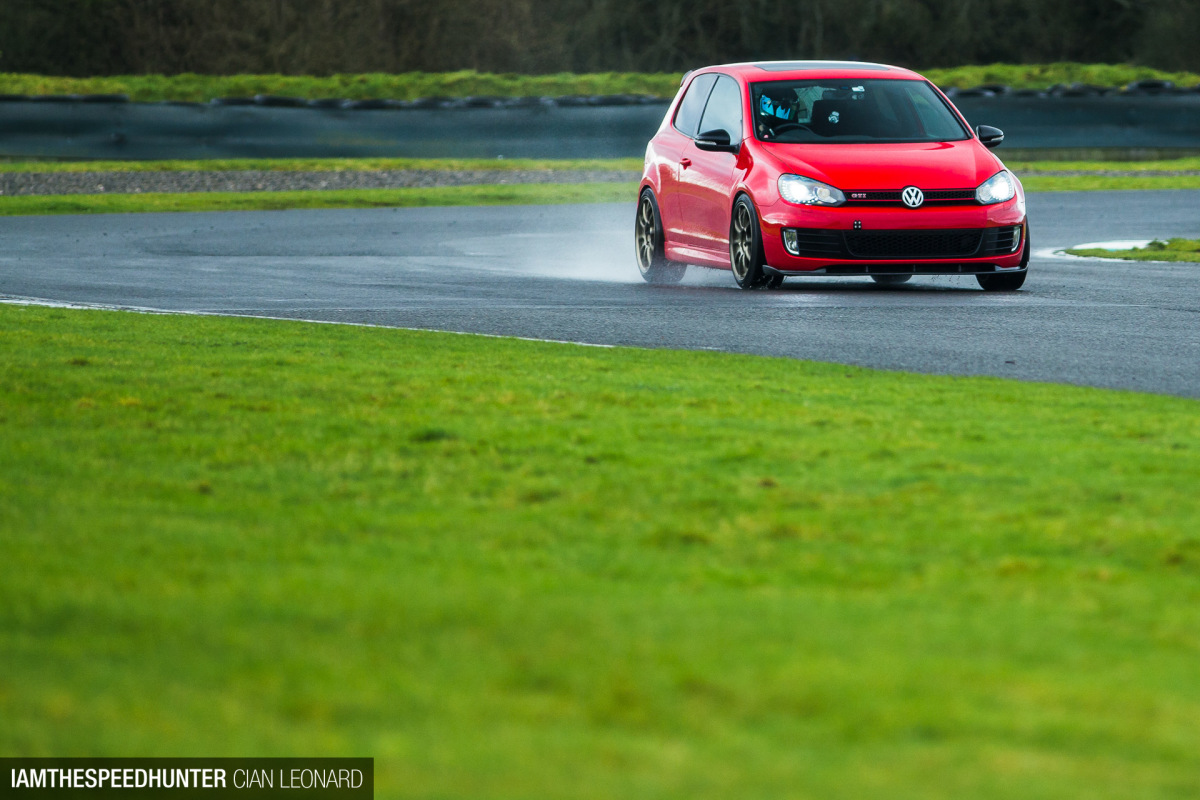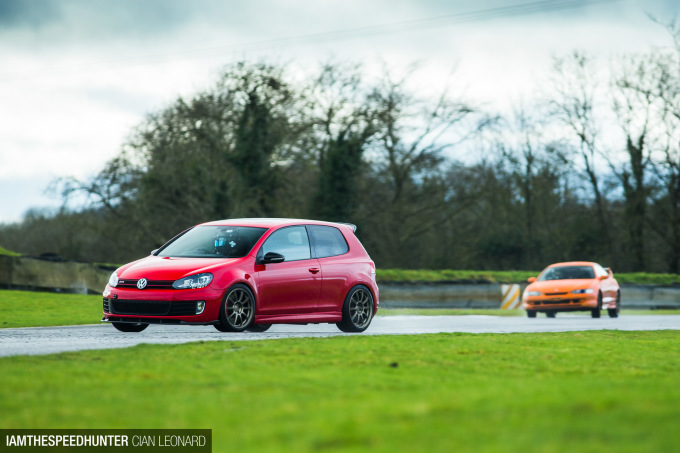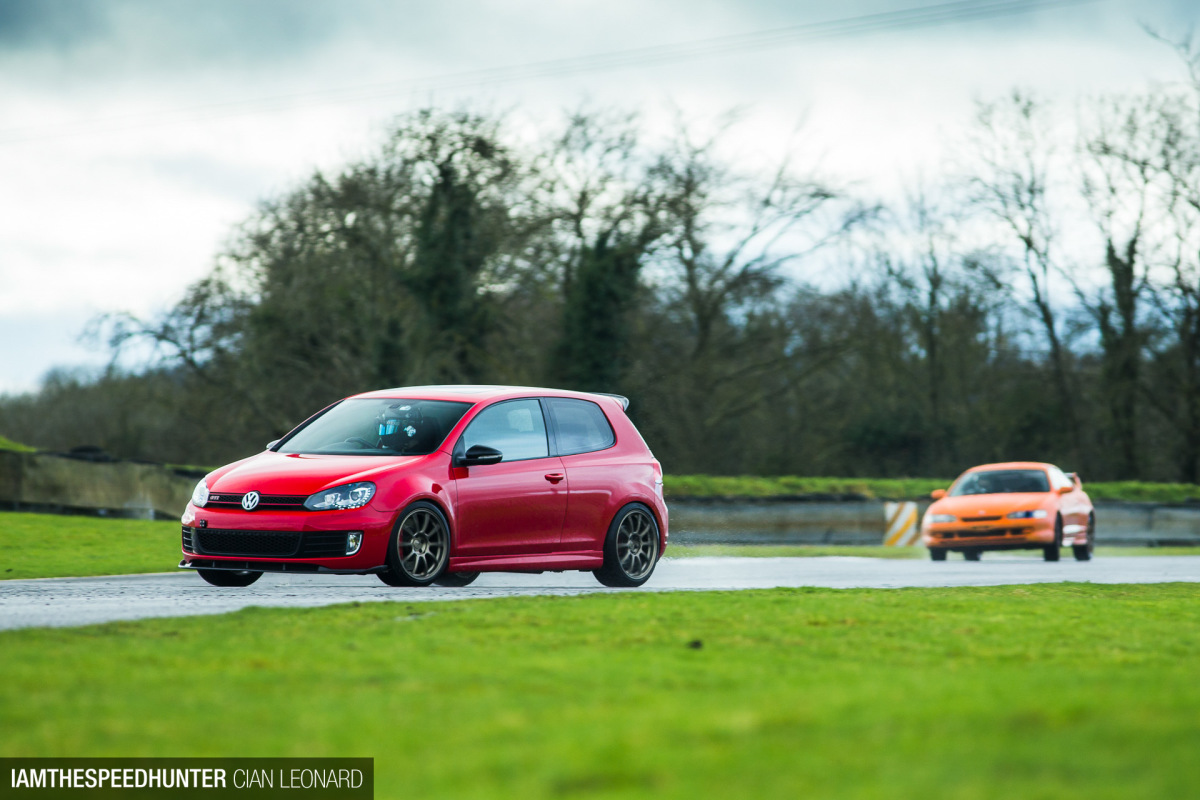 Maybe the first thing that surprised me was the outright pace of the car, without having to push particularly hard. On the warm up laps (not featured in the video because you'd likely die of boredom) I found myself being able to keep up with a group of cars quite easily. You can't use a conventional dry line around here, as you'll likely end up in the gravel, so it's a case of experimenting and treading softly at first.
On a saturated track, the amount of forward traction the car has out of corners and up hill beggars belief. There were one or two occasions where it felt like I had just found another 100hp when chasing other cars that were by no means slow. You'll see the TC light flash on occasion (I never bothered turning it off for the first session), but I never felt it was interfering in any way.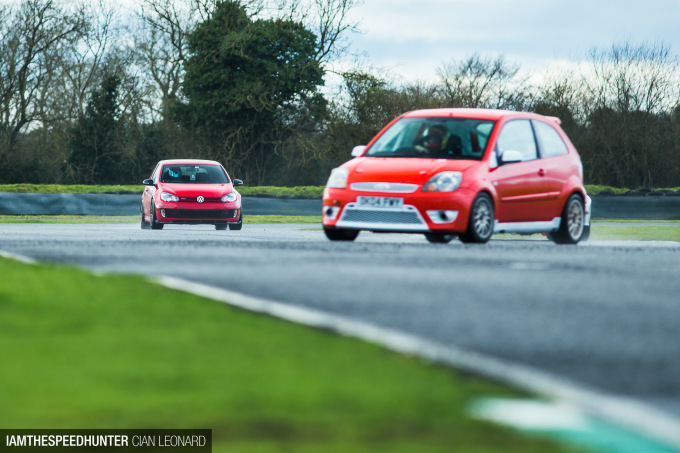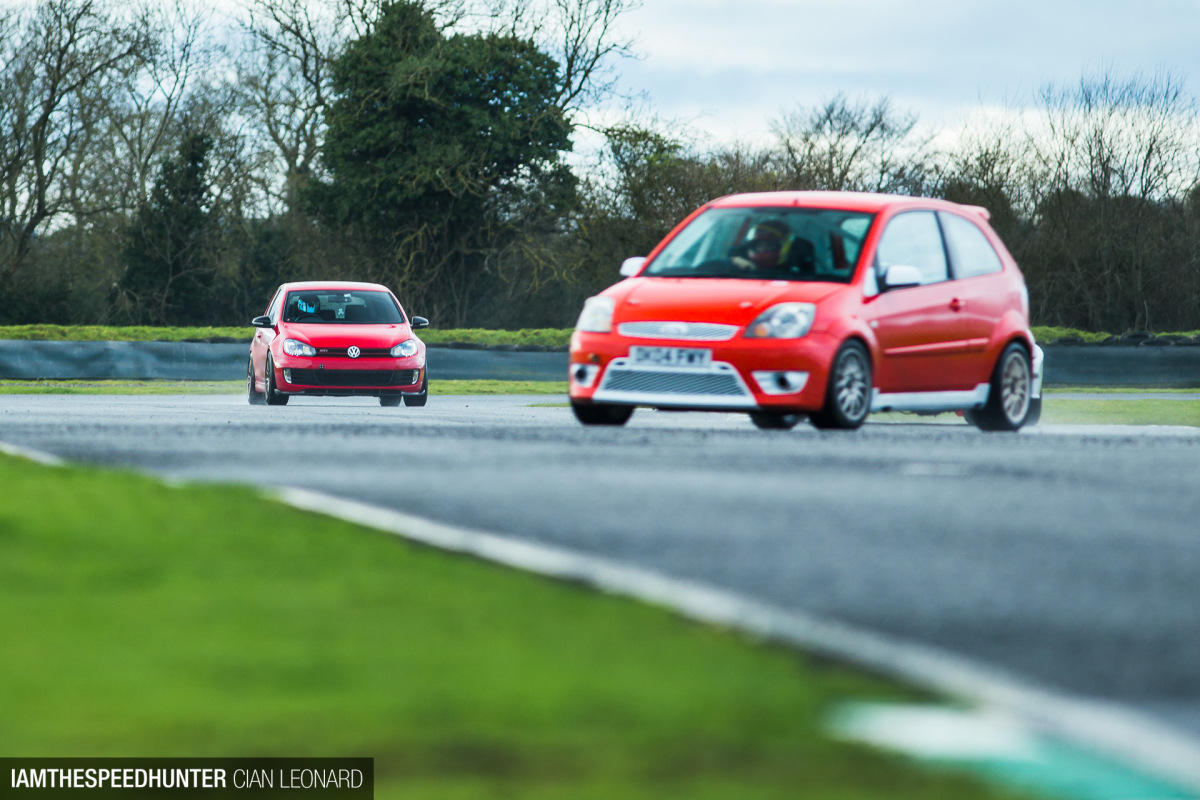 On turn-in and mid-corner, the car felt so sure-footed that I more than once scolded myself because it was obvious I could have carried way more speed in with me. On the default suspension preset, there was a tiny hint of body roll, but this lent itself well to the conditions and made finding the limit of grip much easier. When breakaway would occur, you would know about it before it even happened. It was nice and progressive.
I was only starting to find my footing when the brake pedal started to get a little longer, with a vibration occurring when braking from the fastest section of track into the slow double right-hander. I backed off for two cool-down laps and headed back to the paddock for a short break.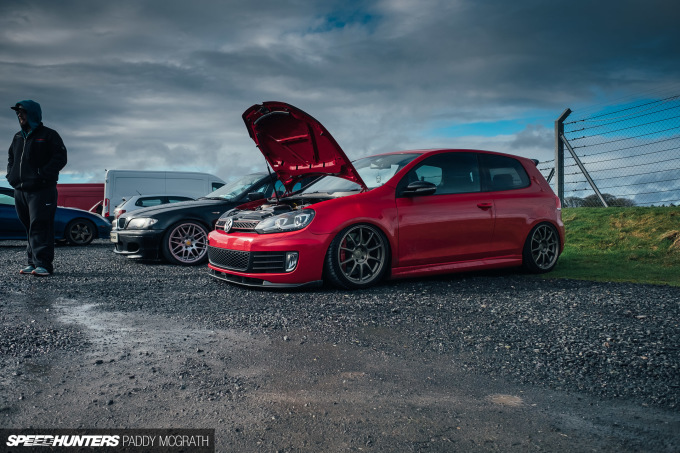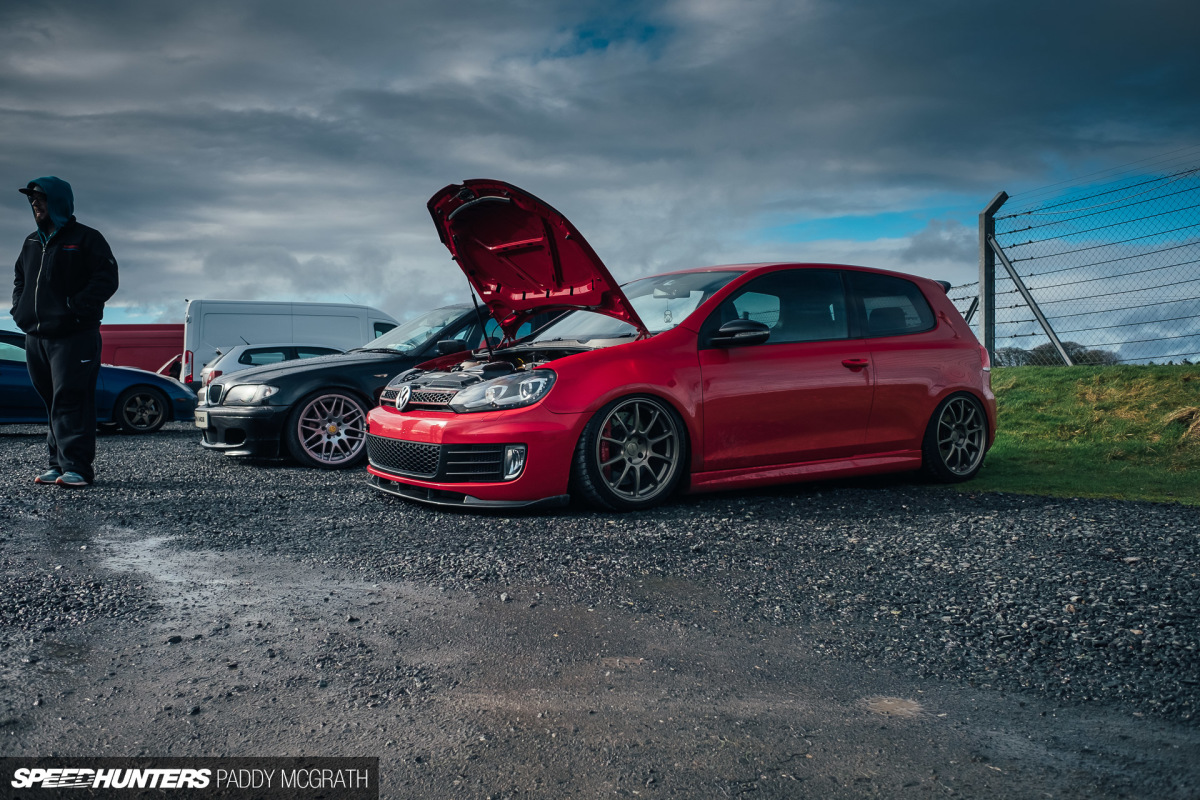 At this point, I was pretty much euphoric; it was a great feeling knowing that everything I had been working towards for over 18 months was actually working. It felt even better to air the car down when I found somewhere to park.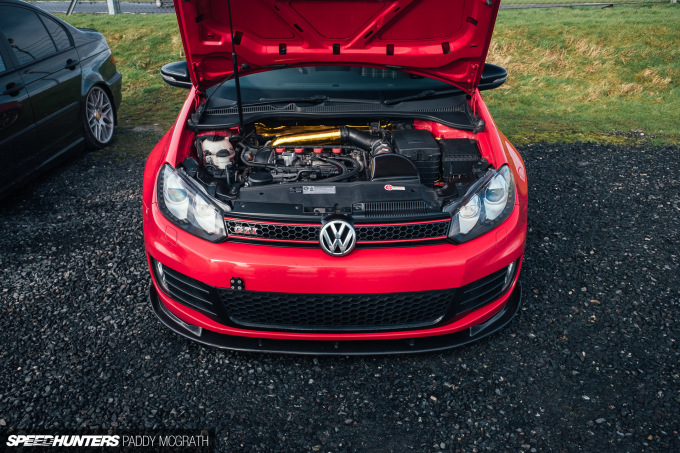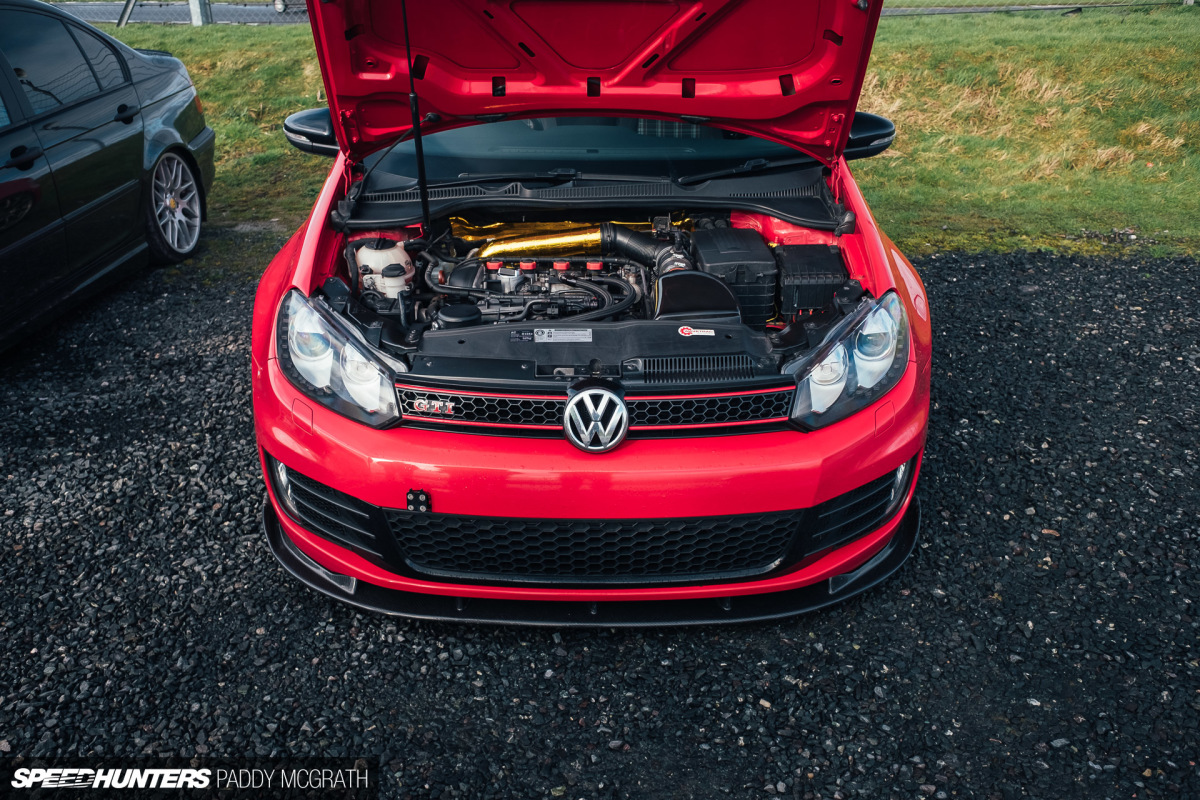 I was keeping a close eye on temperatures throughout the session and was pleased that they stayed well within range. Coolant temperature never budged from 90ºC (195ºF) and oil temperature peaked at 110ºC (230ºF). Tire pressures were 40psi (2.75bar), just up from their cold pressures of 38psi (2.6bar). From these I knew I had a good baseline to work from and was confident with the car.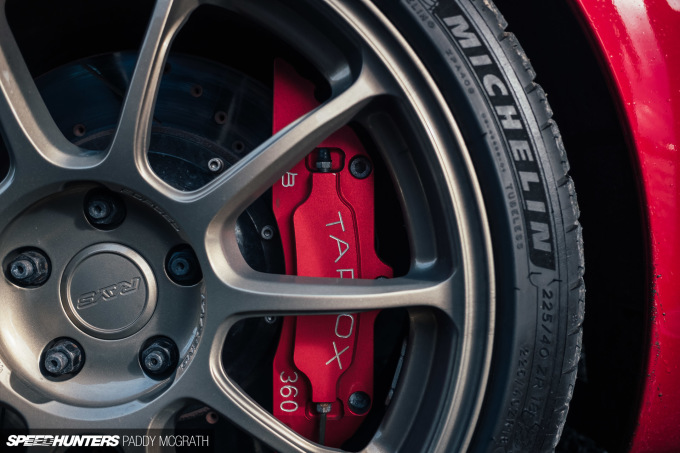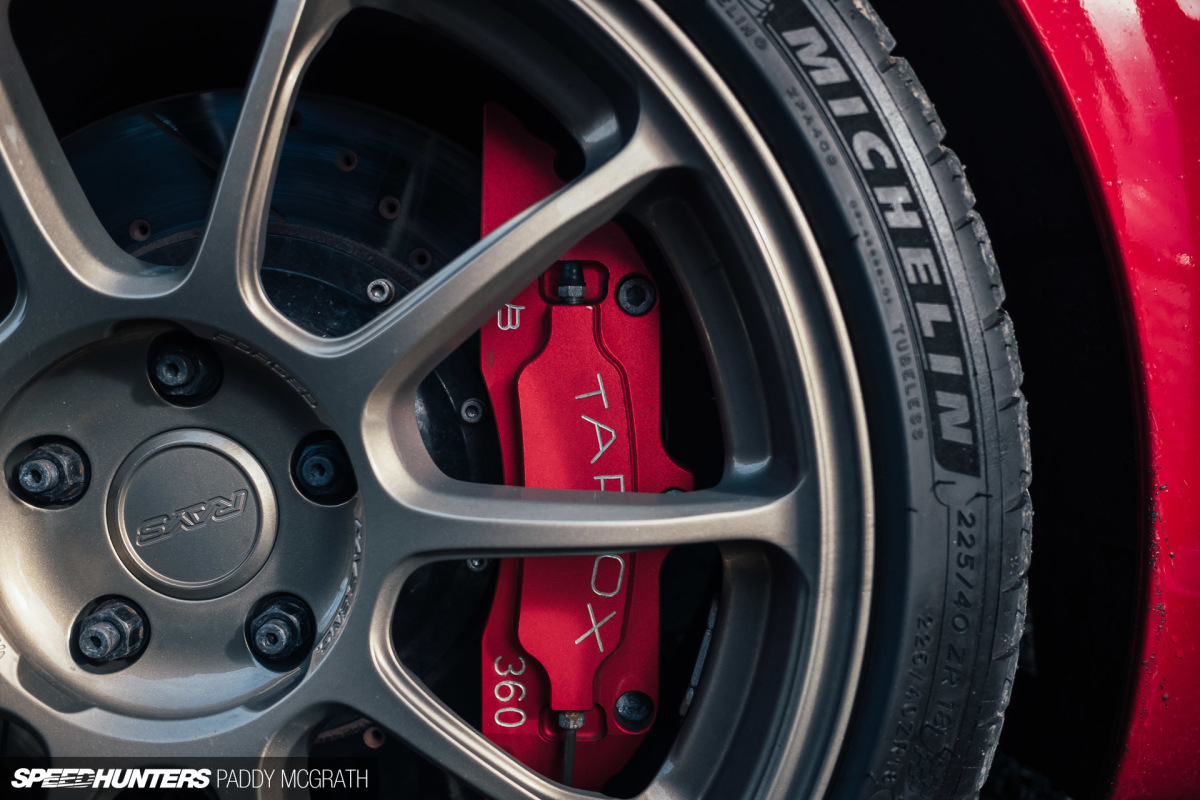 The brake discs were popping and pinging cool still, so I left it for another 15 minutes or so before getting ready to venture back out again.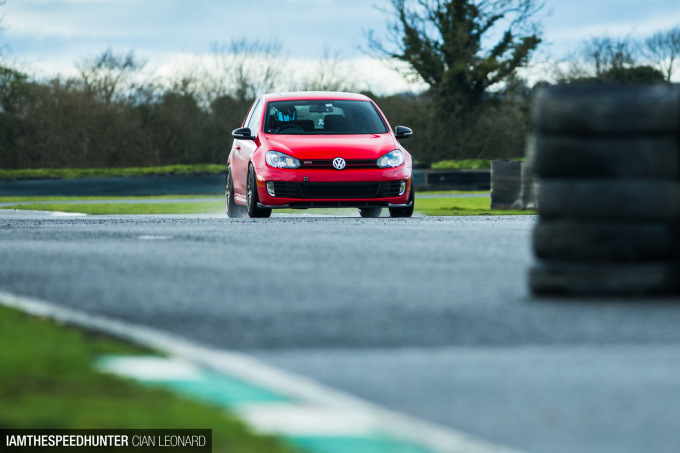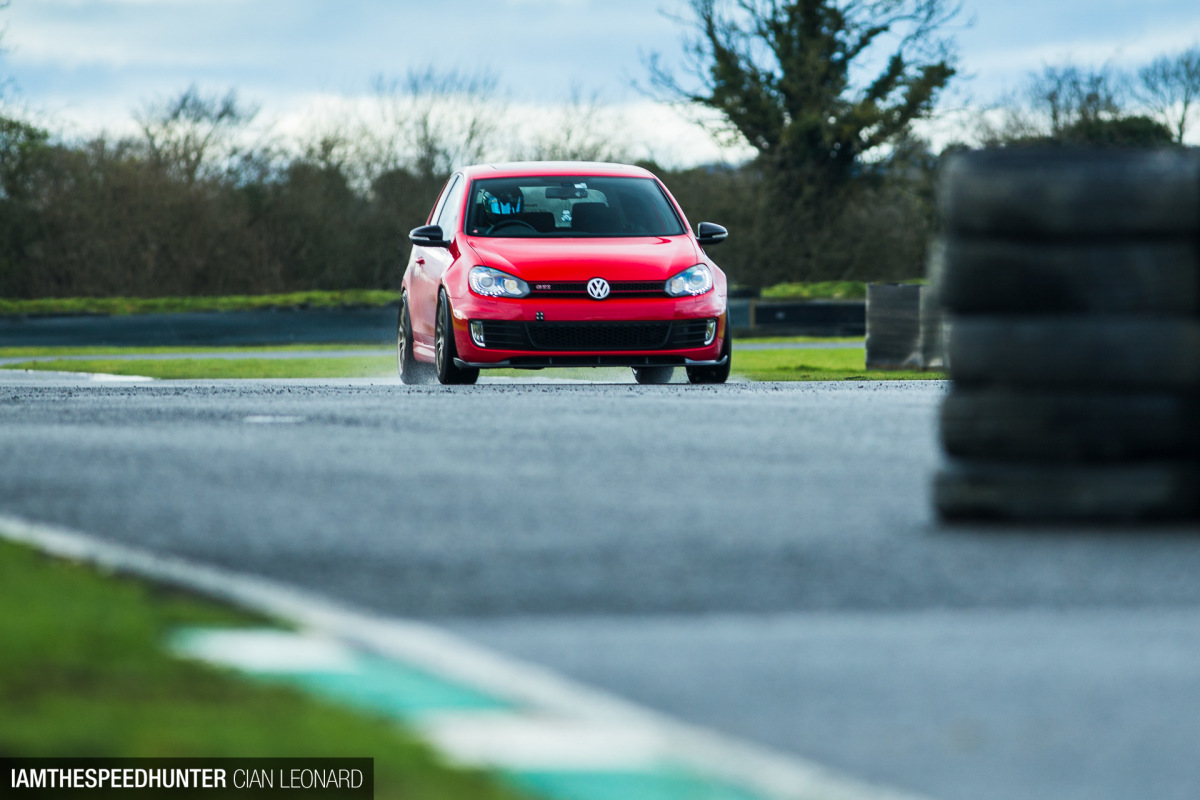 This time, I increased the rear spring pressure to 65psi (4.4bar), while leaving everything else untouched. Out of the pits and into first corner everything felt good.
Accelerating around the long right-left corners into the sharp double-right at the bottom of the track, the brake pedal started to go soft once more, but this time was accompanied by a much more violent vibration which could be felt through the steering wheel and heard from the front of the car. I immediately backed out and started on another two or three cooling laps to try and drive cold air to the brakes (which I thought was the problem) to cool them off as best as I could. The pedal would return, but the vibration did too under heavy braking so I had no real choice but to head back for the pits and call it a day. Knowing that I needed to drive the car home made this decision the only option.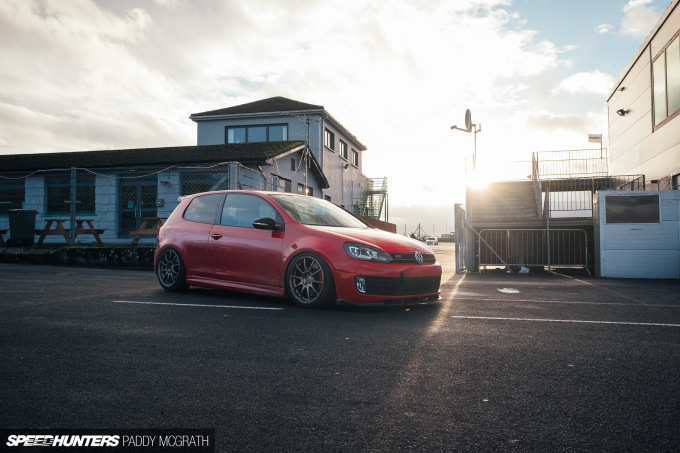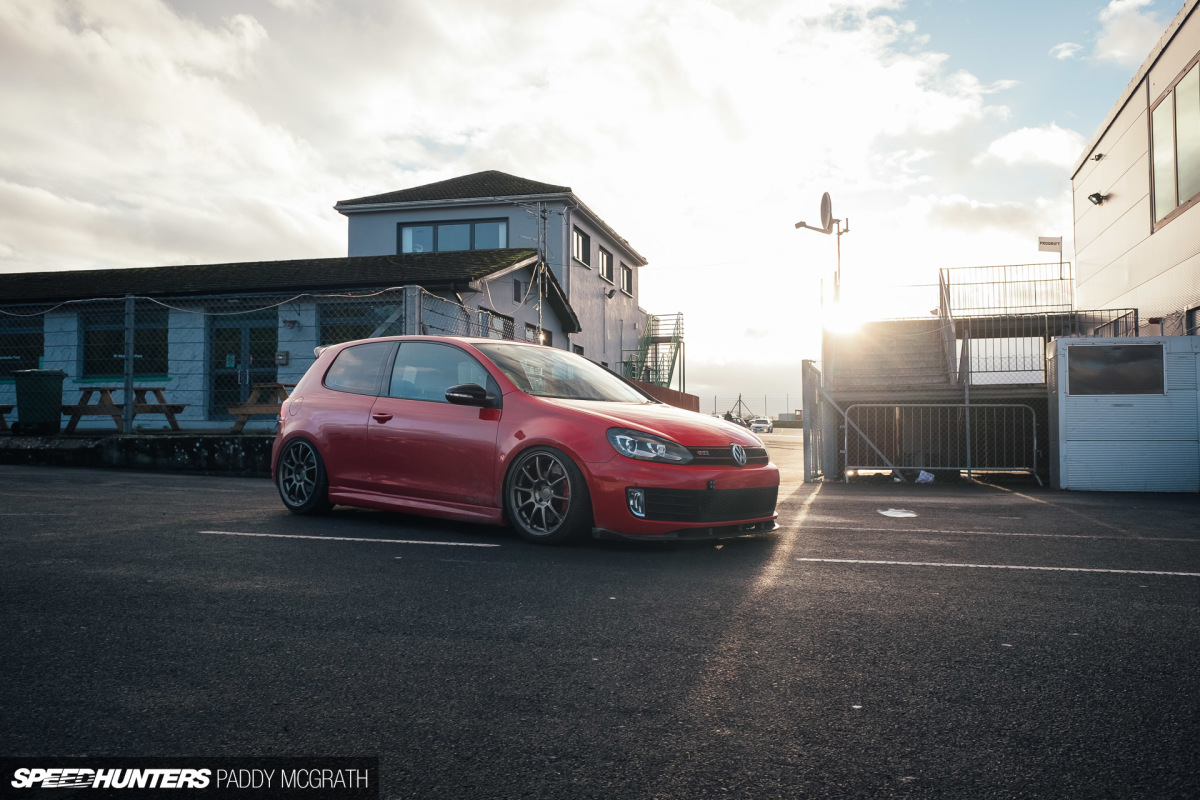 If I'm being totally honest, I was pretty gutted at this point. The car was driving so, so well beforehand, and to have to call it a day so early, was incredibly frustrating. Especially after waiting so long to get back out on track. With sufficient downtime in the paddock, the car returned to a state where I felt it was safe to drive on the road again.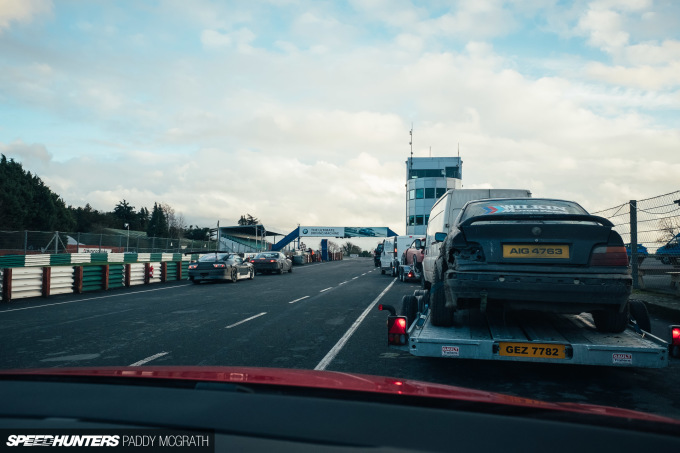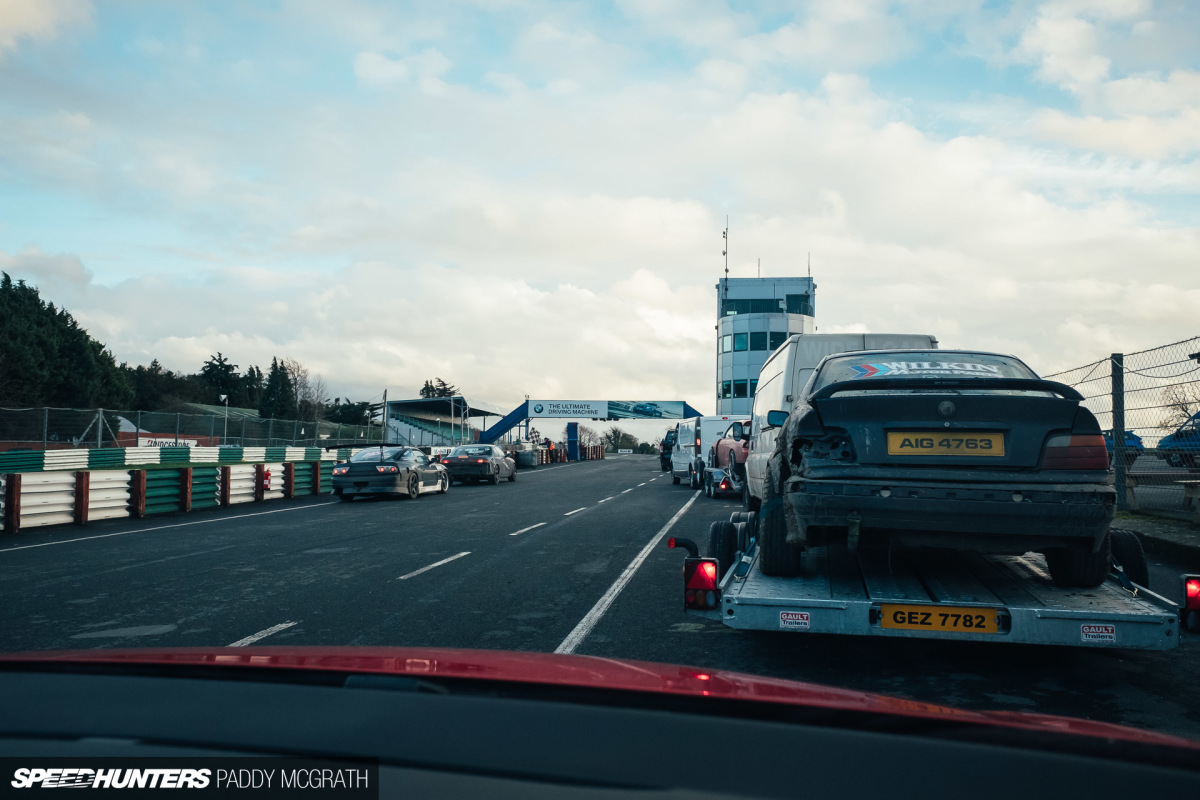 Much like the car, I needed some time to cool off too. Waiting in the queue to leave the venue provided lots of time to think. Slowly but surely, rationality started returning to my head and my inner-chimp started to quieten down. With the help of some very good friends, we started trying to figure out what had gone wrong.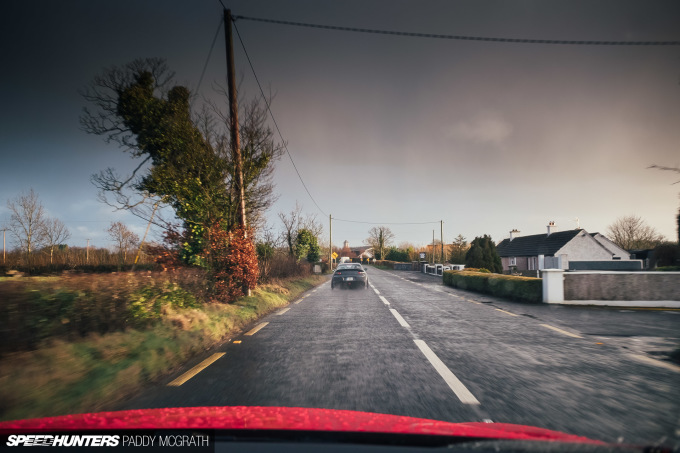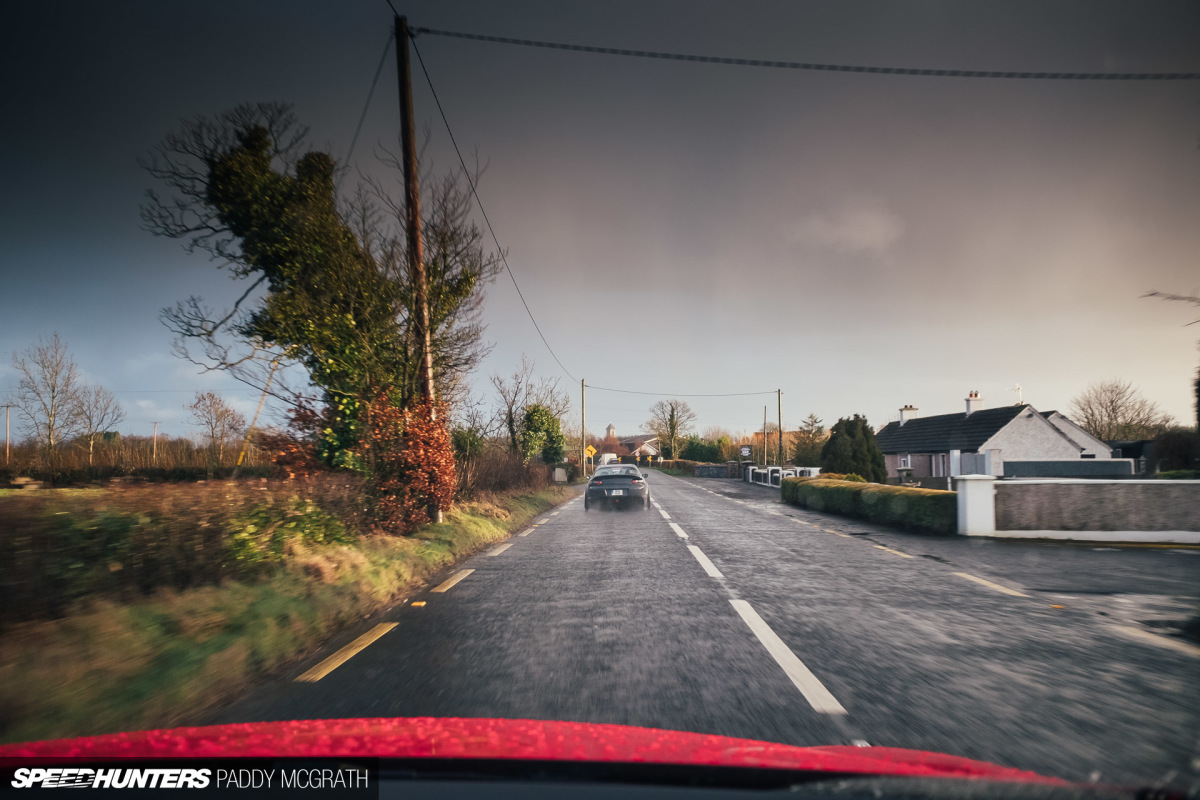 What I thought was one issue, seemingly appears to be two separate issues. Firstly, we believe that the long pedal was down to the brake fluid boiling. This didn't occur to me at the time because the fluid I was using has a tremendously high boiling point. It was only after receiving several excellent engineering and science lessons in the dynamics of brake fluid from Ryan that I think that I may have boiled the fluid previously – due to a previous incomplete bleed, when air is in the system it affects the fluid's boiling point – long before the visit to Stone Motorsport. When we bled the fluid before the track day, we were essentially bleeding dead fluid (i.e. fluid with no high temperature ability), but there was no way to have known at the time. I should have, in hindsight, flushed the fluid before the track day and bled with fresh fluid. Live and learn.
The second issue – vibration – was something that never occurred to me, but essentially comes down to pad transfer. Because my car is DSG equipped, I regularly find myself stopped and holding the car with my foot on the brake pedal. If one was to do this while the brakes are hot, you can transfer pad material onto the disc and create an uneven braking surface. It is possible to drive through this and burn it off again, but sometimes there's too much material on the disc, creating high and low points. This is just one way of causing pad transfer, but it's the most likely suspect.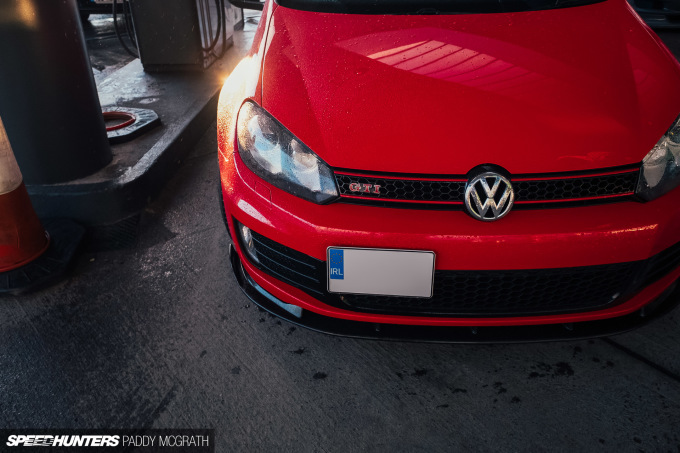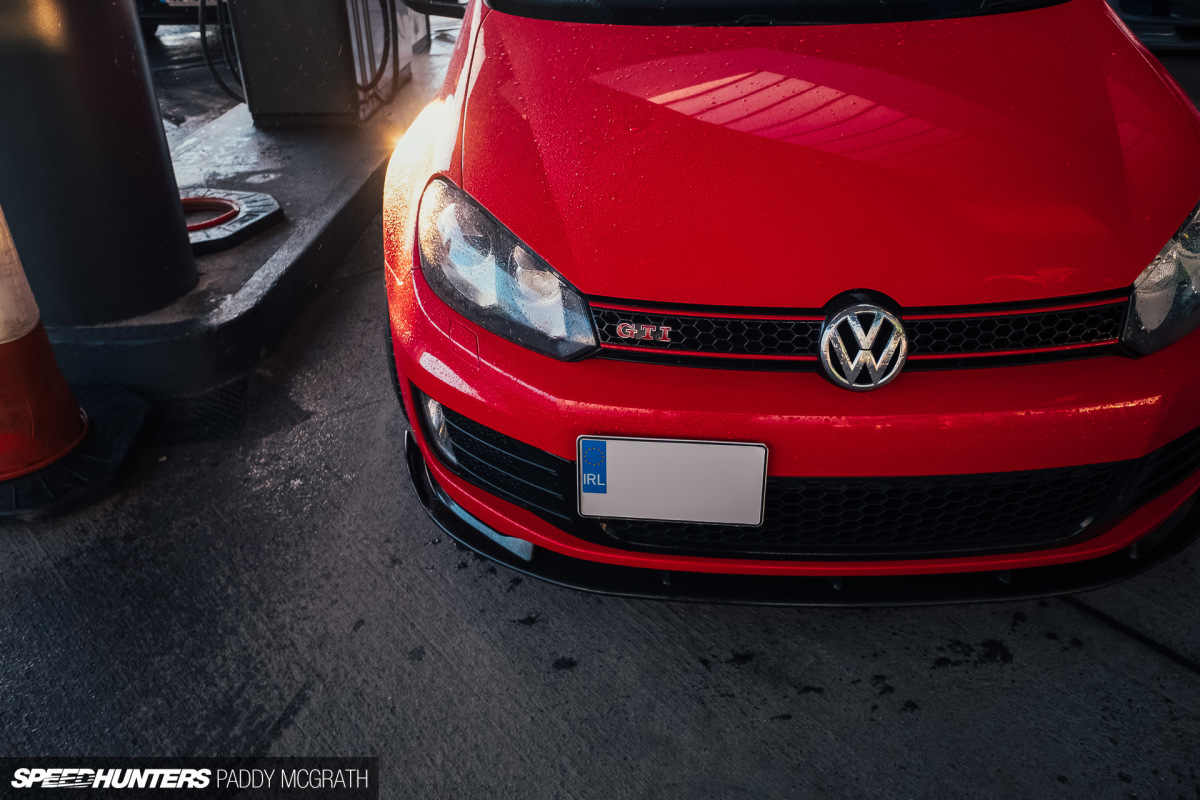 The plus-side is that both issues are relatively straightforward to solve, if they are indeed the problems. A full brake fluid flush with fresh high temperature fluid should solve the former, while a simple disc skimming should sort the latter.
I still feel disappointed, but now for different reasons. Sitting in traffic on the way home – with extra braking distance, you know, just because – I started to feel a bit silly for not addressing these issues beforehand. I should have changed the fluid as a matter of course, and I knew that the vibration was there, I just didn't think that the track work would exacerbate the issue so much. I was naive.
Still, and far more importantly, I brought my car home in one piece. I might be the only person to attend a track day and go home with more petrol than I left with, but no permanent or irreparable damage occurred. The problems will be solved, an opportunity to make further upgrades has occurred, and above all else a lesson has been learned.
Paddy McGrath
Instagram: pmcgphotos
Twitter: pmcgphotos
Facebook: Paddy McGrath
paddy@speedhunters.com
Additional Photography by Cian Leonard & Adam O'Connor
Cutting Room Floor