A Long Time Ago…
Remember your very first car? Of course you do, what self-respecting car aficionado wouldn't? For people like us, a first car is a major milestone in life. We'll always remember our first, and regardless of how many times it got us into trouble or how rough around the edges it was, we will always look back fondly.

The majority of us won't even remember the full list of negatives. Instead, through rose-tinted glasses we look back and only remember the positives: the newfound freedom; the road trips with friends; the extra 1000 horsepower gained by our very first cold air intake. Many would also remember the 'master build' plan we had in store for the car at one point in time. For most of us though, plans change and that original build never happens.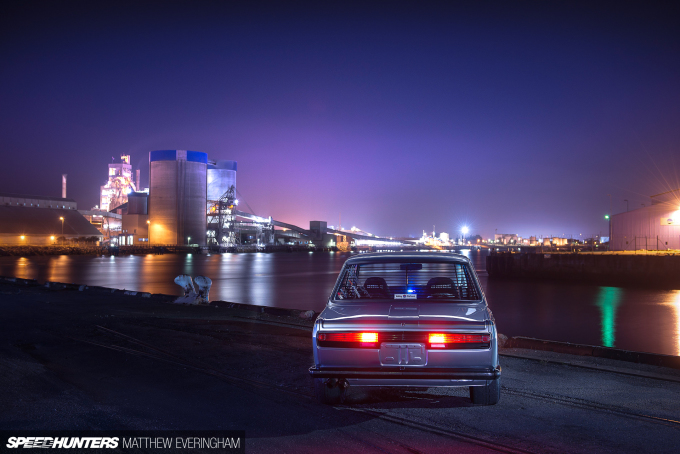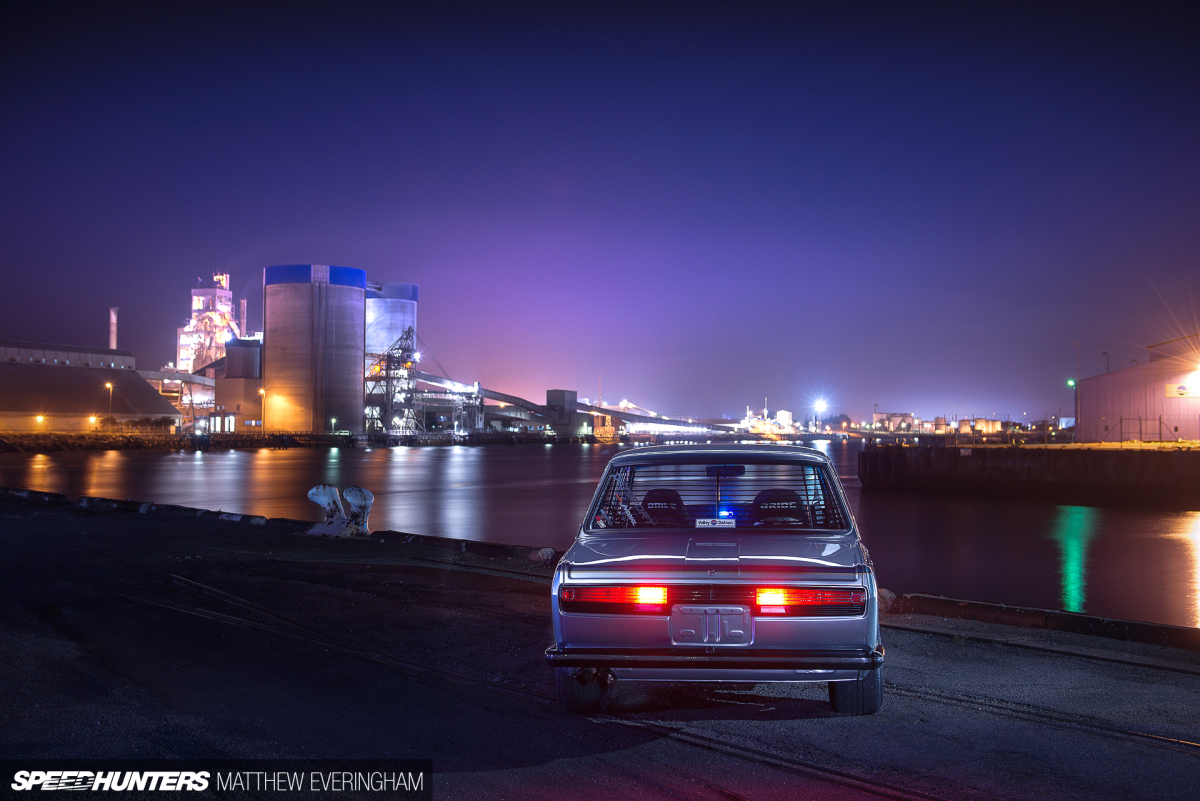 The truth is, first cars are usually sold on the second we can afford something better. It's a bittersweet moment; upgrading and moving onto bigger and better toys while saying farewell to something you won't fully appreciate the significance of for years to come. South Australian mechanic Cameron Lees wouldn't understand any of this though. He purchased his first car – this Datsun 1600 (510) – at the ripe old age of 15, two whole years before he could legally drive by himself in Australia. In fact, he needed to convince a mate's father to help him pick the car up and transport it home.
The Datsun obsession came from the same friend, Shaun, and his freshly-restored Datsun Sunny. In fact, many of Cam's other friends had Datsuns too. When you're a teen with a car and a license to drive, nothing in life tops getting together with mates for a spirited run, and doubly so when you live on the doorstep of the incredible mountain roads surrounding Adelaide. The amount of fun these small, under-powered, rear-wheel drive cars offer doesn't add up on paper, but they really are great, and also the perfect platform to build something more serious upon.
During the early years with his 510, Cameron was in almost constant contact with the team at Datsport, one of Australia's main suppliers of customized Datsun parts. He was always at the shop buying small odds and ends for his project or pestering owner Barry 'Baz' Burns – a two-time South Australian rally champion - for information. At the right time, Cam even hit up Datsport for a mechanical apprenticeship.
Originally, the 510 was running an upgraded L20B and the standard 1600 4-speed gear box. Cam says it was a great little performer in the hills, but was all a bit rough for his taste. At the age of 19, he tucked the car away in a garage for a full restoration and an SR20 engine swap, and over the next seven years Cam would learn the trade, and also a lot about fabrication. The 1600 was his canvas.
Fourteen years later and the Datsun is close to finished. As you'll know, projects like this are never truly finished, they constantly evolve and grow alongside their life-long owners. The word 'finished' for these builds is code for 'finished for now,' although Cameron will have to dig deep to improve on this particular iteration. As it sits, it's one of the most memorable and exciting old school Datsuns that I've ever come across.
A Recipe For Success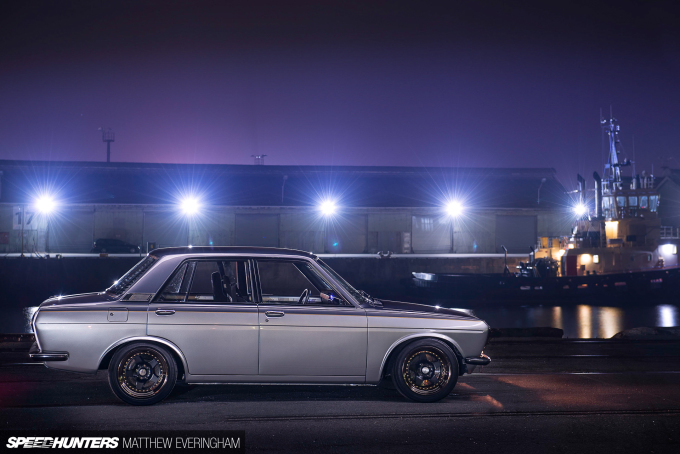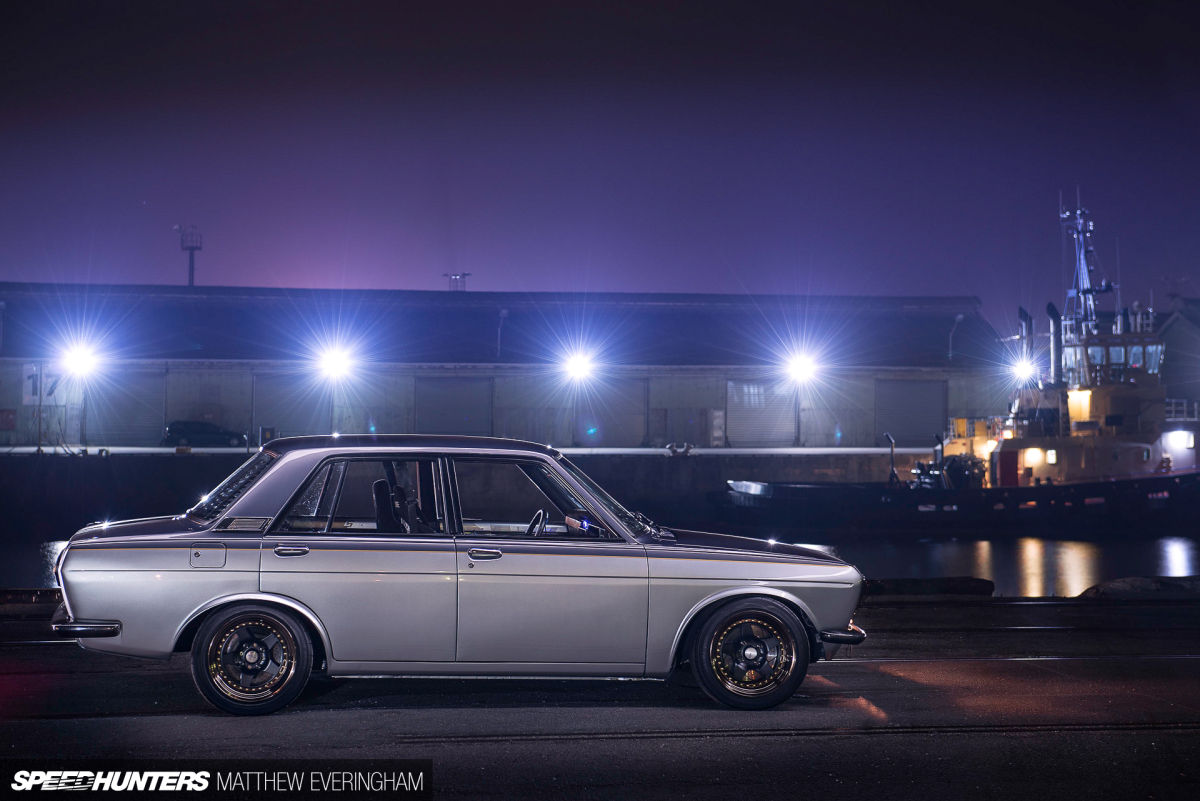 Up until just a few years ago, the Datsun 1600 was a fairly common sight while out cruising and at modified car events around Australia, but these days the majority of them are sadly stored in private garages collecting dust and appreciating rapidly in price.
Australia has always had base recipe for building these beloved little Datsuns too, and it goes something like this: Select the brightest colour you can stare it before squinting and apply liberally to bodywork; re-chrome all unpainted items; select your favorite set of Australian-made Simmons rims in 17-inch or larger (option to also paint brightly); remove as much ride height as physically possible; season with a delicious FJ20ET or CA18DET for added kick; tune to taste/budget.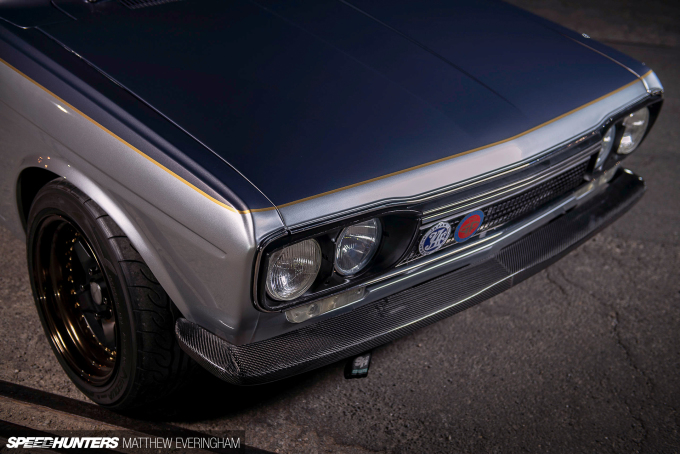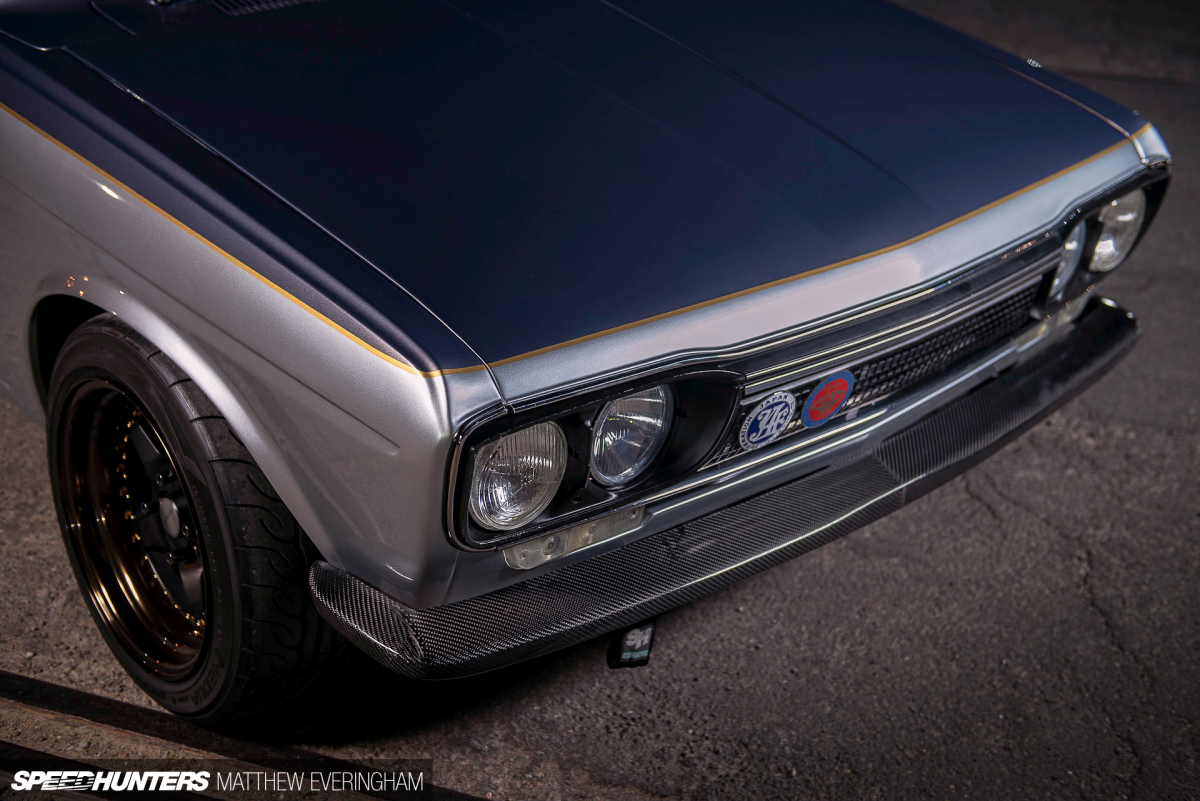 Let's be clear, I'm not saying that that everyone follows this religiously, but you'll be hard pressed to find many cars that deviate drastically from the Great Australian Datsun Cook Book recipe. What you're looking at right now, however, is the most removed example I've ever come across while standing on Australia soil. Cameron's Datsun is clearly seasoned with more teriyaki and less BBQ sauce, channeling a more distinct Japanese look and feel. It's different and I like it a lot. Even from a distance the custom blue-over-silver paintwork sets the darker tone.
While the boys were prepping for paint, a few subtle modifications were made to the body. The gutter channels were removed from the pillars and roof line, the guards were flared, and a JDM 'Supersonic' grille was fitted up.
Yahoo Japan and a few choice friends who import JDM parts have ensured that every trim and fairing has been replaced with the JDM version, and it's astounding how the whole look of the car is transformed by a few pieces of plastic. A set of full carbon bumpers complete the darker feel. Yep, real carbon, not a lookalike wrap as you were probably expecting.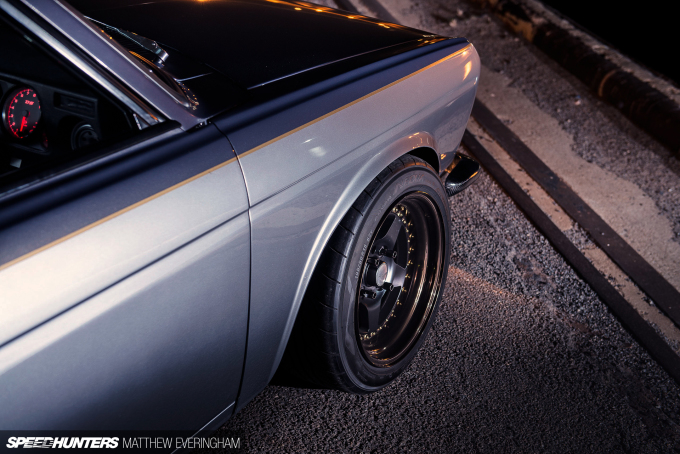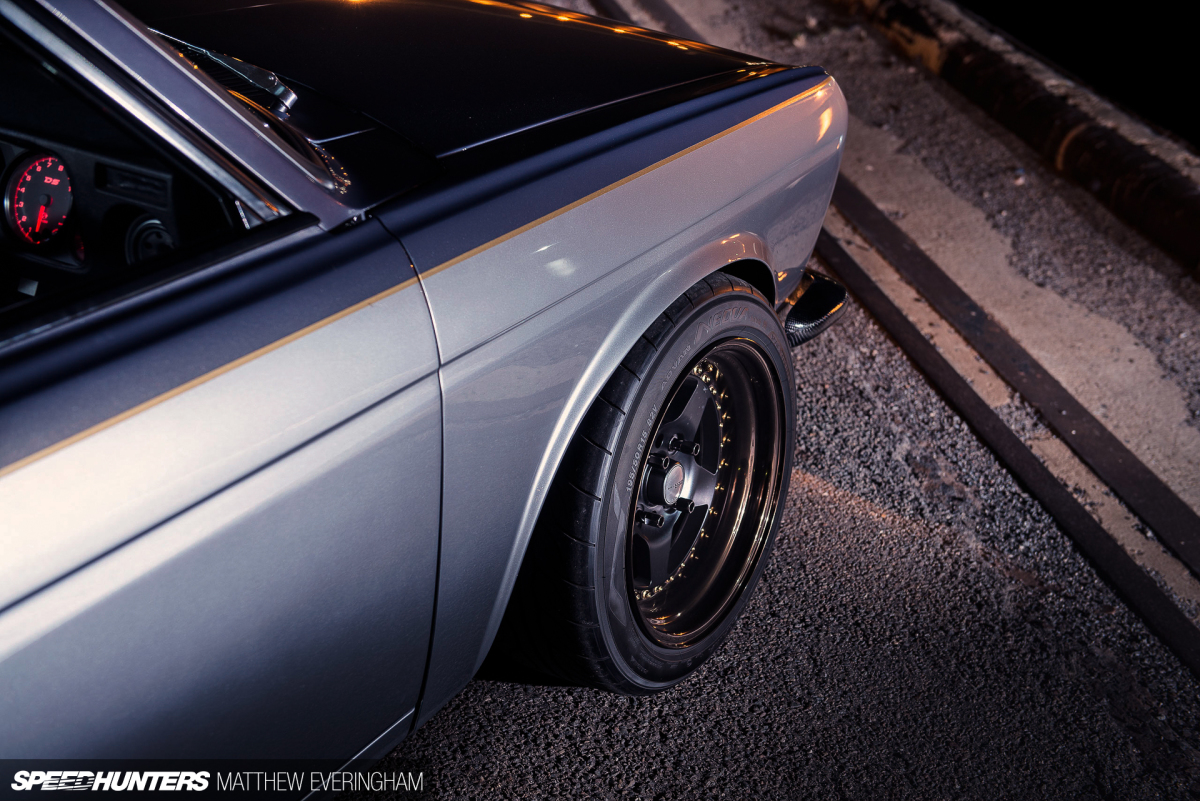 The car rests on a set of staggered Work Meister CR01 wheels – 15×8-inch front and 15×9-inch rear – wrapped in Yokohama Advan Neova AD08s. Behind them, you'll find R32 Skyline GTS-t calipers and custom 290mm Datsport slotted and drilled rotors at the front, and R31 Skyline calipers around similar 280mm Datsport rotors out back. A Wilwood proportioning valve and braided lines help to ensure this massive brake kit will be as ready as possible even towards the end of a long circuit session or out in the mountains.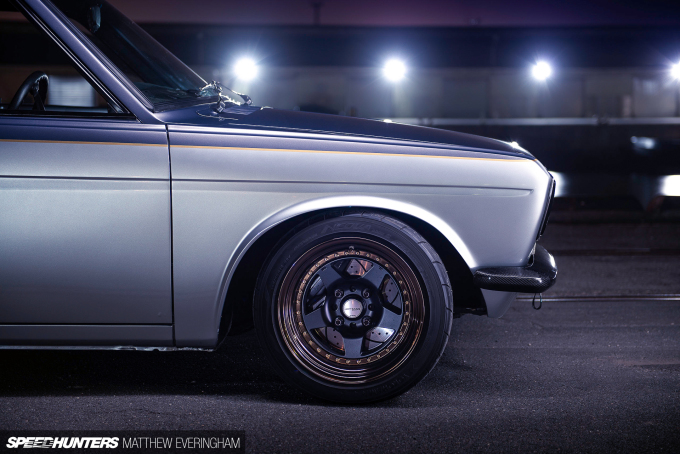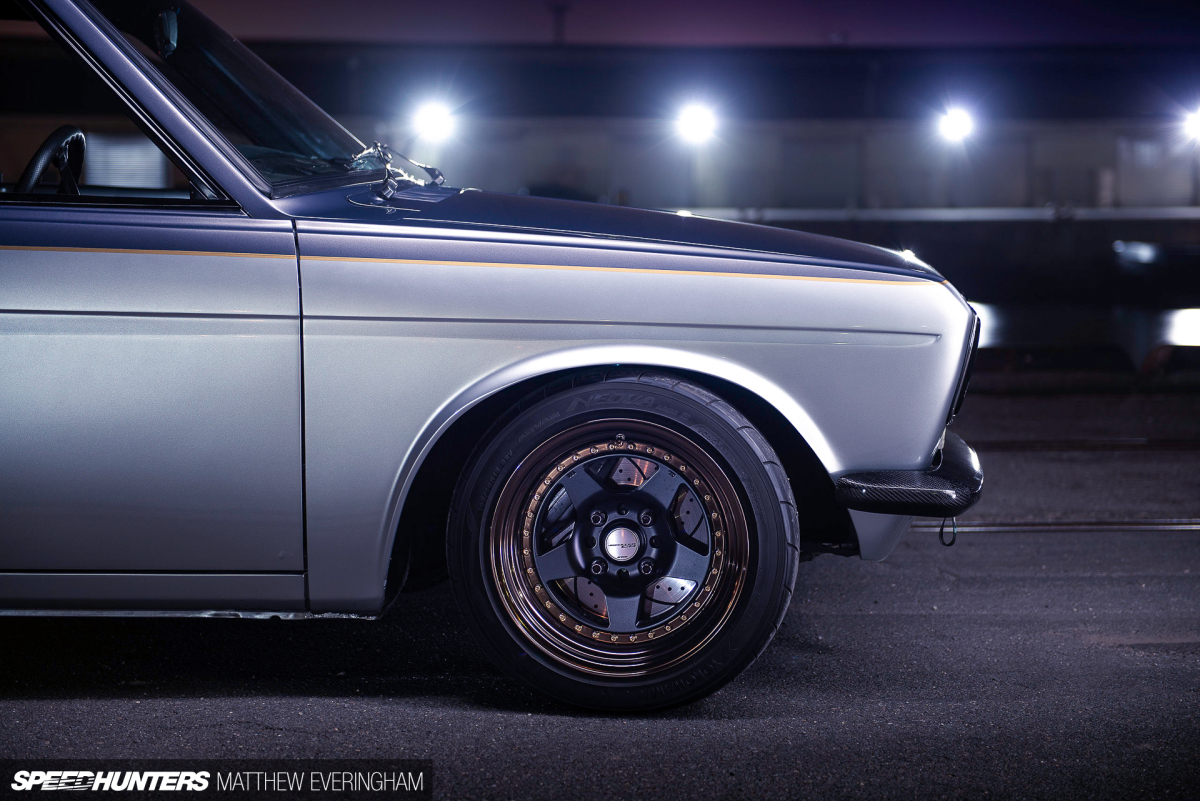 All that remains of the original suspension is a memory; a complete custom setup was installed during the car's long sleep in the garage. Datsport DSK280R shortened struts gave Cam the freedom to install a set of adjustable coilovers, and those feature KYB AGX shock inserts paired with King Springs coils – 275lb for the front and 300lb in the rear. Adjustable billet camber tops and a Datsport 4.1 rear crossmember allowed Cam and Baz to dial in the very best geometry, and all bushes were replaced and freshened up with a complete Whiteline Plus kit. The end result is a classic car with none of the usual sacrifices one associates with classic motoring. This Datsun is tight, responsive, and agile as any modern sports car – exactly what you want when your pushing yourself on the track or during spirited late night runs.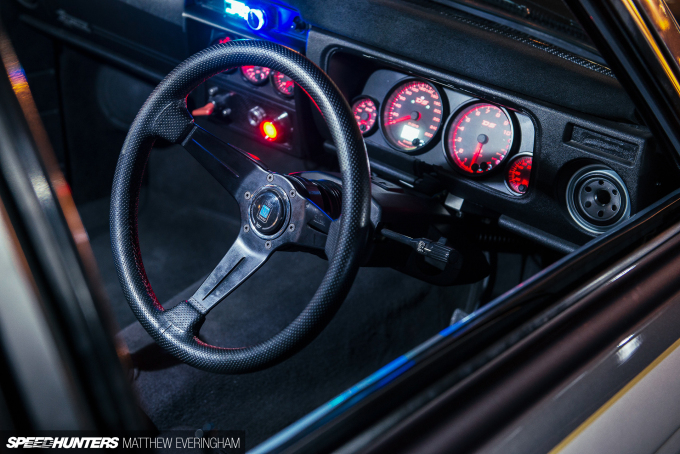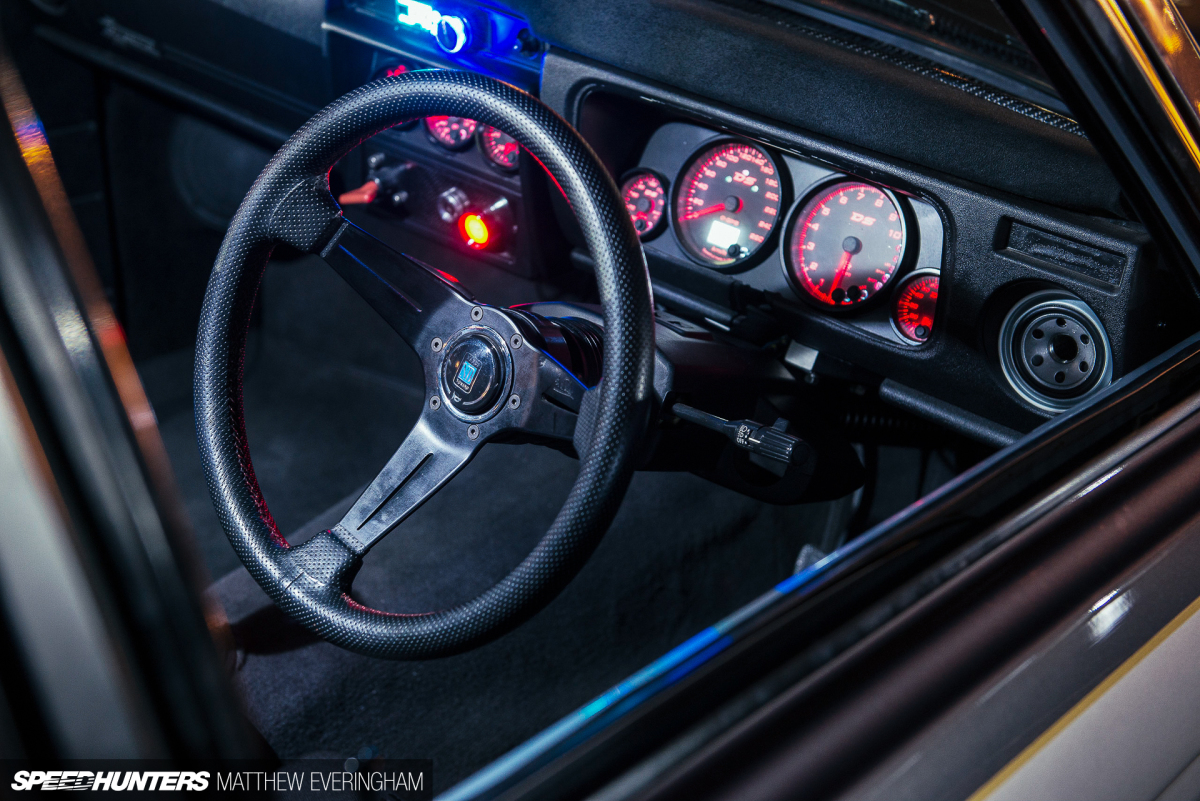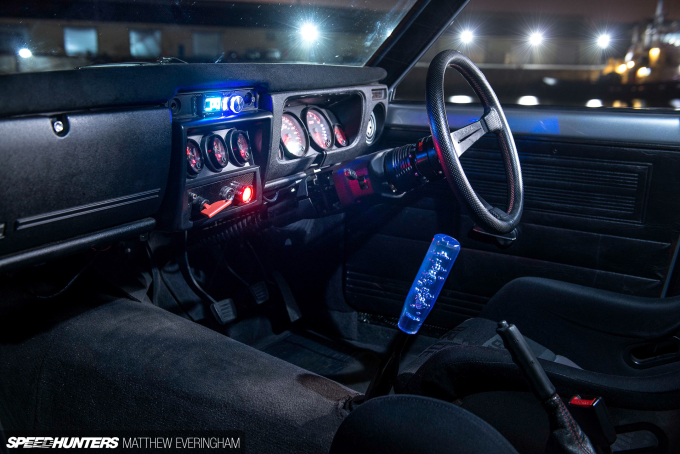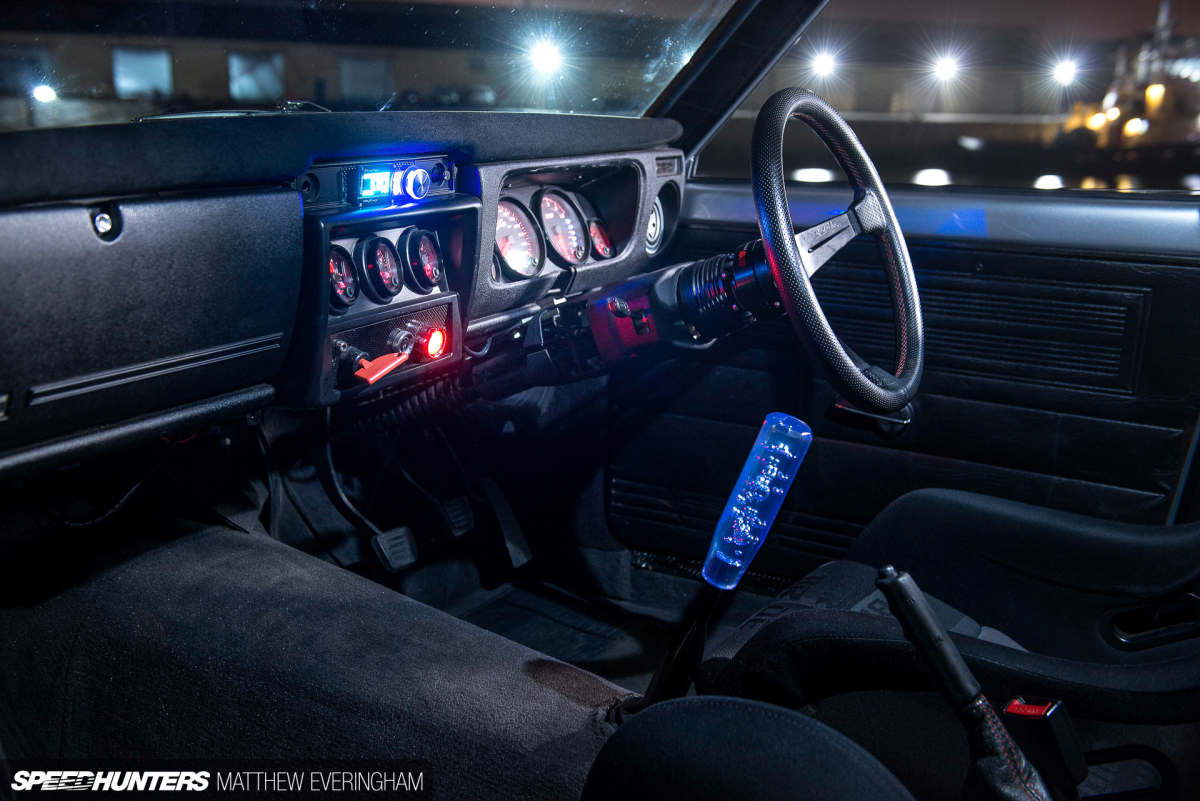 The interior wasn't neglected, and today everything inside looks and feels brand new. The entire Australian-spec interior has been replaced with that of a JDM-spec Bluebird, the door trims being the only original items that made it through the restoration. Among other things, new carpet, a Nardi 350mm wheel on a quick-release hub, and a full set of Datsport gauges have all found their way into the car. It's an extremely clean and simple setup.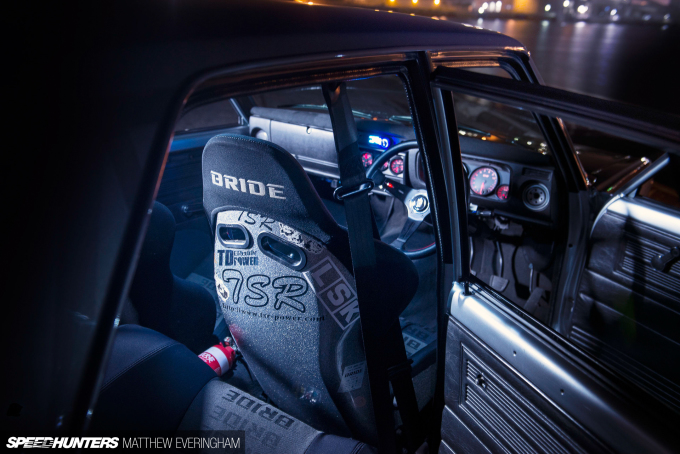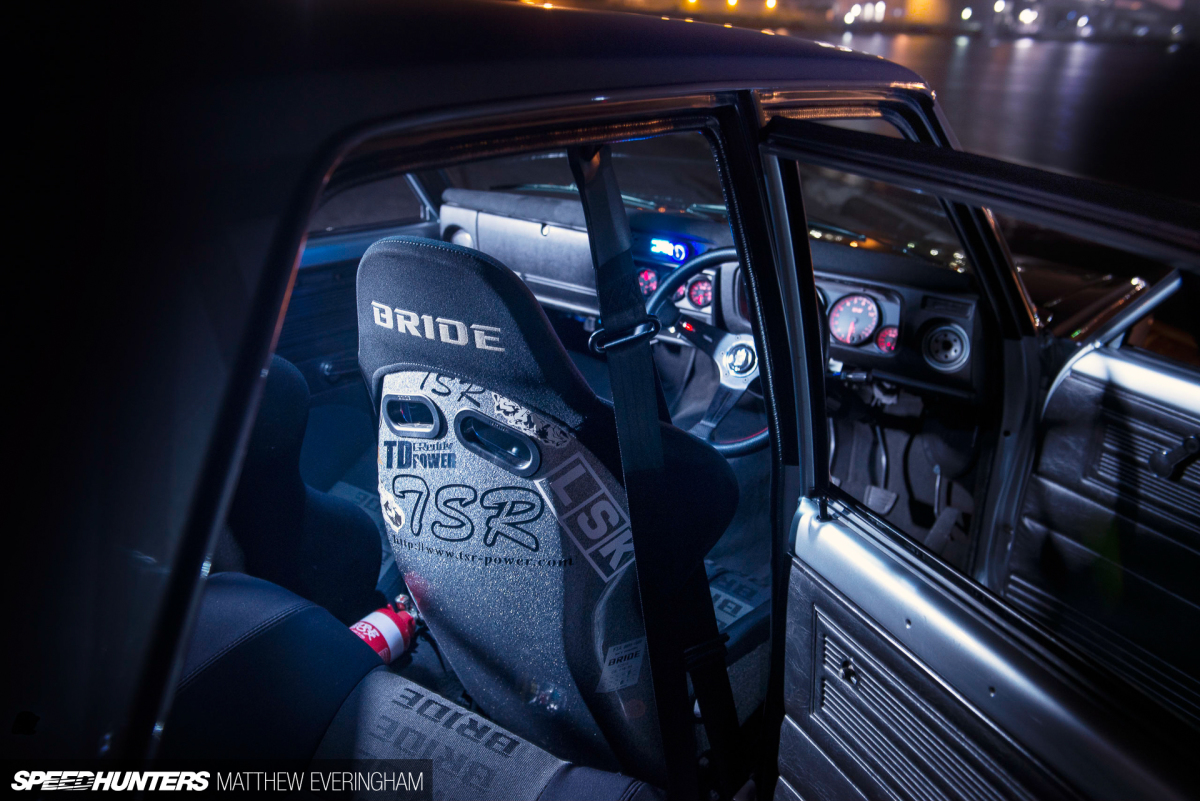 Cam's favourite piece of the interior? His genuine Bride seats of course, a Zeta III for himself and an Ergo II for the front seat passenger. And to complete the Bride theme, an R32 GT-R rear bench was cut down to fit and reupholstered in matching Bride Gradation material by AJ Trim.
The Secret Ingredient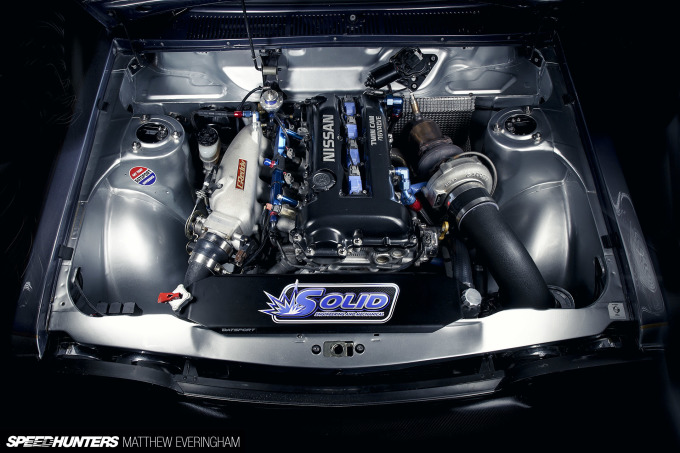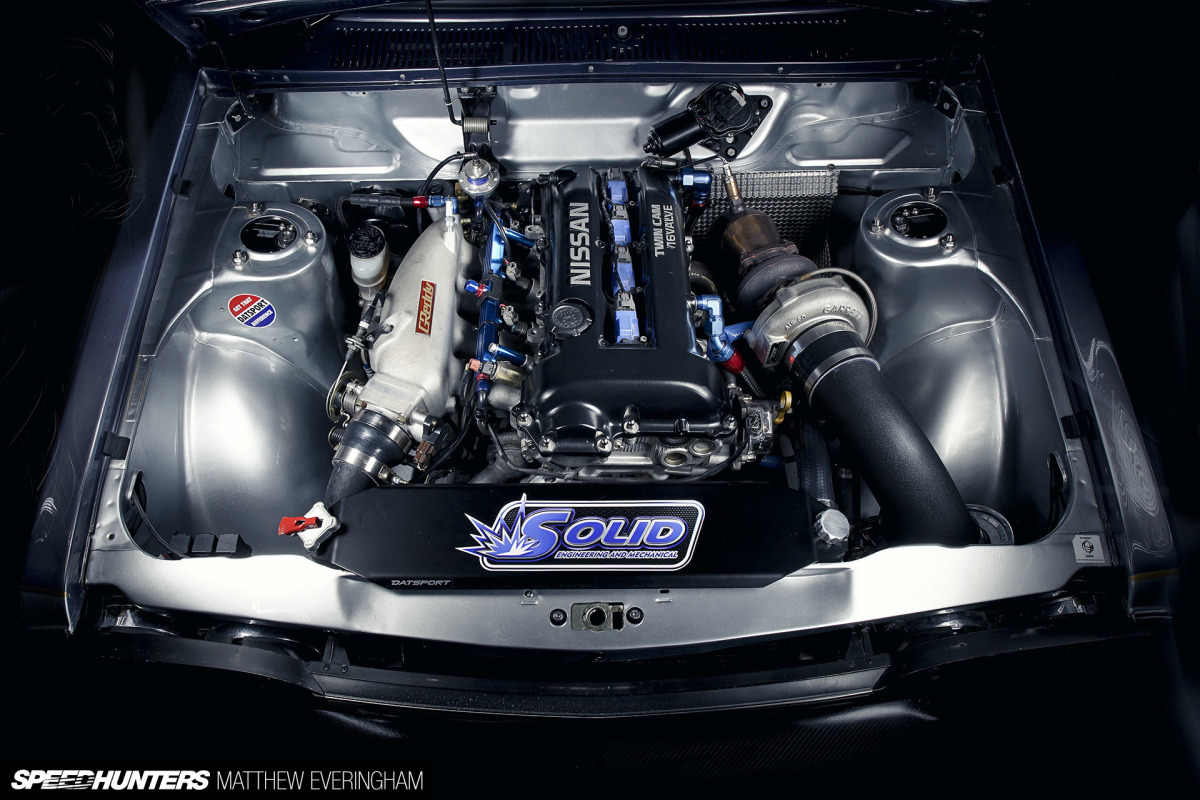 Every standout recipe has that one critical ingredient that not only binds the other elements together, but also takes the dish to a new level, and the real star of this build is hidden under the bonnet.
While the original antique L-series motors are an object of beauty, they're 30 years behind the game in terms of technology and development. Given that decent power was always the dream for this build, there were only a few options for a replacement engine, and for Cam an SR20DET made the most sense.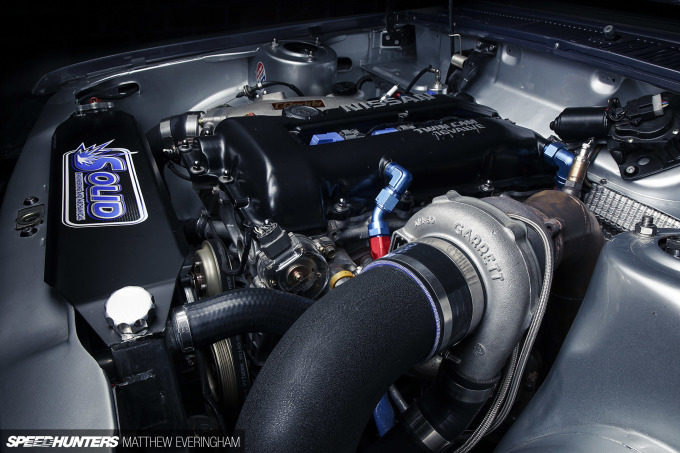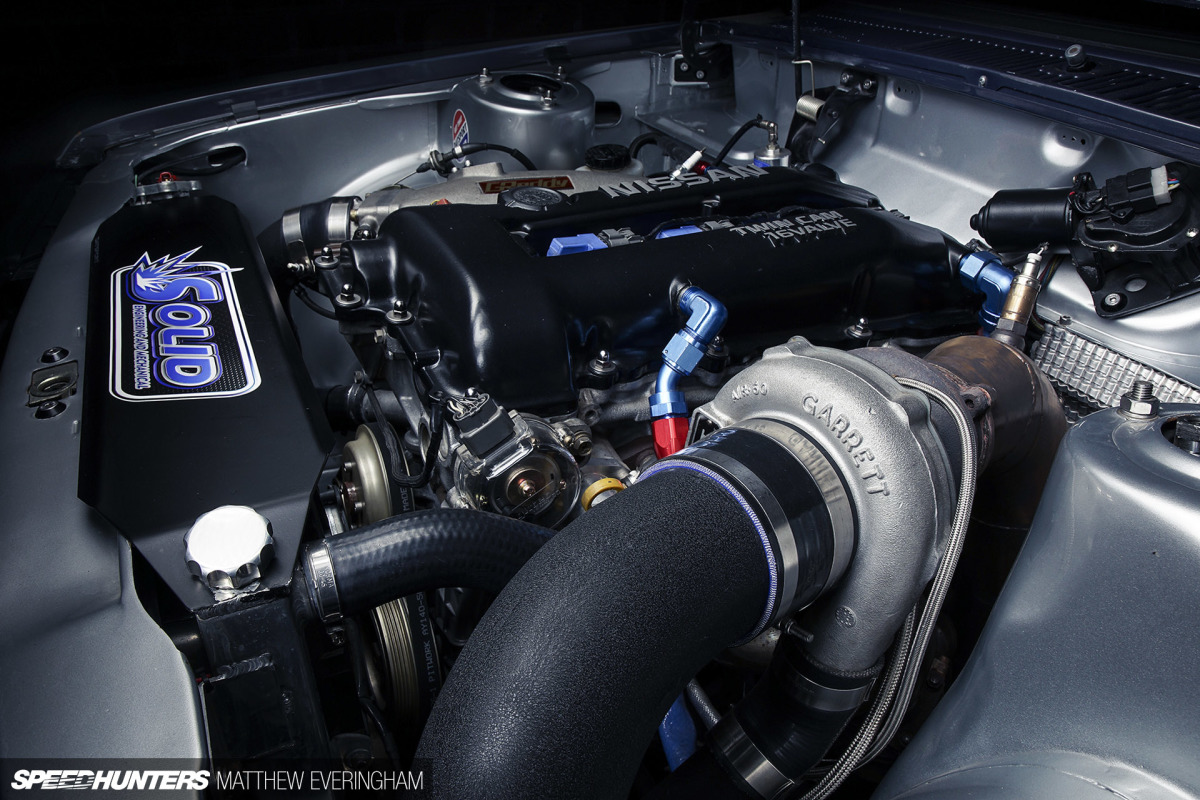 The original plan was to find a fairly stock SR20 from a Silvia and apply a few 'sensible' mods to bring it to life. But sensibilities evaporated quickly after Cameron was presented with an offer too good to refuse. Local auto wrecker JDM Spares had imported a Japanese S14 Silvia time attack car, and although their original plan had been to swap the running gear into a S15 back here in Australia, a change in direction meant the SR20 was no longer needed.
The Silvia itself had been built by a Japanese workshop called TSR, and had apparently cracked into the 1:01s at Tsukuba. Suffice to say, the engine was capable of a lot of power, so the thought of dropping it in a car that weighs less than 1000kg (2200lb) was an opportunity that simply couldn't be passed up.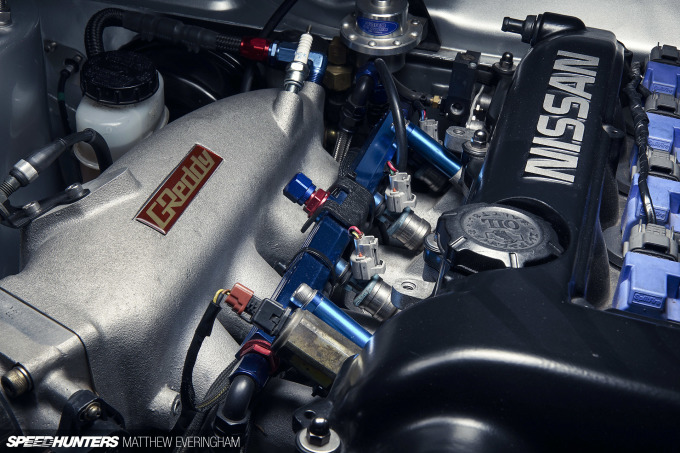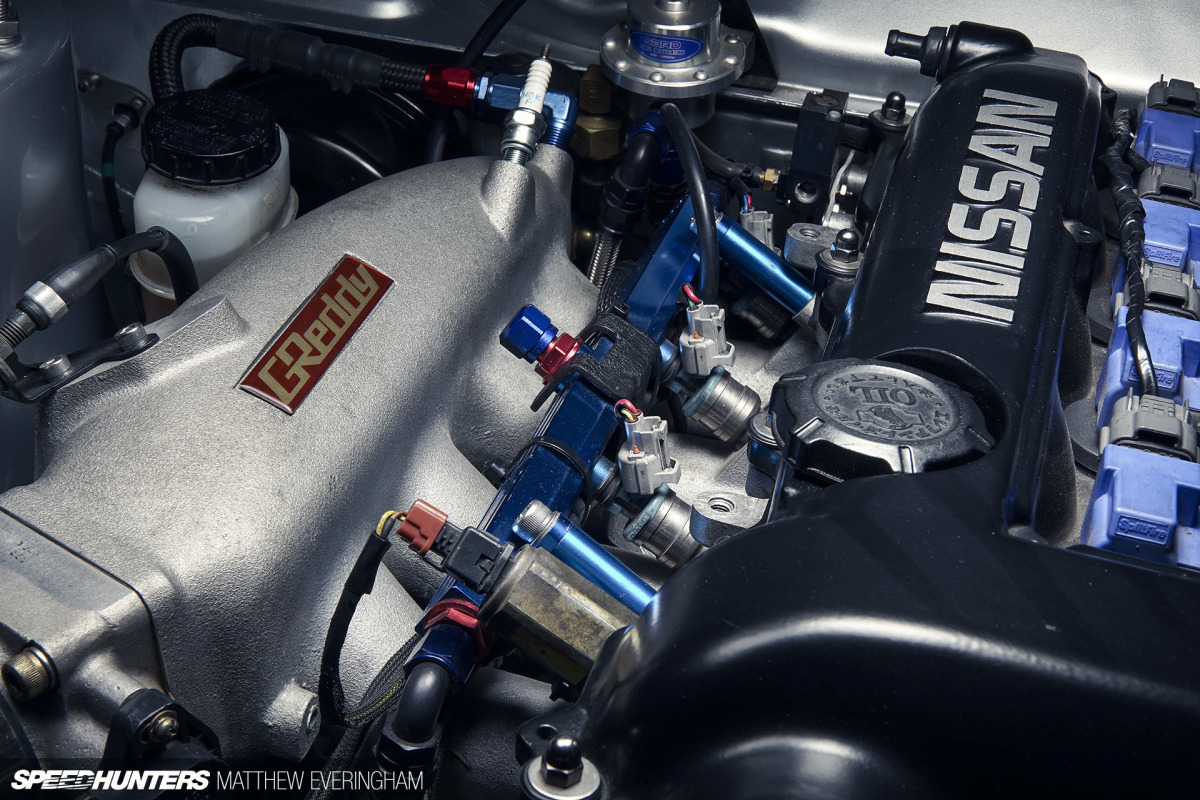 I felt like a kid in a candy shop the instant Cam lifted the hood for me – the engine looks like a JDM fan's wishlist come true. It features a smorgasbord of quality aftermarket performance hardware, including HKS 264-degree cams in the ported cylinder head, a GReddy intake manifold plenum, fuel rail and 1000cc injectors; plus a GReddy oil pump, Splitfire coil packs and a 70mm throttle body from a N15 Pulsar.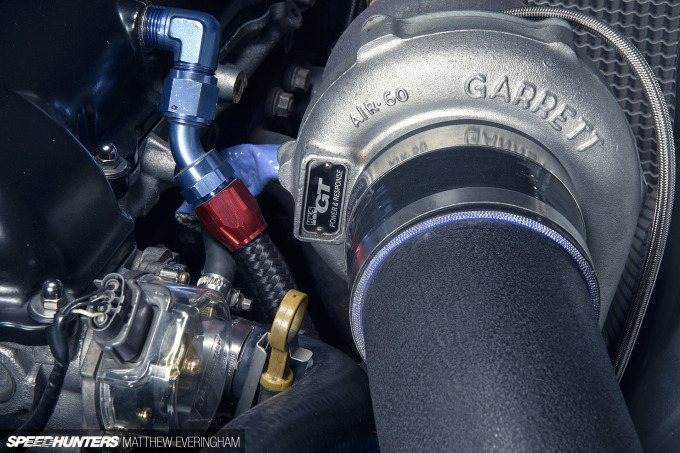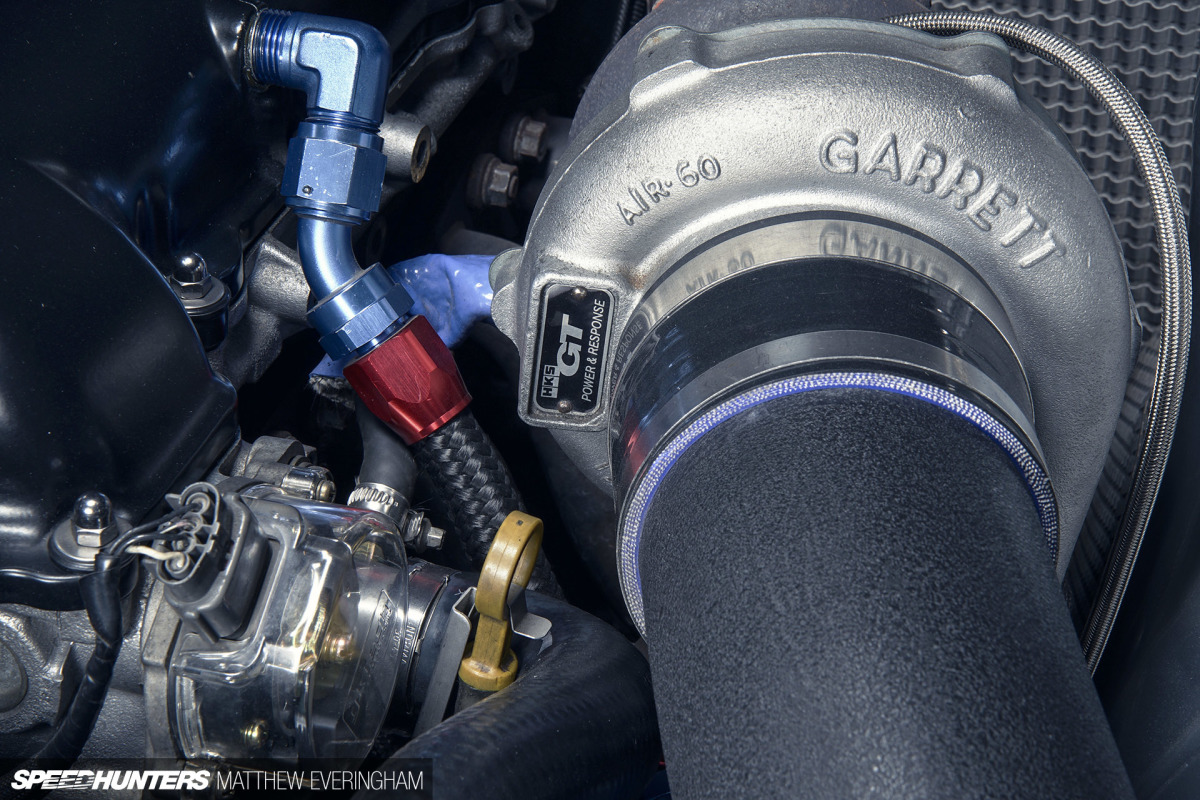 The larger intake and bigger injectors are absolutely essential for the build, because without them the HKS 3037S GT Pro turbocharger would never reach its full potential. Cameron's years of expertise setting up race cars and big-power projects is evident when you trace the pipe work that supports his oversized hair dryer. Designed and fabricated in-house at Cam's own workshop, Solid Engineering & Mechanical, each path is well thought out to reduce length and unnecessary bends. On the exhaust side, a custom stainless dump pipe runs into a 3-inch straight-through system, Police attention minimized by pair of 2.5-inch hand-fabricated mufflers. Don't worry though, I can assure you it still sounds moderately insane under full load.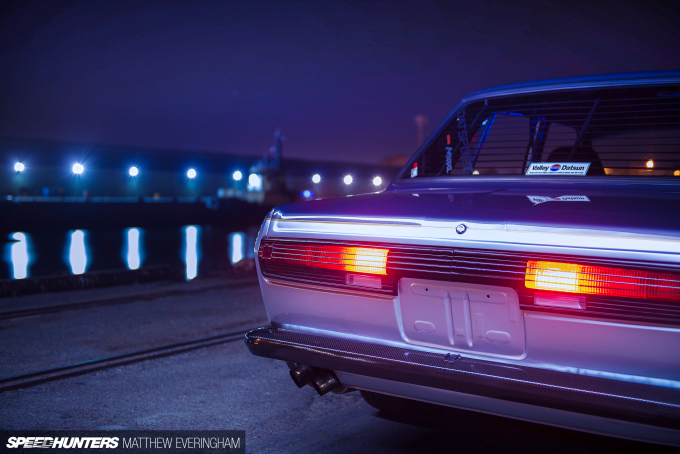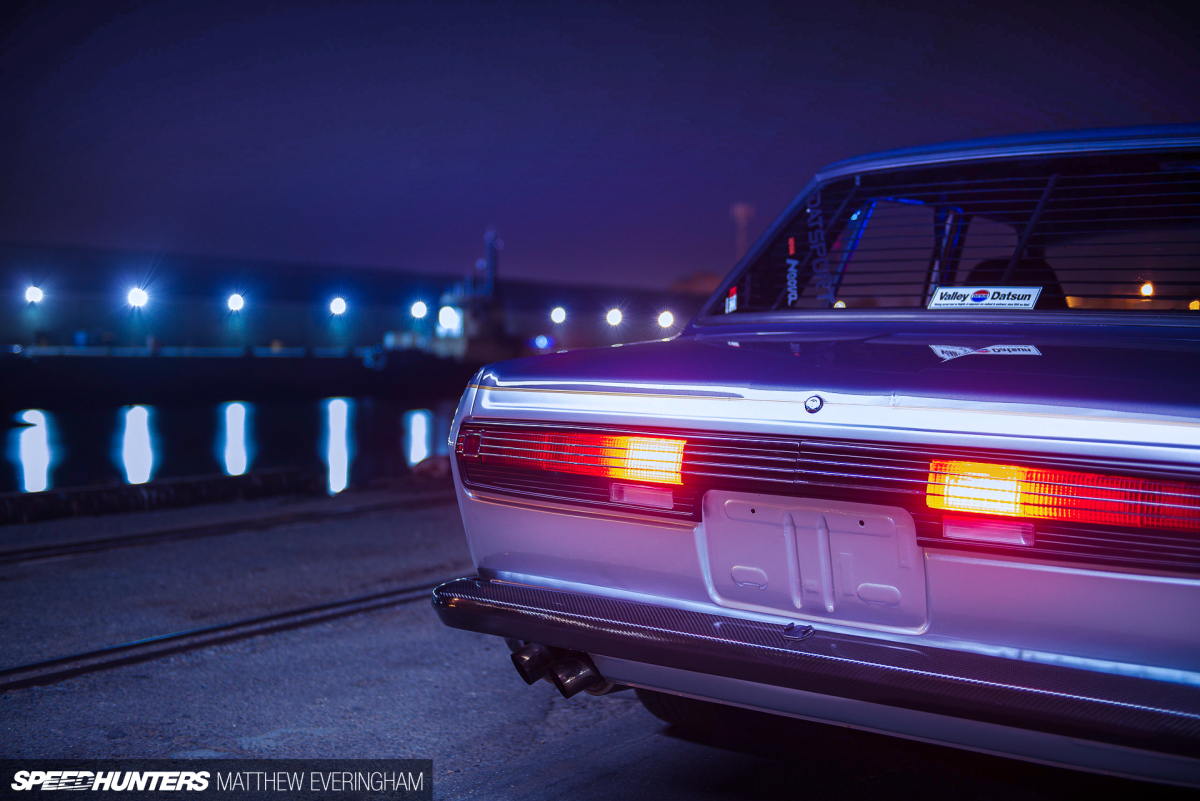 Once the entire car and driveline package was up and running it was time to hit the road and dial everything in. The Datsun's first stop was the dyno cell at Jaustech in Adelaide, where Peter Liebig, co-owner of Nistune, sorted the tune. With 24psi of boost, 314kW (421hp) at the rear wheels is the result. There's more power to be found if Cam ever feels the need, but right now it's plenty to play with in the 950kg chassis, and more importantly the engine still maintains reliability.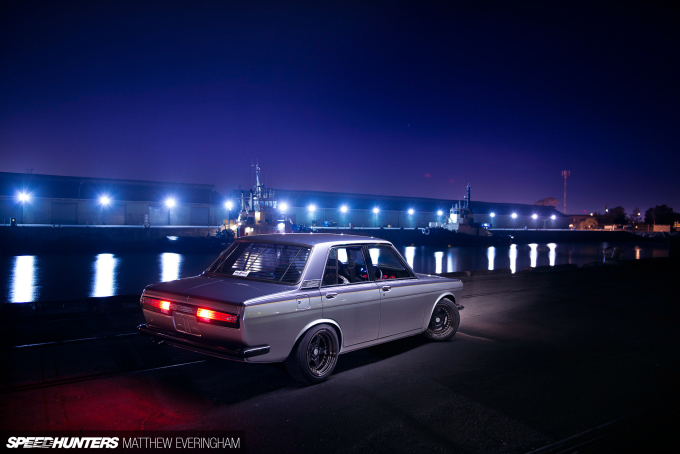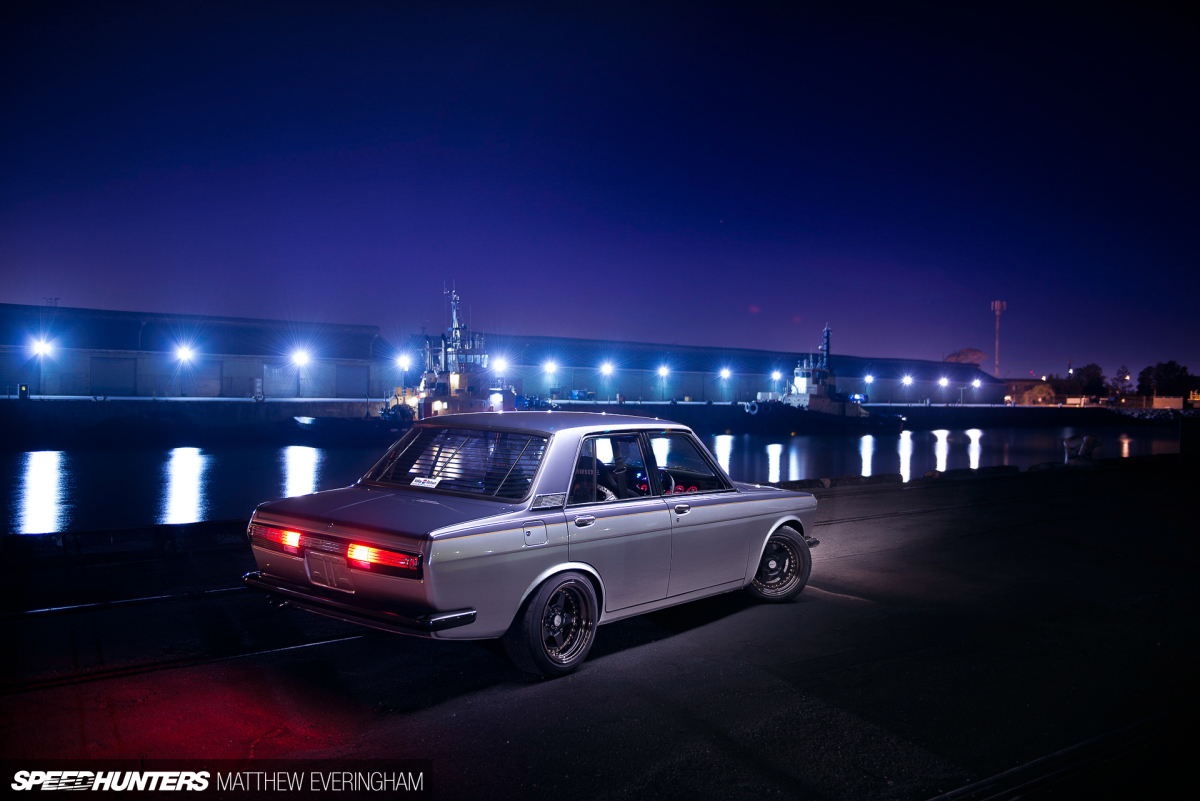 Personally, I think that Cam and his mates have just perfected a brand new recipe for the Datsun 510 in this part of the world. It's a completely fresh approach for an Australian cult classic and it works. They say variety is the spice of life, and hopefully Cam's build inspires others to have the courage to pursue their own unique visions.
Matthew Everingham
Instagram: matthew_everingham
matt@mattheweveringham.com
Cutting Room Floor