Once More Unto The Breach
January in Birmingham, England. Probably rain. Definitely race cars.
The annual Autosport International and Performance Car Show landed at the National Exhibition Centre last weekend, and ushered with it the start of this season's race calendar. From top level F1 to grassroots clubman the event caters for all, so if you've a modicum of interest in motorsport, you really do need to be there.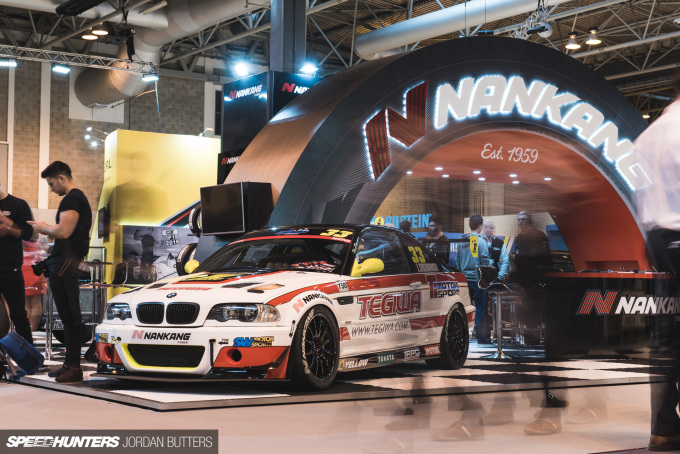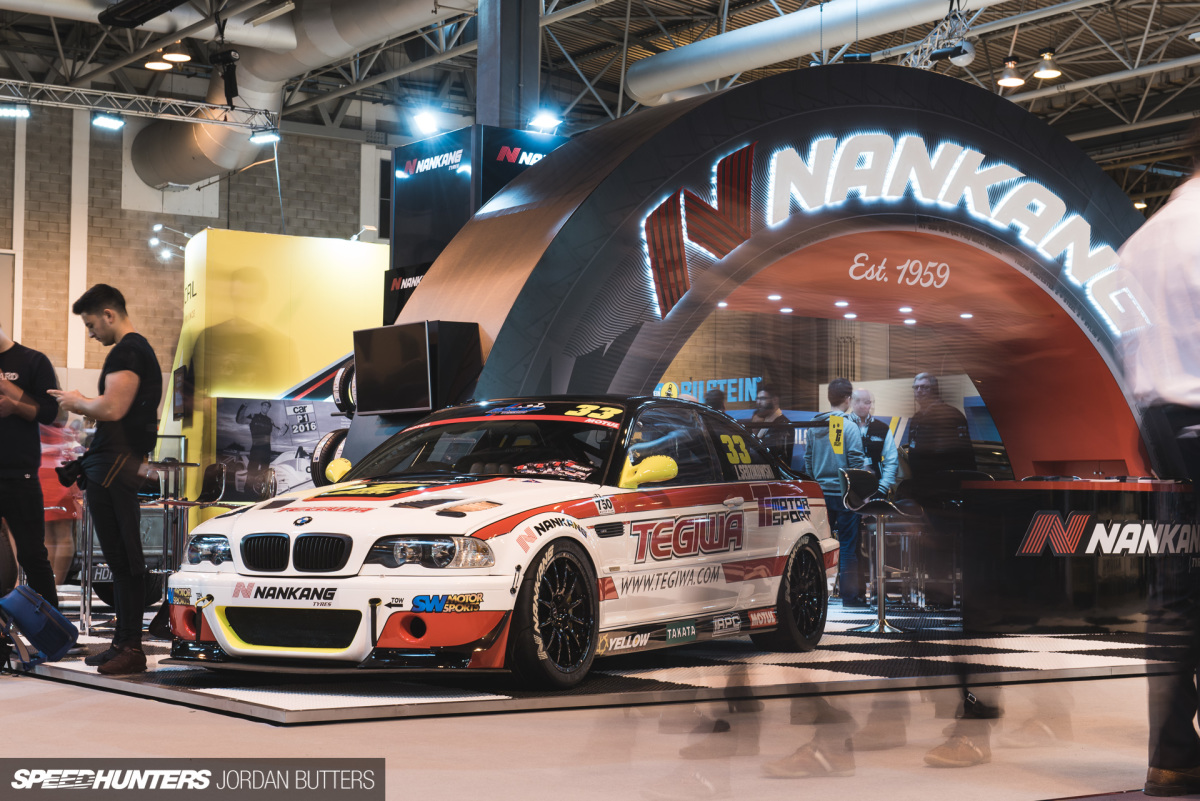 The show itself has always walked the line of having to appeal to both trade and industry folk and the general public. For those working in the motorsport industry the annual event represents three to four days of constant traipsing Birmingham National Exhibition Centre's gigantic halls, copious amounts of handshaking, meeting people who you email almost daily but haven't come face-to-face with before, along with people who you see all the time but can't quite remember their names, and several late nights and important networking sessions in Birmingham's finest drinking and gentlemen's establishments.
If you're lucky, you might even get to see some of the show too.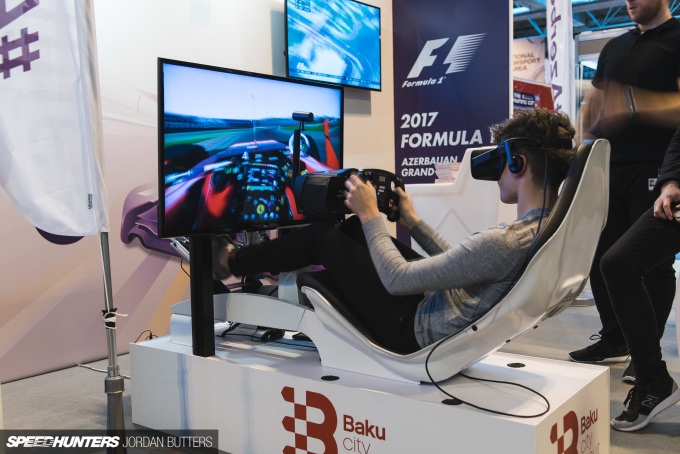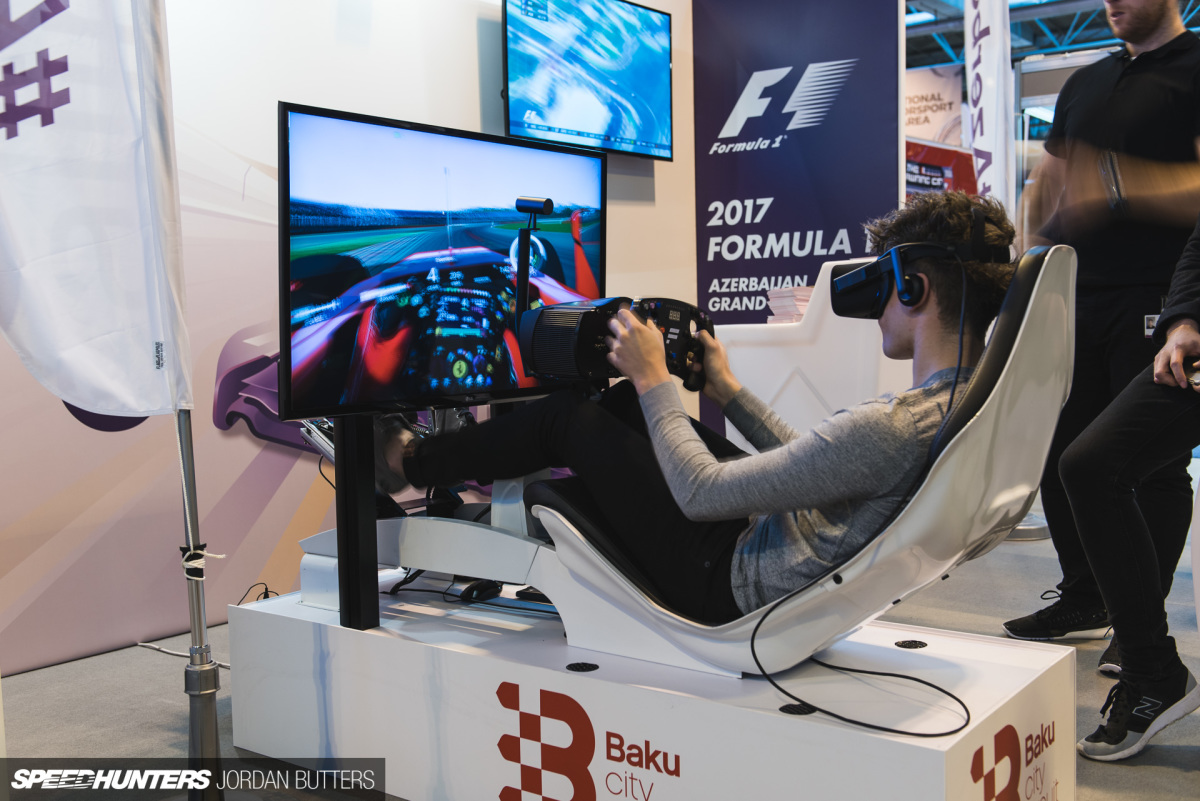 For the rest of us, Autosport International is the vast and vibrant annual kickstart that UK motorsport and performance fans have come to know and love.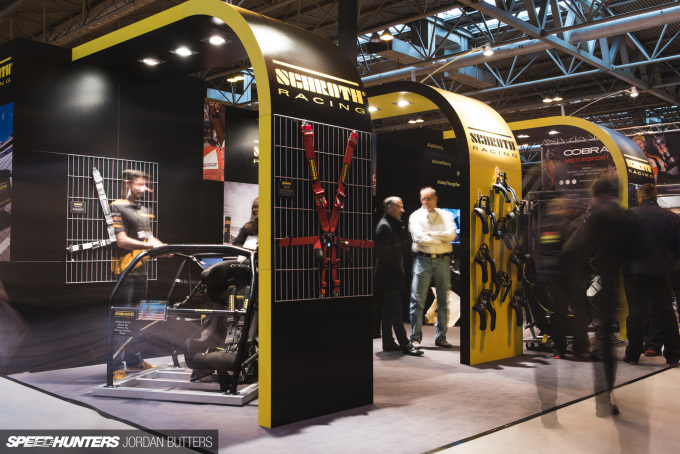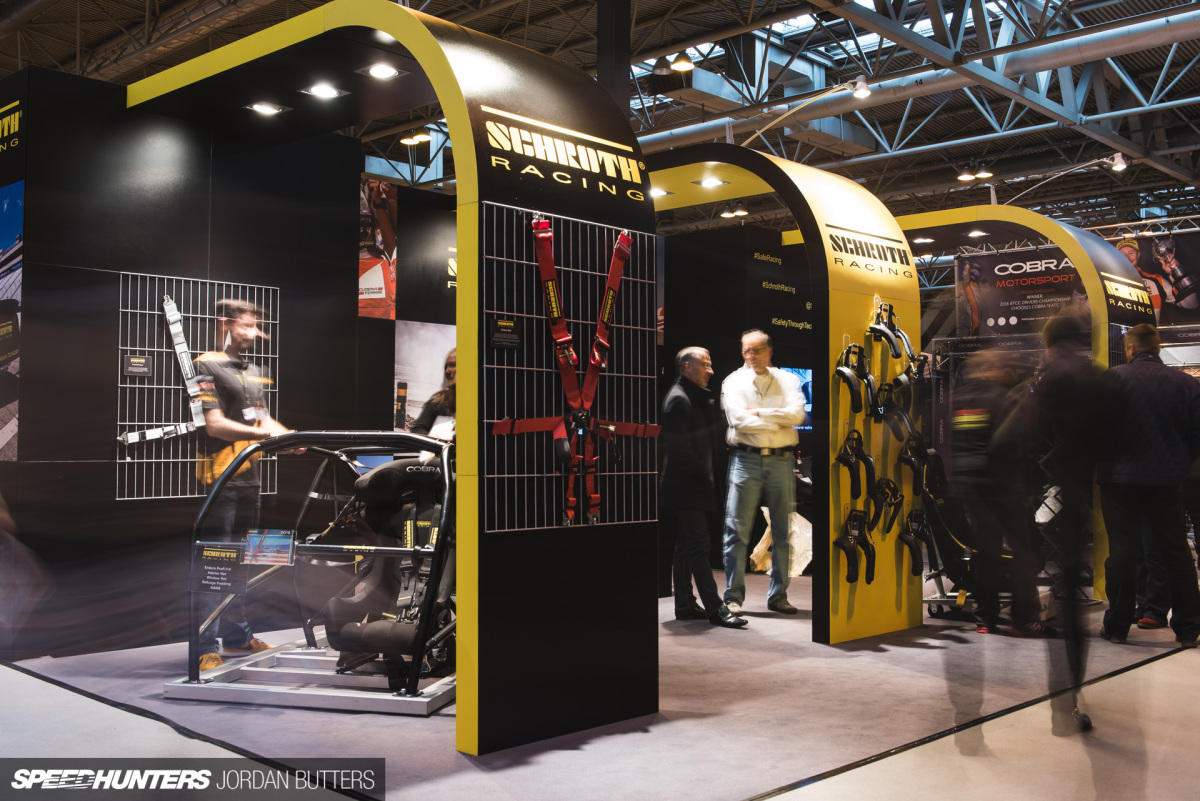 It's also an amazing opportunity to peruse and pick up parts for your ongoing or future build. ASI has everything, from sequential gearboxes to dash displays, bolts to brakes, harnesses and helmets – you'll find it all here.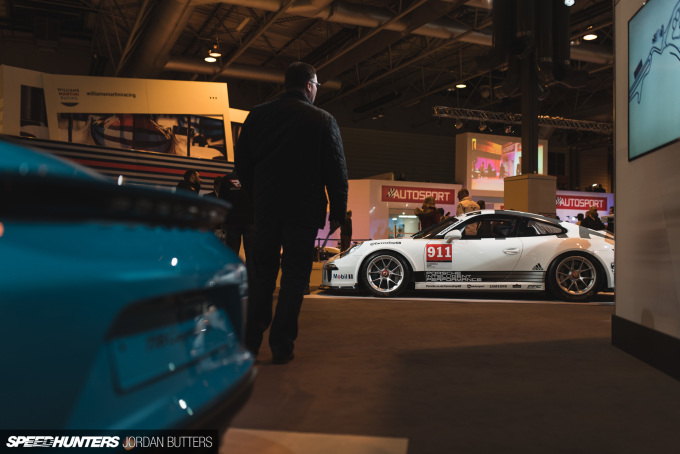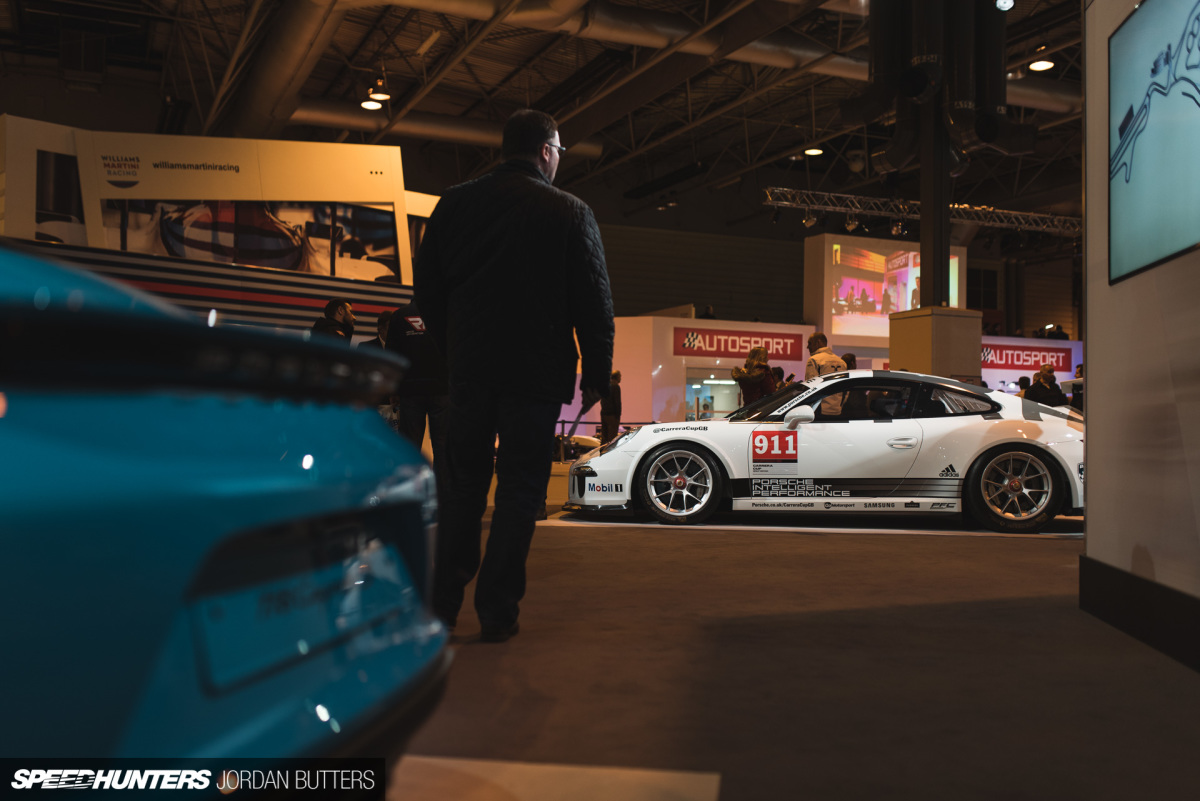 Now in its 26th year, it's hard to imagine a chilly January in the Midlands without ASI descending on the NEC.
The thing is, as with any long-standing tradition or recurring event, it's a show that's previously fallen short of expectations for myself. Year-on-year you would find the same exhibitors, in the same positions, with the same stands and the same cars, under the same terrible mixed orange lighting and hideous red carpet.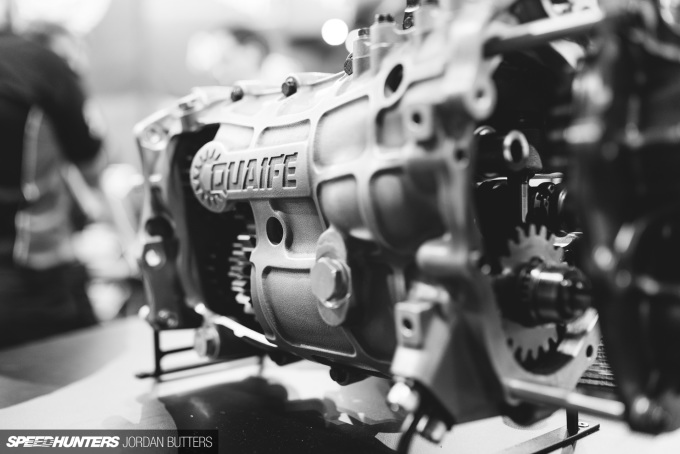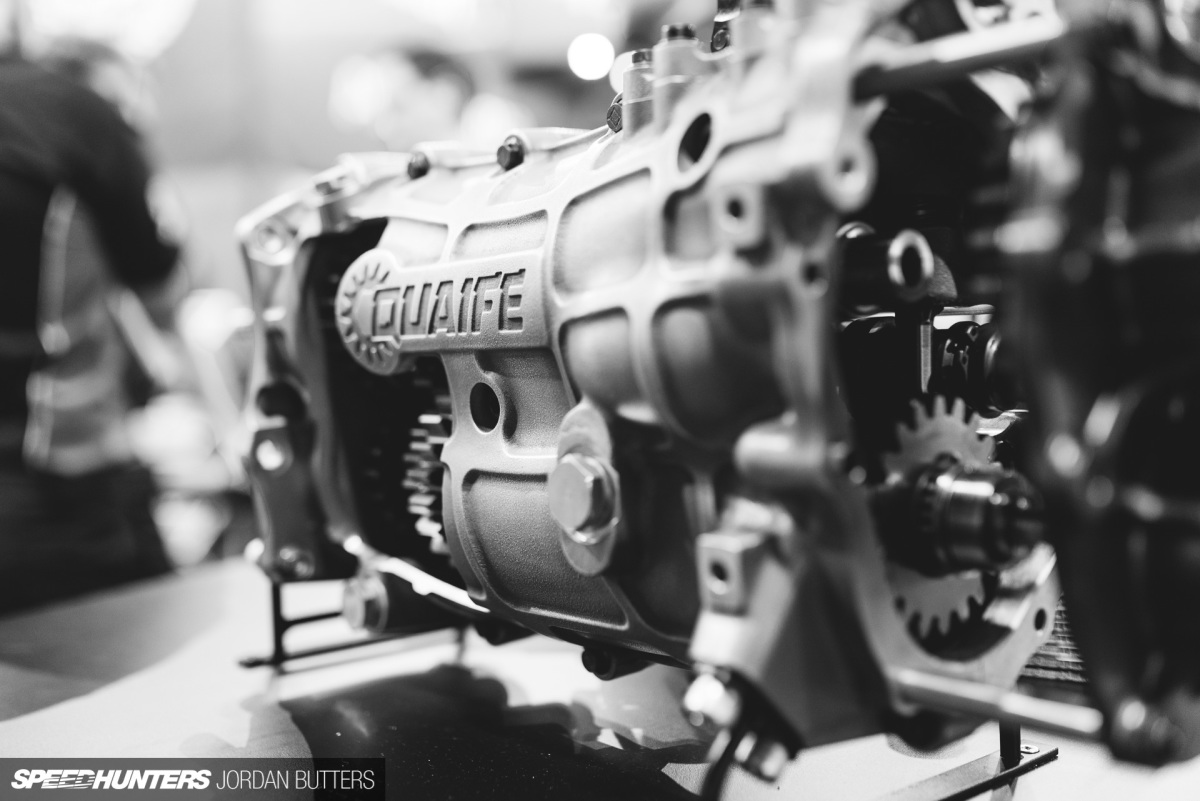 Despite its importance to the motorsport industry, and without the handshaking and networking, Autosport became a show that I found I could visit every three years and not really miss anything in between.
If I was to read too far into it, I guess I sort of saw it as a fitting reflection on the state of British motorsport and the industry at the time; the show and those attending seemed to stick to what they knew best and it all looked to be a bit stale.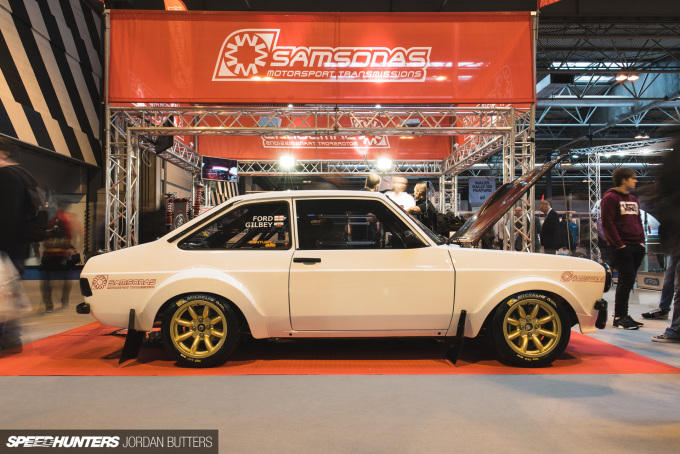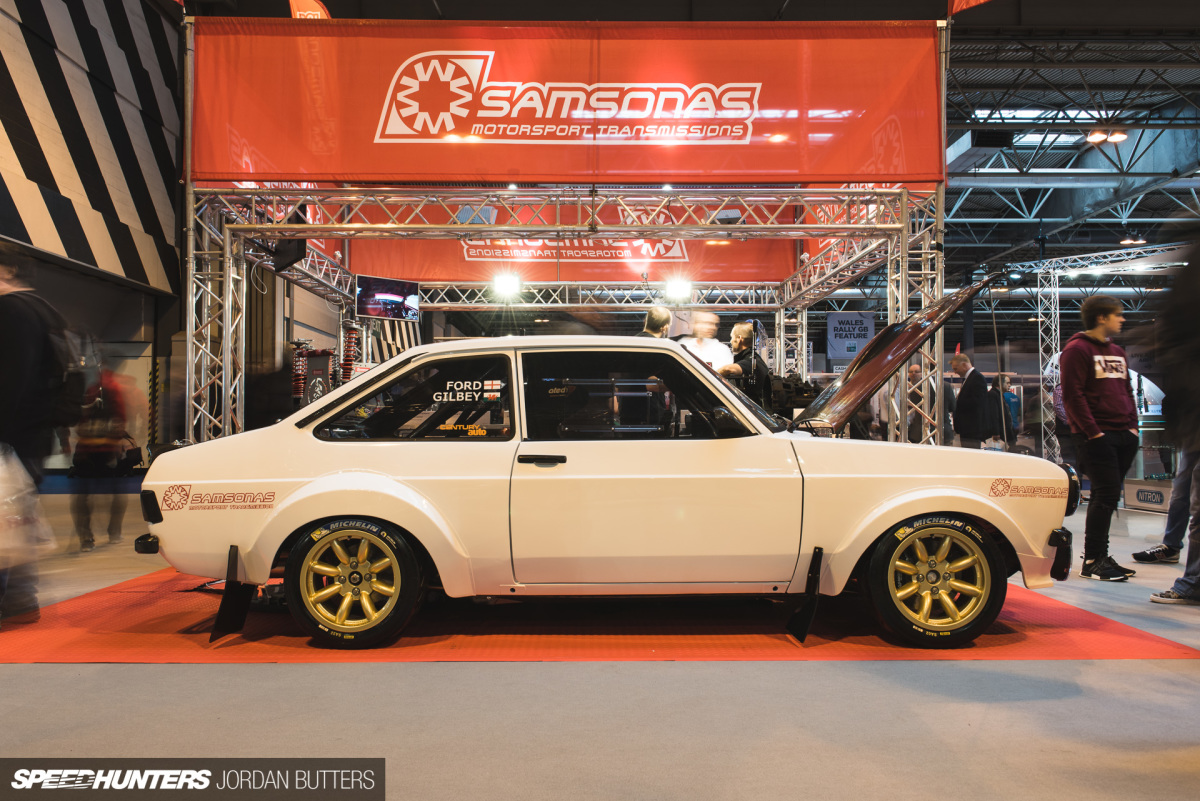 Thankfully, this definitely doesn't seem to be the case any more, and after heading down for one of the trade days this year, the 2017 Autosport International and Performance Car Show exceeded my expectations in many, many ways.
They've even changed the carpet.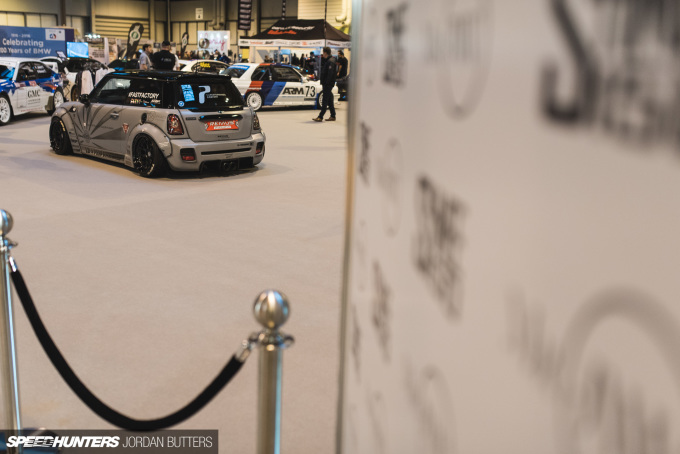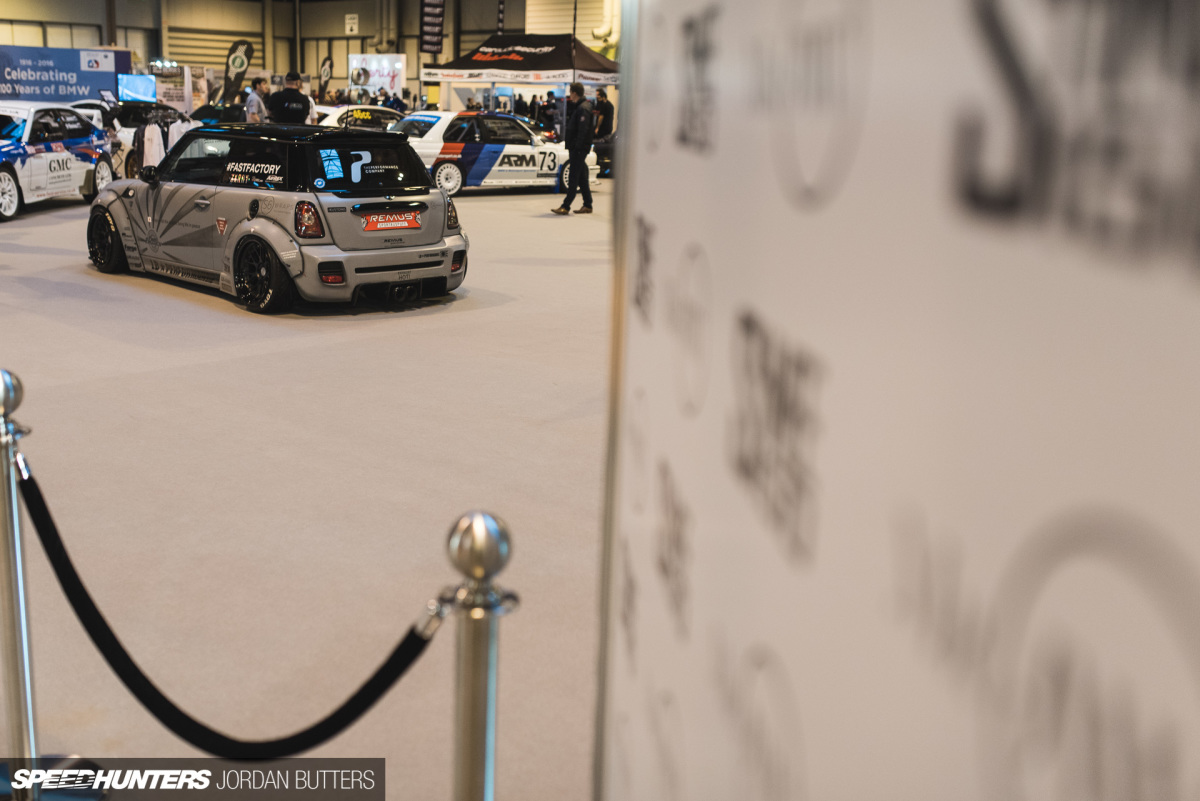 It's difficult not to draw parallels to the Tokyo Auto Salon, which always takes place on the opposite side of the world at the same time. The key difference being that ASI was always focused primarily on traditional motorsport. That seems to be changing.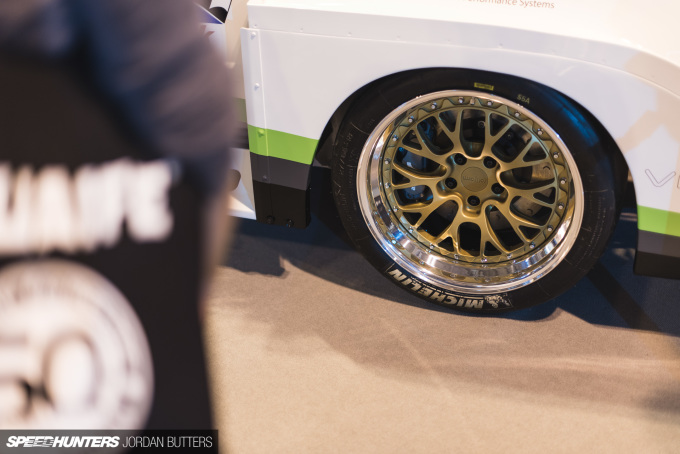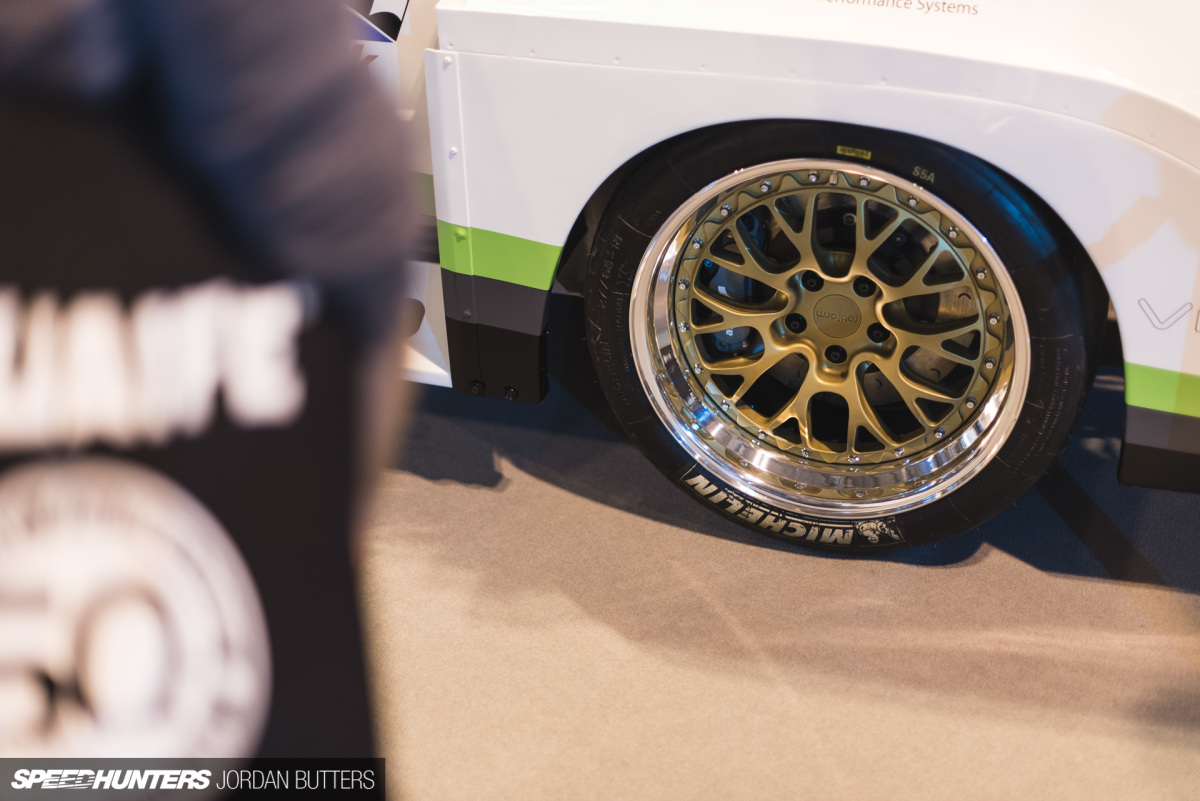 More recently, and something that was clear at this year's event, was that the industry seems to be opening up and embracing the wider gamut of car culture. While the event is still defined as being two shows in one (with Autosport focusing on motorsport and the Performance Car Show being more road/enthusiast based), the lines are definitely blurring.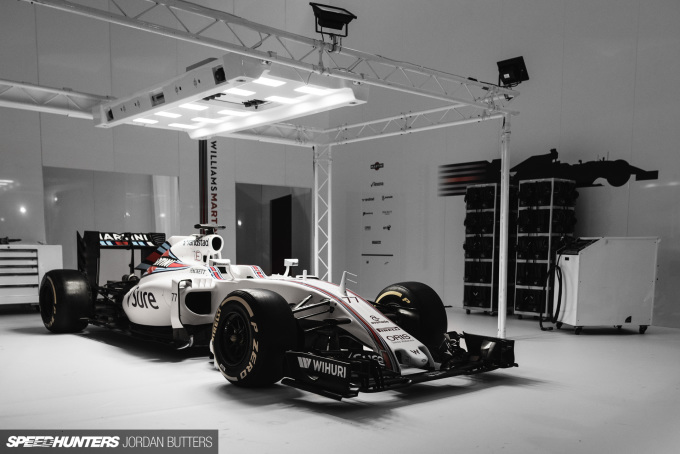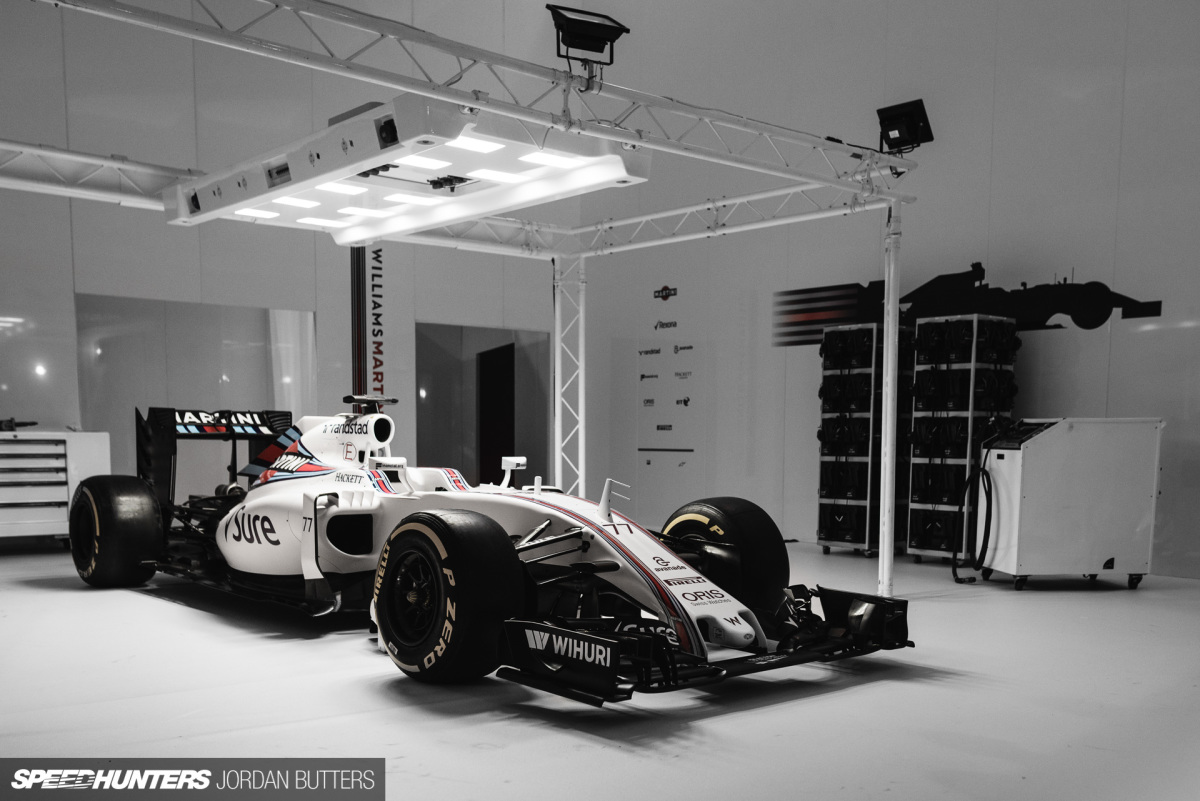 There aren't many shows that you can attend where you stroll past the pinnacle of modern F1 chassis, towards slammed show cars boasting tucked tyres and air suspension, onto wide and aggressive drift machines, championship-winning rally cars, priceless historics and exotic supercars and prototypes, all within a stone's throw of each other.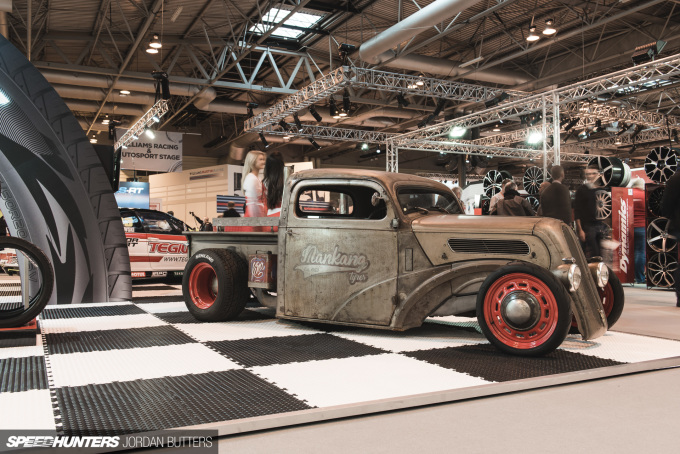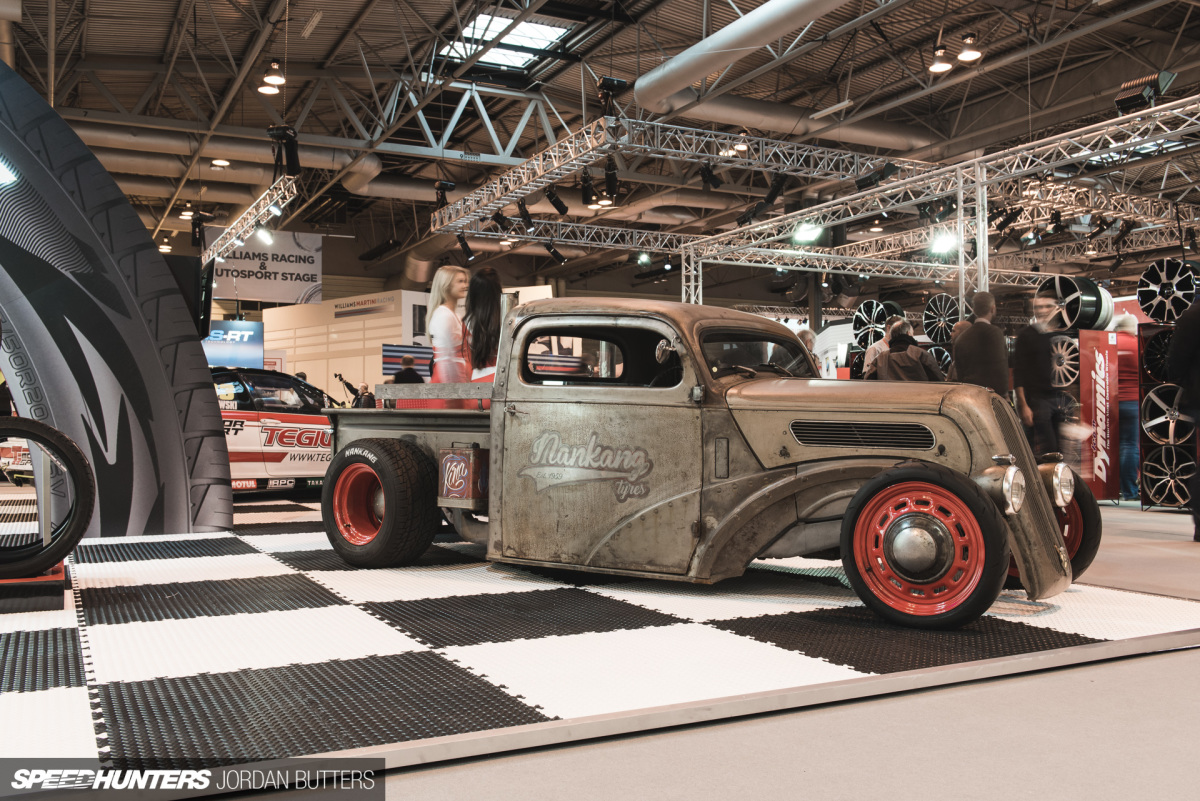 The contrast apparent from just standing in one spot and turning in four different directions can be jarring in every way. ASI is best taken at a steady pace, and with an open mind to what you might see…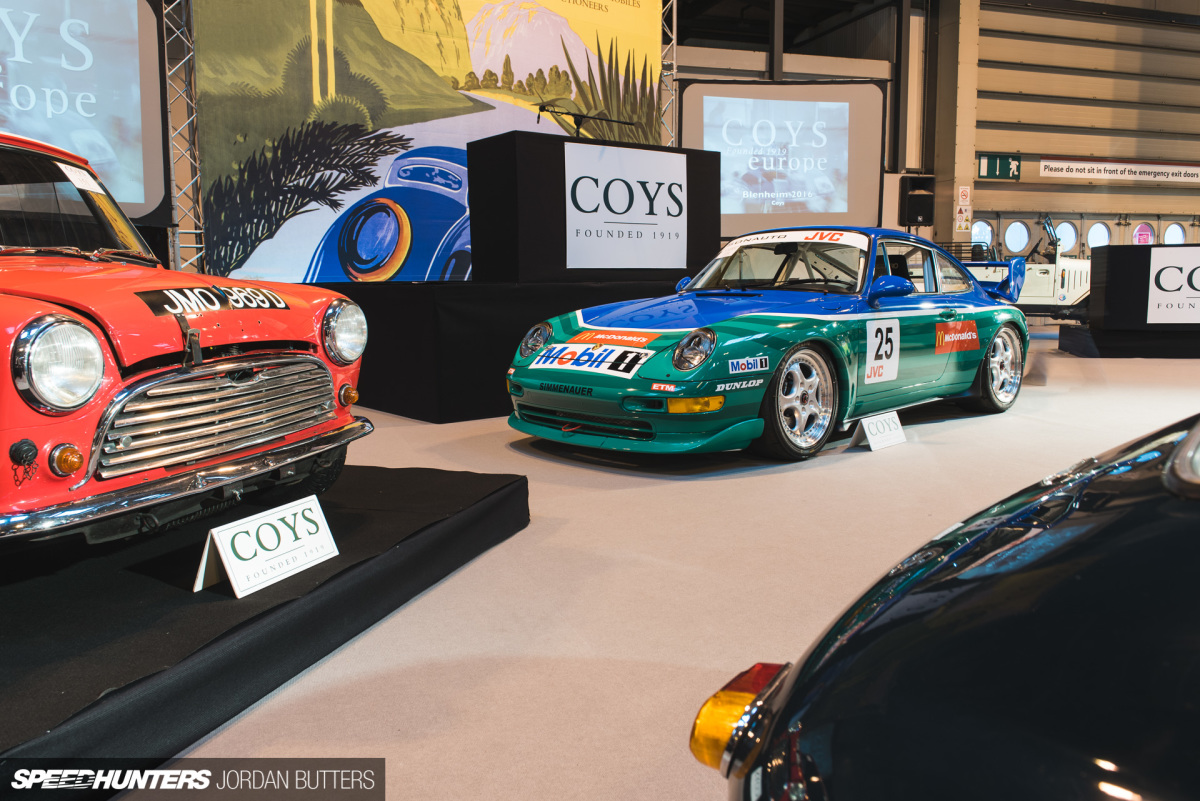 Fancy splashing the cash on a rare, unique or historic road or race car? Coys auction has you covered. A quick nose around its current stock revealed everything from a race-prepped 993 Cup to an immaculate classic Mini Cooper.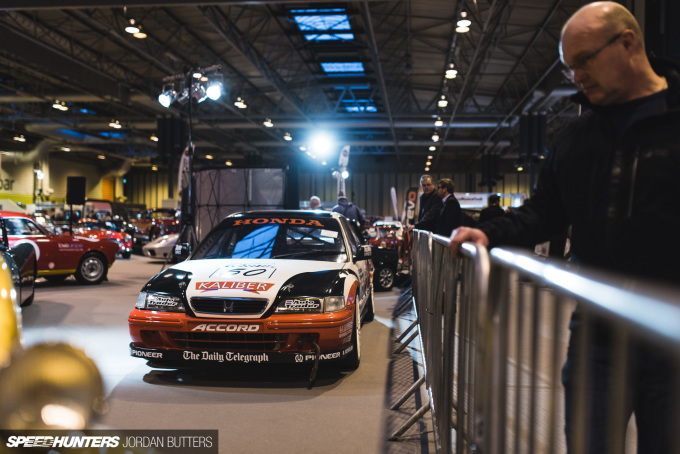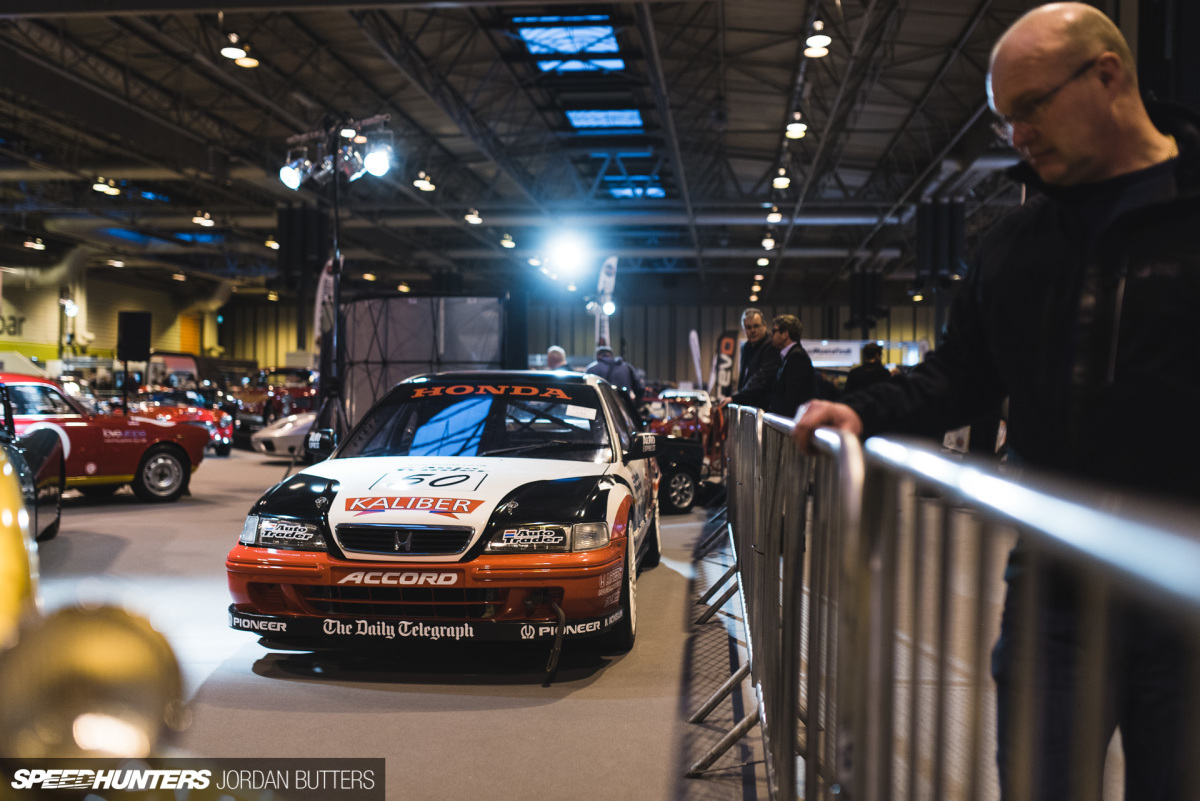 Or how about an ex-works Honda Accord BTCC car?
The Home Of Motorsport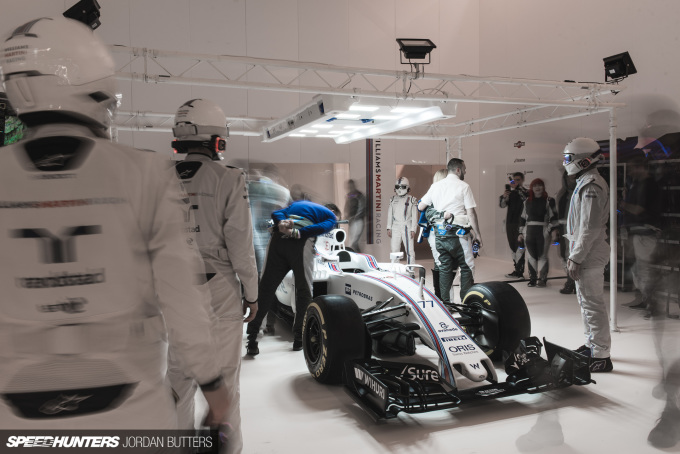 At its core, ASI 2017 was still about motorsport, with Williams Martini Racing taking centre stage in the main hall, celebrating 40 years of motorsport. Throughout the event visitors could peruse the lineup of legendary machinery on display, before donning race-suits and taking part in an interactive Williams Martini Racing choreographed experience.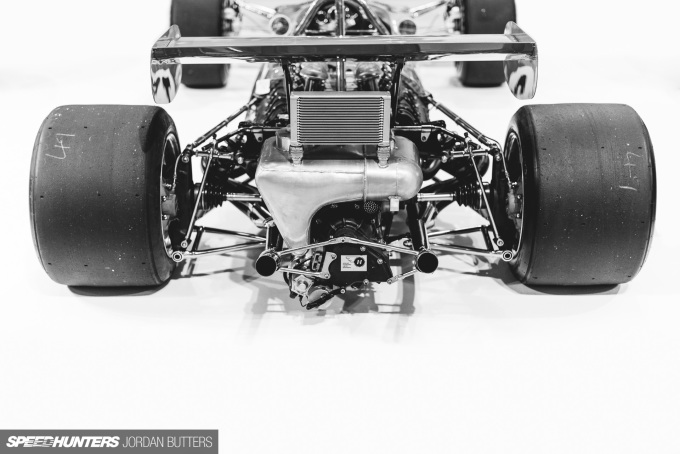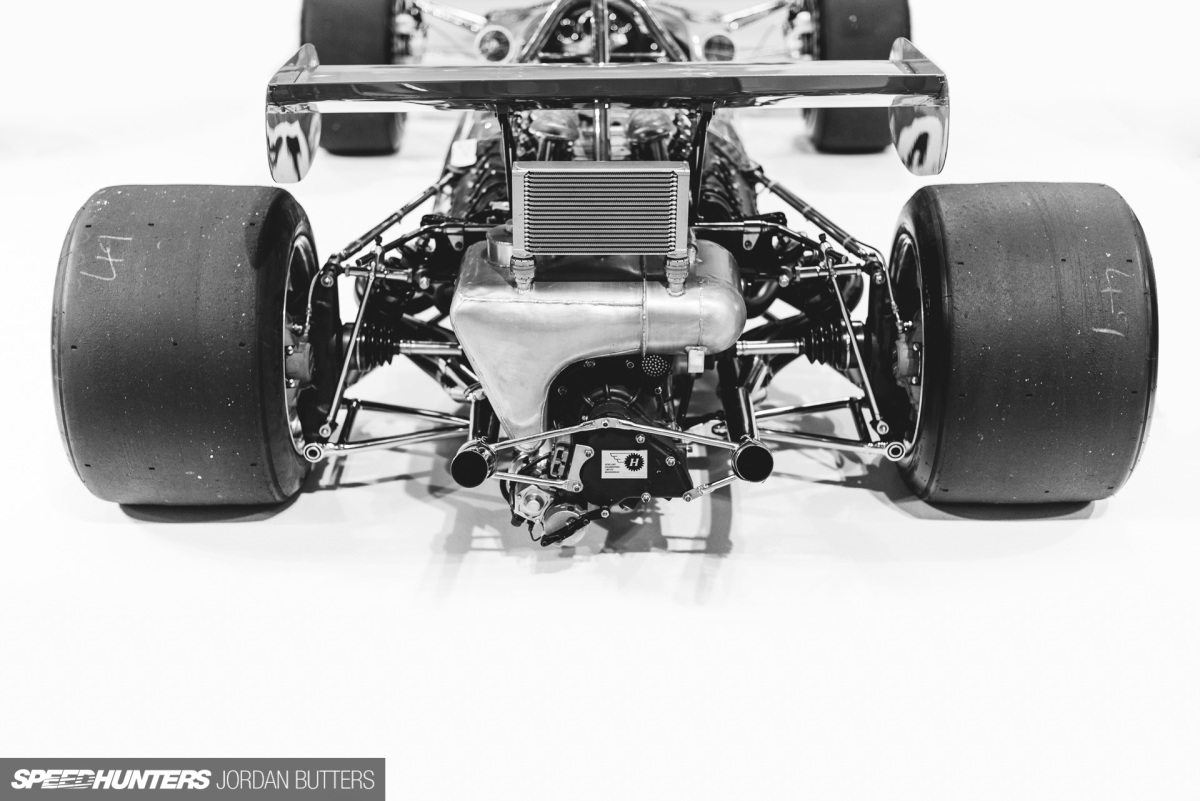 Lotus brought along a collection of historic race cars, at least in spirit if not in presence. While there was a cardboard cutout of Graham Hill's 1967 Zandvoort R1/9 (due to it being somewhat written off in 1969), most of the models up to R12, built for the 1969 Racing Car Show, were there in the metal.
It was great to be able to nose around and get close to these legendary cars, and sitting alongside more modern machinery the advancements in motorsport technology really hit home.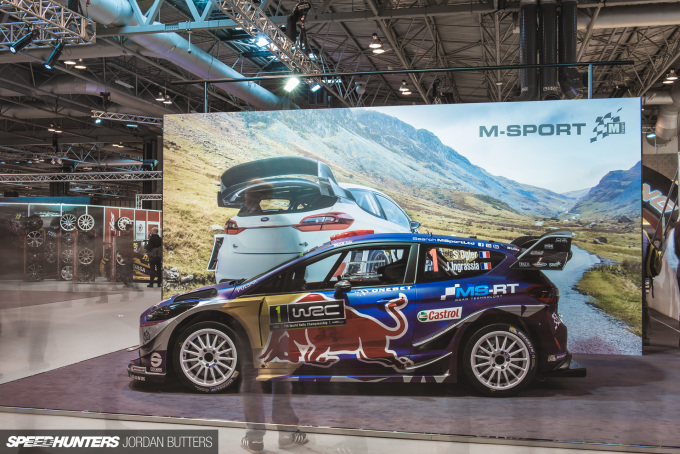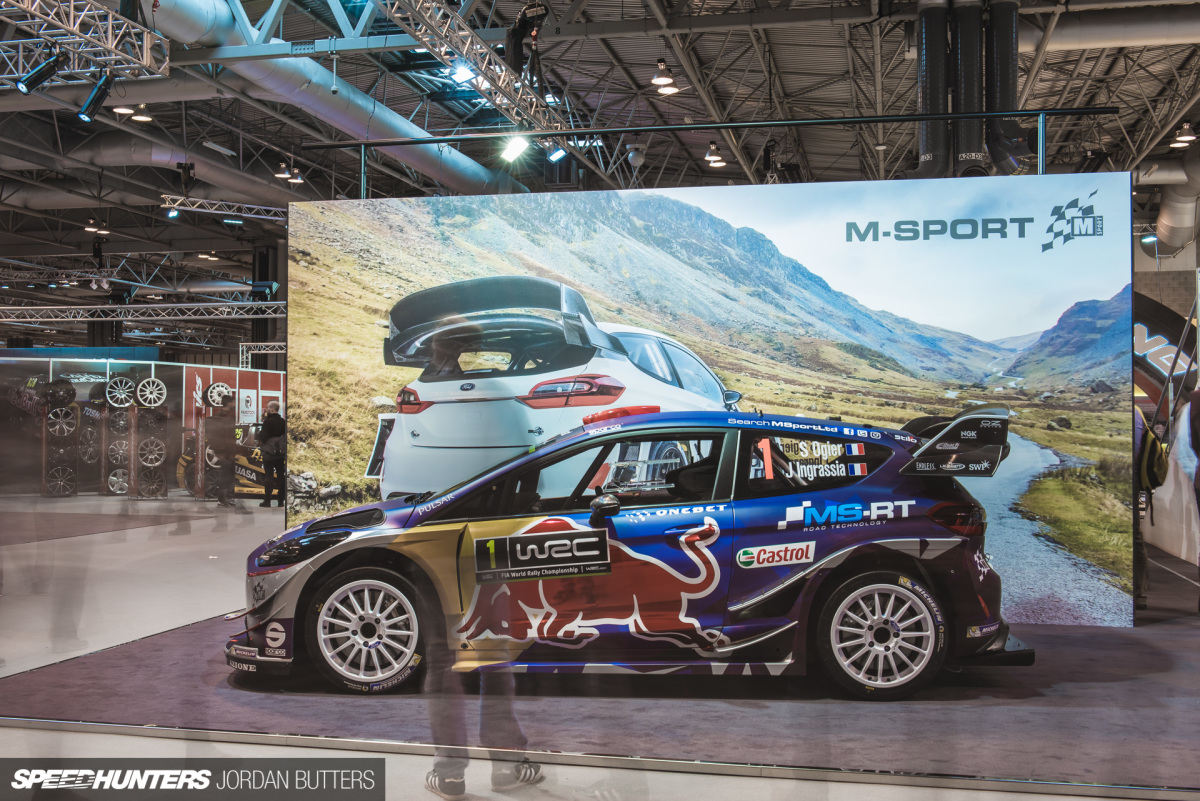 On the more modern side, the M-Sport stand was continually swamped as the rally specialist debuted its 2017 Ford Fiesta WRC. The fresh build packs a 1600cc turbocharged EcoBoost powerplant with 380bhp and the team will field two separate liveries for this season, including this instantly-recognisable Red Bull colourway.
Porsche fielded an impressive display too, attracting visitors with an array of machinery, including the gorgeous 718 Cayman S in Miami Blue. This has got to be the colour of choice for a new Porsche, surely?
A handful of 911 race cars were also on site for visitors to poke around, advertising the Porsche Experience and Porsche Carrera Cup championships. Also being shown was the stunning Cayman GT4 Clubsport MR, built in conjunction with Manthey Racing.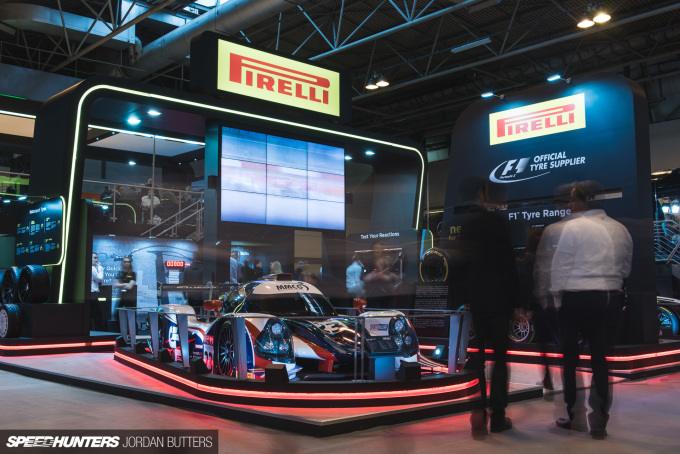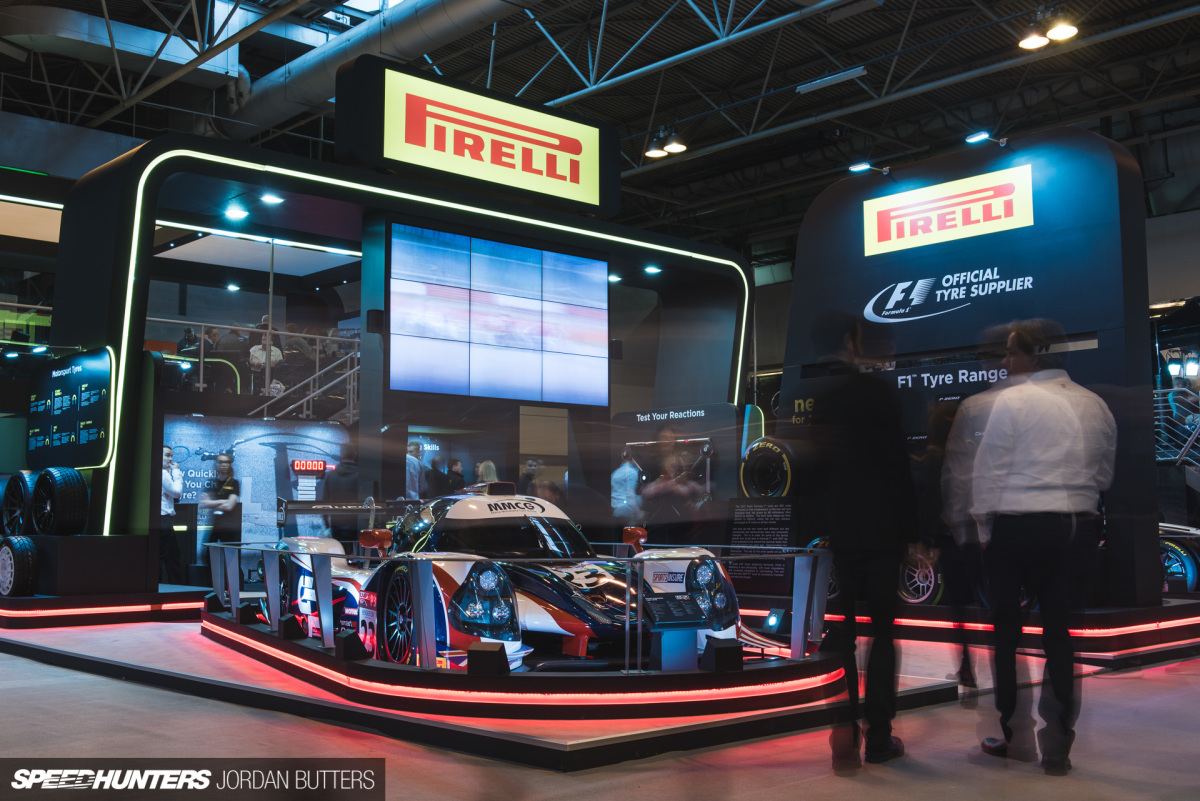 Pirelli's stand was pretty slick (see what I did there?), with plenty to keep visitors occupied, from tyre-changing competitions to a display of F1 rubber and a Onroak Ligier JS P3 LMP3 racer taking centre-stage.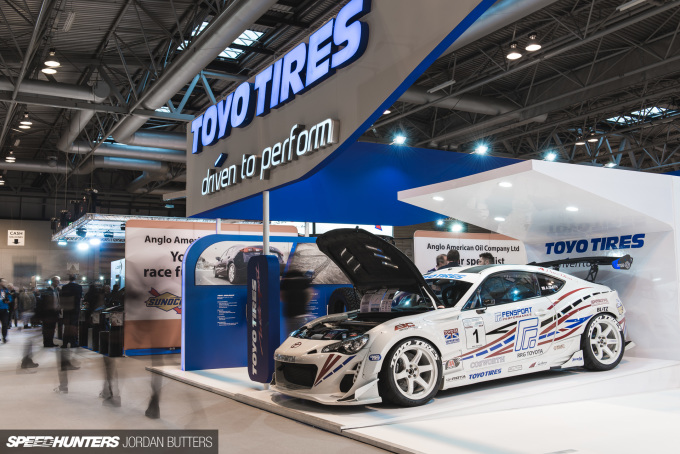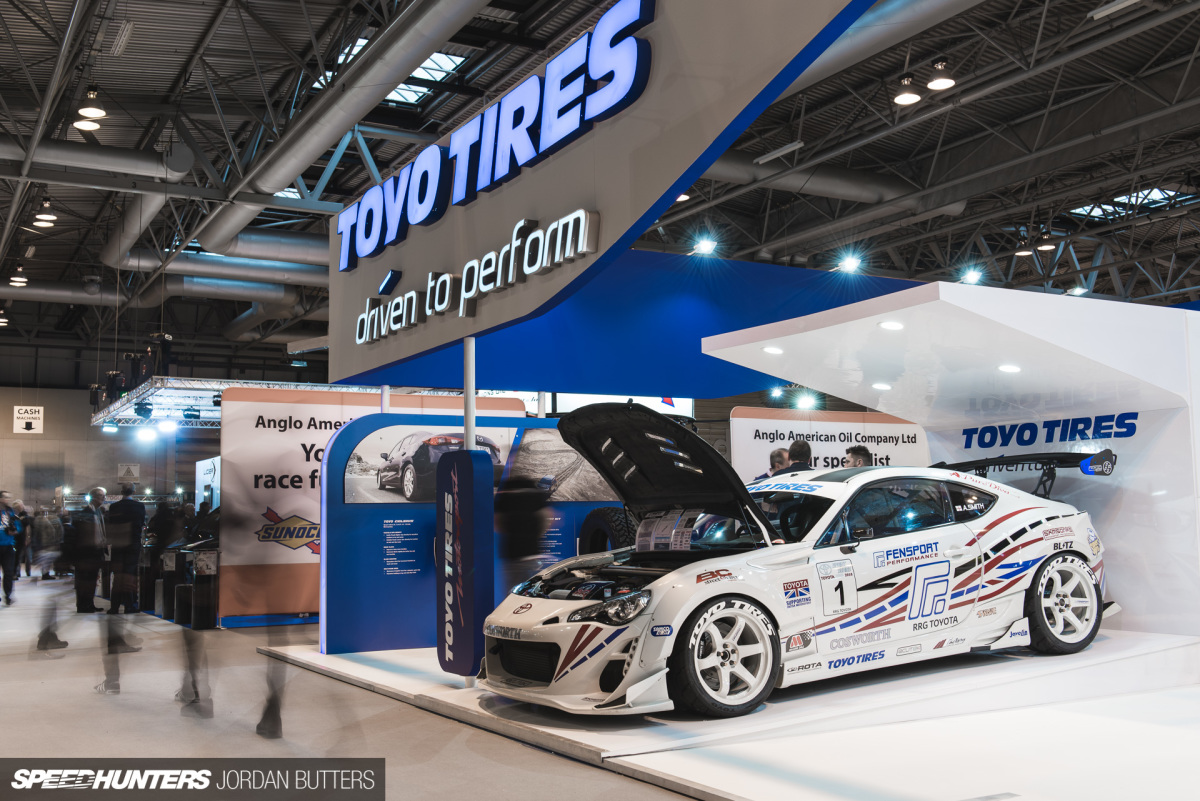 Toyo Tires wasn't to be outdone with possibly the brightest presence at the show, and Fensport's race-developed GT86R on display. Sticking with the original boxer engine, the Toyota experts have managed to eke out 520bhp thanks to forged internals and an AVO stage 5 turbo.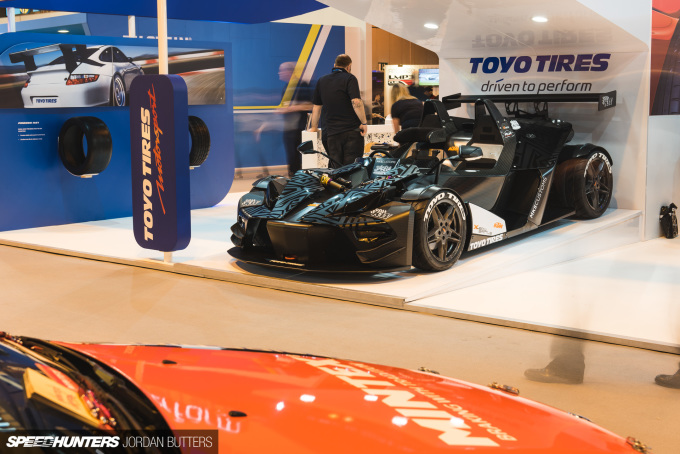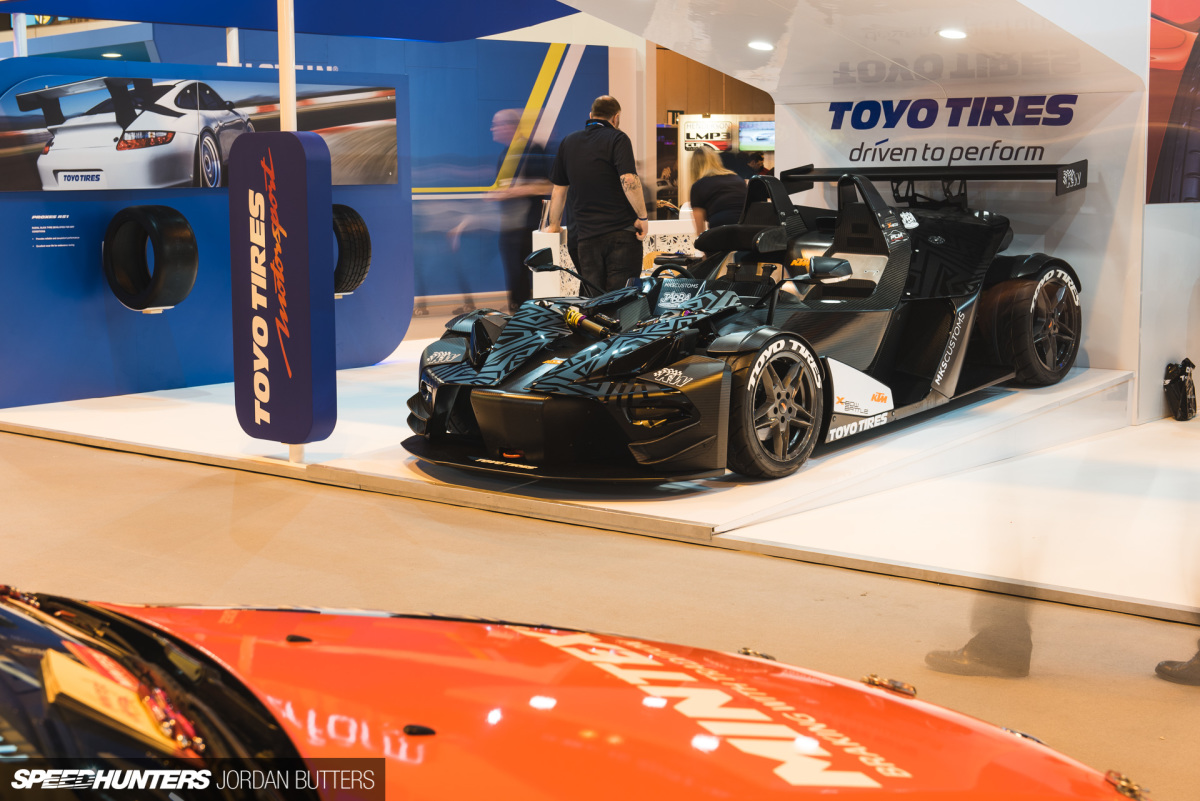 On the opposite side of the stand sat the Panic Link Motorsport KTM X-Bow, which stole plenty of attention with its gorgeous KW suspension on display for all to see. Toyo also scooped the award for best stand at the event.
British sports car manufacturer Radical took pride of place on the main entrance to the show, showing off five of its lightweight road-going and race cars, including an all-new SR8 which was launched at the event.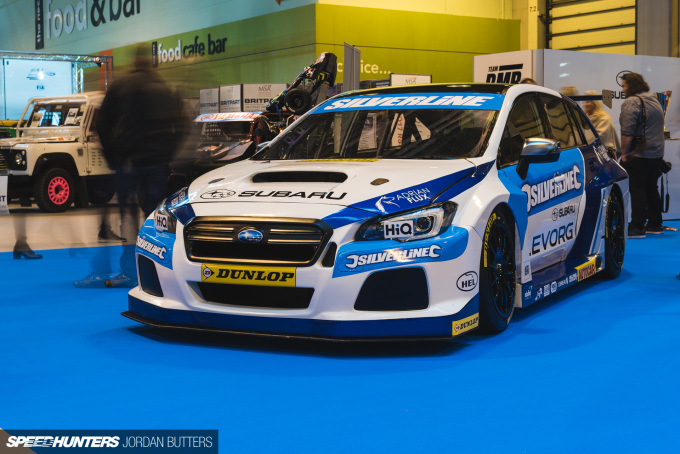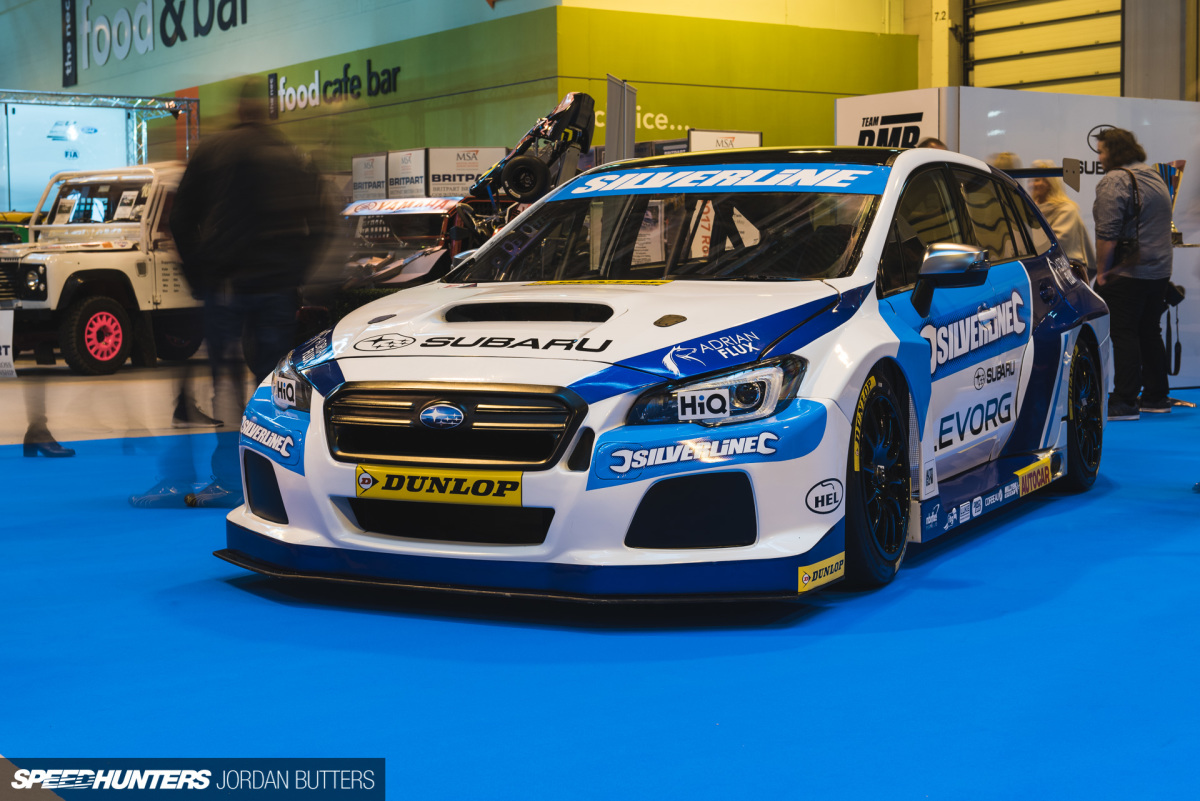 There were a raft of announcements on the Dunlop BTCC stand, but I was stolen away with one glance at Team BMR's Subaru Levorg touring car. In an age where certain other forms of motorsport are becoming more tame and sterile, and certainly less exciting, BTCC seems to have retained much of its original charm. As well as the racing being close and exciting, I think it's down to the cars being relatable.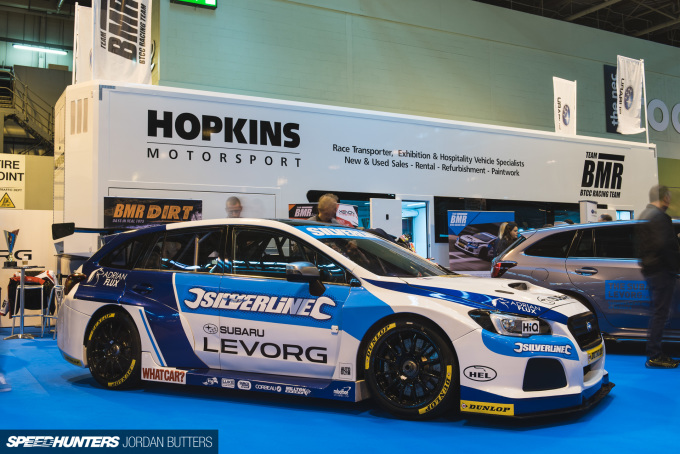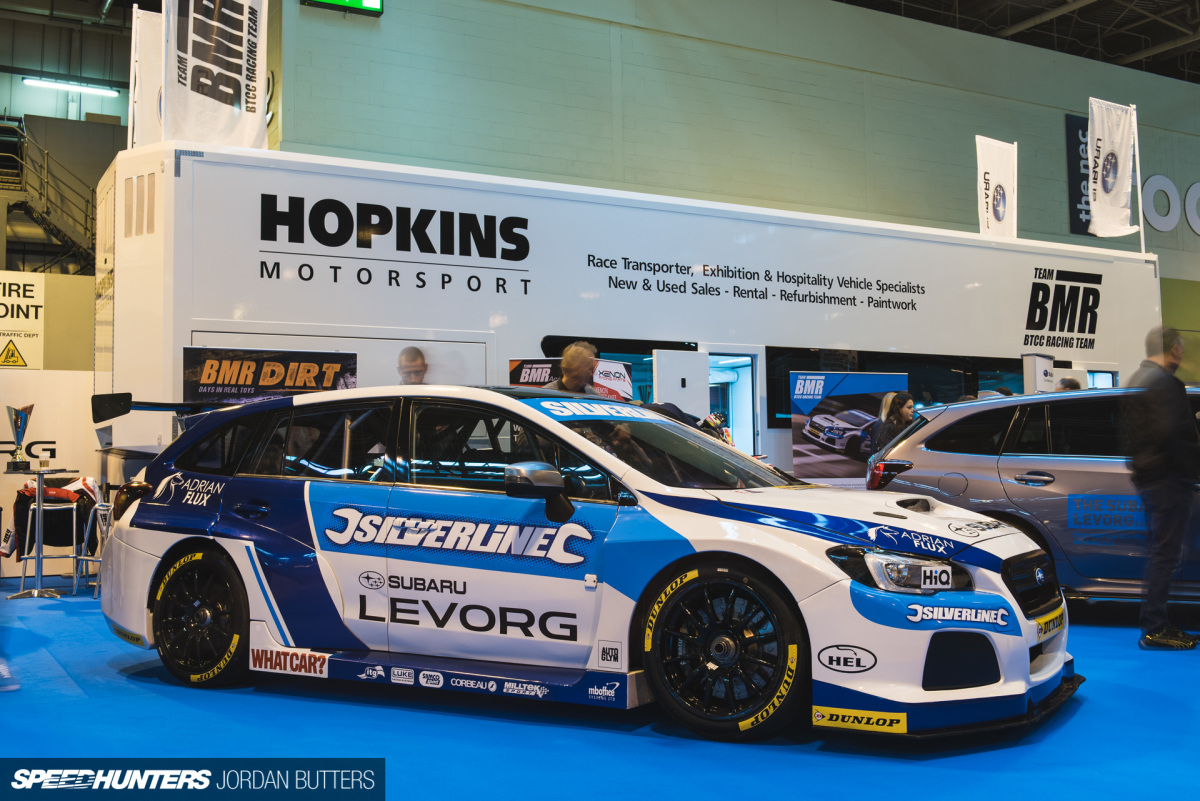 At least in general appearance they aren't that different to what you or I might drive on the road.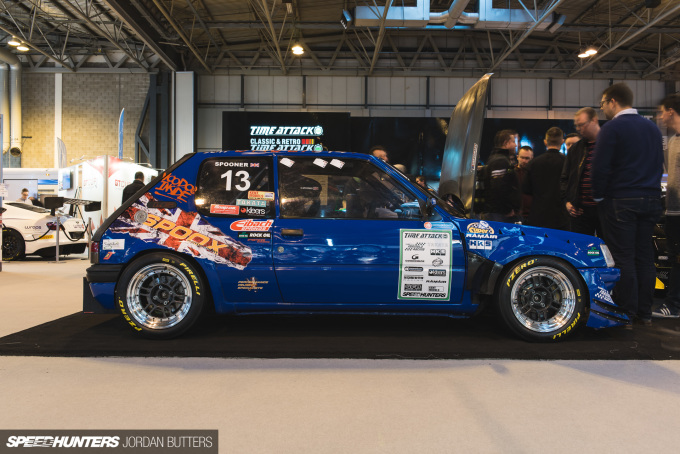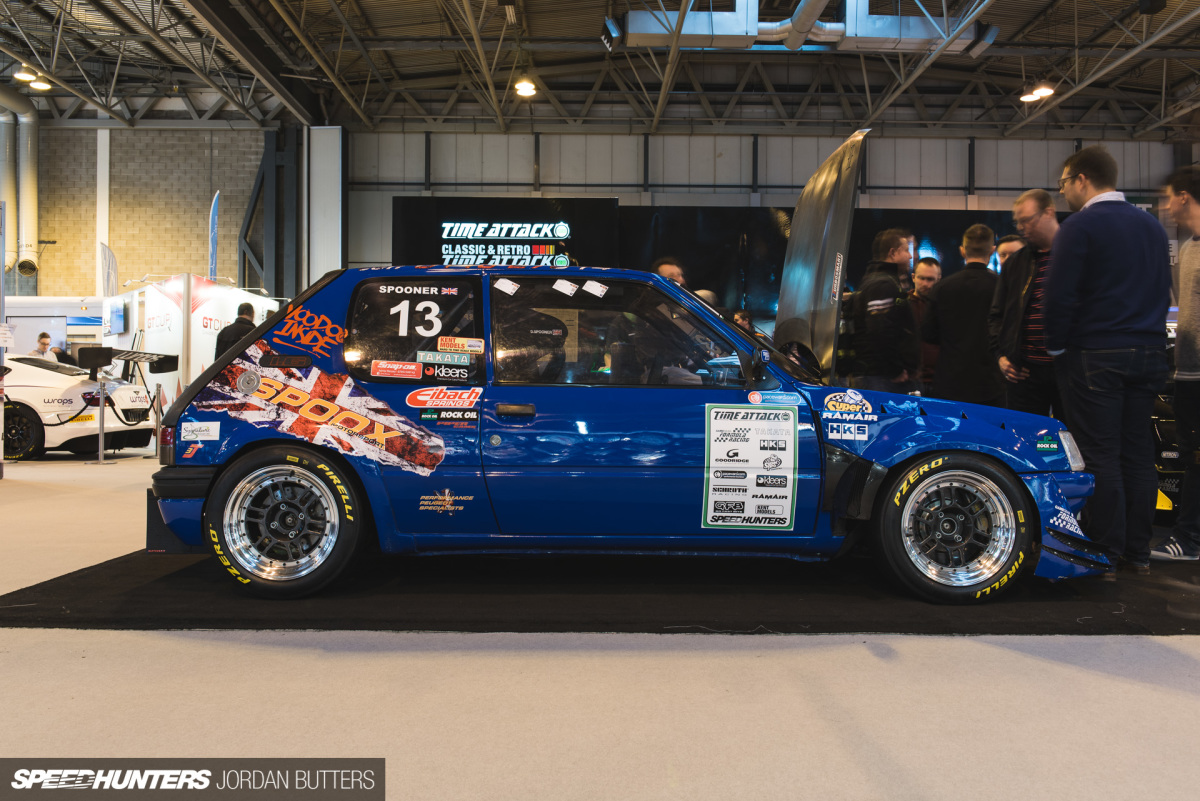 It wasn't all high-end motorsport at Autosport though. There seems to have been a big resurgence in relatively accessible national and club-level disciplines too.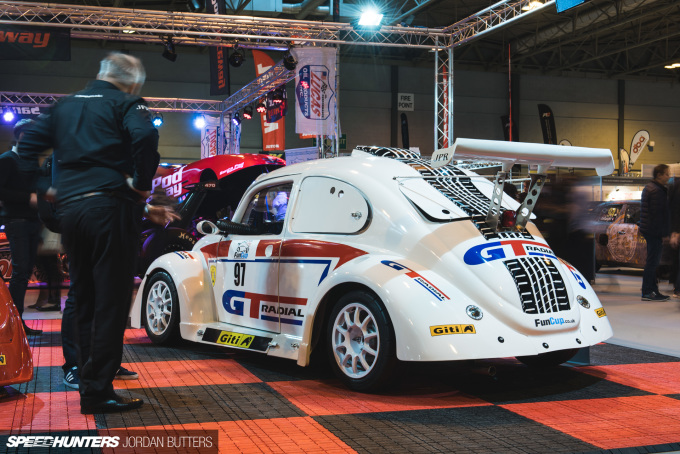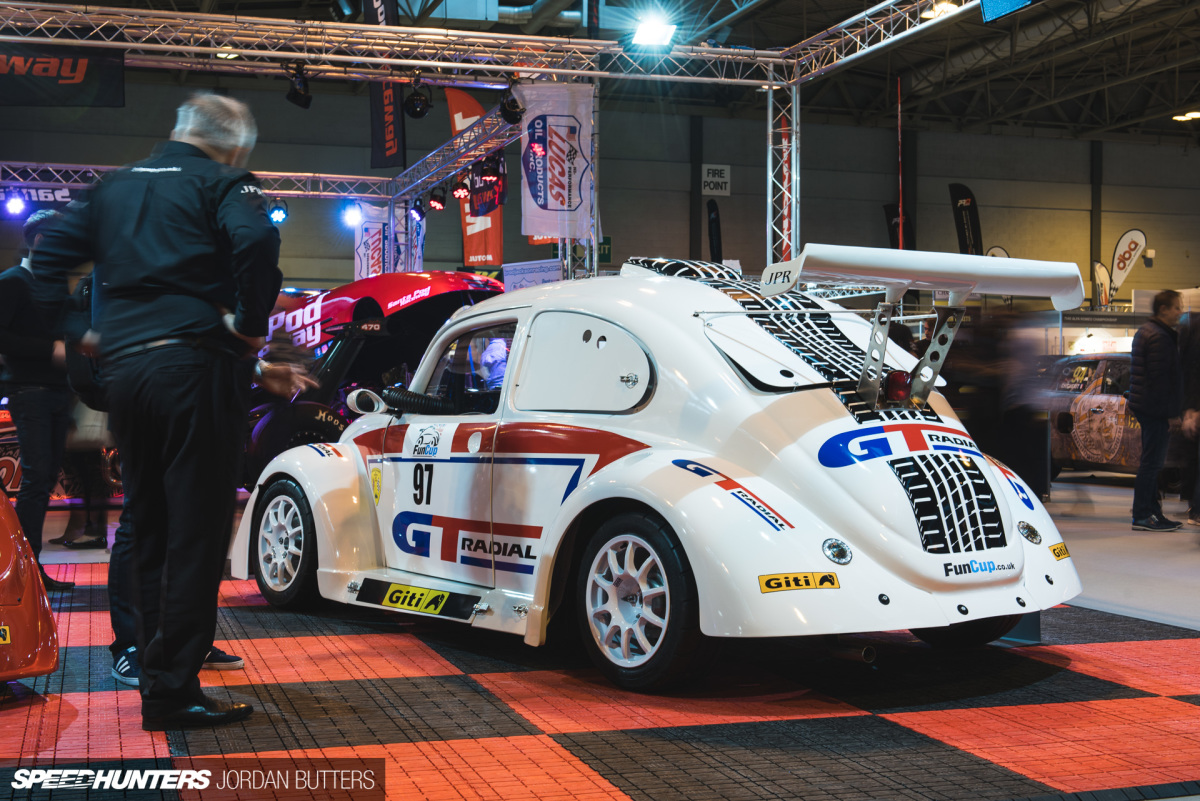 Want to try your hand at endurance racing? Then the appropriately named Fun Cup looks like a great entry point. This may look like an old VW Beetle, but underneath sits a single-seater race chassis, powered by a 130bhp 1800cc engine. The team-based series is comprised of races that span between three and six hours at a range of top UK and European circuits.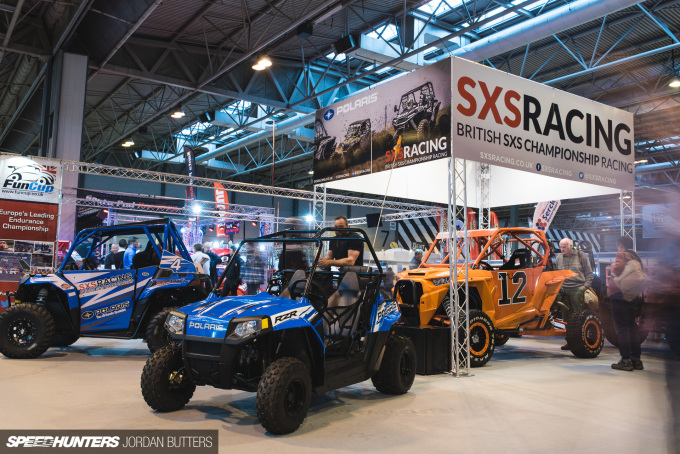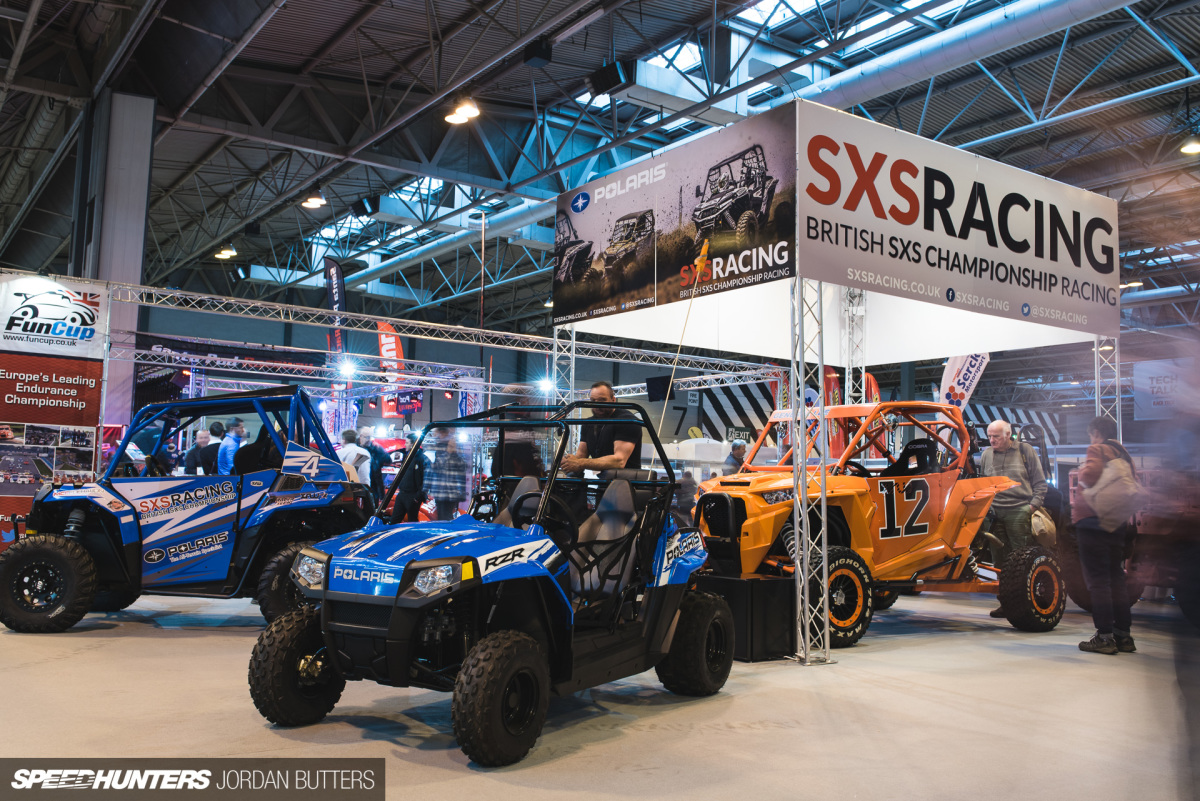 If mud is more your bag then how about a spot of SXS Racing? Effectively motocross but on four wheels, these small Polaris all-terrain buggies look like they're amazing fun to drive – and I didn't even know they were a thing. There's an upcoming event not too far from home for me, so I'm definitely going to try and get along.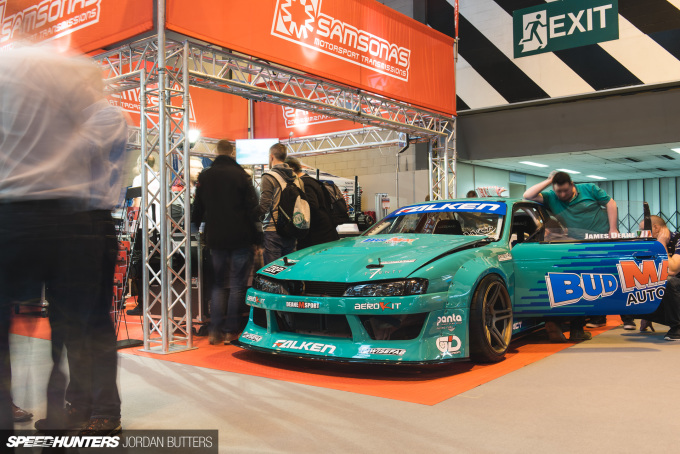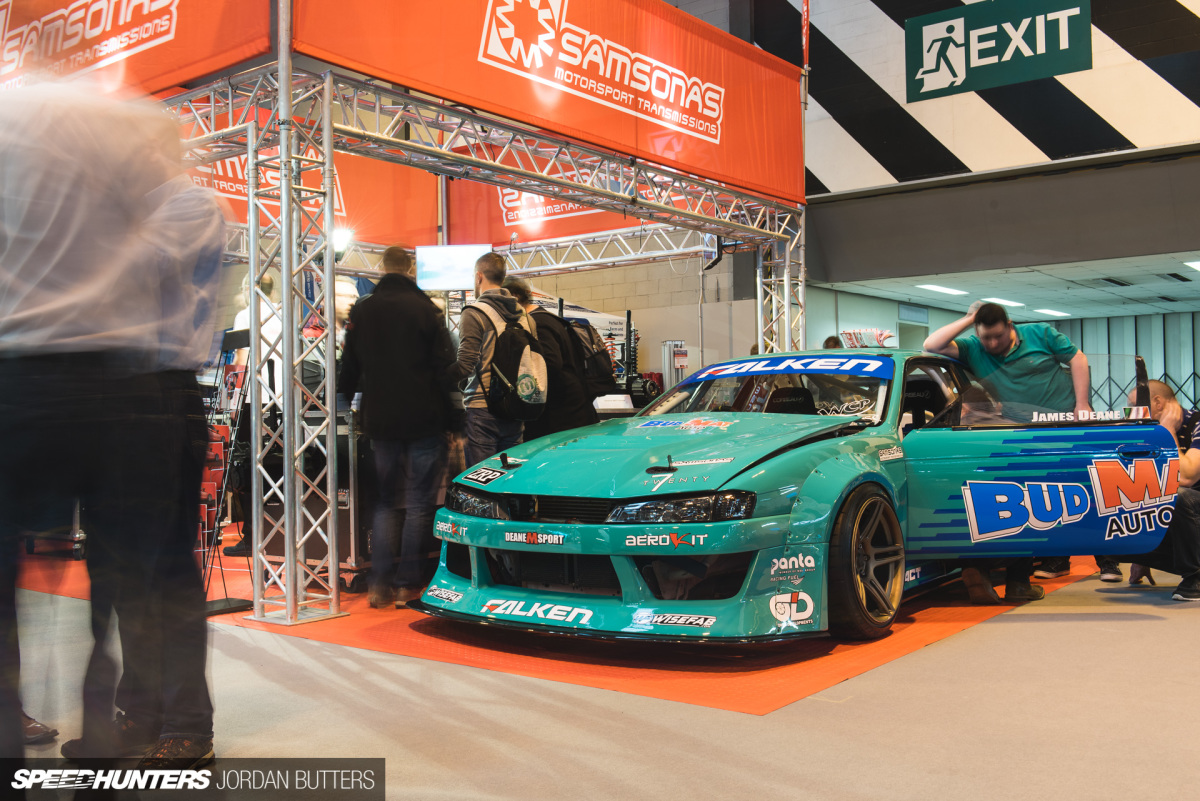 Drifting has become a regular feature at ASI now too. Not long ago it was a discipline that was shunned by many, but its appeal at the event can't be disputed. With machines like James Deane's freshly rebuilt championship-winning S14 easily matching some of the main mainstream race cars for development and build quality, it's easy to see why it's being taken more seriously.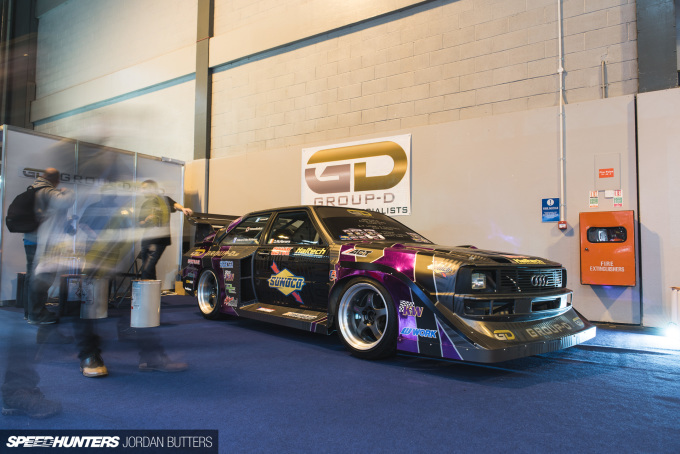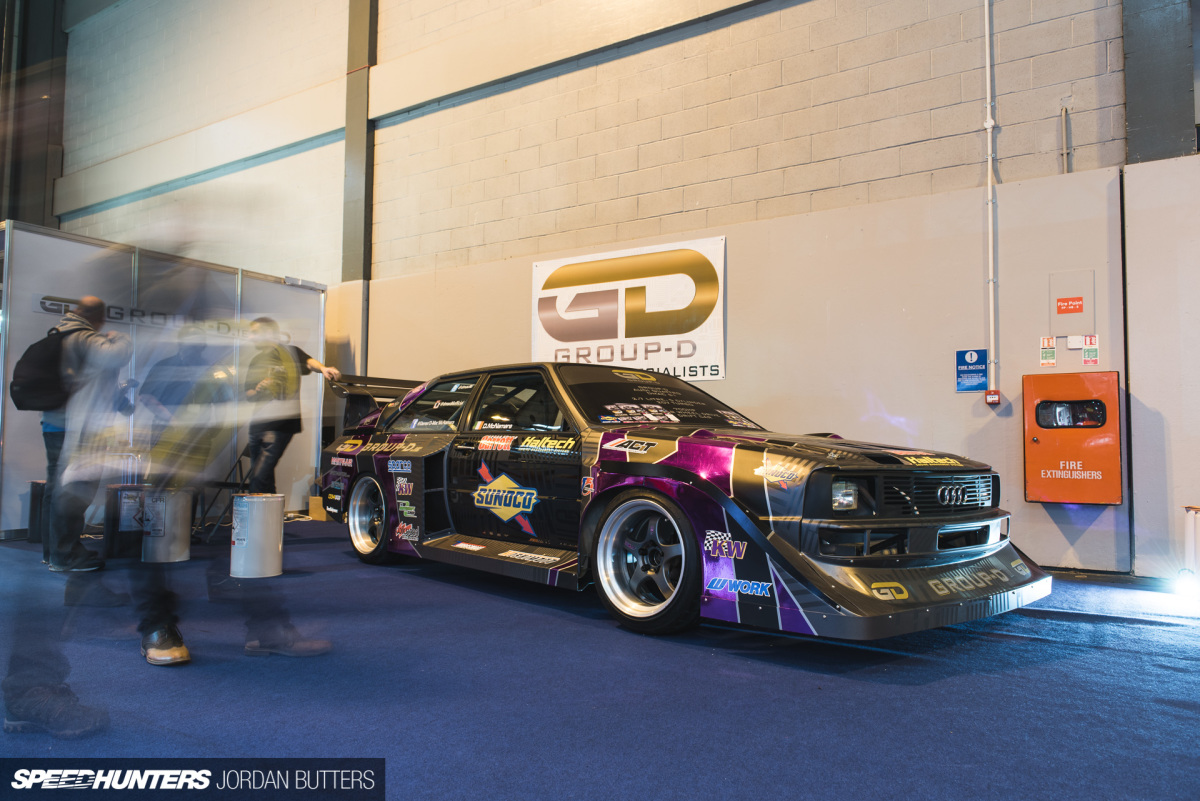 Darren McNamara's 'Audi Drift Sport D-Mac S1′ broke cover too, although not quite in finished form. We're begging to see this thing completed and out on track destroying rubber.
The Cars of ASI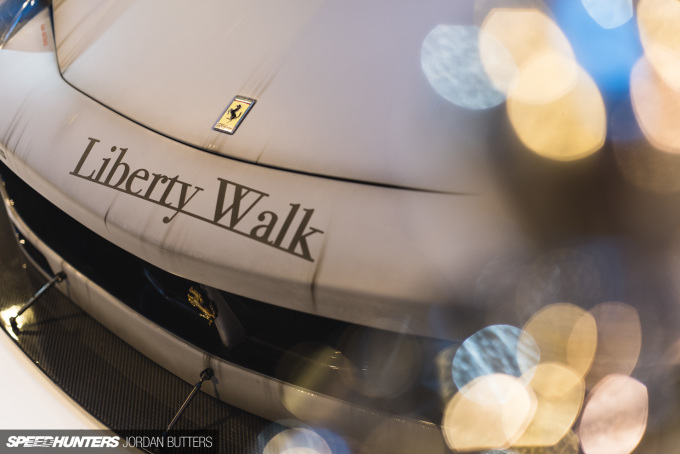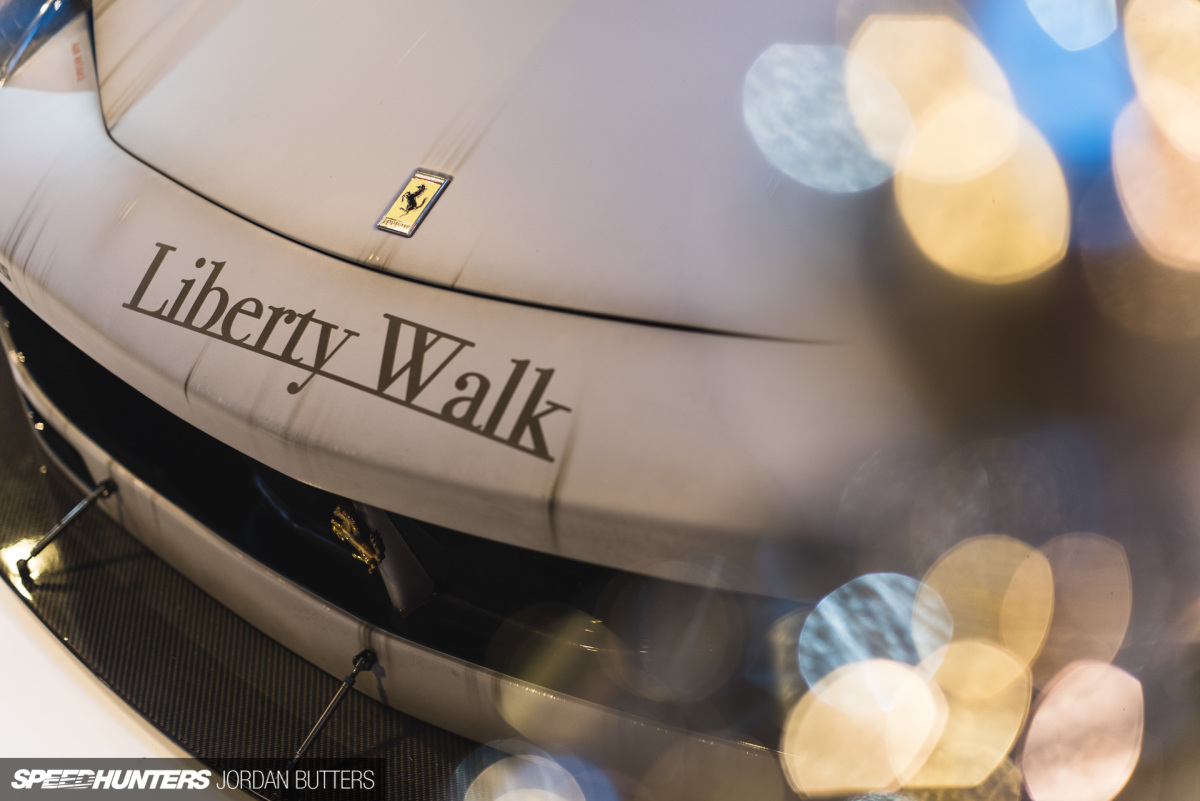 As I alluded to earlier, there was a noticeable shift and a blurring of boundaries between performance aftermarket and traditional motorsport at this year's ASI.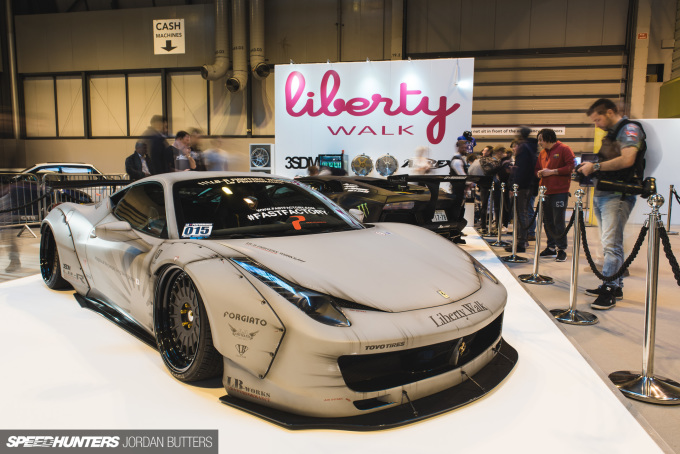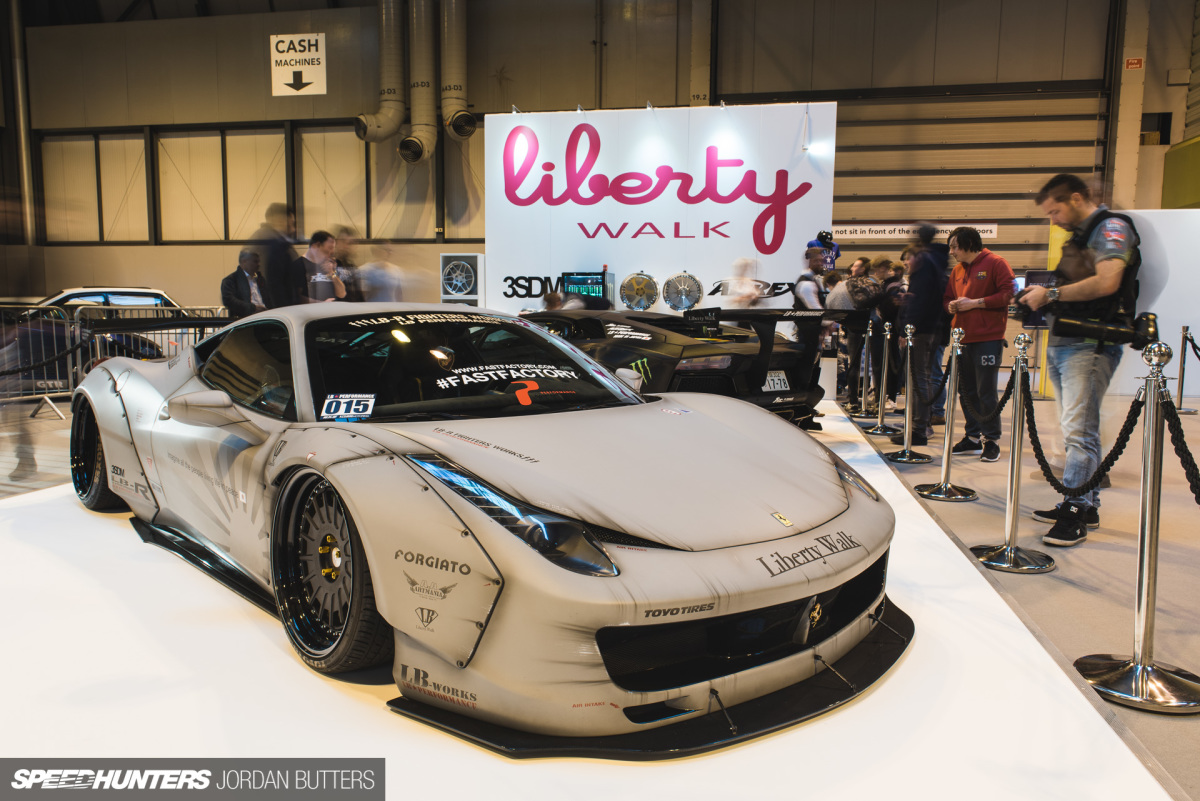 Liberty Walk returned after debuting at the show in 2016, showing off their LBW Lamborghini Aventador and Ferrari 458 before they head back to Japan.
The stand looked busy all day; I hung around listening to comments from passers-by and equal parts admiration and confusion was the overall consensus. Whether you love or hate the overfender-clad creations there's no denying their ability to turn heads, even when they're surrounded by fully fledged race cars.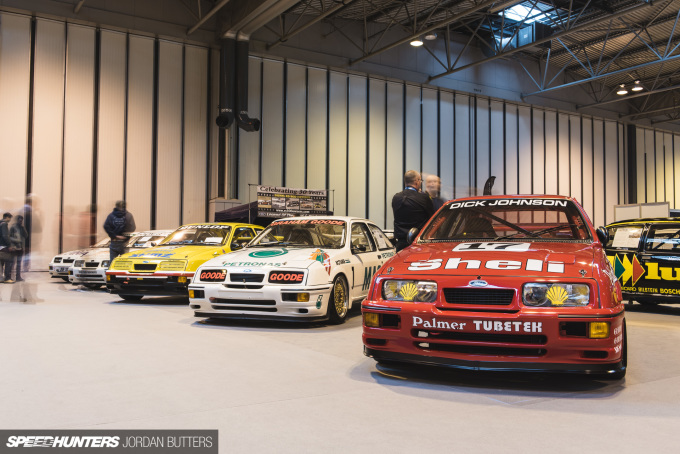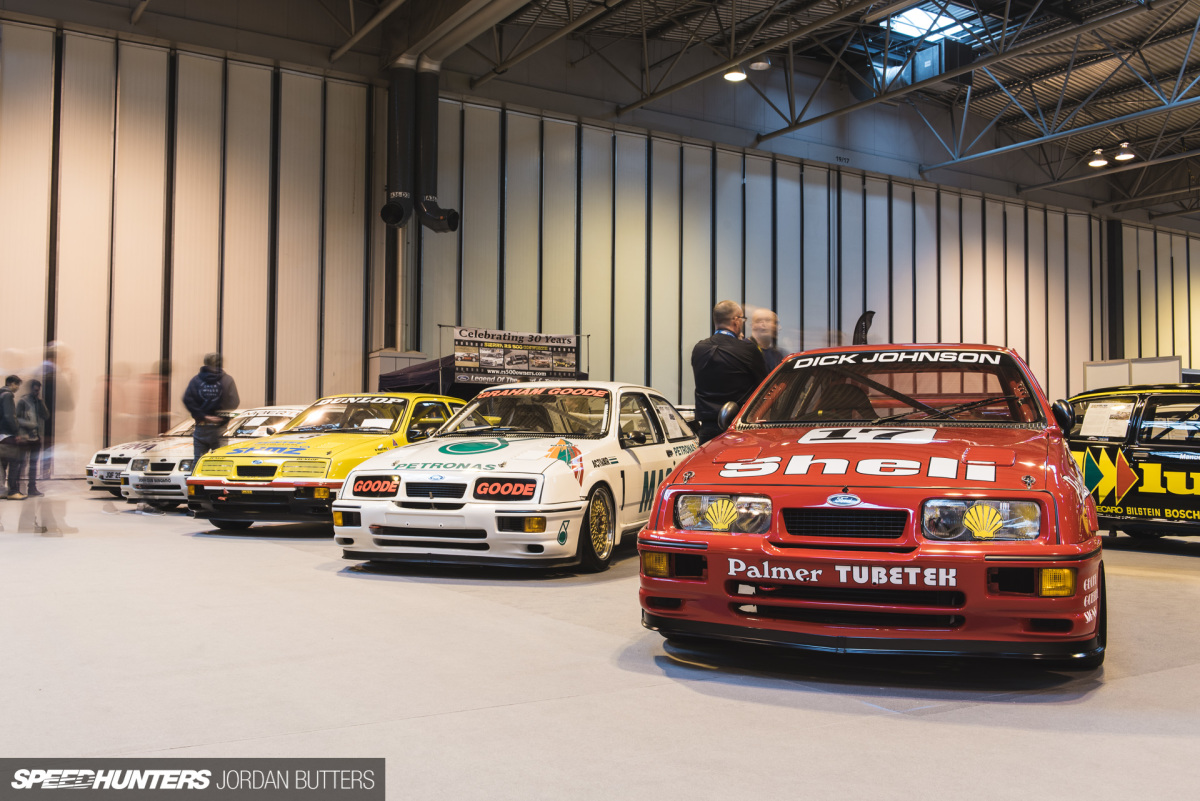 Retro-heads like myself were massively appeased by the collection of Group A RS500s on display at the back of one of the halls. More to come on this soon…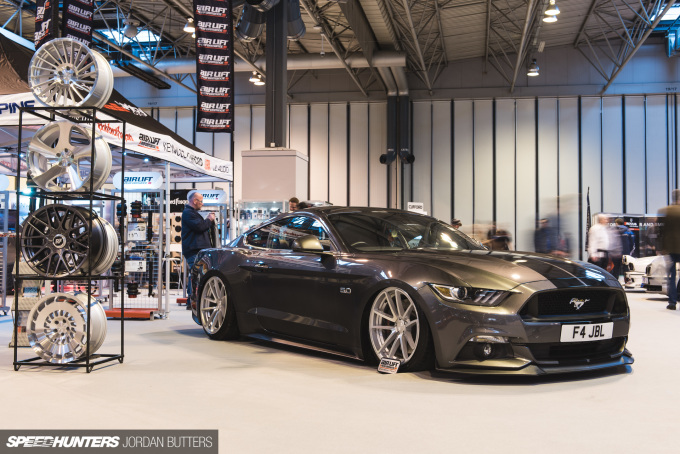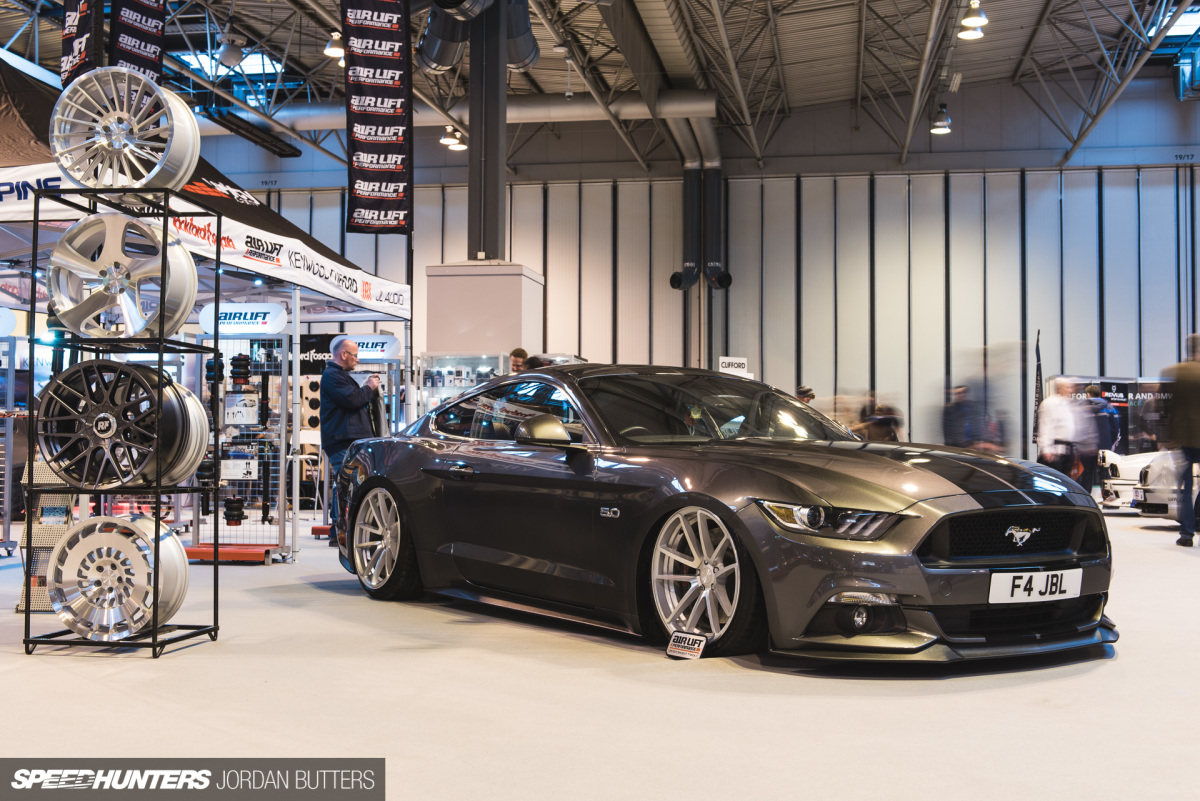 Right next to the charismatic Fords sat Car Audio Security's stand, with a selection of very different metal on display, all dropped to the carpet on Air Lift Performance suspension and Rotiform wheels.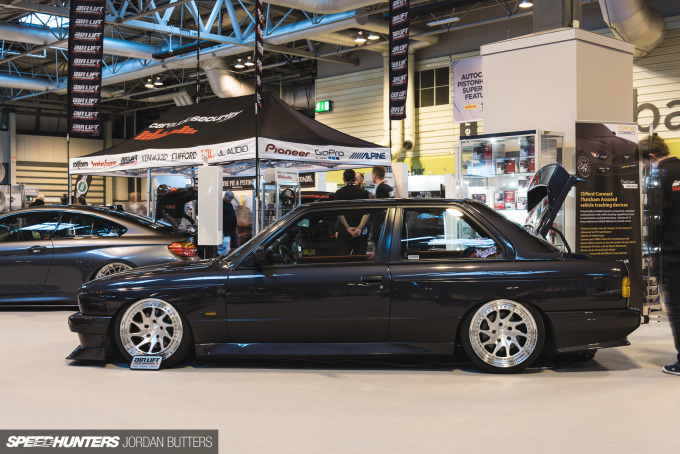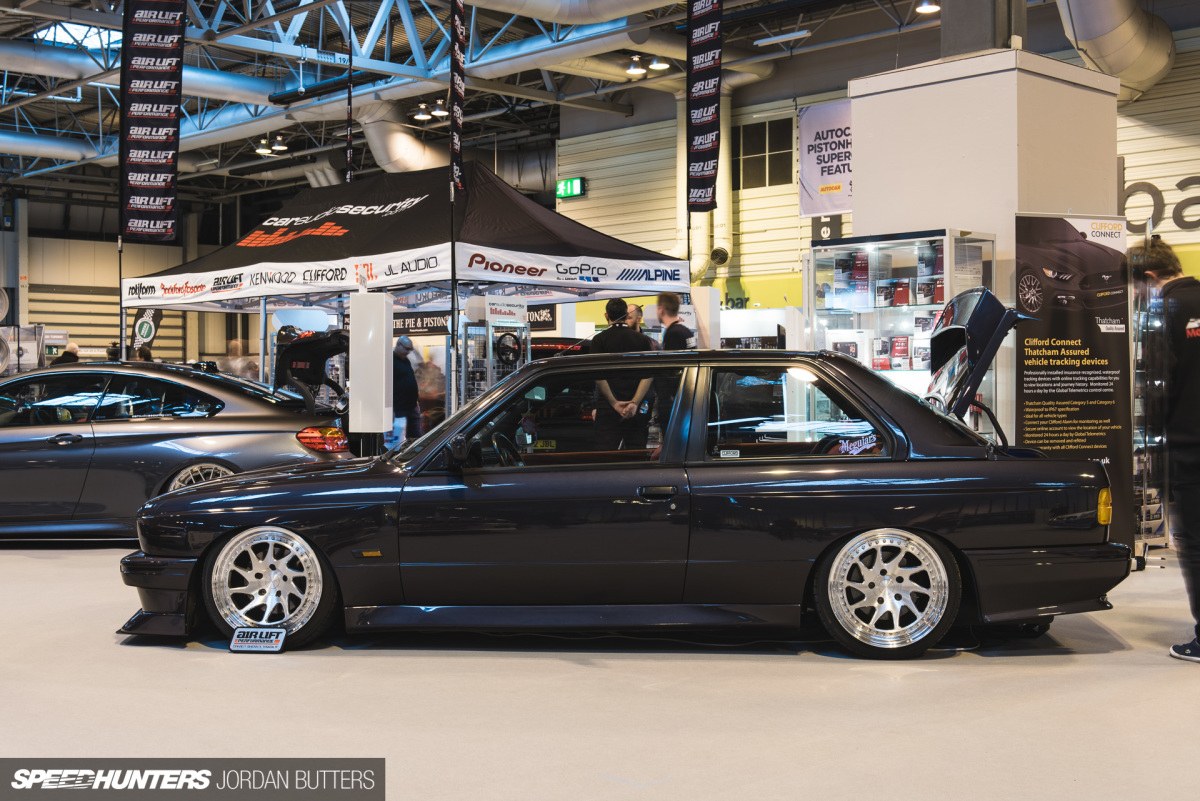 And literally 10 feet from this pristine aired-out E30 M3…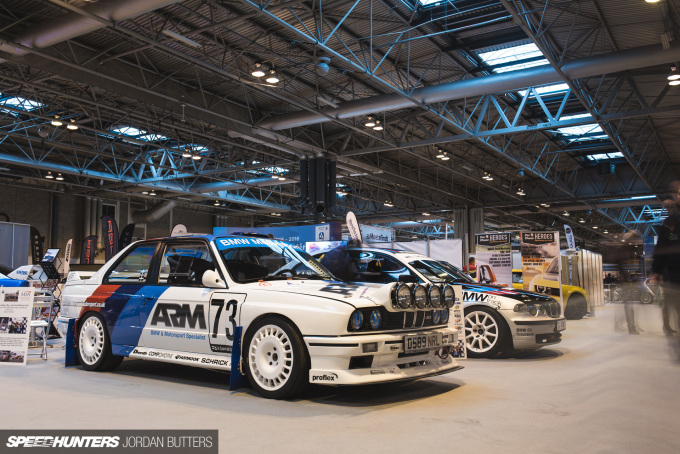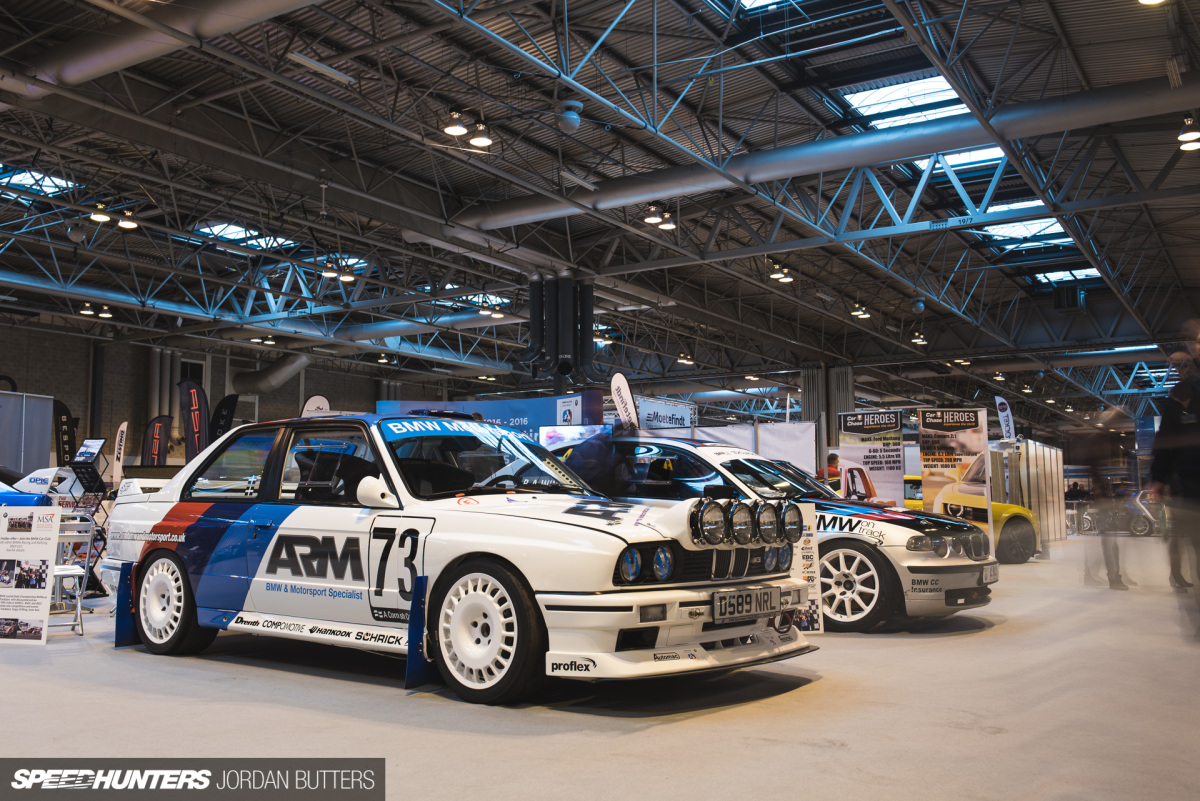 Sat this rally-spec M3. Which would you take? Personally, I'm a light pods and mud-flaps kind of guy.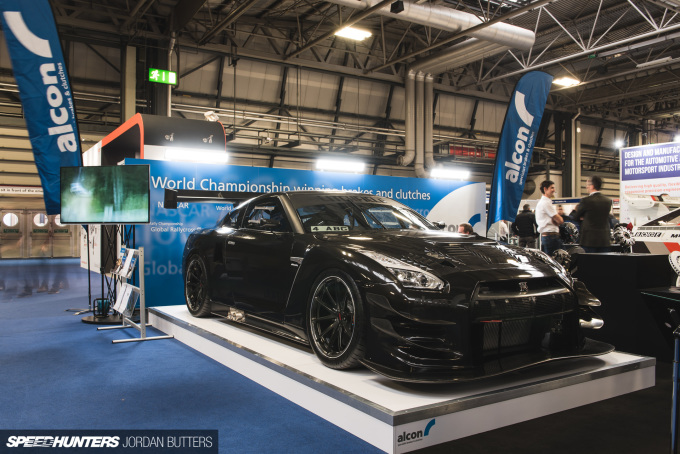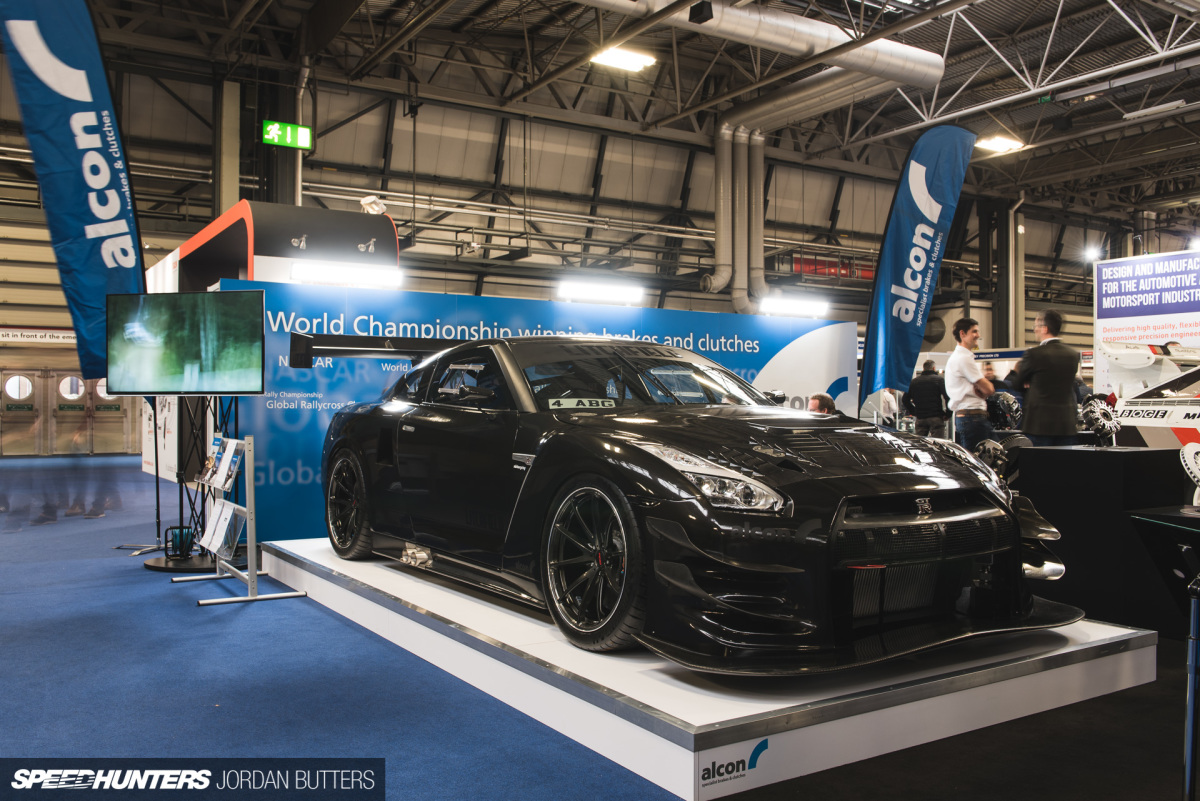 If that's not your thing then how about this Litchfield-prepared LM1 RS GT-R on the Alcon stand? Let's see if it fits the bill: carbon fibre exterior, RAYS Volk Racing G25 wheels, full cage, massive wing, Alcon brakes, oh and over 1,000bhp on tap. This is about as extreme a road-legal GT-R as you can imagine.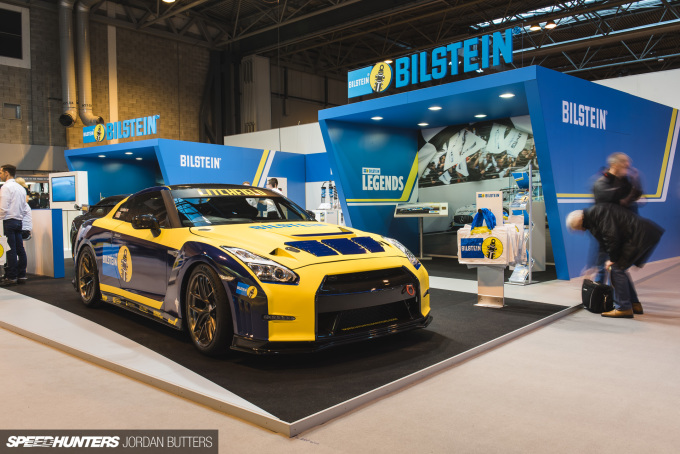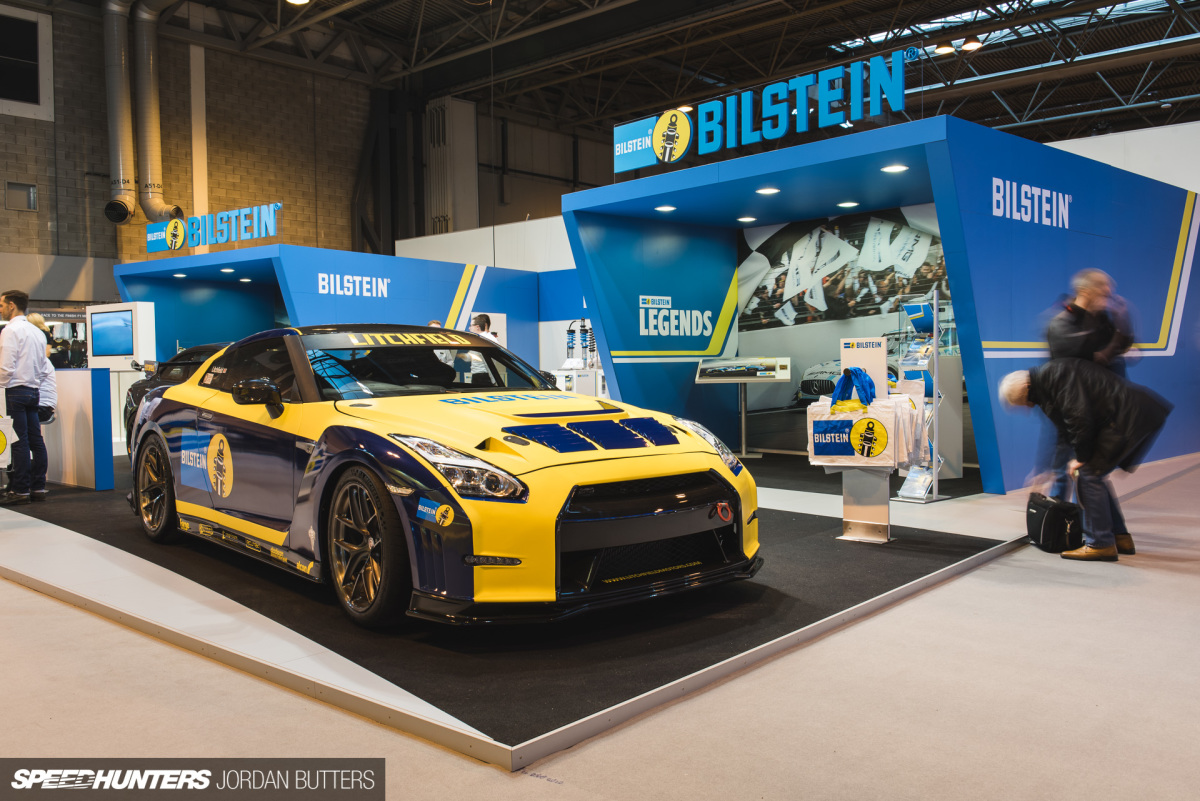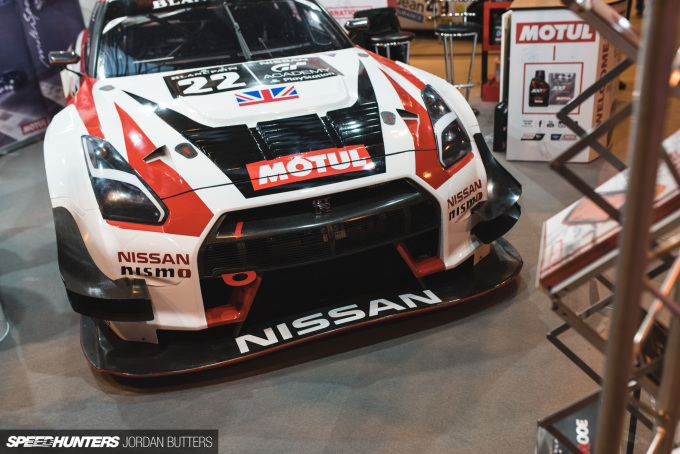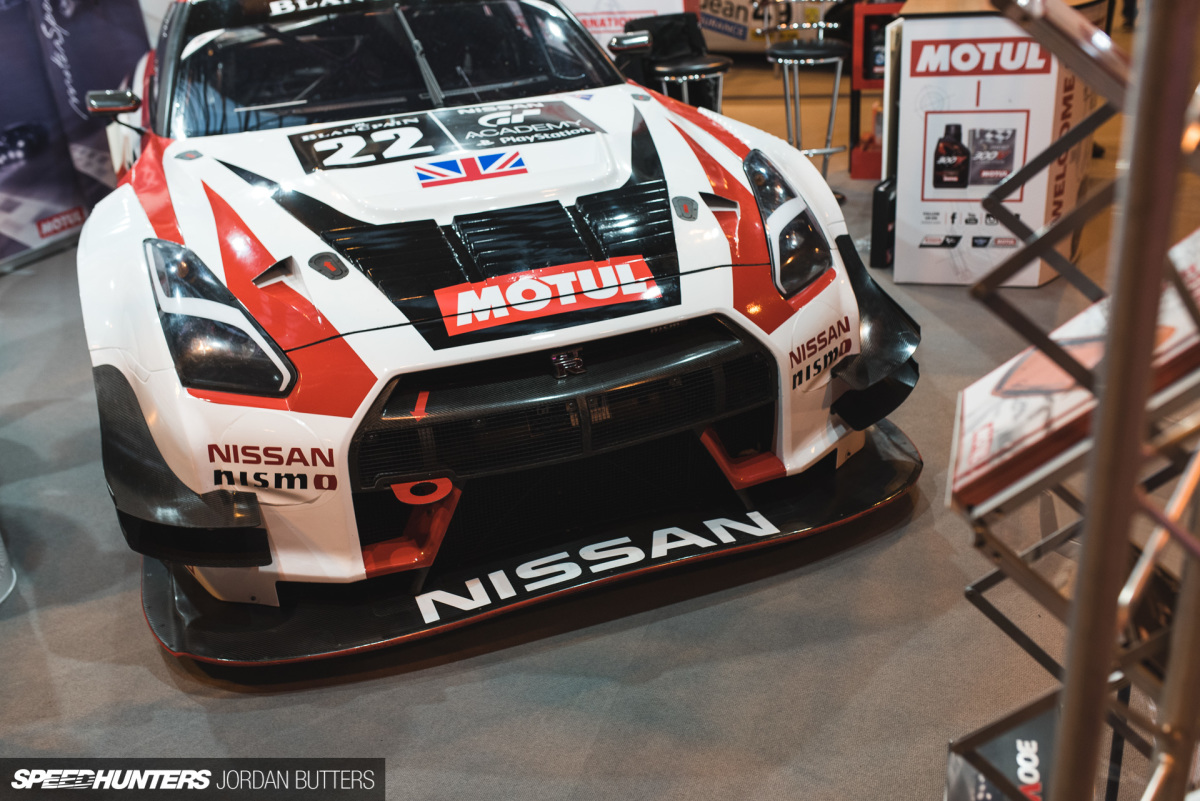 In fact, there were GT-Rs aplenty to lust over. Another Litchfield LM1 RS GT-R could be found on the Bilstein stand, and the Nismo GT3 version graced Motul's display.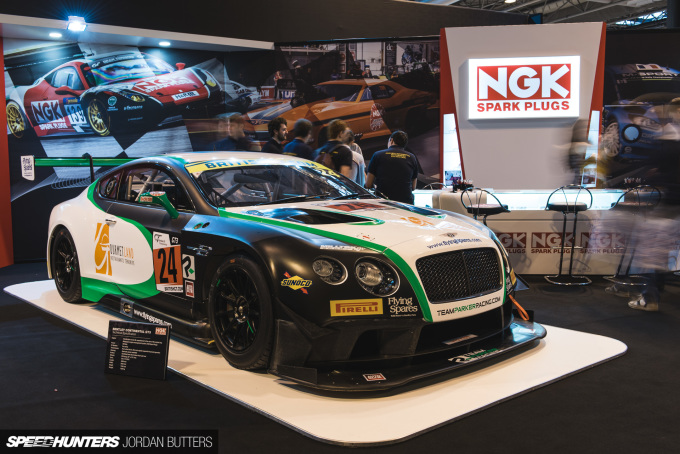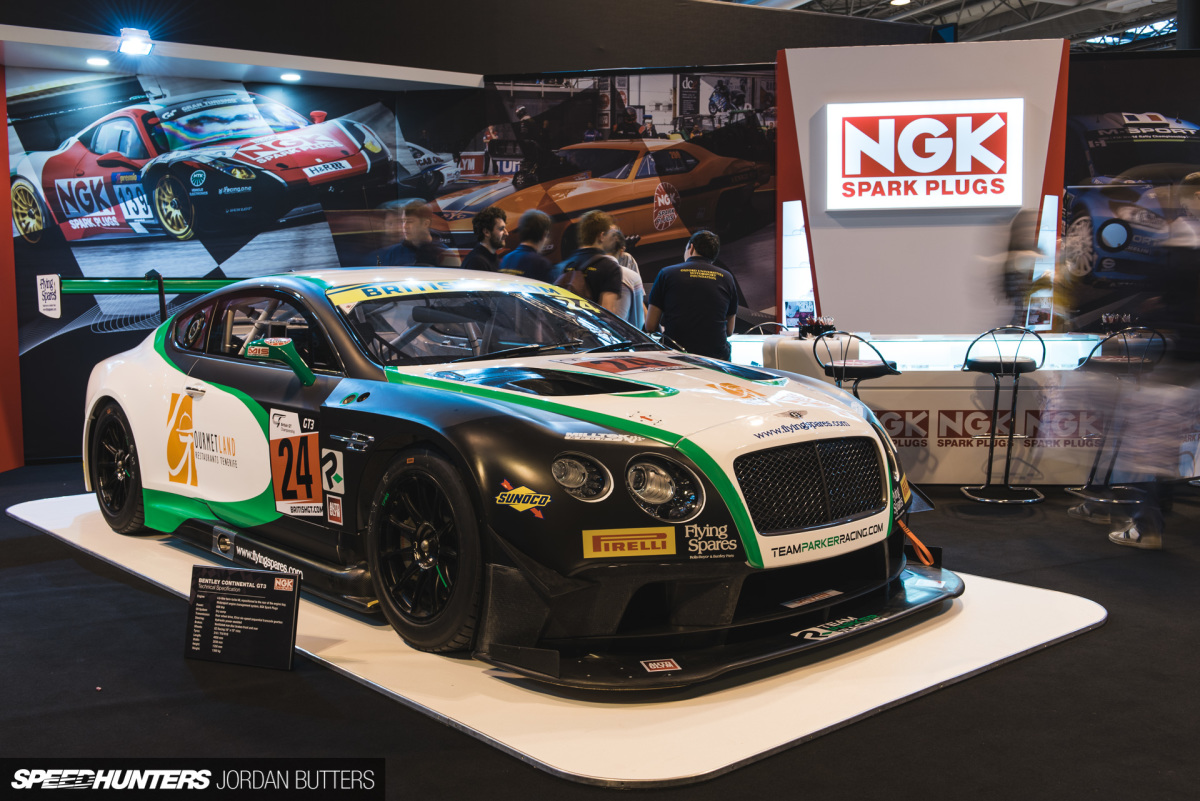 Speaking of GT3 platforms, Bentley's explosion into motorsport of recent is great to see. Who'd have thought such a large chassis as the Continental would see such success and growth in racing?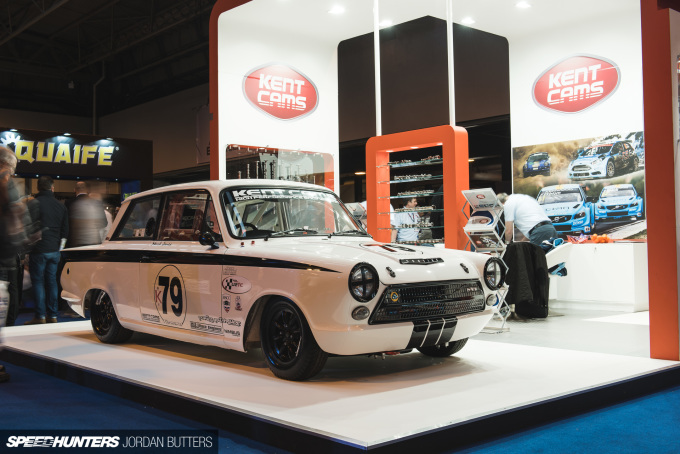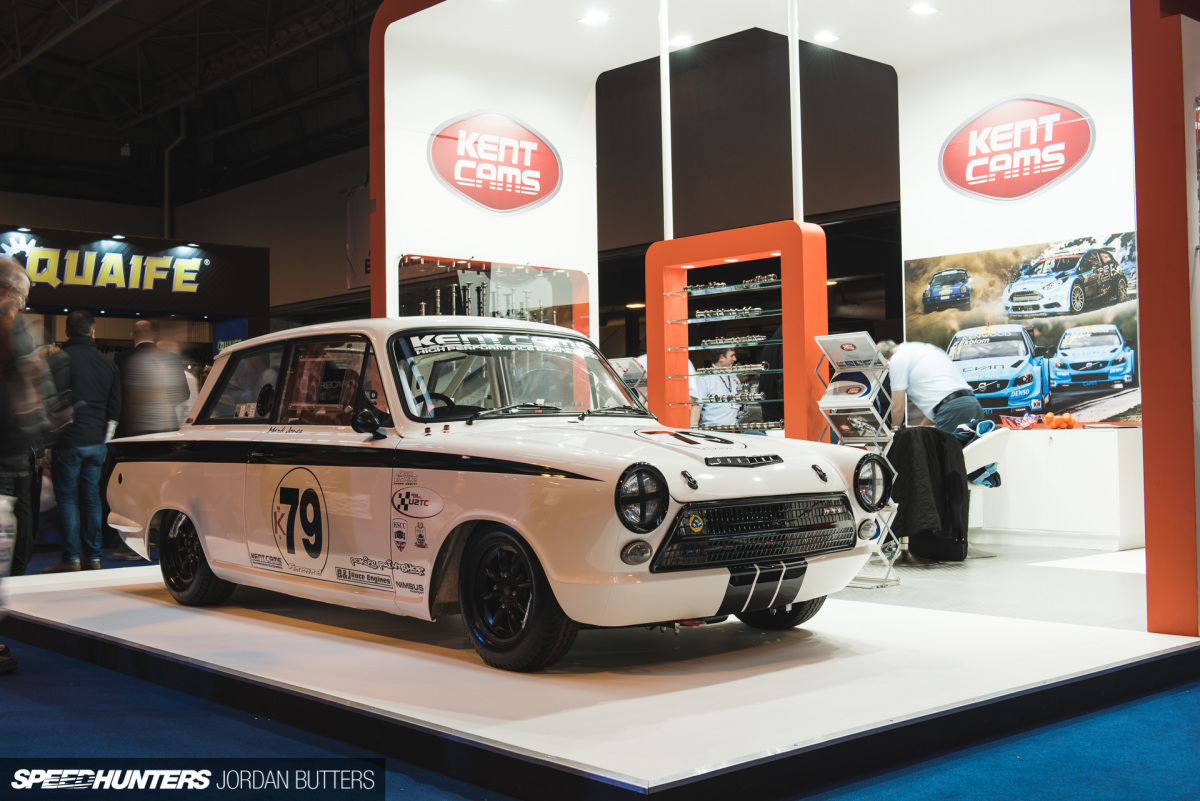 While I was being baffled as to why a crowd had formed around a sparkly bright yellow Bugatti Veyron with blue wheels nearby (eww), I was quickly drawn in by this spectacular Ford Cortina on the Kent Cams display. That's more like it.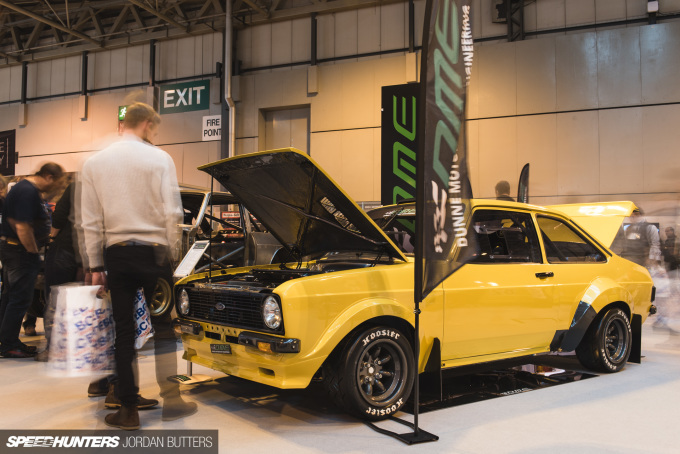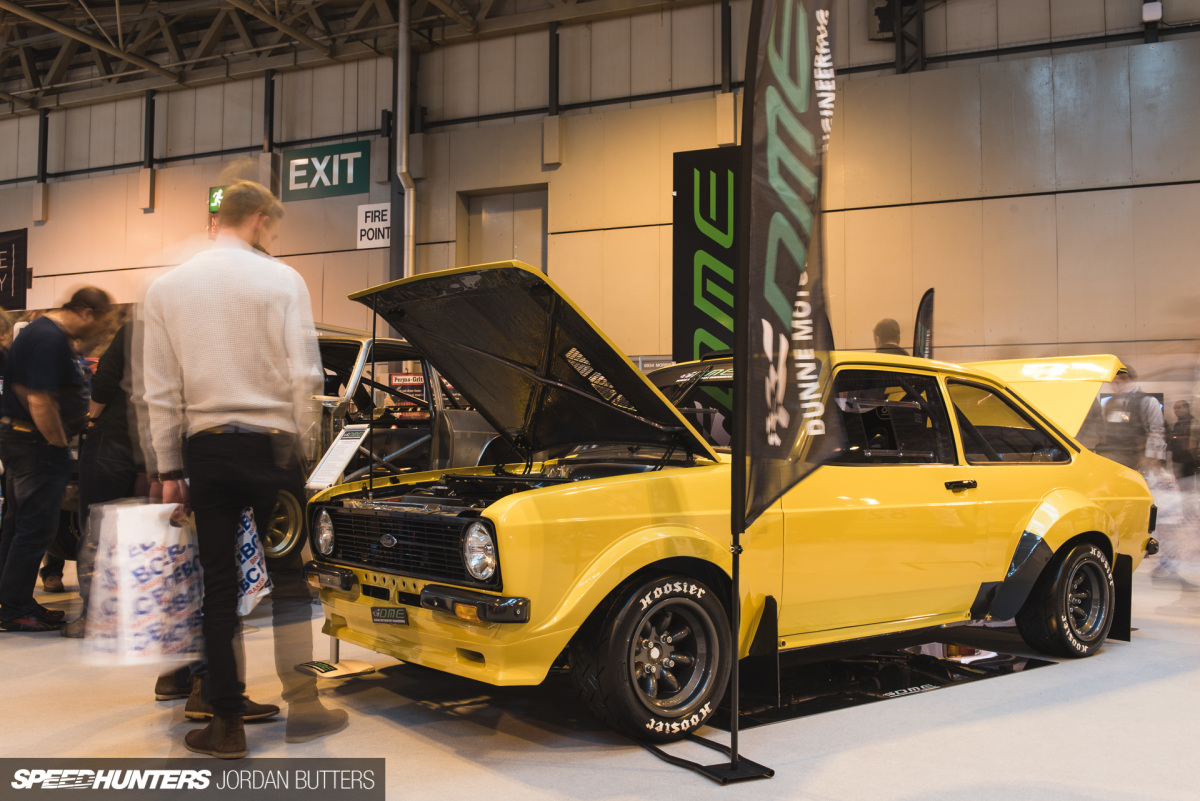 In fact, considering we're now in 2017, retro Fords were a large part of ASI. Dunne Motor Engineering's display was the stuff of dreams, from a very trick modernised and track-prepped 225bhp Vauxhall-powered Mk2 Escort wearing Hoosier tyres…
To another stripped-back Mk2 mid-build showing DME's handwork in all its glory. When bare metal looks this good, why do we bother with paint? This is essentially fabrication porn. Definitely NSFW.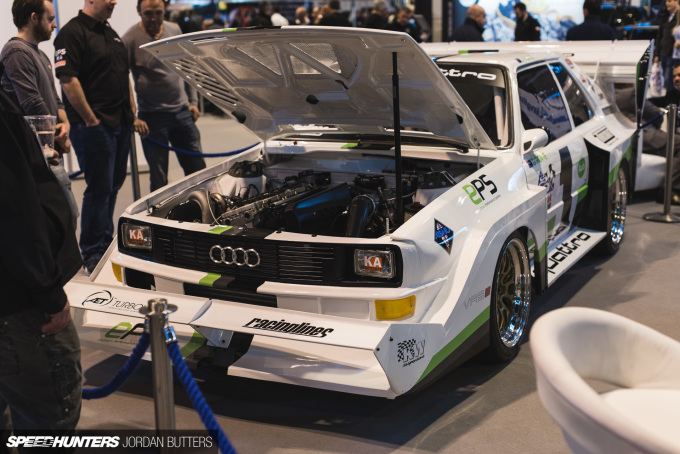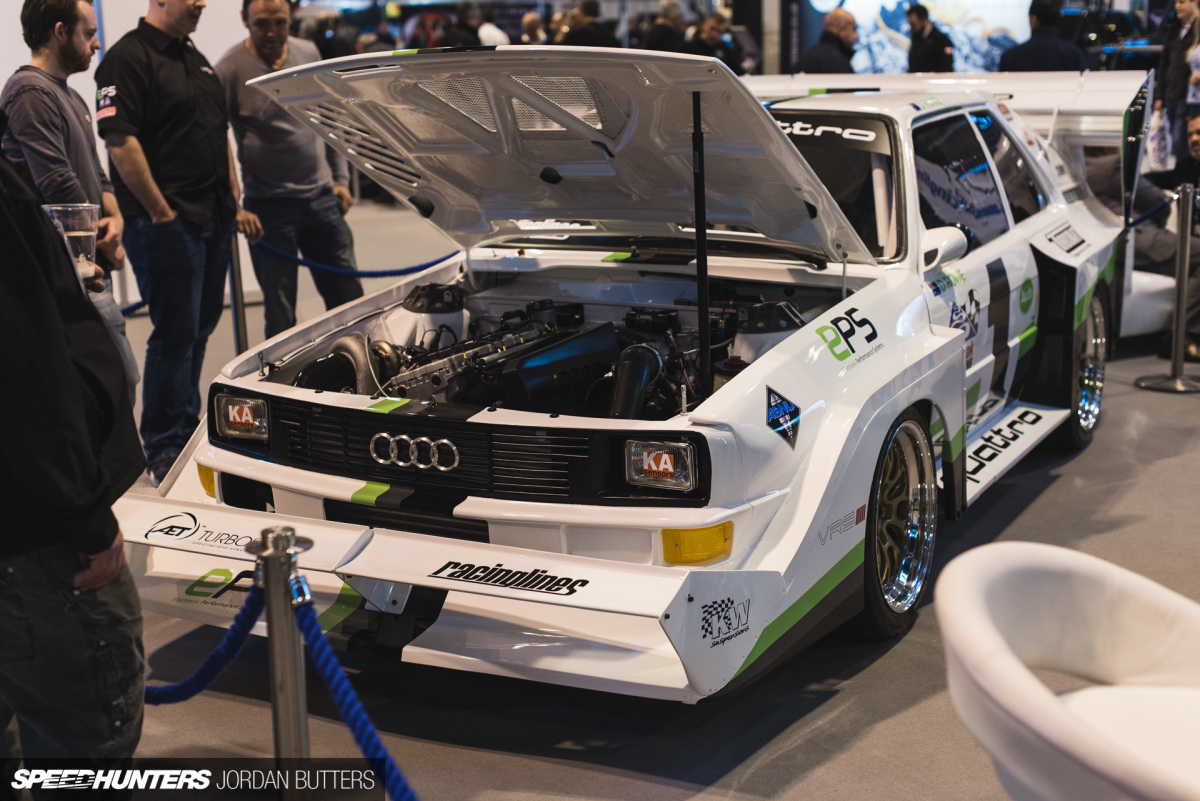 Mixing old and new, I had to scrape up my jaw from the floor when I saw the latest incarnation of David Rowe's lightweight EPS Motorsport Quattro beast.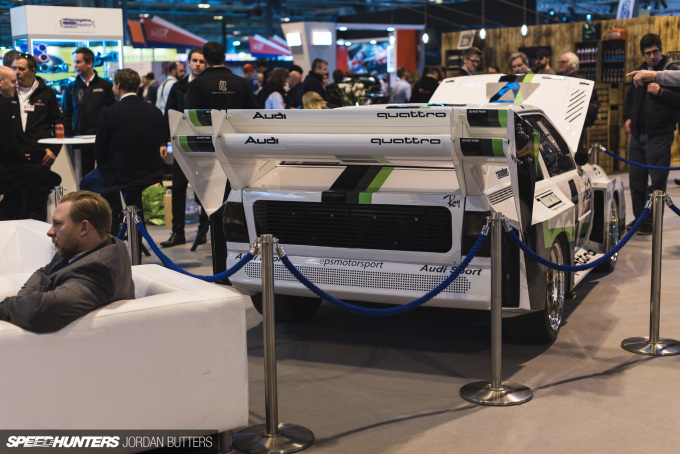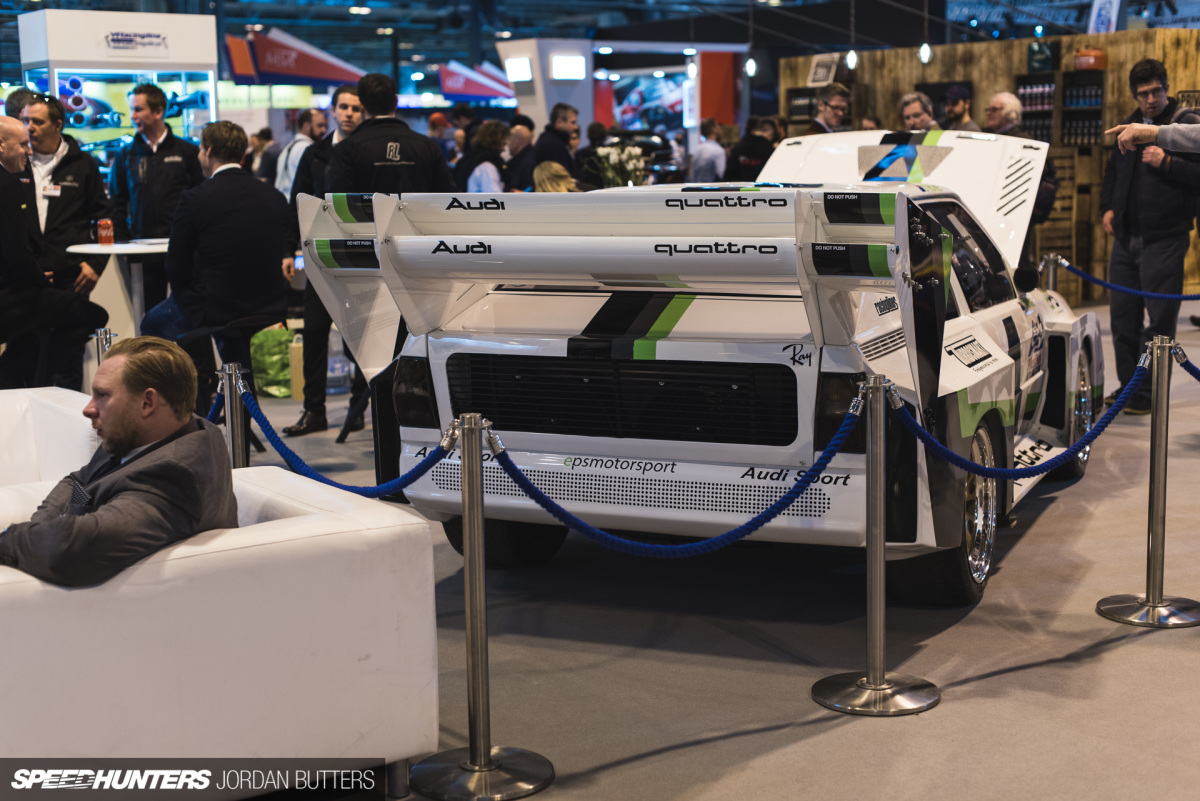 An immaculate ground-up build, powered by a 2.5-litre O7K block and AET 6466 turbo, and with Alcon brakes, KW suspension and three-piece forged Rotiform LSRs, no detail has been spared. The plan is to tackle the infamous Pikes Peak International Hill Climb later this year.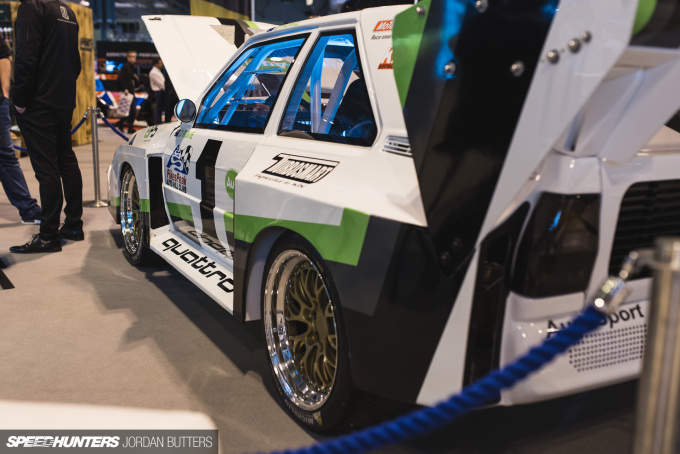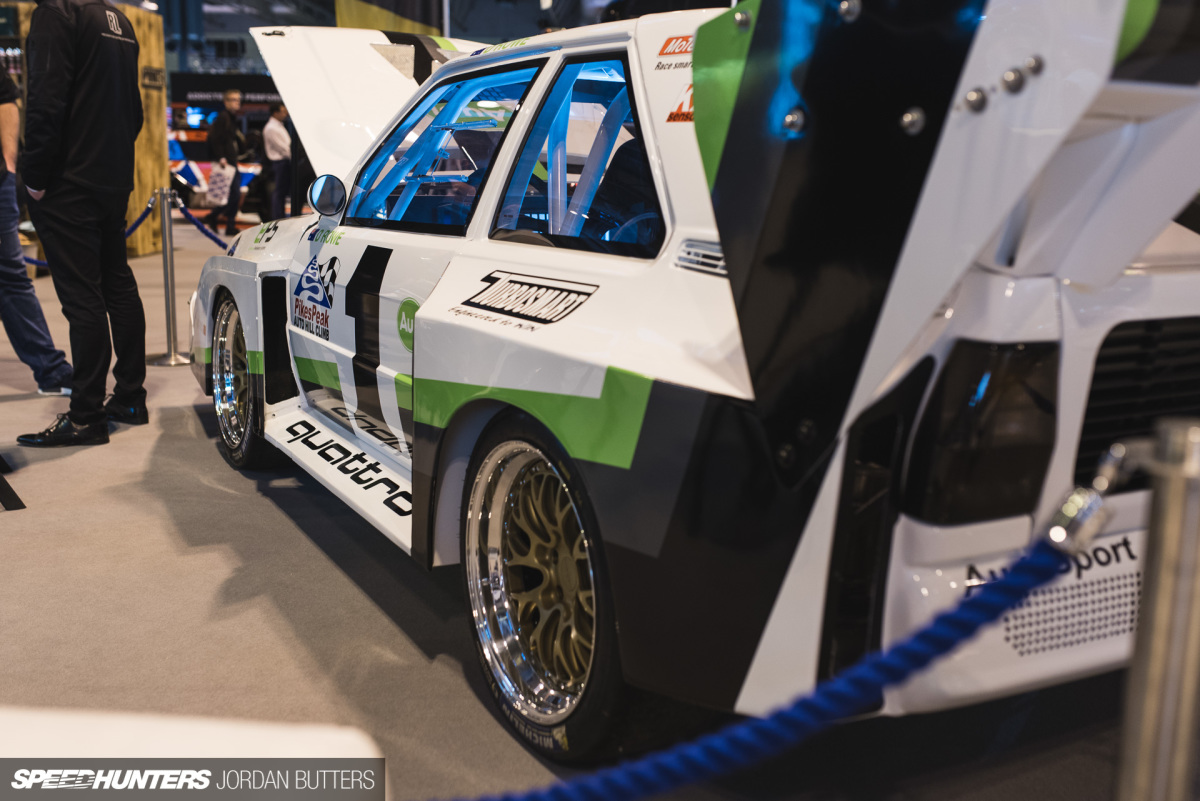 Who would like to see a full feature on this rather special build?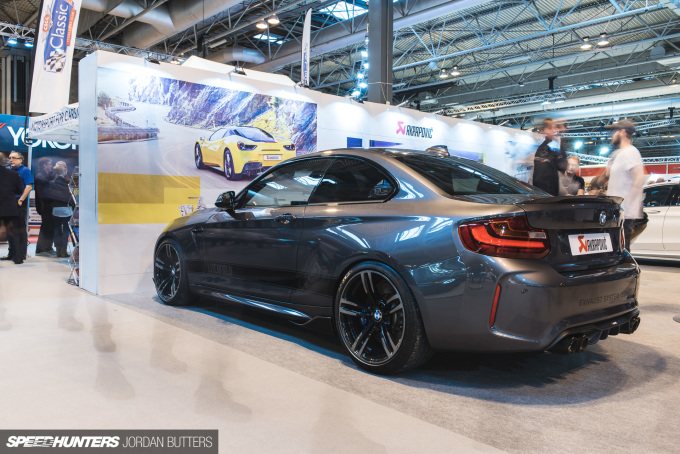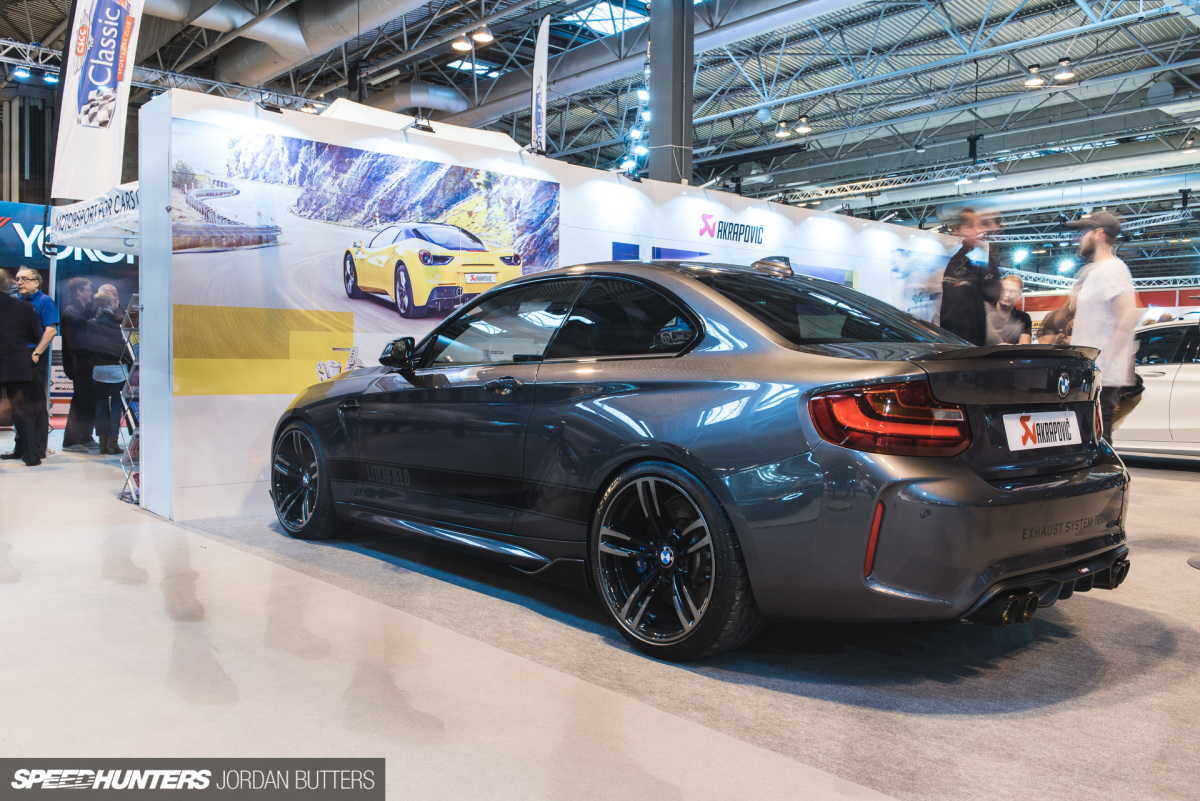 Newer performance BMWs don't really have the same effect on me as the older generations, however, the exception could be the M2. This chassis is really growing on me and its smaller size seems to have more in common with the E30/E36 M3s than the current M3/M4 chassis do. There's also far less of them about, making it more of a treat when you do bump into one.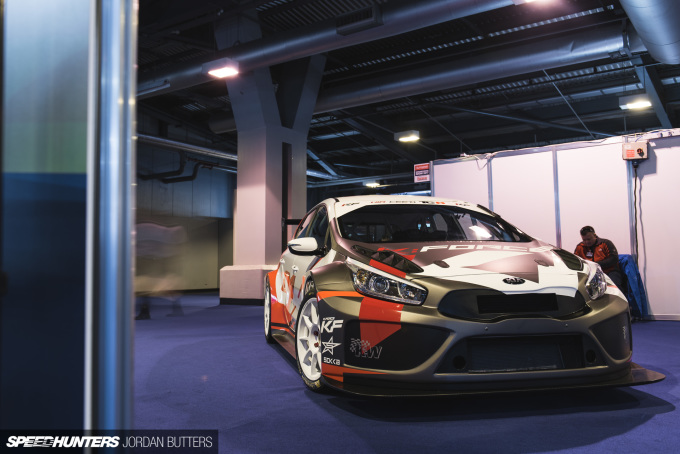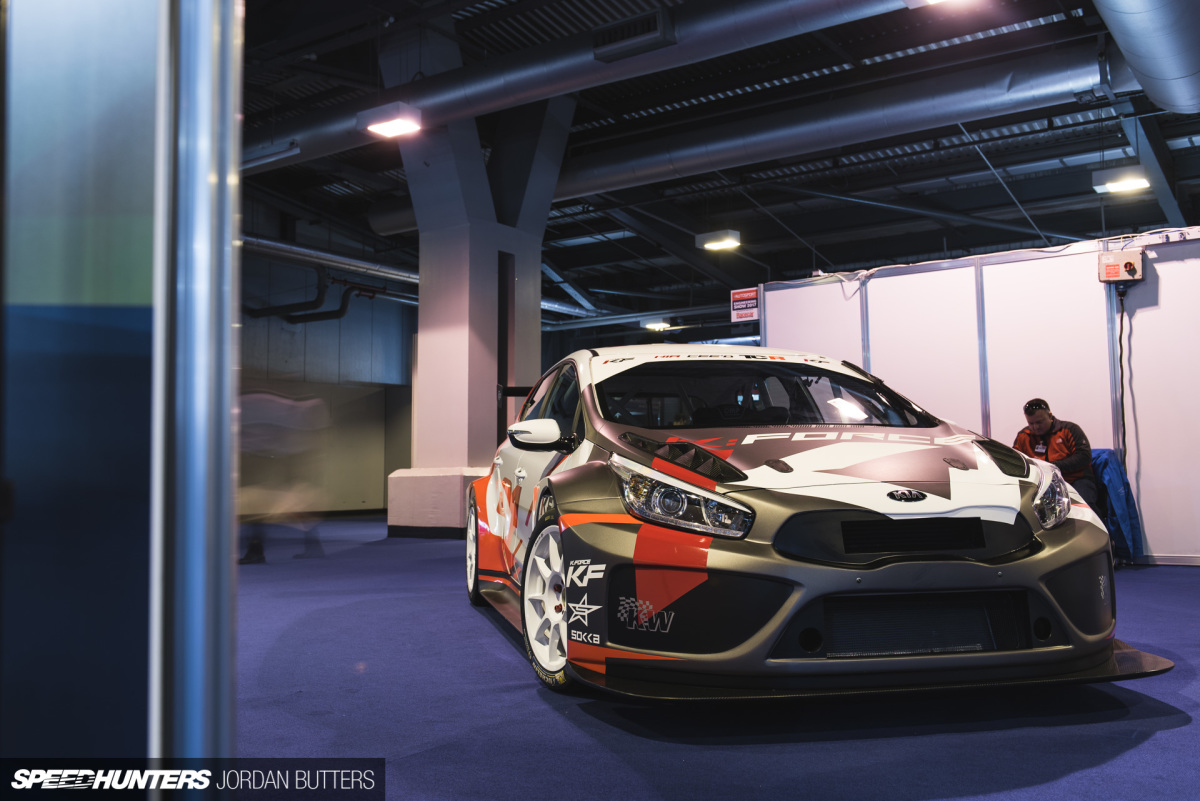 Another surprising shape that caught my eye was this touring car specification Kia Cee'd. I've got a small spotlight to come on this soon. That'll be two desirable Kias on Speedhunters in one month. What's going on?!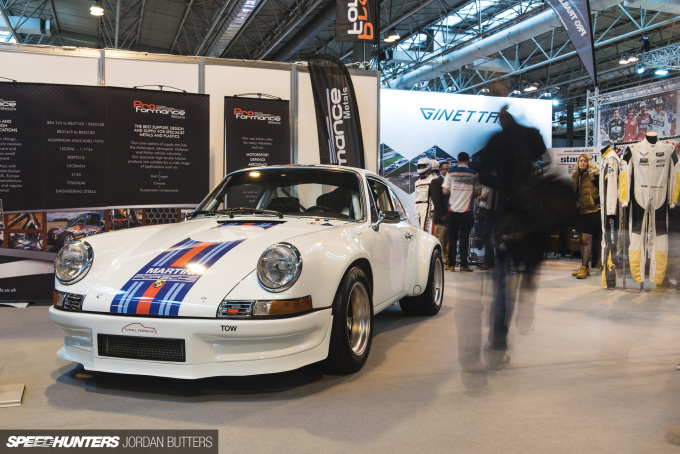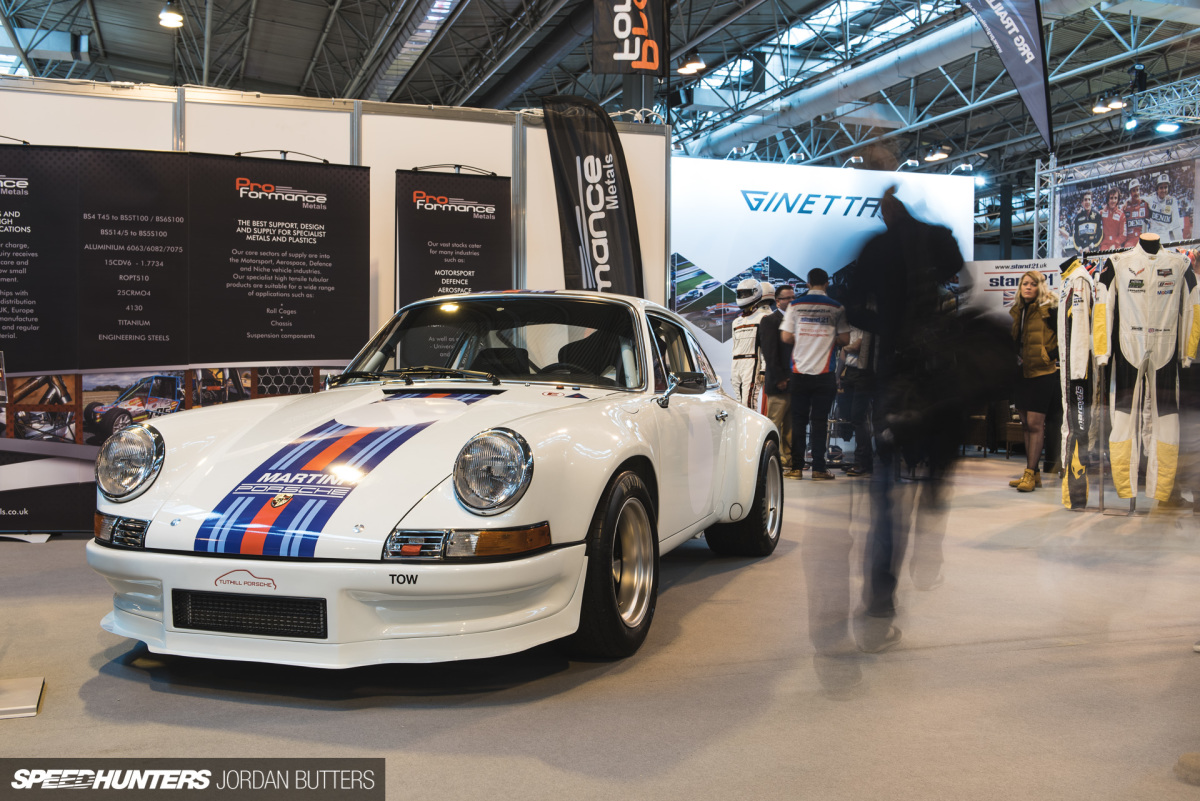 This selection just skims the surface of what was on show at this year's Autosport International. For a show that I thought had been a bit stale previously, there were more than enough surprises, launches and advancements to leave me with a positive parting impression of the event.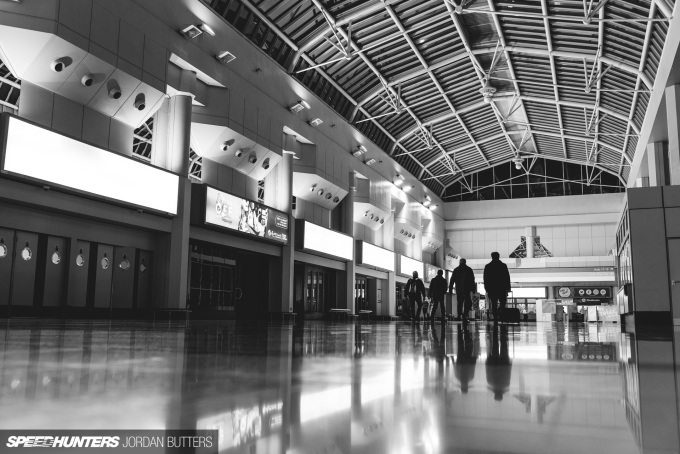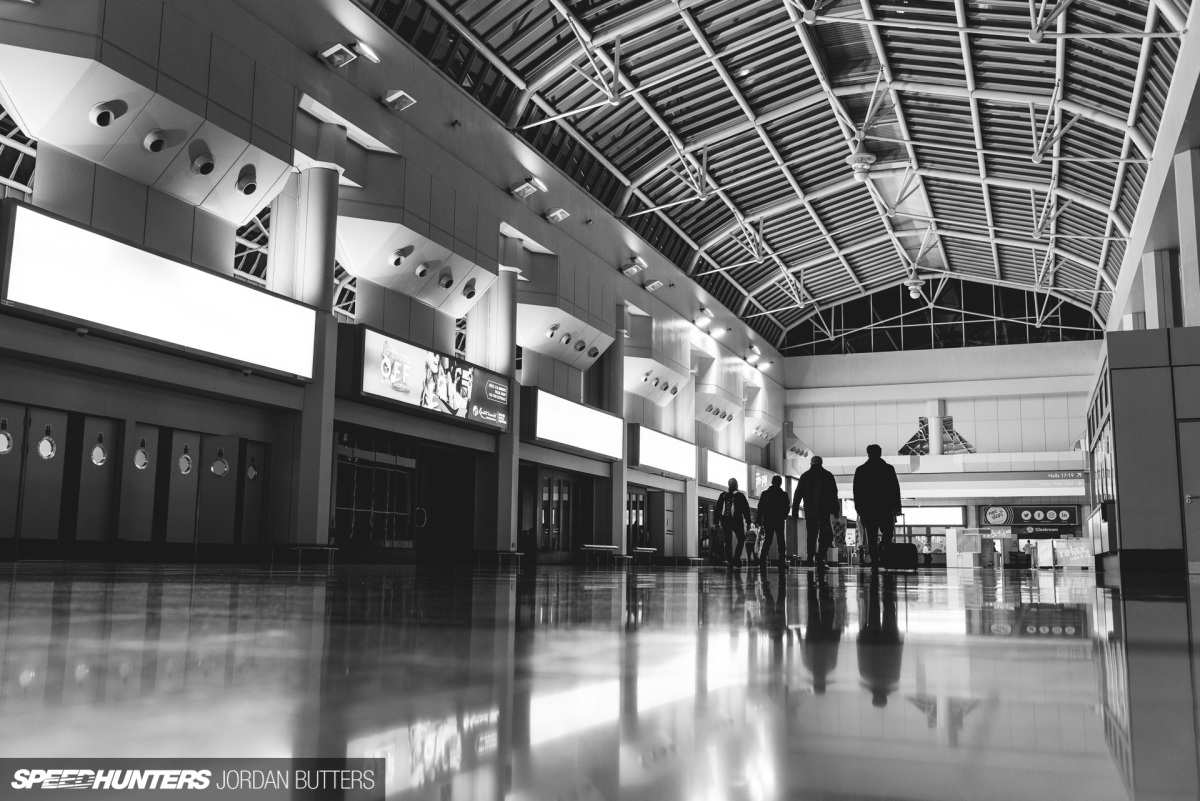 Stay tuned, I've more observations and highlights from this year's ASI coming soon.
Jordan Butters
Instagram: jordanbutters
Facebook: Jordan Butters Photography
jordan@speedhunters.com
Cutting Room Floor