Redefining Expectations
Minimal persuasion was required when Adelaide Motorsport Festival organisers asked if I'd be interested in joining them a day early for a 'spirited drive through the Adelaide Hills.' It already sounded fun and like a great potential story to share with Speedhunters across the globe.
I'd done some online homework and it looked like a pretty decent game plan, so I didn't bother to ask a lot of questions. If the team running the AMF felt it'd be worth me arriving a day early they'd have something pretty cool arranged, right? I assumed that I'd be in for a great day of driving, what I didn't expect was to have my definition of 'spirited drive' completely torn apart and reshaped.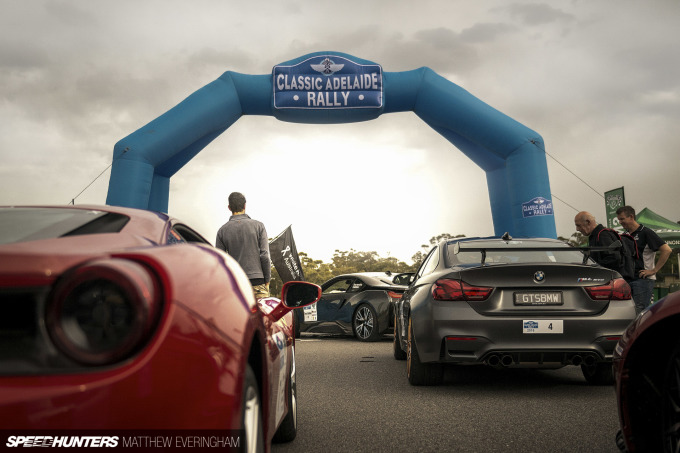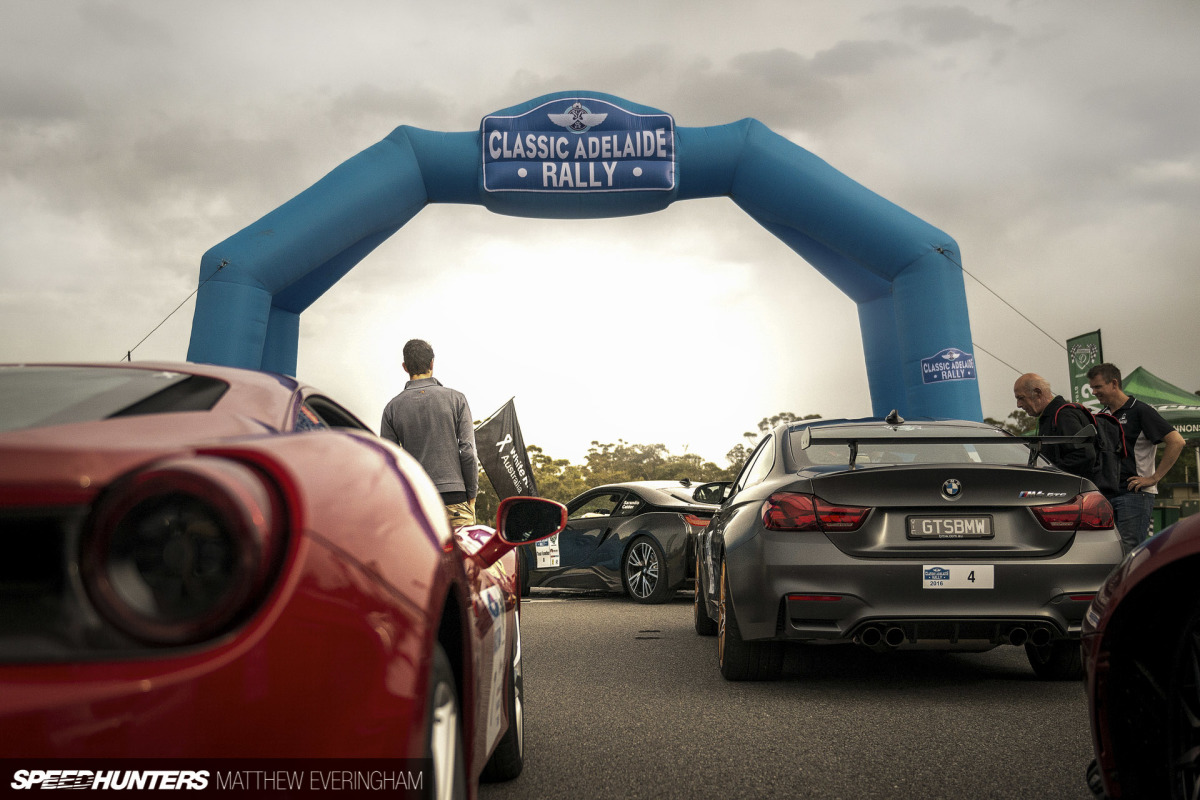 I think a big part of the day's appeal stemmed from the cascading surprises that would unfold during the 48 hours leading up the event. Even with high expectations, no one could rationally anticipate what was planned.
It was a day I'll remember for a long, long time. A day that perfectly represents what Speedhunting means to me. That is, passionate people, beautiful machinery, sweeping roads and of course a touch of adrenaline, fuelled by speed.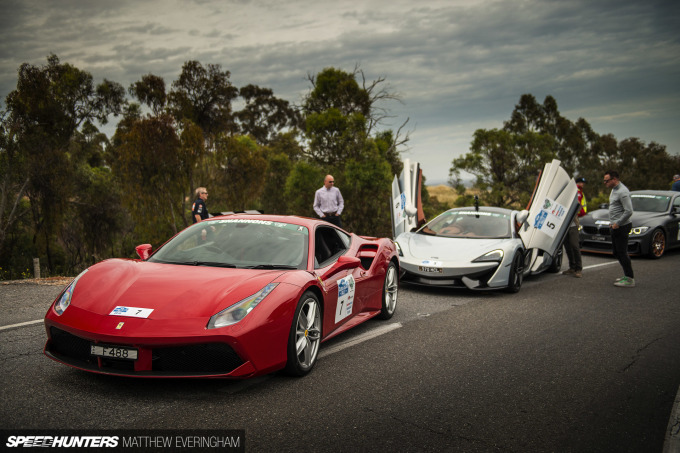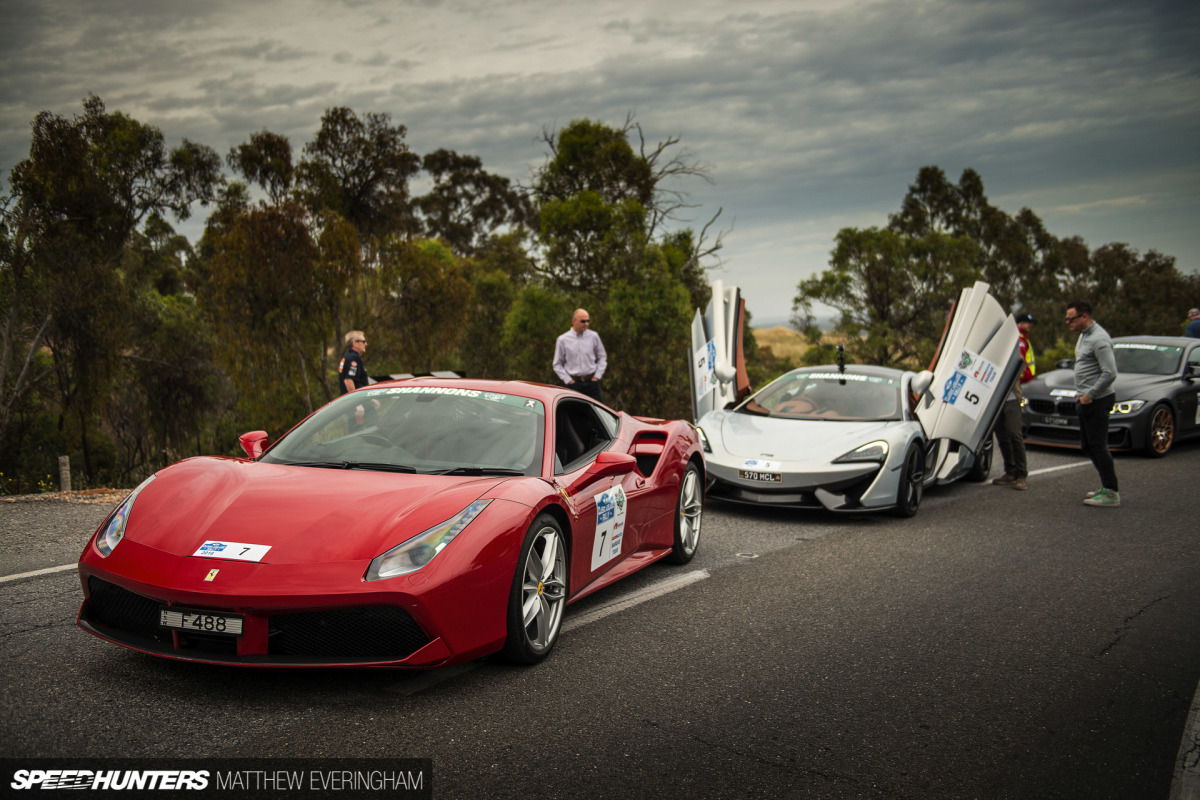 My office was the passenger seat of the remarkable Ferrari 488GTB. I'd be co-driving for Herbert Appleroth, CEO of Ferrari Australia.
Had I co-driven before? Negative. Had I met Herbert before? No, sir. Was I a tad apprehensive about the whole gig? Slightly. But above all else, I was really excited.
If I'm being totally honest with you guys, I had no idea what to expect; fortunately Herbert was a real character and very easy to get along with. He was just another car nut, albeit one who's probably slightly smarter than the Average Joe. It wouldn't have been more than 15 minutes of driving before we were joking and laughing like old friends. It just felt like cruising (really, really fast) in a mate's (really, really fast) car. That's the power of true car culture. It unites people on a level that unfortunately just doesn't seem to happen outside of our world.
Redefining Road Use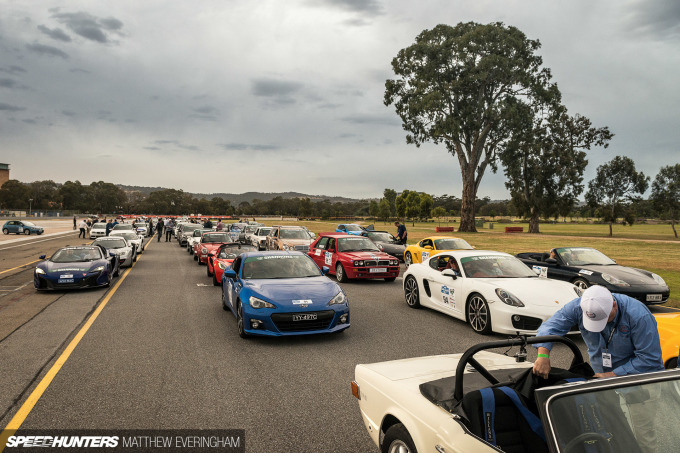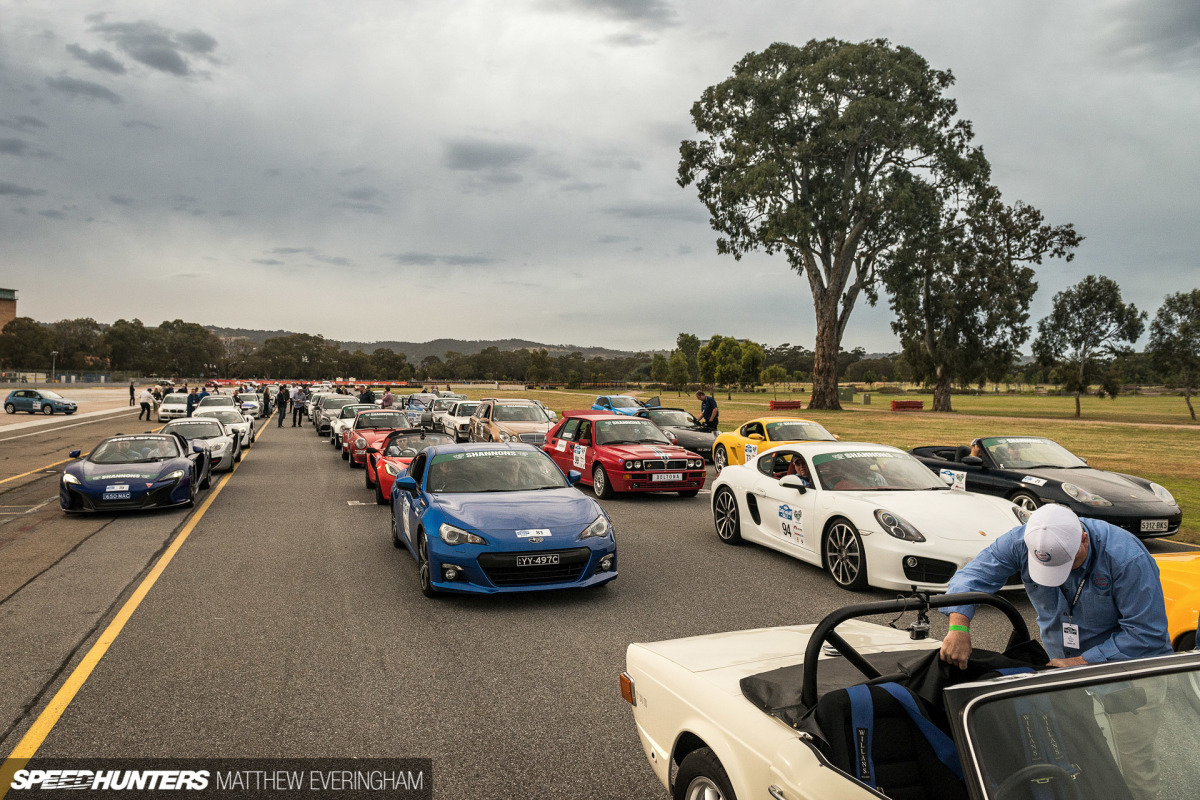 After some basic introductions and a quick safety briefing we made our way through the staging area to the front of the main body of Adelaide Classic Rally competitors. We were on a tight schedule and just as soon as our class had regrouped at the front of the pack we were sent on our way.
The crowd at Victoria Park cheered as we launched our turbo-powered V8 as hard as we could off the starting line. 0 to 100km/h came up in 3 seconds and I'm told it goes 0- 200km/h in 8.3 seconds. Not bad for a factory rear-wheel drive!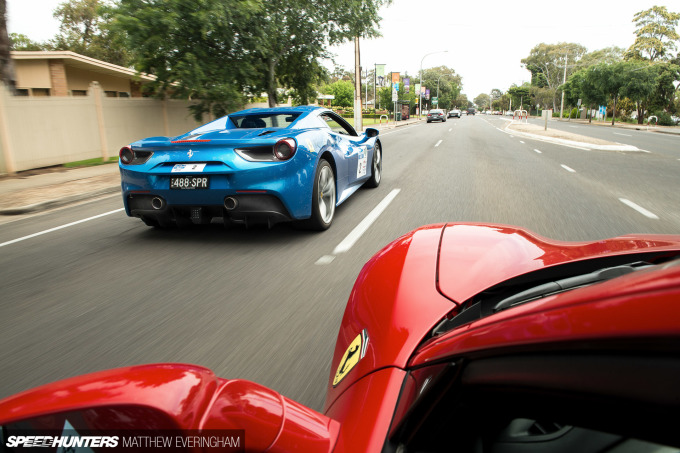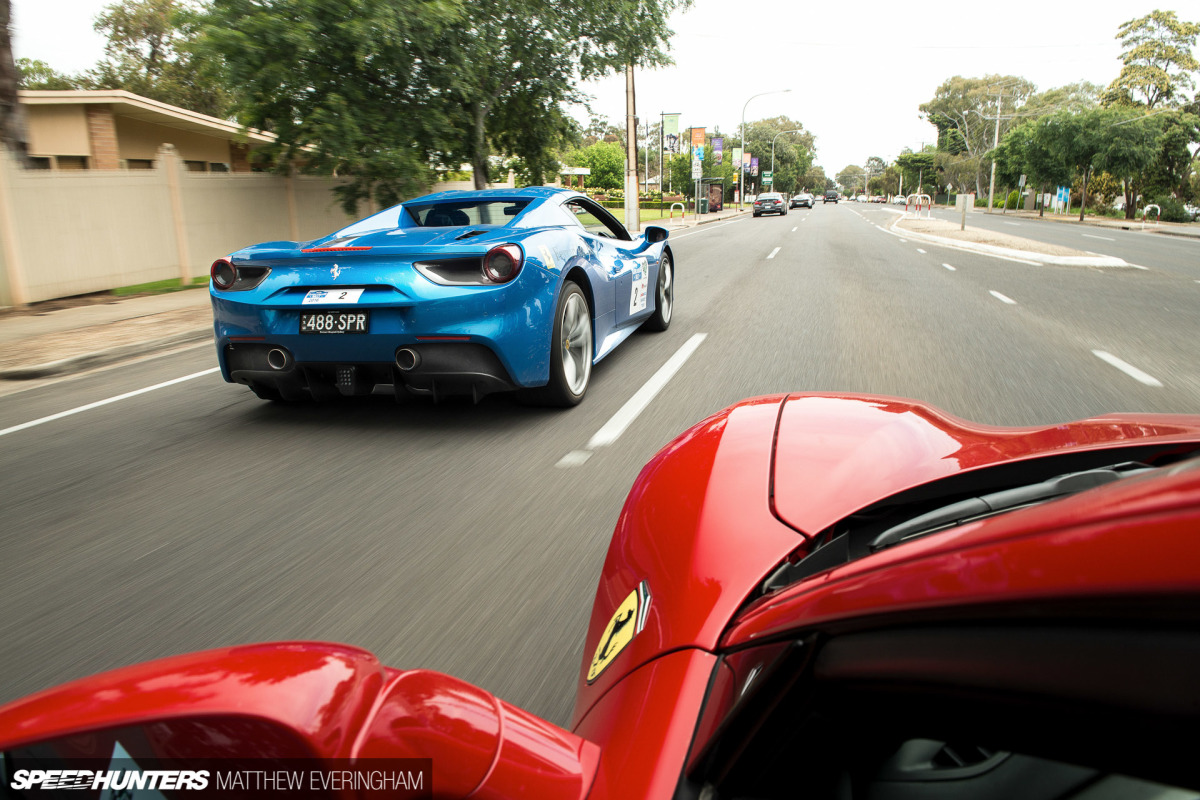 After our quick squirt down the main straight we regrouped with our pack. We would make up the marquee tour, leading the competitors to each stage of the Adelaide Classic Rally. Between stages we cruised sedately through the city streets and out towards the majestic Adelaide Hills region. Heads turned, horns tooted and excited kids smiled and waved to their dream cars as we cruised on.
The change in landscape was as abrupt as a solid wall. Sure, the city transitioned from the CBD to suburbia, but the city's edge is literally that. Apart from the tarmac carrying us and the occasional vineyard, all other signs of civilisation quickly disappeared as we snaked our way up the mountain road to our first real chance to 'drive' these dream machines.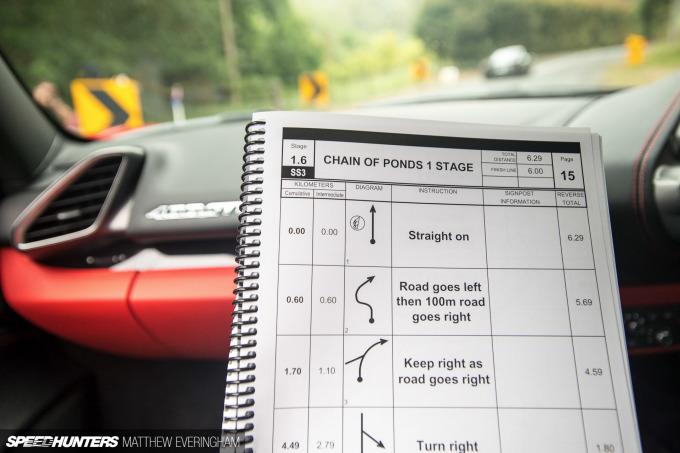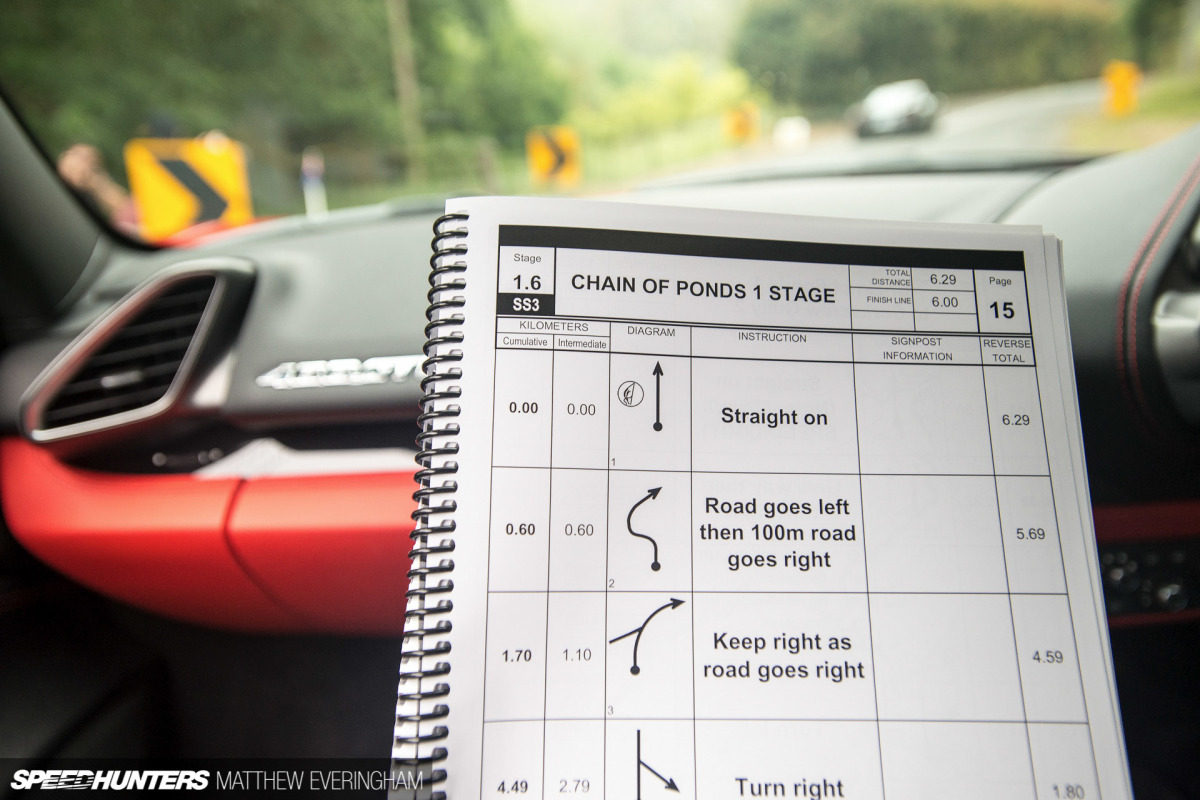 We had reached the first closed road sign and first rally stage. After a short check that the course was clear with officials, the flag dropped – it was go time. Our 488GTB jolted to speed almost instantaneously, and any doubt in my mind about the poser/performance aspect of Ferrari vanished in the scenery behind us. We took advantage of the closed roads and used both lanes of the tight and twisty course. Before we'd crossed the first stage's finish line my mind had already started formulating and calculating ways to pay for the 488 that I needed in my home garage.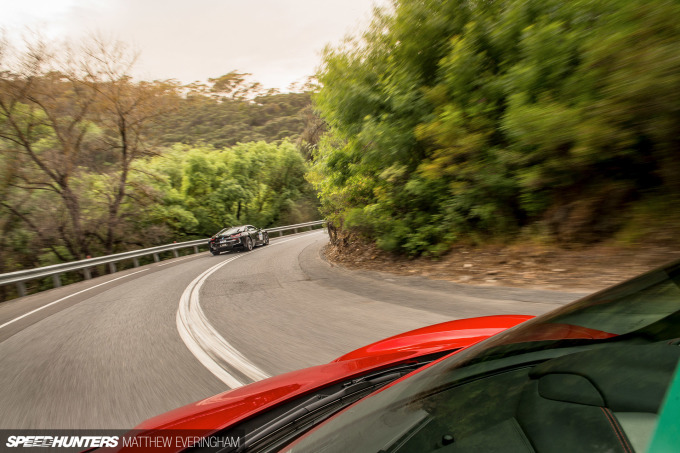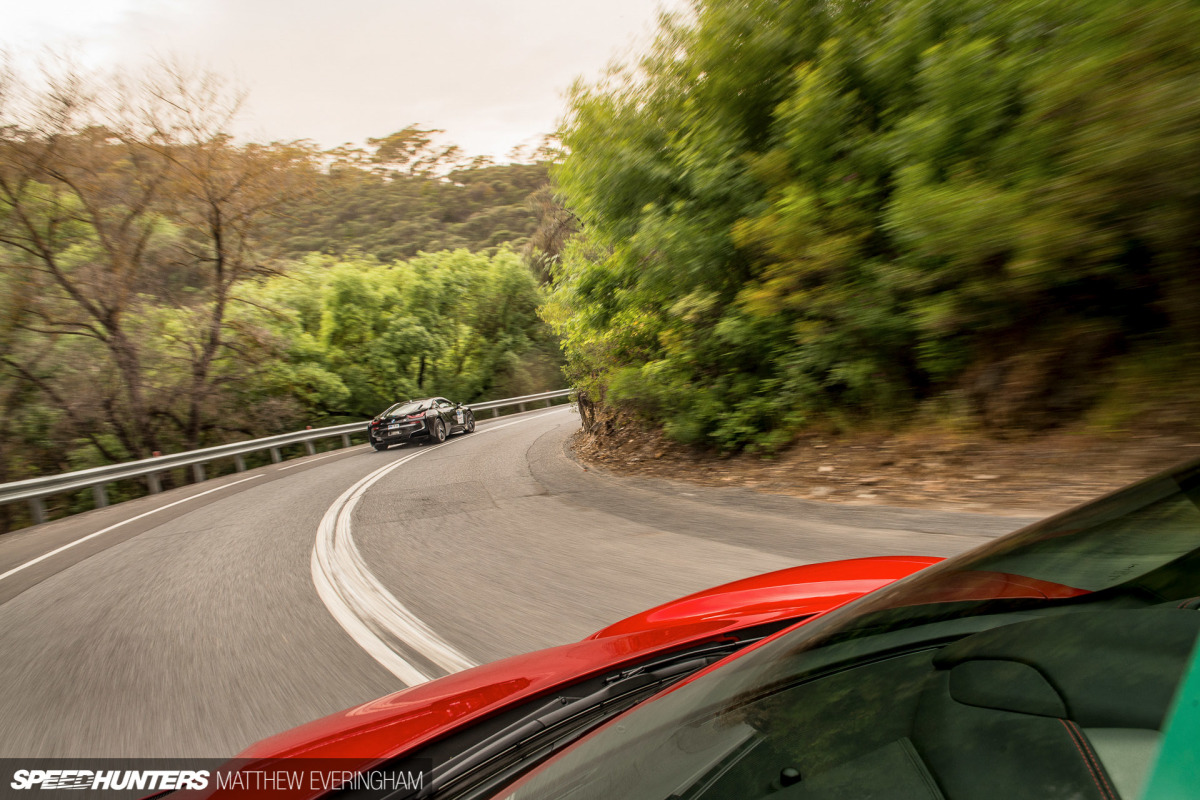 It wasn't long before we had reigned in our tour leader, a BMW i8. The science fiction sports car was incredibly nimble; its large carbon fibre chassis weaved through the narrow stages with ease. Even on the straight sections, BMW's technical wizardry over the tiny 170kW (231hp) hybrid power-plant was impressive. It wasn't a match for the Ferrari's almost 500kW (670hp) of course, but both the driving and the car really surprised me. I'd always considered the car more of a science experiment than a true sports car, but after chasing it through the mountain passes I was curious enough to do some homework. I'd love to get behind the wheel of one myself and perform my own real-world tests.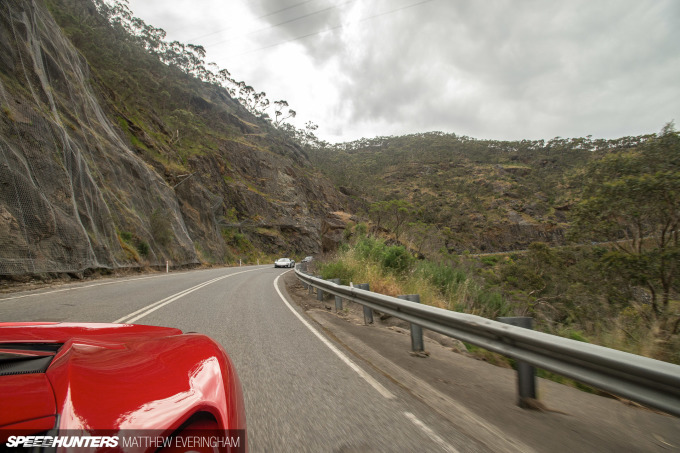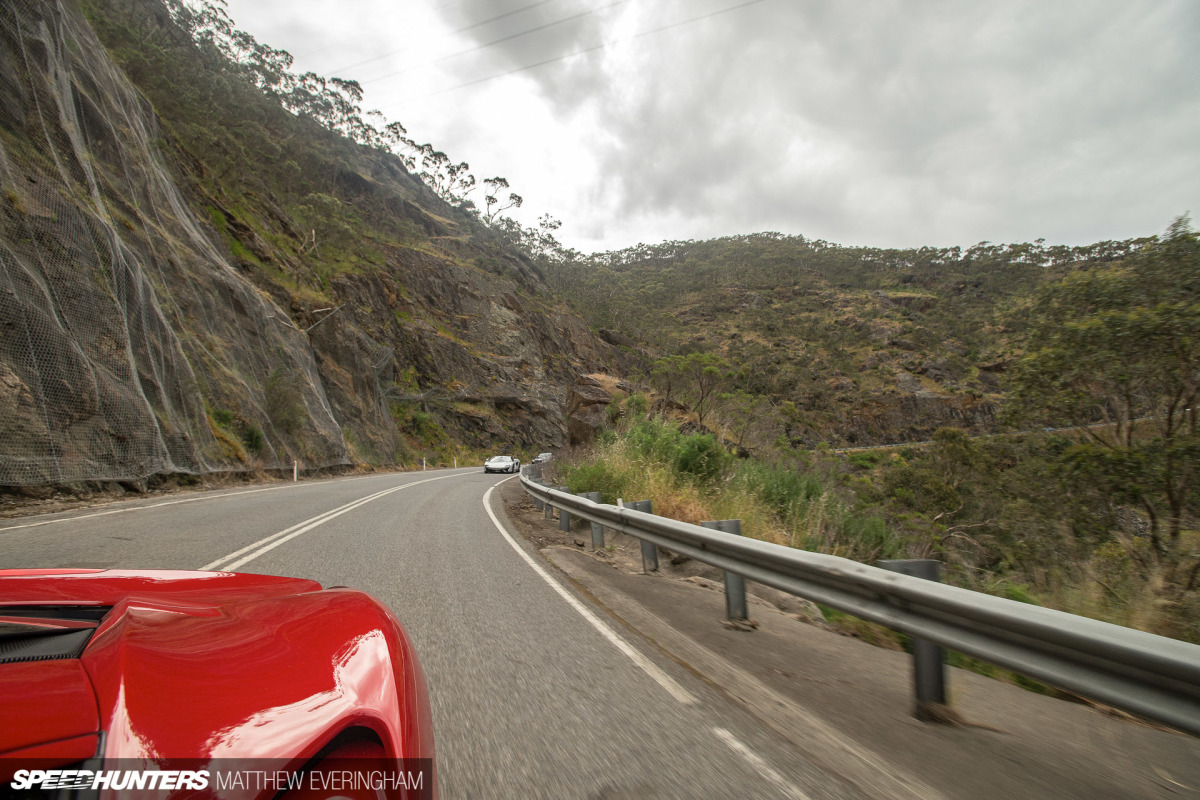 Redefining Fun
This was my first time trekking through the Adelaide Hills that wind you towards the world famous wine region. Although the landscape was blurred by speed, it was still impossible to ignore. Funnily enough, it wasn't until I started traveling that I really appreciated the difference and beauty of our sparse and rugged land. I remember being envious of the amazing locations across Europe and the Americas before breaking out of my local postcode, but now I appreciate both the powerful landscapes and also the stark difference to literally everywhere else on the planet.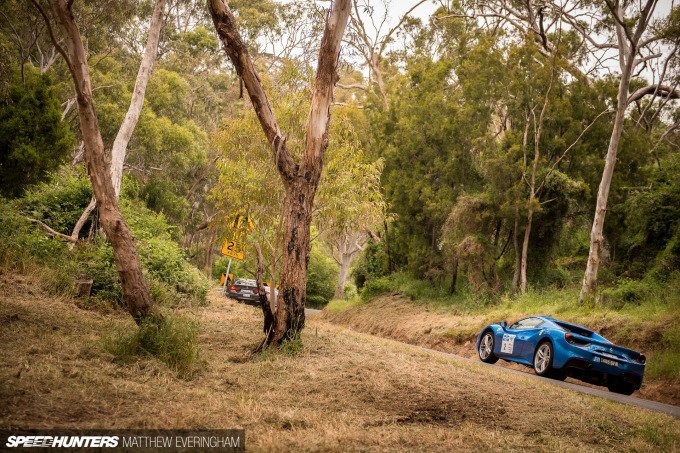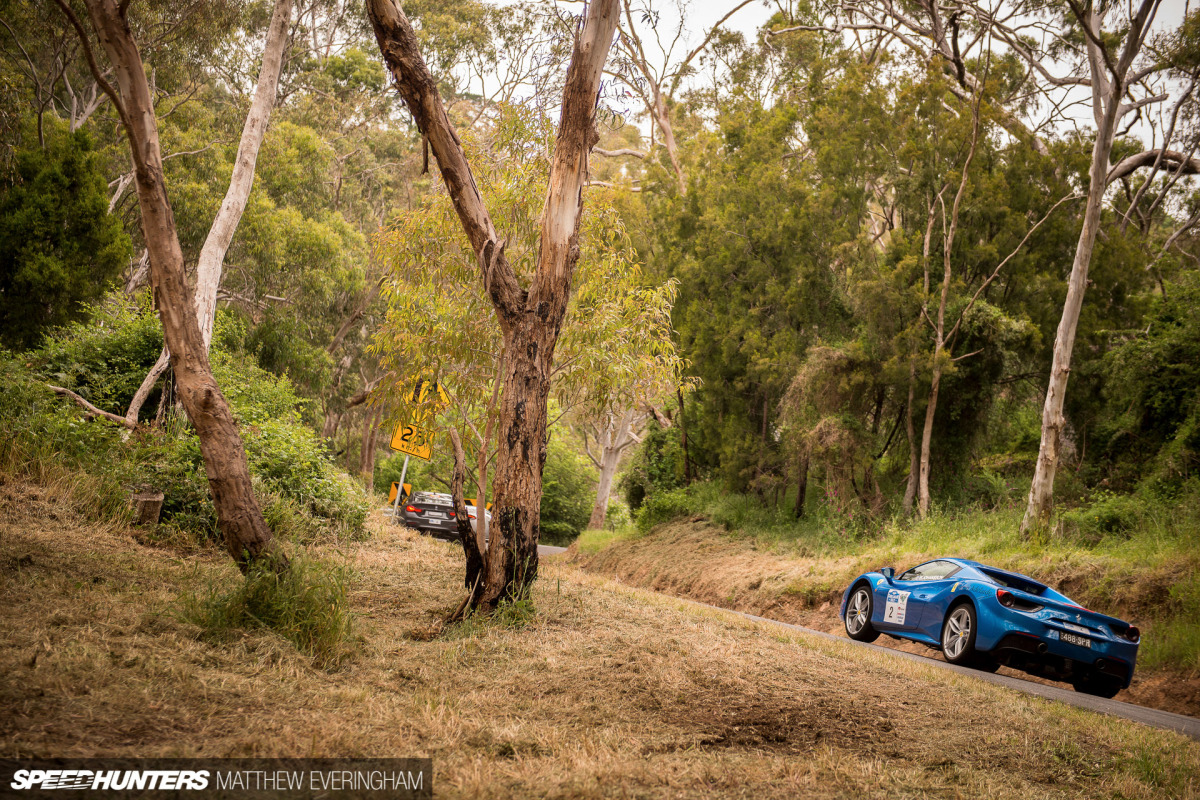 Between stages I asked Herb to pull over to rejoin the back of the pack. I'd grown fond of the i8, but I figured you guys might appreciate seeing the other super cars making the most of what are usually public roads. Herb agreed and rejoined the back of the pack, in between the remaining stages we'd play leapfrog and sneak behind another amazing car. Giving us front row seats to witness how every different car made the most of the narrow straights and sweeping bends.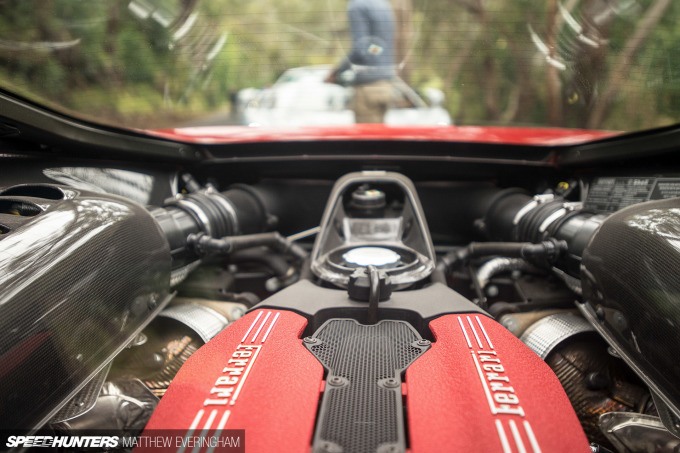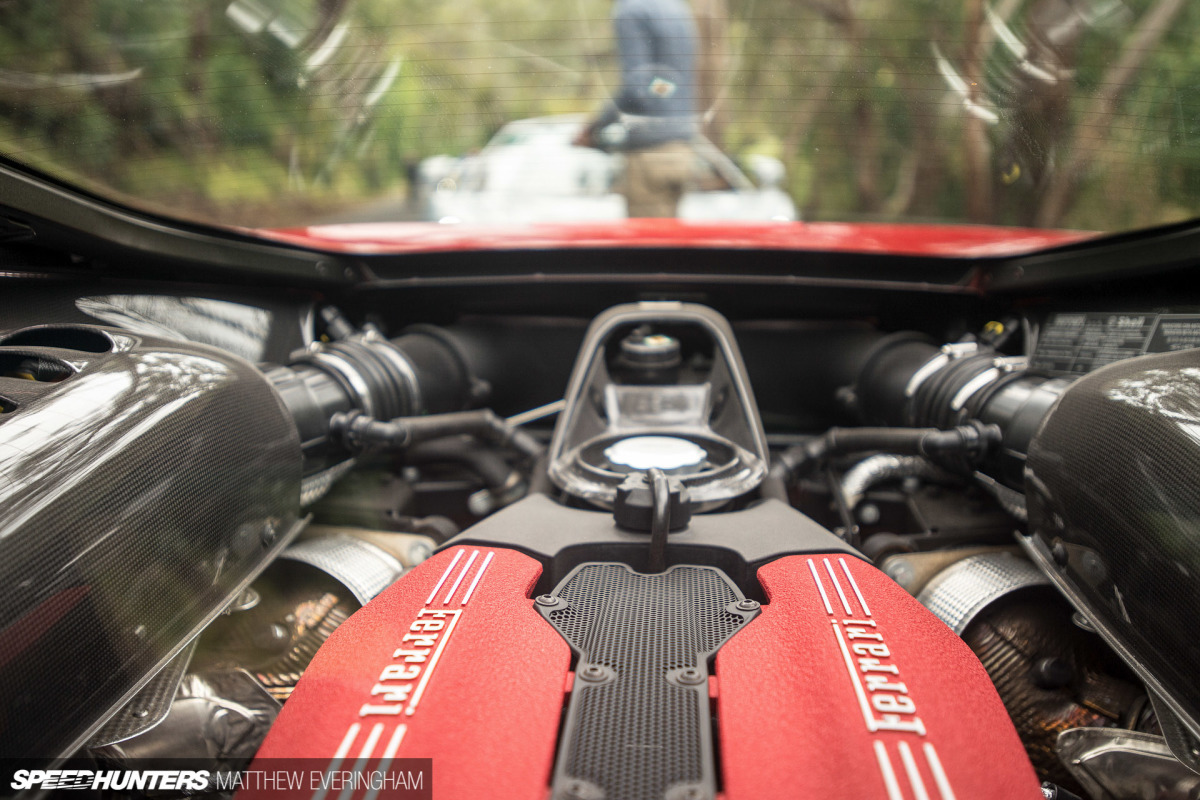 We ended up behind Formula One driver Stefan Johansen (refer to the main featured image). Our 488GTB felt like it handled the courses with ease but it was hard to compare it directly to the performance other cars from the passenger seat. After watching how effortlessly Stefan threaded his 488 Spider up one of the steeper, tighter courses it was much easier to make the comparison between the Ferraris and the other cars on offer. It looked and sounded absolutely amazing.
Inside, our 488 had a very tough sound to it, especially with the turbo spooling up mere centimetres behind your head. The roar from Stefan's 488 Spider just metres in front lifted the experience to another level. A glorious cacophony. Growls, whines and cracks attacking your ears from every direction; it was a sensory overload.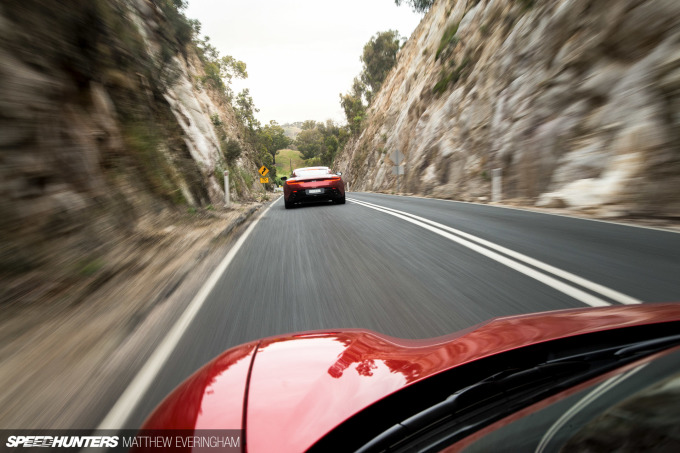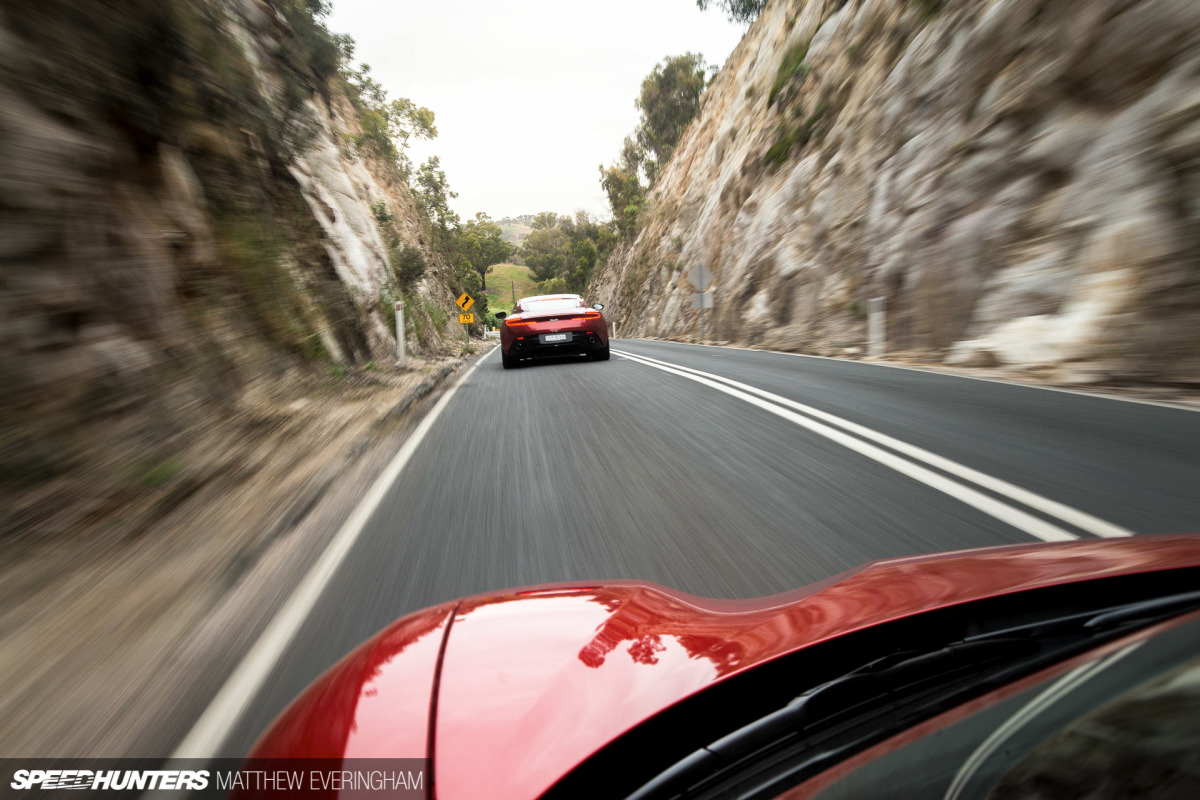 The next stage we tailed Vern Schuppan, South Australia-born motorsport legend and winner of Le Mans in 1983. Vern was steering Aston Martin's new DB11, a sharp and futuristic vision of the timeless DB design principals. Not unlike Steffan, Vern was taking full advantage of closed road. It was a privilege to get to see how easily these motorsport champions could handle the tight stages first-hand. If I didn't already know who was behind the wheel, I'd be hard pressed to believe it was the same polite 73-year-old gentleman I'd been casually chatting to earlier that day.
The way he threaded such a large car through the thin, twisty roads of the Hills was pure magic. Every last millimetre of the road was used. I wish we had some in-car footage to watch Vern work that steering wheel. I was inspired.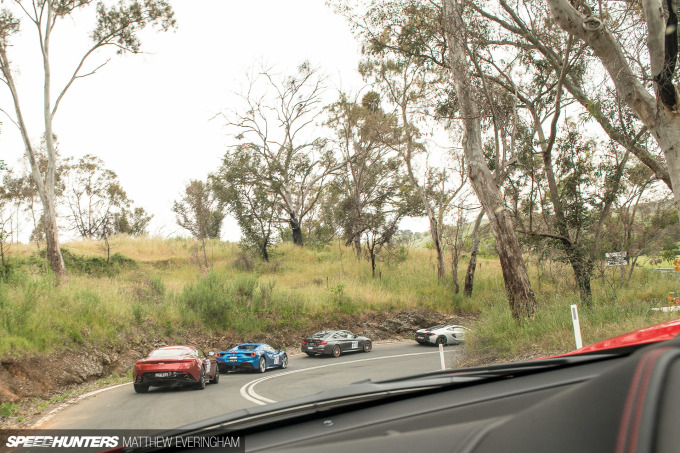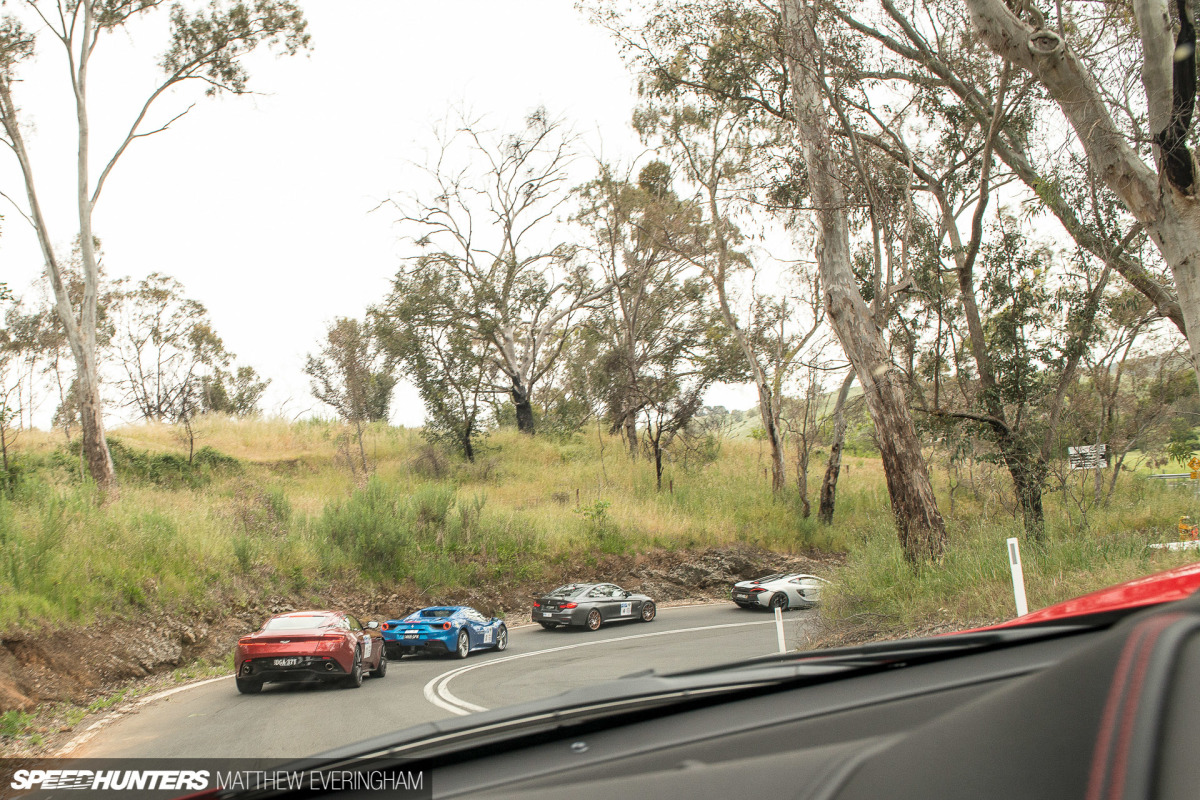 Our last session before lunch would be the most memorable of my day. We were now on the most technical of all the day's stages, and with no straights to blast down the entire pack was tightly bunched. We were all within about 400 metres of each from almost the start of the course right through to the finish marker. It felt more like I was playing Need for Speed at home than sitting among it all in real life. It was almost too good to be reality.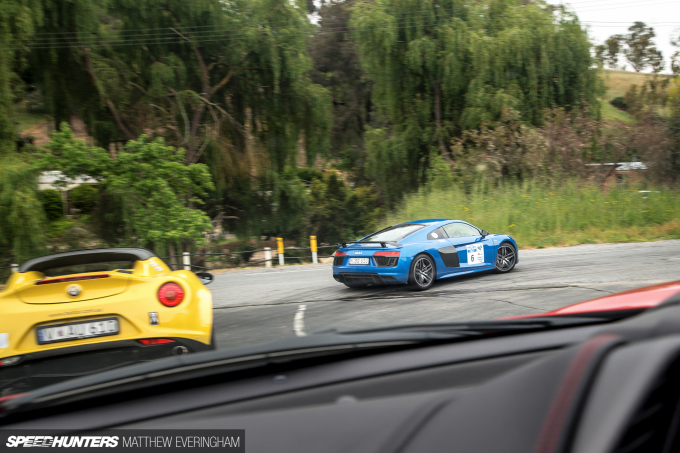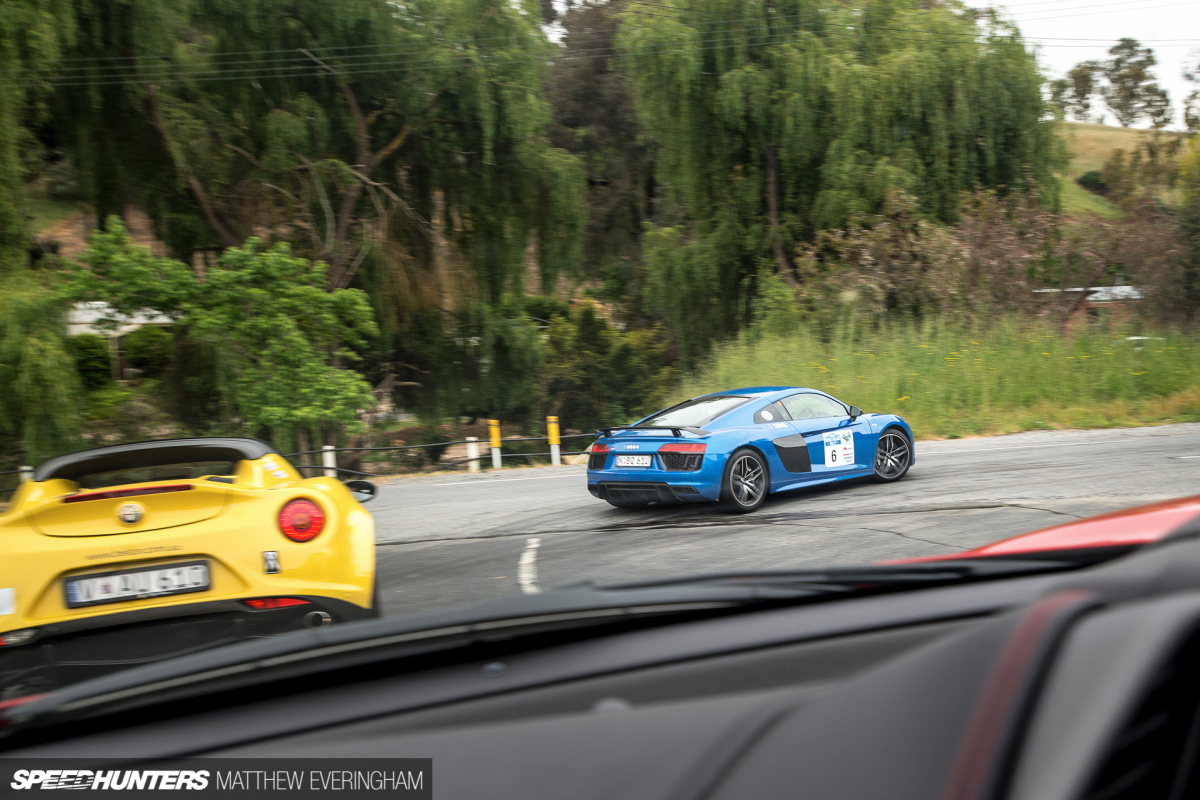 This kind of sh*t doesn't happen in real life. Tight left, tight right, tight left, hairpin right! Seeing the majority of our tour all running at once was to much. Super cars, amazing sounds, picturesque scenery – it was surreal. The memory of that single stage will stay with me for a long, long time. Herb and I were laughing like school boys for the rest of the day. It would prove to be the highlight of my week. This is was what Speedhunting is all about, and it's something I'm glad I get to share with you.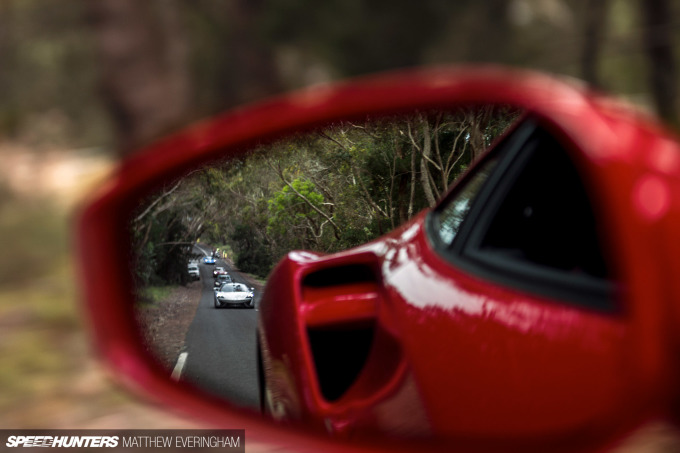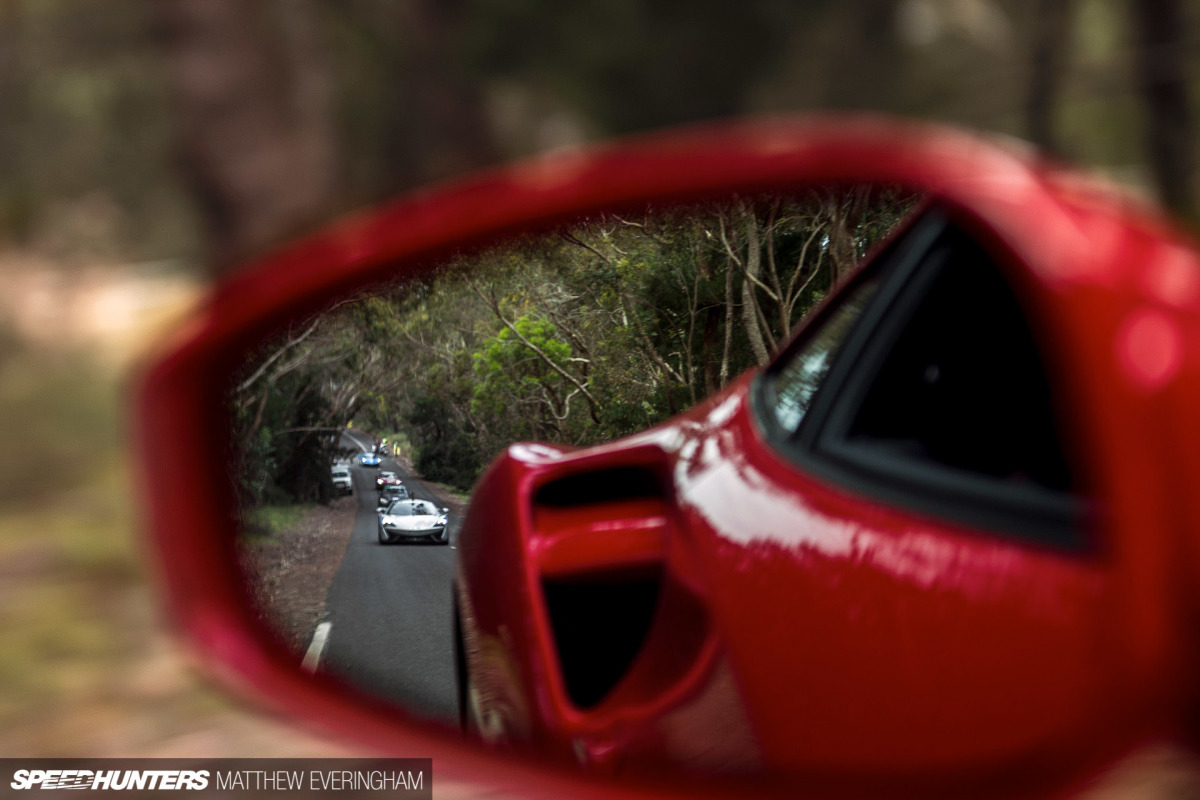 We made our way down from the Adelaide Hills towards the world famous Barossa Valley. Rich volcanic soils and the perfect climate have created an entire region perfect for vineyards; both red and white wines from this area are sought after across the entire globe. Our destination was one of these wineries, the 'Bird In Hand.' It provided the perfect location for drivers and teams to take a break, enjoy lunch and share tales of their morning's triumphs and moments.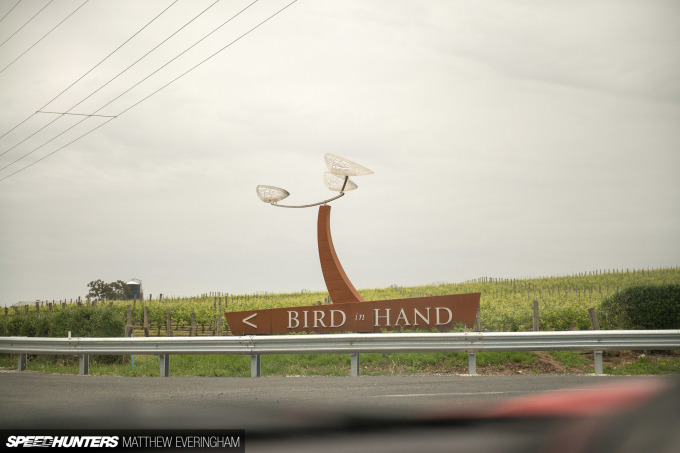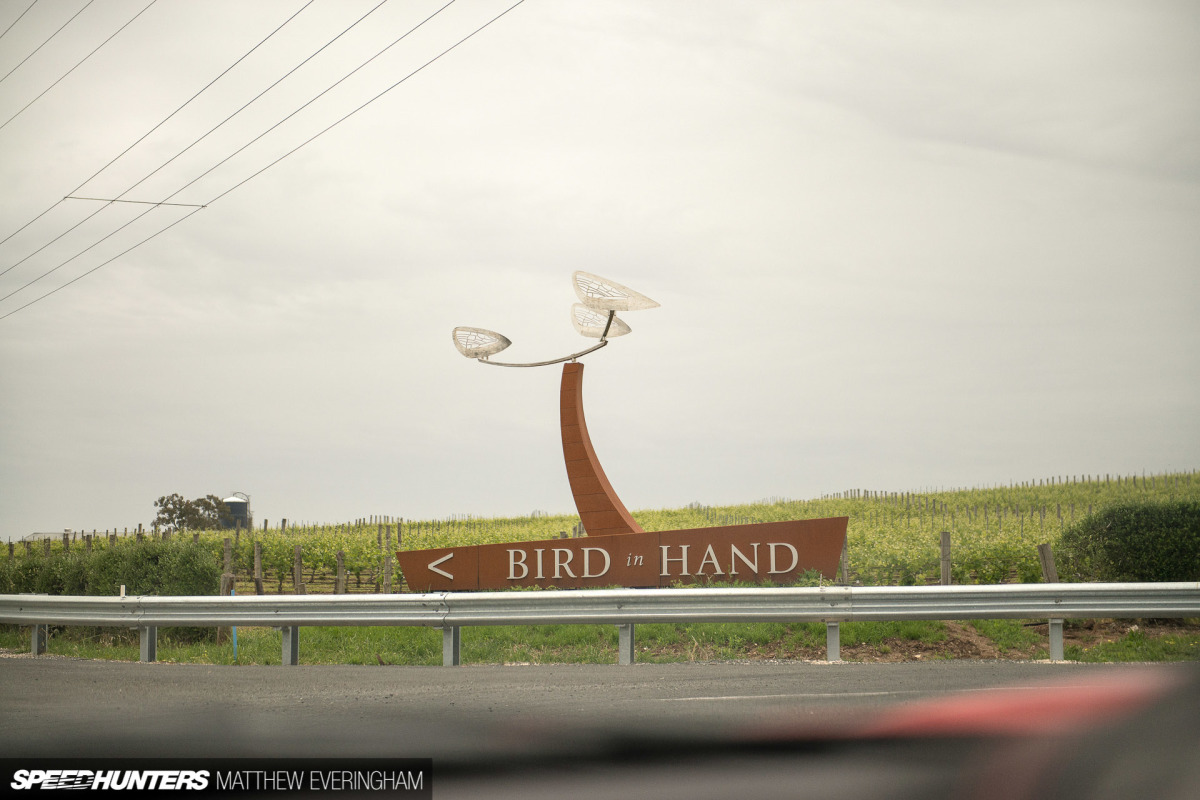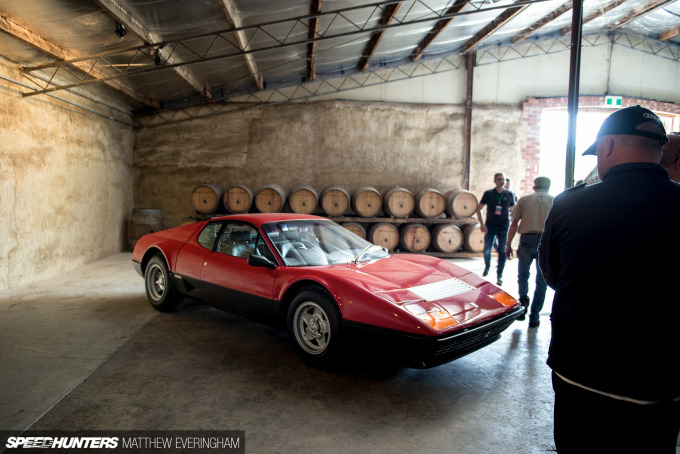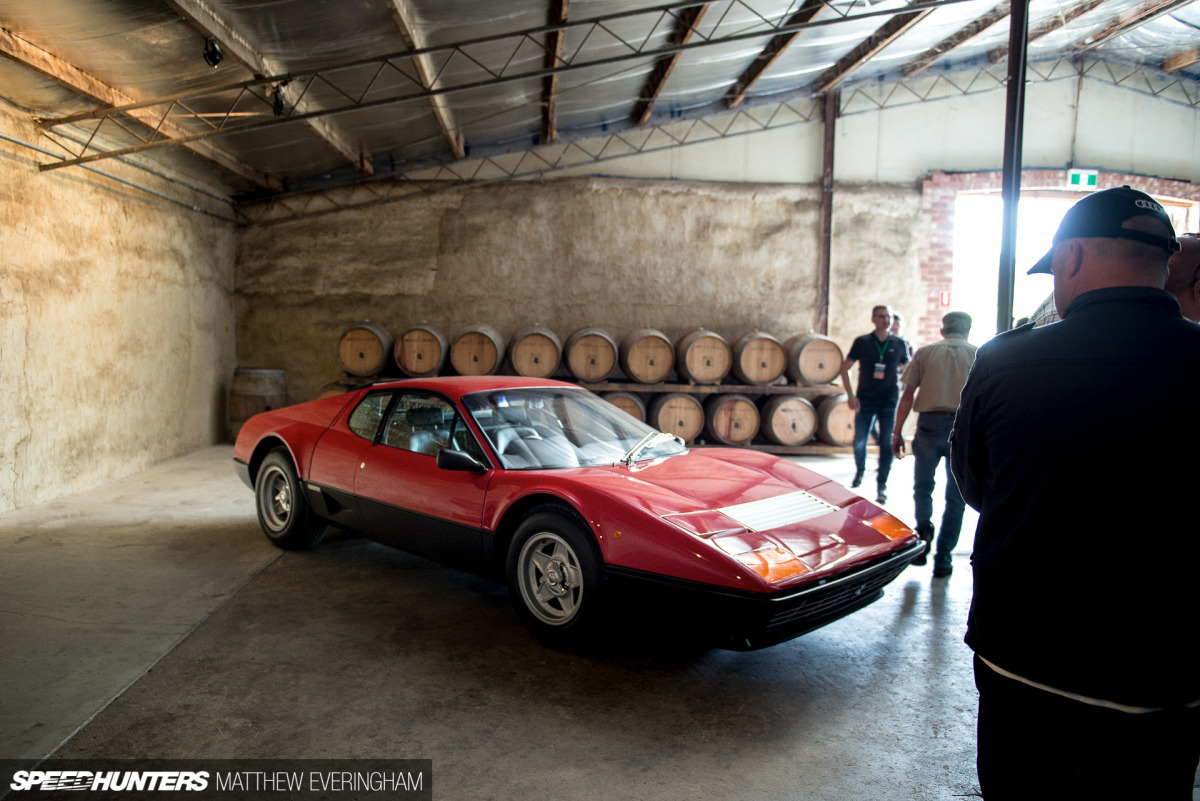 The main Adelaide Classic Rally continued into the evening but our adventure had to wrap up after lunch if we were to trek back to town with enough time to prepare for the next outing. The Gouger Street Party was scheduled to kick off in just a few hours.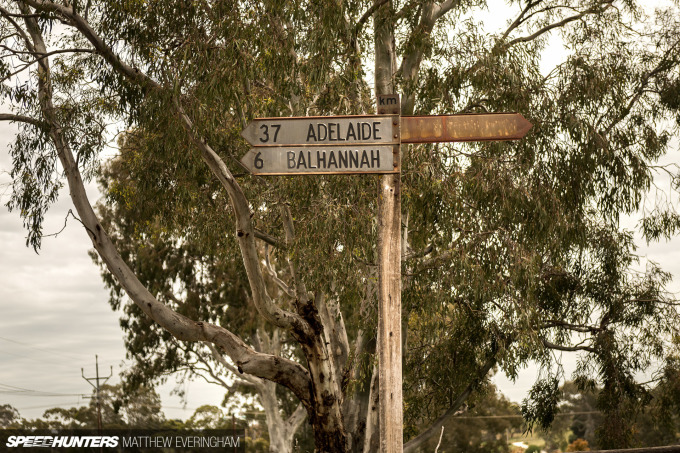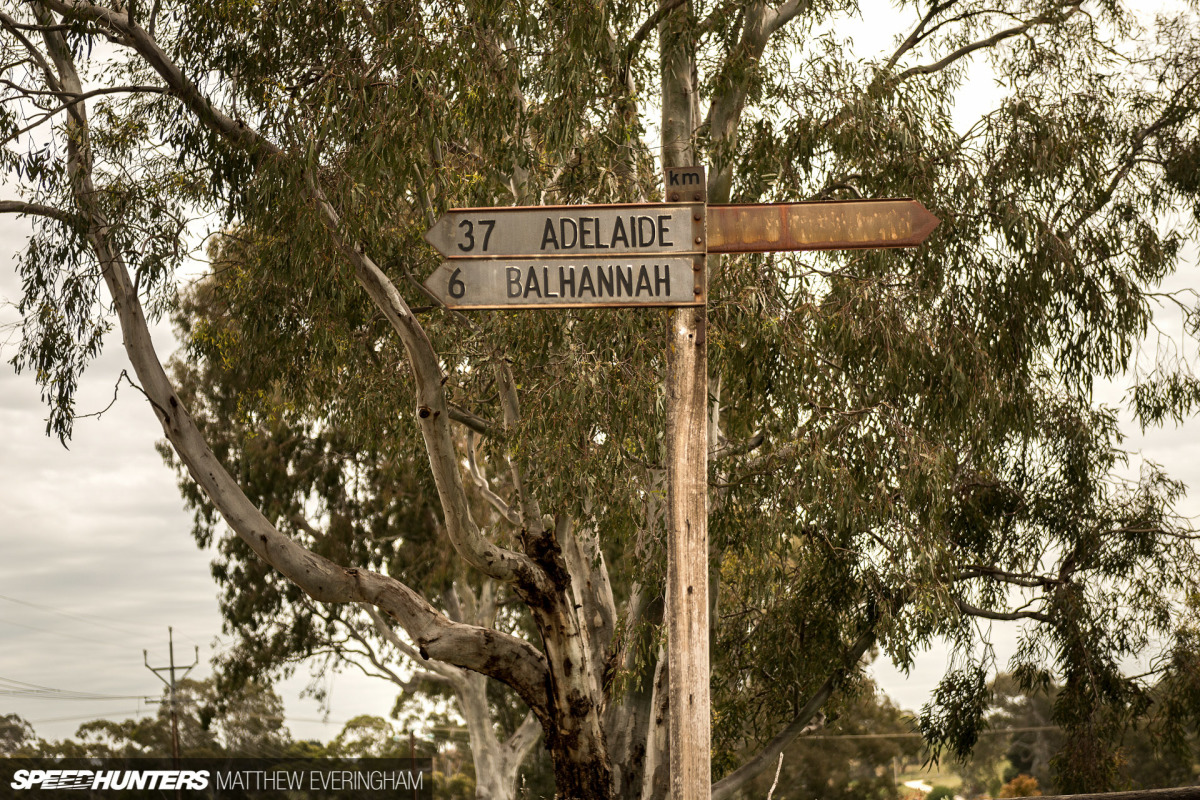 Reflecting on the day's exploits as we cruised comfortably back towards the city centre made me smile. We just had eight of the world's fastest, most desirable cars piloted by some of the fastest racing drivers the world has ever seen. The day was only half over and our weekend hadn't even begun.
Matthew Everingham
Instagram: matthew_everingham
matt@mattheweveringham.com
Cutting Room Floor