Horsepower Heaven
Welcome to Adelaide, Australia's fifth largest city and as I've recently discovered also a serious contender for our nation's 'Petrol Head' capital.
The city is steeped in rich Formula One history and it plays an important role in welcoming in the new V8 Supercar season. It's also surrounded by some of the best mountain roads that I've ever encountered, roads that double as rally stages quite frequently. Just wait until we uncover some of the cool builds I saw cruising the streets; I can't think of any other city in Australia that would happily close its central business district to let some classic cars take over. And that level of support is exactly why I think Adelaide Motorsport Festival has grown to success in such a short time frame.
The festival itself is broken into three main events: The Adelaide Classic Rally which takes up the first half of the week; the Prima Tour, where I got to up the ante and do some first-hand Speedhunting whilst co-driving this ridiculous Ferrari 488GTB (more about this at a later date); and finally, the most important aspect of the festival for spectators, the Victoria Park Super Sprint.
Think of it as a competitive museum in motion; both classic and modern cars racing door to door on what remains of the historic Adelaide Formula One track.
If seeing a whole spectrum of speed, from vintage tub racers to time attack champions still hasn't piqued your interest, the celebrity drivers and historic championship cars might. Three Formula One heroes, all who'd raced at the Adelaide GP would be reunited with their original cars and given the opportunity to let their machines sing once more.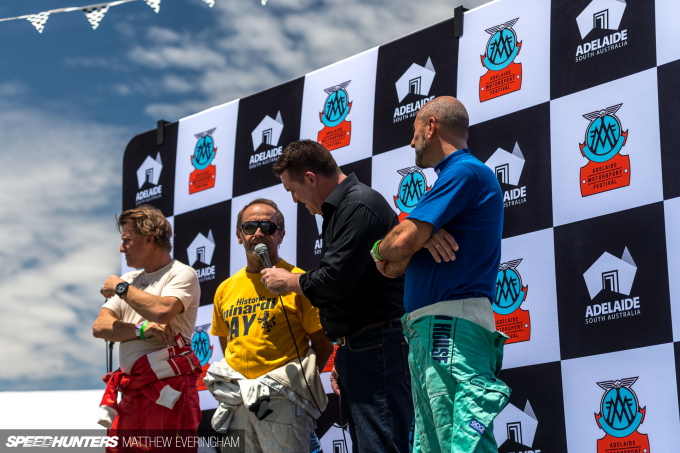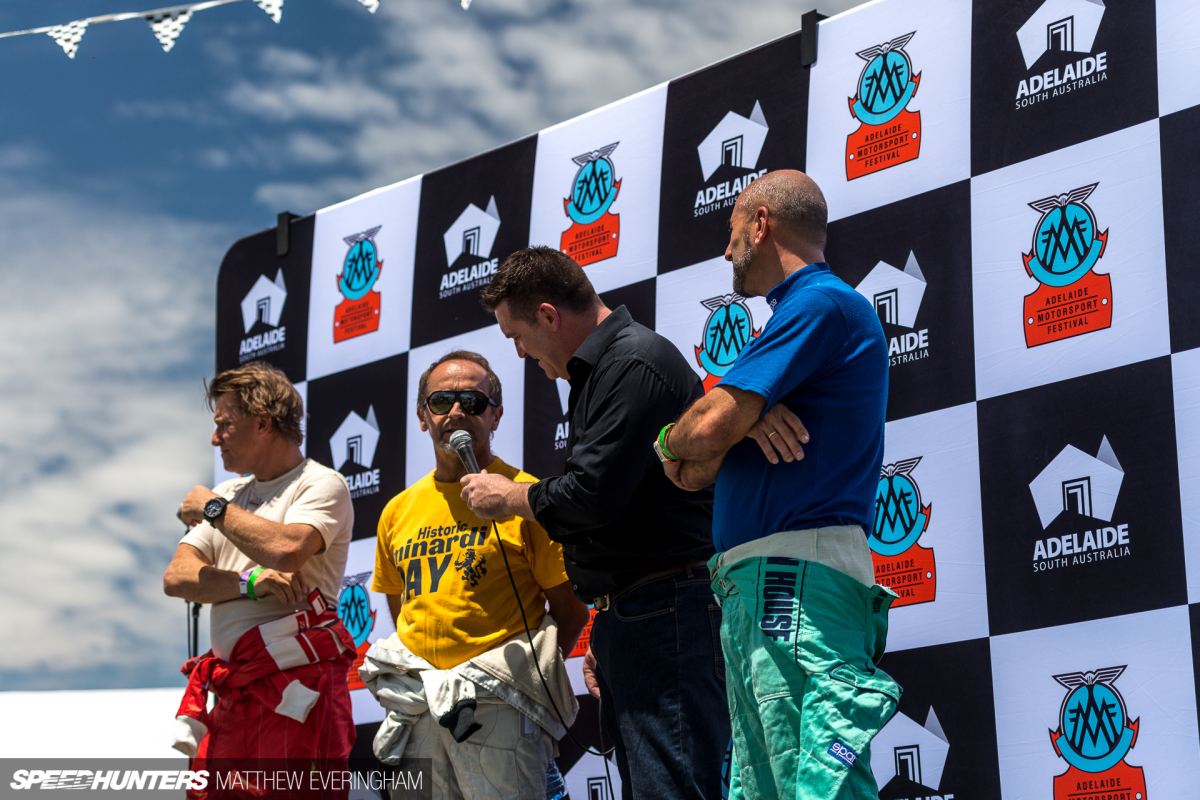 Guest drivers included Stefan Johansson (Ferrari), Ivan Capelli (Leyton House March) and Pierluigi Martini (Minardi). Although they'd take to the track and rally circuits purely for exhibition, there was still a strong underlying level of competition both on track and in banter between drivers. I guess old habits die hard.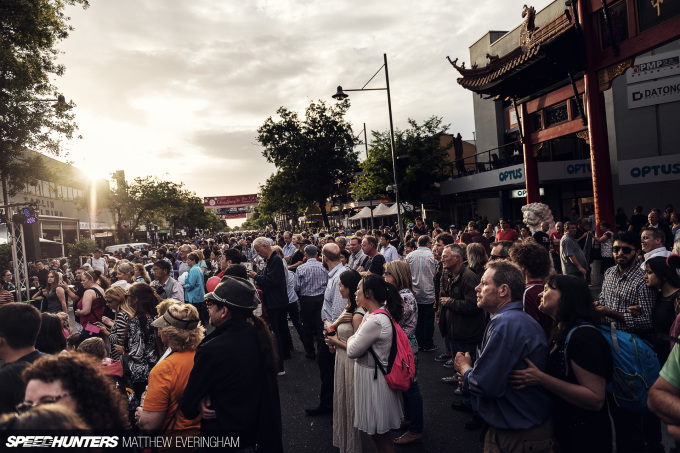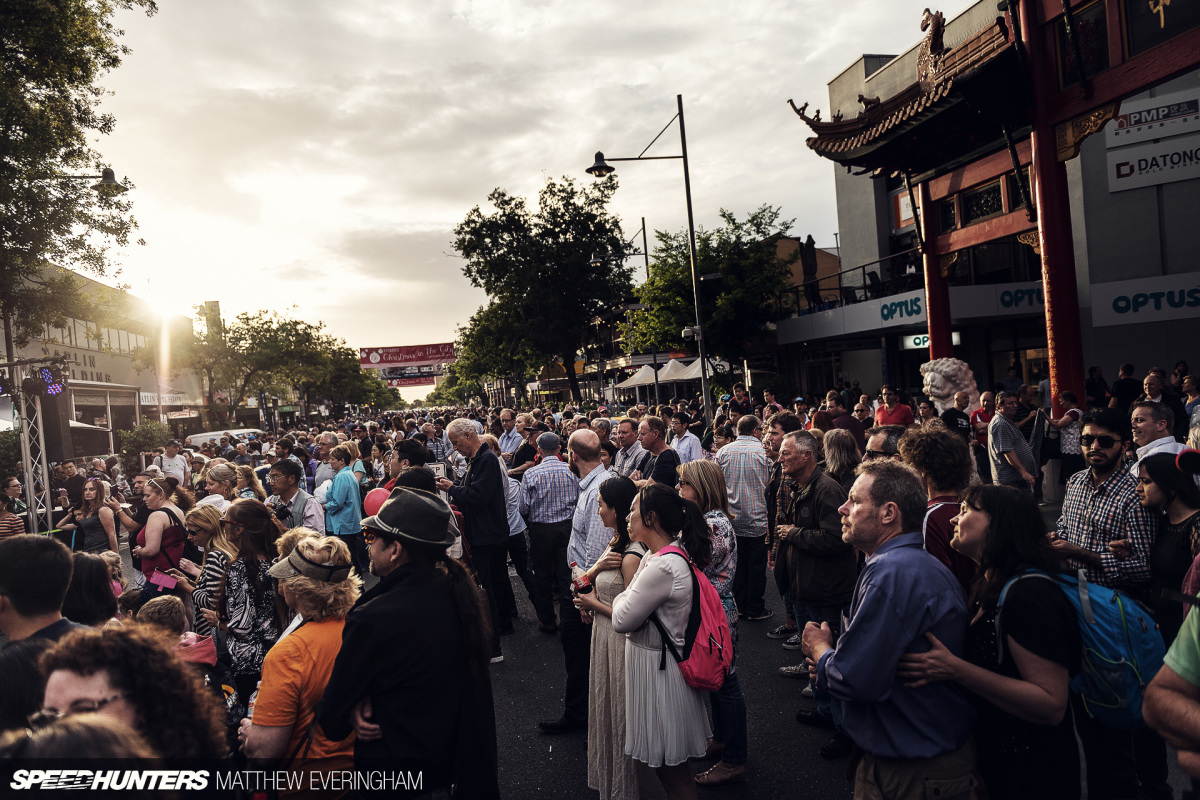 While the Classic Rally started mid-week, the official festivities kicked off on Friday evening with a massive street party right in the centre of the city. An impressive line-up of machinery, including the historic F1 cars, had the opportunity to drive through the CBD on closed roads, which made for one hell of a dramatic entrance.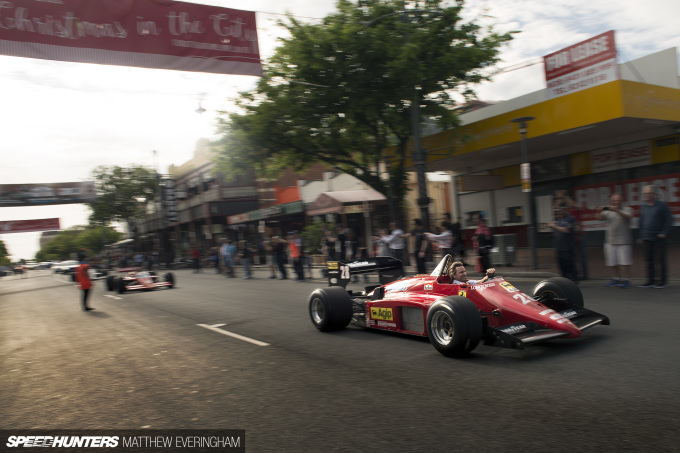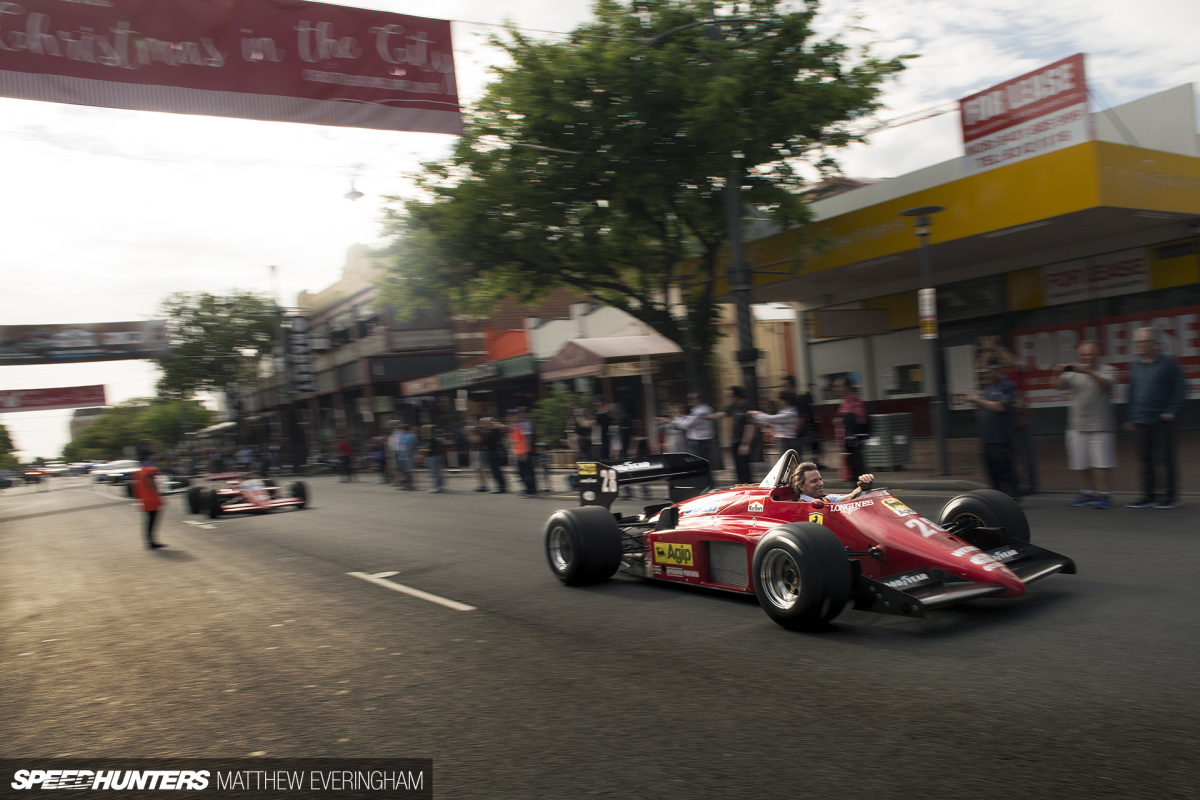 The buzz of the crowd was electric even before the cars rolled into Gouger Street; the sweet sound of Formula One goodness preceded the cars by a few blocks announcing their imminent arrival. Fans of all ages lined both sides the busy street cheering and trying to capture their own snaps and videos of something that very few people would have had the privilege of seeing before. Cars from all marques and race periods followed the parade, from original Group A champions and iconic V8 Supercars right through to the latest exotic offerings from Ferrari and McLaren. It was horsepower heaven.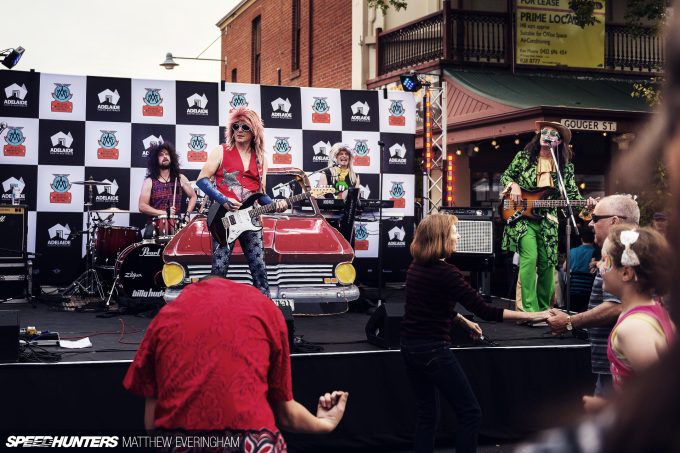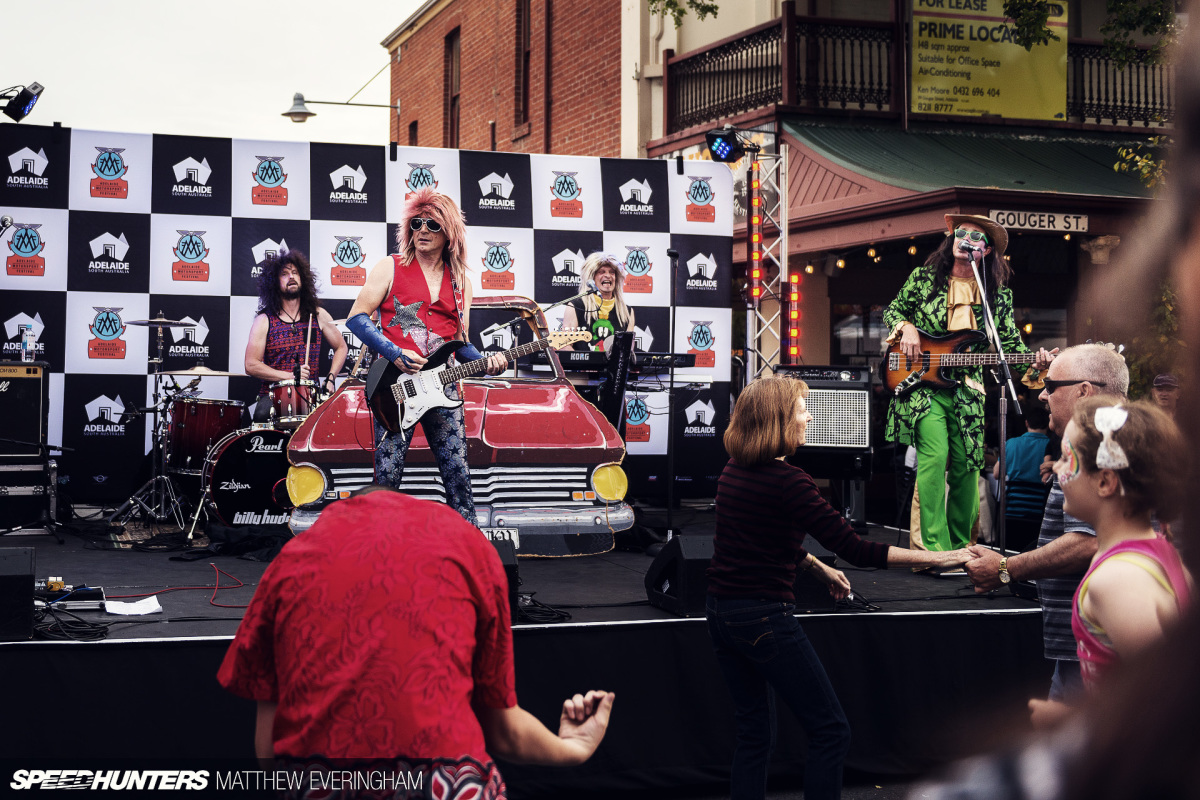 Live music, dancing, legends of motorsport and of course a few optional beverages guaranteed the entire crowd had a good time. After a late night of partying – something synonymous with South Australian motorsport festivals – punters would regroup at the historic Victoria Park primed for an entire weekend of celebrating both horsepower and history.
Gentlemen, Start Your Engines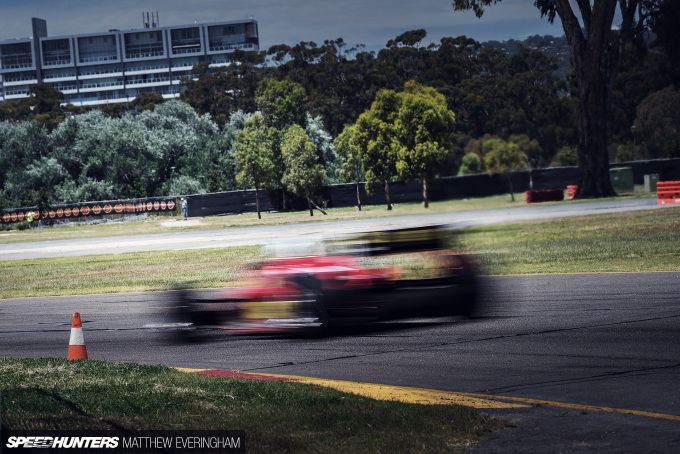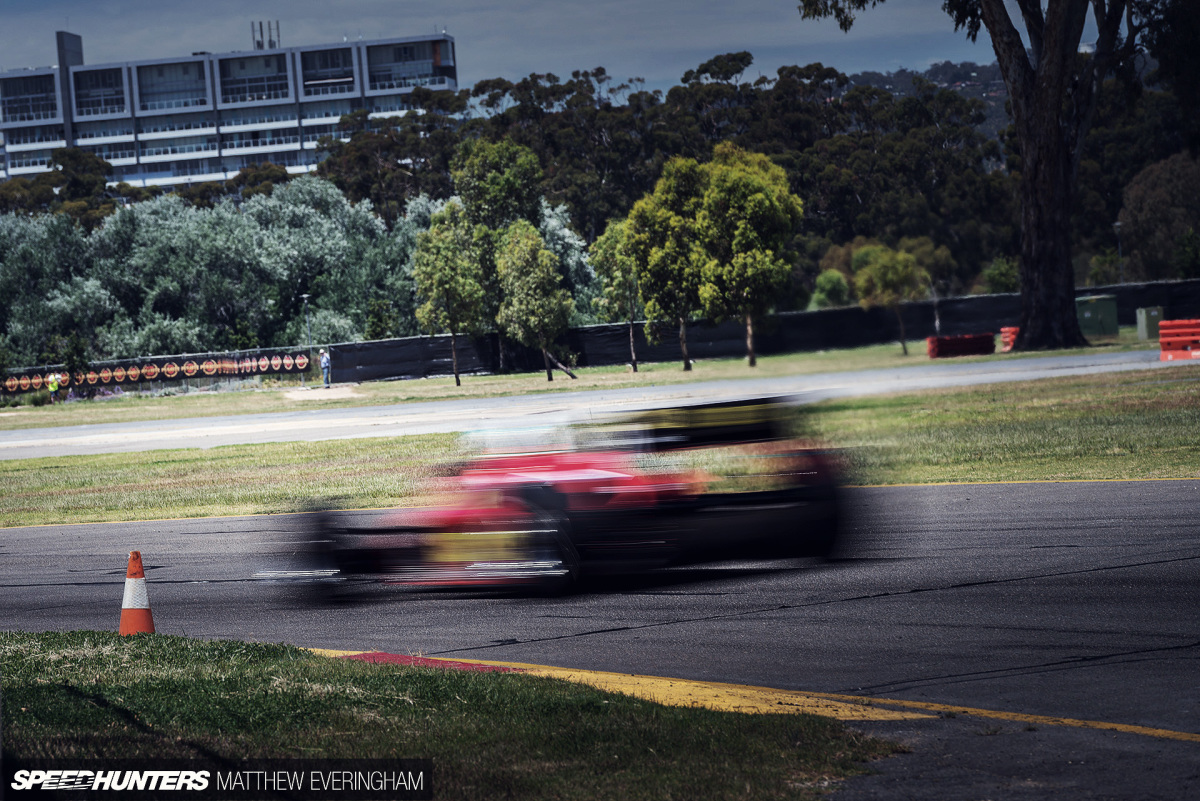 CAMS (Confederation of Australian Motorsport) South Australia is by far the country's strictest motorsport body. Their policy for media at events is simple: no CAMS accreditation, no track access, regardless of experience. Not being a CAMS-affiliated photographer meant that I'd have to cover this event purely from spectator vantage points and other public access areas.
Initially I wasn't terribly happy with the lack of track access, but by Sunday I saw it all as a hidden blessing. I ended up enjoying the challenge it presented. While the situation wasn't ideal, it does highlight just how accessible and close to the action a general entry ticket can get you.
Without a shadow of doubt, the Formula One cars proved to be the highlight of the weekend. Every single session saw the entire crowd flock to the track barricades to get as close as possible to the action and the amazing sounds that only a classic F1 machine can produce.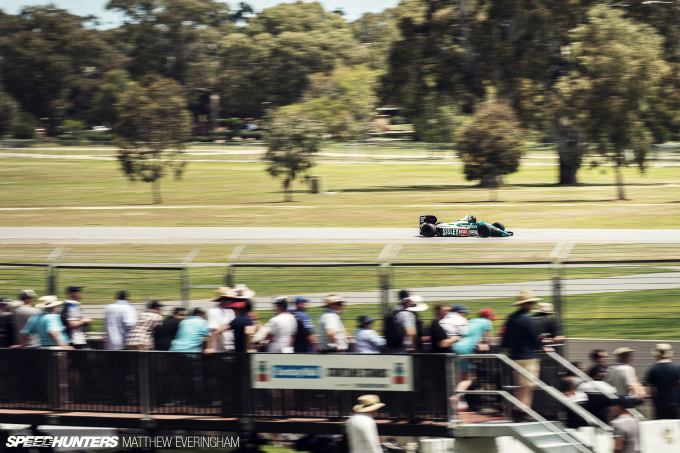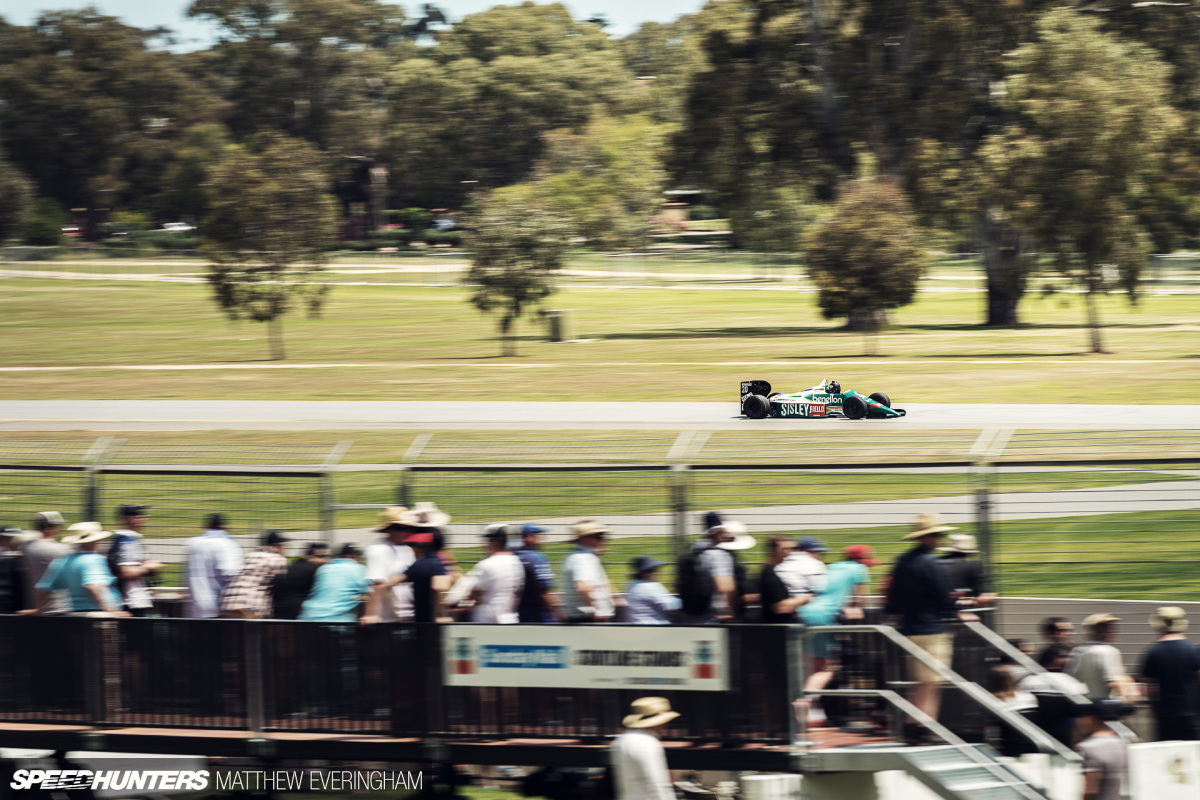 For the locals who were old enough to have witnessed the old Grand Prix this was more than just an exhibition session, it was more like a homecoming. Each of the drivers invited were to be reunited with the very same car they raced at the GP circuit during the '80s or '90s, and the excitement in the paddock was infectious.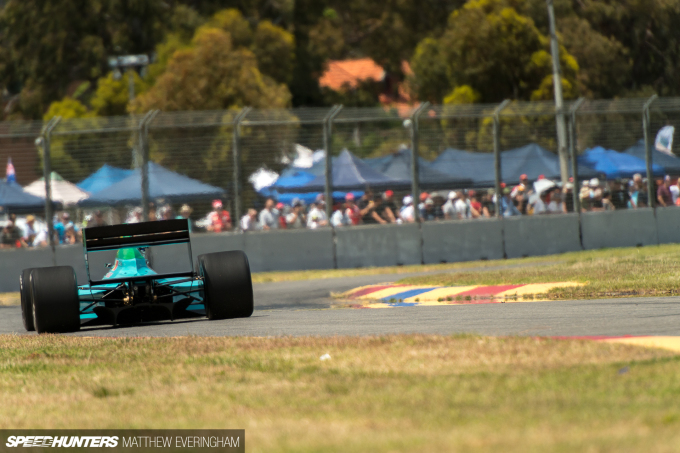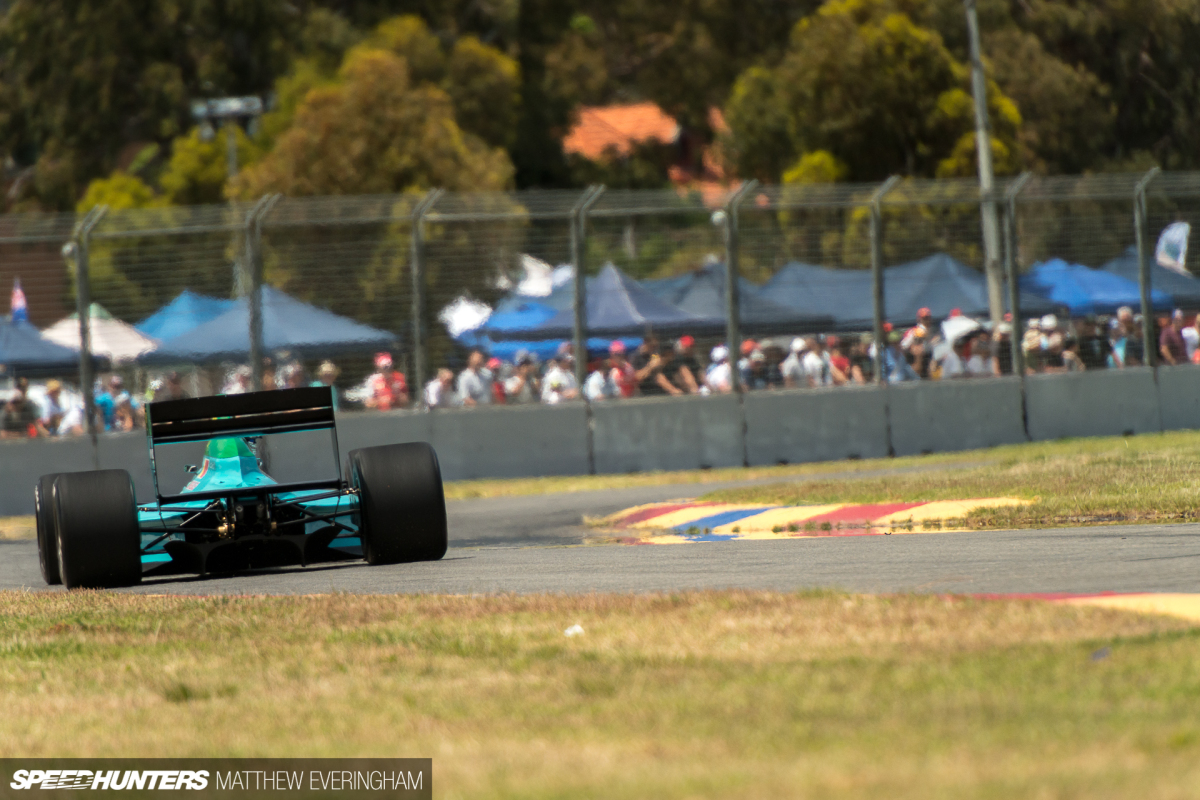 Fans temporarily forgot about the sweltering heat and focused their attention on Ivan Capelli as he lay down a 43.28s benchmark lap on the shortened Victoria Park course. The Leyton House March secured top honours, outperforming both Steffan Johansson's Ferrari F156 and Pierluigi Martini's Minardi M189.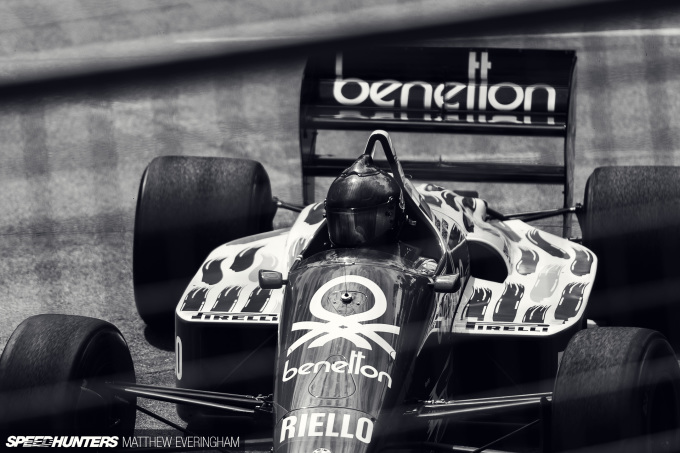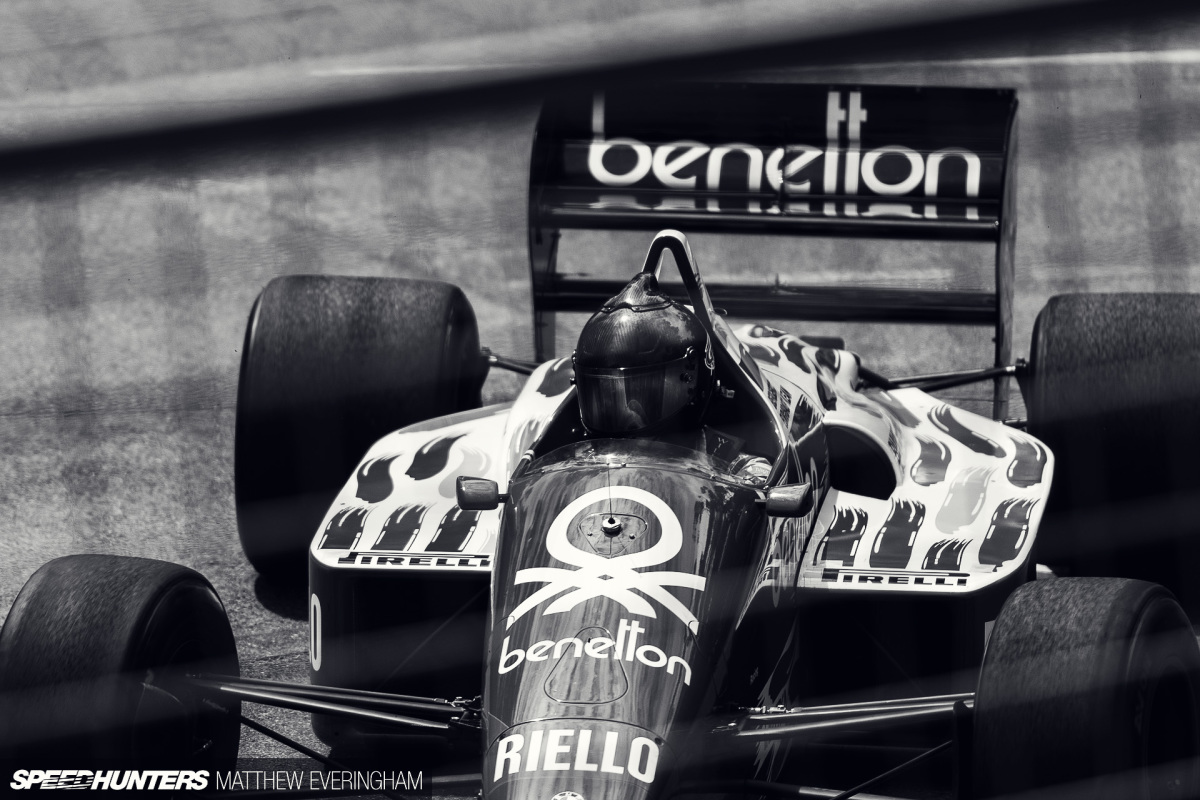 Seven historic Formula Ones hit the track in total; that's almost certainly a record-breaking number of historics at one event down here. In addition, fans also got to cheer on a pair of Ferraris (F156 and 412T), a Benetton-BMW and a Beatrice Lola.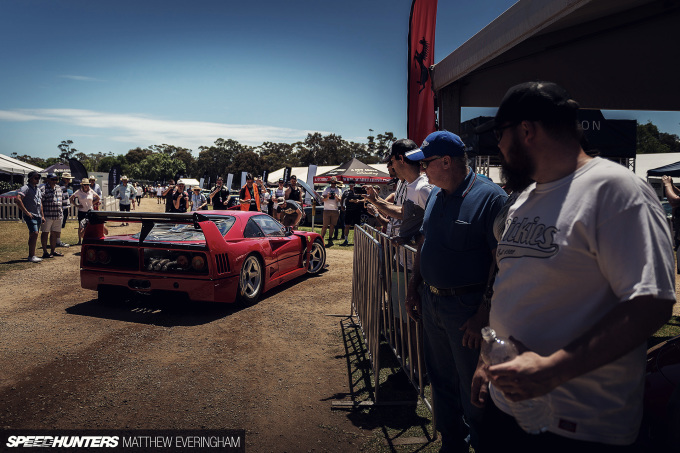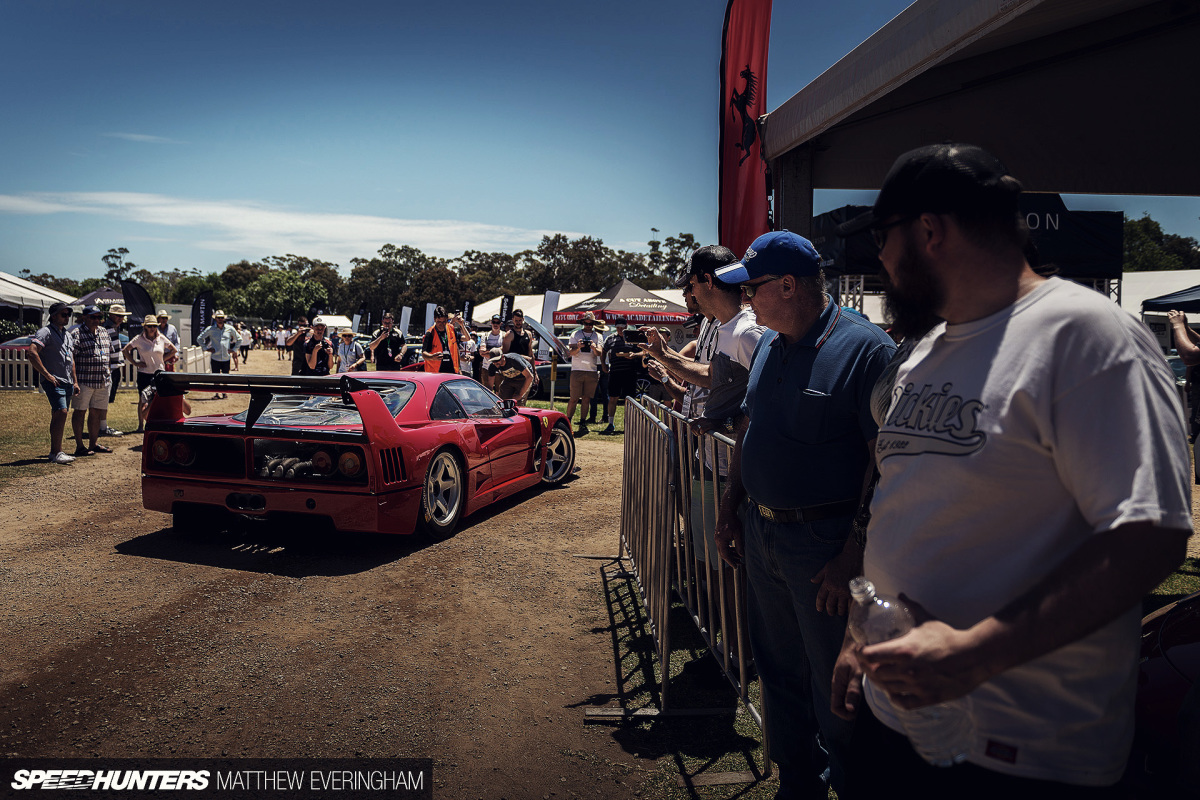 The other main attraction of the event was the Ferrari Spettacolo, and headlining the exhibition session was a car that created almost as much of a buzz as the entire Formula One fleet – one of only seven Ferrari F40GTEs. This specific example is also the only of the seven to have never been raced. Good timing would see me near the Ferrari VIP stand when the engineers started the car for the first time over the weekend.
The F40 was the last car to be blessed by Enzo Ferrari and was built purely to make a statement to those who believed that Ferrari had gone soft and was resting on its laurels. Nearly 25 years old and that statement is crystal clear: this the pinnacle of evolution of a driver's car. It's raw, it's powerful and it'll spit you out the second you don't respect it.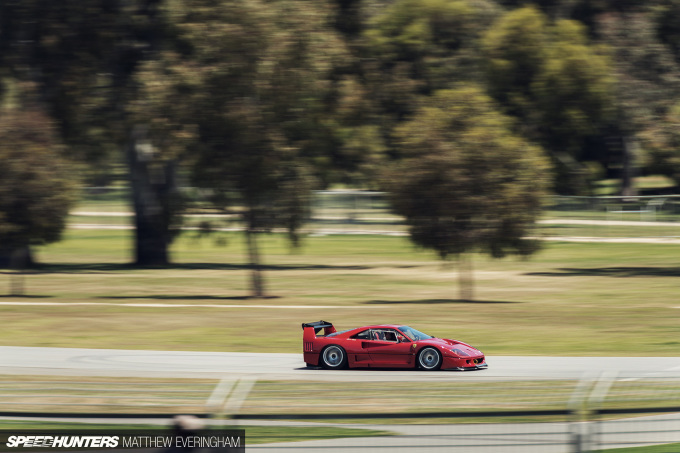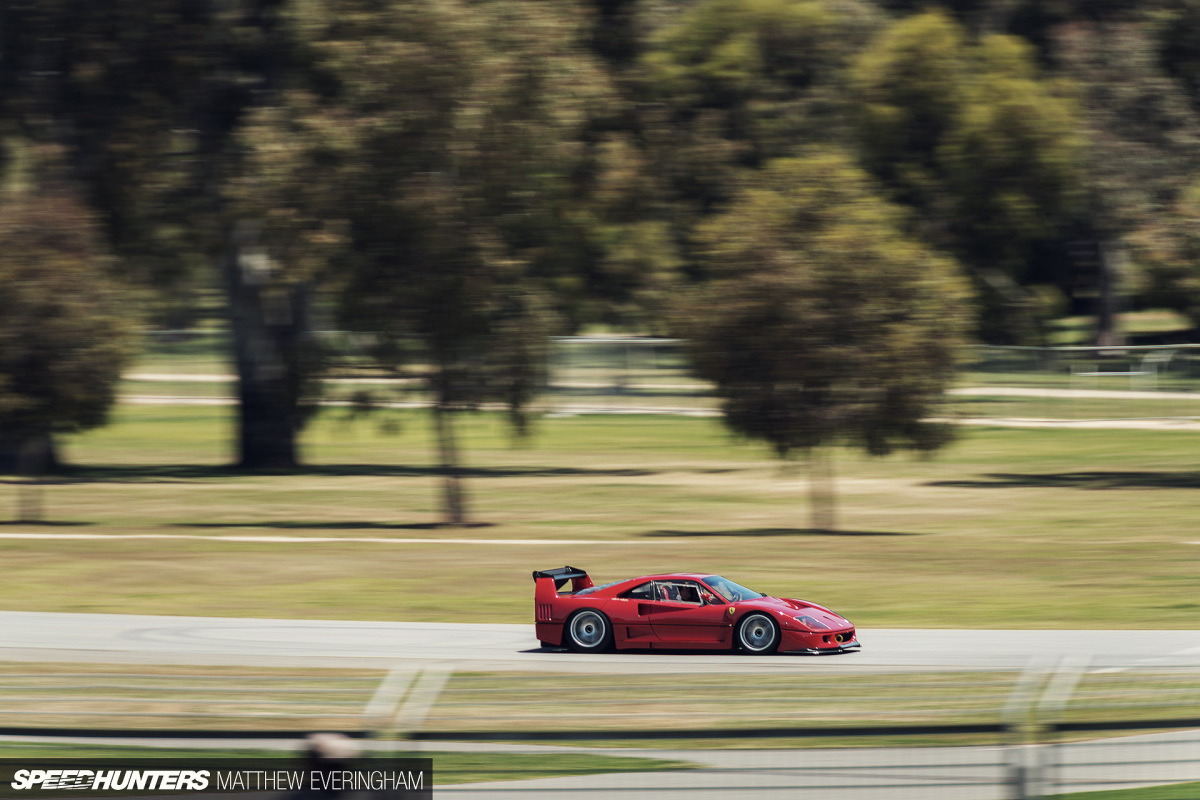 The F40GTE sports a 2.9-litre twin-turbo V8 and is said to produce around 620 horsepower, pretty scary when you consider the chassis weighs just over 1000kg and has none of that modern technology to assist the driver! The GTE also sports a wider, reinforced carbon body to accommodate a larger wheel diameter, oversized Brembo brakes and wider tires to help get that power to the ground where it counts. As I said, this is a driver's car; it's as pure and lethal as speed itself. An amazing evolution of what is already considered one of the greatest machines of all time.
Something For Everyone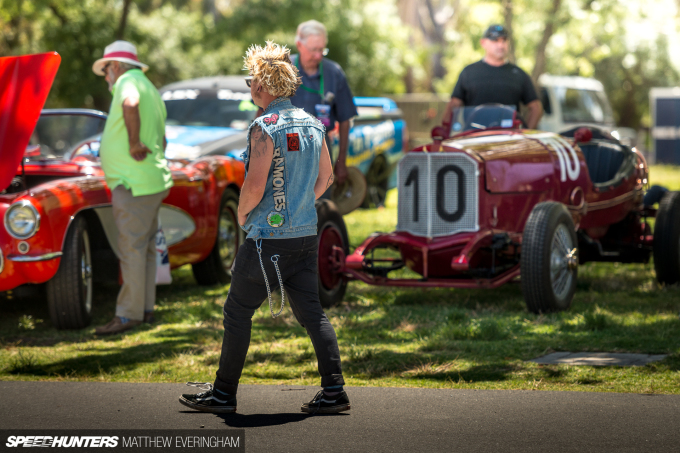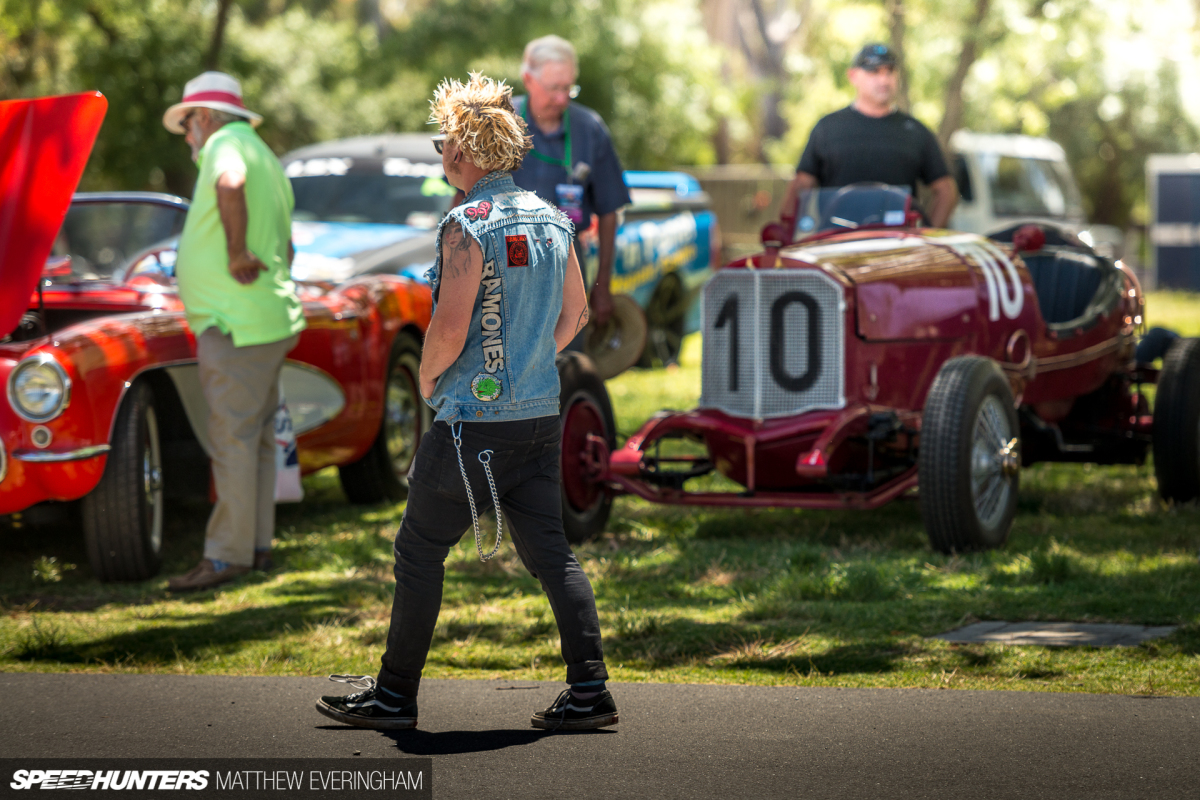 One thing that really impressed me was the wide variety of vehicles on display and the mutual respect shown between different crowds. It's not every day you see a pair of old timers getting excited about a cutting edge carbon-laden Mitsubishi Lancer Evolution built for time attack, or conversely kids in their late teens stopping by to check out the finer details on racing cars older than their grandparents.
That's the power of car culture though. It unites people and starts natural conversations that wouldn't happen anywhere else.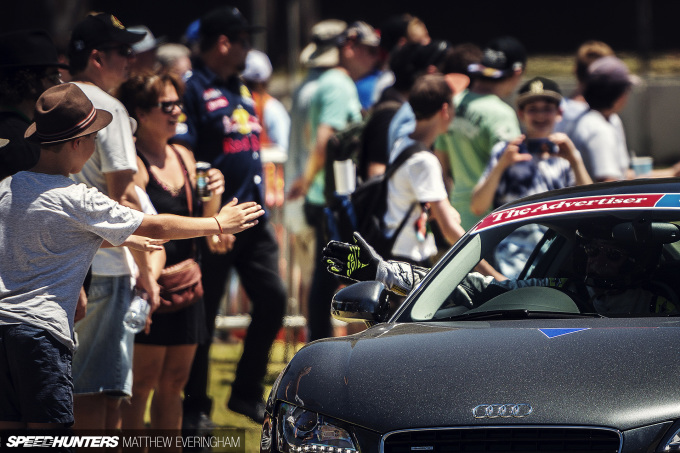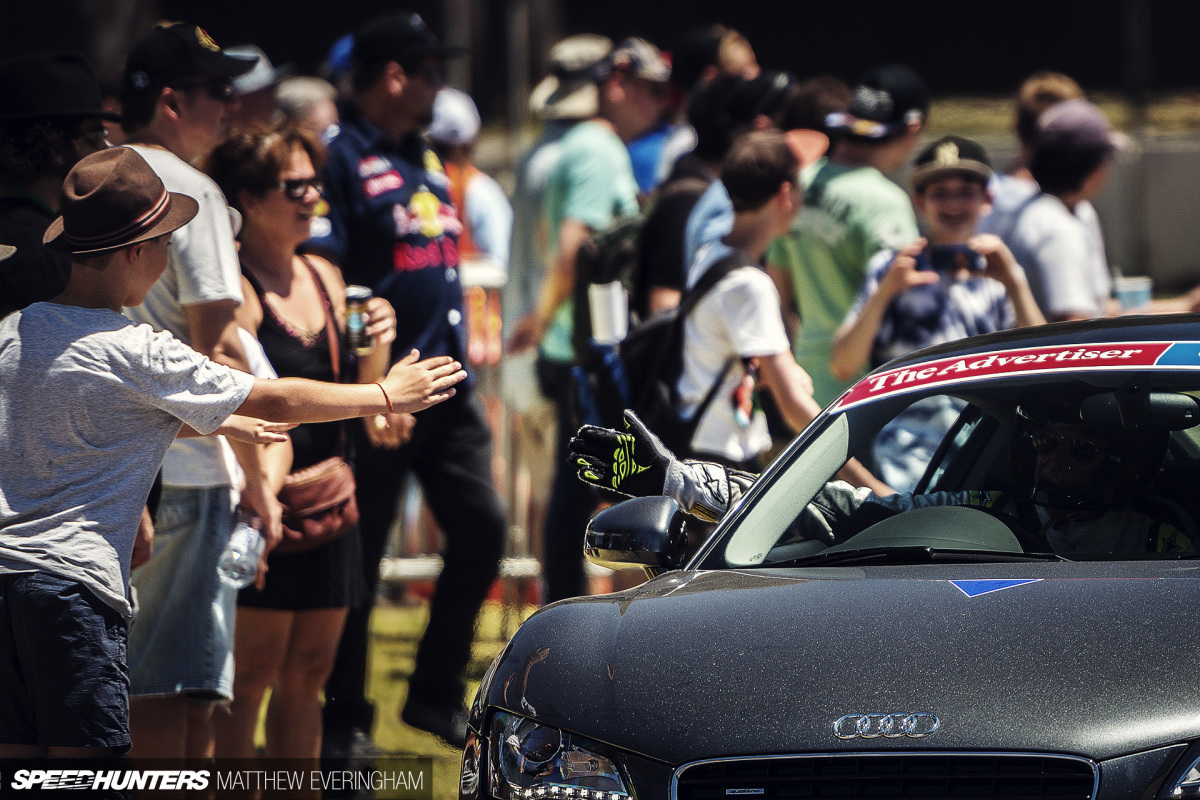 So relaxed was the vibe that wherever you stopped to escape the oppressive Adelaide sun you'd also find a circle a blokes admiring and chatting away like old friends. A circle that you always felt welcome to join. I found myself getting caught up in similar conversations many times across the weekend.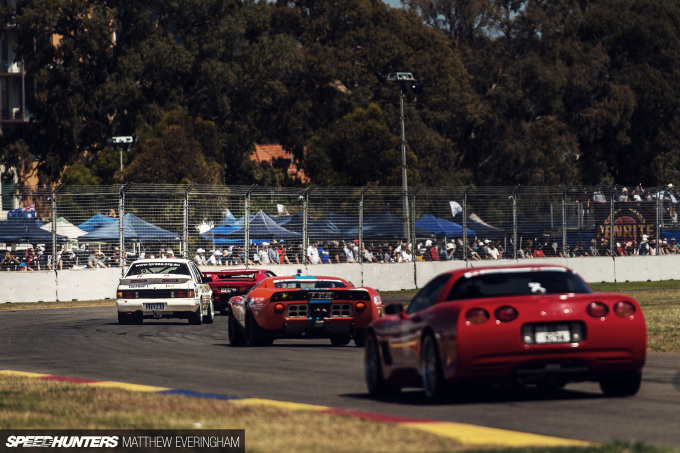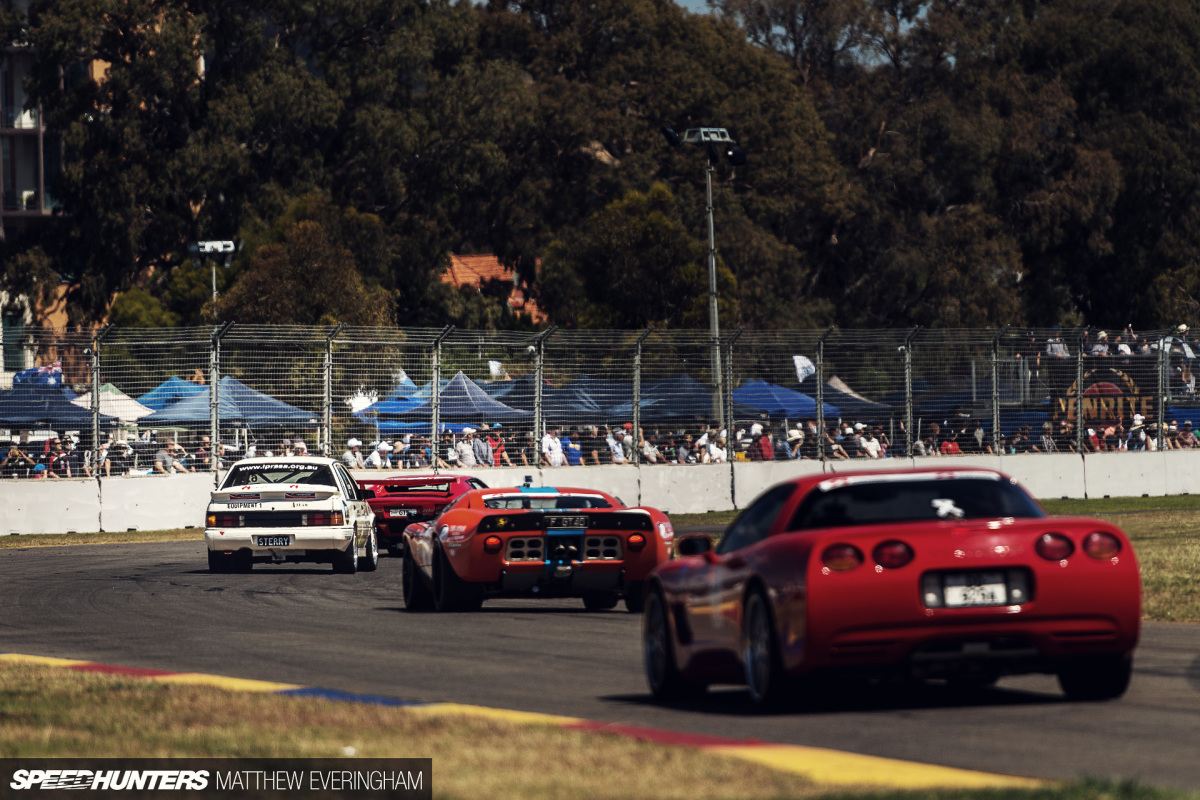 So eclectic was the field of entrants that the Super Sprint cars were split into a massive 17 separate categories. These included everything from early historics to Bathurst V8s, from a dedicated group for GT-Rs to the Ferrari Club Australia. Regardless of your automotive taste, there was a category to support it. Although the event does have a strong focus on historic racing, later models were encouraged to enter and hit the track or to simply be admired in the paddock. If it's fast or beautiful it has a home at the Adelaide Motorsport Festival.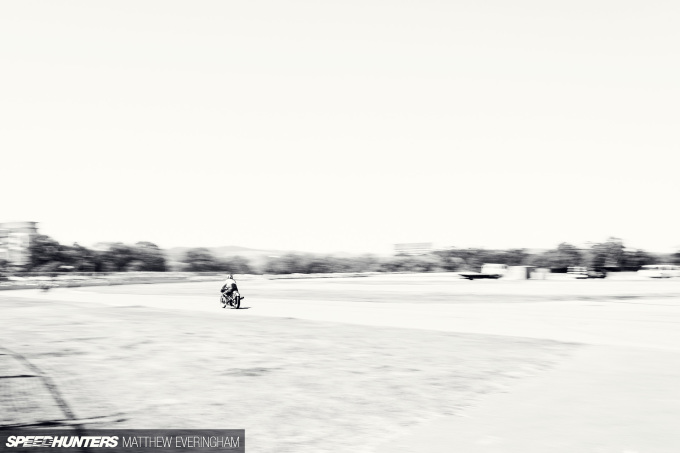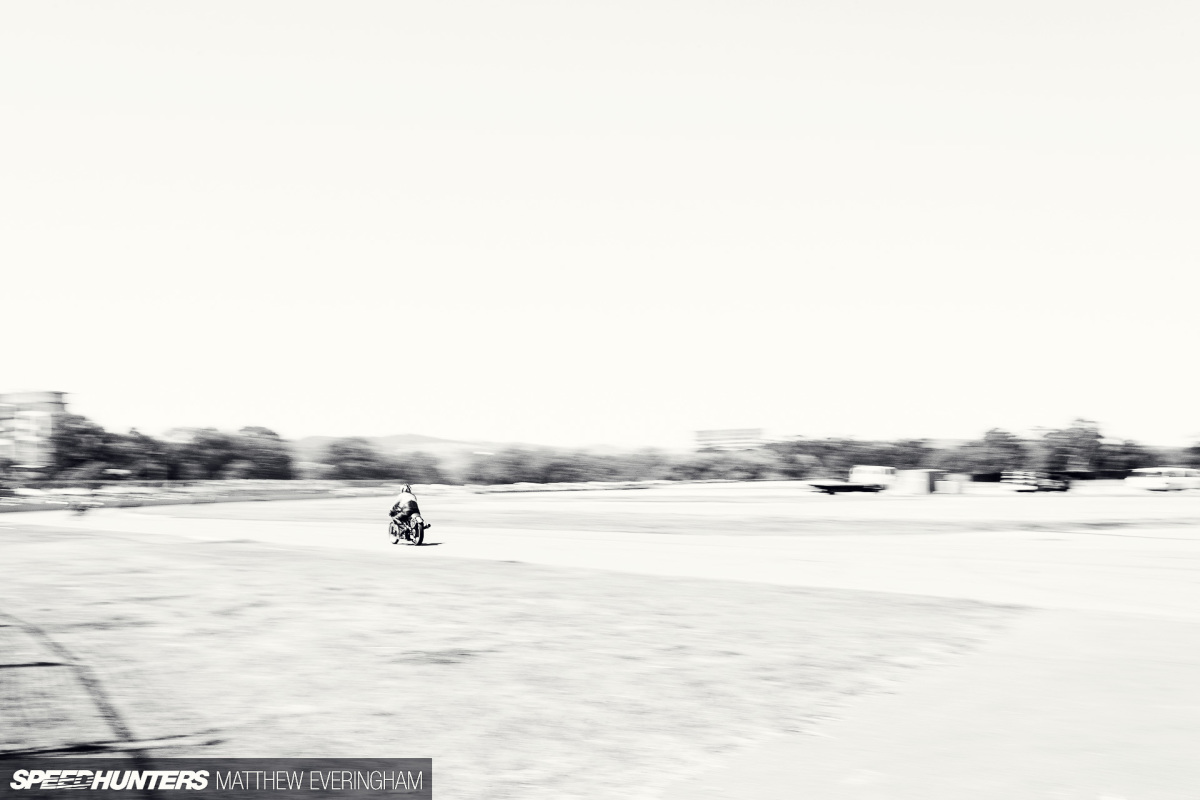 It was refreshing to see some bikes involved with the festivities too, just another positive outcome of the super-inclusive philosophy that seems to be behind the team that organise the event. While the age of bikes ranged from the 1930s up to the early 1970s, they were all very track focused. I'm usually pretty far removed from the bike scene so I found it quite interesting seeing the level of evolution of sports bikes between the models on display.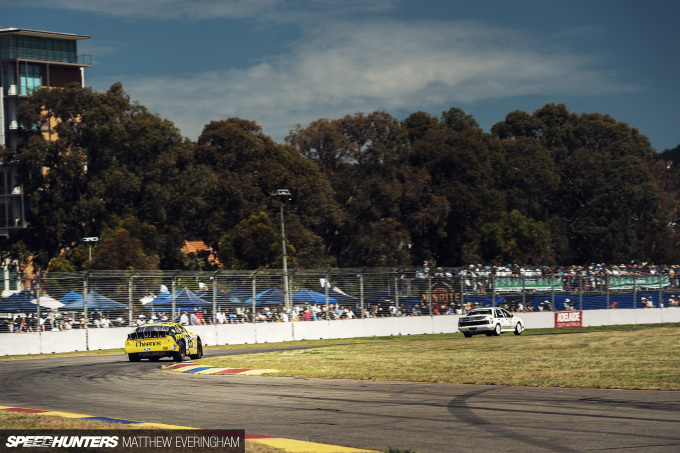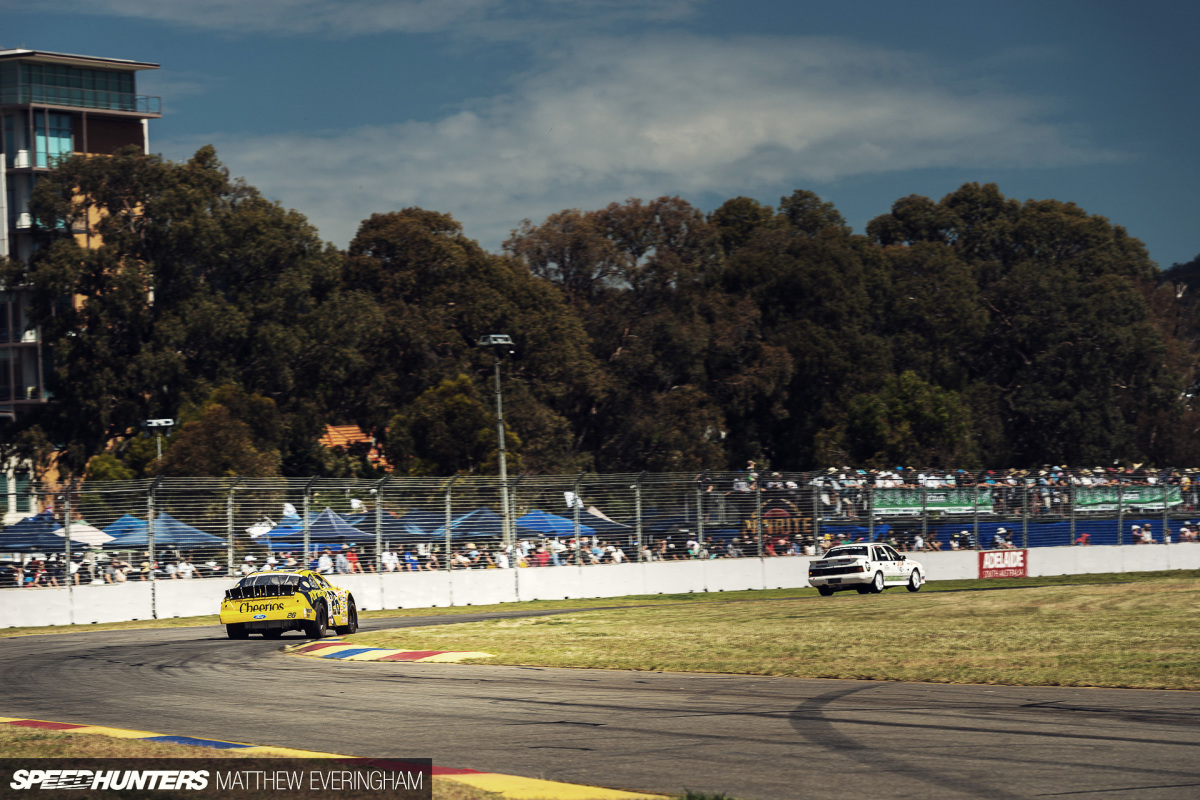 My gut tells me that people will keep coming back to the Adelaide Motorsport Festival. Because where else would you get to see a Holden VL Commodore race against a NASCAR? That's right, a damn NASCAR! Nowhere. Nor would you normally see a De Tomaso Pantera defending against an E90 BMW M3. They're the kind of crazy scenarios that were happening in almost every category.
I'd like to maintain my professionalism and shrug it all off, but truth be told, it was pretty exciting seeing these wild combinations of cars mixing it up at speed.
Pit Walks & Concours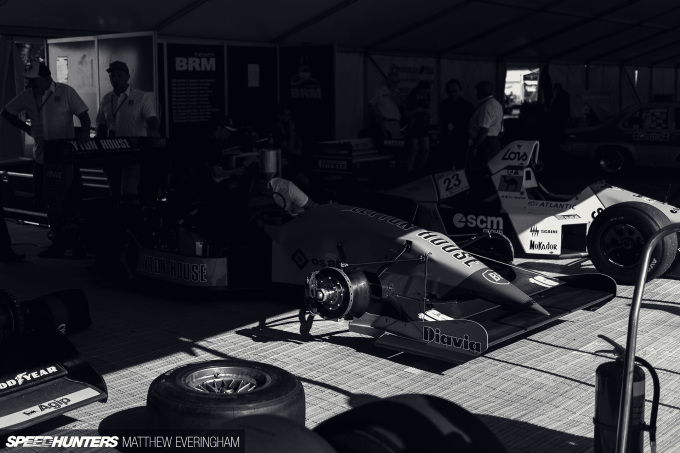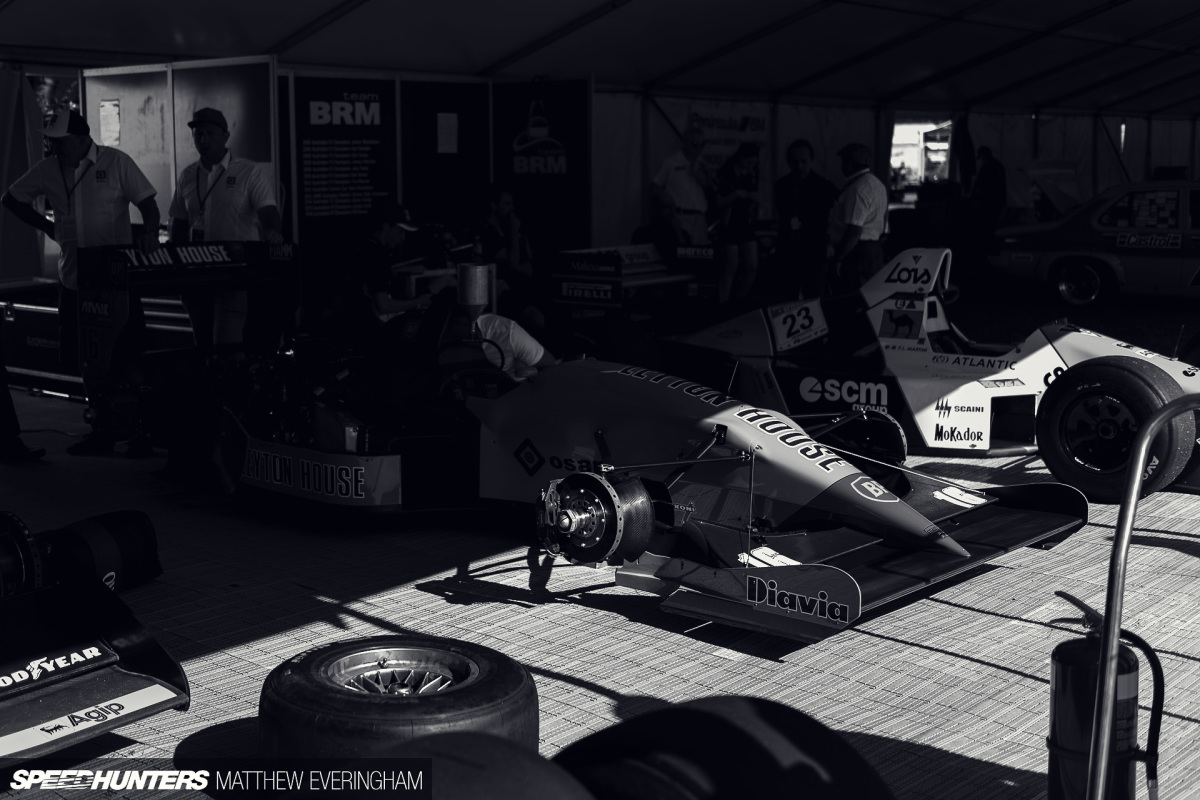 If the Formula One machines weren't out on track you could safely bet on a large crowd surrounding their pavilion. A constant stream was also making their way past to check out the action in the garage. Fans would crowd around excitedly whenever anyone in the garage lifted a tool, eager to possibly hear an engine crank over. It was a good way for the average punter to get a better idea of the hard work and dedication that gets these highly tuned and sometimes temperamental machines rolling under their own power.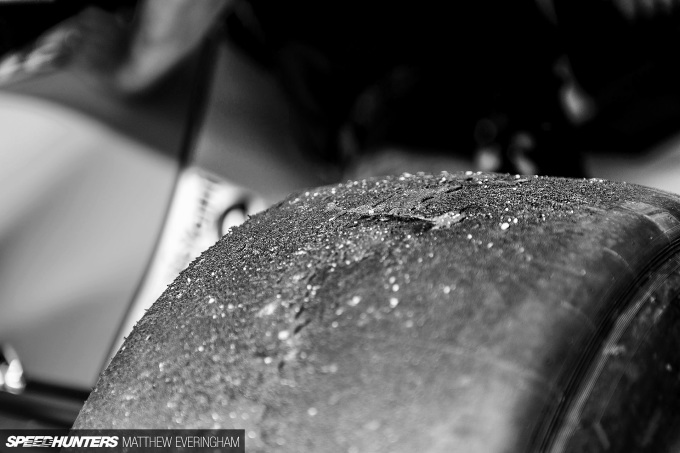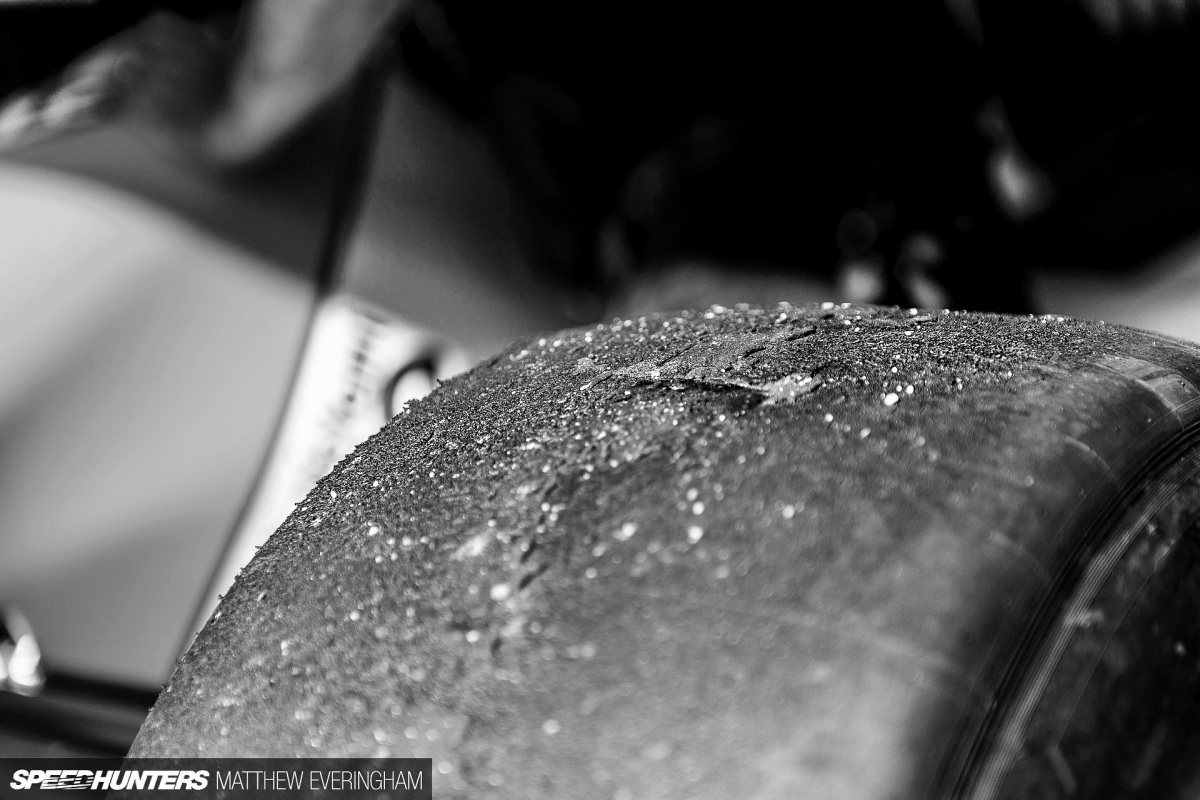 It goes without saying that attention to detail is critical when preparing for this level of motorsport, even if it's purely as an exhibition.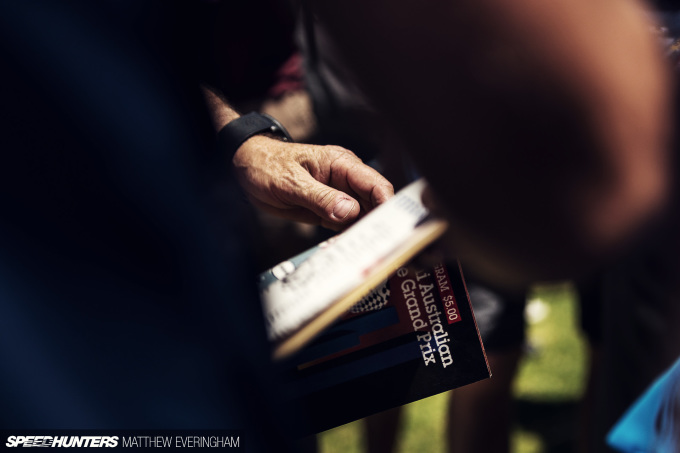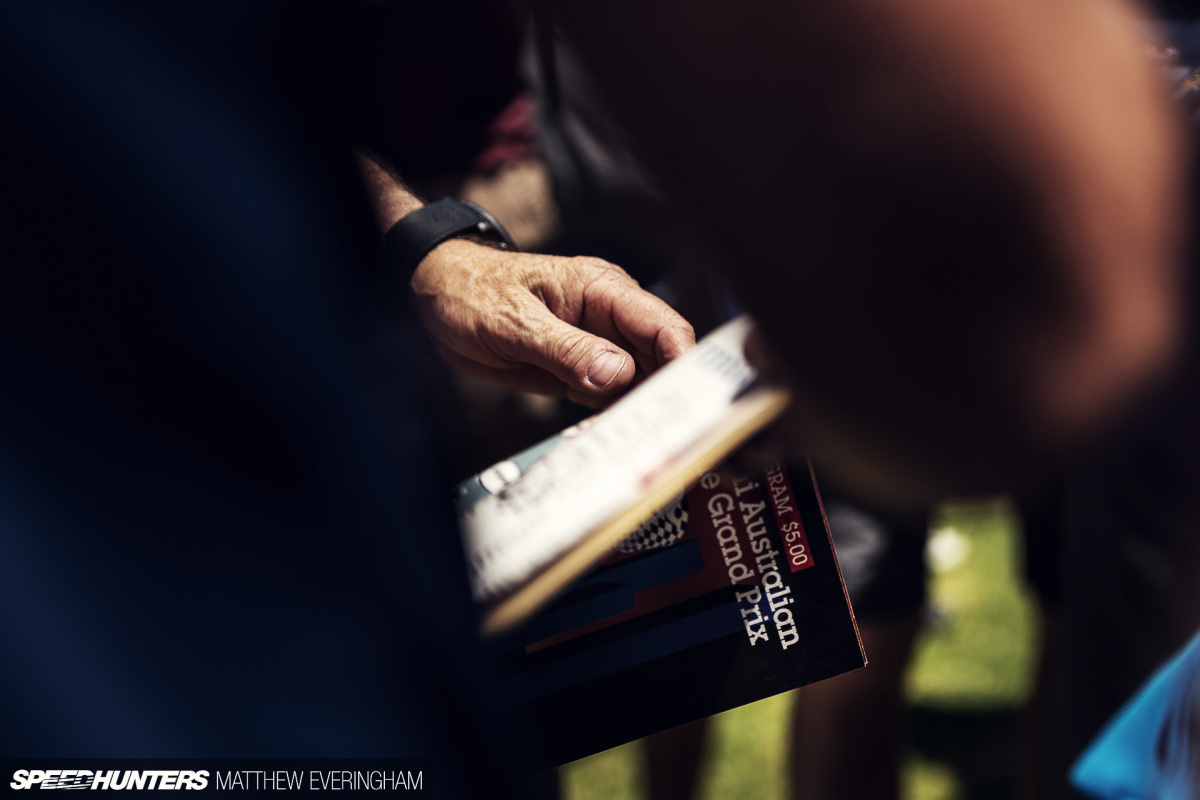 While the cars were being prepped in the garages, Steffan, Ivan and Pierluigi made their way around the venue answering questions and signing memorabilia for the fans. I'm not sure who enjoyed these pit walks more, the fans or the drivers themselves.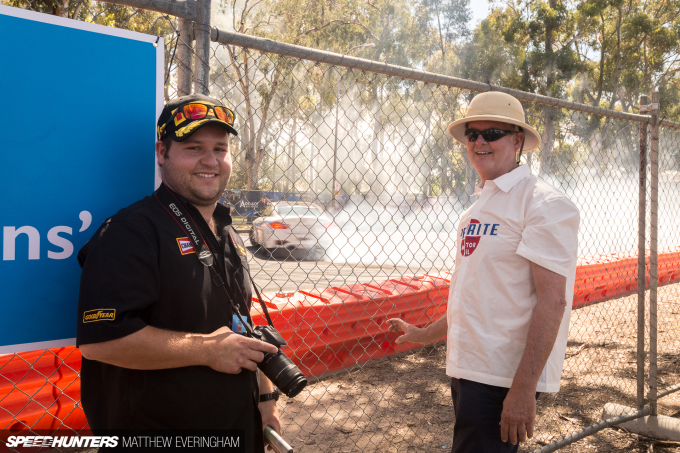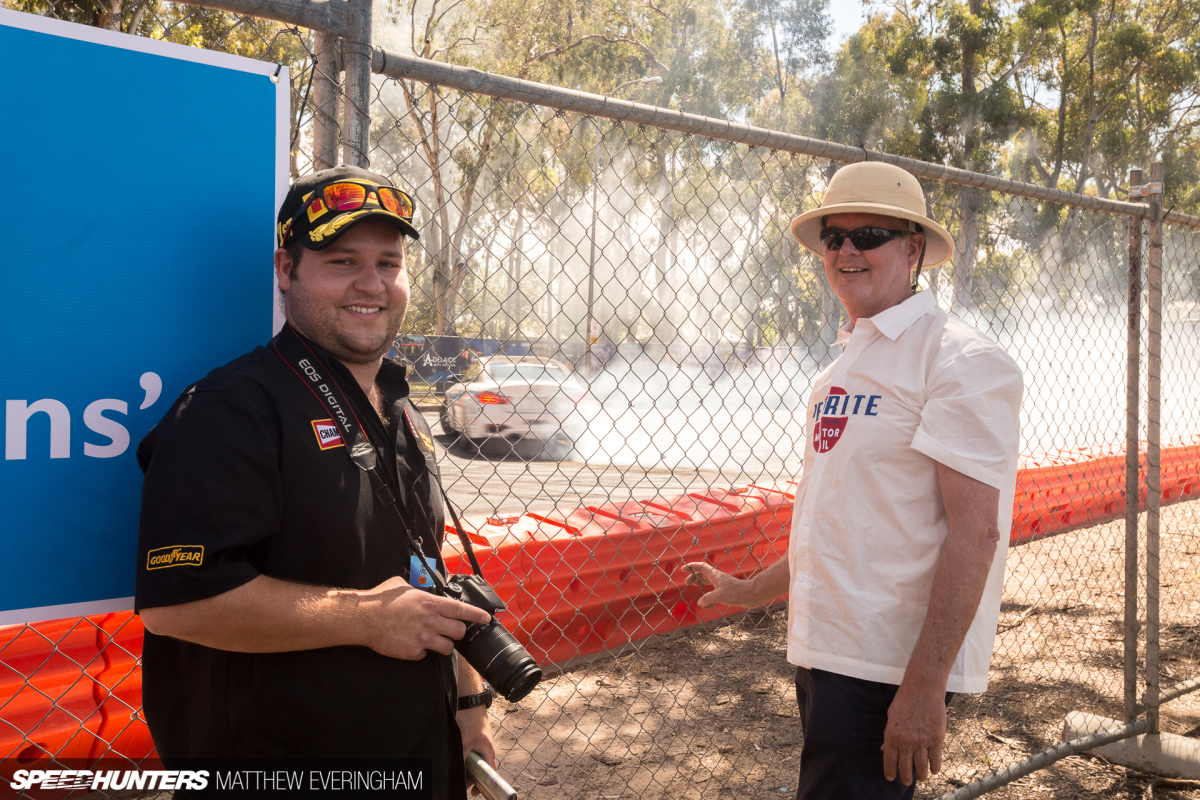 There was plenty to see in each corner of the paddock. On the far side of the field Josh Kean, a rising star of Aussie motorsport, was busy tearing tires off a BMW M3 and M5 with some passenger laps on a super-tight figure eight circuit.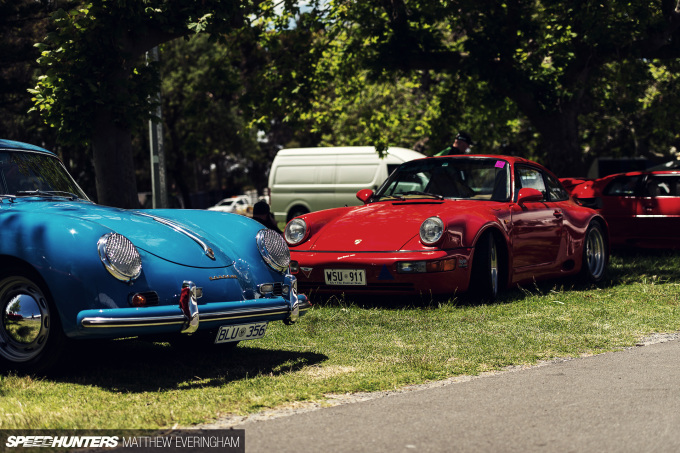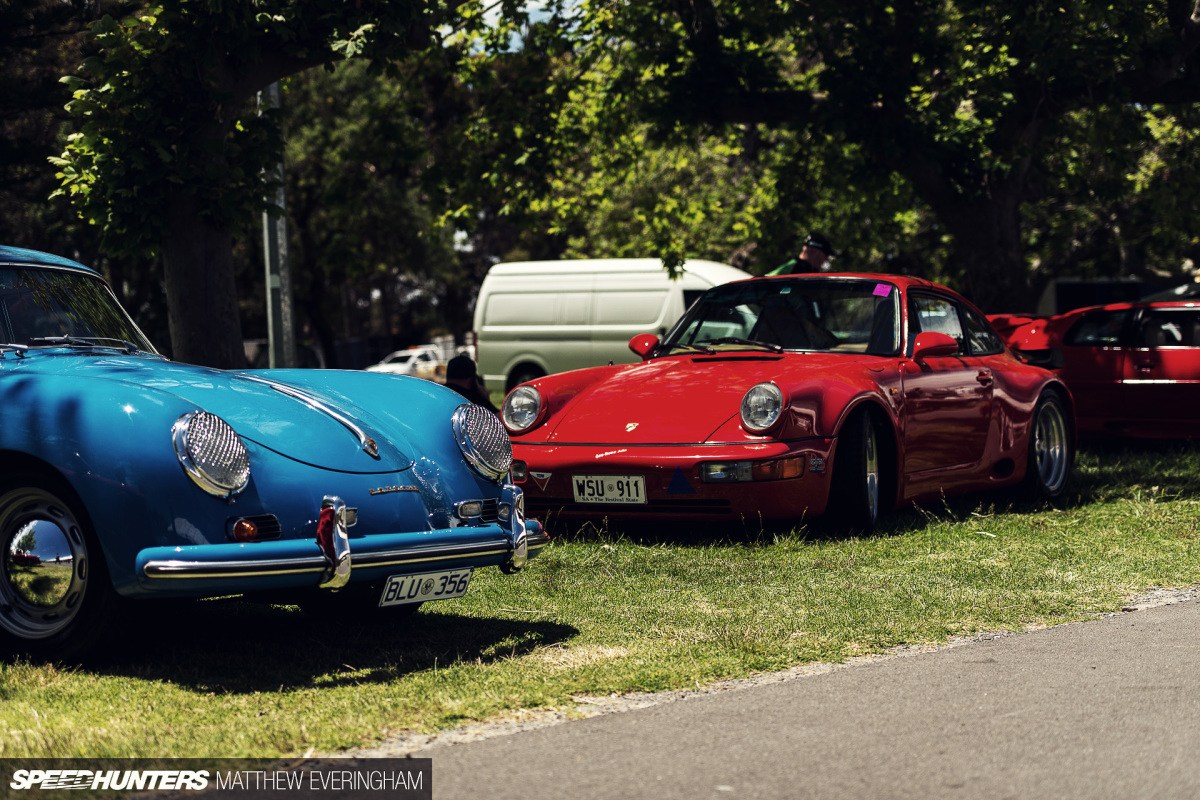 Between exhibitions the field was littered with diverse and amazing cars wherever you looked. I left with a sore neck and a guilt complex for skipping over so many amazing cars to keep to some form of schedule.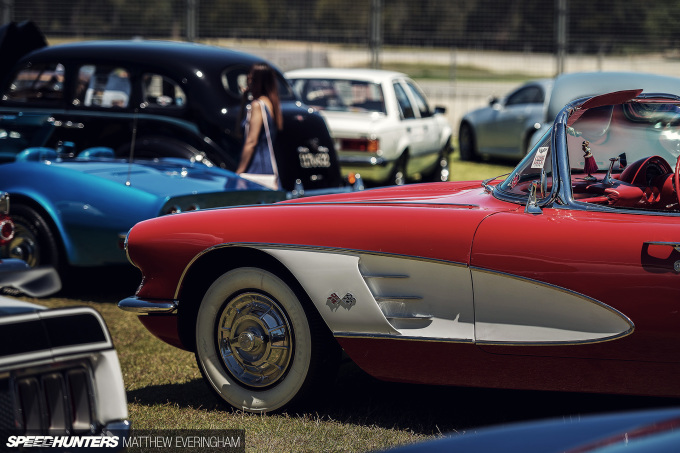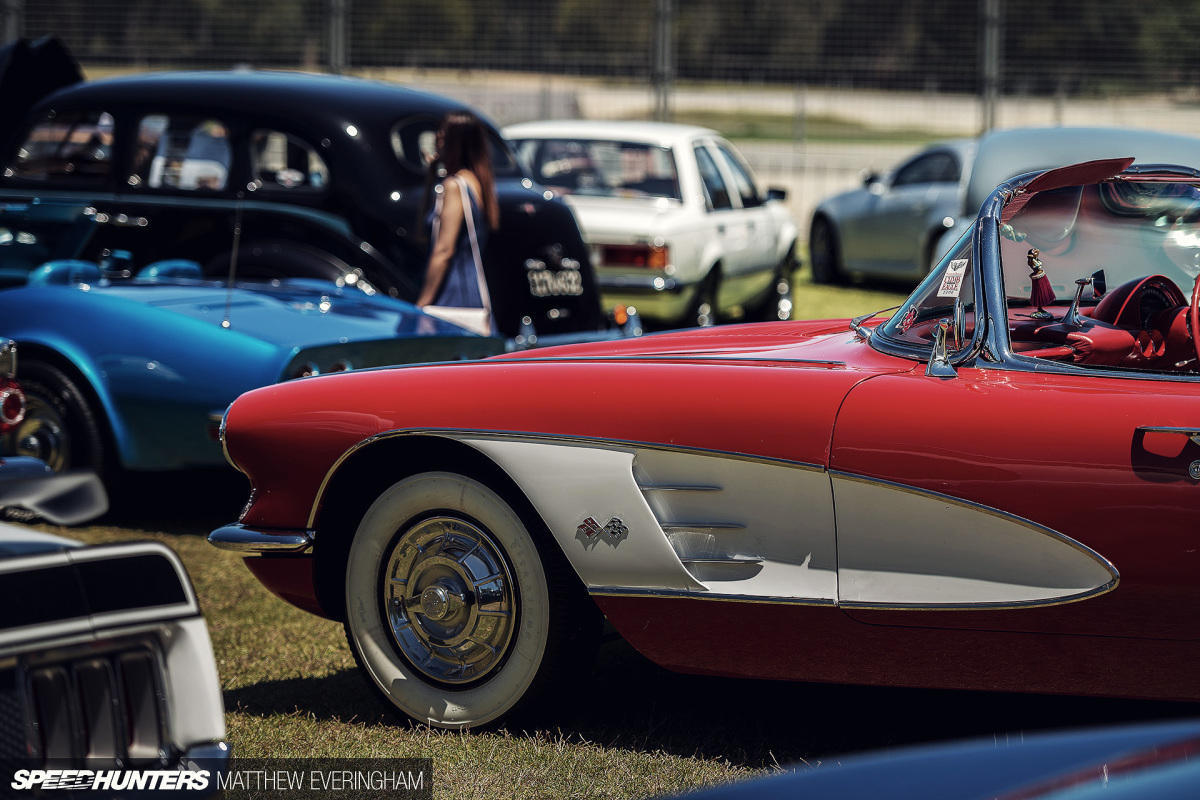 American, European, Japanese – all corners of the globe represented and raced proudly. But it wasn't only manufacturer cars on the track I'd soon discover. Expect a spotlight on that Mercedes 500SLC.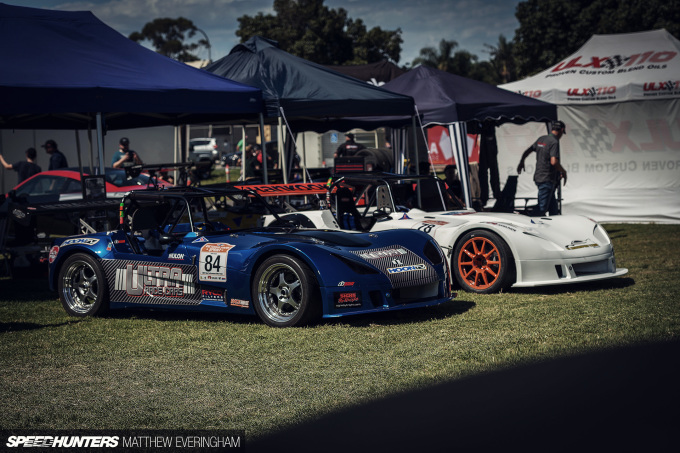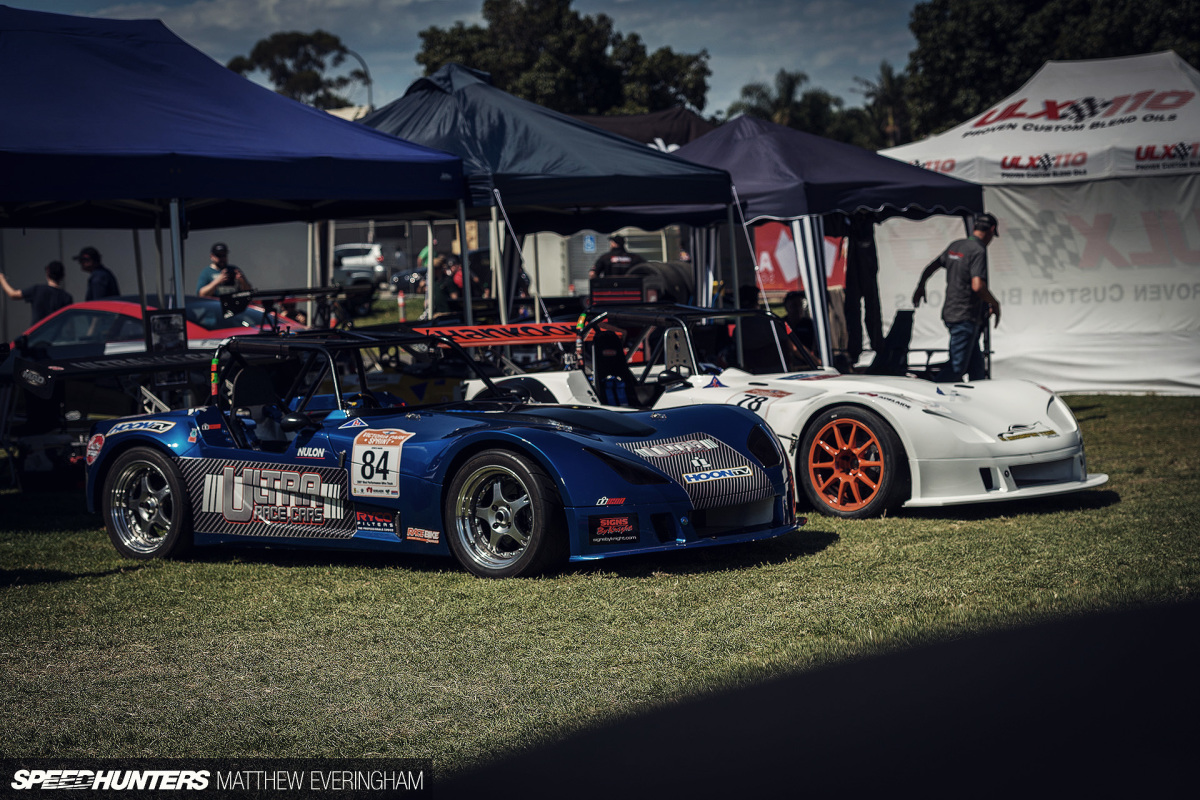 A pair of 'Ultra' kit cars stood out against the legion of heritage cars and marque manufacturer rides. They looked pretty tough from a distance but I wasn't sure what I was looking at. After a closer inspection I realised just how different the almost identical chassis were. One was powered by mildly tuned 13B extended port rotary, its last tune producing a confirmed 116kW (155hp) at the rear wheels. While that doesn't sound very impressive, Mark, the driver, assured me that it's more than adequate when you've only got 900kg to haul around.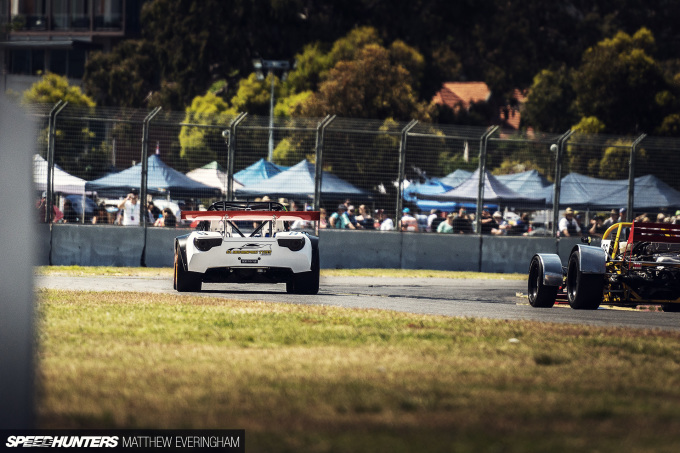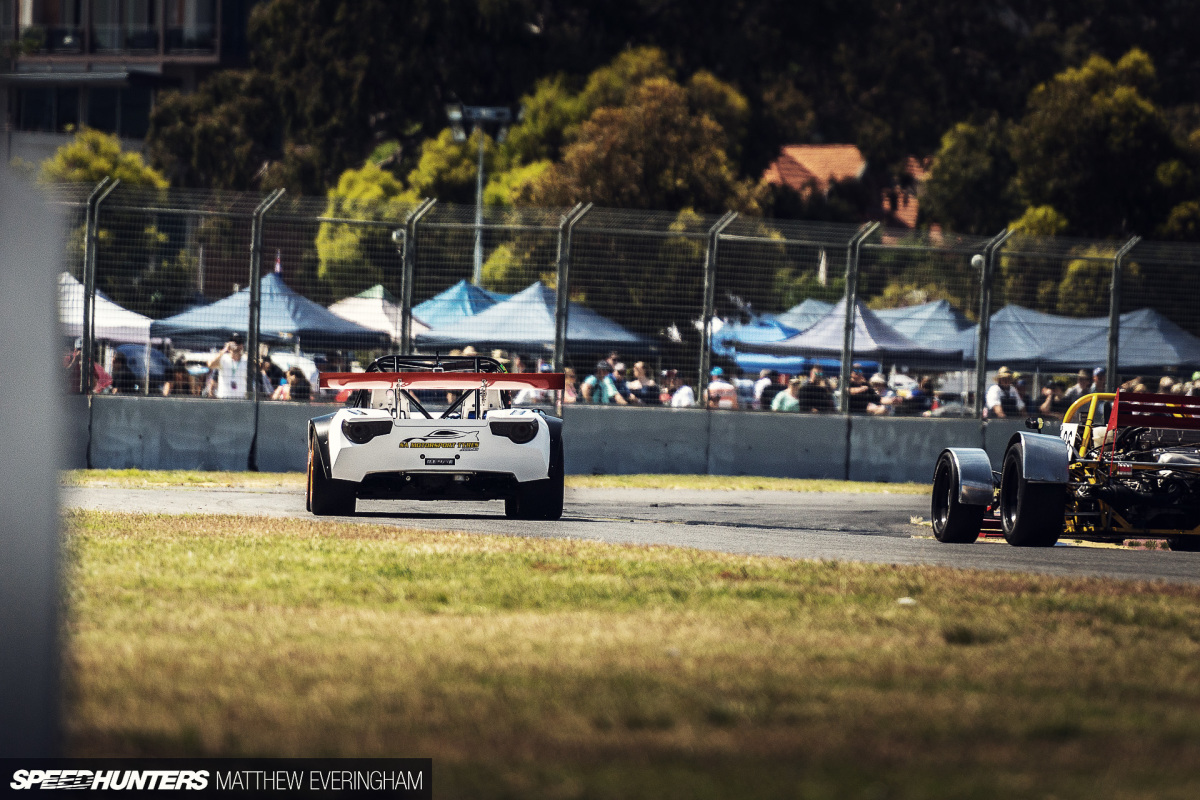 The second Ultra in the paddock – let's call it the big brother for now – instead employs a much beefier LS3 6.0-litre engine that's producing approximately 360kW (483hp) at the wheels. To deal with the higher power a massive set of 8-pot Brembos and R32 GT-R rear callipers provide the required extra stopping power.
The Ultras are the brainchild of a highly respected name in the Australian modifying scene, Mr. Craig Williams. The original founder of Mad Dat, he's a man responsible for more engine swaps in Datsuns that we've had hot dinners. The design seems to work well too; both cars put down some of the fastest times on the circuit all weekend. If you Speedhunters are curious, I might have to tee up a visit to the workshop where the magic happens.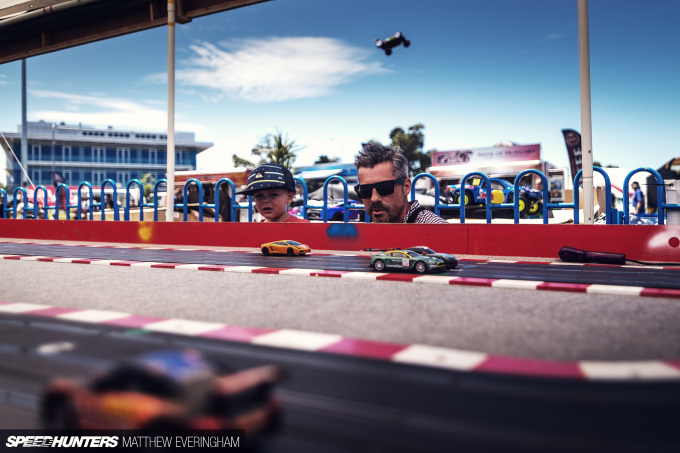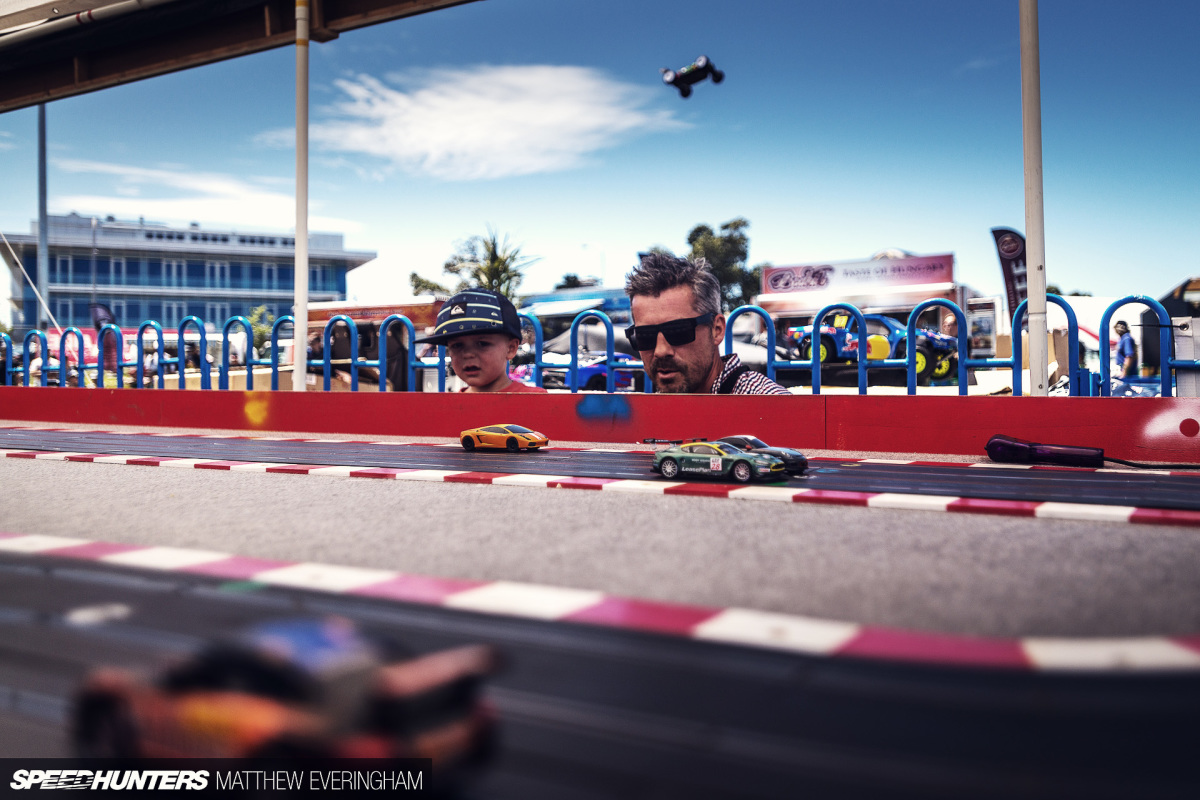 It's hard to believe this event has only been running for two short years. The festival is already a world-class event, catering to absolutely everyone regardless of where exactly their passion within the automotive world lies. It's not going to be an easy task to improve for next year. Still, I have no doubt that it will.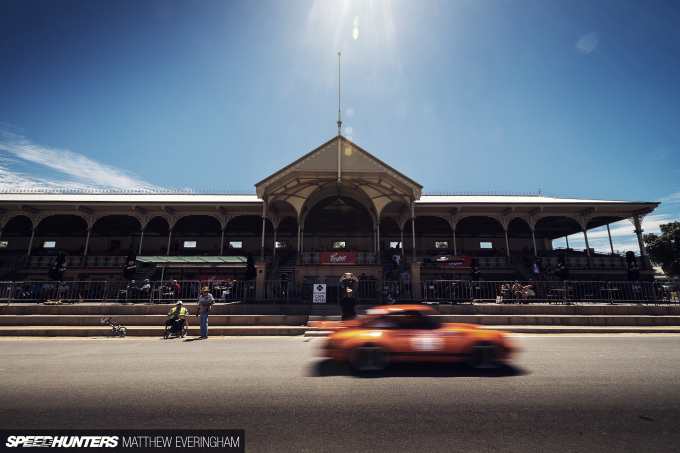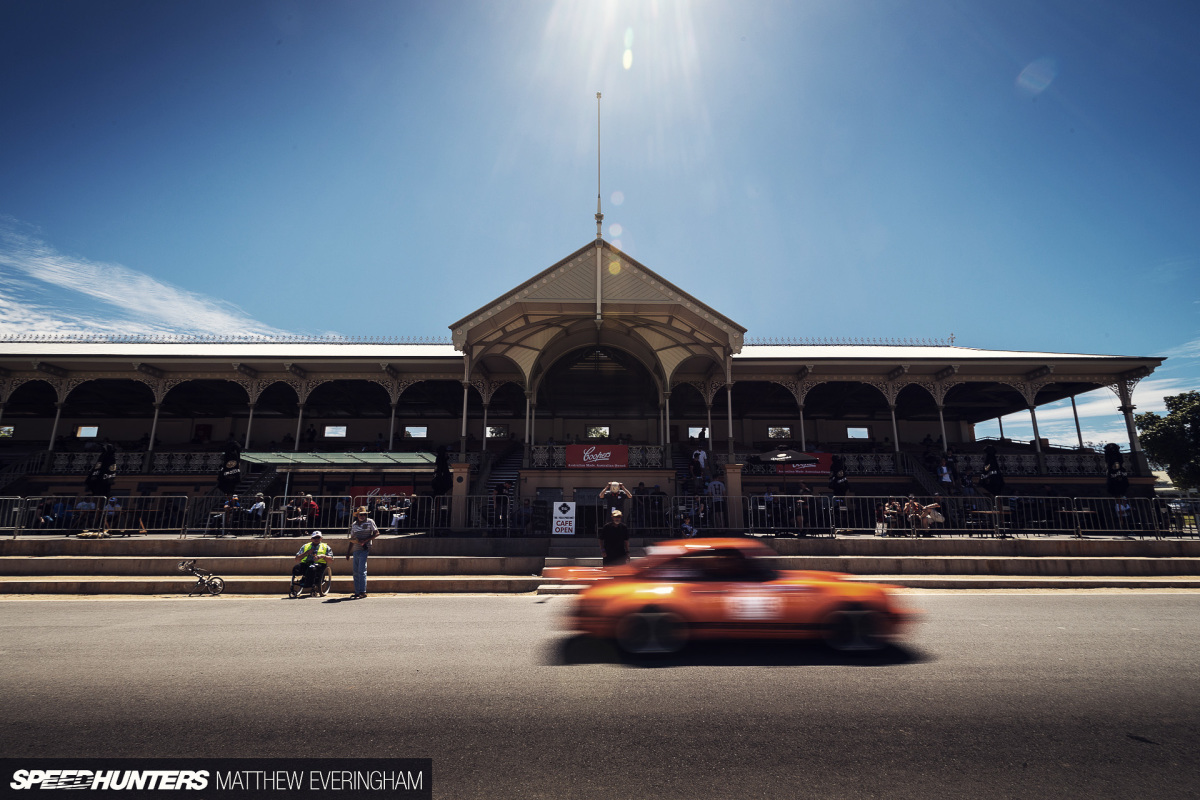 Adelaide Motorsport Festival is something I'm keen to watch develop over the coming years. Now that I've had my first taste and understand what I'd be missing out on, it's a sure thing that I'll be back again at some stage in the future.
Matthew Everingham
Instagram: matthew_everingham
matt@mattheweveringham.com
Cutting Room Floor