Embarking On A Memorable Voyage
"I swear, it's a really good idea. You hand me the keys to a $1.3million+ dollar car, and tomorrow morning I'll drive it two hours south of San Francisco to Canepa Cars & Coffee."
It made total sense in my mind, but the guys at Pagani were looking at me like I had just escaped from a mental asylum. The car they fondly refer to as Hanna had just been treated to a full body clear vinyl wrap and a special coating ready for the Pagani Raduno drive the following week, not to mention up-specced with the 'Pacchetto Tempesta' which adds an aero front lip spoiler and rear diffuser, as well as lighter and sexier wheels and an upgrade to the transmission. So why risk a potential stone chip or possibly something a little more serious?
But as daft as the idea sounded, I know the people at C&C would love to see the new upgraded Huayra, and after promising that I'd take good care of it, Pagani kindly handed the billet aluminium keys over. Score!
I had the Huayra to myself for an entire morning, and with the event kicking off at 7:00am it required a rather early rise, something that wasn't an issue as I was extremely jet-lagged. That and the fact that sleep was the last thing on my mind – Pagani keys on the bedside table have that effect! So before 5:00am, I had left my hotel and was in my friend's E34 M5 on the way to pick up the car – all of which you can see if you hit play on the above video.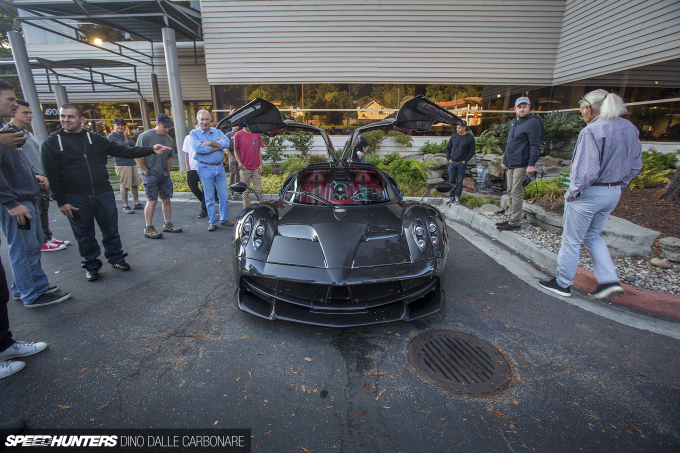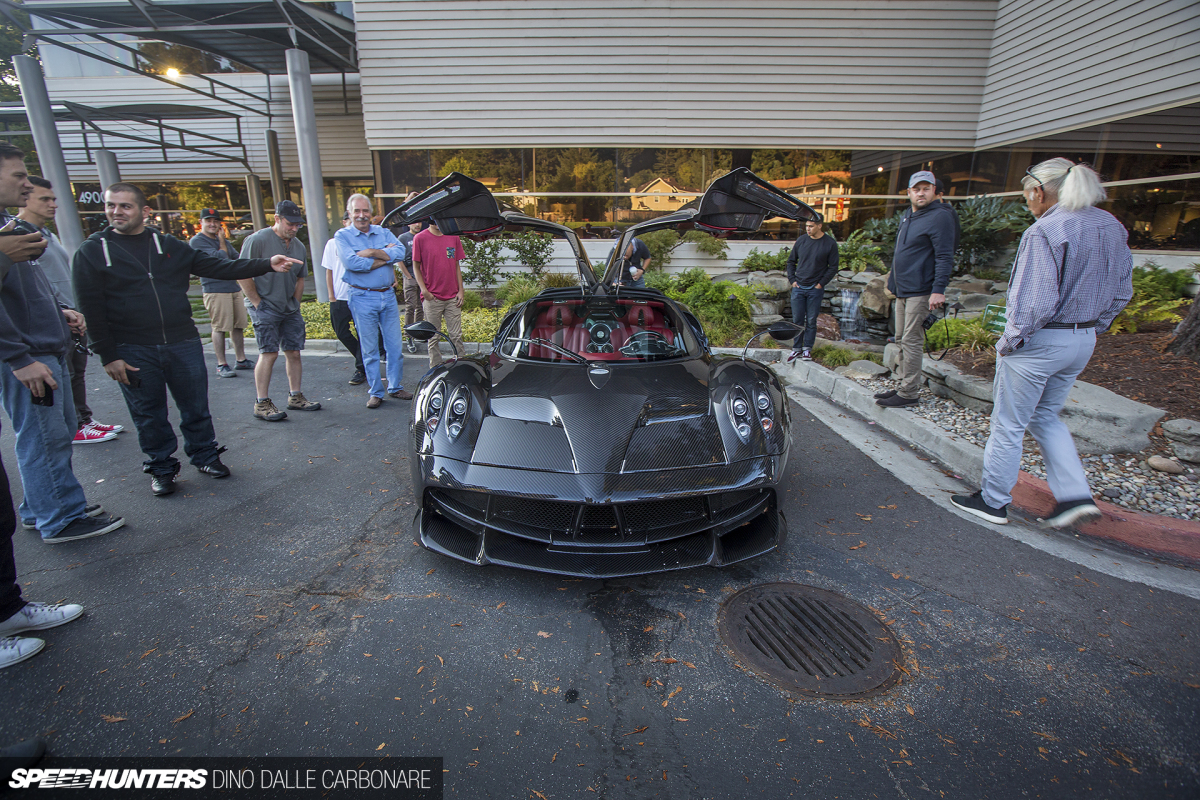 It seemed like I redefined what 'arriving in style' means; the kind guys at Canepa reserved the best parking spot in the house for me, and people swarmed over Hanna. It was cool that everyone could get up close to the Huayra and see firsthand the craftsmanship that goes into putting one of these things together. I left the doors open and began my walk through the car park, checking out what local enthusiasts had brought along.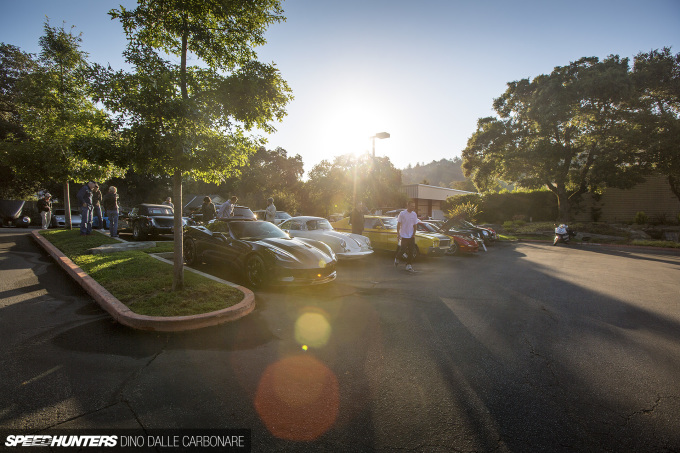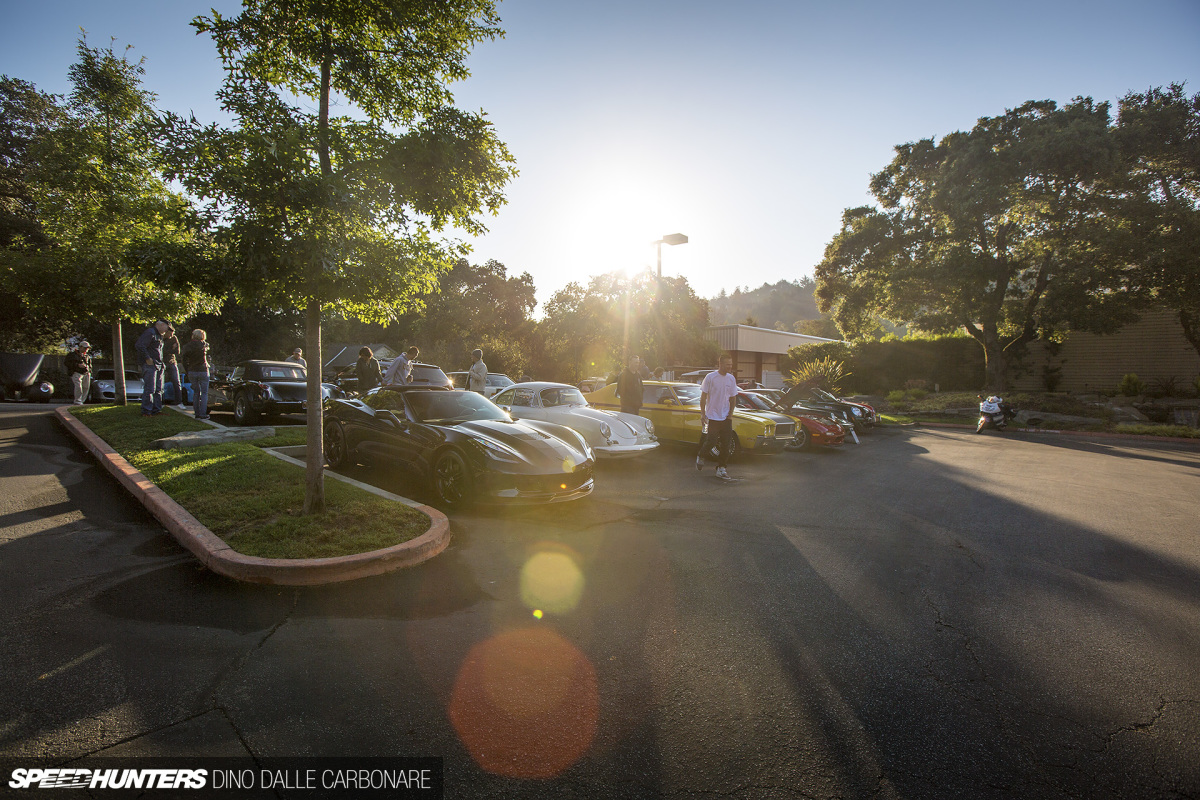 Ever since seeing Mike's coverage of this gathering I've always hoped I'd have the chance to check it out, and in my sleep deprived, half jet-lagged state it almost felt surreal.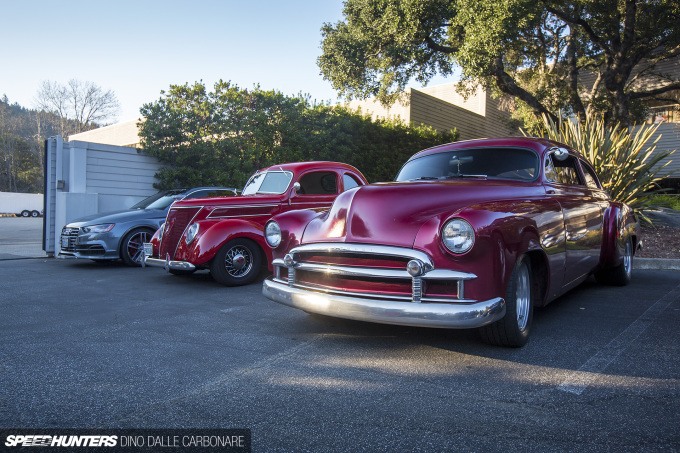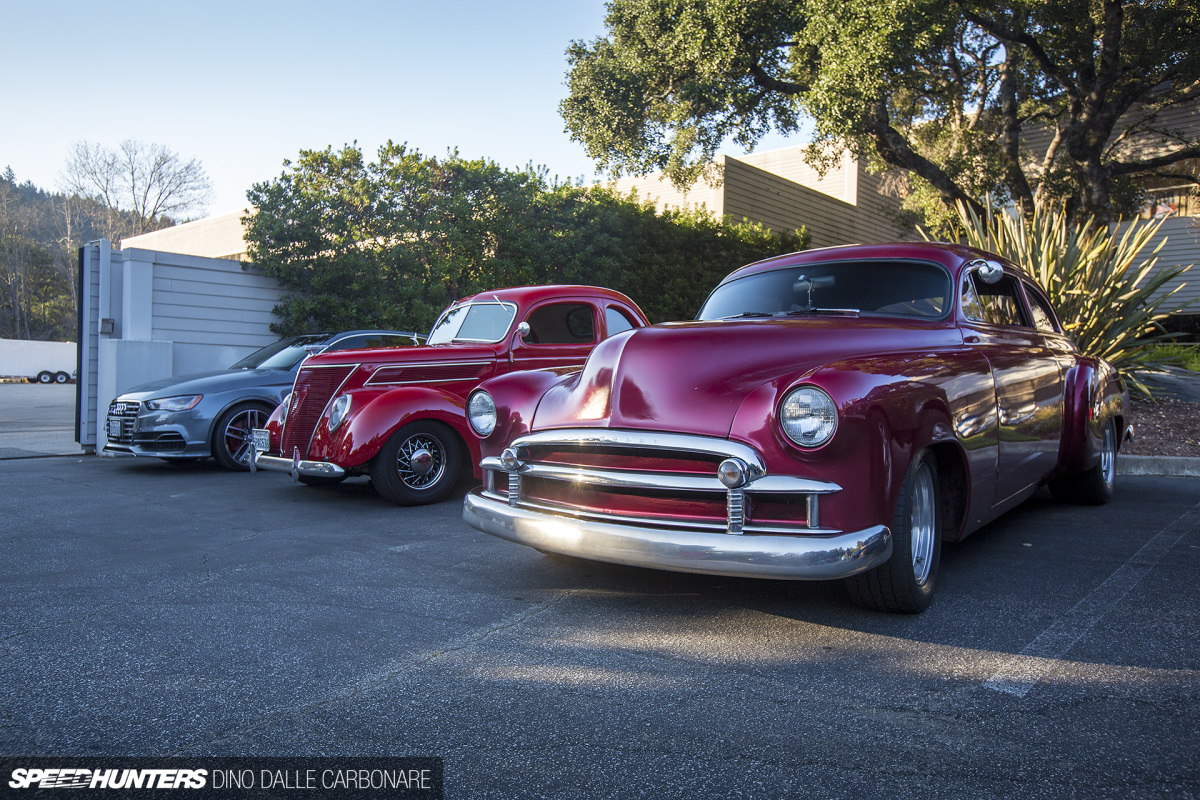 I always rave on about how Japan has such a huge variety of vehicles at similar types of events, but the US doesn't disappoint either.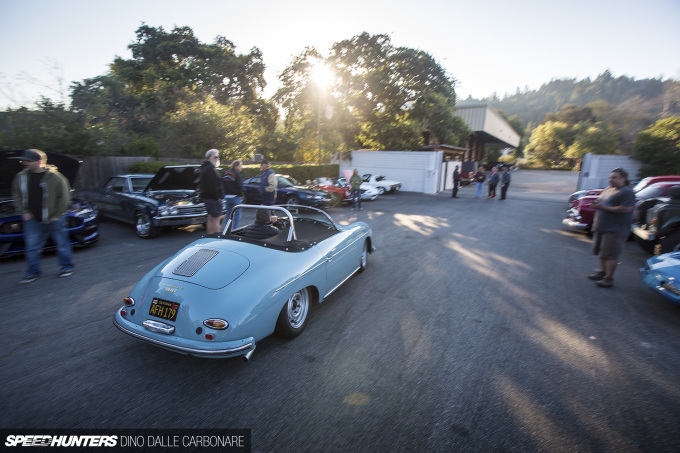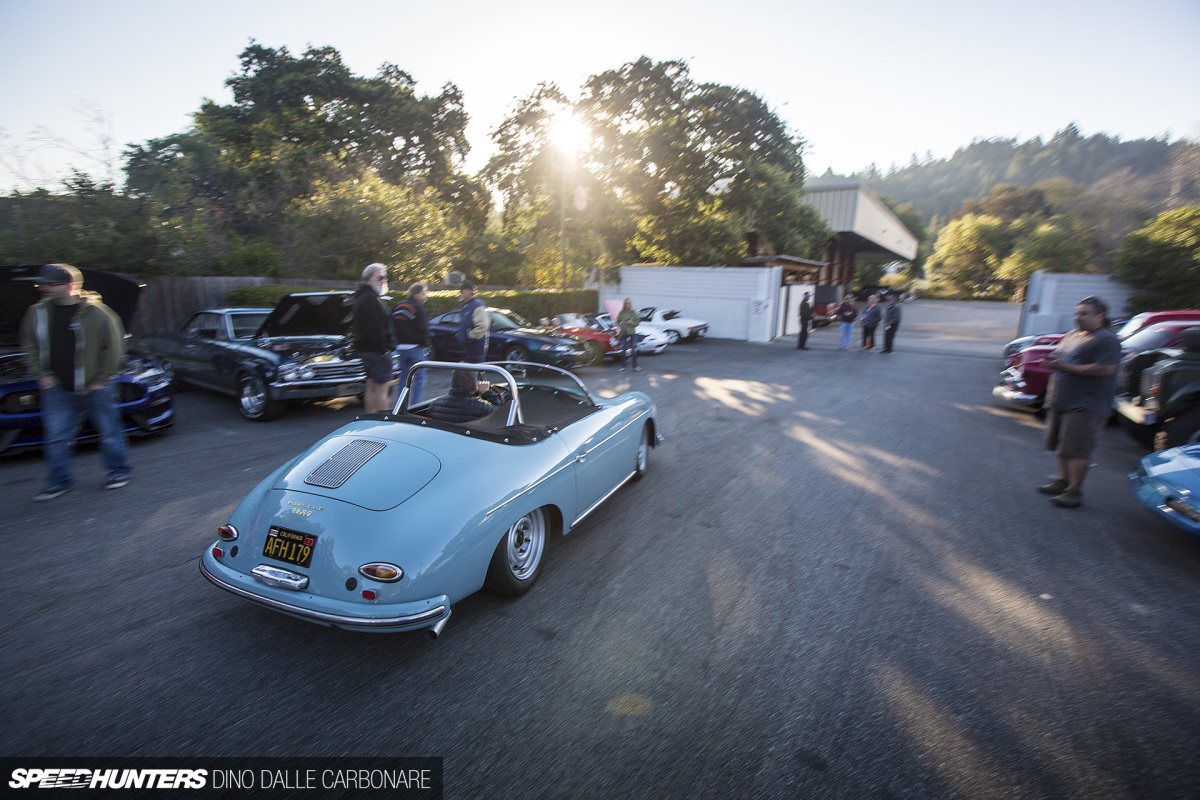 In fact, I'd say the variety is just as good. It's different for sure, but very impressive all the same, and at this particular event – and probably due to Canepa's speciality – it was quite Euro focused.
There was a variety of metal from Bavaria like the above pair…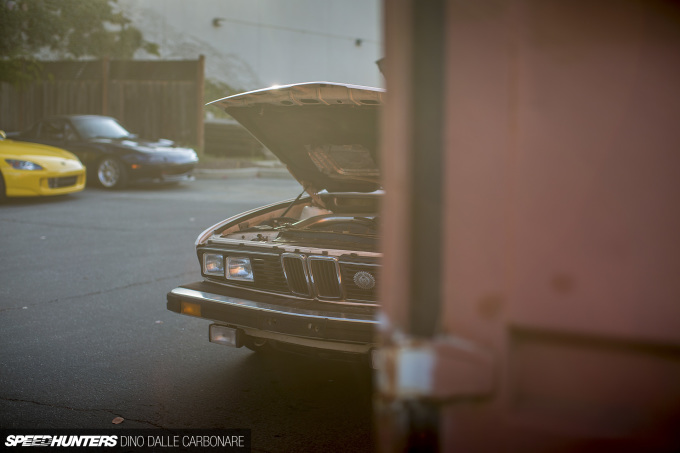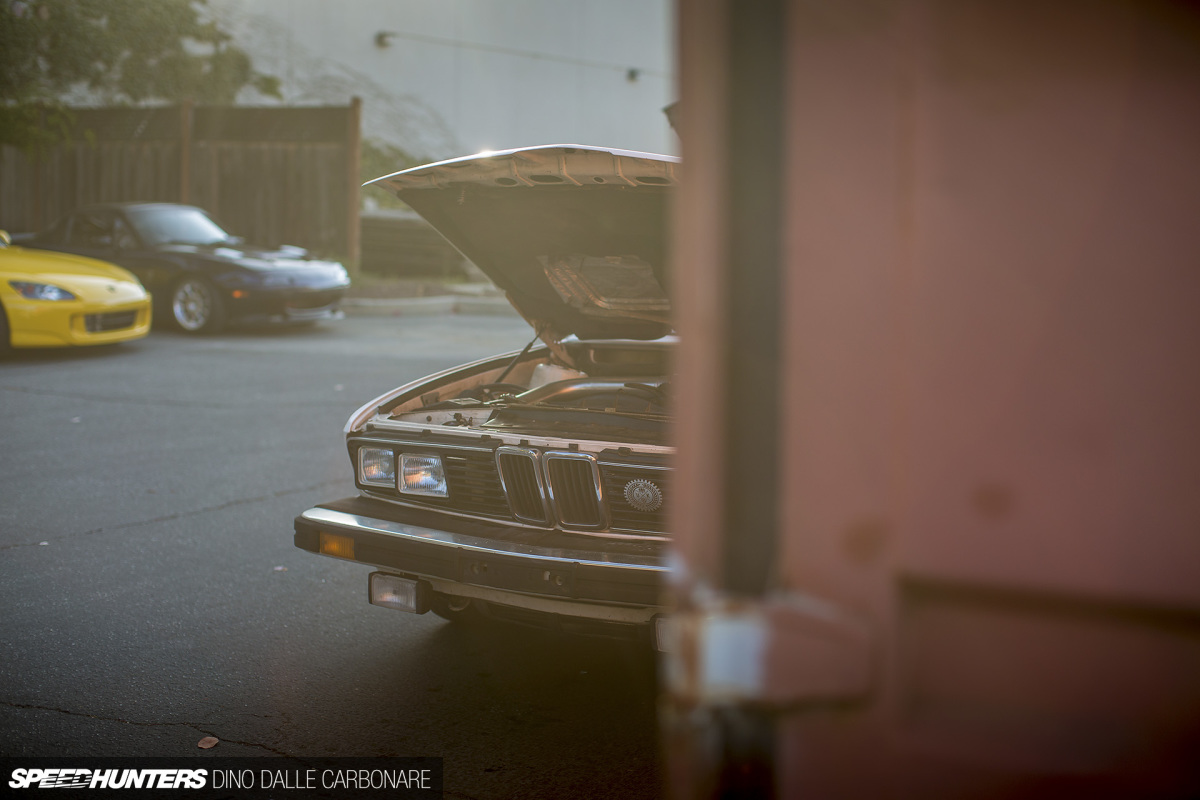 Right through to this old E28 524td of all models, running a rare Hella rectangular headlight conversion.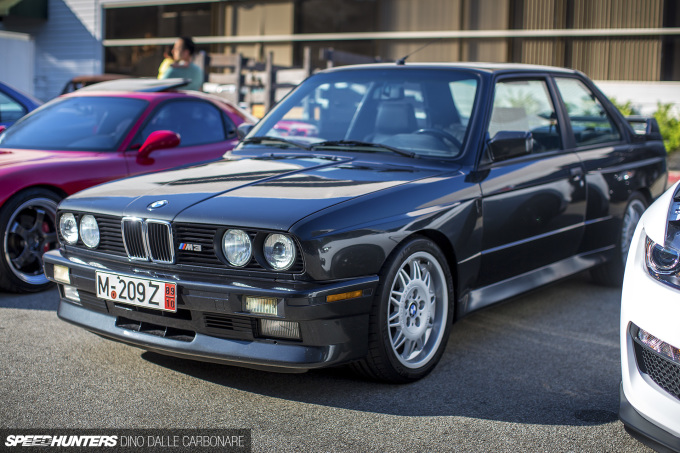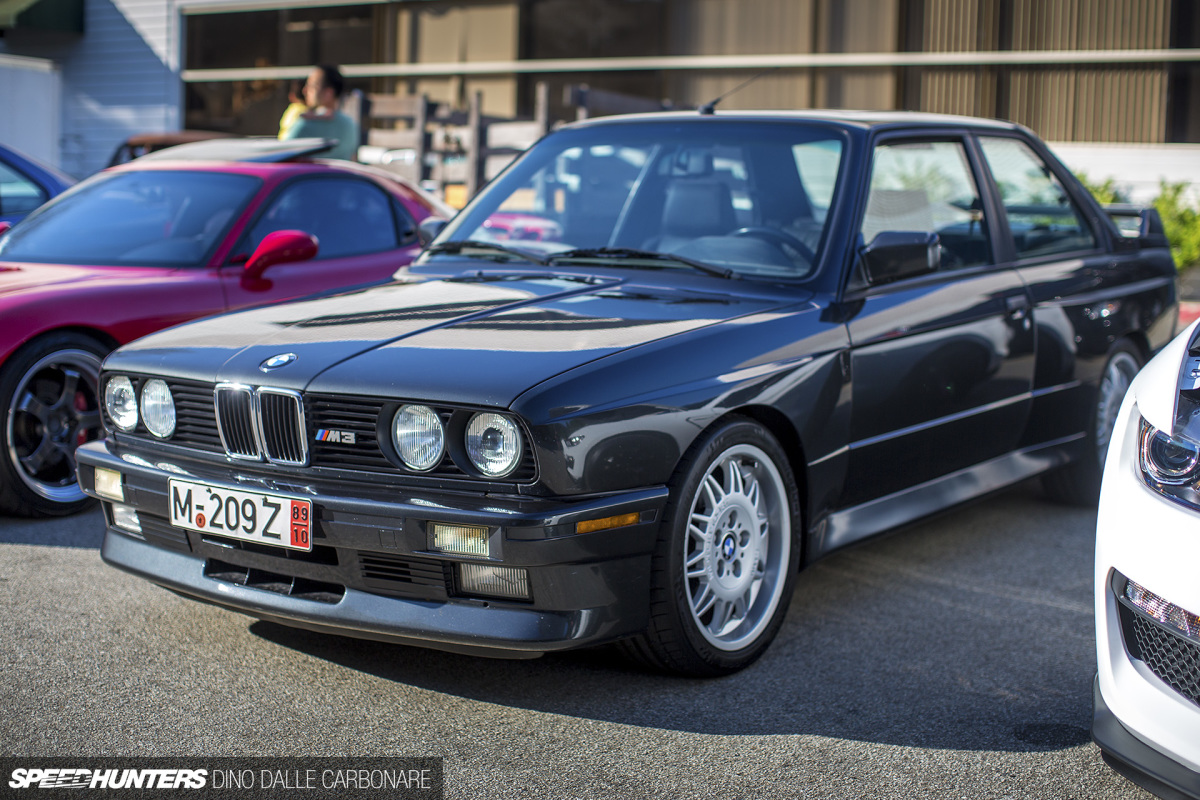 It was hard to ignore this spotless E30 M3 on BBS wheels either. Check out the 1989 Munich export plates; I wonder if they really did come with this car?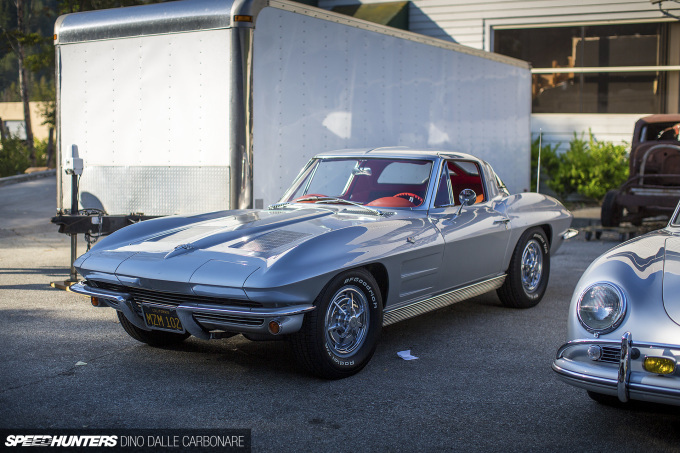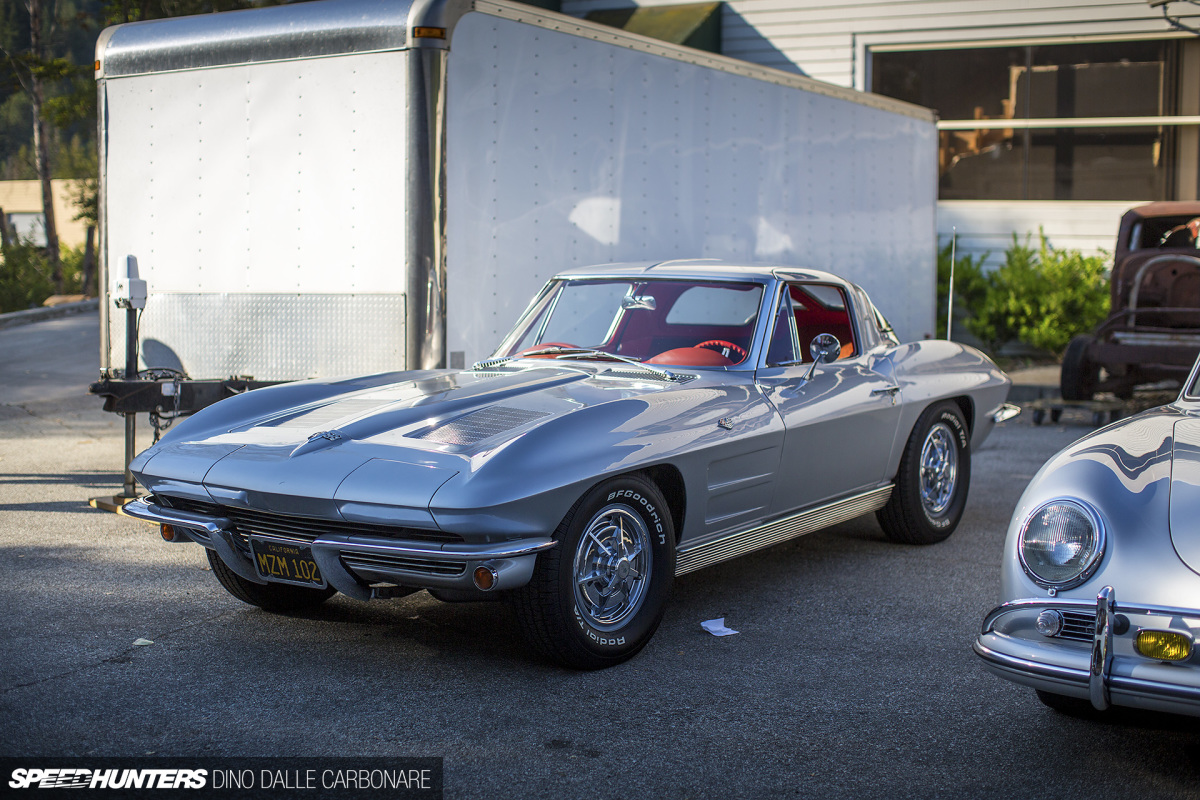 Of course, being in the good old US of A the domestic side to the gathering did not disappoint. My top pick would have to be this stunning Stingray.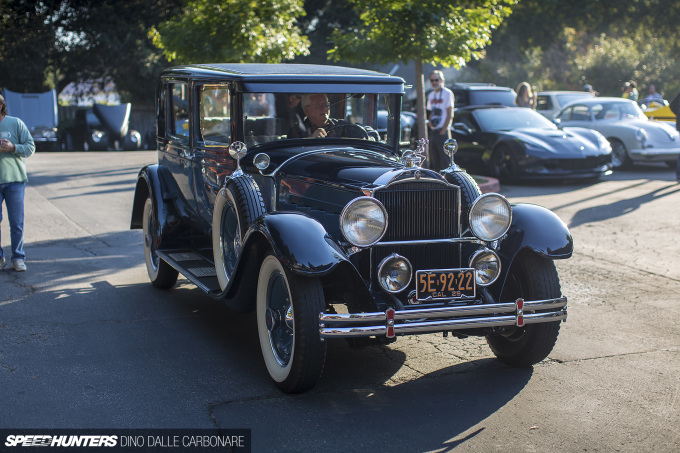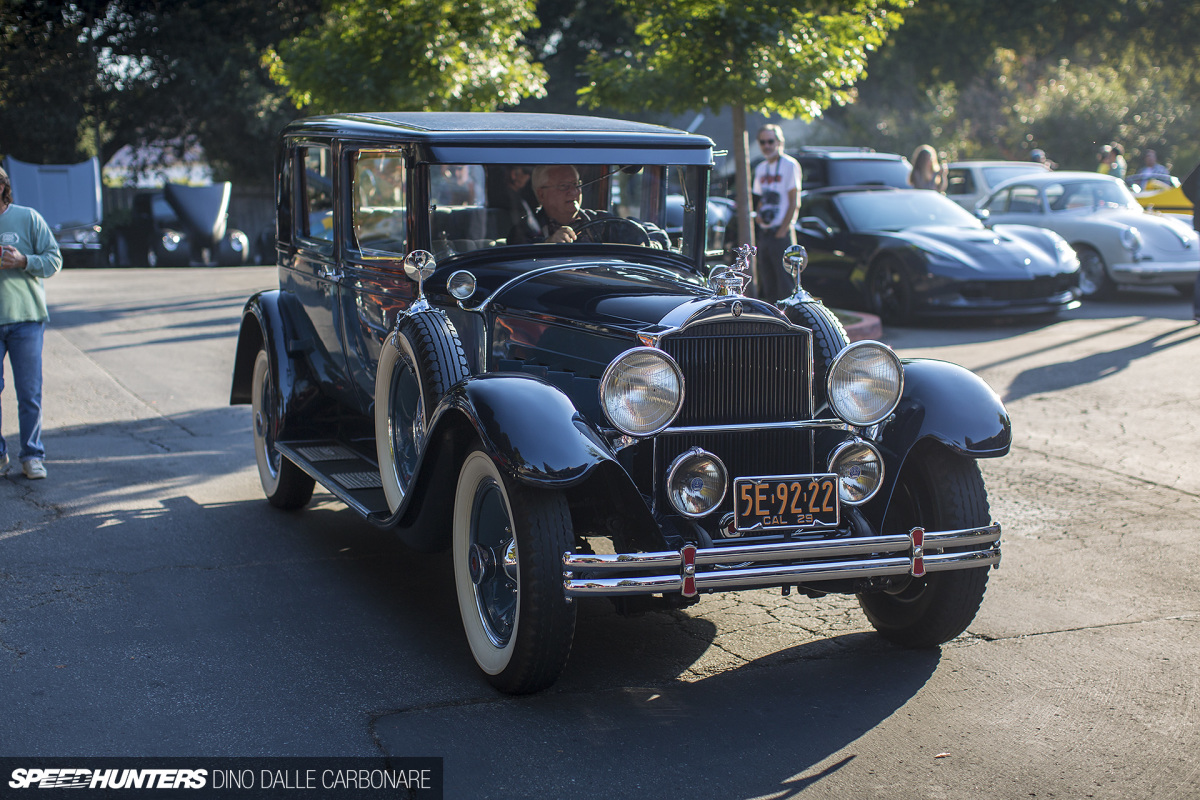 And much like the amazing selection of cars I got to see at Pebble Beach the following week, it was the older pre-war stuff that blew my mind. It's something I'm rarely subjected to in Japan, so it was a refreshing to see, hear and smell this sort of stuff. Yes, smell is a very important thing. Regardless of the car or vintage, I always go in for a whiff of the interior when I can; it adds a whole different element to the way you portray and experience a car.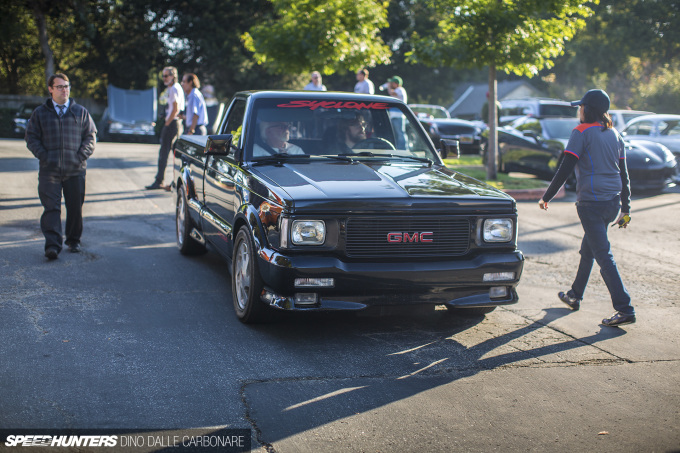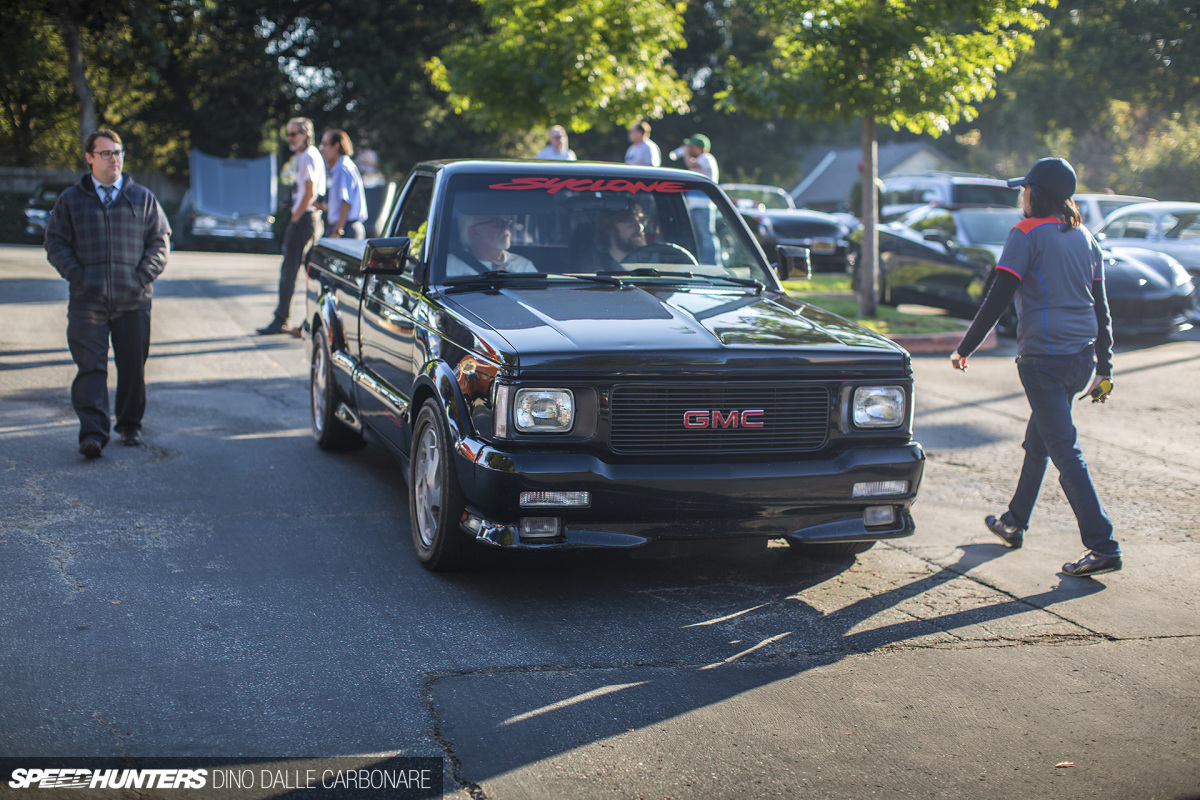 GMC Cyclone? Hell yes! A performance truck is what GMC and other manufacturers should always have in their line-ups!
Hunting Out The Curious Ones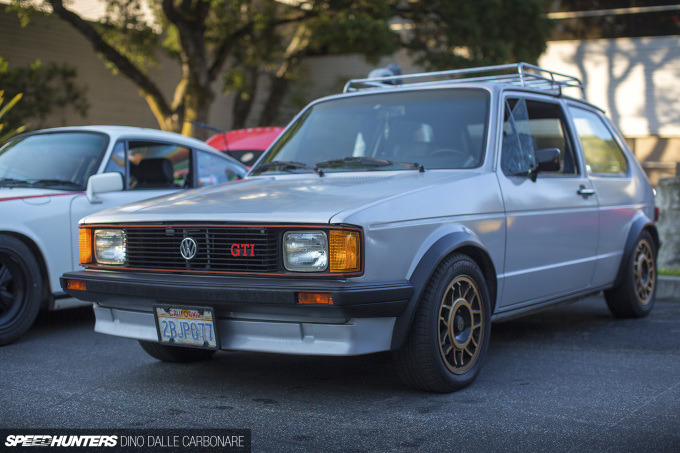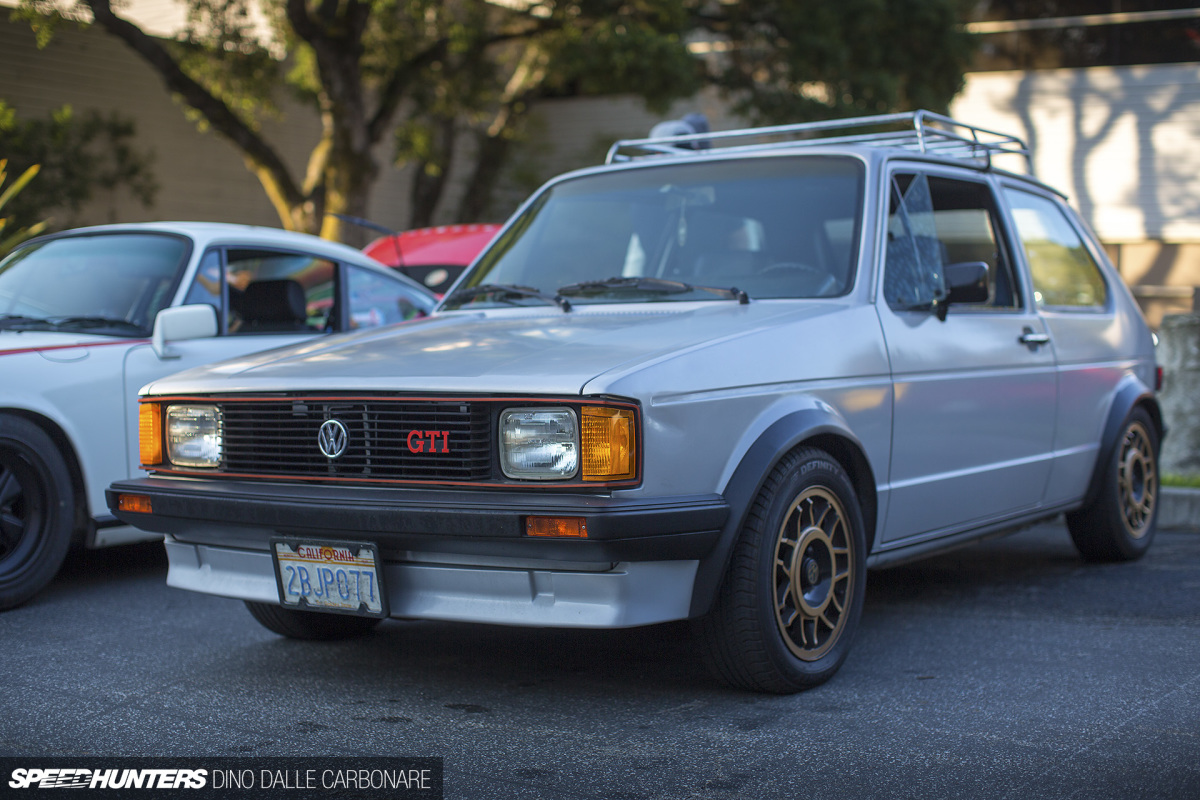 Having grown up in Europe, it's always particularly interesting to me to see the differences that US versions of the models I am so familiar with received. I'm not quite sure why the Mk1 Golf (Rabbit) GTI was dealt this rectangular headlight setup in the US, but it sure gave the model a totally different look to its European counterpart which featured simple round headlights. The roof rack on this particular car gives it such a Californian feel.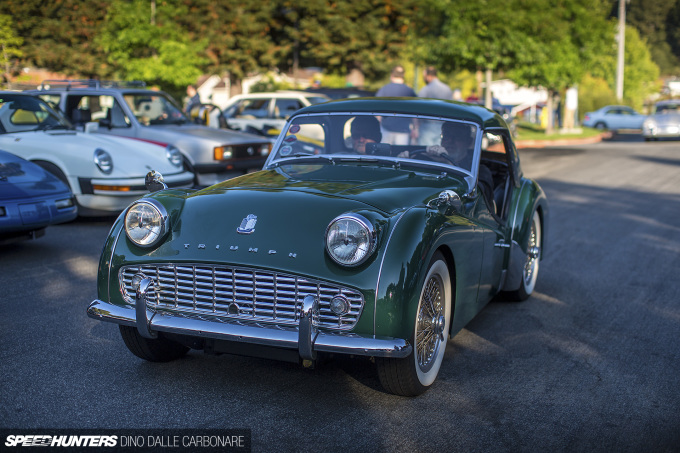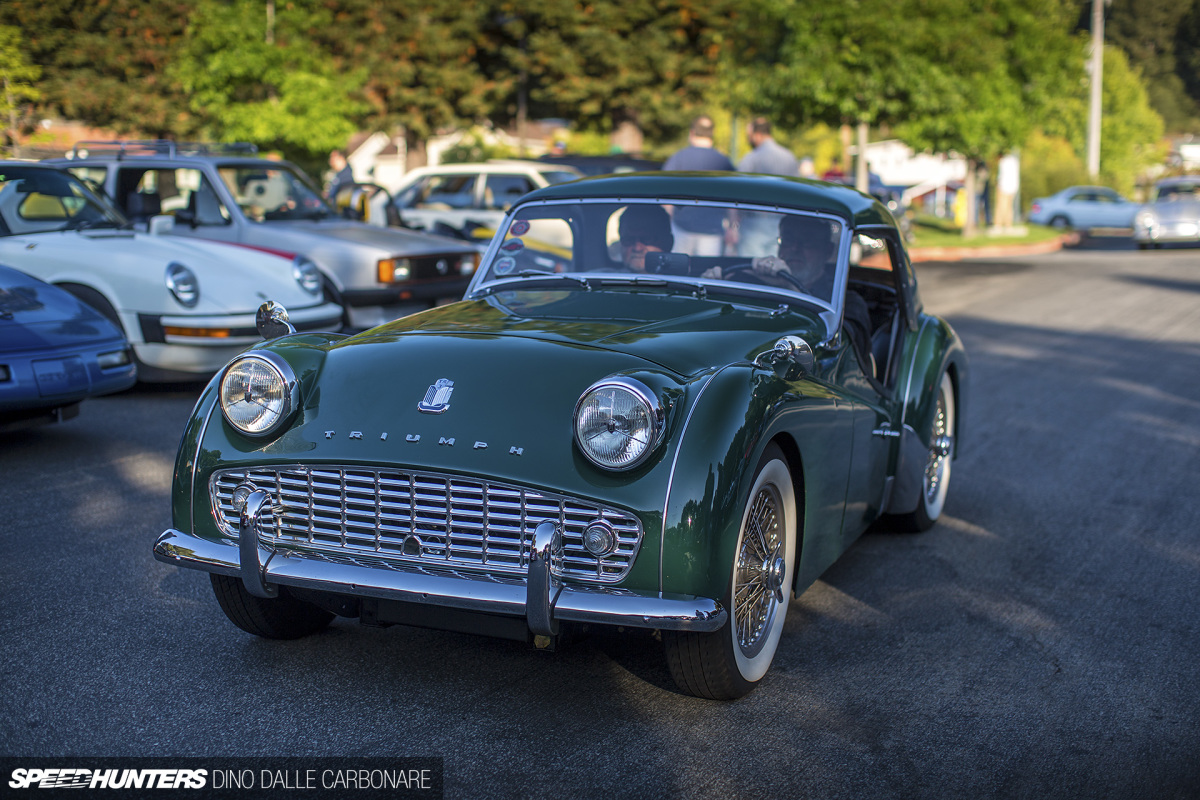 And now for something totally different – a Triumph TR3.
During the two hours I spent at Canepa I think I saw three Ariel Atoms. It was quite cool, as it emphasised the fact that people in California love their corners, totally going against that notion that Americans only love straight-line performance. It makes sense too, as I got to experience some of the nicest driving roads I've come across during the Pagani drive event. I was baffled at the above kit car, which was kind of a mix between the naked look and feel of an Atom, but running a more Caterham-inspired front engine (and turbocharged) setup. Either way, it looks like a lot of fun, and I bet it slides nicely with a lot of the weight being up front.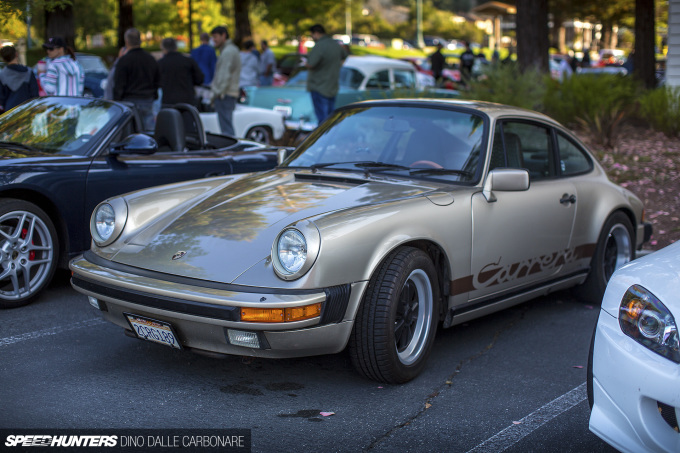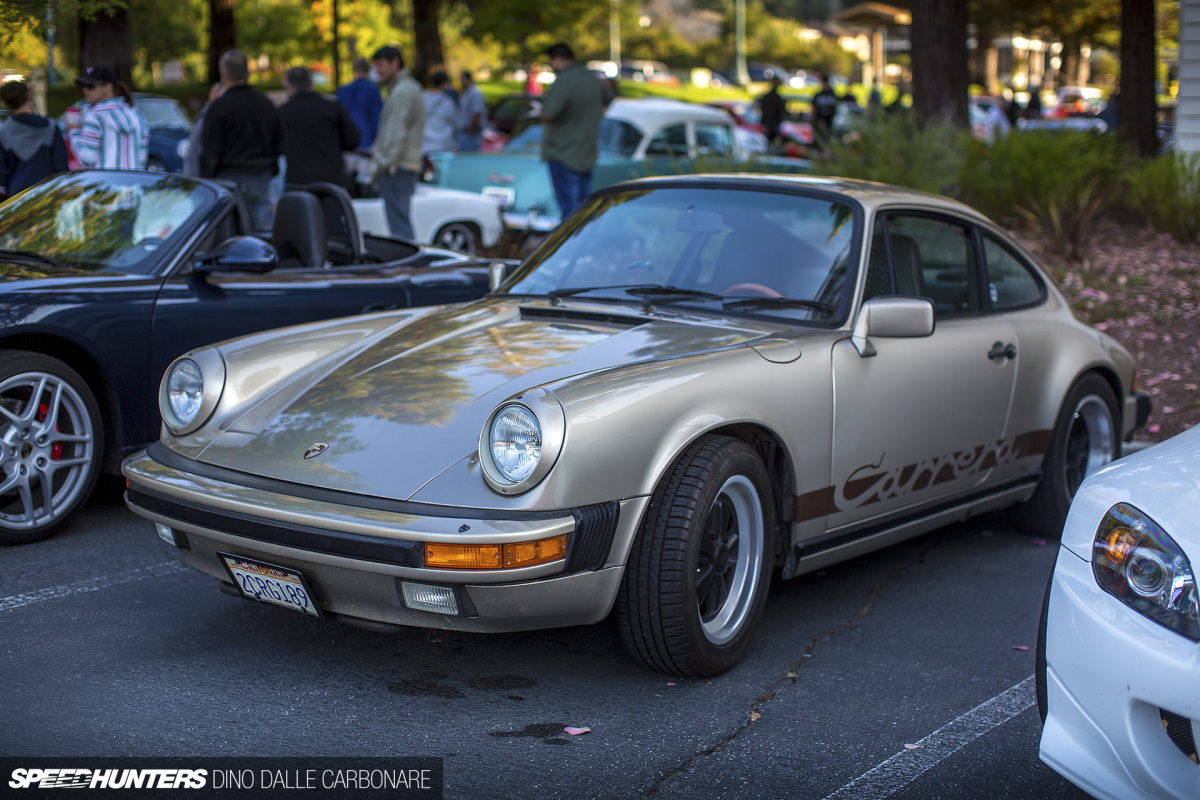 Following on from my post on the 911SC I spotted at the event, I can't skip on posting more Porsche content.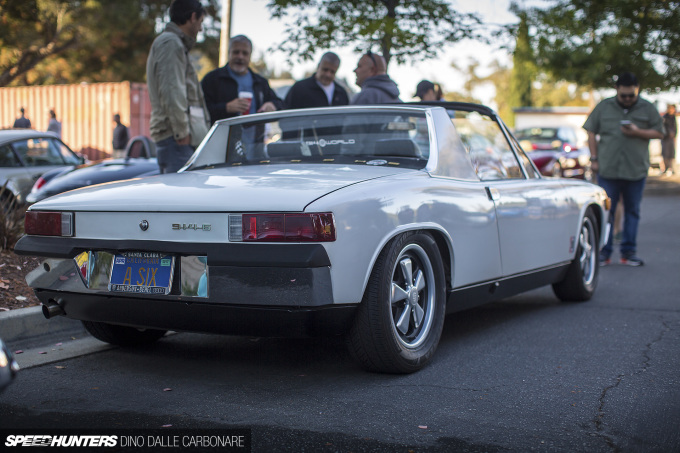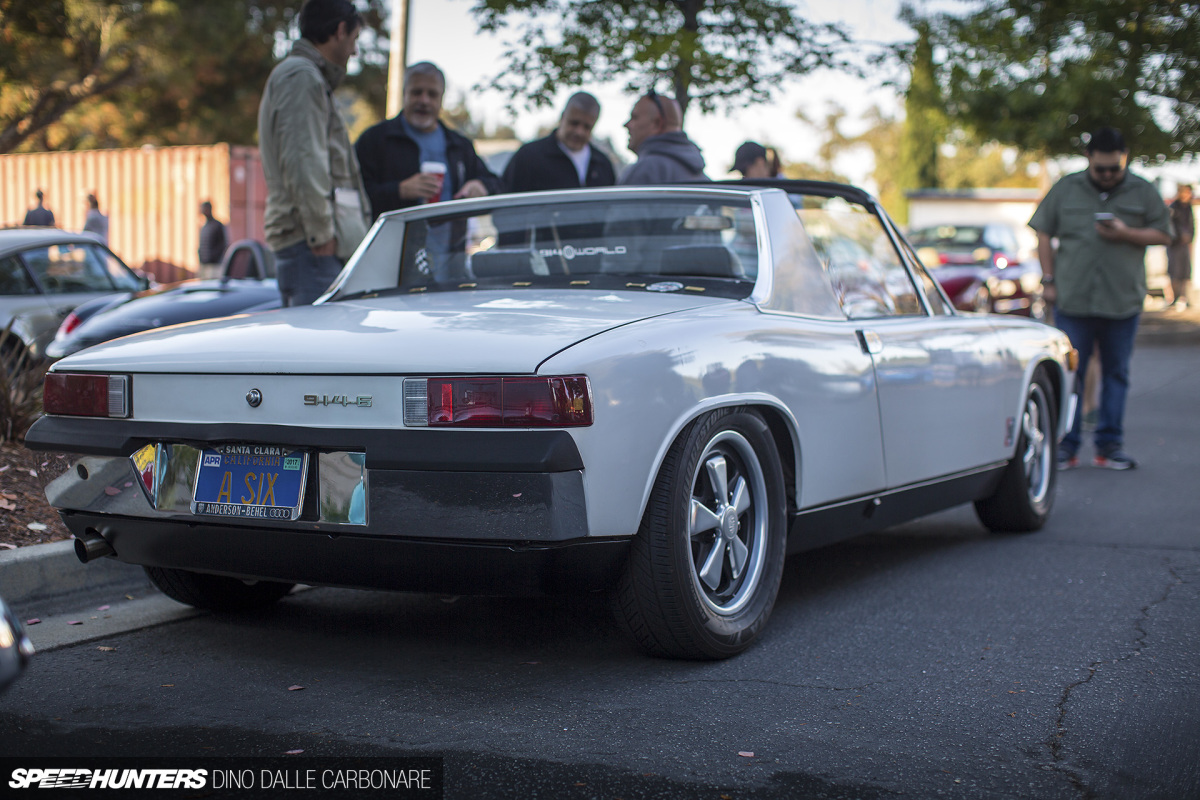 Here's a rare one, and as the license plate rightly hints, this is no four cylinder-powered 914, but a 'A Six'. It was a stunning machine, and I love the tightness of that rear fitment!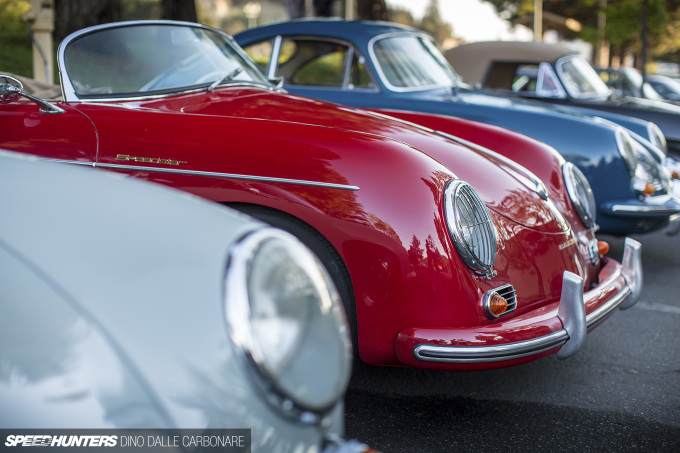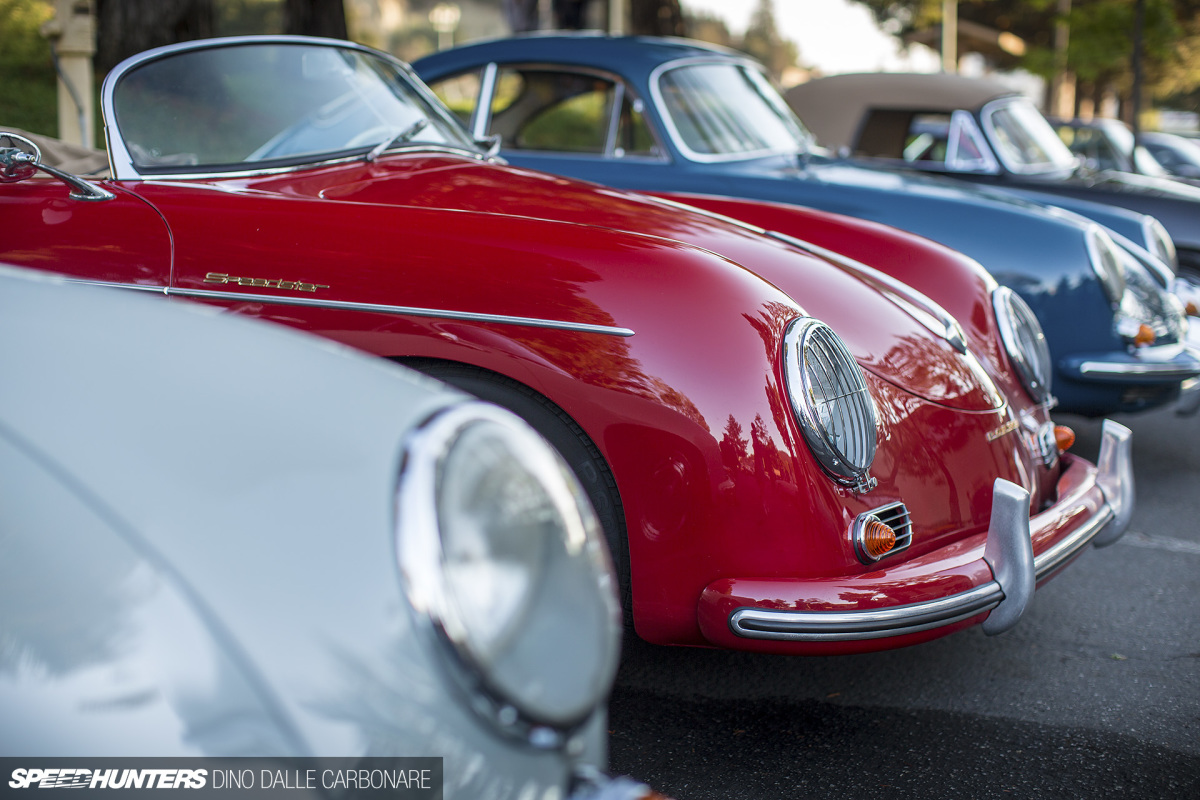 Like the older stuff? So do I, and this 356 line-up had me conjuring up images of James Dean in his very own Speedster looking cool under the warm Californian light.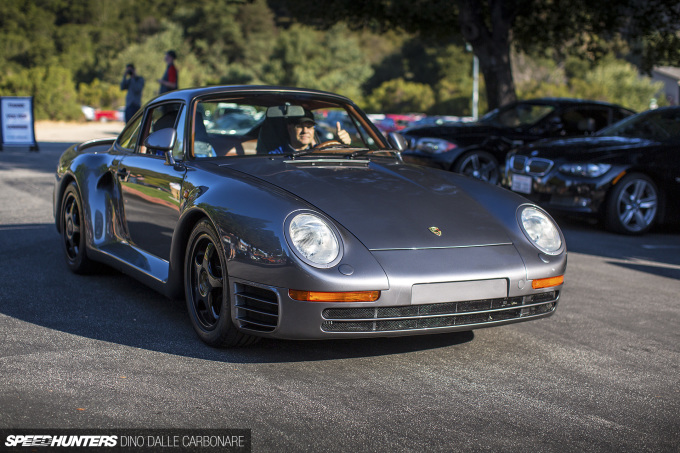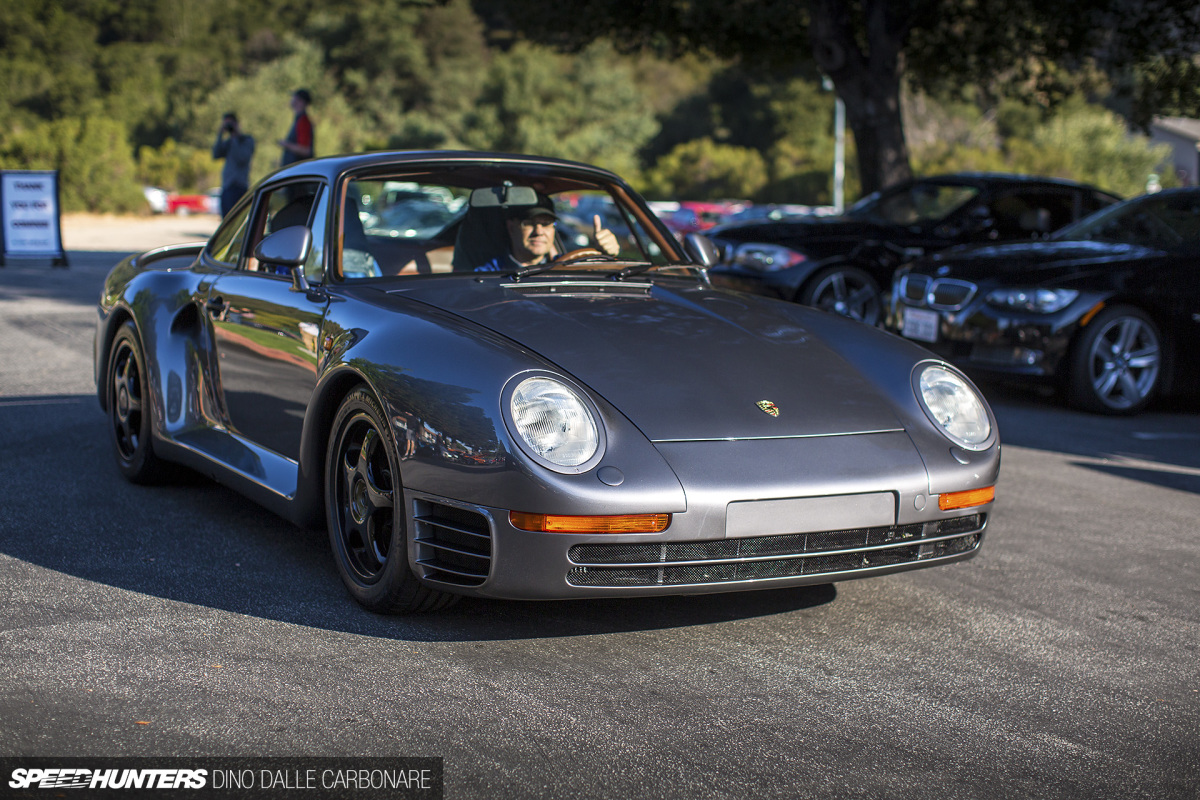 If you didn't already know, the 959 was originally not able to be sold in the United States as Porsche wouldn't supply cars for crash testing purposes. Canepa was instrumental in helping lobby Congress for special legislation though, and that eventually allowed the 959 to be legally imported into the States without having to meet federal safety regulations.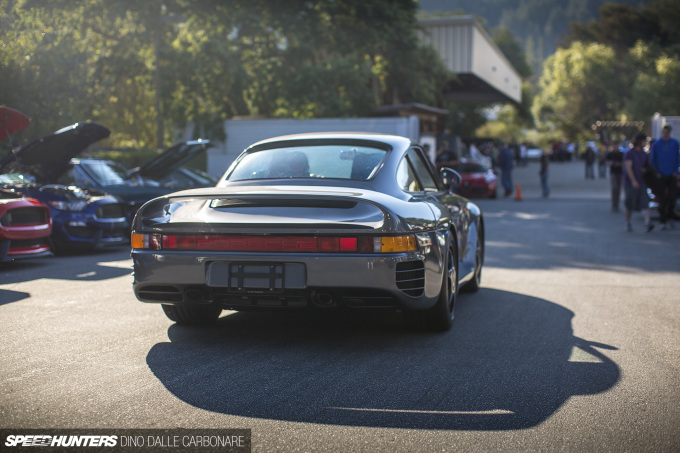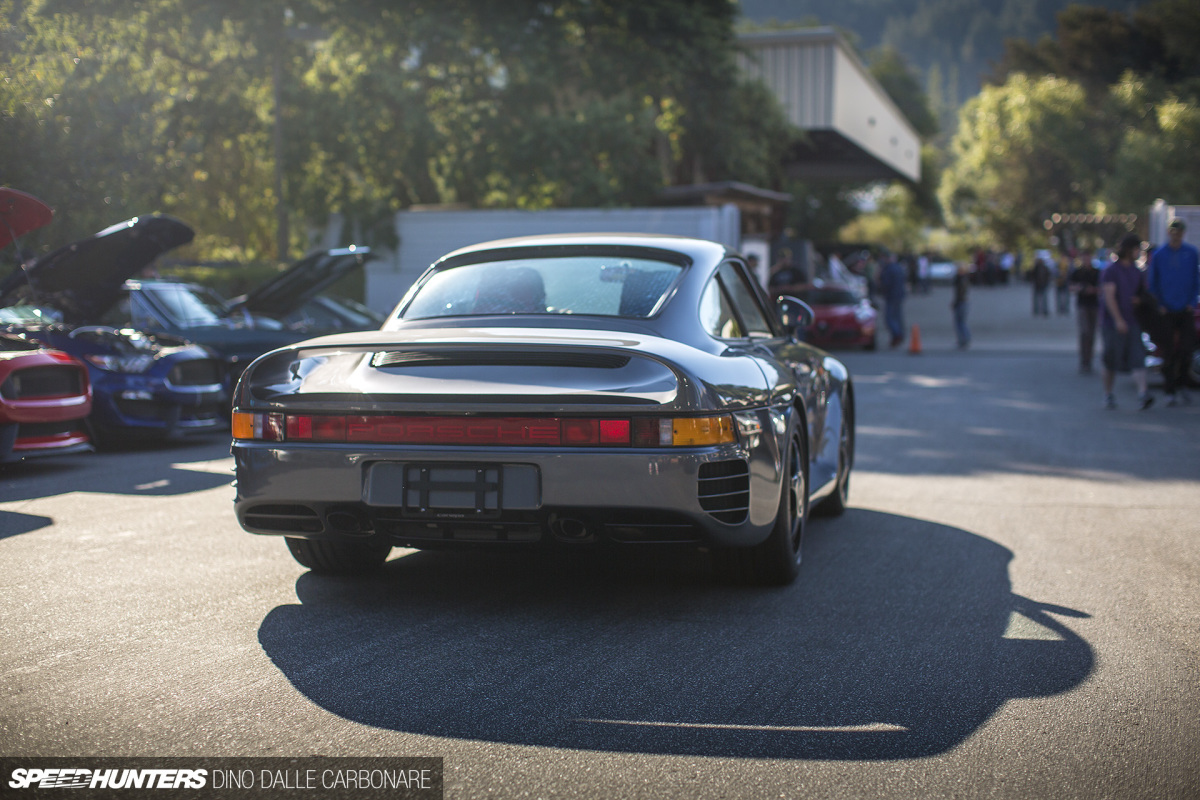 With that and the fact that Canepa offers some special upgrade packages specifically for this model, I knew I'd be seeing one or two examples at least, but I almost fainted when I went inside the workshop and found a few more! I'll share that with you in the second part of the Cars & Coffee coverage. Trust me, it gets pretty wild once you set foot in the back of the shop.
Mmm… Donuts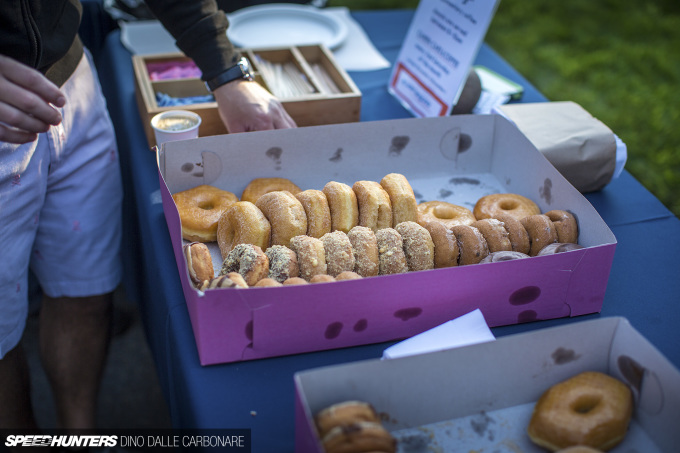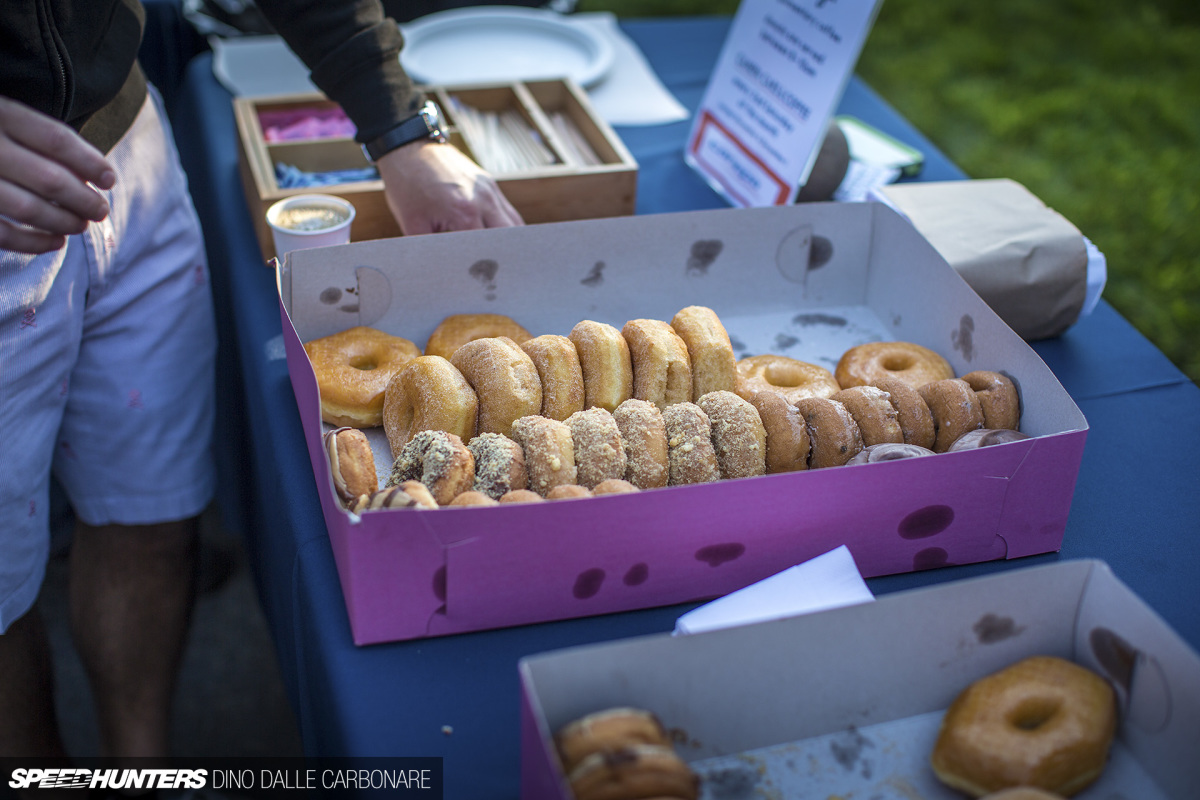 The great thing about this event is the endless supply of fresh-brewed coffee to help you wake up at such an early hour on a Saturday morning. Donuts work wonders too!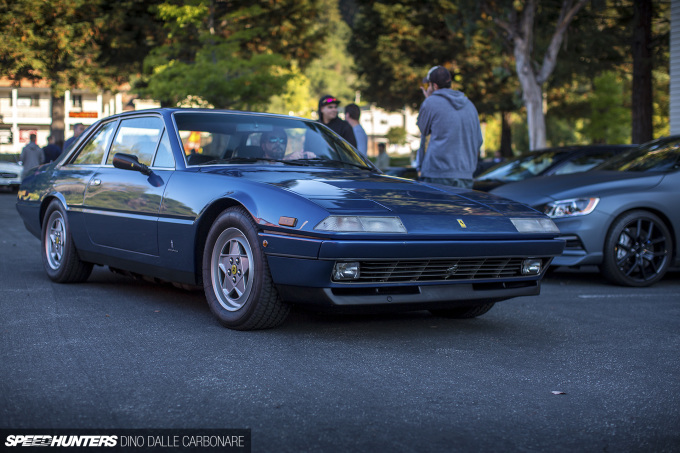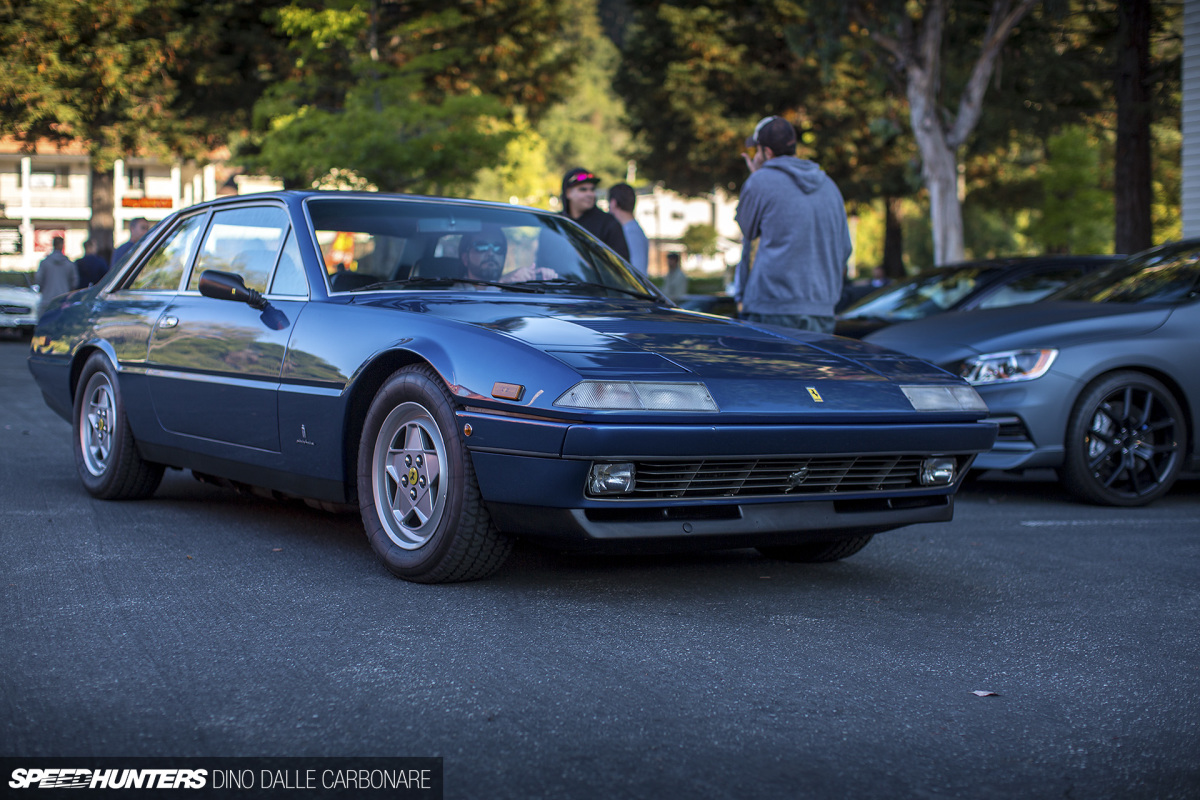 By now, I'm sure all of you know that I like odd-looking Ferraris. The 400 and its various evolutions are some of my favourites, as the whole idea of having two extra seats in a car from Maranello makes total sense to me. It's probably why I'm quite partial to the FF (and GTC4 Lusso), and why this particular car got a big thumbs up from me.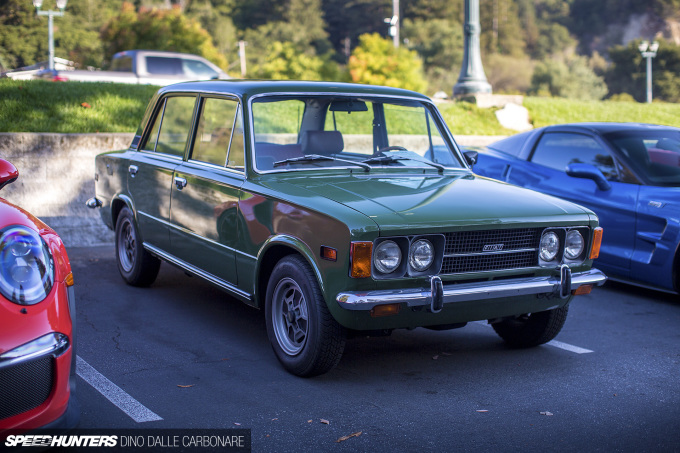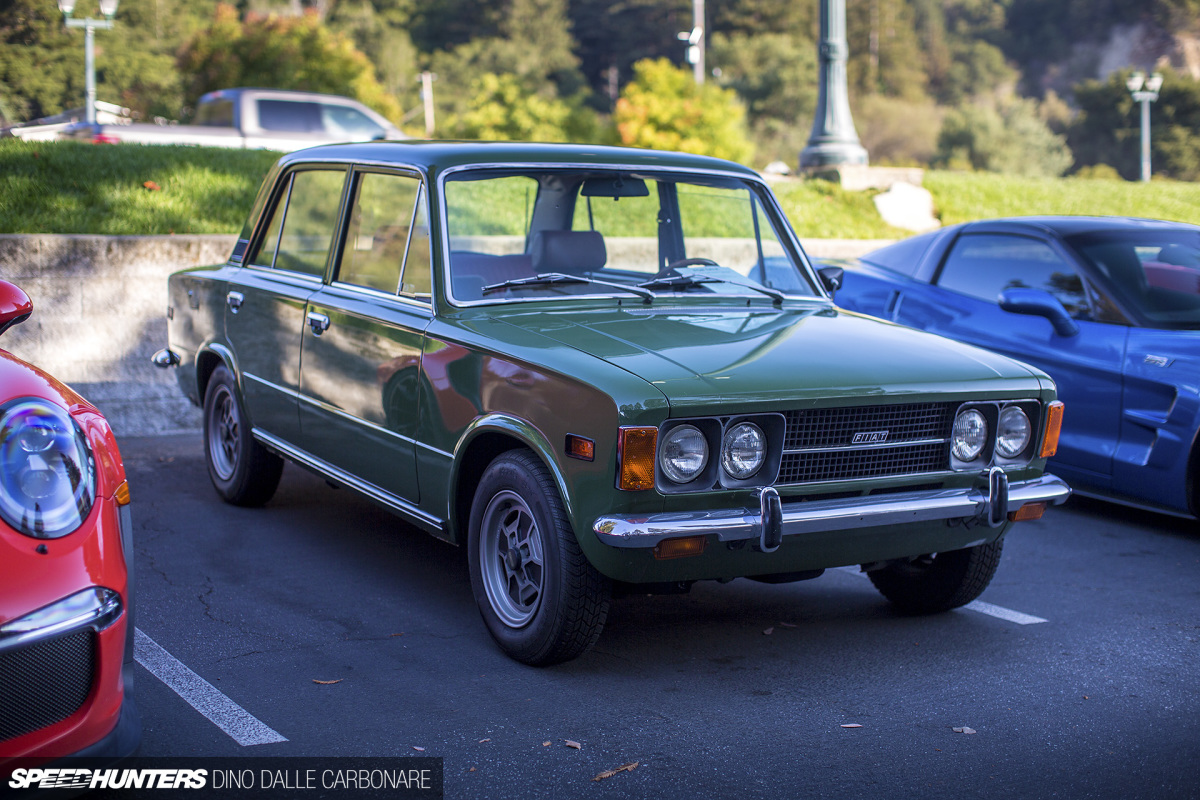 Seeing this car easily provided the morning's biggest WTF moment. A Fiat 124 sedan? In the US? This is what my uncle used to drive when I was a kid in Italy, and my father had the coupé version of the car, which was probably Fiat's interpretation of the Mustang at the time.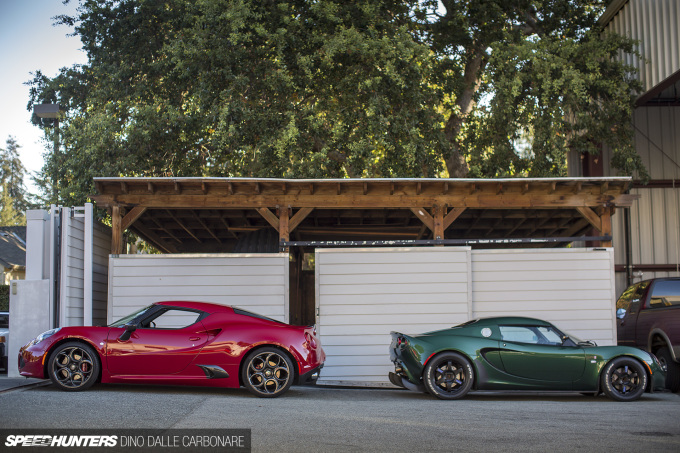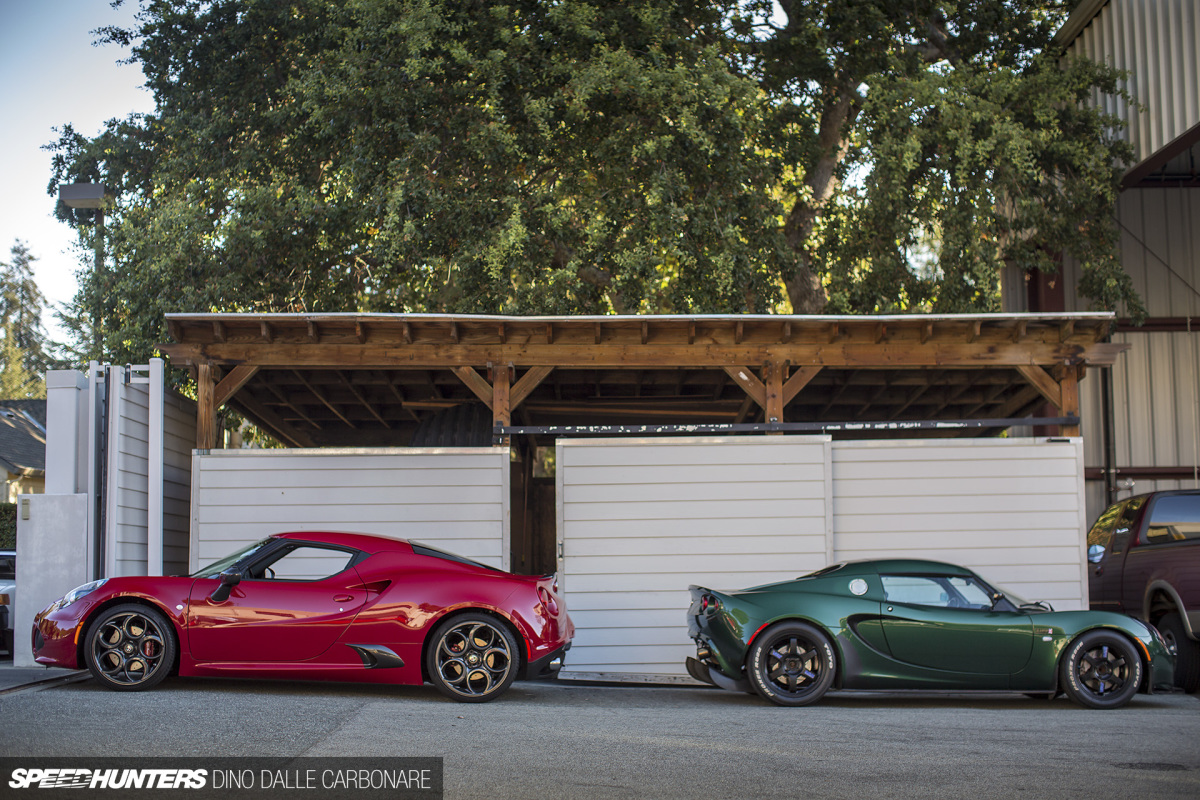 The way this Alfa Romeo 4C was parked alongside this Lotus Elise begs one to ask the question: which would you rather have? The more modern carbon-tubbed Alfa with a turbocharged engine and twin-clutch transmission, or the older and more mechanical Lotus?
We are great fans of sleepers here at Speedhunters and this Volvo wagon wins big with a nice and stealthy LS1 swap. Shut the bonnet and no one would know – until you crank the engine into life that is!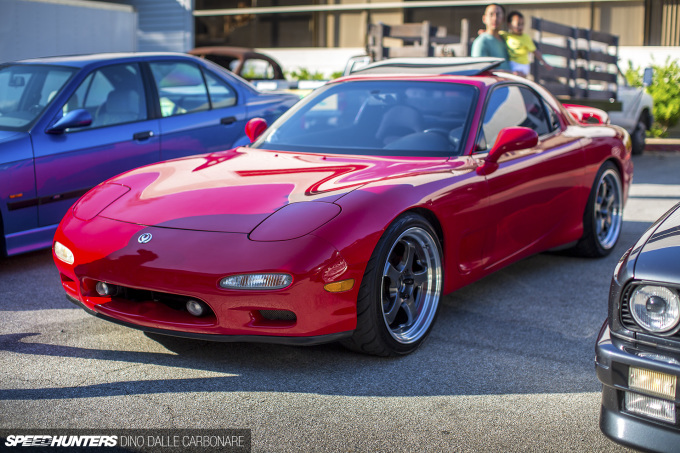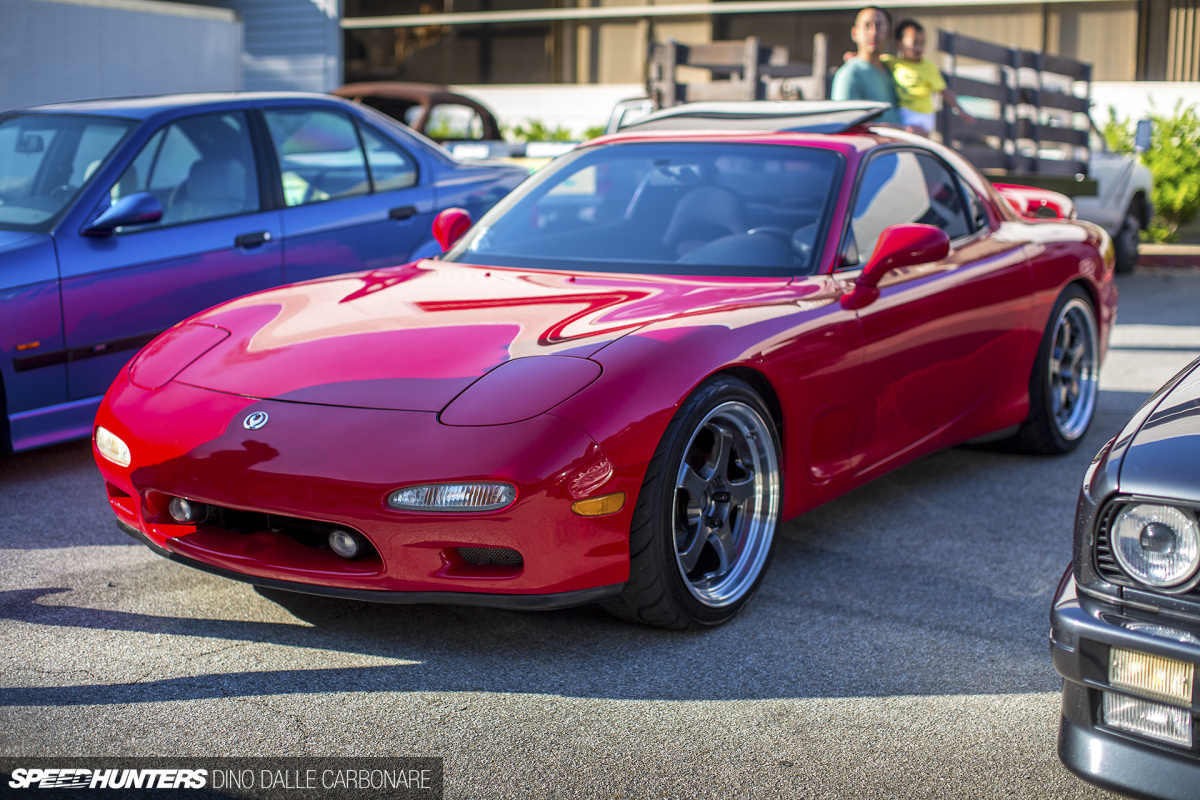 And we have a rotary, one of two actually and a very welcome sight on this particular morning. I loved the fact that both cars were both running stock bodies too, as I sometimes forget how simple and pleasant the original shape is. In Japan, most owners can't help but mess with the looks, so that's become the norm for me.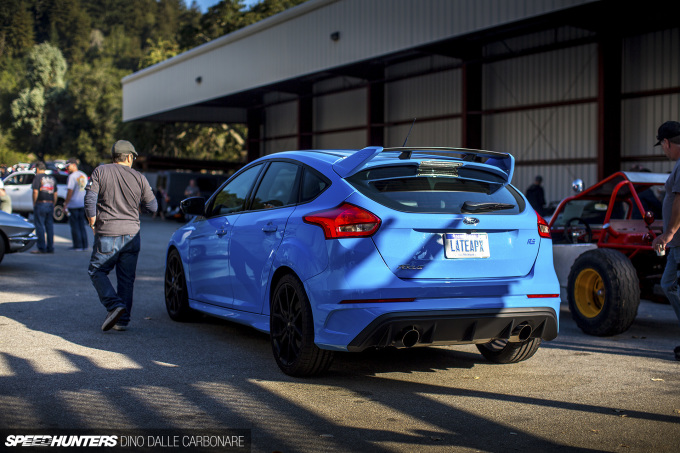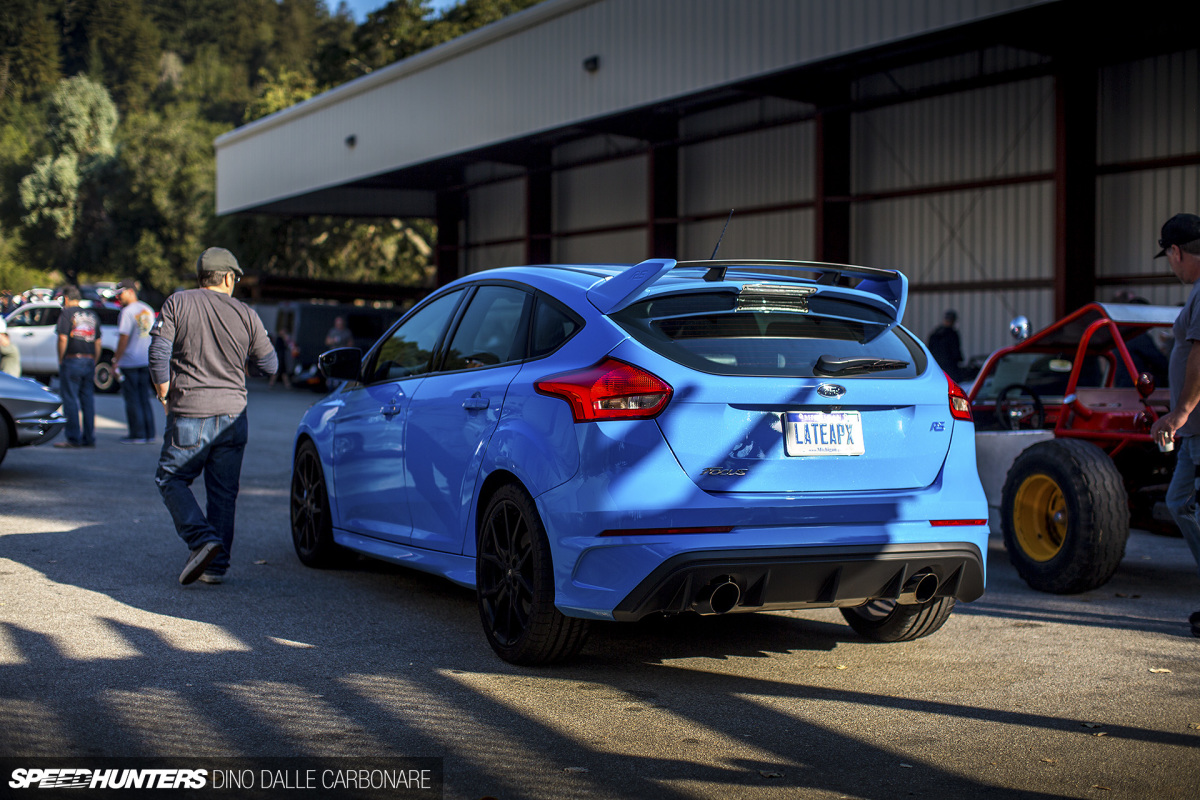 I also finally got to see a Focus RS in person. I'm not sure what to make of this thing; it certainly has the performance figures to impress, but I do wonder about that hefty curb weight. I can't wait to get behind the wheel of one though…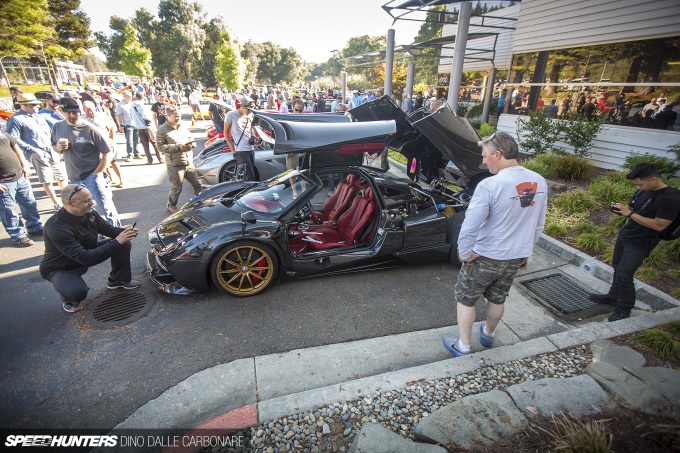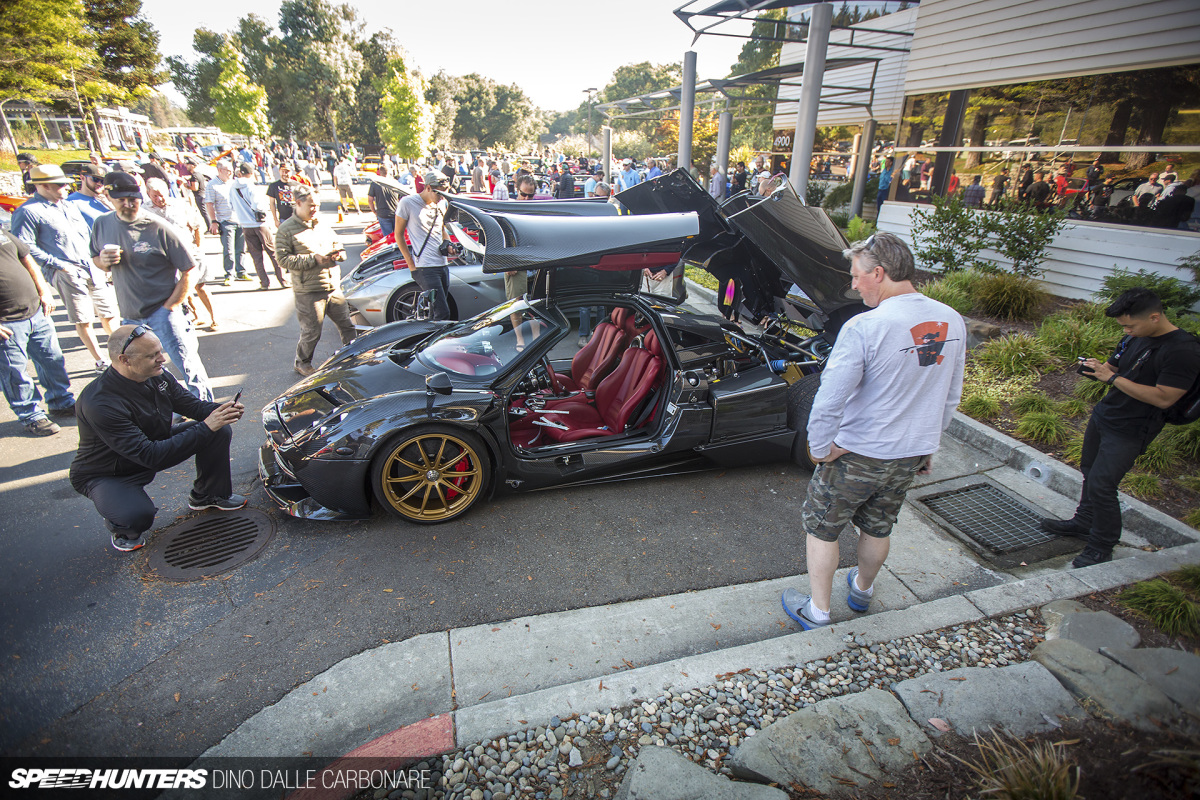 By the time I had done countless loops of the parking lot and visited the workshop and showroom it was cool to see that Hanna was still bringing in the crowds. This wasn't the first time the car had been driven to Cars & Coffee, but it was looking pleasantly refreshed and positively angrier with the Pacchetto Tempesta upgrade.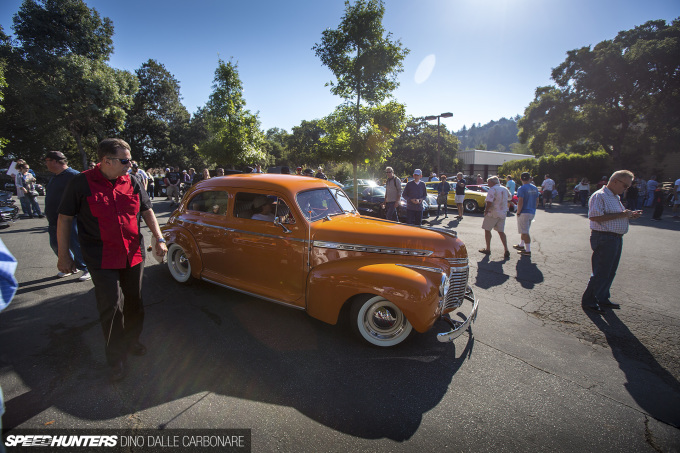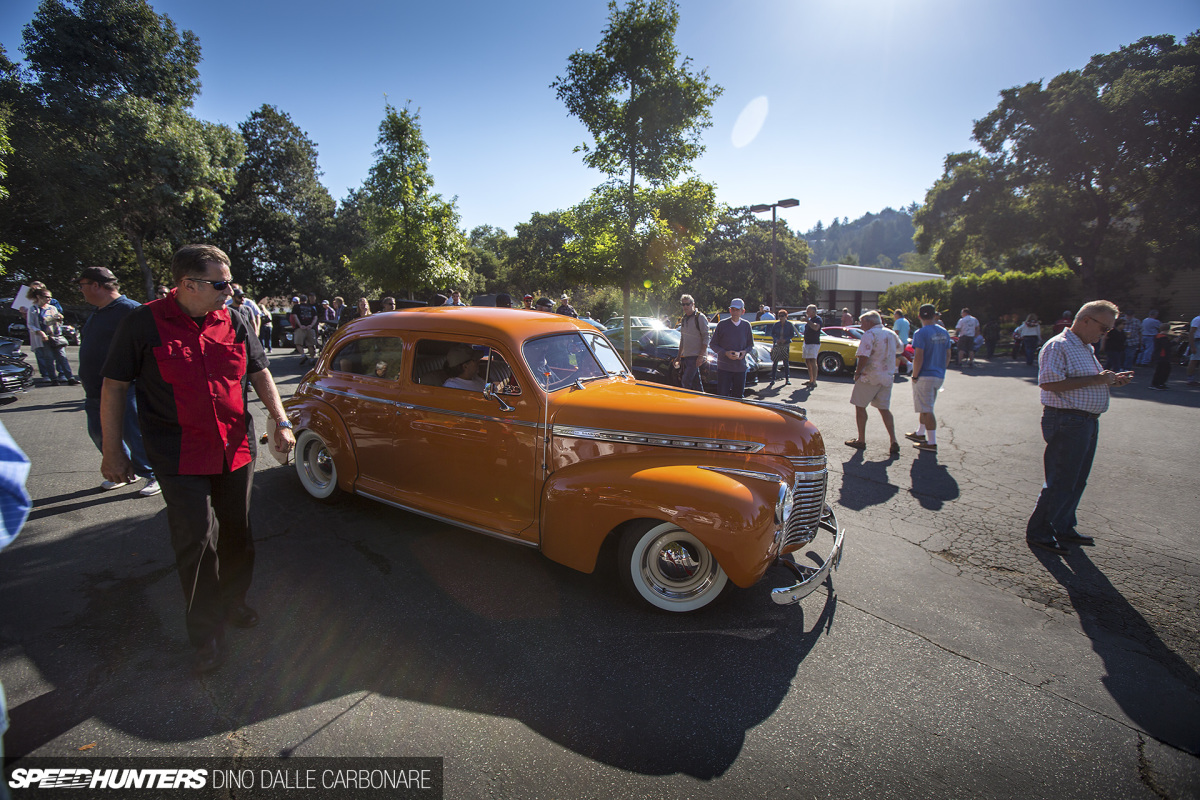 Eventually, the time came to say goodbye to the event and head back up to San Francisco.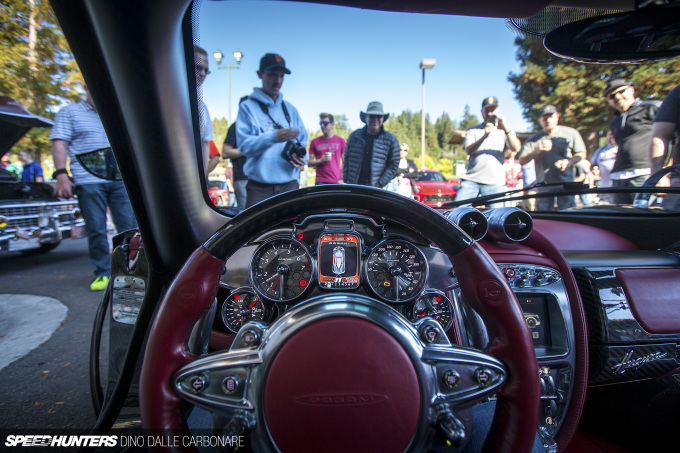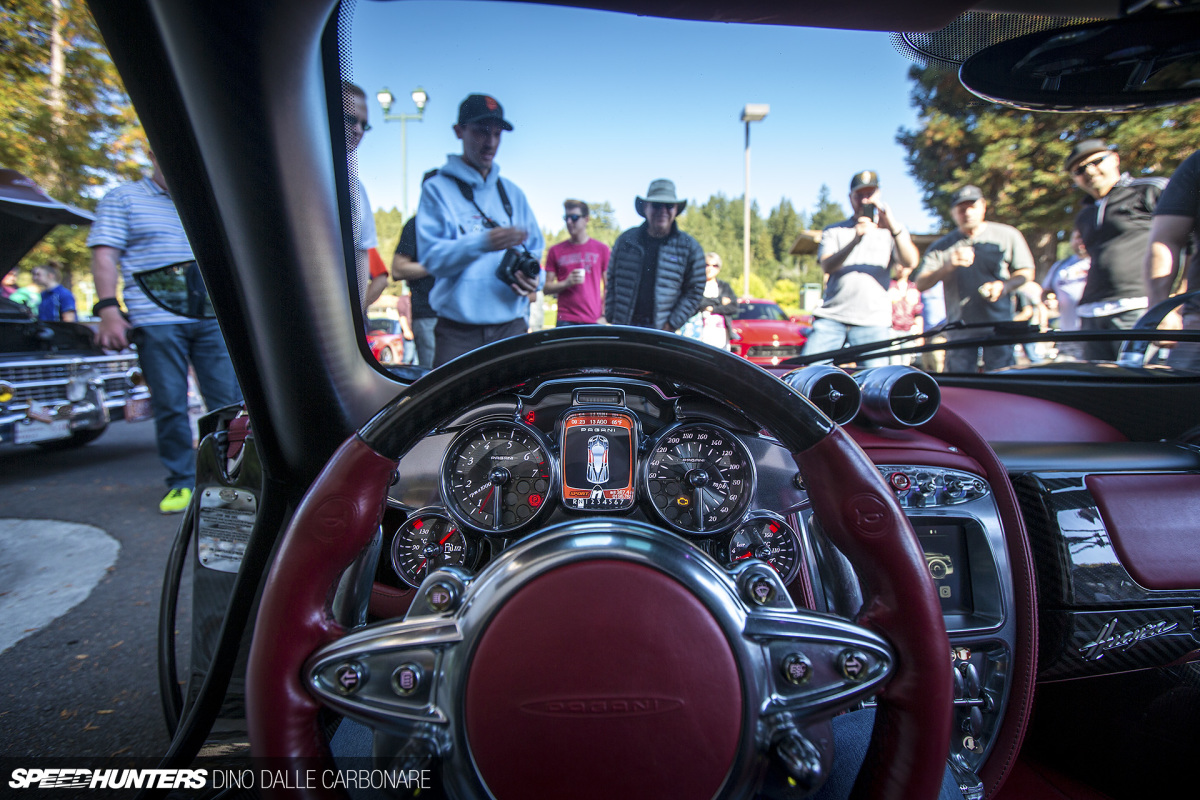 I had to get the car back safe and sound and give it a quick wash before its drive up to Napa Valley the following day.
Up next though is the Canepa workshop and all the glorious machinery within…
Dino Dalle Carbonare
Instagram: speedhunters_dino
dino@speedhunters.com