Pilgrimage To The Mecca
Being pelted by freezing winds, intermittent rain and the occasional snow storm is all in a day's experience if you happen to find yourself at the Nürburgring Nordschleife. And that's exactly where I was a few weeks ago; a place I hadn't visited in well over 10 years.
It was strange being back, but even though it had been so long, it felt like I was only there the week prior. Nothing has changed much; that tangible atmosphere is still very much in the air; you're always aware you are in a very special place.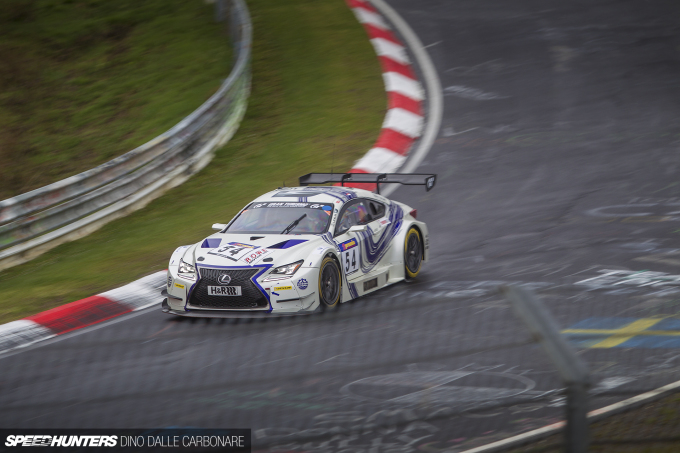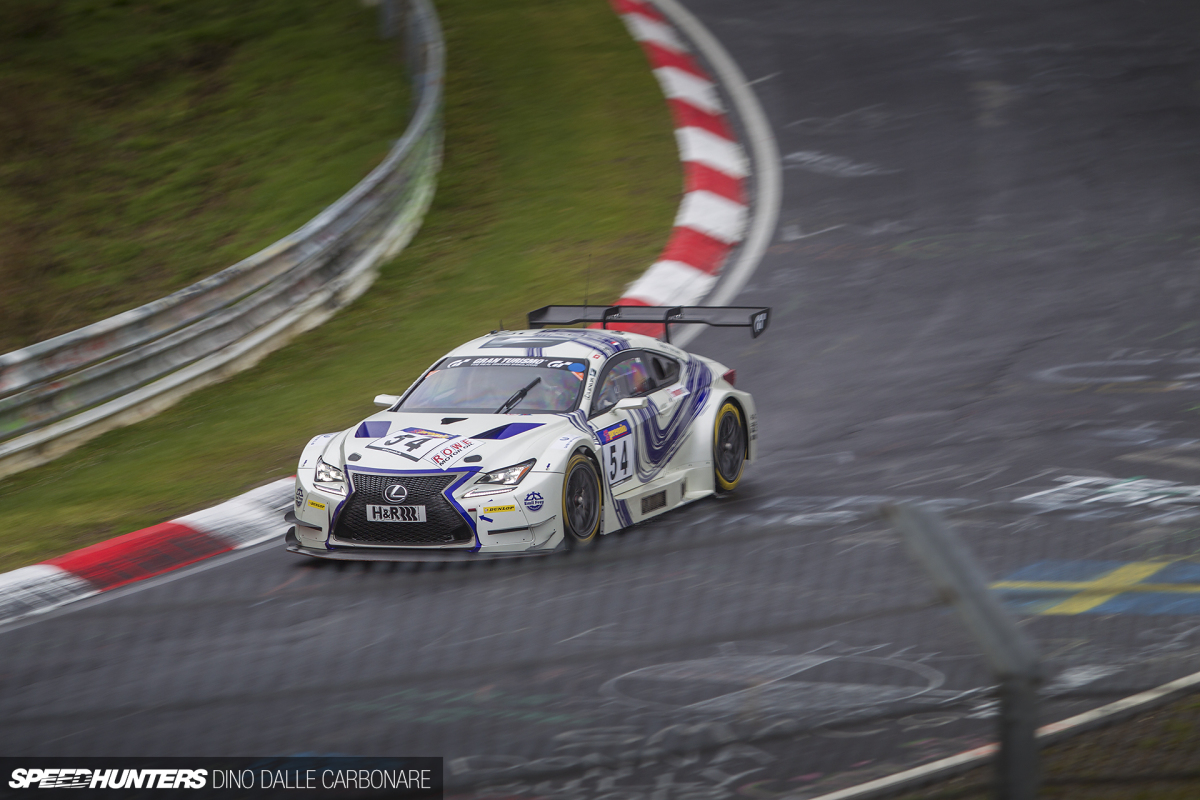 I was there to meet up with the Ring Garage guys, who along with Car Throttle had organized a friendly event where we would see who could drift the best. It's funny I ended up in this situation, as my previous drift experience consisted of power-sliding a few supercars out of corners on the occasional test drive, mostly by accident and with little to no control. And we all know that isn't actual drifting. But thankfully, I had Bryn Alban from Ghost Games – the guy responsible for selecting all the cars in the latest Need for Speed games – who is a decent drifter with a bit of experience under his belt. Obviously, he would take care of the actual driving in the competition; I was more looking forward to the fact we were going to be given a chance to practice and fool around before the showdown in our Speedhunters-stickered Toyota 86. That however, was going to happen a few days after our arrival. Before the fun began, there were other things I wanted to check out, and that started with the track itself.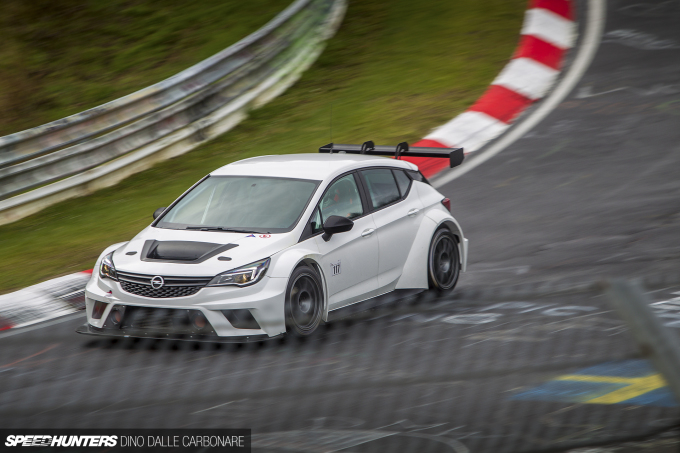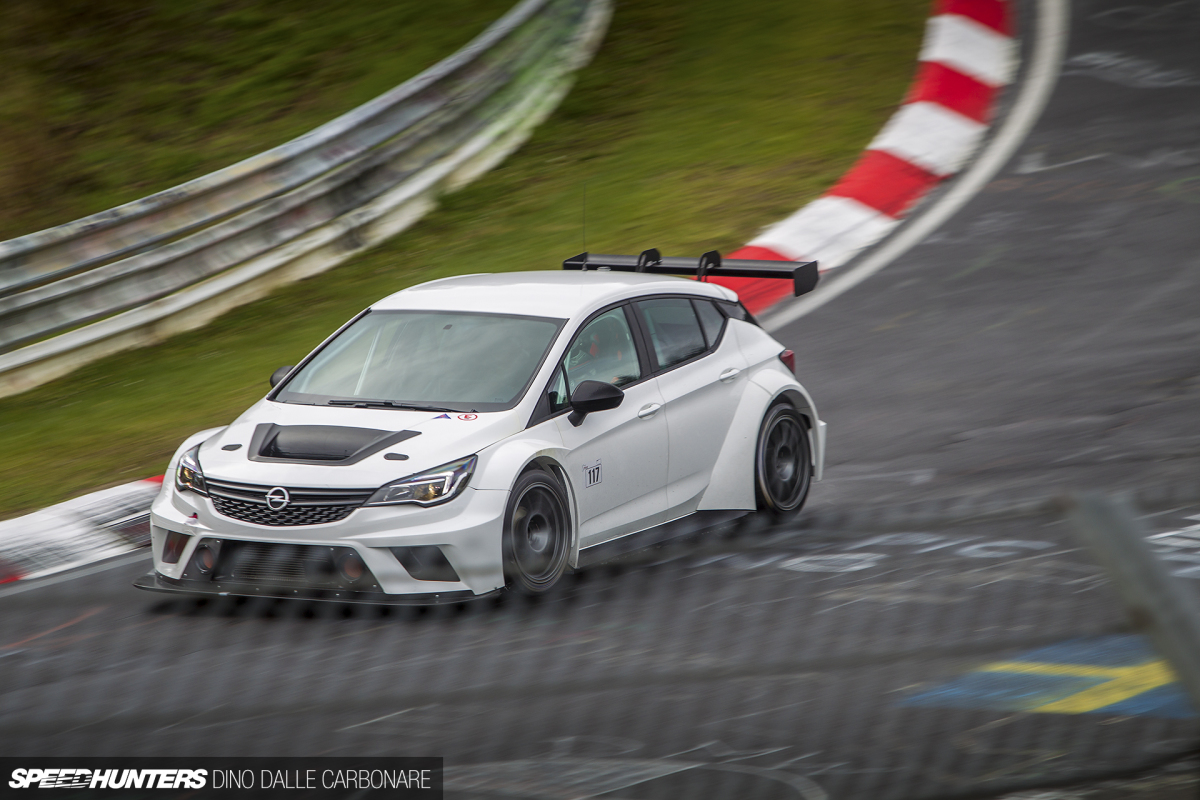 A few hours after landing in Dusseldorf I was trackside. One of the cool things about the 'Ring is that you never really know what you might see; it's the excitement of maybe getting the chance to spy a prototype or two being put through their paces. And within a few seconds of arriving I was already blown away; apparently a VLN test session was going down and I got to see a few cool race cars fine tuning their wet setups.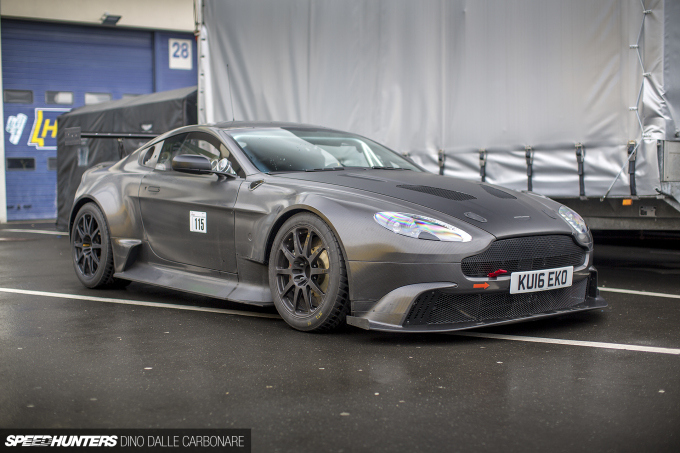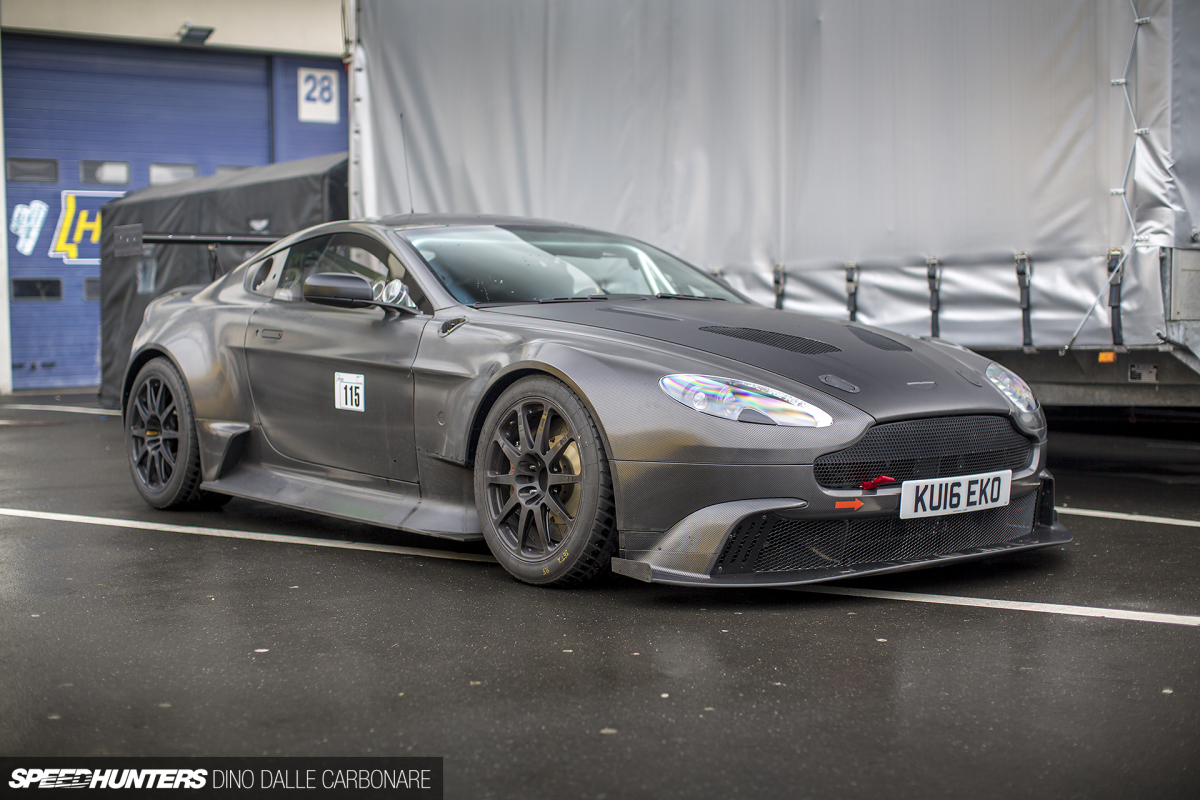 I checked out the paddock, but there wasn't much to see other than the odd car being moved around, like this Aston Martin Vantage which was momentarily parked in front of the pit garages. All teams had closed their shutters and were either working on their cars or doing other miscellaneous setup work. It was a pity, as through the small windows of the garages I could make out some familiar silhouettes, like the Scuderia Cameron Glickenhaus SCG003 and a few M6 GT3 racers. It was late afternoon at this point, and with no teams looking like they'd be heading back out on track, it was time to move.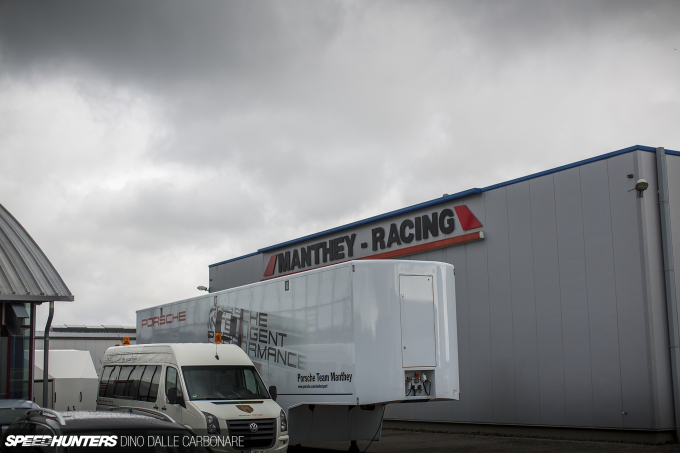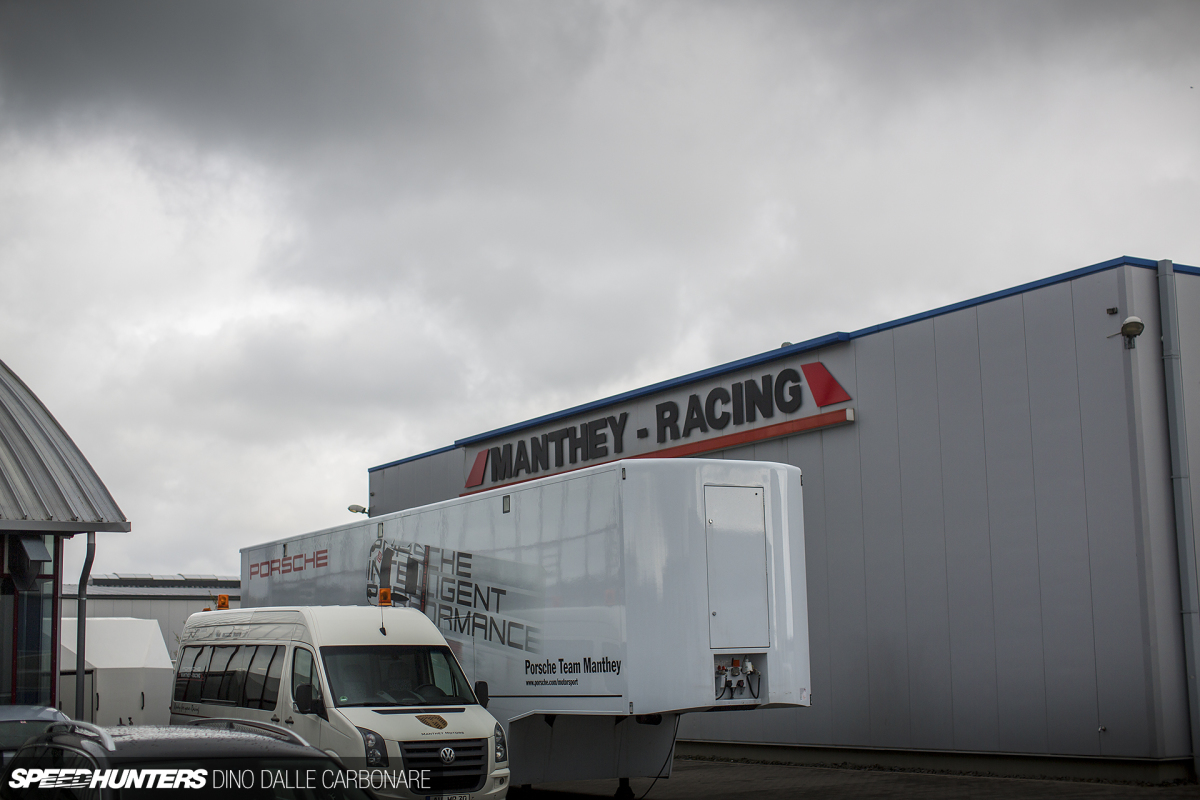 A little exploring is always a must when you are at the Nürburgring, especially on a quiet mid-week day. I headed down to the manufacturer garages in full paparazzi mode with my trusty 70-200mm lens optimistically mated to my 1D body. The optimism may have been to blame too, as I didn't see anything at all; no movement whatsoever! Driving around I came by a little shop you may have heard of before.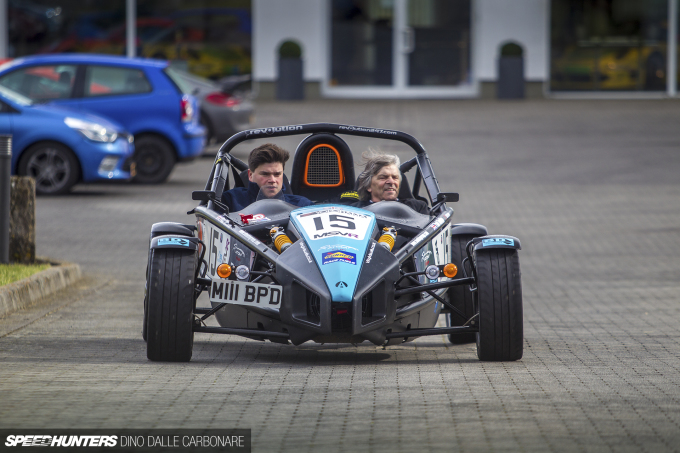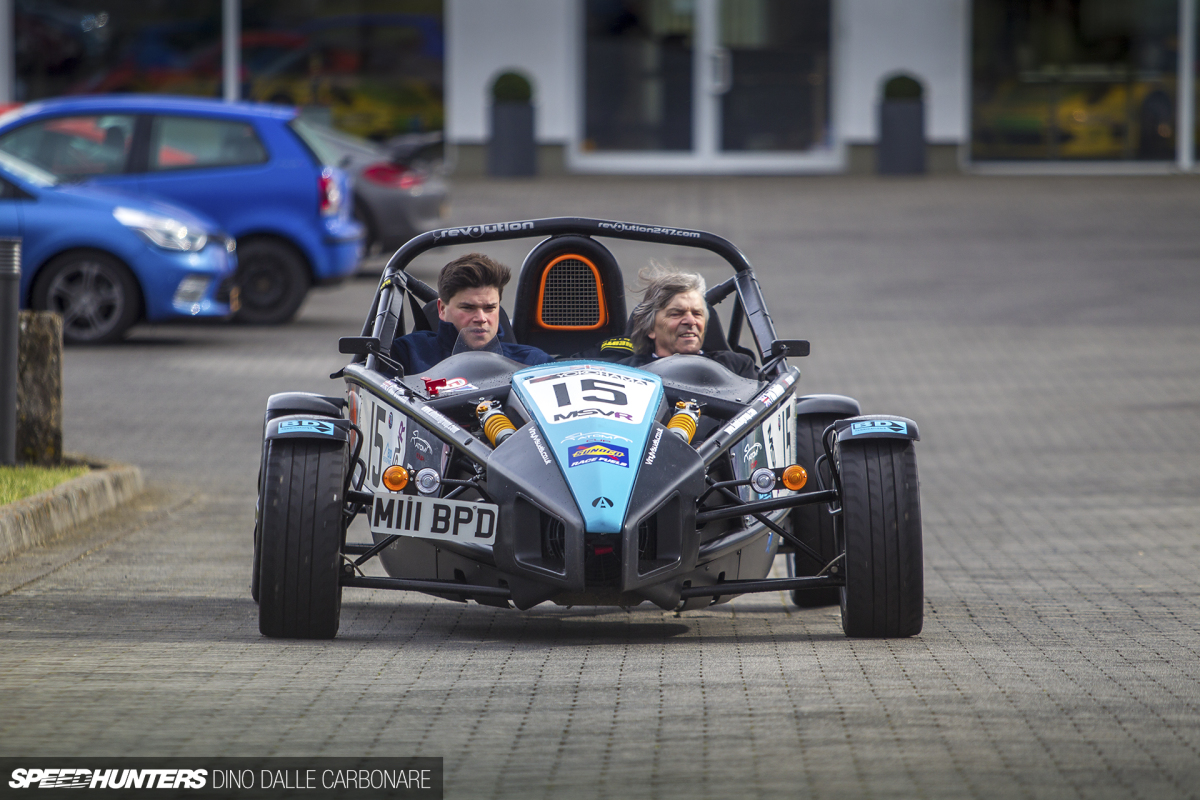 A big transporter had just turned into the Manthey Racing premises, so I parked up in the hope something like Porsche's next generation hybrid-electric supercar would be rolled out. But all I saw was this Ariel Atom on UK plates emerge from the compound.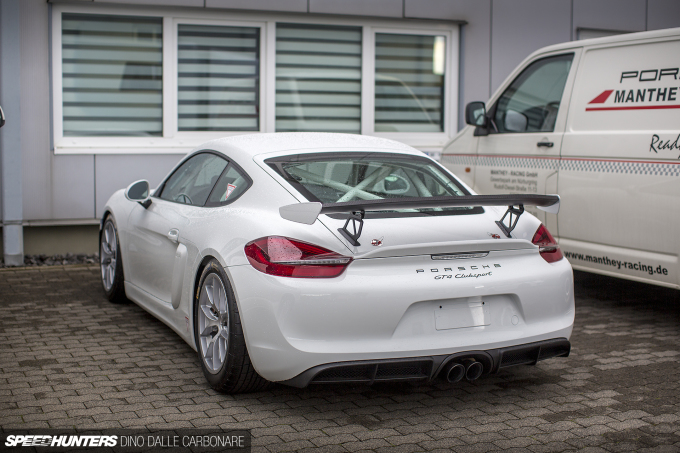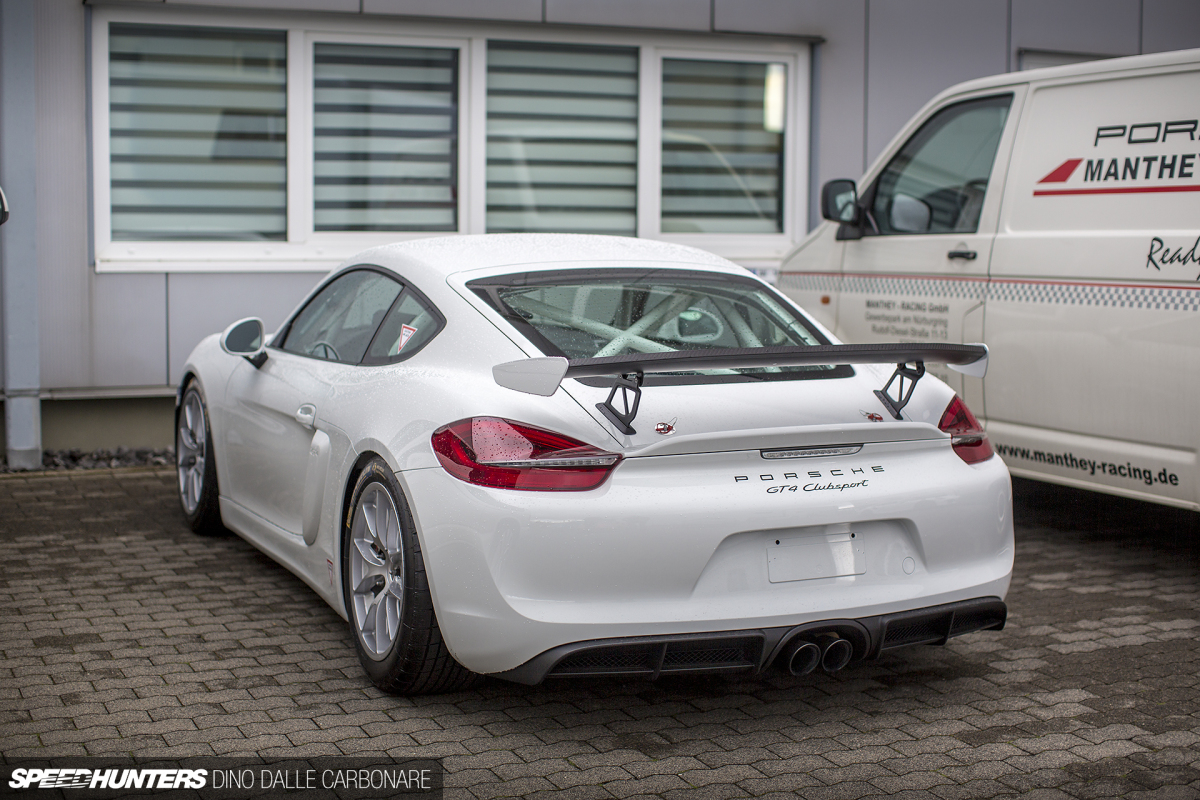 Not wanting to leave without at least one Porsche image, I went for a little nose around, a few GT4 Clubsport Caymans sitting in the forecourt immediately catching my eye.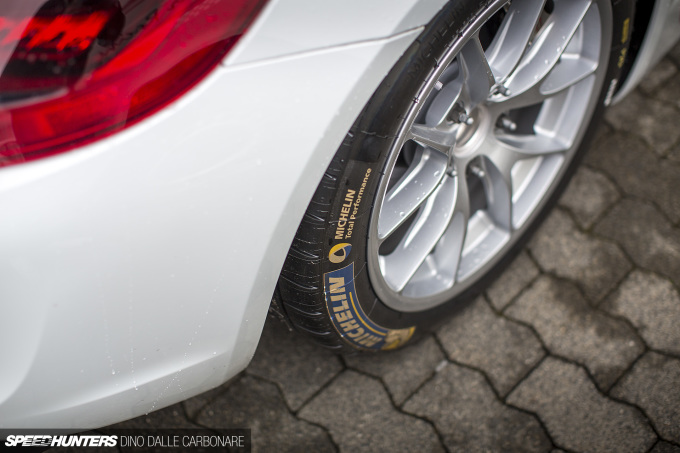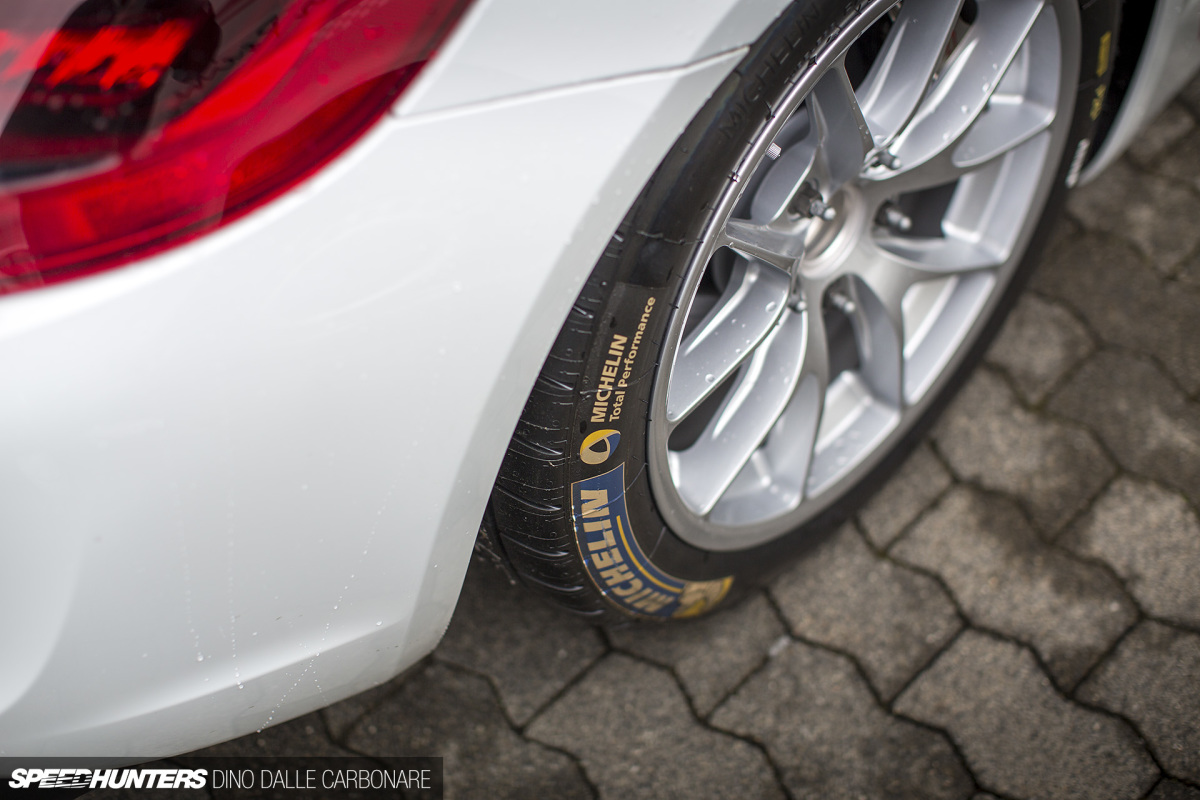 There is much right about this car. Being the no-frills version of an already epic driver's road car, it's easy to see why they're the car to have if you want to do a bit of high-end amateur racing.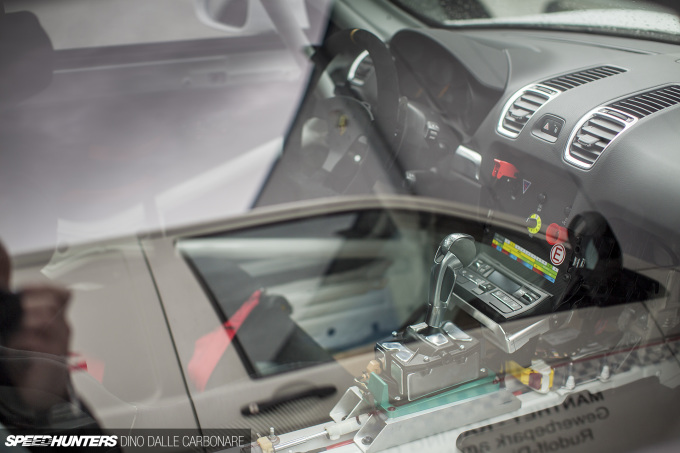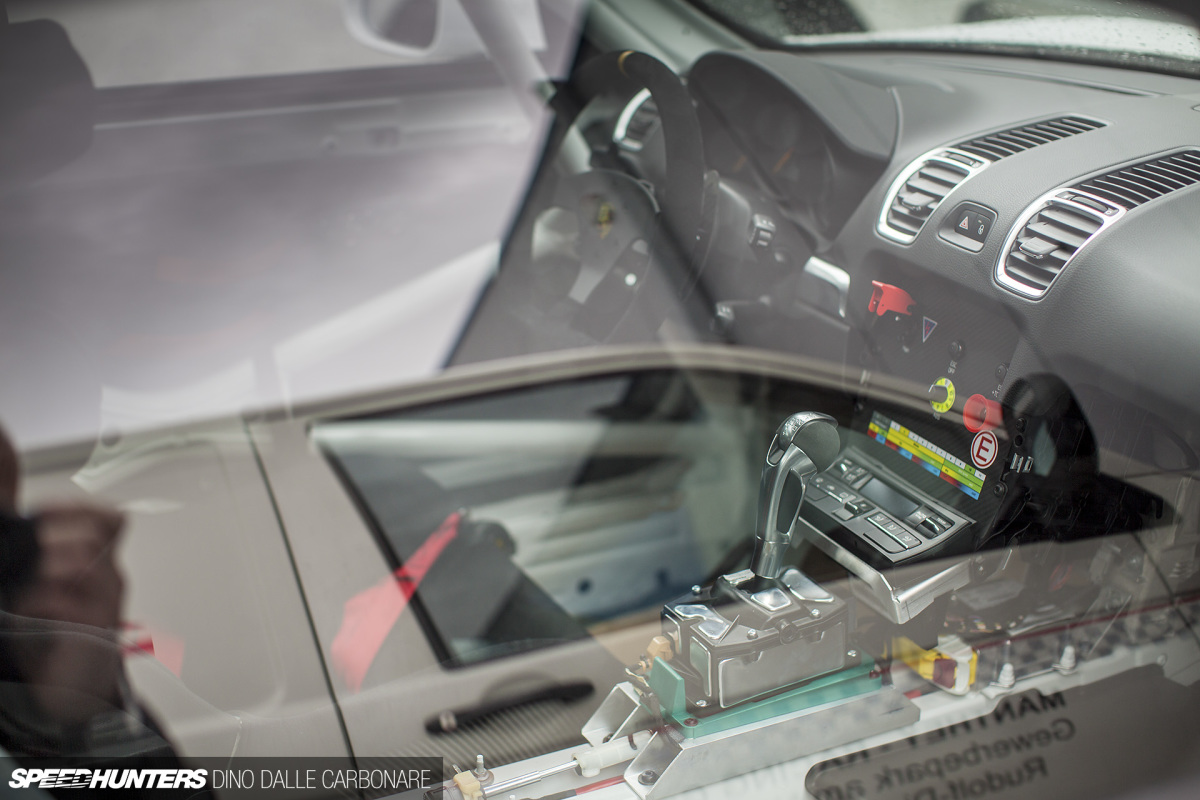 The GT4 Clubsport comes with a stripped-out cabin and a proper roll-cage, but no manual gearbox. That said, you do get the excellent PDK twin-clutch transmission to make the most out of the 385hp, 3.8-litre, dry-sumped flat-six. The perfect turn-key track weapon? Without a doubt!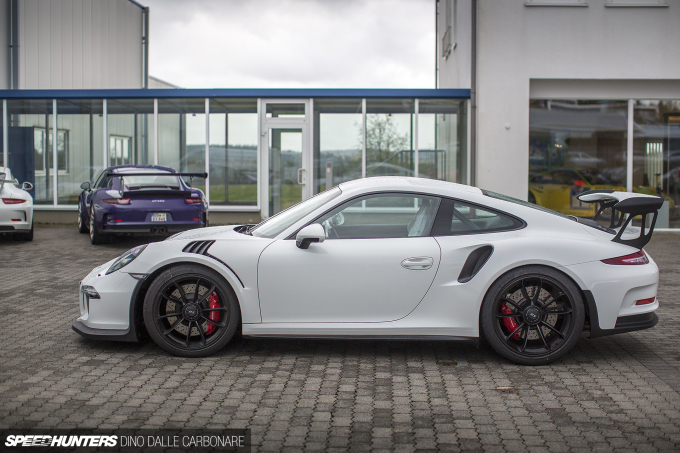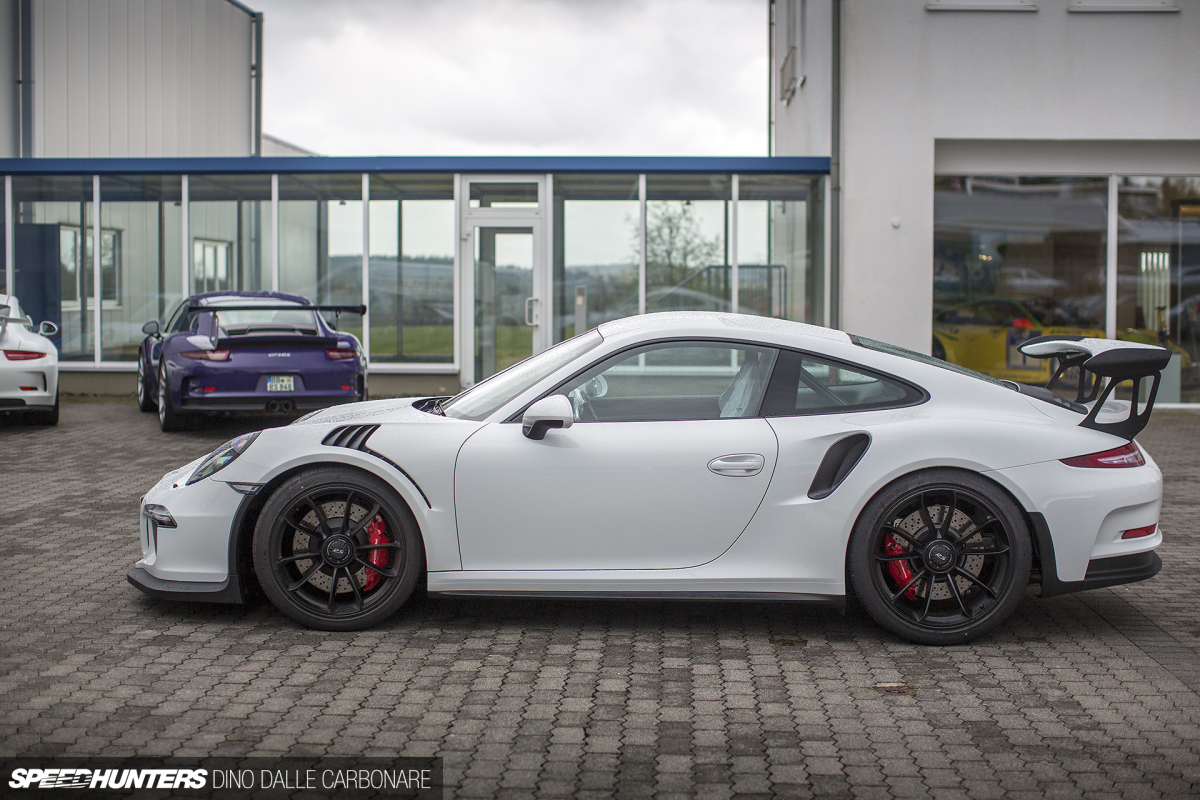 There were some other interesting machines parked around the place too, including a few customer cars wearing number plates from various countries in Europe.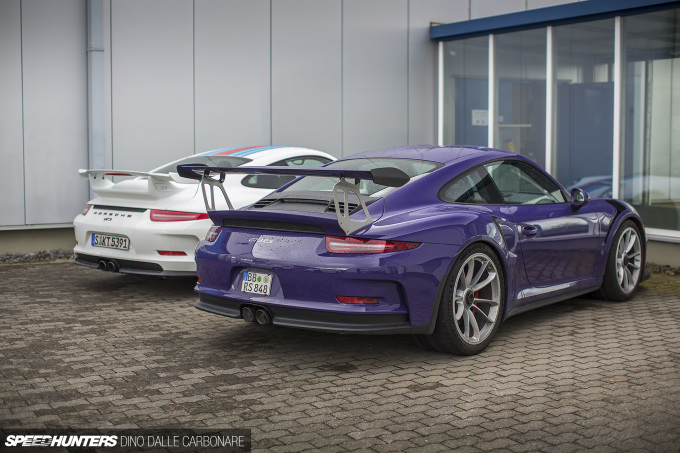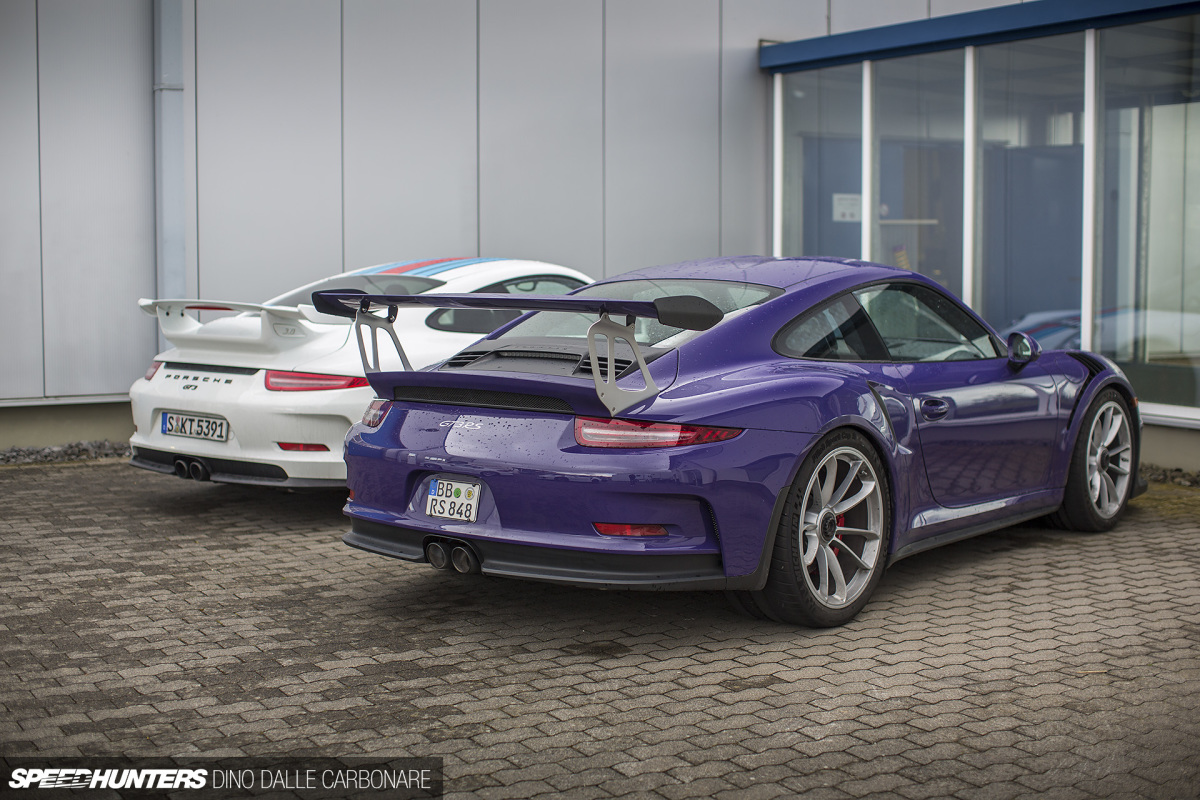 And seriously, how ridiculously cool does the 991 GT3 RS look in purple? Who would have thought…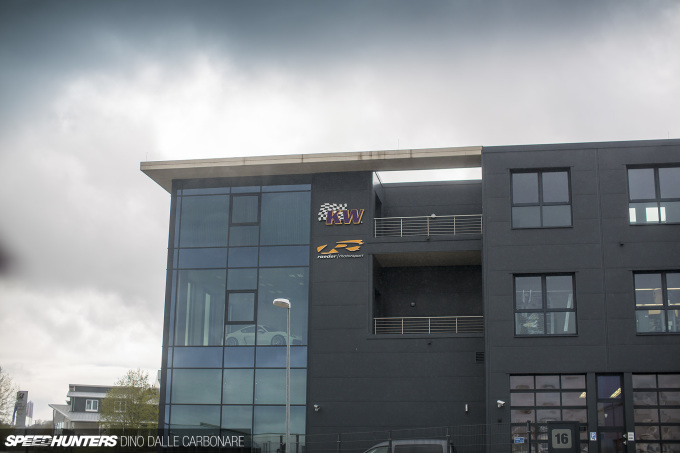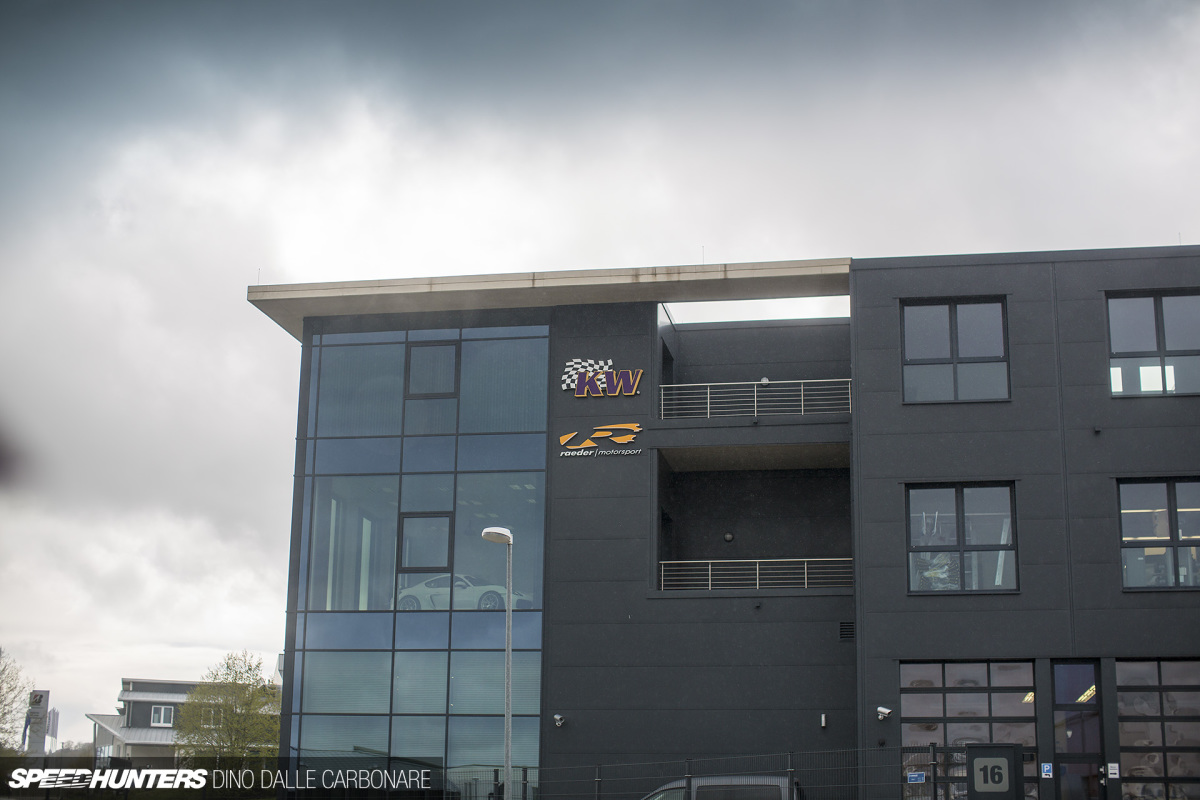 Driving past Raeder Motorsport I also spotted a few more GT4 Clubsports in the multi-level showroom/workshop. It's as if Porsche had recently delivered a big batch, and everyone was busy prepping them for racing.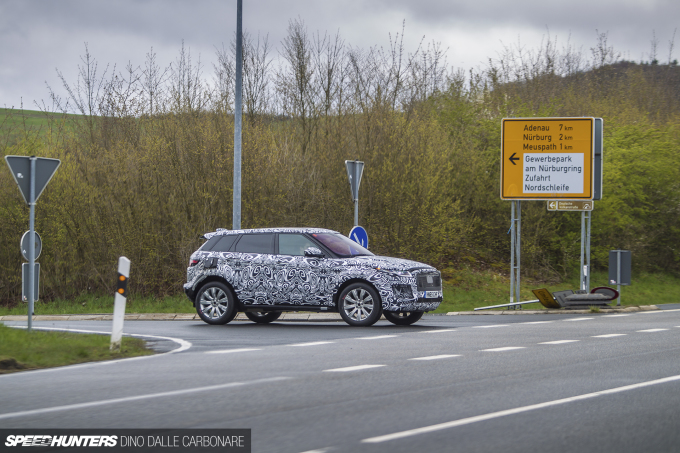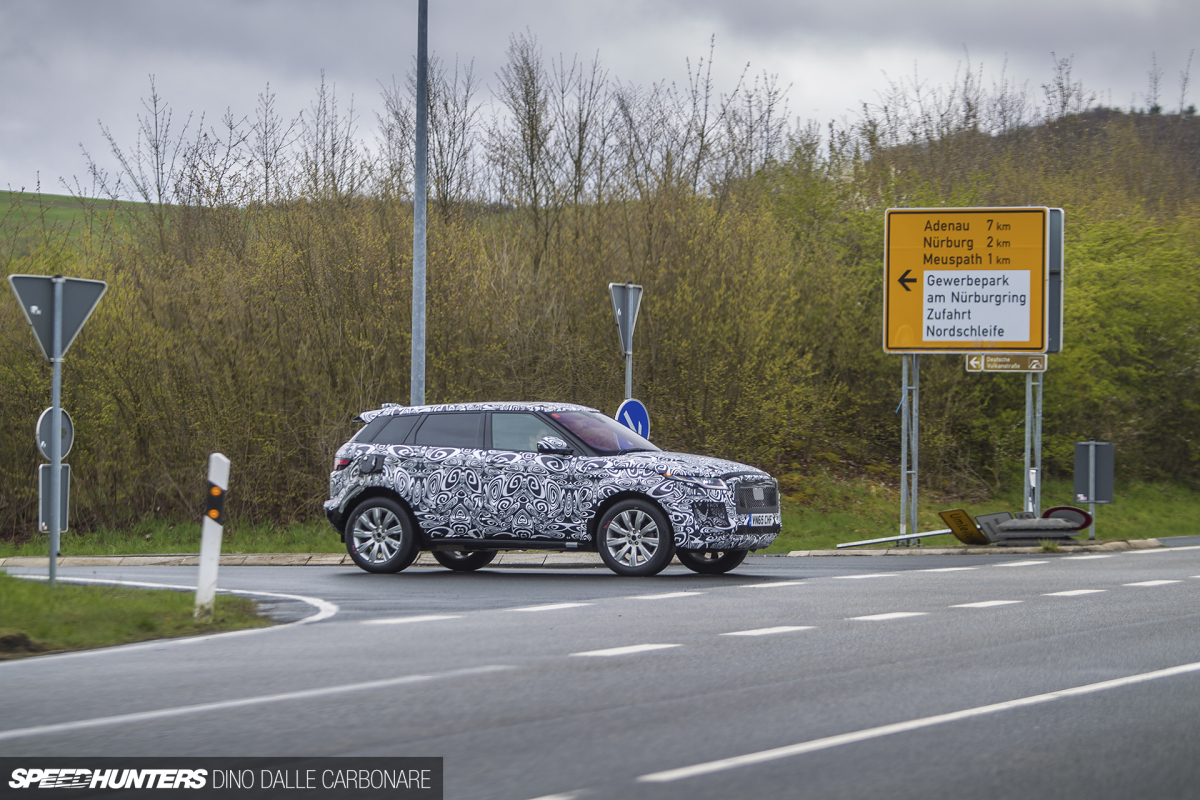 And then it happened. All of a sudden I spotted a camouflaged car being tested on the public roads around the general area. Okay, it was probably only a facelift upgrade for the Evoque and therefore not the most exciting thing in the world, but seeing a mule like this at the 'Ring is so cool.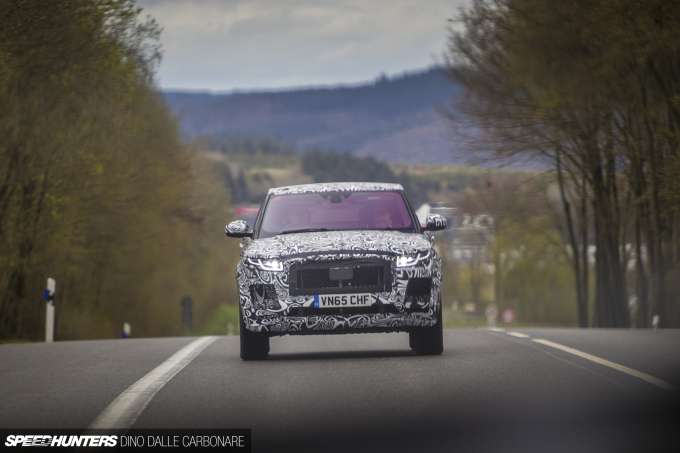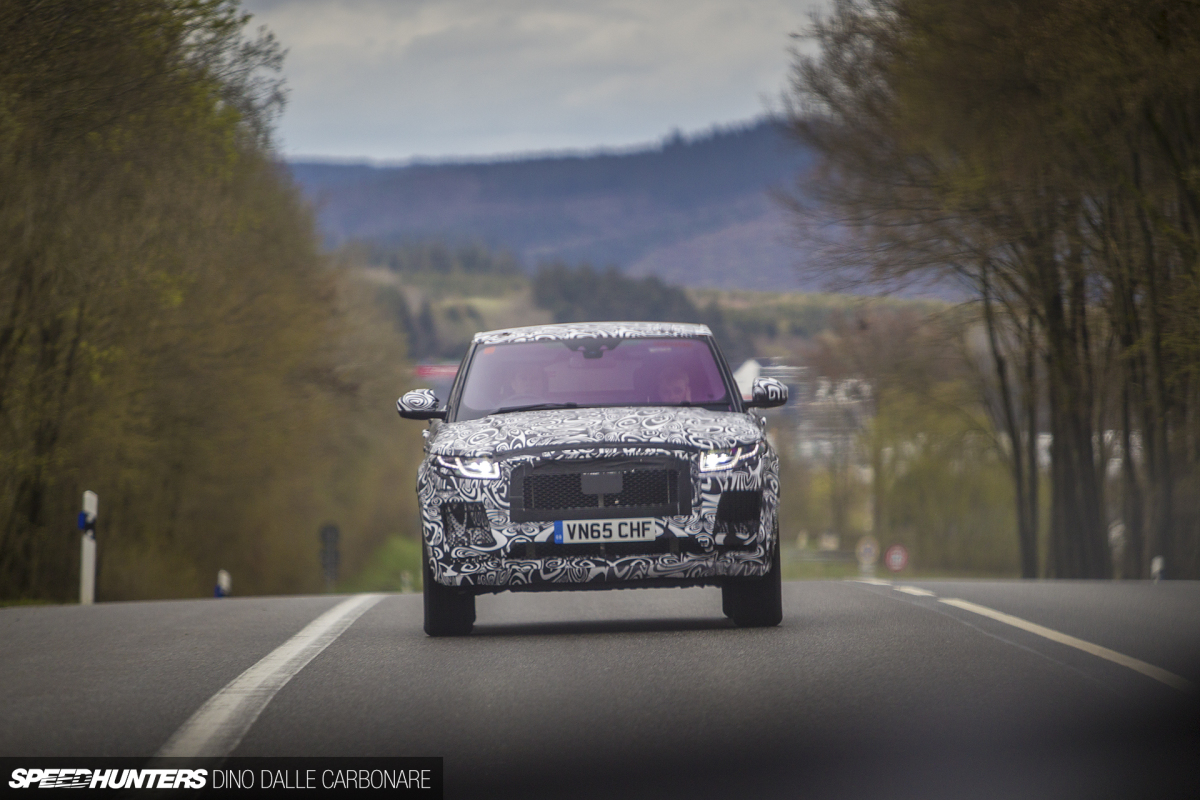 It's as if these guys were begging to be photographed too, as they even followed me back towards the main paddock. But despite my initial excitement, I ended up seeing a few cars wearing similar camo over the next couple of days, so they became an almost normal sight. I guess that's how the locals must see them – just another test car!
Destination Nürburgring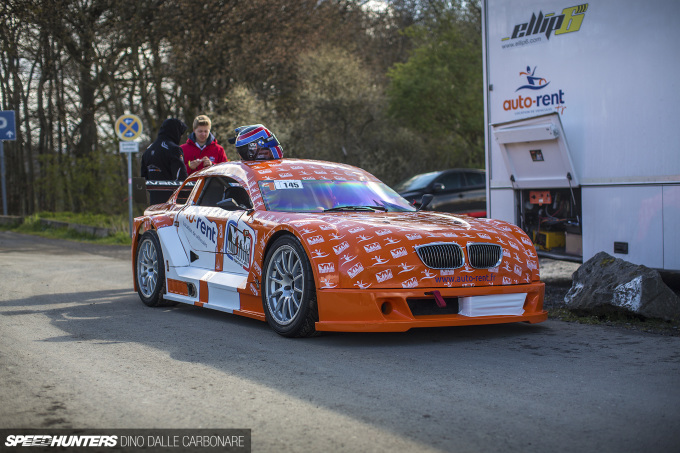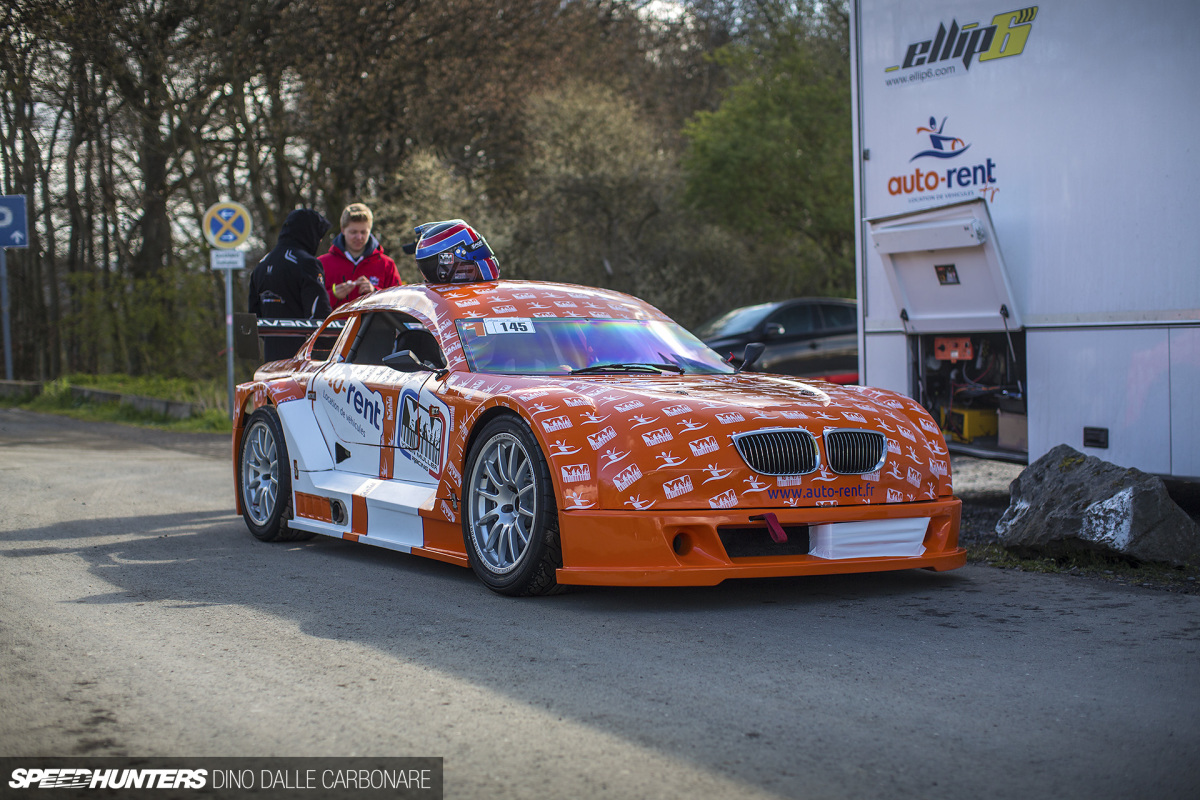 The following morning we awoke to beautiful blue skies, excited at what was on the schedule for the first day. The plan was to head over to the main entrance for Touristinfahren, or Tourist Drives, where Destination Nürburgring from the UK was running a track day event with a ton of cars from England and other areas. We were also meeting up with the winners of the Nürburgring Experience competition that we ran in conjunction with the guys at Ring Garage, to see them get their prize laps at the Green Hell. There was also a slight possibility that Bryn and I might get the chance to grab the Speedhunters 86 and do a few laps ourselves; but upon hearing that the car had just gone through an engine transplant after a brutal mis-shift prematurely ended the 4U-GSE's life a few days prior, we weren't too sure if it would be ready in time.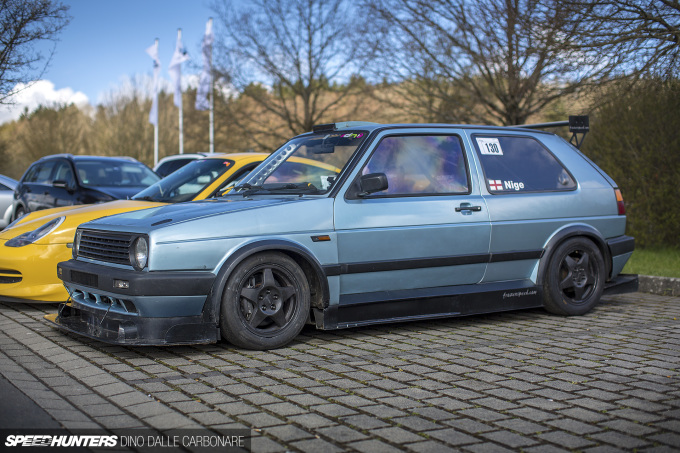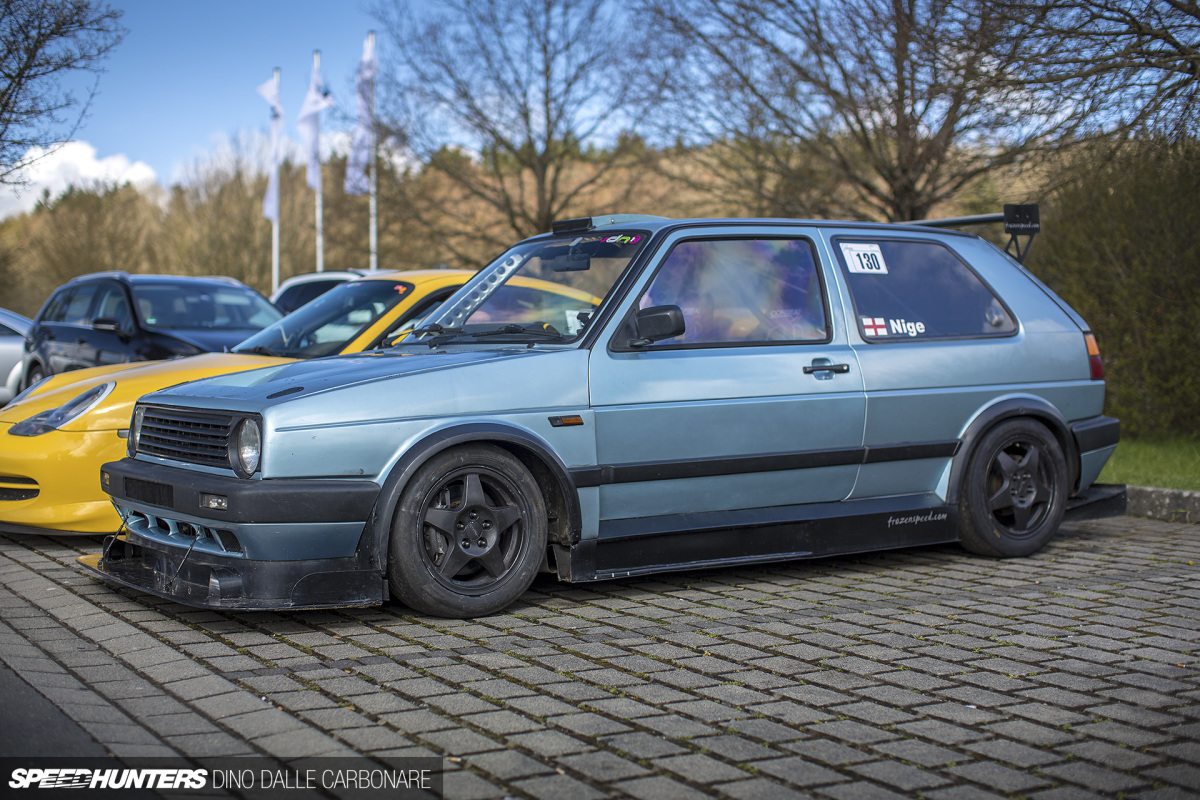 But no worries of course, there was lots more to do, starting off with checking out the cars that had come over from Blighty. This Golf was the first one I noticed on arrival, and its friendly owner, Nigel, actually took me out for a proper lap later in the day. I just loved the whole concept of it: take an affordable sports car from back in the day, strip the hell out of it, tune it, revise it, tune it some more, refine the handling, throw in some self-developed aero and you have a car that can keep up with the latest breed of Porsches. If I'm ever in the UK this is one car I'd love to feature as the story behind it is very in line with the sort of stories I hear Japanese time attack guys tell me all the time.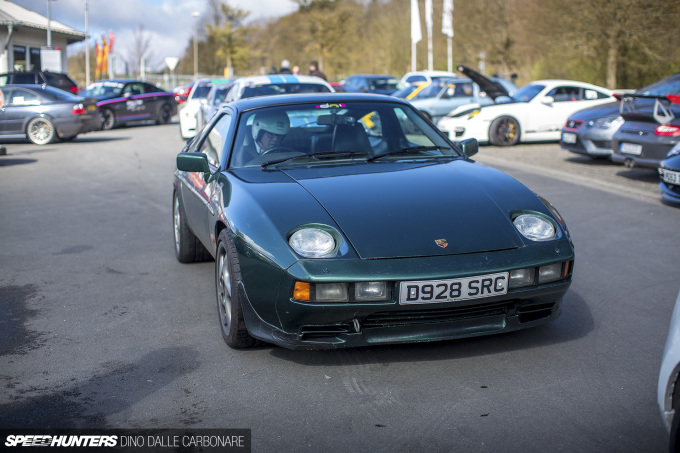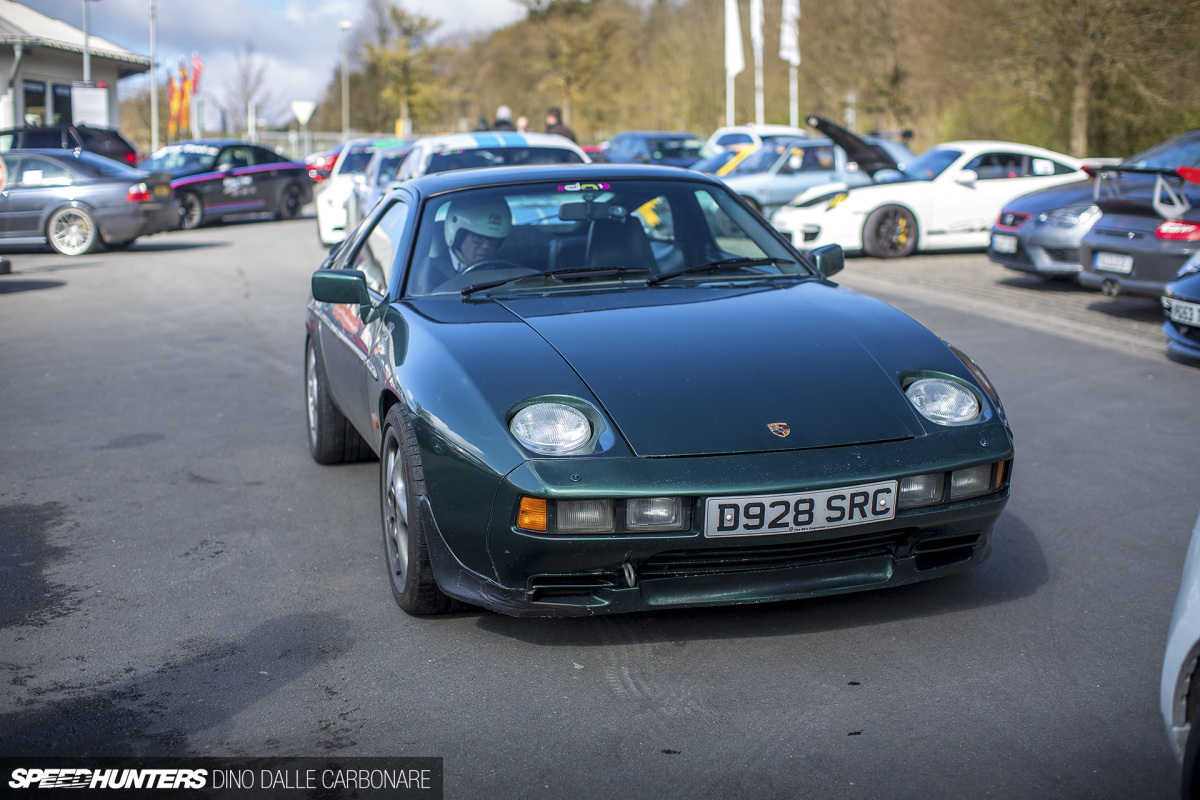 The 928 isn't the first Porsche that would pop into your mind if you think of what you might see at the 'Ring, but it's yet another great thing about hanging around this place. There's so much variety.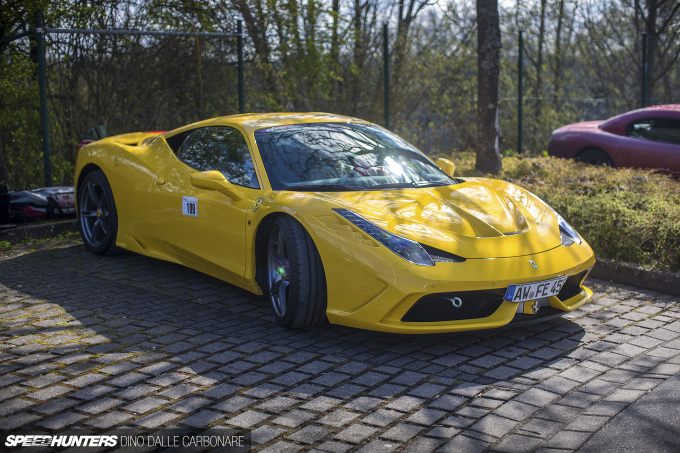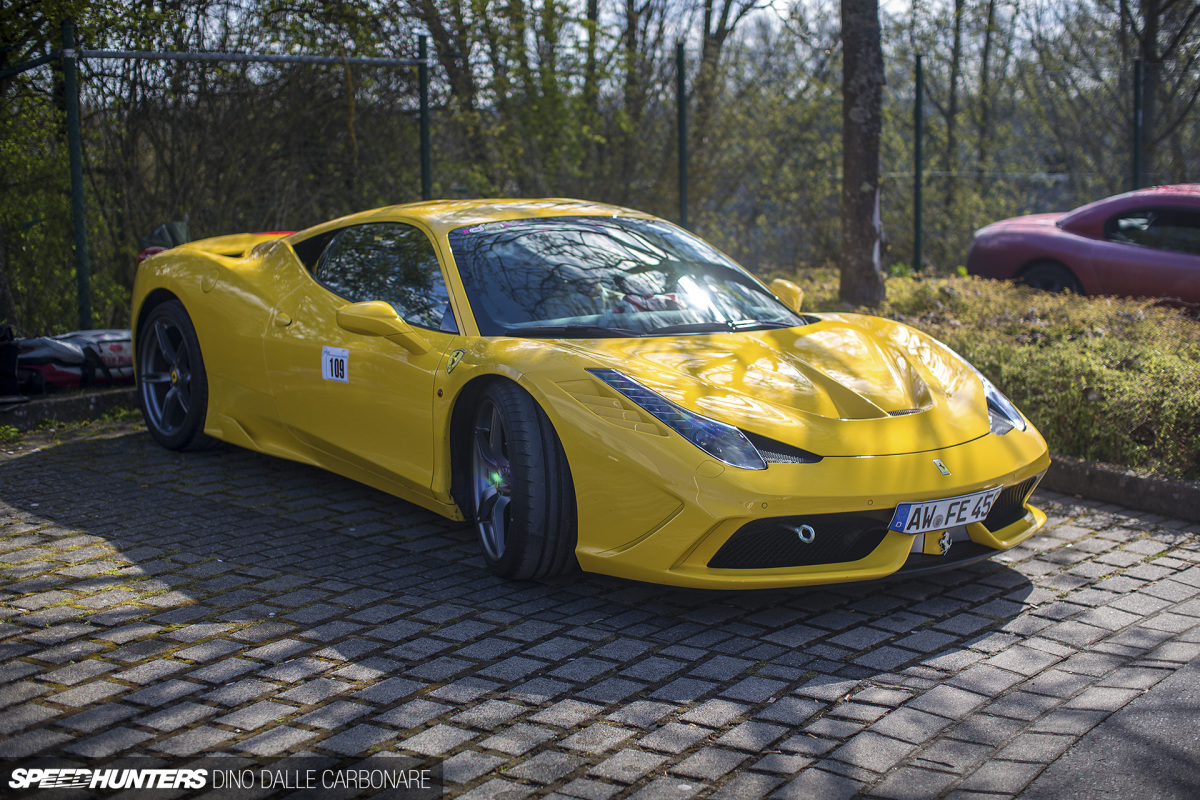 How cool is this – a 458 Speciale that doesn't sit in an air-conditioned garage accumulating in value! It's absolutely great seeing high-end cars like this enjoyed as they were meant to be, and boy did this thing sound phenomenal out through the turns.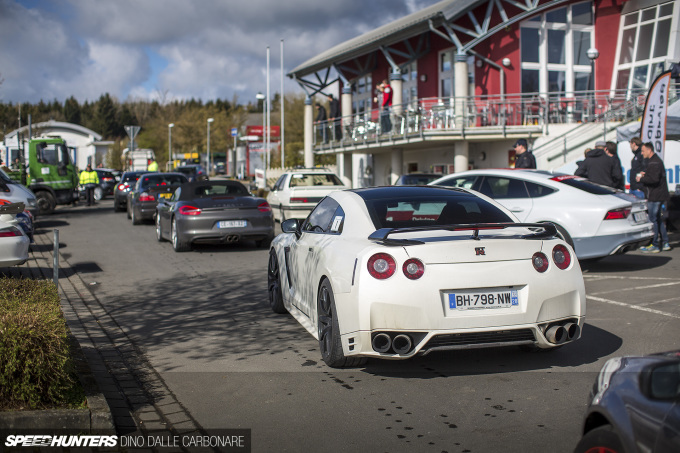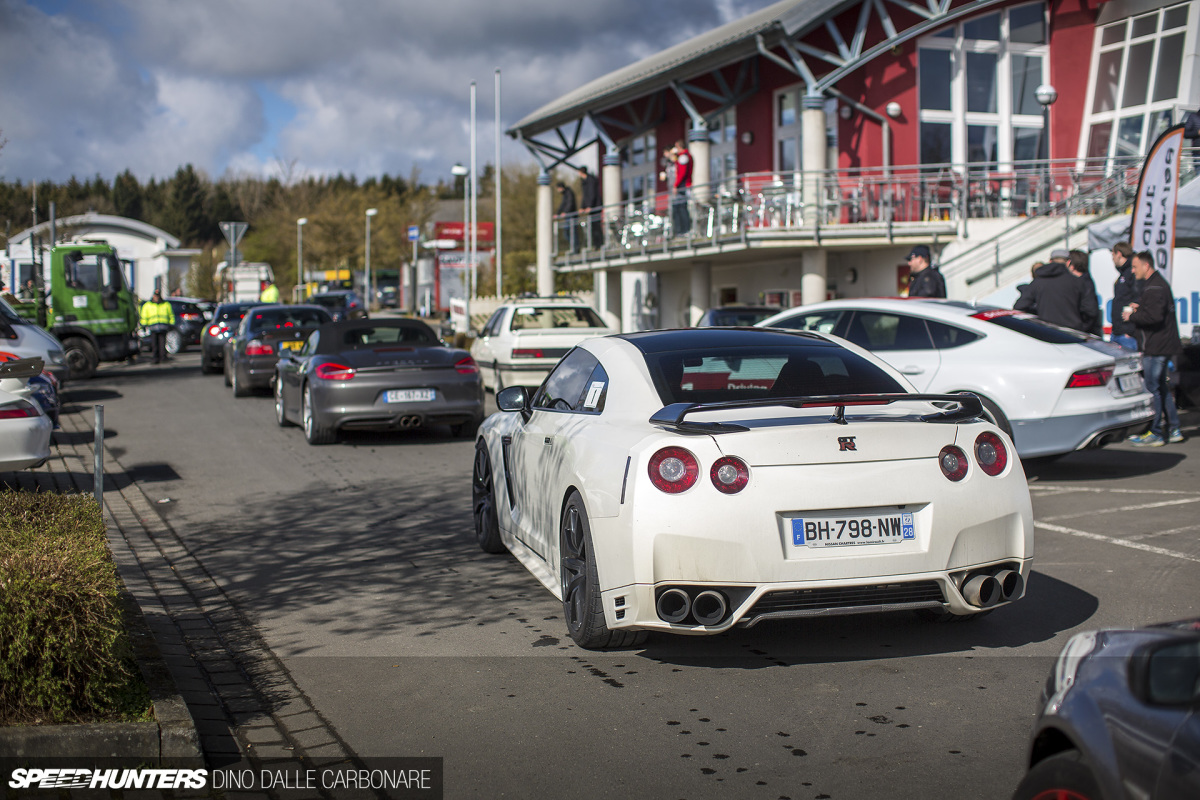 You know me, no matter where I go in the world sooner or later I find a GT-R, or a GT-R finds me. No old RB26-powered ones were to be seen unfortunately, but there were a few mean looking san-gos around.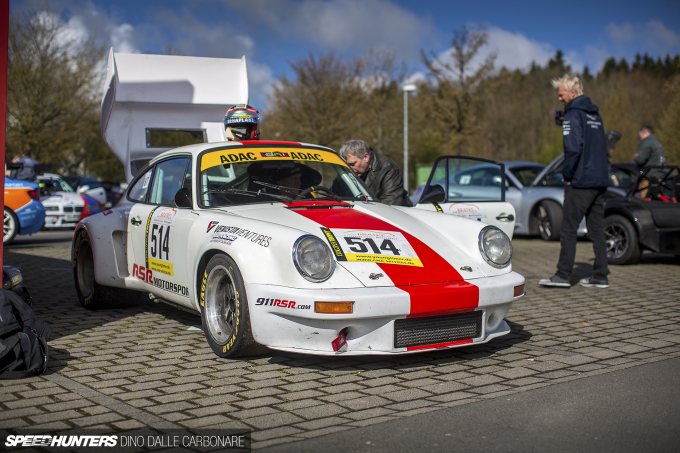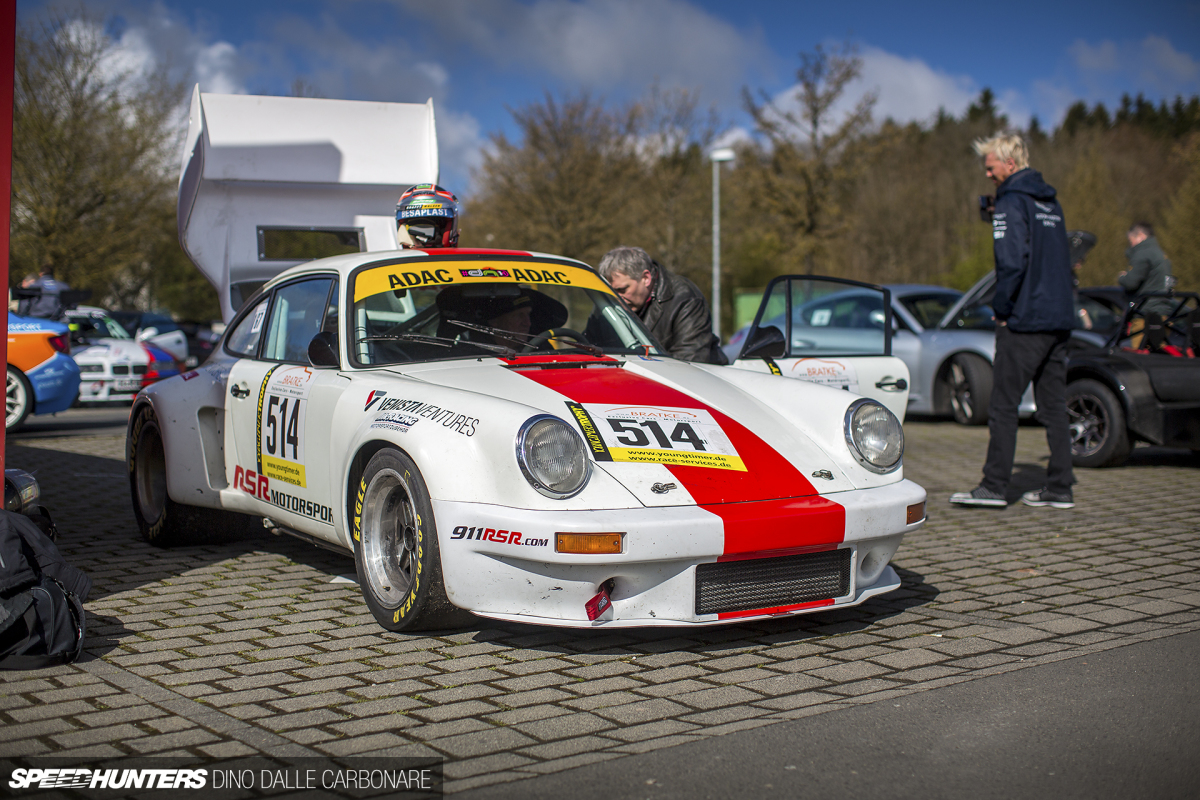 Being in Germany, I expected to see a lot of serious Stuttgart metal, and I was not disappointed; especially after laying eyes on this masterpiece.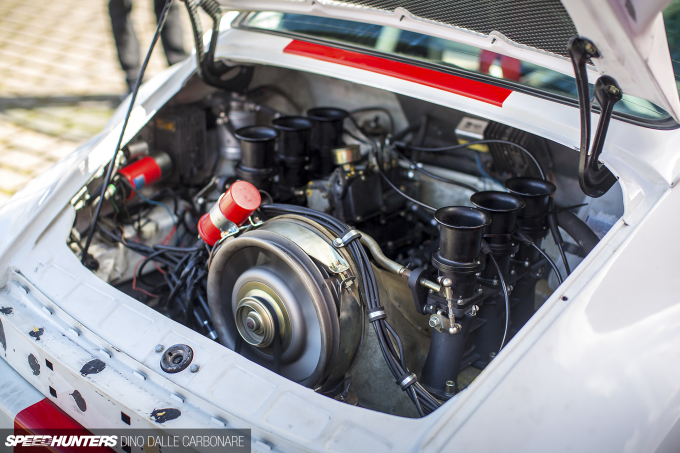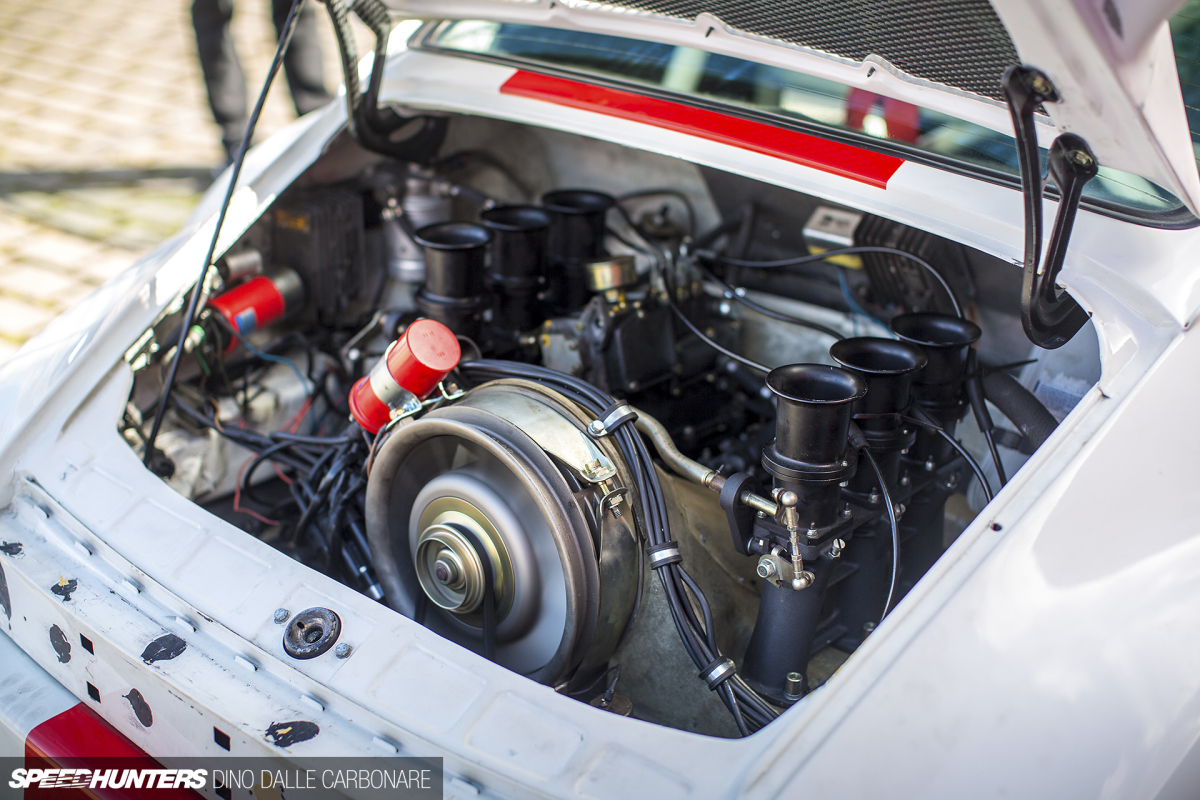 This 911 RSR is entered in the 24h Classic race at the Nürburgring every year; click here and you can watch an entertaining on-board video from the 2014 event.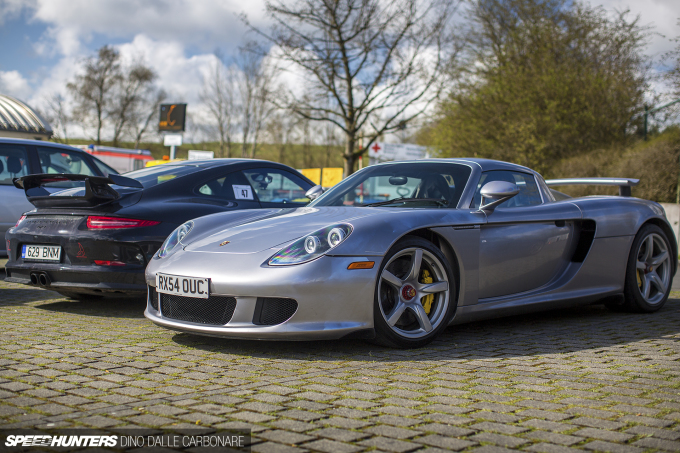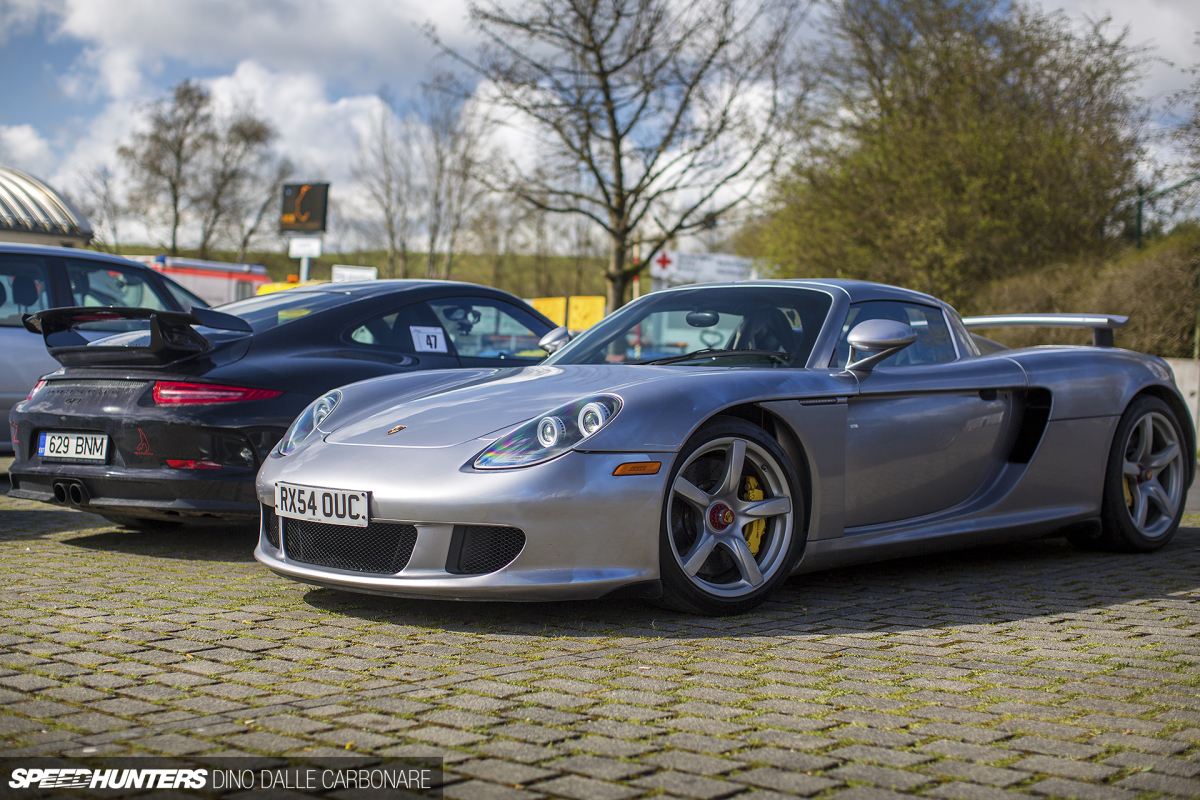 Right behind it was the legend that is the Porsche Carrera GT. I've never had the pleasure of driving one, but I do often wonder if it really is the untameable beast that everyone makes it out to be…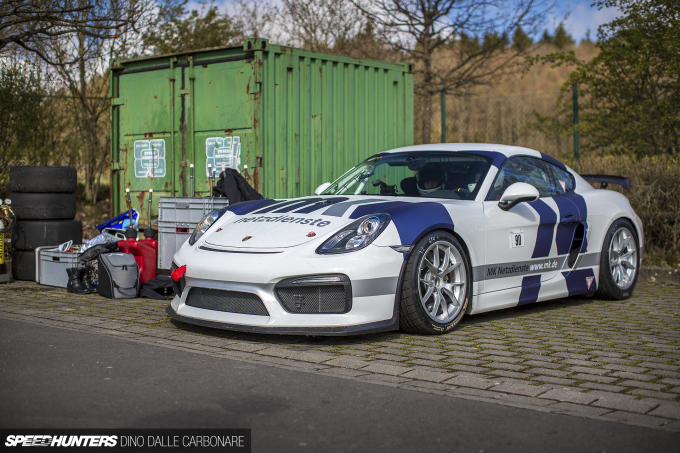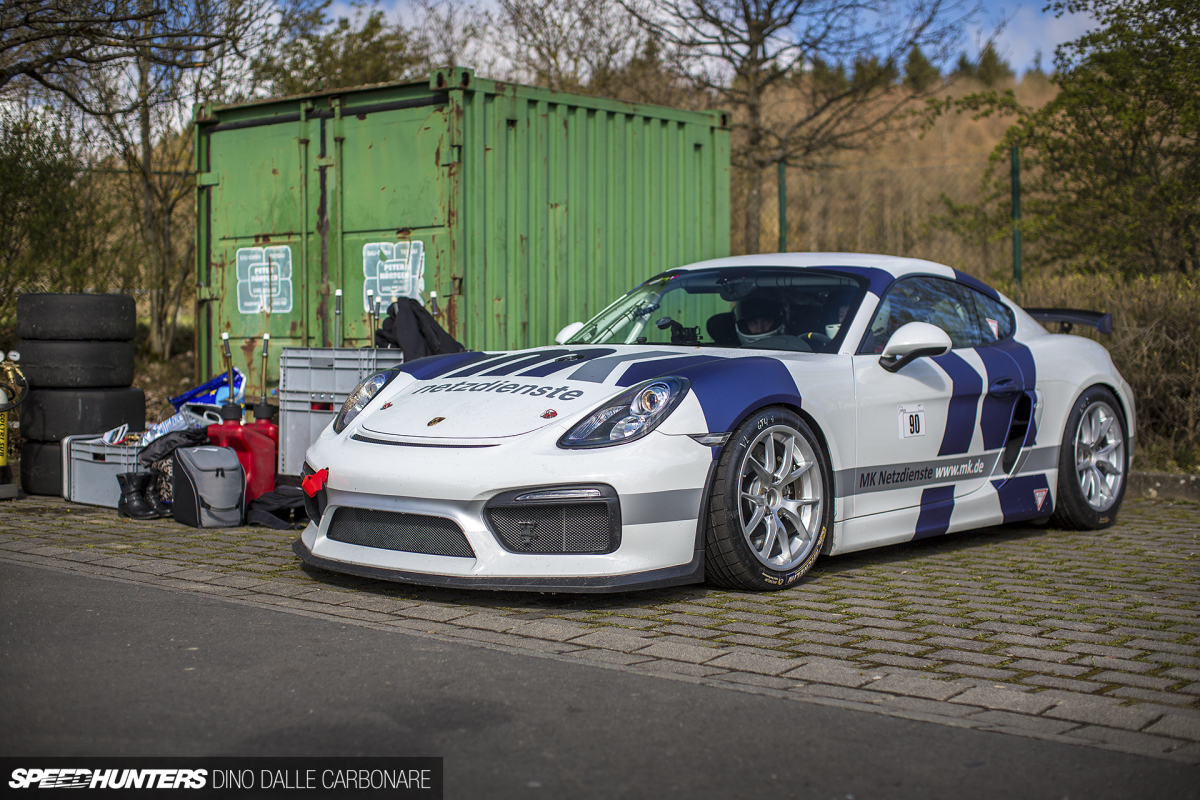 Yes, it's another Cayman GT4 Clubsport! After the previous day's hunting, this was quickly becoming a familiar sight. There were probably another four or five race cars at the Nordschleife on this particular day practicing for the VLN race.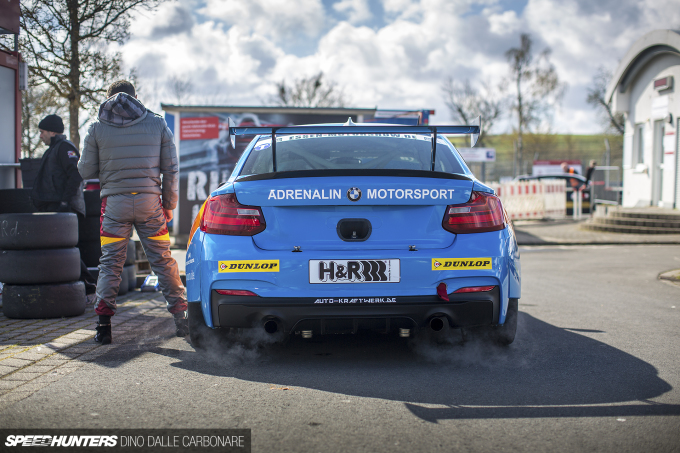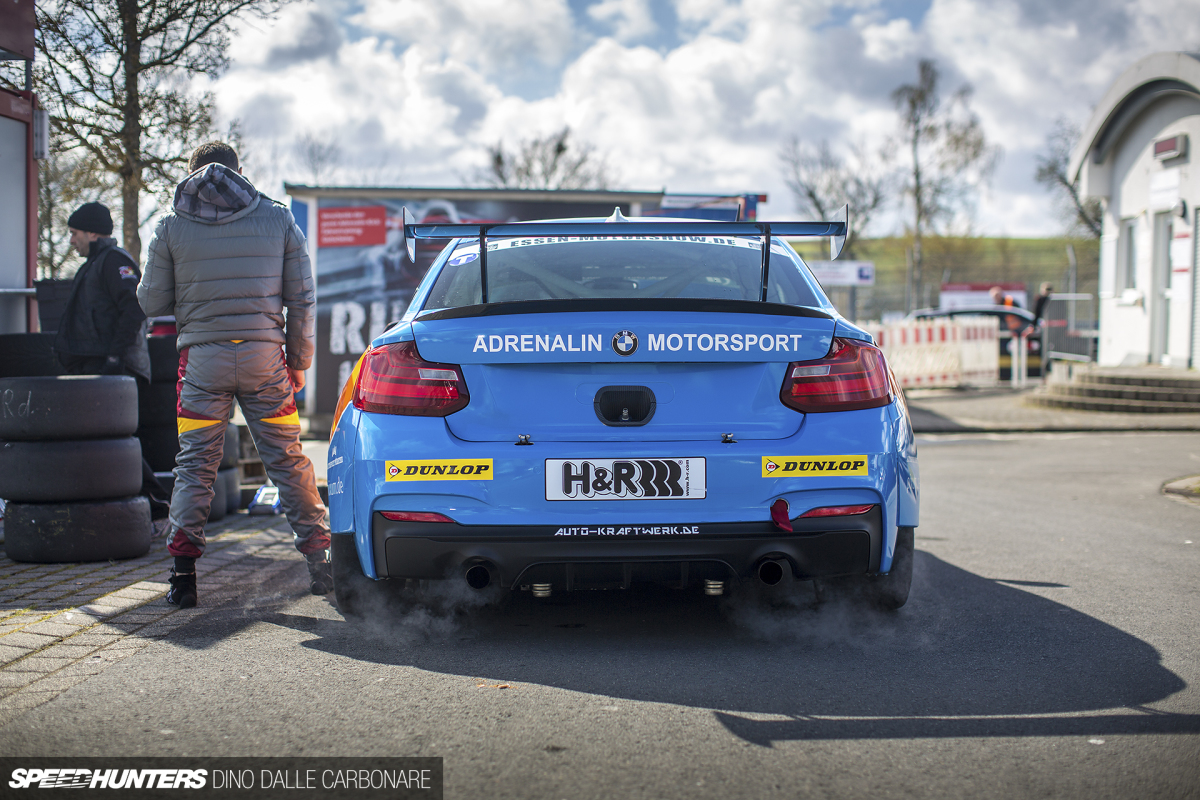 How good does a race-prepped 2 Series look?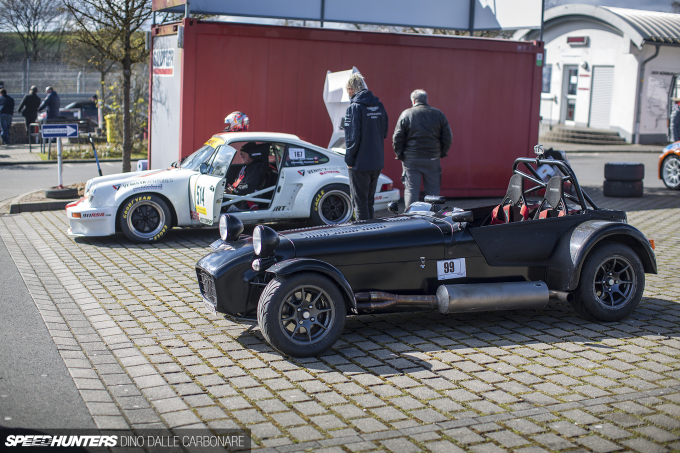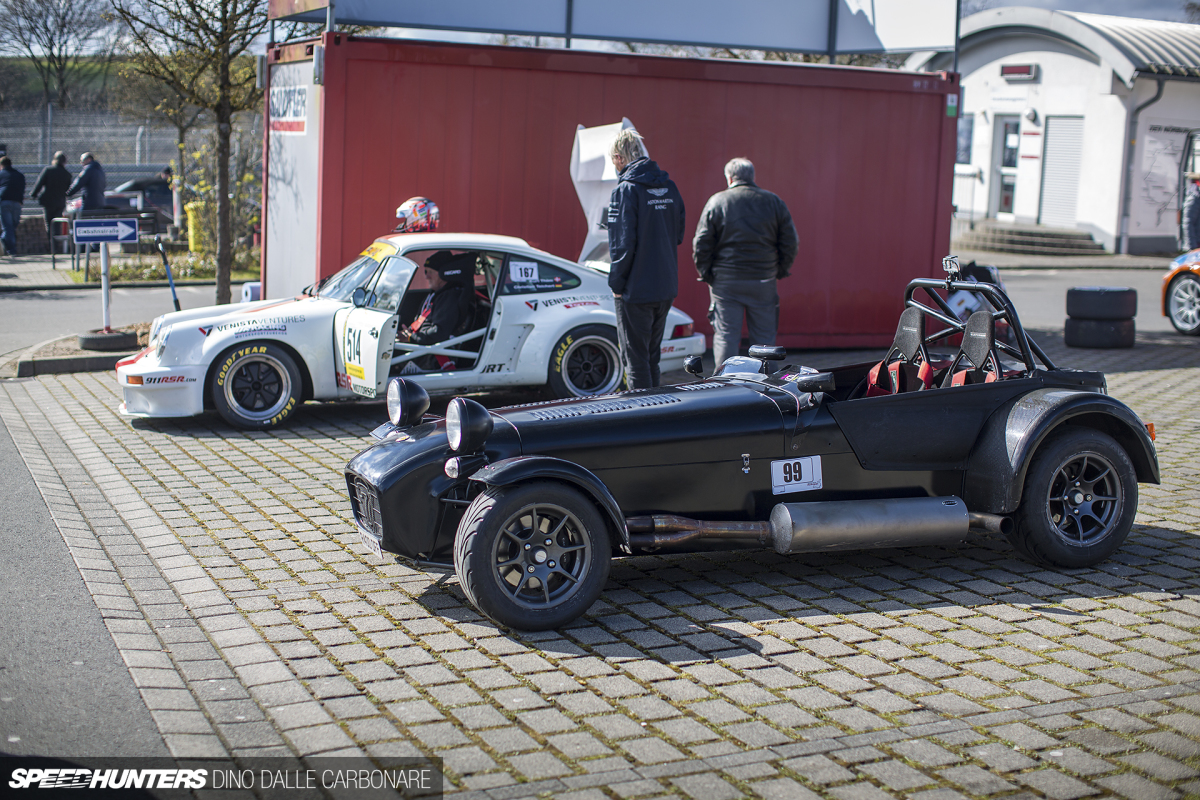 There were also plenty of brave people around, and no windscreen here either!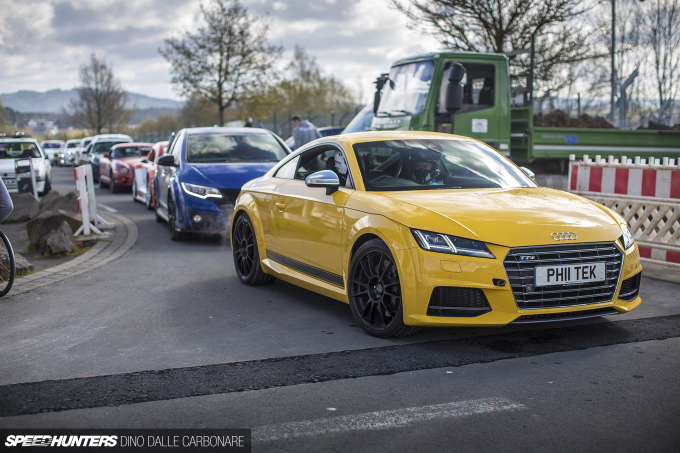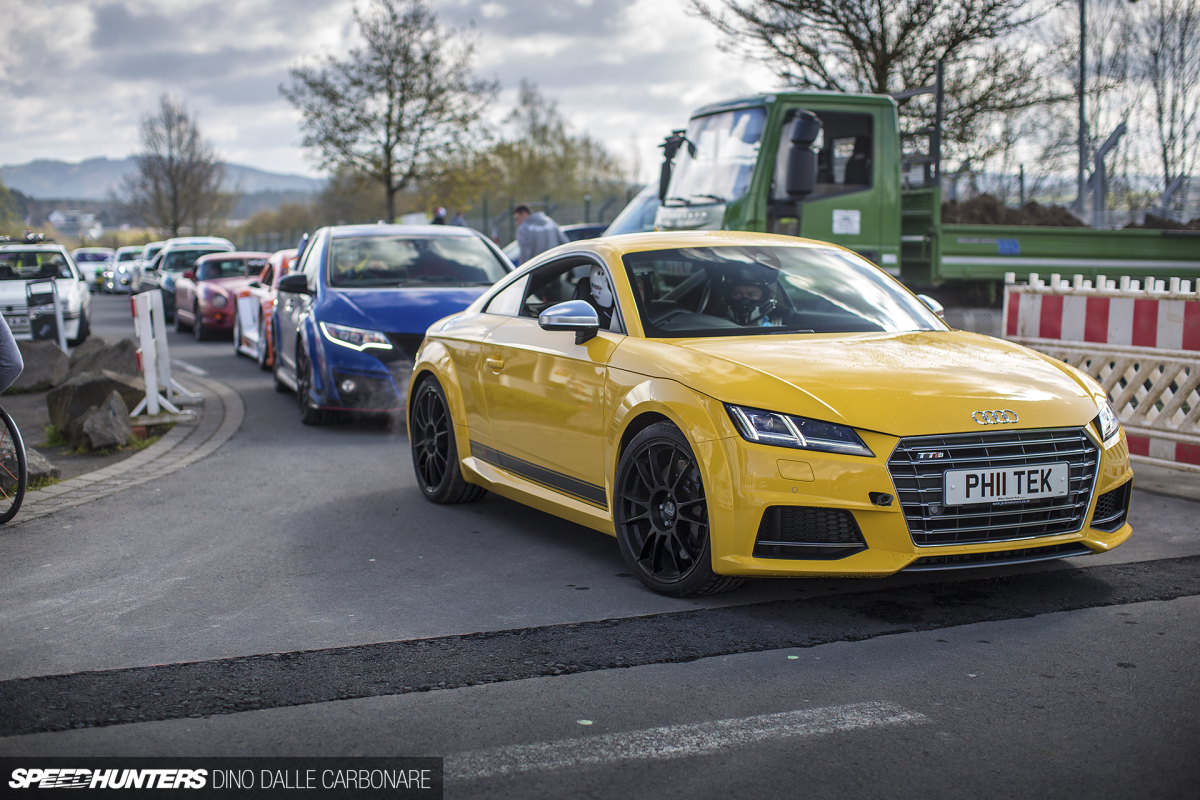 It's not about lap times for most of the people that take to the famed circuit though; it's about fun, exhilaration and a chance to drive the world's most testing race track in their own car.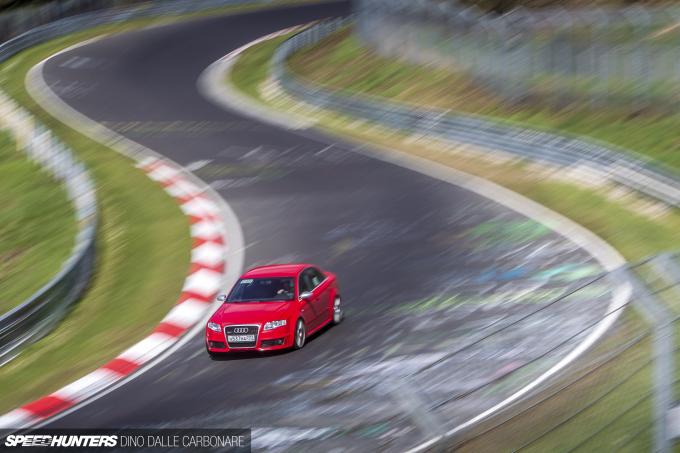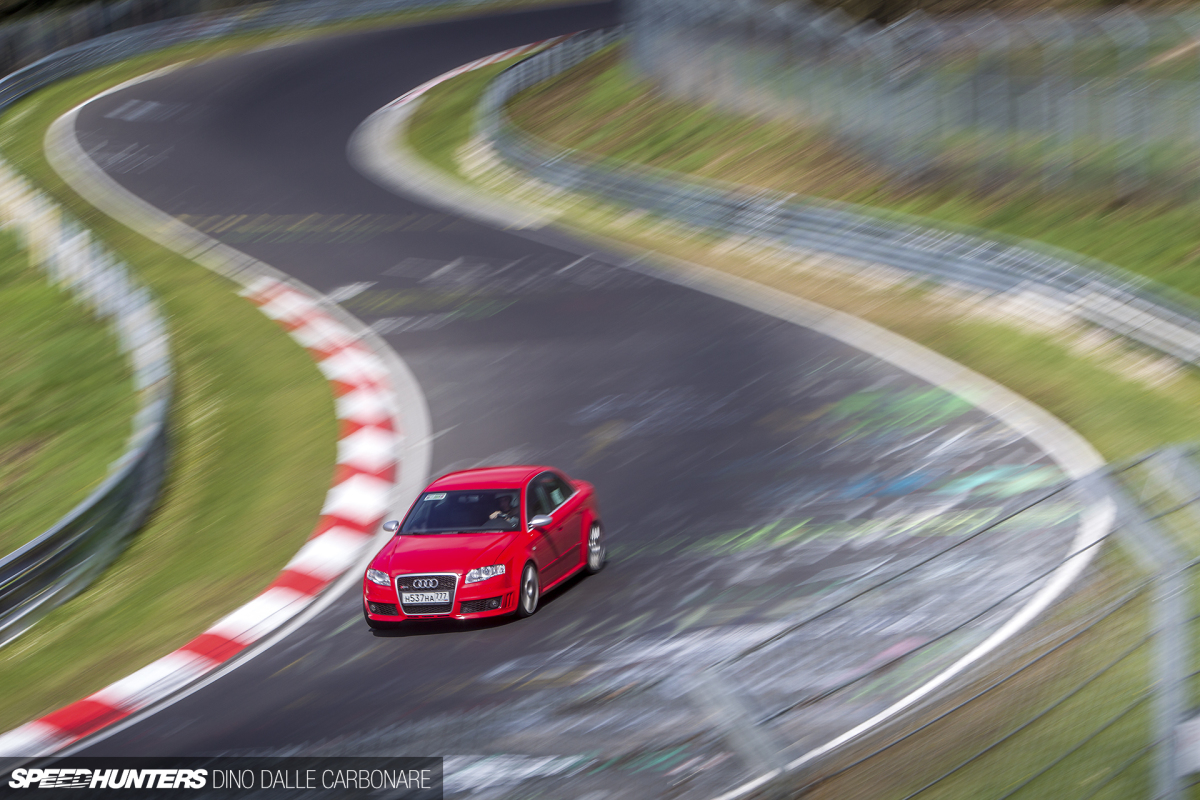 Any car.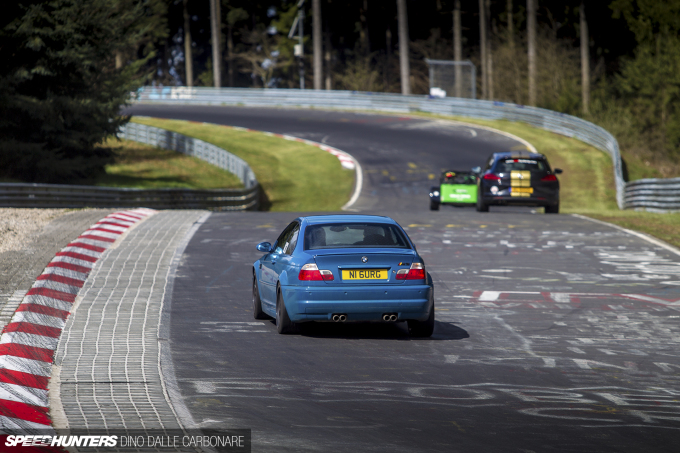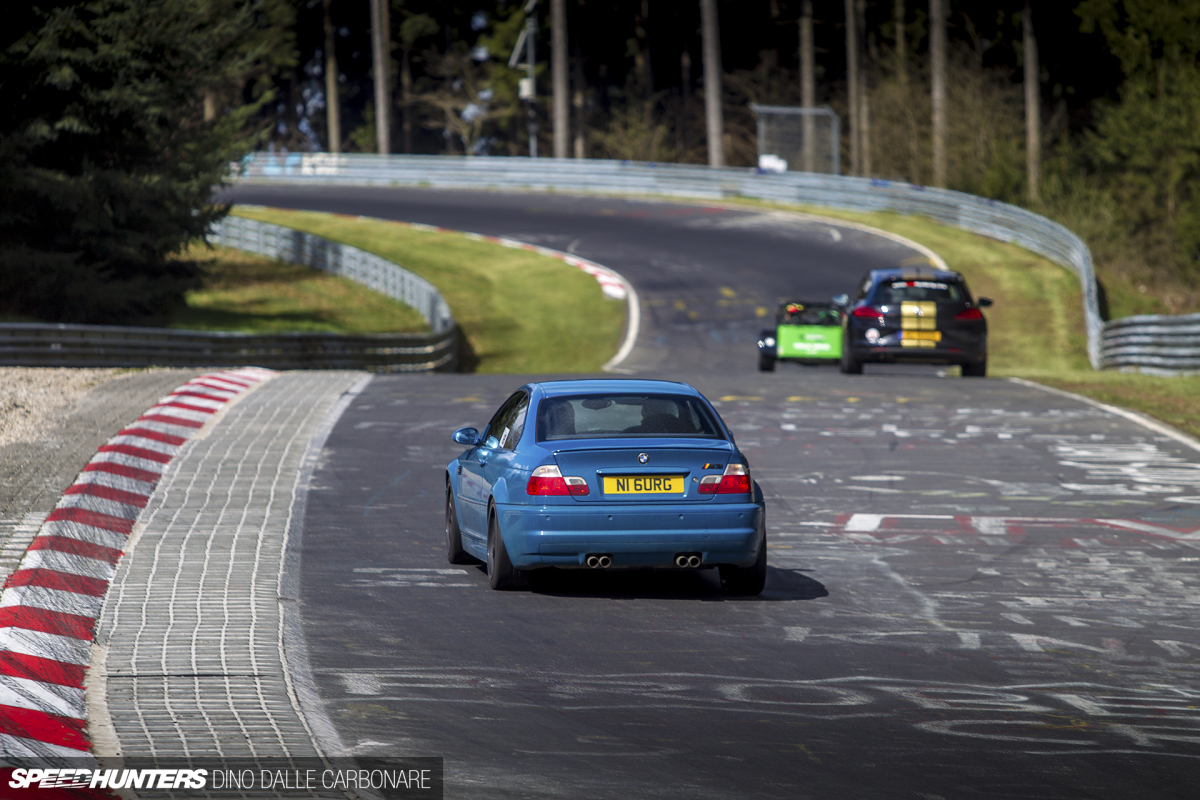 With conditions as perfect as you could wish for at this of year, the drivers were truly enjoying it. They were able to push their cars hard knowing that there would not be wet patches waiting for them over a blind crest, or any other surprises that the Nordschleife has a reputation for when the weather packs up.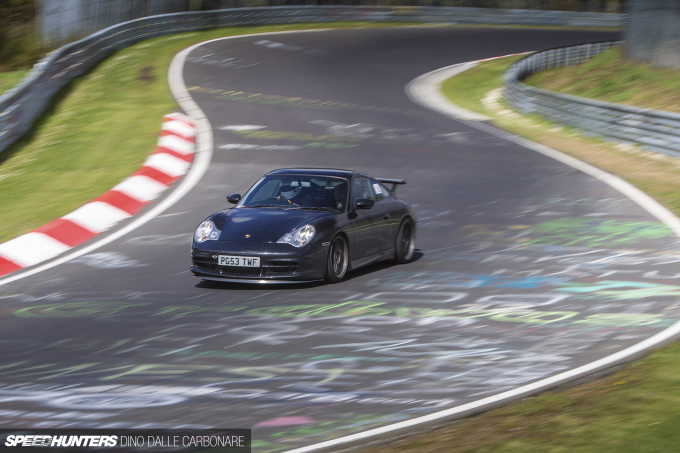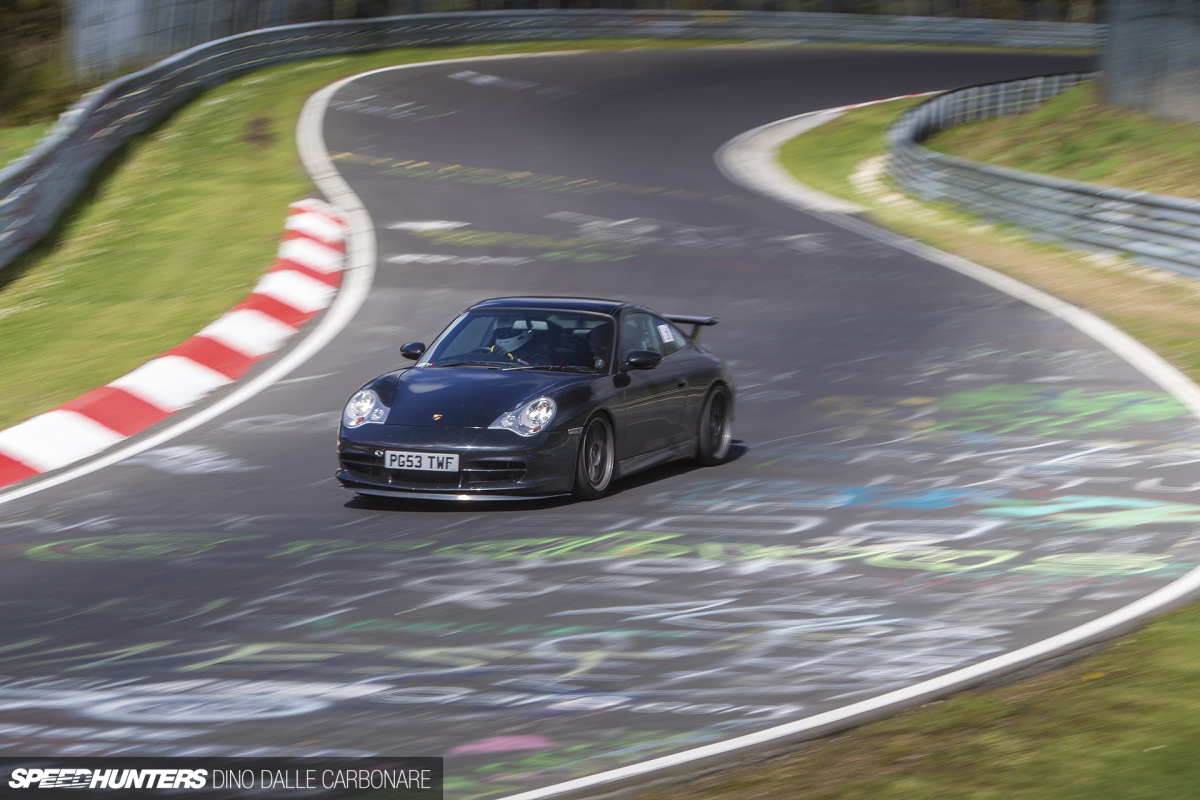 I even got the chance to finally meet Al Clark, who was showing that he's just as handy behind the wheel of his Porsche 996 GT3 as he is a video camera.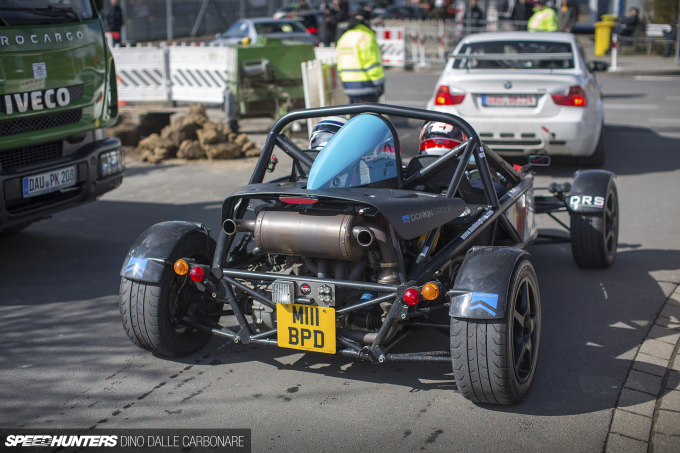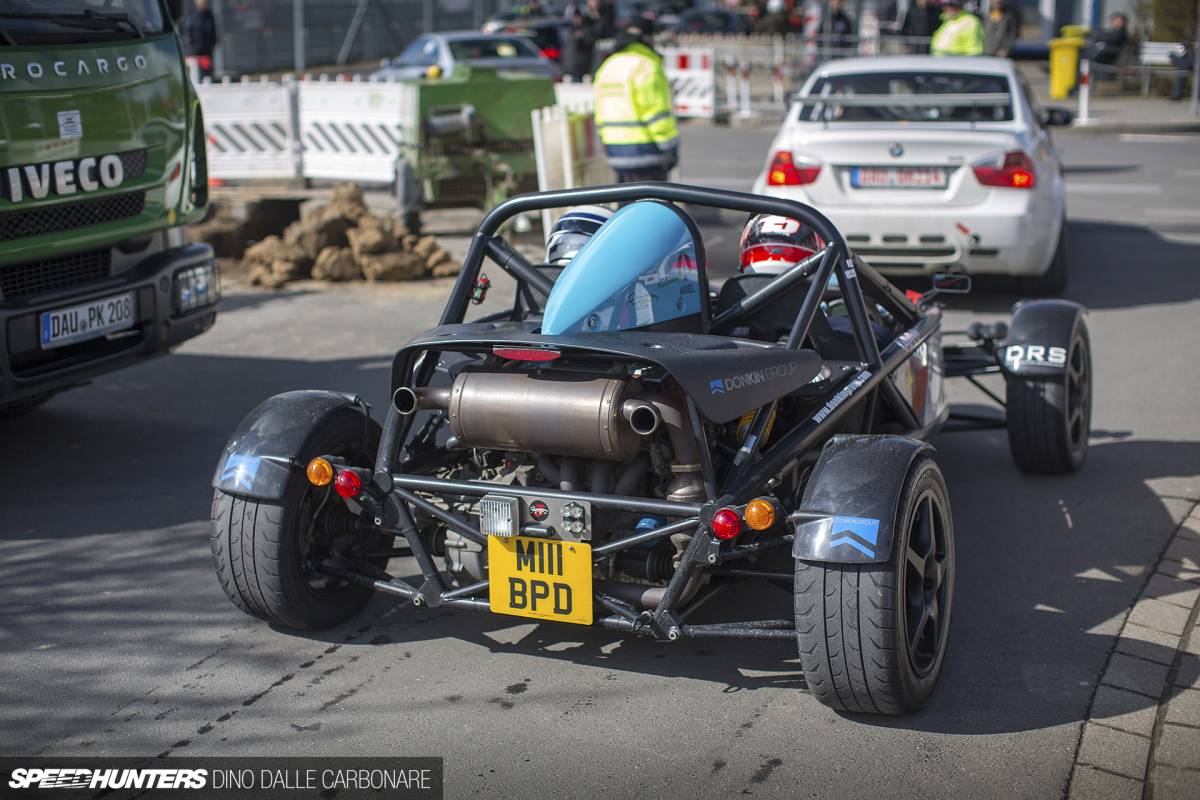 There's that Ariel Atom again!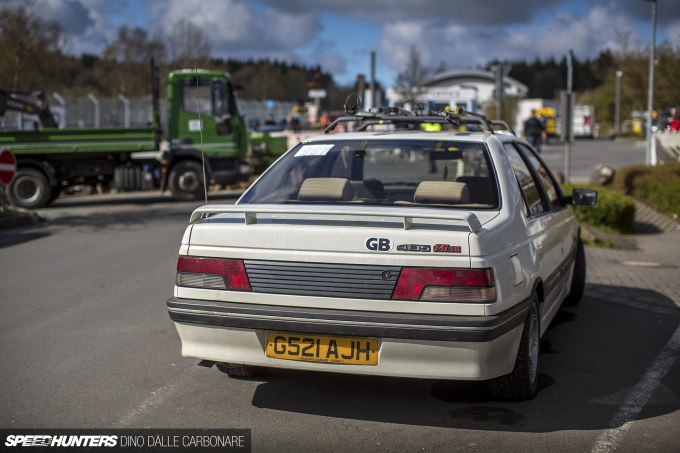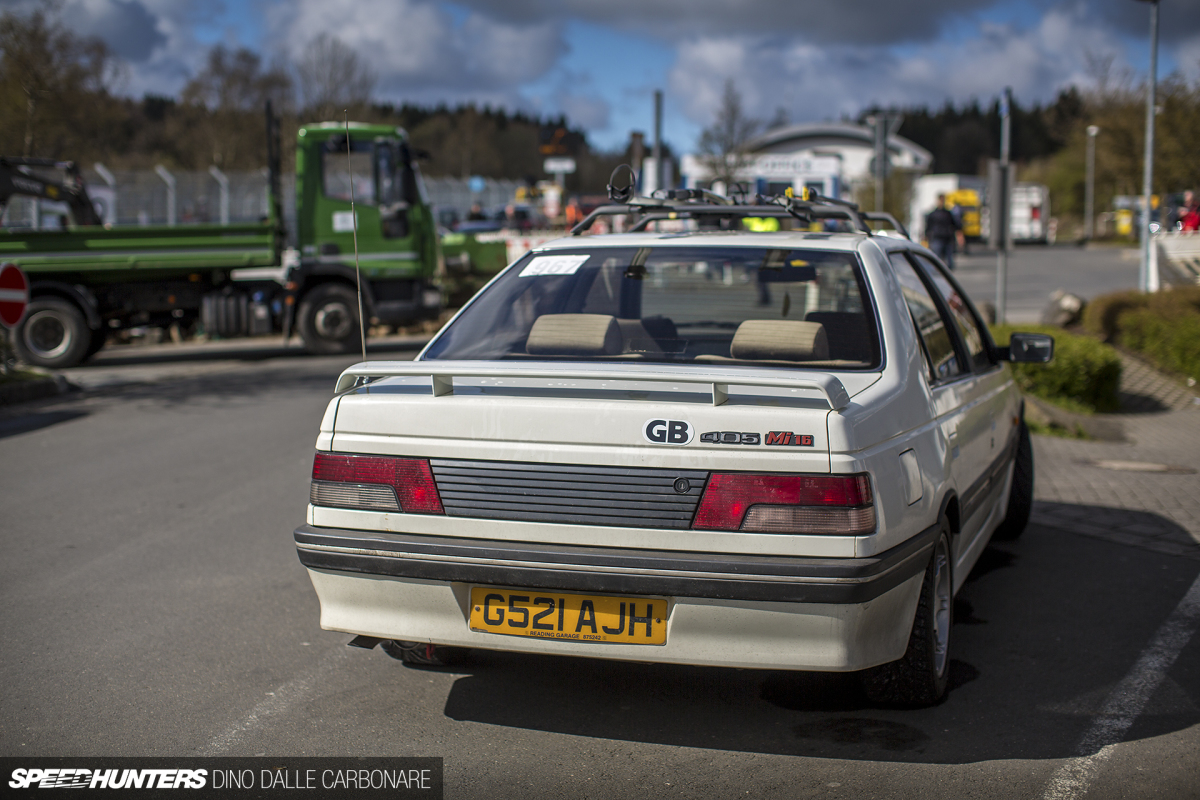 And how about this for something you don't see every day; a Peugeot 405 Mi16, the bigger brother of the 205 GTi.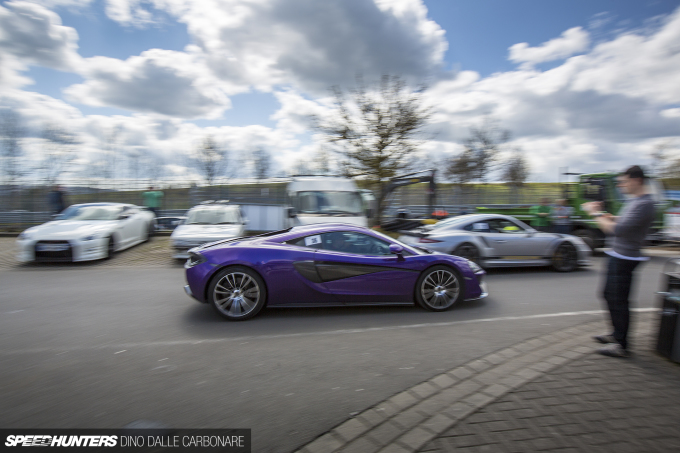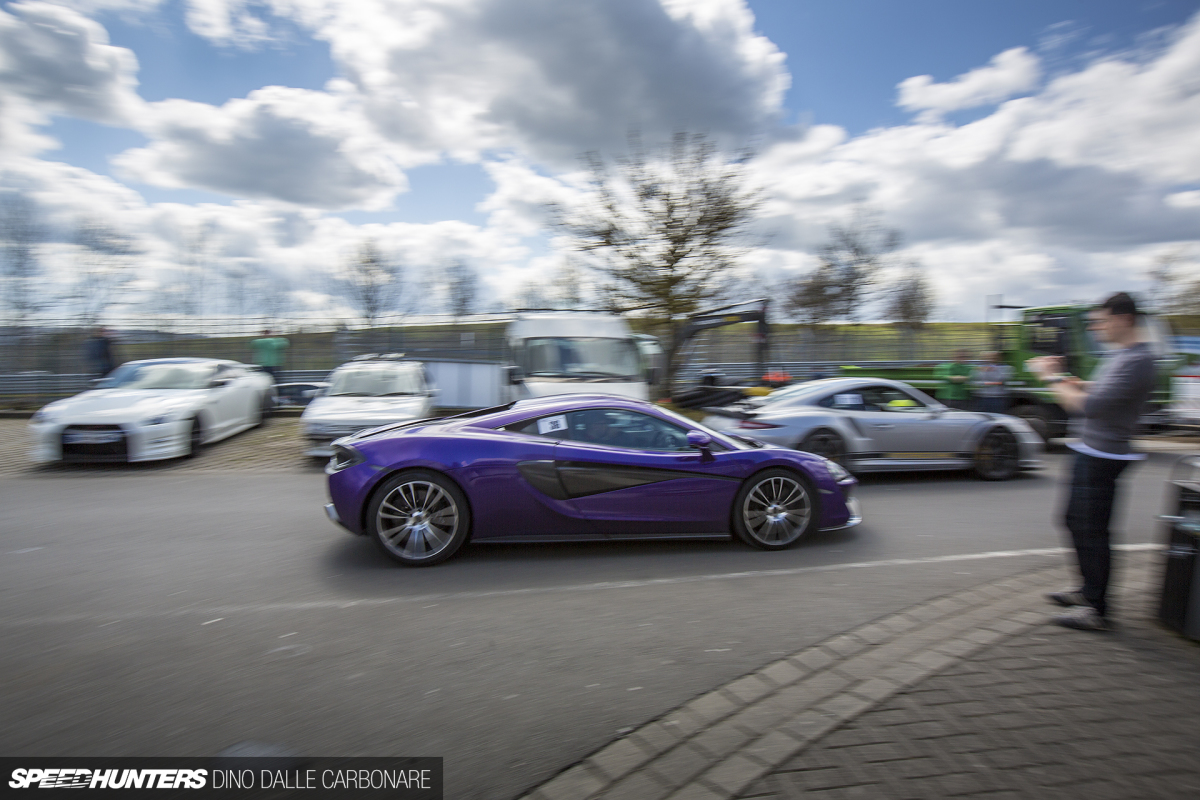 There was also a baby McLaren out for a bit of fun. I say 'baby', but the fact the 570S runs the same twin-turbo 3.8-litre V8 that powers every other McLaren, doesn't really make it the bairn of the bunch. Well, it is a bit smaller and a tad cheaper, but it's every bit as capable.
Experiencing The Green Hell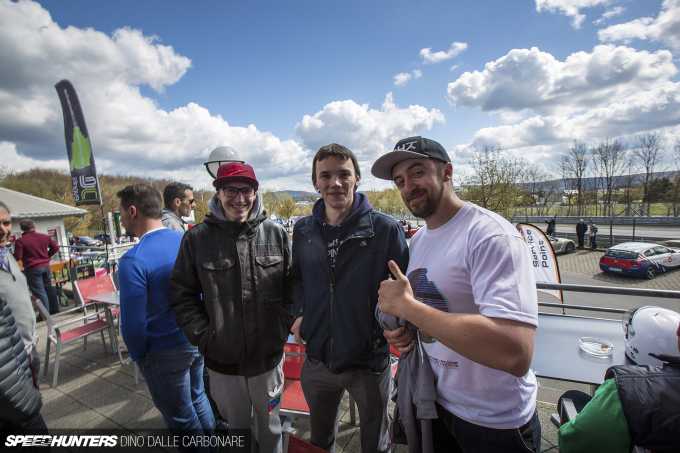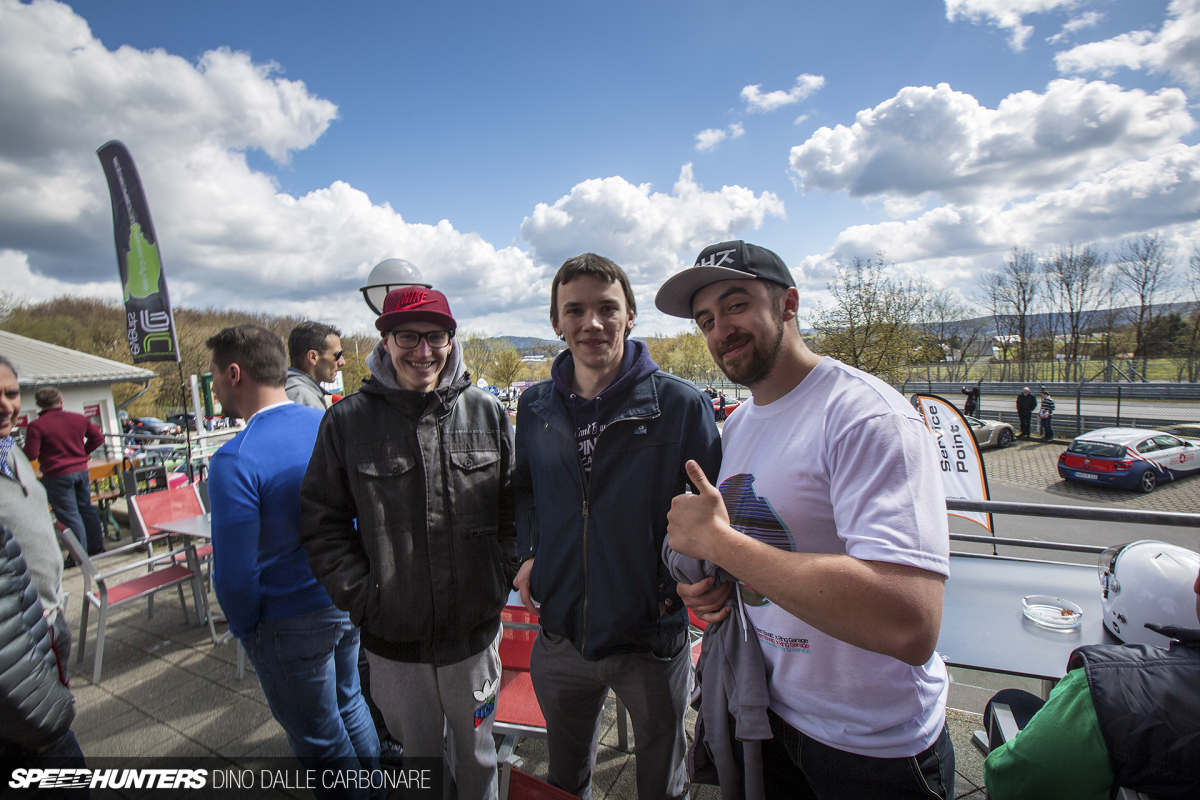 Later on in the morning we met up with Misha (aka Boosted Boris) from Ring Garage, and David, the winner of the Speedhunters competition, who had driven across Germany with his friend to have their chance at lapping the Nordschleife. It's always cool to meet passionate readers and talk cars; except there wasn't much time for that at this particular moment.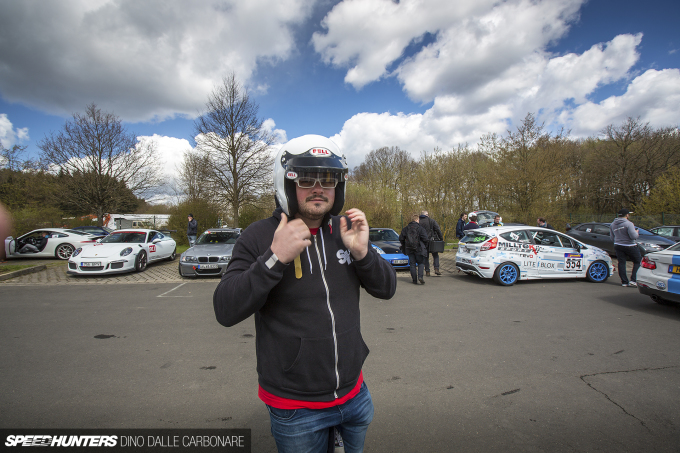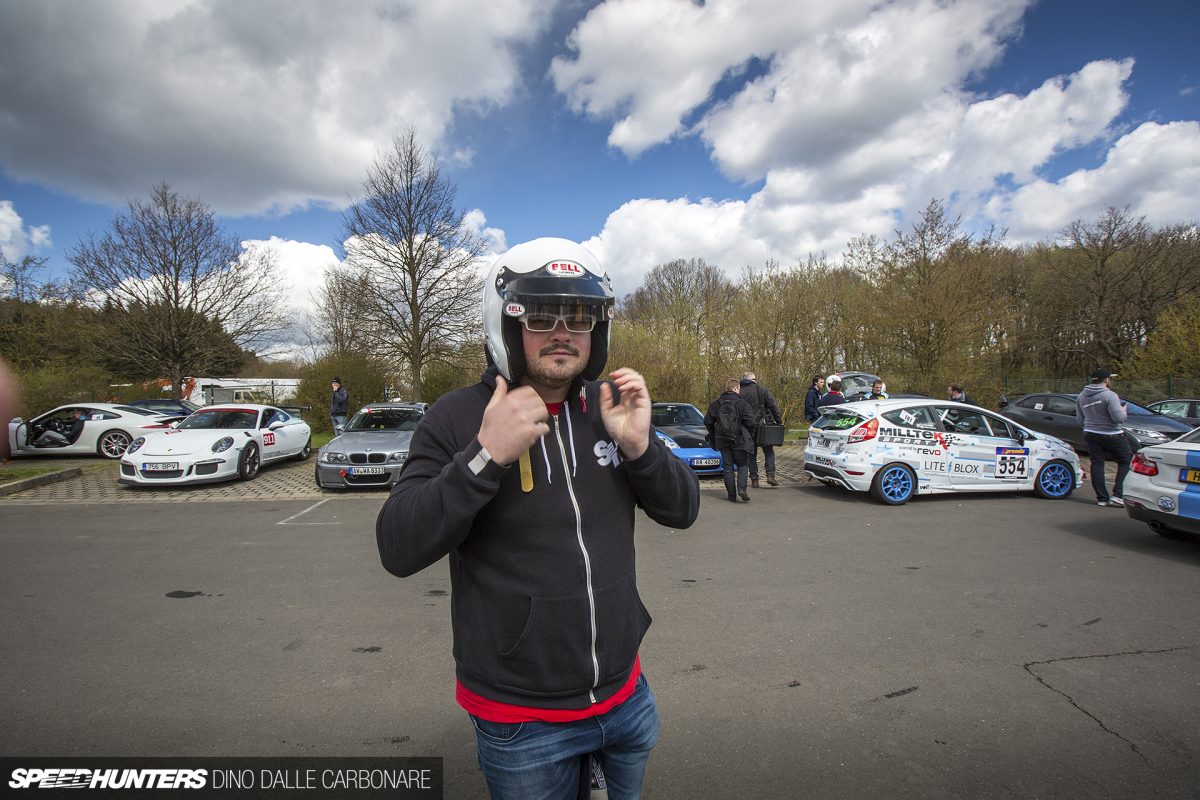 Misha had arranged for me to get a ride-along in a VLN race car; the team being at the 'Ring to test suspension settings and experiment with different rear spring rates.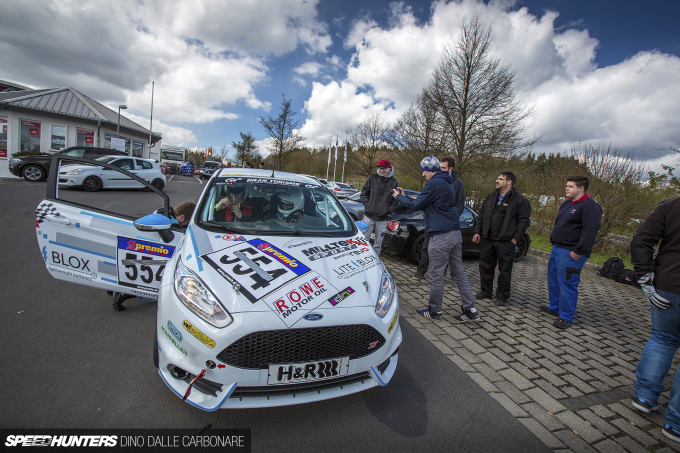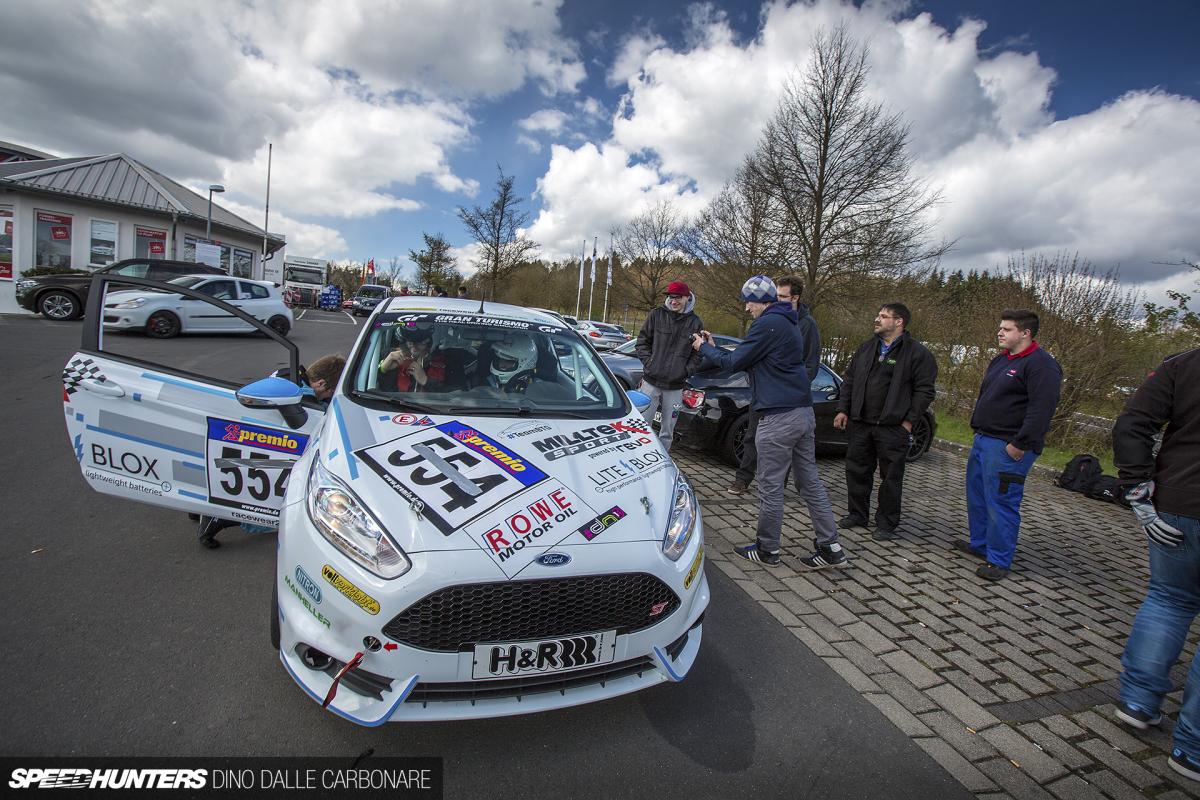 The car in question was this little Fiesta ST. Initially, I was somewhat sceptical about how quick it would be, but boy did I underestimate the capabilities of a proper race car running slicks, and a driver at the wheel that knows the 'Ring like the back of his hands. Seriously, this thing was a total blast. I was subjected to some serious g-forces through the corners, and at times the compact Ford made supercars look like they were having mechanical issues. In fact, at one point we even overtook Chris Harris who was out with a 911 GT3 RS press car.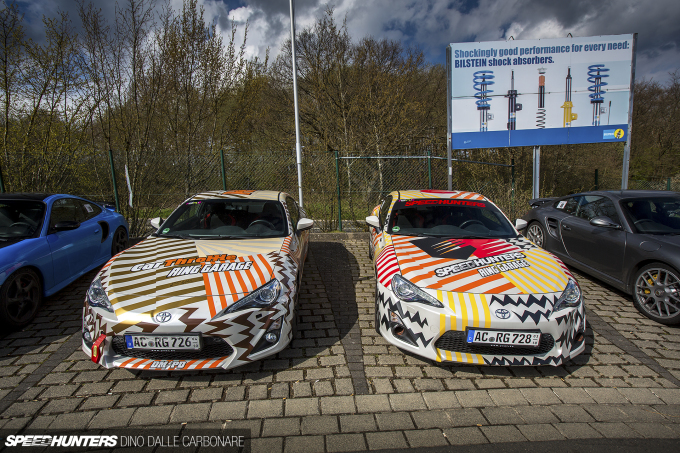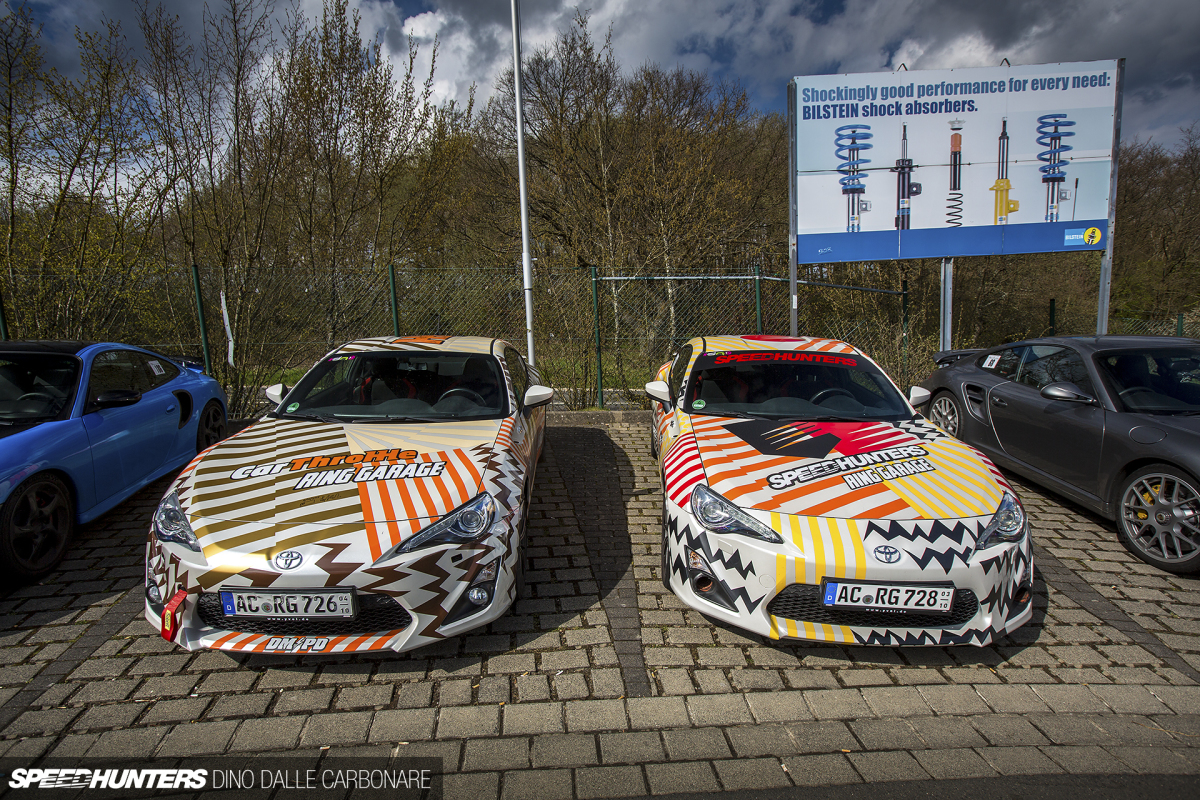 Later on in the afternoon, the Speedhunters 86 finally made it to the track. The Ring Garage mechanics had to ensure everything was in tip-top condition before being handed over to the winners for their lap around the Nordschleife, because this is one track that you can't afford to take any chances at.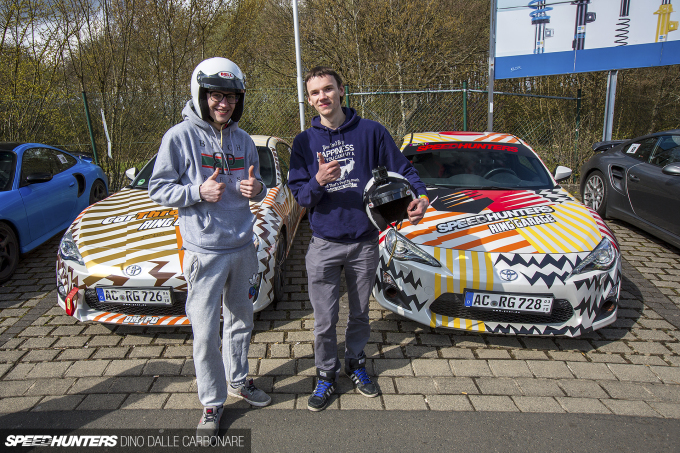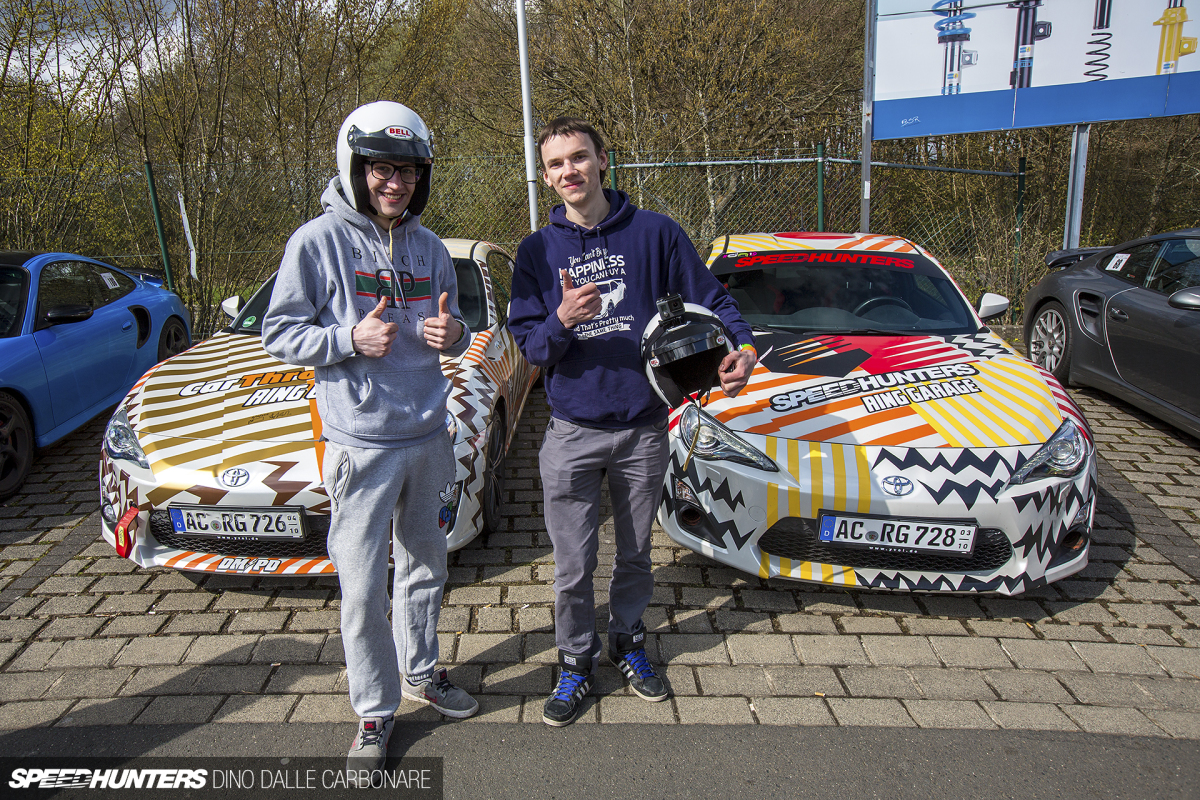 These guys were smiling all the way; I'm pretty sure their grins didn't rub off their faces for the rest of the day. Unfortunately, there was no time for Bryn and I to get any seat time in our Toyota, which was a bummer, but not all was lost…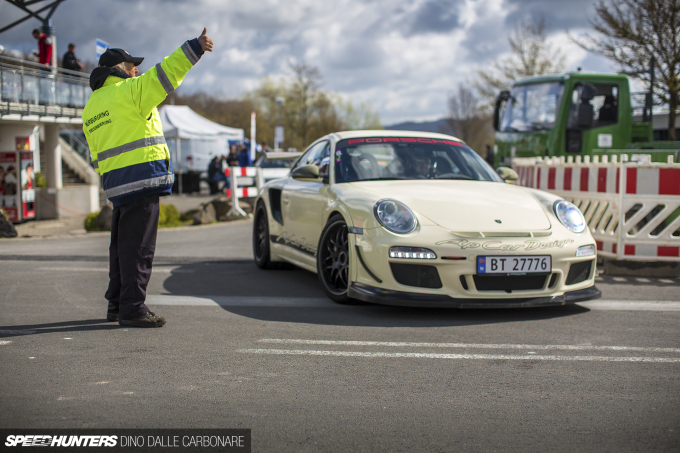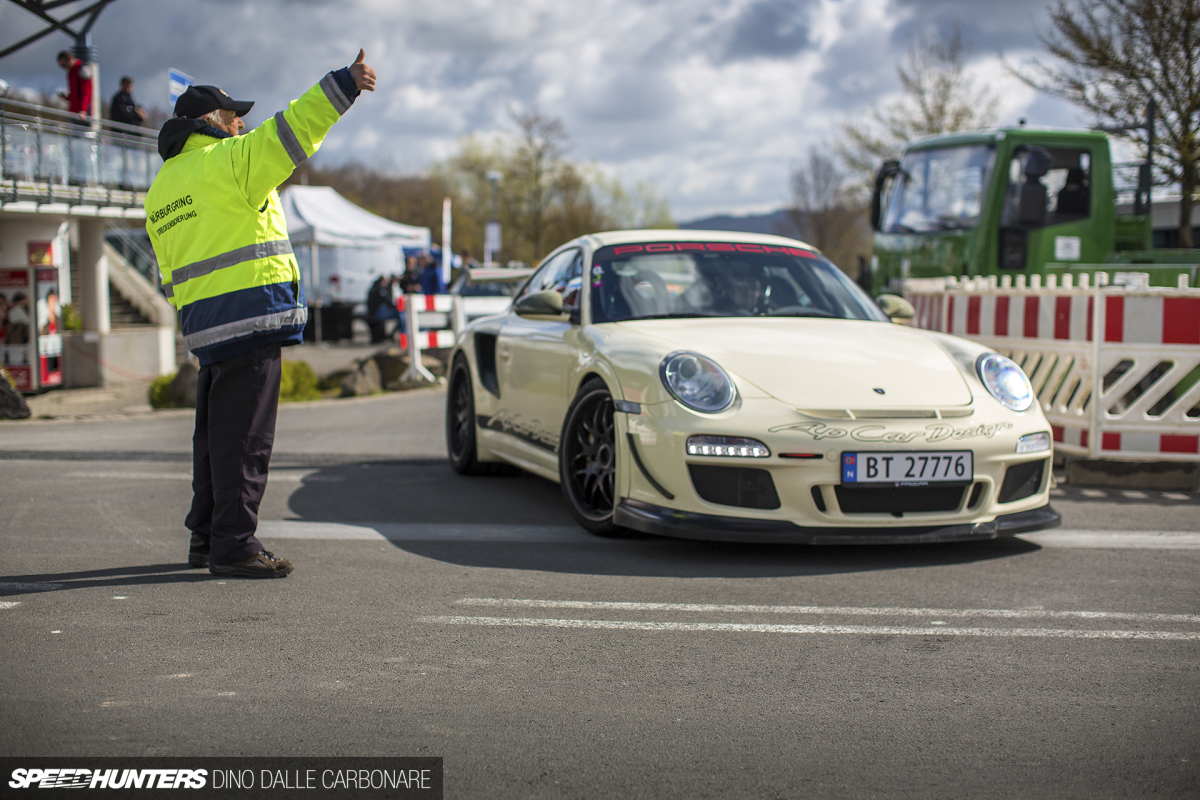 It's a funny place the 'Ring, and on this day I kept bumping into people I've known for years. One of them was Finn Arne Sivertsen, the owner of the crazy twin-turbo V8 Boxter we featured at Gatebil in 2014. Arne was at the Nürburgring to drive his highly modified 997 GT2, and it just so happens he was going out for one last lap.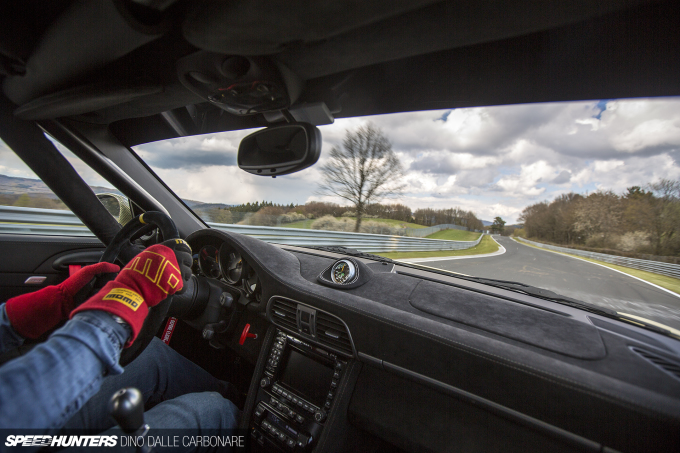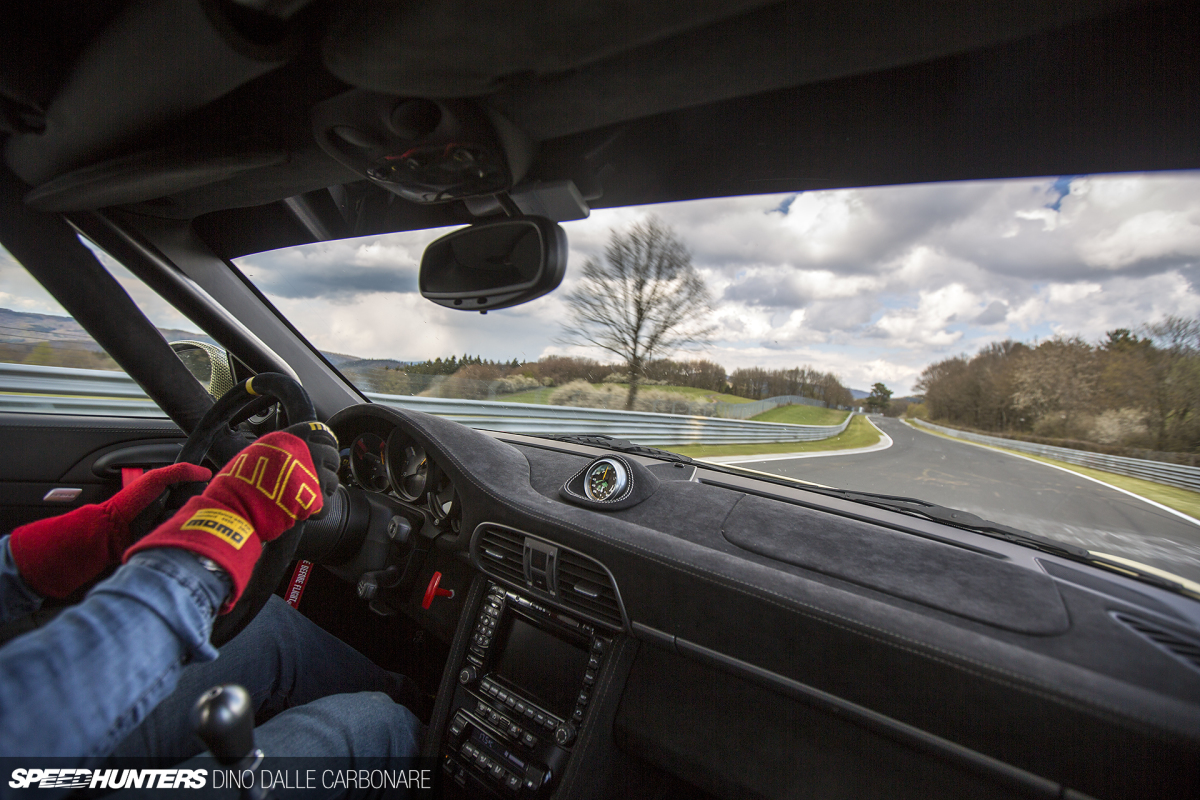 I jumped in and enjoyed my third lap of the day – this time in one of the most powerful cars in attendance. It was the first time for me in a GT2 and I was blown away by how fast it packed on speed. "Well over 700hp" is what I believe he was saying to me as I was hanging on for dear life. Yep, fast enough!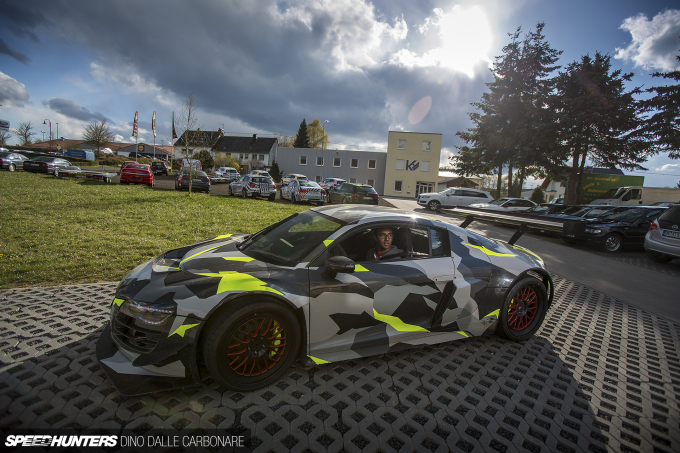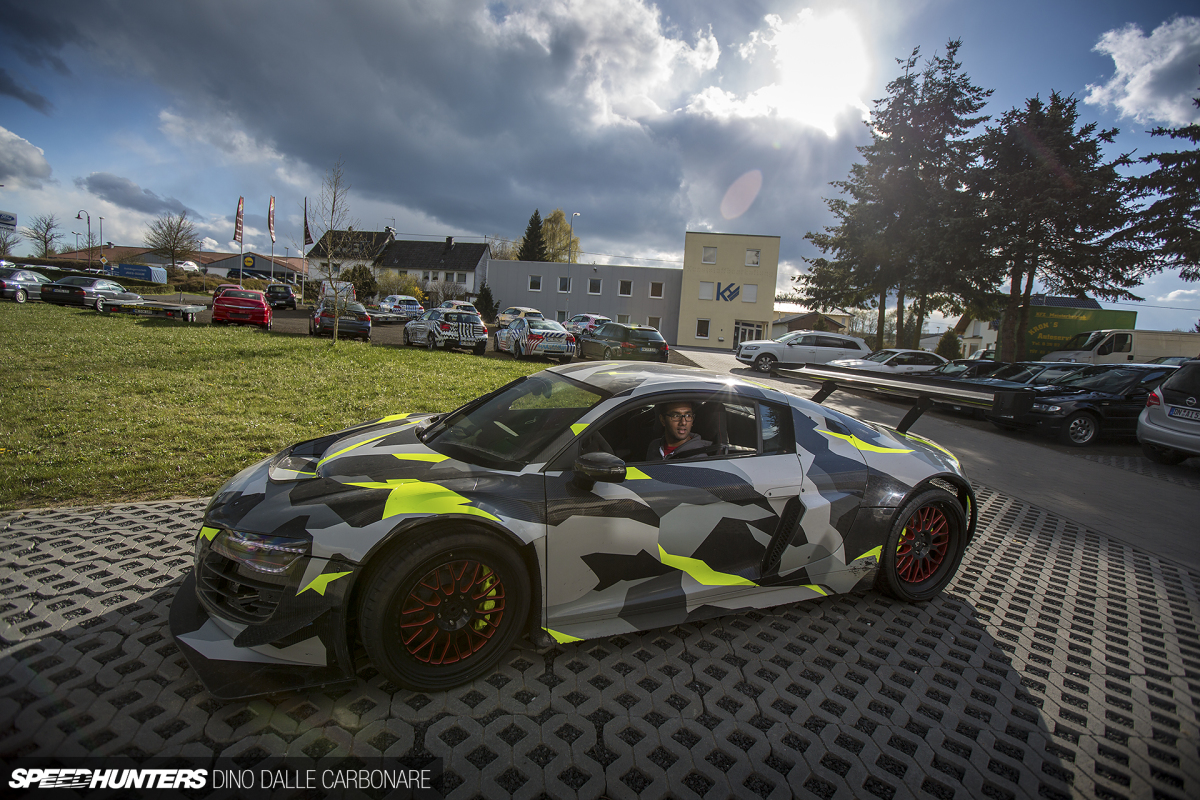 With the fun on track over for the day, it was back to Ring Garage to rendezvous with Alok who had been busy most of the afternoon picking up two crazy cars that would be displayed at the following day's drift event. One of them was this crazy supercharged Audi R8; the other was a white C93 AMG you'll be reading all about in a feature very soon. Oh, and yeah, C93 is not a typo…
Time To Get Sideways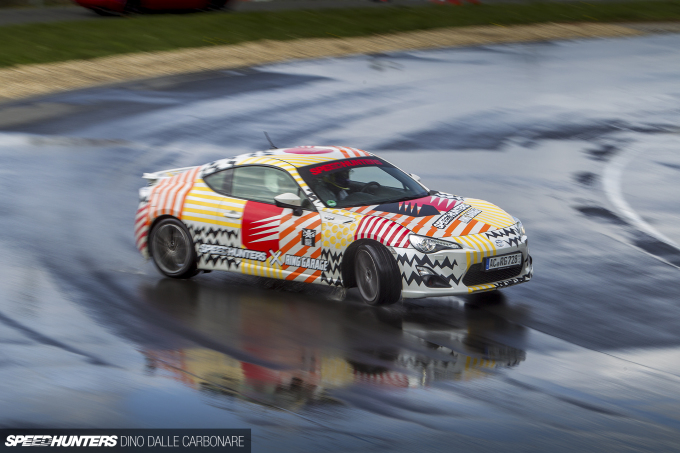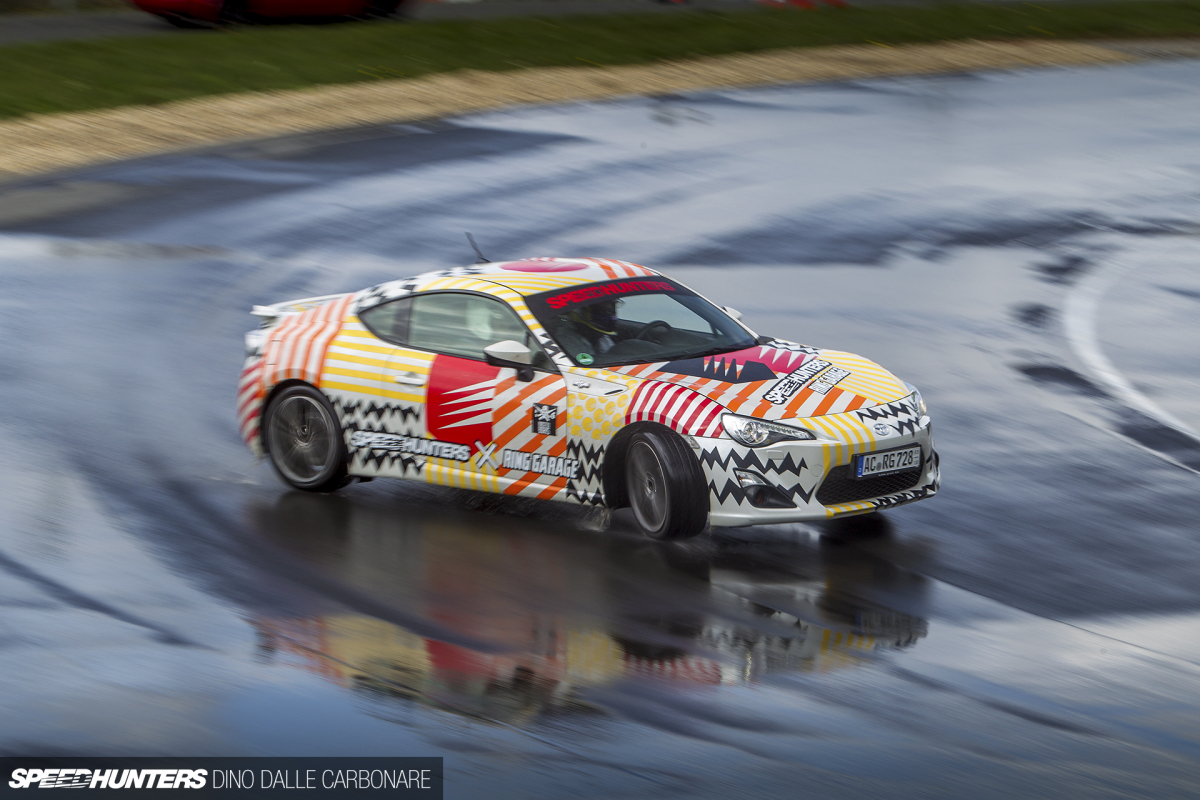 On our last day at the Nürburgring we got to put our car controls skills where our mouths are. Bryn and I spent a good part of the morning getting to grips with the 86 and its tricky-to-drift chassis which only really rewards those with the upmost of finesse. I found it far easier to abuse at full power around the dry portion of the track, but the wet skid pad – where we would be judged later in the day against the Car Throttle guys – was just way too difficult to master.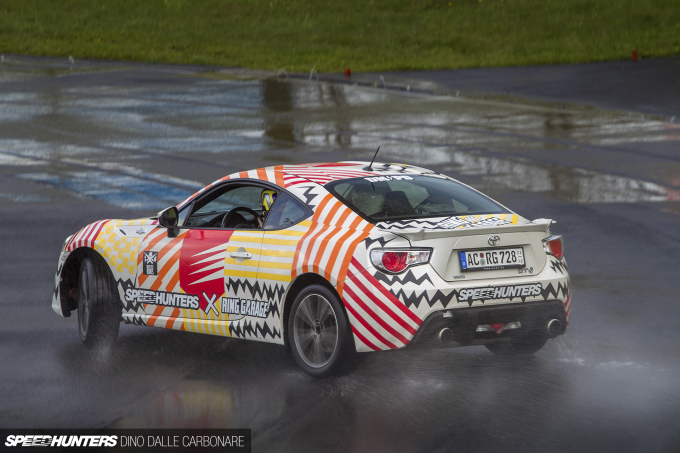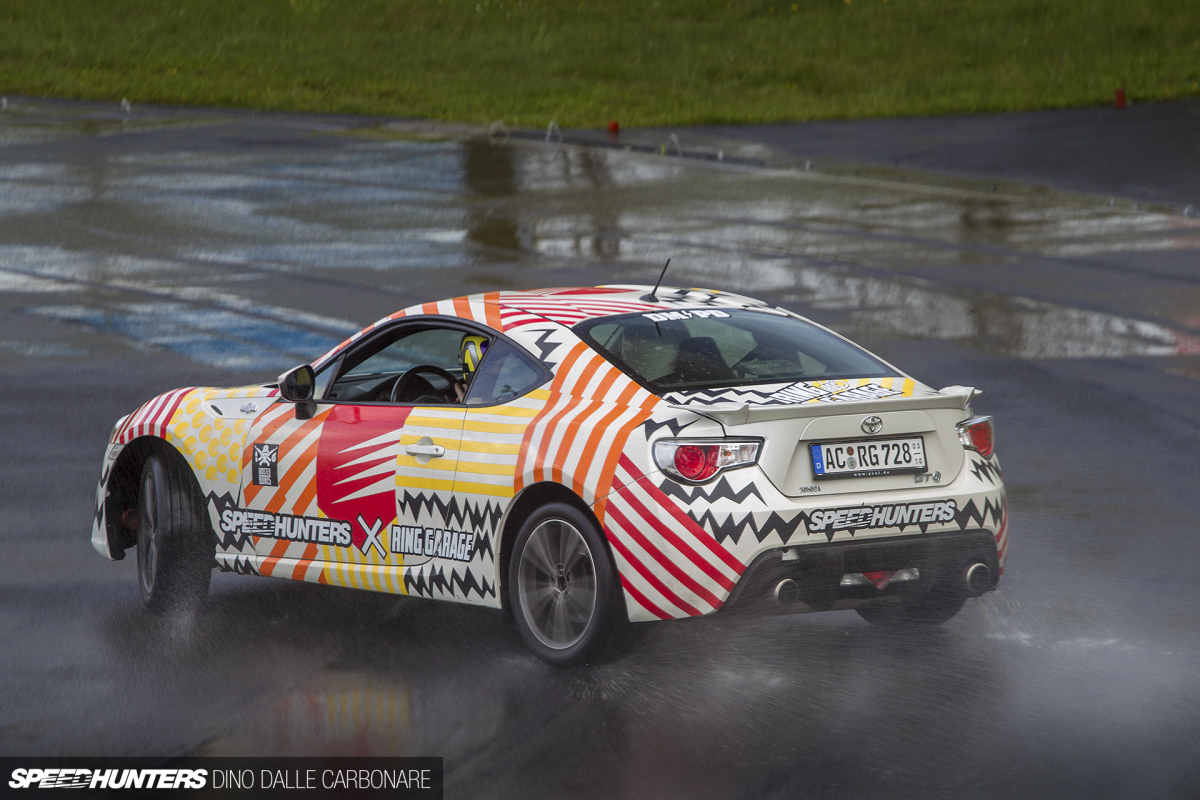 There is such a fine balance between holding a nice drift and spinning, and I was messing up pretty much every time. Luckily, Bryn had a better grasp of it all having spent some time behind the wheel of a few drift cars over the years.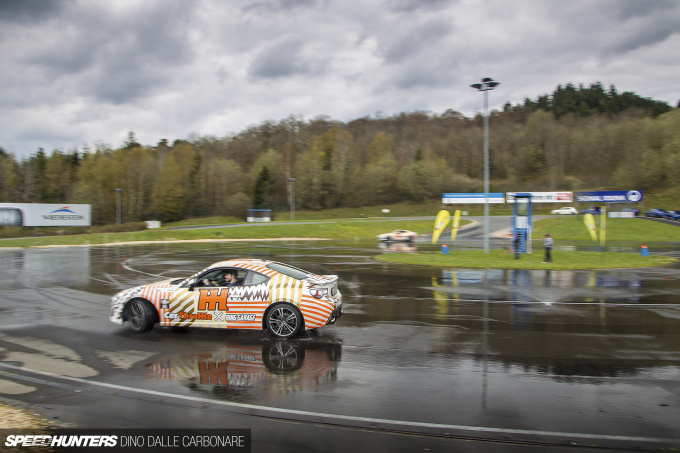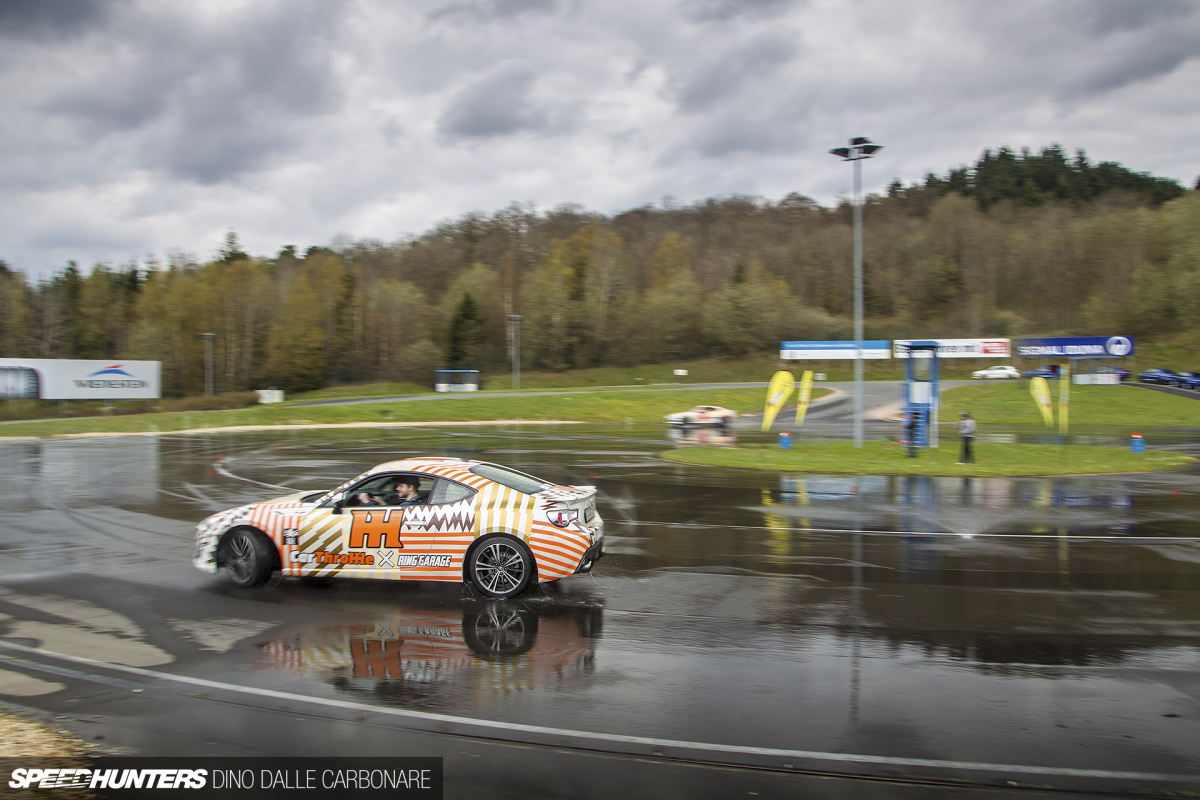 We were to be judged on how long each nominated driver could drift, but that was quickly changed to the best out of three goes to make the whole thing a little more entertaining.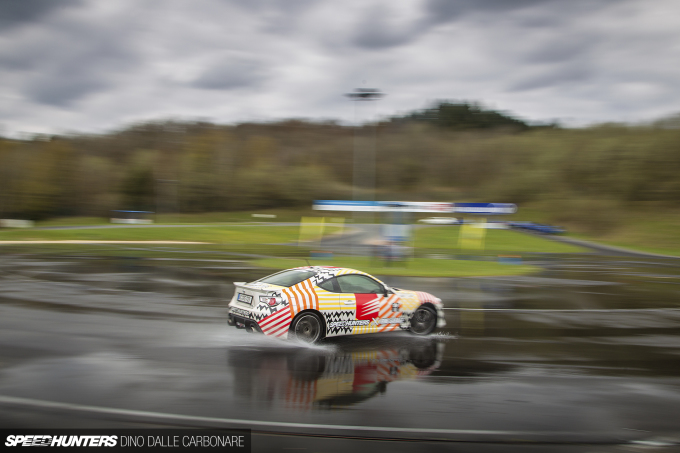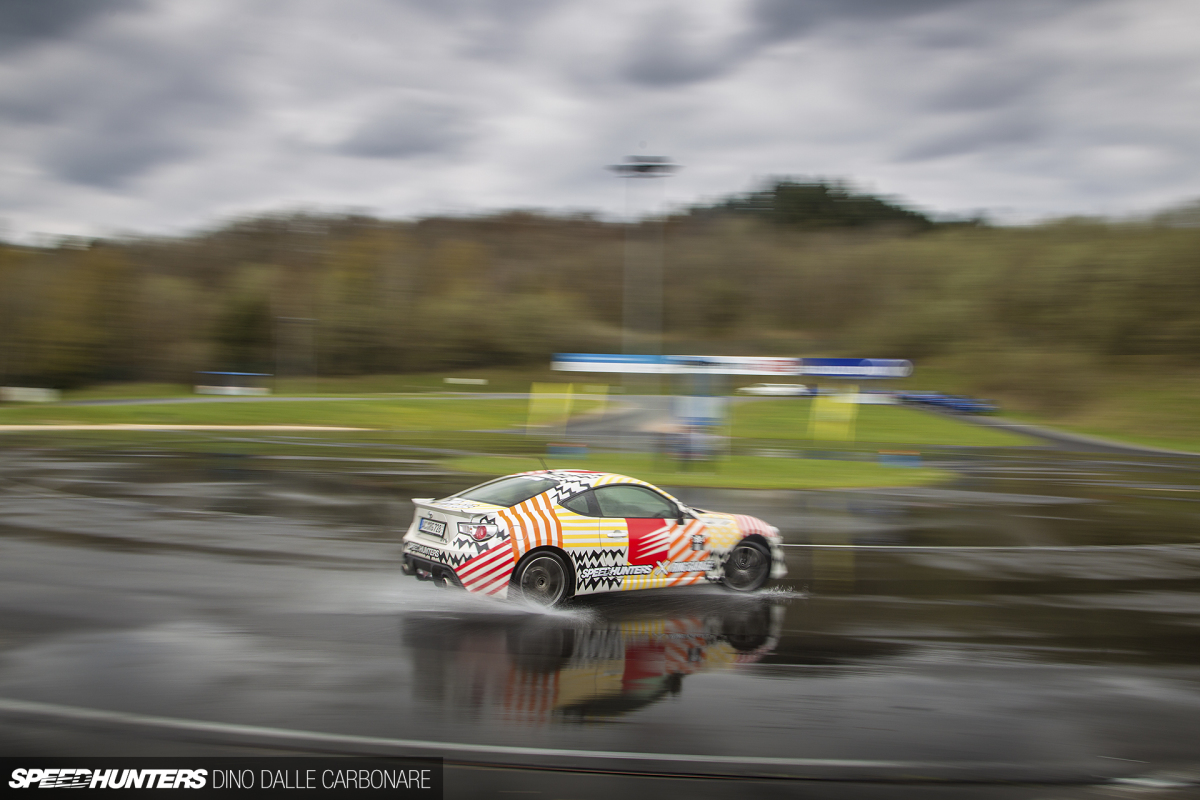 Bryn was laying down some pretty impressive laps, balancing the throttle and steering angle to make sure Speedhunters came away victorious.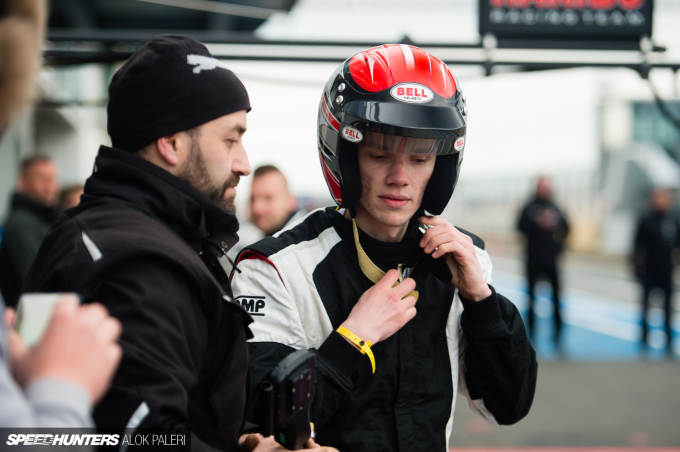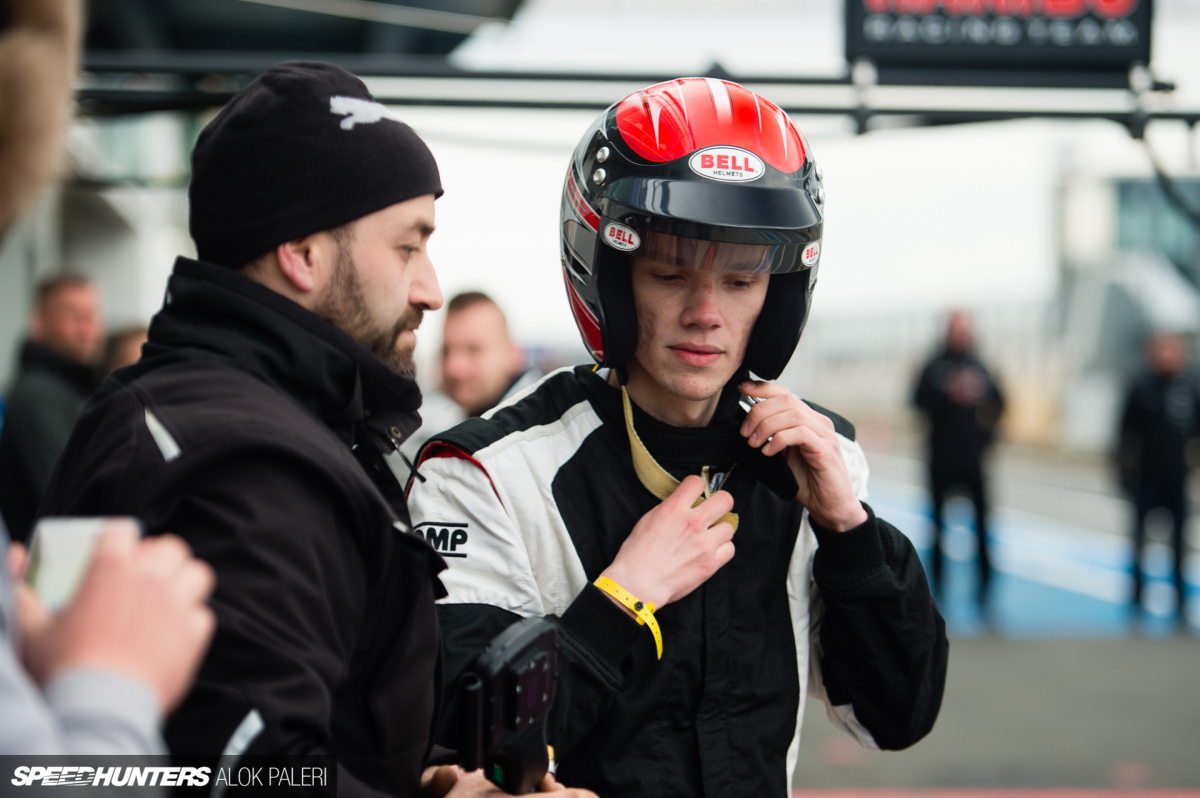 While this was all going on, over at the GP circuit Alok was meeting up with David, our winner, who after having had a few taxi laps at the drift track by some pro drivers earlier in the morning was getting suited up for a final run of the Nordschleife.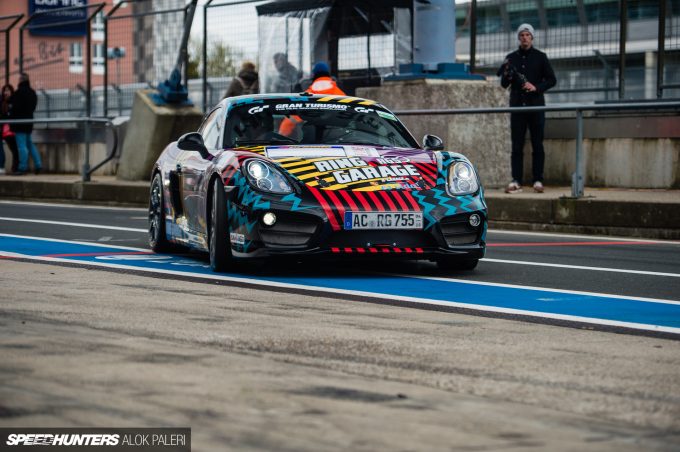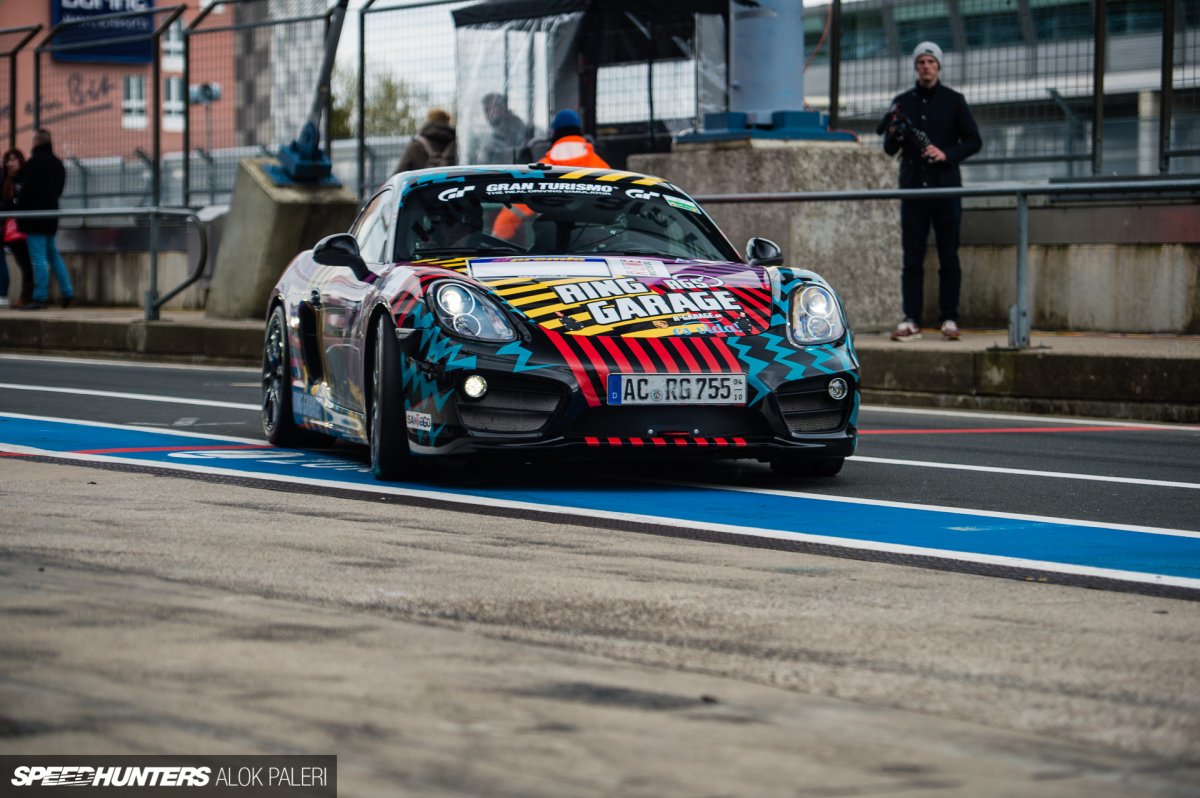 This time he was heading out with a seasoned driver in one of Ring Garage's Porsche Caymans, which would be a tad faster than the 86 he drove the previous day.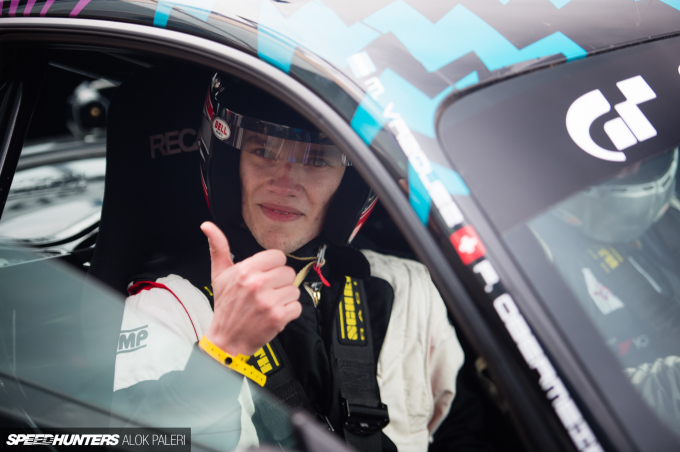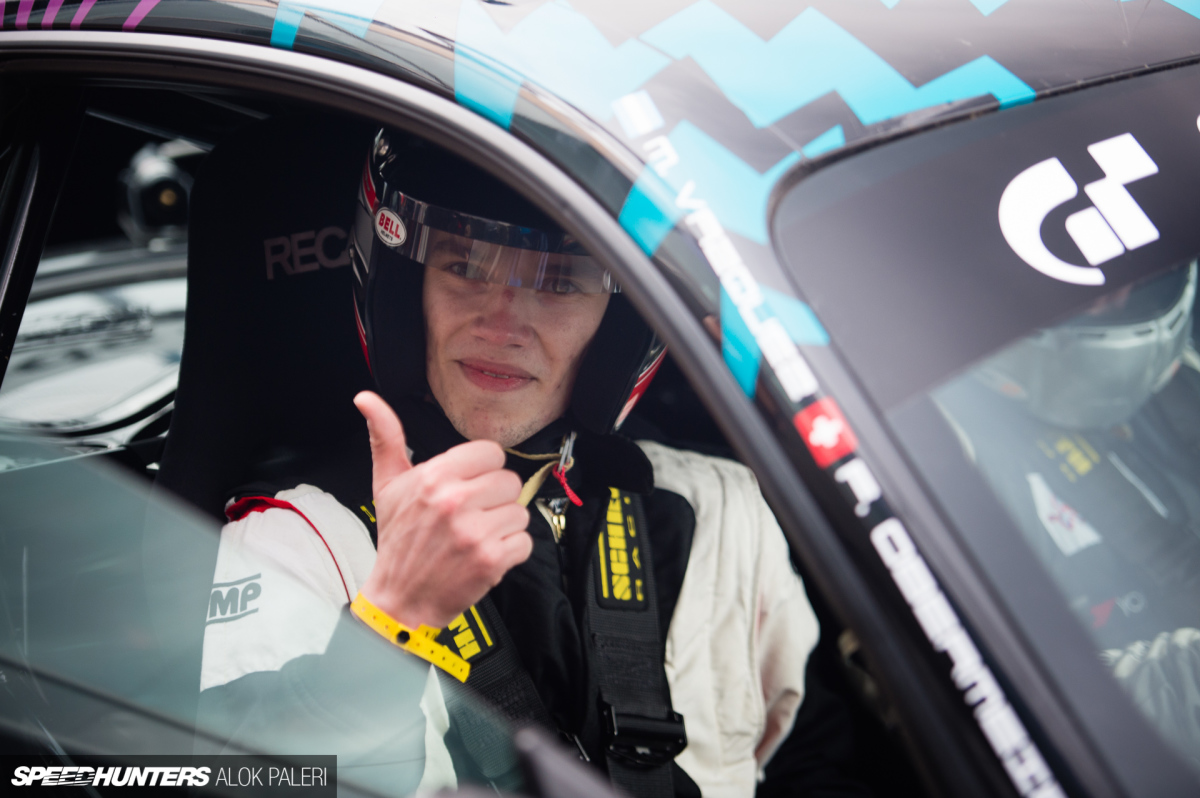 Nothing will put a bigger smile on your face than being shown what a well-sorted car can really do on this legendary race track. David was pleasantly satisfied, marking a perfect end to an awesome few days basking in the best car culture Germany has to offer.
The Nürburgring is indeed a magical place and I can't wait to return in the very near future to stock up on more epic experiences. Until next time Germany…
Dino Dalle Carbonare
Instagram: speedhunters_dino
dino@speedhunters.com