It's Alive!
We know what you're probably thinking; "That's not a Boxster, that's a Cayman, you idiots!"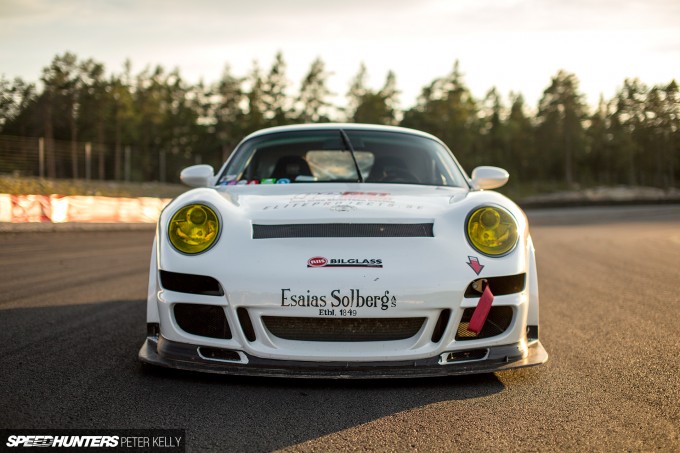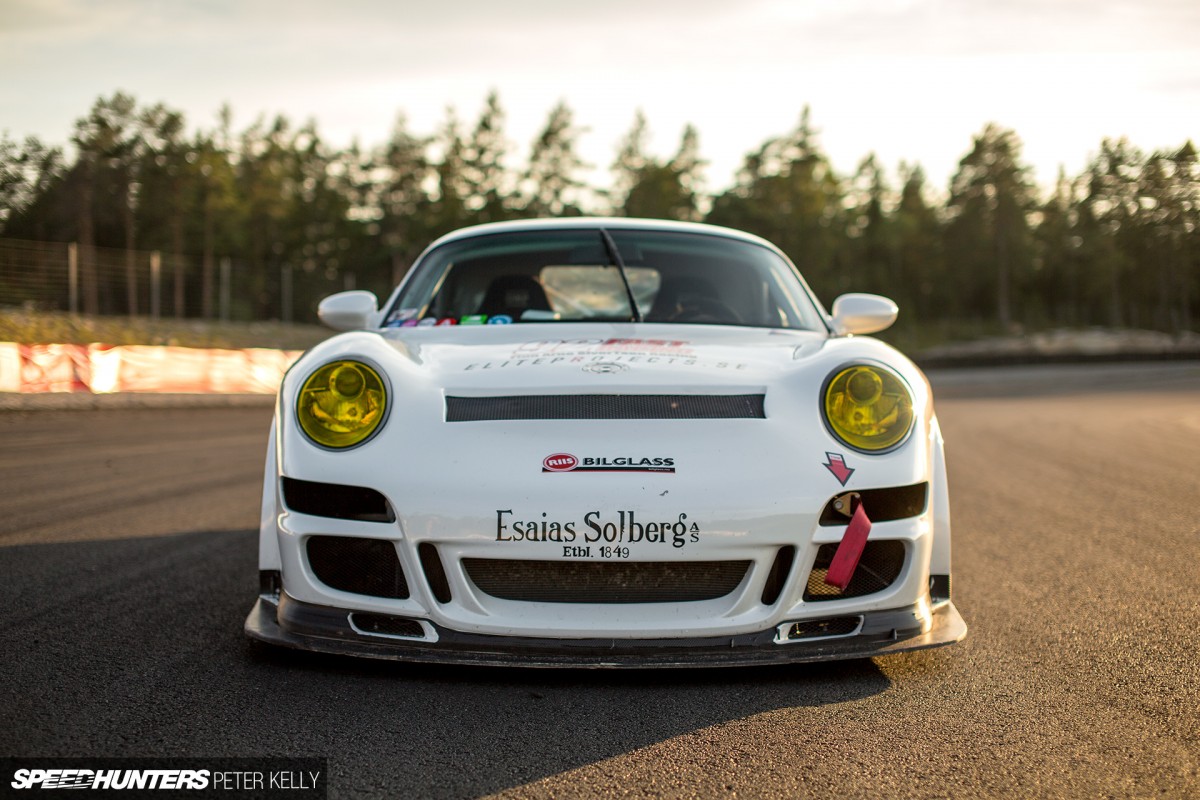 Or wait a minute, maybe that should that be; "That's not a Boxster, that's a 997 GT3, you idiots!"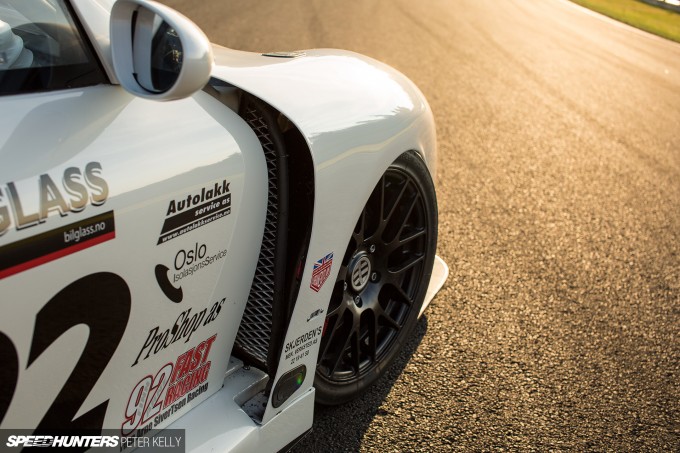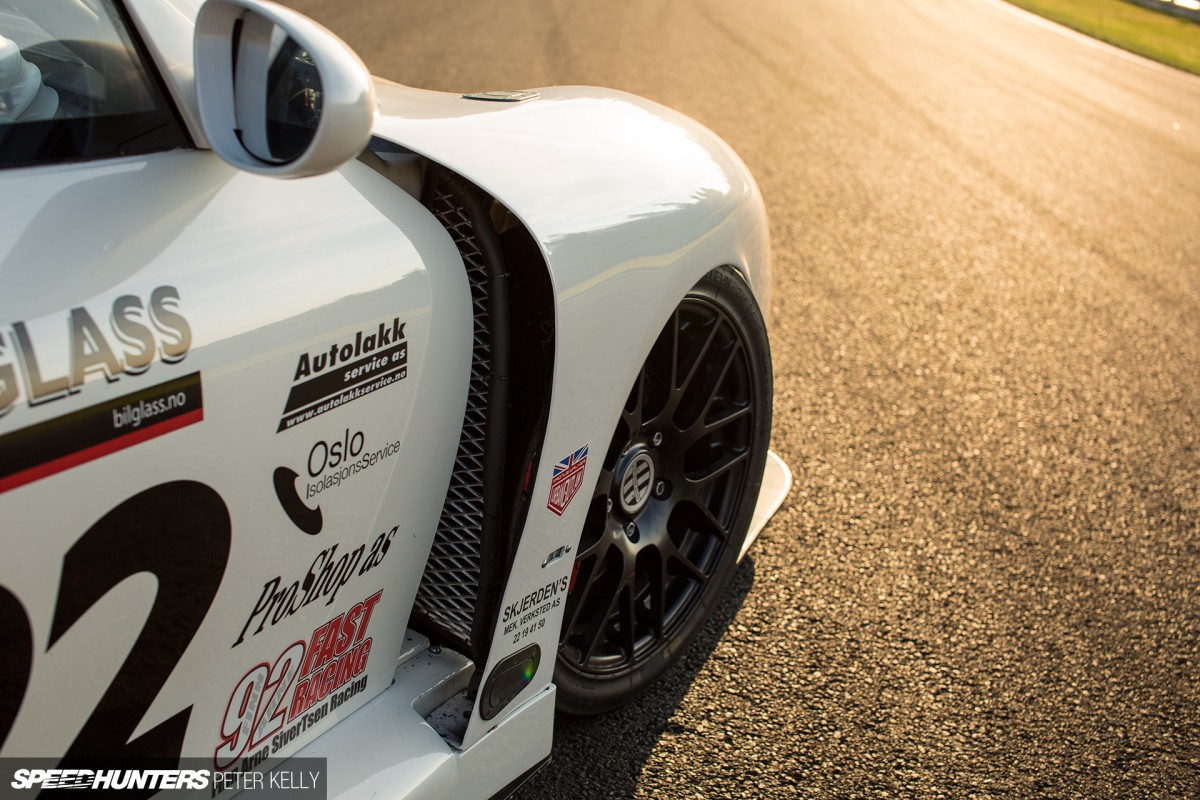 Finn Arne Sivertsen's incredible Porsche is both neither, all of the above, and much more. It's a true a monster in every sense of the word – built using body parts from so many different models of Porsche that it's hard to keep track. Incredibly, it's still 100 per cent Porsche in every way!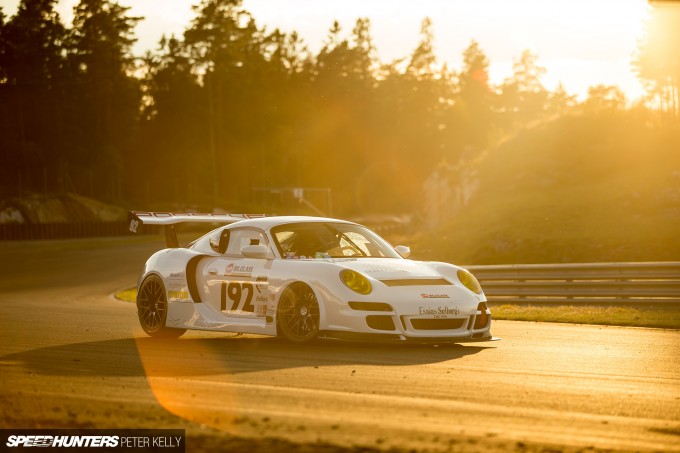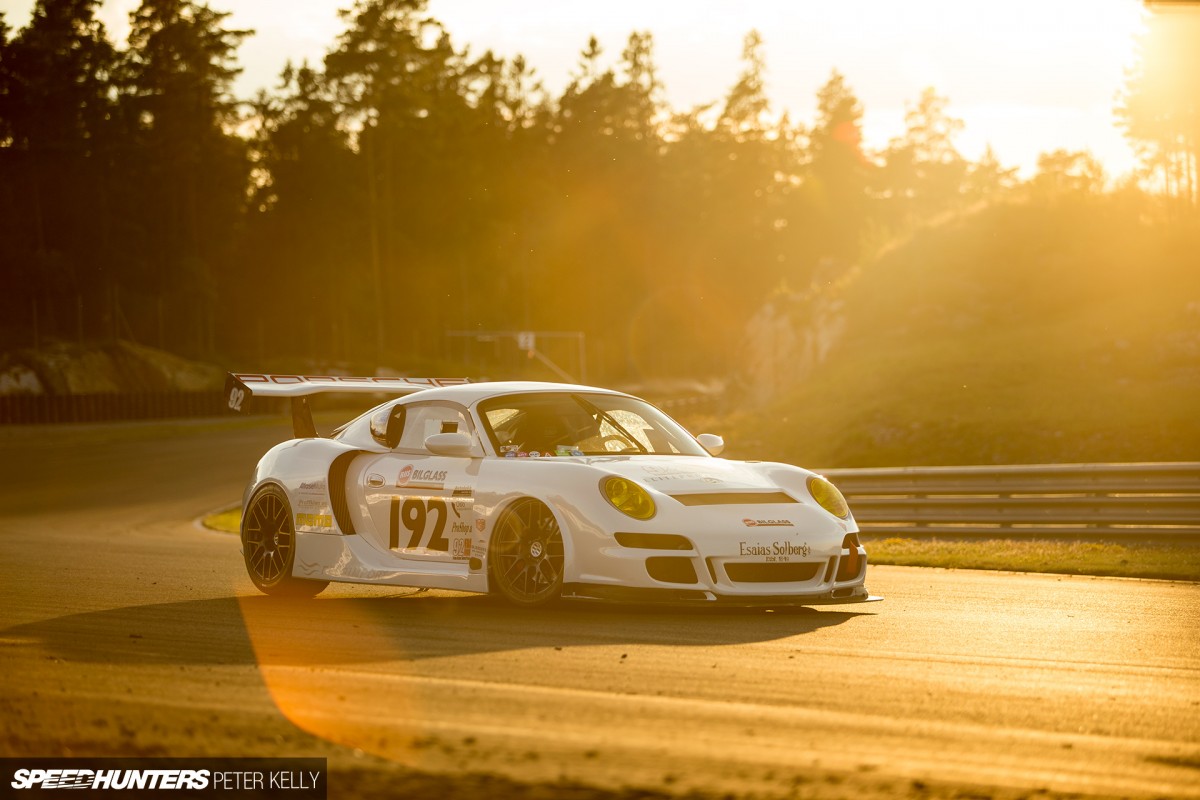 After seeing this car racing in the Extreme Time Attack class at this year's Gatebil Rudskogen event in Norway, we were floored, amazed and confused – we had to know more. Finn Arne was good enough to let us spend a few hours getting to know his monster, so we took the opportunity to take the car out onto the deserted track late at night, sit it under that famous Scandinavian late evening sun, and try to figure out exactly what the hell it was we were looking at…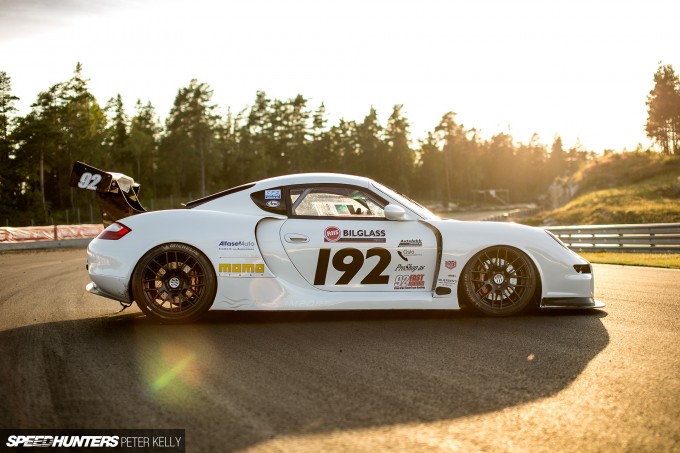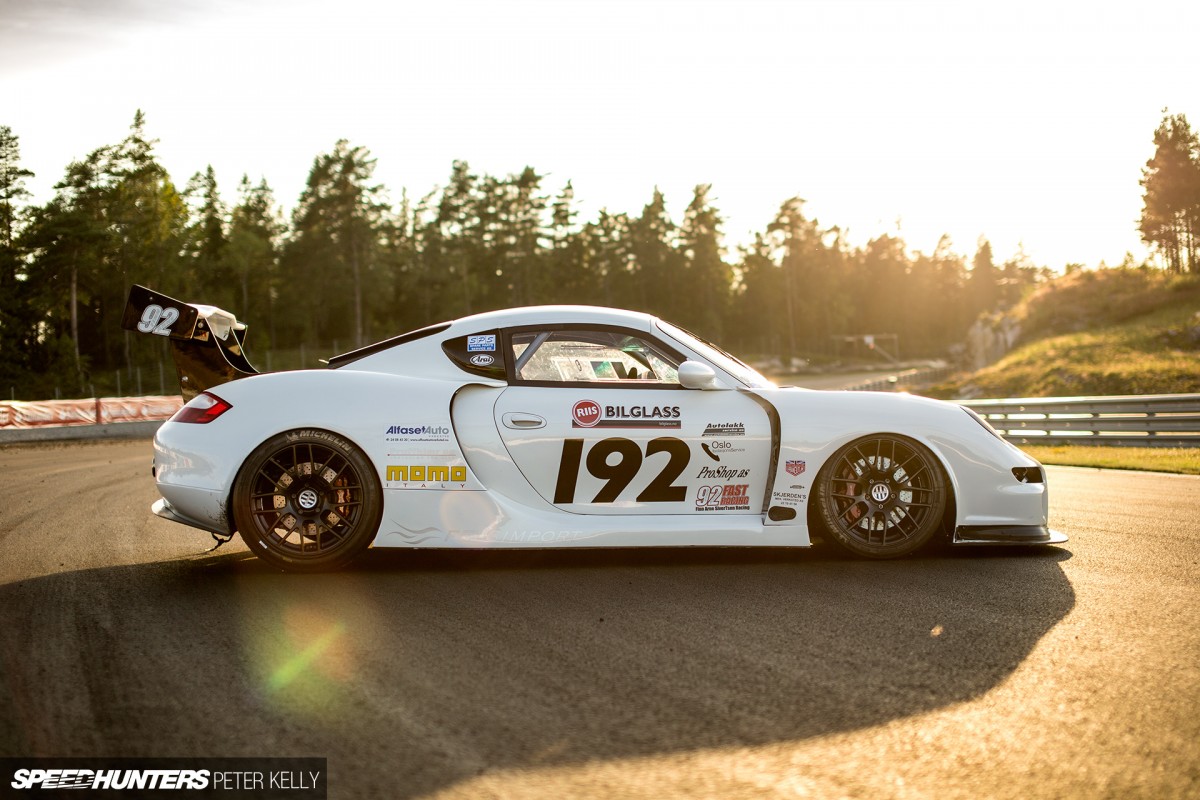 Originally built in 2010 as a street-legal show piece by Sweden's Robin Jonasson and the team at Elite Projects, who you might recognise as the guys behind the amazing carbon Cayman featured recently, the Porsche is actually based around a 1998 986 Boxster convertible.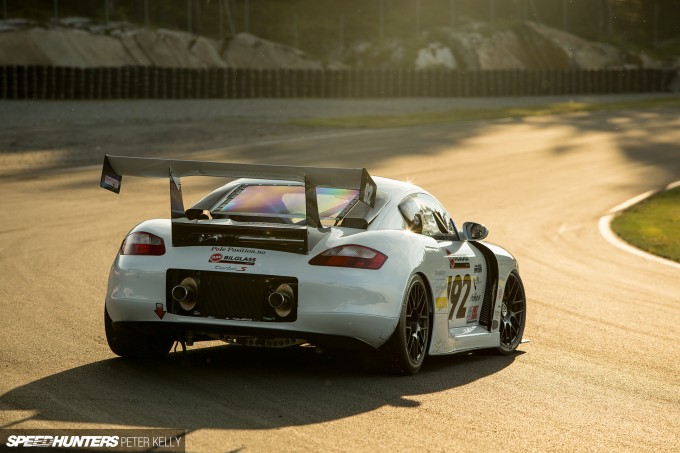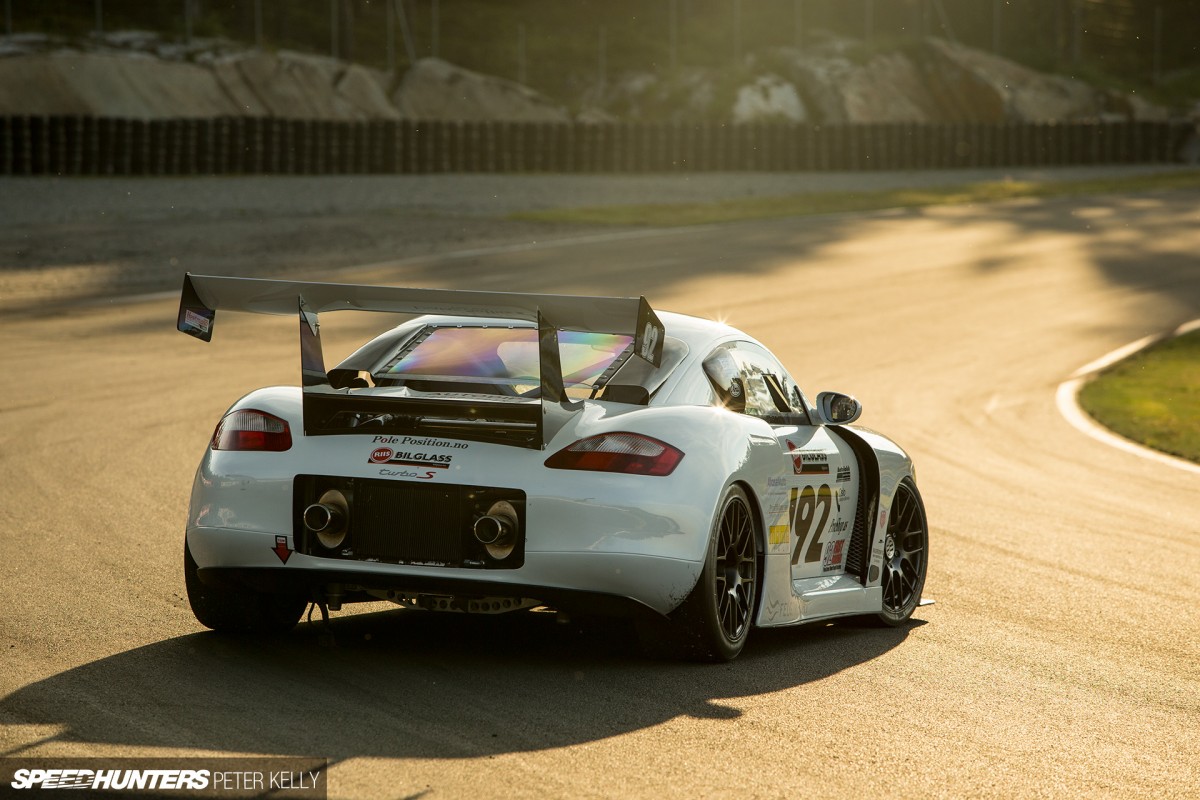 Finn Arne began driving Porsches in the '80s and racing them ever since breaking his back in three places during a superbike crash (apparently he and his wife decided together that car racing would be a better and safer option). He first took a shining to the then red and silver Boxster after seeing it at a show when it was first unveiled.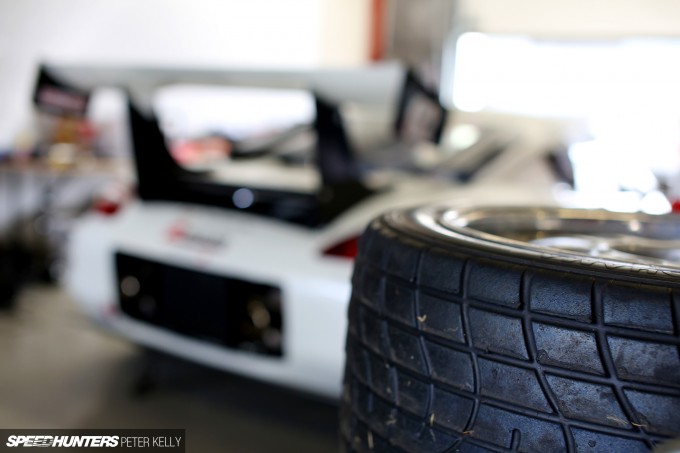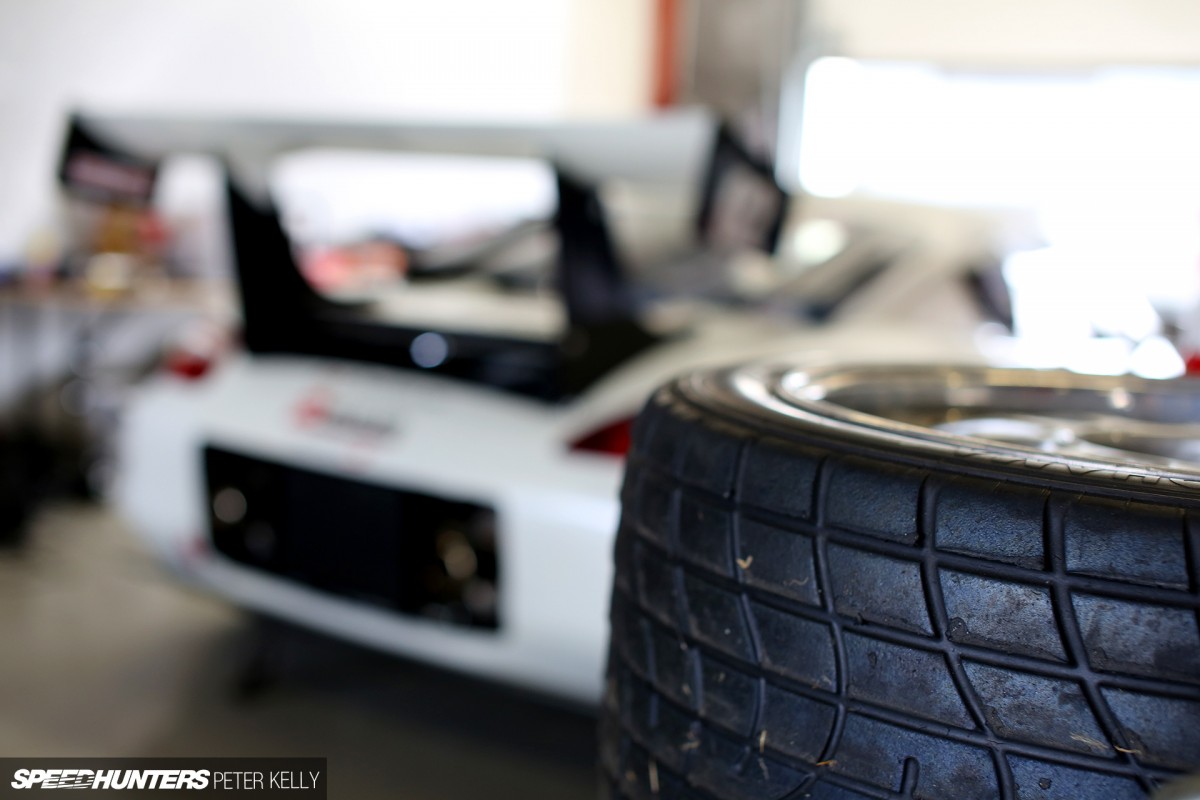 At the time, Finn Arne liked both the build quality and just how different the car was, as well as seeing the Boxster's potential as a pure race car. So when it came up for sale in 2012, he drove all the way down to the south of Sweden, met up with the guys at Elite Projects, and found himself coming home to Norway with one seriously wild Porsche in tow.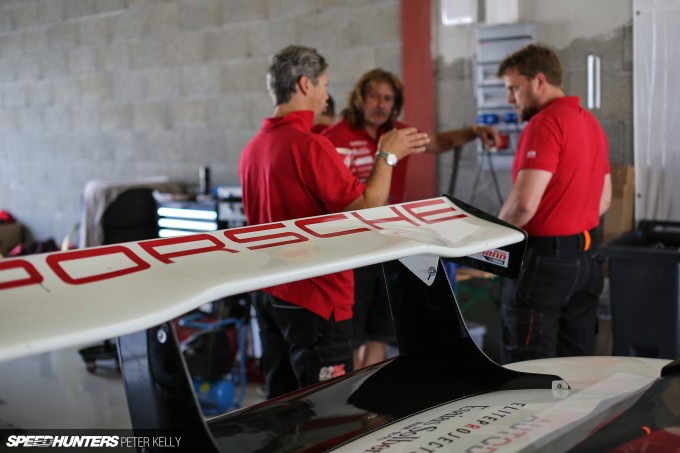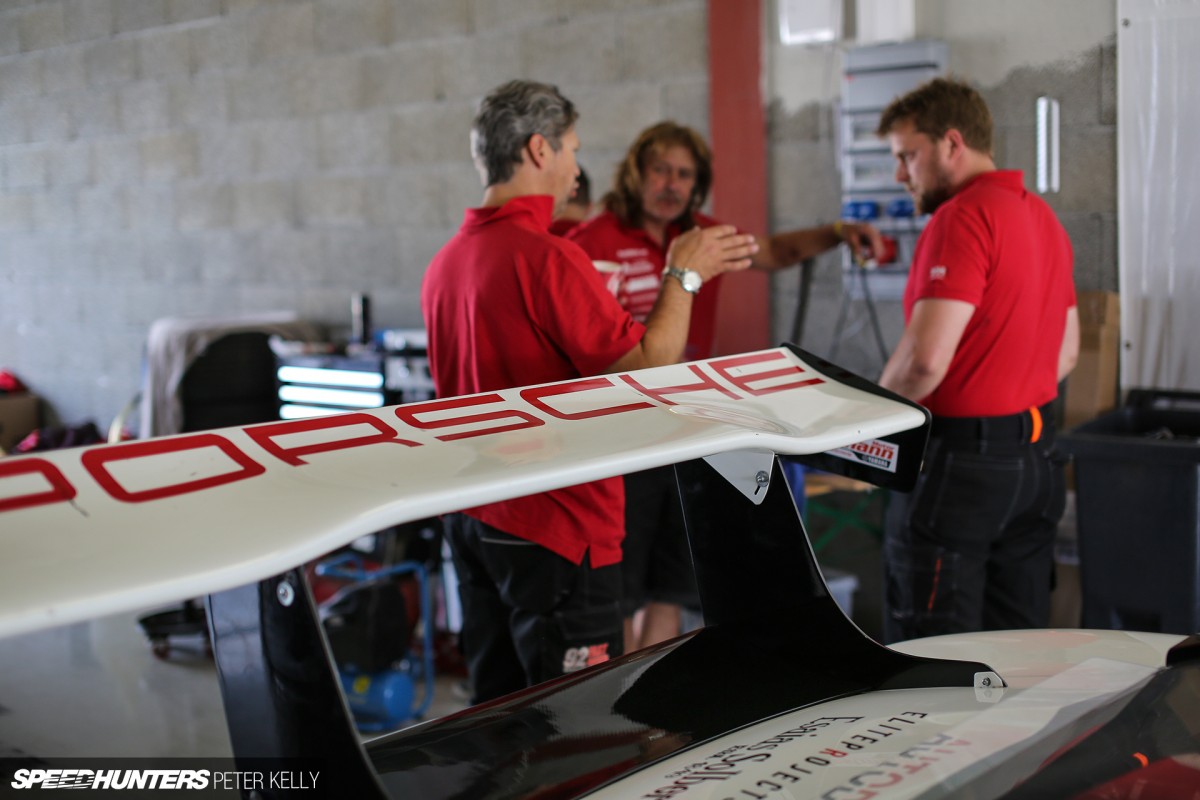 Since then, Finn Arne has developed the Boxster further as a pure racecar, though it incredibly still retains everything needed for street legality in Sweden. Elite Projects continue to be directly involved with the car, and lend a helping hand at most race meets.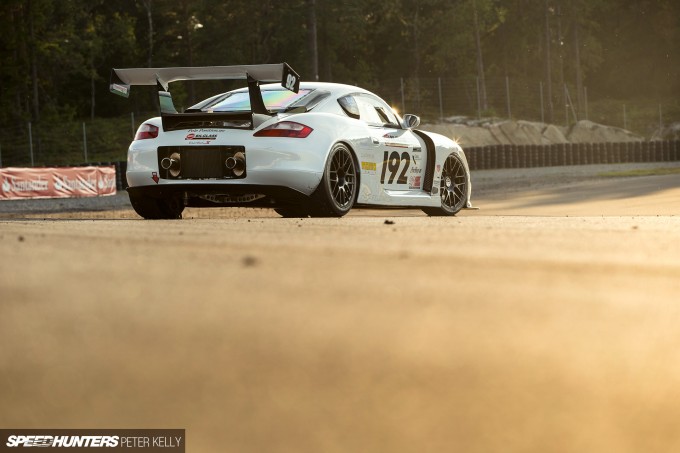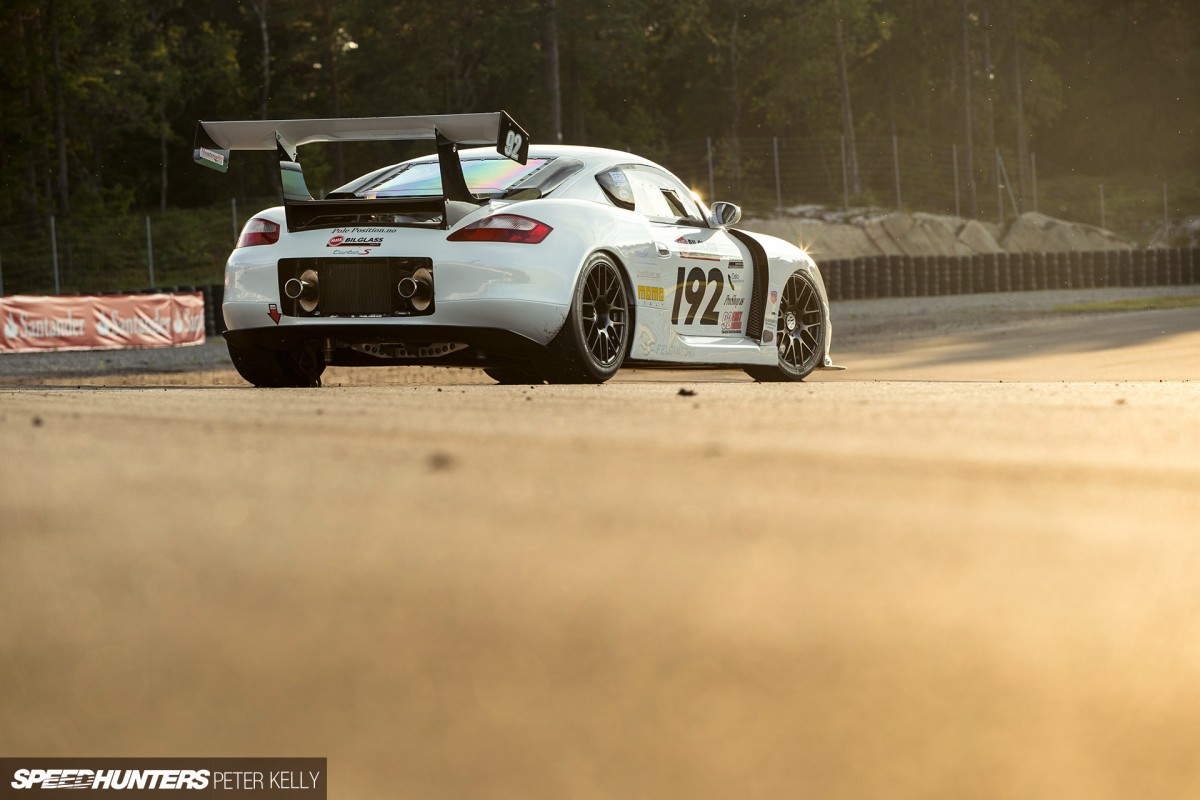 So what exactly is this machine? Though yes, this is – sort of – a 986 Boxster, all that's left of the original bright red donor car is the floor pan, A-pillars and windscreen; the rest is either completely custom, or cannibalised from another model of Porsche. To Finn Arne, the choice to stay faithful to Stuttgart-produced parts throughout was a big factor in his decision to pick up and begin racing the car.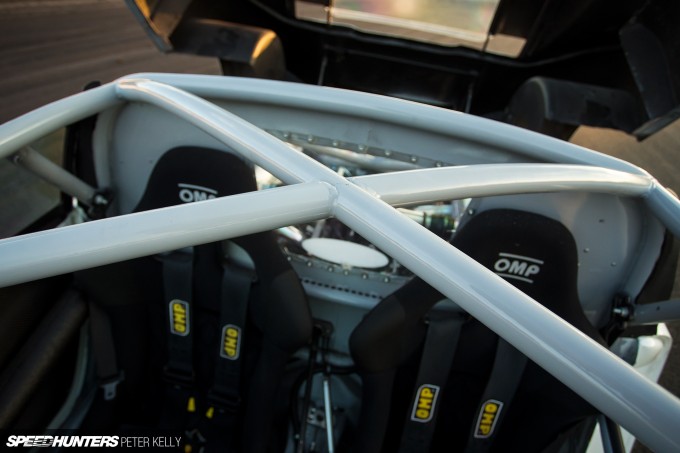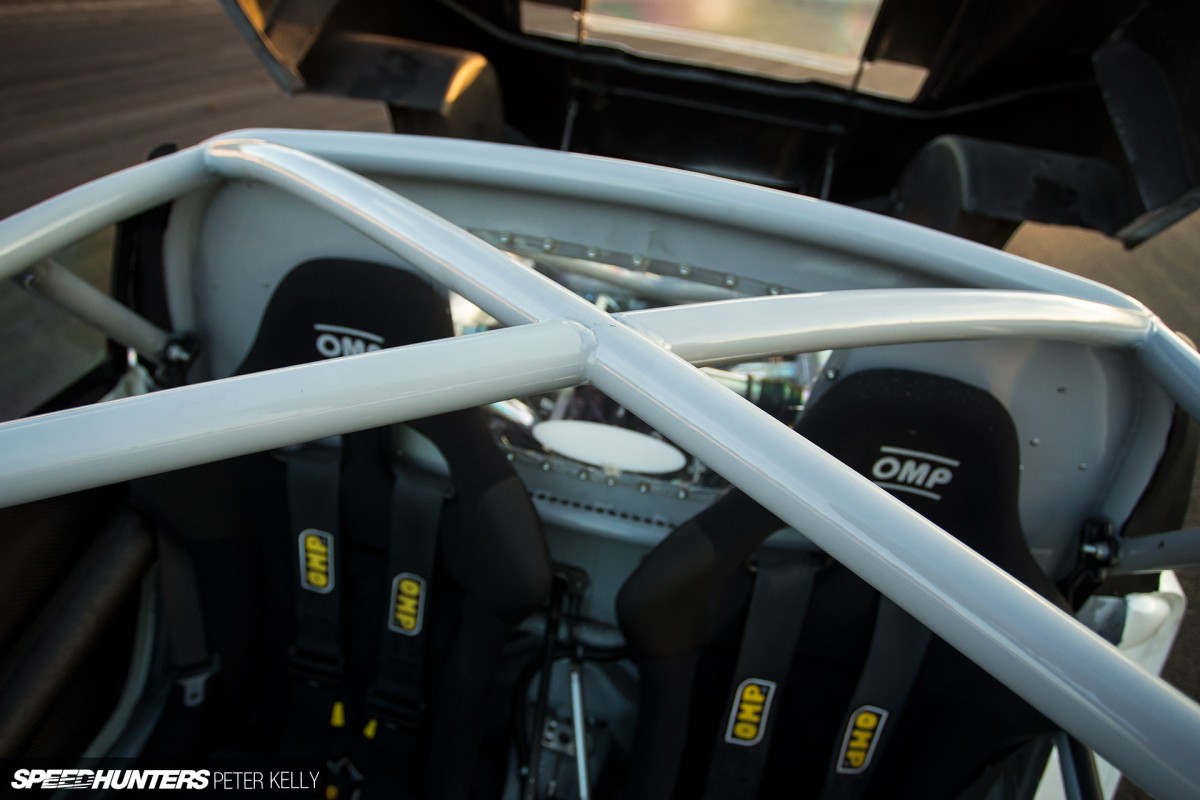 With most of the original Boxster gone, the front and rear of the cabin is now all entirely tube frame, joined together by an extensive roll cage arching over the top of the cockpit.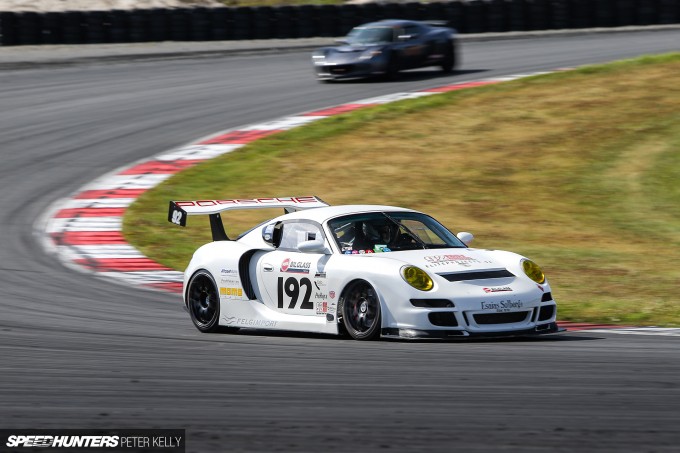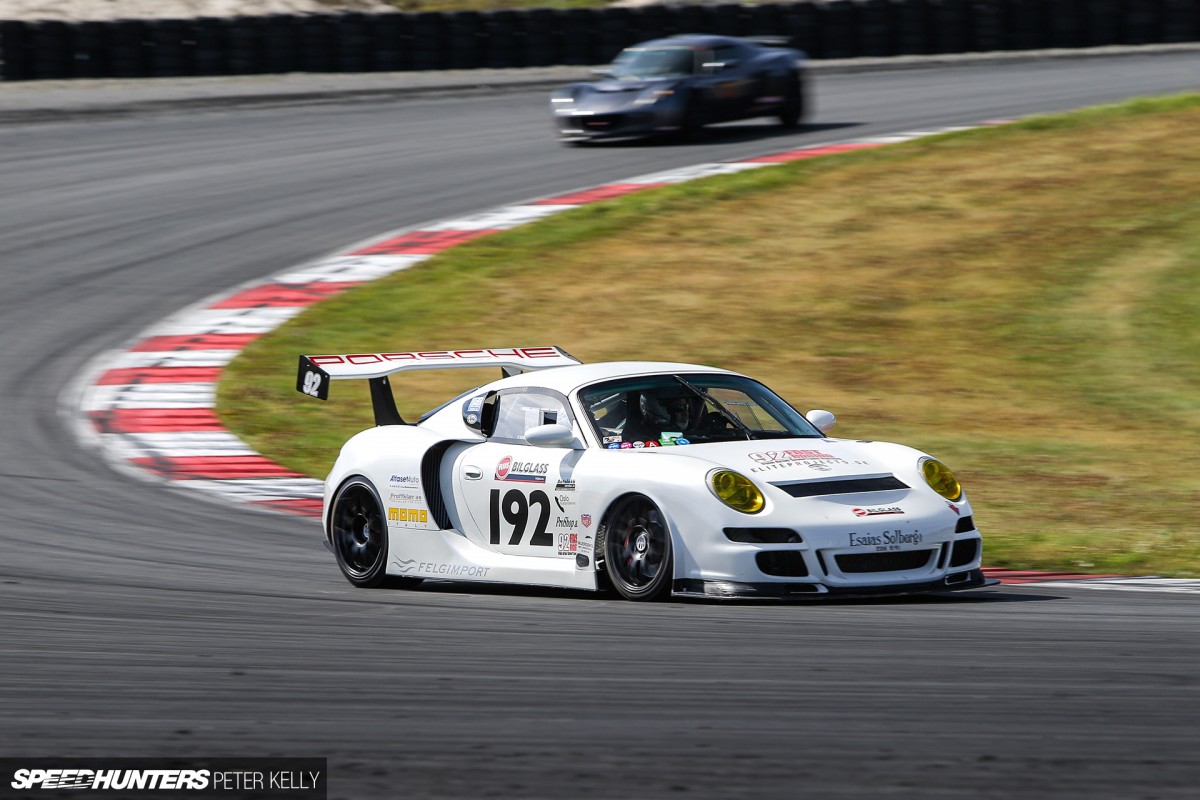 With all the panels attached, the Porsche is gorgeous whether standing still or at speed.  The pearlescent body ripples with sinuous muscle, and although there's a lot of recognisable Porsche DNA in the shapes and lines, nothing is entirely familiar.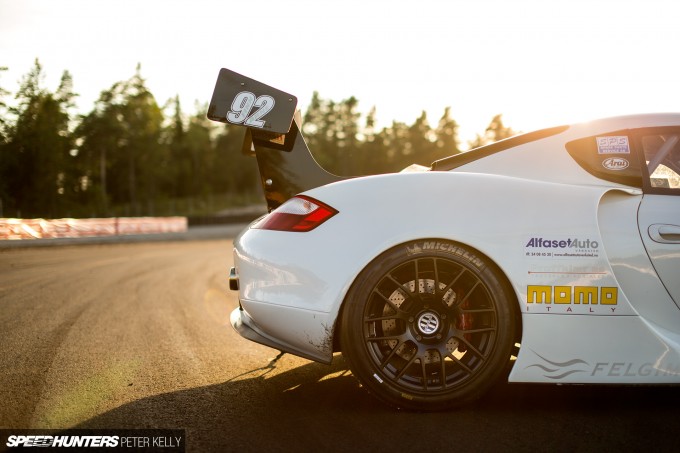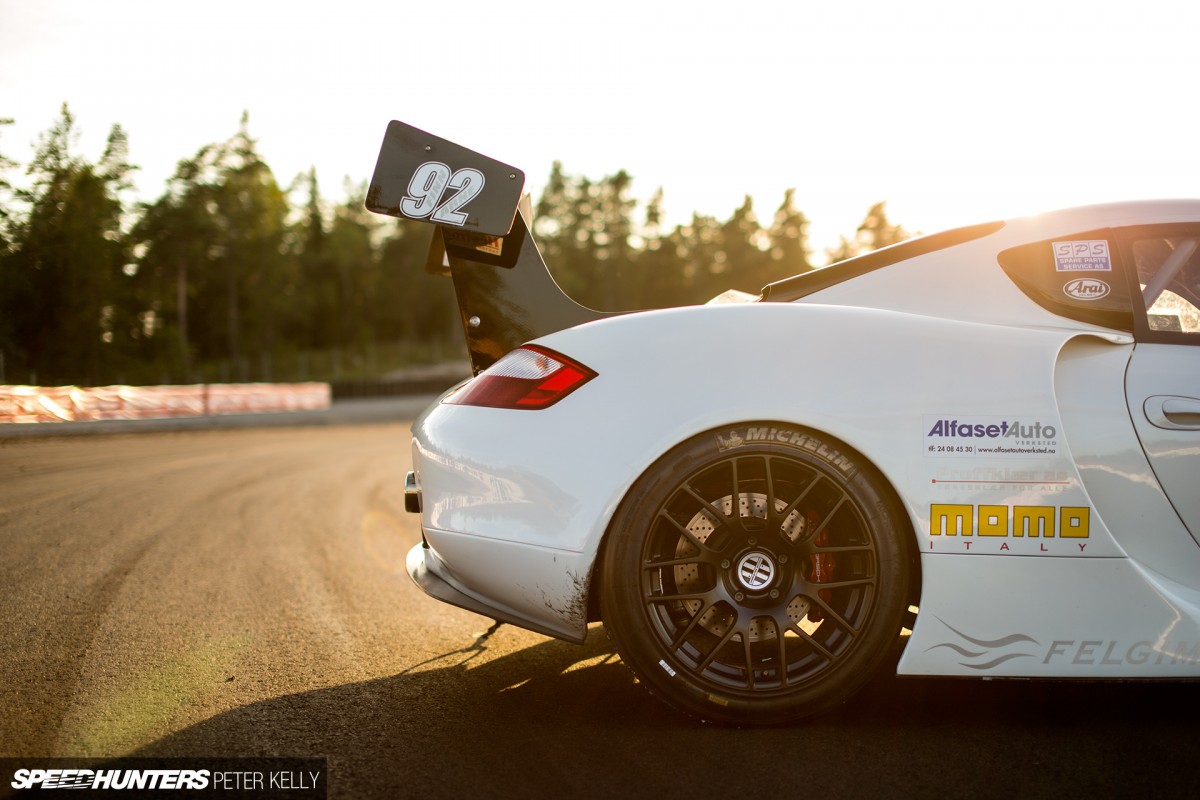 That's because every single body panel attached to this new chassis has been created by hand by Elite Projects, either completely from scratch, or using existing fibreglass parts as a base and extensively modifying from there. The one-piece front end, for example, is easily recognisable as 997 GT3 Cup, and was built using an existing bumper and guards (heavily widened, of course) as the base.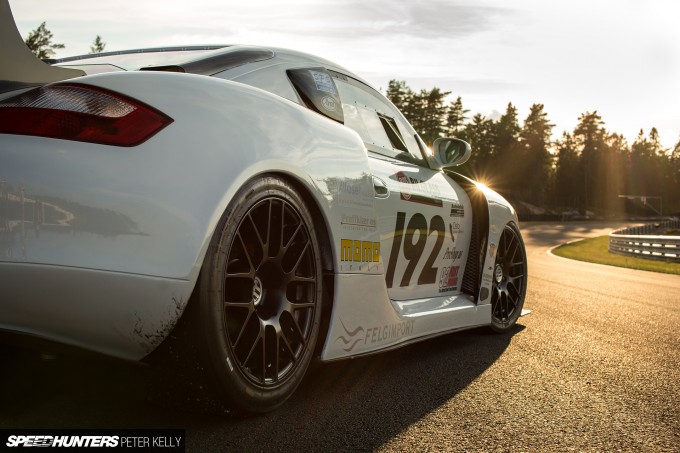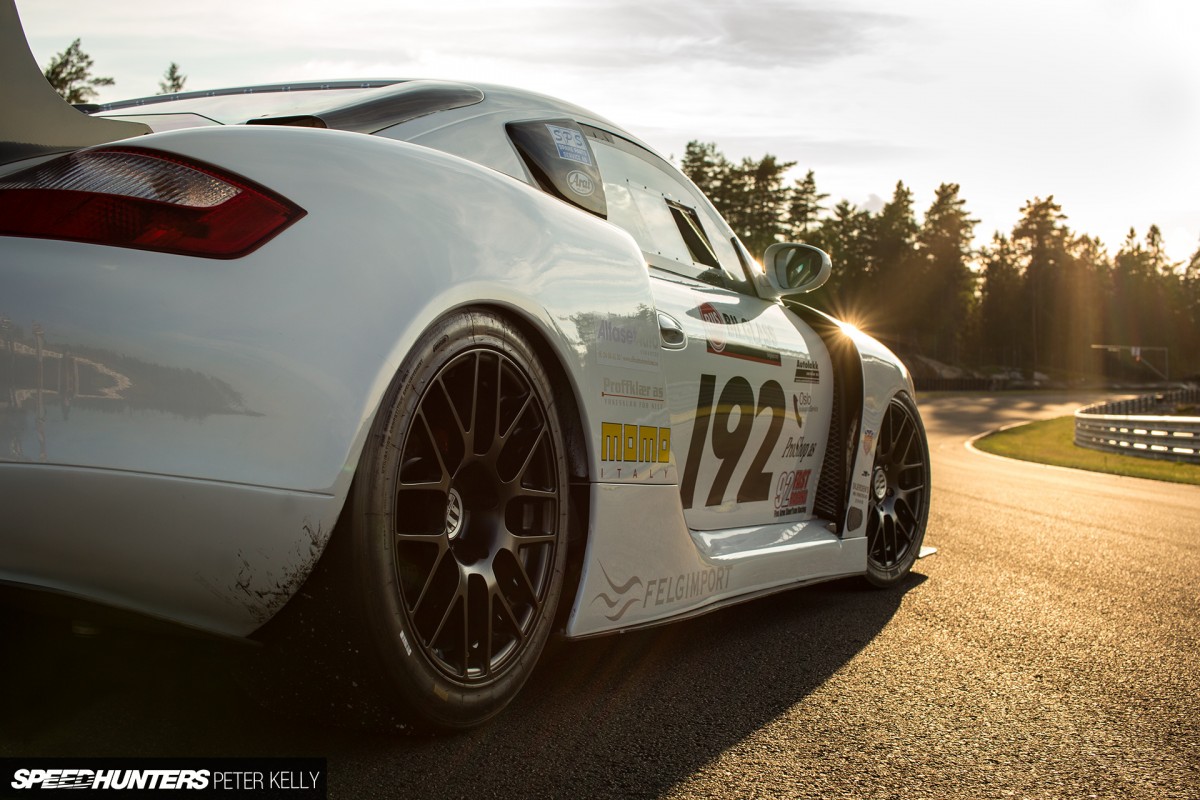 The rear fenders, however, are unique to this car and were first carefully shaped in foam before being glassed over to form the mould. The big guards push the width of the car out to 2,040mm.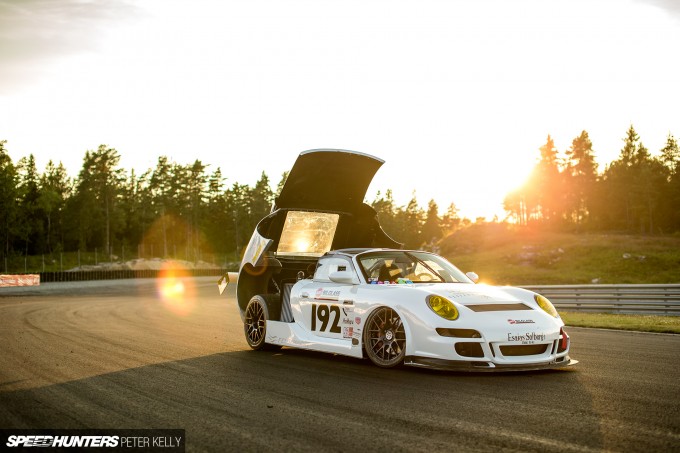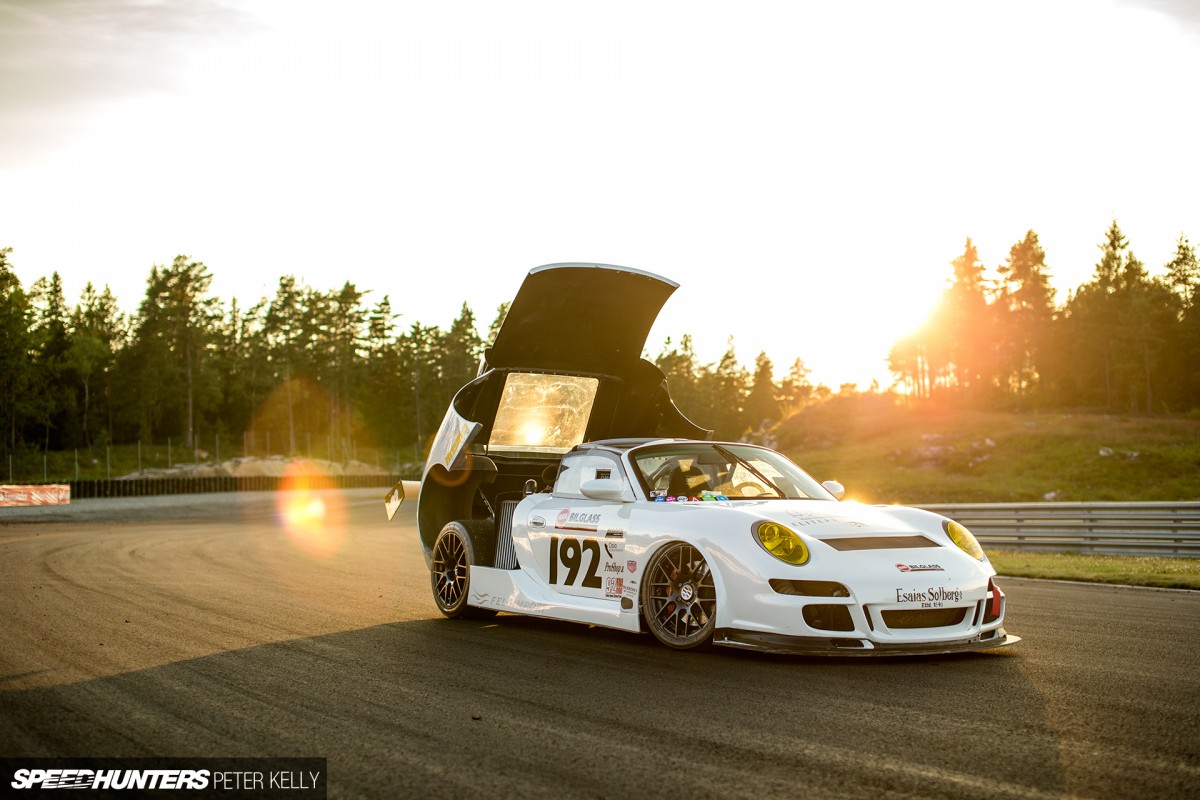 The fenders are attached to the one-piece rear end, which has been borrowed from a 987 Cayman coupe, and also includes the roof panel. With all the panels bolted on, the car is a full 260mm wider and 110mm longer than a stock Boxster.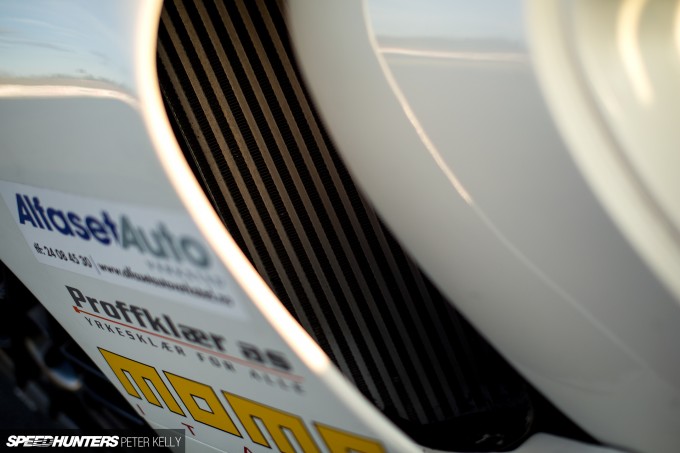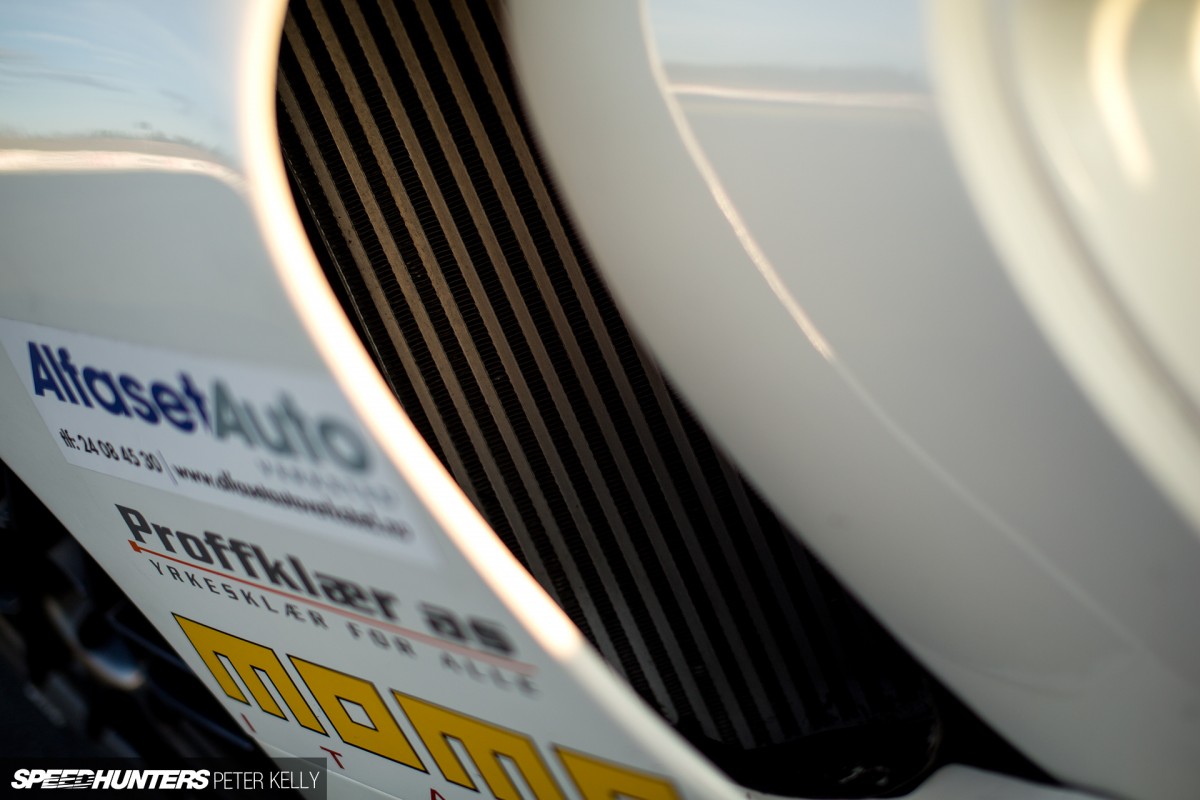 Taking a peak through those wide-open gills on both fattened-up flanks of the car reveals an interesting teaser as to what lies underneath – it's a Porsche motor, but it's no boxer…
The Eight-Eyed Monster Inside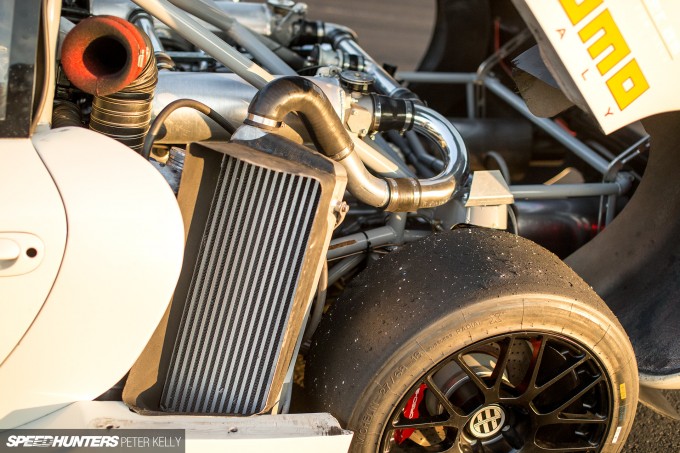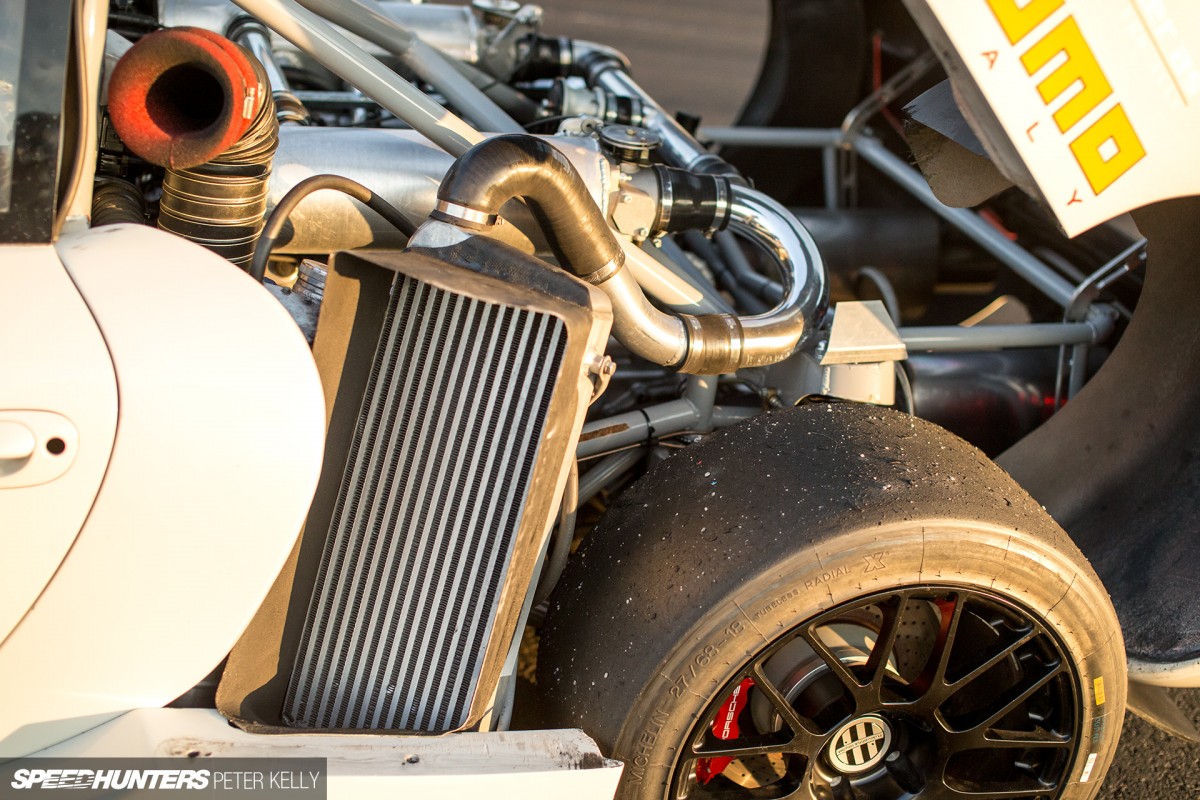 Those weren't radiators you were spying through the gaping vents, but a pair of bar and plate intercoolers – an integral part of the custom twin turbo Porsche M28.41 V8 arrangement that is the heart and soul of this car.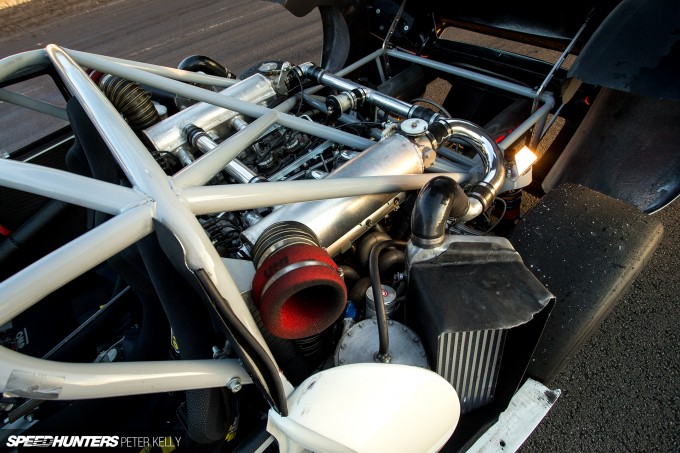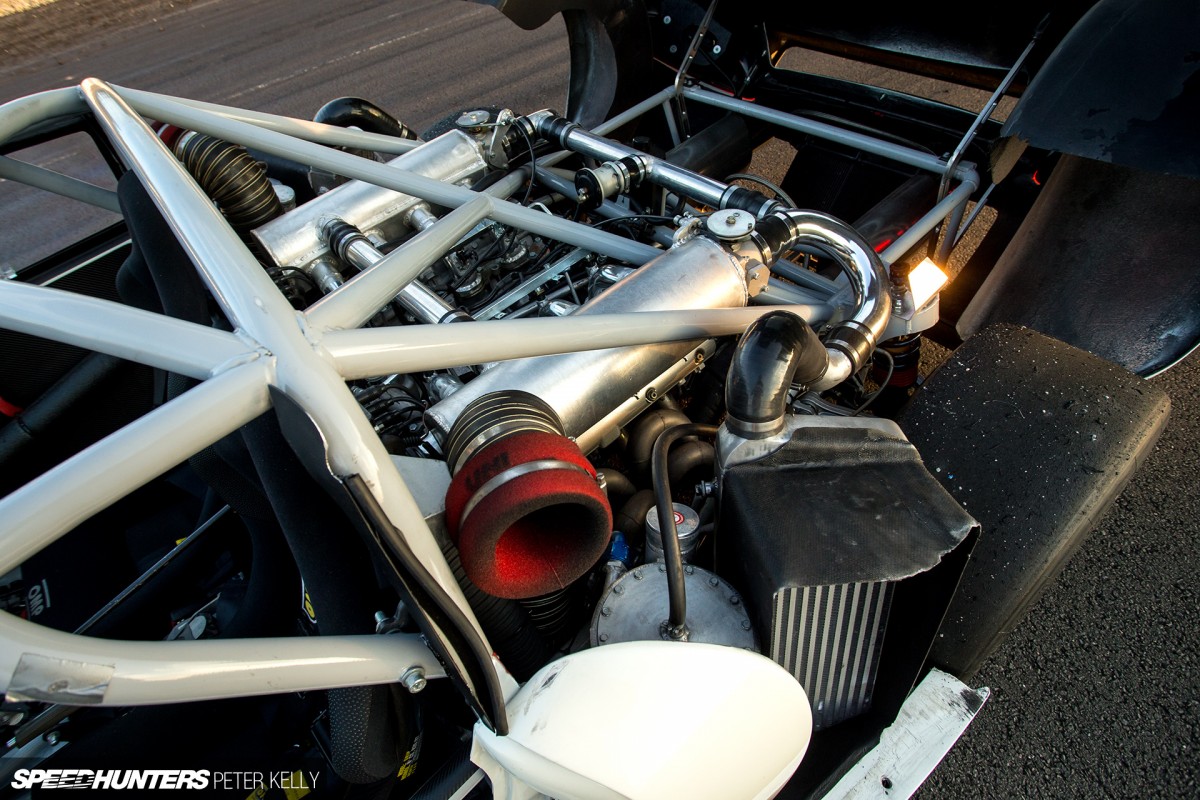 The M28.41 is an all-alloy, quad cam, five-litre V8, produced by Porsche in the late '80s for its 928 S4 luxury GT coupes. The M28 was, and still is, a fantastic motor and its relatively light weight made it perfect for the Boxster build. Before being bolted up to the cross member, the motor was completely pulled down by Elite Projects, then balanced and rebuilt using brand new parts from Porsche.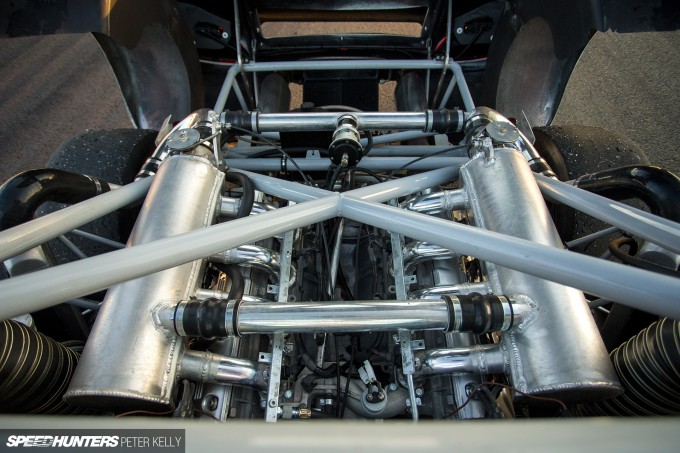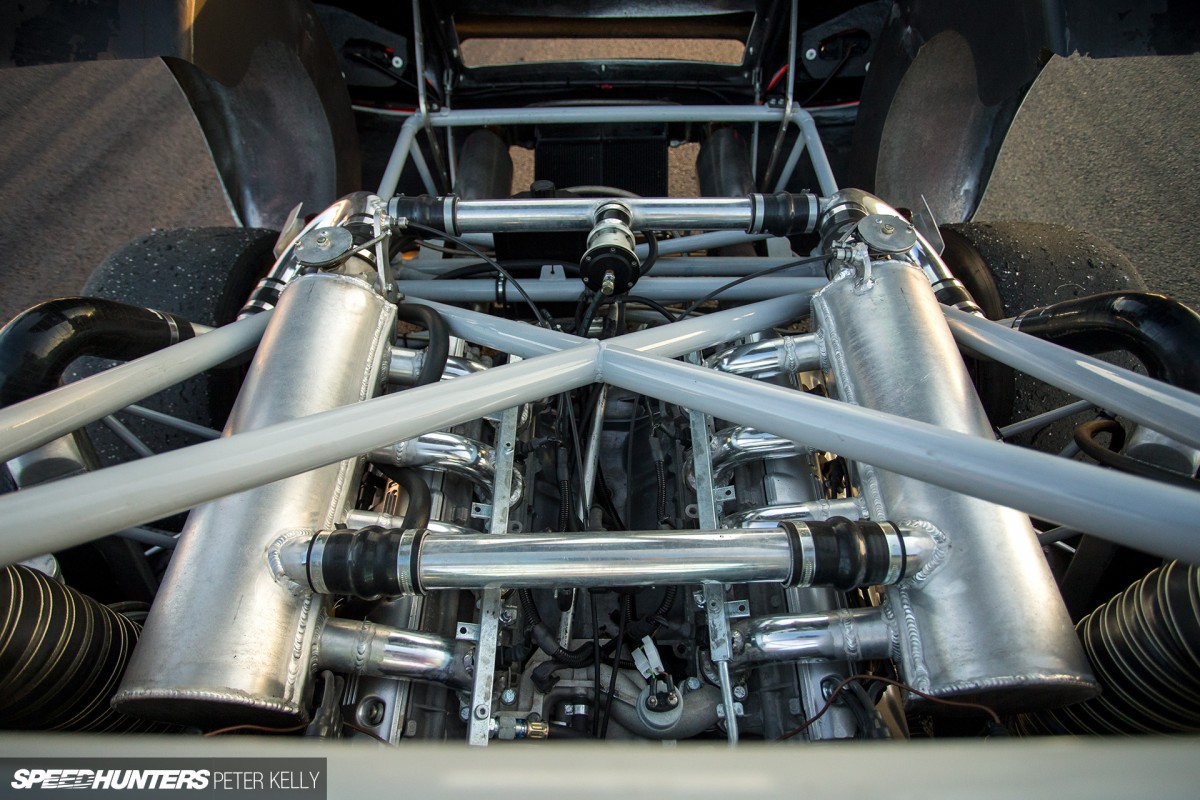 The only real modification to the motor itself is a dry sump system from Auto Verdi and a thicker steel headgasket, which has brought the compression ratio down from 10.0:1 to 9.3:1 in preparation for the boost it was soon to receive.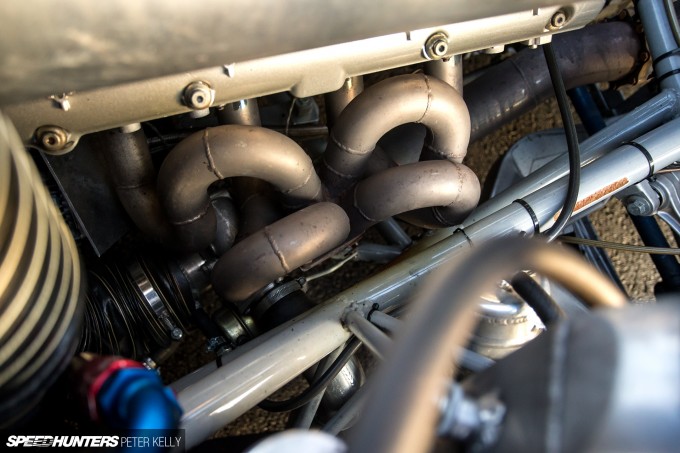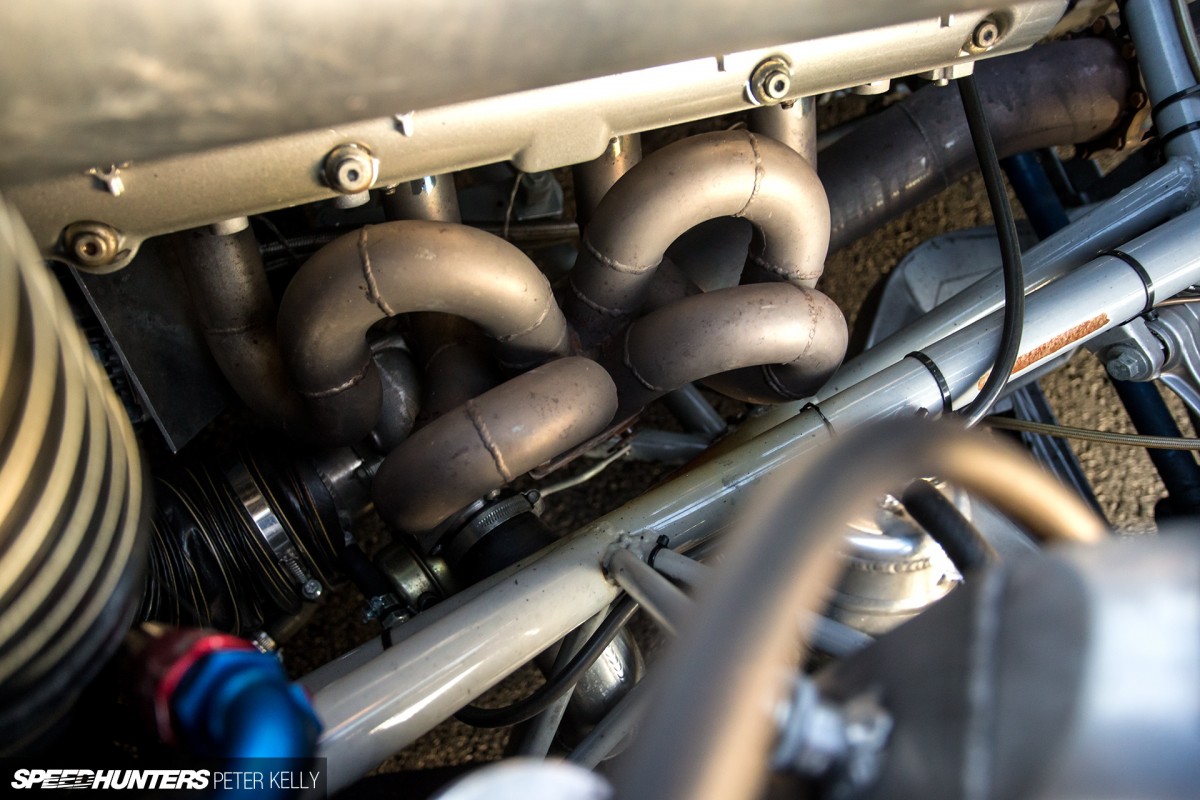 A modest 0.5 bar (7 psi) is pumped through the intercoolers and up towards the 32-valve heads by a pair of internally-gated KKK K27 turbos, mounted on custom stainless exhaust manifolds.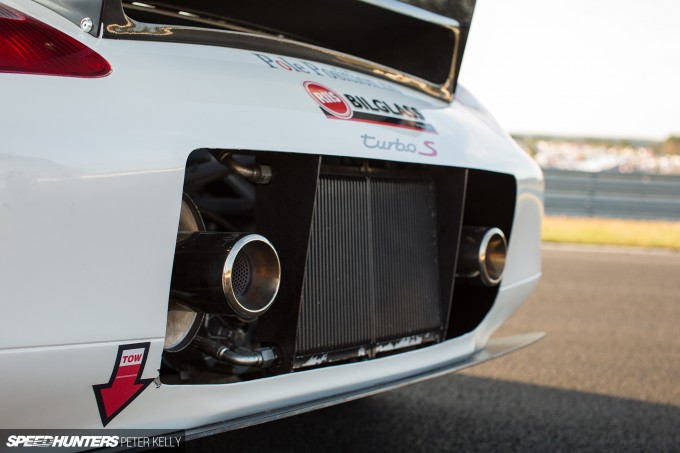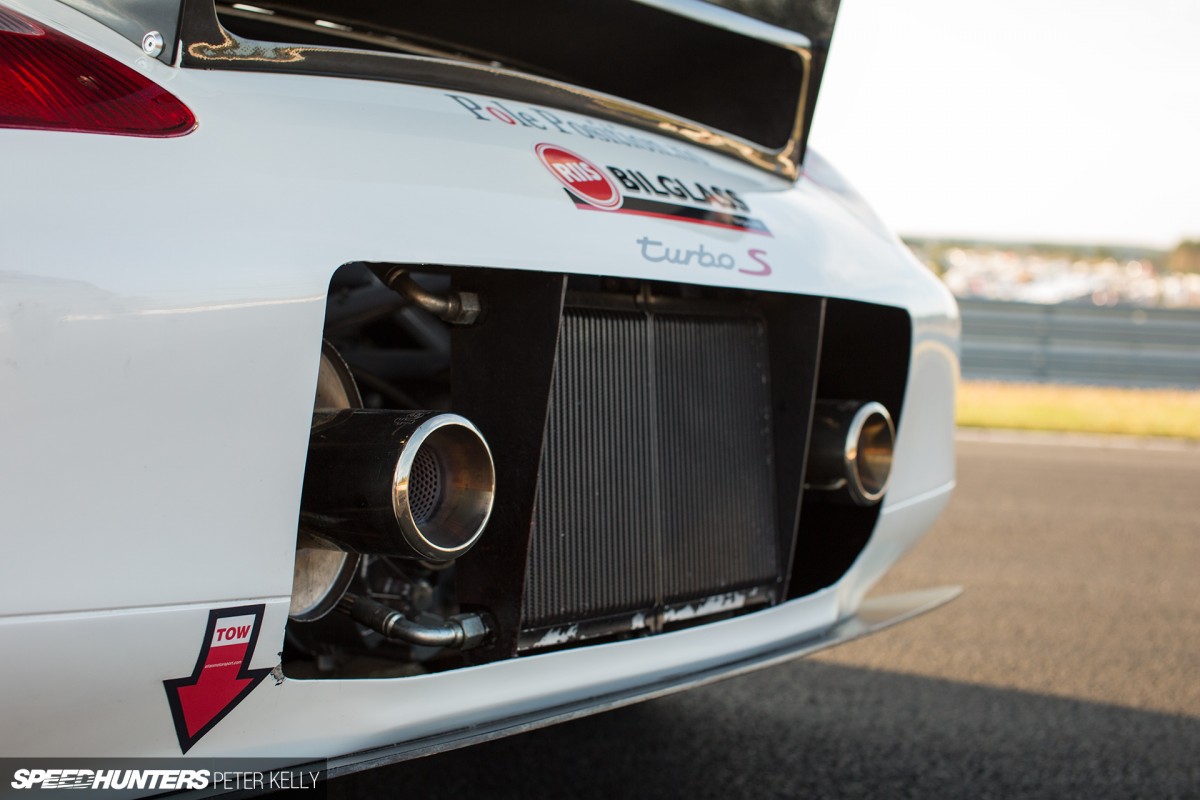 The manifolds dump into a pair of short four-inch exhaust pipes running out to Swedish-made Ferritta mufflers that poke out the rear of the car, flanking a big oil cooler.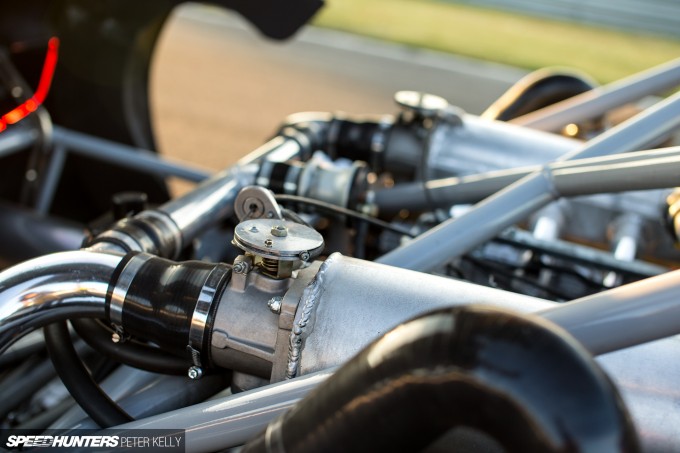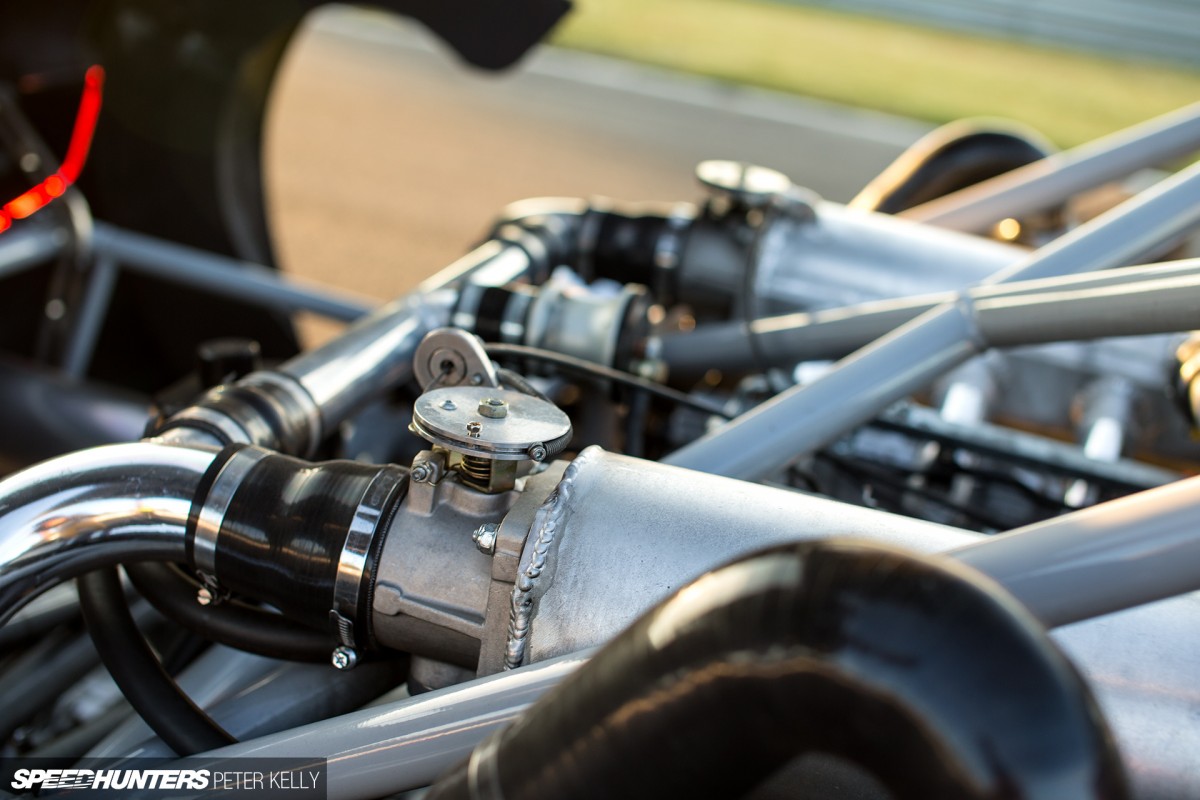 Though the car originally had a big single intake plenum sitting in the valley between the two rocker covers, this has since been swapped for a pair of less showy, but more effective plenums and twin throttle bodies.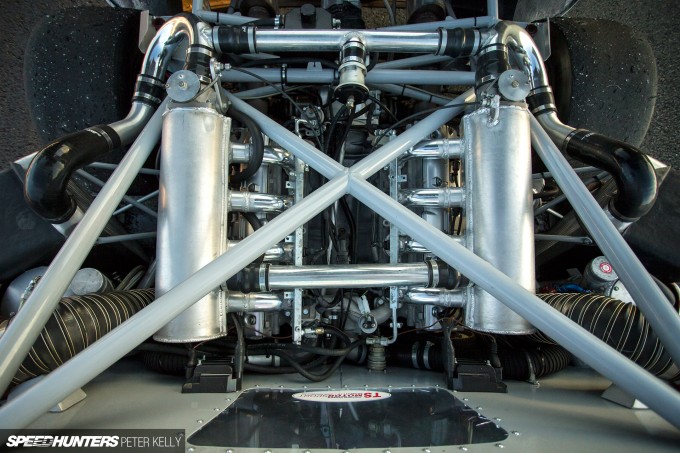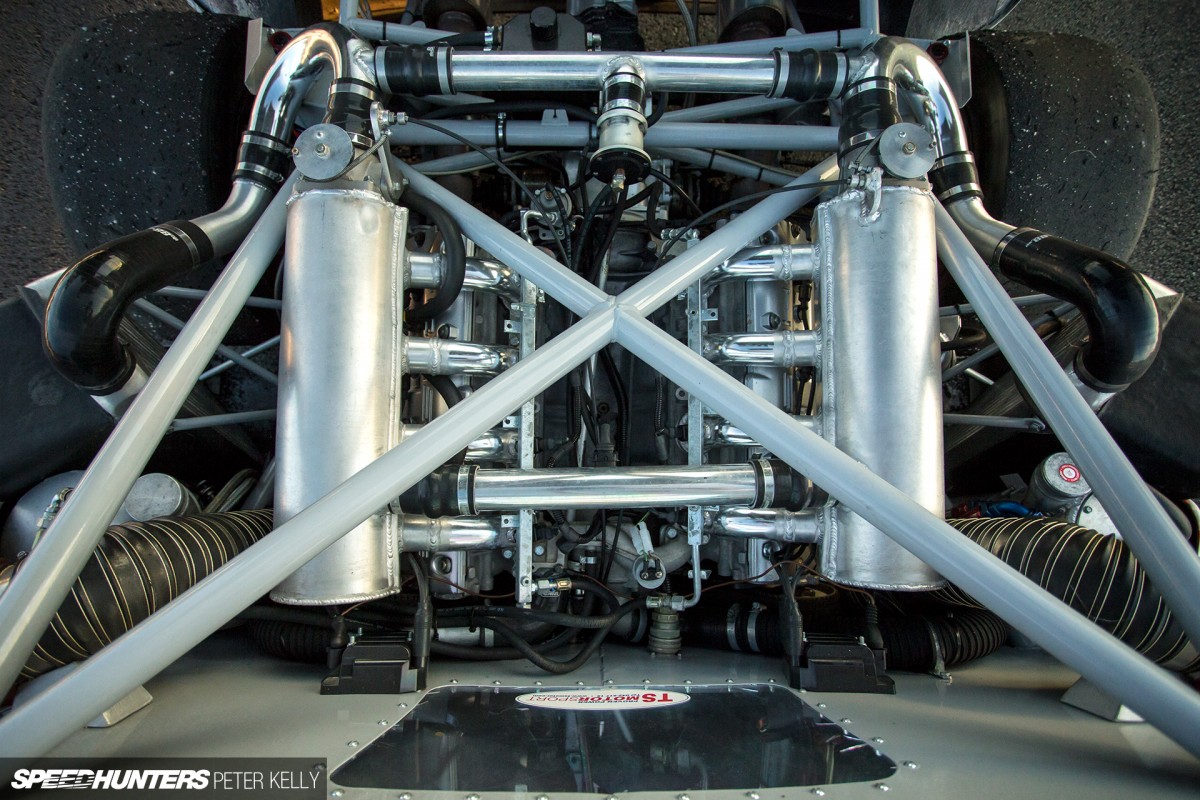 A top view shows just how well everything is laid out. It's purposeful, effective and provides a heap of easy power when tuned using an English Emerald K6 engine management system.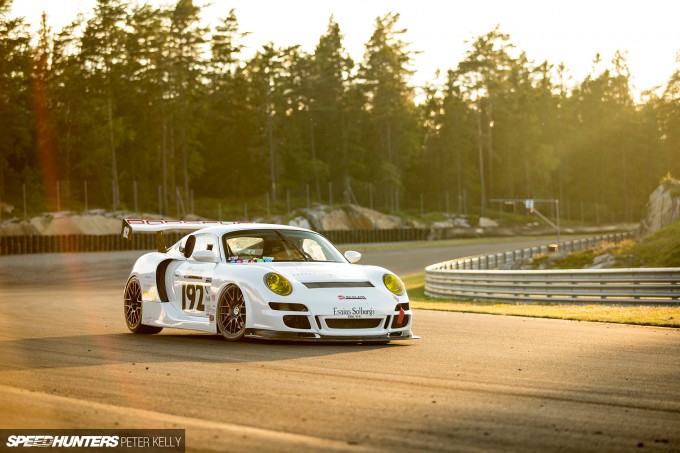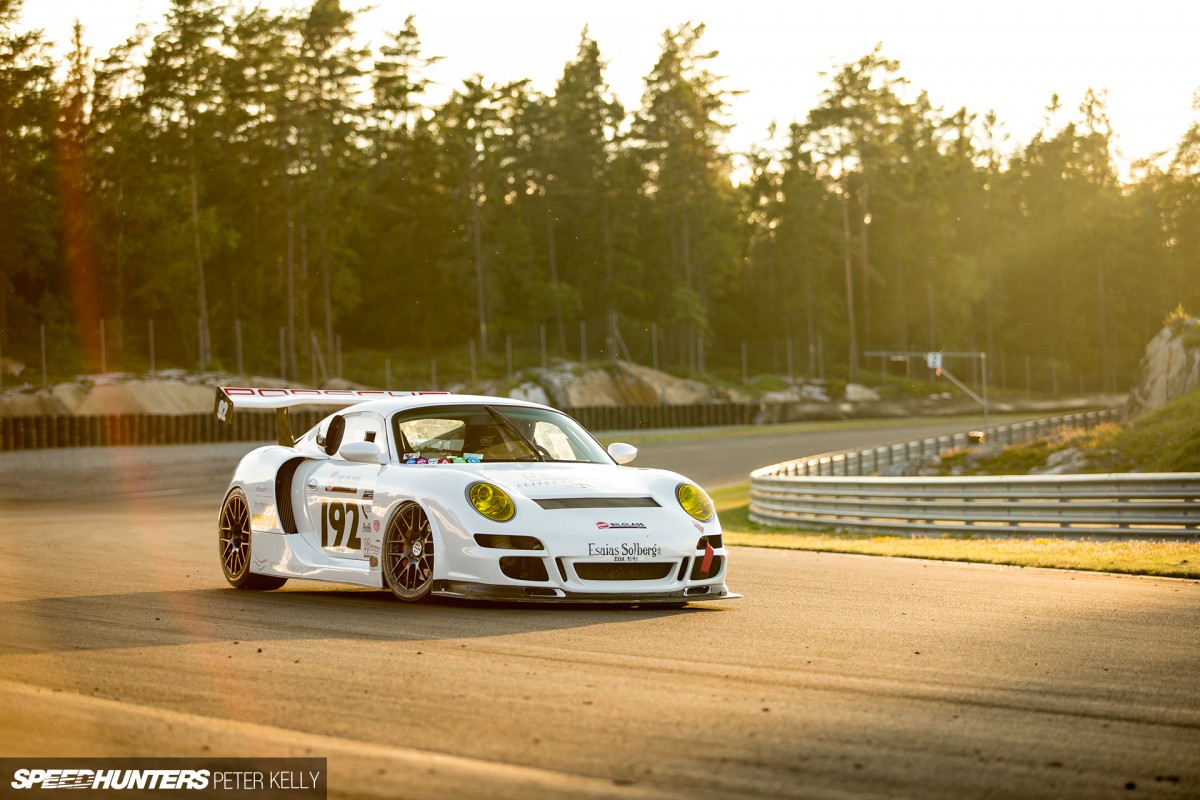 On the low boost setting, the 5.0L V8 makes 680hp (507kW) and 920Nm at the rear wheels. For a 1,150kg car, that's plenty enough power, and Finn Arne admits that it can be a real handful at times.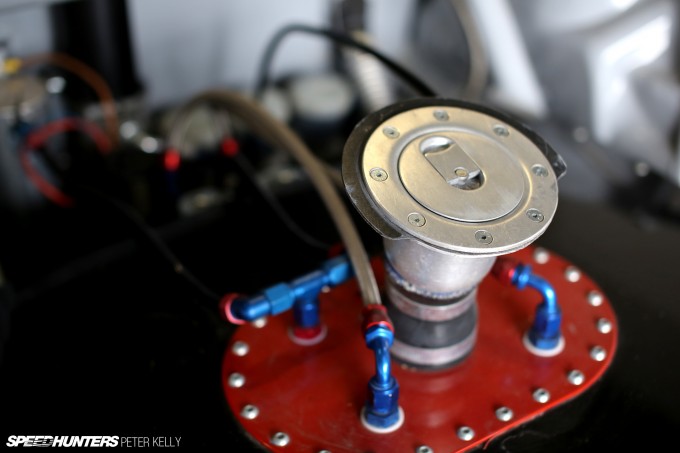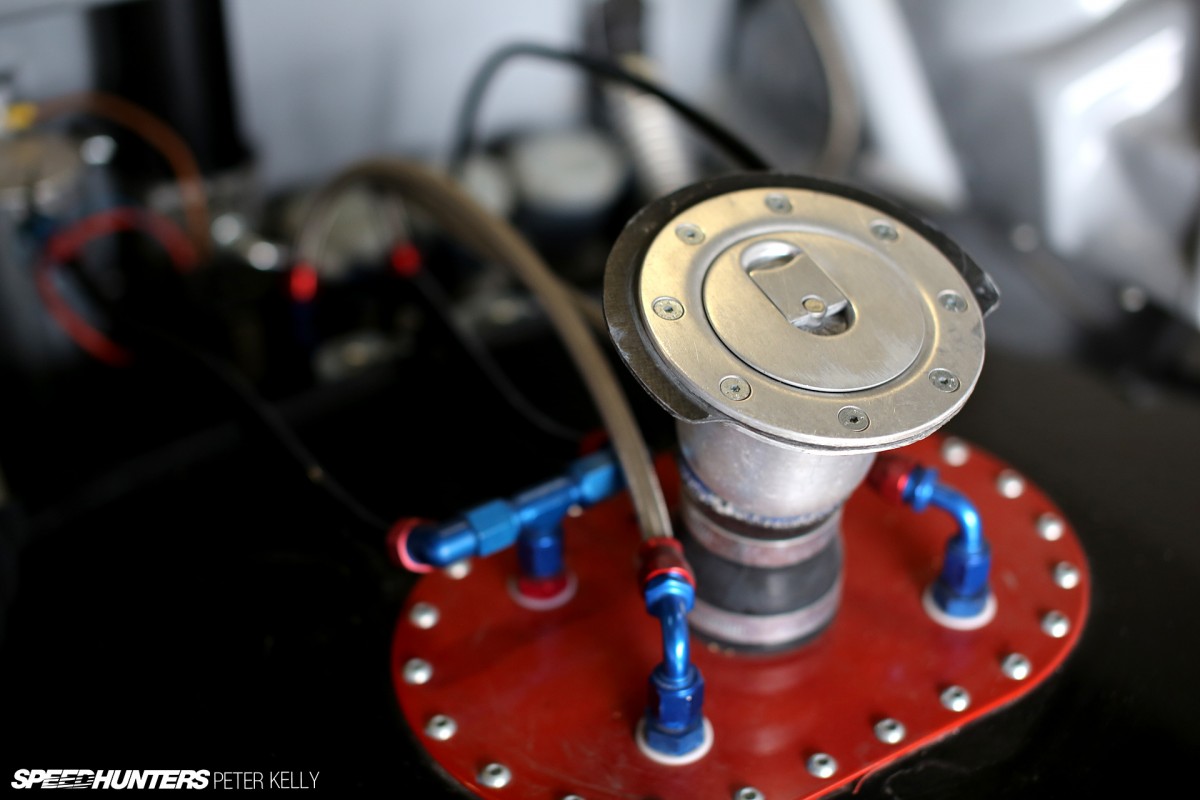 These numbers have been achieved on 98 RON pump gas, which is fed to the injectors by a pair of Facet Gold Flow pumps.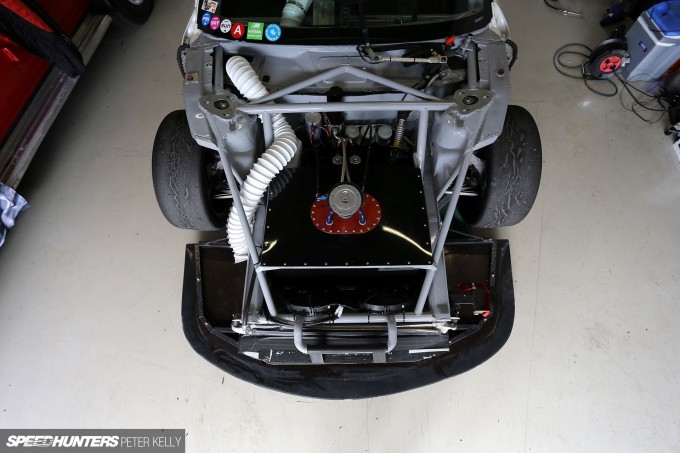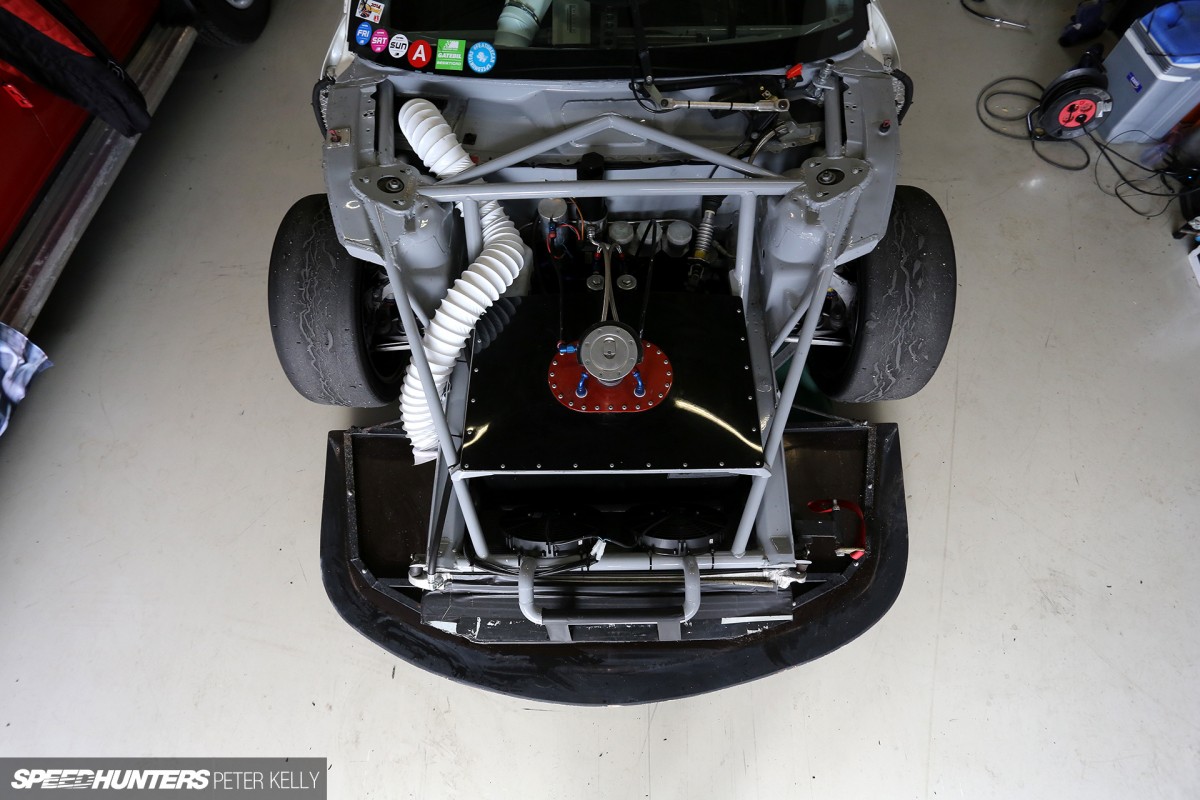 The pumps drink from a large ATL fuel cell hidden underneath the single-piece nose of the car, which also houses the large radiator and twin electric fans.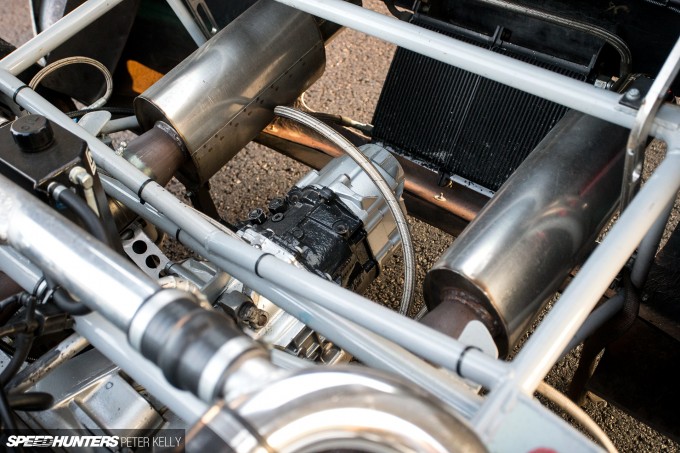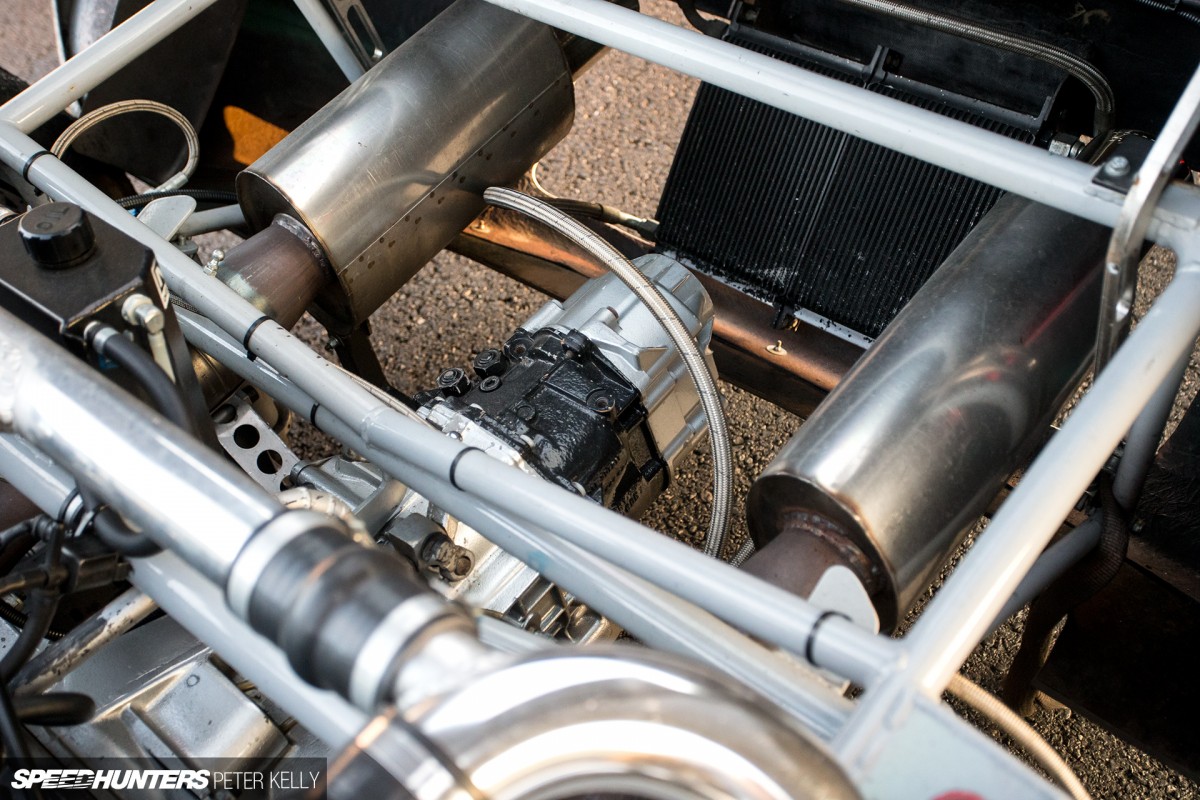 Moving to the very rear of the Boxster, the twin turbo V8 is backed up by a six-speed transaxle gearbox pulled from a 968, that when coupled with a Tilton twin-plate clutch and a G50 (993) limited slip differential, provides a fairly indestructible driveline for the Porsche. Well, indestructable enough, anyway!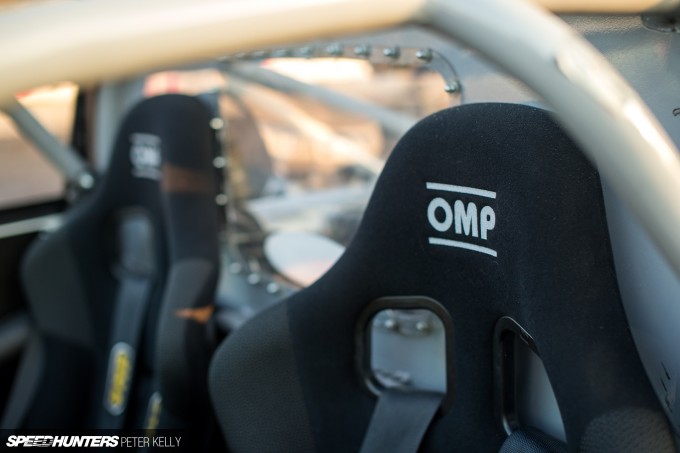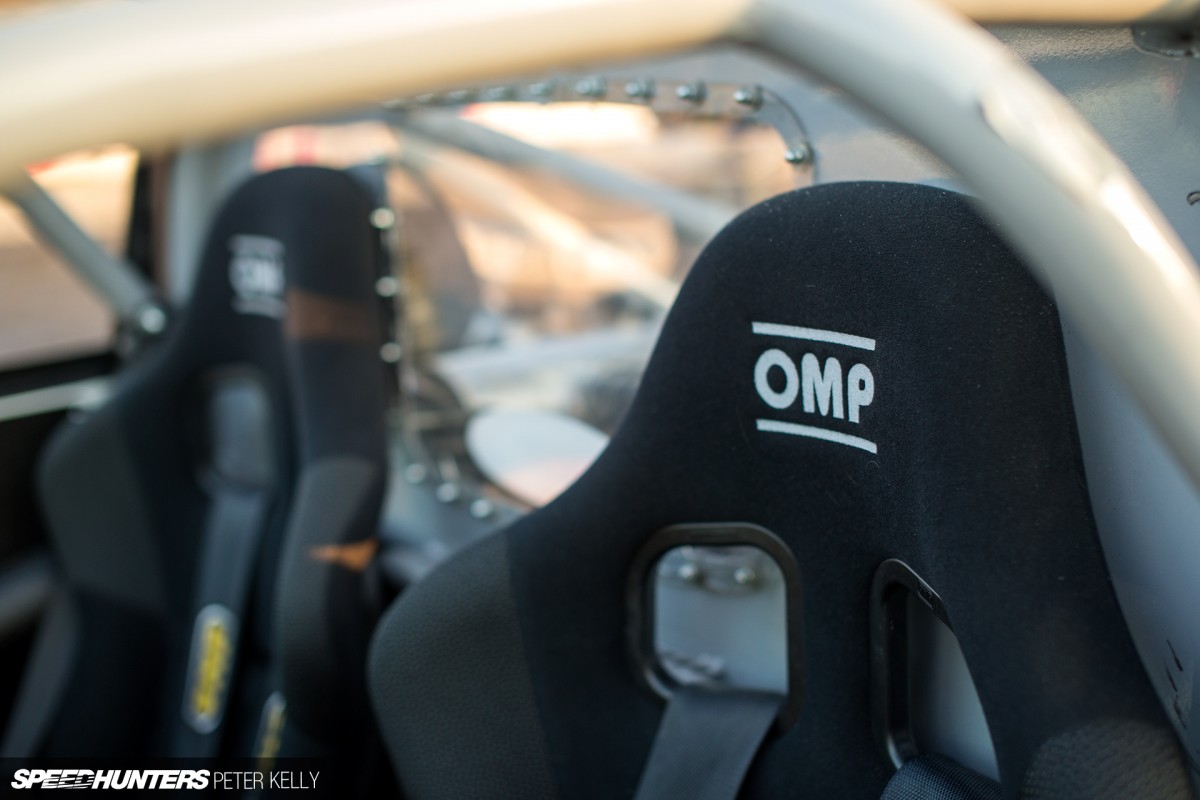 Inside the small cabin, Finn Arne shifts through those six short gears whilst strapped into an OMP seat using OMP harnesses.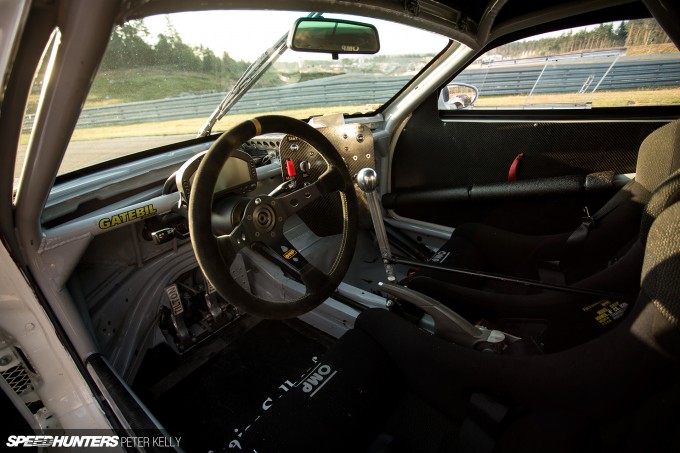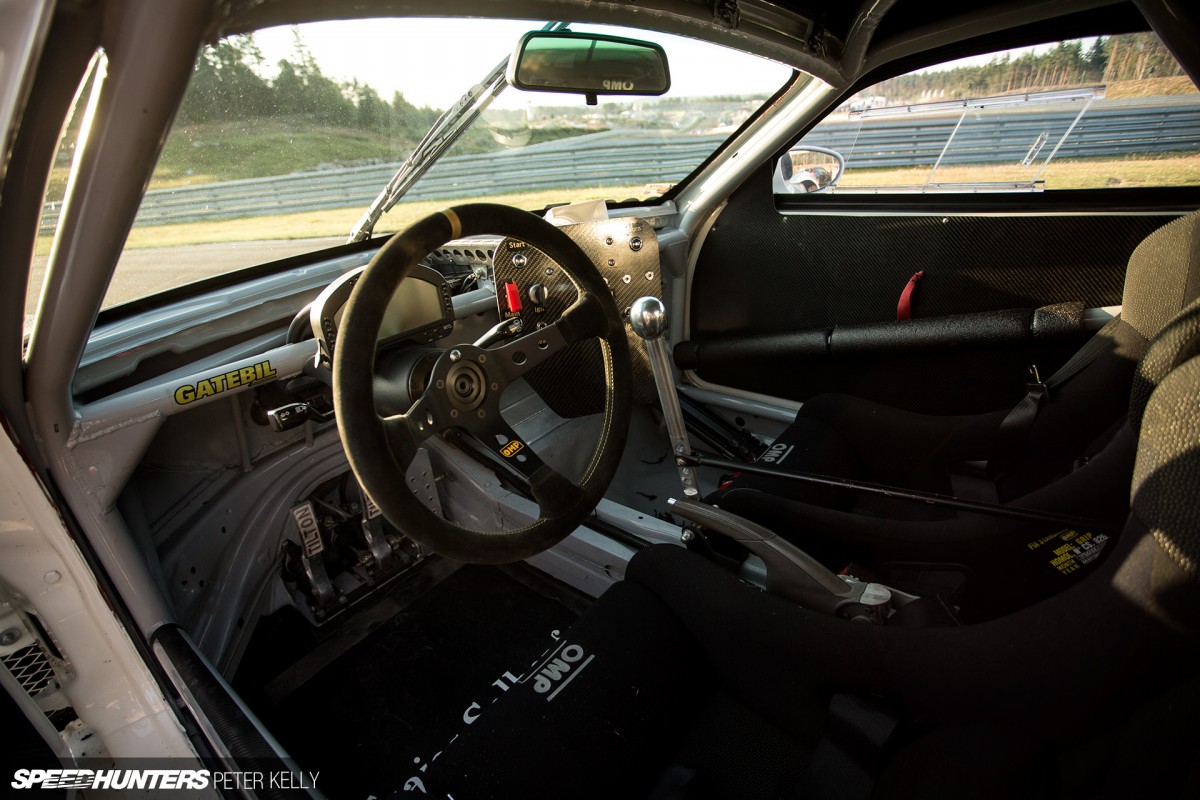 Other than the AiM Sports datalogger/digital dash sitting behind an OMP wheel, there isn't really much else going on inside the cockpit – just as it should be.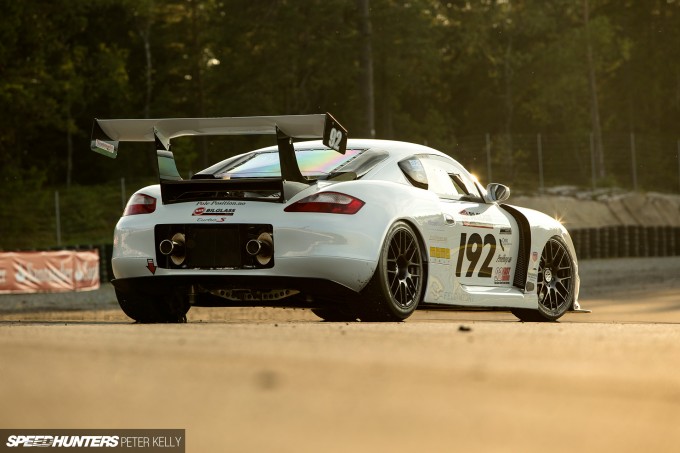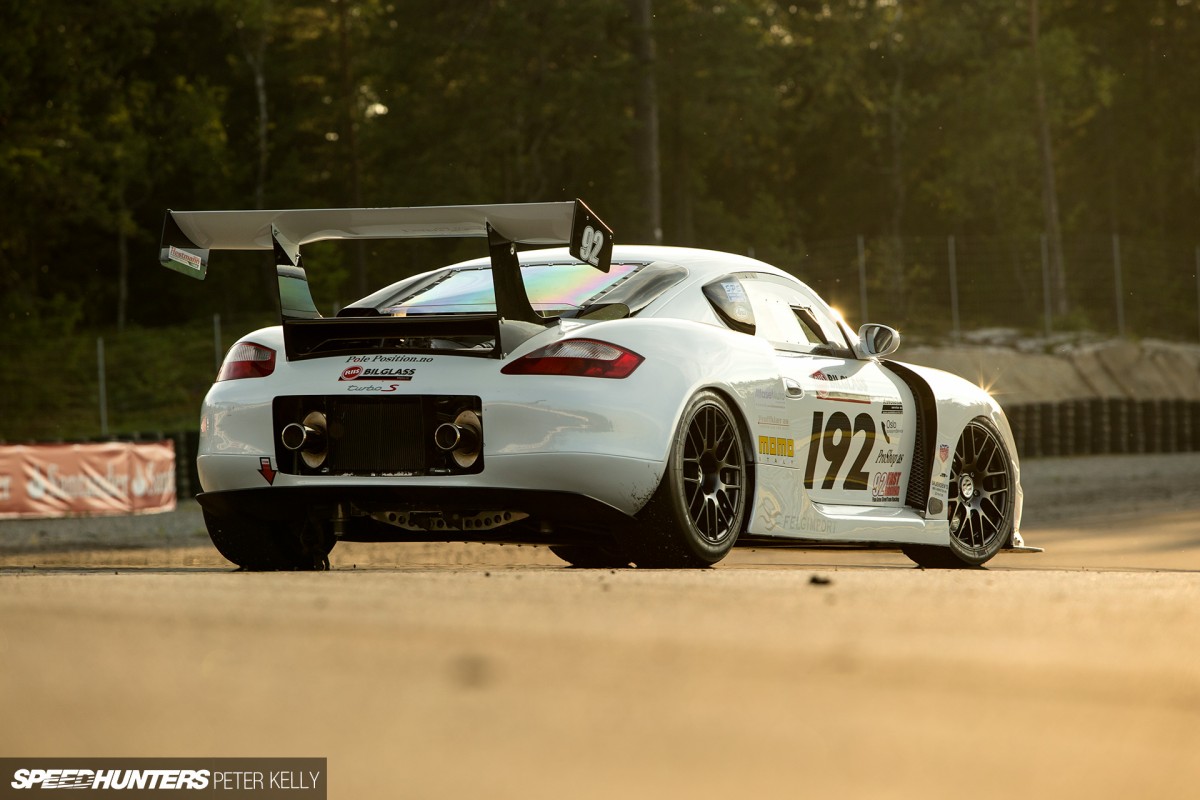 Because despite its amazing looks, this car is of course made to do one thing, and one thing only.
FrankenPorsche At Speed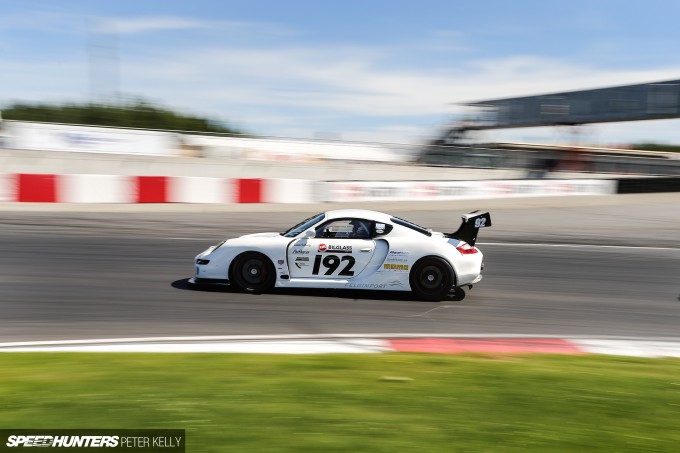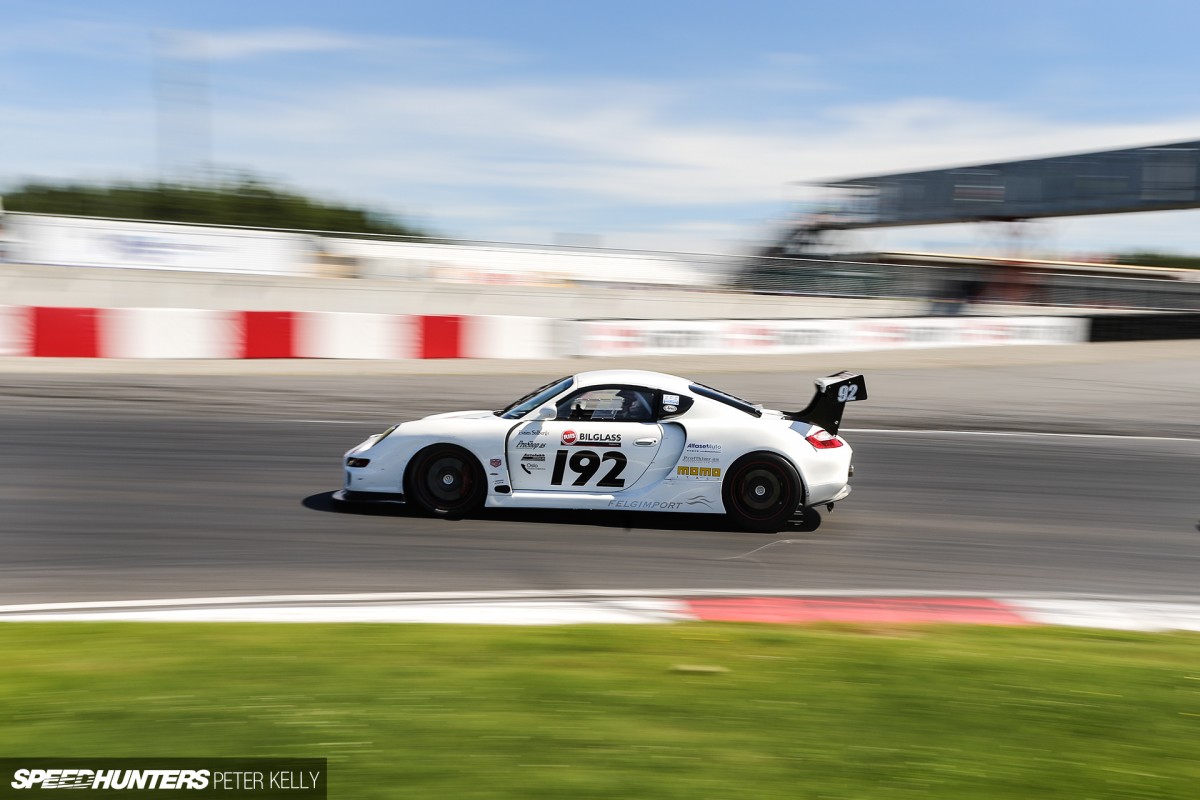 Seeing this car in action is an all-together beautiful experience. The sleek bright-white machine slows up violently as it enters a corner hard on the brakes – its rear end pitching skyward slightly as it does – then lies flat through the bend before squirming side to side violently on the exit as Finn Arne tries to ease the power back on without getting all kinds of sideways.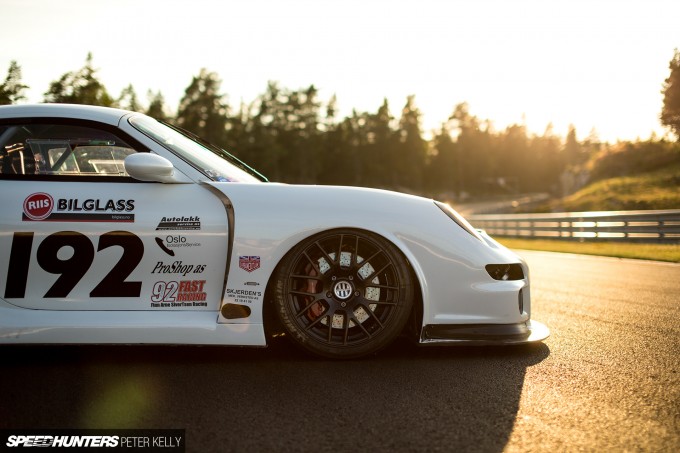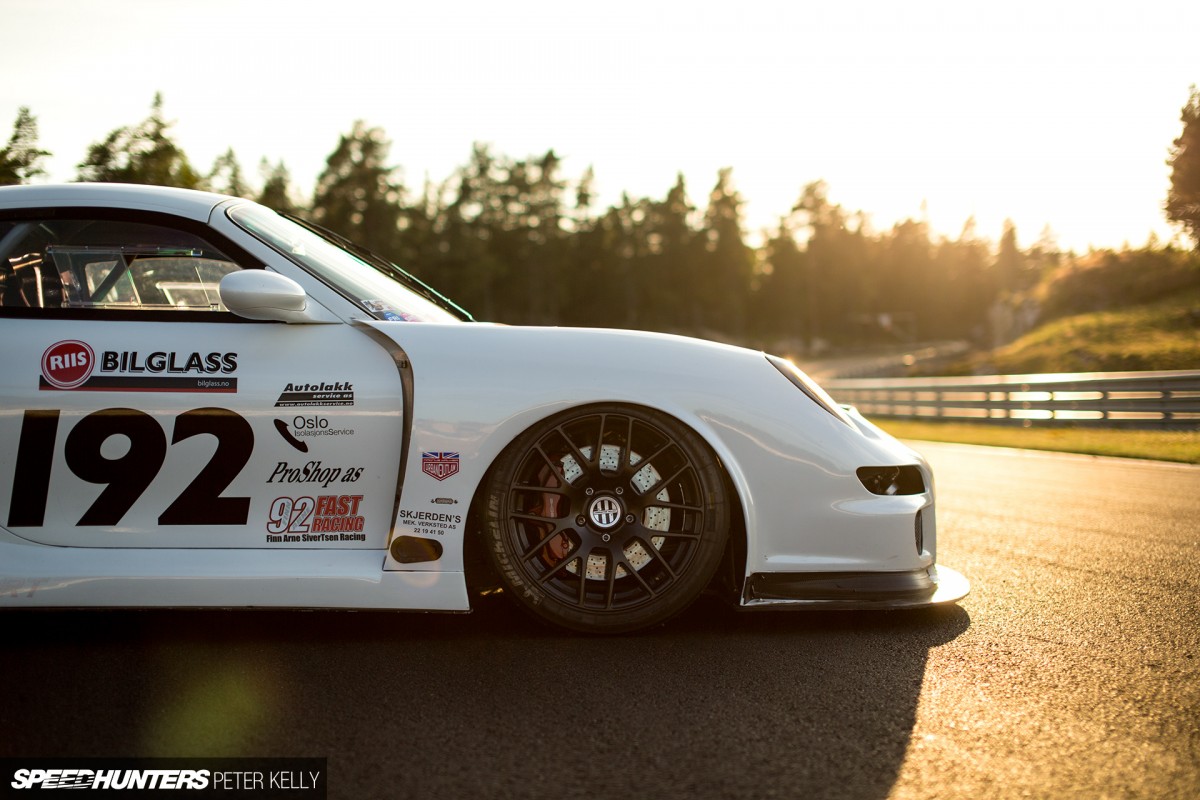 That braking prowess is provided by big calipers and discs originally from a 996 GT3, actuated by a Tilton pedal box.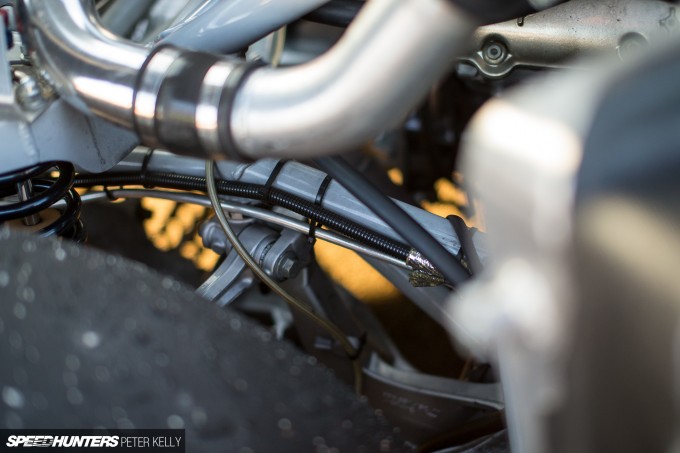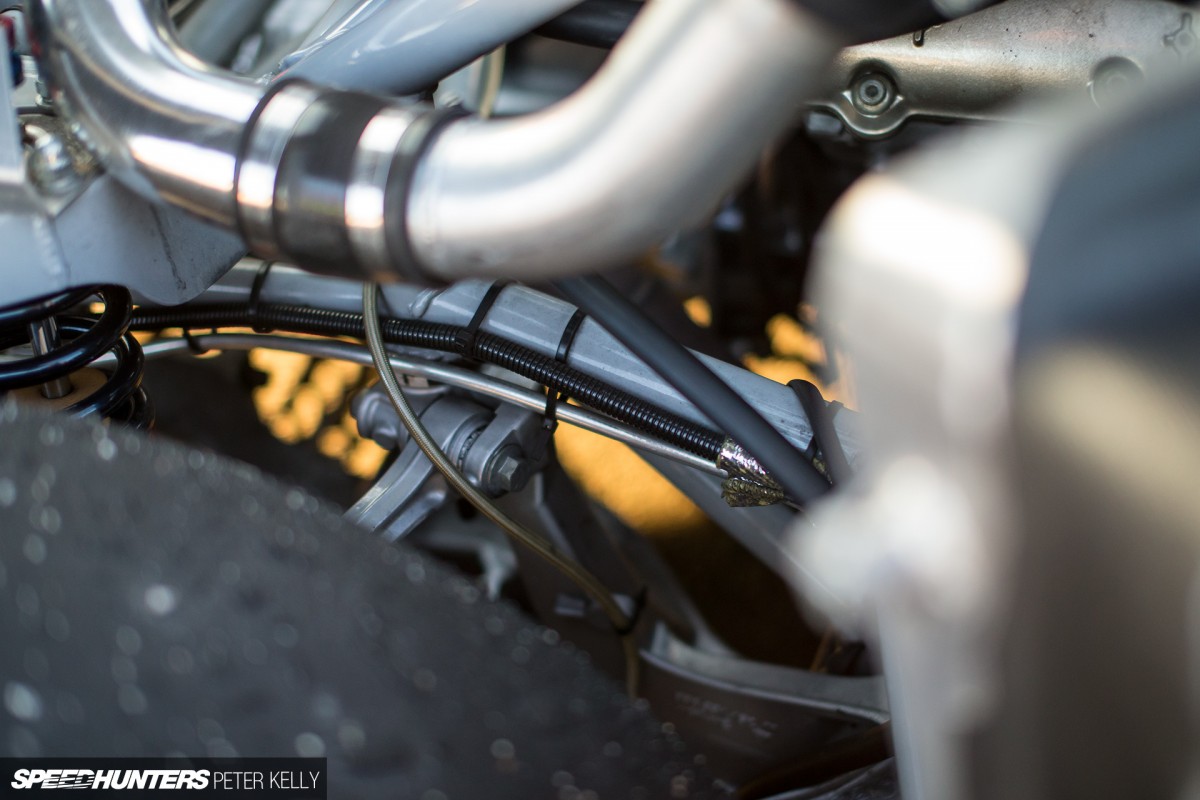 While the pancake-like cornering position is thanks to a full suspension set up pilfered from a 997 GT3 Cup car.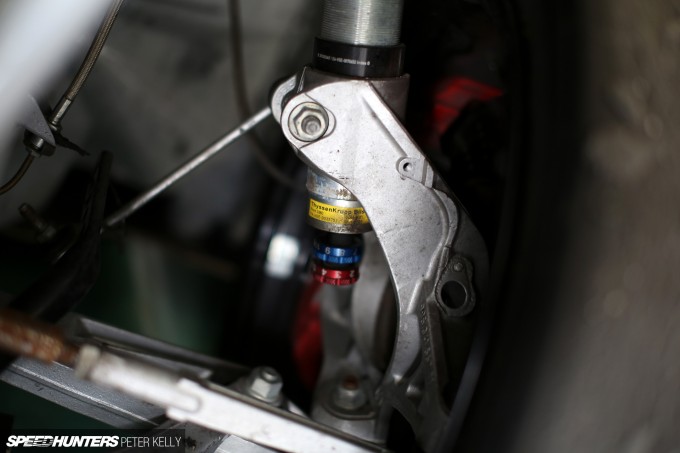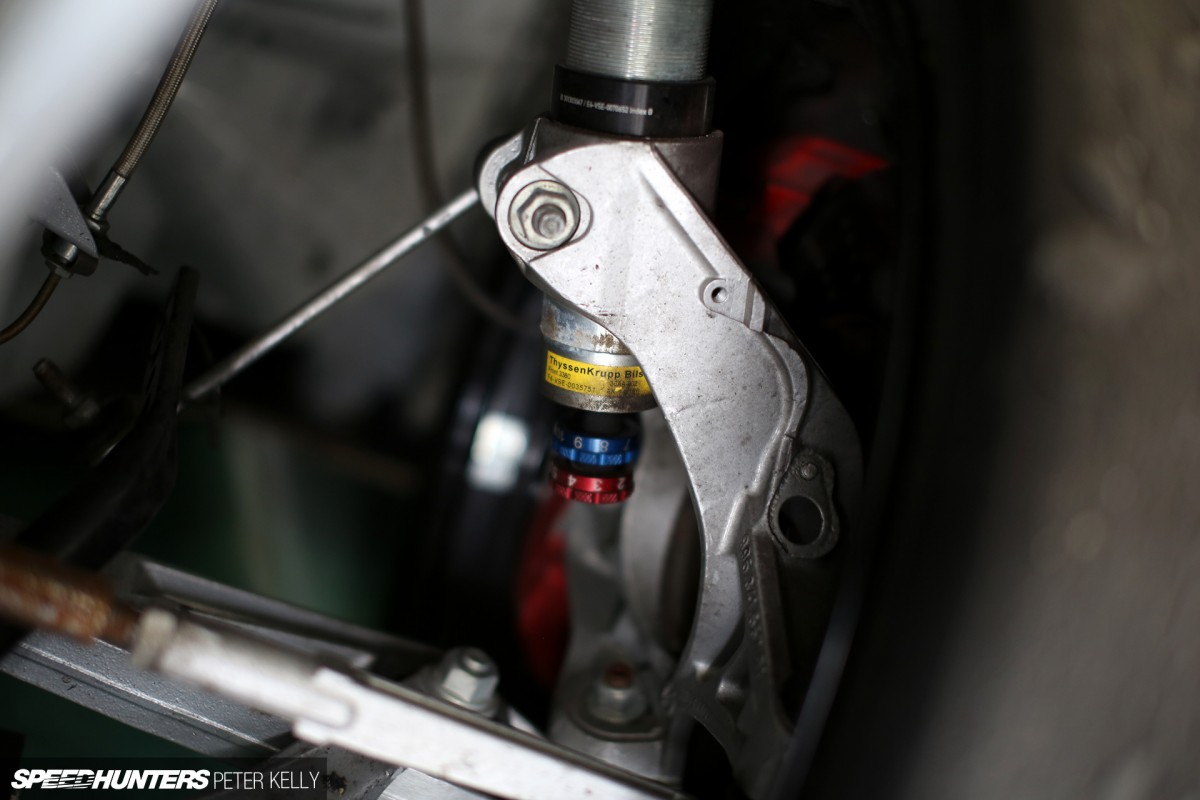 The GT3 arms and sway bars work with Bilstein two-way adjustable coilovers that have been built and finely tuned specifically for this car.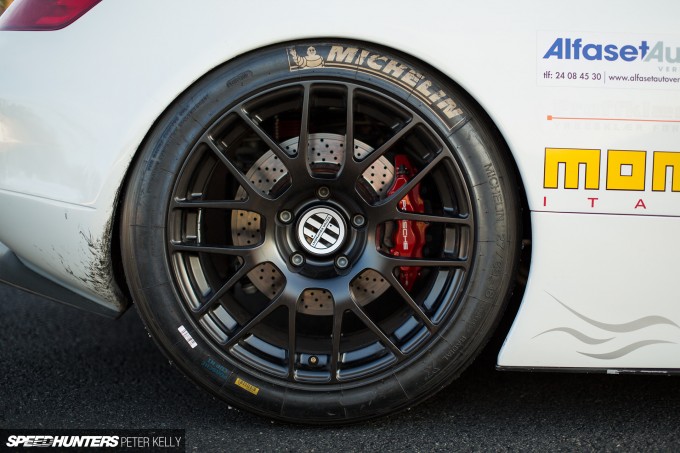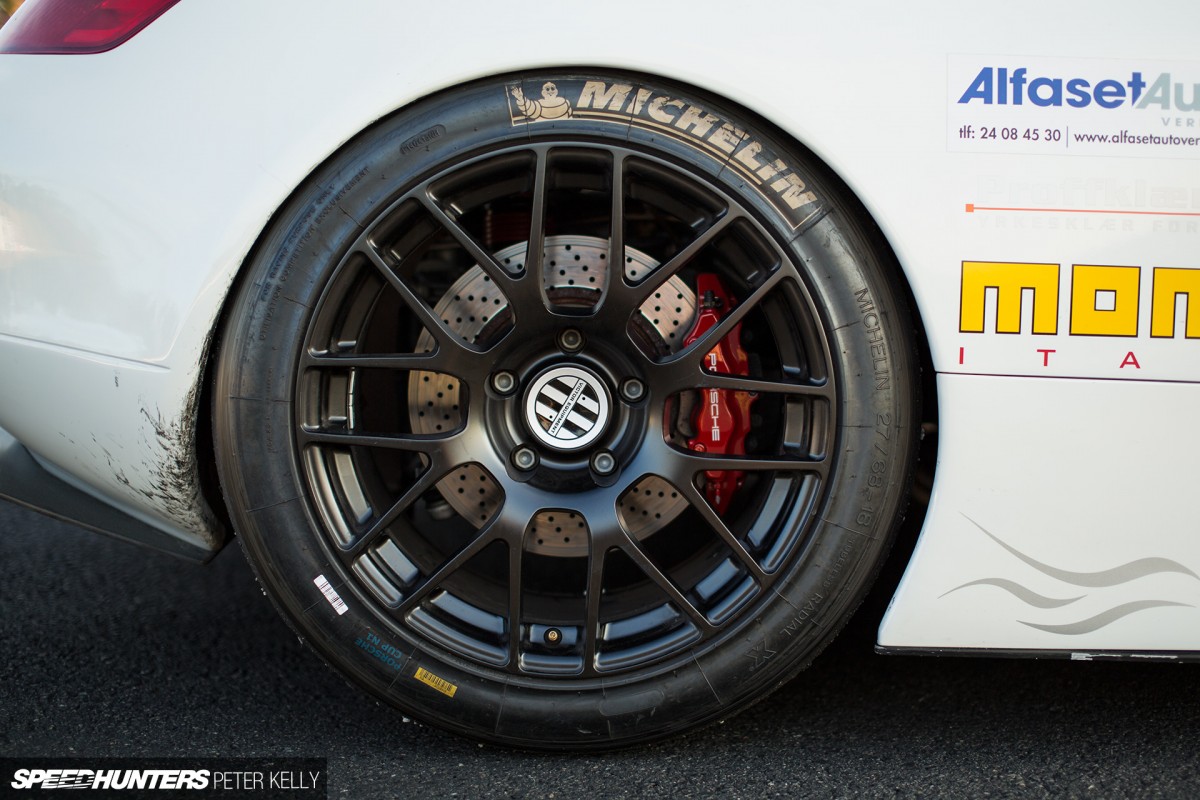 At Gatebil, the Porsche was running a set of forged Victor Equipment Innsbrucks, which measure 18×8-inch at the front and 18×10-inch in the rear, though the aforementioned traction issues on corner exit meant that Finn Arne was waiting on a set of 11-inch wide replacement rears, which he has now fitted.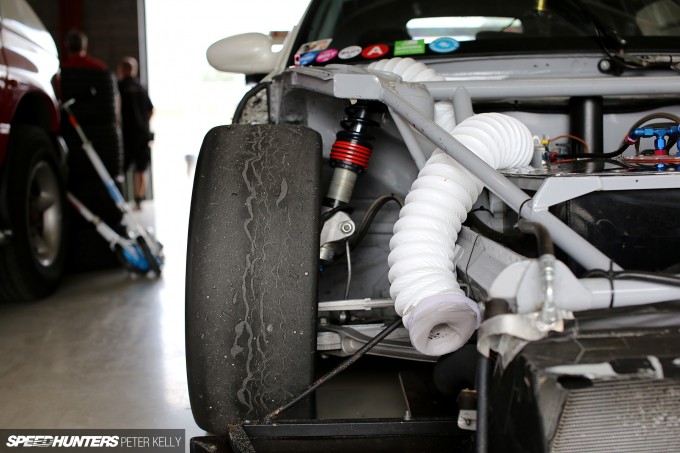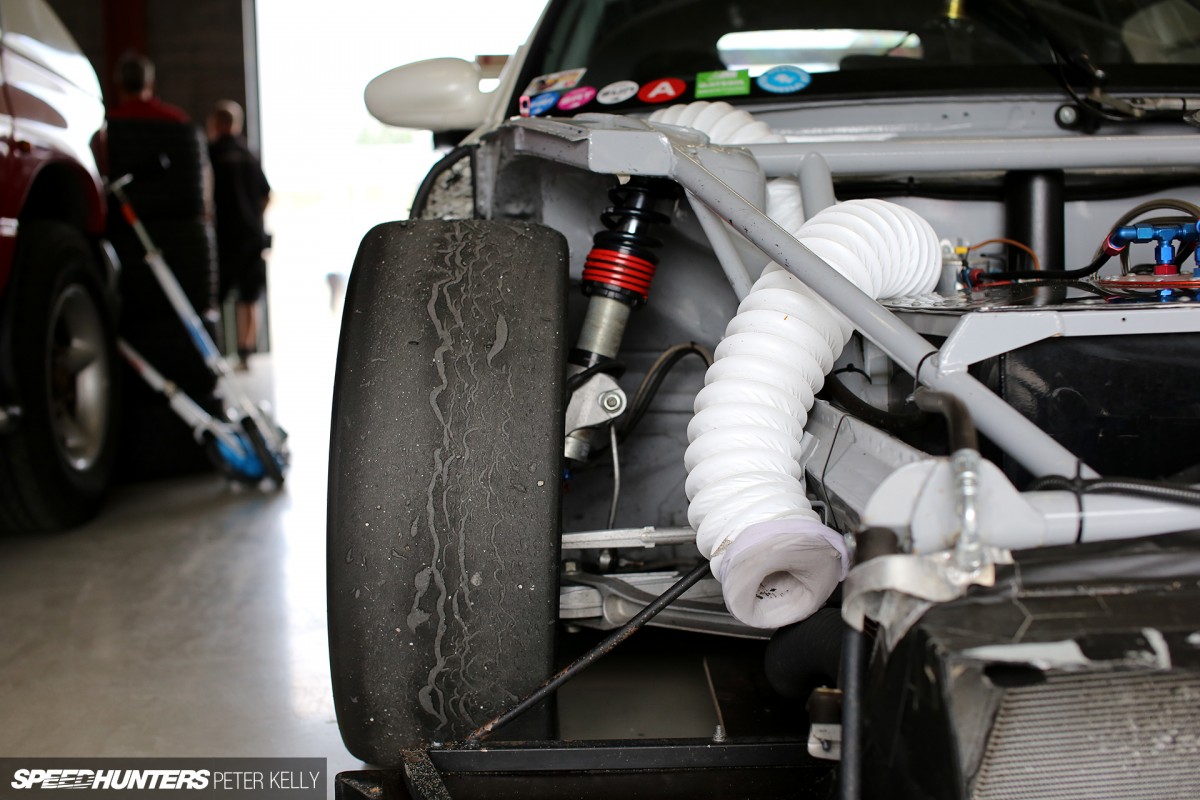 This means the Boxster is now able to run wider 27/65-18 slicks in the rear, while the fronts still measure 24/64-18.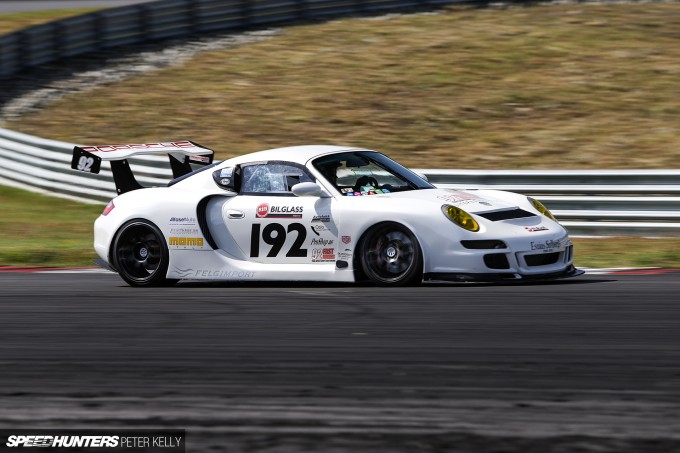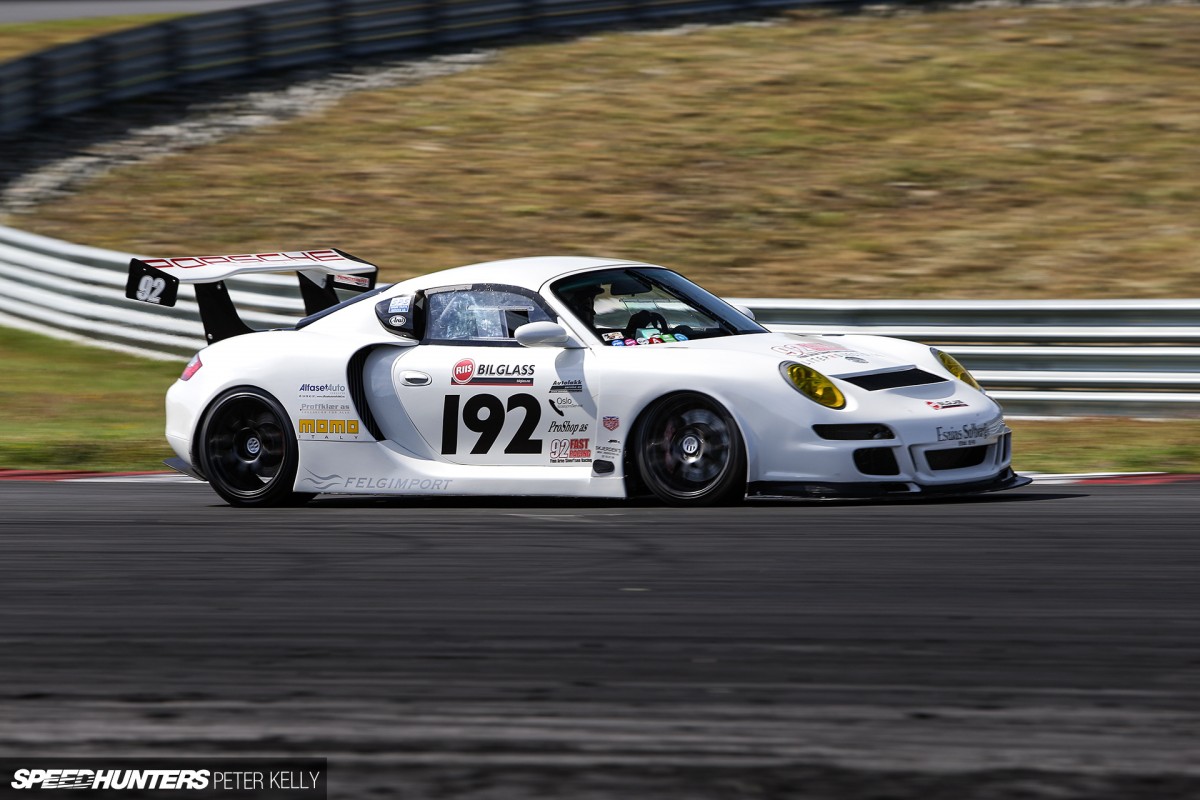 On track, it's almost the sound of the car more than the speed that gets you. A strangely muffled, subdued rapid succession of thuds, accompanied by the high-pitched hiss of two turbochargers spinning at over 100,000rpm.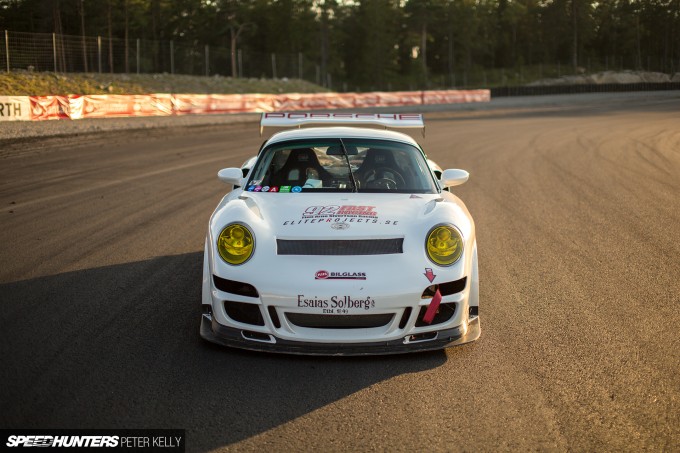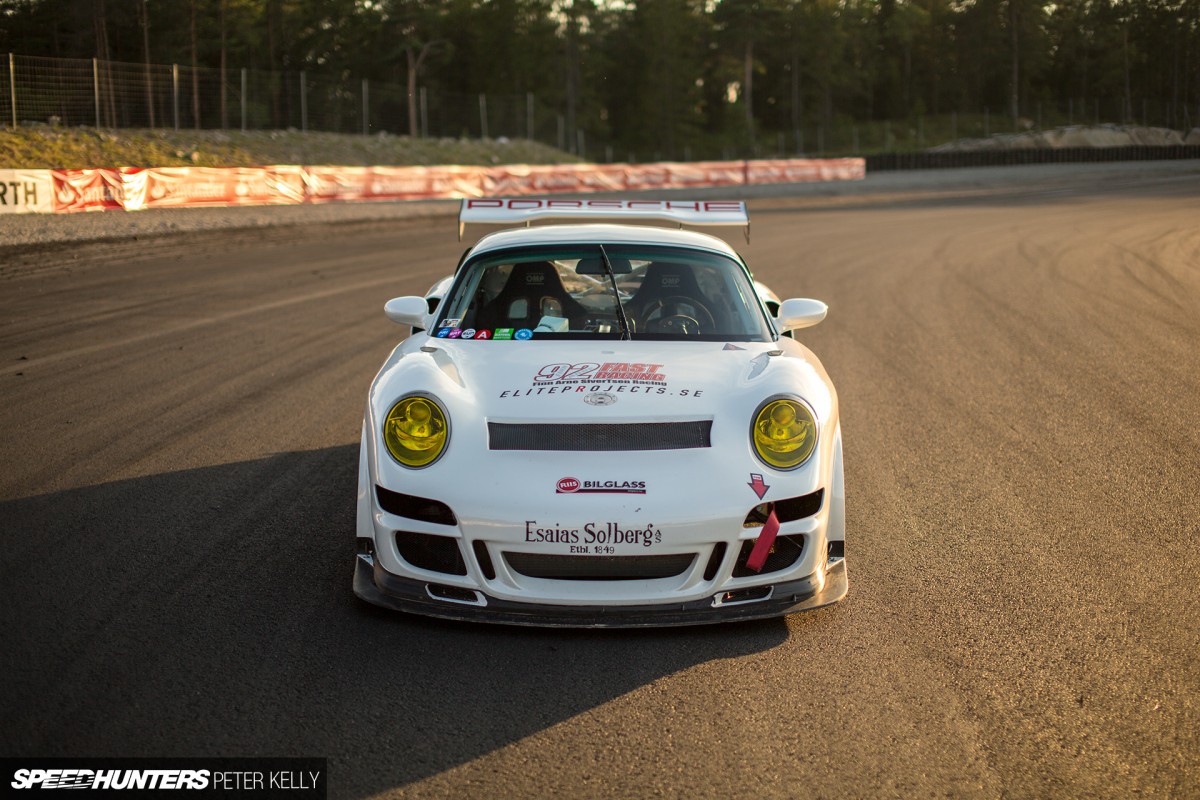 It's as though the tone has been pulled directly from the soundtrack of a '60s B-grade movie filled with flying saucers and guys dressed in space suits clearly made using a couple of rolls of tin foil and some spray paint – and it's perfect.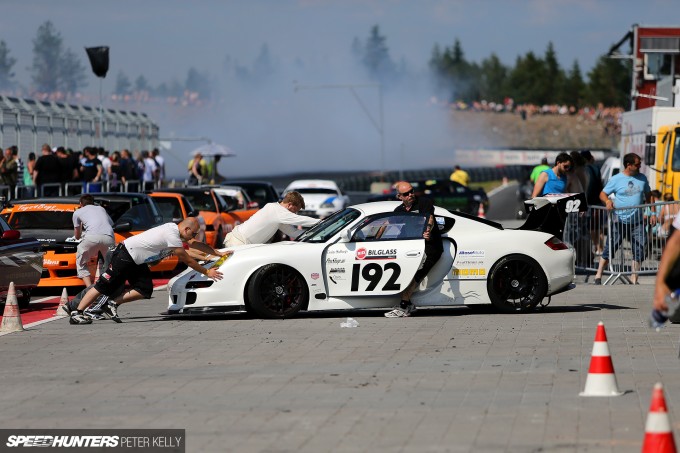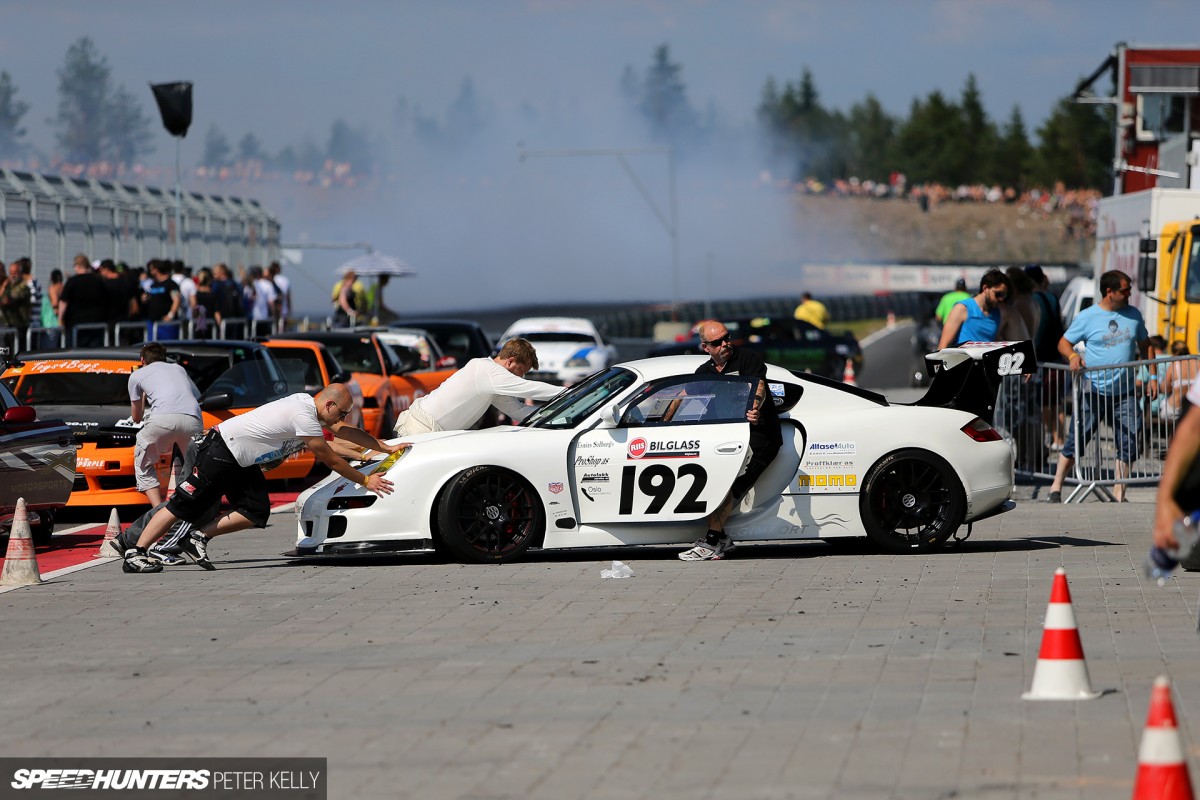 Amidst the madness and brutality of Gatebil, there's something decidedly ethereal, almost graceful about this car. Yes, the build quality, the innovation and the speed are all very impressive, but it's this car's uniqueness, it's dedication to staying within the Porsche family, it's sound and the way it holds itself as it hits apex after apex that makes the car what it is – and that's one of our favourite builds to come out of Scandanavia yet.
Peter Kelly
Instagram: pedey_kenmeri_creative
pedey@speedhunters.com
If you'd like to get a taste for what Finn Arne's Boxster sounds and looks like in motion, check out the short video. You can also check out the step by step photos of the build process on the Elite Projects site.
Finn Arne Sivertsen's 1998 Porsche 986 Boxster
Numbers
Max power: 680 horsepower (507kW) at the rear wheels on 7 psi (0.5 bar), Max torque: 920Nm at the wheels, Weight: 2537 pounds (1150kg)
Engine
Porsche M28.41 5000cc 32-valve quad-cam alloy V8, rebuilt and balanced, stock forged crank, stock forged rods, stock pistons, Auto Verdi dry-sump system, thicker steel headgasket (9.3:1 comp ratio), twin KKK K27 internally-gated turbos, twin custom intercoolers and piping, custom intake plenums, custom throttle bodies, custom exhaust manifolds, custom 4-inch exhaust system, Ferritta mufflers, Emerald K6 ECU, ATL fuel cell, twin Facet Gold Flow fuel pumps, 98 pump gas
Driveline
Porsche 968 6-speed manual gearbox, Tilton sintered twin-plate clutch, custom lightweight flywheel, Porsche G50 (993) limited slip differential
Suspension/Brakes
997 GT3 Cup suspension system, custom Bilstein two-way adjustable race coilovers, 996 GT2 brake calipers and rotors, Ferrodo race pads
Wheels/Tyres
Victor Equipment Innsbruck forged 18×8-inch (front), Victor Equipment Innsbruck forged 18×11-inch (rear), 24/64-18 Michelin slicks (front), 27/65-18 Michelin slicks (rear)
Exterior
Original 986 Boxster floor plan, A-pillars and windscreen, tube frame front and rear chassis with integrated roll cage, custom 997 GT3 Cup-style one piece fibreglass front end, custom Cayman-style one-piece fibreglass rear end and roof panel, custom widebody fibreglass fenders, custom fibreglass doors, GT3 Cup rear wing
Interior
OMP seats and harnesses, OMP quick release steering wheel, Tilton pedal box, AiM MXL digital race dash/datalogger, custom door cards
Cutting Room Floor