If you haven't noticed by now, Gatebil Rudskogen was a pretty wild place. When I arrived I really didn't know what to make of it but quickly discovered it's only too easy to become overwhelmed. With so much going on at any time just trying to decide where to go and what to do becomes a major ordeal. The on-track action is incredible, the campgrounds are insane and the paddocks are packed. Inevitably I usually found myself doing what I enjoy most, investigating the machines.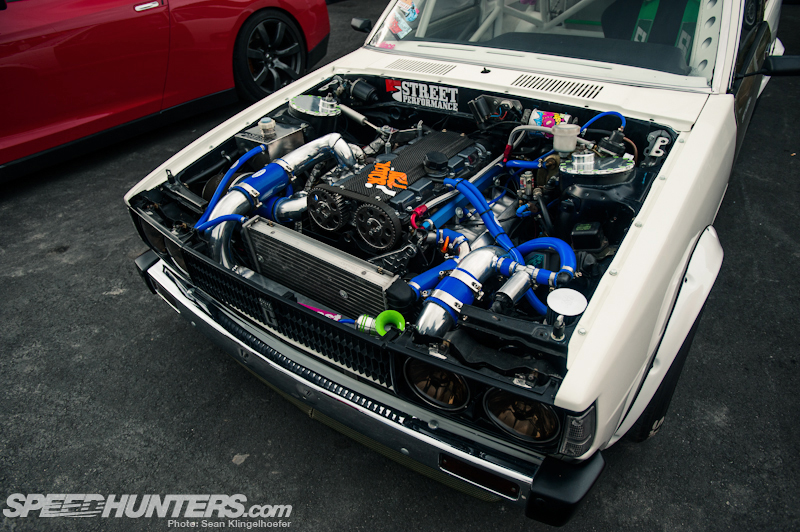 As I discussed yesterday, the variety of cars on hand was like nothing I've ever experienced before. Sure I'll admit that most of what I saw could perhaps be found elsewhere, but normally you'd have to attend at least three separate events to see all of the cars available at Gatebil. It should come as no surprise then that the engines powering these incredible cars are just as diverse as the bodies which cloak them.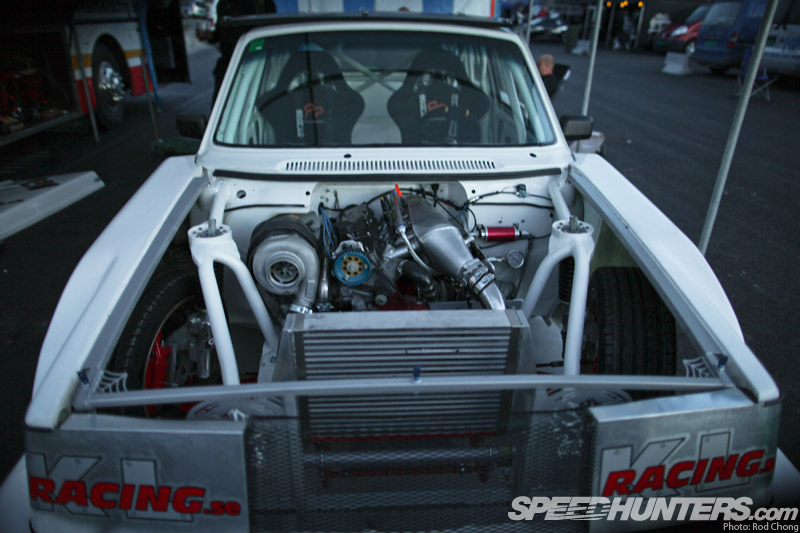 Under virtually any hood you're in for a surprise and there doesn't seem to be any rhyme or reason behind the concoctions. I spent a good portion of the weekend just walking around surveying engine compartments and speaking with the owners to find out more about them. Half the time I'd walk up to a car and peek under the hood and have absolutely no idea exactly what I was looking at.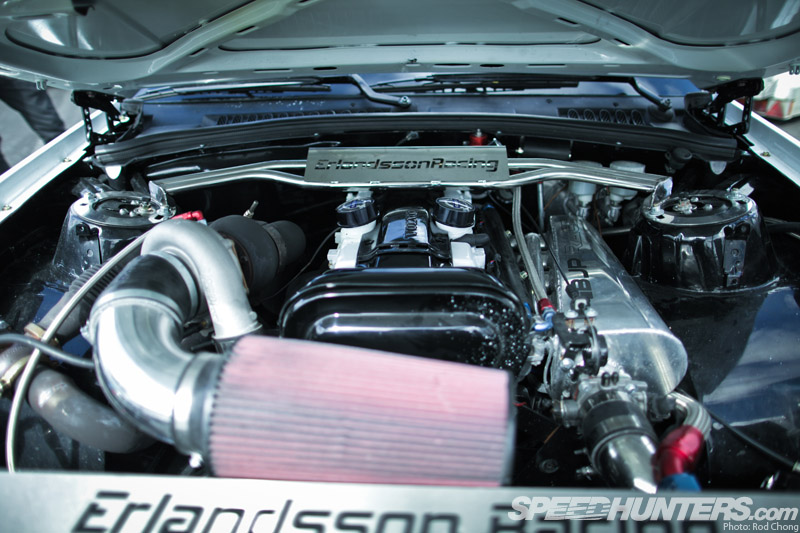 Of course I don't mean in the fundamental sense, a turbo is a turbo, but I encountered many cars and engines that I had never seen before. Sometimes the line between factory and custom became rather blurred, particularly on some of the cars that were well built. I'd see an engine or gearbox setup that would look so extreme I thought what was surely a swap wasn't, and conversely some setups that looked entirely factory but were in fact a very complex conversion.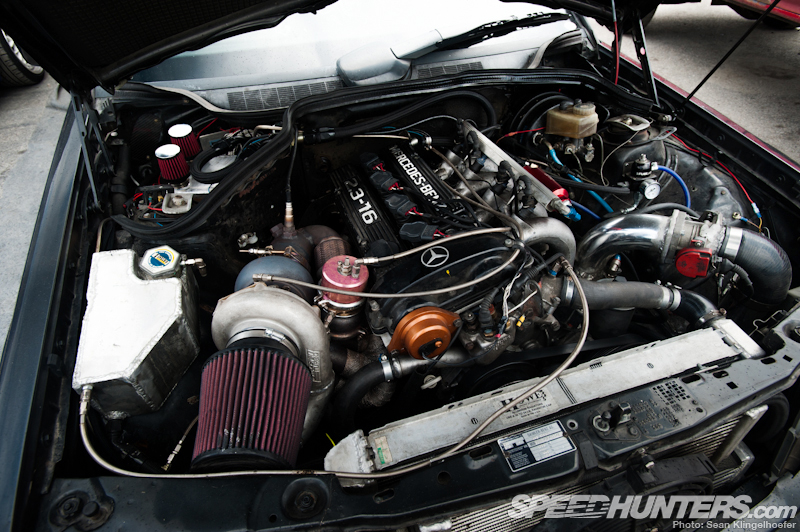 After sorting through hundreds of engines in my head I did what comes naturally and compartmentalized them. Later I was able to sit down and rethink what I had seen to find patterns in the matrix which could be sorted into groups. With some luck I eventually sorted them into three basic groups: Gatebil level 1, 2 and 3 if you will. Level 1 is the bare minimum for a Gatebil car where the owner has retained the factory engine but added a crap load of power.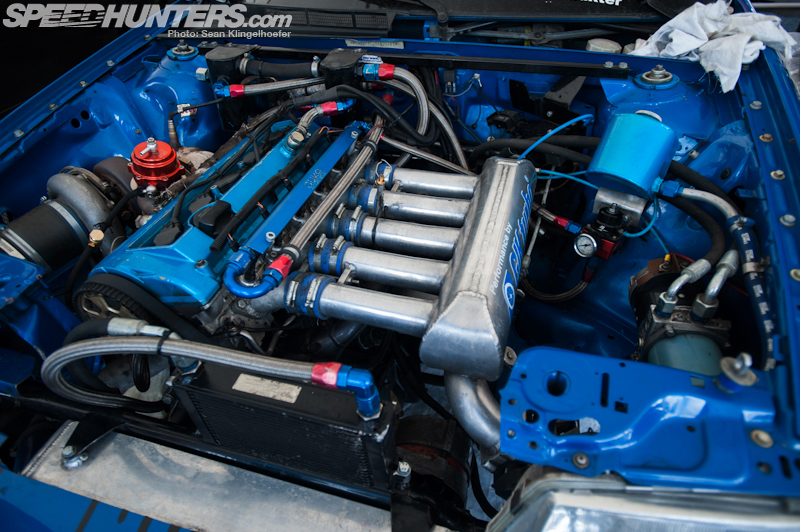 This approach was most commonly seen on cars that tended to be either a sportier car from the factory and/or one that was produced in limited quantities, and, hence is more valuable in an original state. That's not to say that these engines were boring as many still had very large snails bolted to them. More often than not these were also some of the cleanest bays I came across.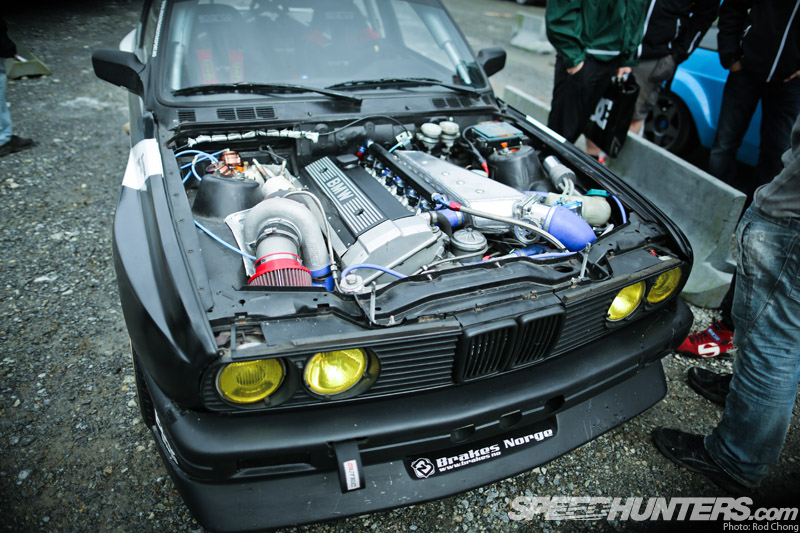 The next level is where you start to see some engine swaps but they are kept within the same family. Some of these swaps were as simple as removing a base model engine and bolting in the top of the line version, while others required a complete custom solution.  Level 2 conversions seemed to be particularly popular with the Audi and BMW.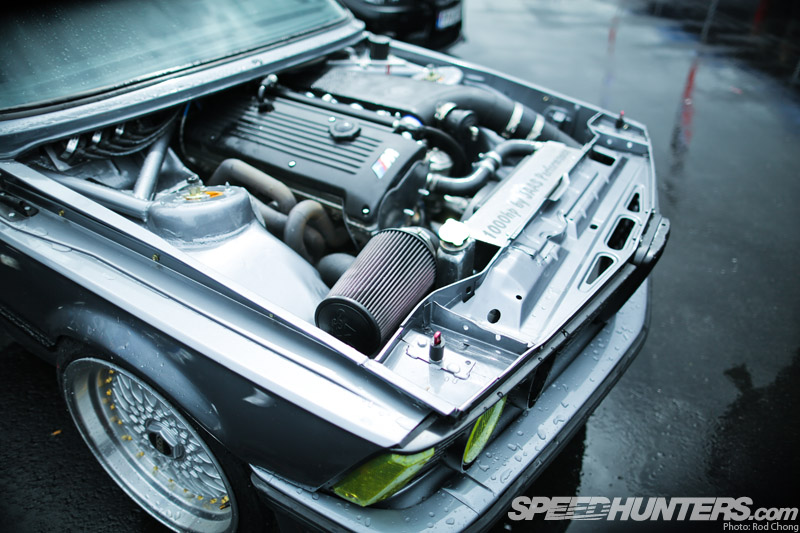 I found more often than not the engines are wisely selected for bang-for-buck rather than flashy exclusivity like they usually are in America. Take for example the E30 one image back with a M50 swap which costs a fraction of an S50 but probably cranks out similar numbers with the massive turbo in place. Others opt for the best of the best available like the E21 above with a third generation M3 swap, cranking out just over 1000hp!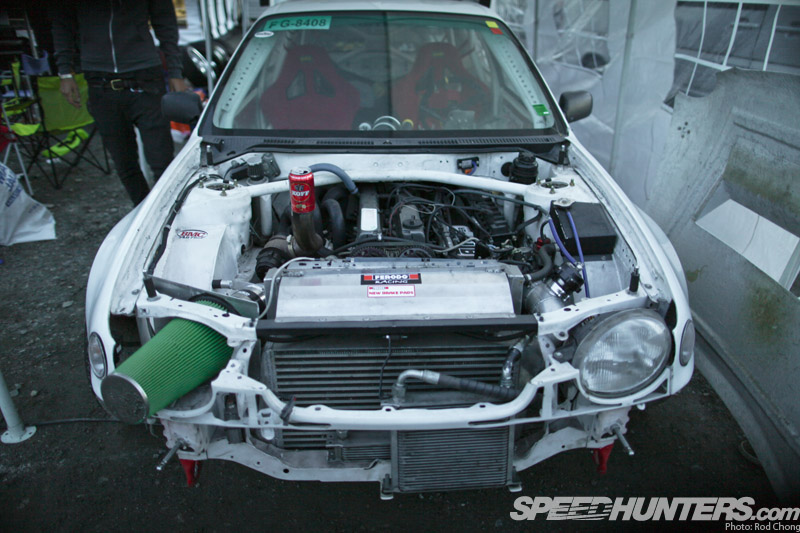 The final stage is what Gatebil has become famous for, the totally looney extreme conversions. Quite often these will be more than mere engine swaps and are usually accompanied by custom positioning and a drivetrain reassignment as well. A lot of the cars that fall into this category are quite easy to spot like this Toyota Corolla which has been converted to a turbo RWD monster.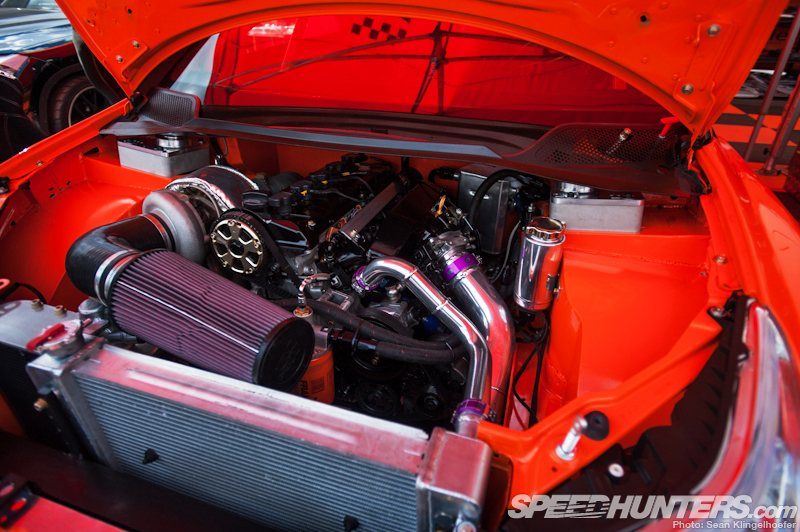 Others aren't quite as easy to discern and there are cars built to a very high standard that appear to be completely factory if you don't know what you're looking at. Take this Citroen, for example, which appears as though the owner hasn't done much aside from polishing a few bits and adding some hard water pipes when in reality it's a very complicated conversion.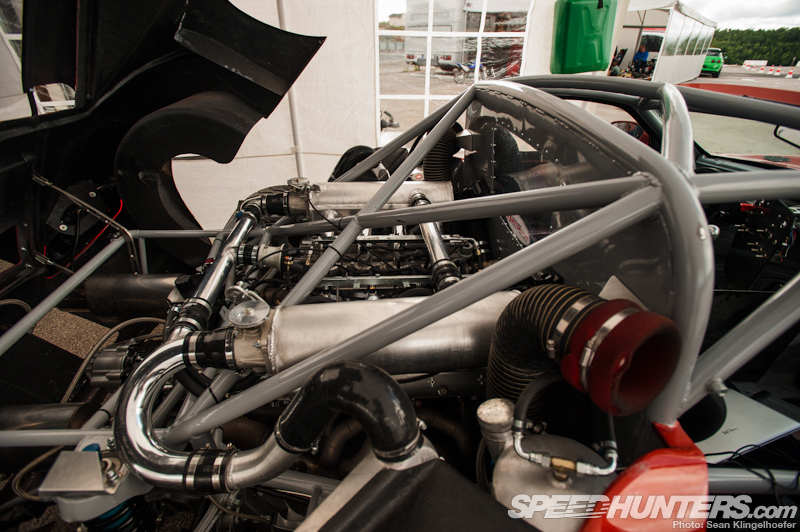 Even more extreme still are those who have literally chosen an engine platform and built the rest of the car around it. Being that it would be a little difficult to stuff a V8 and two turbos into the back of a Porsche Boxster, the guys at Elite Projects decided to hack it away and then secure what little body was left to the engine.
The result speaks for itself.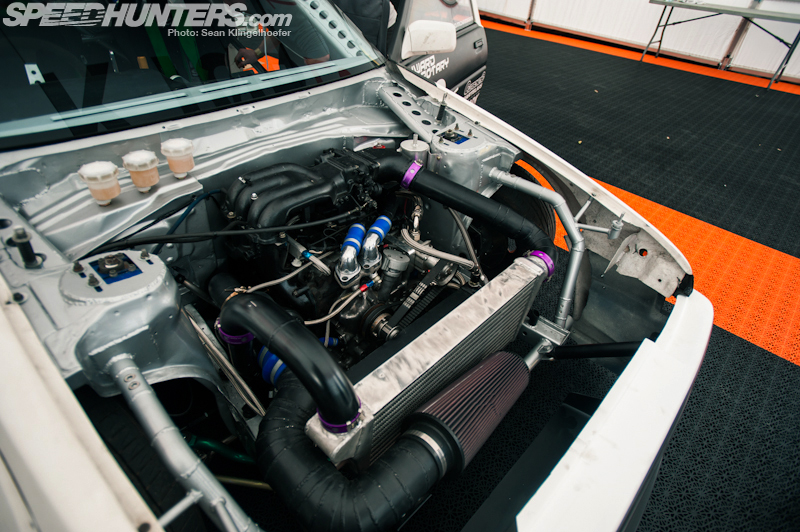 Of course the Speedhunters crew came hard with a group of insane engine setups of our own. This was the first time I ever saw DMac's Ultimate 86 in person and it is quite the incredible machine. When you combine a turbocharged rotary with an ultralight hachi-roku you have an instant crowd pleaser, even at a place as unruly as Gatebil.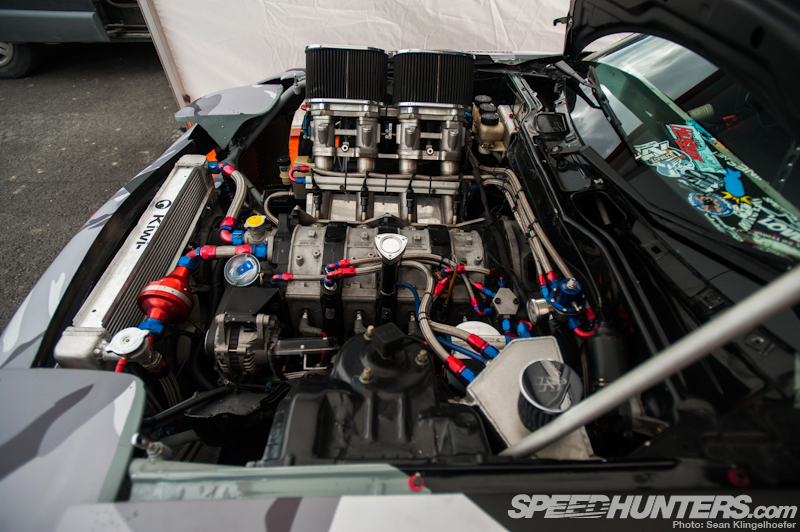 On the subject of crowd pleasers, Mad Mike's quad rotor FD definitely stole the show at Gatebil, literally. As Rod put it, any time Mike was  on track he was a creator of joy. When his car would fire up in the paddock area he became an automotive pied piper with a trail of loyal devotes following him every time he headed onto the track. Winning both the drift and power slide competitions, I think there's no doubt that the Madbul left its mark on Rudskogen.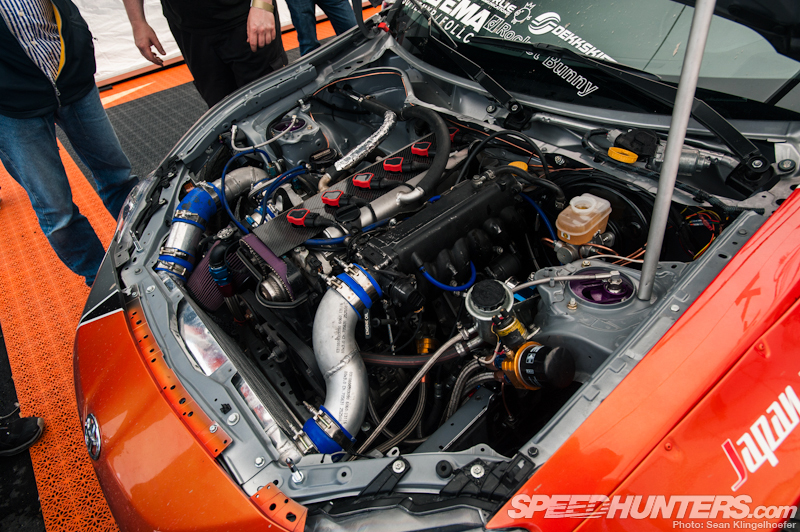 It goes without saying that Norway's own Frederic Aasbo's highly anticipated 86-X build was also met with much excitement, despite some teething problems. I think it's safe to say that this is the most radical GT-86 on the planet right now and to pay homage to his Supra roots Frederic decided to keep the new car 2J-powered, but he wasn't the only one rocking the engine.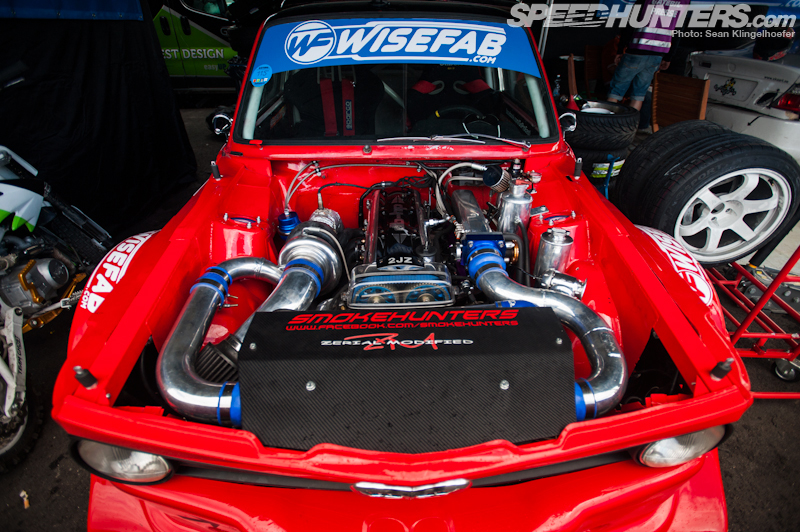 In fact the 2JZ swap seemed to be about as popular as the JZA80 Supra and the straight six could be found under many bonnets. One of the more interesting conversions I saw was sitting in a BMW 2002. Despite the shockingly clean bay, this isn't a show car but rather a serious drift vehicle designed to be pushed to its limits.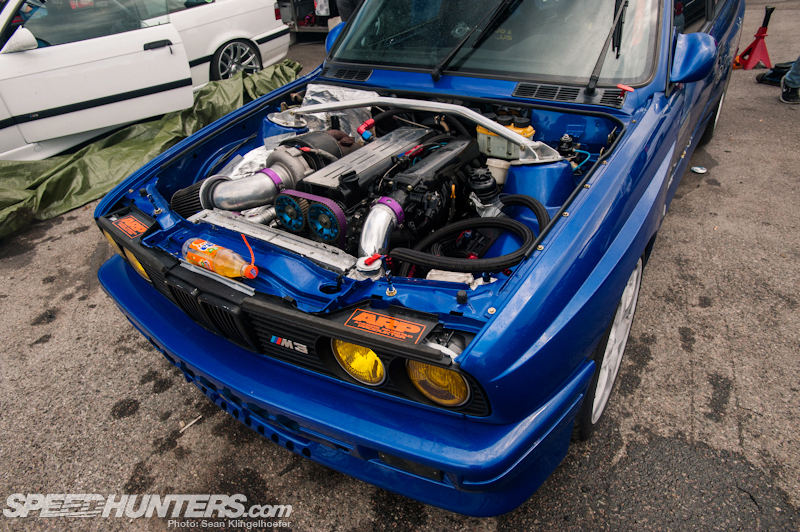 One Supra swap that really surprised me was sitting inside of a pristine and unsuspecting looking E30 M3. From the outside it looked immaculate with nothing more than a set of upgraded wheels hinting at any performance enhancements.  However lurking beneath the bonnet was an unbelievably tidy installation. Considering how pleasurable the factory version is to drive, I can only imagine how fun this thing is!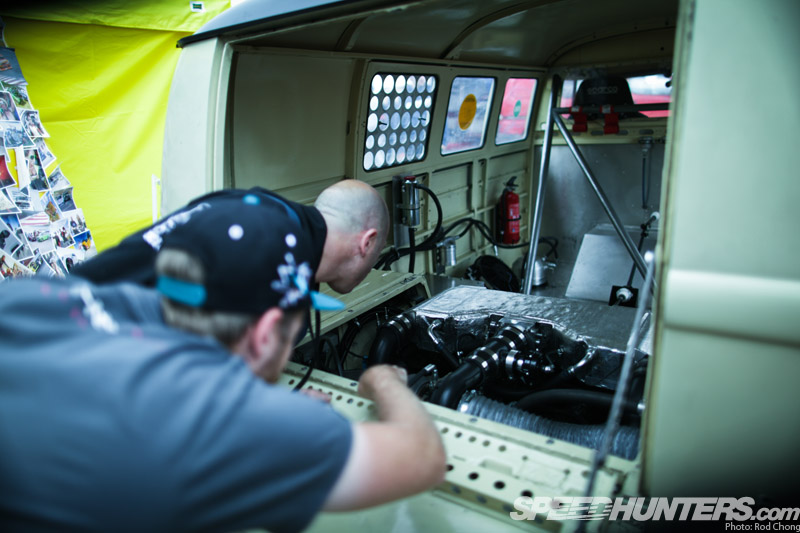 This was a fairly common scene at Gatebil, peeking in for further inspection. Here you see Stephan Papadakis and myself trying to figure out exactly what the hell it is we're looking at. It's clearly a swap, but we weren't sure quite what and whether it was air or water cooled. It turned out to be the latter and in the image I'm pointing to a water pump while Steph examines the pipes routing to the front-mounted radiator.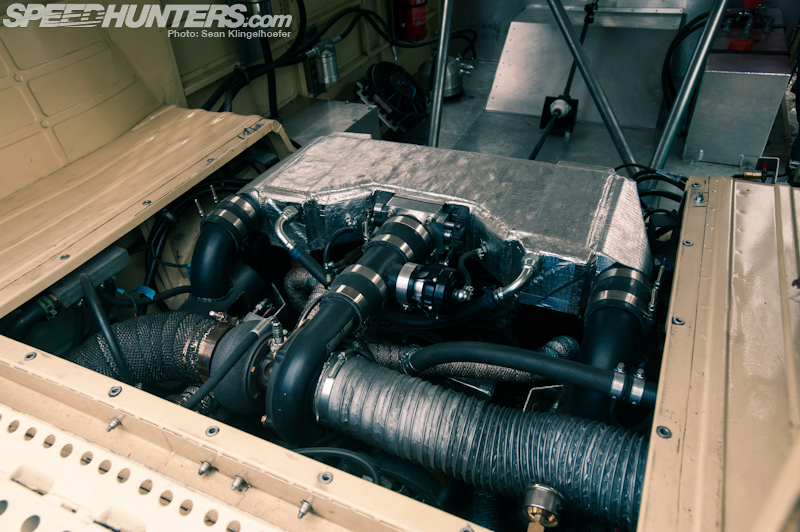 After speaking with the owner I learned VW bus is powered by a turbocharged Vanagon boxer engine producing roughly 550hp. Everything attached to the engine has been custom built including the manifolds and fluid systems which include an external oil tank for the dry sump and remote pressurized coolant overflow. Apparently he has future plans of switching the gearbox for something sequential and turning up the boost. Nuts.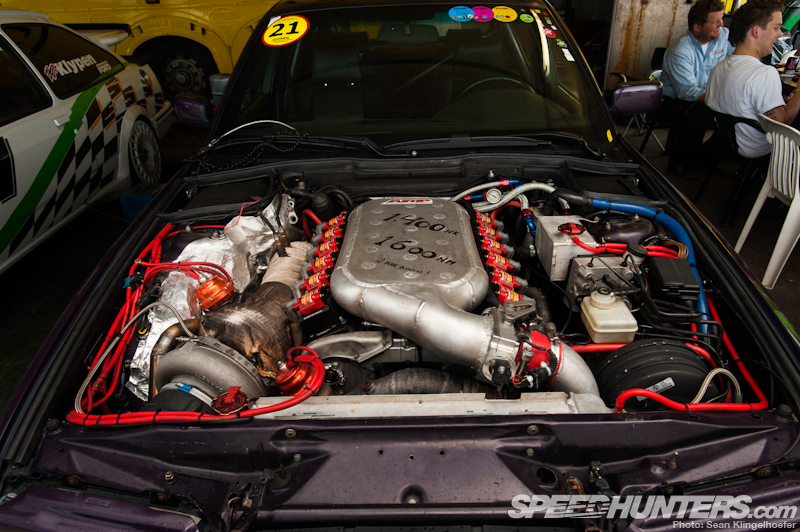 Bearing in mind hundreds of engine conversions, each seemingly more insane than the next, I think this may have been the most shocking swap I encountered. It's a BMW 7-series V12 which has been turbocharged and the power numbers alone are likely to cause brain hemorrhaging: 1380hp and 1180lb-ft of torque. WTF!?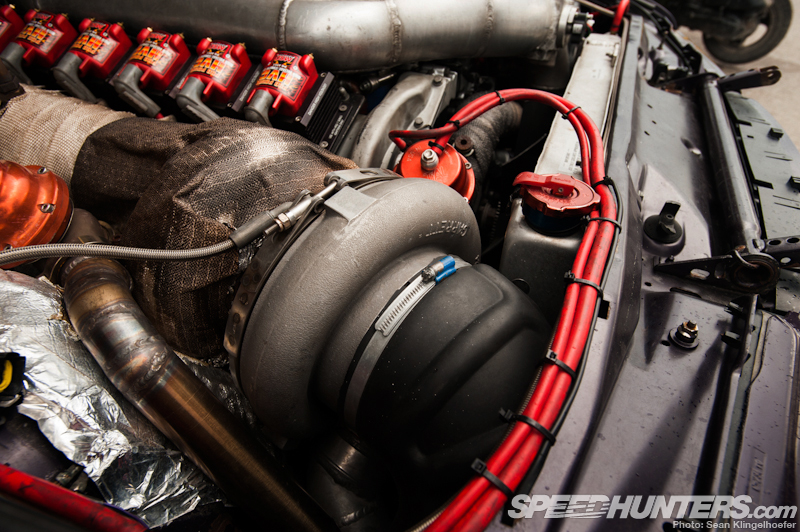 Helping to get the power up there is a massive Garrett GT-47R turbocharger which is feeding 2bar (29psi) to the custom intake plenum. The individual MSD coils with huge high tension cords for each cylinder look aren't just there to look cool but ensure reliable spark. From the outside this 550 looks quite boring and I'd never imagine that it would have such a mental engine under the hood.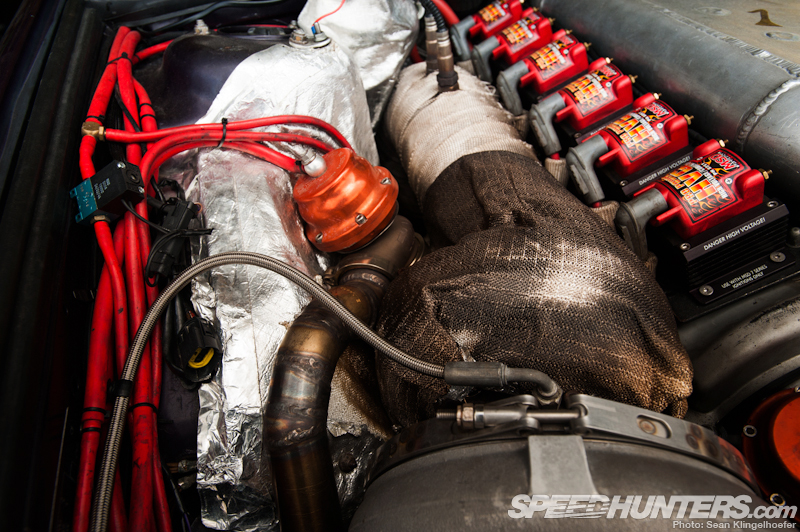 Certainly a sleeper isn't a unique look at Gatebil, nor is it what makes this car special. Ironically even the unbelievable power numbers are still not enough to place the car in a league of its own and it's not particularly difficult to believe that such an engine has been fitted to the chassis… what is incredible and unique is that it has been shoehorned in without cutting, bending or smashing anything out of the way.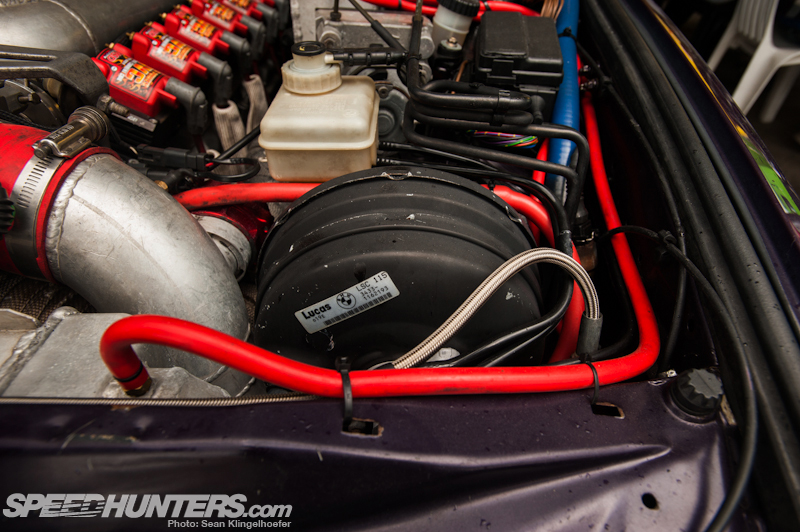 Careful measurements were taken to determine the exact placement of certain components and there is virtually no room left to occupy anywhere in the engine compartment. Virtually every gap has been taken up by either relocated factory equipment or meticulously constructed custom pieces. There are areas where the clearance between certain components is less than a few millimeters.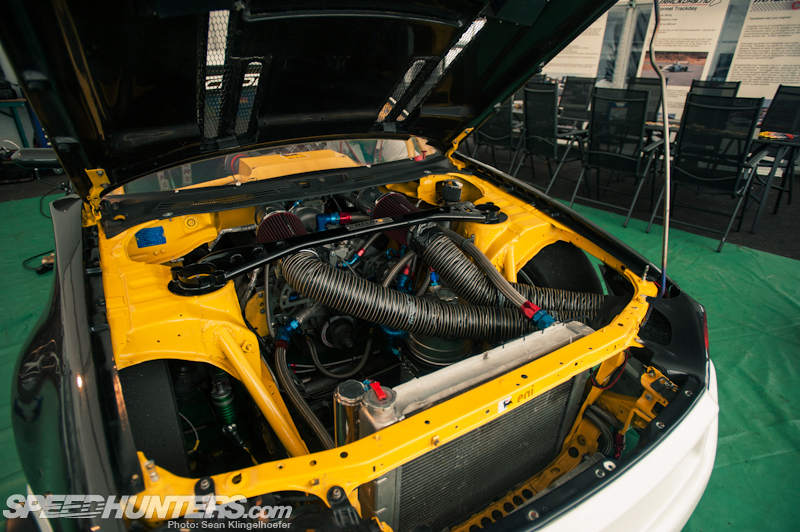 However when I really sat down and thought about it I think the most unique engine bay belonged to a Skyline you may recall seeing before. This car has an ex-NASCAR V8 shoved so far back into the firewall that the entire engine now sits behind the steering rack and is virtually inside the cockpit with the driver. But it's not the engine's history, its 900hp or the way it has been fitted to the chassis that makes it unique; it's simply that this is the only car from all of Scandinavia that I can recall not having a turbocharger. Gatebil, it's just that kind of place.
More Gatebil stories on Speedhunters
More stories from Sean Klingelhoefer on Speedhunters
-Sean