The myth of Gatebil Rudskogen is one I've been hearing from friends for quite some time. As a Speedhunters reader I have long been aware of the shenanigans and the completely mental machines but I still never really "got it". I had this impression that it was a festival comprised of mind bending shed built cars owned, operated and driven by Scandinavian hillbillies, and I was right… at least mostly.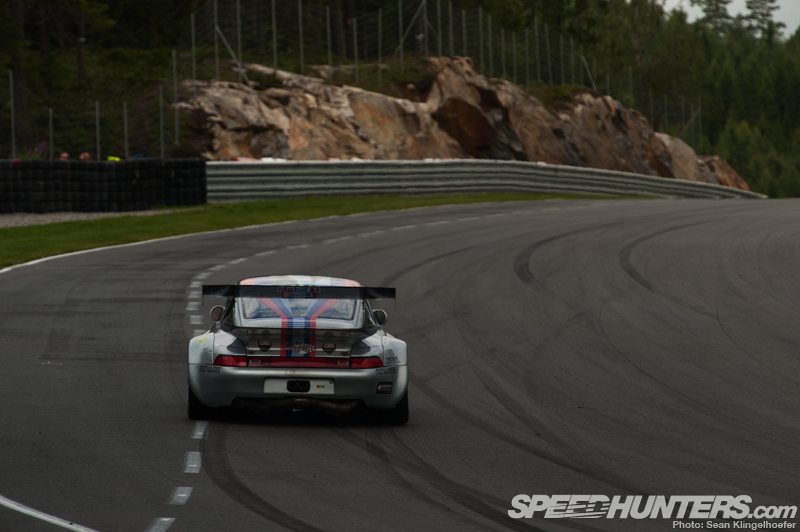 I was speaking with Rob Bullough, another of the newer additions to the Speedhunters team, about the scale of insanity about the place and how difficult it would be to get across to an audience who cannot experience it first hand. I quickly determined that the only way you can truly get the feeling of being there from wherever it might be that you're reading this now would be to bash your brains in with a hammer for five minutes and then come back and read the post.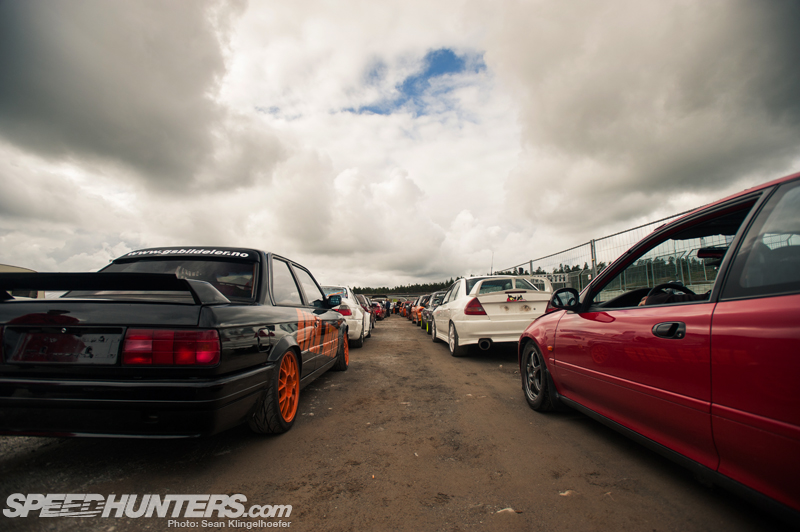 Whether you're completely uninterested by cars or the most fickle of enthusiasts, Gatebil has something that will surely blow your mind. To play devil's advocate, I have seen some pretty crazy stuff over the years and I don't think I saw anything particularly "game changing" at the event, but the number of cars and consistency of insanity is unlike anything I've ever seen before.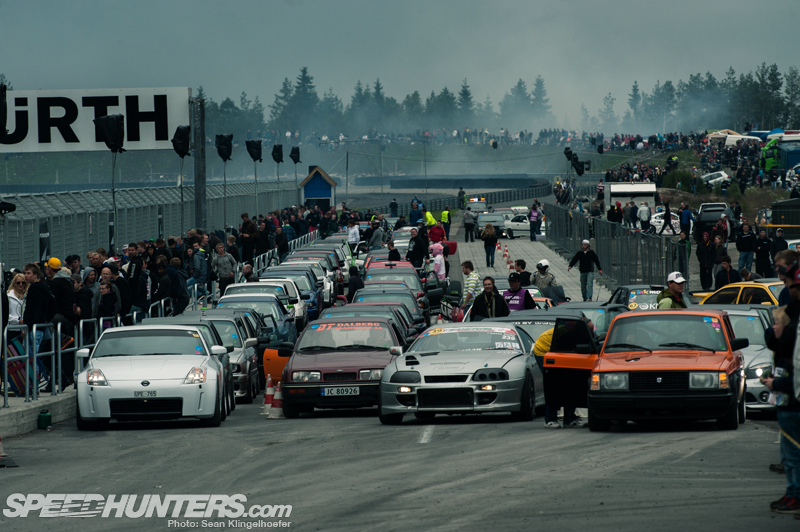 The volume of cars alone is completely bonkers, but what lies underneath their often misleading exteriors take them to whole new level. I cannot recall ever being to an event that had even half the diversity of Gatebil, let alone the massive amount of participants. When I arrived at the track on Thursday I spent the entire afternoon just walking about trying to let it all soak in.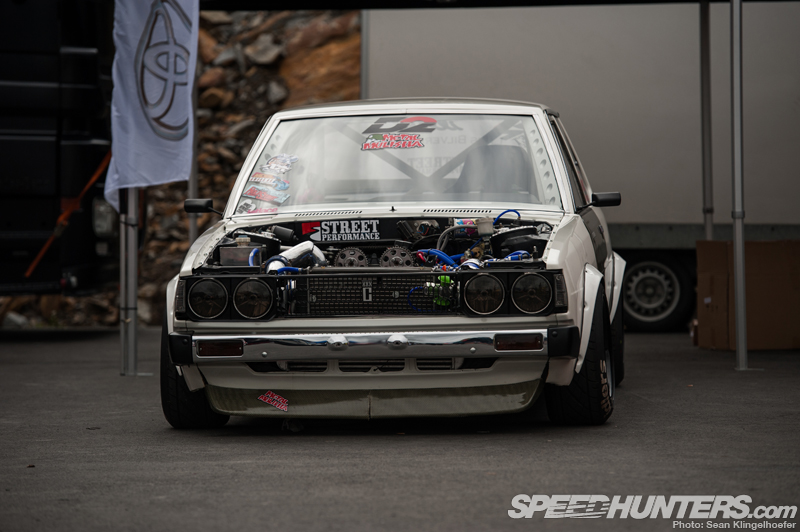 This theme continued into the rest of the weekend and, unlike Larry, for once I wasn't chasing the perfect image but rather chasing the experience. In light of a recent epiphany, I decided to take a slightly different approach to Gatebil and I admit I did neglect my camera a bit. Rather than focusing on nailing some killer images I was more intrigued by getting a better look at the incredible machines and the stories behind them which were often even more amazing.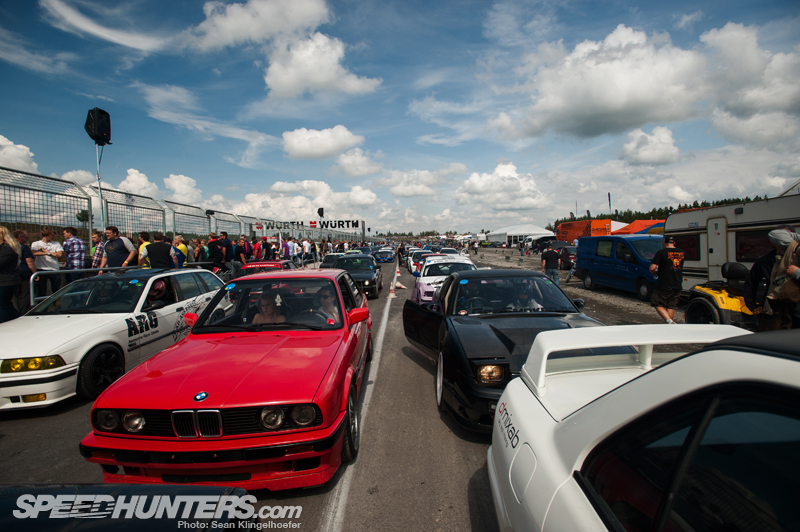 I attempted to leave no stone uncovered in my search but I fear that with only four days there simply wasn't enough time to get a look at all the cars I fancied, let alone every car there. Often times I would see an unbelievable car out on the track or rolling down an access road where it would vanish, never to be seen again.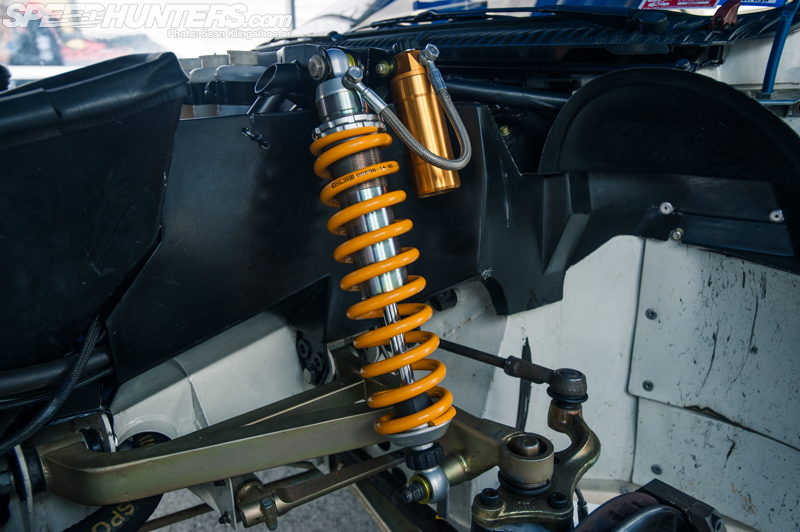 My goal for the weekend was to form a reasonable understanding of the Scandinavian car scene. It was clear that something unique was certainly happening at Gatebil, but I needed to understand the how and more importantly why. Ironically the more cars I looked at and more owners I spoke with the more intrigued I became.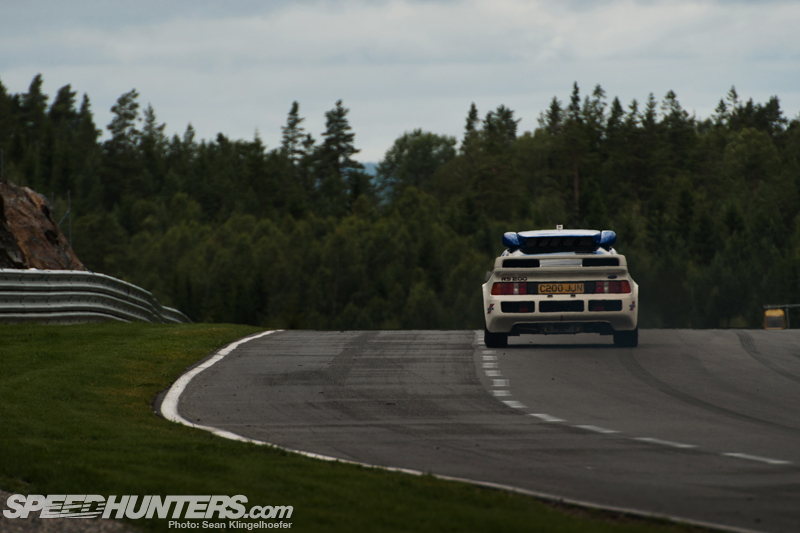 This post might not be the most coherent piece I've authored, but I think it's only fitting to present my findings in a manner that matches the fluidity of the event itself. Gatebil is the final frontier of grassroots motorsport, a true all-or-nothing-no-holds-barred type of an event where anything goes.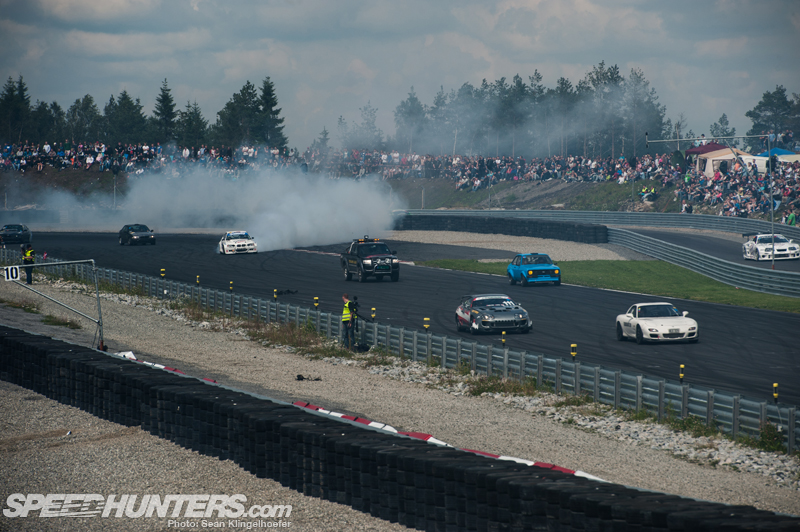 It's not at all uncommon to see a grip car, a drift car, a broken down car, a support vehicle, a few pedestrians and loads of tire debris all occupying a single corner simultaneously. I have never, and I cannot emphasize NEVER enough, seen a track event with such wildly varying skill, speed and/or discipline before. If you think multi-class GT racing is exciting, Gatebil is in a field of its own.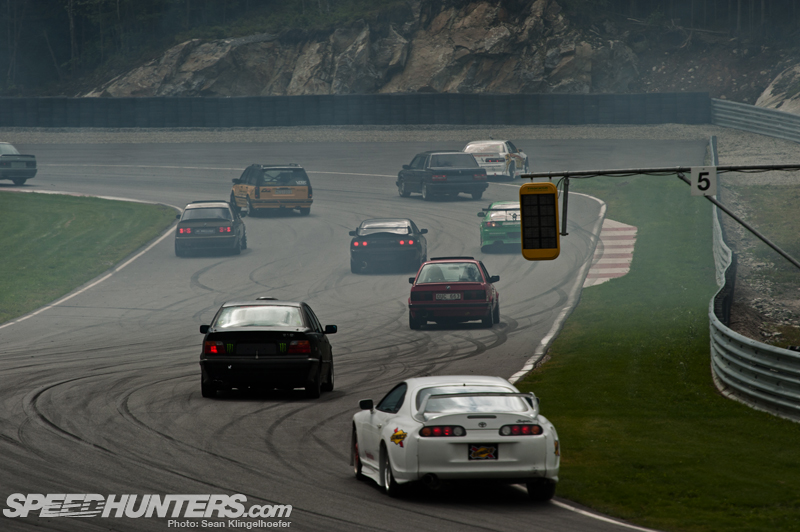 Next year I feel obligated to drive in the event, because it looks epic and terrifying in equal parts and I cannot think of something I would enjoy more. On one lap you will encounter overtaking, being overtaken, collision avoidance (multiple times), safety cars and on-track repairs. I can't help but think of Days of Thunder as I watch the drivers frantically avoiding one another while cloaked in a constant wave of tire smoke, and it's like that for nearly every turn of every lap.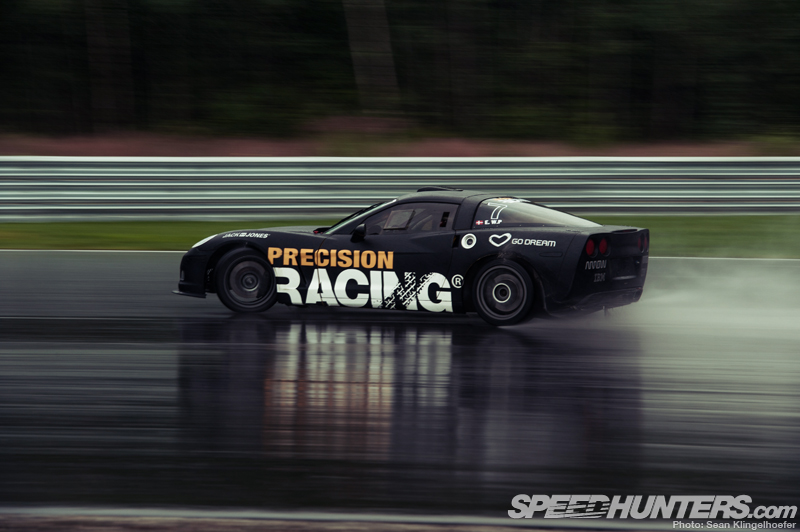 The sessions are broken up into near-as-doesn't-matter groups of which I cannot determine the classification guidelines. Pretty much every session, aside from the extreme time attack guys, were more similar than they were different. Still even those designated for grip will often have some sideways smoke action.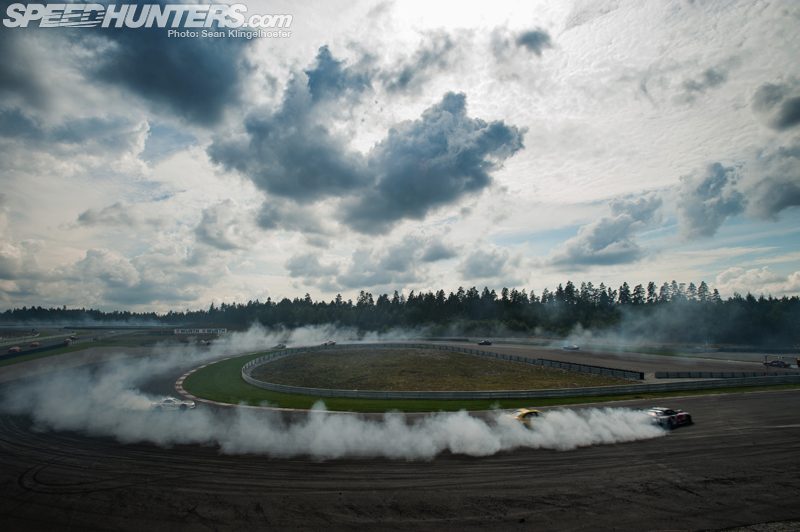 In fact I think one criteria for building a car for Gatebil is that it must drift. At any point in time the ability to shred tires is a must; regardless of power or drivetrain, everything at Gatebil drifts. I mean everything.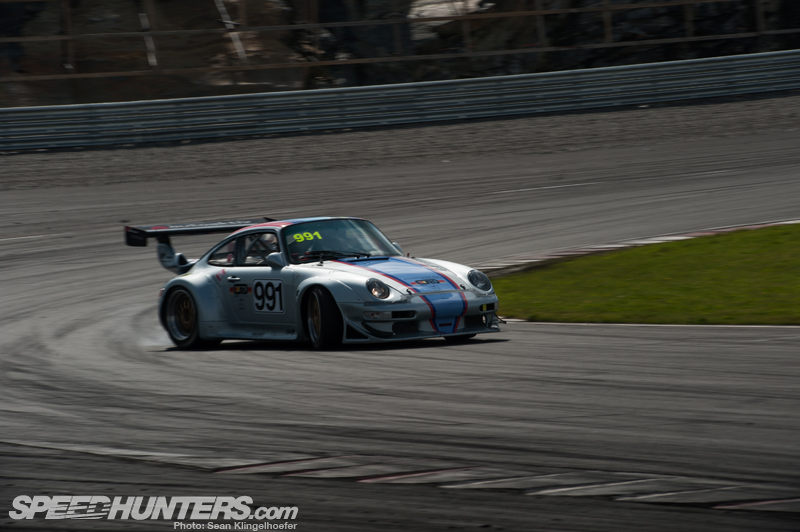 Even the fastest and most serious of the grip cars will occasionally toss in some celebratory counter lock action.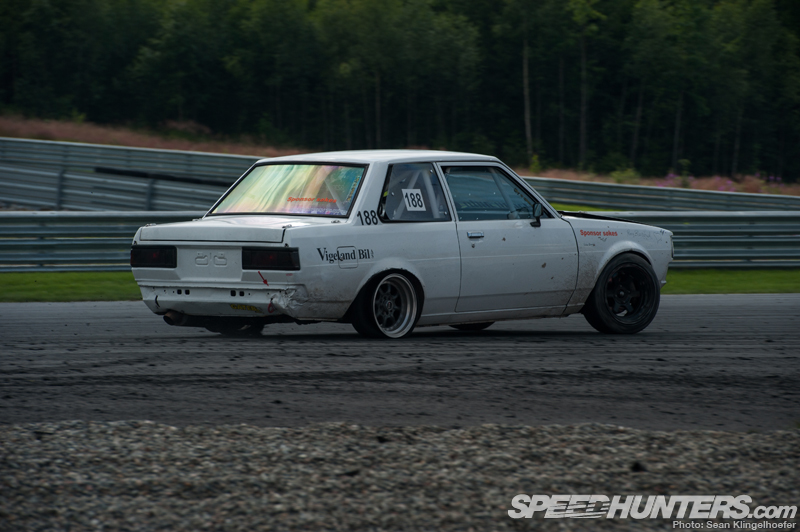 Since the full course is turned into a drifting frenzy the cars usually cannot complete more than three laps before the tires completely let go. Seeing a car with a puncture was a regular site, but on occasion you'd witness an special treat like this KE70 dancing around the track with both rear rims scraping along the asphalt.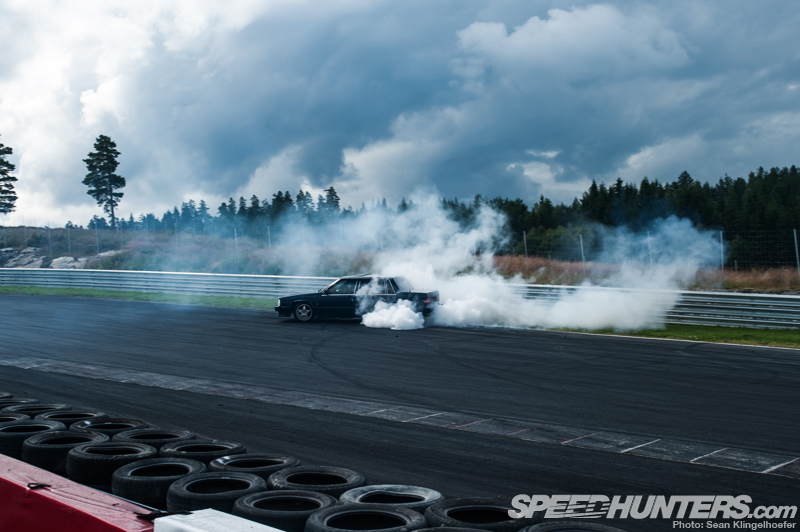 Many of the cars participating in the depletion of the ozone layer really can't and/or shouldn't be drifting, but that doesn't stop them from trying. In fact nothing can stop them, at least, almost nothing…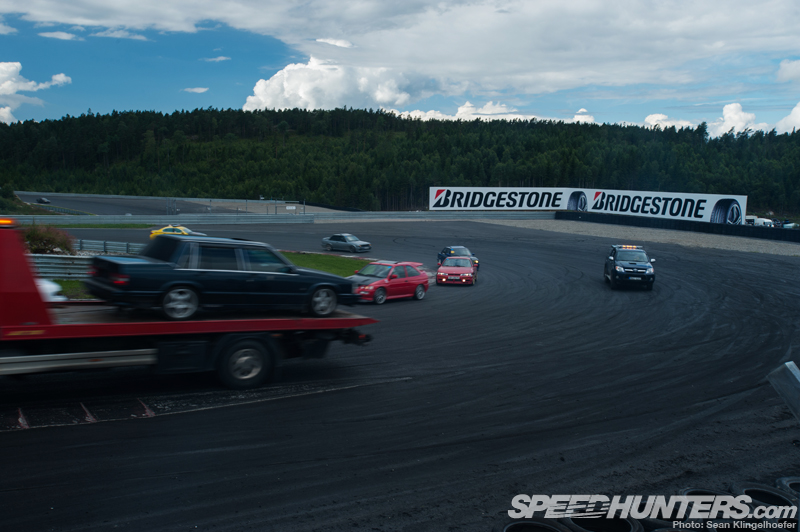 Aside from a catastrophic failure, which at Gatebil is a very real threat. Luckily there are almost as many support and tow vehicles on site as there are cars to blow up. In fact if I had it all to do over again I think the point of view of one of the rescue vehicles would be equally as exciting as the cars themselves.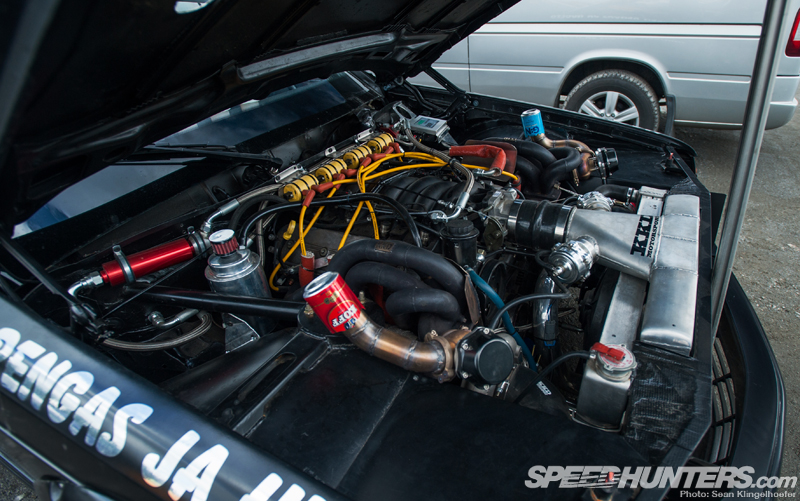 After seeing the mayhem unfolding on track I dove into the seemingly never ending paddock to try and figure out just what the hell these insane cars were made of. At first you don't really know what to make of the cars as your brain is constantly kicked in with every popped hood. I certainly wouldn't have expected to find a twin-turbocharged LS swap under the hood of this beaten up old Merc, but this is Gatebil after all.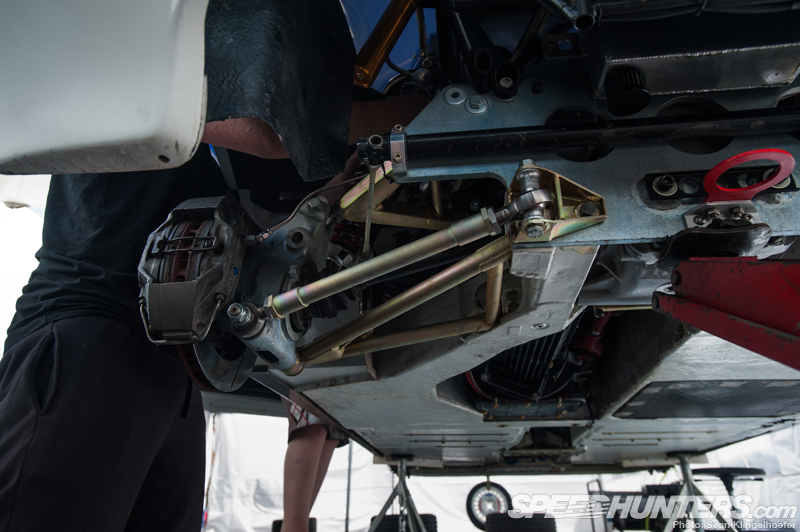 In a stark contrast to the home-brewed land missiles are some fairly choice factory works machinery, like this RS200. Dino and I discussed this car at great length as we are both quite familiar with the car and what makes it so special, but this was the first time we had seen one actually being driven. It truly is a work of art and further reinforcement of the massive divide between "good enough" track day vehicles and full-on factory racers.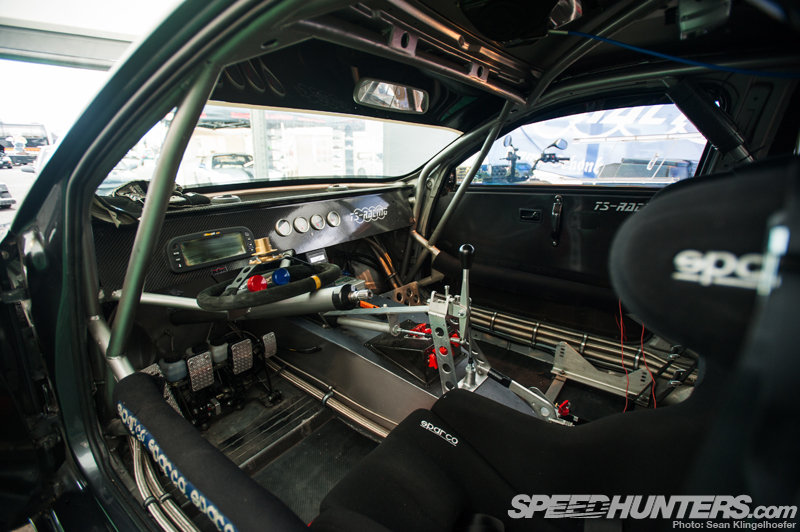 That's not to say that all the cars at Gatebil that were custom built were of a lesser standard. On several occasions I was stunned at the quality and ingenuity of the vehicles and there were times where I had to approach the owner to verify whether or not the car started its life as a professional competition vehicle.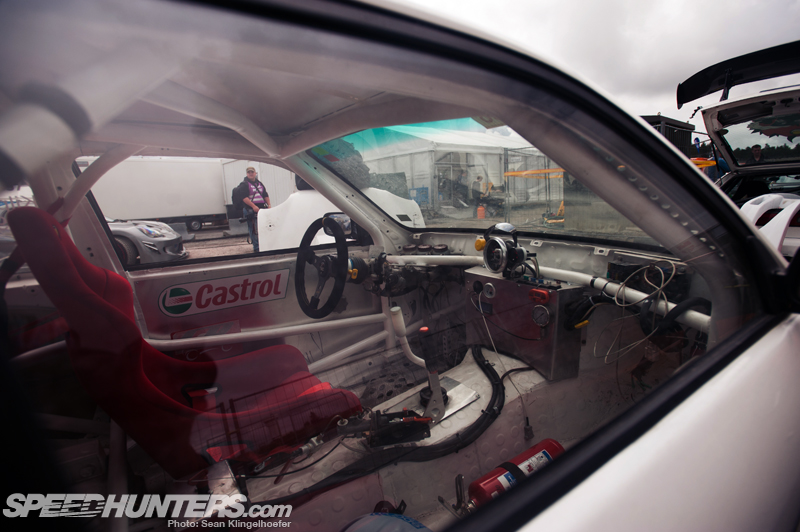 But those were certainly exceptions proving the rule as many of the cars at Gatebil put cost and effectiveness well above safety. In fact I'd be surprised if half the cars would ever be able to make it past tech inspection to even be allowed on track in the states. But this is partially what makes Gatebil so great, anything goes.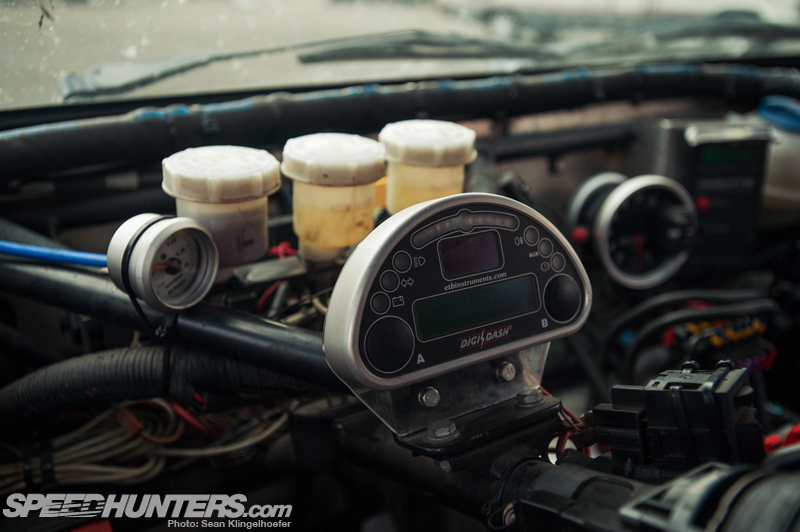 I've seen some pretty sketchy stuff over the years, and don't get me wrong, I may have snuck one or two past a self-tech form before, but Gatebil takes the cake. Never before can I recall seeing fluid reservoirs mounted so haphazardly. Inside the cabin, sure if you have to, but directly on top of a massive clump of wiring and an exposed fuse panel probably isn't the brightest idea.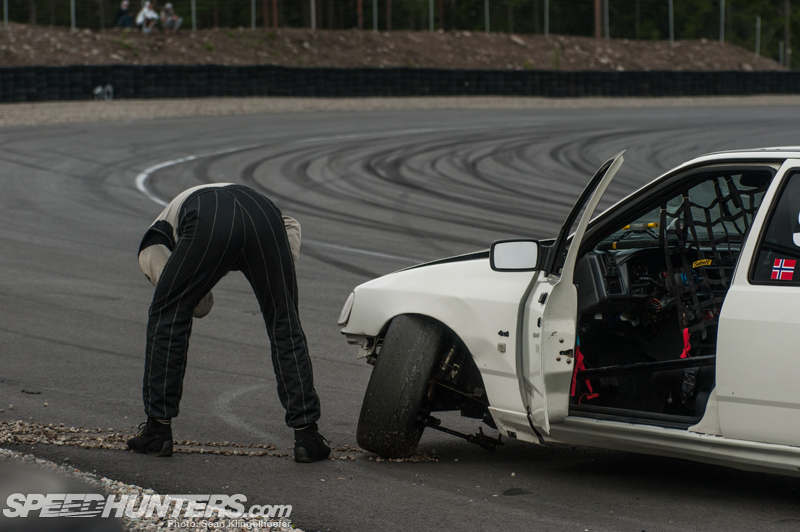 Of course when "anything goes" one common side effect is that things will go wrong. When you radically change a car from its standard version into some hypercar replacement relying mostly on luck, things tend to break. Hence another element of Gatebil – the "guess and check" approach. In this case guessing, and checking, whilst still on a hot track.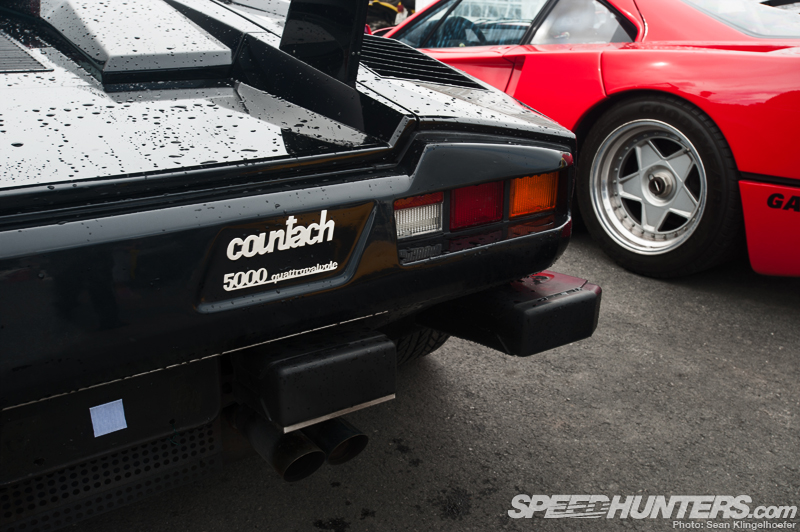 Before long, I'd estimate a few hours time, your brain stops melting and solidifies in some sort of semi-gelatinous goo. At this point in time you begin to go numb as you struggle to ward off the shock. All of a sudden cars which were once unbelievable under normal viewing conditions become a bit boring. By comparison the Countach and F40 start to look a little tame.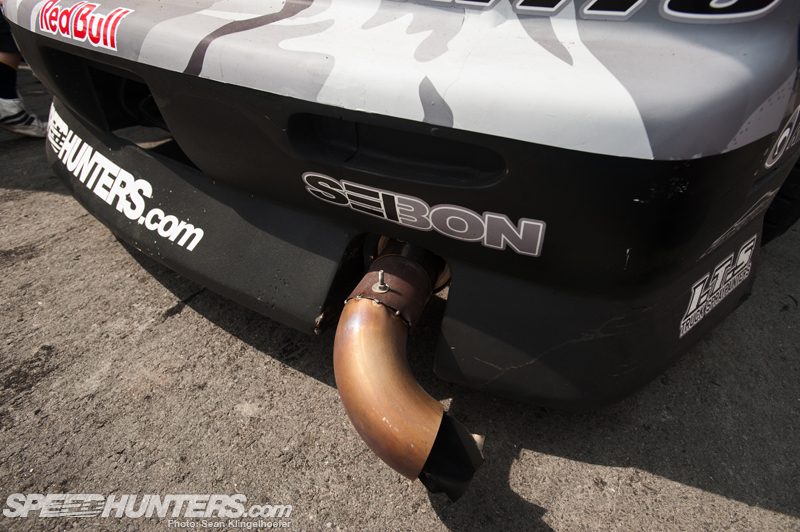 Another of the great WTF moments of Gatebil wasn't how insane the cars were, but how they were expected to conform to a very restrictive decibel limit. Believe it or not, engines producing over 500hp tend to fall into the louder side of things, and considering this accounts for most of the cars at Rudskogen, I was shocked to hear that they were expected to be silenced.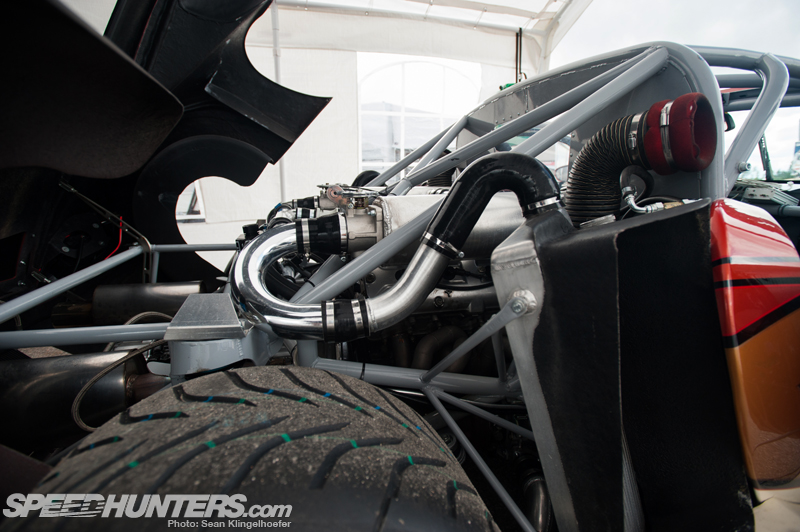 Many of the cars seem to be a drunken bar joke, you know the "wouldn't it be cool if…" type of fantasy build that nobody ever fully intends on building, except here they have been realized. Take for example the gentlemen above who decided he would have a go at building his own Carrera GT by starting with a Boxster, cutting off both ends, tubing it and cramming a massive V8 in the rear along with a couple of turbochargers for good measure.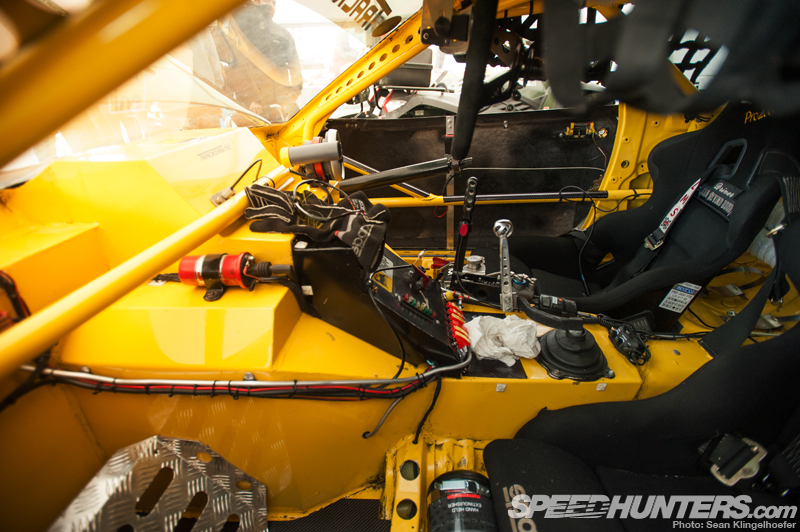 After a while you begin to assume that virtually every car has had, at the very least, an engine change. In most cases upgraded driveline and a various hodgepodge of other bits is also ordinary. As is notching the firewall and shoving whatever motor you got your hands on as far back into the cabin as possible.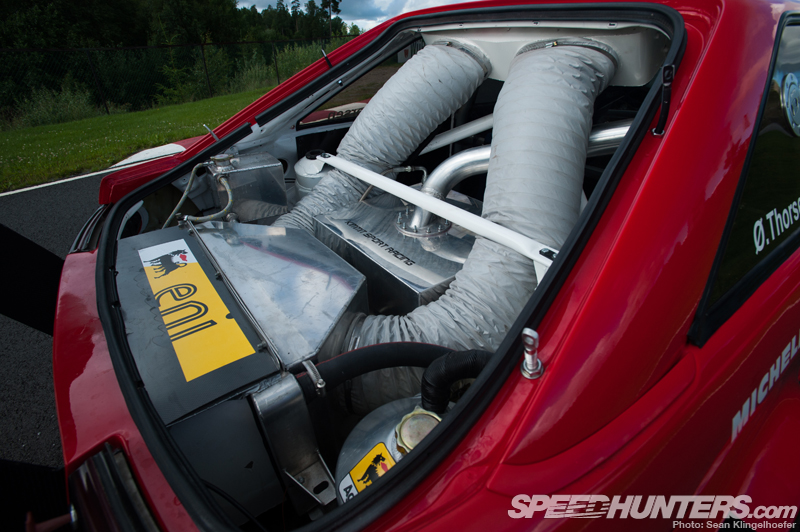 Another Gatebil staple is the rear-mounted radiator. I had joked that at one point somebody took a look at a competition rally car and thought "well if they put the radiator in the back, I should too" without any solid reasoning and shortly there after everyone else followed suit.  It wasn't until a few days later when one of the organizers told me that Gatebil is essentially an expression of one-upping, one that the Norwegian petrol heads spend the entire long winter preparing for.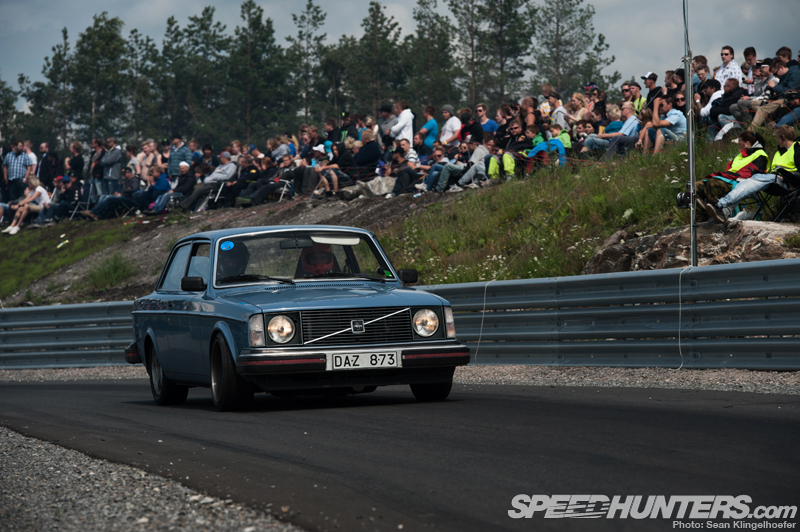 That said I started noticing another pattern emerging, one of long nights spent desperately wrenching to have the car finished in time to make it to Rudskogen. The final format I was able to construct for the typical Gatebil car is as follows: 1) car must drift. 2) car must make over 600hp. 3) car must have an engine and/or driveline conversion. 4) car must have a rear mounted raditaor. 5) car must have been completed no more than one week prior to the event.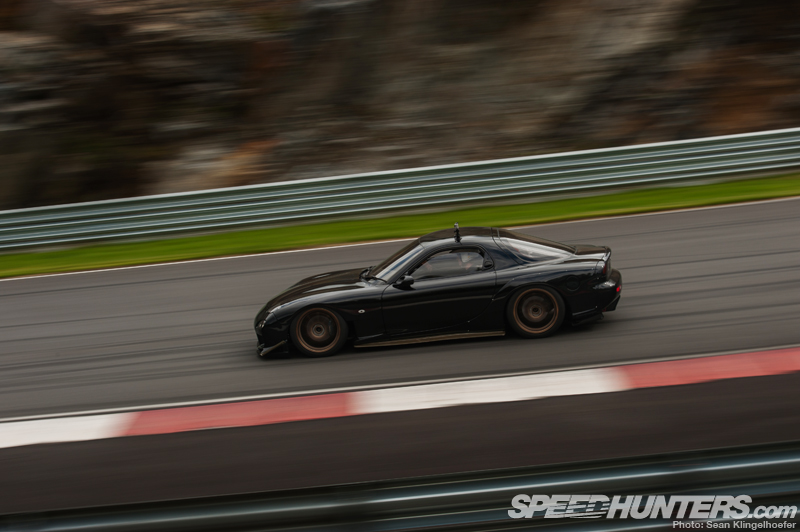 Obviously not every car followed the format completely, but I'd say it's certainly a good rule of thumb. There are some amazingly clean gems to be found at Gatebil as well, particularly those of the Japanese variety. They could be spotted drifting and gripping, but quite often they had an engine note that seemed just a bit off.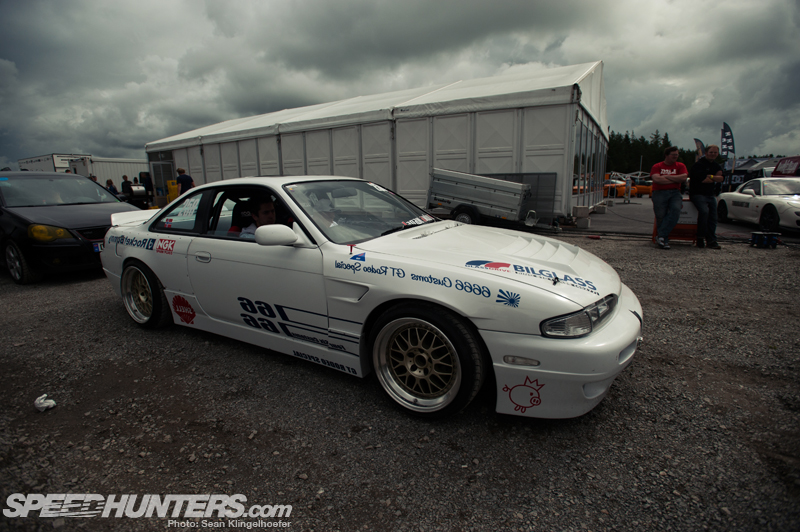 Other times the cars were built as living testaments to the way things are done in the land of the rising sun. Had Miura-San of TRA-Kyoto been at Gatebil I think he would have had quite the smile on his face when he encountered two of his legendary cars.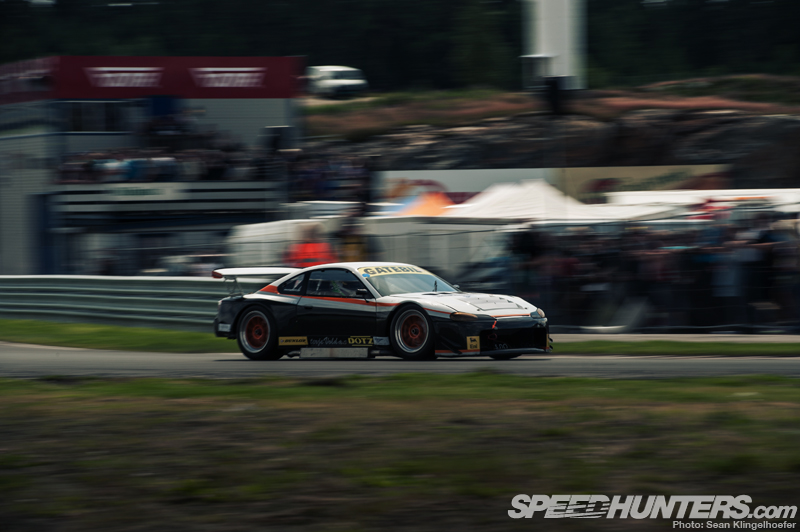 Ironically many cars from Japan seem to end up in Scandinavia and I saw several at Gatebil, including a Top Secret Supra and Blitz R34 drift car, but I think I was most impressed by a former GT300 Silvia. This JGTC car was quite possibly the most impressive car I saw at Gatebil.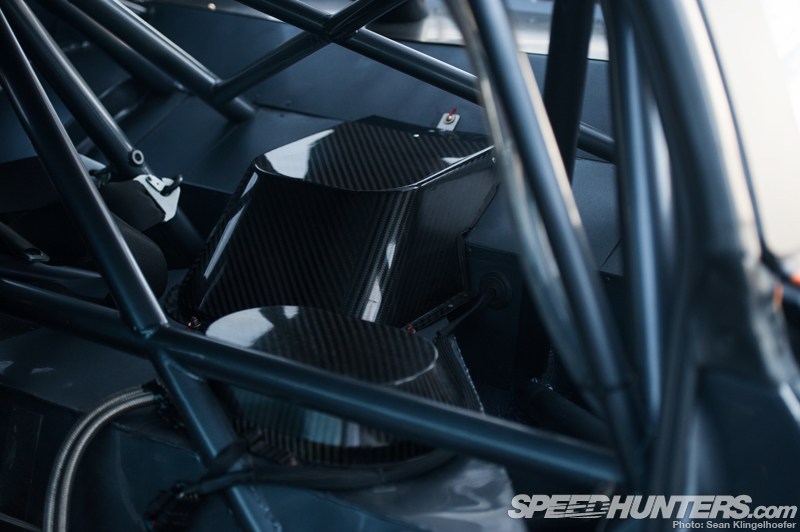 A stunning piece of machinery by all accounts from the factory, this ex-Nismo chassis was about as close to perfection as one can hope to achieve with a racing car. Comparing the details on this beast to most of the cars at Gatebil would be a wasted effort, it was clear this was on a level that a guy with a welder in shed cannot compete with… the fact that it has been further "Gatebilled" if you will, makes it even better. Expect a feature on this car soon.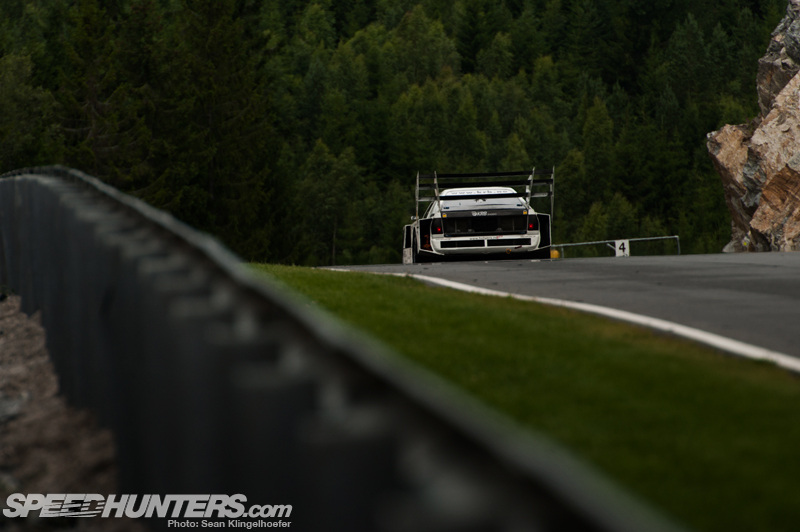 Gatebil is the only place I can think of where total insanity is the norm, and your brain actually starts to reason with it. Before long an Audi S1 with 92384098 wings on it and smoke constantly billowing out from the hood when the throttle is lifted seems to make perfect sense… I mean why wouldn't it.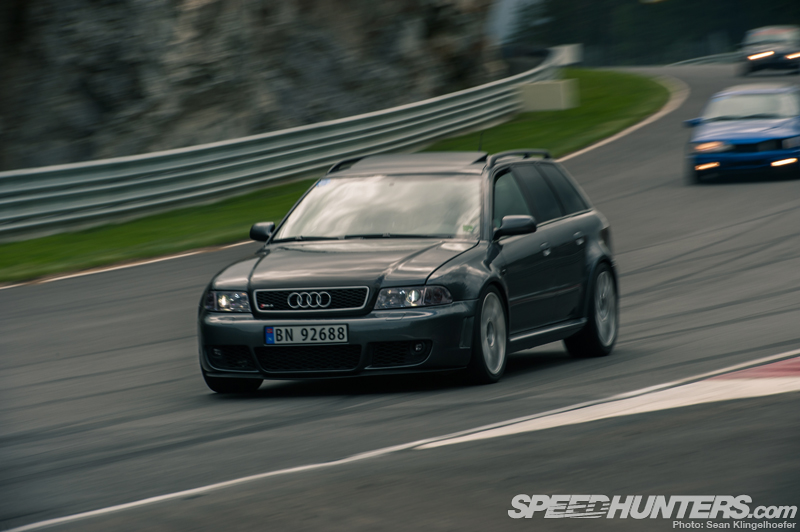 After the first couple of days my brain was well into Gatebil mode. At this point in time i was just about as mad as the locals, with the jet lag accounted for possibly crazier, and I started sorting out the patterns. I then created a new challenge – find a car that is killing it but doesn't have an engine or drive line conversion… I could think of only one…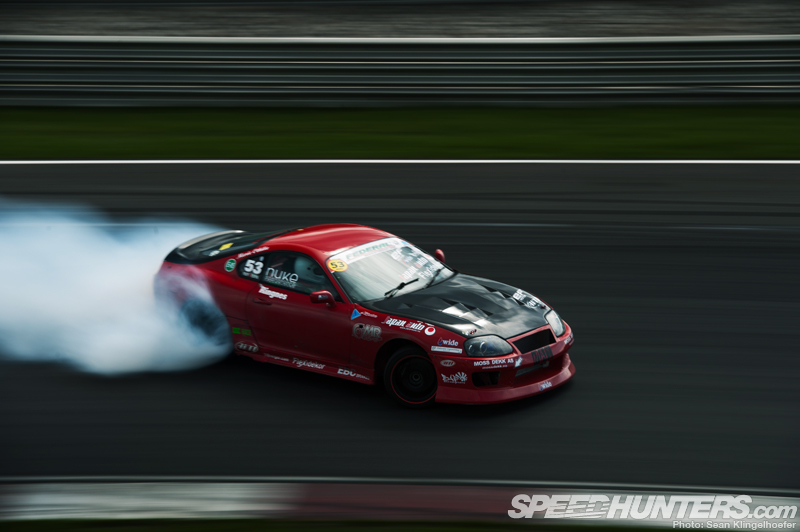 The Toyota Supra. Clearly Speedhunters readers need no introduction to the car and I've seen countless hundreds before, but never have I seen them completely take over a scene the way they have in Norway. I'm not certain if Frederic drifted Supras because they were the cool Scandinavian ride or the other way around, but one thing I can state with confidence is that the Supra is more popular here than anywhere I've ever been.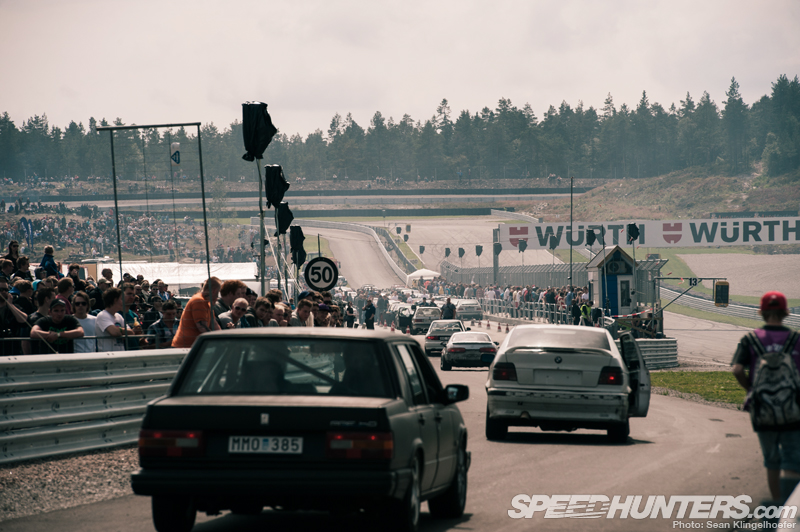 Being a stand out in a field of monster cars is quite the testament to how great of car the JZA80 truly is, but what I liked most about Gatebil was that the event has proven that any car can become great should you be motivated to make it so. The machines at Gatebil really are different from any scene I've ever encountered and I'd highly suggest investigating for yourselves.
Gatebil Rudskogen – I saw it and I still can't believe it.
More stories by Sean Klingelhoefer on Speedhunters
More Gatebil stories on Speedhunters
– Sean
---
---
---
---